SeaWorld to End Captive Breeding of Killer Whales
In a dramatic shift that signals an eventual end to the practice of keeping captive orcas for public exhibition, SeaWorld announced it would cease all of its orca breeding programs for the company's nearly 30 whales. This action will make the current group the last generation of SeaWorld's orcas. The Humane Society of the United States (HSUS), which worked with SeaWorld on these new policies, praised its reforms as a major step forward toward a humane economy in which corporations respond and adapt to public concerns over animal welfare.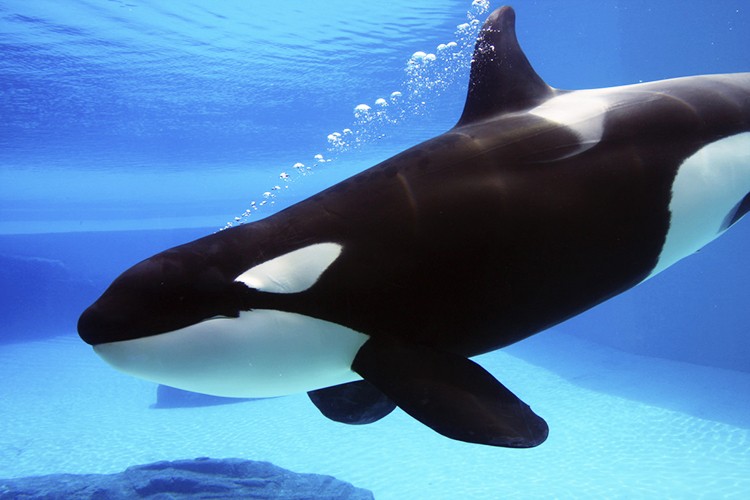 "These two organizations have been long-time adversaries, but we're excited now to see the company transforming its operations for the better on animal welfare," Wayne Pacelle, president and CEO of the HSUS, said. "Today's announcement signals that the era of captive display of orcas will end and that SeaWorld will redouble its work around rescue and rehabilitation of marine mammals in crisis and partner with us to tackle global threats to marine creatures."
The HSUS has long been critical of keeping orcas and dolphins in captivity and has clashed with SeaWorld for more than two decades. Of SeaWorld's orcas, 23 were born in captivity. SeaWorld ended live capture of orcas and other marine mammals from the wild years ago and reaffirmed that commitment today.
"SeaWorld takes seriously its responsibility to preserve marine wildlife. As one of the largest rescue organizations in the world, we will increase our focus on rescue operations—so that the thousands of stranded marine mammals like dolphins and sea lions that cannot be released back to the wild will have a place to go," Joel Manby, president and CEO of SeaWorld, said.
"Together with HSUS and with our 20 million guests and 20,000 employees we can build an army of advocates to protect animals and wild places."
SeaWorld has weathered strong currents of public criticism since the release of the 2013 documentary Blackfish and today's announcement comes in the wake of increasing pressure and calls on the company to end captive orca performance at its parks.
"This is a first, massive step forward toward a more humane future for SeaWorld," Dr. Naomi Rose, marine mammal scientist at the Animal Welfare Institute and formerly with the HSUS, said. "I welcome these commitments from Joel Manby. He has given SeaWorld a new lease on life."
"This is a defining moment. The fact that SeaWorld is doing away with orca breeding marks truly meaningful change," Gabriela Cowperthwaite, director of Blackfish, said.
The announcement with SeaWorld exemplifies the HSUS's approach to act as a catalyst and contributor to the adoption of more humane practices by the corporate sector.
Through collaboration or confrontation or sometimes a combination of the two, the HSUS has worked in recent years to secure substantial animal welfare commitments from companies working within food and agriculture, cosmetics and chemical manufacturing, fashion, the pet industry, animals in entertainment and other sectors. In addition to its new policies for orcas, SeaWorld has committed to:
Maximizing its focus on rescue and rehabilitation of marine animals in distress and highlighting the plight of unreleasable animals to foster a stronger bond between humans and animals and to educate people about ongoing threats to them.
Participating in advocacy campaigns to end the commercial slaughter of marine mammals. Specifically, SeaWorld plans to advocate for an end to commercial whaling and sealing and to fight shark finning throughout the world. We expect the company will weigh in on a range of other issues that adversely affect the lives of marine creatures.
Revamping its food policies by changing its procurement practices to source only sustainably raised seafood, crate-free pork and cage-free eggs and to offer more vegan and vegetarian options at all of its restaurants and other food service operations, which serve more than 20 million people annually.
Protecting coral reefs and reducing the commercial collection of wild-caught ornamental fish.
It was almost exactly a year ago that Ringling Bros. pledged it would phase out its use of elephants in traveling acts—a game-changing announcement for the use of wild animals in circuses. Today's announcement by SeaWorld is also tremendously significant and marks a turning point in the movement to phase out the use of orca for captive display.
YOU MIGHT ALSO LIKE
WARNING … This Video Will Break Your Heart: 150 Wild Buffalo Captured at Yellowstone
Rescued Chimp Who Lived Alone for 18 Years Won't Stop Holding Hands With New Friend
Want to Swim With Dolphins? Read This First
Love Wildlife? Check Out These 11 Stunning Photos From Yellowstone National Park
Bill Maher is sick of billionaires' obsession with Mars, more like "Mars-a-Lago," he said.
In a new animation produced by ATTN:, the popular talk show host of Real Time, discusses the perils of our planet, including how "climate change is killing us."
Keep reading...
Show less
Dr. Benjamin D. Santer, research scientist
A group of prominent climate scientists have written a study explicitly refuting statements made by the U.S. Environmental Protection Agency Administrator Scott Pruitt on climate data. During his Senate confirmation hearing, Pruitt claimed in a written response that satellite data shows a "leveling off" of warming over the past two decades.
Keep reading...
Show less
By David Pomerantz
The Nevada Assembly passed a bill Wednesday that would dramatically increase the growth of renewable energy in the state, but Sheldon Adelson, the casino magnate and major donor to Donald Trump, is attempting to prevent the bill from becoming law.
Keep reading...
Show less
Matt Crossick
By Yosola Olorunshola
Whether it's through fashion or protest, Vivienne Westwood is not a woman afraid of making a statement.
On May 23, she rocked up to the residence of the Archbishop of Canterbury in London with a special guest—the Grim Reaper—to issue a strong statement on the Church of England's position on fracking.
Keep reading...
Show less
Military veterans from across Virginia released a letter Thursday opposing two proposed fracked-gas pipelines: Dominion Energy's Atlantic Coast Pipeline and EQT's Mountain Valley Pipeline. These pipelines would cross through pristine areas of Virginia, taking private property by use of eminent domain, removing mountain ridgetops and threatening valuable drinking water resources. The veterans view this as contrary to their service to protect and defend the freedom and security of American citizens.

Keep reading...
Show less
By Paul Brown
The food industry and big agricultural concerns are driving climate change and at the same time threatening to undermine efforts to feed the world's growing population, according to GRAIN, an organization that supports small farmers.
Particularly singled out for criticism are the large chemical fertilizer producers that have gained access to the United Nations talks on climate change. GRAIN accuses them of behaving like the fossil fuel companies did in the 1990s, pushing false information in the hope of delaying real action on climate change.
Keep reading...
Show less
May. 24, 2017 06:55PM EST
By Sydney Robinson
President Trump has no doubt been given a long list of extravagant, elaborate gifts in his lifetime, but the gift given to him today by Pope Francis may not make it on his most favorite list.
Keep reading...
Show less
May. 24, 2017 07:17PM EST
By John Rogers
Maybe it's because I first started working on clean energy while serving in the Peace Corps he founded, or maybe it's my years of working on these issues from his home state. But I can't help thinking about the 100th anniversary of John F. Kennedy's birth, and connecting his stirring rhetoric to the energy challenges of our times.
Here's what our 35th president might have said about the challenges of energy transition and the opportunities in clean energy:
"Change is the law of life. And those who look only to the past or present are certain to miss the future."
Keep reading...
Show less


Get EcoWatch in your inbox