Climate change will render parts of the Middle East and North Africa "uninhabitable" in a few decades, potentially resulting in a huge number of climate refugees.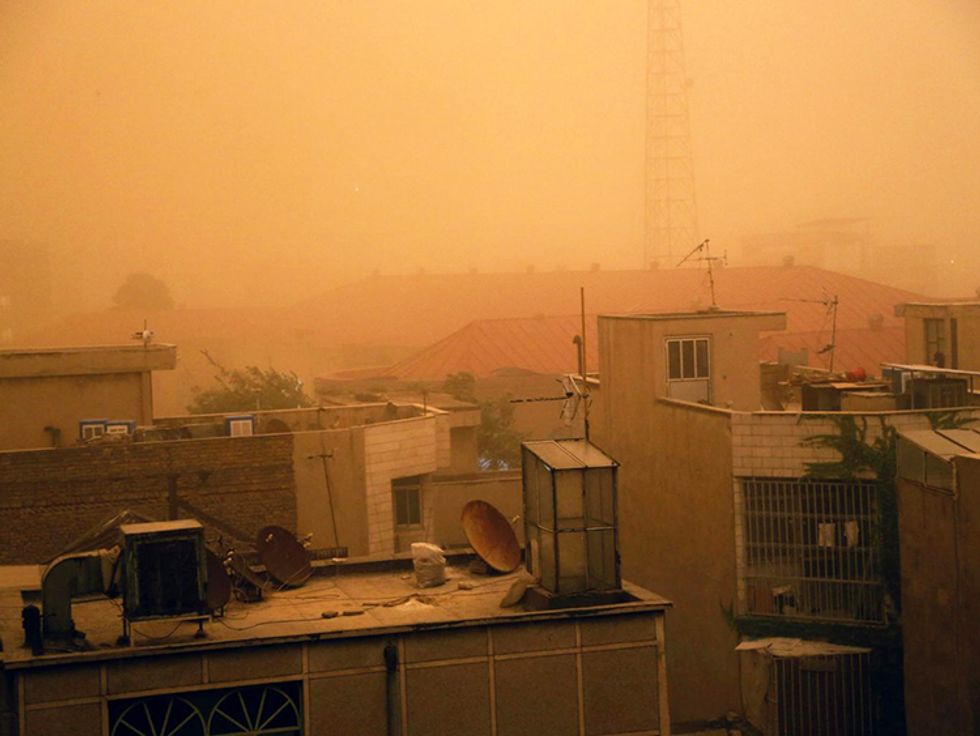 A new study by the Max Planck Institute for Chemistry and the Cyprus Institute confirmed a similar study from the World Bank, which also forecast a dramatic temperature increase in the region. Already, the number of extremely hot days has doubled since 1970 and could increase five fold by 2050. The region is home to more than 500 million people who will be affected by the change.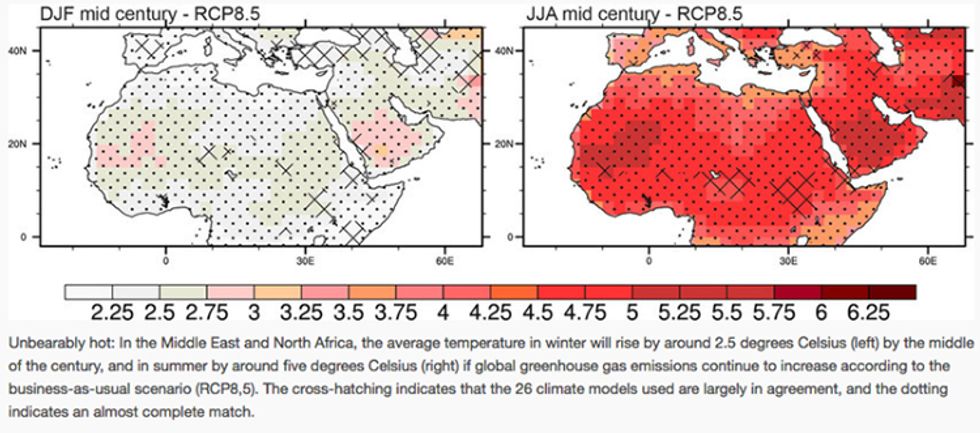 For a deeper dive: VoA, Quartz, Gizmodo, Independent, PTI, UPI, Phys.org
For more climate change and clean energy news, you can follow Climate Nexus on Twitter and Facebook, and sign up for daily Hot News.
YOU MIGHT ALSO LIKE
Warren Buffett Rejects Calls for Climate Change Report
Ethiopia, Where the Paris Climate Agreement Gets Real
Climate Change to Widen Range of Disease-Carrying Mosquitoes
Scientists Say Arctic Sea Ice Could 'Shrink to Record Low' This Summer
EcoWatch Daily Newsletter
Confirming that the TransAtlantic Trade and Investment Partnership (TTIP) amounts to "a huge transfer of power from people to big business," Greenpeace Netherlands on Monday leaked 248 secret pages of the controversial trade deal between the U.S. and EU, exposing how environmental regulations, climate protections and consumer rights are being "bartered away behind closed doors."
The documents represent roughly two-thirds of the latest negotiating text, according to Greenpeace and on some topics offer for the first time the position of the U.S.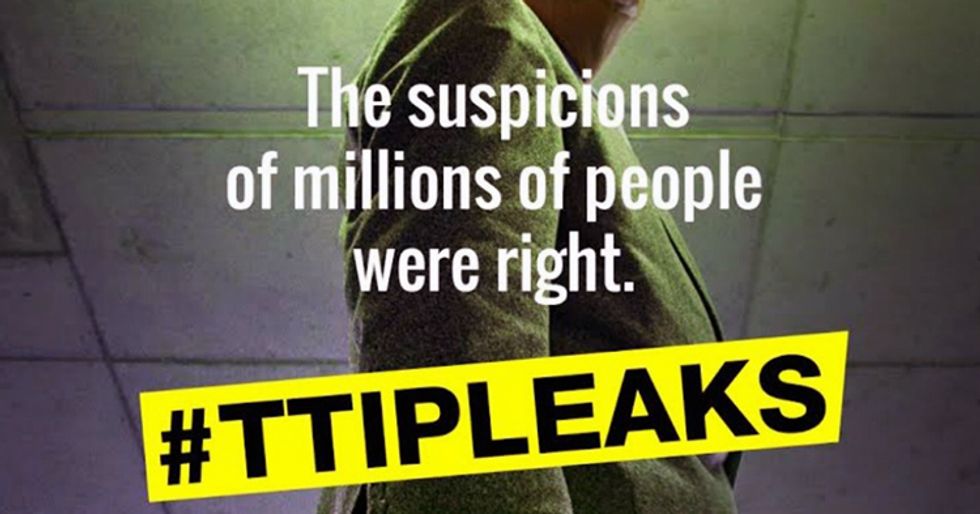 Before Monday, elected representatives were only able to view such documents under guard, in a secure room, without access to expert consultation, while being forbidden from discussing the content with anyone else. This secrecy runs "counter to the democratic principles of both the EU and the U.S.," the website ttip-leaks.org declares.
And in the absence of transparency, "hard won environmental progress is being bartered away behind closed doors," Faiza Oulahsen, campaigner for Greenpeace Netherlands, said.
"Whether you care about environmental issues, animal welfare, labor rights or internet privacy, you should be concerned about what is in these leaked documents," Oulahsen said. "They underline the strong objections civil society and millions of people around the world have voiced: TTIP is about a huge transfer of democratic power from people to big business. We call on all elected representative and other concerned parties to read these documents and engage in the debate."
4 major environmental concerns from the US-EU trade deal #TTIPleaks https://t.co/lyl6OvZv5t https://t.co/glvPU42kOf

— Greenpeace (@Greenpeace)1462260605.0
Greenpeace Netherlands zeroes in on four aspects of serious concern in the obtained texts, including:
The apparent omission of the so-called "General Exceptions rule," which allows nations to regulate trade "to protect human, animal and plant life or health" or for "the conservation of exhaustible natural resources;"
The absence of language about climate protection, plus provisions that would "stimulate imports and exports of fossil fuels—like shale gas from fracking or oil from tar sands—while clean energy production for local communities and associations would be considered unfair competition and a barrier to trade."
A clear threat to the "precautionary principle," which requires regulatory caution where there is scientific doubt, shifting the burden of proof on whether a product is safe to public authorities, not on those who seek to sell it;
The heretofore shrouded "high degree" of corporate influence over the talks.
According to the Guardian, which saw the original documents (retyped by Greenpeace and available here):
U.S. proposals include an obligation on the EU to inform its industries of any planned regulations in advance and to allow them the same input into EU regulatory processes as European firms.
American firms could influence the content of EU laws at several points along the regulatory line, including through a plethora of proposed technical working groups and committees.
"These leaks confirm what millions of people across Europe have suspected all along—that this toxic trade deal is essentially an enormous corporate power grab," Global Justice Now trade campaigner Guy Taylor said on Monday.
"It's no secret that the negotiations have been on increasingly shaky ground," Taylor continued, citing petitions signed by millions of Europeans and ongoing public protests. "These leaks should be seen as another nail in the coffin of a toxic trade deal that corporate power is unsuccessfully trying to impose on ordinary people and our democracies."
Similarly, War on Want Executive Director John Hilary declared: "Today marks the end of TTIP. Total secrecy was the only way the European Commission could keep the European people from learning the truth about these appalling negotiations and now the cat is out of the bag."
#TTIPleaks confirm #TTIP will weaken democracy & #environment. EU governments must demand negotiations are stopped https://t.co/2lE4ykudGW

— Friends of the Earth (@Friends of the Earth)1462185920.0
"We have long warned that TTIP is a danger to democracy, food safety, jobs and public services," Hilary continued. "Now we see it is even worse than we feared. Today's leak shows the European Commission preparing to sell us down the river, doing deals behind closed doors that will change the face of European society for ever. It is simply unacceptable that a group of unelected officials should be allowed to contemplate such a thing without any public scrutiny."
The 13th round of TTIP talks took place last week in New York. U.S. President Barack Obama, who was stumping for the deal last month in Germany, had hoped to wrap up negotiations by the time he left office—a timeline that looks increasingly unrealistic.
Public support on both sides of the Atlantic has plummeted; leading U.S. presidential candidates oppose the deal and others like it; and President François Hollande on Sunday became just the latest French official to express skepticism about the deal.
YOU MIGHT ALSO LIKE
The Movement to Stop Fossil Fuel Development Is Winning
How This Small Town Is Winning the Water War Against Nestle
Warren Buffett Rejects Calls for Climate Change Report
Massive Victory for 7 Kids in Climate Change Lawsuit in Washington State
As the battle over Nevada's solar-killing fees wages on, state lawmakers, government officials and prominent renewable energy advocates descended upon Tesla's Gigafactory near Reno this week to discuss the future of clean energy in the Silver State.
Look who was at the Gigafactory today! @AaronDFordNV @SHillforNevada @solarcity 's Lyndon Rive & @LeoDiCaprio ! https://t.co/gWoENmpsdb

— Nancy Pfund (@Nancy Pfund)1458179572.0
At Wednesday's event, attendees were given a tour of the still-in-construction Gigafactory. Once complete, the massive $5 billion battery plant will be 100 percent powered by renewable energy sources, with the goal of achieving net zero energy.
The Associated Press reported that actor and environmental activist Leonardo DiCaprio was also at Gigafactory the same day to film a documentary he is directing on green energy. He was not part of the program but reportedly interviewed Tesla CEO Elon Musk for the film and met with some organizers and attendees, including Nevada Senate Minority Leader Aaron Ford (D-Las Vegas).
The event was organized by Musk and SolarCity CEO Lyndon Rive to advance the development of solar energy in Nevada and to discuss how Tesla's suite of in-home batteries works in tandem with a residential array. As Vegas Inc reported:
[Rive's presentation focused] on how energy storage batteries and rooftop solar can work to reduce strain on the grid and help utilities operate more efficiently. The batteries, which are already being produced at the Tesla Gigafactory, can store solar-generated power so that it can be used at night or during times of peak power usage.
According to a copy of his presentation, Rive will encourage the lawmakers to look differently at the grid and embrace disruptive technologies, such as rooftop solar and home energy storage.
"Nevada is at the forefront of the future of energy," the text of Rive's presentation said. "But the future of energy will need leadership to enable change."
Though it wasn't explicitly said, Rive's comment takes aim at Nevada's Public Utilities Commission (PUC), which voted in December to increase a fixed monthly fee for solar customers by about 40 percent while simultaneously reducing the amount customers get paid for excess power they sell to the grid.
@solarcity's Lyndon Rive talking about Nevada's clean energy leadeship at the Gigafactory with Nevada legislators. https://t.co/pTnVgPAWVm

— Nancy Pfund (@Nancy Pfund)1458182683.0
A fierce net metering battle has since ensued and is framed by media as a showdown between Warren Buffett—whose Berkshire Hathaway Energy owns NV Energy, the state's largest utility—versus Musk, the chairman and largest shareholder in SolarCity.
Read page 1
The rate hikes, which took effect Jan. 1, was decried by Rive as a move that would "destroy the rooftop solar industry in one of the states with the most sunshine." The order caused SolarCity to fire 550 field and support staff in Nevada as the company ceased installing and selling panels in the state.
Solar supplier Sunrun Inc. also ceased all operations in Nevada, saying: "The retroactive decision is also expected broadly to undermine future investment in the state, as retroactive changes impair the business community's trust in Nevada government."
Actor and environmental activist Mark Ruffalo protested the fees and demanded the PUC change course and for Gov. Brian Sandoval to take a stand against the new rates.
I stand with the hundreds of Nevadans asking @nevada_puc to protect #NVsolar, jobs and investments in our clean energy future #WeAreSolar

— Mark Ruffalo (@Mark Ruffalo)1452706314.0
Buffett explained his company's position on net metering in Nevada to CNBC earlier this month:
We do not want our million-plus customers that do not have solar to be buying solar at 10 and a half cents when we can turn it out for them at 4 and a half cents or buy it at 4 and a half cents. So, we do not want the non-solar customers, of whom there are over a million, to be subsidizing the 17,000 solar customers. Now, solar customers are subsidized through the Federal Government—as we are, with our wind and solar operations ourselves.
In Nevada, [SolarCity] had an arrangement for a very limited number of people—and the public utility commission decides this—they had an arrangement where the utility had to pay way above market for solar produced by these 17,000 homes.
The public utility commission decided that was unfair to the million-plus people who didn't have solar, and they said 'It's fine to sell it back, but sell it back at market price.'
The solar industry as well as many of its customers in Nevada are fighting the PUC's decision. Solar customers initiated a class action lawsuit against NV Energy in January. Plaintiffs John Bamforth and Stanley Schone seek restitution from the utility, citing its decision to raise fees for solar customers from its prior rate of $12.75 to $38.51 by January 2028.
The solar industry coalition, No Solar Tax PAC, has filed a referendum petition to reverse the rule and will be put in front of voters in November.
The PAC claims on its website:
The rules eliminated Nevadans' choice to go solar, imposed massive new fees on existing customers, and has already cost the state hundreds of jobs, with thousands more Nevadans facing layoffs in the coming months. Moreover, they undermine state policies and incentives that encouraged customers to go solar, created thousands of jobs, and made Nevada a national leader in clean energy. The PUC's rules are unfair, they have damaged Nevada's business-friendly reputation, and they only benefit the State's monopoly utility, NV Energy.
The PUC's new rules allow NV Energy to take clean electricity from solar customers and sell it to their neighbors at a 300 percent markup. They also force solar customers to pay monthly fees 200 percent higher than other customers. That's just wrong. NV Energy should not be allowed to take our electricity without fair compensation.
According to the Las Vegas Review Journal, the referendum petition is currently being contested in Carson City District Court. NV Energy is fighting the referendum.
YOU MIGHT ALSO LIKE
Worldwide Shift to Renewable Energy Played 'Critical Role' in Stalling Carbon Emissions
This Small Town Generated $2 Million From Selling RECs, Now They Have to Decide What to Do With the Money
3 Cities Disrupting the Local Electricity Market With Innovative Renewable Energy Projects
World's First Solar Airport No Longer Pays Electricity Bills
A record $367 billion was invested in renewable energy around the world last year, according to a new report published today by Clean Energy Canada.
That's more than a third of a trillion dollars (USD) and a 7 percent increase on 2014.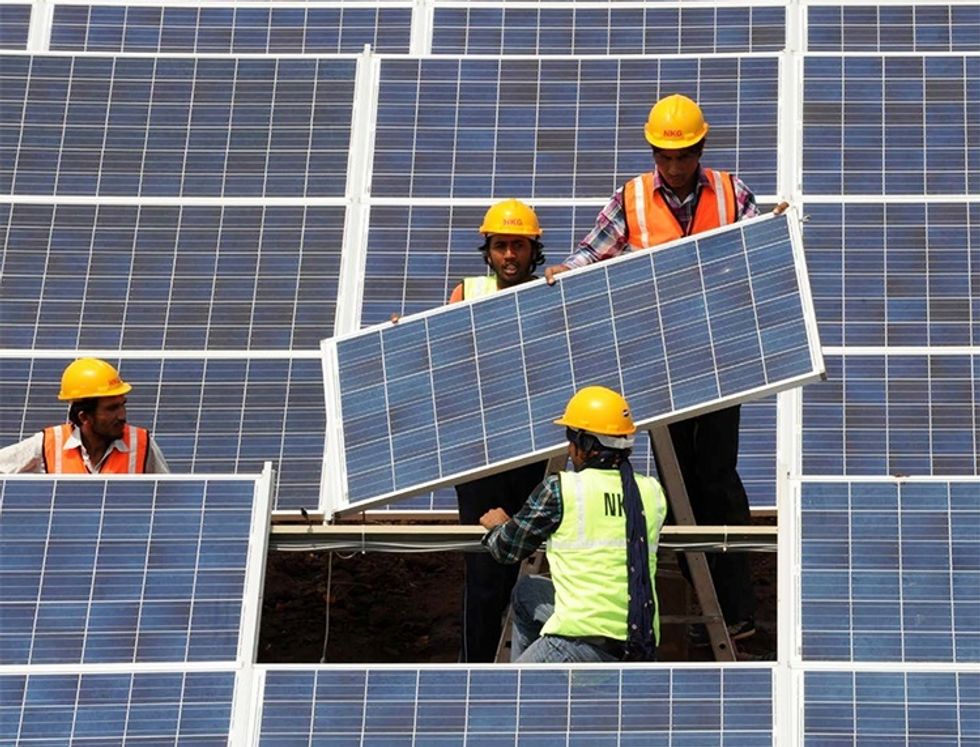 Whereas the oil price crash had everyone expecting renewable energy projects to stumble last year, this latest analysis shows that the sector actually boomed.
New renewables investment significantly overtook new fossil fuel investments, with "only" $253bn going into new coal, oil and gas projects in 2015.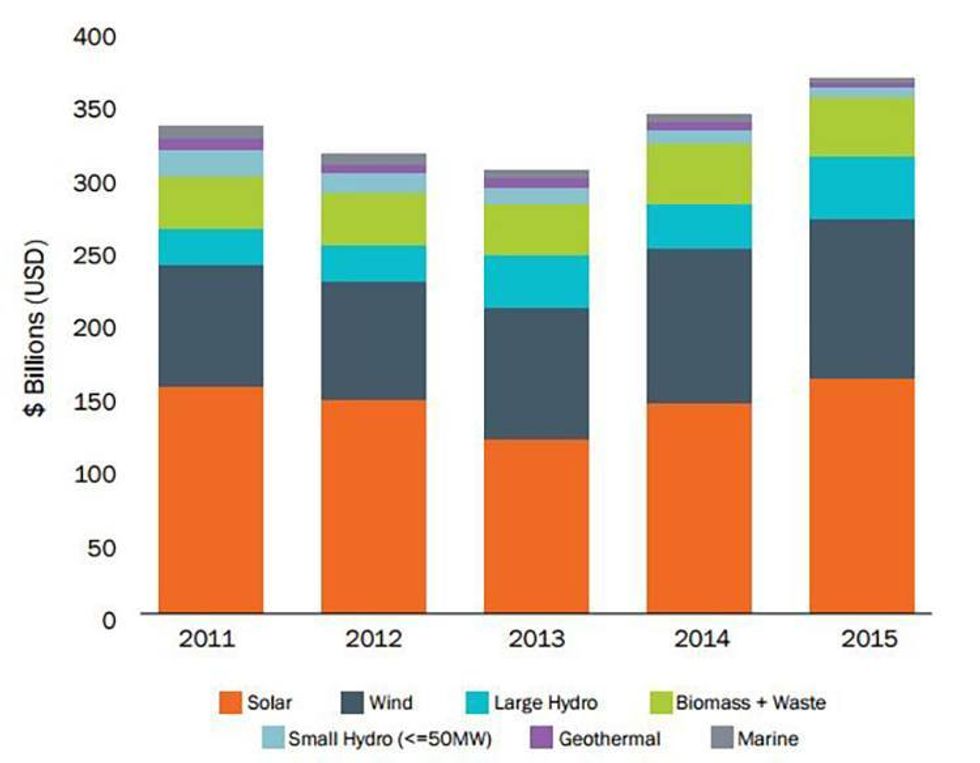 The top-five destinations for clean energy investment dollars were China ($110.5bn), the U.S. ($56bn), Japan ($46bn), the UK ($23.4bn) and India ($10.9bn).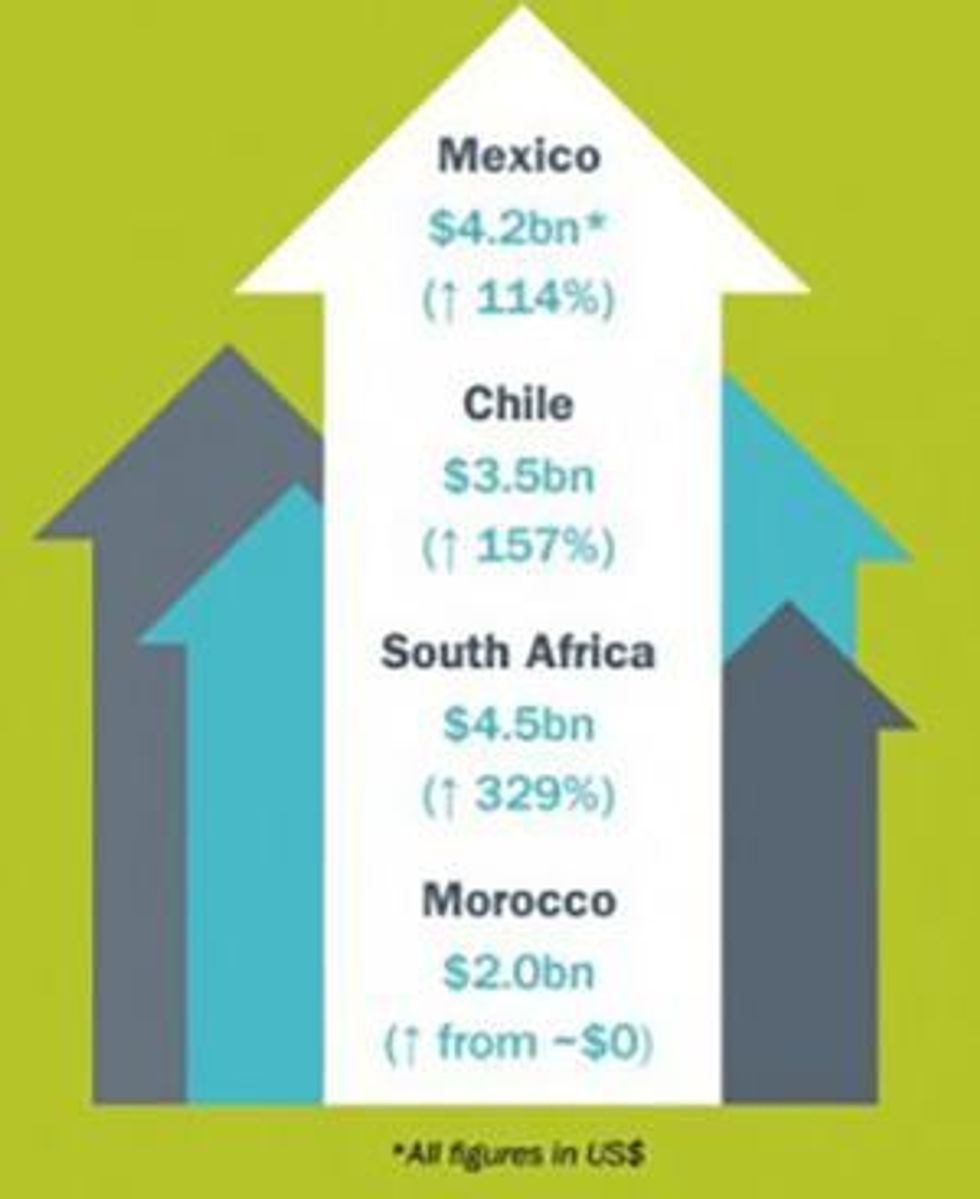 Renewables spending has really kicked off in emerging economies.
Renewables investment was up 24 percent from 2014 in the UK and 23 percent in India, although it fell by an embarrassing 46 percent in Canada. Which somehow didn't affect Canada's global ranking—it's still number eight.
And 2015 was the first time that more money was invested in clean energy in developing countries ($167bn) than developed countries ($162bn).
The report calls 2015 a "breakout year" for the Middle East—especially for solar—and names Africa as another region to watch in the next few years.
These pretty impressive numbers (Canada aside) probably have something to do with the plummeting costs associated with renewable energy. The report finds that the unsubsidised cost of wind energy is down 61 percent since 2009 and utility-scale solar PV is down 82 percent.
So, happy Monday clean energy fans.
YOU MIGHT ALSO LIKE
100% Renewable Energy Is Possible, Here's How
Trade Rules Trump Climate Action: U.S. Blocks India's Ambitious Solar Plans
Al Gore: 3 Questions We Have to Answer About Climate Change
Although we don't always realize it, climate change envelopes us it completely surrounds us all the time. What better subject therefore to become the basis for the World Bank group's first virtual reality experience. The People's March for Earth, organized by Earth Day Italia and the World Bank group's Connect4Climate initiative, took place in Rome last November to underscore the feelings and desires of many that wanted to express the need for more immediate and substantial action on climate change and to send a strong message to the United Nations Conference on Climate Change that was just about to take place in Paris.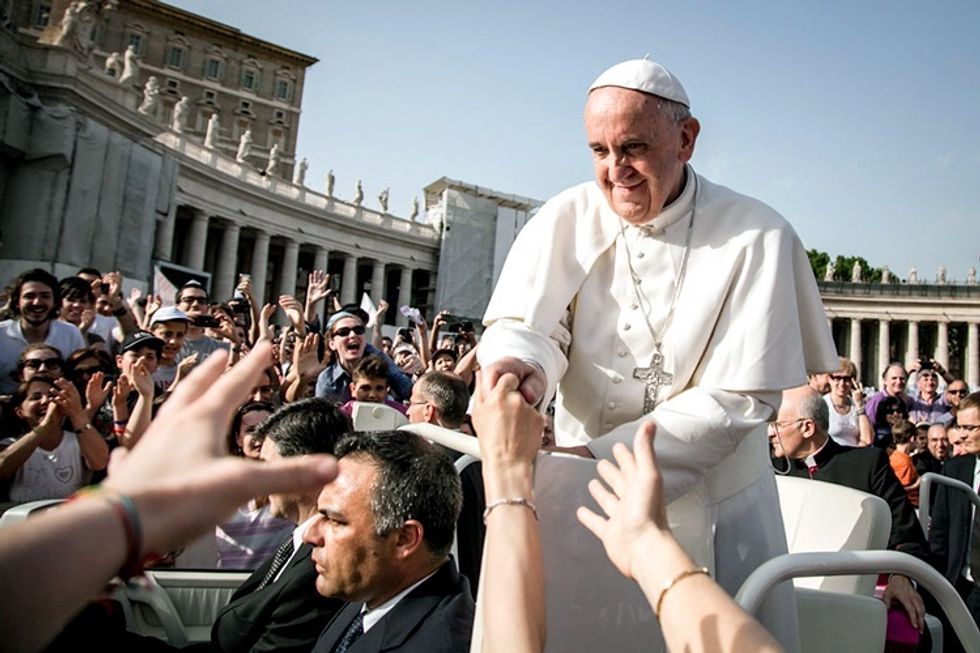 The People's March for Earth, starting at the Colosseum and progressing through the wide avenues of Rome to later arrive at St. Peter's Square where Pope Francis would greet and bless the gathering, reflected the history of the eternal city and indicated both the advances in civilization but also the toil that humanity has taken on our natural world. These rich concepts inspired the creation of a Virtual Reality experience so many more people could feel the same impact and energy that the marchers felt, long after the final participants had left.
The World Bank and Connect4Climate partnered with RYOT to produce a truly immersive film. RYOT is one of the leading content studios creating documentary-style virtual reality films. Anglo-Italian actress Greta Scacchi kindly gave her talents to produce a powerful narrative fully evocative of both the location and the cause.
Immersive experiences are getting great traction in many industries such as entertainment and gaming. But this product illustrates perfectly how it can be used to convey messages that are both intensely personal and of worldwide importance. The medium gives extra and immediate impact to the very real issues that impact both individuals, institutions, governments and regions alike. At their best such initiatives can help humans connect through creating a unique collective empathy which ultimately can inspire others to take action and contribute to find real solutions.
Watch here:
YOU MIGHT ALSO LIKE
Sea Levels Rising at Fastest Rate in 3,000 Years
Horrible! This Guy Drags Shark From Sea Just to Pose for Photos
Warren Buffett Wages Quiet War on Solar in the West
Pamela Anderson: If Louisiana Prisons Go Vegan, I'll Come Cook and Serve Lunch to the Inmates
More than 100 researchers—including James Hansen, Michael Mann and Kerry Emanuel—have signed an open letter pressing the American Geophysical Union (AGU) to end Exxon's sponsorship of the group's annual fall meeting. While Exxon is a major employer of geophysicists and does some significant research in the geophysical space, its long-time funding of climate denial puts Exxon at odds with AGU's organizational support policy, which states that AGU won't take money from groups that fund or disseminate misinformation.
Time for Exxon's day in court. Call on US State AGs to investigate just what #ExxonKnew: https://t.co/ge57bXmHMQ https://t.co/m5LREgeSqO

— 350 dot org (@350 dot org)1455999306.0
The open letter argues, in light of the #ExxonKnew investigations, that Exxon has run afoul of AGU's policy. In response, AGU first said it would keep the sponsorship because investigators have yet to definitively prove that Exxon funded denial, but the organization later said it would reconsider the issue at the AGU board of directors meeting in April.
Exxon's sponsorship of AGU is a relatively contentious issue in academia. Some scientists see Exxon's employment of geologists as sufficient justification for the relationship, since Exxon does perfectly respectable science in non-climate fields. But Exxon's AGU sponsorship has been the subject of at least a little mockery in the deniersphere, with Anthony Watts making it a point to highlight in a post this year and last.
Whether or not AGU can afford to x-out Exxon's sponsorship will be seen in April, but regardless, this represents yet another step in the ongoing effort to revoke Exxon's social license to operate.
YOU MIGHT ALSO LIKE
Warren Buffett Wages Quiet War on Solar in the West
Robert F. Kennedy, Jr. to Keynote SXSW Eco
Koch Brothers Plotting Multimillion Dollar War on Electric Vehicles
England will soon be home to Europe's largest floating solar farm, if not the world. The 6.3 megawatt array consists of 23,000 solar panels that sit on the Queen Elizabeth II reservoir at Walton-on-Thames, a suburb of London near Heathrow Airport.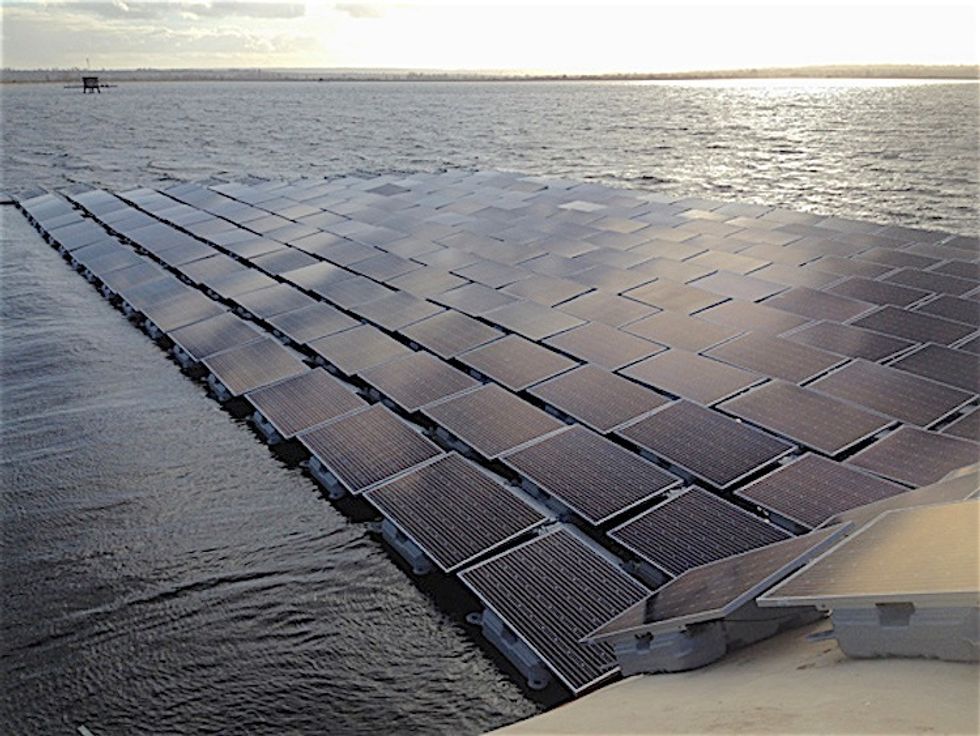 The Thames Water floating solar array will cover around a tenth of the Queen Elizabeth II reservoir, roughly the area of eight soccer stadiums. Photo credit: Thames Water
According to The Guardian, the £6 million (about $8 million) project will help power local water treatment plants that provide clean drinking water to London and south-east England's 10 million residents
"This will be the biggest floating solar farm in the world for a time—others are under construction," Angus Berry, energy manager for Thames Water, the utility which owns the site, told The Guardian. "We are leading the way, but we hope that others will follow, in the UK and abroad."
Thames Water said in a press release that their floating pontoon will cover around a tenth of the Queen Elizabeth II reservoir, the same area as eight Wembley football pitches (London's famous 90,000-capacity soccer stadium).
It will be the largest floating solar farm on the planet before Japan's mega-solar farm finishes in 2018, which will have a capacity of 13.7 megawatts.
Thames Water, which has goal of generating a third of of its own renewable energy by 2020, said that the low carbon, renewable energy produced at the facility is expected to generate 5.8 million kilowatt hours in its first year—equivalent to the annual power consumption of around 1,800 homes.
Floating solar panels has a number of benefits. For one, compared to mounted panels, floating panels are naturally cooled because of the bodies of water they sit on, therefore boosting power production efficiency. The panels also shade the water itself, and limits the growth of algae.
Berry also told The Guardian that the project makes use of a space that is not currently used for any other purpose, adding that the array will have no impact on the ecosystem.
Also, as as Quartz noted, a floating platoon is easy to assemble: "Rather than using heavy machinery required for ground-mounted installations, the panels are clipped together and pushed out from the bank of the lake."
For instance, this 200 kilowatt floating solar power farm in Sheeplands Farm, Berkshire was constructed in one week:
European solar photovoltaic operator Lightsource is managing the installation of London's new floating solar array.
"We're delighted to have begun work on another ambitious milestone project for Lightsource with our first floating solar installation," said Lightsource CEO Nick Boyle in a statement. "Over the last five years we've successfully completed ground and roof installations of all shapes and sizes, but this project has some obvious differences and has presented our team with a set of fresh challenges to overcome.
"There is a great need from energy intensive industries to reduce their carbon footprint, as well as the amount they are spending on electricity and solar can be the perfect solution. We're therefore constantly evolving new skill sets to ensure that all of our projects deliver maximum energy generation over the lifetime of the installation."
YOU MIGHT ALSO LIKE
100% Renewable Energy Is Possible, Here's How
Trade Rules Trump Climate Action: U.S. Blocks India's Ambitious Solar Plans
Al Gore: 3 Questions We Have to Answer About Climate Change
The California think-tank Pacific Institute released a report—Impacts of California's Drought: Hydroelectric Generation 2015 Update—earlier this month that contains significant false and misleading information that could negatively impact California rivers and delay the transition away from dirty energy.
First, the report and the news stories surrounding it repeatedly say that hydroelectric power is "less expensive" in California than competing sources. This statement gives credence to the anti-environmental mindset of discounting the negative impacts that dams and reservoirs have on free-flowing rivers, and disregards the externalized costs to the environment. In fact, the report omits the devastating impacts hydropower has on fish, wildlife, wetlands and countless other species that depend on healthy flowing rivers for survival. If the report would have included an "environmental full-cost accounting," the cost of hydropower for California consumers would have been shown to be huge.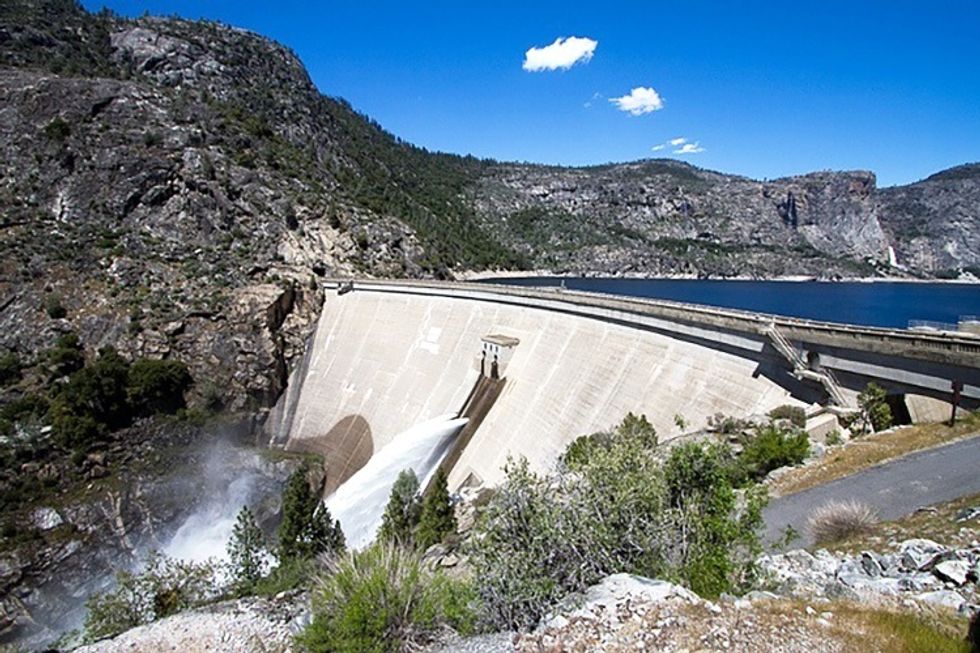 Second, the report pushes the anti-science myth that hydropower is "clean energy," when nothing is further from the truth. Hydropower dams and reservoirs emit methane, a greenhouse gas that is 20 times more potent than carbon dioxide. These emissions are caused by the decomposition of organic vegetation flowing into the water as the reservoir levels fluctuate, and as rivers and floodplains are flooded each year. Methane bubbles up from the surface of the reservoirs and methane is jetted out the turbines below the dam. In fact, in tropical environments, hydropower can emit as much or even more greenhouse gases than coal-fired power plants. Unfortunately, the state of California does not measure the methane emissions from hydropower dams and reservoirs even though the science proving its impact is 25 years old.
Third, the report ignores positive impacts on water and electric use in California due to the drought. For example, the Metropolitan Water District of Southern California spent $450 million "buying lawns" in its service area and replacing them with drought tolerant landscapes. This transformation of the landscape from water guzzling to water conserving has significant impacts that lowers water and energy bills for consumers. Similarly, because of the ongoing drought, in Los Angeles, Orange and San Diego counties, stormwater and wastewater recycling programs have been launched, which could save large amounts of water, energy and money as compared to other types of new water supplies.
Finally, the report says hydropower is "less polluting" and the media surrounding the report has been saying that hydropower is "clean as a whistle"—all of which greenwashes the industry's reckless history of environmental and cultural destruction in the U.S. and across the rest of the globe. Hydropower causes massive impacts to indigenous peoples, forests and biological diversity, and increases the spread of disease (even the Zika virus), all of which is escalating exponentially worldwide.
Thousands of new hydroelectric dams are being proposed in South America, Eastern Europe, Asia and Africa. Hundreds of dams are under construction, most of which are extremely controversial, surrounded by large-scale protests and supported by government subsidies.
The rivers of the world are facing major threats from hydroelectric dams that displaces people, destroys forests and increases climate change emissions. In Latin America, Indonesia, China, Vietnam and across the developing world, people and activists who are fighting to stop these dams are being assaulted, imprisoned and sometimes murdered.
Rivers are the living, breathing blood veins of the planet. Hydroelectric dams kill rivers. Nothing about that is clean and cheap.
YOU MIGHT ALSO LIKE
Warren Buffett Wages Quiet War on Solar in the West
Robert F. Kennedy, Jr. to Keynote SXSW Eco
Koch Brothers Plotting Multimillion Dollar War on Electric Vehicles
The German solar company Heliatek has set a new record for organic solar cells, a type of photovoltaic that uses organic electronics to produce electricity, by increasing its efficiency to 13.2 percent. This may not sound very impressive, but organic solar cells boasted a mere 3 percent efficiency just a decade ago.
"Organic solar cells are far less efficient than their silicon cousins, but they are also far less expensive," CleanTechnica explained. "They are also flexible and transparent (or semi-transparent), so they can be used over a huge range of applications including buildings and yes, cars."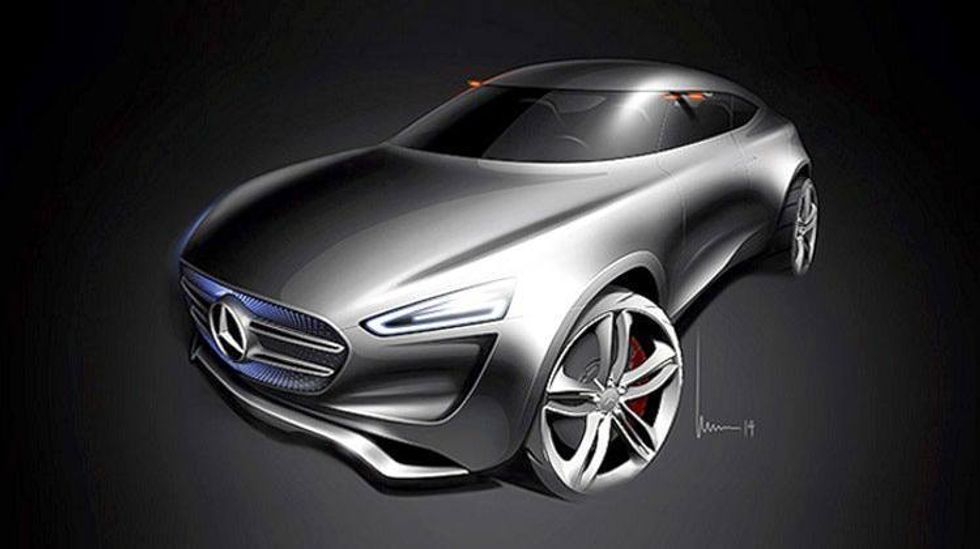 While entire cars coated in solar cells are not yet commercially available, spray-on solar paint utilizing organic solar cells has made recent advancements. In 2014, Mercedes-Benz debuted its G-Code concept car, which is finished in "multi-voltaic silver" paint that harvests solar and wind energy.
The company is also targeting solar sun roof manufacturers as partners, as it's been developing solar window technology for several years.
On Friday, the U.S. Department of Energy's Office of Technology Transitions, which has been newly infused with $20 million in funds, issued its first ever call to launch new energy technologies from national laboratories to market.
"That's significant," CleanTechnica said, "because U.S. National Renewable Energy Laboratory has been all over organic solar cells like white on rice, and it is already partnering with the private sector on ramping up OPV [organic photovoltaic] efficiency. The new cash infusion should help step things up a notch."
YOU MIGHT ALSO LIKE
How Money in Politics Is Killing Rooftop Solar in Nevada
Want to Get Off the Grid and Live in Harmony With Nature? Build an Earthship
This Solar Road Will Provide Power to 5 Million People
Elon Musk vs. Warren Buffett: The Billionaire Battle Over the Future of Solar Power
Energy consumer technology is going through something of a revolution.
Firstly, it is becoming much easier to save energy—and therefore money—by using "smart" technology to switch off at peak times and switch on when power is cheap.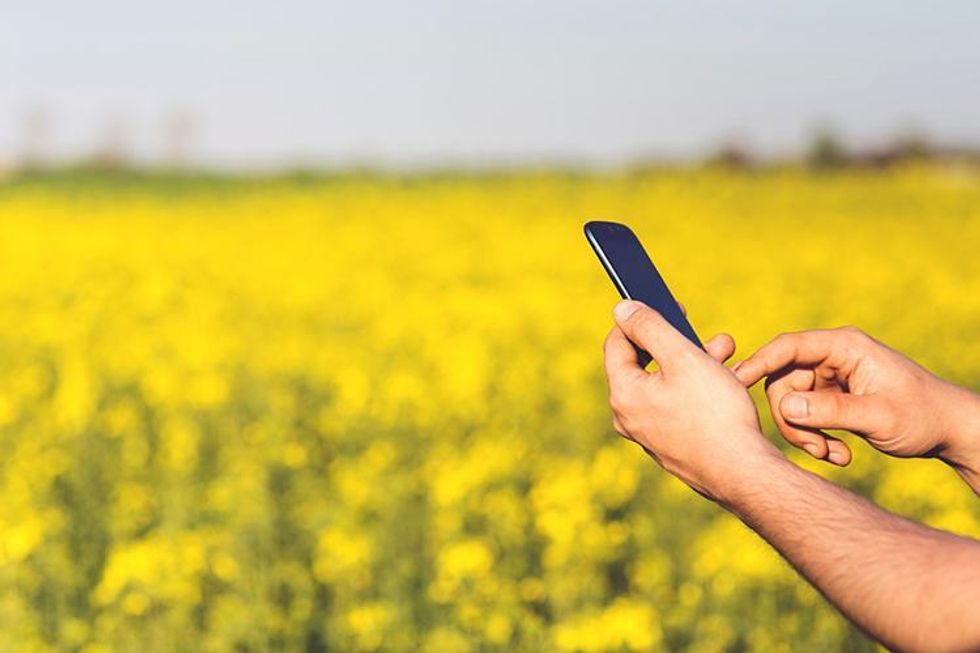 At the same time rooftop solar panels are becoming both more affordable and efficient, enabling customers to generate far more renewable energy than they need.
As a result home energy storage too is becoming increasingly available—with more companies joining Tesla in producing boiler-sized lithium-ion batteries to keep in their garages.
All of this can make traditional energy consumers savers and producers of energy—that they can sell back to the grid or even on to others who may be more in need of it at the time.
Now, obviously, like the BBC, we don't endorse any one app or piece of kit. Other app providers exist and they could well be better.
But for illustrative purposes here are five pieces of software—web applications or "apps"—creating a new generation of energy users and producers who have, on occasion, been given the truly horrible name of "prosumers."
1. Ohmconnect: Switch Off a Few Hours a Week, Get Sent a Check
Ohmconnect is an energy app start-up in California that helps customers save energy and earn money doing it.
It's designed for people getting energy from the grid and it works like this: You earn money by powering down gadgets in your home for about 30 minutes following a notification from the app. This can actually be as easy as turning off a few light switches.
If you have smart gadgets—like Nest thermostats or a Tesla Model S sitting in the garage—the app can also turn things down for you, so you don't even have to be home to clock up your #OhmHours.
You then get paid up—to $300 per year—with the added satisfaction that you've saved tonnes (literally) of CO2 emissions.
Everything is monitored through a simple mobile app and web dashboard. You can log in with Facebook or Google and even give #OhmHours to others as a referral.
You can get the detail on exactly how Ohmconnect are able to do this on their blog.
Meet Adam. Adam has a beard, likes trees and uses OhmConnect
Not long ago a group of American electric power producers got together to try to stop a rule that allows utility customers to be compensated for saving power at wholesale prices—which can spike to a few times above retail prices.
This obviously threatened the Ohmconnect business model.
But the U.S. Supreme Court ruled in January that utility customers who save energy at specific time are entitled to receive those payments.
OhmConnect is only currently available in California.
2. sonnenCommunity: "A Utility Without Power Plants"
Last year a German company called sonnenBatterie released a home energy storage battery to rival Tesla Energy's much-feted Powerwall.
And it all happened so fast—sonnenBatterie actually beat the long-trailed Powerwall to the U.S. retail market.
The big attraction with sonnenBatterie is that you can buy the full package—solar panels, inverters, control technology and of course the lithium-ion battery pack—for little more than 10,000 euros. (This is better than buying it all separately, although the battery isn't the biggest out there).
The company then set up sonnenCommunity—which is simply a virtual pool of people with these solar-plus-storage systems.
With this virtual network, system owners can connect others with the system to trade or share their excess solar power.
Everyone with a sonnenBatterie is in the network. The software calculates how much is fed into the grid by each user and gives the producer control over selling that on to others—whether they have a sonnenBatterie or not.
Mathias Block from the company—now just called sonnen—explains: "We're kind of an utility without power plants since we'll have thousands of small, decentralized and digital connected producers and consumers. Conventional producers of energy with their fossil and nuclear power and huge centralized plants won't be necessary anymore."
3. Local Volts: "Anyone Can Become an Energy Farmer"
Working on the same principle Australian start-up Local Volts is aiming to capitalize on this month's arrival of the Tesla home battery in Australia by creating a system whereby consumers can trade their surplus energy with other small-scale consumers.
Jitendra Tomar, from the Sydney-based startup, has said: "Anybody, whether you're big or small, whether you're a farmer or residential person, whether you're a high school or tennis club, can become an energy farmer."
This system also puts control in the hands of the purchaser, who can decide who they want to buy their energy from. Although this can be based on price, it may also be a good way to support your local solar panel-clad high school.
Although traditional energy utilities don't much like these new trends, the companies that manage distribution in Australia like Citipower and Powercor are taking up the challenge, celebrating the Aussie cities that share self-produced power power using their ready-to-go networks.
4. Entelligo: Lets Home Solar Salespeople Find You a Better Deal
This Amsterdam-based startup was founded by three Italians looking to help renewable energy salespeople sell you all the stuff you need to generate your own power.
Entelligo Pro is a mobile sales app that lets people selling renewable energy technologies calculate costs of solar panels and installation for a customer during their doorstep pitch.
It can provide graphs and other simple visual data to show the customer how much money and CO2 they can save—and it'll even create a digital sales proposal the customer can sign on the spot.
But ultimately they want to network all local or national suppliers of various home energy services together—so the iPad-wielding salespeople will eventually work in real time with local solar panel manufacturers and installation companies to offer combined services at the cheapest possible prices.
They also want to use the simpler bits of this system to create another app—called Entelligo Home, due to be released in spring 2016—that will let a householder do this themselves, even contacting a local solar provider if they want to get up and running.
5. Google's Project Sunroof: Google Map Your Solar Potential
In energy app terms this is an oldie but a goodie. It's a web application within which you simply enter your zip code—and in seconds you'll have an estimate of how solar might work on your roof.
Wondering If Solar Is Right for You? Just Ask Google's 'Project Sunroof' http://t.co/Ql0xZQ7IxU @solarfeeds @SolarEnergyNews

— EcoWatch (@EcoWatch)1440018321.0
Launched in summer 2015 in Google's home state of California, Project Sunroof already serves a number of cities across the U.S.
Because it's Google, it's likely to roll out and internationalize faster than some of the others—and will likely producing a multiplier effect for the likes of Entelligo, sonnenCommunity and Local Volts.
YOU MIGHT ALSO LIKE
China's Coal Use and Carbon Emissions Fall as Renewables Have Record-Breaking Year
100% Renewable Energy Is Possible, Here's How
World's Carbon Budget Is Only Half as Big as Thought
Greg Abel, a potential successor to Warren Buffett, is in the hot seat. As the CEO of Berkshire Hathaway Energy, he will decide how one of America's biggest utilities will meet the challenge of climate disruption and whether the companies he manages will remain stuck on polluting, outdated coal or commit to clean energy.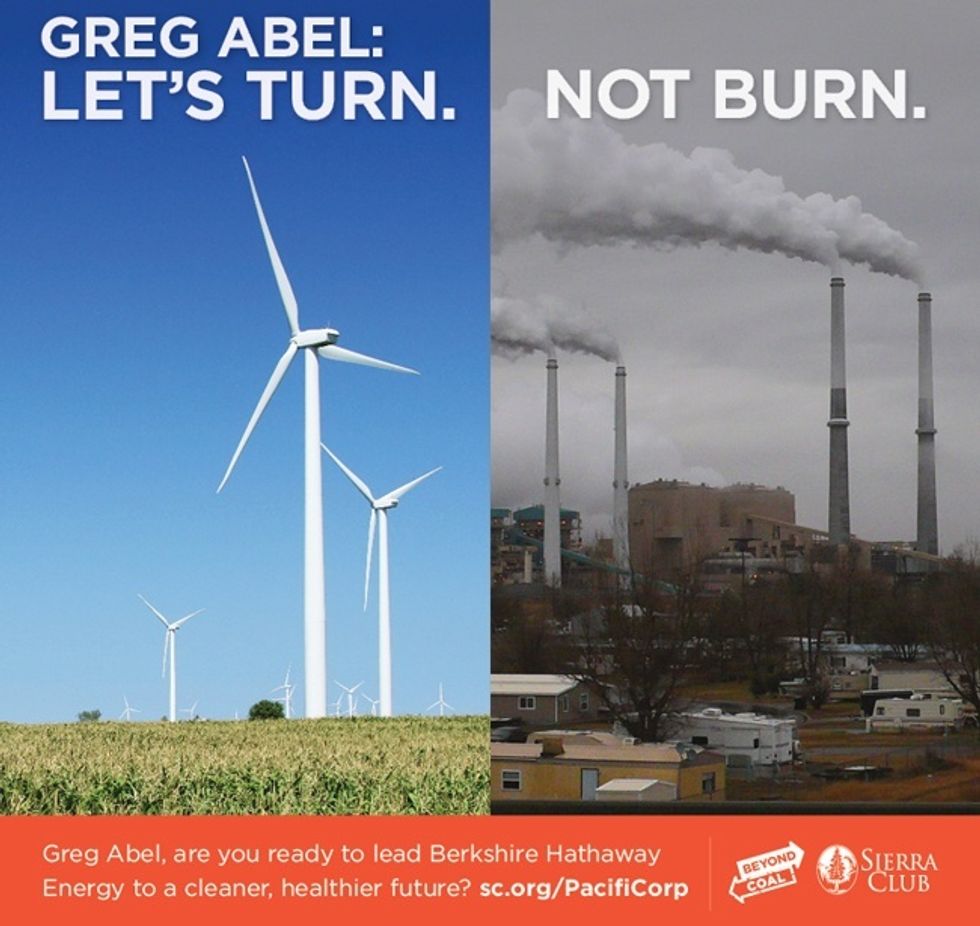 As Berkshire Hathaway shareholders reflect on the company's successes during their 50th annual shareholders' meeting this weekend, they should consider the two very different visions of the future being pursued by Berkshire Hathaway Energy subsidiaries, MidAmerican Energy and PacifiCorp. MidAmerican is investing billions into clean energy technologies, such as wind and solar. At the same time, PacifiCorp is spending billions to prop up its aging fleet of coal-fired power plants. Even as Americans call for climate action, and new carbon limits make coal plants an increasingly risky investment, PacifiCorp is failing to move forward.
Greg Abel has the opportunity and responsibility to lead PacifiCorp on a better path. To protect public health and the climate, Abel must move PacifiCorp from coal to clean energy.
PacifiCorp is one of the nation's most polluting utility companies. It is the largest owner of coal-fired generation in the West, with about 77 percent of its power coming from coal plants, and less than 10 percent from clean energy. In 2013, PacifiCorp emitted 48 million tons of carbon emissions, equal to the annual pollution from more than ten million cars.
PacifiCorp has already sunk billions of dollars into its aging coal-fired power plants, and plans to spend anywhere from a half billion to a billion dollars over the next decade to maintain six more. Meanwhile, the utility hasn't committed to building a single new solar or wind project at any time over the next ten years.
PacifiCorp is not just neglecting clean energy— it's in the hot seat. It is actively doubling down on coal. PacifiCorp showcased its stubborn commitment to coal dependence last fall by sponsoring a Coal and Fossil Fuel Rally in Price, Utah. Rally organizers handed out t-shirts that read: "I Love Fossil Fuels" and sent a message that they were sticking with coal. PacifiCorp, operating as Rocky Mountain Power in Utah, is a platinum-level sponsor of the South Eastern Utah Energy Producers Association, one of the primary sponsors behind the rally. This is not leadership. This is a utility clinging to the past and avoiding the challenge of responsibly transitioning to clean energy.
In contrast, MidAmerican Energy is aggressively moving toward renewable energy. The company is on track to get more than 40 percent of its energy from wind power by the end of 2015, and was one of the top U.S. investors in solar power last year. Investments in clean energy mean that, by the end of 2015, MidAmerican will have about 3.5 gigawatts of wind capacity installed in Iowa, powering over a million homes, and supplying clean energy to new data centers for Google and Facebook.
Abel has yet to take a public stance on clean energy, but his choices are clear. He can let his biggest utility remain tethered to coal, and the dirty and dangerous pollution that comes with it. Or he can show that he's ready to lead by moving all of his utilities to clean energy and embracing a better, safer vision of the future. When Berkshire Hathaway celebrates its next milestone anniversary, the world will be happy he made the right choice.
Click to tweet: "Greg Abel, are you ready to lead #BRK50 to a cleaner, healthier future? Move from #coal to #cleanenergy! sc.org/PacifiCorp". Please link the entire line to this hyperlink: Tweet: Greg Abel, are you ready to lead #BRK50 to a cleaner, healthier future? Move from #coal to #cleanenergy! http://ctt.ec/M87N0+
Bill Corcoran directs the Sierra Club's Beyond Coal Campaign across the West.
YOU MIGHT ALSO LIKE
Elon Musk: Tesla Battery Will 'Fundamentally Change the Way the World Uses Energy'
Net Zero Carbon Emissions: An Idea Whose Time Has Come
The U.S. could reduce greenhouse gas emissions from electricity generation by 78 percent below 1990 levels within 15 years just by using renewable sources such as wind and solar energy, according to a former government research chief.
The nation could do this using only technologies available right now and by introducing a national grid system connected by high voltage direct current (HVDC) that could get the power without loss to those places that needed it most, when they needed it.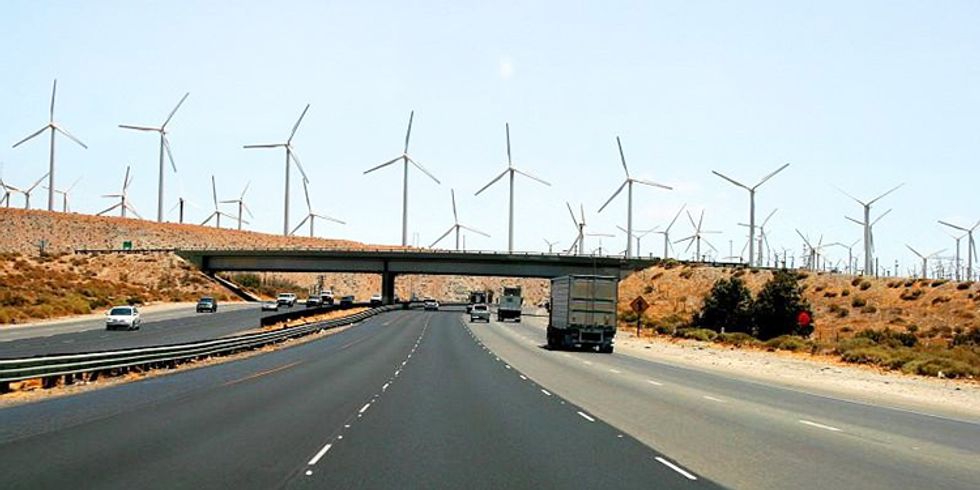 This utopian vision—and it has been dreamed at least twice before by researchers in Delaware and in Stanford, California—comes directly from a former chief of research in a U.S. government agency, the National Oceanic and Atmospheric Administration (NOAA).
Dr. Alexander MacDonald, a distinguished meteorologist, was until recently, the head of NOAA's Earth System Research Laboratory in Boulder, Colorado.
Supply and Demand
He and colleagues at the University of Colorado report in Nature Climate Change that instead of factoring in fossil fuel backup or yet-to-be-invented methods of storing electricity from wind and solar sources, they took a new look at the simple problems of supply and demand in a nation that tends to be sunny and warm in the south and windy in the north, but not always reliably so in either place.
Their reasoning was that storage technologies could only increase the cost of renewable energy and increase the problem of reducing carbon emissions.
So they modeled the U.S. weather on timescales of one hour over divisions of the nation as small as 13 square kilometers to see what costs and demand and carbon dioxide emissions would be and how easily renewable power could meet the demand.
They reasoned that even though wind turbines are vulnerable to periods of calm and that solar energy sources don't do much in rainy weather or at night, there would always be some parts of the country that could be generating energy from a renewable source.
They then factored in future costs—the cost of both wind and solar has been falling steadily—and scaled up renewable energy to match the available wind and sunlight in the U.S. at any time.
"Our research shows a transition to a reliable, low-carbon, electrical generation and transmission system can be accomplished with commercially available technology and within 15 years," Dr. MacDonald said.
The model embraced fossil fuel sources as well as renewable ones, for purposes of comparison. It revealed that low cost and low emissions are not mutually exclusive. The U.S. could have both.
"The model relentlessly seeks the lowest-cost energy, whatever constraints are applied," Christopher Clack, a physicist and mathematician with the Cooperative Institute for Research in Environmental Sciences at the University of Colorado Boulder and a co-author of the study, said. "And it always installs more renewable energy on the grid than exists today."
Even in a scenario where renewable energy cost more than experts predicted, the model produced a system that cut carbon dioxide emissions 33 percent below 1990 levels by 2030 and delivered electricity at about 8.6 cents per kilowatt hour (kWh). By comparison, electricity cost 9.4 cents per kWh in 2012.
If renewable energy costs were lower and natural gas costs higher, as is expected in the future, the modeled system sliced carbon dioxide emissions by 78 percent from 1990 levels and delivered electricity at 10 cents per kWh. The year 1990 is the baseline for greenhouse gas calculations.
Low-Cost Sources
The model achieved its outcome without relying on any new electrical storage systems. The national grid did need augmentation from nuclear energy, hydropower and natural gas, but the real innovation would be the connection of large numbers of low-cost renewable energy sources to high-energy-demand centers, using efficient new transmission systems.
It seems that HVDC transmission is the key to keeping costs down and Dr. MacDonald compared such power links to the interstate highways that cross the U.S. and which transformed the U.S. economy 50 years ago.
"With an 'interstate for electrons,' renewable energy could be delivered anywhere in the country while emissions plummet," he said.
"An HVDC grid would create a national electricity market in which all types of generation, including low-carbon sources, compete on a cost basis. The surprise was how dominant wind and solar could be."
YOU MIGHT ALSO LIKE 
Elon Musk vs. Warren Buffett: The Billionaire Battle Over the Future of Solar Power
Copenhagen Set to Divest Funds Out of Coal, Oil and Gas Holdings
Elon Musk: 'You Can Easily Power All of China With Solar'