Evening rush hour traffic heads north and south over the Leonard P. Zakim Bunker Hill Memorial Bridge in Boston, Massachusetts on Nov. 6, 2019. David L. Ryan / The Boston Globe via Getty Images
Following a multi-year campaign by a coalition of advocates, the governors of Massachusetts, Connecticut and Rhode Island, and the mayor of Washington, DC officially initiated the Transportation and Climate Initiative, a regional pact to cut transportation pollution.
Leaders of the signatory jurisdictions said Monday they expect more states to join in the future. The participating jurisdictions say they will allocate at least 35% of new revenues to environmental justice communities, but some environmental justice advocates criticized TCI for lacking aggressive pollution reduction guarantees in frontline communities, especially communities of color, which are disproportionately located near highways.
The three signatory states account for more than three-quarters of all vehicles in New England and 73% of its transportation pollution. The program will officially begin in 2023, giving additional states time to join. The cap-and-trade program for cars and trucks is modeled after the Regional Greenhouse Gas Initiative, which began in 2005 with seven states and has now expanded to 10.
As reported by the Boston Herald:

The "trailblazing" multi-state partnership will reduce motor vehicle pollution by at least 26% and generate over $1.8 billion in Massachusetts by 2032, Gov. Charlie Baker said in a statement announcing the partnership on Monday.
"By partnering with our neighbor states with which we share tightly connected economies and transportation systems, we can make a more significant impact on climate change while creating jobs and growing the economy as a result," Baker said in a statement following a virtual meeting with participating governors.
For a deeper dive:

AP, The New York Times, Politico Pro, Hartford Business Journal, Boston Globe, Boston Herald
For more climate change and clean energy news, you can follow Climate Nexus on Twitter and Facebook, sign up for daily Hot News, and visit their news site, Nexus Media News.
EcoWatch Daily Newsletter
The Department of Transportation declared a state of emergency for 17 states plus DC on Sunday to help ease fuel shortages. Pramote Polyamate / Getty Images
The largest U.S. fuel pipeline remains shut down following a massive ransomware cyberattack on Friday.
The Colonial Pipeline, described by one analysis as "the jugular of the U.S. pipeline system," carries gasoline, diesel, and jet fuel from Texas to New Jersey and supplies fuel to much of the Southeast.
The attack and shutdown underscore the vulnerability of pipelines to cyber attacks.
The Russian criminal group DarkSide is reportedly behind the attack.
Operators of the Colonial Pipeline said they are in the process of bringing the system back online, but there was no indication of when that would happen from either company officials or outside experts.
Sustained outages could have significant impacts on fuel supplies along the East Coast.
The Department of Transportation declared a state of emergency for 17 states plus DC on Sunday to help ease fuel shortages.
For a deeper dive:

Attack and shutdown: New York Times, Washington Post, AP, NBC, CNN, The Verge, Politico, Axios, Earther, Bloomberg, CBS; Outage duration scenarios: CNBC; Market response: Reuters, NPR; Administration response: Axios, Bloomberg, BBC

For more climate change and clean energy news, you can follow Climate Nexus on Twitter and Facebook, sign up for daily Hot News, and visit their news site, Nexus Media News.
Maudib / iStock / Getty Images
While the upfront cost of a solar water heater may be higher than traditional water heaters, the solar energy you'll harness can yield great savings and environmental benefits. Heating water accounts for 18% of a home's energy use, but a solar water heater could cut your water heating bills by 50 to 80%.
In this article, we'll explain how a solar-powered hot water heater can help you tap into a free, renewable energy source, potentially saving money and doing good for the planet. With this information, you can make the best decision about whether a solar water heater is a good investment for your home's hot water needs.
Solar Water Heater Basics
A solar hot water heater's basic function is to expose water or a heat-exchanging liquid to the sun's rays, then circulate the warmed liquid back into your home for domestic use. The basic components of all solar water heaters are a storage tank and a collector to trap the sun's heat.
Collectors are a series of flat plates, tubes or tanks through which water or a heat transfer fluid passes and absorbs the sun's heat. From there, the fluid is circulated to either a water tank or heat exchange unit.
Solar water heaters are most commonly used as energy-saving devices to preheat water before entering a conventional water heater in the home. But some solar water heaters warm and store water without the use of a conventional tank, offering totally sun-powered hot water.
Types of Solar Water Heaters
Solar hot water heaters are split into two broad categories: passive and active. The primary difference between the two is that active systems require circulating pumps to move water, and passive systems rely on gravity to move water. Active systems also require electricity to operate and may use antifreeze as a heat exchanger fluid.
In the simplest of passive solar collectors, water is heated in tubes, then piped directly to a faucet when needed. Active solar collectors either use antifreeze — which is passed from the solar collector into a heat exchanger that heats potable water for storage and household use — or just heat water directly, which is then pumped to a water tank.
Active and passive systems have subcategories that are specialized for various climates, tasks, capacities and budgets. The one that's right for you will depend on factors including:
Available space
Availability of sunshine
Your capacity requirements
Building codes and regulations in your area
Your installation budget
Let's take a look at each type of solar hot water system and how it can benefit your home.
Active Solar Water Heaters
Though more expensive than passive systems, active solar water heaters are more efficient. There are two types of active solar water heating systems:
Active Direct
In an active direct system, potable water passes directly through the heat collector and into a storage tank for use. They're best suited for mild climates where temperatures rarely go below freezing.
Active Indirect
Active indirect systems circulate a non-freezing fluid through the solar collector and into a heat exchanger, where the fluid's heat is transferred to potable water. The water is then circulated into a storage tank for domestic use. Active indirect systems are a must for cold climates where temperatures regularly dip below freezing. Without an active indirect system, pipes run the risk of freezing and bursting.
Passive Solar Water Heaters
Passive solar water heaters are the less expensive, simpler option but also tend to be less efficient than active systems. They can, however, be more reliable and last longer, so you shouldn't overlook them as an option, especially if you're on a budget.
All passive systems use pressure or gravity to circulate water, and come in two variations:
Integral Collector Storage and Batch Heaters
Integral collector storage (ICS) systems are the simplest of all solar water heating units — the heat collector also serves as the water storage tank. They're quite efficient but only work in climates with little risk of freezing temperatures. ICS systems can be as simple as a large black tank or a series of smaller copper tubes fastened to a roof. ICS units with copper tubing heat faster due to the increased surface area but lose heat faster for the same reason.
ICS systems are usually used to preheat water for conventional heaters. In such a system, when water is needed, it leaves the storage tank/collector and enters a conventional water heater in the home.
An important thing to consider with an ICS system is size and weight: Because the storage tank itself is also the collector, they're large and heavy. A structure must be strong enough to support bulky ICS systems, which may be impractical or impossible for some homes. Another drawback to an ICS system is its tendency to freeze and even burst in colder weather, making them suitable only for warmer climates or otherwise drained before cold weather hits.
Thermosyphon Water Heaters
Thermosyphon systems rely on thermal circulation. Water circulates when warm water rises and cool water descends. They feature a tank like an ICS unit but have collectors attached sloping downward from the tank to allow thermal circulation.
Thermosyphon collectors gather sunlight, sending heated water back to the tank via a closed-loop or heat pipe. While thermosyphons are more efficient than ICS systems, they can't be used where regular freeing occurs.
How Much Does a Solar Hot Water Heater Cost?
The more hot water you use, the more likely a solar water heater will pay for itself over time. Solar hot water heaters are most cost-effective for households with many members or a large hot water demand.
A typical solar water heater will cost around $9,000 before federal incentives, with higher capacity active models reaching upwards of $13,000. Small systems may cost as low as $1,500.
Prices vary dramatically based on many factors, including the materials you choose, system size, installation and maintenance costs, and more. While ICS systems are the cheapest option (around $4,000 for 60-gallon units), they won't work in all climates, so if your home sees regular temperatures below freezing, you'll have no other choice than to fork over the cash for an active indirect system, or at least use a different system only part of the year.
Weight and size of cheaper passive systems might not be appropriate for everyone. If your structure won't accommodate the weight of a passive system or you don't have the room, a more expensive active system is yet again your best option.
If you're building a new home or refinancing, you can roll the cost of a new solar hot water heater into your mortgage. Including the cost of a new solar water heater in a 30-year mortgage will cost you between $13 and $20 per month. Tack on federal incentives, and you might pay as little as $10 to $15 per month. So if you're building new or refinancing, and your conventional water heating bills are over $10 to $15 per month, you'll immediately start saving money. And the more water you use, the faster the system will pay for itself.
Aside from the cost to purchase and install the system itself, you'll need to account for annual operating costs. In a simple passive system, this could be negligible or nothing. But in most systems utilizing conventional water heaters in tandem with a solar heater, you will bear some heating costs, albeit much lower than operating a conventional heater alone.
Tax Credits for Solar Water Heaters
You don't have to shoulder the entire price of a new solar water heating system. Federal tax credits may significantly reduce the cost of installing one. Federal Residential Renewable Energy Tax Credits (also known as ITC, or Investment Tax Credits) can provide a 26 percent tax credit on solar water heaters. But there are some conditions to qualify:
At least half of the energy generated from the property must come from the sun (photovoltaic systems).
The new solar hot water heater must be certified by the Solar Rating and Certification Corporation (SRCC) or a similar entity endorsed by the government of the state in which the system is installed.
The solar heating system can't be used to heat swimming pools or hot tubs — it must heat water used within the home or business.
Many states, municipalities and utilities offer their own incentives and rebates for solar water heater installation. Check out the DSIRE database for more regulatory information.
Where to Get a Solar Water Heater
Solar hot water heater components are readily available in many national chain stores, such as Home Depot. Units are also available for purchase directly from producers, with Duda Diesel and Sunbank Solar offering several great residential solar water heater options. Local installers may also offer quality solar water heaters.
For solar pool heating and small-scale use, check out the heaters below:
Duda Solar 30 Tube Water Heater Collector: This system is the perfect choice for heating pools, hot tubs and closed-loop systems. Thirty highly efficient unpressurized tubes provide excellent sunlight absorption and are rated at up to 45,000 BTUs a day.
Sunbank Solar 40 Gallon Solar Water Heater: This solar water heater is designed for households with one to three members. This thermosyphon system offers exceptional absorption efficiency (92-96%) and keeps hot water hot all day in an ultra-insulated built-in tank. Weighing in at just 180 pounds, it can be installed on most roofs.
Duda Solar 200 Liter Water Heater Active Split System: This full kit comes with a stainless-steel water tank, controller and submersible water pump. It's a dual-coil system, which allows you to heat the water in the tank both with solar power and a secondary electricity or heat source.
Because so many factors influence which solar water heater you should buy, it's advisable to work with a professional when choosing and installing a larger solar water heating system.
Solar Hot Water Heaters Vs. Home Solar System
Solar water heaters are less common than they used to be. This is largely due to the drastic decline in the cost of solar panels, causing many people who would otherwise install solar water heaters to forgo them and heat their water with electricity generated from their own solar panels.
Solar water heaters take up precious real estate, and for a homeowner interested in producing their own solar-generated electricity, it may make more sense to maximize the space available and nix solar water heating altogether, buying solar panels instead.
However, if you don't have the space for solar panels, solar water heaters may still be a great fit, as they take up far less room than solar panels do. Solar water heaters can also be a great option for those living in remote locations or as an environmentally friendly add-on for existing solar electricity generation. Modern electric water heaters are incredibly efficient and, when powered with solar electricity and paired with a solar water heater, will yield significant savings for your pocketbook and cut down your greenhouse gas emissions.
For many homeowners, the decision comes down to price. Solar hot water heaters can cost upwards of $13,000. To see how much a full home solar system would cost for your home, you can get a free, no-obligation quote from a top solar company in your area by filling out the form below.
FAQ: Solar Hot Water Heater

Is a solar water heater worth it?
Whether a solar water heater is worth it all depends on where you live, your needs and preferences, and whether you plan on installing solar panels. Solar water heaters have been losing ground due largely to the surge of home solar: The folks that would install solar water heaters also want solar for electricity generation and often choose to eliminate solar water heaters that compete for valuable rooftop space.
If you have the space, a solar water heater will likely lower your water heating bills. Used in tandem with other renewable energies, a solar water heater is still a great choice for nearly any application.
What is the price of a solar water heater?
A typical solar water heater system will cost around $9,000, with higher-end models reaching upwards of $13,000. Small-scale use heaters will be much cheaper, running between $1,000 and $3,000.
What are the disadvantages of solar hot water heaters?
The biggest disadvantage of a solar water heater is that it won't work on foggy, rainy or cloudy days, nor at night. While this can be overcome with a conventional auxiliary heater, it is still a disadvantage all solar technologies share. Maintenance can be another turn-off. While generally requiring little maintenance, some solar water heaters need regular draining, cleaning and protection against corrosion.
How does a solar water heater work?
Solar water heaters circulate liquid through a solar collector — most commonly a flat-plate collector or tube collector — heating the liquid and sending it either to a tank for use or an exchanger, where the liquid is used to heat water for home use.
Christian Yonkers is a writer, photographer, filmmaker, and outdoor junkie obsessed with the intersectionality between people and planet. He partners with brands and organizations with social and environmental impact at their core, assisting them in telling stories that change the world.
Amsterdam is one of the Netherlands' cities which already has "milieuzones," where some types of vehicles are banned. Unsplash / jennieramida
By Douglas Broom
If online deliveries continue with fossil-fuel trucks, emissions will increase by a third.
So cities in the Netherlands will allow only emission-free delivery vehicles after 2025.
The government is giving delivery firms cash help to buy or lease electric vehicles.
The bans will save 1 megaton of CO2 every year by 2030.
Cities in the Netherlands want to make their air cleaner by banning fossil fuel delivery vehicles from urban areas from 2025.
"Now that we are spending more time at home, we are noticing the large number of delivery vans and lorries driving through cities," said Netherlands environment minister Stientje van Veldhoven, announcing plans to ban all but zero-emission deliveries in 14 cities.
"The agreements we are setting down will ensure that it will be a matter of course that within a few years, supermarket shelves will be stocked, waste will be collected, and packages will arrive on time, yet without any exhaust fumes and CO2 emissions," she added.
These 25 steps from the OECD will help us toward a green inclusive recovery. Oleh_Slobodeniuk / Getty Images
By Douglas Broom
COVID-19 has presented us with a unique opportunity for a green and inclusive recovery that will make the world a better place for everyone, says the head of the Organization for Economic Co-operation and Development (OECD).
"The pandemic has shown us the importance of being prepared when crises hit. It has also shown us that postponing bold decisions can have huge costs," says José Ángel Gurría, OECD Secretary General.
"We were not prepared for the COVID-19 crisis, and we are even less prepared for the looming consequences of ongoing and worsening challenges such as climate change, biodiversity collapse, life-shortening air pollution, and ocean acidification."
Global emissions broken down by economic sector. OECD
Here are the 25 things the OECD says we must do to accelerate a fair, low-carbon recovery, focusing on five key emitting sectors of the world economy – agriculture, buildings, electricity, industry and transport – and using five policy levers: investment, regulation, tax & subsidies, leadership by example, and information & education.
Agriculture
4.0 Gigatonnes of Methane emissions come from land-use change. OECD
1. Improve agricultural productivity in sustainable ways that lower emissions and allow us to feed a growing global population.
2. Reform food and farming regulations that lead to overproduction, waste food and distort prices and increase agricultural emissions.
3. Use the tax system and support payments to reduce emissions, taking care to avoid inflating food prices or driving farmers out of business.
4. Include agriculture in national climate change strategies to ensure its effects are not overlooked.
5. Help consumers and producers make informed food choices and reduce food waste.
Buildings
We need to ensure wider, societal benefits to create a greener future. OECD
6. Ensure that public money is not spent on projects that harm the climate and invest instead in sustainable buildings.
7. Put in place stringent climate-friendly building regulations and construction standards.
8. Use tax and financial incentives to renovate and reuse existing buildings rather than always building new ones.
9. Encourage sustainable building within urban and rural planning.
10. Teach planners and builders how to construct and maintain green buildings.

Electricity
Over 60% of investment is given to fossil fuels. OECD
11. Focus investments on green energy generation and sustainable power distribution networks.
12. Phase out the use of coal and switch to the green energy sources that are available locally.
13. Use carbon pricing to drive the transition to clean power and remove barriers that stop people switching to renewable energy.
14. Channel central and local government money into green energy projects.
15. Provide investors and consumers with information to ensure they choose sustainable energy.
Industry
Evidence shows that rapid increases in emissions are linked to short term infrastructure growth. OECD
16. Increase research and development into new low-carbon industrial processes.
17. Introduce energy efficiency regulations to reduce emissions from industry.
18. Use carbon pricing to encourage innovation without harming competitiveness.
19. Take the lead in your sector in switching to a circular economy in which resources are conserved and reused.
20. Educate business leaders and workers in energy and resource-efficient sustainable practices.

Transport
The non-urban passenger is expected to increasingly contribute to CO2 emissions. OECD
21. Increase research into the development, production and use of zero-emission fuels.
22. Make the best use of existing transport capacity through measures like car sharing and smart logistics to improve freight efficiency.
23. Use measures like increased taxes on polluting vehicles to encourage the use of sustainable passenger and freight transport.
24. Ensure low-carbon solutions are the default choice when setting transport policies.
25. Share knowledge about proven methods of reducing transport emissions, such as teaching truckers eco-driving techniques.
Reposted with permission from World Economic Forum.
Champion NASCAR drivers recently had a chance to test a new Ford vehicle.
It has seven motors in it. It has 1,400 horsepower. And it's electric.
Mark Rushbrook is global director of Ford Performance Motorsports. The company developed a racing version of its all-electric Mustang Mach-E crossover.
"It pushes everything to the extreme to really show what the potential is of this platform and for electric power trains," he says.
The prototype is not street-legal, and it's not competing in races. But the company is using it to showcase what an EV can do.
"You feel that almost instantaneous torque going from a standing start, and it is just a very sustained high rate of acceleration," Rushbrook says. "Even our NASCAR drivers that drive very high-power internal combustion engine race cars … they just come out smiling and excited about what the future is."
The car may be a one-off, but Ford says its commitment to EVs is not. The company recently announced that it's increasing its investment in EVs to $22 billion.
So, Rushbrook says Ford wants to get people thinking about EVs not only as good for the climate, but as fun, fast, and powerful cars.
Related Articles Around the Web
Air France airplanes parked at the Charles de Gaulle/Roissy airport on March 24, 2020. SAMSON / AFP via Getty Images
France moved one step closer this weekend to banning short-haul flights in an attempt to fight the climate crisis.
A bill prohibiting regional flights that could be replaced with an existing train journey of less than two and a half hours passed the country's National Assembly late on Saturday, as Reuters reported.
"We know that aviation is a contributor of carbon dioxide and that because of climate change we must reduce emissions," Industry Minister Agnes Pannier-Runacher told Europe 1 radio, according to Reuters.
The measure now has to pass the French Senate, then return to the lower house for a final vote. It would end regional flights between Paris's Orly airport and cities like Nantes and Bordeaux, The Guardian explained. It would not, however, impact connecting flights through Paris's Charles de Gaulle/Roissy airport.
The bill is part of a legislative package which aims to reduce France's emissions by 40 percent of 1990 levels by 2030, Reuters reported. It is a watered-down version of a proposal suggested by France's Citizens' Convention on Climate, BBC News explained. This group, which was formed by President Emmanuel Macron in 2019 and included 150 ordinary citizens, had put forward a ban on flights that could be replaced with an existing train journey of under four hours.
However, the journey length was lowered after protests from KLM-Air France, which had suffered heavy losses due to the coronavirus pandemic, and regions who were concerned about being left out of national transit networks, as The Guardian explained.
"We have chosen two and a half hours because four hours risks isolating landlocked territories including the greater Massif Central, which would be iniquitous," transport minister Jean-Baptiste Djebbari said, as The Guardian reported.
However, some environmental and consumer groups objected to the changes. The organization UFC-Que Choisir compared plane routes with equivalent train journeys of under four hours and found that the plane trips emitted an average of 77 times more carbon dioxide per passenger than the train journeys. At the same time, the train alternatives were cheaper and only as much as 40 minutes longer.
"[T]he government's choice actually aims to empty the measure of its substance," the group said, according to The Guardian.
The new measure also opens the French government to charges of hypocrisy. It bailed out Air France-KLM to the tune of a seven-billion euro loan last year, though it did require the airline to drop some domestic routes as a condition. Then, days before the measure passed, it more than doubled its stake in the airline, BBC News reported. However, Pannier-Runacher insisted to Europe 1 radio that it was possible to balance fighting climate change and supporting struggling businesses.
"Equally, we must support our companies and not let them fall by the wayside," she said, as Reuters reported.
This is not the first time that climate measures and aviation bailouts have coincided in the wake of the coronavirus pandemic. Austrian Airlines replaced its Vienna-Salzburg flight with additional train service after it received government money dependent on cutting greenhouse gas emissions, BBC News reported.
The number of flights worldwide declined almost 42 percent in 2020 when compared with 2019. It is expected that global aviation may not fully recover until 2024, according to Reuters.
A full-scale model of the Ingenuity Mars Helicopter is displayed at NASA's Jet Propulsion Laboratory on Feb. 16, 2021 in Pasadena, California. PATRICK T. FALLON / AFP via Getty Images
NASA's Mars Ingenuity helicopter will make the first attempt at powered, controlled test flight on another planet in early April, the U.S. space agency said on Tuesday.
If all goes to plan, the flights will be considered a proof of concept that could revolutionize space exploration.
Such future aircraft would shorten expedition times and enable rugged terrain research.
What Is Ingenuity and How It Got to Mars
Ingenuity is a tiny helicopter that weighs 1.8 kilograms (approximately 4 pounds). Despite its small size, it came with a hefty price tag, costing NASA around $85 million (€71.7 million) to develop.
The small detachable aircraft hitched a ride to Mars on the underside of NASA's Perseverance rover, which landed on Mars in February.
When Will We Know About the Flight?
The helicopter is currently making its way across the planet to the test flight "airfield" strapped to the rover.
NASA did not provide a specific date for the first flight, but the mission's chief engineer Bob Balaram said it could take place around April 8.
The helicopter has been developed to fly in an atmosphere that is 1% the density of Earth's, which makes achieving lift harder. It will be assisted by a gravity that is one-third of planet Earth's. Its rotor blades would need to spin about five times faster to achieve the same amount of lift as back on our home planet.
Its first flight will involve climbing at a rate of about one meter (three feet) per second to a height of three meters, hovering there for 30 seconds, then descending back to the surface.
The Mars helicopter will also take high-resolution photography as it flies.
Up to five increasingly higher and longer flights are planned over the course of a month.
A 'Wright Brothers' Moment for Space Travel
If all goes to plan, the test flight will mark a "Wright brothers' moment," noted Bobby Braun, director for planetary science at NASA's Jet Propulsion Laboratory, referencing the pioneers of aviation.
To show the significance of the upcoming flights, Balaram revealed for the first time on Tuesday that Ingenuity is carrying a small piece of cloth that covered one of the wings of the Wright brothers' first aircraft that achieved the first powered flight on Earth in 1903.
Ingenuity's Brother to Head to Titan
The first helicopter has yet to leave the ground but a second such experiment is already in the works: Dragonfly, a rotorcraft-lander, will launch in 2026 and arrive at Saturn's icy moon Titan in 2034.
Reposted with permission from DW.

From Your Site Articles
Related Articles Around the Web
People eat at restaurants' outdoor tables on a closed to vehicles street in the West Village on the first day of spring on March 20, 2021 in New York City. Alexi Rosenfeld / Getty Images
By Katharine Lusk
Through a year of pandemic shutdowns and protests, Americans have rediscovered their public spaces. Homebound city dwellers sought havens in parks, plazas and reclaimed streets. Many of these places also became stages for protests against police violence and systemic racism in the U.S.
Mayors around the world have used this time to reimagine the use of public space. Will cities revert to familiar car-centric patterns, or build on the past year to create more outdoor spaces that are accessible and welcoming for all of their residents?
Beginning in June 2020 and continuing throughout the summer, our team at Boston University interviewed mayors in cities across the country as part of our annual Menino Survey of Mayors. We wanted to understand how they were grappling with the unprecedented challenges and stark inequities laid bare in 2020, and how they were thinking about repurposing the public realm.
Partial street closures early in the pandemic gave people in cities like Oakland, California, a taste of urban life less dominated by cars.

Whose Spaces?
COVID-19 and racial protests have highlighted pervasive inequities in the U.S. One issue we examined was how mayors think about investing for equity in parks and green spaces.
Among the 130 mayors we interviewed, 70% believed all their residents, regardless of race, ethnicity or income, live within easy walking distance of a park or green space. This view may be somewhat optimistic.
Data developed by The Trust for Public Land shows that, on average, 64% of residents in the cities we surveyed live within a 10-minute walk of a park or green space. Our analysis of The Trust's ParkServe data for all U.S. cities with more than 75,000 residents showed that on average, 59% of white residents live within a 10-minute walk of a park or green space, compared with 61% of Black or Hispanic residents and 57% of Asian residents. Mayors, particularly those in Northeast cities, acknowledged that not all neighborhoods had equal access to high-quality parks.
Another important question is how welcome residents feel in local public spaces. In our interviews, 77% of mayors believed their cities' parks were safe for all users. A similar proportion believed Black residents could use parks without fear of police.
But physical safety is not the only measure of accessibility. Racial and ethnic minorities may be discriminated against or feel socially and culturally excluded in some parks and public spaces. Widely publicized false assault charges by a white woman against a Black birder in New York's Central Park in October 2020 presented one prominent example.
Past surveys of residents of color and immigrants in Minneapolis and Los Angeles have found similar tensions. Minneapolis now has a Racial Equity Action Plan expressly for parks and recreation.
"So long as people of color, and black men in particular, are seen as a potential danger, the issue of racial equit… https://t.co/O4CynYv9wk

— Bloomberg CityLab (@Bloomberg CityLab)1590590548.0
Most Likely to Gain: Diners, Walkers and Bikers
Some local leaders capitalized on empty streets to accelerate long-planned projects or initiate new ones. Paris Mayor Anne Hidalgo made headlines with her decision to remove half of all street parking in Paris, add 50 kilometers (31 miles) of bike lanes and convert a major central roadway, Rue di Rivoli, to a cycling thoroughfare. These steps mark a fundamental shift toward a public realm that centers on people, not vehicles.
Similarly, one East Coast mayor told us that the need to maintain physical distance between people had prompted a call for more outdoor space:
"Fewer cars means more opportunities for public space. We're learning a lot about how to share public space and not just use it for cars – we worked to close roadways and people want to keep them."

Nearly half of the mayors we surveyed closed some roads to through traffic during the pandemic, and just under a third closed select streets to nearly all traffic. One prominent example is Washington, D.C.'s Black Lives Matter Plaza, commissioned by Mayor Muriel Bowser along two blocks of 16th Street NW. This new pedestrian promenade has quickly become a landmark that embodies a convergence of protest and pride.
New York City undertook an expansive "open streets" initiative, temporarily closing more than 100 miles of roadway to cars to provide more space for outdoor recreation in all five boroughs. Like most cities we surveyed, New York did not have a plan or process for retaining these changes after the pandemic. But the city's Department of Transportation, responding to public pressure, has signaled its commitment to making some changes permanent.
Typical setup for temporary limited local access under New York City's Open Streets initiative. NYC DOT
The most popular new use of public space, and the one most likely to endure after the pandemic, was outdoor dining. Among the mayors we surveyed, 92% created new space for outdoor dining, with 34% noting they planned to make these changes permanent. Locations varied across cities and neighborhoods: Some communities claimed sidewalk space, while others reallocated on-street parking or repurposed empty parking lots. Other cities closed entire streets for dining.
Other new uses of public space included widening sidewalks and creating new bike lanes. About 40% of the mayors in our survey pursued each of these changes. In Boston, permitting for new outdoor dining was part of a multifaceted "Healthy Streets" initiative that also accelerated creation of dedicated bus lanes and new bike lanes – including expansive new protected lanes around the city's historic central green space, Boston Common.
Ambitious projects require resources, and financial pressures still loom. Almost 40% of mayors we surveyed anticipated "dramatic" financial cuts to their parks and recreation budgets. That threat could be offset by the recently enacted American Rescue Plan, which provides direct funds for cities of all sizes.
People-Centered Public Spaces
Our survey indicates that Americans' newfound enthusiasm for public spaces isn't likely to fade. Among the mayors we surveyed, 76% believe their residents will visit parks and green space more frequently in the future than they did before the pandemic, 70% anticipate that residents will be walking more, and 62% believe they will be cycling more frequently.
Speaking recently about the future of cities, renowned Ghanaian-British architect Sir David Adjaye asserted that high-quality public space "has now become the treasure that people are completely addicted to. If you took for granted a park, now you realize that it's a very important part of the quality of life [in] cities."
As the U.S. emerges from a long and challenging year, perhaps more American mayors – spurred on by residents – will find the will to forever transform urban spaces into the treasures they can be.
Reposted with permission from The Conversation.
From Your Site Articles
Related Articles Around the Web
EXTREME-PHOTOGRAPHER / E+ / Getty Images
By Brett Wilkins
As world leaders prepare for this November's United Nations Climate Conference in Scotland, a new report from the Cambridge Sustainability Commission reveals that the world's wealthiest 5% were responsible for well over a third of all global emissions growth between 1990 and 2015.
The report, Changing Our Ways: Behavior Change and the Climate Crisis, found that nearly half the growth in absolute global emissions was caused by the world's richest 10%, with the most affluent 5% alone contributing 37%.
"In the year when the UK hosts COP26, and while the government continues to reward some of Britain's biggest polluters through tax credits, the commission report shows why this is precisely the wrong way to meet the UK's climate targets," the report's introduction states.
The authors of the report urge United Kingdom policymakers to focus on this so-called "polluter elite" in an effort to persuade wealthy people to adopt more sustainable behavior, while providing "affordable, available low-carbon alternatives to poorer households."
The report found that the "polluter elite" must make "dramatic" lifestyle changes in order to meet the UK's goal — based on the Paris climate agreement's preferential objective — of limiting global heating to 1.5°C, compared with pre-industrial levels.
In addition to highlighting previous recommendations — including reducing meat consumption, reducing food waste, and switching to electric vehicles and solar power — the report recommends that policymakers take the following steps:
Implement frequent flyer levies;
Enact bans on selling and promoting SUVs and other high polluting vehicles;
Reverse the UK's recent move to cut green grants for homes and electric cars; and
Build just transitions by supporting electric public transport and community energy schemes.
"We have got to cut over-consumption and the best place to start is over-consumption among the polluting elites who contribute by far more than their share of carbon emissions," Peter Newell, a Sussex University professor and lead author of the report, told the BBC.
"These are people who fly most, drive the biggest cars most, and live in the biggest homes which they can easily afford to heat, so they tend not to worry if they're well insulated or not," said Newell. "They're also the sort of people who could really afford good insulation and solar panels if they wanted to."
Newell said that wealthy people "simply must fly less and drive less. Even if they own an electric SUV, that's still a drain on the energy system and all the emissions created making the vehicle in the first place."
"Rich people who fly a lot may think they can offset their emissions by tree-planting schemes or projects to capture carbon from the air," Newell added. "But these schemes are highly contentious and they're not proven over time."
The report concludes that "we are all on a journey and the final destination is as yet unclear. There are many contradictory road maps about where we might want to get to and how, based on different theories of value and premised on diverse values."
"Promisingly, we have brought about positive change before, and there are at least some positive signs that there is an appetite to do what is necessary to live differently but well on the planet we call home," it states.
The new report follows a September 2020 Oxfam International study that revealed the wealthiest 1% of the world's population is responsible for emitting more than twice as much carbon dioxide as the poorest 50% of humanity combined.
Reposted with permission from Common Dreams.

From Your Site Articles
Related Articles Around the Web
A car charging at an electric vehicle charging station in Atlanta, Georgia. Raymond Boyd / Getty Images
By Paul N. Edwards

Most of America's 107,000 gas stations can fill several cars every five or 10 minutes at multiple pumps. Not so for electric vehicle chargers – at least not yet.
Today the U.S. has around 43,000 public EV charging stations, with about 106,000 outlets. Each outlet can charge only one vehicle at a time, and even fast-charging outlets take an hour to provide 180-240 miles' worth of charge; most take much longer.
The existing network is acceptable for many purposes. But chargers are very unevenly distributed; almost a third of all outlets are in California. This makes EVs problematic for long trips, like the 550 miles of sparsely populated desert highway between Reno and Salt Lake City. "Range anxiety" about longer trips is one reason electric vehicles still make up fewer than 1% of U.S. passenger cars and trucks.
This uneven, limited charging infrastructure is one major roadblock to rapid electrification of the U.S. vehicle fleet, considered crucial to reducing the greenhouse gas emissions driving climate change.
It's also a clear example of how climate change is an infrastructure problem – my specialty as a historian of climate science at Stanford University and editor of the book series "Infrastructures."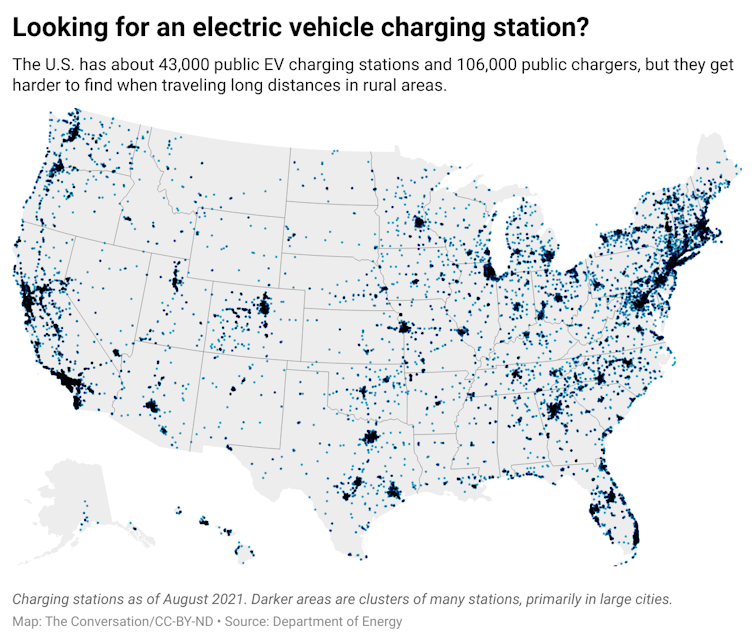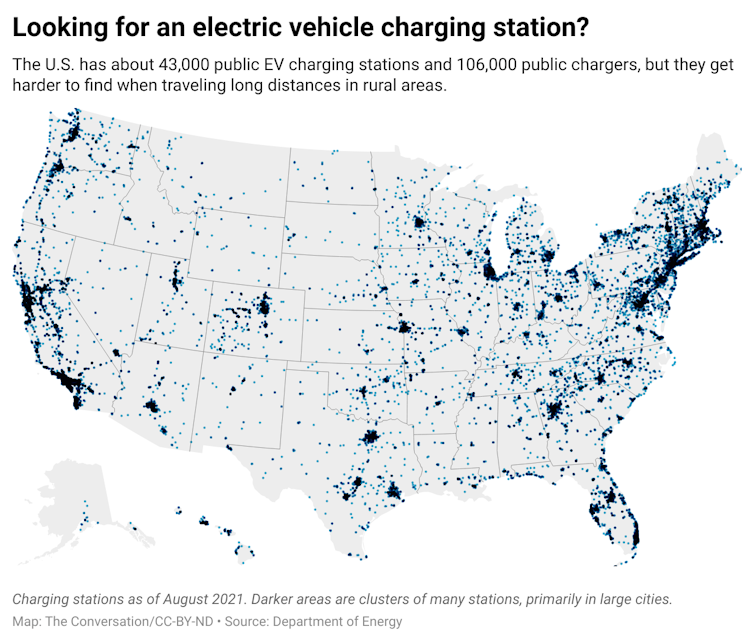 Over many decades, the U.S. has built systems of transportation, heating, cooling, manufacturing and agriculture that rely primarily on fossil fuels. The greenhouse gas emissions those fossil fuels release when burned have raised global temperature by about 1.1°C (2°F), with serious consequences for human lives and livelihoods, as the recent report from the U.N. Intergovernmental Panel on Climate Change demonstrates.
The new assessment, like its predecessor Special Report on Global Warming of 1.5°C, shows that minimizing future climate change and its most damaging impacts will require transitioning quickly away from fossil fuels and moving instead to renewable, sustainable energy sources such as wind, solar and tidal power.
That means reimagining how people use energy: how they travel, what and where they build, how they manufacture goods and how they grow food.
Gas Stations Were Transport Infrastructure, Too
Gas-powered vehicles with internal combustion engines have completely dominated American road transportation for 120 years. That's a long time for path dependence to set in, as America built out a nationwide system to support vehicles powered by fossil fuels.
Gas stations are only the endpoints of that enormous system, which also comprises oil wells, pipelines, tankers, refineries and tank trucks – an energy production and distribution infrastructure in its own right that also supplies manufacturing, agriculture, heating oil, shipping, air travel and electric power generation.
Without it, your average gas-powered sedan wouldn't make it from Reno to Salt Lake City either.
Fossil fuel combustion in the transport sector is now America's largest single source of the greenhouse gas emissions causing climate change. Converting to electric vehicles could reduce those emissions quite a bit. A recent life cycle study found that in the U.S., a 2021 battery EV – charged from today's power grid – creates only about one-third as much greenhouse gas emissions as a similar 2021 gasoline-powered car. Those emissions will fall even further as more electricity comes from renewable sources.

Despite higher upfront costs, today's EVs are actually less expensive than gas-powered cars due to their greater energy efficiency and many fewer moving parts. An EV owner can expect to save US$6,000-$10,000 over the car's lifetime versus a comparable conventional car. Large companies including UPS, FedEx, Amazon and Walmart are already switching to electric delivery vehicles to save money on fuel and maintenance.
All this will be good news for the climate – but only if the electricity to power EVs comes from low-carbon sources such as solar, tidal, geothermal and wind. (Nuclear is also low-carbon, but expensive and politically problematic.) Since our current power grid relies on fossil fuels for about 60% of its generating capacity, that's a tall order.
To achieve maximal climate benefits, the electric grid won't just have to supply all the cars that once used fossil fuels. Simultaneously, it will also need to meet rising demand from other fossil fuel switchovers, such as electric water heaters, heat pumps and stoves to replace the millions of similar appliances currently fueled by fossil natural gas.
The Infrastructure Bill
The 2020 Net-Zero America study from Princeton University estimates that engineering, building and supplying a low-carbon grid that could displace most fossil fuel uses would require an investment of around $600 billion by 2030.
The infrastructure bill now being debated in Congress was originally designed to get partway to that goal. It initially included $157 billion for EVs and $82 billion for power grid upgrades. In addition, $363 billion in clean energy tax credits would have supported low-carbon electric power sources, along with energy storage to provide backup power during periods of high demand or reduced output from renewables. During negotiations, however, the Senate dropped the clean energy credits altogether and slashed EV funding by over 90%.
Of the $15 billion that remains for electric vehicles, $2.5 billion would purchase electric school buses, while a proposed EV charging network of some 500,000 stations would get $7.5 billion – about half the amount needed, according to Energy Secretary Jennifer Granholm.
As for the power grid, the infrastructure bill does include about $27 billion in direct funding and loans to improve grid reliability and climate resilience. It would also create a Grid Development Authority under the U.S. Department of Energy, charged with developing a national grid capable of moving renewable energy throughout the country.
The infrastructure bill may be further modified by the House before it reaches President Joe Biden's desk, but many of the elements that were dropped have been added to another bill that's headed for the House: the $3.5 trillion budget plan.
As agreed to by Senate Democrats, that plan incorporates many of the Biden administration's climate proposals, including tax credits for solar, wind and electric vehicles; a carbon tax on imports; and requirements for utilities to increase the amount of renewables in their energy mix. Senators can approve the budget by simple majority vote during "reconciliation," though by then it will almost certainly have been trimmed again.
Overall, the bipartisan infrastructure bill looks like a small but genuine down payment on a more climate-friendly transport sector and electric power grid, all of which will take years to build out.

But to claim global leadership in avoiding the worst potential effects of climate change, the U.S. will need at least the much larger commitment promised in the Democrats' budget plan.
Like an electric car, that commitment will seem expensive upfront. But as the recent IPCC report reminds us, over the long term, the potential savings from avoided climate risks like droughts, floods, wildfires, deadly heat waves and sea level rise would be far, far larger.

Paul N. Edwards is a William J. Perry Fellow in International Security, Center for International Security and Cooperation, Stanford University.
Disclosure statement: Paul N. Edwards is one of 234 lead authors of the 2021 Working Group I report for the Sixth Assessment of the Intergovernmental Panel on Climate Change. This article reflects his personal views. His previous work relevant to this article was funded by the National Science Foundation and the Sloan Foundation.
Reposted with permission from The Conversation.
An electric car Mini Cooper SE. Marco Verch / Flickr / CC BY 2.0
Bavarian carmaker BMW, owner of the iconic Mini range since 1994, plans solely electric versions from 2030, reported Der Spiegel magazine on Friday.
No more combustion models and not even hybrids would emerge next decade, added BMW sources cited by the German news agency dpa.
Currently, BMW's only full electric version is the Mini Cooper SE, built at its subsidiary in Oxford, alongside the SUV Mini Countryman as a plug-in hybrid.
From 2023, the sport utility Countryman would emerge as a full-electric version from BMW's works in Leipzig, according to Friday's media coverage.
EU Urged to Boost Charging Stations
BMW chief Oliver Zipse, who on Thursday called on the EU to ensure 1 million public charging points by 2024, would detail his company's plans next week while presenting its financial results, Spiegel reported.
Three million charging points for electric vehicles were needed by 2029 to boost EU consumer confidence in the motorization switch, said Zipse, who is also president of the European Automobile Manufacturers' Association (ACEA).
Originally, the Mini was a series of British low-slung small cars manufactured from 1969 by the British Motor Corporation (BMC), later part of British Leyland and then the Rover Group.
BMW split up Rover in 2000 but retained ownership of the Mini brand, purchased six years previously, giving the Mini series a new phase of life.
Last year, 292,000 Mini vehicles were sold, mainly combustion fuel models, alongside 6% electric and 11% hybrid versions.
Aside from an electric Mini due in Leipzig in 2023, a further full-electric version is to be manufactured for China by BMW's joint venture partner Great Wall.
On Wednesday, the German government agreed on a draft law to establish 1,000 fast-charging stations alongside motorways by the end of 2023 at an estimated cost of €2 billion ($2.4 billion).
Reposted with permission from Deutsche Welle.
U.S. Sen. Joe Manchin (D-WV) (5th L) speaks as (L-R) Sen. Kevin Cramer (R-ND), Sen. Bill Cassidy (R-LA), Sen. Lisa Murkowski (R-AK), Sen. Rob Portman (R-OH), Sen. Susan Collins (R-ME), Sen. Kyrsten Sinema (D-AZ), Sen. Jeanne Shaheen (D-NH), Sen. Mark Warner (D-VA) and Sen. Mitt Romney (R-UT) listen during a news conference on a bipartisan infrastructure on Capitol Hill in Washington, DC on July 28, 2021. Alex Wong / Getty Images
The bipartisan legislation currently under Senate consideration falls far short of President Biden's commitment to transforming the fossil-fueled underpinnings of the U.S. economy, the AP reports.
The deal includes hundreds of billions in total to support climate resilience, electric grid updates, and harden infrastructure against cyberattacks and climate change — as well as more than half a trillion for new public works projects. It does not, however, establish a Clean Electricity Standard nor a Civilian Climate Corps and includes just $7.5 billion for EV charging stations.
Environmental advocates slammed the bill. "It is clear that the deal does not meet the moment on climate or justice," said Tiernan Sittenfeld, a senior vice president of the League of Conservation Voters. Others, like Janet Redman of Greenpeace USA, were pithier. "This looks like the Exxon Infrastructure Bill," she said. "An infrastructure bill that doesn't prevent a full-blown climate catastrophe by funding a swift transition to renewable energy would kill millions of Americans."
Massachusetts Sen. Ed Markey said the bill was "a good start," adding Democrats would pass a separate $3.5 trillion package without GOP support to "deal with the climate crisis in the magnitude, scope and scale that's required."
As reported by The Associated Press:
The Senate voted, 66-28, Friday to advance the bill, but it's unclear if enough Republicans will eventually join Democrats to support final passage. Senate rules require 60 votes in the evenly split 50-50 chamber to advance the bill but a simple majority to pass it.
The measure also faces turbulence in the closely divided House, where progressives are pushing for increased spending on climate change and other issues and centrist lawmakers are wary of adding to the federal debt.
Rep. Peter DeFazio, D-Ore., chairman of the House Transportation and Infrastructure Committee, called the Senate bill inadequate and pledged to push for changes in the House, which passed a separate, $715 billion transportation and water bill in early July. Transportation is the largest contributor to greenhouse gas emissions in the U.S.
DeFazio, the House bill's lead sponsor, said his bill "charts our path forward,″ adding that he is "fighting to make sure we enact a transformative bill that supports our recovery and combats the existential threat of climate change.″
For a deeper dive:
For more climate change and clean energy news, you can follow Climate Nexus on Twitter and Facebook, sign up for daily Hot News, and visit their news site, Nexus Media News.

From Your Site Articles
Related Articles Around the Web