This website uses cookies to ensure you get the best experience while browsing it. By clicking 'Got It' you're accepting these terms.
The North American Free Trade Agreement (NAFTA) logo
. AlexCovarrubias, CC BY 2.5
By Steve Horn
While the oil and gas industry has lauded the new trade deal that may soon replace the North American Free Trade Agreement (NAFTA), a provision added by Mexico, along with its new president's plan to ban fracking, could complicate the industry's rising ambitions there.
The new agreement, known as the United States–Mexico–Canada Agreement (USMCA), has faced criticism as being tantamount to NAFTA 2.0—more of a minor reboot that primarily benefits Wall Street investors and large corporations, including oil and gas companies.
iStock
The Trump administration released its objectives Monday for renegotiating the North American Free Trade Agreement (NAFTA). The objectives suggest a repeat of labor and environmental provisions from the Trans-Pacific Partnership (TPP)—a deal whose demise Donald Trump widely took credit for—that were deemed too weak by virtually all leading labor and environmental groups. On other critical questions, the ostensibly "detailed" negotiating objectives provide no details, such as whether corporations will continue to be able to use NAFTA to sue governments over environmental protections in unaccountable tribunals of corporate lawyers.
EcoWatch Daily Newsletter
Joost Nelissen / Flickr
By Shiney Varghese
As the sixth round of the negotiations on North American Free Trade Agreement begin next week in Montreal, Canada, the controversy over exactly what a new agreement might involve—if there is one at all—continues to generate debate.
As the NAFTA renegotiations were about to start, the Canadian government publicly stated its core objectives for a renewed North American Free Trade Agreement.
Hillary Clinton sits down for an interview with Zach Galifianakis on his web comedy series, Between Two Ferns. Funny or Die / YouTube
In the latest episode of Zach Galifianakis' web comedy series, the comedian and star of The Hangover trilogy invited Democratic presidential nominee Hillary Clinton to sit Between Two Ferns to answer some questions no one else would dare ask her on camera.
The show is anything but serious and gave Clinton the opportunity to showcase a playful side to her personality.
After years of campaigning against the fatally flawed Trans-Pacific Partnership (TPP), the deal appears dead.
The TPP represented the latest in a string of trade deals that put corporate interests ahead of communities, workers, public health and the environment. The broad-based, cross-border campaign tirelessly pressed elected officials to reject the TPP, preventing Congress from passing it this year. Without the environmental, labor, consumer, farm, faith, development and so many other groups that highlighted TPP's shortcomings and organized in their neighborhoods and communities, the TPP would have sailed through Congress before the early presidential primary ballots were cast.
The Trans-Pacific Partnership is a bad deal for our country and our climate—here's how we can stop it.
Climate
By Sarah Rasmussen
Right now, Congress is considering approving an international trade agreement that would lead to more fracking here in the U.S., more burning of rainforests for palm oil and fewer protections for American workers.
Activists rally to stop the TPP.SumOfUs / Flickr
That international trade agreement is the Trans-Pacific Partnership (TPP), which was negotiated in extreme secrecy.

But now there is a groundswell of opposition to the TPP, with hundreds of thousands of people speaking out. Both Hillary Clinton and Bernie Sanders already oppose it.
And if the Democratic Party opposes the TPP in its official platform, that may truly be the end of the road.

We can stop this destructive trade deal.
We told Congress to reject it and all the presidential candidates oppose it. Now we must tell the leadership of the Democratic Party to oppose the TPP in its official platform.
The TPP is not about trade. It's about giving global corporations even more loopholes to overcome democracy.

Companies like Exxon want the power to sue our government in order to eradicate environmental and labor protections that discourage their profits—and the TPP would expand this power.
This international trade pact was negotiated in extreme secrecy among Pacific Rim nations like the U.S., Canada, Mexico, Australia, Malaysia, Vietnam and Japan. Corporate executives were at the table, but environmental and labor groups were not—and of course, citizens of these countries had absolutely no say.
Just a few years ago, the TPP seemed like a done deal. But now it's floundering and looking less and less likely to pass thanks to grassroots organizing around the country. With your help, we can put it to bed once and for all.
Tell the Democratic Party: listen to the voice of the people and take a stand against the TPP.
I have to admit that for a few days I felt really angry and depressed about the outcome of the Democratic Party Platform Committee meeting in Orlando. Despite a letter from more than 200 party delegates calling for a ban on fracking in the platform, more than 100,000 public petitions demanding the same and a recent Gallup poll showing that a vast majority of Democrats (not to mention a clear majority of Americans at large) are opposed to fracking, the committee failed to stand up to the corporate power of the oil and gas industry. In the end, the fracking ban proposal wasn't even allowed to come up for a vote.
Although this is disappointing, our work doesn't change. We must organize, organize, organize and build a grassroots movement so strong and diverse we are able to elect national leaders that reflect our progressive ideals and will fight for worthy policies. And of course we must then hold these individuals accountable.
In the meantime, progress is being made. Democratic Platform Committee members voted in favor of an historic amendment categorizing climate change as a global emergency requiring a World War II-scale mobilization. It's our job to keep fighting for policies that will keep fossil fuels in the ground and end the fracking nightmare. It will be up to each of us to keep demanding that those in power—regardless of political party—take the needed steps to seriously address our impending climate crisis.

To be clear, here's what the Democratic Party platform needed to do that it didn't do:
These Democratic Party failures clearly explain why I will be marching in the streets of Philadelphia on July 24, on the eve of the Democratic National Convention, to raise up clear, bold, urgent demands—demands that must be met if we are to avoid the worst and most disruptive climate consequences. We want fracking banned, fossil fuels left in the ground, the TPP rejected, environmental justice for all and a quick, just transition to 100 percent renewable energy.
That's what the Clean Energy Revolution requires and we demand that it happen now. Join me in Philadelphia.
By Ryan Schleeter

Monday marked the beginning of the Democratic National Convention (DNC), where the party will—in theory—come together around what it's calling the "most progressive platform in party history." And if that platform is any indication, climate change will figure heavily in the discussion this week.
Hillary Clinton poses with a supporter at a campaign rally in Manchester, New Hampshire earlier this year.Andrew Lichtenstein / Greenpeace
The Dems have come a long way since embracing a deeply flawed "all of the above" energy strategy in 2012.
Their new platform places renewable energy at the center of economic growth and job creation. It recognizes the intersections of social and environmental justice, with specific references to the Flint water crisis and the impacts of climate change on communities of color and indigenous populations. And it empowers the Department of Justice to investigate fossil fuel companies for their role in spreading climate denial.
This places them in stark contrast to Republicans, who groaned at the mere mention of climate change at their convention last week.
This week should tell us even more about the direction the Dems are heading on climate change, including how they'll address some of the platform's shortcomings. Here's what to watch for:
1. Where Does the Party Stand on Fracking and Natural Gas?
Well, it's complicated.
Fracking has no place in the platform of a party that wants to "lead the fight against climate change around the world." By not advocating a national ban on fracking, the Dems are falling short of the action we need to avoid its catastrophic health, climate and public safety impacts.
Instead, they're shirking responsibility by stating that fracking "should not take place where states and local communities oppose it." Translation: everyday people will have to go head to head with the fossil fuel industry to keep their communities frack-free. For an indication of just how difficult that is, look at Colorado right now.
On top of tepid regulations, the party leadership's problematic history with fracking is cause for concern. Both presumptive presidential candidate Hillary Clinton and her vice presidential pick Tim Kaine have a long record of supporting fracking and pushing the false narrative of natural gas as a "bridge fuel."
As the Democrats try to position themselves as climate leaders, pay particular attention to how how this presumptive Democratic ticket talks about fracking or if they choose to skirt the issue.
2. Will Support for the Trans-Pacific Partnership (TPP) Erode?
The Dems have chosen not to oppose the TPP, the secretly negotiated trade deal that would open the door to increased corporate influence over environmental decision-making.
It's a curious decision, as President Obama is the only high profile Democrat left in favor of the deal. Both Clinton and Bernie Sanders have opposed it since last year, citing concerns over how it would outsource jobs overseas.
But that's not all that the TPP would do. It also makes it easier for fossil fuel companies to export natural gas with little to no environmental review, creating economic incentive for even more fracking (see above for why that's a terrible idea).
Look to see which side of the aisle party leaders fall on this week and if there any notable changes in position, like Kaine coming out in opposition earlier this week after voting in favor earlier this year.
3. When Can We Expect Some Actual Commitments to Keep Fossil Fuels in the Ground?
Unlike people across the country, the Democrats have yet to fully embrace the keep it in the ground movement, but they seem to be inching closer.
Their platform would protect the Arctic and Atlantic Oceans from offshore drilling, but not the Gulf of Mexico. It calls for "reform[ing] fossil fuel leasing on public lands" and "phas[ing] down extraction," but gives little detail as to what that actually means. And of course, fracking.
The Dems should listen to communities calling for an end to new fossil fuel infrastructure, like those organizing against oil exploitation in the Gulf South and those protesting fossil fuel leasing in the Mountain West. And they won't have to look far for cues—thousands joined a march for clean energy and an end to the fossil fuel era in downtown Philadelphia on Sunday.
This week, keep an eye on how far progressive members of the party—like Keep It in the Ground Act authors Jeff Merkley (Senate) and Jared Huffman (House)—are able to push their more moderate colleagues on fossil fuel extraction.
And now for some perspective.
At this point, it's also worth a friendly reminder that the official Republican energy platform is literally terrible, Donald Trump thinks climate change is a "myth" (ever the ticket of nuance, his running mate Mike Pence prefers "hoax") and the GOP is the only conservative party in the world to deny the science of climate change.
That just feels relevant right now.
Many pundits were caught off-guard by the transpartisan fury over America's trade policy rocking the presidential primary season. But it's no surprise to me. I grew up in a working class family in Kenosha, Wisconsin. So I know why Americans have had enough of shiny promises, job-killing trade deals and Wall Street bailouts that propel ordinary people into an economic nose dive.
Hard working Americans of all political stripes recognize when the rules have been rigged against them, because they live day-to-day with the results. No doubt revolutionary change is an appealing alternative.
Since the North American Free Trade (NAFTA) and World Trade Organization agreements in the mid-1990s, America has lost more than five million manufacturing jobs net. Millions of service sector jobs also have been offshored.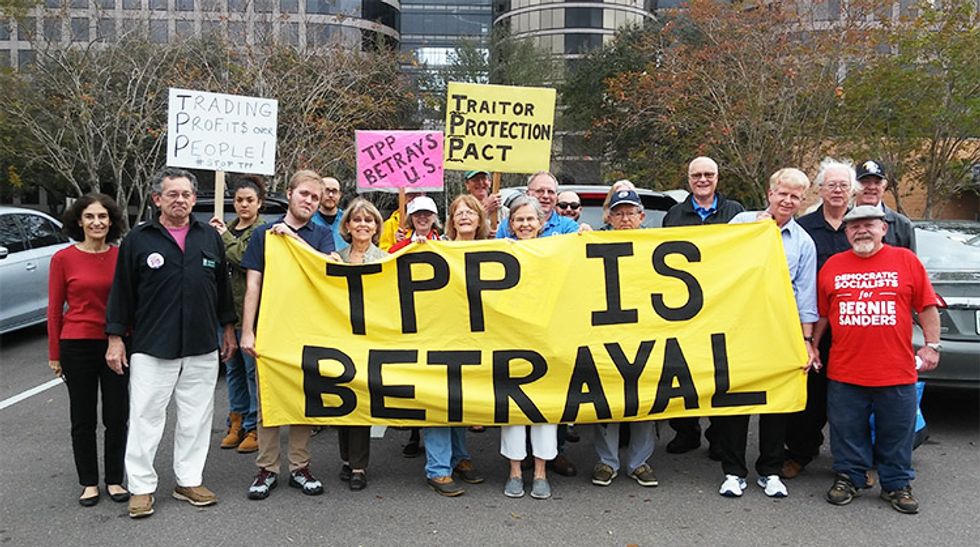 During the NAFTA era, my home state lost 68,000 manufacturing jobs—one out of seven in the state. Just one example: After Chrysler received billions in a 2009 bailout, it shut its Kenosha Engine facility, cut the last 800 jobs and moved operations to Mexico.
The damage extends beyond those who lose their jobs. They compete for non-offshorable service sector jobs, pushing down wages economy-wide, hurting communities coast to coast.
From Flint to El Paso and points beyond, Americans have been slammed by the trade double whammy: Firms and their well-paying jobs go away. Then just when assistance is most needed, tax bases shrivel so basic services get cut and infrastructure crumbles.
Bernie Sanders' primary victories have finally forced the mainstream media to mention the millions of middle class livelihoods destroyed by trade policies. Now it's time to face up to a second disastrous risk: These trade deals pose a direct frontal attack on a livable environment.
Pacts like the recently-signed Trans-Pacific Partnership (TPP), currently sidelined without sufficient congressional support for passage, contain thousands of pages of enforceable rules that would fuel climate chaos and empower corporate polluters to challenge environmental laws across the globe.
And if the TPP were approved, the Department of Energy would be required to automatically approve all natural gas exports to the 11 other TPP countries, eliminating our government's ability to make decisions about our energy future and incentivizing a boom in dangerous fracking. The extreme secrecy of TPP negotiations allowed the Obama administration to claim it was the greenest deal ever. But when the TPP text was finally disclosed late last year, environmental groups that the White House claimed supported it, such as NRDC and Defenders of Wildlife, joined the Sierra Club, Greenpeace, 350.org and scores of others in opposition.
Consider just one feature that sounds like the plot of a disaster movie. The TPP would empower foreign investors to drag the U.S. government to private international arbitration tribunals whenever they claim that our environmental, energy or climate policies violate expansive new TPP foreign investor privileges. Corporations can demand unlimited taxpayer compensation based on future profits ostensibly thwarted by the policy. There is no outside appeal.
If approved, the TPP would double U.S. exposure to this "investor-state dispute settlement" (ISDS) regime. Overnight 9,500 Japanese manufacturing and Australian mining giants, among other firms, could skirt our courts and laws to attack critical public interest safeguards.
It's not hypothetical. Under similar NAFTA provisions, TransCanada is now demanding $15 billion in U.S. taxpayer compensation because our government (rightly) opposed construction of the Keystone XL pipeline.
More than half of past ISDS suits have concluded with the government losing or settling. Billions have been paid to foreign companies. Already half of the new ISDS cases filed in recent years seek to enforce corporate rights to mine, extract gas and oil and generate energy no matter the consequences to us and our environment.
Expanding this system through the TPP would block worldwide environmental and social progress while empowering corporations to undermine existing climate and environmental policies.
Remarkably, the TPP not only omits the word "climate" from its text, but does not require TPP signatories to comply with their United Nations Framework Convention on Climate Change commitments. This despite all TPP countries being climate convention signatories.
The bottom line: Our failed trade policies imperil both Americans' livelihoods and the health of our planet—two reasons why the more people learn, the less they like them.
The bipartisan American trade revolt now underway demonstrates that we need to scrap these bad deals and demand real change. This is no time for half measures, bland reassurances or waiting games.
By Lukas Ross, Friends of the Earth Action

The same day TransCanada sued the U.S. government for $15 billion, the Democratic Party's platform drafting committee met in Missouri. Between the two, there is a lesson to be learned about free trade and the climate crisis.
The lawsuit was the anticipated result of President Obama rejecting the Keystone XL pipeline.Using a notorious provision in the North America Free Trade Agreement (NAFTA), the Canadian oil giant is hoping to claim $15 billion in lost future profits by dragging the U.S. before an international tribunal. These sorts of extra-judicial forums, where corporations can sue governments for enforcing their own laws, are a hallmark of established free trade deals like NAFTA and looming ones like the Trans Pacific Partnership (TPP).
Forty environmental groups signed a letter urging Congress to reject the TransPacific Partnership. Dylan Petrohilos / Think Progress
The meeting in Missouri was to finalize a draft of the 2016 Democratic Party platform, a usually sleepy and symbolic process that this year has exploded into a proxy fight between presumptive nominee Hillary Clinton and Sen. Bernie Sanders. Pipelines like Keystone XL and free trade writ large were both on the agenda—and the votes cast reflect a growing divide between the party establishment and the grassroots.

Within hours of TransCanada filing its lawsuit under NAFTA, the platform committee had the chance to officially oppose the proposed Trans Pacific Partnership, a Pacific Rim trade deal that would allow hundreds of new fossil fuel companies access to provisions similar to those used by TransCanada. The motion was rejected. Despite both candidates being on record opposing the current TPP, the motion was rejected in a 10-5 vote. It was supported by appointees from Sanders and opposed by appointees from Clinton and the Democratic National Committee. Compromise language was offered instead, calling for trade deals that protect workers and the environment without mentioning the TPP by name.
Talking about responsible trade but refusing to be clear about the TPP isn't a good look, for the DNC or anyone else. If the TPP and its European counterpart, the Transatlantic Trade and Investment Partnership, were both enacted, it would radically expand the power of fossil fuel companies to sue the U.S. for laws and regulations that hurt their expected future profits. The power to launch lawsuits like TransCanada's would be put on steroids and everything fromlocal fracking bans to renewable energy mandates could be litigated in trade tribunals run overwhelmingly by corporate lawyers.
Besides missing the boat on trade, the committee managed a few other favors for the TransCanadas of the world. Jane Kleeb, the founder of Bold Nebraska and the newly elected Chair of Nebraska Democrats, supported a motion calling for ending the use of eminent domain in support of fossil fuel projects. It was unceremoniously voted down. Another rejected motion was an endorsement of the so-called "climate test," the principle that infrastructure and other projects shouldn't be approved if they worsen carbon emissions. Applying this standard was what led President Obama to reject Keystone XL in the first place.
In fact, Friday turned out to be a bad night for serious climate policy all around. Motions pushed by Sanders's appointee Bill McKibben supporting a carbon tax and a national frackingban were both rejected. So too was a motion to keep fossil fuels in the ground by ending new leasing on our public lands and waters.
Even the ambitious energy target supported by both Clinton and Sanders—100 percent clean energy by 2050—wasn't an unqualified success. The language is vague enough that it could include everything from wind and solar to dangerous false solutions like biomass, carbon capture and sequestration and nukes.
The concern about what exactly counts as clean energy isn't unfounded. If Bill McKibben was chosen by Sanders as a progressive voice on climate, his alter ego appointed by Clinton is Carol Browner, a one-time Environmental Protection Agency administrator who splits her time these days between professional lobbying and pro-nuclear advocacy.
The good news is that Missouri isn't the end. The platform still needs to be approved by the full platform committee next month in Orlando and after that by the full convention in Philadelphia. When it comes to pushing back on trade and climate, there are still two more shots.
As philosopher Dr. Cornel West, another Sen. Sanders appointee, said as he abstained from the final vote, "Take it to the next stage."
YOU MIGHT ALSO LIKE
Oakland Bans Coal Exports, Huge Win for Local Residents
Kochs Dump Trump to Fund Climate-Denying Senators in Ohio and Nevada
'Three Amigos' Vow to Get Half Their Electricity From Clean Power by 2025
DNC Platform Calls for Fossil Fuel Investigations, 100% Renewable Energy
Labor unions, environmental organizations and community, internet freedom and racial justice groups delivered more than 1,000 signatures from Rep. Diana DeGette's constituents Wednesday urging her to reject the Trans-Pacific Partnership (TPP).
The TPP is a trade deal negotiated in secret for years by 12 countries, including the U.S. On Feb. 4, the U.S. and the leaders of the 11 other countries signed the text of the pact. Now a Congressional vote to confirm the deal is imminent. If passed, the TPP will trump commonsense protections for workers, the environment, public health and food safety.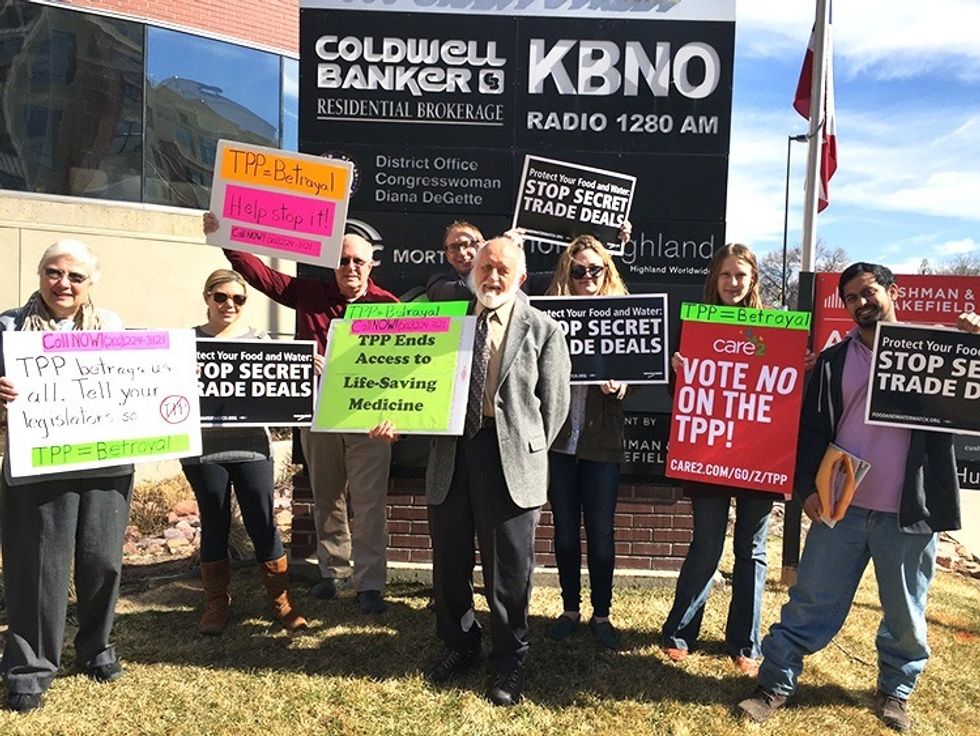 The groups urged Rep. DeGette to commit to vote "No" on the TPP and uphold her long-standing reputation as a champion for Colorado's working families, environment and food safety protections.
This month, a new Tufts University study found that the TPP would eliminate 450,000 American jobs and widen the income gulf between working families and the economic elites. Further, Malaysia and Vietnam are included in the agreement, countries that pay pittance wages and have histories of labor and human rights abuses.
"Rejecting the Trans-Pacific Partnership is the most important thing Congress can do," said Dave Felice, political director for the Communication Workers of America, District 7. "This massive deal will destroy American jobs and our ability to protect the environment. Under the TPP, multinational corporations will take over our democratic government."
The TPP would provide another avenue for foreign corporations to undermine domestic environmental laws and food safety regulations. Last year, Congress repealed important country of origin meat labels because of a World Trade Organization tribunal. This January, TransCanada brought a $15 billion NAFTA lawsuit against the U.S. for rejecting the environmentally destructive Keystone XL pipeline.
"We've already seen existing mega-trade deals undermine regulations that protect our food," Sam Schabacker, western region director with Food & Water Watch, said. "The TPP—which is like NAFTA on steroids—will further erode our vital food safety protections and give foreign corporations new powers to challenge laws that were put in place to make sure Coloradans can trust the food they are eating. Representative DeGette must vote 'no' on this terrible deal."
Even though it will have a significant impact on the day-to-day lives of Coloradans and all Americans, leaders negotiating the TPP kept members of Congress, governors, the media and the public entirely in the dark about the details for seven years. In contrast, hundreds of corporations and business trade associations had a seat at the table as designated "trade advisors" and inserted their own special interest giveaways into the TPP text.
"The TPP would empower over 9,000 foreign corporations to sue governments at all levels (national, state and local) in tribunals outside the U.S. court system if the corporations believed laws undermined their 'future profits,'" Carolyn Bninski of the Rocky Mountain Peace and Justice Center said.
"This provision of the TPP, called the Investor State Dispute Resolution, undermines sovereignty, democracy and the powers of states and local control. The TPP constitutes a huge transfer of power from the people to foreign corporations. This is completely unacceptable."
President Obama has identified the TPP as his legacy foreign policy goal and can submit this trade deal for Congress' approval at any time. Once the deal is submitted, Congress will have 90 legislative days to vote on the measure.
"By now politicians should have learned that supporting policies like the TPP that threaten Internet freedom is a great way to invoke the wrath of constituents from across the political spectrum," Evan Greer, campaign director of Fight for the Future, said.
"Policy that affects the Internet should never be made in secret and any member of Congress who votes in support of the TPP will become known as a supporter of censorship and an enemy of free speech."
The groups that participated in the delivery were, Food & Water Watch, Colorado AFL-CIO, Colorado People's Alliance, Denver Area Labor Federation, Colorado Alliance for Retired Americans, Communication Workers of America,, District 7, Rocky Mountain Peace and Justice Center, Care2, Corporate Accountability International and Fight for the Future.
YOU MIGHT ALSO LIKE
6 Reasons Al Gore Believes 'We Will Prevail' in Climate Fight
Greenpeace Asks Hillary Clinton to Say No to Fossil Fuel Money
Ford Motors Dumps Right Wing Climate Denial Group ALEC
This website uses cookies to ensure you get the best experience while browsing it. By clicking 'Got It' you're accepting these terms.