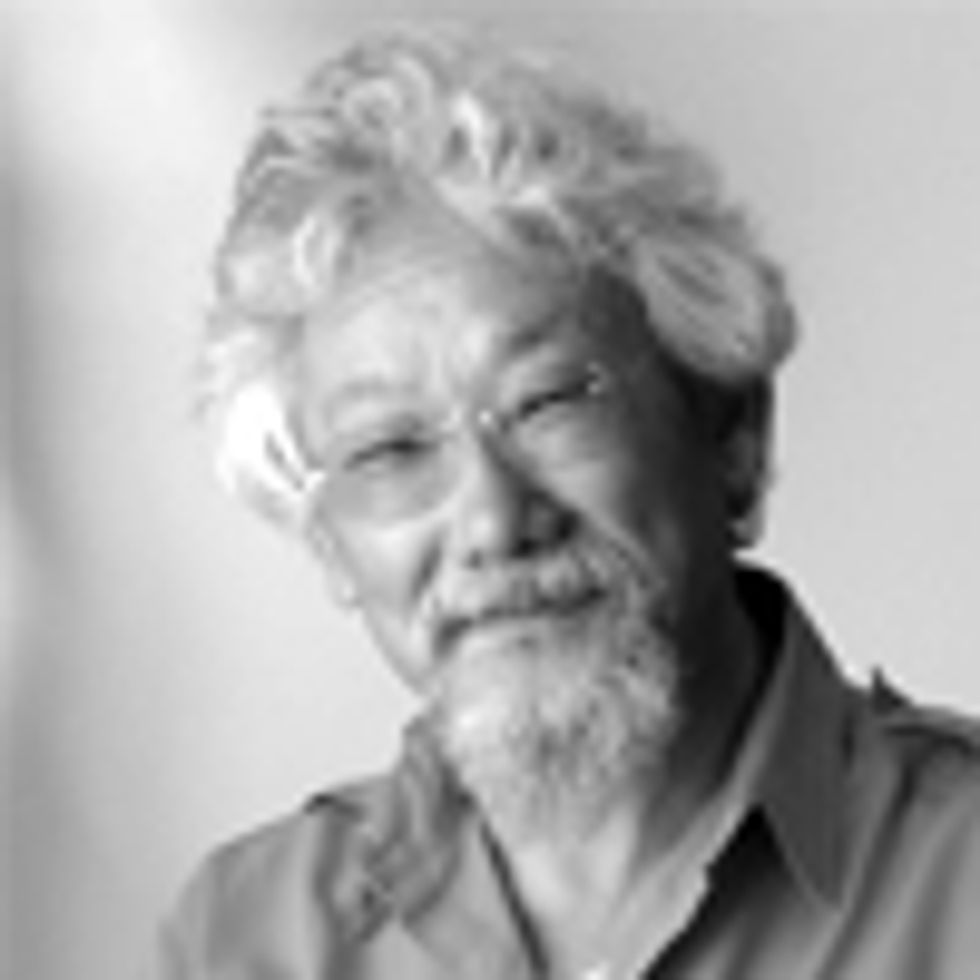 When a tailings pond broke at the Mount Polley gold and copper mine in south-central B.C., spilling millions of cubic metres of waste into a salmon-bearing stream, B.C. Energy and Mines Minister Bill Bennett called it an "extremely rare" occurrence, the first in 40 years for mines operating here.
He failed to mention the 46 "dangerous or unusual occurrences" that B.C's chief inspector of mines reported at tailings ponds in the province between 2000 and 2012, as well as breaches at non-operating mine sites.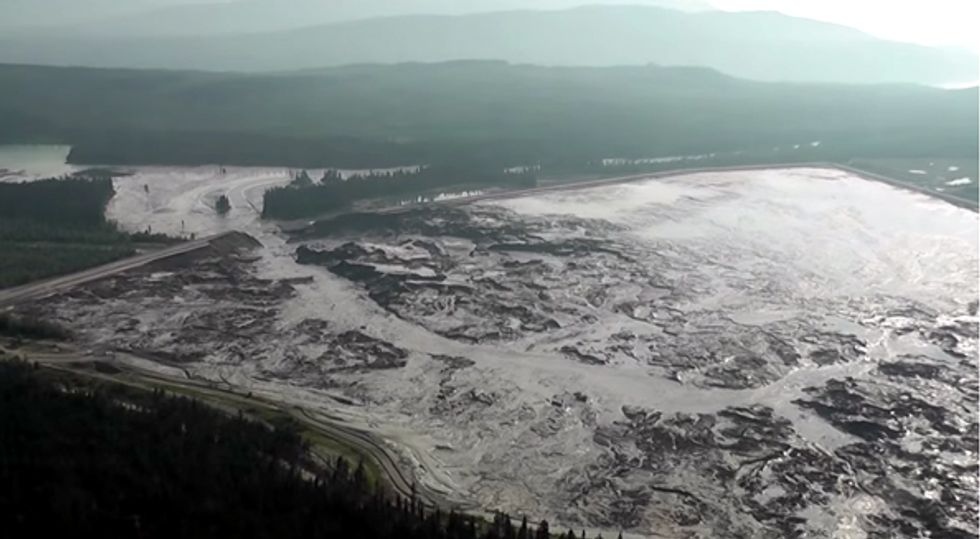 The Mount Polley tailings spill threatens two of B.C.'s most valued resources: salmon and water.
This spill was predictable. Concerns were raised about Mount Polley before the breach. CBC reported that B.C.'s Environment Ministry issued several warnings about the amount of water in the pond to mine owner Imperial Metals.
With 50 mines operating in B.C.—and many others across Canada—we can expect more incidents, unless we reconsider how we're extracting resources.
Sudden and severe failure is a risk for all large tailings dams—Mount Polley's waste pond covered about four square kilometers, roughly the size of Vancouver's Stanley Park. As higher-grade deposits become increasingly scarce, mining companies are opting for lower-grade alternatives that create more tailings. As tailings ponds grow bigger and contain more water and waste than ever before, they also become riskier. The average height of a Canadian tailings dam doubled from 120 meters in the 1960s to 240 meters today. Alberta writer Andrew Nikiforuk likens increasing mining industry risks to those of the oil sands.
Open ponds of toxic slurry aren't the best way to manage mining waste. Although there's no silver-bullet solution, and more research funding on alternative technologies is needed, smaller underground mines are finding safer ways to deal with waste by backfilling tailings. Drying tailings or turning them to a paste before containment are two other options. Safer solutions cost more, making them less popular with profit-focused corporations. But surely B.C.'s $8-billion mining industry can afford to pay more for public and environmental safety.
The government allows the mining industry to choose the cheapest way to deal with waste, and companies often lack adequate insurance to cover cleanup costs when accidents happen. Imperial Metals admits its insurance will likely fall far short of what's required to repair the damage at Mount Polley.
The mining industry and provincial and federal governments must do a better job of managing risks. But how can this happen when we're facing unprecedented dismantling of Canada's environmental regulations and decreased funding for monitoring and enforcement?
Although the B.C. government rightly appointed an independent panel of three top mining engineers to review the cause of the Mount Polley breach and report back with recommendations, the lack of an environmental or cultural perspective on the panel makes it unlikely we'll see meaningful industry reform. And even the most thorough reviews remain ineffective without implementation commitments—a point made clear by the federal government's failure to act on the Cohen Commission's 75 recommendations on the decline of Fraser River sockeye.
Canada's mining industry must also work more closely with First Nations, some of which are challenging industrial activity in their territories. The Tahltan blockaded Imperial Metals' nearly completed mine in the Sacred Headwaters, and the Neskonlith Indian Band issued an eviction notice to an Imperial subsidiary, whichproposed an underground lead-and-zinc mine in Secwepemc Territory in the B.C. Interior. With the Supreme Court's Tsilhqot'in decision affirming First Nations' rights to land and resources within their traditional territories, we're likely to see more defending their lands against mining and other resource extractions.
The Mount Polley tailings spill threatens two of B.C.'s most valued resources: salmon and water. As one of the largest sockeye runs enters the waterways to spawn, we must wait to find out the long-term repercussions for Polley Lake, Quesnel Lake and aquatic life further downstream.
This disaster has eroded public trust in the mining industry and regulations governing it. If risks are too high and long-term solutions unavailable or too expensive, the only way to ensure that toxic tailings are kept out of our precious waterways and pristine landscapes may be to avoid mining in some areas altogether.
As the government rallying cry of "world-class safety standards" echoes in our ears, it's time we lived up to our self-proclaimed reputation.
YOU ALSO MIGHT LIKE
David Suzuki: Put People Before Politics
Global Warming Deniers Become More Desperate By the Day
The Blue Dot Tour: The Right to Breathe Fresh Air, Drink Clean Water and Eat Healthy Food
EcoWatch Daily Newsletter
By Hallie Smith
Our national parks can be fun for the whole family. Here are a few parks that are especially kid-friendly and great destinations for National Park Week.
This year marks the centennial year of the National Park Service, so there is no better time to teach our children how precious our national parks are and that they belong to all of us as Americans. We would be hard-pressed to find any park that doesn't offer unforgettable experiences and engaging activities for children, but these 12 parks are a good place to start if you're looking for parks to visit with kids.
Children in fourth grade can get in for free as part of the "Every Kid in a Park" program—and that includes free entrance for everyone in the same car.
Many national parks offer Junior Ranger Programs for children to learn about what it takes to be a park ranger and the responsibilities of taking care of our parks.
1. Badlands National Park—South Dakota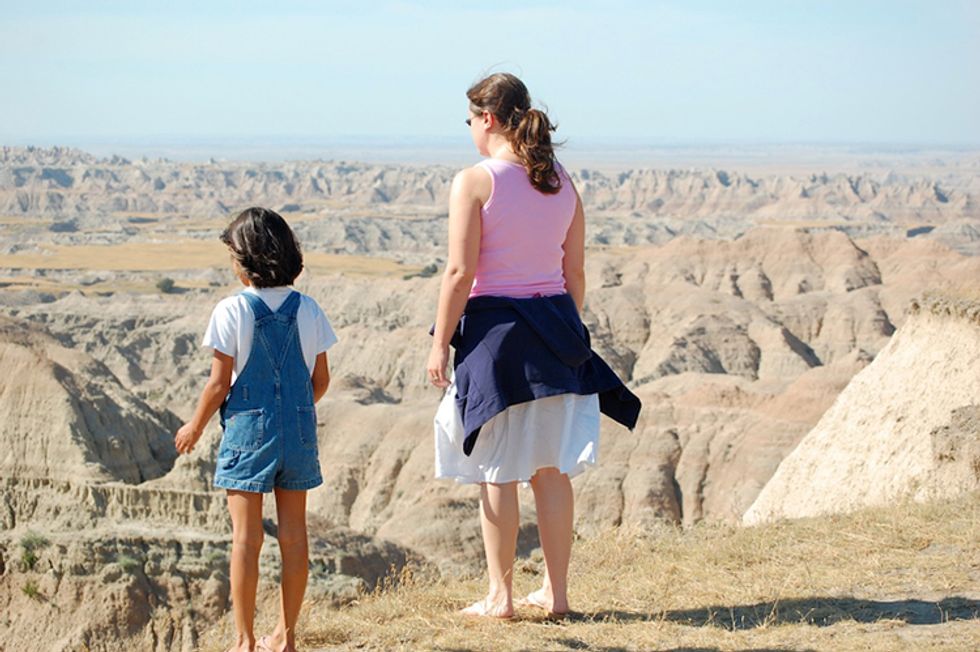 At Badlands, kids can also go on a geological scavenger hunt and take the Geology Challenge at one of the world's richest fossil beds, brimming with artifacts and history. The Fossil Exhibit Trail is a quarter of a mile long with plenty of signage so kids know what they are looking at. If they want to feel like they've traveled to another planet, take them to see The Wall, which stretches for 80 miles with its other-worldly rock face and colorful stripes of erosion. Children can also visit the Paleontology Lab to see what fossils have been recently found in the park and earn a Junior Paleontologist Badge. Badland National Park's 244,000 acres are also home to bison, bighorn sheep, prairie dogs and black-footed ferrets, so children should be on the lookout.
2. Carlsbad Caverns National Park—New Mexico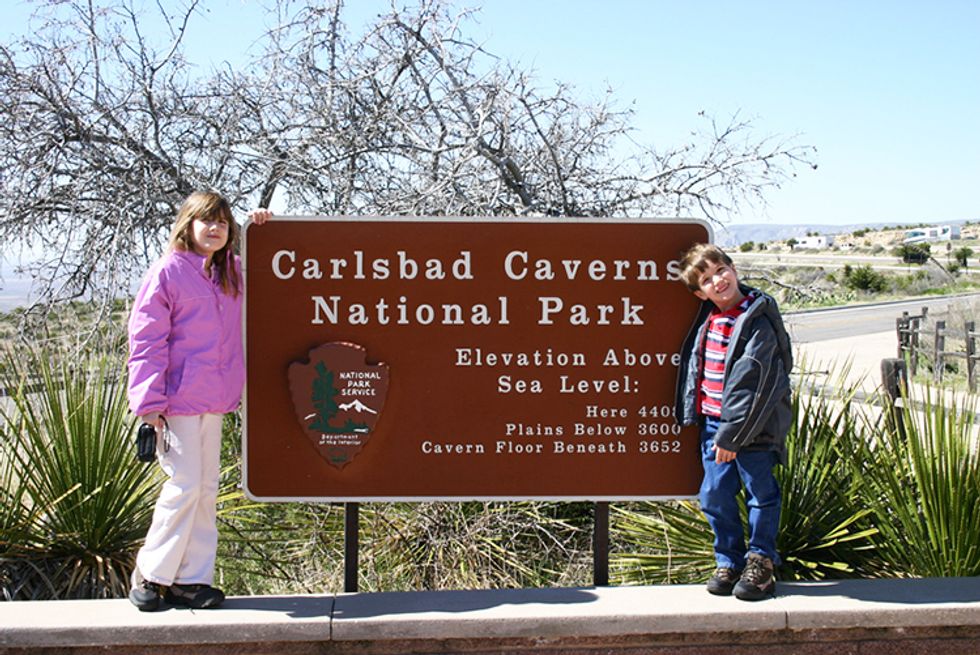 Children will be enchanted by the ancient sea ledges, deep rocky canyons, flowering cactus and wildlife above ground in the Chihuahuan Desert. Imagine how amazed they will be at the more than 119 caves hidden below ground, full of stalactites and stalagmites! Take the kids you know on a self-guided tour of the cavernous Big Room or crawl through the narrow passageways during a tour of the Hall of the White Giant at Carlsbad Caverns National Park, world-famous for cave tours and spelunking. Watch from afar as Brazilian free-tailed bats perform their daily mass exodus from the caverns during the summer—a free air show for viewers.
3. Mesa Verde National Park—Colorado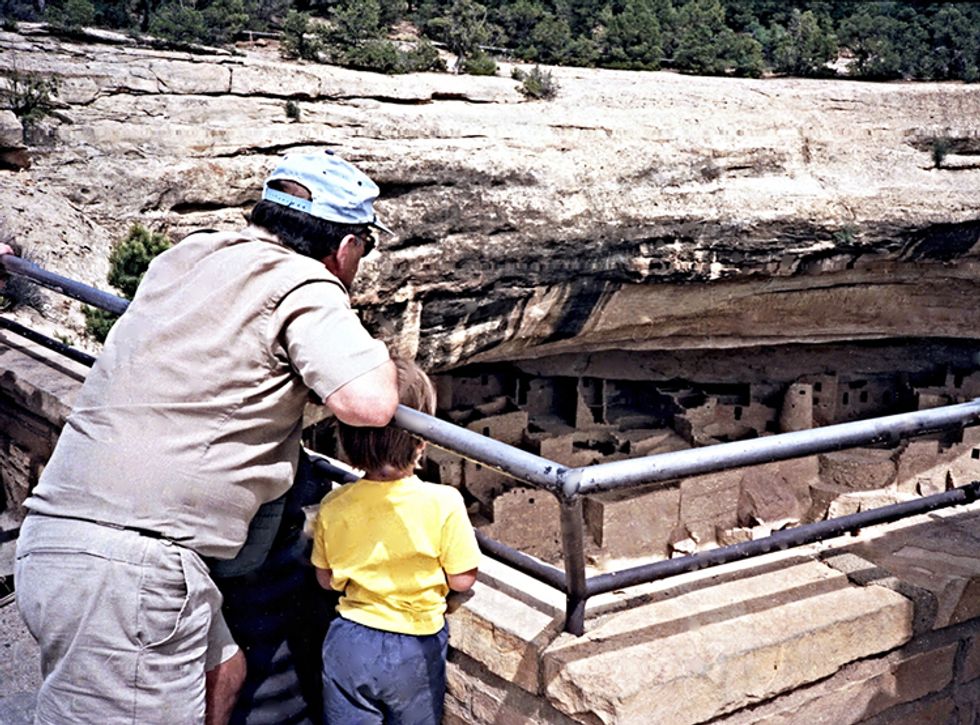 With all the different cliff dwellings to choose from, kids will be endlessly entertained. They can tour Cliff Palace, the largest cliff dwelling in North America or perhaps Balcony House, which is like a fun yet historic obstacle course with all of its ladders. Or take a self-guided tour to Stephouse and explore its petroglyphs, cliff dwelling and pithouse. After kids get tuckered out exploring the dwellings, challenge them to quietly spot a mule deer or turkey. Mesa Verde National Park is also a great spot for stargazing as there is little artificial light. Children can spot constellations in the sky after a fun day exploring the park.
4. Yellowstone National Park—Idaho, Montana, Wyoming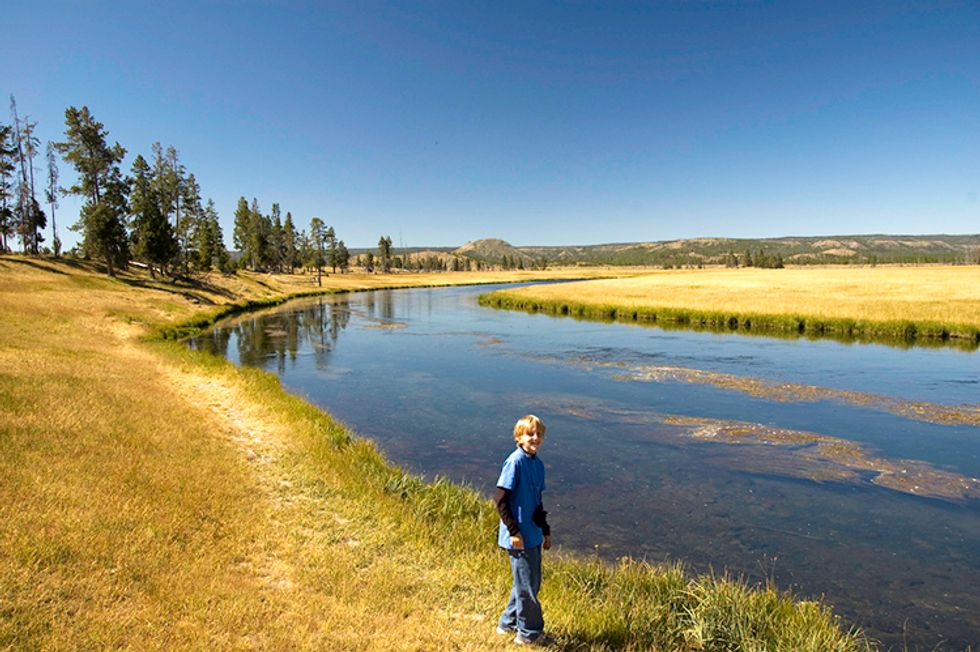 With more than 500 gushing geysers and mudpots and nearly four dozen elegant waterfalls, Yellowstone National Park comes alive and breathes excitement for children. With more than 400 different animal species here, including bears and elk, you can spot animals nearly anywhere in the park. You may even get lucky enough to have a herd of bison pass by your car for a close-up view. Kids can also participate in "Wildlife Olympics" and compare their skills to those of the animals at the park. Check out a Young Scientist Toolkit to investigate the area around Old Faithful so kids can earn a Young Scientist patch or key chain.
5. Cumberland Gap National Historical Park—Kentucky, Tennessee, Virginia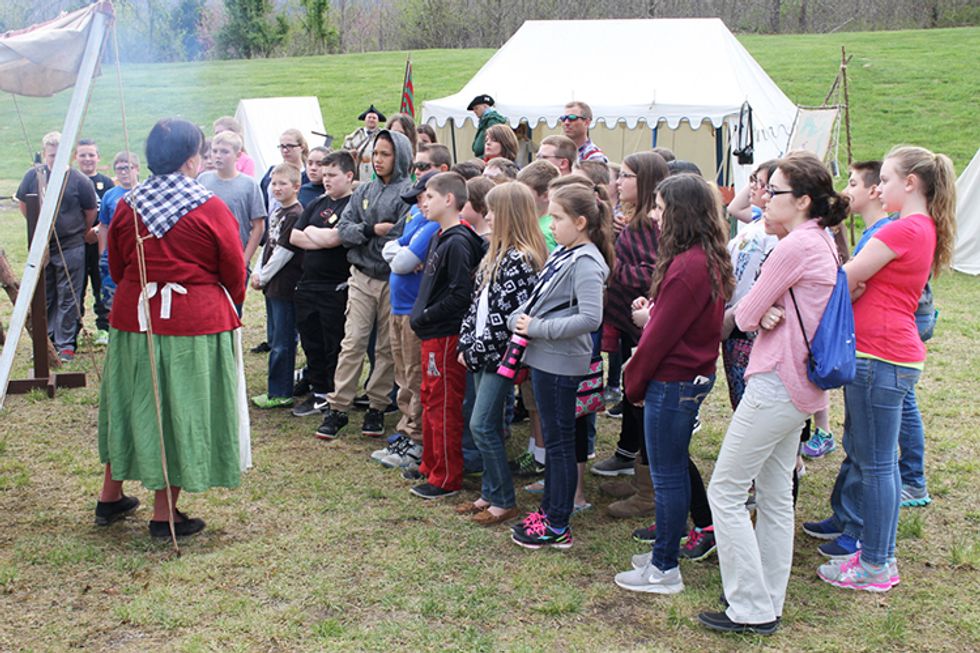 Kids can don a tri-corner hat, hunting frock or linen dress and experience the life of an early settler at the pioneer playhouse at the visitor center at Cumberland Gap National Historical Park. Children can also see actual artifacts and touch animal skins or can go sightseeing and wildlife watching for deer, beaver, fox, bobcat, bear and 150 species of birds. Beyond that, kids can discover rich history, spectacular overlooks, unique rock formations, cascading waterfalls and an extensive trail system in the park's 24,000 acres.
6. Everglades National Park—Florida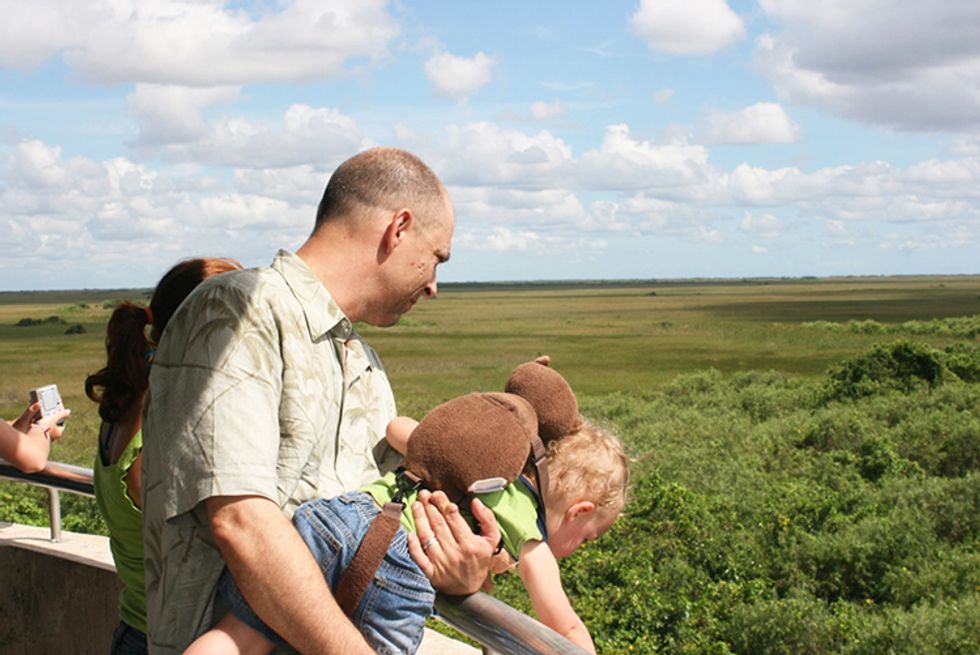 Everglades National Park, the largest subtropical wilderness in the United States, protects numerous rare and endangered species, like the gentle manatee, fearsome American crocodile and the stealthy Florida panther. Children can get involved with a real-life treasure hunt and search for geocached items or go canoeing down the Wilderness Waterway, a canopied river framed with ethereal greenery. Rangers lead hikes, slough slogs, bike trips and tram tours, all get-up-and-go activities that introduce kids to nature.
7. Grand Canyon National Park—Arizona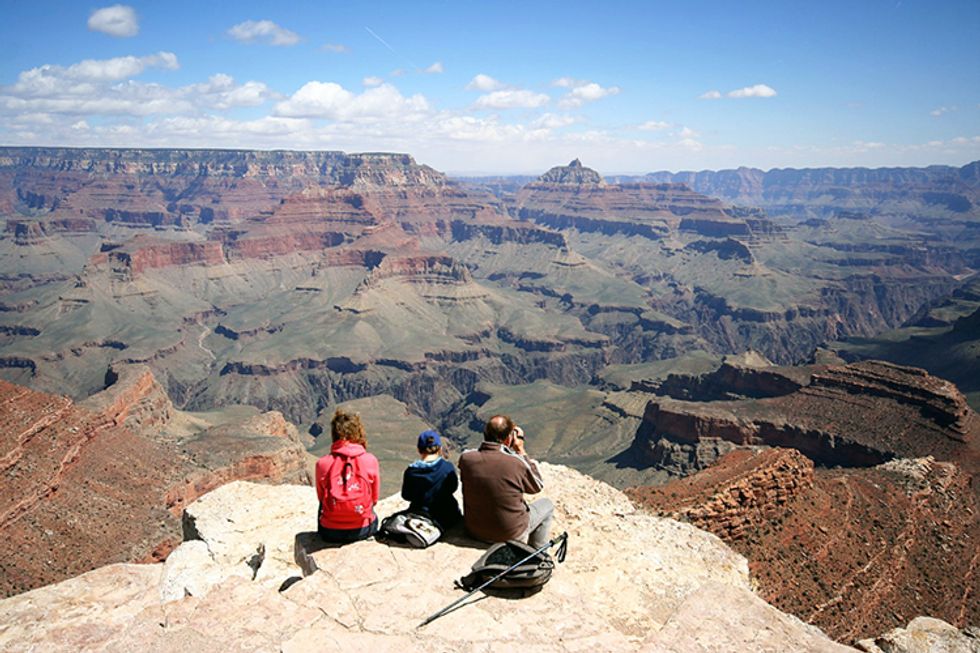 By itself, the 18-mile-wide, 277-mile-long Grand Canyon is itself the view of a lifetime at any age. Make it even more fun from the back of a mule. Families can also explore an exposed fossil bed during a one mile, one hour tour along the South Rim. Impressions of sponges, brachiopods and other marine creatures from more than 270 million years ago allow kids to travel back in time.
8. Lava Beds National Monument—California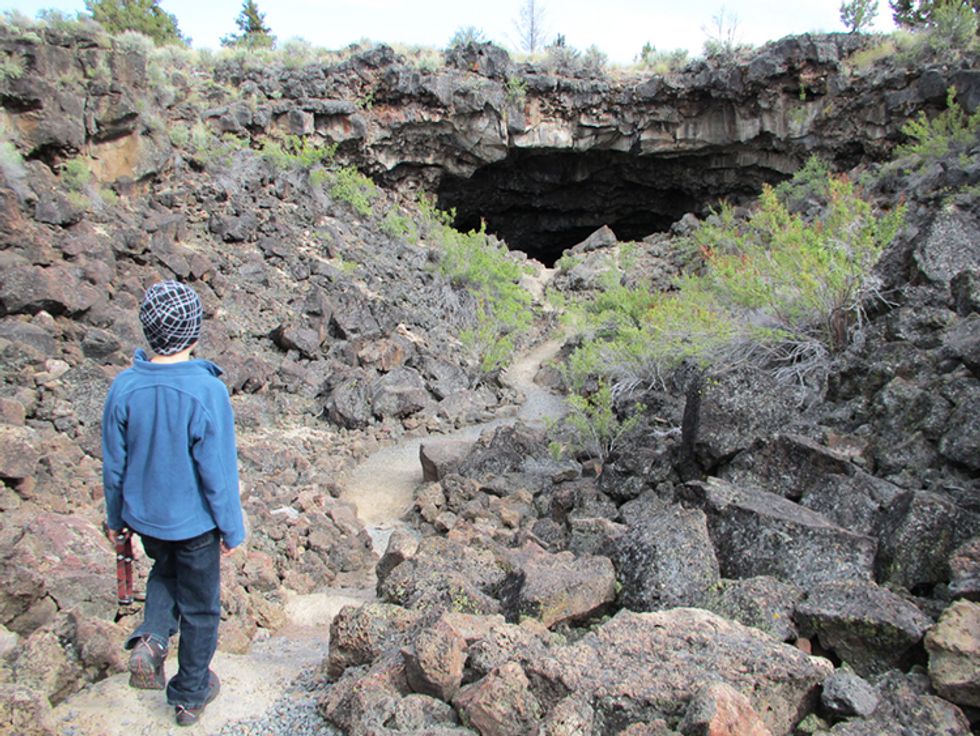 Over the last half-million years, volcanic eruptions have created a landscape with diverse volcanic features for kids to explore. One of the most exciting features the lava left behind were the Lava Tube Caves. The caves have varying levels of difficulty, so inexperienced cavers or children can enjoy the caves, too. They may even spot cave crickets, bats or rubber boas—all of which are neither dangerous not poisonous. This summer, Lava Beds is offering special events for children and those who want to become junior rangers.
9. Minuteman National Historic Park—Massachusetts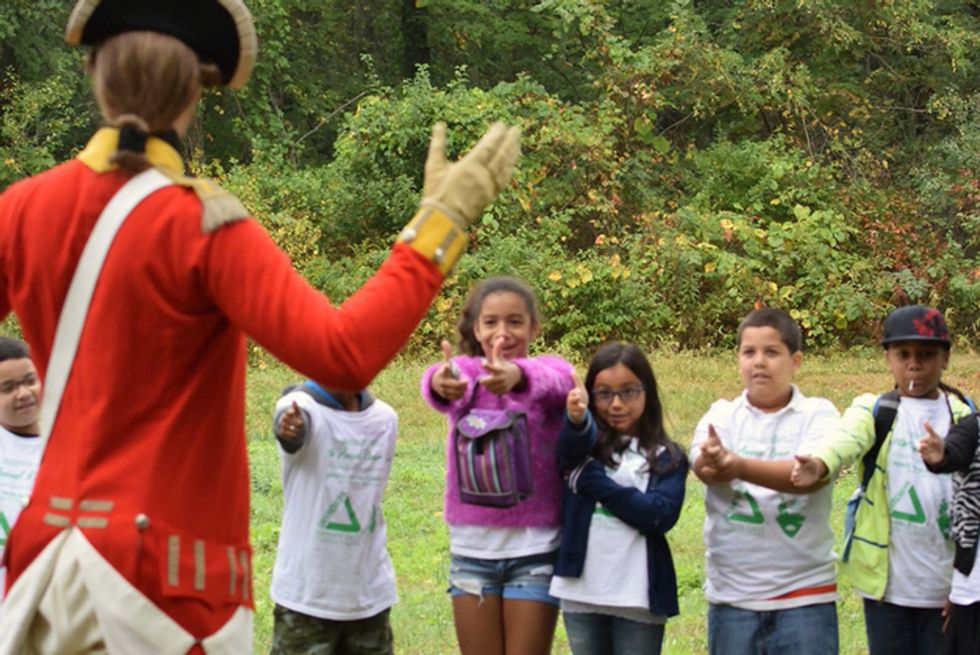 Kids can learn about how America came to be its own nation at this national historic park. Through multimedia programs about the road to revolution, British Redcoats and American rebels, children can hear about the first battles of the American Revolution. Beyond that, kids can participate in a ranger-led demonstration and be a part of a militia muster with costumed Minutemen, complete with drilling with wooden muskets. Don't just learn about the Revolution—become a part of it.
10. Olympic National Park—Washington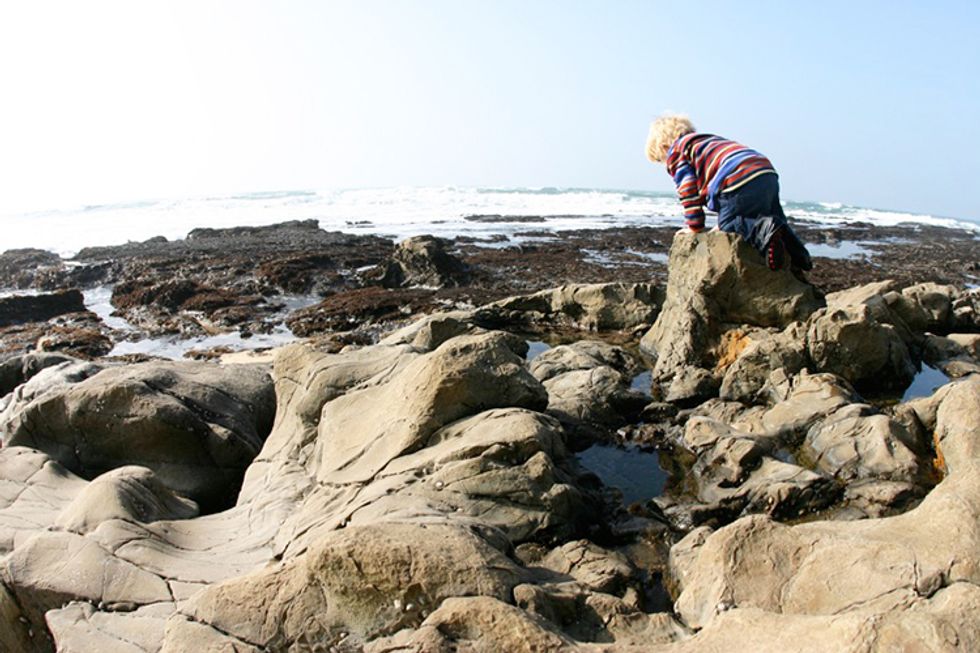 Olympic National Park encompasses several distinct ecosystems and protects a rich mosaic of natural and cultural history. Rivers flow, untamed, from glacier-capped peaks through sturdy forests while waves crash against the shoreline. Only trails traverse the vast interior of this internationally recognized wilderness. Kids can explore the tide pools that provide small windows into the lives of ocean dwellers and rivers, and visitors can end the day away from the city lights, stargazing and tracing constellations in the night sky. Among the thick trees, babbling rivers and foamy seashore, children can try to spot birds, deer, elk, bears and whales.
11. Petrified Forest National Park—Arizona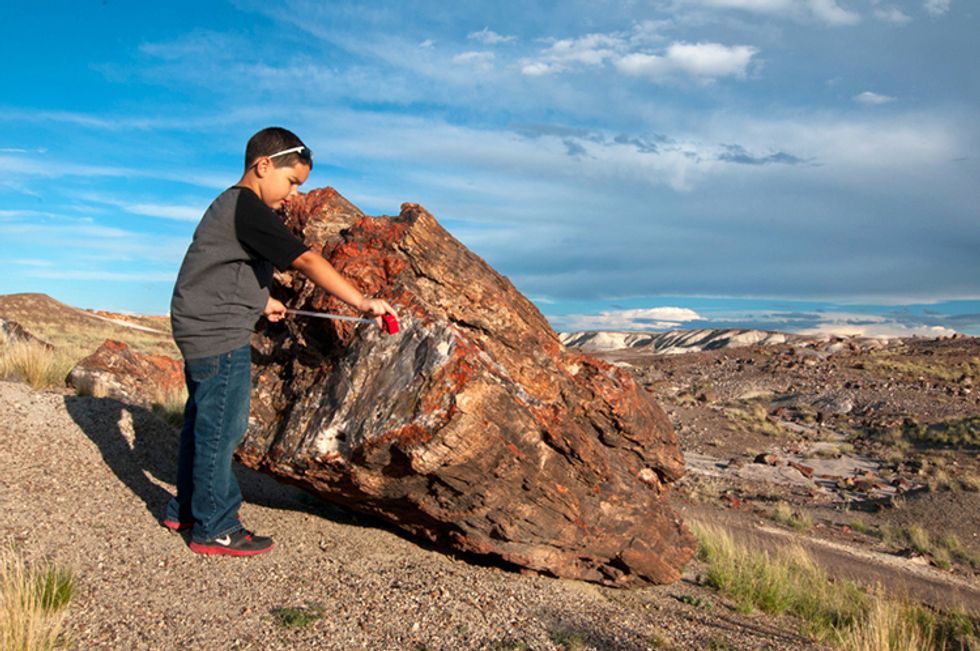 Hike through the rugged and majestic backcountry to give children an up-close look at the colorful petrified wood that is the namesake of the park. Explore around the hoodoos in Black Forest and marvel at the rocks' height and balance. Try your hand at family geocaching or go horseback riding along trails in Petrified Forest National Park. Visit the Painted Desert Visitor Center and watch the park film, then visit the outlooks or the Painted Desert Rim Trail to view the vibrant stripes that decorate the rock formations of Painted Desert. The Rainbow Forest Museum features paleontological exhibits with displays of prehistoric skeletons. Kids can try their hand at being a paleontologist in the museum's Blue Mesa Room.
12. Acadia National Park—Maine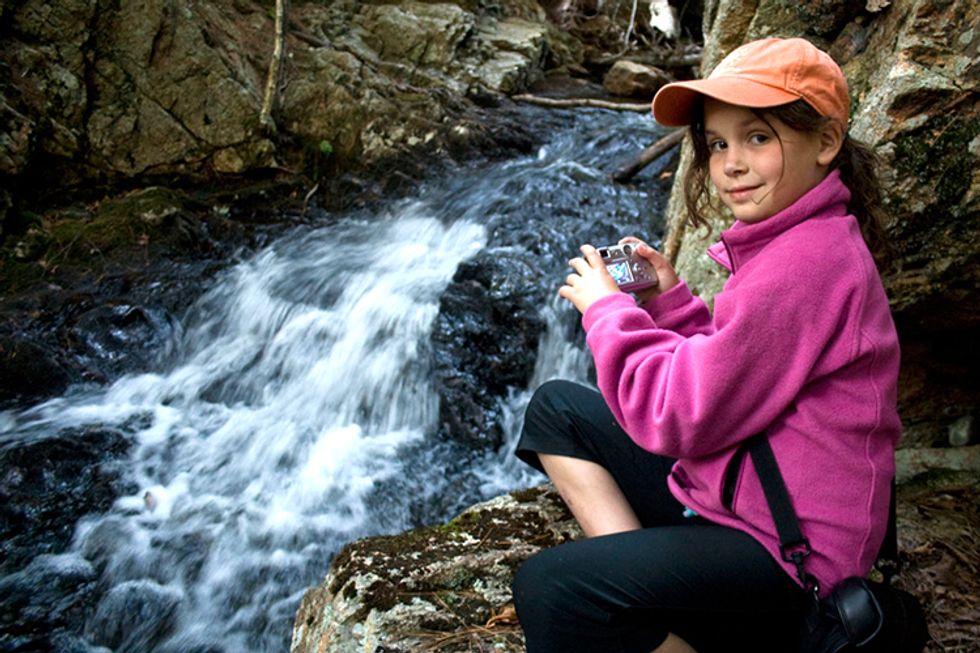 In Acadia, kids can feel like they're on top of the world as they explore Cadillac Mountain, which reaches for the sky as the tallest mountain on the Atlantic Coast. Acadia National Park also offers the chance to hike granite peaks or horseback-ride along historic carriage trails. Children can chase the clear blue waves at Sand Beach and Echo Lake Beach, which are also perfect for constructing sand castles or lounging in swimming suits. Tide pools teem with aquatic animals and offer an up-close view of marine life. Kids can search for frogs in a pond or cast a line at one of the many fishing spots. Rangers lead tours and activities and kids can take part in the Junior Ranger Program to earn a certificate and patch.
YOU MIGHT ALSO LIKE
The National Park Service Is Turning 100 and You're Invited
Kayaking Chile's Free-Flowing Pascua River
5 Reasons to Explore the Untamed Beauty of Denali National Park
Love Wildlife? Check Out These 11 Stunning Photos From Yellowstone National Park
Catherine Falls Commercial / Moment / Getty Images
There's no better way to show your dog that you love them than by keeping them healthy. In addition to exercise, a healthy diet, grooming, and regular checkups at the vet, you can also help support your dog's wellbeing with CBD dog treats. Learn how CBD oils and treats can benefit your four-legged friend and see which brands made our list of the best CBD treats for dogs.
How CBD Treats and Chews Can Help Dogs (and Other Pets)
Cannabidiol, or CBD, is one of the many naturally occurring compounds found in the hemp plant. CBD oil is derived from the leaves, flowers, and stems of the cannabis plant. This important cannabinoid compound has been found to possess both medical as well as therapeutic benefits in both humans and animals.
Like humans, dogs possess an endocannabinoid system (ECS). The ECS plays a role in the body's natural processes related to mental function, mood, inflammation, pain, appetite, energy, digestion, and more.
Some of the potential benefits of CBD for dogs include support for:
Separation anxiety and stress
Pain
Chronic inflammation
Arthritis and joint pain
Mobility
Digestive issues
Seizures, tremors, or spasms
With so many potential benefits, more and more pet owners are seeking CBD for dogs as a natural way to help keep them healthy.
Related: Best CBD Oils for Dogs of 2021
Top 6 CBD Dog Treats Online
Each product featured here has been independently selected by the writer. You can learn more about our review methodology here. If you make a purchase using the links included, we may earn commission.
How We Review CBD Treats for Dogs
To select the best CBD dog treats, we considered specific factors around the CBD, the ingredients, the flavoring, and the brands themselves. Here are more details about how we reviewed each of CBD treats for dogs that made our list.
Source of CBD
Just like with CBD products for people, we only choose brands that use CBD from safe and trustworthy sources. We prefer brands that use CBD from hemp plants grown in the U.S., and we also look to see if the CBD is grown organically or naturally. The extraction process also matters, especially if they use clean CO2 extraction. This helps determine the type of CBD contained in their products, whether it's full spectrum, broad spectrum, or CBD isolate.
Ingredients
In addition to the CBD, we look to see what other ingredients go into each dog treat. The best brands use all-natural ingredients and flavorings and avoid fillers or allergens like corn, wheat, and soy. We also look for additional healthy ingredients like sweet potato, flaxseed, turmeric, passionflower, sunflower oil, and more, that are known to promote better health in dogs.
Flavor
A CBD dog treat won't do much good if you're dog won't eat it! We select products that come in appetizing flavors that dogs will love. It's important that these come from natural ingredients instead of artificial flavoring. We also chose different types of treats, both soft and hard chews, to give you more options depending on your dog's preferences.
Brand
We only recommend CBD dog treats from brands that we trust. All of the best CBD brands include third-party lab testing on all of their products to ensure the strength and purity of their CBD. Certain brands also offer veterinarian-formulated pet CBD treats, or are certified by the National Animal Supplement Council (NASC). We also look for brands that offer affordable prices and money back guarantees.
Our Top Picks for Dog CBD Treats
What's the Difference Between CBD Oil and CBD Dog Treats?
CBD for dogs can come in several different forms. Some brands offer CBD oil for dogs, which comes as an oil tincture that you measure using a dropper. CBD oil can either be administered orally or mixed in with your dog's food. This provides a fast way for your dog's body to absorb the CBD and to experience the mental and physical benefits. CBD oils for dogs also typically contain fewer ingredients than some other pet CBD products, just the CBD and a carrier oil, so it's easier for you to know exactly what you give to your dog.
CBD dog treats are soft or hard chews made with CBD and are meant to be more palatable for dogs than oils. Some dogs do not enjoy the earthy or natural flavor of CBD oil and respond better to a savory treat. These products also typically include other natural ingredients meant to promote your dog's health, including sweet potato and flax seed. Treats make it easier to know exactly how much CBD you give to your dog each time, as every treat will contain the same amount of CBD. Dog treats with CBD are typically an easier, less messy option than oils.
What the Experts Say About CBD and Dogs
Research has found that CBD can provide a number of different benefits for dogs, from calming dogs with separation anxiety to helping older dogs that suffer from chronic joint pain.
A 2018 study concluded that CBD oil "can help increase comfort and activity" in dogs with osteoarthritis. Another study conducted in 2019 found that CBD could help dogs with epilepsy by potentially reducing the frequency of seizures when added to their existing medication.
In addition to joint pain and epilepsy, CBD is also frequently used to help relieve anxiety and stress in dogs. Recent research has shown that CBD can help to reduce aggression in some dogs, especially through calming dogs in stressful settings like shelters.
What to Look for in CBD Dog Products
While there are a lot of CBD dog products out there, not all of them are safe or effective. Here are the things to look for when evaluating CBD for dogs.
Quality Signals
There are a few signs that can tell you if a CBD dog treat or oil is a quality product.
First, always look to see that the product has undergone independent third-party lab testing to ensure its potency and safety. Second, try to choose CBD products that are sourced from hemp grown in the United States. Third, you can always look for the National Animal Supplement Council (NASC) seal that indicates a product or brand meets strict standards for safety and testing.
Additionally, look for labels and certifications that you trust like USDA organic, non-GMO, and products made without wheat, corn, or soy.
How to Read Labels
When comparing CBD dog treats, make sure to check the labels for a few key pieces of information.
Type of CBD
Make sure you know what type of CBD is in the product. Full spectrum CBD offers the complete profile of cannabinoids and plant compounds found in hemp. For some, this provides more benefits and stronger relief. Broad spectrum CBD, meanwhile, all of the same cannabinoids, terpenes, and flavonoids as full spectrum, but it is THC-free. This can be important if your dog is especially sensitive or does not react well to full spectrum products.
Amount of CBD
Next, look to see how much CBD is contained in each treat or serving. This will help you determine the right product for your dog based on their size. Some brands include serving guides on their packaging to help make sure you give your dog the appropriate amount of CBD.
List of Ingredients
Check the ingredients list as well to make sure that the CBD dog treat does not contain anything your dog might be allergic to. You can also note if the treat is made with all natural ingredients. Depending on your dog, you can also look for treats that contain additional ingredients that are good for specific health concerns, like sweet potato, turmeric, passionflower, and flax seed.
How Many CBD Treats Should Your Dog Take?
The amount of CBD contained in each treat will determine how many you should give your dog at one time. As with humans, it's best to start with a small dose, monitor your dog's response, and gradually increase slowly from there. The same rule of thumb applies for dogs and other pets: start low and go slow.
Most CBD dog treats will include a recommended serving guide based on the size of your dog. For example, for dogs under 10 lbs you may only want to give them 1.5 mg of CBD daily. If a treat contains 3 mg of CBD total, you should only give them half of a treat per day. Dogs over 60 lbs, however, may need two treats a day, or 6 mg of CBD, to experience the desired benefits. Again, start with a small amount to make sure that your dog responds positively to CBD before gradually increasing the number of treats.
Possible Side Effects
As with any natural supplement or prescription medication for your dog, there is the possibility for certain side effects. Some of the more common side effects that dogs can experience include:
Excessive panting
Vomiting
Nausea
Loss of balance
Lethargy
If you notice that your pet is experiencing any of these symptoms, then you may have given them too much CBD, as these are signs of toxicity. If your dog is experiencing any of the symptoms listed above, it's best to call your veterinarian right away.
Takeaway
CBD can offer a number of potential benefits for dogs. For those who don't want the mess of oil tinctures, or for dogs who don't like the taste of oils, CBD dog treats offer an easy and tasty solution. Whether you want to help your dog with anxiety and stress or mobility issues due to joint pain, you can find a CBD dog treat that you both will love.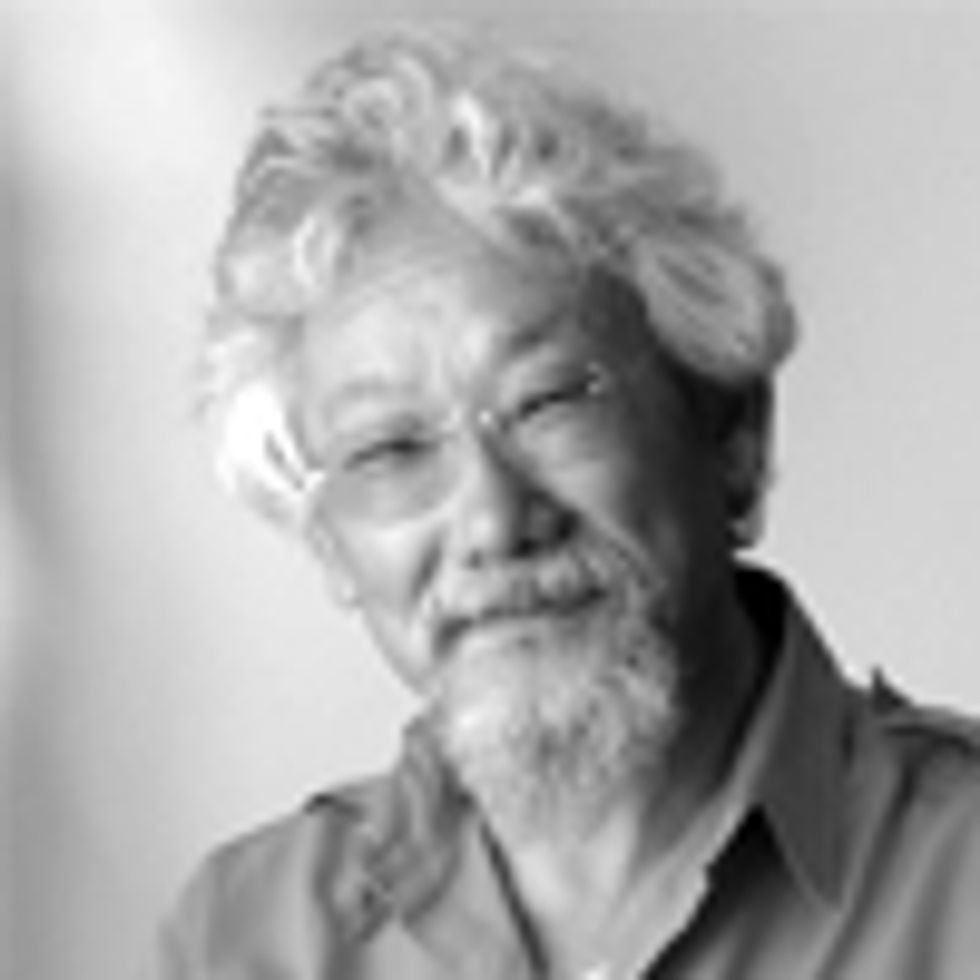 In 1997, Canada restricted import and transfer of the gasoline additive MMT because it was a suspected neurotoxin that had already been banned in Europe. Ethyl Corp., the U.S. multinational that supplied the chemical, sued the government for $350 million under the North American Free Trade Agreement and won! Canada was forced to repeal the ban, apologize to the company and pay an out-of-court settlement of US$13 million.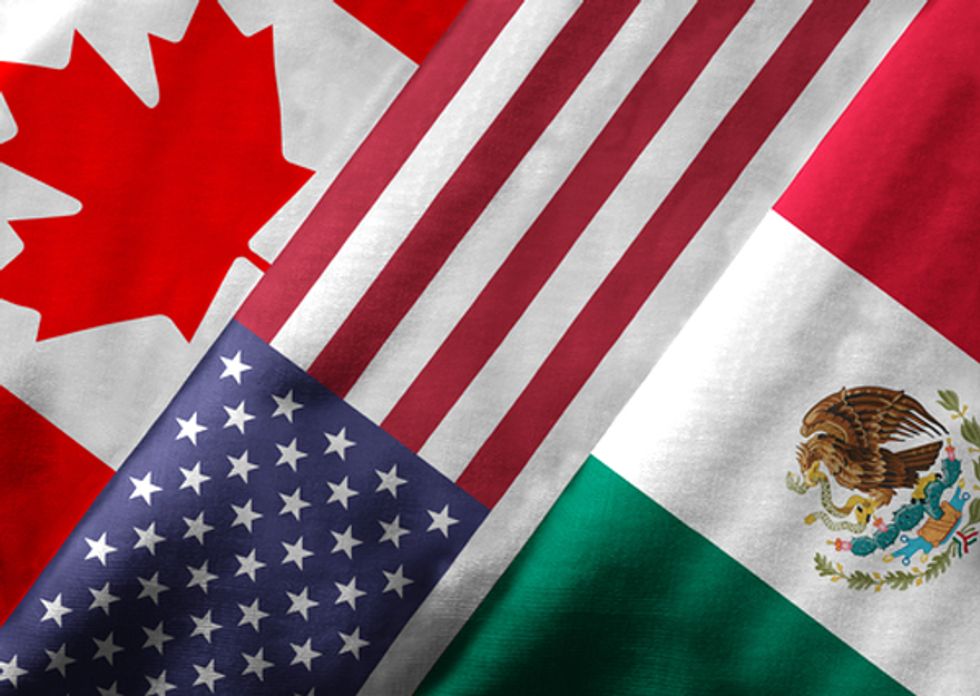 Photo credit: Shutterstock
The free trade agreement between Canada, the U.S. and Mexico was never designed to raise labor and environmental standards to the highest level. In fact, NAFTA and other trade agreements Canada has signed—including the recent Foreign Investment Promotion and Protection Agreement with China—often take labor standards to the lowest denominator while increasing environmental risk. The agreements are more about facilitating corporate flexibility and profit than creating good working conditions and protecting the air, water, land and diverse ecosystems that keep us alive and healthy.
Canada's environment appears to be taking the brunt of NAFTA-enabled corporate attacks. And when NAFTA environmental-protection provisions do kick in, the government often rejects them.
According to a study by the Canadian Centre for Policy Alternatives, more than 70 percent of NAFTA claims since 2005 have been against Canada, with nine active cases totaling $6 billion outstanding. These challenge "a wide range of government measures that allegedly interfere with the expected profitability of foreign investments," including the Quebec government's moratorium on hydraulic fracturing, or fracking.
Quebec imposed the moratorium in 2011 pending an environmental review of the controversial gas-and-oil drilling practice. A U.S. company headquartered in Calgary, Lone Pine Resources Inc., is suing the federal government under NAFTA for $250 million. A preliminary assessment by Quebec's Bureau d'audiences publiques sur l'environnement found fracking would have "major impacts," including air and water pollution, acrid odours and increased traffic and noise. Fracking can also cause seismic activity.
According to the CCPA, Canada has been sued more often than any other developed nation through investor-state dispute settlement mechanisms in trade agreements. Under NAFTA, "Canada has already lost or settled six claims, paid out damages totaling over $170 million and incurred tens of millions more in legal costs. Mexico has lost five cases and paid damages of US$204 million. The U.S. has never lost a NAFTA investor-state case."
NAFTA does, however, have a watchdog arm that's supposed to address environmental disputes and public concerns, the Commission for Environmental Cooperation. But Canada is blocking the commission from investigating the impacts of tailings ponds at the Alberta oilsands.
Environmental Defence, Natural Resources Defense Council and three people downstream from the oilsands asked the CEC to investigate whether tailings leaking into the Athabasca River and other waterways represent a violation of the federal Fisheries Act. According to the complaint, the tailings ponds, which are actually much larger than what most people would think of as ponds, are spilling millions of litres of toxic liquid every day. Environmental Defence says the CEC found "plenty of evidence that tar sands companies were breaking Canadian law and lots of evidence that the Canadian government was failing to do anything about it."
It's the third time in the past year that Canada has prevented the commission from examining environmental issues. Canada earlier blocked an investigation into the protection of polar bears from threats including climate change and one concerning the dangers posed to wild salmon from BC fish farms.
Trade agreements are negotiated in the best interests of corporations instead of citizens. On top of that, federal and provincial governments keep pinning our economic hopes on volatile oil and gas markets, with little thought about how those resources could provide long-term prosperity. Recent plummeting oil prices show where that leads.
These priorities are screwed up. We end up with a boom-and-bust economy and the erosion of social programs as budgets are slashed when oil prices drop. Skewed trade deals allow corporations to override environmental protections that haven't already been gutted, and create a labor climate in which wages, benefits and working standards fall.
It's time for Canada to recognize that a diversified economy and citizens' right to live in a healthy environment are more important than facilitating short-term profits for foreign and multinational corporations.
YOU MIGHT ALSO LIKE
Senate Votes 98-1 That Climate Change Is Not a Hoax, But…
Obama: No Challenge Poses a Greater Threat Than Climate Change
On Aug. 4, an approximately 580 acre impoundment failed at a Canadian gold and copper mine near Likely, British Columbia. The breach at Imperial Metal's Mt. Polley mine dumped an estimated 1.3 billion gallons of toxic mine waste into the surrounding environment. On Aug. 5, Landsat 8 acquired an image of the mine showing that grey sludge from the tailings dam has entered Polley Lake, saturated the entire length of Hazeltine Creek and entered Quesnel Lake more than five miles downstream of the failed impoundment.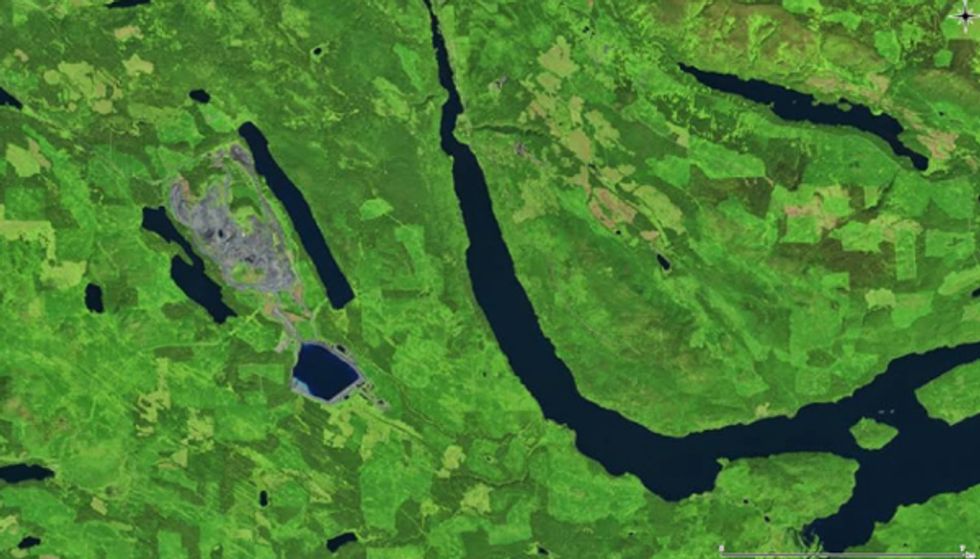 BEFORE: Mt. Polley Mine and Quesnel Lake, British Columbia, Canada: A Landsat 8 satellite image acquired July 29 shows the pond intact and Hazeltine Creek barely visible. Source: USGS/Landsat
The spill has prompted drinking water bans throughout the region, since the pond contains a slurry laden with arsenic, lead, mercury, selenium and other toxic metals and compounds.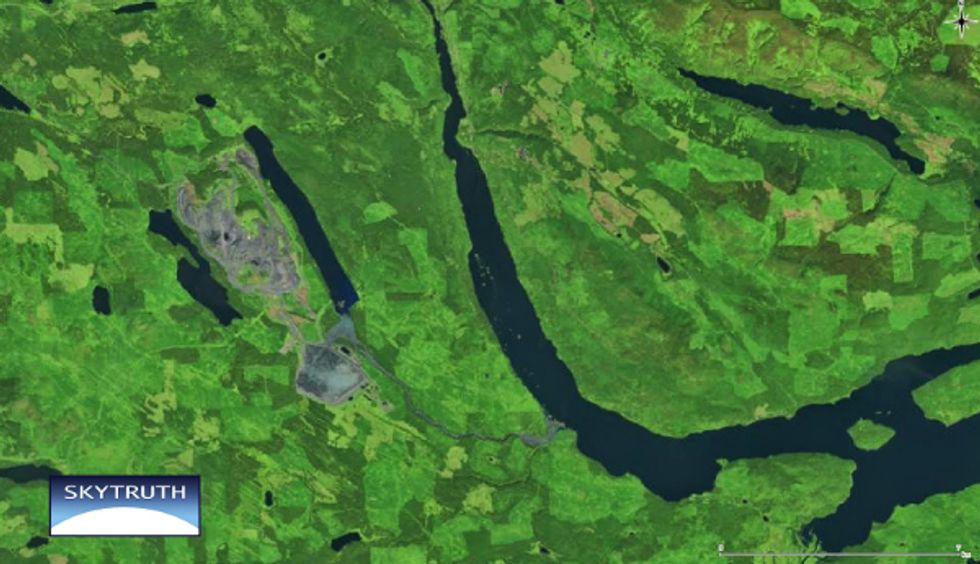 AFTER. The pond has breached and grey mine waste can be seen entering Quesnel Lake over five miles away. Credit: USGS via SkyTruth
The president of Imperial Metals, Brian Kynoch, claims that the water in the tailings pond is "near drinking water quality" and expressed disbelief that the impoundment could fail so catastrophically, despite the fact that Canadian officials had issued multiple warnings to Imperial Metals for exceeding water quality standards for effluent and exceeding the permitted wastewater levels in the pond.
Local citizens anticipating the arrival of a salmon run now fear the worst for the environment and tourism, especially as they begin to document dead fish in Quesnel Lake. 
Environmental groups across North America will be watching this story closely given the similarities to the proposed Pebble Mine in Alaska's Bristol Bay watershed, the world's most productive wild salmon fishery. Tailings ponds at Pebble mine would cover a surface area 13 times larger than the Mt. Polley impoundment and would have similar earthen dams taller than the Washington Monument.
You Might Also Like
Take Action to Protect Bristol Bay and Largest Wild Salmon Fisheries on Earth
Another Developer Pulls Investment From Controversial Pebble Mine Project
Salmon vs. Gold at Alaska's Pebble Mine
By Ted Auch
Now that we as a nation have weathered another silly season's worth of campaign ads, lawn signs and less than insightful debates between the country's two—and in the case of Vermont's gubernatorial election, seven—parties; it is time to get down to the job of governing this fine country and finding potential legislation that everyone can agree upon.
However, this will come with numerous attempts to abrogate U.S. Environmental Protection Agency (EPA) regulations to cut greenhouse gas (GHG) emissions via the Congressional Review Act, investigations and defunding lead by likely chair of the Senate Environment and Public Works Committee James M. "The Greatest Hoax" Inhofe (R-OK). Enter stage right the Keystone XL pipeline and statements like these from the GOP leadership and former Obama officials:
"We can act on the Keystone pipeline," said House Speaker John Boehner (R-OH).
"When you say energy these days, people think of the Keystone pipeline ... I mean, the employment figures connected with Keystone are stunning if we would just get going. [And I will] try to do whatever I can to get the EPA reined in," said Senate majority leader, Mitch McConnell (R-KY).
"If Republicans attach Keystone to a budget bill, I don't think he's so principally opposed to it that he would veto it," stated Former Obama State Department Bureau of Energy Resources lead David Goldwyn.
As anyone reading this knows by now, the Keystone XL is a highly controversial—but just one of many—proposal to create a N-NW to S-SW pipeline connector to the existing Keystone across Montana, South Dakota, the SW corner of North Dakota and Nebraska. The proposal would connect with the existing Keystone 55-60 miles southwest of Lincoln, Nebraska. This proposal is contentious for many reasons, one of which is the fact that it would cut across Nebraska's Sand Hills, Kansas' Flint Hills, and the region's Great and Glaciated Plains natural area sand sit just above the shallow 174,000 square miles of the Ogallala Aquifer, which provides drinking water to 1.9 million people and irrigation to 27 percent of the arable land in the U.S.
Bipartisan Points of Interest
As soon as it was obvious at around 10:30 p.m. EST that there would be a sea change in DC with the GOP ousting floundering DNC incumbents or challengers, both sides turned to potential points of compromise with topics like immigration, tweaking Obamacare at the margins, etc. receiving quite a bit of air time. Top among these is revisiting the Keystone XL expansion as the ultimate olive branch the administration could offer to its friends across the aisle. It is worth noting that as our politicians continue to debate the science of climate change and do all they can to ramp up our already disproportionate reliance on fossil fuels across the pond, the political consensus in countries like Denmark and Germany is nearly unanimous that their energy portfolios should exceed 50 percent by 2020.
Both parties have their boutique or "go-to" studies supporting their point of view as it relates to Keystone XL job multiplier, oil production and environmental cost-benefit analyses but very few, if any, have analyzed the past, current and potential footprint of the Athabasca and Peace River Oil Sands as it relates to above- and below-ground ecosystem service loss resulting from land-use/land-cover (LULC) change. Even the province of Alberta presents an ESRI online map of current and proposed oil sands projects. Alberta oil sands has increased by 1,455 percent from its early annual averages of 50 Million Barrels (MBs) to its current annual average of 725+ (Figure 1).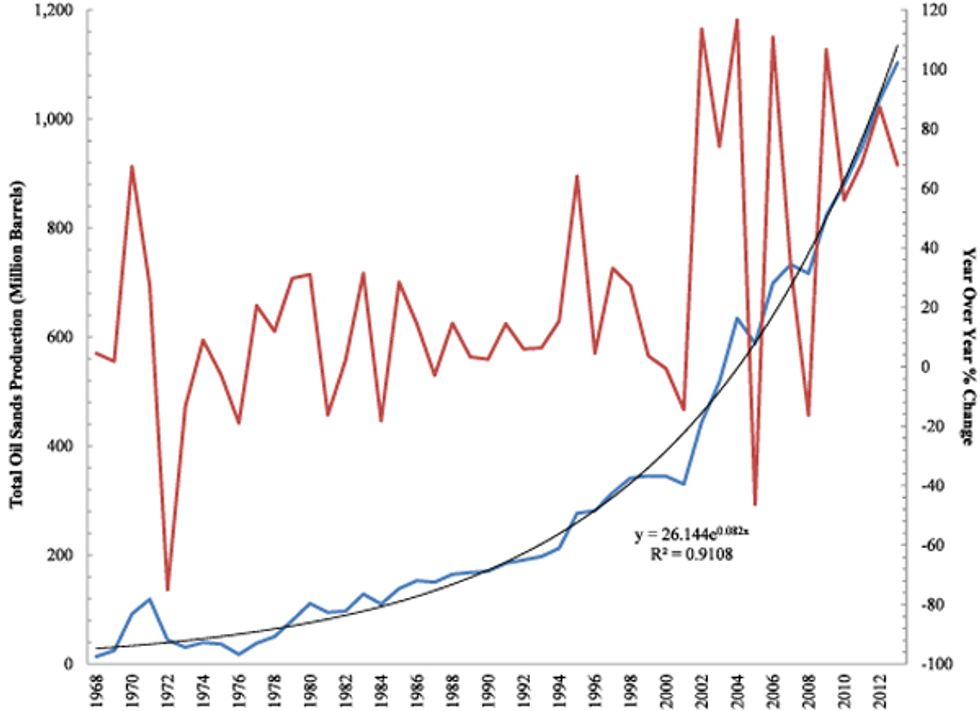 Just like similar fossil fuel and related industries' activities (i.e. frack sand mining and freshwater withdrawals), oil sands production has reached an exponential inflection point which shows no signs of slowing and likely is accelerating with calls for "energy independence," OPEC "foreign radicals," and the seemingly insatiable appetite for energy in developed countries as well as the growing affluence of countries like Brazil, Russia, India and China (aka Goldman Sachs' BRICs)[1]. The increasingly conservative and fossil fuel-infatuated Canadian government lead by Stephen Harper has already put all its eggs in the oils sands' basket as a primary overseas export engine of GDP growth. Harper & Co. are not waiting for DC to get its Keystone house in order with their Saint John, New Brunswick Energy East pipeline proposal which we have documented here and here. But make no mistake. Decisions made in the coming months and years in DC will dramatically influence the rate of oil sand expansion in Alberta. And with the winds pointing in the direction of Keystone approval, it is imperative that we understand how much oil sands LULC change has degraded ecosystem services and how it may change in the future under a variety of scenarios.
Current and Potential State of Ecosystem Service Loss in Alberta Oil Sands
The ecosystems that have been most effected by the recent oil sands expansion are coniferous forests and myriad shrublands to the tune of 370+ square kilometers followed by 39 square kilometers of deciduous forest and the shrinkage of freshwater area by 83 square kilometers. Additionally, recent oil sand expansion has displaced 16 square kilometers of grassland and mixed forest coverage. Mined area constituted 16.4 percent of the area under consideration historically vs. 61.1 percent of the land area under the most recent expansion. The point here is that the more recent expansion has left very little native vegetation, while prior efforts were more diffuse and smaller with more extensive tracts of native ecosystems left intact. Putting a finer point on this, we see that exposed area broadly defined constitutes 61.4 percent of oil sands' recent expansion and 24.2 percent of the older efforts. Tailing ponds constituted 7.9 percent of the old oil sands footprint and <00.05 percent of the most recent expansion.
The total area exploited to date for oil sands is somewhere between 750 and 779 square kilometers with roughly 38 percent of the original 35,846 acres of freshwater remaining. Additionally, there is only 26 percent of the native vegetation left within what we will call the "actual footprint" (i.e. the northern, southern, eastern and westernmost points of activity), which extends to 2.46 times the aforementioned 750-778 square kilometers range at approximately 4,786 square kilometers. Native vegetation is spread across 1,000+ polygons averaging 48.4 acres and totaling 199 square kilometers.
Put another way, the total potential Athabasca footprint spread across 53 unique polygons totals 71,878 square kilometers—meaning the percent that has been physically exploited to date accounts for 1.1 percent of the available area and the "actual footprint" comes in at around 6.7 percent of the potential. Translation: the calculations we present here for ecosystem loss are just the tip of the iceberg if Canadian and Chinese officials, as well as, our congress get their way with respect to the Keystone XL expansion.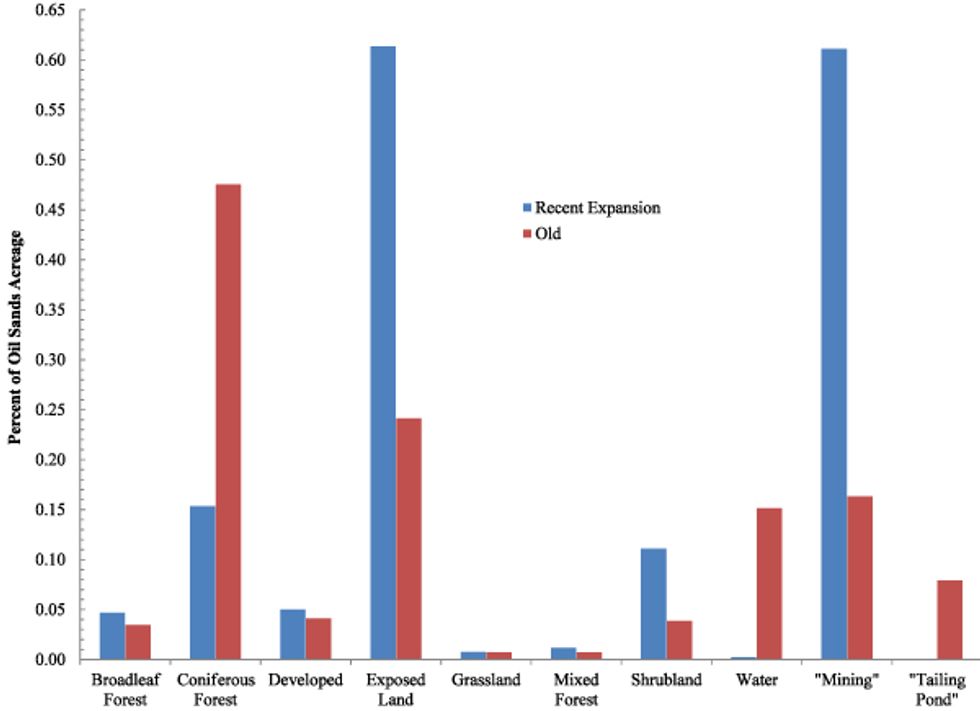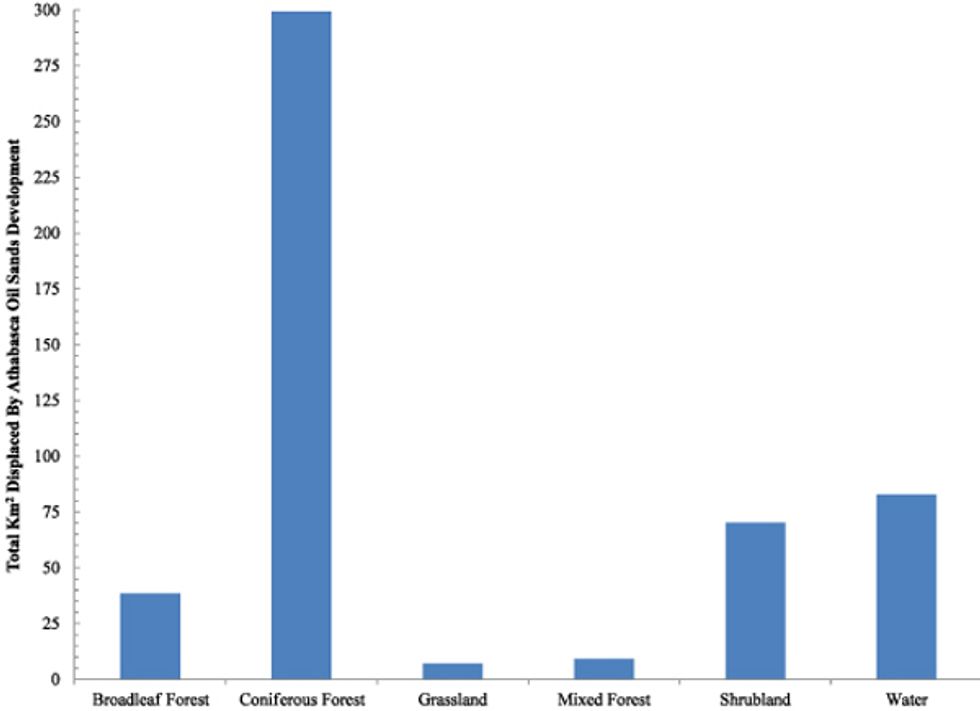 Model Parameters
In order to get to the following estimates, we assumed the average Alberta native sub-arctic ecosystem produces 8,510-13,680 kilograms per hectare (kgs per ha) (3.8-6.1 tons per acre) of aboveground biomass, 4,810-7,020 kgs per ha (2.2-3.1 tons per acre) of soil carbon, and 1,870-2,800 kgs per ha (0.8-1.2 tons per acre) of root biomass each year and each hectare was home to 251,810-261,250 kgs (112-116 tons per acre) of soil carbon (Kurz et al., 2013).
Current and Past Oil Sands Exploitation
Below we present ecosystem loss in terms of tons of carbon dioxide (CO2), Per Capita Equivalents and in terms of U.S. dollars, assuming $5 and $75 per ton of CO2:
Old and Recent Expansion

45.07 million tons (MT) of CO2 (8.9 Teragrams (Tg) CO2)
2.5 million per capita emissions equivalents (MPCEE), which is nearly the population of Chicago or Toronto
A price of $204.18 million to $3.38 billion

Assuming the average northern Alberta ecosystem burns every 20-21 years clearing all aboveground biomass, the above translates into:
Actual Footprint

357.8 MT of CO2
19.9 MPCEE, which is equal to the combined population of Mexico City, New York and Los Angeles
A price of $1.62 to $28.84 billion
Future Scenarios
Ten year Alberta oil sands scenario across three rates of productivity increases:
Total Athabasca and Piece River Exploited:

6.93 billion tons (BT) of CO2 (1,369.4 Teragrams (Tg) CO2 or 100 percent of annual U.S. emissions from burning fossil fuels)[2]
385.8 MPCEE or the combined population of the U.S., Canada and Saudi Arabia
A price of $31.37 to $519.34 billion, which is equal to the GDP of North Dakota and Norway, respectively

Production increases at a rate of 5.8 percent (i.e. 2nd quartile rate of change):

71.37 MT of CO2
4.0 MPCEE or the entire population of Los Angeles
A price of $323.29 million to $5.35 billion

Production increases at a rate of 23.9 percent (i.e. 3rd quartile rate of change):

159.93 MT of CO2
8.5 MPCEE (i.e. Mexico City)
A price of $692.79 million to $11.47 billion.

Production increases at a rate of 76.9 percent (i.e. 4th quartile rate of change):

391.76 MT of CO2
21.8 MPCEE
A price of $1.77 to $29.38 billion with the latter ironically being equal to the GDP of North Dakota.
Future Steps and Potential Ramifications
The Total Athabasca and Piece River exploitation scenario outlined above amounts to 4.3 percent of global CO2 emissions from the burning of fossil fuels. And if we assume the aforementioned 20-21 year fire interval, this would amount to 87.8 percent of global annual emissions—an extremely disturbing number given that we have already surpassed 350.org and Jim Hansen's proposed atmospheric concentration tipping points at a rate of 1.02 percent per year with exploitation of the Alberta oil sands likely to amplify this rate of change in parallel with the above results.
Finally, this is not just a story about CO2, but also two other primary GHGs: CH4 and N2O. If we assume a reasonably constant ratio of CO2 to these GHGs [3]—which is admittedly a gross oversimplification given the large amounts of CH4 and N2O currently being emitted from melting permafrost soils—these rates of CO2 emissions will be accompanied by 481.8 TG worth of annual CH4 and N2O emissions or a fire interval value of 9,821.6 Tg which would add an additional 7.2 years worth of U.S. fossil fuels emissions equivalents to the atmosphere.
So before we decide to give carte blanche to the big players in the Athabasca and the folks at TransCanada, it will be important to discuss frankly and empirically what an atmosphere enriched with the above would mean for our way of life in the long-term rather than simply focusing on short-term royalty and ephemeral job multiplier numbers presented by industry and the politicians they have long been supporting financially.
The way U.S. and Canadian politicians and industry have been promoting the Keystone XL and Athabasca Oil Sands is equivalent to you or I assuming that we are balancing our checkbook if we keep scrupulous records of deposits, but only occasionally if ever, address withdrawals. That is no way to balance our personal finances or this planet's environmental finances (in my humble opinion). The long-term externality costs associated with the Keystone XL expansion are largely environmental in nature and will be socialized, while the short-term financial windfall profits will be privatized. It is going to be important to incorporate the costs described above into our planetary checkbook analogy.
[2] Keep in mind the vegetation in this region is cleared by fire every 20-21 years meaning this 1,369.4 Tg is actually more like 27,914.1 Tg if we assume a constant rate of biomass accrual. The latter figure is nearly equal to 20.5 years of U.S. CO2 emissions from the burning of fossil fuels.
[3] As well as global warming potentials relative to CO2 of 21 and 310 for CH4 and N2O, respectively.
YOU MIGHT ALSO LIKE
5 Reasons Senate Must Reject the Keystone XL Pipeline
Divest or Else: How Hip-Hop Can Help Save the Planet
Tar sands mining in the heart of Canada's boreal forest is putting millions of America's migratory birds in jeopardy and has already resulted in hundred of thousands of fatalities, according to a new report released today by the National Wildlife Federation and Natural Resources Council of Maine.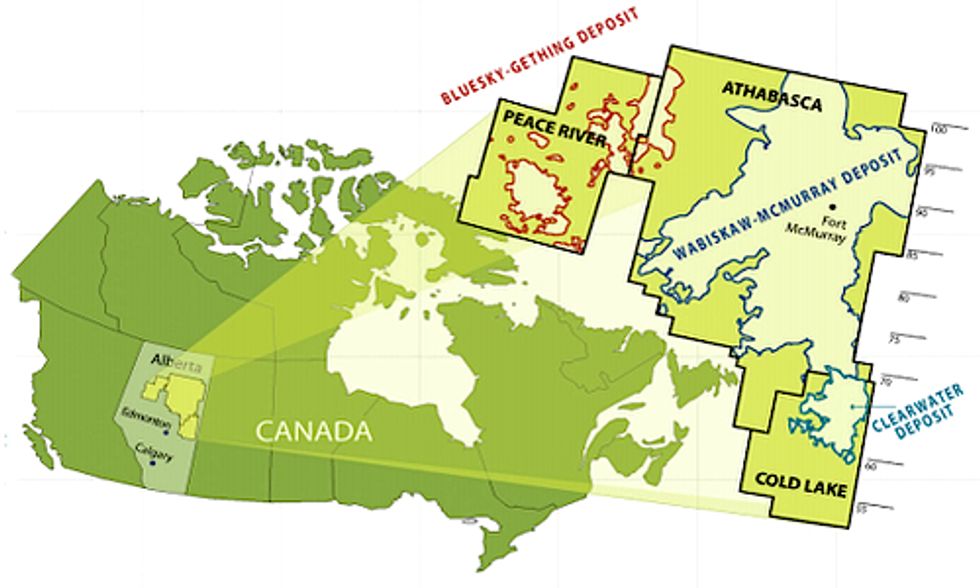 An area approximately the size of Florida is being destroyed by tar sands operations: huge open-pit mines, toxic waste tailings ponds, extraction wells, noisy compressor stations, refineries and networks of new roads, drilling pads, seismic lines and pipelines have taken over the once pristine area, causing massive destruction and habitat fragmentation, according to Natural Resources Council of Maine.
Not only is the boreal forest of Canada an important carbon sink—with 208 billion tons of carbon stored in the trees, soils, water and peat—but more than 130 species of North America's internationally protected migratory birds rely on the boreal forest for breeding.
"Unchecked tar sands development is turning a vast, irreplaceable breeding ground into a toxic wasteland," said National Wildlife Federation Senior Counsel Jim Murphy. "Many of the birds Americans watch, enjoy and hunt fly to and rely on this area.  The Canadian Government has vowed to protect these birds, but it is turning a blind eye."
The report details the threatened birds, including one of the most iconic species of successful conservation, the Whooping Crane, which rebounded from a population low of just 15 cranes in the 1940's to more than 600 today. The Whooping Crane's precarious comeback is in danger from tar sands expansion. Also included in the at risk birds are the American Goldfinch, Great Blue Heron, Wood Duck, Trumpeter Swan and many more.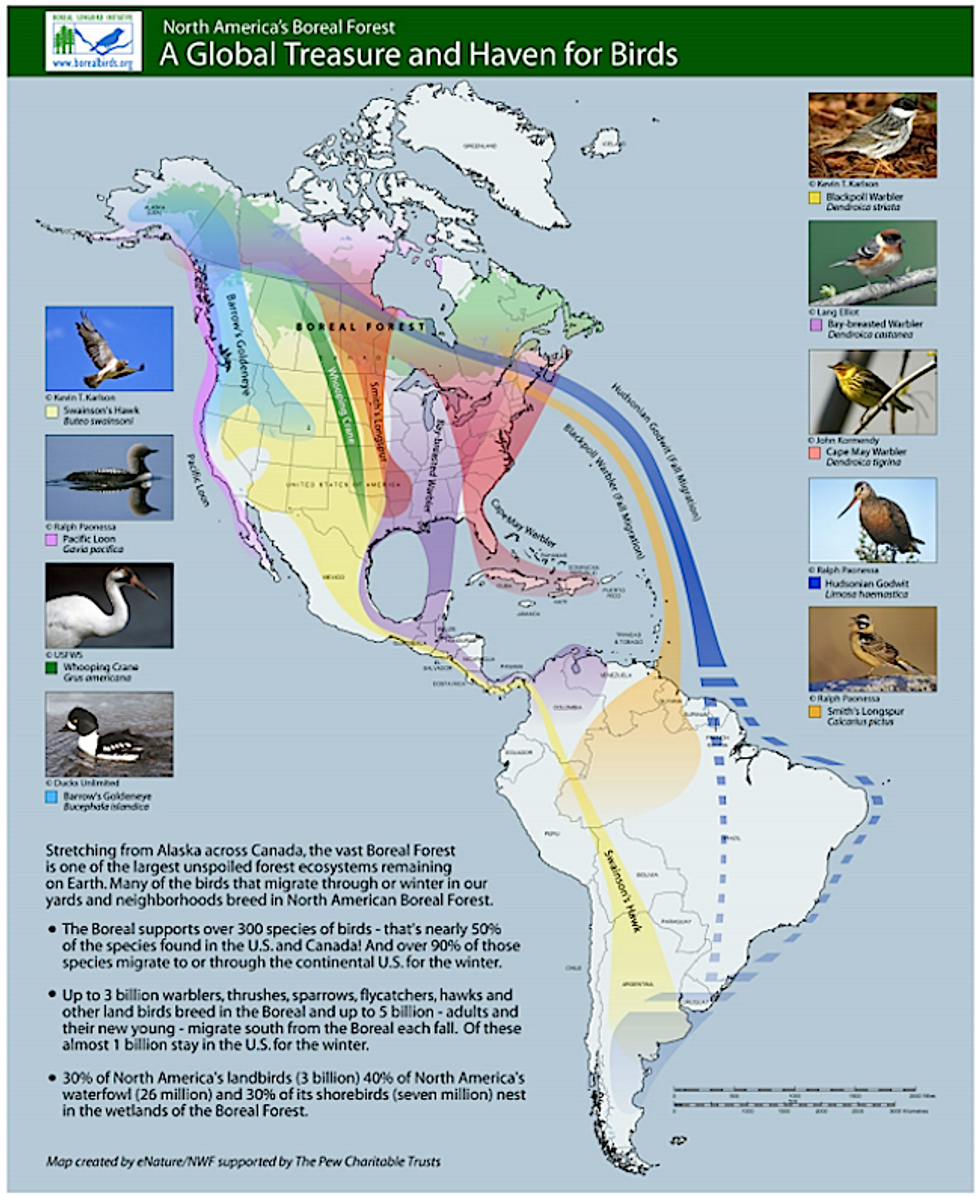 The report points out that the U.S. Department of Interior is under a legal obligation—known as the "Pelly Amendment"—to determine whether tar sands mining in Canada is undermining a century-old international treaty designed to protect North America's shared songbirds and waterfowl.
Tailing ponds alone could threaten the legality of the Pelly Amendment. These oil-laden ponds have resulted in the deaths of countless waterfowl, according to the report. In 2008, 1,600 ducks died in Syncrude tailings ponds. An October 2010 storm resulted in hundreds of ducks landing on a Suncor tailings pond near Fort McMurray—at least 550 birds were too oiled to save. As of 2010, 43 species of internationally protected birds had suffered fatalities from exposure to tar sands tailings ponds. The report calculated that unabated tar sands development could result in the reduction of 70 million hatchlings over a 40-year period.
"Not only does tar sands development cause the loss and destruction of important breeding habitat for birds, the contaminants from tar sand operations can have serious and far-reaching consequences," said Maine ornithologist Iain Stenhouse from the Biodiversity Research Institute. "The toxic tailings ponds actually attract migrating waterbirds, and mercury contamination has increased dramatically in vast areas surrounding these oil fields. We need to find ways to minimize the human impacts to bird populations, especially as they struggle to adapt to the effects of climate change—effects that are only exacerbated by carbon-based energy developments like the tar sands."
"Wildlife and tar sands don't mix," said Murphy. "The Canadian Government is putting polluting fossil fuel profits above the welfare of birds and other species. Interior Secretary Jewell and the President can send a message to Canada that it is unacceptable to undermine our shared wildlife heritage. The President needs to act by rejecting dirty tar sands pipeline projects like Keystone XL. Moving forward with clean, wildlife-friendly energy, not tar sands, is the answer."
A new study released by two Alberta First Nations communities in partnership with the University of Manitoba reports that certain carcinogens released in tar sands operations are being found in high levels in local wildlife. The study also reports a higher incidence of cancer among study participants, many of whom work in the tar sands industry, adding to evidence that these local communities suffer from higher rates of cancer.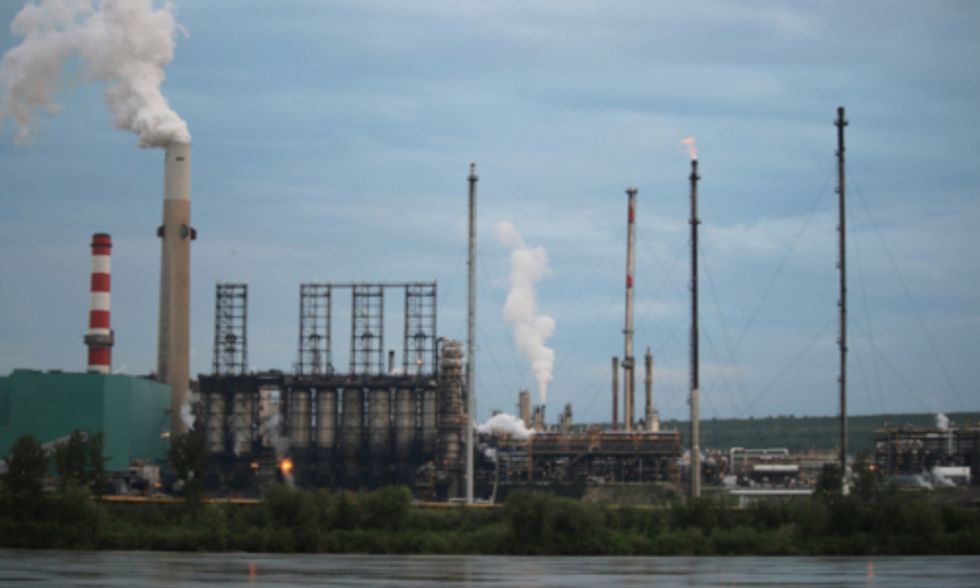 The Mikisew Cree Chief Steve Courtoreille said, "This report confirms what we have always suspected about the association between environmental contaminants from oil sands production upstream and cancer and other serious illness in our community… We are greatly alarmed and demand further research and studies are done to expand on the findings of this report."
The University of Manitoba study done in collaboration with the Mikisew Cree and Athabasca Chipewyan First Nations adds to growing body of scientific evidence that people living near tar sands operations are showing that serious health risks and problems. Projects like the proposed Keystone XL pipeline which will help the ramp more tar sands production posing even greater health risks should be rejected by the U.S. government. And despite these documented dangers, the province of Alberta and the federal Canadian government have done too little to protect the local community's health. Now is the time for more rigorous health monitoring and a follow up investigation into elevated cancer rates.
The report, Environmental and Human Health Implications of the Athabasca Oil Sands for the Mikisew Cree First Nation and Athabasca Chipewyan First Nations in Northern Alberta, was prepared by Dr. Stephane McLachlan of the University of Manitoba's Environment Conservation Laboratory. Dr. McLachlan and his colleagues found elevated levels of the environmental contaminants arsenic, cadmium, mercury and selenium, as well as polycyclic aromatic hydrocarbons (PAHs) in the foods traditionally harvested by the First Nations in the region including moose, ducks and beavers. PAHs often present serious risks to human health—some are known to damage DNA, others are carcinogens and many impact human development. PAHs also typically bioaccumulate and remain present in the environment over long periods of time. The levels of PAHs found in the wildlife collected by local communities were higher than expected and occurred in higher concentrations than those found in similar studies conducted around the world that focused on contaminants in food.
The study evaluated wildlife harvested by community members by examining tissue samples from moose, ducks, muskrats and beavers. According to the study, the wildlife had high concentrations of arsenic, mercury, cadmium and selenium. The study noted that members of First Nations communities still widely consume these "country foods" including moose and ducks, although the study noted that community members have been reducing their consumption of these foods due to pollution concerns and a general transition away from the traditional lifestyle. 
Researchers also interviewed local community members from Fort Chipewyan where participants voiced their concerns of a sharp decline in health and an alarming increase in cancers. Notably, many of those participants reporting cancer worked in the tar sands industry. A high incidence of cancer in the small community of Fort Chipewyan, which sits directly downstream of major tar sands development, has already been confirmed. 
A 2009 study, commissioned by the governments of Alberta and Canada, noted a diagnosed cancer rate from 1995 to 2006 that was 30 percent higher than what would typically be expected for that period of time. Further, certain types of cancers—biliary tract cancers, blood and lymphatic cancers, lung cancers in women, and soft tissue cancers—were all occurring at higher rates and expected. Additional scientific studies conducted around the world have linked elevated levels of these specific cancers to exposure to certain constituents in petroleum products and the chemicals produced in petroleum manufacturing. A more recent statistical review from the Alberta government still found higher rates of cancers than would be expected in a small community.
Alberta's Edmonton Journal agrees that First Nations are owed an independent study evaluating the higher rates of cancer. "Albertans have been promised ongoing, world-class environmental monitoring in the oilsands region. That same long-term commitment needs to be made to monitoring the health of residents within that region, too."
The University of Manitoba report adds to the growing mound of evidence that people who live near tar sands operations in Canada face health risks from additional air and water pollution. Natural Resources Defense Council has published a fact sheet containing the latest scientific information about the health threat from tar sands development, some of which is highlighted below:
Due to expanded tar sands activity, scientists are noting an increased presence of pollutants in the ambient air near Fort McMurray (the epicenter of tar sands development) and to the south near upgrading facilities just outside of Edmonton, Alberta.
A 2009 study published by the National Academy of Sciences showed that the snow and water in an area extending outward 30 miles from upgrading facilities at Fort McMurray contained high concentrations of pollutants associated with fossil fuels, known as polycyclic aromatic hydrocarbons (PAHs).
A follow up study in 2014, published by the National Academy of Sciences, modeled the PAH levels measured in the tar sands region and found that environmental impact studies conducted by the tar sands industry in support of further development have systematically underestimated PAH emission levels and thus did not adequately account for human health risks.
A November 2013 issue of the journal Atmospheric Environment noted the presence of elevated levels of numerous hazardous air pollutants near major upgrading facilities just north of Edmonton. The study also noted elevated rates of leukemia and other cancers of the lymph and blood-forming systems in areas surrounding upgrading and petrochemical manufacturing facilities just north of Edmonton. Further, this study also noted that experts have found similar elevated risks in other populations living downwind of industrial facilities with similar emissions, which have also been linked to increased rates of leukemia and childhood lymphohematopoietic cancers.
In the remote community of Peace River, citizens have complained about increased air pollutants and noxious odors from excavating tar sands including complaints of nausea, headaches, skin rashes, memory loss, joint pain, exhaustion, and respiratory problems, and have forced several families to leave the area. Alberta's Energy Regulator has recently confirmed that these problems are linked to emissions from nearby tar sands operations.
According to a 2012 study published by the National Academy of Sciences, researchers confirmed through lake sediment sampling and modeling that the presence of elevated levels of toxic PAHs can be traced to the major expansion of tar sands production that began in the 1980s. Some water bodies within the Athabasca watershed now exceed current Canadian standards for pollutants in sediment for seven PAHs, including benzo(a)pyrene, a chemical that has been linked to cancer, genetic damage, reproductive impacts including birth defects and organ damage.
Scientists analyzing lake sediments and snow samples have found an exponential increase in methylmercury levels within 30 miles of tar sands upgraders now being found in Alberta's waterways and landscape. Methylmercury is a potent neurotoxin that causes developmental and behavioral problems, including lower IQ in children, as well as cardiovascular effects in adults.
Tailings ponds which collect toxic wastewater from tar sands mining operations contain multiple toxic chemicals including arsenic, benzene, lead, mercury, naphthenic acid and ammonia. A 2008 study by Environmental Defence Canada, based on industry data, found that as much as 2.9 million gallons of water leaks from tar sands tailings ponds into the environment every day.
Another study, published by the National Academy of Sciences in 2014, shows that extreme concentrations of PAHs present in tailings may lead to the evaporation of those PAHs into the ambient air. Further, the releases of PAHs into the ambient air from tar sands upgrading facilities discussed above are finding their way into the Athabasca River and its numerous tributaries.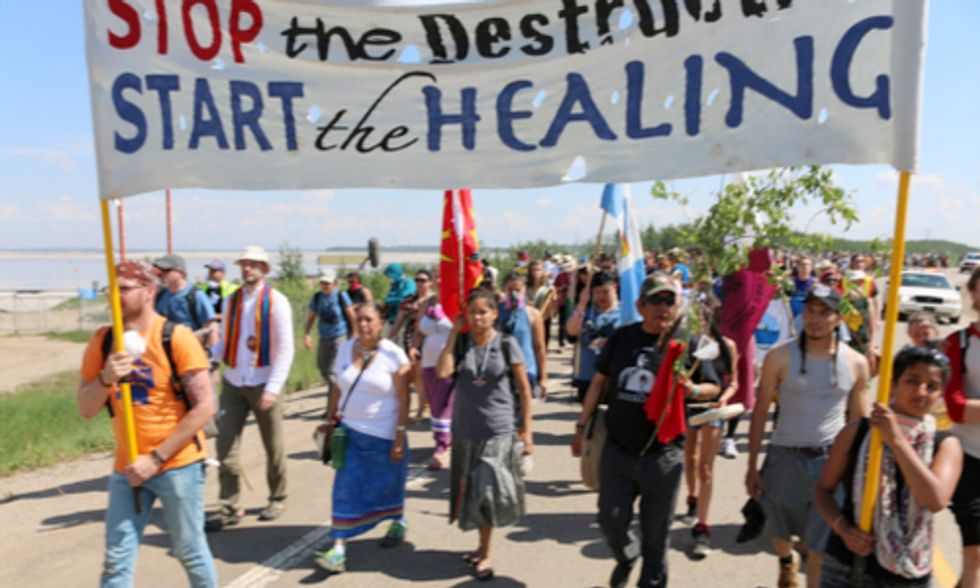 Healing Walk
The local communities involved in the report said that continued expansion of tar sands development would only worsen the impacts they currently face. The report contains a series of recommendations to reduce the impacts of heavy metals and PAHs from tar sands operations and to increase meaningful involvement by these communities in future research. In particular, the communities have asked for a long-term baseline health study and to better document the relationship between cancer and employment in the tar sands industry.
"It's frustrating to be constantly filling the gaps in research and studies that should have already been done," ACFN Chief Allan Adam said. "This demonstrates the lack of respect by industry and government to effecting address the First Nations concerns about impacts our Treaty rights and the increases in rare illnesses in our community. We need further independent studies done by internationally credible institutions like the World Health Organization."
Construction of what could become the first tar sands strip mine in the U.S. is expected to begin this summer in Book Cliffs, UT, with bitumen production and sales expected to commence next year.
Local community members have vowed to stop the Canadian-based U.S. Oil Sands controversial project, and on Friday established a permanent protest vigil inside the boundaries of the planned tar sands mine.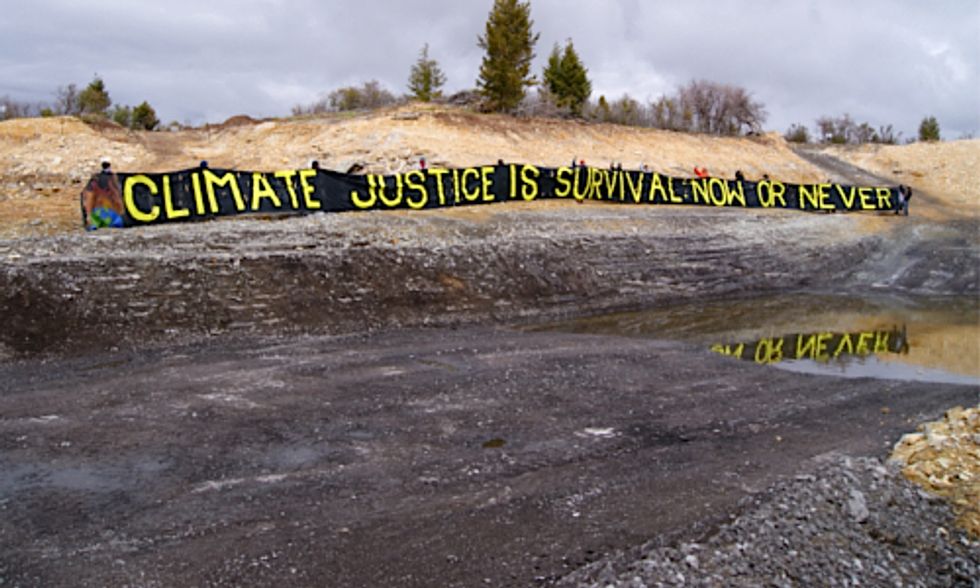 "These beautiful lands that U.S. Oil Sands plans to destroy have been enjoyed by Utahns for decades and were the home for Ute people for hundreds of generations," said Jessica Lee, on behalf of the community activists. "This tar sands strip mine would cause swift obliteration of multiple ecosystems and severe contributions to climate change related disasters."
U.S. Oil Sands hold leases on 32,000 acres of land traditionally inhabited by Ute people but now controlled by the Utah School and Institutional Trust Lands Administration. The company boasts of an "innovative process" that would allegedly eliminate the need for tailings ponds or reclamation, by utilizing a chemical solvent never before used for tar sands processing. But local residents are not convinced. 
Tar sands development in Alberta, Canada, has poisoned the drinking water for people and wildlife downstream of the mega-project—land which Indigenous communities rely on for food—continuing the genocide against native peoples of the area, says Utah Tar Sands Resistance. The Alberta tar sands spew more greenhouse-gas emissions into the atmosphere than any other project on Earth.
Toxins from the proposed Utah mine present direct threats to the Colorado River Basin, which provides drinking water for 20 million people—including the cities of Las Vegas, Los Angeles, San Diego and Phoenix—and irrigation for 15 percent of the nation's produce.
The permanent protest vigil is the latest in a string of setbacks for U.S. Oil Sands. According to Utah Tar Sands Resistance, the company has routinely missed construction goals, their stock price on the Toronto Stock Exchange has dropped 50 percent from its 2013 peak that represents a $100 million loss in value and direct action campaigns have delayed the company's progress. In July 2013, the construction of the test mine was shut down for a full day, delivering a 13 percent stock dip. U.S. Oil Sands also lacks a refinery contract, so despite big promises, it's unclear how the company intends to bring its product to market.
Endorsed by Utah Tar Sands Resistance, Peaceful Uprising and Canyon Country Rising Tide—as well as supporters from throughout the Colorado Plateau—the vigil seeks to halt U.S. Oil Sands's immediate plans to spend $60 million dollars on preliminary construction.
--------
YOU MIGHT ALSO LIKE
Report Finds Investments in Alberta's Tar Sands 'Make Neither Economic Nor Climate Sense'
Tar Sands Emissions Linked to Serious Health Problems in Alberta
Canadian Scientist Expose Their Government's Tar Sands Obsession at D.C. Briefing 
--------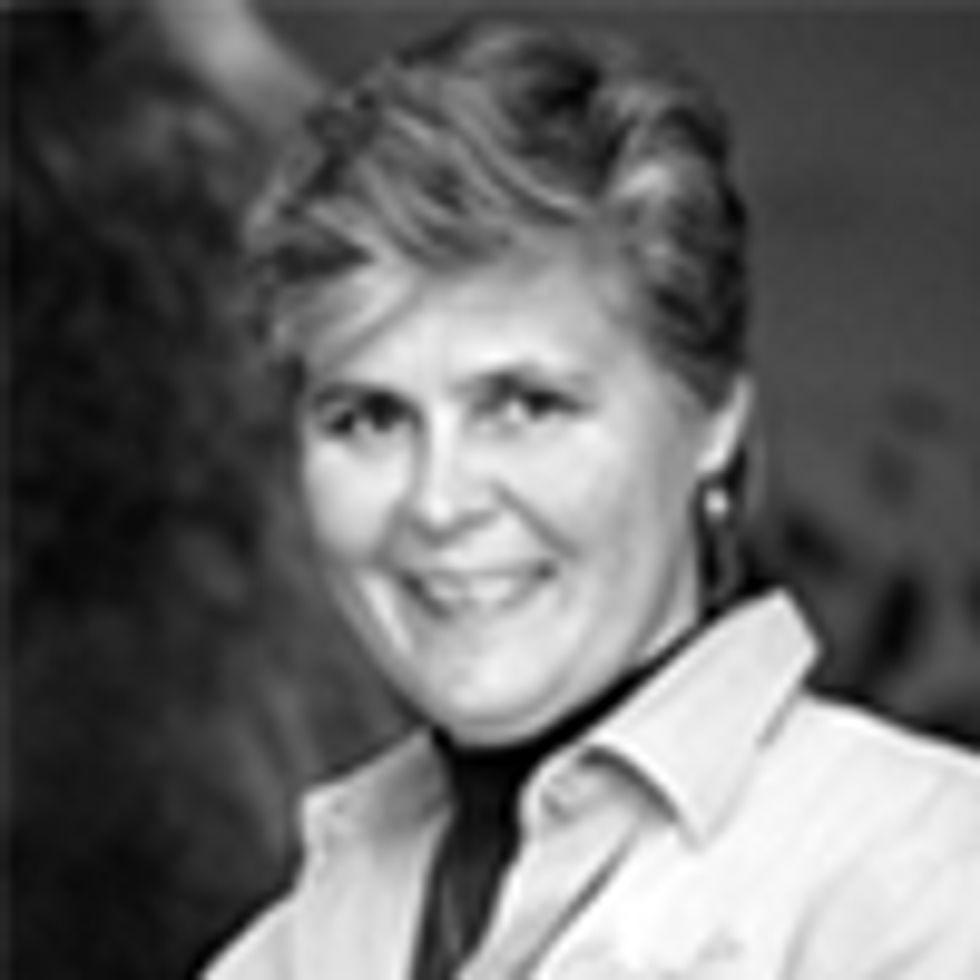 A scary thing happened on Halloween near Hinton, Alberta. Canada had what may be the largest coal slurry spill in its history when a dam failed at the Obed Mountain coal mine and 264 million gallons (1 billion litres) of waste water contaminated at least 25 kilometers of the Athabasca river. Ten municipalities located downstream of the spill were warned not to withdraw raw drinking water from the Athabasca river until it was deemed safe. Residents were also warned not to let their animals drink water from the river.
The federal government dispatched officials from Environment Canada as well as Fisheries and Oceans Canada to investigate whether violations of the Canadian Fisheries Act occurred as a result of the massive dam failure and subsequent contamination of the Athabasca River. Critics are beginning to lash out at the government response. Rachel Notley, a Legislative Assembly representative and lawyer wants to know why it took five days for the Alberta provincial government to issue warnings to communities downstream. Others are concerned about conflicting government statements that the spill was relatively harmless. They say if the spill was harmless, why were they warned not to use the Athabasca River as a source of drinking water for municipalities and livestock?
"For the communities living downstream with years of toxic waste, this coal slurry spill is adding to the cumulative effects they are left to deal with," said Jesse Cardinal, coordinator for the Keepers of the Athabasca. "Fort Chipewywan recently got a new water treatment system which is to be one of the best in North America, and even still, after hearing of this coal spill, are once again, starting to fear drinking the water."
Two days after the spill, the Alberta Environment spokesperson Robyn Cochrane said in this Global News Canada interview, "Initial water samples are currently being analyzed by independent labs and will be reviewed by Alberta Health Services and Environment and Sustainable Resource Development staff. Once we have these results, we will make them public."
Water test results were expected on Nov. 3. To date, Alberta Environment still has not made any water test results public. If the preliminary water results "indicate that the water is not health-hazardous" as Environment Alberta spokesperson Jessica Potter said in this news story, why not release them? What are they hiding? And more importantly, why have they reneged on their promise to make the water test results public?
"If, as the vague Alberta Government statements claim, the tailings are 'harmless to health' why are they unwilling to share them with their citizen shareholders. If they are only 'coal dust' then show us the data." said Harvey Scott, director of the Keepers of the Athabasca.
"We are concerned that the tailings ponds may contain such things as high concentrations of selenium which can be very toxic for native fish reproduction. The stream that transferred the pond effluent to the Athabasca is a known fishery for several important native species. Will its reproductive capacity be seriously affected? Settling pond flocculants can be deleterious to fish reproduction - has that been assessed? Indigenous peoples and other Canadians depend upon these fisheries to provide them partial livelihoods and recreational fishing. How will this tailings release affect that? The Keepers of the Athabasca and other Athabasca River Basin residents expect their governments to protect their ecosystems. We demand to see the actual sampling data. What do they and industry have to hide if in fact the effluent is 'harmless' as their press spokespeople say. Just give us the data."
Release of the water test results are critical since it would appear the Obed Mountain coal slurry spill is one of the largest in North American history. The U. S. government coal impoundment location and information system has a comprehensive list of the historical coal slurry spills from coal mines in the U.S. Here is their list of the top five coal spill disasters:
| | | | | | | | |
| --- | --- | --- | --- | --- | --- | --- | --- |
| Year | Volume (gallons) | Company | Town | County | State | River System |   |
| 2000  | 309,000,000  | Massey Energy Company  | Inez  | Martin  | KY  | Big Sandy River  | |
| 1972  | 132,000,000  | Pittston Coal Company  | Lorado  | Logan  | WV  | Guyandotte River  | |
| 1994  | 112,000,000  | Massey Energy Company  | Inez  | Martin  | KY  | Big Sandy River  | |
| 1981  | 25,000,000  | Eastover Mining Company  | Ages  | Harlan  | KY  | Cumberland River  | |
| 1987  | 23,000,000  | Peabody Coal Company  | Montcoal  | Raleigh  | WV  | Coal River  | |
When compared to these large spills, the spill in Alberta is the second largest. There have been other coal slurry spills in Canada recently, like a small 6,000 gallon coal slurry spill into the Similkameen River two months ago near Princeton, British Colombia. Locals there were very upset that it took days for the mining company to inform them of the spill.
Given the magnitude of Alberta spill, the lack of information provided by Alberta Environment is very troubling. In the wake of the spill, the Edmonton Journal has done the best job investigating and reporting information about the monumental spill and the government response. To its credit, the Edmonton Journal has repeatedly asked Alberta Environment to live up to its Nov. 2 promise to release water test results. And yet none of the data has been made public.
In the large multi-million gallon coal slurry spills in the U.S., there was substantial contamination of the rivers and streams with a toxic stew of pollutants including polycyclic aromatic hydrocarbons and heavy metals. These spills killed people, damaged property, caused fish kills and long-term damage to aquatic ecosystems that lasted years after the spills.
There were allegations of a toxic cover up of the federal investigation into the largest coal slurry spill in U.S. history. 60 Minutes produced this ground breaking investigative report showing how Jack Spadero, an engineer for the National Mine Health and Safety Academy was fired after he blew the whistle on a white wash investigation into the 300 million gallon coal slurry spill by Massey Energy.
Because the spill in Alberta is one of the largest in North American history and possibly the largest in Canadian history, it is imperative for the Canadian Government to do a full, open and transparent investigation. The fact that the water sample results have not been reported as promised is cause for concern. Does it signal the beginning of a toxic cover up similar to what happened with the largest coal slurry spill in the U.S.?
There are a lot of unanswered questions about the spill in Alberta. For example, what was the timeline of the emergency response by both the coal company and the Canadian government? How long did it take for the spill to be reported and when did government investigators first arrive on the scene? According to reports from Alberta, the massive coal slurry pond was completely drained before government officials responded.
How much time elapsed between the first report of the spill and the deployment of emergency response assets to initiate containment and clean up? For a spill of this magnitude, the coal company should have immediately deployed every available asset to contain the spill to try and prevent waste water from leaving their property, polluting two tributaries and reaching the Athabasca River. Did that happen and when? And if it did, why weren't containment efforts successful? Why was the Athabasca River polluted with coal slurry waste many, many miles downstream of the spill site? What caused the dam to fail and when was it last inspected?
As the satellite image shows below, there are many coal waste ponds at the massive 20 square kilometer Obed Coal mine site. Which one failed? Are any of the other dams slumping, leaking or showing signs of failure?
This is an internationally significant news story. Alberta Environment should stop stonewalling and release information about the impact of the spill. If it doesn't, it is incumbent upon the Canadian Federal Government to step in and do a full, open and transparent investigation.
"The Athabasca River is a Canadian Heritage River and one of Alberta's most significant because of it's historical, cultural and ecological value," said Glenn Isaac, executive director of North Saskatchewan Riverkeeper.
"Ask any angler, canoeist or hiker who has experienced this area of the Athabasca River. You'll find out that this river has an abundance of fish, clean mountain waters and other natural gifts that are now threatened. The ecological importance of the Athabasca River near our Jasper National Park, cannot be overstated. Riverkeeper will continue to monitor the investigation currently underway," said Isaac.
"The Fisheries Act exists in Canada to safeguard our environment from accidents of this nature. When accidents happen, the Fisheries Act carries serious penalties which must be enforced to punish the polluter and deter similar events in the future," said Mark Mattson, president of Lake Ontario Waterkeeper. "We will be watching the Department of Fisheries and Oceans' investigation very closely to ensure our laws are given meaning and force to keep our waters swimmable, drinkable and fishable." 
Visit EcoWatch's COAL and WATER page for more related news on this topic.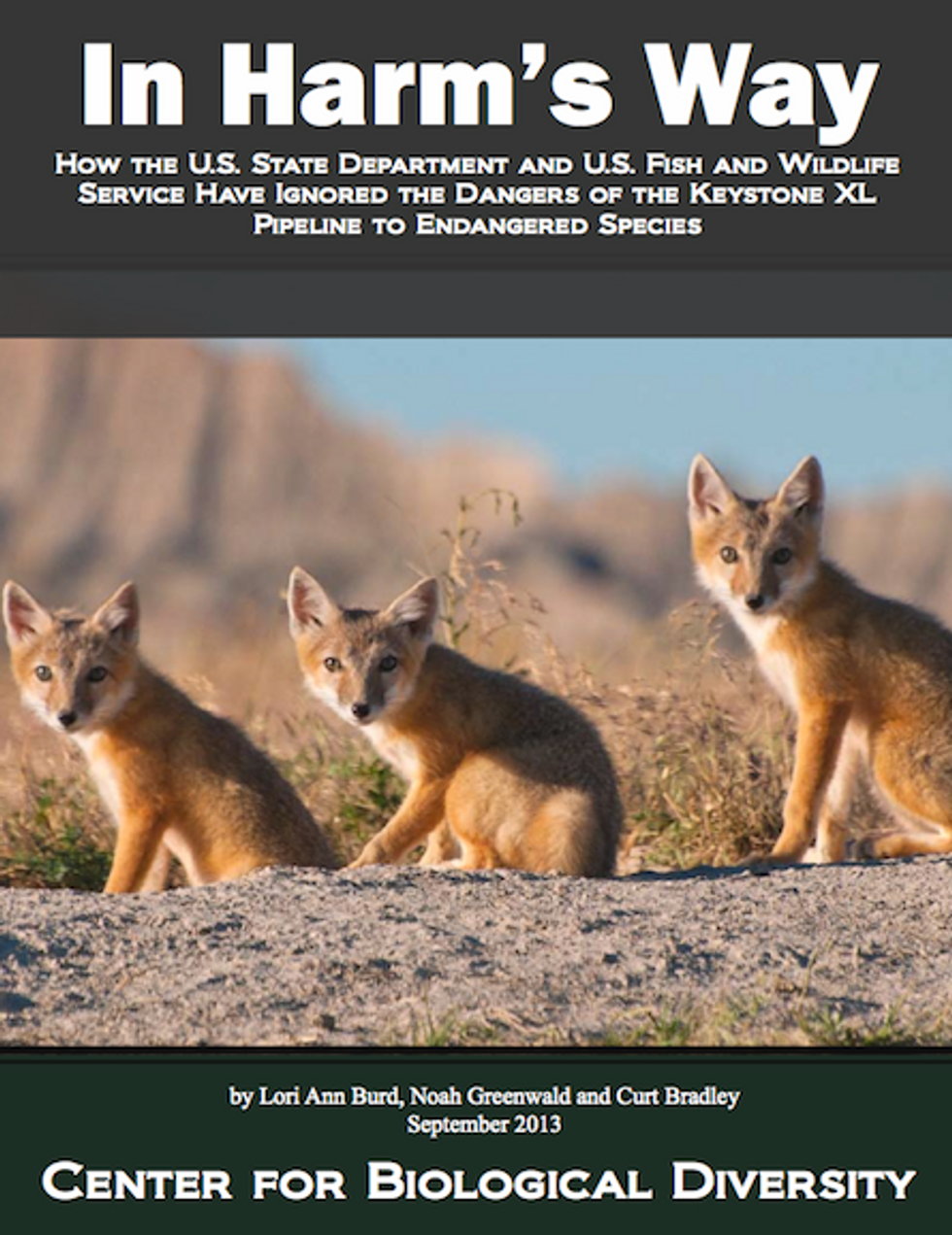 A new analysis by the Center for Biological Diversity (CBD) finds that the State Department's review of the Keystone XL pipeline woefully underestimates the impacts it would have on some of America's most endangered species, including whooping cranes, northern swift foxes, piping plovers, pallid sturgeon, American burying beetles and others. The study found that State Department failed to fully consider the impacts that oil spills, power lines, habitat destruction, construction disturbances and expanded tar sands development in Canada will have on at least 12 endangered animals and plants.
"This is yet another black eye in the Keystone XL debacle. The State Department has utterly failed in its duty to fully disclose—or to reduce—the impacts of this pipeline on some of the rarest animals and plants in this country," said Noah Greenwald, CBD's endangered species director. "If this pipeline is approved it will be a disaster for endangered species and other wildlife."
Under the Endangered Species Act, the State Department must ensure the Keystone XL pipeline does not jeopardize the continued existence of any endangered species; it must disclose and mitigate any harm to endangered species before giving approval. To meet these requirements the State Department produced a biological assessment that purported to analyze impacts to all endangered species, but concluded that only the American burying beetle would be adversely affected by the pipeline.
Based on a careful analysis of other species in the path of the pipeline and their habitat needs, CBD determined that contrary to State's claim, at least 11 other endangered species will be in danger from the pipeline.
"The State Department has tried to sweep the worst impacts of the Keystone XL under the rug," said Greenwald. "Its analysis is like a shell game, where spills, power lines and other unavoidable consequences of the pipeline are hidden."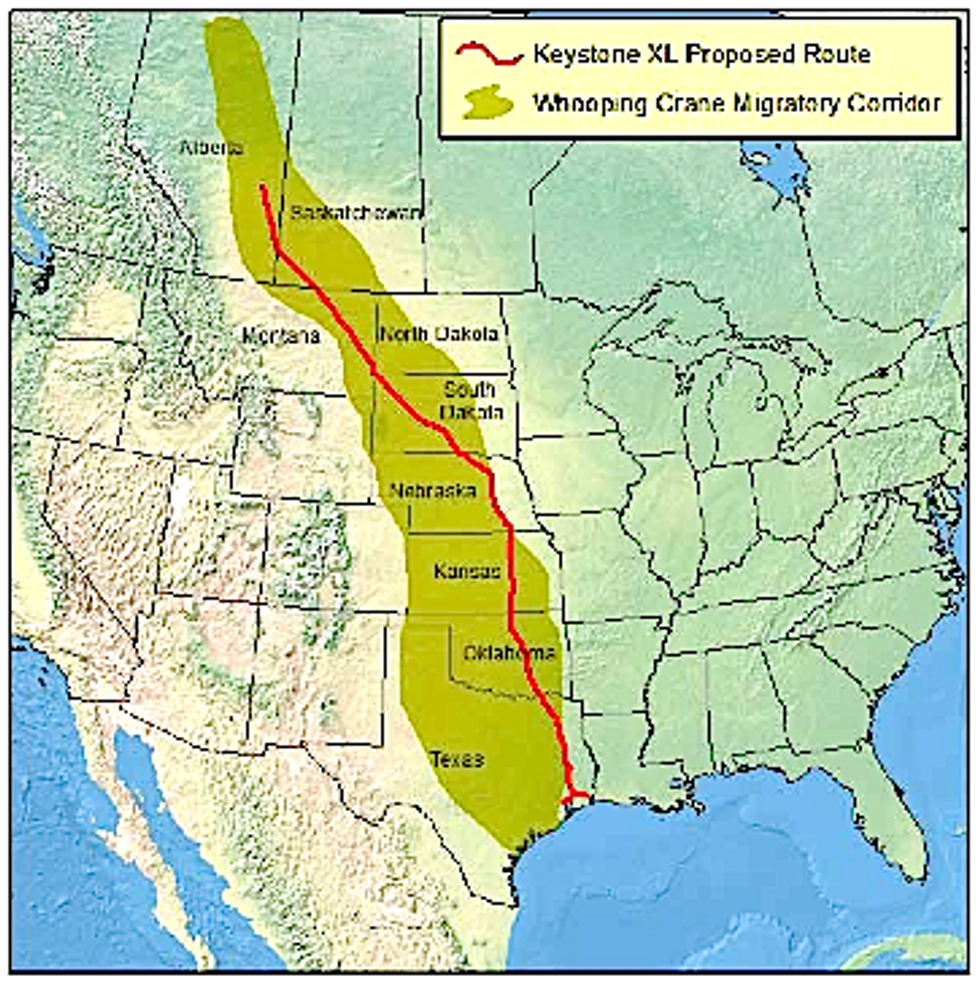 Among the endangered wildlife impacts of Keystone XL:
Whooping cranes: Toxic tailing ponds in Canada, power line collisions, oil spills
Black-footed ferrets: Habitat disturbances in recovery areas
Interior least terns: Disturbance of breeding habitat, power line collisions, oil spills
Piping plover: Power line collisions, increased exposure to predators, oil spills
Greater sage grouse: Oil spills near strutting grounds, construction noise
American burying beetle: Loss of vital grass habitat, smashing during construction, oil spills
Northern swift fox: construction crushing adults and offspring in dens, lost prairie habitat
The State Department was able to conclude most endangered species won't be harmed only by narrowing the analysis to the actual footprint of the pipeline. Of particular concern was its failure to analyze the impact of future spills on endangered species, based on the argument that such spills were unlikely to occur—an assertion that runs directly counter to other government documents predicting the pipeline could spill roughly twice a year.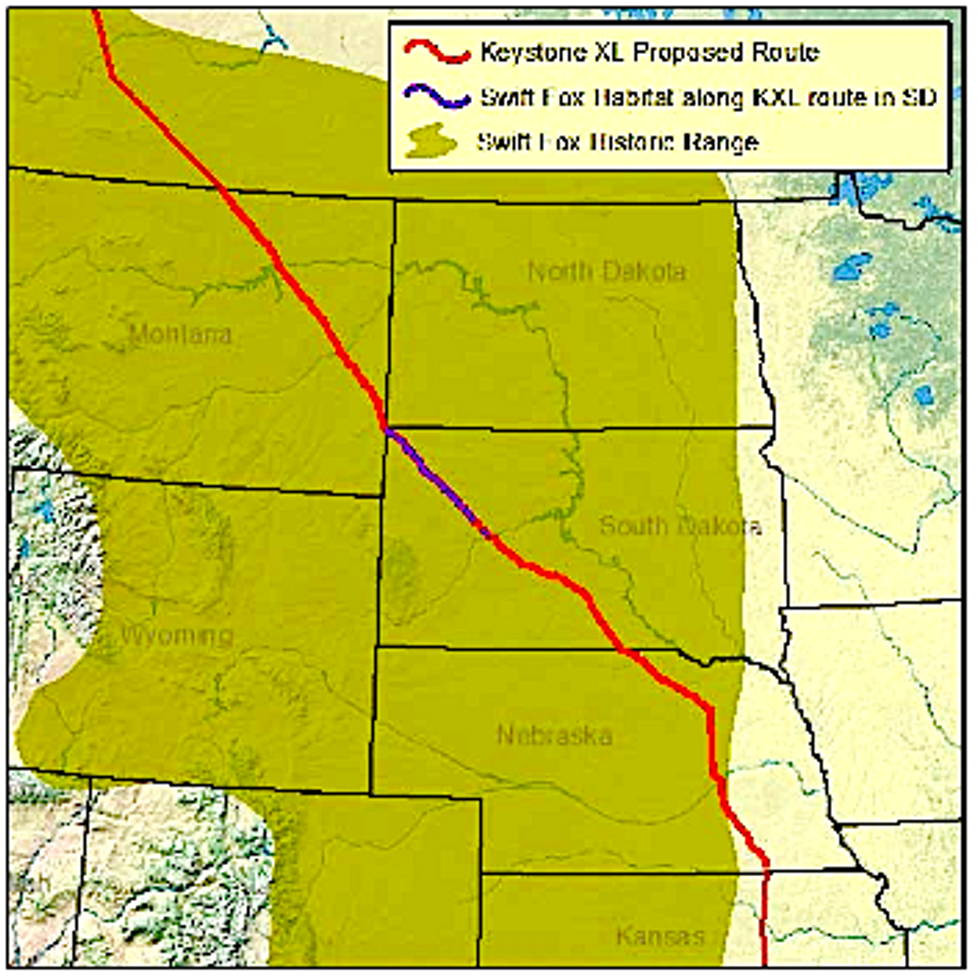 There was also no analysis of impacts from all of the power lines and roads necessary to build and operate the pipeline. Power lines are a particular concern for endangered birds, including the whooping crane, interior least tern and piping plover, because of the risk of collisions and because they provide perching sites for predators.
Finally, the State Department didn't analyze the impact of expanded tar sands development in Alberta driven by construction of Keystone XL, even though such development is already devastating populations of threatened woodland caribou and other wildlife and promises to be a disaster for global climate—which in turn will drive many other endangered species, including polar bears, toward extinction.
Visit EcoWatch's KEYSTONE XL and ENDANGERED SPECIES ACT pages for more related news on this topic.  
———

As tens of thousands of people gathered in Washington, D.C. yesterday to urge President Obama to reject the Keystone XL tar sands pipeline, more evidence emerged that the public isn't getting the full story of the environmental impacts of tar sands.
 
Media yesterday reported on an internal government memo revealing a Canadian government study on a tar sands tailings pond that found that toxic liquid ponds do leak toxic chemicals into the environment—despite repeated denials of officials.


 
"For years, we've been concerned that toxic chemicals are leaking from the massive tailings lakes into the surrounding water. Governments repeatedly denied this," said Gillian McEachern of Environmental Defence. "Now, federal research shows we were right. Toxic liquid waste from the tar sands is leaking. It makes us wonder what else is being denied?"
 
In 2008, Environmental Defence released the report 11 Million Litres a Day: The Tar Sands' Leaking Legacy, which tallied industry estimates of how much toxic liquid waste leaks from the tailings ponds. The Alberta government called the report "patently false." Environment Minister Peter Kent has said, in an interview on Power and Politics, that there is "no scientific evidence of any leakage from any of the tailings ponds into the Athabasca River."
 
The publication of the memo yesterday came the same day that tens of thousands of people gathered in D.C. to urge President Obama to tackle climate change and reject the proposed Keystone XL pipeline. The Canadian government has responded to the tar sands controversy by claiming it has a plan to deal with the climate impacts of tar sands.
 
Yet Canada has no regulations to reduce carbon pollution from the tar sands. Instead, it has cut clean energy funding and the government's own analysis finds Canada is not on track to meet its climate goals. In contrast, the U.S. has invested $90 billion in clean energy and is on track to meet its climate goals.
 
"The world is pulling back the curtain. Canada can't keep claiming it's fixing the problem while making it worse," said McEachern. "A credible response would be to cap and then reduce carbon pollution from the tar sands, require industry to get rid of the leaking toxic tailings lakes and reduce other impacts. Promises without meaningful action won't stop the controversy."
Visit EcoWatch's KEYSTONE XL and CLIMATE CHANGE pages for more related news on this topic.
——–
SIGN PETITION TODAY!
Moving oil is a dirty business, and never has that been more clear than this past month. Since March 11, the global oil industry has had 13 spills on three continents. In North and South America alone, they've spilled more than a million gallons of oil and toxic chemicals—enough to fill two olympic-sized swimming pools.
How bad was it? Here's an infographic of all the oil spills, leaks and derailments in the past 30 days.

All spills in order of occurrence:
March 11 – 21: Gwagwalada Town, Nigera
A week-long leak of Kilometer 407.5 NNPC (Nigeria National Petroleum Corp) pipeline. No official number of barrels spilled released, however the spill saturated a hectare (10,000 sq metres) of marshy ground near a major water source.
Tuesday, March 19: Fort Simpson, Northwest Territories Canada
Enbridge Norman Wells Pipeline leaks 6,290 barrels of crude oil
Monday, March 25: Fort MacKay, Alberta Canada
Suncor tar sands tailings pond leaks 2,200 barrels of toxic waste fluid into the Athabasca River
Wednesday, March 27: Parker Prairie, Minnesota U.S.
CP Rail train derails and spills 952 barrels of tar sands crude oil
Friday, March 29: Mayflower, Arkansas U.S.

Sunday, March 31: A power plant in Lansing, Michigan U.S.
16 barrels of an oil-based hydraulic fluid spills into the Grand River
Tuesday, April 2: Nembe, Nigeria
After suffering a reported theft of 60,000 barrels of oil per day from its Nembe Creek Trunkline pipeline, Shell Nigeria shuts off the pipe for nine days to repair damage
Wednesday, April 3: 350KM southeast of Newfoundland, Canada
A drilling platform leaks 0.25 barrels of crude oil
Wednesday, April 4: Chalmette, Louisiana U.S.
0.24 barrels (100 lbs) of hydrogen sulfide and 0.04 barrels (10 lbs of benzene) leak at an Exxon refinery
Monday, April 8: Esmeraldas, Ecuador
The OPEC-managed OCP pipeline leaks 5,500 barrels of heavy crude oil, contaminating the Winchele estuary
Tuesday, April 9: 29KM NE of Nuiqsut, Alaska U.S.
Human error during maintenance spills 157 barrels of crude oil at a Repsol E&P USA Inc pipeline pump station
Visit EcoWatch's ENERGY page for more related news on this topic.
——-