The sporty Hanergy Solar R is a two-door with solar panels on the roof, hood and on top of the doors. Photo credit: Hanergy
Since we can already fly on sunshine, why can't we drive on it? Chinese company Hanenergy, the world's largest thin-film solar panel maker, has launched four concept cars that are fully powered by sunlight.
Hanenergy's cars are basically electric vehicles (EV) covered with solar panels. According to Dr. Gao Weimin, Hanergy vice president and CEO of its Solar Vehicle Business Division, the vehicles are covered with the company's gallium arsenide thin-film solar cells that claim an impressive conversion rate of 31.6 percent (most commercial panels have a conversion rate hovering around 15-20 percent).

Gao said that with five to six hours of sunlight, the panels can generate eight to 10 kilowatt-hours of power a day, allowing the prototype cars to travel about 80 kilometers, the equivalent of more than 20,000 kilometers annually.
Since the panels are directly mounted on the cars, the idea is that you can charge while driving and would not have to stop for juice at a charging station like with traditional EVs. If the concept proves successful, it would eliminate range anxiety—or the fear that your car might run out of power before reaching your destination. Range anxiety, after all, is one of the most frequently cited drawbacks to EVs. The company said that these "zero charge" cars are ideal for short and medium length journeys in cities under normal weather conditions.
"Breaking the bottleneck of poor practicality of previous solar-powered vehicles, the four launched by Hanergy are the first full thin-film solar power vehicles that can be commercialized, redefining new energy vehicles," the company said in a statement. The company has also partnered with China-based Foton Motor to help develop clean energy buses.
The cars debuted at the company's Disruptive Innovations Drive the Future event at its Beijing headquarters on July 2. Hanergy board chairman and CEO Li Hejun drove the sports car series Hanergy Solar R around the venue.
If the cars actually do what the company says, these cars must be much more aerodynamic and lighter than your average two-ton American car sedan. Car News China described that the weight of the Hanergy Solar L, a MPV-like model with gull wing doors and a six-meter solar panel, is estimated at just 700 kilo (0.8 tons).
Car News China has shed light on how they work. For the Hanergy Solar R, the energy generated from the roof goes to the rear wheels and the panel on the hood goes to the front wheels. The door panels power the car's other electrical systems.
Hanergy Uveils 4 #Solar Powered Cars In China https://t.co/D0q2zM2JjB https://t.co/VRN1405mh8

— InSunWeTrust (@InSunWeTrust)1467695342.0
In a speech in front of 4,000 attendees, Hejun boasted about the potential of thin-film solar cells and how the light-weight and flexible material allows the cells to be integrated onto a range of products in addition to cars such as unmanned aerial vehicles, mobiles, backpacks and clothes.
While the technology sounds promising, Stephen Engle of Bloomberg News expressed some doubts about the car. Instead of range anxiety, Engle said the driver might experience "cloud anxiety" since the car cannot charge if the sun is not out or if it is a particularly hazy day—a likely occurrence especially in China's smog-choked cities. He did, however, point out that the cars are equipped with lithium batteries that enable travel of up to 350 kilometers per charge. Additionally, a smart managing system allows the driver to choose between different charging modes when traveling in varied weather conditions.
Engle also brought up Hanergy's uncertain future in the market, as the troubled company's shares have been frozen for months as it undergoes investigation over possible stock price manipulation.
That said, while a 100 percent solar-powered car might be more science fiction than reality at this point, the concept has enormous potential. According to Car News China, Hanergy said solar-range will expand dramatically in the future due to improvements in solar panel technology. And Forbes reported that the company expects their panels to increase efficiency to 38 percent in 2020 and 42 percent in 2025, meaning a future of fuel-free transportation might be closer than we might think.
EcoWatch Daily Newsletter
At the beginning of last week, environmentalists celebrated when the largest energy infrastructure company in North America, Kinder Morgan, pulled the plug on its controversial natural gas pipeline which had been proposed through parts of Massachusetts and Southern New Hampshire, called NorthEast Energy Direct.
But the energy giant is pushing ahead with other contentious pipelines, not least its Trans Mountain pipeline that connects the dirty tar sands in Alberta to an oil terminal in Burnaby, in British Colombia.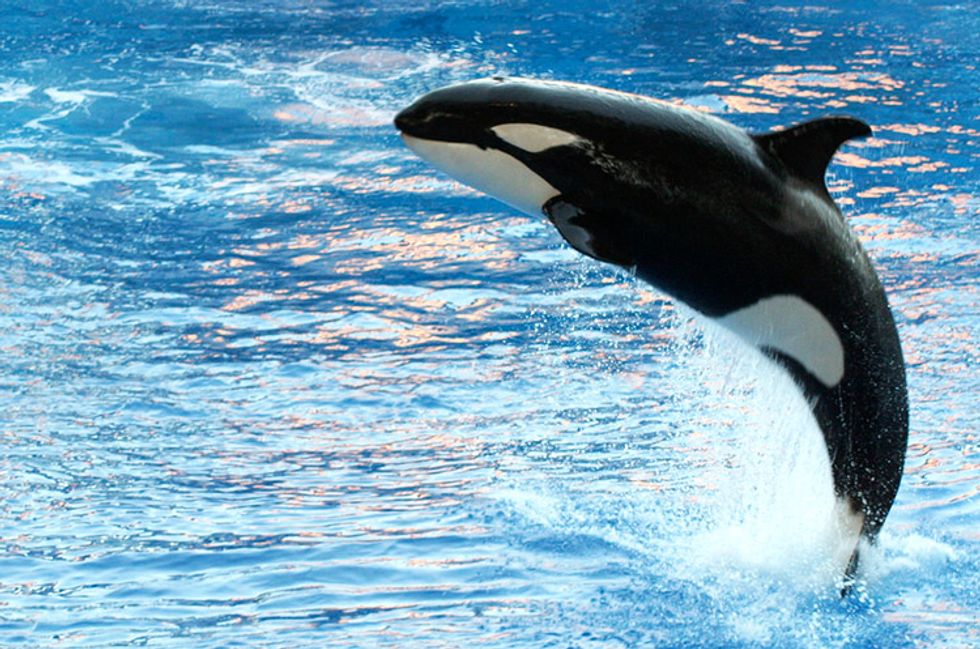 From here the tar sands is transported by tanker via the ecologically sensitive Salish Sea, which is a crucial habitat for endangered killer whales.
And now a new report by Friends of the Earth, Tar Sands/Dilbit Crude Oil Movements Within the Salish Sea, focuses on these movements of tar sands, which have been diluted with lighter volatile products to enable it to be shipped as "dilbit" or diluted bitumen.
The report focuses on the poorly publicized proposal to triple the Trans Mountain pipeline, which would result in an increased capacity to ship dilbit crude from Burnaby in British Colombia via the Salish Sea from 300,000 bbls/day to 890,000 bbls/day.
In turn this would result in a 7-fold increase in tanker traffic transiting through the Salish Sea, which is not just an important habitat for endangered killer whales, but is also home to 37 species of mammals, 172 species of birds, 247 species of fish and more than 3,000 species of invertebrates—approximately 113 of which are either listed as threatened or endangered in Canada and the U.S.
The report concludes the number of dilbit carrying oil tankers would increase from approximately one per week to one per day, significantly increasing the amount of oil being transported through the sea.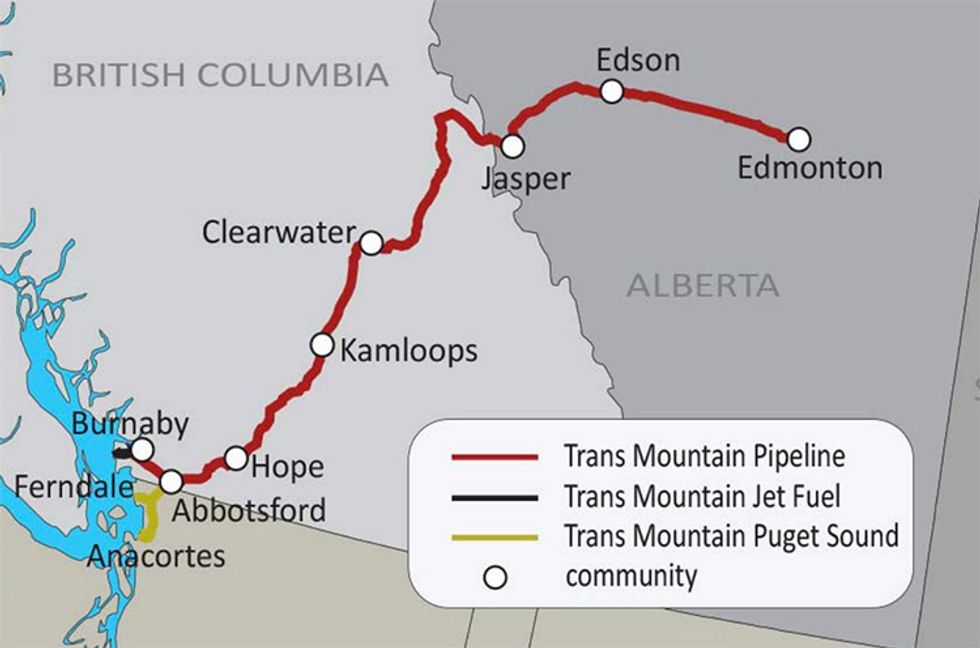 Friends of the Earth northwest consultant Fred Felleman said: "Trans Mountain is the one of the biggest threats to U.S. waters that few people have ever heard of."
He says the proposed dilbit shipments are "a recipe for disaster."
Friends of the Earth is now calling for improvements to the region's oil spill response regulations, warning against "the biggest underlying threat of an oil spill—complacency."
According to Felleman: "The expansion of the Trans Mountain pipeline poses the greatest risk of a catastrophic oil spill in the Salish Sea," before adding: "This project would be the final harpoon in the population of endangered southern resident killer whales."
And that is before you factor in how the dirty tar sands flowing down Trans Mountain will undermine Canada's climate goals.
With the signing of the historic Paris agreement, Canada has committed to limit global warming to less than 2 degrees C and aspire to keep it to less than 1.5 degrees C.
In either scenario, there is simply no room for tar sands expansion.
Alberta's Premier Notley's most recent plea for new pipelines to access more markets has been thoroughly debunked in a recent Oil Change International briefing note here.
New pipelines are about one thing only: locking in dangerous expansion of the world's third largest oil reserve. This would also mean harnessing a fragile economy to decades' more worth of boom and bust.
Alberta has massive potential to become a renewable energy superpower and new pipelines would do nothing but undermine this opportunity.
The Trans Mountain pipeline has also been resoundingly rejected by First Nations, municipalities along the route (including the city of Vancouver) and British Columbians alike.
It looks like the opposition to this pipeline will only grow.
YOU MIGHT ALSO LIKE
Solar Impulse Pilot: 'I Flew Over Plastic Waste As Big As a Continent'
Massive Coral Reef Discovered at Mouth of Amazon, But It's Already Threatened by Oil Drilling
Gov. Cuomo Rejects the Constitution Pipeline, Huge Win for the Anti-Fracking Movement
Watch: River Explodes Into Flames From Methane Coming From Nearby Fracking Sites
Medically reviewed by Anna H. Chacon, M.D.
Reviews
fizkes / iStock / Getty Images
From eating foods for healthy skin to switching up your morning and routines, taking care of the largest organ in the body can get overwhelming. Recently, vitamin C has grown in popularity in the skincare world — but do the best vitamin C serums live up to the hype?
Vitamin C is not only an essential supplement for your immune system and overall health, but it's also a great skincare ingredient that can help limit inflammation, brighten skin, dull fine lines and wrinkles, fight free radicals, and reduce discoloration and dark spots.
Adding vitamin C to your skincare routine seems like a no-brainer, but before you start shopping for a serum, it's important to be aware that vitamin C is an unstable ingredient. Dermatologists say it's important to find legit and properly formulated vitamin C serums to capitalize on the benefits of the antioxidant. In this article, we'll help you find the right dermatologist-approved vitamin C serum to add to your routine.
Our Picks for the Best Vitamin C Serums of 2021
Each product featured here has been independently selected by the writer. You can learn more about our review methodology here. If you make a purchase using the links included, we may earn commission.
Skincare Benefits of Vitamin C
Also known as ascorbic acid or L-ascorbic acid, vitamin C is an antioxidant that is present in the formation of collagen and that protects against aging, according to Dr. Anna Chacon, a board-certified dermatologist with MyPsoriasisTeam. A vitamin C serum may be a solid addition to your skincare routine because it has a great safety profile, and it's safe for most skin types.
"Vitamin C serum restores and neutralizes environmental stressors that accelerate signs of aging and can be used morning and evening," Dr. Chacon says. However, she warns, "it does not come with sun protection, so additional use of sunscreen is recommended."
As an antioxidant, vitamin C protects skin cells from being damaged by free radicals from things like UV exposure, vehicle exhaust and cigarette smoke. It also hampers melanin production, which can help to lighten hyperpigmentation and brown spots and even out your skin tone.
6 Best Vitamin C Serums
Based on dermatologist recommendations and our market research, the following products are the best vitamin C serums available today.
FAQ: Best Vitamin C Serums
What vitamin C serum is the most effective?
Our top recommended vitamin C serum is the ZO Skin Health 10% Vitamin C Self-Activating serum. It is a dermatologist-approved antioxidant powerhouse, yet it is gentle, non-irritating and leaves you with glowing skin.
Should you use vitamin C serum every day?
Dermatologists recommend using vitamin C serum either every day or every other day. After you cleanse and tone your face, use your vitamin c product before applying moisturizer and reef-safe sunscreen with at least SPF 30.
Does vitamin C serum really work?
According to dermatologists, the best vitamin C serums work to protect against skin aging. However, if you do not purchase a doctor-recommended product, you run the risk of wasting your money on a low-concentration serum that won't give you any benefits.
What are the drawbacks of vitamin C serums?
Many vitamin C serums on the market, especially cheaper products, have nearly immeasurable concentrations of antioxidants, which makes them ineffective. Additionally, as with any skincare product, some individuals may have reactions to vitamin C serums including itchiness and redness.
Anna H. Chacon, M.D. is a dermatologist and author originally from Miami, Florida. She has authored over a dozen peer-reviewed articles, book chapters and has been published in JAAD, Archives of Dermatology, British Journal of Dermatology, Cosmetic Dermatology and Cutis.
Solar Impulse 2, the first solar airplane able to sustain flight at night with a pilot on board, took off today from Abu Dhabi, heading east to the Omani capital, Muscat. Over the next five months, if all goes to plan, the plane will go from continent to continent, crossing both the Pacific and the Atlantic oceans. The plane will stop to receive maintenance and, during that time, the project's backers, which include Richard Branson and Robert Swan, will spread awareness about renewable technologies.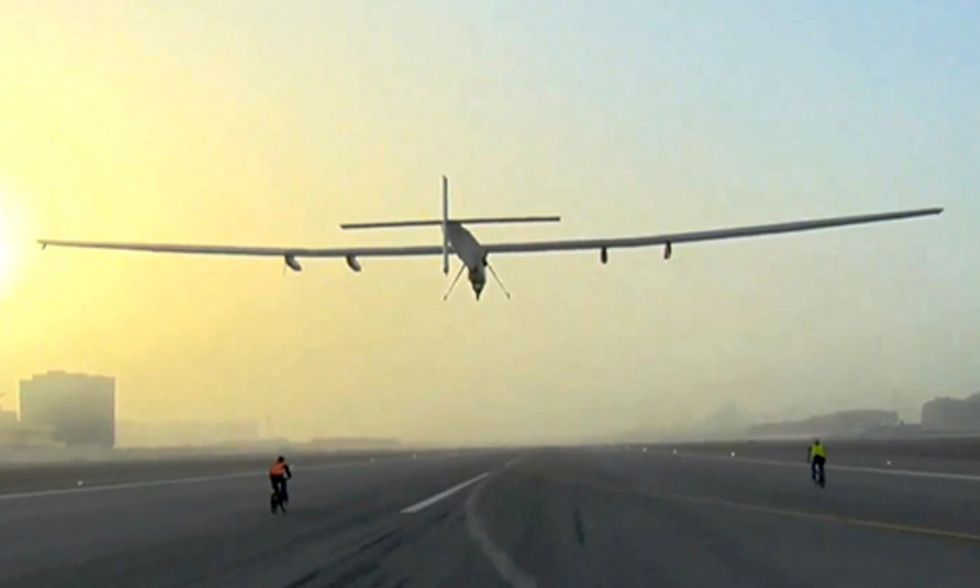 The launch of the project was announced in November 2003, almost exactly a century after the Wright brothers' historic flight. The team began work soon after that. The plane went on its first test flights in 2010, and in July of that year, it made the first night flight in the history of solar aviation, lasting more than 26 hours. It took progressively longer flights, including a trip across the U.S., leading up to this trip.
Before taking off, pilot Andre Borschberg told BBC News: "I am confident we have a very special aeroplane, and it will have to be to get us across the big oceans." Monday's leg to Oman will cover about 250 miles and take an estimated 12 hours, according to the BBC. Its average speed will only be about 43 miles per hour, hence the long flight time. It may not be breaking any records for speed, but it has already broken many records (basically, anytime it does anything it sets a record), and if it's successful, it will be the first solar powered plane to circumnavigate the globe.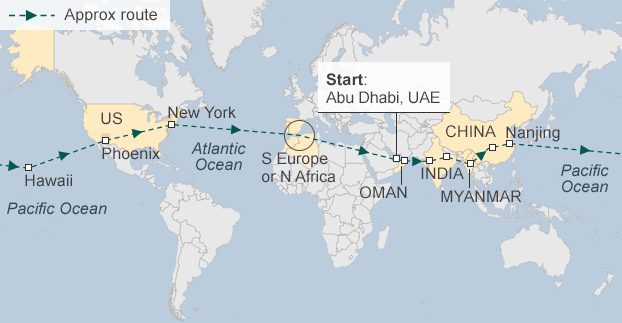 It is not at all certain Solar Impulse will be a success. The plane's team is worried about ocean crossings, which will be very weather-dependent. The 21,747-mile trip, which is expected to take about four months, will be split into 12 legs. The trips across the ocean will take almost six days, putting quite a mental and physical strain on the pilots. The cockpit is only 3.8 cubic meters in size and the pilots are only allowed to take 20-minute naps.
Nevertheless, this is a very exciting moment for solar, which could be the largest source of electricity by 2050, according to a report from last fall by the International Energy Agency. It's a dream come true for the plane's other pilot, Bertrand Piccard, who will rotate with Borschberg. "I had this dream 16 years ago of flying around the world without fuel, just on solar power," Piccard told BBC News. "Now, we're about to do it. The passion is there and I look forward so much to being in the cockpit."
The Solar Impulse team hopes the projects can be "implemented in daily life, for cars or for heating systems or for the construction of houses," Piccard told National Geographic. "All the technology exists; we should use it much more in our daily life."
Watch the plane take off in Abu Dhabi:
YOU MIGHT ALSO LIKE
Robert Swan Leads Antarctic Expedition to Show Firsthand Effects of Climate Change
Nissan's Game-Changing Deal Allows EV Owners to Sell Power Back to the Grid
Meet the 'Merchants of Doubt': Spin Doctors Obscuring the Truth on Climate Change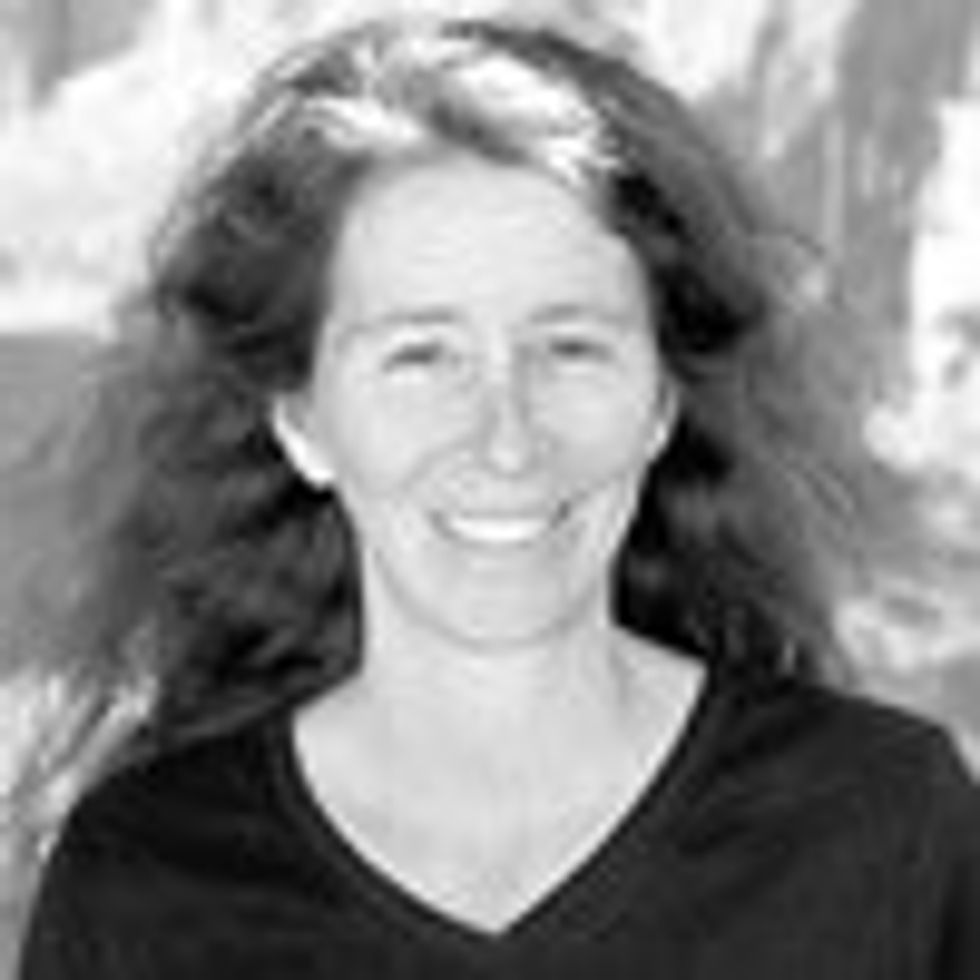 At this year's Waterkeeper Alliance conference in Boulder, Colorado, Robert F. Kennedy, Jr. delivered a provocative unscripted keynote that lambasted the carbon lobby for undermining democracy and subverting the common right to a healthy environment.
Speaking to a group of activists, including more than 200 Waterkeepers from 30 nations, Kennedy declared, "We are engaged, as Abraham Lincoln said, 'in a great Civil War.'" This time, he said, "the conflict involves all the Earth's peoples. It's not just a battle to protect our waterways, our livelihoods, our property and our backyards. It's a struggle for our sovereignty, our values, our health and our lives. It's a battle for dignified humane and wholesome communities. It's a defensive war against toxic and economic aggression by Big Oil and King Coal. It's a struggle to break free of the 'soft colonialism' of carbon's corporate tyranny and create an economic and energy system that is fair, rooted in justice, economic independence and freedom."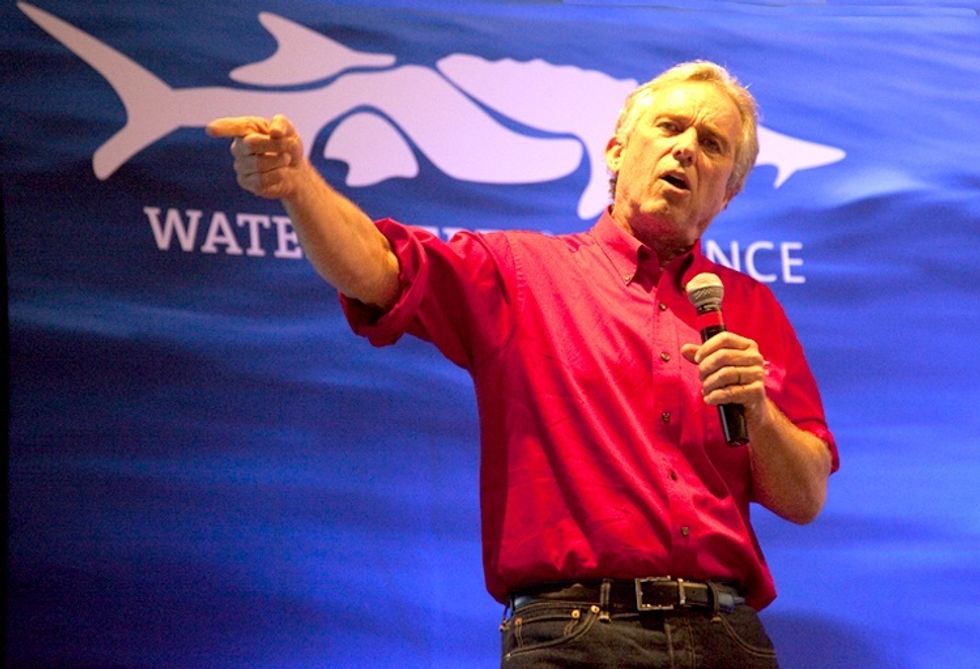 He started by talking about the disproportionate impact of pollution on the poor and minorities. "Polluters," he explained, "assault soft targets first—and that means the poor." He recounted how the majority of toxic industrial sites and noxious facilities are in lower income communities where residents lack political power or connections to protect themselves. He gave examples of these environmental injustices including, Emelle, Alabama, which is home to the largest toxic waste dump in America—one of the country's most impoverished regions where one-third of the residents live below the poverty line and more than 65 percent of the residents are black—Chicago's south side, which has more toxic waste sites than any other American community and East Los Angeles, a primarily black and Hispanic community, which is the most contaminated zip code in America.
"In these communities," he said, "Not just the land and water, but the people have been commoditized—and everything becomes expendable in the drive for corporate profits."
But he added, "It's not just the poor who are under assault. The corporate hunger for profit is threatening all people with loss of their natural world and the other assets of their patrimony."
Kennedy said that corporate efforts to privatize the commons are occurring in all parts of the world and that "environmental injury correlates almost perfectly with political tyranny."
"In China, Eastern Europe and the Soviet Union, environmental destruction went hand in hand with political despotism and corruption," he continued. "Thanks to the Pinochet regime, the forests and waters of Chile are no longer owned by the Chilean people. Every single river in Chile is now owned by a Spanish company, Endessa which plans to dam all of them for private profit. So the people of that nation no longer own their rivers, they don't own their forests. Even the highways, railroads, utilities, airports, stadiums and prisons—all the public spaces that once formed our civic lives are being occupied by private and corporate wealth."
Kennedy recalled that during the 1994 campaign to save the iconic BioBio river from Endesa's dam builders, the Chilean human rights lawyer, Juan Pablo Ortega had lamented, "Supposedly we have a democracy after Pinochet left, but it's folly to call a system a 'democracy' when the people have no control over their resources. We Chileans are no longer the sovereigns of our lands."
Kennedy assured the crowd that "This is what the battle is about. It's about losing control of the commons. The air, the water, the wildlife, the fisheries and public lands, the shared resources of our society: The commonwealth assets that provide the gravities around which communities coalesce."
To give context to the history, Kennedy talked about the many environmental insults in the 1960's that spurred the modern-day environmental movement, including the 1963 extinction of the Eastern Peregrine Falcon from DDT poisoning, the burning of the Cuyahoga River, the Santa Barbara oil spill and the declaration that Lake Erie was dead, which all occurred in 1969. The Santa Barbara spill held the record for the largest oil spill until Exxon Valdez and the BP Deepwater Horizon. In those three examples, polluters had effectively privatized a major American river, one of the Great Lakes and all the beaches in Southern California.
In response to such insults, in 1970, 20 million Americans, 10 percent of our population, came out on the streets for the first Earth Day in "a democratic reassertion of popular sovereignty over the common's, those crowds demanded that our political leaders return to the American people the ancient environmental rights that had been stolen from our citizens since the Industrial Revolution," Kennedy said.
In response to this massive public outpouring, Republicans and Democrats working together passed, over the next 10 years, 28 major environmental statutes, including the Clean Air Act, the Clean Water Act, Endangered Species Act, the Safe Drinking Water Act, RCRA, TSCA, FIFRA, The Federal Mine Safety and Health Act and Superfund. All of these statutes were intended to restore our rights to the public commons. What happened next? "These new prohibitions against corporate pollution hurt the industry's bottom line. So the polluters fought back," he declared.
Throughout the next three decades, polluters funded politicians including Presidents George Bush and Ronald Reagan, their appointed judges and various Republican Congresses chipped away at the new environmental laws. But then, according to Kennedy, the industry achieved its most brazen and stunning victory. Kennedy said, "In the year of the millennium, the most corporate friendly Supreme Court since 1933 stopped the 2000 election vote count in Florida and stole the presidency from Senator Al Gore, the greenest presidential candidate in our history. That decision turned the White House over to George W. Bush and Dick Cheney, two Texas oilmen."
Seventeen of the top 21 people in the new administration were from the oil or allied industries. Bush's Vice President, Dick Cheney, was the CEO of oil service company Halliburton and the owner of millions of dollars of Halliburton stock, which would appreciate enormously during Cheney's administration. Bush's Secretary of State, Condoleezza Rice was on the board of Chevron, which named an oil tanker after her. Cheney immediately convened 90 days of secret meetings with carbon and nuclear industry CEO's.
"For the first three months of the Bush administration, Cheney presided over clandestine convocations during which he invited the nation's worst polluters to rewrite environmental laws to make it easy to drill, to burn, to extract, to ship, to distribute carbon fuel," said Kennedy. "It was an all-out victory for the carbon industry and an unconditional defeat for humanity."
The 2005 Bush/Cheney Energy Bill was the product of those secret meetings, including the "Halliburton Loophole" to the Safe Drinking Water Act, which exempted natural gas companies from disclosing the chemicals used during hydraulic fracturing. This change in the law allowed a new industry known as shale gas fracking to grow without regard to its widespread environmental costs, including drinking water contamination, a cascade of global warming fugitive methane emissions, earthquakes, road destruction and human health impacts.
Even as they dismantled America's environmental laws by statute, Bush and Cheney stocked the regulatory agencies with industry lackeys and profiteering cronies who weakened and auctioned off America's public lands and forests to the campaign contributors at fire sale prices, according to Kennedy.
But George W. Bush wasn't done. He next appointed two ultra-corporatist U.S. Supreme Court Justices—John G. Roberts in 2005 and Samuel Alito in 2006. Kennedy said that it is wrong to think of these judges as traditional conservatives. "They are not. They are corporatists. If you analyze their decisions, there is no coherent conservative political philosophy. They have taken the 'conserve' out of conservatism. The only predictable outcome of their rulings is that 'the corporation always wins.'"
The apogee of their unctuous worship of unsheathed corporate power was the Supreme Court's 2010 5 to 4 decision in favor of Citizens United, which, as Kennedy proclaimed, "turned American democracy over to large corporations."
The so called "Citizens United" decision is the "most sweeping expansion of corporate power this century. In an acrimonious split decision, the five 'conservative' justices declared that, in the eyes of the Constitution, corporations were people and money is speech," continued Kennedy.
Corporate campaign donations, in other words, are protected by the First Amendment making most restrictions on corporate donations to political candidates unconstitutional. That case effectively overruled a century of corporate campaign finance restrictions that limited a corporation's ability to purchase political candidates.
The Supreme Court's decision in Citizens United v. Federal Election Commission unleashed a tsunami of corporate cash in the 2010 and 2012 election cycles. It helped create super PACs, which can accept unlimited contributions from corporate and union treasuries, as well as from individuals, and it triggered a boom in political activity by tax-exempt "dark money" organizations that don't have to disclose their donors.
"And today it's hard to argue that we still have a democracy in this country when you have the Koch brothers, the two richest people in America, who have pledged already to put nearly $900 million into this presidential election, which is comparable to the amount spent by either political party," said Kennedy. "This year's presidential election is going to cost $10 billion with half of that coming from 100 wealthy families. Nearly $1 billion is coming from two brothers."
And, said Kennedy, "You will hear no criticism from the press, the supposed guardians of our democracy. And that's because most of that money will go to media advertising—the 4th estate has been bought off."
And the data shows that 91 percent of the time, the candidate with the most money wins the election. "So democracy is for sale and the Congress that we have today is the best one that money can buy, which by definition, is oligarchy not democracy," said Kennedy. "Predictably, the rich are now buying themselves politicians and then deploying to reduce taxes on their class and to rid themselves of pesky regulations that protect public health. Our politicians are no longer public servants. They are indentured servants of the Koch brothers and their ilk. They are no longer engaged in public service, but in the mercenary enterprise of ransacking on behalf of Big Oil."
So Kennedy asks, "What happens to a country when moneyed interests run its political system?" First, he says, "The political character of a nation tends to reflect its economic organization. As the economy slides towards monopoly in leading sectors like energy, agriculture and media, the political system will lean toward oligarchy." In addition, he says, "Oil and coal by nature are autocratic and authoritarian. Nations controlled by those industries customarily list toward autocracy and away from democracy. It's a phenomenon known as the 'resource curse.' So with democracy for sale and the carbon cronies winning the auction, we have the perfect storm for corporate tyranny."
Then Kennedy asks, "What do you think accounts for the Koch Brothers' generosity to our political system?" He answers his question with a battery of new questions. "Do you think that Charles and David Koch are putting nearly $900 million into the election because of some patriotic impulse? Do you think they are putting nearly $900 million into this election because they love America? Do you think that they are putting nearly $900 million into the election because they love humanity? Our environment? Or our purple mountain's majesty? Our democracy? Or free market capitalism?"
To each question, the crowd enthusiastically said, "No."
"Do you think they have a moral compass?" Kennedy replied, and when the crowd answered "No" he corrected them. "Well they do have a moral compass. It's pointed straight at Hell."
The crowd roared. But Kennedy wasn't finished yet.
"These are the apocalyptical forces of ignorance and greed. These are the four horsemen from the book of Revelations herding humanity toward a dystopian nightmare of their creation. Koch Industries is not a benign corporation. It's a suicide pact for creation. It's the archetype of 'disaster capitalism.' It's the command center of an organized scheme to undermine democracy and impose a corporate kleptocracy that will allow these greedy men to cash in on mass extinction and the end of civilization."
Kennedy went on to explain, "These men claim in their rhetoric to embrace a theology of free market capitalism. But if you look at their feet instead of listening to the seductive noises that issue from their mouths and their phony think tanks, the truth is clear. These men hate free markets. They want a system of cushy socialism for the rich and a savage, merciless capitalism for the poor. The real purpose of their 'think tanks' they created and fund—like the Heritage Foundation and the CATO Institute—is not to promote free market capitalism, but to gin up the philosophical underpinnings for a scheme of uncontrolled corporate profit taking. And the press, consolidated as it is into private monopolies, and relieved of social obligation are on the carbon and pharma pay role and in full cahoots with the scheme. They don't love markets—they despise them. The Koch Brothers' purpose in purchasing our political system is to engineer monumental subsidies and market failure, which are their formulae for profit. And the winds, the storms, the floods, the heatwaves, the fires and the melting continents that they cause, the cities that they drown, the refugees they drive from their lands all provide new opportunities for profit and authoritarian control."
Kennedy shared a story about the commercial fisheries on the Hudson River, among the oldest commercial fisheries in North America. He began his career as an environmental lawyer representing these fishing families. He explained how the fisheries regulated themselves as a sustainable industry for more than three centuries.
"The fishermen had a business model that worked," he said. But then General Electric "used its political clout to cheat the free market and to arrange vast subsidies for itself by externalizing its costs and dumping its toxins into the river. In this way, GE privatized the fish in the Hudson River. New York's constitution says that we, the people of New York State, own the waterways of the state and we own the fish in the Hudson. But we don't own them anymore. The General Electric Company owns every fish in the river because they privatized them. They put their toxins in our fish and our cash in their pockets.
"While we own to fish legally, we can't use them. GE has liquidated a public asset for cash and profit. All those men and women who made their living on the river and lived decent lives—they are all out of work and out of luck and General Electric has liquidated their assets and their livelihoods for corporate profit."
He went on to explain; "Now the coal industry has done the exact same thing to every freshwater fish in America." The National Academy of Science found dangerous levels of mercury in every American freshwater fish. The mercury is mainly coming from coal fired power plants. Since there is no known safe level for mercury consumption, the fish are no longer suitable for public consumption and are effectively privatized. "King Coal has privatized every fish in America by putting toxic mercury in every filet," he said.
"Whether we recognize it or not, we are all locked in a life and death struggle with these corporations over control of our landscapes and political sovereignty," Kennedy said. "If a foreign nation did to our country what the coal and oil barons do every day, we would consider it an act of war! They poison our rivers and aquifers, steal our fish, flood our cities and trample our democracy. They are pilfering our values, robbing our culture, impoverishing our lives, sickening our children and stupefying our minds with pollution. They subvert our heritage by privatizing our patrimony. They are turning America into a colonial economy.
"Under the colonial model multinational corporations exploit weak political systems to commoditize and privatize a nation's resources. A robust democracy would never allow a foreign company to plunder the nation's natural resources, poison her landscapes and subjugate her people. So colonialism requires the multinationals to weaken and capture the indigenous political system of the target nation. They do so by making alliances with local oligarchs with military and intelligence apparatus and conservative religious organizations and buying off the media. All these indigenous elites get a share of the profits in exchange for allowing the theft of their country's resources. Pollution is not just theft—it is treason. The Koch brothers are not just America's biggest polluters—they are thieves and they are traitors to our country and their crimes against America and humanity have made them the richest men on Earth.
"The colonial model results in the evolution of an upper class with massive wealth and political power, the elimination of the middle class and the exponential increase of an impoverished class who eke a declining meagre living from the barren polluted moonscapes left behind by greed and pollution. And, when you have a wealthy class and a poor class and no middle class, you get extreme political division. The role of one political party devolves into a single minded mission of protecting the perks and power of the wealthy class and the rights of corporations to rape the land and enslave the people."
This is why, as Kennedy explained, we have another precedented divide between Democratic and Republican parties in this country. Since tax breaks for billionaires and unregulated pollution are not potent vessels for populism, the corporate kleptocracy must steal elections, eliminate poor voters from the rolls, lie about the issues and employ propaganda and all the lowest alchemies of demagoguery, including appeals to religious and patriotic symbols and dividing the electorate using bigotry, greed, and racial and religious prejudices—the "wedge" or "cultural war issue," according to Kennedy.
Even using these techniques, as Kennedy says, the policies they advocate are so viscerally unpopular that their hold on the voting public is always remaining tenuous. "Politics," Kennedy explained "Is driven by both money and political intensity. Since they don't have reliable ground troops, they must overwhelm the system with their money." For this reason, "The hostile takeover of our democracy by polluting corporations and our country's transition into a colonial economy is completely reliant on the financial floodgates opened by Citizens United."
To further make his point, Kennedy said, "So you have the Koch's who have deployed their front group ALEC—American Legislative Exchange Council—in every state working with local legislators in the anti-American enterprise of impeding the transition to new energy by bribing and blackmailing politicians to weaken support for wind and solar and foster a hostile environment toward renewables.
"The Koch brothers understand that renewables are good for the economy, good for our security and good for democracy. They create high paying jobs, promote small businesses, create wealth, democratize our energy sector, give us local, resilient power and reduce dependence on foreign carbon that makes them for the country, but bad for the Koch brothers.
"Renewables fill the Koch brothers with fear. In order to compete, they have to rig the rules that govern energy in this country to favor the dirtiest, filthiest, most destructive, most poisonous and addictive fuels from hell over the cheap, clean, green, local and patriotic fuels from heaven. But even with market and utility rules against them, new renewable technologies are so efficient that the allow wind and solar to beat the carbon industry even in their rigged markets and slanted playing fields—the only way for carbon to survive is by massive subsidies. The Koch brothers cannot compete against renewables in a free market without their subsidies."
A recent report by the International Monetary Fund said, global energy subsidies amounts to $5 trillion annually, with the U.S. providing $700 billion in subsidizes to big oil "the richest industry in the history of the planet," remarks Kennedy.
"Why would we be doing that?" he asks. "The only reason we'd give subsidies to a century old industry with the biggest profits in human history is because the oil barons own our government. There is no economic reason. Carbon's economic model is looking at the same bleak future as the horse and buggy industry faced in 1903. So what do you do when your profits rely on a fading economic model? You use your money and use the campaign finance system that consists of legalized bribery to get your hooks into a public official who allows you to privatize the commons, dismantle the market place and rig the rules to give you monopoly control," Kennedy explained.
Free market capitalism is the most powerful economic engine ever devised. But, according to Kennedy, it must be harnessed to a social purpose, as it will drag us down the path of political oligarchy and environmental destruction. Free market rules should allow people to make themselves rich by doing good things for humanity. But under the Koch's scheme, oilmen get rich by dong bad things to humanity, he said.
Corporations are a useful economic tool. However, "corporations should not be running our government because they don't want the same thing for America as Americans want," he continued. "They don't want democracy. They want profits. They want no competition. They are corrupting our democracy. They are stealing everything that we care about in this country.
"I believe in a true free market where you can't make yourself rich without making your neighbors rich and without enriching your community, where we properly value our national resources and where we reward efficiency. But polluters make themselves rich by making everybody else poor. They raise standards of living for themselves while lowering quality of life for everybody else. They undervalue natural resources or take them for free. And they do it all by escaping the discipline of the free market. Polluters externalize their costs to artificially lower the price of their product. The 28 environmental laws that we passed after the first Earth Day in 1970 were intended to restore true free market capitalism by forcing actors in the marketplace to pay the true cost to bring their product to market. There is a huge difference between true free market capitalism—which makes a nation more efficient, more prosperous and more democratic—and the kind of corporate crony capitalism which we have today."
After 45-minutes of some of the most powerful comments about the reality of the world today, Kennedy finished by telling the crowd, "But we are not going quietly. We've heard the summons to the barricades and we are filling the streets. We are the soldiers in a revolution against carbon. And this is an industry that no longer has a justifiable economic model."
Pointing at the roaring crowd, he said, "Every single person here is willing to die with their boots on. That commitment is what brought you the Waterkeeper movement. We are going to keep fighting for these landscapes, for these rights, for these rivers and for all the values that we care for as a people and as a society."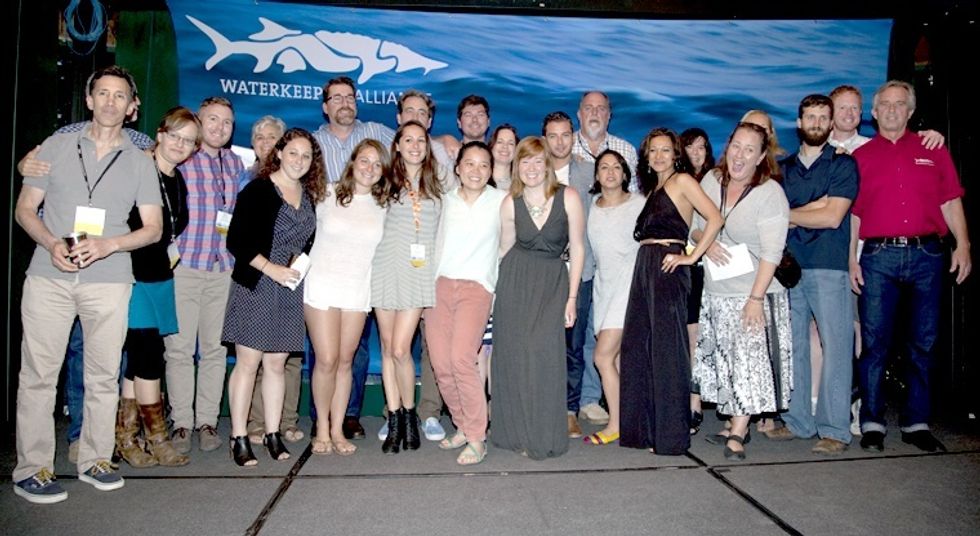 YOU MIGHT ALSO LIKE
White House Fires Back at Charles Koch
Watch the Documentary Donald Trump Has Prevented You From Seeing for 24 Years