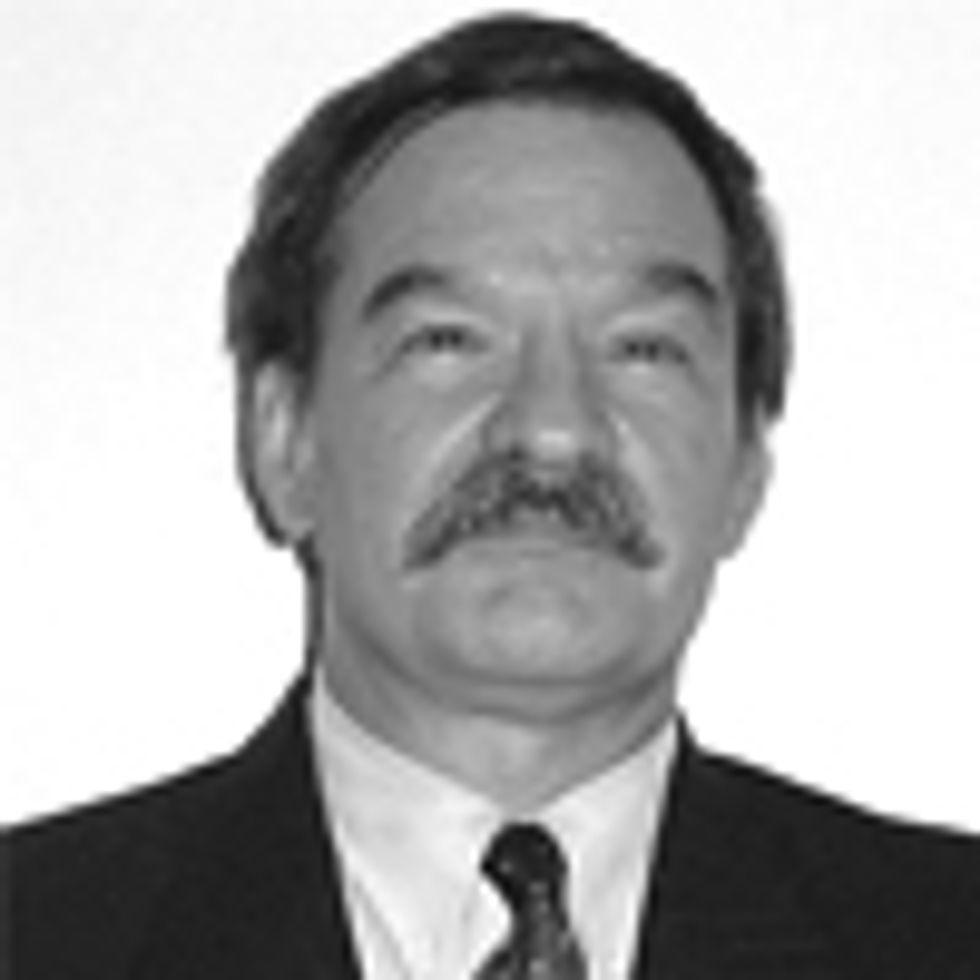 Since April 2014, 10 fracking infrastructure projects have been canceled or delayed.
Here's the list:
April 2014: The Bluegrass Pipeline in Kentucky was stopped by a court decision upholding landowners' rights against the use of eminent domain to take their land for private profit.
November 2015: The Port Ambrose liquified natural gas (LNG) project was vetoed by New York Governor Andrew Cuomo. The project was proposed by Liberty Natural Gas off the shores of New York and New Jersey.
March 2016: The Jordan Cove LNG export terminal and 223-mile Pacific Connector pipeline in Oregon were rejected by the Federal Energy Regulatory Commission (FERC), signifying FERC's first gas infrastructure rejection in 30 years.
March 2016: The Republican-dominated Georgia legislature voted overwhelming for a one-year moratorium on any new gas pipelines, setting back efforts to build the Palmetto Pipeline.
March 2016: FERC announced a seven month delay on making a decision about the Penn East pipeline in Pennsylvania and New Jersey and a 10 month delay for the Atlantic Sunrise pipeline in Pennsylvania and Maryland.
April 2016: The Oregon LNG company announced that it's ending its years-long effort to build an export terminal and pipeline.
April 2016:  Kinder Morgan announced it is suspending its efforts to build the Northeast Energy Direct pipeline, which would have run from Pennsylvania through New York into Massachusetts and New Hampshire.
April 2016: Dominion Resources announces that the start time for beginning construction on the Atlantic Coast pipeline, going from West Virginia through Virginia into North Carolina, is being moved back from this fall to summer 2017.
April 2016: New York Governor Andrew Cuomo announced that the New York Department of Environmental Conservation rejected the application of the Constitution Pipeline company for a water quality permit, a permit it must have in order to begin construction.
"We are actually experiencing the clean energy revolution, it's really happening right now," I said to my wife when I heard the news about the Constitution Pipeline.
It's very significant that the movement against fracking and fracking infrastructure projects is winning these victories, but it does not mean we can take a break. As of March 24, FERC's lists 58 interstate gas pipelines on their website.
We need to gain strength from these victories and, with the wind shifting from a headwind to being more at our back, step up our pressure on FERC, and the gas and pipeline industry. Join Beyond Extreme Energy from May 15 to May 22 in Washington, DC for the Rubber Stamp Rebellion.
Ted Glick is a co-founder of Beyond Extreme Energy and a climate activist since 2003. Past writings and other information can be found here, and you can follow him on Twitter.
YOU MIGHT ALSO LIKE
Viral Video of River Catching on Fire Prompts Call for Ban on Fracking
Is Fracking Causing the Epidemic of Horse Birth Defects at Breeding Farm?
Gov. Cuomo Rejects the Constitution Pipeline, Huge Win for the Anti-Fracking Movement
12 Arrested in Earth Day-Themed Protest Against Gas Storage in Seneca Lake's Salt Caverns
EcoWatch Daily Newsletter
By Max Phillips
The Greens New South Wales mining spokesperson Jeremy Buckingham called on governments today to stop the spread of coal seam gas (CSG) and for the true impact of fugitive emissions to be independently assessed after the video of methane gas burning through the Condamine River in Queensland, Australia went viral with millions of views and global media coverage.
"The methane gas bubbling through the Condamine River could be just a very visible tip of the iceberg when it comes to fugitive emissions and huge quantities of gas that could be venting into the atmosphere because of unconventional gas extraction," said Greens MP Buckingham.
"The Greens want a ban on unconventional gas, but at the very least, government should stop the expansion of unconventional gas until the true extent of fugitive emissions is understood. Methane is a very potent greenhouse gas, so significant fugitive emissions caused by coal seam gas extraction could undo efforts to reduce emissions in Australia.
"Depressurizing the coal seams to allow the gas to flow may well be causing gas to migrate up natural or fracked pathways, or water bores or abandoned wells, to seep out of the ground. Farmers complain of gas in their water bores, while people living near gas fields report health complaints," Buckingham continued.
The phase 2 report of the by CSRIO (funded by GISERA gas industry group), Characterisation of Regional Fluxes of Methane in the Surat Basin, Queensland, found (page V):
The peak concentration perturbations in these regions ranged from less than 20 parts per billion (ppb) to almost 20 parts per million (ppm) or more than 10 times background levels.
A number of abandoned or "legacy" boreholes were found to be leaking CH4. The leakage rate from some of these boreholes was significant (~100 L min-1).
One of the leaking abandoned boreholes located during the project was partially filled with concrete to mitigate gas emissions. While this reduced any safety hazard associated with an open borehole, CH4 continued to be emitted via diffusion through the soil around the concrete plug, although at a considerably reduced rate.
The Queensland Department of Natural Resources Coal Seam Gas Compliance Unit commissioned a study that concludes "free" gas is formed during CSG production, which then migrates from areas of high pressure to low pressure, and that CSG production produces free gas in the Walloon Coal Measures that can migrate approximately 10km "up dip" from the nearest CSG production well.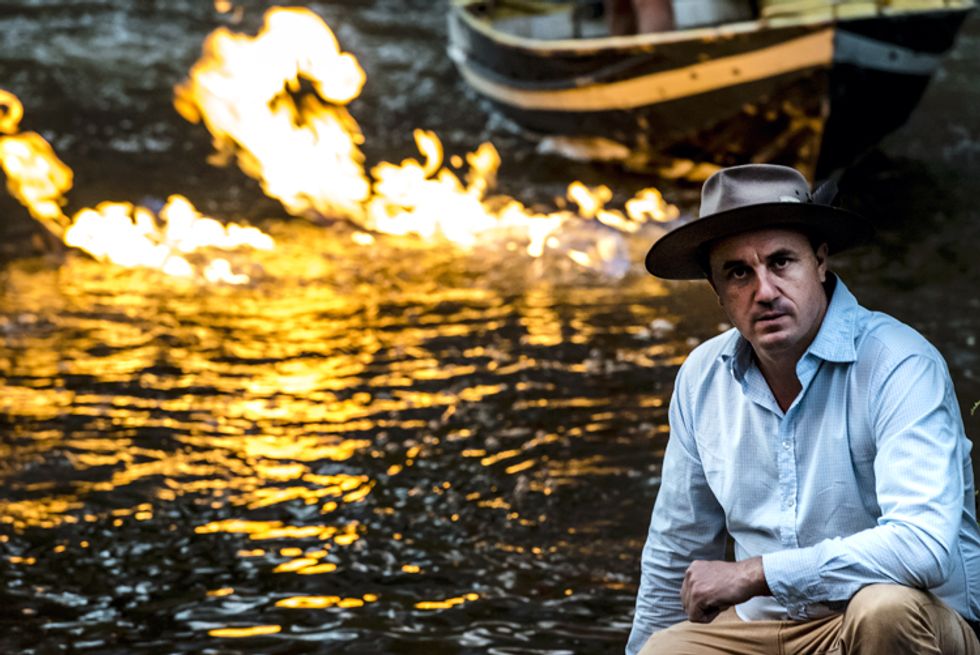 Researchers at Harvard University used satellite retrievals and surface observations of atmospheric methane to suggest that U.S. methane emissions have increased by more than 30 percent over the 2002–2014 period. While the authors said there is too little data to identify specific sources, the increase occurred at the same time as America's shale oil and gas boom.
Research by the National Oceanic and Atmospheric Administration and the University of Colorado in the U.S. has shown leakage of methane in gas fields of between 4 and 9 percent.
The video of Buckingham lighting gas bubbling through the Condamine River has been viewed 4.2 million times on his Facebook page, with many millions more views on other social media pages and global media coverage since last Friday night.
YOU MIGHT ALSO LIKE
Watch: River Explodes Into Flames From Methane Coming From Nearby Fracking Sites
Is Fracking Causing the Epidemic of Horse Birth Defects at Breeding Farm?
12 Arrested in Earth Day-Themed Protest Against Gas Storage in Seneca Lake's Salt Caverns
Do the Koch Brothers Want to Mine the Grand Canyon for Uranium?
tzahiV / iStock / Getty Images
The COVID-19 Delta variant has left businesses and schools across the country backpedaling from their goals for more integrated, in-person participation.
In many areas, virtual learning and remote work are becoming the norm once again, and often, this comes with a significant increase in residential energy consumption. For those concerned about increased electric bills and a greater carbon footprint, however, researchers say solar energy could prove effective in offsetting the costs of working and learning from home.
Turning Back to Virtual Learning
Although most school districts across the country opened back up with the intention of holding 100% in-person classes, spreading of the Delta variant has already forced many classrooms into stints of remote learning.
As the Los Angeles Times recently reported, "a cluster of three or more potentially linked cases at one school over 14 days could represent an outbreak and could lead to having a group of students or even a class quarantine at home."
As of August 24, at least 80 school districts have been forced to halt in-person instruction in some capacity due to viral outbreaks.
At the end of the last academic year, an elementary school teacher in Marin County, California, who had not been vaccinated against COVID-19 infected at least 12 students while experiencing mild symptoms, according to a recent CDC report. The majority of her class was ineligible for vaccination, due to their age.
Cases like this illuminate the obstacles that schools are facing in their efforts to protect students. Eight states have passed laws banning mask mandates in public schools, and because students younger than 12 years of age are ineligible for vaccination, classrooms can quickly become hotspots. This forces students to quarantine and learn remotely, which raises energy consumption within homes.
A Bright Future for Remote Work
Some of the most successful companies in the world have maintained and refined opportunities for remote work throughout the COVID-19 pandemic. Many of these corporations are moving toward permanent implantation of remote and hybrid working models, especially in industries like software, finance and media.
Studies suggest that these models could prove wildly successful, even in a post-pandemic era, not only because they expose employees to fewer health risks, but also because they promote higher productivity and greater mental wellness.
According to LinkedIn's 2020 Workforce Confidence Index, about half of the country's working professionals believe that their industry can operate successfully in a remote setting.
Minimizing Energy Costs and Environmental Impacts of Virtual Meetings
Increased use of home appliances, electronics, heating and air conditioning all contribute to higher electric bills and a greater carbon footprint for those working and learning from home.
At the onset of the pandemic, residential energy consumption increased by up to 10% and energy bills for remote workers increased by up to $50 per month, according to a study by Dr. Steve Cicala, a research fellow for the National Bureau of Economic Research and associate professor at Tufts University.
"The relative energy intensity of heating and cooling the entire homes of employees rather than a single office suggests that the future of working from home is not as green as one might think based on reduced commuting alone," Cicala writes in the study.
Drawing from solar panels could actually be the cleanest, most energy-efficient and cost-effective strategy to offset the energy costs of working from home. But is it worth installing solar panels on your home to offset increased energy costs due to COVID-19 quarantining?
"If people think they might be working from home and using more electricity long term, this would be a good time to think about prospective efficiency improvements," Cicala says in an interview with Tufts, "LEDs instead of old bulbs and plasma TVs, rooftop or community solar to spin the meter back a bit, or perhaps updating some old power-hungry appliances around the house."
Although market barriers and soft costs limit the expansion of the solar industry, the average cost of solar panels has dropped by more than 70% in the last decade. Federal solar tax credits can further reduce the cost of installation by 26%, and some states also offer their own incentives.
Beyond slashing costs, powering homes with solar energy can support the electric grid through net metering. This credits residences that produce more energy than they consume and allows them to export excess energy to the grid, providing surrounding consumers with clean energy.
While the barriers for entry are higher in certain states, solar panels are becoming more universally accessible. As remote work and schooling become the "new normal" once again, solar energy could be vital in preventing further financial and environmental crises related to the pandemic.
By Max Phillips
So much methane gas is now bubbling up through the Condamine River in Queensland, Australia that it exploded with fire and held a large flame. Gas seeping into the river began shortly after coal seam gas operations started nearby and is growing in volume and the stretch of river affected is expanding in length.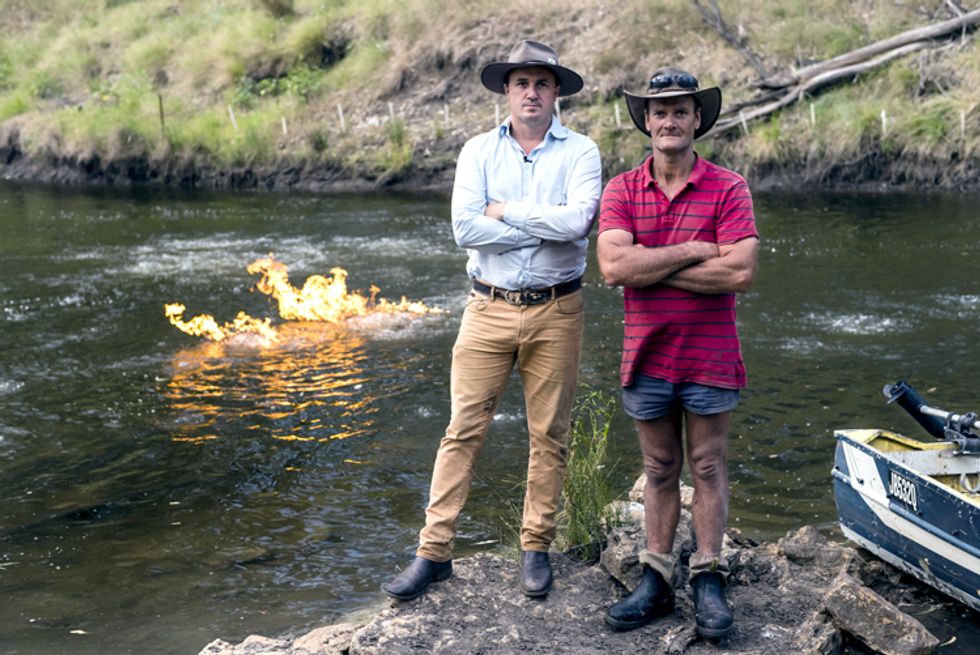 Greens MP Jeremy Buckingham travelled to Chinchilla in South Western Queensland to investigate the impact of the coal seam gas industry on the environment as part of the Greens' campaign to ban fracking and unconventional gas in Australia.
"I was shocked by the force of the explosion when I tested whether gas boiling through the Condamine River, Qld was flammable," Buckingham said. "So much gas is bubbling through the river that it held a huge flame for over an hour."
Watch here:
Methane was first discovered bubbling through the Condamine River near Chinchilla in 2012 where coal seam gas wells had been drilled by Origin Energy nearby. There are hundreds of wells in the immediate area, with three companies—Origin Energy, QGC and Arrow Energy—all operating coal seam gas fields nearby.
Locals say the river has never bubbled like this historically. Government investigations found (page 19) that the source of the gas was "consistent with gas originating from Surat Basin geological formations." The concern is that depressurising the coal seams for gas extraction has caused methane gas to flow up other cracks, fissures, bores, to the surface—such as through the Condamine River. This is directly polluting the river and the air, but also methane is a potent greenhouse gas and these fugitive emissions are a major concern.
Not only is the gas bubbling becoming more intense recently, but it is spreading to a greater length of the river. Origin Energy, which operates wells in close proximity to the gas seep, has installed some monitoring pipework, and the Queensland government has put stakes on the river bank to mark each visible seep.
"Explosive gas boiling through a river shows just how damaging fracking and unconventional gas extraction can be," Buckingham said. "We should be going with clean renewable energy and banning fracking and unconventional gas in Australia. The era of fossil fuels is over."
"I do not want to see this happen to the Namoi River, or any other river in NSW [New South Wales], or anywhere else, which is why unconventional gas should be stopped. The fact that this is happening in the Murray Darling Basin is a national disgrace."
Chinchilla local resident, John Jenkyn, who lives next door to the QGC Kenya gas field and gas processing facility said: "Anything that contaminates the underground water is a terrible thing. Depressurising the aquifers to extract the coal seam gas seems to have made the gas flow out beneath the Condamine River and it's now spreading further.
"Over the last few years there more and more patches of bubbles have appeared on the river and the pressure of the gas has increased to the point where it is like an over-sized spa bath. It's a river, it shouldn't be doing that."
Karen Auty, Chinchilla resident and activist against unconventional gas, said: "It's deeply troubling to see contaminated water ways and to see water bores blow out with gas or fail and ground water levels drop. We're all deeply concerned about the water.
"As local residents we want to know whether it is safe to live among all these gas wells and infrastructure, what are the impacts on our health?"
YOU MIGHT ALSO LIKE
12 Arrested in Earth Day-Themed Protest Against Gas Storage in Seneca Lake's Salt Caverns
10 Years of Fracking: Its Impact on Our Water, Land and Climate
Danger, Will Robinson: Oil Industry Knew CO2-Climate Link in '68
Cuomo's Next Step Against Fracking: Reject the Constitution Pipeline
In a win for climate activists and the anti-fracking movement, and a blow to fossil fuel polluters and the federal regulatory agencies that enable them, the New York State Department of Environmental Conservation (DEC) denied a key permit to companies seeking to build a 124-mile fracked gas pipeline.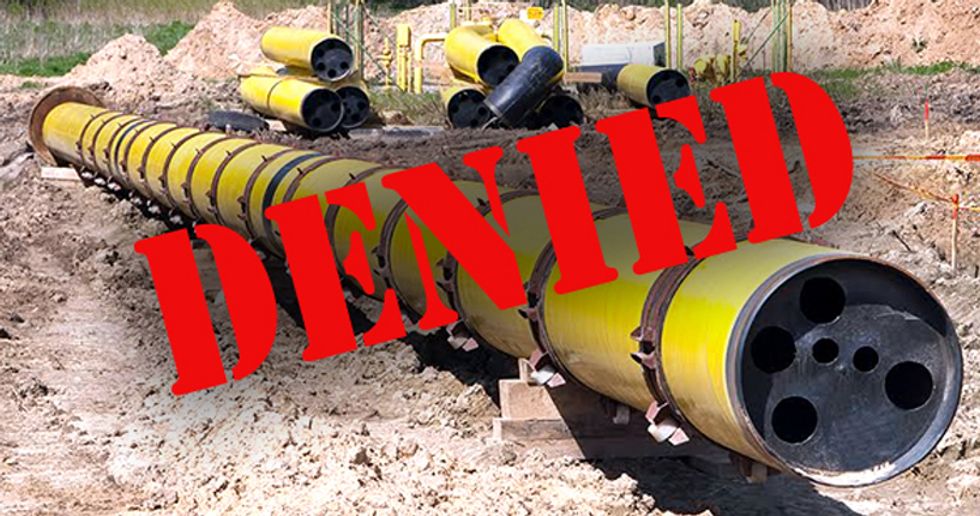 The Constitution Pipeline Project—a joint venture between four oil and gas companies—was proposed to transport fracked natural gas from Susquehanna County in Pennsylvania through Broome, Chenango, Delaware and Schoharie counties in New York to existing interstate pipelines. The pipeline route would have crossed hundreds of streams and wetlands, including those supplying drinking water to families along the proposed route. Using the power granted under the Clean Water Act, DEC officials rejected the companies' permit application, citing damage the project would do to water supplies along the pipeline route.
"Today is an incredible Earth Day! Thank you again to Governor Cuomo and the Department of Environmental Conservation for putting the protection of our precious water and the public health and safety of New Yorkers ahead of the special interests of the oil and gas industry," Mark Ruffalo, advisory body member of New Yorkers Against Fracking, said. "This is what real climate leadership looks like."
The nonprofit environmental law organization Earthjustice has been staunchly opposed to the project and represented a coalition of groups—Catskill Mountainkeeper, Riverkeeper, Clean Air Council, Delaware-Otsego Audubon Society, Delaware Riverkeeper Network, and the Pennsylvania and Atlantic chapters of Sierra Club—in pipeline approval proceedings before the Federal Energy Regulatory Commission (FERC.)
Last month FERC gave the go-ahead to pipeline developers to clear-cut 20 miles of trees along the pipeline's planned route through Pennsylvania. Pointing to the fact that New York State had not yet issued a permit, Earthjustice and other environmental groups called FERC's move premature and illegal. New York's rejection of the project today bolsters support for criticism of FERC as an agency that rubber stamps fossil fuel infrastructure projects.
Trees Cut as Maple Syrup Farmers Lose #EminentDomain Battle Over #ConstitutionPipeline https://t.co/0dfFWUx7tt @MarkRuffalo @joshfoxfilm

— EcoWatch (@EcoWatch)1457013404.0
The DEC's decision comes as world leaders gathered in New York City to sign the historic Paris climate agreement. More than 170 countries, including those responsible for the bulk of the world's climate pollution, signed the commitment to limit global temperature rise to 1.5 degrees.
Here's what Earthjustice attorney Moneen Nasmith had to say about today's announcement:
"Today in New York City, world leaders gathered to sign the COP 21 climate agreement. Today in Albany, state leaders displayed precisely the leadership necessary to help us meet the goals of this historic climate treaty—by choosing to protect New York State's waterways and reject a massive fossil fuel infrastructure project.
"The 124-mile Constitution pipeline, planned to run through five counties and two states, and hundreds of waterways is the sort of massive fossil fuel investment that would have locked our region into continued extraction and burning of fossil fuels and irreparably damaged precious water resources at a time when we need instead to be protecting these resources and speeding the transition to 100 percent renewable energy for all.
"World leaders and our leaders in New York State are doing what's necessary. Unfortunately their efforts are undermined by rogue agencies like the Federal Energy Regulatory Commission which is failing to do its job and evaluate the environmental and climate impacts of the massive fossil fuel infrastructure projects it approves. FERC is an outlier agency that, with every day, is exposed as being drastically out of step with its peers. It's time for fossil fuel industry enablers and apologists to step aside and let the rest of us continue the work necessary to solve the climate crisis and transition our society to 100 percent renewable energy."
Food & Water Watch's executive director Wenonah Hauter agrees:
"Governor Andrew Cuomo's smart decision to reject the Constitution Pipeline sends a clear message: New Yorkers' health and safety will not be sacrificed for fossil fuel industry profits.
"Just a year after his monumental decision to ban fracking statewide, Cuomo has clearly embraced the urgings of thousands of grassroots activists: Clean, renewable energy is the only responsible path forward for New York. This latest act by the governor against fracked gas infrastructure sets a bold example for all public officials in America: Environmental leaders don't frack, and they don't tolerate new fracking infrastructure either.
"The Cuomo administration set a goal of reducing greenhouse gas emissions 80 percent by 2050. The state would not be able to meet that by swapping out one fossil fuel for another. That's what new pipelines and gas-fired power plants would do—and why rejecting the Constitution pipeline was the only sensible option."
The world needs maple syrup, not climate chaos: 7 Arrested at 'Pancakes Not Pipelines' Protest at FERC https://t.co/Ba3W3KFWea via @ecowatch

— Sandra Steingraber (@Sandra Steingraber)1458853255.0
YOU MIGHT ALSO LIKE
Leonardo DiCaprio: The World Is Now Watching
Watch: River Explodes Into Flames From Methane Coming From Nearby Fracking Sites
12 Arrested in Earth Day-Themed Protest Against Gas Storage in Seneca Lake's Salt Caverns
Yesterday afternoon, in an old vaudeville music hall in downtown Kingston, New York, Bernie Sanders' campaign held a rally "for clean energy and safe climate" to build support for the presidential candidate and mobilize the Hudson Valley, Catskills and Southern Tier to fight climate change in advance of New York's Democratic primary election on April 19.
Sanders himself was not on hand—nor was he part of the billing. Nevertheless, more than 1,000 people packed the damp, chilly hall to standing room only capacity to hear from anti-fracking leaders, as well as organizers from the campaign itself, who instructed the audience members in the art of door-to-door canvassing, signed them up for tours of duty, and, when the rally ended, sent them out into the community to knock on doors, phone bank and turn out the vote.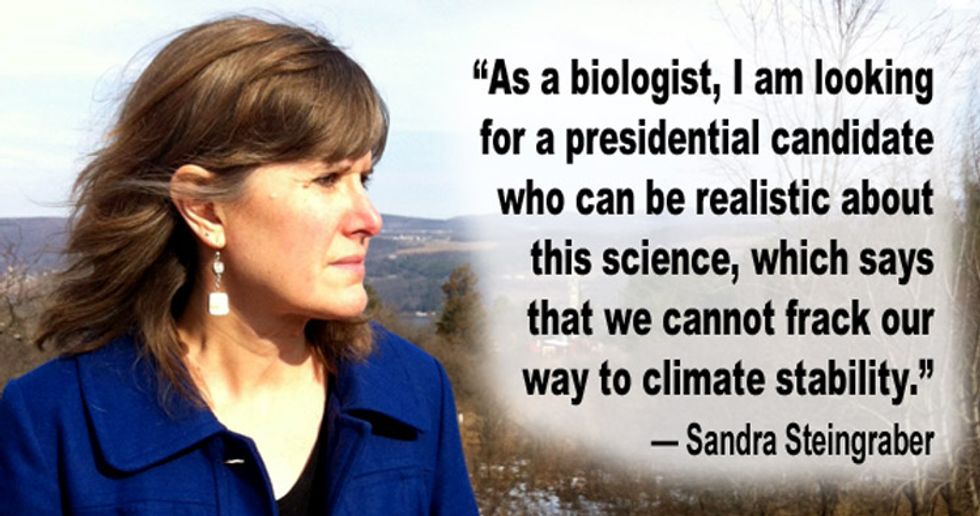 Spirits were high. Excitement was palpable. Chants and ovations were loud and long. It was a moment when elements of the grassroots anti-fracking movement in New York State joined hands with the larger political groundswell behind the Sanders campaign.
Serving as master of ceremonies, environmental justice organizer Anthony Rogers-Wright set a tone of urgency.
"We must abolish the system of oppression known as climate change ... We are out of time. We have to get radical ... We are talking about keeping our planet alive. Our children are our landlords; we are renting from them."
So good to see @ARdubbs108 on fire at Pro-#BernieSanders Anti-#fracking rally in Kingston NY And @joshfoxfilm And... https://t.co/V7tSwAShTO

— Bill McKibben (@Bill McKibben)1460227678.0
Wright pointed out that fracking disproportionately harms people of color, especially in California where 90 percent of fracking wells are located within one mile of communities of color. A come-from-behind win for Bernie in New York, observed Wright, would serve as wind in the sails of Bernie's later primary race in California, as well as bolster anti-fracking efforts there.
Kelleigh McKenzie, a local delegate from the Kingston area who has been organizing for Sanders in the region, said that with Sanders' campaign, "a political movement has arrived in the Hudson Valley" that stands against "the suicide economy," which fracking and other forms of fossil fuel extraction enable.
The recurring themes of the day—the generational and racial inequities of climate change; the lateness of the hour that makes incremental solutions and half-measures ineffectual; the need for bold political leadership; the multiple perils that fracking poses for climate, water and public health—were made by several speakers, including tribal rights attorney and Honor the Earth campaigns director Tara Houska, 350.org founder Bill McKibben (participating via Skype) and anti-fracking activist and filmmaker Josh Fox.
@joshfoxfilm picking that banjo for #BernieSanders in #Kingston #BernNY @BernieSanders @HV_CANY @CANY_NYC https://t.co/exVml72POw

— CJ (@CJ)1460229787.0
I also addressed the crowd. Here is a transcript of my remarks:
Hi everybody. My name is Sandra Steingraber and I occupy the anti-fracking wing of the climate justice movement.
I bring you warm greetings from the snowy shores of Seneca Lake where an uprising of brave citizens winemakers, nurses, farmers, teachers, veterans, chefs, moms, dads, granddads and great grandmothers are peaceably standing up to a Houston-based gas company called Crestwood which seeks to turn our beloved lake shore into a massive gas station for the products of fracking.
It's a plan that threatens not only the climate but also a source of drinking water for 100,000 people. That contested lakeshore is our Greensboro lunch counter.
But I left the shores of Seneca Lake to join you on the banks of the mighty Hudson, not as a partisan of that struggle, nor as a co-founder of New Yorkers Against Fracking—which is how you may know me. Today, I am casting off those hats and speaking to you out of two even more fundamental identities—as a biologist and as a mother.
Biology and motherhood are deeply entwined for me. My own mother was also a biologist and, because I was her adopted daughter, she helped me to see that the whole living world—all flora and fauna contained therein—was my family tree.
Thus, my first memory is cracking open fossils with my mom on the front stoop of our home. That project gave me a sense of ancestry. By age six, I had straightened out all of my little friends on the question of where babies came from. By nine, I had my own microscope. With these gifts from my mother, came lessons about the interconnectivity of creation.
One of every three bites of food is brought to us by the efforts of insect pollinators. The oxygen in one in every two breaths of air we breathe is brought to us by the ocean's plankton via the miracle of photosynthesis.
In turn, we animals and humans exhale carbon dioxide, which has the ability to trap the sun's heat and so keeps us warm at night, preventing the oceans from freezing over after the sun goes down. It's a perfect balance between plants and animals that allows living organisms to sustain the conditions of life that make more life possible, which is why, as environmental attorney Joseph Guth reminds us, a functioning biosphere is worth everything we have.
Now that I have kids of my own and now that I make my living as a systems ecologist, here's what I can tell you:
By trying to run our economy by shattering the bedrock of our nation to exhume oil and methane via fracking, we are destroying and poisoning the nation's drinking water sources in the aquifers deep below our feet. And because methane is a such a powerful heat-trapping gas that cannot be wholly contained in the piles of rubble left behind, we are also exacerbating climate change in the atmosphere high above our heads—at a time when we urgently need to be coming up to the rescue with renewable energy.
Fracking is not safe and can't be made safe. That's what science shows, and those findings are a direct threat to my own two children, who are 65 percent water by weight. My children's safety depends on safe sources of water. Their future depends on functioning pollinator systems to provide them food and thriving plankton stocks to make oxygen for them to breathe.
Science shows pollinators and plankton stocks are now in trouble. Hence, it's my job as a mother to engage with the biological consequences of climate change precisely because it's my job as a mother to keep my kids from harm and plan for their future.
I can't do my job as a mother in a fractured America.
I can tell you what I saw in a Romanian village where I was invited to give a lecture on the public health impacts of fracking and where my 12 year old son and I were both pepper-sprayed by military police acting as a private security force for a fracking operation run by the U.S. company called Chevron.
An old woman said to me, "We waited 50 years for Americans to show up here, and you brought Chevron." It was she who explained to me the foreign policy objectives for opening eastern Europe to U.S. fracking operations.
I can tell you what I saw at the climate treaty negotiations in Paris last December. Renewable energy CEOs, and their would-be financiers, urged political leaders to give them a clear, strong signal that indicates the energy revolution has begun. At the same time, the world's climate scientists warned those same political leaders that we're out of time and that signal must come now.
As a biologist, I am looking for a presidential candidate who can be realistic about this science, which says that we cannot frack our way to climate stability.
As a mother, I am looking for a Presidential candidate who can recognize an emergency when they see one, who knows, as the poet Audre Lorde reminds us that "the master's tools will never dismantle the master's house."
As a citizen, I am looking for a presidential candidate who knows a government tasked with ensuring security and domestic tranquility, cannot do so when seawater is sloshing through New York's subway tunnels or when vineyards of wine grapes—the economic goose that lays the golden egg in my part of New York—have to compete with flare stacks compressor stations and pipelines. Or when we keep the lights on by shoveling fossil fuels into ovens and lighting them on fire and so threaten to tear up what Abraham Lincoln called our nation's "salubrity of climate" that makes agriculture possible.
In 1979, my mother and I became became co-cancer patients together. Her advice to me was, "Don't let them bury you before you are dead." She was dealt a very tough prognosis at age 46, and yet she went on to defy all prediction, outlived three oncologists, and is now 85 years old.
So, I offer my own mother's advice to the Sanders' campaign and to all of you.
We are not here to simply express our hope for a strong, clear signal on renewable energy from the executive office. We are here to make it so and change providence itself. That's the spirit that allowed New Yorkers, against all prediction, to evict the frackers from our state and ban fracking now and forevermore.
Against all prediction, fellow New Yorkers, let's help elect the nation's first keep-it-in-the-ground president, willing to defend our bedrock, our water and our climate from those who would thrown our own children under the bus to line their fossilized pockets.
Let's make it so.
YOU MIGHT ALSO LIKE
Judge Denies Motions by Fossil Fuel Industry and Federal Government in Landmark Climate Change Case
Bill McKibben: It's Time to Break Free From Fossil Fuels
6 Colorado Teenagers File Appeal in Fracking and Climate Lawsuit
In his famous Letter from a Birmingham Jail, the Reverend Martin Luther King, Jr., wrote, "Injustice anywhere is a threat to justice everywhere."
In that spirit, and as part of the ongoing civil disobedience campaign against gas storage called We Are Seneca Lake—of which I am part—seven protesters from six different New York counties declared their support for the residents of Porter Ranch, California, where a massive leak from an underground gas storage facility has sickened and displaced thousands of families and shows no sign of abating.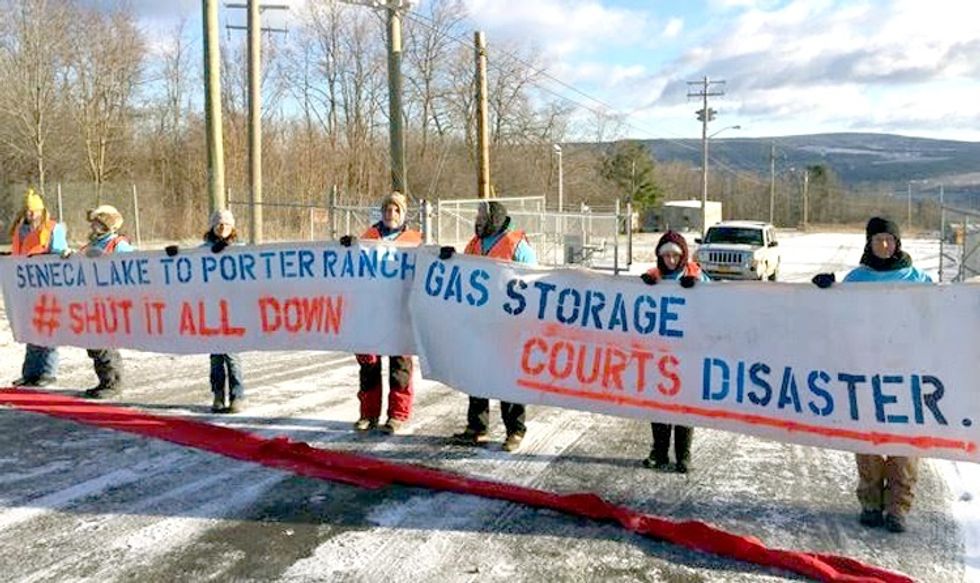 The seven formed a human chain across the north entrance of Crestwood Midstream on Route 14 at8:45 a.m. Monday morning. While blocking all traffic entering and leaving the facility, the group offered a statement of solidarity with the people of Porter Ranch before their arrest by Schuyler County deputies at 9:15 a.m.
The blockaders held banners that said, "Seneca Lake to Porter Ranch: Shut It All Down" and "Gas Storage Courts Disaster."
All those arrested were transported to the Schuyler County Sheriff's department, charged with disorderly conduct, and released. The total number of arrests in the sixteen-month-old civil disobedience campaign now stands at 467.
The uncontrolled gas leak at the Aliso Canyon gas storage facility—the single largest in the U.S.—was discovered on Oct. 23, 2015. California Gov. Brown declared a state of emergency on Jan. 6. Thus far, more than 2,500 families have fled their homes and more than 1,000 children have been relocated to other schools. Health officials now acknowledge they initially underestimated the scope of the gas leak and the possible attendant health risks. Self-reported health complaints include nausea, dizziness, vomiting, shortness of breath and headaches.
As We Are Seneca Lake protesters noted in their declaration of support, the massive gas leak at Porter Ranch is a problem with no end in sight and no obvious solution: "People of Porter Ranch, we know your lives were upended because no one replaced a safety valve at the bottom of the well. We don't believe we have bottom safety valves here either ... What affects you directly today could affect us directly tomorrow."
Elizabeth Peet, 48, of the Town of Hector in Schuyler County, said, "Today as we celebrate the birthday of Dr. Martin Luther King, Jr., I am reminded that my civic responsibility includes civil disobedience while my elected officials continue to fail to protect our lake and surrounding communities from dangerous gas storage expansion."
Michael Black, 63, of Lakemont in Yates County, said, "I was born in Schuyler County and have lived on the shores of Seneca Lake for nearly a half century. I now live seven miles from Crestwood. What happens here happens to me as well. If the gas storage facility here were to leak—as is happening in southern California—I could be in danger. If it explodes I would likely be killed."
The We Are Seneca Lake movement opposes Crestwood's plans for methane and LPG storage in lakeside salt caverns and has been ongoing since October 2014.
Crestwood's methane gas storage expansion project was approved by the Federal Energy Regulatory Commission in October 2014 in the face of broad public opposition and unresolved questions about geological instabilities, fault lines, and possible salinization of Seneca Lake, which serves as a source of drinking water for 100,000 people.
The seven arrested Monday were: Richard Battaglia, 53, Richford, Tioga County; Michael Black, 63, Lakemont, Yates County; Caroline Byrne, 39, Ithaca, Tompkins County; Angela Cannon-Crothers, 50, Naples, Ontario County; Kim Knight, 31, Covert, Seneca County; Stacey McNeill, 45, Ithaca, Tompkins County; and Elizabeth Peet, 48, Hector, Schuyler County.
Below is the full text of the message that I delivered to the people of Porter Ranch on behalf of We Are Seneca Lake. And you can watch my statement via video here:
Seneca Lake Stands with Porter Ranch: Shut It All Down!
In his famous Letter from a Birmingham Jail, Martin Luther King, Jr. declared, "Injustice anywhere is a threat to justice everywhere. We are caught in an inescapable network of mutuality, tied in a single garment of destiny. Whatever affects one directly, affects all indirectly."
Today, on the national holiday celebrating the birth of Dr. King, we gather near the shoreline of Seneca Lake in New York State, on a simple driveway to make our own declaration.
This is not just any driveway. It's contested ground. In the last 16 months, there have been 460 arrests on this strip of pavement for civil disobedience in objection to the expansion of underground gas storage in old salt mines on the banks of our beautiful lake. Some of us have gone to jail.
Today, we affirm our network of mutuality with people who live three time zones away in a California community called Porter Ranch.
The wind chill on this hillside is minus one degree, and we are cold. But we know that people of Porter Ranch are suffering magnitudes more. The leak from Aliso Canyon underground gas storage facility near Porter Ranch has been pouring 1,000 tons of climate-killing methane into the air every hour for the past three months. We all share the same atmosphere.
We know it's the biggest gas leak in U.S. history. We know it's an official state of emergency. We know there is no end in sight and there is no clear way to fix it.
We know that the fumes from this single leak have sickened people and dropped birds, dead, from the sky. We know that the risk of a massive fire is so great that planes cannot fly over the site and cellphones and watches are forbidden on the site.
We know that more than 2,500 Porter Ranch families have been forced to evacuate and children have been forced to change schools.
Meanwhile, seven different efforts to plug the faulty well that is the source of the leak, has only further destabilized the situation, expanding a crater around the wellhead that threatens the possibility of a full blow-out. And the attempts by Southern California Gas to drill a relief well will take at least six more weeks—and may not work either. These are hard truths to hear. But we hear them.
And we watched closely last Friday when people gathered in front of the Environmental Protection Agency offices and urged the EPA to entirely shut down the Aliso Canyon gas storage facility, which is not a specially engineered tank but simply a big hole in the ground left over from drilling and extracting oil. The people said, "Shut it all down!"
So, we want you to know that we are listening. And we, who stand right now, right here, on top of decrepit salt caverns that are slated to serve as storage vessels for massive amounts of pressurized gas echo your words back to you. Like your depleted oil field, our salt caverns were never engineered to hold natural gas either.
People of Porter Ranch, we know your lives were upended because no one replaced a safety valve at the bottom of the well. We don't believe we have bottom safety valves here either.
Seneca Lake and Porter Ranch are tied in a single garment of destiny. What affects you directly today could affect us directly tomorrow. We look at the myriad injustices that you are now compelled to endure, and we see our own future.
Martin Luther King urged us to confront injustice and bend the arc of history in another direction. And he gave us some tactics to use in our efforts. One of them is non-violent civil disobedience. That's what we are doing today. We do it to amplify your own message. And we do it in the fervent hope that we can change our story, that there will be no Porter Ranch at Seneca Lake.
We Are Seneca Lake and we join you in saying, "Shut it all down!"
YOU MIGHT ALSO LIKE
3 'Knitting Nannas' Arrested Protesting 850 Proposed Gas Wells
Real-Time Carbon Clock Shows Climate Change 'Danger Zone' Is Imminent
Hillary Clinton Demands Action on Flint Water Crisis at #DemDebate
12 Experts Comment: What Oil Below $30 Means for Efforts to Tackle Climate Change
The civil disobedience movement of which I'm a part, We Are Seneca Lake, opposes the transformation of a beautiful upstate New York lakeshore into a giant storage depot for natural gas from out-of-state fracking operations.
To that end, whenever possible, we like to lend a hand to those who are also fighting out-of-state fracking operations, including pipelines.
So on Friday, six Seneca Lake defenders drove across the border to stand with our brothers and sisters in Susquehanna County, Pennsylvania who oppose the seizure, via eminent domain, of the Holleran-Zeffer maple grove and its transformation into a 120-foot-wide right-of-way for the proposed 128-mile-long Constitution Pipeline.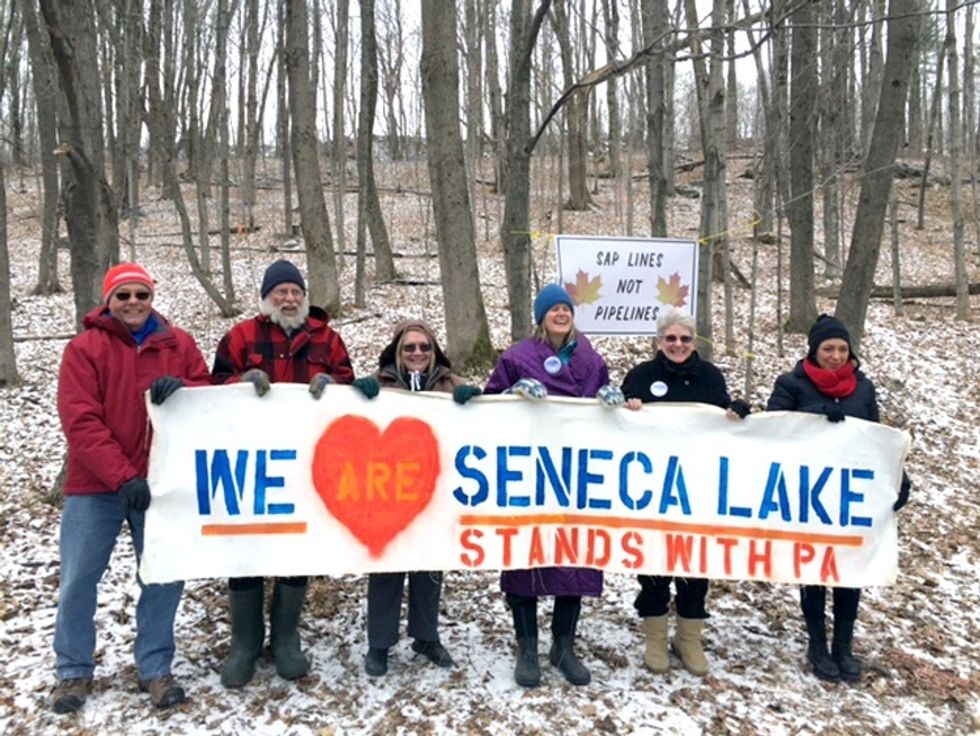 We Are Seneca Lake defenders joined two dozen other protesters in the Holleran-Zeffer maple grove. Photo credit: Colleen Boland
This pilgrimage is one that many others have made before us ever since Jan. 29 when the Federal Energy Regulatory Commission (FERC) issued a partial Notice to Proceed with tree-cutting along the Pennsylvania portion of the pipeline, which will carry natural gas from the fracking fields of northeastern Pennsylvania into Schoharie County, New York—and, from there, throughout New England, Canada and possibly to overseas markets.
After visiting the maple grove, we attended the court hearing where Judge Malachy Mannion of the U.S. District Court in Scranton was ruling on whether the five defendants were guilty of contempt of court for obstructing tree cutting on their property and whether his previous order allowing the tree-cutting to make way for a shale gas pipeline could be challenged in court.
Accompanying us on yesterday's road trip was our beloved videographer, Bob Nilsson.
Nilsson had a particularly dramatic day. First, en route to the maple farm, while filming a chainsaw-wielding group of tree cutters on a nearby property, he was charged by one of them and nearly punched out.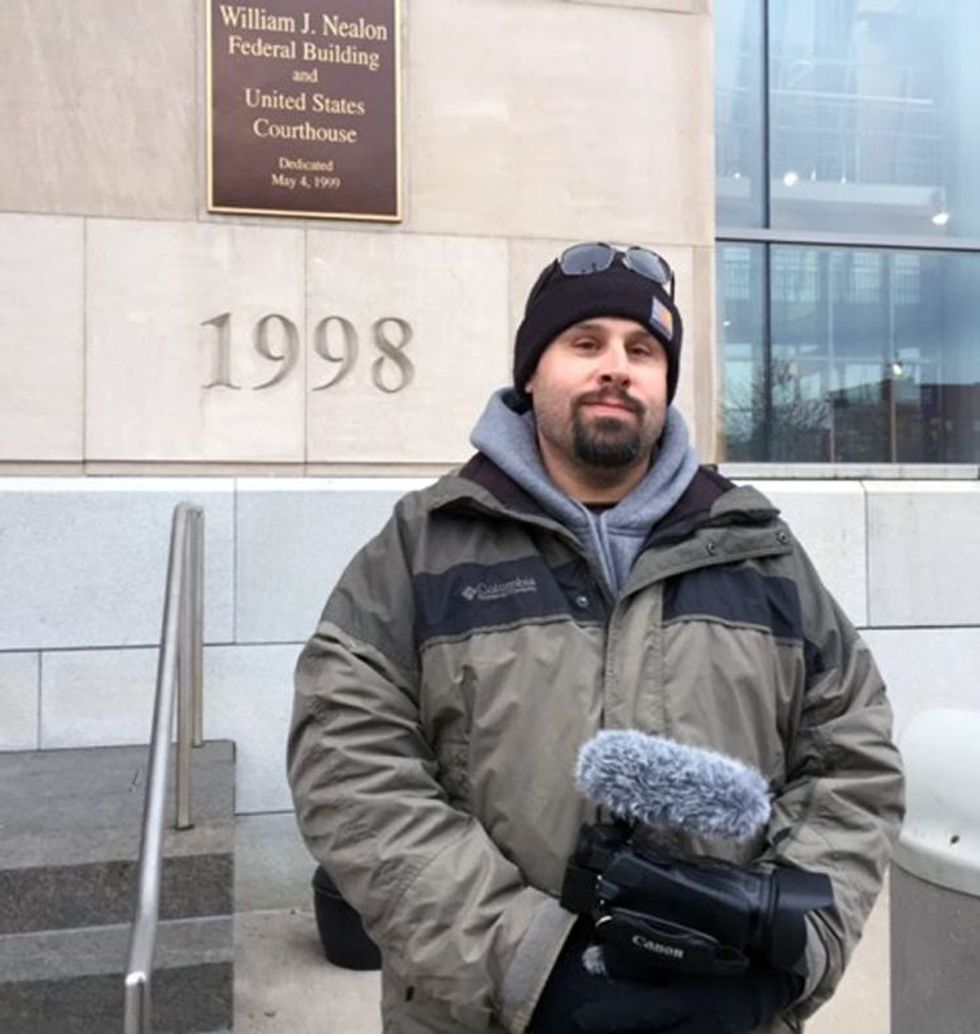 This is Bob Nilsson, videographer for We Are Seneca Lake. Note: his name is Bob. Not "Jeff." Photo credit: Colleen Boland
Then, later that afternoon, while Nilsson was seated in the back of the courtroom in Scranton, a witness under oath wrongly fingered him as "Jeff," an individual who was alleged to have participated in obstructing a tree-cutting crew in the Holleran-Zeffer maple grove on Feb. 10.
The witness—retired state trooper Monty Morgan who now works security for the pipeline company—claimed that he recognized the gray sweatshirt and goatee.
From up on his bench, Judge Mannion sized up our videographer's clothing and facial hair.
"Is your name Jeff? What is your name, sir?"
"My name is Bob Nilsson."
But that single case of mistaken identity may ultimately have helped to play a role in the final verdict of that hearing. The lawyer who argued the case for the defense, Mike Ewall of Energy Justice Network, went on to demonstrate that Morgan could identify none of the defendants among those who were said to have prevented workers from cutting trees in recent weeks. (Energy Justice Network is the only staffed organization in northeast Pennsylvania supporting landowners facing eminent domain).
Ruling that the lawyers for pipeline company, Oklahoma-based Williams Partners, had inadequate proof of identity, the judge dismissed the contempt of court citation against the five defendants. The five had stood accused of flaunting the judge's previous order to allow the tree cutting—which itself upheld the decision of FERC when it denied a stay on cutting the family's maple trees earlier this month. The pipeline right-of-way requires the destruction of 200 maples on this farm alone—roughly 80 percent of the family's sugaring trees.
"We consider this a victory because the judge found insufficient proof of contempt," Ewall told me after the hearing ended. "Constitution Pipeline Company is threatening this family's livelihood for a pipeline that may never be built. They still don't have FERC's permission to construct, yet they bully and intimidate landowners while offering paltry compensation for taking their land."
Megan Holleran, 29, a family spokeswoman, agreed: "This is the best outcome that we could have hoped for." She seemed visibly relieved at the ruling, noting that her mother was one of the defendants. "We still have hope that the Constitution pipeline company will wait to cut trees until they have construction permission. We will continue to ask for that."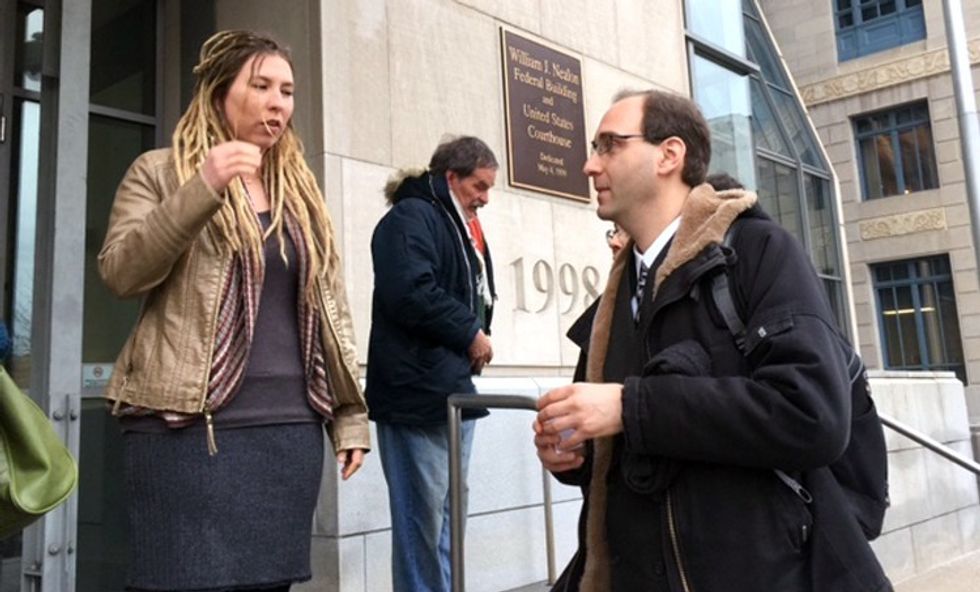 At the U.S. District Court in Scranton, family spokeswoman Megan Holleran speaks with the landowners. attorney, Michael Ewall after the hearing that found insufficient evidence to charge five of her family members with contempt. Photo credit: Colleen Boland
But, for those who support maple sap lines over gas pipelines, the Holleran family's triumph over the contempt charge was the only good news of the day—and could prove a Pyrrhic victory in the end.
The maple trees themselves were put on the literal chopping block.
Judge Mannion reaffirmed his earlier decision to grant eminent domain status to the pipeline company and made clear in his ruling that, from here on out, he will direct U.S. marshals to "arrest and detain people interfering with tree cutting" and that "violations of this order may result in other penalties," including the costs of additional security and the costs to the pipeline company for delays.
Further, he warned the landowners that they have "an affirmative duty" to remove people from their land who intend to obstruct the tree cutting—or they themselves will be compelled to pay such costs.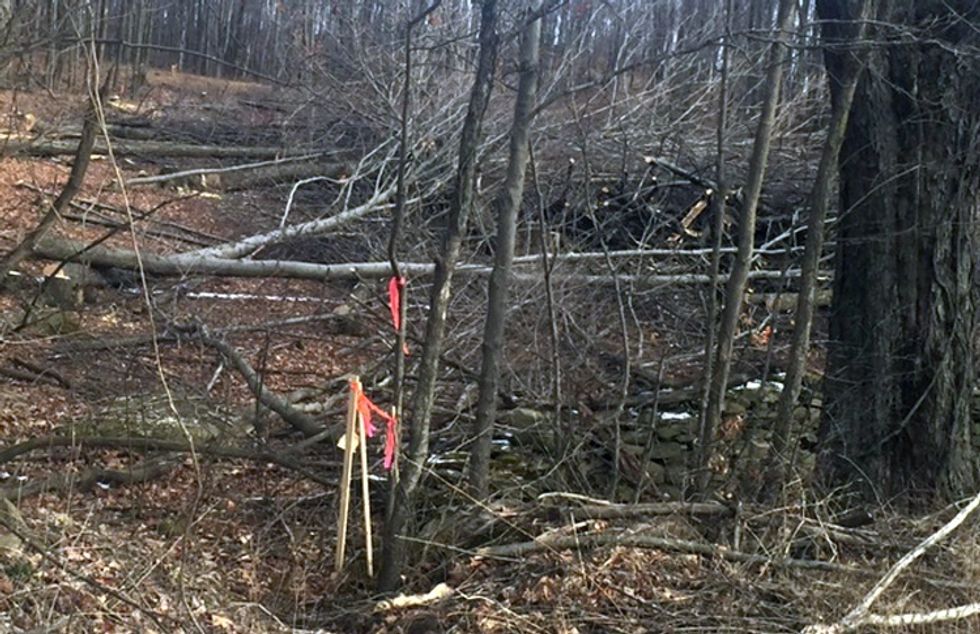 Survey stakes mark the path of the proposed Constitution pipeline as it cuts through the Holleran-Zeffer family's maple grove near New Milford, Pennsylvania. Photo credit: Colleen Boland
In other words, the property owners cannot stop their trees from falling and have no right to tell the FERC-approved tree cutters to get off their land even if ...
those trees are the basis of the family business.
the owners do not consent to the seizing of their property by eminent domain to serve the needs of a pipeline company hellbent on fossil fuel expansion.
the sap is already running in the sap-gathering lines, and e

ven if the maple sugar season is heartbreakingly early this year and the emergency of fossil-fuel induced climate change hangs over us all, and any hope of survival depends on many more trees pulling carbon dioxide out of the atmosphere and much less natural gas heading to burner tips.
As the federal judge in a federal courthouse made clear yesterday, with me and an ill-treated videographer bearing witness, the rule of law dictates that the trees must fall.
YOU MIGHT ALSO LIKE
Mark Ruffalo: There's No Fracking That Can Be Done Safely
Harvard Study: U.S. 'Likely Culprit' of Global Spike in Methane Emissions
Lawsuit Filed Over Oklahoma's 'Fracking' Earthquakes as Its Third Largest Quake Is Felt in 7 Other States
Second Review of EPA's Fracking Study Urges Revisions to Major Statements in Executive Summary
[Editor's note: Hundreds of climate activists and renewable energy advocates gathered for a State of the Climate rally and march outside of Gov. Cuomo's State of the State address in Albany Wednesday. Here below are the prepared remarks from Sandra Steingraber's speech. Shortly after, from the top of a stairway in the Capitol building, fracking infrastructure opponents unscrolled a 40-foot petition, bearing 1,000 signatures, that urgently calls on the governor to oppose the storage of dangerous, explosive LPG (propane and butane) in abandoned salt caverns under the shores of Seneca Lake. Like methane, propane and butane are the products of fracking. Along with the petition scroll, the group also delivered more than 500 letters to Gov. Cuomo's office.]
Hi, everyone. My name is Sandra Steingraber, and I bring warm greetings from the banks of Seneca Lake in New York's wine country. That's my home.
One year ago, we all came together at Governor Cuomo's 2015 State of the State address as New Yorkers Against Fracking to celebrate our singular, hard-won victory—the bold decision of our governor to leave in the ground, uncombusted, an immense amount of fossil fuel in the form of vaporous methane trapped in our state's bedrock.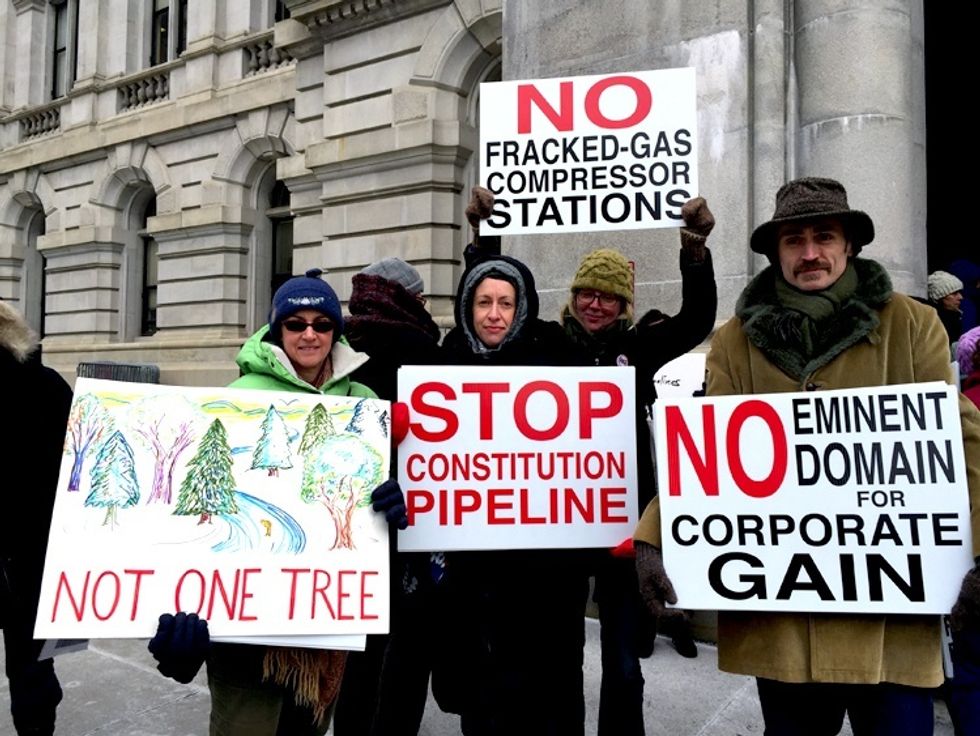 We worked, united, for years, night and day, to win a state-wide ban on fracking, and together, we made history. That methane is staying in the ground.
This year, we return to Albany wearing many different hats that represent many different campaigns. Some of us are fighting to push open the door to renewable energy. Others are fighting to slam shut the door on various fracking infrastructure projects that are menacing our health and safety as well as our climate: the Constitution Pipeline; the Northeast Direct Pipeline; the Algonquin Incremental Market Pipeline; the Cayuga Power Plant; the Greenidge Power Plant; the CPV-Valley Power Plant; the Dominion New Market Project; the Chemung County landfill expansion; and compressor stations by the dozens.
It all matters. It's all important. It's all necessary.
As we disperse from a single statewide fight against fracking to a multitude of local infrastructure fights, our activism diversifies and becomes more community focused. This trend represents a return to our activist roots. During the fracking wars, before the tribes united into a statewide coalition, we were also fighting on many local fronts and in many town halls. It's how we began.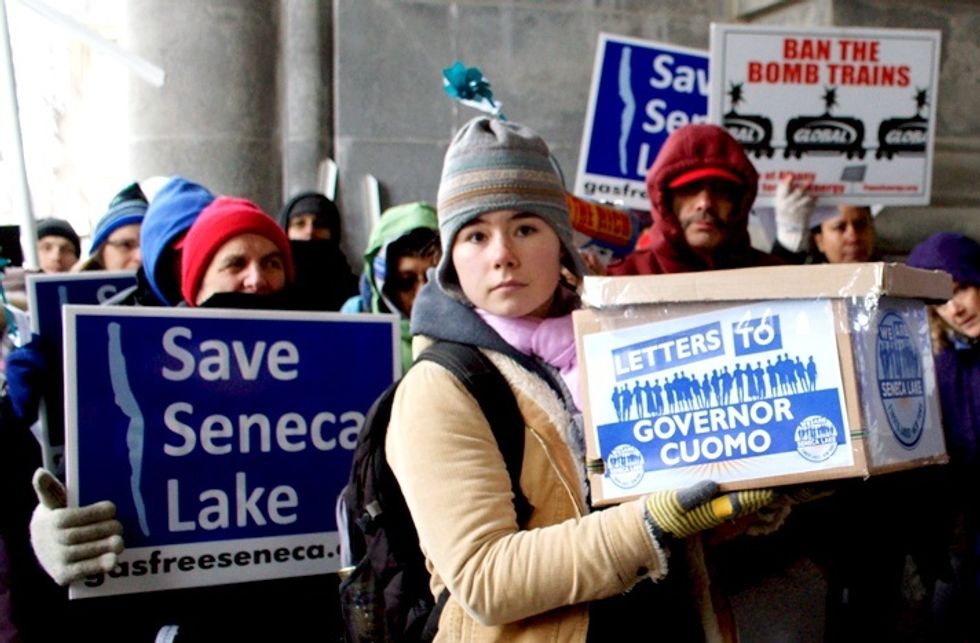 In this return to the local, we bring with us three precious things from our statewide fight. First, we bring scientific knowledge. We can now all cite chapter and verse on the global warming potential of natural gas vis-à-vis carbon dioxide over various time frames, for example. And that knowledge emboldens us.
Second, we have newfound political skills that empower us. And third, we have trusted friends from all over the state who encourage us. We know now how to stick together, reinforce each other's work, and generate synergy. Together, we are greater than the sum of our parts.
But most critically, no matter how widely distributed our individual battles are, we still share a common goal. We want an end to New York's ruinous dependency on fracked gas, along with all of the hateful, harmful infrastructure that comes with it.
We seek to replace every burner tip—from power plants to basement furnaces—with energy systems that look up—to the sun and the wind—instead of down at the graveyards of Devonian fossils.
Governor Cuomo, we want you to tell the world that New York is so done with keeping the lights on by building more crematoria for the burning of more prehistoric plants and animals, whose extraction from the ground and transportation to the flame destroys our climate, our water and our health.
An end to fossil fuels is our united goal.
And it's a goal shared by people all over the world. I met many of them in Paris last month at the U.N. climate talks where climate activists were collectively referred to as "civil society." Its members include indigenous people from South America and the Pacific Islands, grandmothers from Ireland, the knitting nanas of Australia. All together, they pressured negotiators into adopting a strong treaty based on good science.
Nevertheless, the ability to enact it, to "make it so," depends on all of us.
Our vision for New York is that our state should serve as a shining, transformational example to the rest of the world for how to create a vigorous economy with 100 percent renewable energy.
To help make it so, here's what we are doing back home at Seneca Lake. We are engaged in a David and Goliath struggle. The Goliath is a Houston-based gas company called Crestwood that wants to store fracked gases in the abandoned salt caverns along the lakeshore. Seneca Lake serves as a source of drinking water for 100,000 people. This lake is so deep that it also operates as a thermostat for the whole region, creating a microclimate ideally suited to the growing of wine grapes.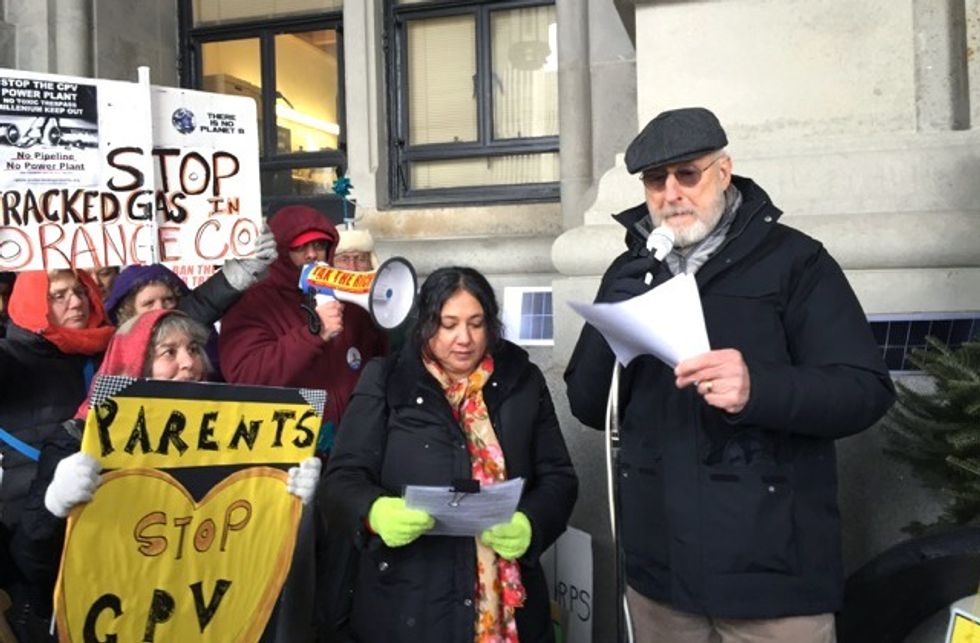 The David is We Are Seneca Lake, which is made up of local members of civil society—teachers, nurses, winemakers, mothers, grandfathers, farmers, business owners, veterans—who blockade in Goliath's driveway.
If there is no other way, we will stand in the way. Our ongoing blockade has continued for 16 months and resulted in 460 arrests. Six of these arrests happened just this Monday, involving New Yorkers from five different counties.
Always peaceful and respectful, We are Seneca Lake protesters are the girl scouts of civil disobedience, but our resolve is unrelenting. We know that the Federal Energy Regulatory Commission, which approves all these natural gas infrastructure projects, is largely unresponsive to all other forms of citizen opposition.
When there are other ways, We Are Seneca Lake also engages in lawful activism to redress grievance. Crestwood proposes to store in the Seneca salt caverns not just methane but also LPG. That decision rests with Governor Cuomo's Department of Environmental Conservation and has not yet been made.
So, today, together with our partner, Gas Free Seneca, we will be delivering to the Governor's office over 500 letters and a petition with over 1,000 signatures. These represent only the most recent batch of petition and letter deliveries we've made this year.
We'd like to partner with all of you. We know that Seneca Lake sits upstream from the multitude of pipelines and gas plants and compressor stations that you are fighting. If our salt caverns are filled with gas, Seneca Lake will be filling those pipelines.
Hence, we invite you to join us. Join us for a petition and letter delivery to the governor's office. Join us on the shoreline of our beautiful home. We are all Seneca Lake.
YOU MIGHT ALSO LIKE
Was Canada's Latest Earthquake the Largest Fracking Quake in the World?
Fossil Fuel Industry Granted Defendant Status in Youths' Landmark Climate Lawsuit
Solar Energy Fight Heats Up in Nevada
Outraged Republican Senator Vows to Block Appointment of FDA Commissioner Over GMO Salmon
Nearly 400 people from across the state of New York and beyond rallied in Albany today asking Gov. Cuomo to stand up to the Federal Energy Regulatory Commission (FERC) and use the state's authority under the Clean Water Act to deny the 401 water quality certificate for the Constitution Pipeline.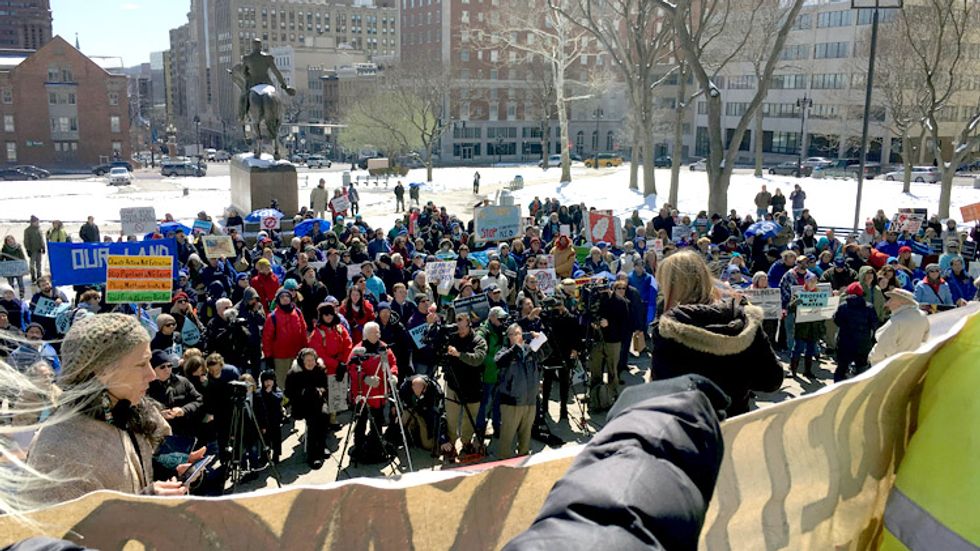 The Constitution Pipeline, a joint venture between Williams Pipeline Companies and Cabot Oil & Gas, would run approximately 124 miles from Susquehanna County, Pennsylvania to Schoharie County, New York. The pipeline would be 30 inches in diameter, and transport natural gas—the equivalent of 4.68 million gallons of oil per day—from the Marcellus Shale in Pennsylvania to New York state.
The rally was organized by Stop the Pipeline, with the support of 60 participating organizations. The event included speeches from prominent environmentalists, including Waterkeeper Alliance president Robert F. Kennedy, Jr., and a march from the capitol to the headquarters of the New York Department of Environmental Conservation. People whose land has already been taken by eminent domain for the construction of the pipeline led the march, followed by "the spirit of the Susquehanna," symbolizing the water that nourishes all life.
"FERC is a rogue agency that is captured by the very industry it is supposed to regulate," Kennedy said. "We need to reclaim our democracy from corporations that routinely pollute our water, and are now taking people's land for their profit. Governor Cuomo can continue his environmental leadership by denying this 401 water quality certificate."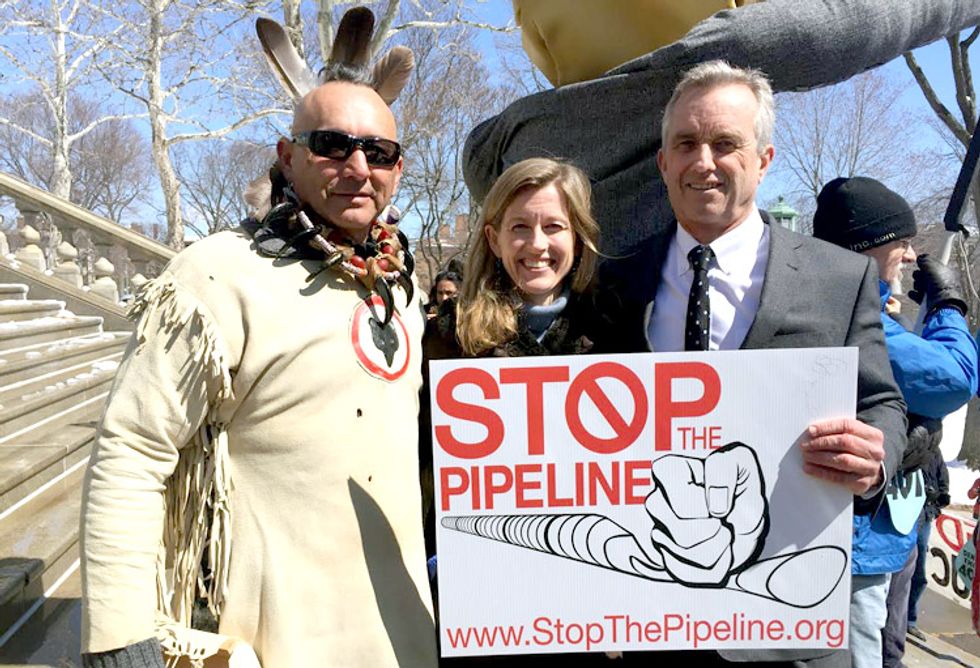 "I implore Governor Cuomo to protect the health and safety of all New Yorkers by saying no to dangerous fracked gas pipelines and other fossil fuel infrastructure," Wenonah Hauter, executive director of Food & Water Watch, said at today's rally.
"He should start by denying a water quality certificate for the Constitution Pipeline. This project would cross hundreds of streams and put New York's most essential resource—its clean drinking water—at risk. Governor Cuomo should listen to the hundreds of New Yorkers who are here today, and the many more that they speak for, and reject antiquated fossil fuel infrastructure like the Constitution Pipeline."
In January, FERC approved limited tree cutting along the Pennsylvania section of the pipeline route, which includes about 25 miles of the 124-mile route. But, FERC delayed similar operations in New York.
On March 1, guarded by heavily armed U.S. marshals, a Constitution Pipeline tree crew began felling trees in the Holleran family's maple sugaring stand in New Milford, Pennsylvania to make way for the pipeline. The cutting began 11 days after Federal Judge Malachy Mannion dismissed charges of contempt against the landowners for allegedly asking a tree crew that had arrived on the property not to cut the trees.
On March 24, seven people, including Gasland filmmaker Josh Fox and Pennsylvania landowner Megan Holleran, were arrested in the driveway of FERC in Washington, DC, while waiting for commissioners to join them for pancakes topped with the last drops of maple syrup from the Holleran family farm.
7 Arrested at 'Pancakes Not Pipelines' Protest https://t.co/BCksJRX9fe @joshfoxfilm @MarkRuffalo @dechristopher @350 https://t.co/Pk2G1ygWE3

— EcoWatch (@EcoWatch)1458853445.0
"FERC has become the henchmen of the pipeline companies," Delaware Riverkeeper Maya van Rossum said. "It uses legal loopholes and violations of law to strip states and communities of their legal rights to review, challenge, and even deny pipeline projects. We need Governor Cuomo to stand as our champion by saying "no" to the Constitution pipeline and "no" to FERC."
Other speakers today included Karenna Gore, director of the Center of Earth Ethics at Columbia University; Kanerahtiio Jock, Kanien'kehá:ka (Mohawk) Bear Clan; William Roche, a property owner whose land and dreams have been taken by eminent domain; Doug Couchon, We Are Seneca Lake; Jim Cutler, Sugar Shack Alliance and Hilltown Community Rights; and representatives of many other groups.
YOU MIGHT ALSO LIKE
7 Arrested at 'Pancakes Not Pipelines' Protest at FERC
Community Builds Walden Pond Cabin in Thoreau-Inspired Fracking Pipeline Protest
Surgeon General's Warning: We Must Act on Climate
6 Colorado Teenagers File Appeal in Fracking and Climate Lawsuit
By Virginia Student Environmental Coalition
[Update: 17 students have been arrested. For the latest update via Twitter, click here.]
Thiry-five students from the Virginia Student Environmental Coalition are refusing to leave the Virginia Department of Environmental Quality's (DEQ) lobby until the director, David Paylor, complies with their demands regarding Dominion Resources' dumping of coal ash wastewater into the James River and Quantico Creek. This action is taking place in light of the recent news that Dominion illegally dumped 33.7 million gallons of untreated wastewater into Quantico Creek last summer.
30 students occupy @VirginiaDEQ, demand #coalash permits revoked & investigation of illegal dumping @ADavilaFragoso https://t.co/LTkXkdSCYD

— Dyanna Jaye (@Dyanna Jaye)1457365037.0
The demands are as follows:
1. The DEQ repeals the permits issued to Dominion to begin dumping coal ash wastewater from their Bremo and Possum Point power plants.
2. The current permits are re-issued only after an investigation into the 2015 dumping of untreated wastewater into Quantico Creek.
3. The permits for coal ash wastewater release are rewritten to comply with the best available technology standards, in accordance with the Clean Water Act and that a mechanism for independent third party monitoring is implemented.
Students from the University of Virginia, University of Mary Washington, College of William & Mary, Virginia Tech and Virginia Commonwealth University entered the headquarters at 629 E Main St, Richmond, Virginia, at 10 a.m. and presented their intentions and demands, requesting to speak with Paylor immediately. A rally is also taking place outside of the building.
@VSECoalition reads their list of demands. From Flint to Richmond, justice is the mission! #WeNeedAnswers https://t.co/I9dVB37O6S

— ⠀ (@⠀)1457363476.0
"David Paylor can't keep his story straight regarding the wastewater dumping that took place last summer," Sarah Kinzer, a sophomore at the University of Mary Washington, said. "If this is because he is covering for Dominion's illegal activities, then how can we trust him to make future decisions regarding our environmental safety? If this is not the case, then why is he failing to address the issue now?"
Kendall King, the Virginia Student Environmental Coalition chair, agrees. "If David Paylor cannot adequately meet the health and safety needs of Virginia residents, then he is not fulfilling his role as DEQ Director and we are prepared to demand his resignation," she said.
"These incidents of environmental injustice are not isolated," Jong Chin, a senior at James Madison University, said. "In Flint, Michigan, we've recently seen what devastating effects that water containing concentrations of heavy metals can have on communities. This national pattern of water safety violations is indicative of widespread systemic issues."
20 students and activists mobilize outside of @VirginiaDEQ demanding an answers #CoalAsh #RepealThePermits https://t.co/0wk8SIEmiB

— VSECoalition (@VSECoalition)1457364685.0
"The coal ash wastewater dumping is only one example of Dominion's tendency to value profit over the safety of Virginians," Aaron Tabb, a junior at Virginia Commonwealth University, said. "This corporation continually endangers our health and safety by burning fossil fuels and building fracked gas pipelines. This is why, as students, we fight for fossil fuel divestment while simultaneously working to prevent Dominion from further endangering our safety. We need to cut all ties with fossil fuel companies."
YOU MIGHT ALSO LIKE
Bill McKibben Arrested + 56 Others in Ongoing Campaign Against Proposed Gas Storage at Seneca Lake
Anderson Cooper Takes In-Depth Look at 'The King of Coal'
Clinton and Sanders Clash Over Fracking at Flint Debate
People Power: Virginians Say No to Offshore Oil and Gas Drilling
The Grinch, Santa and his elves took a short break from their Christmas preparations today to visit the gates of the Crestwood gas storage facility near Seneca Lake in New York to warn the company that Santa—and the world—is watching. His elves and local friends held signs saying, "Dirty energy = naughty, clean renewables = nice" and "Here comes the sun, go solar!"
Santa and 12 others, including the Grinch, were arrested for disorderly conduct while stopping a truck pulling construction equipment. Their message: there's still time to get on Santa's "nice" list.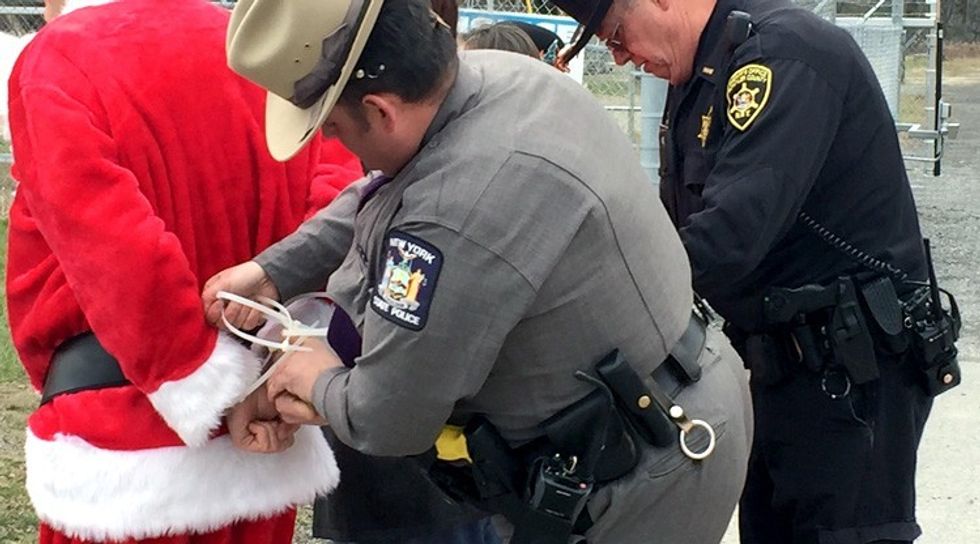 "Santa is very worried about climate change," elves close to Santa said. "He paid close attention to the climate negotiations in Paris. Where will we live when the ice at the North Pole melts? The reindeer are already falling through the melting tundra in their feeding grounds. It's not just an issue for us, but for all the people living near the coasts … as ice melts, seas rise. Santa does not want anyone to be climate refugees."
The Crestwood gas storage facility proposes to store methane, propane and butane in salt caverns under the shores of Seneca Lake. It is one of many projects, including pipelines, which aim to develop "new markets" for the current glut of natural gas from the fracking boom, committing people to using natural gas far into the future. Natural gas is primarily methane, a significantly more potent greenhouse gas than carbon dioxide over a 20-year timeframe.
"I'm here today to make sure kids know who's being naughty and nice," said Santa. "Crestwood has been very, very naughty by promoting the use of natural gas, which is making climate change worse. The people getting arrested at the gate, on the other hand, are very, very nice and are working hard to protect all of us."
Happy Holidays from We Are Seneca Lake! @SenSchumer @SenGillibrand @NYGovCuomo https://t.co/v7sKBKJShU

— We Are Seneca Lake (@We Are Seneca Lake)1450709636.0
"I applaud what protesters there [at Seneca Lake] are doing," Robert Howarth said in an interview with Evan Dawson on WXXI's Connections in response to news that the North Pole gang was blockading at Crestwood.
Howarth is a climate scientist and was a Cornell University delegate at the Paris climate talks earlier this month. "Coming out of Paris, we need to be carbon neutral by about 2035. Natural gas, and shale gas in particular, is a disaster to what we are trying to do to reach this climate target ... Methane is 100-fold more potent a greenhouse gas than carbon dioxide when it's in the atmosphere ... If we immediately move off of natural gas, it will buy us 30 or 40 more years before we hit that 1.5 degree temperature increase."
Santa and the Grinch joined many friends from the area in welcoming the return of the sun at Winter Solstice, noting that solar panels have been particularly high on the wish list requests in the area this year.
"Seneca Lake and the climate of the world are more important than things that go blink or things that are swirled," said the Grinch. "The people who stand on this line today show the spirit of Christmas is not far away."
Schuyler County deputies arrested the 13 shortly before 2 p.m. as they blocked a dump truck pulling a mini excavator from leaving the facility.
The 13 protesters were transported to the Schuyler County Sheriff's department, charged with disorderly conduct and released.
#Santa arrested. Explains 2 trooper "my home is melting, reindeer starving" @billmckibben @democracynow @maddow # https://t.co/XYUjFetCz2

— We Are Seneca Lake (@We Are Seneca Lake)1450725244.0
Crestwood's methane gas storage expansion project was approved by the U.S. Federal Energy Regulatory Commission in October 2014 in the face of broad public opposition and unresolved questions about geological instabilities, fault lines and possible salinization of Seneca Lake. The total number of arrests in the civil disobedience campaign over the past year now stands at 452. Whether due to low natural gas prices or the ongoing direct action campaign, construction of Crestwood's natural gas storage expansion has not yet begun.
The 13 arrested today included: Stefan Senders (Santa Claus), 56, Hector, Schuyler County; Charlotte Senders (The Grinch), 19, Hector, Schuyler County; Coert Bonthius (Elf), 62, Ithaca, Tompkins County; Krys Cail (Elf), 62, Ulysses, Tompkins County; Lyndsay Clark (Elf), 54, Springwater, Livingston County; Kim Cunningham (Elf), 59, Naples, Ontario County; Barbara Eden (Elf), 63, Ithaca, Tompkins County; Patricia Heckart (Elf), 64, Ulysses, Tompkins County; Gretchen Herrmann (Elf), 66, Ithaca, Tompkins County; Todd Hobler (Elf), 53, Buffalo, Erie County; Gabrielle Illava (Elf), 26, Ithaca, Tompkins County; Bruce Reisch (Elf), 60, Geneva, Ontario County; and Gabriel Shapiro (Elf), 19, Ithaca, Tompkins County.
YOU MIGHT ALSO LIKE
And the Climate Pretender Award Goes to …
New Yorkers Celebrate One-Year Anniversary of Fracking Ban
Confirmed: 4.6-Magnitude Earthquake in British Columbia Caused by Fracking (Likely World's Largest)