The Revelator
By John R. Platt
It's a dirty world out there — but it doesn't have to be.
That message rings out from a slate of important new books covering the fight against various pollutants around the world. They examine everything from pesticides to air pollution and from mining waste to the trash that accumulates all around us. Along the way these books shine a light on some bigger stories — like our food system and human effects on complex ecosystems. They also dive deep into the racism, indifference, greed and ignorance that allow these toxic compounds to flourish in our world and in our bodies.
One group of pollutants didn't make it onto this list: greenhouse gases. We'll look at them in September's column, covering timely new books on climate change.
But for now, here are 13 new dirty books about filth for your perusal, along with their cover descriptions. Each title links to its publisher's site, but you should also be able to order these from any local or online bookseller or your favorite library.
The World We Need: Stories and Lessons From America's Unsung Environmental Movement edited by Audrea Lim
"…a vivid introduction to America's largely unsung grassroots environmental groups — often led by activists of color and the poor — valiantly fighting back in America's so-called sacrifice zones against industries poisoning our skies and waterways and heating our planet. Through original reporting, profiles, artwork and interviews, we learn how these activist groups, almost always working on shoestring budgets, are devising creative new tactics, building sustainable projects to transform local economies and organizing people long overlooked by the environmental movement — changing its face along the way."
The Monsanto Papers: Deadly Secrets, Corporate Corruption and One Man's Search for Justice by Carey Gillam
"Lee Johnson was a man with simple dreams. All he wanted was a steady job and a nice home for his wife and children, something better than the hard life he knew growing up. He never imagined that he would become the face of a David-and-Goliath showdown against one of the world's most powerful corporate giants. But a workplace accident left Lee doused in a toxic chemical and facing a deadly cancer that turned his life upside down. In 2018, the world watched as Lee was thrust to the forefront of one the most dramatic legal battles in recent history."
Breathless: Why Air Pollution Matters — and How It Affects You by Chris Woodford
"Take a deep breath. You'll do it 20,000 times a day. You assume all this air is clean; it's the very breath of life. But in Delhi, the toxic smog is as bad for you as smoking 50 cigarettes a day. Even a few days in Paris, London or Rome is equivalent to two or three cigarettes. Air pollution is implicated in six of the top 10 causes of death worldwide, including lung cancer, heart disease, stroke and dementia. Breathless gives us clear facts about air pollution in our everyday lives, showing how it affects our bodies, how much of it occurs in unexpected places (indoors, inside your car), and how you can minimize the risks."
Pollution Is Colonialism by Max Liboiron
"Liboiron draws on their work in the Civic Laboratory for Environmental Action Research (CLEAR) — an anticolonial science laboratory in Newfoundland, Canada — to illuminate how pollution is not a symptom of capitalism but a violent enactment of colonial land relations that claim access to Indigenous land. Liboiron's creative, lively and passionate text refuses theories of pollution that make Indigenous land available for settler and colonial goals. In this way, their methodology demonstrates that anticolonial science is not only possible but is currently being practiced in ways that enact more ethical modes of being in the world."
Playing With Fire: The Strange Case of Marine Shale Processors by John W. Sutherlin and Daniel Elliot Gonzalez
"This book examines the tale of Marine Shale Processors, the world's largest hazardous waste company, and the women who fought to protect their community and their children. The lesson here is that a dedicated group of people fighting for what is right can win and it serves as an example for any community that wants to determine what their own environmental future."
Herbicides: Chemistry, Efficacy, Toxicology and Environmental Impacts edited by Robin Mesnage and Johann G. Zaller
"A comprehensive overview of this complex topic, presented by internationally recognized experts. Information presented will inform discussions on the use of herbicides in modern agricultural and other systems, and their potential non-target effects on human populations and various ecosystems. The book covers these matters in concise language appropriate to engage both specialists in the research community and informed persons responsible for legislative, funding and public health matters in the community at large."
Earth Detox: How and Why We Must Clean Up Our Planet by Julian Cribb
"Every person on our home planet is affected by a worldwide deluge of man-made chemicals and pollutants — most of which have never been tested for safety. Our chemical emissions are six times larger than our total greenhouse gas emissions. They are in our food, our water, the air we breathe, our homes and workplaces, the things we use each day. This universal poisoning affects our minds, our bodies, our genes, our grandkids and all life on Earth. Julian Cribb describes the full scale of the chemical catastrophe we have unleashed. He proposes a new Human Right — not to be poisoned."
The Water Defenders: How Ordinary People Saved a Country From Corporate Greed by Robin Broad and John Cavanagh
"The David and Goliath story of ordinary people in El Salvador who rallied together with international allies to prevent a global mining corporation from poisoning the country's main water source."
Planet Palm: How Palm Oil Ended Up in Everything — and Endangered the World by Jocelyn C. Zuckerman
"Over the past few decades, palm oil has seeped into every corner of our lives. But the palm oil revolution has been built on stolen land and slave labor; it's swept away cultures and so devastated the landscapes of Southeast Asia that iconic animals now teeter on the brink of extinction. This groundbreaking work of first-rate journalism compels us to examine the connections between the choices we make at the grocery store and a planet under siege."
Homewaters: A Human and Natural History of Puget Sound by David B. Williams
"In conversations with archaeologists, biologists and tribal authorities, Williams traces how generations of humans have interacted with such species as geoducks, salmon, orcas, rockfish and herring. He sheds light on how warfare shaped development and how people have moved across this maritime highway, in canoes, the mosquito fleet and today's ferry system. The book also takes an unflinching look at how the Sound's ecosystems have suffered from human behavior, including pollution, habitat destruction and the effects of climate change."
Plastic: An Autobiography by Allison Cobb
"Cobb's obsession with a large plastic car part leads her to explore the violence of our consume-and-dispose culture, including her own life as a child of Los Alamos, where the first atomic bombs were made. The journey exposes the interconnections among plastic waste, climate change, nuclear technologies and racism. Using a series of interwoven narratives ― from ancient Phoenicia to Alabama ― the book bears witness to our deepest entanglements and asks how humans continue on this planet."
Pipe Dreams: The Urgent Global Quest to Transform the Toilet by Chelsea Wald
"While we see radical technological change in almost every other aspect of our lives, we remain stuck in a sanitation status quo — in part because the topic of toilets is taboo. Fortunately, there's hope — and Pipe Dreams daringly profiles the growing army of sewage-savvy scientists, engineers, philanthropists, entrepreneurs, and activists worldwide who are overcoming their aversions and focusing their formidable skills on making toilets accessible and healthier for all."
Castaway Mountain: Love and Loss Among the Wastepickers of Mumbai by Saumya Roy
"All of Mumbai's possessions and memories come to die at the Deonar garbage mountains. Towering at the outskirts of the city, the mountains are covered in a faint smog from trash fires. Over time, as wealth brought Bollywood knock offs, fast food and plastics to Mumbaikars, a small, forgotten community of migrants and rag-pickers came to live at the mountains' edge, making a living by re-using, recycling and re-selling. Among them is Farzana Ali Shaikh, a tall, adventurous girl who soon becomes one of the best pickers in her community. Like so many in her community, Farzana, made increasingly sick by the trash mountains, is caught up in the thrill of discovery — because among the broken glass, crushed cans or even the occasional dead baby, there's a lingering chance that she will find a treasure to lift her family's fortunes." (Available in September.)
John R. Platt is the editor of The Revelator. An award-winning environmental journalist, his work has appeared in Scientific American, Audubon, Motherboard, and numerous other magazines and publications. His "Extinction Countdown" column has run continuously since 2004 and has covered news and science related to more than 1,000 endangered species. He is a member of the Society of Environmental Journalists and the National Association of Science Writers. John lives on the outskirts of Portland, Ore., where he finds himself surrounded by animals and cartoonists.
Reposted with permission from The Revelator.
EcoWatch Daily Newsletter
An ocean inlet in Misty Fjords National Monument, part of the Tongass National Forest.
Arabani / Flickr
By Julia Conley
Conservation and climate action groups on Thursday applauded the U.S. Department of Agriculture's announcement of far-reaching new protections for Alaska's Tongass National Forest as well as a restoration of a key rule that former President Donald Trump rescinded three months before leaving office in a bid to open millions of acres to industrial logging.
Agriculture Secretary Tom Vilsack said the administration would put back in place the Roadless Area Conservation Rule, also known as the Roadless Rule, which Trump exempted Alaska from in a move that outraged Indigenous communities in the region as well as environmental advocates.
With the rule back in effect, companies will again be barred from road construction and large-scale logging in more than half of the 16 million acre forest, which includes five million acres of old-growth trees such as Sitka spruce trees that date back at least 800 years.
The forest serves as a habitat for more than 400 species of wildlife and fish, ensures food sovereignty for Indigenous communities in Alaska — including the Tlingit, Haida, and Tsimshian peoples, whose traditional territories lie within the forest — and plays a vital role in mitigating the climate crisis.
As one of the world's largest intact temperate forests, the Tongass National Forest stores more than 1.5 billion metric tons of carbon and sequesters an additional 10 million metric tons annually, according to the Alaska Wilderness League.
The carbon held by the Tongass amounts to about 8% of all carbon stored in trees in the United States, Defenders of Wildlife said.
"The Biden Administration should be celebrated for taking a critical step in our international climate fight; the towering giant trees in the Tongass are ancient and sacred, and they are also one of the best solutions we have to climate change," said Abbie Dillen, president of the legal advocacy group Earthjustice, who also urged the administration to apply the new policy to the rest of the country's national forests.
The Center for Biological Diversity echoed the call for the administration to continue protecting the nation's forests.
BREAKING: The Biden administration just protected America's Amazon, the Tongass National Forest. We hope the Tongas… https://t.co/hssOAxII7z

— Center for Bio Div (@Center for Bio Div)1626374661.0
In addition to restoring the Roadless Rule for the 9.3 million acres that Trump ended protections for, the administration said it would bar large-scale logging for the entire 16 million acres of forest and invest $25 million in sustainable community development "for projects to improve the health of the forest," according to The New York Times.

The Biden administration also intends to cancel plans to sell timber from three major old-growth forests, including ones on Prince of Wales Island and Revillagigedo Island in the Tongass.
According to Beverly Law, professor emeritus of global change biology at Oregon State University, the protection of old-growth trees in the Tongass will allow carbon to be stored by the forest for about 1,000 years, while 65% of carbon held by trees that are cut down by loggers is released into the atmosphere.
"This is the most important thing that can happen in terms of preserving forests," Law told The Washington Post.
Defenders of Wildlife said the USDA's announcement represented a "welcome shift in priorities... from destructive liquidation of irreplaceable old-growth forests to restoration and recreation investments developed with local input and participation."
"Protecting roadless and old-growth forests on the Tongass will conserve biodiversity and help address climate change while aligning Tongass management with the economic realities in Southeast Alaska and with overwhelming public opinion," said Patrick Lavin, Alaska policy advisor for the group.
SalmonState, which works to protect wild salmon in Alaska including the five species that live in waterways in the Tongass, called Thursday's announcement a "bold and forward-thinking move by the Forest Service."
"The Tongass is not only one of the few truly wild places left on the planet, it is vital to our path forward as we deal with climate change," said SalmonState communications director Mary Catharine Martin. "We're thrilled that this announcement recognizes how valuable the Tongass is, both to the people that live here and to the rest of the world."
Alaska Wilderness League pointed out that protecting the Tongass will safeguard major parts of the region's economy.
While the timber industry provides less than 1% of jobs in southeastern Alaska, the group said, the Tongass is "the linchpin of Southeast Alaska's economy... with fishing and tourism each generating an annual $1 billion economic benefit."
"With Alaska experiencing climate impacts more acutely than most, we shouldn't be discussing the continued clearcutting of a natural climate solution that exists right in our own backyard," said Andy Moderow, Alaska director for the group.
"Alaskans love their old-growth forests and the timber industry in Southeast (Alaska) is now a relic of the past, and the Biden administration should be commended for looking forward to what kind of world we want to leave to our kids," Moderow added. "The Tongass is an unmatched treasure and with smart action now we can properly manage it for future generations."
Reposted with permission from Common Dreams.
From Your Site Articles
Related Articles Around the Web
Frederic Stevens/ Getty Images News / Getty Images

For nearly as long as solar panels have been gracing rooftops and barren land, creative people have been searching out additional surfaces that can be tiled with energy-generating photovoltaic (PV) panels. The idea has been pretty straightforward: if solar panels generate energy simply by facing the sun, then humans could collectively reduce our reliance on coal, oil, gas and other polluting fuels by maximizing our aggregate solar surface area.
So, what kind of unobstructed surfaces are built in every community and in between every major city across the globe? Highways and streets. With this in mind, the futuristic vision of laying thousands, or even millions, of solar panels on top of the asphalt of interstates and main streets was born.
While the concept art looked like a still from a sci-fi film, many inventors, businesses and investors saw these panels as a golden path toward clean energy and profit. Ultimately, though, the technology and economics ended up letting down those working behind each solar roadway project — from initial concepts in the early 2000s to the first solar roadway actually opened in France in 2016, they all flopped.
In the years since the concept of solar roadways went viral, solar PV has continued to improve in technology and drop in price. So, with a 2021 lens, is it time to re-run the numbers and see if a solar roadway could potentially deliver on that early promise? We dig in to find out.
Solar Roadways: The Original Concept
Solar roadways are complex in execution, but in concept, they're as simple as they sound. They're roads "paved" with extremely strong solar panels that are covered in glass that can withstand environmental stressors and the weight of vehicles driving over them on a consistent basis.
The idea was something that got people really excited when the initial Solar Roadways, Inc. project (which is still seeking funding) burst onto the scene in 2014:
More advanced designs included solar roadways outfitted with LED lights that could be used to illuminate lane lines, communicate to drivers and more. Other iterations included weight sensors that would detect when obstructions were on the road or could alert homeowners if unexpected vehicles were approaching their driveway. Embedding these kinds of technology into the solar roadways renderings only added to their appeal and the initial hype around the concept.
Key Selling Points of Solar Roadways
Early innovators of solar roadways touted the numerous benefits of their ideas. These included:
Sunlight shines down on roads at no cost, making the energy not only readily available, but also free (aside from installation and maintenance).
The ability to power street lights with solar roadways eliminated the need to pull extra energy from the grid.
Having electronics embedded into the roadway opened up a world of possibilities for communicating with drivers in ways that didn't require painting and repainting of roads.
The ingenuity to attach weight sensors on the solar panels could be used to alert drivers about potential obstructions, such as animals, disabled vehicles or rocks on the road.
In a future of electric vehicles, the possibilities were seen as even more beneficial, as solar roadways could be used to power electric vehicle charging stations or to charge the cars while they're driving.
While some early thinkers may also have envisioned these roadways sending solar energy to the local power grid, the most impactful way solar roadways could utilize the energy they generated is right around the road itself: lighting street lights, heating mechanisms to melt snow on the roadway, or powering small emergency equipment on road shoulders.
Using the energy for on-road applications would mean that the power didn't have to be sent long distances before being used, which results in energy loss. However, in more rural or remote locations, having the solar roadway energy available for nearby homes and businesses could be a huge benefit, especially if there's an outage in the overall grid.
Why Solar Roadway Tests Have Failed
To much of the general public — and especially to people who weren't well versed in the intricacies of solar panels or road structures — solar roadways seemed like a slam-dunk solution that both looked futuristic and had benefits that went far beyond electricity generation. It was the kind of innovation that had people exclaiming: "How has no one done this yet?!" But in reality, the execution of solar roadways was much more complex than the idea.
Here are a few reasons solar roadway tests have failed:
Cost of Manufacturing and Maintenance
The cost of the energy from the sun may be free, but the investment to install and maintain the solar roadways was undeniably prohibitive. The reason asphalt is used by default to pave roadways is because it is immensely affordable and low-maintenance, which is especially critical on vast, expansive roadways and interstates.
In 2010, Scott Brusaw, co-founder of Solar Roadways, Inc., estimated a square foot of solar roadway would cost about $70. However, when the first solar roadway was built in France by a company called Colas, it measured 1 kilometer and cost $5.2 million to build — or about $1,585 per foot of roadway. Of course, this was a small iteration and bulk manufacturing would cost less, but either way, it's hard to believe the cost of a solar roadway would ever be competitive with the price of asphalt, which is about $3 to $15 per square foot.
Further, the cost and complexity to send a crew to repair individual panels that fail would far outweigh those to maintain asphalt. So, while one of the presumed benefits of solar roadways is the cost savings associated with self-generated energy, even back-of-the-envelope math highlights how the numbers would simply not add up to be more cost-effective in the long run.
Energy Required to Produce the Panels
Another limiting factor appears when considering the energy it takes to make asphalt versus high-durability glass and solar panels. Most asphalt used on roads today is a byproduct of distilling petroleum crude oil for products such as gasoline, which means it makes use of a substance that would otherwise be discarded as waste.
The solar roadway panels, although intended to save energy in the long run, take much more to produce. Typical rooftop solar panels can easily make up for the extra energy used in production because the glass doesn't need to withstand the weight of vehicles driving over them, but solar roadways have that added complexity.
Power Output of the Panels
When estimating power output, early optimists seemed to perform calculations based on the raw surface area they could cover — and not much else. However, beyond the stunted energy generation that any solar panels face on cloudy days or at night, solar roadways presented unique new performance challenges.
For example, vehicles constantly driving over solar roadways would interrupt sun exposure. Plus, they'd leave behind trails of fluid, dirt and dust that can dramatically reduce the efficiency of solar panels. Being installed on the ground is a challenge in itself because of how readily shade would find the roads; that's the reason you find most solar panels on rooftops or elevated off the ground and angled toward the sun.
Issues With Glass Roadways
Lastly, driving on glass surfaces is simply not what modern cars are designed to do. Asphalt and tires grip each other well, being particularly resilient in wet conditions. If the asphalt is replaced with glass — even the textured glass that's used for solar roadways — tire traction could be reduced dramatically. Wet or icy conditions could lead to catastrophic situations on solar roadways.
Could Recent Advances in Solar Technology Bring Solar Roadways Closer to Reality?
For all of these challenges and even more roadblocks that early solar roadway projects have run into in the past, the reality is that solar technology continues to improve. In the seven years since the first Solar Roadways, Inc. video went viral, solar panels have developed to be more durable, more cost-effective and more efficient at converting sunlight to electricity. To put some numbers behind these trends:
The question to ask is whether these advances are enough to bring solar roadways from failure to success.
Despite the improvements, many of the original challenges with solar roadways remain, and the scale of execution is immense. Even with decreasing solar PV costs, outfitting long stretches of roadway with such complex technologies will require tremendous capital.
Rather than a future where solar roadways cover the country from coast to coast, a more likely outcome is that these advances will bring solar roadways to viability in narrow, niche applications.
Just like tidal energy is a great opportunity for small coastal communities but can't be scaled to solve the energy crisis across the world, it's conceivable that limited-scope solar roadways could be constructed around the world. However, large-scale solar roadways may never be more than a pipe dream.
A farm of more than 300 cows in Galicia, Spain in 2007. Xurxo Lobato / Cover / Getty Images
What Is Factory Farming?

Factory farming is a type of farming in which animals are raised and crowded together in close quarters. The animals are referred to as livestock and the farms are also called concentrated animal feeding operations (CAFOs).
Ultimately, it is a form of intensive agriculture, a type of agriculture designed to produce the highest possible yield per unit of land. Intensive agriculture stands in contrast to extensive agriculture, which is what you probably think of when you imagine a small, family farm. Extensive agriculture uses fewer inputs, such as human labor and basic machinery like tractors, and takes advantage of the soil's natural fertility. For animal raising, an example of extensive agriculture is pastoral production, in which animals are grazed outdoors for their entire lives or herded by nomadic farmers. Because it is designed to maximize productivity, intensive agriculture requires many more inputs such as fertilizers and pesticides, and often leads to the clearing of more land through deforestation. In the case of animals, this means raising more in less space.
An indoor farm for growing broiler chickens in the Ukraine. davit85 / iStock / Getty Images Plus
Intensive agriculture developed in earnest beginning in the 17th century in Britain, with developments such as more intensive crop rotation which allowed more animals to be fed and raised. Efficiency increased through the 18th and 19th centuries, which saw the rise of selective breeding in livestock for desirable traits such as longer wool in sheep. The current system of factory farming dominated U.S. agriculture by the 1980s. This process has made meat more affordable for the average American and increased efficiency. Since 1960, milk production has doubled in the U.S., meat production has tripled and egg production has quadrupled. However, the profits from agriculture have become concentrated in fewer and fewer hands. Between 1950 and 1997, the number of farms in the U.S. declined by 50 percent, while the average farm doubled in size. Today, more than 99 percent of U.S. farm animals and more than 90 percent of farm animals worldwide are raised on factory farms.
How Do Factory Farms Operate Today?
Factory farms are the primary means of raising animals like cows, pigs, chicken and fish. In addition to meat, factory farms are also used to raise animals for milk, eggs and fur. A medium-large factory farm in the U.S. usually consists of 1,000 beef cattle, 700 dairy cows, 2,500 pigs, 55,000 turkeys, 30,000 egg-laying hens, or 125,000 broiler chickens. Control of these farms are concentrated in very few hands. As of 2015, the four largest companies in each sector controlled 85 percent of U.S. beef production, 66 percent of pork production and 51 percent of broiler chicken production. However, the companies do not typically handle the farming themselves, which is considered the least-lucrative part of the production process. Instead, they contract the farming out to individuals who usually have to go into large amounts of debt to get started and can therefore get trapped in unfavorable contracts, risking bankruptcy if they quit. This method was pioneered by Tyson Foods and first came to dominate chicken production. It is now widely used in pork production as well.
What Happens on Factory Farms?
Animals on factory farms are raised to be productive as quickly as possible. They spend their entire lives crowded together indoors, and are either physically mutilated or genetically modified to better accommodate human tastes and close quarters. For example, chickens are debeaked to prevent them from pecking each other and broiler chickens are genetically modified to have larger breasts, since consumers prefer breast meat. Cows and pigs will have their tails removed, or be docked, to discourage biting and to make milking easier. Cows are grown without horns to make it easier to pack them closely together.
Why Is Factory Farming Bad?
Many consider the crowded conditions faced by animals in factory farms to be inherently inhumane. In addition, this method of farming has consequences for human health and the environment in the form of biodiversity loss, greenhouse gas emissions, pollution, working conditions and disease risk.
Animal Cruelty
Animal abuse on factory farms can be divided into two types: systemic cruelty and egregious cruelty. Systemic cruelty refers to the business-as-usual conditions within factory farms, which animal welfare advocates consider to be inherently cruel. Egregious cruelty refers to specific acts of abuse by farmworkers. While the first type of cruelty is more pervasive, only the second is often prosecuted by law. However, egregious cruelty can also be encouraged and enabled by systemic realities. Ag-gag laws, for example, penalize activists and whistleblowers for documenting incidences of animal cruelty at factory farms. Further, U.S. animal protection laws generally do not apply to either birds or fish. Systemic abuses facing factory farmed animals vary slightly depending on the animal, but all suffer from spending lives confined in close quarters.
Chickens
Nearly ten times more birds are raised and killed for food in the U.S. than any other type of animal. Chickens raised for meat are referred to as broiler chickens. They are often crowded together in groups of 20,000 or more. Poor ventilation means the birds are at risk from ammonia exposure from their own waste, which irritates their eyes, throats and skin. Egg-laying hens do not fare much better. They are kept in containers called battery cages, which have a smaller area than an eight-and-a-half-by-11 sheet of paper. This is considered so cruel that it was actually banned by the European Union in 1999.
Broiler chickens in China. chayakorn lotongkum / iStock / Getty Images Plus
Pigs
Pigs are as smart as dogs and have a natural impulse to root and socialize. However, they are often kept in indoor pens on slatted floors that do not allow these activities. The frustration leads pigs to bite each other's tails, and farmers deal with this by clipping off part of the pigs' tails or their teeth without anesthetics. Pregnant sows in particular suffer in gestation crates, which cause them to lose bone strength and muscle mass because their movement is so restricted. This makes it more likely that they will fall and injure themselves.
A large white pig in a gestation crate with her piglets in Sarthe Valley, France. Auscape / Universal Images Group via Getty Images)
Cows
Beef cattle are the one farm animal that is still largely raised outdoors. However, they spend the last few months of their lives in feedlots, crowded together but without shelter. They can suffer from heat stress, respiratory problems from dust and digestive problems from being fed corn and other foods they have not evolved to digest. Milk cows, on the other hand, are kept indoors and often tethered. They are artificially inseminated once a year to keep the milk flowing, and then forcibly separated from their calves within a day of giving birth, which can be traumatic for both mother and child. Male calves are then raised as veal, often in crates only 2.1 by 2.5 feet. However, many states are beginning to ban veal crates and the industry is following with promises to phase out their use.
Cows on a factory farm in France. Andia / Universal Images Group via Getty Images
Fish
Fish farming is one of the fastest growing forms of agriculture, and about half of the most commonly eaten fish are now raised in farms. Fish are also kept in crowded conditions that encourage stress, injury and disease. Further, fish suffer from the misconception that they do not feel pain. They are killed without being stunned first — either by force, suffocation, freezing or being allowed to bleed out.
Workers process salmons on a production line at a salmon farm on Sept. 26, 2020 in Nilka County, Xinjiang Uygur Autonomous Region of China. VCG / VCG via Getty Images
Environmental Harms
In addition to harming the farm animals themselves, factory farming also takes a toll on the planet as a whole. In fact, the practice contributes to many of our most pressing environmental crises including pollution, habitat and biodiversity loss and the climate crisis.
Pollution
The conditions animals face at factory farms extend to their surroundings. So many animals kept in close quarters generate lots of manure, and this manure is first stored in ponds and then spread on fields as fertilizer. However, environmental advocates say that these farms generate more manure than the soil can actually handle, and the rest enters waterways as runoff. This can lead to nutrient pollution, which encourages the growth of harmful algae that deprives water of oxygen, causing dead zones where no life can flourish. In fact, factory farming was blamed for the largest-ever "dead zone" in U.S. history in the Gulf of Mexico. Pollutants from animal waste such as hydrogen sulfide and ammonia can also enter the air and threaten the health and well being of farmworkers and the surrounding community.
Biodiversity Loss and Land Use
Animals raised for human consumption also need to eat. Usually, that food takes the form of either corn or soy, and growing it uses up a lot of land. In the U.S., in fact, corn and soy take up a third of the country's agricultural land, and humans only consume less than 10 percent of it. This is an issue that has major global ramifications. Without meat and dairy consumption, it would be possible to feed the world's population while reducing farmland by more than 75 percent. And the expansion of factory farming is a major cause of biodiversity loss. Clearing trees for cattle ranching is responsible for two-thirds of Amazon deforestation. The production of soy to feed livestock is also a major contributor to deforestation.
Climate Change
Emissions and land use mean that factory farming is a major contributor to the climate crisis. The livestock sector as a whole is responsible for 14.5 percent global greenhouse gas emissions. Forty-five percent of those emissions come from feed production and processing and 39 percent from the release of methane by cows and other ruminants. The world's five biggest meat and dairy companies have an equal carbon footprint to ExxonMobil, and the world's top 20 livestock companies emit more than the UK, France or Germany.
Human Health
The coronavirus pandemic has shown a spotlight on how human exploitation of the environment puts human health at risk. Factory farming is a perfect example of this as it threatens human health in many ways, from encouraging the evolution of antibiotic resistant bacteria to spreading pandemics.
Antibiotic Use
The overcrowding in factory farms has led to an overuse of antibiotics in order to prevent disease from spreading among animals. In fact, 73 percent of antibiotics worldwide are used on animals. In 2017, almost 11 million kilograms of antibiotics and 5.6 million kilograms of medically important antibiotics were sold in the U.S.exclusively for animals in factory farms. Bacteria can develop resistance to these drugs and then spread from animals to humans both through consumption and through run-off pollution from manure. Drug resistant bacteria currently kill 700,000 people a year.
Pandemics
Factory farming can encourage the spread of pandemics in two ways. First of all, the destruction of wild areas for agriculture increases the chance that humans will come into contact with new pathogens. Further, crowded conditions on farms cultivate diseases that may develop and spread. The H1N1 swine flu that killed 151,700 to 575,400 people in 2009 has been linked to a strain that emerged on U.S. pig farms in 1998.
Other Health Concerns
The conditions on factory farms can harm human health in other ways. Pathogens like E. coli can infect humans through manure pollution or food-borne illness. In fact, the grain beef cattle are fed before slaughter increases their risk of E. coli infection, while the practice of feeding dead hens to live hens encourages Salmonella. Further, there is debate over whether the use of hormones to stimulate growth and milk production in cows increases the risk of breast, prostate and colon cancer in humans.
Environmental Justice
The factory farm system doesn't just exploit animals and the planet — it also exploits the humans that work in the industry and the communities that surround it. Factory farming is often an example of environmental racism, in which low-income communities of color are targeted for exposure to unsafe conditions and pollutants.
Slaughterhouse Workers
Many slaughterhouse workers are low-income people of color who do not have many other employment options. Often they are undocumented and face deportation if they speak out about working conditions. The work can be stressful and dangerous. Workers can repeat the same motion 40,000 to 100,000 times per shift, and there are an average of two amputations per month in the industry. The vulnerability of these workers was made apparent during the coronavirus pandemic, when infections broke out at several meat packing plants in the U.S. and Canada. In July of 2020, the Centers for Disease Control and Prevention (CDC) said that 23 states reported 16,233 COVID-19 cases and 86 deaths in 239 facilities, while 87% of those infected were racial or ethnic minorities.
Rural Communities
The rise of factory farming has diminished rural communities in the U.S. Smaller family farms cannot compete with the larger operations, and mechanized agriculture means that they offer fewer jobs. Further, the smaller businesses that supported family farms, like equipment sellers or local restaurants, have also closed down. For those who remain, conditions are often unhealthy. Pollution from lagoons storing animal waste can cause health impacts like headaches, respiratory problems, skin infections, birth defects and premature death. For example, people in North Carolina who live near hog farms have higher death rates than people who live further away.
Where Is Factory Farming Most Common?
In the U.S., a few types of factory farming are concentrated in particular states and regions. Hog farming is concentrated in the U.S. South and Midwest, particularly North Carolina and Iowa. Broiler chicken farming is heavily concentrated on Maryland's Eastern Shore, while the top states for cattle feedlots are Nebraska, Texas, Kansas, Iowa and Colorado. Worldwide China is the world's leading meat producer, followed by the U.S., the EU and Brazil. China has rapidly expanded its pork production in particular, and this includes pork factory farms. In the last 30 years, the country has undergone a similar process of consolidation as the U.S did during the second half of the 21st century: Between 1991 and 2009, the total number of hog farms in China decreased by 70 percent, while the number of pigs living on those farms increased exponentially.
What Is Being Done to Help?
There is a growing movement to shift away from the factory farming model and towards more humane and sustainable forms of agriculture. In the U.S., Sen. Cory Booker has championed a Farm System Reform Act, which he most recently reintroduced in July.
This act would:
Place a moratorium on new large CAFOs and shutter the largest existing ones by 2040.
Hold corporations responsible for farm pollution.
Offer a buyout to farmers who want to leave factory farming.
Strengthen the Packers and Stockyards Act to protect contract farmers from unfair deals and farm workers from retaliation.
Restore country of origin labeling requirements to beef and pork products, expand them to dairy products, and prevent imported meat from receiving a "Product of USA" label.
Internationally, Compassion in World Farming has called for a global agreement to end industrial agriculture, similar to the Paris agreement for tackling climate change.
There are also several organizations working to protect farm animals and promote change. Mercy for Animals conducts investigations in order to expose conditions on factory farms, while Farm Sanctuary rescues animals and provides them with safe homes.
What Can You Do?
In addition to supporting organizations that fight for animal welfare and adding your voice to calls for change, there are also lifestyle changes you can make to reduce your support for factory farms. One study has found that embracing a vegan diet is the single greatest thing an individual can do to reduce their environmental footprint. However, you can still shop and eat ethically without giving up animal products. Compassion in World Farming offers a four-step guide:
Look for labels like "pasture reared" or "free range," which should indicate your meat is from an actual farm and not a factory.
Buy local — while you can't guarantee your local farm isn't a factory farm, it will probably be easier to find out.
Cut down on food waste by eating all your leftovers.
Don't over-eat meat and dairy products.
Takeaway
Transitioning away from factory farming towards a more sustainable, compassionate and healthy agricultural system is a major part of solving the health and environmental crises impacting our planet and our communities. However, meat production and consumption have been rising worldwide since the 1970s, and they are expected to continue to do so if nothing changes. The Organisation for Economic Co-operation and Development (OECD) predicts that global meat production will continue to grow, by 40 million tonnes a year by 2029. Public policies and consumer behavior can both play a role in reversing this trend and creating a kinder, healthier food system.
From Your Site Articles
Related Articles Around the Web
Temperature difference from normal Sunday predicted by American (GFS) model. TropicalTidBits.com
Seattle and Portland set record temperatures on Saturday as a dome of extremely hot air settled over the US Pacific Northwest.
All of Washington and Oregon, and parts of Idaho, Wyoming and California, are under an excessive heat warning.
Temperatures are set to soar 20 to 30 degrees Fahrenheit above average throughout the region during the weekend and into next week, the US National Weather Service (NWS) said.
"This event will likely be one of the most extreme and prolonged heat waves in the recorded history of the Inland Northwest," the NWS added.
The Inland Northwest is a sparsely populated region comprising eastern Washington, and parts of Idaho and northeast Oregon.
TropicalTidBits.com
Record Temperatures in Seattle and Portland

Portland, Oregon recorded its hottest day ever on Saturday, topping 108 Fahrenheit (39.4 degrees Celsius) by the afternoon.
The previous record for Oregon's largest city was 107 F (41.7 degrees Celsius), a mark hit in 1965 and 1981.
Seattle reached 101 degrees Fahrenheit (42.2 degrees Celsius) by mid-afternoon on Saturday, making it the hottest June day ever recorded in the city. It was only the fourth time in recorded history that Seattle has topped 100 degrees, according to the NWS.
Authorities Tell Residents to Stay Cool
Residents in the temperate Pacific Northwest are not generally equipped to deal with the heat, and many homes do not have air conditioning. There were reports of stores across the region running out of fans and air conditioners.
In Seattle, officials told the city's 725,000 residents to hydrate, keep blinds closed, use fans and to go to a city "cooling center" if needed.
Officials in Multnomah County, Oregon, which encompasses Portland, warned that there could be public transportation delays, strains on emergency medical services and power outages as a result of the extreme heat.
County officials also said they would be providing cooling centers for people to escape the heat.
In a short video posted online, the county's health officer, Jennifer Vines, urged residents to go to a cooling center if they do not have air conditioning, warning that the area is in for "life-threatening" heat.
Agriculture and wildlife conservation across the Pacific Northwest has also been impacted.
Berry farmers scrambled to pick crops before they rotted on the vine. Fisheries managers working to keep endangered sockeye salmon safe from warming river water,
State, tribal and federal officials began releasing the water from Idaho's Dworshak Reservoir earlier this week into the lower Snake River in a bid to lower the water temperature.
Officials fear a repeat of 2015, when water temperatures in Columbia and Snake river reservoirs reached lethal levels for the salmon.
How Long Will It Last?
The unusually hot weather is expected to extend into next week for much of the region, as a "heat dome" persists caused by an area of stalled high pressure.
The NWS was also expected to issue new red flag warnings in California and elsewhere, advising that the hot, dry and breezy conditions raise the risk of wildfires.
Reposted with permission from Deutsche Welle.
From Your Site Articles
Related Articles Around the Web
A toxic algal bloom in Lake Erie, resulting from runoff. David J. Ruck
With #PlasticFreeJuly upon us, there has been a necessary, global focus on curbing plastic pollution and other trash that comes from land and often ends up in the sea. Now, in partnership with Plastic Oceans International, EcoWatch is highlighting the dangers of another land-based source of ecological harm: runoff.
According to the United States Geological Survey, runoff naturally occurs after rain falls onto a landscape. The water doesn't just sit on top of the ground; some seeps into soils to refresh groundwater, but most flows across ecosystems as surface runoff. In this way, runoff is an important part of the natural water cycle.
Runoff becomes a problem when stormwater picks up potential pollutants as it flows overland. According to USGS, stormwater pollutants can include anything from sediment, nutrients from agriculture such as phosphorous and nitrogen, bacteria from animal and human waste, pesticides from lawn and garden chemicals, to metals from rooftops and roadways. All of these things accumulate as water flows down drains and/or towards streams, lakes and ultimately the sea. They also degrade water quality and can pose danger to plants, animals and people, USGS reported.
Satellite image of a bad algal bloom in Lake Erie, resulting from runoff. NOAA
As you can imagine, storm events and hurricanes often lead to massive water flows across land and into the sea.

Charles Rolsky, director of science for Plastic Oceans International, told EcoWatch, "Runoff is the process by which excess nutrients are carried off via certain events and accumulate in dangerously high concentrations within ecosystems around the world."
The sustainability, plastic pollution and wastewater treatment plants expert explained a key difference between runoff and conventional trash: nutrients (in healthy quantities) do help flora and/or fauna on the planet to live, whereas "trash has little to no positive effect at any level."
Unfortunately, high concentrations of nutrients contained in most runoff are what cause harm, he said. Nutrient runoff can cause a multitude of problems in ecosystems worldwide, Rolsky emphasized.
Trash, excessive nutrients and other pollutants are making their way together down drains and streams and harming aquatic life along the way. Just as with trash, there are "downstream consequences" of this runoff and wastewater that are often overlooked. Here are a few:
Excess phosphorous from agricultural sources has led to algal blooms that deplete oxygen from aquatic and marine ecosystems. This causes massive die-offs of aquatic and marine life and can release toxins harmful to humans. In Tampa, FL, one such red tide is currently devastating marine life.
Water pollution has caused massive seagrass die-offs, which is starving Florida manatees.
Nitrogen released when fossil fuels are burned can create acid rains that damage lands and waters around the planet.
Methamphetamines excreted by users pass through sewage systems and then discharge from wastewater treatment plants, and can cause trout to become addicted, CNN reported.
Sea turtles, especially endangered green sea turtles that live near urban coastlines, often develop debilitating fibropapilloma tumors on their eyes and flippers. "Studies suggest that there are links between FP and human effects on the environment, including various forms of pollution" in the water, NOAA reported.
Animal waste and fertilizer runoff from industrial meat farms created the largest marine dead zone ever in the Gulf of Mexico where nothing can survive in the oxygen-depleted waters.
Car pollution has contributed to 100% mortality of endangered Coho salmon in the Puget Sound Basin through stormwater runoff along the transportation grid.
All of these unfortunate events underline how humans pollute the natural environment far beyond what is visible.
"We need to be more aware of our impact on the environment," Rolsky said. "Seemingly small concepts like flushing plastic down the drain can have major consequences for the planet. Wastewater treatment plants, for example, are now considered major sources of microplastic pollution, which is a direct result of humans flushing plastic trash down the drain. More attention must be paid to our impact on the planet, soils included."
A lone blue rockfish swims past the graceful sweep of the blades of a bull kelp plant. The large air-filled sphere at right called a pneumatocyst buoys up the entire plant. Fish abundance and diversity have declined noticeably in areas where kelp once thrived. Photo courtesy of Brandon Cole
By YCC Team
Until recently, giant seaweed called bull kelp formed lush underwater forests in northern California's coastal waters. These kelp forests have long provided critical habitat for many species like salmon, crabs, and jellyfish.
But now just a few patches of bull kelp remain.

"It's very desolate looking," says Meredith McPherson of UC Santa Cruz.
She was part of a team that studied satellite images of about 200 miles of California coastline. They found that starting in 2014, the area covered by kelp dropped by more than 95%.
She says the die-off was driven in part by an underwater heat wave, which depleted nutrients in the water and made it harder for the kelp to grow.
Compounding the problem, populations of purple sea urchins, which eat kelp, have exploded in the region.
In coming decades, more marine heat waves are expected.
"We know that these types of events – these warm water events and stronger El Niños – are going to become more common and frequent with climate change," McPherson says.
So she says warming waters and hungry urchins will make it harder for these kelp forests to survive.
Reporting credit: Sarah Kennedy / ChavoBart Digital Media
Reposted with permission from Yale Climate Connections.
Dry conditions across the West follow a hot, dry year of record-setting wildfires in 2020. Communities were left with scenes like this, from California's Creek Fire. Amir AghaKouchak / University of California Irvine
By Mojtaba Sadegh, Amir AghaKouchak and John Abatzoglou
Just about every indicator of drought is flashing red across the western U.S. after a dry winter and warm early spring. The snowpack is at less than half of normal in much of the region. Reservoirs are being drawn down, river levels are dropping and soils are drying out.
It's only May, and states are already considering water use restrictions to make the supply last longer. California's governor declared a drought emergency in 41 of 58 counties. In Utah, irrigation water providers are increasing fines for overuse. Some Idaho ranchers are talking about selling off livestock because rivers and reservoirs they rely on are dangerously low and irrigation demand for farms is only just beginning.
Scientists are also closely watching the impact that the rapid warming and drying is having on trees, worried that water stress could lead to widespread tree deaths. Dead and drying vegetation means more fuel for what is already expected to be another dangerous fire season.
U.S. Interior Secretary Deb Haaland and Agriculture Secretary Tom Vilsack told reporters on May 13, 2021, that federal fire officials had warned them to prepare for an extremely active fire year. "We used to call it fire season, but wildland fires now extend throughout the entire year, burning hotter and growing more catastrophic in drier conditions due to climate change," Vilsack said.
As climate scientists, we track these changes. Right now, about 84% of the western U.S. is under some level of drought, and there is no sign of relief.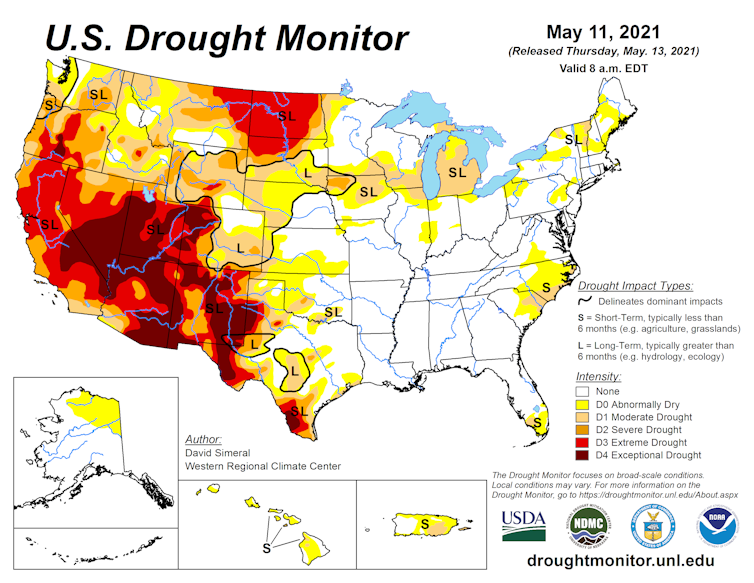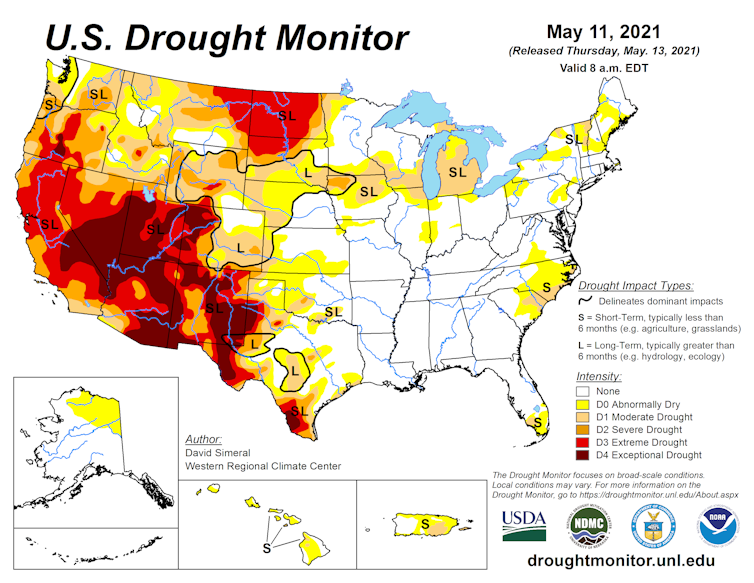 The U.S. Drought Monitor for mid-May shows nearly half of the West in severe or extreme drought. National Drought Mitigation Center/USDA/NOAA
The Many Faces of Drought
Several types of drought are converging in the West this year, and all are at or near record levels.
When too little rain and snow falls, it's known as meteorological drought. In April, precipitation across large parts of the West was less than 10% of normal, and the lack of rain continued into May.
Rivers, lakes, streams and groundwater can get into what's known as hydrological drought when their water levels fall. Many states are now warning about low streamflow after a winter with less-than-normal snowfall and warm spring temperatures in early 2021 speeding up melting. The U.S. Bureau of Reclamation said Lake Mead, a giant Colorado River reservoir that provides water for millions of people, is on pace to fall to levels in June that could trigger the first federal water shortage declaration, with water use restrictions across the region.
Dwindling soil moisture leads to another problem, known as agricultural drought. The average soil moisture levels in the western U.S. in April were at or near their lowest levels in over 120 years of observations.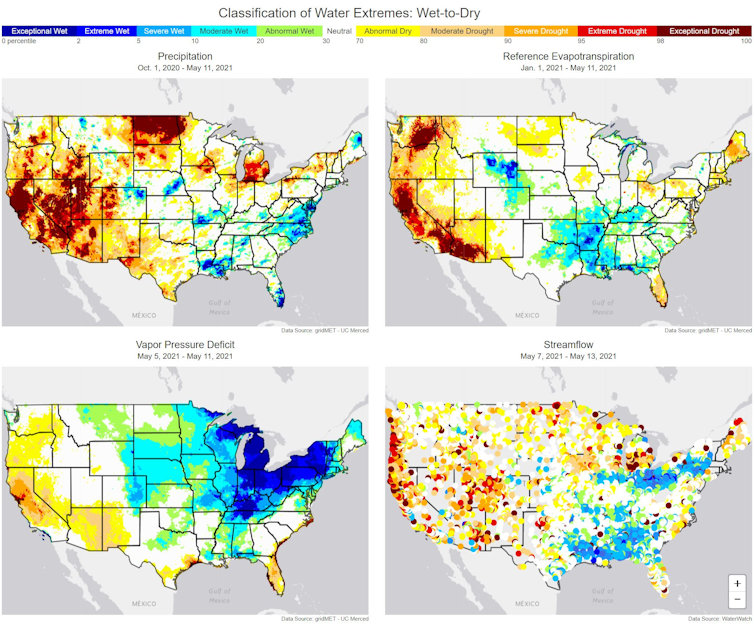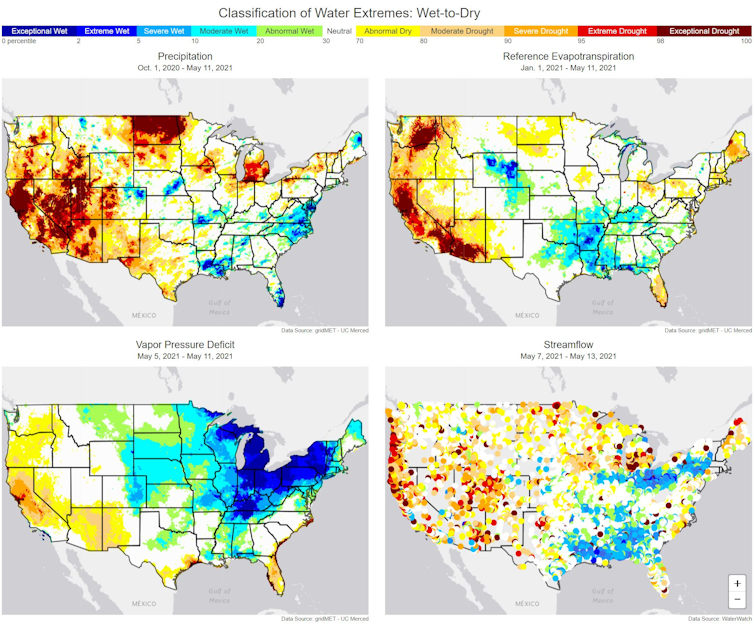 Four signs of drought. Climate Toolbox
These factors can all drive ecosystems beyond their thresholds – into a condition called ecological drought – and the results can be dangerous and costly. Fish hatcheries in Northern California have started trucking their salmon to the Pacific Ocean, rather than releasing them into rivers, because the river water is expected to be at historic low levels and too warm for young salmon to tolerate.
Snow Drought
One of the West's biggest water problems this year is the low snowpack.
The western U.S. is critically dependent on winter snow slowly melting in the mountains and providing a steady supply of water during the dry summer months. But the amount of water in snowpack is on the decline here and across much of the world as global temperatures rise.
Several states are already seeing how that can play out. Federal scientists in Utah warned in early May that more water from the snowpack is sinking into the dry ground where it fell this year, rather than running off to supply streams and rivers. With the state's snowpack at 52% of normal, streamflows are expected to be well below normal through the summer, with some places at less than 20%.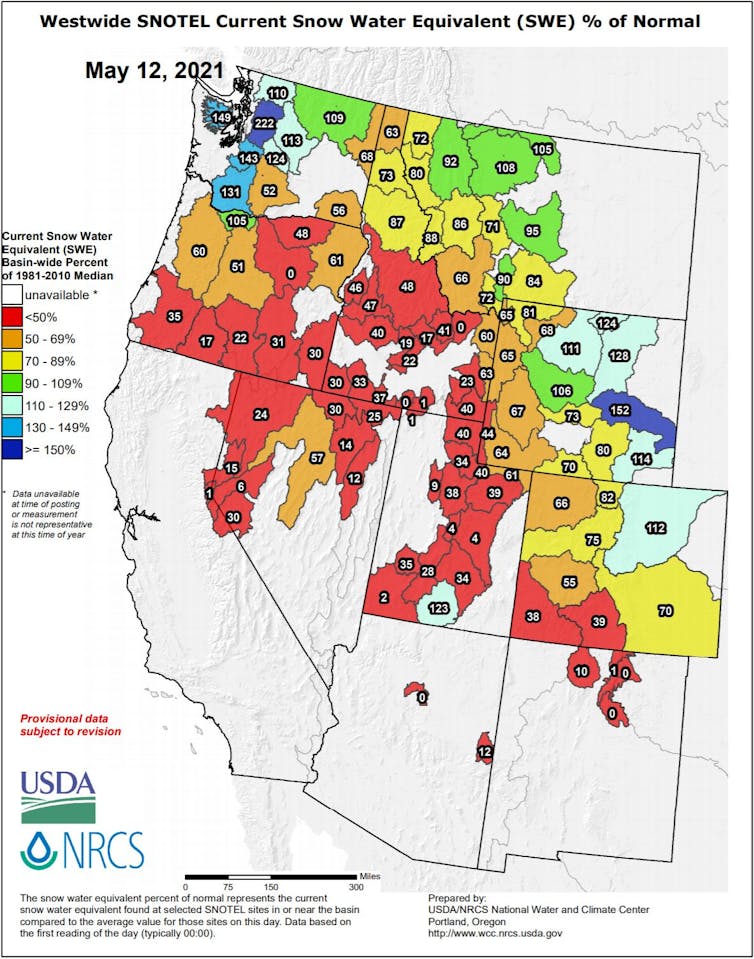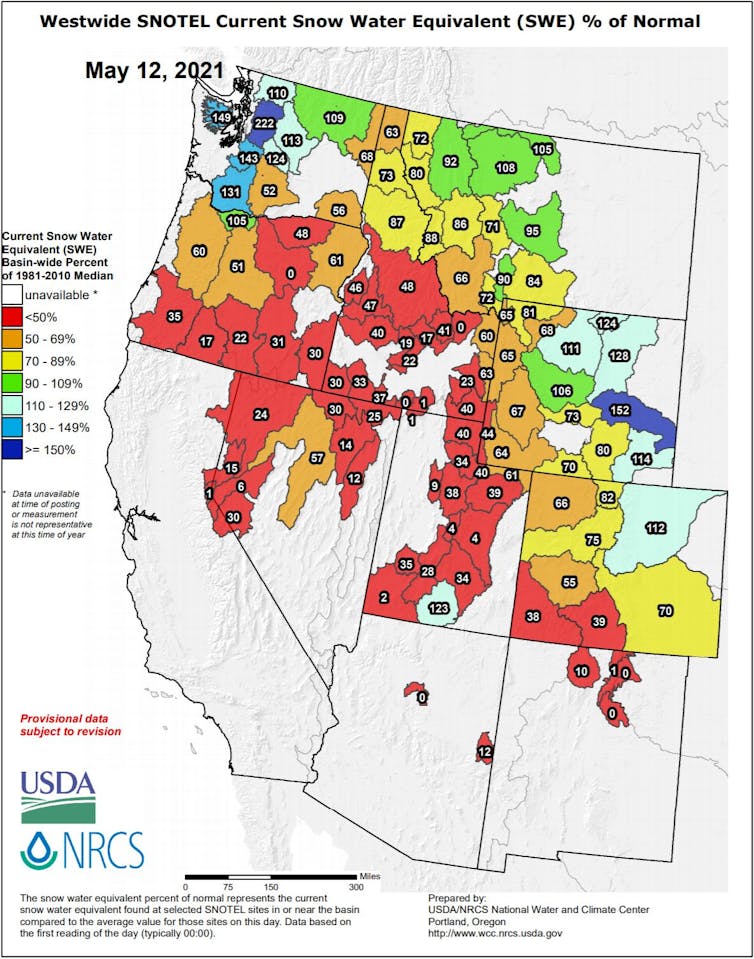 Snowpack is typically measured by the amount of water it holds, known as snow water equivalent. National Resource Conservation Service
Anthropogenic Drought
It's important to understand that drought today isn't only about nature.
More people are moving into the U.S. West, increasing demand for water and irrigated farmland. And global warming – driven by human activities like the burning of fossil fuels – is now fueling more widespread and intense droughts in the region. These two factors act as additional straws pulling water from an already scarce resource.
As demand for water has increased, the West is pumping out more groundwater for irrigation and other needs. Centuries-old groundwater reserves in aquifers can provide resilience against droughts if they are used sustainably. But groundwater reserves recharge slowly, and the West is seeing a decline in those resources, mostly because water use for agriculture outpaces their recharge. Water levels in some wells have dropped at a rate of 6.5 feet (2 meters) per year.
The result is that these regions are less able to manage droughts when nature does bring hot, dry conditions.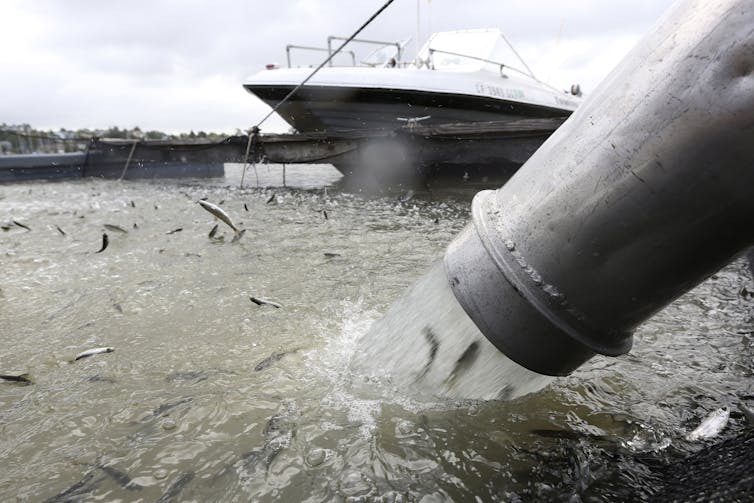 California fish hatcheries have started trucking their salmon to the Pacific Ocean because the rivers they are usually released into are too low and warm. AP Photo / Rich Podroncelli
Rising global temperatures also play several roles in drought. They influence whether precipitation falls as snow or rain, how quickly snow melts and, importantly, how quickly the land, trees and vegetation dry out.
Extreme heat and droughts can intensify one another. Solar radiation causes water to evaporate, drying the soil and air. With less moisture, the soil and air then heat up, which dries the soil even more. The result is extremely dry trees and grasses that can quickly burn when fires break out, and also thirstier soils that demand more irrigation.
Alarmingly, the trigger for the drying and warming cycle has been changing. In the 1930s, lack of precipitation used to trigger this cycle, but excess heat has initiated the process in recent decades. As global warming increases temperatures, soil moisture evaporates earlier and at larger rates, drying out soils and triggering the warming and drying cycle.
Fire Warnings Ahead
Hot, dry conditions in the West last year fueled a record-breaking wildfire season that burned over 15,900 square miles (41,270 square kilometers), including the largest fires on record in Colorado and California.
As drought persists, the chance of large, disastrous fires increases. The seasonal outlook of warmer and drier-than-normal conditions for summer and fire season outlooks by federal agencies suggest another tough, long fire year is ahead.
Mojtaba Sadegh is an assistant professor of civil engineering at Boise State University.
Amir AghaKouchak is an associate professor of civil & environmental engineering at the University of California, Irvine.
John Abatzoglou is an associate professor of engineering at the University of California, Merced.
Disclosure statement: Mojtaba Sadegh receives funding from the National Science Foundation. Amir AghaKouchak receives funding from National Science Foundation, National Oceanic and Atmospheric Administration and National Aeronautics and Space Administration. John Abatzoglou receives funding from the National Oceanic and Atmospheric Administration and the National Science Foundation.
Reposted with permission from The Conversation.
In a historic move to resurrect the largest dam removal project in the U.S., Oregon, California, the Yurok Tribe and the Karuk Tribe signed an agreement on Tuesday to push forward on dam removal.
Residents evacuate from the Blue Ridge Fire in Chino, California on Oct. 27, 2020. ROBYN BECK / AFP via Getty Images
At the opening of the 2020 wildfire season, 3% of California was in extreme or exceptional drought and more than 4% burned. This year, more than 73% of the state faces similar drought conditions.
In other parts of the Southwest, juniper trees are dying off at increased rates because of the intensification of a climate change-fueled megadrought and turning forests, with trees covered in dead needles, into 30-foot-tall tinder boxes.
"It's like having gasoline out there," Brian Steinhardt, a national forest fire zone manager in Arizona, told the AP. Soil in the western U.S. is drier than at any time since 1895 (the year Frederick Douglass died and Babe Ruth was born), which means "the dice are loaded toward a lot of forest fire this year," UCLA climate and fire scientist Park Williams told the AP. New research also shows wildfires are burning at higher elevations as climate change dries out forests previously too wet to support large burns.
All this adds up, Steinhardt, a veteran of 32 fire seasons, told the AP, to "probably one of the driest and potentially most challenging situations I've been in." California, on the verge of its first ever official water shortage declaration, is increasing its wildfire prevention spending 16-fold, but states across the West, from Oregon to New Mexico, are staring down the barrel of a brutally dry and dangerous fire season.
Water shortages that "just couldn't be any worse," according to Klamath Irrigation District president Ty Kliewer, threaten massive die-offs of the salmon central to the diet and culture of the Yurok Tribe. One silver lining for the 2021 fire season is that 2020's record-shattering burns were fueled by a highly unusual concurrence of record-breaking heatwaves and intense, widespread lightning strikes, UCLA meteorologist Daniel Swain told the AP. But, he added, "I'm really grasping at straws here. All we have going for us is dumb luck."
Fire season: AP; Higher elevations: The Conversation; California spending: Grist; New Mexico: New Mexico Political Report; Oregon: Utility Dive; Klamath water shortages: AP; Climate Signals background: Drought, Wildfires, 2020 Western wildfire season, Cal. Aug. 2020 heatwave, Cal. Sept. 2020 heatwave

For more climate change and clean energy news, you can follow Climate Nexus on Twitter and Facebook, sign up for daily Hot News, and visit their news site, Nexus Media News.
A trickle of water flows into Lake Mendocino as the overall water level dropped to 29% capacity on June 2, 2021, near Ukiah, California. George Rose / Getty Images
By Dana Nuccitelli
California, along with much of the rest of the western United States, is once again mired in drought. In fact, California has experienced significant drought conditions in 13 of the 22 years (60%) since the turn of the century.
A 2020 study in the journal Science concluded that 2000 through 2018 was the second-driest 19-year period in the U.S. Southwest in at least the past 1,200 years, and a 2014 paper in Geophysical Research Letters found that 2012 through 2014 was the driest three-year period in California over that same timeframe.
Nearly the entire state is currently in the 'severe' drought category or worse, and three-quarters is experiencing 'extreme' to 'exceptional' drought, according to the U.S. Drought Monitor.
The consequences of drought in California are felt well outside the state's borders. California is effectively America's garden – it produces two-thirds of all fruits and nuts grown in the U.S. The state's agricultural industry generates $50 billion each year, which is more than the entire gross domestic products of Vermont and Wyoming, and as large as the economy of Alaska or Montana. California produces nearly all of the almonds, artichokes, avocados, broccoli, carrots, celery, kiwi, figs, garlic, grapes, raisins, raspberries, strawberries, honeydew melons, nectarines, olives, pistachios, plums, tangerines, mandarins, and walnuts grown in the U.S. About 80% of all almonds in the world are grown in California: The state's almonds alone generate $6 billion annually. But nut trees are water-intensive (though notably less so than the alfalfa and pastureland grown for animal agriculture), and unlike seasonal crops, they cannot be fallowed in a dry year. Given the lack of water in 2021, some farmers have been forced to resort to tearing out valuable almond trees and instead planting less thirsty crops.
About 80% of the state's developed water use goes to the agriculture industry, so anyone who enjoys eating fruits and nuts should be concerned that climate change is increasing the odds of megadroughts permanently drying California.
Changing Climate Is Supercharging Southwestern Droughts
According to the 2020 study in Science cited earlier, human-caused climate change made southwestern drought conditions between 2000 and 2018 about 46% more intense than they would have been naturally, "pushing an otherwise moderate drought onto a trajectory comparable to the worst [U.S. southwest] megadroughts since 800 CE," the heyday of the Mayan civilization.
It's not just California; 96% of the western U.S. is currently experiencing drought conditions, including the entire states of Oregon, Nevada, Arizona, Utah, and New Mexico. The drought conditions led Utah Governor Spencer Cox recently to urge the state's residents of all faiths to hold a "weekend of prayer" for rain.
Different Kinds of Drought
There are several different kinds of drought, all worsened by human activity. Dwindling soil moisture is known as "agricultural drought," and is exacerbated by the increased evaporation and transfer of moisture from land to the atmosphere that comes about in a warming climate.
A lack of rain and snow is called "meteorological drought." A 2018 study in Nature Climate Change used climate models to predict that California's precipitation patterns will shift in a hotter world, with more rain falling in the winter but less in spring and fall months, lengthening the state's dry season. This prediction was borne out in a 2021 study published in Geophysical Research Letters, with researchers finding that "the precipitation season has become shorter and sharper in California" since the 1960s.
"Snow drought" also plays a key role in California, 30% of whose water supply originates from the snowpack in the Sierra Nevada mountains. As temperatures rise, more precipitation falls as rain and less as snow, and the snowpack melts more quickly in the late spring and early summer. A 2018 study in Geophysical Research Letters estimated that global warming has already shrunk the Sierra Nevada snowpack by about 20% and increased early-season runoff by 30%, and that each additional degree Celsius of warming will shrink the snowpack by about another 20%.
Snow drought in California can then lead to "hydrological drought," when water levels fall in rivers, lakes, and streams. In June 2021, California's reservoir water levels were about 40% below the historical average, and the snowpack was completely gone more than a month earlier than normal.
Extensive Drought Damages Felt Widely
In addition to its adverse impact on California agriculture, drought results in damaged forests, worse wildfires, reduced hydroelectricity generation, stressed fish populations, and depleted groundwater aquifers. According to the Fourth National Climate Assessment Report, the combination of worsening droughts and expanding bark beetle populations due to warming winters killed 7% of the western U.S. forest area over the past four decades.
The hotter and drier conditions during most of the year, combined with the dead trees, have created more fuel for wildfires, which the report concluded have burned twice as much area in the southwestern states over the past three decades as would have burned in the absence of human-caused climate change. The smoke from those wildfires is dangerously unhealthy to breathe, and in the record-shattering 2020 fire season, the wildfire smoke spread all the way to the U.S. east coast.
That same report found also that the severe drought between 2011 and 2015 reduced hydroelectricity generation in California by two-thirds. The water level in Lake Mead, the reservoir formed by Hoover Dam near Las Vegas, has fallen by 130 feet to its lowest level since its creation in 1936, and the reservoir has lost 60% of its water volume since 2000. As the National Assessment Report concluded, "The reduction of Lake Mead increases the risk of water shortages across much of the Southwest and reduces energy generation at the Hoover Dam hydroelectric plant."
The lack of surface water also threatens salmon and other fish species in California rivers. And it forces farmers to pump more water from groundwater aquifers, which leads to land subsidence that also stresses infrastructure.
As water resources experts at the Pacific Institute wrote earlier this month, there are steps that southwestern states can take to mitigate drought impacts, "including changes in the efficiency of urban and agricultural water uses, the expansion of non-traditional water sources like stormwater and recycled water, and voluntary changes in behavior." Curbing greenhouse gas emissions from fossil fuels is of course the most important measure to lessen the threat of megadroughts in the future and their impacts on one of America's key food-producing states.
Reposted with permission from Yale Climate Connections.
Lower Granite Dam is obstructing salmon along the Snake River in Washington. Greg Vaughn / VW PICS / Universal Images Group / Getty Images
Climate change, activities that contribute to it, and dams pose grave threats to America's rivers, according to American Rivers.
The annual report ranks the county's 10 rivers most endangered by human activity that also have a critical decision point coming in the next year that could change the river's fate.
Four dams are choking the Snake River — earning it the top spot in the report — obstructing salmon and posing an existential threat to Native American tribes in the region who depend on the fish for food, culture and their identities.
Advocates are calling on President Biden to remove the federal dams and revitalize the river and its ecosystem.
Toxic coal ash pollutes the Lower Missouri, which also is experiencing an increase in climate-driven flooding, putting it second on the list, while Iowa's Raccoon River, at number nine, faces threats from industrial agriculture.
Between them are rivers befouled by sewage, polluted or threatened by mining, and otherwise dammed or mismanaged.
"Rivers are among the most degraded ecosystems on the planet, and threats to rivers are threats to human health, safety and survival," American Rivers head Tom Kiernan said.
"If we want a future of clean water and healthy rivers everywhere, for everyone, we must prioritize environmental justice."
For a deeper dive:
The Guardian, USA Today, Mother Jones, Reuters, E&E
For more climate change and clean energy news, you can follow Climate Nexus on Twitter and Facebook, sign up for daily Hot News, and visit their news site, Nexus Media News.

One type of algae in the Great Lakes, Cladophora, readily tangles up with plastic microfiber. Brenda Lafrancois / National Park Service
By Andrew Blok
Great Lakes algae is catching huge amounts of microplastics.
Researchers found that one type of algae, which has greatly expanded its range within the Great Lakes and is one of the most abundant algae by weight there, could catch up to one trillion pieces of microplastic in the Great Lakes.
"It's just a massive amount of these microscopic particle pollutants that are now part of our environment," Julie Peller, a professor of chemistry at Valparaiso University whose recent research revealed the microplastics-algae dynamic, told EHN.
Peller and colleagues say the study may offer insight into how we can stop the microplastic pollution — any plastic debris less than five millimeters long — from getting into the lakes. However, in the meantime, algae are often used as shelter for freshwater species at the bottom of the food chain, so the findings suggest that these microplastic hiding spots could be contaminating Great Lakes fish — and the people that eat them.
The Hiding Spots for Great Lakes Plastic
There are a lot of microplastics in the Great Lakes, one of the world's largest freshwater ecosystems and the drinking water source for 30 million people. While less well understood than ocean plastics, the tiny bits of plastic are pretty much ubiquitous throughout the five lakes. Research shows they're in tap water and beer brewed with water from the Great Lakes. Surface water samples show huge numbers of microplastics, but statistical models always predict more microplastics are in the lakes than are found by sampling.
Finding them in algae helps close some of that gap.
"I think that we found one of those reservoirs where some of the microplastics have been, for lack of a better word, hiding," said Peller, whose recently published study in Environmental Pollution documented the close interactions between algae and microplastics.
This study examined the most abundant group of algae in the Great Lakes: Cladophora. Cladophora, which looks a bit like green hair, readily tangles up with plastic microfibers, which are shed from synthetic clothing, carpets, and other cloth.
Nearly every penny-sized sample of Cladophora collected from the lakes contained at least one microfiber, Peller said. Even samples from apparently pristine locations, like near Sleeping Bear Dunes National Lakeshore in the northwest corner of Michigan's Lower Peninsula, contained microplastics.
Peller's team also took clean, living Cladophora samples and added plastic microfibers to them. Plastic microfibers quickly adhered to the algae in a process called adsorption, in which two substances stick together because of a molecular attraction.
"The affinity between microplastics and Cladophora may offer insights for removing microplastic pollution," Peller and colleagues wrote in the study. In fact, adsorption already plays a major role in stopping microplastic pollution.
Attracted to Sludge
Synthetic fabrics shed microfibers when washed, so microfibers are often most abundant near populous areas where they enter the environment through treated wastewater.

Even without special plastic screening technology, removing 90 percent of plastics is not only possible, but probable, Heng Zhang, the assistant director of monitoring and research at Metropolitan Water Reclamation District of Greater Chicago, told EHN. Studies of wastewater treatment plants around the world put the removal rate as high as 98 percent.
A main goal of wastewater treatment is removing particles of organic waste by screening and settling out waste into a sludge. Because microplastics tend to attach to these particles, like they do to algae, a lot of it is captured by processes designed before microplastic pollution started gaining attention.
"I have to admit, it wasn't designed. It just happened by chance or by nature or the characteristics of the stuff," Zhang said.
Removal rates of 90 percent or higher still leave a lot of microplastics in the Great Lakes. Some researchers estimate 10,000 metric tons (or about 11,000 tons) of plastic pollution enters the Great Lakes each year.
But regulation will likely dictate when new microplastic removal technology is developed.
"I don't see any EPA guidelines that says we need to start looking at the technology to remove that," Zhang said. "It looks like microplastics is down to the very end of the priority list."
Until then, wastewater treatment plants are likely to focus on other areas, Zhang said.
Pollutants like metals, nutrients and emerging contaminants like improperly disposed pharmaceuticals take precedence now.
If or when microplastics become a focus of wastewater treatment it makes sense to "start with what has worked," Zhang wrote in a follow-up email. There would still be questions to answer about efficacy, cost and consequences — such as safe disposal after microplastic is collected.
Plastics at the Base of the Food Web
Cladophora is a genus of freshwater algae that has increased in the Great Lakes with the arrival of invasive mussels. Filter-feeding zebra and quagga mussels have spread throughout the Great Lakes basin, sucking light-blocking algae and plankton out of the water. As the water cleared and sunlight could reach greater depths, Cladophora expanded its range to deeper waters.

Cladophora is different from the toxic blue-green algae that has caused problems for some Great Lakes water supplies. But there's so much of it now it's become a nuisance, Meredith Nevers, a research ecologist for the U.S. Geological Survey and a co-author of the new study, told EHN.
The sheer amount of long, stringy Cladophora in the lakes — up to 129,000 tons, according to one estimate — means it's likely playing a significant role in microplastic's fate in the Great Lakes.
"If there are microfibers and microplastics in the lake, there's no question they're going to get tangled up in filaments of algae," Nevers said.
Great Lakes fish don't eat Cladophora, but it provides shelter for zooplankton and other invertebrates, which are a major food source for some prey fish. The mingling of microplastics with natural fish food could be one entry point for microplastics into the food chain. Further, by catching microplastics, algae may be keeping them suspended in the water for longer where they're more likely to be eaten.
"It wouldn't surprise me to have microplastics enter food webs through the invertebrates that live in and graze on Cladophora," Eric Hellquist wrote in an email to EHN. Hellquist is a professor of biological sciences at State University of New York Oswego.
Once microplastics enter a food chain, they can make their way up to fish species that humans eat, research shows.
Hellquist and his students surveyed prey fish — such as alewife, sculpin, and invasive round gobies — in Lake Ontario and found that 97 percent of 330 fish had microfibers in their digestive tracts. The majority of microplastics found were microfibers, he said.
Higher up the food chain, microplastics were present in most animals, too. In 40 chinook salmon, Hellquist found that 92 percent had microplastics in their digestive tract. Of 33 coho salmon, 82 percent had ingested microplastics. Hellquist's students found, on average, 3.5 to 4 pieces of plastic in each salmon.
Research is beginning to show harmful effects on fish from microplastics. Microplastics are often found in their gills and digestive systems, but also within muscle tissue. When ingested they've been found to have harmful effects on fish digestion, metabolism, growth and brain function. They've also been associated with higher levels of toxic substances in fish.
Research suggests that fish consumption could be one way that microplastics get into people.
'It's Just So Huge'
The study of microplastics in the Great Lakes is still a relatively young field and a lot of questions need to be answered.

One thing is clear: the amount of microplastics in the Great Lakes is huge.
"It's hard to think about because it's so large," Peller said.
However, Peller thinks the stickiness of algae might inspire better removal technology.
"I think that a lot of times when we look for solutions to problems that we as humans have created, we often find a lot of insight into nature's natural mechanism for cleansing itself," she said.
Reposted with permission from Environmental Health News.