On Wednesday night, in a special edition of The Rachel Maddow Show, Maddow hosted a town hall meeting inside the Brownwell/Holmes STEM Academy, one of three Flint, Michigan, schools where the water inside was polluted well beyond the federal limit.
This is what the untreated Flint River did to pipes. #FlintTownHall @maddow https://t.co/HUF1im3DvO

— Mark Elliott (@Mark Elliott)1453946686.0
While Flint's water crisis has been well documented, Maddow said many may not know that the problem isn't actually fixed yet. "Months after this problem was first acknowledged, and weeks after the state declared a disaster, the damaged pipes of Flint are still in the ground," Maddow said. "The water is still undrinkable, and there's no timetable for when the pipes will be replaced and the issue rectified."
While the city has stopped getting its water from the corrosive Flint River and has restored its connection to Detroit's water system, which comes from Lake Huron, "the damage is done to all of the pipes and that is why you still cannot drink the water here," Maddow says in the video below.
Over the course of the evening, Maddow hosted a number of experts, including Flint Mayor Karen Weaver; Dr. Mona Hanna-Attisha, a pediatrician at Hurley Medical Center in Flint, who was the first to confirm the elevated lead levels in Flint's children; Marc Edwards, a professor of engineering at Virginia Tech University who detailed the issue alongside University of Michigan professor Martin Kaufman; Michigan Sen. Debbie Stabenow; and Reverend Charles William III, a member of the civil rights organization National Action Network.
"Our trust has been broken in the city of Flint," Weaver said, "and until we get safe pipes people are not going to trust the water."
Lead is an "irreversible neurotoxin," Hanna-Attisha explained. "Every kid in Flint is at risk," she said, "but there are things that we can do" to mitigate the impact of lead, especially in children. She advocated for a "whole child approach" built on a healthy diet and top notch education to, as she put it, "take these lemons and make lemonade."
As for fixing the pipes, that could be a slow process, Edwards explained. "What we're struggling with here is that there is really no precedent for this kind of man-made disaster," Edwards told the audience.
Read page 1
He's working with fellow professor Kaufman to identify where the lead pipes are. "The pipes will have to be addressed in stages," MSNBC explained. "In the short term, they'll need to be re-coated with a film to hold in the lead. In the long term, the only fix is ripping them out—every mile of them. No American city has ever done it."
There is plenty of finger-pointing going around, but one thing many people agree on is that Michigan Gov. Rick Snyder should resign. "All I got to say, is Governor Snyder got to go," Williams said. "I would have been fired a long time ago."
Actor and activist Matt Damon and Sen. Bernie Sanders (I-VT) have also called for his resignation. Filmmaker and activist Michael Moore and singer Cher have even said Snyder should be imprisoned.
Watch Maddow and a panel of experts discuss the contributing factors that led to Flint's water crisis, and what state and federal authorities must do to help city residents:
Replacing the pipes could cost more than the homes are worth, Harold Harrington, a master plumber based in Flint, told Maddow. Watch Harrington explain to Maddow the financial challenges involved in fixing Flint's water problem:
Lastly, NBC News' Stephanie Gosk reports on how lead poisoning has taken a catastrophic toll on Flint's children, and Maddow discusses the dearth of resources in Flint for the city's children, and how to solve that problem:
YOU MIGHT ALSO LIKE
Matt Damon Slams Michigan Governor Over Flint Water Crisis: 'At the Very Least He Should Resign!'
Michael Moore: 'Do Not Send Us Bottles of Water. Instead, Join Us in a Revolt'
Another Lead Water Poisoning Scandal Has Erupted, This Time in Ohio
Seattle Sues Monsanto Over PCB Contamination, Becomes 6th City to Do So
EcoWatch Daily Newsletter
Hillary Clinton and Bernie Sanders made history in Iowa Monday night ending 2016's opening presidential nominating contest in an unprecedented virtual tie.
Now that Iowa is in the rearview mirror, anticipation for the New Hampshire primary is growing daily and many Americans will be looking to tonight's head-to-head Democratic debate to learn more about what sets the two candidates apart.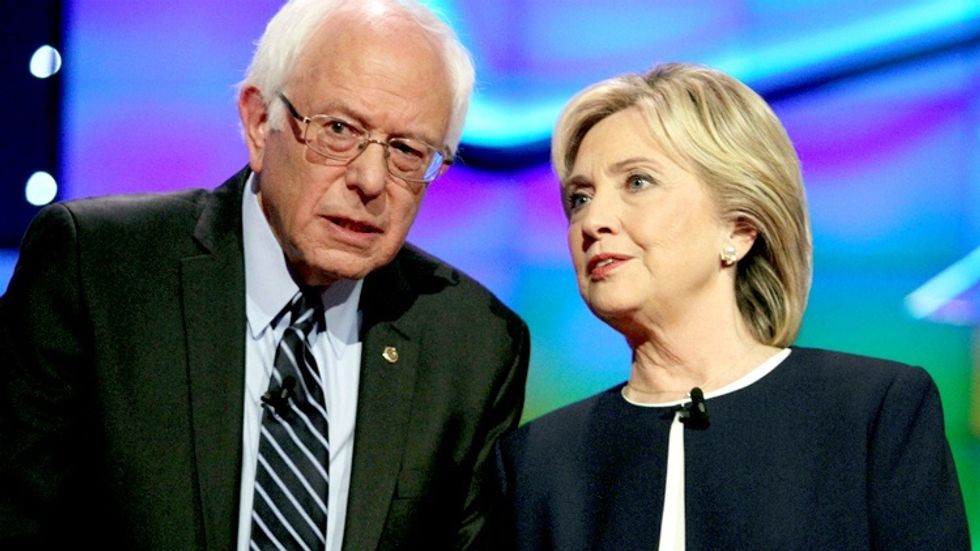 Tonight's debate at the University of New Hampshire in Durham will be moderated by NBC News' Chuck Todd and MSNBC's Rachel Maddow.
According to MSNBC, here's what you need to know about tonight's debate:
YOU MIGHT ALSO LIKE
Watch Colbert Explain Why the Broncos Should Draft Hillary Clinton for the Super Bowl
Bernie Sanders and Hillary Clinton Make History in Virtual Tie in Iowa
Gov. Kasich Admits Renewables Are the Future, So Why Did He Freeze Ohio's Clean Energy Mandate
15 Florida Mayors to Marco Rubio: We're Going Under, Take Climate Change Seriously
Last night during the fourth Democratic debate in Charleston, South Carolina, Hillary Clinton became the first presidential candidate of either party to mention the water crisis in Flint, Michigan.
.@HillaryClinton slams Gov. Rick Snyder for handling of water crisis in Flint, Michigan: https://t.co/TrIsfdVwUX

— MSNBC (@MSNBC)1453090913.0
In her closing statement she said:
"I spent a lot of time last week being outraged by what's happening in Flint, Michigan, and I think every single American should be outraged. We've had a city in the United States of America where the population—which is poor in many ways, and majority African-American, has been drinking and bathing in lead-contaminated water. And the governor of that state acted as though he didn't really care. He had requests for help that he basically stonewalled. I'll tell you what, if the kids in a rich suburb of Detroit had been drinking contaminated water and being bathed in it, there would have been action. So I sent my top campaign aide down there to talk to the mayor of Flint, to see what I could do to help, and I issued a statement about what we needed to do, and then I went on a TV show, and I said it was outrageous that the governor hadn't acted. I want to be a president that takes care of the big problems and the problems that are affecting the people of our country every day."
Sen. Bernie Sanders (I-Vt.), also mentioned the water crisis in his closing statement and called for the resignation of Michigan Gov. Rick Snyder (R).
According to the Huffington Post:
Like Sanders, Clinton has condemned Snyder, but she's also gone the extra mile, working on both bringing attention to and seeking solutions for this crisis. On the former front, Clinton has used local and national media to keep important details in the public eye, such as the fact that a General Motors factory opted to eschew Flint's water supply because they noticed it was degrading engine parts, even as state officials were insisting the supply was safe.
Also, on a recent The Rachel Maddow Show, Clinton shared her disgust with Gov. Snyder. Watch here:
YOU MIGHT ALSO LIKE
Why Mars as a Backup Planet Isn't a Good Idea
Scientists Link Extreme Weather to Climate Change
3 Reasons Big Coal Had a Bad Week
Jane Goodall: Power of Corporations Is Destroying World's Rainforests
Many of you have contacted me wanting to know how you can help the people of Flint with the two-year long tragedy of drinking water contaminated by the radical decisions made by the Governor of Michigan. The offer is much appreciated by those who are suffering through this and who have not drank a glass of unpoisoned water since April of 2014.
Unfortunately, the honest answer to your offer of help is, sadly, you can't.
My NEW letter on Flint. "Do Not Send Us Bottles Of Water. Instead, Join Us In A Revolt." https://t.co/hfvJFk6p9Y RT! https://t.co/9iwIYSpzmV

— Michael Moore (@Michael Moore)1453907609.0
You can't help.
The reason you can't help is that you cannot reverse the irreversible brain damage that has been inflicted upon every single child in Flint. The damage is permanent. There is no medicine you can send, no doctor or scientist who has any way to undo the harm done to thousands of babies, toddlers and children (not to mention their parents). They are ruined for life and someone needs to tell you the truth about that. They will, forever, suffer from various neurological impediments, their IQs will be lowered by at least 20 points, they will not do as well in school and, by the time they reach adolescence, they will exhibit various behavioral problems that will land a number of them in trouble and some of them in jail.
That is what we know about the history of lead poisoning when you inflict it upon a child. It is a life sentence. In Flint, they've already ingested it for these two years and the toll has already been taken on their developing brains. No check you write, no truckloads of Fiji Water or Poland Spring, will bring their innocence or their health back to normal.
It's done. And it was done knowingly, enacted by a political decision from a governor and a political party charged by the majority of Michigan's citizens who elected them to cut taxes for the rich, take over majority-black cities by replacing the elected mayors and city councils, cut costs, cut services, cut more taxes for the rich, increase taxes on retired teachers and public employees and, ultimately, try to decimate their one line of defense against all this, this thing we used to call a union.
The amount of generosity since the national media finally started to cover this story has been tremendous. Pearl Jam sent 100,000 bottles of water. The next day the Detroit Lions showed up with a truck and 100,000 bottles of water. Yesterday, Puff Daddy and Mark Wahlberg donated 1,000,000 bottles of water! Unbelievably amazing. They acknowledged it's a very short-term fix and that it is.
Flint has 102,000 residents, each in need of an average of 50 gallons of water a day for cooking, bathing, washing clothes, doing the dishes and drinking (I'm not counting toilet flushes, watering plants or washing the car). But 100,000 bottles of water is enough for just one bottle per person—in other words, just enough to cover brushing one's teeth for one day.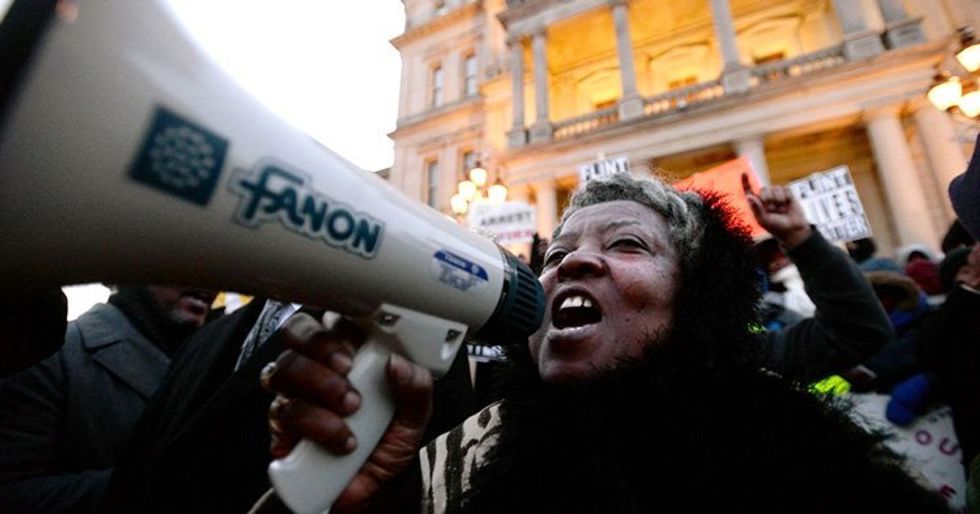 You would have to send 200 bottles a day, per person, to cover what the average American (we are Americans in Flint) needs each day. That's 102,000 citizens times 200 bottles of water—which equals 20.4 million 16oz. bottles of water per day, every day, for the next year or two until this problem is fixed (oh and we'll need to find a landfill in Flint big enough for all those hundreds of millions of plastic water bottles, thus degrading the local environment even further). Anybody want to pony up for that? Because that is the reality.
This is a catastrophe of unimaginable proportions. There is not a terrorist organization on Earth that has yet to figure out how to poison 100,000 people every day for two years—and get away with it. That took a governor who subscribes to an American political ideology hell-bent on widening the income inequality gap and conducting various versions of voter and electoral suppression against people of color and the poor. It was those actions that led Michigan's Republican governor to try out his economic and racial experiment in Flint (and please don't tell me this has nothing to do with race or class; he has removed the mayors of a number of black cities.
This and the water crisis in Flint, never would have been visited upon the residents of Bloomfield Hills or Grosse Pointe—and everyone here knows that). We have now seen the ultimate disastrous consequences of late-20th century, neo-conservative, trickle down public policy. That word "trickle," a water-based metaphor, was used to justify this economic theory—well, it's no longer a metaphor, is it? Because now we're talking about how actual water has been used to institute these twisted economic beliefs in destroying the lives of the black and the poor in Flint, Michigan.
So, do you still want to help? Really help? Because what we need in Flint—and across the country—right now, tonight, is a nonviolent army of people who are willing to stand up for this nation and go to bat for the forgotten of Flint.
Here's what you and I need to do:
1. Demand the removal and arrest of Rick Snyder, the Governor of Michigan.
When the police have an "active shooter" situation in a building, they must first stop the shooter before they can bring aid to the victims. The perp who allowed the poisoning to continue once he knew something was wrong—and his minions who cooked the evidence so the public and the feds wouldn't find out—must be removed from office ASAP. Whether it's via resignation, recall or prosecution, this must happen now because he is still refusing to take the aggressive and immediate action needed. His office, as recently as this past Thursday, was claiming the Environmental Protection Agency (EPA) had no legal authority to tell him what to do. You know the EPA—that federal agency every Republican politician wants eliminated? Governor Snyder is not going to obey the law. He has covered up the crime and I submit he has committed an act of voluntary or involuntary manslaughter. Last month I posted a meme of me holding a pair of handcuffs with the hashtag #ArrestGovSnyder:
Attorney General needs to arrest Gov. Rick Snyder for poisoning Flint. https://t.co/thcWQWmJlw #ArrestGovSnyder https://t.co/DFnbxrwn6l

— Michael Moore (@Michael Moore)1452127724.0
It went viral, so I posted a petition (link) to U.S. Attorney General Loretta Lynch asking her to arrest the governor—and asking President Obama to send help to Flint immediately. As each day brought a new revelation of the Governor's corruption or incompetence and with Rachel Maddow on a nightly tear, the momentum built. MoveOn.org and Democracy For America joined me in circulating our petition. We are now on our way to having a half-million signatures! Then Bernie Sanders became the first candidate to call for the Governor's removal. That same day, President Obama issued his first emergency order for Flint. The next night, Hillary Clinton fiercely called out the racist actions of the Governor.
You want to help? Sign the petition—and get everyone you know to sign it. Now. Another half-million signatures could become the tipping point we need. All eyes are on Flint.
2. Make the State of Michigan pay for the disaster that the State of Michigan created.
The governor wants the president to declare Flint a federal disaster zone and have him send federal money to fix the problem. Not so fast. All relief aid for Flint currently coming from the federal government to Michigan is going through the Governor's office to disburse. That is literally paying the fox to fix the chicken coop he destroyed.
As a Michigan resident and voter, I think that the people who elected Gov. Snyder must show some of that personal responsibility they're always lecturing about to the poor. The majority of my fellow Michiganders wanted this kind of government (they elected him twice), so now they should have to pay for it. This year the state treasury posted nearly a $600 million surplus. There is also another $600 million in the state's "rainy day fund." That's $1.2 billion—just about what Flint's congressman, Dan Kildee, estimates it will cost to replace the water infrastructure and care for the thousands of poisoned children throughout their growing years.
And before there is any talk of federal tax dollars being used (and, yes, they will be needed), the state legislature must remove the billion-dollars' worth of tax cuts the Snyder administration gave the wealthy when he took office. That will go a long way to helping not just Flint but Michigan's other destitute cities and school districts.
3. The federal government must then be placed in charge.
The state government cannot be trusted to get this right. So, instead of declaring a federal disaster zone, President Obama must declare the same version of martial law that Gov. Snyder declared over the cities of Flint and Detroit. He must step in and appoint a federal emergency manager in the state capitol to direct the resources of both the state and federal government in saving Flint.
This means immediately sending in Federal Emergency Management Agency (FEMA) in full force. It means sending in the Center for Disease Control (CDC) to determine the true extent of not just the lead poisoning in the water, but also the latest outbreak that has been discovered in Flint—a tenfold increase in the number of Flint people who've contracted Legionnaires Disease. There have now been 87 cases since the switch to the Flint River water and ten people have died. The local hospital has also noted sharp increases in a half-dozen other toxins found in people's bodies.
We need the CDC. The EPA must take over the testing of the water and the Army Corps of Engineers must be sent in to begin replacing the underground pipes. Like the levees in New Orleans, this will be a massive undertaking. If it is turned over to for-profit businesses, it will take a decade and cost billions. This needs to happen right now and Obama must be in charge.
4. Evacuate any and all Flint residents who want to leave now.
They've suffered long enough and, until the water is truly safe, no one should have to stay there who doesn't want to. The state and FEMA should move people into nearby white townships that are still hooked up to Lake Huron water.
5. For those who choose to stay in Flint, FEMA must create a temporary water system in each home.
One idea that has been suggested is to deliver two 55-gallon drums to every home in Flint. Each day water trucks will arrive to fill them with fresh clean glacial water from Lake Huron. The drums will have taps attached to them. People can't be expected to carry jugs of water from buildings that are miles away.
In the end, we will need to create a new economy and bring new employment to this town that created the middle class, that elected the first black mayor and that believed in and created the American Dream. They deserved more than to be poisoned by their own Governor—a Governor who thought that, because the people in the town were politically weak, he could get away with this unnoticed and without a fight. He figured wrong.
A crime against humanity has been committed against the people of Flint, making them refugees in their own homes. Tell me honestly: if you were living in Flint right now and you learned that your children had been drinking lead-filled water for two years and then you discovered that the Governor knew this and the state lied about it—tell me, just how fast would your head be spinning? With your children now poisoned and with the poisoning continuing ... is the word "nonviolence" dominating your thoughts right now? Are you absolutely, stunningly amazed how peaceful the people in Flint have remained? Are you curious how much longer that can last? I hope it does.
If you want to help Flint, sign the petition, demand that the federal government take action and then get involved yourself, wherever you live, so that this doesn't happen to you—and so that the people we elect know they can no longer break the law as they rule by fiat or indifference. We deserve much better than this.
YOU MIGHT ALSO LIKE
Seattle Sues Monsanto Over PCB Contamination, Becomes 6th City to Do So
Another Lead Water Poisoning Scandal Has Erupted, This Time in Ohio
Opposition Grows to Fracking and Fracking Infrastructure Projects
Matt Damon Slams Michigan Governor Over Flint Water Crisis: 'At the Very Least He Should Resign!'
Tom Colicchio is a busy guy, what with all the time he spends hosting his TV show Best New Restaurant, to wearing the MSNBC food correspondent hat while talking the politics of food with the likes of Rachel Maddow, plus being the straight-shooting head judge on Bravo's hit show Top Chef. And yet despite also expanding a successful group of restaurants while serving on the board of Food Policy Action, an advocacy organization that he cofounded in 2012, he still makes time to fish every year.
The overlap between his fine food expertise and desire to see the world eat better while leaving the planet in better shape makes for an interesting perspective on menus and angling ethics. Here's what he had to say, when I had the chance to interview him:
Q. You're an avid fisherman, so sustainability of the oceans must be on your radar. Are there species you won't fish for because their stocks are depleted?
A. Bluefin tuna. I will fish for them, but I will not kill them. I don't kill many fish except the occasional bluefish or mahi mahi and yellowfin tuna, which are plentiful right now. A lot of these stocks bounce back if we allow them—I'm not against fishing the ocean, I think it's a great food source—but we've got to change the way we do it.
Look at swordfish, they were nearly endangered and then a nursery was found off of Florida, so we got the long-line fishermen out of there, and the stocks came back. They were catching swordfish during the day in Florida. What'd we do then? We allowed long-liners back in for "exploratory purposes," when we already knew the program worked!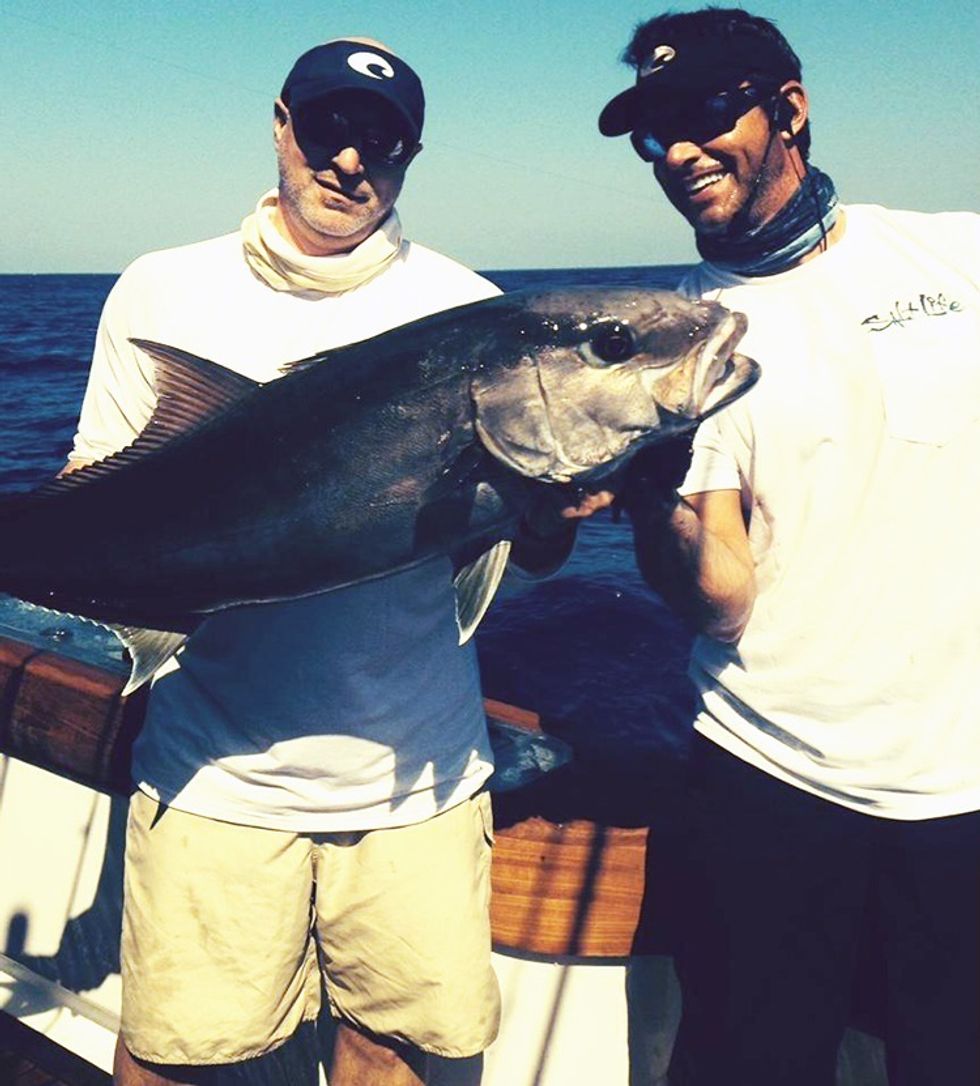 Celebrity chef Tom Colicchio (left) is also an avid fisherman.
Q. What kinds of marine fisheries policy do you support?
A. We need policies that protect fishermen but also the resource. Striped bass for instance came back in a big way because one of their main spawning grounds in the Hudson was heavily polluted with PCBs, and people were told not to eat them, so the fishery was commercially unviable. Then we cleaned up the Hudson, the fish bounced back and were safe to eat, but now we're back where the population is on the decline. We could have protected that industry by creating slot limits, instead we allow the catching of all the big ones, the best breeders with the best genetics.
Q. What species do your restaurants avoid serving?
A. Bluefin tuna, I will not serve it. Haven't even seen Orange Roughy in ages, and I've never served Chilean sea bass.
Q. How about farmed salmon? Ocean advocates and researchers say that open net salmon pens harm ecosystems.
A. They do, the density on those farms needs to be looked at. We have served it, but don't sell a lot of it. We typically serve wild salmon when they're running.
Q. Beside the impacts, the farmed kind doesn't taste as good. I find it really fatty.
A. It doesn't, and it's not because it's fatty, it's just a different kind of fat that's not marbled through the meat, but rather on the outside edge toward the skin. It's because they don't move enough, so the fat's distributed differently and doesn't taste near like a wild salmon. There's no comparison.
Q. What's your approach to serving wild fish in your restaurants?
A. I try to serve wild fish, but it's often a tough call. One of the best choices is small white albacore on the West Coast, that's a great fishery, it's managed well and there's very little mercury in those fish.
YOU MIGHT ALSO LIKE
3 Companies Say 'No' to GMO Arctic Apples
Inside the Nation's Largest Organic Vertical Farm
50 Ways You Can Help Save the Earth
In August 2012, a rusted pipe inside a massive Chevron refinery in Richmond, California caused an explosion and fire that spewed toxic chemicals into the air, sending 15,000 people to the hospital for treatment.
Since then, the city of Richmond has been eager to impose new safety regulations on Chevron. A year after the fire, it filed a lawsuit against the company, citing its record of safety violations and disregard for public welfare going back to 1989. Chevron's response? As Rachel Maddow reported, they're trying to buy the city government of Richmond.
Fortunately, as Maddow points out, California requires all spending to be identified, so you can follow the trail of ads, billboards and mailers with the tag "Major funding by Chevron."
Chevron has dumped $1.3 million into the campaign of its favored candidate for mayor, buying billboards, glossy mailers and TV time. His opponent has raised about $22,000. The oil giant is also trying to purchase seats on the town's city council, ousting its progressive members and replacing them with people more friendly to itself. Its campaign spending in Richmond this year has reached nearly $3 million in this town of slightly more than 100,000 people. The LA Times reports, "Chevron's independent expenditure committee, Moving Forward, fashions itself as 'a coalition of labor unions, small businesses, public safety and firefighters associations.' But 99.7% of its funding comes from the oil company."
Chevron spends indirectly as well, sponsoring a website called the Richmond Standard, which disguises itself as a community news source while slanting its coverage of elected officials and candidates to demonize those it doesn't like and running stories that put a positive spin on Chevron's activities. Much of the information about Chevron's campaign spending has come out via Richmond Confidential, a website run by students at the University of California at Berkeley's school of journalism.
"For a corporation to manipulate a municipal election on this scale should be illegal," says L.A. Times writer Michael Hiltzik. "Chevron may pose as a company enjoying its free speech rights, as secured through the Supreme Court's 2010 Citizens United decision, but a pincer movement employing pantsfull of money and misleading, manipulative 'news' demonstrates the potential of a big company's speech to drown out every other voice."
This huge spending, Maddow pointed out, is the ultimate outcome of that decision, which approved unlimited spending in federal races and then expanded that to local races.
"It's not like it's coming out of a spigot but more like it's coming out of an out-of-control blown well," said Maddow.
YOU MIGHT ALSO LIKE
Dirty Energy Money Behind the Push to Frack California
Oil and Gas Facility 'Accidents' Are Major Source of Air Pollution
Activist Tom Steyer Announces Big-Spending Election Plan to Take Down Climate-Denying Candidates
Opponents of the Senate's Vitter-Udall chemical legislation introduced last week point to numerous flaws in the bill. Perhaps the most contentiously debated part is something called "preemption" which would slow or stop states from acting to control harmful chemicals. Just a few days after introduction of the bill, two state attorneys general are already speaking out.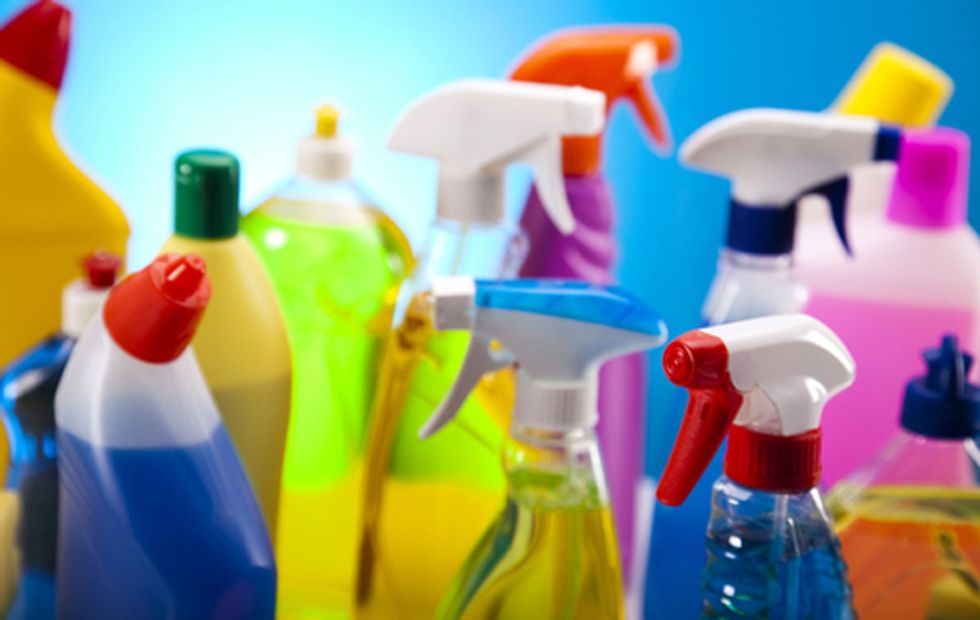 Photo credit: Shutterstock
Preemption is chemical lobby priority numero uno because only the states in recent years have managed to make headway in controlling some of the worst toxic chemicals. It's why the chemical lobby rushed to endorse the bill.
According to our friends at SAFER States, more than 150 state policies have been enacted to protect citizens from harmful chemicals. States have made critical progress to:
define hazardous chemicals of greatest concern to vulnerable populations

disclose the use of these chemicals in consumer products

ban the worst-of-the-worst; and

move the marketplace and the nation towards safer alternatives.
State officials speak out
So it's not surprising that state attorneys general are coming forward to warn that the bill will limit the ability of states to take action.
On March 5, the California attorney general's general counsel was the first to weigh in with a detailed critique. Among his concerns is a "regulatory void" that would be created under the bill because it stops state action once the U.S. Environmental Protection Agency begins a slow motion process of up to seven years to control a dangerous chemical. One has to imagine somewhere, a room of chemical lobbyists has got champagne on ice in anticipation of a seven year pass to do what they will.
States, who also do most of the toxics enforcement in this country, would be barred from passing laws identical to rules at the federal level. Our national director, Andy Igrejas, called that provision "a blatant attempt to reduce enforcement."
This week, the Massachusetts attorneys general weighed in too, saying the Vitter bill "strays far from a bill that can adequately protect our citizens from the potential risks that may be posed  by certain toxic chemicals in commerce."  The AG, Maura Healey, went on to say that while she supports federal chemical policy reform, the effort "cannot compromise the ability of states like Massachusetts to use our agencies' expertise and experience to address the potential public health risks posed by some chemicals."
I'm just scratching the surface of the state rollbacks. Our friends at the Environmental Health Strategy Center have put together a detailed chart. For more on the weaknesses of the bill, read our recent blog packed with detail.
You can also watch this Rachel Maddow Show segment, Chemical Lobbyist Exposed as Author of New Bill to Regulate Industry, for more information on this issue:
YOU MIGHT ALSO LIKE
6 Common Food Additives Used in the U.S. That Are Banned in Other Countries
Alarming Report Links Hormone-Disrupting Chemicals to Autism, ADHD, lower IQ and Obesity
Must-See TEDxManhattan Video Features Bold Leaders 'Changing the Way We Eat'
Chef Tom Colicchio may be best known as the head judge on Bravo's "Top Chef," owner of a chain of restaurants and host of the new show, "Best New Restaurant." But the renowned chef is also dedicated to food policy reform. He co-founded Food Policy Action in 2012 to educate the public about food policy and to pressure politicians to reform the food system.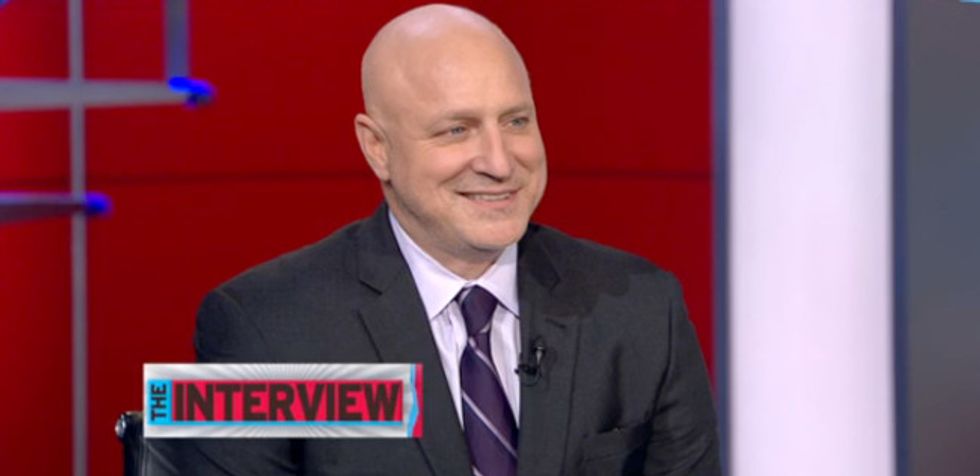 Last week, he joined Senators Barbara Boxer and Richard Blumenthal and Representative Peter DeFazio as they reintroduced a genetic engineering food labeling bill. As if Colicchio wasn't busy enough, he announced yesterday that he will be MSNBC's first-ever food correspondent. He will also host his own weekly show, "Stirring the Pot," on MSNBC's new online channel Shift this spring.
"This is a big deal," author Michael Pollan told the LA Times. "The fact is that people are deeply engaged by food stories, whether about food safety, nutrition, hunger, animal welfare, public health or the environment. Tom has a sufficiently broad grasp of the issues to connect the dots between food and all these issues."
Even before the show has begun, Colicchio has already started "stirring the pot." In his interview announcing his new position, he laments how "some members of Congress are pushing back on the standards for school lunch." Colicchio says, "I've spent some time in some school lunchrooms where the food is actually really good, and so I would love to challenge Congress to look at what school lunch can be."
His solution for the impasse in Congress: "they need to sit down around the table and have a good meal. They need to break bread and have a discussion."
It's not only Congress that needs to sit down, eat a meal and talk about food. Everyone needs to. "Sitting down and asking questions about food is something that is missing right now," says Colicchio. "If you look at the last election, food never came up. Hunger barely came up. So let's have this discussion. Let's talk about food."
He also went on The Rachel Maddow Show yesterday to talk about the state of our food system. The chef applauded Michelle Obama's efforts to get Americans, especially children, to eat healthier. He says, "she's done such a great job," especially in "broadening her audience" by using a variety of media, including talk shows, TV programs geared towards children and viral videos.
He says the problem, though, is deeper than just raising awareness about eating healthy food. "Fruits and vegetables are typically more expensive than processed foods," so how do you help people who are trying to eat better but can't afford fresh produce, says Colicchio. "That has to go to policy."
If you look at subsidies, 85 percent of the $25 billion worth of subsidies goes to commodity crops, according to Colicchio. Fifteen percent goes to meat and dairy. One percent goes to specialty crops, which includes fruits and vegetables. "So there has to be a policy change to make those more affordable," Colicchio says, because our food policies don't support the dietary guidelines set by our own government.
The chef points out that a lot of stories we hear about in the news are really food stories. The Deepwater Horizon oil spill is a food story because "it affects the food chain, the fisheries and people's livelihoods that rely on those fisheries." Same goes for the "overuse of pesticides, which leach into the waterways and create a dead zone in the Gulf. Another food story."
"People are ready for that next conversation about food," says Colicchio. "People want to know what's in their food, they want to understand food safety, they want to understand social and economic issues around food and they want to fix hunger problems."
YOU MIGHT ALSO LIKE
Chef Tom Colicchio Stands With Federal Lawmakers as GE Food Labeling Bill Is Reintroduced
Two Young Entrepreneurs Offer Way to Grow Food Even in the Dead of Winter
Nestlé to Dump Artificial Colors and Flavors in U.S. Candy, Something It Did in Europe Years Ago
Two days ago, six activists from the Greenpeace ship Esperanza climbed aboard an Arctic-bound Shell oil rig, the Polar Pioneer, in the middle of the Pacific Ocean, 750 miles northwest of Hawaii.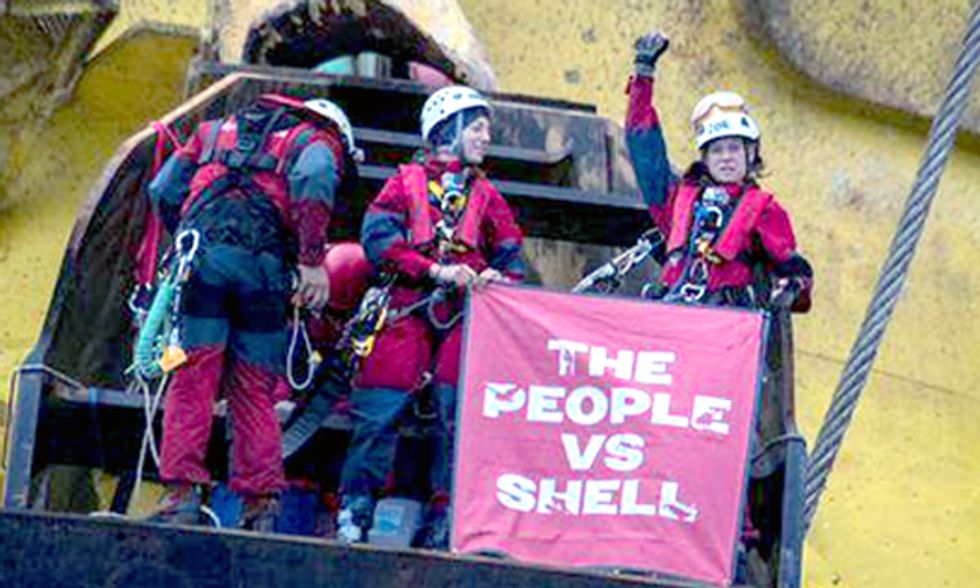 The six volunteers set up camp on the underside of the Polar Pioneer's main deck because last week the U.S. Department of the Interior approved Shell's drilling lease in the Alaskan Arctic.
"We're here to highlight that in less than 100 days Shell is going to the Arctic to drill for oil," said 32-year-old Johno Smith, one of the six to board Shell's Blue Marlin ship.
"Shell's actions are exploiting the melting ice to increase a man-made disaster. Climate change is real," Smith added.
Yesterday, Royal Dutch Shell filed a complaint in federal court in Alaska seeking an order to remove the Greenpeace activists.
The six Greenpeace climbers are equipped with technology which allows them to communication with supporters around the world in real-time, despite being hundreds of miles from land.
Read these tweets to get a sense of what it would be like to be in the middle of the Pacific Ocean aboard an oil rig. For more tweets follow #TheCrossing.
"Shell seeks to remove Greenpeace activists from oil rig" http://t.co/rMvoIFrSPJ via @MailOnline #thecrossing pic.twitter.com/3NzdrYBW5i

— Greenpeace NZ (@GreenpeaceNZ) April 8, 2015
"They're just trying to make their presence known." http://t.co/DjSqTp3FBx #TheCrossing pic.twitter.com/DFcIUxCDe5 — Greenpeace USA (@greenpeaceusa) April 7, 2015
Just received a resupply from @gp_espy. Extra safety equipment, food & water for #TheCrossing https://t.co/OY83Nb3CZt pic.twitter.com/CJSrtt4zQX — Jens (@jens4762) April 7, 2015
It feels like there are a whole lot more of us than the people hanging off this rig #TheCrossing pic.twitter.com/CQjQhpqWd6 — Aliyah Field (@aliyahfield) April 6, 2015
And, watch this segment from the Rachel Maddow show:
YOU MIGHT ALSO LIKE
6 Greenpeace Activists Scale Shell's Oil Rig to Protest Arctic Drilling
Shell's Arctic Drilling Plans Approved by Department of Interior
Three million gallons of brine, a salty, toxic byproduct of oil and natural gas production—also known as fracking wastewater—spilled from a leaking pipe in western North Dakota. State officials say it's the worst spill of its kind since the fracking boom began in the state.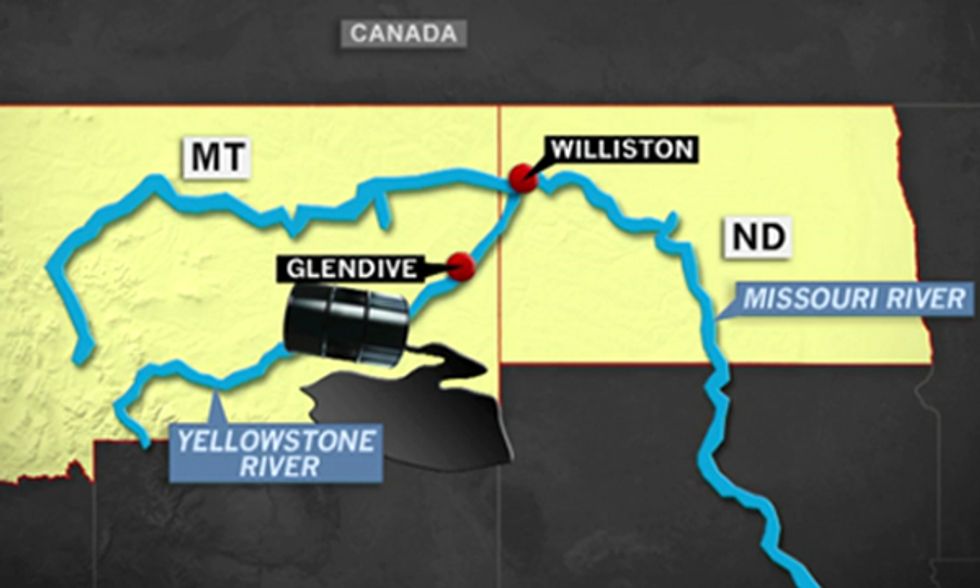 The spill was reported 17 days ago when Operator Summit Midstream Partners found a toxic leak of salty drilling waste from a pipeline in the heart of the Bakken oil boom.
Officials say there's no immediate threat to human health but as Marketplace's Scott Tong reports yesterday, there could be trouble ahead. He interviews Duke geochemist Avner Vengosh who has sampled frack wastewater and has found that "North Dakota's is 10 times saltier than the ocean, that endangers aquatic life and trees, and it has ammonium and radioactive elements."
Tong also interviewed Hannah Wiseman, law professor at Florida State, who says the disposal of fracking wastewater is underregulated.
"A typical well can spit about 1,000 gallons a day," says Tong. "Some of the water is recycled back into fracking, stored in pits or used to de-ice roads. It's also injected deep underground, which has been known to cause earthquakes."
Wiseman shares that fracking wastewater issues also exist in Ohio, Oklahoma and Texas.
And, for the latest update on the spill, watch last night's MSNBC's The Rachel Maddow Show:
YOU MIGHT ALSO LIKE
How We Banned Fracking in New York
How Fracking Impacts Everything, Including Professional Sports
North Dakota's Bakken boom, and potential bust, are definitely in the news. Journalists, documentary filmmakers, landowners and community groups have given it a name and a face. Yet it's still hard to understand until you put your boots on the ground and watch the oil being drilled, pumped and trucked to rail stations, 24-7, as it's moved out of the region.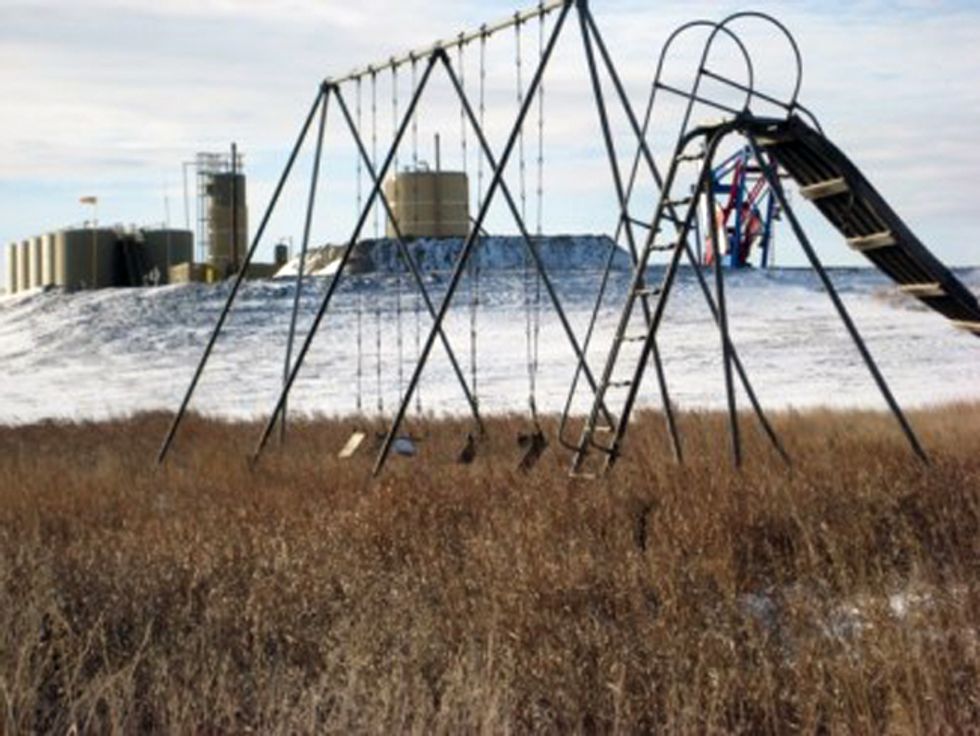 In Western Montana and Wyoming, we hear a steady drumbeat of stories about what the boom has brought—truck fatalities, worker deaths, pipeline spills, exploding trains, illegal dumping of radioactive waste, murders, gangs and human trafficking ... to name a few.
We also hear about the wealth. Shiny pick up trucks line our downtown streets with bumper stickers announcing hard working men and women are "Rockin' the Bakken." We're also told that desperately needed jobs are being created to provide energy independence for Americans.
Corporate Takeover of Community
The boom/bust cycle is not a new phenomenon; our region has seen our share. What's hard to understand about this particular boom is that oil industry executives and our government officials didn't have the foresight to prepare for it. Ensuring basic public health safeguards, social services and workplace safety should be automatic in the 21st century. Communities who bear the brunt of producing this nonrenewable resource should have the same protection as the people who consume it.
But in the Bakken, public officials are watching North Dakota crumble into unmonitored ruin—ignoring environmental chaos and a public health crisis that promises to boom after the after the oil has gone bust.
Meanwhile, the Bakken's local health and social service professionals, educators, and faith-based leaders have been overwhelmed by a stream of social issues including: a housing crisis, worker deaths, migration of national and international workers, childhood homelessness, crime, violence, a burgeoning drug and sex industry, and nearly insurmountable obstacles to the distribution of basic human services.
Thoughtful people are working to keep climate-damaging fuels in the ground. But in the Bakken, industry is flaring millions of cubic feet of methane gas into the air. While entire countries are trying to conserve water and look for a sustainable way of living, the people of North Dakota are sinking into a mire of mud, caused by oil and salt water spills. Feeding the planet is the goal of forward thinking people, but in North Dakota, thousands of acres of farmland has been sacrificed.
The Bakken is Rockin'. It's Rockin' from a 21st Century corporate takeover, where our environment, communities and basic human rights are going, going, gone.
For more information
Earthworks report on flaring in the Bakken and the Eagle Ford Shale plays: Up in Flames—U.S. Shale Oil Boom Comes at Expense of Wasted Natural Gas, Increased Carbon Dioxide
University of North Dakota: Black Gold and the dark underside of its development on human service delivery
Dakota Resource Council documentary: This Is Our Country - Living with the Wild West Oil Boom
Deborah Thomas is a northwest Wyoming resident who has been living with oil and gas development for years since before the fracking boom. In addition to collaborating with Earthworks she is the CEO of ShaleTest.org, a non-profit organization that collects environmental data and provides testing to lower income families and communities that are negatively impacted by shale oil and gas extraction.
YOU MIGHT ALSO LIKE
Analysis of California's Fracking Wastewater Reveals a Slew of Toxic Chemicals Linked to Cancer and Other Illnesses
Yet Another Oil Bomb Train Explosion Marks Fourth Derailment in Four Weeks
Yesterday, as reported on EcoWatch, the Center for Public Integrity, InsideClimate News and The Weather Channel released an investigative report and short film on how volatile organic compounds (VOCs) released during the fracking process are polluting the air in South Texas, home of the Eagle Ford Shale basin. 
Last night, Rachel Maddow devoted an extended portion of her MSNBC show to the barrage of issues surrounding the fracking process. Maddow began with discussing the increasing number of earthquakes in Oklahoma caused by the large number of fracking wastewater injection wells in the state:
 Next, Maddow turned to the new report, interviewing Jim Morris, senior reporter and editor of Center for Public Integrity, on the airborne hazards of fracking:
Visit EcoWatch's FRACKING page for more related news on this topic.

The Rachel Maddow Show reported Monday on the latest discovery by Waterkeeper Alliance of water being pumped from Duke Energy coal ash ponds into local waterways. Maddow also delves into a new report by the Associated Press that claims Gov. McCroy's (R-NC) cozy relationship with Duke Energy led to a change in North Carolina law protecting the company's coal ash pits and allowing them to pollute larger areas. 
Waterkeeper Alliance released aerial surveillance photos taken from a fixed-wing aircraft which shows Duke Energy workers pumping wastewater from two of Duke Energy's toxic coal ash lagoons into a canal that drains into the Cape Fear River.
[blackoutgallery id="326556"]
Visit EcoWatch's COAL and WATER pages for more related news on this topic.