A drone flies over Seymour Norte in the Galapagos Islands, dropping off rodenticide to kill invasive rats. Island Conservation
In the Galapagos Islands, many of Darwin's beloved animal species are getting a helping hand in the fight against invasive rats. Drones deployed over two years ago have finally eradicated all rodents on the Seymour Norte and Mosquera Islands.
According to the Galapagos Travel Center, the Islands are known for their unique wildlife — native, endemic and introduced. Endemic species are not found anywhere else on the planet. These include the famous Galapagos giant tortoise and the swimming marine iguanas. Charles Darwin's study of the island chain's endemic species led to his theory on evolution. The isolation of the habitat allowed for the evolution of very unique species and adaptations found nowhere else on the planet.
Native species naturally are found on the Galapagos, but can also be found elsewhere. Blue-footed boobies are a good example of a native species that many people travel to the Galapagos to see.
Introduced species have been brought over to the islands — on purpose or accidentally. On the Galapagos Islands, the most common intentionally introduced species include goats, cats and dogs. Rats are one of the most aggressive and problematic species accidentally introduced to the region.
Ships visiting the islands during the 19th and 20th centuries brought with them black and brown rats that thrived with no natural predators, Drone DJ reported. They became an invasive species.
According to Nature, "Rats and other non-native species have caused extensive damage to the Galapagos, whose unique flora and fauna evolved in isolation for millions of years."
That relative isolation may have caused many native species to lose their defense mechanisms against predators, the journal article said. Because rats reproduce quickly and eat a variety of plants and animals, they pose a particular threat to places like the Galapagos whose rich biodiversity is irreplaceable. The rodents especially threatened unhatched and young birds because they eat eggs and nestlings. They also threaten native trees by gnawing on their branches and eating their seeds, Nature reported. In fact, invasive rodent infestations are estimated to account for 86 percent of the known extinction of native wildlife on islands.
Therefore, rats have been the target of multiple eradication campaigns across the Galapagos, Nature reported. The eradication efforts were deemed "necessary" on the two Galapagos islands to protect indigenous wildlife, including frigate birds and swallow-tailed seagulls on the two islands in the Galapagos.
After a few failed manual attempts at eradication, the Galapagos National Park began deploying drones in Jan. 2019. Drones have the advantages of increased speed, efficiency and safety over manual baiting over rugged terrain, Nature and Drone DJ reported. And, they are cheaper than using helicopters, until now a favored tool in culling non-native animals.
Scientists and drone pilots calibrate a drone before deploying it. Island Conservation
The drones dropped poisoned bait to areas with high rat concentrations. The rodenticide was specifically developed to only attract rats. According to Nature, it was the first time such an approach has been used on vertebrates in the wild.

After the main population had been eliminated, the drones were redeployed to replenish bait stations around the islands' coasts to prevent new rats from migrating from surrounding islets. Good News Network reported that a "biosecurity barrier" of 289 bait stations will remain permanently installed as a long-term preventative measure against reinvasion from rats on Santa Crus or Baltra Islands.
Now, after a thorough inspection, the islands have finally been declared rat-free.
"After two years of waiting, this project has given the expected results, according to the planning and according to the highest protocols for these cases," Danny Rueda, director of the Galapagos National Park, said in a press release. "Galapagos, once again, is a benchmark in terms of the protection of this globally important ecosystem."
The success of the Galapagos campaign has been encouraging. Plans are in place to replicate the program on other small Pacific islands battling rats where hand-based baiting is not feasible, Good News Network reported.
While use in animal control is a new development, drones have been used to monitor animals and ecosystems, Nature reported. Conservationists have discussed using drones to stop poaching and to save endangered rhinos and elephants. The technology is also being used to stealthily measure dolphin health. And, in the Amazon Rainforest, Indigenous tribes are using drones to detect and fight illegal deforestation in their territories.
Worldwide, in over 1,200 recent eradication campaigns against destructive, invasive mammals, nearly 85 percent have proven successful, Drone DJ reported. Those advocating for the use of drones hope to increase that percentage even further.
Serge Wich, a biologist at Liverpool John Moores University, UK and a co-director of the website Conservation Drones, told Nature, "Almost every conservation organization I work with is using drones now, in one way or another."
From Your Site Articles
Related Articles Around the Web
EcoWatch Daily Newsletter
A Malayan porcupine photographed at Kaeng Krachan National Park, Phetchaburi, Thailand. Jason Thompson / CC BY 2.0
By John R. Platt
A porcupine's diet is wide, varied, and a little hard to digest. A lifetime of grasses, herbs, bark and other vegetation can leave little bits of indigestible matter behind in a porcupine's digestive tract, where they occasionally congeal into a hard ball called a bezoar.
That sounds uncomfortable, but a porcupine's health probably doesn't suffer due to the presence of this undigested mass in its stomach or intestines — that is, not until humans come along.
For centuries people have valued these rare "stones" or "dates," as they're sometimes called, for their purported healing abilities. Bezoars have been used to "treat" everything from fevers to diabetes and even cancer.
Bezoar use even creeps into popular fiction: the stones are an ingredient for protective spells in the Harry Potter universe.
The medicinal claims are equally fiction: there doesn't appear to be any veracity to bezoar use to treat illnesses. Yet despite the lack of evidence, the trade in bezoars has persisted. Not only that, it appears to be increasing.
A study published recently in the journal Global Ecology and Conservation tracked, for the first time, the online trade in old-world porcupines (those from the family Hystricidae in Asia and Africa). The researchers examined e-commerce sites in Indonesia, Malaysia and Singapore for four months in 2019, where they found active for-sale listings for 443 individual bezoars and a large variety of powdered products. Based on the weight of the powders, and the assumption that they might have contained other ingredients, the researchers estimate this translated to at least 680 and as many as 1,300 bezoars. (The researcher ignored "out of stock" listings and more dubious sites, such as one that claimed to have 2,000 tons of product on hand.)
A bezoar and typical medical claims, posted to Instagram. Screen grab July 24, 2020.
Previous research has suggested that bezoars only grow in an incidentally small portion of the porcupine population, so the total number of animals killed to accumulate that quantity for sale could conceivably have been in the tens of thousands.
And since the study didn't look at the e-commerce sites every day, it probably uncovered only a portion of the total trade.
This paper calls for more study about this issue and additional conservation actions to protect porcupines. Currently the various species enjoy some national-level protection but precious little on the international level, because they're still perceived as relatively common. In fact, most old-world porcupine species currently appear on the IUCN Red List as either "least concern" or "data deficient." Only the Philippine porcupine (Hystrix pumila) is listed as "vulnerable to extinction." None are currently protected by the Convention on Trade in Endangered Species.
Should that change? While the authors acknowledge the limitations caused by their study's short time frame and their inability to examine and verify the nature of the bezoars (some of which could have come from other animals or been counterfeits), they still uncovered an alarming level of trade. The authors warn that "current trade levels are likely unsustainable, and we predict that porcupine species may become threatened in the future should current trade levels continue."
And while some porcupines are farmed, this study indicates pressure on wild porcupines, which also face threats from habitat destruction and the bushmeat trade, as well as persecution as agricultural pests. It suggests a need to protect certain populations which fetch higher prices due to their purported purity. The study quotes one popular website: "The most valuable for the porcupine bezoars are procured from … the rainforest of Indonesia or Borneo. The porcupines here eat unpolluted herbs that have high medicinal value causing the bezoars … to be of the rarest and highest value. The price is very high and has collection, medicinal and stockpiling value."
In many ways this isn't surprising. The bezoar trade has been around for centuries, and it isn't restricted to southern Asia. The paper notes that Europeans in the 16th to 19th centuries, who sometimes wore the stones as jewelry, valued porcupine bezoars so much they priced each one "as high as forty times its own weight in gold."
Bezoars today don't fetch quite that amount, but the study still found them selling for around $151 a gram — two and a half times the current price of gold — all for a useless clump of congealed, inedible food.
Too bad we don't value a living porcupine half that much.
John R. Platt is the editor of The Revelator. An award-winning environmental journalist, his work has appeared in Scientific American, Audubon, Motherboard, and numerous other magazines and publications. His "Extinction Countdown" column has run continuously since 2004 and has covered news and science related to more than 1,000 endangered species. He is a member of the Society of Environmental Journalists and the National Association of Science Writers. John lives on the outskirts of Portland, Ore., where he finds himself surrounded by animals and cartoonists.
Reposted with permission from The Revelator.
imaginima / E+ / Getty Images

Interested in making the switch to solar energy, but not sure how solar panels work? Understanding household renewable energy systems can make it easier to find the best solar panels for your home.
Many homeowners are going solar to help lessen dependence on traditional utility companies and slash monthly electric bills. In addition to these cost savings, switching to a home solar system means minimizing your environmental footprint. Between the financial advantages and the improved ecological stewardship, solar energy can seem like a no-brainer.
Let's dive into the science behind solar and how solar panels work to power homes.

How Do Solar Panels Work?
When you buy solar panels, your installer will position several panels on the roof of your home in what's called a solar array. The specific number of solar panels you require depends on several factors, including the size and position of your roof, the amount of sunlight your home receives, and the type of solar panels you select.
Solar panels use photovoltaic cells, or PV cells, to absorb light from the sun. (More on the photovoltaic effect in just a moment.) When sunlight hits the panels, they generate a direct current, or DC electricity. However, homes require alternating current, or AC electricity.
A device called a solar inverter is a key part of the solar energy system, as it converts the electric current from DC to AC. The AC power then circulates through your household electrical panel and is distributed as needed to your different systems, appliances and outlets.
Here's a quick, step-by-step summary of how solar panels work to power your home:

Photovoltaic cells absorb sunlight, then turn it into DC energy.
An inverter turns the DC energy into AC energy, which is what your household electrical system requires.
Electricity is distributed throughout your home, powering outlets and appliances.
Any excess or leftover electricity that is produced is fed into a battery bank or back to your local power grid.
The Science of Solar Panels
While there are a few types of solar panels to choose from, most household systems work in roughly the same way. There is usually a layer of silicon cells surrounded by a metal frame and a glass case. There are also wires throughout the panel, allowing the free flow of electricity.
You may (or may not) remember from your high school science classes that silicon is a non-metal with conductive properties. In other words, it is able to absorb light and then turn it into electricity. How it works is simple: when light hits the silicon cells, electrons are set into motion, producing an electrical current. This electricity generation process is known as the photovoltaic effect, and it is one of the core principles of solar technology.

More About the Photovoltaic Effect
Let's dig into the photovoltaic effect a little deeper. This principle was first discovered way back in 1839 and is generally associated with semiconductor materials. The photovoltaic effect simply describes the property by which these materials can generate electricity any time they are exposed to sunlight.
Here's a step-by-step summary that explains how solar panels work by employing the photovoltaic effect:

Sunlight hits the solar panel, which has two layers of silicon, an n-type layer that sits on top of a p-type layer.
The sun's energy knocks an electron from its bond in the upper n-type layer, creating both a freely roaming electron and a positively charged "hole" where the electron was previously bonded.
The hole travels down to the p-type layer, and the free electron travels through conductive wires to an inverter.
The inverter transforms the solar electricity from DC to AC so that it can be used in your home.
The electricity flows throughout your home to power systems, appliances and outlets.
The free electron eventually flows through the house and back to the p-type layer of the panel, where it fills a positively charged hole and closes the loop needed to maintain the flow of electricity.
How Solar Panels Work With Your Power Grid or Battery Bank
We mentioned earlier that any excess electricity generated by a solar panel is fed back into a power grid or can be stored in a solar battery. What are these, exactly, and how do solar panels work with each component?
If your home is connected to the electrical grid (and most homes are), then it comes with a utility meter. This meter allows your utility company to measure how much energy you are consuming. During solar panel installation, your solar system will typically be connected to the utility meter. Thus, the meter assesses and measures your home's solar energy production.
Many solar homes produce more energy than they consume. In this case, you can either send your excess energy back to the electrical grid (through a process called net metering), or you can purchase a battery to store your energy for future use.

Power grid: When you feed energy back into your power grid, you can receive credits from your utility company to save even more money on your monthly bills and help offset the cost of solar panels.
Battery bank: The best solar batteries have a high capacity so that you can store enough excess energy to power your home during power outages and on cloudy days.
Additional Components of Your Home Solar System
Now that you understand the most important components of your home solar system, there are a couple more items to consider that affect how solar panels work in terms of efficiency.
We mentioned above that most solar panels come with a glass casing. This helps protect the silicon solar cells and ensures the longevity and durability of your home solar system. Beneath that glass case, there may also be some insulating materials, which protect your equipment from humidity as well as from heat dissipation. This insulation is crucial because it allows the solar panel system to work optimally.
A lot of solar panels are coated in anti-reflective materials as well. This is so that they can absorb as much of the sun's light as possible. Again, this is an important way to keep your home solar system working smoothly and efficiently.
A final note for homeowners who are interested in solar energy: As you select your solar panels, you will generally have a choice between monocrystalline and polycrystalline. Monocrystalline panels are made using a single silicon crystal. They tend to be the most efficient solar panels, though they can also be pricier. Polycrystalline solar panels are made up of multiple crystal fragments and usually cost less.

Getting Started With Solar Energy
Now that you know how solar panels work, you may feel ready to get going with a home solar system. The first step is identifying the top solar companies in your area and calling an installer to find out if solar panels are worth it for your home. Your installer will conduct an assessment based on the size of your home, the surface area of your roof, the amount of sunlight you get and more. It will furnish some guidance as to how many solar panels you need and which type of panel is the best bet.
Getting a home solar system can be a great way to save money on your monthly utility costs while demonstrating a real commitment to environmental stewardship.

Learn More About How Solar Could Help You Save
If you're interested in solar, it only takes 30 seconds to get a free, no-obligation quote. You could save up to $2,500 per year on utility bills and get a tax rebate all while reducing your carbon footprint. Fill out the form below to get started.
Chef Daniel Humm at Eleven Madison Park Restaurant. Sebastian Nevols
One of the world's best restaurants is giving up meat.
Eleven Madison Park (EMP), a New York City fine dining establishment that was named the first of the world's 50 best restaurants in 2017, announced Monday that it would reopen June 10 with an entirely plant-based menu.
"In the midst of last year, when we began to imagine what EMP would be like after the pandemic – when we started to think about food in creative ways again – we realized that not only has the world changed, but that we have changed as well," chef Daniel Humm wrote in an announcement posted on the restaurant's website. "We have always operated with sensitivity to the impact we have on our surroundings, but it was becoming ever clearer that the current food system is simply not sustainable, in so many ways."
Eleven Madison Park, a New York City fine dining establishment that was named the first of the world's 50 best restaurants in 2017. Eleven Madison Park
EMP first opened its doors in 1998, and Humm joined it as executive chef in 2006, according to The New York Times. Since then, the restaurant has earned many accolades, including three stars from Michelin and four from The New York Times.
The move reflects a growing shift away from meat in fine dining as concerns about the climate crisis mount. Studies have shown that raising meat emits more greenhouse gas emissions than growing vegetables or legumes, and also requires more land and water while polluting more overall. In recent signs of this growing awareness, a vegan restaurant in France earned a Michelin star for the first time this January, and, just last week, the website Epicurious said it was no longer publishing or promoting new beef recipes.
Chef Daniel Humm at Eleven Madison Park Restaurant on Feb. 27, 2013 in New York City. Neilson Barnard / Getty Images for Blancpain
EMP is one of the most famous restaurants to move away from meat, according to CNN, but its high-end status may limit the reach of its decision.
"[T]here are limits to what you can do through the medium of a Michelin-starred restaurant," Observer restaurant critic Jay Rayner told The New York Times. "Chefs should obviously continue sourcing their ingredients responsibly, in light of the climate emergency, but at the end of the day, you're still cooking for rich people, and you might question their commitment to these things."
Meals at EMP will still cost $335, and, even at this price-point, it is not easy to obtain a reservation, so a very small percentage of people will experience the shift from dishes like lavender honey glazed duck or butter poached lobster to the new, plant-based meals Humm and his team are now working to perfect.
However, Yale University history professor Paul Freedman said that Humm's influence as a chef meant the decision could have a larger impact on dining culture.
It could, he told The New York Times, "have an influence on the best restaurants in places like Midland, Texas — affluent places that are not Los Angeles or San Francisco or New York."
Humm is also working to expand EMP's offerings to the less affluent. During the pandemic, the shuttered restaurant prepared nearly one million meals to New Yorkers experiencing food insecurity with help from the nonprofit Rethink Food. Once the restaurant reopens, Humm said that he would continue that work, and that every meal at the restaurant would fund food for hungry New Yorkers.
"It is time to redefine luxury as an experience that serves a higher purpose and maintains a genuine connection to the community," Humm said in the announcement. "A restaurant experience is about more than what's on the plate. We are thrilled to share the incredible possibilities of plant-based cuisine while deepening our connection to our homes: both our city and our planet."
From Your Site Articles
Related Articles Around the Web
The Peruvian coast guard and special prosecutors prepare to board the Don Santos after observing its illegal fishing activities from Sea Shepherd's Ocean Warrior. Sea Shepherd
In June, the first missions of a successful joint operation between specialized environmental prosecutors of the government of Peru and Sea Shepherd Conservation Society encountered and apprehended multiple illegal fishing vessels in Peruvian waters.
Aboard Sea Shepherd's ship Ocean Warrior, officials and advocates worked together to support the Peruvian government's efforts to monitor its sovereign waters. Officials gained access to a civilian offshore patrol vessel to assist with their observations of at-risk and migratory species and their monitoring of threats to biodiversity. Sea Shepherd Legal also provided prosecution and policy guidance in the aftermath of any interactions and suggestions for the application of domestic and international law. This tag-team approach ensured that potential gaps in policies would be identified and addressed, Sea Shepherd told EcoWatch in an emailed statement.
The coalition intercepted three small-scale Peruvian trawlers that potentially were participating in illegal, unregulated and unreported fishing (IUU). Peruvial prosecutors detected the first, Don Santos, fishing within Peru's 5 nautical mine inshore exclusion zone off the coast of Tumbes using radar from the bridge of the Ocean Warrior. They then requested the coast guard board the vessel, at which time officials realized the trawler's satellite monitoring system, which allows for vessel movement to be monitored by law enforcement, had not been operational since 2018 and that the crew may have discarded their catch overboard prior to boarding in an attempt to destroy evidence.
Don Santos, fishing in unauthorized, protected areas, having non-functioning satellite monitoring systems, was destroying catch evidence before being boarded and/or fishing without a valid license. Peruvial prosecutors detected the illegal activities via radar from the bridge of the Ocean Warrior and then requested the coast guard board the vessel.
Sea Shepherd Legal helped to fine Dos Santos, and the ship is now prohibited from fishing until its three fines are paid.
The mission also discovered two other Peruvian trawlers fishing without satellite monitoring systems. One did not have a valid fishing license for the Tumbes area. Prosecutors requested coast guard officials to board the two vessels and they subsequently directed them back to port for detention.
Globally, IUU fishing threatens the biodiversity and stability of oceanic ecosystems. Illegal fishing can cause the total collapse of a fishery or seriously endanger fish populations. Actions like removing satellite monitoring and fishing illegally within protected areas frustrate official efforts to safeguard oceanic resources for the future.
The coalition discovered the small trawler Mi Pastor fishing without functioning monitoring satellite equipment and without a valid fishing permit. Sea Shepherd
Peru's rich waters are home to an abundance of marine life, including more than 30 species of whales and dolphins, over 60 species of sharks, and the largest anchovy population in the world, a Sea Shepherd representative told EcoWatch. Additionally, a number of the shark species found in Peruvian waters are at risk of extinction. IUU fishing efforts likely result in bycatch and/or illegal take, which can have detrimental effects upon fragile marine populations.

IUU fishing also threatens the economic well-being of many coastal communities, the long-term food security of the planet and the human rights of those forced to catch this seafood. The United Nations has linked IUU fishing to a variety of other fisheries and human rights abuses.
Prior to the arrests, three different local boats were observed by the Ocean Warrior fishing illegally within a 2 nautical mile inshore exclusion zone off the coast of Lobos de Tierra and using spearfish guns to poach octopus. Photographic evidence obtained by the Sea Shepherd ship drone is being used by environmental prosecutors to build criminal cases.
"Illegal fishing is only possible because the oceans are often out of sight and out of mind for law enforcement authorities," said Peter Hammarstedt, director of campaigns for Sea Shepherd. "This is why Sea Shepherd is proud to support the leadership of FEMA in this government initiative to get eyes on the water by bringing prosecutors to the scene of the crime where Peru's unique marine wildlife is at the greatest risk."
The success of this unique government-civilian partnership may provide the blueprint for future enforcement efforts at sea as more governments accept help.
"Ocean Warrior provides Peruvian environmental prosecutors with a platform to obtain data on the extent of illegal fishing activity in the waters of Peru, extending the long arm of the law to the sea [and] highlighting why it is imperative for FEMA to have its specialized prosecutors working at sea," said Flor de María Vega Zapata, national coordinating superior prosecutor for FEMA. It also showed what is possible through innovative collaboration with civil society, like Sea Shepherd, the official said.
Illegal Fishing Vessels Intercepted as Peruvian Prosecutors Sail on Sea Shepherd Ship youtu.be
From Your Site Articles
Related Articles Around the Web
By Jeremy Dertien, Courtney Larson and Sarah Reed
Millions of Americans are traveling this summer as pandemic restrictions wind down. Rental bookings and crowds in national parks show that many people are headed for the great outdoors.
Seeing animals and birds is one of the main draws of spending time in nature. But as researchers who study conservation, wildlife and human impacts on wild places, we believe it's important to know that you can have major effects on wildlife just by being nearby.
In a recent review of hundreds of studies covering many species, we found that the presence of humans can alter wild animal and bird behavior patterns at much greater distances than most people may think. Small mammals and birds may change their behavior when hikers or birders come within 300 feet (100 meters) – the length of a football field. Large birds like eagles and hawks can be affected when humans are over 1,300 feet (400 meters) away – roughly a quarter of a mile. And large mammals like elk and moose can be affected by humans up to 3,300 feet (1,000 meters) away – more than half a mile.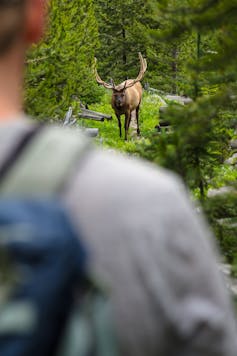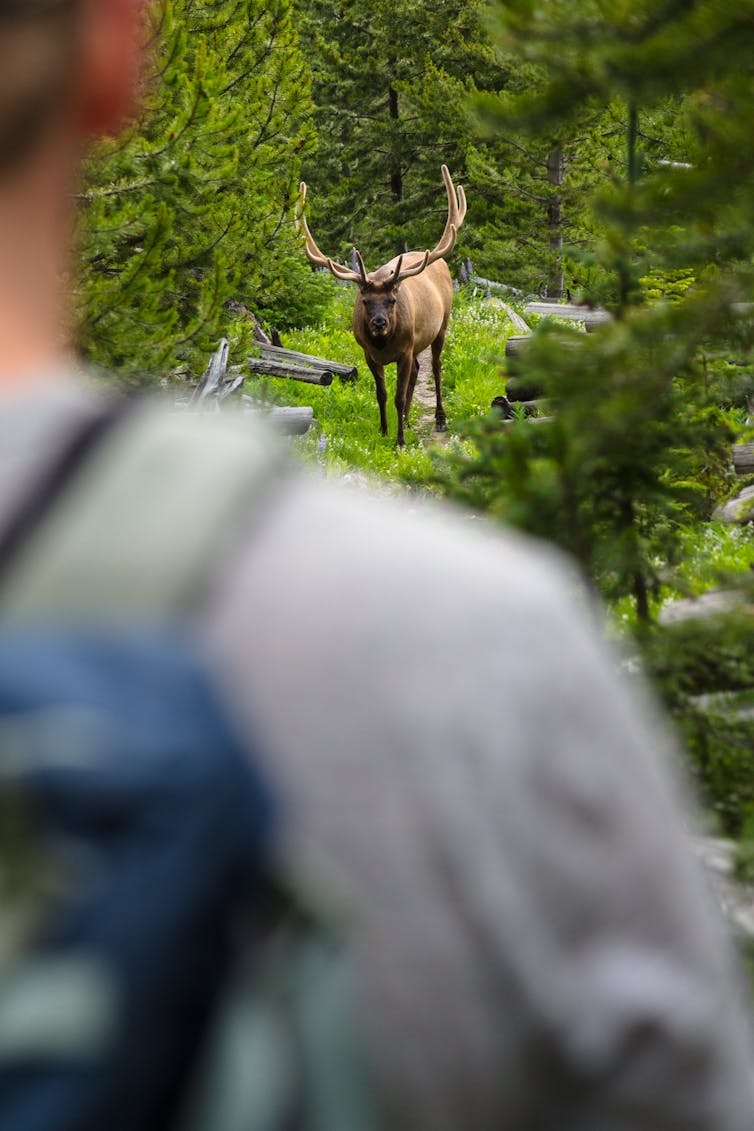 A hiker about 75 feet from a bull elk in Yellowstone National Park. Jacob W. Frank, NPS/Flickr
Many recent studies and reports have shown that the world is facing a biodiversity crisis. Over the past 50 years, Earth has lost so many species that many scientists believe the planet is experiencing its sixth mass extinction – due mainly to human activities.
Protected areas, from local open spaces to national parks, are vital for conserving plants and animals. They also are places where people like to spend time in nature. We believe that everyone who uses the outdoors should understand and respect this balance between outdoor recreation, sustainable use and conservation.
How Human Presence Affects Wildlife
Pandemic lockdowns in 2020 confined many people indoors – and wildlife responded. In Istanbul, dolphins ventured much closer to shore than usual. Penguins explored quiet South African Streets. Nubian ibex grazed on Israeli playgrounds. The fact that animals moved so freely without people present shows how wild species change their behavior in response to human activities.
Decades of research have shown that outdoor recreation, whether it's hiking, cross-country skiing or riding all-terrain vehicles, has negative effects on wildlife. The most obvious signs are behavioral changes: Animals may flee from nearby people, decrease the time they feed and abandon nests or dens.
Other effects are harder to see, but can have serious consequences for animals' health and survival. Wild animals that detect humans can experience physiological changes, such as increased heart rates and elevated levels of stress hormones.
And humans' outdoor activities can degrade habitat that wild species depend on for food, shelter and reproduction. Human voices, off-leash dogs and campsite overuse all have harmful effects that make habitat unusable for many wild species.
Disturbing shorebirds can cause them to stop eating, stop feeding their young or flee their nests, leaving chicks vulnerable.
Effects of Human Presence Vary for Different Species
For our study we examined 330 peer-reviewed articles spanning 38 years to locate thresholds at which recreation activities negatively affected wild animals and birds. The main thresholds we found were related to distances between wildlife and people or trails. But we also found other important factors, including the number of daily park visitors and the decibel levels of people's conversations.
The studies that we reviewed covered over a dozen different types of motorized and nonmotorized recreation. While it might seem that motorized activities would have a bigger impact, some studies have found that dispersed "quiet" activities, such as day hiking, biking and wildlife viewing, can also affect which wild species will use a protected area.
Put another way, many species may be disturbed by humans nearby, even if those people are not using motorboats or all-terrain vehicles. It's harder for animals to detect quiet humans, so there's a better chance that they'll be surprised by a cross-country skier than a snowmobile, for instance. In addition, some species that have been historically hunted are more likely to recognize – and flee from – a person walking than a person in a motorized vehicle.
Generally, larger animals need more distance, though the relationship is clearer for birds than mammals. We found that for birds, as bird size increased, so did the threshold distance. The smallest birds could tolerate humans within 65 feet (20 meters), while the largest birds had thresholds of roughly 2,000 feet (600 meters). Previous research has found a similar relationship. We did not find that this relationship existed as clearly for mammals.
We found little research on impact thresholds for amphibians and reptiles, such as lizards, frogs, turtles and snakes. A growing body of evidence shows that amphibians and reptiles are disturbed and negatively affected by recreation. So far, however, it's unclear whether those effects reflect mainly the distance to people, the number of visitors or other factors.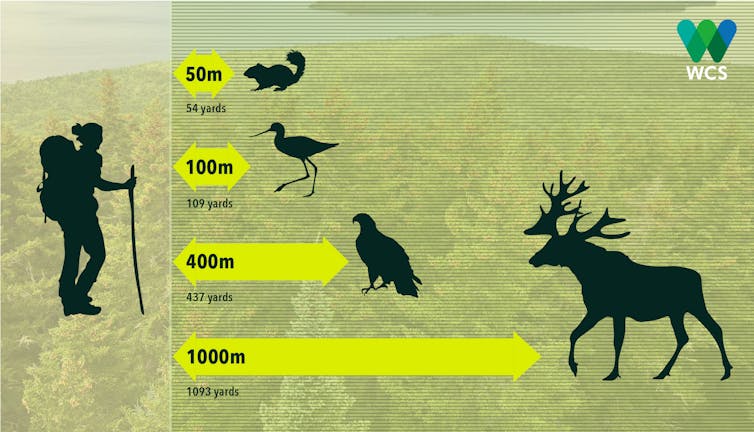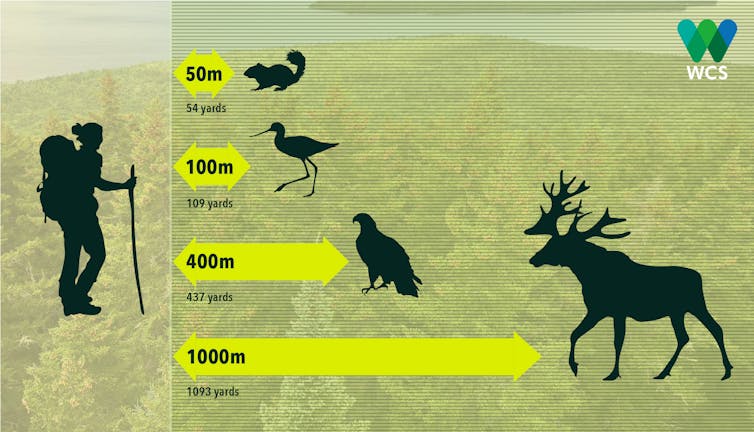 Human recreation starts to affect wild creatures' behavior and physical state at different distances. Small mammals and birds tolerate closer recreation than do larger birds of prey and large mammals. Sarah Markes, CC BY-ND
How to Reduce Your Impact on Wildlife
While there's much still to learn, we know enough to identify some simple actions people can take to minimize their impacts on wildlife. First, keep your distance. Although some species or individual animals will become used to human presence at close range, many others won't. And it can be hard to tell when you are stressing an animal and potentially endangering both it and yourself.
Second, respect closed areas and stay on trails. For example, in Jackson Hole, Wyoming, wildlife managers seasonally close some backcountry ski areas to protect critical habitat for bighorn sheep and reduce stress on other species like moose, elk and mule deer. And rangers in Maine's Acadia National Park close several trails annually near peregrine falcon nests. This reduces stress to nesting birds and has helped this formerly endangered species recover.
Getting involved with educational or volunteer programs is a great way to learn about wildlife and help maintain undisturbed areas. As our research shows, balancing recreation with conservation means opening some areas to human use and keeping others entirely or mostly undisturbed.
As development fragments wild habitat and climate change forces many species to shift their ranges, movement corridors between protected areas become even more important. Our research suggests that creating recreation-free wildlife corridors of at least 3,300 feet (1,000 meters) wide can enable most species to move between protected areas without disturbance. Seeing wildlife can be part of a fun outdoor experience – but for the animals' sake, you may need binoculars or a zoom lens for your camera.
Jeremy Dertien is a Ph.D. candidate in forestry and environmental conservation at Clemson University.
Courtney Larson is an adjunct assistant professor at the University of Wyoming.
Sarah Reed is affiliate faculty in fish, wildlife and conservation Biology at Colorado State University.
Disclosure statements: Jeremy Dertien receives funding from Sonoma Land Trust. Courtney Larson received funding from the California Department of Fish and Wildlife. Sarah Reed receives funding from Sonoma Land Trust.
Reposted with permission from The Conversation.
From Your Site Articles
Related Articles Around the Web
A black rhino in Addo Elephant National Park, Eastern Cape, South Africa. Mikael Drackner / Moment / Getty Images
By Richard Thomas
Joseph Biden was elected to office as the world continues to struggle with a global pandemic that has killed more than a million people and wreaked devastating economic havoc. The pandemic has highlighted how humankind's abuse of our planet and the irreversible loss of the biodiversity and ecosystem services upon which we all rely for our very existence simply can't go on.
I work for TRAFFIC, a nongovernmental organization addressing issues related to wildlife trade, and the COVID pandemic has thrust this topic into the limelight. While we fully acknowledge and appreciate support received under previous administrations, it's clear that the world has underestimated the importance and potential impacts of failing to manage wildlife trade in a way that's legal, sustainable and, critically, includes measures to mitigate against the risk of zoonotic-disease spillover events.
Centers for Disease Control staff inspect bushmeat being imported into the U.S. CDC
How do we move forward? First, I would argue that allocating resources to understanding the risks associated with trade in animals — from any source — and how to lessen the danger of disease spillover events is a wise investment. At the onset of the COVID-19 pandemic, USAID gave the go-ahead to activities under a second phase of a Wildlife Trafficking Response, Assessment and Priority Setting (Wildlife TRAPS) Project implemented by TRAFFIC, with a renewed zoonotic disease risk focus. TRAFFIC will endeavor to ensure it's money well spent.
Meanwhile welcome global attention has been paid to addressing the wildlife crime that undermines society and threatens the future of many of the world's wild plants and animals. But we're still not there in curbing these crimes. More resources will help get us over the line.
These include better equipment, training and working conditions for the rangers on the front lines; enhanced use of wildlife forensics; training of detector dogs; and even access to skilled translators to assist enforcement agencies with interpreting transactions involving foreign nationals. We also need to see renewed efforts by governments, helped by nongovernmental organizations and others, to reduce the consumer demand that fuels such trade.
Rangers on patrol in Kruger National Park, South Africa. Bernard DuPont / CC BY-SA 2.0
Finally, the Biden era must go down in history as the turning point when world governments came together in a united front to address the conservation crisis and start down the long road to repair. Next year the delayed 15th Conference of the Parties to the Convention on Biological Diversity will take place, when world governments will finalize the goals and policies of the post-2020 Global Biodiversity Framework that will guide humankind to a biodiverse and sustainable future. The current draft of the Framework features, for the first time, a target on wildlife trade. It calls on governments to ensure that the harvesting, trade and use of wild species of fauna and flora are legal, at sustainable levels, and safe by 2030. It would be entirely appropriate if the Biden administration were at center stage throughout the negotiations. Given the role of the United States on the world stage, if Biden takes strong action, other countries will doubtless follow his lead.
Already the U.S. intention to rejoin the Paris Climate agreement has been a major symbolic step, signaling the country's aim to be at the forefront of global efforts to begin the healing process. Make no mistake: Building a green future is an enormous opportunity for businesses in the United States and beyond to meet the challenges of, and profit from, achieving the goal of a zero-carbon economy. Biden's policies should encourage achievement of that goal on every level. The future is bright, but only if it's green.
With the world's climate, forests and other natural resources under ever-increasing pressure, there has never been a more urgent need for the robust guidance, sound policies and strong leadership needed to protect our planet. The next four years could be the make-or-break moment.
The opinions expressed above are those of the author and do not necessarily reflect those of The Revelator, the Center for Biological Diversity or their employees.
Reposted with permission from The Revelator.
From Your Site Articles
Related Articles Around the Web
Africa's elephants are in trouble, and human activity is to blame.
For the first time, the International Union for Conservation of Nature (IUCN) Red List assessed Africa's elephants as two separate species: the African forest elephant (Loxodonta cyclotis) and the African savanna elephant (Loxodonta africana). They found that both species are endangered, and the forest elephant critically so.
"Africa's elephants play key roles in ecosystems, economies and in our collective imagination all over the world," IUCN Red List Director General Dr. Bruno Oberle said in a press release. "Today's new IUCN Red List assessments of both African elephant species underline the persistent pressures faced by these iconic animals."
BREAKING NEWS: African elephant species now Endangered and Critically Endangered - IUCN Red List With today's upda… https://t.co/RXRmB10DBE

— IUCN Red List (@IUCN Red List)1616677290.0
The last time that the IUCN assessed Africa's elephant population was in 2008, The New York Times reported. At that point, all of Africa's elephants were considered as a single species, and were listed as "vulnerable," one step better than endangered.
However, mounting genetic evidence indicates that there are two species of elephants on the continent. Africa's forest elephants typically live in West Africa and in tropical rainforests in Central Africa, IUCN pointed out. Savanna elephants prefer open areas like grasslands and deserts. The two species' ranges rarely overlap, and a 2019 study found that they rarely reproduce with each other.
There are also physical and life-cycle differences between the two species, according to The Guardian. Forest elephants are smaller, gestate longer, and have oval ears and smaller tusks. Savanna elephants live in larger family units, have larger ears and their skulls are shaped differently. Some scientists have questioned splitting them into distinct species, because they do sometimes cross breed. However, others say the new categorization is long overdue.
"The separation between them is probably greater than the separation between lions and tigers," Dr. Alfred Roca, a geneticist at the University of Illinois at Urbana-Champaign, told The New York Times.
The new categorization has important conservation implications. For one thing, it reveals how much trouble both species, but especially the forest elephants, are really in. The new assessment found that the population of forest elephants had fallen more than 86 percent in the last 31 years, while the population of savanna elephants has decreased by at least 60 percent in the last 50 years, according to the IUCN. As of 2016, there were 415,000 elephants of both species alive in Africa.
For both species, the main drivers of the decline have been poaching, which peaked in 2011, and habitat loss through the conversion of their homes for agriculture and other human uses.
"With persistent demand for ivory and escalating human pressures on Africa's wild lands, concern for Africa's elephants is high, and the need to creatively conserve and wisely manage these animals and their habitats is more acute than ever," Dr. Kathleen Gobush, lead assessor of the African elephants and member of the IUCN SSC African Elephant Specialist Group, said in the press release.
Viewing them as distinct species can help with these conservation efforts, Gobush further explained to The Guardian. So far, savanna elephants have dominated research and the popular imagination, while forest elephants are less studied.
"This reclassification allows dedicated attention to each animal – the forest elephant and the savanna elephant – and then to tailor conservation plans according to each species' needs, which are different," Gobush said.
One bit of good news from the assessment is that conservation can work when done right. Subpopulations of forest elephants are doing well in the most protected areas of Gabon and the Republic of the Congo, according to the IUCN. The same is true for the largest single grouping of savanna elephants, who live in the Kavango-Zambezi Transfrontier Conservation Area.
However, the stakes are high. Elephants play an important role in their ecosystems, Gobush told The New York Times. Forest elephants are the sole dispersers of some tree species, while both create new habitats for other animals by eating plants and knocking down trees.
"Both of them really could be considered gardeners tending to the vegetation, more than probably any other animal," Gobush said. "We just can't afford to lose them, really."
From Your Site Articles
Related Articles Around the Web
Two vaquitas surfacing for air in the Sea of Cortez. NOAA
By Elizabeth Claire Alberts
The Mexican government will no longer protect the habitat of the critically endangered vaquita in the Upper Gulf of California, but has opened the area up to fishing, according to a news report.
It's estimated that there are only about nine vaquitas left in the world.The vaquita (Phocoena sinus), a bathtub-sized porpoise endemic to the Sea of Cortez in Mexico's Upper Gulf of California, has experienced a sharp population decline in the two past two decades, mainly due to illegal gillnet fishing for the critically endangered totoaba (Totoaba macdonaldi).
In 2017, the Mexican government established a "no tolerance" zone to protect the vaquita from illegal fishing, and even expanded the area last September. But now the government has given fishers open access to the refuge, the only enforcement being a "sliding scale of sanctions if more than 60 boats are repeatedly seen in the area," according to Mexico News Daily.
"I fear this might be the death knell for the vaquita, as the plan that has been proposed by Mexico will convert what should be a straightforward 'no go' zone into a complex enforcement area with varying levels of monitoring and deterrence depending on the amount of illegal fishing taking place in the area," Kate O'Connell, marine consultant at the Washington, DC-based Animal Welfare Institute, told Mongabay. "The vaquita are being mismanaged to death."
Two vaquitas in the Sea of Cortez. Sea Shepherd
O'Connell said gillnet fishing is technically still banned in the Upper Gulf of California, but will likely take place in the former "no tolerance" zone without proper monitoring and enforcement.

"Mexico's fisheries authorities are indicating that they are either unable or unwilling to do all that is necessary to save the vaquita and are willing to accept a certain level of gillnet fishing activity," she said. "One hundred percent monitoring and enforcement of the fishing ban only kicks in once more than 50 illegal vessels are seen, or more than 200 meters [660 feet] of illegal gillnets are found in the area."
Andrea Crosta, executive director of Earth League International (ELI), an NGO that has been actively investigating totoaba trafficking in the region, said this move will likely seal the fate of the critically endangered species.
"It means the extinction of the vaquita and in general an increase of illegal gillnets that will have a significant impact on the marine life in the Sea of Cortez," Crosta told Mongabay. "It's like saying to illegal fishermen and totoaba traffickers, do what you want from now on."
Crosta said he thinks that abolishment of the "no tolerance" zone is a political move on behalf of the current Mexican government.
"I think that the current populist administration in Mexico is concerned only about voters, certainly not about environmental protection and endangered species, if this gets in the way of political gain," he said. "And if the vaquita will go extinct I am sure the current administration in Mexico will blame the administration before."
A vaquita swims near a fishing boat using gillnets. CONANP / Museo de la Ballena / SEA SHEPHERD
While this move could be advantageous to local fishers, Crosta said it will be the international totoaba traders, most of whom are Chinese nationals, who will reap the most benefits. "[They] will make a ton of money with even less risks than before," he said.

There have been multiple efforts and hundreds of thousands dollars spent to save the vaquita over the years, ranging from seafood sanctions to gillnet removal programs to illegal fishing patrols. In 2017, there was even an attempt to take the remaining vaquitas into captivity until illegal fishing ceased in the Upper Gulf of California. However, the plan was abandoned when the first captured vaquita died from the stress of capture.
The Sea Shepherd Conservation Society, an international NGO that has been patrolling the Sea of Cortez since 2015, told Mongabay that it "remains committed to preventing the extinction of the vaquita" and that there are plans to return to the Upper Gulf of California as soon as possible to resume its gillnet retrieval efforts.
O'Connell said that AWI, along with the Center for Biological Diversity, the Environmental Investigation Agency and the Natural Resources Defense Council, have made urgent pleas to the international community to "both provide logistical and financial support to Mexico and to put pressure on the government by means of trade sanctions and other actions to ensure that the vaquita is saved."
"Despite their low numbers, there is still a slight glimmer of hope for the vaquita, if an actual complete shutdown of gillnet activity in the area can be achieved," O'Connell said. "The few remaining vaquita appear healthy and a number of calves have been spotted in recent years by researchers."
But Crosta said that unless the Mexican government works to dispel the totoaba cartels, he doesn't see "any hope for the vaquita."
"This is what happens when you focus only on anti-poaching and local communities, and not also on the trafficking networks and organized crime that run the whole show," he said. "This is what happens when there is a lot of indifference and incompetence."
Reposted with permission from Mongabay.
From Your Site Articles
Related Articles Around the Web
A family of Asian small-clawed otters sit on a log. Tom Meaker / EyeEm / Getty Images
By Muntasir Akash
The smallest of the planet's 13 otter species finds its habitat shrinking every day. We know little about these mustelids — especially in Bangladesh, where I conduct my research — but they face a horde of threats.
Species Name and Description:
The Asian small-clawed otter (Aonyx cinereus) has a typical otter build with webbed digits, dark brown to blackish upper parts, and a pale vent. It can be distinguished from other otter species by its blunter muzzle, acutely arched back and a white neck devoid of any spots or streaks. Its claws are noticeably short and even often absent — a feature of its genus, Aonyx.
Where It's Found:
These otters live in the Himalayan foothills, Ganges Delta, Northeast India, Indochina, South China and Philippines, with isolated population in southern India. Their habitats range from forests and wetlands to coasts and mangroves. In Bangladesh they're thought to be confined to the Sundarbans mangrove.
A small-clawed otter in Bangladesh. Via iNaturalist and © Guenther Eichhorn, some rights reserved (CC-BY-NC)
IUCN Red List Status:
Vulnerable, with a globally decreasing population trend; endangered in Bangladesh
Major Threats:
Poaching for fur and extraction to supply a recently spiked demand in pet trade is the number one threat to Asia's most trafficked otter species. Habitat destruction, conflict with fishers, drying up streams, decreasing food supply and attacks by feral dogs are also affecting its already sharply plummeting population.
Otter pelts in India. © Ashwin Viswanathan, some rights reserved (CC-BY). Via iNaturalist
In Bangladesh there exists no study on the species outside the Sundarbans, its known habitat in the country. Even there, only a handful of research has been undertaken to date.
Notable Conservation Programs or Legal Protections:
In 2019 the species shifted to CITES Appendix I from Appendix II to plug the illegal trade and trafficking.
The IUCN Otter Specialist Group and International Otter Survival Fund are the strongest voices for the species. Although the animals are protected by law, there is no conservation scheme so far in Bangladesh.
My Favorite Experience:
Watching camera-trap footage of not one, not two, but multiple otter families is unforgettable. Hearing the cooing of otter pups on screen was heart-melting and one of those now-I-can-die-in-peace moments. And all these images were from a region that has long been deprioritized in conservation, without any prior systematic study.
The small-clawed otter, a globally vulnerable small carnivore, can still be found in certain protected areas of northeastern Bangladesh. This is the first camera-trap image from the region. Muntasir Akash / Northeast Bangladesh Carnivore Conservation Initiative
However, the joy comes with a caveat. In all existing anecdotes, northeastern forests are described as the home of the larger Eurasian and smooth-coated otters. Otters showed up, true. But to my extreme surprise, it was a species that has always been attributed to the Sundarbans — a forest hundreds of miles away from the study site. Although finding the Asian small-clawed otter here has sparked hope for the region, the apparent absence of the other two expected species has left me with an uneasy feeling: Do the larger otters really roam these forests? Or is the Eurasian otter, the rarest of the three, to become the next extinct carnivore in Bangladesh?
What Else Do We Need to Understand or Do to Protect This Species?
We need extensive studies on ecology and threats to the species in both known and newly discovered habitats in Bangladesh. Connecting otters with the exceptionally rich ichthyodiversity of riparian streams and mangrove creeks can strengthen conservation practices in the country.
Muntasir Akash is a lecturer at the Department of Zoology, University of Dhaka, Bangladesh. He is focusing his career on the conservation of lesser-known carnivorous mammals, leading camera-trapping work in northeastern Bangladesh funded by the Conservation Leadership Programme, a partnership between BirdLife International, Fauna & Flora International and WCS.
Reposted with permission from The Revelator.
Borneo Orangutan Survival Foundation safely returned 10 rescued orangutans to the wild on Borneo Island, Indonesia. Afriadi Hikmal / Getty Images
With lockdowns in place and budgets slashed due to the COVID-19 pandemic, many environmental protections vanished this past year, leaving some of the world's most vulnerable species and habitats at risk. But conservationists at the Borneo Orangutan Survival Foundation were faced with an entirely different threat.
Large-antlered muntjac resemble many other deer, except males have long, sharp canine teeth used for fighting. The species is critically endangered. Michael Nosek / Getty Images
By Minh Minh Nguyen
First recognized as a new species in 1993, the large-antlered muntjac is already critically endangered and heading fast toward extinction. As muntjac go, the large-antlered is the largest species, but muntjac in general are small members of the deer family Cervidae. The species is facing a "quiet extinction," hidden away in a miniscule global range in the Annamite Mountains of Laos and Vietnam.
Species Name:
Large-antlered muntjac, also known as the giant muntjac (Muntiacus vuquangensis)
Description:
Large-antlered muntjac are a rich, dark brown overall and stand approximately 2 feet (60 cm) high at the shoulder. In common with many deer, they have a white underside to the tail, which is typically raised when alarmed. Like other muntjac they have simple, two-tined antlers, long pedicels and unique paired frontal glands on the rostrum between their eyes. Males, like other male muntjac, have long, sharp canine teeth they use in fighting.
Female large-antlered muntjac. Minh Nguyen / Association Anoulak and Nakai-Nam Theun National Park Authority
Where It's Found:
Annamite Mountain forests of Laos and Vietnam
IUCN Red List Status:
Major Threats:
Widespread intensive snaring throughout their small range is the number-one problem. This snaring is driven by a booming wildlife trade that encompasses the derivatives of many species — from well-known products of tigers and pangolins to gelatin derived from primate bones, turtle shells and medicinal plants. The large-antlered muntjac isn't a particular focus of the trade, but snares are indiscriminate. Trade is booming because of the economic and population growth of East Asian countries. Roads, dams, mines and other infrastructure investments make things worse, and because of sustained economic growth these are on the rise.
Illegal wildlife snares in Laos. Bill Robichaud / Global Wildlife Conservation / CC BY 2.0
Notable Conservation Programs or Legal Protections:
NGOs are trying but have no concrete success yet. Foundation Anoulak and Asian Arks are potentially poised to make a difference, but unfortunately even the species' legal protection does little to help.
My Favorite Experience:
In 2015 I saw my first wild muntjac. I was so enthralled by its cautious yet gracious movements and the delicacy of its existence that I immediately knew I wanted to do all I could to save the species from extinction. Going to the forest in Vietnam had always been sad, knowing of the challenges facing distinctive wildlife from rampant poaching. So seeing an animal, especially a large mammal, is always an exhilarating experience when, for a moment at least, I can forget about life's problems.
I love observing animal behavior, but seeing it in the wild, from a muntjac, is almost an impossibility. More often I get a sense of joy looking through camera-trap photos thinking about the behavior I might be observing in a series of photos — perhaps a fawn chasing back and forth around its mom. These are the moments that I'm hoping to see more often in my camera-trap photos; hopefully, when their population has recovered, I can see them in real life.
Key Research:
Understanding and linking proportional protection efforts to the scale of the threat (my Ph.D. focus).
What else do we need to understand or do to protect this species?
Following the advice of leading conservationists in Southeast Asia, I've been pursuing research to better understand the dynamics of the snaring and the impact it has on the large-antlered muntjac. Currently there's no data on how parameters such as snare density or spatial distribution affect population viability for any Annamite species. So, questions like "how large an area can a patrol team effectively cover?" simply can't be answered.
Better informed, strategic in situ conservation management is needed to save the species. The species has been disappearing so fast, however, that "just in case" ex situ conservation breeding has been recommended.
Minh Minh Nguyen is working to conserve the large-antlered muntjac amongst the brilliant diversity of the Annamite region. Minh and her team's work is supported by the Conservation Leadership Programme (CLP) and the Saola Working Group, and is conducted using permits granted through a collaboration between Nong Lam University and the Chu Yang Sin National Park. Minh is currently a Ph.D. student at Colorado State University, supported by scholarships from the AAUW – International Fellowship, the Wildlife Conservation Network and Colorado State University, where she hopes to gather as much support as she can to change the fate of the species she loves. She's also passionate about education, particularly empowering new generations of conservationists, and continues to mentor undergraduate students back home in Vietnam. When networking with conservation colleagues, she always tries to find opportunities for people new to conservation to get involved.
Reposted with permission from The Revelator.

A grizzly bear searches for salmon. Scott Suriano / Moment / Getty Images
A flurry of bills has recently been introduced to Montana's state legislature that reduces restrictions on the killing of grizzly bears and wolves — two predators which have historically struggled to survive in the state.