A monarch butterfly on a thistle. The current version of the Infrastructure Investments and Jobs Act in Congress contains funding for pollinator-friendly roadsides. Louise Heusinkveld / Photodisc / Getty Images
By Malia Libby
The insect world's version of the ultramarathon is now taking place across the United States.
Monarch butterflies have started their journey to the groves where they'll spend the winter. Monarchs west of the Rocky Mountains have a long trip to the California coast before them, while eastern monarchs have a hefty 3,000-mile trek to the forests of Mexico.
Despite their hardy nature, monarchs have suffered severe population losses. In the past several decades the eastern population has declined 80%, while its western counterpart has fared even more poorly. In the West, monarchs are at less than 0.1% of the population they had in the 1980s. Last year's winter count fell short of just 2,000 butterflies. These numbers reflect a very real threat of extinction for this iconic species.
But there's hope, and it comes from an unexpected place: the Biden administration's infrastructure agenda.
In addition to supporting traditional infrastructure such as roads and bridges, the current version of the Infrastructure Investments and Jobs Act in Congress contains funding for pollinator-friendly roadsides, as well as provisions to revegetate areas devastated by invasive species.
Throughout the United States, there are 10 million acres of prime space for habitat along roadsides. Why not use it to rebuild populations for butterflies and bees? That's the opportunity before us, and the infrastructure bill would provide $2 million annually to relevant agencies for pollinator-friendly plantings. Grants of up to $150,000 would go toward much-needed projects for "planting and seeding of native, locally appropriate grasses and wildflowers, including milkweed." Other techniques to protect pollinators detailed in the bill — yes, it's that thorough — are as simple as reducing mowing frequency, timing mowing to avoid disturbing pollinators, and using pesticides more judiciously.
Roadside milkweed. Katie McVey / USFWS
None of these concepts are new. Earlier this year, similar language appeared in the Monarch and Pollinator Highway Act of 2021, a bill introduced by Rep. Jimmy Panetta (D-Calif.) and Sen. Jeff Merkley (D-Ore). Several years before that, the U.S. Department of Transportation issued best management practices for this type of roadside habitat. On a more local level, nine state departments of transportation — including those in California, Iowa and Florida — have led the way on these common-sense projects.
Another piece of the infrastructure bill would provide $50 million annually in grants to eliminate, control and prevent invasive plants, which throw native ecosystems out of balance. The Invasive Plant Elimination Program would prioritize funding to revegetation programs utilizing native plants and wildflowers, including pollinator-friendly species. This strategy offers a boon to pollinators and other wildlife in these healing ecosystems.
And they need the help. America's pollinators face an imperiled future due to decades of exposure to toxic pesticides, disappearing habitat and a changing climate. In addition to monarchs, one report found that more than half of native bee species in North America are in decline, including the rusty patched bumblebee. We need infrastructure that prioritizes these creatures.
Smooth coneflower growing under transmission lines. Caroline S. Krom, U.S. Fish and Wildlife Service, NC Sandhills Safe Harbor Coordinator
If we're wise, we'll invest in pollinator habitats for several reasons. First, given that insect pollinators contribute tens of billions of dollars of value to our agriculture, it makes economic sense to ensure they're abundant and healthy themselves. Roadside habitats near farms can increase pollination services and boost crop yields while reducing crop pests in the process.
Second, losing pollinators — especially native species — can have permanent ecological repercussions. Tremors in the web of life caused by the extinction of our pollinators affect animals that depend on them for food and nearly 90% of all flowering plants, including those that have co-evolved with these pollinators.
Third, losing monarch butterflies and other pollinators would make our lives less rich and less beautiful.
Endangered mission blue butterfly (Icaricia icarioides missionensis). Stuart Weiss / USFWS
Congress can help. While building roads and a more robust infrastructure system, Congress should also vote for the bill so we can build roadside habitats and increase the resiliency of pollinator populations. Providing diverse, healthy habitat will meet a long-neglected need for the thousands of native pollinators in the country. Along the way, it will help put these vital insects to work — for nature's benefit and for our own.
The work to save our pollinators will not end with the infrastructure bill, but with this added to the protections already in place, we can halt the monarch's flutter toward extinction.
The opinions expressed above are those of the author and do not necessarily reflect those of The Revelator, the Center for Biological Diversity or its employees.
Reposted with permission from The Revelator.
From Your Site Articles
Related Articles Around the Web
EcoWatch Daily Newsletter
"Beetles and springtails have enormous impacts on the porosity of soil and are really getting hammered, and earthworms are definitely getting hit as well," said study co-author Nathan Donley, a scientist at the Center for Biological Diversity. smaragd8 / iStock / Getty Images Plus
By Jessica Corbett
A study published Tuesday in the journal Frontiers in Environmental Science bolsters alarm about the role that agricultural pesticides play in what scientists have dubbed the "bugpocalypse" and led authors to call for stricter regulations across the U.S.
Researchers at the University of Maryland as well as the advocacy groups Friends of the Earth U.S. and the Center for Biological Diversity were behind what they say is "the largest, most comprehensive review of the impacts of agricultural pesticides on soil organisms ever conducted."
The study's authors warn the analyzed pesticides pose a grave danger to invertebrates that are essential for biodiversity, healthy soil, and carbon sequestration to fight the climate emergency — and U.S. regulators aren't focused on these threats.
"Below the surface of fields covered with monoculture crops of corn and soybeans, pesticides are destroying the very foundations of the web of life," said study co-author Nathan Donley, a scientist at the Center for Biological Diversity, in a statement.
"Study after study indicates the unchecked use of pesticides across hundreds of millions of acres each year is poisoning the organisms critical to maintaining healthy soils," Donley added. "Yet our regulators have been ignoring the harm to these important ecosystems for decades."
Switching to period panties doesn't have to be messy.
Reviews
When your time of the month comes unexpectedly and you have to rush to the store, tampons, pads and panty liners are the majority of what you traditionally find when looking in the menstrual hygiene aisle. Recently, period underwear has risen in popularity to prevent the unnecessary waste that comes from using these products.
Period panties are a newer form of menstrual care that can both replace the need for disposable hygiene products and be a solution for preventing messy leaks. They're an ecologically smart alternative to single-use period products and a great long-term investment for those who want a more comfortable and easier menstrual solution.
Every person and menstrual cycle is unique. In this article, we'll explain the benefits of period underwear and help you find what type of underwear is perfect for you.

Best Period Panties: Our Recommendations

Each product featured here has been independently selected by the writer. Learn more about our review methodology here. If you make a purchase using the links included, we may earn a commission.
Why Switch to Period Underwear?
Designed to feel and look like regular underwear, period panties are a reusable menstrual product made to be worn longer than single-use period products. These undies can hold the equivalent of anything from one to five full-sized regular tampons.
Traditional tampons and pads are recommended by the FDA to only be worn for four to eight hours because of the risk of toxic shock syndrome or a yeast infection. When used correctly, period panties can be worn for up to 24 hours without leaks, odors or discomfort.
Not only do they have to be changed less often, but they also come in handy when you're expecting your cycle to start and you want to be prepared. Instead of a late-night run to the drugstore, you can count on having your washable, re-wearable panties ready to go when you need them most.
Besides the physical comfort and ease of period panties, this underwear is a great solution to the high number of menstrual products ending up in landfills. The average person who menstruates uses around 11,000 disposable period products in their lifetime. And it's not just the products themselves — there's usually an extra layer or two of plastic wrapped around the items for sanitation that gets discarded.
Although menstrual hygiene products are all but necessary, the waste that comes with them doesn't have to be. Period panties can be reused for up to 2 years, making them a viable solution compared to traditional hygiene products.
Full Reviews of Our Top Picks
When choosing our top recommended period underwear, we looked at factors including:
Materials: Safe and quality fabrics ensure breathability and effectiveness for your panties. Each product below contains nontoxic materials and uses fabrics to make customers as comfortable as possible.
Absorbency: Ranging from very light days to a heavier flow, we have you covered for every type of absorbency level. You can rest assured you'll be able to change your menstruation products less often and without hassle.
Leak protection: Say goodbye to misaligned pads and accidental tampon leaks. Period panties move with you and provide leak protection with multiple absorbent layers and inner-thigh seals.
Inclusive marketing: We want to celebrate companies that celebrate you. Each brand below promotes an inclusive and diverse market to ensure a comfortable menstruation cycle for everyone.
Customer reviews: With each menstrual product recommendation, we take into consideration what previous customers have to say to ensure your future satisfaction.
Caring for Your Period Panties

Once you're done with your period underwear for the day, rinse them with cold water. If the period underwear is machine-washable (some are not, so be sure to check your pair), place them in a washable mesh bag and throw them on a delicate or gentle cycle with cold water. Try to use a mild laundry detergent and never use softener or bleach, since these can deteriorate the absorbency layers.
If you want to help your period underwear last even longer, try to hand-wash them to help the fabric's integrity. Once your underwear is washed, make sure to always hang them to dry (putting them in the dryer can shrink and distort the materials).
Period panties are usually designed to be stain-resistant and odor-free, but if you're looking for extra care, you can always use natural remedies such as applying white vinegar or lemon juice directly to the desired area before washing.
Frequently Asked Questions: Period Underwear
Does period underwear really work?
Yes, period underwear really works. These products are made with multiple protective layers to replace traditional single-use menstrual products like tampons, liners and pads and to make you more comfortable during your menstrual cycle. They can be worn during the day, overnight or as backup protection.
Can you wear period underwear all day?
Much like tampons and pads, how long you can wear menstrual underwear depends on the product's absorbency level and your flow. For lighter days, you can typically wear a single pair for a full day. When it comes to heavier days, make sure to use high-absorbency panties to get the most out of each pair and prevent the need to change mid-day.
Can you leak with period underwear?
Like all menstrual products, period panties have a max absorbency amount but usually can withstand much more than the average tampon or pad. Most period panties hold at least two times more than tampons. Some period underwear, such as Proof's Leakproof Hipster Underwear, contains barriers to prevent leaking even if the absorbent layer is completely full.
Can you wear period underwear without a pad?
Period underwear can easily be worn alone. Just ensure you purchase the correct absorbency level according to your flow. Made with moisture-wicking barriers, absorbency layers and leak-proof seals, you can count on period panties to keep you comfortable and protected without the bulky feeling of a pad. However, you can also use them alongside your usual menstrual products if desired.
Biting insects have a tendency to interfere with the outdoor activities we love the most, but using harsh chemicals to repel insects can be toxic to humans as well. Natural mosquito repellent is a great alternative to keep the bugs at bay without the worry of harmful chemicals on your skin or in the environment.
In this article, we'll discuss why it's a good idea to switch to natural bug sprays and give our recommendations for seven of the best natural mosquito repellents on the market.
Our Picks for the Top Natural Bug Repellents

Each product featured here has been independently selected by the writer. Learn more about our review methodology here. If you make a purchase using the links included, we may earn a commission.
Why Switch to Natural Insect Repellent?
Natural insect repellent can ward off bug bites while also protecting your skin and the ecosystems around you. Traditional bug sprays and insect repellents may include synthetic chemicals such as DEET and picaridin, which can cause irritation to those with sensitive skin. Even though DEET and picaridin are approved by the Environmental Protection Agency, according to the National Pesticide Information Center, they can be toxic to humans and to the environment.
Natural bug repellents use blends of essential oils and sustainable elements like cedar and lemongrass to prevent bug bites while protecting the environment. Essential oil fragrances such as eucalyptus and peppermint also give off a pleasing aroma, unlike traditional bug sprays. Read on to learn more about our picks for the best natural mosquito repellents.
Best Natural Mosquito Repellents
When choosing our top recommended natural bug sprays, we looked at factors including:
Ingredients: Formulations with natural ingredients such as essential oils and plant-based materials are the safest for your skin and the environment.
Effectiveness: Oil of lemon eucalyptus, peppermint oil and citronella are proven to effectively repel insects in a more natural way that's both eco-friendly and can help users avoid skin irritation.
Scent: The smell of vanilla and peppermint are much more pleasing than the potent smell of traditional bug repellents. With many natural products, you can keep insects away and smell fresh at the same time.
Reviews: Customer ratings speak not only to the effectiveness of the bug sprays, but also about how they feel on the skin, their fragrances, how long they last and more. Each repellent below has at least a 4-star rating out of 5.
Frequently Asked Questions: Best Natural Mosquito Repellent

What smell do mosquitoes hate the most?
Mosquitoes hate many smells, from citrus scents of lemons and oranges to earthy, herbal lemongrass to strong cinnamon and peppermint. They're also said to dislike the naturally produced oils found in catnip. Many plant-based essential oils with scents such as cedarwood are efficient in repelling mosquitoes and other insects.
Is there a natural mosquito repellent that actually works?
Many natural mosquito repellents are effective at creating a barrier against insects. If you're looking for products that work well, we recommend Bug Soother Spray, All Terrain Herbal Armor and the Murphy's Naturals Mosquito Repellent Candle.
What is the strongest natural insect repellent?
According to the CDC, bug repellents containing the plant-based chemical oil of lemon eucalyptus (OLE) are considered the most effective. Other essential oils are not registered by the EPA and, thus, have not been studied as thoroughly nor been recommended by the CDC, but they may also be effective at repelling insects.
What is the healthiest mosquito repellent?
The healthiest mosquito repellents are those derived from plant-based materials. Synthetic chemicals such as DEET and picaridin have been long used in repellents, but they can cause harm to humans and the environment. Natural bug repellents never contain DEET and are usually harmless to those with sensitive skin.
The Revelator
By John R. Platt
It's a dirty world out there — but it doesn't have to be.
That message rings out from a slate of important new books covering the fight against various pollutants around the world. They examine everything from pesticides to air pollution and from mining waste to the trash that accumulates all around us. Along the way these books shine a light on some bigger stories — like our food system and human effects on complex ecosystems. They also dive deep into the racism, indifference, greed and ignorance that allow these toxic compounds to flourish in our world and in our bodies.
One group of pollutants didn't make it onto this list: greenhouse gases. We'll look at them in September's column, covering timely new books on climate change.
But for now, here are 13 new dirty books about filth for your perusal, along with their cover descriptions. Each title links to its publisher's site, but you should also be able to order these from any local or online bookseller or your favorite library.
The World We Need: Stories and Lessons From America's Unsung Environmental Movement edited by Audrea Lim
"…a vivid introduction to America's largely unsung grassroots environmental groups — often led by activists of color and the poor — valiantly fighting back in America's so-called sacrifice zones against industries poisoning our skies and waterways and heating our planet. Through original reporting, profiles, artwork and interviews, we learn how these activist groups, almost always working on shoestring budgets, are devising creative new tactics, building sustainable projects to transform local economies and organizing people long overlooked by the environmental movement — changing its face along the way."
The Monsanto Papers: Deadly Secrets, Corporate Corruption and One Man's Search for Justice by Carey Gillam
"Lee Johnson was a man with simple dreams. All he wanted was a steady job and a nice home for his wife and children, something better than the hard life he knew growing up. He never imagined that he would become the face of a David-and-Goliath showdown against one of the world's most powerful corporate giants. But a workplace accident left Lee doused in a toxic chemical and facing a deadly cancer that turned his life upside down. In 2018, the world watched as Lee was thrust to the forefront of one the most dramatic legal battles in recent history."
Breathless: Why Air Pollution Matters — and How It Affects You by Chris Woodford
"Take a deep breath. You'll do it 20,000 times a day. You assume all this air is clean; it's the very breath of life. But in Delhi, the toxic smog is as bad for you as smoking 50 cigarettes a day. Even a few days in Paris, London or Rome is equivalent to two or three cigarettes. Air pollution is implicated in six of the top 10 causes of death worldwide, including lung cancer, heart disease, stroke and dementia. Breathless gives us clear facts about air pollution in our everyday lives, showing how it affects our bodies, how much of it occurs in unexpected places (indoors, inside your car), and how you can minimize the risks."
Pollution Is Colonialism by Max Liboiron
"Liboiron draws on their work in the Civic Laboratory for Environmental Action Research (CLEAR) — an anticolonial science laboratory in Newfoundland, Canada — to illuminate how pollution is not a symptom of capitalism but a violent enactment of colonial land relations that claim access to Indigenous land. Liboiron's creative, lively and passionate text refuses theories of pollution that make Indigenous land available for settler and colonial goals. In this way, their methodology demonstrates that anticolonial science is not only possible but is currently being practiced in ways that enact more ethical modes of being in the world."
Playing With Fire: The Strange Case of Marine Shale Processors by John W. Sutherlin and Daniel Elliot Gonzalez
"This book examines the tale of Marine Shale Processors, the world's largest hazardous waste company, and the women who fought to protect their community and their children. The lesson here is that a dedicated group of people fighting for what is right can win and it serves as an example for any community that wants to determine what their own environmental future."
Herbicides: Chemistry, Efficacy, Toxicology and Environmental Impacts edited by Robin Mesnage and Johann G. Zaller
"A comprehensive overview of this complex topic, presented by internationally recognized experts. Information presented will inform discussions on the use of herbicides in modern agricultural and other systems, and their potential non-target effects on human populations and various ecosystems. The book covers these matters in concise language appropriate to engage both specialists in the research community and informed persons responsible for legislative, funding and public health matters in the community at large."
Earth Detox: How and Why We Must Clean Up Our Planet by Julian Cribb
"Every person on our home planet is affected by a worldwide deluge of man-made chemicals and pollutants — most of which have never been tested for safety. Our chemical emissions are six times larger than our total greenhouse gas emissions. They are in our food, our water, the air we breathe, our homes and workplaces, the things we use each day. This universal poisoning affects our minds, our bodies, our genes, our grandkids and all life on Earth. Julian Cribb describes the full scale of the chemical catastrophe we have unleashed. He proposes a new Human Right — not to be poisoned."
The Water Defenders: How Ordinary People Saved a Country From Corporate Greed by Robin Broad and John Cavanagh
"The David and Goliath story of ordinary people in El Salvador who rallied together with international allies to prevent a global mining corporation from poisoning the country's main water source."
Planet Palm: How Palm Oil Ended Up in Everything — and Endangered the World by Jocelyn C. Zuckerman
"Over the past few decades, palm oil has seeped into every corner of our lives. But the palm oil revolution has been built on stolen land and slave labor; it's swept away cultures and so devastated the landscapes of Southeast Asia that iconic animals now teeter on the brink of extinction. This groundbreaking work of first-rate journalism compels us to examine the connections between the choices we make at the grocery store and a planet under siege."
Homewaters: A Human and Natural History of Puget Sound by David B. Williams
"In conversations with archaeologists, biologists and tribal authorities, Williams traces how generations of humans have interacted with such species as geoducks, salmon, orcas, rockfish and herring. He sheds light on how warfare shaped development and how people have moved across this maritime highway, in canoes, the mosquito fleet and today's ferry system. The book also takes an unflinching look at how the Sound's ecosystems have suffered from human behavior, including pollution, habitat destruction and the effects of climate change."
Plastic: An Autobiography by Allison Cobb
"Cobb's obsession with a large plastic car part leads her to explore the violence of our consume-and-dispose culture, including her own life as a child of Los Alamos, where the first atomic bombs were made. The journey exposes the interconnections among plastic waste, climate change, nuclear technologies and racism. Using a series of interwoven narratives ― from ancient Phoenicia to Alabama ― the book bears witness to our deepest entanglements and asks how humans continue on this planet."
Pipe Dreams: The Urgent Global Quest to Transform the Toilet by Chelsea Wald
"While we see radical technological change in almost every other aspect of our lives, we remain stuck in a sanitation status quo — in part because the topic of toilets is taboo. Fortunately, there's hope — and Pipe Dreams daringly profiles the growing army of sewage-savvy scientists, engineers, philanthropists, entrepreneurs, and activists worldwide who are overcoming their aversions and focusing their formidable skills on making toilets accessible and healthier for all."
Castaway Mountain: Love and Loss Among the Wastepickers of Mumbai by Saumya Roy
"All of Mumbai's possessions and memories come to die at the Deonar garbage mountains. Towering at the outskirts of the city, the mountains are covered in a faint smog from trash fires. Over time, as wealth brought Bollywood knock offs, fast food and plastics to Mumbaikars, a small, forgotten community of migrants and rag-pickers came to live at the mountains' edge, making a living by re-using, recycling and re-selling. Among them is Farzana Ali Shaikh, a tall, adventurous girl who soon becomes one of the best pickers in her community. Like so many in her community, Farzana, made increasingly sick by the trash mountains, is caught up in the thrill of discovery — because among the broken glass, crushed cans or even the occasional dead baby, there's a lingering chance that she will find a treasure to lift her family's fortunes." (Available in September.)
John R. Platt is the editor of The Revelator. An award-winning environmental journalist, his work has appeared in Scientific American, Audubon, Motherboard, and numerous other magazines and publications. His "Extinction Countdown" column has run continuously since 2004 and has covered news and science related to more than 1,000 endangered species. He is a member of the Society of Environmental Journalists and the National Association of Science Writers. John lives on the outskirts of Portland, Ore., where he finds himself surrounded by animals and cartoonists.
Reposted with permission from The Revelator.
A helicopter sprays pesticide on a crop field in California. Jeff Foott / Photodisc / Getty Images
The study, published in Environmental Research last week, found that children were more likely to develop central nervous system (CNS) tumors if their mothers had lived within 2.5 miles of land where pesticides were being sprayed when they were born.
"This study is the first, to our knowledge, to estimate effects for a large number of specific pesticides in relation to CNS tumor subtypes," Julia Heck, a study coauthor and the associate dean for research at the University of North Texas College of Health and Public Service said, as NBC Los Angeles reported.
The research looked at the California Cancer Registry to identify cases of certain cancers in children under six years old, the study explained. They focused on mothers who lived in rural areas and gave birth between 1998 and 2011 to identify 667 cases of childhood central nervous system tumors and 123,158 controls. They then compared these cases to data from the California Department of Pesticide Regulation's (CDPR) Pesticide Use Reporting (PUR) system to identify whether chemicals classed as possible carcinogens by the U.S. Environmental Protection Agency (EPA) had been sprayed within 2.5 miles of the mothers' homes at birth.
One important implication of the study is that the mothers did not have to be directly working in agriculture in order for their children to face dangerous exposure.
"California's agricultural work force numbers more than 800,000, according to state estimates," Dr. Christina Lombardi, study co-author and epidemiologist with the Samuel Oschin Comprehensive Cancer Institute at Cedars-Sinai Medical Center in Los Angeles, told Beyond Pesticides. "In addition to the negative health effects of pesticides on workers there are large numbers of pregnant women and young children living adjacent to treated fields who may experience detrimental health effects as well."
This risk is exacerbated by the fact that farmland and residential land is not always clearly delineated in the state.
"This transition from farmland to residential neighborhoods is abrupt across California, and, of course, constantly changing as farmland is developed," study co-author Myles Cockburn of the University of Southern California told Beyond Pesticides.
The researchers found that some of the chemicals they studied increased tumor risk as much as 2.5 times. Overall, exposure to the pesticides chlorthalonil, bromacil, thiophanate-methyl, triforine, kresoxim-methyl, propiconazole, dimethoate and linuron all increased tumor risk.
This is far from the first study to show that pesticide exposure is a danger to pregnant mothers and children. In fact, researchers have been studying the link between pesticides and childhood cancer since the 1970s, according to NBC Los Angeles.
The report authors called for government action to better protect mothers and children.
"Policy interventions to reduce pesticide exposure in individuals residing near agricultural fields should be considered to protect the health of children," coauthor and UCLA's Fielding School of Public Health epidemiology professor Beate Ritz told NBC Los Angeles.
Dobrila Vignjevic / E+ / Getty Images
By Reynard Loki
A federal appeals court has ruled that unless the Environmental Protection Agency (EPA) can prove that the pesticide chlorpyrifos is safe, it must be banned. The chemical, which has been widely used on agricultural crops for more than 50 years, has been linked to neurological development issues in children, with mounting evidence implicating its role in autism, ADHD, motor skills and loss of IQ. In the 2-to-1 ruling on April 29, judges on the U.S. Court of Appeals for the 9th Circuit gave the federal government 60 days to either rescind all uses of chlorpyrifos related to food or to show evidence that in certain cases it is safe for public health.
In the majority opinion in the case League of United Latin American Citizens v. Regan, which was filed in 2007, Judge Jed Rakoff, a Clinton appointee, wrote, "[T]he EPA has spent more than a decade assembling a record of chlorpyrifos's ill effects and has repeatedly determined, based on that record, that it cannot conclude, to the statutorily required standard of reasonable certainty, that the present tolerances are causing no harm," adding that "EPA's egregious delay exposed a generation of American children to unsafe levels of chlorpyrifos." Rakoff was joined by Judge Jacqueline Nguyen, an Obama appointee.
"Yet, rather than ban the pesticide or reduce the tolerances to levels that the EPA can find are reasonably certain to cause no harm, the EPA has sought to evade, through one delaying tactic after another, its plain statutory duties," Rakoff wrote in the opinion, in which he stopped short of requiring the agency to ban the chemical, but left little room to keep it on the market. "The EPA must act based upon the evidence and must immediately revoke or modify chlorpyrifos tolerances." Pregnant women and their fetuses, young children and farmworkers are particularly at risk from chlorpyrifos, which was first registered for use in 1965.
"There are numerous studies showing that exposure to chlorpyrifos in the womb harms children's brain development," said Dr. Warren Seigel, chair of New York State American Academy of Pediatrics. "The science is clear, and this pesticide should have been banned years ago."
The ruling "virtually guarantees" that the EPA will revoke food-related applications of chlorpyrifos, according to dissenting Judge Jay Bybee, a George W. Bush appointee, who argued that his colleagues overreached and "misread" the agency's obligations to review specific uses of the chemical that it had previously determined were safe. He criticized the majority, saying that it "substituted its own judgment for EPA's decision."
The EPA is reviewing the ruling, saying in a statement that the agency is "committed to helping support and protect farmworkers and their families while ensuring pesticides are used safely among the nation's agriculture. … EPA will continue to use sound science in the decision-making process under the Federal Insecticide, Fungicide and Rodenticide Act" (FIFRA).
The ruling comes nearly two years after the Trump administration rejected a proposed Obama-era ban of the controversial pesticide, keeping it on the market despite aggressive calls against its continued use by public health and environmental groups. The Trump EPA decision, made in July of 2019, was a major gift to Dow Chemical, the maker of the pesticide, in what appeared as an act of quid pro quo. On December 6, 2016, less than a month after Trump's election, the agrochemical giant donated $1 million to his inaugural committee. Then, on January 17, 2017, just three days before Trump was sworn into the Oval Office, Dow filed a petition with the EPA to reject the Obama-era proposal to ban the pesticide. On March 29, 2017, then-EPA administrator Scott Pruitt announced his decision to cancel the proposed ban.
"This is what we now know is the modus operandi of Trump and his EPA: corruption couched as policy," said Ken Cook, president of the nonprofit Environmental Working Group, following Pruitt's decision. "Trump and his political appointees at the agency show nearly every day that they are not there to protect Americans' health but to cater to the whims of polluters. If you're looking for evidence of corrupt collusion with sinister interests, here it is in plain view."
What a difference a new administration makes. On his first day in office, President Joe Biden signed an executive order directing the EPA to review the Trump administration's decision to deny the 2007 petition to ban food-related chlorpyrifos. It is unlikely that the Biden EPA will fight the appellate court ruling.
Environmental and farmworker groups applauded the court's decision. "Today, we celebrate this huge victory alongside the men and women who harvest our food, who have waited too long for a ban on this pesticide," said Teresa Romero, president of United Farm Workers, in a statement. "We are relieved that farmworkers and their families will no longer have to worry about the myriad of ways this pesticide could impact their lives."
The ruling could bring more attention to the public health and environmental risks of other harmful pesticides, such as neonicotinoids, which are deadly to bees and other pollinators that are key to crop pollination. Friends of the Earth, a nonprofit, has launched a public petition urging Americans to tell their congressional representatives to co-sponsor the Protect America's Children from Toxic Pesticides Act, introduced in 2020 by Sen. Tom Udall (D-N.M.) and Rep. Joe Neguse (D-Colo.).
The bill seeks to strengthen the EPA's authority under FIFRA to regulate the distribution, sale and use of pesticides, and ban some of the most toxic pesticides used across the nation, including all neonicotinoids, organophosphates (a class of phosphorus-based insecticides that includes chlorpyrifos) and paraquat, an herbicide that has been linked to renal, hepatic and respiratory damage, and which is already banned in 32 countries.
Are pesticides even necessary? Some experts believe that, while there are obvious trade-offs to spraying toxic chemicals on crops, using pesticides properly can actually protect some parts of the environment. Pesticides "allow us to maximize production on the smallest footprint of land. This is called 'land sparing,'" said Tim Durham, a professor of agronomy and agricultural sciences at Ferrum College in Ferrum, Virginia. "If we decided to [forgo] pesticides, we'd need to appropriate a much larger chunk of land to do the same job and land that happens to be the most biodiverse and at-risk." Durham, who is also part of his family's vegetable farm on Long Island, New York, adds, "Pesticides provide some measure of predictability in the otherwise unpredictable world of farming, helping to stabilize commodity prices and keeping prices low in the grocery aisle."
However, some advocates of organic farming, which is committed to zero pesticides, or limited pesticide use under National Organic Program standards, say that conventional industrial farming that is heavily reliant on chemical use isn't necessary to feed the world's population.
"The myth that organic food can't feed the world isn't just wrong, it's downright counterproductive," according to the Rodale Institute, a nonprofit based in Kutztown, Pennsylvania, that supports organic agriculture research. "Organic can compete with conventional yields and outperform conventional in adverse weather. Small farmers using organic methods have huge potential to expand global food production. And only organic methods actively regenerate resources and protect the environment from pollution and toxic waste. For a healthy future, we can't afford anything less."
Reynard Loki is a writing fellow at the Independent Media Institute, where he serves as the editor and chief correspondent for Earth | Food | Life. He previously served as the environment, food and animal rights editor at AlterNet and as a reporter for Justmeans/3BL Media covering sustainability and corporate social responsibility. He was named one of FilterBuy's Top 50 Health & Environmental Journalists to Follow in 2016. His work has been published by Yes! Magazine, Salon, Truthout, BillMoyers.com, Counterpunch, EcoWatch and Truthdig, among others.
This article was produced by Earth | Food | Life, a project of the Independent Media Institute.
A farm worker sprays pesticides on lemon groves in Spain. Worledit / iStock / Getty Images Plus
About one third of the world's agricultural land is at high risk from pesticide pollution, a new study has found.
The research, published in Nature Geoscience Monday, looked at the use and spread of 92 active pesticide ingredients in 168 countries. They considered an area at risk if the concentration of a chemical exceeded the limit at which it would have no effect, and at high risk if that concentration exceeded the limit by a factor of 1,000.
"Our study has revealed 64 percent of the world's arable land is at risk of pesticide pollution," University of Sydney Research Associate and the study's lead author, Dr Fiona Tang said in a University of Sydney press release. "This is important because the wider scientific literature has found that pesticide pollution can have adverse impacts on human health and the environment."

Further, a total of 31 percent of land was at high risk, the study authors wrote.
Pesticides, herbicides and fungicides are widely used to boost productivity in farming, the press release noted. However, they have unintended consequences for human and environmental health. They can enter bodies of water through runoff or by entering the groundwater, contaminating drinking water. Pesticides like chlorpyrifos have been shown to harm the cognitive development of children, while others have been linked to cancer. They also pose a threat to wildlife such as bees and birds.
These threats are why the research is important, Tang told AFP.
"It is significant because the potential pollution is widespread and some regions at risk also bear high biodiversity and suffer from water scarcity," she said in an AFP article published by Phys.org.
Specifically, 34 percent of the high risk areas were in regions with high biodiversity while five percent were in water-scarce areas, the study found. Nineteen percent of the high risk areas were in low or middle income countries.
Regionally, Asia had the most high-risk land, with China, Japan, Malaysia and the Philippines especially impacted, the press release said. In Europe, almost 62 percent of agricultural land was at high risk, AFP reported. This was largely due to high concentrations in Russia, Ukraine and Spain.
The researchers looked at 59 herbicides, 21 insecticides and 19 fungicides and based their calculations on application rate data from the U.S. Geological Survey and the UN Food and Agriculture Organization. They then used a model to estimate how much of the pesticides would remain in the soil, atmosphere, groundwater and surface water.
The researchers pointed out that pesticide use is only expected to increase in the future because of the climate crisis and population growth.
"In a warmer climate, as the global population grows, the use of pesticides is expected to increase to combat the possible rise in pest invasions and to feed more people," coauthor and University of Sydney associate professor Federico Maggi said in the press release.
However, the researchers advised a different path.
"We urgently recommend that a global strategy is established to transition towards sustainable agriculture and sustainable living with low pesticide inputs and reduced food loss and food waste to achieve responsible production and consumption in an acceptable, profitable system," they wrote.
From Your Site Articles
Related Articles Around the Web
Organic vegetables at the Center for Urban Agriculture at Fairview Gardens, Goleta, California. Citizen of the Planet / Education Images/Universal Images Group via Getty Images
By Kathleen Merrigan
Organic food once was viewed as a niche category for health nuts and hippies, but today it's a routine choice for millions of Americans. For years following passage of the Organic Foods Production Act of 1990, which established national organic standards, consumers had to seek out organic products at food co-ops and farmers markets. Today over half of organic sales are in conventional grocery store chains, club stores and supercenters; Walmart, Costco, Kroger, Target and Safeway are the top five organic retailers.
Surveys show that 82% of Americans buy some organic food, and availability has improved. So why do overall organic sales add up to a mere 6% of all food sold in the U.S.? And since organic farming has many benefits, including conserving soil and water and reducing use of synthetic chemicals, can its share grow?
One issue is price. On average, organic food costs 20% more than conventionally produced food. Even hardcore organic shoppers like me sometimes bypass it due to cost.
Some budget-constrained shoppers may restrict their organic purchases to foods they are especially concerned about, such as fruits and vegetables. Organic produce carries far fewer pesticide residues than conventionally grown versions.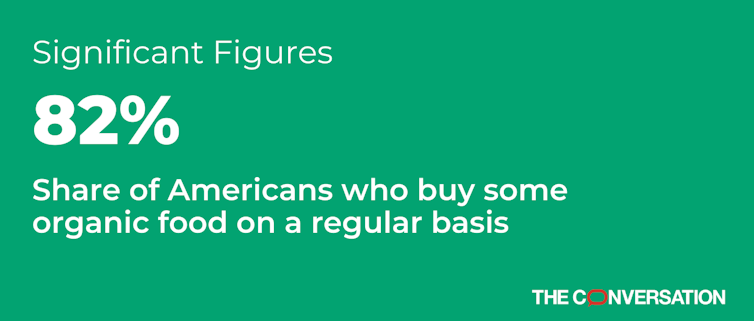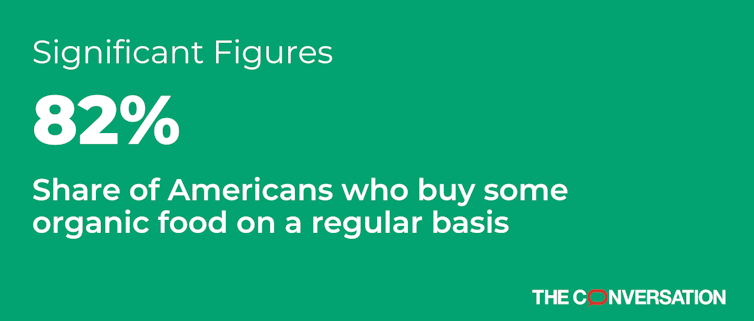 Price matters, but let's dig deeper. Increasing organic food's market share will require growing larger quantities and more diverse organic products. This will require more organic farmers than the U.S. currently has.

There are some 2 million farms in the U.S.. Of them, only 16,585 are organic – less then 1%. They occupy 5.5 million acres, which is a small fraction of overall U.S. agricultural land. Roughly two-thirds of U.S. farmland is dedicated to growing animal feed and biofuel feedstocks like corn and soybeans, rather than food for people.
In my view, converting more agricultural land to organic food production should be a national goal. Organic farmers produce healthy food, promote soil health and protect watersheds. Ruminant animals like dairy cows when raised organically must graze on pasture for at least 120 days each year, which reduces their methane emissions.
The list of climate and environmental benefits associated with organic is long. Organic farming consumes 45% less energy than conventional production, mainly because it doesn't use nitrogen fertilizers. And it emits 40% less greenhouse gases because organic farmers practice crop rotation, use cover crops and composting, and eliminate fossil fuel-based inputs.
The vast majority of organic farms are small or midsized, both in terms of gross sales and acreage. Organic farmers are younger on average than conventional farmers.
Starting small makes sense for beginning farmers, and organic price premiums allow them to survive on smaller plots of land. But first they need to go through a tough three-year transition period to cleanse the land.
During this time they are ineligible to label products as organic, but must follow organic standards, including forgoing use of harmful chemicals and learning how to manage ecosystem processes. This typically results in short-term yield declines. Many farmers fail along the way.
The transition period is just one of many challenges for organic farmers. Greater federal government support could help. In a recent report, Arizona State University's Swette Center for Sustainable Food Systems, which I direct, identified actions the Biden administration can take within existing budgets and laws to realize the untapped promise of organic agriculture.
Current USDA assistance for organic producers is paltry, especially given the billions of dollars that the agency spends annually in support of agriculture. Two-thirds of farm subsidy dollars go to the top 10% richest farms.
Our report recommends dedicating 6% of USDA spending to supporting the organic sector, a figure that reflects its market share. As an example, in 2020 the agency spent about $55 million on research directly pertinent to organic agriculture within its $3.6 billion Research, Education and Economics mission area. A 6% share of that budget would be $218 million for developing things like better ways of controlling pests by using natural predators instead of chemical pesticides.
Organic food's higher price includes costs associated with practices like forgoing use of harmful pesticides and improving animal welfare. A growing number of food systems scholars and practitioners are calling for use of a methodology called True Cost Accounting, which they believe reveals the full costs and benefits of food production.
According to an analysis by the Rockefeller Foundation, American consumers spend $1.1 trillion yearly on food, but the true cost of that food is $3.2 trillion when all impacts like water pollution and farmworker health are factored in. Looked at through a True Cost Accounting lens, I see organic as a good deal.

Kathleen Merrigan is executive director of the Swette Center for Sustainable Food Systems, Arizona State University.
Disclosure statement: Kathleen Merrigan directs the Swette Center for Sustainable Food Systems at Arizona State University, which receives funding from the Organic Trade Association. She is co-director of a project on inadvertent chemical contamination of organic crops funded by the U.S. Department of Agriculture. Merrigan is a member of the Advisory Committee for the Organic Farming Research Foundation. She also is an advisor to S2G Ventures and a Venture Partner at Astanor Ventures, two agtech firms that have some organic companies in their much broader portfolios. As a U.S. Senate staffer, Merrigan drafted the Organic Foods Production Act of 1990. She has served on the National Organic Standards Board, as Administrator of the USDA Agricultural Marketing Service and as Deputy Secretary of Agriculture.
Reposted with permission from The Conversation.
From Your Site Articles
Related Articles Around the Web
Bell peppers were added to the EWG's 20201 "Dirty Dozen" list.
Michelet-密是力 (talk
)
Are you worried about getting a serving of pesticides with your produce?
The Environmental Working Group (EWG) released on Wednesday its annual "Dirty Dozen" and "Clean Fifteen" lists of the most and least pesticide-heavy conventional fruits and vegetables in the U.S.
"It's a really great resource," Jane Houlihan, the national director of science and health for Healthy Babies Bright Futures, who was not involved with its compilation, told CNN. "By nature pesticides are toxic, and doing what you can to reduce exposures is a really good idea to protect your family's health."
The EWG's annual lists are based on testing data from the U.S. Department of Agriculture (USDA). The USDA firsts washes, peels or scrubs the produce then tests it for pesticide residue. Almost 70 percent of the non-organic fresh produce sold in the U.S. contains pesticide residue, the EWG said in its report.
But still, some foods are more contaminated than others. Strawberries and spinach topped the list as repeat offenders. However, there were some notable new additions, EWG toxicologist Thomas Galligan told USA Today.
Collard and mustard greens joined kale in the No. 3 slot. These vegetables were most commonly contaminated with DCPA, which the U.S. Environmental Protection Agency (EPA) says is a possible carcinogen.
Bell and hot peppers were added to the list, in the No. 10 slot. The USDA found a total of 115 pesticides on different peppers.
In addition, the EWG drew attention to the prevalence of a fungicide called Imazalil on nearly 90 percent of citrus samples tested by the EWG in 2020 and more than 95 percent of tangerines tested by the USDA in 2019. Imazalil can alter hormone levels and is classified by the EPA as a likely human carcinogen. The fruits tested positive for the fungicide despite being peeled, CNN noted.
"I have said repeatedly that that fruits and vegetables with rinds that you don't eat are less problematic," Dr. Leonardo Trasande, chief of environmental pediatrics at NYU Langone, who was not involved with the study, told CNN. "I'm quite frankly surprised and concerned that you can see fungicides penetrate to that level."
Pesticides are especially dangerous for children, and have been linked to childhood cancers, cognitive impairment and behavioral problems, as the American Academy of Pediatrics noted in 2012. One pesticide found on Dirty Dozen items apples, peppers, oranges, grapes and cherries is chlorpyrifos, CNN noted. This pesticide, which the Trump administration refused to ban, has been found to harm the development of children's brains. The Biden administration is now reviewing this decision.
While Trasande and Houlihan praised the list as a resource for health-conscious parents, industry groups criticized it for frightening shoppers away from healthy food.
"Scaring Americans away from eating foods that are a safe and vital part of our diet is a disservice to public health," Chris Novak, the president and CEO of pesticide trade group CropLife America, said in a statement reported by CNN. "The benefits of a diet rich in fruits and vegetables outweigh any possible risks from exposure to pesticide residues."
The EWG agrees that getting enough fruits and vegetables is essential.
"The most important thing is that everyone should be eating lots of fruits and vegetables," Galligan told USA Today. "We do recommend you try to reduce your pesticide exposure. Choose organic whenever possible."
However, he acknowledged that not everyone could access or afford organic produce. That's where the Clean Fifteen comes in. Almost 70 percent of the samples tested from items on this list turned up no pesticide residues at all, the EWG said, while only eight percent of samples turned up two or more pesticides.
The full 2021 lists are given below.
The Dirty Dozen:
Strawberries
Spinach
Kale, collard and mustard greens
Nectarines
Apples
Grapes
Cherries
Peaches
Pears
Bell and hot peppers
Celery
Tomatoes
The Clean Fifteen:
Avocados
Sweet corn
Pineapple
Onions
Papaya
Sweet peas (frozen)
Eggplant
Asparagus
Broccoli
Cabbage
Kiwi
Cauliflower
Mushrooms
Honeydew melon
Cantaloupes
From Your Site Articles
Related Articles Around the Web
Alfalfa leafcutter bees, a male on the left and a female on the right. Jacob Cecala
Ornamental plant nurseries — with their high concentration of different flowers — are an important food source for pollinators. In fact, University of California (UC), Riverside entomologists Jacob Cecala and Erin E. Wilson Rankin counted more than 150 species of wild bees at nurseries in California alone.
Despite this, very little research has been done on how the pesticides often used at plant nurseries impact these crucial insects.
So Cecala and Rankin conducted an experiment to see how the use of a common neonicotinoid on ornamental plants would impact the solitary alfalfa leafcutter bee (Megachile rotundata). The answer? Quite a lot.
When the pesticide was applied at just 30 percent of the recommended dose, it still reduced the bees' reproduction by 90 percent.
"This result reminds us that while ornamental plants serve as critical resources for solitary bees, we must be vigilant about how we manage these plants and the chemicals we apply to them," Cecala told EcoWatch in an email.
Pesticide Management
The research, published in Proceedings of the Royal Society B last month, was designed to determine how different nursery pesticide management practices might help or harm bees. In particular, Cecala and Rankin wanted to know if the amount of water the plants received would make a difference.
"Overall, we don't know a lot about how plant management practices in agriculture, particularly horticulture, affect solitary bee reproduction," Cecala said. "To fully understand the impacts of neonicotinoids on pollinators, one should also know whether the plants themselves are affected by these chemicals."
Because neonicotinoids are water soluble, Cecala thought that watering the plants more would lessen the pesticides' impact on bees, according to a UC Riverside press release. To test this, he and Rankin introduced bees to ornamental plants that had been treated with 30 percent of the label dose of a common neonicotinoid and plants that had not. Within each category, some of the plants were watered more, and some less. The particular pesticide they used was imidacloprid, a neonicotinoid sold as Marathon®. This is a pesticide designed for use in nurseries and greenhouses that has been on the market since 1994.
What they found was a surprise, Cecala told UC Riverside. The pesticide-treated plants that had been watered more did have less imidacloprid in their nectar, but they were equally harmful to bee foraging and reproduction as the pesticide-treated plants that had been watered less.
While the study was conducted in the controlled environment of the lab, Cecala said it was likely that nursery pesticides are harming bees outside the lab as well.
"[W]e observed highly detrimental impacts on solitary bees' reproduction when applying only 30% the recommended dose of the insecticide – an applicator would likely follow the label's recommended dose," he said. "If applied to a bee-attractive plant that is currently flowering or soon to flower, there is reason to believe we would see similar negative impacts on these 'real world' bees."
A Second Silent Spring
The results of the study were not surprising for Daniel Raichel, who is the acting director of the Natural Resources Defense Council (NRDC)'s pollinator initiative. Instead, they add to a growing body of evidence pointing out that neonicotinoids are extremely harmful, both for bees and other animals.
These pesticides are a problem for two main reasons, according to Raichel. First, they are "phenomenally toxic," he told EcoWatch. One study found that agriculture had become 48 times more toxic to insects in the U.S. between 1992 and 2014, largely because of neonicotinoid use.
"One neonic-treated corn seed can have enough active ingredient to kill a quarter million bees or more and one square foot of neonic-treated lawn, at the EPA approved label rate, can have enough active ingredient to kill a million bees," he said.
Another problem is that neonicotinoids are designed to be absorbed by every part of a a plant, to "make the plant itself the pesticide," as Raichel put it. This means that they are also easily absorbed by the environment, spreading through the soil and contaminating wild plants and bodies of water.
A growing body of research shows that this spread has negative consequences for both insects and other animals that eat them. They have been found to delay songbird migration, collapse fisheries and cause birth defects in white-tailed deer.
"Because neonics are so popular across the country and they're used in the same places year after year after year, building up in the soil and spreading out, getting into water, getting into the ecosystem, getting into food, we have a situation that sort of looks like the second Silent Spring," Raichel said, referring to the classic Rachel Carson book about the dangers of DDT.
The Importance of Native Bees
While the study may not be surprising, it is important partly because it helps to expand the study of neonicotinoids from the more-researched honeybees to solitary, native bee species.
"This is a groundbreaking study because it's one of the few that looks at pesticide use in plant nurseries and the impact on native bees," Bee Conservancy founder and Executive Director Guillermo Fernandez told EcoWatch.
Native bees are "hugely important," according to Raichel, both in terms of wild plant and crop pollination. But they are also hugely under threat. Of the 4,000 bee species native to the U.S., nearly 25 percent of them are threatened with extinction. And the study confirms that pesticides are a key threat.
"Solitary bees represent the vast majority of bee species and the impact to solitary bee reproduction shown in this study is very troubling," Center for Biological Diversity staff scientist Jess Tyler told EcoWatch in an email. "Solitary species are more at risk from pesticide exposure because each female bee is responsible for her own nest and if she is killed then her genetic legacy is gone."
Luckily, the new research also points towards solutions. Both Cecala, Raichel and Tyler called for improved pesticide labelling.
"I would like to see more explicit language on product labels about the dangers these insecticides pose to bees, especially solitary bees," Cecala said. "While the label does state it is 'highly toxic' to bees (though not even on the first page), it only warns the user not to apply it if bees are currently foraging. Our results stress that very real threats are posed to bees weeks to months after application, even if the plant was not blooming at the time the pesticide was applied."
Both Raichel and Tyler further noted that current label rates are clearly too high. Tyler further urged the U.S. Environmental Protection Agency (EPA) to require buffer zones for pollinators and remove the application methods that have the greatest risk of spreading chemicals.
"If there are no mitigations that prevent the poisoning of wildlife then pesticides should be withdrawn from the market," he said.
Raichel also advocated for a targeted ban of neonicotinoids in areas where they are not truly needed. For example, the NRDC is currently promoting the Birds and Bees Protection Act in New York, which would ban the sale and use of neonicotinoid-coated seeds.
There are also things that home gardeners can do to protect native pollinators.
"While the insecticide formulation we tested in our study is intended for nurseries and greenhouses, the same active ingredient (imidacloprid) is common in numerous products for use in residential gardens and lawns," Cecala said. "If you are a home gardener concerned with 'saving the bees,' I would urge you to closely inspect the labels of any chemical product you encounter at the store, and to try to avoid applying neonicotinoids altogether."
Further, nursery customers can put pressure on these enterprises to protect bees, Raichel advised.
"The more you see homeowners demand that the plants that they are buying are chemical free, you'll see the markets move in that direction," he said.
The problem likely extends beyond nurseries to other non-agricultural greenspaces like golf courses, Fernandez added, which concerned users can also influence.
Further, he added, home gardeners can do even more to make their yards bee-friendly than just abstaining from pesticides. Suggestions include:
Planting native flowering species.
Installing "bee baths" — shallow dishes filled with water and twigs where bees can land while having a drink.
Keeping part of the yard undisturbed, since 70 percent of native bees live in the ground.
Some native bee species have a range of only a few hundred feet, he noted, meaning your backyard could be their "entire world."
"We can actually make quite a change," he said.
From Your Site Articles
Related Articles Around the Web
Protester shows dead bees that died by pesticides during a protest prior to the shareholders meeting of German chemicals and pharmaceuticals conglomerate Bayer AG on April 26, 2019 in Bonn, Germany. Maja Hitij / Getty Images
By Andrea Germanos
Despite lower applied amounts of pesticides in U.S. agriculture, their toxicity to non-target species including honeybees more than doubled in a decade, according to a new study.
The findings by a team of researchers from Germany's University Koblenz-Landau were published Friday in the journal Science.
"We have taken a large body of pesticide use data from the U.S. and have expressed changes of amounts applied in agriculture over time as changes in total applied pesticide toxicity," explained lead author Ralf Schulz, professor for environmental sciences in Landau, in a statement.
"This provides a new view on the potential consequences that pesticide use in agriculture has on biodiversity and ecosystems," he said.
The researchers looked at changes in the use of 381 pesticides from 1992 to 2016 and analyzed toxicity impacts on eight non-target species groups, drawing data from the U.S. Geological Survey and Environmental Protection Agency. They used the EPA's threshold values to determine "total applied pesticide toxicity."
Lower amounts of pesticides have been applied, which brought decreased impacts on vertebrates, the scientists noted. But the same can't be said for non-target species including aquatic invertebrates like crustaceans and pollinators like bees, who faced a doubling in toxicity between 2005 and 2015 — a shift the authors put on increases in the use of pesticides called pyrethroids and neonicotinoids.
Also troubling is that an increase in herbicide toxicity has been on the rise as well, the scientists said, with the biggest impact seen on terrestrial plants. The study pointed to increased toxicity in the widely cultivated genetically modified crops in the U.S. of corn and soybean.
Schulz said the findings "challenge the claims of decreasing environmental impact of chemical pesticides in both conventional and GM crops and call for action to reduce the pesticide toxicity applied in agriculture worldwide."
The study was released amid continued concerns, both nationally and international, about wide-ranging adverse ecological impacts of neonicotinoids, or neonics, as they're sometimes called, especially amid a global decline in insect numbers that threatens humanity's future.
As Philip Donkersley, a senior research associate in entomology at Lancaster University, wrote this month at The Conversation:
Since their introduction in the late 1980s, robust scientific evidence has emerged to suggest these chemicals impair learning and memory, foraging behavior, and pollination in bees. The E.U. banned neonicotinoids in 2019, and while the U.K. government pledged to follow suit, it granted a special exemption for sugar beet farmers to use the neonicotinoid thiamethoxam in January 2021. Thankfully, it wasn't used.

Because honeybees don't spend much time on the ground, environmental risk assessments for neonicotinoids often neglect to consider how exposure to these chemicals in the soil affects all pollinators. But in a landmark study published in Nature, researchers have shown how neonicotinoids affect bees not just by accumulating in the plants pollinators visit, but in the ground where most wild bees build their nests.
Evidence suggests neonics' impacts go well beyond bees, including possibly to mammals like deer who inadvertently consume them.
As Civil Eats reported last month, the concerns are prompting continued demands for U.S. regulators to take action to curb or ban use of neonics.
Daniel Raichel, a staff attorney at the Natural Resources Defense Council, told the outlet: "It's a bee issue for sure, but really, it's an ecosystem issue. It's an everything issue."
Reposted with permission from Common Dreams.
From Your Site Articles
Related Articles Around the Web
Despite the COVID-19 pandemic and California businesses shutdown, the state's farmers continue to harvest, in this case, cilantro, as viewed along Santa Rosa Road in Santa Barbara County on June 13, 2020, near Lompoc, California. George Rose / Getty Images
COVID-19 has pulled back the veil on the strikingly poor workplace conditions of these essential workers, built by decades of insufficient farmworker health and safety policy, poor immigration policy, and limited health care access. As a consequence, at least 86,900 food workers have tested positive for COVID-19 – but with uneven data collection, exacerbated by businesses' lack of transparency over workplace outbreaks and workers' avoidance of testing due to fear of losing income, the figures we have are likely an underestimate.
A new analysis does note that each additional percentage point of farmworkers per overall population in a county was associated with 5.79 more deaths from COVID-19 – but did not contribute to more deaths per 100,000 residents. The researchers concluded, "farmworkers may face unique risks of COVID-19 beyond issues of language, insurance, or economics."
The Biden Administration must issue a federal standard to protect workers from COVID-19 that includes farmworkers. But beyond COVID-specific actions for farmworkers, the Biden Administration also needs to urgently address the underlying health and workplace conditions that pre-dated COVID.
A Dangerous Regulatory Rollback 
One key way the Biden Administration can start to correct the course is by enforcing and safeguarding the Worker Protection Standard (WPS), the main federal regulation that protects workers from pesticide exposure. Pesticide exposure weakens the respiratory, immune, and nervous systems — exacerbating farmworkers' COVID-19 risks.
Unfortunately, the Environmental Protection Agency (EPA) under the Trump Administration made various efforts to weaken or eliminate key provisions of the WPS, which had been revised and improved at the end of the Obama Administration. The WPS is an outlier in occupational health standards – because pesticides, although they are a workplace hazard, are regulated by the EPA, instead of by the Occupational Safety and Health Administration (OSHA), which covers occupational health in every other industry. This is just one example of how farmworkers are exempted from basic protections afforded to other workers.
Many of the Trump Administration's efforts to weaken the WPS were thwarted by advocacy and litigation by environmental and farmworker groups. However, one of the Trump Administration's proposed rollbacks of the WPS remains: the gutting of the Application Exclusion Zone (AEZ), which required pesticide handlers to stop applying pesticides if someone is near the area being sprayed. If the final Trump AEZ rule goes into effect, farmworkers in neighboring fields, children in school playgrounds or in their backyards, and rural residents going about their day may be in close proximity to where pesticides are being sprayed, as long as they're not on the same property, without any requirement that the applicator suspend spraying. More than 1 billion pounds of pesticides, designed to kill insects, weeds, and other pests, are applied to U.S. agricultural fields every year. In addition to acute poisonings, pesticides are also associated with long-term health harms including various cancers, developmental and reproductive harm, and neurological damage, for both farmworkers and community members who are chronically exposed to pesticides.
In December 2020, Farmworker Justice and Earthjustice, acting on behalf of a coalition of groups including Migrant Clinicians Network, sued the EPA to stop these changes. An injunction is currently in place preventing the changes from being implemented as the case proceeds – but the Biden Administration has a responsibility to protect these workers, rather than rely on courts. And the issue of pesticide drift on nearby properties is just one of the many challenges that farmworkers face when it comes to pesticide exposure.
An Opportunity to Right Wrongs
Pesticide spray in Utah. Pesticide exposure is associated with various cancers, developmental and reproductive harm, and neurological damage. Aqua Mechanical / Flickr
These hard-working farmworkers, upon whom we all depend for the food we eat, deserve immediate and effective protections. The new Administration has a unique opportunity to take advantage of renewed public understanding of the exploitation of farmworkers, to provide long-overdue workplace protections to keep essential workers safe, and to transform our food systems to ensure healthy workplaces, neighborhoods, and the environment, by:
Rejecting the Trump Administration's attempt to weaken the Application Exclusion Zone requirements;
Increasing the monitoring and enforcement of the WPS, including, but not limited to, provisions such as the minimum age of 18 for applying pesticides, adequate training for workers in a language that they understand, and worker access to information about pesticides being applied;
Requiring drift protections on pesticide labels for drift-prone pesticides, to better protect workers, bystanders, and communities;
Requiring that all pesticide label instructions be written in Spanish and/or other languages spoken by workers so they have the information they need to protect themselves and their families;
Banning highly toxic pesticides such as chlorpyrifos;
Using accurate scientific methods for determining pesticide risk, including taking into account farmworkers' potential long-term exposure, when making determinations about pesticide safety and the registration of pesticide products;
Including farmworkers and farmworker-serving organizations as key stakeholders at EPA, with a focus on environmental justice.
These are just some of the essential steps the new administration can take to protect farmworkers from the extreme hazards of their workplaces. Much more needs to be done about the myriad factors that negatively impact farmworker health, like poverty, immigration status, language barriers, and fear of retaliation.
COVID-19 has shown that a strong public health system and a functional food system require basic health and human rights for all of our neighbors, especially those typically left out. The Biden Administration has a duty and an opportunity to improve our systems – and consequently improve our nation's health and well-being.
Amy K. Liebman is Director of Environmental and Occupational Health for Migrant Clinicians Network, a nonprofit focused on creating practical solutions at the intersection of vulnerability, migration, and health.
Iris Figueroa is the Director of Economic and Environmental Justice for Farmworker Justice, a nonprofit that seeks to empower migrant and seasonal farmworkers to improve their living and working conditions, immigration status, health, occupational safety, and access to justice.
Reposted with permission from Environmental Health News.