An EPA Science Advisory Board meeting. Union of Concerned Scientists
By Elliott Negin
A third of the U.S. Environmental Protection Agency's (EPA's) Science Advisory Board, an influential panel that reviews the science the agency uses in formulating safeguards, could be succeeded by climate science-denying, polluter-friendly replacements when their terms expire at the end of this month.
The board, which has been in existence for nearly 40 years, is traditionally populated by bona fide scientists from academia, government and industry who volunteer to serve three-year terms. This time around, as first reported by E&E News, at least a dozen of the 132 candidates vying for one of the 15 open seats reject mainstream climate science.
But that's not all. There are at least 10 other equally inappropriate candidates on the list, and not all of them are scientists, despite the fact that it's supposed to be a panel of science advisors.
EPA Gives Notice to Dozens of Scientific Advisory Board Members, Plans to Offer Buyout to 1,200 Employees https://t.co/B54q5aMX9Y @foe_us

— EcoWatch (@EcoWatch)1498182606.0
Among the 12 climate science deniers are Weather Channel co-founder Joseph D'Aleo, who wrongly claims global warming is due to natural oceanic, solar and volcanic cycles; and former Peabody Energy science director Craig Idso, now chairman of his family's Center for the Study of Carbon Dioxide and Global Change, who insists "there is no compelling reason to believe that the rise in [average earth] temperature was caused by the rise in carbon dioxide." D'Aleo, Idso and six of the other climate-fact-challenged candidates are affiliated with the fossil fuel industry-funded Heartland Institute, which has a long history of misrepresenting science.
The other 10 unsuitable candidates consistently side with industry when it comes to protecting the public from toxic hazards, regardless of the scientific evidence, and falsely accuse the EPA of being unscientific to try to undermine its credibility.
Soot Makes You Live Longer
One of the 10, toxicologist Michael Honeycutt, failed to secure a seat on the EPA's seven-member Clean Air Scientific Advisory Committee when he was nominated for one last fall—with good reason. Over the last decade, Honeycutt, who heads the toxicology division of the Texas Commission on Environmental Quality, rolled back the state's relatively weak protections for 45 toxic chemicals, including arsenic, benzene, formaldehyde and hexavalent chromium, the carcinogen that made Erin Brockovich a household name.
Honeycutt also has attacked EPA rules for ground-level ozone (smog), which aggravates lung diseases, and particulate matter (PM) (soot), which has been linked to lung cancer, cardiovascular damage, reproductive problems and premature death. In October 2014, Honeycutt argued that there would be "little to no public health benefit from lowering the current [ozone] standard" because "most people spend more than 90 percent of their time indoors" and "systems such as air conditioning remove it from indoor air." And despite the overwhelming scientific evidence directly linking fine soot particles to premature death, Honeycutt testified before Congress in June 2012 that "some studies even suggest PM makes you live longer."
Better Living Through Chemistry
Another industry-friendly nominee, Kimberly White, is senior director of chemical products at the American Chemistry Council (ACC), the country's largest chemical manufacturing trade association. Representing the interests of 155 corporate members, including chemical companies Dow, DuPont and Olin; pharmaceutical firms Bayer, Eli Lilly and Merck; and petrochemical conglomerates BP, ExxonMobil and Shell, the ACC has delayed, weakened and blocked science-based health, environmental and workplace protections at the state, national and even international levels.
For example, the ACC has lobbied against establishing federal rules on silica dust exposure and disclosing the chemicals used in hydraulic fracturing. It has been instrumental in limiting community access to information about local chemical plants. And it has played a key role in quashing government efforts to regulate bisphenol A (BPA), an endocrine-disrupting chemical used in plastics and can linings; flame retardants, which have been linked to birth defects and cancer; and formaldehyde, a known carcinogen. White downplayed formaldehyde's risks in a September 2016 blog on the ACC website.
The ACC also lobbies to weaken existing environmental safeguards. In written testimony for a House Science, Space and Technology Committee hearing last February, for example, White charged that the EPA uses irrelevant or outdated data and procedures when drafting new regulations.
Who Needs a Cleaner Environment?
Finally, three of the pro-polluter candidates are economists with a distinct corporate tilt: Richard Belzer, whose clients include the American Chemistry Council and ExxonMobil Biomedical Sciences; Tony Cox, whose clients include the America Petroleum Institute, Chemical Manufacturers Association and Monsanto; and John D. Graham, dean of Indiana University's School of Public and Environmental Affairs, who is currently doing contract work for the Alliance of Automobile Manufacturers on fuel economy standards and the libertarian Searle Freedom Trust on regulatory "reform." All three emphasize the cost to industry to reduce pollution, discount scientific evidence of the risk of exposure, and ignore the benefits of a cleaner environment.
Perhaps the best known is Graham, who ran the Office of Management and Budget's (OMB) Office of Information and Regulatory Affairs (OIRA) for five years during the George W. Bush administration. His appointment to that position was hotly contested because in his previous job, directing the Harvard Center for Risk Analysis, he routinely understated the dangers of products manufactured by the center's corporate sponsors by using questionable cost-benefit analyses.
As predicted, Graham applied that same simplistic, industry-friendly calculus at OIRA, which oversees all government rulemaking, and at the tail end of his tenure in 2006, he unsuccessfully attempted to standardize risk assessments across all federal agencies. Public interest groups and the scientific community, spearheaded by the American Association for the Advancement of Science, came out in full force against the idea, and a National Research Council (NRC) committee unanimously rejected it as "fundamentally flawed."
"Economists like Graham are frustrated because the EPA has been conservative about risk," said Center for Progressive Reform co-founder Rena Steinzor, who wrote a stinging indictment of Graham's government-wide proposal in a May 2006 issue of Inside EPA's Risk Policy Report: "The EPA gives more margin to safety. That drives economists crazy. They think it leads to over-protection. But there are not many examples of chemicals that turn out to be less harmful than we thought."
Foxes Advising the Foxes in the Henhouse?
Putting climate science deniers and industry apologists on the EPA Science Advisory Board (SAB) would not only undercut the panel's legitimacy, it also would provide cover for the corporate shills now in key positions at the agency, starting with Administrator Scott Pruitt, who has the final say on who is selected, and Nancy Beck, a deputy assistant administrator who most recently worked for the American Chemistry Council, and before that, for Graham at OMB.
"The Science Advisory Board has been providing independent advice to the EPA for decades, ensuring that the agency uses the best science to protect public health and the environment," said Genna Reed, a policy analyst at the Union of Concerned Scientists. "SAB members have always been eminent scientists who are committed to the often-challenging public service of working through complex scientific topics to help guide EPA decision-making. They are the EPA's scientific compass. The agency's mission to safeguard our air and water will be further compromised if Administrator Pruitt winds up selecting these unacceptable candidates."
Elliott Negin is a senior writer at the Union of Concerned Scientists.
Reposted with permission from our media associate Huffington Post.
EcoWatch Daily Newsletter
YouTube
By Dave Anderson
Christopher Wray, President Trump's nominee for FBI director, advised corporate clients on how to avoid "being in the crosshairs" of law enforcement at a 2015 legal forum where investigations by state attorneys general into whether ExxonMobil misled investors and the public about climate change were a topline issue.
Wray's law firm later pitched clients on its ability to help corporations "vigorously contest" such investigations in response to the 2016 launch of a coalition of 17 state attorneys general aimed at pursuing similar legal efforts around climate change. The firm's clients have included ExxonMobil and other powerful fossil fuel interests.
Trump Fires FBI Director James Comey: What's Exxon Got to Do With It? https://t.co/0lx4gb1glF @350 @DeSmogBlog @Exxon_Knew #ComeyFiring

— EcoWatch (@EcoWatch)1494423715.0
First, some quick background on the issues at play, followed by some details on the involvement of Wray and his law firm.

Wray once led federal corporate fraud investigations, but then he switched sides
President Trump described his new nominee for FBI director as "a man of impeccable credentials" in a tweet. Wray's credentials include a 2003-2005 stint as assistant attorney general for the U.S. Department of Justice, where he oversaw corporate fraud investigations, helped to take down Enron and contributed to national security efforts after 9/11.

After Wray left the Department of Justice in 2005, he switched sides and joined the corporate law firm King & Spalding, which has consistently ranked as a "White Collar Group of the Year." He's since defended big corporations against investigations by U.S. attorneys general offices around the country.
Wray's law firm has defended powerful fossil fuel interests in climate change litigation
King & Spalding successfully defended Chevron in Native Village of Kalina v. ExxonMobil, a case where a community of Alaska Natives sought compensation for the cost of relocating their coastal village due to flooding and erosion caused by climate change. The community and others like it still remain stranded in the path of rising waters, without the financial resources necessary to relocate once again.
DesmogBlog has previously reported on some of the firm's broader other clients in the fossil fuel industry, which have included ConocoPhillips, Marathon Oil, Occidental Petroleum, Peabody Energy and Shell. Other clients have included ExxonMobil and the Russian oil companies Gazprom and Rosneft.

The firm's client list is of interest given the current scrutiny of the Trump administration's ties to Russia. For example, Sec. of State Rex Tillerson established a long-term relationship with Rosneft while CEO of ExxonMobil. In addition, some members of the U.S. House of Representatives and Senate have called on the Department of Justice to investigate ExxonMobil's record of deception on climate change based on the same authority it previously used to take on the tobacco industry.
Why Was Tillerson Present at Signing of Major Exxon Deal With Saudi Arabia? https://t.co/Sbd9p3hw4M @IMPL0RABLE @NeverTrumpPAC

— EcoWatch (@EcoWatch)1496179209.0
The FBI's role in the ExxonMobil climate change investigations

In 2016, a letter from the Department of Justice informed members of Congress that it had forwarded their request for a federal investigation into whether ExxonMobil may have violated the law by "failing to disclose truthful information to investors and the public regarding climate science" to the FBI.
"The FBI will determine whether an investigation is warranted," the 2016 letter from DOJ said.
More than half a million Americans also petitioned the Department of Justice to investigate the oil and gas producer. The calls came after it was revealed that ExxonMobil knew about the possible risks that carbon dioxide emissions resulting from use of its products—fossil fuels—posed to the earth's climate, long before it spearheaded a decades long campaign of climate denial.
The FBI has been silent on the issue since then, and prospects of a federal investigation into ExxonMobil's climate deception dimmed when Trump chose Sen. Jeff Sessions to serve as U.S. attorney general. While in the Senate, Sessions joined a letter to the Department of Justice that opposed such an investigation.
Wray offered clients legal advice at a 2015 forum on the ExxonMobil investigations
A number of state attorneys general continue to lead the charge on investigating ExxonMobil's record on climate change, most notably Maura Healey of Massachusetts and Eric Schneiderman of New York.

The December 2015 forum, "From Climate Change to Anti-Corruption: The Energy Sector in the Crosshairs of Government Enforcement," that was hosted by King & Spalding was largely framed as a response to these investigations.
Wray topped the list of speakers , which also included several other attorneys from his firm.
A January of 2016 Client Alert, "State Attorneys General Investigations and Enforcement: What to Expect in 2016," sent by King & Spalding confirms that the forum:
"…discussed New York Attorney General Eric Schneiderman's investigation into ExxonMobil's securities disclosures and their connection to climate change issues, among other recent energy-related investigations."
Wray's advice at the December 2015 forum was quoted in the same Client Alert that King & Spalding sent out the following month:
"When you see a competitor announce in their disclosure that they've got an investigation, whether it's with a state AG, the SEC, the Justice Department or all of the above, immediately start trying to figure out as much as you can about what they are dealing with and start asking yourself questions internally: Is there any chance at all we could have a problem like that since they're in the same industry in the same place? Is there something we ought to do ... so that we don't end up being in the crosshairs?"
"In this way, companies can identify areas where the government is likely to investigate and proactively move to improve and reinforce compliance in those critical areas," the client alert then concluded, based on Wray's remarks.
But Wray's law firm later offered clients the ability to "vigorously contest" such investigations
Spalding & King soon followed up with an April 2016 Client Alert, "State AGs Announce Climate Change Investigations," that closed with a sales pitch:
"King & Spalding has been at the forefront in representing clients who have found themselves the targets of state AG investigations or claims for almost 30 years. Our experience with state AG investigations began in the 1980s with our representation of Brown and Williamson Tobacco Company and continues through to today representing clients in many industries, including energy companies. King & Spalding's State Attorneys General Practice is jointly led by our government investigations and public policy groups, and is supported by our strategic alliance with former Wisconsin Attorney General J.B. Van Hollen.
We always do what we can to help clients avoid or minimize the impact of state Attorneys General investigations and litigation whenever possible, but we are not afraid to vigorously contest those investigations when appropriate or to try cases when necessary. We are also adept at engaging with the media directly or in coordination with communications personnel and/or consultants."
The April 2016 client alert came from King & Spalding's Special Matters and Government Investigations Practice Group, which Wray had chaired since 2006. Wray was not explicitly named in the April client alert, as he was named in the earlier January alert.
King & Spalding's April 2016 alert came shortly after the launch of the coalition of 17 state attorneys general that significantly raised the stakes for ExxonMobil.
"The participating states are exploring working together on key climate change-related initiatives, such as ongoing and potential investigations into whether fossil fuel companies misled investors and the public on the impact of climate change on their businesses," according to a press release from Schneiderman's office.
King & Spalding's April 2016 client alert also questioned the motives of these state attorneys general. It cited information obtained through a public records request submitted to the Vermont attorney general's office by the Energy and Environment Legal Institute (E&E Legal) in an attempt to stir up political controversy around the investigations. E&E Legal is a climate denial outfit with ties to the Trump administration and is known for its use of public records requests to harass real climate scientists.
In 2015, E&E Legal received funding from coal producer Peabody Energy. That same year, the Peabody Energy reached a settled with Schneiderman after an investigation into the coal company's "misleading statements" to investors on climate change.
Wray is not the first Trump nominee to have weighed in on the issue
Corporate attorney Jay Clayton worked for a law firm that advised clients to comply with guidance on climate change disclosure from the Security Exchange Commission (SEC) after Schneiderman announced his investigation of ExxonMobil's disclosures. News broke that the SEC had launched a related investigation into ExxonMobil's climate accounting practices in September of 2016.
Clayton is now serving in the Trump administration as chairman of the SEC. During his Senate confirmation hearing, Clayton advised that corporations should continue to be "mindful" of the SEC's guidance on climate change disclosure:
Similar questions could arise at Wray's confirmation hearing, though those are likely to be dominated by questions about the FBI's ongoing investigation into Russian influence over the 2016 election.
State attorneys general will continue to lead the investigations into ExxonMobil's record on climate change
There is no reason to believe that any real federal investigation of ExxonMobil's climate change disclosures, or those of other companies, will occur while Trump is in the White House. The Trump administration has, with few exceptions, generally followed the fossil fuel industry's lead by rolling back key U.S. climate change policies that have long been opposed by ExxonMobil and its political allies.
State attorneys general will continue to lead the charge on holding companies like ExxonMobil accountable when they deceive investors and the public about climate change risks, and recent trends indicate forward thinking shareholders will do the same.
HighGradeRoots / iStock / Getty Images Plus
CBD, or cannabidiol, now comes in a variety of different forms, including CBD oils, CBD gummies, CBD capsules, and even water soluble CBD powders. You can also use CBD vape oil like you would any other vape juice. Our guide to the best CBD vape oils will help you identify the top brands to consider and will provide important information about CBD, vaping, and wellness.

What is CBD Vape Oil?
CBD can be vaporized and inhaled. To that end, many companies offer CBD vaping products, sometimes referred to as CBD vape juice, CBD vape pens, or CBD vape cartridges. These products normally come as disposable or refillable cartridges for vape pens . The vape pen vaporizes the specially made CBD contained in the cartridge, which is then inhaled. It is the same principle behind e-cigarettes and THC vape products.
Vaporization is normally considered a potent way to ingest CBD and so it is not for everyone. Because the vapor is inhaled, the molecule enters the bloodstream much quicker, so vaping produces a fast and relatively intense feeling.
While CBD vape oil may be used as an aid to help you quit smoking, we do not recommend smoking or vaping CBD as your primary method of ingesting CBD because of the health concerns associated with smoking. For alternative methods of taking CBD, check out our oil tincture and CBD gummy reviews.
Note that new federal laws went into in effect starting April 2021 as part of the Consolidated Appropriations Act, 2021, that place new regulations and restrictions around the online sale and delivery of all vaping products. In order to purchase any vape product online, you will need to verify your age and use a shipping service that requires an adult signature upon delivery. As a result, several brands have discontinued their CBD vape pens or no longer sell them online.
Top CBD Vape Oil Products for 2021
Each product featured here has been independently selected by the writer. You can learn more about our review methodology here. If you make a purchase using the links included, we may earn commission.
How We Chose the Best CBD Vape Oils
Here is a list of factors we consider when choosing and ranking our brand selection.
Hemp source - Hemp source is one of the most important parts of the CBD manufacturing process. We make sure to only pick companies that grow hemp according to the most up-to-date botanical and cultivation methods. We also make sure to choose companies that use organically grown, locally-sourced hemp.
Extraction process - There are three primary types of extraction for CBD products. The first involves crushing the leaves and stems and removing the residual mixture. Solvent extraction involves running the hemp plant through a solvent mixture (most of the time ethanol) then boiling away the solvent to leave the oil residue. The last common method is called supercritical CO2 extraction. Supercritical CO2 extraction is considered the gold standard when it comes to CBD production. As such, we try to find companies that use supercritical methods for their products.
Manufacturing standards - There are several third-party organizations that vet companies based on manufacturing standards and the quality/accuracy of their products. These agencies test company products to make sure that they are made properly and actually contain what they are advertised to contain. As such, we only choose products and companies that have readily accessible third-party lab reports ascertaining the quality of ingredients and production. Any company that does not provide this information for consumers is automatically excluded from consideration.
Extra ingredients - CBD products rarely contain just CBD and nothing else. Many contain a full spectrum of cannabinoids and other molecules such as terpenes. Some may contain delta-8 THC. We make sure that any companies we choose use all-natural ingredients and do not rely on any synthetic or artificial chemicals. We also look at the type and quality of alternative ingredients
Potency - Potency, or concentration, refers to the overall strength of the mixture. Potency is normally measured in milligrams per milliliter (mg/ml). Most of the time a product will list the potency on the label along with the quantity and volume of the product. Potency is very important because it determines the recommended dose that you should take.
Brand transparency - It is important when dealing with CBD companies that the brand is transparent about their products, methods, and supply chains. So, when looking for companies, we make sure only to pick those that have reliable and transparent business practices, product labelings, and company information/policies.
Customer reviews and testimonials - The last major factor we consider is customer reviews and testimonials. Customer reviews encompass more than just the quality of products. They also talk about how it is to interact with the company and the overall company experience. Customer reviews can also give insights in specific matters that general product descriptions cannot give. They also give a good indication of the public reputation of a company.
The Best CBD Vape Oils of 2021
thecbdistillery.com
CBD - Broad Spectrum
Strength - 1000 mg CBD per bottle
Flavor - Mango
Why buy: We like this extra strength CBD E-Liquid from CBDistillery because it provides 1000 mg of broad spectrum CBD with no THC or nicotine. Available in flavors like mango, strawberry, mint, and grape, this CBD vape oil is also third-party lab tested for quality with a QR code right on the box so you can view the test results for yourself.
botanyfarms.com
CBD - Full Spectrum (includes Delta-8 THC)
Strength - 35% CBD, 25% CBG, 9% Delta-8 THC, 7% CBN, 7% CBC per 1 gram
Flavor - Lemon Diesel
Why buy: This Botany Farms CBG vape cartridge offers a full spectrum blend of CBD and other cannabinoids, including delta-8 THC, for a calming and relaxing experience with a bright, citrusy flavor. Because it does contain full spectrum hemp extract and delta-8, we strongly recommend only using this product to relax in the evenings and that you do not drive after use.
The Research on CBD Vape Oils
CBD has become an interesting object of study by scientists because of its potential therapeutic and medicinal properties. CBD may help support relief from certain health conditions, including:

Anxiety
Inflammation
Chronic pain
Joint pain
Out of all these effects, the potential pain reducing and anti-inflammatory properties of CBD are the most well-established. CBD has been shown to have anti-inflammatory properties and has also been shown to be to help with pain management in certain cases.
The exact mechanism of action of CBD is through the body's endocannabinoid system. The endocannabinoid system (ECS) is a large network of cannabinoid receptors throughout the body's brain and nervous tissue. Research has shown that the endocannabinoid system is involved in mediating several homeostatic processes in the body.
To be clear, CBD is not medicine and is not generally approved by the FDA for medical use. CBD is not intended to serve as a substitute or replacement for any approved medical treatment and CBD is not known to cure any diseases.
In fact, there are only 2 FDA-approved medicines that contain CBD as their active ingredient, both of which are meant to treat certain forms of epilepsy. Since CBD is not approved for medical use, you should always talk to your doctor first before using a CBD product.
How to Choose the Right CBD Vape Oil
With any CBD vape juice or oil, it's important to make sure that you choose a product that is safe and made using quality, natural ingredients. Make sure you consider these factors when shopping.
What to Look For
Here are the key things to look for when comparing CBD vape oil products:
Type of CBD: Always known the type of CBD contained in any CBD vape oil product, whether that's full spectrum, broad spectrum, or CBD isolate.
Hemp Source: Look for brands that source their hemp from organic farms in the United States.
Lab Testing: The most important factor to consider is independent third-party lab testing. You should never purchase a CBD product that does not offer proof of independent testing.
Instructions: Some CBD vape cartridges will include specific instructions on how to to use them with your existing vape pen or device, as well as if they can be mixed with other e-liquids.
How to Read Labels
Take the time to read the label of any CBD vape juice product before you buy. Always look for the following information.
Strength - Check to see how much CBD is contained in the product so you know how much will be in each serving.
Other Ingredients - Make sure you know what other cannabinoids or ingredients are included in the vape, especially if you are concerned about THC.
Test Results - The best brands include links or QR codes to the certificates of analysis from the lab tests of their CBD. Use these to check the results for yourself.
Safety & Side Effects
CBD can cause a certain number of side effects, though most of them are mild.. The most common reported side effects of CBD are:

Dry mouth
Fatigue/lethargy
Indigestion
Changes in appetite
Upset stomach
The most commonly reported side effect is fatigue and tiredness. CBD can also interact with certain prescription medications, so be sure to consult with your doctor before using CBD if you take any prescription medicines.
It's also important to note that vaping or smoking of any kind carries serious health risks. While vape oils may be used to aid in the cessation of smoking, it is not advised as the primary method of taking CBD.
Takeaway
You should always take the time to research any CBD product that you purchase, but this is especially important when it comes to CBD vape oils and CBD vape pens. You can also explore other CBD options including oil tinctures, gummies, capsules, and water soluble mixes in order to enjoy the potential benefits of CBD.
Sarah Wasko / Media Matters for America
By Lisa Hymas
Energy Sec. Rick Perry has ordered his department to produce a study on whether the ongoing shift toward renewable energy is affecting the reliability of the electrical grid. A number of experts, clean-energy advocates and politicians on both sides of the aisle believe the study is intended to be biased in favor of the coal and nuclear industries, which have been struggling in recent years.
As journalists prepare to report on the study, which is expected to be released this month, there are some critical factors to consider:
The study leader worked for Koch-funded groups and has demonstrated bias against renewable energy;
Numerous studies and grid experts have concluded that the electrical grid can incorporate increasing amounts of renewable energy and become more secure as a result, not less.
Perry Orders Grid Study That's Widely Viewed as Intended to Bolster the Coal Industry
On April 14, Perry put out a memo calling for the Department of Energy (DOE) to conduct a 60-day study "to explore critical issues central to protecting the long-term reliability of the electric grid." The study is intended to assess "how certain policies are affecting, and potentially putting at risk, energy security and reliability," according to the memo. Though Perry's memo didn't mention wind, solar or renewable energy by name, it was widely understood to be referring to policies that have supported the development of renewable energy.
Here's how Bloomberg explained it:
U.S. Energy Secretary Rick Perry is ordering a study of the U.S. electric grid, with an eye to examining whether policies that favor wind and solar energy are accelerating the retirement of coal and nuclear plants critical to ensuring steady, reliable power supplies.
Perry highlights concerns about the "erosion" of resources providing "baseload power"—consistent, reliable electricity generated even when the sun isn't shining and the winds aren't blowing.
Perry's effort suggests that the administration may be looking for other ways to keep coal plants online.
As Jacques Leslie, a contributing opinion writer at the Los Angeles Times, put it in April, "Perry has already decided what the study should find: Its purpose is to buttress the Trump administration's pro-fossil fuel policies."
Chris Tomlinson, a business columnist for the Houston Chronicle, recently described the forthcoming study as "clearly a fait accompli," writing that "Perry ordered his own review of the grid to reach conclusions that suit the administration." Tomlinson explained: "Perry is looking for an excuse to override competitive electricity markets and force utilities to buy power from coal and nuclear plants."
In late June, Perry gave his critics more ammunition with remarks he made at the U.S. Energy Information Administration's annual conference, The Hill reported. While discussing the study, he said that "politically driven policies, driven primarily by a hostility to coal," threaten "the reliability and the stability of the greatest electricity grid in the world." The Hill further reported that Perry told the conference he "doesn't intend to give preference to renewable power, something he accused the Obama administration of doing." Perry said, "I recognize the markets have had a role in the evolution of our energy mix. But no reasonable person can deny the thumb, or even the whole hand, if you will, has been put on the scale in favor of certain political outcomes."
In addition to a long record of fossil-fuel boosterism, Perry has a history of denying that climate change is caused by humans burning fossil fuels, despite the overwhelming scientific consensus. Perry reiterated this denial during a June 19 appearance on CNBC's Squawk Box, blaming climate change primarily on "the ocean waters and this environment that we live in" instead of carbon dioxide emitted through human activity.
Study Leader Worked for Koch-Funded Groups and Has Demonstrated Bias Against Renewable Energy
Perry selected Travis Fisher to lead the study, a political appointee who serves as a senior advisor in the DOE's Office of Electricity Delivery and Energy Reliability. Fisher has a record of skepticism toward clean energy and favoritism toward fossil fuels, as documented by the Energy and Policy Institute, a nonprofit watchdog.
Before joining the Trump administration, Fisher worked as an economist at the Institute for Energy Research and the American Energy Alliance, groups that are run by a former Koch Industries lobbyist and that received $3 million in donations from Koch-funded organizations in 2015. The Institute for Energy Research also received $50,000 from coal company Peabody Energy in 2015 and has been funded by ExxonMobil and the American Petroleum Institute.
While working at the Institute for Energy Research in 2015, Fisher wrote a report that argued wind and solar power threaten the reliability of the grid:
The single greatest emerging threat to reliable electricity in the U.S. does not come from natural disturbances or human attacks. Rather, the host of bad policies now coming from the federal government—and, unfortunately, from many state governments—is creating far greater and more predictable problems with grid reliability.
Subsidies and mandates that force increased amounts of unreliable sources of electricity on the grid, such as wind and solar power, and undermine the normal operation of reliable power plants [...] create a much less reliable grid and increase the chances of a major blackout.
Despite issuing these warnings, Fisher's 2015 report did not cite any examples of clean energy policies leading to blackouts.
Fisher also wrote an op-ed in 2014 that argued wind and solar are "unreliable sources of power" and policies that promote them "undermine our electric system."
Fisher isn't the only person involved with the study who has a biased background. Perry's memo calling for the study was addressed to his chief of staff, Brian McCormack, who until recently worked for the Edison Electric Institute, the primary trade group for the electric utility industry and an opponent of net-metering policies that encourage rooftop solar power. While at the Edison Electric Institute, McCormack played a key role in fighting policies that promote renewable energy.
Republican and Democratic Politicians Warn That the Study is Likely to be Biased and Lack Credibility
Republican Sen. Chuck Grassley, whose home state of Iowa has a robust wind power industry, sent a letter to Perry in May expressing serious doubts about the study. "I'm concerned that a hastily developed study, which appears to pre-determine that variable, renewable sources such as wind have undermined grid reliability, will not be viewed as credible, relevant or worthy of valuable taxpayer resources," he wrote. "In fact, at least one similar study has already been conducted by the DOE's National Renewable Energy Laboratory. It's my understanding that study took two years to complete."
Seven Democratic members of the Senate Energy and Natural Resources Committee sent a letter to Perry in May saying, "This Study appears to be a thinly-disguised attempt to promote less economic electric generation technologies, such as coal and nuclear, at the expense of cost-competitive wind and solar power. … The Study, as you have framed it, appears to be intended to blame wind and solar power for the financial difficulties facing coal and nuclear electric generators and to suggest that renewable energy resources threaten the reliability of the grid."
Coal Groups Support the Review; Clean Energy Industry Groups are Skeptical
Industry trade groups appear to believe the study is likely to lean in favor of coal, as reflected in the coal lobby's support for the inquiry and clean energy groups' questions about how it's being conducted.
A top coal lobbying group, the American Coalition for Clean Coal Electricity, met twice with DOE officials to discuss the study "and came away hopeful about its results," The Hill reported in late June. "What DOE is doing is long overdue, and we're very pleased with this right now," said Paul Bailey, the group's president and CEO. "It looks like it will support the need for having a fleet of coal plants in the U.S."
Luke Popovich, vice president for external relations at the National Association of Mining, wrote an op-ed for USA Today in May titled, Energy Department is right to study impact of U.S. power grid regulations. He praised Perry's call for the study, writing, "This is sensible policy."
Clean energy industry trade groups are worried that their perspectives will be left out of the study. In an April letter sent to Perry, three trade groups—Advanced Energy Economy, the American Wind Energy Association and the Solar Energy Industries Association—pointed out that "solar and wind power, energy efficiency, energy storage and advanced grid technologies ... have already been integrated smoothly into the electric power system in large and increasing amounts, as demonstrated in countless studies." The groups asked that the study be conducted through an inclusive, public process: "In light of the importance of this inquiry, we encourage you to follow standard practice and conduct the study in an open and transparent manner. When agencies prepare reports with policy recommendations that could affect entire industries and the millions of employees that work in them, such as the proposed one, it is customary for them to seek comments on a draft prior to the study being finalized."
The American Petroleum Institute, which represents producers of natural gas as well as oil, is also skeptical of the forthcoming study because it appears likely to promote coal and nuclear plants at the expense of gas. "Baseload is kind of a historical term. It's not really relevant to how electricity is produced today," Erica Bowman, chief economist at API, told the Houston Chronicle. "What you need is dispatchability ... and [coal and nuclear] are far slower when you compare them to a lot of the technology natural gas plants have." Writes the Chronicle, "That position places the oil and gas lobbying giants firmly on the side of the renewable energy industry, which has expressed concern Perry's study is nothing more than an attempt to prop up the coal sector.
Renewable Energy is Not to Blame for Driving Coal and Nuclear Plants Out of Business, According to Reports and Experts
Perry called for the study to look into whether renewable energy threatens so-called "baseload" power plants. Wind and solar power are intermittent or variable, flowing into the grid when the wind blows and the sun shines, not 24/7. Perry expressed concern that government policies that encourage the development of renewable energy are leading to the closure of baseload plants that produce power around the clock, most of which are powered by coal and nuclear. Perry wrote in his memo that "federal subsidies that boost one form of energy at the expense of others ... create acute and chronic problems for maintaining adequate baseload generation," implying that subsidies for wind and solar are hurting the coal and nuclear industries.
But in fact, cheap natural gas is the main factor pushing coal and nuclear plants toward closure, not solar and wind, as many experts have noted.
A new report by Analysis Group, an economic consulting firm, reiterates that point. "Analysis Group finds it is market forces—primarily low-cost natural gas and flat demand for electricity—that are causing some coal and nuclear power plants to retire, and not state and federal policies supporting renewable energy development," said a press release from Advanced Energy Economy and the American Wind Energy Association. The two trade associations commissioned the report "in order to independently answer questions asked by Energy Secretary Rick Perry about the reliability and market rules of the U.S. electric power grid."
A recent report by the free-market think tank R Street refutes the idea that coal and nuclear are needed to maintain a reliable grid. "Concern over baseload retirements often masks an underlying preference for certain fuel types, namely coal and nuclear. Criticism of baseload retirements often ignores that nonbaseload resources can meet baseload demand reliably … and that new dependable resources have replaced retiring generators," the report concluded.
Ben Fowke, president and CEO of large utility company Xcel Energy, told The Wall Street Journal in July that wind and solar are not responsible for the closure of coal and nuclear plants.
Utility and Grid Experts Say the Grid Can Incorporate More Renewables and Be More Secure as a Result
For a period on Feb. 12 of this year, wind provided a record 52.1 percent of the electricity to the grid in the Southwest Power Pool's service region, which spans 14 states. Bruce Rew, vice president of operations for the Southwest Power Pool, said, "Ten years ago, we thought hitting even a 25 percent wind-penetration level would be extremely challenging, and any more than that would pose serious threats to reliability. Now we have the ability to reliably manage greater than 50 percent wind penetration. It's not even our ceiling."
Colette Honorable, an outgoing commissioner at the Federal Energy Regulatory Commission, said in late June that large amounts of renewable energy have been successfully integrated into regional grids around the U.S. and have "absolutely not" harmed grid reliability. "I have seen no problems with reliability," she said during remarks at the the U.S. Energy Information Administration's annual conference. "Bring on more renewables."
Ed Smeloff—managing director at the nonprofit Vote Solar, who previously worked at SunPower Corp., the San Francisco Public Utilities Commission and the Sacramento Municipal Utility District—wrote an op-ed for The Hill in June arguing that renewable energy and clean technology "can make the electric grid more resilient and reliable," not less. "DOE studies have already shown that much more renewable energy can reliably be added to the grid. If the federal government calls for policies that protect 'baseload' resources from market forces, the results will be higher electric bills, slower domestic economic growth and, critically, a less secure electric power system," he wrote.
Don Furman, director of the Fix the Grid Coalition and a former executive at the utility PacifiCorp, told Media Matters for America by email, "A reliable, carbon-free grid based on renewable energy is not only possible, it is economically feasible. It will take time for an orderly transition, and we will need policies to help people impacted by the move away from coal. But we absolutely can do it, starting now."
According to Axios, Fowke, CEO of Xcel Energy, said on May 24 at the annual conference of the American Wind Energy Association, "I don't think 5 or 10 years ago I'd be comfortable telling you we could not sacrifice reliability when we're going to have 35% of our energy come from wind. I'm telling you, I'm very comfortable with that today."
David Hochschild, a commissioner with the California Energy Commission, the state's primary energy policy and planning agency and David Olsen, a member of the California Independent System Operator Board of Governors, which runs the state's electric grid, argued in an op-ed in the San Francisco Chronicle that clean energy makes the grid more stable:
In California, which has installed more clean energy than any other state, there have been no threats to the reliability of the electric grid caused by renewables. Instead, the three biggest threats to our grid over the last 20 years came from market manipulation (Enron et al, during the 2001 energy crisis), a nuclear plant failure (San Onofre, 2012) and the largest natural gas leak in history (Aliso Canyon gas storage facility, 2015). Rather than create these emergencies, renewable energy was part of the solution and continued to operate reliably and prevented these events from becoming worse.
In August 2011, when a heat wave in Texas shut down 20 natural gas plants, it was wind power that kept the electric grid operator from having to black out areas of the state. In Iowa, wind power now provides 37 percent of the state's electricity with no reduction in reliability.
Numerous Studies, Including Ones from DOE, Have Found That the Grid Can Incorporate More Clean Energy and Improve Reliability in the Process
In 2016, renewable energy sources provided 15 percent of U.S. electricity, according to the Energy Information Administration. Nearly 6 percent came from wind energy and about 1 percent came from solar energy. Many studies have concluded that the grid can handle considerably higher percentages.
In fact, a leaked early draft of the very study Perry has commissioned reached the conclusion that the electrical grid is now more reliable than it was in the past even though it is handling more wind and solar power. According to Bloomberg, a draft written by career staff at the Department of Energy concluded, "The power system is more reliable today due to better planning, market discipline, and better operating rules and standards." But the draft report is currently being reviewed by department leaders and is expected to read somewhat differently by the time it is officially released. "Those statements as written are not in the current draft," a DOE spokesperson told Bloomberg.
Previous studies reached conclusions similar to those of DOE career staff:
The National Renewable Energy Laboratory, which is funded and overseen by the Department of Energy, found that the grid could handle 80 percent renewable power by 2050. The lab assessed the question of grid reliability in a four-volume 2012 study: "The central conclusion of the analysis is that renewable electricity generation from technologies that are commercially available today, in combination with a more flexible electric system, is more than adequate to supply 80% of total U.S. electricity generation in 2050 while meeting electricity demand on an hourly basis in every region of the United States." This study, whose authors described it as "the most comprehensive analysis of high-penetration renewable electricity of the continental United States to date," is the one Grassley said had taken two years to complete.
Other studies from the National Renewable Energy Laboratory also found that the grid can accommodate much more renewable energy than it does now. The Solar Energy Industries Association summarized them in a recent briefing paper:
Multiple studies from the Department of Energy's (DOE) National Renewable Energy Laboratory (NREL) have shown that the existing grid can handle high penetrations of renewable energy without compromising reliability and performance. In their Western Wind and Solar Integration Study and Eastern Renewable Generation Integration Study NREL finds that both the existing western and eastern electric grids can accommodate upwards of 30% of solar and wind power without requiring extensive infrastructure investments.
Phase three of the [western grid] study demonstrated that reliability of the western grid can be maintained at high renewable penetration rates in the face of large system disturbance (such as the loss of a fossil plant).
A 2016 study by the National Oceanic and Atmospheric Administration and the University of Colorado, Boulder, published in the journal Nature Climate Change, found that "widespread distribution of renewables would help address the intermittency problem by covering a wider swath of land and taking advantage of weather conditions over a larger area," as Climate Nexus explained.
The North American Electric Reliability Corporation, a not-for-profit regulatory authority, released a report last month that found the U.S. power grid has been successfully incorporating renewable energy. Midwest Energy News summarized the report: "NERC's own findings suggest that—for now, at least—the nation's power system has been largely successful in adapting to new technologies, shifting policies and fickle market forces."
Studies by grid operators have found that reliability can be maintained with higher proportions of renewables. According to the Union of Concerned Scientists, "The authorities responsible for operating the nation's power grid—regional transmission organizations and independent system operators—have all published or participated in studies evaluating how increased renewable energy supplies would affect the electricity system. These studies have overwhelmingly shown that higher levels of renewable energy can be achieved regionally without affecting the reliability of electricity supplies."The Solar Energy Industries Association summarized some of these studies:
The California Independent System Operator (CAISO), which manages the largest amount of solar resources in the country, finds that the state will have no issues in maintaining reliability in hitting its 33% renewables target by 2020. PJM, which operates much of the eastern grid in the U.S., found in a 2014 study that they would not encounter reliability issues with 30% of their energy coming from solar and wind.
In a separate study, CAISO found that solar photovoltaic power plants, when equipped with commercially available inverter technology, can offer "electric reliability services similar, or in some cases superior to, conventional power plants." Likewise, Concentrating Solar Power plants (CSP), which produce electricity by using the sun to heat boilers and push turbines, are easily paired with thermal energy storage and provide a host of grid benefits that allow them to function similar to any fossil fuel plant.

Studies by independent groups have also found that much more renewable energy can be accommodated on the grid. A new study by The Brattle Group, an economic consulting firm, found that "no single technology or fuel type is needed to keep the lights on" around the clock. According to a press release from the Natural Resources Defense Council, which commissioned the study, "The nation's electricity grid operators are increasingly turning to more flexible resources and low-cost renewable energy options like wind and solar, rendering outdated the notion that 'baseload' generating plants are required to reliably power America's homes and businesses."
The Brattle study also reviewed "a number of other studies of grid operations and planning across the country," the Natural Resources Defense Council noted. "These studies uniformly highlight the increasing value of system flexibility. For example, an analysis of the California electricity system from Astrape Consulting found that as flexibility increases, reliability improves and both production costs and emissions decrease. An analysis of New Mexico grid operations reached a similar conclusion, finding that future blackouts are more likely to be driven by a lack of system operational flexibility."
An earlier study by The Brattle Group, published in 2015, presented case studies on Colorado and Texas and determined that "integrating variable renewable energy at penetration levels of 10-20% on average and at times above 50% — i.e., high relative to the current levels in most of the United States — is possible. … While infrastructure changes will likely be necessary in the longer term, the shorter-term integration challenges in many cases can be addressed with modest operational changes." The study was commissioned by the Advanced Energy Economy Institute, the educational affiliate of the trade group Advanced Energy Economy.
A 2014 study by the International Energy Agency found, in the words of the Solar Energy Industries Association, that "most countries can achieve high grid reliability at renewable penetration rates of 25 – 40%."
Climate Nexus has rounded up additional studies with similar findings.
Grid Operators Have the Technology and Know-How to Improve Reliability While Incorporating More Renewables
Experts point to many strategies and technologies that can be used to handle an increasing proportion of clean energy on the grid.
The Washington Post noted a couple of them:
Perry's memo did not mention energy storage, which as it proliferates, is expected to help integrate more renewable energy onto the grid. For instance, batteries could store some of the energy generated by large solar arrays during the day, deploying that energy at night, effectively making solar into something a lot more like a "baseload" power source.
More and more, electricity markets are purchasing the lack of electricity use as a commodity, as "demand response" options, in which companies lower their energy use at times of peak demand to reduce burdens on the grid, proliferate.
Mike Jacobs, a senior energy analyst with the Union of Concerned Scientists, listed more approaches grid operators could use in a blog post: "Coordination of demand response, electric vehicle charging, and simple upgrades such as thermostats and efficient lighting reduce the stress on the grid, directly and immediately improving reliability. The utility industry has great potential to improve this sort of interaction with consumers, as well as the game-changing possibilities of battery energy storage."
The nonprofit group Climate Nexus outlined a number of additional strategies:
Grid operators have an array of tools to deal with variability. Among these tools are accurate weather forecasting, sophisticated controls for renewable generators, flexible balancing of other resources like natural gas, utility-scale energy storage, and transmission lines to move power to areas of high demand. Changes in the wholesale market that allow for better scheduling of power plants and sharing of reserve margins across wide geographical areas could also reduce curtailment.

Climate Nexus also noted, "The challenges renewables pose to the national power grid are minor compared to the larger systemic problems of aging infrastructure, susceptibility to weather-related outages and an overreliance on fossil fuels."
And the group pointed out that incorporating more renewable energy into the U.S. electrical system provides numerous other benefits as well, including human health protections, job growth, electricity cost savings, and a more stable climate.
Reposted with permission from our media associate Media Matters for America.
By Dave Anderson
Travis Fisher, a Trump political appointee in the Department of Energy, wrote a 2015 report for the Institute for Energy Research that called clean energy policies "the single greatest emerging threat" to the nation's electric power grid, and a greater threat to electric reliability than cyber attacks, terrorism or extreme weather.
Fisher is now leading up a controversial grid study ordered by Sec. of Energy Rick Perry under the pretense of ensuring the long-term reliability of the nation's electricity supply. If Fisher's past writings on the topic are any indication, the forthcoming DOE study is sure to be a thinly veiled attack on renewable energy aimed at propping up outdated coal and nuclear power plants that can't compete in today's electricity market.
Rick Perry's grid study sounds strikingly similar to the one Travis Fisher wrote for fossil fuel interests in 2015.
Trump's Koch-Funded Appointees Continue Ruthless Attack on Clean Energy Growth https://t.co/4NsyZRlOqW @ALECExposed @prwatch

— EcoWatch (@EcoWatch)1495316707.0
In his February 2015 report for the Institute for Energy Research (IER), Fisher attacked wind and solar power as "unreliable" sources of electricity. That same year, IER and its lobbying arm, the American Energy Alliance (AEA), together received millions of dollars from foundations affiliated with the Koch brothers, who have bankrolled an all out campaign to roll back state and federal clean energy policies.
In a 2016 bankruptcy filing, coal producer Peabody Energy also disclosed that it contributed $50,000 to IER in 2015. Fisher wrote in his 2015 IER report:
"The single greatest threat to reliable electricity in the U.S. does not come from natural disturbances or human attacks. Rather, the host of bad policies now coming from the federal government—and unfortunately from many state governments—is creating far greater and more predictable problems with grid reliability."
He also offered this overview:
"New stresses on the electricity delivery system are coming primarily from two types of policies: 1) Regulations that directly shut down reliable sources of electricity, such as coal and nuclear power, and 2) Subsidies and mandates that force increased amounts of unreliable sources of electricity on the grid, such as wind and solar power, and undermine the normal operation of reliable power plants. Together, these two types of policies create a much less reliable grid and increase the chances of a major blackout."
A strikingly similar narrative appeared in the memorandum from Perry, who also serves on President Trump's National Security Council, which ordered a new DOE study on grid reliability be prepared in just 60 days:
"Baseload power is necessary to a well-functioning electric grid. We are blessed as a nation to have an abundance of domestic energy resources, such as coal, natural gas, nuclear and hydroelectric, all of which provide affordable base load power and contribute to a stable, reliable and resilient grid. Over the last few years, however, grid experts have expressed concerns about the erosion of critical baseload resources.
Specifically, many have questioned the manner in which baseload power is dispatched and compensated. Still others have highlighted the diminishing diversity of our nation's electric generation mix, and what that could mean for baseload power and grid resilience. This has resulted in part from regulatory burdens introduced by previous administrations that were designed to decrease coal-fired power generation. Such policies have destroyed jobs and economic growth, and they threaten to undercut the performance of the grid well into the future.
Finally, analysts have thoroughly documented the market-distorting effects of federal subsidies that boost one form of energy at the expense of others. Those subsidies create acute and chronic problems for maintaining adequate baseload generation and have impacted reliable generators of all types."
Perry's memorandum included a specific order to examine, "The extent to which continued regulatory burdens, as well as mandates and tax and subsidy policies, are responsible for forcing the premature retirement of baseload power plants." Perry's words since his memorandum serve as a further reminder of the undue influence of IER and AEA over the Trump administration's energy policies, made possible by AEA's loyal support for Donald Trump during the 2016 election. Perry recently revealed the Trump administration's half-baked and "highly classified" plan to preempt state and local energy policies in the name of national security.

Travis Fisher targeted state and federal clean energy policies for repeal
The clean energy policies that Fisher targeted for repeal in his 2015 study for IER provide some clues about the possible identity of the "mandates and tax and subsidy policies" to which Perry made vague reference in his memo. These included a mix of state and federal policies designed to increase the use of renewable energy, as well as reduce carbon dioxide and mercury emissions from coal-fired power plants. Fisher specifically recommended that policymakers repeal:
• The Environmental Protection Agency's Clean Power Plan and Mercury and Air Toxics Standards
• The federal Production Tax Credit for wind power
• State renewable energy standards
• Net metering incentives for rooftop solar
These are the sort of clean energy policies that have long been
targeted for repeal
by IER and AEA and their backers in the fossil fuel industry. Beyond Capitol Hill, a similar study with DOE's stamp could reignite
failed attacks against renewable energy policies in states like Ohio
, where
IER and AEA's misleading reports
have failed the smell test.
Fisher also referenced "bureaucratic hurdles" at the Nuclear Regulatory Commission, which he claimed has contributed to closure of "reliable" nuclear power plants. He pointed to the NRC as a factor in the closing of the Vermont Yankee nuclear power plant, but failed to mention the plant had been plagued by problems in recent years, including a cooling tower collapse and radioactive tritium leak.
Despite all the doomsday scenarios of electricity blackouts thrown into Travis Fisher's 2015 grid study for IER, he never named a single example where one of these clean energy policies actually caused the lights to go out. Most of these policies had been on the books for years, without causing the sorts of blackouts that Fisher predicted for the near future. Real world experience has proven beyond any reasonable doubt that grid operators and utilities can comply with clean energy policies, while also providing a reliable supply of electricity.
After all, a total of 29 states have renewable energy standards and 39 states have net metering on the books. The Production Tax Credit for wind power has been around since 1992. Utilities have already been complying with the EPA's Mercury and Air Toxics Standard. During the 1970's, electric utilities like American Electric Power ran ads that made the same sort of "doomsday predictions" about the Clean Air Act. In February 2015, the EPA responded to similar attacks on the Clean Power Plan by pointing out that "at no time in the more than 40 years that EPA has been implementing the Clean Air Act has compliance with air pollution standards resulted in reliability problems."
Fisher should heed his own advice

"Heed the advice of grid experts, such as the electrical engineers at NERC, FERC, utilities and regional transmission organizations," Fisher recommended at the end of his 2015 study for IER. What the grid gurus have told us over and over again is that renewable energy is reliable, and we can use much more of it in the years to come using the tools and technologies that are available today. Plus, clean energy policies generate cleaner electricity and a host of co-benefits. For example, previous analyses of state renewable energy standards by two of DOE's national labs have powered new jobs and reduced carbon dioxide and other harmful air pollutants, all at little to no additional cost to consumers. Rick Perry has praised those labs as national scientific and engineering treasures.

Travis Fisher downplayed real threats to the power grid
"Extreme weather places immense stress on the electricity system," Fisher admitted in his 2015 grid study for IER. "In fact, bad weather remains the number one cause of power outages." Fisher's own words exposed his all-too-obvious attempt to mischaracterize clean energy policies as "the single greatest threat to reliable electricity," as he put it.
Meanwhile, DOE published a 2015 report that identified the ways that extreme weather and climate change threaten reliable electricity in every region of the U.S. A total of 8.5 million people lost power during 2012's Hurricane Sandy. The impact of that storm was strengthened by climate change. Long lines formed at gas stations as people sought fuel to power backup generators. Yet Fisher made no mention of Hurricane Sandy in his 2015 IER study. In fact, he avoided any mention of the threat that climate change poses to the electric grid. He instead focused on his attacks on the Clean Power Plan, which set the first-ever national limits on carbon dioxide emissions from power plants that contribute to climate change.
Fisher even mixed in the sort of rhetoric common among the network of fossil fuel funded climate skeptics that IER and AEA are a part of. "The problem with calling it the 'Clean Power Plan' is that carbon dioxide is not dirty but rather a clean, odorless gas," Fisher wrote. To his credit, Fisher did mention that coal and natural gas can face challenges during periods of extreme cold. He focused on how the Polar Vortex disrupted the natural gas market as demand spiked. However, like many coal backers, Fisher either missed or ignored the fact that coal-fired power plants accounted for 26 percentage of outages in the ERCOT and Eastern Interconnections. He also neglected to mention that record wind power had saved electric utility customers money during recent periods of extreme cold.
Fisher also downplayed the threat posed by cyber, electromagnetic pulse, or terrorist attacks on the nation's power supply. He suggested the threat of U.S. retaliation served as an effective deterrent effect against attacks on the nation's power grid. He acknowledged one real world example in San Jose, where quick action by the local utility averted a blackout after a 2014 sniper attack on a power substation.
However, Fisher ignored the 9/11 terrorist attacks of 2011. While terrorists' primary target in New York was the World Trade Center, the attack also knocked out power to Lower Manhattan and destroyed two power substations. More than 2,000 Con Edison employees eventually restored power after they laid down 36 miles of emergency cable to bring electricity back to the impacted area. Initial estimates by Con Edison put the cost of repairs at $400 million. Fisher didn't deny that extreme weather and "human attacks," as he called them, posed significant threats, but he did mischaracterize clean energy policies as an even greater threat to the power grid.

Travis Fisher supported new infrastructure to benefit fossil fuels, but not for renewable energy
The 2015 grid study that Fisher wrote for IER also included support for escalating new oil and gas pipelines by overcoming what he described as "permitting delays" at the Federal Energy Regulatory Commission (FERC) and at the state level. Many environmentalists view FERC as a "rubber stamp" for pipelines, a concern that's only increased since President Trump named his nominees to the commission. Fisher even threw in a pitch for the Keystone XL pipeline, even though oil provides less than one percent of U.S. electricity.
He claimed that reliance on railroads to move tar sands oil meant that less rail capacity was available to transport coal and other things. Fisher wrote that use of fossil fuels was limited by a lack of infrastructure, and he was happy to spend other people's money to fix it. Not so for renewable energy. Fisher argued that the grid should not be updated to integrate more wind and solar power. "In other words, the incompatibility of wind and solar power on the grid is not a major drawback of the grid," Fisher said. "Rather, it is a major drawback of these sources of power." Fisher encouraged government to engage in the very behavior that he and his "free market" allies in the Koch world routinely disparage: picking winners and losers in the energy market.

Travis Fisher is loyal to fossil fuel interests and powerful political donors
Travis Fisher is the subject of one edition of the John William Pope Foundation's "achiever spotlight," which highlights "the lives of individuals who have achieved much, thanks in large part to the generosity of nonprofits and organizations supported by the Foundation." The foundation is led by Art Pope, a financier of right wing causes who plays an outsized role in North Carolina politics. Among the causes Pope has funded: climate denial and attacks on clean energy policies. As a college student at North Carolina State University in 2006, Travis Fisher was enrolled in the school's program on Economic, Legal and Political Foundations of Free Economies, a beneficiary of Pope's largesse. He was also a research intern at the John Locke Foundation, which was launched by Pope during the 1990s and has received money from the Koch brothers, where he worked on "policy alternatives" on issues that included the environment.
The group would later use Fisher's work for IER and AEA to support its attacks on North Carolina's renewable energy standard. After college, Fisher landed a job as an economist at FERC during the summer of 2006. After seven years at the commission, he decided to take a job at IER in 2013. Fisher later shared his thinking on energy policy with the John William Pope Foundation.
"It seems conventional wisdom that government should get more involved in energy," Fisher said in his achiever spotlight on JWPF.org. "It's counter intuitive [sic] to argue that government should get out of energy. But I like the challenge."

Who paid for Travis Fisher to serve on Trump's Department of Energy landing team?
A list of landing team members on GreatAgain.gov, the Trump transition team's website, disclosed Fisher's "current or most recent employer" as IER, but did not list AEA—even though Fisher is listed as an "IER economist" and "AEA economist" on the groups' respective websites. The transition team website also listed "funding source: private" for Fisher, while some other landing team members were identified as volunteers. The site did not disclose the private source of Fisher's funding.
A separate financial disclosure filed by Fisher and published by The Intercept also disclosed his employment by IER, but not AEA. He also disclosed "Employment Assets and Retirement Plans," which included his IER salary and related 401K, as well as his participation in the "Charles Koch Industries 401K." In a section below titled, "Filer Employer Agreements and Arrangement," Fisher disclosed to continue to participate in both 401K plans, but specified that both IER and the "Charles Koch Institute" would no longer make contributions. A Google search revealed no previous record of Fisher's employment with the Charles Koch Institute.

Just the latest sign of IER, AEA influence over Trump
It's no coincidence that, now that Donald Trump is in the White House, some of the same clean energy policies that Fisher targeted for attack in his 2015 grid study for IER are now being rolled back. As a candidate, Donald Trump was one of only two Republicans who responded to an AEA questionnaire. In his response to a question about the Clean Power Plan, Trump pledged that "all EPA rules will be reviewed." Trump also pledged to rescind the Clean Power Plan while in the campaign trail.
During the Trump transition, an IER-AEA memo from the desk of Tom Pyle, which was obtained by the Center for Media & Democracy, predicted that the Clean Power Plan would be withdrawn by the Trump administration—even if courts upheld the rule. Pyle, IER and AEA soon got their wish. Trump signed an executive order that began the process of reviewing the Clean Power Plan during his first 100 days in the White House. His administration also hit the pause button on the EPA's legal efforts to defend the Mercury and Air Toxics Standards, another target of Fisher's 2015 IER report, in court.

What's next?
With Fisher at the helm, the DOE grid study ordered by Rick Perry could serve as a convenient excuse when the Trump administration's "review" of the Clean Power Plan culminates in a real plan to "suspend, revise or rescind" the rule. It could also be used to justify attempts by the Trump administration to preempt state and local clean energy laws, though any such effort would face an uphill battle. Finally, the new DOE grid study could be used to reignite efforts to rollback renewable energy standards and net metering incentives at the state level. In any case, clean energy supporters will have no shortage of evidence at the ready to debunk any erroneous claims made by Fisher, and make the case that renewable energy is affordable, reliable and benefits our economy and the environment.

www.facebook.com
But leaving the Paris agreement would go against the overwhelming will of the U.S. business sector, not to mention the American public and the global community. Many of the most powerful corporations and institutional investors in the U.S. are calling on Trump to stay in the pact, as are some of his fellow Republicans. Dropping out of the global climate accord will satisfy only a handful of coal and mining interests and Trump's most ideological aides and backers.
Oil and Coal Companies That Support the Paris Agreement

ExxonMobil, the nation's biggest oil company, is in favor of the Paris agreement. The firm's CEO, Darren Woods, sent Trump a personal letter urging him to keep the U.S. in the agreement. Woods' predecessor, Rex Tillerson, now secretary of state, has also argued for remaining in the climate deal.
Other major oil companies that want the U.S. to stay in the agreement include BP, Chevron, ConocoPhillips and Shell. Many oil companies believe a concerted push for climate action will give them the opportunity to sell more natural gas, which emits less carbon dioxide (CO2) than coal when burned to produce electricity (though leaks in natural gas drilling and transport infrastructure can neutralize that climate advantage).
Even one major coal company, Cloud Peak Energy, is asking Trump to stay in the accord. "By remaining in the Paris agreement, albeit with a much different pledge on emissions, you can help shape a more rational international approach to climate policy," Cloud Peak CEO Colin Marshall wrote Trump in a letter. Marshall argued that remaining in the Paris agreement could encourage support for technologies that reduce and capture CO2 emissions from coal plants. Two other coal companies, Peabody Energy and Arch Coal, have not publicly called for staying in Paris, but they have reportedly told administration officials that they would not object to remaining.
Fortune 500 Corporations That Support the Paris Agreement
At least 69 Fortune 500 companies have voiced support for the Paris accord.
Twenty-five large U.S. companies, including digital powerhouses Apple, Facebook and Google, recently ran full-page ads in major newspapers urging Trump to remain in the climate accord. "Continued U.S. participation in the agreement benefits U.S. businesses and the U.S. economy in many ways," they wrote in the ad, including by "strengthening competitiveness," "creating jobs, markets and growth" and "reducing business risks."
Separately, more than 1,000 companies, big and small, signed a letter calling for the U.S. to "realize the Paris agreement's commitment of a global economy that limits global temperature rise to well below 2 degrees Celsius." Altogether, businesses backing the Paris climate agreement represent more than $3.7 trillion in annual revenues and employ nearly 8.6 million workers, according to Ceres.
Here are some of the Fortune 500 companies that signed onto the ads or letter or have otherwise expressed support for Paris:

Amazon, Apple, Bank of America, Berkshire Hathaway, Campbell Soup, Citigroup, Dow Chemical, DuPont, eBay, Facebook, Gap, General Mills, General Motors, General Electric, Goldman Sachs, Google, The Hartford, HP, Hilton, Intel, Johnson & Johnson, Kellogg, Microsoft, Monsanto, Morgan Stanley, Nike, NRG, Energy, PG&E, Salesforce, Staples, Starbucks, Symantec, Walmart and Wells Fargo
Major Institutional Investors That Support the Paris Agreement
More than 280 institutional investors that together manage more than $17 trillion in assets, including Allianz Global Investors, CalPERS and HSBC Global Asset Management, recently signed a letter emphasizing their strong support for the Paris agreement. "The implementation of effective climate policy mechanisms and the regular monitoring of outcomes is vital for investors to make well-informed investment decisions that can also better support governments in delivering their national commitments and priorities," they wrote.
Republicans Who Support the Paris Agreement
More than a dozen Republicans in Congress support staying in the climate deal.
Rep. Kevin Cramer of North Dakota, who advised Trump on energy issues during the campaign, has been outspoken in calling for the U.S. to remain in the pact. He and eight other Republican representatives sent Trump a letter in April asking him to stay in the agreement but withdraw the country's emissions-cutting pledge and replace it with a weaker one. "The U.S. should use its seat at the Paris table to defend and promote our commercial interests, including our manufacturing and fossil fuel sectors," they wrote. "Our engagement must prevent the development of harmful policies which undermine economic growth and energy security here and abroad."
Other Republicans have voiced support for the Paris deal without calling for rolling back U.S. emissions-cutting goals. "Given the trillions of dollars in cleaner energy investments and countless good-paying American jobs that would result from remaining in the Paris agreement, I again urge President Trump to make sure our country keeps its commitment to lead," Rep. Carlos Curbelo of Florida, said.
Sen. Lindsey Graham of South Carolina recently argued that Trump should not take the country out of Paris: "If he does withdraw, that would be a definitive statement from the president that he believes climate change is a hoax," Graham said on CNN's State of the Union. "It would be taken as a statement that climate change is not a problem; is not real. So that would be bad for the party, bad for the country."
George P. Shultz, who served as secretary of state under Ronald Reagan and secretary of the treasury under Richard Nixon, recently co-authored a New York Times op-ed titled The Business Case for the Paris Climate Accord. And three Republicans who headed up the U.S. Environmental Protection Agency during GOP administrations recently argued in a Washington Post op-ed that joining the international effort to fight climate change, via the Paris agreement, is the prudent path forward, adding, "With no seeming clue as to what's going on, the president seems to have cast our lot with a small coterie of climate skeptics and their industry allies rather than trying to better understand the impact of increased greenhouse-gas emissions into the atmosphere. His policy of willful ignorance is a bet-the-house approach that is destructive of responsible government."
The Trump administration, too, has members who have been arguing for remaining in the climate deal, including Tillerson, Defense Secretary James Mattis, economic adviser Gary Cohn, and the president's daughter and adviser Ivanka Trump. Energy Secretary Rick Perry and Trump's son-in-law and adviser Jared Kushner have also called for staying in but renegotiating or changing the standards of the agreement.
Widespread Support for the Paris Agreement Across the Board
As Media Matters noted last week, a number of newspapers, from The New York Times to USA Today to The Virginian-Pilot, have run editorials calling on Trump to keep the U.S. in the Paris deal. More than two-thirds of American voters support staying in the accord, according to a recent survey. And nearly every nation on Earth—195 in total—signed on to the agreement. The only exceptions are Syria and Nicaragua.
Pulling the U.S. out of the Paris deal would not only isolate the country from the international community, but also isolate the Trump administration from the business community. For a president who claims to be all about jobs and the economy, it's an unwise move.
Reposted with permission from our media associate Media Matters for America.
It's no secret that the fossil fuel industry funds climate denial organizations and pseduo-scientists. Regardless, it's always nice to have proof that deniers are hired guns.
The latest batch of evidence comes from Peabody Energy, the biggest coal company in the U.S. It's gone bankrupt and the related court documents list those to whom they still owe money. Try to contain your surprise: many of the usual suspects in the deniersphere show up. Unfortunately, the amounts owed and dates aren't listed, so we don't know how much money was supposed to change hands or when. But we do know there is a funding relationship between the coal giant and the climate deniers.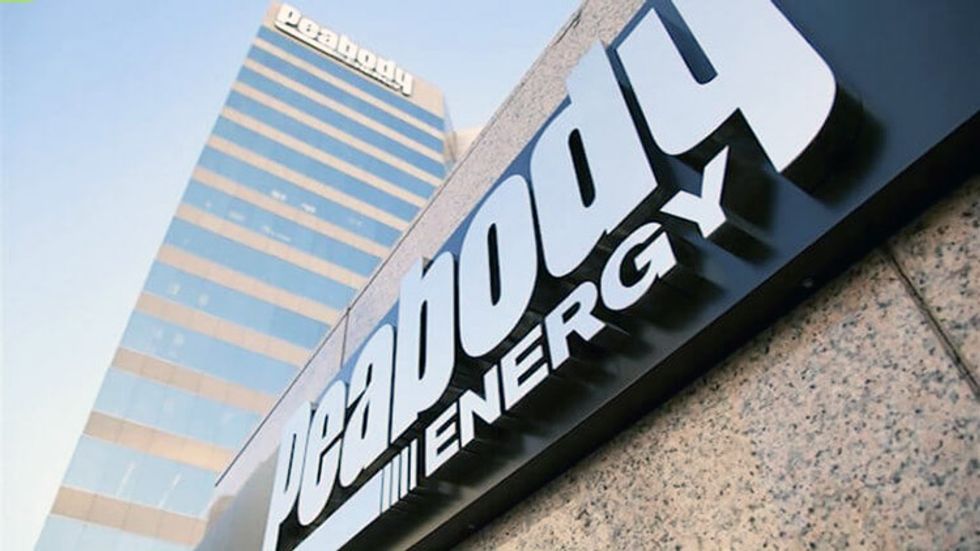 There are individual scientists listed, ones we know and love, like Willie Soon, the denier who accused legitimate scientists of "prostituting science" when he's the one that's received more than a million dollars for his work finding potential non-fossil-fuel excuses for climate change. There's also Richard Lindzen, who was part of Peabody's failed social cost of carbon lawsuit (which is probably what the company owed him money for).
Roy Spencer, keeper of the UAH Satellite record is listed, probably also for his involvement in the Minnesota case (something already revealed by Greenpeace) but perhaps more. And no list of deniers-for-hire would be complete without James Taylor of Heartland, who in the past has admitted that 40 percent of his funding comes from the fossil fuel industry.
While that's the only mention of Heartland (meaning Peabody didn't fund the group directly or if it did it's already paid up) a number of other organizations have outstanding debts from Peabody. Among them are CFACT, home of Marc Morano of climatedepot. There's the "CO2 is good" group Center for the Study of Carbon Dioxide and Global Change, FOIA-harassment legal group Energy & Environment Legal Institute (formerly the American Tradition Institute, before they got embroiled in a campaign finance scandal) and a raft of anti-renewable legislation groups, like ALEC, the 60 Plus Association, Edison Electric Institute, George C. Marshall Institute and others.
Instead of heeding literally decades of warnings that coal use would need to end to stave off climatic catastrophe and attempting to transition into the profitable renewable business, Peabody funded groups to tell the public what it wanted to hear: that climate change is no big deal or even good for us, so we can keep burning coal forever.
Ignoring science for sycophants? No wonder they went bankrupt.
YOU MIGHT ALSO LIKE
Uncovered Documents Reveal MSNBC Show Worked to Promote Fracking
Noam Chomsky: The Doomsday Clock Is Nearing Midnight
New Website Helps Connect the Dots Between Extreme Weather Events and Climate Change
By Ryan Schleeter
Still think the Keystone XL pipeline will create tens of thousands of permanent jobs? Think again.
Throughout his young presidency, Donald Trump has repeatedly justified his administration's love for the fossil fuel industry with the nuanced and insightful argument of "JOBS! JOBS! JOBS!"
Unfortunately for him, tweeting something in all caps does not make it true—and it also won't suddenly make the fossil fuel industry economically viable again.
When it comes to fossil fuels versus renewables, there's no contest. Clean energy is our fastest path to a booming, prosperous economy for all Americans, not just the one percent. The next time you're confronted with the White House's alternative facts on coal, oil and job creation, arm yourselves with this info instead.
1. The U.S. solar industry is on a record-breaking growth streak.
According to the non-partisan Solar Foundation, one in every 50 American jobs created in 2016 was in the solar industry.
In total, the industry employs more than 260,000 people in the U.S., up 25 percent from 2015—when the number of U.S. solar jobs surpassed those in oil, gas and coal extraction for the first time.
One out of every 50 new American jobs last year was in the solar industry, report says https://t.co/4F91kq28VH https://t.co/PFnvJ6c8HO

— Bloomberg (@Bloomberg)1486472842.0
Solar is projected to continue growing in spite of Trump administration policies that favor fossil fuels. Falling installation costs and soaring investment—especially compared to coal—mean solar jobs are projected to increase by 10 percent in 2017.

2. Wind is not far behind and is catching up fast.
For the last few years, wind has trended ahead of fossil fuels but behind solar power in job growth—but that could soon change.
Last year, the industry added 25,000 new jobs and currently employs 102,000 people. Between now and 2024, wind turbine technician is projected to be the single fastest-growing job in the country by a wide margin. Overall, a 2015 Department of Energy analysis found that the wind industry could support more than 600,000 jobs by 2050.
As with solar, Trump's anti-environment policies can't stop the growth of the wind industry. Even without state or federal subsidies, onshore wind farms are cheaper to build and operate than coal and natural gas plants in many parts of the country, which will continue to fuel job growth in construction and manufacturing.
ICYMI: Donald Trump said we "don't make" wind turbines in the United States — that's just not true.… https://t.co/CH9ytxnLdX

— Greenpeace USA (@Greenpeace USA)1480550889.0
It looks like Trump will just have to get used to seeing more "terrible," "ugly," "unsightly" wind turbines.

3. Pipeline projects do not create anywhere near as many jobs as Trump says they do.
Trump has claimed that his decision to fast-track the Keystone XL and Dakota Access pipelines will put Americans to work and create hundreds of thousands of jobs.
He's wrong, of course.
While it is true that Keystone XL would create an estimated 2,000 to 4,000 temporary construction jobs, an alternative plan to scrap the pipeline and instead expand sustainable infrastructure in the region would create up to five times as many jobs. And in terms of full-time, permanent jobs, Keystone XL would create just 35 and Dakota Access 40.
35 jobs! Wow! What a great deal! APPLY APPLY APPLY! https://t.co/9S4VMjZNZQ

— grist (@grist)1490476027.0
Beyond pipeline projects, the overall number of people in the working in oil and gas extraction fell by nearly 17,000 over the course of 2015. Worldwide, wind and solar already employ more people than oil, gas and coal combined.

4. Coal jobs are simply not coming back—it's time to focus on a just transition for coal country.
"The miners are coming back," was Trump's promise to coal country at a rally in Kentucky last month. The only problem is that it's one more promise he can't keep.
Because it's not the Clean Power Plan—or any other environmental regulation—that's causing the decline of the coal industry. It's basic science and economics. Wind and solar are already cheaper and growing more affordable each year. Coal mining companies are going bankrupt left and right, shafting workers but giving CEOs million-dollar bonuses in the process. What coal mining operations are left are mostly automated and have been bleeding jobs for decades.
Instead of false promises, it's time to start focusing on the just transition that coal country deserves. That means job training in clean energy technologies and more democratic control over electricity grids for the communities of color, Indigenous people and blue collar workers hit hardest by our prolonged reliance on fossil fuels.

This is an excerpt from Dick Russell's and my new book, Horsemen of the Apocalypse, an eye opening exposé of the people and corporations most responsible for today's climate crisis and their roles in President Trump's new administration.
Not long ago, the legendary economist Amory Lovins showed me two photos, taken 10 years apart, of the New York City Easter Parade. A 1903 shot looking north from midtown showed Fifth Avenue crowded with a hundred horse and buggies and a solitary automobile. The second, taken in 1913 from a similar vantage on the same street, depicted a traffic jam of automobiles and a single lonely horse and buggy.

That momentous shift occurred because, over a 13-year period, Henry Ford dropped the nominal price of the Model-T by 62 percent. While wealthy New Yorkers led the transition, the remainder of America quickly followed. Between 1918 and 1929, according to Stanford University lecturer Tony Seba, American car ownership rocketed from eight percent of Americans to eighty percent - because DuPont and General Motors devised a financial innovation called car loans, which soon accounted for three quarters of auto purchases. The buggy drivers never saw it coming.
Compare that platform for disruption to the economic fundamentals of today's solar industry. Over the past five years, photovoltaic module prices have dropped 80 percent, and analogous home solar financing innovations have spread like wildfire. Three-quarters of California's rooftop solar has been innovatively financed, with no money down, including the system I installed on my own home. NRG Solar leased me a rooftop solar array with zero cost to myself and a guaranteed sixty percent drop in my energy bills for twenty years. Who wouldn't take that deal? And solar costs continue to drop every day.
Dramatic drops have also plummeted the cost of utility-scale solar plants to around $1 billion a gigawatt. Compare this to the $3 to $5 billion per gigawatt cost of constructing a new coal or gas plant, and the $6 to 9 billion per gigawatt cost for a nuclear plant. We can make energy by burning prime rib if we choose to, but any rational utility seeking the cheapest, safest form of energy is going to choose wind or solar. That's why, according to the Federal Energy Regulatory Commission, in the first eleven months of 2016 renewables constituted more than 50 percent of newly installed electrical generation capacity—surpassing natural gas, nuclear power, coal and oil combined. Let's face facts. The carbon incumbents are looking at their own imminent apocalypse.
And the real savings for solar and wind comes at the back end—ZERO FUEL COSTS! Unlimited photons rain down on the earth every day for free. Transitioning to clean fuel only requires that we build the infrastructure to harvest and distribute the photons. That infrastructure will bless America with a magical promised era of "free fuel forever."
Internal combustion engines are racing toward the same kind of apocalyptic disruption as the horse and buggy. According to calculations by John Walker of the Rocky Mountain Institute, the current operating cost of an electric car is about one-tenth the cost of an internal combustion engine. The range and performance of EVs now exceeds those of traditional gasoline cars. That's why the world's 15 top auto companies all launched new EVs in 2015. If you believe in free markets, then the day of the internal combustion engine is over.
The markets have already seen the future. The top 50 coal companies are now either in Chapter 11 bankruptcy or on the brink. The three largest coal companies—Arch, Consol and Peabody—have lost 80 percent of their value over the last two years. Looking at these landscapes, Lovins remarked to me, "The meteor has hit. The dinosaurs are doomed. It's just that some of them are still walking around causing trouble."
With these rich indices of imminent change, America, prior to the 2016 election, was on the verge of leading the global transformation away from destructive reliance on the dirtiest, filthiest, poisonous, addictive, war-mongering fuels from hell, to a sunny new age of innovation and entrepreneurship, of abundant and dignified jobs, of a democratized energy system and widespread wealth creation, powered by the clean, green, healthy, wholesome and patriotic fuels from heaven.
Renewable energy like wind and solar create high paying jobs, promote small businesses, create wealth, democratize our energy sector, give us local, resilient power and reduce dependence on foreign carbon. They are therefore good for the economy, good for our national security and good for democracy and our country.
And every American will benefit from the cornucopia of economic and political bounties that accompany a decarbonized nation—no more poisoned air and water, but clean rivers and bountiful oceans, with fish that are safe to eat. No more exploded mountain ranges. No more crippling oil spills in the Gulf, in Alaska or Santa Barbara. No more worries about acid rain deforesting our purple mountains majesty and sterilizing our lakes. No more fretting about acidified oceans destroying our coral reefs, and collapsing global food chains and fisheries. No more ozone and particulate pollution sickening and killing millions of our citizens. No more damaged crops and corroding buildings. No more tyrannical petro-states subjugating their peoples and victimizing their neighbors. And no more oil wars.
While enticing to most Americans and consistent with the historical idealism of an exemplary nation, this portrait of the future represents a fearful nightmare for a certain segment of our population—a segment that is willing to mount all-out civil war to prevent it from happening, an apocalyptic war that threatens to sacrifice the planet.
And we are engaged, as Abraham Lincoln declared, "In a great Civil War." In the 1860s, it took a bloody Civil War for America to transition away from an archaic and immoral energy system—one dependent on free human labor. In 1865, the entrenched interests who profited from that system were willing to sacrifice our country and half a million lives to maintain their profits.
This time, instead of a slave-holding gentry, the entrenched defenders of the system are the carbon tycoons described by Dick Russell in Horsemen of the Apocalypse. These are the apocalyptic forces of ignorance and greed that are out to liquidate our planet for cash.
Russell shows that, to the extent they have a moral compass, it's pointed straight at hell. Like the Horsemen from the Book of Revelation, these actions are herding humanity toward a dystopian nightmare of their creation. The archetypal Horsemen are David and Charles Koch, whom you will meet in Chapter Eight. Koch Industries, you will learn, is not a benign corporation. It's the template of 'disaster capitalism,' the command center of an organized scheme to undermine democracy and impose a corporate kleptocracy that will allow greedy billionaires to cash in on mass extinction in our biosphere and the end of civilization. To the Koch brothers, the renewable revolution is their personal apocalypse that must be averted at all costs.
---
With their industry bereft of its economic rationale, the only way the carbon incumbents can maintain their economic dominance is by deploying their wealth and political power to subdue the market forces, to delay and derail cheap efficient renewables and to impose a continued dependence on expensive and inefficient oil and coal, through massive economic interventions managed by their political toadies. The Koch brothers have become the masterminds of this strategy. They sit at the apex of the richest industry in the history of the planet, and control the largest privately owned oil company on Earth. Their strategic advantage in the battle over the future of our energy system includes their enormous personal wealth and the wealth and power of the companies they control. Their carefully cultivated political connections and, above all, societal inertia, fortified by $23 trillion of carbon infrastructure, that impedes America's transition to a new energy economy. While owned by the industry, that infrastructure, ironically, was primarily paid for by taxpayers. These form the carbon cartel's principal arsenals in the great civil war.
As economic forecasts for the industry have grown increasingly dire over the past decade, the carbon cartel has moved frantically to build more infrastructure including LNG facilities, refineries, coal and oil export terminals and rail terminals, in order to bind up America in 16,000 miles of new pipeline that will further shackle our country, ironbound, to an archaic and destructive fossil fuel economy long after any economic rationale for coal, oil or gas have expired. The infrastructure strategy effectively recruits bankers, pension funds and Wall Street financial houses to the side of antiquated carbon, in this civil war. The only hope for those investors to recoup their investments is if oil flows continuously through those pipelines for the next 30 years.
Dick Russell largely completed this book a month before the 2016 presidential election. Four weeks later, to his great surprise, the Horsemen described in these pages assumed the pinnacle of power. With the central goal of preserving their fossil fuel profits, they guided an inexperienced president on a course that rapidly collapsed the foundations of America's moral authority and idealism, and fundamentally altered the relationship between America and the world—including our reputation as a global force for good. Their reigning foreign policy posture was an indifference to America's traditional concerns with justice, democracy and climate; to our historic skepticism toward tyrants; and to those traditional alliances that have promoted global stability since World War II. Domestically, Trump's advisors turned their attention to dismantling the science safety net and commoditizing and monetizing every aspect of human discourse—adopting policies that will amplify the wealth of billionaires, even as they sicken our citizens and destroy our planet. The Book of Revelation described the Four Horsemen as war, conquest, pestilence and death. Donald Trump's choice, to invite a group of conscienceless oil men to govern the country, has brought such chilling metaphors to the foreground, as more than an obscure biblical reference.
In the summer of 2016, it seemed that a convoy of clown cars was transporting Donald Trump, in what would become his unlikely blitzkrieg toward the GOP nomination. I was oddly relieved. Like other Americans, I believed that Donald Trump would be an easy candidate to stop in the November General Election. More importantly, Trump didn't seem as purposefully malicious toward the future of the planet as were his principal rivals, Ted Cruz, Marco Rubio, Scott Walker and Rick Perry. I had known Donald Trump for many years. I had successfully sued to block him from building two golf courses in the New York upstate reservoir watershed. I knew he was no friend of the environment, but neither did he appear to be ideologically hidebound to a pro-pollution world view. Indeed, he seemed less shackled to dogma, or obligated by encumbrances than any other Republican presidential candidate. He had no obvious fealty to the oil industry. Alone among the 17 rivals for the Republican nomination, Trump had never taken money from the oil and gas tycoons. Most comforting, there seemed to be a deep gulf of enmity between Trump and the billionaire Koch brothers, the undisputed leaders of Russell's Horsemen of the Apocalypse. Taken together, Charles and David Koch, with $48 billion apiece, are the richest men on Earth, according to Forbes' latest list. (Bill Gates has $86 billion). The siblings' father, Fred Koch, had made a fortune building refineries for Hitler and Stalin and used his money to co-found the racist John Birch Society. The boys, Charles and David, have deployed their oil-and-gas fortune to bankroll an array of think-tanks and politicians opposing clean energy and remedial action on climate change.
Teddy Roosevelt observed that American democracy could never be destroyed by a foreign foe. But he warned that our defining democratic institutions would be subverted from within by "malefactors of great wealth."
Because of their singular focus and limitless wealth, I considered David and Charles Koch, rather than this orange haired GOP candidate, the greatest threat to American democracy. Politics is driven by both money and political intensity. While they have plenty of money, the Koch brothers' policy agenda—tax breaks for the rich, unregulated pollution and permanent national reliance on dirty fuels—does not make an attractive vessel for populism. In order to recruit ground troops, the Koch brothers have made themselves wizards in the alchemy of demagoguery, wielding evangelical religion, dog-whistle race baiting, and patriotism as flypaper to their cause. They have built extensive organizations to engineer a hostile takeover of our democracy by polluting corporations.
In her book Dark Money, Jayne Mayer shows how the two oil men conceived and funded the Tea Party movement, which hijacked the Republican party and drove it to the far right. In order to consolidate power over the past two decades, they worked out and financed a methodical project to take over state legislatures. Their lucre and organizing machine have helped to give right wing Republicans control of 67 of 98 legislatures—the bodies that draw up election districts. With those levers in hand, their lackeys in the various state capitals use gerrymandering, voter fraud, voter ID laws and mass voter purges, to engineer permanent Republican majorities on the state and federal level. Their Tea Party movement took over the U.S. Congress—and blocked Obama's environmental agenda with the resilience fortified by their control of the statehouses. But the biggest electoral prize the Koch brothers had yet to achieve was to have their candidate take the White House, with the power to populate and dismantle the agencies, primarily Energy, Interior and EPA, that regulate—and bedevil—the Kochs' industries. They had many willing errand boys among the Republican presidential field, and, with one notable orange-topped exception, just about all of the GOP candidates had made the pilgrimage to Wichita to genuflect and kiss the rings at Koch headquarters.
The Koch brothers claim, in their rhetoric, to embrace a theology of free market capitalism. But if you look at their feet instead of listening to the seductive noises that issue from their mouths, or the glossy pronouncements of their phony think tanks, the truth is clear; these men despise free markets. Instead, they advocate for a system of cushy socialism for the rich, and a savage, merciless, dystopian capitalism for the poor. The real purpose of the 'think tanks' they created and fund—such as the Heritage Foundation and the Cato Institute—is not to promote free market capitalism, but to gin up the philosophical underpinnings for a scheme of unrestrained corporate profit taking, and a destructive national addiction to carbon based fuels upon which their fortunes rely.
As discussed earlier, new renewable technologies are now so efficient that wind and solar generation and electric cars are beating their carbon-based competitors, even in the rigged markets and on slanted playing fields. Carbon's economic model is looking at the same bleak future the horse and buggy industry faced in 1903. So what do you do when your profits rely on a fading economic model? If you are the unscrupulous Koch brothers, you deploy your money as campaign contributions – a legalized form of bribery—to get your hooks into a public official who will allow you to privatize the commons, dismantle the market-place and rig the rules to give you monopoly control. Renewable energy sources and free markets pose an existential threat to the Koch's business model. So the Kochs have deployed their front group, ALEC—the American Legislative Exchange Council—in every state, working with local legislators to create public subsidies for oil infrastructure, and to weaken support for wind and solar. The Koch brothers' purpose in purchasing our political system is to engineer monumental subsidies and market failure, which are their formulae for profit.
---
The Kochs' political ascendancy was facilitated by another oilman, George W. Bush. A decade ago, I wrote a best-selling book, Crimes Against Nature, detailing Bush's war against the environment. As is almost always the case, environmental catastrophe was preceded, in the Bush debacle, by the subversion of democracy. Bush landed in the White House after a stacked Supreme Court, dominated by his father's appointees, issued a partisan 4-3 decision freezing the 2000 election Florida vote count that would have shown Bush losing both the popular vote and the Electoral College. Bush thereby stole the presidency from Senator Al Gore, the greenest presidential candidate in our history.
That decision turned the White House over to two Texas oilmen, Bush and his vice president, Dick Cheney, who was the CEO of oil service company Halliburton and the owner of millions of dollars of Halliburton stock, which would appreciate enormously during Cheney's administration. Seventeen of the top twenty-one people in the new administration hailed from the oil patch or allied industries. Bush's Secretary of State, Condoleezza Rice, was on the board of Chevron, which named an oil tanker after her. His ascendancy to the Presidency was the beginning of a hostile takeover of our government by the oil industry, which would finally be completed by President Trump.
Transforming America into a petro-state was not just bad for the environment, it was a disaster for American democracy. Cheney immediately convened 90 days of secret meetings with carbon and nuclear industry CEOs, during which he invited the nation's worst polluters to rewrite environmental laws to make it easy to drill, to burn, to extract, to frack, to ship and to distribute, carbon fuel. It was an all-out victory for the carbon industry and an unconditional defeat for humanity. Even as they dismantled America's environmental laws, Bush and Cheney stocked the regulatory agencies with industry lackeys and profiteering cronies who weakened and auctioned off America's public lands and forests to their campaign contributors, at fire sale prices.
The oil and coal industries, are, by nature, authoritarian. A nation's political system generally reflects the economic organization of its principal industries. In a dynamic known as the 'resource curse,' nations dominated by carbon industries customarily tilt toward autocracy and away from democracy. When oil money merges with political power, the outcome is almost always the same: yawning gaps between rich and poor; the expansion of military, police and intelligence apparatus; the diminution of civil and human rights; the disappearance of transparency and public participation in government; the expanded popularity of torture, detention and eavesdropping; the use of nationalistic propaganda and deceit to win elections, and to justify unpopular politics; and an aggressive, bellicose and imperialistic foreign policy. Under George W. Bush, the carbon cronies quickly bent U.S. foreign and domestic policies to serve Big Oil's bottom line.
The White House lied America into an oil war that killed a million Iraqis and almost 4,500 US soldiers, and maimed tens of thousands more. Bush and Cheney cut taxes on the wealthy and charged their $4.3 trillion war on a credit card for our children to pay. Meanwhile, we lost eight critical years in the battle to avert the most catastrophic impacts of climate change. The oilmen who helped bring Bush to power profited like princes from his policies. As a gesture of gratitude to our country, the oil companies raised gasoline prices and watched company profits soar to historic highs. Patriotism is great—so long as it pays!
But perhaps the most grievous wound to American democracy from the mayhem of the Bush presidency was the Supreme Court decision in Citizens United v. Federal Election Commission. Bush appointed two right wing corporatist U.S. Supreme Court Justices—John G. Roberts in 2005 and Samuel Alito in 2006. These men were not traditional conservatives. The only consistent thread running through their judicial decisions was the consistent elevation of corporate power. The "Citizens United" decision was the most sweeping expansion of corporate power this century. That case effectively overruled a century of corporate campaign finance restrictions that limited a corporation's ability to purchase federal political candidates. Citizen's United unleashed a tsunami of corporate cash in the 2010 and 2012 election cycles, when an estimated $2 billion was spent in the race to capture the White House.
The nearly $760 million that the Koch brothers, alone, put into the national elections in 2016 is comparable to the total amount spent, historically, by either political party. Their campaign organization was nearly as formidable as the Republican party with 1,200 election operatives. Election data show that in 95% of federal elections, the candidate with the most money wins. So democracy is for sale and, predictably, the rich are buying themselves politicians, and then deploying them to reduce taxes on their class and to rid themselves of pesky regulations that protect public health and the common environment. Under this new rubric, the representatives and senators who dominate Congress can no longer be thought of as public servants. They are the indentured servants of the Koch brothers and their ilk, engaged in the mercenary enterprise of ransacking America and humanity on behalf of Big Oil. America has transitioned from the world's model democracy to a corporate kleptocracy.
So the Kochs' open disavowal of Donald Trump during the presidential campaign was a comfort to me. Charles Koch compared the Trump-Hillary race as a choice "between cancer and a heart attack." Trump, in turn, derided his Republican rivals as Koch "puppets." I was relieved by the wide and hostile rift between Trump and the Kochs. Perhaps, I thought, America was safe, for the moment, from the existential threat of having oil tycoons again control our government. So it was breathtaking how quickly president-elect Trump pivoted, against the populism that he rode to power, and into the welcoming arms of Wall Street robber barons, oil patch tycoons and flat earth oligarchs he had vilified along the way, including the despised Koch brothers. Even before inauguration day, he got busy turning our government over to the apocalyptical forces of ignorance and greed.
Consolidation of power by the oil and coal barons began immediately after the election; president-elect Trump's transition advisors emerged as an oil industry dream team. Despite the initial antipathy between Trump and the Koch brothers, once he secured the nomination, Donald Trump extended the olive branch to the flat earth oligarchs from Kansas. His choice of Indiana governor Mike Pence as running mate was the first ominous sign that the rift had healed. Governor Pence had financed his political career with a steady flow of Koch cash and had demonstrated his fealty to the Kochs by hiring Marc Short as his gubernatorial chief of staff. Short had previously been president of Freedom Partners, the Kochs' political arm. As governor, Pence made Indiana a proving ground for the radical right-wing experiment in corporate domination devised by Koch funded think-tanks.
---
Three days after the 2016 election, Pence displaced New Jersey Governor Chris Christie to become Trump's overseer of the various agency transition teams. By that time, the writing was on the wall, and the penmanship was that of David and Charles Koch. David Koch attended Trump's election night celebration. Trump soon appointed Marc Short as his Director of Legislative Affairs, and stocked his transition team with Koch organization veterans, like Tom Pyle, Darin Selnick, and Alan Cobb, and transition team executive committee members, Rebekah Mercer and Anthony Scaramucci. According to The Wall Street Journal, an astonishing 30 - 40 percent of Trump's advisors had Koch pedigrees. These were the men and women who would shape the new president's agenda.
Trump appointed a notorious Koch toady, Myron Ebell, to supervise his EPA transition. I've watched Ebell's antics for decades. He is a professional deceiver. Ebell served as director of the Center for Energy and Environment at the Competitive Enterprise Institute, a Washington think-tank formerly funded by ExxonMobil and the Kochs, and staffed primarily by "experts" and operatives lately employed by Koch Industries and the Koch's web of shadowy non-profit oil industry advocacy groups. Ebell, once a staunch global warming denier, has recently retrenched; "Yes, we are causing climate change," he now admits, "But it's a good thing!" Ebell preaches that the "mild global warming that has occurred since the end of the Little Ice Age in the mid-nineteenth century has been largely beneficial for humanity and the biosphere. Earth is greening, food production has soared, and human longevity has increased dramatically."
Ebell's seven-person team included David Schnare, a lawyer who spent 33 years at the EPA before matriculating to institutes funded by the Kochs. Schnare made his bones as a polluter's shill by filing legal actions demanding to inspect the email inboxes of EPA administrators and climate scientists. In Trump's new era of "alternative facts," there was no one better suited to purge the agency of credulous climate change believers.
Steve Groves led the State Department's "landing team." Groves, a policy wonk at the Koch and Exxon-funded Heritage Foundation, wrote a post-election article calling for the U.S. to pull out of the United Nations Framework Convention on Climate Change as a prelude to refuting the Paris agreement.
The Department of Interior transition fell under the leadership of Doug Domenech, director of the Fueling Freedom Project for the Koch-funded Texas Public Policy Foundation. That group's mission is to "explain the forgotten moral case for fossil fuels." Domenech knows how to make the system work for industry; during George W. Bush's presidency, he served as White House liaison and deputy chief of staff at the Interior Department, facilitating Bush's efforts to turn federal lands over to oil, gas and mining interests and to timber barons.
President Trump's transition overseer at the Department of Energy was Michael Catanzaro, a registered Koch Industries lobbyist. His successor is Thomas Pyle, former president of the Institute for Energy Research, a think-tank founded by Charles Koch. Before joining that chamber for charlatans, Pyle was Koch Industries' director of federal affairs. Pyle is also president of the American Energy Alliance, another fossil fuel front group that receives a pipeline of cash from Koch, ExxonMobil and Peabody Energy. (You'll learn much about the Peabody CEO in Chapter Seven of this book.)
Pyle mapped out "a big change" in an email to supporters in mid-November. He promised a "100-day plan" and a "200-day plan" to roll back America's clean water and climate change protections. America, he promised, will pull out of the Paris climate agreement, and EPA will jettison the dreaded "social cost of carbon" algorithm used to calculate the costs and benefits of climate change.
In December, 800 U.S. scientists and energy experts sent a letter to president-elect Trump, asking that he publicly identify global warming as a "human caused, urgent threat." They went on: "If not, you will become the only government leader in the world to deny climate science. Your position will be at odds with virtually all climate scientists, most economists, military experts, fossil fuel companies and other business leaders, and the two-thirds of Americans worried about this issue."
Trump answered this urgent plea by the world's most highly credentialed climate scientists during a Fox News interview in mid-December, assuring the audience that "nobody really knows" whether climate change is real. He said he was "studying" whether to pull America out of the Paris Climate Agreement, the hard-won treaty to reduce greenhouse gas emissions that has been signed by 196 countries. There is little doubt about who is providing him crib-notes.
The ominous direction toward global catastrophe crystallized as Trump announced his cabinet and other key positions.
---
Secretary of State: Rex Tillerson
"And I looked, and behold a pale horse; and his name that sat on him was Death, and Hell followed with him. And power was given unto them over the fourth part of the earth, to kill with sword, and with hunger, and with death, and with the beasts of the earth." — Revelation, 6:8
In a breathtaking act of supplication to Big Oil, the new president gave his first cabinet appointment to Russell's first Horseman, ExxonMobil CEO Rex Tillerson. Tillerson has never been mistaken for an American patriot. As Exxon CEO, he often adopted company policies that were contrary to USA interests, including a lucrative deal with Russia to drill in the Arctic. When a shareholder asked Tillerson's predecessor and mentor, Lee Raymond, whether the company should be improving US refinery capacity as a matter of national security, Raymond dismissed patriotism as an absurd distraction from profits. He famously declared, "Exxon is not a US company." Tillerson's world view is dictated by his forty years of service to the selfish ideologies of a corporation that is locked in a ruinous battle against humanity and American values.
Trump's critics wondered whether his peculiar choice to hand US foreign policy over to the world's most visible and notorious oil man was a favor to Russian dictator Vladimir Putin. As Exxon chief, Tillerson put aside scruples to align Exxon with the bloodthirsty tyrant, a choice that made Tillerson Putin's favorite American businessman. In 2013 Vladimir Putin personally presented Tillerson with Russia's ultimate honor to a foreigner, the Order of Friendship Award, after Tillerson signed controversial deals with the state-owned Russian oil company. In 2011, Tillerson flew to Russia to sign a $500-billion arrangement to jointly drill in the Arctic Shelf and the Black Sea, and to develop shale oil in Siberia. Tillerson's company allegedly lost around one billion dollars due to sanctions the Obama administration placed on Russia after Putin annexed the Crimean Peninsula.
Tillerson responded by directing ExxonMobil's PAC to donate $1.8 million to oil-friendly federal politicians during the 2016 election cycle, with more than 90 percent going to the Republicans, who had dutifully shielded Exxon from carbon taxes and pollution regulations. During the six election cycles when he was CEO, nine of ten dollars donated by his company's PAC went to GOP candidates.
Exxon's corporate culture is not an admirable template for American idealism. Exxon already is a petro-state, wealthier than most countries and with its own private armies and intelligence apparatus. Now the head of Exxon is running our foreign affairs, with access to the many intelligence services and the capacity to bully states who don't tow the oil line.
Waterkeeper Alliance is a clean water advocacy group which I serve as president. Waterkeeper, which works in 38 countries, has submitted a 54-page petition to the EPA, calling for the agency to enforce "bad corporate actor" rules and end all its federal contracts with ExxonMobil. The petition addresses Exxon's decades of deliberate lies; the company's campaign to deceive the public, politicians and regulators about the danger of climate change. Recently released documents prove that the sociopaths, including Tillerson, who ran Exxon knew for decades that its business activities would cause catastrophic climate change and mass death.
Putting profits before people, Exxon kept its climate change science secret, while funding professional liars and nurturing the growth of a generation of climate change deniers. Under Rex Tillerson's leadership, the company continued to push government policies that buck proven science, human welfare, national security and fundamental moral, ethical, and religious tenets. Last year, Exxon claimed as assets $330 billion in under-ground oil reserves, that include some of the dirtiest fuels on Earth. The Securities and Exchange Commission and several states attorneys' generals, led by New York's Eric Schneiderman, are currently investigating Exxon's failure to disclose to its stockholders the risks it has long known are posed to company value by the reality of global warming. According to Schneiderman, unless we are willing to write off planet earth, about two thirds of those reserves can never leave the ground. Exxon is therefore exaggerating its share value by hundreds of billions.
Tillerson has never expressed concern or even the slightest self-awareness that Exxon's business model threatens the future of humanity and life on Earth. America's largest oil company has accounted for more than three percent of global climate pollution, dating back to the mid-1800s. After years of putting Exxon's stock value ahead of humanity, will Tillerson now put America and the planet first? Tillerson's company would be severely impacted by the Paris climate accord to limit the burning of fossil fuels. His thoughts on climate change? "What good is it to save the planet as humanity [read Exxon] suffers."
In late January, Tillerson's State Department removed the three most recent annual reports about the Obama administration's Climate Action Plan from its website.
U.S. Environmental Protection Agency Administrator: Scott Pruitt
"These have power to shut heaven, that it rain not in the days of their prophecy: and have power over waters to turn them to blood, and to smite the earth with all plagues, as often as they will…And men were scorched with great heat….And every island fled away, and the mountains were not found." — Revelation, 11:6, 16:9,20
Trump's choice to run the EPA is an unctuous acolyte of Oklahoma's factory meat and big oil barons. Scott Pruitt built his career as a patsy for polluters: Prior to Pruitt's election in 2010, the Oklahoma Attorney General's office had built a model environmental enforcement division under Kelly Hunter Foster, who is now a staff attorney for my organization, Waterkeeper Alliance. Foster had filed a dozen lawsuits against the poultry and industrial pork industries, which were polluting Oklahoma's air and waterways, sickening its citizens with effluvia of factory meat production, and putting family farmers out of business. Pruitt was the chicken industry's handpicked attorney general. Oklahoma's corporate meat barons financed Pruitt's campaign to rid themselves of Foster's lawsuits.
Once in office, Pruitt dutifully terminated Hunter Foster's unit and shelved her docket. As attorney general he never filed another environmental action. Instead Pruitt turned his office's big guns against EPA, filing a battery of federal lawsuits against the agency to challenge the Obama administration's anti-pollution and climate safeguards. These included suing the EPA to block the Clean Power Plan and another suit aimed at gutting rules on methane emissions from the oil-and-gas sector.
---
"He let polluters off the hook and destroyed a decade of work," recalls Hunter Foster. "He has no environmental experience and no conservation instincts. His only qualification for his new job was his fierce hatred for EPA." Since his ascension to the administrator's post, Pruitt has frozen all new permits and scientific studies and put the agency in lockdown. He has promised to lay off 3,000 of the 15,000 EPA workers and cut the agency's already anemic budget by 31 percent, more than any other agency.
Calvin Coolidge famously remarked that, "The chief business of the America people is business." Trump has made it clear that business is to be EPA's business as well. Pruitt burnished his resume for the EPA post with a major push by his mentor, Carl Icahn, a billionaire Wall Street hedge fund titan and generous Trump campaign donor. Icahn's holding company does business with the Koch brothers and TransCanada's Keystone XL pipeline system. A noisome EPA had accused Icahn's Oklahoma-based oil company of violating environmental laws. Based on these qualifications, Trump appointed Icahn to vet the contenders for the top-level EPA jobs.
Pruitt also received a boost from another of the Horsemen featured in this book—Oklahoma billionaire Harold Hamm (see Chapter Six). Hamm chaired Pruitt's 2013 reelection campaign. During the 2016 presidential election, Hamm had served as candidate Trump's energy advisor, but declined the president-elect's offer to head the Department of Energy.
Pruitt also boasts a direct Koch connection; as Oklahoma attorney general, Pruitt was simultaneously a director of the nonprofit Rule of Law Defense Fund, which received $175,000 in 2014 from a dark money umbrella group called Freedom Partners, the Koch network's political arm.
President Trump evidently shares Pruitt's antipathy toward the environmental agency. Upon announcing Pruitt's appointment, Trump added, "For too long, the Environmental Protection Agency has spent taxpayer dollars on an out-of-control anti-energy agenda that has destroyed millions of jobs."
In mid-March, the president announced that he'd ordered Pruitt to revise one of President Obama's primary climate change policies—the EPA's strict standards on tailpipe pollution from motor vehicles. "As to climate change," Trump's director of the Office of Management and Budget said at a White House briefing. "I think the president was fairly straightforward; 'We're not spending money on that anymore.'"
On March 2, Pruitt told CNBC News with his characteristic "dumb as I wanna be" glee that humans were not responsible for global warming. Pruitt was proudly jockeying EPA into position as the flagship of the new administration's anti-science crusade. The Bush administration had regarded science as a vanity of the despised liberal elite. One anonymous White House official, speaking to investigative journalist Ron Suskind, famously disparaged the liberal obsession with science-based inconvenient truths like climate change as "fact based reality." But the Trump team has immediately achieved a new dimension of unhinged, by appointing a science hating flat-earther as head of the world's premier environmental agency.
Even Christie Todd Whitman, who presided over the gutting of the EPA under George W. Bush from 2001 to 2003, was sickened by Pruitt's appointment. "I don't recall ever having seen an appointment of someone who is so disdainful of the agency and the science behind what the agency does," he said.
Pruitt will have help from above as he plows under the rubble of his despised agency. In late December, Trump named Carl Icahn to a new administration position created by the president: "Special Adviser on Regulatory Reform." While the administration proceeded to freeze adopting other new regulations, Icahn quickly succeeded in obtaining a special IRS rule that gives a tax break to his oil refining company, CVR energy. Icahn is simultaneously pushing for a regulatory fix that would revamp an EPA rule (the Renewable Fuel Standard) that currently makes refiners responsible for ensuring corn-based ethanol is properly mixed into gasoline. Eliminating that requirement would have saved his company more than $200 million last year. Icahn, whose $16.6 billion is a fortune larger than all the other cabinet members combined, claims immunity from such conflict-of-interest problems because he's simply an "unpaid adviser" to the administration.
Secretary of the Interior: Ryan Zinke
"….and there followed hail and fire mingled with blood, and they were cast upon the earth: and the third part of trees was burnt up, and all green grass was burnt up….And the third part of the creatures which were in the sea, and had life, died….And the sun and the air were darkened by reason of the smoke of the pit." — Revelation, 8:7,8, 9:2.
My friend, Leonardo DiCaprio, a leading climate activist, gave a presentation to Trump soon after the election. He and the Leonardo DiCaprio Foundation president Terry Tamminen, the former Santa Monica BayKeeper and chief of California EPA under Governor Arnold Schwarzenegger, unveiled a plan for creating millions of jobs by encouraging the growth of clean, renewable energy. Looking at the plan approvingly, president-elect Trump told Leo that he wanted to be the 21st century Teddy Roosevelt. Leo gave him a copy of his new documentary Before the Flood describing the perils of climate change, and the president-elect promised to watch it. Afterward Leo learned that Trump's team had announced the appointment of Scott Pruitt, while they were still in the meeting. Trump had warned Leo, "There are going to be some you will consider bad appointments." But, he promised the actor, "You're really gonna like who we put in for Interior."
That environmental superhero turned out to be Ryan Zinke, a first-term Congressman from Montana who also describes himself as "a Teddy Roosevelt guy." But while Roosevelt dismantled Standard Oil, Zinke has spent his career suckling at the industry teat, gagging down $345,136 of oily money from petro interests. In the House, Zinke represented the Powder River Basin, a once edenic wilderness, transformed into a moonscape by federal coal leasing policies, championed by Zinke. In fact, in recognition of his enthusiasm as a cheerleader for coal extraction, the League of Conservation Voters awarded Zinke a three percent score. In 2008, Zinke said he believed in climate change, but has since dutifully recanted, in goose-step with the Republican Party leadership. It isn't "proven science," he now insists.
---
Secretary of Energy: Rick Perry
"….and lo, there was a great earthquake; and the sun became black as sackcloth of hair, and the moon became as blood." — Revelation, 6:12.
Modest support and research progress for wind and solar efficiency have long made the Department of Energy a bugaboo to the fossil fuel cartel. Four years ago, Rick Perry, the former Texas governor, promised to abolish the department that President Trump has now appointed him to lead. Oil and gas tycoons funded his two presidential campaigns. The CEO of Texas-based Energy Transfer Partners (ETP), Kelcy Warren, the owners of Dakota Access Pipeline, donated $5 million to a pro-Perry super-PAC during the 2016 race. When Perry's run for the White House fizzled, he accepted a sinecure as a paid board member of ETP (receiving $236,820 in 2015). Warren went on to contribute $103,000 to Trump's campaign. Perry sold his shares after the election to avoid "conflict of interest." President Trump also had a personal stake in that notorious pipeline. He invested nearly $1 million in Energy Transfer Partners in 2015 and last year between $250,000 and $500,000 in Phillips 66, which owns a 25 percent stake in the catastrophic boondoggle. Perry quickly proved himself a trustworthy manager of Trump's investment by presiding over the project's resurrection.
CIA Director: Mike Pompeo
"….four beasts full of eyes before and behind." — Revelation, 4:6.
Kansas Congressman Mike Pompeo, an errand boy, appointed by the Koch brothers to represent their Wichita hometown in Congress, is President Trump's CIA chief. He received more campaign donations from the Kochs than any other member of Congress. Pompeo is a Tea Party shill, so enthralled by the Warfare State and so out of touch with American values, that from his seat on the House Intelligence Committee, he paid sunny homage to the CIA's brutal detention and interrogation programs. Pompeo's chief of staff, Jim Richardson, was a former Koch lobbyist. When Pompeo entered the House in 2011, his first order of business was opposing the Obama administration's plan to create a public EPA registry of greenhouse gas polluters. Later, Pompeo introduced legislation to kill tax credits for wind power, saying it should "compete on its own," an idea aggressively promoted by the Koch brothers, whose oil and coal enterprises are heavily subsidized by billions of dollars in federal taxpayer lucre. (A recent report by the International Monetary Fund calculates global energy subsidies at over $5 trillion annually, with the U.S. providing $700 billion in subsidies to Big Oil, the richest industry in the history of the planet.)
Foreign policy experts warn that close historical ties between the CIA and the oil industry have led America into its most catastrophic foreign policy disasters. Instead of serving the American people and our national historic ideals, the Agency has, since the days of Allen Dulles, a former oil company lawyer, routinely deployed its awesome power to serve the mercantile interests of oil companies and US based multinationals. Our volatile relationship with Iran began, in 1953, when the CIA overthrew Mohammed Mossadegh, that region's first democratically elected leader in four thousand years, as a favor to U.S. and British oil corporations, which derailed Mossadegh's plan to allow his people to benefit from Iran's oil resources. Catastrophic blowback from that dark episode continues to reverberate across the Mid-East today.
The Iraq War—fueled in part by U.S. eagerness to grab control of Saddam Hussein's oil fields—not only killed nearly 4,500 Americans, but continues to destabilize the entire region. The Syrian civil war and refugee disaster are largely the result of the CIA taking sides in a pipeline dispute, between Sunni and Shia, a debacle that fueled the creation of ISIS. The unseemly ties between Big Oil and the intelligence service of this country have stained our reputation, eroded our moral authority, made us the target of terrorist attacks, and led us into costly blowbacks, with surcharges in American blood, treasure and prestige, beyond calculation. At a time in our history when we should be de-coupling our foreign policy from Big Oil, we've got the oil industry's most visible tycoon since John D. Rockefeller running the State Department and an oil-man's sock puppet running the CIA.
"And it was commanded them that they should not hurt the grass of the earth, neither any green thing, neither any tree…." — Revelation, 9:4.
During his first weeks in power, President Trump kept his promises to the carbon cartel. I watched thirty-three years of my work reduced to ruins, as the president mounted his assault on science and environmental protection. The new administration hit the ground running, announcing plans to eliminate funding for NASA's climate research programs. At EPA, president-elect Trump's transition team launched a Soviet style purge of climate change scientists, demanding a list of every employee or contractor who had attended meetings of the Interagency Working Group on the Social Cost of Carbon—and all materials that were distributed or generated afterward. Trump advisors demanded that Foggy Bottom diplomats disclose monies that the State Department provided to international environmental groups (for example, as part of the Paris climate agreement, the U.S. pledged three billion dollars to a Green Climate Fund designed to help poor countries develop renewable energy and adapt to climate change) – presumably to target them for erasure.
In response to these attacks, a newly created Climate Science Legal Defense Fund published a guide for government researchers targeted for attack and censure as its government scientists worked feverishly to preserve decades of critical research.
The new president quickly signed legislation abolishing rules that forbade coal companies from filling streams and buffer zones with mining waste, putting thousands of miles of rivers and streams at risk from this formerly outlawed practice. He issued an executive order to rescind a 2015 rule aimed at protecting small streams and wetlands, and a directive to abolish protracted environmental reviews.
He announced measures to stop the environmental impact statement required before the Dakota Access Pipeline could be constructed, and then instructed the Army corps of Engineers to give Energy Transfer Partners an easement to forge ahead with the tragic project across Sioux lands. Trump also set out to resurrect the Keystone XL oil pipeline stopped by the Obama administration after a massive public outcry. In late March, Tillerson's State Department approved moving forward with construction. The 1,700-mile-long pipeline will propel an estimated 35 million gallons of dirty oil every single day from Alberta, Canada's Tar Sands, across American aquifers to refineries on the Gulf Coast. The Koch brothers hold close to two million acres of those tar sands, more than the combined assets in the area of ExxonMobil, Chevron, and Conoco.
The new president instructed EPA to promulgate regulations to kill Obama's hard-won Clean Power Plant rule, the law that finally restricted carbon emissions from power plants. The new administration moved to open protected federal lands for drilling and mining, and to lift a moratorium on coal leases on federal lands.
In mid-March, Trump directed the EPA to get rid of another of Obama's signature achievements – stringent fuel economy standards passed to help meet America's international commitment to cut carbon emissions. This drastic policy reversal not only makes it impossible for the United States to comply with the Paris accord, but also jeopardizes America's booming lead in the electric vehicles industry.
The next day, Trump sent a proposed budget to Congress that would slash the EPA's funding by 31 percent and lay off about one fifth of its staff. The White House will cut the climate protection budget by nearly 70 percent to $29 million. Virtually eliminated are the environmental justice program, established in 1992, and the Chesapeake Bay Program, established in 1983 to clean up the largest estuary in North America. Also on the scrap heap is the Energy Star program that has saved consumers an estimated $430 billion on their utility bills and avoided 2.7 billion metric tons of greenhouse gas emissions. President Trump's so called "apocalypse budget" guts funding to the United Nations for its climate change efforts, cuts 17 percent of the National Oceanic and Atmospheric Administration's climate data program and eliminates the Sea Grant program that prepares coastal communities for storms and sea level rise. While slashing America's environmental protection, Trump moved to pump up military spending by another $54 billion.
Meantime, Scott Pruitt got busy distributing his top EPA jobs to America's most vehement climate science skeptics, including three former staffers of Oklahoma Senator James Inhofe, who called global warming, "The greatest hoax ever perpetrated on the American people." In his first speech to EPA employees, Pruitt scolded his new employees to improve the agency's relationship with private businesses. He omitted all mention of protecting public health or the environment. In a speech before a gathering of conservatives, Pruitt applauded the polluters who want to eliminate his agency altogether as "justified": he added, "People across the country look at the EPA the way they look at the IRS."
Pruitt, interviewed on CNBC on March 9, reassured the network that carbon emissions are not, after all, the "primary contributor" to climate change. That day, NOAA announced that the levels of CO2 in the atmosphere rose at a record pace for the second year in a row and President Trump announced his scheme to zero out NOAA's climate change research budget.
Trump and Pruitt have expressed intense hostility toward federal protection of the environment. They mean to return us to the era before Federal Environmental laws; the era before Earth Day when states were engaged in a wholesale race to the bottom to eliminate regulation to recruit filthy industries. The era when rivers caught fire and pollution killed tens of thousands of animals annually, DDT exterminated entire populations of birds and Lake Erie was declared dead. With no federal control, states will once again compete with each other to become pollution havens in exchange for a few years of pollution based prosperity.
This hijack of American democracy by oil tycoons is a suicide pact for our planet. We are already living in a science fiction nightmare when all credible scientists are saying that their former predictions on global warming were radically conservative. The cataclysms they warned would happen in a century or two are happening now. The Intergovernmental Panel on Climate Change cautions that if we conduct business as usual—our current course—our planet will experience a six-degree Celsius temperature rise by the turn of the next century. The last time that earth was six degrees warmer, crocodiles lived at the North Pole.
Today, there are over seven billion humans on the planet, few of whom will be able to adjust and survive the concomitant floods, storms, typhoons and hurricanes, intensified by climate change. Children, now alive, will suffer dystopian global upheavals beyond human experience, or the capacity of organized civilizations to endure. Our great coastal cities will be drowned by sea level rise; multitudes will starve when lands become arid and lifeless; homes and businesses will succumb to forest fires of increasing frequency; children will suffer or die from insect borne diseases such as microcephaly, spreading rapidly to formerly temperate regions of the Earth, as tropical insects multiply; millions will suffer from food shortages as crops fail due to changing climate conditions. These impacts emerge straight from The Book of Revelation, extreme weather on a biblical scale—destructive droughts, lethal superstorms, floods, fires, melting glaciers, rising seas, drowning cities, disappearing species.
Whether we recognize it or not, we are all locked in a life and death struggle with these corporations over control of both our landscapes and political sovereignty. The Kochs' corporate vision for our country would commodify not just the land, the air and the water, but also our people. Everything we value becomes expendable in their drive for corporate profits. "To greed," Seneca observed, "all nature is insufficient." That hunger will devour our people, our natural world and the other assets of our patrimony. Corporate efforts to privatize the commons are occurring in all parts of the world and it's no accident that environmental injury correlates almost perfectly with political tyranny; and those carbon tyrants would steal from us our air, our water, our wildlife, fisheries and public lands, the shared resources of our society - the commonwealth assets that provide the gravitas around which communities coalesce.
The battle against President Trump and his Horsemen is not just a battle to protect our waterways, our livelihoods, our property and our backyards. It's a struggle for our sovereignty, our values, our health and our lives. It's a battle for dignified, humane and wholesome communities. It's a defensive war against toxic and economic aggression by Big Oil and King Coal. It's a struggle to break free of the merciless tyranny of the carbon cartel and create an economic and energy system that is fair, and rooted in justice, economic independence and freedom.
If we're to leave behind a habitable world, the Horsemen need to be reined in, bridled and broken.
The earth mourns and withers,
The world pines and fades,
Both heaven and earth languish.
The land lies polluted,
Defiled by its inhabitants
Who have transgressed the laws,
Violated the ordinances,
And broken the covenant.
Therefore a curse consumes the land
And its people burn for their guilt.
— Isaiah 24:4-6
By Clara Vondrich
Where goes investment, there goes the climate. This is the fact today as we stand on the brink of locking in irreversible climate change with our fossil-heavy economy. Like never before, institutional investors have the power to make or break the future.
The International Energy Agency published a bombshell report in 2011 noting that our climate fate would be sealed by 2017 without a rapid departure from business as usual. By that year, dangerous warming of more than 2 degrees Celsius would be locked in by a global system of long-lived pipelines, refineries, power plants and transportation systems. Since then, the "safe" level of warming has been tightened further to 1.5 degrees, with evidence that 2 degrees is a death warrant for many island nations.
It's now 2017 and the pace of the clean energy transition still lags behind the physics. Some say 2 degrees, much less 1.5 degrees, is a pipe dream. The upshot is that every investment we make into our energy system matters, bringing us either closer to or further away from climate hell. By this measure, the policies of China—closing its coal plants and committing hundreds of billions of dollars to renewable energy—are prudent, while the rhetoric and policies of the Trump administration—promising to rebuild America's coal industry and firing off executive orders to fast track the Keystone XL and Dakota Access pipelines—are retrograde. One creates an enabling environment for progress and thriving, the other is disabling and destabilizing.
China Leaves U.S. in Dust With $361 Billion Renewable Energy Investment https://t.co/4GfhGZhcyX @BusinessGreen

— EcoWatch (@EcoWatch)1483871415.0
In the face of Trump's commitment to double-down on dirty energy, the DivestInvest movement is more important than ever. The investor class manages trillions in assets that will either be used to build the clean energy future or keep us mired in the past. Luckily, nearly 700 institutional investors managing assets in excess of $5 trillion have made some form of fossil fuel divestment commitment. This includes global insurance companies like Allianz, sovereign wealth funds like Norway's and preeminent universities, cities, faith organizations and foundations.
Still, to divest is not enough. A commitment to invest in the clean energy future—renewable energy, efficiency, sustainable agriculture and forestry, water and cleantech—is just as crucial. The whole energy system must be rebuilt, reimagined—moving away from a monolith of centralized power stations to a mix of utility grade wind and solar farms, microgrids and distributed clean energy systems. The foundations of DivestInvest Philanthropy understand this and hence their commitment to invest part of their portfolio annually into climate change solutions.
Investors in the future have the markets at their backs: Electricity from solar and wind power is now as cheap—or cheaper—than its fossil counterparts in much of the world.
Batteries are sailing down their cost curves with price reductions of 60 percent or more over the past 6 years. Electric vehicles are projected to hit parity with gasoline cars by 2022, a point totally disruptive to the oil industry. 2015 saw the world's highest annual investment into clean energy of almost $350 billion. Renewable energy comprised more than half of all new power-generating capacity that year, overtaking coal in total installed power capacity worldwide. Coupled with the formidable market signal of the Paris climate agreement, investors in the clean energy economy are in pole position to do well while doing good.

Meanwhile, the carbon bubble is bursting—sometimes quickly, sometimes slowly. Coal's fall was fast and furious: The Dow Jones U.S. Coal Index dropped more than 80 percent over the past five years and former lions of industry Peabody and Arch Coal have filed for bankruptcy. Oil and gas seem poised to limp along a few more years, though prices remain depressed and volatile. Last month, Chevron posted its first loss in decades, while Exxon saw its smallest quarterly profit in 17 years: Most striking, it also wrote off $2 billion in gas fields—finally admitting it was not immune to stranded assets. Shell itself says that oil demand will likely peak within the next five years followed by precipitous declines as electric vehicles come on-line en masse.
It's Official: Solar Energy Cheaper Than Fossil Fuels https://t.co/BEGahnj1tM @Solar_Editor @solarcentury

— EcoWatch (@EcoWatch)1483002912.0
Yet, among institutional investors, there remains anxiety around the perceived lack of green products to sink their teeth into. But two new reports by Mercer and Croatan Institute chip away at the myth that there are not adequate investment opportunities into the clean energy future. Each assessment takes a portfolio-wide approach, looking at opportunities across all asset classes of a typical institutional portfolio.
The Mercer work provides the most comprehensive analysis of funds consistent with the DivestInvest pledge, looking at opportunities across public equity, fixed income, absolute return/hedge funds, private equity and infrastructure. The emphasis is on commingled institutional investment vehicles (pooled funds), rather than mutual funds, which have been catalogued by other groups. Mercer's full product list is available to DivestInvest signatories.
Meanwhile, the Croatan Report explores investments in climate solutions that also have a direct benefit to the local community. Many of the investments featured in the Croatan Report are consistent with the notion of a Just Transition, the idea that the clean energy transition should not recreate old and broken power structures that benefit the few at the expense of the many: Rather, investments should be made with intention to revive and rebuild communities, fostering job creation and local ownership of renewable energy systems where possible. The report is anchored in inspiring case studies featuring DivestInvest Philanthropy members.
These reports are essential contributions—showing that there is a robust and growing supply of investment-grade opportunities in the clean energy transition. In 2017, the stakes couldn't be higher.
Clara Vondrich is the director of DivestInvest Philanthropy.
By Elliott Negin
The two dozen nonprofit groups and Senate committee members defending Scott Pruitt, President Donald Trump's nominee for the U.S. Environmental Protection Agency (EPA) administrator, have at least two things in common.
Like Pruitt, they're climate science deniers. And, like Pruitt, most of them are funded by Charles and David Koch, the billionaire brothers who own the coal, oil and gas conglomerate Koch Industries.
That funding helps explain why they all consistently misrepresent the scientific consensus on climate change. After all, money buys influence and since 1997, Koch foundations have paid a network of think tanks and advocacy groups more than $88 million to spread climate science disinformation—more than twice what Exxon, the second-biggest denier-network funder, has spent. Likewise, Koch Industries has contributed $38.5 million to federal candidates over the last 25 years and spent another $117 million since 1998 on lobbying.
America Has a Koch Problem https://t.co/ochBtJRg5V #kochbrothers @foe_us @SierraClub @greenpeaceusa @350 @billmckibben @ClimateReality

— EcoWatch (@EcoWatch)1485364846.0
The Kochs didn't endorse Trump for president, but there's no doubt they would consider a guy like Pruitt heading the EPA a dream come true. When David Koch ran for vice president on the Libertarian Party ticket back in 1980, his party platform called for abolishing the EPA (and a number of other federal agencies, along with Medicare, Medicaid and Social Security). Although Pruitt won't be able to go that far, his six-year track record as Oklahoma's attorney general suggests he will do what he can—with the help of Koch-funded members of Congress and the rest of the Trump Administration—to defund the agency and undermine its authority.

Koch Denial Network is Alive and Well
In advance of Pruitt's nomination hearing before the Senate Environment and Public Works Committee on Jan. 18, a coalition of 23 nonprofit groups sent a letter to the entire Senate urging his confirmation. "Attorney General Pruitt has consistently fought for Oklahoma families and communities," the letter states "and has been a stalwart defender against federal intrusion into state and individual rights."
In fact, Pruitt has consistently fought for the corporate polluters that have financed his political campaigns, dismantling his office's Environmental Protection Unit, halting efforts to reduce poultry manure in Oklahoma waterways, opposing a wind energy transmission line and suing the EPA 14 times to block stronger air, water and climate safeguards that would better protect Oklahoma families and communities.
But I digress. Let's follow the money.
The groups that signed the letter endorsing Pruitt include such high-profile, climate-science-denier organizations as the American Energy Alliance (AEA), whose president, Thomas Pyle, is a former Koch Industries lobbyist; the Competitive Enterprise Institute (CEI), whose top climate disinformer, Myron Ebell, oversaw the Trump EPA transition team; and Heritage Action, the political arm of the Heritage Foundation. Heritage economist David Kreutzer, who maintains there is no justification for Obama Administration climate policies, also served on the EPA transition team.
Global warming isn't an agenda. It's a fact. This puts the entire planet in danger. https://t.co/E5bR8IkqWw

— Friends of the Earth (@Friends of the Earth)1485531242.0
Those three groups and at least 15 other letter signatories have received generous support from one or more of the Koch brothers' numerous foundations, including American Encore, the Charles Koch Foundation, Charles Koch Institute, the now defunct Claude R. Lambe Charitable Foundation and Freedom Partners Chamber of Commerce, a de facto Koch bank that distributes contributions from wealthy conservatives to free-market, anti-government groups. A number of the organizations on the letter are also funded by Donors Trust, a secretive, pass-through money laundering operation that received more than $13 million from the Kochs' Knowledge and Progress Fund between 2005 and 2014.

Eight of the signatories, including AEA, CEI and Grover Norquist's Americans for Tax Reform, collectively received $30.2 million between 2010 and 2014 from American Encore, a "social welfare" nonprofit organization the Kochs established in 2009 as the Center to Protect Patient Rights (CPPR). The organization has been one of the Koch network's primary conduits for funneling dark money—private donations not subject to public disclosure—to conservative campaign funding groups.
American Encore is no fan of environmental protections. A December 2016 blog post on its website calls for slashing "excessive and burdensome regulations" on hydraulic fracturing, opening up the Atlantic and Pacific coasts to oil drilling and canceling the Obama Administration's Clean Power Plan to curb electric utility carbon emissions.
A significant chunk of the American Encore-CPPR budget came from Freedom Partners, which gave the organization a whopping $115 million between 2012 and 2013. From 2012 through 2015, Freedom Partners also donated nearly $38 million to five of the groups on the Pruitt support letter: AEA, American Commitment, Club for Growth, Heritage Action and the 60 Plus Association, which spent the bulk of its $16.5 million in Freedom Partner grants on political advertising.
Like American Encore, Freedom Partners' goal is to roll back consumer, public health, environmental and workplace safeguards. It recently posted A Roadmap to Repeal, a list of Obama administration initiatives that can be repealed in the new administration's first 100 days and others that would require a longer term strategy.
In the short term, Freedom Partners calls on the Trump Administration to rescind the moratorium on new federal land coal leases, abandon the Paris climate agreement and block any proposed EPA programs related to the Clean Power Plan. It also recommends that Congress repeal a number of regulations finalized during the last 60 legislative days of 2016, including rules that protect streams from coal mining, cut heavy-duty truck carbon emissions and reduce methane leaks from oil and gas operations on public lands. Over the long term, Freedom Partners wants the administration and Congress to kill the Clean Power Plan and the "Waters of the United States" rule, which extends federal protection to headwaters and wetlands that feed drinking water supplies.
Koch-Funded Senators Fawn Over Pruitt
How much impact could Freedom Partners and the rest of the Koch network have? Quite a bit, actually. They are planning to spend $300 million to $400 million over the next two years to influence politics and public policy and Marc Short—Freedom Partners' president up until February 2016—was just named the White House director of legislative affairs. Formerly Vice President Mike Pence's chief of staff when Pence was in the House of Representatives, Short likely will find a receptive audience on the Hill—at least from one side of the aisle.
The welcome Pruitt got at his Senate Environment and Public Works (EPW) Committee hearing two weeks ago may be an indication of things to come. Republican committee members fell all over themselves to praise Pruitt and attack the EPA for, as Chairman John Barrasso put it, creating "broad and legally questionable new regulations [that] have done great damage..." Democratic committee members, conversely, pressed Pruitt on his financial ties to fossil fuel interests, his efforts to weaken environmental safeguards and his scientifically indefensible claim that the role human activity plays in causing climate change is "subject to continuing debate."
Why were Republican EPW Committee members so hospitable to Pruitt?
Like Pruitt, most of them are on the Koch gravy train and their campaign coffers are flush with fossil fuel industry cash. Nine of the 11 Republicans on the committee together received $368,000 in campaign contributions from Koch Industries over the last five years. Even more telling, the company was among the top 10 donors for seven of those nine beneficiaries and the top donor for two—Jim Inhofe of Oklahoma and Jeff Sessions of Alabama, who is in line to become the Trump administration's attorney general.
In addition to the Koch funding, the Republican committee members received more than $1.5 million since 2011 from a veritable Who's Who of energy companies, including coal giants Alpha Natural Resources, Arch Coal, Murray Energy and Peabody Energy; oil and gas titans BP, Chevron, Devon Energy, Exxon, Marathon Oil and Valero Energy; and electric utilities American Electric Power, NextEra Energy and Southern Company. Pruitt, meanwhile, received $62,500 since 2010 from Koch Industries and eight other companies listed above, including Devon Energy, Exxon and Valero Energy.
By contrast, none of the 10 Democrats on the committee received Koch money, let alone any coal or oil and gas industry support. The only energy-related businesses that contributed to their campaigns in the last five years were three diversified electric utilities that are heavily invested in nuclear power: Dominion Resources, Entergy and Exelon.
Drain the Swamp?
Donald Trump campaigned as a populist who promised to stand up to Washington lobbyists and "drain the swamp." The back story on Scott Pruitt—and the vast sums spent by the Kochs and other fossil fuel interests to promote their agenda—tell a very different story.
Still, one may fairly question what any of this actually proves. Does money really dictate the positions that a nonprofit think tank or U.S. senator takes, be it on climate change or any other policy issue?
As it turns out, none other than David Koch addressed this very question in an interview with Brian Doherty, author of the 2007 book, Radicals for Capitalism: The Freewheeling History of the Modern American Libertarian Movement. Koch was talking specifically about funding think tanks and advocacy groups, but what he said could easily be applied to elected officials as well.
"If we're going to give a lot of money, we'll make darn sure they spend it in a way that goes along with our interest," Koch told Doherty. "And if they make a wrong turn and start doing things we don't agree with, we withdraw funding. We do exert that kind of control."
I rest my case.
Elliott Negin is a senior writer at the Union of Concerned Scientists.
As the curtain comes down on President Barack Obama's eight years in the White House, most Americans seemed convinced of one of two things: We're either about to Make America Great Again®, or we're about to hurtle into an uncertain epoch that I like to call the Idiocene.
But before we turn the page on this administration let's take a look back at the tall tales, regrettable pronouncements, farces and scams on climate and the environment during the Obama years. Anti-regulatory zealots led the pack, but President Obama contributed a few of his own—starting on his first full day in office:
After promising transparency, President Obama's Administration was called "one of the most secretive."
1. January 2009: The most transparent administration? Not quite.
A day after his inauguration, President Obama signed a memorandum promising: "the most transparent administration in history."
By May 2016, a different verdict came in. Washington Post media columnist Margaret Sullivan called it "one of the most secretive." In August 2015, 52 journalism organizations, including the Society of Environmental Journalists, sent an appeal to the White House, asking for an end to restrictions on government employees' contact with reporters.
2. October 2009: Global warming stops (except it totally doesn't)
Scientists begin asking questions about why the pace of rising temperatures seems to be defying projections and slowing. Despite the emergence of serious, credible reasons for this – notably that the oceans are working overtime to absorb excess heat – climate deniers have a field day with cherry-picked data.
Even as daily, monthly, and annual warmth records continue to be broken, there's been "no global warming at all" for nearly two decades in Deniertown.
In a November 2009 press release, the West Virginia Chamber of Commerce declares the "War On Coal" is underway.
3. November 2009: War is declared, a slogan is born
In a press release, the West Virginia Chamber of Commerce declares the "War On Coal" is underway.
4. November 2009: Russian hack (no, the other one)
Hackers, believed to be Russian-based, steal thousands of emails from the University of East Anglia's Climate Research Unit. Climate deniers spin a few poorly worded correspondences between scientists into a vast conspiracy to fake climate research.
The faux scandal upends coverage of the Copenhagen climate summit, the scientists are cleared of any wrongdoing by multiple investigations, and the hackers are never caught. But their work foreshadows the 2016 election hack.
5. January 2010: Moderate Republicans join Endangered Species List
The Citizens United decision breaches the dam on corporate cash. The high court votes 5-4 to fundamentally reshape the already-cockeyed way election campaigns are financed, offering cover to corporations and super-PACs to target undesirable candidates for defeat.
"Moderate" Republicans are virtually driven into extinction, and the few who acknowledge climate change have a change of heart.
6. March 2010: Fake fishing news sends real readers reeling
An ESPN.com outdoors columnist launches a viral hoax, suggesting that Obama is planning to outlaw all recreational fishing. Within days, chronic Obama critics—from Fox News and the Daily Caller to columnist Michelle Malkin, RedState.com and GatewayPundit.com—dutifully spread the word about "Obama's latest assault on freedom." Except not a word of it is remotely true.
7. April 2010: Obama's oil comment gaffe
18 days before the Deepwater Horizon disaster, Obama says "Oil rigs today don't generally cause spills."
8. May 2010: Limbaugh gets to the bottom of Deepwater Horizon
Rush Limbaugh says "environmental wackos" staged Deepwater Horizon as a fundraising scheme.
9. May 2010: Anti-vax doctor defrocked

The UK's General Medical Council strips Dr. Andrew Wakefield of his license to practice. He authored the 1998 paper linking vaccines to autism. The paper was later retracted by The Lancet and declared "utterly false."
10. February 2011: The Maine governor doesn't understand BPA
Maine Gov. Paul LePage, possibly the only politician too dumb for the Trump Administration, declares that BPA's worst-case scenario would be women with beards.
11. September 2011: Solyndra slips, solar scandal soars
Solyndra fails. The solar company stranded investors and bailed on a half-billion dollar Energy Department loan amid evidence that Obama Administration cronies stood to benefit. But solar energy critics vault a relatively minor scandal into a renewables Benghazi – overlooking the generally successful record of DOE's startup loans as well as the much larger handouts given to fossil fuel companies.
12. September 2011: The Donald picks a wind fight. Fore!
Donald Trump sends the first of 16 angry, obsessive letters or emails to Scotland's First Minister about the proposed windfarm near his golf resort. Sad!!
13 and 14. May 2012: Heartless Heartland campaign
An electronic billboard on a Chicago freeway heralds the start of a campaign by the Heartland Institute to brand climate-change advocates as cold-blooded serial killers. The first features the Unabomber, Ted Kaczynski. It draws such a backlash that the billboards featuring climate advocates Adolf Hitler and Osama bin Laden (really) never get a full airing. Heartland is further tarnished by revelations that it solicited fossil fuel money to pursue its climate denial agenda.
Lamar Smith becomes Chair of House Science Committee, and eventually the Torquemada-in-Chief of government climate scientists. Rep. Smith's committee room becomes an inquisition chamber for government climate scientists and their agency bosses.
By Zachary Davies Boren
President-elect Donald Trump is set to gut U.S. environmental regulations, open up federal lands for fossil fuel extraction and quit the Paris climate agreement, according to documents seen by Energydesk.
A memo penned by Thomas Pyle, head of the Department of Energy transition team, and obtained by the Center for Media and Democracy, lists 14 key energy and environment policies the incoming Trump administration is expected to enact.
The note—part analysis of Trump's statements, part fossil fuel industry wish list—was sent on Nov. 15, just days before Pyle was brought on board by the Trump team.

It appears to reflect what Pyle wants from a future Trump administration—though little has yet emerged by way of formal energy policy.
Pyle is president of the Institute for Energy Research and the American Energy Alliance, which count among their major donors ExxonMobil, Peabody Energy and Koch Industries. He was also a top lobbyist for Koch Industries between 2001 and 2004.
Pyle's Predictions

The letter—"from the desk of Thomas Pyle"—celebrates the Republican party victory in last month's election, excitedly claiming that Trump will adopt what he describes as "pro-energy" and "pro-market" policies.
That's good news for oil, gas and coal which—if Trump does end up enacting this agenda—will be free to mine and drill under federal lands from the Alaskan Arctic to the Wyoming outback.
There have even been reports that Trump may seek to privatize Native American territory for fossil fuel purposes.
Trump Advisors Plan to Privatize Native Lands to Tap Into Oil Rich Reservations https://t.co/pop6Vf2oz6 @foeeurope @globalactplan

— EcoWatch (@EcoWatch)1481019014.0
Pipelines like Keystone and the just halted Dakota Access project will also get pushed through, as will a clutch of liquefied natural gas export terminals.

But "pro-energy" doesn't feel like a fair characterization, since the document promises greater scrutiny for wind power projects, cutting energy subsidies (presumably for renewables) and amending the Renewable Fuel Standard.
It's worth mentioning that the document is nominally an analysis of Trump's statements on the campaign trail and was written before Pyle was officially part of his top team.
And the three-pager does effectively echo many of the anti-regulation noises the president-elect made in the last 18 months, including promises to scrap the Clean Power Plan, pull out of the Paris climate deal and fiddle with federal water rules.
Pyle is, however, now tasked with stacking the very department that would oversee such policies, and the leading candidates to run energy under Trump—such as oil exec Harold Hamm—appear similarly minded on the issues.
So this about as close to an energy blueprint as you can get.
Click on the image to read the document.
14 Policies

Here are the policies the memo outlines:
1. Withdraw from the Paris agreement.
2. Increase federal oil and natural gas leasing.
3. Lift the coal lease moratorium.
4. Give states greater say on energy leases on federal lands.

5. Expedite approvals of LNG export terminals.
6. Scrap the Clean Power Plan.
7. Reconsider the "endangerment finding."
8. Move forward with pipeline infrastructure.
9. Take closer look at environmental impact of wind energy.
10. Reduce energy subsidies.
11. Amend the Renewable Fuel Standard.
12. Challenge Obama's definition of "waters of the United States."
13. Relax federal fuel economy standards.
14. End use of social cost of carbon in federal rule-makings.