Pioneering explorers and females in STEM Sylvia Earle and Mireya Mayor prepare to issue the inaugural award for the Women Explorers Award. Tiffany Duong / Ocean Rebels
Earlier this month, two pioneering female explorers came together at Florida International University (FIU) to share what they've learned from decades of exploring the land and sea. In conversations with EcoWatch, Sylvia Earle and Mireya Mayor spoke about why exploration and conservation must go hand in hand.
Earle is popularly known as "Her Deepness," thanks to her love of exploring blue frontiers where few dare to go. The famed oceanographer has led hundreds of research expeditions, spent more than 7,000 hours underwater and served as NOAA's first female chief scientist. Her lifelong message is one of hope for our ocean; her plea is for individual responsibility for its rescue.
Renowned oceanographer Sylvia Earle sits in the window of the Aquarius underwater research laboratory in Key Largo, Florida. Mission Blue
That's "Her Deepness." Now, meet Mayor, Earle's terrestrial counterpart, who is known as the "Female Indiana Jones" and "Her Wildness."
The depths that Mayor explores are those of the jungles, plains and grasslands that nurture some of the world's rarest and most elusive primates. Mayor is proud of her trajectory from Miami Dolphins cheerleader to National Geographic's first female and first Hispanic wildlife correspondent. Now, she is on a quest to diversify and aid others in exploring their own worlds and sharing what they find.
Mireya Mayor's expeditions have taken her across countless environments. Mireya Mayor
In sum, these two women have spent decades traversing the planet in the name of science and exploration. In Florida, they came together to share what they've learned from their lives in the field and to usher in the next generation of female explorers. Here's what they had to say:
First, exploration begins with curiosity about the world around you.
"I think everyone starts out exploring as a child — all of us," said Earle. "We want to know everything about everything. We ask questions: who, what, why, how, when, and, maybe most importantly, why not."
The living legend still finds wonder in any wild place, be it a coral reef or your backyard. In these spaces, humans can be one with nature and "be in touch with the history of life on Earth," she said. She encouraged, "Just look at a leaf. How did a leaf come to be? Or moss in the crack of a sidewalk — ask it, 'Where did you come from? What's your history all about?' Or a butterfly. Wonder about it."
For Mayor, exploration helps connect all of us humans to each other and to the environments around us.
She said, "Exploration reminds us that the world is both small and big and that there are so many corners we have not yet explored. There are so many discoveries we're still making. It's an exciting, fascinating field."
One of those was a discovery that Mayor made herself, of the world's smallest primate: a mouse lemur in Madagascar.
Famed explorer Mireya Mayor with the world's smallest primate, which she co-discovered in Madagascar. Mireya Mayor
The primatologist also trekked over 1,000 miles with the Masai and learned from them and other indigenous tribes about the healing power of nature. "I learned so much from them," she said. "When we go into ancient forests, we see trees; they see a medicine cabinet, a grocery store."
Staying in remote places with these tribes, Mayor also realized how little we really need in life. People who western society might deem to have little to nothing weren't just surviving; they're thriving, she realized. Her Wildness added, "I learned: We don't have to waste and over-consume, and we can still be happy. The things that really matter in life are not things."
While Mayor spoke of these life lessons from the field, Earle focused her words on a plea to take action before it's too late.
"We're just beginning to appreciate the magnitude of what we've always taken for granted," the National Geographic Explorer in Residence said. "We have the capacity to destroy the life systems that keep us alive or we have the choice to turn things around. We are really good at destruction and killing, but we are also really good at caring, once we know, once we understand. And we're right at that critical moment when we know enough and care enough that we might save ourselves by saving nature just in time."
"It's one thing when you don't know. But now we know," Earle continued. "How do we fix what we have created?"
To answer Earle's poignant question, the two trailblazers offered up not one but twelve visions of a better future: the finalists for FIU's inaugural Women Explorers Award. With projects focused on everything from sharks to sustainability, the twelve female finalists all received grants to propel their research forward.
First place winner Catherine Guinovart aims to create an effective and just system of ecological knowledge exchange in Mayan communities. She will bring together western, local and indigenous systems of thought and ways of approaching the environment to create a more complete understanding of a place. She explained, "When it comes to understanding science and the environment, there is so much richness tied in with our cultural and local understandings of a place. I want to explore that kind of understanding and wisdom, which often won't be found in scientific journals or textbooks."
Mayor, who heads up FIU's Exploration and Science Communications department as well as this new award, said, "I grew up with very little means… A grant just like what I'm offering now and that I have the honor of overseeing gave me my start and led me to South America. I am so excited to be kicking this off now for the next generation."
Earle ended the night with her characteristic nod toward the future: "Knowing what's possible within the span of a human lifetime, is incentive and cause for hope… And here you [twelve] are, holding it for future generations."
Tiffany Duong is a writer, explorer and inspirational speaker. She holds degrees from UCLA and the University of Pennsylvania Carey Law School. As a contributing reporter at EcoWatch, she gives voice to what's happening in the natural world. Her mission is to inspire meaningful action and lasting change. Follow her on Twitter/Instagram/TikTok @tiffmakeswaves.
From Your Site Articles
Related Articles Around the Web
EcoWatch Daily Newsletter
Women collect samples of water on a beach. SolStock / E+ / Getty Images
Scientists have found microplastics in nearly every kind of aquatic ecosystem, from rivers and lakes down to the depths of the ocean. Now, new federal guidelines show how anyone interested in undertaking their own community science experiment can investigate their waterways — but their results may not perfectly represent what's lurking underwater.
Community scientists can use these guidelines for sandy beaches or shorelines of oceans, bays, lakes and rivers, but a scientist who examined the protocol told EcoWatch it might not be appropriate for rocky beaches.
You might already have everything you need in your basement or shed, but most items can likely be easily borrowed or purchased at a local hardware store, like wooden stakes, a five-gallon bucket, rope, tweezers and a really long tape measure. The protocol, issued by the U.S. Environmental Protection Agency (EPA), lists fifteen basic items you'll need to acquire, in addition to a downloadable marine debris tracking app to which the agency recommends uploading collected data.
The guidelines detail how to arrange a large sampling area into quadrats, or frames, that you'll randomly select for further search. Essentially, within those frames, you'll want to remove any large, obviously natural debris, like seaweed, shells or driftwood.
But first, you'll want to brush off any microplastics attached to those items (the protocol provides advice about particularly difficult to brush off items, like seaweed clumps) and use the suggested equipment to filter, collect and sort it.
But the conclusions that community scientists can draw from their experiment are limited. Microplastics by their very nature are miniscule, so even the use of a magnifying glass isn't enough to see everything. And the one-millimeter strainer that the protocol requires is too porous to capture most microplastics, according to one scientist.
"Now, most of the micro plastics are so small they will go through that [sieve], so they won't be collected," explained Judith Weis, whose research as a professor emerita at Rutgers University in Newark, New Jersey, includes environmental contaminants. "So this kind of [process] is collecting the larger microplastics and missing the small ones and the most abundant ones."
The protocol acknowledges that because "microplastics smaller than [one millimeter] in size (such as microbeads) are more difficult to find... more sophisticated technology is required to conclusively identify them," likely beyond the access of most interested community members.
EPA communications staff did not return a request for comment related to the data collection effort, including limitations of community scientists only being able to report microplastics above a certain size. Nevertheless, Weis says that the collected data, imperfect though it may be, still is generally useful.
"If that collection shows a whole lot more at one place than another place, that's useful information," she explained. "If that kind of data shows that at one place now there is a lot less [microplastic] than five years from now, that's useful information… and if you see a big difference from one place to another, that's valid."
But, she continued, "You shouldn't be under the illusion that you're getting an accurate count of the different kinds of shapes and the amounts because there's all the stuff that will be smaller or long and thin and go through."
From Your Site Articles
Related Articles Around the Web
Weighing the pros and cons of solar can help you make the best decision for your home.
Reviews
Lourdes Balduque / Moment / Getty Images
The solar boom is underway; the best solar companies are becoming household names, and the benefits of solar energy are taking the spotlight from oil, coal and gas. However, with so much literature to sort through these days, it can be tough to gauge the real solar energy pros and cons — especially since they're so dependent on the customer.
Though a sound investment, solar is a significant one, and we want our readers to fully understand the advantages and disadvantages of solar energy before making a purchase. Of course, using the sun as a renewable energy source can reduce your household's monthly electric bills and minimize your carbon footprint. However, there are some factors that make solar a little less valuable for some than others.
We'll go over the full pros and cons of solar energy in this article, but for many homeowners, the decision to go solar comes down to cost. To see how much solar panels would cost for your home, you can get a free quote from an installer near your by using this tool or filling out the form below.
Pros and Cons of Solar Energy: What You Need to Know
By installing a home solar system, you can use photovoltaic solar cells to capture and convert the sun's clean energy into electricity that can power your home or business. This can partially or completely offset the energy you'd typically purchase from your utility company.
While the advantages of solar energy are well advertised, there are also some drawbacks our readers should be aware of. Consider the following pros and cons of solar energy to help you decide if solar panels are worth it for your home.
Benefits of Solar Energy
Let's begin with the fun part — the biggest advantages of solar energy.
1) You can significantly reduce or even eliminate your household electric bills.
One of the most significant benefits of solar energy is also the most obvious: by generating your own energy, you can partially or completely offset the electricity you purchase from your utility. The average solar system lasts for two to three decades, which means most residents enjoy at least a decade or two of free energy after paying off their system with their energy savings and tax credit.
2) Going solar can reduce your carbon emissions.
The clean and natural energy harnessed by your solar system offsets the energy you'd typically purchase from local utilities. For the most part, local utilities carry a large impact stemming from the generation, transportation and distribution of electricity to your community. By using solar panels to generate your own electricity, you offset a portion of the greenhouse gases associated with fossil fuels, lowering your community's overall environmental impact.
3) Investing in a solar power system can increase the value of your home.
Homes with solar are becoming considerably more appealing, and installing the best solar panels can raise an estate's resale value by a decent amount. Note that this helps offset one of the primary cons of solar energy, which is the steep startup cost of solar panels — but more on that later.
4) Going solar can make you eligible for rebates and tax incentives.
Over the past couple of decades, the federal government has implemented numerous plans to incentivize solar energy, including solar tax credits and rebates. Many state governments have followed suit, particularly those where sun exposure is most consistent. Thanks to this, there are some significant ways to recoup part of your solar investment almost immediately. Again, this can help offset the initial cost of your solar panel system, allowing you to generate savings even before those utility reductions begin to stack up.
5) Solar + storage provides reliable backup power.
A solar battery storage system can provide backup power for homes in areas prone to power outages, which seem to be growing each year with the extreme weather brought on by climate change. With a backup battery like a Tesla Powerwall, you can keep your essential appliances powered during a prolonged outage. Even in mild weather, backup batteries let you store and use more of your solar energy, generating more savings.
Disadvantages of Solar Energy
Unfortunately, there are benefits of solar that won't prove effective for all homes. A few of the most notable disadvantages around solar include:
1) Not every roof can accommodate a solar system.
Solar panel installation requires you to have a certain kind of roof. If you have an older home, especially one with slate or cedar tiles on the roof, then you may not be able to buy solar panels for your personal use. Additionally, homes with skylights and other rooftop features may not have the surface area needed for solar panels.
If you don't have a lot of space or you're unsure about your home's solar capability, contact a local solar installer near you for a consultation. Most top solar companies will send out a representative free of charge.
Keep in mind that you can also install a ground-mounted solar panel system if you don't have a suitable roof.
2) Solar energy can be very location-dependent.
You can have a roof that's ideal for solar panel installation and still not be a good candidate for solar energy. Why? Because to take full advantage of solar power, you need to live in a place that gets consistent daily sun exposure. So, if you live in a part of the country that tends to be pretty cloudy, you may not produce the amount of energy necessary to justify your investment. Also, if your roof is partly shaded by trees or by neighboring homes, you may not get the best mileage from a solar energy system.
Location goes beyond just the amount of sunlight you receive, however. Some readers may live within the jurisdiction of a utility company without a favorable net metering policy. In the most unfortunate cases, utilities will charge hefty interconnection fees that can outweigh the savings solar provides.
3) Solar savings tend to correspond with energy bills.
The higher your electricity bills, the more energy you'll be able to offset with solar. But the inverse is also true: if you live somewhere with low utility costs, then the savings from switching to solar energy are going to be more modest. In other words, there are some parts of the country where the financial advantages of solar energy are going to be pronounced, and other places where those financial advantages are going to be nominal. It all depends on the cost of electricity where you live, and how much of it you use.
4) The upfront cost of going solar can be significant.
After adding up panels, labor, inverters and more, the average solar system investment ranges from $10,000 to $20,000. The specific number will vary according to the size of your home, if you need energy storage technology, your household energy use and the type of solar panels you choose. For example, if you make your own DIY solar panels, you'll cut down on installation fees, or if you want to get the most efficient solar panels, they'll cost significantly more.
There are plenty of ways to offset the cost of solar, including tax incentives, utility savings, increased home value and financing options. Still, there's no getting around it: Making the switch to solar is a significant investment.
5) Solar is getting more expensive with supply chain issues.
Worldwide supply chain issues have squeezed the costs of solar materials, shipping and labor. As a result, investing in solar in 2022 is proving a touch costlier than in years past. Still, solar technology itself continues to improve in efficiency and value while declining in price. We wouldn't recommend waiting to install a system, however, as the federal solar tax credit will be reduced in 2023 and will phase out altogether in 2024.
Weighing Solar Energy Pros and Cons
So, do the advantages of solar energy outweigh the disadvantages? Unfortunately, there's no easy answer here, as different homeowners may experience different levels of value when they make the jump to solar.
Before investing in a system, make sure you do your due diligence. Consider local sun exposure, the size and direction of your roof, local tax incentives and your own household energy expenses. Also, think about whether you want (or need) a solar battery.
Getting quotes from a few solar providers can give you more details about how much a new system will cost you. By weighing the pros and cons of solar energy for your home, you can make the best decision possible.
To get connected with a solar installer near you for a free consultation, you can use this tool or fill out the form below.
FAQ: Solar Energy Pros and Cons
When is solar energy a bad choice?
We aren't naive enough to claim that solar is always a good choice. For homeowners with low energy costs, shady roofs or insufficient space, the cost of solar can outweigh its benefits. Your location is important, too — not just in terms of sunshine, but also the financial incentives available to you. Check your local net metering policy and statewide and local incentives to see if you can save money on solar.
What are three disadvantages of solar energy?
The three biggest disadvantages to solar energy include:
The long-term nature of the investment: Life happens. Things change. Unfortunately, transferring solar loans or leases over to new homes or homeowners can be tricky. Some solar companies charge to have the panels relocated, and not all new homeowners will accept the solar lease or loan should you wish to transfer it.
Not every roof can accommodate a solar system: Small roofs, roofs with obstructions or roofs made with alternative materials can have trouble accommodating solar panels.
The cost of solar: Purchasing 25 years' worth of electricity upfront can make a lot of customers uncomfortable — and we understand why! The upfront cost of solar won't be feasible for all homeowners. Luckily, solar leases, flexible loan plans and incentives are making solar accessible to a wider range of home and business owners.
What are the advantages of solar?
Solar panels provide a reliable, low-maintenance way to avoid the carbon dioxide emissions associated with conventional energy generation. In addition to the environmental benefits, solar typically provides a great deal of energy savings for customers weighed down by rising utility costs. When properly designed and installed, solar is one of the best and most sustainable investments you can make.
Karsten Neumeister is a writer and renewable energy specialist with a background in writing and the humanities. Before joining EcoWatch, Karsten worked in the energy sector of New Orleans, focusing on renewable energy policy and technology. A lover of music and the outdoors, Karsten might be found rock climbing, canoeing or writing songs when away from the workplace.
The plans for a sanctuary came after Canada passed the Ending the Captivity of Whales and Dolphins Act, which prevents whales and dolphins from being held in captivity, particularly for entertainment.
Animals
Beluga whales are highly intelligent, social creatures who do not do well in the small, confined spaces they are assigned to at aquariums and marine parks. Whale Sanctuary Project /
YouTube
A new sanctuary for whales is coming to North America. In Nova Scotia, The Whale Sanctuary Project recently celebrated opening day for the Operations Centre for the nonprofit's upcoming whale sanctuary, which will be the first of its kind in North America.
The sanctuary is planned for Port Hilford Bay in Nova Scotia and will include 110 acres of habitat for the whales. This amount of space will be ideal for about eight whales. The organization wanted to find a spot that would offer plenty of interesting and enriching surroundings for the whales and other wildlife.
An outline of the whale sanctuary planned for Port Hilford Bay in Nova Scotia. Whale Sanctuary Project / YouTube
"The 110 acres that will be the whales' home need to be in an environment that's interesting, varied and enriching, safe and healthy both for them and for all the other living creatures who inhabit the bay," The Whale Sanctuary Project said in an earlier press release. "For example, it should be deep in some places and shallow in others; with a sandy sea floor in some parts and a variable sea floor in others – rich in plant and animal life and basically a place the whales can truly call home."
The planned sanctuary will be positioned about a 20-minute drive from the newly opened Operations Centre, which also doubles as an educational visitors center.
"Visitors will be able to watch interactive video displays to learn about the sanctuary," the nonprofit said. "They can learn about whales in general, and about whales in captivity and how their lives will be changed when they are retired to the natural environment of a sanctuary."
The Whale Sanctuary Project has been working closely with locals, including the Mi'kmaq Nation, those who live in the nearby communities, local fishermen, and the government to create this conservation space for whales.
The plans for a sanctuary came after Canada passed the Ending the Captivity of Whales and Dolphins Act, which prevents whales and dolphins from being held in captivity, particularly for entertainment. Currently, there are over 220 beluga whales and 53 orca whales held in captivity worldwide. These animals are highly intelligent, social creatures who do not do well in the small, confined spaces they are assigned to at aquariums and marine parks. Whales in captivity may become more aggressive or fall more susceptible to illness and higher risk of early death.
The sanctuary will provide a safe, spacious habitat for whales who are rescued from captivity. The organization is looking to raise $20 million for the sanctuary, which it hopes to open in 2023.
Whales Without Walls -- Re-release of the original, including views of the actual sanctuary site. youtu.be
From Your Site Articles
Related Articles Around the Web
HuiZero stainless steel tins are intended to replace all single-use to-go containers in Hawaii and beyond. HuiZero
HuiZero, Hawaii's first zero-waste to-go container program, has just launched at participating restaurants across the island of Maui. The tins are food safe, easy to clean and infinitely reusable, making them ideal for an island chain like Hawaii.
HuiZero's mission is to help eliminate single-use plastic and curb plastic pollution across all the Hawaiian islands, said Kevin Watkins II. Watkins is the owner of Maui Sustainable Solutions LLC, the creator of the program and an organization developing technology, programs and infrastructure to create solutions in sustainability. Partnering with Watkins are the Maui Department of Environmental, Environmental Protection & Sustainability Division, the Department of Health and Moku Roots, a vegan and vegetarian, zero-waste and farm-to-table, sustainable restaurant in Maui, he said.
Stainless steel tins are food safe, easy to clean and infinitely reusable, making them perfect for an island chain like Hawaii. HuiZero
In places like Hawaii, single-use plastic pollution and other trash pose a particular challenge for local marine life. Ocean plastics, especially, coming from land and on ocean currents, can entangle whales and dolphins, choke and starve seabirds, fish and baby sea turtles and abrade endangered corals and other sensitive ecosystems.
HuiZero works as a collaboration between restaurant owners and their customers. The former purchase stainless steel HuiZero containers, which are exchangeable at all other participating restaurants. When customers order food to go, they pay a $10 deposit to receive their food in a reusable container. The next time they order from a participating restaurant, they can bring that tin back to receive either $10 cash or $10 credit towards their food, depending on the restaurant. The tins don't need to be brought back clean. Used containers go straight into the dirty dishes pile and get washed, rinsed and sanitized with the rest of the restaurant dishes. Then, they're ready for the next sustainably-minded customer to use.
"Every time a container gets used it's one fewer single-use container in the landfill," Watkins told Maui Now. Since they are infinitely reusable they have the potential to rid Maui of single-use food containers.
Their durability and reusable nature also make them ideal for Hawaii, which often has to import things like food containers from the mainland and abroad. Long term, a program like this could potentially reduce carbon emissions from reduced shipping and plastic-production needs.
The innovative program hopes its stainless steel tins will replace both petroleum-based and plant-based single-use to-go containers. As its webpage says, this matters because "most of the time even 'compostable' containers end up in the landfill. While paper or cardboard containers with no plastic liner can be composted in a backyard compost, 'bioplastics' will only break down in an industrial composting facility which Maui does not have."
"Our program is simple and easy for both restaurants and consumers, coordinating with local governments in promoting the single-use plastic legislation taking effect in each county," Watkins told EcoWatch.
Between Maui Sustainable Solutions, LLC and Moku Roots, they've created farm-to-table practices, installed a distributed network of free water refill stations across the islands and launched the #plasticfreemaui campaign. Now, with the HuiZero program, they're already coordinating expansion onto other Hawaiian islands as well as developing its mainland sister company, Watkins said.
HuiZero actually came to be after Maui Sustainable Solutions received a grant from the Department of Environmental Protection, Environmental Management and Sustainable Division for a feasibility study on reusable to-go containers for Maui. The program is already gaining notoriety in places far away from Hawaii. In the Florida Keys, local restaurateurs are following along to see if they can do something similar.
"We are developing our mainland launch, we encourage anyone wishing to bring this to their state or county to collaborate with us in launching an effective and efficient launch," Watkins offered.
While Watkins noted that "we have a culture and economy that overlooks our waste problems until there are dire and expensive repercussions," he also emphasized how HuiZero and other programs like it can make a tangible difference. He said, "A lot of people doing a little bit for sustainability is most definitely vital to curbing ocean waste and landfill issues."
HuiZero stainless steel tins are part of a circular economy and sustainability push in Hawaii. HuiZero
Tiffany Duong is a writer, explorer and motivational speaker. She holds degrees from UCLA and the University of Pennsylvania Carey Law School. As a contributing reporter at EcoWatch, she gives voice to what's happening in the natural world. Her mission is to inspire meaningful action and lasting change. Follow her on Twitter/Instagram @tiffmakeswaves.
From Your Site Articles
Related Articles Around the Web
Secretary of State Antony Blinken speaks at an Oceans Plastics Event at United Nations Environment Program in Nairobi, Kenya, on Nov. 18, 2021. ANDREW HARNIK / POOL / AFP via Getty Images
By Jessica Corbett
In stark contrast to the U.S. position under former President Donald Trump, the Biden administration on Thursday signaled support for developing a global treaty to tackle marine plastic pollution, winning swift applause from environmental campaigners.
U.S. Secretary of State Antony Blinken made the announcement while visiting the United Nations Environment Program (UNEP) in Nairobi, Kenya, on the heels of the COP26 climate summit in Glasgow, Scotland earlier this month.
"It is encouraging to see the U.S. throwing its support behind a global plastic treaty," said Greenpeace USA oceans campaign director John Hocevar. "Plastic pollution is one of the most pressing environmental challenges of our time, with the impacts growing more serious every day. Plastic is a global problem, and requires action and coordination at a global scale. As a major producer and exporter of plastic, the U.S. has a responsibility to take a leadership role."
Hocevar also said that "our focus must be broader than keeping plastic waste out of the ocean. We have put so much plastic into the environment that it is in the food we eat, the water we drink, and the air we breathe. Plastic is fueling the climate crisis and harming our health. The damage caused by plastic production and disposal is a major environmental justice issue, with communities of color often suffering the worst impacts."
"Voluntary measures are not going to be sufficient," he added. "We need to see real leadership, and that means initiatives at all geographic scales that will swiftly move us away from our reliance on plastic and facilitate a transition to package-free options and reuse. Plastic is a problem that must be addressed at the source. Until we stop making so much plastic, the damage to our oceans, our climate, and our health will only get worse."
We applaud this commitment to a global treaty on fighting plastic pollution from the US. A coordinated and ambitious approach from governments, businesses and civil society that accelerates us toward a circular economy for plastics is exactly what we need.https://twitter.com/SecBlinken/status/1461329066397741056\u00a0\u2026

— WWF-US Action Team (@WWF-US Action Team) 1637255962
During his remarks Thursday, Blinken also highlighted the importance of global cooperation on the problem.

"Today, we are... stepping up our efforts to tackle another pollutant that threatens our planet, plastic, by announcing the United States support for multilateral negotiations on a global agreement to combat ocean plastic pollution," he said. "By launching these negotiations at the UN Environmental Assembly in February 2022, our goal is to create a tool that we can use to protect our oceans and all of the life that they sustain from growing global harms of plastic pollution."
"It's crucial that the agreement call on countries to develop and enforce strong national action plans to address this problem at its source," Blinken continued. "Many countries, climate and ocean advocates, private companies, have supported this effort for some time. We're grateful for the serious work that they've already put into this effort and look forward to working with them. The private sector in particular will need to do more to cut plastic pollution and invest in innovation."
The U.S. diplomat acknowledged that millions of tons are dumped into the ocean each year, and "can take anywhere from decades to millions of years to break down." He also noted the serious impacts on sea creatures and humanity, explaining that "microplastics can tear apart animals' organs, clog their intestines, and give them the illusion they're full, causing them to starve to death. And because plastics absorb toxins, when we eat seafood, we're not only consuming microplastics, but toxins as well."
"We face a monumental challenge of protecting our oceans, but if we're ambitious in both our global and our local efforts, if we can combine the efforts of government and industry with those of communities and individuals, if we empower the innovative approaches that we've seen," Blinken added, "I'm convinced we can overcome this challenge... We can meet it together."

Erin Simon, head of plastic waste and business at World Wildlife Fund (WWF), said Thursday that "as the plastic pollution crisis continues to suffocate our planet, there's never been a more important time to show U.S. government support for a UN treaty on plastic pollution. Secretary Blinken's commitment sends a strong signal to global leaders that this is an urgent problem that can only be solved when everyone comes to the table."
"If we want to solve this crisis, we can't wait. A coordinated and ambitious approach from governments, businesses, and civil society that accelerates us toward a circular economy for plastics is exactly what we need, and what a global treaty at UNEA-5 can deliver," added Simon, referencing the assembly session that begins early next year.
Although Trump signed some bipartisan legislation to address ocean plastic pollution, Agence France-Presse noted Thursday that the former administration wasn't supportive of other efforts:
[E]nvironmentalists say that the previous administration stymied international efforts by opposing a treaty and blaming the problem squarely on China—a major source of plastic processing but of material often coming from the West.
In 2019, the United States did not join around 180 governments which agreed in Geneva to create a legally binding framework to regulate plastic waste.
The United States did not vote as it is not party to the Basel Convention, a UN treaty reached in 1989 that regulates the movement of hazardous waste.
Before President Joe Biden took office in January, a coalition of over 550 groups encouraged him to become the #PlasticFreePresident and take on the crisis through executive actions that would help "protect vulnerable frontline communities and marine life while addressing a key driver of climate change."
As Common Dreams reported last month, a recent UNEP report emphasized the need for "a drastic reduction in unnecessary, avoidable, and problematic plastic," warning that such pollution in waterways could triple by 2040.
UNEP's executive director, Inger Andersen, introduced Blinken on Thursday and welcomed his announcement. She told him that "your presence here today is hugely important. Your being here demonstrates that the United States wants to be part of multilateral solutions that will keep the environmental action up and running."
"Meaningful action on pollution will require us to journey beyond our comfort zones, engaging with numerous environmental agreements with business and finance, with cities, with civil society, with entrepreneurs, and with people everywhere," Andersen said. "As we seek to work together to address a triple-planetary crisis — the crisis of climate change, the crisis of biodiversity and nature loss, and the crisis of pollution and waste — we have a real opportunity to push full speed ahead towards environmental multilateralism that makes an impact, a positive impact, on people's lives."
Reposted with permission from Common Dreams.
From Your Site Articles
Related Articles Around the Web
A manatee swims among seagrass in the Homosassa River in Homosassa, Florida on Oct. 5, 2021. Conservationists are planting seagrass to try to restore the natural habitat following a record year of manatee deaths in Florida. Joe Raedle / Getty Images
Manatees are majestic creatures, and their presence near Florida brings a lot of awe from locals and tourists alike. But worsening pollution from agricultural runoff, wastewater and other pollutants is causing one of their primary food sources — seagrass — to run scarce.

By October 2021 alone, nearly 1,000 manatees have died from food scarcity. This year's total is slated to double 2020's rate of manatee mortalities, which hit 593. These numbers are especially worrying compared to the previous 5-year average of 146 deaths.

Continued pollution runoff and dumping is creating algal blooms on the surface of the water. This prevents sunlight from reaching the seagrass, which needs light to live and grow. Without it, the seagrass dies off, and the manatees are left with less and less food for their own survival. Already, about 58% of seagrass has died off in the Indian River Lagoon.
Seagrasses are species of flowering marine plants with long, green leaves. They are one of the most productive and valuable ecosystems in the world. Seagrass produces oxygen and provides habitat and food for a variety of wildlife. Impressively, seagrass also captures over 80 million metric tons of carbon annually. But continued pollution from human activities is causing seagrass to die off at a rate of about two football fields per hour, according to Smithsonian Ocean.
Food scarcity isn't the only threat to manatees, either. These creatures are often killed by boat strikes, waters that become too cold, and toxic red algal blooms. With winter just around the corner, experts are concerned to see even higher numbers of manatee deaths before year's end.
"The cold hard fact is: Florida is at a water quality and climate crossroads, and manatees are our canary in the coal mine," J.P. Brooker, Florida director for the Ocean Conservancy, said in The Invading Sea. "They are dying off in record numbers because we humans have made Florida waters inhospitable to them. It's not just our manatees at risk, it's a coast-wide ecological problem."
Florida and U.S. government officials have started restoration projects for manatee habitats with $8 million in approved funding so far. But the work isn't happening quickly enough, and more manatees are expected to die of starvation over the upcoming winter. The Florida Fish and Wildlife Conservation Commission is asking for another $7 million for seagrass restoration and manatee rehabilitation centers.
Manatee populations are estimated at 7,500 to 10,200 around Florida. They are currently classified as threatened, although environmentalists are pushing for the animal to be recategorized as endangered. Manatees were listed as endangered from 1966 to 2016. Florida Governor Ron DeSantis has not agreed to relist them, but has proposed a $3.8 million aid package instead.
"Florida manatees desperately need us to help them by cleaning up and protecting their habitat," Jaclyn Lopez, Florida director and senior attorney at the Center for Biological Diversity, told The Associated Press. The organization, along with other conservation groups, are planning to sue U.S. Fish and Wildlife Service for more manatee protections.
The award-winning documentary They Say It Can't Be Done wants to blow the lid off groundbreaking technology. The potential for these innovations to change the world is massive, but many are "gathering dust on the shelves" due to government red tape. Rather than pit science against policy, the film makes the case for collaboration and understanding as the best path forward.
In the film, producers Patrick Reasonover and Andrea Fuller of Just Add Firewater focus on several scientific marvels that already exist. These inventions tackle some of the world's toughest problems, including food insecurity, organ shortages, ocean pollution and, of course, the ever-present climate crisis.
They Say It Can't Be Done (Official Movie Trailer) youtu.be
"We, like almost everyone, are concerned about the global challenges faced by our society. We wanted to make an optimistic film that looked at how practically these problems can be solved without arguing about politics and without fear-mongering, Reasonover and Fuller told EcoWatch. "Human beings are amazing and can do amazing things... if we let them. We want people to walk away from the film with the feeling that the future will be better than the past, that we can overcome the problems we face."
In order to inspire, the pair chose to showcase digital innovations that are changing the way we eat, breathe and live.
Take Primary Ocean, for example. Focused on regenerative ocean agriculture, the startup farms giant kelp (Macrocystis Pyrifera) to use in a variety of ways. The primary is as an organic biostimulant they call Organikelp™. This liquid extract is used in agriculture to improve the growth, yield and quality of crops and to improve soils.
"Humans need to eat and agriculture has been a major part of our story for the past 5,000 years so our inventions make farming regenerative and improve the health of plants, animals, and people with the power of nature," co-founder Brandon Scott Barney told EcoWatch.
Primary Ocean produces a seaweed extract rich in micronutrients, phytohormones, and cations from kelp.
"Organikelp's formulation... has been found to increase plant growth, yield and overall crop performance at every stage of the growth cycle. Early application to the soil is proven to support the rooting of juvenile clones or seedlings, making plants healthier," Barney explained.
According to the company website, seaweed can also be used as a high protein food source, refined into marine degradable bioplastics that can replace petroleum-based plastics or used as an extremely productive renewable energy source — biofuel.
Barney explained how all these solutions are possible because of how fast giant kelp regenerates itself. Giant kelp is the largest seaweed and the largest of all marine algae. Turns out, it is also the fastest growing organism on the planet, gaining an average of 11 inches a day and up to 24 inches in ideal conditions, he said. And, it doesn't need freshwater, terrestrial land, fertilizer or pesticides to grow. That makes it perfect for farming, as it can replenish what is harvested quickly.
Because it photosynthesizes and absorbs nitrogen, phosphorous and carbon dioxide, kelp could also be a tool to draw down gigatons of carbon, Barney added. While it grows, it also cleans the oceans and helps to fight against "dead zones" in the ocean. These are areas with low oxygen where nothing can live, caused by nutrient runoff into the oceans, Barney told Leafscore.
Primary Ocean's MacroSystems research team with giant kelp from their offshore farm near Santa Barbara, CA. Primary Ocean
Eat Just, Inc., another solution-minded company featured in the film, works on land to build a healthier, safer and more sustainable food system. The food tech company excels in functionalizing plant proteins and culturing animal cells. They're credited with creating America's fastest-growing egg brand, which is made entirely of plants, and the world's first-to-market meat made from animal cells instead of slaughtered livestock.
Cultivated meat is "real meat made in a whole new way," CEO and co-founder Josh Tetrick explained. It doesn't require factory farming or killing any animals. The cells are cultivated into fillets and other products that we are accustomed to.
"Our cultivated meat subsidiary, GOOD Meat, is creating a better way to make meat. We feed cells in a clean, sterile environment, mirroring how an animal grows," said Tetrick.
While addressing food insecurity, Tetrick and his team keep the environmental impact of food in mind. He said, "Our health and our planet's health are deeply connected, and we think it's time we nurture both... GOOD Meat is offering a new way forward."
He added, "By only producing the meat we eat, GOOD Meat has a smaller impact on our planet and avoids slaughter, antibiotics or hormones."
So, what is happening to these inventions? If they already exist, why aren't we seeing them on our shelves?
The producers explained, "Practical solutions require innovation and, in a market system, a regulatory platform that enables them to be created and deployed. The question of the film was: Is regulation helping our modern innovators or is it standing in their way?"
Tetrick added, "Believe it or not, GOOD Meat is here today, and you can buy it and eat it — if you're in Singapore." That country is the only in the world to have granted regulatory approval for cultivated meat, and that happened just last year. Eat JUST is also the only company that has been greenlighted to sell and serve cultivated meat to consumers in Singapore, and their chicken is available in just a few, limited restaurants. The company is working on regulatory approvals in the U.S.
A trio of GOOD Meat dishes at Madame Fan restaurant in Singapore. Eat JUST, Inc.
Throughout the documentary, Reasonover and Fuller explore the relationship between innovators and regulators, hoping to show that "they are working toward the same goal, a better future, even if they are not working very well together right now."
Rather than find fault in "evil" regulators, the producers advocate for modernization. "Our regulatory system is itself decades old, built to work in an era of industrial capitalism," they point out. We are now in a world of digital capitalism where the speed of innovation has accelerated to a breakneck pace. Our regulatory system, like any system, must evolve its practices and methods to our new era. We believe it will."
To find a compromise sooner that would allow these and future innovations to develop and scale, the film highlights some practical changes to undertake.
"The number one change is in mindset," the producers say. "The film tries to show that pessimism and fear from regulators, competition and voters is what is truly shutting down innovation. If people adopted an optimistic, collaborative view and were more open to experimentation and change, then the world would reflect that."
During their Project Alacranes, Oceana scientists found coral disease and invasive lionfish on pristine reefs. Oceana
In August, scientists from Oceana conducted the ocean conservation organization's first-ever expedition to investigate and document the condition of two reefs in the Gulf of Mexico using cutting-edge technology. Assessing the data, they're now reporting invasive species and deadly coral disease in Bajos del Norte, a pristine national park.
The mission, called Project Alacranes, focused on Scorpion Reef (Arrecife Alacranes in Spanish) and the Bajos del Norte National Park. These two areas contain some of the greatest biodiversity in the Gulf. Ten scientists with various specialties monitored corals, mollusks, crustaceans, echinoderms, invertebrates and fish. In Bajos del Norte, the team found the reef "mostly healthy" but noted "previously undocumented threats" including invasive lionfish and deadly coral disease.
Oceana's team explored seven sites in the area, covering over 7,500 square feet. They captured 29,352 photographs, which will help create 3D maps of the reef bottom so the team can continue their analyses out of the water. This is the first time such technology and methods have been used in Mexico.
Oceana scientists take measurements and observations on a pristine reef in the Gulf of Mexico as part of Project Alacranes. Oceana
Because very little scientific research had been conducted in Bajos del Norte, the findings of this expedition are crucial and will help determine the area's biological wealth. For future management policies and protective measures, the data will provide a strong baseline.
"We identified extraordinary seascapes, full of life, confirming the great value of this area," said Mariana Reyna, Oceana's expedition leader. "The presence of juvenile fish indicates that this reef is a vital place for the development of the species, that is, they need the conditions of this site to grow and migrate, or grow and fulfill their life cycle feeding other species."
The scientists' "first stage" results showed brain and flower corals dead or with "very advanced lesions," aligning with potential Stony Coral Tissue Loss Disease. Other coral diseases were also present, including yellow bands and black spots, as well as various levels of coral bleaching.
Lesions (white) eat into the tissue of maze corals on Flat Cay reef, near St. Thomas in the U.S. Virgin Islands. The lesions are caused by Stony Coral Tissue Loss Disease. Marilyn Brandt
None of these unfortunate phenomena were observed on a previous visit to Bajos del Norte in 2019 by a different group. The extent and speed of the corals' deterioration in the interim time is alarming, the scientists said.
The expedition team also recorded the presence of lionfish at almost every reef site visited.
"Lionfish are voracious predators and opportunistic," said Allie Candelmo, a lionfish expert with REEF Environmental Education Foundation who did not participate in the study, reported the Keys Weekly. "They consume a lot of prey throughout the day and evening, which has led to dramatic declines in biodiversity and abundance of native populations when left unchecked."
On a remote reef in the Gulf of Mexico, Oceana scientists found invasive lionfish. Ray Harrington / Unsplash
Lionfish are an invasive species that feeds on small benthic fish and invertebrates. They have an insatiable, indiscriminate appetite. In short amounts of time, the predators can clear out all the local life from reef heads, throwing those mini-ecosystems out of balance, Candelmo said. The expert also noted that, as an invasive species, lionfish have spread so quickly because they have few natural predators, enjoy a high thermal and depth tolerance and breed very quickly.
"You can find them anywhere from 1 meter to 300 meters in-depth," said Candelmo. Everywhere in that range, they're busy eating and reproducing.
Despite their two alarming findings, the Oceana scientists noted that the reef community was "largely in good condition" and that there was no evidence of overfishing. The scientists also warned, however, that as scarcity increases in already exploited fishing areas, fishers will be forced to venture further from shore where existing monitoring efforts are limited.
Globally, overfishing occurs often as illegal, unreported and unregulated (IUU) fishing. IUU fishing remains one of the primary threats to the health of the seas. An unrelated study recently found that such fishing efforts nearby to marine protected areas even reduced their efficacy.
Nevertheless, Oceana's scientists maintained that there is still the chance to protect this area, they said, advocating for legal protections for the area.
"We managed to do science that has never been done in this area. Bajos del Norte was little explored until we arrived," said Miguel Rivas, director of habitat campaigns at Oceana. "Science allows us to identify where to focus our efforts to preserve this wealth. We should not wait until the damage is done and the area is too devastated to act. Our oceans need us to make the changes that are required to protect them today."
From Your Site Articles
Related Articles Around the Web
A new species of beaked whale has been identified in a unique collaboration between Indigenous knowledge and Western science.
The new species, formally announced in Proceedings of the Royal Society B last month, is named Ramari's beaked whale after Ramari Stewart, a female Mātauranga Māori whale expert who was instrumental in the discovery. Ramari also means "rare event" in the Māori language.
"This species is remarkable both in its unique attributes and its name," Whale & Dolphin Conservation-North America (WDC-NA) executive director Regina Asmutis-Silvia said in a statement announcing the find. "It is not only rare to discover new whale species but even more rare to name them after women and honor the indigenous peoples whose coastlines are visited by these amazing creatures."
With most \u201cnew\u201d whale species named after white male Western scientists, the Ramari\u2019s beaked whale is a welcome new approach to naming a species. Appropriately, \u201cRamari\u201d means \u201crare event\u201d in the M\u0101ori language. Read more about this incredible find https://bit.ly/3bnbysd\u00a0pic.twitter.com/IrRPp8WhGd

— Whale & Dolphin Conservation (WDC) (@Whale & Dolphin Conservation (WDC)) 1635606603
The story of Ramari's beaked whale began in 2011, when a pregnant beaked whale was stranded on a New Zealand beach. Local tribe Ngāti Māhaki named the whale Nihongore, and Stewart helped to make sure she was preserved at the Te Papa Tongarewa Museum.
At first, experts thought that Nihongore was a True's beaked whale. However, Stewart looked closer and thought that didn't quite fit. She worked with Emma L. Carroll of the University of Auckland to discover that True's beaked whales in the Southern hemisphere have different genetics and skull shapes from True's beaked whales in the Northern hemisphere. Eventually, the researchers concluded that the Southern Hemisphere whales were in fact a different species.
The scientific name of the new species, Mesoplodon eueu, also reflects Indigenous knowledge.
"'Eueu' means 'big fish' in the Khwedam language of the Khoisan peoples of South Africa, where other whales were found that helped distinguish this new species," WDC explained.
The study authors said the naming of the new species could be a template for future discoveries.
"Our consultation and involvement with Indigenous peoples offers a model for broadening the cultural scope of the scientific naming process," they wrote.
How is it possible that scientists are still discovering new species of animals as large as whales? The reason is partly that the new species lives more than 6,000 feet below the ocean's surface and typically feeds at depths of 3,000 feet to avoid orcas, a major predator, The Hill reported.
Beaked whales in general are difficult to study because they rarely surface and are hard to distinguish when they do, the study authors explained. There are also very few skeletons to study. Of the 23 species in the IUCN Red List, seven of them are listed as "Data Deficient."
The discovery is therefore a reminder of how much we still have to learn about the deep ocean.
"The deep sea has been described as the last major ecological frontier, as much of its biodiversity is yet to be discovered and described," the study authors wrote.
Correction: A previous version of this article incorrectly stated that the new species lives more than 6,000 feet below the ocean.
A leatherback turtle in Florida during a rare daytime nesting event. Mark Conlin / VW PICS / UIG via Getty Images
Scientists in a South Florida county have gotten a pleasant surprise this year.
A record number of endangered leatherback sea turtles nested on beaches in Broward County this season, nearly doubling the previous record high.
"It's difficult to say why Broward County saw such an increase in leatherback nesting this season," Broward County biologist and sea turtle specialist Stephanie Kedzuf told the South Florida Sun Sentinel.
Leatherback turtles are the largest, most migratory and widest ranging of all sea turtles, according to the U.S. Fish and Wildlife Service. They can grow to be four to eight feet and weigh between 500 and 2,000 pounds. Yet, despite their massive size, they are under threat. The FWS lists them as endangered, and they are considered vulnerable by the IUCN Red List. Their population has fallen an estimated 40 percent in three generations, according to NOAA Fisheries. The main threats to their survival include entanglements with fishing gear, pollution, vessel strikes, the climate crisis and the loss of their nesting habitat.
One of their main U.S. nesting habitats is Florida's Atlantic coast, where their numbers have declined in recent years. This includes Broward County, where the total number of nests fell to a low of 12 in 2017, the South Florida Sun Sentinel reported.
However, that number has risen every year since, to reach a record of 79 this year. That nearly doubles the previous record of 46 nests in 2012.
Kedzuf told the South Florida Sun Sentinel she was curious to see if other Florida counties saw similarly high numbers. All told, 2,795 nests were counted in the county from sea turtles of all species.
Turtle nesting season in South Florida takes place between March 1 to October 31. Leatherback turtles usually climb up onto the beaches at night and dig holes that they then fill around with 1,000 eggs. When the baby turtles hatch, they run towards the ocean to escape predators.
One threat to this process is artificial lighting, which can confuse the baby turtles and turn them towards the land instead. Because of this, coastal buildings are now required to shield or dim their lights during nesting season.
Conservationists speculated last year that the decrease in human activity due to the coronavirus pandemic may have also made Florida's beaches more hospitable to turtles.
"The chances that turtles are going to be inadvertently struck and killed will be lower," Sea Turtle Conservancy executive director
David Godfrey
told The Guardian. "All of the reduced human presence on the beach also means that there will be less garbage and other plastics entering the marine environment. Ingestion and entanglement in plastic and marine debris also are leading causes of injury to sea turtles."
From Your Site Articles
Related Articles Around the Web
On the eastern coast of Tanzania, communities are restoring mangrove forests to adapt to rising sea levels and storm surges. Photo: UN Environment Programme / CC BY-NC 2.0
By Tara Lohan
Scientists have provided another reminder that, when it comes to climate change, we're all in this together. A study published last month in Nature Climate Change concluded that at least 85% of the world's population has already been affected by climate change.
"It is likely that nearly everyone in the world now experiences changes in extreme weather as a result of human greenhouse gas emissions," Friederike Otto, a senior lecturer at the Grantham Institute for Climate Change and the Environment at Imperial College, told The Washington Post.
While we're all in it together, not everything is equal. Wealthier countries like the United States play an outsized role in pumping fossil fuels into the atmosphere, but less wealthy nations face the gravest risks. We also know far less about how climate change will affect poorer countries — much more research and resources have been dedicated to studying North America compared to Africa or South America, the study found.
These knowledge gaps don't just affect people, either. Countless species of plants and animals face a warming world. Researchers have found that rising temperatures and related impacts can force changes in behavior, reproduction, migration and foraging. Biologist Thor Hanson wrote in a recent book that 25% to 85% of species on the planet are already on the move because of climate change. What happens when new neighbors interact in these novel ecosystems is something we know little about so far because the ripple effects are far-reaching and numerous.
But the more scientists uncover about how plants and animals — and their habitats — may change, the more effective conservation measures will be.
The Revelator has been keeping tabs on the growing field of climate change biology. Here are five new findings that scientists have made recently about wildlife and climate change.
Cottongrass blows in the wind at the edge of Etivlik Lake, Alaska. The plant is a sedge with wind-dispersed seeds. Western Arctic National Parklands / CC BY 2.0
1. Pack your bags. Numerous bat species will need to move to find suitable habitat as their current homes are predicted to get hotter and drier. Some, like the Isabelline Serotine bat (Eptesicus isabellinus), could be forced to relocate 1,000 miles. The largest exodus will likely come from Coastal Europe and North Africa, which already support the greatest amount of species richness.
2. Not a breeze. While fish can swim to colder waters as the ocean heats up, plants may have a harder time finding suitable habitat in a changing climate. A 2020 study found that wind-dispersed or wind-pollinated trees in the tropics or on the windward sides of mountain ranges could face the biggest problems because the wind isn't likely to move them in a climate-friendly direction.
3. Forest for the trees. Mangrove forests can help mitigate climate change and have been shown to store up to four times as much carbon as other tropical forests. They also help protect coastlines from hurricane damage. Nature-based solutions to help lessen the blows from climate change are good news, but researchers have also learned that mangroves themselves are threatened by rising seas. If we want help from mangroves, we're going to need to cut our greenhouse emissions to help them, too.
4. Disasters abound. So far this year the United States has been walloped by 18 weather and climate disasters costing $1 billion each. An increase in the severity of extreme weather isn't just an economic concern, though. Researchers say that such events can also take a toll on wildlife by killing animals or indirectly destroying food and habitat, contaminating water, or forcing wildlife to move to areas with greater competition or predation.
5. Taking the slow lane. Sometimes you just need a good place to hide. Last year the journal Frontiers in Ecology and the Environment dedicated an entire issue to new research about how to identify and manage climate-change refugia — areas where the effects of rising temperatures are largely buffered because of unique local conditions. As one of the studies explained, "As the effects of climate change accelerate, climate‐change refugia provide a slow lane to enable persistence of focal resources in the short term, and transitional havens in the long term."
The hunt for climate refugia is another reminder of the benefits research can have on conservation, and why such scientific efforts need geographic parity so that some regions — and their biodiversity — aren't overlooked.
Reposted with permission from The Revelator.
From Your Site Articles
Related Articles Around the Web
Two-time WSL Champion John John Florence of Hawaii on Dec. 20, 2020 in Oahu, Hawaii. Tony Heff / World Surf League via Getty Images
By Sally Warner

For the first time, surfing is on the Olympic stage.
The surfing event will last for three days and has to run within the dates from July 25 to August 1. The reason for this window? Not all waves are created equal, and organizers and surfers will wait for the best day full of the best waves to hold the competition.
As a recreational surfer and physical oceanographer, I spend a lot of time thinking about waves. But for many people, this year's Olympics will be their first time watching the sport. They might be wondering:
What generates the waves that surfers will ride at the Olympics? Where do the waves come from? And why will the new Olympians be surfing at Tsurigasaki Beach?
Wind Creates Waves
Think for a few seconds about what happens when you throw a stone into a serene pond. It creates a ring of waves – depressions and elevations of the water's surface – that spread out from the center.
Waves in the ocean act similarly by propagating outward from where they are generated. The key difference is that the vast majority of ocean waves are formed by wind. As the wind blows over the surface of the water, some of the energy of the wind is transferred into the water, creating waves. The biggest and most powerful wind-generated waves are produced by strong storms that blow for a sustained period of time over a large area of the ocean.
The waves within a storm are usually messy and chaotic, but as they move away from the storm they grow more organized as faster waves outrun slower waves. This organization of the waves creates "swell," or regularly spaced lines of waves.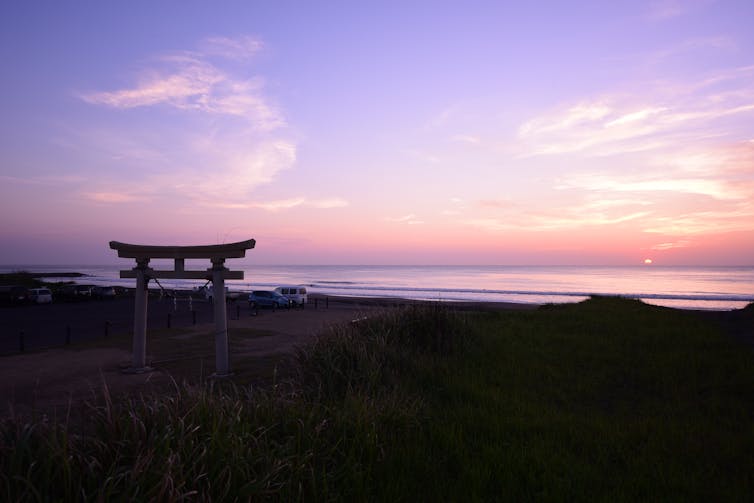 Seafloors Break Waves
As waves travel across the ocean, they don't actually bring water with them – a wave from a storm 1,000 miles away isn't made of water from 1,000 miles away. Waves are actually just energy moving from water molecule to water molecule. This energy doesn't just move through the top layer of the ocean, either. Ocean waves extend far below the surface, sometimes as deep as 500 feet. When waves move into shallower water close to shore, they start to "feel" the seafloor as it pulls and drags on them, slowing them down. As seafloor gets shallower, it pushes upwards against the bottoms of waves, but the energy has to go somewhere, so the waves grow taller.
As the waves move toward shore, the water gets ever more shallow and the waves keep growing until, eventually, they become unstable and the wave "breaks" as the crest spills over toward shore.
It is only here, after a wave has traveled perhaps thousands of miles, that the surfing starts. To catch a wave, a surfer paddles toward shore until their speed matches that of the wave. As soon as the wave starts to break, the surfer stands up quickly and maneuvers the surf board with their feet and weight to ride the wave just ahead of the crashing lip.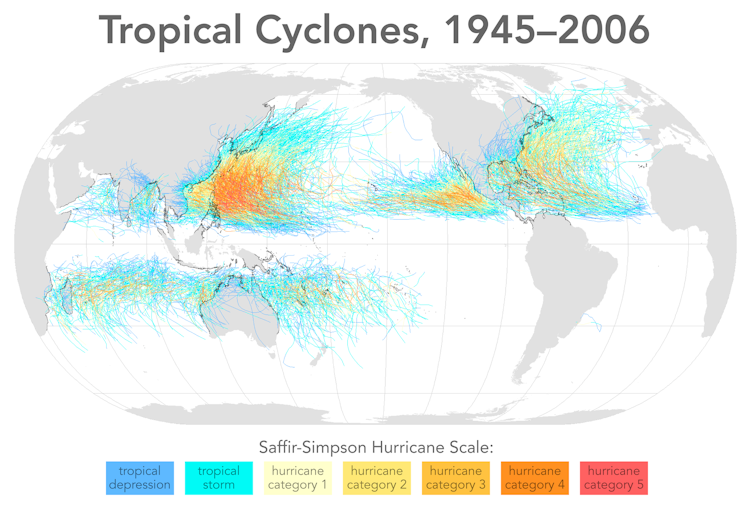 Waves at the Olympics
The waves that surfers ride at Tsurigasaki Beach for the Olympics will be generated from one of two different types of wind: trade winds and typhoons.
Trade winds consistently blow around 11 to 15 mph (18 to 24 kph) in a band that stretches across the Pacific Ocean from approximately Mexico to the Philippines. These winds generate small "trade swells" that propagate northward toward the east coast of Japan and are usually a few feet tall when they arrive.
But if the surfers and spectators are lucky, a typhoon with wind speeds greater than 74 mph (119 kph) will be supplying powerful waves for the event. Typhoons are what hurricanes are called in much of Asia and are common near Japan and China during summer and fall. Winds in a typhoon are much stronger than the trade winds. Therefore, they generate much bigger waves. Olympic surfers obviously do not want a typhoon to hit Japan. What they want is for a typhoon to form about 500 to 1,500 miles (800 to 2,400 km) to the southeast of Japan and generate big waves that will hit the coast of Japan after traveling across the ocean for one to three days.
Based on the current weather and surf forecasts, it looks like just such a situation will happen. As of July 22, 2021, weather models are predicting that a tropical cyclone or typhoon will almost certainly develop to the southeast of Japan over the next few days, and the winds from this storm will send a powerful swell to the Olympics. Currently, models are predicting that the waves could be 7 feet (2.1 m) at Tsurigasaki Beach, just in time for the surfing event to start.
Once the swell from the trade winds or a far-off typhoon reaches Tsurigasaki Beach, it is the seafloor that will determine where the waves break. Tsurigasaki Beach is a "beach break," which means that the seafloor is sand, rather than rocks or coral reef. There are a series of human-made rock walls, called groins, sticking out perpendicularly from the beach. These have been engineered to prevent sand from moving along the beach and are meant to slow erosion. These groins create shallow sandbars a few hundred yards from shore that incoming waves will break on. This is where the athletes will surf.
When you tune in to watch the surfing competition at the Olympics, marvel at the amazing skills of elite surfers, but remember too the far-off storms and the underwater sandbars that come together to create the beautiful waves.
Portions of this article originally appeared in an article published on Dec. 3, 2020.

Sally Warner is an assistant professor of climate science at Brandeis University.
Disclosure statement: Sally Warner does not work for, consult, own shares in or receive funding from any company or organization that would benefit from this article, and has disclosed no relevant affiliations beyond their academic appointment.
Reposted with permission from The Conversation.