East Austin residents push a car out of the snow on Feb. 15, 2021 in Austin, Texas. Winter storm Uri has brought historic cold weather to Texas and many other states, causing traffic delays and power outages. Montinique Monroe / Getty Images
Nearly 5 million electricity customers across the United States lost power over the weekend as extreme weather, including frigid temperatures and ice storms, drove up demand and shut down electricity generation.
The widespread outages underscore the vulnerability of the power grid to extreme weather events made more frequent, powerful, and unpredictable by climate change. "I cannot recall an extreme weather event that impacted such a large swath of the nation in this manner — the situation is critical," Neil Chatterjee, a member of the U.S. Federal Energy Regulatory Commission, told Bloomberg.
The outages are most dire in Texas, where nearly 4 million customers were still without power Tuesday morning. The state's grid operator said 34 gigawatts, as much as 40% of its generation capacity, was forced offline, sending electricity prices skyrocketing to the legal limit of $9,000 per megawatt-hour and forcing the implementation of rolling blackouts.
The lost generation capacity was driven in large part by the 27 gigawatts of coal-, gas-, and nuclear-generated electricity forced offline by the cold and ice. Wind generation exceeded the Texas grid operator's daily forecast through the weekend. The storms wreaked havoc on U.S. methane gas markets, as physical delivery gas prices in Oklahoma smashed previous records. More than 3 million barrels of daily oil-processing capacity also shut down Monday as the largest refineries in North America were forced to halt operations because of the cold.
For a deeper dive:
Bloomberg, Bloomberg, The New York Times, AP; Generating sources' performance during storm: Bloomberg, TechCruch; Oklahoma gas prices: Financial Post; Refineries: Bloomberg; Climate change links: The Washington Post, The Washington Post, The Weather Channel, Texas Climate News; Climate Signals background: Winter storm risk increase
For more climate change and clean energy news, you can follow Climate Nexus on Twitter and Facebook, sign up for daily Hot News, and visit their news site, Nexus Media News.
EcoWatch Daily Newsletter
By John Letzing and Andrew Berkley
Water scarcity will be the biggest climate-related threat to corporate assets like factories within the next few decades, according to a recent report – but it seems to have barely registered on investors' radar.
Of course, the human cost of worsening scarcity is already fully apparent; about one out of every four people in world don't have access to safely managed drinking water at home, and in just a few years about two-thirds of the global population could face water shortages.
A lack of water is triggering violent conflict in places like India's Northern Plains, and creating new migrants and refugees who may contribute to further shortages wherever they resettle. Sydney will endure shortfalls within 20 years if the city continues growing at its current rate, according to a recent estimate, while residents of San Jose, California, (the "Capital of Silicon Valley") are being threatened with penalties if they don't cut their water use by 15%. Kenya's drought has been declared a national disaster.
The climate crisis is often cited for these deficits, which are aggravated by demand that grows in tandem with an expanding global population. Water scarcity may therefore be a lively topic of discussion at the UN Climate Change Conference (COP26) slated to begin later this month.
The World Economic Forum has created a visualization of some of the most glaring instances of disappearing surface water around the world. The following are four excerpts.
Water Scarcity: Lake Mead
This U.S. reservoir supplies 90% of the water for an area of Nevada that's home to rapidly expanding Las Vegas. According to a recent government projection, there's a 66% chance it will hit a "critically low" elevation by 2025. In this and other excerpts, a satellite view from 1984 to 2019 is on the left, while an augmented view on the right features a red color representing surface water loss as of 2018.
Water Scarcity: The Aral Sea
Wedged between Kazakhstan and Uzbekistan, this was once the world's fourth-largest inland lake. But the rivers that traditionally fed it were diverted for irrigation, and climate change has intensified local water scarcity.
Water Scarcity: Lake Poopó
Once Bolivia's second-largest lake, it has now almost entirely disappeared. Excessive use of its water sources for irrigation is largely to blame, and a warming climate threatens to undermine its recovery. However, experts believe it can still be saved.

Water Scarcity: Lake Urmia
The water level of this lake in Iran has declined dramatically in the past couple of decades, and one study suggested that about three-fifths of its loss of inflows between 1960 and 2010 resulted from climate change (efforts like reworking irrigation systems are now underway to help restore what was once a popular tourist destination).
Of course, the changing climate can also trigger unwelcome surpluses. In the U.S., Lake Michigan's abnormally high level recently threatened to inundate Chicago with wastewater, for example.

While their impacts may vary, the focus on adapting to increasingly unpredictable rainfall patterns must be singular – by shoring up the ways water systems are managed, for example, and by deploying new means of harvesting water and irrigating crops.
More Reading on Water Scarcity
For more context, here are links to further reading from the World Economic Forum's Strategic Intelligence platform:
On the Strategic Intelligence platform, you can find feeds of expert analysis related to Water, Climate Change, and hundreds of additional topics. You'll need to register to view.
World Economic Forum
Reposted with permission from World Economic Forum.
From Your Site Articles
Related Articles Around the Web
See how you can save money on solar panels in Florida.
Reviews
Pitsanu Prom-or / iStock / Getty Images
Florida is well-known as the Sunshine State because of its year-round sunny weather that draws millions of tourists each year, but historically, Florida hasn't actually been a national leader when it comes to solar energy generation. That said, financial incentives like Florida solar tax credit and rebate opportunities have played a huge part in its rise to become one of the top states for solar energy.
To the glee of clean energy advocates across the state, various Florida solar incentives have succeeded in bringing solar power throughout the state. According to the Solar Energy Industries Association, in 2020, Florida ranked third in the nation for solar energy capacity, and it had the second-most installations during the second quarter of 2021.
This progress in the solar field comes from many different sources, not the least of which is Florida solar incentives. For any homes or businesses feeling left behind while the rest of the state goes solar, these types of solar tax credits are still widely available across Florida, which will be discussed in this article.
For most homeowners, the decision to go solar comes down to cost. To see how much you'd pay for a home solar system (and how much you can shave off that price with Florida solar tax credit and incentive opportunities), you can get a free quote from a top solar company near you by using this tool or filling out the form below.
Florida Solar Tax Credits and Solar Rebates
As much as transitioning to clean energy is the best thing for the environment and the fight against climate change, the reality has always been that such changes would be slow to happen (if they happened at all) unless they made sense financially. When solar energy systems are proven to save money for those who pay the high upfront costs to install them, those purchases are better considered a worthy investment.
As such, some of the most effective policies encouraging solar installations have been those making the decision a no-brainer from the budgetary perspective. Let's take a look at some of the top Florida solar incentives.
| Florida Solar Incentive | Program Overview |
| --- | --- |
| Florida Net Metering Programs | Credits homeowners when their solar panels produce extra electricity and it is exported to the local power grid |
| Florida Tax Exemptions | Property tax exemptions and sales tax exemptions for solar and other renewable energy equipment |
| Local Incentives | Incentives, rebates and low-interest financing programs at the town, city, and county level that encourage local solar installations |
Florida Net Metering Programs
Regardless of the state, one of the most critical types of energy policy for solar panels is known as net metering. Through net metering, homeowners can feed excess electricity produced by their solar panels into the power grid in exchange for utility credits. These credits can be used to pay for the energy a home uses when panels aren't producing (such as at night).
Net metering tends to be a state-by-state policy, as there is no federal policy regarding net metering. Florida is one of the states where there is, in fact, a statewide net metering program, applicable for homeowners regardless of which utility serves their area.
The specific net metering provision covers up to 2 megawatts (MW) of capacity for any customers who generate electricity with a renewable energy source. Florida Power & Light and Duke Energy have the largest net metering programs in the state.
The availability of such net metering serves as an incentive for Floridians to install solar panels on their property. Not only do they benefit by reducing their power bills from pulling energy from the grid less often, but they can even profit when the utility pays them for generating more power than they consume, bringing their solar payback period down.
Florida Solar Tax Exemptions
Another financial mechanism that the Florida state government offers to solar system owners is solar tax exemptions. To start, Florida doesn't want to make the upfront cost to purchase and install solar equipment to be any higher than the open market says it should be, so since 1997, all solar energy systems have been completely exempt from Florida's sales and use tax.
Once a solar photovoltaic system is purchased and installed, there is a statewide property tax abatement that further helps homeowners avoid paying taxes on it. Most home additions, such as a new shed or outdoor patio built in a home's backyard, would be appraised to determine the value it added to the property and thus increase the overall property tax. However, the added home value of solar panels is excluded from the property's taxable value.
Local Incentives
Florida is also a large, diverse state, so in addition to the state solar incentives, many local jurisdictions enact their own policies to encourage and support installation of solar energy systems. At the town, city or county level, Floridians will commonly find low-interesting solar financing options, specific solar incentives or rebates, and more.
You can determine whether your locality offers such incentives by investigating your local government websites or talking to utility company representatives. When you do, you may come across such successful programs as Jacksonville's $2,000 rebate for solar battery installations, Boynton Beach's Energy Edge Rebate Program, or the Solar Energy Rebate Grant Program offered by Dunedin.
Federal Solar Tax Credit
Floridians, of course, can also benefit from all the tax incentives, rebates and credits that are offered at the federal level. Over the past two decades, the federal solar investment tax credit (ITC) has attributed largely to the rapid growth in solar energy across business sectors, geographies and customer types.
For systems installed and operational before the end of 2022, the federal solar tax credit is equal to 26% of the value of the installation, dropping to 22% for systems installed in 2023. It is currently set to expire afterward, though the idea of extending the ITC beyond its current expiration date, as has been done in the past, has been a part of active clean energy policy debates.
FAQ: Florida Solar Incentives
Does Florida have a solar tax credit?
State-wide, there is no specific Florida solar tax credit. However, all utilities in the state of Florida do offer customers the ability to utilize net metering, Florida solar homeowners are eligible for the federal solar tax credit, and some local jurisdictions in Florida may offer their own tax credits.
Is solar tax exempt in Florida?
In Florida, the purchase and installation of a home solar system is exempt from all sales tax, and the value of renewable systems are excluded from 100% of residential property taxes.
How much is the solar tax credit for 2022?
For any solar panel system installed before the end of 2022, the federal solar investment tax credit is equal to 26% of the value of the system.
Is Florida a good state for solar?
Florida is a great state for solar from the perspective of having year-round sunny weather, higher-than-average solar irradiance and a policy landscape conducive to solar installations. Because of these factors, Florida ranked third among all states in terms of solar capacity installed in 2020 (rising to second when looking at the third quarter of 2021), per the SEIA.
How much do solar panels cost in Florida?
Based on market research and data from top solar companies, we've found the average cost of solar panels in Florida is $2.53 per watt. However, this is only an average, and prices can vary widely depending on where you live, the number of solar panels you need and more.
To get a free estimate for your own home solar system, you can get connected with a pre-screened local installer by using this tool or entering your home's information below.
The Bulletin of the Atomic Scientists' "Doomsday Clock" — an estimate of how close humanity is to the apocalypse — remains at 100 seconds to zero for 2021. Eva Hambach / AFP / Getty Images
By Brett Wilkins
One hundred seconds to midnight. That's how close humanity is to the apocalypse, and it's as close as the world has ever been, according to Wednesday's annual announcement from the Bulletin of the Atomic Scientists, a group that has been running its "Doomsday Clock" since the early years of the nuclear age in 1947.
Although the scientists cite the COVID-19 pandemic, which has killed 1.7 million people around the world and has "revealed just how unprepared and unwilling countries and the international system are to handle global emergencies properly," they acknowledge that the coronavirus does not pose an existential threat to Homo sapiens.
However, nuclear weapons and, increasingly, catastrophic global heating caused and exacerbated by human activity — the climate crisis — do.
The technologies of Elon Musk's empire are creeping across the Earth. They're shooting up into lower orbit and speeding through American highway systems. Through these cars, rockets, and by connecting his corporate work to environmentalism, Musk has molded his image as a modern-day Iron Man, seeking to save the world from itself by innovating boldly into a better future. But as we'll soon see, this is far from the case. The story of Elon Musk is vastly different from the one drummed up by his fanatical fan-base. His future is full of exploitation, dreams of eco-modernism, and ego-driven pursuits. This is the story of Elon Musk, and why he will never be the answer to the climate crisis that so many want him to be.
Like many ultra-wealthy people, Musk attempts to paint himself as an entrepreneur who has built his massive pile of wealth from nothing, but in reality, he has always been rich. From his dad's acquisition of an emerald mine in Zambia, to his mom's familial wealth, Musk grew up with immense financial support from his parents. Indeed, during his years at University of Pennsylvania, Musk had enough money to buy a 10 room frat house which he then converted into a nightclub. And his first company, Zip2 was partially financed by Musk's dad, while his mom bought Musk groceries and gave him $10,000 to keep his lights on so he could focus on building the company. And as recognition of Musk has grown, so too has his persona, especially on twitter. From manipulating stock prices by tweeting out a 420 joke, to lashing out at one of the divers trying to rescue a group of young kids trapped in a cave, to his transphobic comment that pronouns suck, Elon Musk is a destructive internet personality. For lack of a better term he's a troll. But unlike most internet trolls, Musk holds immense power. His "jokes" can quite literally crash cryptocurrencies. So, while some of what he says may seem trivial, it is important to keep in mind that Musk's business model involves mythologizing himself as a capitalist maverick, unafraid of speaking his mind. Someone who isn't afraid of breaking a few bones to build a bold vision of the future. But as we'll soon see, while the imagery and promise of Musk's future seems exciting, the path to get there is riddled with capitalist exploitation and extraction.
If you want to learn more about the celebritization of climate action check out the video above.
Our Changing Climate is an environmental YouTube channel that explores the intersections of social, political, climatic, and food-based issues. The channel dives into topics like zero waste and nuclear energy in order to understand how to effectively tackle climate change and environmental destruction.
To receive all the latest videos produced by Charlie subscribe to his YouTube channel here.
From Your Site Articles
Related Articles Around the Web
On her 82nd birthday, Jane Fonda was arrested. Approaching the capitol steps, Fonda was grabbed by the capitol police and put into handcuffs. But Fonda wasn't alone. She and 138 other people were arrested, and they were all there for a reason: the U.S. government's dismal response to the climate crisis. This kind of celebrity direct action is rare, especially among the Hollywood elite who are advocating for climate action as their new pet cause. Because of this it's more important than ever to dive into the celebritization of the climate crisis. Today we're going to figure out if celebrity advocacy is actually working as well as determine who is actually doing the work to build the movements we need to effectively foster a just transition.
Before we dive into the specifics of celebrity climate action culture, we need to first understand if their advocacy is even effective. The answer is… complicated. Indeed, as one paper puts it, celebrities like Al Gore and Leonardo DiCaprio have become the new polar bears, assuming the imagery of the new harbingers of climate change. But the ramifications of celebrity influence on various environmental issues can differ wildly. With their widely watched personas comes some amount of power as well as the filtering of political ideas and theories of change through that persona. Essentially, celebrities have become nodes through which many people learn about climate issues or perhaps are inspired to take action. So the result of this celebrity influence is very much dependent on the celebrity's politics. Some figureheads like Prince Phillip and David Attenborough champion false ideas of overpopulation and propose neoliberal and eugenicist solutions, while others, like Jane Fonda push for movement-based direct-action to end fossil fuel extraction. The spectrum of celebrity solutions to the climate crisis is almost as broad as the number of climate celebrities. But the way celebrities relate to movements, usually as figureheads rather than as comrades, perpetuates a "heroic individual" narrative that runs counter to anti-hierarchical, grassroots movement philosophies.
If you want to learn more about the celebritization of climate action check out the video above!
Our Changing Climate is an environmental YouTube channel that explores the intersections of social, political, climatic, and food-based issues. The channel dives into topics like zero waste and nuclear energy in order to understand how to effectively tackle climate change and environmental destruction.
To receive all the latest videos produced by Charlie subscribe to his YouTube channel here.
Solar panel manufacturing in India. Sakib Ali / Hindustan Times via Getty Images
One of the chief arguments against transitioning away from fossil fuels and towards a zero-carbon economy is that it would cost the world energy jobs. But is such a fear really justified?
To find out, an international team of researchers set out to determine how meeting the Paris agreement goals would impact the global balance of energy-sector employment.
The result, published in One Earth on July 23, was "surprising," as study co-author and RFF-CMCC European Institute on Economics and the Environment environmental economist Johannes Emmerling told EcoWatch. Limiting global warming to well below two degrees Celsius would actually create eight million more energy jobs by 2050.
"We did not expect that at all," Emmerling said.
A Global Dataset
Previous attempts to predict the impact of climate action on global energy jobs relied on data from Organisation for Economic Co-operation and Development (OECD) countries, which excluded major players like India, Brazil and China. To expand their view, the research team built their own global data set covering around 50 countries. The dataset focused on 11 energy technologies and five job categories: construction and installation, operation and maintenance, manufacturing, fuel production and refining.
The team then used a model to determine what would happen to global jobs under two scenarios: one in which current policies continued and another in which world leaders acted to meet the Paris agreement goal of limiting global warming to well below two degrees Celsius above pre-industrial levels.
In the first scenario, energy jobs would continue to grow, rising from 18 million today to 21 million by 2050. But the researchers found that they would grow even more if we act to resolve the climate crisis, reaching 26 million by mid-century.
Of course, the makeup of those jobs would change in a climate-action scenario. Today, the researchers calculated that there are 12.6 million people working in fossil fuel industries, 4.6 million in renewable energy and 0.8 million in nuclear. In the Paris-agreement scenario, that balance would shift to 3.1 million working in fossil fuels and 22 million working in the renewable sector. Fossil-fuel extraction in particular would be hard-hit, making up around 80 percent of job losses, but renewables would more than make up the difference. Wind and solar in particular would take off, representing more than 85 percent of renewable sector gains. In total, 84 percent of 2050 energy jobs would be in renewables, with only 11 percent in fossil fuels and five percent in nuclear.
This data, Emmerling said, could help inform energy policy debates.
"The job losses due to the energy transition... have often been used to argue that it should be delayed," he noted. Or that it should be avoided altogether.
Former President Donald Trump, for example, justified his decision to withdraw the U.S. from the Paris agreement by proclaiming his love for coal miners, the study authors pointed out. Australia's current Prime Minister Scott Morrison, in addition, won a campaign in which he promised to protect fossil-fuel jobs. The new findings can help assuage some of the fears these leaders tap into with their anti-climate-action rhetoric.
"The point is that the number of jobs that could be created if we move to a sustainable economy will be a gain," Emmerling said.
Up for Grabs
While the research found that there would be a global net gain in energy jobs, Emmerling acknowledged that there would be some losers on the local, national and regional level. Fossil-fuel exporting countries like Mexico, Australia, Canada, South Africa and sub-Saharan Africa all stood to see net-losses by 2050 in a climate-action scenario. China was set to lose energy jobs no matter what because of a decline in coal mining, but it also has great potential to take advantage of a green transition because it currently leads the world in solar PV manufacturing. For many other countries, however, any loss would be offset. The U.S. could gain more than a million jobs by 2050 by honoring the Paris agreement.
In addition, the nature of renewable energy jobs means there is more potential for different nations to take advantage of growth in the sector, especially when it comes to manufacturing.
"Future renewable energy manufacturing jobs differ from other job categories as there is nothing physically tying these jobs to a particular geography in the same way that coal mining has to happen where coal deposits are located," the study authors wrote.
Because of this, the researchers were not able to accurately model where manufacturing jobs would end up in the future, meaning that countries have a chance to shape their energy future through industrial policy. While China currently dominates the making of solar PVs, there is no reason that this has to remain the case. The researchers therefore suggested that nations currently reliant on fossil-fuel exports actively promote renewable manufacturing to offset potential losses, as India, for example, is already doing.
"These jobs are up for grabs for countries who invest in these technologies," Emmerling said.
A Just Transition
That said, a transition to a renewable energy economy will doubtless impact individual communities and workers who have long relied on fossil-fuel extraction for income. This is why many environmental campaigners have called for a "just transition" that would compensate these communities and retrain these workers.
The study authors argued that any program of this nature requires an accurate understanding of both potential job losses and gains, which is something their work provides. Next, they hope to fill out the picture by looking at the quality and types of new energy jobs, including wages, skill level and necessary training.
Ultimately, however, the study results affirm the possibility of a just transition by demonstrating that there is "room for compensating," as Emmerling put it.
"There is a pie to be shared and distributed, and in the end the pie will be bigger," Emmerling said.
A graphical abstract of the study results. Pai et al./One Earth / CC BY-NC-ND 4.0
From Your Site Articles
Related Articles Around the Web
In 2015, 75-year old Gerry Suttle was sitting on her porch watching the leaves rustle in the trees when a cop rolled up and handed her an arrest warrant. The reason for her arrest? She had failed to mow her lawn. That's right. The cops and Suttle's neighbors deemed it necessary to hold the threat of arrest over this septuagenarian because the turfgrass occupying the space in front of her house was left unchecked.
How did we in the United States come to this? Why is the lawn such a sacred space in white suburban America? This is the story of the American lawn. How it came to be, the complex underpinnings of its green blades, and how we might work to rid ourselves from its cultural grasp.
In the 17th and 18th centuries, landholding European aristocrats were getting jealous. They saw beautiful fields of grass and perfectly trimmed patches of green in the paintings of their favorite artists and wanted all of it for themselves. So, they began to terraform their world.
With the enclosure of common land, aristocrats gained prime property for lawns and forced lower-class peasants into wage labor jobs like groundskeepers and gardeners. From France to Italy, to England, the wealthy ruling class embraced the luxuries of turfgrass and used it as a foundational element in landscaping design for their manors. And what could be more a display of capitalist power, of leisure, and of wealth than a field of green that had to be closely watched and tended by former peasants forced into wage labor through land enclosures.
As Sam Greenspan from 99% Invisible puts it: "It was a way for these English elites to show off that they were so wealthy that they didn't need their land to grow food — they could afford to let their fields go fallow, and could afford to keep grazing animals and scythe-wielding peasants to keep it short." In short, the lawn began as a display of wealth for the white European aristocracy but then was quickly exported to the colonial project that is the United States.
For more on lawns and environmental destruction in the United States, check out the video above!
Our Changing Climate is an environmental YouTube channel that explores the intersections of social, political, climatic, and food-based issues. The channel dives into topics like zero waste and nuclear energy in order to understand how to effectively tackle climate change and environmental destruction.
To receive all the latest videos produced by Charlie subscribe to his YouTube channel here.
From Your Site Articles
Related Articles Around the Web
The Revelator
By John R. Platt
It's a dirty world out there — but it doesn't have to be.
That message rings out from a slate of important new books covering the fight against various pollutants around the world. They examine everything from pesticides to air pollution and from mining waste to the trash that accumulates all around us. Along the way these books shine a light on some bigger stories — like our food system and human effects on complex ecosystems. They also dive deep into the racism, indifference, greed and ignorance that allow these toxic compounds to flourish in our world and in our bodies.
One group of pollutants didn't make it onto this list: greenhouse gases. We'll look at them in September's column, covering timely new books on climate change.
But for now, here are 13 new dirty books about filth for your perusal, along with their cover descriptions. Each title links to its publisher's site, but you should also be able to order these from any local or online bookseller or your favorite library.
The World We Need: Stories and Lessons From America's Unsung Environmental Movement edited by Audrea Lim
"…a vivid introduction to America's largely unsung grassroots environmental groups — often led by activists of color and the poor — valiantly fighting back in America's so-called sacrifice zones against industries poisoning our skies and waterways and heating our planet. Through original reporting, profiles, artwork and interviews, we learn how these activist groups, almost always working on shoestring budgets, are devising creative new tactics, building sustainable projects to transform local economies and organizing people long overlooked by the environmental movement — changing its face along the way."
The Monsanto Papers: Deadly Secrets, Corporate Corruption and One Man's Search for Justice by Carey Gillam
"Lee Johnson was a man with simple dreams. All he wanted was a steady job and a nice home for his wife and children, something better than the hard life he knew growing up. He never imagined that he would become the face of a David-and-Goliath showdown against one of the world's most powerful corporate giants. But a workplace accident left Lee doused in a toxic chemical and facing a deadly cancer that turned his life upside down. In 2018, the world watched as Lee was thrust to the forefront of one the most dramatic legal battles in recent history."
Breathless: Why Air Pollution Matters — and How It Affects You by Chris Woodford
"Take a deep breath. You'll do it 20,000 times a day. You assume all this air is clean; it's the very breath of life. But in Delhi, the toxic smog is as bad for you as smoking 50 cigarettes a day. Even a few days in Paris, London or Rome is equivalent to two or three cigarettes. Air pollution is implicated in six of the top 10 causes of death worldwide, including lung cancer, heart disease, stroke and dementia. Breathless gives us clear facts about air pollution in our everyday lives, showing how it affects our bodies, how much of it occurs in unexpected places (indoors, inside your car), and how you can minimize the risks."
Pollution Is Colonialism by Max Liboiron
"Liboiron draws on their work in the Civic Laboratory for Environmental Action Research (CLEAR) — an anticolonial science laboratory in Newfoundland, Canada — to illuminate how pollution is not a symptom of capitalism but a violent enactment of colonial land relations that claim access to Indigenous land. Liboiron's creative, lively and passionate text refuses theories of pollution that make Indigenous land available for settler and colonial goals. In this way, their methodology demonstrates that anticolonial science is not only possible but is currently being practiced in ways that enact more ethical modes of being in the world."
Playing With Fire: The Strange Case of Marine Shale Processors by John W. Sutherlin and Daniel Elliot Gonzalez
"This book examines the tale of Marine Shale Processors, the world's largest hazardous waste company, and the women who fought to protect their community and their children. The lesson here is that a dedicated group of people fighting for what is right can win and it serves as an example for any community that wants to determine what their own environmental future."
Herbicides: Chemistry, Efficacy, Toxicology and Environmental Impacts edited by Robin Mesnage and Johann G. Zaller
"A comprehensive overview of this complex topic, presented by internationally recognized experts. Information presented will inform discussions on the use of herbicides in modern agricultural and other systems, and their potential non-target effects on human populations and various ecosystems. The book covers these matters in concise language appropriate to engage both specialists in the research community and informed persons responsible for legislative, funding and public health matters in the community at large."
Earth Detox: How and Why We Must Clean Up Our Planet by Julian Cribb
"Every person on our home planet is affected by a worldwide deluge of man-made chemicals and pollutants — most of which have never been tested for safety. Our chemical emissions are six times larger than our total greenhouse gas emissions. They are in our food, our water, the air we breathe, our homes and workplaces, the things we use each day. This universal poisoning affects our minds, our bodies, our genes, our grandkids and all life on Earth. Julian Cribb describes the full scale of the chemical catastrophe we have unleashed. He proposes a new Human Right — not to be poisoned."
The Water Defenders: How Ordinary People Saved a Country From Corporate Greed by Robin Broad and John Cavanagh
"The David and Goliath story of ordinary people in El Salvador who rallied together with international allies to prevent a global mining corporation from poisoning the country's main water source."
Planet Palm: How Palm Oil Ended Up in Everything — and Endangered the World by Jocelyn C. Zuckerman
"Over the past few decades, palm oil has seeped into every corner of our lives. But the palm oil revolution has been built on stolen land and slave labor; it's swept away cultures and so devastated the landscapes of Southeast Asia that iconic animals now teeter on the brink of extinction. This groundbreaking work of first-rate journalism compels us to examine the connections between the choices we make at the grocery store and a planet under siege."
Homewaters: A Human and Natural History of Puget Sound by David B. Williams
"In conversations with archaeologists, biologists and tribal authorities, Williams traces how generations of humans have interacted with such species as geoducks, salmon, orcas, rockfish and herring. He sheds light on how warfare shaped development and how people have moved across this maritime highway, in canoes, the mosquito fleet and today's ferry system. The book also takes an unflinching look at how the Sound's ecosystems have suffered from human behavior, including pollution, habitat destruction and the effects of climate change."
Plastic: An Autobiography by Allison Cobb
"Cobb's obsession with a large plastic car part leads her to explore the violence of our consume-and-dispose culture, including her own life as a child of Los Alamos, where the first atomic bombs were made. The journey exposes the interconnections among plastic waste, climate change, nuclear technologies and racism. Using a series of interwoven narratives ― from ancient Phoenicia to Alabama ― the book bears witness to our deepest entanglements and asks how humans continue on this planet."
Pipe Dreams: The Urgent Global Quest to Transform the Toilet by Chelsea Wald
"While we see radical technological change in almost every other aspect of our lives, we remain stuck in a sanitation status quo — in part because the topic of toilets is taboo. Fortunately, there's hope — and Pipe Dreams daringly profiles the growing army of sewage-savvy scientists, engineers, philanthropists, entrepreneurs, and activists worldwide who are overcoming their aversions and focusing their formidable skills on making toilets accessible and healthier for all."
Castaway Mountain: Love and Loss Among the Wastepickers of Mumbai by Saumya Roy
"All of Mumbai's possessions and memories come to die at the Deonar garbage mountains. Towering at the outskirts of the city, the mountains are covered in a faint smog from trash fires. Over time, as wealth brought Bollywood knock offs, fast food and plastics to Mumbaikars, a small, forgotten community of migrants and rag-pickers came to live at the mountains' edge, making a living by re-using, recycling and re-selling. Among them is Farzana Ali Shaikh, a tall, adventurous girl who soon becomes one of the best pickers in her community. Like so many in her community, Farzana, made increasingly sick by the trash mountains, is caught up in the thrill of discovery — because among the broken glass, crushed cans or even the occasional dead baby, there's a lingering chance that she will find a treasure to lift her family's fortunes." (Available in September.)
John R. Platt is the editor of The Revelator. An award-winning environmental journalist, his work has appeared in Scientific American, Audubon, Motherboard, and numerous other magazines and publications. His "Extinction Countdown" column has run continuously since 2004 and has covered news and science related to more than 1,000 endangered species. He is a member of the Society of Environmental Journalists and the National Association of Science Writers. John lives on the outskirts of Portland, Ore., where he finds himself surrounded by animals and cartoonists.
Reposted with permission from The Revelator.
A car charging at an electric vehicle charging station in Atlanta, Georgia. Raymond Boyd / Getty Images
By Paul N. Edwards

Most of America's 107,000 gas stations can fill several cars every five or 10 minutes at multiple pumps. Not so for electric vehicle chargers – at least not yet.
Today the U.S. has around 43,000 public EV charging stations, with about 106,000 outlets. Each outlet can charge only one vehicle at a time, and even fast-charging outlets take an hour to provide 180-240 miles' worth of charge; most take much longer.
The existing network is acceptable for many purposes. But chargers are very unevenly distributed; almost a third of all outlets are in California. This makes EVs problematic for long trips, like the 550 miles of sparsely populated desert highway between Reno and Salt Lake City. "Range anxiety" about longer trips is one reason electric vehicles still make up fewer than 1% of U.S. passenger cars and trucks.
This uneven, limited charging infrastructure is one major roadblock to rapid electrification of the U.S. vehicle fleet, considered crucial to reducing the greenhouse gas emissions driving climate change.
It's also a clear example of how climate change is an infrastructure problem – my specialty as a historian of climate science at Stanford University and editor of the book series "Infrastructures."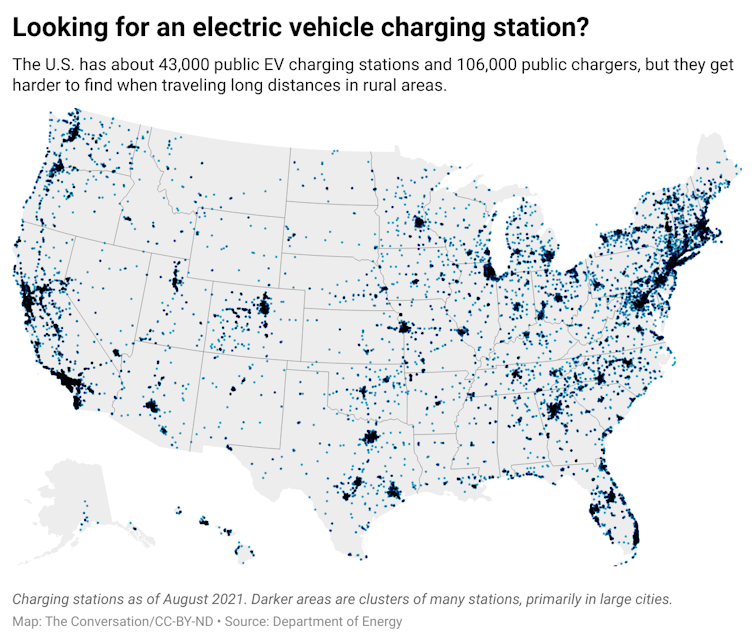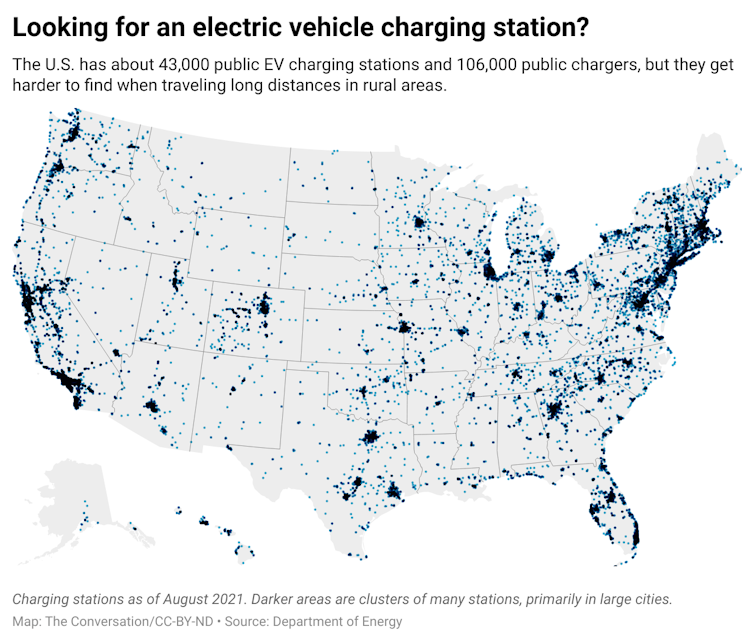 Over many decades, the U.S. has built systems of transportation, heating, cooling, manufacturing and agriculture that rely primarily on fossil fuels. The greenhouse gas emissions those fossil fuels release when burned have raised global temperature by about 1.1°C (2°F), with serious consequences for human lives and livelihoods, as the recent report from the U.N. Intergovernmental Panel on Climate Change demonstrates.
The new assessment, like its predecessor Special Report on Global Warming of 1.5°C, shows that minimizing future climate change and its most damaging impacts will require transitioning quickly away from fossil fuels and moving instead to renewable, sustainable energy sources such as wind, solar and tidal power.
That means reimagining how people use energy: how they travel, what and where they build, how they manufacture goods and how they grow food.
Gas Stations Were Transport Infrastructure, Too
Gas-powered vehicles with internal combustion engines have completely dominated American road transportation for 120 years. That's a long time for path dependence to set in, as America built out a nationwide system to support vehicles powered by fossil fuels.
Gas stations are only the endpoints of that enormous system, which also comprises oil wells, pipelines, tankers, refineries and tank trucks – an energy production and distribution infrastructure in its own right that also supplies manufacturing, agriculture, heating oil, shipping, air travel and electric power generation.
Without it, your average gas-powered sedan wouldn't make it from Reno to Salt Lake City either.
Fossil fuel combustion in the transport sector is now America's largest single source of the greenhouse gas emissions causing climate change. Converting to electric vehicles could reduce those emissions quite a bit. A recent life cycle study found that in the U.S., a 2021 battery EV – charged from today's power grid – creates only about one-third as much greenhouse gas emissions as a similar 2021 gasoline-powered car. Those emissions will fall even further as more electricity comes from renewable sources.

Despite higher upfront costs, today's EVs are actually less expensive than gas-powered cars due to their greater energy efficiency and many fewer moving parts. An EV owner can expect to save US$6,000-$10,000 over the car's lifetime versus a comparable conventional car. Large companies including UPS, FedEx, Amazon and Walmart are already switching to electric delivery vehicles to save money on fuel and maintenance.
All this will be good news for the climate – but only if the electricity to power EVs comes from low-carbon sources such as solar, tidal, geothermal and wind. (Nuclear is also low-carbon, but expensive and politically problematic.) Since our current power grid relies on fossil fuels for about 60% of its generating capacity, that's a tall order.
To achieve maximal climate benefits, the electric grid won't just have to supply all the cars that once used fossil fuels. Simultaneously, it will also need to meet rising demand from other fossil fuel switchovers, such as electric water heaters, heat pumps and stoves to replace the millions of similar appliances currently fueled by fossil natural gas.
The Infrastructure Bill
The 2020 Net-Zero America study from Princeton University estimates that engineering, building and supplying a low-carbon grid that could displace most fossil fuel uses would require an investment of around $600 billion by 2030.
The infrastructure bill now being debated in Congress was originally designed to get partway to that goal. It initially included $157 billion for EVs and $82 billion for power grid upgrades. In addition, $363 billion in clean energy tax credits would have supported low-carbon electric power sources, along with energy storage to provide backup power during periods of high demand or reduced output from renewables. During negotiations, however, the Senate dropped the clean energy credits altogether and slashed EV funding by over 90%.
Of the $15 billion that remains for electric vehicles, $2.5 billion would purchase electric school buses, while a proposed EV charging network of some 500,000 stations would get $7.5 billion – about half the amount needed, according to Energy Secretary Jennifer Granholm.
As for the power grid, the infrastructure bill does include about $27 billion in direct funding and loans to improve grid reliability and climate resilience. It would also create a Grid Development Authority under the U.S. Department of Energy, charged with developing a national grid capable of moving renewable energy throughout the country.
The infrastructure bill may be further modified by the House before it reaches President Joe Biden's desk, but many of the elements that were dropped have been added to another bill that's headed for the House: the $3.5 trillion budget plan.
As agreed to by Senate Democrats, that plan incorporates many of the Biden administration's climate proposals, including tax credits for solar, wind and electric vehicles; a carbon tax on imports; and requirements for utilities to increase the amount of renewables in their energy mix. Senators can approve the budget by simple majority vote during "reconciliation," though by then it will almost certainly have been trimmed again.
Overall, the bipartisan infrastructure bill looks like a small but genuine down payment on a more climate-friendly transport sector and electric power grid, all of which will take years to build out.

But to claim global leadership in avoiding the worst potential effects of climate change, the U.S. will need at least the much larger commitment promised in the Democrats' budget plan.
Like an electric car, that commitment will seem expensive upfront. But as the recent IPCC report reminds us, over the long term, the potential savings from avoided climate risks like droughts, floods, wildfires, deadly heat waves and sea level rise would be far, far larger.

Paul N. Edwards is a William J. Perry Fellow in International Security, Center for International Security and Cooperation, Stanford University.
Disclosure statement: Paul N. Edwards is one of 234 lead authors of the 2021 Working Group I report for the Sixth Assessment of the Intergovernmental Panel on Climate Change. This article reflects his personal views. His previous work relevant to this article was funded by the National Science Foundation and the Sloan Foundation.
Reposted with permission from The Conversation.
Out of the mines of conflict, an awareness campaign was born. One that sought to change the minds of millions and craft a better, more fairer phone industry. The campaigners worked hard to raise consciousness and change the minds of phone users. They established workshops that explained the complexities and horrors of a smartphone supply chain, and encouraged the public to imagine what a fairer phone would be. But after two and a half years, Apple, Samsung, and other giants kept exploiting and polluting. So, the awareness campaign decided to do something a little different. They tried to make a fairer phone. This is the story of that phone. How it's made, whether it's actually a good phone, and whether it's the sustainable solution to the phone industry.
The Fairphone, now in its third iteration, is doing something remarkable. Its foregrounding sustainability and ethical labor practices throughout the phone's whole lifecycle. A feat which Fairphone cofounder Miquel Ballester told me feels a lot like "swimming against the streams." When it comes to sustainability in smartphones there are really four areas to consider: production, modularity, longevity, and recyclability. At first glance, Fairphone seems to excel in all these categories when compared to other flagship phones. The Fairphone begins in the production stage where the bulk of Fairphone's environmental impact comes from. The potential global warming impact of a Fairphone 3 is 39.5 kg of carbon dioxide equivalent. That's a little over half of the Iphone 12's footprint. And of that 39.5 kg, roughly 81% comes from the production phase, which encompasses the mining of the materials all the way up to the day it leaves the factory.
If you want to learn more about how Fairphone managed to reduce its impact, watch the video above!
Our Changing Climate is an environmental YouTube channel that explores the intersections of social, political, climatic, and food-based issues. The channel dives into topics like zero waste and nuclear energy in order to understand how to effectively tackle climate change and environmental destruction.
To receive all the latest videos produced by Charlie subscribe to his YouTube channel here.
Along the banks of the Mississippi River, right before it spills out past New Orleans into the sea lies Cancer Alley. An 85 mile strip of shoreline where residents are contracting cancer at astronomical rates. But this isn't a phenomenon based in genetics or some cruel twist of fate. Cancer Alley is the product of environmental pollution. And today we're going to figure out exactly where this pollution is coming from. This is the story of plastics, the harm they cause, the industries that create them, and how that 85 mile strip of Mississippi shoreline and other areas like it are suffering because of them.
If you walk into your kitchen, pretty much everything, in some way or another, has encountered plastic. The plastic bags you stuff into a drawer, your favorite cup and even the package keeping those blueberries fresh. But despite plastic's ubiquity, we often forget where it comes from. Indeed, when it comes to plastic our efforts seem to be much more focused on what happens after we use it than before we use it. So first, let's understand how plastic gets made. It all starts in an oil refinery or a fracking site. That's right, plastics are basically just fossil fuels in solid form. In fact, 99% of plastics are made from chemicals rooted in fossil fuels. The plastic creation process begins with crude oil, coal, or natural gas, which is then refined and distilled or "cracked" into usable chemical compounds such as Ethylene or Benzene. Of course there are certain plastics that are the product of recycled goods, but I'll get into that much more in the video above. The key thing here is that the plastic that we use so heavily is really the same as the petroleum we put in our cars or the natural gas we use to heat our homes. Which is one of the reasons why the fossil fuel industry loves plastics.
For more on fossil fuel's love affair with plastics check out the video above!
Our Changing Climate is an environmental YouTube channel that explores the intersections of social, political, climatic, and food-based issues. The channel dives into topics like zero waste and nuclear energy in order to understand how to effectively tackle climate change and environmental destruction.
To receive all the latest videos produced by Charlie subscribe to his YouTube channel here.
From Your Site Articles
Related Articles Around the Web
Amidst the loud hum of computers, digital gold is born. Churning and churning, hundreds of computers mine for a new form of currency. One that professes to be the decentralized, deflationary disruptor of the modern banking system. It goes by many names, DogeCoin, VibuCoin, Etherium, and Bitcoin. But they all can be called cryptocurrencies. This is the story of the new digital gold. How it works, its consequences, and what a crypto future looks like?
In the digital age, money is taking a new form. If you're like me, you've probably heard people talk about Bitcoin mining or the volatility of Crypto or Tesla's recent $1.5 billion Bitcoin investment and just nodded your head obligingly without a clue as to what any of that really means. Here's a quick overview. In very simple terms, cryptocurrencies, like Bitcoin or Ethereum, are decentralized monetary systems that rely on encryption and math problems for security and validity, and the acquisition of this digital currency involves hundreds of specialized computers run by miners to solve math problems in what's called a "proof of work" model. There are other models like proof-of-stake too, but we'll get into that later. For now, all you need to know is that cryptocurrencies are valuable, much like real gold, because they're finite and cracking math problems requires a lot of energy and time. And it's there, in the physical space where crypto is created, that these digital currencies run into problems.
Drive three hours north of Sydney, Australia and you'll run into a coal-fired power plant. One that, up until recently, was shut down, but now is churning out electricity for a single company. A Bitcoin operation. That's right, the Bitcoin mining subsidiary of Australian tech company IOT penned a deal to gain exclusive access to the coal plant to satiate the energy appetite of its mining operations. This deal was born out of the simple reality of cryptocurrency mining: the cheaper the energy, the more money you make. That's because cryptocurrencies require a massive amount of energy.
If you want to learn more about the impact of cryptocurrencies, check out the video above for more!
Our Changing Climate is an environmental YouTube channel that explores the intersections of social, political, climatic, and food-based issues. The channel dives into topics like zero waste and nuclear energy in order to understand how to effectively tackle climate change and environmental destruction.
To receive all the latest videos produced by Charlie subscribe to his YouTube channel here.