In 2015, 75-year old Gerry Suttle was sitting on her porch watching the leaves rustle in the trees when a cop rolled up and handed her an arrest warrant. The reason for her arrest? She had failed to mow her lawn. That's right. The cops and Suttle's neighbors deemed it necessary to hold the threat of arrest over this septuagenarian because the turfgrass occupying the space in front of her house was left unchecked.
How did we in the United States come to this? Why is the lawn such a sacred space in white suburban America? This is the story of the American lawn. How it came to be, the complex underpinnings of its green blades, and how we might work to rid ourselves from its cultural grasp.
In the 17th and 18th centuries, landholding European aristocrats were getting jealous. They saw beautiful fields of grass and perfectly trimmed patches of green in the paintings of their favorite artists and wanted all of it for themselves. So, they began to terraform their world.
With the enclosure of common land, aristocrats gained prime property for lawns and forced lower-class peasants into wage labor jobs like groundskeepers and gardeners. From France to Italy, to England, the wealthy ruling class embraced the luxuries of turfgrass and used it as a foundational element in landscaping design for their manors. And what could be more a display of capitalist power, of leisure, and of wealth than a field of green that had to be closely watched and tended by former peasants forced into wage labor through land enclosures.
As Sam Greenspan from 99% Invisible puts it: "It was a way for these English elites to show off that they were so wealthy that they didn't need their land to grow food — they could afford to let their fields go fallow, and could afford to keep grazing animals and scythe-wielding peasants to keep it short." In short, the lawn began as a display of wealth for the white European aristocracy but then was quickly exported to the colonial project that is the United States.
For more on lawns and environmental destruction in the United States, check out the video above!
Our Changing Climate is an environmental YouTube channel that explores the intersections of social, political, climatic, and food-based issues. The channel dives into topics like zero waste and nuclear energy in order to understand how to effectively tackle climate change and environmental destruction.
To receive all the latest videos produced by Charlie subscribe to his YouTube channel here.
From Your Site Articles
Related Articles Around the Web
EcoWatch Daily Newsletter
The Revelator
By John R. Platt
It's a dirty world out there — but it doesn't have to be.
That message rings out from a slate of important new books covering the fight against various pollutants around the world. They examine everything from pesticides to air pollution and from mining waste to the trash that accumulates all around us. Along the way these books shine a light on some bigger stories — like our food system and human effects on complex ecosystems. They also dive deep into the racism, indifference, greed and ignorance that allow these toxic compounds to flourish in our world and in our bodies.
One group of pollutants didn't make it onto this list: greenhouse gases. We'll look at them in September's column, covering timely new books on climate change.
But for now, here are 13 new dirty books about filth for your perusal, along with their cover descriptions. Each title links to its publisher's site, but you should also be able to order these from any local or online bookseller or your favorite library.
The World We Need: Stories and Lessons From America's Unsung Environmental Movement edited by Audrea Lim
"…a vivid introduction to America's largely unsung grassroots environmental groups — often led by activists of color and the poor — valiantly fighting back in America's so-called sacrifice zones against industries poisoning our skies and waterways and heating our planet. Through original reporting, profiles, artwork and interviews, we learn how these activist groups, almost always working on shoestring budgets, are devising creative new tactics, building sustainable projects to transform local economies and organizing people long overlooked by the environmental movement — changing its face along the way."
The Monsanto Papers: Deadly Secrets, Corporate Corruption and One Man's Search for Justice by Carey Gillam
"Lee Johnson was a man with simple dreams. All he wanted was a steady job and a nice home for his wife and children, something better than the hard life he knew growing up. He never imagined that he would become the face of a David-and-Goliath showdown against one of the world's most powerful corporate giants. But a workplace accident left Lee doused in a toxic chemical and facing a deadly cancer that turned his life upside down. In 2018, the world watched as Lee was thrust to the forefront of one the most dramatic legal battles in recent history."
Breathless: Why Air Pollution Matters — and How It Affects You by Chris Woodford
"Take a deep breath. You'll do it 20,000 times a day. You assume all this air is clean; it's the very breath of life. But in Delhi, the toxic smog is as bad for you as smoking 50 cigarettes a day. Even a few days in Paris, London or Rome is equivalent to two or three cigarettes. Air pollution is implicated in six of the top 10 causes of death worldwide, including lung cancer, heart disease, stroke and dementia. Breathless gives us clear facts about air pollution in our everyday lives, showing how it affects our bodies, how much of it occurs in unexpected places (indoors, inside your car), and how you can minimize the risks."
Pollution Is Colonialism by Max Liboiron
"Liboiron draws on their work in the Civic Laboratory for Environmental Action Research (CLEAR) — an anticolonial science laboratory in Newfoundland, Canada — to illuminate how pollution is not a symptom of capitalism but a violent enactment of colonial land relations that claim access to Indigenous land. Liboiron's creative, lively and passionate text refuses theories of pollution that make Indigenous land available for settler and colonial goals. In this way, their methodology demonstrates that anticolonial science is not only possible but is currently being practiced in ways that enact more ethical modes of being in the world."
Playing With Fire: The Strange Case of Marine Shale Processors by John W. Sutherlin and Daniel Elliot Gonzalez
"This book examines the tale of Marine Shale Processors, the world's largest hazardous waste company, and the women who fought to protect their community and their children. The lesson here is that a dedicated group of people fighting for what is right can win and it serves as an example for any community that wants to determine what their own environmental future."
Herbicides: Chemistry, Efficacy, Toxicology and Environmental Impacts edited by Robin Mesnage and Johann G. Zaller
"A comprehensive overview of this complex topic, presented by internationally recognized experts. Information presented will inform discussions on the use of herbicides in modern agricultural and other systems, and their potential non-target effects on human populations and various ecosystems. The book covers these matters in concise language appropriate to engage both specialists in the research community and informed persons responsible for legislative, funding and public health matters in the community at large."
Earth Detox: How and Why We Must Clean Up Our Planet by Julian Cribb
"Every person on our home planet is affected by a worldwide deluge of man-made chemicals and pollutants — most of which have never been tested for safety. Our chemical emissions are six times larger than our total greenhouse gas emissions. They are in our food, our water, the air we breathe, our homes and workplaces, the things we use each day. This universal poisoning affects our minds, our bodies, our genes, our grandkids and all life on Earth. Julian Cribb describes the full scale of the chemical catastrophe we have unleashed. He proposes a new Human Right — not to be poisoned."
The Water Defenders: How Ordinary People Saved a Country From Corporate Greed by Robin Broad and John Cavanagh
"The David and Goliath story of ordinary people in El Salvador who rallied together with international allies to prevent a global mining corporation from poisoning the country's main water source."
Planet Palm: How Palm Oil Ended Up in Everything — and Endangered the World by Jocelyn C. Zuckerman
"Over the past few decades, palm oil has seeped into every corner of our lives. But the palm oil revolution has been built on stolen land and slave labor; it's swept away cultures and so devastated the landscapes of Southeast Asia that iconic animals now teeter on the brink of extinction. This groundbreaking work of first-rate journalism compels us to examine the connections between the choices we make at the grocery store and a planet under siege."
Homewaters: A Human and Natural History of Puget Sound by David B. Williams
"In conversations with archaeologists, biologists and tribal authorities, Williams traces how generations of humans have interacted with such species as geoducks, salmon, orcas, rockfish and herring. He sheds light on how warfare shaped development and how people have moved across this maritime highway, in canoes, the mosquito fleet and today's ferry system. The book also takes an unflinching look at how the Sound's ecosystems have suffered from human behavior, including pollution, habitat destruction and the effects of climate change."
Plastic: An Autobiography by Allison Cobb
"Cobb's obsession with a large plastic car part leads her to explore the violence of our consume-and-dispose culture, including her own life as a child of Los Alamos, where the first atomic bombs were made. The journey exposes the interconnections among plastic waste, climate change, nuclear technologies and racism. Using a series of interwoven narratives ― from ancient Phoenicia to Alabama ― the book bears witness to our deepest entanglements and asks how humans continue on this planet."
Pipe Dreams: The Urgent Global Quest to Transform the Toilet by Chelsea Wald
"While we see radical technological change in almost every other aspect of our lives, we remain stuck in a sanitation status quo — in part because the topic of toilets is taboo. Fortunately, there's hope — and Pipe Dreams daringly profiles the growing army of sewage-savvy scientists, engineers, philanthropists, entrepreneurs, and activists worldwide who are overcoming their aversions and focusing their formidable skills on making toilets accessible and healthier for all."
Castaway Mountain: Love and Loss Among the Wastepickers of Mumbai by Saumya Roy
"All of Mumbai's possessions and memories come to die at the Deonar garbage mountains. Towering at the outskirts of the city, the mountains are covered in a faint smog from trash fires. Over time, as wealth brought Bollywood knock offs, fast food and plastics to Mumbaikars, a small, forgotten community of migrants and rag-pickers came to live at the mountains' edge, making a living by re-using, recycling and re-selling. Among them is Farzana Ali Shaikh, a tall, adventurous girl who soon becomes one of the best pickers in her community. Like so many in her community, Farzana, made increasingly sick by the trash mountains, is caught up in the thrill of discovery — because among the broken glass, crushed cans or even the occasional dead baby, there's a lingering chance that she will find a treasure to lift her family's fortunes." (Available in September.)
John R. Platt is the editor of The Revelator. An award-winning environmental journalist, his work has appeared in Scientific American, Audubon, Motherboard, and numerous other magazines and publications. His "Extinction Countdown" column has run continuously since 2004 and has covered news and science related to more than 1,000 endangered species. He is a member of the Society of Environmental Journalists and the National Association of Science Writers. John lives on the outskirts of Portland, Ore., where he finds himself surrounded by animals and cartoonists.
Reposted with permission from The Revelator.
tzahiV / iStock / Getty Images
The COVID-19 Delta variant has left businesses and schools across the country backpedaling from their goals for more integrated, in-person participation.
In many areas, virtual learning and remote work are becoming the norm once again, and often, this comes with a significant increase in residential energy consumption. For those concerned about increased electric bills and a greater carbon footprint, however, researchers say solar energy could prove effective in offsetting the costs of working and learning from home.
Turning Back to Virtual Learning
Although most school districts across the country opened back up with the intention of holding 100% in-person classes, spreading of the Delta variant has already forced many classrooms into stints of remote learning.
As the Los Angeles Times recently reported, "a cluster of three or more potentially linked cases at one school over 14 days could represent an outbreak and could lead to having a group of students or even a class quarantine at home."
As of August 24, at least 80 school districts have been forced to halt in-person instruction in some capacity due to viral outbreaks.
At the end of the last academic year, an elementary school teacher in Marin County, California, who had not been vaccinated against COVID-19 infected at least 12 students while experiencing mild symptoms, according to a recent CDC report. The majority of her class was ineligible for vaccination, due to their age.
Cases like this illuminate the obstacles that schools are facing in their efforts to protect students. Eight states have passed laws banning mask mandates in public schools, and because students younger than 12 years of age are ineligible for vaccination, classrooms can quickly become hotspots. This forces students to quarantine and learn remotely, which raises energy consumption within homes.
A Bright Future for Remote Work
Some of the most successful companies in the world have maintained and refined opportunities for remote work throughout the COVID-19 pandemic. Many of these corporations are moving toward permanent implantation of remote and hybrid working models, especially in industries like software, finance and media.
Studies suggest that these models could prove wildly successful, even in a post-pandemic era, not only because they expose employees to fewer health risks, but also because they promote higher productivity and greater mental wellness.
According to LinkedIn's 2020 Workforce Confidence Index, about half of the country's working professionals believe that their industry can operate successfully in a remote setting.
Minimizing Energy Costs and Environmental Impacts of Virtual Meetings
Increased use of home appliances, electronics, heating and air conditioning all contribute to higher electric bills and a greater carbon footprint for those working and learning from home.
At the onset of the pandemic, residential energy consumption increased by up to 10% and energy bills for remote workers increased by up to $50 per month, according to a study by Dr. Steve Cicala, a research fellow for the National Bureau of Economic Research and associate professor at Tufts University.
"The relative energy intensity of heating and cooling the entire homes of employees rather than a single office suggests that the future of working from home is not as green as one might think based on reduced commuting alone," Cicala writes in the study.
Drawing from solar panels could actually be the cleanest, most energy-efficient and cost-effective strategy to offset the energy costs of working from home. But is it worth installing solar panels on your home to offset increased energy costs due to COVID-19 quarantining?
"If people think they might be working from home and using more electricity long term, this would be a good time to think about prospective efficiency improvements," Cicala says in an interview with Tufts, "LEDs instead of old bulbs and plasma TVs, rooftop or community solar to spin the meter back a bit, or perhaps updating some old power-hungry appliances around the house."
Although market barriers and soft costs limit the expansion of the solar industry, the average cost of solar panels has dropped by more than 70% in the last decade. Federal solar tax credits can further reduce the cost of installation by 26%, and some states also offer their own incentives.
Beyond slashing costs, powering homes with solar energy can support the electric grid through net metering. This credits residences that produce more energy than they consume and allows them to export excess energy to the grid, providing surrounding consumers with clean energy.
While the barriers for entry are higher in certain states, solar panels are becoming more universally accessible. As remote work and schooling become the "new normal" once again, solar energy could be vital in preventing further financial and environmental crises related to the pandemic.
Tim Robberts / Stone / Getty Images
For homeowners who are looking for clean energy solutions, solar power is utterly essential. But what is solar energy, exactly, and how does it work?
The Earth boasts many natural resources, but none as abundant as sunlight. As rays from the sun reach our planet, the energy they contain can be captured and used in a number of ways.
Before embracing residential solar power, it may be helpful to understand a bit more about what solar energy is, how it can be harvested and how it can be used. In this article, we'll offer a full solar energy definition, plus some basic guidelines about how it can be used in your home.
Each product featured here has been independently selected by the writer. If you make a purchase using the links included, we may earn commission.

Solar Energy Definition
Let's begin with a general overview of solar power.
The sun provides us with natural light during the day. In doing so, it sends individual particles of sunlight, known as photons, to the Earth. Each photon contains energy, and that energy fuels the Earth in various ways. It might surprise you to learn that, during any given hour, the Earth receives enough solar energy that it could theoretically fulfill the entire planet's energy needs for one full year.
But where does all this solar power actually come from? Well, keep in mind that the sun is a star, and like any other star, it's basically one big nuclear reactor. There are nuclear fusion reactions happening in the sun's core all the time, producing huge amounts of energy that radiate out into space in the form of light and heat. Large quantities of this solar radiation ultimately reach Earth's surface.
Solar power can be collected via a technology called photovoltaics, then converted into solar electricity that can be used to supply power to a home or a business. Solar energy currently represents a relatively small fragment of the global energy economy, yet it's gaining in popularity, largely thanks to the falling prices of solar panel installation, combined with a growing desire among homeowners to reduce their utility bills and their carbon footprints.

Using Solar Power
Now let's take a closer look at solar technologies and the process of harvesting and using energy from the sun.
We already mentioned photovoltaics, which represents the most common method of harvesting solar energy. This approach is generally used for small-scale applications, such as portable solar generators or residential solar systems. Another option, called solar thermal capture, is typically better suited to produce solar electricity on a larger scale.

Here's a quick breakdown of these two basic options for harvesting solar energy.

Harvesting Solar Energy With Photovoltaics
This is the method you're more likely to be familiar with, as it describes the way solar energy is harvested in residential settings. By installing solar energy systems made with photovoltaic cells, or PV cells, homeowners can collect energy from the sun, using solar panels positioned on their roofs that convert sunlight into energy. An inverter turns that solar energy into an electrical current, which can be used to power household systems, appliances and connected devices.
With some photovoltaic systems, any surplus electricity is funneled back into the power grid, resulting in a credit from the utility company; in turn, if the PV system does not create enough solar electricity to power the home, the homeowner may draw power from the main utility grid. By contrast, some PV systems come equipped with a solar panel battery bank, which means surplus energy can be stored and used at a later date.
There are a few types of solar panels, but most residential ones use what's known as the photovoltaic effect. This process allows them to convert raw solar power into usable energy. Here's a rough breakdown of how solar panels work:

The sun's rays hit a semiconductor within a solar panel (usually made of silicon), which releases electrons. These electrons move through a conductor to produce an electric current.
The current produced by these wires is known as direct current, or DC; your house requires alternating current, or AC electricity. A component known as a solar inverter turns the DC power into AC power.
AC power is then fed into the primary circuit board, meaning it can power any of the outlets or connected appliances in the home. Surplus solar electricity may be stored in a battery to be used when the sun isn't shining directly on the panel.
This is a basic description of how solar electricity works in a residential setting, enabling homeowners to control their electricity generation. The benefit is that you can reduce or even eliminate your reliance on utility companies, and thus, your monthly utility bills. Even more impactful, it allows you to lessen your reliance on fossil fuels and municipal power plants, which cuts down on environmental pollution.
Harvesting Solar Energy With Solar Thermal
Another option for harvesting solar energy is to directly capture heat from the sun's radiation. The solar thermal method actually has a much broader range of uses than the photovoltaic process. With that said, it's not nearly as practical or as feasible to use the solar thermal method on a small scale, which is why residential solar systems use the PV method.
There are three main kinds of solar thermal energy used in industry:

Low-temperature solar thermal energy is used to heat and cool the air.
Mid-temperature is used specifically for heating water.
High-temperature is used for generating electrical power.
So, to flesh those out a bit more: Low-temperature solar thermal methods are primarily used to heat or to cool the air, as a means of climate control like space heating or air conditioning. Mid-temperature solar thermal methods capture the sun's energy and transfer it to pipes, heating the water those pipes contain.
High-temperature solar thermal is used to generate electricity on a larger scale, such as in an electrical plant. This process actually revolves around a series of mirrors, which are positioned to catch the sunlight and reflect it onto a series of tubes. These tubes contain liquids that are effective in capturing and holding heat energy. This heated liquid is then used to turn water into steam, turning turbines to produce electrical power. You can understand why this complex system is not a feasible option for individual homes, but it represents a very promising renewable energy source for large-scale use.

Using Solar Energy in Your Home
Now that we've exhausted the solar energy definition, let's turn toward practical questions: Are solar panels worth it for your home? Let's go through some solar energy pros and cons.
Installing a Solar Power System Offers Immense Benefits
There are certainly a number of benefits to solar power, including:
Solar energy use can allow you to reduce your monthly electric bills and, in some cases, eliminate those bills completely. This produces big cost savings over time.
Solar power is a clean, renewable energy source, meaning you won't be contributing to direct pollution (unlike with oil or coal) and greenhouse gas emissions.
When you buy solar panels, there are a number of tax incentives and rebates available to offset startup costs, including some available at the federal level and some that are state-specific.
Most residential solar systems will produce electricity for 20 to 30 years and require very little maintenance.
There Can Also Be Drawbacks
Solar power boasts numerous advantages, but that doesn't mean it's perfect. Some of the most significant downsides include:
The initial cost of solar panels is fairly extensive, averaging out to around $13,000, and in some cases topping $20,000. Tax incentives and monthly utility savings can offset this cost, but even still, going solar always requires a big investment on the front end.
Some homes just aren't suited for solar. If you don't get enough exposure to the sun, then a home solar system may not work out.
If you live in an area where electricity is inexpensive, then the savings you get from a solar system will be comparatively small.
Is My Home Suitable for a Residential Solar System?
The best way to determine whether your home is a good fit for solar electricity is to contact one of the top solar companies in your area. A solar panel installation specialist can come take a look at your home and give you an individualized recommendation.
Solar energy is best suited for those who live in sunny areas; who have plenty of surface area on their roof; and who don't have to worry about shading from nearby trees, buildings or other obstructions.
Get a Free Quote for Professional Solar Installation
If you're interested in solar, it only takes 30 seconds to get a free, no-obligation quote. You could save up to $2,500 per year on utility bills and get a tax rebate all while reducing your carbon footprint. Fill out the form below to get started.
What to Look for in a Home Solar System

As you shop around for home solar systems, make sure to keep the following factors in mind:
The efficiency of your solar panels, or how much sunlight they actually turn into electricity (the most efficient solar panels convert over 20%).
The capacity of your solar battery.
Warranties and other protections for your home solar system.
The total number of panels you need to get the desired results.
The services offered by your solar installer (such as individual system design).
Are You Ready to Embrace Solar Power?
For anyone seeking a clean and efficient energy solution, solar electricity may be the best bet. If you're ready to continue your education, we recommend checking out some demos of specific solar panels, or else calling a local installer to get a solar energy quote.
Out of the mines of conflict, an awareness campaign was born. One that sought to change the minds of millions and craft a better, more fairer phone industry. The campaigners worked hard to raise consciousness and change the minds of phone users. They established workshops that explained the complexities and horrors of a smartphone supply chain, and encouraged the public to imagine what a fairer phone would be. But after two and a half years, Apple, Samsung, and other giants kept exploiting and polluting. So, the awareness campaign decided to do something a little different. They tried to make a fairer phone. This is the story of that phone. How it's made, whether it's actually a good phone, and whether it's the sustainable solution to the phone industry.
The Fairphone, now in its third iteration, is doing something remarkable. Its foregrounding sustainability and ethical labor practices throughout the phone's whole lifecycle. A feat which Fairphone cofounder Miquel Ballester told me feels a lot like "swimming against the streams." When it comes to sustainability in smartphones there are really four areas to consider: production, modularity, longevity, and recyclability. At first glance, Fairphone seems to excel in all these categories when compared to other flagship phones. The Fairphone begins in the production stage where the bulk of Fairphone's environmental impact comes from. The potential global warming impact of a Fairphone 3 is 39.5 kg of carbon dioxide equivalent. That's a little over half of the Iphone 12's footprint. And of that 39.5 kg, roughly 81% comes from the production phase, which encompasses the mining of the materials all the way up to the day it leaves the factory.
If you want to learn more about how Fairphone managed to reduce its impact, watch the video above!
Our Changing Climate is an environmental YouTube channel that explores the intersections of social, political, climatic, and food-based issues. The channel dives into topics like zero waste and nuclear energy in order to understand how to effectively tackle climate change and environmental destruction.
To receive all the latest videos produced by Charlie subscribe to his YouTube channel here.
A car charging at an electric vehicle charging station in Atlanta, Georgia. Raymond Boyd / Getty Images
By Paul N. Edwards

Most of America's 107,000 gas stations can fill several cars every five or 10 minutes at multiple pumps. Not so for electric vehicle chargers – at least not yet.
Today the U.S. has around 43,000 public EV charging stations, with about 106,000 outlets. Each outlet can charge only one vehicle at a time, and even fast-charging outlets take an hour to provide 180-240 miles' worth of charge; most take much longer.
The existing network is acceptable for many purposes. But chargers are very unevenly distributed; almost a third of all outlets are in California. This makes EVs problematic for long trips, like the 550 miles of sparsely populated desert highway between Reno and Salt Lake City. "Range anxiety" about longer trips is one reason electric vehicles still make up fewer than 1% of U.S. passenger cars and trucks.
This uneven, limited charging infrastructure is one major roadblock to rapid electrification of the U.S. vehicle fleet, considered crucial to reducing the greenhouse gas emissions driving climate change.
It's also a clear example of how climate change is an infrastructure problem – my specialty as a historian of climate science at Stanford University and editor of the book series "Infrastructures."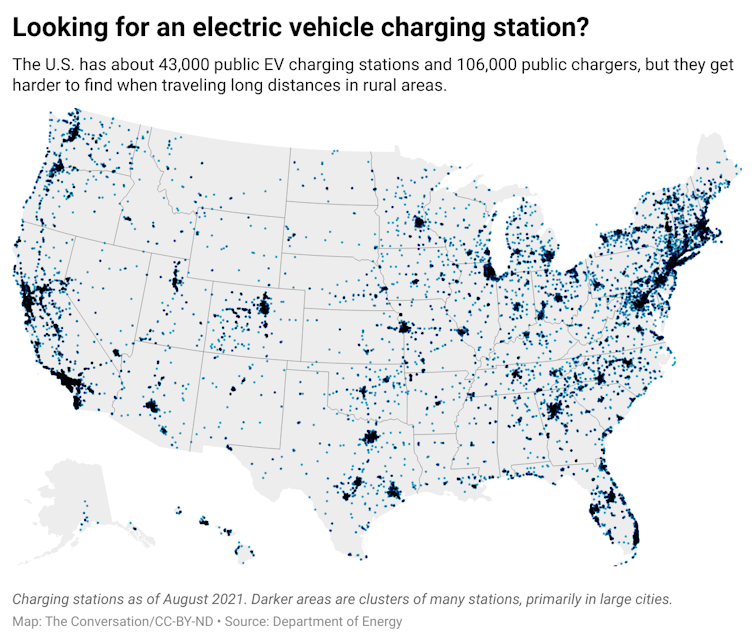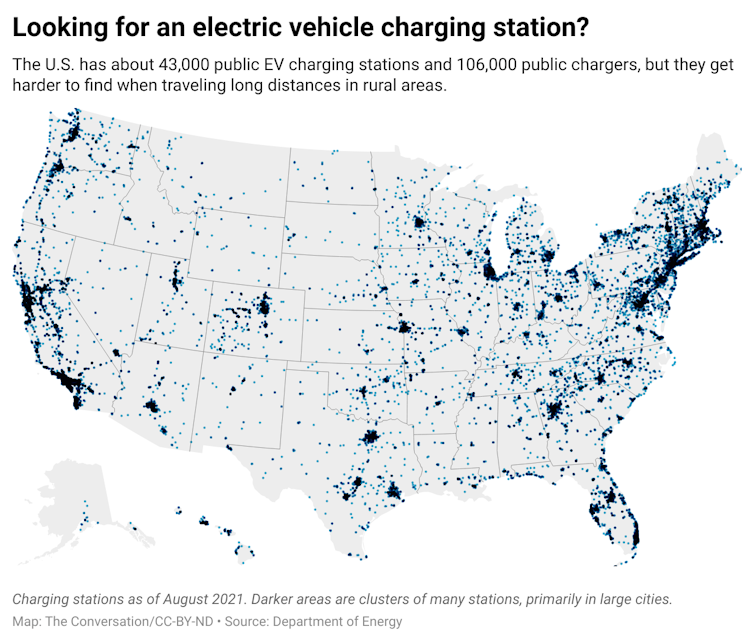 Over many decades, the U.S. has built systems of transportation, heating, cooling, manufacturing and agriculture that rely primarily on fossil fuels. The greenhouse gas emissions those fossil fuels release when burned have raised global temperature by about 1.1°C (2°F), with serious consequences for human lives and livelihoods, as the recent report from the U.N. Intergovernmental Panel on Climate Change demonstrates.
The new assessment, like its predecessor Special Report on Global Warming of 1.5°C, shows that minimizing future climate change and its most damaging impacts will require transitioning quickly away from fossil fuels and moving instead to renewable, sustainable energy sources such as wind, solar and tidal power.
That means reimagining how people use energy: how they travel, what and where they build, how they manufacture goods and how they grow food.
Gas Stations Were Transport Infrastructure, Too
Gas-powered vehicles with internal combustion engines have completely dominated American road transportation for 120 years. That's a long time for path dependence to set in, as America built out a nationwide system to support vehicles powered by fossil fuels.
Gas stations are only the endpoints of that enormous system, which also comprises oil wells, pipelines, tankers, refineries and tank trucks – an energy production and distribution infrastructure in its own right that also supplies manufacturing, agriculture, heating oil, shipping, air travel and electric power generation.
Without it, your average gas-powered sedan wouldn't make it from Reno to Salt Lake City either.
Fossil fuel combustion in the transport sector is now America's largest single source of the greenhouse gas emissions causing climate change. Converting to electric vehicles could reduce those emissions quite a bit. A recent life cycle study found that in the U.S., a 2021 battery EV – charged from today's power grid – creates only about one-third as much greenhouse gas emissions as a similar 2021 gasoline-powered car. Those emissions will fall even further as more electricity comes from renewable sources.

Despite higher upfront costs, today's EVs are actually less expensive than gas-powered cars due to their greater energy efficiency and many fewer moving parts. An EV owner can expect to save US$6,000-$10,000 over the car's lifetime versus a comparable conventional car. Large companies including UPS, FedEx, Amazon and Walmart are already switching to electric delivery vehicles to save money on fuel and maintenance.
All this will be good news for the climate – but only if the electricity to power EVs comes from low-carbon sources such as solar, tidal, geothermal and wind. (Nuclear is also low-carbon, but expensive and politically problematic.) Since our current power grid relies on fossil fuels for about 60% of its generating capacity, that's a tall order.
To achieve maximal climate benefits, the electric grid won't just have to supply all the cars that once used fossil fuels. Simultaneously, it will also need to meet rising demand from other fossil fuel switchovers, such as electric water heaters, heat pumps and stoves to replace the millions of similar appliances currently fueled by fossil natural gas.
The Infrastructure Bill
The 2020 Net-Zero America study from Princeton University estimates that engineering, building and supplying a low-carbon grid that could displace most fossil fuel uses would require an investment of around $600 billion by 2030.
The infrastructure bill now being debated in Congress was originally designed to get partway to that goal. It initially included $157 billion for EVs and $82 billion for power grid upgrades. In addition, $363 billion in clean energy tax credits would have supported low-carbon electric power sources, along with energy storage to provide backup power during periods of high demand or reduced output from renewables. During negotiations, however, the Senate dropped the clean energy credits altogether and slashed EV funding by over 90%.
Of the $15 billion that remains for electric vehicles, $2.5 billion would purchase electric school buses, while a proposed EV charging network of some 500,000 stations would get $7.5 billion – about half the amount needed, according to Energy Secretary Jennifer Granholm.
As for the power grid, the infrastructure bill does include about $27 billion in direct funding and loans to improve grid reliability and climate resilience. It would also create a Grid Development Authority under the U.S. Department of Energy, charged with developing a national grid capable of moving renewable energy throughout the country.
The infrastructure bill may be further modified by the House before it reaches President Joe Biden's desk, but many of the elements that were dropped have been added to another bill that's headed for the House: the $3.5 trillion budget plan.
As agreed to by Senate Democrats, that plan incorporates many of the Biden administration's climate proposals, including tax credits for solar, wind and electric vehicles; a carbon tax on imports; and requirements for utilities to increase the amount of renewables in their energy mix. Senators can approve the budget by simple majority vote during "reconciliation," though by then it will almost certainly have been trimmed again.
Overall, the bipartisan infrastructure bill looks like a small but genuine down payment on a more climate-friendly transport sector and electric power grid, all of which will take years to build out.

But to claim global leadership in avoiding the worst potential effects of climate change, the U.S. will need at least the much larger commitment promised in the Democrats' budget plan.
Like an electric car, that commitment will seem expensive upfront. But as the recent IPCC report reminds us, over the long term, the potential savings from avoided climate risks like droughts, floods, wildfires, deadly heat waves and sea level rise would be far, far larger.

Paul N. Edwards is a William J. Perry Fellow in International Security, Center for International Security and Cooperation, Stanford University.
Disclosure statement: Paul N. Edwards is one of 234 lead authors of the 2021 Working Group I report for the Sixth Assessment of the Intergovernmental Panel on Climate Change. This article reflects his personal views. His previous work relevant to this article was funded by the National Science Foundation and the Sloan Foundation.
Reposted with permission from The Conversation.
Along the banks of the Mississippi River, right before it spills out past New Orleans into the sea lies Cancer Alley. An 85 mile strip of shoreline where residents are contracting cancer at astronomical rates. But this isn't a phenomenon based in genetics or some cruel twist of fate. Cancer Alley is the product of environmental pollution. And today we're going to figure out exactly where this pollution is coming from. This is the story of plastics, the harm they cause, the industries that create them, and how that 85 mile strip of Mississippi shoreline and other areas like it are suffering because of them.
If you walk into your kitchen, pretty much everything, in some way or another, has encountered plastic. The plastic bags you stuff into a drawer, your favorite cup and even the package keeping those blueberries fresh. But despite plastic's ubiquity, we often forget where it comes from. Indeed, when it comes to plastic our efforts seem to be much more focused on what happens after we use it than before we use it. So first, let's understand how plastic gets made. It all starts in an oil refinery or a fracking site. That's right, plastics are basically just fossil fuels in solid form. In fact, 99% of plastics are made from chemicals rooted in fossil fuels. The plastic creation process begins with crude oil, coal, or natural gas, which is then refined and distilled or "cracked" into usable chemical compounds such as Ethylene or Benzene. Of course there are certain plastics that are the product of recycled goods, but I'll get into that much more in the video above. The key thing here is that the plastic that we use so heavily is really the same as the petroleum we put in our cars or the natural gas we use to heat our homes. Which is one of the reasons why the fossil fuel industry loves plastics.
For more on fossil fuel's love affair with plastics check out the video above!
Our Changing Climate is an environmental YouTube channel that explores the intersections of social, political, climatic, and food-based issues. The channel dives into topics like zero waste and nuclear energy in order to understand how to effectively tackle climate change and environmental destruction.
To receive all the latest videos produced by Charlie subscribe to his YouTube channel here.
From Your Site Articles
Related Articles Around the Web
The U.S. Navy conducts shock trials using live explosives in the Atlantic Ocean on June 18, 2021. U.S. Navy /
YouTube
By Brett Wilkins
Marine mammal experts this week expressed deep concern over the potentially devastating effects of the U.S. Navy's recent detonation of 40,000 pounds of explosives off the Atlantic coast of Florida on sea life, while progressive observers blasted what they called the government's misplaced spending priorities.
The Navy set off the massive blast — which registered as a magnitude 3.9 earthquake on shore — on June 18 about 100 miles off Palm Coast as the first in a series of full ship shock trials on the USS Gerald R. Ford, a $12.8 billion nuclear-powered aircraft carrier commissioned in 2017.
"The U.S. Navy conducts shock trials of new ship designs using live explosives to confirm that our warships can continue to meet demanding mission requirements under harsh conditions they might encounter in battle," the Navy explained in a press release.
The statement claimed the explosion occurred "within a narrow schedule that complies with environmental mitigation requirements, respecting known migration patterns of marine life in the test area."
The region is home to various marine mammal species including bottlenose dolphins, humpback whales, and North Atlantic right whales. While whales are not typically seen off the northern Florida coast in June, marine experts nevertheless expressed alarm over potential harm to mammals and other sea life.
"The Navy's own modeling indicates that some smaller species of marine mammals would be expected to die within one to two kilometers of the blast, and that some marine mammal species would suffer injury including hearing loss out to 10 kilometers of the blast," Michael Jasny, director of the Natural Resources Defense Council's (NRDC) Marine Mammal Protection Project, told The Guardian. "That gives some sense of the power of the explosives we are talking about."
Hey I don't think this is good for sea creatures @POTUS https://t.co/P7dfnuTcrQ

— Jackie Fielder (@Jackie Fielder)1624326596.0
"A large whale might need to be within a few hundred meters of the blast to die, while a small mammal could be a couple of kilometers away," added Jasny, who said that even if the animals survive the blast, potential hearing loss still poses a grave risk to species which use that sense to locate food and their companions.

The U.S. Navy has previously come under fire for its use of undersea sonar, which can injure and kill marine mammals. In 2015, the Navy agreed to limit its use of underwater sonar and explosives in particularly sensitive areas for scores of vulnerable species.
While numerous observers worried about the effects of blast testing on marine life, others expressed concerns about misplaced government priorities, with the advocacy group Public Citizen tweeting that "94% of public school teachers spend their own money on school supplies." Some social media users responded to CBS News' tweet about the explosion lamenting that the United States still does not have universal healthcare.
@Warship_78 @USNavy #ThisIsDestruction Wa$te of tax dollars & resources. #ProtectTheSacred #ProtectTheOcean @oceana @oceanconserve

— Janet Weil (@Janet Weil)1624246284.0
Janet Weil, an activist with the peace group CodePink and the Portland, Oregon branch of Extinction Rebellion, called the text a "waste of tax dollars and resources."

Reposted with permission from Common Dreams.
From Your Site Articles
Related Articles Around the Web
Amidst the loud hum of computers, digital gold is born. Churning and churning, hundreds of computers mine for a new form of currency. One that professes to be the decentralized, deflationary disruptor of the modern banking system. It goes by many names, DogeCoin, VibuCoin, Etherium, and Bitcoin. But they all can be called cryptocurrencies. This is the story of the new digital gold. How it works, its consequences, and what a crypto future looks like?
In the digital age, money is taking a new form. If you're like me, you've probably heard people talk about Bitcoin mining or the volatility of Crypto or Tesla's recent $1.5 billion Bitcoin investment and just nodded your head obligingly without a clue as to what any of that really means. Here's a quick overview. In very simple terms, cryptocurrencies, like Bitcoin or Ethereum, are decentralized monetary systems that rely on encryption and math problems for security and validity, and the acquisition of this digital currency involves hundreds of specialized computers run by miners to solve math problems in what's called a "proof of work" model. There are other models like proof-of-stake too, but we'll get into that later. For now, all you need to know is that cryptocurrencies are valuable, much like real gold, because they're finite and cracking math problems requires a lot of energy and time. And it's there, in the physical space where crypto is created, that these digital currencies run into problems.
Drive three hours north of Sydney, Australia and you'll run into a coal-fired power plant. One that, up until recently, was shut down, but now is churning out electricity for a single company. A Bitcoin operation. That's right, the Bitcoin mining subsidiary of Australian tech company IOT penned a deal to gain exclusive access to the coal plant to satiate the energy appetite of its mining operations. This deal was born out of the simple reality of cryptocurrency mining: the cheaper the energy, the more money you make. That's because cryptocurrencies require a massive amount of energy.
If you want to learn more about the impact of cryptocurrencies, check out the video above for more!
Our Changing Climate is an environmental YouTube channel that explores the intersections of social, political, climatic, and food-based issues. The channel dives into topics like zero waste and nuclear energy in order to understand how to effectively tackle climate change and environmental destruction.
To receive all the latest videos produced by Charlie subscribe to his YouTube channel here.
Aerial picture of the Villanueva photovoltaic (PV) power plant operated by Italian company Enel Green Power in the desert near Villanueva, a town located in the municipality of Viesca, Coahuila State, Mexico, taken on April 20, 2018. Alfredo Estrella / AFP / Getty Images
By Gero Rueter
Solar energy has become extremely cheap. In the desert of Saudi Arabia electricity from solar modules is now generated for just $0.01 (€0.009) per kilowatt hour (kWh), and in Portugal for $0.014 cents per kWh.
An increasing number of large solar parks are being built across the globe to help solve the planet's energy needs.
Just how cheap is solar electricity?
Production costs for solar energy have dropped by 90% between 2009 and 2020, according to US investment bank Lazard.
In 2020, electricity from large-scale solar plants cost a global average of just $0.037/kWh. By comparison, the costs of generating electricity from new coal-powered plants was three times that at $0.112/kWh, while natural gas cost $0.059, nuclear $0.163, and wind $0.04/kWh.
"We're going to see solar power plants all over the world. It's the cheapest energy source in the world, with a few exceptions. In some places, wind power is still a bit cheaper," said Christian Breyer, a professor of solar economy at LUT University in Finland.
With large solar farms, Breyer says, production costs can be as low as $0.01 in locations with lots of sunlight, and up to $0.04 elsewhere. He and other experts expect that new and more efficient solar panels will lower costs even more, by 5 to 10% per year.
How big are large solar farms?

The world's largest solar parks have a capacity of 2,000 - 2,200 megawatts (MW), most are located in desert regions in China, India, and the Middle East, Egypt being a prime example. There are also big plants with over 500 MW in the US, Mexico, and southern Europe.
One of the largest solar parks, known as Al Dhafra PV2, is scheduled to begin supplying the United Arab Emirates' national energy provider beginning next year. Under construction to the tune of $1 billion, the 2,000 MW plant will be comprised of four million modules installed over an area of 20 square kilometers near the capital, Abu Dhabi.
Most other solar parks around the world are smaller than the giant facilities in the desert. Germany's largest solar park, for example, located in Weesow near Berlin, has an output of just 187 MW. Its 465,000 solar modules supply the electricity needs of about 50,000 households.
But even in densely populated countries like Germany, larger plants with a capacity of several thousand megawatts are conceivable. One place where they could be built are the quarries of abandoned open-cast lignite mines.
Where is solar power worthwhile for industry?
Globally, the industrial sector requires lots of energy. In Germany for instance it consumes about half of all electricity generated. To save costs, companies are turning to photovoltaics. International mining companies for instance have started replacing diesel power with solar power in remote locations. And more and more chemical companies, aluminum plants, car factories, cement manufacturers, and data centers are getting their power from solar farms.
One example is Facebook's data center in the state of Tennessee, located in the southeastern US, which will get about 110 MW of electricity from a solar park with a capacity of 150 MW. The park is being built and operated by the German power company RWE.
Another example: starting in 2022, several Bayer Group's chemical plants will run on 100% green electricity from a 590 MW-solar power plant in southern Spain.
The energy-intensive steel industry is also reorienting itself. Low-cost solar power is in demand there, as is "green" hydrogen generated by solar and wind power, which is needed for the blast furnace process. Low-cost energy supply is a decisive factor when planning the location of new steel mills.
Solar power is even proving to be worth the investment in regions with less exposure to the sun's rays. One example is Poland's largest solar park in Witnica, which has a capacity of 65 MW. It supplies the neighboring cement plant.
"This is the best proof that solar power, without any subsidies, can be competitive with power from conventional energy sources. Even in a European country as far north as Poland," says Benedikt Ortmann from power plant operator BayWa r.e.
Where should we build solar power plants?
Experts estimate that in the near future, photovoltaic plants with a total capacity of around 60 million MW will be needed to supply the entire world with cost-effective electricity. That's 70 times more than all the existing solar capacity so far.
The area required for solar panels would then be equivalent to 0.3% of the world's land area.
"On a global average, you don't have to worry about land availability," said Christian Breyer of LTU Finland. But if the energy is to be generated as close as possible to cities and large factories, he says, it's a bit more tricky, especially in densely populated regions.
One solution would be to use roofs and facades. According to Breyer, some 20% of the world's solar power demand could be generated there.
So-called agrivoltaics, with solar roofs installed above fields, are also becoming increasingly important.
Another option: building solar panels that float on water. According to a World Bank study, the global potential of floating PV is 400,000 MW even if only one percent of the area of reservoirs is used for this purpose.
So far, the largest solar plants on inland lakes have been built in China, India, South Korea, and Taiwan. There are also smaller plants on lakes and reservoirs in many other countries, including the Netherlands, Israel and Indonesia. India is currently planning a large-scale floating plant with 1000 MW.
Meanwhile, research is underway in the Netherlands to find solutions for installing floating solar farms in the rough North Sea to povide energy for the national grid. But salt water, strong currents and winds still pose huge challenges.
Smaller floating facilities in offshore waters already exist, such as in the Maldives, where they provide electricity to vacation islands.
This article was adapted from German.
Reposted with permission from Deutsch Welle.
Solar company workers install a rooftop system at a home in Granada Hills, California in 2020. Mel Melcon / Los Angeles Times via Getty Images
By Gero Rueter
"I really like my job, I'm excited and I'm learning a lot," says Fabian Rojas.
The 26-year-old Argentinian has been working since last October for a small company near the western German city of Cologne that installs solar panels on roofs.
The company's CEO René Hegel, who's been selling photovoltaic systems since 2008, hired the Argentine engineer, who was visiting Germany at the time. In this way, the company is able to meet at least part of rapidly increasing demand in the region.
"We have many inquiries, I put together at least six offers a week and we already have orders for the next four to five months," Rojas told DW. "Customers want to generate their own electricity, charge their electric cars and reduce consumption from the grid. This also contributes to climate protection."
Rojas talks to customers, customizes photovoltaic systems and sometimes helps install them on rooftops.
"Fabian is a fast learner," Hegel says. "In the next few months he will gain more practical experience, and then things will get even better."
German Solar Industry: Help Wanted
Hegel is planning on expanding his four-person team to meet the increasing demand for solar energy, which is again picking up following a boom and bust of solar in the early 2000s.
In Germany, solar power systems with a total capacity of 5 gigawatts (GW) were installed in 2020, and that capacity is expected to grow. Studies indicate that expansion would have to be increased six-fold — to 30 GW per year — in order to keep warming to 1.5 degrees Celsius (2.7 degrees Fahrenheit) this century.
To achieve this, more manpower is needed in the solar industry, says Günther Haug, manager at BayWa r.e. The Munich-based company is building large solar and wind farms worldwide, and continues to grow. In 2017, BayWa r.e. had 1,100 employees; today, there are 2,700.
"We are looking for engineers, financial experts, skilled personnel for project development and for people with technical training for customer service," said Haug.
To find and retain personnel, Haug says the company is "willing to make a considerable financial investment and also train applicants ourselves, because there aren't enough skilled workers."
"There are presently about 50,000 jobs in photovoltaics in Germany," says Volker Quaschning, a professor of renewable energy at the University of Applied Sciences in Berlin (HTW). He says that many people are now looking for new jobs because of the coronavirus crisis.

"We have to be smart about how we approach this, we need to start training programs to have enough skilled workers. Otherwise, the energy transition will fail due to a lack of personnel," Quaschning told DW.
Solar Jobs to Exceed 60 Million Worldwide
As of 2019, around 11.5 million people worldwide were working in the renewable energy sector, according to a report by the International Renewable Energy Agency (IRENA). More than a third of them worked in photovoltaics.
IRENA holds the view that investments to revive the economy and job market as countries emerge from the COVID-19 crisis should prioritize the energy transition.
"We estimate that every dollar spent in this field creates three times more jobs than in the fossil energy sector," says IRENA Director General Francesco La Camera. "More and more policymakers are recognizing the job potential."
Solar power is now the cheapest means of generating electricity, which is why researchers expect it to make a global breakthrough as the primary source of energy in the future. Currently, there are photovoltaic systems with a total capacity of about 850 GW installed worldwide. They produce roughly as much electricity as 190 nuclear power plants.
Studies estimate that at least 60,000 GW of solar power will be needed to achieve a global, climate-neutral energy supply. To do this, the industry would need to hire more than 60 million workers in the next decade for module production and assembly, as well as system maintenance.
Curiosity Can Lead to a New Job in the Energy Sector
Fabian Rojas, the Cologne-based engineer, is fascinated by solar and wind power, and new energy-saving technologies. He regularly exchanges ideas about these topics via video call with a friend from Argentina who is setting up solar power systems in the United States.
"Solar power is needed worldwide, and that's why there's a global demand for workers in this field," Rojas said, adding that this was true for Europe as well as for Asia and South America.
To anyone who wants to work in the industry, Rojas recommends being proactive.
"Educate yourself, do an internship. Luckily, there's a lot of information on the internet, too."
In the solar sector, he sees many opportunities to work in other places in the world and to share his knowledge: "I'm excited to see who will come knocking on our door next."
This article was adapted from German.
Reposted with permission from DW.
The Goldman Environmental Prize recognizes grassroots activists from six continents who have moved the needle on environmental issues their communities face.
2021 Goldman Environmental Prize Virtual Award Ceremony /
YouTube
Nicknamed the "Green Nobel Prize," the prestigious Goldman Environmental Prize recognizes grassroots activists from six continents who have moved the needle on environmental issues their communities face. This year's recipients led the charge on environmental justice, wildlife and rainforest conservation, plastic pollution, dams and coal projects.
"These phenomenal environmental champions remind us what can be accomplished when we fight back and refuse to accept powerlessness and environmental degradation. They have not been silenced — despite great risks and personal hardship — and we must also not be silent, either. It takes all of us," Susie Gelman, vice president of the Goldman Environmental Foundation, said in a press release.
Here are the six everyday environmental heroes and the impact they've made.
Gloria Majiga-Kamoto
The 30-year-old Malawian woman has been taking on the nation's largest plastic manufacturers for the past five years. Her goal: to eliminate single-use plastics in the country, CNN reports.
According to Mongabay, 75,000 tons of plastic are produced in Malawi each year, most of it thin plastic that is difficult to recycle. Plastic also clogs drains, creating pools of standing water that become breeding grounds for malaria-carrying mosquitoes. One study found plastic in 40 percent of cows slaughtered in one community, Mongabay reports.
To take on the root of the issue, Majiga-Kamoto worked with two other activists and civil society groups to create a grassroots campaign that pressured authorities to instate a plastic ban in Malawi. "After a protracted legal battle with plastic manufacturers, the Malawi Supreme Court upheld a national ban on the production, importation, distribution, and use of thin plastics in July 2019," CNN writes.
Thai Van Nguyen
Thai Van Nguyen, 39, is the founder of Save Vietnam's Wildlife, an organization that, between 2014 and 2020, successfully removed more than 1,500 critically endangered pangolins from the illegal wildlife trade, according to an announcement from the Goldman Environmental Foundation. Nguyen also started his country's first anti-poaching unit. Since 2018, the unit "has destroyed 9,701 animal traps, dismantled 775 illegal camps, confiscated 78 guns, and arrested 558 people for poaching, leading to a significant decline in illegal activities in Pu Mat National Park," the announcement said.
Pangolins are used in traditional medicine throughout China and Vietnam and are the most trafficked animal in the world, CNN reports. The Goldman Environmental Foundation estimates that more than one million pangolins have been poached worldwide in the past decade. In 2004 alone, 60 tons of live pangolins were seized in Vietnam.
"The pangolin is the only scaly mammal in the world. Losing the pangolin means losing a part of the ecosystem, making it unbalanced," Nguyen told CNN.
Maida Bilal
Called the "Blue Heart of Europe," the Balkans support the last free-flowing rivers in Europe, and thanks to Maida Bilal, 39, one river has a chance at staying that way. In December, 2018, Bilal led a group of women from her village, Kruščica, a small mountain village west of Sarajevo, in a 503-day blockade of dam construction equipment that led to the cancellation of permits for two proposed dams on the Kruščica River. Rivers in the region are biodiversity hubs that house nearly 70 endemic fish species and 40 percent of all endangered freshwater mollusk species on Earth, a Goldman Environmental Foundation announcement said.
The Kruščica River, which flows through the Western Balkans, is the main water source for almost 150,000 people. "On Aug. 24, 2017, police attacked the protestors, including Bilal, who was struck on the head, and her 70-year-old father, who was arrested," Mongabay reports.
Kimiko Hirata
Kimiko Hirata's work focuses on her native Japan, the world's fifth-largest carbon emitter, Mongabay reports. Hirata, 50, is the director and founding member of the NGO Kiko Network, which works to stop climate change, a Goldman Environmental Foundation announcement said. In the wake of the 2011 Fukushima Daiichi nuclear disaster, Hirata took a booming coal industry head-on, pressuring coal-funders, namely commercial banks, to divest from the fossil fuel.
As a result of her work, more than one-third of Mizuho Financial shareholders voted to move away from coal and more than 10 major developers made commitments to stop funding coal projects. So far, 13 planned coal plants have been canceled, which represent almost 40 percent of planned coal projects in Japan. "A mammoth feat for an NGO in a country where NGOs are little respected by government and industry," Mongabay reports.
Sharon Lavigne
Sharon Lavigne, 68, is a retired special-education-teacher-turned-activist who lives in a strip of Louisiana deemed Cancer Alley — a hotbed for environmental injustice that concentrates toxic industries primarily in communities of color, The Guardian reports.
In her hometown of St James parish, Lavigne organized marches, circulated petitions, hosted town hall meetings and launched media campaigns after elected officials approved a $1.25 billion Chinese-owned plastics plant, according to The Guardian. It worked. In 2019, the company, called Wanhua, withdrew its application, Mongabay reports.
The plant would have generated a million pounds of liquid hazardous waste every year and parish council members granted permits to the company that altered zoning, allowing the plant to be built closer to homes than zoning permits, so the plant could be close to homes. The company was also exempt from paying property taxes for 10 years, said Mongabay.
Liz Chicaje Churay
Liz Chicaje Churay, 38 is a member of the Bora indigenous community that lives near Peru's northeastern border with Colombia, and is responsible for protecting more than 2 million acres of the Amazon Rainforest, the BBC reports.
When her community decided that establishing a formal national park in the Peruvian Rainforest, which had been threatened by logging and mining for decades, was the best way to protect it, Chicaje Churay led the charge, Mongabay said.She and another indigenous community leader, Benjamin Rodriguez, worked with researchers, conservationists, and government officials to begin to establish the boundaries of what would become Yaguas National Park. Chicaje Churay worked with her community to map the region via satellite imagery. The park was made official in January 2018, covering a swath of peatlands and rainforest roughly the size of Yellowstone National Park. Benjamin Rodriguez was awarded posthumously, after dying in July 2020 from complications of the coronavirus, Mongabay reports.
2021 Goldman Environmental Prize Virtual Award Ceremony youtu.be
The Biden administration needs to act quickly to reduce carbon emissions. Andrew Merry / Getty Images
By Jeff Goodell
The Earth's climate has always been a work in progress. In the 4.5 billion years the planet has been spinning around the sun, ice ages have come and gone, interrupted by epochs of intense heat. The highest mountain range in Texas was once an underwater reef. Camels wandered in evergreen forests in the Arctic. Then a few million years later, 400 feet of ice formed over what is now New York City. But amid this geologic mayhem, humans have gotten lucky. For the past 10,000 years, virtually the entire stretch of human civilization, people have lived in what scientists call "a Goldilocks climate" — not too hot, not too cold, just right.
Now, our luck is running out. The industrialized nations of the world are dumping 34 billion tons or so of carbon into the atmosphere every year, which is roughly 10 times faster than Mother Nature ever did on her own, even during past mass extinction events. As a result, global temperatures have risen 1.2 C since we began burning coal, and the past seven years have been the warmest seven years on record. The Earth's temperature is rising faster today than at any time since the end of the last ice age, 11,300 years ago. We are pushing ourselves out of a Goldilocks climate and into something entirely different — quite literally, a different world than humans have ever lived in before.
How hot will the summers get in India and Pakistan, and how will tens of thousands of deaths from extreme heat impact the stability of the region (both nations have nuclear weapons)? How close is the West Antarctic ice sheet to collapse, and what does the risk of five or six feet of sea-level rise mean for people living in mobile homes on the Gulf Coast? The truth is, no one knows for sure. We are in uncharted terrain. "We're now in a world where the past is no longer a good guide to the future," said Jesse Jenkins, an assistant professor of engineering at Princeton University. "We have to get much better at preparing for the unexpected."
By all indications, President Biden and his team understand all this. And it's hard not to feel that after 30 years of dithering and denial and hypocrisy, the fight to save the climate has finally begun in earnest. In the 2020 election, nearly 70 percent of Biden's voters said climate change was a top issue for them. Biden has staffed his administration with the climate A-team, from Gina McCarthy as domestic climate czar to John Kerry as international climate envoy. He has made racial and environmental justice a top priority. And perhaps most important of all, he sees the climate crisis as an opportunity to reinvent the U.S. economy and create millions of new jobs.
"I think in Obama's mind, it was always about tackling the climate challenge, not making the climate challenge the central element of your economic policy," says John Podesta, a Democratic power broker and special adviser to President Obama who played a key role in negotiating the Paris Agreement. "Biden's team is different. It is really the core of their economic strategy to make transformation of the energy systems the driver of innovation, growth, and job creation, justice and equity."
Of course, there have been hopeful moments before: the signing of the Kyoto Protocol in 1997, when the nations of the world first came together to limit CO2 emissions; the success of Al Gore's documentary An Inconvenient Truth in 2006; the election of Obama in 2008 ("This was the moment when the rise of the oceans began to slow and our planet began to heal," Obama said in his speech accepting the Democratic presidential nomination that year); the Paris Agreement in 2015, when China finally engaged in climate talks. But all of these moments, in the end, led to nothing. If you look at the only metric that really matters — a graph of the percentage of CO2 molecules in the atmosphere — it has been on a long, steady upward climb. More CO2 equals more heat. To put it bluntly, all our scientific knowledge, all the political speeches, all the activism and protest marches have done zero to stop the accumulation of CO2 in the atmosphere from the burning of fossil fuels.
But hope rises again. The economic winds are lifting Biden's sails: The cost of wind and solar power has plummeted by 90 percent or so over the past decade, and in many parts of the world it's the cheapest way to generate electricity. Meanwhile, fossil-fuel dinosaurs are tottering: Big Coal is collapsing in real time and may disappear from American life in the next decade or so. ExxonMobil lost $22 billion last year and in August was delisted from the S&P 500. GM, long the staunch fossil-fuel loyalist of the U.S. auto industry, has pledged to go all-electric by 2035.
Globally, the signs of change are equally inspiring. Eight of the 10 largest economies have pledged to reach net-zero emissions by 2050. China, by far the world's largest carbon polluter in terms of raw tonnage (on a per capita basis, the U.S. and several other countries pollute far more), has promised to become carbon neutral by 2060. Some 400 companies, including Microsoft, Unilever, Facebook, Ford, Nestlé, and Pepsi, have committed to reduce carbon pollution consistent with the United Nations' 1.5 C target, which scientists have determined is the threshold of dangerous climate change. Many of these same companies are now calling on the Biden administration to cut overall U.S. carbon pollution by at least 50 percent below 2005 levels by 2030, a goal consistent with the 1.5 C target.
Big Money is also waking up to the risks and benefits of climate action. In his annual letter to investors, Larry Fink, the CEO of BlackRock, which manages $7.8 trillion in assets, challenged companies "to disclose a plan for how their business model will be compatible with a net-zero economy." In her confirmation hearing, Treasury Secretary Janet Yellen called climate change "an existential threat" and promised to create a team to examine the risks and integrate them into financial policy-making.
Still, these are only baby steps in a very long journey. And the clock is ticking. "When it comes to the climate crisis," says futurist Alex Steffen, "speed is everything." Every molecule of carbon we dump into the atmosphere is another molecule of carbon that will warm the climate for centuries to come, and in subtle and not-so-subtle ways, reshape the world we live in. The changes we are making are not reversible. If we magically stopped all carbon pollution tomorrow, the Earth's temperature would level off, but warm seas would continue melting the ice sheets and seas would keep rising for decades, if not centuries (last time carbon levels were as high as they are today, sea levels were 70 feet higher). Ocean acidification, caused by high CO2 levels, is already dissolving coral reefs and is having a major impact on the ocean food chain. Even after emissions stop, it will take the ocean thousands of years to recover.
Cutting carbon fast would slow these changes and reduce the risk of other climate catastrophes. But despite the world's newfound ambition, political leaders are not moving anywhere near fast enough. Even the goal of holding future warming to 2 C, which is a centerpiece of the Paris Agreement and considered the outer limits of a Goldilocks climate for much of the planet, is nearly out of reach. As a recent paper in Nature pointed out: "On current trends, the probability of staying below 2 C of warming is only five percent." If all countries meet the commitment they made in the 2015 Paris Agreement and continue to reduce emissions at the same rate after 2030, the paper argued, the probability of remaining below 2 C of warming rises to 26 percent ("As if a 26 percent chance was good," Swedish climate wunderkind Greta Thunberg pointed out in a tweet).
The great danger is not climate denial. The great danger is climate delay. Instead of pushing for changes tomorrow, world leaders and CEOs like to make virtuous-sounding statements about what they will do in 2050. And then in 2050, they will make virtuous-sounding statements about what they will do in 2070. Climate scientist Zeke Hausfather calls this the "empty radicalism" of long-term goals.
What's needed is action now. As climate envoy John Kerry put it at the World Sustainable Development Summit in February: "We have to now phase out coal five times faster than we have been. We have to increase tree cover five times faster than we have been. We have to ramp up renewable energy six times faster than we are. We have to transition to [electric vehicles] 22 times faster."
As an example of the seriousness of Biden's near-term ambition, he has proposed transitioning to 100 percent clean electricity by 2035, which means goodbye natural-gas plants, goodbye coal plants, and hello electric cars and battery storage. It's an astonishingly ambitious proposal, one that would require a remaking of the digital backbone of America at a breakneck speed. It will create hundreds of thousands of jobs, but if Biden is serious about getting it done, it will require retooling permitting laws and the environmental-review process that often stalls big infrastructure projects.
Demanding action now will also require shutting down the international financing schemes that support fossil fuels. China, Japan, and South Korea all claim to be doing their part in making carbon reductions at home, while at the same time they are financing 70,000 megawatts of coal power in places like Bangladesh, Vietnam, and Indonesia. In addition, state-run oil companies in places like China, Indonesia, and Saudi Arabia are on course to spend more than $400 billion over the next decade to expand oil infrastructure and exploration.
The goal of net-zero emissions is also problematic. "Net zero" is not the same thing as zero. It means that carbon pollution is either eliminated or offset by other processes that remove carbon from the atmosphere, such as forests or machines that capture CO2. Some of these offsets and technologies are more legit than others, opening the door to scams that claim to eliminate more carbon than they do.
In a way, the economic chaos caused by the pandemic has created a historic opportunity for the Biden administration. As one White House adviser tells me, "If you are going to pump billions of dollars into the economy, why not use those dollars to help us transition away from fossil fuels?" This is one of the central ideas behind Biden's $2 trillion infrastructure bill, which is now being negotiated in Congress. The bill includes a wide variety of climate-related initiatives, shaped around the twin pillars of Biden-era policy: clean-energy jobs and climate justice.
Already the pushback is fierce, especially in states that have benefited from the fracking boom. "The climate fight going forward is really about natural gas," says Leah Stokes, author of Short Circuiting Policy, an analysis of how special interests have derailed clean-energy policy for 30 years. Shortly after Biden issued his first round of executive orders aimed at the climate crisis, Texas Gov. Greg Abbott held a press conference in the middle of the gas fields "to make clear that Texas is going to protect the oil-and-gas industry from any type of hostile attack launched from Washington, D.C." In Florida, two bills were introduced that would preempt local governments from implementing plans to lower carbon pollution. In California and New York, residents are fighting transmission lines for offshore wind farms. Republicans, along with stalwart fossil-fuel allies like the Heritage Foundation, recently convened a private retreat in Utah to plot ways to "reclaim the narrative" on climate, while Republican Senators like Tennessee's Marsha Blackburn continue to recycle tired old rants about how the Paris Agreement is destroying American jobs.
None of this is surprising. And the fight will only get bigger and more ruthless as the clean-energy transition accelerates. Fossil fuels are emblematic of a culture, a way of life, a political hierarchy, and an empire of wealth that will not go quietly into the night.
Even among climate activists and progressives, there is wide disagreement about the best path forward. In Pennsylvania, Rep. Conor Lamb, a Democrat who supports Biden's climate goals, sees natural gas as indispensable. "You can't turn off natural gas in our society, at least in the Northeast of the United States at this time," Lamb tells me. "You just can't do it." Lamb advocates investments in expensive and unproven technology like carbon capture that could extend the life of fossil fuels. Then there are the eternal battles over nuclear power as a source of clean energy, which Lamb also supports. Others, like UC Berkeley energy professor Daniel Kammen, remain skeptical: "If low-cost, reliable, entirely safe nuclear can prove itself out, this is wonderful. . . . But there's a lot of big ifs."
More important, the fight for a stable climate is increasingly inseparable from a fight for justice and equity. Catherine Coleman Flowers, who was on a task force that helped shape Biden's climate policy during his campaign, grew up and works in Lowndes County, Alabama. "I see a lot of poverty here," Flowers says. "And I see a lot of people who suffer from the impacts of climate change — whether it is heat, or disease, or poor sanitation and polluted drinking water. You can't separate one from the other. They put sewage lagoons next to the houses of poor people, not rich people. They put oil pipelines through poor neighborhoods, not rich ones."
Internationally, rich nations of the world pledged to "mobilize" $100 billion by 2020 through the U.N.'s Green Climate Fund to help developing nations adapt to climate change. But only about $10 billion materialized. The U.S. was among the worst actors: Of the $3 billion President Obama promised, he funded only $1 billion before Trump canceled further payments (Biden has promised to make good on the commitment, and then some).
Whatever happens with Biden's climate and energy initiatives, we're living in a new world now. The faster we cut carbon, the more manageable the changes will be. But change is coming. The biggest fights of the future are less likely to be about natural gas and nuclear power than about sea walls and migration policies. "Adaptation is not sexy," says Alice Hill, who was an adviser to the Obama administration. "But it is inevitable." As climate impacts escalate, dangerous techno-fixes, such as solar geoengineering, which involves spraying particles into the stratosphere to reflect away sunlight and cool the planet, will likely become more tempting and more divisive, perhaps further diluting the will to quickly cut carbon pollution.
For more than 30 years now, scientists and politicians have been aware that our hellbent consumption of fossil fuels could push us out of the Goldilocks zone and force humans to live in a world we have never inhabited before. As Biden's push for climate action gets real, we will learn a lot about how serious human beings are about living on this planet, and how far the powerful and privileged are willing to go to reduce the suffering of the poor and vulnerable. If political leaders don't take the climate crisis seriously now, with all they know, with all they have been through already, will they ever? "Climate advocates keep saying, 'This is it, this is it, this is it,'" warns Podesta. "But this really is it. If we don't amp up and accelerate the energy transformation in this decade, we're goners — really goners."
This story originally appeared in Rolling Stone and is republished here as part of Covering Climate Now, a global journalism collaboration strengthening coverage of the climate story.