This website uses cookies to ensure you get the best experience while browsing it. By clicking 'Got It' you're accepting these terms.


The best of EcoWatch, right in your inbox. Sign up for our email newsletter!
BLM Alaska Fire Service
By Carly Phillips
With little fanfare and scant news coverage, fire season 2019 has arrived. Firefighters are already containing blazes in several states, including Colorado, Florida and Oklahoma, and seasonal outlooks suggest that significant wildfires are likely in parts of Alaska, Hawaii and the West Coast.
ArborGen pine tree field test site in South Carolina. BJ McManama
By BJ McManama
ArborGen Corporation, a multinational conglomerate and leading supplier of seedlings for commercial forestry applications, has submitted an approval request to the U.S. Department of Agriculture, Animal and Plant Health Inspection Service to deregulate and widely distribute a eucalyptus tree genetically engineered (GE) to be freeze tolerant. This modification will allow this GE variety to be grown in the U.S. Southeast. The reason this non-native and highly invasive tree has been artificially created to grow outside of its tropical environment is to greatly expand production capacity for the highly controversial woody biomass industry.
EcoWatch Daily Newsletter
Norwegian businessman Kjell Inge Røkke is not someone usually admired for environmental stewardship. Described by Forbes as a "ruthless corporate raider," Røkke made his billions as the majority stakeholder in shipping and offshore drilling conglomerate, Aker.
By Dan Nosowitz
Across the country, at key times in the agricultural year, teams of people—usually young—alight on farms at which they do not work. They are crop mobs and they seem fun.
Here's the basics: A crop mob is an organized group of volunteers that descends on a farm to perform agriculture work, typically without pay. There's also usually an educational or outreach element in attempt to get more people involved and invested in agricultural work. The farms chosen are small, sustainable and non-commodity (meaning you're not likely to see a crop mob working a 5,000-acre soy field). The farmers will provide a meal.
Screenshot of a thorough but not necessarily comprehensive list of crop mobs.
Back in 2008, the phrase and concept of a crop mob was started as a monthly newsletter run by North Carolinian Rob Jones. But today, crop mobs aren't centralized; disparate, unconnected groups typically form in specific areas, covering specific farms. Facebook turns out to be ideal for organizing crop mob events and so many mobs find their home there. Individual organizations take on the task of organizing for their area, so you'll see groups with names like Green Mountain Crop Mob (Vermont), High Desert Crop Mob (Oregon), Keys Crop Mob (Florida Keys) and many more. The original group maintains a Google Maps map listing dozens of mobs all around the country.

The jobs performed vary, ranging from harvesting to packing to moving to construction. For the farms, the benefits are obvious; it can be very difficult for a small farm to make ends meet and volunteers lighten that load. For the volunteers, it's a chance to head out to the country, get their hands dirty and make a difference for sustainable food production.
Raleigh City Farm
What's so enticing about the concept is how it hearkens back to an earlier structure, before mega-farms and agribusiness. In recent history, and still taking place in many other countries, big jobs like harvesting and construction were too much for the operators of a small farm to manage. So communities would (or do) work cooperatively, joining to help each other with the knowledge that when your own farm needs a hand, it'll be there.

Without those community structures, the basic work of farming can seem impossible—but crop mobs are doing their best to make it possible again.
Reposted with permission from our media associate Modern Farmer.
By Katherine Paul
It's been about a week since Monsanto and Bayer confirmed their intention to say "I do"—ample time for media, lawmakers, consumer and farmer advocacy groups, and of course the happy couple themselves, to weigh in on the pros and cons.
Reactions poured in from all the usual suspects.
Groups like the Farmers Union, Food & Water Watch, Friends of the Earth and others didn't mince words when it came to condemning the deal. (Organic Consumers Association tagged it a "Marriage Made in Hell" back in May, pre-announcement, when the two mega-corporations were still doing their mating dance.)

Predictably, the corporate heads of state last week promoted the proposed $66 billion deal as an altruistic plan to improve "the lives of growers and people around the world." Last week, they told Senate Judiciary Committee members that the merger "is needed to meet a rising food demand."
Is anyone out there still buying the line that Monsanto and Bayer are in the business of feeding the world? When the evidence says otherwise?
Even if that claim weren't ludicrous, who thinks it's a good idea to entrust the job of "feeding the world" to the likes of Bayer, a company that—as part of the I.G. Farben cartel in the 1940s—produced the poison gas for the Nazi concentration camps, and more recently sold HIV-infected drugs to parents of haemophiliacs in foreign countries, causing thousands of children to die of AIDS?
The sordid, unethical, greedy, monopolizing and downright criminal histories of both Monsanto and Bayer have been well documented. Does allowing them to merge into the world's largest seed and pesticide company pose what two former Justice Department officials call "a five-alarm threat to our food supply and to farmers around the world?"

In a press release, Pesticide Action Network senior scientist Marcia Ishii-Eiteman said:
Just six corporations already dominate worldwide seed and pesticide markets. Additional consolidation will increase prices and further limit choices for farmers, while allowing Monsanto and friends to continue pushing a model of agriculture that has given us superweeds, superbugs and health-harming pesticides. Instead, we need to invest in agroecological, resilient and productive farming.
Without question, this deal, which strengthens the ties between Big Pharma, Big Food and Big Biotech, will hurt farmers and consumers—not to mention an ecosystem already on the brink.
But for those of us committed to ridding the world of toxic pesticides and hideous factory farms, to restoring biodiversity, to cleaning up our waterways, to revitalizing local economies, to helping small farmers thrive, to reclaiming and regenerating the world's soils so they can do their job—produce nutrient-dense food while drawing down and sequestering carbon—the marriage of Bayer and Monsanto doesn't change much.
As we wrote when the deal was announced, Monsanto will probably pack up its headquarters and head overseas. The much-maligned Monsanto name will be retired.
But a corporate criminal by any other name—or size—is still a corporate criminal.
Merger or no merger, our job remains the same: to expose the crimes and end the toxic tyranny of a failed agricultural experiment. #MillionsAgainstMonsanto will simply morph into #BillionsAgainstBayer.
a katz / Shutterstock.com
Feed the world? Or feed the lobbyists?

Bayer and Monsanto had plenty of time to perfect their spin on the merger before the big announcement. Yet even some of the most conservative media outlets saw through it.
A Bloomberg headline read: "Heroin, Nazis, and Agent Orange: Inside the $66 Billion Merger of the Year."
From the article:
Two friends making dyes from coal-tar started Bayer in 1863, and it developed into a chemical and drug company famous for introducing heroin as a cough remedy in 1896, then aspirin in 1899. The company was a Nazi contractor during World War II and used forced labor. Today, the firm based in Leverkusen, Germany, makes drugs and has a crop science unit, which makes weed and bug killers. Its goal is to dominate the chemical and drug markets for people, plants and animals.
Monsanto, founded in 1901, originally made food additives like saccharin before expanding into industrial chemicals, pharmaceuticals and agriculture products. It's famous for making some controversial and highly toxic chemicals like polychlorinated biphenyls, now banned and commonly known as PCBs, and the herbicide Agent Orange, which was used by the U.S. military in Vietnam. It commercialized Roundup herbicide in the 1970s and began developing genetically modified corn and soybean seeds in the 1980s. In 2000, a new Monsanto emerged from a series of corporate mergers.
A skeptical Wall Street Journal reporter suggested that the merger, one of three in the works in the agricultural industry, is a sign of trouble. "The dominance of genetically modified crops is under threat," wrote Jacob Bunge on Sept. 14.
Bunge interviewed Ohio farmer Joe Logan who told him, "The price we are paying for biotech seed now, we're not able to capture the returns."
This spring, Mr. Logan loaded up his planter with soybean seeds costing $85 a bag, nearly five times what he paid two decades ago. Next spring, he says, he plans to sow many of his corn and soybean fields with non-biotech seeds to save money.
Nasdaq took the merger announcement as an opportunity to highlight numbers published by OpenSecrets.org showing that Monsanto and Bayer are not only the two largest agrichemical corporations in the world, they're also two of the biggest spenders when it comes to lobbying.
Together, according to OpenSecrets, Bayer and Monsanto have spent about $120 million on lobbying in the last decade. Monsanto's spending has been largely focused on the agricultural industry, while Bayer has spent heavily in the pharmaceutical arena.
Both Monsanto and Bayer forked over millions to keep labels off of foods that contain GMOs, according to OpenSecrets.
A big issue for both companies has been labeling of genetically modified foods, which both companies oppose. That put them in support of the Safe and Accurate Food Labeling Act (H.R. 1599), which was signed into law this summer. The law permits corporations to identify products made with genetically modified organisms in ways that critics argue will be hard for consumers to interpret, while superseding state laws that are sometimes tougher, like the one in Vermont.
To be clear, the Safe and Accurate Food Labeling Act was just an intentionally misleading description of a bill intended to protect corporations from having to reveal the GMO ingredients in their products.
A criminal by any other name
Last week, the International Criminal Court (ICC) in The Hague made a big announcement of its own. For the first time in history, the ICC will "prioritize crimes that result in the 'destruction of the environment,' 'exploitation of natural resources' and the 'illegal dispossession' of land," according to a report in The Guardian.
The announcement came within the same two-week period as three new reports on the sad state of our ecosystem, all of which implicate industrial agriculture:
Researchers at the University of Virginia University of Virginia reported that widespread adoption of GMO crops has decreased the use of insecticides, but increased the use of weed-killing herbicides as weeds become more resistant, leading to "serious environmental damage."
Mother Jones magazine reported that "A Massive Sinkhole Just Dumped Radioactive Waste Into Florida Water. The cause? A fertilizer company deep in the heart of phosphate country."

NASA and the National Oceanic and Atmospheric Administration (NOAA) said that when it comes to global warming, "even the records themselves are breaking records now" after reporting that Earth just experienced its hottest August on record. What's that got to do with Bayer and Monsanto? Industrial, chemical, degenerative agriculture is the largest contributor to greenhouse gas emissions. Organic regenerative agriculture, by contrast, holds the greatest promise for drawing down and sequestering excess carbon from the atmosphere.
Whether or not regulators approve the Bayer-Monsanto merger, these companies will continue their rampage against nature. Governments and courts have a lousy track record when it comes to holding these, and other, corporations accountable for the damage they've inflicted, over decades, on human health and the environment.

The ICC has signaled that this may change. In the meantime, frustrated with the lack of action and fed up with paying the price for making corporations like Bayer and Monsanto filthy rich, the grassroots are fighting back.
On Oct. 15-16, a panel of distinguished international judges will hear testimony from 30 witnesses and scientific and legal experts from five continents who have been injured by Monsanto's products. This grassroots-led international citizens' tribunal and People's Assembly (Oct. 14-16) will culminate in November with the release of advisory opinions prepared by the judges. The tribunal's work, which includes making the case for corporations to be prosecuted for ecocide, is made all the more relevant by the ICC's announcement.
The International Monsanto Tribunal is named for Monsanto, the perfect poster child. But the advisory opinions, which will form the basis for future legal action, will be applicable to all agrichemical companies—including Bayer.
In the meantime, we encourage citizens around the world who cannot participate in the official tribunal and People's Assembly, to show solidarity by organizing their own World Food Day "March Against Monsanto."
Monsanto. Bayer. The name doesn't matter, and though size does matter when it comes to throwing weight around, the crimes perpetrated by the companies remain the same. It's time to stop them.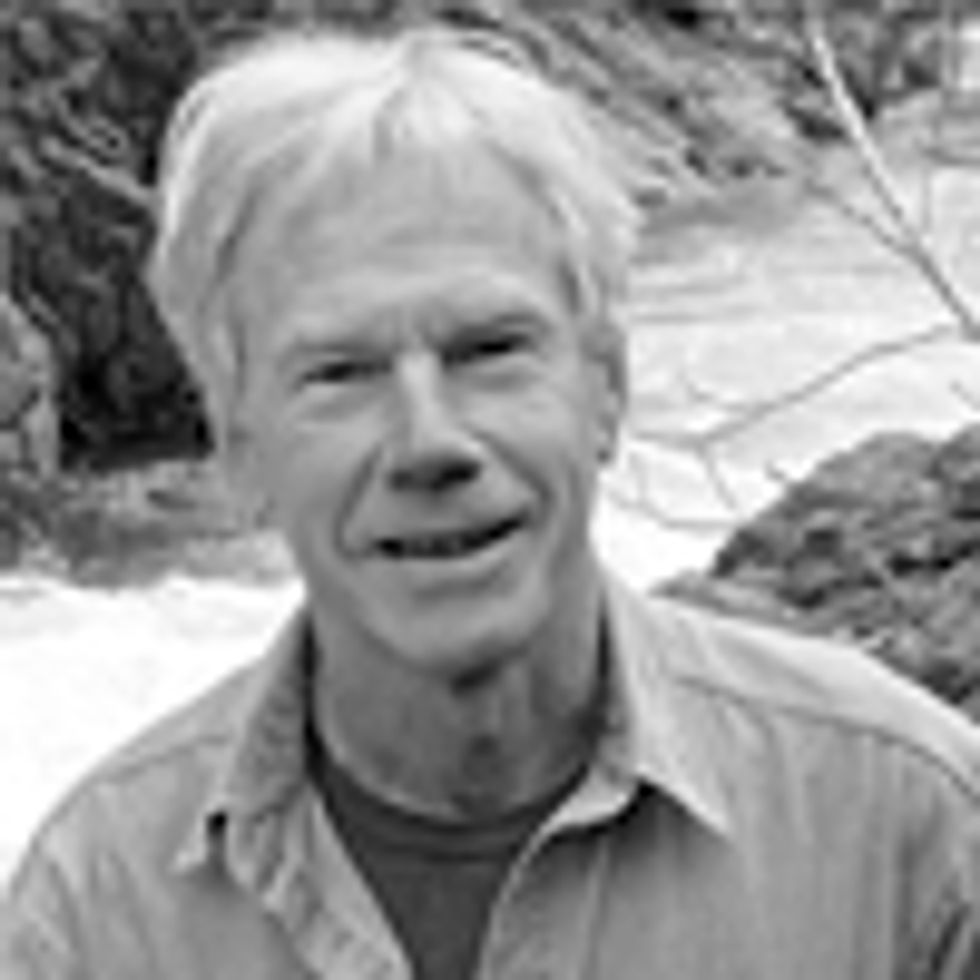 In 1877 Chief Joseph and his Nez Perce Tribe of women, children and warriors were pursued for 1,500 miles across the Northern Rockies as they struggled to reach refuge in Canada. These Native Americans posed no real threat to white settlers, but the pursuit of them was regarded as a path to "progress"—twisted as the concept might have been at the time. After evading, outrunning and outfighting the heavily fortified U. S Army, the Indians were halted just 40 miles short of their safety. The Nez Perce's resistance caught the attention of the public, with many people rooting for the underdogs. Among all the conflicts with Indians, the drama of the Nez Perce has captured the sympathy of Americans perhaps more than any other event.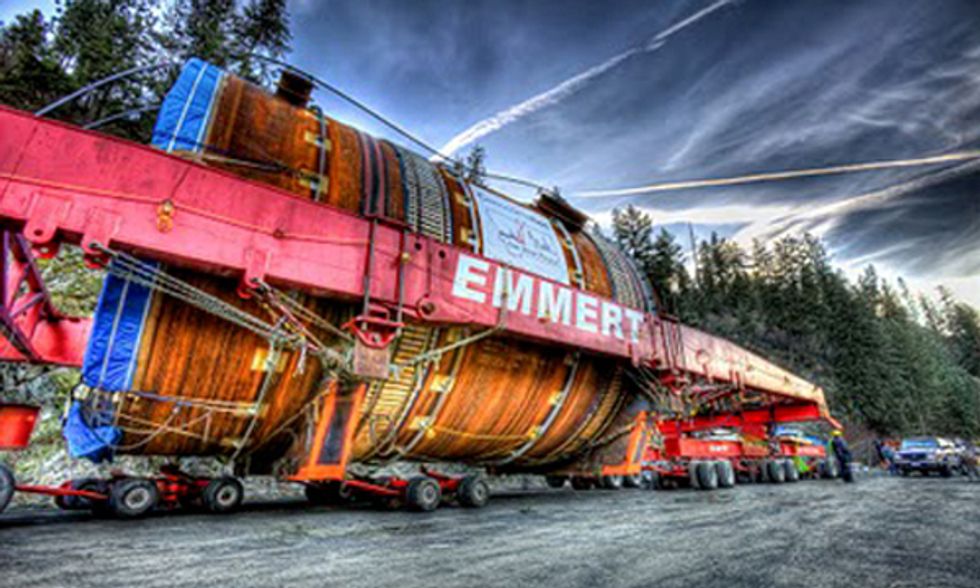 Now the Nez Perce have again risen to fight along the Idaho-to-Canada route, this time allied with a feisty band of river conservationists bearing the name of Idaho Rivers United.
In order to extract and export oil from the seeping black tar sands of Alberta, energy corporations insisted on shipping "mega-loads" of equipment, some measuring 30 feet wide, three stories high and a football-field in length, consuming two full lanes of highway from Lewiston, Idaho to Canada. Hundreds of loads were expected. The scenic route includes passage along the exquisitely transparent, fish-filled Lochsa River. Idaho's Department of Transportation granted permission to commandeer the highway, but overlooked two significant details: the Indians' treaty rights, along with a Congressional mandate that the U.S Forest Service protect one of America's premier National Wild and Scenic Rivers. The Lochsa ranks among the prestigious twelve streams that were initially designated in this National-Park-like system, which has grown to include our most iconic rivers—the Salmon, Rogue and Allagash among others.
The largest available semi-trucks simultaneously pull and push the rolling industrial behemoths like over-stressed railroad trains and block all traffic in their path. The Indians and river aficionados maintain that the loads infringe on the dedicated values of the Wild and Scenic River and also those of the Reservation. The groups cite public nuisance and safety hazards.
In February 2013, a federal judge ruled that the Forest Service—resisting involvement in the issue—had authority to regulate the mega-loads. After road-blocking protests and the arrest of 28 Indians, further shipments were halted by a court order in autumn 2013, effective until the Forest Service fully considers the problem and its consequences to the scenic corridor that the agency is obligated to protect. For now the loads have stopped rolling, but the long-term outlook for this premier Northwestern river corridor will remain uncertain until further protective measures are taken.
While final evidence will be clear only after Forest Service study is completed, Idaho Rivers United maintains that the Wild and Scenic legislative mandate to "preserve" the river and its "immediate environments ... for the benefit of present and future generations" is incompatible with mega-load intrusions. Nor is this industrialization what the Nez Perce had in mind along their preciously small remnant of original homeland that the Government finally agreed was theirs. Broadening this perspective, American Rivers in April announced that the Lochsa ranked among the top ten "most endangered" rivers in the nation.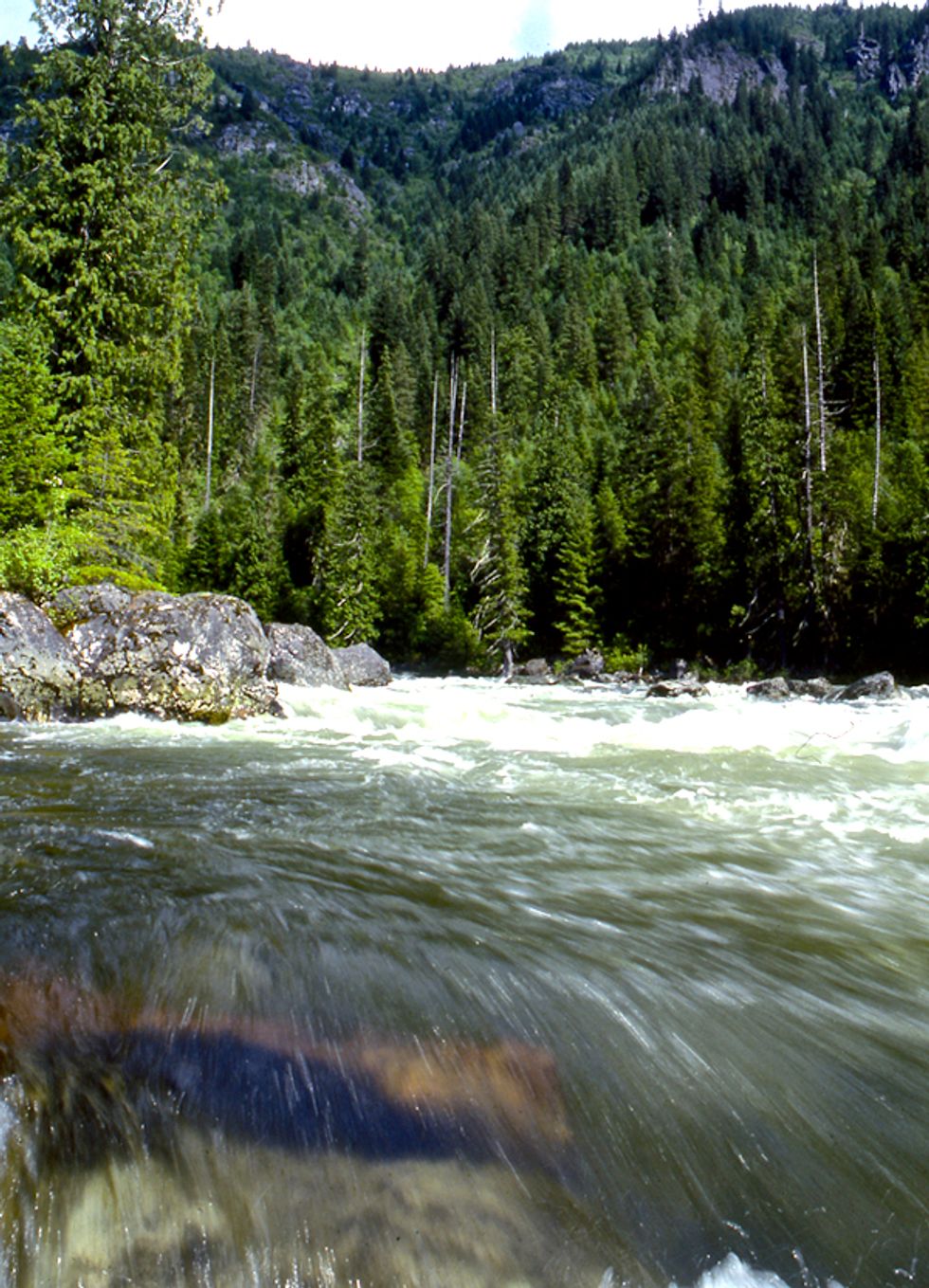 The Indians and river guardians have a case. The judge agreed. And even more poignant, their modern story of defense in this sublimely beautiful corridor of conifers and cascading whitewater speaks to a larger crisis we all face in America. Hundreds of miles from the oilfields and the hotly contested pipelines, the march of energy development plods forward. The oil will be burned thousands of miles away to advance consumers' convenience, corporate profits, and the climate crisis that the world's scientists—along with everybody bearing a conscience for the fate of future generations—say we deny at our peril. Here along a brilliant river, in the heart of a cherished homeland, the march of the mega-loads will tell us who, in fact, is dictating the fate of America.
The Nez Perce were confronted by artillery 137 years ago when they simply sought refuge across the border. But now it is they and their river-loving allies who have road-blocked this route to Canada. The tables, for awhile, seem to have turned, giving all of us the opportunity to question what "progress" means in our own day, and to consider where we are bound, the paths we're taking to get there, and the prices we're willing to pay to burn more oil.
Tim Palmer is the author of The Wild and Scenic Rivers of America, and also The Snake River: Window to the West, Rivers of America, and 20 other books. His work can be seen at www.timpalmer.org. For more on the mega-load issue, see www.idahorivers.org. 
YOU ALSO MIGHT LIKE
'Most Endangered' River in the Nation
California Drought Proves Laws of Nature Are Absolute
"I get so confused choosing the right oils and differentiating between different kinds of fats," writes this week's house call. "I watched a 60 Minutes episode that showed olive oil imported from Italy wasn't really olive oil. And the other day, I went to the supermarket to pick up coconut oil and it said palm oil on the back. How can I make sense about these healthy fats amidst the confusion and deception?"
Honestly, even among people "in the know," it can be a real challenge choosing the right kinds of fats and oils. Quality ultimately becomes key here. Fortunately, you can find a ton of helpful resources to navigate through the confusion in my new book, Eat Fat, Get Thin.
Here, let's focus on oils. Today we will discuss olive oil, coconut oil and palm oil—to help you make the best choices.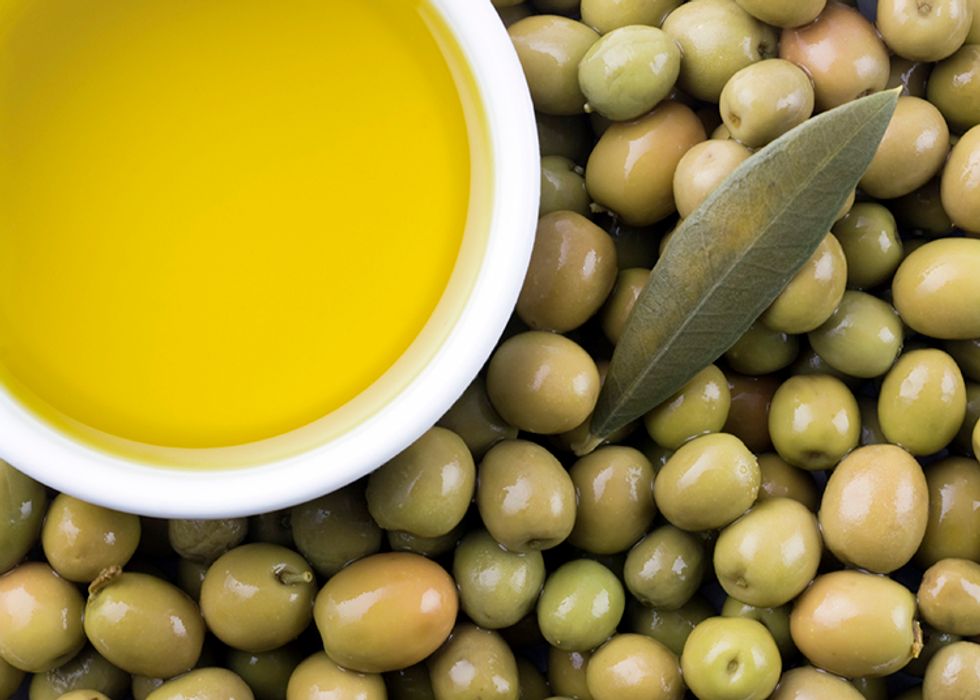 Olive Oil
In his book Extra Virginity, Tom Mueller takes us through the sublime, scandalous world of olive oil. He discusses how resellers add lower-priced, low-grade oils filled with artificial coloring to extra-virgin olive oil.
In fact, one study demonstrated about 69 percent of olive oil imported and labeled "extra-virgin" failed to meet standards in an expert smell and taste test (standard testing for this type of labeling). That's outrageous! When it comes to olive oil (or really, any oil), you have to do your research and pick the right ones.
While most oils are refined, olive oil is one of the few oils we still consume mostly unprocessed.
Here is what I look for when choosing olive oil:
Always choose extra-virgin, which is the oil that is derived from the first pressing of the olives. This version of the oil contains many nutrients (such as polyphenos) that protect it from heat damage. One study compared the anti-inflammatory power from the oil resulting from the first pressing of olives with that of later pressings. Researchers found extra-virgin olive oil lowered inflammation, while oil from later pressings did not.
Choose unfiltered. Unfiltered olive oil will appear to be cloudy because it contains naturally occurring elements like antioxidants and buffer acids which protect against oxidative damage.
Also look for cold-pressed olive oil, which means manufacturers use very little heat when processing olives to get the oil. Cold-pressed extra-virgin olive oil provides the strongest possible nutrient value because of low-heat processing, coupled with the oil's first pressing high phytonutrient content.
Be aware of misleading claims by big food companies who throw around misleading terms like "pure olive oil." These somewhat misleading phrases, which are aimed for your wallet more than your health, often signify a mix of unrefined and refined virgin olive oils.
Also avoid extra-light olive oil. Companies love slapping this "light" term on foods because it plays into your low-fat fears. These terms subtly suggest all fats are bad and make you fat, yet if you've read my books or blogs you know fats are not bad. Low-fat or "light" foods are typically highly refined and processed. Remember, nothing in nature comes in "low-fat" form.
Other tips to get the best out of your olive oil…
Storage is important because heat and other factors can trigger oxidation and other problems. Always store olive oil in a dark, cool place. Keep it sealed tight and out of direct sunlight or away from other heat sources like near the stove.
Use olive oil within one to two months once you open it for optimal health benefits. Research shows quality and health benefits decline after two months, even among properly stored olive oils. I love to use olive oil for low-heat cooking, dressings salads or drizzled over veggies, meat and fish. Some people take two tablespoons before meals to help with digestive health.
Coconut Oil
I have discovered coconut oil and love it because of its it medium-chain triglycerides, a beneficial fat that can speed up metabolism and convert to energy quickly in your body. I discuss this in more in this recent blog.
Always choose coconut oil that is organic, virgin, cold-pressed and unrefined. And avoid products that are deodorized or bleached.
Coconut oil is one of the most versatile oils you can own. Because it's very stable, you can bake with it and use it when cooking meat, veggies and sauces over medium-high heat. You can put it into your smoothies, stir it into hot beverages like tea or coffee, mix it into soups, stir in with nut butter or just eat it right out of the jar by the spoon full.
Palm Oil
Palm oil is a vegetable oil pulled from the palm tree's fruit. About 85 percent of the world's palm oil comes from Malaysia and Indonesia.
It is important to note that most palm oil in our food supply is "conflict palm oil" that involves deforestation, disruption of ecosystems and human rights violations. These versions are by Big Food companies.
All that said, I do like unrefined red palm oil because of its nutritional value.
When choosing palm oil, the color of the oil is important. True, virgin, unrefined red palm oil is naturally reddish in color and comes loaded with vitamins and antioxidants. Refined palm oil, on the other hand, is highly processed and loses its red color, as well as its taste and health benefits. Only buy products with sustainable palm oil. Look for the Certified Sustainable Palm Oil (CSPO) label.
Avoid "palm kernel oil," refined palm oil or crude oil—all of which is extremely processed. Palm oil can be listed under many names, including palmitate, glyceryl stearate and palm kernel oil.
Six Strategies for Buying Oils
The next time you purchase olive oil, coconut oil, red palm oil or really any other type of oil, consider these six strategies.
1. Always choose organic, unrefined, cold-pressed or expeller pressed. These terms ensure you're purchasing a quality, highly nutritious and sustainable product. Organic production prohibits genetically modified ingredients (GMOs) and the use of toxic solvents (such as hexanes) for extraction in oils.
2. If possible, check out the company directly. Ensure the product is truly cold-pressed and lives up to its claims and standards and that the manufacturer does not use toxic solvents in the refining process. Check out websites and don't hesitate to email or call them with any concerns.
3. Choose oils in dark, not clear bottles. The dark color helps protect the oil from direct sunlight exposure, which can cause it to go rancid. Store the oil in a cool, dark place away from heat and light exposure such as cabinets or the fridge in airtight containers. Never store oils on kitchen counters or next to the stove.
4. Always tightly close the lid after using. Oxygen can make oil go rancid quickly.
5. Purchase the correct size and consume in the time recommended. Remember oils tend to go bad after a span of a few months or years depending on the type of oil. Those mega-store gargantuan containers, aren't such a great buy if you don't use the oil that often.
6. Choose the right oil for the job. Because different oils have different smoke points, it's important to choose the right oil for the task at hand. Here are the temperatures at which some of the more popular oils reach their smoke points (lowest to highest):
Sunflower oil, unrefined: 225 F
Walnut oil, Unrefined: 320 F
Coconut oil unrefined: 350 F
Extra-virgin olive oil: 375 F
My Top Picks
Readers and patients often ask for my favorite oil brands, so here are my top picks for my favorite go to's.
For coconut oil I like Nutiva (available from Thrive Market) because it's cold-pressed, virgin, organic, never refined and ethically sourced. Nutiva also carries a red palm oil.
I've included a link to olive oil expert Tom Mueller's picks for the best quality and best-priced brands here.
Armed with these strategies, you can feel confident you're buying not only quality oils but also the right oils. To learn more about oils and other fats that keep you lean and healthy, check out for my new book Eat Fat, Get Thin.
YOU MIGHT ALSO LIKE
25 Easy Ways to Get More Fermented Foods in Your Diet
9 Steps to Detox Your Body and How it Can Help You Lose Weight
Decades-old notions of mythical plastic islands and garbage patches invoked hundreds of cleanup schemes, like the Dutch organization "Ocean Cleanup Project's" (OCP) 60km-wide Net Array. While the media sensationalism in the early 2000's created plenty of public outcry, we still today battle misconceptions about the efficacy of ocean cleanup. The latest effort of OCP in the North Pacific and the subsequent public messaging warrant a reminder of the latest science on the issue and some constructive feedback moving forward.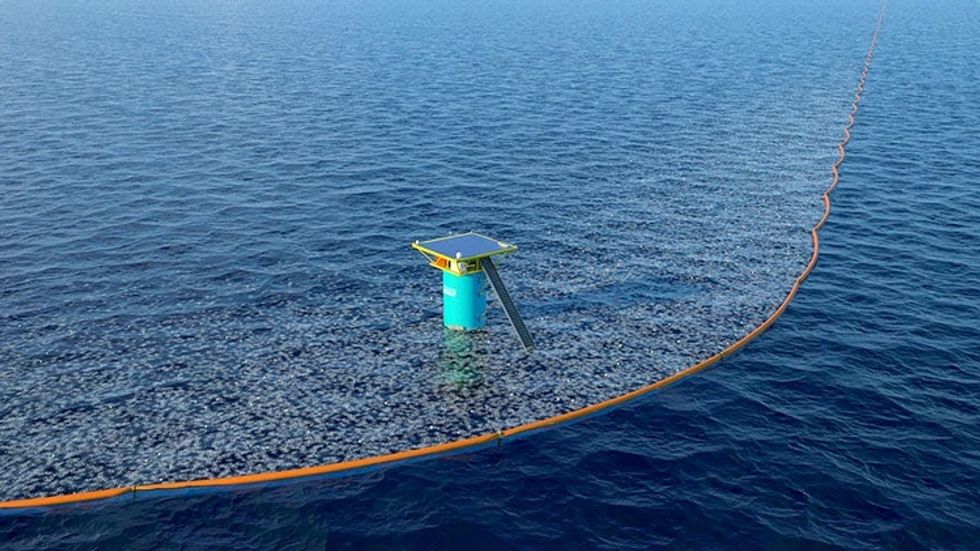 Boyan Slat's Ocean Cleanup Project's "Net Array." Photo credit: Ocean Cleanup Project
While capture and reclamation of ocean plastics are attractively simple, and can be justified for recovering navigational hazards from lost fishing nets and line, our research has ultimately led us to believe that these types of concepts are not an effective approach to deal with plastic pollution. The 5 Gyres Institute with eight other colleagues conducted 24 ocean expeditions, over 100k ocean miles over seven years, producing the first global estimate of all plastics in all oceans. As a result 5 Gyres strongly advocates upstream design and policy solutions to clean up the oceans. Our history with Dutch ingenuity goes back several years.
You've got to love the Dutch and their marvelous technical approach to managing the ocean, with dams, docks and dredges making their life below sea-level warm and cozy. We met one such engineer, Dutch astronaut Wubbo Johannes Ockels, back in 2010 aboard the Stad Amsterdam studying plastic in the middle of the Indian Ocean Gyre. We listened to him describe giant man-made plastic trash islands in the shape of pinwheels that would spin with the aid of large wind-driven parachutes, catching more plastic and creating more real estate for people to live on.
Boyan Slat, founder of OCP, explained his alternate idea to us over dinner in Amsterdam two years later, as a 60 kilometer-wide net and boom system that passively captures drifting plastic. With wide public support he remains undeterred, despite wide criticism from the scientific community on mechanical design and ecological impacts. OCP has now completed a journey across the North Pacific with 30 vessels, called the Mega Expedition. We respect and admire innovation, but feel the need to offer some important suggestions.
Ecological Impacts Must Be Thoroughly Evaluated
After our meeting in Amsterdam with OCP, then again in Long Beach, we both participated in an online webinar to discuss the efficacy of the Net Array, with its 60km sweeping arms.
OCP's feasibility study acknowledges that neutrally buoyant marine life will sink and go under the net. When asked during the webinar about the passive floating organisms that do not swim, Slat was not aware of them. The potential for "bycatch" is too great to be ignored. Organisms like the beautiful purple janthina snail, rafting barnacles and numerous jellies, like the wind-driven velella velella, could amount to tens of millions of organisms captured over a short time.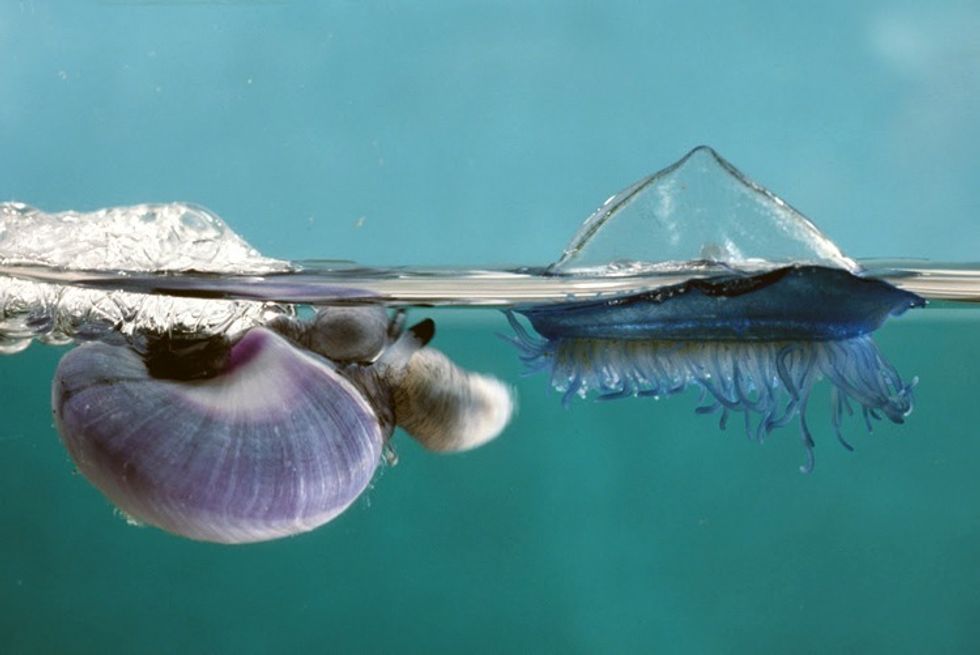 Janthina snail with a common jellyfish called "By the Wind Sailor. Photo credit: Peter Parks / Norbert Wu Productions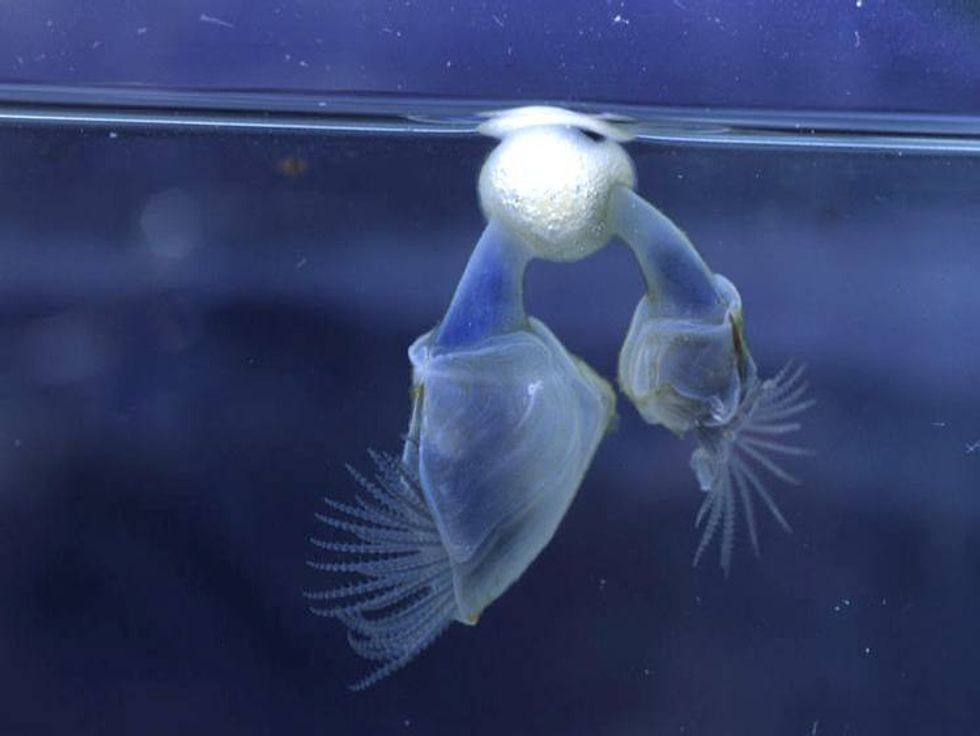 Gooseneck barnacle on it's own raft.
The solution here is to produce a proper Environmental Impact Report (EIR) from an outside agency. Though we're thoroughly impressed with Slat's "big picture" thinking, he must conform to the ethical standards of any structural development of this magnitude. Knowing the full environmental impact of his project is currently missing from the OCP plan.
New Science Calls for New Directions
There are no islands of plastic, rather a smog of plastic that pervades the oceans. The last four years have produced more research publications on plastic marine pollution than the previous four decades. We understand the problem differently. Our study estimates 269K tons from 5.25 trillion particles globally, of which an astounding 92 percent were particles smaller than a grain of rice, or microplastic.
While an earlier global study of microplastics showed a 100x less on the sea surface than expected, supporting our understanding that the sea surface is not the final resting place. Researchers have now found microplastic and synthetic fibers frozen into ice cores, abundant on the sea floor and on every beach worldwide. Along the way it passes through the bodies of billions of organisms. We now understand that the ocean is moving our trash toward the subtropical gyres, shredding it into microplastic and then distributing it worldwide above and below the waves.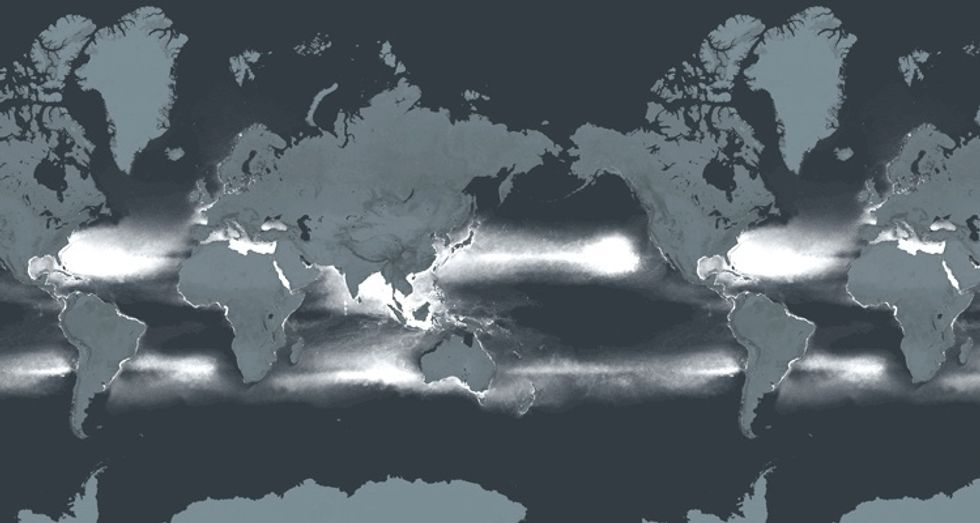 Ocean Recovery Efforts are "Too Late" in the Game to Capture Most of the Trash
The OCP's Net Array is "too late" in the pathway of trash. The science of plastic in the ocean shows us that the plastic entering the ocean is shredding rapidly into microplastic. It's mostly small stuff out in the gyres, except for large persistent fishing gear. OCP will mostly capture fishing gear, which is designed to persist at sea (the Mega Expedition has demonstrated this).
Nations are clamoring to stop the flow of trash in their rivers, based on a recent study by Jenna Jambeck identifying the individual contributions of plastic pollution from 192 countries. Jambeck estimates 4-12 million tons of plastic washing down the world's rivers. OCP's recovery innovations, if brought upstream, will capture more plastic before it degrades and impacts marine life, and more than likely at less cost than the Net Array.
What's out there now is leaving the gyres faster than we think. Drifting balls of tar give us some precedent to understand this. Tarballs were polluting beaches worldwide a lot more in the 1970s than today. As soon as international Maritime Law in the 1980's stopped oil tankers from washing out oil residues into the sea, we witnessed a rapid decline in tarballs on beaches. The plastic out there now will not be on the surface forever, with the likely endgame being the seafloor.
It is Worthwhile Going After the Macroplastic That's Out There Now?
Yes, the navigational hazards created by derelict fishing gear costs the maritime industry 100's of millions of dollars annually and warrant some action. At the same time, large plastics are rapidly becoming microplastics, with horrible repercussions for marine life.
From our global estimate research we found that only 8 percent of the plastic objects in the ocean are macroplastics larger than a grain of rice. Although that 8 percent represents most of the weight of trash in the ocean, more than 70 percent of it is derelict fishing gear (lost nets, line and buoys). It's useful to capture what's out there before it becomes microplastics or damages vessels.
At the 2015 G7 meeting in Germany, plastic marine pollution solutions were put on the table, including Fishing for Litter as the only viable ocean cleanup program, and described as "a useful last option in the hierarchy, but can only address certain types of marine litter."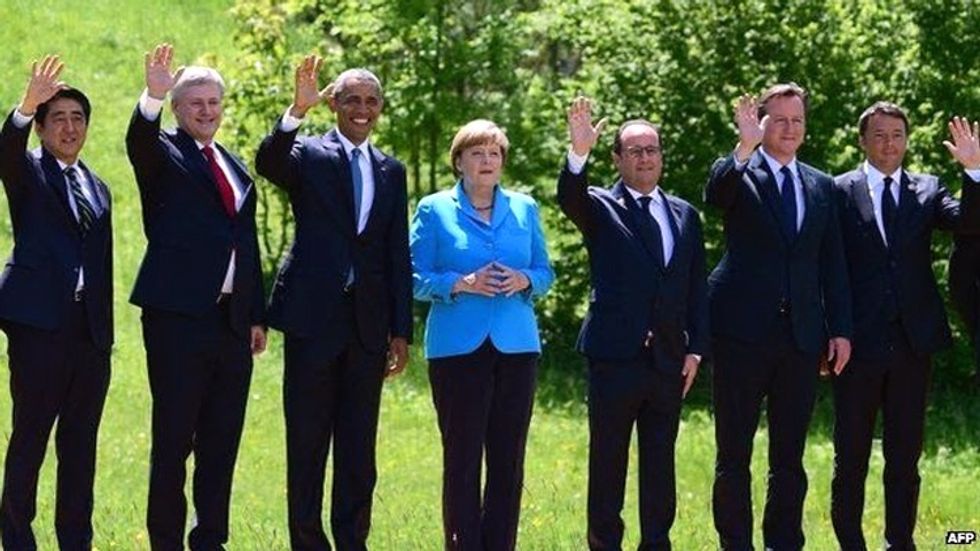 When Slat and I had our webinar last summer I asked him at the very end, "Of the $2 million you've raised so far, would you consider funding a small incentivize recovery program, like Fishing for Litter in the North Pacific to see if fishermen could collect more trash at sea, more efficiently and cheaper, than you can?"
What we know is that similar incentivized recovery programs are proving to be successful in the North Sea and around Scotland. In Korea a $10 incentive per 100 liter bag of trash picked up by fishermen is working. But again, this is only a temporary solution.
We advocate solutions to derelict fishing gear that create Extended Producer Responsibility—EPR, like net tagging or lease programs for fishing fleets, where nets, buoys and lines are borrowed and returned, and heavy fines if lost. Slat followed the webinar with "No."
The Mega Expedition's Claims Need to Be Revisited
All data is useful data. Based on an idea suggested by Charles Moore last year when we all sat down in Long Beach, California, Slat arranged for 30 boats to sail from Hawaii back to the west coast of North America. OCP claims it has collected more data than all previous science work in the last 40 years and will provide the most updated analysis of plastic in the world's oceans. Both of these statements need clarification.
First, the last 40 years amounts to 11,000 samples. There is simply not enough time for 30 boats in three weeks to even come close to match this. Second, this is not a global analysis. It is a snapshot of the ocean in one place for, one month, in one year, and is heavily biased by the 2011 Japanese Tsunami.
OCP is surveying the one place in the ocean where oceanographer Nikolai Maximenko has predicted the debris field from the 2011 Japanese Tsunami now resides. OCP is measuring the effects of a catastrophic event—a plastic pollution anomaly.
When 5 Gyres and Algalita teamed up to sail from Tokyo to Hawaii in 2012, we studied the sub-surface debris field of tsunami debris, and found plenty of it. Thanks to modeling work done by the IPRC, we knew very well that by 2015-2016 all of what we saw would be in the accumulation zone between Hawaii and California, where the Mega Expedition recently surveyed.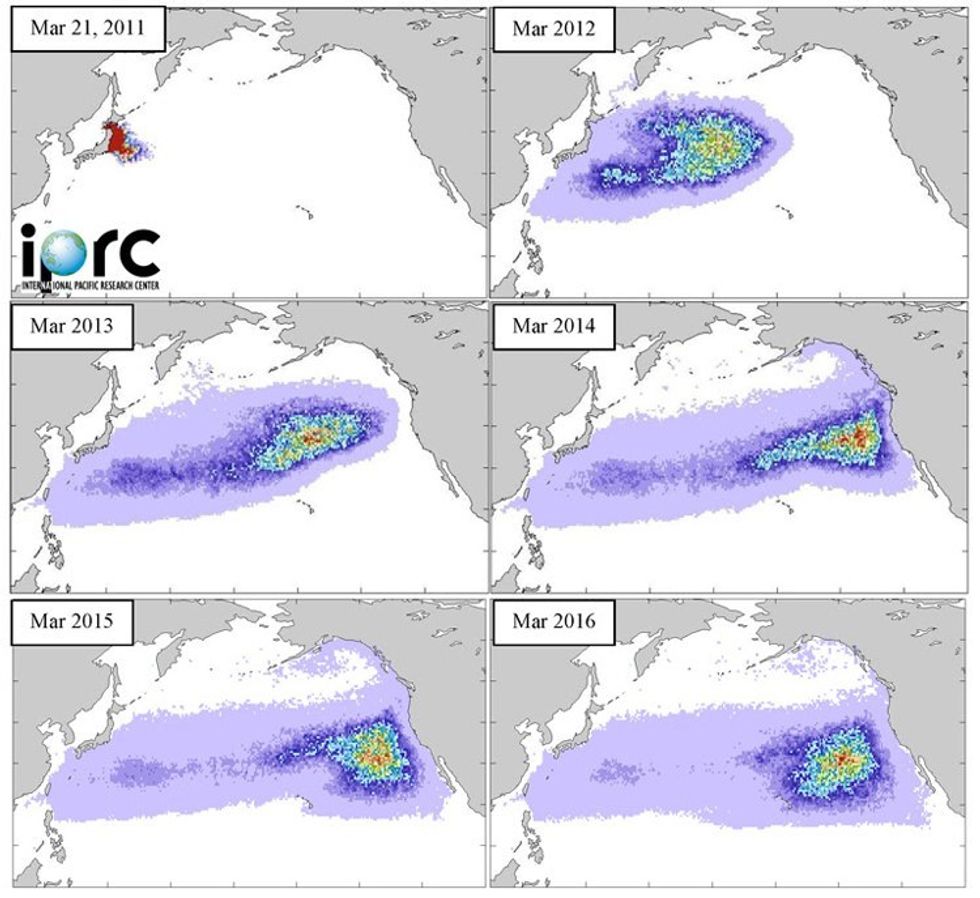 The one significant scientific contribution that OCP can make is to compare the 2015 Mega Expedition snapshot data to all previous data in the same region to see how early levels of plastic marine pollution compare to the catastrophic event that was just recently sampled.
Constructive Suggestions for Ocean Cleanup Project:
1. Consider moving the Net Array upstream to capture trash before it fragments. Many countries around the world are deploying structures of all kinds to catch trash downstream, from nets to waterwheels, with the last stop at river mouths. OCP could contribute their engineering expertise to the growing industry designing systems to tackle waste upstream.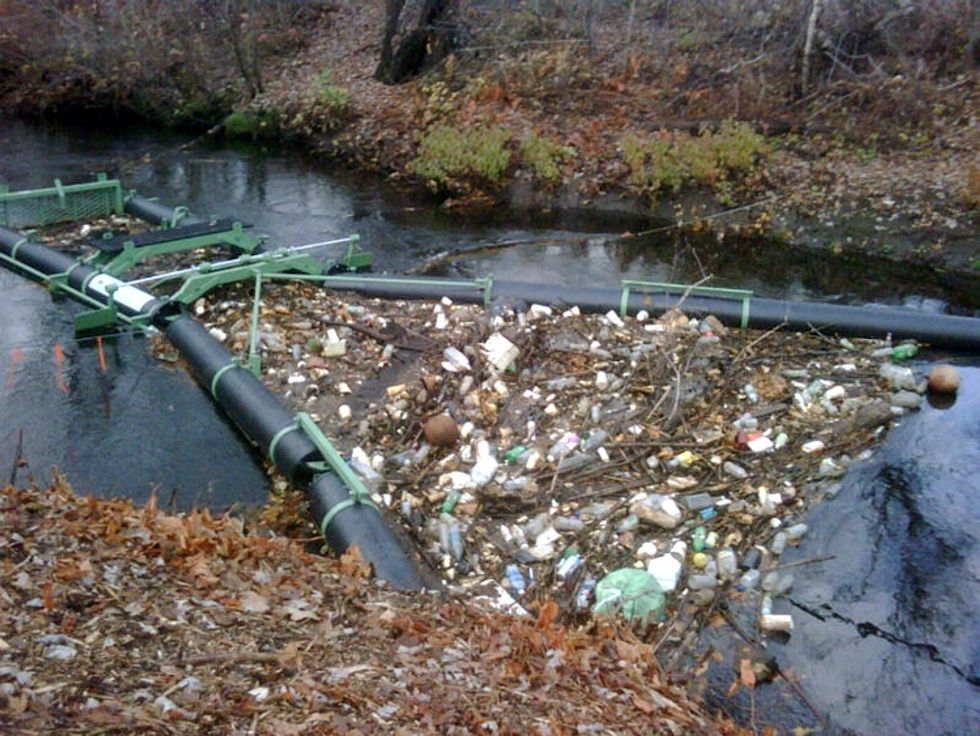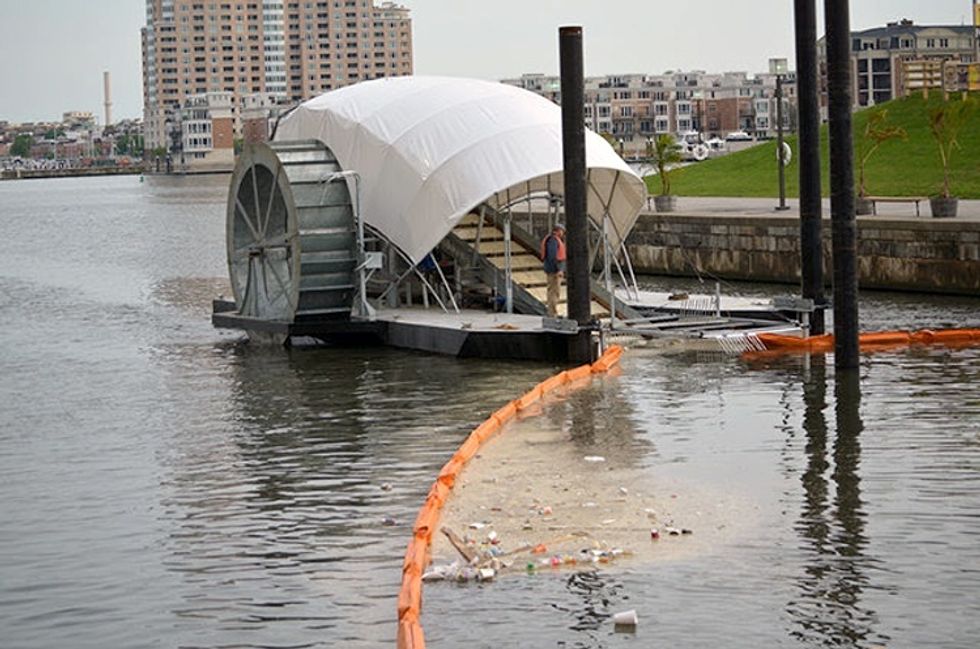 2. OCP must produce a thorough environmental impact statement. There is the potential for the Net Array to capture significant bycatch, therefore a thorough environmental impact statement from an outside agency is necessary.
3. Examine alternatives. It would be a cost effective exercise to support an incentivized program for fisherman to recover plastic pollution in the region where OCP plans to deploy the Net Array. It may prove to do a better job. It is likely that Hawaiian fisherman would gladly collect derelict fishing gear if given $1 euro/kilo, which is a fraction of OCP's $4.5 euro/kilo anticipated cost/benefit of the net. It's worth a try. Also, consider supporting a net lease program with a commercial fishing fleet. Because derelict fishing gear is the most abundant and most damaging to marine life and ocean navigation, this upstream solution is long-term and only beginning to be implemented.
4. Support design change and EPR. Consider supporting other upstream solutions, like EPR and product design, in order to reduce the trash load heading downriver. One of our Dutch heroes are the Plastic Soup Foundation, which were the first to campaign for the removal of plastic microbeads from consumer products.
We want to encourage innovation from people like Boyan Slat, but with the guidance of good, open-minded, pragmatic science. What we know about the problem has changed drastically since OCP first proposed the Net Array. We believe that the public will support a shift in priorities if presented well and reflects wide scientific agreement and collaboration. Willingness to change course with new information is admirable, and I think OCP's funders will appreciate that.
In the meantime, we welcome a dialogue, even another public webinar like the one we had last year to address these concerns.
YOU MIGHT ALSO LIKE
After Sailing 3,000 Miles … It's Official Microplastics Are Everywhere
Plastic Smog: Microplastics Invade Our Oceans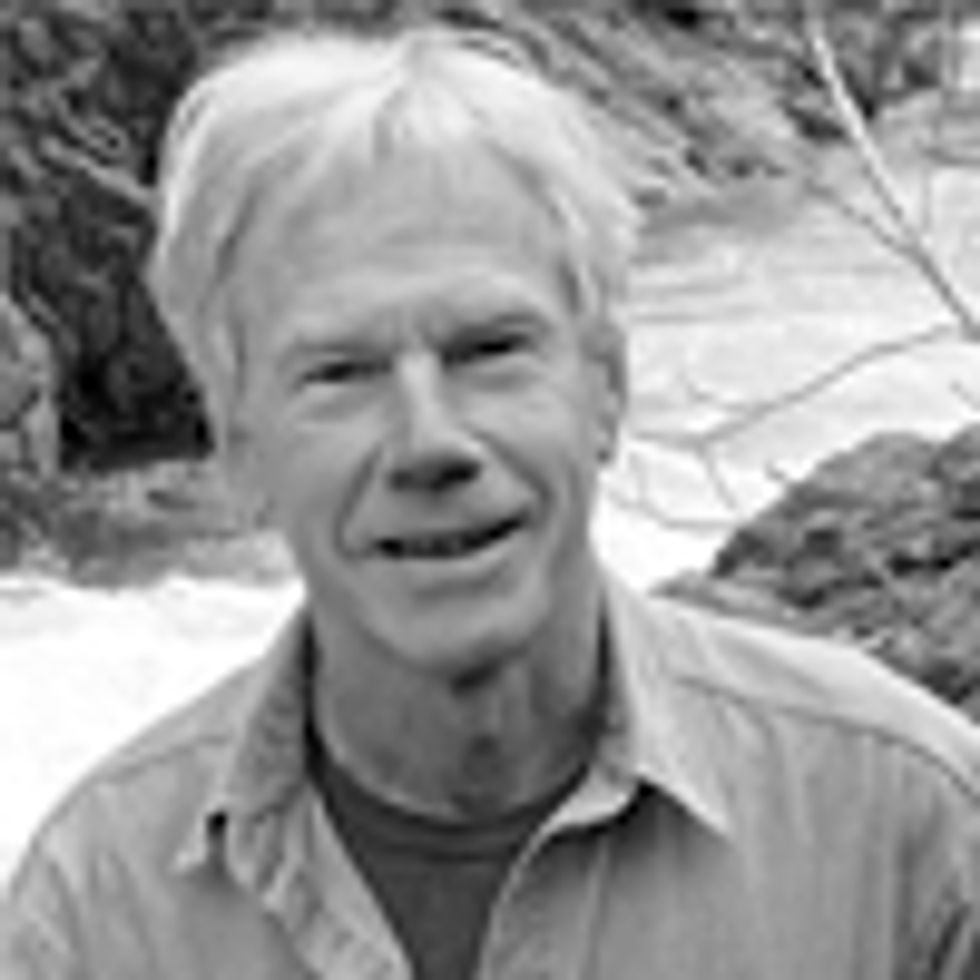 Imagine having transportation being governed by laws passed before cars were invented. Or communications dictated by edicts predating telephones. Or public lands managed by rules passed when national forests didn't even exist.
Written when sourdoughs were swinging pickaxes to chip away at their elusive fortunes, the Mining Law of 1872 remains in effect, though equipment six-stories tall can now remove entire mountaintops in a matter of days. With full protection of the law, foreign interests claim public land belonging to all Americans and preempt it for their own profits. Mining companies have bought hundreds of thousands of acres of public land for prices frozen during Ulysses S. Grant's presidency at less than $5 per acre.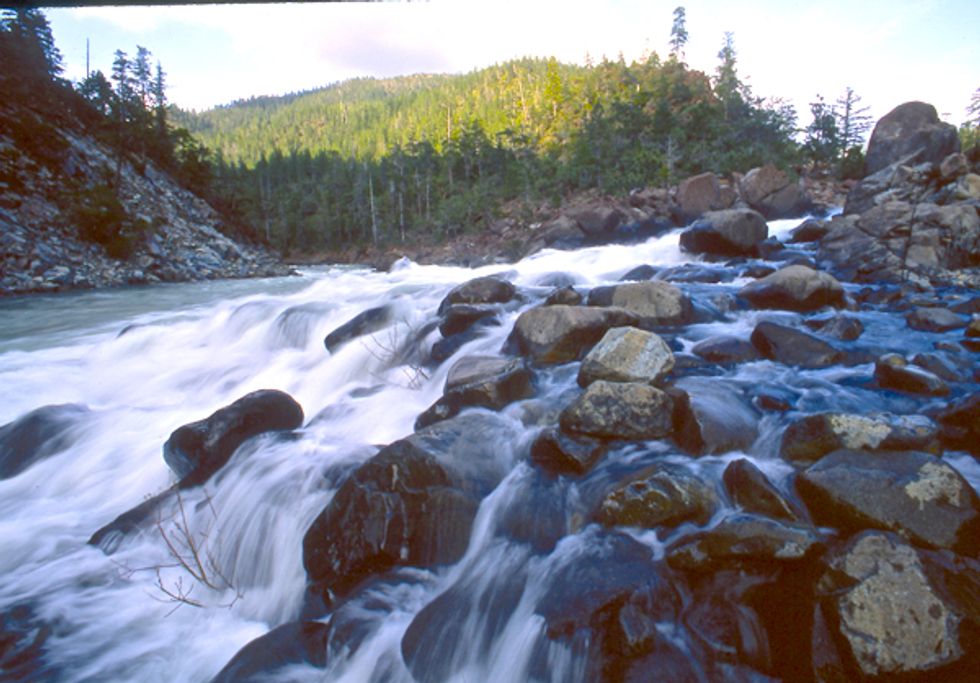 Revenues enriching the extraction companies total in the hundreds of billions, but not a dime in royalties have been paid for these minerals taken from National Forest or Bureau of Land Management property. Safeguards to protect everyone's water, air and vistas are totally absent from the Mining Law. It enables faceless corporations to deplete our land and pollute our streams and then retreat to their nether land of offshore unaccountability when the bills come due. Declaring bankruptcy is easy and common once the profitable mining is done.
Just because a law is old doesn't mean it's bad. But here we're not talking about the Constitution or the Bill of Rights. Rather, the mining directive was steeped in corruption when it passed, and it has only become more toxic with the passage of time, with the growth of technology, and with the greed of globalism.
This statute's "rationale"—to use the term loosely—was based on the "need" to open the West to settlement. Since then, the crossroads of Los Angeles, Seattle, and Portland have become the cities we know. When the law was passed, wagon travel on the Oregon Trail was the primary means of crossing the country. But the Mining Law remains, just as potent as ever in its destructive power.
According to the U.S. Environmental Protection Agency, mining under this rubric now pollutes 40 percent of the headwaters of western waterways with toxic chemicals that ruin our urban and farm water supplies, fisheries, recreation sites and backyards. To clean up the mess, taxpayers would have to shell out $50 billion.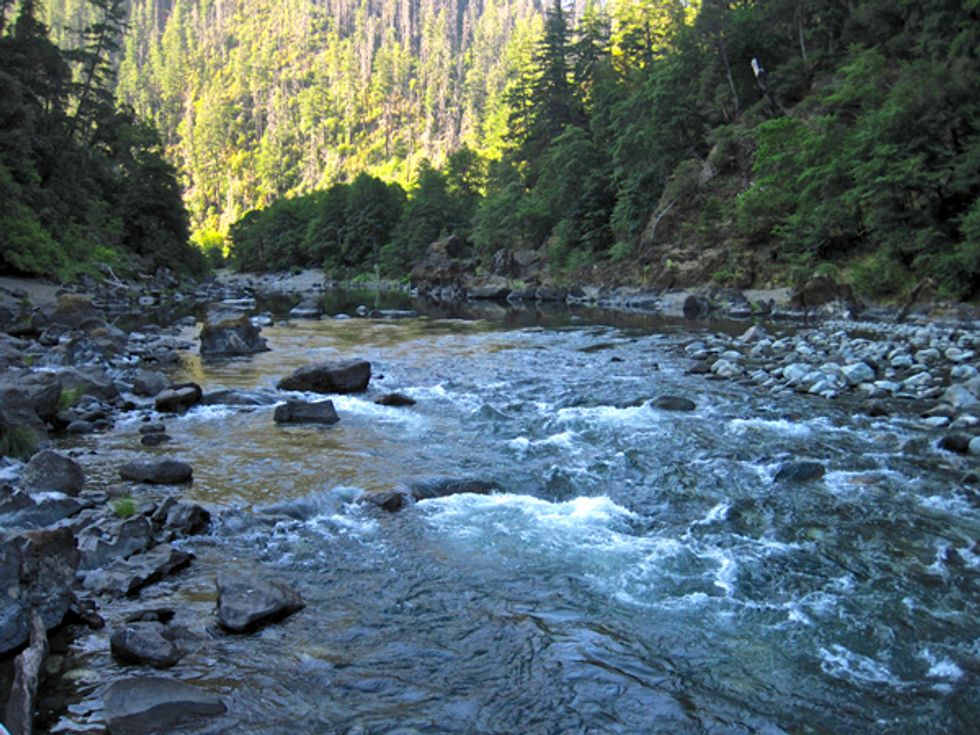 To be clear, gravel mining, coal mining and drilling for oil and gas are covered by updated laws. But those who excavate open-pits for copper or decapitate entire mountaintops for a bit of nickel or other "hard rock" minerals get a free ride on taxpayers' backs. Proposals for mines of these types now typically come from foreign corporations.
Reform of the Mining Law is urgent throughout the West. Even in Oregon—one of the less-mined states—lands and waters have endured wreckage at sites such as the Formosa Mine—easily seen on Google Earth near Riddle, south of Roseburg—with its lead, zinc, cadmium and other poisons leaking into Umpqua River tributaries. Here the public costs of cleanup are estimated at $20 million. A Canadian corporation declared bankruptcy and abandoned that mine in 1993, now a Superfund toxic waste site.
This legacy is repeated dozens and hundreds of sites across the west. And perhaps more importantly, threats loom for uncontrolled new mines. Proposals menace iconic streams such as the Illinois and Rogue of Oregon and the Smith of California. Stripping for nickel at those sites would pollute some of our finest salmon and steelhead waters—resources that communities and whole regions depend upon. This archaic law binds us to the same mistakes tomorrow that we've been making for 142 years.
Congressman Peter DeFazio of Oregon has introduced legislation to reform this relic of a long-gone era. Do we really have to live under a law based on a misguided choice in 1872? Let's get over it.
Tim Palmer is the author of Field Guide to Oregon Rivers, Rivers of America, Rivers of California and other books.
YOU MIGHT ALSO LIKE
'Most Endangered' River in the Nation
America's Beloved River Up for Grabs
The history of relations between the U.S. and Native American tribal nations is a famously troubled one, involving the government takeover of lands such as the Black Hills of South Dakota. Opening the door to the return of those lands to the Great Sioux Nation is one of the goals of the Unity Concert, taking place at the Elk Creek Lodge and Resort in the Black Hills Sept. 13-14.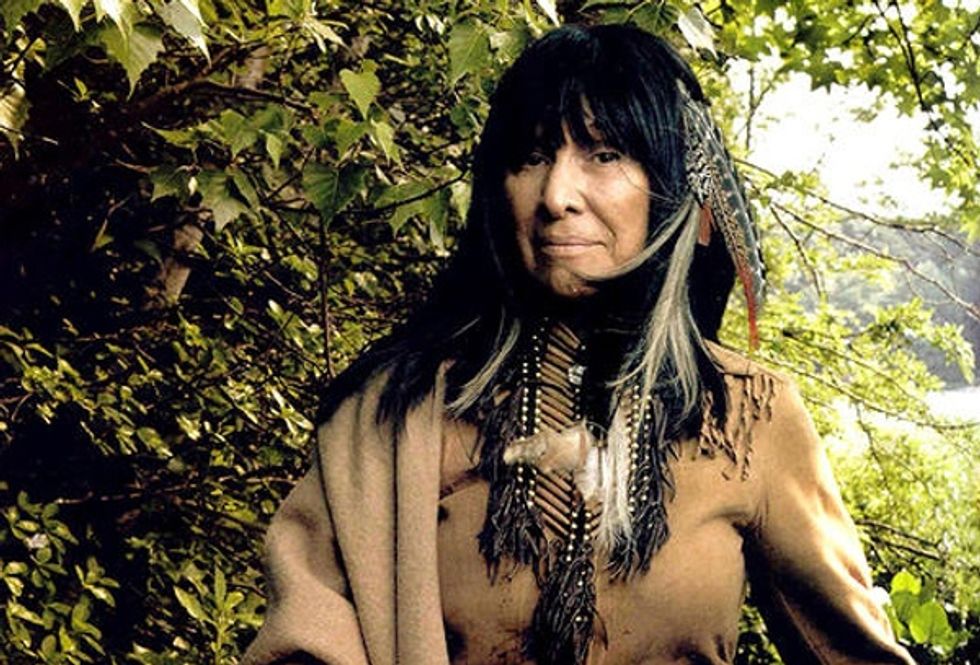 The event, whose theme is "The Black Hills Are Not For Sale," will bring together Native American and non-native performers, artists and activists for what promoters describe as "a powerful act of spiritual activism uniting nations to reconnect with the sacredness of nature and honor the Earth so we can sustain our planet for future generations." On a more pragmatic level, the event is advocating for the return of the guardianship of undeveloped parts of the Black Hills to the Great Sioux Nation.
It will open with a traditional ceremony, with participants making statements of apology, forgiveness and conciliation intended, the promoters say, to unite in the goal of protecting the Earth and promoting a peaceful, shared life for future generations.
"There are a lot of beautiful people in this country, we just need to give them a voice," says Milo Yellowhair, former vice president of the Oglala Sioux tribe, in a promotional video for the event. "If good people can get mobilized, good things can occur."
The lengthy roster of performers includes Native American artists from the Lakota, Apache, Cree and Navajo nations, and folk singers long known for their social justice and environmental activism, including Peter Yarrow, Arlo Guthrie and Native American singer/songwriter Buffy Sainte-Marie, who was born on a Cree reserve in Saskatchewan.
Among others, the eclectic roster features Tibetan musician Tesering Lodoe, Uran Snyder of the World Peace Prayer Society, Australian electronica artist Deya Dova, veteran jazz/new age musician Paul Winter, Oglala Lakota alternative blues/rock duo Scatter Their Own, and 13-year-old Aztec environmental activist from Boulder Xiehtezcatl Martinez, who is currently working to ban fracking in Colorado and to mobilize young people to protect the Earth.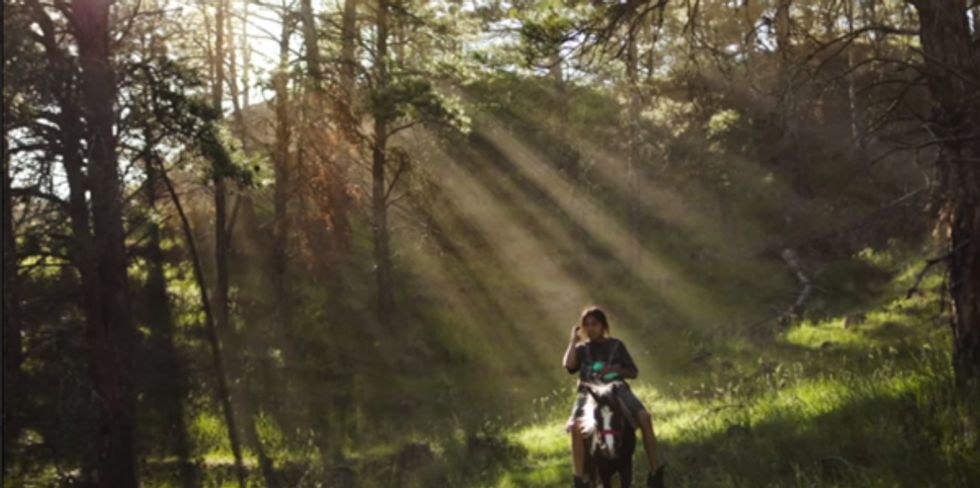 The concert is free; the promoters are asking for donations to cover production expenses. They are asking attendees to register so that they can properly prepare  for the size of the crowd. You can do that here. Free camping is available as well as paid camping with electricity and for RVs. There are also motels in nearby Rapid City; you can find a list at their website.
YOU MIGHT ALSO LIKE
Native Americans Launch 'Love Water Not Oil' Ride To Protest Fracking Pipeline
Riding Together Against Keystone XL
The world's current food system is flawed. With so many mouths to feed, western society has resorted to intensive agriculture that relies heavily on petroleum-based technology, like tractors, plows and seed drills. With increasing population and advances in technology, farms are now competing on a global scale. Food is often flown in from all over the world, the emissions contributing to global climate change.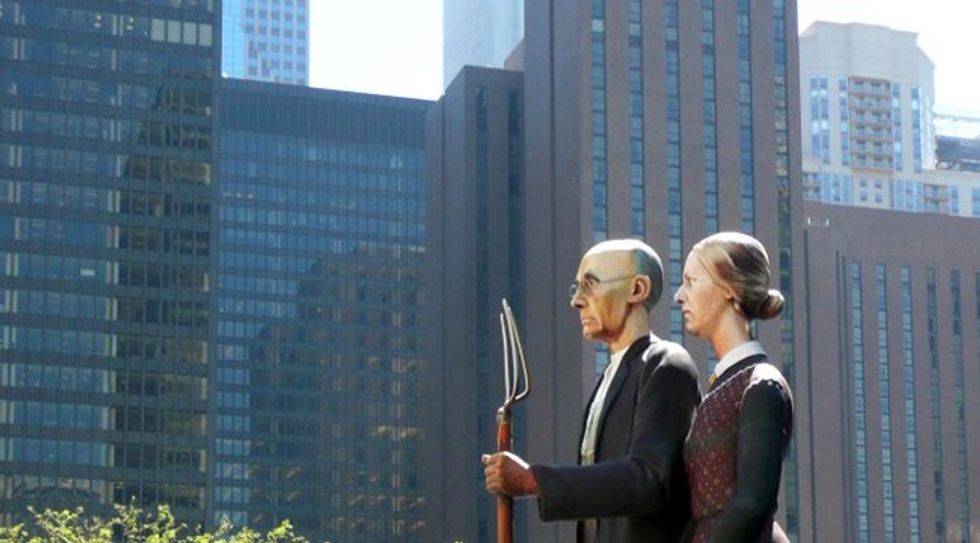 Because a growing proportion of food is not grown where it is eaten, city dwellers often fall victim to "food deserts" where they have little or no access to affordable, high-quality, fresh food. By the year 2050 close to 80 percent of the world's population will be living in urban centers. With the growth of mega cities, our current farms mandate a paradigm shift to environmentally friendly and efficient urban food systems to support the population in a sustainable way.
Urban farming presents a unique opportunity to grow crops on land that is vacant or unused. These crops can also be grown in huge skyscrapers, abandoned lots and even in used shipping containers. It is up to the farmer to be as creative as s/he wishes.
One of the largest benefits of urban agriculture is the reduced distance of shipping crops from farmer to buyer. Often produce in the U.S., especially during winter months, is grown in far away places where the weather is still warm enough to support fruits and vegetables and is then shipped to grocers throughout the U.S. The amount of gas-guzzling delivery trucks and airplanes that deliver all of this food could drastically be reduced with a shift to urban agriculture. City farms could provide urbanites with easier access to fresh and local produce.
Container Farms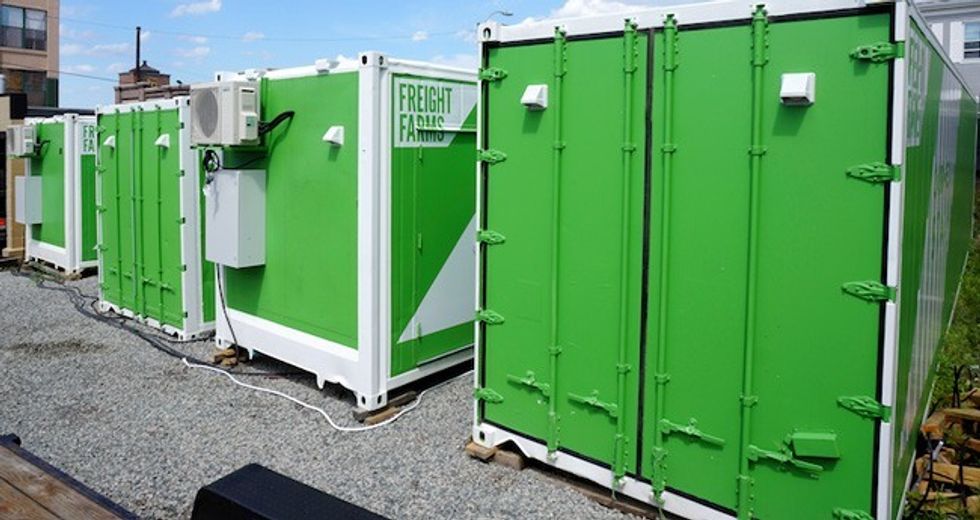 One of the most unusual examples of urban agriculture has the potential to provide Boston with fresh produce even when the city is blanketed in snow.  Founders Jon Friedman and Brad McNamara started Freight Farms in 2010 with the goal of cutting down on the number of miles it takes to get greens from farm to table. The pair converts old metal shipping containers from cargo ships into mobile farms.  These "smart farms" are insulated, completely digitally controlled and have even been installed with Wi-Fi so that farmers are able to check on things without leaving the comfort of their home when there is snow on the ground.
By growing food indoors, these containers eliminate the need for pesticides and herbicides. Indoor plants are able to produce food year round instead of seasonally, reducing the amount of fruits and vegetables flown in from other countries.
Freight Farms sell their containers to urban farmers looking for a new business endeavor for about $76,000 each. Shawn and Connie Cooney, two Bostonians, have taken advantage of this opportunity and have begun growing greens like kale, cilantro, mustard greens and wild mint, which they sell mostly to restaurants via wholesale distributors. They currently have four freight containers and claim to be able to grow as much produce as four acres of land could produce in a shorter amount of time and year-round.
Vertical Farms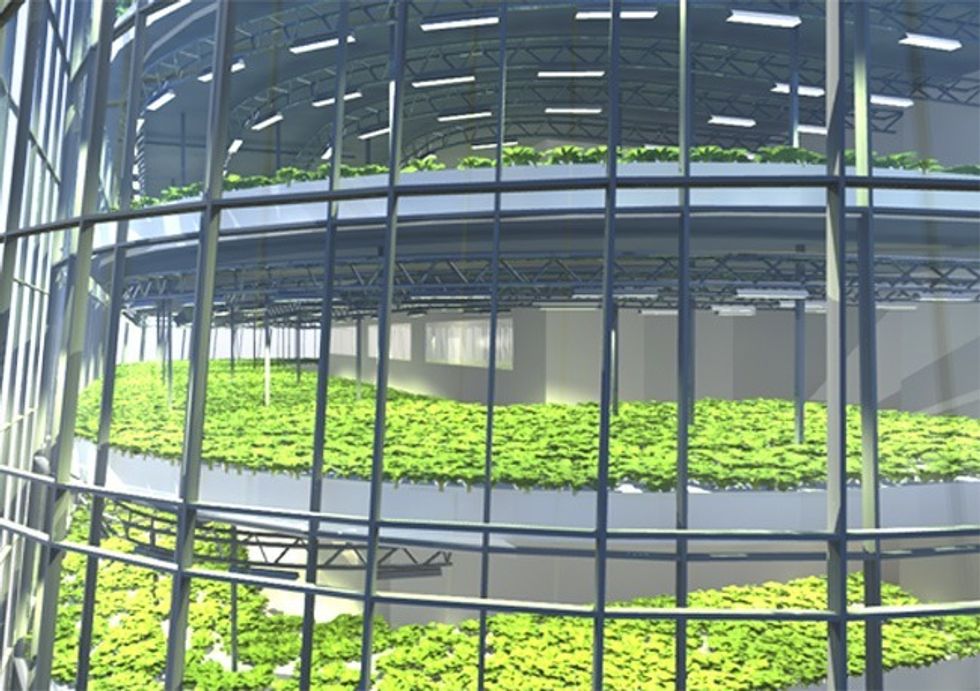 Other urban farms, like vertical farms, use height to maximize growth space in cities. Many use hydroponics—growing crops in a medium other than soil, like in water—or aquaponics—using a symbiotic relationship between fish (for their nutritious waste) and plants (for their waste filtration) to grow food. These alternative growing techniques eliminate the need for soil. This new idea for a farm was first proposed by Dr. Dickson Despommier, a professor of Microbiology and Public Health in Environmental Health Sciences at Columbia, in 1999. The idea has been gaining steam quickly with proposed buildings underway all around the world, like in Japan and Wyoming.
There is a vertical farm going up in Sweden called the Plantagon. This futuristic building, expected to be finished by the end of 2015, has tracks that allow plants to travel up and down the building to maximize sunlight exposure and to make harvesting much easier. The building will produce between 300-500 tons of food a year in a 400 square meter space. The CEO, Hans Hassle, envisions his business as not only environmentally responsible because of its commitment to corporate responsibility, but also as a way to get young people interested in becoming farmers.
Another vertical farm is underway in Chicago called The Plant, which is trying to resolve Chicago's food desert problem that has left some city dwellers without access to grocery stores or fresh produce. The building was once a meatpacking plant and has since been converted into a closed loop system where nutrients cycle between fish, plants and even Kombucha tea, a fermented drink. The facility even includes office spaces for local businesses to lease.
An anaerobic digester takes any waste products unable to be used and converts them into a sludge used to make fertilizer. The anaerobic digester combined with a proposed heat and power system will eventually run The Plant on net-zero energy and run completely off the grid.
Personal Farms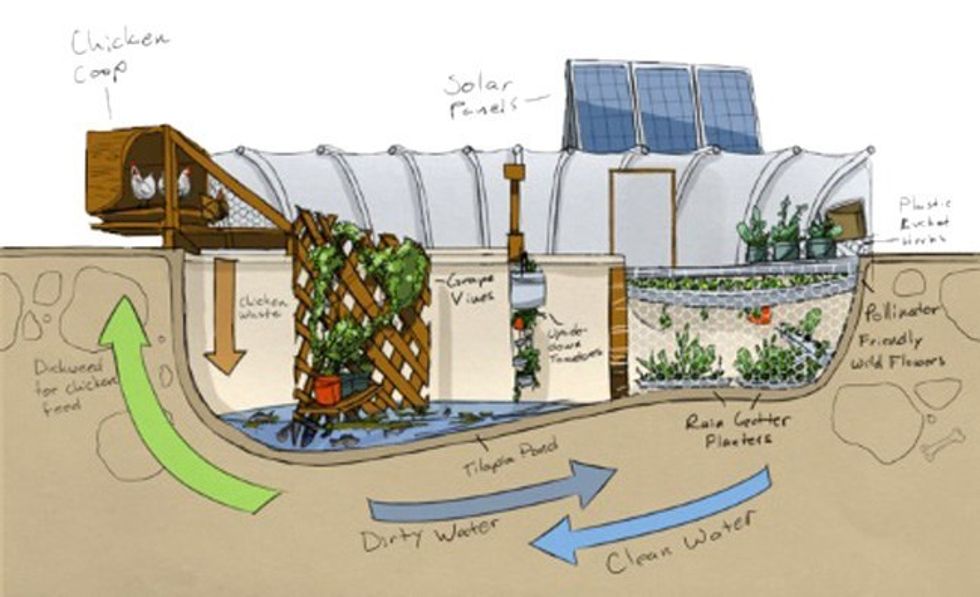 On a smaller scale, one family in Arizona converted their backyard swimming pool into a closed loop food production system and has since started a non-profit to help others learn about sustainable food production and how simple it can be. Garden Pool combines solar power, water conservation, poultry farming, aquaculture and more to convert water-intensive swimming pools into food oases. The concept is simple and allows a family with an average-sized swimming pool to produce their own food 365 days a year.
Moving Forward
Though innovative and unique in their technologies, these ways of growing food have their drawbacks. Freight Farms shipping containers are climate controlled and do not use natural sunlight, increasing the amount of energy needed to power them. They are also relatively expensive and may not be a viable option for providing large amounts of food to urbanites, especially those living in lower-income neighborhoods with low access to fresh foods.  The Plantagon may reduce any need for chemical pesticides and herbicides, but it requires the construction of a whole new facility and has a large energy demand to maintain climate settings. The Plant and Garden Pool are nearer to a sustainable system, using pre-existing structures, closed resource systems, clean energy sources and community networks.
Providing food for our future mega cities will not be an easy task, but it can be sustainable. Creative minds have come up with ways of turning once-wasted buildings, containers and swimming pools into sustainable farms, capable of producing a large amount of food in our cramped urban spaces.  Conventional agriculture does not have to be the answer to our exploding population and the environment does not have to be at risk to feed us.
YOU MIGHT ALSO LIKE
5 Reasons Why Urban Farming Rocks: Apply Today to Win the $15k Gardens for Good Grant
France Bans Monsanto's Roundup As Environmental Groups Push WHO for Stronger Safety Standards
This website uses cookies to ensure you get the best experience while browsing it. By clicking 'Got It' you're accepting these terms.


The best of EcoWatch, right in your inbox. Sign up for our email newsletter!