Marcia Moreno-Baez / Marine Photobank

Oceana filed a lawsuit in federal court in California late Wednesday challenging the National Marine Fisheries Service's decision to withdraw a proposed rule that would have protected endangered species, including whales and sea turtles, and taken an important step forward in efforts to clean up one of the nation's dirtiest fisheries—drift gillnets targeting swordfish off California. The rule would have required an immediate closure of the fishery if limits on the injury or death of nine protected species were reached.
"The withdrawal of this important protection for whales, sea turtles and other species is plainly illegal," said Mariel Combs, Oceana's Pacific Counsel. "The law requires the Fisheries Service to respect the Fishery Management Council's expertise in managing fisheries, including reducing bycatch."
In September 2015, the federal Pacific Fishery Management Council approved a new regulation requiring strict limits, called hard caps, on the injury or death of fin, humpback and sperm whales; leatherback, loggerhead, olive ridley and green sea turtles; short-fin pilot whales and bottlenose dolphins. These high-priority species are most at risk from entanglement in the mile-long drift gillnets that target swordfish off California. In addition to providing strict limits on the catch of non-target species (bycatch), the proposed rule provided an incentive to change behavior in the fleet to further reduce bycatch of other ecologically, recreationally and commercially valuable species, and to switch to cleaner fishing methods such as deep-set buoy gear or harpoon gear. There are approximately 20 vessels operating in the drift gillnet fishery. From 2004-2017 the fishery discarded 61 percent of its catch.
"Drift gillnets are a dirty and unsustainable way to catch swordfish," said Combs. "Incremental steps, like limits on bycatch, are important tools to help move toward cleaner fishing. The Fisheries Service has supported these measures in the past, and its change of course is both disappointing and illegal."
The National Marine Fisheries Service originally agreed with the council's recommendation. The agency representative at the council voted in favor of the bycatch caps in September 2015 when the council took final action. In October 2016 the agency published a proposed rule to implement the caps. Then, on June 12 the agency reversed course and withdrew the rule. The government's decision to withdraw the rule rejects a years-long stakeholder-driven process before the council. This process allowed all interested parties—fishermen, state wildlife departments, environmental groups and California residents—an opportunity to be heard.
EcoWatch Daily Newsletter
A Trump administration proposal to continue allowing oil companies to dump unlimited amounts of offshore fracking chemicals into the Gulf of Mexico violates federal law and threatens imperiled marine wildlife, the Center for Biological Diversity warned this week.
In a letter to the U.S. Environmental Protection Agency's (EPA) Region 6 office on its proposed wastewater-discharge permit for offshore oil and gas drilling activities off the coasts of Louisiana, Texas and Mississippi—where thousands of offshore drilling platforms are located—the Center for Biological Diversity explained that the proposed permit violates the Clean Water Act because it causes an undue degradation of the marine environment. The Center for Biological Diversity's letter notes that "scientific research has indicated that 40 percent of the chemicals used in fracking can harm aquatic animals and other wildlife."
"The Trump administration is letting the oil industry dump unlimited amounts of toxic fracking chemicals into these wildlife-rich waters," said Center for Biological Diversity attorney Kristen Monsell. "The EPA is supposed to protect ocean water quality, not turn a blind eye as oil companies use the Gulf as a garbage dump for fracking waste."
Earlier this year the EPA's Region 6 office responded to a Freedom of Information Act request from the Center for Biological Diversity for records analyzing the effects of fracking chemicals on Gulf water quality and marine life. Officials said they didn't have any responsive records, meaning the agency has been allowing the oil industry to dump its fracking wastewater into the Gulf without studying its environmental impacts, as federal law requires.
Federal waters off Texas, Louisiana and Mississippi host the largest concentration of offshore oil and gas drilling activities in the country. Previous records requests revealed that oil companies dumped more than 75 billion gallons of wastewater into these waters in 2014 alone.
At least 10 fracking chemicals routinely used in offshore fracking could kill or harm a broad variety of marine species, including marine mammals and fish, Center for Biological Diversity scientists have found. The California Council on Science and Technology has identified some common fracking chemicals to be among the most toxic in the world to marine animals.
Fracking chemicals raise grave ecological concerns because the Gulf of Mexico is important habitat for whales, sea turtles and fish and contains critical habitat for imperiled loggerhead sea turtles. Dolphins and other species in the Gulf are still suffering lingering effects from the Deepwater Horizon oil spill.
"It's the EPA's job to safeguard our oceans from being contaminated with fracking wastewater," Monsell said. "The agency has no business rubber-stamping the dumping of dangerous, disgusting chemicals without even trying to understand the risks."
Madeleine_Steinbach / iStock / Getty Images
Krill oil has gained a lot of popularity recently as a superior alternative to fish oil. Basically, the claim goes, anything fish oil can do, krill oil does better. Read on to learn what makes krill oil supplements better than fish oil supplements, why you should consider these vitamin supplements, and which brands we recommend.
What is Krill Oil?
Krill oil is made from a tiny, shrimp-like crustaceans that live in the ocean and usually serve as whale food. In fact, krill means "whale food" in Norwegian. These tiny organisms actually play an extremely important role in the food chains of marine ecosystems. The krill used to make krill oil are usually found in the waters around Antarctica.
Just like the fish oils found in supplements, krill oil is rich in omega 3 fatty acids that contain EPA and DHA, two compounds that are proven to have a number of health benefits.
But what makes krill oil better than fish oil?
It's believed that krill oil is better absorbed in the body than fish oil. Both derive most of their benefits through the EPA and DHA that are contained in their fatty acid stores. However, for the same dose, krill oil will result in more fatty acids in the blood than fish oil. A potential explanation for this is that while fish oil's fatty acids come as triglycerides, krill oil's come as phospholipids which are more easily processed by the body.
Additionally, krill oil contains astaxanthin which is an antioxidant that has anti-inflammatory properties that might have an enhanced positive effect on heart health. Studies have shown that krill oil is more effective than fish oil at lowering blood pressure and lowering bad cholesterol.
Our Picks for the Best Krill Oil Supplements
Each product featured here has been independently selected by the writer. You can learn more about our review methodology here. If you make a purchase using the links included, we may earn commission.
How We Chose the Best Krill Oil Supplements
Here are the factors that we considered when comparing the best krill oil brands to create our list of recommended supplements.
Omega-3 Content - We looked to see the amount of omega-3 fatty acids contained in each krill oil softgel or capsule.
Astaxanthin Content - The best krill oil pills contain this naturally-occurring antioxidant.
Third-Party Lab Testing - For any nutritional supplement, we choose brands that guarantee the quality of their product through independent lab testing.
Krill Source - We also compared these supplements for the source of their krill oil, and only recommend brands that use sustainably-harvested krill.
The 5 Best Krill Oil Supplements
The Research on Krill Oil Supplements
Research has long demonstrated the health benefits of omega-3 fatty acids commonly found in foods like fish, nuts, and certain grains like flax seed. Since krill oil naturally contains higher levels of these beneficial nutrients, it has also been found to provide a number of health benefits.
Numerous studies have linked the omega-3 fatty acids found in fish and krill oil to cardiovascular health, finding that those who ingest higher levels of these nutrients are at lower risk for coronary heart disease, potentially lower risk of stroke, and have lower cholesterol levels. Another study found that krill oil supplements offer a safe alternative to fish oil for those seeking cardiovascular benefits in a smaller and more convenient form.
Krill oil supplementation has also been found to help reduce the symptoms of knee and joint pain.
Additionally, researches found that rats given krill oil supplements showed improved cognitive function and benefited from anti-depressant-like effects. However, more research on its effect for human brain development and function is needed.
How to Choose the Right Krill Oil Supplement
When shopping for a krill oil supplement, there are important pieces of information that you should always look for. Here are some tips on how to compare brands and how to read labels.
What to Look For
Lab Testing
For any supplement, always check to see if it has undergone third-party lab testing for quality and safety. This is especially important for any fish or krill oil to make sure that it does not contain any harmful compounds like mercury.
Concentrations
Look for the amount of krill oil contained in each capsule and each serving (as these will sometimes differ). You should choose supplements that offer between 200 mg and 350 mg of omega-3 fatty acids per serving for the best results.
Sourcing
Make it a priority to learn where the brand sources its supply of krill oil. We recommend brands that use sustainably-harvested Antarctic krill oil because the process of harvesting is more tightly regulated by various groups.
Filler-Free
This is good advice for all nutritional supplements, but be sure the krill oil you choose does not contain any unwanted or unnecessary ingredients. All of our recommendations contain just the krill oil and the capsule it comes in.
How to Read Labels
When you are comparing krill oil supplements, here are some key things to look for on any label:
Supplement Facts - This is where you can find information on the amount of krill oil in each capsule, how many capsules make up one serving, and a breakdown of how many omega-3 fatty acids and other nutrients are contained in the supplement.
Other Ingredients - Listed at the bottom of the supplement facts table, this list will tell you what the capsule itself is made of and if there are any additional ingredients present.
Certifications - Check the label for important certifications and seals of approvals that can tell you if a krill oil is IKOS-certified, third-party lab tested, or sustainably harvest.
How to Use Krill Oil Supplements
Krill oil supplements typically come in capsules that you swallow with water. For most brands, 2 to 3 capsules make up a single serving, and you can take a serving either once or twice per day. Some brands recommend their supplements be taken with food to aid in their digestion and absorption.
Safety & Side Effects
While krill oil supplements are generally considered safe for most adults, it is extremely important to note that you should not take krill oil if you are allergic to shellfish. The potential side effects for krill oil are considered mild and similar to fish oils, including:
Upset stomach
Fishy taste
Heartburn
Nausea
Diarrhea
Fish oils and krill oils may also interact with certain medications. If you take a prescription medication, make sure you talk with your doctor before adding krill oil supplements to your diet.
A Kemp's ridley hatchling makes its way to the water on Padre Island, Texas. Terry Ross, CC BY-SA
By Pamela T. Plotkin
On beaches from North Carolina to Texas and throughout the wider Caribbean, one of nature's great seasonal events is underway. Adult female sea turtles are crawling out of the ocean, digging deep holes in the sand and laying eggs. After about 60 days turtle hatchlings will emerge and head for the water's edge, fending for themselves from their first moments.
I have spent 36 years studying sea turtle ecology and conservation. All seven species of sea turtle found around the world are classified as vulnerable or endangered. Nesting season is an important opportunity for us to collect data on turtle abundance and trends. For those of us who have spent decades studying turtles on nesting beaches, anticipation builds as we prepare for their arrival. And when that first turtle comes ashore to usher in the nesting season, it feels as though we are welcoming home old friends.
Today most coastal areas in the U.S. protect beaches during nesting season. Government agencies, researchers and volunteers monitor many beaches and help hatchlings make it to the water. These measures have helped turtle populations increase. For example, the critically endangered Kemp's ridley sea turtle (Lepidochelys kempii), which was on the brink of extinction in the mid-1980s, has increased from a few hundred nests to more than 20,000 nests laid in 2017.
But turtles face many hazards in the water, including plastic pollution and accidental harm or death in encounters with commercial fishermen. The future of sea turtle research depends on finding new ways to assess turtles' status and trends at sea as well as on the beach.
National Park Service biologist Shelby Moneysmith at a loggerhead turtle nest in Biscayne National Park, Florida NPS
Tallying Turtle Nests

Female sea turtles typically nest several times in a year. They may leave all of their eggs at one specific beach or nest at several beaches to spread out their reproductive investment. They typically return to the same stretch of coast year after year.
To monitor population trends, scientists count the number of nests made on a beach during an entire nesting season. They estimate how many times an individual female turtle nests during one nesting season, and use simple arithmetic to calculate the estimated number of females that nested that year.
We also walk nesting beaches to find individual turtles, collect data and biological samples from them and attach tags to their flippers. If researchers re-encounter a tagged turtle during a subsequent nesting season, they will record her return and revise their estimate of how many offspring she produces. Sea turtles typically nest every two, three or four years, so biologists need long-term data over multiple decades to track population trends.
On a few beaches, olive ridley sea turtles (Lepidochelys olivacea) emerge synchronously and en masse to nest in enormous groups of hundreds to thousands, known as arribadas (Spanish for "arrival"). When this happens there are so many turtles nesting at one time that a person could walk from shell to shell across the beach without stepping on the sand. It is impossible to count most of these turtles, and finding a tagged individual from among the throngs is like looking for a needle in a haystack.
Witnessing an arribada is the most thrilling wonder of nature I have experienced. The sight, smell and sound of thousands of turtles on a beach digging holes in the sand and laying eggs, choreographed to music only they can hear and understand, is indescribable.
Olive ridley sea turtles in an arribada (mass nesting)Christine Figgener, CC BY-ND
An Incomplete Picture

Although researchers have used these methods for decades, they do not give us a full enough picture to assess how well global conservation efforts are working.
One challenge is that there are too many turtles and not enough funding to record every nest at most beaches. Many nesting sites are remote, hard to access and logistically challenging places to live and work for months at a time. There are tens of thousands of miles of coastline where no one counts sea turtle nests regularly and systematically.
Second, turtles don't always produce the same number of young from one season to another. Like all animals, they invest their energy into metabolism, growth, survival and reproduction. When food is limited, they often lay fewer eggs.
Third, and perhaps most importantly, breeding females are not the only important sea turtle demographic group. Biologists want to develop population models they can use to interpret population changes, identify threats in marine habitats, predict risk, evaluate the impacts of management activities and assess sea turtle status and trends. To do this, we also need other demographic information, such as age-specific and sex-specific survival rates and age at sexual maturity. Researchers are trying to collect these kinds of data, but it is logistically challenging when we are dealing with turtles at sea.
Juvenile Kemp's ridley turtle equipped with a miniature solar-powered satellite transmitter to track its movementsFlorida FWC, CC BY-NC-ND
Hazards in the Water

These constraints help to explain why a recent study to develop a stock assessment model for Kemp's ridley sea turtles found that the population was growing at a slower rate than scientists had anticipated. The study did not identify a specific cause, but it took many demographic variables into account, as well as conservation efforts and turtles killed by fishermen. All of these factors are critically important to assessing a population's status and projecting its future growth.
Another recent study showed that since the 2010 Deepwater Horizon oil spill in the Gulf of Mexico—the prime residence area for Kemp's ridleys—the turtles have produced fewer young. The spill triggered significant environmental changes in the Gulf, across multiple habitats and species including invertebrates, birds, fish and dolphins.
Oil spills aren't the only threat. According to a recent estimate, the Pacific Ocean garbage patch covers an area "twice the size of Texas." According to some projections, by 2050 the oceans will contain more plastic than fish.
Ocean plastic can kill marine animals when they are ensnared by it or ingest it in large quantities. Scientists have found many species feeding on ocean plastics, from fish living in the deepest ocean trenches to seabirds feeding at the surface. Since the early 1980s, I have studied sea turtle diets and have found plastic in the stomachs and intestines of virtually all sea turtle species from the Gulf of Mexico to the Pacific Ocean.
Some advocates assert that most of this trash comes from fishing gear. Fishing certainly is a major source: One survey of the Pacific garbage patch found that broken fishing nets comprised nearly half of it by weight.
But consumer items, like toys and plastic bottles, are also part of the problem. In 2015 a Texas A&M University research team was taking samples from a 77-pound olive ridley sea turtle and found a 4-inch plastic drinking straw completely embedded in its nose, potentially making it harder for the turtle to breathe and smell—and thus to find food. Video footage of these researchers removing the straw from the turtle's nostril, which has been viewed online more than 10 million times, offers convincing evidence of how much suffering plastic trash can inflict on wildlife.
Overfishing also threatens sea turtles and other non-target animals, such as marine mammals and seabirds. Researchers believe that fishing pressure in the Pacific Ocean is the primary cause of a recent collapse of the leatherback sea turtle (Dermochelys coriacea) population in the eastern Pacific, and now threatens the dwindling western Pacific leatherback.

Climate change is triggering changes in ocean temperature, chemistry, circulation and sea levels. These shifts also threaten sea turtles, but there is little quantitative research so far on how they will affect any species.
The world's oceans are changing at an unprecedented pace, and scientists' methods for assessing sea turtle populations must evolve rapidly too. We need new research tools for observing ocean conditions above and beneath the surface, as well as robust population models that incorporate these new threats, to manage these globally protected species.
Great Barrier Reef: 99% of These Sea Turtles Are Turning Female https://t.co/4elfgvR3kI @HealTheBay @Seasaver @savingoceans

— EcoWatch (@EcoWatch)1515546922.0
Reposted with permission from our media associate The Conversation.

From Your Site Articles
Related Articles Around the Web
A short-finned pilot whale hangs lifelessly in a California drift gillnet. NOAA
In September 2015, after a years-long process incorporating input from fishery stakeholders, the Pacific Fishery Management Council recommended that the National Marine Fisheries Service set hard caps on the incidental catch of nine endangered species most at risk from entanglement, injury and death in mile-long drift gillnets that target swordfish off California.
The hard caps would have applied to endangered fin, humpback, and sperm whales, short-fin pilot whales and common bottlenose dolphins; as well as endangered leatherback, loggerhead, olive ridley and green sea turtles. The swordfish drift gillnet fishery is the only Category I fishery off the entire U.S. West Coast—a designation reserved for fisheries with high mortality to marine mammals.
"The Trump administration has determined not to issue regulations implementing a decision made by federal fishery managers more than a year ago to protect some of the ocean's most iconic and endangered marine animals," Geoff Shester, Oceana's California campaign director and senior scientist, said. "In doing so, the National Marine Fisheries Service ignores the will of its federal fishery advisors, the State of California, California State and Congressional members, and the more than 22,000 members of the public who weighed in to support these caps.
"Rather than taking the opportunity to improve the swordfish drift gillnet fishery, the administration is side-stepping its obligation under the nation's fisheries law to reduce the unintended catch (bycatch) of dozens of marine wildlife species, including those most vulnerable to entanglement and death in swordfish drift gillnets. Today's rule provides further evidence that fishery managers must phase out the use of harmful drift gillnets and expedite authorization of deep set buoy gear to catch swordfish—a gear type that has proven to profitably catch swordfish without catching endangered species."
It's only the half-way point of sea turtle nesting season in Florida, and some beaches are already breaking records.
Mote's Sea Turtle Patrol, a group of volunteers and scientists that monitor nests on Florida beaches between May 1 and Oct. 31, report this year has already seen 2,638 nests, some of which are beginning to hatch. This year's number has surpassed the previous record—the total number of nests for 2015—by 163 nests, according to Mote Marine Laboratory and Aquarium.
"We are excited to announce that we have broken the 35-year annual record for sea turtle nests along our area's beaches with a total of 2,638 confirmed nests so far and we are only halfway through the nesting season," Kristen Mazzarella, senior biologist with Mote's Sea Turtle Conservation and Research Program, said.

Longboat Key had 716 nests on June 30 and Casey Key had 1,184 nests on July 2, both breaking previous records of 698 and 1,174, respectively.

The first nest hatched June 26 on Venice beach.
Mote's Sea Turtle Conservation and Research Program coordinates conservation of endangered sea turtles along a 35-mile expanse of Sarasota County beaches. Data collected by the volunteer team provides important information to resource managers who use it to understand and protect sea turtle populations.
Sea turtles face multiple threats to their population, including coastal development, poaching of eggs and marine pollution. Just last week, a Florida man was caught stealing 107 eggs from a loggerhead turtle while she was laying them.
Florida Man Arrested for Stealing 107 Loggerhead Turtle Eggs - EcoWatch https://t.co/iVRCls1XOn @NOAAFisheries @SeafoodSource

— EcoWatch (@EcoWatch)1468109106.0
Mote's offers some tips in case you come in contact with a turtle nest or nesting area:
Do:
If you encounter a nesting turtle or hatchlings, remain quiet and observe from a distance.
Shield or turn off outdoor lights that are visible on the beach from May through October.
Close drapes after dark and stack beach furniture at the dune line or, ideally, remove it from the beach.
Fill in holes that may entrap hatchlings on their way to the water.
Do Not:
Approach nesting turtles or hatchlings, make noise or shine lights at turtles.
Use flashlights or fishing lamps on the beach.
Encourage a turtle to move while nesting or pick up hatchlings that have emerged and are heading for the water.
Use fireworks on the beach.
Glenn Robert Shaw, 49, was caught with 107 loggerhead eggs, which he had stolen from a turtle as she was laying them, according to a Florida Fish and Wildlife Conservation Commission Facebook post. Shaw faces third-degree felony charges for destroying, selling or molesting turtles or eggs or nests.
Caretta caretta, Loggerhead turtle hatchling on the Cirali beach in the Mediterranean Sea, Turkey.Photo credit: World Wildlife Fund
Shaw was arrested a few days after Florida officials received reports of a man poaching sea turtle eggs, according to the Miami Herald.
"Our biologists contacted law enforcement after receiving information about someone poaching sea turtle eggs from a beach behind a residence," the Fish and Wildlife Conservation Commission's post explained. "Our officers began increasing patrols in the area to monitor for illegal activity. After a few days of additional patrols, officers saw a man taking eggs from a female loggerhead sea turtle as she was laying them."
Fifteen of the stolen eggs were kept for DNA testing, the commission said, but the remaining 92 were buried with hopes that they will hatch later this year.

Loggerhead turtles mate every two to three years. During mating years, females nest between April and September, with the peak of nesting season occurring in June, according to the National Wildlife Federation. Female loggerheads emerge on the beach at night every 14 days, laying an average of four clutches of eggs, which contain between 100 and 120 eggs each. Eighty percent of loggerhead nesting in America occurs in Florida.
Loggerhead turtle swimming in open sea in Greece.Photo credit: World Wildlife Fund
Loggerheads, which have been listed as threatened since 1978 under the Endangered Species Act, have been hunted in the past for their eggs and leather. But the main threats to the species include entrapment as bycatch from industrial fishing, plastic pollution, loss or degradation of habit, disorientation of hatchlings by beachfront lighting, marine pollution and disease to name a few. Last month, a loggerhead turtle was rescued after being trampled by tourists.
www.facebook.com
Less than two weeks after publishing the graphic images of poached sea turtles on the French island of Mayotte, Sea Shepherd's conservation team interrupted another slaughter on the night of July 7, and this time—as captured on video footage shown above—it turned violent.
When the volunteers arrived at the beach known as Moya 1, one of the most popular tourist beaches on the Petit Terre island, they spotted a 4x4 vehicle, its lights switched off as it waited to pick up poached turtle meat. The guards, who should have been there to protect the turtles who come to lay their eggs, were nowhere to be seen.
Down on the beach, the volunteers found two turtles ripped open with their eggs scattered in the sand. There was no sign of the guards who were supposedly there to patrol the beaches, so Sea Shepherd alerted the local gendarmes. The poachers, who had run to hide on a hill overlooking the beach, began throwing large rocks at the volunteers and police from above, barely missing their heads. No one was hurt, however the poachers also set the Sea Shepherd volunteers' car on fire.
Despite the intervention of three police officers, who helped seize some of the turtle meat which was left behind by the fleeing poachers, no arrests could be made because the security on the beach that night was grossly insufficient compared to the scale of the threat.
"France seems to remain blind and deaf concerning the social and ecological crisis which is raging in Mayotte," said Lamya Essemlali, president of Sea Shepherd France. "France is letting its overseas department perish, a place which is home to one of the world's largest lagoons, rich in local biodiversity. The only law which seems to prevail on this island is the law of the jungle. This condition has caused social and environmental chaos which is hard to imagine in continental France. Once a true paradise, Mayotte has now become hell on earth."
Sea Shepherd launched Operation Nyamba at the request of the locals who don't want to see their island perish from indifference, and now work hand-in-hand with them to fight the poaching with direct action.
"Even though the circumstances on the ground turned out to be worse and more dramatic than we expected, the situation has only reinforced our determination," Essemlali said. "We will not give up on Mayotte. If we have often stated we would give our lives to protect whales, we are equally ready to do the same for turtles."
Selfie-obsessed mobs are tormenting animals all over the world for "likes" on social media.
Animals
At one point, adults photographed a crying child who appeared to be standing on top of the animal's shell. It is also reported that after the photos were taken, members of the crowd began hitting the turtle with sticks.
Local groups were successful in rescuing the turtle from the beach in Beirut where the incident occurred but claimed that the animal would likely have died from the injuries had they not acted. X-rays showed that the blows broke through the top of the turtle's head, allowing seawater to reach the sinus cavities. Not only was this horrible display of human behavior disgustingly callous and cruel, it was also illegal, according to a Lebanese agricultural law which prohibits poaching marine animals. Loggerhead sea turtles have been endangered since the 1970s.
How many more animals must suffer before this ends?
Selfie-obsessed mobs are tormenting—and killing—animals all over the world for "likes" on social media. Earlier this month, news broke of a similar incident in the Dominican Republic, where a shark was pulled from the ocean by a crowd of tourists and local hotel staff, who then smiled and took photos with the animal's dead body.
HORRIBLE! This Guy Drags Shark From Sea Just 2 Pose 4 Photos https://t.co/zSmPnXJuYo @acousteau @pcousteau @oceana https://t.co/K8lCXxGb9J

— EcoWatch (@EcoWatch)1456154148.0
Leave wild animals in peace.
Animals are not selfie props. If there's any risk that your photo is going to hurt or stress an animal, it's not worth it.
Photo credit: iStock / Sweetlifephotos
Help us battle this deadly trend by sharing this turtle's story with your friends, family and social media followers. Let them know that animals' lives are worth so much more than Instagram likes.
YOU MIGHT ALSO LIKE
Buenos Aires to Close 140-Year-Old Zoo, Saying 'Captivity Is Degrading'
Climate Change Puts Squeeze on Cuddly Koalas
Jaguar Shot Dead After Olympic Torch Passing Ceremony in Brazil
Esther the Wonder Pig: Changing the World One Heart at a Time
Scientists in the U.S. have identified a new hazard in a world in which the climates change and the oceans warm: measurable stretches of the seas could become sapped of oxygen.
They say that parts of the southern Indian Ocean, the eastern tropical Pacific and the Atlantic are already less oxygen-rich because of global warming. And oxygen deprivation could become increasingly widespread across large regions of ocean between 2030 and 2040.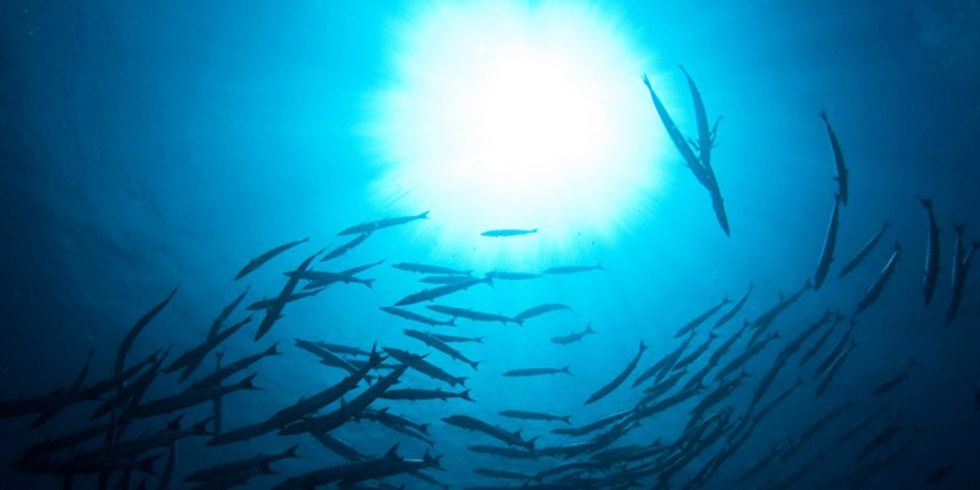 Anyone who has ever kept a home aquarium knows that, in the summer, the fish in the tank are more likely to be seen gasping nearer the surface. That is because the colder the water, the greater its capacity for dissolved oxygen.
Chemistry Change
Growing concentrations in the atmosphere of the greenhouse gas carbon dioxide have begun to change the ocean chemistry, making sea water gradually and alarmingly more acidic and less hospitable to many of the species adapted to ocean life.
Now Matthew Long, an oceanographer at the U.S. National Centre for Atmospheric Research in Boulder, Colorado and colleagues report in Global Biogeochemical Cycles journal that they repeatedly modeled changes in the ocean's oxygen content over the years 1920 to 2100.
Oxygen from the atmosphere gets into the sea only when it dissolves directly or is released by photosynthesizing marine plants and phytoplankton. The warmer the water, the harder life is for the creatures nearer the surface.
To make things more difficult, warmer waters are less dense, making them less likely to sink and bring the colder, more oxygen-rich waters to the surface. In unusually hot weather, "dead zones" appear in the seas, where fish and shellfish cannot survive.
The researchers warn that there will be more of these as global temperatures continue to rise. "Loss of oxygen in the ocean is one of the serious side-effects of a warming atmosphere and a major threat to marine life," Dr. Long said.
Swiftly Detectable
"Since oxygen concentrations in the ocean naturally vary, depending on variations in winds and temperature at the surface, it's been challenging to attribute any deoxygenation to climate change. This new study tells us when we can expect the impact from climate change to overwhelm the natural variability."
The new map suggests that even by 2100, some waters—off the east coasts of Africa and Australia and Southeast Asia and parts of the South Atlantic, for instance—will remain oxygen-rich. But oxygen loss due to climate change will become detectable much more swiftly in northern waters in the Pacific and parts of the Atlantic.
There are uncertainties. Oxygen measurements in the world's oceans—and 70 percent of the planet is covered by blue water—are relatively sparse.
"We need comprehensive and sustained observations of what's going on in the oceans to compare with what we're learning from our models and to understand the full impact of a changing climate," Dr. Long said.
YOU MIGHT ALSO LIKE
Arctic Ice Melt Affects Weather Patterns All Over North Atlantic
60% of Loggerhead Turtles Stranded on Beaches in South Africa Had Ingested Plastic
Climate Change Could Make Parts of Middle East and North Africa 'Uninhabitable'
Solar Impulse Pilot: 'I Flew Over Plastic Waste As Big As a Continent'
We know that ocean plastic can have a devastating impact on aquatic life such as seabirds, fish and whales. Now, researchers have found that 60 percent of post-hatchling loggerhead turtles stranded on southern Cape beaches in South Africa have been impacted by growing quantities of human-caused debris such as plastic fragments, packaging and fibers.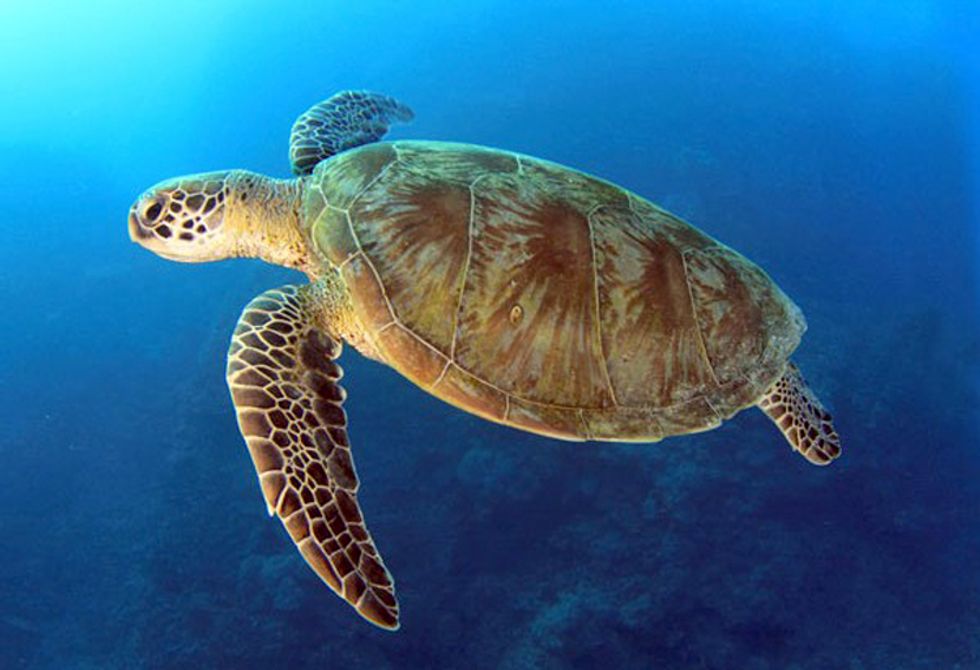 A new study published in Marine Pollution Bulletin last month reported that 24 out of 40 of loggerhead turtles died within two months of stranding in April 2015. Of the turtles that died, 16 had ingested plastic. Gruesomely, 11 of these turtles died because plastic was blocking their digestive tracts or bladders.
Here are other key points from the study, as reported by South Africa's Times Live:
Plastic comprised 99 percent of debris collected.
The majority

—

77 percent

—

w

ere hard plastic fragments' 10 percent were from flexible packaging and 8 percent were fibers.
Industrial pellets comprised 3 percent, compared to around 70 percent in a previous study between 1968 and 1973.
In the earlier study' only 12 percent of stranded post-hatchlings contained plastics' compared to the 60 percent of the current study.
"Our results indicate that the amount and diversity of plastic ingested by post-hatchling loggerhead turtles off South Africa have increased over the last four decades, and now kill some turtles," the study says.
South Africa's beaches are inundated with plastic, the Sunday Times reported in December. According to data released by Plastics South Africa, there are roughly 400 pieces of plastic per square meter. Another study found that South Africa ranks as the 11th worst country for dumping plastics in the ocean, between Bangladesh and India, the publication noted.
The turtle study's lead author, Peter Ryan of the Percy FitzPatrick Institute of African Ornithology and the DST-NRF's Centre of Excellence at the University of Cape Town, told the Sunday Times that South Africa needs multiple strategies to clean up its plastic problem.
Prof Ryan of @Fitztitute: Just how bad is plastic pollution in South Africa's oceans? https://t.co/qrGlAfkC73 #turtle

— NRF South Africa (@NRF South Africa)1461918442.0
"There's nothing wrong with plastic—the problem is what people do with it'" Ryan said' explaining that half of South Africa's solid waste does not go into formal waste streams.
He also pointed out that plastic packaging such as candy wrappers are difficult to recycle.
"Every time you do one of these (beach litter) surveys you discover a whole new kind of packaging'" Ryan said. "We need to be more proactive about how we package things."
Ryan, however, said that a solution is possible.
"It's a question of making sure that we dispose of plastic properly and working towards making sure there is a value attached to waste plastic'" he said. "It's a completely solvable problem."
Plastic pollution is impacting sea turtles around the world. Last summer, EcoWatch posted a viral video of researchers from The Leatherback Trust removing a 4-inch plastic straw from a male olive ridley turtle's nose in Costa Rica.
A few months after saving the first turtle, the researchers found another olive ridley in Costa Rica with plastic lodged deeply in its nostril—this time a 5-inch plastic fork.
Thankfully, the research team was able to relieve both turtles, but as Dr. George Shillinger, the executive director of the Monterey, California-based conservation nonprofit, told EcoWatch, it's "just the tip of the iceberg."
"This was an isolated incident involving a single turtle in a small area off a nesting beach in Costa Rica," Shillinger said. "Just imagine globally what's happening."
Last year, researchers from the Commonwealth Scientific and Industrial Research Organization in Australia and Imperial College London released a report with the startling finding that 90 percent of seabirds today have eaten plastic, and if humans don't stop dumping plastic into the ocean, it's predicted that 99 percent of seabirds will swallow plastic by 2050.
When asked if this trend is also happening with turtles, Shillinger replied without hesitation: "Totally. Turtles are occupying the same habitats … Without a doubt these animals are consuming plastics in areas where they'd otherwise go to consume prey."
Exclusive Interview: Researchers Remove Plastic Fork Lodged in Turtle's Nose https://t.co/kwjVHFBn69 @TheLeatherback https://t.co/mSO9OuwUtW

— EcoWatch (@EcoWatch)1450540021.0
Approximately 8 million metric tons of plastic waste is dumped into our oceans every year, and the pollution is only getting worse as consumer use of plastic and plastic-intensive goods intensifies in emerging countries.
Not only that, an alarming study by the University of Delaware physical oceanographer Tobias Kukulka reported that there might be much more plastic than what's estimated.
"My research has shown that ocean turbulence actually mixes plastics and other pollutants down into the water column despite their buoyancy," Kukulka said, according to UD Daily. "This means that surface measurements could be wildly off and the concentration of plastic in the marine environment may be significantly higher than we thought."
YOU MIGHT ALSO LIKE
One of the World's Most Endangered Turtles Nearly Extinct With Fewer Than 10 Left in the Wild
Cousteau to SeaWorld: Captive Orcas 'Need to Be Released'
Is the Whale Shark Tourism Industry Conservation or Exploitation?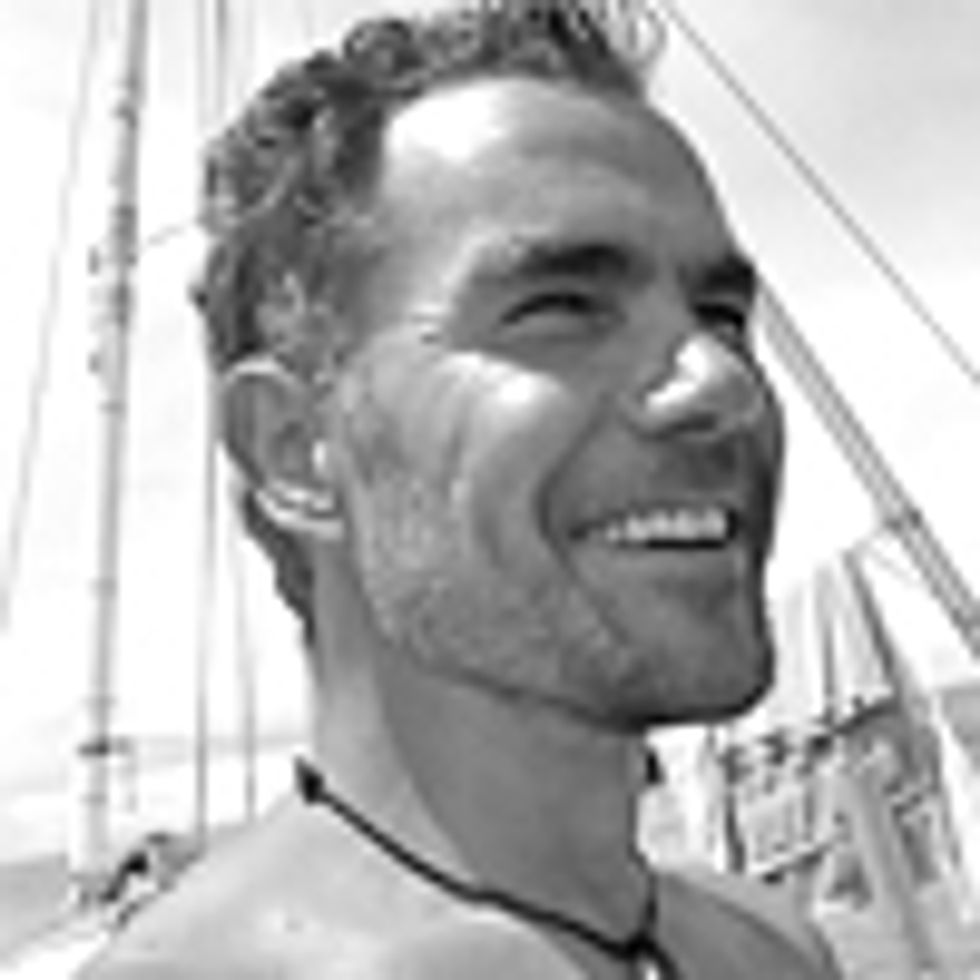 The revolution of plastic in the fishing industry has fed billions, but left a paucity of life in the oceans and more suffering than we understand. A lost nylon fishing net or tangled mass of hook and line does not stop fishing, the results are horrifying and solutions hard won.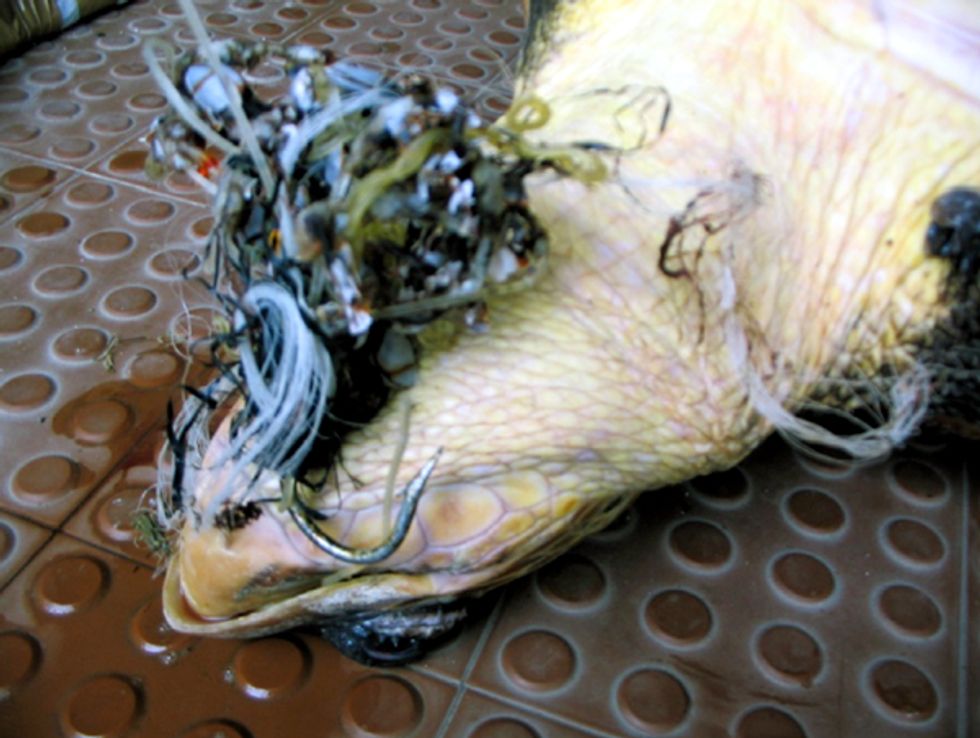 The big things living in the ocean usually sink when they die, which is why any estimate of ecological impacts, from propeller scars to entanglement in fishing nets, are nearly impossible. They always underestimate the numbers of true deaths and dismemberment. The ones that are still alive near the surface are the messengers. A recent report from scientists studying loggerhead sea turtles (Caretta caretta) near the Azores, report gruesome amputations from entanglement and intestinal lesions and bleeding from hooks making their way through their bodies.  
So what can fix this?
Lost fishing gear, called ghost nets, are more costly than you might think. Scientist studying the economics of subsidizing recovery of lost nets in Puget Sound reported that the fish and crabs that are caught and die in lost traps and nets was worth more than 12 times the cost of recovery programs. Incentivizing recovery works, but who will pay for it? In Chesapeake Bay researchers have had success with a program to equip crabbers with side-scanning sonar and a grapple hook to snare the hundreds of lost traps that litter the bay. The program works, thanks to taxpayer funds through the National Ocean and Atmospheric Administration.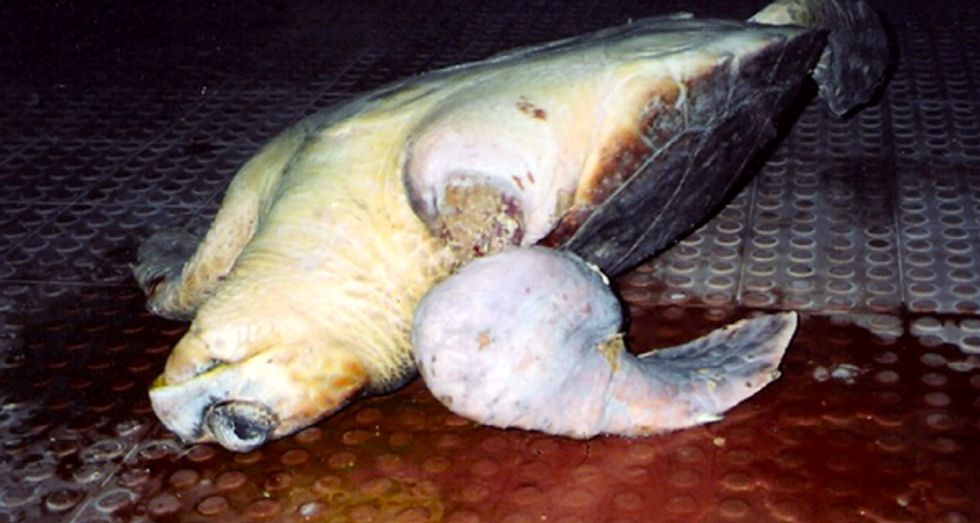 But in the ocean, where marine mammals and reptiles interact with thousands of tons of plastic waste in international waters, the economic incentives are not there. Voluntary programs for fishermen to bring garbage back from the sea, or report lost gear, are not impactful on a large scale. What is needed are economic incentives, which will largely need to be subsidized by the industries producing the gear in the first place, to create a reward for the return of derelict gear.
A model similar to the plastic bottle redemption program in California would work, where a price-per-pound incentive is responsible for a 72 percent recovery rate for soda bottles. A dollar a pound for lost gear would give fishermen, who are the most likely people to see derelict fishing gear, the incentive to bring it back to land. This kind of Extended Producer Responsibility (EPR) is working for other products in other industries across the globe. 
With EPR we will see successful removal of ghost nets and traps. Without EPR, we can expect to see more suffering and dwindling numbers of megafauna in our oceans.
You Might Also Like
5 Gyres Institute Finds Plastic in Every Ocean Sample From Bermuda to Iceland
How Does Your State Rank For Beach Water Quality?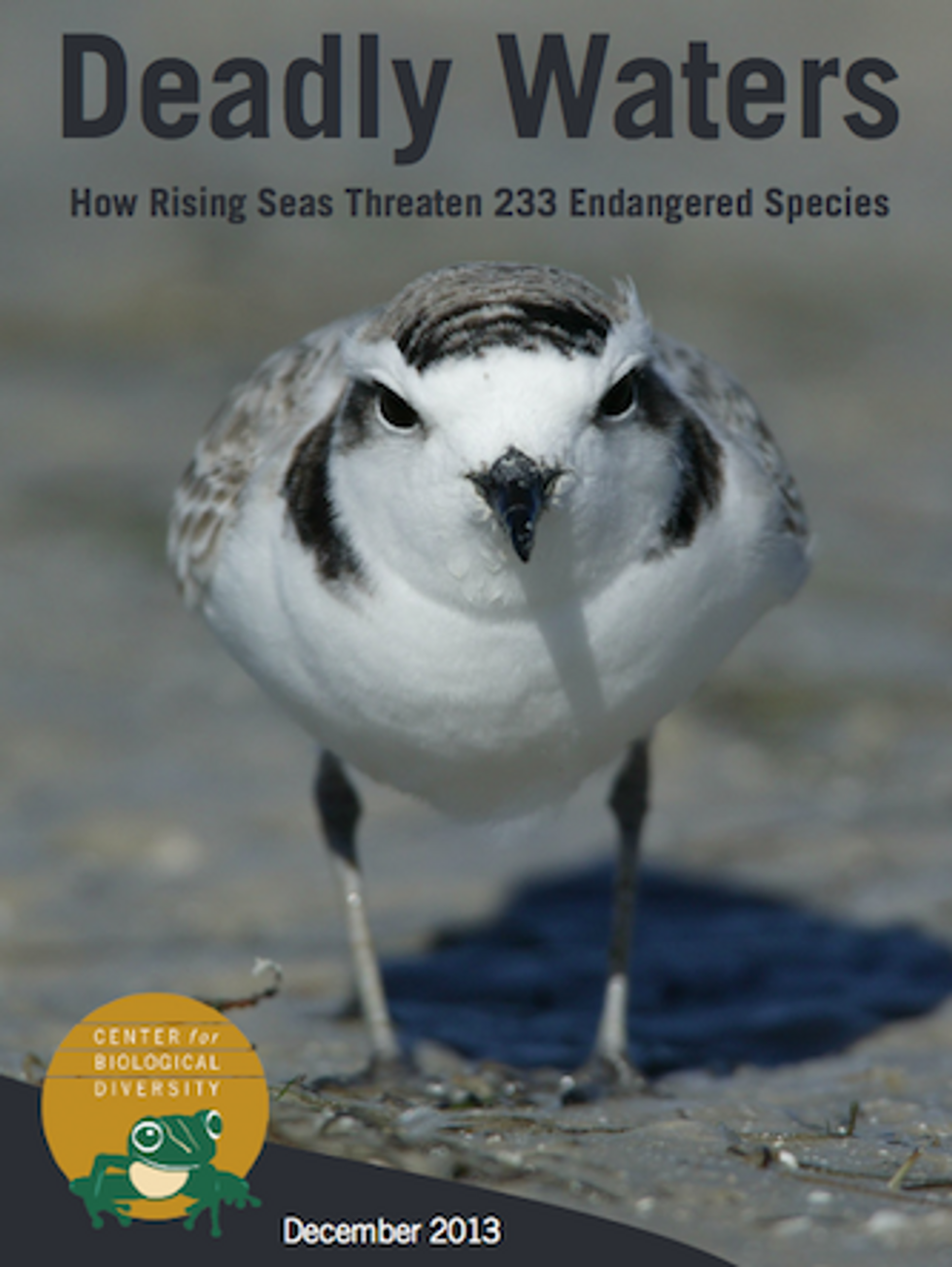 Sea-level rise driven by climate change poses a deadly threat to 233 federally protected animal and plant species in 23 coastal states, according to a new scientific report from the Center for Biological Diversity, and U.S. wildlife protection agencies are not doing enough to protect at-risk species.
In a letter to the two wildlife agencies, Center scientists pointed out that the federal government's existing wildlife policies offer little useful guidance or strategies for protecting endangered species from sea-level rise. The letter urges officials to revamp species-protection plans to focus on the threat.
For the Deadly Waters report, Center scientists analyzed data from the U.S. Fish and Wildlife Service and National Marine Fisheries Service, as well as scientific literature. The Center found that 17 percent—one in six—of the nation's threatened and endangered species are at risk from rising sea levels and storm surges. The report also details the specific danger to five of the species most threatened by sea-level rise.
"From Florida's key deer to Hawaii's monk seals, some of our most amazing creatures could be doomed as the oceans swallow up their last habitat and nesting sites," said Dr. Shaye Wolf, the Center's climate science director. "If we don't move fast to cut carbon pollution and protect ecosystems, climate chaos could do tremendous damage to our web of life."
"Federal wildlife officials have to step up efforts to protect America's endangered species from the deadly threat of rising seas," Wolf concluded.
The Center's analysis follows a stark warning from the National Research Council, which recently released a report saying that global warming threatens to inflict rapid and catastrophic changes on some ecosystems and could cause a mass extinction of plants and animals.  
The U.S. is home to approximately 1,500 federally protected threatened and endangered species, many of which depend on coastal and island habitats for survival. As greenhouse gas pollution builds up in the atmosphere, rising oceans and increasingly dangerous storm surges will threaten already endangered animals that inhabit coastal wetlands, beaches and other vulnerable ecosystems.
Here are five of the most at-risk species:
Five of the Species Most Threatened by Sea-level Rise

Species at Risk

Current Population

Key Fact

1. Key deer

Approximately 800 deer

About 86 percent of islands occupied by Florida's Key deer are less than 3 feet above sea level.

2. Loggerhead sea turtle

Approximately 17,000 females nesting each year in the United States

At Florida's Archie Carr National Wildlife Refuge, 42 percent of loggerhead nesting beaches are expected to disappear with 1.5 feet of sea-level rise.

3. Delmarva Peninsula fox squirrel

20,000 to 38,000 squirrels

Half of the fox squirrels' habitat would be inundated by 6 feet of sea-level rise, which could occur in this century.

4. Western snowy plover

2,500 adults

A third of the West Coast beach habitat areas used by the plovers are less than 3 feet above sea level.

5. Hawaiian monk seal

About 1,000 seals

Sea-level rise poses a serious threat to monk seals' pupping beaches; one key island has already disappeared.
The 23 states with endangered species threatened by sea-level rise are Alabama, Alaska, California, Connecticut, Delaware, Florida, Georgia, Hawaii, Louisiana, Maine, Maryland, Massachusetts, Mississippi, New Hampshire, New Jersey, New York, North Carolina, Oregon, Rhode Island, South Carolina, Texas, Virginia and Washington.
 Visit EcoWatch's CLIMATE CHANGE and BIODIVERSITY pages for more related news on this topic.