Bald Eagle, Alaska. Wikimedia Commons
By Rebecca Bowe
A small yet vocal group of congressmen are gearing up this summer to dismantle the Endangered Species Act (ESA). Campaign finance records of these lawmakers reveal that they have all taken significant money from extractive industries frustrated by the law's protection of critical habitat for endangered species.
The ESA has proven to be a powerful, effective conservation safeguard. More than 99 percent of species that have been designated for federal protection continue to exist in the wild today, including the bald eagle, grizzly bear, the leatherback sea turtle and the Florida manatee.
But the work of the ESA has only grown more urgent as many scientists agree that the planet is either on the cusp of or already experiencing a sixth mass wave of extinction. A study last week by Stanford scientists found that a significant number of plant and wildlife populations are growing dangerously thin.
Earthjustice is working with coalition partners to oppose efforts on Capitol Hill to weaken protections for endangered species. The public can also make a difference in this fight—despite the big money from fossil fuel industries funding opponents of the ESA—by contacting their Congressional offices (use this call-in tool to be directly connected).
The Anti-ESA Effort and the Money Behind It
The assault on the ESA comes in the form of dozens of legislative proposals and amendments tacked onto spending bills. One bill that's expected to be introduced in a matter of weeks is the handiwork of Sen. John Barrasso (R-WY), chair of the Senate Environment and Public Works Committee.
Sen. John Barrasso (R-WY.), Sen. James Inhofe (R-OK) and Rep. Rob Bishop (R-UT) have received hundreds of thousands of dollars in campaign contributions from the oil and gas industries.LEFT, CENTER: GAGE SKIDMORE / CC BY-SA 2.0. RIGHT: ROB BISH OFFICIAL OFFICE PORTRAIT
A Republican from Wyoming, Barrasso shares something in common with other politicians who have made it a legislative priority to weaken or undermine this conservation law. He's received substantial campaign contributions from extractive industries that wish to exploit public lands for mining, drilling and other environmentally destructive operations. Across the American West, for instance, the fossil fuel industry is often pitted against conservationists because habitat for the imperiled sage grouse overlaps with lands eyed by industry for mining or drilling.
According to campaign finance records, from 2011 until 2016, Barrasso received $458,466 in total campaign contributions from the oil and gas industry, plus $241,706 from the mining industry. The boost got him a good part of the way toward the $3.66 million he reportedly spent in that time. The Murray Energy Corporation, the nation's largest coal-mining company, was listed as a top donor.
Sen. James Inhofe, a Republican senator from Oklahoma who also serves on the Environment and Public Works Committee, has also garnered substantial support from the fossil fuel industry, collecting $465,950 from the oil and gas industry and $111,275 from the mining industry in campaign donations from 2011 to 2016. Inhofe, who does not believe in climate change, recently went on national television and answered a question about U.S. Environmental Protection Agency budget cuts by suggesting that that the EPA is "brainwashing our kids."
Rep. Rob Bishop, a Republican congressman from Utah who has gone on the record saying he'd like to "repeal and replace" the Endangered Species Act, received $150,516 in total campaign contributions from the oil and gas industry in the 2015-16 cycle alone.
How You Can Help Protect Wildlife
Battles to protect wildlife are intensifying in the face of attacks from these and other lawmakers. However, they may be in for a bigger fight than they realize. A recent poll showed that 90 percent of voters across all demographics were supportive of the ESA.

Join the movement to defend the wild. Call today and tell your senators to stand strong in defense of imperiled wildlife and the lands and waters that sustain them!
EcoWatch Daily Newsletter
The endangered gray wolf. Wikimedia Commons
"Republicans in Congress continue to attack the Endangered Species Act despite overwhelming support from Americans of all political stripes for this landmark conservation law," said Brett Hartl, government affairs director with the Center for Biological Diversity. "These attacks are designed to reward special interests that would plunder our natural resources even if it causes wildlife to go extinct."
Unfortunately, with President Trump in the White House, "these types of attacks are more likely to become law, severely harming our nation's imperiled wildlife," the Center for Biological Diversity warned.
In October, the Trump administration declined to list 25 species as endangered, noting that extra protection "is not warranted at this time." Environmental groups were particularly worried for the Pacific walrus—which has seen a dramatic loss of its Arctic sea ice habitat due to climate change—being denied a listing.
The Endangered Species Act, passed by Congress four decades ago, is the nation's safety net for fish, plants and wildlife on the brink of extinction. More than 99 percent of species that have been designated for federal protection continue to exist in the wild today, including the bald eagle, grizzly bear, the leatherback sea turtle and the Florida manatee.
Nine out of 10 Americans support the Endangered Species Act and want it either strengthened or left unchanged by Congress.
But a fervent group of Congress members have made it a priority to weaken or undermine this crucial conservation law. Earthjustice found that these lawmakers have all taken significant money from extractive industries that have been frustrated by the law's protection of critical habitat for endangered species.
The Center of Biological Diversity keeps a running list of legislative attacks against the Endangered Species Act and individual species. There have been 300 such pieces of legislation since 2011, when the Republicans took control of the House of Representatives.
"These radical attempts to gut the Endangered Species Act are totally out of step with what the American people want," said Hartl. "They want our government to do more to help species recover, not speed up their path to extinction."
According to the conservation group, the most recent measure came on Dec. 18 and was tucked into an emergency funding bill designed to address damage from this year's devastating hurricanes and wildfires.
Section 2029 of H.R. 4667, introduced by Rep. Rodney Frelinghuysen (R-N.J.), would exempt the Federal Emergency Management Agency from the Endangered Species Act, and "would allow it to approve risky developments in flood-prone areas even if it destroys critical habitat or kills endangered species like sea turtles, Pacific salmon and Florida Key deer," the Center for Biological Diversity said.
From Your Site Articles
Related Articles Around the Web
Frederic Stevens/ Getty Images News / Getty Images

For nearly as long as solar panels have been gracing rooftops and barren land, creative people have been searching out additional surfaces that can be tiled with energy-generating photovoltaic (PV) panels. The idea has been pretty straightforward: if solar panels generate energy simply by facing the sun, then humans could collectively reduce our reliance on coal, oil, gas and other polluting fuels by maximizing our aggregate solar surface area.
So, what kind of unobstructed surfaces are built in every community and in between every major city across the globe? Highways and streets. With this in mind, the futuristic vision of laying thousands, or even millions, of solar panels on top of the asphalt of interstates and main streets was born.
While the concept art looked like a still from a sci-fi film, many inventors, businesses and investors saw these panels as a golden path toward clean energy and profit. Ultimately, though, the technology and economics ended up letting down those working behind each solar roadway project — from initial concepts in the early 2000s to the first solar roadway actually opened in France in 2016, they all flopped.
In the years since the concept of solar roadways went viral, solar PV has continued to improve in technology and drop in price. So, with a 2021 lens, is it time to re-run the numbers and see if a solar roadway could potentially deliver on that early promise? We dig in to find out.
Solar Roadways: The Original Concept
Solar roadways are complex in execution, but in concept, they're as simple as they sound. They're roads "paved" with extremely strong solar panels that are covered in glass that can withstand environmental stressors and the weight of vehicles driving over them on a consistent basis.
The idea was something that got people really excited when the initial Solar Roadways, Inc. project (which is still seeking funding) burst onto the scene in 2014:
More advanced designs included solar roadways outfitted with LED lights that could be used to illuminate lane lines, communicate to drivers and more. Other iterations included weight sensors that would detect when obstructions were on the road or could alert homeowners if unexpected vehicles were approaching their driveway. Embedding these kinds of technology into the solar roadways renderings only added to their appeal and the initial hype around the concept.
Key Selling Points of Solar Roadways
Early innovators of solar roadways touted the numerous benefits of their ideas. These included:
Sunlight shines down on roads at no cost, making the energy not only readily available, but also free (aside from installation and maintenance).
The ability to power street lights with solar roadways eliminated the need to pull extra energy from the grid.
Having electronics embedded into the roadway opened up a world of possibilities for communicating with drivers in ways that didn't require painting and repainting of roads.
The ingenuity to attach weight sensors on the solar panels could be used to alert drivers about potential obstructions, such as animals, disabled vehicles or rocks on the road.
In a future of electric vehicles, the possibilities were seen as even more beneficial, as solar roadways could be used to power electric vehicle charging stations or to charge the cars while they're driving.
While some early thinkers may also have envisioned these roadways sending solar energy to the local power grid, the most impactful way solar roadways could utilize the energy they generated is right around the road itself: lighting street lights, heating mechanisms to melt snow on the roadway, or powering small emergency equipment on road shoulders.
Using the energy for on-road applications would mean that the power didn't have to be sent long distances before being used, which results in energy loss. However, in more rural or remote locations, having the solar roadway energy available for nearby homes and businesses could be a huge benefit, especially if there's an outage in the overall grid.
Why Solar Roadway Tests Have Failed
To much of the general public — and especially to people who weren't well versed in the intricacies of solar panels or road structures — solar roadways seemed like a slam-dunk solution that both looked futuristic and had benefits that went far beyond electricity generation. It was the kind of innovation that had people exclaiming: "How has no one done this yet?!" But in reality, the execution of solar roadways was much more complex than the idea.
Here are a few reasons solar roadway tests have failed:
Cost of Manufacturing and Maintenance
The cost of the energy from the sun may be free, but the investment to install and maintain the solar roadways was undeniably prohibitive. The reason asphalt is used by default to pave roadways is because it is immensely affordable and low-maintenance, which is especially critical on vast, expansive roadways and interstates.
In 2010, Scott Brusaw, co-founder of Solar Roadways, Inc., estimated a square foot of solar roadway would cost about $70. However, when the first solar roadway was built in France by a company called Colas, it measured 1 kilometer and cost $5.2 million to build — or about $1,585 per foot of roadway. Of course, this was a small iteration and bulk manufacturing would cost less, but either way, it's hard to believe the cost of a solar roadway would ever be competitive with the price of asphalt, which is about $3 to $15 per square foot.
Further, the cost and complexity to send a crew to repair individual panels that fail would far outweigh those to maintain asphalt. So, while one of the presumed benefits of solar roadways is the cost savings associated with self-generated energy, even back-of-the-envelope math highlights how the numbers would simply not add up to be more cost-effective in the long run.
Energy Required to Produce the Panels
Another limiting factor appears when considering the energy it takes to make asphalt versus high-durability glass and solar panels. Most asphalt used on roads today is a byproduct of distilling petroleum crude oil for products such as gasoline, which means it makes use of a substance that would otherwise be discarded as waste.
The solar roadway panels, although intended to save energy in the long run, take much more to produce. Typical rooftop solar panels can easily make up for the extra energy used in production because the glass doesn't need to withstand the weight of vehicles driving over them, but solar roadways have that added complexity.
Power Output of the Panels
When estimating power output, early optimists seemed to perform calculations based on the raw surface area they could cover — and not much else. However, beyond the stunted energy generation that any solar panels face on cloudy days or at night, solar roadways presented unique new performance challenges.
For example, vehicles constantly driving over solar roadways would interrupt sun exposure. Plus, they'd leave behind trails of fluid, dirt and dust that can dramatically reduce the efficiency of solar panels. Being installed on the ground is a challenge in itself because of how readily shade would find the roads; that's the reason you find most solar panels on rooftops or elevated off the ground and angled toward the sun.
Issues With Glass Roadways
Lastly, driving on glass surfaces is simply not what modern cars are designed to do. Asphalt and tires grip each other well, being particularly resilient in wet conditions. If the asphalt is replaced with glass — even the textured glass that's used for solar roadways — tire traction could be reduced dramatically. Wet or icy conditions could lead to catastrophic situations on solar roadways.
Could Recent Advances in Solar Technology Bring Solar Roadways Closer to Reality?
For all of these challenges and even more roadblocks that early solar roadway projects have run into in the past, the reality is that solar technology continues to improve. In the seven years since the first Solar Roadways, Inc. video went viral, solar panels have developed to be more durable, more cost-effective and more efficient at converting sunlight to electricity. To put some numbers behind these trends:
The question to ask is whether these advances are enough to bring solar roadways from failure to success.
Despite the improvements, many of the original challenges with solar roadways remain, and the scale of execution is immense. Even with decreasing solar PV costs, outfitting long stretches of roadway with such complex technologies will require tremendous capital.
Rather than a future where solar roadways cover the country from coast to coast, a more likely outcome is that these advances will bring solar roadways to viability in narrow, niche applications.
Just like tidal energy is a great opportunity for small coastal communities but can't be scaled to solve the energy crisis across the world, it's conceivable that limited-scope solar roadways could be constructed around the world. However, large-scale solar roadways may never be more than a pipe dream.
Over a decade ago, Bird's Head Seascape was just another example of the damage overfishing and destructive fishing practices can cause on coral reefs. But, the community stepped in, and the region is now thriving.
Diver with Schooling Scads at Arborek Jetty.Photo credit: Jeff Yonover, Bird's Head Seascape
Valen's Reef, a virtual reality movie shot in 360-degrees, explores the Raja Ampat Islands in the Coral Triangle and the progress Bird's Head Seascape has made. Local-fisherman-turned-reef-scientist Ronald Mambrasar narrates the movie, recounting the history of the region and the Bird's Head Seascape initiative to his son, Valen:
"When the illegal fishermen came, we welcomed them at first. They brought us gifts. After they dropped bombs and poison, we would scoop up the fish for them. The fish and coral started to be lost. We knew it was not right."
Mambrasar was one of the locals who joined Conservation International and a group of international non-governmental organizations, local and national governments, universities, local organizations and coastal communities when the initiative started in 2004. The goal of the initiative was to balance the needs of the human population while protecting natural resources in the region. So far, the project has developed 12 multiple-use marine protected areas in the Bird's Head Seascape.
The red box marks the Bird's Head Seascape and the islands it incorporates.Photo credit: Bird's Head Seascape
Thanks to these efforts, the reef had rebounded: fish populations have recovered; sharks, whales and rays have returned; poaching has decreased by 90 percent; and coral is regrowing.
Mambrasar tells his son: "I want to be able to give you all of the nature that is here now."
The Bird's Head Seascape is home to the highest coral reef biodiversity in the world. Covering 22.5 million hectares, it is home to 1,711 species of fish, more than 600 species of coral, and 17 species of whales and dolphins. It also claims to have the most extensive mangrove forest and sea grass beds, and the world's largest pacific leatherback sea turtle nesting beaches.
Mobula feeding frenzy of the coast of southern Raja Ampat. The mobula, species of eagle ray, are swarming baitfish.Photo credit: Jeff Lemelin, Bird's Head Seascape
Almost 4 million hectares are protected by the 12 marine protected areas. The seascape also contains the coral triangle's first shark and ray sanctuary.
Take a tour of the seascape and listen to Mambrasar's story in the video below. Use the arrows in upper left corner to explore the views in 360-degrees:
South Carolina United Turtle Enthusiasts (S.C.U.T.E) unearthed three baby loggerheads after a nest inventory at Pawleys Island beach. Lorraine Chow
A new study published in Science Advances has found that most global sea turtles populations are recovering after historical declines.
The results from the analysis suggest that conservation programs actually work, and why we must defend the Endangered Species Act (ESA) that protects vulnerable plants and animals, and is currently under attack by political and business interests.
It's not exactly clear why sea turtle populations are making a comeback, but as the New York Times reports, conservation efforts since the 1950s have safeguarded beaches, regulated fishing and established marine protected areas, leading to a boost in turtle numbers.

"Our findings highlight the importance of continued conservation and monitoring efforts that underpin this global conservation success story," Antonios Mazaris, an ecologist at the Aristotle University of Thessaloniki in Greece, and his team of international researchers wrote in the study.
All sea turtles found in U.S. waters are listed under the ESA. But the Center for Biological Diversity reported that since January, congressional Republicans have launched 50 legislative attacks against the environmental law or on a particular endangered species.
David Godfrey, a member of the International Union for Conservation of Nature's Marine Turtle Specialist Group and executive director of the Sea Turtle Conservancy, told Newsweek that lawmakers could decrease funding needed to protect vulnerable species or even delist a species from the ESA.
As Godfrey explained to Newsweek:
"You have an administration at the federal level now and members of Congress who would like to diminish the strength of the Endangered Species Act," he said. "There have been complaints for years that it's ineffective, it doesn't work, we're wasting money."
Spreading to the world that these policies are working might push back against those perceptions, but Godfrey hopes the good news won't convince people that all the needed work has been done. "It's something we should acknowledge and be trumpeting," he said. "But it doesn't take long for the trend in their population to start going the wrong way."
The researchers in the current paper note that sea turtles populations are not rising across the board, such as the declining number of leatherbacks in the Eastern and Western Pacific. Their findings reflect the International Union for Conservation of Nature's Red List, which lists six of the seven types of sea turtles species as vulnerable, endangered or critically endangered.
Marcia Moreno-Baez / Marine Photobank

Oceana filed a lawsuit in federal court in California late Wednesday challenging the National Marine Fisheries Service's decision to withdraw a proposed rule that would have protected endangered species, including whales and sea turtles, and taken an important step forward in efforts to clean up one of the nation's dirtiest fisheries—drift gillnets targeting swordfish off California. The rule would have required an immediate closure of the fishery if limits on the injury or death of nine protected species were reached.
"The withdrawal of this important protection for whales, sea turtles and other species is plainly illegal," said Mariel Combs, Oceana's Pacific Counsel. "The law requires the Fisheries Service to respect the Fishery Management Council's expertise in managing fisheries, including reducing bycatch."
In September 2015, the federal Pacific Fishery Management Council approved a new regulation requiring strict limits, called hard caps, on the injury or death of fin, humpback and sperm whales; leatherback, loggerhead, olive ridley and green sea turtles; short-fin pilot whales and bottlenose dolphins. These high-priority species are most at risk from entanglement in the mile-long drift gillnets that target swordfish off California. In addition to providing strict limits on the catch of non-target species (bycatch), the proposed rule provided an incentive to change behavior in the fleet to further reduce bycatch of other ecologically, recreationally and commercially valuable species, and to switch to cleaner fishing methods such as deep-set buoy gear or harpoon gear. There are approximately 20 vessels operating in the drift gillnet fishery. From 2004-2017 the fishery discarded 61 percent of its catch.
"Drift gillnets are a dirty and unsustainable way to catch swordfish," said Combs. "Incremental steps, like limits on bycatch, are important tools to help move toward cleaner fishing. The Fisheries Service has supported these measures in the past, and its change of course is both disappointing and illegal."
The National Marine Fisheries Service originally agreed with the council's recommendation. The agency representative at the council voted in favor of the bycatch caps in September 2015 when the council took final action. In October 2016 the agency published a proposed rule to implement the caps. Then, on June 12 the agency reversed course and withdrew the rule. The government's decision to withdraw the rule rejects a years-long stakeholder-driven process before the council. This process allowed all interested parties—fishermen, state wildlife departments, environmental groups and California residents—an opportunity to be heard.
A short-finned pilot whale hangs lifelessly in a California drift gillnet. NOAA
In September 2015, after a years-long process incorporating input from fishery stakeholders, the Pacific Fishery Management Council recommended that the National Marine Fisheries Service set hard caps on the incidental catch of nine endangered species most at risk from entanglement, injury and death in mile-long drift gillnets that target swordfish off California.
The hard caps would have applied to endangered fin, humpback, and sperm whales, short-fin pilot whales and common bottlenose dolphins; as well as endangered leatherback, loggerhead, olive ridley and green sea turtles. The swordfish drift gillnet fishery is the only Category I fishery off the entire U.S. West Coast—a designation reserved for fisheries with high mortality to marine mammals.
"The Trump administration has determined not to issue regulations implementing a decision made by federal fishery managers more than a year ago to protect some of the ocean's most iconic and endangered marine animals," Geoff Shester, Oceana's California campaign director and senior scientist, said. "In doing so, the National Marine Fisheries Service ignores the will of its federal fishery advisors, the State of California, California State and Congressional members, and the more than 22,000 members of the public who weighed in to support these caps.
"Rather than taking the opportunity to improve the swordfish drift gillnet fishery, the administration is side-stepping its obligation under the nation's fisheries law to reduce the unintended catch (bycatch) of dozens of marine wildlife species, including those most vulnerable to entanglement and death in swordfish drift gillnets. Today's rule provides further evidence that fishery managers must phase out the use of harmful drift gillnets and expedite authorization of deep set buoy gear to catch swordfish—a gear type that has proven to profitably catch swordfish without catching endangered species."
June 16 is World Sea Turtle Day and while we all know they're pretty, that the younglings rush to the water after they hatch and that they often become victims of plastic waste, there's so much more to these guys. Their age, anatomy and physical abilities are astonishing and undeniably justify giving these guys their own special day.
1. They think jellyfish are delicious.
Leatherbacks and hawkbill turtles feed on jellyfish and keep their populations in check. Plastic looks like jellyfish when it's floating in the water and that's why so many turtles die from ingesting plastic—they were going for a tasty snack.
2. They're the oceans' lawnmowers.
Green sea turtles have a more plant-based diet and eat seagrass. By keeping seagrass short, they prevent it from getting tall and harming other marine creatures.
3. They cannot retract into their shell like other turtles.
Since they don't have to protect themselves from predators for most of their life on water, sea turtles cannot retract their flippers and head into their shells. Their anatomy makes them more agile when under the sea but highly vulnerable when nesting and hatching.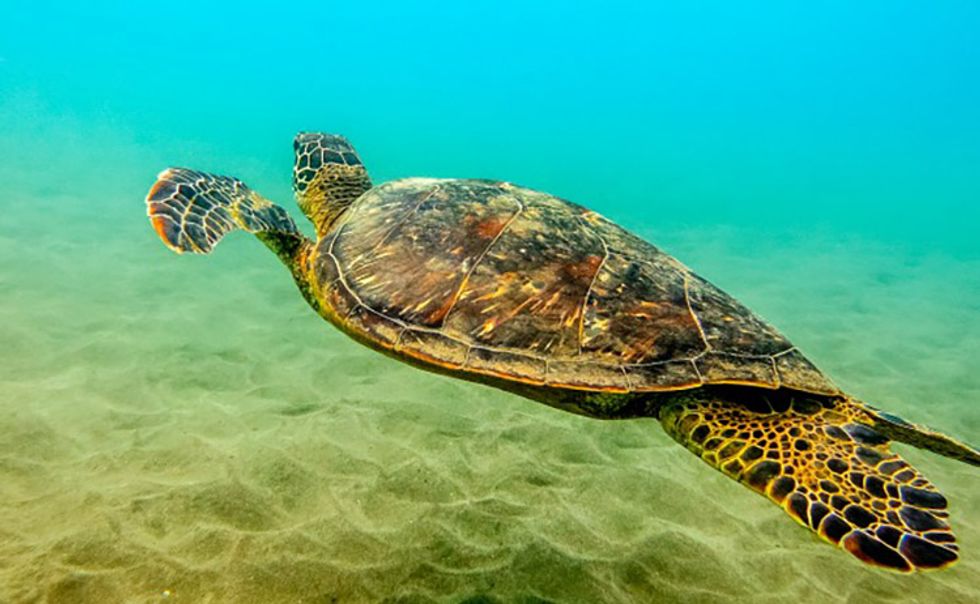 4. Temperature dictates the sex of baby turtles.
Warmer nests lead to more females and cooler ones lead to more males—which is why climate change could drastically affect their populations by creating too many females and too few males to match them for reproduction.
5. They've been around for a very, very long time.
An estimated 110 million years is how long sea turtles have existed on Earth, which means they once shared the planet with T-Rex and other dinosaurs.
6. They can hold their breath for five hours underwater.
To accomplish this mighty feat they slow their heart rate to up to nine minutes in between heart beats in order to conserve oxygen.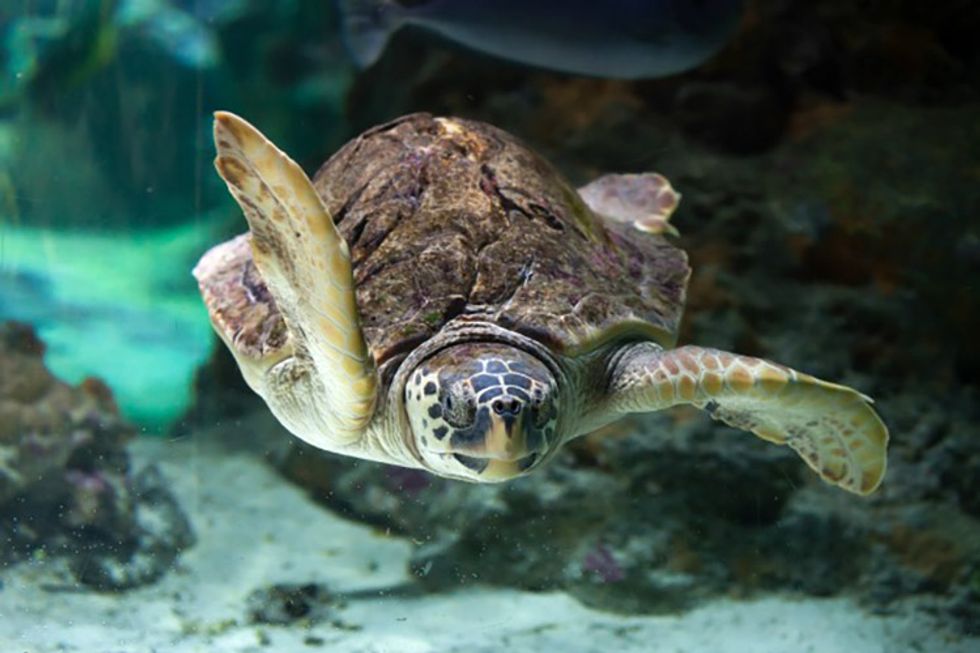 7. They live to about 100 years.
And that's also roughly the amount of eggs they lay every time they nest.
8. Dogs are not a sea turtle's best friend.
Even though they're marine animals, some of their natural predators include dogs who dig up their eggs buried in the sand.
9. They have an excellent sense of direction.
Sea turtles can detect the Earth's magnetic field and they use it as a compass.
YOU MIGHT ALSO LIKE
Norway Kills More Whales Than Japan and Iceland Combined
House Democrats Target Trophy Hunting on Anniversary of Cecil's Death
Nepal's Extinct Bird Spotted After Disappearing for 178 Years
Sea Shepherd Conservation Society supporters Richard Dean Anderson and Holly Marie Combs are lending their names as producers on the company's crowd-funded documentary feature Why Just One?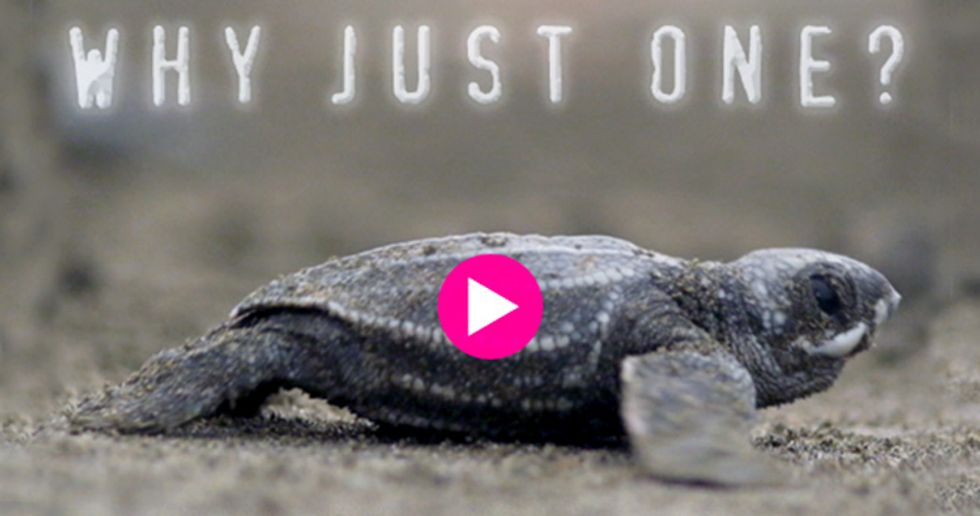 The documentary follows Sea Shepherd's 2015 sea turtle defense campaign, Operation Jairo, which took place in Honduras, Florida and Costa Rica. Why Just One? focuses specifically on the sea turtle defenders' successes and struggles of the ground campaign in Costa Rica.
The Costa Rican campaign takes place on the remote Pacuare Island and Moin Beach, the latter where Costa Rican turtle defender Jairo Mora Sandoval was brutally murdered on May 31, 2013 while attempting to protect leatherback turtle nests. Sea Shepherd named Operation Jairo in his honor.
From death threats to attacks, from protecting sea turtles and their eggs, to interviews with Costa Rican activists and Sandoval's best friend, Why Just One? seeks to answer the question of why only one in one thousand sea turtles survive to maturity.
The documentary also looks to answer why sea turtles are disappearing from the beaches of Costa Rica—and can we save them in time?
"This species which has survived so much, may not survive us," Sea Shepherd founder Captain Paul Watson commented.
Executive Producer Anderson, a close friend of Watson who is best known to fans in the title role of the hit TV series MacGyver, says he hopes the film will bring world-wide attention to the "heart-breaking plight" of sea turtles.
"My support for Captain Paul Watson and the hearty hordes of volunteers who make up the crews venturing out to sea, has exposed me to the kind of on-going education that continues to enlighten me, both head and heart," said Anderson. "It is my hope, as executive producer, that this documentary will shed a bright light on a dire situation and proceed to enlighten ALL of us to care about these endangered turtles, as well as ALL of our earths marine life.
Associate Producer Combs, who came to prominence on the TV series Charmed and currently appears on Pretty Little Liars, added: "I became a Sea Shepherd supporter a few years ago when I learned of their amazing work defending the oceans and her inhabitants. Sea Shepherd has shined an international spotlight on the slaughter of dolphins in Japan and the documentary Why Just One? will bring that same international spotlight on the poaching of sea turtles in Costa Rica. I look forward to many more years of working with the courageous and dedicated volunteers of Sea Shepherd."
Watch the trailer here:
Why Just One? Reached its initial funding on Indiegogo in less that 24 hours and has backers from more than 40 counties. It is scheduled for release July 2016. A stretch goal was announced and additional perks were added for a limited time only. To support this film and learn more, visit http://bit.ly/WhyJustOne.
YOU MIGHT ALSO LIKE
40 Dead Tiger Cubs Found in Freezer at Thai Buddhist Temple
Who's to Blame for Harambe's Death?
Could Pixar's 'Finding Dory' Have an Adverse Effect on Coral Reefs?
By James Hoggan
My years of research for I'm Right, You're an Idiot, as well as decades of experience in public relations, have persuaded me that we humans have a fickle relationship with facts. We paint a picture of the world according to facts that appeal to us, and we unconsciously blur the edges or use brushstrokes of denial when faced with disagreeable realities and alarming truths.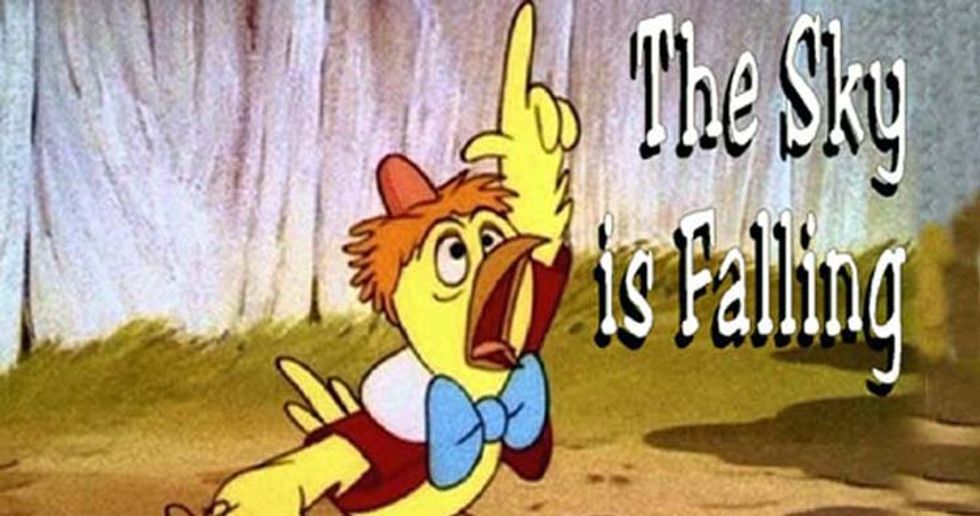 Why is this? Columbia University professor Elke Webber says we tend to ignore or deny unpleasant facts because we have a finite pool of worry, a personal well of anxiety that has only so much room in it. When our lives overflow with bad news we turn away.
Psychologist Bob Doppelt adds that denial is an active form of avoidance often driven by fear, shame or pain. In the case of climate change, many of us work hard not to notice the reality, to avoid feelings of embarrassment and distress, because our worldview would crumble if we were to acknowledge the truth about global warming or ocean acidification, and its link to our misplaced need to exploit and control nature.
To overcome this inertia we must face up to the challenge, not ignore it. Naturally, we always need to balance uncomfortable facts with hope and the courage to act, but we deny frightening facts at our peril. As Doppelt put it, "No tension, no change."
Every scientist and activist I know has at some point been berated by a well-meaning person who accused him or her of being too alarmist, but we need to recognize certain facts in order to change the way we interact with the world if we are to solve these problems.
For example, a new climate change study published in the March 2016 issue of the journal Nature predicts high greenhouse gas emission levels could raise the oceans as much as two meters by the end of this century, and by 13 meters—from Antarctica alone—by 2500. Past estimates did not include the melting of Antarctica, but the study suggests when this continent is taken into account we will see a doubling of previous forecasts.
As television journalist Bill Blakemore once told me, after a producer criticized his climate change reporting for being too gloomy: "Nobody likes to be Chicken Little, but the sky really is falling."
In my new book I discuss why critical messages aren't getting through and how to improve our communications, but in this blog I first explain why we need to ring the alarm bells. Here are some warnings from some of the 97 percent of climate scientists whose peer-reviewed papers show human caused global warming is indeed happening and a serious problem.
It is already too late to avoid climate change because temperatures are rising, says University of Hawaii associate professor and ecologist Camilo Mora, but if dangerous greenhouse gas emissions are stabilized soon, the effects could be modified or delayed. For instance, imagine you're driving at 100 miles per hour and there is a hazard in front of you, he said. Even if you slam on the brakes you will likely hit the hazard, but it's much better to hit it a 20 miles per hour rather than 100.
Earth is similarly hurtling towards a hazard, a time when many of today's most populous cities—places like New York, London, Singapore and Cairo—will become unbearably hot. His 2013 study, published in Nature, The Projected Timing of Climate Departure from Recent Variability, predicts the first of these apocalyptic changes will be seen in Indonesia as soon as 2020, and unprecedented temperature shifts will spread to other regions soon after. We can expect a heavy toll on humans and many species as extreme weather accelerates beyond anything we have experienced.
Even Mora was shocked by the results of his study because, rather than using standard deviation, he based his study on the largest extremes he could find in historical records dating back 150 years. Despite this conservative approach, he discovered that climate will move outside those bounds by 2047. This is the year he therefore defines as "climate departure," the date when the historic maximum temperatures will become the new minimums.
One of the areas Mora is most concerned about is species extinction and although 20,000 species are disappearing every year, neither he nor any other scientist can predict which will vanish next. He offers a vivid analogy: "Imagine you are climbing a ladder to the second floor of a building and you fall. Can you accurately predict, given the height of the fall, whether you're going to be injured or precisely what your injuries will be?" Whether you hurt both legs, sprain a wrist or break your neck depends on many factors. If you're lucky, perhaps you will limp away — but you might never walk again. Likewise, scientists cannot predict all the fallout from climate change, but humanity can minimize the impact by using its experience and knowledge.
Mora was also lead author in a 2013 study published in the journal PLOS Biology that looked at the disruptive impact of climate change on the oceans. Eighty percent of the animal protein consumed in the world comes from fish but he calculates by 2100, roughly 98 percent of the oceans will be affected by acidification, warming temperatures, low oxygen or lack of biological productivity. This will threaten up to 870 million of the world's poorest — those who rely on the ocean for food and jobs.
Mora, who studies how biodiversity is impacted by overexploitation, habitat loss and climate change, advises we are losing six million hectares of forest a year, three million hectares of mangroves, 100 square kilometres of seagrasses, and we have already said goodbye to 90 per cent of the top predators since 1950. He believes people who don't care about driving species down to extinction display a shockingly selfish view and lack of foresight.
The good news is, our knowledge of climate is improving, as is our capacity to analyze what we learn, thanks to the Intergovernmental Panel on Climate Change (IPCC) that is gathering data from 39 models in 21 different locations. The bad news is, readings are disturbing. By 2050, the panel predicts the available fresh water per capita in India will be two-thirds what it is today. Some places are already heavily water-stressed, warned past panel chair Rajendra Pachauri, when I interviewed him, prior to the most recent IPCC report being released. He anticipated a global scarcity of food, which is particularly alarming as the panel predicts crop yields will likely decrease by up to two percent each decade, while the world's population rockets to nine billion by 2050.
Rapidly melting Himalayan glaciers will affect 500 million people in South Asia and about 250 million people in China and the Tibetan Plateau. "This nexus between climate change, water availability and food security is something that needs a lot of study, and quickly, so we can institute water resource management changes," he warned.
Pachauri said any suggestion that reducing greenhouse gas emissions would lead to massive reductions in economic output is incorrect. "We estimate that if we were to carry out very stringent mitigation beginning today, the maximum loss of GDP would be about three percent of global GDP in 2030," he said. "That's not a very heavy price to pay for avoiding some of the worst impacts of climate change. And there are many attractive, positive benefits. The sooner we act the cheaper it will be."
While climate change deniers have attacked the IPCC in the past, it is interesting to note that thousands of leading experts around the globe have sought to contribute to the assessments and comprehensive reports. That high number shows the panel's strong backing by the scientific community, said Pachauri, who was re-elected by acclamation in 2008 and stepped down in 2015.
The past chairman's message is just as powerful today as it was when we spoke. Earth's climate is changing and the data shows how it is happening. We know the results of inaction will be extremely serious, particularly in the most vulnerable regions of the world. "If you want instant change, then you also get instant frustration —but we must believe that in the end, human beings will be rational," he said.
The panel's predictions of increasing frequency and intensity of floods, droughts and heat waves were echoed in a report, Turn Down the Heat, commissioned in 2012 by the World Bank. If we fail to act it forecasted a potentially devastating four-degree rise in temperatures by the end of this century. Prepared by the Potsdam Institute for Climate Impact Research and Climate Analytics, the report spelled out cataclysmic changes. World Bank Group President Jim Yong Kim forecasted the inundation of coastal cities and increasing risks for food production as dry regions become dryer, wet regions wetter. He predicted unprecedented heat waves and water scarcity in many regions, "increased frequency of high-intensity tropical cyclones; and irreversible loss of biodiversity, including coral reef systems."
Close to a quarter of the world's coral reefs have already vanished and another third are threatened by pollution, habitat destruction, over fishing, increasing ocean temperatures and acidification. Coral bleaching has devastated parts of the Great Barrier Reef in northeastern Australia and now the problem has spread to Kimberley in the northwest. It is being blamed on climate change and that region's unusually warm waters during the summer of 2015/16, combined with the largest El Niño ever recorded. Reporting across the Pacific shows the extensive nature of the problem and the dramatic impact of temperature changes on reefs. Experts say the effect on marine life could be catastrophic.
One of the world's leading marine conservation biologists, Callum Roberts, a British research scholar at the University of York believes, "We're not just losing pretty marine life, we're losing a lot of the values that we look to marine environments for."
He offers a frightening example of the devastation happening around the world when he talks about the Irish Sea, a body of water between Ireland and England. Reports from the 1820s and 1830s described an abundance of huge fish here including cod, conger eels, ling, halibut and giant skates measuring meters across. But problems began when sailing trawlers moved into the area and started dragging nets across the seabed, pulling up seaweeds, sponges, sea fans, corals and more. Fish stocks declined and the seabed habitat was degraded.
By the late 19th century trawlers with steam engines were towing much bigger nets, going deeper, farther offshore and fishing round the clock. The abundance of fish was knocked down even more, while impacts on the seabed broadened as diesel engines intensified trawling and new technologies such as better fish finders were developed.
As fish became less plentiful people turned to harvesting scallops and prawns, using fine mesh nets and heavy dredges to scour the seabed. The result? "The Irish Sea has been stripped of its wildlife," said Roberts who dived there a couple of years ago and was both slightly cheered and horrified by what he saw. In a bay that was declared off-limits to scallop dredging and prawn trawling for 20 years he saw life starting to return in the form of anemones, sponges, fish and small rays, but an area still open to scallop dredging "looked like a six-lane highway. I only saw five things that were alive and one was dying: two scallops, two sea urchins and a smashed clam perforated by a dredge spike."
The oceanographer explains this kind of harvesting is bad for all the ecological processes that go on in the sea, including sequestering carbon from the atmosphere and locking it away in sediments, a process greatly reduced by the removal of filter feeders on the seabed. "We are seeing increasing outbreaks of things like jellyfish which are now predator-free since we've taken out most of the things that eat them," he said. "A jellyfish species called Mnemiopsis leidyi was accidentally introduced into the Black Sea in the 1980s and proceeded to eat everything, eventually becoming 95 percent of the biomass there."
We are witnessing an increase in harmful algae blooms that are toxic to plankton and he predicts a time when people will not want to holiday at the seaside because it will be too dangerous and unpleasant. For example, intensive pig farming in France releases huge amounts of nitrogen and phosphorous into the sea, producing masses of slimy seaweed that wash up along the coast in Brittany. Rotting in vast heaps, it produces lethal hydrogen sulfide gas and has resulted in the deaths of people and animals exposed to the slurry.
Some argue that dredging the seabed is no worse than plowing the land, but there is a fundamental difference: In the oceans we can't use chemicals to manipulate the environment. We have to rely on the sea's ability to repair itself.
Roberts worries about the loss of biodiversity in the ocean because when we convert it from the richness and complexity of two centuries ago to the monocultures of prawns and scallops of today, we lose a great deal of the ecosystem's resilience and stability. Already there is an increasing frequency of disease affecting prawns, crabs and other crustaceans. "It is in the interest of everyone to rebuild ocean life," Roberts said. "To have abundance, we need diversity and complexity."
If we continue on this course many of the iconic species people know and love—albatrosses, penguins, leatherback sea turtles that have been around for 100 million years—could become extinct. It's one thing to inadvertently deplete a species, but another entirely when actions are taken with full knowledge they will push a species to the edge. He fears we're getting to a stage where corporations are so controlling of the political process that increasingly risky and counterproductive decisions are being made.
"Big fish like bluefin tuna and dolphins will not make it through the transition," he predicts and we're already seeing a shift from bigger life to smaller life. Mini-fauna is replacing mega-fauna. "We had huge fish in the Irish Sea 200 years ago, now we have scallops and prawns. Eventually the kingdom of the worms will prevail on the sea floor."
We need to start communicating better about these issues so people start seeing the world as it really is, so the public is not tricked or misled by PR spin or propaganda.
In the next post I talk to environmentalist, geneticist and zoologist David Suzuki; anthropologist and ethno botanist Wade Davis; and archaeologist and author Ronald Wright who emphasize why we need to change our behavior immediately and why it's essential to clear the air in the public square.
In my next post I will explain how we find the courage and the tools to fix these problems, and how we can inspire hope not despair.
James Hoggan is president of the Vancouver PR firm Hoggan & Associates, chair of the David Suzuki Foundation and founder of the influential website DeSmogBlog. He is also the author Climate Cover-Up, Do the Right Thing and the recently released I'm Right and You're an Idiot.
YOU MIGHT ALSO LIKE
185 Environmental Activists Across 16 Countries Were Killed in 2015
First Self-Driving, 3D-Printed Smart Bus Hits the Streets of Washington, DC
6 Million Tropical Fish Imported Into U.S. Each Year Are Exposed to Cyanide Poisoning
By The Goldman Environmental Prize
The Goldman Environmental Prize honors grassroots environmental heroes from the world's six inhabited continental regions: Africa, Asia, Europe, Islands & Island Nations, North America, and South and Central America. The prize recognizes individuals for sustained and significant efforts to protect and enhance the natural environment, often at great personal risk. The Goldman Prize views "grassroots" leaders as those involved in local efforts, where positive change is created through community or citizen participation in the issues that affect them. Through recognizing these individual leaders, the prize seeks to inspire other ordinary people to take extraordinary actions to protect the natural world.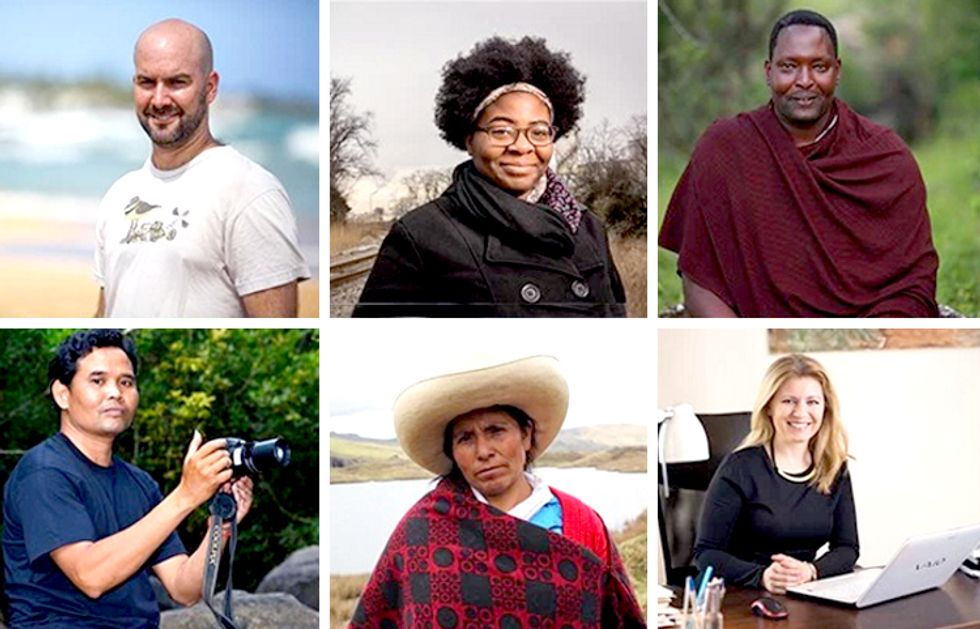 Here are the 2016 Goldman Environmental Prize winners:
Baltimore Youth Changes Hearts and Minds to Prevent Toxic Incinerator in Community Beset by Pollution
Last year Freddie Gray's death put Baltimore at center stage in the national dialogue about race in America. Much of the focus has been on police brutality and differential treatment of racial minorities by law enforcement and the criminal justice system. There has been less attention to the environmental consequences of institutional racism, which are disproportionately experienced by poor people of color.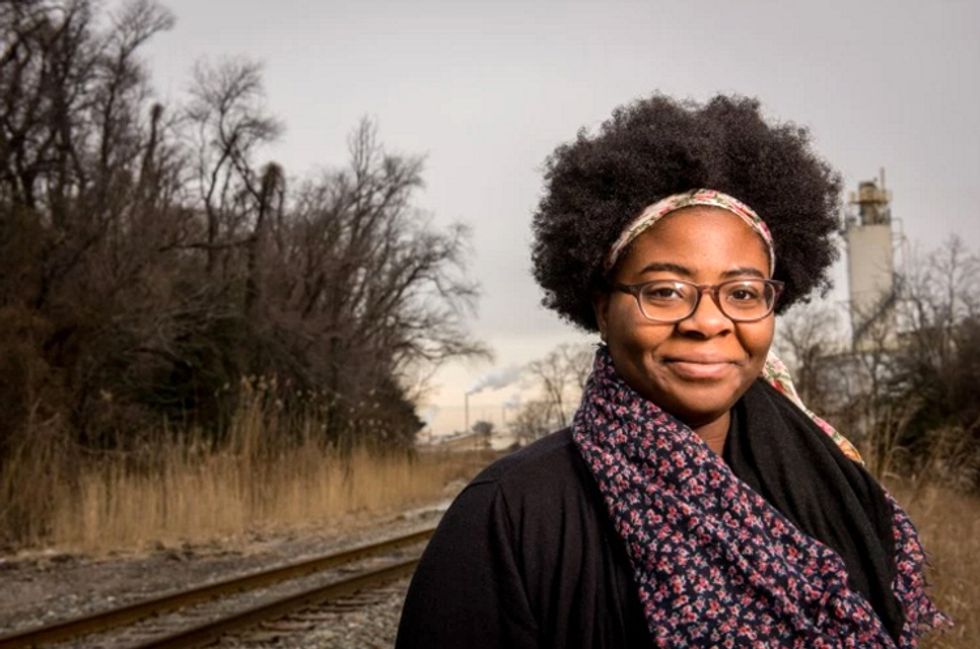 For decades, residents of South Baltimore have been plagued by pollution from heavy industry. The area hosts the nation's largest medical waste incinerator, alongside chemical plants, coal piers and associated diesel-truck traffic. The small neighborhood of Curtis Bay is the epicenter of a community's fight against South Baltimore's aggressive industrial expansion. In recent years, it was determined to have the worst toxic air pollution in the U.S., but development continues apace.
The latest threat is another behemoth—the nation's largest trash incinerator. The project's legal approval was secured by developer Energy Answers under the pretense that the facility would produce renewable energy as clean as solar and wind by burning waste. The reality is different. Although Energy Answers' incinerator was ranked in "tier 1" of Maryland's Renewable Portfolio Standard, research revealed that it would wreak havoc on the community's health and environment. It would emit vast quantities of toxic heavy metals such as mercury and arsenic that have been linked to lung cancer, asthma and heart disease—in a community already plagued by industrial pollution.
The only thing standing in the way of the incinerator's construction is Curtis Bay native and college student Destiny Watford. From the age of 16, she mobilized her disaffected community to fight the incinerator using social media and performing arts, coupled with a creative strategy to limit Energy Answers' ability to fund the project.
Watford, now 20, became an environmental activist when she learned about Energy Answers' proposal to build the incinerator in Curtis Bay. Her first-hand experience watching neighboring towns wither from industrial pollution motivated her to protect her battered community. With clear-eyed enthusiasm, Watford and other public high school students united the people of Curtis Bay in support of their efforts.
After attempts to halt the project by invoking local health-related regulations were unsuccessful, Watford turned to arts and information as modes of activism. Inspired by a play she saw about pollution and deception, Watford called for her schoolmates to utilize their passions in videography and design to put pressure on 22 local organizations—including the Baltimore City Public School system—that had pledged to purchase energy generated by the as-yet-unbuilt incinerator. Through education she provided about the incinerator's impacts, Watford convinced 18 of the 22 organizations to nullify their contracts, effectively cutting off the main source of revenue for the incinerator.
However, the threat of the incinerator looms. Energy Answers still holds the lease on the 97-acre site, and Watford has reached an impasse with the Maryland Department of Energy, which has the ability to force Energy Answers out since it violated its permit by not beginning construction.
Despite this, Watford is not sitting idle. She has a vision to transform the site for the true benefit of the community by exploring alternatives like solar technology, filling the site with community-owned panels to make it the largest solar farm on the eastern shore board. This would provide clean energy jobs for locals and would be a first step to encourage sustainable development. Toward this end, Watford is collecting signatures and video testimonials appealing to the Maryland Department of Energy to enforce the law and evict Energy Answers. With enough support, Watford hopes to begin the process of re-claiming Curtis Bay for its resident.
Watch here:
Uncovering Phnom Penh: Cambodian man reveals government's destruction of indigenous farmers' homes and forest land for timber sales
In Cambodia, where eighty percent of the population depends on the land for its livelihood, large swaths of forest and arable land are being taken from farmers and destroyed. The seizures are permitted by a 2001 law that allows the government to take over citizens' property for development purposes through deeds called Economic Land Concessions (ELCs). Under the guise of clearing space for agricultural and industrial projects, the government has used ELCs to force 300,000 rural Cambodians off their land. Once the people are removed, timber companies illegally fell rare trees such as the Siamese Rosewood to make luxury wood furniture for the international market, mostly in China and the U.S. While a handful of companies with powerful political allies have made a fortune on the illicit sale of exotic timber, Cambodian villagers have been left homeless, jobless and hungry.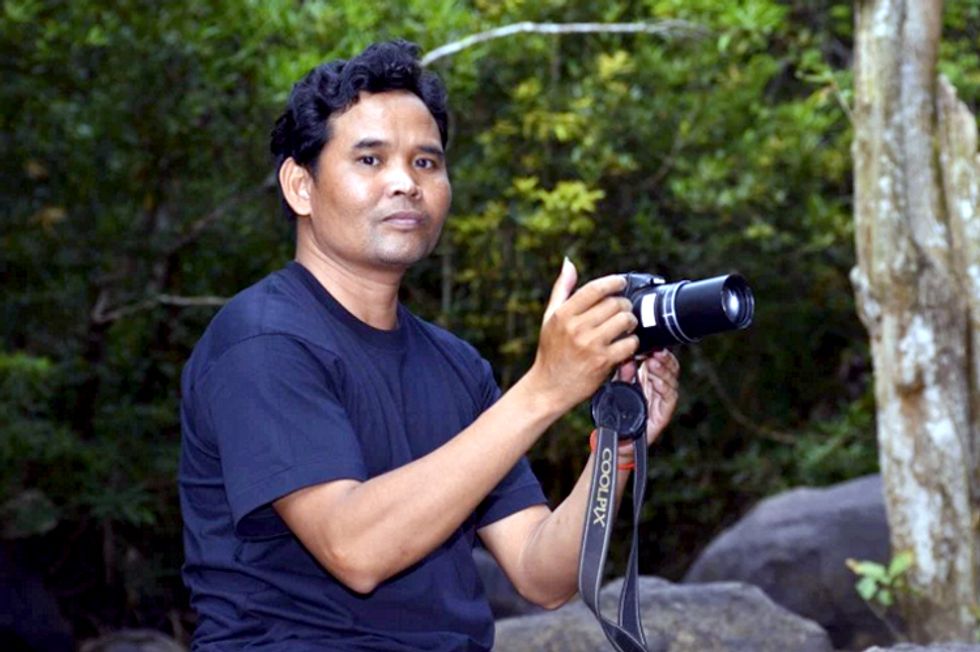 Ouch Leng, 39, grew up in the post-Khmer Rouge era when government corruption, violence and impunity for elites were ubiquitous. Ouch vowed from an early age to dedicate his life to protecting Cambodia's forests and defending the human rights of his people. As land grabbing via ELC deeds accelerated, Ouch founded the Cambodian Human Rights Taskforce (CHRTF), a nonprofit organization focused on exposing human rights violations behind ELCs. His work bridges human rights and environmental defense because ELC-initiated deforestation ravages wildlife habitat and devastates indigenous populations. Through his investigations into ELC-related human rights violations, Ouch found that most illicit logging occurred under deeds issued to Try Pheap, a Cambodian logging tycoon with close ties to Prime Minister Hun Sen.
For years, Ouch worked undercover, posing as a Try Pheap Group employee or hiding in muddy fields near logging sites to gather firsthand evidence of Try Pheap's criminal activity and of his company's alliance with the Cambodian government. Following multiple clandestine research initiatives, Ouch released findings to the international media, which demonstrated that Try Pheap and high-ranking government officials were colluding in illegal timber trade. Since then, Ouch and CHRTF have released a series of reports detailing the malfeasance. When the government was undeterred by the embarrassing revelations, Ouch mobilized Cambodian citizens to stage peaceful protests in the streets of Phnom Penh and block the illegal loggers from accessing their land. The added pressure from the protests led the government to nickname Ouch the "Land Revolution," as his activism was beginning to threaten the ELC system and the government's timber fortune.
In 2014, much as a result of Ouch's persistence, the government cancelled nearly 50,000 acres of ELCs granted to Try Pheap Group inside the Virachey National Park, which is home to sun bears, small-clawed otters and dholes, an endangered species of wild dog.
Ouch's work has put him at immense personal risk. It is unusual for a whistleblower in Cambodia to be so openly critical and willing to identify himself. A Global Witness report released last year revealed that Cambodian activists have been killed for standing up against these injustices. Today, Ouch lives in hiding following numerous threats to him and his family. Despite this danger, he continues fighting rampant government corruption to save the Cambodian forest for future generations.
Ouch wants to make the international community aware of the devastation caused by ELCs and illegal logging. To discourage the government from continuing this practice, Ouch calls for people around the world to make sure any wood furniture they purchase is sourced sustainably.
Watch here:
Puerto Rican Man Saves One of the Island's Last Few Pristine, Undeveloped Coastal Strips
For more than 15 years a battle has been fought over a segment of pristine coastline on the Atlantic tip of Puerto Rico known as the Northeast Ecological Corridor (the corridor). The 3,000-acre area nestled between the seaside municipalities of Luquillo and Fajardo is highly biologically diverse. Comprised of a patchwork of public and private parcels, the corridor is home to nearly 900 varieties of flora and fauna, including several endangered species such as the leatherback sea turtle. Often referred to as an "ecological wonderland," the corridor packs coastal wetlands, mangroves, tropical rain forest and desert-like habitat into a relatively small area.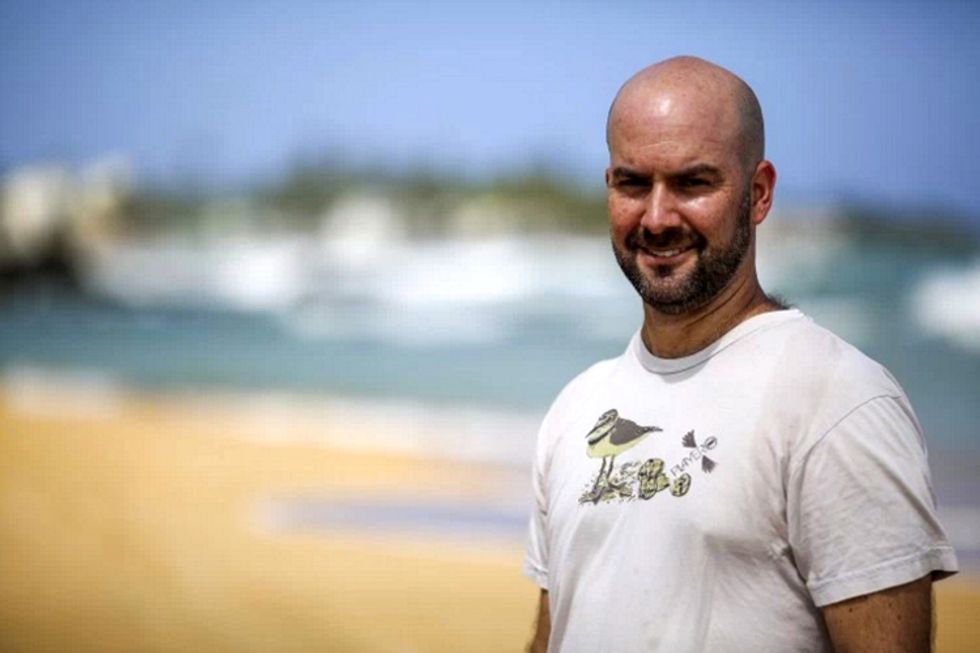 In the 1990s, private developers seeking prime real estate for luxury hotel projects quietly arranged with politicians to build two mega-resorts along corridor beaches. Residents and environmental advocates didn't want the untouched area to succumb to development like so many other places in Puerto Rico. One local man has steadfastly combined legal savvy and traditional organizing to unite communities against the development.
Luis Jorge Rivera Herrera, 43, is an environmental scientist who grew up on a family farm near Luquillo that has been passed down through four generations. Living and surfing in the corridor, Rivera Herrera was awestruck by nature from an early age. Rivera Herrera was especially taken by the massive female leatherback sea turtles that haul themselves onto the beaches to lay eggs. Then hatchlings, scarcely the size of a human hand, scamper into the ocean. The corridor is one of a dwindling number of suitable nesting sites for the largest species of sea turtle. Rivera Herrera believes the corridor is Puerto Rico's natural patrimony, and that it should be kept safe for humans, sea turtles and other wildlife to enjoy.
When the Puerto Rican government announced proposals to build the San Miguel and Dos Mares resorts in 1999—projects that were backed by Marriott and Four Seasons—Rivera Herrera sprung into action. He gathered data about the corridor's ecosystems and paired it with details about the resorts' construction plans. Rivera Herrera brought this information to the communities, and he also brought community members to the proposed resort sites to emphasize what was at stake.
After years of raising awareness among local people, Rivera Herrera founded the Coalition for the Northeast Ecological Corridor (NECC) in 2005 to formalize his volunteer efforts and those of community groups. This included the Puerto Rico chapter of the Sierra Club, which had recently been established on the island with the corridor's conservation as its flagship issue. This marked a turning point for the campaign.
Rivera Herrera initiated a legislative act to protect the corridor as a nature reserve. The bill failed to pass in the legislature, but Governor Aníbal Vilá saw enough public support to pass an executive order in 2007. However, in a stunning example of the precariousness of legal protections, the next governor, Luis Fortuño, repealed the corridor's designation a mere two years later. This repeal caused speculation about the independence of Fortuño's decision given that Dos Mares resort contributed funds to his campaign.
In spite of this crushing setback, Rivera Herrera parlayed widespread public outcry over Fortuño's reversal to mount a second attempt to pass a bill that would permanently protect the corridor. His legislative campaign found success in 2012, and the following year, Governor Alejandro García Padilla signed the bill into law, protecting the corridor's public lands and ending the threat of development.
Due to financial constraints that have prohibited Puerto Rico's Department of Natural and Environmental Resources from hiring a manager for the newly protected corridor, Rivera Herrera is acting as interim manager. He is working with others to develop a plan to develop sustainable tourism in the corridor. His biggest challenge, however, is raising funds to purchase the private parcels that remain in the corridor, a condition of the bill that must be met within eight years. The government earmarked funds for this purpose but they are in jeopardy due to Puerto Rico's fiscal crisis.
Watch here:
Environmental Lawyer Breathes Life into the Law to Stop Landfills in Slovakian Villages
For years, Slovakia has been a cheap and willing customer in the dumping of Western EU countries' waste. Its loose construction laws—which govern the management of waste disposal facilities—do little to prevent under-the-table deals between the national government and private developers, while individual municipalities are left with little choice but to store unwanted waste that they have no hand in approving. As a result, in villages across Slovakia illegal landfills sit just meters away from residential areas and leach toxic chemicals into the soil and groundwater. They also release pollutants into the atmosphere, creating environmental and human health hazards that last for decades.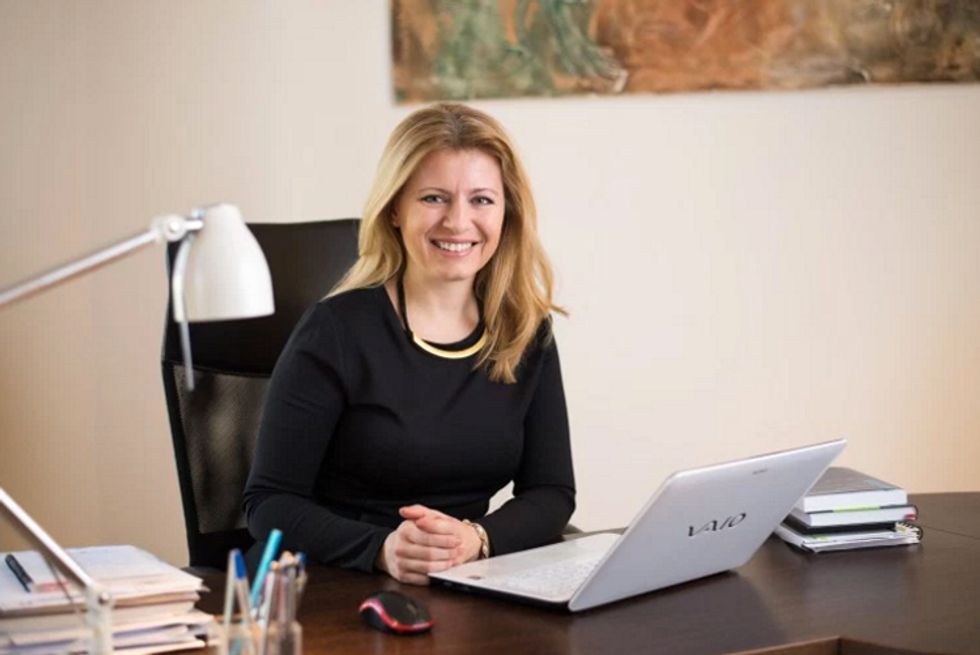 At a glance, the town of Pezinok—located just 13 miles outside the capital of Bratislava—seems to be an exception. Vineyards that once produced royal wine surround the small town at the base of the Little Carpathian Mountains. Yet, the rate of leukemia in Pezinok is eight times higher than the Slovak average. A landfill built in the 1960s, without any permits, sits at the town's edge, containing waste from medical facilities and chemical factories. Despite Pezinok's 2002 urban plan, which prohibited landfills within the city limits, construction began on a second landfill in 2003 due to the owner's connections with regional authorities. Though the country's nascent democratic system that operates on clientelism would have ordinarily provided an easy path for this new project, one community member began a fight that would challenge 'business as usual.'
Zuzana Caputova, 42, resides in Pezinok with her two young children. Having been born and raised in the town, the environmental lawyer was all too familiar with the negative effects of its illegal landfill. When the local people needed a leader to fight against the new landfill, they reached out to Caputova for help. But Caputova did more than mobilize her community. She combined legal know-how and bottom-up activism to take on the Slovakian people's illegal dumping problem in law and in practice.
Noted as one of the largest grassroots efforts since the Velvet Revolution, Caputova's fight to stop Pezinok's landfills marked one of the first times local residents took a stand on the waste dump issue. Caputova filed injunctions to shut down the older landfill, then turned her attention to halting construction on the new landfill before it was too late.
While Caputova and her public advocacy law firm, Via Iuris, filed petitions with officials to stop the new landfill, she also encouraged residents to organize. What resulted was a citizens' initiative called "Dumps Don't Belong in Towns," as well as the uncovering of illegal permits that gave Caputova the indisputable evidence she needed. By empowering others, Caputova inspired a demonstration involving 67,000 locals that convinced the municipality to acquiesce and cease the landfill construction.
But Caputova's fight did not end in Pezinok. In 2014, residents of nearby village, Smolenice, contacted her. They had heard of Pezinok's success and sought Caputova's help to stop a waste gasification plant that would convert garbage into fuel and electricity using a new, untested technology. The people of Smolenice didn't want to be guinea pigs. Caputova helped them prevail and since then eight other municipalities in Slovakia facing similar struggles have received help from Caputova.
Notably, Caputova has set her sights at the federal level to address the legal root of the landfill issue once and for all. She recently assisted in drafting an amendment to Slovakia's 49-year-old Construction Law—the source of the problem when it comes to the harmful effects of waste storage. The amendment would give a larger voice to municipal governments and increase public participation in the waste disposal and landfill development process. The Construction Law will be reviewed by parliament in March of 2016 and many have indicated support for the amendment.
To further the legal assistance of many Slovakian municipalities—and strengthen the country's judiciary system through advocacy—Caputova is encouraging all supporters to donate to Via Iuris, the not-for-profit public advocacy firm that she has partnered with to fight these landfills and challenge the Construction Law.
Watch here:
Peruvian Grandmother's Struggle to Stop Mega-Mine in Andean Highlands
Like many developing countries, Peru is the site of natural resource extraction projects that drive out local people with legal rights to their land. Corrupt private partnerships with regional governments and international investors leave the ordinary people whose lives are affected with nowhere to turn. But in a remote corner of Peru's northern highlands, one woman has put a wrench in the plans of Colorado-based Newmont Mining Corporation, which is angling to build a huge mining project in her backyard.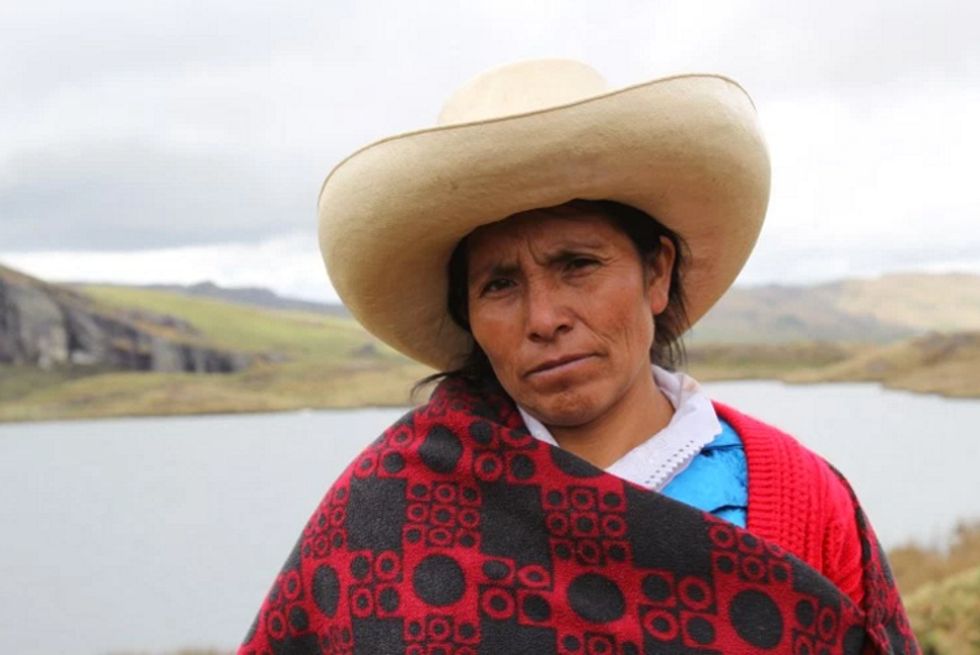 Máxima Acuña, 47, is a subsistence farmer, grandmother and unwitting activist whose fight to prevent Newmont from building the Conga Mine was born of her drive to protect her land and her right to peacefully live off of it. An unconventional environmental champion, Acuña has no formal schooling nor is she affiliated with any advocacy organization. Yet her iron spine and deep sense of injustice have put her at the forefront of a movement to stop the Conga Mine.
More than 20 years ago, Acuña and her husband purchased the land that they live on and farm. Their 60-acre homestead is located at the edge of Laguna Azul (Blue Lake), one of several high-altitude lakes that supply fresh water for her family and that of countless others downstream. The stark Andean mountain terrain has rich soil in which Acuña grows her crops, and native grasses that sustain her livestock.
In 2011, the Peruvian government granted Newmont a 7,400-acre concession to build the Conga Mine that included Acuña's property. In order to move forward with the project, Newmont would need access to Acuña's land. Her parcel provides optimal access to Laguna Azul, one of four lakes that Newmont plans to drain and convert into tailings ponds to collect toxic mining byproducts such as cyanide and arsenic.
After receiving the concession, Newmont representatives tried to persuade Acuña to sell her property. She refused, knowing that the mine would poison the region's fresh water, and because she feels a deep connection to the land she has tended for more than two decades. A year later, in 2012, Newmont won a lawsuit against Acuña in a local court, having accused her family of squatting on land Newmont claims it purchased as part of a bundle of properties.
Acuña enlisted the help of GRUFIDES, a local NGO that provides legal assistance for rural communities against mining companies. With GRUFIDES' help, Acuña appealed the local verdict in a higher regional court, often walking 10 hours over treacherous mountain paths to make her court appearances. In 2014, the higher court overturned the original verdict, lifting the criminal charges against Acuña. While this victory meant that Newmont couldn't proceed with building the mine, it has come at a high personal cost for Acuña as the company continues to dispute Acuña's land rights and harass her family.
Since refusing to be bought out, Acuña and her family have been monitored and threatened. Peruvian state police, working as private security contractors on behalf of Newmont and its subsidiaries, tried to evict her and they forbade her from planting crops on her land. Newmont put up a fence around her land, restricting Acuña's movement. Agents have destroyed her home two times, razing the structure and absconding with her possessions. When Acuña and her daughter tried to intervene they were beaten unconscious.
Despite relentless harassment, Acuña is standing her ground. She never sold her land to Newmont and won't hand it over. In the oral tradition, Acuña sings about her struggle to protect the land and her way of life. The lyrics of her songs communicate her wisdom and her voice reflects the trauma she has endured. However, Acuña's open expression and warm smile convey that she won't allow her spirit to be crushed.
Newmont may appeal the regional court's decision in the Peruvian Supreme Court in order to move forward with the mine. For the time being, Acuña has managed to block the construction of the Conga Mine in a region of Peru where one-half of all land has been granted to extraction projects.
Watch here:
Tanzanian Community Leader Secures Indigenous Land Rights through Innovative Use of Land Law
The native people of Tanzania are better known for their colorful cultural expressions than for their innovative approaches to addressing land rights disputes. Despite enduring decades of displacements, pastoralist and hunter-gatherer indigenous communities like the Maasai and the Hadzabe have co-existed with wildebeests, gazelles, rhinoceroses and other mega-fauna in Tanzania's arid rangelands for more than 40,000 years. Due to government policies that have prioritized foreign investment and development over traditional land use practices, the Maasai and Hadzabe constantly face the threat of losing their land, and with it their ways of life. One man has been able to secure hundreds of thousands of acres of indigenous territory via the creative application of a law intended to manage village land.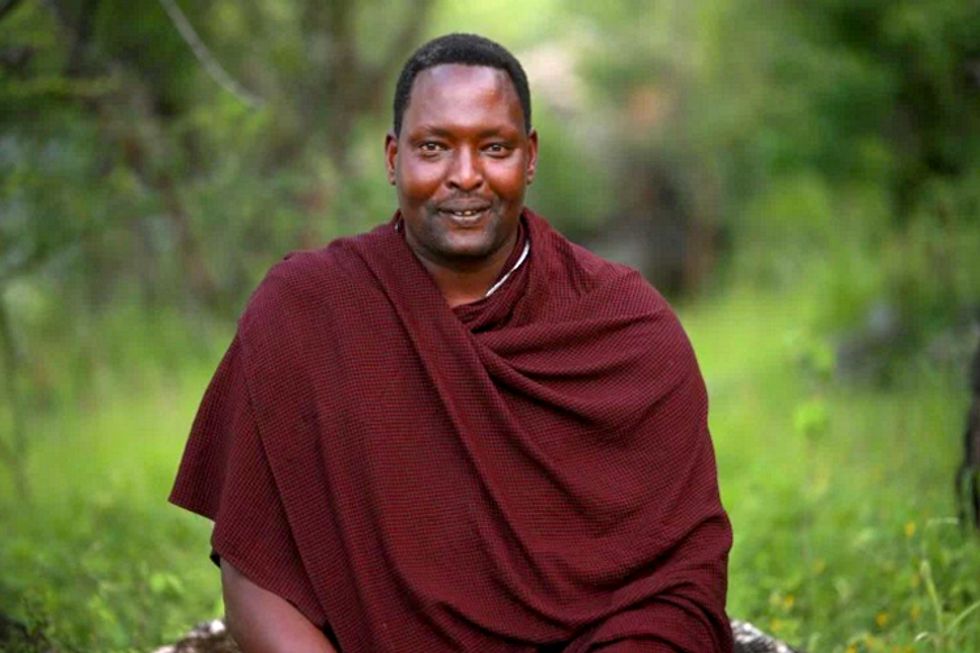 Edward Loure, 44, is a member of the Maasai people and is the Program Coordinator for the Simanjiro region with nonprofit Ujamaa Community Resource Team (UCRT). Having grown up during a time when the government forcibly evicted the Maasai from their communities in order to create national parks, Loure was inspired to demonstrate that native peoples are good stewards of the land, caring for ecosystems while practicing traditional livelihood activities such as livestock grazing. Recognizing that the lack of legal documentation demarcating indigenous territory allowed outside actors to buy up land they considered to be unclaimed, Loure set about making the Maasai and Hadzabe's plans for their ancestral lands intelligible to the state.
During the last 50 years, land that was historically populated by endemic peoples has been sold to commercial hunting and eco-tourism operations, or to large-scale commercial farmers who produce crops for export. To date, the Maasai have lost more than 150,000 acres of rangeland across northern Tanzania. As the supply of available land in Tanzania decreases, pressure on areas managed by the Maasai and Hadzabe, often perceived as 'empty,' increases. This has resulted in multiple clashes between indigenous people and outsiders. The Maasai and Hadzabe defend against encroachments on their land and reject assumptions that they don't protect habitat and wildlife.
In 2003, Loure and UCRT set out to address the problem. They began meeting with indigenous community members and village leaders to discuss an unprecedented approach to documenting land rights. Loure used a provision called the Certificate of Customary Right of Occupancy (CCRO) from the Tanzanian Village Land Act to formalize land rights for the Maasai and Hadzabe. The rule was meant to manage individual land holdings within villages; however, Loure used it to recognize land rights on behalf of a community.
When they approached communities about creating CCROs, Loure and UCRT were met with apprehension. Maasai and Hadzabe people had been misled in the past. But over many conversations, Loure worked with communities to map the boundaries of their territories and create land use plans. In the years Loure spent shepherding the creation of CCROs, and navigating conflicts, he gained the trust of the people and earned a reputation for fairness and inclusion. It is not common for a Maasai man to work on behalf of the Hadzabe people but they knew he had their best interests at heart.
By 2013, after nearly a decade of work, Loure had secured more than 200,000 acres of land for the Maasai and Hadzabe using CCROs. For the Hadzabe, Loure negotiated an agreement between the group and Carbon Tanzania, a nonprofit, for the Hadzabe to be paid for the carbon sequestered in their forests.
Loure's success has inspired other indigenous groups to use the same tactic to protect land, and Loure is currently working on 12 additional CCROs to secure rights for more than 970,000 acres of land, mostly in northern Tanzania.
Looking ahead, Loure hopes the success of CCROs will draw awareness to the issue of land rights for indigenous people and increase support in Tanzania. To further the development of CCROs, Loure and UCRT need funds to support their work. Those interested in helping are encouraged to donate to the local fund for UCRT, here.
Watch here:
YOU MIGHT ALSO LIKE
Prize-Winning Activist Berta Cáceres Murdered in Honduras
40 Students Arrested Demanding Their Schools Divest From Fossil Fuels
March 2016 Was Hottest on Record by Greatest Margin Yet Seen for Any Month
We know that ocean plastic can have a devastating impact on aquatic life such as seabirds, fish and whales. Now, researchers have found that 60 percent of post-hatchling loggerhead turtles stranded on southern Cape beaches in South Africa have been impacted by growing quantities of human-caused debris such as plastic fragments, packaging and fibers.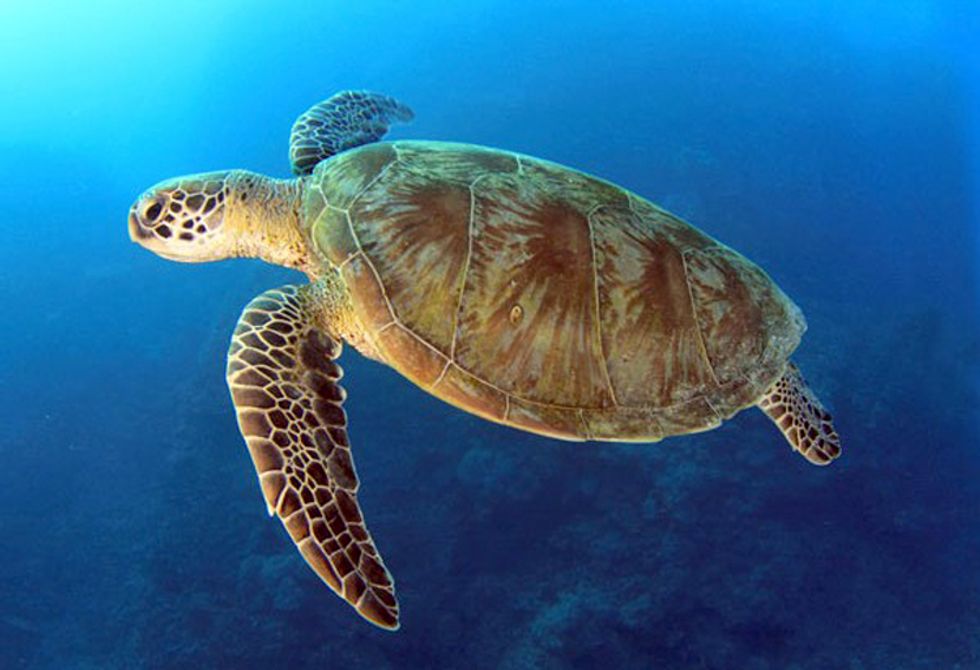 A new study published in Marine Pollution Bulletin last month reported that 24 out of 40 of loggerhead turtles died within two months of stranding in April 2015. Of the turtles that died, 16 had ingested plastic. Gruesomely, 11 of these turtles died because plastic was blocking their digestive tracts or bladders.
Here are other key points from the study, as reported by South Africa's Times Live:
Plastic comprised 99 percent of debris collected.
The majority

—

77 percent

—

w

ere hard plastic fragments' 10 percent were from flexible packaging and 8 percent were fibers.
Industrial pellets comprised 3 percent, compared to around 70 percent in a previous study between 1968 and 1973.
In the earlier study' only 12 percent of stranded post-hatchlings contained plastics' compared to the 60 percent of the current study.
"Our results indicate that the amount and diversity of plastic ingested by post-hatchling loggerhead turtles off South Africa have increased over the last four decades, and now kill some turtles," the study says.
South Africa's beaches are inundated with plastic, the Sunday Times reported in December. According to data released by Plastics South Africa, there are roughly 400 pieces of plastic per square meter. Another study found that South Africa ranks as the 11th worst country for dumping plastics in the ocean, between Bangladesh and India, the publication noted.
The turtle study's lead author, Peter Ryan of the Percy FitzPatrick Institute of African Ornithology and the DST-NRF's Centre of Excellence at the University of Cape Town, told the Sunday Times that South Africa needs multiple strategies to clean up its plastic problem.
Prof Ryan of @Fitztitute: Just how bad is plastic pollution in South Africa's oceans? https://t.co/qrGlAfkC73 #turtle

— NRF South Africa (@NRF South Africa)1461918442.0
"There's nothing wrong with plastic—the problem is what people do with it'" Ryan said' explaining that half of South Africa's solid waste does not go into formal waste streams.
He also pointed out that plastic packaging such as candy wrappers are difficult to recycle.
"Every time you do one of these (beach litter) surveys you discover a whole new kind of packaging'" Ryan said. "We need to be more proactive about how we package things."
Ryan, however, said that a solution is possible.
"It's a question of making sure that we dispose of plastic properly and working towards making sure there is a value attached to waste plastic'" he said. "It's a completely solvable problem."
Plastic pollution is impacting sea turtles around the world. Last summer, EcoWatch posted a viral video of researchers from The Leatherback Trust removing a 4-inch plastic straw from a male olive ridley turtle's nose in Costa Rica.
A few months after saving the first turtle, the researchers found another olive ridley in Costa Rica with plastic lodged deeply in its nostril—this time a 5-inch plastic fork.
Thankfully, the research team was able to relieve both turtles, but as Dr. George Shillinger, the executive director of the Monterey, California-based conservation nonprofit, told EcoWatch, it's "just the tip of the iceberg."
"This was an isolated incident involving a single turtle in a small area off a nesting beach in Costa Rica," Shillinger said. "Just imagine globally what's happening."
Last year, researchers from the Commonwealth Scientific and Industrial Research Organization in Australia and Imperial College London released a report with the startling finding that 90 percent of seabirds today have eaten plastic, and if humans don't stop dumping plastic into the ocean, it's predicted that 99 percent of seabirds will swallow plastic by 2050.
When asked if this trend is also happening with turtles, Shillinger replied without hesitation: "Totally. Turtles are occupying the same habitats … Without a doubt these animals are consuming plastics in areas where they'd otherwise go to consume prey."
Exclusive Interview: Researchers Remove Plastic Fork Lodged in Turtle's Nose https://t.co/kwjVHFBn69 @TheLeatherback https://t.co/mSO9OuwUtW

— EcoWatch (@EcoWatch)1450540021.0
Approximately 8 million metric tons of plastic waste is dumped into our oceans every year, and the pollution is only getting worse as consumer use of plastic and plastic-intensive goods intensifies in emerging countries.
Not only that, an alarming study by the University of Delaware physical oceanographer Tobias Kukulka reported that there might be much more plastic than what's estimated.
"My research has shown that ocean turbulence actually mixes plastics and other pollutants down into the water column despite their buoyancy," Kukulka said, according to UD Daily. "This means that surface measurements could be wildly off and the concentration of plastic in the marine environment may be significantly higher than we thought."
YOU MIGHT ALSO LIKE
One of the World's Most Endangered Turtles Nearly Extinct With Fewer Than 10 Left in the Wild
Cousteau to SeaWorld: Captive Orcas 'Need to Be Released'
Is the Whale Shark Tourism Industry Conservation or Exploitation?
The Pacific Fishery Management Council—the 14 member voting body tasked with managing fisheries three to 200 miles off the coasts of California, Oregon and Washington—decided yesterday to cease consideration of a proposal to expand the use of deadly drift gillnets off California and instead requested extension of emergency regulations that went into effect last year to protect endangered sperm whales from entrapment in drift gillnets, until permanent protections are implemented.
The meeting in Sacramento, CA, drew unusually high numbers of public comments, including more than 40,000 written comments from Oceana supporters alone. Oceana provided testimony at the meeting and is co-sponsoring California state legislation, AB 2019, to eliminate these mile-long "walls of death" off California and replace them with cleaner and more selective gear types to ensure a vibrant, healthy, sustainable marine ecosystem and ocean-based economy into the future.
"The council took the right action by finally throwing out a proposal to expand the use of deadly drift gillnets into critical habitat for endangered Pacific leatherback sea turtles, a conservation area that is working," said Ben Enticknap, Oceana senior scientist. "However, the fact that these invisible nets still take these magnificent sea turtles—in addition to over a hundred marine mammals and thousands of other fish annually—means the real answer is getting these nets off the water altogether."
Drift gillnets, used to target swordfish and thresher sharks off California's coast, form dangerous underwater barriers that entangle a myriad of marine mammals, sea turtles, sharks and recreationally important fish. Once entangled in these nets, the animals become critically injured, often unable to surface for air, and most eventually drown. Between May 2007 to January 2012, the drift gillnet fishery discarded 63 percent of all marine animals it caught. Below, a Google map documents marine mammal, sea turtle, and seabird bycatch (click on image for interactive map):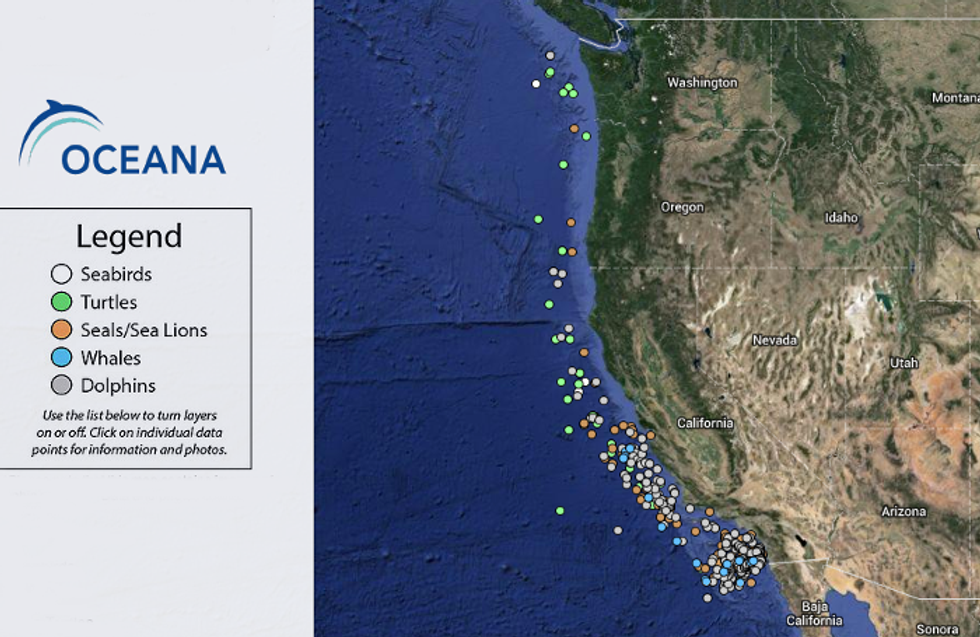 AB 2019 will prohibit the use of drift gillnets to take swordfish or sharks while allowing continued fishing for swordfish and sharks with hand-held hook and lines, harpoons and experimental gears. The bill also establishes a new state policy to support a federal prohibition on drift gillnets off the U.S. West Coast. This effort is long overdue. The legislation is joint-authored by Assemblymembers Paul Fong (D-San Jose) and Marc Levine (D-San Rafael), principle co-authored by Mark Stone (D-Monterey Bay), and co-authored by Anthony Rendon (D- Lakewood), Das Williams (D- Santa Barbara) and Lorena Gonzalez (D- San Diego).
Both Washington and Oregon have already prohibited their fishermen from using drift gillnets, and the U.S. has worked for more than two decades to eliminate drift gillnets from the high seas. Federal waters off California are the only place on the West Coast that drift gillnets can be used to catch swordfish and sharks.
"We are committed to ridding the California Current of this wasteful fishing gear that results in more marine animals being thrown overboard than fish retained," said Geoff Shester, California campaign director at Oceana. "The sooner these nets are off the water, the faster we can revitalize a sustainable swordfish fishery that is safe for California's treasured ocean wildlife."
In an effort to demonstrate the destructive nature of drift gillnet gear and to raise public awareness for the need to transition to cleaner alternatives, Oceana submitted a Freedom of Information Act Request to the National Marine Fisheries Service  requesting images of marine life injured and killed in drift gillnets off California. The slideshow included a sampling of some of these photos.
Visit EcoWatch's BIODIVERSITY page for more related news on this topic.