EcoWatch Daily Newsletter
Several weeks ago, on June 17, I provided testimony about the threat of human-caused climate change to the Democratic Party Platform drafting committee in Phoenix, Arizona. Fittingly, my testimony was just one day before record heat struck Phoenix.
At the beginning of my testimony, I made the point, using slightly lofty language appropriate for the occasion, that the impacts of climate change are now so profound that we no longer need sophisticated signal-detection machinery to see them:

I am a climate scientist and have spent much of my career with my head buried in climate model output and observational climate data, trying to tease out the signal of human-caused climate change.
What is disconcerting to me and so many of my colleagues is that these tools that we've spent years developing increasingly are unnecessary because we can see the impacts of climate change playing out in real time on our television screens in the 24 hour news cycle.
Regardless of how you measure the impacts of climate change—whether it be food, water, health, national security, our economy—climate change is already taking a great toll. And we see that tool in the damage done by more extreme floods, like the floods we've seen over the past year in Texas and in South Carolina. We see it in the devastating combination of sea level rise and more destructive hurricanes which has led to calamities like "Superstorm" Sandy and what is now the perennial flooding of Miami beach. We see it in the unprecedented drought, like that which continues to afflict California, a doubling in the area of wildfire, fire burning in the western U.S. and indeed, in the record heat we may see this weekend in phoenix.
The signal of climate change is no longer subtle. It is obvious.
My point—that we don't need sophisticated techniques to identify the human fingerprint present in e.g. the doubling of extreme heat or the tripling (in fact) of western wildfire that we have seen in the U.S. in recent decades, ought to be clear to any honest observer.
It would be absurd to conclude that I was arguing that climate models and climate data are no longer necessary in climate science, especially given that they continue to form the bread and butter of my own scientific research (I've published over a dozen scientific articles using climate models and climate data during the past year alone).
So you can imagine my shock—yes, shock—that climate change deniers and conservative media outlets that serve as mouthpieces for them, would seek to convince their readers of just that.
It is an instructive ontological exercise to follow this particular affair—from its inception through the latest developments, sort of like observing a deviant version of the game "telephone" (or "Chinese whispers" for British readers) wherein the participants are actually trying to distort the message as it is passed along from one person to the next.
It all started on Monday, June 27 with Steven J. Milloy and his outlandishly untruthful claim "Michael Mann says there is no need for statistics."
Milloy, who actually calls himself the "junk man" with no apparent sense of irony, is a denier-for-hire who happily takes money from tobacco interests, chemical interests and of course fossil fuel interests to do their dirty work, attacking seemingly any scientist whose findings threaten their financial bottom line.
Milloy frequently publishes columns in the notorious Washington Times. Which brings us to the next stage of the affair ...
Later that same day, the Washington Times—a paper founded by Rev. Sun Myung Moon of the Unification Church, ran a piece by one Valerie Richardson entitled Michael Mann, scientist: Data 'increasingly unnecessary' because 'we can see climate change.'
Somehow "tools" have become "data." It almost seems like they're going out of their way to misrepresent my statements, doesn't it?
Almost as if to demonstrate that they too have absolutely no sense of irony, the Washington Times referred to me in the piece as a "Leading climate doomsayer" (the Unification Church, you see, is often considered a doomsday cult). The Washington Times also happens to be closely tied to ALEC—a Koch Brothers-funded organization that promotes climate change denialism and subverts efforts to incentivize renewable energy.
Next up at bat, Tucker Carlson's The Daily Caller, which later that day pushed the egregiously false headline Famed Climate Scientist Claims Data Now 'Unnecessary' To Measure Global Warming.
Understand that we have now gone all the way from what I actually said (that climate change impacts have become so profound now that we often don't need fancy techniques to see them) to something so patently absurd I couldn't possibly have said it (that we don't need data to measure global warming).
The Daily Caller, incidentally, is so fully immersed in Koch cash that is is listed as a "partner organization" of the Charles Koch Institute.
Witness now, after a two week hiatus, the hand-off from the Koch Brothers to the Scaife Foundations, the Pittsburgh Tribune-Review, to be specific, which was founded by the now-deceased Richard Mellon Scaife. On July 13, the Tribune-Review perpetuated the smear with a climate change-denying editorial containing the farcical howler "[Mann] says facts no longer are necessary to substantiate the climate change story line." Just when you thought the distortion couldn't get more egregious ...
One day later, on July 14, the execrable Tribune op-ed was republished on the right wing website GOPUSA, a website connected to—you guessed it—Richard Mellon Scaife (though a bit of detective work is required to connect the dots).
Oil baron Richard Mellon Scaife and his empire were behind what Hillary Clinton famously referred to as the "vast right-wing conspiracy" to take down her husband, President Bill Clinton (for the record, she was correct).
Certainly, you're thinking, it must be a coincidence that nearly every player in this latest episode seems to be tied in some way to either the Koch Brothers or Scaife Foundations.
Or maybe not so much ...
Richard Mellon Scaife and the Scaife Family Foundations are, along with the Koch Brothers, the greatest private funders of climate change denialism, having stepped up their funding in recent years as fossil fuel corporations like ExxonMobil have come under increased scrutiny for their funding of climate change denial.
As I discuss in my book The Hockey Stick and the Climate Wars about the attacks against me by climate change deniers looking to discredit the iconic "Hockey Stick" graph my co-authors and I published in the late 1990s (p. 64):
Wealthy privately held corporations and foundations with close interests in, or ties to, the fossil fuel industry, such as Koch Industries and the Scaife Foundations, have become increasingly active funders of the climate change denial campaign in recent years. Unlike publicly traded companies such as ExxonMobil, these private outfits can hide their finances from public view, and they remain largely invulnerable to outside pressure. In recent years, as ExxonMobil has been pressured by politicians on both sides of the aisle to withdraw from funding the climate change denial movement, Koch and Scaife have stepped up, contributing millions of dollars to the effort.
Koch funding played a major role in the faux scandal known as "climategate" which involved the misrepresentation of scientists based on out-of-context quotes (sound familiar?) taken from emails of theirs that had been stolen off a university computer server in the UK (p. 220):
One report showed that twenty or so organizations funded at least in part by Koch Industries had "repeatedly rebroadcast, referenced and appeared as media spokespeople" in stories about climategate.
Meanwhile, the Scaifes funded many of the personal attacks intended to discredit me and the "Hockey Stick" (p. 228):
In mid-January 2010, a group known as the National Center for Public Policy Research (NCPPR), which receives funding from the Scaife Foundations, led a campaign to have my NSF grants revoked. The perverse premise was that I was somehow pocketing millions of dollars of "Obama" stimulus money simply because I was a coinvestigator on several recently funded NSF grants. These absurd distortions were--no surprise--promoted by Glenn Beck, Rush Limbaugh, and others of similar persuasion.
and (p. 229):
Two Scaife-funded groups.. the Southeastern Legal Foundation and the Landmark Legal Foundation, had swung into action. The latter had already sued the University of Massachusetts and University of Arizona to obtain copies of my personal e-mails with my two hockey stick coauthors, while in May 2010 the former demanded extensive information from the NSF regarding grants that had been made to me as well as to several of my colleagues at Penn State, the University of Chicago, the University of Washington, the University of Arizona, and Columbia University.
It began to strike me as curious that so many of the demands that I be investigated could be traced back to organizations with ties to the Scaife Foundations. The Commonwealth Foundation, a Pennsylvania organization that is the recipient of considerable Scaife largess, for example, had been pressuring Penn State University to fire me since climategate broke in late November 2009. It managed to get the sympathetic Republican chair of the Pennsylvania state senate education committee to threaten to hold Penn State's funding hostage until "appropriate action is taken by the university against associate [sic] professor Michael Mann." Indeed, it was the Commonwealth Foundation attacks that essentially forced Penn State to launch its initial inquiry into the various allegations against me in December 2009 (similar inquiries and investigations of CRU scientists were initiated in the United Kingdom). The Commonwealth Foundation kept the pressure on for months through a barrage of press conferences and press releases attacking me personally and criticizing Penn State for its supposed "whitewash" treatment of any number of supposed offenses. It also ran daily attack ads against me in our university newspaper The Collegian for an entire week in January and helped organize a protest rally against me on campus. It is likely that these attacks forced Penn State's hand yet again, leading it, following the completion of the initial inquiry in February 2010, to move to a formal investigation, despite having found no evidence of misconduct in the initial inquiry phase.
What is the take-home message here?
As we head into the 2016 presidential election, it is clear that polluting interests and other bad actors are mobilized. They are doing their best to continue the attacks on science and scientists whose findings threaten their bottom line, to distract the public, to promote climate change denial propaganda and to support politicians who will support their agenda of denial and inaction.
The best defense is to study the positions of the candidates and make sure that climate action is at the top of your agenda when you go to the voting booth this fall.
Pope Francis released his encyclical last week, urging swift action on climate change ahead of the Paris climate talks in December. And before the ink had even dried, many conservative American politicians were criticizing the Pope for speaking out about environmental issues.
The Pope "ought to stay with his job and let us stay with ours" said Sen. James Inhofe at the Heartland Institute's 10th International Conference on Climate Change. Jeb Bush also thought the Pope needed to butt out, saying "I don't get economic policy from my bishops or my cardinals or from my Pope." And Rick Santorum said, "leave science to the scientists," even though the Pope is a scientist.
Well, thankfully, Jon Stewart is here to perfectly sum up the stupidity of their statements. In response to Santorum, Stewart says, "By the way, what do the scientists, who have an overwhelming consensus about global warming, say about global warming."
And as for Bush, it was only last week that he was speaking about faith as "the moral foundation of our country" and how "this conscience should be respected when people of faith want to take a stand for traditional marriage."
"Oh, so there it's okay?," asks Stewart mockingly. "Perhaps people would be more for preventing global warming if we refer to it as taking a stand for preserving traditional sea levels."
But someone much more powerful than a handful of conservative politicians has been lobbying the Vatican over the Pope's climate change message: Exxon Mobil. "Ah, they've appealed to a higher authority than God," says Stewart. "And so, in the words of our Lord and savior Jesus Christ, drill, baby, drill."
Watch the full clip here:
YOU MIGHT ALSO LIKE
How Pope Francis's Climate Encyclical Is Disrupting American Politics
Pope Francis Slams GMOs and Pesticides for Destroying the Earth's 'Complex Web of Ecosystems'
Ryan Gosling: What Costco Doesn't Want You to Know About Their Eggs
The Supreme Court has been handing down some significant decisions in the last week. Justices ruled in favor of the Affordable Care Act and same-sex marriage and provided hope for proponents of gerrymandering.
They also ruled in favor of Oklahoma's controversial lethal injection drug and against the U.S. Environmental Protection Agency (EPA), putting roadblocks on its ability to regulate health-damaging pollutants from power plants.
On The Daily Show, Jon Stewart shows clips of conservative pundits lamenting the "Obamacare" and gay marriage rulings and chalking up the lethal injection and EPA rulings as victories for conservatives, which wholeheartedly confuses Stewart.
"So yes, gay people have the right to marry, and poor people have the right to insurance—but on the bright side, Americans can still kill prisoners painfully and everyone else slowly," Stewart summarized.
Fox News, in particular, celebrated the EPA defeat as a "victory for business." "You seem really giddy about that victory," says Stewart. "You know the losing team in that game was lungs. You know that, right?"
Stewart turns to his senior correspondent Jason Klepper to bring some clarity to the discussion.
"After a week of redefining what marriage is and doling out health care, the Supreme Court has finally brought justice back to America. Remember America?, Klepper asks rhetorically. "A place where big business always wins, where it's a little hard to breathe and where we get to decide how super painful to make your death. I mean that's the country I'm proud to fly my confederate flag over," says Klepper.
Watch the full segment which is broken up into two parts here:
YOU MIGHT ALSO LIKE
Supreme Court Restricts EPA's Ability to Regulate Toxic Emissions From Power Plants
June 2015 Smashes Heat and Rainfall Records in U.S.
"As you know California is going through a historic unprecedented dry spell and I'm talking about original movie ideas. Boom!," says Stewart, poking fun at Hollywood and the highly anticipated release of yet another Jurassic movie next month.
Then, Stewart gets serious. "No, I am talking about the catastrophic four-year drought. California's reservoirs are empty, snowpack is gone, what little water remains is controlled by a ruthless, disfigured warlord, doling out precious moisture from his mountain stronghold" (Stewart is referencing another blockbuster hit here: Mad Max). Stewart displays an image of Immortan Joe, who controls the water and rules the Citadel in Mad Max, and says "Wow, Jerry Brown has not aged well."
Stewart then shows a clip of Gov. Jerry Brown explaining the importance of water in somewhat bizarre terms, which Stewart explains was "putting it in terms even someone on 'shrooms can understand."
But then, Stewart gets at the meat of his argument. He says the mandatory water cuts, while a good step, are not enough to address the severity of the crisis. "Water usage is only down nine percent, so it's time to get real," Stewart says. He investigates the practice of turning treated sewage into drinkable water. Jon stewart plays a clip in which a media correspondent says, "It's officially called indirect potable reuse, but it's more descriptively known as 'toilet to tap.'"
"It's known as toilet to tap, but there are steps in between," says Stewart. "You're not just sticking a toilet straw up somebody's ass. There's a process it goes through." He then looks at how Californians are reacting to this "Godsend of a drought solution," (spoiler alert: they are completely grossed out by it), how they are using apps to report water wasters and finally Al Madrigal joins Stewart for a hilarious stunt that Madrigal dubs a "drought Rumspringa."
Check it out here (it's the first nine minutes of the clip):
YOU MIGHT ALSO LIKE
Lake Mead About to Hit a Critical New Low as 15-Year Drought Continues in Southwest
3 Reasons Santa Barbara Oil Spill Underscores Why Obama Must Say #sHellNo to Arctic Drilling
Last night on The Daily Show, Jon Stewart takes time to discuss pollen and seasonal allergies, poking fun at the media for its seemingly alarmist coverage of pollen in recent years. Major news networks were calling this spring a "pollen tsunami," whereas last year, they chose to call it a "pollen vortex."
Every year for the last 10 years, news outlets have said it's "the worst allergy season on record." Stewart asks, "How can every year be the worst? What is it, the Knicks," mocking the team's abysmal record. Stewart then launches into a rant on bad media coverage, only to be interrupted by Mike Tringale of the Asthma and Allergy Foundation of America, who explains that the media isn't actually overhyping the issue—allergies really are getting worse every year and climate change is to blame.
Check out the clip to find out why:
YOU MIGHT ALSO LIKE
6 Reasons to Celebrate the Signing of the Clean Water Rule
Factory Farms Are a #LoadOfCrap, Says New Report
40 Incredible Photos Show Why Earthships Make the Perfect Home
Jon Stewart is preparing for life after The Daily Show. If you're like me you're dreading the day he departs the show in August, but, of course, news has already broke of Stewart's next venture. He and his wife, Tracey, reportedly decided to purchase a farm in New Jersey to house their impressive amount of rescue animals and potentially many more, according to Ecorazzi. The Stewart clan already contains two children, four dogs, two horses, two pigs, three rabbits, two guinea pigs, two hamsters, one parrot and two fish. "All rescues," Tracey told USA Today of her enormous brood. "Except for the children."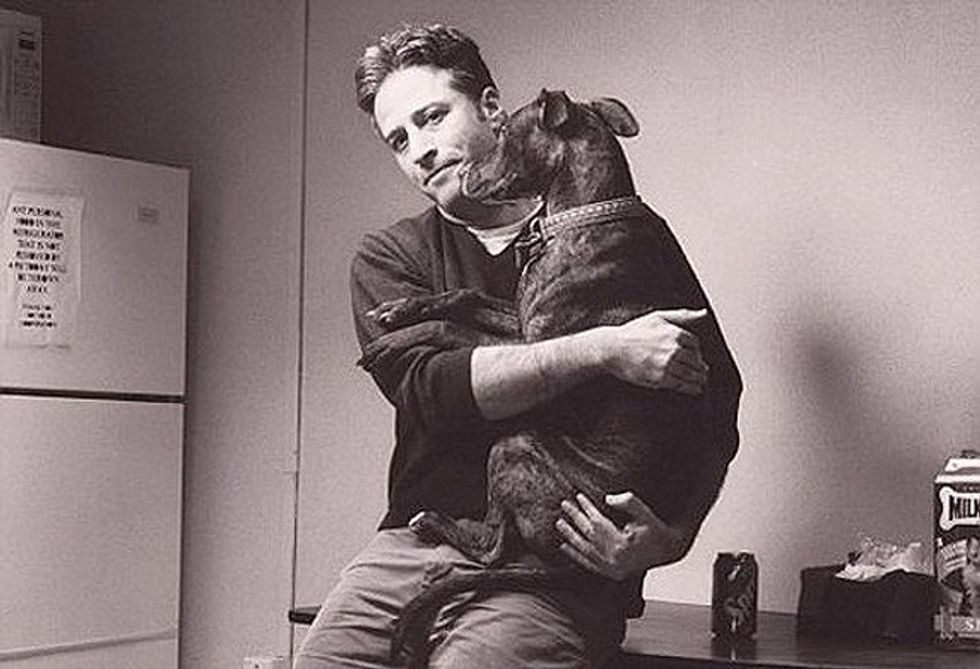 The move should come as no surprise to Daily Show fans. Stewart has been a consistent animal advocate throughout his time on the air. Most notably, he skewered Gov. Christie on vetoing a popular gestation crate ban. He also recently hosted Gene Baur of Farm Sanctuary to discuss animal rescue and veganism and John Hargrove, the former SeaWorld employee who became a whistleblower on the company's animal cruelty.
Stewart's wife, Tracey, a vegan and former veterinary technician, is also a vocal animal advocate. She's the editor-in-chief of the online parenting magazine Moomah, whose April 2015 issue is entirely dedicated to veganism with the featured story being Gene Baur's new book, Living the Farm Sanctuary Life.
"The joy of interacting with animals as friends instead of using them for human consumption is life-changing," Tracey told Ecorazzi. "A trip to Farm Sanctuary should be on everyone's to-do list, but you can also bring a little bit of sanctuary home when you sponsor an animal through the Adopt a Farm Animal Program." Tracey is even writing a book herself due out in October, Do Unto Animals, which promises to be a humorous and insightful look into the secret lives of animals and a guide for how to live alongside them. A portion of the proceeds will go to, you guessed it, Farm Sanctuary.
We at EcoWatch are sad to see Stewart leave The Daily Show, but we are so excited (and not at all surprised) to see that he will continue to do great things. If you haven't seen his interview with Gene Baur, you should definitely check it out here:
YOU MIGHT ALSO LIKE
Jon Stewart: Honestly Governor Christie, 'Let the [Pregnant] Pigs Turn Around'
Jon Stewart: Going Vegan Is the Solution to So Many of the World's Problems
SeaWorld Whistleblower Tells Jon Stewart 'Morally This is Just Not Right'
The Daily Show last night was particularly hilarious. Jon Stewart, of course, gives mention to Earth Day, "our favorite of the planetary birthdays," and offers an apology to Uranus for forgetting her birthday. He then, moves into the news of Oklahoma confirming the link between the increase in earthquakes with the increase in fracking. "Is it, as common sense might suggest, the seemingly obvious connection to fracking, or is the Lord using our great state as a shake weight?" Stewart asks. "Who really knows?"
He then has a field day with a bizarre Earth Day recycling promo video from the National Security Agency. And at the end of the show, he interviews the famous astrophysicist Neil deGrasse Tyson.
Check it out here:
YOU MIGHT ALSO LIKE
Confirmed: Oklahoma Earthquakes Caused By Fracking
Rapper Prince Ea's Viral Video Tells Future Generations 'Sorry'
Any fan of The Daily Show knows Jon Stewart is not New Jersey Gov. Christie's biggest fan. Last December, Stewart skewered Christie for vetoing a measure that would have banned the use of hog gestation crates, despite overwhelming support from the state assembly and the citizens of New Jersey.
Last night on the show, Stewart revisited that issue because new information has come to light as Christie is expected to announce his presidential bid any day now. Stewart says:
Either Christie thinks pigs have had a free ride for too long and should live in gestation crates where they are not able to turn around, or he was doing the bidding of GOP mega-donor and Christie 2012 backer Iowan Bruce Rastetter, who happens to be one of America's top hog producers. And what's more, Rastetter's brother just happens to be CEO of a company that builds gestation crates. And what's more, Christie was at Rastetter's 2016 Presidential forum auditioning for this year's money.
Watch Stewart investigate Christie's corporate cronyism with aplomb (fyi: starts at 5:48, but everything before it is well worth watching!):
YOU MIGHT ALSO LIKE
Victims of Coal Ash Contamination Demand Access to Solar at Duke Energy's Shareholder Meeting
150,000 Americans Call for Less Meat, More Plants in U.S. Dietary Guidelines
Al Gore: We Must 'Put a Price on Carbon' and on Climate 'Denial in Politics'
The New York Times published its list of the top new food words for 2015. Words and phrases that made this year's list range from "beer o'clock," one's personal assessment of the right time of day to start drinking, to "hangry," the state of being so hungry that you become angry or irritable.
But, the one word most relevant to the environmentally conscious is "climatarian." The New York Times defines it as "a diet whose primary goal is to reverse climate change. This includes eating locally produced food (to reduce energy spent in transportation), choosing pork and poultry instead of beef and lamb (to limit gas emissions) and using every part of ingredients (apple cores, cheese rinds, etc.) to limit food waste."
The word gained popularity this year in part because it was promoted by a group called Climates (yes, the organization's official name is formally half-bold). They encourage people to "go climatarian" and save a tonne (1.1 short tons) of carbon dioxide equivalent, which includes carbon dioxide, methane, nitrous oxide and other greenhouse gases.
Climatarian defined in NYT's top food words 2015: https://t.co/Jw2WFV2HLi see https://t.co/ZpwOaNy0UE for more info https://t.co/8YioFVpIRw

— Climates Network (@Climates Network)1450292063.0
The evidence supporting a climatarian diet is abundant. Several reports within the past year, including one from the UK think tank Chatham House, have found that eating less meat and dairy is essential to curbing climate change.
And a carbon-conscious diet is not only good for the planet, but is healthy for people, too.
The health benefits of eating less meat have been touted by nutritionist Marion Nestle, former Daily Show host Jon Stewart, singer Beyoncé and director James Cameron. After retiring as the host of the Daily Show in August, Stewart and with his wife turned their New Jersey farm into an official Farm Sanctuary site. Beyoncé launched a vegan meal delivery service, 22 Days Nutrition. And James Cameron helped launch America's first vegan school.
Meat, especially processed meat, is looking less and less appetizing, especially since the release of the World Health Organization's report that found the consumption of processed meat is linked to an increase in cancer risk.
While #climatarian has gained some traction on Twitter, it remains to be seen if the word is here to stay.
YOU MIGHT ALSO LIKE
Find Out if Your Eggs Are Truly Organic and Support Local Farms
Europe's Dirty Little Secret: Moroccan Slaves and a 'Sea of Plastic'
Aziz Ansari Blasts Factory Farming for Cruelty to Chickens
Jon Stewart interviewed Gene Baur, president and co-founder of Farm Sanctuary, on The Daily Show last night to discuss his new book, Living the Farm Sanctuary Life: The Ultimate Guide to Eating Mindfully, Living Longer and Feeling Better Every Day. Baur's organization protects farm animals from the cruelty of factory farming by placing them in farm sanctuaries, where they can live out the rest of their days.
Stewart, who personally owns some pigs, points out, "It's harder to eat meat when you know the animal's name." But Stewart lays out the dilemma many face: "On the one side, eating mindfully and vegan seems to be the solution to nutrition, to health, to global warming. On the other side, corned beef." Stewart says he's open to meat alternatives, but he would miss having an old Jewish guy yelling at him while he eats his corned beef.
Baur says not only can we change these habits, we must. "The Dietary Council just released on the heels of this book, that this vegan lifestyle is sort of the solution to so many of the issues that are going on in the world," Stewart says.
Baur enumerates the many benefits of making the switch: "We could save 70 percent on health care costs if we switched to a whole foods, plant-based diet in this country, we could save so much on resources—water, for example, half of the water used in this country is used to raise animals for food—and animal agriculture contributes more to climate change than the entire transportation industry," says Baur.
Watch the clip here:
John Hargrove, who spent 14 years as an orca trainer—mostly at SeaWorld—has become known as a whistleblower for speaking out about SeaWorld's practices, which he condemns as cruel for the animals and dangerous for the trainers. He appeared in the film Blackfish with other former trainers and now Hargrove has a new book, Beneath the Surface.
"As I became higher-ranked, I saw the devastating effects of captivity on these whales and it just really became a moral and ethical issue," Hargrove tells NPR in an interview about the book. "When you first start to see it, you first try to say, 'OK, well, I love these animals; I'm going to take care of them.' ... You think, 'I can change things.' And then all these things, of course, never improve and then you start ... seeing mothers separated from their calves; you start seeing trainers being killed, and then they blame [the trainers] for their own deaths."
Hargrove went on The Daily Show yesterday to discuss his book and SeaWorld's inhumane practices with Jon Stewart. Stewart asks, "Is it possible to have this kind of thing in a humane way or are we kidding ourselves?" Find out how Hargrove responds:
YOU MIGHT ALSO LIKE
Captain Paul Watson: If I Were CEO of SeaWorld
5 Portlandia Eco-Skits You've Got to See
Watch Jon Stewart's Hilarious Critique of Florida's Ban on the Words Climate Change