John Hargrove, who spent 14 years as an orca trainer—mostly at SeaWorld—has become known as a whistleblower for speaking out about SeaWorld's practices, which he condemns as cruel for the animals and dangerous for the trainers. He appeared in the film Blackfish with other former trainers and now Hargrove has a new book, Beneath the Surface.
"As I became higher-ranked, I saw the devastating effects of captivity on these whales and it just really became a moral and ethical issue," Hargrove tells NPR in an interview about the book. "When you first start to see it, you first try to say, 'OK, well, I love these animals; I'm going to take care of them.' ... You think, 'I can change things.' And then all these things, of course, never improve and then you start ... seeing mothers separated from their calves; you start seeing trainers being killed, and then they blame [the trainers] for their own deaths."
Hargrove went on The Daily Show yesterday to discuss his book and SeaWorld's inhumane practices with Jon Stewart. Stewart asks, "Is it possible to have this kind of thing in a humane way or are we kidding ourselves?" Find out how Hargrove responds:
YOU MIGHT ALSO LIKE
Captain Paul Watson: If I Were CEO of SeaWorld
5 Portlandia Eco-Skits You've Got to See
Watch Jon Stewart's Hilarious Critique of Florida's Ban on the Words Climate Change
EcoWatch Daily Newsletter
Frederic Stevens/ Getty Images News / Getty Images

For nearly as long as solar panels have been gracing rooftops and barren land, creative people have been searching out additional surfaces that can be tiled with energy-generating photovoltaic (PV) panels. The idea has been pretty straightforward: if solar panels generate energy simply by facing the sun, then humans could collectively reduce our reliance on coal, oil, gas and other polluting fuels by maximizing our aggregate solar surface area.
So, what kind of unobstructed surfaces are built in every community and in between every major city across the globe? Highways and streets. With this in mind, the futuristic vision of laying thousands, or even millions, of solar panels on top of the asphalt of interstates and main streets was born.
While the concept art looked like a still from a sci-fi film, many inventors, businesses and investors saw these panels as a golden path toward clean energy and profit. Ultimately, though, the technology and economics ended up letting down those working behind each solar roadway project — from initial concepts in the early 2000s to the first solar roadway actually opened in France in 2016, they all flopped.
In the years since the concept of solar roadways went viral, solar PV has continued to improve in technology and drop in price. So, with a 2021 lens, is it time to re-run the numbers and see if a solar roadway could potentially deliver on that early promise? We dig in to find out.
Solar Roadways: The Original Concept
Solar roadways are complex in execution, but in concept, they're as simple as they sound. They're roads "paved" with extremely strong solar panels that are covered in glass that can withstand environmental stressors and the weight of vehicles driving over them on a consistent basis.
The idea was something that got people really excited when the initial Solar Roadways, Inc. project (which is still seeking funding) burst onto the scene in 2014:
More advanced designs included solar roadways outfitted with LED lights that could be used to illuminate lane lines, communicate to drivers and more. Other iterations included weight sensors that would detect when obstructions were on the road or could alert homeowners if unexpected vehicles were approaching their driveway. Embedding these kinds of technology into the solar roadways renderings only added to their appeal and the initial hype around the concept.
Key Selling Points of Solar Roadways
Early innovators of solar roadways touted the numerous benefits of their ideas. These included:
Sunlight shines down on roads at no cost, making the energy not only readily available, but also free (aside from installation and maintenance).
The ability to power street lights with solar roadways eliminated the need to pull extra energy from the grid.
Having electronics embedded into the roadway opened up a world of possibilities for communicating with drivers in ways that didn't require painting and repainting of roads.
The ingenuity to attach weight sensors on the solar panels could be used to alert drivers about potential obstructions, such as animals, disabled vehicles or rocks on the road.
In a future of electric vehicles, the possibilities were seen as even more beneficial, as solar roadways could be used to power electric vehicle charging stations or to charge the cars while they're driving.
While some early thinkers may also have envisioned these roadways sending solar energy to the local power grid, the most impactful way solar roadways could utilize the energy they generated is right around the road itself: lighting street lights, heating mechanisms to melt snow on the roadway, or powering small emergency equipment on road shoulders.
Using the energy for on-road applications would mean that the power didn't have to be sent long distances before being used, which results in energy loss. However, in more rural or remote locations, having the solar roadway energy available for nearby homes and businesses could be a huge benefit, especially if there's an outage in the overall grid.
Why Solar Roadway Tests Have Failed
To much of the general public — and especially to people who weren't well versed in the intricacies of solar panels or road structures — solar roadways seemed like a slam-dunk solution that both looked futuristic and had benefits that went far beyond electricity generation. It was the kind of innovation that had people exclaiming: "How has no one done this yet?!" But in reality, the execution of solar roadways was much more complex than the idea.
Here are a few reasons solar roadway tests have failed:
Cost of Manufacturing and Maintenance
The cost of the energy from the sun may be free, but the investment to install and maintain the solar roadways was undeniably prohibitive. The reason asphalt is used by default to pave roadways is because it is immensely affordable and low-maintenance, which is especially critical on vast, expansive roadways and interstates.
In 2010, Scott Brusaw, co-founder of Solar Roadways, Inc., estimated a square foot of solar roadway would cost about $70. However, when the first solar roadway was built in France by a company called Colas, it measured 1 kilometer and cost $5.2 million to build — or about $1,585 per foot of roadway. Of course, this was a small iteration and bulk manufacturing would cost less, but either way, it's hard to believe the cost of a solar roadway would ever be competitive with the price of asphalt, which is about $3 to $15 per square foot.
Further, the cost and complexity to send a crew to repair individual panels that fail would far outweigh those to maintain asphalt. So, while one of the presumed benefits of solar roadways is the cost savings associated with self-generated energy, even back-of-the-envelope math highlights how the numbers would simply not add up to be more cost-effective in the long run.
Energy Required to Produce the Panels
Another limiting factor appears when considering the energy it takes to make asphalt versus high-durability glass and solar panels. Most asphalt used on roads today is a byproduct of distilling petroleum crude oil for products such as gasoline, which means it makes use of a substance that would otherwise be discarded as waste.
The solar roadway panels, although intended to save energy in the long run, take much more to produce. Typical rooftop solar panels can easily make up for the extra energy used in production because the glass doesn't need to withstand the weight of vehicles driving over them, but solar roadways have that added complexity.
Power Output of the Panels
When estimating power output, early optimists seemed to perform calculations based on the raw surface area they could cover — and not much else. However, beyond the stunted energy generation that any solar panels face on cloudy days or at night, solar roadways presented unique new performance challenges.
For example, vehicles constantly driving over solar roadways would interrupt sun exposure. Plus, they'd leave behind trails of fluid, dirt and dust that can dramatically reduce the efficiency of solar panels. Being installed on the ground is a challenge in itself because of how readily shade would find the roads; that's the reason you find most solar panels on rooftops or elevated off the ground and angled toward the sun.
Issues With Glass Roadways
Lastly, driving on glass surfaces is simply not what modern cars are designed to do. Asphalt and tires grip each other well, being particularly resilient in wet conditions. If the asphalt is replaced with glass — even the textured glass that's used for solar roadways — tire traction could be reduced dramatically. Wet or icy conditions could lead to catastrophic situations on solar roadways.
Could Recent Advances in Solar Technology Bring Solar Roadways Closer to Reality?
For all of these challenges and even more roadblocks that early solar roadway projects have run into in the past, the reality is that solar technology continues to improve. In the seven years since the first Solar Roadways, Inc. video went viral, solar panels have developed to be more durable, more cost-effective and more efficient at converting sunlight to electricity. To put some numbers behind these trends:
The question to ask is whether these advances are enough to bring solar roadways from failure to success.
Despite the improvements, many of the original challenges with solar roadways remain, and the scale of execution is immense. Even with decreasing solar PV costs, outfitting long stretches of roadway with such complex technologies will require tremendous capital.
Rather than a future where solar roadways cover the country from coast to coast, a more likely outcome is that these advances will bring solar roadways to viability in narrow, niche applications.
Just like tidal energy is a great opportunity for small coastal communities but can't be scaled to solve the energy crisis across the world, it's conceivable that limited-scope solar roadways could be constructed around the world. However, large-scale solar roadways may never be more than a pipe dream.
Well, it's certainly strange to see a new face behind the desk of the Daily Show but thus far Jon Stewart's replacement, Trevor Noah, seems fairly cool as the host of the newly-minted Daily Show.
"Jon Stewart was more than just a host, he was our refuge, our voice and in many ways our political dad," Noah said. "And now it's weird because dad has left. And now it feels like the family has a new stepdad ... and he's black."
The intro was fairly straightforward as Noah seemed aware of what a burden taking over for Stewart was. He never got too cute or reached too far, he was humble with a touch of irony, beginning the show thanking Jon Stewart for believing in him.
"I would be remiss if I didn't acknowledge one man, Jon Stewart," he said. "Thank you Jon. Thank you for believing in me I'm not quite sure what you saw in me ... but I will work hard to make sure you don't look like a crazy old dude who left his inheritance to some kid from Africa."
Watch the clip below, courtesy of Uproxx:
YOU MIGHT ALSO LIKE
Ian Somerhalder and Chris Evans Ask You to Join KNOW TOMORROW
Tesla CEO Elon Musk: VW Scandal Shows Time's Up for Fossil Fuels
Robert Reich's 'Saving Capitalism: For The Many, Not The Few'
A team of scientists are working on a project in Greenland, the results of which could provide "groundbreaking information" on just how fast the ice mass is melting, reports The New York Times.
The only place with more of the world's ice than Greenland is Antarctica. But Greenland is warming twice as fast as Antarctica, and this rapid melting is raising global sea levels at an alarming rate—even faster than expected. In August, Jakobshavn—Greenland's fastest-moving glacier and one of the fastest melting in the world—may have lost its largest chunk of ice in recorded history.
But this team of scientists says almost all of the current research is done by analyzing satellite images and creating models to simulate the thawing. There is very little on-the-ground information, which is key to predicting just how quickly sea levels will rise.
So this summer, they headed to Greenland to conduct the first comprehensive measurements of the rate of the melting sea ice. The scientists plan to use the data, which will be published in the next few months, to test if current climate models are accurate.
Until then, you've got to check out this astonishing drone footage from The New York Times' Josh Haner, which capture Greenland's rapid melting:
http://int.nyt.com/data/videotape/finished/2015/10/1445868835/top-desktop-900.mp4
http://int.nyt.com/data/videotape/finished/2015/10/1445868835/bottom-desktop-900.mp4
YOU MIGHT ALSO LIKE
Volkswagen to Release Electric Version of Its Iconic Hippie Van
12 Nontoxic Nail Polish Brands
85% of Tampons Contain Monsanto's 'Cancer Causing' Glyphosate
It's Official: Jon and Tracey Stewart Convert 12-Acre Farm to Animal Sanctuary
Bill Nye sat down with the Rolling Stone's Tessa Stuart yesterday to talk about his new book Unstoppable: Harnessing Science to Change the World, which came out last month, and what he'd like to see come out of the COP21 Paris agreement.
Bill Nye laid out his wish list just in time for the holidays. "By 2050, 100 percent renewable all over the world—we would not be making any more carbon dioxide or methane," he said. "We would have clean water for everyone on Earth, we would have reliable electricity for everyone on Earth and we'd have a means to take carbon out of the air."
The goal of 100 percent renewable by 2050 is backed up by several recent reports. This summer, professors out of Stanford and U.C. Berkeley laid out a plan for the U.S. to convert to 100 percent renewable energy in less than 40 years. And just last month, the same researchers came out with a roadmap for 139 countries to go 100 percent renewable by 2050. In September, Greenpeace published its Energy Revolution 2015 report, which also proposes a pathway to a 100 percent sustainable energy supply by 2050. One of the lead researchers on the Stanford study, Mark Jacobson, said the "barriers to getting to 100 percent clean energy are social and political, not technical or economic."
Politicians are even on board. Two Democratic presidential candidates, Martin O'Malley and Bernie Sanders, who unveiled his plan earlier this week, call for a transition to 100 percent renewable energy in their climate plans. And even while some politicians drag their feet because of the fossil fuel industry's influence on our political system, cities and states are plowing ahead with ambitious renewable energy targets. Places as different as Kodiak Island, Alaska; Burlington, Vermont; and Aspen, Colorado have already made the transition to fossil-fuel-free energy.
YOU MIGHT ALSO LIKE
Bernie Slams Trump on The Tonight Show With Jimmy Fallon
7 Ways the Outcome of Paris Climate Talks Will Impact Your Day-to-Day Life
Mark Ruffalo: 'Monsanto Chief is Horrible'
Adidas Unveils 3D-Printed Shoe Made From Plastic Ocean Waste
Over the past few years, there's been no lack of news items involving poachers and trophy hunters killing endangered animals for profit or sport. But in South Africa last week, there was a rare role reversal: two lions attacked a group of poachers, mauling one to death.
An illegal hunter was mauled to death by an African lion: https://t.co/sT8dU2Tgju https://t.co/yJNICO4kUQ

— Complex Pop Culture (@Complex Pop Culture)1446099542.0
The UK's Daily Express reports the group of five illegal poachers were hunting on at private game farm when two lions gave chase. A spokesperson for the police, Colonel Ronel Otto, told the outlet that "[t]hree men managed to climb into a tree and another managed to escape, but the deceased and two dogs were mauled to death." The dead poacher, Matome Mahlale, was 24-years-old.
Even more incredibly, the incident took place at a private game farm just over the border from the Zimbabwe site where American dentist Walter Palmer killed Cecil the Lion. The incident comes just weeks after Zimbabwean officials announced that Palmer would not face criminal charges in the lion's death.
There has been a precipitous rise in poaching and trophy hunting of Africa's most threatened species over the last several years. This year alone there was an 18 percent rise in illegal rhino killings in South Africa, and a 2013 study found poachers had slaughtered a staggering 100,000 elephants. Cecil's death made national headlines, but the lion was one of more than 600 killed every year by hunters bearing legal, pay-to-play licenses. Estimates place the number of lions remaining in Africa at around 30,000.
The Daily Express spoke to a local who said, "There won't be many people feeling sorry for him. This is seen as poetic justice for the death of Cecil."
Police spokesman Otto, interviewed by the Washington Post, discussed the enormity of the poaching issue in the area where the poacher's death took place.
"We have a big problem with people doing illegal hunting," he told the outlet. "It's difficult from the police's side because the problem is vast. We do work together with the rural communities—if we learn that there's a problem, we get there as soon as we can."
YOU MIGHT ALSO LIKE
295 Bears Killed in Florida's First Black Bear Hunt in Decades
Palau Creates One of the World's Largest Marine Sanctuaries
A Sneak Peek at Jon and Tracey Stewart's Animal Rescue Farm
Climate Change 'A Serious Threat' to King Penguins, Study Warns
Earthjustice applauds the creation of the Palau National Marine Sanctuary, signed into law today by President Tommy Remengesau, establishing one of the world's largest marine protected areas.
"This bold action to protect the full sweep of the country's valuable ocean resources affirms that Palau is a world leader in marine conservation," said Drew Caputo, Earthjustice vice president of Litigation for Lands, Wildlife and Oceans. "No other country has done more."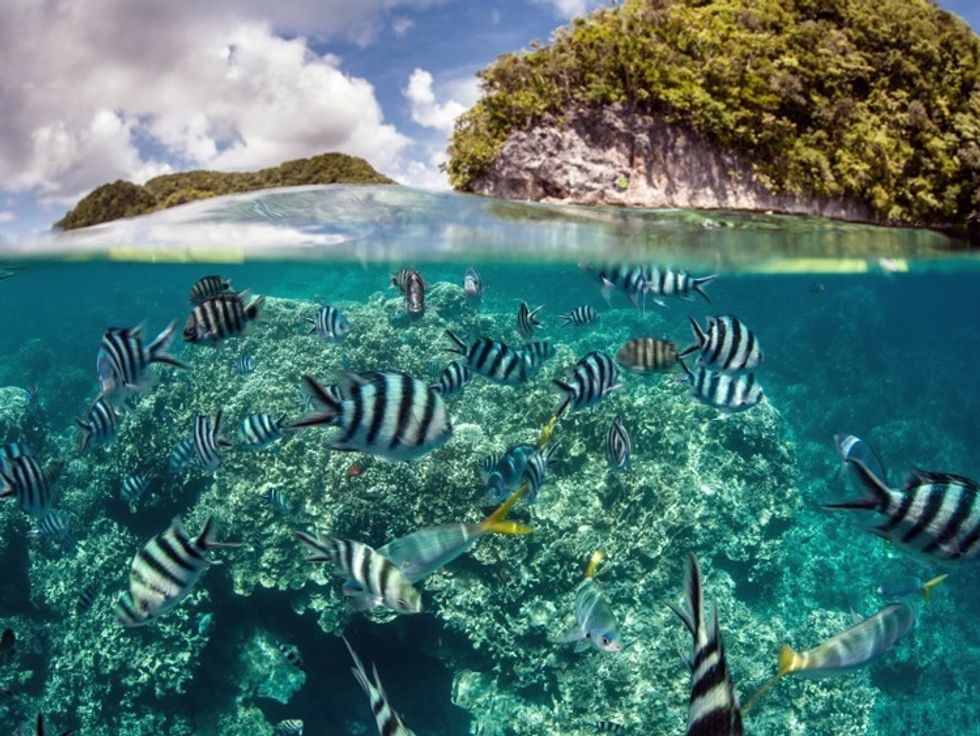 The law designates 80 percent of the nation's exclusive economic zone—an area bigger than the state of California—as a no-take marine reserve, and the remaining 20 percent as a managed domestic fishing zone for local fishers to supply the national market and ensure food security for Palau now and into the future.
Palau's marine ecosystems are some of the most diverse on Earth, home to more than 700 species of coral and 1,300 species of fish. Globally, oceans are threatened by over-fishing, pollution, warming and acidification. Large, no-take marine reserves are crucial to efforts to build marine resilience to climate change by allowing fish stocks to rebound and reducing by-catch of species that are critical to ocean health.
Earthjustice was privileged to provide legal support to the government of Palau, advising on the legal requirements under ocean treaties and fisheries access agreements to which Palau is a party, and the Palau National Marine Sanctuary Act.
"The sanctuary is a major contribution to healthy oceans and reef systems that are more resilient to climate change, both for the people of Palau and for the world," said Earthjustice international program attorney, Erika Rosenthal. "Ocean biomass conservation—through fisheries conservation and management and marine protected areas—is critical to maintaining the ocean's function as an effective carbon sink."
The precedent-setting Palau marine protected area shows that small island states, often called large ocean nations, can be global conservation leaders, and make major contribution to the international targets for marine protected areas established under the Convention on Biological Diversity.
Support for the sanctuary was strong across the island from governors to traditional leaders to thousands of Palauans who demonstrated and signed petitions. Palau has long been a leader in ocean conservation. The nation established the first shark sanctuary in the region in 2001 and was a leader in the Micronesia Challenge, designating a near-shore network of protected areas starting in 2003.
YOU MIGHT ALSO LIKE
Acclaimed Mermaid Delivers Strong Message to Chicken of the Sea
Sylvia Earle's Mission Blue II + TED = Ideas to Tackle World's Most Pressing Ocean Issues
Climate Change 'A Serious Threat' to King Penguins, Study Warns
It's Official: Jon and Tracey Stewart Convert 12-Acre Farm to Animal Sanctuary
The League of American Bicyclists recently published its third edition of Where We Ride: An Analysis of Bicycling in American Cities, which is based on new data from the Census Bureau's American Community Survey and looks at the growth of bicycle commuting around the country.
Bike commuting is now the fastest growing mode of transportation and in big cities that suffer from serious traffic jams, it's often faster to get around by bike than by car.
New numbers from @BikeLeague show that if you build the #bikelanes, #cyclists will come http://t.co/yEhjcLPpk9 http://t.co/xsQZrKLDnr

— Walk Bike Places (@Walk Bike Places)1444233665.0
In the report, the league looks at:
how all 50 states rank according to bicycle commuters as a share of all commuters

how cities with a high percentage of bicycle commuters compare to other cities in their regions

how cities compare based upon multimodal commuters, looking beyond just bikes to other forms of transportation that involve more physical activity, including walking and transit
Unsurprisingly, for bike enthusiasts at least, Davis and Berkeley, California, along with Boulder, Colorado and Portland, Oregon all have high levels of ridership. But one really interesting ranking is the top 50 large cities where bike commuting is growing the fastest. Several cities on the list are probably not what most people would expect.
Here's the top 10 (go here for the full ranking):
Detroit, MI

Pittsburgh, PA

Cincinnati, OH

Portland, OR

St. Louis, MO

Chicago, IL

Cleveland, OH

Washington, DC

Milwaukee, WI

Oakland, CA
harman350 / #biking #sundayride #riverside #windsor #schwinn #fatbike #fun #detroit #mountainbike http://t.co/iEFWF4ex3e

— weFatbike (@weFatbike)1444288424.0
At least half of the top 10 cities are Rust Belt cities with harsh winters like Detroit. And yet Detroit saw a 400 percent increase in the number of bike commuters from 2000 to 2014. Now, bikers still only make up 0.8 percent of total commuters there (It's no Copenhagen, at least for now). Still, more bike lanes, especially more protected bike lanes, and programs like Slow Roll Detroit help to explain why biking is taking off in the nation's car capital.
YOU MIGHT ALSO LIKE
It's Official: Jon and Tracey Stewart Convert 12-Acre Farm to Animal Sanctuary
Volkswagen to Release Electric Version of Its Iconic Hippie Van
12 Nontoxic Nail Polish Brands
85% of Tampons Contain Monsanto's 'Cancer Causing' Glyphosate
A chicken coop is a place where a chicken spends much of its time. It's a place of protection and housing but for proud humans, it's also a place to show off their love and character as caretakers of the traditional bird.
1. New Orleans Style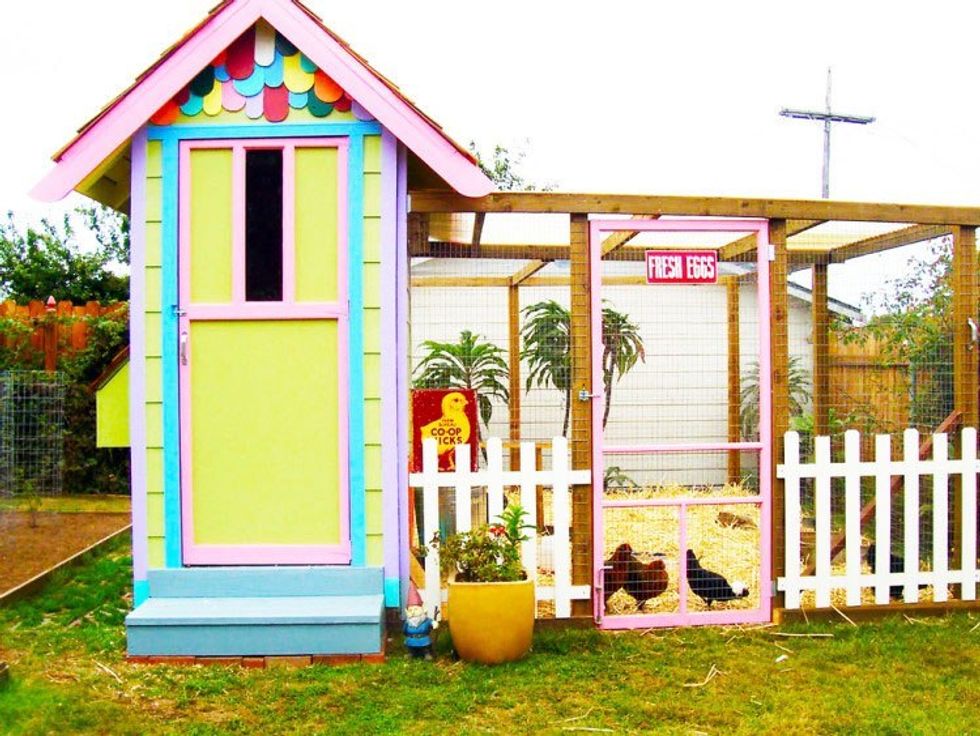 Photo credit: Kootation.com
Bright colors and southern charm.
2. Beer Shingles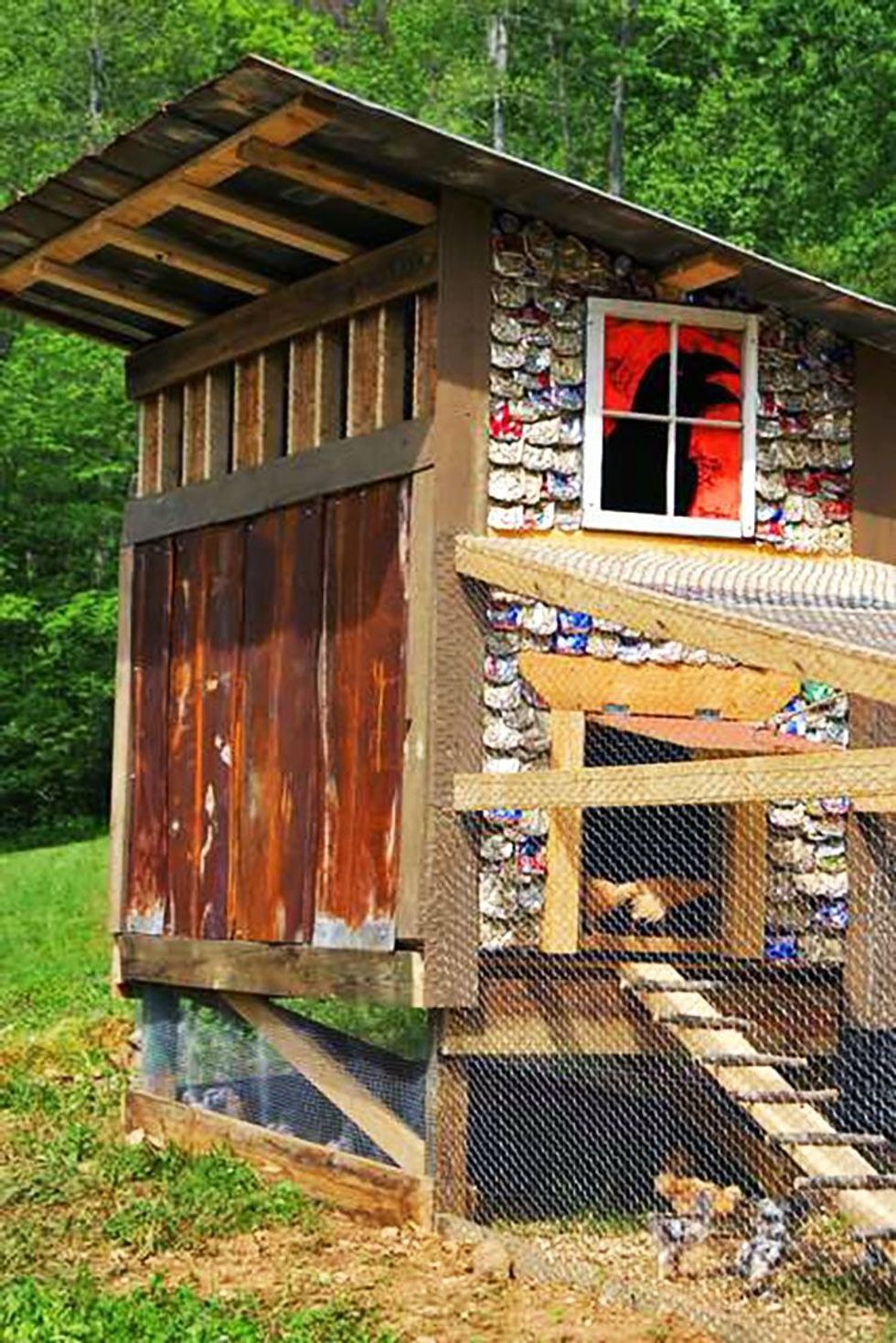 Photo credit: New Orleans Food & Farm Network
Beer shingles prove to be the perfect compliment to a chicken coop. Who would have guessed!
3. The Chicken Coop Cottage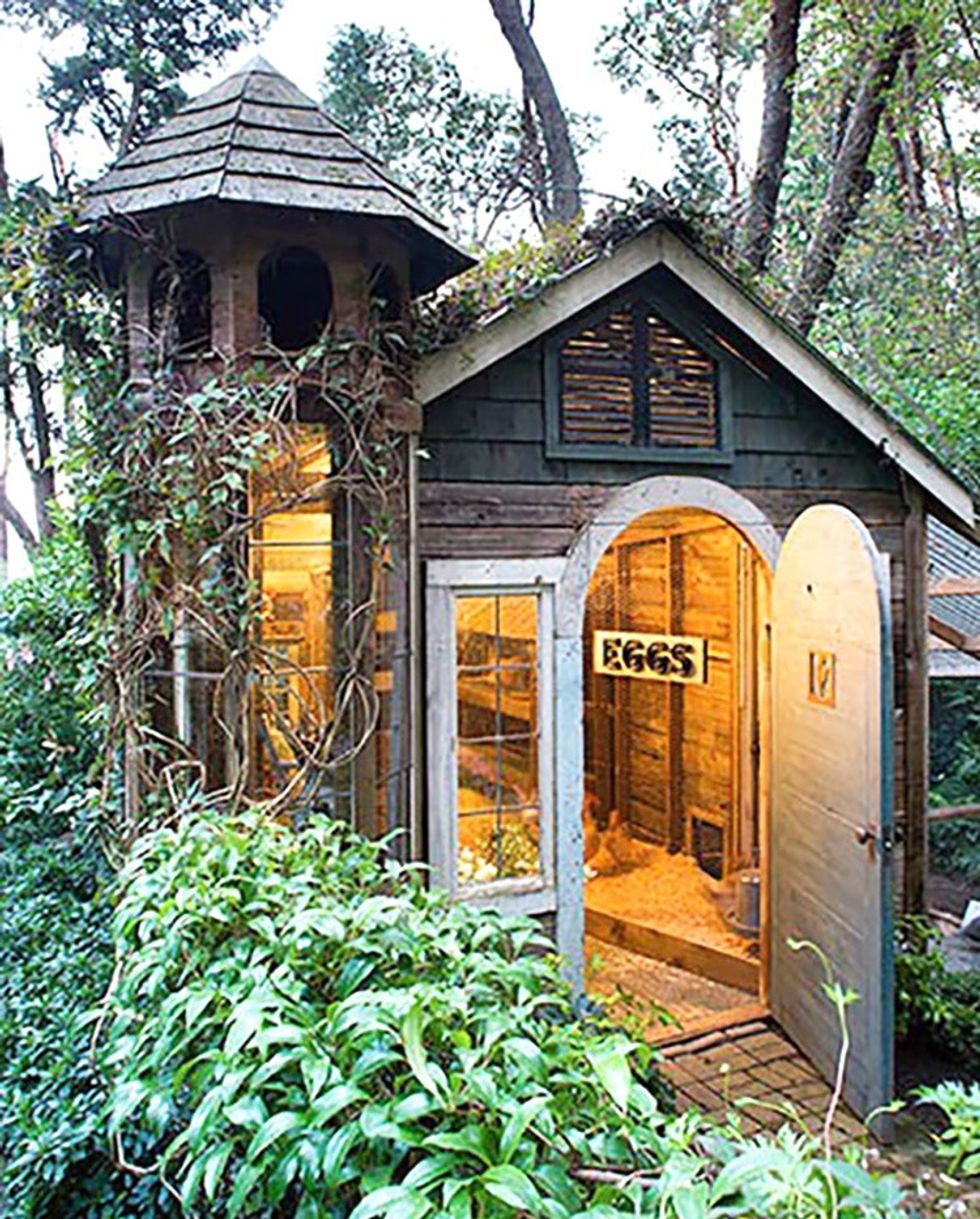 Photo credit: Mom Caster
When you need to get away for a few days, visit the chicken coop cottage.
4. A Cob Chicken Coop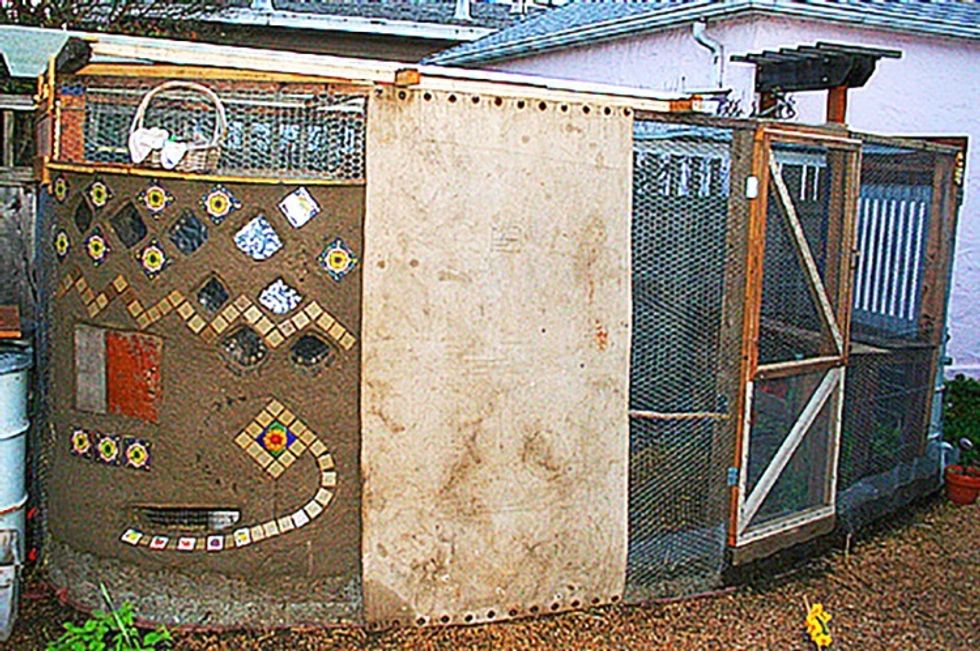 Photo credit: The City Chicken
Cobb is an English housing made from straw, clay and sand. These sustainable materials are complimented by colorful tiles, which make this coop unique.
5. This Chicken Coop Shines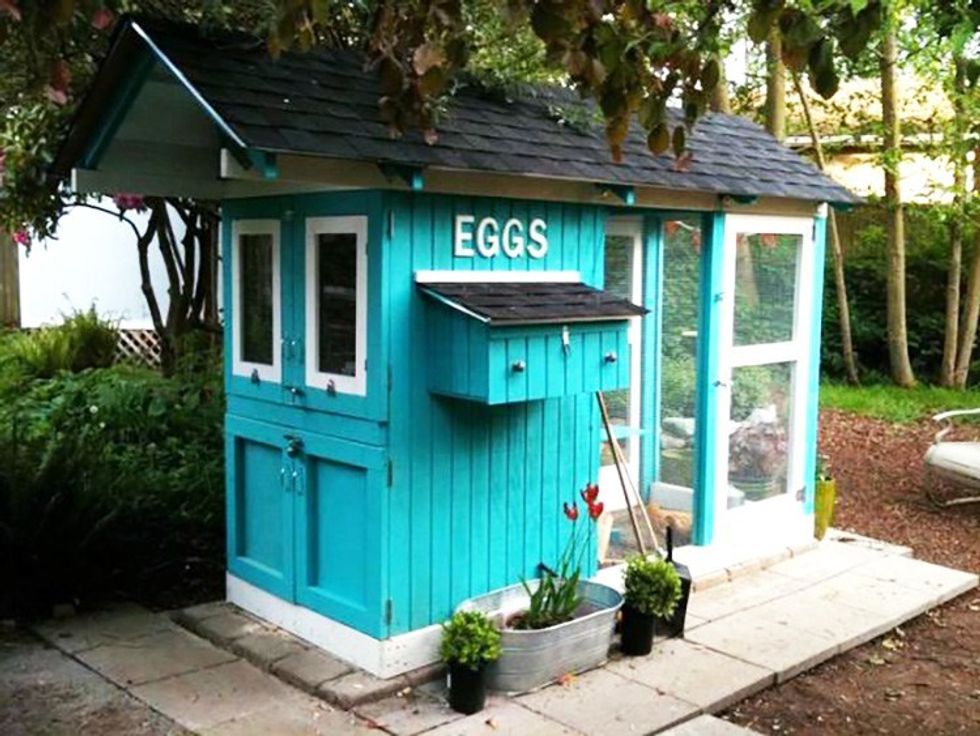 Photo credit: Tattood Housewife
6. Hobbit Style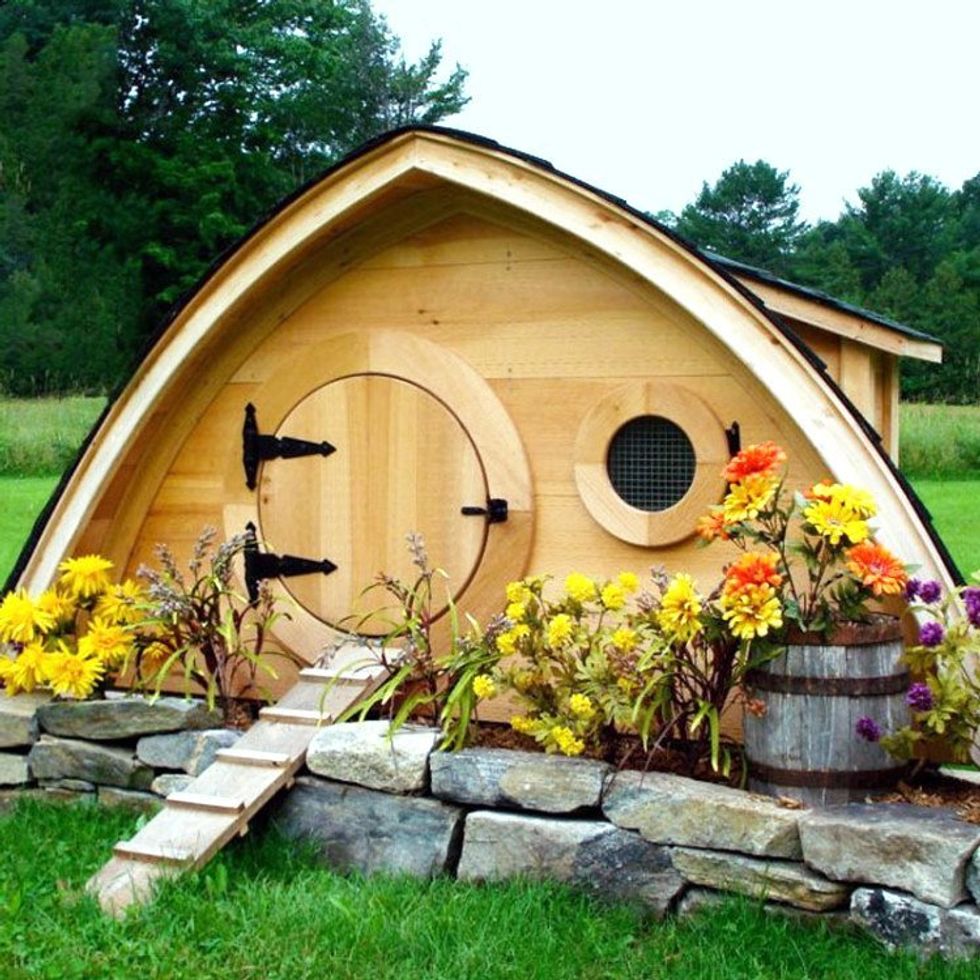 Photo credit: Avcesar.com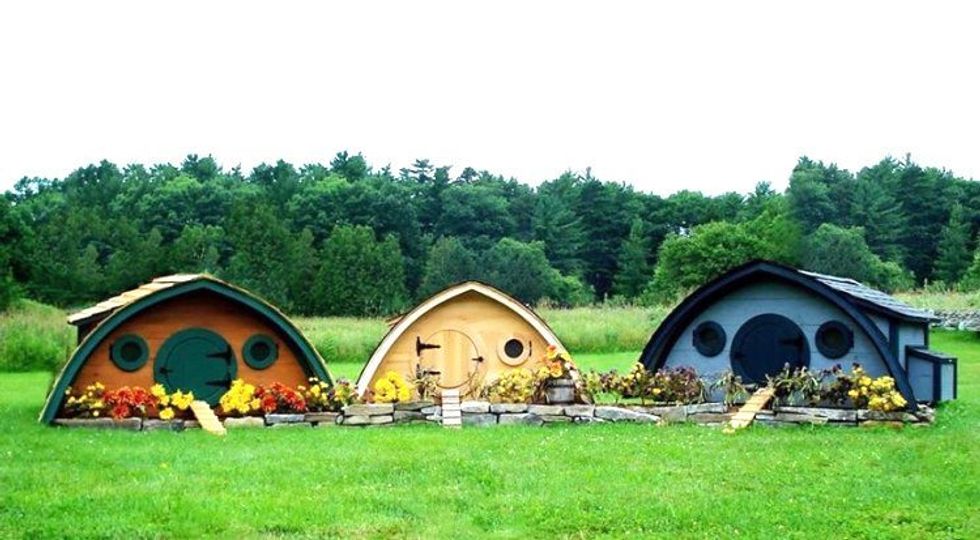 Photo credit: Avcesar.com
7. Beware of the Boston Terrier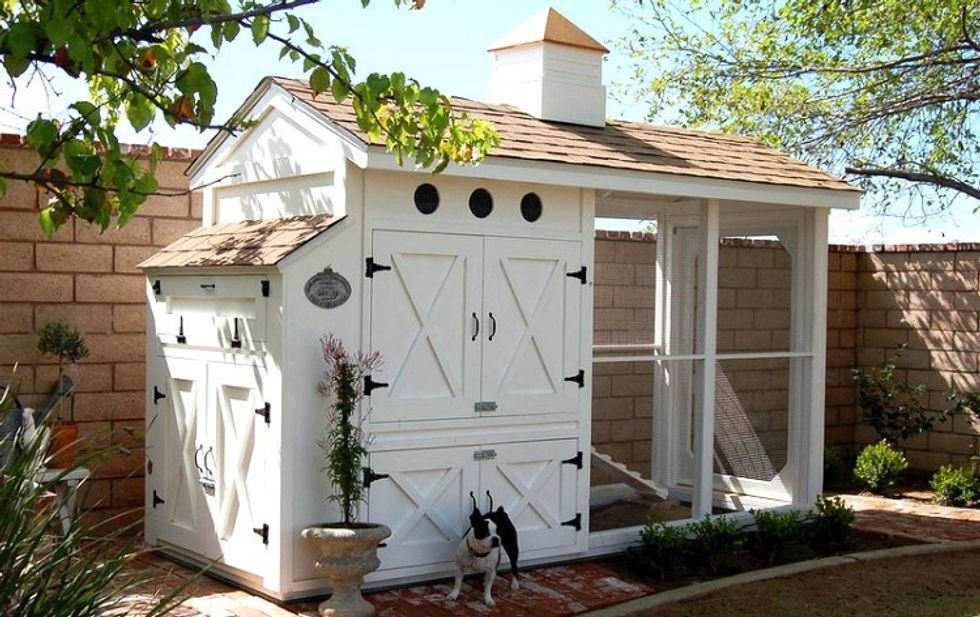 Photo credit: Heatherbullard.com
8. The Schoolhouse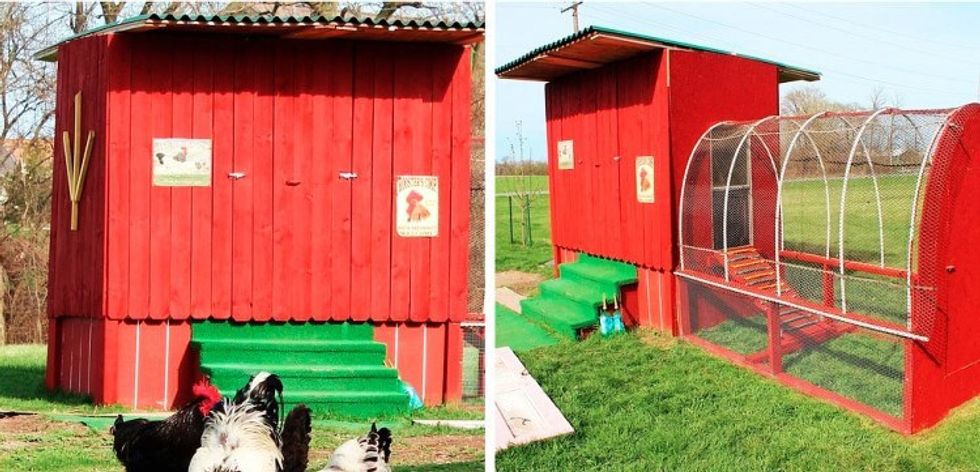 Photo credit: Megalatte458.tumblr.com
9. For Hipsters, By Hipsters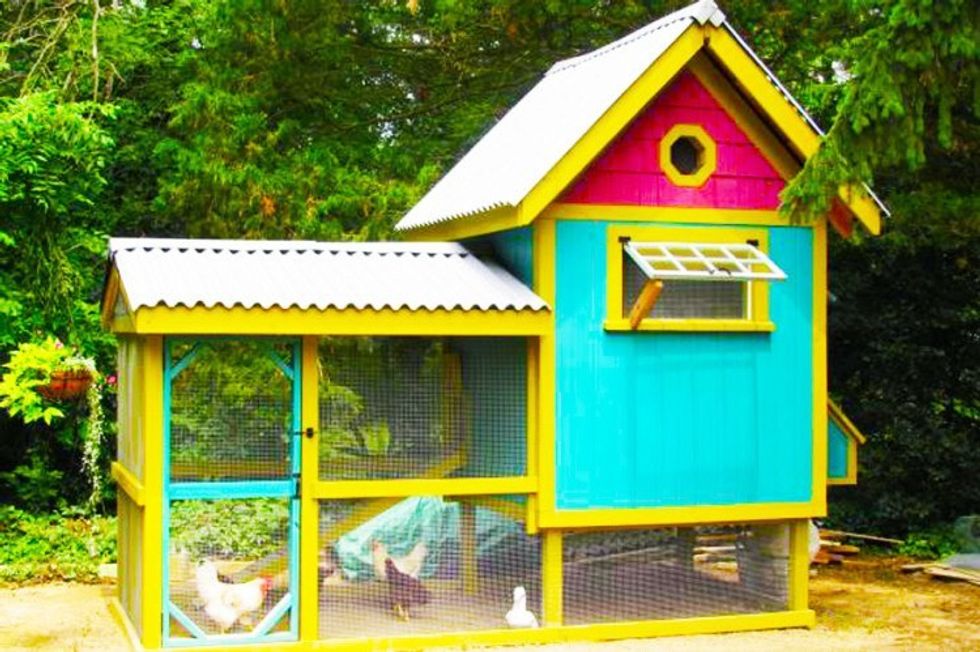 Photo credit: Garnizé Galinheiro
We decided to give this a "hipster" label. It could have easily been designed by folks in their retirement years, but they can be hipsters too.
10. Enchanted Fairy Tale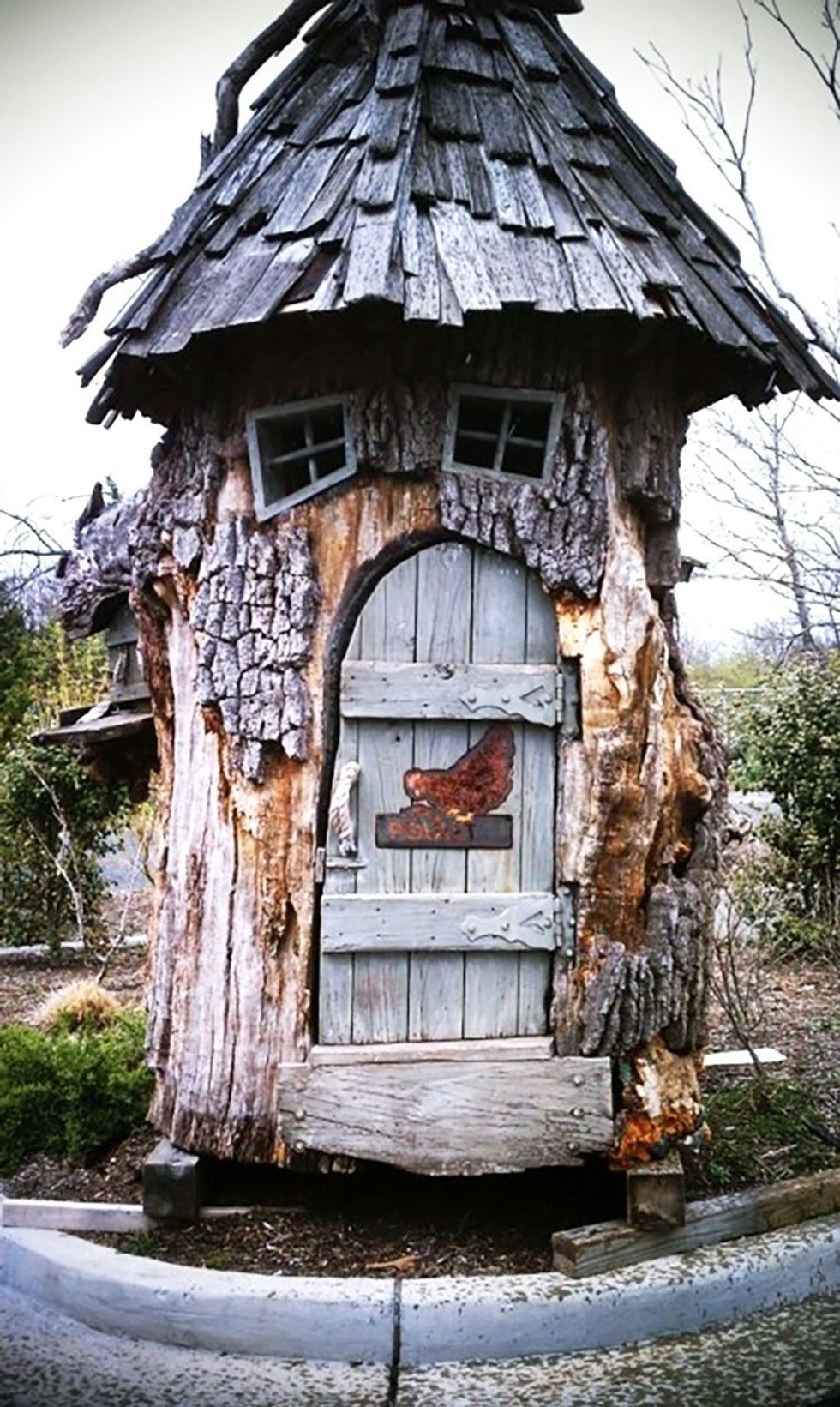 Photo credit: Rebecca64 / Flickr
There is so much to love about this log transformed into a chicken coop.
11. Wedding Home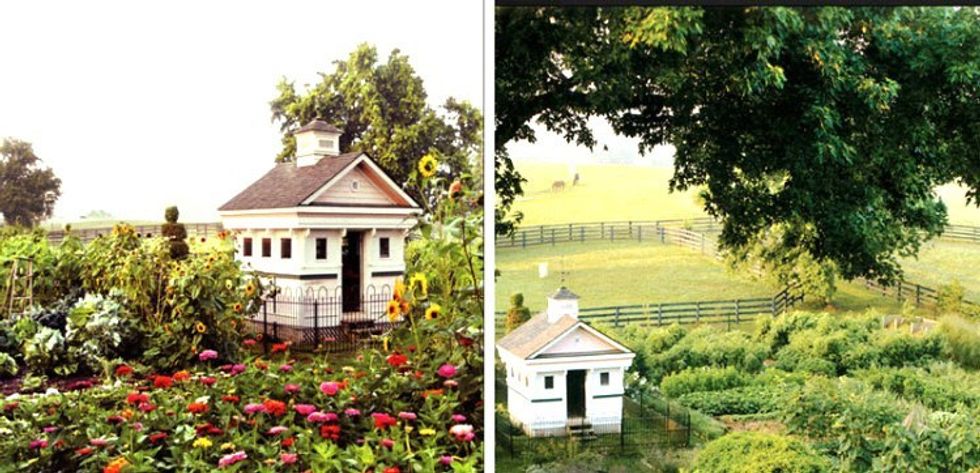 Photo credit: Cbakerphoto.blogspot.com
Here comes the bride, all dressed in feathers.
12. Pottery-Barn Inspired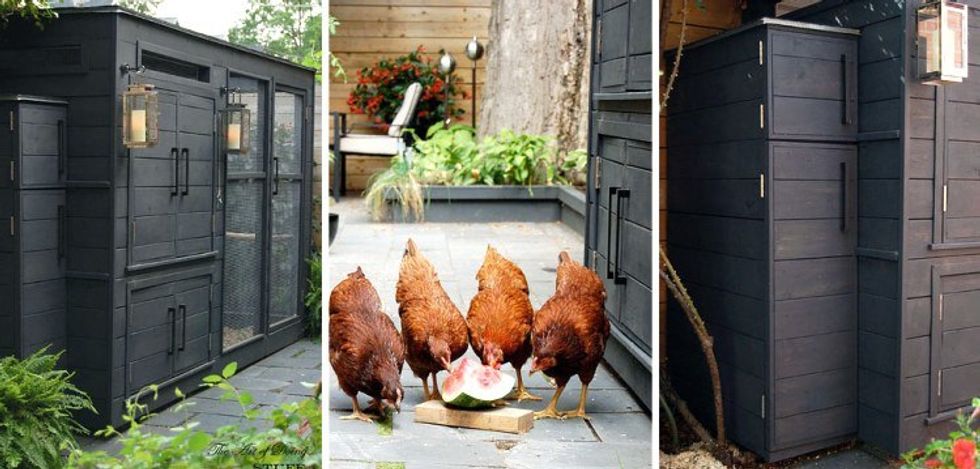 Photo credit: Theartofdoingstuff.com
13. Victorian Style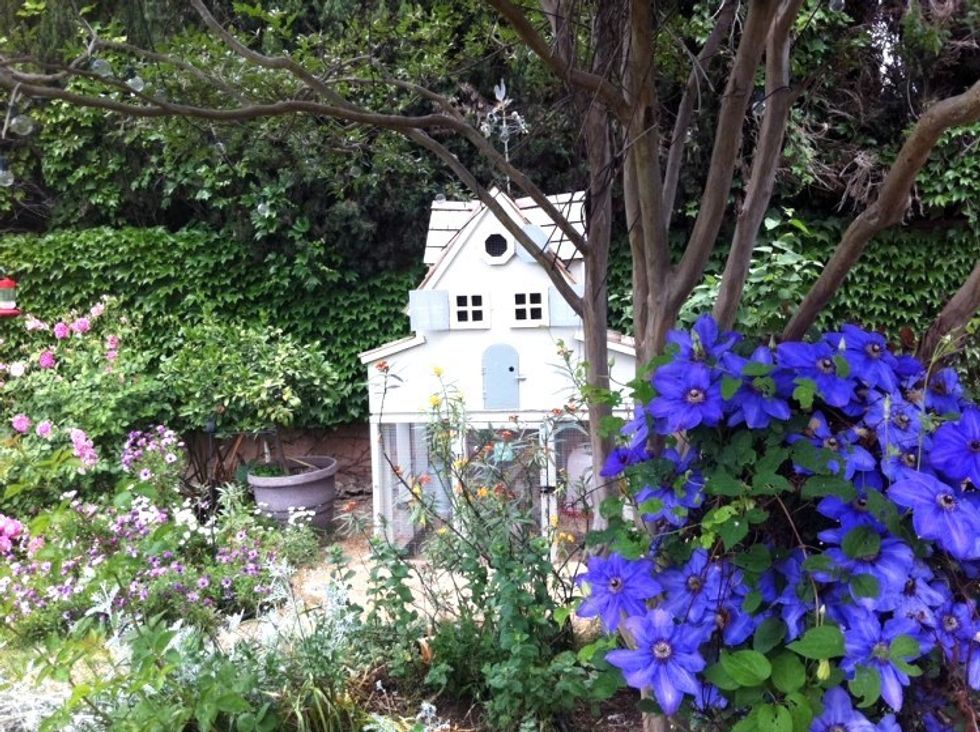 Photo credit: Vintagegardengal.com
14. Rocket Ship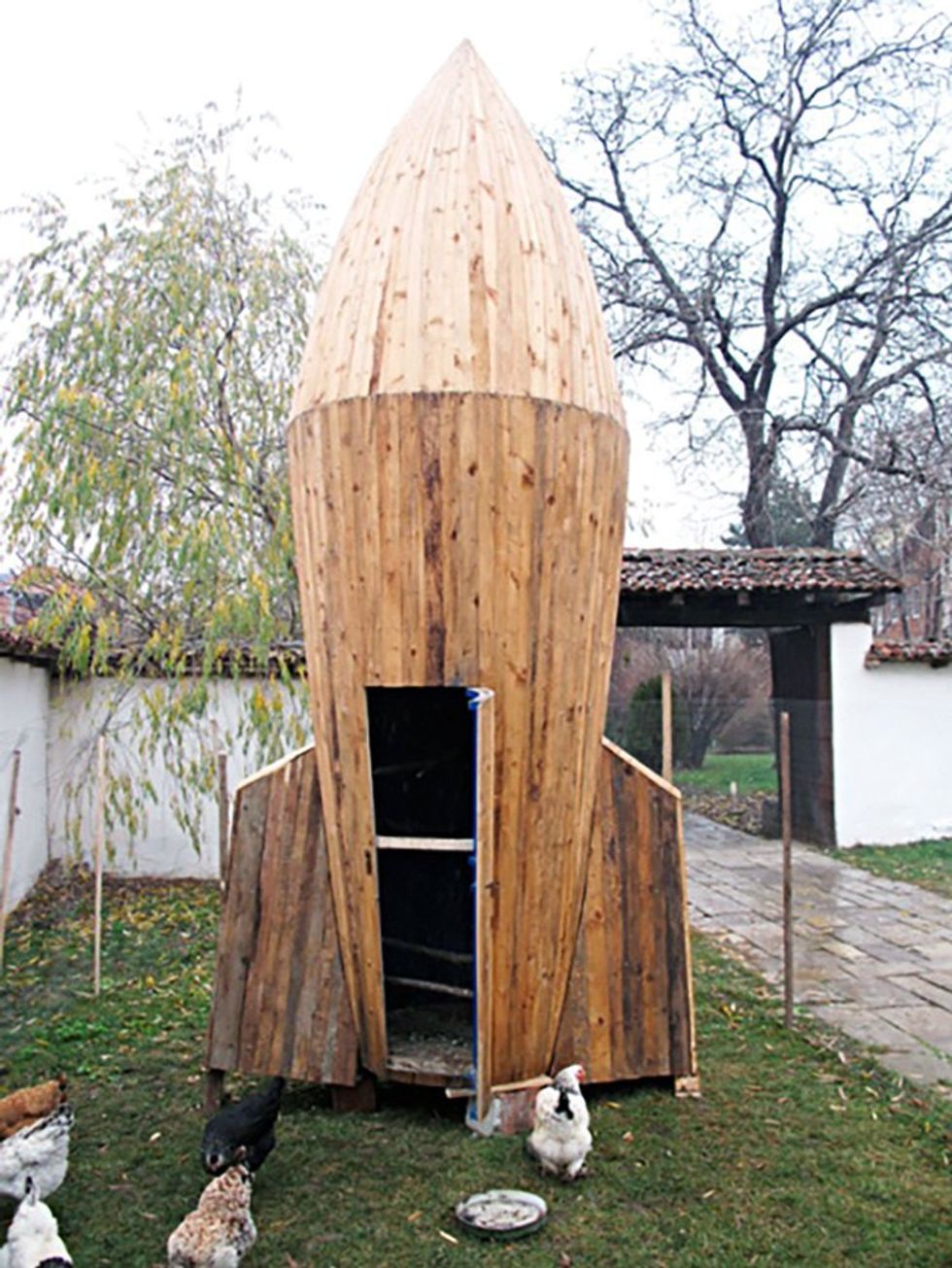 Photo credit: The Poultry Guide
It started with an idea; it ended with a rocket ship chicken coop.
15. Upcycle Reuse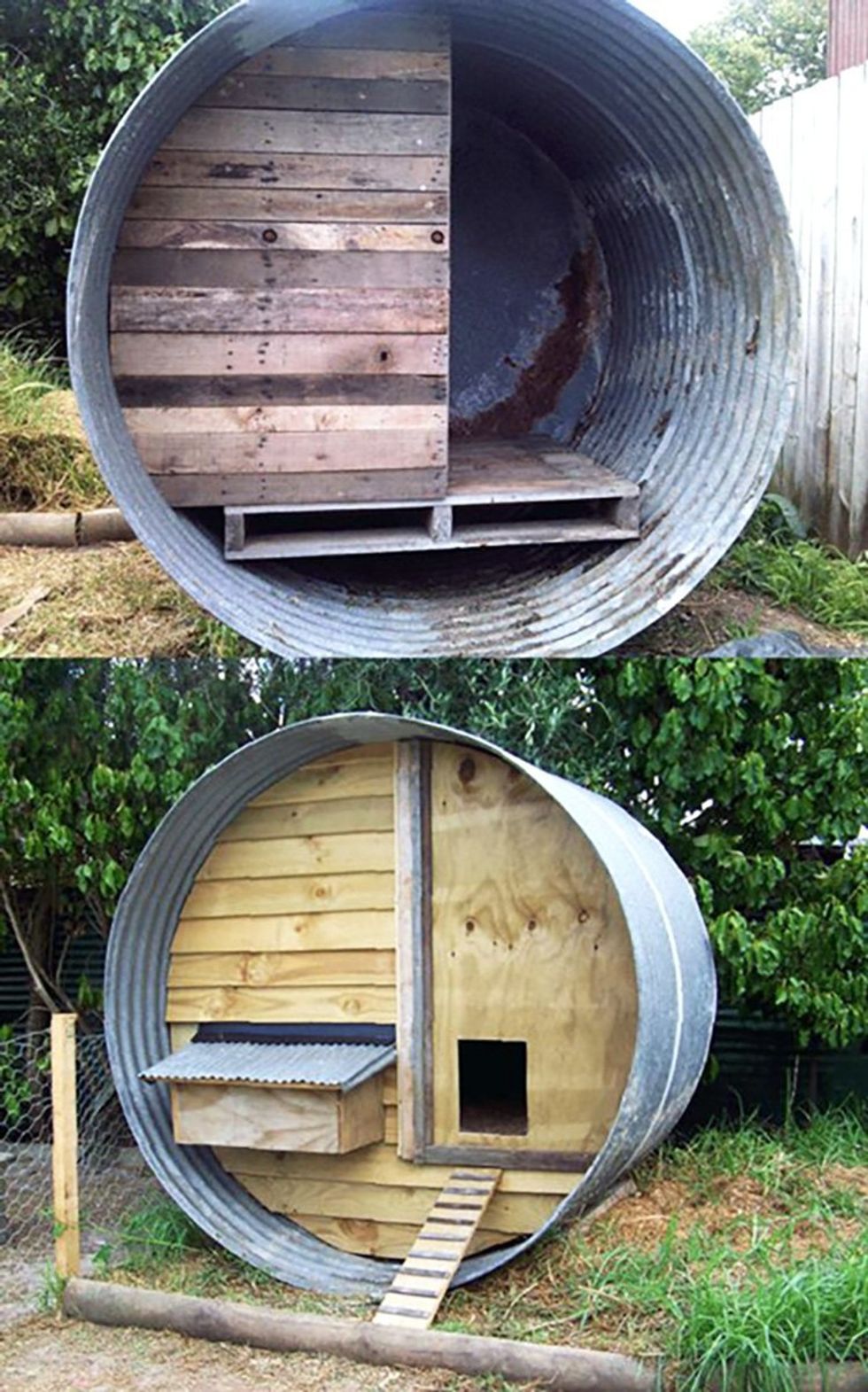 Photo credit: Recycle Art
Another way to reuse.
16. VW BUG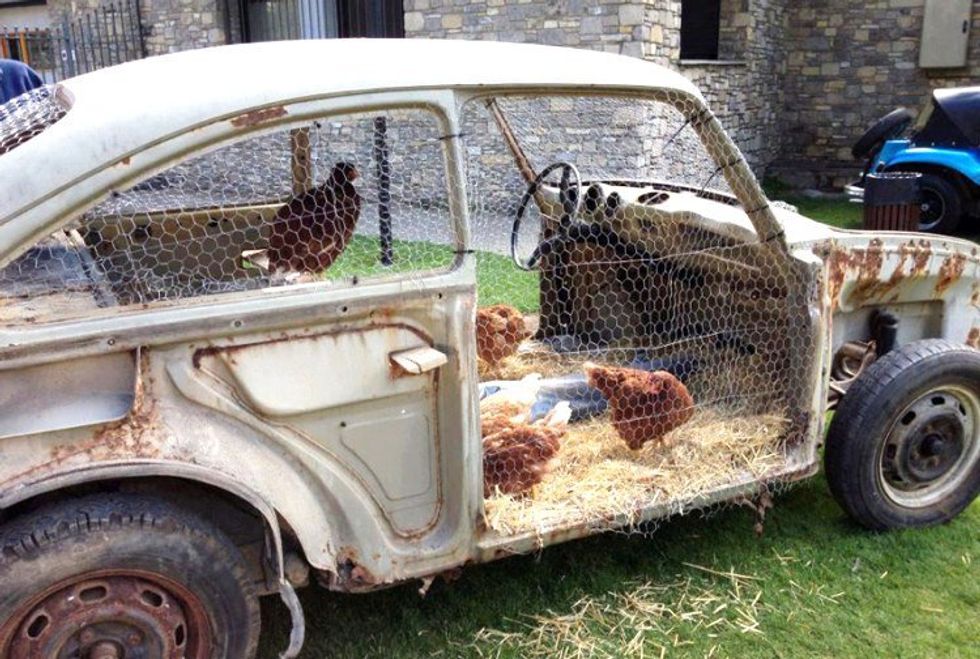 Photo credit: TreeHugger
This classic car is oozing with character.
17. The Chill Room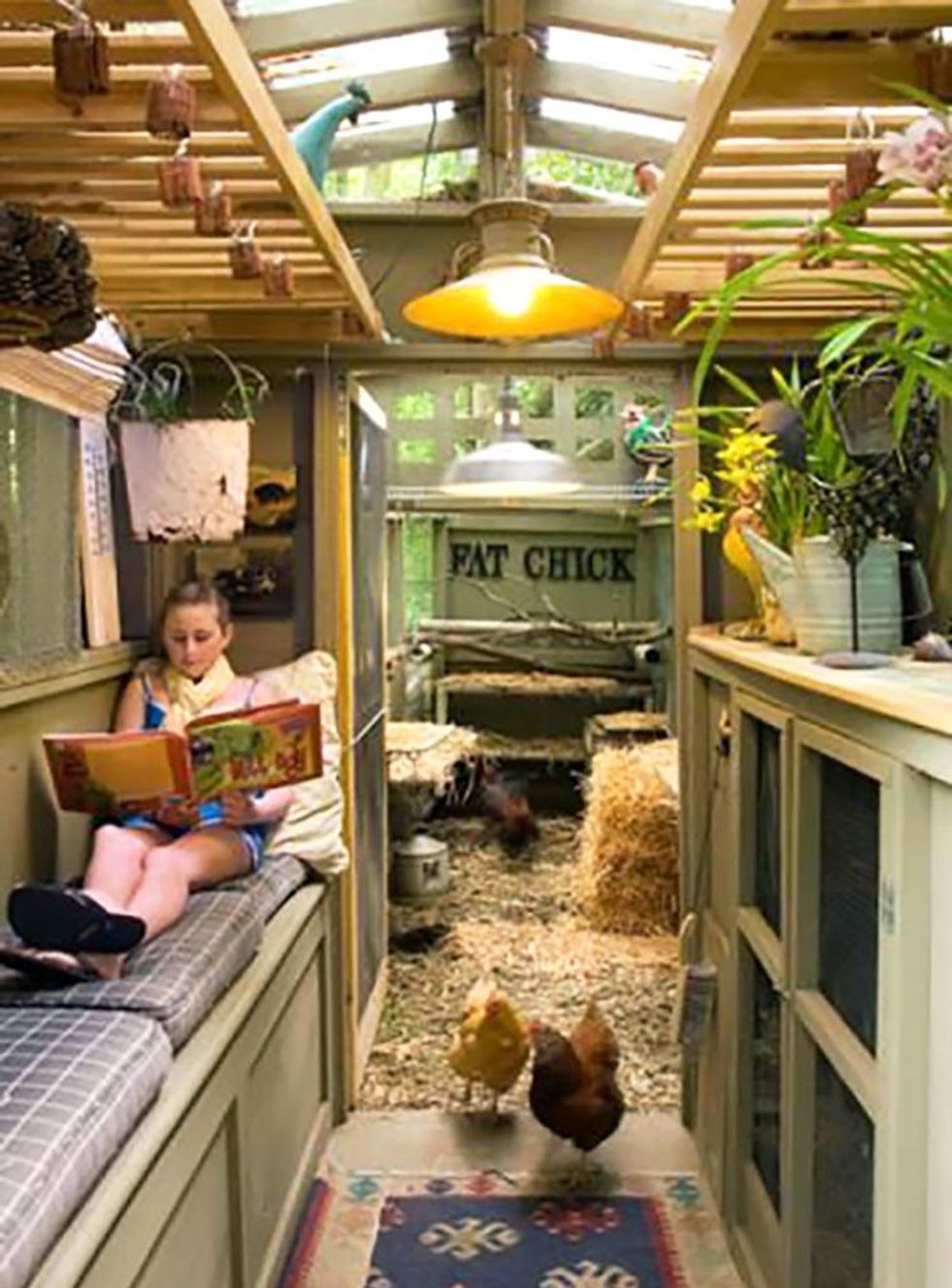 Photo credit: Living the Country Life
Because sometimes you want to read a book in the chicken room.
18. Cupola Dome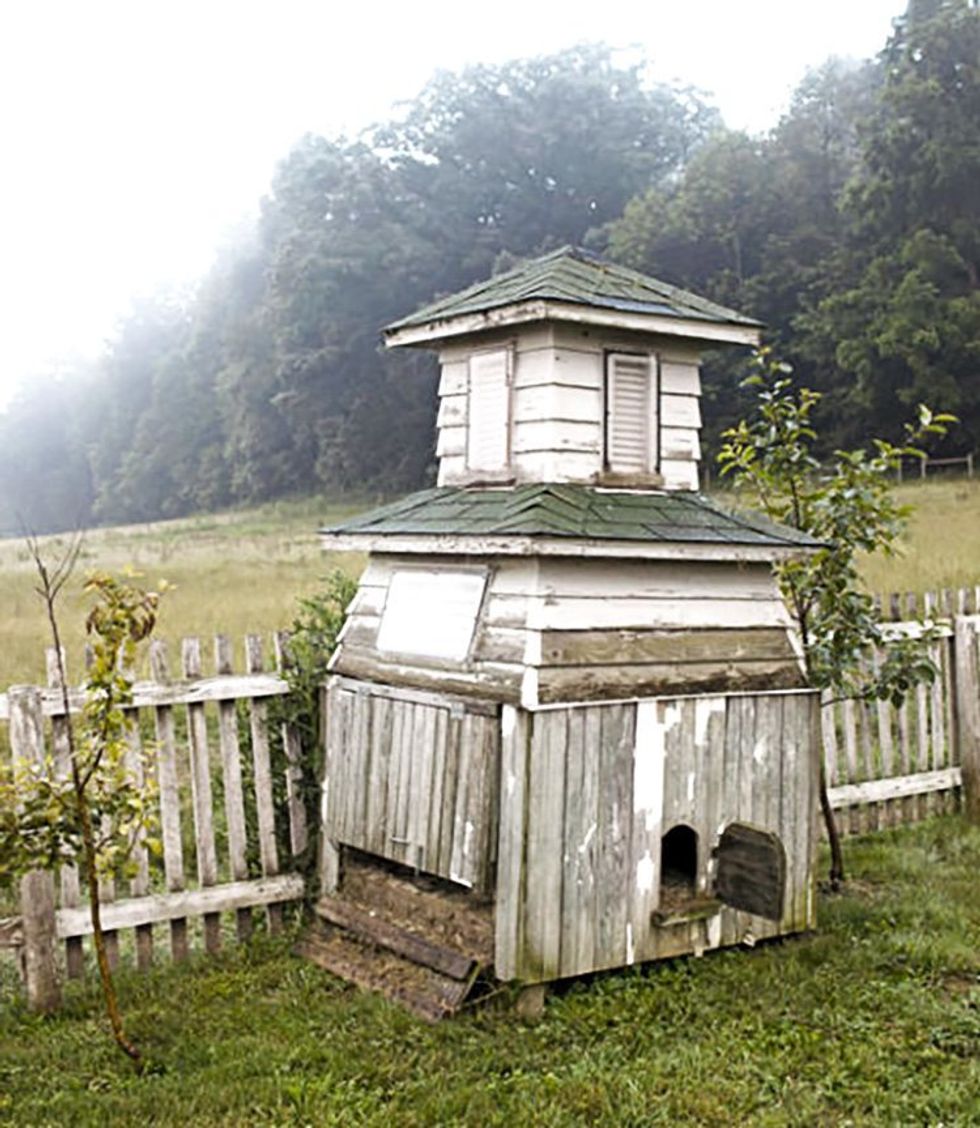 Photo credit: Max Kim-Bee
The best reuse of a cupola … ever!
19. Country Western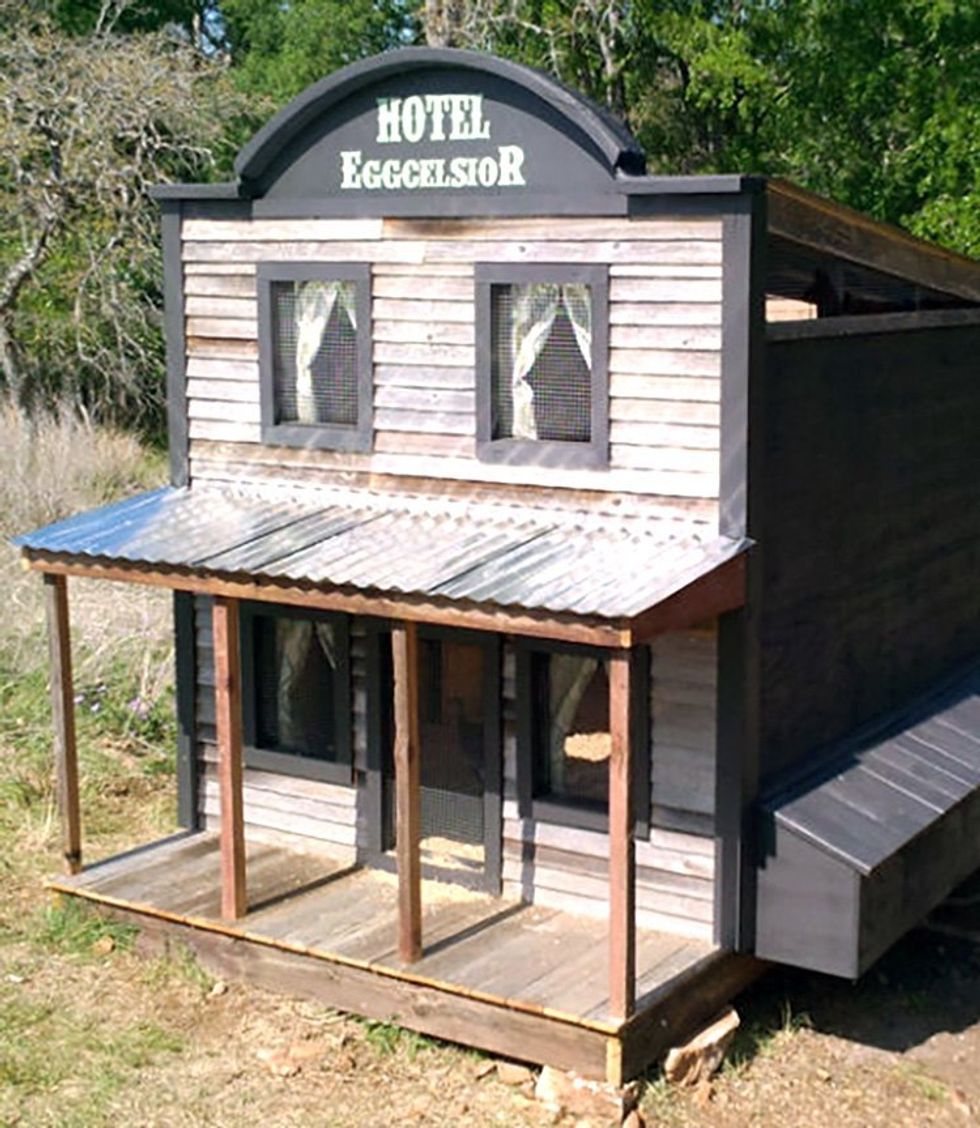 Photo credit: Backyard Chickens
20. The Church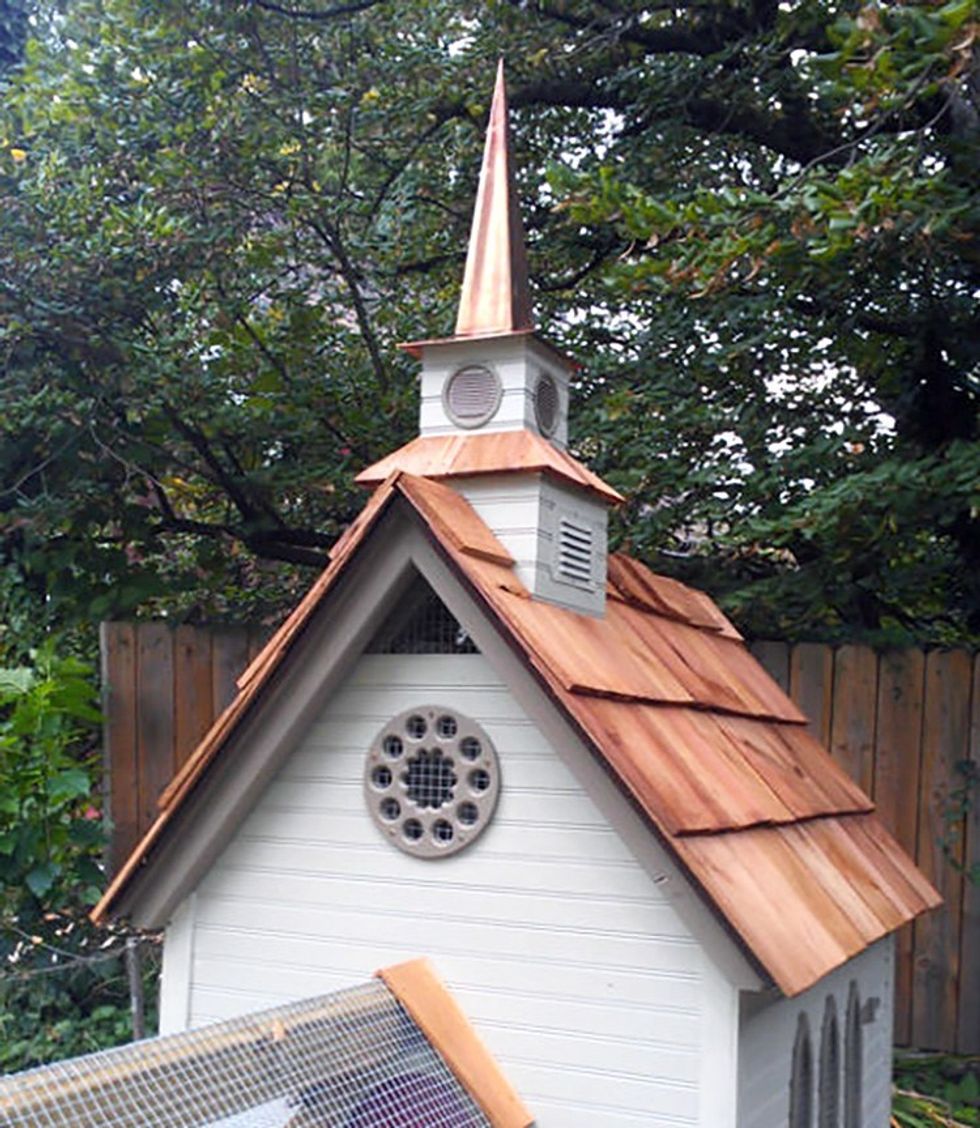 Photo credit: Todd Leach / Backyard Chickens
21. Living Room Furniture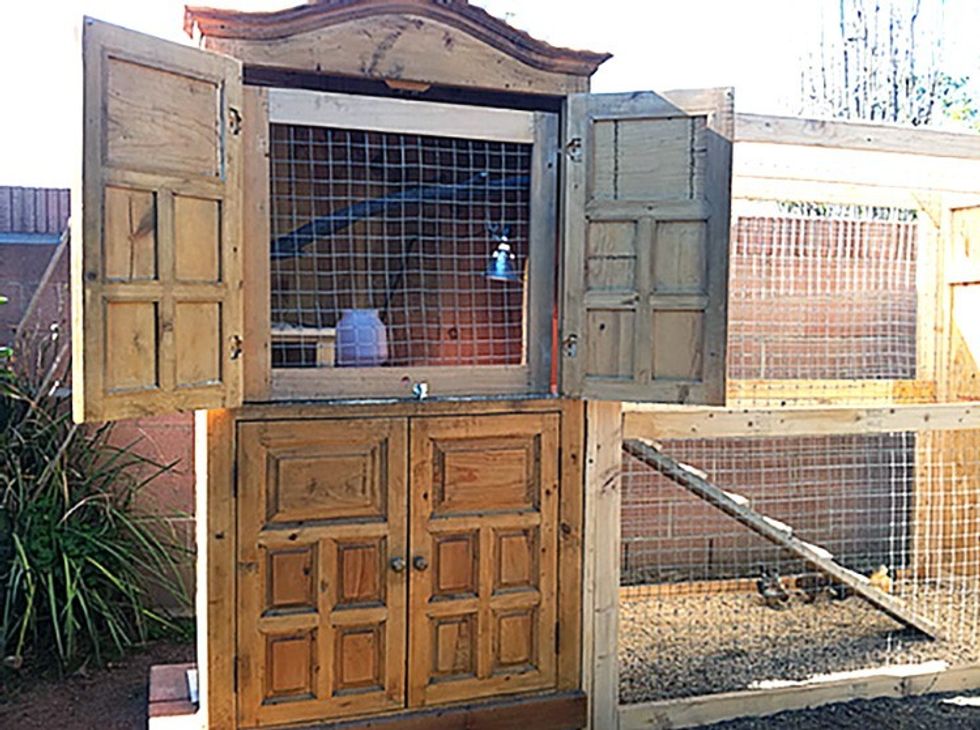 Photo credit: The City Chicken
Remember, taking proper care of chickens requires time, effort and personality. If you want to eat eggs that are the most nutritious and wish to eat from a source you know is reliable, research first to find out if you are that source. Oh ... and remember to let them roam free.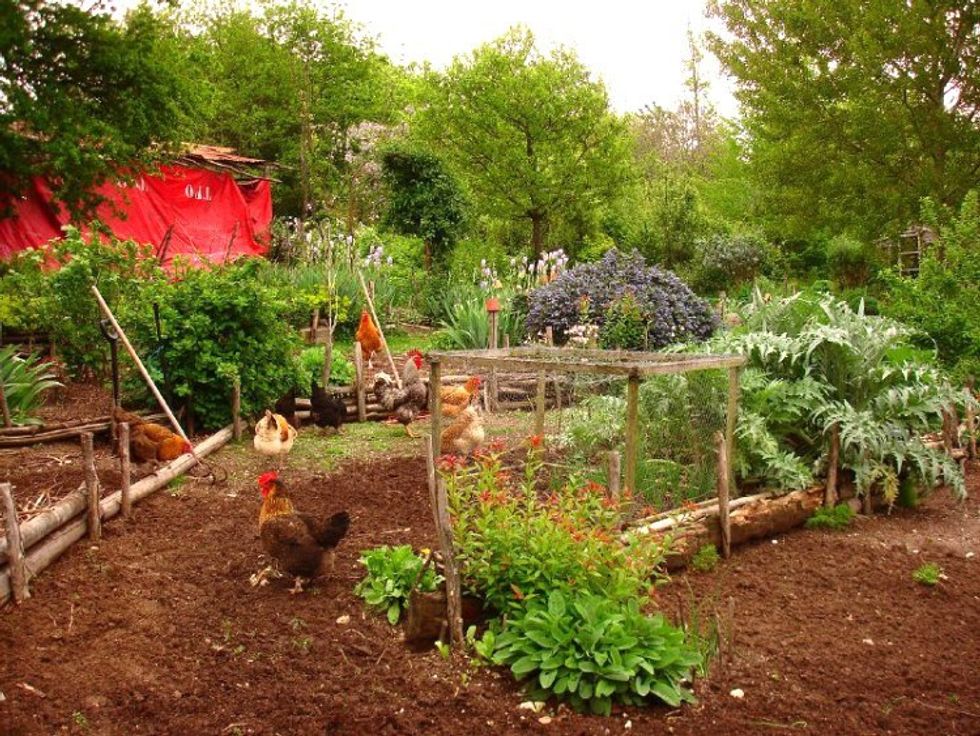 Photo credit: HobbyFarms
YOU MIGHT ALSO LIKE
Indoor Veggie Garden Lets You Grow Your Own Food Right in Your Kitchen
Why Eating Eggs Helps You Lose Weight
Camper You Pull With Your Bike Turns the World Into Your Backyard
It's Official: Jon and Tracey Stewart Convert 12-Acre Farm to Animal Sanctuary
It was a sad weekend for bears in Florida. Saturday marked the start of Florida's first statewide bear hunt since 1972. Wildlife officials ended the season on Sunday after hunters killed 295 bears in just two days, approaching the statewide limit of 320 bears. The hunt had been approved for up to seven days.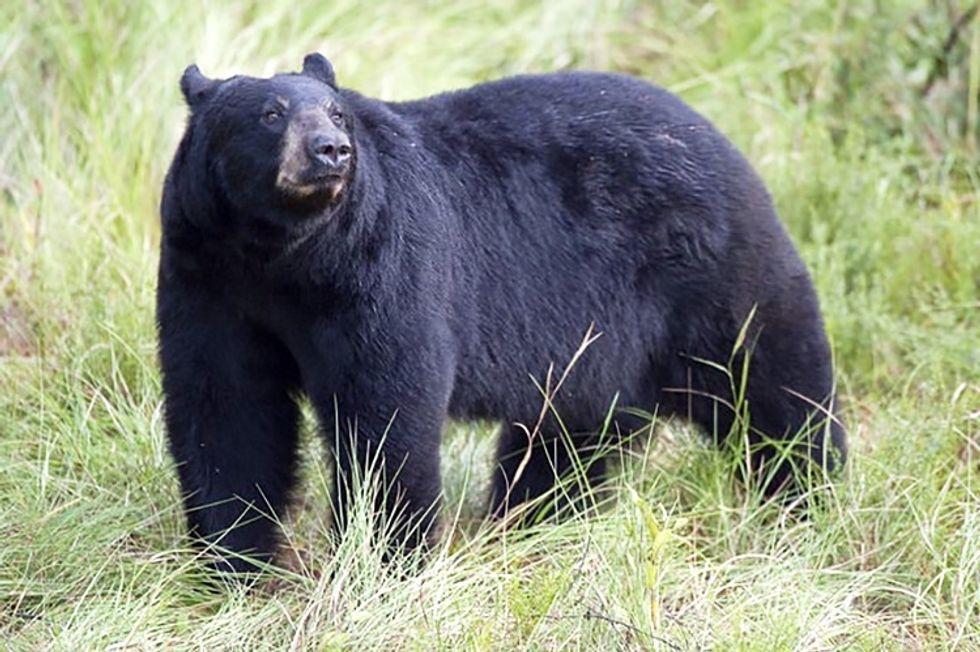 Hunters killed 295 bears over the weekend. Photo credit: U.S. Forest Service Southern Region
In two of the four management regions where hunting was allowed, officials ended the hunt even earlier following just one day of hunting, as hunters approached or exceeded regional quotas. In the eastern Panhandle, hunters far exceeded the 40-bear quota for the season, killing 112 bears over the weekend, and in the central region, where the limit was set at 100 bears, 139 were killed.
The hunt was unanimously approved by the Florida Fish and Wildlife Conservation Commission (FWC) in June. All seven commissioners were appointed by Republican Gov. Scott and have ties to the private sector, including in ranching, contracting, real estate and land development.
The state issued 3,778 bear hunting permits in anticipation of the hunting season. Florida's bear population is currently estimated at around 3,500 bears, compared to 12,000 before European settlement.
The announcement that bear hunting would be permitted in Florida sparked outrage among environmental advocates. Until 2012, the black bear had been listed as "threatened" by the FWC for more than four decades. Wildlife advocates contend that black bear recovery in Florida isn't complete, noting also that bear populations are increasingly threatened by fragmentation of Florida's natural habitats. They also argue that there are more appropriate management alternatives to hunting, and had called for the FWC to complete a full census of black bear populations before moving forward with the hunt.
Information on the FWC website supports many of these claims, explaining that bears occupy only 18 percent of their historic range in Florida, and "while some subpopulations appear to be doing well, others are clearly still recovering." By FWC estimates, Florida black bears will lose 2.3 million acres of habitat by 2060.
A dozen environmental organizations joined together in a lawsuit to block the hunt, but were unsuccessful. Gov. Scott refused to intervene.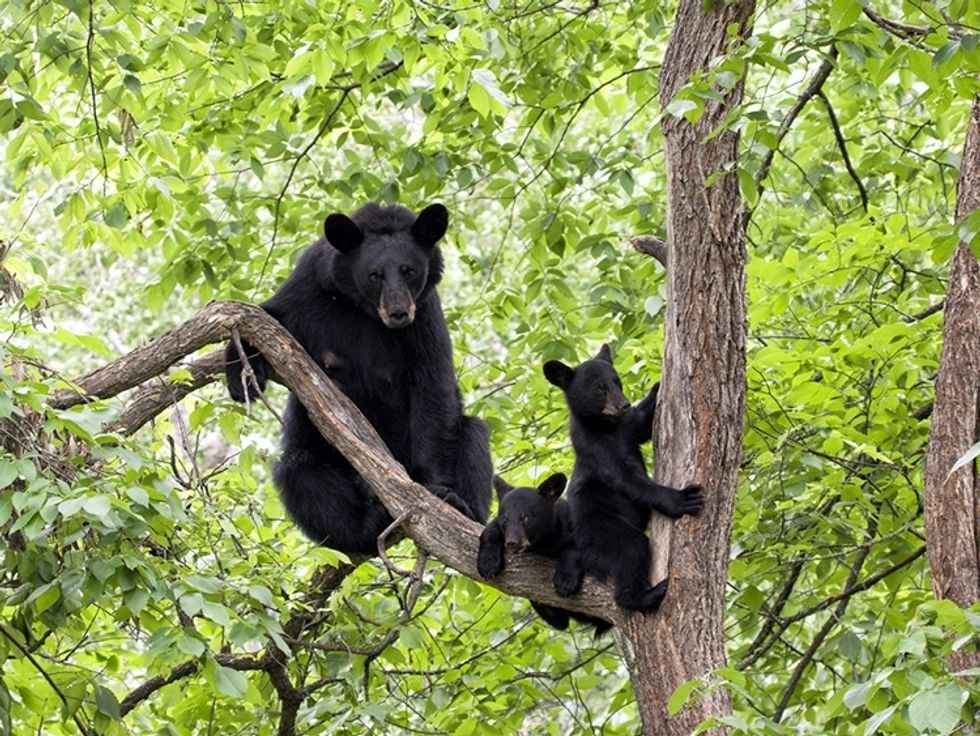 The October hunt prohibited killing any bears with cubs, but the rule was loosely enforced—hunters reportedly brought in several mother bears. Photo credit: Shutterstock
The FWC touts hunting as an important conservation tool, pointing to growing bear populations and the desire to reduce human-bear conflict. But environmentalists suggest that hunters are often primarily motivated by the prospect of a hunting trophy, and in a recent Tampa Bay Times article, one hunter said a bear would be "a nice thing to have."
"The hunt is a betrayal of this intelligent animal and a slap in the face to Floridians who love the Florida black bear," Jaclyn Lopez, Florida director at the Center for Biological Diversity, said in a press release. "We take their land, run them over with cars, and then shoot them when they become habituated to our trash—our bears deserve better."
The October hunt prohibited killing any bears with cubs, but the rule was loosely enforced—hunters reportedly brought in several mother bears. Tammy Sapp, a FWC spokesperson, told the Orlando Sentinel the hunt was timed so orphan cubs would be old enough to live on their own. Florida Black Bear cubs are weaned at 6-8 months, but typically stay with their mother until they are a year-and-a-half old. Funds from the bear permits—which were sold for $100 each—will go to bear conservation and public education efforts.
Here's to hoping that Florida doesn't approve another bear hunt.
YOU MIGHT ALSO LIKE 
Plastic Trash Found in Arctic Ocean, Likely Forming Sixth Garbage Patch
Palau Creates One of the World's Largest Marine Sanctuaries
Acclaimed Mermaid Delivers Strong Message to Chicken of the Sea