View of an Ivorian cleared forest at the edge of the 35.000 hectares Peko Mont National Park on Oct. 8, 2016. The Mont Péko National Park is located in the west of Ivory Coast where the forest officers fight with illegal immigrants to protect an exceptional flora and fauna, espacially dwarf elephants. SIA KAMBOU / AFP / Getty Images
Ivory Coast's rainforests have been decimated by cocoa production and what is left is put in peril by a new law that will remove legal protections for thousands of square miles of forests, according to The Guardian.
EcoWatch Daily Newsletter
A new online platform shows where exactly conservation action should be prioritized. ANDREYGUDKOV / Getty Images
By Morgan Erickson-Davis
As the world heads towards 2021 with COVID-19 still raging overhead, it might be easy to forget about the other global crises. But a new app, debuted today, aims to light the way to a brighter future, showing how we can stop global warming, halt extinctions and prevent pandemics – all in one fell swoop.
Research shows that global warming above 1.5 degrees Celsius will likely result in the collapse of ecosystems around the world. Scientists say that not only would this result in mass extinctions, but it would also have dire consequences for humans in terms of food and water security, community resilience against environmental disasters, public health and other societal needs that are intrinsically tied to a healthy environment.
But, according to the numbers, we're running out of time to do this. Studies indicate that in order to achieve a good likelihood of staying below the 1.5-degree threshold, the majority of the world's greenhouse gas emissions need to be avoided. Deforestation is one of the biggest emitters of excess CO2 and reducing it is one of the key components to international strategies aimed at mitigating global warming. However, researchers say that if deforestation and other industry emissions continue at current rates, we'll be on track to reach the 1.5-degree threshold by 2030.
In other words, we have less than 10 years to turn things around.
To this end, a team a team of researchers led by Eric Dinerstein, a wildlife scientist and director at the conservation organization RESOLVE, has created the first comprehensive estimate of the total land area that needs to be protected in order to fix both biodiversity loss and climate change. Called the "Global Safety Net," the effort combines data on protected areas, intact landscapes, biodiversity importance, and carbon absorption and storage, to show where exactly conservation action should be prioritized. It is visualized on an open-access online platform.
'Conserve at Least Half and in the Right Places'
The Global Safety Net combines six primary data layers: existing protected areas, habitats where rare species live, areas of high biodiversity, landscapes inhabited by large mammals, large areas of intact wilderness and natural landscapes that can absorb and store the most carbon.
Areas of the terrestrial realm where increased conservation action is needed to protect biodiversity and store carbon. Numbers in parentheses show the percentage of total land area of Earth contributed by each set of layers. Unprotected habitats drawn from the 11 biodiversity data layers underpinning the Global Safety Net augment the current 15.1% protected with an additional 30.6% required to safeguard biodiversity. Additional CSAs add a further 4.7% of the terrestrial realm. Also shown are the wildlife and climate corridors to connect intact habitats (yellow lines). Data are available for interactive viewing at www.globalsafetynet.app. Dinerstein et al., 2020.
In a study accompanying the release of the platform published today in Science Advances, the researchers describe what we need to do in order to stave off the worst effects of global warming and extinction. Overall, they found that in addition to the 15.1% of the world's land that is already protected, 35.3% will need to be added to fold over the next 10 years. This means that ultimately 50% of the planet's land area will need to be protected from further degradation to keep it under the 1.5-degree threshold and stave off ecological collapse.
The researchers were surprised how well their numbers lined up with previous estimates of how much of the planet needs to be set aside for nature.
"Without trying, the analysis landed on 50.4% of the terrestrial surface requiring protection," said study coauthor Karl Burkart, managing director of the NGO One Earth. "Of course conservation is much more nuanced now and strictly protected areas are just one type of land designation that can contribute towards this goal."
Zooming in, the study finds 30% of land area is of "particular importance for biological diversity." An additional 20% of land area is needed to maintain ecosystem intactness and provide additional carbon storage and absorption. The authors also note that restoration of degraded areas could help meet carbon sequestration and wildlife conservation goals.
Dinerstein and his colleagues write that the Global Safety Net can be used as a roadmap to achieving climate and biodiversity targets.
"Staying below the 1.5°C limit will require much of the world's remaining habitat—and a significant amount of restored habitat in forest biomes—be put under some form of conservation by 2030," the authors say. "Advances being championed under the two conventions responsible for biodiversity and climate— the Convention on Biological Diversity and the UN Framework Convention on Climate Change—must be accelerated if we are to protect the abundance and diversity of life on Earth and stabilize the climate.
"A holistic solution is emerging that will accelerate both efforts: conserve at least half and in the right places."
The researchers identified 50 different ecoregions – areas defined by their unique ecologies and geologies – and 20 countries that hold the lion's share of conservation potential.
Among them is the Sahelian Acacia Savanna, a vast grassland that stretches across the top of Africa from Senegal to Sudan, the Central Range Papuan Montane Rainforests shared between Indonesia and Papua New Guinea, Indonesia's Sulawesi Montane Rainforests, Madagascar Humid Forests, and Mindanao-Eastern Visayas Rainforests in the Philippines. These areas occupy the top five spots in terms of the amount land that could protected in future, together totaling some 183,000 square kilometers (70,658 square miles) of protection potential and nearly 2% of the planet's land area.
The app also ranks countries on how much of their biological important land areas are under official protection, which is broken down into three lists based on the size of the country. For "large" countries, Nigeria scored the top spot in terms of protection level, Brazil is #15, the U.S. is #34, Indonesia is #47, and Somalia was ranked lowest at #70.
Somalia has large areas inhabited by rare species – but very few protected areas. Global Safety Net
It should be noted that these rankings do not take into consideration deforestation within protected areas. If so, countries like Nigeria and Brazil, where protected areas are increasingly beset by illegal clearing, might not rank so high on the list. Still, the researchers say protected areas provide needed accountability and a metric with which to measure conservation effort.
"Protected Areas (or area-based targets) are certainly no guarantee of conservation outcome, as we can see with the fires burning in Brazil as we speak," Burkart told Mongabay via email. "But without them we are lost at sea."
Both Burkart and Dinerstein view area-based targets as the "North Star" of biodiversity preservation and climate protection, and say they are an important part of creating a framework for action that civil society can use to help motivate and mobilize conservation efforts.
"We've got to take conservation out of the ivory towers of academic institutions (or basements of government ministries)," Burkart said. "It is the public good we're talking about, so we need an open and transparent stocktaking of where we are right now, and what we need to immediately prioritize. Area-based targets are just the beginning, a 'blueprint' if you will of the cathedral we need to build."
Will It Happen in Time?
If more than tripling the amount of land under official, effective protection in less than 10 years sounds daunting, you're not alone. But Dinerstein and his colleagues say it is possible.
One avenue they recommend is safeguarding Indigenous territories. The Global Safety Net shows important conservation areas often overlap with areas occupied by Indigenous communities or regarded as ancestral land, which previous research indicates contain around 80% of the planet's remaining biodiversity and contribute significantly to carbon storage. Putting land under the management of Indigenous and local communities has been shown to be an effective way to protect it.
"Addressing indigenous land claims, upholding existing land tenure rights, and resourcing programs on indigenous-managed lands could help achieve biodiversity objectives on as much as one-third of the area required by the Global Safety Net," the researchers write in their study. "Simultaneously, this focus would positively address social justice and human rights concerns."
Protecting such a large amount of land will take a lot of money. But researchers say that the COVID-19 pandemic is showing just how quickly countries can allocate large amounts of resources if needed. And since research shows deforestation can increase the risk of outbreak of deadly diseases like Ebola and COVID-19, Dinerstein and his colleagues say there is added incentive for funding such efforts.
"The need for an ambitious global conservation agenda has taken on a new urgency in 2020 after the rapid spread of the COVID-19 virus," they write in their study.
The researchers were surprised to find that only 2.3% of the planet's land area would needed to be further protected to safeguard the species most at risk of extinction. This, they say, could be accomplished within five years.
Overall, they say the investment spent on preserving these important areas of land would be offset by the trillions of dollars worth of benefits provided by a healthy environment.
"Literally billions of dollars are being spent trying to invent technologies to remove carbon from the atmosphere with very little to show for it. Meanwhile we can protect the spectacular diversity of life on this planet while simultaneously providing all the ecosystem services humanity needs by protecting and conserving the 50% of lands identified in the GSN," Burkart said. "Based on a new economic analysis, we estimate that the global safety net would cost about $200 [billion per year] to manage. This is a tiny investment for a massive return, as nature provides $33 trillion in ecosystem services every year."
For their part, Dinerstein, Burkart and their colleagues are continuing to improve the GSN, and are planning on releasing an updated version next year that will include more data layers and higher resolution. They are also developing technology to help monitor elephant populations in the hopes of reducing human-elephant conflict and prevent poaching, as well as a system that detects logging trucks before they get a chance to start cutting down trees.
"Protecting forests begins with early detection and then enforcement," Dinerstein said. "We think our ForestGuard AI is an important piece of this."
But the main thing, the researchers say, is that governments must act – and soon.
"Human societies are late in the game to rectify impending climate breakdown, massive biodiversity loss, and, now, prevent pandemics," they write. "The Global Safety Net, if erected promptly, offers a way for humanity to catch up and rebound."
Reposted with permission from Mongabay.
Medically reviewed by Anna H. Chacon, M.D.
Reviews
fizkes / iStock / Getty Images
From eating foods for healthy skin to switching up your morning and routines, taking care of the largest organ in the body can get overwhelming. Recently, vitamin C has grown in popularity in the skincare world — but do the best vitamin C serums live up to the hype?
Vitamin C is not only an essential supplement for your immune system and overall health, but it's also a great skincare ingredient that can help limit inflammation, brighten skin, dull fine lines and wrinkles, fight free radicals, and reduce discoloration and dark spots.
Adding vitamin C to your skincare routine seems like a no-brainer, but before you start shopping for a serum, it's important to be aware that vitamin C is an unstable ingredient. Dermatologists say it's important to find legit and properly formulated vitamin C serums to capitalize on the benefits of the antioxidant. In this article, we'll help you find the right dermatologist-approved vitamin C serum to add to your routine.
Our Picks for the Best Vitamin C Serums of 2021
Each product featured here has been independently selected by the writer. You can learn more about our review methodology here. If you make a purchase using the links included, we may earn commission.
Skincare Benefits of Vitamin C
Also known as ascorbic acid or L-ascorbic acid, vitamin C is an antioxidant that is present in the formation of collagen and that protects against aging, according to Dr. Anna Chacon, a board-certified dermatologist with MyPsoriasisTeam. A vitamin C serum may be a solid addition to your skincare routine because it has a great safety profile, and it's safe for most skin types.
"Vitamin C serum restores and neutralizes environmental stressors that accelerate signs of aging and can be used morning and evening," Dr. Chacon says. However, she warns, "it does not come with sun protection, so additional use of sunscreen is recommended."
As an antioxidant, vitamin C protects skin cells from being damaged by free radicals from things like UV exposure, vehicle exhaust and cigarette smoke. It also hampers melanin production, which can help to lighten hyperpigmentation and brown spots and even out your skin tone.
6 Best Vitamin C Serums
Based on dermatologist recommendations and our market research, the following products are the best vitamin C serums available today.
FAQ: Best Vitamin C Serums
What vitamin C serum is the most effective?
Our top recommended vitamin C serum is the ZO Skin Health 10% Vitamin C Self-Activating serum. It is a dermatologist-approved antioxidant powerhouse, yet it is gentle, non-irritating and leaves you with glowing skin.
Should you use vitamin C serum every day?
Dermatologists recommend using vitamin C serum either every day or every other day. After you cleanse and tone your face, use your vitamin c product before applying moisturizer and reef-safe sunscreen with at least SPF 30.
Does vitamin C serum really work?
According to dermatologists, the best vitamin C serums work to protect against skin aging. However, if you do not purchase a doctor-recommended product, you run the risk of wasting your money on a low-concentration serum that won't give you any benefits.
What are the drawbacks of vitamin C serums?
Many vitamin C serums on the market, especially cheaper products, have nearly immeasurable concentrations of antioxidants, which makes them ineffective. Additionally, as with any skincare product, some individuals may have reactions to vitamin C serums including itchiness and redness.
Anna H. Chacon, M.D. is a dermatologist and author originally from Miami, Florida. She has authored over a dozen peer-reviewed articles, book chapters and has been published in JAAD, Archives of Dermatology, British Journal of Dermatology, Cosmetic Dermatology and Cutis.
picture-alliance / Xinhua / Then Chih Wey
Some 183 nations are set to discuss possibly loosening elephant and ivory exports at the World Wildlife Conference on trade in endangered species, known as CITES, which is meeting in Geneva, Switzerland.
Representatives that signed the 1973 Convention on International Trade in Endangered Species are set to take part in the conference. It opens Saturday and runs through Aug. 28, with key decisions expected in the final two days.
Conservationists have warned of "unprecedented" species declines due to mankind's exploitation of the planet's fauna and flora.
"Business as usual is no longer an option," CITES Secretary General Ivonne Higuero said at the start of the meeting, warning that "nature's dangerous decline is unprecedented."
Among the 56 proposals to change, mostly to strengthen, the level of protection among vulnerable or endangered species is one that would loosen restrictions on elephant and ivory exports, a debate that has divided African nations.
Several countries in southern Africa support an end to a ban on ivory and rhino horn exports, saying the animal populations have increased to the point of warranting a rule change. They also argue that hunting and trophy trade is important income for local communities.
Among the backers is Zambia, which has argued that its population of African elephants have stabilized at about 27,000 and wants to allow for ivory stockpile sales as well as exports of hunting trophies, hides and leathers.
However, 10 other countries, all but one of them African, want total protection for elephants from international ivory trade, arguing that a loosening of ivory restrictions could lead to poachers.
Israel has also proposed tougher regulations on the legal trade of mammoth ivory, also known as "ice ivory." Mammoth ivory trade has become a booming business, and the convention will have to determine whether products from the long-extinct species should be covered by CITES.
Elephant and mammoth tusks are almost indistinguishable to the untrained eye, and illegal traffickers of elephant tusks have tried to pass it off as "ice ivory."
CITES bans trade in some products entirely, while allowing for the trade of some endangered species provided it doesn't hurt their populations in the wild. Customs officials around the world who inspect shipments of plants and animals across borders know to watch out for the CITES logo, a seal of approval that the trade of the items are legitimate.
Reposted with permission from our media associate Deutsche Welle.
From Your Site Articles
Related Articles Around the Web
Prehistoric and historic walrus skulls, tusks and bone fragments often wash ashore on the southern coast of Snæfellsnes peninsula in Iceland. Hilmar J. Malmquist
A unique subpopulation of ancient walrus in Iceland was likely hunted to extinction by Vikings shortly after arrival to the region, according to new research.
Two subspecies of walrus (Odobenus rosmarus) occur throughout the Arctic in both Pacific and Atlantic waters, the latter having a population of around 30,000 individuals throughout northeastern Canada, Greenland and parts of Russia. However, walruses are no longer found in Iceland despite ancient skeletal remains and centuries-old written documents indicating they once thrived in the region.
An international team of scientists analyzed the prehistoric remains of walruses found within the region by extracting DNA and compared this information against modern walruses. They further conducted radiocarbon dating in coordination with a review of studies related to walruses in the region. They found that walruses had inhabited the area for thousands of years, but disappeared mid-14th century just five centuries after the Norse settlers arrived, reports New Scientist.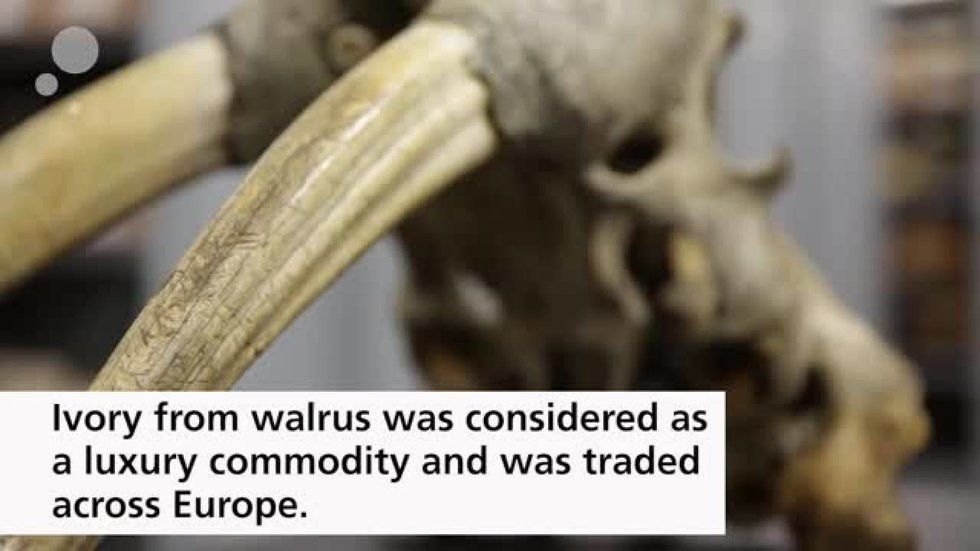 "Our study provides one of the earliest examples of local extinction of a marine species following human arrival and overexploitation. It further adds to the debate about the role of humans in the extinction of megafauna, supporting a growing body of evidence that wherever humans turn up, the local environment and ecosystem suffers," said Morten Tange Olsen, assistant professor at Globe Institute, University of Copenhagen.
Writing in the journal Molecular Biology and Evolution, the researchers note that ivory from walrus tusk was a luxury good in high demand and was traded across the Viking Age and Medieval Europe as far as the Middle East and India. A 2018 study reported by National Geographic similarly found that Norse hunters had indeed established a steady ivory trade, but the source of the tusks and ivory remained a mystery.
The work highlights the impact of human arrival in "pristine" environments and provides one of the earliest examples of trade and human exploitation resulting in the extinction of a marine resource.
"We show that already in the Viking Age, more than 1000 years ago, commercial hunting, economic incentives and trade networks were of sufficient scale and intensity to result in significant, irreversible ecological impacts on the marine environment, potentially exacerbated by a warming climate and volcanism," explained lead author Xénia Keighley. "The reliance on marine mammal resources for both consumption and trade has so far been underestimated."
The lineage of Icelandic walruses also proved to be a genetically unique species that is distinct from historic and contemporary walrus populations now found in the North Atlantic. The subspecies had existed in western Iceland for about 7,500 years, which the authors say suggests a "stable, long-term presence" up until 1213 to 1330 AD.
Paula Kahumbu attends the TDI Awards during the 2017 Tribeca Film Festival at Spring Studios on April 25, 2017 in New York City. Rob Kim / Getty Images for Tribeca Film Festival
Women have long been at the forefront of the effort to protect the earth and its creatures. Some of them, like Greta Thunberg and Jane Goodall, are household names.
Others, like around 55 percent of the people who hit the streets for 2014's People's Climate March, are anonymous (s)heroes. In between these extremes are many women who have made a significant individual difference as scientists, inventors or activists and who deserve more recognition for their inspiring efforts.
Here are five women using their unique talents to protect the planet that we at EcoWatch think you should know about.
1. Miranda Wang, Inventor and Entrepreneur, Canada and U.S.
Only nine percent of the world's plastic is actually recycled. The rest is landfilled, burned or discarded into the environment, where it risks joining the eight million metric tons that pollute the world's oceans every year. But Miranda Wang is working to change that.

Together with her high school friend Jeanny Yao, Wang developed a method of using chemicals to break down unrecyclable polyethylene film plastics — such as the infamous plastic bag — into reusable compounds, The Mercury News explained. In 2015, the pair co-founded the company BioCellection when they were just 21 to put their invention into practice.
Wang and Yao first met in their Vancouver, B.C. high school's recycling club, where they visited waste plants.
"[W]hen I visited my first waste plant, the scale of the problem hit me," Wang told UN Environment. "All that waste."
She is now tackling the problem full time as CEO of BioCellection, which is based in Menlo Park, California. She is working on a pilot program with the city of San Jose and its waste handler GreenWaste to integrate her and Yao's innovation into its preexisting system.
"The long-term goal is to be able to recycle all of the city of San Jose's — and other cities' — polyethylene plastic," Wang told The Mercury News.
2. Dr. Paula Kahumbu, Conservationist, Kenya
Dr. Paula Kahumbu, who has been called the "life force" behind Kenya's conservation movement, has been working to protect elephants since she was in her early 20s. She and a group of friends measured every piece in Kenya's ivory stockpile to create an ivory "bonfire" in 1989, The Independent reported.
Since then, she has gone on to earn a Ph.D. at Princeton in ecology and evolutionary biology, to serve as the CEO of Kenyan conservation nonprofit WildlifeDirect, and to launch the successful Hands Off Our Elephants Campaign with Kenyan first lady Margaret Kenyatta in 2014.
"From spending so much time with [elephants], I know they are not just another animal," she told The Independent. "They are beings with personalities; with families; with feelings. It is such a horrendous injustice to allow them to be slaughtered."
Hands Off Our Elephants works to tackle the poaching crisis in Kenya by enacting new laws and making sure they are enforced, working directly with communities to develop conservation strategies that benefit humans and wildlife and building public support in Kenya for elephant conservation. Since it was launched, elephant poaching in the country has decreased by 80 percent and rhino poaching by 90 percent. One of Kahumbu's key insights has been the importance of engaging Africans, and particularly African women, in protecting their continent's unique animals.
"It can be hard for Africans, and especially African women, to be heard in this male-dominated world of Western scientists and academics," she told The Independent. "Maasai women, who have been studying elephants for 20 to 40 years each; should have Ph.D.s [by now], but they don't. There has been a real failure to develop the capacity of the people who are instrumental on the ground."
3. Artemisa Xakriabá, Indigenous Activist, Brazil
The election of right-wing Brazilian President Jair Bolsonaro was a blow to climate action and indigenous rights. So far, he has overseen historic wildfires in the Amazon rainforest and pushed to open indigenous forest reserves to the mining and fossil fuel industries. But indigenous women are fighting back.
Among them is 19-year-old Artemisa Xakriabá, a member of Brazil's Xakriabá tribe. In August, she participated in the first Indigenous Women's March in Brasilia to protest Bolsonaro's anti-environment and anti-indigenous policies, HuffPost reported. She was then chosen by a coalition of South American and East Asian indigenous youth groups to represent their cause at youth climate strikes in New York and Washington, DC last September.
"We, the indigenous peoples, are the children of nature, so we fight for our Mother Earth, because the fight for Mother Earth is the mother of all other fights," she said in New York, as Democracy Now reported. "We are fighting for your lives. We are fighting for our lives."
Xakriabá's activism predates Bolsonaro, however. When she was only seven, she helped her classmates reforest 15 riverside areas near their traditional territory in Minas Gerais in southeast Brazil, according to HuffPost.
In New York, she spoke of the common struggle of all women to protect the earth.
"I am also here as a young woman," she said, as Democracy Now reported, "because there's no difference between an indigenous young female activist like myself and a young indigenous female activist like Greta. Our future is connected by the same threads of the climate crisis."
4. Dr. Maria Caffrey, Scientist and Whistleblower, U.S.
Dr. Maria Caffrey is another woman who stood up to a climate denying administration.
In 2012, the National Park Service (NPS) funded a project she had designed to estimate future sea levels and storm surges at 118 coastal national parks based on different levels of greenhouse gas emissions, as Caffrey wrote for The Guardian. She completed the first draft in the summer of 2016, but then President Donald Trump took office, and the report was delayed. Finally, a colleague told her that all mentions of climate change had been edited out of her report. Senior officials wanted her to approve the changes, and, if she refused, threatened to release the report without climate references, to delete her name or not to publish it at all.
"Each option would have been devastating to my career and for scientific integrity. I stood firm," she wrote. "And I prevailed."
The report was published, but Caffrey paid for her persistence. She received pay cuts and demotions and then, in February 2019, NPS refused to renew her funding, leading Caffrey to file a whistleblower complaint against the administration.
Caffrey also sued the administration and testified before Congress in an attempt to raise awareness about the silencing of scientists.
"Money was never really the point of the lawsuit," Caffrey told Colorado Matters. "The point of the lawsuit is to get on the record and show what the Trump administration is doing to scientists and that that's not OK. And so I think it's important that we stand up and we fight back."
5. Nirupabai, Activist, India
In India, the expansion of coal doesn't just hurt the global climate. Government-owned Coal India and its subsidiaries have bypassed local and international law in evicting people from their homes in order to expand mines in the states of Jharkhand, Odisha and Chhattisgarh, according to a 2016 Amnesty International report publicized by The Guardian. These evictions particularly target indigenous Adivasi communities, including a woman named Nirupabai whose home was bulldozed in 2014.
"I cried, I screamed, trying to save it," she told The Guardian of the eviction. "All my things, my son's school books, a year's worth of rice, everything was scattered, everything in ruins."
But Nirupabai has gone on to fight the coal company with every means at her disposal, Elle reported. She has picketed company offices, spoken at environmental hearings and she spoke in The Cost of Coal, India's first VR film to be acquired by the UN. What she wants is for Coal India to stop expanding until people like her are compensated for the land they have lost.
"You tell me what will grow on this poor land? Coal is the heart of the earth, but they remove it and say we are the sarkar. What is it that you have in your pocket that you didn't take from our land?" Nirupabai said, according to Elle.
Nirupabai has won one important victory. Coal India usually does not let women who have been displaced by its activities work in the mines because it deems the work unsafe. But a court order filed by another woman, Ratthobai Rathia, has given her the right to work for the land she has lost. Nirupabai isn't done fighting, however.
"I will fight for every last inch," she told Elle.
Lemon shark seen in the wild. Vanessa Mignon
By Sara Amundson
Every year, fins from as many as 73 million sharks circulate throughout the world in a complex international market. They are the key ingredient in shark fin soup, a luxury dish considered a status symbol in some Asian cuisines.
The global trade in shark fins is contributing to a crisis among shark populations worldwide. Sharks are being killed 30 percent faster than they can reproduce, and the fin trade is one of the main culprits. Up to one-quarter of all species of sharks and their relatives are at risk of extinction. Some shark populations have declined by nearly 90 percent in recent decades. The disappearance of sharks can harm fragile ocean ecosystems, because as top predators, sharks help balance the populations of species below them in the food chain.
Sara Amundson is the president of the Humane Society Legislative Fund, the 501(c)4 legislative and political organization affiliated with the Humane Society of the United States. In this capacity, she manages political and legislative activity for the organization. She has testified before the U.S. Congress and in various state legislatures on a variety of animal protection legislation.
This article first appeared on Truthout and was produced in partnership with Earth | Food | Life, a project of the Independent Media Institute.
Western chimpanzee juvenile female Joya, 6 years old, using rocks as tools to crack open oil palm nuts in Bossou Forest, Mont Nimba, Guinea in December of 2010. Anup Shah / Stone / Getty Images
The United Nations famously protects cultural heritage sites, but for the first time it has recognized the unique culture of animals.
Two hunters who shot and killed a research elephant in Botswana and then destroyed its collar to hide the evidence have been banned from further hunting in the country.
The death echoes the infamous killing of "Cecil the Lion" by an American hunter in Zimbabwe in 2015, Reuters pointed out. Cecil was also a research animal who was supposed to be off limits to hunters. The incident also comes around six months after Botswana lifted a five-year ban on the hunting of elephants.
"We wish to re-assure the public that the Ministry will work with the hunting industry to ensure that the necessary ethical standards are upheld at all times," the Botswana government wrote in a statement Saturday.
The statement identified the hunters as Michael Lee Potter and Kevin Sharp. Potter is a professional hunter while Sharp held a citizen's hunting license, the government said in an earlier statement. Saturday's statement said the two hunters had voluntarily surrendered their hunting licenses to the Department of Wildlife and National Parks. Sharp's suspension will last three years while Potter's is indefinite. The two hunters will also replace the collar.
Neither Reuters nor BBC News could determine the hunters' nationalities, and neither was able to obtain a comment from the two men.
The government first announced the news of the killing on Friday. It said that the incident occurred Nov. 24 in a controlled hunting area, and that the hunters claimed not to have seen the collar.
"They allege that one of the bulls approached them and they shot at it. The professional hunter claimed that the collar was not visible as the elephant was in a full-frontal position. Once the animal was down, they realized it had a collar on it placed for research purposes," the statement said.
Neil Fitt of the Kalahari Conservation Society questioned the hunters' account, however. He told AFP Friday that research collars are very big.
"The government should investigate this incident and send a strong message to professional hunters. His license should also be revoked," Fitt said at the time.
When Botswana lifted its elephant hunting ban, it said it would put quotas in place for certain areas and issue around 400 licenses a year. It said the decision was made because of an increase in conflict between elephants and humans, BBC News explained. Elephants can damage crops and sometimes kill people if they enter farms or villages.
But conservationists spoke out against lifting the ban, and some argued that hunting would only stress elephants and make them more dangerous to humans.
Almost one third of Africa's elephants live in Botswana, according to The Independent. In the country, the number of elephants has risen from 80,000 in the late 1990s to 130,000 today. But elephants on the rest of the continent have not been so lucky. Their numbers have fallen from more than one million in 1980 to slightly more than 300,000. This is mostly due to poaching for ivory. Around 40 elephants are killed for it every day.
Kandukuru Nagarjun / CC BY 2.0
By John R. Platt
Earlier this month a team of scientists announced they've developed a high-tech way to help save rhinos from poachers: They propose fabricating fake horns out of horse hair (which is also composed of inert keratin, like human fingernails) and then flooding the illegal market with their products, thereby lowering the price of powdered rhino horns so much that no one will ever want to kill another rhino again.
Sigh.
This isn't the first time someone's come up with the well-intentioned (yet illogical) idea of creating fake rhino horn, and it probably won't be the last. But it should be the last, because there are several reasons why this concept, no matter how it's executed, is doomed to fail.
Let's explore them.
Perhaps most obviously, selling fake rhino horn doesn't do anything to address the end-user demand for these illegal products, which are driven by either fortunes or phony medicinal claims. These are ultimately the reasons rhinos and many other species are poached in the first place. As a result the best way to eliminate the financial incentive to sell these wildlife products is to get consumers to understand why they shouldn't be buying them in the first place. We've already seen this work; conservationists have finally started to make headway on curbing the shark-fin trade in China after extensive public-awareness campaigns called attention to the dangers the practice poses to people and marine ecosystems. Similar initiatives have started to help chip away at consumer demand for rhino horns there as well (thanks, Jackie Chan).
Progress still needs to be made on reducing the market for products from those species, as well as with other heavily trafficked animals such as pangolins, but that's another reason why purposefully selling fake rhino horns is wrong: The more you say that any aspect of the market for rhino horn is okay, which is what happens when you put these fake products (or limited real products) up for sale, the more it will expand the market. We've seen this before in the surge of elephant poaching after a one-off sale of ivory tusks in 2008, which was meant to flood the market and reduce the profitability of poaching but horrifically backfired. Elephants had begun to recover before that, and now they're in crisis. Rhinos are already in crisis — do we want to make things even worse?
On a broader and similar note, creating fake substitutes ignores a major aspect of what drives sales of many of these wildlife products. In traditional Asian medicine, "wild" products are considered more potent — and therefore more valuable — than anything that comes out of a lab or from a farm. That's why China still has trouble commercializing its vast network of tiger farms (yes, you read that right). Consumers want wild products, so even if you do succeed in commercializing "fake" or farmed products, it will tend to normalize demand for all these biological byproducts and further drive desire for "prestige" animals poached from their native habitats.
Meanwhile some well-healed people are actually investing in the possibility of extinction. Rich consumers in China and other countries have been known to buy rhino horns, tiger bones, live tortoises and other species in anticipation that a species will become rarer or even go extinct in the wild, therefore making their assets even more valuable. That threat will never evaporate through the addition of fake products on the marketplace — because, yes, extinction is profitable.
Confiscated rhino horns about to be burned.
Joanna Gilkeson / USFWS
Let's get to the ethical aspects of this trade in fakes. For one thing many consumers — those who actually use powdered rhino horn as "medicine" instead of holding on to it for eventual sale — are already being exploited. They're buying into false claims that rhino horn has curative qualities, including the recent and spurious assertion that it can treat cancer. By selling fake rhino horns, you become complicit in that lie and directly harm people who could, and should, seek more appropriate and effective medical care.
Another ethical quandary: How are you going to get these products into the black market without putting your undercover operatives in direct harm from the violent criminals who run wildlife trafficking networks? And do we really think anyone's going to be able to squeeze these products into the same illegal market that professional law-enforcement operations haven't been able to shut down? The chances of success there seem slim — and potentially dangerous.
Finally let's address the invisible gorilla in the room: Selling fake rhino horn doesn't do anything to resolve the inequality that inspires poaching. More often than not, people hunt illegally to support their families. The monies they get from poaching may mean the difference between comfortable living and going hungry. Sure, their pay comes from the people higher up the clandestine ladder — and sure, some poachers are more criminally minded themselves — but if we want to solve the problem of poaching, we always have to factor in the fate of people on the ground.
Having said all this, I have to point out that the current idea to sell fake rhino horns is just lab science. The researchers fully acknowledge that they don't have an actual initiative to get these products into the market. They say it's up to someone else to actually figure out how to make their idea a reality — so for now it's basically a thought exercise, not a concrete plan.
I have a better idea: Let's leave this fake horn concept in the lab where it belongs and commit to more practical initiatives to help rhinos — and people — in threatened habitats, where real assistance is desperately needed. With poaching and illegal trafficking still running rampant, rhinos don't have time left for anything less.
Reposted with permission from The Revelator.
Asian elephants frolic in Kaudulla Wewa at Kaudulla National Park in central Sri Lanka.
David Stanley /
CC BY 2.0
When it comes to saving some of the planet's largest animals, a group of researchers says that old methods of conservation just won't cut it anymore.
This study found evidence of illegal hammerhead fins in 46 out of 46 sampling events in Hong Kong. NOAA / Teachers at Sea Program
By Jason Bittel
Authorities in Hong Kong intercepted some questionable cargo three years ago — a rather large shipment of shark fins that had originated in Panama. Shark fins are a hot commodity among some Asian communities for their use in soup, and most species are legally consumed in Hong Kong, but certain species are banned from international trade due to their extinction risk. And wouldn't you know it: this confiscated shipment contained nearly a ton of illegal hammerhead fins.
But all that hammerhead contraband should never have made it to China in the first place. Because after the cargo left Panama, it made a stop in Houston, where trade in shark fins of any species, endangered or not, is forbidden. And while the ship's bill of lading didn't specify any illegal species onboard, it did note the presence of dried seafood, including fish maws, shark fins, and shark tails. U.S. Fish and Wildlife officials in Houston could have inspected such cargo to ensure it complied with state, federal, and international regulations — but nobody did. (We'll get to why in a moment).
This isn't a problem only in Houston. That 2016 Panama shipment is just one of dozens discovered by NRDC (onEarth's publisher) in a recent report titled, Unintentional Partner: How the United States Helps the Illegal Shark Fin Market.
In their research, the report's authors made Freedom of Information Act requests; sought information from foreign conservation partners such as OceanaPeru and Costa Rica–based MarViva; and conducted interviews with various U.S. agencies, including Customs and Border Protection, the Food and Drug Administration, the Fish and Wildlife Service, the National Marine Fisheries Service, and the California Department of Fish and Wildlife. They learned that shark fins move through the U.S. by air, land, and sea. They pass through huge international ports like Los Angeles, Miami, and Seattle as well as landlocked airports like those in Atlanta and Memphis. They even make pit stops in places like Pipersville, Pennsylvania. The smuggled fins tend to come from the waters off Central and South America, and most are destined for Hong Kong.
From 2010 to 2017, the U.S. unintentionally played middleman to somewhere between 650 and 772 tons of shark fin exports, accounting for as many as 1.29 million sharks. (The exact number of sharks is difficult to determine, since most of the records NRDC managed to obtain expressed shipment size by weight, not individual parts, and different conditions translate into different weights per piece. Frozen fins weigh more than dried fins, for example).
"When we let these shark fin shipments pass through our borders without monitoring them, the U.S. becomes a weak link," says report coauthor Elizabeth Murdock, director of the NRDC's Pacific Oceans Initiative.
It doesn't have to be this way. The U.S. has a stronger legal framework and more regulatory resources than most of the world. If anything, we should be one of the strongest links in the fight against a black market trade that threatens marine biodiversity.
Back in 2000, the U.S. banned shark finning, the practice of cutting a shark's fins off and then dumping the animal back into the ocean. But it is still legal in many states to catch a shark, bring it back to shore, and cut it up into parts including fins, steaks, and other marketable items. (Possessing or selling shark fins is not always illegal — just when the fins come from species protected by the Endangered Species Act or the Convention on International Trade in Endangered Species of Wild Fauna and Flora).
Each year, tens of millions of sharks wind up on hooks and in nets, many of which belong to Americans. According to NRDC's report, the number of sharks we land each year makes us the seventh-largest shark-fishing nation in the world. Still, scientists seem to agree that the U.S. is doing a pretty good job of managing its shark populations. A study published in 2017 in the journal Current Biology listed America's Alaskan skate, blacktip shark, and spiny dogfish fisheries (among others) as "bright spots of sustainable shark fishing." Indeed, countries such as the U.S., Australia, Canada, and New Zealand are leading the world when it comes to harvesting sharks in ways that don't drive them toward extinction. However, the unfortunate fact remains that the vast majority (91 percent) of the world's shark fisheries are unsustainable.
Ascent
Silky shark. NOAA / Teachers at Sea Program
For instance, a study of Hong Kong's market, published last year in Conservation Letters, found that silky sharks were the second-most commonly sold species there from 2014 to 2016. The animals are considered vulnerable to extinction by the International Union for Conservation of Nature. And close behind the silkies, ranking fourth and fifth, were scalloped hammerheads (endangered) and smooth hammerheads (vulnerable). All three species are listed under Appendix II of CITES, which strictly regulates their trade. The study also found evidence of illegal hammerhead fins in 46 out of 46 sampling events in Hong Kong.
The U.S. obviously can't control what happens in every market all over the world. But we could be doing more to watch over what's moving in and out of our own ports.
Part of the answer is logistics, says Murdock. Better communication among agencies like the U.S. Fish and Wildlife Service, Customs and Border Protection, and the National Oceanic and Atmospheric Administration could help. Some budgetary improvements could also be made — currently, wildlife shipments are mandated to funnel through just 17 U.S. ports that have the appropriate inspection personnel.
But honestly, a lot of the problem comes down to wording.
As cargo, shark fins are not required to route through one of those 17 ports if they are not "unloaded." If that's the case, those fins can move along without a second glance. At the same time, products that qualify as "seafood" are also exempt from special port inspection unless the species involved requires a permit under the Endangered Species Act (which lists only the two hammerhead species mentioned above) or CITES (which lists only 14 of the more than 400 shark species known to science). The hammerhead fins in Hong Kong were listed as "dried seafood," which is one of the reasons why they were able to pass through Houston without closer inspection.
Murdock says sharks slip through a legal loophole because they qualify as both wildlife and seafood. This makes shark products even more difficult to regulate than, say, elephant ivory or rhino horn. "It's not a new problem," says environmental consultant David Shiffman, a marine conservation biologist at Arizona State University, "but it's one that doesn't get a lot of attention."
"One of the things is just how it's coded," Shiffman says. "In some countries shark is counted as 'seafood, frozen,' and in some cases it's 'shark fins,' and in some cases it's shark fins from a particular species. But it's not consistent from country to country, and it's not necessarily consistent from year to year, and that makes it really hard to keep track of this stuff."
So how do we help close these loopholes? Murdock says routing all shark fin shipments through the ports where officials have capacity to inspect them properly should become standard operating procedure. (This measure alone wouldn't stop every illegal wildlife shipment; Houston, after all, is one of those ports). A full-on federal ban against the shark fin trade wouldn't hurt either, she says. (Twelve states, such as Texas and California, have so far banned the shark fin trade within their borders). Other recommendations from the report are more international in scope, including ratcheting up the existing CITES resolutions; improving enforcement of fishing laws in nations where the shark products typically originate; and generally more, more, and still more partnerships between countries.
"It's clear that it's only going to get solved through international collaboration, because some of the countries from which these shipments are coming have a lot less capacity for law enforcement and inspections and monitoring than the United States does," says Murdock. So by stepping up efforts on our own shores, we can also help keep things on the up-and-up all over the world.
Shiffman says the report "has some excellent recommendations of what we should do about this," but he'd really like to see more data on how prevalent the problem is. And so would Murdock. She and her colleagues have had to scratch and claw for roughly two years to bring as many cases to the surface as they have.
"We're confident that this is just the tip of the iceberg," says Murdock. "It's just hard to know how big the iceberg is."
Recently sighted vaquita porpoises. Jay Barlow / Sea Shepherd Conservation Society
Six months: That's how much time Mexico now has to report on its progress to save the critically endangered vaquita porpoise (Phocoena sinus) from extinction.