Pothos ivy was modified with rabbit DNA to clean dangerous household chemicals. Sian Irvine / Getty Images
Scientists at the University of Washington (UW) may have found an unexpected way to tackle persistent indoor air pollution: a common houseplant modified with rabbit DNA.
Researchers wanted to find a way to remove the toxic compounds chloroform and benzene from the home, a UW press release explained. Chloroform enters the air through chlorinated water and benzene comes from gasoline and enters the home through showers, the boiling of hot water and fumes from cars or other vehicles stored in garages attached to the home. Both have been linked to cancer, but not much has been done to try and remove them. Until now.
"People haven't really been talking about these hazardous organic compounds in homes, and I think that's because we couldn't do anything about them," senior study author and UW civil and environmental engineering department research professor Stuart Strand said in the release. "Now we've engineered houseplants to remove these pollutants for us."
"People haven't really been talking about these hazardous organic compounds in homes, and I think that's because we… https://t.co/zu2LsZ7qmZ

— UW Engineering (@UW Engineering) 1545254951.0
To achieve this, the scientists set out to create something Strand calls a "green liver." That's because they used a protein called 2E1 that exists in the human liver to help us process alcohol. It turns benzene into phenol and chloroform into carbon dioxide and chloride ions. This protein is also present in all mammals, including rabbits. Researchers made a synthetic version of the rabbit gene that produces this protein and introduced it to the common houseplant pothos ivy. According to lead author Long Zhang, pothos ivy was chosen because "it's a robust houseplant that grows well under all sort of conditions." It is also a tropical plant unlikely to flower in the temperate Pacific Northwest and spread the modified genes via pollination.

The results, published in Environmental Science and Technology Wednesday, showed that the gambit paid off. The researchers put both regular and modified plants in test tubes with the offending gases. The gas levels in the tubes with the unaltered plants didn't change at all. But the concentration of benzene in the tube with the rabbit-enhanced plant decreased by 75 percent in eight days. Chlorine levels fell even faster: by 82 percent after three days and to almost undetectable levels by day six.
Strand hopes that the plants could be incorporated into a "bio-filter" that would purify air pushed into it by a fan.
"If you just have one of these plants sitting over in the corner, it is not going to have enough contact with the home air to do any good," Strand told The Guardian."There aren't any devices presently on the market for dealing with these [volatile chemicals] so what we are proposing here is a technology that can fill that gap."
The researchers also want to see if they can use the same concept with other genes and other chemicals, like formaldehyde, which can be released into the home via furniture or cooking.
Center for Ecology and Hydrology professor Lawrence Jones, who was not involved in the research, told The Guardian that the idea would need to be developed further to see if it would actually work outside of the lab and in the home, where there is much more air to clean.
But University of York plant biotechnologist Dr. Liz Rylott, who was also not involved with the project, was more enthusiastic.
"This is a great breakthrough technology—on paper the health benefits are clear … these plants are lowering your exposure to toxins and that can only be a good thing," she told The Guardian. "It is difficult to say how this will affect your life [on] a long-term basis, but who doesn't want to lower their exposure to toxins?"
Is @BillGates Right About #GMOs? https://t.co/faiJwOltmA @NonGMOProject @nongmoreport @FoodDemocracy @Food_Tank https://t.co/akLCq1yUGH

— EcoWatch (@EcoWatch) 1458744305.0
EcoWatch Daily Newsletter
Yasser Chalid / Moment / Getty Images
By Brian Barth
Do the planet a favor and skip the roses this year.
Trace the path of a rose back from your local florist to the pesticide-drenched greenhouse in South America from whence it likely came, and you will quickly realize that beautiful red bud has had an outsize role in destroying the planet.
Unless you're in Florida or Southern California, February and flowers do not go together in the U.S. They are flown under climate-controlled conditions from tropical countries and then shipped in a refrigerated truck to retailers, racking up an enormous carbon footprint in the process. And the growing conditions in those countries are typically neither good for the environment, nor the farmworkers.
Compared to most food crops, cut flowers require higher doses of chemical fertilizers and pesticides to maximize production and keep disease at bay. And countries like Columbia, which produces the lion's share of flowers found at U.S. florists, aren't exactly known for environmental regulations and worker protections. Some of the most harmful pesticides that have been banned in this country are widely used in the floriculture industry of developing nations.
Most floriculture workers are women; numerous investigations have reported rampant sexual harassment and other labor abuses in the industry. One study found that approximately 8 percent of flowers in U.S. markets—that's one rose in 12—was cut by a child laborer. In Ecuador, another major supplier, 8 in 10 floriculture workers are children.
By the time Mother's Day rolls around, you can source fresh-cut flowers from your backyard, or a local farmer's field. But in the dead of winter, you might want to consider a more appropriate gift.
Heirloom Rosebush
This way you can give your loved ones roses whenever they are in season. In the southern half of the country, many nurseries are already starting to stock these cold hardy shrubs. Elsewhere, order from a supplier that specializes in hardy heritage varieties and have it delivered to your doorstep.
Flowering Houseplant
Orchids aren't traditional Valentine's flowers, though they do have kind of a sexy look. Most importantly, they bloom for months on end, unlike a bouquet that is dead by the end of the week. And then they do it again! Truly sustainable.
Floral Bath Bomb
There's nothing more romantic than a luxuriating soak. Bath bombs—a tennis ball-sized pack of therapeutic salts, herbs, essential oils and flower petals—makes it all the more luxuriating.
Fragrant Massage Oil
This way you will at least have the scent of flowers in the air. Of course the oil is only part one of the gift. Part two, the massage, is even better.
Native Flower Seeds
Native species like yarrow, milkweed, bee balm and coneflower make long-lasting bouquets. Part of the romance can be planning a date on the first warm weekend of spring to plant them together.
Reposted with permission from our media associate Modern Farmer.
See how you can save money on solar panels in Florida.
Reviews
Pitsanu Prom-or / iStock / Getty Images
Florida is well-known as the Sunshine State because of its year-round sunny weather that draws millions of tourists each year, but historically, Florida hasn't actually been a national leader when it comes to solar energy generation. That said, financial incentives like Florida solar tax credit and rebate opportunities have played a huge part in its rise to become one of the top states for solar energy.
To the glee of clean energy advocates across the state, various Florida solar incentives have succeeded in bringing solar power throughout the state. According to the Solar Energy Industries Association, in 2020, Florida ranked third in the nation for solar energy capacity, and it had the second-most installations during the second quarter of 2021.
This progress in the solar field comes from many different sources, not the least of which is Florida solar incentives. For any homes or businesses feeling left behind while the rest of the state goes solar, these types of solar tax credits are still widely available across Florida, which will be discussed in this article.
For most homeowners, the decision to go solar comes down to cost. To see how much you'd pay for a home solar system (and how much you can shave off that price with Florida solar tax credit and incentive opportunities), you can get a free quote from a top solar company near you by using this tool or filling out the form below.
Florida Solar Tax Credits and Solar Rebates
As much as transitioning to clean energy is the best thing for the environment and the fight against climate change, the reality has always been that such changes would be slow to happen (if they happened at all) unless they made sense financially. When solar energy systems are proven to save money for those who pay the high upfront costs to install them, those purchases are better considered a worthy investment.
As such, some of the most effective policies encouraging solar installations have been those making the decision a no-brainer from the budgetary perspective. Let's take a look at some of the top Florida solar incentives.
| Florida Solar Incentive | Program Overview |
| --- | --- |
| Florida Net Metering Programs | Credits homeowners when their solar panels produce extra electricity and it is exported to the local power grid |
| Florida Tax Exemptions | Property tax exemptions and sales tax exemptions for solar and other renewable energy equipment |
| Local Incentives | Incentives, rebates and low-interest financing programs at the town, city, and county level that encourage local solar installations |
Florida Net Metering Programs
Regardless of the state, one of the most critical types of energy policy for solar panels is known as net metering. Through net metering, homeowners can feed excess electricity produced by their solar panels into the power grid in exchange for utility credits. These credits can be used to pay for the energy a home uses when panels aren't producing (such as at night).
Net metering tends to be a state-by-state policy, as there is no federal policy regarding net metering. Florida is one of the states where there is, in fact, a statewide net metering program, applicable for homeowners regardless of which utility serves their area.
The specific net metering provision covers up to 2 megawatts (MW) of capacity for any customers who generate electricity with a renewable energy source. Florida Power & Light and Duke Energy have the largest net metering programs in the state.
The availability of such net metering serves as an incentive for Floridians to install solar panels on their property. Not only do they benefit by reducing their power bills from pulling energy from the grid less often, but they can even profit when the utility pays them for generating more power than they consume, bringing their solar payback period down.
Florida Solar Tax Exemptions
Another financial mechanism that the Florida state government offers to solar system owners is solar tax exemptions. To start, Florida doesn't want to make the upfront cost to purchase and install solar equipment to be any higher than the open market says it should be, so since 1997, all solar energy systems have been completely exempt from Florida's sales and use tax.
Once a solar photovoltaic system is purchased and installed, there is a statewide property tax abatement that further helps homeowners avoid paying taxes on it. Most home additions, such as a new shed or outdoor patio built in a home's backyard, would be appraised to determine the value it added to the property and thus increase the overall property tax. However, the added home value of solar panels is excluded from the property's taxable value.
Local Incentives
Florida is also a large, diverse state, so in addition to the state solar incentives, many local jurisdictions enact their own policies to encourage and support installation of solar energy systems. At the town, city or county level, Floridians will commonly find low-interesting solar financing options, specific solar incentives or rebates, and more.
You can determine whether your locality offers such incentives by investigating your local government websites or talking to utility company representatives. When you do, you may come across such successful programs as Jacksonville's $2,000 rebate for solar battery installations, Boynton Beach's Energy Edge Rebate Program, or the Solar Energy Rebate Grant Program offered by Dunedin.
Federal Solar Tax Credit
Floridians, of course, can also benefit from all the tax incentives, rebates and credits that are offered at the federal level. Over the past two decades, the federal solar investment tax credit (ITC) has attributed largely to the rapid growth in solar energy across business sectors, geographies and customer types.
For systems installed and operational before the end of 2022, the federal solar tax credit is equal to 26% of the value of the installation, dropping to 22% for systems installed in 2023. It is currently set to expire afterward, though the idea of extending the ITC beyond its current expiration date, as has been done in the past, has been a part of active clean energy policy debates.
FAQ: Florida Solar Incentives
Does Florida have a solar tax credit?
State-wide, there is no specific Florida solar tax credit. However, all utilities in the state of Florida do offer customers the ability to utilize net metering, Florida solar homeowners are eligible for the federal solar tax credit, and some local jurisdictions in Florida may offer their own tax credits.
Is solar tax exempt in Florida?
In Florida, the purchase and installation of a home solar system is exempt from all sales tax, and the value of renewable systems are excluded from 100% of residential property taxes.
How much is the solar tax credit for 2022?
For any solar panel system installed before the end of 2022, the federal solar investment tax credit is equal to 26% of the value of the system.
Is Florida a good state for solar?
Florida is a great state for solar from the perspective of having year-round sunny weather, higher-than-average solar irradiance and a policy landscape conducive to solar installations. Because of these factors, Florida ranked third among all states in terms of solar capacity installed in 2020 (rising to second when looking at the third quarter of 2021), per the SEIA.
How much do solar panels cost in Florida?
Based on market research and data from top solar companies, we've found the average cost of solar panels in Florida is $2.53 per watt. However, this is only an average, and prices can vary widely depending on where you live, the number of solar panels you need and more.
To get a free estimate for your own home solar system, you can get connected with a pre-screened local installer by using this tool or entering your home's information below.

gvl / iStock / Getty Images
By Brian Barth
Old Man Winter limits most of us from gardening year-round. Growing vegetables indoors is impractical without an expensive greenhouse—except for herbs, which grow big enough for a satisfying harvest with minimal space or attention. Pick up a selection in fall before nurseries clear out their stock for winter. And follow these tips to make sure they thrive.
1. Location and Light
A large south-facing window is ideal for an indoor herb garden, as most varieties require at least four to six hours of direct sunlight each day to thrive (mints can get by on less). Lacking this, you must supplement the available natural light with artificial light or the plants will quickly become stunted.
Unfortunately, the average light bulb won't cut it. You need grow lights designed specifically for the purpose. The good news is that these are affordable, readily available and easy to install. Plus, Modern Farmer has published a guide with everything you need to know.
2. Best Herbs to Try
This is a matter of available space. If you're short on it, choose from smaller herbs like basil, thyme, oregano, mint, chives, savory and dill. Rosemary, lavender and sage are options if you have a bit more room.
3. The Right Container
Bigger is always better—you won't produce much in the 3-inch pots that herbs are often sold in. If you have the space, transplant the herbs into one-gallon plastic pots, which will give them enough room to grow until spring. To prevent messes—and avoid an eyesore in your living space—purchase an attractive planter deep enough to conceal the plastic pots. Line the planter with sheet plastic so that water cannot spill out the bottom.
4. Maintaining Vitality
With indoor herbs, it's not always enough to simply water when the soil is dry. For best results, mimic rainfall by spraying down the leaves in the kitchen sink once a week. Alternatively, spritz the foliage with a misting bottle every few days. Feed every few weeks with a natural liquid fertilizer; products intended for houseplants are generally sufficient. If insects like aphids or whiteflies appear, spray them with diluted soapy water—find our instructions for this all-natural insecticide here.
Reposted with permission from our media associate Modern Farmer.
By Andrew Amelinckx
Having a plant or two in your office can really brighten up your space. Studies have found that keeping plants at the office leads to heaps of positive benefits, including increased productivity, better memory retention and reduced stress. But not all of us are born green thumbs.
That's why we've pulled together this simple guide to choosing the best—and easiest-to-care-for indoor office plants, as well as a few simple instructions to prevent your new green friend from heading to an early grave.
Best Indoor Office Plants
It's important to set up yourself—and your office mates—for success. That means choosing a plant that will do well without a ton of natural light, isn't incredibly water-sensitive and that can tolerate the often-dry office air. These five fit the bill:
1. The snake plant (Sanseveria trifasciata) is perfect for the office. It's super-easy to care for and is great at purifying the air, according to NASA. It has stiff spear-like leaves that shoot upwards and are often streaked with yellow. It does well in indirect sunlight and only needs to be watered every two to three weeks. This is a plant you actually have to try to kill—overwatering is really its only kryptonite.
2. Devil's ivy (Epipremnum aureum) is far less intimidating that it sounds. Also commonly known a pathos, this vine-y plant with heart-shaped, waxy, green leaves (sometimes with splashes of white or yellow) earned its moniker because it's nearly impossible to kill. Perfect for an office setting! Devil's ivy does fine in low light and doesn't require much attention. Water when the soil is dry to the touch.
3. Another plant with a high tolerance for neglect is the spider plant (Chlorophytum comosum). This beauty has narrow leaves with white or yellow stripes, and in the spring, producers "runners" that spawn more little baby plants that sort of resemble spiders, hence the name. This is another great one for air purification. Care is simple: Water when the top inch or two of soil is dry, and allow it to dry out between waterings. Bright to medium, indirect sunlight is best, but the spider spider plant is tough and should do fine even in offices without a ton of natural light.
4. Parlor palms (Chamaedora elegans) require a bit more water than some of the other suggestions in this list, but they don't require much else. These slow growing densely-leaved single trunked palms do well in lower-light situations and don't need a ton of space. When the top of the soil is dry, give them a good soaking. In winter or low light conditions they require less watering than if they're getting a lot of sun.
5. Finally, we have the jade plant (Crassula ovata), which is a type of branched succulent shrub that originated in South Africa. Jades do well in dry, warm settings, and they prefer a bit more light. A south-facing windowsill is ideal. Water when the top of the soil is dry to the touch.
What to Avoid
It's best to steer clear of blooming plants, such as tropical hibiscus and Arabian Jasmine, since they tend to require more natural light, could set your office mates' pollen allergies into overdrive, and can be overly perfume-y for a shared workspace.
A Final Word of Advice
As mentioned above, every type of plant has its own needs when it comes to watering. That said, here's a word to the wise: It's much easier to overwater a plant that you realize. Over-watering can kill most of these plants more quickly than under-watering (over-watering causes root rot, and there's no coming back from that). In general, if the plant is drooping, getting brown tips or dry, yellow leaves towards the bottom, you're probably under-watering it. Water less in winter or in offices where the air conditioning is kept on high. A rigid watering schedule isn't required for the plants we've suggested, but if there are multiple people caring for your greenery, or you tend to be forgetful, a watering schedule is a good idea. And lastly: Always use a pot with a drainage hole.
Reposted with permission from our media associate Modern Farmer.
Brett Ryder
By Jordan Davidson
We often talk about leaving the world a better place for our children. But our kids are not standing idly by while we wonder how to clean up the mess we've made. Energetic, adept with technology and enthusiastic to create change, kids already have the tools to become stewards of the planet's ecological health. And they are ready to start now.
Meanwhile, part of our job as parents, educators and mentors, is to groom our kids to shape the world they want to know. But depending on their age, the tactics will need to vary. Experts from the Green School in Bali, Indonesia, an international school for students from preschool through grade 12 nestled in the jungle, and Antioch University New England, weigh in on raising the next generation of environmental activists.
Take them outside.
Environmental awareness starts when you take your kids blueberry picking or fishing or allow them to collect twigs to kindle your campfire. "Early life experiences in the wild lead to a lifetime love of nature," said David Sobel, co-director of the Center for Place based Education at Antioch University New England and the author of several books on childhood and nature. Studies show that most environmental activists attribute their ecological values to both time spent outdoors as a child and to an adult who taught them respect for nature.
Sobel strongly encourages parents to allow their kids to take advantage of available green space. Picnic in the park. Collect flowers. Hike through the woods. Strike up a conversation about growing crops and caring for livestock with a vendor at your local farmers' market. With older kids, who tend to be less interested in exploring the world with their parents, look for after-school programs that offer ample outdoor time, or recreational groups they can join to bike, surf, or orienteer in the company of their peers.
Exploring nature in your backyard or neighborhood park is fundamental to inspiring a future environmentalist, way before tackling conversations about the fate of planet Earth. "Too often we see parents talk about their own environmental anxiety, like ice caps melting or mosquito-borne diseases spreading, but they jump over basic access to wild nature and allowing kids to love the outdoors," Sobel said. "That's counterproductive."
Enlist the little ones' help with the cat or the basil.
Kids have a natural sense of empathy, notes Glenn Chickering, the head of Green School's middle and upper school. As a result, they're inclined to treat animals and plants with respect and compassion. To build on this instinct, invite your kids to help take care of a pet, your houseplants, or a sidewalk sapling. Work with them to grow a favorite fruit or vegetable in the garden or on a windowsill or to attract bees and butterflies to the yard. Tasks like these set kids up to grow up feeling a responsibility to protect and care not just for nature in their own realm but also for the wildlife and wild places they might never see.
Explore problems and solutions with your tween.
Around fourth and fifth grade, a child's sense of the world expands. They're ready to discuss the human impact on nature and to investigate what's harming our environment.
"At that stage of life, children want to understand how, for example, building a farm or a city or a golf course might impact animals," Chickering said. "But they also want to find solutions. They want to know who's working on a problem, and they want to help." So, for example, if you take your kid to the beach and notice bleached coral, you might start by researching the threats to reefs, then work together to find an organization dedicated to helping them and look into how you can get involved. It's important to make kids feel empowered early on, Chickering adds.
Give your tween an easy win by auditing your own home and habits together. Strategize together a way your household can reduce waste and use less fossil fuels. You can also get crafty with your recycling efforts, to encourage kids to be more aware of our disposable culture. At Green School, for example, fifth-graders have saved natural resources by creating a neck pillow from recycled material, a notebook from the blank pages of previously discarded notebooks, and a bamboo skateboard.
Seek out volunteer science projects.
There are plenty of opportunities for older kids to get involved in neighborhood conservation efforts, whether that's through helping with trail maintenance, ecological restoration, or the control of invasive plant species. Many regional and national organizations also offer opportunities to get involved in broader efforts, such as the National Park Service's Youth Conservation Corp.
Citizen science projects, where members of the public help collect environmental data that support a scientific study, also offer great opportunities for kids to get involved. Some may even tap into a teenager's passion for, say, surfing—as with an ocean acidification project in San Diego run by the Scripps Institute—or photography, as with projects like Nature Groupie's effort to photograph vernal pools in New Hampshire.
Encourage big thinking.
Of course, some kids are ready to change the world even before we grown-ups are ready to let them. But as their parents and teachers, it's our job to encourage their passions. You can find inspiration by checking out child-led projects at Young Voices for the Planet.
A set of sisters who attend the Green School successfully campaigned to rid Bali of plastic bags, a goal they set upon when they were 10 and 12, respectively. They started with a petition to ban plastic bags and set a goal of collecting one million signatures. A combination of perseverance, naiveté and charm got them in the door of the manager of Bali's airport, who authorized them to collect signatures behind customs and immigration. After a year and a half of requests to meet with Bali's governor, Mangku Pastika, he finally agreed and then vowed to make the island plastic-bag free.
"We have learned that kids can do anything," Melati Wijsen said of the campaign in a 2015 TED talk she gave with her sister. "We can make things happen … Kids have a boundless energy and a motivation to be the change the world needs."
From Your Site Articles
Related Articles Around the Web
Large LED arrays like this are just one grow light option for indoor gardening and plants. nikkytok / Shutterstock.com
By Brian Barth
Indoor growing offers many advantages. The biggest benefits are the most obvious: garden pests can't get at your plants, and you have total control over the weather.
Yet unless you're lucky enough to have a solarium or greenhouse attached to your home, providing sufficient light to your plants will likely be an obstacle (shade-tolerant houseplants excepted). South-facing windows may provide enough light for a tray or two of seedlings, but if you want to grow vegetables, or any other sun-loving plants, to maturity, you're going to need grow lights.
We have covered where to find the best grow lights to buy online. In this overview we'll talk more about why grow lights are important.
The indoor lighting found in most homes does little to support photosynthesis. Traditional incandescent bulbs do not have the proper spectrum of light, or intensity, to supplant the sun. Household fluorescent bulbs can make effective grow lights, but only if they are placed in within a few inches of the foliage and left on for 16 hours per day—not ideal.
Warm vs Cool: Understanding Color Spectrum in Grow Lights
When shopping for grow lights, you'll notice they are labeled with numbers like 2700K or 4000K. This refers to their relative warmth or coolness on the color spectrum—the higher the number, the cooler the light. Foliage growth is generally best around 6500K, though many plants need a period of warmer light, around 3000K, in order to produce flowers, and thus fruit.
In other words, if your goal is to simply produce seedlings, leafy green vegetables, or root crops, you only need higher spectrum bulbs. If you want to grow flowers, marijuana, or any fruiting plant (cucumbers, tomatoes, peppers, lemons, etc.), you'll also require low spectrum bulbs. You can find some types of bulbs available in full-spectrum form, however, simplifying things.
Types of Grow Lights
There are three main types of grow lights.
Full-spectrum fluorescent lights—either of the tube or standard CFL variety—are a great choice when starting seeds indoors. Falcona / Shutterstock.com
Fluorescent Grow Lights

The standard fluorescent bulb, commonly denoted T12, makes a decent grow light for houseplants, starting seeds, supplementing the natural light of a window, and other situations where lighting needs are modest. They are fairly weak in light intensity, however, and must be placed within a few inches of the foliage to have much of an effect.
T5 fluorescent bulbs, which are narrower in diameter than T12s (but still widely available wherever lightbulbs are sold), have a much higher light intensity, making them suitable as a sole light source for sun-loving plants. Compact fluorescent bulbs (CFLs) are an option for small spaces, or if you don't like the look of long rectangular fluorescent light fixtures—CFLs will screw into an ordinary incandescent light fixture.
Look for specialized full-spectrum fluorescent grow bulbs (like this T5 option, or this CFL option, which fits into a standard socket) to provide the right balance of light for flowering plants.
LED Grow Lights
While they are considerably more expensive than fluorescent bulbs, LEDs use half the electricity and last five times longer, more than paying for themselves in the long run. The average LED bulb from the hardware store is not designed for plant growth, however—you need special LED grow bulbs, a relatively new technology that is increasingly available from horticultural suppliers.
LED grow bulbs are capable of much greater light intensity than fluorescent bulbs and are available in full-spectrum form. An easy rule of thumb: Fluorescent bulbs are often used when growing just a handful of plants; LEDs are preferable for larger quantities since you can achieve higher light intensity per square foot. Another advantage of LEDs? They produce very little heat compared to other bulbs—an issue that can become problematic when you have a lot of lights in a small space.
HID Grow Lights
Before the advent of LED grow lights, HID (high-intensity discharge) lights were the main option for large indoor plantings. They are extremely powerful, but are expensive to purchase, consume electricity inefficiently, require special light fixtures, and give off a lot of heat. All that said, they are very effective and are still widely used. If you want to grow large plants like tomatoes or lemon bushes, HIDs are a good bet because the light penetrates farther into the foliage than with other bulbs.
There are two types of HID bulbs. High-pressure sodium (HPS) bulbs are best for flowering (low spectrum), while MH (metal halide) bulbs are required to support vegetative growth (high spectrum); the two types are often used in conjunction. Unfortunately, each type requires its own fixture.
How to Install Grow Lights
Installation requirements vary drastically depending on the scope of your indoor garden and the type of bulb used. But here are a few basic steps to get you started.
Figure out how many bulbs you need.
Most edible plants require at least 30 watts per square foot, but fruiting species (like tomatoes) generally won't produce abundant high-quality crops without 40 to 50 watts per square foot. Wattage is always indicated on the bulb package. Simply multiply the square footage of your growing area by the number of watts you plan to provide (between 30 and 50); then divide by the number of watts supplied by the bulbs you plan to use.
Devise a light rack.
You'll need a way to support the bulbs over the plants at the proper height. And unless you're growing something that will remain at more or less the same height throughout its lifespan, you'll also need a way to raise the light rack as the plants grow. This is usually accomplished through some sort of pulley system or by hanging the light fixtures with metal chain—that way you can easily adjust the height by changing the link the light fixture is home from. Grow light racks are also available for purchase online.
Add the necessary accoutrements.
It is generally wise to plug your lights into a timer to ensure they get the proper amount of light, and that they get it at the same time each day. Fancy ones are available for indoor growing, though a standard lamp timer also works. If your lights bring the temperature above 80 degrees or so in your growing area, install a ventilation system to prevent heat stress. Aficionados make use of reflectors and all sorts of other grow light accessories to achieve optimum results.
How Long Should I Leave Grow Lights On?
Plants grown indoors require more hours of light than those grown outdoors—14 to 18 hours of light per day is recommended for most edible species when grown under artificial lighting. Don't be tempted to leave the lights on 24/7, however—at least six hours of darkness each day is essential to plant health.
As the plants grow, raise the light fixture accordingly to maintain the optimal distance, which varies depending on the type of bulb used and its wattage (the higher the wattage, the farther away the bulb can be). Here are the basic parameters:
Fluorescent Grow Light: 3 to 12 inches
LED Grow Light :12 to 24 inches
HID Grow Light: 24 to 60 inches
Happy planting!
Spring Into Action: 6 Tips for Climate-Smart Gardening https://t.co/vMmP1ZfCi1 @TheCCoalition @beyondzeronews

— EcoWatch (@EcoWatch) 1520078710.0
Reposted with permission from our media associate Modern Farmer.
We breathe 10 to 20 thousand liters of air per day. With this much air going in and out of our lungs every second, it is vital to make sure we are breathing in good air all day.
We are so used to hearing the expression "go out and get some fresh air," but why not bring some of that fresh air inside? Or better yet, create it inside. And not just any air. But air that can actually remove toxic gases and chemicals from your home environment. That's correct—air that can actually remove VOC's including formaldehyde and benzene.
Listen to this Green Divas' segment about creating a better indoor environment for your healthy home:
National Aeronautics and Space Administration (NASA) and the Associated Landscape Contractors of America released the findings of a 2-year study suggesting that in addition to what some plant physiologists already knew, plants absorb carbon dioxide and release oxygen as part of the photosynthetic process.
As you may know, plants directly absorb carbon in their life-dependent process, photosynthesis. By taking in carbon dioxide and converting it to oxygen during photosynthesis, plants and trees naturally remove excess carbon from the air. During photosynthesis, foliage also removes from the atmosphere other chemicals, such as nitrogen oxides, airborne ammonia, some sulfur dioxide and ozone that are part of the smog and greenhouse effect problems. Plants also affect air quality by acting as collection sites for dust and other air particles. So, by adding plants to your environment, you are cleaning up your indoor air and helping the planet.
In addition, these researchers, including Dr. Bill Wolverton, formerly a senior research scientist at NASA, have found many common houseplants absorb benzene, formaldehyde and trichloroethylene. In the NASA study, each plant type was placed in sealed, Plexiglas chambers in which chemicals were injected. The results surprised everyone.
"Plants take substances out of the air through the tiny openings in their leaves," according to Wolverton. "But research in their labs has determined that plant leaves, roots and soil bacteria are all important in removing trace levels of toxic vapors."
Did you know that one potted plant per 100 square feet will clean the air in an average office? Although not a replacement for an air purifier, NASA says that 15 to 18 good-sized plants in 6 to 8-inch diameter containers will improve air quality in an average 1,800 space. But, not just any plant, there's a certain 50 plants that work the best.
The top 10 list can be found in the Just GREEN It! book. But, here are the top five plants that are most effective in removing formaldehyde, benzene and carbon monoxide from the air, according to the study.
1. Areca Palm
2. Lady Palm
3. Bamboo Palm
4. Rubber Plant
5. Dracaena "Janet Craig"
Many Americans are working to reduce their exposure to harmful chemicals and toxic ingredients. Few industries have faced more criticism for their ingredients than the cosmetics industry and lately, it seems that more and more brands are releasing organic or all-natural personal care lines.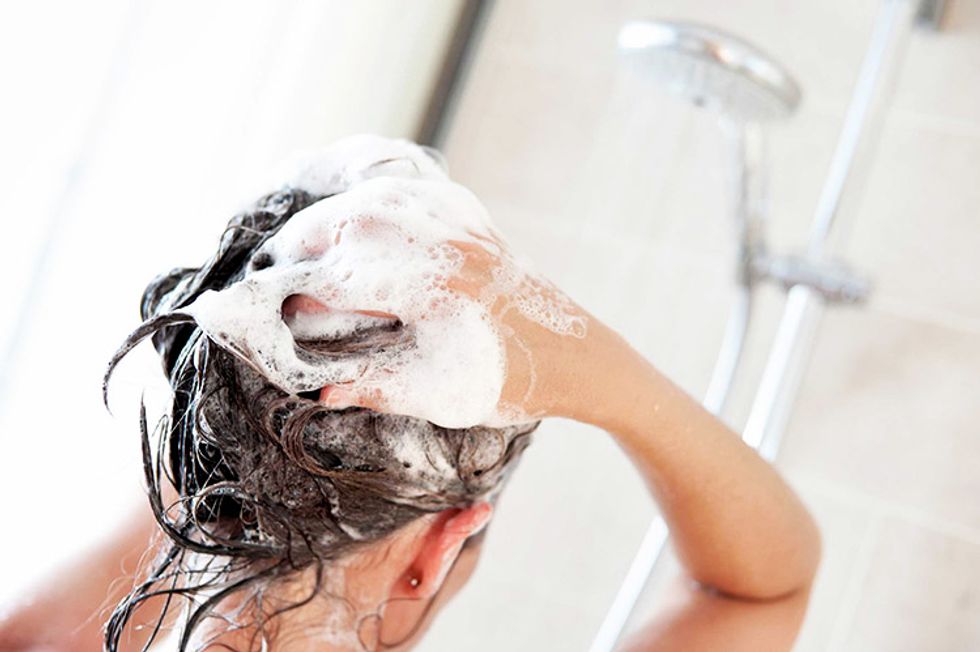 Shampoos and conditioners, in particular, contain a lot of toxic ingredients. Some health-conscious consumers have taken to making their own haircare products, but others still prefer to use ready-made, expert-developed shampoos and conditioners. If this is you, rest assured that you have plenty of options. You don't necessarily have to spend a fortune, either. A quick glance at a product's ingredient list can tell you a lot about its safety.
Here are five toxic ingredients you'll want to be sure to avoid when picking out a shampoo or conditioner:
1. Sulfates
You've probably heard of sulfates by now; pretty much every natural hair care brand states proudly on its packaging that a product is sulfate-free. But what are sulfates and why should you avoid them?
The main thing to keep in mind when thinking about sulfates is that they are chemical detergents. That in itself isn't necessarily a bad thing, but it means that sulfates are extremely effective at removing dirt and oil … in fact, they're a little too effective. Sulfates are harsh on the hair and scalp, so they can strip away that natural moisture that keeps your hair shiny and soft.
On a deeper level, they may carry some hormone-disrupting agents along with them. According to Natural Society, many sulfates contain traces of dioxane, a known carcinogen. Dioxane is also thought to disrupt kidney function.
2. Parabens
Parabens are another widely hated group of chemicals that you've probably been told to avoid in your beauty and personal care products. Parabens are xenoestrogens, which means that they have a similar composition to hormones found in the human body. Xenoestrogens are thought to disrupt hormones and could even pose a cancer risk.
Real Simple even noted that British scientists found evidence of parabens in samples of breast cancer tissue. Though this doesn't necessarily mean the parabens caused the cancer, most natural-minded folks try to avoid parabens completely.
3. Fragrance
Fragrances are bad, bad, bad. If the fragrance in your product comes from a natural essential oil, it will say so on the packaging. If all the manufacturers have chosen to tell you about the ingredient is that it's a "fragrance," that's generally bad news.
The term "fragrance" allows manufacturers to opt out of including a list of the ingredients used to create that fragrance, as the term is not regulated by the U.S. Food and Drug Administration. So really, if "fragrance" is listed on an ingredient list, there's no telling what's in there. Natural Society even notes that there are more than 3,100 chemicals used by the fragrance industry to concoct these suspicious-sounding additions to your shampoos and conditioners.
4. Triclosan
Triclosan is an antibacterial agent that's often added to personal care products as a preservative. Dr. Ben Kim notes that we still don't have enough conclusive evidence to say for sure whether or not triclosan is safe for use, but there have certainly been some warning signs to the contrary.
Triclosan is thought to be an endocrine disruptor, which means it can be harmful in the same fashion as xenoestrogens. It's also been linked to immune system problems, weight loss and uncontrolled cellular reproduction, according to Dr. Kim.
5. Polyethylene Glycol
Polyethylene glycol or PEG, is also thought to interfere with the body. According to Natural Society, the state of California has classified the chemical as a "developmental toxicant," which means that it may interfere with human development. It's also known to be contaminated by the aforementioned cancer-causer dioxane.
If you're looking for shampoos and conditioners that are made with safe, reliable, natural ingredients, you have lots of options at your fingertips. And if you're feeling more adventurous, of course, you could always try making your own homemade hair care products.
YOU MIGHT ALSO LIKE
Buyer Beware: You Might Be Eating Food From Cans Lined With Toxic BPA
5 Common Houseplants That Clean the Air for a Healthier Home
Want to Buy Non-Toxic Products? Look for One of These Five Labels
Exclusive Interview: Pro Surfer Cyrus Sutton Develops Sunblock Safe for People and the Planet
While your home may feel like the safest place you could be, the air may contain a number of indoor air pollutants that can cause respiratory problems like asthma, or even diseases like lung cancer.
Here are six of the most common air pollutants found in homes and ways to reduce or eliminate them.
1. Dust Mites
Dust mites are microscopic insects that are commonly found living among humans in bedding, upholstery, mattresses, curtains and carpets. They prefer warm, humid environments and can multiply easily in these conditions. A relative of the spider, dust mites feed on organic detritus, like flakes of human skin. Worldwide, they are a common cause of asthma and allergic rhinitis. Not only is it extremely difficult to see them with the naked eye (an adult mite is about two to four times the diameter of a shaft of human hair), it is difficult to completely rid your home of the ubiquitous mites, but you can reduce their population.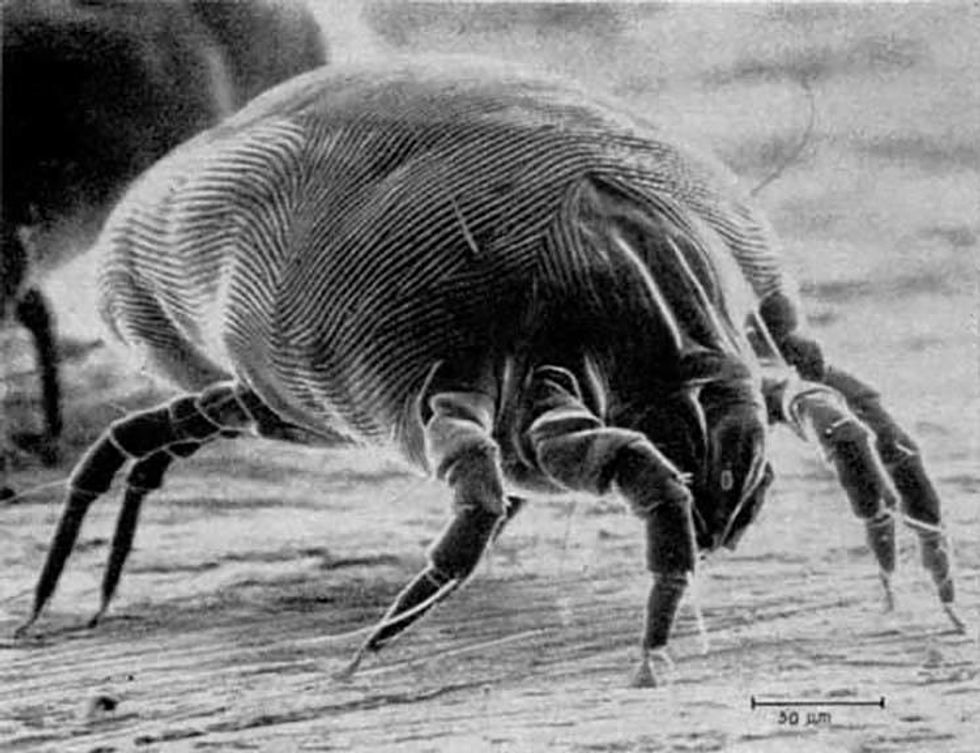 North American house dust mite. Photo credit: FDA / Wikimedia Commons
First, try to keep the humidity inside your home to less than 50 percent. Air conditioners and dehumidifiers can help. Protect your bed by covering it with allergen-resistant covers. Make sure you wash your sheets and blankets regularly in hot water. You can also put beddings, removable upholstery and curtains in a hot tumble dryer for 20 minutes to kill them. And don't give mites a place to hide and breed: keep your home as dust-, dander- and clutter-free as possible. Regular vacuuming is a must.
2. Mold
People have varying sensitivities to mold, a type of fungi that grows in warm, damp, humid environments. Some symptoms from exposure to mold include eye and skin irritation, coughing, wheezing and nasal congestion. Severe reactions include shortness of breath and fever. People with chronic lung illnesses may even develop mold infection in their lungs. Inside your home, the best places to check for mold are damp and moist environments, such as basements, showers, kitchens and houseplants.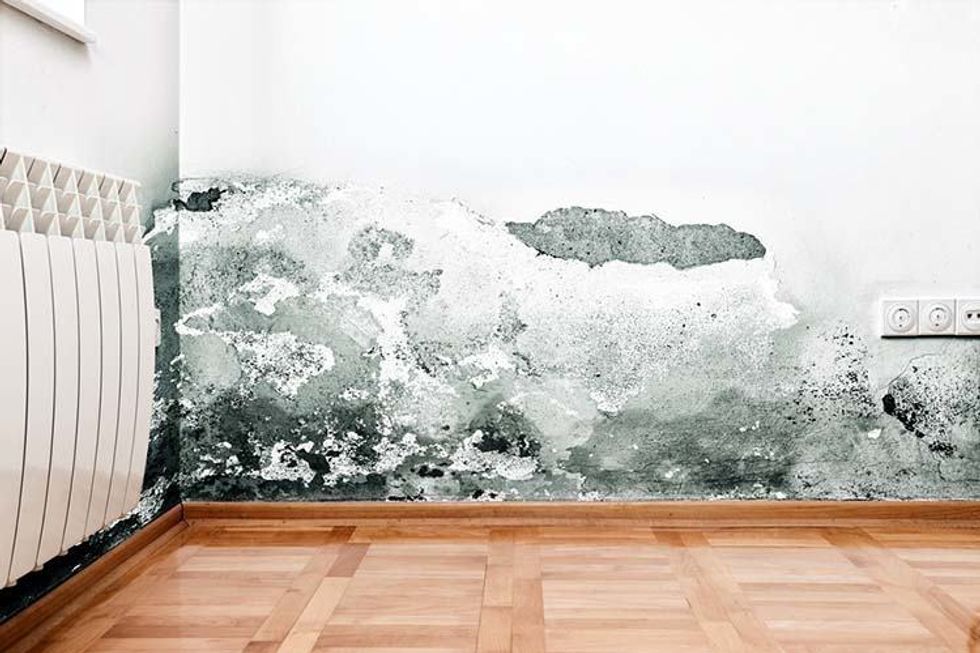 Excess moisture is generally the cause of indoor mold growth. Photo credit: Shutterstock
To clean up mold, you can use soap and water or a bleach solution of one cup laundry bleach to one gallon of water. If you are using bleach, open windows to make sure fresh air is getting inside and protect yourself by wearing gloves and protective eyewear. Also make sure never to mix bleach with ammonia or other household cleaners, as that will create toxic fumes. When cleaning your bathroom, choose products that contain mold-killing agents. Don't use carpeting in basements and bathrooms, as it can retain moisture. And don't keep firewood indoors, as it can harbor mold. Also, check the soil of your houseplants regularly and replant any plants that have mold growing on the soil. But don't get rid of plants; houseplants can help filter and clean the air.
3. Pet Dander
Pet dander is composed of tiny and even microscopic flecks of skin shed by dogs, cats, rodents, birds and other common pets with fur or feathers that can trigger allergic reactions in some people. According to the American Lung Assocation, about twice as many people report allergies to cats than to dogs.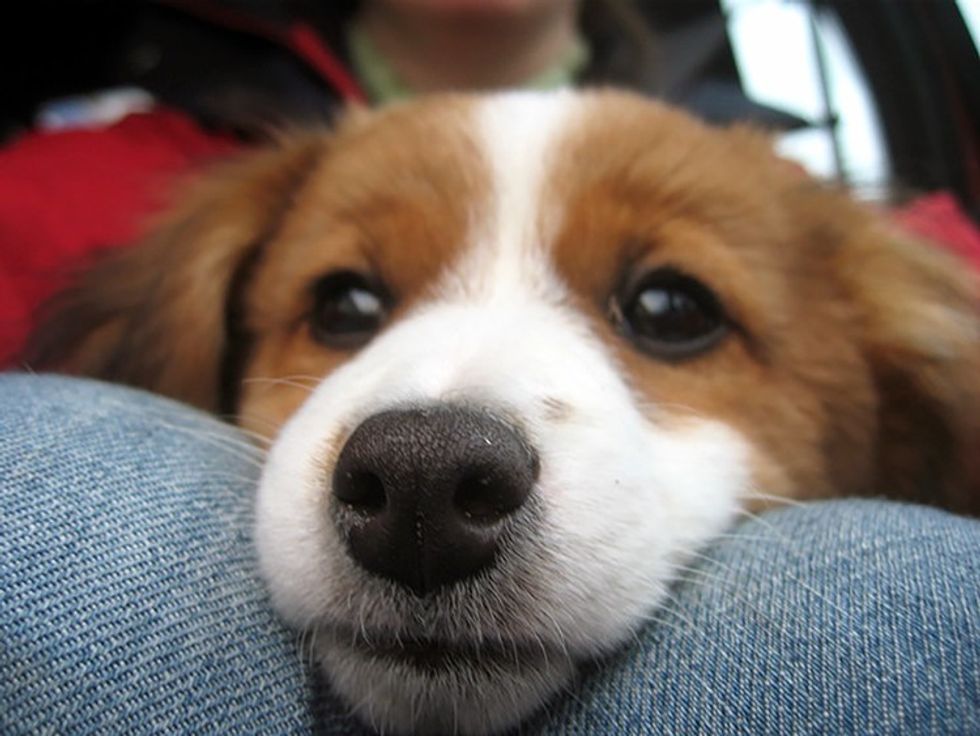 Keeping your pet's skin clean and healthy reduces dander. Photo credit: Dave Harrison / Flickr
If you have pets and suspect that you or someone in your home is allergic to dander, keep your pets out of the bedroom. Don't allow them on upholstered furniture and get rid of rugs or carpeting, which can retain dander. Keep your home clean by regular vacuuming and brush your pet regularly to remove loose dander and bathe them regularly to keep their skin healthy, as healthy skin that is not dry or irritated sheds less dead skin cells. If you're thinking about getting a dog, consider a smaller dog who will shed less dander. Also, feed your pet high-quality food that has a good balance of omega-3 and omega-6 fatty acids. These oils will help keep your pet's skin healthy and keep your vet bills down.
4. Radon
Radon is an odorless, tasteless and invisible naturally occurring radioactive gas that is formed by the decay or uranium in rock, soil and water. Once produced, it moves through the ground and into the air. Found in all 50 states, radon is the second leading cause of lung cancer worldwide, after smoking. The Environmental Protection Agency (EPA) estimates approximately 21,000 lung cancer deaths in the U.S. are radon-related. According to the National Safety Council, "Radon gas decays into radioactive particles that can get trapped in your lungs when you breathe. As they break down further, these particles release small bursts of energy. This can damage lung tissue and lead to lung cancer over the course of your lifetime."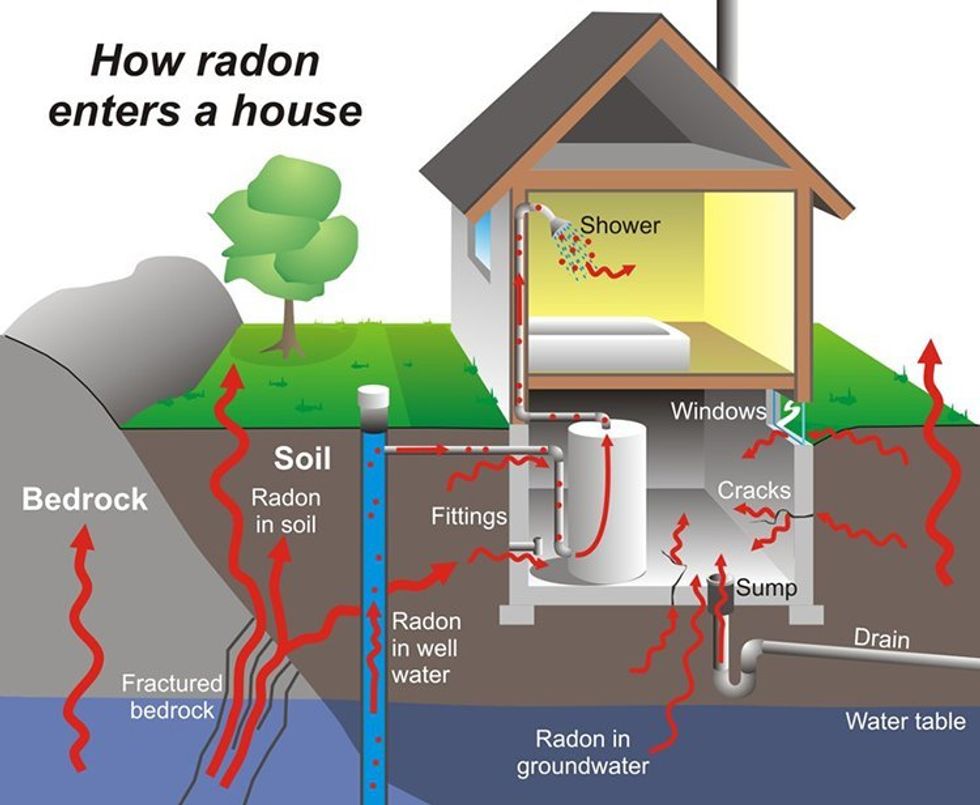 Radon can enter your home through numerous ways. Photo credit: Portlandoregon.gov
There is an ongoing concern that granite kitchen countertops emit radon at potentially harmful levels. According to the EPA, most of the radon found in indoor air comes from the soil underneath the home.
According to the Kansas State University National Radon Program Services, one out of 15 homes nationally—about six percent—may have elevated indoor radon levels that should be lower. To test your home for radon levels, visit the U.S. EPA website.
5. Smoke
Secondhand smoke from cigarettes is deadly. According to the Centers for Disease Control, tobacco smoke contains more than 7,000 chemicals, including hundreds of toxins, about 70 of which can cause cancer. Secondhand smoke is very harmful to children, who can experience ear infections, more frequent and severe asthma attacks, respiratory infections like bronchitis and pneumonia, and a greater risk of sudden infant death syndrome. It's bad for adult as well. According to the U.S. Department of Health and Human Services, secondhand smoke caused nearly 34,000 heart disease deaths each year from 2005–2009 among adult nonsmokers in the United States.
The only way to fully protect your home from this health hazard is to eliminate smoking in your home. If visitors would like to smoke, ask them to step outside. If you're a smoker and have children at home, don't smoke indoors and don't smoke near them when you're outside the home.
6. Household Cleaners
Ordinary household cleaners emit a wide array of harmful chemicals, such as chlorine, ammonia, phthalates and triclosan. You can easily avoid exposure to these toxins by avoiding over-the-counter cleaning products. Instead, choose DIY natural non-toxic cleaning solutions, such as lemon, olive oil, white vinegar, baking soda and club soda.
YOU MIGHT ALSO LIKE
Duke Researchers Find Nail Polish Chemical in Women's Bodies
The People vs. the Koch-Funded Asbestos Industry
Stop Giving Cancer Patients Toxic Cosmetics to 'Look Good, Feel Better'
Houseplants are nice to have around, and some people just seem to have a knack for them. If you're one of those who don't or have never bothered to try, you've still probably noticed how pleasurable it is and how good you feel when you visit a friend in a home filled with plants.
It's not your imagination. Houseplants actually are good for your health.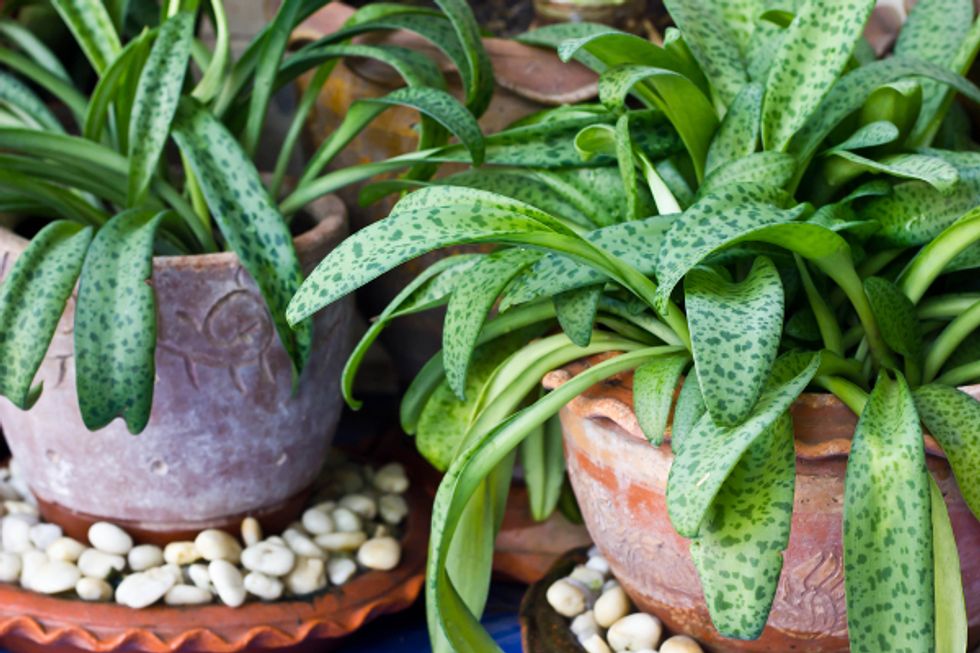 Photo credit: Shutterstock
For a start, there's a theory called the "biophilia hypothesis," first posited by biologist/naturalist Edward O. Wilson in the '80s. It suggests that since the human race grew up close to nature, using plants for food, shelter and fuel, we feel an innate pull toward nature. That affinity has been starved since people began moving to cities in large numbers at the start of industrial revolution in the early 19th century and began living in multi-unit buildings or small, crowded-together homes without land.
Whether it's an actual evolutionary need or not, indoor plants expand the scope of our four walls and make us feel closer to nature, offering a sense of relaxation and peace that many people have found reduces stress and improves their ability to sleep. And stress reduction is healing. It impacts blood pressure and the immune system and acts as a component in fighting off illnesses like colds and flu.
There's an even more concrete benefit to having plants in your home: there are many kinds that actually remove toxins from the environment and purify the air. A NASA study in the late '80s that looked at ways to clean air in space stations suggested the value of common house plants in absorbing substances such as benzene, formaldehyde, trichloroethylene, xylene, toluene and ammonia. These are some of the same toxins found near oil and gas drilling and fracking sites! In your home, they can come from such sources as paint, cleaning materials, carpets, insulation and adhesives, creating dust that can exacerbate health conditions, especially allergies and respiratory diseases such as asthma.
Among the plants the NASA study tested were some of the most common houseplants including philodendron, spider plants, rubber tree, Boston fern and English ivy. And when you get those chrysanthemums to plant in your garden for some fall color, get some extra ones to bring indoors; they filter all of the substances listed above. The study suggested having one plant per 100 feet of living space.
Plants also remove carbon dioxide from the air. Since carbon dioxide can cause drowsiness and headaches, that can make you feel more alert and energetic.
Finally, plants act as natural humidifiers. That humid indoor jungle raises the moisture level in your home to help to fight dry, cracked skin in the winter, even while reminding you of the warmer weather that's just around the corner.
A big caveat: many of these houseplants, including English ivy, spider plants and philodendron are toxic to pets, so check first and make sure your living room garden is pet-safe.
YOU MIGHT ALSO LIKE
Hydroponic Planter Makes It Easy to Grow Your Own Indoor Edible Garden
Connecting Families to the Great Outdoors