Bringing a bit of nature into your home does more than brighten the atmosphere. Introducing houseplants into various rooms in the house can help reduce the chance of getting seasonal sicknesses (such as the common cold), remove airborne contaminants (volatile organic compounds or VOCs), reduce the chance of headaches, lift your mood, decrease your blood pressure, reduce allergies, improve sleep and much more.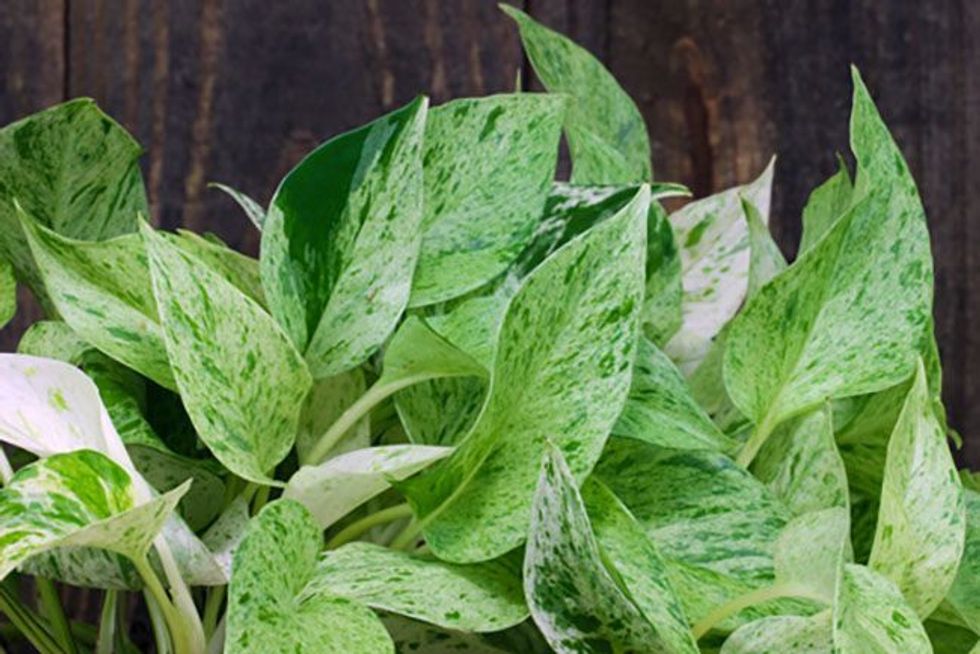 Golden pothos. Photo credit: Shutterstock
The 20 plants listed below are specifically known for their air purifying properties. And while an open window may feel like all the fresh air you need, did you know that everything from toilet paper to common household cleaners can contain chemicals and release toxins like formaldehyde? Or that VOCs like benzene can be released into the air by everything from the paint on your walls, to the printed material found in your home?
So why not breathe a bit easier and enjoy the beauty of a new houseplant at the same time.
(All plants listed will clear CO2 and may clear more VOCs than noted).
1. Golden pothos (Scindapsus aures): Clears formaldehyde and other VOCs.
2. Ficus alii (Ficus maeleilandii alii): Good general air purifier.
3. Spider Plant (Chlorophytum comosum): Clears benzene, formaldehyde, carbon monoxide and xylene.
4. Lady Palm (Rhapis Excelsa): Good general air purifier.
5. Snake plant (Sansevieria trifasciata 'Laurentii'): Clears formaldehyde.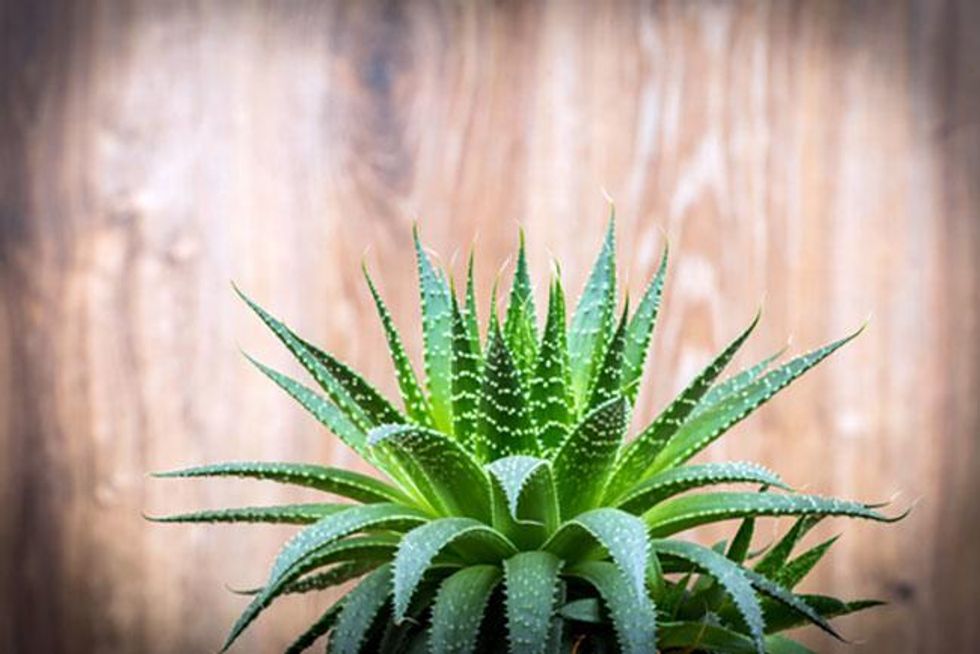 Aloe. Photo credit: Shutterstock
6. Aloe: Clears formaldehyde and benzene.
7. Moth Orchid (Phalaenopsis): Clears formaldehyde.
8. Dwarf / Pygmy Date Palm (Phoenix roebelenii): Clears formaldehyde and xylene.
9. Chinese evergreen (Aglaonema Crispum 'Deborah'): Clears air pollutants and toxins.
10. Chrysanthemum (Chrysantheium morifolium): Clears benzene.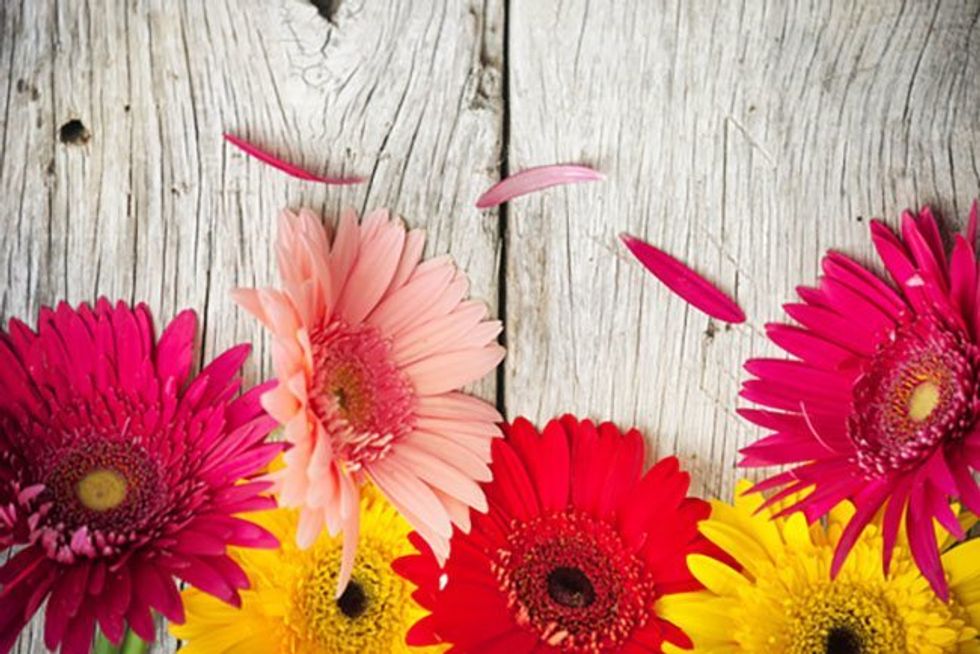 Gerber daisy. Photo credit: Shutterstock
11. Gerber daisy (Gerbera jamesonii): Clears trichloroethylene and benzene.
12. Red-edged dracaena (Dracaena marginata): Clears xylene, trichloroethylene and formaldehyde.
13. Weeping fig (Ficus benjamina): Clears formaldehyde, benzene and trichloroethylene
14. English ivy (Hedera helix): Clears airborne fecal-matter particles.
15. Azalea (Rhododendron simsii): Clears formaldehyde.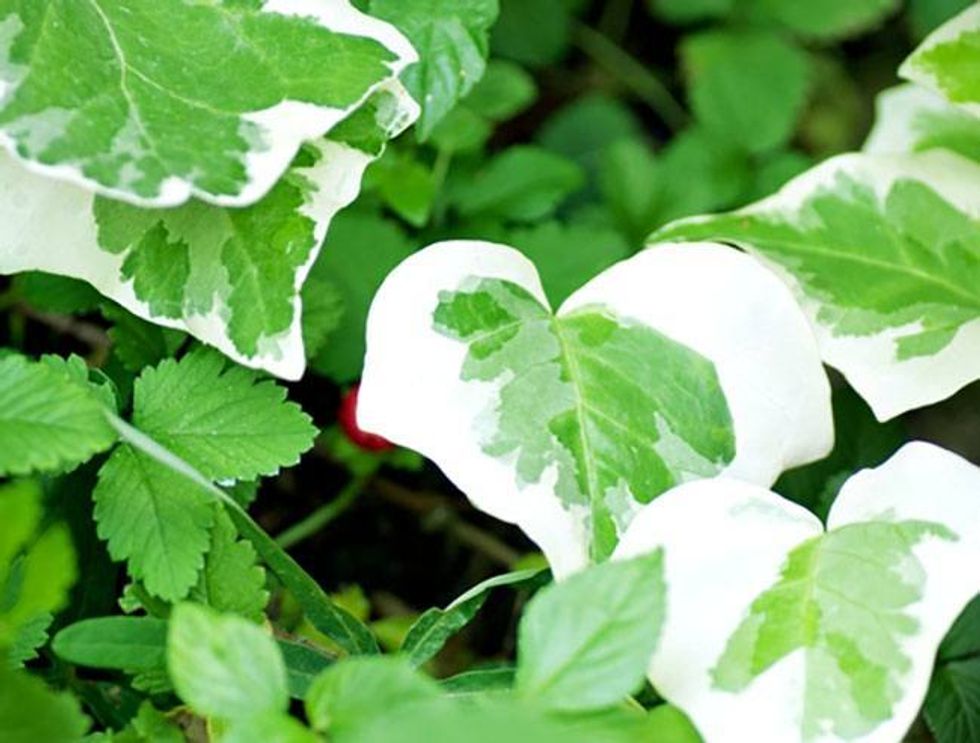 Heart leaf philodendron. Photo credit: Shutterstock
16. Heart leaf philodendron (Philodendron oxycardium): Clears formaldehyde and many other air pollutants.
17. Warneck dracaena (Dracaena deremensis 'Warneckii'): Clears pollutants such as those associated with varnishes and oils.
18. Boston Fern (Nephrolepis exaltata Bostoniensis): Clears formaldehyde.
19. Bamboo palm (Chamaedorea sefritzii): Clears benzene, trichloroethylene and formaldehyde.
20. Peace lily (Spathiphyllum): Clears formaldehyde, benzene, trichloroethylene, toluene and xylene.
YOU MIGHT ALSO LIKE
9 Ways Climate Change Is Making Us Sick
Tips for Avoiding BPA in Canned Food
84,000 Chemicals on the Market, Only 1% Have Been Tested for Safety
EcoWatch Daily Newsletter
Many Americans are working to reduce their exposure to harmful chemicals and toxic ingredients. Few industries have faced more criticism for their ingredients than the cosmetics industry and lately, it seems that more and more brands are releasing organic or all-natural personal care lines.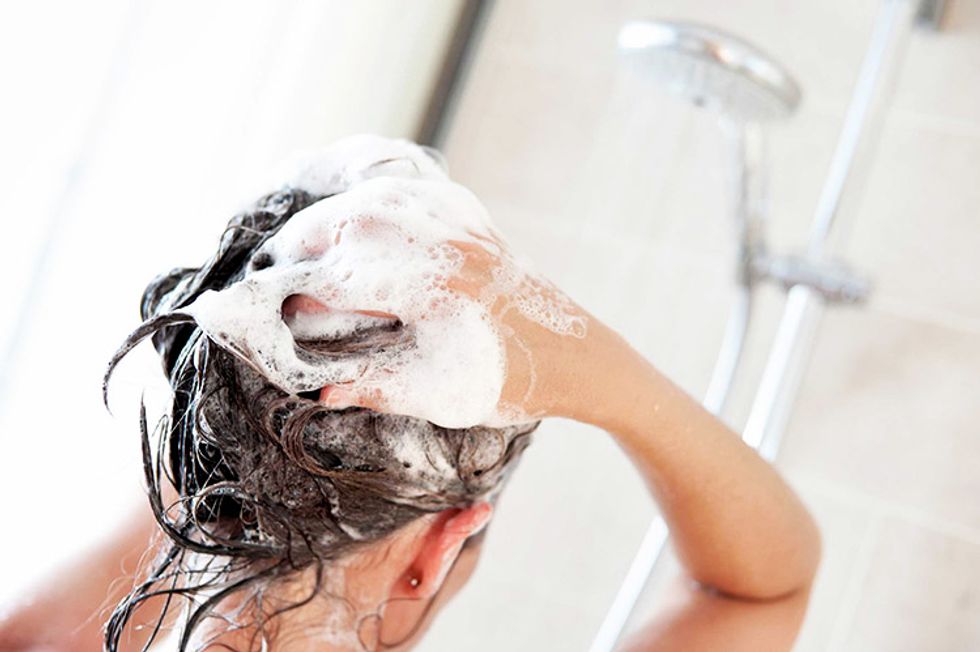 Shampoos and conditioners, in particular, contain a lot of toxic ingredients. Some health-conscious consumers have taken to making their own haircare products, but others still prefer to use ready-made, expert-developed shampoos and conditioners. If this is you, rest assured that you have plenty of options. You don't necessarily have to spend a fortune, either. A quick glance at a product's ingredient list can tell you a lot about its safety.
Here are five toxic ingredients you'll want to be sure to avoid when picking out a shampoo or conditioner:
1. Sulfates
You've probably heard of sulfates by now; pretty much every natural hair care brand states proudly on its packaging that a product is sulfate-free. But what are sulfates and why should you avoid them?
The main thing to keep in mind when thinking about sulfates is that they are chemical detergents. That in itself isn't necessarily a bad thing, but it means that sulfates are extremely effective at removing dirt and oil … in fact, they're a little too effective. Sulfates are harsh on the hair and scalp, so they can strip away that natural moisture that keeps your hair shiny and soft.
On a deeper level, they may carry some hormone-disrupting agents along with them. According to Natural Society, many sulfates contain traces of dioxane, a known carcinogen. Dioxane is also thought to disrupt kidney function.
2. Parabens
Parabens are another widely hated group of chemicals that you've probably been told to avoid in your beauty and personal care products. Parabens are xenoestrogens, which means that they have a similar composition to hormones found in the human body. Xenoestrogens are thought to disrupt hormones and could even pose a cancer risk.
Real Simple even noted that British scientists found evidence of parabens in samples of breast cancer tissue. Though this doesn't necessarily mean the parabens caused the cancer, most natural-minded folks try to avoid parabens completely.
3. Fragrance
Fragrances are bad, bad, bad. If the fragrance in your product comes from a natural essential oil, it will say so on the packaging. If all the manufacturers have chosen to tell you about the ingredient is that it's a "fragrance," that's generally bad news.
The term "fragrance" allows manufacturers to opt out of including a list of the ingredients used to create that fragrance, as the term is not regulated by the U.S. Food and Drug Administration. So really, if "fragrance" is listed on an ingredient list, there's no telling what's in there. Natural Society even notes that there are more than 3,100 chemicals used by the fragrance industry to concoct these suspicious-sounding additions to your shampoos and conditioners.
4. Triclosan
Triclosan is an antibacterial agent that's often added to personal care products as a preservative. Dr. Ben Kim notes that we still don't have enough conclusive evidence to say for sure whether or not triclosan is safe for use, but there have certainly been some warning signs to the contrary.
Triclosan is thought to be an endocrine disruptor, which means it can be harmful in the same fashion as xenoestrogens. It's also been linked to immune system problems, weight loss and uncontrolled cellular reproduction, according to Dr. Kim.
5. Polyethylene Glycol
Polyethylene glycol or PEG, is also thought to interfere with the body. According to Natural Society, the state of California has classified the chemical as a "developmental toxicant," which means that it may interfere with human development. It's also known to be contaminated by the aforementioned cancer-causer dioxane.
If you're looking for shampoos and conditioners that are made with safe, reliable, natural ingredients, you have lots of options at your fingertips. And if you're feeling more adventurous, of course, you could always try making your own homemade hair care products.
YOU MIGHT ALSO LIKE
Buyer Beware: You Might Be Eating Food From Cans Lined With Toxic BPA
5 Common Houseplants That Clean the Air for a Healthier Home
Want to Buy Non-Toxic Products? Look for One of These Five Labels
Exclusive Interview: Pro Surfer Cyrus Sutton Develops Sunblock Safe for People and the Planet
Every year, the American Society for the Prevention of Cruelty to Animals poison control hotline fields about 150,000 calls from frantic pet owners seeking help with accidental pet poisonings. And about a quarter of all pets poisoned by non-drug products are poisoned by plants.
Based on a list of toxic plants from UC Davis School of Veterinary Medicine's most common causes of emergency calls and Texas A&M 's Common Poisonous Plants and Plant Parts, Matt Zajechowski and Pots, Planters + More compiled a toxic plants guide, breaking down the risks to your cat or dog and warning signs to look out for.
Check it out here:

YOU MIGHT ALSO LIKE
$300 Underground Greenhouse Grows Your Food Year-Round
World's First Solar-Hydrogen Residential Development Is 100% Self-Sustaining
World's First Off-Grid EcoCapsule Runs Entirely on Renewable Energy
As the seasons change and winter rolls in, we spend significantly less time outdoors, which means we're significantly more likely to experience poor air quality. Although we may not realize it as we go about our daily lives, indoor toxins can have a drastic impact on our health, potentially leading to Asthma, allergies, inflammation and even cancer. Thankfully, there are natural ways to bring the benefits of the outdoors inside, in a cost effective way. Try these amazing house plants for improved indoor health.
1. Jasmine: Helps Promote Sleep Quality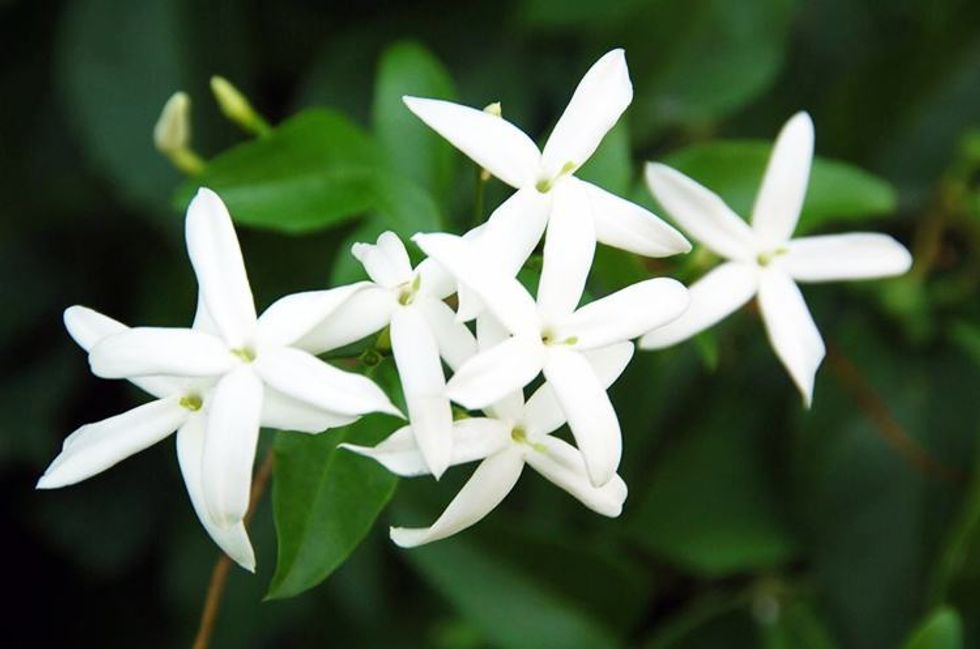 Jasmine is a genus of shrubs and vines in the olive family that is commonly found outdoors, but can live indoors as well. It emits scents that have shown to make for better sleep, as well as increase your levels of alertness.
2. Lavender: Reduce Anxiety and Stress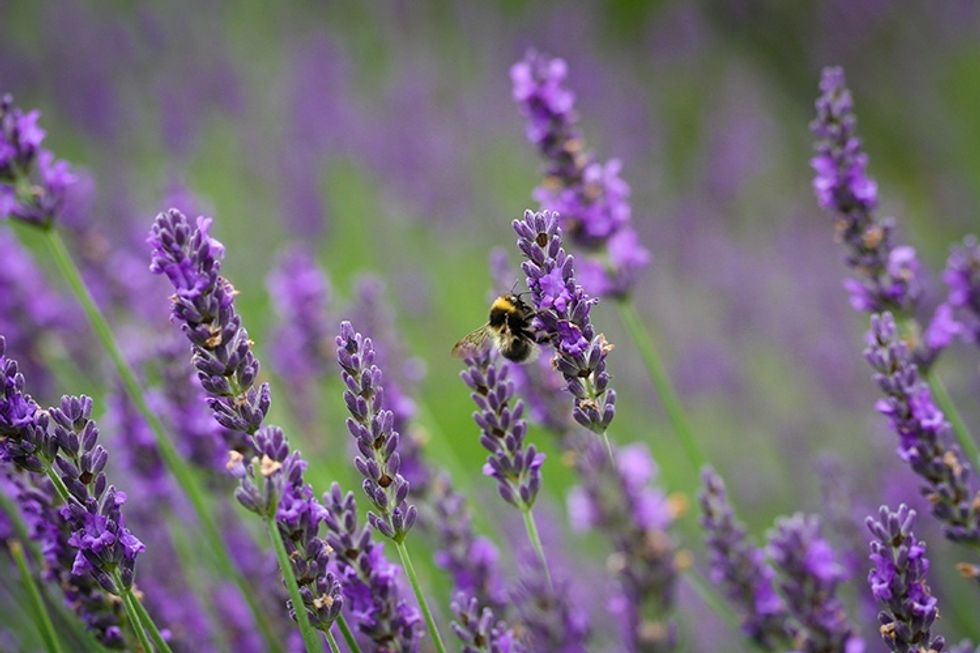 Lavender is a genus of 39 known species of flowering plants in the mint family and a commonly used essential oil. It not only smells wonderful, but can also reduce anxiety and stress, slow heart rate, improve your sleep and calm restless babies.
3. Rosemary: Improve Your Memory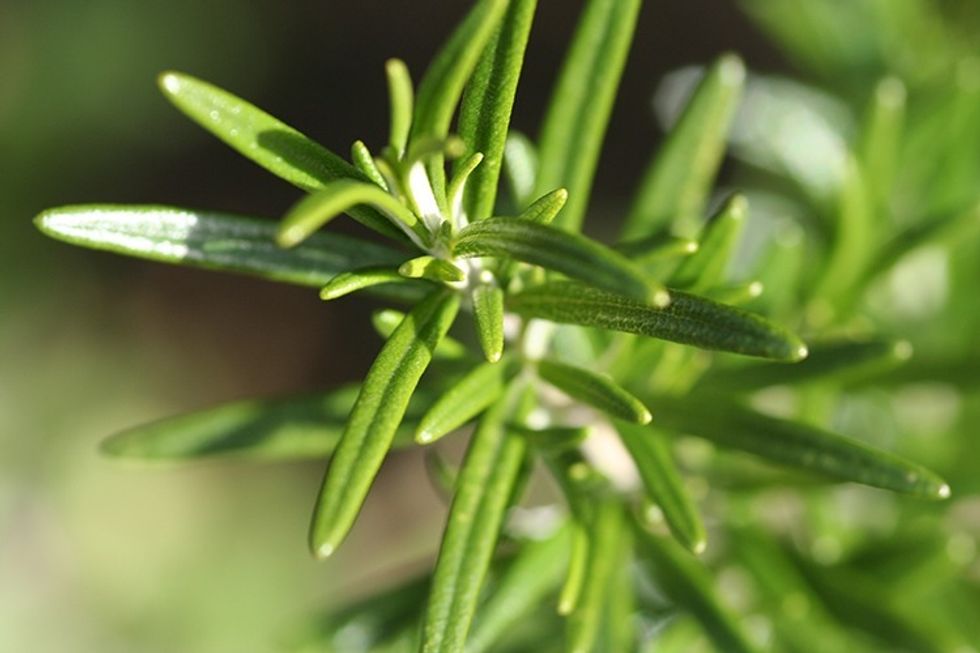 Rosemary is also a member of the mint family. A perennial herb, native to the mediterranean region. It has been proven to be effective at increasing your memory as well as the overall air quality in the room.
4. Aloe Vera: Improve Overall Air Quality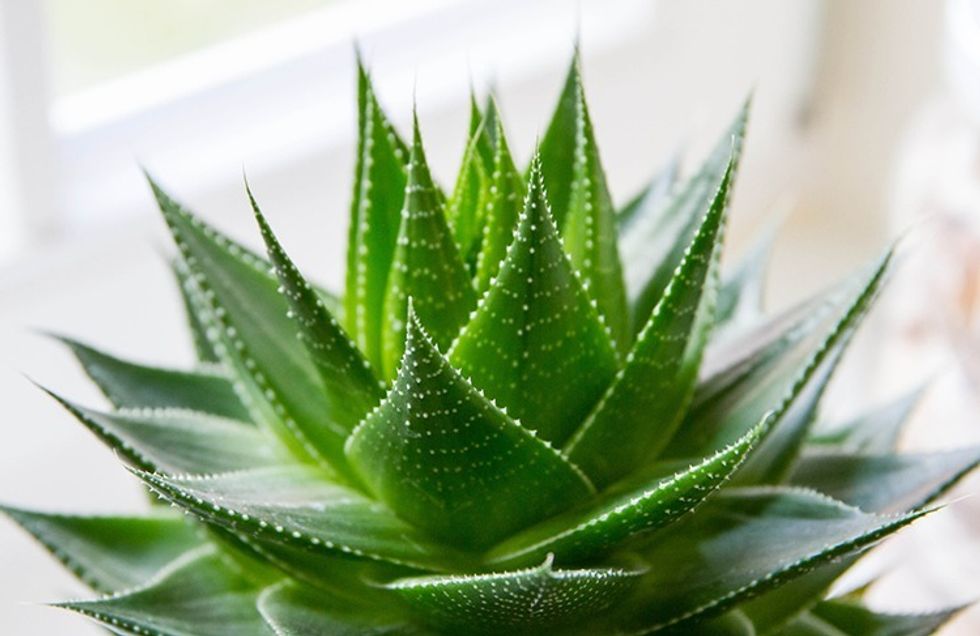 Aloe Vera is a succulent plant species that has been commonly used in herbal medicine since the beginning of the first century AD. NASA utilizes these plants for their superior ability to increase the overall quality of air with fresh oxygen.
5. English Ivy Plant: Reduce Mold Count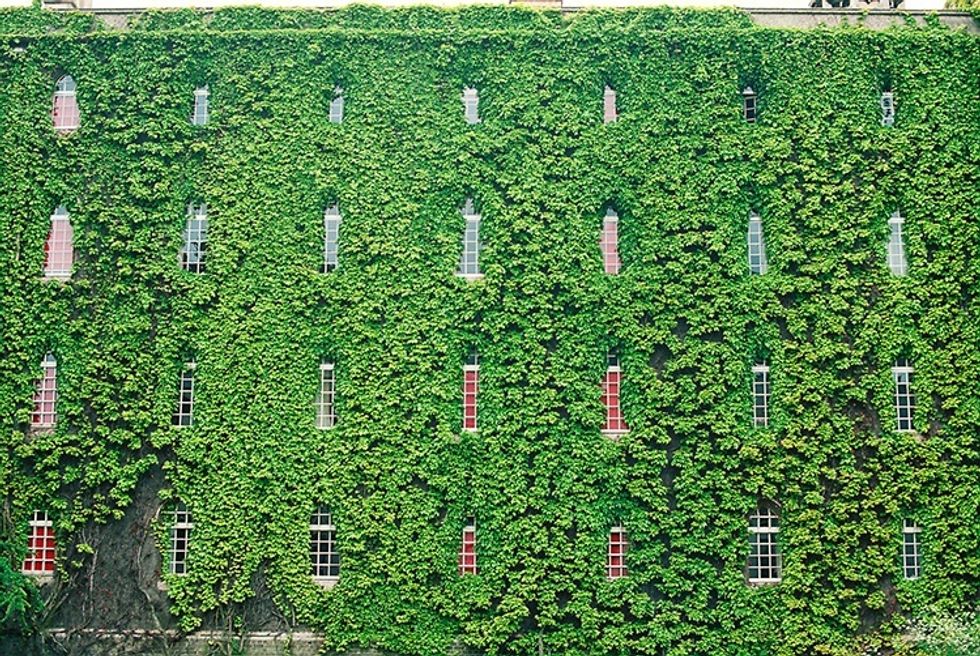 English Ivy is a species of flowering plant native to Europe and Western Asia. This plant has been proven to reduce airborne mold by 94 percent, which can have a significant benefit for those who suffer from allergies or lung irritation.
6. Snake Plant: Prevent Headaches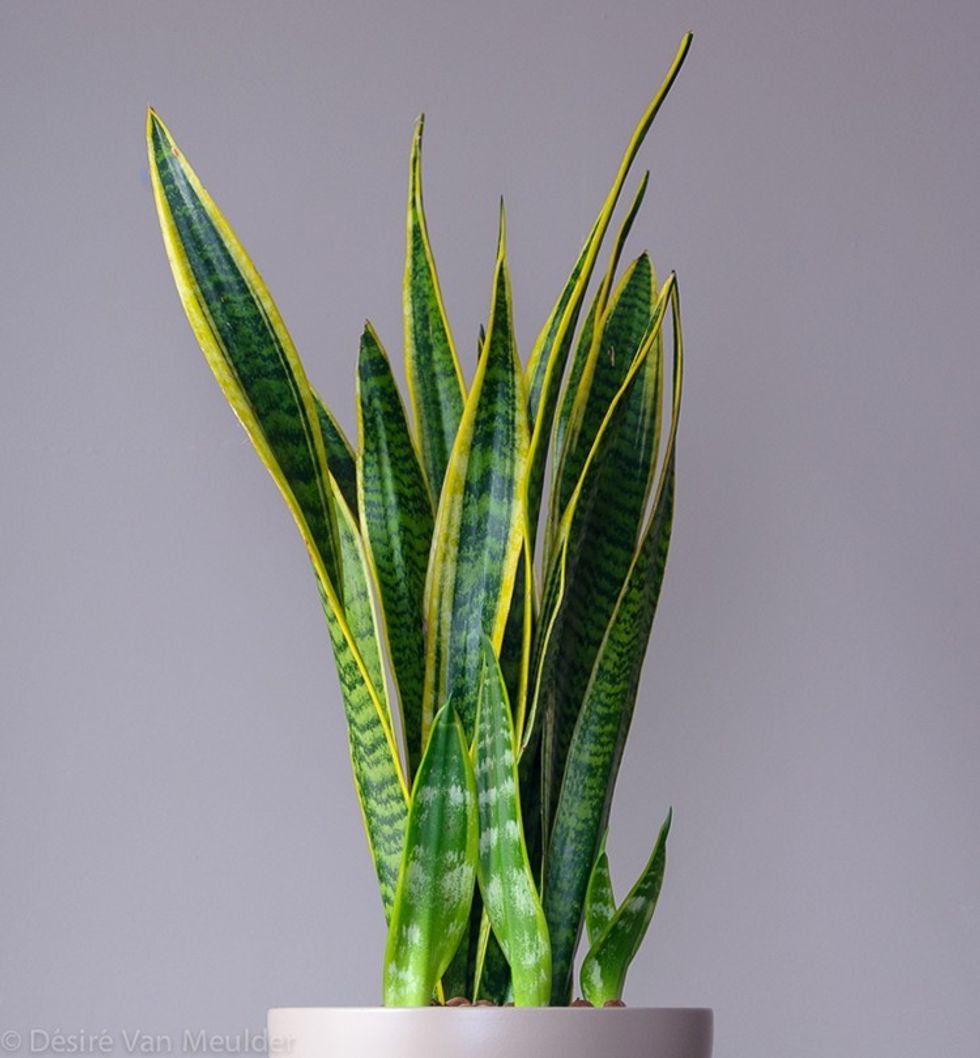 Snake Plant is a species of flowering plant in the family Asparagaceae native to West Africa. It's been proven to be extremely effective with treating headaches, eye irritation and respiratory problems. It can also help to increase your overall energy levels.
YOU MIGHT ALSO LIKE
Solar Powered 'Farm from a Box': Everything You Need to Run an Off-Grid Farm
Couple Builds Greenhouse Around Home to Grow Food and Keep Warm
10 Easy Vegan Superfood Recipes
While your home may feel like the safest place you could be, the air may contain a number of indoor air pollutants that can cause respiratory problems like asthma, or even diseases like lung cancer.
Here are six of the most common air pollutants found in homes and ways to reduce or eliminate them.
1. Dust Mites
Dust mites are microscopic insects that are commonly found living among humans in bedding, upholstery, mattresses, curtains and carpets. They prefer warm, humid environments and can multiply easily in these conditions. A relative of the spider, dust mites feed on organic detritus, like flakes of human skin. Worldwide, they are a common cause of asthma and allergic rhinitis. Not only is it extremely difficult to see them with the naked eye (an adult mite is about two to four times the diameter of a shaft of human hair), it is difficult to completely rid your home of the ubiquitous mites, but you can reduce their population.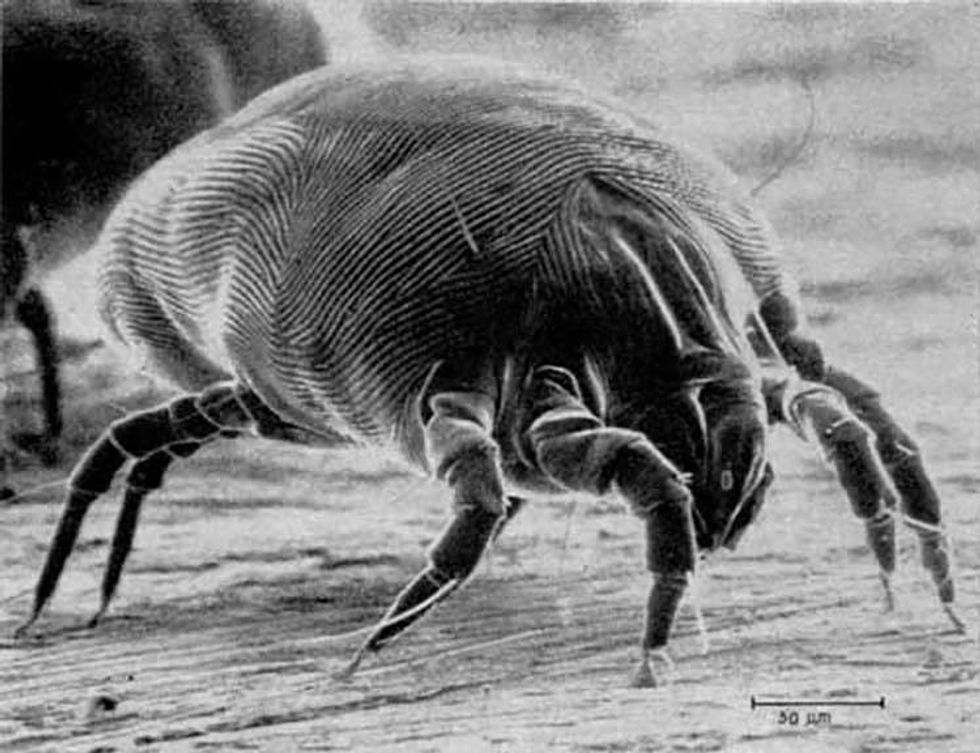 North American house dust mite. Photo credit: FDA / Wikimedia Commons
First, try to keep the humidity inside your home to less than 50 percent. Air conditioners and dehumidifiers can help. Protect your bed by covering it with allergen-resistant covers. Make sure you wash your sheets and blankets regularly in hot water. You can also put beddings, removable upholstery and curtains in a hot tumble dryer for 20 minutes to kill them. And don't give mites a place to hide and breed: keep your home as dust-, dander- and clutter-free as possible. Regular vacuuming is a must.
2. Mold
People have varying sensitivities to mold, a type of fungi that grows in warm, damp, humid environments. Some symptoms from exposure to mold include eye and skin irritation, coughing, wheezing and nasal congestion. Severe reactions include shortness of breath and fever. People with chronic lung illnesses may even develop mold infection in their lungs. Inside your home, the best places to check for mold are damp and moist environments, such as basements, showers, kitchens and houseplants.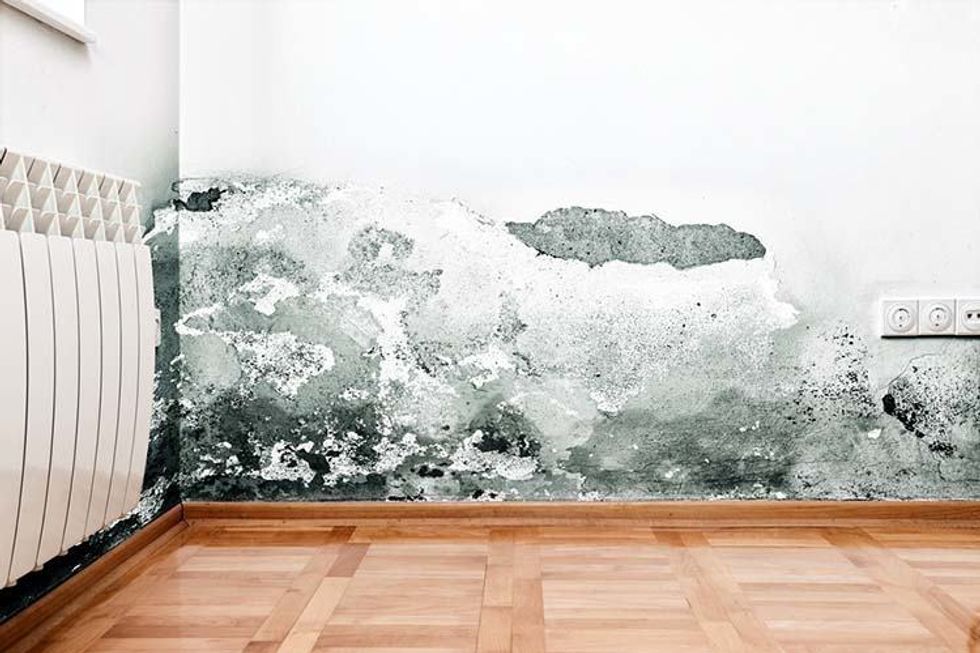 Excess moisture is generally the cause of indoor mold growth. Photo credit: Shutterstock
To clean up mold, you can use soap and water or a bleach solution of one cup laundry bleach to one gallon of water. If you are using bleach, open windows to make sure fresh air is getting inside and protect yourself by wearing gloves and protective eyewear. Also make sure never to mix bleach with ammonia or other household cleaners, as that will create toxic fumes. When cleaning your bathroom, choose products that contain mold-killing agents. Don't use carpeting in basements and bathrooms, as it can retain moisture. And don't keep firewood indoors, as it can harbor mold. Also, check the soil of your houseplants regularly and replant any plants that have mold growing on the soil. But don't get rid of plants; houseplants can help filter and clean the air.
3. Pet Dander
Pet dander is composed of tiny and even microscopic flecks of skin shed by dogs, cats, rodents, birds and other common pets with fur or feathers that can trigger allergic reactions in some people. According to the American Lung Assocation, about twice as many people report allergies to cats than to dogs.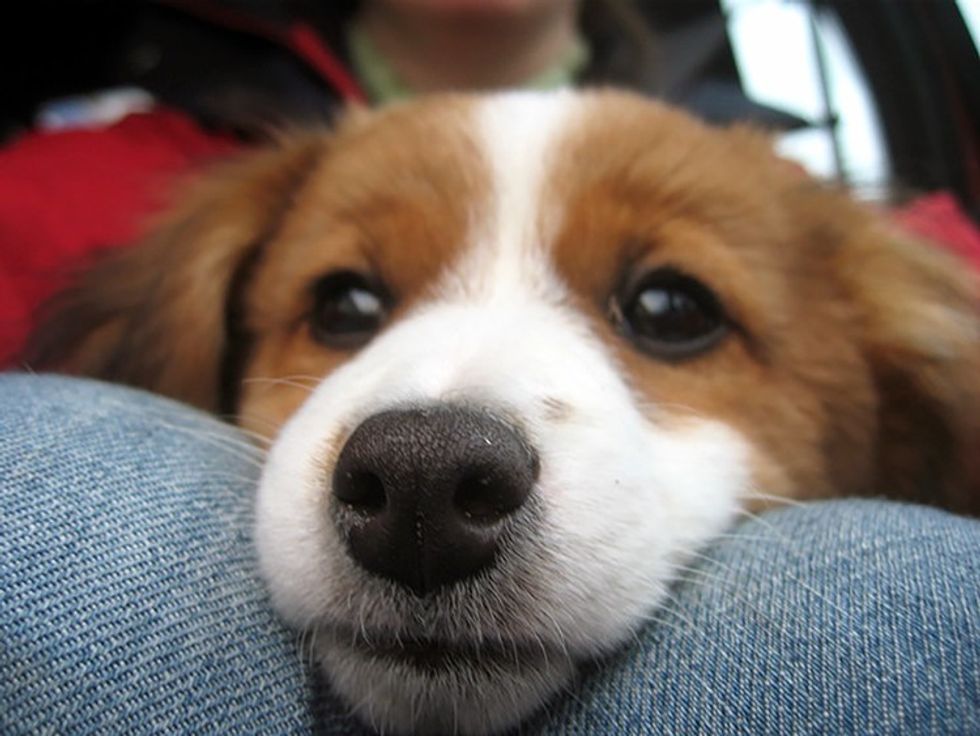 Keeping your pet's skin clean and healthy reduces dander. Photo credit: Dave Harrison / Flickr
If you have pets and suspect that you or someone in your home is allergic to dander, keep your pets out of the bedroom. Don't allow them on upholstered furniture and get rid of rugs or carpeting, which can retain dander. Keep your home clean by regular vacuuming and brush your pet regularly to remove loose dander and bathe them regularly to keep their skin healthy, as healthy skin that is not dry or irritated sheds less dead skin cells. If you're thinking about getting a dog, consider a smaller dog who will shed less dander. Also, feed your pet high-quality food that has a good balance of omega-3 and omega-6 fatty acids. These oils will help keep your pet's skin healthy and keep your vet bills down.
4. Radon
Radon is an odorless, tasteless and invisible naturally occurring radioactive gas that is formed by the decay or uranium in rock, soil and water. Once produced, it moves through the ground and into the air. Found in all 50 states, radon is the second leading cause of lung cancer worldwide, after smoking. The Environmental Protection Agency (EPA) estimates approximately 21,000 lung cancer deaths in the U.S. are radon-related. According to the National Safety Council, "Radon gas decays into radioactive particles that can get trapped in your lungs when you breathe. As they break down further, these particles release small bursts of energy. This can damage lung tissue and lead to lung cancer over the course of your lifetime."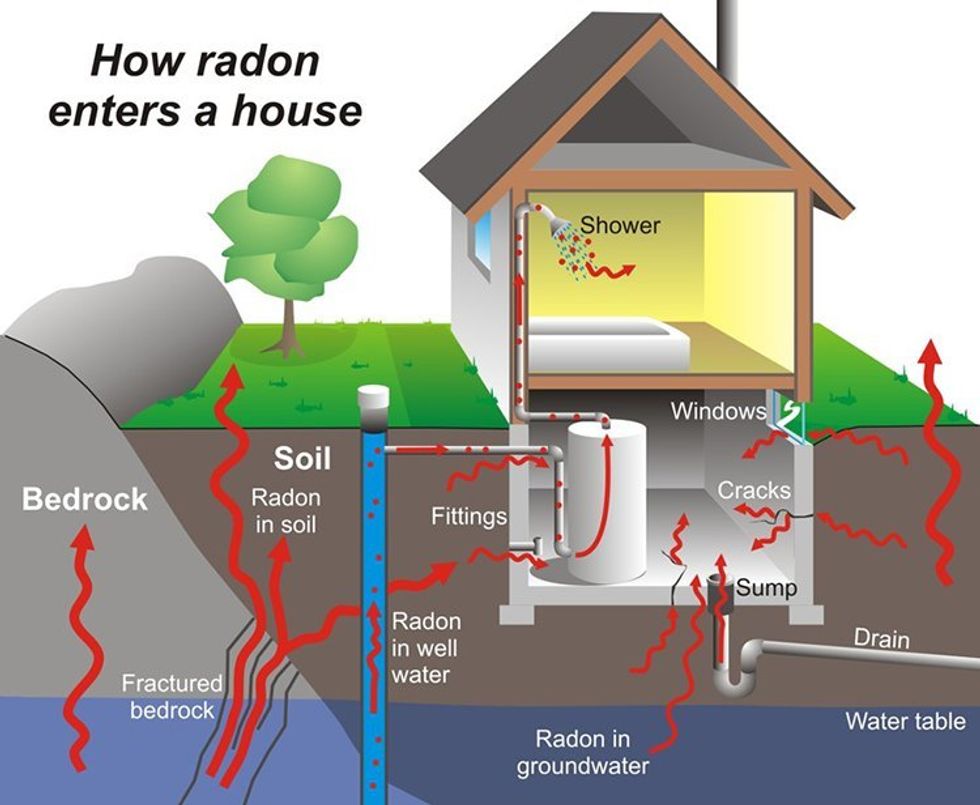 Radon can enter your home through numerous ways. Photo credit: Portlandoregon.gov
There is an ongoing concern that granite kitchen countertops emit radon at potentially harmful levels. According to the EPA, most of the radon found in indoor air comes from the soil underneath the home.
According to the Kansas State University National Radon Program Services, one out of 15 homes nationally—about six percent—may have elevated indoor radon levels that should be lower. To test your home for radon levels, visit the U.S. EPA website.
5. Smoke
Secondhand smoke from cigarettes is deadly. According to the Centers for Disease Control, tobacco smoke contains more than 7,000 chemicals, including hundreds of toxins, about 70 of which can cause cancer. Secondhand smoke is very harmful to children, who can experience ear infections, more frequent and severe asthma attacks, respiratory infections like bronchitis and pneumonia, and a greater risk of sudden infant death syndrome. It's bad for adult as well. According to the U.S. Department of Health and Human Services, secondhand smoke caused nearly 34,000 heart disease deaths each year from 2005–2009 among adult nonsmokers in the United States.
The only way to fully protect your home from this health hazard is to eliminate smoking in your home. If visitors would like to smoke, ask them to step outside. If you're a smoker and have children at home, don't smoke indoors and don't smoke near them when you're outside the home.
6. Household Cleaners
Ordinary household cleaners emit a wide array of harmful chemicals, such as chlorine, ammonia, phthalates and triclosan. You can easily avoid exposure to these toxins by avoiding over-the-counter cleaning products. Instead, choose DIY natural non-toxic cleaning solutions, such as lemon, olive oil, white vinegar, baking soda and club soda.
YOU MIGHT ALSO LIKE
Duke Researchers Find Nail Polish Chemical in Women's Bodies
The People vs. the Koch-Funded Asbestos Industry
Stop Giving Cancer Patients Toxic Cosmetics to 'Look Good, Feel Better'
It's ironic but true. Even though more than two thirds of Americans over the age of 20 are overweight or obese and this percentage is on the rise, at the same time many of us are undernourished. The U.S. Department of Agriculture reports that a large number of adults in the U.S. are not obtaining sufficient amounts of seven vital nutrients: calcium, magnesium, potassium, fiber, vitamin C, vitamin A and vitamin E. The good news, though, is that you don't have to spend money on fancy supplements.
Here are "7 for 7″—seven easily obtainable, inexpensive foods that are great sources for these seven missing dietary components.
1. Spinach: Calcium, Magnesium, Potassium, Fiber, Vitamin C, Vitamin A and Vitamin E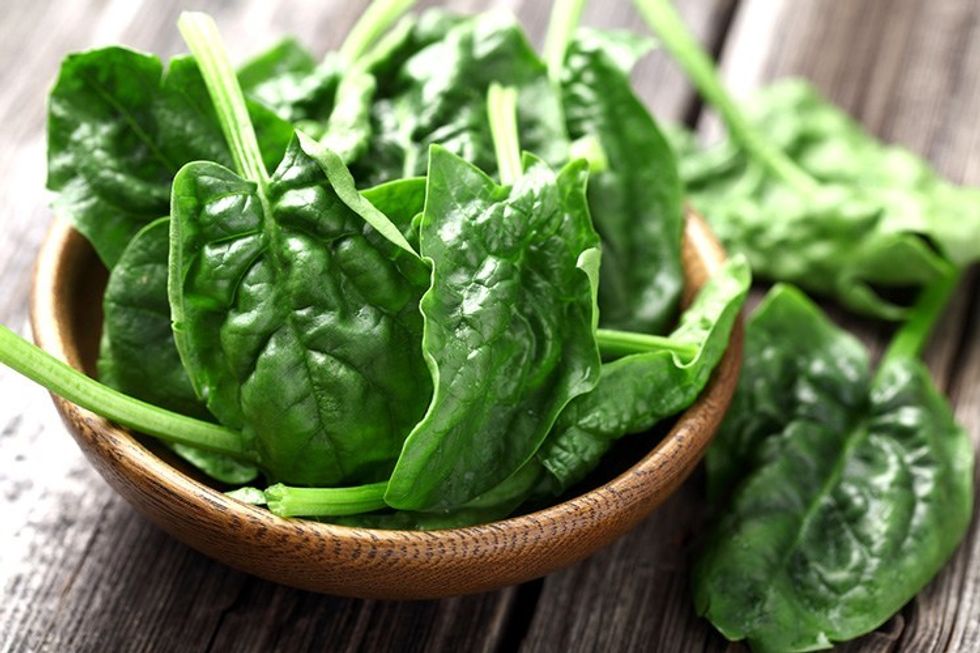 Photo credit: Shutterstock
Leafy greens are great for your health and spinach is packed with nutritional goodies. In fact, one cup of cooked spinach offers up a substantial amount of all seven nutrients that are commonly lacking, including close to 400 percent of your daily requirement of vitamin A and 24 percent of the calcium you need (a nice amount of the latter for one single serving of a vegan-friendly food). It is best lightly steamed or sautéed, to reduce its oxalic acid.
2. Beans: Calcium, Potassium, Magnesium and Fiber
"Beans, beans, the musical fruit … " the kids at my school used to love to chant. And legumes such as soybeans (organic, non-GMO, if possible) and small white beans are indeed something to sing about, with abundant calcium, potassium, magnesium and fiber. To reduce their "toot," soak your beans for eight hours or overnight before cooking, if possible. The soaking water will absorb some of the complex sugars that lead to gassiness. (I pour it onto my houseplants, which seem to digest it better than my human guests can.)
3. Buckwheat: Magnesium, Potassium and Fiber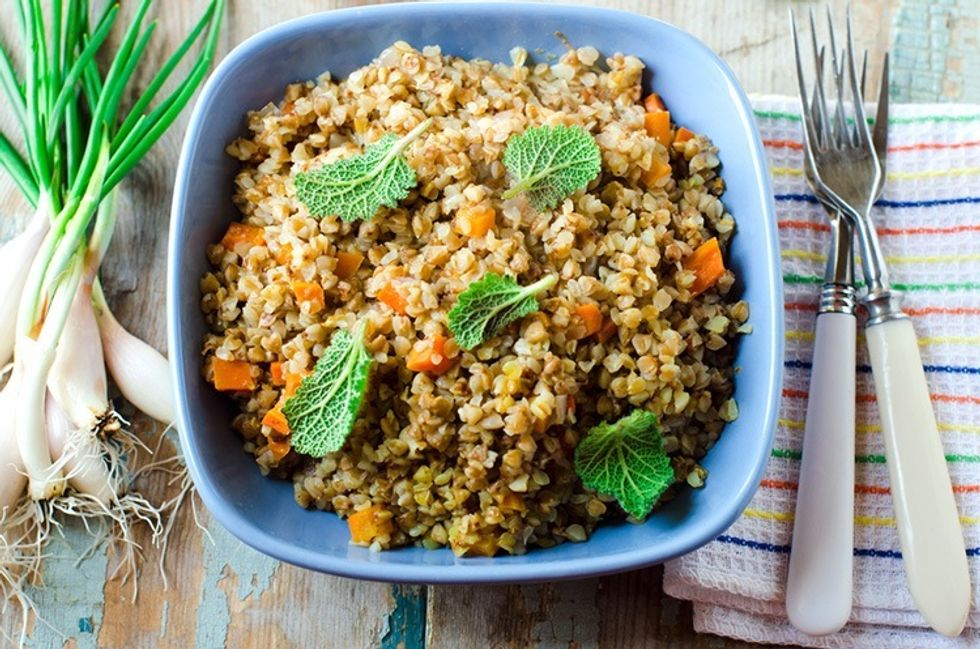 Photo credit: Shutterstock
Buckwheat, despite its name, is not a form of wheat. In fact, it isn't a grain at all, but rather the seed of a flowering plant related to rhubarb, making it gluten-free and safe for people with celiac disease. What buckwheat does contain is a huge helping of magnesium—1 cup offers a whopping 98 percent of the required dietary allowance. It also provides 17 grams (68 percent of your RDA) of fiber, as well as 22 percent of your potassium requirements.
4. Cantaloupe: Potassium, Vitamin A, Vitamin C and Fiber
More than a colorful, refreshing appetizer—or dessert—cantaloupe has a high level of nutrition in proportion to its low calorie count and ease of preparation. Look to this orange-fleshed melon to replenish your stores of potassium, vitamin A and vitamin C.
5. Sweet Potato: Vitamin A and C, Potassium and Fiber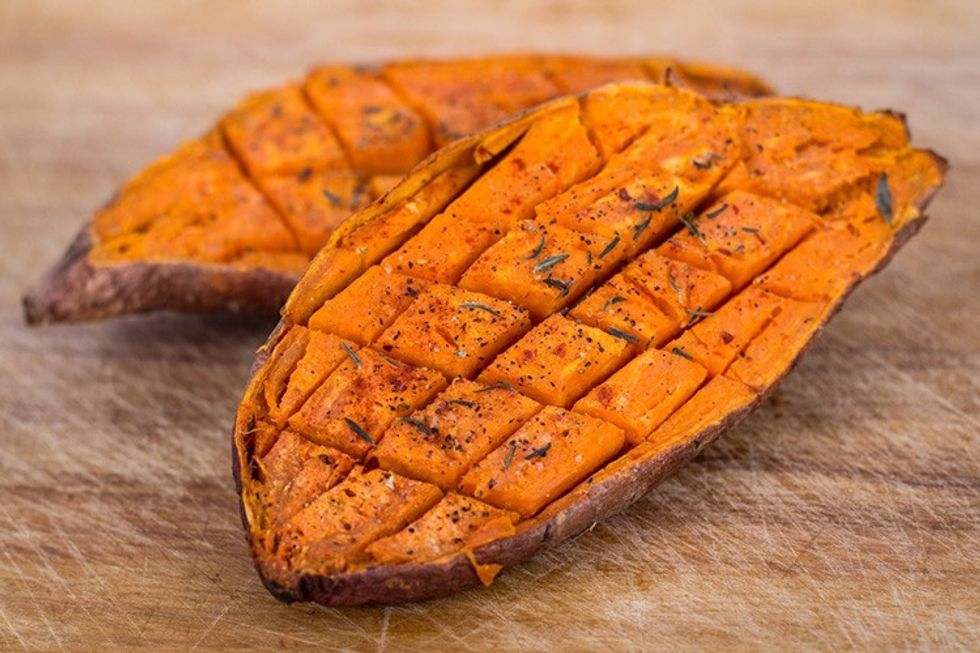 Photo credit: Shutterstock
No need to pretty up sweet potatoes with marshmallows, canned pineapple or even the traditional cup or two of brown sugar. This super veggie not only is full of nutrients (vitamin A and C plus potassium) and fiber, it's also naturally sweet. Just scrub and bake, then cool for a minute or two on your tile countertop before digging in—no added ingredients required for a delicious, creamy side dish.
6. Low-Fat Dairy: Calcium and Potassium
Low-fat dairy products, especially nonfat or low-fat yogurt and low-fat milk, are a readily available, abundant source of both calcium and potassium. Consume as is or mix them into sauces and other preparations.
7. Nuts and Seeds: Magnesium and Vitamin E
Nuts and seeds make a tasty garnish or in-between-meal food that satisfies your need for a crunch. They're not just empty calories, either, but instead supply healthy amounts of magnesium and vitamin E. Their main drawback? A high proportion of (unsaturated) fat, so munch in moderation.
YOU MIGHT ALSO LIKE
9 Stunning Veggie Wedding Bouquets Show New Trend for Brides
Why Eating Eggs Helps You Lose Weight
3 Foods That Can Help Prevent Alzheimer's
Hemp is making a major comeback around the world. In the U.S., five states have legalized the recreational use of cannabis and hemp-based building materials are now gaining popularity.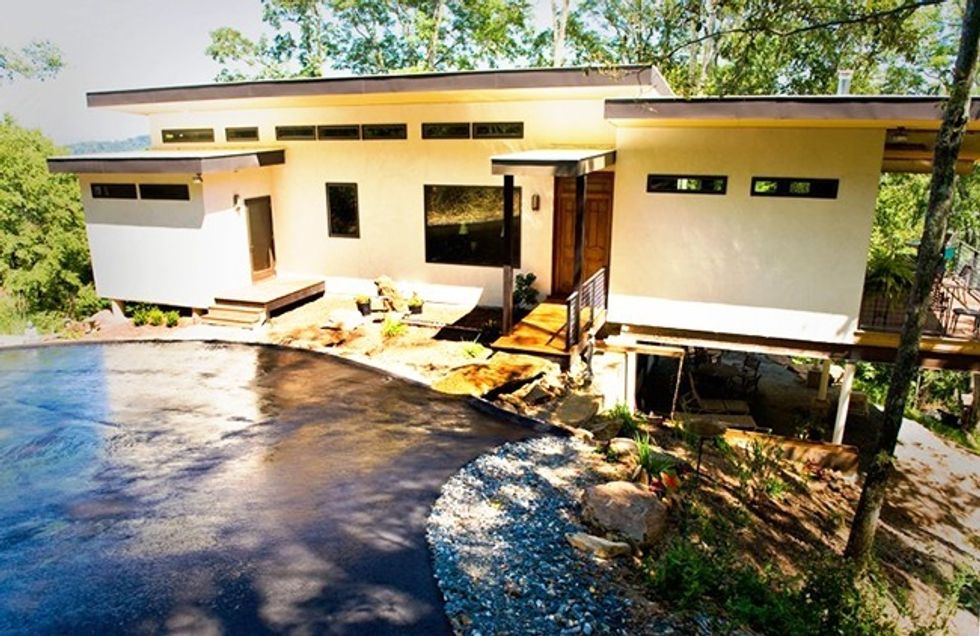 Photo credit: Push Design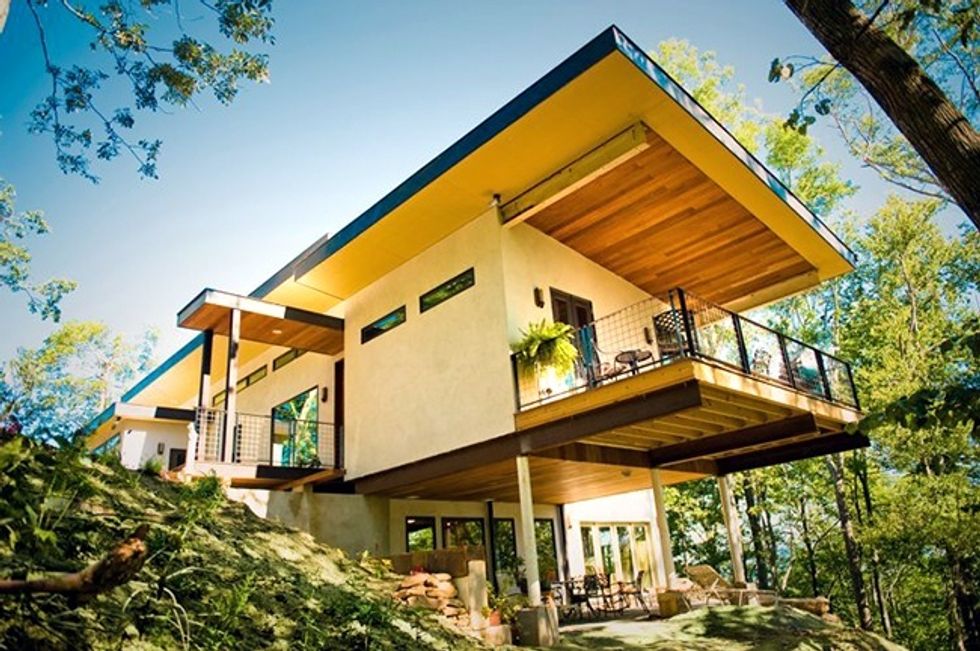 Photo credit: Push Design
The first house built in the U.S. with hemcrete was constructed in Asheville, North Carolina and the 3,400 square foot Push House boasts a number of eco-friendly features.
To create a solid—yet breathable—wall system, hemp hurds were mixed with lime and water on-site an poured in-between the exterior supporting studs in lift.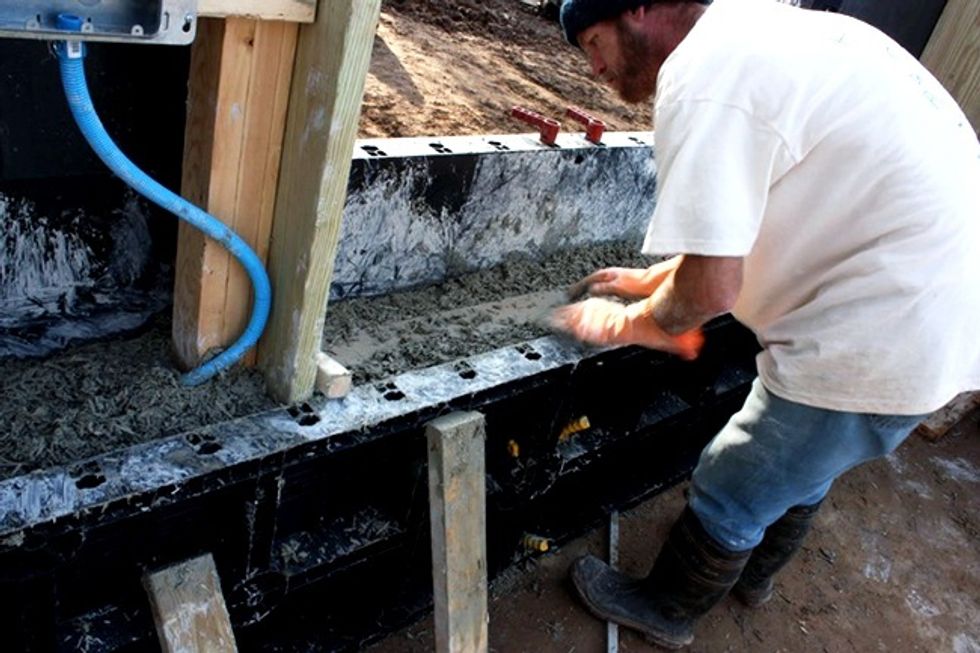 Photo credit: Push Design
As USA Today notes, hempcrete is actually less like concrete and more like infill straw bale, as it is non-structural. The insulating quality is r-2.5 per inch and it has the unique ability to capture airborne pollutants over time—absorbing carbon when it is grown and in place.
Read page 1
In addition, the material's high thermal mass helps keep a steady interior temperature, rather than allowing it to fluctuate.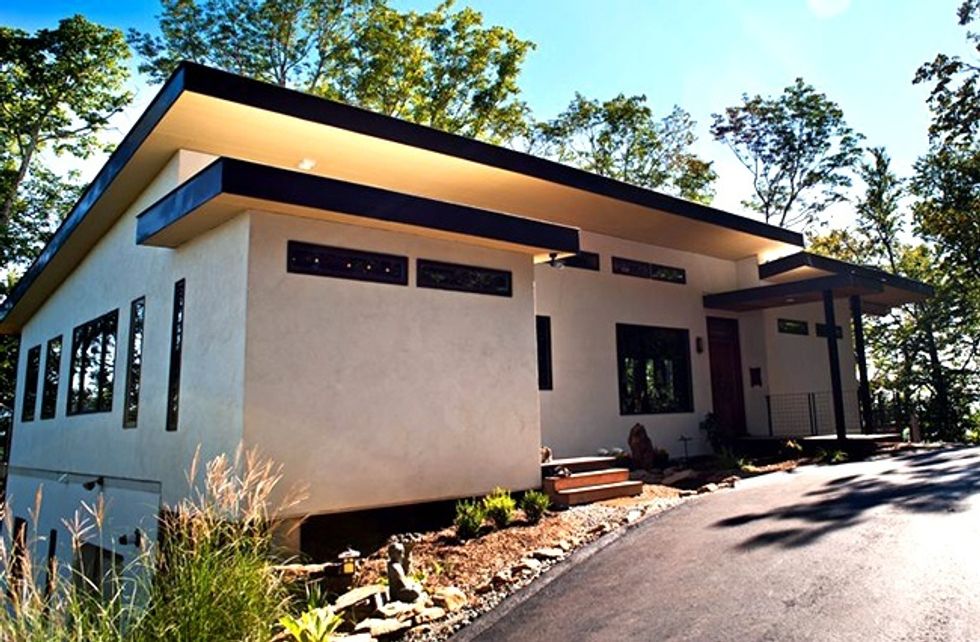 Photo credit: Push Design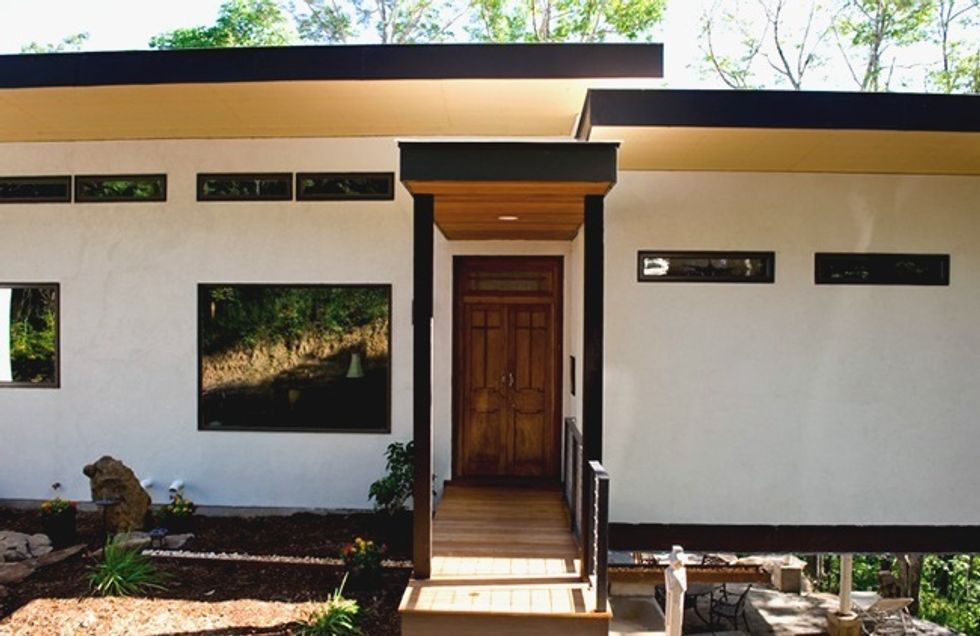 Photo credit: Push Design
The interior walls of this gorgeous, eco-friendly house are made from Purepanel, a unique product made from recycled paper. It consists of a rigid skin with a corrugated paper core, similar to cardboard. (Below).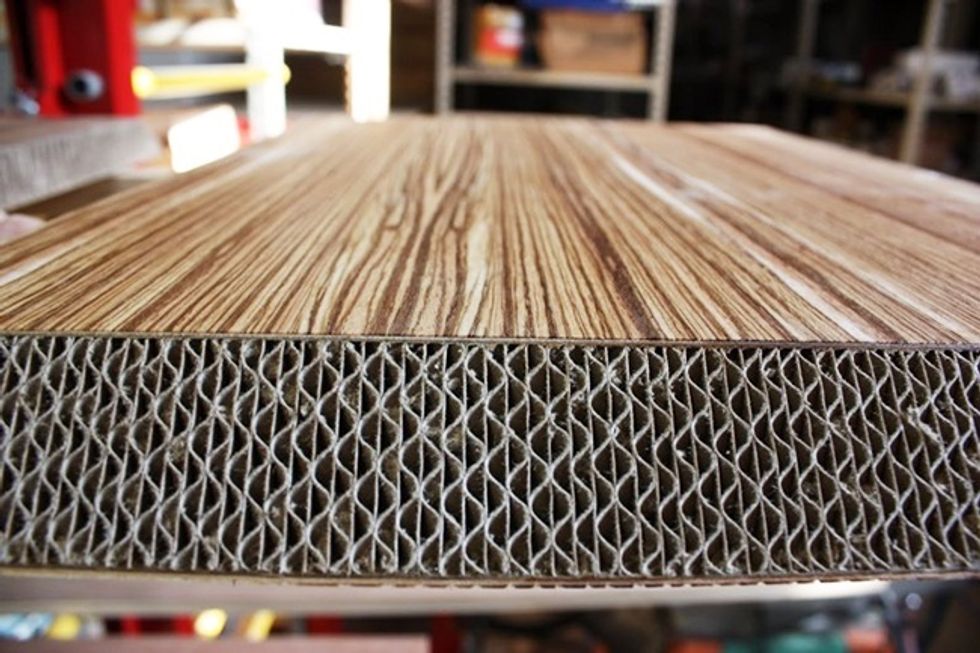 Photo credit: Push Design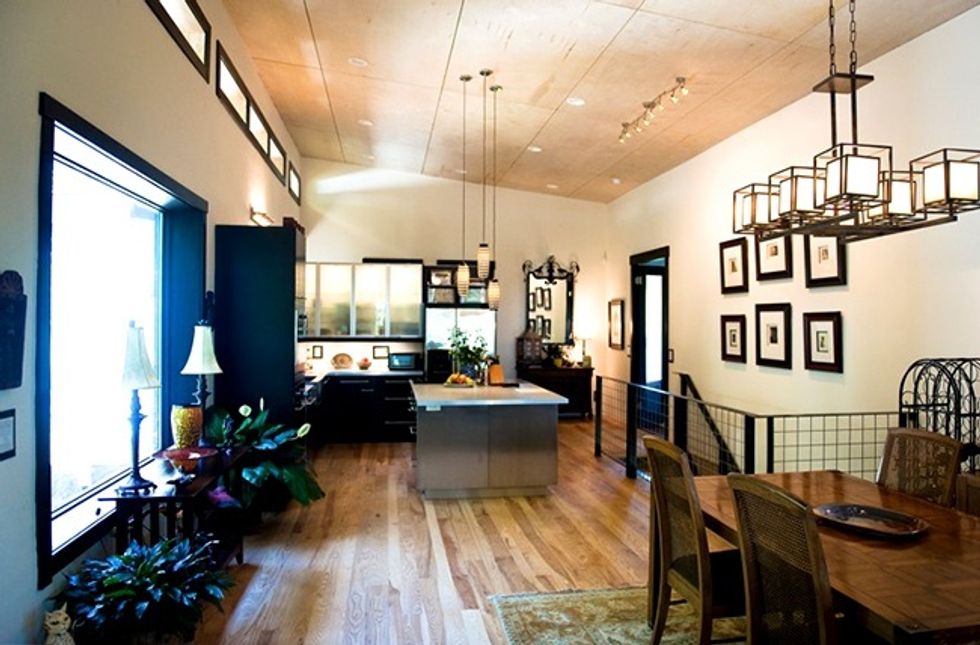 Photo credit: Push Design
As CNN reports, the house also features 30 salvaged window frames that have been fitted with high tech glass. They were placed to allow the most daylighting without overheating the space. An open floor plans also allows the light to pervade deep into the home.
Read page 1
That's not all: The energy-efficient wall system is coupled with a super efficient 21 SEER air-based heat pump to effectively heat and cool the home, reducing utility costs and also the need for expensive equipment. With these installments this home ends up costing a respectable $133 per square foot to build.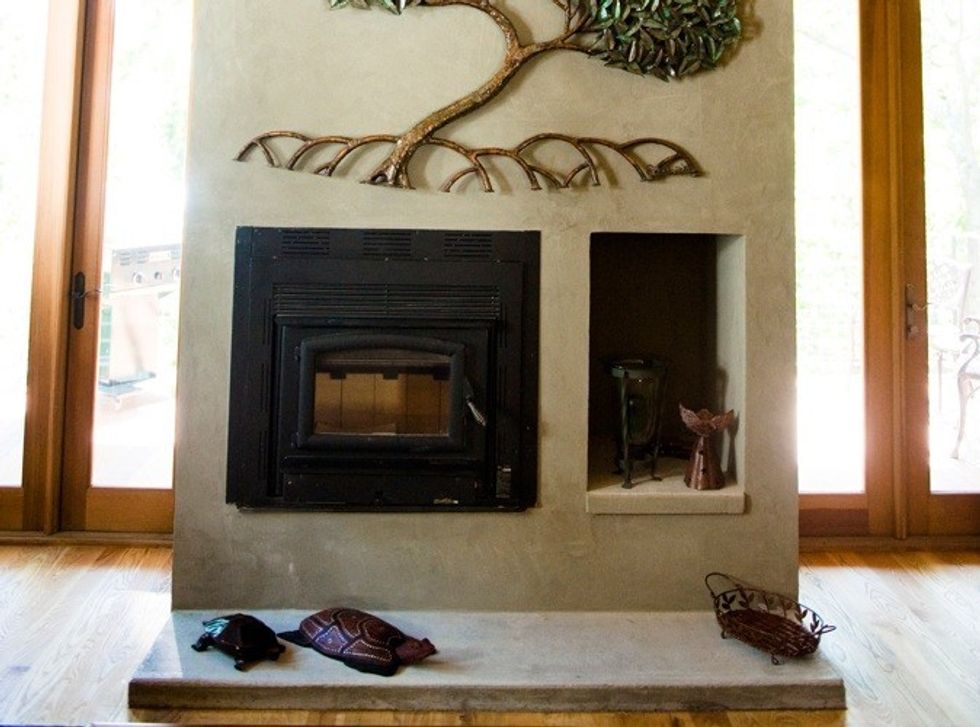 Photo credit: Push Design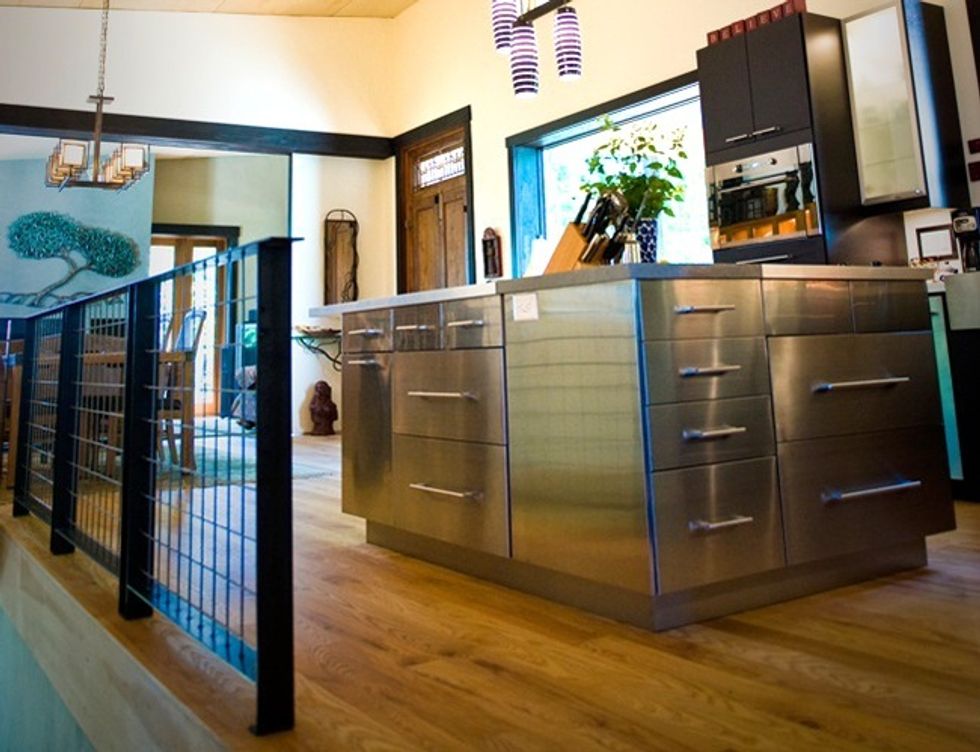 Photo credit: Push Design
Some compromises were made, such as introducing petroleum-based foam products into the ceiling and foundation. However, the house is a stellar example of how health, energy and design can co-exist in sync.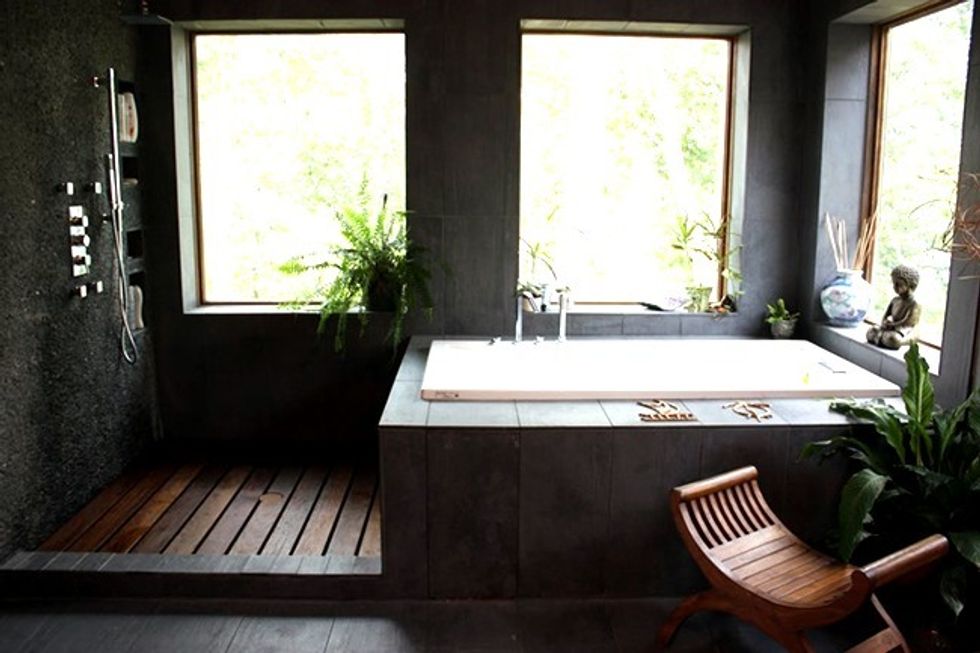 Photo credit: Push Design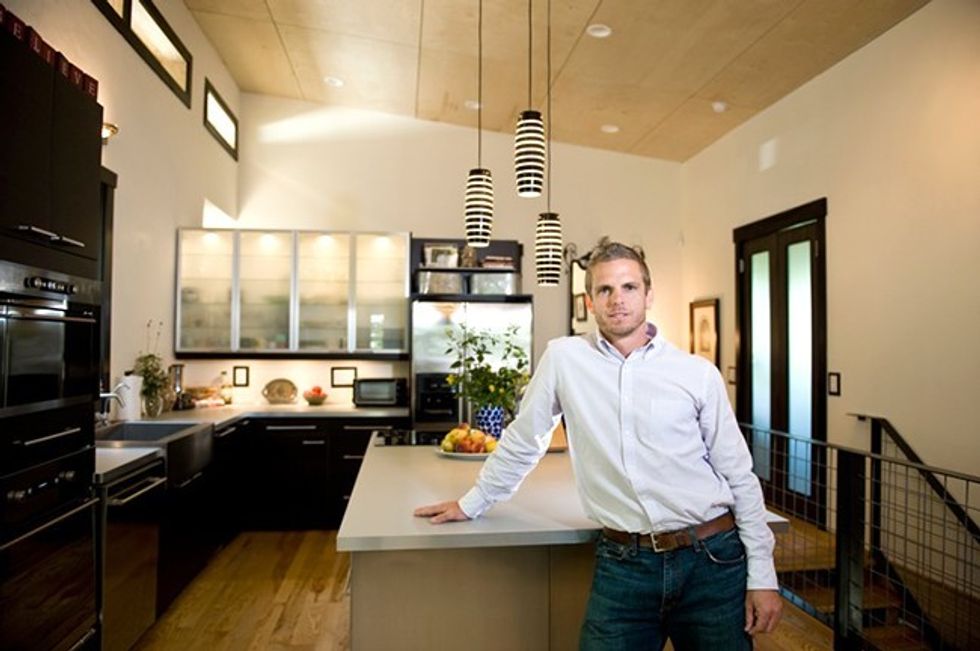 Photo credit: Push Design
The architect is looking forward to constructing similar, smaller homes in the future once he gets through the learning curve of using Hemcrete. Admirably, he says from here on out he will only build houses safe enough for his daughter to live in; we applaud that.
YOU MIGHT ALSO LIKE
20 Houseplants That Remove Airborne Toxins From Your Home
Houseplants are nice to have around, and some people just seem to have a knack for them. If you're one of those who don't or have never bothered to try, you've still probably noticed how pleasurable it is and how good you feel when you visit a friend in a home filled with plants.
It's not your imagination. Houseplants actually are good for your health.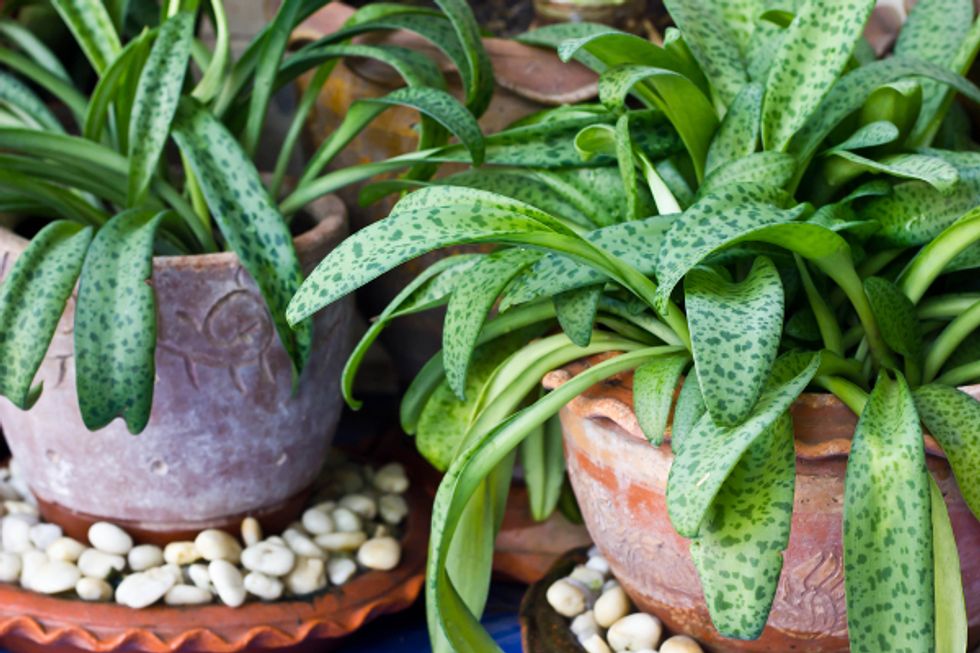 Photo credit: Shutterstock
For a start, there's a theory called the "biophilia hypothesis," first posited by biologist/naturalist Edward O. Wilson in the '80s. It suggests that since the human race grew up close to nature, using plants for food, shelter and fuel, we feel an innate pull toward nature. That affinity has been starved since people began moving to cities in large numbers at the start of industrial revolution in the early 19th century and began living in multi-unit buildings or small, crowded-together homes without land.
Whether it's an actual evolutionary need or not, indoor plants expand the scope of our four walls and make us feel closer to nature, offering a sense of relaxation and peace that many people have found reduces stress and improves their ability to sleep. And stress reduction is healing. It impacts blood pressure and the immune system and acts as a component in fighting off illnesses like colds and flu.
There's an even more concrete benefit to having plants in your home: there are many kinds that actually remove toxins from the environment and purify the air. A NASA study in the late '80s that looked at ways to clean air in space stations suggested the value of common house plants in absorbing substances such as benzene, formaldehyde, trichloroethylene, xylene, toluene and ammonia. These are some of the same toxins found near oil and gas drilling and fracking sites! In your home, they can come from such sources as paint, cleaning materials, carpets, insulation and adhesives, creating dust that can exacerbate health conditions, especially allergies and respiratory diseases such as asthma.
Among the plants the NASA study tested were some of the most common houseplants including philodendron, spider plants, rubber tree, Boston fern and English ivy. And when you get those chrysanthemums to plant in your garden for some fall color, get some extra ones to bring indoors; they filter all of the substances listed above. The study suggested having one plant per 100 feet of living space.
Plants also remove carbon dioxide from the air. Since carbon dioxide can cause drowsiness and headaches, that can make you feel more alert and energetic.
Finally, plants act as natural humidifiers. That humid indoor jungle raises the moisture level in your home to help to fight dry, cracked skin in the winter, even while reminding you of the warmer weather that's just around the corner.
A big caveat: many of these houseplants, including English ivy, spider plants and philodendron are toxic to pets, so check first and make sure your living room garden is pet-safe.
YOU MIGHT ALSO LIKE
Hydroponic Planter Makes It Easy to Grow Your Own Indoor Edible Garden
Connecting Families to the Great Outdoors
You Might Be Allergic to Climate Change
The NBA is devoting an entire week of programs to engaging fans in sustainability and generating awareness to help strengthen communities and protect the environment. This year, the 2015 NBA Green Week started on Sunday, March 22 and will run until March 29. In partnership with the Green Sports Alliance, the NBA is the only professional sports league to dedicate an entire week every year to educating fans about environmental stewardship with simple steps they can do at home.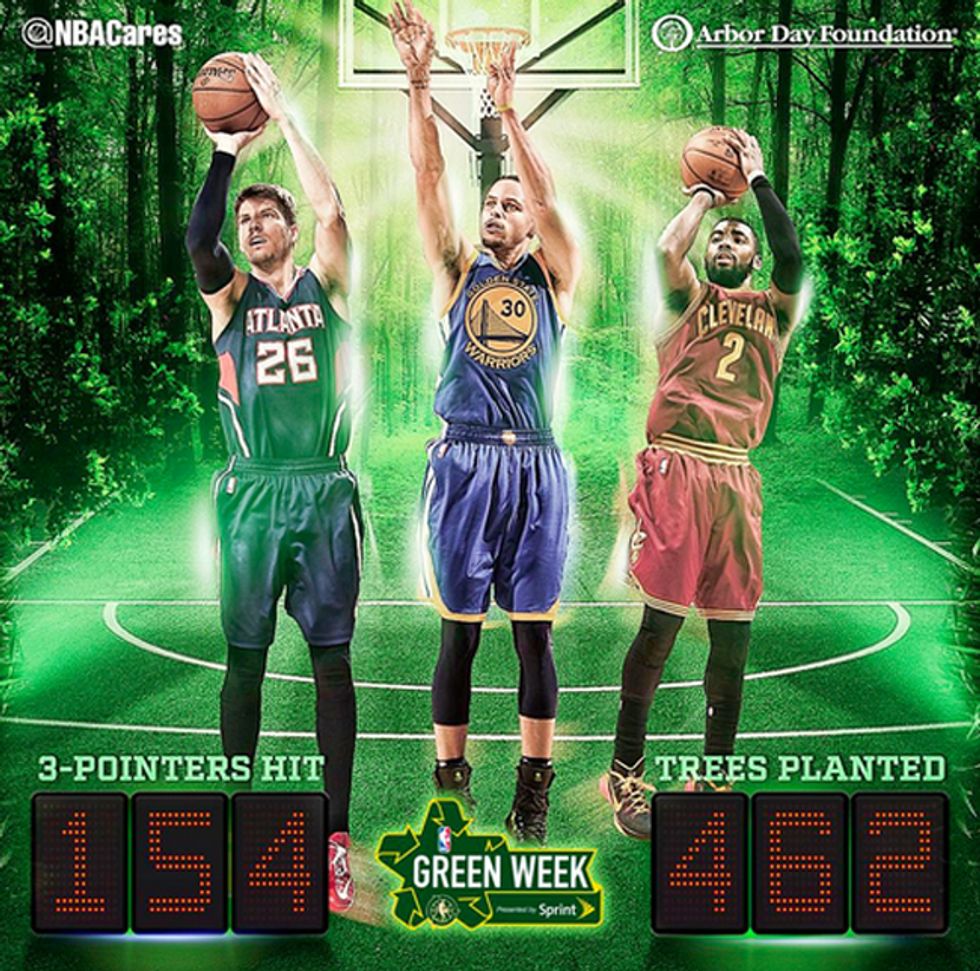 The 2015 NBA Green Week presented by Sprint will see teams and players participating in greening programs and events that encourage fans to take on green "three pointers" that focus on ways to reduce, reuse, recycle, which aim to help fans to be more environmentally responsible at home and throughout their communities.
The NBA has a number of national environmental programs and communications during NBA Green Week. These include:
NBA and NBA Cares is posting "three pointers" with #NBAGreen social channels that will combine game highlights with simple green tips to help fans reduce, reuse and recycle.

The NBA is working with the Arbor Day Foundation to plant a tree each time #NBAGreen is posted by fans (up to 25,000 trees) throughout the week.

The NBA is planting three trees for every three-pointer hit during an NBA game from March 22 to 29.

In collaboration with Bonneville Environmental Foundation, the NBA and Sprint has purchased renewable energy certificates to ensure all 64 NBA games played during Green Week are powered by 100 percent renewable energy.

Sprint is working with NBA legends to host phone recycling events in Boston and Los Angeles where fans can participate in the Sprint Buyback Program to recycle their phones responsibly with e-Stewards certified recyclers.
Throughout NBA Green Week, NBA teams and players will take part in environmental initiatives across the country. These include in-arena awareness nights, recycling programs, hands-on service projects, and tree planting campaigns that encourage fans to join in greener activities with their favorite teams. The many NBA team activations during Green Week include:
The Atlanta Hawks will feature a Threes For Trees program.

The Denver Nuggets will feature Green Week appearances at the Denver Zoo.

The Detroit Pistons will feature Pistons Green Week, host a Market Garden Green House Event and will complete in-arena Green Week activations.

The Golden State Warriors will host ABD Learning Without Limits, an E-Waste Recycling Event and Warriors Green Mob Week, and complete in-arena Green Week activations.

The Houston Rockets will host RecycleFest, Tree Planting Event, Twitter Tours and an Environmental Awareness Game and a viewing party at GreenStreet.

The Indiana Pacers will host an E-Cycling Event.

The Los Angeles Lakers will complete in-arena Green Week activations.

The Memphis Grizzlies will feature Grizzlies Green Week; Grizzlies Go Green Night and the tenth Annual Tree Planting Event at Shelby Farm Park.

The Orlando Magic will enhance a community garden and complete in-arena Green Week activations.

The Portland Trail Blazers will host the second annual Rip City Eco-Summit.

The Sacramento Kings will host a Farm to Fork Panel.

The San Antonio Spurs will feature Spurs Green Week Activation and host Go Green Night.
Join your favorite NBA team and get in on the Green Week action this week by taking some of the following simple steps that the NBA is sharing with fans around the world:
Recycle your old sports gear. Donate balls, shoes or jerseys you've grown out of to help others and the environment.

Bike to work, the gym or around town to stay healthy, save money and avoid harmful emissions.

Use your stainless steel water bottle at practices and games to save money, America's energy resources, and the environment.

Buy post-workout snacks in bulk to save cash and cut back on packaging waste.

Save on gas, money and pollution by braking less and coasting to a stop.

Put houseplants around your home to cut down on contaminants. Clean air is important for staying healthy on and off the court.

Carpool with friends and teammates (or take public transit!) to games and practices to save on your gas bills and cut down on pollution.

Bring a reusable bag to the store when picking up food and drinks for practices or games.

Check your local news for traffic information before heading out. Sitting in traffic is a waste of time and money; it also creates 8x as much air pollution as traffic moving at regular highway speeds.
YOU MIGHT ALSO LIKE
Epic Drought Drives California Businesses to 'Connect the Drops'
Is 'Sustainable Beef' an Oxymoron?
Maybe you're lying on your couch right now, flipping through seed catalogs and wondering when the guy who plows your driveway is going to arrive. You close your eyes and recall what it was like in July when your vegetable plot was at peak production. You may have some pots of herbs—rosemary, sage, chives or oregano—in a sunny south-facing window, available to pluck and drop into that hearty stew or hot stew or even a planter of salad greens, one of the easiest things to grow indoors.
But how nice would it be to have a little indoor farm, full of the types of healthy plant foods you spoil yourself with in the summer? You might even be tempted to eat a little better, reaching for a veggie bursting with vitamins and minerals instead of a bowl of macaroni and cheese. With a little loving care you can have a variety of fresh produce as close as your front room. Some of these will require taking the next step up to grow lights even if you have sunny windows—some require longer daylight hours than you'll have in February. But you don't have to buy an expensive system. A trip to the hardware store will get you what you need— some full-range fluorescent lamps and inexpensive holders and stands should do it.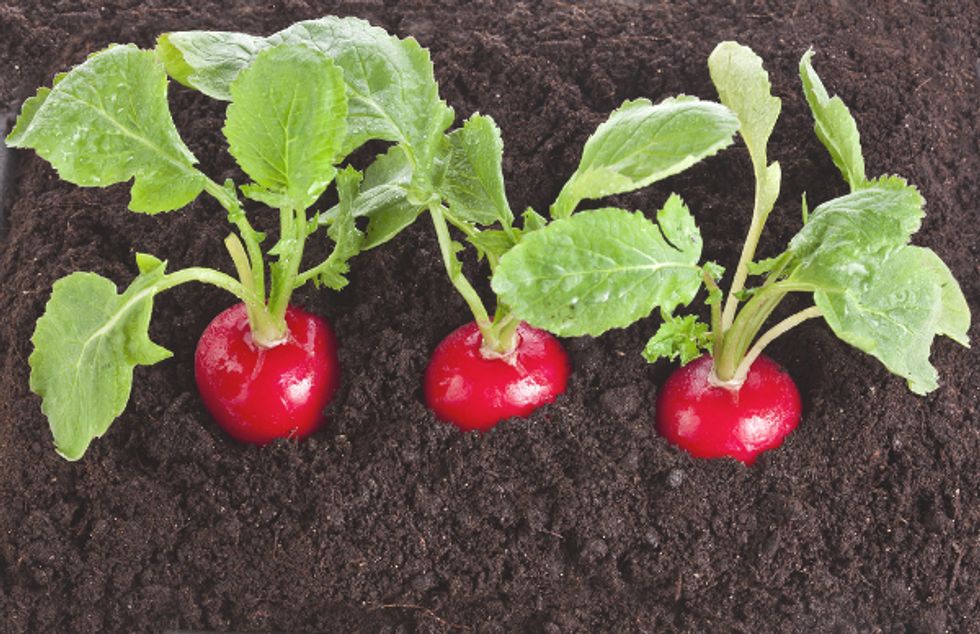 Photo credit: Shutterstock
1. Radishes are easy to grow from seed and provide quick gratification, with some varieties ready to harvest in as little as a month, the longest taking about two months. That's why they're often used in classrooms to demonstrate to children how vegetables are grown. They don't require particularly deep soil but it should be well-drained. And these days, radish seed is available in  a profusion of colors and shapes that make the plain old round, red ones look ordinary. Experiment with white, purple, green, black and even multicolored ones.
2. Carrots can require a very deep planter because they have such long roots, and they need a soil loose enough to burrow through. But you can make it easier to grow them by choosing a shorter, fatter variety and or smaller type that requires less depth to grow. Try a baby carrot variety like Caracas that only grows to around 3 or 4 inches or the round Atlas that looks sort of like an orange radish. Baby varieties are quick growers too, usually maturing in less than two months.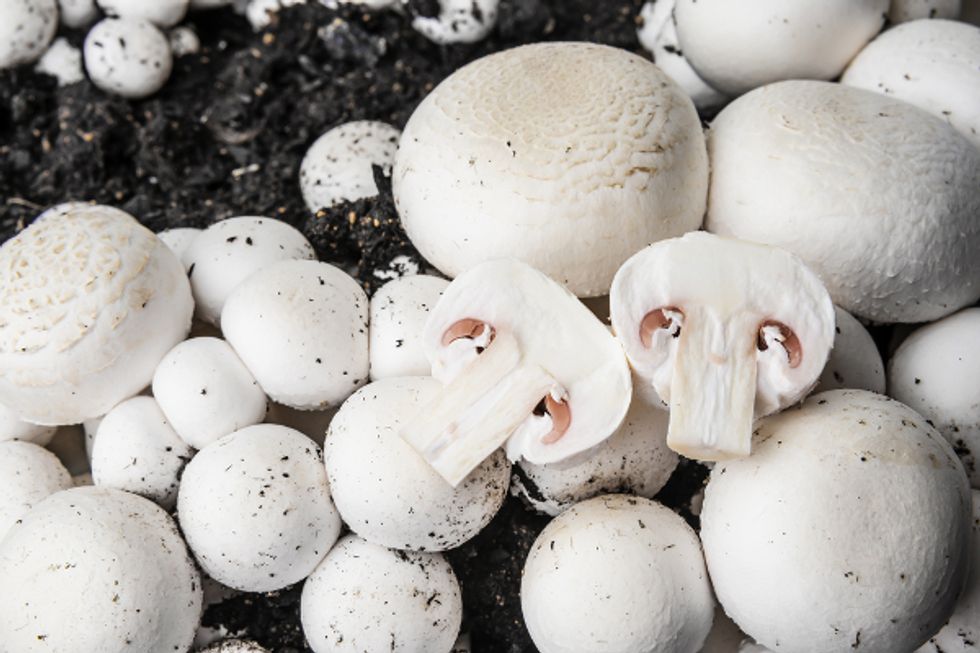 Photo credit: Shutterstock
3. Since mushrooms like cool, dark, moist places, they're ideal to grow inside in the winter. You don't have to worry about limited daylight, and they'll love it in your basement. The easiest way to grow them is to purchase a kit that has everything you need. It will have the correct growing medium for the type of mushroom spawn—the equivalent of seed—it contains. You just follow the directions, doing little more than keeping it watered. Since you'll have mushrooms in a couple of weeks, this is another fun project for impatient kids.
4. Scallions aka green onions can be grown right from the bunch you bought at the supermarket. Take the bottoms—the white bulb part—and bunch them together with a tie or a rubber band and just put them in a glass with about an inch of water. Change the water daily and a little more than a week when new shoots start to appear, plant them in a pot of soil. You can cut as much of the green shoots as you need while they continue to grow.
5. Many garden centers and plant catalogs sell dwarf citrus trees like lemon, lime and tangerine trees in pots, ready to set out on your porch or patio in the summer or in a sunny alcove in your house in the winter to fill your house with their bright, tart fragrances. Think of them as large houseplants, ranging in size from 3 to 4 feet wide and tall. They'll need as much light as possible, and if you want fruit immediately, buy a plant that's already a couple of years old. You can enjoy their tropical fruit all winter.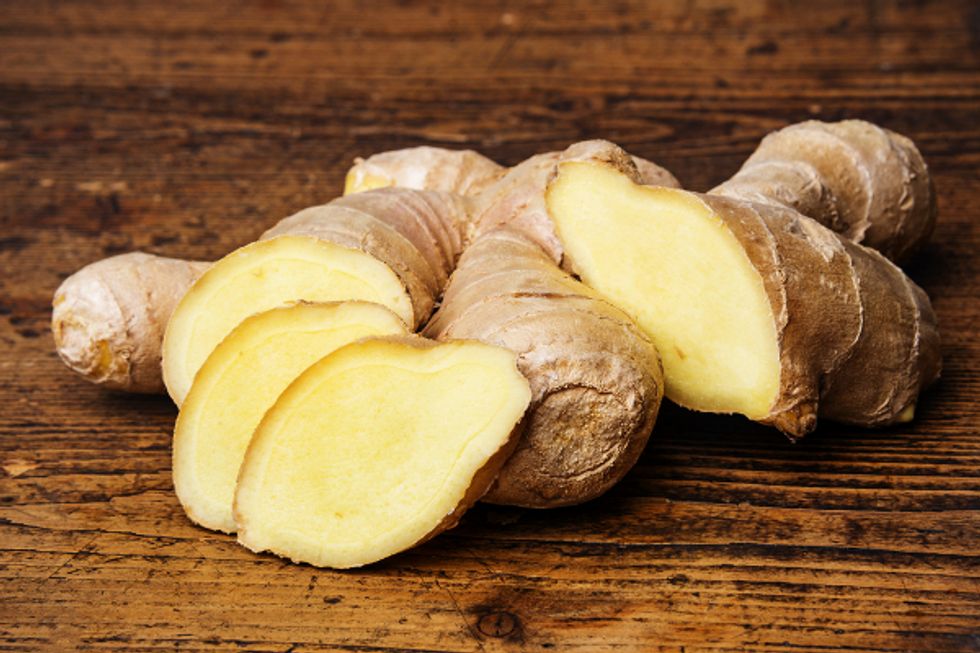 Photo credit: Shutterstock
6. Tumeric and ginger are two plants whose underground rhizomes are harvested for their superfood health-giving properties, almost too numerous to mention. Both can flourish indoors in pots and, like the citrus plants, be put outside in the summer. You can start to grow them by planting a store-bought chunk of rhizome that has growth buds on it. They like it warm and moist and can be started indoors or out, but won't survive in harsh winter conditions. Both are also available as plants from more cutting-edge garden centers.
7. Tomatoes are a little more challenging to grow indoors than some of these other things, but eating a fresh tomato in the middle of the winter is like having a burst of summer in your mouth. Go with a small-fruited variety—a grape, pear or cherry type that sets its fruit more quickly than the bigger ones. They will need large pots and lots of daylight—this is where grow lights become essential with two lights per plant. Turn them on and off to simulate daylight conditions in the summer when they're at their peak. Sure, it's a little extra trouble, but the result is surely worth it.
YOU MIGHT ALSO LIKE
How to Create Your Indoor Edible Garden
Hydroponic Planter Makes It Easy to Grow Your Own Indoor Edible Garden
School Garden Program Teaches Kids to Eat and Grow Healthy Food
Live in an apartment or condo and think you can't compost because you don't have a large backyard?
It is possible—and fairly easy—to compost indoors. If properly managed, a compost bin won't attract pests or rodents or smell bad.
Food scraps and yard waste make up 20 percent to 30 percent of what we throw away and are the largest category of municipal solid waste going into  landfills and incinerators, says the U.S Environmental Protection Agency. Food scraps in landfills take up space and release methane, a potent greenhouse gas.
In 2011, more than 36 million tons of food waste was generated, with only 4 percent diverted from landfills and incinerators for composting. 
Composting your food scraps keeps these materials out of landfills. At the end of several weeks (and with the help of some red wiggler worms), you will have compost, a rich organic material that can be added to soil to help your houseplants grow, improve your vegetable garden, or make your lawn greener. 
Here is some help on composting indoors from Sustainable America:

Visit EcoWatch's TIPS page for more related news on this topic.

Every Christmas season, U.S. consumers purchase tons of cheaply made garland, wrappings and ornaments that are chock-full of toxic chemicals. Why not try a green approach to holiday decorating this year that is gentler on the environment and is far more beautiful.
Here are, courtesy of Care2, six common holiday decorations that contain harmful chemicals or unsustainable ingredients, as well as eco-friendlier alternatives you can use to achieve the same look.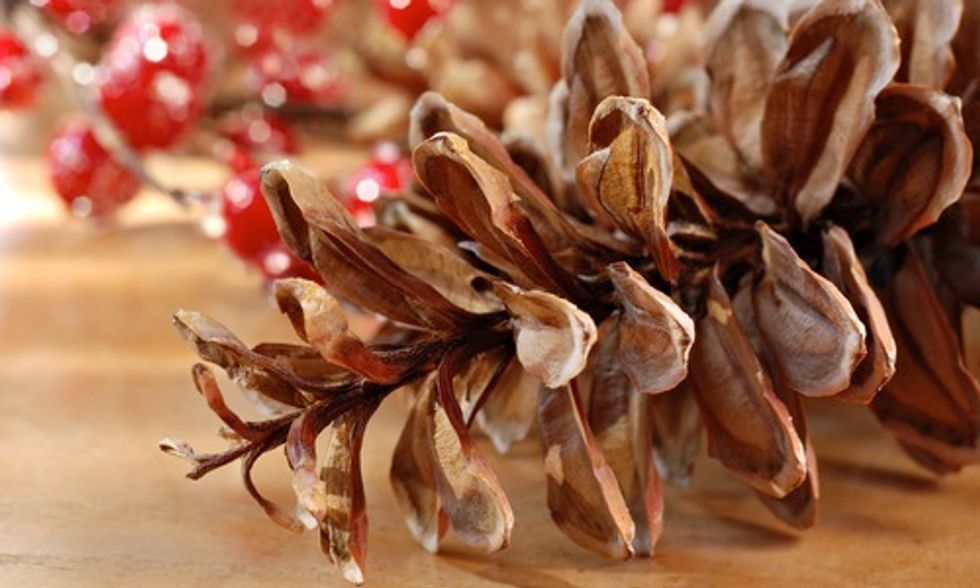 Shutterstock
1. Artificial Christmas trees. If you're going to use a fake tree (and there are many green reasons to do so), it's important to choose carefully. Until recently, artificial Christmas trees were cut from compressed sheets of polyvinyl chloride (PVC), a known human carcinogen. Now some tree makers have switched to injection-molded polyethylene plastic, which is safer but still plastic.

Alternatives: Use this guide from SoftLanding to choose a non-PVC artificial tree. Or choose to decorate a living pesticide-free tree, bush or houseplant that will continue to clean your indoor air long after the holidays are over.
2. Spray-on snow. If you live in a region that doesn't get much winter snow, you might be tempted to pick up a can of faux snow to give your windows and tree a just-frosted look. But many snow sprays contain acetone or methylene chloride and these solvents can be harmful when inhaled while spraying, according to California Poison Control. However, once the snow spray is dried, it is not dangerous.
Alternatives: Try cutting decorative snowflakes out of paper. You can use them again next year if you're careful. You can also use cotton batting (sold at craft stores as stuffing for quilts and pillows) to create faux snow drifts along windowsills or around the tree.
3. Vintage ornaments. Like many things made before the time of health and environmental regulations, these pretty baubles can be hiding a toxic secret. They've been known to contain lead paint or mercury. Some are even called mercury glass ornaments. Even newer ornaments bearing the "Made in China" label can contain lead or toxic paints.
Alternatives: Consider wearing rubber gloves when you handle the old ornaments, or at least wash your hands right after. If you're in need of new ornaments this year, think about making your own from natural or upcycled materials.
4. String lights. It's nearly impossible to imagine the holidays without lights—those twinkling, blinking strings of color that adorn everything from tree to porch. Sadly, 54 percent of holiday lights tested in a U.S. study had more lead than regulators permit in children's products, with some strands containing more than 30 times those levels, according to a recent report by Bloomberg. Lead is a common component in vinyl, the material used to coat light wirings and bulb sockets, according to HealthyStuff.org, which tested the lights. 
Alternatives:  Adults only should handle light strings and with care. If you're in the market for new lights, look for LED strands sold by IKEA or on EnvironmentalLights.com. IKEA's light strings satisfy the stricter European Restriction of Hazardous Substances Directive (RoHS) regulations, while some brands sold by Environmental Lights claim to be lead-free.
5. Wrapping paper. While most wrapping paper and ribbons are non-toxic, foil and colored gift-wrap have been known to contain lead, making them dangerous to touch and even worse for the environment after they're thrown away. And never burn holiday wrapping paper in the fireplace.
Alternatives: Make your own. Wrapping paper only lasts a few minutes anyway, and there are lots of other ways to prevent eyeballs from deciphering what's inside the package. Check out these alternatives to gift wrapping paper.
6. Candles. Many types of candles pollute indoor air and put our health at risk. Most of the candles on the market are made with paraffin wax, derived from petroleum, and scented with synthetic fragrances, also derived from petroleum. Researchers have found that the petroleum-based candles emitted varying levels of cancer-causing toluene and benzene, as well as other hydrocarbon chemicals called alkanes and alkenes, which are components of gasoline and can irritate respiratory tracts and trigger asthma, reports Moms Clean Air Force.
Alternatives: Look for candles made from soybean, palm, hemp or beeswax—or make your own fragrant holiday candles using natural ingredients. Here are some recipes to make your own.
Want to make your own decorations? Remember the four Ps of holiday decorating from the Nature Conservancy's Nature Rocks project: Paper, plants, popcorn and pinecones. These natural and recycled materials are better for the planet, are prettier than manufactured products and creating them with your children or a friend is an enjoyable way to spend  time during the holidays.
Visit EcoWatch's TIPS page for more related news on this topic.