A mother and son looking at the missing road at Vero Beach damaged by Hurricane Jeanne. Jeffrey Greenberg / Universal Images Group / Getty Images
By Bryan Keogh and Stacy Morford
Congress appears close to a trillion-dollar infrastructure deal that recognizes the risks of climate change and the need to make America's coasts more resilient.
On July 28, a bipartisan group of senators who have been working on the package for weeks announced an agreement on "major issues" of the plan. The Senate later that evening voted 67 to 32 to move it forward in a procedural vote; it still faces major hurdles.
While many of the details have yet to be disclosed – or finalized – a few have emerged. The deal provides US$550 billion in new spending on roads, transit, electricity and other physical infrastructure, including about $47 billion for flooding and coastal resiliency and funds to help adapt ports and waterways to a changing climate.
The Conversation has been exploring how climate change is affecting U.S. infrastructure and ways Congress could make it more resilient as sea levels rise, storms become more destructive and temperatures become more extreme.
These three articles from our archive describe some innovations in resilient infrastructure.
1. Adaptive Design Lessons From the Dutch
The Dutch have been dealing with flood risks for generations in the Netherlands, where a large part of the country is below sea level. They've learned that one key to living with rising water levels is adaptive design – building infrastructure that can be expanded in the future.
In the U.S., adaptive design might mean building levees wider than usual so they can be easily raised in 20 years. Or it could mean leaving room for future water pumps in areas that will become more flood-prone, or installing floodgates that can be raised or lowered as needed.
"By starting with an adaptive design, the U.S. can save billions of dollars compared with having to build new systems decades down the road," writes Jeremy Bricker, a hydraulic and coastal engineer at the University of Michigan.
He points to the cost of renovating California's Folsom Dam, built in 1955. Adding a new spillway now to improve water control is costing about $900 million, close to the price of the original dam with inflation.
2. Incorporating Nature: Corals and Mangroves
In several coastal cities, the Army Corps of Engineers is developing plans for giant flood walls to provide protection against storm surges. The instinct is to build big now to handle the worst-case scenario in the future.
But in Miami, that plan reveals two problems: While a large wall might lessen the damage of a hurricane storm surge, it would block the downtown area's million-dollar water views. And a 6-mile wall would only protect the downtown Miami area, and only from the surge. Water would still come in, and everyone outside the wall would be vulnerable.
There are other ways to protect the coastline that are less obtrusive and draw on natural coastal storm control, write University of Miami engineer Landolf Rhode-Barbarigos and ocean scientist Brian Haus.
Rhode-Barbarigos and Haus have been involved in developing "green-gray" infrastructure that pairs the strength of specially designed concrete structures with the natural protection of corals and mangroves for effective, more natural-looking hybrid coastal protection.
"Living with water today doesn't look the same as it did 50 years ago, or even 20 years ago," they write. "Parts of Miami now regularly see 'sunny day' flooding during high tides. Salt water infiltrates basements and high-rise parking garages, and tidal flooding is forecast to occur more frequently as sea level rises. When storms come through, the storm surge adds to that already high water."
They add: "We don't want to see Miami become Venice or a city walled off from the water. We think Miami can thrive by making use of the local ecosystem with novel green engineering solutions and an architecture that adapts."
3. Climate-Friendly Concrete
Concrete is also evolving for the changing climate. Scientists are developing ways to minimize corrosion when concrete structures are subjected to sea water, and they're making concrete itself more climate-friendly.
Cement, which binds concrete, is responsible for about 7% of global carbon dioxide emissions – greenhouse gases that are warming the environment and causing the oceans to rise. Some 26 billion tons are produced nationwide each year, and production is growing.
"Given the scale of the industry and its greenhouse gas emissions, technologies that can reinvent concrete could have profound impacts on climate change," write University of Michigan engineers Lucca Henrion, Duo Zhang, Victor Li and Volker Sick.
Scientists are developing new types of concrete that reduce the amount of greenhouse gases released, including infusing it with carbon dioxide so future bridges and buildings lock away greenhouse gases that might otherwise be released into the atmosphere. The Michigan team has developed carbon dioxide-infused concrete that requires less steel, is stronger and more durable – and it's bendable.
Editor's note: This story is a roundup of articles from The Conversation's archives.
Reposted with permission from The Conversation.
From Your Site Articles
Related Articles Around the Web
EcoWatch Daily Newsletter
Bamboo coral and white trumpet sponge on the Davidson Seamount in the Pacific Ocean. NOAA
Do we really need to put ocean ecosystems at risk in order to transition to a renewable-energy economy? Proponents of deep-sea mining claim that the as-yet-untested practice is the best means of supplying minerals like cobalt, lithium, nickel, copper, vanadium and indium used in electric vehicles, storage batteries and other green technologies.
But a new article published in Frontiers in Marine Science on Thursday challenges this view. The team of experts from the University of Exeter, Greenpeace Research Laboratories and Globelaw instead says that human societies can both preserve marine biodiversity and eschew fossil fuels by making different choices about how new technologies are designed and used.
"If businesses, researchers and members of the public work collaboratively we have the means to achieve a future in which technology can be designed and manufactured to be sustainable and not involve extracting additional non-renewable resources," study lead author Kathryn Miller told EcoWatch in an email. "It will require changes in behaviour but it is possible."
Unfixed Futures
Thursday's paper builds on two previous studies from the same research team considering the risks of mining minerals from the sea bed. The first, published in 2018, focused on the environmental risks posed by disturbing ecosystems where many species are still unknown to science. The second, also from 2018, looked at how the deep sea bed should be governed and regulated for the benefit of all people, not just the profit of wealthy corporations in the global North. The new paper also addresses these issues, but emphasizes how the green transition might proceed without seabed minerals.
Specifically, the researchers considered the case of electric vehicle batteries.
"[T]he point we make in the paper is that estimates of future demand for minerals... always depend on a set of assumptions about how we will live and which technologies will be available," study co-author David Santillo told EcoWatch in an email, "and we have to remember that neither of those things are fixed."
For one thing, those projections assume the use of the current lithium-ion battery that incorporates cobalt or nickel. However, there are already alternatives either in use or in development, such as Svolt's cobalt-free lithium-ion car battery or Tesla's lithium-ion phosphate batteries.
For another, mineral needs depend on the sustainability of both transportation systems and technological design. A move away from a one-person-one-car model and towards improved metal recycling could significantly reduce the demand for novel mineral resources.
"I challenge the assumption that we need to continue producing and consuming technological products at the rate at which we have become accustomed over the past decade or more," Miller said. "For example, I think that the premise that it will be necessary to replace every 'conventional' petrol or diesel car with an electric car is not forward thinking or sustainable – it will not solve the problems we are beginning to see in terms of resource availability, energy use and congestion in towns and cities."
Irreversible Damage
The reason that the necessity of deep-sea mining is such an important question is because of what is at stake if the practice goes ahead.
"Any commercial deep-sea mining activity at any scale will cause irreversible damage to deep-sea ecosystems," Miller said. "Recovery of species in deep-sea habitats is extremely slow – centuries or millennia in many cases."
If mining occurs, species could be harmed by noise and light pollution, habitat fragmentation and sediment plumes that could spread for hundreds of kilometers.
In addition, scientists don't yet know all of the species that exist in deep-sea ecosystems, or how deep-sea animals like cold water corals, crabs and shrimps would be impacted. They also don't know how closely deep water ecosystems are connected to the rest of the ocean.
Furthermore, the practice could threaten many of the ecosystem services that the ocean provides to human communities. There are fish species that spawn in seamount ecosystems, and cultures that consider ocean life to be sacred. While deep-sea mining may be justified based on the need to shift the energy system away from fossil fuels, it could actually harm the ocean's ability to help us fight climate change by threatening its ability to sequester carbon, though again more research is needed to understand exactly what the consequences of mining would be on the carbon cycle.
"There is certainly the potential for the disturbance of deep-sea sediments by mining to disrupt their role in storing and locking away carbon over long time-scales, thereby putting more carbon into open cycles in ecosystems (including into seawater and the atmosphere) and harming the processes by which those sediments normally act as carbon sinks," Santillo said.
Global Moratorium
The paper comes at an urgent moment in the debate over whether or not deep-sea mining should proceed. At the end of June, the island nation of Nauru announced plans to start mining, as The Guardian reported at the time. This triggered something called the "two-year rule," which gives the UN's International Seabed Authority two years to finalize regulations for the practice.
Nauru is acting on behalf of Canadian mining company DeepGreen, which hopes to mine nodules containing manganese, nickel and cobalt for electric vehicles. On the other side stand more than 530 marine science and policy experts, business leaders and conservation groups like WWF who are calling for a global moratorium on deep-sea mining until its impacts can be more fully researched and understood.
Such a global pause would make it impossible for anyone to be granted a license to mine, mirroring the global moratorium on whaling or mining in Antarctica. WWF's senior global ocean governance and policy expert Jessica Battle told EcoWatch that Nauru's ultimatum made such a moratorium "even more imperative."
"It has happened before and it can happen again," Battle said.
While so far no nation has stood up in the proper forum and called for a global pause, Battle has hope that this will happen before the two-year clock stops ticking, in part because there are so many new studies coming out warning about mining's potential impacts on the ocean. While many polluting industries are well into the process of eradicating species and altering Earth systems, deep-sea mining is still only an idea.
"This one we can actually be smart as a society to prevent from the beginning," Battle said, "so why the rush?"
Miller and Santillo said they also supported a moratorium on the practice, but ultimately their paper argued for changing how decisions about Earth's resources are made. This means recognizing "Rights of Nature," considering the ocean itself as an entity with rights rather than a resource to be used.
"A true transition from ownership to guardianship of the natural world could include a Rights of Nature approach to the ocean, rather than only considering the benefits that it may deliver to a small percentage of the global population," the study authors wrote.
sl-f / iStock / Getty Images
As you seek to optimize the performance of your residential solar panels, there are a number of factors to consider. One thing you'll want to think about is the best direction for solar panels. The orientation of your roof in relation to the sun can have a huge impact on overall solar efficiency.
In this article, we'll outline the best direction for solar panel orientation as well as the optimal angle. We'll also explain solar tracking technology, which can ensure your panels face the sun for as long as possible each day. Read on to learn more.
Basics of Solar Panel Orientation
So, what is the best direction for solar panels? For homeowners who live in the Northern Hemisphere, the rule of thumb is that solar panels should be oriented toward true south. (For those in the Southern Hemisphere, solar panels should be oriented toward true north.) This is the best orientation because it ensures that solar panels receive direct sunlight throughout the day.
It's also worth noting that solar panels are most efficient when the sun's rays strike them perpendicularly. Again, this true south/true north orientation can be helpful, but angle also plays a large part in this parameter.
Best Direction for Solar Panels
As you consider solar panel installation, it's crucial to remember that, for the highest energy production, you'll want your panels to receive direct sunlight throughout the day. Again, for those who live in the Northern Hemisphere, this means orienting your panels toward true south, and vice versa in the Southern Hemisphere.
Note that, when we talk about true south, we're talking about geographic south, not magnetic south. In other words, you should orient your solar energy system based on the lines of longitude on a map, not by the directions on a compass.
Something else to keep in mind is that it may be beneficial to have a rotation slightly away from the best direction if you want to adjust the hours that your solar panels provide you energy (like facing them southwest to get more energy in the late afternoon as the sun is setting).
Hopefully, you have a south-facing roof that is optimally positioned for your solar panels. If the orientation of your roof isn't quite right, however, that doesn't mean solar power is off the table. There are several other options to consider, including solar carports and ground-mounted solar panels that can utilize south-facing panels for optimum electricity production.
Best Angle for Solar Panels
In addition to choosing the best direction for your solar panels, it's also helpful to select the right angle. Here, the general rule of thumb is to set the solar panel tilt angle equal to the geographical latitude. In other words, if you're at 35 degrees latitude, set your panels at a 35-degree angle.
The angle of your solar panels will help ensure the sun hits them perpendicularly, promoting the highest solar production and, thus, the highest electricity bill savings for your household.
With that said, you'll also want to consider how weather impacts solar panels. A good example of this is heavy snowfall. If you live in a part of the country where there is excessive snow accumulation, that could ultimately impede the efficacy of your solar panels. By tilting your panels at a sharper angle, you can minimize the buildup of snow or other debris.
This may all sound technical, but it's worth noting that professional solar installers will work with you to design a solar power system that works optimally; that includes recommending where to place your panels, how to angle them and more.
Solar Panel Tracking Systems
For ground-mounted panels, you might also consider installing a solar panel tracking system. Solar trackers maximize panel efficiency by rotating your panels throughout the day, allowing them to follow the movement of the sun from its rise to its set.
Just how much more efficient can a tracker make your solar panel system? One study showed that on a clear day, the average efficiency of a tracking panel was about 67%, while fixed panels only got about 40% efficiency.
As you consider solar panel tracking systems, you'll need to decide between a single-axis or a dual-axis system. Single-axis systems only move in one direction, typically north to south. A dual-axis system allows for movement along the north-south axis and the east-west axis.
Dual-axis systems take up more space, and thus are mostly used in commercial settings. They can certainly be effective, enabling your solar panels to reposition in accordance with changing seasons when the sun is higher or lower in the sky, but they typically aren't necessary for residential use.
Are Solar Panels Right for Your Home?
When deciding whether solar panels are worth it for your home, roof position should always be taken into consideration.
Most reputable solar installers offer free home consultations, during which a representative will survey your roof and let you know whether rooftop solar would be a good idea based on your roof's positioning and how much sunlight your home receives throughout the year.
To get a free, no-obligation quote and set up a consultation with a top solar company near you, fill out the 30-second form below.
FAQ: Best Direction for Solar Panels

Is east or west better for solar panels?
For most homeowners in the Northern Hemisphere, panels need to face toward the geographic south, but not necessarily toward the east or west. The north-south axis tends to be more determinative of a solar panel's efficiency.
Should solar panels face south or west?
For homeowners in the Northern Hemisphere, geographic south is typically the best direction for solar panels.
Do solar panels need to be south facing?
For homeowners who live in the Northern Hemisphere, it is recommended that solar panels be oriented toward geographic south (as opposed to magnetic south). In other words, orient your panels according to lines of longitude rather than magnetic poles.
Which is the best direction to face solar panels in Australia?
For Australian homeowners, north-facing solar panels tend to be most effective, though a professional installer can give a more specific recommendation.
Solar panel manufacturing in India. Sakib Ali / Hindustan Times via Getty Images
One of the chief arguments against transitioning away from fossil fuels and towards a zero-carbon economy is that it would cost the world energy jobs. But is such a fear really justified?
To find out, an international team of researchers set out to determine how meeting the Paris agreement goals would impact the global balance of energy-sector employment.
The result, published in One Earth on July 23, was "surprising," as study co-author and RFF-CMCC European Institute on Economics and the Environment environmental economist Johannes Emmerling told EcoWatch. Limiting global warming to well below two degrees Celsius would actually create eight million more energy jobs by 2050.
"We did not expect that at all," Emmerling said.
A Global Dataset
Previous attempts to predict the impact of climate action on global energy jobs relied on data from Organisation for Economic Co-operation and Development (OECD) countries, which excluded major players like India, Brazil and China. To expand their view, the research team built their own global data set covering around 50 countries. The dataset focused on 11 energy technologies and five job categories: construction and installation, operation and maintenance, manufacturing, fuel production and refining.
The team then used a model to determine what would happen to global jobs under two scenarios: one in which current policies continued and another in which world leaders acted to meet the Paris agreement goal of limiting global warming to well below two degrees Celsius above pre-industrial levels.
In the first scenario, energy jobs would continue to grow, rising from 18 million today to 21 million by 2050. But the researchers found that they would grow even more if we act to resolve the climate crisis, reaching 26 million by mid-century.
Of course, the makeup of those jobs would change in a climate-action scenario. Today, the researchers calculated that there are 12.6 million people working in fossil fuel industries, 4.6 million in renewable energy and 0.8 million in nuclear. In the Paris-agreement scenario, that balance would shift to 3.1 million working in fossil fuels and 22 million working in the renewable sector. Fossil-fuel extraction in particular would be hard-hit, making up around 80 percent of job losses, but renewables would more than make up the difference. Wind and solar in particular would take off, representing more than 85 percent of renewable sector gains. In total, 84 percent of 2050 energy jobs would be in renewables, with only 11 percent in fossil fuels and five percent in nuclear.
This data, Emmerling said, could help inform energy policy debates.
"The job losses due to the energy transition... have often been used to argue that it should be delayed," he noted. Or that it should be avoided altogether.
Former President Donald Trump, for example, justified his decision to withdraw the U.S. from the Paris agreement by proclaiming his love for coal miners, the study authors pointed out. Australia's current Prime Minister Scott Morrison, in addition, won a campaign in which he promised to protect fossil-fuel jobs. The new findings can help assuage some of the fears these leaders tap into with their anti-climate-action rhetoric.
"The point is that the number of jobs that could be created if we move to a sustainable economy will be a gain," Emmerling said.
Up for Grabs
While the research found that there would be a global net gain in energy jobs, Emmerling acknowledged that there would be some losers on the local, national and regional level. Fossil-fuel exporting countries like Mexico, Australia, Canada, South Africa and sub-Saharan Africa all stood to see net-losses by 2050 in a climate-action scenario. China was set to lose energy jobs no matter what because of a decline in coal mining, but it also has great potential to take advantage of a green transition because it currently leads the world in solar PV manufacturing. For many other countries, however, any loss would be offset. The U.S. could gain more than a million jobs by 2050 by honoring the Paris agreement.
In addition, the nature of renewable energy jobs means there is more potential for different nations to take advantage of growth in the sector, especially when it comes to manufacturing.
"Future renewable energy manufacturing jobs differ from other job categories as there is nothing physically tying these jobs to a particular geography in the same way that coal mining has to happen where coal deposits are located," the study authors wrote.
Because of this, the researchers were not able to accurately model where manufacturing jobs would end up in the future, meaning that countries have a chance to shape their energy future through industrial policy. While China currently dominates the making of solar PVs, there is no reason that this has to remain the case. The researchers therefore suggested that nations currently reliant on fossil-fuel exports actively promote renewable manufacturing to offset potential losses, as India, for example, is already doing.
"These jobs are up for grabs for countries who invest in these technologies," Emmerling said.
A Just Transition
That said, a transition to a renewable energy economy will doubtless impact individual communities and workers who have long relied on fossil-fuel extraction for income. This is why many environmental campaigners have called for a "just transition" that would compensate these communities and retrain these workers.
The study authors argued that any program of this nature requires an accurate understanding of both potential job losses and gains, which is something their work provides. Next, they hope to fill out the picture by looking at the quality and types of new energy jobs, including wages, skill level and necessary training.
Ultimately, however, the study results affirm the possibility of a just transition by demonstrating that there is "room for compensating," as Emmerling put it.
"There is a pie to be shared and distributed, and in the end the pie will be bigger," Emmerling said.
A graphical abstract of the study results. Pai et al./One Earth / CC BY-NC-ND 4.0
From Your Site Articles
Related Articles Around the Web
Scientists have developed a method for recycling plastic bottles into vanilla flavoring. Andrew Fox / Getty Images
Researchers have devised a sweet solution to the plastic pollution crisis — turn it into vanilla flavoring.
In a study published in Green Chemistry last week, scientists at the University of Edinburgh detailed how they used common bacteria to transform polyethylene terephthalate (PET) plastic into a useful chemical for the first time, and that chemical is the flavor compound vanillin.
"This is the first example of using a biological system to upcycle plastic waste into a valuable industrial chemical and this has very exciting implications for the circular economy," first author Joanna Sadler said in a statement published by the University of Edinburgh.
The research comes as more and more attention has been drawn to the fact that the current system for recycling plastic isn't doing what it claims. In the U.S., for example, only 8.7 percent of the total plastics produced is actually recycled. Currently, plastics lose around 95 percent of their value after they are used only once, The Guardian pointed out. Finding new uses for the material could therefore make recycling more viable and move us towards an ideal circular economy in which no materials are wasted.
PET plastic, which is the type of plastic used to make bottles for water and other drinks, is possible to recycle, the University of Edinburgh noted. Despite this, around 50 million tonnes (approximately 55 million U.S. tons) of PET waste is produced each year. Another study published last week found that plastic bottles were the second most common form of marine litter, after plastic bags.
To address this problem, Edinburgh scientists built on previous research, which had figured out how to use enzymes to break PET down into terephthalic acid (TA), The Guardian reported. They then took the TA and used an engineered version of the common bacteria E. coli bacteria to transform TA into vanillin.
"This is a really interesting use of microbial science at the molecular level to improve sustainability and work towards a circular economy," Royal Society of Chemistry publishing editor Dr. Ellis Crawford, who was not involved in the study, said in a statement. "Using microbes to turn waste plastics, which are harmful to the environment, into an important commodity and platform molecule with broad applications in cosmetics and food is a beautiful demonstration of green chemistry."
Vanillin is in fact a highly desirable chemical, The Independent reported. It is used in everything from food and cosmetic flavoring to herbicides, anti-foaming agents and cleaning products. Demand for the chemical is increasing, and the market for it is projected to reach $724.50 million by 2025.
While the substance traditionally comes from the extract of vanilla beans, making it from petrochemicals is not unheard of. In fact, 85 percent of the world's vanilla production is now synthesized from fossil-fuel chemicals. The researchers told the University of Edinburgh that the plastic-derived vanilla should be safe to eat, but more tests are needed before it ends up in stores.
The researchers also think they can generate more perfume chemicals from the TA, according to The Guardian. Further, they aim to both scale up the amount of plastic they can convert and speed up the time it takes to do so.
"We think we can do that pretty quickly. We have an amazing roboticised DNA assembly facility here," study co-author Stephen Wallace told The Guardian.
From Your Site Articles
Related Articles Around the Web
Climate-action nonprofit Pathway to Paris first launched in 2014 with an "intimate evening" of music and conversation after the People's Climate March in New York City.
Six years later, and intimate musical evenings feel like relics from another era. But the group is still bringing artists and activists together to achieve its goal of making the Paris climate agreement a reality. To that end, the group dropped a new music video Tuesday to remind people the world over that they have the power to act on the climate crisis.
The eight-minute video features musicians and activists from 24 countries, 38 cities and six continents singing "People Have the Power" by Pathway to Paris supporter Patti Smith and the late Fred Sonic Smith. It was released in conjunction with Climate Week NYC and in celebration of Pathway to Paris' sixth anniversary. While the group cut its teeth on live concerts, such as a two-night affair in Paris that coincided with the signing of the groundbreaking 2015 agreement, the organization's founders say its work is more urgent than ever now that large public gatherings are not safe.
"The current pandemic surrounding Covid-19 has shown moments and threads of hope and optimism, but it also has shown just how fractured the communication of our planet remains," Pathway to Paris co-founder Jesse Paris Smith said in a press release for the new video. "This same frustration has been experienced for decades with the climate crisis and just about any unifying global issue of great urgency. We struggle to adapt and survive based on the information we are given and the immense lack of alignment in our decision making. There couldn't be a more urgent time for the country and the planet to unify as one collective force, and yet we see more examples of the failure of this concept to take hold. Our current reality is one of immense suffering and a promise of continued disaster if we do not get together on our agreements, set more ambitious goals, and make drastic plans for change today."

To further this goal, Smith and fellow co-founder Rebecca Foon launched the video with the hope of encouraging people to make change by voting. They encourage U.S. viewers to vote in the upcoming November election and viewers the world over to vote wherever and whenever local elections occur. They also suggest people use their voice by signing petitions, contacting representatives, writing letters and having conversations about climate change with friends and family.
Joining Foon and Smith in the video to endorse this message are a wide range of celebrities, activists and ordinary people including Patti Smith, Joan Baez, Tony Hawk, Cyndi Lauper, Dr. Vandana Shiva and Bill McKibben.
"We are in a time where our interconnectedness has never been more pronounced. This time presents an opportunity for us as a planet to truly see how our epic challenges are deeply connected, and our collective solutions need to address these challenges holistically. Due to the state of emergency we find ourselves in globally (current science highlights that we might hit 1.5 degrees as soon as 2024), we need to put our resources and attention as quickly as possibly in designing and creating a world that is no longer dependent on the use of fossil fuels while building a green economy that is rooted in equity, justice, human rights and ethics if we want a future for ourselves and our children," Foon said in the press release.

Foon and Smith, both musicians themselves, noted that the pandemic has taken a toll on an industry that relies on live performances. The group has already organized two virtual festivals since quarantine measures began, one for Earth Day in April and one for World Environment Day in June.
"It is a bit terrifying to imagine the impact that the disappearance of culture and community will have on the upcoming election, though we must continue to find ways to connect and collaborate in the virtual plane, while following quarantine and social distancing guidelines," Smith said in the press release.
From Your Site Articles
Related Articles Around the Web
Recycled paper at the Northern Adelaide Waste Management Authority's recycling site piles up in Edinburgh, Australia, on April 17, 2019. Brenton Edwards / AFP / Getty Images
By Alex Thornton
The Australian government has announced a A$190 million (US$130 million) investment in the nation's first Recycling Modernization Fund, with the aim of transforming the country's waste and recycling industry. The hope is that as many as 10,000 jobs can be created in what is being called a "once in a generation" opportunity to remodel the way Australia deals with its waste.
Biggest exporters of plastic. Statista
Waste Export Ban
Australia has adopted a strategy of taking responsibility for its own waste. Starting in January 2021, it is phasing in bans on the export of different forms of waste. By mid 2024, Australia's home-grown recycling industry will have to deal with an extra 650,000 tons of waste plastic, paper, glass and tires.
"As we cease shipping our waste overseas, the waste and recycling transformation will reshape our domestic waste industry, driving job creation and putting valuable materials back into the economy," federal environment minister Sussan Ley said in a statement to Reuters.
Timeline for Australia's waste export ban. Australian Government
Trash Into Treasure
The benefits to the environment of boosting recycling rates are well known – less landfill, less plastic in our ocean, reduced need for virgin materials, and lower carbon emissions. The Recycling Modernization Fund initiative aims to divert more than 10 million tons of waste from landfill, part of an overall strategy to reduce the total waste generated per person by 10%, and push Australia's total resource recovery rate from 58% in 2017 to 80% by 2030.
But like many countries, Australia is focusing on the economic benefits of better waste management as well.
"This will mean Australia converts more waste into higher valued resources ready for reuse locally by manufacturers and brands in their packaging and products," Rose Read, CEO of the National Waste and Recycling Industry Council, told Reuters.
Reposted with permission from World Economic Forum.
Aerial picture of the Villanueva photovoltaic (PV) power plant operated by Italian company Enel Green Power in the desert near Villanueva, a town located in the municipality of Viesca, Coahuila State, Mexico, taken on April 20, 2018. Alfredo Estrella / AFP / Getty Images
By Gero Rueter
Solar energy has become extremely cheap. In the desert of Saudi Arabia electricity from solar modules is now generated for just $0.01 (€0.009) per kilowatt hour (kWh), and in Portugal for $0.014 cents per kWh.
An increasing number of large solar parks are being built across the globe to help solve the planet's energy needs.
Just how cheap is solar electricity?
Production costs for solar energy have dropped by 90% between 2009 and 2020, according to US investment bank Lazard.
In 2020, electricity from large-scale solar plants cost a global average of just $0.037/kWh. By comparison, the costs of generating electricity from new coal-powered plants was three times that at $0.112/kWh, while natural gas cost $0.059, nuclear $0.163, and wind $0.04/kWh.
"We're going to see solar power plants all over the world. It's the cheapest energy source in the world, with a few exceptions. In some places, wind power is still a bit cheaper," said Christian Breyer, a professor of solar economy at LUT University in Finland.
With large solar farms, Breyer says, production costs can be as low as $0.01 in locations with lots of sunlight, and up to $0.04 elsewhere. He and other experts expect that new and more efficient solar panels will lower costs even more, by 5 to 10% per year.
How big are large solar farms?

The world's largest solar parks have a capacity of 2,000 - 2,200 megawatts (MW), most are located in desert regions in China, India, and the Middle East, Egypt being a prime example. There are also big plants with over 500 MW in the US, Mexico, and southern Europe.
One of the largest solar parks, known as Al Dhafra PV2, is scheduled to begin supplying the United Arab Emirates' national energy provider beginning next year. Under construction to the tune of $1 billion, the 2,000 MW plant will be comprised of four million modules installed over an area of 20 square kilometers near the capital, Abu Dhabi.
Most other solar parks around the world are smaller than the giant facilities in the desert. Germany's largest solar park, for example, located in Weesow near Berlin, has an output of just 187 MW. Its 465,000 solar modules supply the electricity needs of about 50,000 households.
But even in densely populated countries like Germany, larger plants with a capacity of several thousand megawatts are conceivable. One place where they could be built are the quarries of abandoned open-cast lignite mines.
Where is solar power worthwhile for industry?
Globally, the industrial sector requires lots of energy. In Germany for instance it consumes about half of all electricity generated. To save costs, companies are turning to photovoltaics. International mining companies for instance have started replacing diesel power with solar power in remote locations. And more and more chemical companies, aluminum plants, car factories, cement manufacturers, and data centers are getting their power from solar farms.
One example is Facebook's data center in the state of Tennessee, located in the southeastern US, which will get about 110 MW of electricity from a solar park with a capacity of 150 MW. The park is being built and operated by the German power company RWE.
Another example: starting in 2022, several Bayer Group's chemical plants will run on 100% green electricity from a 590 MW-solar power plant in southern Spain.
The energy-intensive steel industry is also reorienting itself. Low-cost solar power is in demand there, as is "green" hydrogen generated by solar and wind power, which is needed for the blast furnace process. Low-cost energy supply is a decisive factor when planning the location of new steel mills.
Solar power is even proving to be worth the investment in regions with less exposure to the sun's rays. One example is Poland's largest solar park in Witnica, which has a capacity of 65 MW. It supplies the neighboring cement plant.
"This is the best proof that solar power, without any subsidies, can be competitive with power from conventional energy sources. Even in a European country as far north as Poland," says Benedikt Ortmann from power plant operator BayWa r.e.
Where should we build solar power plants?
Experts estimate that in the near future, photovoltaic plants with a total capacity of around 60 million MW will be needed to supply the entire world with cost-effective electricity. That's 70 times more than all the existing solar capacity so far.
The area required for solar panels would then be equivalent to 0.3% of the world's land area.
"On a global average, you don't have to worry about land availability," said Christian Breyer of LTU Finland. But if the energy is to be generated as close as possible to cities and large factories, he says, it's a bit more tricky, especially in densely populated regions.
One solution would be to use roofs and facades. According to Breyer, some 20% of the world's solar power demand could be generated there.
So-called agrivoltaics, with solar roofs installed above fields, are also becoming increasingly important.
Another option: building solar panels that float on water. According to a World Bank study, the global potential of floating PV is 400,000 MW even if only one percent of the area of reservoirs is used for this purpose.
So far, the largest solar plants on inland lakes have been built in China, India, South Korea, and Taiwan. There are also smaller plants on lakes and reservoirs in many other countries, including the Netherlands, Israel and Indonesia. India is currently planning a large-scale floating plant with 1000 MW.
Meanwhile, research is underway in the Netherlands to find solutions for installing floating solar farms in the rough North Sea to povide energy for the national grid. But salt water, strong currents and winds still pose huge challenges.
Smaller floating facilities in offshore waters already exist, such as in the Maldives, where they provide electricity to vacation islands.
This article was adapted from German.
Reposted with permission from Deutsch Welle.
Miami and Miami Beach were built right up to the waterfront, with little room for nature.
Shobeir Ansari / Getty Images
By Landolf Rhode-Barbarigos and Brian Haus
Miami is all about the water and living life outdoors. Walking paths and parks line large stretches of downtown waterfront with a stunning bay view.
This downtown core is where the Army Corps of Engineers plans to build a US$6 billion sea wall, 20 feet high in places, through downtown neighborhoods and right between the Brickell district's high-rises and the bay.
There's no question that the city is at increasing risk of flooding as sea level rises and storms intensify with climate change. A hurricane as powerful as 1992's Andrew or 2017's Irma making a direct hit on Miami would devastate the city.
But the sea wall the Army Corps is proposing – protecting only 6 miles of downtown and the financial district from a storm surge – can't save Miami and Dade County. Most of the city will be outside the wall, unprotected; the wall will still trap water inside; and the Corps hasn't closely studied what the construction of a high sea wall would do to water quality. At the same time, it would block the water views that the city's economy thrives on.
Much of Miami is built right up to the water's edge. On average, it's 6 feet above sea level. Ryan Parker / Unsplash
To protect more of the region without losing Miami's vibrant character, there are ways to pair the strength of less obtrusive hardened infrastructure with nature-based "green" solutions. With our colleagues at the University of Miami's Rosenstiel School of Marine and Atmospheric Science and the College of Engineering, we have been designing and testing innovative hybrid solutions.

Natural Storm Management
Living with water today doesn't look the same as it did 50 years ago, or even 20 years ago. Parts of Miami now regularly see "sunny day" flooding during high tides. Salt water infiltrates basements and high-rise parking garages, and tidal flooding is forecast to occur more frequently as sea level rises. When storms come through, the storm surge adds to that already high water.
Hurricanes are less common than tidal flooding, but their destructive potential is greater, and that is what the Army Corps is focused on with its sea wall plan.
If Miami Beach were an undeveloped barrier island, and if thick mangrove forests were still common along the South Florida shoreline, the Miami area would have more natural protection against storm surge and wave action. But most of those living buffers are long gone.
There are still ways nature can help preserve the beauty of Miami's marine playground, though.
For example, healthy coral reefs break waves, dissipating their energy before the waves reach shore. Dense mangrove forests also dissipate wave energy with their complex root systems that rise above the water line, dramatically reducing the waves' impact. In areas where coastal flooding is an increasing problem, low-lying communities can be relocated to higher ground and the vacant land turned into wetlands, canals or parks that are designed to manage storm surge flooding.
Coral reefs like these in Biscayne National Park have struggled with warming waters. National Park Service
Each area of coastline is unique and requires different protective measures based on the dynamics of how the water flows in and out. Given Miami's limited space, living shorelines alone won't be enough against a major hurricane, but there are powerful ways to pair them with solid "gray" infrastructure that are more successful than either alone.

Hybrid Solutions Mix Green and Gray
Nobody wants to look at a cement breakwater offshore. But if you're looking at a breakwater covered with corals and hospitable to marine life, and you can go out and swim on it, that's different.
Corals help the structure dissipate wave energy better, and at the same time they improve water quality, habitat, recreation, tourism and quality of life. For a lot of people, those are some of Miami's main selling points.
By pairing corals and mangroves with a more sustainable and eco-friendly hard infrastructure, hybrid solutions can be far less obtrusive than a tall sea wall.
For example, a cement-based breakwater structure submerged offshore with coral transplants could provide habitat for entire ecosystems while providing protection. We're working with the city of Miami Beach through the University of Miami Laboratory for Integrative Knowledge to implement three hybrid coral reefs just offshore that we will monitor for their engineering and ecological performance.
Closer to shore, we're experimenting with a novel modular marine and estuarine system we call "SEAHIVE." Below the water line, water flows through hollow hexagonal channels of concrete, losing energy. The top can be filled with soil to grow coastal vegetation such as mangroves, providing even more protection as well as an ecosystem that benefits the bay.
We're currently working on testing SEAHIVE as a green engineering alternative for North Bay Village, an inhabited island in the bay, and as the infrastructure of a newly developed marine park where these "green-gray" reef and mangrove designs will be showcased.
What About the Rest of Miami?
The Army Corps of Engineers' draft plan – a final version is expected in the fall – would give nature-based solutions little role beyond a fairly small mangrove and sea grass restoration project to the south. The Corps determined that natural solutions alone would require too much space and wouldn't be as effective as hard infrastructure in a worst-case scenario.
Instead, the Army Corps' plan focuses on the 6-mile sea wall, flood gates and elevating or strengthening buildings. It basically protects the downtown infrastructure but leaves everyone else on their own.
Sea walls and flood gates can also affect water flow and harm water quality. The Corps' own documents warn that the sea walls and gates will affect wildlife and ecosystems, including permanent loss of protective corals, mangroves and sea grass beds.
Mangrove roots rising above the water help break up the energy of waves at the shoreline. Florida Guidebook / Unsplash
We would like to see a plan for all of Miami-Dade County that considers the value that green and hybrid solutions bring for marine life, tourism, fishing and general quality of life, in addition to their protective services for the shoreline.

Both types – green and gray – would take time to build out, particularly if the sea wall plan were challenged in court. And both run a risk of failure. Corals can die in a heat wave, and a storm can damage mangroves; but storms can also undermine engineered solutions, like the New Orleans levee system during Hurricane Katrina. To help build resilience, our colleagues at the University of Miami have been breeding corals to be more resistant to climate change, investigating novel cementitious materials and noncorrosive reinforcements and developing new designs for coastal structures.
Miami in the Future
Miami will be different in the coming decades, and the changes are already starting.
High ground is at a premium, and that's showing up in real estate decisions that are pushing lower-income residents out and into less safe areas. Anybody looking back at Miami will probably think the region should have done a better job of managing growth and maybe even managing some form of retreat from threatened areas.
We don't want to see Miami become Venice or a city walled off from the water. We think Miami can thrive by making use of the local ecosystem with novel green engineering solutions and an architecture that adapts.
Landolf Rhode-Barbarigos is an Assistant Professor of Civil, Architectural and Environmental Engineering at the University of Miami.
Brian Haus is a Professor of Ocean Sciences at the University of Miami.
Disclosure statement: Landolf Rhode-Barbarigos receives funding from the National Cooperative Highway Research Program (NCHRP) Innovations Deserving Exploratory Analysis (IDEA) for the research and development of the SEAHIVE - Sustainable Estuarine and Marine Revetment.
Brian Haus receives funding from the National Cooperative Highway Research Program (NCHRP) Innovations Deserving Exploratory Analysis (IDEA) for the research and development of the SEAHIVE - Sustainable Estuarine and Marine Revetment.
Reposted with permission from The Conversation.
Co-organized by Plastic Oceans International and ÜÑÜ, the week will feature more than 100 forest and beach cleanups and lead to the planting of more than 95,000 trees. Festival events will take place in more than 30 physical locations worldwide, but you can join in from anywhere by attending virtual panel discussions or Instagram Live broadcasts.
"This has been over two years in the making, so our entire team is elated to finally see Trees & Seas come to fruition," Plastic International CEO Julie Andersen said in a press release emailed to EcoWatch. "I personally look forward to seeing our global collective come together to educate and inspire participants throughout the week, with the goal of making a long-term impact. It's been a true global collaboration, with all stakeholders coming together to form a true movement."
As EcoWatch previously reported, the leadup to the event was extended because of the coronavirus pandemic. The festival was originally slated to launch in 2020 before uncertainties regarding the spread of the new disease made that impossible. This year, however, organizers felt confident moving forward with a mix of scaled-back in-person events and virtual discussions.
This includes six panel discussions that are free for anyone to attend via Zoom.
"We're really proud of the lineup that we've put together," Plastic Oceans International Chief Operating Officer Tod Hardin said in a press release emailed to EcoWatch. "The goal was to provide a variety of subject matter that is broad in scope, but flexible enough to look at the conservation of our planet from angles that attendees might not have explored before."
The featured events are as follows:
Monday, 11 a.m. EDT — The Circular Economy As a Strategy for Conservation: How Nature's Model Is the Key to Saving It
Tuesday, 11 a.m. EDT — The Value of Eco-Friendly Entrepreneurship: How Innovative Companies Are Embracing Sustainable Products and Practices to the Benefit of Our Planet... and ToTheir Bottom Line
Wednesday, 11 a.m. EDT — Documentaries and Environmental Movements: The Power of Film to Educate, Mobilize and Inspire Change
Wednesday, 2 p.m. EDT — Climate Change's Impact On the Wine Industry: How Environmental Factors and Consumer Sustainability Demands Are Shifting Business Models
Thursday, 11 a.m. EDT — Youth Perspectives: How a new generation of eco warriors views the past and present of environmentalism, and how they can help shape its future.
Friday, 11 a.m. EDT — Creativity As A Voice For The Planet: How Art and Artists Can Inspire Action and Change
If you can't make any of these events, don't worry, they will be posted on YouTube and Facebook the next day. However, if you do attend via Zoom, you have a chance to be one of five viewers per event selected to win a copy of Living Without Plastic, a new book from Plastic Oceans and Artisan Books that details more than 100 ways to use less plastic.
The events are free thanks to Trees & Seas presenting sponsor Montes Wines. Additional sponsors include One Tree Planted, Avocado Green Mattress, Bambuu, Fondo, Natracare, FOAMIE, Fundacion MERI, Lago Sofia, Innovasea, Ectogano, ProNatura and Automotora Berrios. EcoWatch is proud to act as Trees & Seas' Global Media Partner.
From Your Site Articles
Related Articles Around the Web
Hotter temperatures have been linked to a rise in energy poverty, with more people struggling to meet their energy bills from their household income.
Flickr
/ CC by 2.0
By Emma Charlton
The effects of climate change may more far-reaching than you think.
Hotter temperatures have been linked to a rise in energy poverty, with more people struggling to meet their energy bills from their household income, according to a new study published on ScienceDirect by researchers from Italy's Ca' Foscari University.
New #research shows households spend a lot more on electricity when they get air conditioning. Along with… https://t.co/ShIZ7Bi7P3

— American Scientist (@American Scientist)1591641904.0
The analysis looks at eight countries – Australia, Canada, France, Japan, the Netherlands, Spain, Sweden, and Switzerland – and investigates how households respond to excess heat. They have found an uptick on the purchasing and use of air conditioners, which has led to a greater consumption of electricity, and a greater proportion of income being spent on energy.
Value of air conditioning imports in selected OECD countries. ScienceDirect
Households spend between 35% and 42% more on electricity when they adopt air conditioning, the study says.
As temperatures increase around the world, cooling is emerging as a new, basic need – even in countries that traditionally have not previously required such appliances.
That puts an additional burden on families who might not be able to afford the most efficient appliances and could result in spending being diverted away from food or education towards cooling, the researchers write.
"Climate change and the growing demand for air conditioning are likely to exacerbate energy poverty," the study says. "The number of energy poor who spend a high share of income on electricity increases, and households in the lowest income" groups are the most negatively affected.
Energy poverty is an issue that goes beyond air conditioning, with 800 million people lacking access to electricity and many more struggling with an erratic and limited service.
The 'Golden Thread'
The Global Commission to End Energy Poverty calls access to energy the "golden thread" that weaves together economic growth, human development, and environmental sustainability. And one of the United Nations' Sustainable Development Goals is to ensure access to affordable, reliable, sustainable and modern energy for all by 2030.
Sustainability also has a large role to play in the future of energy and failing to embed green policies in COVID-19 stimulus packages and underinvesting in green infrastructure are current risks, according to the World Economic Forum.
In its vision for a 'Great Reset' – building a better world after the pandemic – the Forum and the IMF jointly backed the transition to a green economy and called for an end to fossil fuel subsidies.
Reposted with permission from World Economic Forum.
A woman paddles a canoe across a lake. Jordan Siemens / Getty Images
By Neil King and Natalie Muller
Tourism accounts for roughly 8% of global greenhouse gas emissions, and it's a sector that is projected to keep growing.
That's a big concern for Richard Sharpley, professor of tourism and development at the University of Central Lancashire in the UK.
He has been intrigued by the meaning of tourism and why we as humans feel compelled to travel since he went on a backpacking trip around Asia in the mid-1980s. That was a different time. Social media didn't exist, there were few low-cost airlines, and there was no Fridays for Future movement raising awareness about the emissions from flights, for example.
DW's environment podcast "On the Green Fence" spoke to him about what motivates people to travel, and whether growing concerns about climate change could eventually lead to a shift in our behavior as tourists.
DW: Going on holiday is something that many people in the Global North are used to doing every year. Why is traveling something that we feel compelled to do?
Richard Sharpley: It's a really interesting question, and I think it's one that nobody's really been able to find a definitive answer to yet.
In the early days of what became mass tourism, the key drivers have always been money, time and technology. In other words, as soon as we've had the ability to travel, and the means to do so through trains, planes, cars, we have done so.
There's an intrinsic desire amongst most people to explore our planet. There's this sense in modern society that somehow we will find a better existence, we'll find ourselves, we'll find something different or we'll find happiness by going on holiday. In a sense I think we've almost been conditioned to become tourists, to engage in tourism during the year at particular times, to the extent that I think a lot of people engage in tourism without actually considering why they're doing so.
There's also this aspect that we all strive to be as cosmopolitan as possible, right? So in a way, in some circles, if you haven't been to certain places, you almost have the reputation that you haven't "lived." How strong a role does that play, do you think?
I think that varies. There are plenty of people who will go to the same place every year, year on year, because they're comfortable and familiar with it. To them, tourism is a means of relaxation. On the other hand, there are increasing numbers of people, I believe — and it's manifested in the increasing popularity of the so-called bucket list — for whom collecting places is part of identity formation.
It becomes one aspect of how people see themselves and identify themselves against others. These are the people who accidentally let their passport pages be visible at the airport so you can see all the stamps in it. It's a superiority thing if you've traveled more than anybody else. Participation in tourism is becoming an increasingly complex sociological phenomenon because it's part of identity, it's part of leisure. And in this era of social media, that kind of identity role has been enhanced.
I think the ability to go on social media through Instagram or Facebook or whatever it is and tell people and share your experiences is a key driver of tourism. It's not a concern as such, but what it is doing is transforming the nature of the tourist experience in a negative sense.
In my view, people are experiencing less and less the places they are at. They might be there in body, but not necessarily in mind, because a lot of people are constantly thinking: "How am I going to present myself to my social media group back home through my posts on Facebook or Instagram?"
Would you say that awareness about the environment or sustainability is changing the way we travel?
The short answer is no. This is the great challenge for the future of tourism within the context of global warming in particular: can we change the way we travel? My belief is we need to reduce the amount we travel.
A lot of research has been done into the extent to which tourists are willing to adapt their behavior. And even those people who regularly consume or behave in an environmentally friendly fashion — whether it's what they buy, whether they recycle or whatever it might be — research has found that they actually temporarily forget their environmental credentials, that they behave like normal tourists. They do suffer some kind of ecoguilt, but nevertheless they continue to travel, they continue to fly.
Travel is now seen as a right, not as a privilege. It's long been my view that the only way to achieve any kind of change in behavior will be through regulation and pricing.
What kind of regulation do you envisage?
I certainly do envisage a significant rise in the cost of air travel, and it becoming more of a luxury again in the future. I'm old enough to remember when tourism was just the summer holiday, and you would look forward to those two weeks a year when you would go on holiday. It was distinctive, it was special, it was meaningful. Whereas nowadays it is so easy to travel.
When you can travel all the time, in my view at least, it loses the excitement. It loses its meaning. I've used the term "obesity of experience," and I think, particularly in Europe and elsewhere, we are becoming obese on experiences. I think people will eventually begin to realize that to enjoy tourism, let's do a bit less and really savor it when we do travel.
Some critics, for example a very liberally minded, globalized person who thinks that the market regulates all and everything will be fine, they might say this sounds like a socialist police state that's bordering on an eco-dictatorship. What do you say to them?
I completely understand that. Up to a point I'm as in favor of a neoliberal democratic country economy where everybody has freedoms to do what they want to do, to be who they want to be and spend what they want to spend. Certainly, in the developed world, we've all benefited very heavily from that.
Tourism is just one of many, many things we consume on a regular basis that we enjoy. And it's all part of this growth-based neoliberal economy, which is understood as driving progress, development, happiness and so on. There are numerous destinations, societies, countries around the world which are entirely dependent upon tourism.
Arguably, we need to overall consume less to achieve this balance across the world to achieve equity and justice. And certainly tourism is one thing where there is no justice and no equity, because it is environmentally a very destructive activity enjoyed by a relatively small proportion of the global population.
What about younger generations, who might resent the fact that they're being asked to travel less while their parents had the chance to go everywhere they wanted. Do you see any sort of rifts within society over this?
I fully recognize that that's one of the major issues. Of course, it's very much based on the argument that young people's parents — my generation and my parents' generation — have enjoyed very rapid improvements in our standard of living. But at the same time, we're the generations who, through that creation of wealth and enjoying ourselves so much, have actually underpinned the destruction of the global environment.
And yes, undoubtedly there will be resentment on the part of younger generations who might believe their freedoms and opportunities have been curtailed through the activities of the older generation. But I think they are also sufficiently aware to realize that if they were to continue in the way that earlier generations have behaved, then they won't have a world to live in.
Reposted with permission from Deutsche Welle.
A tree trunk killed by emerald ash borers showing missing bark and tracks of the larvae worm in the wood. catnap72 / iStock / Getty Images Plus
By Kristine Grayson
The emerald ash borer (Agrilus planipennis) is a deceptively attractive metallic-green adult beetle with a red abdomen. But few people ever actually see the insect itself – just the trail of destruction it leaves behind under the bark of ash trees.
These insects, which are native to Asia and Russia, were first discovered in Michigan in 2002. Since then they have spread to 35 states and become the most destructive and costly invasive wood-boring insect in U.S. history. They have also been detected in the Canadian provinces of Ontario, Quebec, Manitoba, New Brunswick and Nova Scotia.
In 2021 the U.S. Department of Agriculture stopped regulating the movement of ash trees and wood products in infested areas because the beetles spread rapidly despite quarantine efforts. Now federal regulators and researchers are pursuing a different strategy: biological control. Scientists think that tiny parasitic wasps, which prey on emerald ash borers in their native range, hold the key to curbing this invasive species and returning ash trees to North American forests.
I study invasive forest insects and work with the USDA to develop easier ways of raising emerald ash borers and other invasive insects in research laboratories. This work is critical for discovering and testing ways to better manage forest recovery and prevent future outbreaks. But while the emerald ash borer has spread uncontrollably in nature, producing a consistent laboratory supply of these insects is surprisingly challenging – and developing an effective biological control program requires a lot of target insects.
Adult emerald ash borer beetles are about 0.5 inches long (photo not to scale). PA DEC
The Value of Ash Trees
Researchers believe the emerald ash borer likely arrived in the U.S. on imported wood packaging material from Asia sometime in the 1990s. The insects lay eggs in the bark crevices of ash trees; when larva hatch, they tunnel through the bark and feed on the inner layer of the tree. Their impact becomes apparent when the bark is peeled back, revealing dramatic feeding tracks. These channels damage the trees' vascular tissue – internal networks that transport water and nutrients – and ultimately kill the tree.

Before this invasive pest appeared on the scene, ash trees were particularly popular for residential developments, representing 20-40% of planted trees in some Midwestern communities. Emerald ash borers have killed tens of millions of U.S. trees with an estimated replacement cost of U.S.$10-25 billion.
Ash wood is also popular for lumber used in furniture, sports equipment and paper, among many other products. The ash timber industry produces over 100 million board feet annually, valued at over $25 billion.
Why Quarantines Have Failed
State and federal agencies have used quarantines to combat the spread of several invasive forest insects, including Asian longhorned beetles and Lymantria dispar, previously known as gypsy moth. This approach seeks to reduce the movement of eggs and young insects hidden in lumber, nursery plants and other wood products. In counties where an invasive species is detected, regulations typically require wood products to be heat-treated, stripped of bark, fumigated or chipped before they can be moved.
The federal emerald ash borer quarantine started with 13 counties in Michigan in 2003 and increased exponentially over time to cover than a quarter of the continental U.S. Quarantines can be effective when forest insect pests mainly spread through movement of their eggs, hitchhiking long distances when humans transport wood.
However, female emerald ash borers can fly up to 12 miles per day for as long as six weeks after mating. The beetles also are difficult to trap, and typically are not detected until they have been present for three to five years – too late for quarantines to work.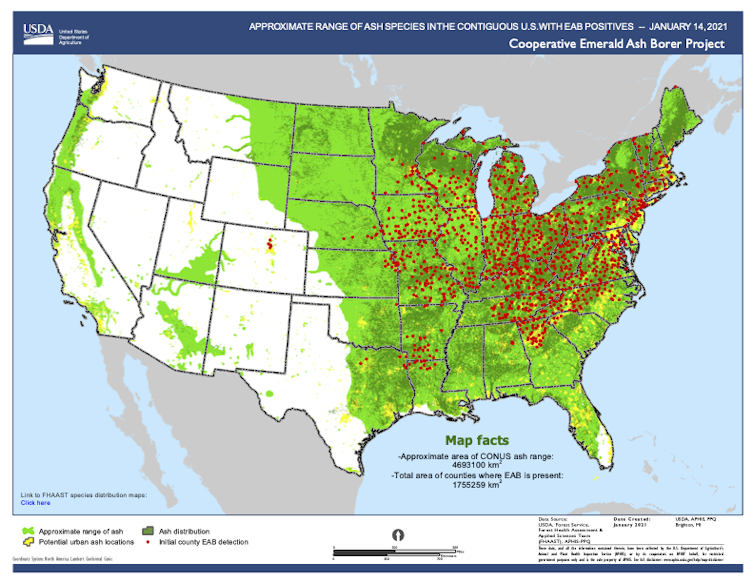 Next Option: Wasps
Any biocontrol plan poses concerns about unintended consequences. One notorious example is the introduction of cane toads in Australia in the 1930s to reduce beetles on sugarcane farms. The toads didn't eat the beetles, but they spread rapidly and ate lots of other species. And their toxins killed predators.
Introducing species for biocontrol is strictly regulated in the U.S. It can take two to 10 years to demonstrate the effectiveness of potential biocontrol agents, and obtaining a permit for field testing can take two more years. Scientists must demonstrate that the released species specializes on the target pest and has minimal impacts on other species.
Four wasp species from China and Russia that are natural enemies of the emerald ash borer have gone through the approval process for field release. These wasps are parasitoids: They deposit their eggs or larva into or on another insect, which becomes an unsuspecting food source for the growing parasite. Parasitoids are great candidates for biocontrol because they typically exploit a single host species.
The selected wasps are tiny and don't sting, but their egg-laying organs can penetrate ash tree bark. And they have specialized sensory abilities to find emerald ash borer larva or eggs to serve as their hosts.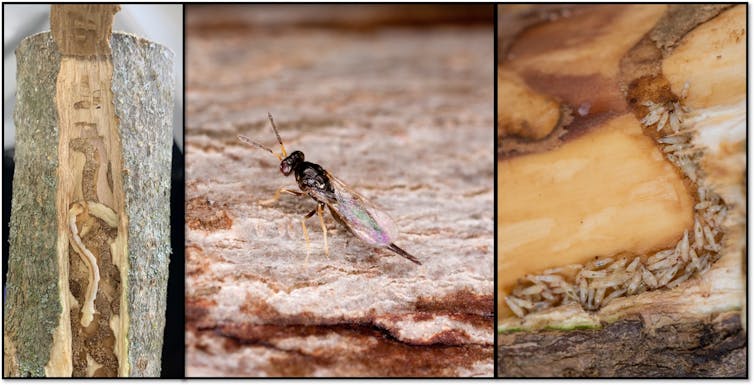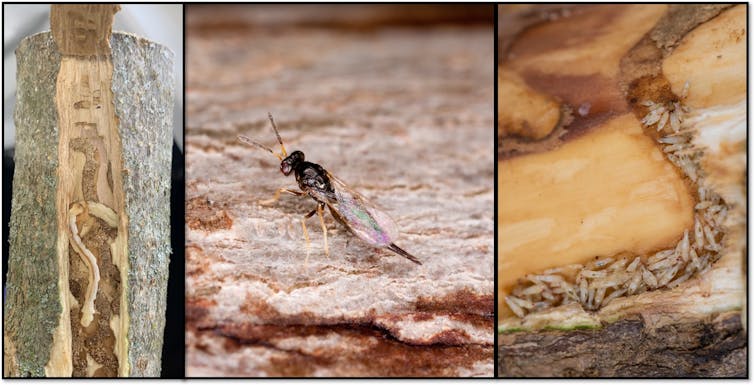 The USDA is working to rear massive numbers of parasitoid wasps in lab facilities by providing lab-grown emerald ash borers as hosts for their eggs. Despite COVID-19 disruptions, the agency produced over 550,000 parasitoids in 2020 and released them at over 240 sites.
The goal is to create self-sustaining field populations of parasitoids that reduce emerald ash borer populations in nature enough to allow replanted ash trees to grow and thrive. Several studies have shown encouraging early results, but securing a future for ash trees will require more time and research.
One hurdle is that emerald ash borers grown in the lab need fresh ash logs and leaves to complete their life cycle. I'm part of a team working to develop an alternative to the time- and cost-intensive process of collecting logs: an artificial diet that the beetle larva can eat in the lab.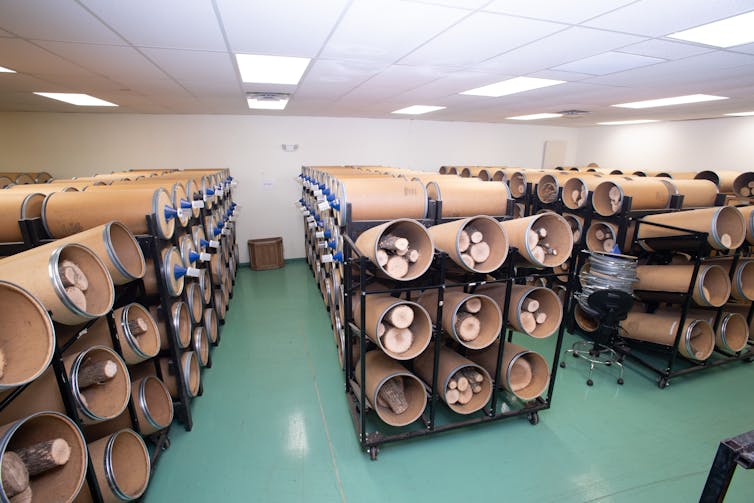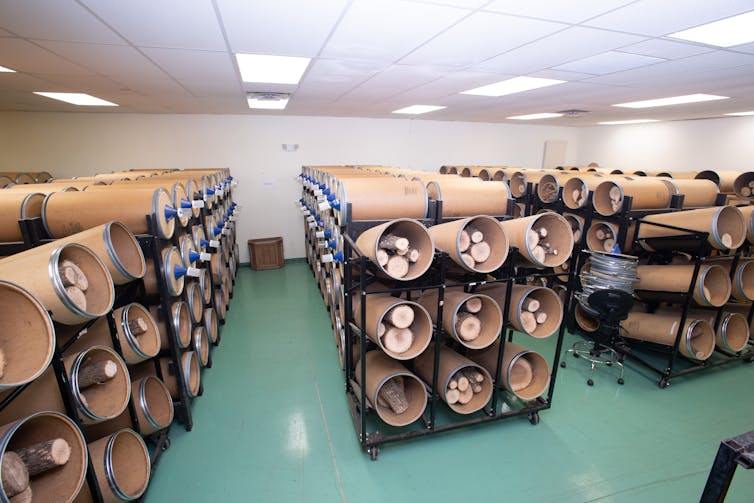 The food must provide the right texture and nutrition. Other leaf-feeding insects readily eat artificial diets made from wheat germ, but species whose larva digest wood are pickier. In the wild, emerald ash borers only feed on species of ash tree.
In today's global economy, with people and products moving rapidly around the world, it can be hard to find effective management options when invasive species become established over a large area. But lessons learned from the emerald ash borer will help researchers mobilize quickly when the next forest pest arrives.

Kristine Grayson is an associate professor of biology at the University of Richmond.
Disclosure statement: Kristine Grayson receives cooperative agreement funding from the USDA Animal and Plant Health Inspection Service (APHIS) program for Plant Protection and Quarantine (PPQ).
Reposted with permission from The Conversation.