This website uses cookies to ensure you get the best experience while browsing it. By clicking 'Got It' you're accepting these terms.


The best of EcoWatch, right in your inbox. Sign up for our email newsletter!
The Food and Drug Administration on Friday lifted an import alert that banned genetically modified or GE salmon.
Pixabay
By Jessica Corbett
The Trump administration has lifted a ban on importing genetically engineered or GE salmon, which critics have long called "Frankenfish," in a move that consumer advocates charge "runs counter to sound science and market demand."
The Food and Drug Administration (FDA) announced the decision on Friday, more than three years after approving GE salmon as the first biotech animal authorized for commercial sale and consumption in the U.S.
In 2015, the FDA approved genetically engineered salmon, the first ever GE animal to be approved for human consumption anywhere in the world. The Muckleshoot Indian Tribe and the Affiliated Tribes of Northwest Indians called for sufficient consultation with Tribes to assess the environmental impact of GE salmon production, a legal requirement the FDA did not honor.
EcoWatch Daily Newsletter
By Ana Santos Rutschman
The world of food and drug regulation was rocked earlier this month by the news of a change in leadership at the Food and Drug Administration. Commissioner Scott Gottlieb resigned and will step down in early April. His temporary replacement is Dr. Ned Sharpless, director of the National Cancer Institute.
By George Kimbrell
One year down, three to go. Trump and his enablers are hell bent on destroying or selling to the highest bidder the federal agencies they are charged with running in the public interest. In the past year, they have been unrelenting in their attacks on food safety, environmental protections, climate change, government transparency and so many other values we hold dear. We are in the midst of the most significant environmental and public health challenges imaginable. We're no longer dreading the harm the Trump administration could do to our health and environment—we're living it.
By Jessica A. Knoblauch
A U.S. District Court judge took the U.S. Food and Drug Administration (FDA) to task on Jan. 10 for withholding government documents related to the agency's approval of genetically engineered (GE) salmon. The judge's decision is a big win for public transparency, but it's also a small step toward finally doing a proper evaluation of the risks posed by GE animals—which could one day end up on our dinner plates.
In 2015, the FDA approved GE salmon made from the DNA of three different animals: Atlantic salmon, deep water ocean eelpout, and Pacific Chinook salmon. The GE version is intended to grow faster than conventional farmed salmon, reportedly getting to commercial size in half the time.
Even though this is the first time any government in the world has approved a GE animal for commercial sale and consumption, so far the FDA has taken a lackadaisical approach to evaluating the salmon's potential for harm to wild salmon and the environment. If the GE salmon were to escape, it could threaten wild salmon populations by outcompeting them for scarce resources and habitat, by mating with endangered salmon species, and by introducing new diseases.
The world's preeminent experts on GE fish and risk assessment, as well as biologists at U.S. wildlife agencies charged with protecting fish and wildlife, heavily criticized the FDA for failing to evaluate these impacts. But the FDA ignored their concerns, so in March 2016, Earthjustice filed a lawsuit against the agency.
As part of the lawsuit, the FDA is required to compile a record of documents that illuminate the path the agency followed to reach its decision to approve the GE salmon—much like a student is required to show their work for a math problem in middle school. A complete record is essential in all cases. But it is especially important here because the FDA has so far refused to release most of the documents related to its decision, despite repeated requests for that information from Earthjustice's diverse set of clients under the Freedom of Information Act.
The public has a right to know how the agency came to this seemingly ill-informed decision, especially because the FDA's approach will likely serve as a precedent for the assessment of future GE food animals. Withholding that information is illegal because government agencies like the FDA are funded by taxpayer dollars, which means that any records they create, with only limited exceptions, can and should be available to the public and to citizens seeking to hold the government accountable in court.
Last month, a U.S. District Court judge agreed, concluding that: "the government is wrong to assert that these types of materials … should be excluded" from the record. The FDA is now required to fully complete the record with all relevant documents no later than July 2017. In addition to working to ensure the timely completion of that process, we will thoroughly review the full basis for the agency's decisions.
"There's no way to know what exactly is in these documents until we see them," says Earthjustice attorney Brettny Hardy. "But they will undoubtedly provide a far more complete picture of how we got here, including information that raises legitimate questions about the agency's decision."
Jessica Knoblauch is a former award-winning journalist who now serves at the helm of Earthjustice's editorial team, which tells stories through the organization's blog, quarterly magazine and website.
By Samantha Henry
Netflix's recent, original feature film Okja has triggered a bit of disruption amongst both those in the film industry and enthusiasts in the food movement.
The movie targets several issues concerning the current state of our food system, and could be a great watch for those curious about where our food system could soon be headed.
The Takagoyama Nature Zoo in the city of Futtsu, Japan euthanized 57 snow monkeys who were found to have hybrid genetic make-ups. The zoo mistakenly believed all 164 of its resident primates were pure Japanese macaques (Macaca fuscata), which are endemic to Japan. When the zoo discovered through DNA testing that 57 of them were actually of a hybrid breed, rhesus macaque (Macaca mulatta), which is common throughout Southeast Asia, they culled the hybrid monkeys.
Macaques photographed in Japan.mari_sixx / Instagram
In 2013, Japan's environmental laws were revised to make holding or transporting invasive species including hybrids illegal, in an attempt to protect the indigenous environment and native species. Culling of rhesus macaque is allowed under this law, which designates them as an "invasive alien species."
An Office for Alien Species Management official said the culling was unavoidable because the hybrid species might escape and reproduce in the wild, BBC reported.
The monkeys were culled through lethal injection over the course of about a month, ending in early February. The zoo operator then held a memorial service for the hybrid monkeys at a local Buddhist temple.
Questions remain as to whether other steps could have been taken such as sterilization, IFL Science pointed out. Transplanting the common hybrids into another region may have also been a possibility; they are native to Burma, India, Thailand, Afghanistan, Vietnam, Bangladesh, Pakistan, Nepal and China.
"There are many zoos in the country, which rear animals that became classified as invasive species after the law was created," an Environment Ministry official said, according to Phys.org. Zoos can apply for exceptions to keep the hybrid species.
"Preventing exposures to foreign animals is very important," said Tomoko Shimura of the Nature Conservation Society of Japan. The Chiba prefecture where the zoo is located has been culling the hybrids since 2005.
Japanese macaques are brown with white faces and are the only indigenous primate in Japan and most northern living nonhuman primate on Earth. They are also known as snow monkeys and have developed a hot tub culture by warming themselves in hot springs. The area around the zoo is designated as their wild habitat.
In the U.S., concerns over protecting native species' genes have arisen in relation to genetically engineered (GE) salmon produced by AquaBounty, Inc. and approved by the U.S. Food and Drug Administration in 2015.
Fears relating to GE salmon include the possibility they will mate with native species, introduce new diseases and/or compete for resources and habitat.
By Reynard Loki
Editor's note: The terms GE (genetic engineering) and GMO (genetically modified organism) are often used interchangeably, but their meanings are different. GMOs, which are produced when plant breeders select genetic traits that may also occur naturally, have been around for centuries. Common examples are seedless watermelons and modern broccoli. The subject of much recent debate are GE foods, which have only been around in recent decades and are produced by transferring genes between organisms. The resulting GE organisms—either plant- or in the case of GE salmon, animal-based—would not otherwise occur in nature. This article is about GE foods.
Soy was one of the key agricultural crops found to have decreased nutritional content when grown in a high C02 environment. Bigstockphoto
Bigger isn't always better. Too much of a good thing can be bad. Many anti-environmentalists throw these simple truths to the wind, along with caution.
You can see it in the deceitful realm of climate change denial. It's difficult to keep up with the constantly shifting—and debunked—denier arguments, but one common thread promoted by the likes of the Heartland Institute in the U.S. and its Canadian affiliate, the misnamed International Climate Science Coalition, illustrates the point. They claim carbon dioxide is good for plants, and plants are good for people, so we should aim to pump even more CO2 into the atmosphere than we already are.
On the heels of Canada's approval of GMO salmon, Friends of the Earth U.S. and a coalition of more than 30 consumer, health, food safety and fishing groups released updated numbers Wednesday showing that nearly 80 major food retailers have committed to not sell genetically engineered salmon, despite FDA's approval last November.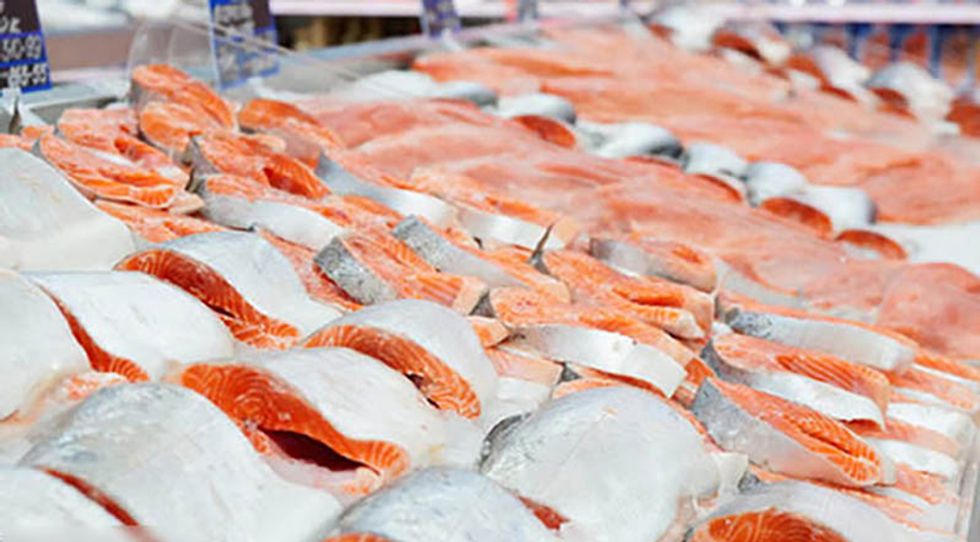 "Despite irresponsible approvals, the growing number of commitments from retailers demonstrates there is no market for GMO salmon," Dana Perls, senior food and technology campaigner with Friends of the Earth, said. "Retailers and restaurants are wisely listening to their customers and rejecting GMO salmon."
Albertsons Companies, owner of Albertsons, Safeway, Vons, ACME, Shaw's and others, stated its commitment to not sell GMO salmon.
"Albertsons Companies and its family of stores, have no plans to carry GE salmon," Jonathan Mayes, Albertsons Companies senior vice president, said in a statement. "The seafood products we offer will continue to be selected consistent with our Responsible Seafood Policy and our partnership with FishWise."
Albertsons Companies, which acquired Safeway in January 2015, continued Safeway's policy on sustainable seafood and GMO salmon for all of its banner stores.
With Albertsons Companies banner stores, a total of more than 79 grocery retailers with more than 11,000 stores have now made commitments to not sell the GMO salmon, including Albertsons, Safeway, Costco, Kroger, Target, Trader Joe's and Whole Foods, along with restaurant chains including Red Lobster and Legal Sea Foods.
Walmart, the world's largest retailer, and Publix are among the last remaining large retail grocers in the U.S. that have not said publicly whether or not they will sell GMO salmon.
A growing body of science suggests that GMO salmon may pose serious environmental and public health risks, including potentially irreversible damage to wild salmon populations.
In the wake of controversy over the U.S. approval, the U.S. has put in place an import ban on GMO salmon until labeling standards are established. The day after Canada's announcement, Provincial Fisheries Minister of Nova Scotia announced the province will ban the farming of GMO fish.
YOU MIGHT ALSO LIKE
David Suzuki: How to Feed the World as the Planet Warms
Vandana Shiva: Small Farmers Are Foundation to Food Security, Not Corporations Like Monsanto
Did Your State Make the Top 10 List for Its Commitment to Local Food?
A broad coalition of organizations sued the U.S. Food and Drug Administration (FDA) today for approving the first-ever genetically engineered (GE) food animal, an Atlantic salmon engineered to grow quickly. The man-made salmon was created by AquaBounty Technologies, Inc. with DNA from three fish: Atlantic salmon, Pacific king salmon and Arctic ocean eelpout. This marks the first time any government in the world has approved a GE animal for commercial sale and consumption.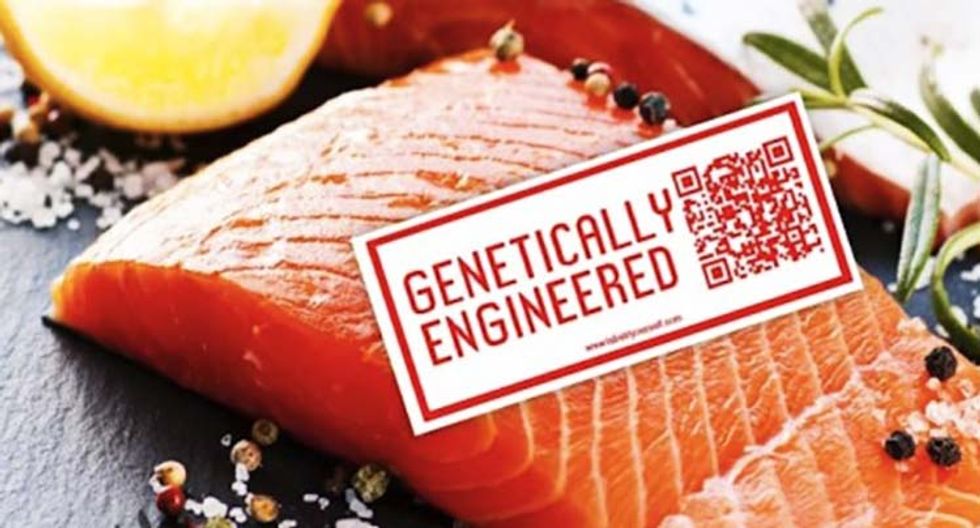 "FDA's decision is as unlawful as it is irresponsible," George Kimbrell, senior attorney for Center for Food Safety and co-counsel for the plaintiffs, said. "This case is about protecting our fisheries and ocean ecosystems from the foreseeable harms of the first-ever GE fish, harms FDA refused to even consider, let alone prevent. But it's also about the future of our food: FDA should not, and cannot, responsibly regulate this GE animal, nor any future GE animals, by treating them as drugs under a 1938 law."
In approving the GE salmon, FDA determined it would not require labeling of the GE fish to let consumers know what they are buying, which led Congress to call for labeling in the 2016 omnibus spending bill. FDA's approval also ignored comments from nearly 2 million people opposed to the approval because the agency failed to analyze and prevent the risks to wild salmon and the environment, as well as fishing communities, including the risk that GE salmon could escape and threaten endangered wild salmon stocks.
"It's clear that the market has rejected GE salmon despite FDA's reckless approval," Dana Perls, food and technology campaigner for Friends of the Earth, said. "Major retailers including Costco, Safeway and Kroger won't sell it and polls show the vast majority of people don't want to eat it. Yet under this approval it won't be labeled, violating our fundamental right to know what we are feeding our families."
AquaBounty's GE salmon will undertake a 5,000-mile journey to reach U.S. supermarkets. The company plans to produce the GE salmon eggs on Prince Edward Island, Canada. The GE salmon will then be grown to market-size in a facility in Panama, processed into fillets and shipped to the U.S. for sale. That complicated scheme is only for the initial approval, however. AquaBounty has publicly announced plans to ultimately grow its GE fish in the U.S. rather than Panama and sell it around the world. Despite this, FDA's approval only considered the current plans for the far-flung facilities in Canada and Panama, leaving the risk of escape and contamination of U.S. salmon runs unstudied.
The lawsuit challenges FDA's claim that it has authority to approve and regulate GE animals as "animal drugs" under the 1938 Federal Food, Drug and Cosmetic Act. Those provisions were meant to ensure the safety of veterinary drugs administered to treat disease in livestock and were not intended to address entirely new GE animals that can pass along their altered genes to the next generation. The approval of the GE salmon opens the door to other genetically engineered fish and shellfish, as well as chickens, cows, sheep, goats, rabbits and pigs that are reportedly in development.
The lawsuit also highlights FDA's failure to protect the environment and consult wildlife agencies in its review process, as required by federal law. U.S. Atlantic salmon and many populations of Pacific salmon, are protected by the Endangered Species Act and in danger of extinction. Salmon is a keystone species and unique runs have been treasured by residents for thousands of years. Diverse salmon runs today sustain thousands of American fishing families and are highly valued in domestic markets as a healthy, domestic, "green" food.
"Atlantic salmon populations including our endangered Gulf of Maine fish are hanging on by a thread—they can't afford additional threats posed by GE salmon," said Ed Friedman from Friends of Merrymeeting Bay, one of the parties who successfully petitioned to classify most Maine Atlantic salmon as endangered. "The law requires agencies like FDA, who aren't fisheries biologists, to get review and approval from scientists with that expertise. FDA's refusal to do this before allowing commercialization of GE salmon is not only irresponsible, it violates the law."
When GE salmon escape or are accidentally released into the environment, the new species could threaten wild populations by mating with endangered salmon species, outcompeting them for scarce resources and habitat and/or introducing new diseases. Studies have shown that there is a high risk for GE organisms to escape into the natural environment and that GE salmon can crossbreed with native fish. Transgenic contamination has become common in the GE plant context, where contamination episodes have cost U.S. farmers billions of dollars over the past decade. In wild organisms like fish, it could be even more damaging.
"Once they escape, you can't put these transgenic fish back in the bag. They're manufactured to outgrow wild salmon, and if they cross-breed, it could have irreversible impacts on the natural world," Dune Lankard, a salmon fisherman and the Center for Biological Diversity's Alaska representative, said. "This kind of dangerous tinkering could easily morph into a disaster for wild salmon that will be impossible to undo."
The world's preeminent experts on GE fish and risk assessment, as well as biologists at U.S. wildlife agencies charged with protecting fish and wildlife heavily criticized the FDA decision for failing to evaluate these impacts. FDA ignored their concerns in the final approval.
"The FDA has failed to adequately examine the risks associated with transgenic salmon," Wenonah Hauter, executive director of Food & Water Watch, said. "The long term effects of people eating genetically modified foods have never been adequately addressed—and this GE salmon is no exception. This fish is unnecessary, so why take the risk?"
The plaintiff coalition, jointly represented by legal counsel from Center for Food Safety and Earthjustice, includes Pacific Coast Federation of Fishermen's Associations, Institute for Fisheries Resources, Golden Gate Salmon Association, Kennebec Reborn, Friends of Merrymeeting Bay, Ecology Action Centre, Food & Water Watch, Center for Biological Diversity, Friends of the Earth, Cascadia Wildlands and Center for Food Safety.
YOU MIGHT ALSO LIKE
Buyer Beware: You Might Be Eating Food From Cans Lined With Toxic BPA
USDA Deregulates Two Lines of Genetically Engineered Corn From Monsanto, Syngenta
5 Million Nigerians Oppose Monsanto's Plans to Introduce GMO Cotton and Corn
Cereal Giant General Mills to Start Labeling GMOs Nationwide as Vermont Law Looms
This website uses cookies to ensure you get the best experience while browsing it. By clicking 'Got It' you're accepting these terms.


The best of EcoWatch, right in your inbox. Sign up for our email newsletter!