In Colorado, fracking often occurs right next to where people live.
Tara O'Conner Shelley / CC BY-NC-SA
By Tara Opsal and Stephanie Malin
Coloradans will vote on a ballot initiative in November that requires new oil and gas projects to be set back at least 2,500 feet from occupied buildings. If approved, the measure—known as both Initiative 97 and Proposition 112—would mark a major change from their state's current limits: 500 feet from homes and 1,000 feet from schools.

As sociologists who have researched oil and gas drilling in the communities that host it for the past seven years, we think this measure would provide local governments and Coloradans more say over where drilling occurs and enhance the rights of those who live near these sites.
Fracking Boom
Domestic oil and gas production has soared over the past decade, leading the U.S. to become the top global producer of those fossil fuels.
Technological innovations, especially the hydraulic fracturing and horizontal drilling, commonly called fracking, have fueled this growth. So has federal deregulation.
Partly because fracking and related industrial processes often occurs close to homes, schools and other occupied buildings, the debate over Proposition 112 is contentious.
Opponents, especially those funded by industry groups, argue that stricter rules will mean less state tax revenue, job losses and weakened private property rights. Proponents express concerns about air pollution, earthquakes, water well contamination and explosions to explain why they want the public to have more sway.
But many state governments have tried to stymie the attempts of communities to gain this power. For example, Colorado's Supreme Court ruled in 2016 that local communities have no right to regulate where drilling occurs.
And industry-funded groups and the Colorado Farm Bureau, which represents farmers, ranchers and other agricultural interests, are countering this electoral effort to restrict drilling with their own measure. Known as Amendment 74, it would force any city or county government that limits drilling to compensate property owners if new setback rules were to lower property values or reduce revenue from fracking leases.
Regulations and Leasing
Members of the public and local governments have successfully challenged limits on local control over fracking in court before. For example, Pennsylvania's Supreme Court affirmed the power of communities to regulate the oil and gas industry locally when it ruled in 2016 that parts of a law known as Act 13 were unconstitutional.
In that instance, the court ruled against a provision that barred doctors from sharing information about possible toxic exposure if they were given access to industry information about the chemicals used in fracking. It also blocked the enforcement of a measure that allowed the use of eminent domain to site natural gas storage facilities.
But as far as we can tell, Colorado's ballot initiative marks the first time voters can potentially control the set-back distances of oil and gas facilities from rivers, homes, schools and other buildings in their communities.
Negotiating Terms
Regulating oil and gas leases on private land is hard partly because they are privately negotiated contracts between companies and landowners. To learn more about what happens during these negotiations, we interviewed more than 100 Coloradans and Pennsylvanians about their experiences negotiating these drilling leases.
In our recently published study, we found that these people feel inconvenienced at best. Most told us they felt exploited and mistreated due to the leasing experience despite having made money off of leasing their land or mineral rights.
Some scholars who look at how drilling affects local communities argue that this process empowers private property owners because they play a direct role in deciding the terms of these negotiations. And some of these folks can even get rich from fracking lease earnings.
Certainly, landowners—including some of the people we interviewed—have earned income from these contracts, though the amounts can vary from a few dollars to thousands of dollars per acre. But the overwhelming majority of the Pennsylvanians and Coloradans who met with us in their kitchen tables, backyards and farms described feeling disempowered when they signed fracking leases.
"I knew zip about gas production," explained a man who operates a small-scale dairy farm in northeastern Pennsylvania and we are calling "Anderson" to honor our promise of confidentiality. "We had no time, we either made a decision to do it or not do it."
During private negotiations, landmen—the company representatives who try to convince people to sell or lease their land and mineral rights—discouraged neighbors from teaming up to get a better deal or even talking with one another about the terms they're considering, interviewees told us.
In some situations, when residents negotiated for better-than-average lease terms, landmen made them sign nondisclosure agreements that legally forbade sharing information.
Same Land, Different Owners
Occasionally in Pennsylvania and almost always in Colorado, these fracked properties belong to two or more parties. One owns the surface and someone else possesses the rights to whatever minerals lie beneath it.
And, in Colorado, surface landowners are legally required to provide mineral owners access to their resources.
Many people we interviewed owned land but not the rights to the minerals below it. With limited power to stave off drilling in their backyards or on their farms, the surface rights owners we interviewed said they felt like "sitting ducks" and "unprotected." They told us that they saw attempting to keep an oil and gas company off their land as "futile."
"John," a farmer who lives south of Denver, tried to fight the placement of a pipeline that split his farm into two less usable pieces. When he tried to fight the pipeline placement, he told us, he overheard industry representatives speculating that they simply needed to outspend his opposition.
Mineral Rights
When the people we interviewed owned the mineral rights tied to their property but did not want to lease them, an energy company could pursue them through a state statute allowing a practice known as "forced pooling" in both Pennsylvania and Colorado.
It makes leasing mineral rights mandatory, leaving landowners with no way to say no when a company wants to frack their property.
We also heard about the personal costs participants experienced after they signed leases. Ranchers explained they lost productive pastureland. Other residents believed they became ill because of air pollution. And many farmers described lasting damage to idyllic homesteads.
Even when these factors violated their leases or laws governing oil and gas practices, nearly all lease signers we interviewed told us they had a hard time getting oil and gas operators with whom they'd signed leases to address any violations of those contracts.
To "Connor," a homesteader in southern Colorado, the negotiation process felt "like having a second job." At times," he told us, "it was absolutely overwhelming. I think we did absolutely everything we could as private citizens to try and mitigate the impacts and in the end, it was futile."
3,000 Wells Shut Down in Colorado After Fatal House Explosion https://t.co/1itEkcKDEX @EcoWatch

— DeSmogBlog (@DeSmogBlog)1493337303.0
Reposted with permission from our media associate The Conversation.

From Your Site Articles
Related Articles Around the Web
EcoWatch Daily Newsletter
A fuel truck carries fuel into a fracking site past the warning signs Jan. 27, 2016 near Stillwater, Oklahoma. J Pat Carter / Getty Images
By Jessica Corbett
For more than three decades, the U.S. government has mismanaged toxic oil and gas waste containing carcinogens, heavy metals and radioactive materials, according to a new Earthworks report — and with the country on track to continue drilling and fracking for fossil fuels, the advocacy group warns of growing threats to the planet and public health.
"Even if we stop all new drilling and fracking immediately, the flood of toxic waste streams will continue to grow for decades," Melissa Troutman, the report's lead author, said in a statement Tuesday. "In spite of industry claims of innovation, the risks from oil and gas waste are getting worse, not better."
Reposted with permission from our media associate Common Dreams.
Patrick Fraser / DigitalVision / Getty Images
Throughout Texas, there are a number of solar power companies that can install solar panels on your roof to take advantage of the abundant sunlight. But which solar power provider should you choose? In this article, we'll provide a list of the best solar companies in the Lone Star State.
Our Picks for the Best Texas Solar Companies
Each product featured here has been independently selected by the writer. If you make a purchase using the links included, we may earn commission.
How We Chose the Best Solar Energy Companies in Texas
There are a number of factors to keep in mind when comparing and contrasting different solar providers. These are some of the considerations we used to evaluate Texas solar energy companies.
Services Offered
Different solar companies may provide varying services. Always take the time to understand the full range of what's being offered in terms of solar panel consultation, design, installation, etc. Also consider add-ons, like EV charging stations, whenever applicable.
Installation Process
When meeting with a representative from one of Texas' solar power companies, we would always encourage you to ask what the installation process involves. What kind of customization can you expect? Will your solar provider use salaried installers, or outsourced contractors? These are all important questions to raise during the due diligence process.
Coverage Areas
Texas is a big place, and as you look for a good solar power provider, you want to ensure that their services are available where you live. If you live in Austin, it doesn't do you much good to have a solar company that's active only in Houston.
Pricing and Financing
Keep in mind that the initial cost of solar panel installation can be sizable. Some solar companies are certainly more affordable than others, and you can also ask about the flexible financing options that are available to you.
Industry Affiliations
To guarantee that the renewable energy providers you select are reputable, and that they have both the integrity and the expertise needed, we would recommend assessing their status in the industry. The simplest way to do this is to check to see whether they are North American Board of Certified Energy Practitioners (NABCEP) certified or belong to the Solar Energy Industries Association (SEIA) or other industry groups.
Types of Panels
As you research different companies, it certainly doesn't hurt to get to know the specific products they offer. Inquire about their tech portfolio, and see if they are certified to install leading brands like Tesla or Panasonic.
Rebates and Tax Credits
There are a lot of opportunities to claim clean energy rebates or federal tax credits which can help with your initial solar purchase. Ask your solar provider for guidance navigating these different savings opportunities.
Warranty
Going solar is a big investment, but a warranty can help you trust that your system will work for decades. A lot of solar providers provide warranties on their technology and workmanship for 25 years or more, but you'll definitely want to ask about this on the front end.
The 10 Best Solar Energy Companies in Texas
With these criteria in mind, consider our picks for the 10 best solar energy companies in TX.
SunPower is a solar energy company that makes it easy to make an informed and totally customized decision about your solar power setup. SunPower has an online design studio where you can learn more about the different options available for your home, and even a form where you can get a free online estimate. Set up a virtual consultation to speak directly with a qualified solar installer from the comfort of your own home. It's no wonder SunPower is a top solar installation company in Texas. They make the entire process easy and expedient.
Sunpro Solar is another solar power company with a solid reputation across the country. Their services are widely available to Texas homeowners, and they make the switch to solar effortless. We recommend them for their outstanding customer service, for the ease of their consultation and design process, and for their assistance to homeowners looking to claim tax credits and other incentives.
Looking for a solar contractor with true Texas roots? Longhorn Solar is an award-winning company that's frequently touted as one of the best solar providers in the state. Their services are available in Austin, Dallas, and San Antonio, and since 2009 they have helped more than 2,000 Texans make the switch to energy efficiency with solar. We recommend them for their technical expertise, proven track record, and solar product selection.
Solartime USA is another company based in Texas. In fact, this family-owned business is located in Richardson, which is just outside of Dallas. They have ample expertise with customized solar energy solutions in residential settings, and their portfolio of online reviews attests to their first-rate customer service. We love this company for the simplicity of their process, and for all the guidance they offer customers seeking to go solar.
Next on our list is Kosmos Solar, another Texas-based solar company. They're based in the northern part of the state, and highly recommended for homeowners in the area. They supply free estimates, high-quality products, custom solar designs, and award-winning personal service. Plus, their website has a lot of great information that may help guide you while you determine whether going solar is right for you.
Sunshine Renewable Solutions is based out of Houston, and they've developed a sterling reputation for dependable service and high-quality products. They have a lot of helpful financing options, and can show you how you can make the switch to solar in a really cost-effective way. We also like that they give free estimates, so there's certainly no harm in learning more about this great local company.
"Powered by the Texas sun." That's the official tagline of Alba Energy, a solar energy provider that's based out of Katy, TX. They have lots of great information about solar panel systems and solar solutions, including solar calculators to help you tabulate your potential energy savings. Additionally, we recommend Alba Energy because all of their work is done by a trusted, in-house team of solar professionals. They maintain an A+ rating with the Better Business Bureau, and they have rave reviews from satisfied customers.
Circle L Solar has a praiseworthy mission of helping homeowners slash their energy costs while participating in the green energy revolution. This is another company that provides a lot of great information, including energy savings calculators. Also note that, in addition to solar panels, Circle L Solar also showcases a number of other assets that can help you make your home more energy efficient, including windows, weatherization services, LED lighting, and more.
You can tell by the name that South Texas Solar Systems focuses its service area on the southernmost part of the Lone Star State. Their products include a wide range of commercial and residential solar panels, as well as "off the grid" panels for homeowners who want to detach from public utilities altogether. Since 2007, this company has been a trusted solar energy provider in San Antonio and beyond.
Good Faith Energy is a certified installer of Tesla solar technology for homeowners throughout Texas. This company is really committed to ecological stewardship, and they have amassed a lot of goodwill thanks to their friendly customer service and the depth of their solar expertise. In addition to Tesla solar panels, they can also install EV charging stations and storage batteries.
What are Your Solar Financing Options in Texas?
We've mentioned already that going solar requires a significant investment on the front-end. It's worth emphasizing that some of the best solar companies provide a range of financing options, allowing you to choose whether you buy your system outright, lease it, or pay for it in monthly installments.
Also keep in mind that there are a lot of rebates and state and federal tax credits available to help offset starting costs. Find a Texas solar provider who can walk you through some of the different options.
How Much Does a Solar Energy System Cost in Texas?
How much is it going to cost you to make that initial investment into solar power? It varies by customer and by home, but the median cost of solar paneling may be somewhere in the ballpark of $13,000. Note that, when you take into account federal tax incentives, this number can fall by several thousand dollars.
And of course, once you go solar, your monthly utility bills are going to shrink dramatically… so while solar systems won't pay for themselves in the first month or even the first year, they will ultimately prove more than cost-effective.
Finding the Right Solar Energy Companies in TX
Texas is a great place to pursue solar energy companies, thanks to all the natural sunlight, and there are plenty of companies out there to help you make the transition. Do your homework, compare a few options, and seek the solar provider that's right for you. We hope this guide is a helpful jumping-off point as you try to get as much information as possible about the best solar companies in Texas.
Josh Hurst is a journalist, critic, and essayist. He lives in Knoxville, TN, with his wife and three sons. He covers natural health, nutrition, supplements, and clean energy. His writing has appeared in Health, Shape, and Remedy Review.
The land around Red Knoll near Kanab, UT that could have been razed for a frac sand mine. Tara Lohan
By Tara Lohan
A sign at the north end of Kanab, Utah, proclaims the town of 4,300 to be "The Greatest Earth on Show."
It's a rare case of truth in advertising.
Kanab sits just seven miles north of the Arizona state line, at the crossroads of some of the Southwest's most beautiful places. In every direction a geologic wonderland awaits. To the north is Zion National Park with its breathtaking valley of 2,000-foot-tall rust and white sandstone cliffs. The sweeping expanse of Grand Staircase-Escalante National Monument stretches to the east of town, and just to the south you'll find the Grand Canyon's North Rim.
You don't even need to leave Kanab, which is ringed by the famously red-hued Vermillion Cliffs, to get socked by jaw-dropping beauty.
It's this landscape that drew Susan Hand to Kanab 25 years ago when she opened Willow Canyon Outdoor to sell gear, maps, books and coffee to local and visiting adventurers. And it's this landscape and the community's gateway-to-the-wonderland experience, the economic bedrock of this tourism-dependent town, that she worried would be destroyed by a new industrial project proposed for development 10 miles north of town last year.
Kanab, UT is a popular tourist destination. Tara Lohan
There, a company called Southern Red Sands LLC had announced plans to build a facility to mine and process massive amounts of sand for use by oil and gas companies conducting hydraulic fracturing. The sand is a lesser-known but substantial aspect of the fracking process. Round grains of silica sand serve as a "proppant" to keep underground fissures in the shale open as oil and gas are pumped out. Fracking a single well can require thousands of tons of sand.
"I really wanted to keep an open mind, but the more I learned about the project, the more concerned I got," Hand told The Revelator when I visited Kanab in September.
She had reason to be worried. The first decade of the fracking boom relied heavily on so-called "frac sand" sourced mostly from Midwest states like Minnesota and Wisconsin, where mining reduced verdant green hills to piles of dust.
Frac sand in Wisconsin. Tara Lohan
But mining in the Midwest has its limits. Sand is expensive to ship across the country, so as fracking has taken off in Utah, Texas and New Mexico, companies have looked to find more local sources to trim costs.
That's when the proposed mine in Kanab entered the story.
Southern Red Sands, a two-person start-up backed by Utah real-estate developer Kem Gardner, hoped to establish the region's next frac sand mine in a scenic area of state-owned lands outside Kanab called Red Knoll.
City and county officials quickly gave their blessing — and a combined 1,200 acre-feet of water rights a year — after only cursory consideration.
But residents became concerned about impacts to scenic beauty, water resources and local businesses. They teamed up to fight back, forming a community group called Keep Kanab Unspoiled.
It was beginning to feel like a familiar story.
The struggle between extractive industries and environmental protection is not a new one in Utah. A fight is still raging nearby over the boundaries of Bears Ears National Monument and Grand Staircase-Escalante, both of which President Trump slashed in order to increase drilling and mining opportunities.
Despite public pushback and some legal challenges, though, the frac sand mine seemed to be cruising toward approval as recently as October. It still needed an environmental impact assessment from the Bureau of Land Management, and the two water transfers needed approval from the state engineer. The project definitely wasn't a done deal, but in industry-friendly Utah, it had a good shot.
So it may have come as a surprise to a number of residents when Southern Red Sands announced at the beginning of January that it was abandoning the proposed project.
What happened? And are there any lessons that other communities fighting extraction threats can learn?
"Speak out, pull together like-minded neighbors, organize and don't give up," Hand told me after hearing the news. "But also, try to be nice."
Surprisingly, it's that last bit that may have made a big difference — along with a good hard look at the economics of the endeavor.
The Threats
Von Del Chamberlain is a white-haired, soft-spoken Kanab resident. Born in 1934, he spent his youth exploring the red rock and his career studying the stars. The astronomer and former director of Salt Lake City's Hansen (now Clark) Planetarium retired to his hometown 15 years ago and hoped to start a public observatory.
He realized that Kanab's prized dark-night skies would be threatened by a 24-7 mining operation. But that wasn't even his biggest concern with the project.
"The beauty here is the thing that will sustain this area economically for as far in the future as we can possibly see," he said.
Opponents like Chamberlain usually cited two big concerns: environmental impacts, particularly the threat to water resources, and the local economy. But in Kanab it's hard to separate the two.
"It doesn't matter what kind of an economy you want to develop here," said Hand. "Even if you have an industrial economy or an extractive economy — if you don't have water, you're out."
The water supply, which draws on underground aquifers, currently supports the town's tourist-driven economy, ranching, and the county's biggest employer — Best Friends Animal Society, known worldwide through the Dogtown TV series on the National Geographic Channel. The nonprofit owns a 3,700-acre sanctuary, the country's largest no-kill animal shelter, and would have been the mine's closest neighbor.
Best Friends, which employs 400 locals and draws 35,000 out-of-town visitors a year to its sanctuary, came to see the proposed mine as an existential threat. Their property relies on wells, seeps and springs that come from the same aquifer the project's two wells would tap.
Groundwater seeps to the surface at the Best Friends animal sanctuary in Kanab, Utah. Tara Lohan
Last July Kanab's city council approved a 50-year contract for 600 acre-feet a year of water rights for the project and Kane County Water Conservancy District, which oversees water servicing for the unincorporated areas of the county, agreed to provide an additional 600 acre-feet of water. That combined amount equals about 740 gallons per minute, although Southern Red Sands contended it would use only about a third of that.
Many local residents were shocked by the water-rights transfer. A 2016 water needs assessment found that Kane County Water Conservancy District's reliable supply would be in deficit by 2035. And the district's executive director, former state representative Mike Noel, has been a vocal advocate for a pricy proposed pipeline to send Lake Powell water to southern Utah communities, including near Kanab, under the premise that the region is already running short on water.
"We knew that it would damage our seeps and our springs, and we weren't sure yet the full impact besides some drawdown to our groundwater, but we were really concerned," Bart Battista, an environmental engineer responsible for facilities management at Best Friends' Kanab sanctuary, told me. "It boggles my mind that the city wasn't as concerned."
But documents unearthed by local radio station KUER showed that officials at nearby Zion National Park already were concerned that the project could reduce flows into the East Fork of the Virgin River, which flows through the park, by reducing the amount of water from underground seeps and springs that feed the river.
Wanting to learn more about how the project could affect the region's water, Best Friends commissioned a study from hydrogeologist Kenneth Kolm of Hydrologic Systems Analysis, a firm that's completed water studies for other Utah towns.
Kolm found that the mine posed the potential for decline in productivity to wells owned by both Best Friends and the city's water supply. The project could also decrease flows into nearby Kanab Creek and dry up perennial streams and springs, including one that feeds an area of habitat that's home to the Kanab ambersnail — currently federally protected as endangered.
The amount of water being withdrawn wasn't the only issue. The proposed project site and its sandy soil are also vitally important to local hydrology.
"The sand is the first ticket to collecting water," said Hand. It captures rain and holds it in place long enough for it to sink into the water table and not run off. But the sand is exactly what would be removed from the site, further threatening the region's water supply.
"I realized for the first time how small and vulnerable our watershed actually is," she added.
Southern Red Sands hoped to start digging on 640 acres of land around Red Knoll, an aptly name rise of coral-colored rock and sand. The area is managed as part of Utah's School and International Trust Lands Administration (SITLA), where state-owned property can be leased (often for resource extraction), with revenue being funneled to education.
The operation would have started by bulldozing all the trees, shrubs, grasses and forbs, then scraped up to 30 feet of the earth from the exposed surface. The sand would then be processed — washed with water and chemicals, then dried and sorted — in a facility with up to six 120-foot-tall silos. After that it would be loaded into trucks and hauled out.
A small fraction of the remaining sediment — mostly the fine silts and clays — would be put back on the land. But that change in geology could mean a big change for the aquifer. How big would depend on the scope of the project, though.
In addition to the SITLA land, Southern Red Sands had acquired placer claims — mineral exploration rights — for 12,000 surrounding acres managed by the BLM. And although the company said it planned to mine only 700,000 tons a year from the SITLA property, the facility would have had the capacity and water rights to accommodate much more.
"If they're building a plant with a capacity of 3 million tons a year, that's presumably because they expect to be able to produce that," Dean Baker, a Kanab resident and opponent of the project told me in December. "They may never do that, but you don't build extra capacity without the idea that you might use it."
The Resistance 
Water issues are paramount in arid Utah, but the mine was likely to come with some other potential problems.
If Southern Red Sands did build out to end of their claims, they'd be within 10 miles of Zion National Park and workers at Best Friends would be looking over their fence line at the operation — not to mention potentially breathing its dust.
Mining, processing and trucking frac sand can release tiny particles of crystalline silica into the air. Inhaling those particles regularly can cause lung disease, including cancer and silicosis, a chronic disease that, like "black lung" for coal miners, can be deadly.
Dust in the air at a frac sand processing facility in Wisconsin. Tara Lohan
The facility would likely run with lights and noise 24-7, which could be detrimental to wildlife. And adding more diesel-spewing, slow-stopping big rigs hauling 50,000 pounds of sand down the town's one main road concerned residents, too.
With so much at risk, opponents employed a number of tactics to try to fight the mine.
Keep Kanab Unspoiled held community meetings. They invited Kolm, the geologist who did the independent study, to report his findings, and started an online petition to discourage the company from moving forward.
Best Friends — an established national nonprofit with considerably more financial resources — took the lead role in mounting legal challenges. The organization filed an appeal of a conditional use permit approved by the county and formally objected to the water transfers, which needed to be approved by the state engineer.
But during the fall, Best Friends decided to shift tactics. Lawsuits could just lead to years of legal battles, something beyond the organization's longstanding mission.
"We might alienate our donors and members," Battista explained. "The appeal of Best Friends crosses party boundaries — animal welfare is something everybody can support." Apparently environmental action is not.
They decided the best approach was to sit down and talk with the company and its backers.
Battista couldn't disclose details of the negotiations — which went on for months — but on Jan. 9 Best Friends and Southern Red Sands released a joint statement saying that the company "had decided not to pursue its business ventures in Kane County."
The members of Keep Kanab Unspoiled were elated by the news.
"It's so heartening how so many people from our community came together to amplify a voice that is seldom acknowledged by our elected representatives and institutions," Hand tells me. "I'm relieved that an area I love won't be sacrificed on the altar of fossil fuel consumption. I'm grateful that this threat to our travel and tourism economy is diminished."
It would be comforting to think that the driving force behind the decision boiled down to preserving the scenic beauty or the region's groundwater resources, but it's more likely it had to do with money.
"Economics played some role," Battista said. "The market for frac sand has changed and [Best Friends] had financial viability assessments of the project to show that the mine wouldn't be a good idea. Economically it just didn't make sense to any of us. I think that our studies corroborated that."
This was a main talking point of Keep Kanab Unspoiled, bolstered by research done by Baker, who also happens to be an economist and cofounder of the Center for Economic and Policy Research.
The frac sand industry — and the larger fracking industry — is volatile. The number of rigs drilling for oil tends to fall when prices get low. Rigs plunged with falling prices from 2014 to 2016 and last year saw record declines in rig numbers. In addition, fracking costs more than traditional drilling — and the industry has also been overspending to keep the fracking boom from going bust.
A research organization in Norway found that the amount of money being spent to drill for oil by 40 U.S. shale oil companies outpaced the money being made by selling that oil. That deficit cost companies almost $5 billion in just the first quarter of 2019, DeSmog reported in August.
It's a scenario that's happened before.
With oil prices now around $60 a barrel, the industry is hanging on. If prices dip much lower, it could be trouble. A decade into the fracking frenzy, investors are worried that the best spots have been drilled and many debts won't be paid.
There's even more uncertainty when it comes to producing and selling the sand. Companies used to rely almost exclusively on Midwest sand, but now more areas are getting in on the game.
The consequences of failures in the fracking business model are real.
Falling oil prices and a shifting market for frac sand recently took down Emerge Energy Services — owner of eight frac sand facilities in Wisconsin — which filed for bankruptcy last summer and left behind unsafe levels of arsenic and heavy metal contamination for the community to clean up.
That's a scenario that Baker worried could happen in Kanab. Southern Red Sands said their intended market was in Utah's Uintah Basin 350 miles north, but a new frac sand mine just opened in the basin. "It's almost inconceivable they'd be able to compete with them because the biggest cost with frac sand is the shipping," said Baker. "There are some operations in the San Juan basin [in New Mexico and Colorado] but it's not clear to me that they could beat those out either."
Even though economics played a role in halting the project, he believes community efforts were important, too.
"The fact they faced serious legal obstacles at every step in their path had to be a factor," he said. "It is a nice, and unfortunately rare, victory for the environment."
Best Friends worked to ensure the hard-earned victory wasn't short-lived, either. It also purchased Southern Red Sands' 12,000 acres of mineral rights.
"We want to make sure that no one else comes in here in two years if the market's better and tries to put in another sand mine, we just don't think that it's the right thing for this area," said Battista. "We want to make sure that in perpetuity, there's not a threat to the sanctuary."
As for Hand, she's now looking at the bigger picture. She saw the fight over frac sand in Kanab as a microcosm of the global fight over fossil fuels and climate change.
"While we can embrace a sense of triumph, it's likely to be brief," she said. "When it comes to protecting wild places and using our resources carefully, our work will never be done. The next development project is already bubbling. I do feel more hopeful for each success, but climate change marches on."
Reposted with permission from The Revelator.
From Your Site Articles
Related Articles Around the Web
The view from lease parcel COC77996 looking across the Colorado River and DeBeque State Wildlife Refuge toward parcel COC77999 and the Roan Plateau. Peter Hart / Wilderness Workshop
Conservation groups on Thursday sued Interior Secretary Ryan Zinke and the Bureau of Land Management for approving new leases to allow fracking on more than 45,000 acres in western Colorado, including within communities and within a half-mile of a K-12 public school, without analyzing or disclosing environmental and public health threats as required by federal law.
"Fracking is a filthy, dangerous business, and dodging environmental analysis puts people and public lands at risk," said Diana Dascalu-Joffe, a senior attorney at the Center for Biological Diversity. "The Trump administration is trying to ignore science, public health and climate change threats to enrich corporate polluters, but it can't shrug off the law."
The lawsuit, filed in U.S. District Court in Denver, challenges leases in and around the towns of De Beque, Molina and Mesa on the western slope of the Rocky Mountains. Fracking would be allowed near three state parks—James M. Robb-Colorado River, Vega and Highline, a migratory bird hot spot and the site of the "18 Hours of Fruita" mountain bike race. Leases also have been offered within a half-mile of a K-12 public school in De Beque and beneath Vega Reservoir, important for wildlife, recreation, irrigation and hydroelectric power.

"Not only did the Bureau of Land Management move forward with these lease sales without looking at the climate effects of fracking, the agency also failed to examine its likely public health risks," said Kyle Tisdel with the Western Environmental Law Center. "In addition, the agency failed to analyze or acknowledge the enormous water depletion drilling will impose on the Colorado River, already in low-flow conditions. BLM is simply drilling in the dark on these lease sales."
These areas would face toxic air pollution, industrialization and potential spills and groundwater contamination from fracking operations. The BLM is using a shortcut called a "determination of NEPA adequacy" to bypass analysis of fracking harms required under the National Environmental Policy Act. This cursory review, used with increasing frequency under the Trump administration, presumes that leasing complies with broad resource-management plans and delays site-specific review until drilling permits are requested, thereby ignoring NEPA's requirement to disclose impacts at the earliest possible time. The BLM routinely bypasses that promised review at the drilling stage and says that it can't block drilling once land has been leased to industry.
"BLM has reverted to a lease before you look policy that marginalizes the public, ignores environmental impacts, and violates the law—all for the benefit of oil and gas companies," said Wilderness Workshop's Peter Hart. "We asked BLM to consider the impacts of these decisions and our requests were denied. Now we're asking a federal court to order the agency to comply with its legal obligations."
"Once again, Ryan Zinke's efforts to please corporate polluters are leaving American communities to suffer the consequences," said Sierra Club associate attorney Marta Darby. "Zinke wants to limit public input and hide the environmental and public health threats of this huge expansion of fracking in Colorado, but he is not above the law. We will continue to fight to ensure our communities are protected from the dangers of fracking."
The areas to be fracked include habitat for rare wildlife like peregrine falcon, spotted leopard lizard and burrowing owl. It also includes critical habitat for threatened and endangered species, including the Colorado pikeminnow and two flowers, the Parachute beardtongue and DeBeque phacelia. Fracking, which can use more than 20 million gallons of water per well, would threaten the pikeminnow and the Colorado River with spills and water depletions at a time when climate-driven drought is already reducing river flows throughout the Colorado River Basin.
"The water of the Colorado River Basin is essential for the 40 million people relying it. The system is already strained from climate change and overuse," said Sarah Stock, program director with Living Rivers Colorado Riverkeeper. "The last thing we need right now is to add more water hungry, polluting industry without the proper regulatory framework or public process in place to protect this priceless resource."
The administration's oil and gas leasing shell game is consistent with Trump's new "energy dominance" edict and policies directing the BLM to avoid NEPA analysis by prioritizing the use of DNAs when issuing oil and gas leases. The policy also limits or removes public notice and gives the public only 10 days to raise concerns.
Dascalu-Joffe and Kyle Tisdel of the Western Environmental Law Center are representing the Center for Biological Diversity, Wilderness Workshop, Living Rivers Colorado Riverkeeper and Sierra Club in the lawsuit.
Conservation Groups: Fracking, Drilling Would Ruin Public Lands Near Colorado's Great Sand Dunes National Park… https://t.co/On2eNv8oCb

— EcoWatch (@EcoWatch)1523373742.0
From Your Site Articles
Related Articles Around the Web
Ruins at Chaco Canyon.
pedrik / Flickr / CC BY 2.0
The U.S. Bureau of Land Management (BLM) is pushing ahead with the sale of oil and gas leases on land outside of Chaco Culture National Historical Park and other sites revered by Native American tribes, The Associated Press reported.
The latest listing—which quietly appeared on the BLM website not long after the government reopened after the shutdown—comes about a year after then-Interior Secretary Ryan Zinke postponed a lease sale in the Greater Chaco Region in response to intense public pressure over cultural and environmental concerns.

BLM will open a protest period for comments from Feb. 11 through Feb. 20 for a sale scheduled for March 28, according to the agency's notice. More than 50 parcels in New Mexico and Oklahoma will be on the auction block.
Chaco Culture National Historical Park, located in northwestern New Mexico, is shaded in light purple. BLM New Mexico Oil and Gas Lease Sale Parcels
During the record-long government impasse, Democrats, environmentalists and others fiercely criticized the Trump administration for moving ahead with drilling permits on public lands while most other agencies were shut.

"It's a mistake that while critical public services were shuttered for 35 days during the government shutdown, BLM still moved forward with this opaque process," Sen. Tom Udall, Democrat of New Mexico, told the AP about the latest lease.

The AP noted that it is possible for BLM to withdraw the latest land sales depending on the outcome of the protest period.
For years, environmental groups, tribes and other opponents have raised flags about fracking encroaching on and threatening Chaco Canyon, a major center of ancient Pueblo culture and a UNESCO World Heritage Site.
As it happens, the park sits in the central San Juan Basin in northwestern New Mexico that's booming with shale gas extraction. Roughly 90 percent of the Great Chaco Region is already leased for oil and gas development, but more fossil fuels lie beneath those lands. The New Mexico BLM wants to sell parcels that are close or just along the park's 10-mile, no drilling buffer zone.
Ironically—as Rebecca Sobel, senior climate and energy campaigner for WildEarth Guardians, pointed out to EcoWatch—newly elected Gov. Michelle Lujan Grisham, a Democrat, signed an executive order just this week that committed the state to reducing greenhouse gas emissions to combat climate change.
How did the New Mexico BLM respond to that order? "By announcing its intent to auction off more public land in the state to industrialized fracking," Sobel lamented.
"Oil and gas has already devastated our state's air quality, water quality and flow, and public health," she added. "It's clear the Trump administration will stop at nothing to sacrifice public interest for private profits."
Sobel noted that a "record-breaking 10,000 protest comments" were submitted in response to a December 2018 oil and gas lease sale in the state, and yet the BLM "ignored the public and wasted no time in proposing even more public land for fracking."

"We're looking to New Mexico's newly elected state and federal representatives to finally address fracking impacts, and with this week's Executive Order on Climate and a slew of proposed statewide bills aimed at enforcement and accountability around oil and gas, we hope New Mexico can tun the tide and reign in this dangerous industry, protecting our people and sacred landscapes," she concluded.
Trump Auctions Off 150,000 Acres of Public Lands for Fracking Near Utah National Parks https://t.co/ehBXpZZkly

— R u t h H o p k i n s (@R u t h H o p k i n s)1544666047.0
From Your Site Articles
Related Articles Around the Web
Cleanup costs for abandoned oil and gas wells once the producers have moved on could fall heavily on the public.
Susan Vineyard / iStock / Getty Images Plus
By Justin Mikulka
Increasingly, U.S. shale firms appear unable to pay back investors for the money borrowed to fuel the last decade of the fracking boom. In a similar vein, those companies also seem poised to stiff the public on cleanup costs for abandoned oil and gas wells once the producers have moved on.
Reposted with permission from our media associate DeSmogBlog.
Greenpeace
By Tim Donaghy
Time is running out for the oil and gas industry, and they know it. But delaying the transition to a clean energy economy even for a few more years means billions of dollars in profits for their investors. The 2018 elections show that even in their twilight years, oil cash can corrupt our democracy and block necessary progress on climate. The industry spent millions to kill off a Green New Deal-style initiative in Washington state and a Colorado initiative that would have increased the buffer between homes and schools and drilling areas.
When popular democracy threatened their profits, the oil industry opened up their checkbooks. And they'll run the same playbook on the fledgling Green New Deal too — unless we stop them.
This is why phasing out fossil fuels and getting dirty energy money out of our elections are key ingredients in any federal action on climate change. Real climate leaders need to counteract the political, financial and social power of the fossil fuel industry, or risk seeing a tide of oil money wash away progress.
But we also need a just transition that lifts up workers and communities. Here's why.
While O'Rourke actually didn't take PAC money, he did raise a ton of money in individual donations from people who work in the oil and gas industry. Center for Responsive Politics
Recently, a mini-controversy erupted across Twitter when people realized that the number two recipient of oil and gas campaign contributions in 2018 was actually … Democratic rising star Beto O'Rourke, who nearly unseated Texas Senator Ted Cruz in a close race. In fact, only Cruz himself raised more money from the oil and gas industry.

The revelation was immediately sucked into the insatiable vortex of speculation about the 2020 presidential primaries, contrasting O'Rourke's record with that of other presidential hopefuls. It was especially confusing since O'Rourke had publicly pledged not to take any money from political action committees (PACs, which are often used by corporations and industries to influence elections) and was even at one point listed on the No Fossil Fuel Money pledge website before being removed. What gives?
While O'Rourke actually didn't take PAC money, he did raise a ton of money in individual donations from people who work in the oil and gas industry. When you donate money to a political campaign you have to disclose your employer — meaning that everyone from drilling crews all the way up to the CEO count in the industry contribution totals. And it turns out oil is still an enormous part of the Texas economy.
The following map from the U.S. Bureau of Labor Statistics shows the counties with the highest concentrations of oil and gas employment. The counties in green show communities where the local economy is most dependent on oil and gas, and where a just and equitable energy transition is most crucial. Naturally many of those counties are located in Texas, and in fact O'Rourke made it a campaign talking point that he had visited each one of Texas's 254 counties.
A just transition away from fossil fuel reliance envisions an inclusive, participatory process that leaves these workers and communities better off than before. Policies to bring about this transition could include local and state planning bodies, protections for workers such as guaranteed pensions and wage replacement, job retraining and placement in growing renewable industries, and investment targeted at specific communities. As climate justice activists have stated, "Transition is inevitable. Justice is not." Without the voices of these workers and communities, any plan to build a more sustainable economy will inevitably fail.

A lot of O'Rourke's oil and gas donations were indeed from ordinary Texans excited by his candidacy, but at least some came from oil and gas executives and other wealthy donors giving the maximum $2,700 contribution, which is also a serious problem. The No Fossil Fuel Money pledge applies not just to PAC money, but also donations of $200 or more from fossil fuel executives. O'Rourke was on the right track in calling out the pernicious influence of PAC money on our elections, but we still need to demand more of our politicians. Hopefully going forward, he (and many other candidates) will be able to fully comply with the pledge.
In comparison, his opponent Ted Cruz took over $100,000 directly from the oil and gas industry PACs — including a $40,000 check from Valero's PAC, and $5,000 donations from PACs representing Phillips 66, Devon Energy, ExxonMobil, and others.
But a question remains: are small donations from ordinary folks in the oil industry the same as a $2,700 check from a CEO — or a mega-donation from a PAC? Clearly PAC and executive money are donated with the goal of obtaining access to politicians and ultimately influencing policy to benefit companies who are wrecking the climate, and overall small donations only make up a small fraction of campaign funds. But in many places where the oil and gas industry is strong, there are inevitably a large number of non-millionaire workers who depend on the industry for their livelihood.
Corporate money in politics is absolutely corrupting our democracy, yet O'Rourke's small donors should remind us that many parts of the U.S. are economically dependent on oil and gas extraction, and that those workers need to be at the center of any transition away from fossil fuels. The good news is that we know that building out a clean energy economy will require putting a lot of people to work, and dollar for dollar, renewable energy creates more jobs than fossil fuels.
It will take strong climate leadership in D.C. and a committed movement of people to defeat these entrenched 19th-century industrialists. In order to get us to the green future we want, federal legislation MUST halt any major oil, gas, and coal expansion projects.
Big Oil Pours Record $30M to Sway Voters Against Nation's First Carbon Tax https://t.co/wKSZn2veCK https://t.co/7cKdNfDvg8

— Renewable Search (@Renewable Search)1541003055.0
Tim Donaghy is a senior research specialist with Greenpeace USA.

From Your Site Articles
Related Articles Around the Web
A protest against the Jordan Cove LNG terminal and Pacific Connector pipeline corresponding with the Department of State Lands hearing in Salem, Oregon. Rick Rappaport
By Simon Davis-Cohen
When the incumbent Democratic Governor Kate Brown defeated Republican Knute Buehler in a contentious race for Oregon's governorship, many in the state's climate movement let out a momentary sigh of relief. Brown had promised to "lead on climate" while Buehler had pledged his support for new fossil fuel infrastructure.
Now, residents are working to hold Governor Brown to task over what they see as the most pressing climate issue facing the state: the proposed Jordan Cove liquefied natural gas (LNG) export terminal and its Pacific Connector Gas pipeline. Backed by the Canadian company Pembina Pipeline Corporation, the project would transport natural gas extracted via hydraulic fracturing (fracking) from Colorado to Oregon's coast, where it would be super-cooled into liquid form and loaded on ships to international markets.
Thousands, Including Several Tribes, Voice Opposition
More than 1,500 people showed up at a hearing in Jackson County, Oregon, to oppose Jordan Cove LNG and the Pacific Connector pipeline. Allen Hallmark
Gov. Brown has remained neutral on Jordan Cove, prompting a range of efforts from activists to sway her against it. For example, Jordan Cove opponents interrupted her 2019 swearing in ceremony and took to the streets with protests. In addition, since the new year, thousands of residents have flooded Department of State Lands regulatory hearings to oppose the project, which they say would jeopardize major fresh waterways and marine areas in the state.

According to Rogue Climate, which has helped mobilize opposition to the project, more than 3,000 residents, including landowners, ranchers, tribal members, youth, local businesses and representatives of the Pacific Coast Federation of Fishermen's Associations, attended hearings in opposition.
Klamath Tribal Council Chairman Don Gentry told DeSmog that the tribal council believes "we need to exhaust every administrative opportunity that we have to express our opposition to the project and hopefully the permits and licensing will be denied."
The Tribe has participated in the regulatory process throughout, he says, and brought up a host of concerns at the most recent hearings. Those concerns include the pipeline's "potential to disturb human remains and cultural sites" (such as a historic village on the Klamath River), "risks to the [Klamath] River itself," the Tribe's effort to rehabilitate the river's salmon run, risks to wildlife and generally, the perils the pipeline in particular poses for tribal aboriginal territory, as protected by U.S. treaty.
Hannah Schroeder, chair of the Klamath Tribes Youth Council, speaking to Jordan Cove LNG and pipeline opponents the night of the Department of State Lands hearing in Klamath CountySherri Kies
Klamath Tribal Council is not alone. The Yurok and Karuk tribes in Northern California are staunchly opposed, while the Oregon-based Confederated Tribes of the Coos, Lower Umpqua, and Siuslaw Indians are neutral.

Jordan Cove's Many Ups and Downs
Map of the proposed Pacific Connector pipeline's path in Oregon, starting in Malin and ending at the Jordan Cove LNG terminal sited for Coos Bay
Since the $10 billion project was initially proposed in 2007, it has hit several obstacles which threatened to derail it. In 2016, the Federal Energy Regulatory Commission (FERC) denied a permit, key politicians including U.S. Senator Jeff Merkley have come out against it, and in late 2018, the Oregon Department of Energy recommended against the export facility going forward as proposed. And just this week, a county judge in Oregon reversed a decision to extend a permit for the pipeline.

But the fight is far from over. In 2017, not long after FERC denied the project a permit the year prior, Don Althoff, then-CEO of the parent company Veresen (now Pembina), met with President Donald Trump and the founding director of Trump's National Economic Council, Gary Cohn, of Goldman Sachs.
Shortly thereafter, Cohn announced: "The first thing we're going to do is we're going to permit an LNG export facility in the Northwest."
Support from the fossil fuel industry spans the length of the pipeline, from Colorado to Oregon. Pac/West, a major pro-fracking lobbying and communications firm active in Colorado has also been operating in Oregon. The firm has gone so far as to have Oregon state legislation proposed officially on its behalf, which would have blocked local governments from interfering with fossil fuel infrastructure projects, such as Jordan Cove.
This legislation was in response to a 2017 county "Community Bill of Rights" ballot initiative in Coos County, Oregon, the site of the proposed Jordan Cove LNG terminal. If passed, the local law would have outlawed industrial fossil fuel projects and established legally enforceable rights for local ecosystems. Jordan Cove LNG spent an unprecedented $596,155 in cash and in-kind contributions to help defeat the measure, according to the Oregon Secretary of State website.
Jordan Cove LNG campaign contributions from 2015 to 2018Oregon Secretary of State website
Jordan Cove's contributions to a variety of political campaigns have continued to flow. In 2018, Jordan Cove LNG gave $216,500 to campaigns, according to the Oregon Secretary of State website. But it wasn't enough to stop the election of some politicians, like new state Senator Jeff Golden, from campaigning and winning on an explicit platform to oppose the project.

What's Next
The current comment period for the Oregon Department of State Lands permitting process ends on Feb. 3. Allie Rosenbluth of Rogue Climate says the department may make a decision on whether to give its approval, as soon as March 5, but expects an extension.
Also on the horizon are the Federal Energy Regulatory Commission's Draft Environmental Impact Statement coming as soon as Feb. 15 and Oregon Department of Environmental Quality decision on whether to grant the project a Clean Water Act permit, expected Sept. 25.
Murals opposing the Jordan Cove LNG terminal and Pacific Connector pipeline hang near the site of the Jackson County Department of State Lands hearing. Allen Hallmark
And that means more hearings.

"The bottom line is we want to stop the project," said Klamath Tribal Council Chairman Gentry, "so whatever tools are available to do that—so I'm not ruling out anything."
"How We Fight to Protect the Columbia River From Fossil Fuel Pollution–and Win" via @EcoWatch https://t.co/dnrJigOdkJ #KeepItinTheGround

— Columbia Riverkeeper (@Columbia Riverkeeper)1535206505.0
Reposted with permission from our media associate DeSmogBlog.

From Your Site Articles
Related Articles Around the Web
Medano Creek, Great Sand Dunes National Park, Alamosa, CO. Gail K E / Flickr
Conservation groups are calling on the Trump administration to cancel plans to lease thousands of acres of federal public lands for oil and gas development near western Colorado's Great Sand Dunes National Park and Blanca Peak without fully analyzing environmental or cultural harms.
WildEarth Guardians, the Center for Biological Diversity, Friends of the Earth, Rocky Mountain Wild, San Luis Valley Ecosystem Council, Sierra Club, and Wild Connections, submitted extensive comments Friday on Interior Secretary Ryan Zinke's proposal to auction off 21,000 acres of public lands in Colorado in September. Of the lands nominated for auction, 18,000 acres are located near Great Sand Dunes National Park and Blanca Peak. In the comments, the groups noted that the Bureau of Land Management conducted little to no analysis on the potential harm from drilling and fracking to Colorado's air, water, night skies, wildlife habitat, cultural resources or the national park.
"The area near Great Sand Dunes National Park is uniquely beautiful and very susceptible to the harms from drilling and fracking," said Becca Fischer, a climate guardian with WildEarth Guardians. "Once BLM leases these lands, it cannot close the door to noise pollution, light pollution, and threats to our clean air and water. Yet, the BLM failed to conduct a meaningful analysis of these impacts."
"This fracking plan would ruin some of Colorado's most scenic, remote and valuable wildlife habitat," said Diana Dascalu-Joffe, a senior attorney with the Center for Biological Diversity. "Unfortunately nothing is more important to the Trump administration than fossil fuel industry profits."
Last month, in response to intense public pressure from conservation groups and others, Zinke removed public lands in New Mexico near Chaco Canyon National Historical Park and in Montana near Yellowstone National Park from the auction block based on cultural and environmental concerns.
The pace of public lands approved for leasing by the BLM continues to drastically increase in 2018. In 2017 the BLM auctioned off more than 1 million acres of public lands for fracking in six western states. The BLM's proposed lease sales for the first half of 2018 in those same states already total almost 1 million acres.
Oil and gas leasing on federal public lands is a major contributor to global warming in the U.S. Leasing opens the door for oil and gas drilling and fracking, and more fossil fuel burning. Reports indicate that 20 percent of all greenhouse gas emissions in the U.S. can be traced back to fossil fuel development from federal public lands and waters.
"We should not be sacrificing these places, the wildlife there, history and opportunities to an outdated vision of energy independence," said Kimberly Pope, Sierra Club's Our Wild America organizer in Colorado. "We have an obligation to leave great natural places for others to experience."
Trump, Zinke to Auction Away 700,000 Acres of Western Public Lands for Fracking https://t.co/FE5d2IsXN6… https://t.co/FLLTKIOG5p

— EcoWatch (@EcoWatch)1513116912.0
From Your Site Articles
Related Articles Around the Web
Dominion Energy's headquarters in Richmond, Virginia. VCU CNS
By Wenonah Hauter
Last week, the fossil fuel industry successfully squashed several local measures it didn't like—thanks to the more than $100 million it shelled out to oppose them.
Initiatives to rein in fracking failed in Colorado, where the industry spent a whopping $40 million (outspending advocates 40-1) and in San Luis Obispo County, where a measure to ban fracking lost in the face of $8 million in industry cash (proponents of the measure spent only $240,000). An Arizona initiative to mandate 50 percent renewable energy by 2050 failed, thanks to $30 million in energy cash to fight it. And, despite increasingly touting its approval for carbon taxes with modest funding of greenwashing groups like the Climate Leadership Council, the industry spent $30 million to oppose a carbon tax initiative in Washington.
The fossil fuel industry is doing more of the same in many states across the country, including Virginia. A new Food & Water Watch report out now looks at Dominion Energy's outsized influence in the state—how it buys policy, buys elections and squashes renewable energy to further its profits.
One of the ways Dominion buys policy in Virginia is through its multi-million dollar political and lobbying operation. Since 1998, the company has built the infrastructure to buy off policy and is the biggest corporate contributor to political campaigns in Virginia—with its political action committee and employees plowing more than $10 million into Virginia campaign coffers. Whether it's meals, cocktails, sporting tickets or other associated spending, it's repeatedly bought access to policy through the state's elected officials.
Dominion's primary interests have been in pushing policies that ensure they won't be regulated. Between 2017 and 2018, the company increased its lobbying and advertising expenditures 10-fold while pushing to enact a law that would ensure Virginia ratepayers would pay more for polluting fossil energy. It also spent more than $4 million on ads this year promoting its legislative agenda to build out more fossil fuel infrastructure—like the Atlantic Coast Pipeline—and its acquisition of SCANA, a South Carolina utility that brought with it a portfolio of coal- and gas-fired power plants.
Poisonous coal ash and climate pollution aren't Dominion's only toxic legacy in the state: its lobbying machine worked to obstruct clean energy initiatives as well. The company has successfully thwarted popular and progressive energy measures, ensuring, for example, that utilities (like its subsidiary, Virginia Power) would be gatekeepers for community-based solar projects instead of allowing churches and other community organizations to develop their own. This is a move to keep them stuck in the polluting fossil fuel system from which the company extracts great profits that keep them powerful.
And this is just in Virginia. Nationally, Dominion dumped at least $59 million into state and federal political advocacy, including campaign contributions, gifts and lobbying since 1998. In the late 1990s, Dominion joined disgraced energy company Enron in a national fight to deregulate utilities so that they could instead implement a market-based scheme to separate electricity distribution from power generation, essentially taking energy out of the realm of "public good" and into the realm of commodity. We know how well that worked out: Enron went bankrupt from the scheme, a development that also saddled Dominion with nearly $100 million in losses. But the damage had been done for ratepayers nationwide, with the Federal Energy Policy Act of 2005 entrenching the deregulation these companies sought—the same legislation that enshrined the "Halliburton Loophole" into federal law exempting frackers from federal drinking water protections. Dominion is also investing in infrastructure to connect its facilities to fracked gas from Ohio, Pennsylvania and West Virginia.
Industry influence can mean the difference between a renewable future or more climate-throttling fossil fuel infrastructure. In Virginia, local advocates are taking the fight to Dominion's doorstep—and their cronies in the statehouse. We're joining with Virginia NAACP, Virginia Interfaith Power and Light, People Demanding Action, Virginia Interfaith Center for Public Policy, League of United Latin American Citizens—Richmond, and others to pass legislation just introduced by state delegates Sam Rasoul and Elizabeth Guzman to transition the state to 100 percent renewables by 2035.
We're ready for the fight ahead because we have no choice but to ensure that Dominion, and the industry as a whole, doesn't win. We must begin the transition off of fossil fuels immediately if we want to protect our communities and avert the worst of catastrophic climate change ahead.
Wenonah Hauter is executive director of Food & Water Watch and Food & Water Action.
A new fracking rig and a pumping rig stand beside a house Feb. 10, 2016 in an Oklahoma City, Oklahoma neighborhood. J Pat Carter / Getty Images
By Julia Conley
Proximity to oil and gas sites makes pregnant mothers up to 70 percent more likely to give birth to a baby with congenital heart defects, according to a new study.
With her win, Alexandria Ocasio-Cortez became one of four Democrats heading to Congress to push for a Green New Deal. Rick Loomis / Getty Images
Results from the U.S. midterm election are mostly in, and, when it comes to what they mean for the environment, they're a real mixed bag.
On the plus side, the Democrats took the House of Representatives, which, as BBC News pointed out, means that President Donald Trump can't pass any more major legislation without their approval. Since big legislative pushes in the Republican controlled House over the past two years included an attack on the Endangered Species Act and a Farm Bill that would have limited controls on toxic pesticides and water pollution, this can only be an improvement.
The latest US election results: Democrats have won their 218th House seat, securing their majority and setting up a… https://t.co/xEe718OY0x

— Financial Times (@Financial Times)1541580125.0
On the minus side, the Republicans increased their majority in the Senate. Since the Senate is the body that confirms all of the president's judicial and political appointments, there will still be nothing blocking Trump from appointing more judges like Brett Kavanaugh with a dubious environmental record. They will also be able to sign off on whoever Trump finally chooses as Scott Pruitt's permanent replacement at the U.S. Environmental Protection Agency (EPA). The House is more likely now to investigate corruption-prone, industry-friendly Interior Secretary Ryan Zinke, but the Senate could go right ahead and confirm a replacement equally likely to sell out public lands to fossil fuel interests.

When it comes to the environmental implications of individual races and ballot measures, the night was about equally full of gains and losses. But it's important to remember that no matter who wins, popular movements can always make a difference. So whether your favorite candidate won or lost last night, you can and should continue fighting to halt climate change and ensure a healthy, thriving environment for all life on earth.
That said, here are a few of the key takeaways from last night.
1. Big Oil's Big Spending Paid Off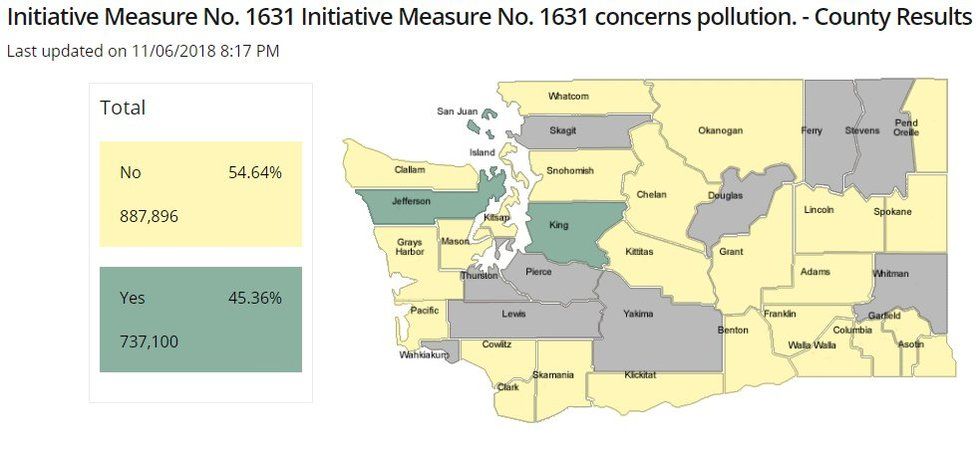 A graphic showing the results of Washington state's voting on I-1631 pbs.twimg.com
Probably the most disappointing result from a climate change perspective is the fact that Washington's Initiative 1631, which would have created the nation's first fee on carbon emissions, was defeated in the polls. Colorado's Proposition 112, which would have banned oil and gas drilling on 85 percent of the state's land, also failed. The fossil fuel industry put more than $73 million into defeating the two initiatives, the Huffington Post reported, so in this case money power was sadly stronger than people power.

In terms of the other ballot measures EcoWatch was tracking, Arizona's Proposition 127, which would have upped the state's renewable energy target to 50 percent by 2030, was also defeated, as was Alaska's Ballot Measure 1, which would have imposed new restrictions on projects that threaten salmon habitat. Florida's unusual Amendment 9, banning both offshore oil drilling and indoor vaping, was the only one to succeed.
2. Climate Change Tipping Point
Carlos Curbelo didn't lose, @DebbieforFL won. This race was fought on climate change and won on climate change. T… https://t.co/hc6DMi0XSc

— Eric Holthaus (@Eric Holthaus)1541559846.0
Climate change was also a campaign issue in several key races, and, while it's hard to pinpoint what issue tipped a candidate over the edge to victory, there were some wins where it might have made a difference.

Before the election, Grist assembled an analysis of five hotly contested races in districts where more than two-thirds of residents were worried about climate change. Turns out, all of the Democrats in those races won or are currently leading in the polls, according to The New York Times.
Anti-pipeline and offshore drilling Democrat Tom Malinowski beat Republican incumbent Leonard Lance in New Jersey's seventh district.
Democrat Colin Allred, who wants to rejoin the Paris agreement, defeated incumbent Republican Pete Sessions, who wants to scale back the EPA. This is in Texas' 32nd district, which saw unusually deadly storms and flooding this fall.
Also in Texas, Republican incumbent John Culberson lost to Democrat Lizzie Pannill Fletcher in the seventh district that includes parts of Houston deeply impacted by Hurricane Harvey last year.
Florida's 26th district is its southernmost point, already grappling with tidal flooding due to sea level rise. Republican incumbent Carlos Curbelo was not a climate denier, and in fact founded the bipartisan Climate Solutions Caucus. But Democrat Debbie Mucarsel-Powell promised more environmental action and won.
The race between Republican incumbent Dana Rohrabacher and Democratic challenger Harley Rouda for California's 48th district, which includes parts of coastal Orange County at risk from sea level rise, is still too close to call. But Rouda, who opposed offshore oil drilling and promised clean energy, is leading.
3. Rise of the Green New Deal:
The Green New Deal: fixing climate and the economy? www.youtube.com
The brightest glimmer of hope to come out of the midterms is the fact that there are now four Democrats in the House who are calling for a Green New Deal, a massive government push to turn away from fossil fuels and build renewable energy infrastructure, The Huffington Post reported.

Alexandria Ocasio-Cortez confirmed her win after her surprise primary victory in New York's 14th district this summer, and she is joined in championing the issue by the first two Muslim women in Congress: Ilhan Omar in Minnesota's 5th District and Rashida Tlaib in Michigan's 13th. Antonio Delgado beat Republican John Faso in New York's 19th district to round out the group.
While some influential champions of the idea, like Florida Democratic gubernatorial candidate Andrew Gillum, lost their races, Penn State University climate scientist Michael Mann said it was important that the idea was gaining ground given the dire warnings of the most recent Intergovernmental Panel on Climate Change report on limiting global warming to 1.5 degrees Celsius above pre-industrial levels.
"This is the sort of bold and audacious thinking that we need when it comes to confronting the ever-pressing challenge of averting catastrophic climate change," Mann told the Huffington Post.
New Green Strategy: Change the Electorate, Not the Election #ClimateVoter #VoteOnClimate #IVoted https://t.co/JGhLvyxC3Z

— EcoWatch (@EcoWatch)1540467013.0
From Your Site Articles
Related Articles Around the Web