People wait in long lines at a grocery store in Austin, Texas on Feb. 17, 2021 as millions of Texans were without water and electricity during winter storms. Montinique Monroe / Getty Images
By Mathew Barlow and Judah Cohen

In February 2021, in the midst of rapidly warming global temperatures, an exceptionally severe cold wave hit large parts of North America, from Canada to Northern Mexico. It left 10 million people without power. The impact was particularly severe in Texas, which alone had more than 125 deaths associated with the event.
In the U.S., it was the coldest February in more than 30 years. The cold wave became the nation's costliest winter storm on record.
The freezing temperatures were associated with a dip southward in the jet stream, a band of strong winds about eight miles above Earth's surface associated with the boundary between colder and warmer air.
The jet stream flows from west to east, but that's not the only direction in which atmospheric waves can move – they can also move up and down over large distances, and that can link the weather and climate in one region, like the Arctic, with regions elsewhere, like Texas.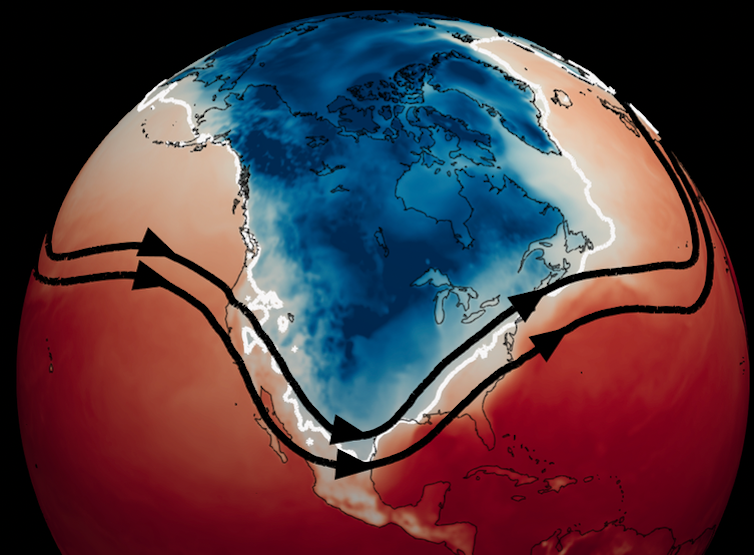 When you throw a rock in a pond, you see ripples – waves – expand away from the initial disturbance. While ripples on a pond are a different type of wave than dips in the jet stream, both types of waves can transmit the effects of a disturbance to faraway areas.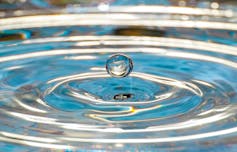 In this case, the atmospheric waves transmitted the influence of climate change in the Arctic to parts of North America and Asia.
In a study released Sept. 2, 2021, in the journal Science, we show how that happened and how, counter to what one might expect, events like the February cold wave can actually become more likely with global warming.
What Happens in the Arctic Doesn't Stay There
The Arctic is warming more rapidly than any other region, at a rate more than twice the global average.
This is causing large changes in the region's climate, including melting sea ice and, in the late fall, increasing snow cover over Siberia.
Ice and snow provide an insulating layer and are highly reflective, so their changes strongly alter the amount of energy and moisture moving between the surface of the Earth and the atmosphere. The atmosphere is sensitive to changes in energy and moisture, so substantial changes provide a "kick" to the atmosphere that results in upward moving waves rippling away from the area.
These waves move upward into the stratosphere and disrupt the stratospheric polar vortex, another band of fast winds that circles closer around the pole in the middle stratosphere, around 18 miles up. In response, the vortex weakens and stretches.
Not only can the stratospheric vortex be changed by the waves, but the vortex can also change how the waves move, because the waves are influenced by the wind and temperature fields they move through, and the vortex helps determine those winds and temperatures. What differentiates a vortex stretching event from larger vortex disruptions is that upward-moving waves are reflected back down to the surface, where they can influence lower-altitude weather patterns.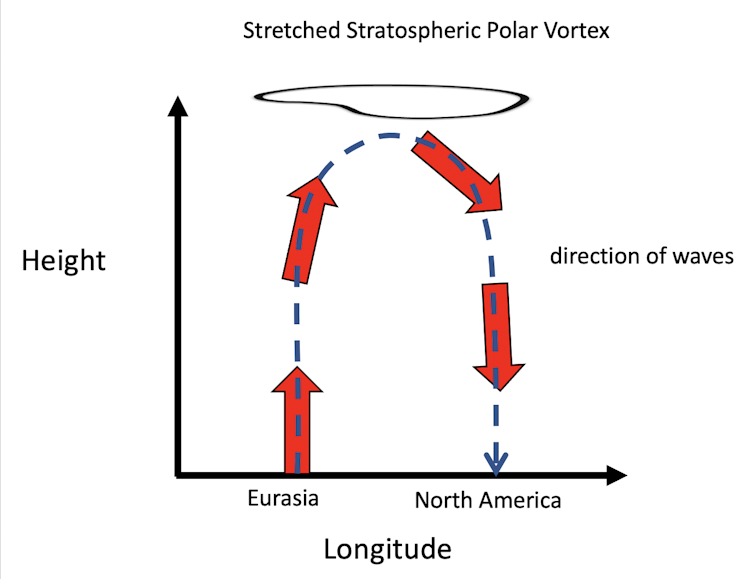 As these downward moving waves collect at lower altitudes over North America, they create a southward dip in the jet stream, bringing cold air farther south than usual. So, the upward and downward movement of atmospheric waves over long distances – like ripples moving across a pond – can link the Arctic to other regions.
Testing Cause and Effect
We took two different approaches to identifying and examining these relationships.
First, we used a machine learning, a technique in which a computer essentially trained itself to group similar events from the historical data. We then analyzed the stretched vortex events to show that, for those cases, there was a typical sequence of events: first surface temperature changes in the Arctic, then changes in the stratospheric polar vortex, followed by cold waves in North America and Asia – with vertically moving waves providing the connections over the span of a few months. The identified surface temperature changes in the Arctic are similar to those associated with the melting sea ice and increasing Siberian snow cover of Arctic climate change.
We then used a computer model of the atmosphere to evaluate cause and effect and directly test how the atmosphere responds to those Arctic changes. We found that the model reproduced the observed sequence of events.
The machine learning analysis of observations and the computer modeling experiments provide two independent lines of evidence supporting a pathway of influence – from Arctic climate change at the surface up to changes in the stratospheric winds, and finally back down to cold waves in North America and parts of Asia.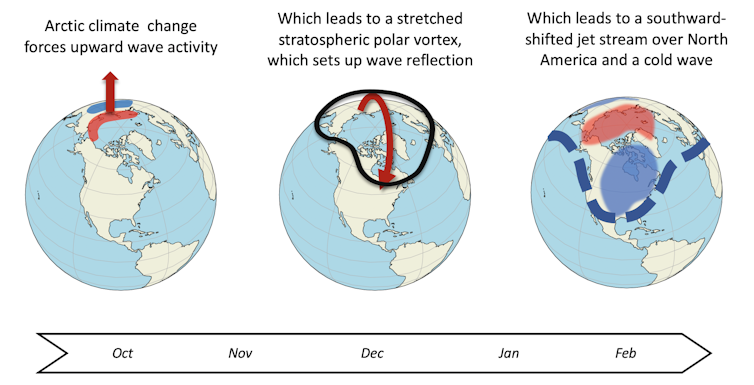 Implications of These Results
Our research reinforces two crucial lessons of climate change: First, the change doesn't have to occur in your backyard to have a big effect on you. Second, the unexpected consequences can be quite severe.
In this case, large changes in the Arctic are not just a local concern – they also have wide-ranging impacts across North America and parts of Asia. And those impacts are not always what people are expecting. The results highlight another reason to rapidly reduce the greenhouse gas emissions that are driving global warming and at the same time the need to develop better strategies for managing extreme weather events, both hot and cold.
Mathew Barlow is a professor of climate science at the University of Massachusetts Lowell.
Judah Cohen is a climate scientist at the Massachusetts Institute of Technology (MIT).

Disclosure statements: Mathew Barlow receives funding from the National Science Foundation and the National Oceanic and Atmospheric Administration. Judah Cohen receives funding from the U.S. National Science Foundation.
Reposted with permission from The Conversation.
From Your Site Articles
Related Articles Around the Web
EcoWatch Daily Newsletter
People ride bicycles past the Palais de Justice during a "car free" day in Paris, France on Oct. 1, 2017. It was the third time that the French capital experimented with a car ban. ERIC FEFERBERG / AFP via Getty Images
Despite some criticism, officials in the French capital said their decision was in line with a survey that showed 59% of Parisians were in favor of the new speed limit.
The measure is also in line with an appeal issued by the World Health Organization (WHO) in May, calling for strict speed limits in urban areas.
Up until Monday, around 60% of Parisian streets had the 30 kmh limit. Now, it applies everywhere except main ring roads and highways.
Why Is Paris Introducing the Speed Limit?
Paris officials announced the new measure in July, saying that it was aimed at increasing traffic safety, creating more space for cyclists, reducing noise and contributing to climate protection.
"The point is to reduce the space taken by cars, which involves lowering their speeds," Paris' deputy mayor, David Belliard, said.
Passer à 30km/h les rues de #Paris est une mesure intelligente: 👉🏽 diminution du bruit 👉🏽 diminution des accidents… https://t.co/84n4mkzW2h

— Emile Meunier (@Emile Meunier)1630226711.0
The speed limit is one of the campaign promises made by the city's socialist mayor, Anne Hidalgo, before last year's local elections.

Hidalgo has also expanded cycling lanes in the city, and is pushing ahead with plans to remove 60,000 of the city's roughly 140,000 street-level parking spaces.
What Do Critics of the Speed Limit Say?
Critics argue that Paris' new anti-car policies would create massive traffic headaches for residents, and people who have to commute to the capital from the suburbs.
The "40 millions d'automobilistes" car drivers' association also cast doubt on the measure. It argued that there were already few traffic accidents in Paris and that they mostly affected cyclists.
Reposted with permission from DW.
AndreyPopov / iStock / Getty Images
Many homeowners can benefit from installing solar panels, harnessing the sun's energy to help reduce or even eliminate their dependence on traditional utilities. Although solar panels can be expensive, solar loans make residential systems more accessible to homeowners.
Indeed, if you live in an area that gets consistent year-round exposure to the sun, solar panels can be an effective way to lower your home's energy costs while minimizing your environmental footprint. The biggest obstacle to solar adoption is the initial cost of solar panels.
All in, solar panel installation costs typically range from $10,000 to $35,000. In this article, we'll explain how solar loans can make that initial investment much easier to handle.
Disclaimer: This article is for informational purposes only. It should not be relied on for and is not intended to provide accounting, legal or tax advice.
Solar Loan Basics
So, how do solar loans work, exactly? Well, they're similar to home improvement loans, or any other type of purchase loan: They enable you to buy a residential solar system and pay it off over time.
There are plenty of solar loan options to choose from. For example, to finance solar panels, you can typically choose from any of the following:
An unsecured personal loan
A home equity loan or line of credit
In-house financing through your solar installation company
For the most part, the terms and conditions of solar loans mimic those of any other standard loan. Specifically:
Getting a lower interest rate means having a lower overall cost to borrow.
A shorter loan term generally means higher monthly loan payments but a lower overall cost to borrow.
Loans are available in a wide array of interest rates, term lengths, loan amounts, credit requirements, etc.
An important thing to note is that homeowners who finance their solar energy systems with a loan are still eligible for the federal solar tax credit. This gives you a credit worth 26% of your total solar installation costs.
How to Choose the Right Solar Loan
As you seek the best solar loan for your situation, there are a number of factors to keep in mind. These include:
Monthly payment amount: If you end up choosing a shorter loan term (i.e., a loan that you must pay off in a shorter amount of time), your monthly payments will probably be higher. The overall cost of the loan will be lower, but it's nevertheless important to consider the impact on your household budget.
Down payment amount: Depending on the loan you choose, you may or may not be required to put down a payment on the solar panels. Generally, larger down payments will mean lower interest rates and a more affordable loan overall.
Fees: Some solar lenders may charge prepayment penalties or monthly fees in addition to your monthly principal and interest payments. Always make sure you get fee information upfront, so as to ensure there are no surprises on your loan statement.
Secured Vs. Unsecured Solar Loans
Another important factor to consider is whether you'll get a secured solar loan or an unsecured solar loan. Here's what homeowners should know about these two options:
Secured loans are usually connected to some piece of collateral, such as a piece of equity in your house; this provides the lender with some protection. If you fail to make your payments, the lender can claim their piece of collateral. Because the lender has some insurance, secured loans usually offer lower interest rates and more favorable terms overall.
Unsecured loans do not have any collateral or security provisions for the lender. They represent a greater risk on the lender's part, and thus usually come with higher interest rates and less favorable terms.
Ultimately, the decision about which type of loan to seek comes down to this question: Do you have enough equity in your home to take out a secured loan? If so, and if you are willing to use some of that home equity to pay for solar panels, then a secured loan may be the smarter choice overall.
How to Get Low Interest Rates for Solar Loans
In addition to choosing the right type of loan, there are other steps you can take to keep your interest rates manageable when you finance a solar panel system:
Shop around: It's usually best not to go with the very first lender you find. Spend some time shopping around and comparing rates. Most lenders will give you a free quote that's good for a number of days while you compare offers from other companies.
Have someone co-sign: Having a co-signer on your solar loan — especially one with excellent credit — creates extra assurances for the lender and will usually result in more favorable rates.
Improve your credit score: There are several ways to improve your credit score to get a lower interest rate on a solar loan. For example, you can pay down old debts and credit card balances, be on time with monthly bill payments, and ensure you don't open any new credit cards as you apply for your solar loan.
Also be aware that there are things you can do to pay less over time other than getting a lower interest rate. Examples include choosing a shorter repayment period, looking for discounts like paperless or auto-pay discounts, avoiding loans with high fees and, if applicable, making a more substantial down payment.
Local Solar Loan Programs
Homeowners who are interested in going solar should also know about Property Assessed Clean Energy (PACE) loan programs. According to the Department of Energy, PACE programs "allow a property owner to finance the up-front cost of energy or other eligible improvements on a property and then pay the costs back over time through a voluntary assessment." What makes these programs unique is that the assessment is tied to the property itself, not to the individual.
PACE financing legislation exists in some form in 36 states plus Washington D.C. A handful of states have separate loan programs for homeowners interested in solar. Here are some current programs worth knowing about:
State
Solar Loan Program
Maximum
Loan Amount

Interest Rate
Longest
Repayment Term

Connecticut
Energy Conservation Loan Program
$25,000
0% to 7%
12 years
Louisiana
Home Energy Loan Program (HELP)
$6,000
2%
5 years
Michigan
Michigan Saves Home Energy Financing
$50,000
4.44% to 7.90%
15 years
North Carolina
State-regulated municipal loan options
Varies
Up to 8%
20 years
Ohio
Energy Conservation for Ohioans
(ECO-Link) Program
$50,000
3% APR reduction
on bank loans
7 years
Additionally, certain municipalities and local utility companies may offer low-interest solar loans. We recommend researching your specific area before turning to banks or credit institutions.
Where to Get a Solar Loan
If your state doesn't have its own solar energy loan program or you're not eligible for enrollment, there are plenty of other places to get solar loans. Some of the best places to check include:
Credit unions
Lending institutions
In-house financing through your solar installer (which will come from a third-party solar lender)
Again, it's crucial to shop around and compare rates before deciding on which solar lender is the best fit for your needs. To get started with a free quote and find solar loan information from a top solar company in your area, you can fill out the form below.
Frequently Asked Questions: Solar Loans

Are solar loans worth it?
There are various factors to consider as you decide whether getting a solar loan is worth it. Solar loans help you increase the value of your property, lower utility bills, minimize your impact on the environment and potentially claim some tax incentives. Then again, financing does decrease your overall savings, and extends the break-even point for your residential solar system.
Do banks do solar loans?
Some banks do offer solar loans, though often with interest rates that exceed what you'd pay elsewhere. It may be worth checking with your local bank, but always remember to shop around and compare.
What is the best way to finance solar?
If you have sufficient home equity, a secured solar loan is often the most cost-effective approach. If you don't have sufficient home equity, an unsecured solar loan can work just fine.
What type of loan is a solar panel loan?
Solar panel loans are generally considered to be a type of personal loan, similar to a home improvement loan.
Can you buy a solar battery with a solar loan?
Most often the answer is yes, but make sure you double-check the terms of your loan.
Pope Francis, Archbishop of Canterbury Justin Portal Welby, Archbishop of Constantinople and Ecumenical Patriarch Bartholomew I and patriarch of the Syriac Orthodox Church Ignatius Aphrem II attend the 30th World Day of Prayer for Peace on Sept. 20, 2016 in Assisi, Italy. Franco Origlia / Getty Images
The heads of the Roman Catholic Church, the Eastern Orthodox Church, and the Anglican Communion issued an unprecedented
joint statement
calling for action to address climate change and social inequity.
"Today we are paying the price [of the climate emergency]," the statement said. "Tomorrow could be worse... Our children's future and the future of our common home depend on it." The statement appealed to delegates at the upcoming COP26 UN climate summit to "cry of the earth and of people who are poor... for the sake of the earth which God has given us."
Pope Francis is expected to attend COP26, scheduled for early November in Scotland, and has asked Christians to pray world leaders make courageous choices. The Vatican plans to host a major gathering of world religious leaders and scientists ahead of COP26 to take a common stand against the climate crisis and raise the stakes of the Glasgow conference.
Co-signer and former oil executive Archbishop Justin Welby of the Anglican Commission has previously been outspoken about the moral crisis of climate change, but has failed to fully divest his Church of England from carbon-intensive companies, arguing it can force more change on the fossil fuel industry as a shareholder.
For a deeper dive:
Reuters, NBC News, ABC News, Sky News, HuffPost, The Guardian, Bloomberg
For more climate change and clean energy news, you can follow Climate Nexus on Twitter and Facebook, sign up for daily Hot News, and visit their news site, Nexus Media News.
From Your Site Articles
Related Articles Around the Web
An evacuated resident wades through high water following a flash flood as Tropical Storm Henri makes landfall in Helmetta, New Jersey on Aug. 22, 2021. TOM BRENNER / AFP via Getty Images
Nearly one-third of all Americans live in a county hit by an extreme weather disaster in the past three months, with far more living in places that have endured a multiday heatwave, a Washington Post analysis revealed.
Climate change, caused by the extraction and combustion of fossil fuels, is supercharging heatwaves, hurricanes, wildfires fueled by drought, and extreme precipitation that causes flooding. Those phenomena have killed at least 388 people in the U.S. since June.
The unprecedented summer of climate-fueled tragedy has hit people who previously considered themselves immune to climate risk and has overwhelmed seasoned survivors of such disasters who say this is the worst summer they've experienced — it also comes as Democrats in Washington work to enact legislation that would address its root causes. The political window for such action, however, is closing.
With the midterms looming, Democratic Sen. Joe Manchin of West Virginia, linchpin vote connected with multiple coal firms, called for a "strategic pause" on that legislation last week. Meanwhile, the rest of the party barnstorms the country to raise support for the bill. "It sounds like a lot of money... but it is what we spend in five years fighting forest fires," Sen. Michael Bennet (D-Colo.), hardly a liberal firebrand himself, told constituents in Clear Creek.
Bernie Sanders is also traveling the country, and the White House is driving the message with senior advisor and former Louisiana Congressman Cedric Richmond promoting action on ABC's "This Week" on Sunday and President Biden directly tying the devastation wrought by Ida to climate change and the need to take decisive action.
"Super storms are going to come and they're going to come more ferociously," Biden said while visiting Louisiana Friday "This isn't about being a Democrat or a Republican. We're Americans and we'll get through this together."

As reported by The Washington Post:
Americans' growing sense of vulnerability is palpable. Craig Fugate, former head of the Federal Emergency Management Agency and Florida's Emergency Management Division, has never known a summer as packed with crises as this one.

The question, he wonders, is whether this calamitous season will mark a turning point in public opinion that finally forces political leaders to act. "If not," Fugate asked, "what will it take?"

Even seasoned survivors say that recent disasters are the worst they've ever experienced. People who never considered themselves at risk from climate change are suddenly waking up to floodwaters outside their windows and smoke in their skies, wondering if anywhere is safe.

The true test of this summer's significance will be in whether the United States can meaningfully curb its planet-warming emissions — and fast.
The nation's most ambitious plan to address climate change and adapt to its impacts — Democrats' $3.5 trillion budget bill — is now in jeopardy after Sen. Joe Manchin III (D-W.Va.) called for a "strategic pause" on the legislation Thursday, citing concern over the price tag. The proposal to institute renewable energy requirements for power companies, impose import fees on polluters and provide generous support for electric vehicles cannot pass without Manchin's vote.
For a deeper dive:

Extreme weather: The Washington Post, The Hill, Axios; Opportunity for action: The New York Times, AP; Closing window: Axios; Manchin: The Intercept; Bennet: The New York Times; Sanders: The New York Times; Richmond: POLITICO; Biden: Reuters; Climate Signals background; Extreme heat and heatwaves, 2021 Atlantic hurricane season, 2021 Western wildfire season, Extreme precipitation increase, Flooding, Drought
For more climate change and clean energy news, you can follow Climate Nexus on Twitter and Facebook, sign up for daily Hot News, and visit their news site, Nexus Media News.
From Your Site Articles
Related Articles Around the Web
© Andy Carter / DeSmog
By Rich Collett-White and Rachel Sherrington
Fossil fuel companies could face legal challenges over their misleading advertising, after a DeSmog investigation uncovered the extent of their "greenwashing."
Environmental lawyers ClientEarth have put companies on notice with the publication of the Greenwashing Files. The analyses, which use DeSmog's research, show how adverts of major fossil fuel companies and energy producers continue to overemphasize their green credentials, giving the public a misleading impression of their businesses.
DeSmog analyzed the advertising output of Aramco, Chevron, Drax, Equinor, ExxonMobil, Ineos, RWE, Shell and Total, and compared this with the reality of the companies' current and future business activities.
ClientEarth submitted a complaint against BP's advertising in 2019, before the company decided to withdraw its "Possibilities Everywhere" campaign. The lawyers say other fossil fuel companies could face similar challenges if they mislead the public through their advertising. The group is calling for tobacco-style advertising bans and health warnings to counter fossil fuel companies' "deceptive" marketing.
DeSmog's investigation found messaging that touts companies' climate pledges without being transparent about their large emissions contributions is widespread across advertising campaigns and social media promotions.
The adverts regularly highlight the companies' preferred solutions to climate change — from carbon capture and storage, to experimental algae biofuels, and investment in renewable energy sources — without being open about the small percentage of overall investment allocated to these technologies, nor their various limitations.
The Greenwashing Files lay bare the contrast between the public image these adverts create, and the reality of the fossil fuel companies' activities.
All companies featured in this article were contacted for comment.
ExxonMobil – 'Powering Progress'
"We're working on ways to provide energy while addressing the risks of climate change, producing clean-burning natural gas to reduce emissions from power plants, capturing CO2 before it reaches the atmosphere, and exploring unexpected energy sources like biofuels made from algae," a reassuring voice tells us in Exxon's "Powering Progress" advert – one of several released in recent years that present the US oil giant as a leader in green technologies.
But while the ad shows Exxon scientists hard at work developing "algae farms" and technology designed to suck carbon dioxide from the air, its business activities tell a different story.

Exxon is increasingly an outlier among fossil fuel companies and other major emitters, having refused to set an absolute emissions reduction target, opting instead for gradual "carbon intensity" reductions which still allow for overall emissions to increase. It has no plans to cut oil and gas production, which energy analysts say is urgently needed to meet the goals of the Paris Agreement.
While Exxon remains responsible for a significant portion of global emissions – with documents in 2019 revealing a total annual output roughly equivalent to that of Canada – its spending on clean energies has been a tiny fraction of its investments, with just 0.2 percent of its investment in new projects going to low carbon sources between 2010 and 2018.
And while "Powering Progress" and other ads put Exxon's investments in algae biofuels at the fore, it has spent just $300 million on the technology in a decade, compared with yearly capital investment of around $20 billion. Experts doubt whether the technology will ever be commercially viable or usable at scale.
RWE – 'We are the new RWE'
A video by German energy giant RWE takes the viewer through landmark inventions that have spurred on human civilisation since the industrial revolution – the light bulb, the radio, mass transport – before arriving at the present day. "Every time has its energy," the ad tells us, adding that "times are changing. Society is changing. Companies are changing, and we are changing too."
The images cut to wind turbines, and the forces of nature that are powering what we are told is today's "renewable age." The company positions itself at the heart of this transition, telling the viewer it is "focusing on renewable energies and storage, for a sustainable world," and that it is providing "clean, reliable and affordable" energy as part of its transition to "the new RWE."

The campaign accompanies pledges to become "carbon neutral" by 2040 and oversee a significant expansion into wind and solar energy.
But the growth of RWE's low-carbon activities has not been matched by an exit from fossil fuels. RWE remains the largest emitter in Europe, according to a recent study by Greenpeace, and its three major lignite coal-fired power stations all feature in the EU's top five highest-emitting plants. Under current plans, it will continue to generate coal-fired electricity until the end of 2038, almost a decade after the deadline recommended for OECD countries by climate experts, at the same time as expanding its already significant fossil gas business.
Despite its claims to focus on clean energy, 80 percent of the company's energy still comes from non-renewable sources, mostly highly-polluting brown coal, hard coal and gas. The company also counts controversial and carbon-intensive biomass amongst its "renewable" energy sources despite warnings from scientists over its use.
Drax – 'Beyond Coal'
Drax, another energy company that now relies heavily on biomass and operates the UK's largest power station in North Yorkshire, has worked hard to bolster its green credentials in recent years, positioning itself as an ally in the fight against climate change.
Last year, it released an advert celebrating the company's shift away from coal-fired energy production, which it completed in March. Set to an uplifting soundtrack, the video calls the move a "major step towards Drax's ambition to become carbon negative by 2030," while touting a new "Zero Carbon Skills Taskforce" to ensure the surrounding area "isn't defined by its past, but by its future."
A 2020 year-in-review video meanwhile describes Drax as "among Europe's lowest carbon intensity power generators," producing "77 percent renewable electricity."
But the company's claims about the climate-friendliness of biomass, which has now taken over from coal as the principal source of energy at its power station thanks to generous government subsidies, have been widely disputed. Burning wood pellets has been found to be more carbon-intensive than fossil fuels in most circumstances, while experts doubt that trees planted in their place can re-absorb the carbon dioxide emitted, on a meaningful timescale.

Carbon capture and storage – another key plank of Drax's low-carbon strategy – remains uneconomical at scale, with the company's own use of the technology still in the pilot phase.
In response to questions from DeSmog, Drax said emissions from biomass energy are "already accounted for in the land-use sector and therefore considered carbon neutral at the point of combustion," in line with "established global best practice" set out by the UN IPCC.
It also said biomass should be considered renewable "because the forests we source from are growing and storing more carbon" and pointed to its plans for a bioenergy with carbon capture and storage (BECCS) unit by 2027, "creating tens of thousands of jobs" and "permanently removing millions of tonnes of carbon dioxide from the atmosphere each year."
Aramco – 'The Moment is Now'
The Saudi Arabian state-owned oil and gas giant, Aramco, became the most valuable listed company in history when it floated on the stock market at the end of 2019. But the fossil fuel behemoth is at pains to assure viewers it is concerned about more than just its bottom line.
In an advert titled "The Moment is Now," an Aramco employee tells a lecture theatre full of colleagues that "as we open up to the world, we know more than ever before that we must continue towards a sustainable future."
"We value the natural resources we discover but never forget it is our human energy that drives us to create a better world," she says to the audience, who reward her presentation with a standing ovation.
Elsewhere, the company insists it is driven by a "commitment to preserving the environment because protecting our planet is one of our most important values."

That's despite the company being the world's largest corporate greenhouse gas emitter, responsible for an estimated four percent of all global emissions since 1965.
Aramco's oil and gas reserves total more than those of ExxonMobil, Chevron, Shell, BP and Total combined, while the company refuses to disclose its full emissions. Its majority shareholder, the Saudi Arabian government, has been at the forefront of efforts to stall international action on climate change for decades. At the last UN climate talks in Madrid, over a third of Saudi Arabia's representatives were associated with the oil and gas industry, many with Aramco.
Equinor – 'This is what changed us.'
Previously trading under the name Statoil, the Norwegian state-owned oil and gas company Equinor rebranded in 2018, with the hope of highlighting its transformation into a "broad energy company" and its growing low-carbon energy division.
Equinor explained its reasons for the name change in an advert called "Equinor. This is what changed us." Scenes of raging storms and melting ice caps are displayed while the narrator says: "Some changes are so profound that they transcend everything. Changes that require us to find a new balance."
In a more recent ad, the company insists that "emissions must come down and it must happen fast."

Equinor is certainly taking steps to increase its investments in low-carbon technologies, with plans to up its renewable energy capacity to 4-6 gigawatts by 2026, and has set a "net zero" emissions target for 2050.
But this shift is largely in addition to, rather than in place of, its core oil and gas business. The company is still exploring for more oil and gas reserves and does not intend to start reducing its fossil fuel production before 2030. Last year, it opened the largest oil field in Western Europe and is heavily involved in ventures in the Arctic.
Equinor promotes natural gas as the "perfect fuel to balance renewable energy" and was given a warning two years ago by the UK's Advertising Standards Authority for claiming the fuel was a "low-carbon" energy source.
Another technology the company touts is carbon capture and storage (CCS), but all of the projects it is involved in currently amount to less than three percent of its overall emissions.
Greenwashing Files
ClientEarth lawyer Johnny White said the collection of adverts showed the fossil fuel companies were involved in a "great deception."
"We need to reduce reliance on fossil fuels. But instead of leading a low-carbon transition, these companies are putting out advertising which distracts the public and launders their image," he said.
"These adverts are misrepresenting the true nature of companies' businesses, of their contribution to climate change, and of their transition plans," he added, saying that "we cannot underestimate the real world impact this advertising has on the pace of change."
You can find the full set of adverts and analyses here.
Additional research by Michaela Herrmann. Edited by Mat Hope.
Disclaimer: ClientEarth lawyer Sophie Marjanac sits on the board of DeSmog UK Ltd.
Reposted with permission from DeSmog.
A solar array in Ft. Worth, Texas. Dave Matthews / Contributor / Getty Images
The Texas power grid is expected to see its highest power demand of 2021 this week with extreme heat expected there and across the country.
The intense power demands raise concerns over the grid's ability to keep the lights on after thousands were plunged into deadly blackouts in February following the failure of the gas system.
Solar installations in Texas have doubled since last year. Daniel Cohan, a professor of civil and environmental engineering at Rice University, told Earther that solar installations could provide "a buffer on hot afternoons." Still, experts are unimpressed with steps taken by ERCOT and Gov. Greg Abbott to address the power grid's shortcomings.
"The governor's been caught with his pants down, and is desperately praying we get through the summer and the next winter and through the primary season," Ed Hirs, a professor of energy economics at the University of Houston, told Earther. "It's a real serious problem. Texans have paid billions of dollars, and we're going to see billions of dollars for these mistakes."

For a deeper dive:
For more climate change and clean energy news, you can follow Climate Nexus on Twitter and Facebook, sign up for daily Hot News, and visit their news site, Nexus Media News.
Employees with Ipsun Solar install solar panels on the roof of the Peace Lutheran Church in Alexandria, Virginia on May 17, 2021. ANDREW CABALLERO-REYNOLDS / AFP via Getty Images
New renewable energy installations are on record pace this year, new industry data shows.
The Q2 report from the American Clean Power Association shows more than 2 gigawatts of solar energy were installed in April through June, along with nearly 3 gigawatts of wind capacity. Battery storage installed this year almost matches the storage installed throughout all of 2020.
Texas, by far the leading state in terms of installed clean power capacity, installed almost 1.5GW of clean power in QW2 alone, nearly triple runner-up California. Despite the industry's robust growth, both it and the White House agree new policy is needed to ensure the president's goal of achieving 100% carbon-free power by 2035 is met.
As reported by PV Magazine:
BloombergNEF head of analysis Albert Cheung warned, however, that 1.8% year-on-year increase is "nothing to write home about." He said that "an immediate acceleration in funding is needed if we are to get on track for global net zero."

For a deeper dive:

Axios, S&P Global, PV Magazine, POLITICO Pro
For more climate change and clean energy news, you can follow Climate Nexus on Twitter and Facebook, sign up for daily Hot News, and visit their news site, Nexus Media News.
From Your Site Articles
Related Articles Around the Web
A flare stack next to pump jacks and other oil and gas infrastructure on April 24, 2020 in the Permian Basin near Odessa, Texas. PAUL RATJE / AFP via Getty Images
The move reflects pressure on European fossil fuel companies like the Netherlands-based Shell to shift towards cleaner sources of energy in response to the climate crisis, The New York Times reported. It also comes around four months after a Dutch court ordered the company to reduce its greenhouse gas emissions to 45 percent of 2019 levels by 2030.
"After reviewing multiple strategies and portfolio options for our Permian assets, this transaction with ConocoPhillips emerged as a very compelling value proposition," Shell Upstream director Wael Sawan said in an announcement. "This decision once again reflects our focus on value over volumes as well as disciplined stewardship of capital."
The Permian Basin is the largest oil field in the U.S., and the sale comes as production is recovering there following the coronavirus pandemic, The New York Times noted. It produced 4.7 million barrels a day in August, which is up almost 400,000 barrels a day from January and represents more than 40 percent of U.S. oil production. In an indication that its decision is motivated by climate concerns, Shell said in its announcement that its Upstream division was concerned with creating "a more focused, competitive and resilient portfolio that provides the energy the world needs today whilst funding shareholder distributions as well as the energy transition."
Shell on its own has committed to achieving net zero emissions by 2050 and reducing oil production by as much as two percent per year through 2030.
However, the sale to ConocoPhillips means that overall oil production in the region will likely not decrease. Instead, it reveals a split between European and U.S. fossil fuel companies, Reuters observed. While BP and Shell have pledged to move slowly away from crude production and invest in renewable energy sources like wind and solar, ExxonMobil and Chevron have remained committed to oil and gas.
However, historically, both U.S. and European fossil fuel companies continued production despite being aware of the possible consequences of the climate crisis. An internal document from Shell written in 1986 warned of consequences like flooding and forced migration, as Benjamin Franta wrote for the London School of Economics.
ConocoPhillips now emerges as one of the largest producers in the Permian Basin, Bloomberg reported. The company currently holds 750,000 net acres in the Permian, and the sale will add around 225,000 net acres and more than 600 miles of associated infrastructure to that total, according to Reuters.
"We are very excited to enhance our position in one of the best basins in the world," the company's CEO Ryan M. Lance told The New York Times.
However, ConocoPhillips has also said it will increase its emissions reduction targets, Reuters reported.
Mapping Methane in the Permian Basin youtu.be
The wetlands of the U.S. Gulf Coast are especially vulnerable to sea level rise. Mint Images / Getty Images
Tidal wetlands are vitally important ecosystems that provide food, host fishery stocks, store carbon and protect coasts from storm surges.
They are also extremely vulnerable to sea level rise. In fact, a study published in Earth's Future recently found that 43 to 48 percent of the tidal wetlands along the coastal U.S. were vulnerable to inundation by 2100. Further, that vulnerability is heavily influenced by where they are located.
"When someone says, 'Hey we have one meter of sea level rise projected for the next 100 years,' that means something very different for each part of the U.S. coast," study lead author James Holmquist of the Smithsonian Environmental Research Center told EcoWatch.
Vertical and Lateral Vulnerability
To assess how vulnerable tidal marshes were to sea level rise, the researchers looked at two metrics of vulnerability: vertical and lateral.
Vertical vulnerability refers to a wetland's ability to raise its elevation by accreting, or building up, sediment. A wetland is more vulnerable if the projected rate of sea level rise in its area outpaces its ability to raise itself up.
Lateral vulnerability, on the other hand, refers to a wetland's ability to move inland, which is limited if the adjacent ground is too steep or already in use for farming or development. The researchers calculated lateral vulnerability by looking at the "sliver of land" between where wetlands currently end and where they would need to expand to in order to offset future sea level rise. They then determined whether and how much of that land was available.
To reach their conclusions, the study authors relied on sea level rise projections based on low, medium and high greenhouse gas emissions scenarios through 2100 to determine how they would interact with the two types of vulnerability.
"For most of the U.S.," Holmquist said, "those two things offset each other, but for some places they compound."
In fact, they compounded for 43 to 48 percent of wetlands, predominantly in the Gulf of Mexico and along the mid-Atlantic Coast, specifically Chesapeake Bay.
The study also found regional variations. Wetlands in the South tended to face more vertical vulnerability, while wetlands in the North and along the Pacific Coast faced more lateral vulnerability, in many cases because of development. Homlquist offered the example of his native state of California.
"You look at the marshes there, they're just built around," he said. "You go to the Sacramento Delta, it's all farmland."
Local Impacts
These findings emphasize that sea level rise is very much a local problem.
"I think that the strength of this paper is... localizing those forecasts using what we know about the geography of the U.S. coasts," he said.
This is something that is clear to those who work to protect the vulnerable wetlands of the U.S. Gulf Coast, such as Arsum Pathak, who has a Ph.D. in climate science and serves as the adaptation and coastal resilience specialist for the National Wildlife Federation (NWF)'s south-central region.
Pathak told EcoWatch that she agreed with the paper's finding that "the vulnerability is higher in the Gulf and especially around Texas and Louisiana."
This is because, in addition to sea level rise, the land beneath the Gulf is sinking, largely due to human activities including groundwater and oil and gas extraction. The one-two punch of sea level rise and subsidence means it's fair to say the region is doubly victimized by the fossil fuel industry.
"There's multiple drivers," she said.
Pathak focuses on how this vulnerability plays out along the Texas Mid-Coast specifically. An assessment she co-wrote for NWF found that as much as 21 percent of the coast could be converted to open water by 2100, including saltwater wetlands in the Guadalupe Delta, the barrier islands of the Aransas National Wildlife Refuge (NWR) and Boggy NWR. Together, these changes could destroy valuable habitat for whooping cranes, migratory waterfowl, ducks and geese.
To address this, Pathak said, "the best place to start is preserving what we have and restoring what we have started to degrade or we're starting to lose."
This, she argued, would require political will and leadership, as well as funding to protect vulnerable areas. Pathak said it was important to secure that funding by emphasizing the many benefits of wetlands, from habitats for endangered species to human recreation to nature-based solutions to the climate crisis.
"The wetlands are also our first line of defense when it comes to climate change," she said.
State of the Science
Helping determine what wetland protection projects might need funds is something Holmquist thought his research might help with.
"I hope it helps with identifying not just the most vulnerable wetlands today but the most vulnerable wetlands tomorrow," he said.
In general, Holmquist said he hoped his study would improve the "state of the science" and lead to better forecasts for sea level rise. Those forecasts, he argued, should be:
Localized, in the way the current study emphasized.
Near-term, moving from the length of a century to the length of a mortgage.
Process-based rather than the statistical forecasts highlighted in the recent study.
Holmquist is now pursuing this "dream" of creating open-sourced, process-based forecasting models as the manager of the Coastal Carbon Research Coordination Network.
"I'm really trying to push this next generation of coastal wetland elevation and carbon storage forecasting," he said.
From Your Site Articles
Related Articles Around the Web
Rock climber Alex Honnold joins Ando in advocating for sustainable banking. Ando
World-renowned rock climber
Alex Honnold
, famous for his free ascent of Yosemite's El Capitan's 3,000-foot sheer rock face in
Free Solo
, has found his next "mountainous" challenge: the
climate crisis
.
The athlete, who is a life-long environmentalist, has partnered with financial technology innovator Ando to fight and reverse climate change through sustainable banking. And, he's inviting you, me and everyone who will listen to join him in investing in our collective future.
According to Honnold, the majority of big banks have been bankrolling the polluting fossil fuel industries for decades. In an Oct. 2020 piece penned for Outside magazine, Honnold explained, "When you put your money in a bank it doesn't just sit there — the bank loans up to 90% of its capital to other projects... Six of the top ten institutions supporting increased fossil fuel extraction are U.S.-based."
This has resulted in trillions of bank client dollars being pumped into planet-damaging fossil fuel industries with zero control in the hands of the individuals whose money it actually was, Ando said in an announcement of their partnership with Honnold. The amount tops $3.8 trillion of banking clients' money being invested in fossil fuels in just the five years since the Paris agreement, an Ando representative told EcoWatch.
"It's ironic that most people's money winds up being used for all kinds of projects that they personally would never support," Honnold wrote in Outside. "An individual can go vegan, compost, and turn their thermostat down only to find that the money in their savings account is funding a pipeline or fracking."
In the piece, the legend also drew parallels between his "impossible-dream-turned-real" ascent of El Cap and the global fight against climate change. He called the latter the "apex issue facing our generation — an issue that feels too big and too complex to act on" just as his climb had felt before he conquered it.
Honnold noted that the climate crisis is "all-encompassing" and "urgent" because it will impact almost every other environmental issue. Most scientists agree that as a global community we only have until 2030 to make meaningful changes before the worst effects of warming are permanently baked into our future, he wrote.
Now, through this partnership, Honnold and Ando are inviting people to make one of the most meaningful and powerful changes they can: switching to a sustainable bank like Ando. This will ensure that their money is used as a force of environmental good instead of financing additional fossil fuel extraction.
Ando is a "radically transparent banking service" with a mission to end the banking industry's financing of fossil fuels, the Ando representative said. All customer money run through Ando — including Honnold's and anyone he convinces to create an account — is exclusively invested in carbon-reducing projects striving to reverse the devastating impacts of the climate crisis.
"That's what's so exciting about Ando — we invest 100% of deposits into green initiatives like renewable energy and sustainable agriculture. Finally, you're in control, able to bank with a company that shares your values and uses your money to help heal the planet," the partnership announcement added.
As a fully transparent bank, Ando allows clients to choose how their money can impact the planet. Ando
As it turns out, swapping to a sustainable bank like Ando allows an individual to have up to 27 times the impact of other environmental actions like going vegan, taking shorter showers, or installing solar panels on their roof, an unrelated study by Nordea Group Sustainable Finance found.
Honnold and Ando hope to mobilize the former's enthusiastic fan base towards their shared mission. Honnold wrote, "The simplest way to reduce energy extraction from the Arctic, tar sands, and via fracking and coal is to decrease the funding to these dirty technologies. Being deliberate and choosing a sustainable bank is key."
The environmentalist and athlete concluded, "After all, your bank is using your money to impact the world, one way or another."
The slogan "Lignite is deadly. For our villages and our climate" is projected onto a German coal plant on Sept. 9, 2021. Oliver Berg / picture alliance via Getty Images
Scientists have warned that coal burning needs to be phased out by 2050 in order to limit global warming to 1.5 degrees Celsius above pre-industrial levels and avoid the worst impacts of the climate crisis.
Now, a new report reveals that this goal may be within sight: the number of proposed coal plants has dropped by 76 percent since the Paris agreement was signed in 2015.
"The structural transformation of the global electricity sector is accelerating, with countries increasingly steering away from coal power generation as they recognise that coal is a fuel of the past," report author and E3G research manager Leo Roberts said in a press release.
The new report was a joint effort from E3G, Global Energy Monitor and Ember, according to The Guardian. It found that a total of 40 countries have no new coal plants planned. This means that they could easily join the 44 countries that have already committed to no new coal.
Further, the report shows that the global turn away from coal has been effective. A total of 1,175 gigawatts of new coal projects have been canceled since 2015, the report noted. This means that the world avoided a second China's worth of new coal plants as of June 2021.
"Only five years ago, there were so many new coal power plants planned to be built, but most of these have now been either officially halted, or are paused and unlikely to ever be built," Ember global programme lead Dave Jones said in the press release. "Multiple countries can add their voices to a snowball of public commitments to 'no new coal,' collectively delivering a key milestone to sealing coal's fate."
The report attributed the shift away from coal to a mixture of government policies, popular pressure and a changing energy market.
"The economics of coal have become increasingly uncompetitive in comparison to renewable energy, while the risk of stranded assets has increased," report author and E3G associate director Chris Littlecott said in the press release. "Governments can now act with confidence to commit to 'no new coal.'"
Now, only six countries have the power to remove 82 percent of the world's new coal pipeline: China, India, Vietnam, Indonesia, Turkey and Bangladesh.
The report authors called on world leaders to use the upcoming UN COP26 climate change conference in Glasgow this November to enshrine a commitment to no new coal.
"[Coal] plants are incompatible with the international Paris climate agreement. The world's leading scientific bodies are clear: coal power needs to be essentially phased out in the next two decades to prevent dangerous climate change," report co-author and Global Energy Monitor program director Christine Shearer said in the press release. "The upcoming climate talks are an opportune time for the world's leaders to come together and commit to a world with no new coal plants, in line with what the science demands."
Smoke billows from stacks as a woman walks near a coal-fired power plant in Shanxi, China on Nov. 26, 2015. China has announced that will no longer build coal-fired power plants overseas. Kevin Frayer / Getty Images
The announcements come as leaders seek to build momentum before the UN's COP26 climate conference in November.
Xi Announces Ending of Chinese Coal Support Abroad
China will no longer build coal-fired power plants overseas, Chinese President Xi Jinping announced Tuesday in an address to the UN General Assembly. While Xi gave no timeline, the announcement is likely to mark the beginning of the end of coal plant construction in the developing world. Depending on when it is implemented, China's new policy could cut off $50 billion of foreign investment and halt the construction of up to 47 planned coal plants in 20 countries, about equal to the entire remaining German coal fleet.
"It's a big deal. China was the only significant funder of overseas coal left. This announcement essentially ends all public support for coal globally," Joanna Lewis, an expert on China, energy and climate at Georgetown University, told The AP. "This is the announcement many have been waiting for."
Asia Society Policy Institute fellow and former climate diplomat Thom Woodroofe described the announcement as a "line in the sand" and told The Guardian, "It is further evidence China knows the future is paved by renewables. The key question now is when they will draw a similar line in the sand at home."
For a deeper dive:
The Guardian
,
NPR
,
Wall Street Journal
,
Reuters
,
The New York Times
,
POLITICO
,
Axios
,
BBC
,
Reuters
,
Climate Home
,
CNET
,
FT
,
Washington Examiner
Biden Pledges to Boost Global Climate Funding
President Biden promised to redouble American financial assistance to developing nations to combat and adapt to the climate crisis in his address to the UN General Assembly, Tuesday. "In April, I announced the United States will double our public international financing to help developing nations tackle the climate crisis, and today, I'm proud to announce that we'll work with the Congress to double that number again, including for adaptation efforts," Biden said.
The persistent failure of wealthy nations to meet their own promises to help the developing world is a major obstacle to meaningful progress at the upcoming COP26 UN climate conference. Biden's pledge of $11.4 billion annually, while much more than the current $2 billion the U.S. is contributing, is still far less than the $43.4 billion the world's largest historical polluter would need to contribute to pay its "fair share," according to the independent Overseas Development Institute.
Biden also called for what he described as "relentless diplomacy" to address global crises and rejected the idea of a new Cold War with China.
President Joe Biden addresses the UN General Assembly on Sept. 21, 2021. United Nations
For a deeper dive:
Finance: Yahoo, The Washington Post, The New York Times, The Guardian, E&E News, Climate Home, Bloomberg, The Hill, HuffPost, Reuters, Axios, POLITICO; Diplomacy: NPR, AP, CBS, The Wall Street Journal, NBC, The New York Times, Reuters, The New York Times, The New York Times