Sea Shepherd Global
Sea Shepherd Global has documented the grisly annual hunt and slaughter of pilot whales and dolphins in the Danish Faroe Islands.
As part of its ongoing Operation Bloody Fjords campaign, the ocean conservation group sent a crew of volunteers posing as tourists to six different Faroese towns covering 19 designated whaling bays with the aim of "[exposing] the continued barbaric killing of dolphins and pilot whales," campaign leader and Sea Shepherd UK Director Robert Read said.
Over the course of ten weeks from this July to early September, the volunteers documented nine separate grindadráp events (what these yearly hunts are called in Faroese). According to the group, 198 Atlantic white-sided dolphins and 436 pilot whales were killed.
The Faroese whaling tradition, also known as a grind, has a recorded history since 1584. During a grind, island authorities allow a flotilla of boats to drive dolphins and whales into a shallow bay. The animals are then killed with a whaling knife that severs their spinal cord.
Sea Shepherd Global
"We witnessed the whole process from the driving in of the 50 or so pilot whales through the slaughter, the butchering and the distribution of the meat and blubber," said one volunteer in a statement provided to EcoWatch about the the Aug. 29 grindadráp in the village of Hvannasund.
"As the pilot whales were driven to the shoreline by the small boats the intensity of the thrashing bodies grew. Hooks were sunk into the blowholes and the whales were dragged onto the shore in a sadistic game of 'Tug of War.' We witnessed whales seemingly bashing their heads against the stones in a frenzy."
Another witness at a July 25 dolphin hunt in the village of Sydrugota remarked about the crowds and children casually gathering at such a bloody scene.
"As we drove into Sydrugota we knew we were in the right place as the water was blood red, we continued towards the harbor and parked up, walked to the slipway to see 16 Atlantic White Sided Dolphins already had been slaughtered, lined up neatly in two rows, guts already spilled onto the concrete and spines severed, one thing I didn't expect was the stench of blood. A crowd had gathered including small children who were poking the dolphins in the eyes while their parents watched."
Sea Shepherd Global
A witness at the Funningsfjordur hunt on Aug. 5—where more than 100 dolphins were killed—was similarly taken aback by this "disconnect."
"Thoughts immediately turned to the disconnect between the image of people laughing, children playing and the barbaric scene before us at the waters edge. Many of the pod still laid on the beaches, blood flowing from the kill wounds, one dolphin with a wound so deep it had almost severed the head completely, parents could be seen taking their children down to see the bodies close up, one we observed even lifting their boy up to sit on the body of a dolphin as they took photos of him, the lack of any empathy for the lives that had just been brutally taken was clear, as was an insight into how future generations are already being exposed to this brutal act."
Faroese authorities told Fox News that hunting pilot whales on the islands is sustainable. "The long-term annual average catch of pilot whales in the Faroe Islands represents less than percent of the total estimated stock. It has long since been internationally recognized that pilot whale catches in the Faroe Islands are fully sustainable."
"Sheep farming, whaling and fowling have enabled the Faroe Islands as an island nation to maintain a relatively high degree of self-sufficiency in food production," the Faroe Islands government said in its statement. "In the Faroe Islands it is considered both economic and environmental good sense to make the most of locally available natural resources, and to maintain the knowledge required to use what nature can provide in a harsh oceanic environment."
Sea Shepherd Global
"Catches are shared largely without the exchange of money among the participants in a whale drive and residents of the local district where they are landed," the statement continued. "Each whale provides the communities with several hundred kilos of meat and blubber—meat that otherwise had to be imported from abroad."
The island government also criticized Sea Shepherd representatives for going "to any lengths to paint a negative picture of the Faroese whale hunt as 'barbaric,' 'unnecessary,' 'evil' and 'lunacy' describing Faroese as 'sadistic psychopaths' with the aim of inciting anger and outrage against the people of the Faroe Islands. They have chosen an easy target, as whale drives in the Faroe Islands take place in the open for anyone to watch and document."
Sea Shepherd, which has led campaigns to oppose the grind in the Faroe Islands since 1985, continues to speak out against this practice.
"2017 has proved to be one of the worst years for the grindadrap since the mid 1990's by the men of the Danish Faroe Islands with 1203 pilot whales and 488 dolphins killed during 24 individual hunts so far," Read said, urging people to support the Operation Bloody Fjords campaign to "help end this senseless slaughter."
Sea Shepherd Global
EcoWatch Daily Newsletter
Protest against Arctic oil at Statoil commissioned rig in Norway. Greenpeace
Peaceful "kayaktivists" from Greenpeace Norway boarded a Statoil-contracted rig set to drill two Arctic wells this year.
Two people boarded the rig at the Skipavik yard on Norway's west coast Thursday morning and have requested a meeting with the rig's captain.
Another 10 activists are in the water with signs that say, "Same shit, new wrapping," in reference to Statoil, Norway's biggest petroleum company, that wants to change its name to "Equinor."
The protesters are there "to ensure the rig does not leave port," Truls Gulowsen, the head of Greenpeace in Norway, told Reuters.
"We are prepared to stay as long as necessary," he added.
Kayaktivists from Greenpeace Norway have boarded the oil rig West Hercules in a fjord off the west coast of Norway.Greenpeace
Statoil contracted the West Hercules semisubmersible rig set to drill two exploration wells in the Barents Sea this summer.
Earlier this year, Greenpeace and other groups lost a climate case against the Norwegian government for granting new oil drilling licenses in the Arctic ocean, claiming that such activity violates people's right to a healthy environment and breaches the Paris agreement.
An appeal was launched soon after. Greenpeace demands that Statoil suspend all drilling until a final verdict is reached.
"The amount of oil and gas that has already been found is more than the climate can withstand, so it is pointless and dangerous to look for more. Nevertheless, Statoil is preparing for a massive oil exploration operation in the Barents Sea," said Gulowsen in a statement.
Greenpeace has labeled Statoil's name-change as "greenwashing."
"Whatever they call themselves, oil will still stain their name if they continue to pursue drilling in the Barents Sea and are involved in several highly controversial oil projects around the world," said Gulowsen.
"They must cancel plans for exploration drilling at Korpfjell and Gjøkåsen over the summer, for the climate and environmental reasons, and also because the oil wells are subject to a legal challenge."
Statoil said the protest would not affect operations.
"There's a contract for upcoming work, but we haven't begun any operations yet in that regard. It's from this summer and onwards," spokesman Morten Eek told Reuters.
[email protected]

Activists Interrupt Operations at an #Arctic Oil Drilling Site https://t.co/2KmvhrdB28 @greenpeaceusa @RobertKennedyJr #EndOil

— EcoWatch (@EcoWatch)1502987905.0
From Your Site Articles
Related Articles Around the Web
Patrick Fraser / DigitalVision / Getty Images
Throughout Texas, there are a number of solar power companies that can install solar panels on your roof to take advantage of the abundant sunlight. But which solar power provider should you choose? In this article, we'll provide a list of the best solar companies in the Lone Star State.
Our Picks for the Best Texas Solar Companies
Each product featured here has been independently selected by the writer. If you make a purchase using the links included, we may earn commission.
How We Chose the Best Solar Energy Companies in Texas
There are a number of factors to keep in mind when comparing and contrasting different solar providers. These are some of the considerations we used to evaluate Texas solar energy companies.
Services Offered
Different solar companies may provide varying services. Always take the time to understand the full range of what's being offered in terms of solar panel consultation, design, installation, etc. Also consider add-ons, like EV charging stations, whenever applicable.
Installation Process
When meeting with a representative from one of Texas' solar power companies, we would always encourage you to ask what the installation process involves. What kind of customization can you expect? Will your solar provider use salaried installers, or outsourced contractors? These are all important questions to raise during the due diligence process.
Coverage Areas
Texas is a big place, and as you look for a good solar power provider, you want to ensure that their services are available where you live. If you live in Austin, it doesn't do you much good to have a solar company that's active only in Houston.
Pricing and Financing
Keep in mind that the initial cost of solar panel installation can be sizable. Some solar companies are certainly more affordable than others, and you can also ask about the flexible financing options that are available to you.
Industry Affiliations
To guarantee that the renewable energy providers you select are reputable, and that they have both the integrity and the expertise needed, we would recommend assessing their status in the industry. The simplest way to do this is to check to see whether they are North American Board of Certified Energy Practitioners (NABCEP) certified or belong to the Solar Energy Industries Association (SEIA) or other industry groups.
Types of Panels
As you research different companies, it certainly doesn't hurt to get to know the specific products they offer. Inquire about their tech portfolio, and see if they are certified to install leading brands like Tesla or Panasonic.
Rebates and Tax Credits
There are a lot of opportunities to claim clean energy rebates or federal tax credits which can help with your initial solar purchase. Ask your solar provider for guidance navigating these different savings opportunities.
Warranty
Going solar is a big investment, but a warranty can help you trust that your system will work for decades. A lot of solar providers provide warranties on their technology and workmanship for 25 years or more, but you'll definitely want to ask about this on the front end.
The 10 Best Solar Energy Companies in Texas
With these criteria in mind, consider our picks for the 10 best solar energy companies in TX.
SunPower is a solar energy company that makes it easy to make an informed and totally customized decision about your solar power setup. SunPower has an online design studio where you can learn more about the different options available for your home, and even a form where you can get a free online estimate. Set up a virtual consultation to speak directly with a qualified solar installer from the comfort of your own home. It's no wonder SunPower is a top solar installation company in Texas. They make the entire process easy and expedient.
Sunpro Solar is another solar power company with a solid reputation across the country. Their services are widely available to Texas homeowners, and they make the switch to solar effortless. We recommend them for their outstanding customer service, for the ease of their consultation and design process, and for their assistance to homeowners looking to claim tax credits and other incentives.
Looking for a solar contractor with true Texas roots? Longhorn Solar is an award-winning company that's frequently touted as one of the best solar providers in the state. Their services are available in Austin, Dallas, and San Antonio, and since 2009 they have helped more than 2,000 Texans make the switch to energy efficiency with solar. We recommend them for their technical expertise, proven track record, and solar product selection.
Solartime USA is another company based in Texas. In fact, this family-owned business is located in Richardson, which is just outside of Dallas. They have ample expertise with customized solar energy solutions in residential settings, and their portfolio of online reviews attests to their first-rate customer service. We love this company for the simplicity of their process, and for all the guidance they offer customers seeking to go solar.
Next on our list is Kosmos Solar, another Texas-based solar company. They're based in the northern part of the state, and highly recommended for homeowners in the area. They supply free estimates, high-quality products, custom solar designs, and award-winning personal service. Plus, their website has a lot of great information that may help guide you while you determine whether going solar is right for you.
Sunshine Renewable Solutions is based out of Houston, and they've developed a sterling reputation for dependable service and high-quality products. They have a lot of helpful financing options, and can show you how you can make the switch to solar in a really cost-effective way. We also like that they give free estimates, so there's certainly no harm in learning more about this great local company.
"Powered by the Texas sun." That's the official tagline of Alba Energy, a solar energy provider that's based out of Katy, TX. They have lots of great information about solar panel systems and solar solutions, including solar calculators to help you tabulate your potential energy savings. Additionally, we recommend Alba Energy because all of their work is done by a trusted, in-house team of solar professionals. They maintain an A+ rating with the Better Business Bureau, and they have rave reviews from satisfied customers.
Circle L Solar has a praiseworthy mission of helping homeowners slash their energy costs while participating in the green energy revolution. This is another company that provides a lot of great information, including energy savings calculators. Also note that, in addition to solar panels, Circle L Solar also showcases a number of other assets that can help you make your home more energy efficient, including windows, weatherization services, LED lighting, and more.
You can tell by the name that South Texas Solar Systems focuses its service area on the southernmost part of the Lone Star State. Their products include a wide range of commercial and residential solar panels, as well as "off the grid" panels for homeowners who want to detach from public utilities altogether. Since 2007, this company has been a trusted solar energy provider in San Antonio and beyond.
Good Faith Energy is a certified installer of Tesla solar technology for homeowners throughout Texas. This company is really committed to ecological stewardship, and they have amassed a lot of goodwill thanks to their friendly customer service and the depth of their solar expertise. In addition to Tesla solar panels, they can also install EV charging stations and storage batteries.
What are Your Solar Financing Options in Texas?
We've mentioned already that going solar requires a significant investment on the front-end. It's worth emphasizing that some of the best solar companies provide a range of financing options, allowing you to choose whether you buy your system outright, lease it, or pay for it in monthly installments.
Also keep in mind that there are a lot of rebates and state and federal tax credits available to help offset starting costs. Find a Texas solar provider who can walk you through some of the different options.
How Much Does a Solar Energy System Cost in Texas?
How much is it going to cost you to make that initial investment into solar power? It varies by customer and by home, but the median cost of solar paneling may be somewhere in the ballpark of $13,000. Note that, when you take into account federal tax incentives, this number can fall by several thousand dollars.
And of course, once you go solar, your monthly utility bills are going to shrink dramatically… so while solar systems won't pay for themselves in the first month or even the first year, they will ultimately prove more than cost-effective.
Finding the Right Solar Energy Companies in TX
Texas is a great place to pursue solar energy companies, thanks to all the natural sunlight, and there are plenty of companies out there to help you make the transition. Do your homework, compare a few options, and seek the solar provider that's right for you. We hope this guide is a helpful jumping-off point as you try to get as much information as possible about the best solar companies in Texas.
Josh Hurst is a journalist, critic, and essayist. He lives in Knoxville, TN, with his wife and three sons. He covers natural health, nutrition, supplements, and clean energy. His writing has appeared in Health, Shape, and Remedy Review.
The Alexander Archipelago wolf is widely considered to be a subspecies of gray wolf genetically distinct from other North American populations. The wolf faces threats from logging and trapping on Prince of Wales Island in southeast Alaska.
Alaska Department of Fish and Game
By Faith Rudebusch
For 12,000 years, wolves have roamed Southeast Alaska's rugged Alexander Archipelago—a 300-mile stretch of more than 1,000 islands mostly within the Tongass National Forest. Now, their old-growth forest habitat is rapidly disappearing, putting the wolves at risk. As the region's logging policies garner controversy, a new study examines what the wolves need in order to survive.
Largely isolated from mainland wolves by water barriers and the Coast Mountains, the Alexander Archipelago wolf (Canis lupus ligoni) is widely considered to be a subspecies of gray wolf genetically distinct from other North American populations. In the 1990s and again in 2011, conservationists sought to protect the island wolves under the Endangered Species Act, but the U.S. Fish and Wildlife Service denied these petitions—most recently, in January 2016.
Despite their decision not to list the subspecies, in their analysis, the U.S. Fish and Wildlife Service highlighted Prince of Wales Island as the area of greatest concern for the archipelago wolves, due primarily to impacts of logging and trapping. Bigger than the state of Delaware, Prince of Wales is the largest island in Southeast Alaska and the fourth-largest island in the U.S., after Hawaii, Kodiak Island and Puerto Rico. The island's lowland hills are blanketed with temperate rainforests of spruce and hemlock and strewn with winding rivers and fjords.
Much of Prince of Wales' scant human population of fewer than 5,500 residents makes its living from the island's natural resources—uranium mining, commercial fishing, hunting and harvesting timber. The Tongass, which covers most of the island, is the last national forest where the logging industry can legally clear-cut old-growth timber. "The trees are huge ... it's been the epicenter for the logging industry in Alaska," said Gretchen Roffler, a wildlife research biologist with the Alaska Department of Fish and Game (ADF&G).
When commercial logging reached Prince of Wales in the 1950s, it hit full force. Between 1954 and 2004, 94 percent of the "contiguous, high-volume old-growth—the big trees, the really high-quality timber—was harvested," according to John Schoen, retired senior conservation biologist with ADF&G. "That's a huge impact."
"Prince of Wales Island is basically a patchwork of the remaining old-growth and then second-growth in various stages of reforestation," Roffler said. "Everything from clear-cuts to older second-growth."
Today, logging roads etch elaborate curlicues into the island's topography. The extensive road system provides hunters and trappers with easy access to the wolves, which are simultaneously prized for their pelts and regarded as competitors that steal hunters' deer. According to Roffler, 60 wolves were hunted or trapped last year, 2 illegally. The total number of wolves killed without permits is, of course, impossible to obtain. Roffler said that ADF&G estimated that 231 wolves inhabited Prince of Wales and surrounding smaller islands in the fall of 2017.
Although hunting and trapping have the potential to eradicate wolves in the short-term, habitat loss from logging poses an even greater long-term challenge for wolf survival, said Roffler, whose study of wolves on Prince of Wales was recently published in Forest Ecology and Management. Logging primarily affects wolves by reducing habitat for deer, their primary source of prey. To learn more about which pieces of the fragmented landscape the wolves tend to frequent, Roffler and her team distributed radio collars among 13 wolves in 7 packs. The radio collars transmitted wolf locations for up to two years per animal, allowing unprecedented insight into their movements.
Roffler and her colleagues found that the island wolves used a variety of habitats: open meadows, marshy muskegs, salmon streams and even recent clear-cuts seasonally accommodated these adaptable animals. Wolves avoided areas with high road densities during the spring denning season and summer, but strongly selected these areas during the winter. They spent much of the fall and winter hunting Sitka black-tailed deer in low-volume, old-growth forest. There, the tree canopies act as umbrellas, catching much of the snow. According to Schoen, deer need old-growth forests to access food during the winter.
Roffler's research showed that wolves, like deer in previous studies, consistently avoided younger forests. Logged 25 to 30-plus years ago, young-growth conifer forests replace clear-cuts in accordance with the ecological principle of succession. The trees' interlocking branches keep light from reaching the forest floor, where few plants are able to grow. Deer, along with most other wildlife, can find almost nothing to eat in such forests. Coined "succession debt" by scientists, this legacy from prior logging operations will impact wildlife for more than a century.
Wolves are considered habitat generalists, existing in a broad range of habitats and ecological conditions worldwide. "They live in deserts and outside of urban areas; they live in forests and out in the mountains and in the grasslands," said Roffler. "But they are really strongly avoiding the older clear-cuts on Prince of Wales Island. And that's significant because there's a lot of land area moving into that kind of forest."
In an attempt to salvage this new kind of habitat for wildlife, the U.S. Forest Service recently began pre-commercially thinning the trees. But the wolves in Roffler's study didn't show any preference for the thinned forests. "The thinning treatments… haven't been very effective at creating better habitat for wolves," Roffler said. "And when we say better habitat for wolves, we probably really mean better habitat for deer, because that's why wolves would most likely be going into these forests."
Roffler says that deer are wolves' primary food source. As deer populations decline, she predicts that wolves will switch to other forms of prey. She found that beavers, seasonally available salmon, bear cubs and adult bear carcasses (abandoned by hunters) all contribute to the island wolves' diets. But Schoen is less optimistic, stating that Prince of Wales residents depend on successful deer hunts to feed their families. He believes that as succession debt reduces deer populations, hunters will increasingly target wolves, legally or illegally, as they are perceived as depleting deer populations.
For decades, the Forest Service has struggled to reconcile the ecological value of 200- to 500-year-old trees with their economic value as timber. In December 2016, the agency, in consultation with scientists and members of the public, approved a 16-year plan to transition away from old-growth logging to the exclusive harvest of previously logged lands.
Alaska's Senator Lisa Murkowski and the logging industry don't like this plan. During a February roundtable discussion with Senator Murkowski, panelists lobbied to keep their access to the forest, according to Alaska Public Media. Timber company representatives pointed out that their lumber mills can't process smaller trees. Senator Murkowski pushed for riders to the 2018 Omnibus Spending Bill that would have voided the expiration date on old-growth logging and allowed new road construction in the Tongass (new roads are normally banned in National Forests); the bill passed without the riders.
"The timber industry wants to log the high-volume, big-tree stands," said Schoen. "It's like picking the M&Ms out of a bag of GORP." Since 2014, Schoen has collaborated with other preeminent scientists working to end clear-cutting in the old-growth forest. "I think, if the timber industry had the opportunity, they would continue clear-cutting the rare, big tree, old-growth forest in the Tongass for probably the next 10 to 15 years, until those valuable trees were gone. After that, they would pull out." Disheartened by how long the Forest Service has taken to protect these trees, he adds, "That kind of forestry is unsustainable and would do great damage to the fish and wildlife resources of the Tongass, the only national forest where old-growth is still allowed to be clear-cut."
Former chief of the Forest Service Mike Dombeck recently argued for protecting Tongass old-growth in the New York Times. Dombeck concluded, "To restart road building in Alaska's most pristine national forests will only repeat history, leading to more lawsuits and uncertainty while undercutting the region's economic bases of fishing and tourism."
"I think there's a serious conservation concern," said Schoen. "The science community recognizes that old-growth forests are rare. They're highly valuable, not just for deer or wolves or marbled murrelets or goshawks. They're valuable really as an endangered ecosystem."
Reposted with permission from our media associate Earth Island Journal.
From Your Site Articles
Related Articles Around the Web
An Arctic tern entangled in fishing gear. Governor of Svalbard / Norwegian Polar Institute Facebook
A disturbing amount of plastic is building up in the once-pristine European Arctic.
According to a study from the Norwegian Polar Institute, "plastic in all sizes" can be found throughout the Norwegian Arctic and in the Svalbard islands, an archipelago between Norway's mainland and the North Pole that's also one of Earth's northernmost inhabited areas.
The researchers estimated that nearly 194 trash objects—mostly plastic—can be found per square kilometer in the region, and weighs a total of 79,000 tonnes.
As ABC.net reported from the study, "even in remote areas with relatively low human impact, it says the concentration of plastic waste in the European Arctic is now comparable or even higher than in more urban and populated areas."
The researchers are most concerned about the amount of microplastics in the sea, said scientist Ingeborg G. Hallanger, who is urging for more research on the effects of plastics on the area's wildlife.
"We lack knowledge about the effects on animals. Here we have to research more," she said. "But we know that as much as 90 percent of seabirds have a plastic in the stomach. 22.5 percent of the seahorses have more than 0.1 gram of plastic in the stomach."
"We know that animals confuse the microplastic with food and eat it," added Hallanger. "This can cause internal damage. We also see that animals get stuck in plastic thrown into nature; such as fishing nets and other plastic residues."
Geir Wing Gabrielsen, one of the paper's authors, told BBC News that the fulmar, an Arctic seabird, is particularly impacted.
"At the end of the 1970s we found very few plastic in their stomachs. In 2013 when we last investigated, some had more than 200 pieces of plastic in their stomachs," he said.
Larger animals are also being harmed by the litter. "Other creatures are getting entangled in nets washed up on beaches—like reindeer," Gabrielsen continued. "Some die because they can't release their antlers—we find them every year."
Gabrielsen said that in Svalbard, 80 percent of the waste comes from discarded fishing gear.
"The results are disturbing," said Climate and Environment Minister Ola Elvestuen. "It is important that we get the fisheries, aquaculture industry and shipping industry on this. We also need to get control of microplastic that comes from artificial turf and car tires."
Worryingly, the researchers predict that the amount of plastic in the Arctic regions will only increase. In 2015, global plastic production reached 322 million tonnes and will continue to grow.
The BBC aired a segment showing how Norway's plastic flood comes from all over Europe and even from across the Atlantic.
"I mean you can throw a thing from the ocean in Florida and think, 'Hey, I've thrown it away' and then it might end up here on our shores," as Bo Eide, an environment consultant for Tromsø Council who often conducts litter pickups on the Arctic fjords, says in the clip below. "They rather quickly break down into small pieces and even tiny little fibers."
"I think the coastline as a whole ... you can characterize it as a microplastic factory," he sighed. "It's so obvious that what we are doing here is the tip of the tip of the iceberg."
Watch here to see the scale of plastic contamination:
Plastic pollution is reaching record levels in the once pristine Arctic. https://t.co/6vsklnUYpZ

— BBC (@BBC)1518175805.0
From Your Site Articles
Related Articles Around the Web
By Michael Svoboda
There are several reasons climate communicators and activists, and not just cli-fi aficionados, could benefit by seeing Downsizing, the end-of-2017 movie starring Matt Damon and directed by Alexander Payne—to be released March 20 on disk.
1. It is one of the few films that addresses climate change mitigation (i.e. reducing greenhouse gas emissions). Most cli-fi movies depict extreme weather disasters (impacts) or survivors struggling in bleak climate-changed landscapes (adaptation).
2. Rarer still, Downsizing is a comedy, a useful quality not often found in climate change communications.
3. Several members of the cast and crew have been Academy Award nominees; three have Oscars on their mantels. Hong Chau, was nominated for the Golden Globe and Screen Actors Guild awards for her supporting performance in the film.
4. Downsizing raises an important point for discussion: What is the human(e) response to climate change, to predictions of climate disasters in particular?
Going small to make big-time cuts in carbon footprint
Downsizing has three distinct parts.

The first lays out the premise of the movie. A group of Norwegian researchers has figured out a way to dramatically reduce humanity's ecological/carbon footprint: reduce the actual footprint of the average human being to less than half an inch.
The Norwegians make their research public at a conference on human scale and sustainability, where they reveal that 36 volunteers had undertaken the downsizing process and were now living in a miniaturized community monitored by the lab.
Watching a TV news account of the conference at a bar near his home in Omaha, Paul Safranek (Matt Damon), an occupational therapist who treats workers at a meat-processing plant, is amazed. Some months later, at a college reunion, he meets someone who has undergone the process.
"You can really make a difference," Paul exclaims, recalling the Norwegian announcement.
"You mean all that crap about saving the planet?" his friend responds. "Downsizing is about saving yourself. You live like kings!"
Downsizing is at its best in these wry scenes depicting American entrepreneurs transforming a process designed to reduce environmental impacts into a way of living large on a small budget. As a sales counsellor at one of the communities created for "small people" explains, "In Leisureland, your $52,000 translates to $12.5 million."
Paul Safranek and his still hesitant wife decide to downsize themselves. In the final scenes of this first part, Downsizing shows them preparing for the process, which is never explained.
Miniaturizing Oneself and One's Carbon Footprint
The second part of the film begins when Paul wakes up, alone, in Leisureland. At the last moment, his wife had changed her mind. Their mini-mansion now seems empty, pointless and, after their divorce, unaffordable; so Paul moves into a small apartment and takes a job as a customer service representative in a small world call center.
Then Paul meets his upstairs neighbor, Dusan Mirkovic, and the disabled women who cleans his loft apartment, Ngoc Lan Tran (Hong Chau), a Vietnamese dissident who had been forcibly downsized and who had then lost her left leg during her escape from her miniaturized prison.
And after a wild party there is a lot to clean up, including the inexperienced Paul, who wakes up on the carpeted floor amidst the spills and cheese crumbles. Noting Ngoc's ill-fitting prosthesis, Paul offers to adjust it, but then damages the limb in the process; Ngoc insists that he help her until a replacement is available.
Paul discovers that Ngoc's business is as much about collecting left-over food and expired drugs as it is about cleaning residences. Everything she collects is then distributed to sick and disabled people living in the tenements with her. There is poverty in Leisureland.
Moved but also exhausted by his work for Ngoc, Paul accepts Dusan's invitation to join him on his next business trip—to the first community of small people in Norway. Ngoc decides she will come, too.
Ngoc Lan Tran (Hong Chau) and Paul Safranek (Matt Damon) en route to original small-people Norwegian community
The trip to Norway makes up the final part of Downsizing, with the film cutting to a scene of the small people on a small boat on a Norwegian fjord.

En route on the water, the working relationship between Paul and Ngoc ripens into a romance.
When they meet the Norwegian small people, two leaders inform Paul, Ngoc, and Dusan that they are now preparing for the worst.
"The methane hydrates in Antarctica are now melting. There will be another extinction. Earth will purge itself of the human species."
In response, the Norwegians have created a subterranean "Noah's Ark for small people" from all over the world, powered entirely by renewable geo-thermal energy and stocked with all they will need to sustain themselves there.
"How long will you stay in the cave?" Paul asks. "Perhaps as long as 10,000 years," one of the leaders guesses.
Paul feels drawn to this civilization-saving mission. "The future of humanity," he tells Ngoc and Dusan, "is down that hole!"
But Dusan is skeptical, even mocking: "They're a cult. They'll go extinct long before we do." And Ngoc worries about the poor and disabled small people she cares for in the tenements; she refuses to enter the cave.
Paul must now make a difficult choice.
The Climate Message(s)
The choice Paul faces is one of the messages Downsizing might deliver to climate-concerned viewers.
The first message, corresponding with the first part of the film, highlights the human propensity to keep ratcheting-up consumption even as one makes "green" choices. If a new technology makes possible lighter and more energy-efficient TVs, then bigger TVs are made and eagerly purchased. The results may not everywhere be as a crass as in Leisureland, but the impulse is not unique to Americans.
The way to counter this ever-expanding consumerism, the second part of the film seems to argue, is by fostering deeper human connections and reducing gross inequalities. Broadly applied, this message implies that humans will not prevent dangerous climate change without also addressing longstanding social and environmental injustices.
The third message is trickier, more troubling, and open-ended: Can humanity or civilization really be saved by sealing a remnant in a shelter? But if not, is the film's writer/director arguing that everyone should go down with the ship, so to speak?
Downsizing thus poses a tough question for viewers: What is the human(e) response to dire predictions of climate change? What are we to do if we don't do enough to avoid dangerous climate change?
A fourth message might be imagined from the reactions to the coincidental fact that Downsizing opened in the U.S. just before Norway's prime minister made a state visit to Washington. It was that visit that seems to have prompted President Trump's unexpected response to a bipartisan proposal on immigration: "We should have more people from Norway."
According to Jostein Matre, a DC-based reporter for the Norwegian newspaper Verdens Gang, Trump's comment drew a brusque—thanks, but no thanks—response in Norway: "Why would Norwegians with things like free health care and free education move to the U.S.?"
Could this also be the reason that the Norwegians in Downsizing were not tempted by Leisureland's "live-large-by-being-small" promotions? Might making it possible for people not to think, obsessively, about health care costs and college loans make it easier for them to think more realistically about climate change?
If so, then the final message climate activists and communicators might take away from Downsizing is this: Don't get small; get socialized. Bernie Sanders would approve.
Reposted with permission from our media associate Yale Climate Connections.
From Your Site Articles
Related Articles Around the Web
An unconventional and first-of-its-kind form of transportation infrastructure could be the answer to traveling across fjord-ridden Norway.
Photo credit: Norwegian Public Roads Administration
To complete the 680-mile drive under current conditions, you would have to allow 21 hours for travel. Why? Traveling north-to-south across the country requires eight ferry trips across fjords. Norway's fjords are too deep and too wide to support bridges. Well, above water ones that is.
A $25-billion project by the Norwegian Public Roads Administration poses a possible solution to that problem: floating underwater tunnels.
The tunnels could cut trip time to 10.5 hours by reducing the need for ferry rides. The project is expected to be completed by 2023. Each tunnel would be suspended under 100 feet of water, held up by pontoons on the fjord's surface and possibly an anchor bolted to the bedrock. Each fjord would be equipped with two tunnels: each two-lane, one for traffic flowing in each direction.
Photo credit: Norwegian Public Roads Administration
Underwater tunnels aren't a new idea for Norway. The country has 1,150 traffic tunnels, 35 of which are located under shallow bodies of water. Fjords, however, can be a mile deep, creating a challenge for conventional tunnels.
The floating underwater tunnels will allow boats to still traverse the fjord without the worry about hitting or being blocked by a bridge.
But there's still a long way to go before floating underwater tunnels become reality. Engineers have several questions to answer, including how wind, waves and currents will affect the structures. If the tunnels prove too difficult, Inhabitat reported, politicians have the right to send the funding to another project.
The following Norwegian Public Roads Administration video offers more information about the project:
Sea Shepherd Conservation Society is asking big-box retailer Costco to stop its purchase and sale of salmon exported from the Faroe Islands until the Faroes bring the brutal and archaic mass slaughter of pilot whales and other cetaceans, known as the "grindadráp" or "grind," to a grinding halt.
Actors Richard Dean Anderson (MacGyver), Eric Balfour (Haven), Rutger Hauer (Blade Runner), Ross McCall (24: Live Another Day), Cliff Simon (Stargate SG-1), Clive Standen (Vikings); actresses Shannen Doherty (Charmed and Beverly Hills, 90210), Perry Reeves (Entourage) and Red Hot Chili Peppers front man Anthony Kiedis have teamed with Sea Shepherd to send a letter to Costco CEO Craig Jelinek from the organization's founder, Captain Paul Watson.
Hollywood Stars Demand @Costco Stop its Purchase and Sale of Faroe Islands' Salmon... https://t.co/Sx8p8Fyvtd https://t.co/58nWarTYJ2

— Sea Shepherd SSCS (@Sea Shepherd SSCS)1468013968.0
The letter comes on the heels of last week's news that a pod of 30-50 pilot whales was slaughtered in the first grindadráp (grind) of the year, on the island of Viðoy in the Danish Faroe Islands archipelago.

The letter to Jelinek expresses concern that chain-store giant Costco is selling salmon farmed in the Faroe Islands, an archipelago of 18 isles in the North Atlantic, where hundreds of wild, migrating cetaceans are slaughtered each year.
Describing this massacre of ocean wildlife, the letter states that "entire pods of pilot whales and dolphins are driven by hunting boats to the shallow waters along the Faroe Islands. ... Those cetaceans who are not herded far enough into the shallows will have a gaff hook stabbed into their blowholes and will be pulled ashore the rest of the way by rope. The panicked and thrashing whales or dolphins are then slowly sawed into behind their blowholes with a special Faroese hunting knife and killed by the severing of their spinal cords, as each animal is brutally slaughtered before the eyes of their family members. No member of the pod is spared, not even pregnant females or juveniles."
Though Faroese whalers claim that the grind brings a quick and humane death, some of these highly intelligent and socially complex marine mammals take as long as four minutes to die, as the steely waters of the Faroes run red with blood.
The letter to Jelinek continues, "As a large and respected member of the corporate retail community, Costco should not condone these acts of brutality by economically supporting the Faroese salmon fishery. Costco can apply economic pressure to end the atrocity known as the "grind," a whale hunt that should be deemed illegal by the anti-whaling EU but yet is supported by Denmark, a part of the EU. Mr. Jelinek, Costco and you as its CEO, now have the opportunity to show your members and the international community that you represent a company of compassionate individuals who care about the fate of intelligent and sentient whales and dolphins as well as the oceanic eco-systems upon which they—and all life on Earth—depend for survival."
The grind is an outdated practice as the Faroese people have one of the highest standards of living in all of Europe and access to the same foods found in grocery stores in Denmark. In addition, Faroese health officials have warned against consumption of the pilot whale meat, especially by children and pregnant women or women of childbearing age, because it is contaminated with neurotoxins such as mercury.
Though it is the slaughter of cetaceans by the Faroese that is opposed by Sea Shepherd, the organization is calling for a boycott of salmon exported from the Faroes until the senseless grind is permanently ended.
"These compassionate celebrities have offered their desperately needed voices to the pilot whales who were killed recently in the Faroe Islands and to those who are at risk each time they pass by Faroese shores," Watson said regarding the Hollywood industry's support. "We must make it known that the blood of intelligent and social whales and dolphins stains every package of salmon from the Faroes. This archaic massacre of cetaceans, defended by the EU-member nation of Denmark, must be sunk economically. I encourage all concerned consumers to do their part by boycotting salmon from the Faroe Islands at Costco and wherever it is sold."
The appeal to boycott Costco comes just weeks after Sea Shepherd released a 22-minute documentary short on YouTube shot by McCall, chronicling his experience in the Faroe Islands, along with a companion essay he published in the Huffington Post.
Since 1983, Sea Shepherd has sent 10 campaigns to the Faroes, saving hundreds of whales and dolphins while dealing with the arrest of Sea Shepherd volunteers and the seizure of the organization's boats.

Faroese law states it is illegal to interrupt the killing and illegal to sight a pod of whales and not report it. To further protect their beloved Grind from outside interference, this year the Faroese enacted laws that prohibit Sea Shepherd crew from entering their waters and wearing Sea Shepherd shirts on land.
This year, in response, Sea Shepherd Global announced Operation Bloody Fjords, a new operation targeting the massacre of pilot whales in the Faroe Islands.
With years of footage of this bloodshed, Operation Bloody Fjords will include culling together decades' worth of photographic and video evidence to target the Grind in legal, political, commercial and economic arenas. A full-length documentary feature will also be produced.
Picture a 4-foot diameter pipe running into the ocean filling the offshore canyons at a rate of 160,000 tons per day. The pipe runs from an enormous gold and copper mine directly into the Indian Ocean. The pipe is filled with mine "tailings"—a toxic sludge of heavy metals, rock and coagulants mixed in with the pulverized mine wastes that spreads and covers the seabed dramatically impacting plant and animal life and polluting the surrounding water. That is the Deep Submarined Tailings Disposal (DSTP) system at Newmont Mining's Batu Hijau copper and gold mine in Indonesia.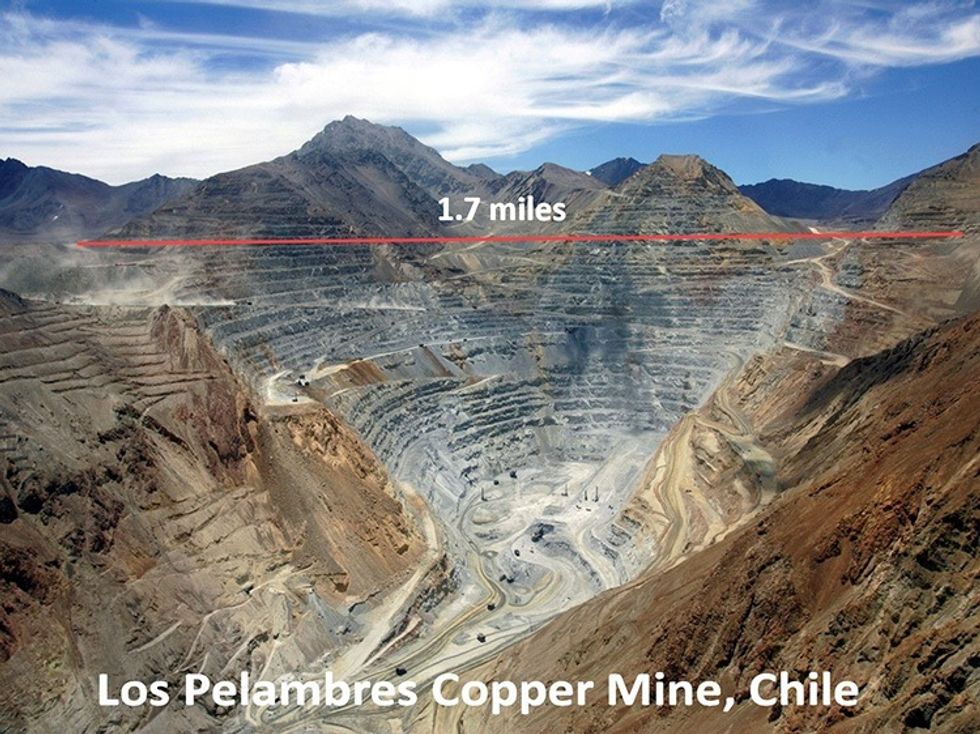 Although Batu Hijau is the biggest mine that is using DSTP, at least 16 mines in eight countries are also using DSTP, with others to follow. Indonesia, Papua New Guinea and Norway lead the way using DSTP at their mines. In Chile, mines in the mountains north and east of Santiago are proposing to run pipes 50-100 kilometers so they can dump into the canyons of the Pacific Ocean off of the Chilean coast. The enormous Los Pelambres Copper Mine in Chile proposes to use DSTP in the future, discharging its wastes directly into the ocean.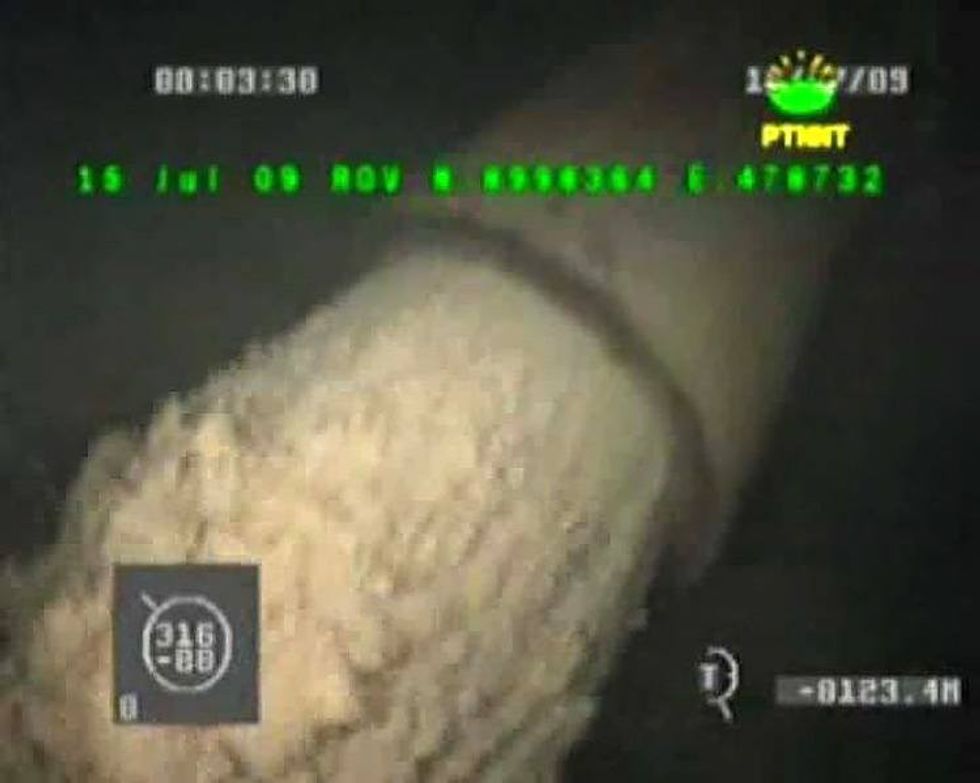 While you might think this mining disposal would be limited to the unregulated developing world, Norway actually leads with the most mines using this polluting disposal system. The mining wastes are dumped into Norway's pristine fjords, filling much of those fjords over time. One such mine has prompted a backlash by Norwegians who, working with Friends of the Earth International, have started the Save The Fjords campaign.
As stated on their website, "In April 2015, the Norwegian government gave its final permission for an open-pit mine in a mountain called Engebo. The mine will dump more than 250 million tons of chemicals and waste into the pristine Forde fjord."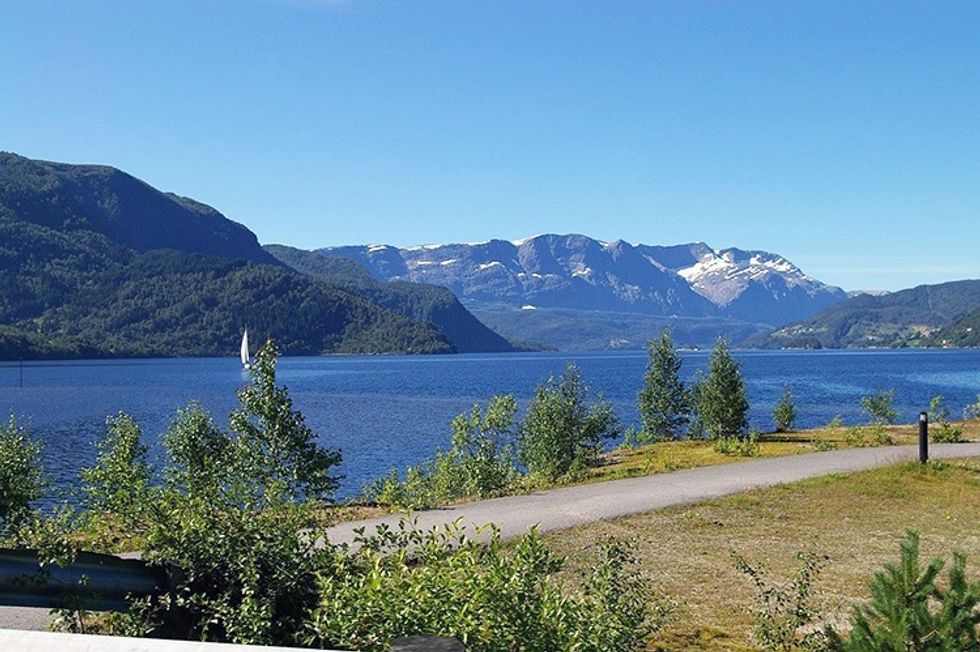 The Norwegian proposal sparked the "biggest civil disobedience actions in newer Norwegian history" where hundreds of people protested and 80 people were arrested blocking the mining action and trying to save the fjord. Through Global Greengrants Fund, a grant has been given to Friends of the Earth International to help inform Norwegians about the Engbo mine and its ocean disposal.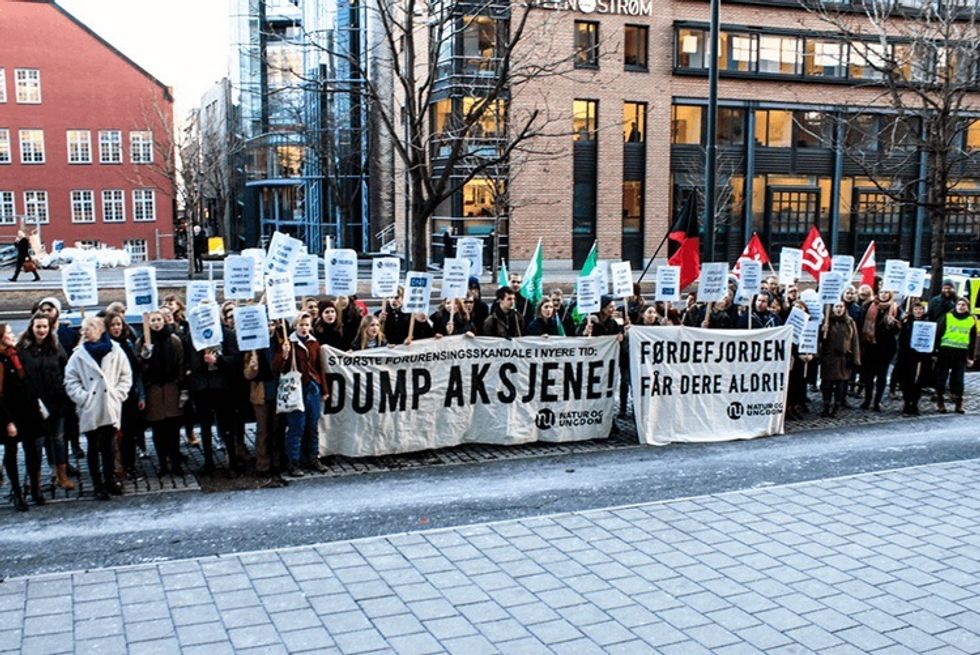 It could make sense in some cases to dispose of mining wastes in the ocean, but only if those wastes were non-reactive and only if the toxic heavy metals in the wastes are removed. In addition, if ocean disposal does take place, it should be closely monitored and regulated and it should only happen where local people are not dependent on the marine environment for food. Proposals to use DSTP along the coastline of Chile threaten the Humbolt Current System (HCS) which sustainably produces almost 20 percent of the annual harvest of fish biomass. The HCS is the most productive marine ecosystem on the planet. Just four mines would dump one million tons of mine waste into the HCS every day, one gigaton every three years.
Over the last 25 years, international regulatory bodies including the 1996 London Convention and Protocol by the International Maritime Organization and the 1992 Oslo Paris Convention have attempted to set minor regulations for DSTP, but those standards are mostly being ignored.
In the very few places where monitoring has occurred, studies have measured dramatic decreases in the amount of benthic meiofauma (animals less than I millimeter long) as well as all forms of benthic macrofauna (larger than 1 millimeter), which, along with phytoplankton, form the basis of the food chain in marine environments. Almost no research has occurred about the consequences of dumping 100's of millions of tons of mine wastes at current DSTP sites. This phenomenally destructive pollution is virtually unregulated across the planet's marine environments.
Terry Odendahl, PhD, is president and CEO of Global Greengrants Fund. Roy Young is the former executive director of Global Greengrants Fund and founder of Nature's Own. Gary Wockner, PhD, is an environmental activist, writer and consultant to Global Greengrants Fund.
YOU MIGHT ALSO LIKE
World's First and Only Sunglasses Made From 100% Reclaimed Fishing Nets
The remote beach was empty except for me and my companions. The broad expanse of sea was empty, too and I squinted at the horizon, looking for a human shape. This was two years ago, deep in southern Chile and five of us had just descended the bottom section of the Pascua—a burly, glacier-fed river—by kayak. We were at the Pascua's mouth, where it empties into a fjord and we were planning to head through the fjord to the small town of Caleta Tortel. Two of the kayakers from our party, Lisa and Roberto, had paddled ahead until they disappeared amid the chop. Now, I was trying to find them in this gray-green world.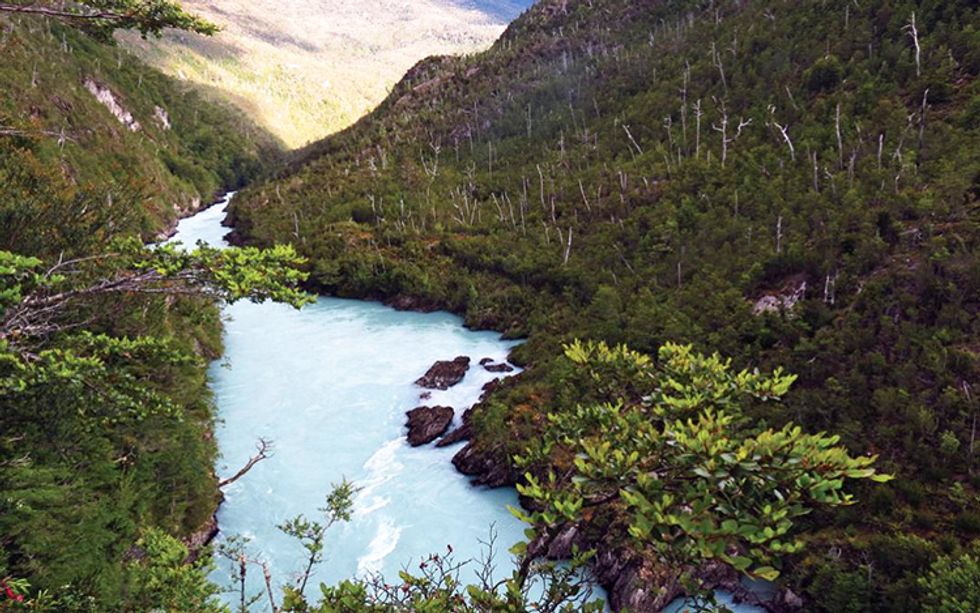 Seeing no sign of them, I walked back to the riverbank and kneeled for a drink of agua dulce—freshwater. Cold slid down my throat. The air smelled sweet, of mist and storms and clouds were slung low above the water. Waves jostled and splashed and I breathed deeply, readying myself for what I knew I had to do next: paddle through the tumult that Lisa and Roberto had just vanished into.
There was nothing for the three of us left on the gravel bar to do but load into our boats and point them toward the inlet. The other lives we all lived—an existence with things like showers and email and beds—had become laughably unimportant. Our needs were immediate and self-evident. Stay alive, stay dry, stay together and keep going. Or turn back. But we had no intention of turning back. We gripped our paddles and pushed off the bank.
Where the river hits the sea, we hit the waves—heaving pyramids of whitecapped water that splashed over our spray skirts. My boat partner and I counted aloud to pace our strokes—one, two, three, four—as we dug our paddles into the dark water, hoping that if we paddled hard enough for long enough, we'd stay upright and make it to the nearest shore. Our kayak, about 17 feet long, rose onto the swells, hung in midair, then slammed back down. I clenched my paddle tighter. My forearms stiffened and ached. The land, the water, the weather—all of it became real and close. Although nerve-racking, this was the kind of intensity I lived for. It pulled me into the present and put all of me to work.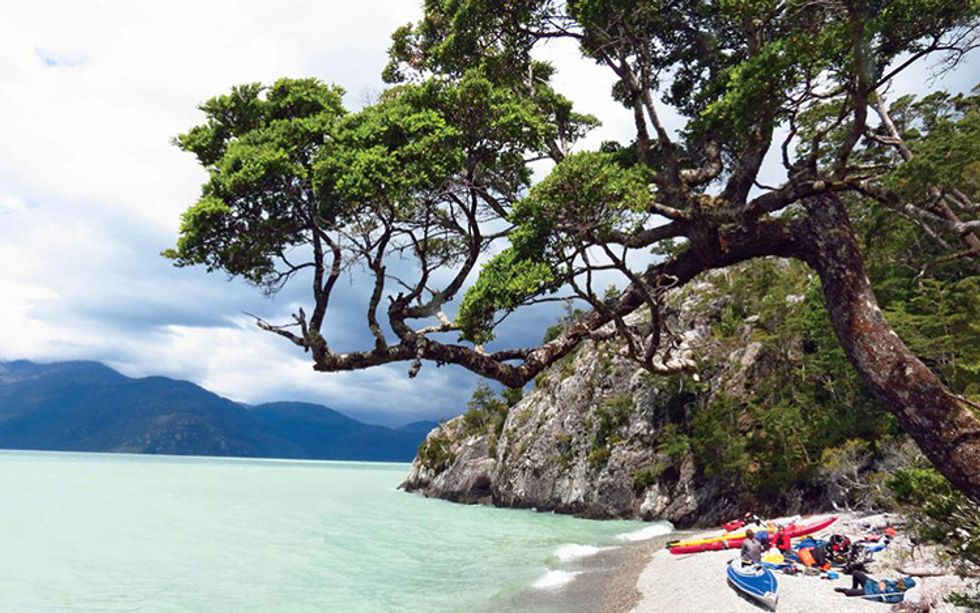 We aimed our boat for a beach that we could see between the waves. As we got closer, I spotted two life-jacketed figures pulling brightly colored plastic boats ashore. Lisa and Roberto had made landfall.
Why was I there, paddling as hard as I could on those stormy seas? There's more than one way to answer that question. The Pascua is in a region of Chile called Aysén. I'd spent the past couple of years there doing research on a proposal to build five large dams, two of which would be on the Pascua. During the course of that project, I had learned a lot about river flows, hydropower and electricity transmission lines. But I wanted to know the river that I had thought about so much in a more intimate way. Before the Pascua's power turned to megawatts, I wanted to feel its current against my skin.
I was also in Aysén for less practical reasons. Like many others before me, I'd been drawn by the idea of Patagonia: a place where wind and weather ruled, granite spires rose from the Earth and teal rivers curled through a trackless steppe. Parts of Aysén are practically uninhabited, with less than three people per square mile—a lower population density than that of the Sahara Desert or Mongolia. I'd hitchhiked through the region, kayaked its rivers and explored its valleys, trying to get closer to the place I'd been so fixated on. The ecological philosopher Arne Naess wrote that mountaineering is a way to participate in a mountain's greatness. In the same vein, everything I did in the far south was part of my attempt to participate in the greatness of that landscape.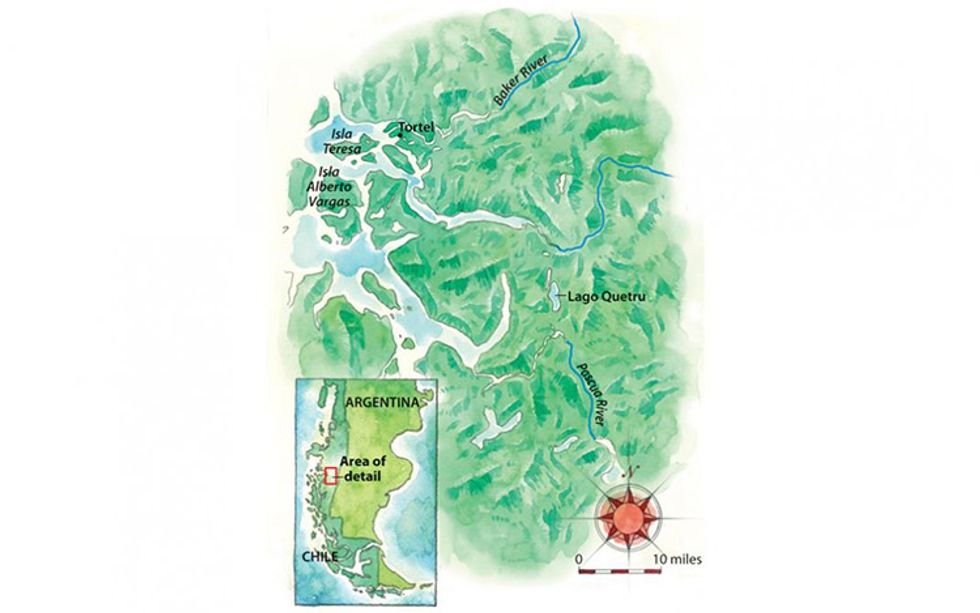 The Pascua encapsulates all that is wondrous about Patagonia. Other rivers in the area, like the Baker, are strewn with ranches, but very few gauchos—South America's version of cowboys—live along the Pascua. Those who do first arrived in handmade wooden rowboats. To get up the river before motorboats, the gauchos had to stand on the thickly forested banks of the Pascua and pull their boats (which were sometimes full of lambs) upstream with ropes. A spur road from the dirt highway did not arrive until 2006. The Pascua was remote, powerful, isolated—a force to be reckoned with. As a few friends and I talked about a potential trip on the river, we began referring to it as "the wild and unknown Pascua."
So, we decided that in February 2014 we would kayak the lower Pascua from near Lago Quetru to the shores of Tortel. Our crew would be Weston Boyles, a then-27-year-old Colorado native; Tyler Williams and Lisa Gelczis, husband-and-wife guides from Flagstaff, Arizona; and Roberto Haro, a middle-aged gym teacher from the town of Cochrane who taught local kids how to whitewater kayak. The four of them had met through an organization Weston started, Rios to Rivers, which had facilitated an exchange between some of Roberto's teenage kayakers and some American kayakers to paddle the Baker and Colorado Rivers while learning about the effects of dams.
Simply getting ready for the trip was challenging. There were no reports from other paddlers or even any detailed maps. So we huddled around a laptop in Roberto's kitchen, scrolling through satellite images to sketch a route.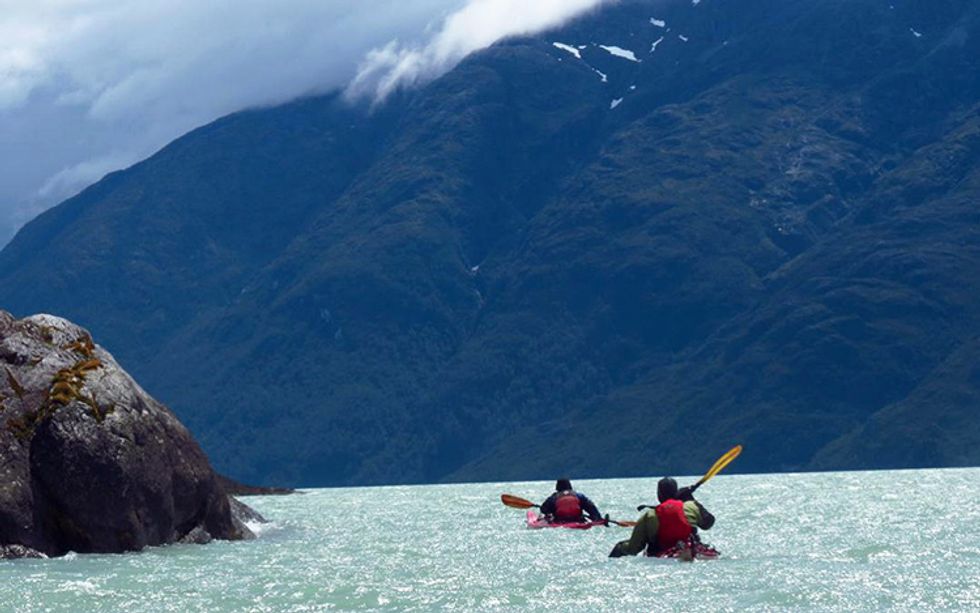 Maps of the area show a shredded coastline where the continent encounters the sea. Islands are splattered across bays and fjords slice into the mainland, carvings left over from the last ice age. Patagonia's topography is similar to that of Southeast Alaska and Norway, except with more places where glaciers meet the sea.
The journey promised heavy rain, cold temperatures and high winds. Friends of ours could not understand why we would suffer through it. When we told people in Cochrane that we would kayak from Lago Quetru to the mouth of the Pascua, then up the coast to Tortel, one person asked, "Do you want to die?"
I struggled to explain why we wanted to go there. I often felt like using the clichéd response: "If you have to ask, you'll never understand." What drives anyone on this kind of quest? For me, it came from a desire to be part of something giant and wild, a yearning to participate in something beautiful. To do that fully, I needed to give up control.
At the beginning of our journey, on the banks of the Pascua, we had packed our boats and loaded them into the water. The river was so wide, it often looked like a moving lake. Boils wrinkled the surface. The water split into braids around sandy shoals and bent sharply around unnamed mountains. We paddled up creeks and made sandwiches with manjar (Chile's version of dulce de leche) on our spray skirts. On our second day, we reached the Pascua's mouth, where the river emptied into the fjord and where our group dispersed and came together again on that wind-whipped beach to wait out the bad weather.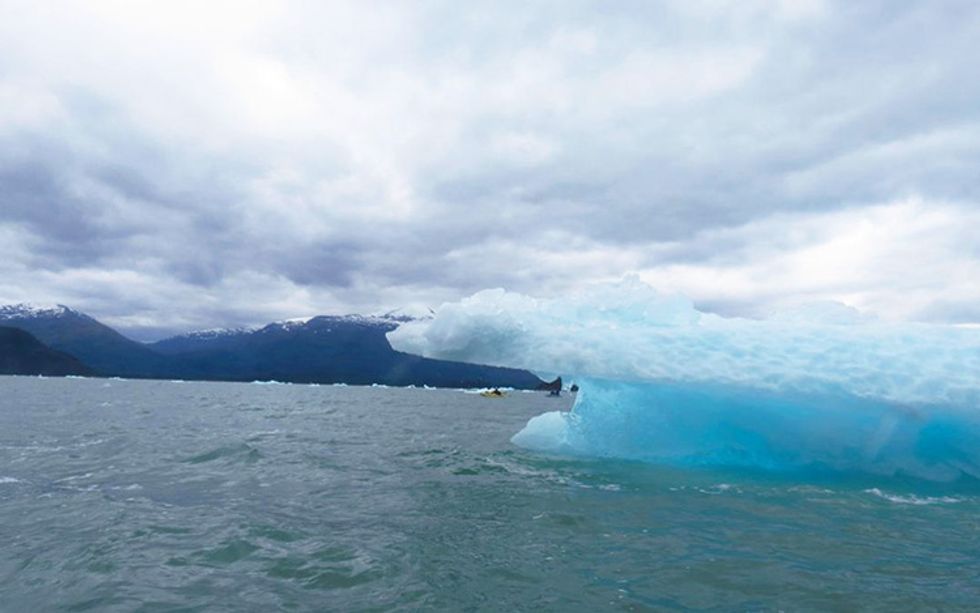 We took naps and ate snacks and read books, then eventually set out again. Frothing water exploded against cliffs to our left. To our right, the sea spread outward until it welded itself to a skyscape of gray clouds. No more beaches appeared on the coast. The headwind blew so hard that if we paused our paddle strokes, the Klepper went backward. I couldn't stop to scratch my nose. Weston and I synchronized our strokes. Much of the time, we couldn't see our friends.
After four hours of struggling against the wind, we ducked into a protected cove where iridescent clumps of ice emerged from the dark water—sedan-size pieces of glacier that had calved off from a tongue of the Southern Patagonian Ice Field. Most of the mountains had darkened by that time, except for one ridge behind us that was gilded by the only shaft of sun we had seen all day.
We paddled toward the coast, to where a few of these icebergs were beached on the front lawn of an abandoned ranch. Aysén is a ranching region, settled by homesteaders in the early 20th century, when border tensions with Argentina led the Chilean government to give away free land. Though more and more Ayséninos are moving to towns and making a living from tourism, the region remains a gaucho stronghold. These hardy souls live the life that many people hope will continue but few people want to live themselves.
We poked around the ranch—walking around the sagging fence that surrounded the cabin, pushing through the overgrown bushes, peeking into the shed where the family once hung their meat. Richard White, a Stanford environmental historian, has written that outdoor recreation like kayaking and mountaineering represents a type of "rugged play" that mimics the hard life of the pioneer. We gringos were trying to re-create the experience of those early gaucho pioneers—only we were doing it for entertainment rather than survival.
This rugged play demands that we use our bodies to move through the land until our thighs quiver and burn, our calves tighten and tire. It also demands that we look closely at whatever is around us: rapids and waves, discoloration and indentations in snow-covered ice, the outcroppings and contours of rock. We often feel closest to the land when it requires attention and labor from us and so such play is a way of reconnecting to the Earth. Among those of us who work with papers and pens, screens and keyboards, rugged play represents a kind of nostalgia. It's a yearning for the days when we knew the land the way the family at this ranch would have—when we knew it because we had to know it, when we knew it with our bodies.
My musings were swept away by the immediate demands of hunger, cold and fatigue. We set up our nylon tents near the old wooden buildings, made fire and food on the beach and slept.
We woke the next morning to wind hurtling over the water. The waves were even larger than they had been the day before. We set out, making spurts of progress up the coastline. I had a plane to catch in four days, but it was foolish to believe that we could control our rate of progress.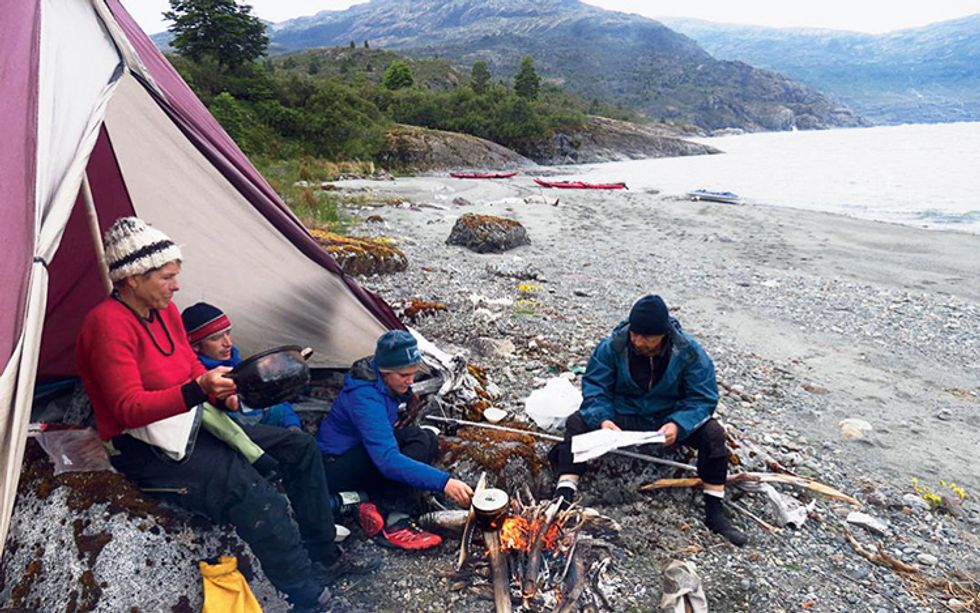 The next several days blurred together: a montage of driving wind and rain, Weston yelling at me whenever my hood wasn't up and paddling furiously whenever the wind abated. We hung around on beaches when the weather was especially bad, then got back in our boats during the small openings when the wind died down.
One morning, we reached a beach at the tip of the string of islands we had been following since leaving the icebergs. The beach faced a seven-mile open crossing. The weather remained windy and wavy, with whitecapped water and biting gusts. There was no way we could head into open water in such conditions, so we waited again.
We knew exactly how much food we had left: two rolls of coconut cookies, two packets of saltine crackers, a bag of oatmeal, a bag of pasta, a few pieces of stale bread and three bags of dried milk. The five of us shared half a bag of pasta for dinner.
The next day, the rains fell so heavily and continuously that Lisa and Tyler never took off their dry suits. The rest of us shivered in soaked-through rain gear, holding our pruney hands over a fire, taking turns gathering wood. At one point, Lisa and I walked to a nearby beach and heaved large rocks onto pieces of driftwood, trying to split them, joking that we'd become cavewomen.
None of us mentioned our hunger. We had chosen to give up control and there was nothing we could do now but wait out the wind. We were all elated that night when Roberto caught a small fish. I ate the head—including the eyes. Tyler, who doesn't smoke, asked for one of the cigarettes we had brought as gifts for gauchos. He thought it would lighten the mood.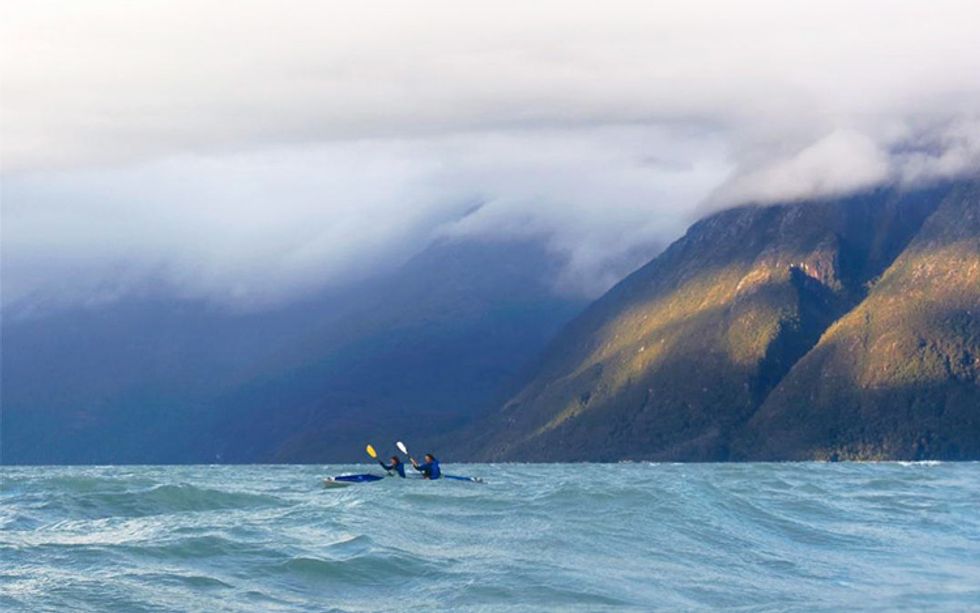 In the beginning of the trip, when optimism and awe had reigned, we'd fondly nicknamed each snacking and sleeping spot. Tranquilo Bay. Love Beach. We dubbed this waiting spot Desolation Cove.
The next morning, hope displaced our desolation. Smaller waves passed by, free of whitecaps. We packed up our gear and readied our boats in silence, pointing our bows toward the lanky waterfalls and forested mountains that we could see across the open water. New snow dusted the peaks.
We crossed the previously treacherous passage with ridiculous ease, aiming toward a gap between the continent and an island. The seven miles passed quickly. We soon entered a protected channel, drifting by misty cascades and a curving coastline, enjoying Roberto's secret stash of lollipops and opening up the two emergency rolls of coconut cookies. We were giddy with proximity. There were no more open crossings between us and Tortel. We guessed that we would make it to town that evening.
Midmorning, we spotted a gray wooden boat in a cove. Since reaching the mouth of the Pascua, we'd seen some detritus left from human activity on a few beaches—two deserted and collapsing cabins, empty gas canisters in the sand, rusty nails in pieces of beached wood—but this boat seemed to signal that someone was close by. A tin roof caught light between the trees. We could see chickens and dogs moving about, laundry swinging from a line and smoke puffing from a chimney.
A couple stood outside the house, both wearing black rubber boots and baggy pants. We landed and walked up to their cabin. The man had a mustache, a hat and a tentative posture. The woman had a wide smile and thick hair that fell around her ears. She exuded enthusiasm as soon as we introduced ourselves, ushering us into her house for mate, the ubiquitous South American tea sipped through a metal straw and apologizing for the mess. They didn't get many visitors, she said.
It was a simple one-room cabin with a wood-burning cookstove in the corner. In another corner, clothes were piled on top of a mattress. Newspaper, pieces of cardboard and a poster of the Virgin Mary covered the walls. A flattened cat food box was pressed against the door and often flapped, letting the wind enter. We sat shivering around the stove, swallowing mate, then bread, then rice, then fish. I was awed by the intense abundance; even the plate was warm. I went back for more.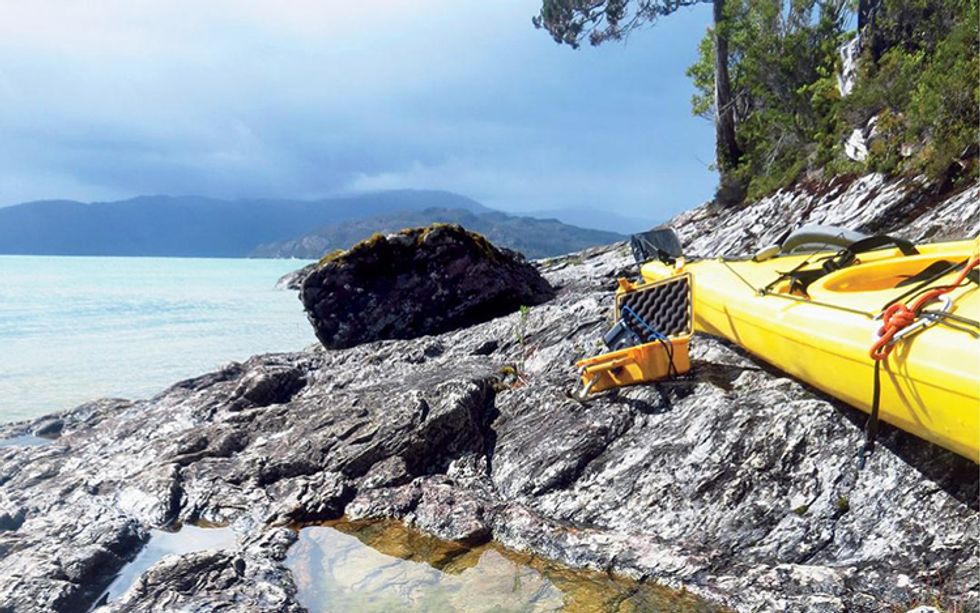 We described our trip to the couple. The woman nodded. She told us that she'd grown up on the unoccupied ranch near the Jorge Montt Glacier—the ranch where we'd camped next to icebergs. She'd had to cross from there to Tortel many times as a child. It was the route her family had taken to get to town.
When we described Desolation Cove, she nodded again, adding that the wind always blew hard there. Once, she said, she had waited at that spot for seven days before she could cross the channel. Often, gauchos would wait together on that beach, all on their way to Tortel and all stopped by the wild winds of the open channel. Many would bring lambs in their boats for beachside asados. They would make tortas in the sand.
What many in Cochrane had warned us would be a lethal journey was, for the gauchos, just part of their routine. Our rugged play had once been someone's commute.
In the following days, after we reached Caleta Tortel, forces other than wind, weather and water would take control. I'd hitchhike hundreds of miles to the nearest airport, try to weasel my way onto an interhemispheric flight and apologize to my professors for being late to a new semester. I'd be quickly jolted back into a life of papers and pens, screens and keyboards, showers and email and a bed.
But those gauchos, of course, would stay and often I would think of them: still there, watching the water, waiting out the weather, intertwining their lives with the land and paying close attention to its details. I was only a visitor to that place the gauchos call home, but paddling was my way of weaving the land and sea into my life. Beyond the picture of a place, the postcard version of it, was the possibility of participation.
Salvation for the Pascua 
When my friends and I kayaked the lower reaches of the Pascua River in early 2014, we thought we were undertaking a kind of farewell adventure. For eight years, Chilean environmentalists and their international allies had been fighting to prevent the construction of five dams on the Pascua and Baker Rivers. Many people feared that the dams were a done deal and that these wild rivers—gems of rugged Patagonia—would become reservoirs.
Then a massive citizens' movement overturned the political conventional wisdom. Anti-dam protests in Chile's south and marches in the capital, Santiago, made the dams a major issue in the 2014 presidential campaign. Not long after President Michelle Bachelet came into office, her cabinet voted to cancel the dams.
The decision was a landmark victory for Chile's environmental movement. Today, the Pascua and Baker Rivers continue to flow freely.
YOU MIGHT ALSO LIKE
5 Reasons to Explore the Untamed Beauty of Denali National Park
Love Wildlife? Check Out These 11 Stunning Photos From Yellowstone National Park
20 Stunning Photos of the World's Most Beautiful Trees
Sometimes it is hard to find good news on the climate. Take a quick look at a couple of today's stories:
According to Australian researchers, five tiny Pacific islands, which are part of the Solomon islands, have completely disappeared due to rising sea levels, in what is being described as the "first scientific confirmation of the impact of climate change on coastlines in the Pacific." Another six islands have had large swathes of land washed into the sea too.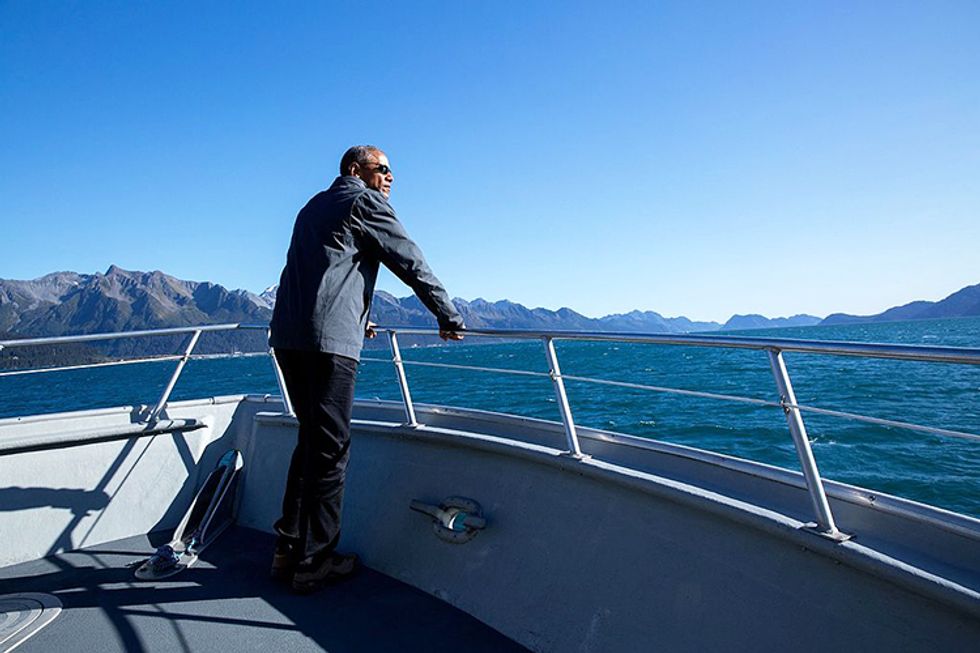 Elsewhere, one in five of the world's plant species is said to be threatened with extinction, with climate change one of the factors along with farming and construction.
There is also bad news for caffeine addicts, with the news that scientists are warning that coffee is "at risk of running out by the end of the century as a result of intensive farming and climate change."
Sometimes all this bad news seems overwhelming.
But there is good news too, which gives immense hope to those fighting Big Oil, especially in the Arctic: Big Oil is in full retreat from the region.
Once the Arctic was the seen as the last big untapped frontier for the industry. But rather than being full of black gold, the Arctic has proven to be one of the most expensive black holes for the industry ever.
Bloomberg reported this morning that after spending a whopping $2.5 billion for drilling rights in U.S. Arctic waters, oil companies such as Shell and ConocoPhillips have quietly relinquished their rights to some 2.2 million acres. This equates to nearly 80 percent of the leases they bought nearly a decade ago.
This is truly significant: Peter Kiernan, the lead energy analyst at The Economist Intelligence Unit told Bloomberg: "Arctic exploration has been put back several years, given the low oil price environment, the significant cost involved in exploration and the environmental risks that it entails."
Oil giant, Shell which has already blown $8 billion on its mis-guided Arctic folly, relinquished 274 leases in the Chukchi and Beaufort Seas, although it is holding onto the lease that it started to drill last year. ConocoPhillips formally relinquished its 61 Chukchi Sea leases. Statoil had already dumped 16 Chukchi Sea leases and its working interest stakes in 50 others in the U.S. Arctic last November.
Michael LeVine, senior counsel for the environmental group, Oceana, which uncovered the information in Freedom of Information requests, said: "Hopefully today marks the end of the ecologically and economically risky push to drill in the Arctic Ocean."
The Big Oil retreat comes as the Washington Post reports that President Obama and other political leaders are coming under pressure to do more on climate change in the Arctic region.
Many Democrat politicians and environmental groups are pushing for Obama to ban Arctic drilling altogether as part of the next five-year leasing plan, which runs from 2017 to 2022. Nearly 70 House Democrats sent a letter last week to Interior Secretary Sally Jewell, which said in part:
"The Arctic Ocean should be permanently protected from oil drilling, not used to drill for more fossil fuels that we will not need—and must not burn—if we are serious about powering our future with clean energy."
Cindy Shogan, executive director of the Alaska Wilderness League, added that "The president has made a commitment to address climate change and protecting the Arctic must be part of that equation."
All eyes will be now on the White House on Friday, when Obama meets political leaders from Denmark, Finland, Iceland, Sweden and Norway. Climate change is on the agenda.
YOU MIGHT ALSO LIKE
The Heartland of America is '100% Clean Energy Ready'
4 Reasons Why It's Time to Break Free
Leonardo DiCaprio Stands With Great Sioux Nation to Stop Dakota Access Pipeline
Army Corps Denies Permits for Biggest Proposed Coal Export Terminal in North America
By David Kirby
Paul Spong deftly threads the June Cove through the churning tidal waters of Broughton Strait, skirting granite outcrops topped with evergreens, until we enter the bottle-green expanse of Blackfish Sound. Rounding a rocky headland on Hanson Island, we pull into a sheltered cove surrounded by thick stands of cedar, fir and spruce. In the distance, snow-flecked peaks tower above nearby Vancouver Island. Screeching bald eagles circle overhead and behind us, black-and-white Dall's porpoises resembling miniature orcas dart around in the icy sound.
"Welcome to Double Bay," the marine mammal scientist, who has studied captive and wild killer whales for decades, said with a smile. "This, I think, would be a terrific home for Corky."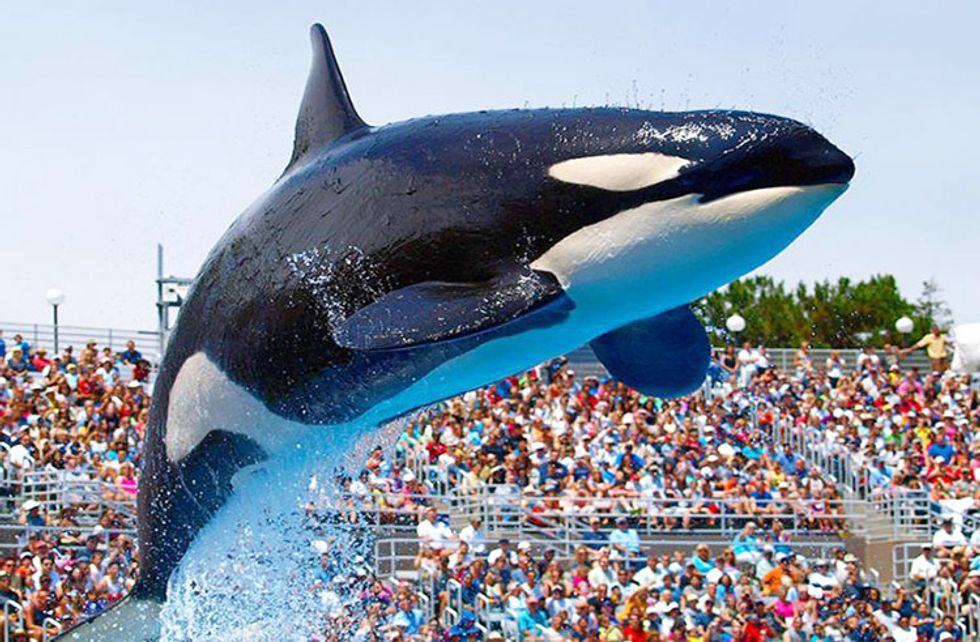 As I survey the serene swath of wilderness, I find it hard not to agree. Corky the killer whale is one of the star performers at faraway SeaWorld in San Diego. In 1969, at around age four, the orca was snatched from her family (which still patrols this area each summer) in a notorious roundup in Pender Harbor, on the British Columbian mainland. Six whales were removed from their pod and sold to theme parks and aquariums, hungry for more of the crowd-pleasing ticket sellers. Now, nearly 47 years later, Corky is the longest-held captive orca.
She is one of 56 killer whales confined to tanks in the U.S., Canada, Russia, China, Japan, France, Spain and Argentina. Their lives are vastly different from those of orcas in the ocean, which typically stay with their families for life; captive orcas are often removed from their mothers, sometimes at very young ages. Orcas in the wild can swim up to 100 miles per day; orcas in tanks are lucky to swim 100 laps. Most studies show that death rates for captive orcas are higher than for wild ones. Unlike their captive relatives, orcas in the ocean don't need antibiotics, antifungals and even antidepressants to maintain their health and well-being.
Spong and his wife, Helena Symonds, who operate the nonprofit research center OrcaLab, have been hoping to return Corky to her native waters for decades. They even envision the whale rejoining her pod in the wild. But the obstacles have been daunting. SeaWorld vows it will never transfer any of its marine mammals to sanctuaries because, the company claims, it would endanger the animals.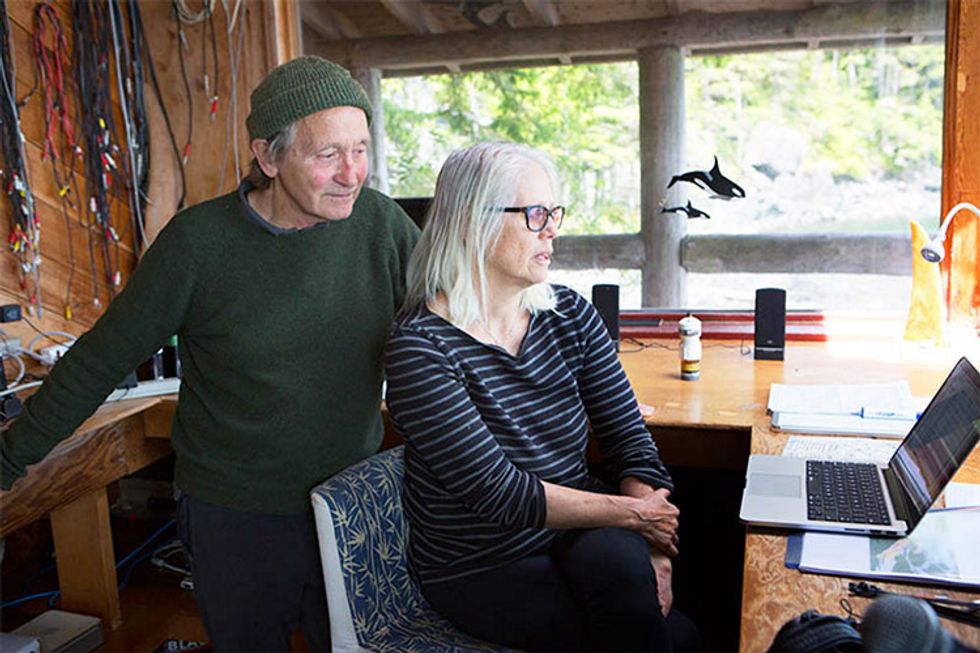 But Spong and Symonds refuse to give up, bolstered by a burgeoning international movement that has risen up around them in recent years—one that seeks to deliver captive whales and dolphins into "retirement" from the noise-filled arenas and barren concrete tanks where they labor daily to entertain tourists. If Ringling Bros. can retire its elephants and research universities can send lab chimps to sanctuaries, many animal welfare advocates ask, why can't the same be done for whales and dolphins?
Not too long ago, that question would largely have been brushed off as naive, if not patently absurd. But times are changing. When I published my book, Death at SeaWorld, in 2012, the ethics of holding huge whales in small tanks were not on many people's radar. But the book and to a greater extent the documentary Blackfish, profoundly altered public opinion about captivity.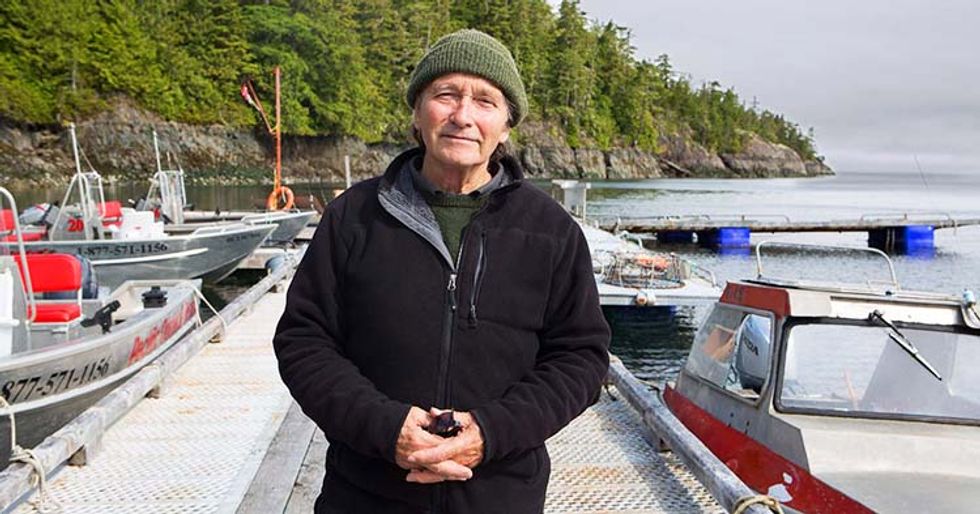 At first, SeaWorld tried to ignore the escalating clamor, betting that the outrage was just a fad. But ticket sales continued to flag, the company's stock plummeted and corporate partners fled to safer waters. Then in March 2016, SeaWorld issued a stunning announcement: It would stop breeding captive orcas immediately and phase out theatrical orca shows by 2019.
The about-face has reenergized the anti-captivity movement and given hope that SeaWorld and other marine parks will one day agree to transfer at least some of their animals to seaside sanctuaries. But where will they go? In the works are at least nine "retirement" plans, under which captive whales, dolphins and porpoises would be transferred to netted-off pens in the ocean off the coasts of the U.S., Canada, Europe and South Pacific islands. The movement might extend to China, where nine Russian-caught killer whales were recently exported to Chimelong Ocean Kingdom amid a marine park building boom, though they have yet to be put on display.
"People are now seeing that these sentient beings aren't corporate assets," said Courtney Vail, campaigns manager for the U.K.-based Whale and Dolphin Conservation and a leading advocate of the sanctuary movement.
A More Natural Life
The marine park industry argues that transferring marine mammals to sea pens exchanges one form of captivity for another and would harm them by exposing the animals to pollution and other hazards. Sanctuary proponents counter that life in a netted-off area of the ocean is infinitely preferable to confinement in what amounts to a glorified swimming pool.
Video: See How SeaWorld's Killer Whales Can Go Home Again
"Any sanctuary is going to be better than captivity," said Lori Marino, a marine mammal neuroscientist, the founder of the Utah-based Kimmela Center for Animal Advocacy and the executive director of the Whale Sanctuary Project. Unveiled in May, the project has brought together marine scientists, conservationists, legal experts, veterinarians, former animal trainers and others to build the world's first permanent seaside sanctuary for whales and dolphins held in captivity.
"We have to look at the kind of environment that their brain evolved in, what their brain evolved to do and how far or close their setting is to that natural environment," Marino told me. "They have a brain that obtains pleasure in figuring out how to go places, how to get prey with others, in swimming and deep diving, even in navigating their social lives and communicating over long distances."
Sanctuary advocates envision that sea pens could be established in a cove or a bay, with an anchored net closing off the mouth or perhaps among a group of small islands surrounded by barriers. In most cases, whales and dolphins would have access to acres of deep, natural seawater rather than barren concrete tanks. If possible, they would learn to catch fish rather than consuming only frozen-and-thawed food. They would receive round-the-clock monitoring and regular veterinary care but could spend their lives without having to perform tricks. Though most sites would provide public access to the animals, visitors most likely would be kept at a discreet distance. There would be no stadium-style seating filled with flashing cameras, roaring crowds and deafening music.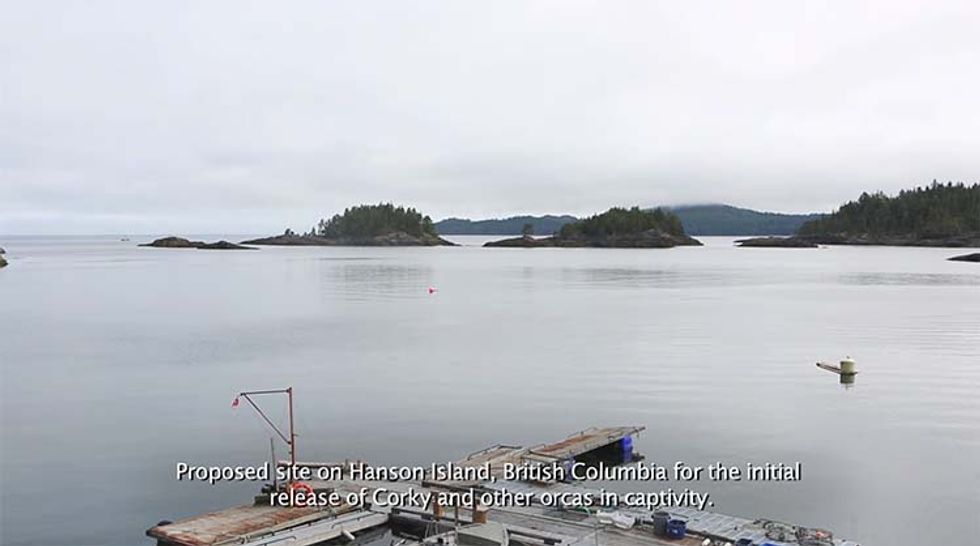 Sea pens, proponents say, could improve the overall health, well-being and longevity of the animals. How do they know this? Because pens exist, at least for certain species.
The U.S. Navy keeps 82 bottlenose dolphins—and a number of sea lions—in sea pens in San Diego Bay and at Naval Base Kitsap in Washington state, where they are trained to detect mines and "enemy swimmers" and retrieve objects from the deep. Some marine mammal facilities with swim-with-the-dolphin programs also maintain their animals in seawater, according to Naomi Rose, marine mammal scientist at the Animal Welfare Institute.
Back to Nature?
Retiring captive animals to a seaside sanctuary for the rest of their lives—while complicated and expensive—is one thing. Rehabilitating them for return to the sea is quite another.
Although many people would like to see that happen, captive-born whales and dolphins are poor candidates for such release. Not only do they have no experience in the wild, but they have no families with which to reunite. They might learn to catch food, but without a social group to join they could become solitary social misfits. Though it's possible to release captive-bred animals, it would not necessarily be ethical or sound.
"I seriously doubt we could teach them how to be normal in a social setting," Rose said, even though solitary whales and dolphins have been documented in the wild. "The arrogance of thinking we can teach a captive-bred whale or dolphin how to be a wild, competent adult is pretty outrageous."
Animals obtained from the ocean are better candidates for release. Hundreds of dolphins and several pilot whales and false killer whales (members of the dolphin family) held in tanks around the world were taken from places such as Russia, Korea, the Solomon Islands, Cuba and Taiji, Japan. There are also scores of wild-caught beluga whales, mostly from Russian waters.
Of the 56 orcas in captivity, only a small number were taken from the ocean; the rest were bred in captivity. But knowing where the animals were captured is not the same as knowing where their families are.
Among all wild-caught killer whales, we know the definitive identities of the families of just two, both from the Pacific Northwest: Corky, from the A5 pod of Northern Resident whales and Lolita, a solitary orca who has been held for 46 years in a tiny pool at Miami Seaquarium, who belongs to the L pod of Southern Residents. So if the idea of repatriating animals to the ocean is to reunite them with their native pods, the notion of release for most of them is problematic.
Can Corky Swim Free?
As Paul Spong ferries me around Blackfish Sound, the 77-year-old scientist with longish, wispy hair and a playful smile concedes that his vision for the "Free Corky Campaign" has evolved over time. Spong and others have been trying to return the orca to her pod since 1990. For years, reunification seemed like an optimal and plausible option. After all, researchers are familiar with her relatives, who routinely swim by Hanson Island, home to the twin inlets of Double Bay.
No orcas are around on this sparkling spring day, but I have seen many wild killer whales. The encounters are exhilarating. They chase prey together, chattering wildly to coordinate the hunt. They "spy hop" above the surface to get a look around and leap from the sea in exuberant, thunderous breaches. I once watched an entire pod of orcas frolicking in a cove, only to disappear within seconds after one of them, presumably the oldest female, gave the signal that it was time to go. Their communication skills are that staggering.
Two members of Corky's immediate family are still alive—siblings that were born after her capture but share the same calls. Spong thinks other relatives would also recognize her as one of their own.
Video: Watch and listen to Corky's family, from the A5 pod of Northern Resident whales, seen on Aug. 13, 2015. (Video: Megan Hockin-Bennett for Orcalab)
"These are extremely intelligent animals with long memories," he told me, adding that each family group has a distinct set of vocalizations or dialects. "We can identify approaching orcas just by the sounds they make, even before we see them."
"When we began this decades ago, our idea was that she'd learn how to catch live fish again and we would see how she was interacting with her family group," Spong said, gazing at Corky's potential future home. "And then at a point where it was obvious she was interacting with them, we would let her go with a tracking device."
Sadness engulfs Spong's face as he continues. "The problem now is that so much time has passed—she's so much older—that we're hesitant to go there," he said. "Our thought at this point is to create a permanent retirement home for her and care for her."
When I ask SeaWorld about this, company officials email me a written statement. "Putting our killer whales in sea cages would expose them to disease, pollution and other man-made and natural disasters," the statement reads. "In addition, given the ages of our whales, the length of time they've spent in human care and the social relationships they've formed with other whales, it would do them more harm than good [and] could cause the whales immense stress and even death during transport and release."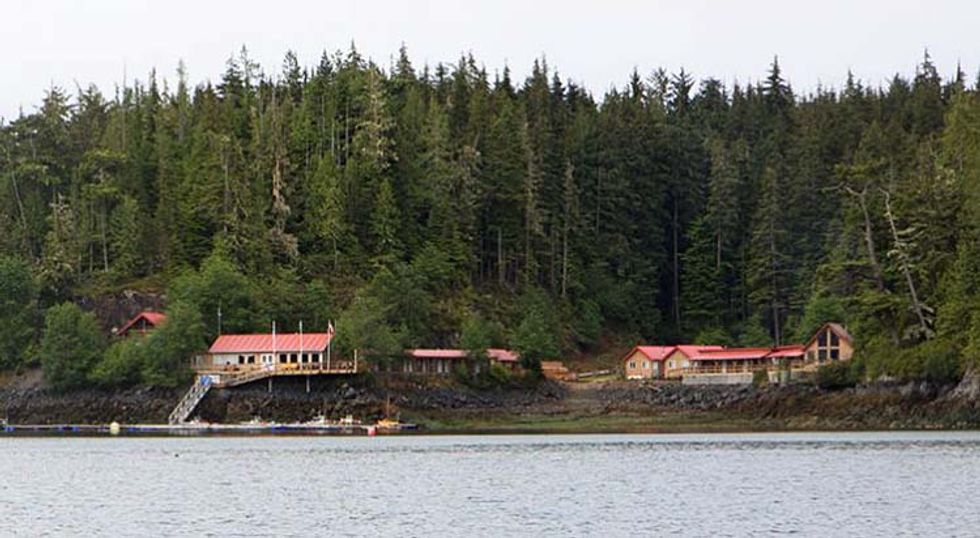 Still, Spong clings to hope for a corporate change of heart. "We think it would be a great thing for SeaWorld," he said. "They're recognizing that when they do good things, the public responds." SeaWorld would need to be directly involved with Corky's retirement. "She would need trainers she was familiar with."
Spong steers past the outcrops along Double Bay's mouth, explaining how barriers could connect them to complete Corky's enclosure. We enter the tranquil inlet. Spong points to a compound of low-rise wooden buildings along the shore, originally built as a private fishing lodge. He said that he intends to look into buying the place. With its dock, restaurant and sleeping quarters, it's ready-made for housing workers and even visitors who would pay to see Corky, helping to offset some of the costs.
Those costs are considerable. While the lodge would negate the need for building infrastructure, buying the place and all the land around Double Bay would likely run into the millions. Even the nets could cost $100,000 or more.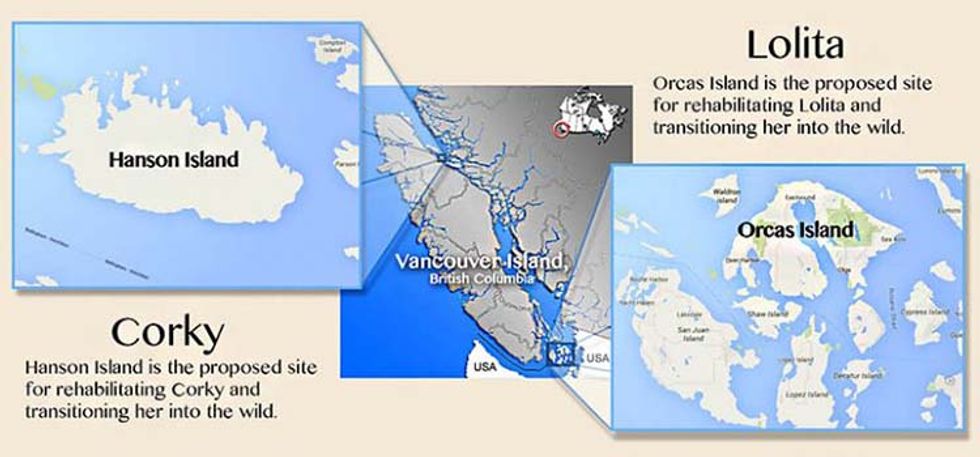 Two Homes for Lolita
Of all the orcas in captivity, perhaps none engenders as much public sympathy as Lolita, who has spent the past 46 years at Miami Seaquarium, much of it alone, with the exception of a few dolphins. Her enclosure is small: 80 feet long and 35 feet wide, with a depth of just 20 feet, the same length as her body. She has limited protection from the blistering Florida sun.
Lolita was taken from her family at about age four in 1970 during the largest orca roundup in history, at Penn Cove on Whidbey Island, about 40 miles northwest of Seattle. More than 90 whales, probably the entire Southern Resident population, were corralled into the narrow bay. Four of them died and seven of the youngest ones were sold to marine parks. Today Lolita is the only Southern Resident of the 45 captured who is still alive in captivity.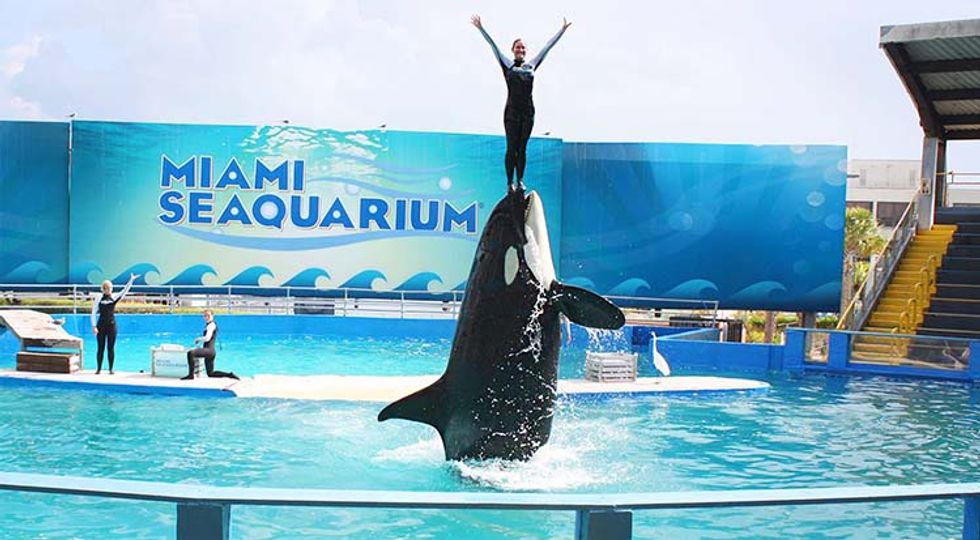 Lolita might also stand the best chance of any captive orca of being delivered from her confines. The Southern Resident orca population was listed as endangered in 2005 and in 2013 the federal government agreed to include Lolita in the listing in response to a lawsuit from animal welfare groups. Although a federal judge on June 2 rejected conservationists' claims that Lolita's cramped confines at Miami Seaquarium violate the U.S. Endangered Species Act, the animal rights activists are appealing the ruling and there is another pending action against the federal government that could conceivably result in Lolita's release.
There are two competing plans for retiring the whale to her native waters.
The older plan, dating to 1995, was conceived by Ken Balcomb, director of the Washington state–based Center for Whale Research, along with his half-brother Howard Garrett, an outspoken anti-captivity activist featured in Blackfish and his wife, Susan Berta. Together they run the Orca Network conservation organization on Whidbey Island, not far from Penn Cove.
On a sunny May morning, the snow-covered Olympic Mountains glistening across the Strait of Juan de Fuca, Garrett and I make our way to horseshoe-shaped Orcas Island, in the San Juan Islands, to tour the site he has selected for Lolita—265 acres of wooded waterfront property owned by Jim Youngren, a real estate developer who would donate the land for the killer whale's resettlement.
We head down to the estate's waterfront, which includes a large cove that would be netted off for Lolita. Garrett and Youngren say the site is ideal: It is isolated, protected from the elements and there is little boat traffic on the sound. And, they say, it would be temporary. After her arrival, they would embark on a regime of training Lolita to reunite with her family by improving her stamina, teaching her to catch fish and taking her out on "walks," accompanied by a boat, into the sound.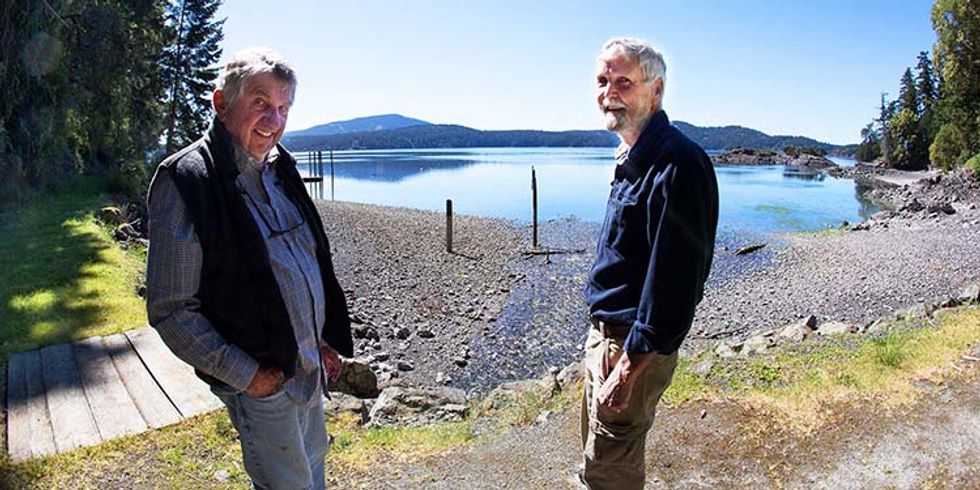 The detailed proposal for Lolita's rehabilitation focuses on weaning her from dependence on humans for survival and includes plans for a project manager, a staff veterinarian, caregivers, divers, security personnel and a water quality manager. The total estimated budget, for transportation, infrastructure and feeding and caring for Lolita for three to six months ranges from $758,000 to about $1.56 million.
"We will raise the money through traditional fund-raising, including individual small donors, major foundation grants and appealing to benevolent benefactors, anybody willing to pitch in to help Lolita go home," Garret said. "Unfortunately, I don't have a Rolodex of billionaires that I play golf with."
Money isn't the only obstacle. Miami Seaquarium has consistently rejected the idea of retiring the whale.
"There is no scientific evidence that … Lolita could survive if she were to be moved from her home at Miami Seaquarium to a sea pen or to the open waters of the Pacific Northwest," Andrew Hertz, Miami Seaquarium's general manager, informed me in an email. "It would be reckless and cruel to jeopardize Lolita's health and safety. Miami Seaquarium is not willing to experiment with her life in order to appease a fringe group."
But Garrett is confident that Lolita will recognize her family and yearn for reunification with them. (Lolita's mother is alive and well). He envisions the day that Lolita hears her family in the ocean.
"It would be the moment we're all waiting for," he said. "Her family might be 20 miles away, chattering as normal and she recognizes them and calls back in their calls that only that family uses. If they're curious, they'll probably make a beeline to her. I don't think it's going to be an immediate warm welcome. I think there will be a time of rebuilding relationships and trust levels. But that will be the most fascinating scientific experiment: How tight are those bonds and how clear is that memory after all those years?"
After visiting Orcas Island I take a ferry to Port Angeles and make the 90-minute drive along a narrow, winding highway that skirts the Strait of Juan de Fuca to the far northwestern corner of the continental U.S., home to the 47,000-square-mile Makah Indian Reservation. Just before Cape Flattery, I pull into Neah Bay, a large, curving expanse bisected by a mile-long rocky jetty connecting the mainland to Waadah Island.
It is here, alongside the jetty, that an informal coalition of conservationists and members of the Makah Tribe want to install a floating pen, with nets anchored to the seafloor, to house Lolita.
I meet with two key members of the project: Michael Harris, a Seattle-based network television journalist and former president of the Orca Conservancy and Micah McCarty, former chairman of the Makah Tribal Council and member of the federal government's National Ocean Council.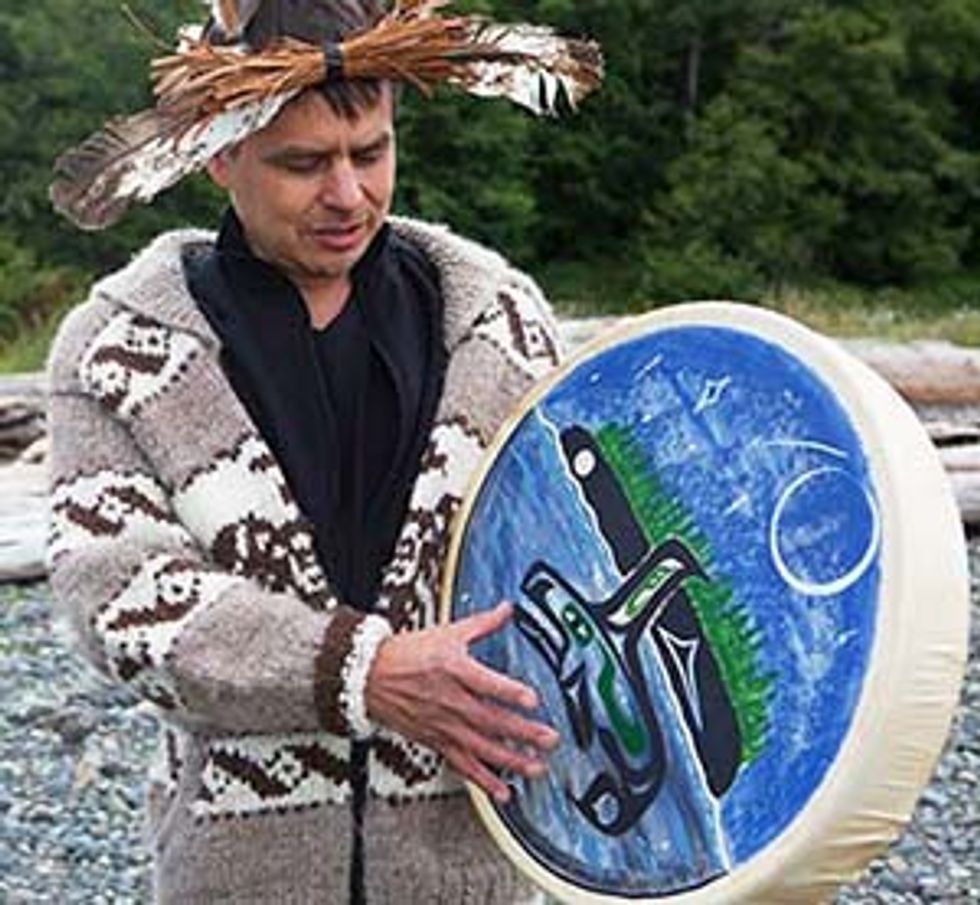 There is an orca on McCarty's family crest. Like most Native American tribes in the region, the Makah revere killer whales in their mythology, in which orcas are considered "Killer Whale People" who live in villages under the sea and put on orca costumes when they come to the surface.
In 2008, Harris was contacted by a number of Hollywood luminaries, including Ron Howard and his producing partner Brian Grazer, who had heard about Lolita's plight and wanted someone to devise a plan to return her to the Pacific Northwest.
Their plan recommends a project team of five people ­to direct day-to-day operations, a 10-member scientific advisory team, a chief veterinarian, a "boat follow" team, a bay pen team and a project security chief. Before leaving Florida, Lolita would be thoroughly examined for infectious diseases or any medical condition that would put her in danger during transport to the sea pen.
Once in her pen, Lolita would be taught to catch fish and be conditioned to go out for walks, initially led by the boat team and later with a "non-human device" such as an underwater drone so she no longer associated boats with human care.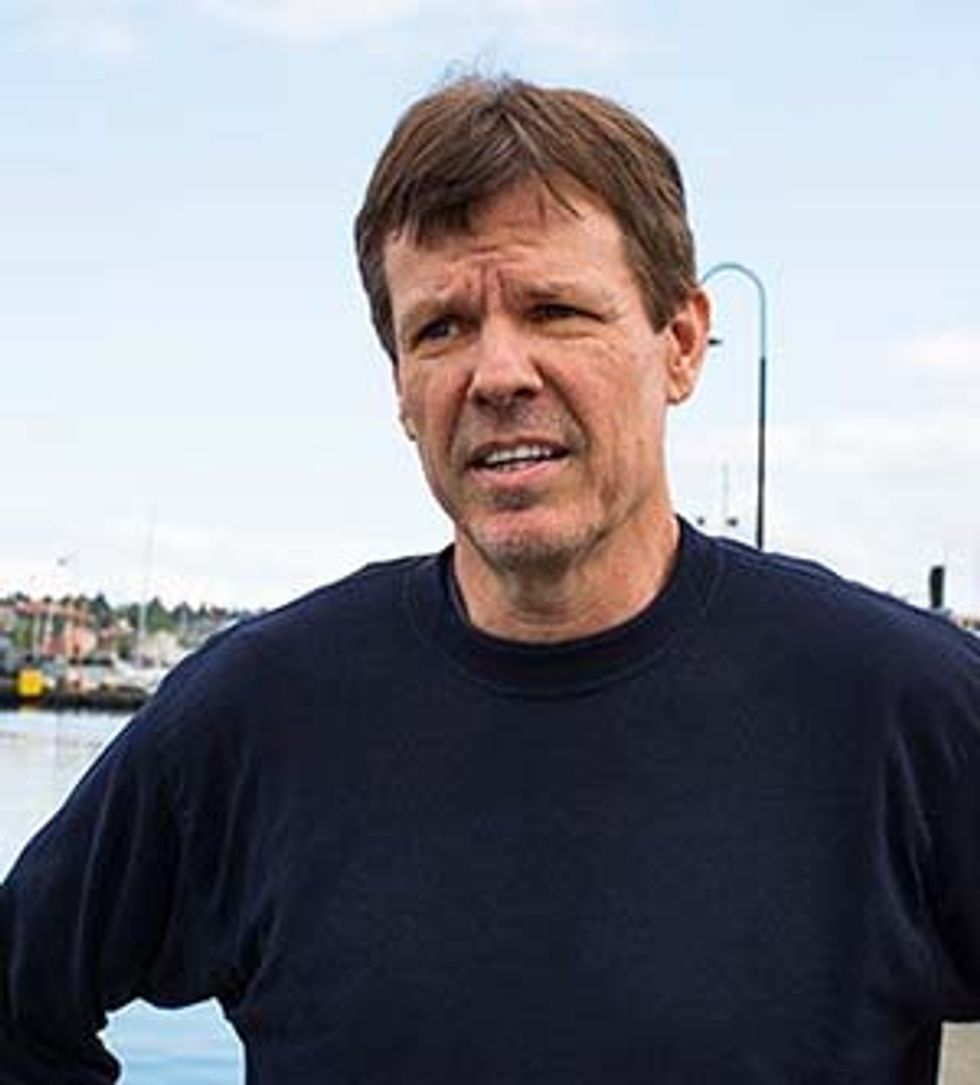 "We need to get these animals away from imprinting on people in boats," Harris said. "You cannot ocean walk a human-imprinted whale into a congested recreational boating area. We're 70 miles from the nearest major population center."
McCarty says the location is ideal. There would be several levels of security, including Makah authorities and year-round access to wild salmon and other fish. Another advantage: Killer whales pass nearby 12 months of the year, he said. The proposal calls for installing underwater hydrophones on an island at the mouth of the strait, operated 24 hours a day, that could detect the approach of Lolita's family when it came time to reintroduce her to her pod. Before swimming free, Lolita would be outfitted with tracking devices, possibly attached with suction cups, to monitor her success and rescue her if she got into trouble.
If the successful release of Lolita cannot be achieved, the plan calls for her permanent residence in the bay. "I'm an optimist, but I think the options have to be that she'll be cared for well the rest of her life if she can't make it in the wild," McCarty said, noting that the pen, envisioned at 10,000 square feet, could be expanded or a new pen could be installed in a cove on Waadah Island.
Harris declined to offer a long-term budget, but looking at expenses from other orca relocation efforts, he estimated that the move from Miami and the first six months of operations would run about $1 million. The proposal calls for academic partnerships, in which universities and research centers would pay fees in exchange for access to Lolita for scientific studies.
Keiko's Legacy
There is a rich history of wild-caught cetaceans returning to nature, with varying degrees of success. One of the earliest involved a 20-year-old pilot whale named Bimbo, who was reintroduced into the ocean in 1967 by Marineland of the Pacific, near Los Angeles, after nearly eight years in captivity. Two years after his reintroduction, Bimbo was sighted near Santa Barbara and five years later, he was seen again near San Clemente.
Without question, the most famous, expensive and controversial orca release involved Keiko, star of the 1993 Warner Bros. movie Free Willy, who was yanked from his family near Iceland in 1979 when he was about two years old. Keiko had languished for years at a Mexico City amusement park in a small, shallow pool filled with tepid tap water spiked with chlorine and table salt. The subpar conditions caused Keiko to lose weight and contract a papilloma viral infection that left large patches of his skin with disfiguring warts.
Keiko's plight gained worldwide attention. In 1995, the California-based Earth Island Institute, with seed money from Warner Bros. and American telecommunications billionaire Craig McCaw, helped establish the Free Willy-Keiko Foundation. A $7.3 million, high-tech rehab facility was built at the Oregon Coast Aquarium with the intention of returning Keiko to the ocean. In early 1996, Keiko was flown to his new tank, which was filled with cold, fresh seawater. He learned to catch fish to supplement his frozen diet.
In September 1998, Keiko was transferred to a floating sea pen in Iceland anchored in a spectacular inlet surrounded by volcanic cliffs. Over the next few years, Keiko's health and stamina continued to improve. In 2000 Keiko began taking walks in the open ocean, outfitted with a tracking device. He often stayed away for days. Then, in the summer of 2002, for unknown reasons, Keiko took off, embarking on a 50-day, 1,000-mile odyssey across the North Atlantic, under constant satellite tracking, to the coast of Norway. Data from his tag showed that Keiko made repeated deep dives on his journey, suggesting he was foraging for fish.
The killer whale's arrival in Norway sparked a public sensation, as hordes of boaters and swimmers flocked around the Hollywood star. It was a terrible situation, given that the idea was to wean him from humans. Critics declared the experiment a wretched failure. Keiko's caretakers relocated to Norway and walked him further up the coast to Taknes Bay, far from the raucous crowds. He spent the next 15 months coming and going as he pleased. Then, in December 2003, he began exhibiting signs of lethargy and lack of appetite. On Dec. 12, Keiko beached himself on the rocky shoreline and he died that evening. No necropsy was performed, but his vet suspected the cause was pneumonia.
Skeptics accused the project of murdering a hapless animal that never should have been released. The seven-year project, they noted, had come with a $20 million price tag, said David Phillips, executive director of the Earth Island Institute, which worked on the release project. "Keiko had five years with the sights and sounds of natural seawater," he said. "I think it was a great success in terms of Keiko, his well-being and the whole world that wanted to do the right thing."
What's Next?
Are seaside sanctuaries a pipe dream of well-meaning but misguided whale huggers? Critics say the money spent on sea-pen retirement could be better used on conservation of wild animals. "I find that the continued debate over SeaWorld's 27 well-cared-for killer whales seems to encapsulate how nonprofits in the U.S. are fighting for animals not in need of saving while ignoring species and animals that are in the wild and truly need help," said Eric Davis, editor of the pro-industry website Awesome Ocean, which has received funding from SeaWorld.
On Tuesday, the National Aquarium in Baltimore announced that it would build the first North American seaside sanctuary by the end of 2020 for its eight Atlantic bottlenose dolphins currently living in an amphitheater at the facility.
For the past five years, aquarium officials have been evaluating the feasibility of building a seaside sanctuary and searching for possible sites, which include locations in the Florida Keys and the Caribbean.
The move will undoubtedly send tremors throughout the captive whale and dolphin industry and put pressure on companies like SeaWorld to soften their resistance to retiring some their animals to sea pens.
There are at least five other proposed whale and dolphin release projects that have a shot at coming to fruition.
Chief among them is the Whale Sanctuary Project. Leading the charge are board members Lori Marino, Naomi Rose, David Phillips and Charles Vinick, who directed the Keiko project from 1998 through 2002.
The new group's goal is to establish a "model" sanctuary somewhere in North America where whales, dolphins and porpoises can be rehabilitated for release into the ocean or, for the majority of animals, allowed to live out their lives in an environment as close as possible to their natural habitat, one that enhances well-being and autonomy.
"We're really focused on British Columbia right now," said Michael Parks, a licensed engineer and commercial freighter captain who worked on the Keiko project for five years. "There are so many good-looking sites there, especially the west side of Vancouver Island, with waterways that go quite a ways inland, provide good protection and have access to road systems." Parks is also looking at sites in southeast Alaska, Washington, Maine and Nova Scotia.
The ideal site must not only be protected and accessible year-round but has to have the right temperature, salinity and seafloor depths; tidal action to flush out animal waste; an area for veterinary care and animal husbandry; and room onshore to construct a command post and visitor center. The group plans to allow public access, which is legally required for U.S. sites, not only to educate people about marine mammals but also to accept donations. The site will likely have two sections: one for rescued cetaceans and wild-caught captives being rehabilitated for release and the other to permanently house those that cannot be freed. Federal, state and local authorities will have to sign off.
Project officials are expecting to spend upwards of $20 million raised from donors to acquire a site, install nets and build infrastructure. They're off to a decent start. Munchkin, a global baby-product company, has donated $200,000 for the site search and pledged at least another $1 million to the project. Munchkin CEO Steven Dunn tells me the idea came to him after a claustrophobic experience in an MRI machine.
"I thought, This is what captive orcas feel like," he said. "I had empathy for them that I couldn't get out of my head."
What if they built a sanctuary and nobody came? Marino says that rescued marine mammals might be among the first arrivals. She, like many others in the movement, believes that parks and aquariums might one day bend under public pressure and retire parts of their "collections."
Other sea-pen projects are on the drawing board. Merlin Entertainments Group and its aquarium division, Sea Life, which is opposed to keeping marine mammals in tanks, announced in 2009 that the company was working with Whale and Dolphin Conservation to create a sanctuary plan for belugas and dolphins at properties it had acquired.
"We're working towards advancing two sanctuary projects right now," said Whale and Dolphin Conservation's Courtney Vail. "One involves relocating three female belugas caught in Russia that are now at Changfeng Ocean World in Shanghai, a Merlin-acquired property. Merlin is working toward readying them for relocation to an arctic sanctuary that WDC [Whale and Dolphin Conservation] is helping to site and develop."
Vail's group is also working on a feasibility study to develop a bottlenose sanctuary in the Mediterranean within five years.
One of the most well-known sanctuary efforts involves Morgan, a female orca who was found, alone, emaciated and sick, off the Netherlands in 2010. The three-year-old killer whale was captured and taken to a local theme park, which was given a permit to rehabilitate her and return her to the sea. That never happened. Despite months of legal wrangling by animal welfare advocates, in 2011 Morgan was sent to Loro Parque in the Canary Islands. She was put in a tank with five other killer whales living there on a "breeding loan" from SeaWorld, which today claims ownership of Morgan.
Almost from the beginning, Ingrid Visser, a renowned killer whale scientist and founder of New Zealand's Orca Research Trust, has fought for Morgan's liberation. Visser is also a leading sea-pen proponent whose recent renderings of a conceptual high-tech sanctuary—with an expansive modern pier and attached husbandry pen and glassed-in observation centers for paying visitors—were derided by industry defenders as being little different from SeaWorld.
Visser and some colleagues were able to obtain a few recordings of Morgan's vocalizations while the whale was in Holland and they matched them with a group of Norwegian whales known as P pod, though the identity of Morgan's immediate family remains unclear.
Visser cofounded the Free Morgan Foundation and helped devise a plan to send the killer whale to a sea pen in Norway, with the intention of reuniting the orca with her family.
"We have at least five different sites in mind and we've looked at three of those in detail," she told me. "One is a [fjord] where the entrance is protected from large swells and it's within a half-mile of known feeding grounds of Norwegian orca, but it has limited road access. Another one is within a group of islands, though it's near a fishing harbor."
But, Visser said, "there's no point in building a sea pen if the authorities won't release her. It's putting the cart before the horse."
If Morgan's reunification with her family fails, the Free Morgan Foundation is prepared to look after her for life.
"Let's at least improve her life with a fjord to swim in," Visser said. "Or even train her to swim beside a boat and go out with whale-watching tours and use that for education and science. It's far better than where she is now, doing the tango and moonwalk for tourists."
The Whale Sanctuary Project's Marino firmly believes that day is coming for Morgan and many other captive killer whales.
"The SeaWorld announcement about breeding is a good one, but they need to take the next step and transfer the animals that are going to be there for the next 30 years to a sanctuary," she said. "They can't be released, but their quality of life can be improved by orders of magnitude. Still, this is not just as easy as saying, 'There's a good inlet—let's throw a net across and put some animals in it.' It's a solemn responsibility and it's the best we can do for animals that are in captivity."
This article was reposted with permission from our media associate TakePart.

YOU MIGHT ALSO LIKE
Nepal's Extinct Bird Spotted After Disappearing for 178 Years
Chile's Salmon Industry Using Record Levels of Antibiotics to Combat Bacterial Outbreak
Is it Too Soon to Consider Removing Giant Pandas From the Endangered Species List?
Newborn Sea Otter Reunited With Mom in Sweet and Rare Rescue
North Atlantic Salmon Fund
Atlantic salmon, the native salmon that used to inhabit the northern Atlantic Ocean, rivers and seas, is a species now represented by an impostor: farmed salmon. Also known as cultured salmon, farmed salmon comes from hatchery genetic stock and unlike its native ancestors, lacks wild genetic variation. The wild fish our ancestors ate is gone. What appears on our dinner plates is a substitute copy, a genetic dilution of a once mighty fish, the adaptive king of the sea and a significant food for coastal humans since prehistoric times.
The change in genetic stock has been happening for decades, as farmed salmon are released into native waters via restocking programs (in an attempt to reduce the negative impacts of overfishing of wild salmon) and also unintentionally as a consequence of faulty containment in sea net-cages. The resulting "swamping out" effect—farmed in, wild out—along with several other insidious factors, has driven native salmon to effective extinction.
Genetic Erosion
When I began to research the scientific literature on native Atlantic salmon, I was stunned to discover that this species (Salmo salar L.) is essentially extinct. How can this be possible? Is the fish before our eyes and on our platters not real? Yes, indeed it is, but the verified statistic is that 99.5 percent of all Atlantic salmon living today, whether farmed or fished from open ocean or rivers, is not what biologists call "wild type" and does not faithfully represent, in a genetic sense, the native fish that once broadly populated waters of our planet's Holarctic zone, the ecological region that encompasses the majority of habitats found across the Earth's northern continents.
The fish we eat today is not the fish that fed our ancestors or even the fish that fed our forebears of a century ago. Today's salmon, because of the effects of a force called genetic erosion, is the diluted copy of a fish that once thrived on a wild genome, that tried and true set of original genes which, in the case of salmon, generated a fish capable of magnetic field navigation, survival in fresh and salt water and geochemical detection of spawning micro-habitats.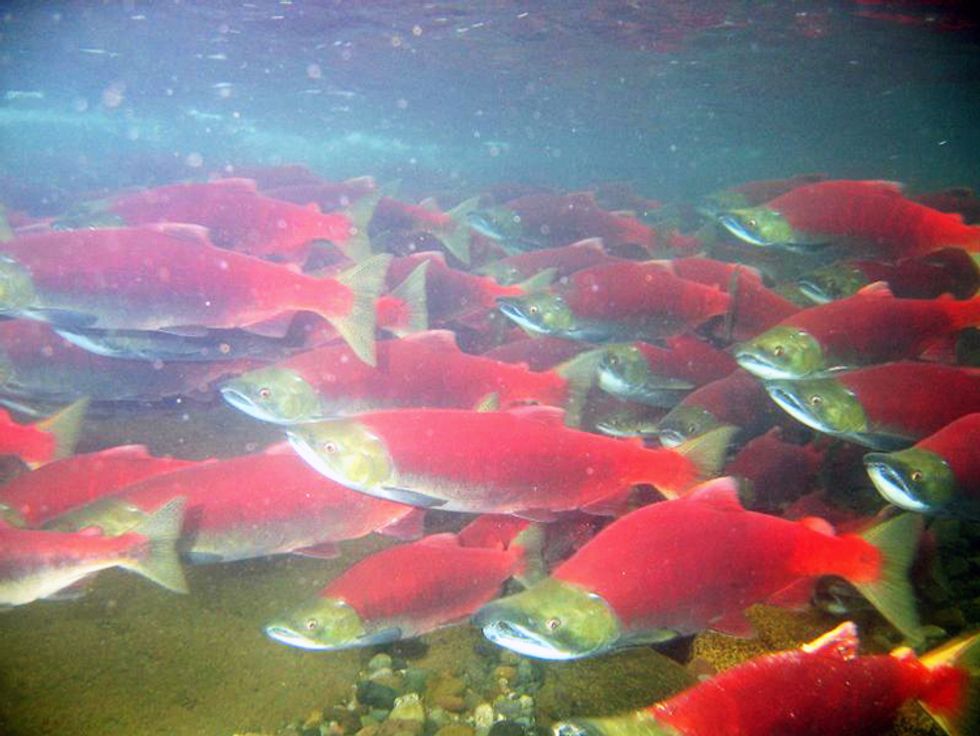 Genetic erosion, simply defined as the loss of genetic diversity over time, eliminates the potential of a species to adapt to new environments and leads to extinction. The swamping-out effect by farmed salmon has been one eroding genetic force working against wild salmon. We human predators have overfished, toxically farmed, illiterately stocked, dammed and blindly released, by millions, farmed and unfit Atlantic salmon fishes into the wild. The hatchery stock has bred with and overrun the native species, one that had been evolving for hundreds of thousands of years and which is now genetically eliminated, all in the quick human feeding frenzy of the last century.
In visual terms, the force of this steep genetic erosion has clear cut to an industrial hedge and burned to the biological bones, a body of irreplaceable, adaptive genetic material equivalent to a massive, old-growth forest, one which had stood for millennia over the entire Holarctic region of Earth and which is frankly not restorable. One could say that the old-growth forest of Atlantic salmon is dead.
This is not an easy tale to tell. The salmon, however, is an able storyteller, being a familiar and marvelous fish. Salmon is anadromous, a migrant from fresh water to salty sea, a fish who returns to its birth river to spawn in the family niche for the next generation, for the continuation of each clan, the many clans for each population and the many populations for each species.
Technically, the only way to explain why the salmon you think you are eating is extinct is through the lens of population and molecular genetics. Yet, the salmon is truly a salmon of knowledge and can tell its story in many ways, being a once highly diverse and differentiated, smartly pedigreed family of kin and clan. If you can follow maps and glaciations, rivers and open seas, then you can follow the clans of salmon and their ancestral family trees and the recent loss of their protective, genetic canopy.
Salmonid Evolution
The earliest salmon came from a diverse group of ocean vertebrates known as the ray-finned fishes and was part of a broad divergence of ocean fishes that adapted over eons to the cold, northern waters of the upper Northern Hemisphere, around the Arctic Circle. Early Atlantic and Pacific salmonid ancestors branched into separate ocean groups of early species types about 600,000 years ago.
Well before the coming of its most evolved predator, Homo sapiens sapiens, before the industrial degradation of the earth's ecosystems, before and after the last retreat of the Last Glacial Maximum, salmon prospered, undisturbed and free to navigate the seas and inland rivers. The females raked their redds (spawning nests), the males attended, their black-eyed eggs developed. They grew into spotted fry, then young parr (juveniles) camouflaged in lines matured to silver-scaled adults, who when ready put out to sea to amass body weight as they navigated the ocean using the Earth's magnetic fields to guide them.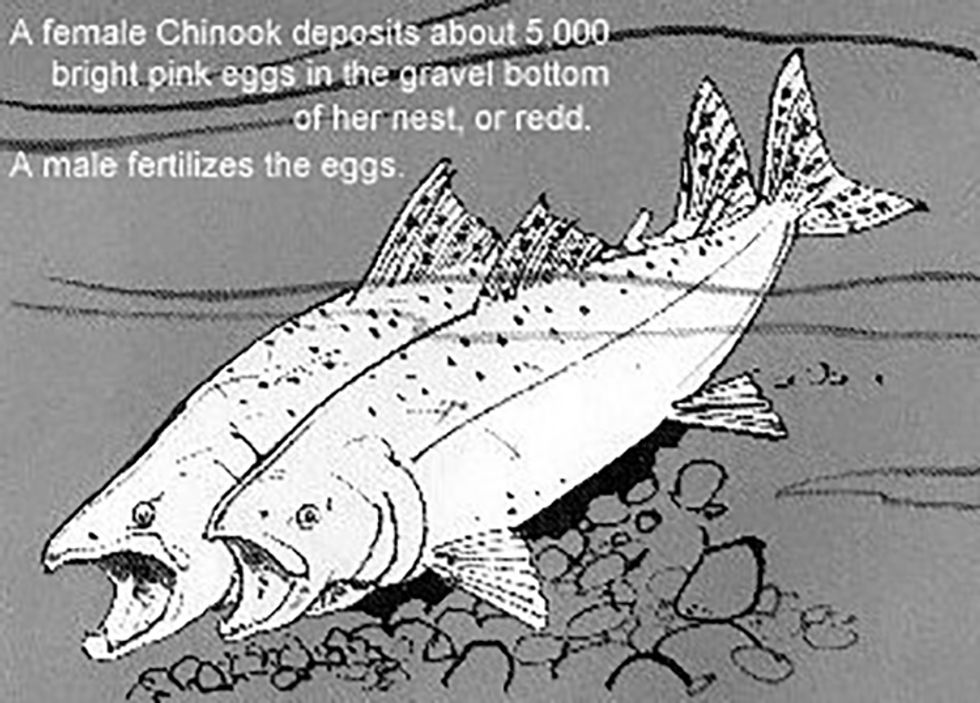 Consistently, the salmon returned upriver to breed again, homing back to their place of ancestry, their birth location, not only to pass down the best surviving, evolutionary genetic lines, but the unique adaptive differences of their clan, which allowed them to detect, recall and locate that singular family place as being their own. Innumerable salmon clans eventually earmarked to all of the available niches within the species' final broad biogeographical distribution.
On their way, during their travels, over time and in prehistory, salmon differentiated. Individuals of each clan began to accumulate small genetic differences by random chance, breeding and keeping those differences unto themselves and their families. Salmon clans became unique within their family's geographic niche because they spawned among their own. The clans grew and multiplied, each clan at its own location, spreading and creating more clans, larger and more diverse populations, accumulating more of those familial differences.
Clan-genetic differentiation can now be measured by DNA fingerprinting, has been shown to correlate to geographical breeding location and, most importantly, became locally adaptive. Salmon evolved to cull the identity by smell of their home waters in the elegant genetic processes of gene co-adaptation and where the salmon bred was where the salmon was most fit. Dynasties of ecological fitness, each clan best suited to its own specific breeding location, certainly emerged.
Surviving a Frozen World
We know that the ancient, wild Atlantic salmon faced and survived Holarctic glaciation, for their genes also left a fingerprint of their biological survival gear in their molecular patterns. Well studied in northern Europe, there likely existed one or more refugia under the Weichlesian glacial plates, bodies of fresh water in which the prehistoric salmon survived as the rest of its world froze over, unable to migrate to sea.
Isolated in its clans, separated by distance and geological formations, in different rivers, breeding with no outsiders and accumulating differences, the ever-adaptable wild salmon colonies were yet diverse enough to self-populate over long periods of time, being naturally fit and self-sustaining. Meanwhile, saltwater clans were successfully breeding in the ocean. As the glaciers remained, the separated salmon clans accumulated and passed on those unique fitness differences for best survival in their different environments.
Then the glacial ice retreated upon the warming Holocene, about 12,000 years ago. The oceans rose and fingered inland into fjords and rivers as glaciers melted and individuals from refuge salmon clans began to spread into fresh territory. Some pioneered the newly opened, post-glacial rivers, challenging distance and falls, spawning further upstream again and again, as the case may be, until all of the available rivers of the north Atlantic islands, eastern Russia, the Baltic Sea and their appurtenant inland flows were filled with unique, wild salmon, a literal natural spectrum of glorious natural diversity.
In the lands abutting the northeastern Atlantic Ocean, this distribution and range included every river in and out of the sea coasts from the north of Spain to the Arctic latitudes and in North America from the Connecticut River northward. Here lived and bred the "wild type" Atlantic salmon, adaptive king of the sea and the "leaper," the muscled fish of power, grace and fortitude. Meanwhile, our own species experienced an upturn during the advent of agriculture, about 10,000 years ago and spread around the globe. As far as the wild salmon was concerned, all was kept in checks and balances until our epoch of genetic erosion, the superseding Anthropocene, which began c. 1950. Ours is an historic epoch physically characterized by the plastic geological layer now forming as a permanent record in the crust of human industrial ways.
Today's Salmon
The salmon has taken a fatal series of genetic blows. Its "old growth forest" was set on fire by a human feeding frenzy that began with overfishing and was fed by industrial aquaculture. The genetic erosion is shocking and steep.
Today, 99.5 percent of all native Atlantic salmon has disappeared from the wild. In Europe, Scandinavia and around the Baltic Sea, native indigenous salmon has vanished from the Russian rivers Neva and Narva, the Luleälven and Umeälven of Sweden, from the Odra and Wisla in Poland and the Vilia of Belarus. In fact, only 10 of the many rivers which empty into the Baltic arm of the northern Atlantic Ocean sustain wild salmon populations any longer and the wild Baltic salmon genome is the only one with natural resistance to the destructive Gyrodactulus salaris parasite.
Around the British Isles, in Ireland and across the pond to North America, wild salmon populations are extinct or endangered or threatened. The Kola Peninsula of Russia is known to be a current refuge for wild type Atlantic salmon, yet is also known to harbor military and radioactive waste at ecologically harmful levels. The grand Torneälven of Sweden, called Tornionjoki where it traverses Finland, is one of the last rivers to host wild Atlantic salmon in the world. (For more on the status of Atlantic salmon, see the International Union for Conservation of Nature Red List map. Researchers at the Swedish Agency for Marine and Water Management have produced a report on the Baltic extinctions. Anna Tonteri, a conservation geneticist at the University of Turku in Finland has written an excellent doctoral thesis about the population genetics of north European Atlantic salmon).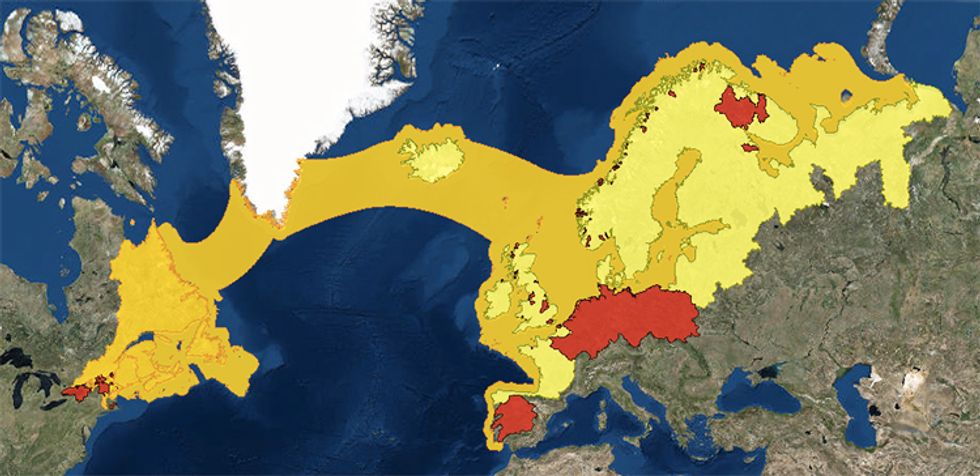 The Baltic salmon extinctions were largely enabled by human destruction of migration routes for spawning, upon the building and operation of hydroelectric dams. Further molecular DNA studies of the hatchery stock salmon from this exemplary sea have demonstrated a genetic "homogenization." Stock salmon populations constitute more of a weak puree than a chunky soup, in terms of "population genetic structure," another statistical measure of diversity. This is why—although the map above may demonstrate a wide range and lesser areas of extinction—the actual number of wild salmon living within the extant areas is quite small at around 0.5 percent. In other words, the orange areas showing extant salmon are overall 99.5 percent inhabited by farmed stock salmon.
We have learned to overlay DNA diversity upon geography and geologic history, in a relatively new field called landscape genomics. The important data is not just in the map or the numbers of fish, but in the genetic quality and the relationships of the individual salmon that comprise the families, clans and populations. An apparent abundance by numbers does not mean a population is healthy, self-sustaining and diverse.
In Ireland, the release of farmed salmon has not only caused genetic erosion, but has disrupted the capacity of wild populations to adapt to warmer waters. This is a problem for salmon across its geographical range for the obvious reason of climate change. Strong and well founded recommendations for saving the remaining wild salmon include cessation of stock salmon releases and re-establishment of native spawning grounds. The future effects of warming waters, however, are unknown and not hopeful.
I can tell you a similar story about the Pacific salmon, the Oncorhynchusspecies—the chum, coho, sockeye and Chinook salmon—which are also extinct or endangered or threatened and which are also genetically eroded. The destruction of the 10-million-a-year run of wild salmon on the Columbia River is unfortunately historic. The Pacific salmon had populated its portion of the Holarctic range simultaneously with the Atlantic salmon. Recent research has verified that Pacific hatchery stock salmon differs genetically from wild salmon and does so from the first generation of breeding. More than 700 genes, according to the data, were associated with "wound healing, immunity and metabolism." (Scientists at Oregon State University recently conducted a study published in the journal Nature that shows there is DNA evidence that salmon hatcheries cause significant and rapid genetic changes). The fish are raised in overcrowded, concrete tanks, eat an artificial, supplemented diet and live in polluted water that is released into the environment whether farmed inland or off coast.
Genetic variation is the key to survival. With variation, if the environment changes, those individuals with the right variation in their genes will be most able to survive, to adapt and to regenerate a population. That is why it is important to sustain a lot of different, varied individuals in the population, in the clan, in the tribe. Genetic diversity for living organisms is the biological foundation for long term survival, for adaptation to environmental changes and is essential to species for sustaining fit populations for future generations. Genetic diversity is essential for all life on earth to survive climate changes.
The old-growth forest of Atlantic salmon was the entire set of all native salmon genes required for response and adaptation to new environments, the genetic set encompassing all salmon diversity, before the beginning of overfishing and the industrial era of H. sapiens sapiens. This forest of genetic diversity stood, so to speak, in wild swimming, individual, native salmon genomes (not laboratories!) and was acquired over millennia of biological and environmental changes by natural selection. The old-growth forest contained the wild genes of each fish, a reliable molecular network, co-adapted, set like jewels in a biological filigree, fitness genes in a pedigree of clans that salmon had naturally conserved among themselves, to sustain themselves and to protect their own kind from and for environmental changes and to adapt, to diverge and to explore new places in their niches of the living ecosystem of our planet. The old-growth forest was everything genetically needed for wild salmon survival.
Stock salmon cannot survive without human intervention. The overcrowded hatchery conditions in which it grows cause numerous fish body abnormalities and require nutritional supplementation to cover for shortfalls in bone development and other physiological problems.
Protect Whatever Remains
Human cultures rose around the salmon, which has fed and continues to feed a lot of people. In the wild, its orange flesh color comes from its consumption of shrimp and krill and the absorption of these carotenoids into its tissues. These natural pigments may actually have a protective effect for the salmon, as well as nutritional value for its consumers, humans and bears alike. Pellet-fed, farmed salmon must be supplemented to obtain its pink color.
Native, indigenous, wild Atlantic salmon, its distinguished clans and tribes, did not need human help to survive and yet we have lost the salmon to our anthropogenic ways, to overfishing, fish farming, dam construction, inbreeding, poor stock management and environmental degradation. And from these genetically eroded hills has been created a hatchery-dependent, diluted salmon, an inflexible, non-diverse and certainly not wild, genetic copy of salmon that we fish, farm, release and eat and even feed to our pets every day.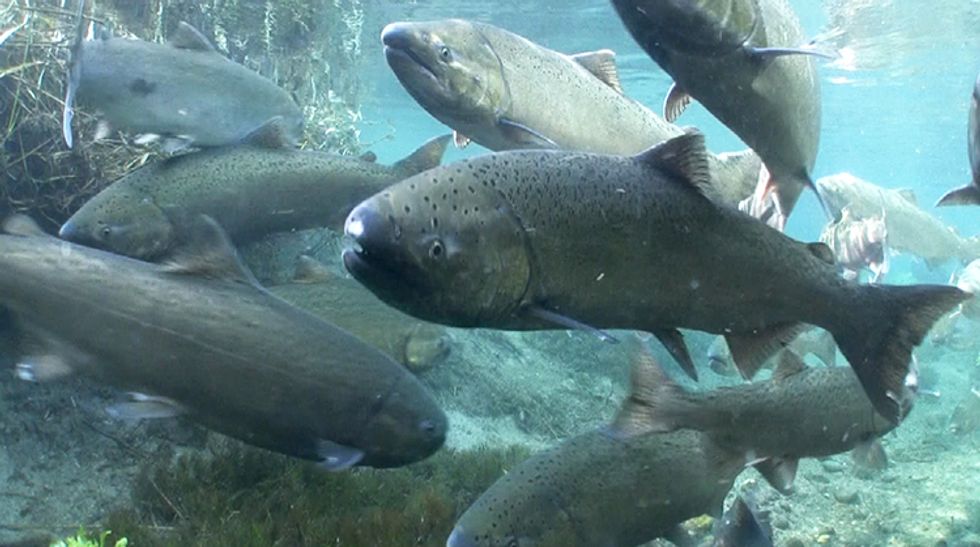 More than 99 percent of Atlantic salmon, Salmo salar L., live only as genetically eroded, hatchery stock fish today. That is a most sobering statistic considering the engineering of the Pacific Chinook salmon growth hormone into the Atlantic salmon genome (see my earlier article here). Whatever remnants still exist of our wild salmon populations must be protected without exception, especially given the potential introduction of a new, genetically engineered salmon to our frankly fragile food web.
Moreover, the pollution and operation of inland fish tanks is costly. At this point in the Anthropocene, conservation interests may want to rise up another step against the introduction of industrialized, non-native food species (call them what you will) into the only biosphere we have in which to live, until we are able to halt any further species genetic erosion. Salmon has been swimming upstream against the depleting force of "genetic erosion" for at least a century, a force that has claimed its wild genome, its clans and its tribes, its genetic diversity and which has nearly eliminated a once self-sustaining, powerful ocean species. Now, salmon cannot live without us.
Atlantic salmon is essentially extinct because we have demanded too much of this natural resource through over-consumption and environmental exploitation. The wild gene forest that once lived, the old trees, the towering antiquarians of genetic variation, are gone, lost in the fire of a rapid, wholesale, industrial Homo sapiens taking, consumed in an anthropocentric fire we could even see burning, when one looks at the timeline of scientific data.