Alaska's Kenai Fjords National Park, which was impacted by the Exxon Valdez oil spill, could be harmed again if expanded offshore drilling plans go through. National Park Service
The report, SpOILed Parks: The threat to our coastal national parks from expanded offshore drilling, summarizes the danger drilling poses to parks that saw 84 million visitors in 2017, supported 59 thousand jobs and earned $5.7 billion. Parks threatened include iconic pieces of American culture and landscape, from the Statue of Liberty National Monument to the Everglades National Park to Alaska's Glacier Bay National Park and Preserve.
"These places matter, and we cannot completely protect them if we start to drill off our coasts," senior vice president of conservation programs for the National Parks Conservation Association Mark Wenzler told The San Francisco Chronicle.
Expanded drilling threatens six national sites in the Bay Area alone.
Secretary of the Interior Ryan Zinke announced the expanded drilling plans in January in response to an executive order by Trump ordering the rethinking of drilling bans implemented by former President Barack Obama, The San Francisco Chronicle reported. According to the new report, Zinke's plan would lease federal waters for oil and gas drilling and allow drilling in waters where it hadn't been allowed for decades, including areas off the coasts of Alaska and Florida and in the Atlantic and Pacific Oceans.
"It may be stating the obvious to some," Franz Matzner, director of federal affairs for the Natural Resources Defense Council, told The San Francisco Chronicle of the report, "but it may not be obvious to the Trump administration, which is barreling ahead with a plan that is unprecedented."
To provide a sense of what is at stake, the report reviews how historic oil spills have devastated parks in the past. In 1969, an oil rig spilled 200,000 gallons into the Santa Barbara Channel in California, killing thousands of seabirds and marine mammals in the Channel Islands National Park.
The 1989 Exxon Valdez oil spill in Alaska's Prince William Sound affected Kenai Fjords National Park, Katmai National Park and Preserve and Aniakchak National Monument and Preserve. Oil washes up on park beaches to this day.
Finally, the 2010 Deepwater Horizon spill harmed every island in the Gulf Islands National Seashore, where plants, wildlife and archeaological sites are still recovering.
All of these parks would be in danger again if Trump and Zinke's drilling proposal goes ahead.
According to the NRDC blog post announcing the report, more than 1.3 million Americans have sent comments opposing the plan to Bureau of Ocean Energy Management.
Related Articles Around the Web
EcoWatch Daily Newsletter
Researchers with the European Space Agency (ESA) have mapped in stunning detail the extensive retreat of South America's Patagonian ice fields, where some glaciers are melting at the highest rates on Earth and contribute to global sea level rise.
In a report this week, ESA revealed that between the years 2011 and 2017, Patagonia's ice fields receded at a rate of more than 21 gigatonnes (Gt)—21 billion metric tons—a year, the equivalent to adding 0.06 millimeters to global sea level.
During that six-year period, the team observed "widespread thinning of ice, particularly in the northern part of the Patagonian ice fields," said Luca Foresta, from the University of Edinburgh, in a statement.
"For example, the Jorge Montt glacier, which flows down to the ocean, retreated 2.5 kilometers and lost about 2.2 Gt of ice a year, and the Upsala glacier, which terminates at a lake, lost 2.68 Gt a year," Foresta said.
"In contrast, however, Pio XI, the largest glacier in South America, advanced and gained mass at a rate of about 0.67 Gt a year."
The scientists gathered this information using a novel technique called "swath processing" of data from ESA's CryoSat satellite, which monitors ice volume.
This new method, detailed in a paper published last month in the journal Remote Sensing of Environment, allows whole swaths, rather than single points, of elevations to be computed, thus yielding more detail on the changing nature of glacial ice.
A new way of processing @esa #CryoSat swath data now makes it possible to map #Patagonia mountain #glaciers in fine… https://t.co/kCmhR48w2W

— ESA EarthObservation (@ESA EarthObservation)1525355071.0
The study authors noted that Patagonian ice fields have thinned rapidly in recent years. Its ongoing melting has contributed about 15 percent to the total mass loss from glaciers and ice caps in the first decade of this century.
"This is because the weather is relatively warm and these glaciers typically terminate in fjords and lakes, exacerbating surface melting and causing them to flow faster and lose ice as icebergs at their margins," ESA explained in a report.
"There is a clear need to monitor and understand glacial dynamics, not only in Patagonia but globally," ESA said.
CHBD / iStock / Getty Images
The sprawling size and sunny days of Texas make it one of the top states for solar energy. If you live in the Lone Star State and are interested in switching to a solar energy system, you may be wondering: What's the average solar panel cost in Texas?
In this article, we'll discuss the cost of solar panels in Texas, what factors affect pricing, Texas' solar incentives and more. Of course, the only way to know for sure how much you would pay to install a solar panel system on your roof is to receive a free, no-obligation quote from a top solar company near you. You can get started by filling out the quick form below.
How Much Do Solar Panels Cost in Texas?
Thanks to the growing investment in renewable energy technology statewide, homeowners now enjoy a below-average cost of solar in Texas. Based on market research and data from top brands, we've found the average cost of solar panels in Texas to be $2.69 per watt. This means a 5-kW system would cost around $9,953 after the federal solar tax credit. This is especially valuable when you take into account the unpredictable Texas energy rates.
Here's how that average calculates into the cost of the most common sizes of home solar panel systems:
| Size of Solar Panel System | Texas Solar Panel Cost | Cost After Federal Tax Credit |
| --- | --- | --- |
| 5kW | $13,450 | $9,953 |
| 6kW | $16,140 | $11,944 |
| 7kW | $18,830 | $13,934 |
| 8kW | $21,520 | $15,925 |
| 9kW | $24,210 | $17,915 |
| 10kW | $26,900 | $19,906 |
Though this data reflects the statewide averages, you'll need to contact a solar installer near you to get an accurate quote for your home. Savvy customers will get free quotes from multiple companies and compare them to the state averages to make sure they receive the best value possible. Bear in mind that the biggest providers of solar won't always have the best prices.
What Determines the Cost of Solar Panels in Texas?
The main factor determining the cost of solar panel installations in Texas is the homeowner's energy needs. No two homes are the same, and installation costs will look far different for a home needing a basic 5kW system and a home needing 10kW with backup power capabilities. The solar financing and installation company a homeowner chooses will also affect a customer's overall solar costs in Texas. Here's how each factor comes into play:
Solar Equipment
Similar to phones, cars and other technology, solar products and system costs vary greatly based on their quality, scale and included features. Some customers may be satisfied with a modest array of affordable solar panels and inverters, while others may opt for a system with premium panels, full-home backup power and cutting-edge energy monitoring technology.
Solar Financing
The overall cost of solar depends significantly on how a customer chooses to finance their system. The three most common solar financing options include paying in cash, taking out a solar loan and solar leasing.
The most economical way to purchase solar, an upfront cash purchase provides the best long-term return on investment and the lowest overall cost.
Customers can choose to take out a solar loan to purchase the system outright and make monthly payments to repay the loan. The typical payback period for a solar loan averages around 10 years. Systems purchased with a loan are still eligible for the federal solar tax credit.
Signing a solar lease or power purchase agreement (PPA) allows a solar customer to rent solar panels from a company or third party. Though requiring the least amount of money upfront, solar leases provide the least amount of overall value. Also, solar leases aren't eligible for the federal tax credit, as the homeowner doesn't actually own the system.
Solar Installation Company
Texas has seen some of the strongest solar energy market growth over the last few years, and the SEIA reports that there are now nearly 600 solar companies based in Texas, and each is looking to expand its market share.
Price ranges can differ significantly based on the installer. Larger solar providers like Sunrun offer the advantage of solar leases and quick installations. Local providers, on the other hand, provide more personalization and competitive prices to undercut the biggest national companies.
Because of this, it's wise to get quotes from a few local and national installers and compare rates — because of the stiff competition between companies, you could end up saving several thousand dollars.
Texas Solar Incentives
For the most part, Texas taxes are administered by local governments. As a result, the state doesn't offer a large number of statewide solar-related policies, and incentives will depend more on the locality in which you live.
However, all homeowners in the state remain eligible for the federal solar tax credit, and there are some statewide local property tax exemptions for both photovoltaic solar and wind-powered renewable energy systems. Let's walk through how to find what incentives are available to you.
Federal Solar Tax Credit
All Texans can claim the federal solar investment tax credit, or ITC, for PV solar panels and energy storage systems. By claiming the ITC on your tax returns, the policy allows you to deduct 26% of the total cost of the solar system from the taxes you owe the federal government.
The tax credit is available to both residential and commercial system owners who have installed solar panels at any point since 2006. The credit is worth 26% through the end of 2022 and will drop to 22% in 2023. It is set to expire at the end of 2023 unless congress extends it.
Net Metering Policies in Texas
Net metering programs allow customers to sell unused solar energy back to their local utility company in exchange for credits that can be cashed in when panels aren't producing energy. Due to the energy bill savings, this incentive can greatly reduce the solar investment payback period.
As is true with most of Texas' solar rebates and incentives, there is not one net metering program that is offered throughout the entire state. Rather, your eligibility will depend on the policy of your local utility company or municipality. Most utilities in the state have a net metering policy, including American Electric Power (AEP), CPS Energy, Green Mountain Energy, El Paso Electric, TXU Energy in Dallas and more.
The rate at which your local utility will compensate for this excess energy will depend on your local policy, so we encourage you to look into the policy offered by your utility company.
Local Solar Rebates in Texas
In addition to identifying your local net metering program, look into any local rebates available to you. Homeowners who live in the top cities for solar in Texas, like Austin, San Marcos or Sunset Valley might have more luck than customers in other areas. The Database of State Incentives for Renewables & Efficiency has a full list of local rebates, solar loan programs and more.
FAQ: Solar Panel Cost Texas
Is it worth going solar in Texas?
Long, sunny days and below-average solar installation costs make Texas one of the best states in the U.S. for generating energy with solar panels. The ample sunshine provides more than enough energy for most families, serving up huge benefits to homes in Texas equipped with solar panels.
How much does it cost to install solar panels in Texas?
As of 2021, the average cost of solar panels in Texas is $2.69 per watt. This means a 5-kW system would cost around $9,953 after the federal solar tax credit. This is slightly below the national average due to the resource availability in Texas, current energy costs and the state's available sunlight. The best way to assess how much solar would cost you is to consult local providers near you for a free estimate.
Do solar panels increase home value in Texas?
Solar panels increase home value everywhere, but mostly in areas with generous net metering policies and solar rebates. As such, the proportion at which solar panels increase home value in Texas corresponds with the areas with the most solar-friendly policies.
How much do solar panels cost for a 2,500 sq foot house?
Though knowing the size of a house is helpful in determining how many solar panels could fit on its roof, the energy use of the house is the more important factor in determining solar panel cost in Texas. The higher your energy use, the greater your solar needs will be.
Karsten Neumeister is a writer and renewable energy specialist with a background in writing and the humanities. Before joining EcoWatch, Karsten worked in the energy sector of New Orleans, focusing on renewable energy policy and technology. A lover of music and the outdoors, Karsten might be found rock climbing, canoeing or writing songs when away from the workplace.
Sea Shepherd Global
Sea Shepherd Global has documented the grisly annual hunt and slaughter of pilot whales and dolphins in the Danish Faroe Islands.
As part of its ongoing Operation Bloody Fjords campaign, the ocean conservation group sent a crew of volunteers posing as tourists to six different Faroese towns covering 19 designated whaling bays with the aim of "[exposing] the continued barbaric killing of dolphins and pilot whales," campaign leader and Sea Shepherd UK Director Robert Read said.
Over the course of ten weeks from this July to early September, the volunteers documented nine separate grindadráp events (what these yearly hunts are called in Faroese). According to the group, 198 Atlantic white-sided dolphins and 436 pilot whales were killed.
The Faroese whaling tradition, also known as a grind, has a recorded history since 1584. During a grind, island authorities allow a flotilla of boats to drive dolphins and whales into a shallow bay. The animals are then killed with a whaling knife that severs their spinal cord.
Sea Shepherd Global
"We witnessed the whole process from the driving in of the 50 or so pilot whales through the slaughter, the butchering and the distribution of the meat and blubber," said one volunteer in a statement provided to EcoWatch about the the Aug. 29 grindadráp in the village of Hvannasund.
"As the pilot whales were driven to the shoreline by the small boats the intensity of the thrashing bodies grew. Hooks were sunk into the blowholes and the whales were dragged onto the shore in a sadistic game of 'Tug of War.' We witnessed whales seemingly bashing their heads against the stones in a frenzy."
Another witness at a July 25 dolphin hunt in the village of Sydrugota remarked about the crowds and children casually gathering at such a bloody scene.
"As we drove into Sydrugota we knew we were in the right place as the water was blood red, we continued towards the harbor and parked up, walked to the slipway to see 16 Atlantic White Sided Dolphins already had been slaughtered, lined up neatly in two rows, guts already spilled onto the concrete and spines severed, one thing I didn't expect was the stench of blood. A crowd had gathered including small children who were poking the dolphins in the eyes while their parents watched."
Sea Shepherd Global
A witness at the Funningsfjordur hunt on Aug. 5—where more than 100 dolphins were killed—was similarly taken aback by this "disconnect."
"Thoughts immediately turned to the disconnect between the image of people laughing, children playing and the barbaric scene before us at the waters edge. Many of the pod still laid on the beaches, blood flowing from the kill wounds, one dolphin with a wound so deep it had almost severed the head completely, parents could be seen taking their children down to see the bodies close up, one we observed even lifting their boy up to sit on the body of a dolphin as they took photos of him, the lack of any empathy for the lives that had just been brutally taken was clear, as was an insight into how future generations are already being exposed to this brutal act."
Faroese authorities told Fox News that hunting pilot whales on the islands is sustainable. "The long-term annual average catch of pilot whales in the Faroe Islands represents less than percent of the total estimated stock. It has long since been internationally recognized that pilot whale catches in the Faroe Islands are fully sustainable."
"Sheep farming, whaling and fowling have enabled the Faroe Islands as an island nation to maintain a relatively high degree of self-sufficiency in food production," the Faroe Islands government said in its statement. "In the Faroe Islands it is considered both economic and environmental good sense to make the most of locally available natural resources, and to maintain the knowledge required to use what nature can provide in a harsh oceanic environment."
Sea Shepherd Global
"Catches are shared largely without the exchange of money among the participants in a whale drive and residents of the local district where they are landed," the statement continued. "Each whale provides the communities with several hundred kilos of meat and blubber—meat that otherwise had to be imported from abroad."
The island government also criticized Sea Shepherd representatives for going "to any lengths to paint a negative picture of the Faroese whale hunt as 'barbaric,' 'unnecessary,' 'evil' and 'lunacy' describing Faroese as 'sadistic psychopaths' with the aim of inciting anger and outrage against the people of the Faroe Islands. They have chosen an easy target, as whale drives in the Faroe Islands take place in the open for anyone to watch and document."
Sea Shepherd, which has led campaigns to oppose the grind in the Faroe Islands since 1985, continues to speak out against this practice.
"2017 has proved to be one of the worst years for the grindadrap since the mid 1990's by the men of the Danish Faroe Islands with 1203 pilot whales and 488 dolphins killed during 24 individual hunts so far," Read said, urging people to support the Operation Bloody Fjords campaign to "help end this senseless slaughter."
Sea Shepherd Global
Protest against Arctic oil at Statoil commissioned rig in Norway. Greenpeace
Peaceful "kayaktivists" from Greenpeace Norway boarded a Statoil-contracted rig set to drill two Arctic wells this year.
Two people boarded the rig at the Skipavik yard on Norway's west coast Thursday morning and have requested a meeting with the rig's captain.
Another 10 activists are in the water with signs that say, "Same shit, new wrapping," in reference to Statoil, Norway's biggest petroleum company, that wants to change its name to "Equinor."
The protesters are there "to ensure the rig does not leave port," Truls Gulowsen, the head of Greenpeace in Norway, told Reuters.
"We are prepared to stay as long as necessary," he added.
Kayaktivists from Greenpeace Norway have boarded the oil rig West Hercules in a fjord off the west coast of Norway.Greenpeace
Statoil contracted the West Hercules semisubmersible rig set to drill two exploration wells in the Barents Sea this summer.
Earlier this year, Greenpeace and other groups lost a climate case against the Norwegian government for granting new oil drilling licenses in the Arctic ocean, claiming that such activity violates people's right to a healthy environment and breaches the Paris agreement.
An appeal was launched soon after. Greenpeace demands that Statoil suspend all drilling until a final verdict is reached.
"The amount of oil and gas that has already been found is more than the climate can withstand, so it is pointless and dangerous to look for more. Nevertheless, Statoil is preparing for a massive oil exploration operation in the Barents Sea," said Gulowsen in a statement.
Greenpeace has labeled Statoil's name-change as "greenwashing."
"Whatever they call themselves, oil will still stain their name if they continue to pursue drilling in the Barents Sea and are involved in several highly controversial oil projects around the world," said Gulowsen.
"They must cancel plans for exploration drilling at Korpfjell and Gjøkåsen over the summer, for the climate and environmental reasons, and also because the oil wells are subject to a legal challenge."
Statoil said the protest would not affect operations.
"There's a contract for upcoming work, but we haven't begun any operations yet in that regard. It's from this summer and onwards," spokesman Morten Eek told Reuters.
[email protected]

Activists Interrupt Operations at an #Arctic Oil Drilling Site https://t.co/2KmvhrdB28 @greenpeaceusa @RobertKennedyJr #EndOil

— EcoWatch (@EcoWatch)1502987905.0
From Your Site Articles
Related Articles Around the Web
The Alexander Archipelago wolf is widely considered to be a subspecies of gray wolf genetically distinct from other North American populations. The wolf faces threats from logging and trapping on Prince of Wales Island in southeast Alaska.
Alaska Department of Fish and Game
By Faith Rudebusch
For 12,000 years, wolves have roamed Southeast Alaska's rugged Alexander Archipelago—a 300-mile stretch of more than 1,000 islands mostly within the Tongass National Forest. Now, their old-growth forest habitat is rapidly disappearing, putting the wolves at risk. As the region's logging policies garner controversy, a new study examines what the wolves need in order to survive.
Largely isolated from mainland wolves by water barriers and the Coast Mountains, the Alexander Archipelago wolf (Canis lupus ligoni) is widely considered to be a subspecies of gray wolf genetically distinct from other North American populations. In the 1990s and again in 2011, conservationists sought to protect the island wolves under the Endangered Species Act, but the U.S. Fish and Wildlife Service denied these petitions—most recently, in January 2016.
Despite their decision not to list the subspecies, in their analysis, the U.S. Fish and Wildlife Service highlighted Prince of Wales Island as the area of greatest concern for the archipelago wolves, due primarily to impacts of logging and trapping. Bigger than the state of Delaware, Prince of Wales is the largest island in Southeast Alaska and the fourth-largest island in the U.S., after Hawaii, Kodiak Island and Puerto Rico. The island's lowland hills are blanketed with temperate rainforests of spruce and hemlock and strewn with winding rivers and fjords.
Much of Prince of Wales' scant human population of fewer than 5,500 residents makes its living from the island's natural resources—uranium mining, commercial fishing, hunting and harvesting timber. The Tongass, which covers most of the island, is the last national forest where the logging industry can legally clear-cut old-growth timber. "The trees are huge ... it's been the epicenter for the logging industry in Alaska," said Gretchen Roffler, a wildlife research biologist with the Alaska Department of Fish and Game (ADF&G).
When commercial logging reached Prince of Wales in the 1950s, it hit full force. Between 1954 and 2004, 94 percent of the "contiguous, high-volume old-growth—the big trees, the really high-quality timber—was harvested," according to John Schoen, retired senior conservation biologist with ADF&G. "That's a huge impact."
"Prince of Wales Island is basically a patchwork of the remaining old-growth and then second-growth in various stages of reforestation," Roffler said. "Everything from clear-cuts to older second-growth."
Today, logging roads etch elaborate curlicues into the island's topography. The extensive road system provides hunters and trappers with easy access to the wolves, which are simultaneously prized for their pelts and regarded as competitors that steal hunters' deer. According to Roffler, 60 wolves were hunted or trapped last year, 2 illegally. The total number of wolves killed without permits is, of course, impossible to obtain. Roffler said that ADF&G estimated that 231 wolves inhabited Prince of Wales and surrounding smaller islands in the fall of 2017.
Although hunting and trapping have the potential to eradicate wolves in the short-term, habitat loss from logging poses an even greater long-term challenge for wolf survival, said Roffler, whose study of wolves on Prince of Wales was recently published in Forest Ecology and Management. Logging primarily affects wolves by reducing habitat for deer, their primary source of prey. To learn more about which pieces of the fragmented landscape the wolves tend to frequent, Roffler and her team distributed radio collars among 13 wolves in 7 packs. The radio collars transmitted wolf locations for up to two years per animal, allowing unprecedented insight into their movements.
Roffler and her colleagues found that the island wolves used a variety of habitats: open meadows, marshy muskegs, salmon streams and even recent clear-cuts seasonally accommodated these adaptable animals. Wolves avoided areas with high road densities during the spring denning season and summer, but strongly selected these areas during the winter. They spent much of the fall and winter hunting Sitka black-tailed deer in low-volume, old-growth forest. There, the tree canopies act as umbrellas, catching much of the snow. According to Schoen, deer need old-growth forests to access food during the winter.
Roffler's research showed that wolves, like deer in previous studies, consistently avoided younger forests. Logged 25 to 30-plus years ago, young-growth conifer forests replace clear-cuts in accordance with the ecological principle of succession. The trees' interlocking branches keep light from reaching the forest floor, where few plants are able to grow. Deer, along with most other wildlife, can find almost nothing to eat in such forests. Coined "succession debt" by scientists, this legacy from prior logging operations will impact wildlife for more than a century.
Wolves are considered habitat generalists, existing in a broad range of habitats and ecological conditions worldwide. "They live in deserts and outside of urban areas; they live in forests and out in the mountains and in the grasslands," said Roffler. "But they are really strongly avoiding the older clear-cuts on Prince of Wales Island. And that's significant because there's a lot of land area moving into that kind of forest."
In an attempt to salvage this new kind of habitat for wildlife, the U.S. Forest Service recently began pre-commercially thinning the trees. But the wolves in Roffler's study didn't show any preference for the thinned forests. "The thinning treatments… haven't been very effective at creating better habitat for wolves," Roffler said. "And when we say better habitat for wolves, we probably really mean better habitat for deer, because that's why wolves would most likely be going into these forests."
Roffler says that deer are wolves' primary food source. As deer populations decline, she predicts that wolves will switch to other forms of prey. She found that beavers, seasonally available salmon, bear cubs and adult bear carcasses (abandoned by hunters) all contribute to the island wolves' diets. But Schoen is less optimistic, stating that Prince of Wales residents depend on successful deer hunts to feed their families. He believes that as succession debt reduces deer populations, hunters will increasingly target wolves, legally or illegally, as they are perceived as depleting deer populations.
For decades, the Forest Service has struggled to reconcile the ecological value of 200- to 500-year-old trees with their economic value as timber. In December 2016, the agency, in consultation with scientists and members of the public, approved a 16-year plan to transition away from old-growth logging to the exclusive harvest of previously logged lands.
Alaska's Senator Lisa Murkowski and the logging industry don't like this plan. During a February roundtable discussion with Senator Murkowski, panelists lobbied to keep their access to the forest, according to Alaska Public Media. Timber company representatives pointed out that their lumber mills can't process smaller trees. Senator Murkowski pushed for riders to the 2018 Omnibus Spending Bill that would have voided the expiration date on old-growth logging and allowed new road construction in the Tongass (new roads are normally banned in National Forests); the bill passed without the riders.
"The timber industry wants to log the high-volume, big-tree stands," said Schoen. "It's like picking the M&Ms out of a bag of GORP." Since 2014, Schoen has collaborated with other preeminent scientists working to end clear-cutting in the old-growth forest. "I think, if the timber industry had the opportunity, they would continue clear-cutting the rare, big tree, old-growth forest in the Tongass for probably the next 10 to 15 years, until those valuable trees were gone. After that, they would pull out." Disheartened by how long the Forest Service has taken to protect these trees, he adds, "That kind of forestry is unsustainable and would do great damage to the fish and wildlife resources of the Tongass, the only national forest where old-growth is still allowed to be clear-cut."
Former chief of the Forest Service Mike Dombeck recently argued for protecting Tongass old-growth in the New York Times. Dombeck concluded, "To restart road building in Alaska's most pristine national forests will only repeat history, leading to more lawsuits and uncertainty while undercutting the region's economic bases of fishing and tourism."
"I think there's a serious conservation concern," said Schoen. "The science community recognizes that old-growth forests are rare. They're highly valuable, not just for deer or wolves or marbled murrelets or goshawks. They're valuable really as an endangered ecosystem."
Reposted with permission from our media associate Earth Island Journal.
From Your Site Articles
Related Articles Around the Web
An Arctic tern entangled in fishing gear. Governor of Svalbard / Norwegian Polar Institute Facebook
A disturbing amount of plastic is building up in the once-pristine European Arctic.
According to a study from the Norwegian Polar Institute, "plastic in all sizes" can be found throughout the Norwegian Arctic and in the Svalbard islands, an archipelago between Norway's mainland and the North Pole that's also one of Earth's northernmost inhabited areas.
The researchers estimated that nearly 194 trash objects—mostly plastic—can be found per square kilometer in the region, and weighs a total of 79,000 tonnes.
As ABC.net reported from the study, "even in remote areas with relatively low human impact, it says the concentration of plastic waste in the European Arctic is now comparable or even higher than in more urban and populated areas."
The researchers are most concerned about the amount of microplastics in the sea, said scientist Ingeborg G. Hallanger, who is urging for more research on the effects of plastics on the area's wildlife.
"We lack knowledge about the effects on animals. Here we have to research more," she said. "But we know that as much as 90 percent of seabirds have a plastic in the stomach. 22.5 percent of the seahorses have more than 0.1 gram of plastic in the stomach."
"We know that animals confuse the microplastic with food and eat it," added Hallanger. "This can cause internal damage. We also see that animals get stuck in plastic thrown into nature; such as fishing nets and other plastic residues."
Geir Wing Gabrielsen, one of the paper's authors, told BBC News that the fulmar, an Arctic seabird, is particularly impacted.
"At the end of the 1970s we found very few plastic in their stomachs. In 2013 when we last investigated, some had more than 200 pieces of plastic in their stomachs," he said.
Larger animals are also being harmed by the litter. "Other creatures are getting entangled in nets washed up on beaches—like reindeer," Gabrielsen continued. "Some die because they can't release their antlers—we find them every year."
Gabrielsen said that in Svalbard, 80 percent of the waste comes from discarded fishing gear.
"The results are disturbing," said Climate and Environment Minister Ola Elvestuen. "It is important that we get the fisheries, aquaculture industry and shipping industry on this. We also need to get control of microplastic that comes from artificial turf and car tires."
Worryingly, the researchers predict that the amount of plastic in the Arctic regions will only increase. In 2015, global plastic production reached 322 million tonnes and will continue to grow.
The BBC aired a segment showing how Norway's plastic flood comes from all over Europe and even from across the Atlantic.
"I mean you can throw a thing from the ocean in Florida and think, 'Hey, I've thrown it away' and then it might end up here on our shores," as Bo Eide, an environment consultant for Tromsø Council who often conducts litter pickups on the Arctic fjords, says in the clip below. "They rather quickly break down into small pieces and even tiny little fibers."
"I think the coastline as a whole ... you can characterize it as a microplastic factory," he sighed. "It's so obvious that what we are doing here is the tip of the tip of the iceberg."
Watch here to see the scale of plastic contamination:
Plastic pollution is reaching record levels in the once pristine Arctic. https://t.co/6vsklnUYpZ

— BBC (@BBC)1518175805.0
From Your Site Articles
Related Articles Around the Web
By Michael Svoboda
There are several reasons climate communicators and activists, and not just cli-fi aficionados, could benefit by seeing Downsizing, the end-of-2017 movie starring Matt Damon and directed by Alexander Payne—to be released March 20 on disk.
1. It is one of the few films that addresses climate change mitigation (i.e. reducing greenhouse gas emissions). Most cli-fi movies depict extreme weather disasters (impacts) or survivors struggling in bleak climate-changed landscapes (adaptation).
2. Rarer still, Downsizing is a comedy, a useful quality not often found in climate change communications.
3. Several members of the cast and crew have been Academy Award nominees; three have Oscars on their mantels. Hong Chau, was nominated for the Golden Globe and Screen Actors Guild awards for her supporting performance in the film.
4. Downsizing raises an important point for discussion: What is the human(e) response to climate change, to predictions of climate disasters in particular?
Going small to make big-time cuts in carbon footprint
Downsizing has three distinct parts.

The first lays out the premise of the movie. A group of Norwegian researchers has figured out a way to dramatically reduce humanity's ecological/carbon footprint: reduce the actual footprint of the average human being to less than half an inch.
The Norwegians make their research public at a conference on human scale and sustainability, where they reveal that 36 volunteers had undertaken the downsizing process and were now living in a miniaturized community monitored by the lab.
Watching a TV news account of the conference at a bar near his home in Omaha, Paul Safranek (Matt Damon), an occupational therapist who treats workers at a meat-processing plant, is amazed. Some months later, at a college reunion, he meets someone who has undergone the process.
"You can really make a difference," Paul exclaims, recalling the Norwegian announcement.
"You mean all that crap about saving the planet?" his friend responds. "Downsizing is about saving yourself. You live like kings!"
Downsizing is at its best in these wry scenes depicting American entrepreneurs transforming a process designed to reduce environmental impacts into a way of living large on a small budget. As a sales counsellor at one of the communities created for "small people" explains, "In Leisureland, your $52,000 translates to $12.5 million."
Paul Safranek and his still hesitant wife decide to downsize themselves. In the final scenes of this first part, Downsizing shows them preparing for the process, which is never explained.
Miniaturizing Oneself and One's Carbon Footprint
The second part of the film begins when Paul wakes up, alone, in Leisureland. At the last moment, his wife had changed her mind. Their mini-mansion now seems empty, pointless and, after their divorce, unaffordable; so Paul moves into a small apartment and takes a job as a customer service representative in a small world call center.
Then Paul meets his upstairs neighbor, Dusan Mirkovic, and the disabled women who cleans his loft apartment, Ngoc Lan Tran (Hong Chau), a Vietnamese dissident who had been forcibly downsized and who had then lost her left leg during her escape from her miniaturized prison.
And after a wild party there is a lot to clean up, including the inexperienced Paul, who wakes up on the carpeted floor amidst the spills and cheese crumbles. Noting Ngoc's ill-fitting prosthesis, Paul offers to adjust it, but then damages the limb in the process; Ngoc insists that he help her until a replacement is available.
Paul discovers that Ngoc's business is as much about collecting left-over food and expired drugs as it is about cleaning residences. Everything she collects is then distributed to sick and disabled people living in the tenements with her. There is poverty in Leisureland.
Moved but also exhausted by his work for Ngoc, Paul accepts Dusan's invitation to join him on his next business trip—to the first community of small people in Norway. Ngoc decides she will come, too.
Ngoc Lan Tran (Hong Chau) and Paul Safranek (Matt Damon) en route to original small-people Norwegian community
The trip to Norway makes up the final part of Downsizing, with the film cutting to a scene of the small people on a small boat on a Norwegian fjord.

En route on the water, the working relationship between Paul and Ngoc ripens into a romance.
When they meet the Norwegian small people, two leaders inform Paul, Ngoc, and Dusan that they are now preparing for the worst.
"The methane hydrates in Antarctica are now melting. There will be another extinction. Earth will purge itself of the human species."
In response, the Norwegians have created a subterranean "Noah's Ark for small people" from all over the world, powered entirely by renewable geo-thermal energy and stocked with all they will need to sustain themselves there.
"How long will you stay in the cave?" Paul asks. "Perhaps as long as 10,000 years," one of the leaders guesses.
Paul feels drawn to this civilization-saving mission. "The future of humanity," he tells Ngoc and Dusan, "is down that hole!"
But Dusan is skeptical, even mocking: "They're a cult. They'll go extinct long before we do." And Ngoc worries about the poor and disabled small people she cares for in the tenements; she refuses to enter the cave.
Paul must now make a difficult choice.
The Climate Message(s)
The choice Paul faces is one of the messages Downsizing might deliver to climate-concerned viewers.
The first message, corresponding with the first part of the film, highlights the human propensity to keep ratcheting-up consumption even as one makes "green" choices. If a new technology makes possible lighter and more energy-efficient TVs, then bigger TVs are made and eagerly purchased. The results may not everywhere be as a crass as in Leisureland, but the impulse is not unique to Americans.
The way to counter this ever-expanding consumerism, the second part of the film seems to argue, is by fostering deeper human connections and reducing gross inequalities. Broadly applied, this message implies that humans will not prevent dangerous climate change without also addressing longstanding social and environmental injustices.
The third message is trickier, more troubling, and open-ended: Can humanity or civilization really be saved by sealing a remnant in a shelter? But if not, is the film's writer/director arguing that everyone should go down with the ship, so to speak?
Downsizing thus poses a tough question for viewers: What is the human(e) response to dire predictions of climate change? What are we to do if we don't do enough to avoid dangerous climate change?
A fourth message might be imagined from the reactions to the coincidental fact that Downsizing opened in the U.S. just before Norway's prime minister made a state visit to Washington. It was that visit that seems to have prompted President Trump's unexpected response to a bipartisan proposal on immigration: "We should have more people from Norway."
According to Jostein Matre, a DC-based reporter for the Norwegian newspaper Verdens Gang, Trump's comment drew a brusque—thanks, but no thanks—response in Norway: "Why would Norwegians with things like free health care and free education move to the U.S.?"
Could this also be the reason that the Norwegians in Downsizing were not tempted by Leisureland's "live-large-by-being-small" promotions? Might making it possible for people not to think, obsessively, about health care costs and college loans make it easier for them to think more realistically about climate change?
If so, then the final message climate activists and communicators might take away from Downsizing is this: Don't get small; get socialized. Bernie Sanders would approve.
Reposted with permission from our media associate Yale Climate Connections.
From Your Site Articles
Related Articles Around the Web
An unconventional and first-of-its-kind form of transportation infrastructure could be the answer to traveling across fjord-ridden Norway.
Photo credit: Norwegian Public Roads Administration
To complete the 680-mile drive under current conditions, you would have to allow 21 hours for travel. Why? Traveling north-to-south across the country requires eight ferry trips across fjords. Norway's fjords are too deep and too wide to support bridges. Well, above water ones that is.
A $25-billion project by the Norwegian Public Roads Administration poses a possible solution to that problem: floating underwater tunnels.
The tunnels could cut trip time to 10.5 hours by reducing the need for ferry rides. The project is expected to be completed by 2023. Each tunnel would be suspended under 100 feet of water, held up by pontoons on the fjord's surface and possibly an anchor bolted to the bedrock. Each fjord would be equipped with two tunnels: each two-lane, one for traffic flowing in each direction.
Photo credit: Norwegian Public Roads Administration
Underwater tunnels aren't a new idea for Norway. The country has 1,150 traffic tunnels, 35 of which are located under shallow bodies of water. Fjords, however, can be a mile deep, creating a challenge for conventional tunnels.
The floating underwater tunnels will allow boats to still traverse the fjord without the worry about hitting or being blocked by a bridge.
But there's still a long way to go before floating underwater tunnels become reality. Engineers have several questions to answer, including how wind, waves and currents will affect the structures. If the tunnels prove too difficult, Inhabitat reported, politicians have the right to send the funding to another project.
The following Norwegian Public Roads Administration video offers more information about the project:
Sea Shepherd Conservation Society is asking big-box retailer Costco to stop its purchase and sale of salmon exported from the Faroe Islands until the Faroes bring the brutal and archaic mass slaughter of pilot whales and other cetaceans, known as the "grindadráp" or "grind," to a grinding halt.
Actors Richard Dean Anderson (MacGyver), Eric Balfour (Haven), Rutger Hauer (Blade Runner), Ross McCall (24: Live Another Day), Cliff Simon (Stargate SG-1), Clive Standen (Vikings); actresses Shannen Doherty (Charmed and Beverly Hills, 90210), Perry Reeves (Entourage) and Red Hot Chili Peppers front man Anthony Kiedis have teamed with Sea Shepherd to send a letter to Costco CEO Craig Jelinek from the organization's founder, Captain Paul Watson.
Hollywood Stars Demand @Costco Stop its Purchase and Sale of Faroe Islands' Salmon... https://t.co/Sx8p8Fyvtd https://t.co/58nWarTYJ2

— Sea Shepherd SSCS (@Sea Shepherd SSCS)1468013968.0
The letter comes on the heels of last week's news that a pod of 30-50 pilot whales was slaughtered in the first grindadráp (grind) of the year, on the island of Viðoy in the Danish Faroe Islands archipelago.

The letter to Jelinek expresses concern that chain-store giant Costco is selling salmon farmed in the Faroe Islands, an archipelago of 18 isles in the North Atlantic, where hundreds of wild, migrating cetaceans are slaughtered each year.
Describing this massacre of ocean wildlife, the letter states that "entire pods of pilot whales and dolphins are driven by hunting boats to the shallow waters along the Faroe Islands. ... Those cetaceans who are not herded far enough into the shallows will have a gaff hook stabbed into their blowholes and will be pulled ashore the rest of the way by rope. The panicked and thrashing whales or dolphins are then slowly sawed into behind their blowholes with a special Faroese hunting knife and killed by the severing of their spinal cords, as each animal is brutally slaughtered before the eyes of their family members. No member of the pod is spared, not even pregnant females or juveniles."
Though Faroese whalers claim that the grind brings a quick and humane death, some of these highly intelligent and socially complex marine mammals take as long as four minutes to die, as the steely waters of the Faroes run red with blood.
The letter to Jelinek continues, "As a large and respected member of the corporate retail community, Costco should not condone these acts of brutality by economically supporting the Faroese salmon fishery. Costco can apply economic pressure to end the atrocity known as the "grind," a whale hunt that should be deemed illegal by the anti-whaling EU but yet is supported by Denmark, a part of the EU. Mr. Jelinek, Costco and you as its CEO, now have the opportunity to show your members and the international community that you represent a company of compassionate individuals who care about the fate of intelligent and sentient whales and dolphins as well as the oceanic eco-systems upon which they—and all life on Earth—depend for survival."
The grind is an outdated practice as the Faroese people have one of the highest standards of living in all of Europe and access to the same foods found in grocery stores in Denmark. In addition, Faroese health officials have warned against consumption of the pilot whale meat, especially by children and pregnant women or women of childbearing age, because it is contaminated with neurotoxins such as mercury.
Though it is the slaughter of cetaceans by the Faroese that is opposed by Sea Shepherd, the organization is calling for a boycott of salmon exported from the Faroes until the senseless grind is permanently ended.
"These compassionate celebrities have offered their desperately needed voices to the pilot whales who were killed recently in the Faroe Islands and to those who are at risk each time they pass by Faroese shores," Watson said regarding the Hollywood industry's support. "We must make it known that the blood of intelligent and social whales and dolphins stains every package of salmon from the Faroes. This archaic massacre of cetaceans, defended by the EU-member nation of Denmark, must be sunk economically. I encourage all concerned consumers to do their part by boycotting salmon from the Faroe Islands at Costco and wherever it is sold."
The appeal to boycott Costco comes just weeks after Sea Shepherd released a 22-minute documentary short on YouTube shot by McCall, chronicling his experience in the Faroe Islands, along with a companion essay he published in the Huffington Post.
Since 1983, Sea Shepherd has sent 10 campaigns to the Faroes, saving hundreds of whales and dolphins while dealing with the arrest of Sea Shepherd volunteers and the seizure of the organization's boats.

Faroese law states it is illegal to interrupt the killing and illegal to sight a pod of whales and not report it. To further protect their beloved Grind from outside interference, this year the Faroese enacted laws that prohibit Sea Shepherd crew from entering their waters and wearing Sea Shepherd shirts on land.
This year, in response, Sea Shepherd Global announced Operation Bloody Fjords, a new operation targeting the massacre of pilot whales in the Faroe Islands.
With years of footage of this bloodshed, Operation Bloody Fjords will include culling together decades' worth of photographic and video evidence to target the Grind in legal, political, commercial and economic arenas. A full-length documentary feature will also be produced.
Picture a 4-foot diameter pipe running into the ocean filling the offshore canyons at a rate of 160,000 tons per day. The pipe runs from an enormous gold and copper mine directly into the Indian Ocean. The pipe is filled with mine "tailings"—a toxic sludge of heavy metals, rock and coagulants mixed in with the pulverized mine wastes that spreads and covers the seabed dramatically impacting plant and animal life and polluting the surrounding water. That is the Deep Submarined Tailings Disposal (DSTP) system at Newmont Mining's Batu Hijau copper and gold mine in Indonesia.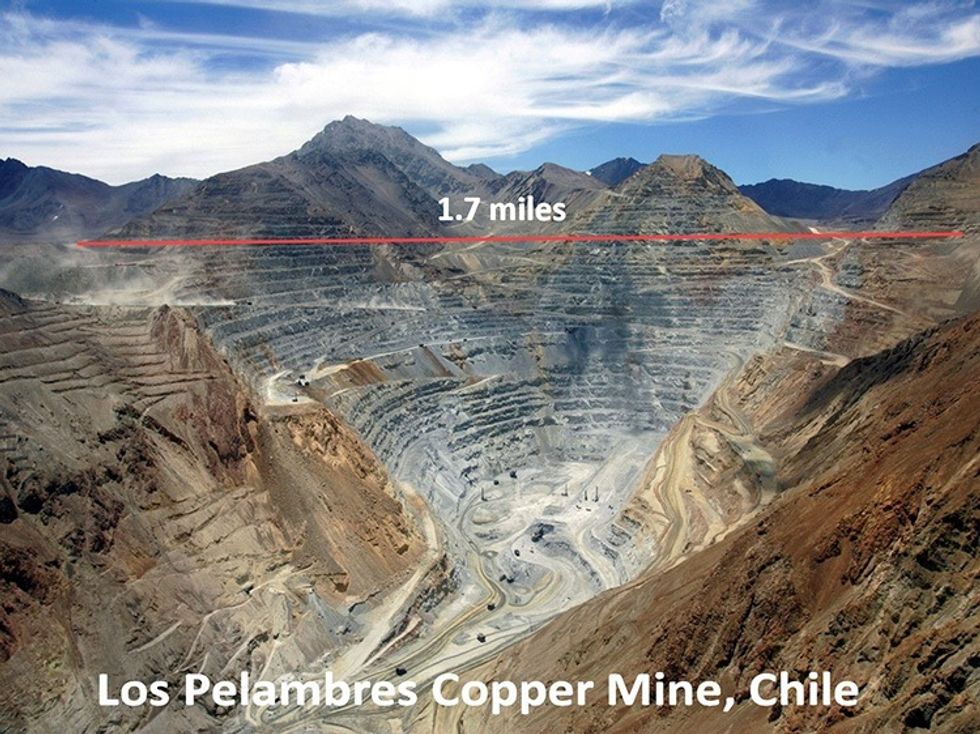 Although Batu Hijau is the biggest mine that is using DSTP, at least 16 mines in eight countries are also using DSTP, with others to follow. Indonesia, Papua New Guinea and Norway lead the way using DSTP at their mines. In Chile, mines in the mountains north and east of Santiago are proposing to run pipes 50-100 kilometers so they can dump into the canyons of the Pacific Ocean off of the Chilean coast. The enormous Los Pelambres Copper Mine in Chile proposes to use DSTP in the future, discharging its wastes directly into the ocean.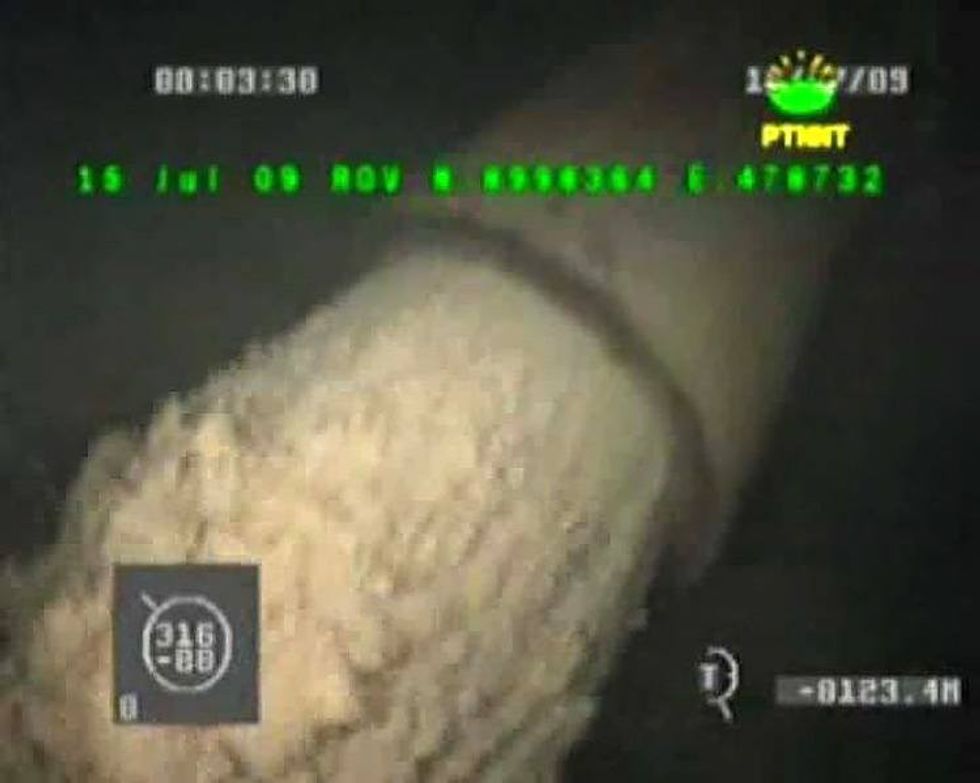 While you might think this mining disposal would be limited to the unregulated developing world, Norway actually leads with the most mines using this polluting disposal system. The mining wastes are dumped into Norway's pristine fjords, filling much of those fjords over time. One such mine has prompted a backlash by Norwegians who, working with Friends of the Earth International, have started the Save The Fjords campaign.
As stated on their website, "In April 2015, the Norwegian government gave its final permission for an open-pit mine in a mountain called Engebo. The mine will dump more than 250 million tons of chemicals and waste into the pristine Forde fjord."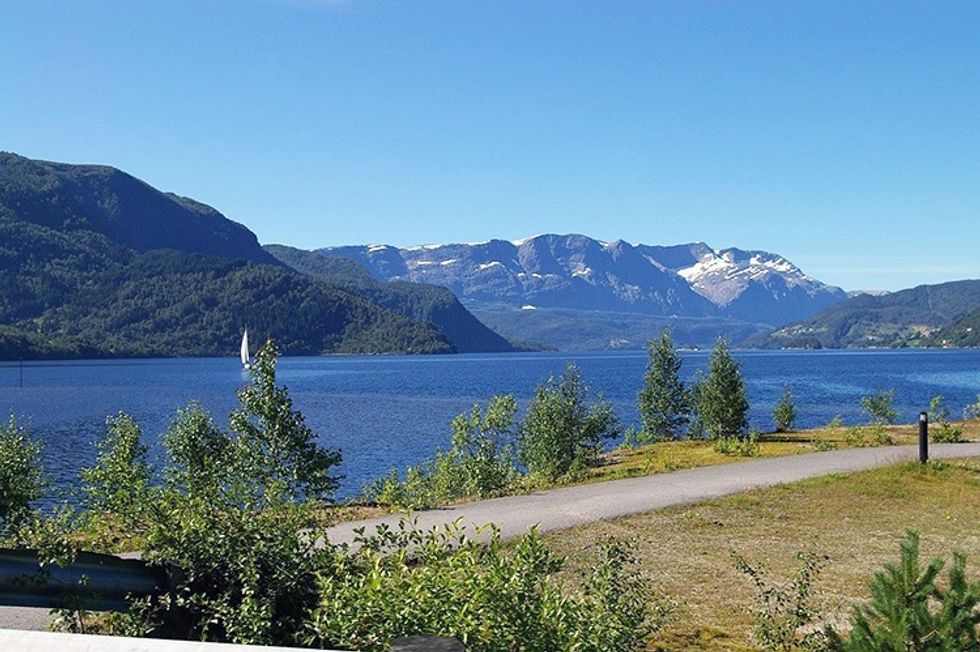 The Norwegian proposal sparked the "biggest civil disobedience actions in newer Norwegian history" where hundreds of people protested and 80 people were arrested blocking the mining action and trying to save the fjord. Through Global Greengrants Fund, a grant has been given to Friends of the Earth International to help inform Norwegians about the Engbo mine and its ocean disposal.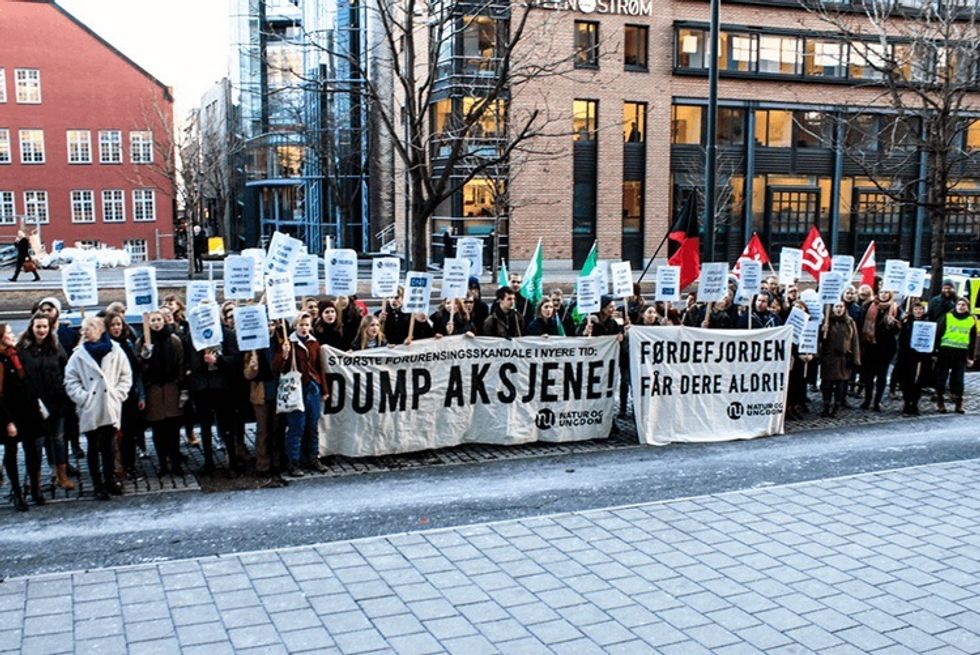 It could make sense in some cases to dispose of mining wastes in the ocean, but only if those wastes were non-reactive and only if the toxic heavy metals in the wastes are removed. In addition, if ocean disposal does take place, it should be closely monitored and regulated and it should only happen where local people are not dependent on the marine environment for food. Proposals to use DSTP along the coastline of Chile threaten the Humbolt Current System (HCS) which sustainably produces almost 20 percent of the annual harvest of fish biomass. The HCS is the most productive marine ecosystem on the planet. Just four mines would dump one million tons of mine waste into the HCS every day, one gigaton every three years.
Over the last 25 years, international regulatory bodies including the 1996 London Convention and Protocol by the International Maritime Organization and the 1992 Oslo Paris Convention have attempted to set minor regulations for DSTP, but those standards are mostly being ignored.
In the very few places where monitoring has occurred, studies have measured dramatic decreases in the amount of benthic meiofauma (animals less than I millimeter long) as well as all forms of benthic macrofauna (larger than 1 millimeter), which, along with phytoplankton, form the basis of the food chain in marine environments. Almost no research has occurred about the consequences of dumping 100's of millions of tons of mine wastes at current DSTP sites. This phenomenally destructive pollution is virtually unregulated across the planet's marine environments.
Terry Odendahl, PhD, is president and CEO of Global Greengrants Fund. Roy Young is the former executive director of Global Greengrants Fund and founder of Nature's Own. Gary Wockner, PhD, is an environmental activist, writer and consultant to Global Greengrants Fund.
YOU MIGHT ALSO LIKE
World's First and Only Sunglasses Made From 100% Reclaimed Fishing Nets
The remote beach was empty except for me and my companions. The broad expanse of sea was empty, too and I squinted at the horizon, looking for a human shape. This was two years ago, deep in southern Chile and five of us had just descended the bottom section of the Pascua—a burly, glacier-fed river—by kayak. We were at the Pascua's mouth, where it empties into a fjord and we were planning to head through the fjord to the small town of Caleta Tortel. Two of the kayakers from our party, Lisa and Roberto, had paddled ahead until they disappeared amid the chop. Now, I was trying to find them in this gray-green world.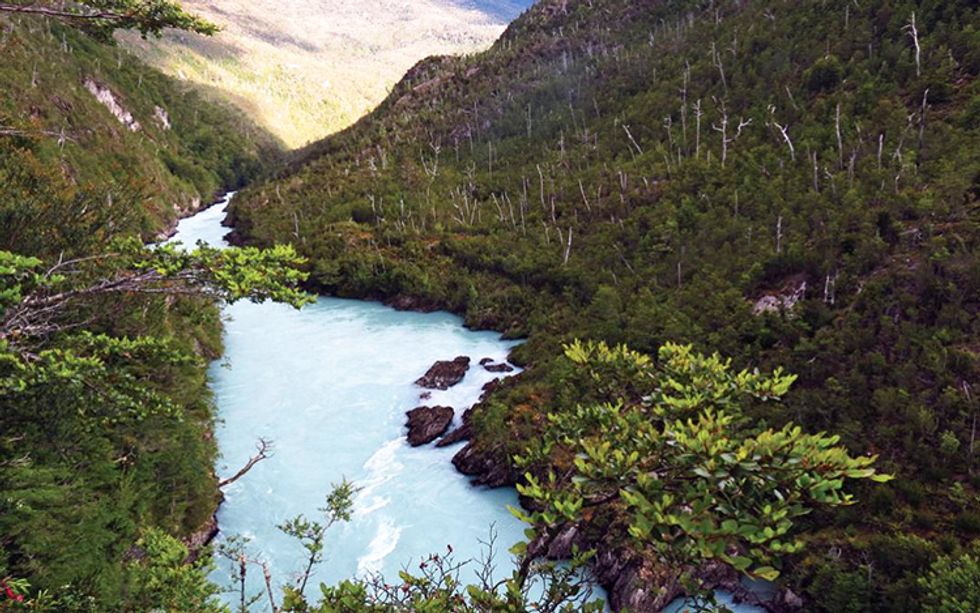 Seeing no sign of them, I walked back to the riverbank and kneeled for a drink of agua dulce—freshwater. Cold slid down my throat. The air smelled sweet, of mist and storms and clouds were slung low above the water. Waves jostled and splashed and I breathed deeply, readying myself for what I knew I had to do next: paddle through the tumult that Lisa and Roberto had just vanished into.
There was nothing for the three of us left on the gravel bar to do but load into our boats and point them toward the inlet. The other lives we all lived—an existence with things like showers and email and beds—had become laughably unimportant. Our needs were immediate and self-evident. Stay alive, stay dry, stay together and keep going. Or turn back. But we had no intention of turning back. We gripped our paddles and pushed off the bank.
Where the river hits the sea, we hit the waves—heaving pyramids of whitecapped water that splashed over our spray skirts. My boat partner and I counted aloud to pace our strokes—one, two, three, four—as we dug our paddles into the dark water, hoping that if we paddled hard enough for long enough, we'd stay upright and make it to the nearest shore. Our kayak, about 17 feet long, rose onto the swells, hung in midair, then slammed back down. I clenched my paddle tighter. My forearms stiffened and ached. The land, the water, the weather—all of it became real and close. Although nerve-racking, this was the kind of intensity I lived for. It pulled me into the present and put all of me to work.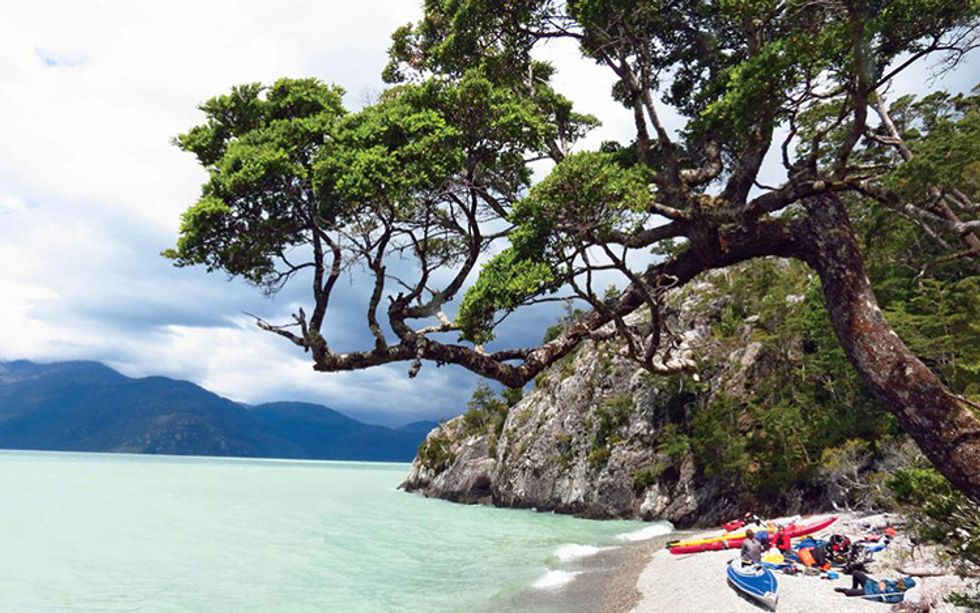 We aimed our boat for a beach that we could see between the waves. As we got closer, I spotted two life-jacketed figures pulling brightly colored plastic boats ashore. Lisa and Roberto had made landfall.
Why was I there, paddling as hard as I could on those stormy seas? There's more than one way to answer that question. The Pascua is in a region of Chile called Aysén. I'd spent the past couple of years there doing research on a proposal to build five large dams, two of which would be on the Pascua. During the course of that project, I had learned a lot about river flows, hydropower and electricity transmission lines. But I wanted to know the river that I had thought about so much in a more intimate way. Before the Pascua's power turned to megawatts, I wanted to feel its current against my skin.
I was also in Aysén for less practical reasons. Like many others before me, I'd been drawn by the idea of Patagonia: a place where wind and weather ruled, granite spires rose from the Earth and teal rivers curled through a trackless steppe. Parts of Aysén are practically uninhabited, with less than three people per square mile—a lower population density than that of the Sahara Desert or Mongolia. I'd hitchhiked through the region, kayaked its rivers and explored its valleys, trying to get closer to the place I'd been so fixated on. The ecological philosopher Arne Naess wrote that mountaineering is a way to participate in a mountain's greatness. In the same vein, everything I did in the far south was part of my attempt to participate in the greatness of that landscape.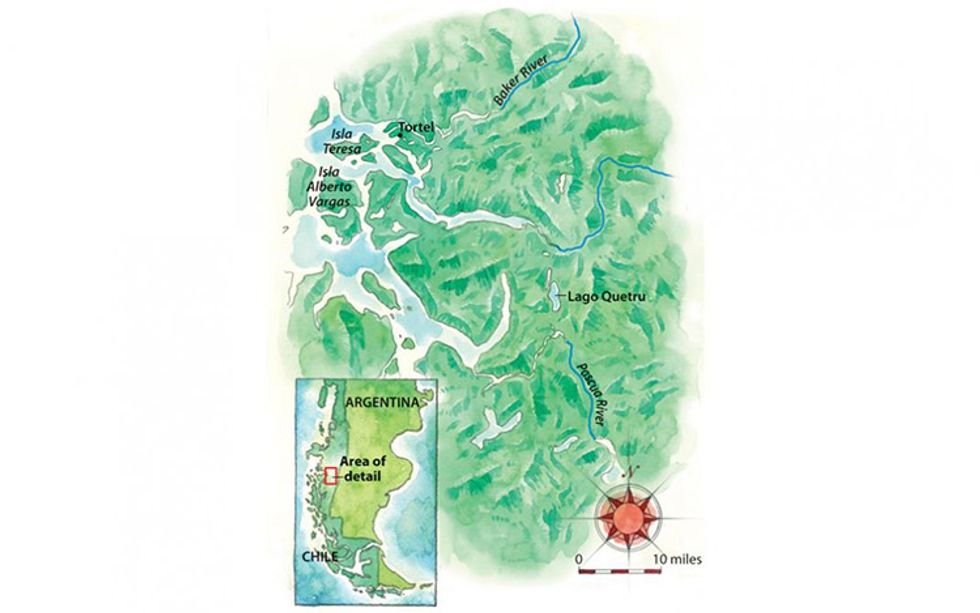 The Pascua encapsulates all that is wondrous about Patagonia. Other rivers in the area, like the Baker, are strewn with ranches, but very few gauchos—South America's version of cowboys—live along the Pascua. Those who do first arrived in handmade wooden rowboats. To get up the river before motorboats, the gauchos had to stand on the thickly forested banks of the Pascua and pull their boats (which were sometimes full of lambs) upstream with ropes. A spur road from the dirt highway did not arrive until 2006. The Pascua was remote, powerful, isolated—a force to be reckoned with. As a few friends and I talked about a potential trip on the river, we began referring to it as "the wild and unknown Pascua."
So, we decided that in February 2014 we would kayak the lower Pascua from near Lago Quetru to the shores of Tortel. Our crew would be Weston Boyles, a then-27-year-old Colorado native; Tyler Williams and Lisa Gelczis, husband-and-wife guides from Flagstaff, Arizona; and Roberto Haro, a middle-aged gym teacher from the town of Cochrane who taught local kids how to whitewater kayak. The four of them had met through an organization Weston started, Rios to Rivers, which had facilitated an exchange between some of Roberto's teenage kayakers and some American kayakers to paddle the Baker and Colorado Rivers while learning about the effects of dams.
Simply getting ready for the trip was challenging. There were no reports from other paddlers or even any detailed maps. So we huddled around a laptop in Roberto's kitchen, scrolling through satellite images to sketch a route.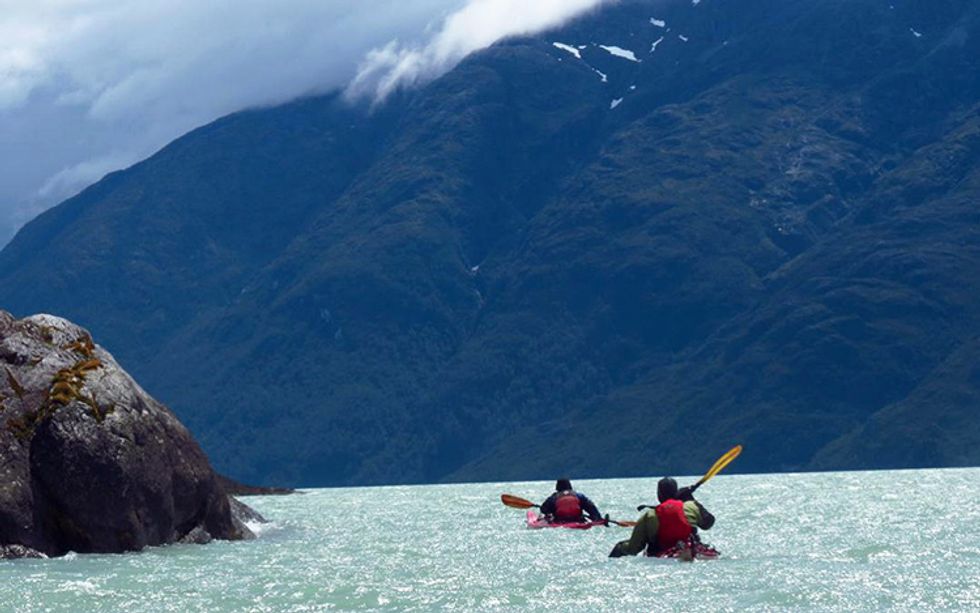 Maps of the area show a shredded coastline where the continent encounters the sea. Islands are splattered across bays and fjords slice into the mainland, carvings left over from the last ice age. Patagonia's topography is similar to that of Southeast Alaska and Norway, except with more places where glaciers meet the sea.
The journey promised heavy rain, cold temperatures and high winds. Friends of ours could not understand why we would suffer through it. When we told people in Cochrane that we would kayak from Lago Quetru to the mouth of the Pascua, then up the coast to Tortel, one person asked, "Do you want to die?"
I struggled to explain why we wanted to go there. I often felt like using the clichéd response: "If you have to ask, you'll never understand." What drives anyone on this kind of quest? For me, it came from a desire to be part of something giant and wild, a yearning to participate in something beautiful. To do that fully, I needed to give up control.
At the beginning of our journey, on the banks of the Pascua, we had packed our boats and loaded them into the water. The river was so wide, it often looked like a moving lake. Boils wrinkled the surface. The water split into braids around sandy shoals and bent sharply around unnamed mountains. We paddled up creeks and made sandwiches with manjar (Chile's version of dulce de leche) on our spray skirts. On our second day, we reached the Pascua's mouth, where the river emptied into the fjord and where our group dispersed and came together again on that wind-whipped beach to wait out the bad weather.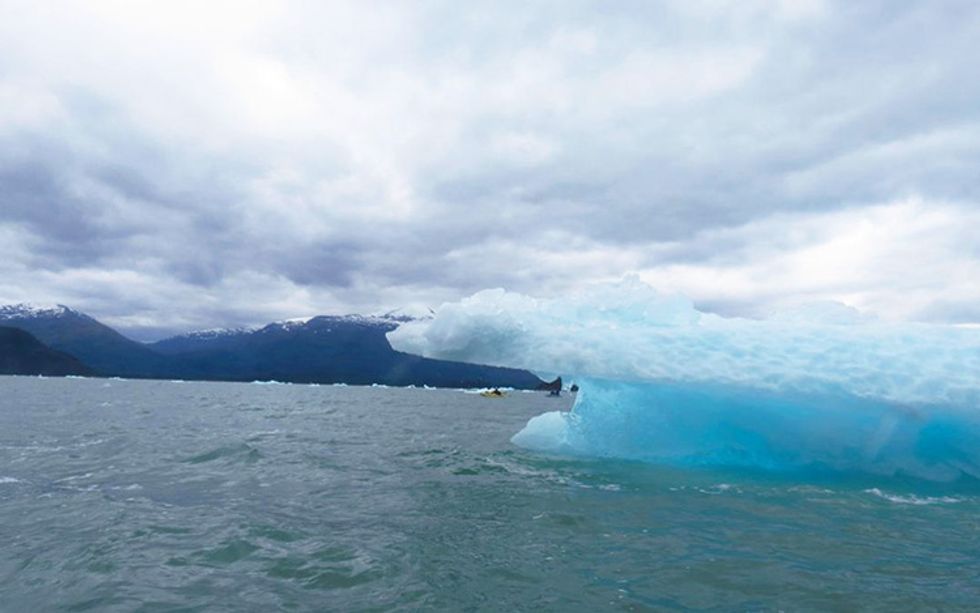 We took naps and ate snacks and read books, then eventually set out again. Frothing water exploded against cliffs to our left. To our right, the sea spread outward until it welded itself to a skyscape of gray clouds. No more beaches appeared on the coast. The headwind blew so hard that if we paused our paddle strokes, the Klepper went backward. I couldn't stop to scratch my nose. Weston and I synchronized our strokes. Much of the time, we couldn't see our friends.
After four hours of struggling against the wind, we ducked into a protected cove where iridescent clumps of ice emerged from the dark water—sedan-size pieces of glacier that had calved off from a tongue of the Southern Patagonian Ice Field. Most of the mountains had darkened by that time, except for one ridge behind us that was gilded by the only shaft of sun we had seen all day.
We paddled toward the coast, to where a few of these icebergs were beached on the front lawn of an abandoned ranch. Aysén is a ranching region, settled by homesteaders in the early 20th century, when border tensions with Argentina led the Chilean government to give away free land. Though more and more Ayséninos are moving to towns and making a living from tourism, the region remains a gaucho stronghold. These hardy souls live the life that many people hope will continue but few people want to live themselves.
We poked around the ranch—walking around the sagging fence that surrounded the cabin, pushing through the overgrown bushes, peeking into the shed where the family once hung their meat. Richard White, a Stanford environmental historian, has written that outdoor recreation like kayaking and mountaineering represents a type of "rugged play" that mimics the hard life of the pioneer. We gringos were trying to re-create the experience of those early gaucho pioneers—only we were doing it for entertainment rather than survival.
This rugged play demands that we use our bodies to move through the land until our thighs quiver and burn, our calves tighten and tire. It also demands that we look closely at whatever is around us: rapids and waves, discoloration and indentations in snow-covered ice, the outcroppings and contours of rock. We often feel closest to the land when it requires attention and labor from us and so such play is a way of reconnecting to the Earth. Among those of us who work with papers and pens, screens and keyboards, rugged play represents a kind of nostalgia. It's a yearning for the days when we knew the land the way the family at this ranch would have—when we knew it because we had to know it, when we knew it with our bodies.
My musings were swept away by the immediate demands of hunger, cold and fatigue. We set up our nylon tents near the old wooden buildings, made fire and food on the beach and slept.
We woke the next morning to wind hurtling over the water. The waves were even larger than they had been the day before. We set out, making spurts of progress up the coastline. I had a plane to catch in four days, but it was foolish to believe that we could control our rate of progress.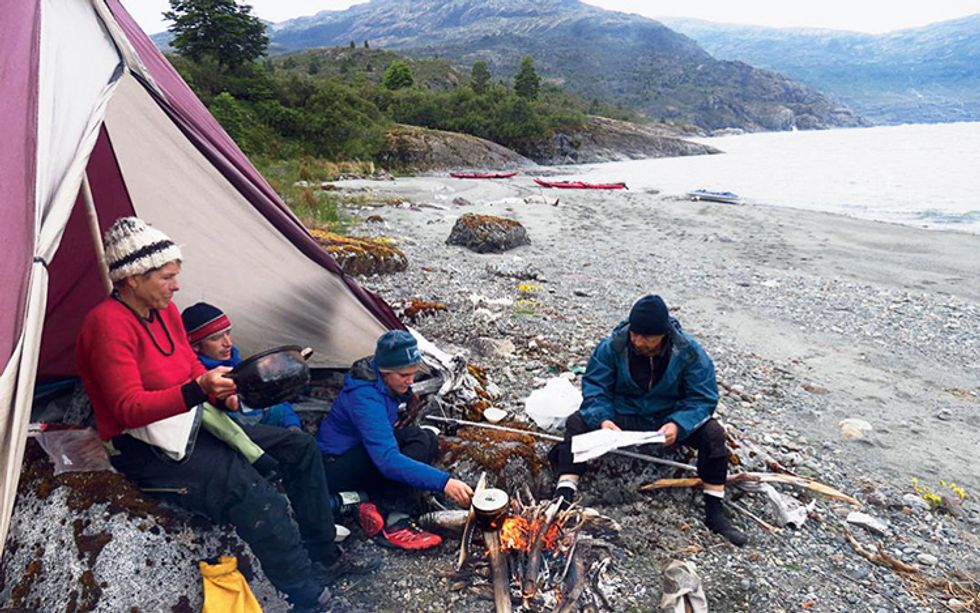 The next several days blurred together: a montage of driving wind and rain, Weston yelling at me whenever my hood wasn't up and paddling furiously whenever the wind abated. We hung around on beaches when the weather was especially bad, then got back in our boats during the small openings when the wind died down.
One morning, we reached a beach at the tip of the string of islands we had been following since leaving the icebergs. The beach faced a seven-mile open crossing. The weather remained windy and wavy, with whitecapped water and biting gusts. There was no way we could head into open water in such conditions, so we waited again.
We knew exactly how much food we had left: two rolls of coconut cookies, two packets of saltine crackers, a bag of oatmeal, a bag of pasta, a few pieces of stale bread and three bags of dried milk. The five of us shared half a bag of pasta for dinner.
The next day, the rains fell so heavily and continuously that Lisa and Tyler never took off their dry suits. The rest of us shivered in soaked-through rain gear, holding our pruney hands over a fire, taking turns gathering wood. At one point, Lisa and I walked to a nearby beach and heaved large rocks onto pieces of driftwood, trying to split them, joking that we'd become cavewomen.
None of us mentioned our hunger. We had chosen to give up control and there was nothing we could do now but wait out the wind. We were all elated that night when Roberto caught a small fish. I ate the head—including the eyes. Tyler, who doesn't smoke, asked for one of the cigarettes we had brought as gifts for gauchos. He thought it would lighten the mood.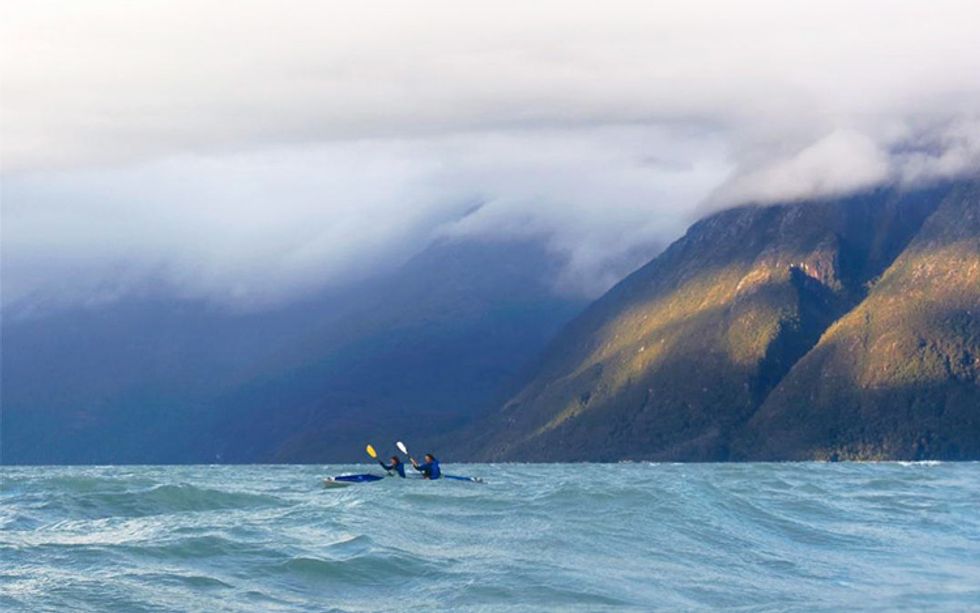 In the beginning of the trip, when optimism and awe had reigned, we'd fondly nicknamed each snacking and sleeping spot. Tranquilo Bay. Love Beach. We dubbed this waiting spot Desolation Cove.
The next morning, hope displaced our desolation. Smaller waves passed by, free of whitecaps. We packed up our gear and readied our boats in silence, pointing our bows toward the lanky waterfalls and forested mountains that we could see across the open water. New snow dusted the peaks.
We crossed the previously treacherous passage with ridiculous ease, aiming toward a gap between the continent and an island. The seven miles passed quickly. We soon entered a protected channel, drifting by misty cascades and a curving coastline, enjoying Roberto's secret stash of lollipops and opening up the two emergency rolls of coconut cookies. We were giddy with proximity. There were no more open crossings between us and Tortel. We guessed that we would make it to town that evening.
Midmorning, we spotted a gray wooden boat in a cove. Since reaching the mouth of the Pascua, we'd seen some detritus left from human activity on a few beaches—two deserted and collapsing cabins, empty gas canisters in the sand, rusty nails in pieces of beached wood—but this boat seemed to signal that someone was close by. A tin roof caught light between the trees. We could see chickens and dogs moving about, laundry swinging from a line and smoke puffing from a chimney.
A couple stood outside the house, both wearing black rubber boots and baggy pants. We landed and walked up to their cabin. The man had a mustache, a hat and a tentative posture. The woman had a wide smile and thick hair that fell around her ears. She exuded enthusiasm as soon as we introduced ourselves, ushering us into her house for mate, the ubiquitous South American tea sipped through a metal straw and apologizing for the mess. They didn't get many visitors, she said.
It was a simple one-room cabin with a wood-burning cookstove in the corner. In another corner, clothes were piled on top of a mattress. Newspaper, pieces of cardboard and a poster of the Virgin Mary covered the walls. A flattened cat food box was pressed against the door and often flapped, letting the wind enter. We sat shivering around the stove, swallowing mate, then bread, then rice, then fish. I was awed by the intense abundance; even the plate was warm. I went back for more.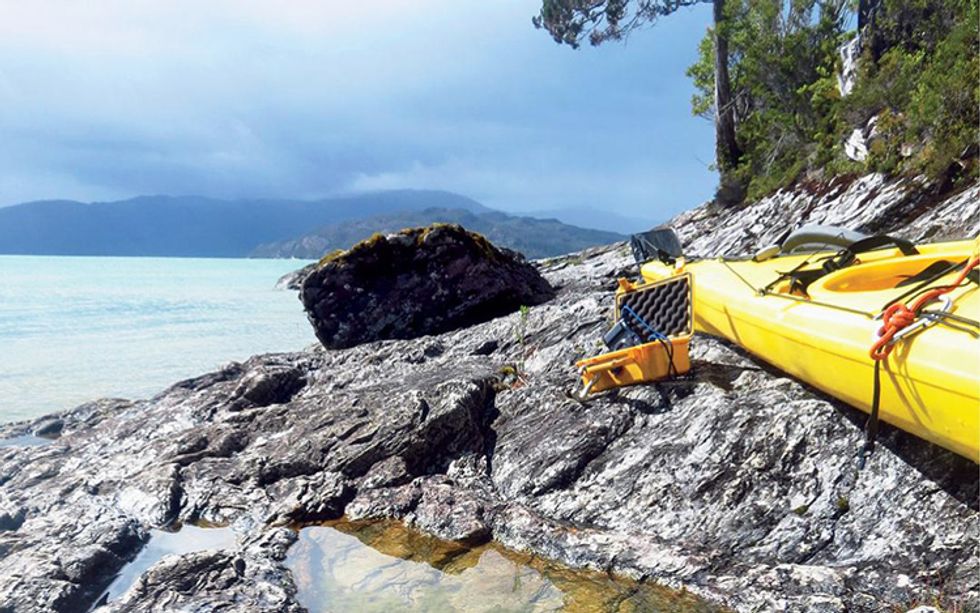 We described our trip to the couple. The woman nodded. She told us that she'd grown up on the unoccupied ranch near the Jorge Montt Glacier—the ranch where we'd camped next to icebergs. She'd had to cross from there to Tortel many times as a child. It was the route her family had taken to get to town.
When we described Desolation Cove, she nodded again, adding that the wind always blew hard there. Once, she said, she had waited at that spot for seven days before she could cross the channel. Often, gauchos would wait together on that beach, all on their way to Tortel and all stopped by the wild winds of the open channel. Many would bring lambs in their boats for beachside asados. They would make tortas in the sand.
What many in Cochrane had warned us would be a lethal journey was, for the gauchos, just part of their routine. Our rugged play had once been someone's commute.
In the following days, after we reached Caleta Tortel, forces other than wind, weather and water would take control. I'd hitchhike hundreds of miles to the nearest airport, try to weasel my way onto an interhemispheric flight and apologize to my professors for being late to a new semester. I'd be quickly jolted back into a life of papers and pens, screens and keyboards, showers and email and a bed.
But those gauchos, of course, would stay and often I would think of them: still there, watching the water, waiting out the weather, intertwining their lives with the land and paying close attention to its details. I was only a visitor to that place the gauchos call home, but paddling was my way of weaving the land and sea into my life. Beyond the picture of a place, the postcard version of it, was the possibility of participation.
Salvation for the Pascua 
When my friends and I kayaked the lower reaches of the Pascua River in early 2014, we thought we were undertaking a kind of farewell adventure. For eight years, Chilean environmentalists and their international allies had been fighting to prevent the construction of five dams on the Pascua and Baker Rivers. Many people feared that the dams were a done deal and that these wild rivers—gems of rugged Patagonia—would become reservoirs.
Then a massive citizens' movement overturned the political conventional wisdom. Anti-dam protests in Chile's south and marches in the capital, Santiago, made the dams a major issue in the 2014 presidential campaign. Not long after President Michelle Bachelet came into office, her cabinet voted to cancel the dams.
The decision was a landmark victory for Chile's environmental movement. Today, the Pascua and Baker Rivers continue to flow freely.
YOU MIGHT ALSO LIKE
5 Reasons to Explore the Untamed Beauty of Denali National Park
Love Wildlife? Check Out These 11 Stunning Photos From Yellowstone National Park
20 Stunning Photos of the World's Most Beautiful Trees
Sometimes it is hard to find good news on the climate. Take a quick look at a couple of today's stories:
According to Australian researchers, five tiny Pacific islands, which are part of the Solomon islands, have completely disappeared due to rising sea levels, in what is being described as the "first scientific confirmation of the impact of climate change on coastlines in the Pacific." Another six islands have had large swathes of land washed into the sea too.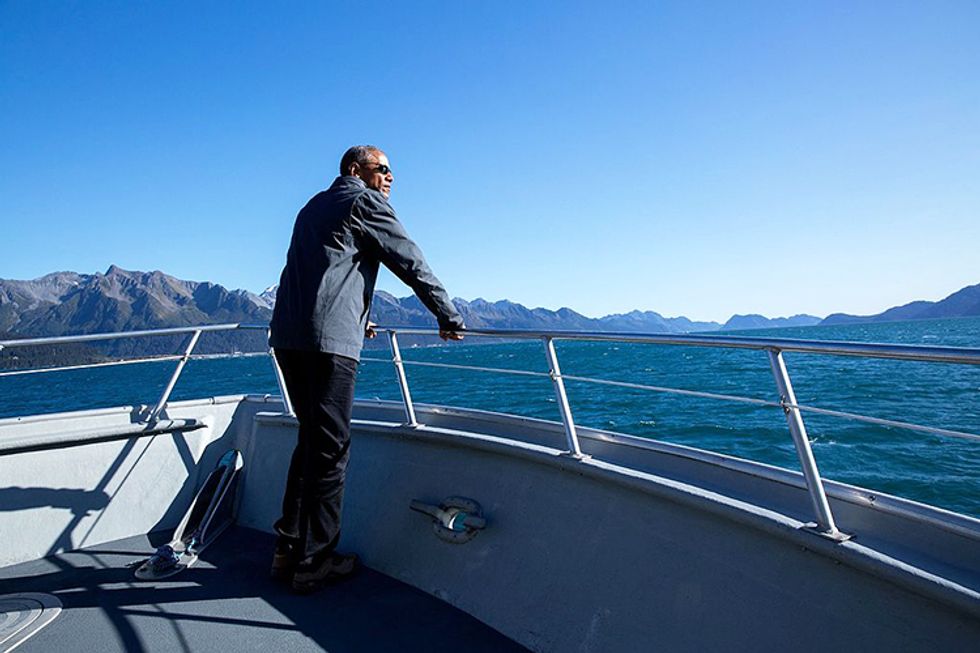 Elsewhere, one in five of the world's plant species is said to be threatened with extinction, with climate change one of the factors along with farming and construction.
There is also bad news for caffeine addicts, with the news that scientists are warning that coffee is "at risk of running out by the end of the century as a result of intensive farming and climate change."
Sometimes all this bad news seems overwhelming.
But there is good news too, which gives immense hope to those fighting Big Oil, especially in the Arctic: Big Oil is in full retreat from the region.
Once the Arctic was the seen as the last big untapped frontier for the industry. But rather than being full of black gold, the Arctic has proven to be one of the most expensive black holes for the industry ever.
Bloomberg reported this morning that after spending a whopping $2.5 billion for drilling rights in U.S. Arctic waters, oil companies such as Shell and ConocoPhillips have quietly relinquished their rights to some 2.2 million acres. This equates to nearly 80 percent of the leases they bought nearly a decade ago.
This is truly significant: Peter Kiernan, the lead energy analyst at The Economist Intelligence Unit told Bloomberg: "Arctic exploration has been put back several years, given the low oil price environment, the significant cost involved in exploration and the environmental risks that it entails."
Oil giant, Shell which has already blown $8 billion on its mis-guided Arctic folly, relinquished 274 leases in the Chukchi and Beaufort Seas, although it is holding onto the lease that it started to drill last year. ConocoPhillips formally relinquished its 61 Chukchi Sea leases. Statoil had already dumped 16 Chukchi Sea leases and its working interest stakes in 50 others in the U.S. Arctic last November.
Michael LeVine, senior counsel for the environmental group, Oceana, which uncovered the information in Freedom of Information requests, said: "Hopefully today marks the end of the ecologically and economically risky push to drill in the Arctic Ocean."
The Big Oil retreat comes as the Washington Post reports that President Obama and other political leaders are coming under pressure to do more on climate change in the Arctic region.
Many Democrat politicians and environmental groups are pushing for Obama to ban Arctic drilling altogether as part of the next five-year leasing plan, which runs from 2017 to 2022. Nearly 70 House Democrats sent a letter last week to Interior Secretary Sally Jewell, which said in part:
"The Arctic Ocean should be permanently protected from oil drilling, not used to drill for more fossil fuels that we will not need—and must not burn—if we are serious about powering our future with clean energy."
Cindy Shogan, executive director of the Alaska Wilderness League, added that "The president has made a commitment to address climate change and protecting the Arctic must be part of that equation."
All eyes will be now on the White House on Friday, when Obama meets political leaders from Denmark, Finland, Iceland, Sweden and Norway. Climate change is on the agenda.
YOU MIGHT ALSO LIKE
The Heartland of America is '100% Clean Energy Ready'
4 Reasons Why It's Time to Break Free
Leonardo DiCaprio Stands With Great Sioux Nation to Stop Dakota Access Pipeline
Army Corps Denies Permits for Biggest Proposed Coal Export Terminal in North America