A girl sleeps under a bridge following the passage of Hurricane Iota in San Pedro Sula, Honduras on November 21, 2020. Orlando Sierra / AFP / Getty Images
Nory Yamileth Hernández lost nearly everything when Hurricanes Eta and Iota flooded her home in San Pedro Sula, Honduras.
She and her three teenage children live in a tent under a bridge on the outskirts of the city, struggling to survive after the storms destroyed the inventory for her door-to-door lingerie sales business, as well as her customers' ability to pay for items purchased with credit.
Hernández, her children, and untold numbers of others like them are trapped in a cycle of extreme storms fueled by climate change, economic desperation, and gang violence, the AP reports.
Of Honduras' 10 million people, an estimated 4 million were impacted by Hurricanes Eta and Iota, and 3 million face food insecurity — six times higher than before the hurricanes, according to the World Food Program.
The climate-fueled cycle is compounded by dehumanizing Trump administration policies, including family separation and its so-called "remain-in-Mexico" asylum policies, all of which the Biden administration is working — at varying speeds — to undo.
Biden also ordered a study on how to address the growing number of people displaced by climate change last week.
"There's no one way to address this issue — it's so complex," Kayly Ober, told E&E.
Ober works with Refugees International, which released a report on Thursday identifying the wide range of domestic and international policies the Biden administration could take to address the issue.
For a deeper dive:
Honduran desperation: AP; Climate displacement policies: E&E; Immigration policy changes: NPR, Washington Post; Climate Signals background: Hurricanes

For more climate change and clean energy news, you can follow Climate Nexus on Twitter and Facebook, sign up for daily Hot News, and visit their news site, Nexus Media News.
EcoWatch Daily Newsletter
A woman makes her way along Calle Arenal during an unusually heavy snowfall on January 9, 2021 in Madrid, Spain. Pablo Blazquez Dominguez / Getty Images
By Hannah Fuchs
Let's not waste time. You will need: warm clothes, plenty of firewood and enough supplies (flour, yeast, toilet paper — the usual) to not have to leave the house for the next week or two.
No, just kidding. For pandemic control, it would be helpful if we all stayed home, but as a precautionary measure against the approaching polar vortex, this would really be over the top. It's probably indeed going to be bitterly cold in much of the Northern Hemisphere, but we're not in for an apocalyptic winter scenario.
In the past few years, especially during the cold North American winter of 2013-2014, the term "polar vortex" has been increasingly used in people's weather vocabulary and blamed — sometimes rightly, sometimes wrongly — for any outbreak of wintry weather or very cold temperatures. So, for example, the unusual extreme snowfalls in Spain could have had something to do with the phenomenon. Key word here is could.
Out of this world! Spain is a winter wonderland right now. Bitterly cold after historic snow. Cencellada, Albacete… https://t.co/LwEvXSQ2tc

— Scott Duncan (@Scott Duncan)1610469572.0
The polar vortex was first described in 1853 and first observed by radiosondes during the winter in the Northern Hemisphere in 1952.
However, when we use phrases like "The polar vortex is coming" or "The polar vortex is here," we probably break the icy heart of every meteorologist. The polar vortex does not come and go — it is often present in our atmosphere during winter and spins around the hemispheres like a stormy roundabout, so to speak.
That actually means: There is not one vortex, but two — one at the North Pole and one at the South Pole. Their dynamics and potential are expressed with the help of the Arctic Oscillation and Antarctic Oscillation Index. To keep it short: AO and AAO.
What Exactly Is a Polar Vortex?
The Arctic polar vortex is a circulation of wind high up in the atmosphere — a very ordinary phenomenon, in other words. It forms every year in autumn, when the sun barely reaches the North Pole. In spring, it slowly dissipates again.
The air up there is extremely cold in winter. The polar vortex can strengthen and weaken. Wind speeds exceeding 320 kilometers per hour (200 miles per hour) are typical at an altitude of 10 to 50 kilometers (6 to 30 miles) in the stratosphere, where it is sometimes well below minus 70 degrees Celsius (minus 94 degrees Fahrenheit). This is directly above the troposphere, the part where weather occurs.
The polar vortex thus has no direct effect on our weather, but there are still interactions: It influences the jet stream. This band of high velocity wind blows at an altitude of 10 kilometers (6 miles) and controls the high- and low-pressure systems.
In a typical winter, the jet stream is quite strong and brings mild windy and rainy weather from the Atlantic to Europe. The polar air stays in the vortex. However, if the jet stream is weak, there are bumps in the jet stream, and a polar vortex split could happen.
The Collapse: Will It Become Frosty Now?
Every now and then, about every two winters, there is a strong warming of the stratosphere due to warmer air flowing in. Greenland and the North Atlantic, for example, are said to throw the vortex particularly out of balance with their warmth.
Another split of the #PolarVortex is set to happen 15th-17th Jan. A stratospheric ridge noses in between two vortex… https://t.co/nPj0wmRuSc

— James Peacock (@James Peacock)1610363099.0
The polar vortex stumbles — or rather squiggles — and air currents can assert themselves more frequently. This split causes temperatures in the stratosphere to rise by 60 to 80 degrees Celsius within a very short time.
To put it more graphically, you can imagine a flying circle of pizza dough that is jerking through the air out of shape. In the worst case, the pizza (the vortex!) loses its shape completely or even splits.
Then there is a lot of whirling up there, which also has an effect on the entire Northern Hemisphere: Arctic air provides for icy temperatures.
This is exactly what happened on January 5, 2021, and will probably hit us again soon. Forecasters say we can expect the cold snap in mid to late January, and it could last in spurts into February. Again, key word: could.
Or Maybe Not ...
But the phenomenon of the interaction between the polar vortex and wind circulation is complicated — and not yet fully understood. Meteorologists disagree on whether there really will be a freezing winter onset.
A strong example of knock-on effect in latest #Forecast model runs. The further west a low moves cold air (C) Mond… https://t.co/qnE7piXtH3

— James Peacock (@James Peacock)1610620050.0
The reason: the approaching Atlantic depressions. They are supposed to cause the winter air to move from the west further to Russia, and the snow line is supposed to rise to over 1,000 meters. But that does not mean that it will stay that way for the rest of winter. The cold may well return.
In the end, the weather just does what it wants — whatever our forecasts.
Reposted with permission from Deutsche Welle.

Madeleine_Steinbach / iStock / Getty Images
Krill oil has gained a lot of popularity recently as a superior alternative to fish oil. Basically, the claim goes, anything fish oil can do, krill oil does better. Read on to learn what makes krill oil supplements better than fish oil supplements, why you should consider these vitamin supplements, and which brands we recommend.
What is Krill Oil?
Krill oil is made from a tiny, shrimp-like crustaceans that live in the ocean and usually serve as whale food. In fact, krill means "whale food" in Norwegian. These tiny organisms actually play an extremely important role in the food chains of marine ecosystems. The krill used to make krill oil are usually found in the waters around Antarctica.
Just like the fish oils found in supplements, krill oil is rich in omega 3 fatty acids that contain EPA and DHA, two compounds that are proven to have a number of health benefits.
But what makes krill oil better than fish oil?
It's believed that krill oil is better absorbed in the body than fish oil. Both derive most of their benefits through the EPA and DHA that are contained in their fatty acid stores. However, for the same dose, krill oil will result in more fatty acids in the blood than fish oil. A potential explanation for this is that while fish oil's fatty acids come as triglycerides, krill oil's come as phospholipids which are more easily processed by the body.
Additionally, krill oil contains astaxanthin which is an antioxidant that has anti-inflammatory properties that might have an enhanced positive effect on heart health. Studies have shown that krill oil is more effective than fish oil at lowering blood pressure and lowering bad cholesterol.
Our Picks for the Best Krill Oil Supplements
Each product featured here has been independently selected by the writer. You can learn more about our review methodology here. If you make a purchase using the links included, we may earn commission.
How We Chose the Best Krill Oil Supplements
Here are the factors that we considered when comparing the best krill oil brands to create our list of recommended supplements.
Omega-3 Content - We looked to see the amount of omega-3 fatty acids contained in each krill oil softgel or capsule.
Astaxanthin Content - The best krill oil pills contain this naturally-occurring antioxidant.
Third-Party Lab Testing - For any nutritional supplement, we choose brands that guarantee the quality of their product through independent lab testing.
Krill Source - We also compared these supplements for the source of their krill oil, and only recommend brands that use sustainably-harvested krill.
The 5 Best Krill Oil Supplements
The Research on Krill Oil Supplements
Research has long demonstrated the health benefits of omega-3 fatty acids commonly found in foods like fish, nuts, and certain grains like flax seed. Since krill oil naturally contains higher levels of these beneficial nutrients, it has also been found to provide a number of health benefits.
Numerous studies have linked the omega-3 fatty acids found in fish and krill oil to cardiovascular health, finding that those who ingest higher levels of these nutrients are at lower risk for coronary heart disease, potentially lower risk of stroke, and have lower cholesterol levels. Another study found that krill oil supplements offer a safe alternative to fish oil for those seeking cardiovascular benefits in a smaller and more convenient form.
Krill oil supplementation has also been found to help reduce the symptoms of knee and joint pain.
Additionally, researches found that rats given krill oil supplements showed improved cognitive function and benefited from anti-depressant-like effects. However, more research on its effect for human brain development and function is needed.
How to Choose the Right Krill Oil Supplement
When shopping for a krill oil supplement, there are important pieces of information that you should always look for. Here are some tips on how to compare brands and how to read labels.
What to Look For
Lab Testing
For any supplement, always check to see if it has undergone third-party lab testing for quality and safety. This is especially important for any fish or krill oil to make sure that it does not contain any harmful compounds like mercury.
Concentrations
Look for the amount of krill oil contained in each capsule and each serving (as these will sometimes differ). You should choose supplements that offer between 200 mg and 350 mg of omega-3 fatty acids per serving for the best results.
Sourcing
Make it a priority to learn where the brand sources its supply of krill oil. We recommend brands that use sustainably-harvested Antarctic krill oil because the process of harvesting is more tightly regulated by various groups.
Filler-Free
This is good advice for all nutritional supplements, but be sure the krill oil you choose does not contain any unwanted or unnecessary ingredients. All of our recommendations contain just the krill oil and the capsule it comes in.
How to Read Labels
When you are comparing krill oil supplements, here are some key things to look for on any label:
Supplement Facts - This is where you can find information on the amount of krill oil in each capsule, how many capsules make up one serving, and a breakdown of how many omega-3 fatty acids and other nutrients are contained in the supplement.
Other Ingredients - Listed at the bottom of the supplement facts table, this list will tell you what the capsule itself is made of and if there are any additional ingredients present.
Certifications - Check the label for important certifications and seals of approvals that can tell you if a krill oil is IKOS-certified, third-party lab tested, or sustainably harvest.
How to Use Krill Oil Supplements
Krill oil supplements typically come in capsules that you swallow with water. For most brands, 2 to 3 capsules make up a single serving, and you can take a serving either once or twice per day. Some brands recommend their supplements be taken with food to aid in their digestion and absorption.
Safety & Side Effects
While krill oil supplements are generally considered safe for most adults, it is extremely important to note that you should not take krill oil if you are allergic to shellfish. The potential side effects for krill oil are considered mild and similar to fish oils, including:
Upset stomach
Fishy taste
Heartburn
Nausea
Diarrhea
Fish oils and krill oils may also interact with certain medications. If you take a prescription medication, make sure you talk with your doctor before adding krill oil supplements to your diet.
Fallen branches following the landfall of Tropical Cyclone Ana in Suva, Fiji, Jan. 31, 2021. Xinhua / Zhang Yongxing via Getty Images
A 49-year-old man drowned and five are missing after Cyclone Ana struck Fiji, the National Disaster Management Office (NDMO) said Monday.
Reposted with permission from DW.
For the seventh year in a row, a named storm formed before the official start of the Atlantic hurricane season.
Subtropical storm Ana formed on Saturday in the Atlantic Ocean northeast of Bermuda and by Sunday evening had weakened to a Tropical Depression and never threatened land. Increases in air and ocean temperatures due to climate change have wide-ranging effects on hurricane precipitation, intensity, and coastal flooding.
The recent trend of earlier storms is yet another indication of the effects of climate change on tropical weather systems, scientists say, but more research is needed to definitively link the expansion of hurricane season with climate change.
For a deeper dive:
The Washington Post, Earther, Yale Climate Connections, NPR, Weather Channel, The New York Times, USA Today, CNN; Climate Signals background: Hurricanes

For more climate change and clean energy news, you can follow Climate Nexus on Twitter and Facebook, sign up for daily Hot News, and visit their news site, Nexus Media News.
From Your Site Articles
Related Articles Around the Web
National Weather Service / YouTube
The 2021 hurricane season will be more active than the normal post-1990 year, NOAA meteorologists said Thursday, as climate change continues to stretch the federal government's ability to respond to disasters as well as what can be considered usual, typical, or routine.
If forecasts are correct, 2021 will be the sixth consecutive year with a hurricane season more active than normal. While less active than last year's record-shattering hurricane season, NOAA expects 2021 to see 13 to 20 named storms (14 is typical since 1990), 6 to 10 hurricanes (7 is typical), and 3 to 5 major hurricanes Category 3 or stronger (3 is typical).
Warmer-than-normal Atlantic surface temperatures will fuel those storms. FEMA, however, is running on fumes, The New York Times reports. Still managing recovery from storms as far back as Hurricane Harvey in 2017, managing COVID-19 vaccination sites, trying to shelter children, and preparing for what experts say will be an exceptionally destructive, drought-fueled wildfire season, the agency has 29% fewer emergency workers ready to deploy than it did at the beginning of last year's hurricane season.
2021 Atlantic Hurricane Season Outlook youtu.be
For a deeper dive:

NOAA prediction: AP, The Washington Post, The New York Times, USA Today, E&E, Reuters, POLITICO Pro, The Verge; FEMA: The New York Times; Climate Signals background: Hurricanes, 2020 Atlantic hurricane season, Wildfires, Drought, Hurricane Harvey
For more climate change and clean energy news, you can follow Climate Nexus on Twitter and Facebook, sign up for daily Hot News, and visit their news site, Nexus Media News.
NOAA analysts found that Cape Hatteras, North Carolina has a 16% chance of a direct hit by a hurricane in any given year. A military helicopter flies over the damage path of Hurricane Isabel on Sept. 18, 2003. James P. Reed / Corbis via Getty Images
Ingredients of a Hurricane
Three key ingredients are needed for a hurricane to form: warm sea surface water that's at least about 80 degrees Fahrenheit (26.5 C), a thick layer of moisture extending from the sea surface to roughly 20,000 feet and minimal vertical wind shear so the thunderstorm can grow vertically without interruption.
These prime conditions are often found in the tropical waters off the west coast of Africa.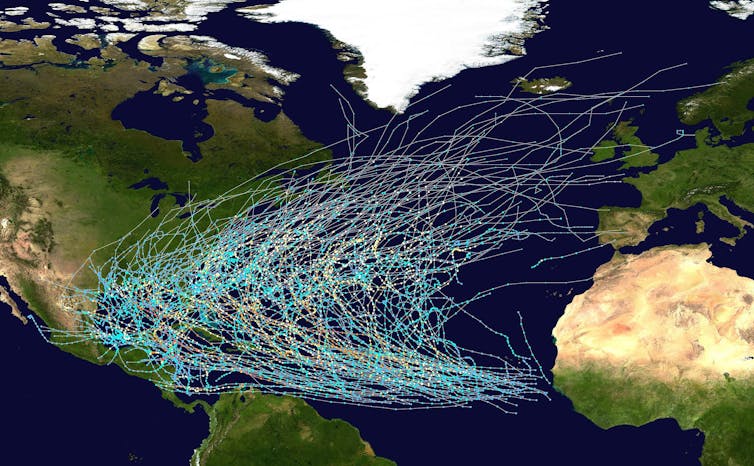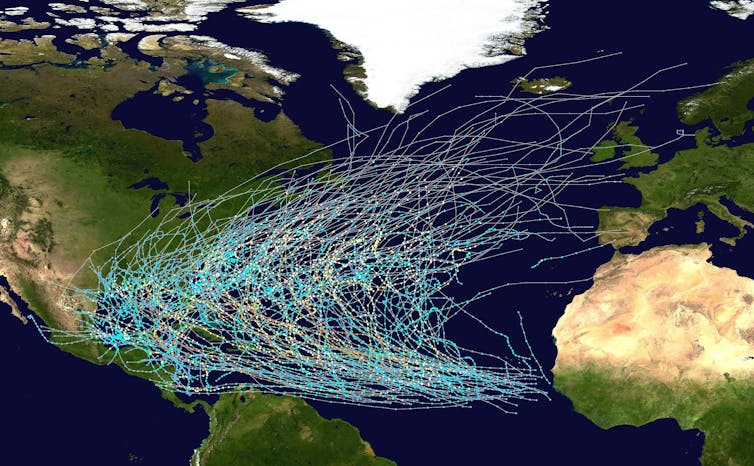 Hurricanes can also form in the Gulf of Mexico and the Caribbean, but the ones that start close to Africa have thousands of miles of warm water ahead that they can draw energy from as they travel. That energy can help them grow into powerful hurricanes.
Wind currents set most tropical storms on a course westward from Africa toward the Caribbean, Florida and the Gulf of Mexico. Some drift northward into the midlatitudes, where the prevailing winds shift from west to east and cause them to curve back out into the Atlantic.
Others encounter cooler ocean temperatures that rob them of fuel, or high wind shear that breaks them apart. That's why tropical cyclones rarely hit northern states or Europe, though it does happen.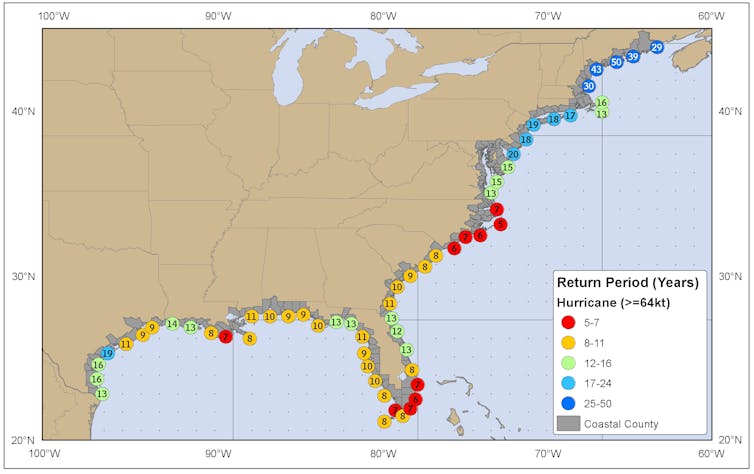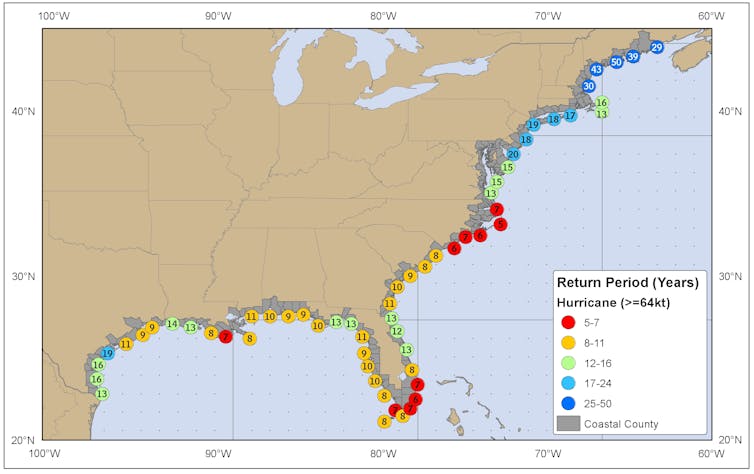 Time of Season Also Influences Hurricane Paths
Early in the season, in June and July, sea surface temperatures are still warming and atmospheric wind shear slowly decreases across the open Atlantic. Most early-season hurricanes develop in a small area of the Caribbean and Gulf of Mexico where prime conditions begin early.
They typically form close to land, so coastal residents don't have much time to prepare, but these storms also don't have ideal conditions to gain strength. Texas, Louisiana and Mississippi, as well as Central America, are more likely to see hurricane strikes early in the season, as the trade winds favor an east-to-west motion.
As surface waters gain heat over the summer, hurricane frequency and severity begin to increase, especially into the peak hurricane months of August through October.
Toward the end of the season, trade winds begin to shift from west to east, ocean temperatures start to fall, and cold fronts can help divert storms away from the western Gulf and push them toward the Florida Panhandle.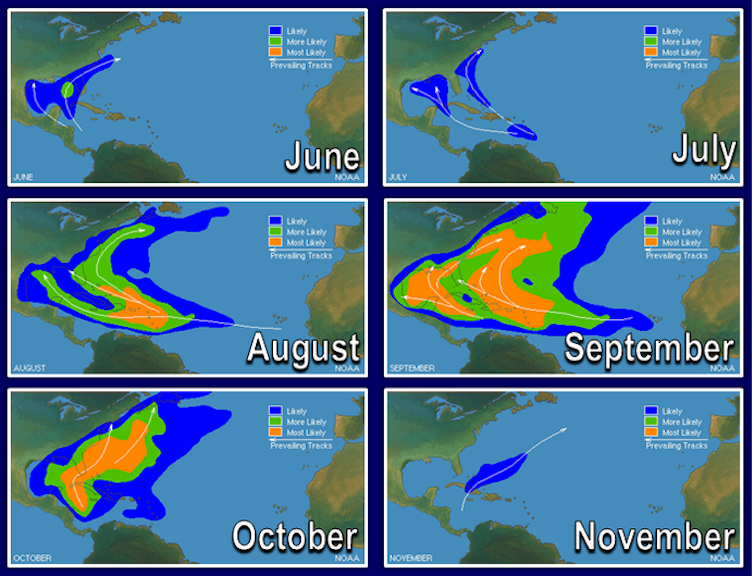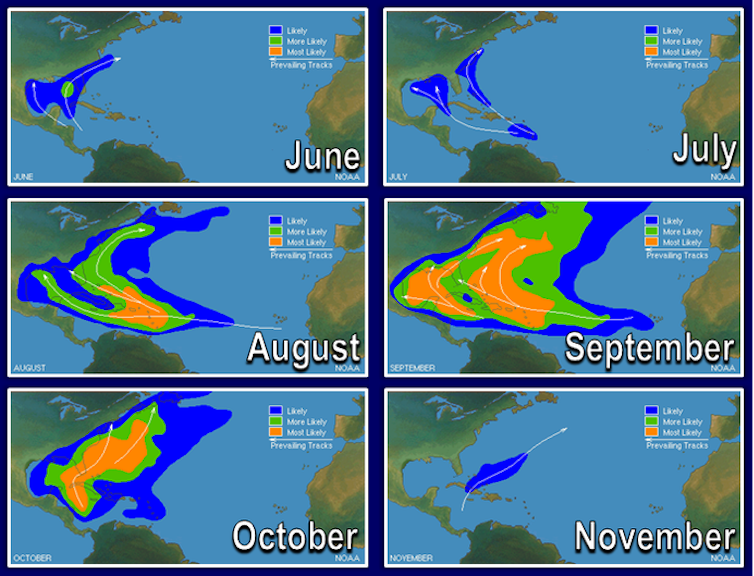 Shape of the Seafloor Matters for Destructiveness
The shape of the seafloor can also play a role in how destructive hurricanes become.
Hurricane strength is currently measured solely on a storm's maximum sustained wind speeds. But hurricanes also displace ocean water, creating a surge of high water that their winds push toward shore ahead of the storm.
This storm surge is often the greatest threat to life and property from a hurricane, accounting for about 49% of all direct fatalities between 1963 and 2012. Hurricane Katrina (2005) is a prime example: An estimated 1,500 people lost their lives when Katrina hit New Orleans, many of them in the storm surge flooding.
If the continental shelf where the hurricane hits is shallow and slopes gently, it generally produces a greater storm surge than a steeper shelf.
As a result, a major hurricane hitting the Texas and Louisiana Gulf Coast – which has a very wide and shallow continental shelf – may produce a 20-foot storm surge. However, the same hurricane might produce only a 10-foot storm surge along the Atlantic coastline, where the continental shelf drops off very quickly.

Where Are the Hurricane Hot Spots?
A few years ago, the National Oceanic and Atmospheric Administration analyzed the probability of U.S. coastlines' being hit by a tropical storm based on storm hits from 1944 and 1999.
It found that New Orleans had about a 40% chance each year of a tropical storm strike. The chances rose for Miami and Cape Hatteras, North Carolina, both at 48%. San Juan, Puerto Rico, which has seen some devastating storms in recent years, was at 42%.
Hurricanes, which have sustained wind speeds of at least 74 miles per hour, were also more frequent in the three U.S. locations. Miami and Cape Hatteras were found to have a 16% chance of a direct hit by a hurricane in any given year, and New Orleans' chance was estimated at 12%.
Each of these locations is vulnerable to a hurricane because of its location, but also its shape. North Carolina and Florida "stick out like a sore thumb" and are often grazed by hurricanes that curve up the east coast of the U.S.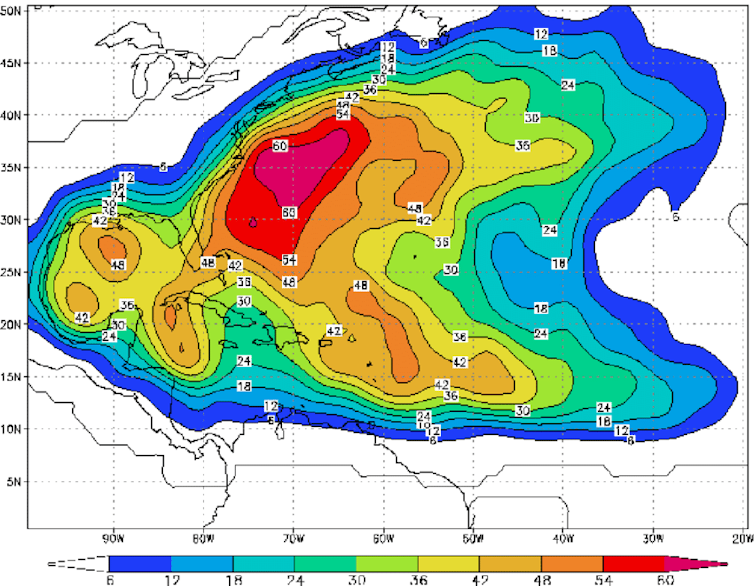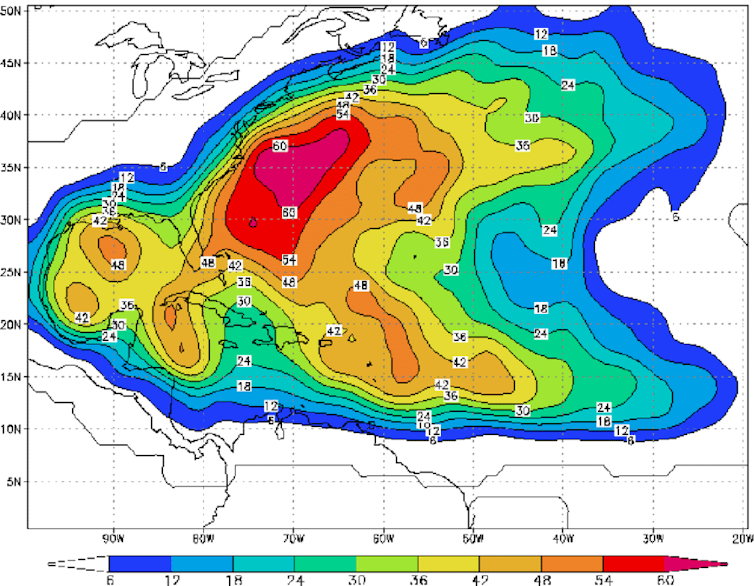 Climate Change Changes the Risk
As sea surface temperatures rise with the warming of the planet, more areas outside of these usual hurricane regions may see more tropical storms.
I analyzed tropical cyclones in the North Atlantic that made landfall from 1972 to 2019 to look for changes over the past half-century.
During the first six years of that period, 1972-77, the Atlantic averaged four direct hits per year. Of those, 75% were in the usual hurricane-prone areas, such as the Southern United States, the Caribbean and Central America. Six storms made landfall elsewhere, including New England, Canada and the Azores.
By 2014-19, the Atlantic averaged 7.6 direct hits per year. While the U.S. took the majority of those hits, Europe has been showing a steady increase in cyclones making landfall. Major hurricanes – those with sustained wind speeds of 111 miles per hour and above – are also more common than they were in the 1970s and '80s.
While southern coastal locations of the United States may be the most vulnerable to tropical cyclone impacts, it is important to understand that a devastating cyclone can hit anywhere along the Atlantic and Gulf coasts.
The National Hurricane Center is forecasting another busy season in 2021, though it is not expected to be as extreme as 2020's record 30 named storms. Even if an area hasn't experienced a hurricane in several years, residents are advised to prepare for the season as if their area will take a hit – just in case.
Athena Masson is a meteorology instructor at the University of Florida.

Disclosure statement: Athena Masson does not work for, consult, own shares in or receive funding from any company or organization that would benefit from this article, and has disclosed no relevant affiliations beyond their academic appointment.
Reposted with permission from The Conversation.
A deadly tornado touched down near the city of Fultondale, Alabama on Jan. 25, 2021. Justin1569 / Wikipedia Commons /
CC BY-SA 3.0
A tornado tore through a city north of Birmingham, Alabama, Monday night, killing one person and injuring at least 30.
The Birmingham National Weather Service (NWS) confirmed that a twister touched down in Jefferson County, Alabama, near the city of Fultondale, around 10:30 p.m. Monday night, WVTM 13 reported. The storm caused significant damage, knocking down trees and power lines and destroying homes and businesses.
"It looks like a bomb went off," Sam Moerbe, an 18-year-old who accompanied his father to their former Fultondale neighborhood, told AL.com.
His father, Dave, said all 45 homes in his former community had some damage.
The tornado left behind a quarter-mile swath of extensive damage, Fultondale Mayor Larry Holcomb told AL.com. It touched down near Interstate 65 and moved northeast toward Fultondale High School, causing significant damage to the school and destroying structures, including the Hampton Inn.
It also claimed at least one life. A teenage boy died when a tree fell on his home, causing it to collapse as he and his family were hiding in the basement, WVTM 13 reported.
Jefferson County Schools Superintendent Dr. Walter Gonsoulin confirmed that a 14-year-old Fultondale High School student had been killed, but his identity has not yet been released, according to WVTM 13.
Fultondale Police Chief D.P. Smith said the victim and the rest of his family had been trapped in the basement after the collapse. Other family members were critically injured, The Associated Press reported.
Fultondale Fire Chief Justin McKenzie said that 18 people have been taken to the hospital with injuries, while six more were rescued from their homes, AL.com reported.
NEW VIDEO— (FULTONDALE, Ala.) Sunlight shows depth of damage from possible tornado on New Castle Rd. Rescue crews… https://t.co/tCLxmvyj08

— Stoney Sharp (@Stoney Sharp)1611664793.0
Search and rescue efforts continue, James Coker, Jefferson County Emergency Management Agency director, told The Associated Press.
"Our current goal is always life safety," Coker said. "That is not only for the people who may have been injured but also the first responders who assist them."
Several people had near misses, including one woman who said she was in bed when the storm struck.
"The roof left, and the walls,'' Janice Hamilton told AL.com. "It was just in a matter of seconds. It's all gone."
Hamilton, who uses a wheelchair, was taken with her family to a shelter at the Gardendale Civic Center. She said she was grateful to be alive.
NWS is still working to determine the strength of the tornado, according to The Associated Press.
There is evidence that tornado alley is shifting from the Great Plains toward the Midwest and Southeast. That could be a problem since tornadoes in the South tend to have a higher death toll due to more densely populated areas and more mobile homes. Tornadoes in the South are also more likely to strike at night, like Monday's twister. Scientists say it is possible that the climate crisis is driving the shift.
From Your Site Articles
Related Articles Around the Web
Hurricane Iota is the latest category 5 storm ever recorded in the Atlantic, with the aftermath seen here in Cortes, Honduras on November 19, 2020. Orlando SIERRA / AFP / Getty Images
By Jeff Masters, PhD and Dana Nuccitelli
Calendar year 2020 was an extreme and abnormal year, in so many ways. The global coronavirus pandemic altered people's lives around the world, as did extreme weather and climate events. Let's review the year's top 10 such events.
1. Hottest Year on Record?
The official rankings will not be released until January 14, but according to NASA, Earth's average surface temperature in 2020 is likely to tie with 2016 for the hottest year on record, making the last seven years the seven hottest on record.
Remarkably, the record warmth of 2020 occurred during a minimum in the solar cycle and in a year in which a moderate La Niña event formed. Surface cooling of the tropical Pacific during La Niña events typically causes a slight global cool-down, as does the minimum of the solar cycle, making it difficult to set all-time heat records. The record heat of 2020 in these circumstances is a demonstration of how powerful human causes of global warming have become.
Figure 1. The eye of category 5 Hurricane Iota on November 16, the strongest hurricane of the 2020 season, as seen by the Sentinel-2 satellite. Image credit: Pierre Markuse
2. The Wild 2020 Atlantic Hurricane Season
The 2020 Atlantic hurricane season produced an extraordinary 30 named storms (highest on record), 13 hurricanes (second-highest on record), and six major hurricanes (tied for second-highest on record): more than double the activity of an average season (12 named storms, 6 hurricanes, and 3 major hurricanes).
The 2020 season was notable not only for its record number of named storms (after breaking into the Greek alphabet by the ridiculously early date of September 18), but also for its record number of rapidly intensifying storms (10), record number of landfalling U.S. named storms (12), and record number of landfalling U.S. hurricanes (six). Every single mile of the mainland U.S. coast from Texas to Maine was under a watch or warning related to tropical cyclones at some point in 2020. U.S. hurricane damage exceeded $37 billion, according to insurance broker Aon, the eighth-highest annual total on record.
Two catastrophic category 4 hurricanes hit Central America in November: Hurricane Iota, the latest category 5 storm ever recorded in the Atlantic, and Hurricane Eta, the deadliest tropical cyclone worldwide in 2020, with at least 274 people listed as dead or missing. At least seven hurricanes from 2020 will be worthy of having their names retired: Iota, Eta, Zeta, Delta, Sally, Laura, and Isaias – although there is still no official mechanism for retiring storm names from the Greek alphabet. The record for most names retired in one Atlantic season was set in 2005, when five hurricanes had their names retired.
Figure 2. Global energy-related emissions (top) and annual change (bottom) in gigatons of carbon dioxide, with projected 2020 levels highlighted in red. Other major events are indicated to a give a sense of scale. Image credit: Carbon Brief, using data from the Global Energy Review
3. Record-High Atmospheric Carbon Dioxide Levels Despite Record Emissions Drop
As a result of restrictions taken to curb the coronavirus pandemic, carbon emissions to the atmosphere in 2020 declined by 9 to 10% in the U.S. and 6 to 7% globally, although some of those reductions were offset by carbon released by wildfires. Those are the largest annual carbon emissions declines since World War II and far more than the 1% global and 6% U.S. emissions drops brought about by the 2008 Great Recession.
Nevertheless, atmospheric carbon dioxide levels rose by 2.6 parts per million from 2019 to 414 ppm in 2020. The amount of carbon in the atmosphere will not decline until human emissions reach net zero. Moreover, as coronavirus restrictions were lifted during 2020, global carbon pollution nearly rebounded to pre-COVID levels.
Figure 3. A wildfire in the Sakha Republic, Arctic Circle, Siberia, Russia creates smoke and pyrocumulus clouds on July 9, 2020. A record heat wave in Siberia during June led to the Arctic's first-ever 38.0°C (100.4°F) temperature and helped drive the Arctic's worst wildfire season on record. Image credit: Copernicus Sentinel data via Pierre Markuse
4. An Apocalyptic Wildfire Season
The year 2020 brought record levels of fire activity to the U.S. and Arctic, but unusually low levels in Canada and tropical Africa, resulting in a below-average year for global fire activity, according to the Copernicus Atmosphere Monitoring Service. According to Insurance broker Aon, the global direct cost of wildfires in 2020 was $17 billion, ranking as the fifth-costliest wildfire year, behind 2017, 2018, 2015 (major Indonesian fires), and 2010 (major Russian fires).
The Australian bushfire season ending in early 2020 (due to seasons in the Southern hemisphere being the reverse of those in the Northern hemisphere) was also a record-breaker, having burned more than 46 million acres and destroyed more than 3,500 homes.
The National Interagency Fire Center reported that U.S. wildfires burned 10.25 million acres as of December 18, 2020, the highest yearly total since accurate records began in 1983. The previous record was 10.13 million acres in 2015. The hottest August through October period in Western U.S. history, combined with severe drought and a once-in-a-generation offshore wind event, conspired to bring about an apocalyptic western U.S. wildfire season. Total U.S. wildfire damages in 2020 were $16.5 billion, said Aon, ranking as its third-costliest year on record, behind 2017 ($24 billion) and 2018 ($22 billion). Wildfires caused at least 43 direct U.S. deaths. But the indirect death toll among people 65 and older in California alone during the period August 1-September 10 – due to wildfire smoke inhalation – was likely between 1,200 and 3,000, researchers at Stanford University reported in a September 11 study. The 4.2 million acres burned in California in 2020 was more than double the previous record set in 2018.
5. Super Typhoon Goni: Strongest Landfalling Tropical Cyclone on Record
Super Typhoon Goni made landfall near Bato, Catanduanes Island, Philippines, on November 1 with sustained winds of 195 mph and a central pressure of 884 mb, according to the Joint Typhoon Warning Center, or JTWC. Goni was the strongest landfalling tropical cyclone in world recorded history, using one-minute average wind speeds from the National Hurricane Center for the Atlantic/Northeast Pacific and one-minute average winds from JTWC for the rest of the planet's ocean basins.
Goni killed 31 people, damaged or destroyed 250,000 homes, and caused over $1 billion in damage, tying it with Typhoon Bopha in 2012 and Typhoon Vamco in 2020 as the Philippines' second-most expensive typhoon on record, adjusted for inflation. Only Super Typhoon Haiyan in 2013 ($11.1 billion) was more damaging.
Ominously, seven of the 10 strongest landfalls in recorded history have occurred since 2006.
6. Hottest Reliably Measured Temperature: 130°F in Death Valley
Death Valley, California, hit an astonishing 129.9 degrees Fahrenheit (54.4°C) at 3:41 p.m. PDT, August 16, 2020, at the Furnace Creek Visitor's Center. This reading was rounded to 130 degrees Fahrenheit in the daily summary from NOAA. According to weather records experts Christopher Burt, who wrote the comprehensive weather records book "Extreme Weather," and Maximiliano Herrera, who tweets under the Twitter handle, Extreme Temperatures Around the World, the observation may be the hottest reliably recorded temperature in world history, breaking the 129.2 degrees Fahrenheit readings at Death Valley in 2013 and in Kuwait in 2016.
The World Meteorological Organization is conducting a review of the site's observing equipment. "If the observation passes an investigation (instrument calibration, etc.) then, yes, this is a new reliably measured global extreme heat record," Burt wrote by email. However, the official world record will remain a 134 degrees Fahrenheit measurement taken at Death Valley on July 10, 1913, a record widely viewed as bogus.
7. Most Expensive 2020 Disaster: Flooding in China Causes $32 billion in Damage
Seasonal monsoon flooding in China in June through September killed 278 people, damaged or destroyed 1.4 million homes and businesses, and did $32 billion in damage, according to insurance broker Aon. EM-DAT, the international disaster database, ranks that total as the third-most expensive non-U.S. weather disaster since accurate records began in 1990 (adjusted for inflation), behind 1998 flooding in China ($48 billion) and 2011 flooding in Thailand ($47 billion).
In a September 2020 study published in the Bulletin of the American Meteorological Society, "Each 0.5°C of Warming Increases Annual Flood Losses in China by More than US$60 Billion," researchers found that annual average flood losses in China during the period 1984-2018 were $19.2 billion (2015 dollars), which was 0.5% of China's GDP. Annual flood losses increased to $25.3 billion annually during the period 2006-2018. The study authors predicted that each additional 0.5 degrees Celsius of global warming will increase China flood losses by $60 billion per year.
Figure 5. Arctic sea ice age near the time of the annual minimum in 1985 (left) and in 2020 (right). There is very little old, thick ice left in the Arctic, increasing the chances of a late-summer ice-free Arctic by the 2030s. Image credit: Zack Labe
8. Near-Record Low Arctic Sea Ice
Arctic sea ice reached its annual minimum on September 15, 2020, bottoming out at its second-lowest extent and volume ever recorded, behind 2012. A new study suggests that the 2012 record hasn't been broken despite ever-rising temperatures because the rapidly-warming Arctic has altered the jet stream, leading to cloudy summer Arctic conditions that have acted to temporarily preserve some of the sea ice. However, long-term global warming will inevitably win out, and scientists expect the Arctic to be ice-free in the summer beginning sometime between 2030 and 2050. Overall, three-quarters of the volume of summer sea ice in the Arctic has melted over the past 40 years.
The Northern Sea Route along the northern coast of Russia finally froze shut on November 3, after being open a record 112 days, and 2020 was the busiest shipping season ever for natural gas tankers in the Arctic, according to Bloomberg.
9. U.S. Withdrawal From Paris Climate Accord and Election of Joe Biden
The U.S. officially withdrew from the Paris Climate Agreement the day after the November 3, 2020 election. But Joe Biden, who won that presidential election, has announced his intent to immediately rejoin the Paris agreement on the day of his inauguration: January 20, 2021.
President-elect Biden considers tackling climate change a top priority and has proposed a plan to invest $2 trillion over four years in deploying climate solutions. He has assembled a team tasked with carrying out that plan, including several climate-focused cabinet member-nominees and the first national adviser on climate change.
It's a dramatic change from the previous administration's record of climate and environmental protection rollbacks.
10. A Near-Record Number of Global Billion-Dollar Weather Disasters
Through the end of November, 44 billion-dollar weather disasters had occurred globally in 2020, according to the November 2020 Catastrophe Report from insurance broker Aon. The record in the Aon database is 47, set in 2010, and 2020 could challenge that record when the final tallies are announced on January 25, 2021.
The United States suffered 25 billion-dollar weather disasters in 2020, surpassing Aon's previous U.S. record of 20 in 2017. The record number of U.S. disasters led to the American Red Cross's providing record levels of disaster sheltering in 2020, according to a December 2 article by E&E News.
An October 13 report by the United Nations Office for Disaster Risk Reduction found a "staggering" rise in climate-related disasters, including extreme weather events: those nearly doubled, from 3,656 in 1980-1999 to 6,681 in 2000-2019. The number of major floods more than doubled, from 1,389 to 3,254, and the incidence of destructive storms increased from 1,457 to 2,034.
The report blamed human-caused climate change as a significant factor in the increased disasters. It warned: "It is baffling that we willingly and knowingly continue to sow the seeds of our own destruction, despite the science and evidence that we are turning our only home into an uninhabitable hell for millions of people." The U.N. report authors called attention to "industrial nations that are failing miserably on reducing greenhouse gas emissions to levels commensurate with the desired goal of keeping global warming at 1.5 degrees Celsius as set out in the Paris Agreement."
Reposted with permission from Yale Climate Connections.
Exceptionally heavy rain caused debris flows and flash flooding that damaged as many as two dozen homes and buildings in California's Salinas Valley on Wednesday.
In Paso Robles, unhoused people living in the Salinas Riverbed are especially in danger and local officials were working to alert them to the potential 20-25-foot rise in water levels. The heavy rains produced by an atmospheric river also caused flooding and knocked out power for thousands in the Bay Area and the threat of landslides and debris flows remains across the state after the state's record-smashing 2020 wildfire season.
The landslides are an example of the compound disasters made more frequent as human caused climate change makes wildfires more extreme and extreme precipitation more frequent.
As reported by KPIX:
The heavy rain triggered a mudslide in the River Road area near the Salinas River and Highway 101 south of Salinas. KSBW reported an estimated 50 large animals that were stuck in mud that had to be rescued.

The Society for the Prevention of Cruelty to Animals Monterey County confirmed Wednesday afternoon that it had taken in 41 animals for shelter due to people having to evacuate the area.
As of Wednesday afternoon, SPCA Monterey County had taken in nine dogs, 14 cats, 17 horses and a donkey for residents who did not have anywhere else to take the animals.
Anyone in the county who needs assistance with sheltering animals is asked to call the organization at (831) 373-2631 during day hours and (831) 264-5424 at night.
River Road has been closed by the California Highway Patrol from Chualar River Road north to Parker Canyon Road due to flooding and mud.
MCRFD working with local property owners on damage assessment In the River Rd area. Thank you to all the local ranc… https://t.co/7PgkagcJsV

— Mont. Co. Regional Fire (@Mont. Co. Regional Fire)1611772018.0
The weather service said its tracking has the Big Sur coastline as the 'bullseye' for the storm front that has been intensified by the moisture from an atmospheric river.
"Our local in-house model is showing extensive storm totals in the Big Sur hills in excess of 20 inches with a bullseye amount in excess of 31 inches," the weather service said.
For a deeper dive:

Mudslides: King City Rustler, SFGate, Weather Channel, KION, ABC, KPIX, KSBW, Los Angeles Times, AP, Unhoused people: KSBY; Outages: San Francisco Chronicle, Atmospheric river: The Washington Post, AP; Climate Signals background: 2020 Western wildfire season, Extreme precipitation, Runoff and flood risk
For more climate change and clean energy news, you can follow Climate Nexus on Twitter and Facebook, sign up for daily Hot News, and visit their news site, Nexus Media News.
A local activist extinguishes a peat fire in a Suzunsky forest south of the Siberian city of Novosibirsk on Sept. 11, 2020. 'Zombie' fires in Arctic and sub-Arctic regions are becoming more common as global temperatures rise. ALEXANDER NEMENOV / AFP via Getty Images
As if
drought
,
flooding
, extreme
hurricanes
, and deadly heat waves weren't enough, climate change could make "zombie" forest fires more common, scientists say.
Research published Wednesday in Nature found zombie fires — wildfires in Arctic and sub-Arctic regions, so-called because they continue to smolder under winter snows and reignite once the snow melts — are becoming more common as global temperatures rise due to humans' extraction and combustion of fossil fuels. Making matters worse, the Arctic is heating faster than the rest of the planet.
The fires and warming fuel a vicious cycle: Higher temperatures enable longer fire seasons and more zombie fires, which lead to the release of more methane and CO2 from carbon-rich peatlands — just 10% of CO2 from Alaskan fires comes from burning trees — which further accelerates global warming.
"Ten years ago, someone asked me, 'How often do these happen?' And I said, 'Ehhh, they're interesting but they don't happen very often,'" Randi Jandt, a fire ecologist with the University of Alaska, Fairbanks, told National Geographic. But, she added, "We definitely seem to be seeing them more, in my 30 years of observation and asking people up there about [overwintering fires] before that."
For a deeper dive:
The New York Times, National Geographic, CNN, Axios, The Guardian, Reuters, BBC, VICE, ABC, Wired, Popular Mechanics, E&E
For more climate change and clean energy news, you can follow Climate Nexus on Twitter and Facebook, sign up for daily Hot News, and visit their news site, Nexus Media News.
A person surveys the aftermath of Hurricane Sally on September 16, 2020 in Pensacola, Florida. Joe Raedle / Getty Images
A record-smashing 22 weather disasters inflicted at least $1billion of damage on the U.S. in 2020, according to NOAA, as the toll of human-caused climate change mounts in real time.
The 22 disasters blew away the previous record of 16, killed 262 people, and inflicted $95 billion in damages in 2020, which European scientists say is tied for the hottest year on record.
Climate change, caused by burning fossil fuels, makes wildfires more extreme, hurricanes more intense and intensify more quickly, and extreme rainfall more severe as warmer air holds more moisture that can then be dumped in overwhelming volumes.
The fact that more people are living in areas vulnerable to climate disasters also contributed to the record number of billion-dollar events.
Weather disasters ravaged areas across the Lower 48 states, as wildfires incinerated more than 10 million acres across the West, thunderstorms deluged the Midwest, and hurricanes repeatedly pummeled the Gulf Coast.
For a deeper dive:
Disasters: CNN, Politico Pro, The Guardian, E&E, The Hill, Bloomberg; Hottest year: Axios, Thomson Reuters Foundation, Earther; Both: CNN, Washington Post, Buzzfeed; Climate Signals background: 2020 Western wildfire season, 2020 Atlantic hurricane season, Extreme precipitation

For more climate change and clean energy news, you can follow Climate Nexus on Twitter and Facebook, sign up for daily Hot News, and visit their news site, Nexus Media News.
The Bobcat Fire is seen burning the Angeles National Forest in Los Angeles County, California, on September 17, 2020. Kyle Grillot / AFP / Getty Images
Fire weather is coming early to California this year.
For the first time since 2014, parts of Northern California are seeing a May "red flag" fire warning due to dry and windy conditions.
"It's crazy, May and a red-flag warning," Craig Clements, San Jose State University Wildfire Interdisciplinary Research Center director, told The Mercury News.
Critical fire weather conditions will continue through Tuesday afternoon due to gusty north winds and dry condition… https://t.co/AqH4a8Nkpl

— NWS Sacramento (@NWS Sacramento)1620048579.0

The warning coverage area extends from Redding in the north to Modesto in the south, and includes portions of the Central Valley and the state capital of Sacramento. The warning also extends to the eastern edges of the Bay Area, The Mercury News reported. The warning, first announced Sunday, is expected to last through 5 p.m. PT Tuesday afternoon.
"Any fires that develop will likely spread rapidly," National Weather Service (NWS) Sacramento cautioned. "Outdoor burning is not recommended."
Temperatures on Monday and Tuesday are also predicted to be 15 degrees above average in the Bay Area and Northern California, SFGate reported.
In fact, the area has already experienced some blazes. A wildfire broke out in Big Basin Redwoods State Park on Sunday around noon. Firefighters were able to contain it to 6.7 acres by Sunday night. Small fires also ignited in the Bay Area's Solano County and Pittsburg, The Mercury News reported.
Fire season in California usually starts in summer and extends through the fall, according to The Guardian. However, the climate crisis has upended weather patterns in the state, which is now suffering from drought conditions. Much of California, including the north, is experiencing its driest wet season in more than 40 years; Sacramento experienced its driest on record in April, NWS said.
This April was the driest April on record for Sacramento with no rain falling. This brought warm days with us seein… https://t.co/So9DYOIn8U

— NWS Sacramento (@NWS Sacramento)1619993039.0
The dry conditions exacerbate fires for two reasons, according to The Mercury News. There is no water to put out early flames, and dry weather speeds up the process of curing. Curing occurs when vegetation dries out to the point where its moisture content is impacted by the dryness of the atmosphere, not the soil.
"In a better scenario, we wouldn't be dealing with this until the traditional fire season in the fall," NWS Meteorologist Gerry Diaz told The Mercury News.
All of this follows 2020's devastating fire season, when a record 4.1 million acres burned in California alone. It is too soon to speculate whether 2021's season will be as bad or worse, even though it's off to an earlier start, according to SFGate. State fire-fighting agency Cal Fire has so far responded to more than 1,354 wildfires since Jan. 1, 2021, with 2,219 total acres burned. By this time last year, Cal Fire had responded to 814 blazes burning 1,056 acres.
"The dry conditions and the very poor fuel moisture recovery over the last six or eight months and the lack of rain we've had and also the continued drought have put us in a position where our fuel moistures are very dry and we're experiencing conditions that we would normally experience later in the summer in June and July and it's only the beginning of May," Cal Fire Spokesperson Cecile Juliette told SFGate.
While this week's warning focused on the north, Southern California has not been spared early fire conditions. A blaze near San Diego has so far burned 5,100 acres and forced about 500 people to evacuate, according to The Guardian. It is now 55 percent contained, according to Cal Fire.