Gas and steam erupt from the Halemaumau Crater of the Kilauea Volcano on December 21, 2020 in Hawaii Volcanoes National Park, Hawaii. Andrew Richard Hara / Getty Images
Kilauea, a large volcano on the Island of Hawai'i (or Big Island) and one of the most active in the world, erupted Sunday night following a series of earthquakes, CNN reported.
EcoWatch Daily Newsletter
A 7.8 magnitude earthquake struck off the coast of Alaska at 10:12 p.m. local time on July 21, 2020. USGS
Alaskans were rattled by a 7.8 magnitude earthquake Tuesday night that sent people fleeing for higher ground in case of a possible tsunami, before the warning was canceled.
The quake struck offshore at 10:12 p.m. local time and was located around 500 miles southwest of Anchorage and around 60 miles southeast of Perryville, Alaska, CBS News reported.
"This is a very significant earthquake in size," Alaska Earthquake Center seismologist Michael West told the Anchorage Daily News.
M 7.8 earthquake strikes 105 km SSE of Perryville, Alaska. Tsunami warning canceled. https://t.co/bUwKvi65Lg Le… https://t.co/DlORAa8a2I

— USGS (@USGS) 1595413807.0
The earthquake initially triggered a tsunami warning for South Alaska, the Alaska Peninsula and the Aleutian Islands, CBS News reported.
"Based on the preliminary earthquake parameters... hazardous tsunami waves are possible for coasts located within 300 kilometers of the earthquake epicenter," the Pacific Tsunami Warning Center said, according to CBS News.
The warning prompted evacuations in towns and cities including Kodiak, Sand Point, Unalaska and Homer, the Anchorage Daily News reported.
"We were in a (city) council meeting and started feeling it rocking, and by the time I got home from the council meeting then the warnings were going and had to turn back around," Unalaska City Manager Erin Reinders told the Anchorage Daily News.
Meanwhile, in Kodiak, residents sheltered in Kodiak High School and the local Catholic school while also trying to protect themselves from the coronavirus.
"We've got a high school full of people. I've been passing out masks since the first siren sounded," Kodiak School District superintendent Larry LeDoux told the Anchorage Daily News. "Everything's as calm as can be. We've got probably 300, 400 people all wearing masks."
Tsunami warning in kodiak AK https://t.co/pBio9lnWDF

— Tyler 🏳️‍🌈 (@Tyler 🏳️‍🌈) 1595399877.0
The warnings were canceled by 12:30 a.m. Wednesday. However, a tsunami measuring 0.8 feet was reported in the city of Sand Point, according to CBS.
Because of its size and characteristics, Tuesday's quake had the potential to be devastating.
For one thing, it was shallow, measuring six miles, or 10 kilometers, deep, CNN reported.
"Anything below 70 kilometers is considered a shallow quake," CNN meteorologist Allison Chinchar explained. "That's important, because shallow earthquakes often cause the most damage, compared to the ones that are deeper, regardless of the strength."
Shallow quakes are also more likely to produce tsunamis, according to the U.S. Geological Survey.
West told the Anchorage Daily News that Tuesday's earthquake was more or less the same type as the Great Alaska Earthquake of 1964.
That earthquake was the strongest ever recorded in North America, with a magnitude of 9.2, CBS explained. The quake and following tsunami killed more than 250 people.
"These are the style of earthquakes which can be very tsunami-producing," West told the Anchorage Daily News.
The fact that Tuesday's quake occurred offshore reduced shaking, West said. Officials did not think the shaking caused any damage.
"No reports of any damage," Kodiak Police Sgt. Mike Sorter told The Associated Press early Wednesday morning, as USA TODAY reported. "No injuries were reported. Everything is nominal."
CNN also reported that more than 20 aftershocks have followed into early Wednesday, ranging in magnitude from 2.8 to 6.1.
Correction: An earlier version of this article stated that CNN reported the depth of the quake at six miles. CNN has corrected this number to 17 miles. The article has been corrected to reflect this change.
From Your Site Articles
Related Articles Around the Web
See how you can save money on solar panels in Florida.
Reviews
Pitsanu Prom-or / iStock / Getty Images
Florida is well-known as the Sunshine State because of its year-round sunny weather that draws millions of tourists each year, but historically, Florida hasn't actually been a national leader when it comes to solar energy generation. That said, financial incentives like Florida solar tax credit and rebate opportunities have played a huge part in its rise to become one of the top states for solar energy.
To the glee of clean energy advocates across the state, various Florida solar incentives have succeeded in bringing solar power throughout the state. According to the Solar Energy Industries Association, in 2020, Florida ranked third in the nation for solar energy capacity, and it had the second-most installations during the second quarter of 2021.
This progress in the solar field comes from many different sources, not the least of which is Florida solar incentives. For any homes or businesses feeling left behind while the rest of the state goes solar, these types of solar tax credits are still widely available across Florida, which will be discussed in this article.
For most homeowners, the decision to go solar comes down to cost. To see how much you'd pay for a home solar system (and how much you can shave off that price with Florida solar tax credit and incentive opportunities), you can get a free quote from a top solar company near you by using this tool or filling out the form below.
Florida Solar Tax Credits and Solar Rebates
As much as transitioning to clean energy is the best thing for the environment and the fight against climate change, the reality has always been that such changes would be slow to happen (if they happened at all) unless they made sense financially. When solar energy systems are proven to save money for those who pay the high upfront costs to install them, those purchases are better considered a worthy investment.
As such, some of the most effective policies encouraging solar installations have been those making the decision a no-brainer from the budgetary perspective. Let's take a look at some of the top Florida solar incentives.
| Florida Solar Incentive | Program Overview |
| --- | --- |
| Florida Net Metering Programs | Credits homeowners when their solar panels produce extra electricity and it is exported to the local power grid |
| Florida Tax Exemptions | Property tax exemptions and sales tax exemptions for solar and other renewable energy equipment |
| Local Incentives | Incentives, rebates and low-interest financing programs at the town, city, and county level that encourage local solar installations |
Florida Net Metering Programs
Regardless of the state, one of the most critical types of energy policy for solar panels is known as net metering. Through net metering, homeowners can feed excess electricity produced by their solar panels into the power grid in exchange for utility credits. These credits can be used to pay for the energy a home uses when panels aren't producing (such as at night).
Net metering tends to be a state-by-state policy, as there is no federal policy regarding net metering. Florida is one of the states where there is, in fact, a statewide net metering program, applicable for homeowners regardless of which utility serves their area.
The specific net metering provision covers up to 2 megawatts (MW) of capacity for any customers who generate electricity with a renewable energy source. Florida Power & Light and Duke Energy have the largest net metering programs in the state.
The availability of such net metering serves as an incentive for Floridians to install solar panels on their property. Not only do they benefit by reducing their power bills from pulling energy from the grid less often, but they can even profit when the utility pays them for generating more power than they consume, bringing their solar payback period down.
Florida Solar Tax Exemptions
Another financial mechanism that the Florida state government offers to solar system owners is solar tax exemptions. To start, Florida doesn't want to make the upfront cost to purchase and install solar equipment to be any higher than the open market says it should be, so since 1997, all solar energy systems have been completely exempt from Florida's sales and use tax.
Once a solar photovoltaic system is purchased and installed, there is a statewide property tax abatement that further helps homeowners avoid paying taxes on it. Most home additions, such as a new shed or outdoor patio built in a home's backyard, would be appraised to determine the value it added to the property and thus increase the overall property tax. However, the added home value of solar panels is excluded from the property's taxable value.
Local Incentives
Florida is also a large, diverse state, so in addition to the state solar incentives, many local jurisdictions enact their own policies to encourage and support installation of solar energy systems. At the town, city or county level, Floridians will commonly find low-interesting solar financing options, specific solar incentives or rebates, and more.
You can determine whether your locality offers such incentives by investigating your local government websites or talking to utility company representatives. When you do, you may come across such successful programs as Jacksonville's $2,000 rebate for solar battery installations, Boynton Beach's Energy Edge Rebate Program, or the Solar Energy Rebate Grant Program offered by Dunedin.
Federal Solar Tax Credit
Floridians, of course, can also benefit from all the tax incentives, rebates and credits that are offered at the federal level. Over the past two decades, the federal solar investment tax credit (ITC) has attributed largely to the rapid growth in solar energy across business sectors, geographies and customer types.
For systems installed and operational before the end of 2022, the federal solar tax credit is equal to 26% of the value of the installation, dropping to 22% for systems installed in 2023. It is currently set to expire afterward, though the idea of extending the ITC beyond its current expiration date, as has been done in the past, has been a part of active clean energy policy debates.
FAQ: Florida Solar Incentives
Does Florida have a solar tax credit?
State-wide, there is no specific Florida solar tax credit. However, all utilities in the state of Florida do offer customers the ability to utilize net metering, Florida solar homeowners are eligible for the federal solar tax credit, and some local jurisdictions in Florida may offer their own tax credits.
Is solar tax exempt in Florida?
In Florida, the purchase and installation of a home solar system is exempt from all sales tax, and the value of renewable systems are excluded from 100% of residential property taxes.
How much is the solar tax credit for 2022?
For any solar panel system installed before the end of 2022, the federal solar investment tax credit is equal to 26% of the value of the system.
Is Florida a good state for solar?
Florida is a great state for solar from the perspective of having year-round sunny weather, higher-than-average solar irradiance and a policy landscape conducive to solar installations. Because of these factors, Florida ranked third among all states in terms of solar capacity installed in 2020 (rising to second when looking at the third quarter of 2021), per the SEIA.
How much do solar panels cost in Florida?
Based on market research and data from top solar companies, we've found the average cost of solar panels in Florida is $2.53 per watt. However, this is only an average, and prices can vary widely depending on where you live, the number of solar panels you need and more.
To get a free estimate for your own home solar system, you can get connected with a pre-screened local installer by using this tool or entering your home's information below.
The U.S. Navy conducts shock trials using live explosives in the Atlantic Ocean on June 18, 2021. U.S. Navy /
YouTube
By Brett Wilkins
Marine mammal experts this week expressed deep concern over the potentially devastating effects of the U.S. Navy's recent detonation of 40,000 pounds of explosives off the Atlantic coast of Florida on sea life, while progressive observers blasted what they called the government's misplaced spending priorities.
The Navy set off the massive blast — which registered as a magnitude 3.9 earthquake on shore — on June 18 about 100 miles off Palm Coast as the first in a series of full ship shock trials on the USS Gerald R. Ford, a $12.8 billion nuclear-powered aircraft carrier commissioned in 2017.
"The U.S. Navy conducts shock trials of new ship designs using live explosives to confirm that our warships can continue to meet demanding mission requirements under harsh conditions they might encounter in battle," the Navy explained in a press release.
The statement claimed the explosion occurred "within a narrow schedule that complies with environmental mitigation requirements, respecting known migration patterns of marine life in the test area."
The region is home to various marine mammal species including bottlenose dolphins, humpback whales, and North Atlantic right whales. While whales are not typically seen off the northern Florida coast in June, marine experts nevertheless expressed alarm over potential harm to mammals and other sea life.
"The Navy's own modeling indicates that some smaller species of marine mammals would be expected to die within one to two kilometers of the blast, and that some marine mammal species would suffer injury including hearing loss out to 10 kilometers of the blast," Michael Jasny, director of the Natural Resources Defense Council's (NRDC) Marine Mammal Protection Project, told The Guardian. "That gives some sense of the power of the explosives we are talking about."
Hey I don't think this is good for sea creatures @POTUS https://t.co/P7dfnuTcrQ

— Jackie Fielder (@Jackie Fielder) 1624326596.0
"A large whale might need to be within a few hundred meters of the blast to die, while a small mammal could be a couple of kilometers away," added Jasny, who said that even if the animals survive the blast, potential hearing loss still poses a grave risk to species which use that sense to locate food and their companions.

The U.S. Navy has previously come under fire for its use of undersea sonar, which can injure and kill marine mammals. In 2015, the Navy agreed to limit its use of underwater sonar and explosives in particularly sensitive areas for scores of vulnerable species.
While numerous observers worried about the effects of blast testing on marine life, others expressed concerns about misplaced government priorities, with the advocacy group Public Citizen tweeting that "94% of public school teachers spend their own money on school supplies." Some social media users responded to CBS News' tweet about the explosion lamenting that the United States still does not have universal healthcare.
@Warship_78 @USNavy #ThisIsDestruction Wa$te of tax dollars & resources. #ProtectTheSacred #ProtectTheOcean @oceana @oceanconserve

— Janet Weil (@Janet Weil) 1624246284.0
Janet Weil, an activist with the peace group CodePink and the Portland, Oregon branch of Extinction Rebellion, called the text a "waste of tax dollars and resources."

Reposted with permission from Common Dreams.
From Your Site Articles
Related Articles Around the Web
A pump jack and surface water at an oil well and fracking site in the San Joaquin Valley, California. Citizens of the Planet / Education Images / Universal Images Group / Getty Images
What is fracking?
Fracking is a process of blasting water, chemicals and frac sand deep into the earth to break up sedimentary rock and access natural gas and crude oil deposits. The fracking industry, which has sought to promote the practice as safe and controlled, has preferred the term "hydraulic fracturing."
Fracking emerged as an unconventional, "relatively new" and extremely popular technique only about 20 years ago in the U.S., after advances in technology gave it an unprecedented ability to identify and extract massive amounts of resources efficiently.
Fracking is one of the most important environmental issues today, and it's a prime example of how a new technology that offers immediate economic and political benefits can outpace (often less obvious) environmental and health concerns.
Why is fracking so controversial?
Modern fracking emerged so quickly, faster than its impacts were understood. Just as importantly, once scientists, health experts and the public started to object with evidence of harm it was causing, business and government succeeded in perpetuating a message of uncertainty, that more research was necessary, further enabling the "full speed ahead" fracking juggernaut.
How does fracking impact the environment?
Fracking's supporters have pushed an environmental angle, insisting that natural gas can be a "bridge fuel," a cheaper, cleaner option than coal before we have a large-scale transition to renewable energy. This claim has some merit, as natural gas does emit much less carbon dioxide than coal or oil. However, it is still a fossil fuel, adding harmful emissions while the climate crisis worsens. Moreover, fracking wells leak methane, a greenhouse gas more than 25 times more potent than CO2.
Water
In order to break up rock formations one to two miles deep, a fracking operation requires millions of gallons amount of water. After it's used, the resulting wastewater, which contains chemicals is pumped back into injection wells, sent to treatment plants, or can be dangerously dumped or spilled.
In 2016 the U.S. Environmental Protection Agency (EPA) released a report skewed friendly to industry in its language: Hydraulic Fracturing for Oil and Gas: Impacts from the Hydraulic Fracturing Water Cycle on Drinking Water Resources in the United States. The EPA acknowledged that drinking water contamination was possible, but ultimately came to this conclusion: "Data gaps and uncertainties limited EPA's ability to fully assess the potential impacts on drinking water resources locally and nationally."
Earthquakes
According to the U.S. Geologic Survey, disposal of wastewater has caused an increase in earthquakes in the central U.S. Seismologists have reported that fracking's initial blasting process can trigger earthquakes.
Air Pollution

In addition to methane, fracking releases many toxic contaminants into the air. EPA has acknowledged the public health threat, but a lack of urgent political pressure has sidelined the agency into advising on ways to control and reduce, rather than eliminate, the danger.
Toxic Chemicals
Fracking fluids contain unknown chemicals and known carcinogens such as benzene. Fracking companies haven't been required to disclose their proprietary formulas, however. This is yet another example of how uncertainty serves as an enabling force. The EPA has identified more than 1,000 different chemicals used in fracking fluid.
Wildlife
Fracking can destroy wildlife habitats, pollute rivers and fisheries, poison birds, and use up water supplies that animals need to survive.
How does fracking affect the economy?
The fracking boom made the U.S. the world's largest producer of oil and gas, reducing its energy imports from 26% to less than 4%. It has lowered oil and gas prices and created thousands of industry jobs. While fracking companies profited greatly at first, as prices dropped their margins collapsed. Many are now going bankrupt.
How is fracking regulated?
Congress has enabled the oil and gas industry to be exempt from such regulations as the Clean Air Act, the Clean Water Act, and the Safe Drinking Water Act.
Fracking surged during the Obama administration, which moved to protect water from fracking on federal lands in 2015. Subsequently, the Trump administration sought to roll back protections and expand fracking on federal lands.
Key Examples of Fracking in the United States
Pennsylvania
Pennsylvania's Marcellus Shale is the source for about 40% of shale gas production in the U.S.
New York
While the Marcellus Shale also runs through New York, the state has banned fracking.
Texas
Texas produces more crude oil than any other state.
North Dakota
The Bakken Shale in North Dakota has been one of the main sites for the fracking boom and subsequent bust, leaving behind extensive environmental damage.
A recent report found that all 50 states could provide 100% (or even greater) in-state renewable energy.

Other Countries

Outside the U.S., only Canada, China and Argentina have commercial fracking operations. A UN report in 2018 said that other countries were "highly unlikely" to produce at such a large scale as the U.S., due to political and cultural factors, and existing infrastructure.
The Future of Fracking
While renewables were considered a solution for "peak oil" only a decade ago, fracking changed the terms of the debate, with a new focus from environmentalists to "keep it in the ground" starting in 2015.
The Biden administration now stands at a pivotal moment in the climate crisis. Biden's stance on fracking is not yet entirely clear, but he has rejoined the Paris agreement and appears to take climate seriously. At the same time, he is sympathetic to workers in fossil fuel industries, was vice president during the fracking boom years under Obama, and may be more inclined to seek a gradual transition than one fast enough to help solve the crisis.
WildEarth Guardians
Evacuated patients, medical workers and local residents on a street in Mexico City, Mexico, after an earthquake more than 400 miles away rattled the city on June 23, 2020. Francisco Canedo / Xinhua via Getty Images
Mexico's national seismological service said the quake had a magnitude of 7.5 while the U.S. Geological Survey (USGS) put it at 7.4, according to The New York Times. It struck around 10:29 a.m. local time and was centered about 14 miles off the Pacific Coast of the southern state of Oaxaca.
SISMO Magnitud 7.5 Loc 23 km al SUR de CRUCECITA, OAX 23/06/20 10:29:02 Lat 15.57 Lon -96.09 Pf 5 km https://t.co/8uuY2um91w

— Sismologico Nacional (@Sismologico Nacional) 1592927165.0
Around 200 houses near the epicenter were damaged, a local official told Reuters, 30 severely so.
"We lost everything in one moment to nature," Vicente Romero, a stationary store owner whose home was significantly damaged, told Reuters. "This is our life's work."
#BREAKING: A magnitude 7.4 earthquake strikes Mexico. Look at this video of a building in the area where the earthq… https://t.co/YX3LDJwOnk

— Michael Ikahihifo (@Michael Ikahihifo) 1592930463.0
One of the deaths occurred at state-run oil company Pemex, when a worker fell off a refinery structure, The Guardian reported. The earthquake also sparked a fire at a Pemex refinery in the Pacific city of Salina Cruz. It injured one worker before it was snuffed out.
Another person died when a building collapsed in Huatulco, Oaxaca and a third when a house collapsed in the village of San Juan Ozolotepec. A fourth man was killed when a wall collapsed on him in the village of San Agustín Amatengo.
Despite these individual tragedies, the overall damage was relatively minor.
"Fortunately there was no major damage," Mexican President Andrés Manuel López Obrador said in a Twitter video reported by The New York Times.
Tercer mensaje al pueblo de México tras sismo. https://t.co/5Kn9jPVmu3

— Andrés Manuel (@Andrés Manuel) 1592933296.0
Obrador said there had been 147 aftershocks as of early Tuesday afternoon.
"I hope and I wish with all my soul that there will be no more damaging aftershocks," he said.
Some of the buildings that were damaged included hospitals, The Oaxacan Health Services said, as CNN reported. Two of the damaged hospitals had been treating coronavirus patients.
"We are verifying [damages] because this hospital is also tending Covid cases on the Oaxacan coast," Oaxaca state Gov. Alejandro Murat said, as CNN reported.
The earthquake was felt in Guatemala, Honduras and El Salvador and rattled buildings in Mexico City, more than 400 miles away.
LOOK: A powerful 7.4 magnitude earthquake swayed buildings in Mexico City and sent thousands fleeing into the stree… https://t.co/eoUXH3XN4t

— Bloomberg QuickTake (@Bloomberg QuickTake) 1592962295.0
"It really moved," Francisco Aceves, who owns an import-export firm in Mexico City and was on the 22nd floor of an office building when it started, told The Guardian.
Two people in Mexico's capital were injured and more than 30 buildings were damaged, Reuters reported.
Mexico is one of the most seismically active countries in the world, according to CNN, because it sits atop three tectonic plates.
Tuesday's quake comes less than three years after a 2017 earthquake killed hundreds in Mexico City and rendered thousands homeless, BBC News pointed out.
Also in 2017, Mexico was struck by the strongest earthquake to rattle it in a century when an 8.2 temblor was recorded off the Pacific Coast, according to The New York Times. That earthquake killed at least 90 and mostly impacted the states of Oaxaca and Chiapas.
Eunice Pineda, a 26-year-old teacher in Juchitan, told Reuters that Tuesday's quake "was two minutes of torture," but she also had adopted a philosophical outlook about the earthquakes that rattle her home.
"We learn to appreciate, to treasure every moment," she said.
From Your Site Articles
Related Articles Around the Web
By Matthew Lackner
Northern California has some of the strongest offshore winds in the U.S., with immense potential to produce clean energy. But it has a problem. Its continental shelf drops off quickly, making building traditional wind turbines directly on the seafloor costly if not impossible.
Once water gets more than about 200 feet deep – roughly the height of an 18-story building – these "monopile" structures are pretty much out of the question.
A solution has emerged that's being tested in several locations around the world: making wind turbines that float. In fact, in California, where drought is putting pressure on the hydropower supply and fires have threatened electricity imports from the Pacific Northwest, the state is moving forward on plans to develop the nation's first floating offshore wind farms as we speak.
So how do they work?
Three Main Ways to Float a Turbine
A floating wind turbine works just like other wind turbines – wind pushes on the blades, causing the rotor to turn, which drives a generator that creates electricity. But instead of having its tower embedded directly into the ground or the sea floor, a floating wind turbine sits on a platform with mooring lines, such as chains or ropes, that connect to anchors in the seabed below.
These mooring lines hold the turbine in place against the wind and keep it connected to the cable that sends its electricity back to shore.
Most of the stability is provided by the floating platform itself. The trick is to design the platform so the turbine doesn't tip too far in strong winds or storms.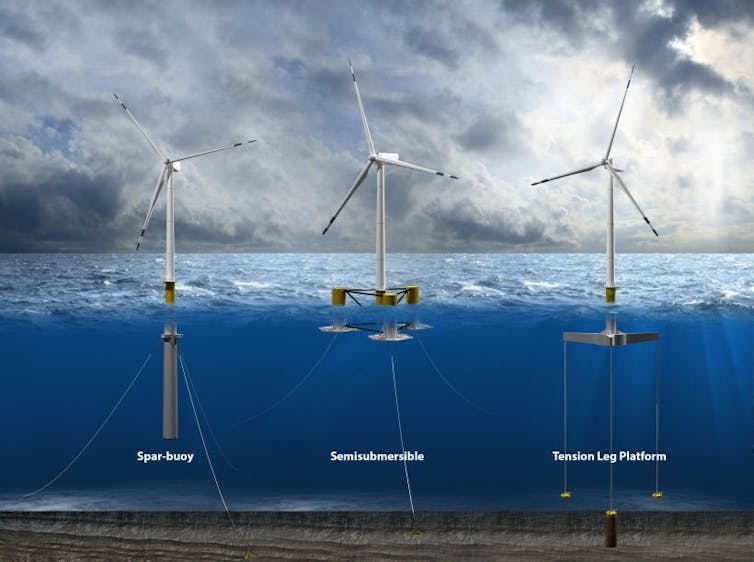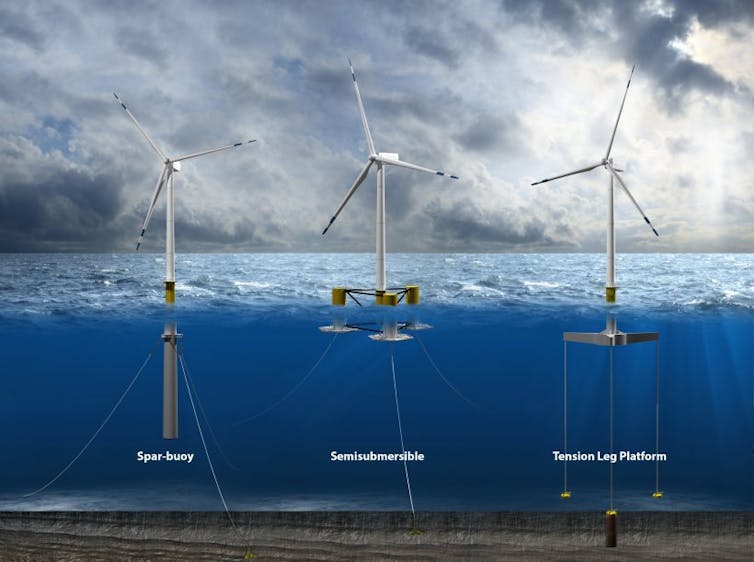 Three of the common types of floating wind turbine platform. Josh Bauer / NREL
There are three main types of platforms:

A spar buoy platform is a long hollow cylinder that extends downwards from the turbine tower. It floats vertically in deep water, weighted with ballast in the bottom of the cylinder to lower its center of gravity. It's then anchored in place, but with slack lines that allow it to move with the water to avoid damage. Spar buoys have been used by the oil and gas industry for years for offshore operations.
Semi-submersible platforms have large floating hulls that spread out from the tower, also anchored to prevent drifting. Designers have been experimenting with multiple turbines on some of these hulls.
Tension leg platforms have smaller platforms with taut lines running straight to the floor below. These are lighter but more vulnerable to earthquakes or tsunamis because they rely more on the mooring lines and anchors for stability.
Each platform must support the weight of the turbine and remain stable while the turbine operates. It can do this in part because the hollow platform, often made of large steel or concrete structures, provides buoyancy to support the turbine. Since some can be fully assembled in port and towed out for installation, they might be far cheaper than fixed-bottom structures, which requires specialty boats for installation on site.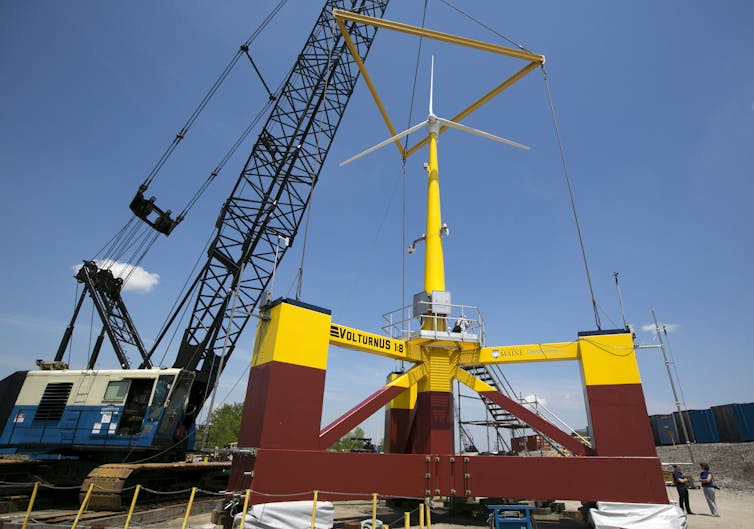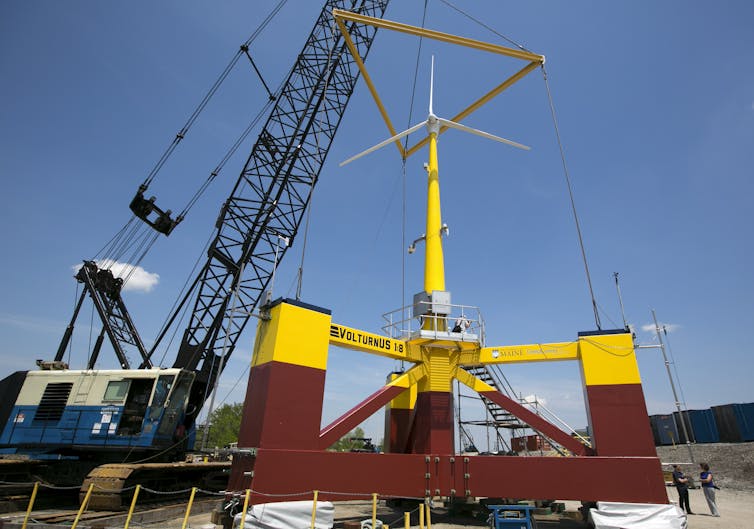 The University of Maine has been experimenting with a small floating wind turbine, about one-eighth scale, on a semi-submersible platform. It plans to launch a full-scale version with corporate partners in 2023. AP Photo / Robert F. Bukaty
Floating platforms can support wind turbines that can produce 10 megawatts or more of power – that's similar in size to other offshore wind turbines and several times larger than the capacity of a typical onshore wind turbine you might see in a field.

Why Do We Need Floating Turbines?
Some of the strongest wind resources are away from shore in locations with hundreds of feet of water below, such as off the U.S. West Coast, the Great Lakes, the Mediterranean Sea, and the coast of Japan.
In May 2021, Interior Secretary Deb Haaland and California Gov. Gavin Newsom announced plans to open up parts of the West Coast, off central California's Morro Bay and near the Oregon state line, for offshore wind power. The water there gets deep quickly, so any wind farm that is even a few miles from shore will require floating turbines. Newsom said the area could initially provide 4.6 gigawatts of clean energy, enough to power 1.6 million homes. That's more than 100 times the total U.S. offshore wind power today.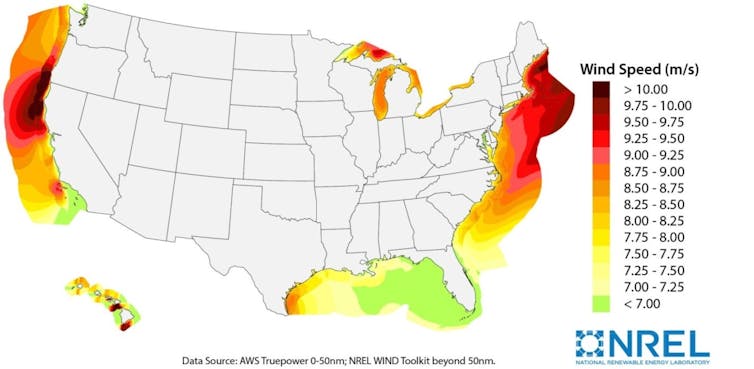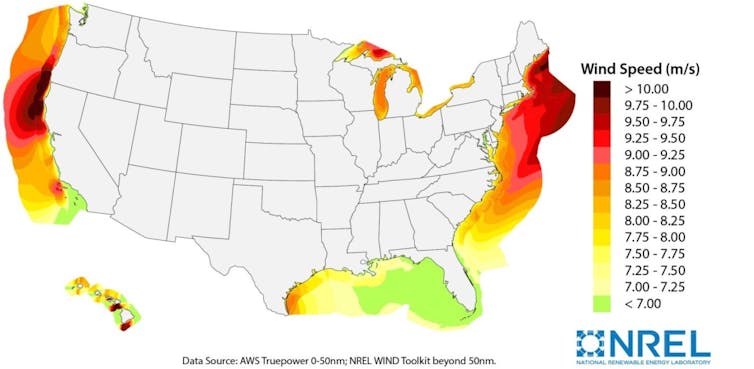 Globally, several full-scale demonstration projects are already operating in Europe and Asia. The Hywind Scotland project became the first commercial-scale offshore floating wind farm in 2017, with five 6-megawatt turbines supported by spar buoys designed by the Norwegian energy company Equinor.
While floating offshore wind farms are becoming a commercial technology, there are still technical challenges that need to be solved. The platform motion may cause higher forces on the blades and tower, and more complicated and unsteady aerodynamics. Also, as water depths get very deep, the cost of the mooring lines, anchors, and electrical cabling may becomes very high, so cheaper but still reliable technologies will be needed.
Expect to see more offshore turbines supported by floating structures in the near future.

Matthew Lackner is a professor of mechanical engineering at the University of Massachusetts Amherst.
Disclosure: Matthew Lackner receives funding from the U.S. Department of Energy.
Reposted with permission from The Conversation.
From Your Site Articles
Related Articles Around the Web
Radiation-contaminated water tanks and damaged reactors at the Fukushima Daiichi nuclear power plant on Feb. 25, 2016 in Okuma, Japan. Christopher Furlong / Getty Images
Japan will release radioactive wastewater from the failed Fukushima nuclear plant into the Pacific Ocean, the government announced on Tuesday.
The water will be treated before release, and the International Atomic Energy Agency said the country's plans were in keeping with international practice, The New York Times reported. But the plan is opposed by the local fishing community, environmental groups and neighboring countries. Within hours of the announcement, protesters had gathered outside government offices in Tokyo and Fukushima, according to NPR.
"The Japanese government has once again failed the people of Fukushima," Greenpeace Japan Climate and Energy Campaigner Kazue Suzuki said in a statement. "The government has taken the wholly unjustified decision to deliberately contaminate the Pacific Ocean with radioactive wastes."
The dilemma of how to dispose of the water is one ten years in the making. In March 2011, an earthquake and tsunami in northeastern Japan killed more than 19,000 people and caused three of six reactors at the Fukushima Daiichi nuclear power plant to melt down, The New York Times explained. This resulted in the biggest nuclear disaster since Chernobyl, and the cleanup efforts persist more than a decade later.
To keep the damaged reactors from melting down, cool water is flushed through them and then filtered to remove all radioactive material except for tritium. Up until now, the wastewater has been stored on site, but the government says the facility will run out of storage room next year. Water builds up at 170 tons per day, and there are now around 1.25 million tons stored in more than 1,000 tanks.
The government now plans to begin releasing the water into the ocean in two years time, according to a decision approved by cabinet ministers Tuesday. The process is expected to take decades.
"On the premise of strict compliance with regulatory standards that have been established, we select oceanic release," the government said in a statement reported by NPR.
Opposition to the move partly involves a lack of trust around what is actually in the water, as NPR reported. Both the government and Tokyo Electric Power Co., which operates the plant, say that the water only contains tritium, which cannot be separated from hydrogen and is only dangerous to humans in large amounts.
"But it turned out that the water contains more radioactive materials. But they didn't disclose that information before," Friends of the Earth Japan campaigner Ayumi Fukakusa told NPR. "That kind of attitude is not honest to people. They are making distrust by themselves."
In February, for example, a rockfish shipment was stopped when a sample caught near Fukushima tested positive for unsafe levels of cesium.
This incident also illustrates why local fishing communities oppose the release. Fish catches are already only 17.5 percent of what they were before the disaster, and the community worries the release of the water will make it impossible for them to sell what they do catch. They also feel the government went against its promises by deciding to release the water.
"They told us that they wouldn't release the water into the sea without the support of fishermen," fishery cooperative leader Kanji Tachiya told national broadcaster NHK, as CBS News reported. "We can't back this move to break that promise and release the water into the sea unilaterally."
Japan's neighbors also questioned the move. China called it "extremely irresponsible," and South Korea asked for a meeting with the Japanese ambassador in Seoul in response.
The U.S. State Department, however, said that it trusted Japan's judgement.
"In this unique and challenging situation, Japan has weighed the options and effects, has been transparent about its decision, and appears to have adopted an approach in accordance with globally accepted nuclear safety standards," the department said in a statement reported by The New York Times.
But environmentalists argue that the government could have found a way to continue storing waste.
"Rather than using the best available technology to minimize radiation hazards by storing and processing the water over the long term, they have opted for the cheapest option, dumping the water into the Pacific Ocean," Greenpeace's Suzuki said.
A seismometer measures the movement of the earth. Gary S Chapman / Getty Images
By Fabian Schmidt
Researchers have discovered an interesting similarity in two of the largest recent earthquakes in Japan and Chile: a strange large-scale ground movement back and forth in the months leading up to the quake.
These earthquakes are among the 10 strongest ever measured: the 2011 Tohoku-oki seaquake off the coast of Japan registered 9.0 on the moment magnitude scale, triggering the devastating tsunami that destroyed the Fukushima Nuclear Power Plant. It was the fourth-strongest quake in the last 100 years. The 2010 seaquake off the coast of the Maule region of Chile, occupies sixth place on the list.
Researchers from the Geoforschungszentrum Potsdam (GFZ) along with collaborators from Chile and the United States have now discovered astonishing similarities in the months before both quakes: multiple strange reversals of ground motion — an extremely slow "wobbling" of the continental plate, so to speak.
Lead author, geophysicist Jonathan Bedford, along with a team of geodesists, geologists and seismologists, evaluated the movements of ground stations of the Global Navigation Satellite System (GNSS).
These ground stations continuously track the distances to multiple GNSS satellites that orbit the earth in elliptical orbits. After these distances have been established, and given the estimates of the satellite positions, geodesists are able to define the motion of points on the Earth within a terrestrial reference frame.
In Japan, there is a very dense network of ground stations. Although the network in Chile was not as dense in 2010, it was sufficient to obtain the data.
Whole Continental Plate 'Wobbles'
Bedford and his colleagues analyzed how the ground stations in Japan and Chile had moved in the five years before the two quakes. They noticed that the motion of the continental plate on which the stations are located had been reversed several times in the last five months before the quake (in the case of Japan) and seven months (in the case of Chile). The researchers published their results in the scientific journal Nature.
Both plate boundaries are subduction zones. Subduction is the process of one plate diving under another. In both study regions, the oceanic plates are subducting underneath the continental plates and meet at a place called the trench, which for both cases is submerged under the ocean. Normally, the continental plate is pressed by the oceanic plate and thus pushed away from the trench. However, the geophysicists have now discovered that this movement was first reversed in the direction of the trench, then away from the trench, then back towards the trench again.
Same Movement Over Thousands of Kilometers
They call this phenomenon "wobbling," due to its appearance in the GNSS time series. The amplitude of this movement is not particularly great — it was only between 4 and 8 millimeters — but Bedford points out that this is significant compared to the relative plate motion that can be a few centimeters per year. Furthermore, the spatial extent of the signal extended thousands of kilometers along the plate boundaries.
"It is a common assumption that deeper subduction proceeds at a fairly constant speed in between large earthquakes," says Bedford. "Our study shows that this assumption is an oversimplification. In fact, its variability might be a key factor in understanding how the largest earthquakes nucleate."
With global satellite tracking now becoming better and better, and with accurate data available for the first time in decades, earthquake researchers have an ever-increasing ability to make such observations.
"We can now trace movements back decades," says Bedford. "In the next stage, we'd like to monitor the changes in near real time."
Not Suitable as an Early Warning System
Until now, seismologists have been more able to say where large earthquakes are likely to occur — less able to say when. By simply calculating the magnitude of the last large earthquake in a region and knowing the average relative plate velocity, one can estimate when that fault will be mature enough to sustain a repeat event, although there are great uncertainties in this approach. This is because sometimes a fault will rupture only over a smaller area (e.g. with a "large" magnitude 8 event) and other times it will rupture over many magnitude 8 regions all at once (e.g. in a "mega" magnitude 9 event).
Could an observed untypical plate movement therefore give us a better warning of an imminent earthquake? Not really.
"It would not be wise for a geophysicist to issue such a warning," is Bedford's sobering answer. "The observed signals of this study are not necessarily precursory movements of a major quake."
More research is necessary and as a matter of principle, people in known earthquake areas should not let their guard down.
"The general public should always be prepared," Bedford warns.
Reposted with permission from Deutsche Welle.
A USGS map showing the location of a 6.5 magnitude quake that shook Idaho Tuesday evening. USGS
Idaho residents were rattled Tuesday evening by the biggest earthquake to shake the state in almost 40 years.
The 6.5 magnitude quake struck just before 6 p.m. local time 73 miles northeast of Meridian, The Associated Press reported. It caused no known damage or injuries, but plenty of surprise.
"At first I thought it was thunder, weird thunder, but then the house was moving and I realized this is an earthquake — a really big earthquake," Boise resident Melissa Hawkins, 44, told USA Today.
All told, more than two million people might have felt the earthquake, according to U.S. Geological Survey (USGS) figures reported by The Associated Press. Reports of shaking came from as far as Spokane, Washington; Bozeman, Montana; and Salt Lake City, Utah, according to USA Today.
Here's an interesting visualization of "Did You Feel It?" reports for the #IdahoEarthquake. Head over to the @USGS… https://t.co/dELFgCELYt

— Jess Phoenix 🌋 (@Jess Phoenix 🌋) 1585702139.0
Evaro, Montana resident Shannon Patton at first blamed her health.
"I actually thought I was having a dizzy spell to begin with due to my migraine," Patton told USA Today in an email. "Our light fixtures were shaking and one of our signs on our pantry door almost fell off."
Earthquake near Boise, Idaho. Watching now for the four horsemen... https://t.co/qavCnyBGLl

— Elaine Ambrose (@Elaine Ambrose) 1585699128.0
Despite tweets warning of the apocalypse, Caltech seismologist Dr. Lucy Jones told The Associated Press that the Idaho region has an earthquake around this size every 30 to 40 years.
The last was actually much worse: the 6.9 Borah Peak earthquake of 1983. That quake struck near the town of Challis and killed two school children when they were buried under rubble, CNN reported. It also cost the state $12.5 million in property damage.
The 1983 quake was along a "normal fault," which causes vertical movement, Jones told The Associated Press. Tuesday's quake, on the other hand, was on an unmapped "strike-slip fault," which causes horizontal movement. Jones said it was not uncommon for faults in remote areas to go unmapped, since they are less likely to cause damage.
"This is one that wasn't obvious enough to be mapped before now," Jones told The Associated Press.
But she further explained on Twitter why Idaho sees earthquakes.
"Idaho is part of the Basin and Range tectonic province. Everything west of the Wasatch Mtns. is getting slowly stretched out as a bit of North America tries to cling to the Pacific plate," she wrote.
Idaho is part of the Basin and Range tectonic province. Everything west of the Wasatch Mtns. is getting slowly stre… https://t.co/mmHtOWAeJU

— Dr. Lucy Jones (@Dr. Lucy Jones) 1585701440.0
Jones said to expect aftershocks, and the USGS reported a 4.8 magnitude one about an hour after, according to USA Today. More, smaller tremors were felt throughout the evening.
From Your Site Articles
Related Articles Around the Web
Flames approach homes during the Blue Ridge Fire on October 27, 2020 in Chino Hills, California. David McNew / Getty Images
By Tara Lohan
2020 was so bad that even disasters outdid themselves. Last year the United States alone experienced at least 16 weather and climate disasters with losses topping $1 billion each. That's more than twice the long-term average.
What's worse: Expensive disasters are on the rise. 2020 was the sixth year in a row that the United States saw 10 or more billion-dollar weather and climate disasters. And as climate change supercharges storms, wildfires and droughts, this trend will continue to climb.
To stave off the worst outcomes, scientists say we need to reduce greenhouse gas emissions, which will require steadfast effort from elected officials, policymakers and businesses.
But since there are no quick fixes for the climate changes already underway, there's one group of experts we'll also need to call on: emergency managers. Unfortunately, although they're tasked with making sure communities are prepared to respond to disasters, they're often left out of conversations about climate change.
Samantha Montano, an assistant professor of emergency management at Massachusetts Maritime Academy, and a "disasterlogist," has been working to change that. She's also been calling for emergency management professionals, including government agencies like FEMA, to put the climate crisis and environmental justice at the forefront of their work.
We spoke to Montano about why we need emergency managers involved in climate conversations, whether disasters are on the rise, and how we prepare for a future with climate-supercharged storms.
We often think of emergency management as responding to "natural disasters," but as you wrote in an op-ed for The Washington Post, that term is a bit fraught.
Disaster experts don't really use the term "natural disaster" because it's a bit of a misnomer. When we're talking about disasters, we're talking about the actual human toll that they take. Is it the fact that a river, which naturally overflows its banks, has caused the disaster? Or is it that we have built homes right next to the river; that we have not maintained the levees that are meant to protect those homes from flooding; that the people who live in that neighborhood and don't have a lot of money aren't able to evacuate; that there aren't government programs there to help people recover quickly?
All of those things are not natural, right? Those are the human decisions that have ended up making a situation into a disaster. So while a river overflowing its banks may be natural, the fact that it has led to a disaster isn't. So that term "natural disaster" helps to obscure the role of human responsibility in disasters. If everything that happens are just these natural events that we have no control over, then some people may think we can't do anything about it.
This thinking isn't new in disaster research, but it has gotten a bit more attention in recent years as folks try to understand how climate change fits into all of this. The new term that we hear people using is "climate disaster," which runs into a similar problem.
Climate change may be a factor that is contributing to a disaster that happened, but it's certainly, again, not the only factor. But if we understand the root causes better, then we can make different decisions and prevent disasters from happening.
There's ample evidence that climate change is supercharging a lot of weather events. Are emergency managers included in conversations about how to fight climate change?
Within the broader climate change conversation, most of the focus is on carbon emissions and that's very important. And more recently we've seen an uptick in conversations about climate adaptation, which is also important as we begin to experience the consequences of climate change.
But we hear much less about the pretty significant overlap between climate adaptation and what we in emergency management call "hazard mitigation." It feels sometimes from an emergency management perspective like we're reinventing the wheel a little bit.
Flooding and wildfires aren't new. We in the emergency management community have been dealing with these hazards for a very long time and we have a lot of knowledge about them. We want to make sure that, especially because of the urgency of the climate crisis, we are pulling from this base of knowledge and experience that we have.
How much emergency management is integrated into conversations about climate change varies greatly across the country. Maine, for example, just released their plan for a statewide climate council and emergency managers were all on that committee and helped to produce the plan.
This is a great example of trying to bridge emergency management and adaptation work. But there are other places in the country where you have a part-time emergency manager working in a rural community and they don't have the resources or they're not a part of those climate conversations. There's definitely more work that needs to be done to help bring emergency management and climate adaptation work together.
Climate change can help fuel short-term hazards, like a hurricane, or lead to slow-moving threats such as sea-level rise. How do you differentiate between these from a management perspective?
We think about hurricanes, wildfires — these more acute events — as ones that emergency management is very obviously on the front line of managing. But issues like sea-level rise, and even longer-term chronic issues like droughts, are areas emergency management is still involved in because it still has an impact on our overall risk.
Something like an earthquake, which seems pretty far removed from climate change itself, is actually impacted by climate change. Because when we think about the vulnerabilities in our communities that climate change exacerbates, that has an effect on how people are, or aren't, able to respond to an earthquake or the resources that can go toward preparing for an earthquake or mitigating damages.
So even these events that seem more chronic, or don't seem like they have this direct link to climate change, are actually pretty significantly affected from an emergency management perspective.
It seems there's a new disaster almost every day. Are there really more now? And is climate change to blame?
It's pretty difficult to find any part of the country that has been untouched by disaster in the past few years. I also think that the way we consume media now also makes them feel more present.
We watch these disasters unfold live on television in front of us. We get alerts sent to our pockets when a disaster happens. So it's everywhere.
Climate change, though, I think is a huge part of that. I heard people joke around about not being able to wait until 2020 ends. And I get that. It was a really bad year. But these disasters aren't just going to go away. We're not making the changes we need to be to lessen those disasters or prevent those disasters from happening. We're in this for the long haul until we start making some different choices.
The coronavirus pandemic is a different kind of disaster than a weather-related event. What were the biggest lessons you'll take away from our response to it?
The way that we normally approach emergency management in these acute disasters is with help converging from neighboring communities, the state and the federal government. This March, however, was the first time that every single emergency agency in the country at all levels of government was activated simultaneously. So we didn't have the mutual aid, expertise and funding that we can usually send to places in a crisis because everyone was in the middle of their own crisis.
That has never happened before in the United States. It was a unique situation to see the strain on our systems and to start doing research and analyzing the effect that it has had on the response.
I draw the parallel there to climate change. Not that there is going to be a flood happening in every single state at one time, but as we see our risk increase, we'll see these disasters increase. In 2017 we saw hurricanes Harvey, Irma and Maria all happening nearly at once.
When that happens, what is our ability to meet all of those needs? How does the capacity of the emergency management system handle that? I think COVID has given us a little bit of a window into the future.
As a researcher I'm really hopeful that by studying how emergency management agencies specifically have responded to COVID we'll be able to take that data and take those findings and use it to inform policy changes for emergency management as we go into the climate crisis.
You have a book coming out this summer about climate change and emergency management. Who do you hope it reaches?
The book I'm writing is a combination of my experience going to different disasters and pulls from the disaster research to help the public understand what emergency management is and all that is involved in disasters. But it's also a pretty stark warning about the problem that we are barreling headfirst into in terms of how the emergency management system is unprepared to address the consequences of the climate crisis.
It's a book that will hopefully inspire people to some kind of action, whether locally or nationally, to make sure that disaster survivors across the country, who are the ones on the front lines of the climate crisis, are getting the help that they need. And that we're doing everything we can to prevent those disasters from happening. I'm hoping that it's really an empowering book that gives people the language and the education that they need to play a more active role in their community.
Tara Lohan is deputy editor of The Revelator and has worked for more than a decade as a digital editor and environmental journalist focused on the intersections of energy, water and climate. Her work has been published by The Nation, American Prospect, High Country News, Grist, Pacific Standard and others. She is the editor of two books on the global water crisis.
Reposted with permission from The Revelator.
A Croatian fireman walks past rubble in a street of downtown Zagreb, Croatia on March 22, 2020, after a 5.3 magnitude earthquake hit the country. DAMIR SENCAR / AFP via Getty Images
Croatia's capital of Zagreb was rocked Sunday by its strongest earthquake in 140 years, which pushed people out into the streets at exactly the moment they were supposed to stay indoors to fight the spread of the coronavirus.
The earthquake caused widespread damage, injured 17 and forced hospitals to evacuate, The Guardian reported. But earthquake survivors also had to worry about staying apart while out in the streets.
"Keep your distance. Don't gather together. We are facing two serious crises, the earthquake and the epidemic," Interior Minister Davor Bozinovic advised, as BBC News reported.
Among the locations evacuated was a maternity hospital, according to The Guardian. Mothers and their babies stood outside in a freezing parking lot before the army moved them and their incubators to a new location.
A destructive 5.4 magnitude #earthquake hit Zagreb, Croatia this morning - the strongest in 140 years!💔 It breaks m… https://t.co/BffpxXBKXD

— Angjelina👼🏻 (@Angjelina👼🏻) 1584880448.0
The quake was a magnitude 5.4 according to the European Mediterranean Seismological Centre, and it rattled the city at 6:24 a.m. local time.
Initial reports said one 15-year-old was killed, but doctors then said the patient was in critical condition, The Associated Press reported. The quake also damaged several buildings, including the historic Zagreb cathedral and the country's parliament, The Guardian reported.
One spire of the cathedral, which was rebuilt following another earthquake in 1880, collapsed, and the parliament building was so badly damaged that its speaker Gordan Jandroković said sessions would have to be postponed.
"The damage is quite extensive. Walls and stairways have cracked on the upper floor and one section of the roof has been destroyed," Jandroković said.
Zagreb Cathedral tower is damaged https://t.co/Pazq7ghNOp

— Ankica Zovko (@Ankica Zovko) 1584857183.0
But the earthquake wasn't the only danger facing Croatians Sunday morning. They also had to consider COVID-19, which has sickened at least 235 people in the country so far. Zagreb is on partial lockdown, The Associated Press reported. Residents had been advised to avoid public places and only gather in groups of five with distance between them.
Health Minister Vili Beros told residents to stand two meters (approximately 6.6 feet) apart as they waited in the streets.
"Earthquakes are dangerous, but coronavirus is even more so," Beros said.
Soldiers wore masks as they shoveled debris.
The government initially advised people to leave their homes, BBC News reported, but Zagreb's Mayor Milan Bandic then recommended they return home, since 80 percent of Zagreb residents live in structures reinforced with concrete.
Prime Minister Andrej Plenkovic acknowledged the confusion of the situation.
"We have two parallel cris[es] that contradict each other," he said, according to The Associated Press.
From Your Site Articles
Related Articles Around the Web
The Tokyo Electric Power Company's Fukushima Daiichi nuclear power plant is seen from Futaba Town, Fukushima prefecture on March 11, 2020. STR / JIJI PRESS / AFP/ Getty Images
By Brett Wilkins
In what Japanese regulators on Wednesday called an "extremely serious" development, lethal levels of radiation have been recorded inside the damaged reactor building at the Fukushima No. 1 nuclear power plant, threatening the shutdown and decommissioning of the site of the second-worst peacetime nuclear disaster in history.
According to The Asahi Shimbun, Japan's Nuclear Regulation Authority (NRA) reported that massive amounts of radioactive materials have been found around shield plugs of the containment vessels in the No. 2 and No. 3 reactors.
NRA officials estimated radiation levels at 10 sieverts per hour—enough to kill a worker who spends just one hour there.
Decommission of the reactor requires workers to remove the shield plugs, which block radiation from the reactor core during normal plant operation. This discovery has forced officials to reconsider their shutdown plans.
NRA chair Toyoshi Fuketa said that removing the highly irradiated shield plugs made safe retrieval of nuclear fuel debris—an already dangerously daunting task—all the more difficult.
"It appears that nuclear debris lies at an elevated place," Fuketa said at a news conference earlier this month. "This will have a huge impact on the whole process of decommissioning work."
The latest alarming find is the result of an investigation that resumed in September after a five-year pause in which the NRA took new measurements of radiation levels around the shield plugs at the No. 2 and No. 3 reactors.
Tokyo Electric Power Co., the operator of the plant, announced December 24 that nuclear fuel debris removal would be postponed until 2022 or later due to the coronavirus pandemic.
As Common Dreams reported in October, Greenpeace and other environmental and anti-nuclear advocates expressed shock and outrage after the Japanese government announced a plan to release stored water from the ill-fated plant into the Pacific Ocean. Greenpeace subsequently released a report claiming that radioactive carbon-14 released into the ocean "has the potential to damage human DNA."
The Fukushima Daiichi disaster—the result of a 2011 earthquake and tsunami that killed more than 15,000 people in northeastern Japan—was the worst nuclear incident since the 1986 Chernobyl meltdown in the former Soviet Union, and the worst in Japan since the United States waged a nuclear war against the country in 1945 that killed hundreds of thousands of people.
Reposted with permission from Common Dreams.