17-year-old Shreya Ramachandran has already won awards for her research into reusing "grey water." Shreya Ramachandran
By Jeremy Deaton
Shreya Ramachandran, 17, remembers witnessing California's water crisis firsthand on a visit to Tulare County in 2014, when she was still a preteen. Tulare spans a large swath of farmland in California's Central Valley, and at that time, locals were facing dire water shortages amid an ongoing drought made worse by climate change.
"I was talking to some of the people in the area whose wells completely ran dry, and they were left without water because they weren't connected to the central water grid. They were trucking water in for even basic needs," she said. "I was really affected by their stories, and I wanted to do something to help."
The experience spurred Ramachandran, who lives in Fremont, California, to find ways to reuse water from sinks, showers and laundry machines, what's known as grey water, to help people better cope with intense drought. She has won numerous awards for her research, was named a global finalist in the 2019 Google Science Fair, and is featured in the forthcoming PBS Peril and Promise climate change documentary, The Power of Us.
Ramachandran said that after she returned home from Tulare she made every effort to conserve water in her life. She took shorter showers and turned off the tap when brushing her teeth, but it had little effect on how much her house consumed.
Around that time, Ramachandran's grandmother was visiting from India, and she had brought with her a handful of soap nuts. A soap nut, also known as a soap berry, is a small yellow or brown fruit encased in a hard, brown shell. Soap nuts are native to India, where they are used for bathing. Massage one in a bowl of water, and it will begin to lather and smell of apples, Ramachandran said.
"I was using them as a shampoo, and I was thinking, 'Okay, if they can be used for this purpose, maybe soap nuts can be used as an alternative laundry detergent as well. And then we can reuse the water because soap nuts are all-natural,'" she said. "The best ideas come to you when you're in the shower."
Ramachandran said that soap nuts, which are often sold as a detergent, make for an effective cleaning agent. One only needs to put four or five nuts in a cloth bag and toss it in with their laundry, and they can reuse that bag of nuts as many as 10 times, making soap nuts significantly cheaper than organic detergent. Ramachandran wanted to see if the leftover water could be used to nourish plants.
"I read a ton of papers. I developed a project plan. And I contacted universities up and down in California. I sent so many cold emails, did so many cold calls until, finally, a really wonderful professor at UC Berkeley agreed to look over my project plan and greenlight it," she said.
That professor was environmental scientist Céline Pallud, who studies soil. She said that Ramachandran's experiments were comparable to the work of a college student, which she said was "extremely impressive," given that she was only 12 when she undertook the research.
Ramachandran tested the laundry water on tall fescue, a type of turfgrass, and an assortment of vegetables, comparing the effect of soap nuts with organic and conventional soaps and detergents. That would mean setting up dozens of pots in a highly controlled space.
"I kicked my parents out of the master bedroom because I needed a space that was as close to a greenhouse as possible, and the master bedroom had ideal—and I mean, seriously, ideal—lighting and temperature conditions," she said. Fortunately, her parents, both computer engineers, were willing to accommodate her.
"I didn't take her seriously at first and tried to talk her into considering alternate places," said her mother, Hiran Rajagopalan. "Ultimately, I didn't want to disappoint her. After all, she was only trying to do science."
Ramachandran tracked nutrients and bacteria in the soil and kept a close eye on the health of the grass. She looked for traces of E. coli, which can make people severely ill if consumed. She worked continuously, even on Christmas and New Year's Day, and she took advanced classes in statistics to learn how to analyze all the data collected.
"I found that grey water from soap nuts, as well as several organic detergents, could be reused safely for non-potable uses," she said. "But grey water that was generated from [conventional] soaps that had things like soluble salts and boron, that became very detrimental because those ingredients accumulated in the grey water and then made it unusable for crop irrigation."
Ramachandran went on to found her own nonprofit, The Grey Water Project, which teaches people how to recycle grey water in their own homes. She does workshops at schools, libraries and corporate events, and she developed a grey water science curriculum that has been implemented in more than 90 schools so far.
"I tell people what the best practices are for grey water reuse. And I let them know, 'These are the detergents you should be using," she said. "My ultimate goal is essentially for grey water reuse to be just as common as paper or plastic recycling."
Ramachandran, now a senior in high school, is applying to colleges and has already been accepted to Stanford. She wants to study biology and environmental science to continue the kind of work she is already doing. But she also wants to study public policy to help make use of good science.
"I've learned a lot about what it means to be a scientist," she said. "You can use science to develop the solutions, but it's equally important to implement them."
Reposted with permission from Nexus Media.
EcoWatch Daily Newsletter
Dry conditions across the West follow a hot, dry year of record-setting wildfires in 2020. Communities were left with scenes like this, from California's Creek Fire. Amir AghaKouchak / University of California Irvine
By Mojtaba Sadegh, Amir AghaKouchak and John Abatzoglou
Just about every indicator of drought is flashing red across the western U.S. after a dry winter and warm early spring. The snowpack is at less than half of normal in much of the region. Reservoirs are being drawn down, river levels are dropping and soils are drying out.
It's only May, and states are already considering water use restrictions to make the supply last longer. California's governor declared a drought emergency in 41 of 58 counties. In Utah, irrigation water providers are increasing fines for overuse. Some Idaho ranchers are talking about selling off livestock because rivers and reservoirs they rely on are dangerously low and irrigation demand for farms is only just beginning.
Scientists are also closely watching the impact that the rapid warming and drying is having on trees, worried that water stress could lead to widespread tree deaths. Dead and drying vegetation means more fuel for what is already expected to be another dangerous fire season.
U.S. Interior Secretary Deb Haaland and Agriculture Secretary Tom Vilsack told reporters on May 13, 2021, that federal fire officials had warned them to prepare for an extremely active fire year. "We used to call it fire season, but wildland fires now extend throughout the entire year, burning hotter and growing more catastrophic in drier conditions due to climate change," Vilsack said.
As climate scientists, we track these changes. Right now, about 84% of the western U.S. is under some level of drought, and there is no sign of relief.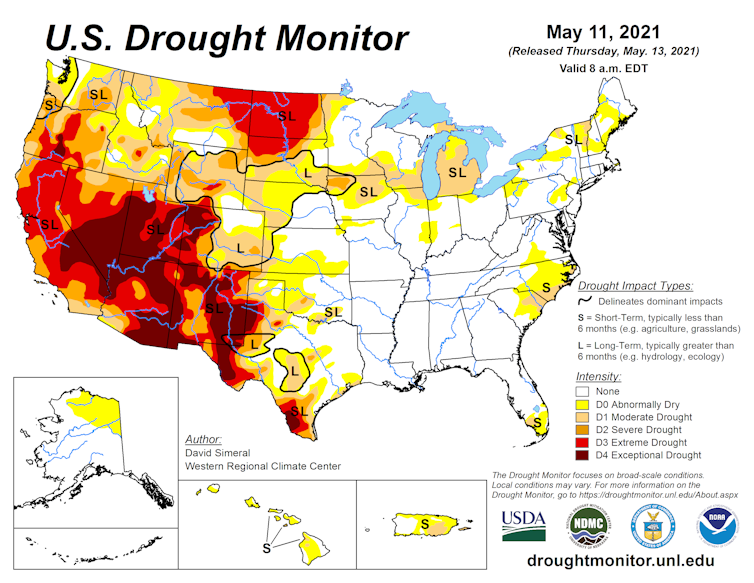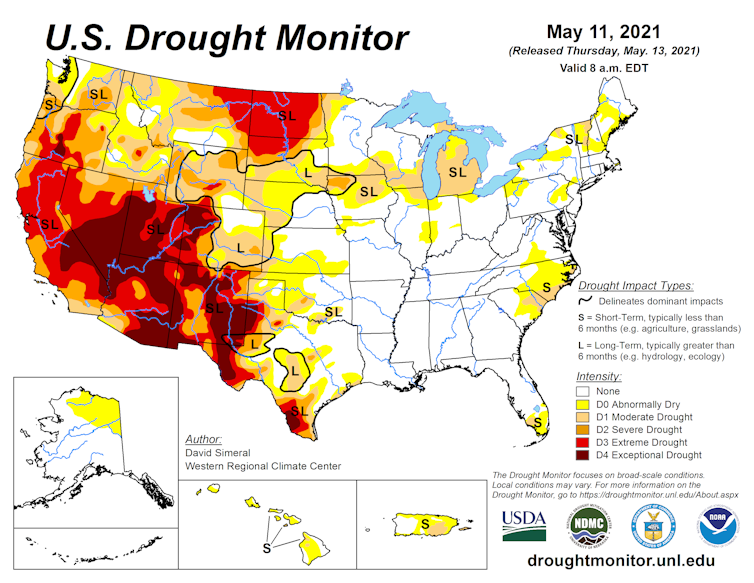 The U.S. Drought Monitor for mid-May shows nearly half of the West in severe or extreme drought. National Drought Mitigation Center/USDA/NOAA
The Many Faces of Drought
Several types of drought are converging in the West this year, and all are at or near record levels.
When too little rain and snow falls, it's known as meteorological drought. In April, precipitation across large parts of the West was less than 10% of normal, and the lack of rain continued into May.
Rivers, lakes, streams and groundwater can get into what's known as hydrological drought when their water levels fall. Many states are now warning about low streamflow after a winter with less-than-normal snowfall and warm spring temperatures in early 2021 speeding up melting. The U.S. Bureau of Reclamation said Lake Mead, a giant Colorado River reservoir that provides water for millions of people, is on pace to fall to levels in June that could trigger the first federal water shortage declaration, with water use restrictions across the region.
Dwindling soil moisture leads to another problem, known as agricultural drought. The average soil moisture levels in the western U.S. in April were at or near their lowest levels in over 120 years of observations.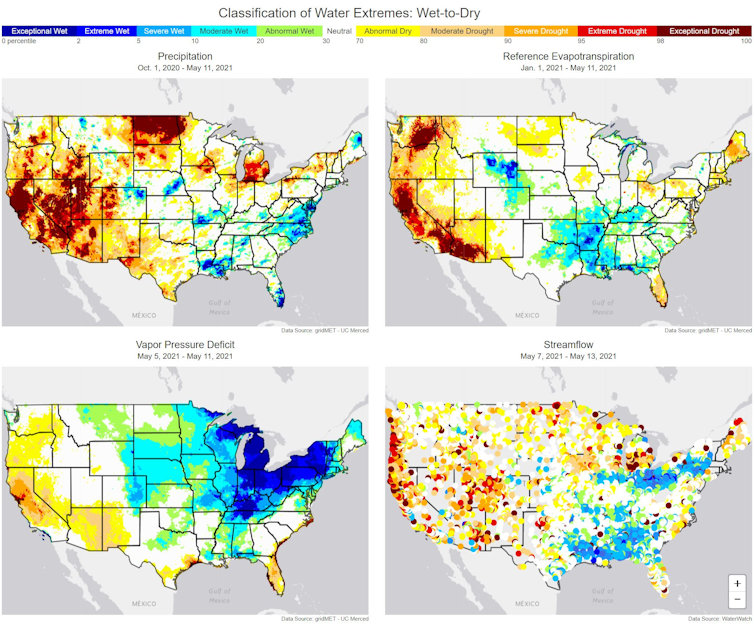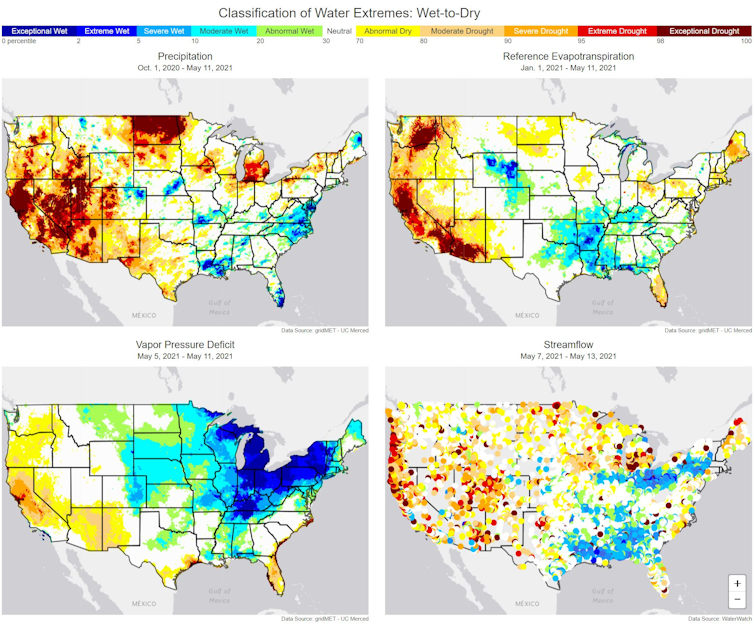 Four signs of drought. Climate Toolbox
These factors can all drive ecosystems beyond their thresholds – into a condition called ecological drought – and the results can be dangerous and costly. Fish hatcheries in Northern California have started trucking their salmon to the Pacific Ocean, rather than releasing them into rivers, because the river water is expected to be at historic low levels and too warm for young salmon to tolerate.
Snow Drought
One of the West's biggest water problems this year is the low snowpack.
The western U.S. is critically dependent on winter snow slowly melting in the mountains and providing a steady supply of water during the dry summer months. But the amount of water in snowpack is on the decline here and across much of the world as global temperatures rise.
Several states are already seeing how that can play out. Federal scientists in Utah warned in early May that more water from the snowpack is sinking into the dry ground where it fell this year, rather than running off to supply streams and rivers. With the state's snowpack at 52% of normal, streamflows are expected to be well below normal through the summer, with some places at less than 20%.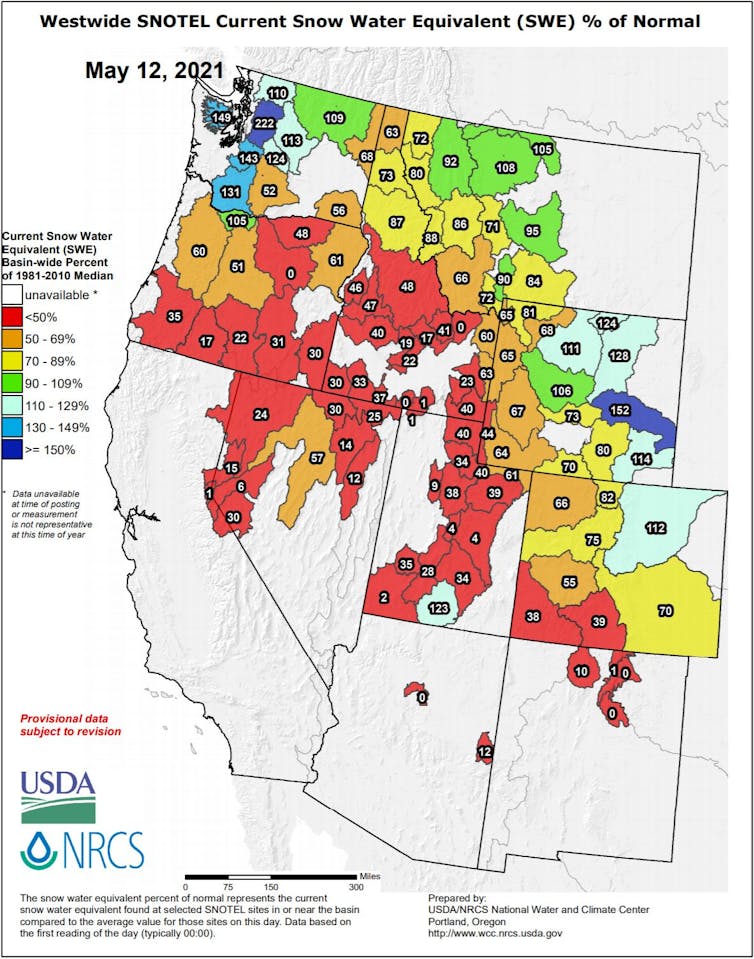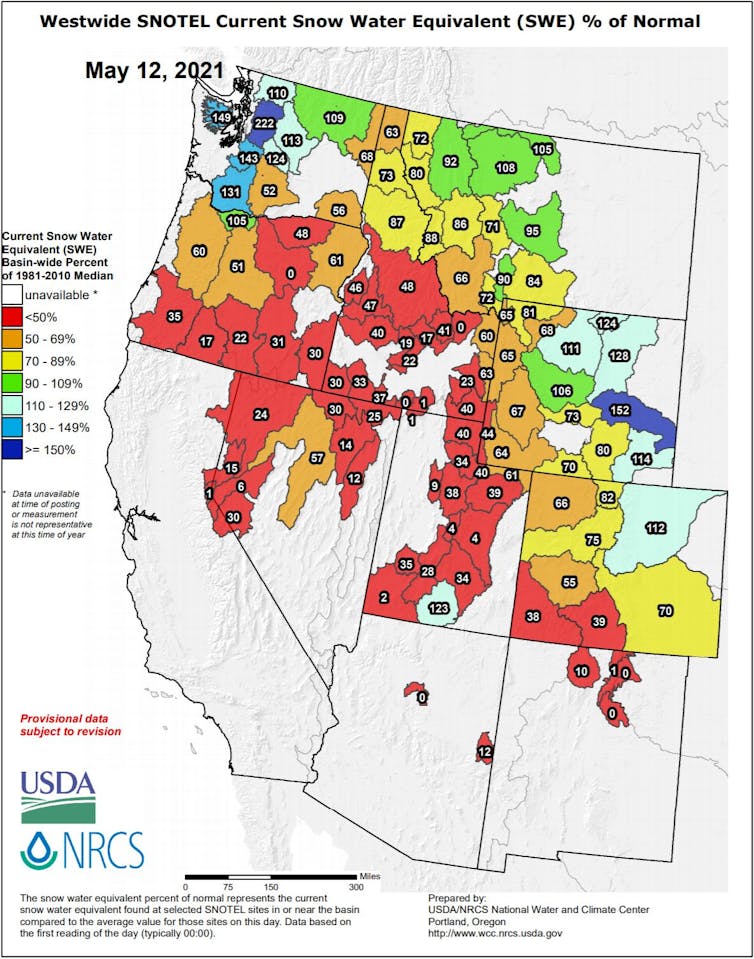 Snowpack is typically measured by the amount of water it holds, known as snow water equivalent. National Resource Conservation Service
Anthropogenic Drought
It's important to understand that drought today isn't only about nature.
More people are moving into the U.S. West, increasing demand for water and irrigated farmland. And global warming – driven by human activities like the burning of fossil fuels – is now fueling more widespread and intense droughts in the region. These two factors act as additional straws pulling water from an already scarce resource.
As demand for water has increased, the West is pumping out more groundwater for irrigation and other needs. Centuries-old groundwater reserves in aquifers can provide resilience against droughts if they are used sustainably. But groundwater reserves recharge slowly, and the West is seeing a decline in those resources, mostly because water use for agriculture outpaces their recharge. Water levels in some wells have dropped at a rate of 6.5 feet (2 meters) per year.
The result is that these regions are less able to manage droughts when nature does bring hot, dry conditions.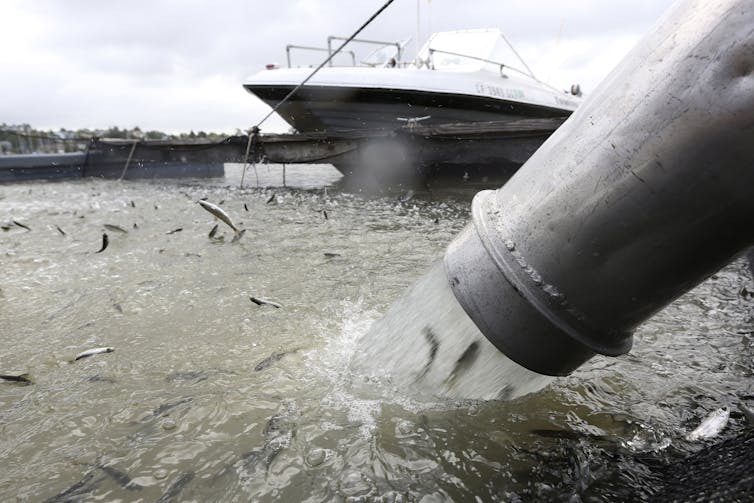 California fish hatcheries have started trucking their salmon to the Pacific Ocean because the rivers they are usually released into are too low and warm. AP Photo / Rich Podroncelli
Rising global temperatures also play several roles in drought. They influence whether precipitation falls as snow or rain, how quickly snow melts and, importantly, how quickly the land, trees and vegetation dry out.
Extreme heat and droughts can intensify one another. Solar radiation causes water to evaporate, drying the soil and air. With less moisture, the soil and air then heat up, which dries the soil even more. The result is extremely dry trees and grasses that can quickly burn when fires break out, and also thirstier soils that demand more irrigation.
Alarmingly, the trigger for the drying and warming cycle has been changing. In the 1930s, lack of precipitation used to trigger this cycle, but excess heat has initiated the process in recent decades. As global warming increases temperatures, soil moisture evaporates earlier and at larger rates, drying out soils and triggering the warming and drying cycle.
Fire Warnings Ahead
Hot, dry conditions in the West last year fueled a record-breaking wildfire season that burned over 15,900 square miles (41,270 square kilometers), including the largest fires on record in Colorado and California.
As drought persists, the chance of large, disastrous fires increases. The seasonal outlook of warmer and drier-than-normal conditions for summer and fire season outlooks by federal agencies suggest another tough, long fire year is ahead.
Mojtaba Sadegh is an assistant professor of civil engineering at Boise State University.
Amir AghaKouchak is an associate professor of civil & environmental engineering at the University of California, Irvine.
John Abatzoglou is an associate professor of engineering at the University of California, Merced.
Disclosure statement: Mojtaba Sadegh receives funding from the National Science Foundation. Amir AghaKouchak receives funding from National Science Foundation, National Oceanic and Atmospheric Administration and National Aeronautics and Space Administration. John Abatzoglou receives funding from the National Oceanic and Atmospheric Administration and the National Science Foundation.
Reposted with permission from The Conversation.
Madeleine_Steinbach / iStock / Getty Images
Krill oil has gained a lot of popularity recently as a superior alternative to fish oil. Basically, the claim goes, anything fish oil can do, krill oil does better. Read on to learn what makes krill oil supplements better than fish oil supplements, why you should consider these vitamin supplements, and which brands we recommend.
What is Krill Oil?
Krill oil is made from a tiny, shrimp-like crustaceans that live in the ocean and usually serve as whale food. In fact, krill means "whale food" in Norwegian. These tiny organisms actually play an extremely important role in the food chains of marine ecosystems. The krill used to make krill oil are usually found in the waters around Antarctica.
Just like the fish oils found in supplements, krill oil is rich in omega 3 fatty acids that contain EPA and DHA, two compounds that are proven to have a number of health benefits.
But what makes krill oil better than fish oil?
It's believed that krill oil is better absorbed in the body than fish oil. Both derive most of their benefits through the EPA and DHA that are contained in their fatty acid stores. However, for the same dose, krill oil will result in more fatty acids in the blood than fish oil. A potential explanation for this is that while fish oil's fatty acids come as triglycerides, krill oil's come as phospholipids which are more easily processed by the body.
Additionally, krill oil contains astaxanthin which is an antioxidant that has anti-inflammatory properties that might have an enhanced positive effect on heart health. Studies have shown that krill oil is more effective than fish oil at lowering blood pressure and lowering bad cholesterol.
Our Picks for the Best Krill Oil Supplements
Each product featured here has been independently selected by the writer. You can learn more about our review methodology here. If you make a purchase using the links included, we may earn commission.
How We Chose the Best Krill Oil Supplements
Here are the factors that we considered when comparing the best krill oil brands to create our list of recommended supplements.
Omega-3 Content - We looked to see the amount of omega-3 fatty acids contained in each krill oil softgel or capsule.
Astaxanthin Content - The best krill oil pills contain this naturally-occurring antioxidant.
Third-Party Lab Testing - For any nutritional supplement, we choose brands that guarantee the quality of their product through independent lab testing.
Krill Source - We also compared these supplements for the source of their krill oil, and only recommend brands that use sustainably-harvested krill.
The 5 Best Krill Oil Supplements
The Research on Krill Oil Supplements
Research has long demonstrated the health benefits of omega-3 fatty acids commonly found in foods like fish, nuts, and certain grains like flax seed. Since krill oil naturally contains higher levels of these beneficial nutrients, it has also been found to provide a number of health benefits.
Numerous studies have linked the omega-3 fatty acids found in fish and krill oil to cardiovascular health, finding that those who ingest higher levels of these nutrients are at lower risk for coronary heart disease, potentially lower risk of stroke, and have lower cholesterol levels. Another study found that krill oil supplements offer a safe alternative to fish oil for those seeking cardiovascular benefits in a smaller and more convenient form.
Krill oil supplementation has also been found to help reduce the symptoms of knee and joint pain.
Additionally, researches found that rats given krill oil supplements showed improved cognitive function and benefited from anti-depressant-like effects. However, more research on its effect for human brain development and function is needed.
How to Choose the Right Krill Oil Supplement
When shopping for a krill oil supplement, there are important pieces of information that you should always look for. Here are some tips on how to compare brands and how to read labels.
What to Look For
Lab Testing
For any supplement, always check to see if it has undergone third-party lab testing for quality and safety. This is especially important for any fish or krill oil to make sure that it does not contain any harmful compounds like mercury.
Concentrations
Look for the amount of krill oil contained in each capsule and each serving (as these will sometimes differ). You should choose supplements that offer between 200 mg and 350 mg of omega-3 fatty acids per serving for the best results.
Sourcing
Make it a priority to learn where the brand sources its supply of krill oil. We recommend brands that use sustainably-harvested Antarctic krill oil because the process of harvesting is more tightly regulated by various groups.
Filler-Free
This is good advice for all nutritional supplements, but be sure the krill oil you choose does not contain any unwanted or unnecessary ingredients. All of our recommendations contain just the krill oil and the capsule it comes in.
How to Read Labels
When you are comparing krill oil supplements, here are some key things to look for on any label:
Supplement Facts - This is where you can find information on the amount of krill oil in each capsule, how many capsules make up one serving, and a breakdown of how many omega-3 fatty acids and other nutrients are contained in the supplement.
Other Ingredients - Listed at the bottom of the supplement facts table, this list will tell you what the capsule itself is made of and if there are any additional ingredients present.
Certifications - Check the label for important certifications and seals of approvals that can tell you if a krill oil is IKOS-certified, third-party lab tested, or sustainably harvest.
How to Use Krill Oil Supplements
Krill oil supplements typically come in capsules that you swallow with water. For most brands, 2 to 3 capsules make up a single serving, and you can take a serving either once or twice per day. Some brands recommend their supplements be taken with food to aid in their digestion and absorption.
Safety & Side Effects
While krill oil supplements are generally considered safe for most adults, it is extremely important to note that you should not take krill oil if you are allergic to shellfish. The potential side effects for krill oil are considered mild and similar to fish oils, including:
Upset stomach
Fishy taste
Heartburn
Nausea
Diarrhea
Fish oils and krill oils may also interact with certain medications. If you take a prescription medication, make sure you talk with your doctor before adding krill oil supplements to your diet.
A plume of smoke from wildfires burning in the Angeles National Forest is seen from downtown Los Angeles on Aug. 29, 2009 in Los Angeles, California. Kevork Djansezian / Getty Images
California is bracing for rare January wildfires this week amid damaging Santa Ana winds coupled with unusually hot and dry winter weather.
For a deeper dive:
AP, LA Times, San Francisco Chronicle, Washington Post, Weather Channel, AccuWeather, New York Times, Slideshow: New York Times; Climate Signals Background: Wildfires, 2020 Western wildfire season
For more climate change and clean energy news, you can follow Climate Nexus on Twitter and Facebook, sign up for daily Hot News, and visit their news site, Nexus Media News.
A view of Lake Powell from Romana Mesa, Utah, on Sept. 8, 2018. DEA / S. AMANTINI / Contributor / Getty Images
By Robert Glennon
Interstate water disputes are as American as apple pie. States often think a neighboring state is using more than its fair share from a river, lake or aquifer that crosses borders.
Robert Glennon is a Regents Professor and Morris K. Udall Professor of Law & Public Policy, University of Arizona.

Disclosure statement: Robert Glennon received funding from the National Science Foundation in the 1990s and 2000s.
Reposted with permission from The Conversation.
California Gov. Gavin Newsom is planning to end new hydraulic fracturing permits by 2024. Sundry Photography / Getty Images
By Kenny Stancil
Climate campaigners on Friday cautiously applauded California Gov. Gavin Newsom's moves to cut off new hydraulic fracturing permits by 2024 and evaluate phasing out oil production by 2045, while also stressing that the timeline still needs to be accelerated.
The Sierra Nevada mountains are among the ranges most at-risk for early snowpack melt. CampPhoto / Getty Images
Minimal snow was found at the Phillips Station meadow before the start of the first snow survey of 2018, conducted by the California Department of Water Resources. Kelly M. Grow / Calif. Department of Water Resources
By Tara Lohan
Most of us know a bad drought when we see one: Lakes and rivers recede from their normal water lines, crops wither in fields, and lawns turn brown. Usually we think of these droughts as being triggered by a lack of rain, but scientists also track drought in other ways.
"The common ways to measure droughts are through precipitation, soil moisture and runoff," says Laurie S. Huning, an environmental engineer at the University of California, Irvine. Her most recent work adds another dimension to that by looking at water stored in snowpack.
Huning is the co-author of a study in the Proceedings of the National Academy of Sciences, with U.C. Irvine colleague Amir AghaKouchak, which developed a new framework for characterizing "snow droughts." These can occur when there's an abnormally low snowpack, which may be triggered by low precipitation, warm temperatures or both.
Their research is timely. This winter, southwestern states have received just a quarter to half of the average snow-water equivalent — the amount of water held in the snowpack — the key metric for determining a snow drought.
And that can have sweeping impacts. The water content of a snowpack can change the amount and timing of when runoff occurs, and that has implications for wildlife, ecosystems, water resources, flood control, hydropower and drought mitigation.
Snow droughts can also have far-reaching effects on agriculture — and economies. California's Central Valley, the heart of its agriculture industry, relies on snow melt from the Sierra Nevada. The state saw $2.7 billion in losses in the sector following low precipitation and warm temperatures during 2014-2015.
Frank Gehrke of the Calif. Dept. of Water Resources during the April 1, 2015 snow survey in the Sierra Nevada, which found zero snow for the first time since surveys began in 1942. Florence Low / California Department of Water Resources
Snow droughts can also make conditions dire in regions that are already stressed by conflict and resource shortages. A snow drought in Afghanistan in 2017-2018 triggered crop failures and livestock loses that left 10 million people food insecure.
The concept of a "snow drought" has been around for several years, and it's been studied in certain key locations, but until now scientists and water managers lacked a worldwide method to assess them.
The study aims to solve that. Huning and AghaKouchak have developed a standardized snow-water equivalent index in an effort to better characterize and compare the duration and intensity of snow droughts around the world.
The results already reveal some areas of concern. Looking at data from 1980 to 2018, the researchers found a few hotspots where snow-droughts became longer and more intense during the 21st century.
The most notable area was the western United States, which saw a 28% increase in the length of periods of snow drought. Eastern Russia and Europe also saw increases, though less severe.
And on the flip side, some areas saw a decrease in snow drought duration, including the Hindu Kush, Central Asia, greater Himalayas, extratropical Andes and Patagonia.
"It's important to remember that not only does the snowpack vary but the impact that it has differs across the world," says Huning.
Huning hopes the framework developed for the study can help water managers better understand the amount and timing of snowmelt, and to integrate that with drought monitoring systems to recreate better resiliency and management of resources.
"We know that the snowpack is highly variable," she says. "Further development of this framework can improve our near real-time monitoring of drought."
The study didn't delve into the specifics of why snow droughts may be becoming more severe in certain places, but other studies have found that climate change is playing, and will play, a role in reducing snowpack in some areas — including western U.S. states.
A study by UCLA climate scientists published on Aug. 10 found that in California warmer temperatures will cause more rainfall and less snow during the winter in coming decades. This will likely increase flood risks and reduce the snowpack that usually melts slowly over the spring months.
Earlier research found that a decrease in Arctic sea ice leads to changes in atmospheric circulation that creates a high-pressure system, known as an atmospheric ridge, off the Pacific coast. These ridges deflect storms, pushing them northward and leaving the region high and dry. A particularly stubborn system that developed in 2013, nicknamed the "ridiculously resilient ridge," had a big hand in California's five-year drought, which extended until 2017.
Better understanding of how to measure and track snow droughts can give water managers another tool to help plan for similar droughts and to better manage this changing resource.
"Snow is a natural resource and, given the warming temperatures that some parts of the world will see, the amount of snow is changing," says Huning. "We need to recognize that there are so many different ways the environment and humans will be affected."
Reposted with permission from The Revelator.
From Your Site Articles
Related Articles Around the Web
An orchard near Kettleman City in California's San Joaquin Valley on April 2, 2021. Frederic J. Brown / AFP via Getty Images
By Debra Perrone and Scott Jasechko
As the drought outlook for the Western U.S. becomes increasingly bleak, attention is turning once again to groundwater – literally, water stored in the ground. It is Earth's most widespread and reliable source of fresh water, but it's not limitless.
Wells that people drill to access groundwater supply nearly half the water used for irrigated agriculture in the U.S. and provide over 100 million Americans with drinking water. Unfortunately, pervasive pumping is causing groundwater levels to decline in some areas, including much of California's San Joaquin Valley and Kansas' High Plains.

We are a water resources engineer with training in water law and a water scientist and large-data analyst. In a recent study, we mapped the locations and depths of wells in 40 countries around the world and found that millions of wells could run dry if groundwater levels decline by only a few meters. While solutions vary from place to place, we believe that what's most important for protecting wells from running dry is managing groundwater sustainably – especially in nations like the U.S. that use a lot of it.
The U.S. has one of the highest national groundwater use rates in the world. Jasechko and Perrone, 2021,
Groundwater Use Today

Humans have been digging wells for water for thousands of years. Examples include 7,400-year-old wells in the Czech Republic and Germany, 8,000-year-old wells in the eastern Mediterranean, and 10,000-year-old wells in Cyprus. Today wells supply 40% of water used for irrigation worldwide and provide billions of people with drinking water.

Groundwater flows through tiny spaces within sediments and their underlying bedrock. At some points, called discharge areas, groundwater rises to the surface, moving into lakes, rivers and streams. At other points, known as recharge areas, water percolates deep into the ground, either through precipitation or leakage from rivers, lakes and streams.
Groundwater can remain underground for days to millennia, depending on how deep it sinks, how readily it moves through rock around it and how fast humans pump it to the surface.
Groundwater declines can have many undesirable consequences. Land surfaces sink as underground clay layers are compacted. Seawater intrusion can contaminate groundwater reserves and make them too salty to use without energy-intensive treatment. River water can leak down to underground aquifers, leaving less water available at the surface.
Groundwater depletion can also cause wells to run dry when the top surface of the groundwater – known as the water table – drops so far that the well isn't deep enough to reach it, leaving the well literally high and dry. Yet until recently, little was known about how vulnerable global wells are to running dry because of declining groundwater levels.

There is no global database of wells, so over six years we compiled 134 unique well construction databases spanning 40 different countries. In total, we analyzed nearly 39 million well construction records, including each well's location, the reason it was constructed and its depth.
Our results show that wells are vital to human livelihoods – and recording well depths helped us see how vulnerable wells are to running dry.
Millions of Wells at Risk
Our analysis led to two main findings. First, up to 20% of wells around the world extend no more than 16 feet (5 meters) below the water table. That means these wells will run dry if groundwater levels decline by just a few feet.
Second, we found that newer wells are not being dug significantly deeper than older wells in some places where groundwater levels are declining. In some areas, such as eastern New Mexico, newer wells are not drilled deeper than older wells because the deeper rock layers are impermeable and contain saline water. New wells are at least as likely to run dry as older wells in these areas.

Wells are already going dry in some locations, including parts of the U.S. West. In previous studies we estimated that as many as 1 in 30 wells were running dry in the western U.S., and as many as 1 in 5 in some areas in the southern portion of California's Central Valley.
Households already are running out of well water in the Central Valley and southeastern Arizona. Beyond the Southwest, wells have been running dry in states as diverse as Maine, Illinois and Oregon.
What to Do When the Well Gives Out
How can households adapt when their well runs dry? Here are five strategies, all of which have drawbacks.
– Dig a new, deeper well. This is an option only if fresh groundwater exists at deeper depths. In many aquifers deeper groundwater tends to be more saline than shallower groundwater, so deeper drilling is no more than a stopgap solution. And since new wells are expensive, this approach favors wealthier groundwater users and raises equity concerns.
– Sell the property. This is often considered if constructing a new well is unaffordable. Drilling a new household well in the U.S. Southwest can cost tens of thousands of dollars. But selling a property that lacks access to a reliable and convenient water supply can be challenging.
Chart: The Conversation, CC BY-ND. Source: Jasechko and Perrone 2020
– Divert or haul water from alternative sources, such as nearby rivers or lakes. This approach is feasible only if surface water resources are not already reserved for other users or too far away. Even if nearby surface waters are available, treating their quality to make them safe to drink can be harder than treating well water.

– Reduce water use to slow or stop groundwater level declines. This could mean switching to crops that are less water-intensive, or adopting irrigation systems that reduce water losses. Such approaches may reduce farmers' profits or require upfront investments in new technologies.
– Limit or abandon activities that require lots of water, such as irrigation. This strategy can be challenging if irrigated land provides higher crop yields than unirrigated land. Recent research suggests that some land in the central U.S. is not suitable for unirrigated "dryland" farming.

Households and communities can take proactive steps to protect wells from running dry. For example, one of us is working closely with Rebecca Nelson of Melbourne Law School in Australia to map groundwater withdrawal permitting – the process of seeking permission to withdraw groundwater – across the U.S. West.
State and local agencies can distribute groundwater permits in ways that help stabilize falling groundwater levels over the long run, or in ways that prioritize certain water users. Enacting and enforcing policies designed to limit groundwater depletion can help protect wells from running dry. While it can be difficult to limit use of a resource as essential as water, we believe that in most cases, simply drilling deeper is not a sustainable path forward.
Debra Perrone is an assistant professor of environmental studies at the University of California Santa Barbara.
Scott Jasechko is an assistant Professor of water resources at the University of California Santa Barbara.
Disclosure statement: The authors do not work for, consult, own shares in or receive funding from any company or organization that would benefit from this article, and have disclosed no relevant affiliations beyond their academic appointment.
Reposted with permission from The Conversation.
From Your Site Articles
Related Articles Around the Web
Flames from the Lake Fire burn on a hillside near a fire truck and other vehicles on Aug. 12, 2020 in Lake Hughes, California. Mario Tama / Getty Images
An "explosive" wildfire ignited in Los Angeles county Wednesday, growing to 10,000 acres in a little less than three hours.
A recent study finds that superyachts emit the most carbon emissions. xefstock / Getty Images
Musk isn't alone in seeing a significant increase in wealth during a year of pandemic, recession and death. Altogether, the world's billionaires saw their wealth surge over $1.9 trillion in 2020, according to Forbes.
Those are astronomical numbers, and it's hard to get one's head around them without some context. As anthropologists who study energy and consumer culture, we wanted to examine how all that wealth translated into consumption and the resulting carbon footprint.
Walking in a Billionaire's Shoes
We found that billionaires have carbon footprints that can be thousands of times higher than those of average Americans.
The wealthy own yachts, planes and multiple mansions, all of which contribute greenhouse gases to the atmosphere. For example, a superyacht with a permanent crew, helicopter pad, submarines and pools emits about 7,020 tons of CO2 a year, according to our calculations, making it by the far worst asset to own from an environmental standpoint. Transportation and real estate make up the lion's share of most people's carbon footprint, so we focused on calculating those categories for each billionaire.
To pick a sample of billionaires, we started with the 2020 Forbes List of 2,095 billionaires. A random or representative sample of billionaire carbon footprints is impossible because most wealthy people shy away from publicity, so we had to focus on those whose consumption is public knowledge. This excluded most of the superrich in Asia and the Middle East.
We combed 82 databases of public records to document billionaires' houses, vehicles, aircraft and yachts. After an exhaustive search, we started with 20 well-known billionaires whose possessions we were able to ascertain, while trying to include some diversity in gender and geography. We have submitted our paper for peer review but plan to continue adding to our list.
We then used a wide range of sources, such as the U.S. Energy Information Administration and Carbon Footprint, to estimate the annual CO2 emissions of each house, aircraft, vehicle and yacht. In some cases we had to estimate the size of houses from satellite images or photos and the use of private aircraft and yachts by searching the popular press and drawing on other studies. Our results are based on analyzing typical use of each asset given its size and everything else we could learn.
We did not try to calculate each asset's "embodied carbon" emissions – that is, how much CO2 is burned throughout the supply chain in making the product – or the emissions produced by their family, household employees or entourage. We also didn't include the emissions of companies of which they own part or all, because that would have added another significant degree of complexity. For example, we didn't calculate the emissions of Tesla or Amazon when calculating Musk's or Bezos' footprints.
In other words, these are all likely conservative estimates of how much they emit.
Your Carbon Footprint
To get a sense of perspective, let's start with the carbon footprint of the average person.
Residents of the U.S., including billionaires, emitted about 15 tons of CO2 per person in 2018. The global average footprint is smaller, at just about 5 tons per person.
In contrast, the 20 people in our sample contributed an average of about 8,190 tons of CO2 in 2018. But some produced far more greenhouse gases than others.
Billionaire Emissions
Some of the biggest polluters have relatively little wealth, while the two richest – Elon Musk and Jeff Bezos – have relatively small carbon footprints. Yachts make up most of the emissions of those who have one. Mansions and other dwellings make up a very minor share of their carbon footprints. Values are in terms of tons of CO2 equivalent.
The Jet-Setting Billionaire
Roman Abramovich, who made most of his $19 billion fortune trading oil and gas, was the biggest polluter on our list. Outside of Russia, he is probably best known as the headline-grabbing owner of London's Chelsea Football Club.
Abramovich cruises the Mediterranean in his superyacht, named the Eclipse, which at 162.5 meters bow to stern is the second-biggest in the world, rivaling some cruise ships. And he hops the globe on a custom-designed Boeing 767, which boasts a 30-seat dining room. He takes shorter trips in his Gulfstream G650 jet, one of his two helicopters or the submarine on his yacht.
He maintains homes in many countries, including a mansion in London's Kensington Park Gardens, a chateau in Cap D'Antibes in France and a 28-hectare estate in St. Barts that once belonged to David Rockefeller. In 2018, he left the U.K. and settled in Israel, where he became a dual citizen and bought a home in 2020 for $64.5 million.
We estimate that he was responsible for at least 33,859 metric tons of CO2 emissions in 2018 – more than two-thirds from his yacht, which is always ready to use at a moment's notice year-round.
Massive Mansions and Private Jets
Bill Gates, currently the world's fourth-richest person with $124 billion, is a "modest" polluter – by billionaire standards – and is typical of those who may not own a giant yacht but make up for it with private jets.
Co-founder of Microsoft, he retired in 2020 to manage the Bill and Melinda Gates Foundation, the world's largest charity, with an endowment of $50 billion.
In the 1990s, Gates built Xanadu – named after the vast fictional estate in Orson Welles' "Citizen Kane" – at a cost of $127 million in Medina, Washington. The giant home covers 6,131 square meters, with a 23-car garage, a 20-person cinema and 24 bathrooms. He also owns at least five other dwellings in Southern California, the San Juan Islands in Washington state, North Salem, New York, and New York City, as well as a horse farm, four private jets, a seaplane and "a collection" of helicopters.
We estimated his annual footprint at 7,493 metric tons of carbon, mostly from a lot of flying.
The Environmentally Minded Tech CEO
South African-born Elon Musk, CEO of Tesla Motors and SpaceX, has a surprisingly low carbon footprint despite being the world's second-richest person, with $177 billion – and he seems intent on setting an example for other billionaires.
He doesn't own a superyacht and says he doesn't even take vacations.
We calculated a relatively modest carbon footprint for him in 2018, thanks to his eight houses and one private jet. This year, his carbon footprint would be even lower because in 2020 he sold all of his houses and promised to divest the rest of his worldly possessions.
While his personal carbon footprint is still hundreds of times higher than that of an average person, he demonstrates that the superrich still have choices to make and can indeed lower their environmental impact if they so choose.
His estimated footprint from the assets we looked at was 2,084 tons in 2018.
The Value of Naming and Shaming
The aim of our ongoing research is to get people to think about the environmental burden of wealth.
While plenty of research has shown that rich countries and wealthy people produce far more than their share of greenhouse gas emissions, these studies can feel abstract and academic, making it harder to change this behavior.
We believe "shaming" – for lack of a better word – superrich people for their energy-intensive spending habits can have an important impact, revealing them as models of overconsumption that people shouldn't emulate.
Newspapers, cities and local residents made an impact during the California droughts of 2014 and 2015 by "drought shaming" celebrities and others who were wasting water, seen in their continually green lawns. And the Swedes came up with a new term – "flygskam" or flying shame – to raise awareness about the climate impact of air travel.
Climate experts say that to have any hope of limiting global warming to 1.5 degrees Celsius above preindustrial levels, countries must cut their emissions in half by 2030 and eliminate them by 2050.
Asking average Americans to adopt less carbon-intensive lifestyles to achieve this goal can be galling and ineffective when it would take about 550 of their lifetimes to equal the carbon footprint of the average billionaire on our list.
Richard Wilk is a Distinguished Professor and Provost's Professor of Anthropology; Director of the Open Anthropology Institute, Indiana University.
Beatriz Barros is a Ph.D. Candidate in Anthropology, Indiana University.
Disclosure statement: The authors do not work for, consult, own shares in or receive funding from any company or organization that would benefit from this article, and have disclosed no relevant affiliations beyond their academic appointment.
Reposted with permission from The Conversation.
From Your Site Articles
Related Articles Around the Web
An alarming sign of an impending drought is the decreased snowpack in the Sierra Nevada Mountain range, as seen here in Christmas Valley, South Lake Tahoe, California on Feb. 15, 2020.
jcookfisher
/
CC BY 2.0
California is headed toward drought conditions as February, typically the state's wettest month, passes without a drop of rain. The lack of rainfall could lead to early fire conditions. With no rain predicted for the next week, it looks as if this month will be only the second time in 170 years that San Francisco has not had a drop of rain in February, according to The Weather Channel.
A California newt (Taricha torosa) from Napa County, California, USA. Connor Long /
CC BY-SA 3.0
By Tara Lohan
Aerial photos of the Sierra Nevada — the long mountain range stretching down the spine of California — showed rust-colored swathes following the state's record-breaking five-year drought that ended in 2016. The 100 million dead trees were one of the most visible examples of the ecological toll the drought had wrought.
Now, a few years later, we're starting to learn about how smaller, less noticeable species were affected.
One of those is the California newt (Taricha torosa). These large, colorful amphibians live across the state, from Mendocino County to San Diego County, but newts living in Southern California fared worse during the drought, according to a new study published in the Nature journal Scientific Reports. And worse, anticipated future changes to the climate are likely to put northern newts in the same boat in coming decades.

Researchers have been surveying populations of these amphibians for decades. By tagging them with transponders and following their movements, they've learned that the newts can live for more than 30 years and return to the same spots year after year as they migrate between freshwater and land.
But as the drought began in 2012, the researchers noticed a change in the Southern Californian populations. There were fewer newts from the tagged population coming back to dozens of breeding sites monitored across the region each year. The researchers also observed fewer egg masses, tadpoles and larvae.
"Here's a long-lived species that we're not seeing individuals that we've seen for the last 10 or 15 years coming back to the sites where they usually breed," says Gary Bucciarelli, the lead author of the report and an assistant adjunct professor of ecology and evolutionary biology at UCLA.
And there was one more piece of bad news: Most of the adult newts that did return in Southern California were in poorer body condition than before the drought began. This negative trend, the researchers concluded, was linked to drier and warmer conditions that were far outside the 100-year average.
At the time the state was experiencing drought conditions not seen there for 1,200 years. You'd expect drought to hurt amphibians, which rely on access to water, but Bucciarelli says the research shows that similarly record-high air temperatures may have played an even greater role than precipitation.
Warmer temperatures remove necessary moisture from the terrestrial environment. But they could also affect food — a shifting climate may mean less prey, says Bucciarelli. Or it could mean that newts spend more time wandering around, burning calories, and less time hunkered down as they normally would.
Whatever exactly happened in this case, "It all was strongly correlated with the extreme deviation in climate," he adds.
Amphibians spend part of the year on land, and we know far less about how they spend their terrestrial days. "When they're on land we don't know if they're underground, moving around, in a deep sleep, or what they're feeding on," he says. "This research suggests there are things happening on land that are impacted by temperature that we don't really understand."
One thing is certain, though: Climate change will bring more severe droughts and higher temperatures to California, and that could push newts in Southern California, which are already a species of conservation concern, closer to extinction.
And in the next 50 years, the northern populations are likely to experience the same change in body condition. That means that the northern range "likely will not provide climate refuge for numerous amphibian communities," the researchers conclude.
That's particularly bad news considering that globally, an estimated 40% of amphibians face extinction. A disease caused by chytrid fungus has devastated many amphibian populations, especially in Australia, Central and South America, and wiped out 90 species already.
But amphibians face other threats, too. And the California newt is no exception.
The species is adapted to drought, but "they haven't dealt with drought coupled with temperature changes that are this rapid and this severe, in conjunction with habitat fragmentation, land use changes and fire frequency changes," Bucciarelli says. "Now we're beginning to see how these combined stressors are acting out ecologically."
So what do we do?
Collecting more data is a good start. Land managers need to begin long-term monitoring surveys of populations of amphibians now, even if the species aren't currently a major concern. "You never know what's going to happen and having baseline data is super important," he says.
Proactively improving habitat is also critical. We can start by ensuring that habitats are free of non-native species, says Bucciarelli, who has also tracked the negative effects of introduced fish and invasive crayfish on amphibians.
Suitable habitat is key, but so is connection. Many newt populations in Southern California have become islands, separated by development that limits their genetic diversity — and in the long run, their capacity to adapt to rapidly changing environmental conditions. Ensuring habitat connectivity could help strengthen their resilience.
Even if all of that happens, climate change will continue to be a threat, and Bucciarelli says we may need to develop contingency plans for worsening conditions if we hope to save these newts.
"We'll have to think of different and more creative management strategies to help in years when temperature and precipitation are not in line with the norm."
Tara Lohan is deputy editor of The Revelator.
Reposted with permission from our media associate The Revelator.
From Your Site Articles
Related Articles Around the Web