This website uses cookies to ensure you get the best experience while browsing it. By clicking 'Got It' you're accepting these terms.


The best of EcoWatch, right in your inbox. Sign up for our email newsletter!
A Cabot Oil & Gas natural gas drill at a hydraulic fracturing site in South Montrose, Pennsylvania. Spencer Platt / Getty Images
By Wenonah Hauter
Cabot Oil & Gas, a company with $765 million in assets in 2017, doesn't like environmental nonprofits meddling in its dirty business in Pennsylvania. And the company is delivering this message by targeting Ray Kemble—a local 63-year old who just survived his fourth cancer surgery—with a $5 million lawsuit for speaking out about Cabot and fracking.
PxHere
By Wenonah Hauter
In 2008, Cabot Oil and Gas started fracking operations in Dimock, Pennsylvania. It was around that time the community started noticing their water was turning brown and making people and animals sick. One woman's water well exploded. Fracking had come to town.
EcoWatch Daily Newsletter
Ray Kemble of Dimock, Pa., displays a jug of what he identifies as his contaminated well water. (AP/Matt Rourke)
Ever since the dangerous consequences of natural gas extraction via hydraulic fracturing—popularly known as "fracking"—entered the national consciousness, the small town of Dimock, Pennsylvania has arguably been "ground zero" for water contamination caused by the controversial practice.
Now Cabot Oil & Gas, the massive energy company responsible for numerous fracking wells near Dimock, is suing one of the town's residents for $5 million, claiming that his efforts to "attract media attention" to the pollution of his water well have "harmed" the company. According to the lawsuit, Dimock resident Ray Kemble's actions breached an earlier 2012 settlement that was part of an ongoing federal class action lawsuit over the town's water quality. Kemble has stated that Cabot's fracking turned his groundwater "black, like mud, [with] a strong chemical odor."
A federal judge has reversed last year's unanimous jury decision that awarded $4.2 million to two Dimock, Pennsylvania families who claimed that Cabot Oil & Gas Corp contaminated their water supply during fracking operations near their homes.
Back in 2012, the U.S. Environmental Protection Agency (EPA) made a startling announcement, shaking up the battle over fracking in one of the nation's highest-profile cases where drillers were suspected to have caused water contamination.
Water testing results were in for homeowners along Carter Road in Dimock, Pennsylvania, where for years, homeowners reported their water had turned brown, became flammable or started clogging their well with "black greasy feeling sediment" after Cabot Oil and Gas began drilling in the area. The EPA seemed to conclude the water wasn't so bad after all.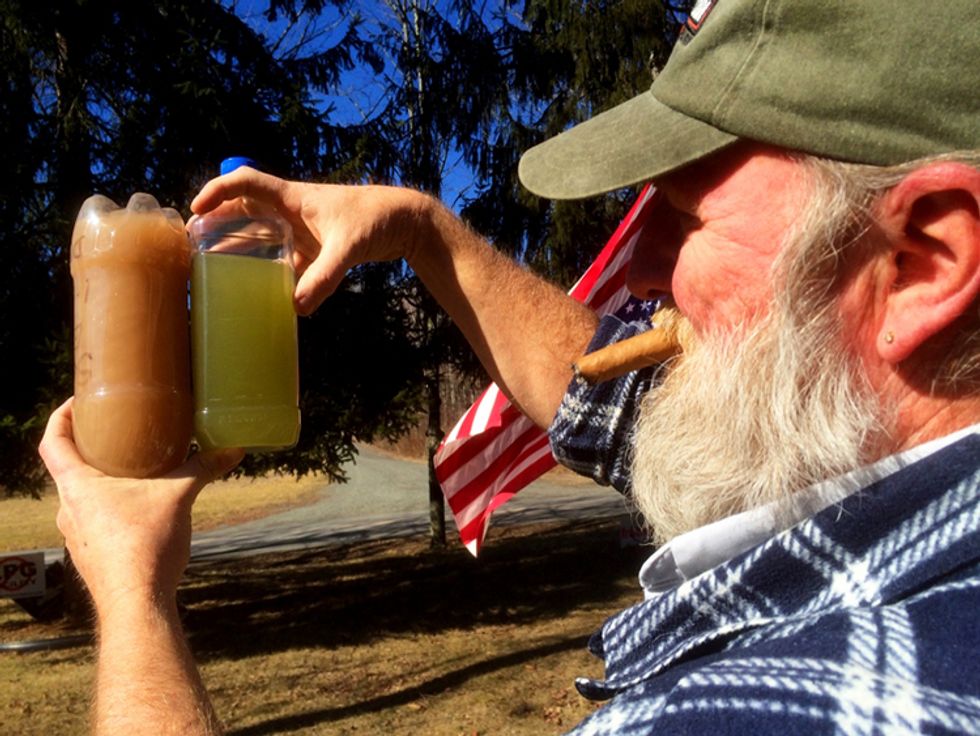 "The sampling and an evaluation of the particular circumstances at each home did not indicate levels of contaminants that would give EPA reason to take further action," EPA Regional Administrator Shawn M. Garvin said in a press release.
The drilling industry crowed. "The data released today once again confirms the EPA's and DEP's [Department of Environmental Protection] findings that levels of contaminants found do not possess a threat to human health and the environment," Cabot said in a statement.
"It's obviously very good news for the folks who actually live there and pretty squarely in line with what we've known up there for a while now," Energy in Depth told POLITICOPro. "It's not very good news for the out-of-state folks who have sought to use Dimock as a talking point in their efforts to prevent development elsewhere, but I'm sure they'll be working hard over the weekend to spin it differently, notwithstanding the pretty clear statement made by EPA today."
Now, a newly published report by the Agency for Toxic Substances and Disease Registry (ATSDR), part of the Centers for Disease Control (CDC), puts EPA's testing results into an entirely new light.
The water was not safe to drink after all, the ATSDR concluded, after a lengthy review of the same water testing results that EPA used back in 2012.
"ATSDR found some of the chemicals in the private water wells at this site at levels high enough to affect health (27 private water wells), pose a physical hazard (17 private water wells) or affect general water quality so that it may be unsuitable for drinking," the ATSDR's health consultation—launched in 2011 and published May 24—concludes.
The new report lists 10 contaminants, including arsenic, lithium and 4-chlorophenyl phenyl ether, that are "chemicals of health concern," at the levels found in Carter Road wells, found that five homes were at "immediate risk of fire or explosion" because of methane in their water and another dozen showed lower, but still worrisome, levels of methane and found that the water was laced with elevated levels of metals, salts and total dissolved solids.
The underlying data isn't new to the residents of Carter Road. The EPA provided it to them individually back in 2012, which is why the EPA's announcement that the water was safe was so baffling at the time.
"I'm sitting here looking at the values I have on my sheet—I'm over the thresholds—and yet they are telling me my water is drinkable," Nolan Scott Ely, one of the Carter Road homeowners, told ProPublica when EPA made its announcement. "I'm confused about the whole thing … I'm flabbergasted."
Opposite Conclusions?
So how could two different agencies look at the exact same data and come to opposite conclusions?
"Although the same data set was used, the EPA as a regulatory agency specifically looked at whether or not it was required to take action under the Comprehensive Environmental Response, Compensation, and Liability Act, more commonly known as Superfund, which governs responses to environmental emergencies," StateImpact, a National Public Radio project, explained. "The 'health consultation' looked at the entire data set from a public health standpoint, assessing whether or not it was safe to drink the water."
In other words, EPA's findings, which seemed to show that the water was "safe" and which were promoted by drillers as proof that nothing was wrong in Dimock, instead represented a very carefully parsed legal finding that the water did not reach Superfund levels of contamination for the specific substances EPA focused on.
And the EPA's 2012 findings had left out some of the very contaminants that had caused locals the most concern—including the natural gas or methane, itself. "EPA's investigation does not include an evaluation of the risk posed by elevated levels of methane—which continue to exist in some homes in Dimock—and which, at extreme levels and if unaddressed, can lead to explosions," Natural Resources Defense Council Senior Attorney Kate Sinding wrote in a blog post at the time.
The EPA's strained official interpretation of the data perhaps shows why EPA staff remained concerned even after the agency dropped its Dimock investigation in July 2012, just months after its testing results had been announced in March and April.
In 2013, a Los Angeles Times investigation revealed that EPA's own staff had disagreed with the agency's public statements that the water shouldn't be considered hazardous. An internal EPA Powerpoint presentation, later obtained and published by DeSmog, showed that agency scientists had concluded that the drilling and fracking process "apparently cause significant damage to the water quality."
The ATSDR's new report very specifically notes that it does not look at whether the water hazards stem from drilling or pre-date Cabot's arrival in the area. In part, that's because of a lack of pre-drilling testing for gas and other common fracking-related chemicals in the water. "It is important to note that methane was not assessed in residential water wells prior to the initiation of natural gas drilling activities in the Dimock area," the ATSDR wrote.
Cabot Oil and Gas emphasized their belief that methane in the water was "naturally occurring" and pre-dated their arrival in a statement provided to StateImpact. "This data is consistent with thousands of pages of water data collected by both Cabot and the Pennsylvania DEP and does not indicate that those contaminants detected have any relationship to oil and gas development in Dimock," Cabot said.
The ATSDR report does often note when substances discovered in the Carter Road water are known to be associated with hydraulic fracturing or drilling industry activities, but does not reach any conclusions about whether the chemicals came from Cabot's operations.
"It's not their job to look at who caused whatever contamination there is," Bryce Payne, a Pennsylvania environmental scientist, told E&E News. "It's their job to see if there are health implications. They did that and concluded there are health implications."
The new report is also limited to data from four years ago—and conditions have changed, the ATSDR noted, in part because a state moratorium on fracking along Carter Road was briefly lifted after the EPA dropped its investigation and locals quickly reported more changes to their water, including higher levels of methane.
Cabot Oil Settles
In August 2012—right around the time that EPA abandoned its investigation—Cabot Oil and Gas announced it had settled the vast majority of lawsuits against it by Carter Road residents for an undisclosed amount of money and under terms that barred the plaintiffs from speaking negatively about their experiences with the company.
This March, a federal jury handed down a $4.24 million verdict to the remaining two Carter Road families, concluding that the water was in fact contaminated because of the negligence of the drilling company. Cabot has begun the process of appealing that verdict.
But while the legal filings and agency reports continue to stack up, the problem on Carter Road remains the same as it has for many years now.
While those who settled with Cabot had water treatment systems installed by the company, locals familiar with those systems say that even the treated water seems too contaminated to drink and the water treatment systems break down frequently.
The ATSDR's report provides recommendations that water should have been treated to address dangerous contamination levels—but those recommendations are not binding and the agency noted that while the state government collected samples more recently, the ATSDR did not have access to the newer data.
Community organizers are still calling for the federal government to resume an active role, arguing that the groundwater remains undrinkable.
"We're demanding that they reopen the investigation," Craig Stevens, a local organizer, told DeSmog after the March verdict was announced, "and also get water to these people."
YOU MIGHT ALSO LIKE
Sanders Touts Fracking Ban as Clinton Pushes Renewables Plan Just Days Before California Primary
These 33 Cities Cheated on Lead Contamination Tests, Similar to Flint, Michigan
Feds Find Offshore Fracking in the Pacific Would Have No 'Significant' Environmental Impact
Scottish Parliament Passes Motion in Support of Outright Fracking Ban
A stunning new report from Marketplace and APM Reports reveals that top U.S. Environmental Protection Agency (EPA) officials made critical, last-minute changes to the agency's major fracking assessment to soft-pedal clear evidence that the controversial drilling process contaminates the nation's water supplies.
Fracking operations in Dimock, Pennsylvania contaminated local water supplies. Flickr
We've already seen how fracking and drinking water do not mix, and even earlier versions of the EPA assessment said that spills are a problem. But on June 4, 2015, the agency released its executive summary and corresponding press materials with the misleading takeaway that "there is no evidence fracking has led to widespread, systemic impacts on drinking water resources."
The EPA's pro-fracking spin baffled many experts and scientists and contradicted what many landowners were seeing in their chemically laden water. Major media outlets also went with headlines that put fracking in the clear, such as the New York Times "Fracking Has Not Had Big Effect on Water Supply, E.P.A. Says While Noting Risks," NPR's "EPA Finds No Widespread Drinking Water Pollution From Fracking" and this CNN screenshot.
Big Oil and Gas, meanwhile, applauded the EPA's report, using it to push for more drilling. Erik Milito, a director at the American Petroleum Institute, told the New York Times that the EPA confirmed that "hydraulic fracturing is being done safely under the strong environmental stewardship of state regulators and industry best practices."
However, it is now evident that Obama administration EPA officials made eleventh hour edits to the report's top-line findings as well as corresponding press materials that clearly played down evidence of water contamination caused by fracking.

As Marketplace and APM Reports explained in their piece:
"It's not clear precisely who inserted or ordered the new phrasing. But emails acquired via the Freedom of Information Act show EPA officials, including press officers, met with key advisers to President Obama to discuss marketing strategy a month before the study's release. The emails also show EPA public relations people exchanging a flurry of messages between 4 and 11 p.m. on the eve of the study's release.
"The authenticity of the documents—before and after the changes—was confirmed independently by three people with knowledge of the study.
"In interviews with 19 people familiar with the research, some characterized the '(no) widespread, systemic' language as a 'bizarre conclusion' and 'irresponsible.' Others said they were 'surprised and disappointed' that top EPA officials used the phrase and said they had no idea it would become the headline until it came out."

The image below shows that the EPA's press release of the study—which condensed the 1,000 page report into the "not widespread, systemic" soundbite—were altered a day before the report was made public.
Draft press releases accompanying the EPA's long-awaited fracking assessment were changed to sound more fracking-friendly before the assessment was released. Marketplace
Conservation groups have long suspected some form of "political meddling" with the fracking contamination report.

"Enough is enough. We've suspected for months that the White House egregiously manipulated the headlines and summary findings of a draft study in order to obfuscate the details buried within—details confirming that fracking has caused numerous cases of water contamination," Food & Water Watch executive director Wenonah Hauter said in response to the Marketplace report.
"Today's report confirms this political meddling," she added. "It's time for the administration to acknowledge its intervention in the crafting of the draft study, and issue a final version that clearly and conclusively highlights that fracking does indeed cause water contamination."
Hauter is calling on President Obama to meet with communities that are most harmed by fracking and other fossil fuel projects such as the heavily contested Dakota Access Pipeline that threatens to contaminate drinking water for the Standing Rock Sioux in North Dakota.
"Furthermore, before he leaves office, President Obama should meet with impacted individuals and hear directly their stories of suffering from serious health effects related to fracking," she said. "And he must protect communities directly in the path of future fossil fuel hazards. He must start by protecting the Standing Rock Sioux and taking the Dakota Access pipeline off the table for good."

EPA scientists are currently revising the study and taking comments from the public and the EPA's Science Advisory Board. The final version of the study is planned for release by the end of the year.
Ray Kemble of Dimock, Pennsylvania, holds a jug of discolored water from his well, contaminated by nearby fracking operations while standing outside of the U.S. EPA building in Washington, DC. Photo credit: Food & Water Watch
The U.S. Environmental Protection Agency (EPA) has released its widely anticipated final report on hydraulic fracturing, or fracking, confirming that the controversial drilling process indeed impacts drinking water "under some circumstances." Notably, the report also removes the EPA's misleading line that fracking has not led to "widespread, systemic impacts on drinking water resources."
"The report, done at the request of Congress, provides scientific evidence that hydraulic fracturing activities can impact drinking water resources in the United States under some circumstances," the agency stated in a media advisory.

This conclusion is a major reversal from the EPA's June 2015 pro-fracking draft report. That specific "widespread, systemic" line baffled many experts, scientists and landowners who—despite the egregious headlines—saw clear evidence of fracking-related contamination in water samples. Conversely, the EPA's top line encouraged Big Oil and Gas to push for more drilling around the globe.
But as it turns out, a damning exposé from Marketplace and APM Reports revealed last month that top EPA officials made critical, last-minute alterations to the agency's draft report and corresponding press materials to soft-pedal clear evidence of fracking's ill effects on the environment and public health.
Thomas Burke, EPA deputy assistant administrator and science advisor, discussed the agency's final report released Tuesday.
"There are instances when hyrdofracking has impacted drinking water resources. That's an important conclusion, an important consideration for moving forward," Burke told reporters today, according to The Hill.

Regarding the EPA's contentious "national, systemic conclusion," Burke said, "that's a different question that this study does not have adequate evidence to really make a conclusive, quantified statement."

In the new report, the authors heeded to the EPA's independent Science Advisory Board's advice to review the "widespread systemic impacts" line from the June 2015 draft study. The final 1,200-page report omits that line.
"Scientists put that language in the draft report, and scientists made the decision not to include it in the final report based on feedback from the Science Advisory Board and their interpretation of the available science," Burke explained.
The Science Advisory Board also took issue with how the draft report inexplicably omitted three critical fracking-contamination cases—Dimock, Pennsylvania; Parker County, Texas; and Pavillion, Wyoming.
As Pavillion rancher and affected landowner John Fenton testified last year, "When EPA launched its national study of fracking's drinking water impacts, we thought they'd look first here in Pavillion where they'd already found pollution. But instead they ignored us without explanation. Science means taking the facts as they are. But EPA seems to be intent on finding the facts to support the conclusion they've already reached—'fracking is safe.'"
These specific cases studies are now mentioned in the final report.
In the new report, the EPA has identified cases of impacts on drinking water at each stage in the hydraulic fracturing water cycle:
Water withdrawals for hydraulic fracturing in times or areas of low water availability, particularly in areas with limited or declining groundwater resources;
Spills during the management of hydraulic fracturing fluids and chemicals or produced water that result in large volumes or high concentrations of chemicals reaching groundwater resources;
Injection of hydraulic fracturing fluids into wells with inadequate mechanical integrity, allowing gases or liquids to move to groundwater resources;
Injection of hydraulic fracturing fluids directly into groundwater resources;
Discharge of inadequately treated hydraulic fracturing wastewater to surface water resources; and
Disposal or storage of hydraulic fracturing wastewater in unlined pits, resulting in contamination of groundwater resources.
Burke said that the EPA's assessment "provides the scientific foundation for local decision makers, industry, and communities that are looking to protect public health and drinking water resources and make more informed decisions about hydraulic fracturing activities."
"This assessment is the most complete compilation to date of national scientific data on the relationship of drinking water resources and hydraulic fracturing," he added.
Unsurprisingly, the oil and gas industry has criticized the report.
"It is beyond absurd for the administration to reverse course on its way out the door," American Petroleum Institute Upstream Director Erik Milito told The Hill. "The science and data clearly demonstrate that hydraulic fracturing does not lead to widespread, systemic impacts to drinking water resources. Unfortunately, consumers have witnessed five years and millions of dollars expended only to see conclusion based in science changed to a conclusion based in political ambiguity."
The industry-funded group Energy In Depth added that despite change in the central conclusion, the report still "blows apart the anti-fracking campaign's most common claim, namely that hydraulic fracturing is polluting groundwater all across America."
Meanwhile, public health and environmental groups and activists are saying the opposite.
"At last the EPA confirms what independent science has overwhelmingly determined for years, that drilling and fracking contaminate drinking water," said actor and prominent environmentalist Mark Ruffalo on behalf of the national Americans Against Fracking coalition.
"Across the country, Americans have had their lives turned upside down as fracking has poisoned the water coming out of their faucets and has made their families sick. Now all of our federal and state elected officials need to take action to protect Americans by banning fracking. Water is life," Ruffalo said.
Greenpeace researcher Jesse Coleman agreed. "The EPA's final report on impacts of fracking on groundwater has concluded what too many Americans already know from personal experience: Fracking has caused lasting harm to drinking water sources throughout the country," Coleman said. "The most important findings from this study is that drilling, fracking, and the use of hazardous chemicals necessary to frack have caused groundwater contamination. This puts to rest the widely repeated lie that fracking is 'safe' and has never caused drinking water contamination."
Julia Walsh from Frack Action said, "The EPA has rightly reported that fracking causes water contamination. For all of the Americans living with this tragedy every day, they are finally validated by the federal government."
Similarly, David Braun, Rootskeeper director, said "Kudos to President Obama's EPA for embracing the science about fracking, which clearly demonstrates serious and inherent problems with the practice."
"The EPA could have bowed to pressure from the oil and gas industry and didn't, however, now that the EPA has acknowledged the serious inherent problems with fracking, it is incumbent upon the Obama Administration to stand with the thousands of Americans who have had their water poisoned, and protect them from this dangerous practice," Braun continued.
Earthworks policy director Lauren Pagel said that President-elect Donald Trump and his pro-fossil fuels cabinet should take the EPA report to heart.
"By listening to its scientists instead of its political advisors, EPA's fracking study sets an example that we hope, but do not expect, the Trump Administration to follow," Pagel said. "But a Scott Pruitt EPA would have to ignore 5 years of scientific study, and years of community impacts, to do otherwise. Unfortunately for the still suffering citizens of Pavillion, WY, Dimock, PA and Weatherford, TX, their EPA investigations didn't have advisory boards to publicly remind EPA that science trumps politics."
And Wenonah Hauter, the executive director of Food & Water Watch, said that "the EPA has confirmed what we've known all along: fracking can and does contaminate drinking water. We are pleased that the agency has acted on the recommendations of its Science Advisory Board and chosen be frank about the inherent harms and hazards of fracking."
A federal jury awarded two Dimock Township couples $4.24 million today after finding Cabot Oil & Gas responsible for contaminating their well water.
Doctors orders: stop fracking Pennsylvania. The Pennsylvania Medical Society—the state's largest medical group—is calling for a moratorium on the controversial natural gas extraction method and is urging the state legislature to fund an independent health registry and commission research studies on the health effects of fracking.
Fracking chemicals have been detected in the state's drinking water.
The Pittsburgh Post-Gazette reported that the society's 300-member House of Delegates unanimously approved this resolution at its annual meeting in Hershey on Oct. 23.
"As physicians of Pennsylvania, we care first and foremost about the health of our community and believe that when an activity raises potential harm to human health, precautionary measures should be taken until cause and effect relationships are fully established scientifically," the resolution states.
Pennsylvania sits on one of the country's most active and notorious fracking regions—nearly 10,000 fracking wells have been drilled in the gas-rich Marcellus shale in the past decade, turning the state into a fracking powerhouse. However, this activity has come at a cost to human and environmental helath.

One study linked Pennsylvania's unconventional natural gas development to migraine headaches, fatigue, and nasal and sinus symptoms. In another study, researchers combed through years of health records from 40 counties in north and central Pennsylvania and determined that people who live close to fracking wells have a higher risk of asthma attacks among asthma patients.
Last week, the Yale School of Public Health published a study determining that 55 unique chemicals could be classified as known, probable or possible human carcinogens. They also specifically identified 20 compounds that had evidence of leukemia/lymphoma risk.
Furthermore, the resolution highlights how fracking has been associated with significant environmental harm. It argues that highly toxic fracking chemicals have been making their way into aquifers and contaminating drinking water, that 9 percent of gas wells leak methane directly into the atmosphere contributing to climate change, and that the disposal of fracking fluid in waste injection wells can cause earthquakes.
"Three years ago, the Medical Society turned down a similar resolution calling for a moratorium on gas drilling. However, in the last three years growing evidence has shown its increasing deleterious effects outweighs any economic benefit," said Dr. Walter Tsou, executive director of Physicians for Social Responsibility/Philadelphia and the author of the resolution.

"We do support a moratorium at this point because of questions that have been raised," Montgomery County doctor and the Pennsylvania Medical Society president Charles Cutler told the Pittsburgh Gazette. "Those questions now point to the need for a registry and more science and research to give us a better understanding about whether fracking is safe and what the risk is."
However, Jeffrey Sheridan, who is Pennsylvania Gov. Tom Wolf's spokesman, told the newspaper that a statewide moratorium is unlikely.

"The governor understands the importance of the natural gas industry and he wants the industry to succeed while protecting the health of our residents and our environment,'' he said. "Gov. Wolf has proposed methane regulations that are in the process of being implemented, and his administration developed some of the most stringent regulations on unconventional well drilling in the country that were recently finalized.
"The governor will continue to find ways to support the industry while ensuring we are protecting the environment and the health of Pennsylvania residents."
By Americans Against Fracking
The U.S. Environmental Protection Agency Science Advisory Board (SAB) today finalized its review of the EPA's June 2015 draft study of fracking's impacts to drinking water resources. For over a year, a panel of 30 scientists, engineers and industry consultants have reviewed the details of the 1,000-page draft report. The panel has taken particular issue with a finding that seemingly came out of left field: the agency's statement that fracking has not led to "widespread systemic impacts" in the U.S.
Tainted water collected from a private drinking water well in PA near a fracking site.
The EPA dismissed fracking's impacts with this line, without any clear, scientific basis of support, and now the EPA SAB has taken the agency to task. The EPA, and independent peer-reviewed studies, have identified many mechanisms of contamination, such as spills, well cementing failures below ground, and complications with waste disposal. For example, the EPA found there was on the order of 15 spills every day somewhere in the U.S., yet chose to dismiss those daily incidents as not a sign of "widespread, systemic" problems.
Affected individuals, public interests groups, and now the independent EPA Science Advisory Board, comprised of the EPA's own scientists, are calling on the EPA to "clarify" and "quantify" the controversial "widespread, systemic" line, or drop the language altogether. The panelists joined affected individuals and various independent experts who submitted comments in taking issue with how the agency ignored three high-profile contamination cases in its study—notably Dimock, Pennsylvania; Parker County, Texas; and Pavillion, Wyoming. The agency's omissions were contentious in part because in each case, the EPA prematurely abandoned investigations. Now, the EPA SAB has recommended that the agency include detailed summaries of these critical cases.
"By choosing politics over science, the EPA failed the public with its misleading and controversial line, dismissing fracking's impacts on drinking water and sacrificing public health and welfare along the way," Hugh MacMillan, senior researcher at Food & Water Watch, said.
"We are calling on the EPA to act quickly on the recommendations from the EPA SAB and be clear about fracking's impacts on drinking water resources. The EPA must prioritize the health and safety of the American people over the political interests of the oil and gas industry and its financiers, who have committed hundreds of billions to drilling and fracking in the coming decades. For climate reasons alone, that's a vision for the future that we can ill-afford."
The release of this final report comes on the heels of a massive March for a Clean Energy Revolution at the Democratic National Convention calling for a nationwide ban on fracking, a March 2016 Gallup poll showing that Americans oppose fracking 51-36 percent, and a July 2016 Johns Hopkins Study showing that fracking is linked to increased asthma attacks in Pennsylvania.
A recent peer-reviewed analysis of the science on unconventional oil and gas extraction, of more than 680 peer-reviewed studies, found that, "The great majority of science contains findings that indicate concerns for public health, air quality and water quality." In October of 2015, a partnership of prominent health organizations encompassing nationwide medical and public health experts and scientists released a Compendium of more than 500 peer-reviewed scientific papers, as well as numerous government reports and findings, demonstrating the risks of fracking to public health, air and water quality, birth and infant health, the environment and climate change.
Researchers from Uppsala University in Sweden have found that young fish basically like eating microplastics as much as teenagers like eating fast food.
For the study, published this week the journal Science, European perch embryos and larvae from the Baltic Sea were placed into lab aquariums with varying levels of polystyrene microplastics, including concentrations currently seen in nature.
Alarmingly, the researchers discovered that larval perch living in high concentrations of microplastic particles preferred to eat plastic over plankton, which are their natural food sources.
"This is the first time an animal has been found to preferentially feed on plastic particles, and is cause for concern," Peter Eklöv, co-author of the study, told the Guardian.
Lead author Dr. Oona Lonnstedt described that the fish were drawn to the plastic over real food.
"They all had access to zooplankton and yet they decided to just eat plastic in that treatment. It seems to be a chemical or physical cue that the plastic has, that triggers a feeding response in fish," Lonnstedt told BBC News.
"They are basically fooled into thinking it's a high-energy resource that they need to eat a lot of. I think of it as unhealthy fast food for teenagers, and they are just stuffing themselves."
Also in the study, the researchers found that young perch living in high concentrations of microplastics were smaller and less active compared to fish reared in average concentrations of microplastic particles. These fish also tended to ignore the chemical signals that would normally warn them of predators.
When predators were introduced into the lab tanks, the perch exposed to microplastics were eaten by pike four times more quickly than their naturally-reared relatives. All of the plastic-exposed fish in the study were dead within 48 hours, the Guardian noted.
According to the study, exposure to microplastics also reduced rates of hatching and development into maturity. About 96 percent of the eggs successfully hatched in environments without microplastics, compared to 81 percent for those exposed to large quantities.
Roughly 8 million tons of plastic gets dumped into the world's oceans every year. One study warned that there will be more plastic than fish in the ocean by 2050.
Because plastics are non-biodegradable, when large pieces enter our waterways, they eventually break down into smaller and smaller pieces, or microplastics. Incidentally, these tiny pieces of trash make up the bulk of the plastic soup in our waters, with the little pieces found in ice cores, across the seafloor, vertically throughout the ocean and on every beach worldwide. Fish and plankton often mistake these particles for food.
Lönnstedt warned that "if early life-history stages of other species are similarly affected by microplastics, and this translates to increased mortality rates, the effects on aquatic ecosystems could be profound."
As EcoWatch mentioned previously, microplastics are also very absorbent, meaning they pick up the chemicals it floats in. So we don't just have to worry about the plastic itself that the fish are eating but all of the contaminants in that plastic as well. That goes for us, too, if we eat a fish that's eaten plastic particles.
YOU MIGHT ALSO LIKE
Could Pixar's 'Finding Dory' Have an Adverse Effect on Coral Reefs?
New Federal Report Shows Dimock Water Was Unsafe to Drink After All
35% of Northern and Central Great Barrier Reef Is Dead or Dying
10 Popular Dive Sites Closed in Thailand Due to Coral Bleaching Crisis
This website uses cookies to ensure you get the best experience while browsing it. By clicking 'Got It' you're accepting these terms.


The best of EcoWatch, right in your inbox. Sign up for our email newsletter!