By Columbia Riverkeeper
A unit train carrying crude oil derailed near Mosier, Oregon, Friday. Mosier schools were evacuated and a large black plume of smoke filled the sky with visible flames.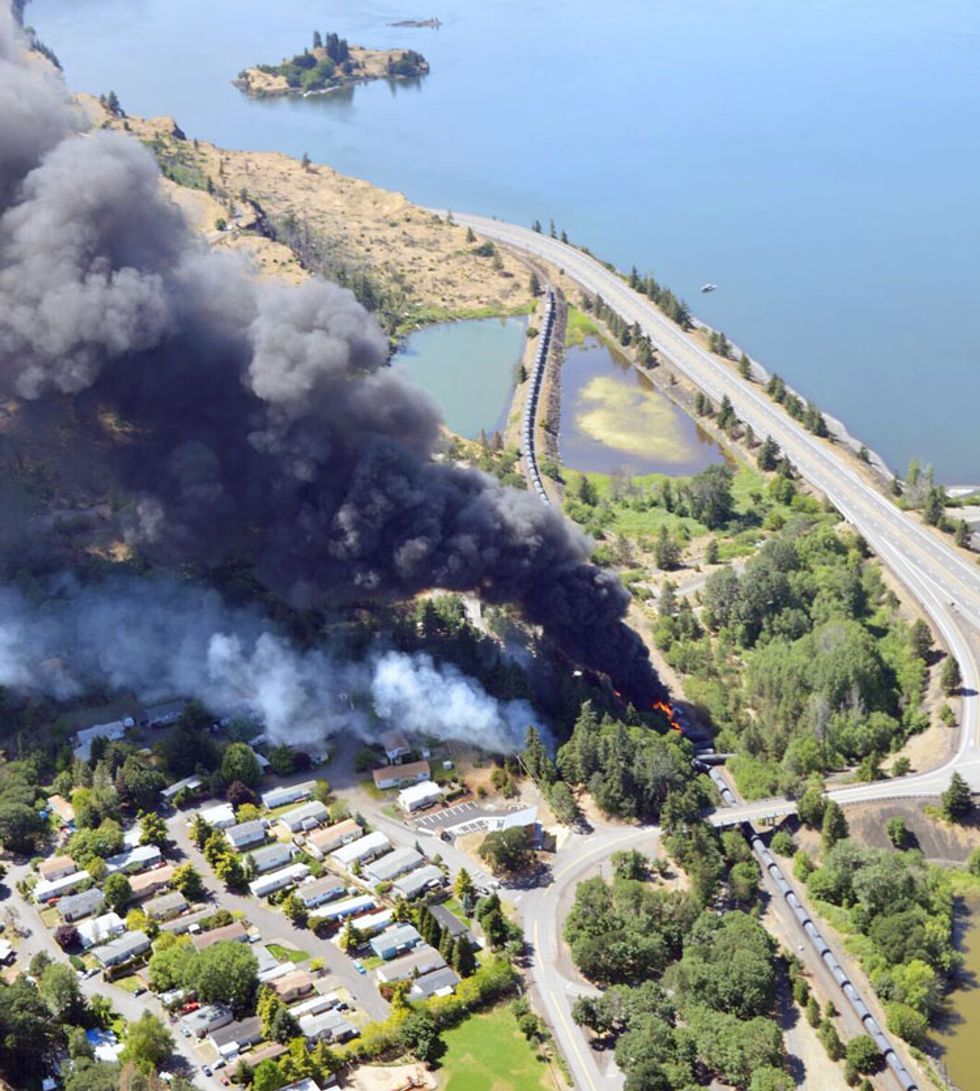 The train was carrying crude oil on the Union Pacific rail line. The placards on the train said 1267—signifying that the trains were carrying crude oil.
"I never thought I'd see an oil train derail and burn in my community," Brett VandenHeuvel, executive director of Columbia Riverkeeper, said. "I watched in horror as the red flames and the black plume of smoke filled the air. How many more times will we threaten our schools and neighborhoods with dangerous oil. Enough is enough."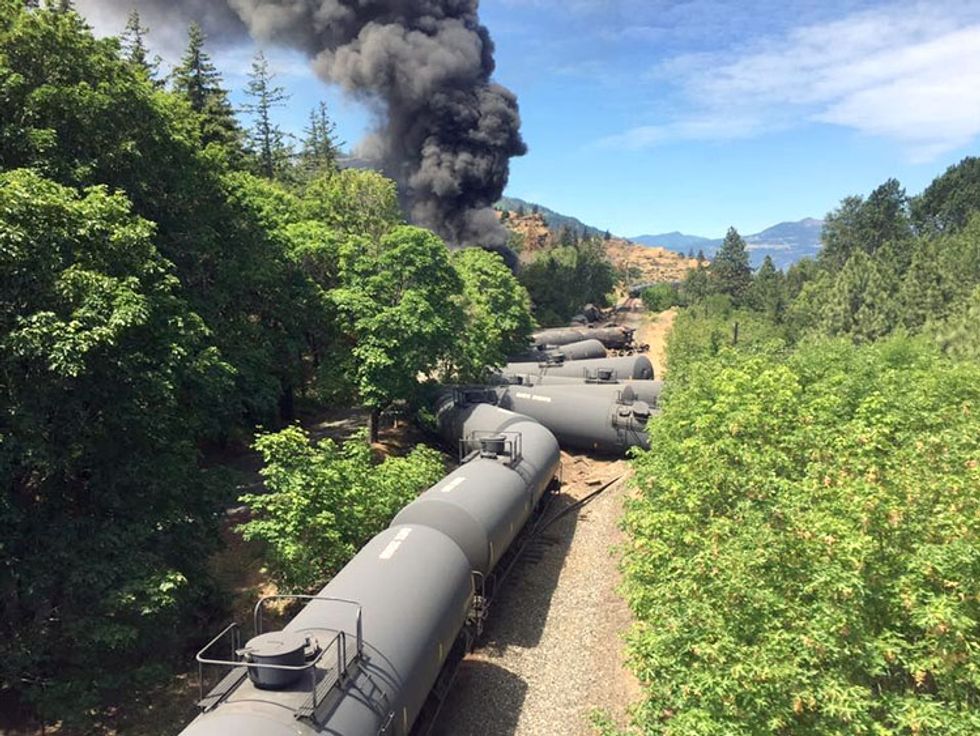 The use of the Columbia River Gorge National Scenic Area as a fossil fuel export corridor is simply unacceptable for our communities. It's unacceptable for any community—and if it can happen here, it can happen anywhere. We call on Oregon and Washington to do everything in their power to stop the use of the Columbia River Gorge National Scenic Area as a fossil fuel export corridor.
"This is what happens when we become a fossil fuel corridor," VandenHeuvel continued. "We need more from our states than just cleaning up spills. It's time for a commitment from Governors Brown and Inslee to prohibit the use of any state land or water for fossil fuel export."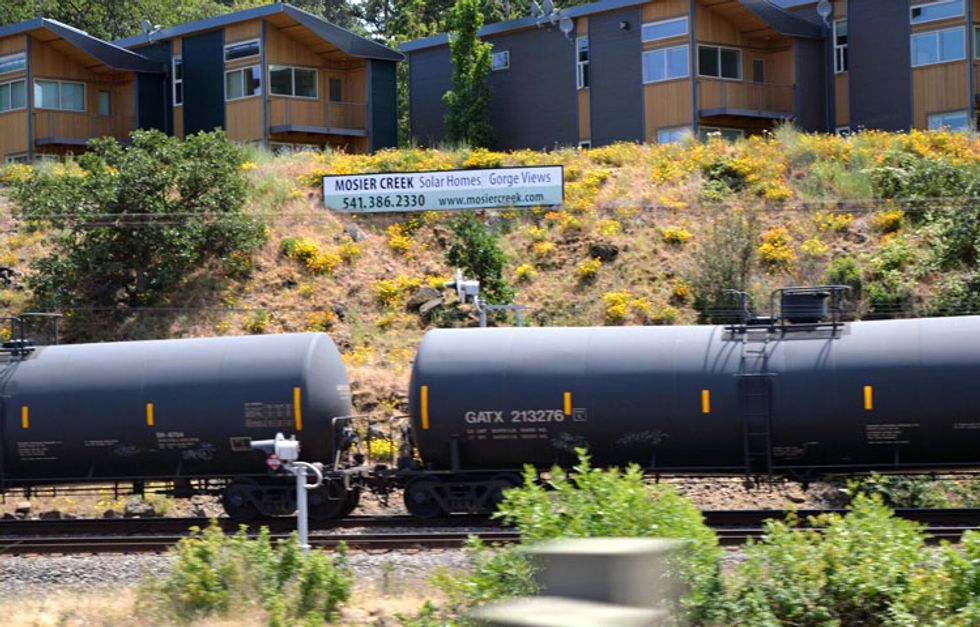 This is a tragic moment that has lived in the minds of many community members for a number of years. The escalation of oil trains in the Gorge and throughout the Pacific Northwest has been opposed by many city governments, faith communities, tribal councils and community organizations precisely for the reasons we are experiencing today as a result of the Mosier derailment.
Health and air quality, water contamination risks, fire risks and community safety are all being jeopardized. As we enter the hot summer season, we are also reminded of the reality of climate change and the role that fossil fuels play in endangering the future of all who live and breathe on the planet.
In response to the derailment in Mosier, there was a rally and march in Hood River at the Overlook Memorial Park Saturday calling for an end to dangerous oil trains and asking President Obama to support a ban on high risk oil train shipments through the Columbia Gorge and other U.S. communities. They were also calling on Oregon Governor Brown, Washington state Governor Inslee and federal leaders to deny proposed oil train terminals in the Pacific Northwest, proposals that would dramatically increase dangerous oil trains through the Pacific Northwest.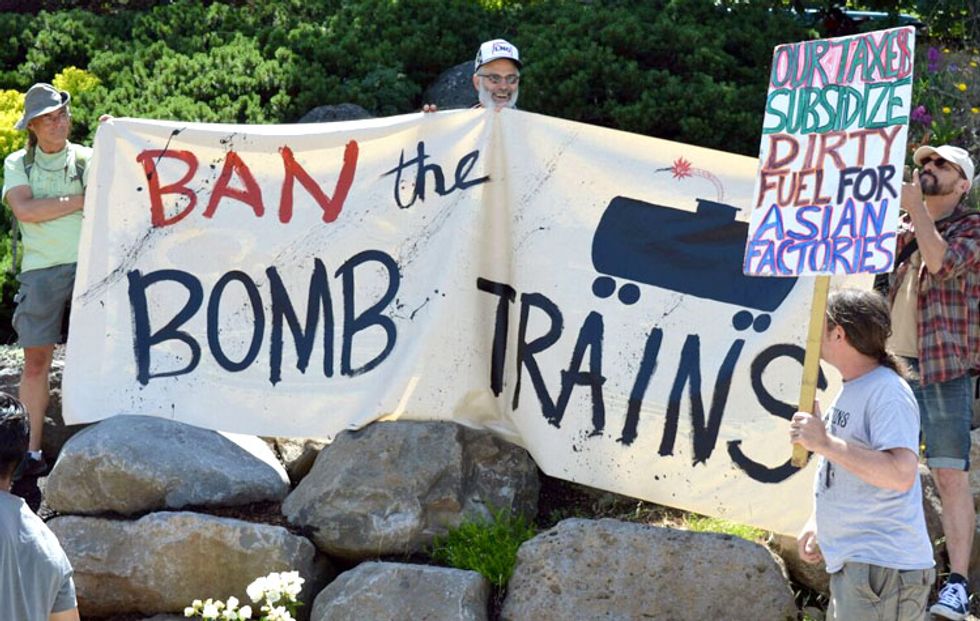 "The only silver lining is that this dramatic derailment should spell the end of the proposed Tesoro oil terminal in Vancouver," VandenHeuvel concluded. "I can't imagine how anyone could approve that project, and invite more trains, after this terrible derailment."
UPDATE: The City of Mosier passed an emergency motion calling on the Union Pacific Railroad to remove all oil from damaged cars before rail traffic is reopened. Despite the resolution, Union Pacific pushed the derailed and damaged cars, some full of oil, to the side of the tracks and started the rail.
Watch here:
[youtube https://www.youtube.com/watch?v=iWZMA2EHSOY&feature=youtu.be expand=1]
EcoWatch Daily Newsletter
Another study has further cemented how fracking can be a human health hazard. People who live close to fracking wells have a higher risk of asthma attacks among asthma patients, according to a Johns Hopkins Bloomberg School of Public Health study.
The location of spudded wells (drilling begun) as of December 2012 and residential locations of Geisinger patients with asthma
The paper, published yesterday in JAMA Internal Medicine, focused on Pennsylvania's Marcellus Shale, one of the country's most active and notorious fracking regions. In the years between 2005 and 2013, the area has seen 6,253 unconventional natural gas wells spudded (the start of drilling) on 2,710 pads. Another 4,728 wells were stimulated and 3,706 were in production.
For the study, lead author and PhD candidate Sara G. Rasmussen, MHS and her colleagues analyzed health records from 2005 through 2012 from the Geisinger Health System, a health care provider that covers 40 counties in north and central Pennsylvania. The researchers identified more than 35,000 asthma patients between the ages of five and 90 years, identifying 20,749 mild attacks, 1,870 moderate ones and 4,782 severe attacks. They then mapped where these patients lived relative to nearby well activity.
The data revealed that people who live nearby a large number or bigger active natural gas wells were 1.5 to 4 times more likely to suffer from asthma attacks compared to those who live farther away. The risk also showed up in all four phases of well development: pad preparation, drilling, stimulation—the actual fracturing—and production.
While the exact cause of the trend was not identified, the authors of the paper suggested that exposure to air pollution and psychosocial stress—increased truck traffic, loud noises and bright lights disrupting sleep—from drilling operation can exacerbate asthma.
"Ours is the first to look at asthma but we now have several studies suggesting adverse health outcomes related to the drilling of unconventional natural gas wells," Rasmussen said. "Going forward, we need to focus on the exact reasons why these things are happening, because if we know why, we can help make the industry safer."
Fracking can induce asthma attacks in three ways, as Barbara Gottlieb, the Environment and Health program director at Physicians for Social Responsibility who was not involved in the study explained to USA TODAY. As USA TODAY writes, "the release of volatile organic compounds can interact with other chemicals in the fracking sites to form ground-level ozone, an asthma-inducing pollutant. Increased industrial activity near fracking sites, such as transportation, also aggravates asthma symptoms. And natural gas, or methane, leaks that occur at fracking sites add to asthma exacerbation as well by accelerating climate change and increasing temperatures which increases ground-level ozone."

This paper adds to the mounting research linking the fracking industry to various health impacts. Fracking, or hydraulic fracturing, involves injecting water and silica sand, and a slurry of toxic chemicals at high pressures into the ground to release gas deposits.
"We are concerned with the growing number of studies that have observed health effects associated with this industry," said Brian S. Schwartz, MD, MS, an author of the study and professor in the Department of Environmental Health Sciences at the Bloomberg School. "We believe it is time to take a more cautious approach to well development with an eye on environmental and public health impacts."

"Asthma is a common disease with large individual and societal burdens, so the possibility that UNGD [Unconventional natural gas development] may increase risk for asthma exacerbations requires public health attention," the authors concluded. "As ours is the first study to our knowledge of UNGD and objective respiratory outcomes, and several other health outcomes have not been investigated to date, there is an urgent need for more health studies. These should include more detailed exposure assessment to better characterize pathways and to identify the phases of development that present the most risk."

Earlier this year, researchers found that at least five chemicals associated with unconventional oil and gas operations are linked to respiratory health issues on infants and children, including asthma, reduced lung and pulmonary function, increased susceptibility to infection, chest discomfort, difficulty breathing, lung inflammation and other adverse outcomes.
New Fracking Study Finds Children at Greater Risk of Respiratory Health Problems https://t.co/bssDXHS6Ls @Frack_Off @FrackAction

— EcoWatch (@EcoWatch) 1463089813.0
For environmental advocates, this study is further evidence why fracking is unsafe.
"This study's findings confirm what we have known for years—that fracking is an inherently hazardous process that threatens human health and safety every day," Wenonah Hauter, founder and executive director of Food & Water Watch said. "More than 17 million Americans live within a mile of a fracking site, and they are all at risk. Despite countless dollars spent by the oil and gas industry in numerous attempts to sway public opinion, the truth is winning out. As recent polling proves, the more Americans hear about fracking, the more they oppose it."

Karen Feridun of Berks Gas Truth and Pennsylvanians Against Fracking said, "This Johns Hopkins study should be a wake-up call to Governor Wolf and Physician General Levine that fracking is causing serious harm to Pennsylvania children and families. How can Governor Wolf sit idly by as study after study comes out out revealing severe health impacts to his constituents as a result of his pro-fracking policies?"
In related news, environmentalists are currently preparing for the March for a Clean Energy Revolution at the Democratic National Convention in Philadelphia on Sunday, July 24 to demand that the country end its reliance on fossil fuels and dirty energy and shift towards renewable energy.
What about all 41 released in 2021?
Reviews
Prostock-Studio / iStock / Getty Images
We had a lot of questions when we heard that Hallmark was releasing 41 Christmas movies this year alone. First off, how? Secondly, do I have the time to watch them all? Do I have the energy to watch all 41 (mentally and physically) so as not to miss out on this timeless holiday tradition? How much electricity would that even require?
With the holidays approaching, we thought you might like the answer to the question us solar nerds are asking: how many solar panels does it take to watch a Hallmark Christmas movie?
Don't celebrate Christmas or watch Hallmark movies? Fret not. This framework can help you understand the amount of power it takes to watch any movie, TV show, sports game or even provide electricity to your entire home.
How Much Electricity Does It Take to Power a TV?
The easiest place to start is by measuring the amount of electricity it requires to power your TV (to really do this right would require doing a full life-cycle assessment of your TV, cable box or console, etc., but we'll keep things simple for now). In this context, electricity pulled to power your TV is measured in kilowatt-hours (kWh), a unit of energy equal to one kilowatt (1,000 watts) of power sustained for one hour. Think about kW as horsepower, and kWh as the speed of the car.
Say you had a 100-watt light bulb. By definition, a light bulb is labeled 100-watt because it requires 100 watt-hours of energy to run for one hour.
We can use the same method in measuring the amount of electricity necessary to power your TV. First, you'll need to find the wattage of your TV. We'll use an average size of about 150 W, which Payless Power says is the amount of power a 50-inch LCD TV.
Following this logic, we now know that it takes 150 watt-hours of energy to power this TV for one hour. Plasma TVs of the same size can be around 300 W, whereas an energy-efficient LED TV might be closer to 100 W.
Next question to answer would be: How long do we have to power our TVs with solar for some "A Princess for Christmas" action?
How Long Are Hallmark Christmas Movies?
Hallmark Christmas movies are made to air on TV and are about 90 minutes in length (aimed to line up with a two-hour airtime on cable). For simplicity's sake, let's use the two-hour figure.
Applying our simple logic, we know that powering a 150 W TV for two hours would require 300 watt-hours of electricity (150 watts x 2 hours).
A three-hour baseball game would require 450 watt-hours (150 watts x 3 hours).
A half-hour episode of Seinfeld would require 75 watt-hours (150 watts x .5 hours).
Say you set a reasonable goal of limiting yourself to 10 Hallmark Christmas movies this season. Twenty hours of Hallmark movie magic would set you back 3,000 watt-hours of electricity, or 3 kWh (150 watts x 20 hours).
Starting to make sense?
So, How Many Solar Panels Does It Take To Watch a Hallmark Christmas movie?
We've measured our figure of 300 watt-hours of energy necessary to watch one Hallmark Christmas movie on a standard TV. So, how many watt-hours of electricity does one solar panel produce?
Our favorite solar panels average around 350 W. One 350-W solar panel will produce 350 watt-hours of electricity when receiving direct sunlight for one hour. Assuming this panel gets around five hours of direct sunlight in a given day, one 350-W panel would generate 1,750 watt-hours of electricity (1.75 kWh). If you live in a very sunny region, factor in a little more conversion (maybe 2 kWh), and if you live further north your energy might be closer to 1.5 kWh.
For simplicity, let's stick with the median figure of 1.75 kWh generated in one day. How many hours of energy would this provide your TV?
Let's first convert the 150 watt figure in kilowatts for our calculation: 150 W / 1,000 kW = .15 kW
Next, divide the power generated by the panel by the kilowatts needed to power your TV: 1.75 kWh / .15 kW = 11.7 hours of TV.
That means that, in one day, a single 350 W solar panel will produce enough energy to watch nearly six full-length Hallmark Christmas movies (5.85 to be exact).
Now the fun part. How many solar panels does it take to watch just the 41 Hallmark Christmas movies released in 2021? What about every Hallmark Christmas movie ever made? If you didn't want to wait the number of days required, that figure is equivalent to how many panels you would need to generate that same amount of energy in one day.
(Assuming a constant of five hours of direct sunlight per day on a 350-watt solar panel)
EcoWatch Illustration by Devon Gailey
Approximate Runtime
Energy Required
Number of Charging Days Needed if You Have One Solar Panel
One Hallmark Christmas Movie
2 hours
0.3 kWh
<1 Day
Average Baseball Game
3 hours
0.45 kWh
<1 Day
Entire Season of Survivor
16 hours
2.4 kWh
1.4 Days
12 Hallmark Christmas Movies
(A full day!)
24 hours
3.6 kWh
2.1 Days
41 Hallmark Christmas Movies
(2021 Releases)
82 hours
12.3 kWh
7.1 Days
100 Hallmark Christmas Movies
200 hours
30 kWh
17.2 Days
278 Hallmark Christmas Movies
556 hours
83.4 kWh
47.7 Days
So, there you have it. On a sunny day, one solar panel is more than enough to provide the electricity you need to watch just one Hallmark Christmas movie. From there, we hope you have the tools necessary to calculate the solar energy necessary to power just about anything.
Powering Your Holidays with Solar
Using these formulas, you could even calculate how many solar panels you need to power your entire home. According to the EIA, in 2020, the average annual electricity consumption for a U.S. residential utility customer was roughly 30 kilowatt-hours (kWh) per day — the same amount of power it takes to watch 100 Hallmark Christmas movies.
With the same formula, we can divide 30 kWh by 1.75 (kWh generated by one panel in one day assuming the same constants) and get about 17 solar panels necessary to offset a home's daily use, a 6 kW system. Add one or two panels if you live at a northern latitude, and subtract a few if you live farther south and get more sunlight per day.
Of course, panel efficiency and the actual amount of energy you consume will all factor into how many panels you actually need for your home. But it's a safe bet that purchasing even one panel to power your television will help offset your home's energy use — especially if you're planning on binge-watching hours of iconic cinema to get you in the holiday spirit.
By Deirdre Fulton

After being sued for $30 million by a corporate landfill owner for "speaking their truth in order to protect their community," four residents of Uniontown, Alabama—a poor, predominantly Black town with a median per capita income of around $8,000—are fighting back.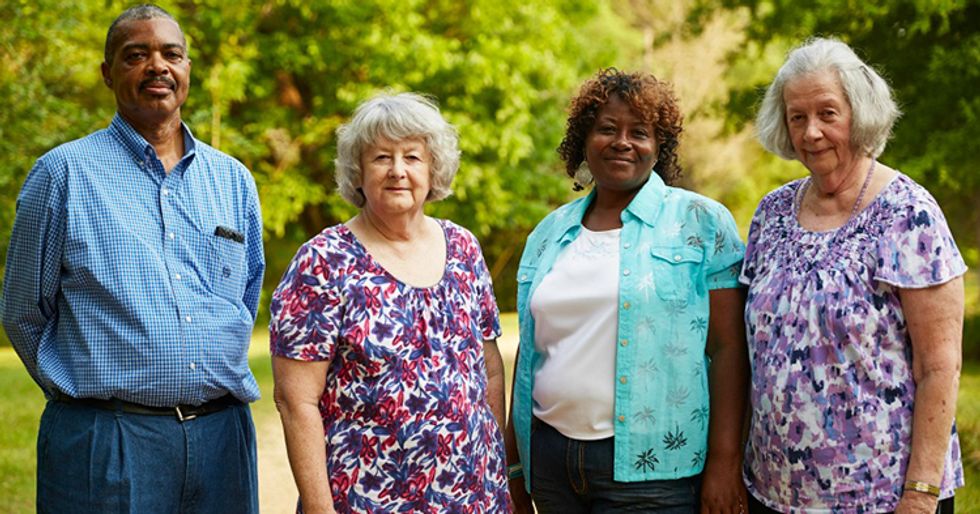 On Thursday, the American Civil Liberties Union (ACLU) asked a federal court to dismiss the defamation lawsuit against Esther Calhoun, Benjamin Eaton, Ellis B. Long and Mary B. Schaeffer—all members of the community group Black Belt Citizens Fighting for Health and Justice.
The defendants are being sued by Georgia-based Green Group Holdings for speaking out against the polluting, hazardous coal ash that the company keeps in a landfill in a residential area—a "sprawling dump" that stands as a symbol of racial and environmental injustice.
According to AL.com:
The lawsuit alleges that the Black Belt group used its web site and Facebook page "in a false and malicious manner," and that the group's president Esther Calhoun and vice president Benjamin Eaton made "knowingly false" statements to the media.
"The lawsuit focuses on comments made by visitors to the group's Facebook page relating to controversies over the landfill's activities near an old cemetery and accusations that the facility is polluting the community and oppressing local residents," Sue Sturgis wrote in April for Facing South.
Among the comments the lawsuit calls "false and defamatory" are these remarks by the group's president, Calhoun (the bold text is the Green Group Holdings' own, showing what the company objects to):
Its a landfill, its a tall mountain of coal ash and it has affected us. It affected our everyday life. It really has done a lot to our freedom. Its another impact of slavery. ... Cause we are in a black residence, things change? And you can't walk outside. And you can not breathe. I mean, you are in like prison. I mean, its like all your freedom is gone. As a black woman, our voices are not heard. EPA [Environmental Protection Agency] hasn't listened and [Alabama Department of Environmental Management] has not listened. Whether you are white or black, rich or poor, it should still matter and we all should have the right to clean air and clean water. I want to see EPA do their job.
In its filing on Thursday, the ACLU argues that the lawsuit "involves speech at the very core of the First Amendment," said Lee Rowland, senior staff attorney with the ACLU's Speech, Privacy and Technology Project.
"No one should have to face a multimillion-dollar federal lawsuit just for engaging in heartfelt community advocacy," Rowland said. "All Americans have a right to speak out against hazardous substances being dumped in their home towns and the Constitution prevents companies from using lawsuits to silence their critics."
The ACLU reports that before filing the defamation suit, a lawyer for Green Group Holdings provided the defendants with a list of demands in exchange for not suing.
That so-called "settlement proposal" would have required a full apology from each defendant; access to the group's future social media postings; and extensive details about Black Belt Citizens' membership, advocacy and communications with other environmental groups, among other things. The proposal also would have required each of the defendants to withdraw as complainants in a federal civil rights complaint filed with the EPA.
The defendants scoffed at the offer.
"Not only have Black people been expected to endure this kind of systematic racial and environmental injustice throughout our nation's history, they are expected to bear it silently or be subjected to harsh consequences just for advocating for their health and community," said Dennis Parker, director of the ACLU's Racial Justice Program. "We want to ensure that our clients don't have to face that choice in Uniontown."
Indeed, said Calhoun on Thursday: "State officials would never have allowed the landfill to be here if we were a rich, white neighborhood. They put it here because we're a poor, Black community and they thought we wouldn't fight back. But we are fighting back and we're not afraid to make our voices heard."
YOU MIGHT ALSO LIKE
New Federal Report Shows Dimock Water Was Unsafe to Drink After All
These 33 Cities Cheated on Lead Contamination Tests, Similar to Flint, Michigan
Washington State Clean Air Rule Defies Court Order
This 6-Year-Old Has a Message for People Who Are Rude to the Planet
The environmental costs of fracking, from earthquakes to an alarming rise in methane emissions, has been well reported. The human cost of fracking, however, is not heard often enough. In Pennsylvania, two recent cases in Susquehanna County have put the controversial drilling process at the forefront.
As jury selection kicks off in the notorious fracking water contamination case in Dimock against Cabot Oil & Gas Corp, a family of maple syrup farmers in the same northwestern county will potentially lose their trees, and thus their livelihood, to make way for the company's latest fracking pipeline project, the 124-mile Constitution Pipeline.
Jury selection begins today for a fracking contamination case in Dimock https://t.co/1njq1i5uZE @StateImpactPA https://t.co/gYp4bISfYq

— WITF news (@WITF news) 1456152019.0
The federal lawsuit—Scott Ely, et al. v Cabot Oil & Gas Corporation et al.—involves two couples, Scott Ely and Monica Marta-Ely, and Ray and Victoria Hubert, who claim that Cabot Oil & Gas Corp contaminated their water supply during fracking operations near their homes.
Residents in the small village reported health problems with their coffee-colored water, such as rashes, nausea, headaches and dizziness.
"We haven't had clean water since he was in kindergarten," Marta-Ely, pointing to her 13-year-old son Jared at a news conference during a break in jury selection, Reuters reported.
The Dimock case dates back to 2009 when 44 plaintiffs brought a lawsuit against the company. In the five years since initiating litigation, the Elys and Huberts are the only plaintiffs remaining on the case as the vast majority have settled with the company.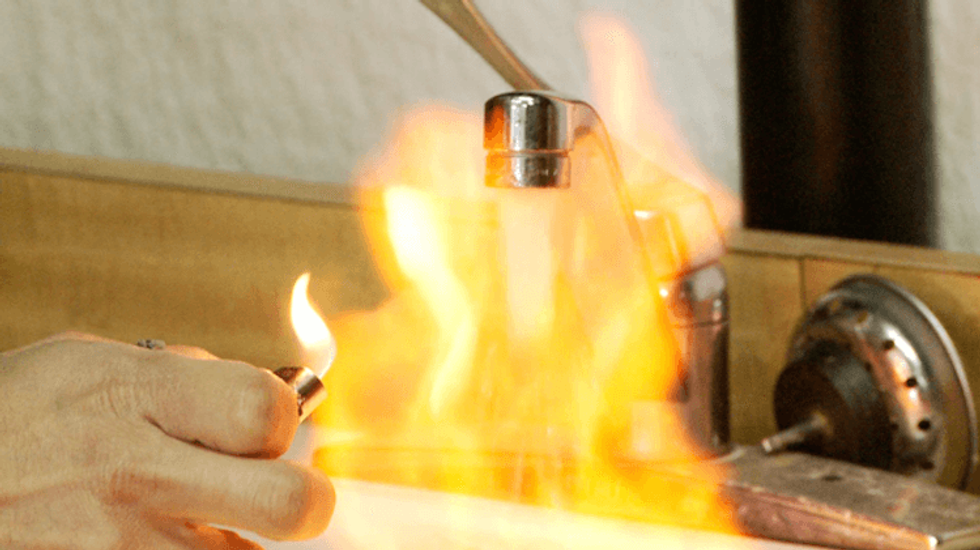 Dimock, Pennsylvania, aka the ground zero of fracking contamination in the east coast, was the subject of the Oscar-nominated 2010 documentary Gasland that infamously featured the town's flaming faucets due to its alarming concentrations of methane.
Pointing to court documents, Reuters reported that the trial "will bring light to a state law that assumes that a gas driller is responsible for water well contamination within 1,000 feet of a drilling site that develops within six months of drilling."
According to NPR's StateImpact, Cabot has already accumulated more than 130 drilling violations at its Dimock wells, yet insists that methane migration in Dimock's water is naturally occurring. The company is currently banned from drilling in a 9-mile area of Dimock but is trying to lift the ban, StateImpact noted.
"The evidence will show that Cabot met or exceeded the applicable standards of care in the drilling and completion of the ... wells," according to court documents seen by Reuters. "Cabot will present evidence that the plaintiff's water is potable."
During the fracking process, massive quantities of water, sand and toxic chemicals are shot into shale formations to release natural gas.
The White House boasts that the boom in "cheap" natural gas has put the country's dependence on foreign oil at a 40-year low and Marcellus Shale that runs beneath most of Pennsylvania is a "key target" for Big Oil and Gas and accounts for nearly 40 percent of U.S. shale gas production.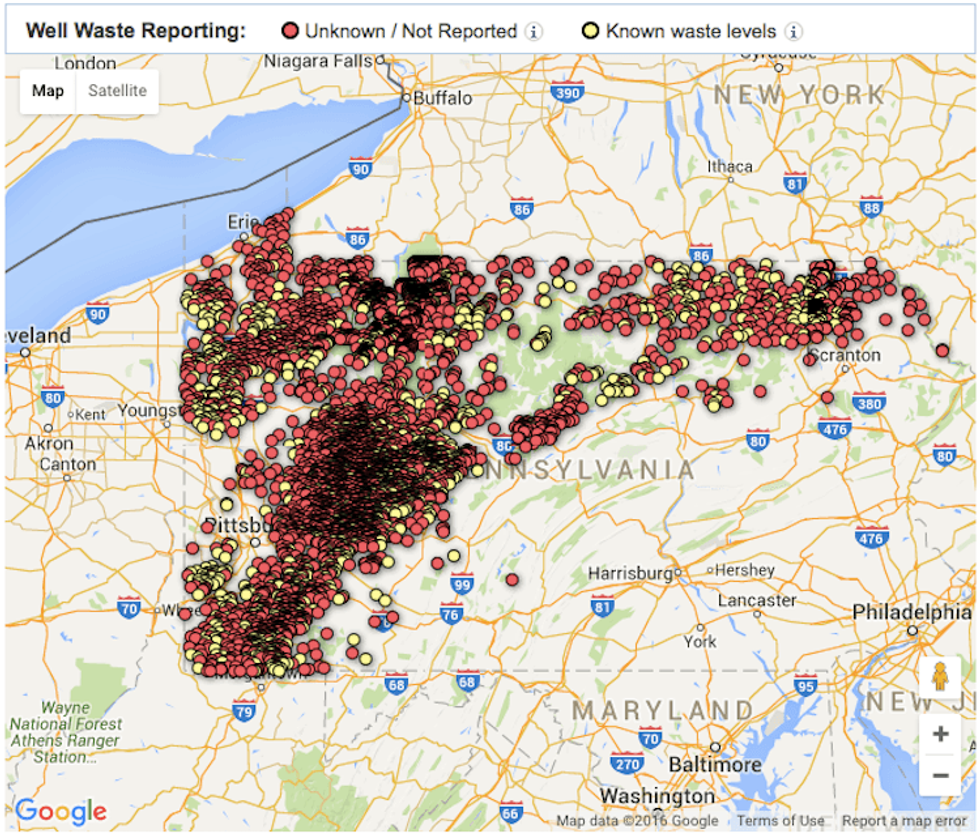 NRDC
Meanwhile, maple syrup farmers in the Susquehanna county will have their maple grove seized due to the construction of the Constitution Pipeline, RT reported.
The Federal Energy Regulatory Commission (FERC) gave notice on Jan. 29 to proceed with tree cutting on the Pennsylvania portion of the pipeline.
RT noted that Cabot Oil is one of the partners of the $875 million pipeline that will take natural gas from Pennsylvania's Marcellus Shale to New York. The other joint parter is the energy company Williams.
The Holleran family, which has been at the center of this fight, has had their property seized via eminent domain, with neither landowner permission nor previous compensation, their Facebook page says.
According to RT, about 200 maple trees will be cut, or 80 percent of the maple trees on the property.
"The last couple of days, and especially this morning have been emotionally crazy. This is a hard time for my family, and it's taking us a bit to work things out," family spokesperson Megan Holleran wrote on Facebook after FERC's decision.
Construction of the pipeline is currently stalled, as environmental groups and state Attorney General Eric Schneiderman have successfully blocked the New York portion of the pipe.
However, as lawyer Mike Ewall of Energy Justice Network said, "Constitution Pipeline Company is threatening this family's livelihood for a pipeline that may never be built. They still don't have FERC's permission to construct, yet they bully and intimidate landowners while offering paltry compensation for taking their land."
Watch the video below to learn more about the case.
YOU MIGHT ALSO LIKE
Harvard Study: U.S. 'Likely Culprit' of Global Spike in Methane Emissions
Lawsuit Filed Over Oklahoma's 'Fracking' Earthquakes as Its Third Largest Quake Is Felt in 7 Other States
Second Review of EPA's Fracking Study Urges Revisions to Major Statements in Executive Summary
Warning to Fossil Fuel Investors: Coal and LNG Markets Shrinking Due to Competition From Renewables
On Friday, the Federal Energy Regulatory Commission (FERC) rejected the proposal for the Jordan Cove LNG Export Terminal and Pacific Connector Pipeline because its public interest value did not outweigh the project's adverse effects.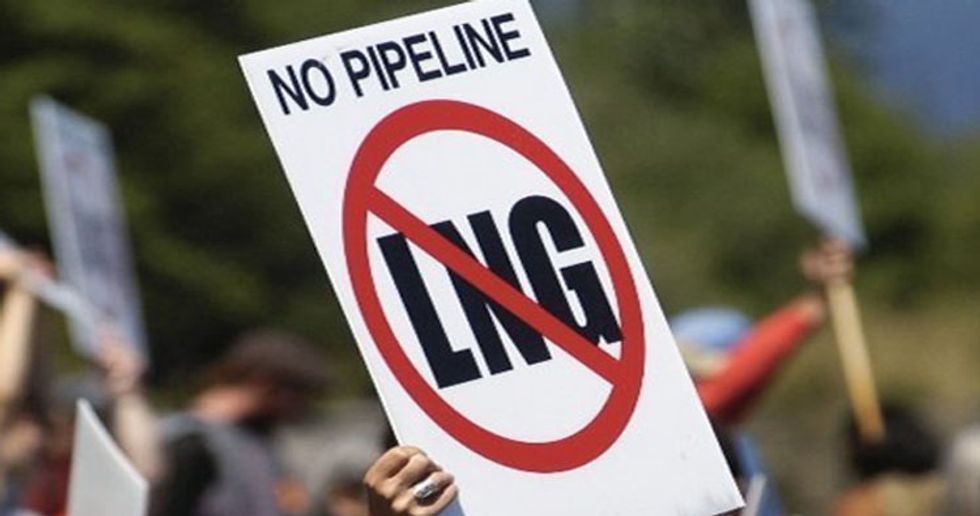 "We find the generalized allegations of need proffered by Pacific Connector do not outweigh the potential for adverse impact on landowners and communities," FERC said, adding that "the record does not support a finding that the public benefits of the Pacific Connector Pipeline outweigh the adverse effects on landowners."
This is a huge victory for groups that have been fighting this project, including the Sierra Club, which intervened by filing a formal request calling for the Jordan Cove terminal and Pacific Connector pipeline to be rejected.
"This historic victory is the result of over a decade of hard work by Oregonians and their allies across the environmental movement committed to protecting their communities from this dangerous proposal," Sierra Club executive director Michael Brune said.
"Allowing dangerous proposals like Jordan Cove to continue will only lead to more drilling and fracking, which in turn will further pollute our air and our water and bring about more climate-fueled weather disasters like the record droughts, wildfires and superstorms we have witnessed in recent years.
"Fossil fuels like gas are not in the public's interest, and we are thrilled to see FERC make this ruling and take such a strong stance."
YOU MIGHT ALSO LIKE
Federal Court to Decide if Kids Can Sue Government for Failing to Act on Climate Change
NOAA: Carbon Dioxide Levels 'Exploded' in 2015, Highest Seen Since End of Ice Age
Jury Awards Two Dimock Couples $4.2 Million After Finding Cabot Oil & Gas Negligent in Fracking Contamination Case
Bolivia's Second-Largest Lake Dries Up: Is Utah's Great Salt Lake Next?
By Clayton Aldern, Billmoyers.com
Courtrooms usually aren't jovial places, but with 21 youth plaintiffs and two busloads of supporting junior high-school students in tow, the air in the U.S. District Courthouse here on Wednesday felt more field trip than federal court.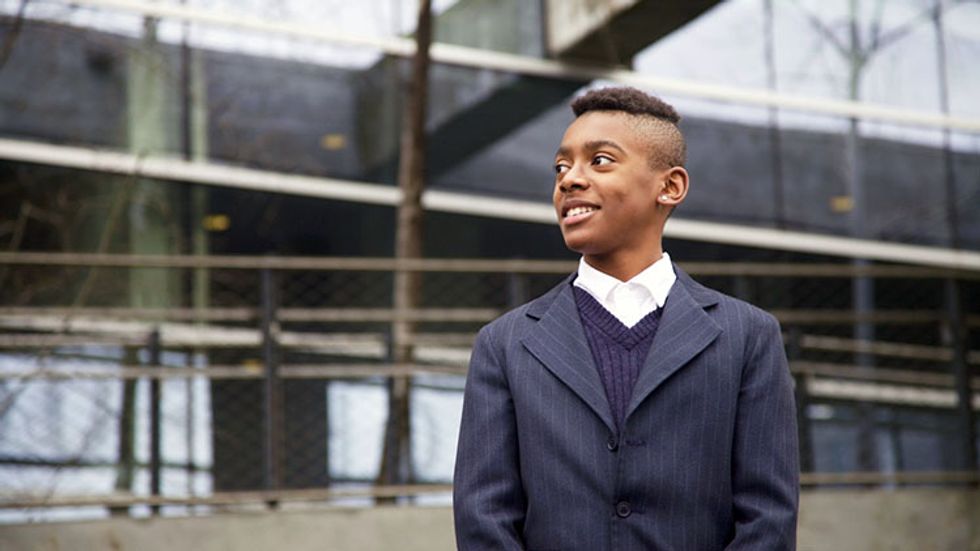 The occasion for the youthful energy was a hearing on a complaint filed on behalf of the plaintiffs, aged 8 - 19, by Oregon nonprofit Our Children's Trust. The kids' lawyers assert that their clients and the younger generation as a whole, have been deprived of key rights by their own government. By failing to act on climate change, they argue, the U.S. government—including President Obama and a baker's dozen federal agencies—has valued its own generation more than future generations, who will bear a greater burden with respect to the climate crisis.
The Justice Department filed a motion to dismiss the complaint and Wednesday's hearing had a federal judge considering that motion. The youth plaintiffs' counsel sparred with government lawyers as well as attorneys representing fossil fuel interests. This kind of case might sound, well, juvenile, but trade groups with ties to the oil and gas lobby—the American Petroleum Institute, the American Fuel and Petrochemical Manufacturers and the National Association of Manufacturers—were concerned enough about it that they joined as co-defendants in November of last year. Now, the Oregon U.S. District Court will decide whether or not the complaint will proceed to trial.
Xiuhtezcatl Tonatiuh Martinez, a 15-year-old indigenous activist and a plaintiff on the case, summed up the kids' perspective at a press conference after the hearing. "We are valuing our futures over profits," he said. "We are valuing this planet over corporate greed."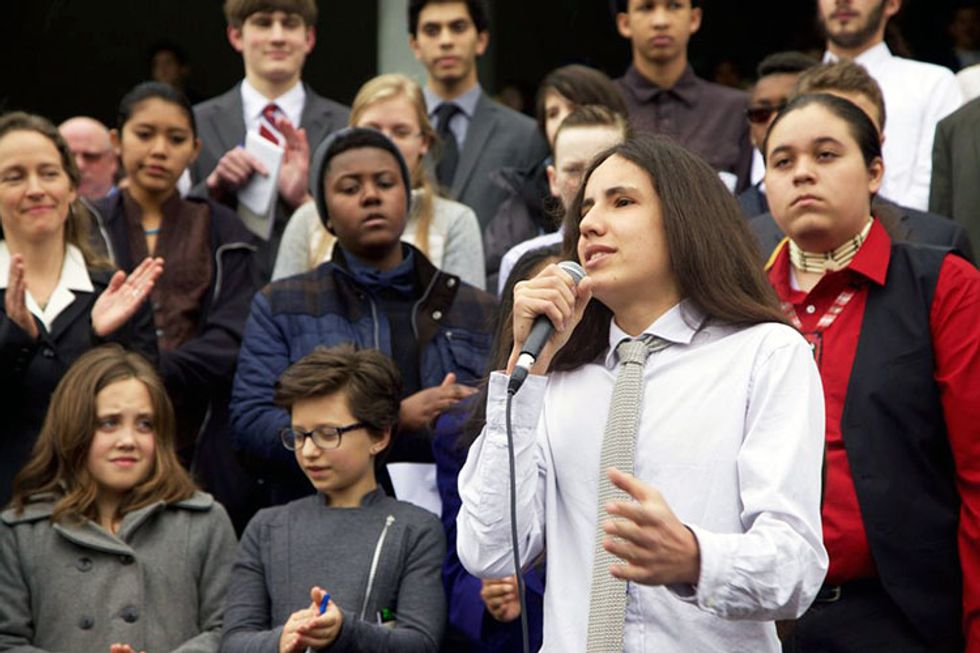 This isn't the first time Our Children's Trust has brought forth a youth climate lawsuit. Indeed, the group has at one time or another filed suit in all 50 states and currently has cases pending in five states. Back in November, in a case brought by a coalition of Seattle teenagers, a Washington judge ruled that the state was constitutionally obligated to protect its natural resources "for the common benefit of the people of the State"—a notable win for the young plaintiffs—but she did not go so far as to rule that the state's carbon emissions-limiting standards in question needed to adhere to the "best available science." A 2011 suit, which the youth plaintiffs ended up losing, also targeted the federal government for failing to keep the atmosphere safe for future generations. It perhaps goes without saying that these types of complaints are incredible long shots.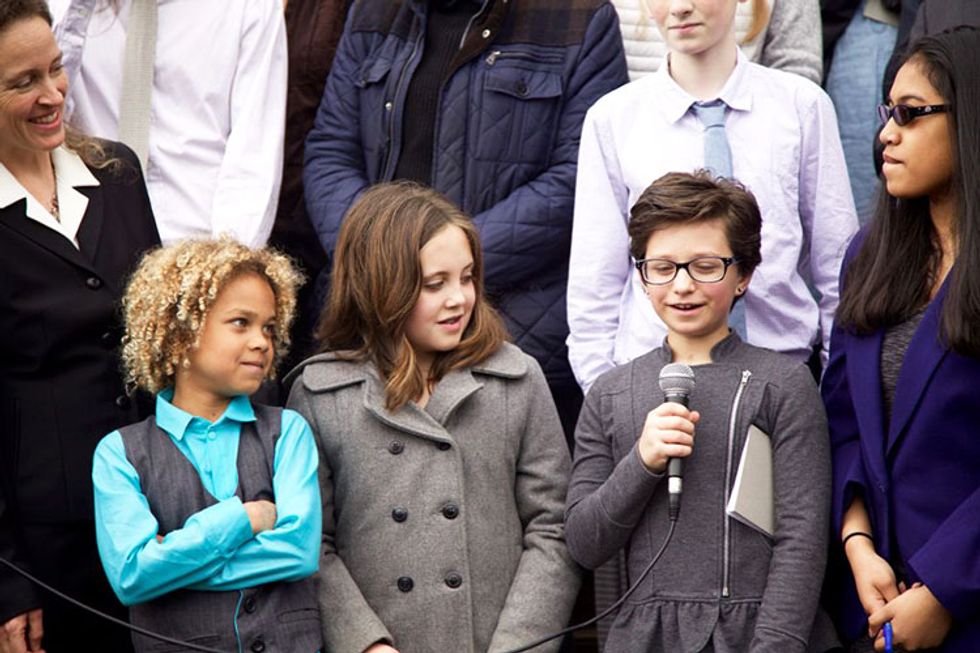 Julia Olson, a lawyer with Wild Earth Advocates and Our Children's Trust who argued the plaintiffs' case on Wednesday, is optimistic about the outcome of this complaint, though. "I believe in our Constitution and I think it can work to address even the most systemic, intractable problem of our generation," she told me.
The complaint alleges violation of the kids' Fifth Amendment rights to due process and equal protection. By failing to act on climate change, it argues, the government discriminates against youth as a class. Without access to a healthy climate, they're deprived of their fundamental rights to life, liberty and property.
The complaint is also built on the public trust doctrine, a carryover from English common law that says a government has the duty to protect certain natural resources and systems on behalf of current and future generations. "It originated with Emperor Justinian in Rome," Alex Loznak, a 19-year-old plaintiff, explained to the press. "It's reflected in the Magna Carta, the writings of Thomas Jefferson and cited in U.S. court decisions dating back to the 1800s."
An important question at hand on Wednesday was whether the public trust doctrine applies to the federal government. The U.S. government and its fossil-fuel industry co-defendants argued that legal precedent only considers it to apply to states. That's a crucial distinction, because it will help determine whether or not the plaintiffs even have standing in the federal court system.
The defendants also contend that if the federal court took on the case, it would amount to an egregious overstep of authority by the judiciary. "This is the type of problem that is designed to be solved by the political branches," argued U.S. counsel Sean C. Duffy at the hearing. He said that denying the U.S. government's motion for dismissal would effectively turn the judicial branch into a "de facto super-agency."
Another core argument of the defense is that all cases addressing constitutional rights must demonstrate that the government, through its actions, has infringed upon these rights or exceeded its authority. Instead, the defense argued, the kids' case alleges a failure to act and you can't require the government to simply "do more." "Our Constitution is one that limits the power of government," argued intervenor counsel Quin Sorenson, who represented industry interests at the hearing.
That's not how Olson sees it, though. "What we have today is not just a failure to act," she told the press after the hearing. "The government is not just sitting by and doing nothing. They are doing everything to cause this problem." Indeed, the complaint calls out the government for its continued actions to "permit, authorize and subsidize fossil fuel extraction, development, consumption and exportation."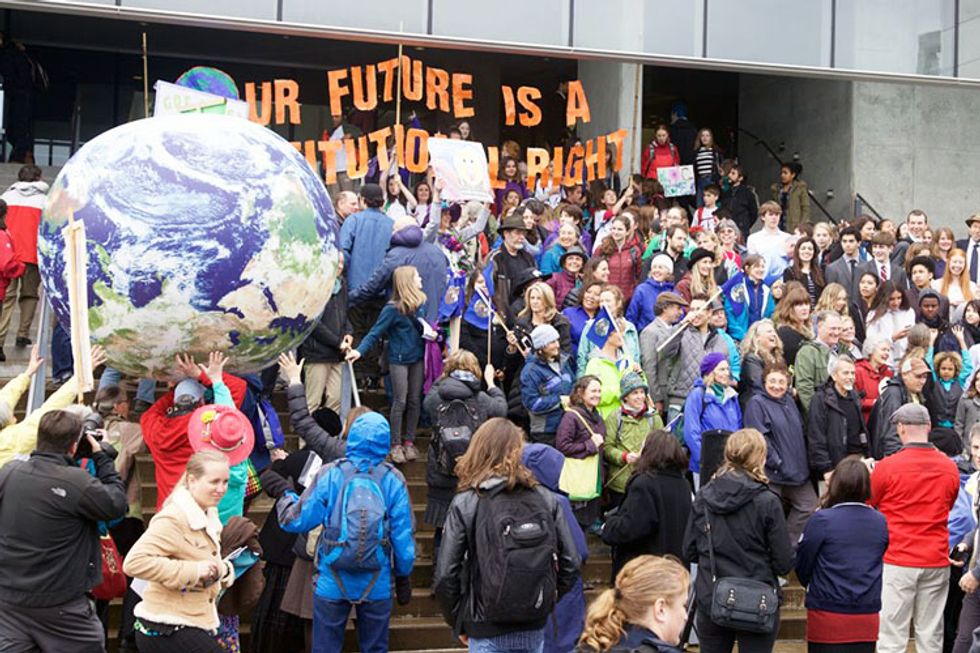 Courthouse in Eugene, OR, after the hearing. The banner reads, "Our future is a constitutional right." Photo credit: Clayton Aldern / Grist
It's also not unprecedented for a court to demand that the government meet a specific standard to ensure its citizens' safety, she said. In Brown v. Plata, for example, a 2010 Supreme Court case concerning prison reform, the court required a mandatory limit on prison populations for the sake of health and safety. Summarizing the decision, she said that while the Supreme Court had no scientific standards to apply at the time, it ruled that it could rely on expert evidence. "The Court selected the number—it set the standard—to keep those prisoners safe." And when it comes to determining the safe level of climate pollution in the atmosphere, "we have scientific standards," she said.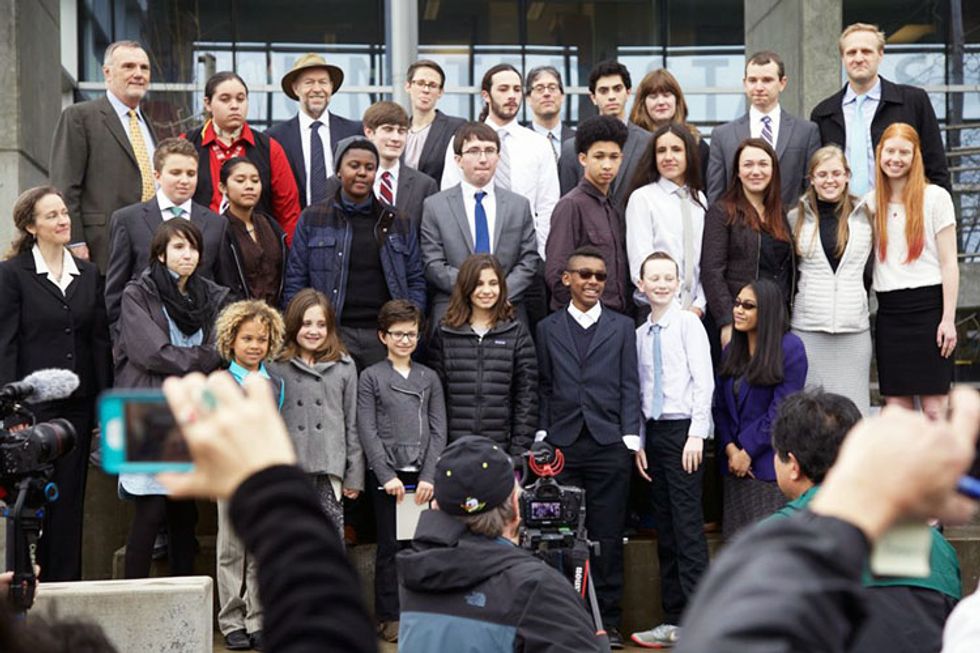 pose with Our Children's Trust attorneys Phil Gregory (top left) and Julia Olson
(bottom left). Photo credit: Clayton Aldern / Grist
"The way I hope it will go is that the judicial branch will say, 'You've got to do something,'" said Dr. James Hansen, adjunct professor at Columbia University and former director of NASA Goddard Institute for Space Studies. Hansen's granddaughter is a plaintiff in the case and he's formally listed in the complaint as the legal guardian of "Future Generations." He continued, "Hopefully the court will ask for a plan: How are you going to ensure the rights of young people?"
In a time of gridlock and sorely needed climate action, the case couldn't come soon enough, Hansen said. "It gets harder and harder to stabilize the climate if you go longer and longer without turning the curve."
Addressing climate change is perhaps the greatest challenge of our time and it necessarily causes us to ask some big questions. Is there a constitutional right to be free from climate change? Is there a constitutional right to a safe climate? Is youth a class or simply a mutable trait? If the federal government takes actions that worsen the climate crisis, does that amount to an abuse of its power?
Said Olson: "We are not just in a climate crisis. We will have a significant constitutional crisis and a crisis in our democracy if this doesn't work."
YOU MIGHT ALSO LIKE
Jury Awards Two Dimock Couples $4.2 Million After Finding Cabot Oil & Gas Negligent in Fracking Contamination Case
Obama, Trudeau Agree to Safeguarding Arctic, Reducing Methane Emissions
Democratic Debate Puts Fossil Fuel Industry on Notice
21 Kids Take on the Feds and Big Oil in Historic Climate Lawsuit
The U.S. Environmental Protection Agency's (EPA) independent Scientific Advisory Board Members of the Hydraulic Fracturing Research Advisory Panel released today a second review of the U.S. EPA's draft assessment saying that that they still have "concerns" regarding the clarity and adequacy of support for several findings presented in the EPA's draft Assessment Report of the impacts of fracking on drinking water supplies in the U.S.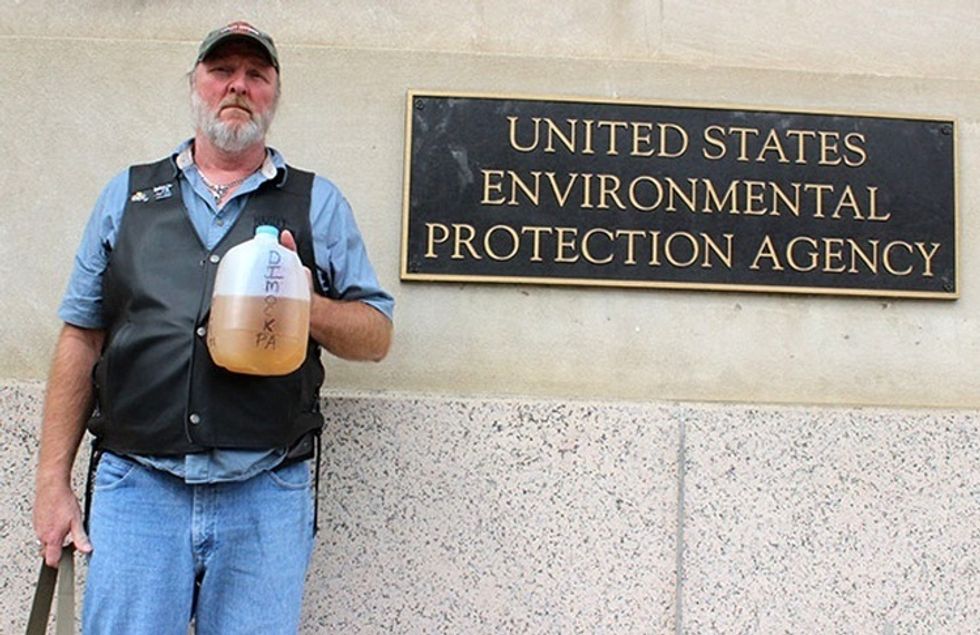 This second draft report is still very critical of the EPA's top line claim of no "widespread, systemic impacts" on drinking water from fracking and urges the agency to revise the major statements of findings in the executive summary and elsewhere in the draft Assessment report to be more precise, and to clearly link these statements to evidence.
In its own words, the EPA SAB "is concerned that these major findings as presented within the executive summary are ambiguous and appear inconsistent with the observations, data, and levels of uncertainty presented and discussed in the body of the draft Assessment Report."
We are confident that this tension between President Obama's EPA and the EPA's own independent advisory board of scientists is a direct consequence of political considerations trumping scientific evidence on fracking, which demonstrates many instances and avenues of water contamination and many areas of problems and harms.
It is encouraging to see the EPA's Science Advisory Board once again highlighting concern with what was clearly a mis-titled and misleading draft report from the Obama Administration on fracking and drinking water. Now it's time for action. It's time for the administration to go back, clearly articulate the hazards its own studies have identified, and honestly address the inherent dangers of fracking we know to exist.
YOU MIGHT ALSO LIKE
Mark Ruffalo: There's No Fracking That Can Be Done Safely
Pennsylvania Fracking Water Contamination Much Higher Than Reported
California Farmers Irrigate Crops With Chevron's Oil Wastewater in Drought-Stricken Central Valley
Warning to Fossil Fuel Investors: Coal and LNG Markets Shrinking Due to Competition From Renewables
The Democratic debate Sunday night discussed important issues to our food and water, including the contamination of Flint, Michigan's water supply and climate change. The fact that CNN allowed University of Michigan student Sarah Bellaire to ask the candidates whether or not they support fracking—bringing a real discussion about dirty fossil fuels to center stage—shows how large and influential our movement to ban fracking has become.
Bernie Sanders' concise response after Hillary Clinton's long list of "conditions" that must be met in order for her to support fracking was met with thunderous applause: "My answer is a lot shorter. No, I do not support fracking."
Watch here:
While the Obama administration—including Clinton herself as secretary of state—has been a staunch promoter of fracking, touting industry claims about energy security and that it could be a bridge to renewables, a growing movement is forcing Democratic leaders to acknowledge that fracking is bad for our environment and public health and a disaster for our climate.
Here is what Clinton—who has fundraising ties to the oil and gas industry—had to say about fracking:
"You know, I don't support it when any locality or any state is against it, number one; I don't support it when the release of methane or contamination of water is present; I don't support it, number three, unless we can require that anybody who fracks has to tell us exactly what chemicals they are using—so by the time we get through all of my conditions, I do not think there will be many places in America where fracking will continue to take place. And I think that's the best approach. Because right now, there are places where fracking is going on that are not sufficiently regulated. So first, we've got to regulate everything that is currently underway and we have to have a system in place that prevents further fracking unless conditions like the ones I just mentioned are met."
The State of Fracking in the Democratic Party
While Democratic Gov. Andrew Cuomo effectively banned fracking in New York in 2014 after a massive grassroots movement to halt it, some Democratic governors—including Gov. Tom Wolf of Pennsylvania, Gov. Jerry Brown in California (who has been dealing with his own climate disaster) and Gov. John Hickenlooper in Colorado—continue to support fracking. Moderator Anderson Cooper asked Sanders about this insistence from some Democratic governors that fracking is safe. "I happen to be a member of the environmental committee ... And I talk to scientists who tell me fracking is doing terrible things to water systems all over this country," responded Sanders.
The Washington Post's Fact Checker took on Sanders' statement, citing the U.S. Environmental Protection Agency's (EPA) study released last year asserting that fracking and drinking water that fracking has had no "widespread, systemic" effects on water. After we contacted them, Fact Checker updated the piece to acknowledge the continuing controversy around that claim, including the EPA's own scientific advisory board questioning that conclusion and calling for the agency to revise the statement. The EPA had long abandoned its investigations in Dimock, Pennsylvania; Pavillion, Wyoming; and Parker County, Texas. And inexplicably, the EPA had excluded their "high-profile" cases of contamination from the assessment. Public testimonies from people suffering from contaminated water also continue to undermine the legitimacy of the study.
Today, nine months after the release of that study, the agency is holding a public teleconference about the ongoing controversy. The case of the claim there has been no "widespread, systemic" contamination is far from over. And the movement to ban fracking is taking on the Democratic establishment, as Sanders calls it, descending on the Democratic National Convention in July demanding action to leave fossil fuels in the ground and transition swiftly to clean energy.
Five years ago, when Food & Water Watch became the first large, national organization to come out strongly for a ban—following the lead of communities that had already been grappling with concerns about the practice—we didn't think we'd come so far so fast. The Democratic debate shows the power of organizing to shift decision makers. In fact, continuing to apply pressure on our leaders to keep fossil fuels in the ground is the only way to bring about a true, clean energy future. Market-based schemes like pollution trading and pricing carbon will only prolong our fossil fuel addiction. Our planet can no longer accommodate business as usual and we're pleased to see the Democratic debates reflecting this discussion that our nation needs to have.
This piece was originally featured on Food & Water Watch.
YOU MIGHT ALSO LIKE
EPA Scientists Call Foul on Fracking Study
Clinton and Sanders Clash Over Fracking at Flint Debate
Rise of Fracking Wastewater Injections in Ohio Sparks Fears of Earthquakes, Water Contamination
Bill McKibben Arrested + 56 Others in Ongoing Campaign Against Proposed Gas Storage at Seneca Lake
The U.S. Environmental Protection Agency's (EPA) advisors are calling foul on the agency's highly controversial study that determined hydraulic fracturing, or fracking, has not led to "widespread, systemic impacts on drinking water resources in the U.S."
This specific conclusion is being called into question by members of the EPA Science Advisory Board, which reviews the agency's major studies, Bloomberg reported.
The EPA said fracking hasn't caused systemic, widespread water contamination. Some of its science advisers disagree. https://t.co/TrJAGJ5YPR

— Jennifer A. Dlouhy (@Jennifer A. Dlouhy) 1452175558.0
The EPA's conclusion requires clarification, David Dzombak, a Carnegie Mellon University environmental engineering professor who is leading the review, told Bloomberg. A panel headed by Dzombak will release its initial recommendations later this month.
"Major findings are ambiguous or are inconsistent with the observations/data presented in the body of the report," the 31 scientists on the panel said in December 2015.
Possible changes to the report could spell trouble for the oil and gas industry that recently celebrated the ending of a 40-year-old crude oil export ban in December 2015. According to Bloomberg, "a repudiation of the results could reignite the debate over the need for more regulation."
Fracking involves the pumping of highly pressurized water, sand and chemicals into underground rock formations to release trapped oil and gas. The controversial drilling process has spurred a boom in U.S. oil and gas production and driven down gas prices across the country. However, numerous environmental complications have arisen from fracking, including pollution of water and air, landscape destruction and even earthquakes.
Five years ago, Congress commissioned the U.S. EPA to study the impacts of fracking on drinking water. After analyzing more than 950 sources, including previously published papers, state reports and the EPA's own research, the agency released a draft analysis in June 2015 that indeed found numerous harms to drinking water resources from fracking. As EcoWatch reported, the U.S. EPA found evidence of more than 36,000 spills from 2006 to 2012. That amounts to about 15 spills per day somewhere in the U.S.
However, the report's misleading and widely reported conclusion—"there is no evidence fracking has led to widespread, systemic impacts on drinking water resources"—has not only downplayed fracking's effects on drinking water resources, it was also seen by many in the pro-drilling camp as the EPA's thumbs up to the drilling industry. For instance, a Forbes writer summed up the study with this headline: EPA Fracking Study: Drilling Wins.
According to Bloomberg, the review panel could ask the U.S. EPA to rescind this main conclusion or clarify it by saying that the "widespread, systemic" impacts from fracking are relative to the number of wells drilled.
Pennsylvania State University professor Elizabeth Boyer, a member of the Science Advisory Board, noted that the "widespread, systemic" top line was "widely quoted and interpreted in many different ways," EnergyWire reported. "The executive summary and press materials should be carefully reworded" for clarity, she said.
Some panel members also said that more weight should be given to the "severity of local impacts" on water supplies.
Some environmental advocates want the final U.S. EPA document to include additional information on "high-profile cases of fracking contamination inexplicably left out of the study," Food & Water Watch Executive Director Wenonah Hauter said in a statement, pointing to drilling sites in Dimock, Pennsylvania; Parker County, Texas; and Pavillion, Wyoming.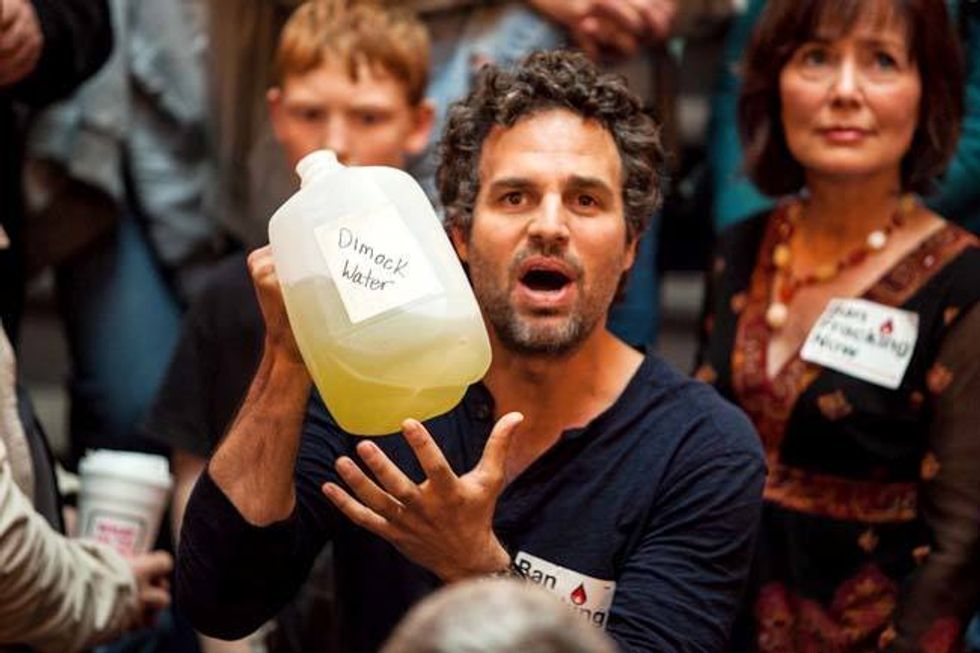 Flickr
Hauter added that EPA Science Advisory Board's official review of the study on fracking and drinking "may seem surprising, but it shouldn't be to anyone who actually read the original study thoroughly."
"There was a clear disconnect between the EPA's top-line spin—that there was no evidence of 'widespread, systemic' impacts on drinking water from fracking—and the content of the actual study, which highlights data limitations, open questions, and clear evidence of local and severe impacts," Hauter said. "This disconnect raises serious questions about political tampering with scientific conclusions in the release of the draft study."
Unsurprisingly, Big Oil and Gas are unhappy with the Science Advisory Board's review. American Petroleum Institute President Jack Gerard blamed the panel's criticisms on environmental activists opposed to fossil fuels.
"The science should be settled," Gerard said at a news conference Tuesday. "There are a handful of people who are not happy with the outcome and they continue to drive their agenda based on ideology, not based on the science."
The U.S. @EPA called #fracking safe. Now its scientists disagree. https://t.co/LSjrfZiwm7 #banfrackingnow https://t.co/UO72vzuwEo

— Thomas Meyer (@Thomas Meyer) 1452199248.0
The agency will use the comments from the advisory panel as well as those submitted by the public "to evaluate how to augment and revise the draft assessment," EPA spokeswoman Melissa Harrison told Bloomberg. "The final assessment will also reflect relevant literature published since the release of the draft assessment."
Meanwhile, a new paper published Jan. 6 in the Journal of Exposure Science and Environmental and Epidemiology only emphasizes why further evaluations on fracking fluids are a must.
After analyzing 1,021 chemicals used in fracking, Yale School of Public Health researchers found that many of the substances have been linked to reproductive and developmental health problems, and the majority had undetermined toxicity due to insufficient information, Phys.org reported on the study.
The research team said in their paper that further exposure and epidemiological studies are urgently needed to evaluate potential threats to human health from chemicals found in fracking fluids and wastewater created by fracking.
YOU MIGHT ALSO LIKE 
Teflon's Toxic Legacy: DuPont Knew for Decades It Was Contaminating Water Supplies
12 Earthquakes Hit Frack-Happy Oklahoma in Less Than a Week
Confirmed: 4.6-Magnitude Earthquake in British Columbia Caused by Fracking (Likely World's Largest)
Energy Companies Want Judge to Dismiss Historic Lawsuit Over Oklahoma Earthquakes
For the past two years, the 100,000 residents of Flint, Michigan, drank, cooked and bathed with lead-contaminated water. Rates of lead poisoning—which can impair brain development and cause other serious health ailments—among the area's children have skyrocketed, from 5 percent before the water turned bad to 16 percent today.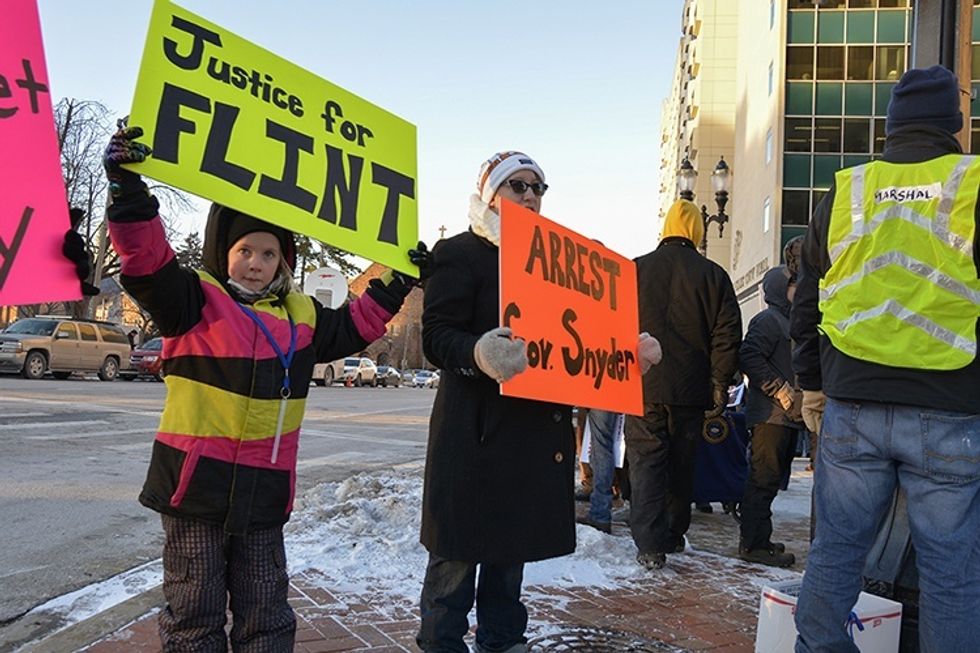 Residents have long reported brown, bad-tasting and foul-smelling water and unexplained sicknesses. Almost a year ago, water tests showed dangerous levels of lead. Yet state, local and federal officials did nothing. Worse, they assured residents that the water was safe. In recently released emails, state officials demonstrated indifference and even contempt toward the complaints that came mostly from poor, black residents. Furthermore, according to some witnesses and media reports, state officials diluted water samples or took incomplete "slow drip water samples" to game results and claim that the water was safe.
Flint's man-made water disaster is an outrageous tragedy and a human health crisis. And unfortunately, it's not an isolated case. It's one instance in a pattern of government failures to take water testing seriously and respond to evidence of water pollution.
In 2009, federal data revealed that water being delivered to tens of millions of Americans contained illegal concentrations of dangerous chemicals. That contamination has led to widespread ill-effects such as rashes and elevated risk of various diseases and hundreds of thousands of Clean Water Act violations. At congressional hearings that year, Environmental Protection Agency (EPA) officials pointed to failed political leadership under the Bush administration. President Obama promised to turn a new leaf.
Sadly, there have since been numerous high-profile cases of contamination, such as in Toledo, Ohio, in 2014, where agricultural runoff and crumbling infrastructure led to an algal bloom in Lake Erie that made the city's drinking water unsafe. Also in 2014, in West Virginia, a chemical spill contaminated the Elk River, the tap water supply for hundreds of thousands of people. This past August, 3 million gallons of contaminated water were released into the Animas River in Colorado, resulting in lead levels 3,500 times normal and arsenic levels 300 times normal, affecting many communities and farms.
Must-read piece by Michael Moore on #FlintWaterCrisis https://t.co/dIOlmBI8sj @mmflint @ErinBrockovich @MarkRuffalo https://t.co/TYQGI5nsFM

— EcoWatch (@EcoWatch) 1454162960.0
Then there are the horrific, under-reported cases of water contaminated by drilling and fracking for natural gas and oil, another ongoing man-made disaster where politics has trumped providing safe drinking water.
In spite of concrete evidence of water contamination, Obama's politics—support for natural gas and fracking, particularly around his 2012 reelection—have dictated the EPA's actions. Case in point: Three EPA investigations into drinking water contamination since 2010, in Dimock, Pennsylvania; Pavillion, Wyoming and Parker County, Texas.
In Parker County, the EPA issued an emergency order—much like one they just issued in Flint—compelling fracking company Range Resources to provide drinking water to affected families. Then, in 2012, the EPA cut a deal with the fracking company to shut down the investigation and withdraw the emergency order in exchange for participating in the EPA's national fracking study. Affected residents were left with nothing but polluted water.
My piece in @washingtonpost: #Flint isn't an anomaly. We're heading toward a national water crisis. https://t.co/cZwVgRovlR #fracking @potus

— Mark Ruffalo (@Mark Ruffalo) 1454701523.0
The other cases are equally disturbing. Despite evidence of dangerous water contamination, the EPA dropped investigations and issued rosy news releases that everything was okay. Residents report being told by regional EPA officials, off the record, not to drink their water.
This past year, the EPA released a draft of its national fracking drinking water study with a headline that they did not find evidence of widespread, systemic contamination. Scientists and advocates cried foul, as the substance of the report contradicts that claim and in fact shows many instances and mechanisms of contamination. Now the EPA's independent science advisory body has forcefully echoed that criticism and called for detailed accounting and inclusion of the three investigations.
These cases, along with Flint and many others, demonstrate an epidemic of credibility and trust that is putting people at greater and greater risk.
It's time to acknowledge the national water pollution crisis we face, which will only get worse with climate change wrought by fossil fuels extraction and consumption responsible for fouling so much of our precious water in the first place. Obama should direct his EPA to do its job to help people across the country with water contaminated by drilling and fracking.
Flint must be a clarion call for a new era of routine water testing, full transparency and a commitment to ensuring that all citizens have safe drinking water. Renewed federal investment in our crumbling, lead-ridden drinking water systems is also necessary to help ensure that the tragedy taking place in Flint isn't replicated elsewhere. Residents there and all Americans deserve nothing less.
This op-ed originally appeared in The Washington Post.
YOU MIGHT ALSO LIKE
America's Lead Poisoning Problem Is Everywhere
Erin Brockovich: Porter Ranch Gas Leak Is 'the BP Oil Spill on Land'
Pennsylvania Fracking Water Contamination Much Higher Than Reported
Flint Water Crisis Keeps Getting Bigger and More Shocking Each Day
More than 2,500 youth activists at Power Shift 2013 marched through the streets of Pittsburgh today to confront corporate polluters and demand they join the fight for a clean and just economy.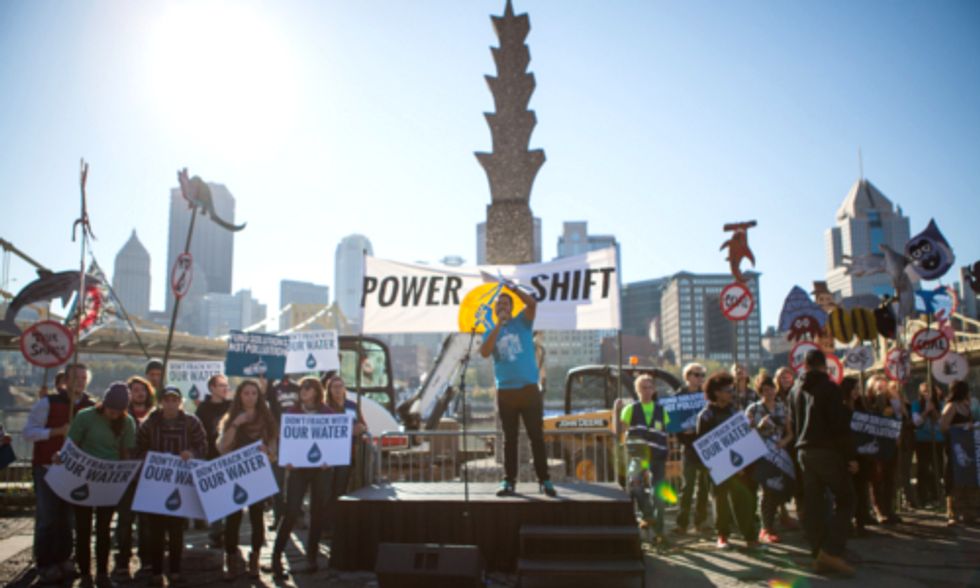 Thousands of people rallied in Allegheny Landing Park, alongside the Allegheny River, then marchers took over a bridge to cross to downtown Pittsburgh where they marched through the streets of Pittsburgh to confront big corporations and elected officials for financing fossil fuels and permitting fracking.
"Big corporations, and elected officials all the way up to President Obama should know that our generation will use political and financial power to stop financing fossil fuels and permitting dangerous fracking," said Maura Cowley, executive director of Energy Action Coalition, "We're marching to demand PNC and elected officials stop being complicit in fossil fuel destruction like mountaintop removal and fracking, and work with us to build a strong, green economy"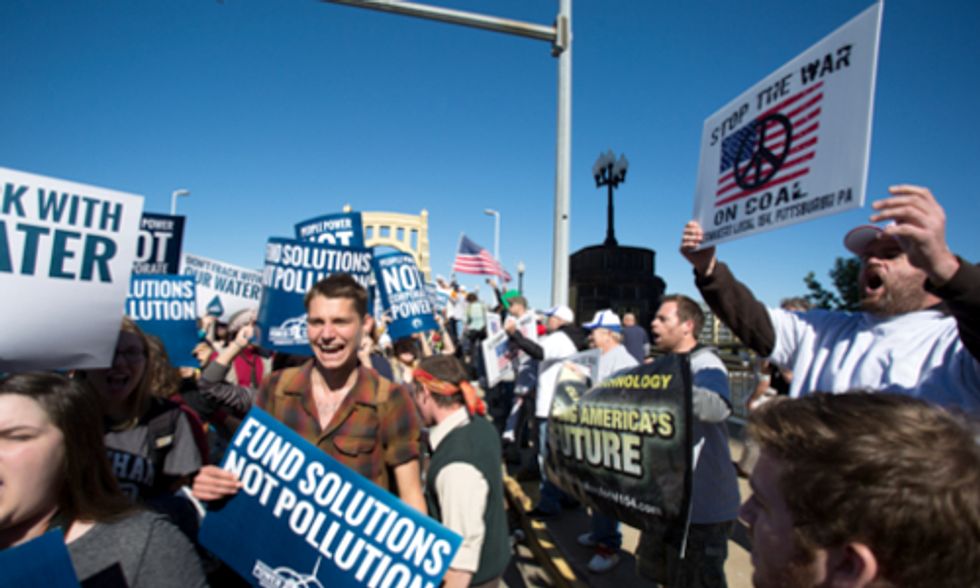 Deb Thomas of the Power River Basin Resource Council in Wyoming, kicked-off the rally by enlisting the 2,500 participants to join the call on President Obama and the U.S. Environmental Protection Agency (EPA) to take real action on fracking, starting by re-opening the investigation into fracking-water contamination in Dimock, PA, Pavillion, WY and Parker County, TX. More than 270,000 petitions already been sent to the EPA by a coalition of organizations including Energy Action Coalition, Stop The Frack Attack, Americans Against Fracking, MoveOn.org, Food & Water Watch and more.
"The EPA studies in Dimock, PA, Parker County, TX, and Pavillion, WY, need to be re-opened because impacted people, who are forced to live with oil and gas development need information about what they have been exposed to. It's critical to protect their families and their health. Our government must protect people not toxic industry" said Thomas.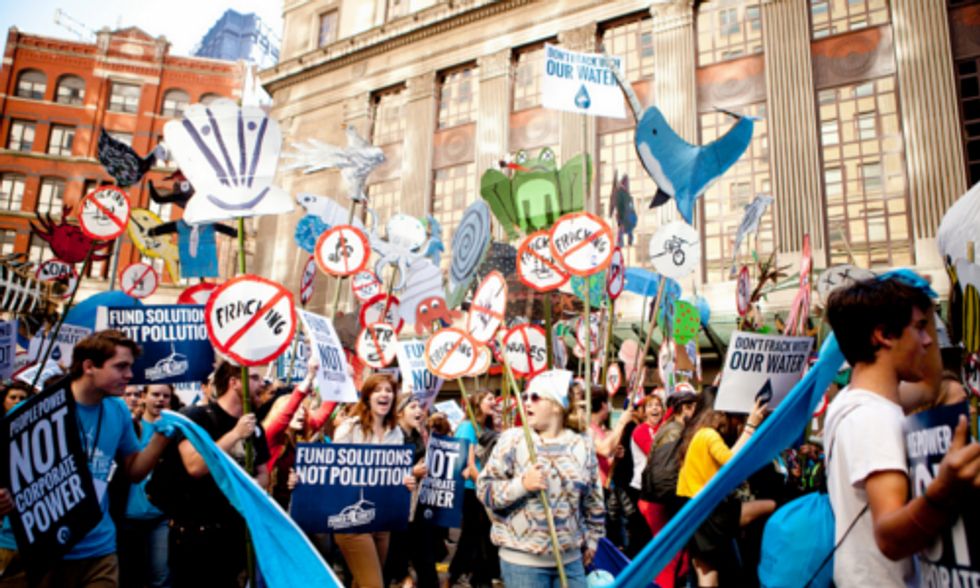 The march went across the Roberto Clemente Bridge where a massive banner was dropped that said "Don't Frack Our Water" and then marched across Pittsburgh, stopping at PNC Bank branches to demand they stop financing mountaintop removal mining, one of the most destructive forms of mining that is destroying communities in Appalachia.
"We are here as the face of the many communities impacted by mountaintop removal strip-mining and the short-sighted investment practices of PNC bank," said Teri Blanton of Kentuckians of the Commonwealth. "Our homes are flooded, our water is poisoned, our lungs are filled with dust—all because of the mountaintop removal mining. The worst part of it all is that they can't put it back—they can't fix the mountain or the stream—and that means it's not only our health that's compromised, but the health of future generations. That's what PNC is investing in: the permanent destruction of our health and homeland."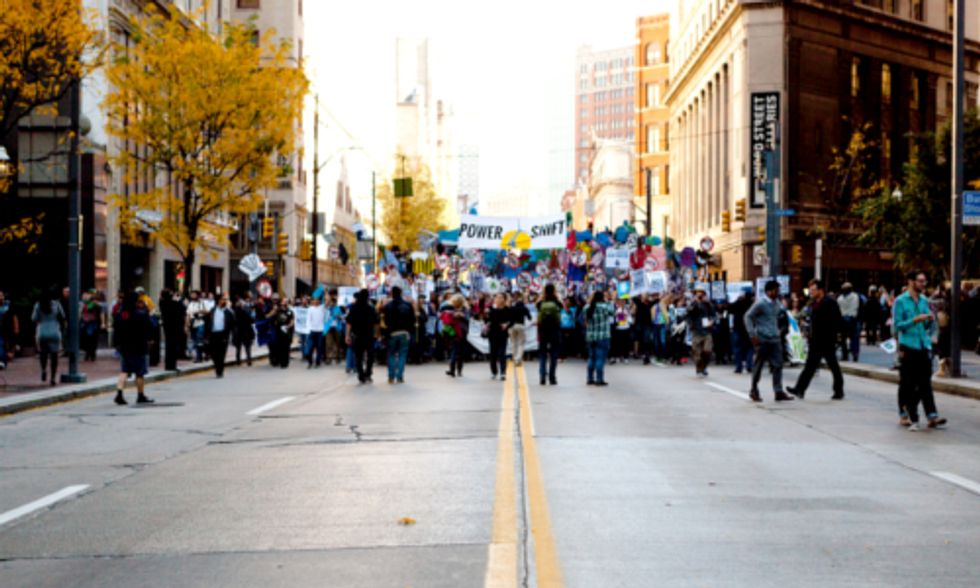 The rally and march capped off Power Shift 2013, a national convergence of nearly 8,000 student and youth activists working on climate change, environmental justice and building a clean energy economy.

By Tom Wilber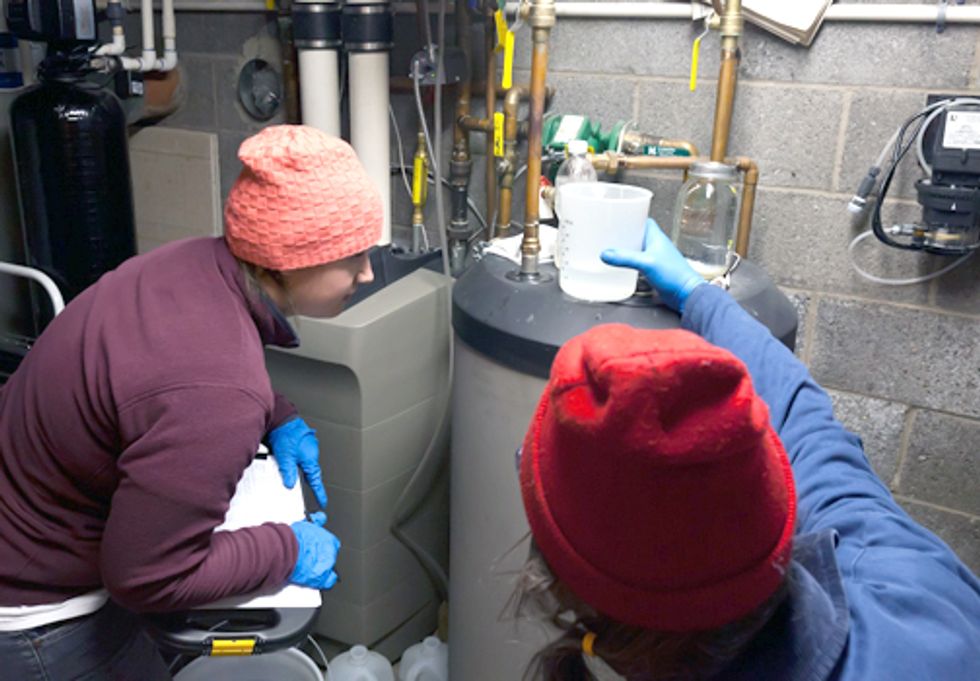 Federal health officials are assessing risks related to elevated levels of arsenic, barium, manganese and methane in an aquifer that supplies homes in a shale gas production zone in Dimock, Pa.
The Agency for Toxic Substances and Disease Registry is following up on an U.S. EPA study that analyzed the water of 64 homes near drilling operations in the Marcellus Shale in the rural community just south of the border with New York State. After six months of testing, the U.S. EPA concluded last month that levels of pollution in five of the wells—roughly 8 percent—were high enough to pose health risks, but those risks were mitigated by treatment systems installed in or planned for the homes.
The U.S. EPA investigation was prompted by an ATSDR analysis of previous water tests in December, 2011. The ATSDR, acting on concerns by residents, evaluated records of previous samples collected by both Cabot Oil & Gas and the Pennsylvania Department of Environmental Protection. Officials found evidence of elevated levels of various solvents, metals, and glycols that posed "a possible chronic public health threat based on prolonged use of the water" in "at least some" of the Dimock wells.
According to the report, ATSDR Record of Activity/Technical Assist UJD #: IBD7:
Agency officials visited the Dimock homes along Carter Road and State Route 3023 on Nov. 10, 2011 and were provided a large amount of well data. Based on the home visits and preliminary review of data, EPA and ATSDR raised the following concerns: the reliability of methane removal systems; the presence of other contaminants besides methane (metals, volatile organics and non-naturally occurring organics) for which the well treatment systems are not designed or in place to address; and homes/wells in Dimock that may have never been tested and may be contaminated. The multiple sampling efforts at this site to date were conducted by PADEP and private contractors not affiliated with EPA.
In response to the concerns, the U.S. EPA subsequently tested wells in the area between January and June. In July, the EPA press office issued a release that stated "no further action" was needed by the EPA. But the release failed to mention that the EPA results would be factored into a broader health study by the ATSDR. Accordingly, the EPA results were widely characterized by news outlets as resolution to pollution questions that have nagged the small town overlying one of the most lucrative production zones for the Marcellus shale.
The ongoing ATSDR investigation and follow-up -- cited in the Record of Activity/Technical Assist – were confirmed by Bernadette Burden, a spokeswoman for the ATSDR. According to Burden, the agency is pursuing "a fairly comprehensive review" of the Dimock water case that takes into account the EPA tests, as well as previous tests by Cabot contractors and the DEP. The ATSDR -- a branch of the Centers of Disease Control and Prevention -- will account for risks of long-term exposures to the water through showering, drinking, bathing and washing, as well as risks that might be compounded when people are exposed to multiple toxicants. There is no time frame for the completion of the report, she said.
According to the December 2011 "Record of Activity/Technical Assist":
A full public health evaluation should be conducted on the data from the site area. Because many of these compounds (e.g. metals) affect the same organ systems, ATSDR recommends evaluating the mixture for public health impacts using computational techniques or other suitable methods to evaluate the potential for synergistic actions: The cumulative concentration of all dissolved combustible gases should be considered to protect against the buildup of explosive atmospheres in all wells in the area.
The contaminants found by the U.S. EPA—arsenic, barium, manganese and methane—occur naturally in the ground. They are also associated with drilling operations, which can exacerbate existing problems or introduce new ones. In the five cases where the levels were high, according to the EPA press release, the residents have or will have treatment systems to reduce chemical concentrations to levels acceptable for potable water.
Dimock has been the focal point of a national controversy over the impacts and risks associated with shale gas development and high volume hydraulic fracturing. The process, commonly known as fracking, involves injecting bedrock with millions of gallons of chemical solution to stimulate the flow of natural gas. While fracking has often been implicated when things go wrong, the migration of methane and other chemicals in the ground into aquifers can be caused by drilling in the absence of fracking. Barium, one of the problem chemicals found in Dimock, is a common constituent of drilling "mud" – a viscous solution used to lubricate the drill bit and float cuttings to the surface.
The Dimock conflict began on Jan. 1, 2009, with the explosion of a well that supplied water to the home of Norma Fiorentino, a plumber's widow and great grandmother. A subsequent investigation by the Pennsylvania Department of Environmental Projection (DEP) found that methane was seeping from nearby drilling operations into an aquifer that supplied Norma's well and others along the Carter Road area. Cabot contested the findings after the DEP, under Governor Ed Rendall's administration, determined that the aquifer was permanently damaged from methane migrating from the bores of nearby gas wells. The DEP ordered Cabot to build an $11 million water pipeline to supply affected homes. That order was lifted shortly after Tom Corbett won the gubernatorial election in November 2011.
Last month, Cabot reported that it had reached terms for a settlement with 32 of 36 Dimock families that were suing the company for water pollution. Terms of the deal were not disclosed. Not all the plaintiffs accepted the deal, and some are continuing to pursue the case.
Note: I asked EPA officials the following question through spokeswoman Terri-A White. White told me to expect a reply soon. I will update this report accordingly.
EPA's sampling of Dimock wells shows hazardous levels of methane in six instances.
HW03z (28,000 ug/l)
HW12 (52,000)
HW25 (65,000)
HW26-P (38,000)
HW29 (77,000)
HW29z (62,000)
What steps have been taken to correct this?
ATSDR Record of Activity/Technical Assist (UJD #: IBD7 Date: 12/28/2011) advises the EPA that "Additional characterization of the groundwater quality and a thorough review of any changes in concentration over time are indicated. "
Has this been done?
In the same document, the ATSDR has also recommended that "A full public health evaluation should be conducted on the data from the site area" and "evaluating the mixture for public health impacts using computational techniques or other suitable methods to evaluate the potential for synergistic actions" and "The cumulative concentration of all dissolved combustible gases should be considered to protect against the buildup of explosive atmospheres in all wells in the area. "
Has this been done?
Visit EcoWatch's FRACKING page for more related news on this topic.