Burning forest in Rondonia in 2020. Fabio Nascimento
Deforestation in the Brazilian Amazon surged during the month of April, ending a streak of three consecutive months where forest clearing had been lower than the prior year. The rise in deforestation came despite a high-profile pledge from Brazilian President Jair Bolsonaro to rein in deforestation in Earth's largest rainforest.
According to preliminary deforestation alert data released Friday by Brazil's national space research institute INPE, deforestation in the Brazilian portion of the Amazon amounted to 581 square kilometers in April, a 43% increase over April 2020 and the highest April tally since 2018.
Soy field in the Rondônia, the Brazilian Amazon. Fabio Nascimento
However, by INPE's count, deforestation is still pacing behind last year's rate: When measured since the start of the "deforestation year" — which begins August 1 — 4,640 square kilometers of rainforest has been lost, a decline of 15% for the nine-month period.
But the trend reported by INPE is not matched by data from Imazon, a Brazilian organization that independently monitors deforestation. Imazon's data shows eight straight months of rising deforestation: Through the end of March, Imazon puts forest loss as 33% above last year's level.
The discrepancies between the systems can generally be chalked up to the different methodologies they use. And both systems generate "preliminary data" which is used primarily for tracking where deforestation is occurring on a near-real-time basis, rather than comprehensively documenting forest loss.
The annual assessment, which uses higher resolution imagery and measures loss between August 1 and July 31, is considered the official baseline. Using that approach, deforestation for the 2019-2020 year amounted to 11,088 square kilometers, the highest on record since 2008.
Deforestation has accelerated sharply since Bolsonaro took office January 1, 2019. Based on deforestation alert data, forest clearing during his administration to date is about 98% higher than the same period of time under his predecessor, and 206% higher than Dilma Rousseff's first 16 months in office.
Reposted with permission from Mongabay.

EcoWatch Daily Newsletter
A Meat Atlas 2021 graphic shows greenhouse gas emissions of leading meat and milk firms.
Bartz / Stockmar
/ CC-BY 4.0
The world's five biggest meat and dairy companies emit the same volume of greenhouse gases as fossil fuel giant ExxonMobil.
That's just one of many shocking figures from the Meat Atlas 2021, a comprehensive look at the meat industry released by European nonprofits the Heinrich-Böll-Stiftung, Friends of the Earth Europe and BUND Tuesday.
"Europeans today eat an average of 66 kilograms (approximately 146 pounds) of meat per year per capita, which is almost twice as much as the World Health Organization actually recommends, and this persistently high consumption and production also comes with immense social and ecological costs," Lisa Tostado, head of the International Climate, Trade & Agriculture Policy Programme for Heinrich-Böll-Stiftung, said at a public launch event. "And to raise awareness, provide information, and also foster a nuanced debate on the livestock center, the Heinrich-Böll Foundation and Friends of the Earth have compiled facts and figures on meat."
Launch of the Meat Atlas 2021: Facts and figures about the animals we eat www.youtube.com
Listen to the Science

The Meat Atlas 2021 is a comprehensive account of the industry's impact on environmental and public health, totaling more than 70 pages and covering more than 30 topics from land use to greenhouse gas emissions to pesticides. These impacts include:
Climate Change: The food and farming sector in industrialized countries accounts for about a third of global greenhouse gas emissions. The livestock sector alone is responsible for 14.5 percent of global emissions: 45 percent of that from feed production and processing, 39 percent from methane release from ruminants and 10 percent from the storage and management of manure. In fact, 20 top livestock companies together emit more than Germany, the UK or France.
Land Use Change: Meat and milk require more land than any other consumer product, and 77 percent of agricultural land is used for either livestock or livestock feed. This means that the expansion of livestock agriculture is a major driver of land conflicts that displace Indigenous and traditional communities. The conversion of land into cattle pasture drives at least two-thirds of deforestation in the Amazon region, for example.
Public Health: The coronavirus pandemic has drawn attention to the dangers of zoonotic diseases, diseases that pass from animals to humans. Almost 75 percent of these diseases can be traced to wildlife, and the land grabs of the meat and dairy industry increase the chance that humans will encounter new zoonotic diseases as habitat is destroyed. The rampant use of antibiotics in agriculture also increases the risks that bacteria will evolve to resist these drugs. Already, drug-resistant bacteria kill 700,000 people a year, yet 73 percent of the antibiotics used worldwide are used on animals.
Despite these and many other consequences, both meat consumption and meat production are on the rise. Meat consumption has more than doubled in 20 years, and is expected to rise another 13 percent by 2028. Meat production has also been trending upwards. In the 1970s, it stood at one third of current levels, though it declined slightly in 2019 because of an outbreak of African swine fever.
The increase in production has been enabled by many of the things that make that production so problematic: more and more animals are kept in feedlots instead of pastures. This requires their feed to be grown somewhere else, gobbling up more land. Further, such crowding is only possible with antibiotics to prevent infections from spreading in close quarters.
With all of this evidence, the report argued that reducing meat consumption in industrial countries is a case of "listening to the science," something world governments have yet to do seriously with regards to this issue.
"We are talking not about a lack of information, and politicians not acting because they don't know," the atlas' chief executive editor and head of the International Agricultural Policy Division at Heinrich-Böll-Stiftung Dr. Christine Chemnitz said at the launch. "We are talking about a lack of political will to steer or transition the agricultural sector into a climate-friendly and biodiversity-friendly direction."
A Meat Atlas 2021 graphic summarizes meat's impact on the world. Bartz / Stockmar / CC BY 4.0
Race to the Bottom
One clear indication we are headed in the wrong direction, Chemnitz noted, is the sheer numbers of animals slaughtered: 75 billion a year as of 2019.
But this death translates directly into profits for the largest meat and dairy companies, Shefali Sharma, one of the report authors and director of the Institute for Agriculture and Trade Policy (IATP) European office, said at the launch.
Sharma explained that the top companies are so powerful that they can set the prices they pay to producers at below the cost of production, and governments will either directly or indirectly subsidize the difference.
This creates a "race to the bottom of cheap prices, more animals, more production, more profits," she said.
However, there is a way up and out. Sharma recommended a three-prong strategy of:
Redirecting resources away from industrial agriculture and towards more regenerative approaches.
Regulating companies and holding them responsible for the emissions generated by their supply chains.
Regenerating by shifting to agroecology.
Agroecology means growing food in ways that respects natural limits while incorporating local and traditional knowledge, Stanka Becheva, a report contributor and Food and Agriculture Campaigner at Friends of the Earth Europe, explained during the launch.
"It's really the only transformative framework which will help move the industrial... farming sector away from the concentration and the devastating impacts it has," she said.
She also called for a ban on factory farming; turning to more diversified mixed plant and animal farming solutions; ensuring fair prices for small-scale, sustainable farmers; and changing diets to emphasize fresh, local, plant-based food.
A Strong Statement
One hopeful indicator cited by the report is the shifting attitudes of young people. The atlas highlighted a representative survey conducted by the University of Göttingen in Germany of young adults between 15 and 29 years old. It found that nearly 13 percent of them were either vegan or vegetarian, more than double the percentage of the overall German population. A further approximately 25 percent considered themselves flexitarians and only ate meat every so often.
But what was especially striking to Chemnitz was the motivation behind these decisions.
"One thing young people made really clear is that they see their reduced meat consumption as a political statement," she said.
Their decision was not based on taste or health, but opposition to how the current meat industry operates.
The survey found that 75 percent of the vegan and nearly 50 percent of the vegetarian respondents saw themselves as part of the climate movement. Moreover, young people were in favor of government policies directed at creating a more sustainable food system. More than 70 percent of them thought the German government should encourage people to eat a climate-friendly diet and make sure food is produced in an environmentally friendly way.
"This is a strong statement," Chemnitz said, "and it's a strong call for our government to get active."
Switching to period panties doesn't have to be messy.
Reviews
When your time of the month comes unexpectedly and you have to rush to the store, tampons, pads and panty liners are the majority of what you traditionally find when looking in the menstrual hygiene aisle. Recently, period underwear has risen in popularity to prevent the unnecessary waste that comes from using these products.
Period panties are a newer form of menstrual care that can both replace the need for disposable hygiene products and be a solution for preventing messy leaks. They're an ecologically smart alternative to single-use period products and a great long-term investment for those who want a more comfortable and easier menstrual solution.
Every person and menstrual cycle is unique. In this article, we'll explain the benefits of period underwear and help you find what type of underwear is perfect for you.

Best Period Panties: Our Recommendations

Each product featured here has been independently selected by the writer. Learn more about our review methodology here. If you make a purchase using the links included, we may earn a commission.
Why Switch to Period Underwear?
Designed to feel and look like regular underwear, period panties are a reusable menstrual product made to be worn longer than single-use period products. These undies can hold the equivalent of anything from one to five full-sized regular tampons.
Traditional tampons and pads are recommended by the FDA to only be worn for four to eight hours because of the risk of toxic shock syndrome or a yeast infection. When used correctly, period panties can be worn for up to 24 hours without leaks, odors or discomfort.
Not only do they have to be changed less often, but they also come in handy when you're expecting your cycle to start and you want to be prepared. Instead of a late-night run to the drugstore, you can count on having your washable, re-wearable panties ready to go when you need them most.
Besides the physical comfort and ease of period panties, this underwear is a great solution to the high number of menstrual products ending up in landfills. The average person who menstruates uses around 11,000 disposable period products in their lifetime. And it's not just the products themselves — there's usually an extra layer or two of plastic wrapped around the items for sanitation that gets discarded.
Although menstrual hygiene products are all but necessary, the waste that comes with them doesn't have to be. Period panties can be reused for up to 2 years, making them a viable solution compared to traditional hygiene products.
Full Reviews of Our Top Picks
When choosing our top recommended period underwear, we looked at factors including:
Materials: Safe and quality fabrics ensure breathability and effectiveness for your panties. Each product below contains nontoxic materials and uses fabrics to make customers as comfortable as possible.
Absorbency: Ranging from very light days to a heavier flow, we have you covered for every type of absorbency level. You can rest assured you'll be able to change your menstruation products less often and without hassle.
Leak protection: Say goodbye to misaligned pads and accidental tampon leaks. Period panties move with you and provide leak protection with multiple absorbent layers and inner-thigh seals.
Inclusive marketing: We want to celebrate companies that celebrate you. Each brand below promotes an inclusive and diverse market to ensure a comfortable menstruation cycle for everyone.
Customer reviews: With each menstrual product recommendation, we take into consideration what previous customers have to say to ensure your future satisfaction.
Caring for Your Period Panties

Once you're done with your period underwear for the day, rinse them with cold water. If the period underwear is machine-washable (some are not, so be sure to check your pair), place them in a washable mesh bag and throw them on a delicate or gentle cycle with cold water. Try to use a mild laundry detergent and never use softener or bleach, since these can deteriorate the absorbency layers.
If you want to help your period underwear last even longer, try to hand-wash them to help the fabric's integrity. Once your underwear is washed, make sure to always hang them to dry (putting them in the dryer can shrink and distort the materials).
Period panties are usually designed to be stain-resistant and odor-free, but if you're looking for extra care, you can always use natural remedies such as applying white vinegar or lemon juice directly to the desired area before washing.
Frequently Asked Questions: Period Underwear
Does period underwear really work?
Yes, period underwear really works. These products are made with multiple protective layers to replace traditional single-use menstrual products like tampons, liners and pads and to make you more comfortable during your menstrual cycle. They can be worn during the day, overnight or as backup protection.
Can you wear period underwear all day?
Much like tampons and pads, how long you can wear menstrual underwear depends on the product's absorbency level and your flow. For lighter days, you can typically wear a single pair for a full day. When it comes to heavier days, make sure to use high-absorbency panties to get the most out of each pair and prevent the need to change mid-day.
Can you leak with period underwear?
Like all menstrual products, period panties have a max absorbency amount but usually can withstand much more than the average tampon or pad. Most period panties hold at least two times more than tampons. Some period underwear, such as Proof's Leakproof Hipster Underwear, contains barriers to prevent leaking even if the absorbent layer is completely full.
Can you wear period underwear without a pad?
Period underwear can easily be worn alone. Just ensure you purchase the correct absorbency level according to your flow. Made with moisture-wicking barriers, absorbency layers and leak-proof seals, you can count on period panties to keep you comfortable and protected without the bulky feeling of a pad. However, you can also use them alongside your usual menstrual products if desired.
Chapman's pygmy chameleon is one of the world's rarest chameleons, and now clings to survival in small patches of forest. Krystal Tolley
An extremely rare species of chameleon feared to be extinct has been found alive, for now.
Chapman's pygmy chameleon (Rhampholeon chapmanorum) lives only in the lowland rainforest of the Malawi Hills in southern Malawi, around 80 percent of which have been cleared since 1984. But a study published in Oryx — The International Journal of Conservation on Tuesday found that the chameleons are still "clinging to survival" in the patches of forest that do remain.
"The first one we found was in the transition zone on the forest edge, where there are some trees but mostly maize and cassava plants," study lead author professor Krystal Tolley from the South African National Biodiversity Institute and the University of the Witwatersrand said in a press release. "When we found it we got goosebumps and just started jumping around. We didn't know if we would get any more, but once we got into the forest there were plenty, although I don't know how long that will last."
Chameleons face extinction at higher rates than the approximately 15 percent average for reptiles from the Squamata order, which includes snakes and lizards. Thirty-four percent of chameleon species are threatened, and 18 percent are near-threatened, according to the study authors. The majority of the threatened chameleons live, like Chapman's pigmy, in forests that are at risk from degradation and deforestation.
Chapman's pigmy chameleon grows to be only 3.5 to 5.5 centimeters (approximately 1.4 to 2.2 inches). It is usually brown in appearance but can transform into a blue and green color with little dots, possibly as a means of communication, Tolley said.
Pigmy chameleons in general have a unique temperament, according to Tolley.
"They are little, gentle creatures. Other chameleon species can be hysterical, hissing and biting, but pygmy chameleons are gentle and just beautiful," Tolley said. "Chapman's in particular are one of the smallest and don't have a prehensile tail like most chameleons, perhaps because they aren't particularly arboreal but walk about on the forest floor in the leaf litter, crawling up into low bushes at night to sleep. They blend right into the leaf litter and perfectly pattern match the dead leaves."
They are also critically endangered. The species was first described by herpetologist Colin Tilbury in 1992, CNN reported. At that time, there was already evidence of deforestation in its Malawi Hills habitat. In 1998, 37 of the chameleons were taken from the Malawi Hills and released 59 miles north in Mikundi, Malawi for protection. Those chameleons were still present in 2001 and 2012. However, Tolley did not observe any chameleons during an assessment in 2014, leading her to fear they might be extinct.
In 2016, however, a team from the South African National Biodiversity Institute and the Museums of Malawi surveyed the Mikundi release site and two remaining forest patches in the Malawi Hills, according to the press release. The team found chameleons in all three sites: 17 in the Malawi hills sites and 21 adults with 11 young chameleons in the Mikundi site, according to the study.
They then looked at the genetic makeup of the populations. They found that the genetic diversity of the chameleons had not yet been impacted, but that there was evidence that the populations were no longer mixing, which could spell trouble for their long-term genetic diversity and survival.
However, Eric Routman, a professor emeritus of biology at San Francisco State University who was not involved in the study, told CNN that the researchers might have overestimated the current genetic wellbeing of the animals by not considering how some genes are passed on.
"And even if they had lots of loci and good genetic estimates, they have no estimate of these genetic parameters before the habitat fragmentation, so they can't attribute any genetic effect to deforestation," Routman told CNN. "If I had been reviewing this paper, I would have recommended major revisions to the manuscript. Essentially, the genetic part of their study is inconclusive."
In either case, the species is at risk if its habitat is not protected. The study authors say an action plan is needed to save the species, according to the press release. Specific recommendations include:
Adding the remaining Malawi Hills forest to the nearby Matandwe Forest Reserve.
Conducting more frequent and detailed surveys of the chameleons' population and genetic diversity.
"The forest loss requires immediate attention before this species reaches a point from which it cannot return," Tolley said in the press release. "Urgent conservation action is needed, including halting of forest destruction and recovery of habitat to promote connectivity."
An Indonesian forestry company with possible links to pulpwood and palm oil powerhouse Royal Golden Eagle has cleared forests the size of 500,000 basketball courts since 2016. Bay ISMOYO / AFP/ Getty Images

By Hans Nicholas Jong
An Indonesian forestry company with possible links to pulpwood and palm oil powerhouse Royal Golden Eagle has cleared forests the size of 500,000 basketball courts since 2016, some of them home to critically endangered orangutans, according to a new report.
Nusantara Fiber controls 242,000 hectares (598,000 acres) of industrial tree plantations via six subsidiary companies in the Bornean provinces of West, Central and East Kalimantan. Industrial trees include acacia and eucalyptus, which are used in the production of paper and textile fibers; timber trees; and trees grown for biomass energy generation.
The Nusantara Fiber group obtained most of its permits from 2009-2011 and started clearing forest areas to develop its plantations in 2016, according to a spatial analysis by the research consultancy Aidenvironment. The analysis used satellite imagery, forest cover maps from Indonesia's Ministry of Environment and Forestry, and Global Forest Watch maps of tree cover loss.
The analysis shows that from 2016 to 2020, the group cleared 26,000 hectares (64,200 acres) of forests, making it the top deforester among all company groups with industrial tree concessions in Indonesia during this period.
Most recently, the group cleared 6,500 hectares (16,000 acres) of forests in 2020. It contends these areas were designated as degraded land, and that its clearing activity was approved by the Ministry of Environment and Forestry, which Aidenvironment acknowledged in its report. "Indeed, the Indonesian government has not banned all forest-clearing," it said.
But the forests that were lost were still valuable, according to the NGO. It cited a concession managed by PT Industrial Forest Plantation (IFP), one of Nusantara Fiber's six subsidiaries, in Kapuas district, Central Kalimantan province. Based on a 2016 assessment of orangutan habitat in Indonesia, the forests inside IFP's concession overlapped almost fully with a known habitat of the southwestern subspecies of the Bornean orangutan, Pongo pygmaeus wurmbii, a critically endangered animal.
A 2014 assessment commissioned by IFP had also identified the presence of orangutans inside the concession boundaries, as well as other protected fauna and flora, including 29 bird species, 22 mammal species, six types of reptiles, and 15 tree and plant species.
Despite these assessments, IFP went on to deforest 10,700 hectares (26,400 acres) between 2016 and the end of October 2020. Most of the deforestation took place in 2019 and 2020, with 3,200 hectares (7,900 acres) and 5,800 hectares (14,300 acres) of forests cleared respectively.

"Bornean orangutans are Critically Endangered, so any disturbance of their habitat is massively concerning," Aidenvironment Asia program director Chris Wiggs told Mongabay.
Aidenvironment said IFP's case shows how the cleared areas were still valuable, even though they might have been classified as secondary or degraded forests. As of now, there are approximately 50,000 hectares (124,000 acres) of forests remaining in Nusantara Fiber's concessions. They are at risk of disappearing too, as the concession holders are licensed to clear them.
"If it's cleared it could have a devastating impact on orangutans and wider biodiversity in this area." Wiggs said. "Nusantara Fiber must urgently halt forest clearance on its concessions."
Aidenvironment also called on Nusantara Fiber to publish assessments of high conservation value (HCV) and high carbon stock (HCS) areas inside the concessions. Audits of some of Nusantara Fiber's subsidiaries make references to HCV assessments that appear to have been conducted, yet none of these assessments are publicly available. There's also no information on any HCS assessments that may have been carried out.
Who's Behind Nusantara Fiber?
Despite being the top industrial tree plantation deforester, the Nusantara Fiber group is shrouded in secrecy, with its owners' identities concealed thanks to the offshore secrecy jurisdiction of Samoa. That's where Nusantara Fiber's parent company, Green Meadows Holdings Limited, is registered.
While registering in an offshore jurisdiction is not in itself illegal, it's often done to shield the beneficial owners of a company from liabilities, obligations and accountability in the territory where it operates.
"Establishing connections between companies is always difficult, and it's made harder when companies use secrecy jurisdictions like the British Virgin Islands," Wiggs said.
In the case of Nusantara Fiber, Aidenvironment has unearthed historical records and incorporation documents that potentially link the group to palm oil and pulp and paper conglomerate Royal Golden Eagle (RGE). A subsidiary of Green Meadows Holdings Limited is Hong Kong-based Green Meadows Fiber Products Limited. This company is also the majority owner of Nusantara Fiber's plantation subsidiaries.
Two of the three first directors of Green Meadows Fiber Products Limited previously worked at RGE, Aidenvironment found. "Another couple of the first directors are or were involved in various palm oil businesses totalling 27 palm oil mills and/or kernel crushers, and RGE is a customer of all 27 companies," the report says. "Historical ownership records of Nusantara Fiber group's companies reveal past control by entities that are part of or connected to RGE, before the companies were moved to secrecy jurisdictions."
These records, Wiggs said, "clearly connect the group to Royal Golden Eagle," and should be reason enough for RGE to step up and put an end to the deforestation conducted by Nusantara Fiber's industrial tree plantations.
"The RGE group of companies should engage with the Nusantara Fiber group, and use its leverage to immediately stop the present and any future deforestation," Aidenvironment said. "The leverage should decisively include the palm oil businesses RGE undertakes with past or present directors of the Nusantara Fiber group."
A chart of Royal Golden Eagle trade volume and deforestation within Central Kalimantan, Indonesia.
RGE is the fourth-biggest palm oil refiner in Indonesia, which in turn is the world's top producer of palm oil. Like its major competitors, RGE has a policy of no deforestation, no developing on peatland, and no exploiting workers and local communities, known as an NDPE policy. It covers commitments to preserve HCV and HCS areas as well as peatlands, but is restricted only to its palm oil business.
For its pulp and paper business, which is supplied by industrial tree plantations, RGE has adopted what it calls a Forestry, Fibre, Pulp & Paper Sustainability Framework across the group. While it's similar to the NDPE policy in use across its palm oil business, this sustainability framework still allows development of peatland as long as it's not forested, Aidenvironment said.
It called on RGE to apply its NDPE policy to all its businesses, not only palm oil.
"Whenever the palm oil refiners adopted a cross-commodity NDPE policy, they could stop more deforestation," Aidenvironment said.
Even then, the policy would only apply to companies and their suppliers that RGE acknowledges as being part of the RGE group of companies. In the case of Nusantara Fiber and its subsidiaries, RGE has denied any connection.
"We can confirm that neither RGE nor [pulp and paper unit] APRIL Group's supply chain have any connection to the six Nusantara Fiber Group companies mentioned in Aidenvironment's February 2021 report," RGE spokesman Ignatius Ari Djoko Purnomo told Mongabay.
He added the fact that two of the Nusantara Fiber group's directors were past RGE employees didn't constitute any kind of link. "We operate in a free and open employment market in which employees can choose to join or leave employers as they wish," Ignatius said.
In response to the ownership of the 27 Nusantara Fiber-linked palm oil mills that RGE sources from, Ignatius said the group had no knowledge of the alleged ownership links listed in the report.
"There was no alleged violation against palm oil industry standards or Apical's sustainability policy by these suppliers noted in the report," he said, referring to RGE's palm oil arm, Apical. "Apical is not the sole buyer of palm oil from these suppliers."
Wiggs said RGE should have provided its own data to back up its denials and be fully transparent.
"We welcome any willingness by Nusantara Fiber and Royal Golden Eagle to clarify any incorrect data in our report," he said. "Agricultural sectors must be fully transparent about their ownership structures, corporate links and operations."
Instead, he said, RGE is able to deny any connection to Nusantara Fiber because both entities use opaque and complex company structures.
"Industrial tree and palm oil businesses should refrain from using opaque company structures," Aidenvironment said, "because this hinders their accountability for unsustainable practices."
Reposted with permission from Mongabay.
A harpy eagle with her nest. Education Images / Universal Images Group via Getty Images
Harpy eagles are the largest eagles in the Americas and one of the largest eagle species in the world, with adult females weighing as much as 22 pounds.
But these massive birds are running out of room and food, a study published in Scientific Reports Wednesday has found.
These apex predators are extremely vulnerable to human activities because they are dependent on a tropical forest ecosystem that is rapidly being cut down.
"Harpy eagles evolved in a forest environment millions of years ago, and this is what they have always known," study co-author and University of East Anglia conservation biologist Carlos Peres told The Independent.
Harpy eagles' dependence on tropical forests is partly because of how they hunt, a Scientific Reports press release explained. They feed on animals like sloths and monkeys that thrive in canopy forests. Moreover, they need enough of these prey animals to eat 800 grams (approximately 28 ounces) of food a day, and they need trees at least 40 to 45 meters (approximately 131 to 148 feet) tall to nest in, according to the study.
Unfortunately, their ideal nesting trees are also highly desirable for the logging industry. While their range extends from northern Argentina to Central America, they have disappeared from much of it because of habitat loss and hunting, BBC News reported.
This has enhanced their vulnerability by making them increasingly dependent on an especially menaced forest: the Amazon, which has shrunk by 17 percent over the last 50 years, a process that has sped up in recent years.
"Their global distribution has contracted by 41% since the nineteenth century, and currently, 93% of their distribution range is within Amazonian Forests, their last stronghold," the study authors wrote.
To understand exactly how Amazon deforestation is impacting the eagles, the researchers conducted the first-ever study on how forest loss affected the raptors' ability to feed. First, they studied the eagles' feeding habits by monitoring 16 nests in Mato Grosso in the Brazilian Amazon using cameras and observations of bone fragments around the nests, the press release explained. Then, to assess the rate of deforestation within three to six kilometers (approximately two to four miles) of the nests, they relied on maps and Google Earth.
The eagles fed on a total of 306 prey items, but nearly half of them belonged to one of three canopy species: two-toed sloths, brown capuchin monkeys and grey woolly monkeys. What they found was that, in deforested areas, the eagles did not switch to less tree-dependent animals and instead simply fed less food to their young. In areas where deforestation levels reached 50 to 70 percent, three baby eagles starved to death. In areas suffering from more than 70 percent deforestation, there were no nests at all.
This led to grave conclusions about the future of harpy eagles in a dwindling Amazon. The researchers calculated that the eagles cannot successfully breed young in areas with more than 50 percent deforestation, which is the case for around 35 percent of northern Mato Grosso.
This is a problem for the species because of the birds' lifecycle and breeding habits: They live to be 54 years old and only rear one eaglet at a time every 30 to 36 months.
"Considering that harpy eagles have the slowest life cycle of all bird species, their chances of adapting to highly deforested landscapes are nearly zero," Peres told The Independent.
To help the eagles survive, the researchers called for intervention for eagles who end up trapped in pockets of forest surrounded by tree loss.
"These stranded eagles will likely depend on decisive 'hands-on' population management interventions, which could include translocation of juveniles and food supplementation to eaglets, if they are to persist," the study authors concluded.
From Your Site Articles
Related Articles Around the Web
EcoWatch Illustration by Devon Gailey
"As people switch to eating animal-based protein diets, we eat more and more nitrogen, and then we excrete almost all of it out," lead study author and Columbia University Earth Institute postdoctoral research scientist Cascade Tuholske told The Daily Beast.
The study itself did not set out to focus on meat consumption. Instead, the research team wanted to understand how human waste was impacting coastal ecosystems.
"Research on terrestrial threats to coastal ecosystems has primarily focused on agricultural runoff, specifically showcasing how fertilizers and livestock waste create coastal eutrophication, harmful algae blooms, or hypoxic or anoxic zones. These impacts not only harm coastal species and ecosystems but also impact human health and economic activities," the study authors explained. However, they added, "few studies have assessed impacts of human wastewater on coastal ecosystems and community health."
To fill this need, the researchers used a new model to look at nitrogen and pathogen pollution from human wastewater pollution for around 135,000 watersheds. They mapped the discharge from treated, septic and raw sewage in what they told Australia's ABC News is the finest detail to date.
This led to some startling figures:
Human wastewater sent around 6.2 million tonnes (approximately 6.8 million U.S. tons) of nitrogen into coastal waters in 2015, around 40 percent of the amount released by agricultural runoff.
Only a third of nitrogen pollution came from untreated sewage.
Just 25 watersheds contributed almost half of the nitrogen pollution.
Fifty-eight percent of coral reefs and 88 percent of seagrass beds are impacted by wastewater nitrogen pollution.
Regionally, the watersheds that released the most nitrogen were located in India, South Korea and China, with China's Yangtze River contributing 11 percent of the total. However, in terms of total nitrogen emissions into coastal ecosystems, the U.S. came third after India and China.
Tuholske told The Daily Beast that, overall, the most polluting watersheds didn't really surprise him, since they were all densely populated. What did surprise him was the relationship between nitrogen pollution and meat consumption.
"As someone who studies food systems, the most surprising result to me was the contrast between the Yangtze [China] and Brahmaputra River [Tibet, India, Bangladesh] in terms of nitrogen inputs," Tuholske told Australia's ABC News. "The Yangtze added far more nitrogen to coastal waters than what would be expected."
This indicated that China is increasing its meat consumption faster than India.
So why is nitrogen pollution a problem for coastal ecosystems?
"It can lead to decomposition of algal cells, which can deplete oxygen and lead to fish kills," University of Newcastle ecologist Megan Huggett, who wasn't involved in the study, told ABC News. "[Wastewater] also brings in things like herbicides and pesticides into the system, and plastics of course."
Tuholske said the findings were another reason to be aware of what you eat.
"Hey, you're eating a ton of burgers," he told The Daily Beast. "And some of those ecological impacts are methane emissions, land-use change, [agriculture] runoff, but it's also having a huge impact just from our wastewater."
The sun sets as smoke from illegal fires in an area of Amazon rainforest lingers, south of Novo Progresso in Para state, Brazil, on Aug. 15, 2020. CARL DE SOUZA / AFP via Getty Images
By Jessica Corbett
Following years of warnings and mounting fears among scientists, "terrifying" research revealed Wednesday that climate change and deforestation have turned parts of the Amazon basin, a crucial "sink," into a source of planet-heating carbon dioxide.
Though recent research has elevated concerns about the Amazon putting more CO2 and other greenhouse gases into the atmosphere than it absorbs, the new findings, published in the journal Nature, were presented as a "first" by scientists and climate reporters.
From 2010 to 2018, researchers for the new study — led by Luciana Gatti of Brazil's National Institute for Space Research — conducted "vertical profiling measurements" of carbon dioxide and monoxide a few miles above the tree canopy at four sites in Amazonia.
The researchers found that "Southeastern Amazonia, in particular, acts as a net carbon source" and "total carbon emissions are greater in eastern Amazonia than in the western part." The former, they noted, has been "subjected to more deforestation, warming, and moisture stress" than the latter in recent decades.
This is the biggest story in the world right now. https://t.co/vItrileKIF

— Ellie Mae O'Hagan (@Ellie Mae O'Hagan) 1626278188.0
As The New York Times reported Wednesday:

In an accompanying article in Nature, Scott Denning, a professor in the department of atmospheric science at Colorado State University, wrote that the paper's "atmospheric profiles show that the uncertain future is happening now."
In an emailed response to questions, Dr. Denning praised the new study as the first real large-scale measurement — from various altitudes across thousands of kilometers and remote sectors — of the phenomenon, an advance beyond the traditional measurement at forest sites. The results show "that warming and deforestation in eastern Amazonia have reversed the carbon sink at regional scale and that the change is actually showing up in atmospheric CO2," he wrote.

Gatti told The Guardian that "the first very bad news is that forest-burning produces around three times more CO2 than the forest absorbs. The second bad news is that the places where deforestation is 30% or more show carbon emissions 10 times higher than where deforestation is lower than 20%."
According to the newspaper — which noted the role of emissions from deliberately set fires for beef and soy production as well as the global criticism that Brazilian President Jair Bolsonaro has faced for encouraging the soaring deforestation:
Fewer trees meant less rain and higher temperatures, making the dry season even worse for the remaining forest, she said: "We have a very negative loop that makes the forest more susceptible to uncontrolled fires."
Much of the timber, beef, and soy from the Amazon is exported from Brazil. "We need a global agreement to save the Amazon," Gatti said. European nations have said they will block an E.U. trade deal with Brazil and other countries unless Bolsonaro agrees to do more to tackle Amazonian destruction.

The study comes after a March analysis, published in the journal Frontiers in Forests and Global Change, that took into account not only CO2 but also methane, nitrous oxide, black carbon, biogenic volatile organic compounds, aerosols, evapotranspiration, and albedo.
The new findings also follow an April study, published in Nature Climate Change, that focused on Brazil, which is home to the majority of the incredibly biodiverse and threatened rainforest that spans nine countries.
Comparing that research to Wednesday's, Denning said that "they're complementary studies with radically different methods that come to very similar conclusions."
"The Amazon rainforest is emitting a billion tonnes of carbon dioxide a year." #FaceTheClimateEmergency… https://t.co/RqnRVXuXMA

— Greta Thunberg (@Greta Thunberg) 1626280450.0
The researchers from the April study, who relied on satellite monitoring, found that between 2010 and 2019, the Brazilian Amazon released 16.6 billion tonnes of carbon dioxide, while only taking in 13.9 billion tonnes — meaning that over a decade, it released nearly 20% more CO2 than it absorbed.

"We half-expected it, but it is the first time that we have figures showing that the Brazilian Amazon has flipped, and is now a net emitter," said co-author Jean-Pierre Wigneron, a scientist at France's National Institute for Agronomic Research (INRA), at the time. "We don't know at what point the changeover could become irreversible."
Agence France-Presse reported that in a statement about the study, INRA said that "Brazil saw a sharp decline in the application of environmental protection policies after the change of government in 2019," referencing when Bolsonaro was sworn in as president.
"Imagine if we could prohibit fires in the Amazon — it could be a carbon sink," Gatti said Wednesday, noting the negative impact of converting swaths of the rainforest last for agriculture. "But we are doing the opposite — we are accelerating climate change."
Reposted with permission from Common Dreams.
An aerial photograph by Greenpeace in Central Kalimantan province on Indonesia's Borneo Island showed deforestation to make way for a palm oil plantation on Feb. 24, 2014. BAY ISMOYO / AFP via Getty Images
Over the past 40 years, about 50 percent of lowland rainforests in Southeast Asia have been converted for palm oil and other plantations, and remaining forests in the region are heavily logged, according to new research. Yet while the impacts of fragmentation on old-growth forests are well understood, how fragmentation impacts regenerating logged forests isn't.
Amazônia is a striking photographic record of the Amazon and its Indigenous inhabitants. Sebastião Salgado / Taschen
"Beautiful. Essential. The future is Amazônia."
These were the words that renowned Brazilian photographer Sebastião Salgado used to describe the Amazon Rainforest, the subject of his latest photography collection.
As a lifelong photojournalist, Salgado has used his work to advocate for social and environmental change. In Amazônia, his latest work, Salgado dedicated himself to capturing the essence of the world's largest rainforest and the Indigenous peoples that call it home. In over 500 pages of stunning and captivating photos and text, he delivers a piercing look at a lost world, still surviving but under immense threat. Within the book, he strives to convey the power of the Amazon and to create a change within his readers that compels them to act before it's too late.
Marauiá mountain range in the Yanomami Indigenous Territory. Municipality of São Gabriel da Cachoeira, state of Amazonas, 2018. Sebastião Salgado / Taschen
To better understand the importance of the Amazon, Salgado and his wife and partner, Léila Wanick Salgado, spent six years traveling through the Brazilian rainforest, visiting dozens of Indigenous tribes. He documented their daily life, their family bonds, how they gather food and eat, their ceremonial ware and their rituals. Above all, he strove to showcase how, as we jeopardize the future of the rainforest, we also endanger the people that live there — "an irreplaceable treasure of humanity."
Miró (Viná) Yawanawá making feather adornments, one of the arts a beginner must learn to master. Rio Gregório Indigenous Territory, state of Acre, 2016. Sebastião Salgado / Taschen
"A Salgado photograph is instantly recognizable. Black-and-white. Biblical in scope. Human. Severe," Smithsonian Magazine wrote. "... It's his attention to the background that matters most. Salgado is a systems thinker, keenly aware of the larger forces that create the moments he captures."

In a similar vein, when showcasing Amazônia, Salgado began with the unparalleled beauty of this region. His images build on this to emphasize the irreplaceable nature of the rich biodiversity and Indigenous cultures whose futures are inextricably intertwined with those of the trees.
"For me, it is the last frontier, a mysterious universe of its own, where the immense power of nature can be felt as nowhere else on earth," he wrote in the book's foreword. "Here is a forest stretching to infinity that contains one-tenth of all living plant and animal species, the world's largest single natural laboratory."
The rich natural resources within the rainforest are an undiscovered and untapped source of foods, medicines, cures and scientific and cultural knowledge. All of this will be lost if the forest is destroyed.
An igapó, a type of forest frequently flooded by river water, with palms and other emerging trees. In the center of the photo, a tree whose trunk is covered with water: an aldina (Aldina latifolia). At right, a jauari palm tree (Astrocaryum jauari). Anavilhanas archipelago, Anavilhanas National Park
Salgado also teaches his readers about the Amazon's unparalleled ability to sequester freshwater for the region. It is the only place on earth where humidity in the air does not depend on evaporation from seawater, the foreword says. This water vapor, which results from the hundreds of billions of trees in the rainforest, greatly impacts the regional water supply and the global climate, he said. As the rainforest dries out due to the climate crisis, it will affect the water supply and biodiversity of the region and the people who live there.

To showcase this critical and endangered ecosystem function, Salgado shot a series on the rains of Amazônia, the "aerial rivers" that bring water and life to the region.
Finally, the Amazon has been called the lungs of the planet. Unfortunately, due to intense deforestation, gold mining, and fires, the rainforest has already lost its ability to act as a carbon sink. Instead, it is becoming an "enormous carbon bomb," Salgado warned — a dangerous source of carbon on an increasingly carbon-filled planet.
"With 20 percent of the Amazon's biomass already lost, any further disruption of its ecological equilibrium will have drastic repercussions far beyond Latin America's frontiers," Salgado wrote in the foreword. An unrelated study predicted the collapse of the Amazon by the year 2064.
In Amazônia, Salgado uses this imminent ecological disaster as the backdrop to his story about the people of the rainforest. The photographer first went to the Amazon in the 1980s. Even then, he had asked himself how it would be like to meet people from a very isolated civilization — how it would be to be in contact with them and to walk with the guardians of the rainforest.
Men of Zo'é ethnicity, residents of the village of Towari Ypy, wearing traditional headdresses. Zo'é Indigenous Territory. State of Pará, 2009. Sebastião Salgado / Taschen
Speaking to EcoWatch from his Paris studio, he emphasized his most fervent hope as well as his biggest fear — one that he also echoed in his foreword. He said, "My wish, with all my heart, with all my energy, with all the passion I possess, is that in 50 years' time, this book will not resemble a record of a lost world. Amazônia must live on."

Nevertheless, Salgado believes we can still build a better future.
"This book represents a new way to show Amazônia, to present Amazônia," he told EcoWatch. "Our biggest challenge is to hold onto all of this. We need Amazônia."
The collection will likely be his last project of this magnitude, and he hopes its impact will help save the rainforest. The activist concluded with a challenge to the world to "bring Amazônia into a new economic model," one that does not rely on taking and destroying the trees. He said, "If we don't extract and destroy the trees, we can still pick the fruits."
Salgado implored scientists to study what we can extract, collect and create from the rainforest without ruining it. He also called for global participation and investment in the rainforest to ensure its future.
"If we don't buy products that come from the destruction of the rainforest, there is no more destruction," he told EcoWatch. "If we ask our companies not to invest in destruction, if we take care together not to drive the destruction of the trees through our own actions, we can protect Amazônia. We must go in that direction for the survival of human beings."
Amazônia is available from Taschen.
From Your Site Articles
Related Articles Around the Web
'The nation's worst polluters managed to evade accountability and scrutiny for decades as they helped the fossil fuel industry destroy our planet.'
Illustration: Jason Goad / The Guardian
By Georgia Wright, Liat Olenick and Amy Westervelt
This story is part of Covering Climate Now, a global journalism collaboration strengthening coverage of the climate story.
For too long, Americans were fed a false narrative that they should feel individually guilty about the climate crisis. The reality is that only a handful of powerful individuals bear the personal responsibility.
The nation's worst polluters managed to evade accountability and scrutiny for decades as they helped the fossil fuel industry destroy our planet. The actions of these climate supervillains have affected millions of people, disproportionately hurting the vulnerable who have done the least to contribute to global emissions.
Working- and middle-class people must stop blaming themselves for the climate crisis. Instead, it's time to band together to seek justice and hold these profiteers accountable. Only in calling out their power and culpability is it possible to reclaim the world that belongs to all of us, together.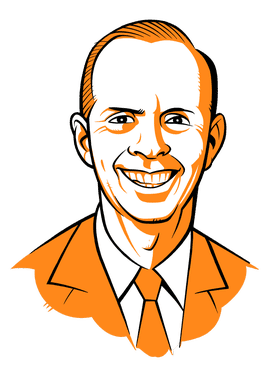 THE WOKE-WASHER
Mike Wirth
Chairman of the board and CEO of Chevron
Mike Wirth captains Chevron, a notorious corporate polluter responsible for one of the highest total carbon emissions of any private company worldwide.
Under Wirth's direction, Chevron has pursued several greenwashing tactics to downplay the company's environmental impact. A coalition of environmental groups filed a Federal Trade Commission complaint against Chevron earlier this year saying it misled the public by claiming responsibility only for carbon emissions associated with refining and transporting oil, not the total emissions created by the product it sells.
Wirth also sits on the board of the American Petroleum Institute, an oil industry trade group with a long track record of spreading climate denial and delaying legislative efforts to curb carbon emissions.
In his own words: "Let them plant trees."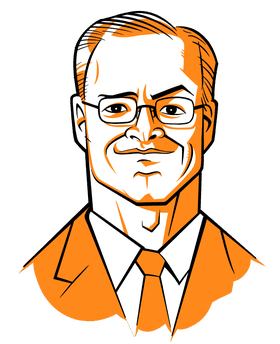 THE RINGLEADER
Darren Woods
Chairman of the board and CEO of Exxon
ExxonMobil is publicly known as one of the first oil companies to become aware of climate change, more than 40 years ago. Still, Exxon spent millions of dollars spreading climate denial while simultaneously contributing the fourth largest amount of carbon emissions of any investor-owned company in the world.
Woods, who has been with the company since 1992, makes more than $20 million a year. And though he expressed support for the 2015 Paris agreement to substantially reduce global pollution, leaked documents showed his plan for the company to increase its emissions by 17% through 2025.
Earlier this year, Exxon lobbyists were captured on video revealing the company's efforts to obstruct climate legislation in Congress. Woods later tried to distance himself and the company from the lobbyists, saying they "in no way represent" Exxon's position.
In his own words: Woods once called carbon reduction standards "a beauty match, a beauty competition."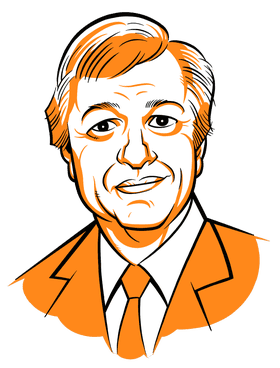 THE ENABLER
Jamie Dimon
CEO of Chase Bank
Billionaire Jamie Dimon is top dog at JP Morgan Chase, which has provided $317 billion in fossil fuel financing – 33% more than any other bank – since the Paris agreement was adopted in 2015. Under Dimon, Chase has also funneled more than $2 billion into tar sands projects between 2016 and 2019.
When Chase's managing director, Greg Determann, was asked early this year if the company would still lend to oil and gas companies despite the worsening climate crisis, Determann replied: "'Mr. Dimon is quite focused on the industry. It's a huge business for us and that's going to be the case for decades to come."
In his own words: "The solution is not as simple as walking away from fossil fuels."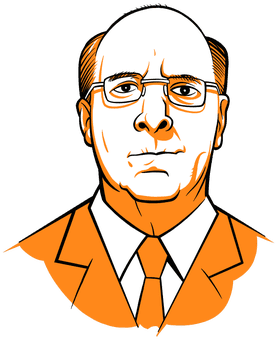 THE FINANCIER
Larry Fink
CEO of BlackRock
As the chief executive of BlackRock, Fink oversees one of the world's largest fossil fuel investment portfolios, with $87 billion behind the industry.
And though Fink has made sweeping climate promises and even wrote an op-ed about achieving a "net-zero" world, his company has profited off deforestation – a major cause of rising emissions – more than any other company globally.
Fink has also pushed BlackRock to vote against pro-climate action shareholder resolutions – all while angling for money from the federal government that should go to climate projects.
In his own words: "Without global action, every nation will bear enormous costs from a warming planet, including damage from more frequent natural disasters and supply-chain failures."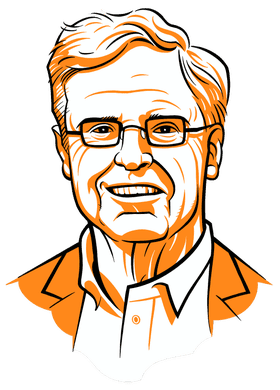 THE KINGPIN
Charles Koch
Chairman and CEO of Koch Industries
Alongside his now-deceased brother David, Charles Koch has a lengthy résumé of climate malfeasance. The multibillionaire is the longtime head of Koch Industries, a refining, petrochemical and pipeline company labeled by Greenpeace as a "kingpin of climate denial."
The Kochs, and particularly Charles, moved early to politicize climate change. Charles founded and funded the Cato Institute, a libertarian think tank known to coordinate and distribute climate denial, which became the first organization to stoke the ideological divide on the climate crisis. Koch Industries went on to spend nearly $150 million financing climate denial groups between 1997 and 2018 alone.
Since his brother's death, Charles has attempted to backtrack on his legacy of sowing hyper-partisan division. But according to OpenSecrets, Koch Industries is the top spender ($5.6 million) on annual lobbying on oil and gas so far this year.
In his own words: "Boy did we screw up. What a mess!"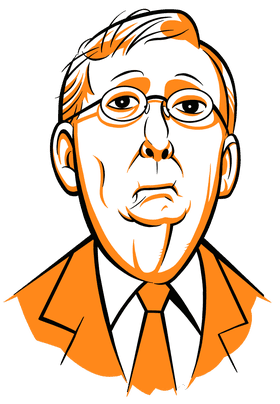 THE OBSTRUCTIONIST
Mitch McConnell
Senate minority leader
Mitch McConnell admitted to believing in human-caused climate change only in 2020. He is also the chief architect of ongoing Republican obstructionism. Under President Obama, whose climate actions he smeared as a "war on coal," McConnell used the filibuster to block even tepid climate reforms supported by a majority of Americans.
Under Trump, McConnell nuked the judicial filibuster in order to put three anti-science, pro-corporate justices on the Supreme Court, including Amy Coney-Barrett, who maintains deep family ties to big oil (her father worked at Shell for decades). And now, McConnell is ensuring that 100% of Republicans will vote against all of Biden's climate agenda.
McConnell is also heavily funded by the fossil fuel industry, to the tune of more than $3 million over the course of his infamous career.
In his own words: "I'm not a scientist."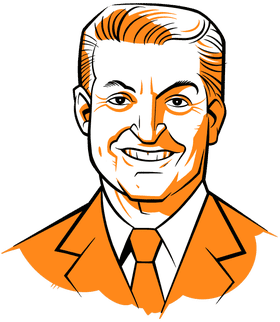 THE SABOTEUR
Joe Manchin
U.S. senator
Today, Joe Manchin is most famous for being a swing vote for important legislation, but the real story is how the fossil fuel industry made him mega-wealthy through two coal companies he founded in the 1980s.
While even coalminers in his home state of West Virginia support a Green New Deal, Manchin uses his position to hold climate legislation hostage on behalf of the fossil fuel industry – which he is doing by threatening to vote against Biden's Build Back Better climate agenda. The Exxon lobbyists caught on tape earlier this year specifically identified Manchin as "their guy," and said they meet with him several times a week.
According to OpenSecrets, Manchin takes more money from the fossil fuel industry than any other Democrat.
In his own words: "If you're sticking your head in the sand, and saying that fossil [fuel] has to be eliminated in America... and thinking that's going to clean up the global climate, it won't clean it up at all. If anything, it would be worse."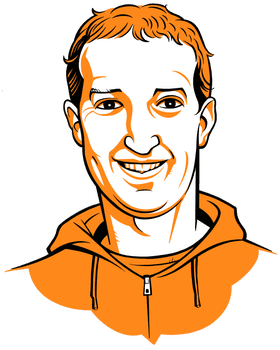 THE PROPAGANDIST
Mark Zuckerberg
Facebook founder and CEO
Zuckerberg, whose net worth is $120 billion, shows a consistent willingness to profit off the spread of climate denial on behalf of the fossil fuel industry. In April 2021, Zuckerberg told Congress climate misinformation was "a big issue," yet Facebook has done little to rein in climate denial or challenge the fossil fuel industry.
Last year, pro-fossil fuel Facebook ads were viewed 431 million times. In just the first half of 2020, ads on Facebook calling climate change a hoax were viewed at least 8 million times in the United States alone.
In 2019, an article falsely attributing climate change to Earth's solar orbit went viral, accumulating millions of views without intervention by the company. And this year, one report found that in just the first two months of 2021, Facebook spread climate denial to more than 25 million people, including posts about wind turbines being to blame after Texas froze over in February.
Meanwhile, Facebook has muzzled actual climate scientists trying to share peer-reviewed research.
In his own words: "Move fast and break things. Unless you are breaking stuff, you are not moving fast enough."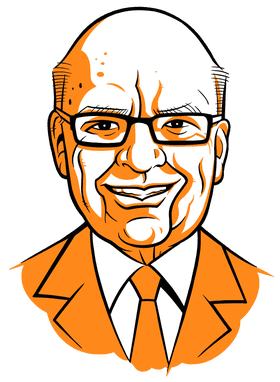 THE TYCOON
Rupert Murdoch
Founder of News Corp
The father of international media conglomerate News Corp and the CEO of Fox News, the Wall Street Journal, and many other outlets, Australian American tycoon Rupert Murdoch has overseen his companies' rampant spreading of misinformation and climate denial for decades, netting him over $23 billion.
Although Murdoch has claimed his company does not support climate denial, his news outlets have published article after article sowing doubt in climate science. Meanwhile, as of 2019, more than 80% of climate coverage on Fox News was steeped in denial, according to an analysis by the consumer advocacy organization Public Citizen.
In his own words: "Climate change has been going on as long as the planet is here, and there will always be a little bit of it."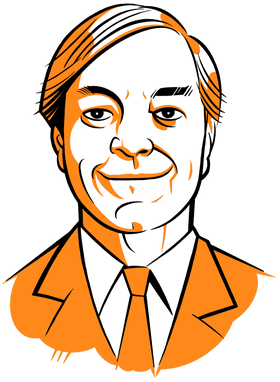 THE DESTROYER
David MacLennan
CEO of Cargill
Rainforests are the most important climate regulators in the world. But Cargill, a global food corporation helmed by MacLennan, has a profit model based on rainforest destruction caused by soy and beef production, particularly in the Amazon.
MacLennan has been in charge of the company's global strategy since 2013. He was calling the shots when, in 2019, former congressman Henry Waxman called Cargill the "worst company in the world," referring to its track record on deforestation.
Thanks to public pressure, Cargill did recently declare a moratorium on buying agricultural products from illegally cleared rainforest, but there is evidence that under MacLennan's leadership, the company is already ignoring its own commitment.
In his own words: When asked why Cargill wasn't eliminating deforestation from its supply chain: "The supply chains in Brazil are very complicated."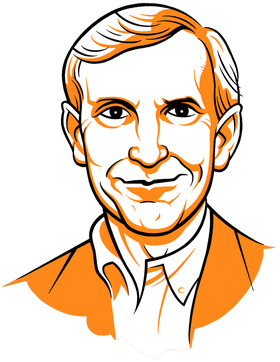 THE FABULIST
Richard Edelman
CEO of Edelman PR
Edelman heads the global communications firm Edelman PR, which made tens of millions of dollars over the years by working with fossil fuel companies. His firm has created multi-pronged PR, advertising and lobbying campaigns with ExxonMobil, TransCanada, the American Petroleum Institute and Shell – prompting high-profile clients and executives to leave over the firm's work peddling climate denial.
In 2015, Edelman announced that the firm would stop accepting climate denier assignments, but he has since claimed that the firm's work for Shell, ExxonMobil and more don't technically qualify as climate denial.
Tax filings show that since that 2015 announcement, the firm has raked in $12 million for its work with the American Fuel and Petrochemical Manufacturers alone, whose most recent focus has been increasing criminal penalties for pipeline protesters.
In his own words: "I'm proud of what our firm is doing to build a house of trust through our mission, values, and actions."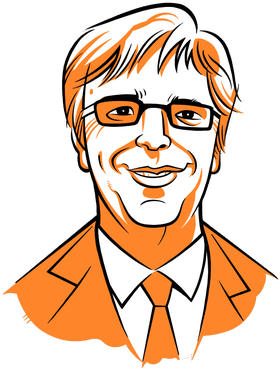 THE SMOOTH TALKER
Ted Boutrous
Partner of Gibson Dunn law firm
As Chevron's lead attorney and the main spokesman for all the oil companies in some two dozen climate liability cases, Boutrous sets the agenda in answering to the fossil fuel industry's decades of lies about climate change. His argument before the courts hinges on the idea that every person shares equal blame for the climate crisis, and that it's "counterproductive" to hold the fossil fuel industry particularly responsible.
Law Students for Climate Accountability rates Gibson Dunn among the worst of the worst on its climate scorecard for having the second-highest amount of fossil fuel litigation work of all 26 firms the group evaluated.
In his own words: "Chevron is a great company and great client with a strong culture of social responsibility."
lllustrations by Jason Goad
This story originally appeared in The Guardian and is republished here as part of Covering Climate Now, a global journalism collaboration strengthening coverage of the climate story. Mark Hertsgaard is Covering Climate Now's executive director.
A woman carries a bucket of water on an improvised bridge over dry land alongside the Amazon River at Bom Jesus village at the margin of Solimoes river in Amazonas State, Brazil. Jose Caldas / Brazil Photos / LightRocket via Getty Images

By Brett Wilkins
Researchers at the University of Leeds in Britain published new research Tuesday — World Rainforest Day — showing that massive swaths of the eastern Amazon are at risk of severe drying by the end of this century if greenhouse gas emissions are not reduced.
Analyzing the results of 38 known Amazon climate models, researchers found that large quantities of carbon dioxide would be released from the forest into the atmosphere as a result of drying, exacerbating the greenhouse gas effect and further fueling climate change.

Severe droughts in the Amazon would also adversely affect the rainforest's water cycle, biodiversity, and Indigenous peoples who live there.
"People in Brazil and across the globe are rightly concerned about what the future holds for the Amazon, and its valuable store of carbon and biodiversity," said study lead author Jessica Baker of the School of Earth and the Environment at Leeds University. "The Amazon is at risk from the twin threats of deforestation and climate change."
"This new study sheds light on how the Amazon climate is likely to change under an extreme warming scenario," Baker continued. "It should ring alarm bells for governments around the world that this vital global resource must not be taken for granted. Protecting and expanding existing forests — which absorb and store carbon — is of paramount importance to combating climate change."
Our paper analysing Amazon climate projections is now out, and on 🌳🌳🌳#WorldRainforestDay! 🌳🌳🌳 We show that unchecke… https://t.co/DDII4OXdJI

— Jess Baker (@Jess Baker) 1624373209.0
Caio Coelho, co-author of the study and a researcher at the National Institute for Space Research in Brazil — which is home to over half of the rainforest — said that "it's important to understand how the climate of the Amazon might change in the future."

"This study shows that dry season rainfall reductions in parts of the Amazon could be similar to the drying seen during the major Amazon droughts of 2005 and 2010, which caused widespread tree mortality and had major impacts for Amazon communities," Coelho added.
A 2019 study by researchers at NASA's Jet Propulsion Laboratory in Pasadena, California revealed that the atmosphere above the Amazon rainforest has been drying out over the past two decades, primarily as the result of human activity, leaving critical ecosystems increasingly vulnerable to fires and drought.
The eco-advocacy group Greenpeace has accused the climate emergency-denying administration of Brazilian President Jair Bolsonaro — the self-proclaimed "Captain Chainsaw" and champion of Amazon "development" — of "systematically" dismantling environmental protections.
Reposted with permission from Common Dreams.
Extinction Rebellion protesters block the roads outside the Bank of England on Oct. 14, 2019 in London, England. John Keeble / Getty Images
After six months of deliberation, an international panel of 12 legal experts has drafted an official definition of ecocide.
The definition was released Tuesday along with a proposed law that, if enacted by the International Criminal Court (ICC), would be the fifth crime the court prosecutes, Aljazeera reports.
The draft defines ecocide as, "unlawful or wanton acts committed with knowledge that there is a substantial likelihood of severe and widespread or long-term damage to the environment being caused by those acts." If adopted by the ICC, those accused of ecocide would be tried in the same court as war crimes, crimes against humanity, genocide and the crime of aggression, said The Guardian.
The proposal and definition came less than a month after a groundbreaking case in which a Dutch court held Royal Dutch Shell liable for its contributions to climate change, and a growing number of world leaders have pushed for ecocide to be recognized as a crime. The Pope has even proposed making it a sin for Catholics, Inside Climate News reports.
According to CNBC, ecocide, "is an umbrella term for all forms of the mass damage of ecosystems, from industrial pollution to the release of micro plastics into the oceans," and the exact definition has been debated since the early 1970s. Now that a definition is in place, activists hope the next step is holding people, companies and governments accountable for environmental destruction that ultimately harms humans.
"There have been working definitions in the past, but this is the first time that something has been convened globally and in response to political demand," Jojo Mehta, co-founder of the Stop Ecocide campaign, the organization behind the law, told CNBC. "What that shows is that the space is opening up in the political world to actually look at a solution like this. This conversation is no longer falling on deaf ears and, indeed, it is actually gathering momentum at quite a pace."