Martin Jernberg / Unsplash
On May 10, 1996, an unexpected storm engulfed the summit of Mt. Everest, killing eight climbers. At the time, it was the deadliest disaster in the mountain's history. Twenty-five years later, scientists and the mountaineering community are still taking steps toward safer expeditions. But with the climate crisis taking its own toll on the mountain, climbing the world's highest peak may become more dangerous than ever.
Disaster On High
In the spring of 1996, guided climbing teams from around the world gathered at base camp, preparing their attempts to summit Mt. Everest. Among them were Adventure Consultants, led by Rob Hall, and Mountain Madness, led by Scott Fischer, two of the most well-respected and experienced guides in Himalayan mountaineering.
After months of preparation and acclimatization, Hall and Fischer's teams were making their summit push the second week of May. After staying a couple of nights lower on the mountain, they departed their final camp, Camp IV, just after midnight on May 10 and headed toward the highest point on Earth.
As a safety precaution, teams summiting Everest set a turnaround time to make sure they have enough daylight and resources to get back down the mountain safely. For Hall and Fischer's teams, that time was 2 p.m. If clients hadn't summited by then, they'd have to turn around, thousands of dollars and months of preparation squandered — but at least they'd make it home.
A cloudy day in the Himalaya. Toomas Tartes / Unsplash
On May 10, however, multiple delays caused many of the climbers to miss this window, and for reasons nobody will ever be sure of — maybe client dedication, maybe high-altitude brain fog, maybe a combination of both, or maybe something different entirely — neither guide turned his clients around at the agreed-on time. Instead, climbers were struggling up the mountain through the afternoon, even as snow started to fall around 3 p.m. Fischer himself didn't summit until 3:45.

Although the forecast had shown clear weather, by 5 p.m., the top 3,000 feet of the mountain were engulfed in an unpredicted, unforgiving blizzard.
About 2,500 feet below the storm at Camp III was the Alpine Ascents team, which included guide Pete Athans, a long-time mountaineer who earned the nickname "Mr. Everest" after becoming the first Westerner to summit seven times. Athans had been climbing alongside both Hall and Fischer for years, as all were part of the close-knit Himalayan guiding community.
The Alpine Ascents team was planning to make its summit push two days after Mountain Madness and Adventure Consultants, but as they watched the high-altitude storm blow in above them, they soon realized they'd have to make it a rescue mission instead.
"Around 10:30 or 11 p.m., we were still hearing [via radio contact] that there were more than 18 people that had not made it down [to camp]," Athans said. Two of those stranded climbers were Hall and Fischer. "At that point, we realized likely something was wrong there."
Athans and co-guide Todd Burleson, while hoping for the best, made a plan for the worst. At 3 a.m. on May 11, they woke up and began climbing.
"Our plan was to keep going up the mountain until we found Rob and Scott," Athans said. But when they got to Camp IV, they realized how many other people needed attention after a night spent blasted by near-hurricane-force winds.
There were still people missing from camp, and by that point, they'd heard via radio that Fischer had collapsed and had likely perished at a spot called the Balcony, which lies at about 27,500 feet, and that Hall was still alive but in need of assistance to descend further than where he'd spent the night about 28,700 feet up the mountain.
A team of six Sherpa, or Himalayan support climbers, began ascending to attempt a rescue of the two stranded guides, but the still-fierce wind prevented them from being successful. Neither Rob Hall nor Scott Fischer made it down the mountain alive.
"It still brings up a wealth of sadness that I wasn't able to do more for Rob and Scott," said Athans, now 64 and living in Bainbridge Island, Washington. "Back in that day, I had always thought I'd continue working and climbing and being friends with those guys. They were a big part of our community; they were larger than life — great sense of humor, fun to be around, really congenial and convivial people, and good climbers.
"It's hard to lose people like that. You know if you spend much time in mountain-climbing circles, you lose important people to you along the way. It happens, unfortunately."
Hall and Fischer were two of eight climbers who died due to the storm that struck Mt. Everest on May 10, 1996.
Evolutions in Tourism
In the past quarter-century, there have been a number of other deadly seasons on Everest, and commercialization has played a major role in these losses.
"Base camp has a thousand people at the height of the climbing season," said Paul Mayewski, director and professor at the Climate Change Institute at the University of Maine. "The actual climbing window is during the last two weeks of May usually. In that climbing window, you'll look for ideally two to three days during which the weather is really good for people to make the ascent."
Climbers form a line to the top of Everest. GESMAN TAMANG / AFP via Getty Images
Unfortunately, not every year has enough good weather days to space out expeditions. This is the scenario that played out in the 2019 season, one of the deadliest on record. Poor weather allowed just a few opportunities to climb, which led to about 800 people trying to summit each day. Lines up at the summit looked like something you'd see at Disney World. That year, 11 people died trying to achieve their Everest dreams.

So, why not just restrict the number of climbers? While the Nepalese government has considered cutting the number of permits issued each year, "it's really tough when your economy is completely reliant," Athans said. "There are some small industries [in Nepal], but really their chief economic motor is tourism — everything from people going into the Kathmandu valley for a weekend to people going on months-long Everest expeditions."
That isn't to say that the government isn't concerned about these issues, especially considering their own people, the Sherpa climbers, have the most dangerous jobs on the mountain.
"It's not that they've been operating in bad faith," he said. "They're operating in good faith, they're just in a really difficult place."
One possibility that's often discussed is that the government could issue fewer permits but charge more for them. Today, climbing Everest can cost anywhere from $40,000 per person if going at it alone to more than $100,000 for a guided trip with your own personal Sherpa and extra oxygen.
According to Athans, in the early '90s, expedition permits jumped from $12,000 to around $50,000 per team, which the government hoped would be a significant deterrent. However, "in a couple of years, they were getting more applications than they ever had before," he said. And costs have held pretty consistent over the past 25 years — in 1996, Adventure Consultants charged $65,000 a head to join its expedition, and the company raised its prices by just $4,000 since.Although going on a guided expedition isn't a guarantee you'll summit, if climbers were to make a more significant financial commitment due to higher permit fees, guides may feel increased pressure to get their clients to the top of Everest, leading to a situation in which they become unfit to lead, as happened with Hall and Fischer.
On the other hand, increasing the cost of an expedition may weed out some of the inexperienced or out-of-shape travelers that can easily get themselves into trouble high on the mountain. Both Western teams that got caught in the 1996 storm included climbers of varying experience levels, which likely contributed to the severity of the catastrophe.
"It's unfortunate, because so many of the teams are commercial teams," Athans said. "There are going to be people who are novice climbers, and they're just not going to be as strong or as fast as more experienced, expert climbers."
Mountaineers push for the summit of Mt. Everest. STR / AFP via Getty Images
While there has been talk of implementing a sort of experience-based selection process — and much of that may fall on the guiding companies themselves — for now, the community is focusing on improving safety on the mountain for those that do attempt a climb.

One issue that's been worked on over the past 25 years is marking the trail with flags and setting more fixed ropes. Due to the storm, visibility became dangerously low, and nine of Fischer and Hall's climbers got lost on the way to camp, having to spend a night exposed to the elements. This resulted in the death of one client, Yasuko Namba, and severe frostbite that warranted extremity amputations for another, Beck Weathers.
"In general, the guiding community there, which has grown substantially since '96, is a bit more conservative and now fixes continuous lines from the high camp at 26,000 feet to the summit," Athans said. "Before then, only the steeper sections were actually equipped with fixed rope. This practice might well have helped those who were stranded out away from the camp in '96 and may have guided them in successfully."
Another major development over the past few years has been the professionalizing of the Sherpa workforce. Although his guiding days are behind him, as the director of the Khumbu Climbing Center, Athans has played a large role in shaping the future of the industry.
"We've been training the guides on everything from high-altitude biodiversity to ice climbing skills to medical skills to just better guiding overall," Athans says. "We definitely see some Nepalese operators, but there are as many or more foreign operators, and those businesses should really be managed by the Sherpa or certainly by the Nepalese."
After all, with their more efficient use of oxygen and unique metabolisms, those born in the Himalaya makes them naturals at climbing the region's peaks, even without supplemental O2. This is why they're contracted as support for international expeditions — carrying large loads in thin air is physiologically easier for them.
By learning the technical and physical skills exhibited by Western guides, the Sherpa can take more ownership of what is, effectively, their own mountain.
"It's right in their backyard. It's something they revere, and having a sustainable business practice there is part of their mythology, is part of their religion," Athans said. "The overall improvement and the innovating of how they guide and use more technology will just be game-changing in the coming years on Everest."
A Changing Mountain
Although expedition companies are working to make their trips safer, recent scientific analysis shows the mountain itself will pose more threats to climbers in the coming years.
In the spring of 2019, Mayewski led a scientific expedition supported by National Geographic and Rolex to take a closer look at the human impact on Everest and how the mountain has changed over time. His research team, which included Athans, spent months collecting hundreds of samples of ice, water, rock, snow, and more that's since been analyzed in top laboratories across the world.
What they've found is that Everest is warming faster than most places on Earth. One of the major issues this causes is ice and snowmelt.
"We were surprised to find out how much ice was lost at very high elevations," Mayewski said. "As you go higher up, your temperatures get lower. You would assume that the snow and ice would be preserved better, but it's not. It actually has a significant loss of ice. You are seeing exposed, old ice at 26,000 feet. That has big implications."
Not only does an absence of snow and ice high on the mountain mean it will become harder for climbers to access drinking water, but also, the snow is melting and flowing around existing ice sheets, which can cause them to shift and trigger avalanches.
Climbers set up tents at Everest base camp on Khumbu Glacier. Frank Bienewald / LightRocket via Getty Images
Runoff water poses a unique risk at base camp, too. Glacial melt has caused this area to sink more than 150 feet in the past 35 years, and small lakes have formed. According to Mayewski, these will eventually become larger and connect with the underground rivers that flow beneath the camp.

"It'll begin to look more and more like swiss cheese," Mayewski said. "There will be times that if people aren't careful, they'll slide into these rivers, and if you do come out, you come out in little bits. It'll become more dangerous."
Additionally, scientists found that the water from melting glaciers contained a multitude of toxic chemicals, like cadmium and lead, which can pose major threats to the health of those living downstream. And this wasn't the only pollution seen on Everest — microplastics were also found in snow samples taken less than 1,500 feet from the summit.
The amount of waste on the mountain has led to Everest being nicknamed the "world's highest garbage dump" in recent years. Thanks to the efforts of local NGOs and the Nepalese government, climbers have started carrying extra trash down from high altitudes. Expeditions also hire Sherpa to carry their trash down, which Athans says poses its own dilemma.
"If you can't make the mountain pristine, at least try to clean the mountain of everything that you brought," Athans said. "For every load of trash [climbers leave behind], that's one more Sherpa trip through the Khumbu Icefall, one of the more dangerous parts of the mountain. Morally, ethically, do you really want to risk someone's life for a load of trash?"
The Khumbu Icefall is where the Khumbu Glacier flows over the mountain (similar to a waterfall). The glacier moves 3 to 4 feet every day, creating massive crevasses and the potential for a collapse or avalanche. Between 1953 and 2016, about 25% of the recorded deaths on the Nepalese side of the mountain occurred in the Icefall, and according to Mayewski, this area will only become more treacherous as temperatures rise.
Interestingly, scientists also found climate change is making the air near the summit thicker, which would make it easier for climbers to breathe once they do make it past the Icefall.
"As you begin to make the ascent into the highest parts of Everest, with warming, there will actually be a little bit more oxygen," Mayewski said.
Climbers approach the top of the world. PHUNJO LAMA / AFP via Getty Images
To monitor things like air pressure, temperature, and wind speed on Everest, scientists installed five weather stations on various parts of the mountain during the 2019 expedition. These will operate for a number of years and will be used both to make climate-related predictions and to forecast weather to ensure climbers have the safest conditions during their ascents.

Mayewski and Athans agree that the data from these stations, if available a quarter-century ago, could have helped Hall and Fischer avoid their fateful storm.
"Understanding what's coming in these big storms and helping climbers to know exactly what the best window is will be a tremendous help," Mayewski said. "That's one of the primary reasons for putting the weather stations up there."
A follow-up to the 2019 scientific expedition was planned for the spring of this year but has been postponed due to the COVID-19 pandemic. So, instead of being in Nepal for the 25th anniversary of the disaster, Athans is planning to spend some reflection time on Mount Rainier, which he calls a "little slice of the Himalaya here in the lower 48 — one of the few places in the U.S. that you can go to that's a bit like Everest."
When the expedition is rescheduled either in the fall or next spring, Athans plans to return to base camp, continuing research and making technological advances. Hopefully, his work will prevent future climbers from finding themselves in a disastrous situation such as that struck those in his own community all those years ago.
Melissa Smith is an avid writer, scuba diver, backpacker, and all-around outdoor enthusiast. She graduated from the University of Florida with degrees in journalism and sustainable studies. Before joining EcoWatch, Melissa worked as the managing editor of Scuba Diving magazine and the communications manager of The Ocean Agency, a non-profit that's featured in the Emmy award-winning documentary Chasing Coral.
From Your Site Articles
Related Articles Around the Web
EcoWatch Daily Newsletter
An aerial view from a drone shows a street inundated with flood water on Dec. 23, 2019 in Hallandale, Florida. Joe Raedle / Getty Images
By Elizabeth Djinis
Florida has long been known as an environmental contradiction. It's mostly a peninsula at risk from the severe impacts of climate change, including rising seas, warming temperatures, and worsening extreme-weather events; yet it's also a state governed by Republican leaders who have refused to even publicly utter the words "climate change."
When Florida Governor Ron DeSantis was elected in 2018, he appeared to be the archetypal Republican, proudly touting his endorsement from then-president Donald Trump. But DeSantis's immediate actions on the environment surprised even die-hard Democrats. In his first year, he hired the state's first chief resilience officer and recommended that more than $625 million be allocated to restoration of the Florida Everglades and protecting the state's water resources.
Some Republican strategists say DeSantis has paved the way for a Florida legislature that is finally open to acting on climate change. The governor's proposed state budget for 2021-2022 allocates $1 billion over four years for resiliency efforts in response to sea level rise, storm events, and localized flooding, and $25 million to offset harmful algal blooms and red tide.
At the same time, state leaders like Florida's House speaker Chris Sprowls and Senate president Wilton Simpson are proposing a sweeping infrastructure package that would specifically designate consistent funds to mitigating sea level rise and flooding. It's a stunning acceptance of a problem that, for too long, Republicans refused to even admit.
But many of Florida's young climate activists say the focus is misplaced. Sure, it's great that Republicans have finally recognized the threat posed by the climate crisis, but they are more concerned with dealing with the consequences than the causes. And Republicans are still reticent to use the term "climate change," preferring the more palatable "resiliency," which emphasizes bracing to withstand the impacts of climate change rather than enacting policies that could actually reduce carbon emissions.
"It's gotten to the point in Florida where politicians really can't ignore climate change and the cost of not investing in resilient infrastructure, because sea level rise is going to destroy our tourism industry," says Mary-Elizabeth Estrada, 24, a climate organizer with the environmental nonprofit the CLEO Institute. "But a lot of the time it's still money-centered as opposed to 'how can we help the people?' It's
National GOP media strategist Adam Goodman, who splits his time between Washington, DC, and the Tampa Bay area, says DeSantis has opened the door for other Florida Republicans to follow in his footsteps. GOP leaders took note of the Florida governor's popularity jump after he proposed allocating money to protect coastlines and preserve natural resources. Party leaders began to view environmental protections as a core Florida message rather than a partisan issue, Goodman tells Teen Vogue.
They have also keenly realized the alternative: Not acting on the environment could have severe economic consequences for the state and threaten the party's dominance of state politics. "Republicans are learning that if they become more sensitive to the environment and climate change, they can then go back in the campaign process and policy process to some of their bread-and-butter conservative economics and careful growth policies," Goodman explains. "If they don't check this box, especially in a state like Florida, they are going to have a much more difficult time putting into play a conventional Republican agenda."
Part of the impetus lies in experience. Florida Republicans, like all Floridians, are already experiencing climate change, whether it's firsthand or through the perspectives of their constituents. Estrada has lobbied Democrats and Republicans on climate policy through her nonprofit roles, and she's talked to legislators who mention increased flooding and rising tides in their own neighborhoods. "When it impacts you, I think that's when you start to realize that this really is a problem," Estrada says.
So far, Florida Republicans seem to be picking and choosing what climate issues they're willing to engage on. Proposed legislation in the Florida Senate, for example, would bar local governments from restricting the types of energy production, like electricity or natural gas, that get supplied to customers by a utility company. Another bill would have given the state broad oversight on energy infrastructure regulation, prohibiting local governments from taking regulatory action on existing or new energy infrastructure; it has since been amended to apply only to gas stations and their related transportation infrastructure.
These moves are particularly unnerving because youth climate activists say much of Florida's environmental progress has been made at the local level. Numerous Florida cities, including St. Petersburg, Orlando, and Gainesville, have taken the Sierra Club's "Ready for 100" pledge to use 100% clean and renewable energy no later than 2050.
"In coastal communities like the Tampa Bay area and the Miami Beach area, there we do see elected officials on a local level who seem to really care and make big steps and move toward solar energy," says Catarina Fernandez, a 20-year-old activist working as a fellow with Our Climate and studying the environment and society at Florida State University.
While youth activists tend to focus on national issues, buoyed by proposals like the Green New Deal and dynamic national representatives like Alexandria Ocasio-Cortez, there's so much more potential to get things done on the local level, according to Estrada. "People should realize the importance of local elections. That's where you can really get stuff done," she says. "On the local level, you can actually talk to city council members and your local state legislators."
Even Florida Republican policies that appear positive on their face — like Sprowls and Simpson's plan to allocate recurring funding toward the effects of sea level rise and flooding — have a hidden underbelly. That money would come from a state trust fund that uses documentary stamp tax revenue from real estate transactions to fund affordable housing. The state has routinely tapped that fund to address various crises, and the Republicans' proposal would also crystallize a policy wherein the funds meant mainly for affordable housing would be shared with those for sea level rise mitigation and wastewater grants.
This puts activists in a terrible position, pitting the housing justice movement against the environmental movement, Fernandez says. "That's a fight nobody asked for," she says. "I want climate resiliency measures, but do I want that at the expense of some of the most vulnerable communities here in Florida? No, not in a million years."
Ultimately, young climate activists have had to take a pragmatic look at the limitations of what can be accomplished through policy. Fernandez says it is not the "end-all, be-all." "If you're living in a conservative state like Florida, it can be really hard to get that stuff off the ground," she says. "You're not really going to get policy changes unless you have the people behind you, and the way to get people behind you is by educating them and connecting with them and tapping them into these issues."
Elizabeth Djinis is a writer and journalist based in St. Petersburg, Florida. Her work has been published by Poynter, The Dallas Morning News, The Tampa Bay Times, The Penny Hoarder and Sarasota Magazine, among others. Follow her on Twitter.
This story originally appeared in Teen Vogue and is republished here as part of Covering Climate Now, a global journalism collaboration strengthening coverage of the climate story.
From Your Site Articles
Related Articles Around the Web
sl-f / iStock / Getty Images
If you're interested in saving money on electric bills and reducing your environmental impact, you may be considering a home solar system. But before you make the switch to renewable energy, you'll need to understand the types of solar panels and choose the right fit for your home.
There are a few types of solar panels on the market today, and the kind you use can have a significant impact on the efficiency of your system. Here, we'll break down the differences in solar panel technology and explain the pros and cons of each type of panel.
Each product featured here has been independently selected by the writer. If you make a purchase using the links included, we may earn commission.
What Are Solar Panels?
Before getting into the different types of solar panels, it may be helpful to review the basic layout of a residential solar energy system, and specifically to understand how solar panels work.
Solar panels are laid on the roof of a house, where their surfaces can collect light from the sun. That sunlight is then converted into energy, which may either be stored in a solar battery or used to directly supply power to the home. While choosing the best solar batteries and inverters is important, the efficiency of any home solar system will be largely determined by the number, position and type of solar panels used.

Types of Solar Panels: An Overview
By installing residential solar power, it's possible for homeowners to dramatically reduce or even eliminate their dependence on traditional utility companies. First things first, however: Before you say goodbye to those monthly electric bills, it's imperative to make sound choices about your solar investment. And generally, that starts with the panels themselves.
So, what types of solar panels can homeowners choose from? Most of today's photovoltaic (PV) solar panel systems fit into one of these three categories: monocrystalline, polycrystalline and thin-film solar panels.
Monocrystalline Solar Panels: Pros and Cons
Most homeowners find that monocrystalline solar panels provide a sleek look and have the highest efficiency ratings. For these reasons, they may be the only viable option for homeowners who have smaller roofs and less space for panels. If you need to ensure that every square inch of paneling is designed for maximum output, monocrystalline may be the best type of solar panel for you.
However, while they're often the most efficient solar panels, the downside to purchasing panels made from monocrystalline silicon cells is that they are fairly expensive.
Polycrystalline Solar Panels: Pros and Cons
Polycrystalline solar panels, also sometimes called multicrystalline panels, are essentially the inverse of monocrystalline. They generally have lower efficiency ratings, but they tend to be a lot easier on the wallet.
Although they lack the high efficiency of monocrystalline solar panels, their low cost makes them attractive to many budget-conscious homeowners. If you're looking to save money on solar panel installation, polycrystalline could be a great choice.
Thin-Film Solar Panels
The third option is thin-film solar panels. These are usually portable and lightweight, flexible and aesthetically pleasing. However, they're not the best solar panels on the market. Of the three primary types of solar panels, they are at the bottom of the list in terms of overall efficiency and need the most surface area to generate an optimal power output. For these reasons, many top solar companies don't offer thin-film solar panels.
Different Types of Solar Panels: What Are They Made Of?
Clearly, there are different advantages and disadvantages associated with each of the types of solar panels. But what gives each type of panel its unique characteristics? Let's take a closer look at what they're all made of.
Monocrystalline vs. Polycrystalline Solar Panels
These two types of solar panels can be considered together, as they are somewhat similar in their structure. Specifically, both monocrystalline solar panels and polycrystalline solar panels are assembled from photovoltaic cells made of silicon. A series of silicon wafers are carefully arranged into rows and columns, then covered with a layer of glass that's meant to protect them and hold them in place.
What distinguishes these two types of solar panels is the actual composition of the silicon crystals. Monocrystalline solar cells are made from PV cells that are cut from a single crystal of pure silicon (hence the prefix "mono"). Polycrystalline solar cells are made from multiple crystalline silicon fragments that are melted together during the manufacturing process.

What About Thin-Film Solar Panels?
Thin-film solar panels can be made from a variety of materials. The most common variant is made of cadmium telluride, though some are also made from an amorphous silicon or copper indium gallium selenide (CIGS) semiconductor.
Choosing Between Different Types of Solar Panels
Ultimately, as you get ready to buy solar panels for your residential solar system, you'll want to consider how the three types of solar panels perform in terms of aesthetics, efficiency and cost.
Aesthetics
To begin with, what do each of these types of solar panels look like?
Monocrystalline solar panels typically have neatly arranged rows and columns of sleek, black cells.
Polycrystalline solar panels tend to have rows of cells with a more bluish hue.
Thin-film solar panels may be either black or blue. They are notable for being slimmer and lower profile, but you'll need to install more of them to match the power output of the other two types of solar panels.
Efficiency
The three common types of solar panels vary in how much power they produce.
Monocrystalline solar panels typically produce the most power and boast the highest efficiency levels. Some can reach efficiencies of higher than 20%. (This means that more than 20% of the sunlight that strikes the surface of the panel is converted to usable energy).
Polycrystalline panels are usually a bit less efficient, often falling somewhere around 15 to 17%.
Thin-film solar panels are the least efficient option, often falling somewhere between 5 to 11%.
Cost
A final factor to consider is the upfront cost of solar panels.
Monocrystalline solar panels are the most complex and challenging to manufacture, which means they tend to be the most expensive of the three types of solar panels.
Polycrystalline solar panels can be assembled with just fragments of silicon, so they are easier to make and thus tend to be pretty affordable.
Thin-film solar panels can vary in cost depending on the specific type of material used, but you can anticipate them being cheaper than either of the other two options
Get a Free Quote and See How Much You Can Save
Getting a free quote and choosing a company to consult with on your solar energy installation is a great way to ensure you're picking the best solar panels for your home. Fill out the 30-second form below for a no-obligation quote. You could save up to $2,500 per year on utility bills and get federal and state tax credits.
Choosing the Right Panel for Solar Power

Installing a home solar system is one of the best ways to produce clean, renewable energy. After considering the major solar energy pros and cons and deciding that going solar is the right move for you, a crucial next step is selecting the right technological setup. This is when understanding the different types of solar panels becomes especially valuable.
As you consider your options, make sure you shop around, compare different panels, and talk with a solar installer that can help you narrow down which type of panels is best suited for your residential energy needs.

Consumer decisions could play a critical role in dealing with climate change. A study gauging perceptions was published May 13, 2021.
FotographiaBasica via Getty Images
By Lucca Henrion, Joe Árvai, Lauren Lutzke and Volker Sick
Would you drink carbonated beverages made with carbon dioxide captured from the smokestack of a factory or power plant?
How would you feel if that captured carbon dioxide were in your child's toys, or in the concrete under your house?
The technology to capture climate-warming carbon dioxide emissions from smokestacks, and even from the air around us, already exists; so too does the technology to use this carbon dioxide to make products like plastics, concrete, carbonated drinks and even fuel for aircraft and automobiles.
That combination – known as carbon capture and utilization – could take up billions of tons of carbon dioxide emissions if the technologies were adopted across a range of sectors worldwide.
But for that to happen, the public will have to accept these new products. Will they? That's a question we have been exploring as engineers who work on carbon capture technologies and as social psychologists.
One Key to Success: CCU Adds Economic Value
Studies show that to stabilize the climate by 2050, the world will have to do more than just stop greenhouse emissions. It also will have to remove huge amounts of carbon dioxide from the atmosphere. Trees, soils and oceans naturally store some carbon dioxide, but human activities produce about five times more than nature can handle.
That's why technologies that can reuse carbon dioxide to avoid fossil fuel use – or even better, lock it away in long-lived products like cement – are essential.
The key to carbon capture and utilization's potential is that these products have economic value. That value can give companies the incentive to deploy the technology at the global scale necessary to slow climate change.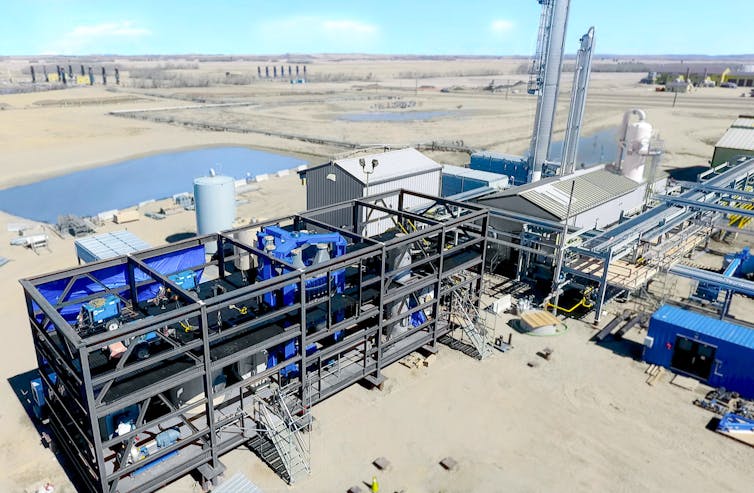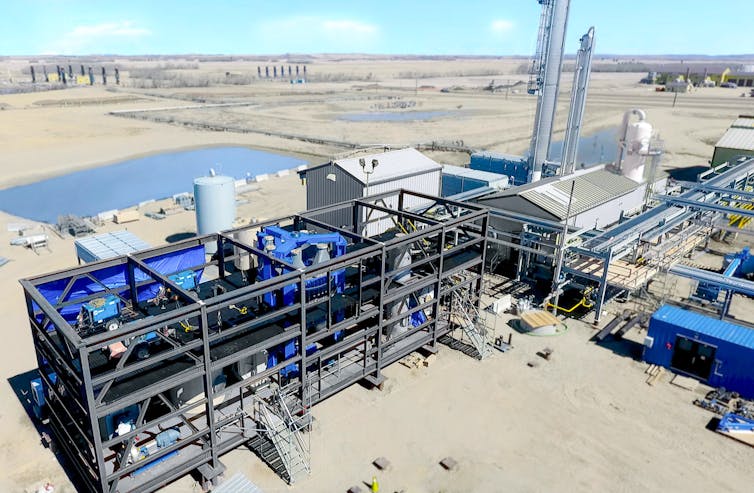 Carbon capture technology itself isn't new. Initially, captured carbon dioxide was used to force oil and gas out of old wells. Once emissions are captured, typically from an industrial smokestack via a complex chemical filter, they can be pumped deep underground and stored in depleted oil reservoirs or porous rock formations. That keeps the carbon dioxide from reaching the atmosphere, where it can contribute to climate change.
But storing carbon dioxide in the ground doesn't create a new product. The absence of an economic return – coupled with concerns about storing carbon dioxide underground have slowed the adoption of the technology in most countries.
How Do People Feel About Carbon Dioxide-Based Products?
For many products made with captured carbon dioxide, success will depend on whether the public accepts them.
Two of us recently conducted one of the first large-scale studies to examine public perception of carbon dioxide-based products in the U.S. to find out. We asked over 2,000 survey participants if they would be willing to consume or use various carbon dioxide-based products, including carbonated beverages, plastic food storage containers, furniture made with foam or plastic, and shatterproof glass.
We found that most people knew little about carbon capture and use. However, 69% were open to the idea after learning how it worked and how it helped reduce the emissions contributing to climate change.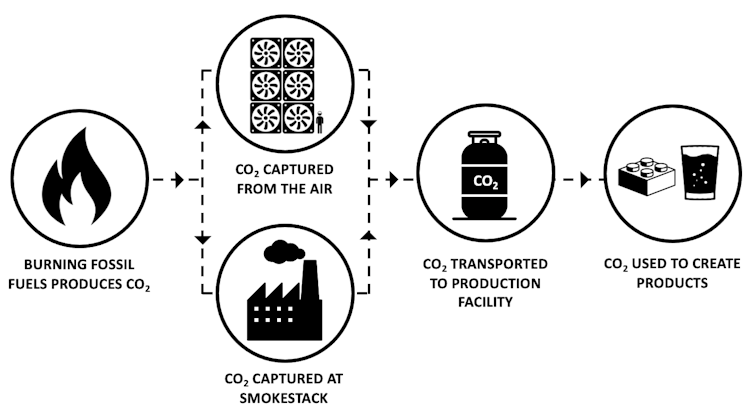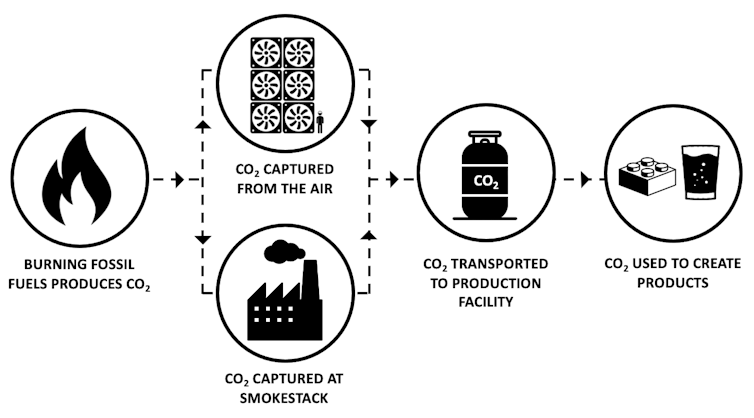 There was one exception when we asked about different types of products people might be willing to use: Fewer people – only 56% – were open to the idea of using captured carbon dioxide in carbonated beverages.
Safety was a concern for many people in the survey. One-third didn't know if these products might pose a health risk, and others thought they would. It's important to understand that products made with captured carbon dioxide are subject to the same safety regulations as traditional materials used in food and consumer products. This includes filtering out unwanted pollutants in the flue gas before using the carbon dioxide in carbonated beverages or plastics.
When carbon dioxide is used as a raw material, it becomes chemically stable once it is used to create a product, meaning carbon dioxide used to create plastic will not turn back into a gas on its own.
What people may not realize is that the majority of carbon dioxide currently used nationwide is already a fossil fuel byproduct from the steam-methane reforming process. This carbon dioxide is used widely for purposes that include making dry ice, performing certain medical procedures and carbonating your favorite soda.
Overall, we found that people were open to using these products, and that trend crossed all ages, levels of education and political ideologies.
Carbon capture and use already has bipartisan support in Washington, and the Department of Energy is funding research in carbon management. Bipartisan consumer support could quickly expand its use, creating another way to keep carbon emissions out of the air.
Over 77 million tons of carbon dioxide was captured worldwide in 2020, but use of that carbon dioxide lags behind. One use that is quickly expanding is using carbon dioxide to cure, or harden, concrete. A company called CarbonCure, for example, has permanently stored over 90,000 tons of captured carbon dioxide in concrete to date.
Recently, Unilever and partners piloted replacing fossil-based ethanol with carbon dioxide-based ethanol for manufacturing laundry detergent, significantly reducing the associated ethanol emissions. Both are cost-competitive methods to capture and use carbon dioxide, and they demonstrate why carbon capture and use could be the most market-friendly way to remove carbon dioxide on a large scale.
How Innovators Can Improve Public Perception
Some emerging technologies could help address the perceived risks of ingesting carbon captured from industrial emissions.
For example, a Coca-Cola subsidiary is piloting a project in which carbon dioxide is captured directly from ambient air using direct air carbon capture technology and then used in drinks. Although it's currently expensive, the costs of direct air carbon capture are expected to fall as it is used more widely, and its use could reduce people's concerns about health risks.
The most important steps may be educating the public about the process and the value of carbon dioxide-based products. Companies can alleviate concerns by being open about how they use carbon dioxide, why their products are safe and the benefits they hold for the climate.

Lucca Henrion is a research fellow at the Global CO2 Initiative, University of Michigan.
Joe Árvai is the Dana and David Dornsife Professor of Psychology and director of the Wrigley Institute for Environmental Studies, USC Dornsife College of Letters, Arts and Sciences.
Lauren Lutzke is a Ph.D. student at the USC Dornsife College of Letters, Arts and Sciences
Volker Sick is the Arthur F. Thurnau Professor; DTE Energy Professor of Advanced Energy Research; and director of the Global CO2 Initiative, University of Michigan.
Disclosure statement: Lucca Henrion works as a research fellow in the Global CO2 Initiative at the University of Michigan. He is a volunteer with the Open Air Collective. Joe Árvai receives funding from The National Science Foundation. Lauren Lutzke previously received funding from the Erb Institute for Global Sustainable Enterprise, and the Global CO2 Initiative, both at the University of Michigan. Volker Sick receives funding from the US Department of Energy, NRC Canada, and the University of Michigan.
Reposted with permission from The Conversation.
More evidence has emerged that humans have been altering the environment for much longer than the current climate crisis.
A new study published in Science Advances Wednesday found evidence that humans used fire to change the landscape around Lake Malawi in Africa as early as 92,000 years ago.

"This is essentially what we call the earliest anthropogenic landscape on Earth," study coauthor and University of Oslo archeology professor David Wright said in a press release.
The finding was the result of a collaboration between scientists who study ancient ecosystems and scientists who study ancient humans, Scientific American explained. In 2018, Pennsylvania State University paleoecologist and study coauthor Sarah Ivory published a study on climate conditions around Lake Malawi over the past 636,000 years. Pollen, fossil, and sediment records showed that forests would grow around the lake during wet periods and disappear during dry periods. This remained unchanged until around 86,000 years ago. At this point, the forest returned briefly during the wet period, only to suddenly fade and shift into grassland along with some fire resistant tree species.
Yale University paleoanthropologist Jessica Thompson was also working around Lake Malawi. She told Ivory about a spike in human artifacts around 92,000 years ago, suggesting that humans had moved to the area. Investigating further, the researchers found increasing evidence of charcoal deposits in cores drilled from the lake bed following human arrival. Could humans have burned down the forests and permanently altered the vegetation?
"Hunter-gatherers who go after hooved mammals can find it hard to hunt prey when it's in a closed tree environment. So we suspect the humans who arrived in the Karonga district [around Lake Malawi] started burning down the forest to open the landscape for hunting," Wright explained in the University of Oslo release. "It may also have provided new foods like starchy tubers that like to grow in open areas."
There are other possible explanations, Thompson acknowledged in a Yale University press release. It is possible that the fires were not lit intentionally, but were started accidentally. The charcoal could just come from smaller fires lit for cooking or warmth.
But, either way, it shows that humans have long had a transformative impact on their environments.
"One way or another, it's caused by human activity," Thompson told Yale. "It shows early people, over a long period of time, took control over their environment rather than being controlled by it. They changed entire landscapes, and for better or for worse that relationship with our environments continues today."
Though it dates from the earliest point, the study is not the first to present data that hunter-gatherers altered landscapes with controlled burns. Other evidence has emerged from 50,000 years ago in Borneo, 45,000 years ago in New Guinea and 40,000 years ago in Australia, Scientific American pointed out.
For Wright, this may set back the date for the Anthropocene — the term for when human presence and activity altered the geologic record. On local levels, Wright says, this process began tens of thousands of years ago.
"Wherever humans are, we transform landscapes because of our natural vulnerabilities as a species," Wright told the University of Oslo. "We cannot manage landscapes without changing them."
From Your Site Articles
Related Articles Around the Web
A new climate study finds that consuming "less-carbon polluting meats" like chicken may not be a sustainable replacement to beef. achayakorn lotongkum / iStock / Getty Images Plus
Curbing the world's appetite for meat is necessary to combat the climate crisis, but global meat consumption is on the rise.
Beef cattle have an outsized environmental impact because they belch methane, a potent greenhouse gas. In total, they account for 3.7 percent of the United States' total greenhouse gas emissions, and nearly half of all agricultural emissions, Inside Climate News reported. To replace beef, some environmentalists and scientists have suggested choosing chicken instead, which produces significantly lower greenhouse gas emissions.
But a new study finds that consuming "less-carbon polluting meats," like chicken or fish, may not be a sustainable replacement to beef and instead may further add to its high emissions, The Academic Times reported.
The study, published Monday in the journal Nature Sustainability, examined meat consumption data between 1961-2013 -- a period when chicken consumption grew five-fold per capita and beef consumption almost stayed the same.
Richard York, a sociologist at the University of Oregon and the study's lead author, said, "If you have increases in the production of poultry and fish, it doesn't tend to compete with or suppress other meat source consumption," according to the University of Oregon. "It would be great if more poultry and fish production and consumption would reduce that of beef, but that doesn't seem to be the case."
In a 2012 study, York found that expanding renewable energy did not reduce fossil fuel emissions, but increased overall energy consumption. He called this phenomenon the "displacement paradox" and wondered if it could be applied to meat consumption patterns, The Academic Times reported.
"Adding more wind doesn't really result in using less coal. If we use more energy sources, we use more energy. Likewise, when additional meat choices are offered, that additional variety tends to, more simply, increase overall meat consumption," York explained, according to the University of Oregon.
Studies show that beef production creates about four to eight times the emissions of pork, chicken or egg production per gram of protein, according to The New York Times. Although emitting much less, chicken production still has a significant greenhouse gas impact.
Greenhouse gas emissions per serving of poultry, for example, are 11 times higher than those of one serving of beans, Leah Garcés, the president of Mercy For Animals wrote in Vox – "so swapping beef with chicken is akin to swapping a Hummer with a Ford F-150, not a Prius." Global poultry production is also rising globally. Between 1990 and 2013, it increased by 165 percent, while global beef production only increased by 23 percent, Garcés wrote.
While scientists admit they don't have a silver bullet solution to limiting global warming below the Paris agreement's target of 1.5 to 2 degrees Celsius, they say curbing emissions from food production is a necessary part of the equation, calling it a "dark horse of climate change," The New York Times reported.
York suggests policymakers concentrate on supply chains, looking at the fossil fuel and meat industries side-by-side. "Rather than simply increasing renewable energy production, we need to actively suppress fossil fuel production instead of just giving more options," York said. "With meats, we may need to address the level of subsidies given for meat consumption to realize a desired reduction in meat production."
A Honduran couple are forced to leave their flooded home near San Pedro Sula in Honduras on November 20, 2020 in the aftermath of Hurricane Iota. Orlando Sierra / AFP / Getty Images
Climate change, the coronavirus pandemic, and growing inequality will exacerbate global volatility over the coming decades, a report by top U.S. intelligence officials released Thursday warns.
The Global Trends report, released every four years by the National Intelligence Council, predicted the impacts of climate change – rising temperatures, intensifying extreme weather and droughts that increase food insecurity, health risks, and conflict – would accelerate the trend of massive migration, and with it, global instability.
COVID, the report said, exposed the fragility of the world order, worsening "more and cascading global challenges, ranging from disease to climate change to the disruptions from new technologies and financial crises," the authors wrote.
"The international system – including the organizations, alliances, rules, and norms – is poorly set up to address the compounding global challenges facing populations."
Under the best-case scenario, democracies would take advantage of the opportunity to use pandemic recovery efforts to reorient national and international priorities toward solutions that would plan and adapt for climate change and other crises.
Unfortunately, said Maria Langan-Reikhof, the director of the council's strategic futures group, "greater divisions, increasing fracturing… [are] likely to continue and probably worsen."
For a deeper dive:
New York Times, Washington Post, Wall Street Journal, Reuters, The Hill

For more climate change and clean energy news, you can follow Climate Nexus on Twitter and Facebook, sign up for daily Hot News, and visit their news site, Nexus Media News.
From Your Site Articles
Related Articles Around the Web
Lower Granite Dam is obstructing salmon along the Snake River in Washington. Greg Vaughn / VW PICS / Universal Images Group / Getty Images
Climate change, activities that contribute to it, and dams pose grave threats to America's rivers, according to American Rivers.
The annual report ranks the county's 10 rivers most endangered by human activity that also have a critical decision point coming in the next year that could change the river's fate.
Four dams are choking the Snake River — earning it the top spot in the report — obstructing salmon and posing an existential threat to Native American tribes in the region who depend on the fish for food, culture and their identities.
Advocates are calling on President Biden to remove the federal dams and revitalize the river and its ecosystem.
Toxic coal ash pollutes the Lower Missouri, which also is experiencing an increase in climate-driven flooding, putting it second on the list, while Iowa's Raccoon River, at number nine, faces threats from industrial agriculture.
Between them are rivers befouled by sewage, polluted or threatened by mining, and otherwise dammed or mismanaged.
"Rivers are among the most degraded ecosystems on the planet, and threats to rivers are threats to human health, safety and survival," American Rivers head Tom Kiernan said.
"If we want a future of clean water and healthy rivers everywhere, for everyone, we must prioritize environmental justice."
For a deeper dive:
The Guardian, USA Today, Mother Jones, Reuters, E&E
For more climate change and clean energy news, you can follow Climate Nexus on Twitter and Facebook, sign up for daily Hot News, and visit their news site, Nexus Media News.

A warming climate can lead to lake stratification, including toxic algal blooms. UpdogDesigns / Getty Images
By Ayesha Tandon
New research shows that lake "stratification periods" – a seasonal separation of water into layers – will last longer in a warmer climate.
These longer periods of stratification could have "far-reaching implications" for lake ecosystems, the paper says, and can drive toxic algal blooms, fish die-offs and increased methane emissions.
The study, published in Nature Communications, finds that the average seasonal lake stratification period in the northern hemisphere could last almost two weeks longer by the end of the century, even under a low emission scenario. It finds that stratification could last over a month longer if emissions are extremely high.
If stratification periods continue to lengthen, "we can expect catastrophic changes to some lake ecosystems, which may have irreversible impacts on ecological communities," the lead author of the study tells Carbon Brief.
The study also finds that larger lakes will see more notable changes. For example, the North American Great Lakes, which house "irreplaceable biodiversity" and represent some of the world's largest freshwater ecosystems, are already experiencing "rapid changes" in their stratification periods, according to the study.
'Fatal Consequences'
As temperatures rise in the spring, many lakes begin the process of "stratification." Warm air heats the surface of the lake, heating the top layer of water, which separates out from the cooler layers of water beneath.
The stratified layers do not mix easily and the greater the temperature difference between the layers, the less mixing there is. Lakes generally stratify between spring and autumn, when hot weather maintains the temperature gradient between warm surface water and colder water deeper down.
Dr Richard Woolway from the European Space Agency is the lead author of the paper, which finds that climate change is driving stratification to begin earlier and end later. He tells Carbon Brief that the impacts of stratification are "widespread and extensive," and that longer periods of stratification could have "irreversible impacts" on ecosystems.
For example, Dr Dominic Vachon – a postdoctoral fellow from the Climate Impacts Research Centre at Umea University, who was not involved in the study – explains that stratification can create a "physical barrier" that makes it harder for dissolved gases and particles to move between the layers of water.
This can prevent the oxygen from the surface of the water from sinking deeper into the lake and can lead to "deoxygenation" in the depths of the water, where oxygen levels are lower and respiration becomes more difficult.
Oxygen depletion can have "fatal consequences for living organisms," according to Dr Bertram Boehrer, a researcher at the Helmholtz Centre for Environmental Research, who was not involved in the study.
Lead author Woolway tells Carbon Brief that the decrease in oxygen levels at deeper depths traps fish in the warmer surface waters:
"Fish often migrate to deeper waters during the summer to escape warmer conditions at the surface – for example during a lake heatwave. A decrease in oxygen at depth will mean that fish will have no thermal refuge, as they often can't survive when oxygen concentrations are too low."

This can be very harmful for lake life and can even increase "fish die-off events" the study notes.
However, the impacts of stratification are not limited to fish. The study notes that a shift to earlier stratification in spring can also encourage communities of phytoplankton – a type of algae – to grow sooner, and can put them out of sync with the species that rely on them for food. This is called a "trophic mismatch."
Prof Catherine O'Reilly, a professor of geography, geology and the environment at Illinois State University, who was not involved in the study, adds that longer stratified periods could also "increase the likelihood of harmful algae blooms."
The impact of climate change on lakes also extends beyond ecosystems. Low oxygen levels in lakes can enhance the production of methane, which is "produced in and emitted from lakes at globally significant rates," according to the study.
Woolway explains that higher levels of warming could therefore create a positive climate feedback in lakes, where rising temperatures mean larger planet-warming emissions:
"Low oxygen levels at depth also promotes methane production in lake sediments, which can then be released to the surface either via bubbles or by diffusion, resulting in a positive feedback to climate change."

Onset and Breakup
In the study, the authors determine historical changes in lake stratification periods using long-term observational data from some of the "best-monitored lakes in the world" and daily simulations from a collection of lake models.
They also run simulations of future changes in lake stratification period under three different emission scenarios, to determine how the process could change in the future. The study focuses on lakes in the northern hemisphere.
The figure below shows the average change in lake stratification days between 1900 and 2099, compared to the 1970-1999 average. The plot shows historical measurements (black), and the low emission RCP2.6 (blue), mid emissions RCP6.0 (yellow) and extremely high emissions RCP8.5 (red) scenarios.
Change in lake stratification duration compared to the 1970-1999 average, for historical measurements (black), the low emission RCP2.6 (blue) moderate emissions RCP6.0 (yellow) and extremely high emissions RCP8.5 (red). Credit: Woolway et al (2021).
The plot shows that the average lake stratification period has already lengthened. However, the study adds that some lakes are seeing more significant impacts than others.
For example, Blelham Tarn – the most well-monitored lake in the English Lake District – is now stratifying 24 days earlier and maintaining its stratification for an extra 18 days compared to its 1963-1972 averages, the study finds. Woolway tells Carbon Brief that as a result, the lake is already showing signs of oxygen depletion.
Climate change is increasing average stratification duration in lakes, the findings show, by moving the onset of stratification earlier and pushing the stratification "breakup" later. The table below shows projected changes in the onset, breakup and overall length of lake stratification under different emission scenarios, compared to a 1970-1999 baseline.
The table shows that even under the low emission scenario, the lake stratification period is expected to be 13 days longer by the end of the century. However, in the extremely high emissions scenario, it could be 33 days longer.
The table also shows that stratification onset has changed more significantly than stratification breakup. The reasons why are revealed by looking at the drivers of stratification more closely.
Warmer Weather and Weaker Winds
The timing of stratification onset and breakup in lakes is driven by two main factors – temperature and wind speed.
The impact of temperature on lake stratification is based on the fact that warm water is less dense than cool water, Woolway tells Carbon Brief:
"Warming of the water's surface by increasing air temperature causes the density of water to decrease and likewise results in distinct thermal layers within a lake to form – cooler, denser water settles to the bottom of the lake, while warmer, lighter water forms a layer on top."

This means that, as climate change causes temperatures to rise, lakes will begin to stratify earlier and remain stratified for longer. Lakes in higher altitudes are also likely to see greater changes in stratification, Woolway tells Carbon Brief, because "the prolonging of summer is very apparent in high latitude regions."
The figure below shows the expected increase in stratification duration from lakes in the northern hemisphere under the low (left), mid (center), and high (right) emission scenarios. Deeper colors indicate a larger increase in stratification period.
Expected increase in stratification duration in lakes in the northern hemisphere under the low (left), mid (centre) and high (right) emissions scenarios. Credit: Woolway et al (2021).
The figure shows that the expected impact of climate change on stratification duration becomes more pronounced at more northerly high latitudes.
The second factor is wind speed, Woolway explains:
"Wind speed also affects the timing of stratification onset and breakdown, with stronger winds acting to mix the water column, thus acting against the stratifying effect of increasing air temperature."

According to the study, wind speed is expected to decrease slightly as the planet warms. The authors note that the expected changes in near-surface wind speed are "relatively minor" compared to the likely temperature increase, but they add that it may still cause "substantial" changes in stratification.
The study finds that air temperature is the most important factor behind when a lake will begin to stratify. However, when looking at stratification breakup, it finds that wind speed is a more important driver.
Meanwhile, Vachon says that wind speeds also have implications for methane emissions from lakes. He notes that stratification prevents the methane produced on the bottom of the lake from rising and that, when the stratification period ends, methane is allowed to rise to the surface. However, according to Vachon, the speed of stratification breakup will affect how much methane is released into the atmosphere:
"My work has suggested that the amount of accumulated methane in bottom waters that will be finally emitted is related to how quickly the stratification break-up occurs. For example, a slow and progressive stratification break-up will most likely allow water oxygenation and allow the bacteria to oxidise methane into carbon dioxide. However, a stratification break-up that occurs rapidly – for example after storm events with high wind speed – will allow the accumulated methane to be emitted to the atmosphere more efficiently."

Finally, the study finds that large lakes take longer to stratify in spring and typically remain stratified for longer in the autumn – due to their higher volume of water. For example, the authors highlight the North American Great Lakes, which house "irreplaceable biodiversity" and represent some of the world's largest freshwater ecosystems.
These lakes have been stratifying 3.5 days earlier every decade since 1980, the authors find, and their stratification onset can vary by up to 48 days between some extreme years.
O'Reilly tells Carbon Brief that "it's clear that these changes will be moving lakes into uncharted territory" and adds that the paper "provides a framework for thinking about how much lakes will change under future climate scenarios."
Reposted with permission from Carbon Brief.
The Chinle Formation at Petrified Forest National Park provides a "living laboratory" for studying the Triassic period. National Park Service
By Ria Mazumdar
Reddish rock formations pervade the American Southwest. Their coloration is associated with the mineral hematite, through which a recent Rutgers University–led study uncovered a powerful link to climate.
According to lead author Christopher Lepre, conventional understanding attributes redness in the rock formations to diagenesis, a process of oxidation that occurs well after rocks are formed. Lepre's team asked whether the coloration was due not to diagenesis but to a different process altogether. Lepre is an assistant instructor in Earth and planetary sciences at Rutgers.
Google Earth's latest feature allows you to watch the climate change in four dimensions.
By Cameron Oglesby
Since 1960, about 21 percent of global agriculture production, including livestock, tree farming, and traditional crops such as corn and soybeans, has been negatively impacted by climate change, according to a new study.
In the research published Thursday in Nature Climate Change, agriculture production is defined not just as crop yields or the amount of food or livestock grown, but the overarching energy and input it takes to produce food. This includes manual labor, fertilizers, water, and land. Unsurprisingly, agriculture production worldwide has grown over the last 60 years as a result of improved technologies and greater efficiency, primarily in higher income countries.
But the new study provides the latest evidence that climate change — and the subsequent increase in droughts, flooding, and extreme heat — has held back agricultural gains and impeded global food security efforts.
"People don't yet realize that the climate has already changed," Ariel Ortiz-Bobea, a Cornell economist and lead author of the new study, told EHN. "That's not something that we often talk about, just about what the impacts will be 50 years from now."
Climate Change Wipes Out Improvements
Using models similar to those created by climatologists to predict future climate trends, Ortiz-Bobea and his team charted climate data between 1960 and 2020, and compared it to a model where human-caused climate change never occurred.
They compared the "total factor productivity" between models: how does actual agricultural productivity over time compare to what it could have been without climate change?
"Climate change has basically wiped out about seven years of improvements in agricultural productivity over the past 60 years," Ortiz-Bobea said in a statement.
In other words, if the world were to wave a magic wand and halt the planetary changes associated with greenhouse gas emissions and a warming climate, global agricultural production would have reached the level it is today back in 2013, said Ortiz-Bobea.
Ortiz-Bobea compared the situation to someone running with a strong wind at their front: As a runner attempts to make their way to the finish line, the wind is constantly pushing them back. They're making progress but it's slow compared to a windless day. In this scenario, climate change is the strong wind and the runner's progress is farm production growth.
He noted that if climate change gets worse, a growing possibility as countries fail to set commitments that meet Paris agreement targets, it's only a matter of time until agriculture production stalls. "[Climate change has] been happening for years, and as the magnitude keeps rising and rising it's going to get harder to ignore," he said
Ortiz-Bobea wasn't expecting such a significant difference in farm production between models with and without climate change. "I didn't even think that the result would be statistically significant," he said. "I was expecting something much smaller, something almost imperceptible. But no matter how we sliced the data or looked at different variations of the econometric model, it was pretty consistent that it's a substantial negative effect."
Developing Countries Suffer
The greatest climate impacts are seen in countries that are historically warmer such as those in Africa, Latin America, and Asia. As developing regions are often without the same technological advancement or management systems for agriculture, they face the greatest losses as unpredictable weather and warming events threaten crops and livestock. Ortiz-Bobea noted that this issue is as much an equity issue as it is an economic one.

The agriculture sector faces a unique problem in the way of climate change. Historically, the industry has relied on unsustainable practices that further greenhouse gas emissions. One example is in Brazil, where massive Amazon deforestation has taken place in an attempt to grow the country's economy around cattle and soybean farming. The transformation of forests, a crucial carbon sink, into crop lands also contributes to rises in atmospheric carbon levels.
In addition, increased global meat consumption and subsequent cattle production is a common source of methane emissions, a greenhouse gas about 86 times more potent than carbon dioxide.
So what is the best way to produce more food without contributing to a cycle of climate change?
Ortiz-Bobea said that the solution is in a mix of mitigation and adaptation. "Despite all the new, very exciting technologies that we are coming up with like CRISPR, they will still take decades to have an impact," she said. CRISPR is an increasingly popular technology that allows geneticists to modify DNA sequences and gene functions. Often touted as the solution to harmful birth defects in human genomes, conversations have arisen around the use of gene editing to increase food production for a rapidly growing population.
Ortiz-Bobea also highlighted the potential for soil-based strategies. "There are ways to increase soil health that allow soils to improve their water holding capacity, for example," he said. "And so that improves the crop yields and allows farmers to weather the storm, no pun intended there, while at the same time it helps capture carbon from the atmosphere."
Reposted with permission from Environmental Health News.
From Your Site Articles
Related Articles Around the Web
Flooding and a coal ash spill at Duke Energy's Sutton power plant near Wilmington, North Carolina on Sept. 21, 2018 after Hurricane Florence.
Jo-Anne McArthur / Waterkeeper Alliance Inc. / Flickr
The threat of a catastrophic failure unleashing a 20-foot wall of industrial wastewater over nearby homes and businesses in Piney Point, Florida, illustrates the danger of widespread reliance on industrial waste ponds across the U.S., The New York Times reports.
Many of these ponds, filled with toxic and sometimes radioactive, byproducts of climate-change causing activity like coal ash from power plants or manure from industrialized farms, are also at risk because of climate change. Open lagoons make up the extent of waste processing infrastructure for industrial hog farming operations and coal-fired power plants and both were overwhelmed by Hurricane Florence in 2018, when more than 100 hog lagoons were swamped throughout the Carolinas and coal ash poured out of containment ponds at Duke's Sutton Plant in Wilmington, N.C.
"They're just an irresponsible way to store very dangerous waste," Daniel Estrin, general counsel at the Waterkeeper Alliance, a clean water nonprofit group, told the Times. "And with climate change, we're going to see more frequent and stronger storms that are going to impact these sites."
For a deeper dive:

The New York Times; Climate Signals background: Hurricanes
For more climate change and clean energy news, you can follow Climate Nexus on Twitter and Facebook, sign up for daily Hot News, and visit their news site, Nexus Media News.
From Your Site Articles
Related Articles Around the Web