Researchers still don't know the true impact of microplastics on human health. filadendron / Getty Images
By Mark Patrick Taylor, Neda Sharifi Soltani and Scott P. Wilson

Australians are eating and inhaling significant numbers of tiny plastics at home, our new research shows.
These "microplastics," which are derived from petrochemicals extracted from oil and gas products, are settling in dust around the house.
Some of these particles are toxic to humans — they can carry carcinogenic or mutagenic chemicals, meaning they potentially cause cancer and/or damage our DNA.
We still don't know the true impact of these microplastics on human health. But the good news is, having hard floors, using more natural fibers in clothing, furnishings and homewares, along with vacuuming at least weekly can reduce your exposure.
What Are Microplastics?
Microplastics are plastic particles less than five millimeters across. They come from a range of household and everyday items such as the clothes we wear, home furnishings, and food and beverage packaging.
We know microplastics are pervasive outdoors, reaching remote and inaccessible locations such as the Arctic, the Mariana Trench (the world's deepest ocean trench), and the Italian Alps.
Our study demonstrates it's an inescapable reality that we're living in a sea of microplastics — they're in our food and drinks, our oceans, and our homes.
What We Did and What We Found

While research has focused mainly on microplastics in the natural environment, a handful of studies have looked at how much we're exposed to indoors.
People spend up to 90% of their time indoors and therefore the greatest risk of exposure to microplastics is in the home.
Our study is the first to examine how much microplastic we're exposed to in Australian homes. We analyzed dust deposited from indoor air in 32 homes across Sydney over a one-month period in 2019.
We asked members of the public to collect dust in specially prepared glass dishes, which we then analyzed.
Here's how microplastics can be generated, suspended, ingested and inhaled inside a house. Monique Chilton
We found 39% of the deposited dust particles were microplastics; 42% were natural fibers such as cotton, hair and wool; and 18% were transformed natural-based fibers such as viscose and cellophane. The remaining 1% were film and fragments consisting of various materials.

Between 22 and 6,169 microfibers were deposited as dust per square meter, each day.
Homes with carpet as the main floor covering had nearly double the number of petrochemical-based fibers (including polyethylene, polyamide and polyacrylic) than homes without carpeted floors.
Conversely, polyvinyl fibers (synthetic fibers made of vinyl chloride) were two times more prevalent in homes without carpet. This is because the coating applied to hard flooring degrades over time, producing polyvinyl fibers in house dust.
Microplastics Can Be Toxic
Microplastics can carry a range of contaminants such as trace metals and some potentially harmful organic chemicals.
These chemicals can leach from the plastic surface once in the body, increasing the potential for toxic effects. Microplastics can have carcinogenic properties, meaning they potentially cause cancer. They can also be mutagenic, meaning they can damage DNA.
However, even though some of the microplastics measured in our study are composed of potentially carcinogenic and/or mutagenic compounds, the actual risk to human health is unclear.

Given the pervasiveness of microplastics not only in homes but in food and beverages, the crucial next step in this research area is to establish what, if any, are safe levels of exposure.
How Much Are We Exposed To? And Can This Be Minimized?
Roughly a quarter of all of the fibers we recorded were less than 250 micrometers in size, meaning they can be inhaled. This means we can be internally exposed to these microplastics and any contaminants attached to them.
Using human exposure models, we calculated that inhalation and ingestion rates were greatest in children under six years old. This is due to their lower relative body weight, smaller size, and higher breathing rate than adults. What's more, young children typically have more contact with the floor, and tend to put their hands in their mouths more often than adults.
Children under six inhale around three times more microplastics than the average — 18,000 fibers, or 0.3 milligrams per kilogram of body weight per year. They would also ingest on average 6.1 milligrams of microplastics in dust per kg of body weight per year.
For a five-year-old, this would be equivalent to eating a garden pea's worth of microplastics over the course of a year. But for many of these plastics there is no established safe level of exposure.
Our study indicated there are effective ways to minimize exposure.
First is the choice of flooring, with hard surfaces, including polished wood floors, likely to have fewer microplastics than carpeted floors.
Also, how often you clean makes a difference. Vacuuming floors at least weekly was associated with less microplastics in dust than those that were less frequently cleaned. So get cleaning!

Mark Patrick Taylor is a Professor of Environmental Science and Human Health, Macquarie University.
Neda Sharifi Soltani is an Academic Casual, Macquarie University
Scott P. Wilson works at Macquarie University.
Disclosure statement: Mark Patrick Taylor received research support for this project via an Australian Government Citizen Science Grant, CSG55984, 'Citizen insights to the composition and risks of household dust' (the DustSafe project). Participant questionnaires for collecting meta-data were approved by Macquarie University's ethics panel, project ID 2446. Cochlear Sydney provided access to their Nicolet iN10-MX FTIR instrument to undertake the research. Neda Sharifi Soltani receives funding from the Australian Government as a Research Training Program (RTP) scholarship no.2017678. Scott Wilson receives funding from the Total Environment Centre and NSW EPA to conduct research on microplastics in the environment. He is the Research Director of the Australian Microplastic Assessment Project (AUSMAP), which is a citizen science focussed program.
Reposted with permission from The Conversation.
EcoWatch Daily Newsletter
A monarch butterfly sits on milkweed. Mara Koenig / USFWS
By Kenny Stancil
The Center for Food Safety on Wednesday denounced the Biden administration's Environmental Protection Agency (EPA) for arguing that Roundup should remain on U.S. shelves for an undisclosed period of time even after admitting that the Trump-era review of glyphosate — the key ingredient found in Roundup, the world's most widely used herbicide — was flawed and requires a do-over.
In its federal court filing requesting to redo the Trump administration's faulty assessment of glyphosate, the EPA failed to provide a deadline for a new decision; instead, the agency maintained that Roundup — created by agrochemical giant Monsanto, which was acquired in 2018 by the German pharmaceutical and biotech company Bayer — should stay on the market in the meantime.
The EPA's request comes as it faces two lawsuits, including one brought by a coalition of farmworkers and environmentalists represented by the Center for Food Safety (CFS), that seek to reverse the Trump EPA's approval of glyphosate, a decision that was made despite evidence that the substance — described by the World Health Organization as "probably carcinogenic" — poses threats to human health and to pollinators such as bumblebees and monarch butterflies.
"Rather than defend its prior decision, at the 11th hour EPA is asking for a mulligan and indefinite delay, despite having previously spent far too long, over a decade, in re-assessing it," CFS legal director George Kimbrell said Wednesday in a statement. "Worse, EPA admits its approval risks harms to farmers and endangered species, but makes no effort to halt it."
According to CFS:
EPA is required by law to re-assess each pesticide every 15 years in a process known as registration review. EPA completed part of its registration review of glyphosate in 2020, designating it an "interim" decision because it had failed to assess glyphosate's impacts to endangered species, or complete other key assessments, such as glyphosate's potential to disrupt hormonal systems and harm pollinators. The 2020 interim decision represented EPA's first comprehensive assessment of the herbicide since 1993.

After the ongoing lawsuits and the agency's most recent biological evaluation identified the deleterious social and environmental impacts of glyphosate, the EPA "admits it can no longer affirm glyphosate's putative benefits outweigh its risks and costs, or that measures imposed to mitigate risks are at all effective," CFS noted.
EPA also bases its request to "re-do" the #glyphosate registration in part upon its *own* draft Biological Evaluati… https://t.co/Gn2ysV47jp

— Center 4 Food Safety (@Center 4 Food Safety) 1621451495.0
Some of the harmful effects of glyphosate, according to CFS, include a heightened risk of cancer among farmworkers and others who spray glyphosate-based herbicides or are nonetheless subjected to it as a result of "off-field drift." Moreover, farmers must contend with the development of glyphosate-resistant superweeds, the organization said.

In addition, CFS noted, because Roundup kills the milkweed on which monarch butterflies rely for survival, it poses a danger to the once-ubiquitous pollinators. And before it suggested that Roundup continue to be sold in the U.S. for an unspecified period of time, the EPA found that the herbicide is likely to adversely affect 93% of exposed species under the Endangered Species Act as well as 96% of their critical habitats.
In his statement, Kimbrell said that "we will ask the court to deny this extraordinary request to paper over glyphosate's ecological harms only to approve it anyway down the road."
"Time to face the music, not run and hide," he added.
Reposted with permission from Common Dreams.
andresr / E+ / Getty Images
From bamboo utensils to bamboo toothbrushes, household products made from bamboo are becoming more popular every year. If you have allergies, neck pain or wake up constantly to flip your pillow to the cold side, bamboo pillows have the potential to help you sleep peacefully through the night.
In this article, we'll explain the benefits of bamboo pillows and how they can help you on your journey to better sleep. We'll also recommend a few of the best pillows on the market so you can choose new bedding that's right for you.
Our Picks for the Top Bamboo Pillows
Each product featured here has been independently selected by the writer. Learn more about our review methodology here. If you make a purchase using the links included, we may earn a commission.
Why Switch to Bamboo Pillows?
Bamboo may be thought of as a tree-like structure because of its resilience, but it's actually classified as grass, which can be spun and woven in a soft, spongy material much like cotton. The pillows are made with a bamboo-based outer sleeve and stuffed with foam pieces in order to mold to your head position. Bamboo is considered naturally hypoallergenic and doesn't attract pests, bacterias or other fungi like most other plants.
Bedding materials such as cotton and silk don't have the concise cellulose structure that bamboo does. The material's cell structure allows more oxygen circulation, which keeps it lightweight and breathable so your pillow stays cooler longer.
Other than the sleeping benefits of the pillows, bamboo is considered an extremely sustainable material through production. The adaptable plant works as a great renewable resource, as it can thrive in any soil type and it is considered one of the fastest-growing plants in the world. As the bamboo is grown, it produces more oxygen than its calculated carbon emissions. And the cultivation of bamboo doesn't require fertilizer or pesticides, so ecosystems around the bamboo farms can be left unharmed.
Although bamboo itself is a completely natural and sustainable material, it has to undergo a strong chemical process in order to become a textile. Bamboo viscose, which is a type of rayon, is controversial among environmentalists because of this process, but overall, bamboo derivatives still produce lower carbon emissions than traditional polyester bedding. New bamboo textile processes are also being developed to be much more eco-friendly.
Full Reviews of Our Top Picks
When choosing our top recommended bamboo pillows, we looked at factors including:
Comfort: Quality comes first when choosing bedding. The bamboo pillows chosen contain soft and snug adjustable filling to adapt to your preferred firmness.
Materials: Most traditional pillows are stuffed with synthetic foam that contains VOCs, also known as volatile organic compounds. We ensure both the bamboo fabric and foam used in our picks are toxin-free.
Cost: Bamboo pillows are usually a little more expensive than regular polyester or feather pillows because of their superior comfort and eco-friendly properties. It's important that the product you spend your money on is worth the cost and will hold up long-term.
Customer reviews: We look at real and verified reviews in order to make sure each product is genuinely beneficial to customers' sleep.
Chemical plants and factories line the area known as 'Cancer Alley' along the Louisiana coast, as seen on October 15, 2013. Giles Clarke / Getty Images
By Brett Wilkins
Citing the imperative to "protect the residents and natural resources of St. James Parish and to prevent public health and environmental harms across our jurisdictions," attorneys general from four states and the District of Columbia on Monday sent a letter to the U.S. Army Corps of Engineers asking it to thoroughly evaluate the adverse impacts of Formosa Plastics' massive proposed petrochemical complex in Louisiana's "Cancer Alley."
The Center for Biological Diversity, Healthy Gulf, the Louisiana Bucket Brigade, and RISE St. James last year sued the Trump administration over a federal permit for the proposed project—which could cost up to $12 billion—prompting the Army Corps of Engineers to suspend that permit pending a broader environmental review.

"The corps must reevaluate the environmental justice implications of issuing the permit, including the plastics complex's disproportionate impacts on low-income African-American communities in St. James Parish that are already overburdened by pollution from existing refineries and petrochemical facilities," states the letter — which was led by New York Attorney General Letitia James and signed by William Tong, Karl Racine, Maura Healey, and Gurbir Grewal — her counterparts in Connecticut, the District of Columbia, Massachusetts, and New Jersey, respectively.
BREAKING: Attorneys General Demand Deeper Army Corps Analysis of Formosa Plastics' Louisiana Project. Letter Asks F… https://t.co/pEVDORT5Km

— Ctr4BioDiv Ocean (@Ctr4BioDiv Ocean) 1621872525.0
"We also request that you reevaluate the plastics complex's greenhouse gas emissions and contribution to the global climate crisis, as well as its impacts on migratory birds and other species resulting from the destruction of forested wetlands and degradation of water quality," the five attorneys general wrote. "By reevaluating these environmental and public health impacts, the corps will comply with applicable law and prevent harm to our residents and natural resources."
"Such comprehensive analysis furthers the Biden administration's important environmental justice policies, which direct federal agencies to address the disproportionate health, environmental, and climate impacts of agency programs and decision-making on disadvantaged communities," the letter states.
St. James Parish residents—nearly half of whom are Black—and environmental advocates strongly oppose the proposed plant, which they say will release carcinogenic chemicals and, according to one environmental watchdog, spew 13.6 million tons of planet-heating emissions into the atmosphere each year.
Formosa Plastics has also faced intense criticism for failing to follow through on a promise to alter the plant's layout to lessen the exposure of nearby residents and schoolchildren to toxins, and for its failure to notify the community of the discovery of a burial ground for enslaved Black people.
St. James Parish is located amid an 85-mile stretch along the Mississippi River between New Orleans and Baton Rouge commonly called Cancer Alley due to its nearly 150 oil refineries and plastics and chemical plants.
According to data from the U.S. Environmental Protection Agency (EPA), the cancer risk in predominantly Black areas of St. James Parish is significantly higher than in majority white areas. The EPA's Risk-Screening Environmental Indicators database reported an 800% cancer hazard increase due to petrochemical facilities in the parish between 2007 and 2018.
Local and national advocacy groups praised the action by the attorneys general.
"I'm grateful that these attorneys general understand the threat Formosa Plastics poses to us and are demanding action," Sharon Lavigne, founder of RISE St. James, said in a statement. "The Army Corps needs to listen and do a proper analysis of a project that would endanger our lives."
"I believe that if there's an honest assessment of the environmental racism behind this project's approval then it will never be permitted," added Lavigne. "We must stop Formosa Plastics."
Our Town, Our Fight – by Shamell and Sharon Lavigne www.youtube.com
Louisiana Bucket Brigade director Anne Rolfes said that "it's refreshing to see public servants actually act in the interest of the people they serve... We are glad that at least some attorneys general actually have a backbone, and we are grateful for their support. We will continue to push the Biden administration to take a stand for environmental justice and permanently revoke this project's permits."

Julie Teel Simmonds, a lawyer at the Center for Biological Diversity, said that the group is "pleased these state attorneys general are joining our coalition's call for stronger federal scrutiny of Formosa Plastics' terrible project."
"Any serious analysis should cause the Army Corps to reject this major threat to public health and our climate," Teel Simmonds continued. "We can't let industry pollute another working-class Black community as it creates mountains of plastic the world doesn't want or need. I'm hoping this letter will help convince Formosa Plastics to abandon this dangerous project."
St. James Parish has been the site of numerous protests against the proposed Formosa complex, including the youth-led Sunrise Movement's "Generation on Fire" 400-mile march from New Orleans to Houston.
Gulf South Marchers with @VarshPrakash, the ED of Sunrise, are in St James, LA demanding the @JoeBiden admin revoke… https://t.co/fD4hfivHRI

— Generation on Fire 🔥 (@Generation on Fire 🔥) 1621274302.0
Around 175 advocacy groups and numerous Democratic lawmakers have also voiced their opposition to the proposed plant.
Reposted with permission from Common Dreams.
Fire in one part of a community can contaminate the water system used by other residents, as Santa Rosa, California, discovered after the Tubbs Fire.
Justin Sullivan / Getty Images
By Andrew J. Whelton
More than 58,000 fires scorched the United States last year, and 2021 is on track to be even drier. What many people don't realize is that these wildfires can do lasting damage beyond the reach of the flames – they can contaminate entire drinking water systems with carcinogens that last for months after the blaze. That water flows to homes, contaminating the plumbing, too.

Over the past four years, wildfires have contaminated drinking water distribution networks and building plumbing for more than 240,000 people.
Small water systems serving housing developments, mobile home parks, businesses and small towns have been particularly hard-hit. Most didn't realize their water was unsafe until weeks to months after the fire.
The problem starts when wildfire smoke gets into the system or plastic in water systems heats up. Heating can cause plastics to release harmful chemicals, like benzene, which can contaminate drinking water and permeate the system.
As an environmental engineer, I and my colleagues work with communities recovering from wildfires and other natural disasters. Last year, at least seven water systems were found to be contaminated, suggesting drinking water contamination may be a more widespread problem than people realize.
Our new study identifies critical issues that households and businesses should consider after a wildfire. Failing to address them can harm people's health – mental, physical and financial.
Wildfires Make Drinking Water Unsafe
When wildfires damage water distribution pipes, wells and the plumbing in homes and other buildings, they can create immediate health risks. A building's plumbing can become contaminated by smoke getting sucked into water systems, by heat damaging plastic pipes – or contamination penetrating into the plumbing and leaching out slowly over time.
Since 2017, multiple fires have rendered drinking water systems unsafe, including the Echo Mountain, Lionshead and Almeda fires in Oregon, and the CZU Lightning Complex, Camp and Tubbs fires in California. Thousands of private wells have been affected too.
Being exposed to contaminated water can cause immediate harm, such as headaches, nausea, dizziness and vomiting. Short-term exposure to 26 parts per billion or more of benzene, a carcinogen, may cause a decrease in white blood cells that protect the body from infectious disease. Multiple fires have caused drinking water to exceed this level. A variety of other chemicals can exceed safe drinking water exposure limits too in the absence of benzene.
Households Are Not Being Adequately Warned
In a survey of 233 households affected by water contamination, we found people reported high levels of anxiety and stress linked to the water problems. Nearly half had installed in-home water treatment because of uncertainty about the water. Eighty-five percent had looked for other water sources, such as bottled water.
In some cases, we found that advice from government agencies placed households at greater risk of harm. It has sometimes left people exposed to chemicals, caused them to needlessly spend money and given them a false sense of security. Certified in-home water treatment devices, for example, are tested only to bring down 15 parts per billion of benzene to less than 5 parts per billion, the federal standard. These devices are not tested to treat hazardous waste-scale contaminated water that's been found after wildfires.
Following the 2020 CZU Lightning Complex Fire near Santa Cruz, California, a local health department correctly warned private well owners not to use their water and to test it, but a nearby damaged water system and the state did not warn 17,000 people against bathing in the contaminated water. It was only after test results proved the water had been unsafe all along that the system owner and state advised against bathing in it.
In Oregon, some damaged systems encouraged people to boil their drinking water, later finding that the water had benzene in it.
After the 2018 Camp Fire that devastated Paradise, California, the local health department correctly warned the entire county not to use or try to treat the drinking water, which had contamination above EPA's hazardous waste limit. But one water system and the state encouraged 13,000 people to try to treat it themselves.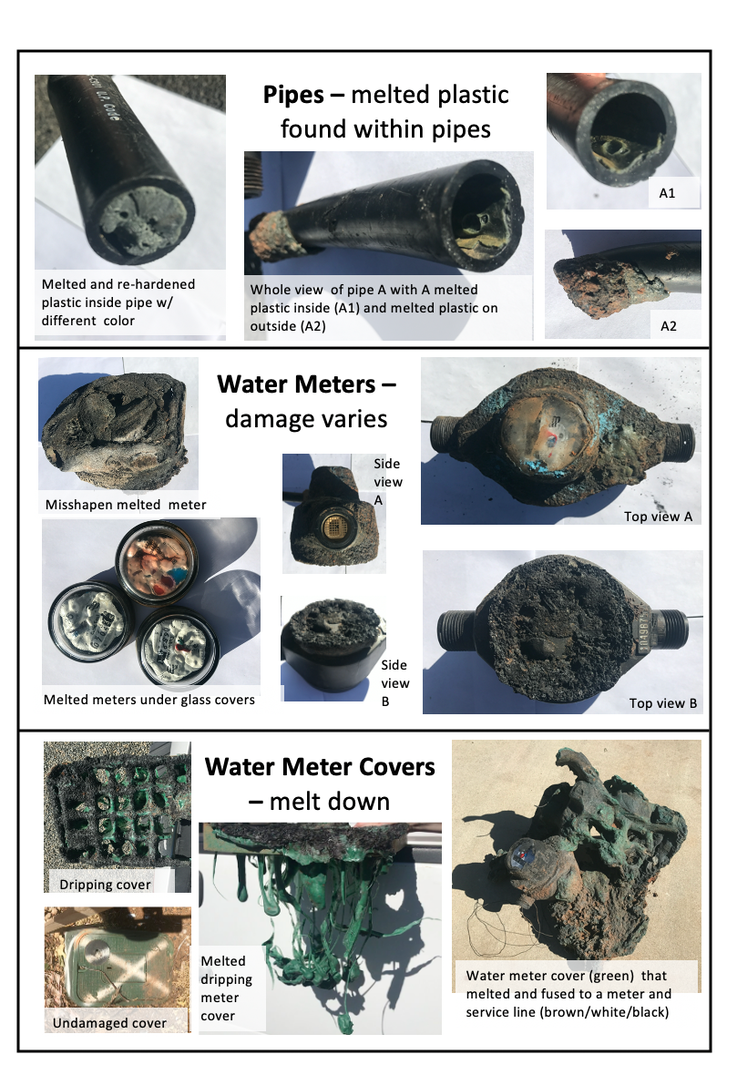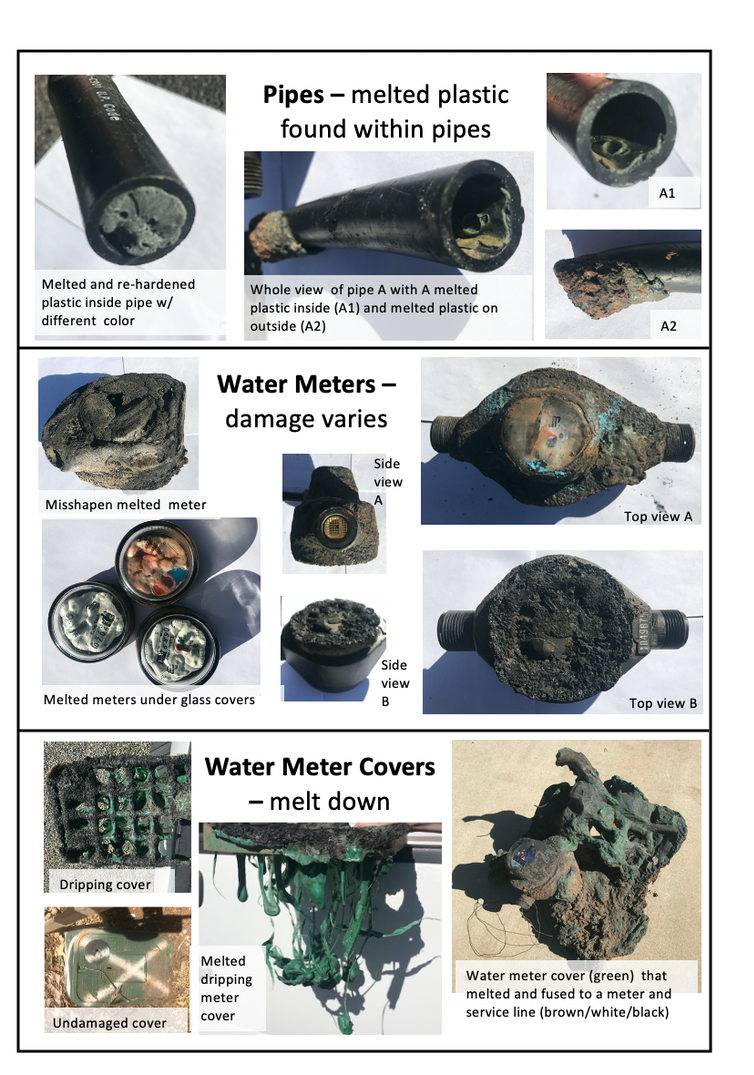 In all of these cases, the U.S. Environmental Protection Agency chose not to compel water utilities to explicitly notify customers about the water contamination and its risk.
Communities have received other bad information:
Commercial labs and government officials recommended flushing faucets for 5 to 15 minutes before collecting a water sample, thereby dumping out the contaminated plumbing water meant for testing.
Homeowners were led to believe a single cold water sample at the kitchen sink would determine if the hot water system and property service line was contaminated. It cannot.
People were led to believe that benzene water testing would determine if any other chemicals were present above safe limits. This is not possible.
What to look for after a nearby fire
Signs of potential contamination after a nearby wildfire could be loss of water pressure, discolored water, heat damage to water systems inside and outside buildings, and broken and leaking pipes, valves and hydrants.
Drinking water should be assumed to be chemically unsafe until proven otherwise.
Once a system is contaminated, cleanup can take months. The water system will have to be flushed and tested regularly to track down contamination. Health departments should also issue guidance on how to test private wells and plumbing.
When testing plumbing, include the property service line as well as the hot and cold water lines. Before collecting a water sample, the water must sit long enough in the plumbing so contamination can be found – 72 hours was the Tubbs Fire and Camp Fire standard. Tests should look for more than benzene.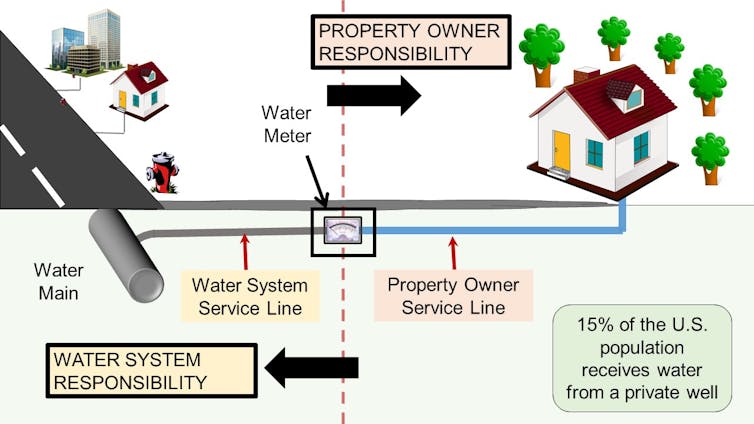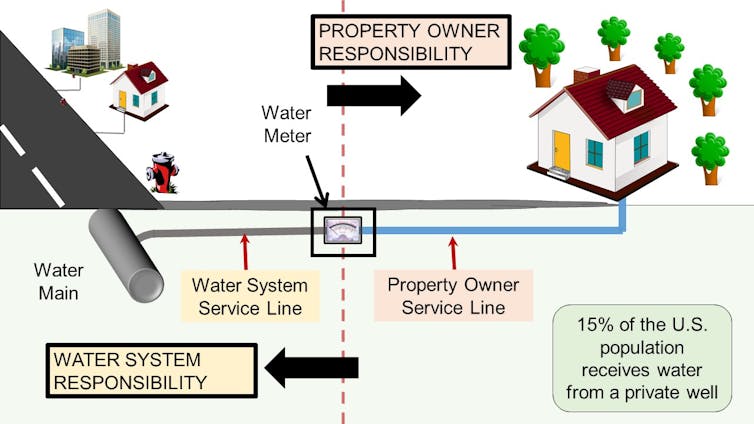 Who can help?
Many of the critical public health risks identified in our new study can be addressed by public health departments with financial support from state and local agencies.
Public health departments often have experience responding to water problems, such as legionella outbreaks, and can provide technical advice about both chemical exposures, building plumbing and private drinking water wells.
Andrew J. Whelton, Associate Professor of Civil, Environmental & Ecological Engineering, Director of the Healthy Plumbing Consortium and Center for Plumbing Safety, Purdue University

Disclosure statement: Andrew J. Whelton received funding from the U.S. National Science Foundation, Paradise Irrigation District, U.S. Environmental Protection Agency, Paradise Rotary Foundation, and Water Research Foundation.
Reposted with permission from The Conversation.
A new UK study links eating meat with increased risks for heart disease, diabetes and more. nata_zhekova / Getty Images
A new study published in BMC Medicine on Tuesday sought to find out. Researchers investigated whether meat consumption was linked to any of the 25 leading causes of hospital admission in the UK, besides cancer. They found a connection between regularly eating red or processed meat with five non-cancerous diseases, including heart disease, diabetes and pneumonia. Meanwhile, frequent poultry consumption was associated with six different diseases, including gallbladder disease and diabetes.
"We have long known that unprocessed red meat and processed meat consumption is likely to be carcinogenic and this research is the first to assess the risk of 25 non-cancerous health conditions in relation to meat intake in one study," Dr. Keren Papier from the Nuffield Department of Population Health at the University of Oxford and lead author said in a press release.
The researchers surveyed 474,985 middle-aged adults in the UK and asked them to complete a dietary questionnaire assessing how often they ate meat on a weekly basis. Researchers then compared the participants' meat consumption to hospital admission and mortality data.
In addition to the above findings, researchers determined that for every 70 grams of red or processed meat someone ate a day, their risk of developing heart disease increased 15 percent and their risk of diabetes increased 30 percent.
For every extra 30 grams of poultry someone consumed in a day, their diabetes risk increased 14 percent.
However, eating meat did have one health benefit: reducing the risk of iron deficiency. Researchers estimated a 20 percent risk reduction for every 50 extra grams of red meat a day and 17 percent for every 30 extra grams of poultry a day.
The researchers did find that people who ate meat three or more times a week were also more likely to engage in unhealthy behaviors such as smoking, drinking alcohol or eating fewer fruits and vegetables. They were also more likely to have a high body mass index. The researchers adjusted their calculations to remove those factors, and learned that the health risks from meat consumption were reduced after factoring out body mass index.
"Additional research is needed to evaluate whether the differences in risk we observed in relation to meat intake reflect causal relationships, and if so the extent to which these diseases could be prevented by decreasing meat consumption," Papier said.
The results don't mean that people should stop eating meat, according to public health experts.
Instead, Public Health England recommended that anyone who eats more than 90 grams of meat a day should reduce it to 70 grams, The Guardian reported.
"Globally the evidence suggests that people who eat red and processed meat should limit their intake," Dr. Alison Tedstone, the agency's lead nutritionist, told The Guardian. "While it can form part of a healthy diet, eating too much has been linked to increased risk of developing bowel cancer."
However, there are also environmental and ethical reasons one might choose to stop eating meat. Some studies have found that cutting out animal products is the single biggest step a person can take to limit their environmental impact. Papier has advice for those who do so.
"The result that meat consumption is associated with a lower risk of iron-deficiency anemia, however, indicates that people who do not eat meat need to be careful that they obtain enough iron, through dietary sources or supplements," she said.
Bell peppers were added to the EWG's 20201 "Dirty Dozen" list.
Michelet-密是力 (talk
)
Are you worried about getting a serving of pesticides with your produce?
The Environmental Working Group (EWG) released on Wednesday its annual "Dirty Dozen" and "Clean Fifteen" lists of the most and least pesticide-heavy conventional fruits and vegetables in the U.S.
"It's a really great resource," Jane Houlihan, the national director of science and health for Healthy Babies Bright Futures, who was not involved with its compilation, told CNN. "By nature pesticides are toxic, and doing what you can to reduce exposures is a really good idea to protect your family's health."
The EWG's annual lists are based on testing data from the U.S. Department of Agriculture (USDA). The USDA firsts washes, peels or scrubs the produce then tests it for pesticide residue. Almost 70 percent of the non-organic fresh produce sold in the U.S. contains pesticide residue, the EWG said in its report.
But still, some foods are more contaminated than others. Strawberries and spinach topped the list as repeat offenders. However, there were some notable new additions, EWG toxicologist Thomas Galligan told USA Today.
Collard and mustard greens joined kale in the No. 3 slot. These vegetables were most commonly contaminated with DCPA, which the U.S. Environmental Protection Agency (EPA) says is a possible carcinogen.
Bell and hot peppers were added to the list, in the No. 10 slot. The USDA found a total of 115 pesticides on different peppers.
In addition, the EWG drew attention to the prevalence of a fungicide called Imazalil on nearly 90 percent of citrus samples tested by the EWG in 2020 and more than 95 percent of tangerines tested by the USDA in 2019. Imazalil can alter hormone levels and is classified by the EPA as a likely human carcinogen. The fruits tested positive for the fungicide despite being peeled, CNN noted.
"I have said repeatedly that that fruits and vegetables with rinds that you don't eat are less problematic," Dr. Leonardo Trasande, chief of environmental pediatrics at NYU Langone, who was not involved with the study, told CNN. "I'm quite frankly surprised and concerned that you can see fungicides penetrate to that level."
Pesticides are especially dangerous for children, and have been linked to childhood cancers, cognitive impairment and behavioral problems, as the American Academy of Pediatrics noted in 2012. One pesticide found on Dirty Dozen items apples, peppers, oranges, grapes and cherries is chlorpyrifos, CNN noted. This pesticide, which the Trump administration refused to ban, has been found to harm the development of children's brains. The Biden administration is now reviewing this decision.
While Trasande and Houlihan praised the list as a resource for health-conscious parents, industry groups criticized it for frightening shoppers away from healthy food.
"Scaring Americans away from eating foods that are a safe and vital part of our diet is a disservice to public health," Chris Novak, the president and CEO of pesticide trade group CropLife America, said in a statement reported by CNN. "The benefits of a diet rich in fruits and vegetables outweigh any possible risks from exposure to pesticide residues."
The EWG agrees that getting enough fruits and vegetables is essential.
"The most important thing is that everyone should be eating lots of fruits and vegetables," Galligan told USA Today. "We do recommend you try to reduce your pesticide exposure. Choose organic whenever possible."
However, he acknowledged that not everyone could access or afford organic produce. That's where the Clean Fifteen comes in. Almost 70 percent of the samples tested from items on this list turned up no pesticide residues at all, the EWG said, while only eight percent of samples turned up two or more pesticides.
The full 2021 lists are given below.
The Dirty Dozen:
Strawberries
Spinach
Kale, collard and mustard greens
Nectarines
Apples
Grapes
Cherries
Peaches
Pears
Bell and hot peppers
Celery
Tomatoes
The Clean Fifteen:
Avocados
Sweet corn
Pineapple
Onions
Papaya
Sweet peas (frozen)
Eggplant
Asparagus
Broccoli
Cabbage
Kiwi
Cauliflower
Mushrooms
Honeydew melon
Cantaloupes
From Your Site Articles
Related Articles Around the Web
A helicopter sprays pesticide on a crop field in California. Jeff Foott / Photodisc / Getty Images
The study, published in Environmental Research last week, found that children were more likely to develop central nervous system (CNS) tumors if their mothers had lived within 2.5 miles of land where pesticides were being sprayed when they were born.
"This study is the first, to our knowledge, to estimate effects for a large number of specific pesticides in relation to CNS tumor subtypes," Julia Heck, a study coauthor and the associate dean for research at the University of North Texas College of Health and Public Service said, as NBC Los Angeles reported.
The research looked at the California Cancer Registry to identify cases of certain cancers in children under six years old, the study explained. They focused on mothers who lived in rural areas and gave birth between 1998 and 2011 to identify 667 cases of childhood central nervous system tumors and 123,158 controls. They then compared these cases to data from the California Department of Pesticide Regulation's (CDPR) Pesticide Use Reporting (PUR) system to identify whether chemicals classed as possible carcinogens by the U.S. Environmental Protection Agency (EPA) had been sprayed within 2.5 miles of the mothers' homes at birth.
One important implication of the study is that the mothers did not have to be directly working in agriculture in order for their children to face dangerous exposure.
"California's agricultural work force numbers more than 800,000, according to state estimates," Dr. Christina Lombardi, study co-author and epidemiologist with the Samuel Oschin Comprehensive Cancer Institute at Cedars-Sinai Medical Center in Los Angeles, told Beyond Pesticides. "In addition to the negative health effects of pesticides on workers there are large numbers of pregnant women and young children living adjacent to treated fields who may experience detrimental health effects as well."
This risk is exacerbated by the fact that farmland and residential land is not always clearly delineated in the state.
"This transition from farmland to residential neighborhoods is abrupt across California, and, of course, constantly changing as farmland is developed," study co-author Myles Cockburn of the University of Southern California told Beyond Pesticides.
The researchers found that some of the chemicals they studied increased tumor risk as much as 2.5 times. Overall, exposure to the pesticides chlorthalonil, bromacil, thiophanate-methyl, triforine, kresoxim-methyl, propiconazole, dimethoate and linuron all increased tumor risk.
This is far from the first study to show that pesticide exposure is a danger to pregnant mothers and children. In fact, researchers have been studying the link between pesticides and childhood cancer since the 1970s, according to NBC Los Angeles.
The report authors called for government action to better protect mothers and children.
"Policy interventions to reduce pesticide exposure in individuals residing near agricultural fields should be considered to protect the health of children," coauthor and UCLA's Fielding School of Public Health epidemiology professor Beate Ritz told NBC Los Angeles.
A cemetery is surrounded by chemical plants in Baton Rouge, Louisiana on Oct. 15, 2013. Giles Clarke / Getty Images
By Brett Wilkins
Calling a planned petrochemical manufacturing complex in Louisiana's "Cancer Alley" a "textbook case of environmental racism," 175 organizations from around the world sent a letter to financial institutions Tuesday urging them not to fund, underwrite, or invest in the project, which could cost up to $12 billion.
Pump jacks draw crude oil from the Inglewood Oil Field near Los Angeles, California, on March 9, 2020. DAVID MCNEW / AFP via Getty Images
More than 1,600 gallons of oil have spilled in the Inglewood Oil Field — the largest urban oil field in the country, where more than a million people live within five miles of its boundaries, the Sierra Club wrote in a statement on Wednesday.
A dispenser with "Reef friendly" sunscreen can be seen on the wall at the surfjack Hotel in Honolulu. Christina Horsten / Picture Alliance / Getty Images
Hawaii is on its way to banning more reef-damaging sunscreens.
On Tuesday of last week, its state Senate approved Senate Bill 132, which would ban all sunscreens containing the chemicals avobenzone or octocrylene. The bill then moved to the House, where it passed its first reading on Thursday, March 11. If approved, it would build on a 2018 law that banned sunscreens containing the chemicals oxybenzone and octinoxate, which went into effect this January.
Coastal Oahu, Hawaii and the Kualoa Ranch. Hawaii is considering banning more reef-harming sunscreens to protect its unique coral reefs. Art Wager / E+ / Getty Images
"This is great news for our imperiled coral reefs and marine life," Maxx Phillips, Hawai'i director and staff attorney at the Center for Biological Diversity (CBD), said in response to the Senate vote. "People can protect their skin without harmful petrochemicals while Hawai'i protects public and environmental health."
The bill comes amidst growing scientific awareness of the impact of common sunscreen chemicals on marine life. These chemicals can make corals more susceptible to viral infections and bleaching, as well as disrupting the reproductive systems of fish and other animals, the Honolulu Star Advertiser reported.
In particular, octocrylene can disrupt human hormones and harm marine animals, according to the CBD. A soon-to-be-published study has found it can break down into the carcinogenic benzophenone, which also kills plants and disrupts reproduction. Avobenzone, meanwhile, is also an endocrine disruptor and can make coral less resilient to the high temperatures caused by the climate crisis.
"Studies show fish exposed to octocrylene exhibited endocrine disruption, brain deformities in larvae and reproductive toxicity," ecotoxicologist Craig Downs told the CBD. "Because octocrylene bioaccumulates, what does that mean for people eating these fish, especially pregnant women and keiki? Avobenzone may cause a dysfunction with the powerhouse of the cell, which may kill cells and induce a bleaching effect in corals."
The CBD has petitioned the Food and Drug Administration (FDA) to ban these chemicals on the national level, but for now it falls to Hawaii to protect its unique ecosystems: Around one fourth of all of the plants, fish and invertebrates found on Hawaii's reefs are native to the archipelago.
If it passes, the bill would go into effect Jan. 1, 2023. It will ban the sale or distribution of any sunscreen containing the targeted chemicals unless the buyer has a valid prescription. For those looking to protect themselves from the sun without harming ocean life, scientists and the National Oceanic and Atmospheric Administration (NOAA) recommend products containing non-nanoized titanium dioxide and non-nanoized zinc oxide, the Honolulu Star Advertiser reported.
From Your Site Articles
Related Articles Around the Web
A sign calls for solving California's water crisis in the San Joaquin Valley on April 2, 2021. Frederic J. Brown / AFP / Getty Images
By Tara Lohan
A familiar scene has returned to California: drought. Two counties are currently under emergency declarations, and the rest of the state could follow.
It was only four years ago when a winter of torrential rain finally wrestled the state out of its last major drought, which had dragged on for five years and left thousands of domestic wells coughing up dust.
That drinking-water crisis made national headlines and helped shine a light on another long-simmering water crisis in California: More than 300 communities have chronically unsafe drinking water containing contaminants that can come with serious health consequences, including cancer. The areas hardest hit are mostly small, agricultural communities in the San Joaquin and Salinas valleys, which are predominantly Latino and are often also places classified by the state as "disadvantaged." Unsafe water in these communities adds to a list of health and economic burdens made worse by the ongoing pandemic.
California took a step toward addressing the problem back in 2012 when it passed the country's first state law declaring the human right to water. That was followed by a 2019 bill to help meet that mandate by establishing the Safe and Affordable Drinking Water Fund.
But just how much cash is needed to address the problem?
The answer, we now know, is about $10 billion, according to a new "needs assessment" from state agencies and the UCLA Luskin Center for Innovation that provides a detailed look at the scope of the problem and cost of solutions.
"The study is unique in that it's the first — certainly for California, but I think also for any state — that looks across every source for drinking water purposes that can be quantified," says Gregory Pierce, the study's principal investigator and an adjunct assistant professor of urban planning at UCLA. This includes all public water systems regulated by the Safe Drinking Water Act, as well as domestic wells and "state smalls" with fewer than 15 connections.
"I think this takes us many steps forward to better understanding where we need additional funding and what areas we should be focusing on in terms of proactively addressing at-risk systems," says Michael Clairborne, directing attorney at the Leadership Counsel for Justice and Accountability, which works on water-equity issues in the state. "It also demonstrates that there's still a real need for additional infrastructure funding for drinking water."
Understanding the Problem
So how bad is it?
The causes of the state's drinking water woes are varied — and worrisome. Nitrate, mostly from farms and dairies, is the costliest water contaminant, the study found. Nitrates are especially dangerous for infants, and can cause lethargy, dizziness and even death. Other groundwater contaminants include bacteria from leaking septic systems and uranium, which can cause kidney damage. Several other contaminants have been linked to cancers, including the industrial pollutant chromium-6, the pesticide 1,2,3-trichloropropane, and human-made and naturally-occurring sources of arsenic.
Nitrate pollution from agricultural operations poses a health threat in Calif. Tara Lohan
Contamination is also widespread.
The study looked at 2,779 public water systems across the state and evaluated their water quality, affordability, accessibility, and technical and financial capacity. It found that 326 public water systems qualified as "human right to water communities" — the ones where water systems are consistently failing to provide affordable, safe drinking water.
For anyone tracking this issue (or living in these communities), that part wasn't news.
But the report also found that another 617 public water systems are at risk of failing. Virtually every county in the state had at least one system on this list, but those with the highest numbers were in rural areas with large numbers of smaller water systems, including Tulare, Fresno, Monterey and Kern counties.
"What's really novel is that it also tries to comprehensively assess where our water quality is likely to fail next if nothing is done to prevent it," says Pierce.
And that should be a big wake-up call.
"This is the next logical step to try to get a handle on the drinking-water crisis in the state," says Clairborne. "We really have to proactively address these high-risk systems before they fail, provide them the support they need, and potentially consolidate high-risk systems with nearby systems to improve sustainability."
The research also found that almost one third of domestic wells (78,000) are at high risk of failure, as are half of California's 1,236 state small systems.
And it highlighted another critical issue, too: money.
"The report reinforced what we unfortunately already know too well — that California is facing a major water affordability crisis," says Jonathan Nelson, policy director of the Community Water Center. "Nearly 1 in 3 water systems were identified either as having water rates that were higher than what is deemed affordable for families or high levels of water shutoffs."
Unsafe drinking water comes with an additional economic burden: Many families are also forced to spend more money on bottled water, with some spending as much as 10% of their monthly income on water, according to the Community Water Center.
Solutions
One of the main reasons for persistently unsafe water has to do with scale: Larger water systems have more resources to fund treatment technologies, while small systems often lack the resources to meet water-quality challenges.
A new chromium-6 treatment plant in Willow, Calif. Florence Low / California Department of Water Resources
Getting those struggling water systems more funding to upgrade their water-treatment systems can help. But those technologies need ongoing maintenance, and often the most cost-effective measure is consolidation. Small water systems or homes on domestic wells can be connected to larger systems that can better treat contaminated water sources.
Historically the state hasn't been that good at consolidation because many larger water providers didn't want to take on small, failing systems. But in 2015, Senate Bill 88 granted the California State Water Resources Control Board authority to mandate consolidation for failing water systems. Now another bill, Senate Bill 403, would expand that to include systems at risk of failure.
"That would help to address the needs of those nearly 620 at-risk water systems, as well as state small systems and domestic wells," says Clairborne. "The state has made some progress in the last few years, with several hundred consolidations since 2015, compared to fewer than 200 for the 40 years prior."
When it comes to addressing the affordability crisis, Nelson says the state legislature can take action to establish a water rate assistance fund, which is especially important now because "California families are carrying $1 billion in pandemic-caused water debt," he says.
The report also found that a broader, more regional look at potential solutions could cut costs. In one example outlined in the study, if 85 small water systems in Monterey County are incorporated into a nearby larger system, the cost for each new connection falls from $39,000 to $7,000.
"If we can prioritize those [regional solutions], the cost could come down considerably, and our infrastructure would be much more integrated," says Pierce.
Finding the Money
Bringing costs down will be key, as the price tag for implementing interim and long-term solutions for water systems and domestic wells that need assistance over the next five years is upwards of $10 billion. Some efforts are already underway to address paying for that, with allocations from the state and contributions from local governments, but that still leaves an estimated $4.6 billion shortfall, according to the report.
"Unless addressed, this funding gap will perpetuate the divide between those who have safe water in California and those who don't," says Nelson.
More money is needed from either the federal or state government, says Pierce. And even though the price tag seems steep, he says, the costs of not fixing the problems will be higher in the long run and bring a lot more suffering to communities.
Some California residents rely on expensive bottled water because their tap water is unsafe. Tara Lohan
"Unsafe water can not only cause physical health impacts, it can also cause a lot of direct affordability impacts and mental health stressors on people," says Pierce. "One way or the other society pays for this and it's better to invest up front — from a human right and equity standpoint, and also from an economic one."
One recent bright spot is the potential for more spending at the national level, with the Biden administration's current discussions around a major infrastructure bill in Congress.
That could represent a paradigm change. "The federal government's role in funding drinking water infrastructure has dropped dramatically since the 1970s compared to other types of infrastructure," says Pierce.
Even if such investments do come from Washington, though, they won't solve all of California's water problems.
"I hope it can be a substantial amount of what we need, but I would be very surprised to see it meet the whole need," he says. "I think that much of what would be allotted to California would likely go to larger systems for broader infrastructure investments and drought-related resilience."
Additionally, a lot of the bill's equity focus is on lead. "Which I don't disagree with, but California doesn't have nearly as big of a lead problem in drinking water as many other states," he adds.
The fact that California has already done the work to understand its drinking-water problems, identify solutions and tally the costs can make the process of getting federal dollars easier — and that could also help inspire other states to better quantify their water needs.
"I do think you'll see more states do this, but it was a considerable effort: The water board basically created a new unit with multiple staff to do this work," says Pierce. "But most of the data was the water board's own, so I think a lot of this could be done by other states without too much effort, if they can learn from what was done here and maybe even enhance that."
Money to shore up water systems, improve affordability and ensure clean water for all residents also comes with a ripple effect of benefits.
"Investments in water projects can help create drought and climate resiliency," says Nelson. "And water investments can be an engine of equitable economic growth, creating good jobs in communities that need them. We have a tremendous opportunity to both address this public health crisis and help our economy recover at the same time."
Tara Lohan is deputy editor of The Revelator and has worked for more than a decade as a digital editor and environmental journalist focused on the intersections of energy, water and climate. Her work has been published by The Nation, American Prospect, High Country News, Grist, Pacific Standard and others. She is the editor of two books on the global water crisis.
Reposted with permission from The Revelator.
A pump jack and surface water at an oil well and fracking site in the San Joaquin Valley, California. Citizens of the Planet / Education Images / Universal Images Group / Getty Images
What is fracking?
Fracking is a process of blasting water, chemicals and frac sand deep into the earth to break up sedimentary rock and access natural gas and crude oil deposits. The fracking industry, which has sought to promote the practice as safe and controlled, has preferred the term "hydraulic fracturing."
Fracking emerged as an unconventional, "relatively new" and extremely popular technique only about 20 years ago in the U.S., after advances in technology gave it an unprecedented ability to identify and extract massive amounts of resources efficiently.
Fracking is one of the most important environmental issues today, and it's a prime example of how a new technology that offers immediate economic and political benefits can outpace (often less obvious) environmental and health concerns.
Why is fracking so controversial?
Modern fracking emerged so quickly, faster than its impacts were understood. Just as importantly, once scientists, health experts and the public started to object with evidence of harm it was causing, business and government succeeded in perpetuating a message of uncertainty, that more research was necessary, further enabling the "full speed ahead" fracking juggernaut.
How does fracking impact the environment?
Fracking's supporters have pushed an environmental angle, insisting that natural gas can be a "bridge fuel," a cheaper, cleaner option than coal before we have a large-scale transition to renewable energy. This claim has some merit, as natural gas does emit much less carbon dioxide than coal or oil. However, it is still a fossil fuel, adding harmful emissions while the climate crisis worsens. Moreover, fracking wells leak methane, a greenhouse gas more than 25 times more potent than CO2.
Water
In order to break up rock formations one to two miles deep, a fracking operation requires millions of gallons amount of water. After it's used, the resulting wastewater, which contains chemicals is pumped back into injection wells, sent to treatment plants, or can be dangerously dumped or spilled.
In 2016 the U.S. Environmental Protection Agency (EPA) released a report skewed friendly to industry in its language: Hydraulic Fracturing for Oil and Gas: Impacts from the Hydraulic Fracturing Water Cycle on Drinking Water Resources in the United States. The EPA acknowledged that drinking water contamination was possible, but ultimately came to this conclusion: "Data gaps and uncertainties limited EPA's ability to fully assess the potential impacts on drinking water resources locally and nationally."
Earthquakes
According to the U.S. Geologic Survey, disposal of wastewater has caused an increase in earthquakes in the central U.S. Seismologists have reported that fracking's initial blasting process can trigger earthquakes.
Air Pollution

In addition to methane, fracking releases many toxic contaminants into the air. EPA has acknowledged the public health threat, but a lack of urgent political pressure has sidelined the agency into advising on ways to control and reduce, rather than eliminate, the danger.
Toxic Chemicals
Fracking fluids contain unknown chemicals and known carcinogens such as benzene. Fracking companies haven't been required to disclose their proprietary formulas, however. This is yet another example of how uncertainty serves as an enabling force. The EPA has identified more than 1,000 different chemicals used in fracking fluid.
Wildlife
Fracking can destroy wildlife habitats, pollute rivers and fisheries, poison birds, and use up water supplies that animals need to survive.
How does fracking affect the economy?
The fracking boom made the U.S. the world's largest producer of oil and gas, reducing its energy imports from 26% to less than 4%. It has lowered oil and gas prices and created thousands of industry jobs. While fracking companies profited greatly at first, as prices dropped their margins collapsed. Many are now going bankrupt.
How is fracking regulated?
Congress has enabled the oil and gas industry to be exempt from such regulations as the Clean Air Act, the Clean Water Act, and the Safe Drinking Water Act.
Fracking surged during the Obama administration, which moved to protect water from fracking on federal lands in 2015. Subsequently, the Trump administration sought to roll back protections and expand fracking on federal lands.
Key Examples of Fracking in the United States
Pennsylvania
Pennsylvania's Marcellus Shale is the source for about 40% of shale gas production in the U.S.
New York
While the Marcellus Shale also runs through New York, the state has banned fracking.
Texas
Texas produces more crude oil than any other state.
North Dakota
The Bakken Shale in North Dakota has been one of the main sites for the fracking boom and subsequent bust, leaving behind extensive environmental damage.
A recent report found that all 50 states could provide 100% (or even greater) in-state renewable energy.

Other Countries

Outside the U.S., only Canada, China and Argentina have commercial fracking operations. A UN report in 2018 said that other countries were "highly unlikely" to produce at such a large scale as the U.S., due to political and cultural factors, and existing infrastructure.
The Future of Fracking
While renewables were considered a solution for "peak oil" only a decade ago, fracking changed the terms of the debate, with a new focus from environmentalists to "keep it in the ground" starting in 2015.
The Biden administration now stands at a pivotal moment in the climate crisis. Biden's stance on fracking is not yet entirely clear, but he has rejoined the Paris agreement and appears to take climate seriously. At the same time, he is sympathetic to workers in fossil fuel industries, was vice president during the fracking boom years under Obama, and may be more inclined to seek a gradual transition than one fast enough to help solve the crisis.
WildEarth Guardians