Olympic athletes are gearing up for the 2016 Olympics, which will be held in Rio de Janeiro, Brazil, but a recent AP investigation revealed some startling news: "Athletes in next year's Summer Olympics here will be swimming and boating in waters so contaminated with human feces that they risk becoming violently ill and unable to compete in the games, an Associated Press investigation has found."
Olympic sailors call Rio waters a sewer. Brazil enviro chief dives in to prove otherwise. http://t.co/5pezUeclfN pic.twitter.com/FbEcp028mc

— Jim Roberts (@nycjim) May 5, 2015
The investigation into the water quality in Olympic and Paralympic venues found "dangerously high levels of viruses and bacteria from human sewage."
"Much of the sewage in Rio, a city of 12 million, goes untreated and garbage pickup is spotty, so tons of raw sewage and trash flow into Guanabara Bay, as well as the city's lakes, lagoons and even its celebrated beaches," says Mashable.  
Many officials are obviously concerned about the safety of the athletes, many of whom have already fallen ill with fevers, vomiting and diarrhea, according to the AP. The investigation is the first to look for both bacteria and viruses present in the water. Brazilian officials and the medical director of the International Olympic Committee claim that the water is on track to be safe for the competitors, but neither Brazil nor the Olympic Committee test for viruses, only bacteria.
"Olympic athletes are almost certain to come into contact with disease-causing viruses that in some tests measured up to 1.7 million times the level of what would be considered hazardous on a Southern California beach," according to the AP investigation.
"What you have there is basically raw sewage," John Griffith, a marine biologist at the Southern California Coastal Water Research Project, told the AP. "It's all the water from the toilets and the showers and whatever people put down their sinks, all mixed up, and it's going out into the beach waters. Those kinds of things would be shut down immediately if found here," he said, referring to the U.S.
Ten thousand athletes from 205 countries are expected to compete in the Olympics, but it's not as if officials have a year to address the issue. Olympic hopefuls will be competing in qualifying events this Sunday with more events later in August. And, according to the AP, it doesn't just affect swimmers—"Athletes in sailing, canoeing and to a lesser degree rowing often get drenched when competing, and breathe in mist as well."
"The test results found high counts of active and infectious human adenoviruses, which multiply in the intestinal and respiratory tracts of people," according to the AP investigation. "These are viruses that are known to cause respiratory and digestive illnesses, including explosive diarrhea and vomiting, but can also lead to more serious heart, brain and other diseases."
"Everybody runs the risk of infection in these polluted waters," Dr. Carlos Terra, a Rio-based doctor, told the AP.
"If I were going to be in the Olympics," said Griffith, "I would probably go early and get exposed and build up my immunity system to these viruses before I had to compete, because I don't see how they're going to solve this sewage problem."
Dangerous Raw Sewage Levels For Summer Olympic Waters In Rio http://t.co/xJS8D7TLf7 #Rio2016 #RioDeJaneiro pic.twitter.com/dlVGJUjr9Z

— DiplyNews (@DiplyNews) July 30, 2015
Government officials have jumped into the water where athletes will be competing to show that it is perfectly safe. The problem is that foreigners will not have the built up immunity to these bacteria and viruses. Ivan Bulaja, the Croatian-born coach of Austria's 49er-class sailing team, can confirm that. "This is by far the worst water quality we've ever seen in our sailing careers," Bulaja told the AP. Several members of his team have been out for multiple days after falling ill with vomiting and diarrhea.
The problem has been well known for years. The New York Times highlighted Rio's awful water quality last year. And the issue dates back even further. Rio's waste management crisis has spiraled out of control with the city's rampant population growth in recent decades. Despite the Brazilian government's promise to improve the city's waterways ahead of the games through a $4 billion government expansion of basic sanitation infrastructure, there is "very little to show for it," reports the AP.
"Brazilian authorities promised the moon in order to win their Olympic bid and as usual they're not making good on those promises," Mario Moscatelli, a biologist who has spent 20 years lobbying for a cleanup of Rio's waterways, told the AP. "I'm sad but not surprised."
Rio Mayor Eduardo Paes told the AP the Olympic games have been "a wasted opportunity" as far as efforts to clean up the waterways are concerned.
YOU MIGHT ALSO LIKE
Will Walter Palmer Be Charged for Killing Cecil the Lion?
Richard Branson: Don't Turn Shark Encounter Into an Excuse to Kill More Sharks
EcoWatch Daily Newsletter
Buenos Aires is shutting down its zoo to give the animals a better life.
Horacio Rodríguez Larreta, mayor of Argentina's capital city, said keeping wild animals in captivity and on display is degrading, The Guardian reported. The zoo's 2,500 animals—89 species of mammals, 49 species of reptiles and 175 species of birds—will be moved to nature reserves throughout the country, where they will live in more suitable environments. Older animals and those too sick to be moved will remain on site but not on display.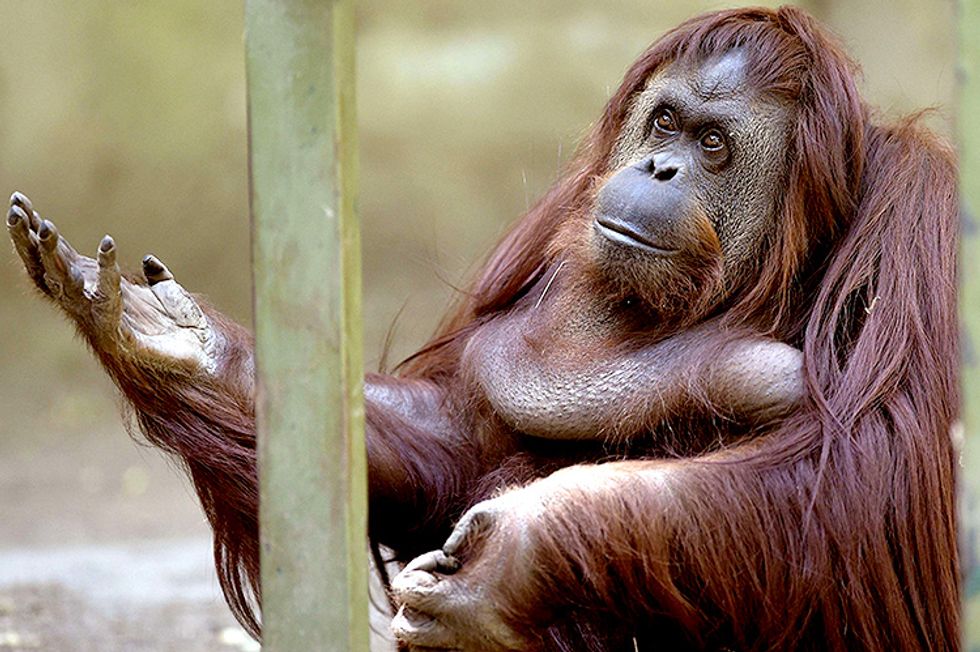 Sandra the orangutan who made international news about two years ago when an Argentinian court ruled she was "a non-human person" with rights to freedom.
"This situation of captivity is degrading for the animals, it's not the way to take care of them," Rodríguez said.
The 45-acre zoo will be transformed into an ecopark and reopened later this year. Rodríguez said the ecopark will provide children a place to learn "how to take care of and relate with the different species."
"What we have to value is the animals," he added. "The way they live [at the zoo] is definitely not the way to do that."
The ecopark will also provide refuge and rehabilitation for animals rescued from illegal trafficking, city officials said.
Times are changing! #BuenosAires is closing its zoo after 140 years. #EmptyTheCages https://t.co/GLdzyDABxi

— PETA (@PETA)1466893801.0
Buenos Aires Zoo was originally part of the Parque Tres de Febrero, an urban park with a small section dedicated to animals that opened in 1875 in Buenos Aires. The animal section was transferred to the City of Buenos Aires in 1888, separated from the rest of the park and officially named the zoo.
It was one of the city's main tourist attractions, despite the bad publicity it has receive over the past couple years.
Buenos Aires to shut scandal-prone zoo https://t.co/BwYavnHlfb @BBCNews https://t.co/bilcQv0WG1

— Animal_Watch (@Animal_Watch)1466744084.0
Two major stories were the zoo's keeping of polar bears in a city known for hot summers and a court declaring one of the zoo's orangutans as a "non-human person" deserving rights to freedom, Reuters reported. Sandra, the famous orangutan, will be one of the animals remaining in the area to be cared for.
"The most important thing is breaking with the model of captivity and exhibition," Gerardo Biglia, animal rights lawyer and long-time campaigner for the closure of this city's zoo, said. "I think there is a change coming for which we are already prepared because kids nowadays consider it obvious that it's wrong for animals to be caged."
YOU MIGHT ALSO LIKE:
10 Super Cool Facts About Butterflies
Climate Change Puts Squeeze on Cuddly Koalas
2.6 Million Dead Bees Delivered to EPA Headquarters
Jaguar Shot Dead After Olympic Torch Passing Ceremony in Brazil
HighGradeRoots / iStock / Getty Images Plus
CBD, or cannabidiol, now comes in a variety of different forms, including CBD oils, CBD gummies, CBD capsules, and even water soluble CBD powders. You can also use CBD vape oil like you would any other vape juice. Our guide to the best CBD vape oils will help you identify the top brands to consider and will provide important information about CBD, vaping, and wellness.

What is CBD Vape Oil?
CBD can be vaporized and inhaled. To that end, many companies offer CBD vaping products, sometimes referred to as CBD vape juice, CBD vape pens, or CBD vape cartridges. These products normally come as disposable or refillable cartridges for vape pens . The vape pen vaporizes the specially made CBD contained in the cartridge, which is then inhaled. It is the same principle behind e-cigarettes and THC vape products.
Vaporization is normally considered a potent way to ingest CBD and so it is not for everyone. Because the vapor is inhaled, the molecule enters the bloodstream much quicker, so vaping produces a fast and relatively intense feeling.
While CBD vape oil may be used as an aid to help you quit smoking, we do not recommend smoking or vaping CBD as your primary method of ingesting CBD because of the health concerns associated with smoking. For alternative methods of taking CBD, check out our oil tincture and CBD gummy reviews.
Note that new federal laws went into in effect starting April 2021 as part of the Consolidated Appropriations Act, 2021, that place new regulations and restrictions around the online sale and delivery of all vaping products. In order to purchase any vape product online, you will need to verify your age and use a shipping service that requires an adult signature upon delivery. As a result, several brands have discontinued their CBD vape pens or no longer sell them online.
Top CBD Vape Oil Products for 2021
Each product featured here has been independently selected by the writer. You can learn more about our review methodology here. If you make a purchase using the links included, we may earn commission.
How We Chose the Best CBD Vape Oils
Here is a list of factors we consider when choosing and ranking our brand selection.
Hemp source - Hemp source is one of the most important parts of the CBD manufacturing process. We make sure to only pick companies that grow hemp according to the most up-to-date botanical and cultivation methods. We also make sure to choose companies that use organically grown, locally-sourced hemp.
Extraction process - There are three primary types of extraction for CBD products. The first involves crushing the leaves and stems and removing the residual mixture. Solvent extraction involves running the hemp plant through a solvent mixture (most of the time ethanol) then boiling away the solvent to leave the oil residue. The last common method is called supercritical CO2 extraction. Supercritical CO2 extraction is considered the gold standard when it comes to CBD production. As such, we try to find companies that use supercritical methods for their products.
Manufacturing standards - There are several third-party organizations that vet companies based on manufacturing standards and the quality/accuracy of their products. These agencies test company products to make sure that they are made properly and actually contain what they are advertised to contain. As such, we only choose products and companies that have readily accessible third-party lab reports ascertaining the quality of ingredients and production. Any company that does not provide this information for consumers is automatically excluded from consideration.
Extra ingredients - CBD products rarely contain just CBD and nothing else. Many contain a full spectrum of cannabinoids and other molecules such as terpenes. Some may contain delta-8 THC. We make sure that any companies we choose use all-natural ingredients and do not rely on any synthetic or artificial chemicals. We also look at the type and quality of alternative ingredients
Potency - Potency, or concentration, refers to the overall strength of the mixture. Potency is normally measured in milligrams per milliliter (mg/ml). Most of the time a product will list the potency on the label along with the quantity and volume of the product. Potency is very important because it determines the recommended dose that you should take.
Brand transparency - It is important when dealing with CBD companies that the brand is transparent about their products, methods, and supply chains. So, when looking for companies, we make sure only to pick those that have reliable and transparent business practices, product labelings, and company information/policies.
Customer reviews and testimonials - The last major factor we consider is customer reviews and testimonials. Customer reviews encompass more than just the quality of products. They also talk about how it is to interact with the company and the overall company experience. Customer reviews can also give insights in specific matters that general product descriptions cannot give. They also give a good indication of the public reputation of a company.
The Best CBD Vape Oils of 2021
thecbdistillery.com
CBD - Broad Spectrum
Strength - 1000 mg CBD per bottle
Flavor - Mango
Why buy: We like this extra strength CBD E-Liquid from CBDistillery because it provides 1000 mg of broad spectrum CBD with no THC or nicotine. Available in flavors like mango, strawberry, mint, and grape, this CBD vape oil is also third-party lab tested for quality with a QR code right on the box so you can view the test results for yourself.
botanyfarms.com
CBD - Full Spectrum (includes Delta-8 THC)
Strength - 35% CBD, 25% CBG, 9% Delta-8 THC, 7% CBN, 7% CBC per 1 gram
Flavor - Lemon Diesel
Why buy: This Botany Farms CBG vape cartridge offers a full spectrum blend of CBD and other cannabinoids, including delta-8 THC, for a calming and relaxing experience with a bright, citrusy flavor. Because it does contain full spectrum hemp extract and delta-8, we strongly recommend only using this product to relax in the evenings and that you do not drive after use.
The Research on CBD Vape Oils
CBD has become an interesting object of study by scientists because of its potential therapeutic and medicinal properties. CBD may help support relief from certain health conditions, including:

Anxiety
Inflammation
Chronic pain
Joint pain
Out of all these effects, the potential pain reducing and anti-inflammatory properties of CBD are the most well-established. CBD has been shown to have anti-inflammatory properties and has also been shown to be to help with pain management in certain cases.
The exact mechanism of action of CBD is through the body's endocannabinoid system. The endocannabinoid system (ECS) is a large network of cannabinoid receptors throughout the body's brain and nervous tissue. Research has shown that the endocannabinoid system is involved in mediating several homeostatic processes in the body.
To be clear, CBD is not medicine and is not generally approved by the FDA for medical use. CBD is not intended to serve as a substitute or replacement for any approved medical treatment and CBD is not known to cure any diseases.
In fact, there are only 2 FDA-approved medicines that contain CBD as their active ingredient, both of which are meant to treat certain forms of epilepsy. Since CBD is not approved for medical use, you should always talk to your doctor first before using a CBD product.
How to Choose the Right CBD Vape Oil
With any CBD vape juice or oil, it's important to make sure that you choose a product that is safe and made using quality, natural ingredients. Make sure you consider these factors when shopping.
What to Look For
Here are the key things to look for when comparing CBD vape oil products:
Type of CBD: Always known the type of CBD contained in any CBD vape oil product, whether that's full spectrum, broad spectrum, or CBD isolate.
Hemp Source: Look for brands that source their hemp from organic farms in the United States.
Lab Testing: The most important factor to consider is independent third-party lab testing. You should never purchase a CBD product that does not offer proof of independent testing.
Instructions: Some CBD vape cartridges will include specific instructions on how to to use them with your existing vape pen or device, as well as if they can be mixed with other e-liquids.
How to Read Labels
Take the time to read the label of any CBD vape juice product before you buy. Always look for the following information.
Strength - Check to see how much CBD is contained in the product so you know how much will be in each serving.
Other Ingredients - Make sure you know what other cannabinoids or ingredients are included in the vape, especially if you are concerned about THC.
Test Results - The best brands include links or QR codes to the certificates of analysis from the lab tests of their CBD. Use these to check the results for yourself.
Safety & Side Effects
CBD can cause a certain number of side effects, though most of them are mild.. The most common reported side effects of CBD are:

Dry mouth
Fatigue/lethargy
Indigestion
Changes in appetite
Upset stomach
The most commonly reported side effect is fatigue and tiredness. CBD can also interact with certain prescription medications, so be sure to consult with your doctor before using CBD if you take any prescription medicines.
It's also important to note that vaping or smoking of any kind carries serious health risks. While vape oils may be used to aid in the cessation of smoking, it is not advised as the primary method of taking CBD.
Takeaway
You should always take the time to research any CBD product that you purchase, but this is especially important when it comes to CBD vape oils and CBD vape pens. You can also explore other CBD options including oil tinctures, gummies, capsules, and water soluble mixes in order to enjoy the potential benefits of CBD.
Since 2010, at least 66 million trees have died in California due to drought and rising temperatures, the U.S. Forest Service reported. At last count in October, the death toll was at 40 million trees.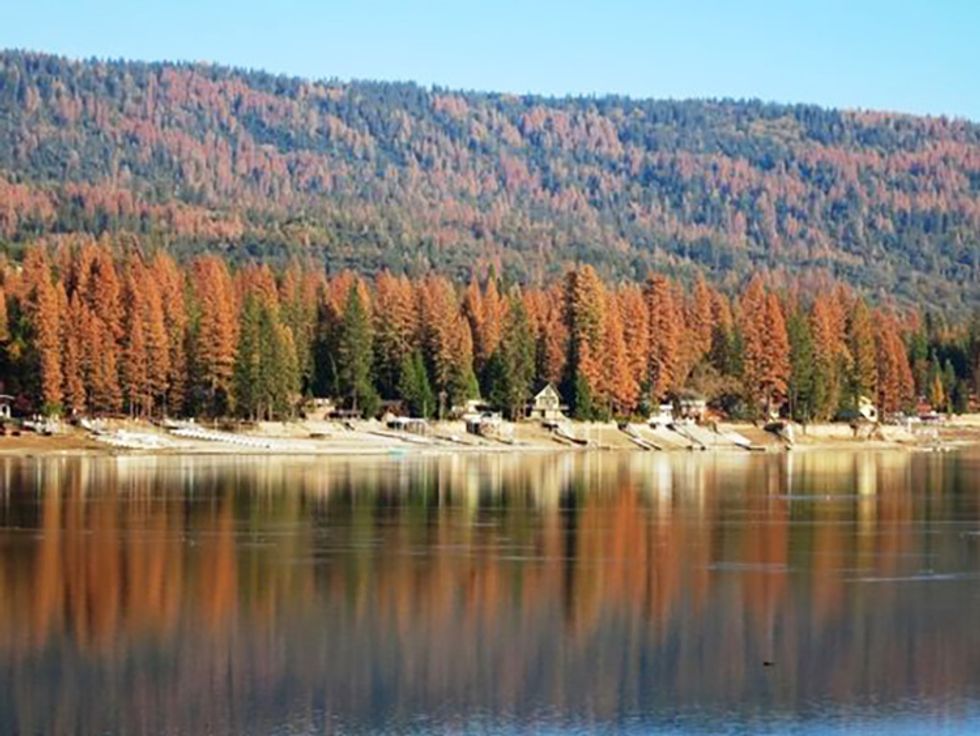 The ongoing, five-year drought in California has made trees increasingly vulnerable to insects and disease and the 65 percent increase in tree die-off has officials concerned about the possibility of a disastrous wildfire season.
"Tree die-offs of this magnitude are unprecedented and increase the risk of catastrophic wildfires that puts property and lives at risk," said U.S. Agriculture Secretary Tom Vilsack.
For a deeper dive: Climate Central, AP, USA Today, Los Angeles Times
For more climate change and clean energy news, you can follow Climate Nexus on Twitter and Facebook, and sign up for daily Hot News.
YOU MIGHT ALSO LIKE
Obama Visits Yosemite, Warns of Risks From Climate Change
Norway Becomes World's First Country to Ban Deforestation
87,000 NASA Images Show a Greening Arctic
Jaguar Shot Dead After Olympic Torch Passing Ceremony in Brazil
As cities in the developing world continue to grow, so do their traffic safety concerns. Latin America, for instance, now sees three times as many deaths from traffic crashes as Europe, the vast majority of which occur in cities. Vulnerable road users are particularly at risk: Older pedestrians and cyclists can account for up to 45 percent of pedestrian fatalities and up to 70 percent of cyclist fatalities globally.
Improving developing cities' traffic safety is a critical task for ensuring that these growing urban centers become safe, equitable places to live. A key part of achieving this safety? Sustainable urban design.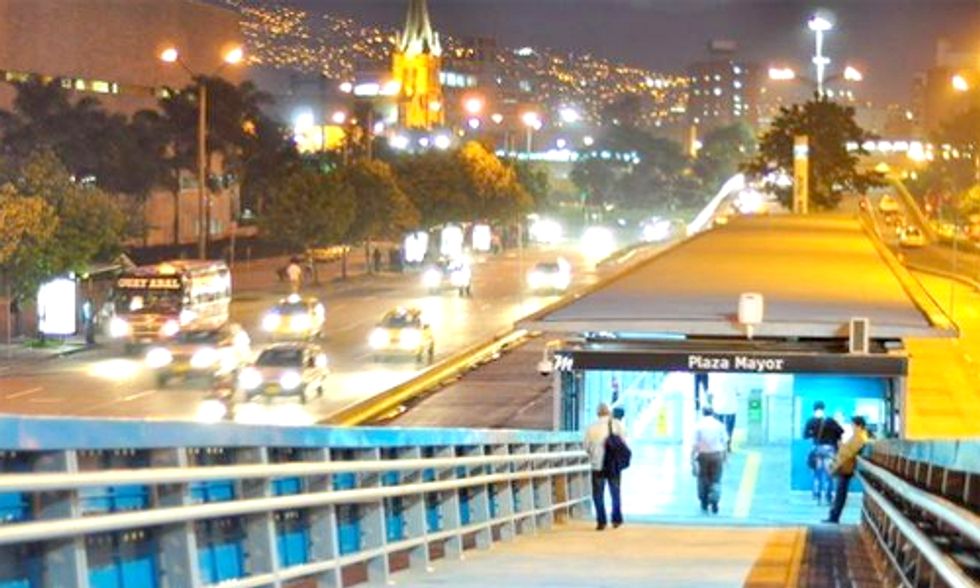 The connection between safety and justice is a major theme of the upcoming World Urban Forum (WUF7), organized by UN-HABITAT, which this year focuses on "urban equity in development—cities for life." At the event, EMBARQ experts will host a Cities Safer by Design for All networking session. The event will convene key experts and explore ways that urban design can improve safety—and in turn, justice—in developing cities around the world.
At the Intersection of Safety, Justice and Urban Design
Disadvantaged communities are disproportionately impacted by shortsighted urban design choices, whether it's the poor—who are forced to live on the city's periphery—or the disabled, who face mobility obstacles every day. Smart urban design principles can improve these citizens' quality of life while also boosting a city's overall safety.
For example, implementing urban design principles like transit-oriented development (TOD), which encourage mixed commercial and residential land use, compact layout, access to high-quality mass transport, and pedestrian-friendly streets, is an important step towards creating livable cities for all communities. Cities built in this way provide opportunities for walking, bicycling, and using transport instead of relying on a car—an expense many cannot afford. Furthermore, promoting sustainable urban design components like bike lanes and pedestrian walkways can have significant traffic safety benefits through reducing exposure—such as by preventing the need for vehicle travel altogether—and risk—by limiting vehicle speeds and prioritizing pedestrian and bicyclist safety.
Connecting urban design to safety is a concept that's still under-utilized by most local officials and even urban planners. But some cities are beginning to emerge as leaders in this space:
Mexico City, Mexico
In order to combat its history of urban sprawl, Mexico City is enhancing its sustainable transport systems and revitalizing public spaces. The newest corridor of the Metrobús bus rapid transit (BRT) system took a complete streets approach, which aims to design streets that account for all road users, providing safe infrastructure for transport, cars, cyclists and pedestrians. One shining example of the transformation along Avenida Eduardo Molina is the city's decision to change a dangerous and confusing intersection design that forced cars and buses to switch from the right side of the road to the left at the stoplight. EMBARQ research finds that streets with such confusing designs, called counter-flow intersections, have 82 percent more severe and fatal crashes than other streets.
Mexico City has also introduced new "pocket parks" or "parklets," which repurpose street space previously allotted to cars to create new public spaces for socialization and interaction. These spaces help to calm traffic, reduce street-crossing distances for pedestrians, and provide protected areas for recreation. The city has built five in the last year, and expects to build as many as 150 in the coming years.
Rio de Janeiro, Brazil
As a host to both the 2014 World Cup and the 2016 Olympic Games, Rio de Janeiro is using these mega events as a catalyst to make significant improvements to its design. One of Rio's flagship projects is the Morar Carioca initiative, which pledges $ 3.76 billion to improve accessibility, health, education, and the environment in the city's favelas.
Favelas pose an interesting challenge for city officials, as they house the city's poorest residents and are often cut off from city services. Furthermore, EMBARQ Brazil's household travel survey revealed that 90 percent of residents travel on foot while inside favelas, yet 70 percent use public transport when outside favelas. In short, proximity to transport is key to ensuring that these residents have access to jobs and opportunities within the city.
With this in mind, Morar Carioca is the one of the first favela improvement initiatives in Rio to emphasize connecting these communities to the city via new BRT lines like the TransCarioca, which will also connect the core of the city to the Olympic Village in 2016. Systems like TransCarioca will provide vital access to jobs and opportunities in the city center and help ensure that favela residents are not cut off from the benefits of urban life.
Bangalore, India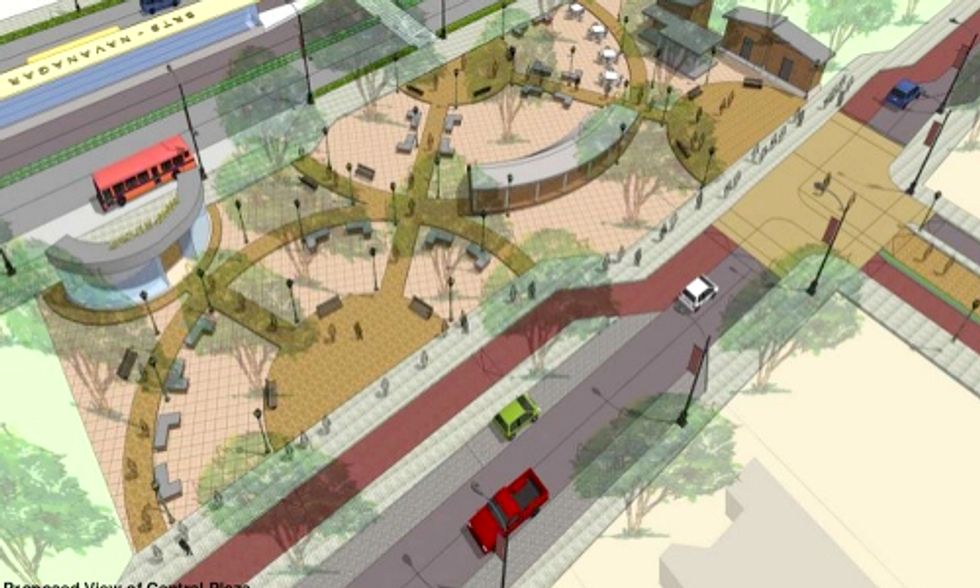 Bangalore is one of the fastest-growing cities in India, with almost 10 million residents. The majority of this population relies on public transport—most notably bus and metro—for mobility, so it's imperative that these services meet the needs of all residents. Bangalore, like many Indian cities, is also home to many making a living through the informal economy—such as street vendors and auto-rickshaw drivers—who rely on pedestrian traffic and transit hubs to make their living. While Bangalore's bus and metro stations are hubs of economic activity, they are also currently hubs of congestion and chaos. Previous attempts to ease congestion and improve safety around these areas have privileged cars over pedestrians and transport users. They've also squelched the informal economy, harming the city's poorest residents.
To reverse this trend, EMBARQ India is working with local authorities to make transport hubs safer for cars, cyclists, and pedestrians while retaining the vitality of the informal economic sector. New station area plans for Bangalore's Namma Metro prioritize safe access to transport hubs and reorganize public space around these hubs. The redesigned stations promote safer links to other transport modes like auto-rickshaws and buses, provide space for vendors, and improve the quality of the public space and public transit experience for all. With the plans now under development, city officials intend to implement the new station designs over the next two years, improving accessibility and safety in some of the most crowded parts of the city.
Putting Urban Design and Safety on the International Agenda
It's time to change the narrative about urban design. It's not about building more roads or luxury apartment complexes; it's about creating cities that are safer, more livable and healthier for a growing number of residents. As this year's WUF7 tagline explains, "A safe city is a just and equitable city."
Discussions at the WUF7 can play an important role in shifting the urban design narrative. While the week-long conference emphasizes civil society participation, the official dialogues will feed into the ongoing discussions of the Open Working Group on Sustainable Development Goals, clarifying issues related to urban prosperity. These include such broad topics as sustainable cities and human settlements, infrastructure, and economic growth. The WUF7 presents an opportunity for organizations from around the world to insert real examples, bring this agenda to life, and explicitly tie equity to the urban development narrative. In short, the WUF7 discussions are a key way of ensuring that safe and equitable cities are a first-level objective of the U.N.'s emerging SDGs, which are set to be released in 2015.
Every minute of every day, new cities are being built and existing cities are constantly evolving. Smart design can help ensure that these cities are built for people—not cars.
——–
YOU ALSO MIGHT LIKE
Melbourne's Sustainable Building Program Wins Climate Leadership Award
Ten U.S. Cities Band Together to Cut Climate Pollution
Rooftop Farm in New York City Grows 50,000 Pounds of Organic Produce Per Year
——–
By Peter Rugh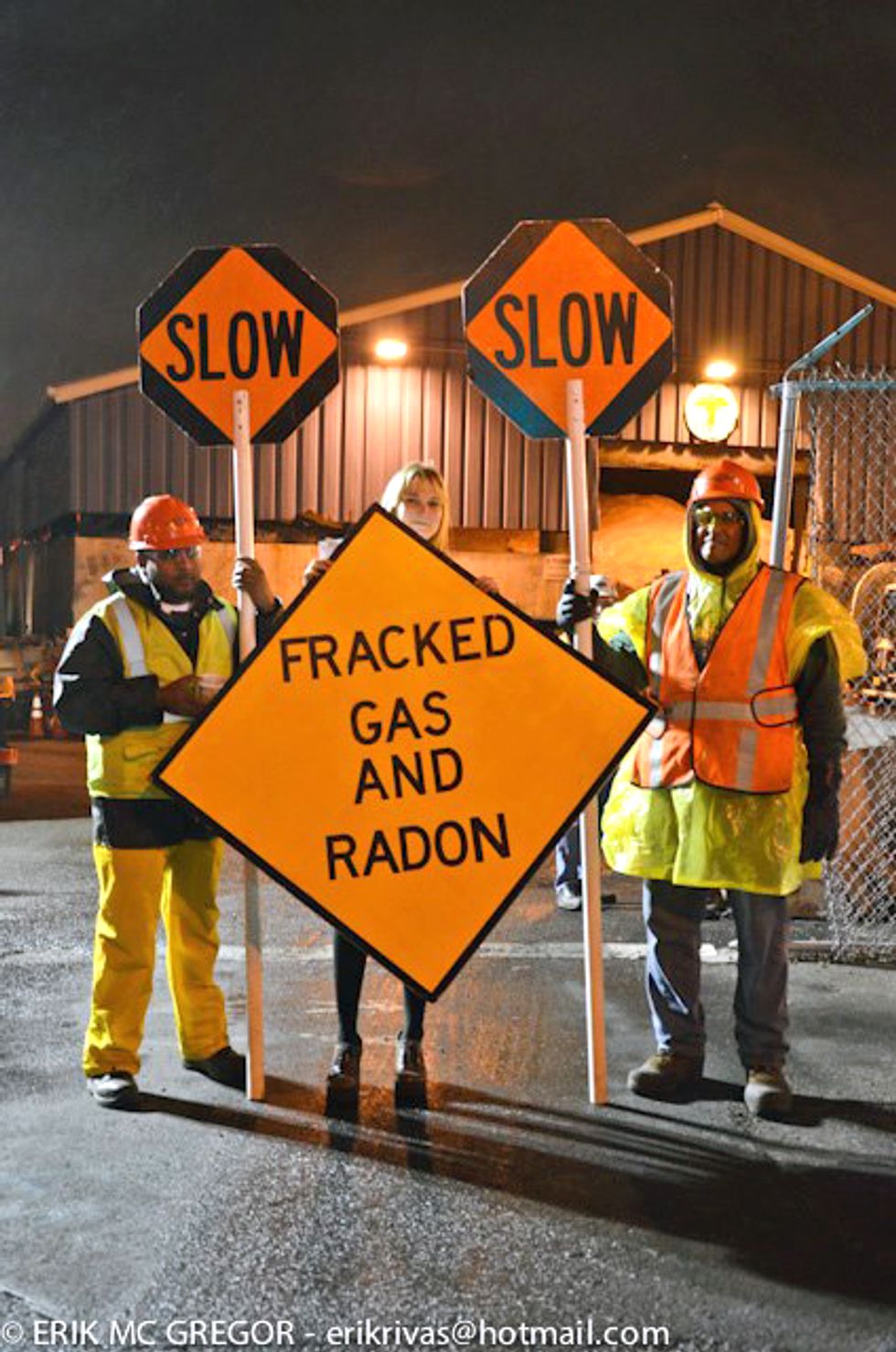 A hard rain was falling on Monday night as Occupy the Pipeline activists spread out along New York's Hudson River Park, in front of the site where workers in orange day-glow vests have been laboring around the clock on the New Jersey-New York Expansion Project. Known colloquially by the name of its builder, Spectra Energy, the Spectra Pipeline will pump fuel hydraulically-fracked from Pennsylvania's gas fields into New York City.
The very real risk of explosion along the densely populated regions through which the pipeline passes have made local residents want nothing to do with the project, as evidenced by letters submitted to the Federal Energy Regulatory Commission during the pipeline's approval process. Only 22 of the 5,000 letters were in favor of the project.
The Spectra Pipeline is just one of a new breed of high pressure pipelines being built around the country to expand the gas market to meet the increasing output of U.S. shale production. According to a filing with the Securities and Exchange Commission on Oct. 18, 2011, Spectra Energy entered into a $1.5 billion revolving credit agreement with the likes of JPMorgan Chase, Citibank, Royal Bank of Scotland, Bank of America and Wells Fargo. Through what's known as a syndicated loan, Wall Street infused Spectra with capital and spread the financial risk around, while leaving the risk of possible explosion for local residents to bear.
On Oct. 15, Occupy the Pipeline activists wrapped themselves in yellow caution tape as they stood in front of the pipeline construction site. They had black-and-white skeleton makeup on their faces—representing, they said, the danger of fossil fuels turning humans into fossils—which was bleeding down their chins because of the rain. The tape woven around the bodies of those on the line served as a symbol of interconnectivity.
"We are all connected through a web of toxic pipelines," Occupy the Pipeline organizer Monica Hunken cried out through the people's microphone, "but we are also connected by a vision for safe and sustainable world."
Seeing their local fight against Spectra as a microcosm of a broader battle, Occupy the Pipeline put out a call several weeks earlier for those opposing America's fossil fuel beef-up to join them in a day of action. In Texas, activists who have been carrying out direct actions against the Keystone XL didn't need much prodding. On #O15, as the date has been called, 50 people stood in the way of the pipeline that NASA climate scientist James Hansen has told the New York Times means "game over" in the fight against climate change.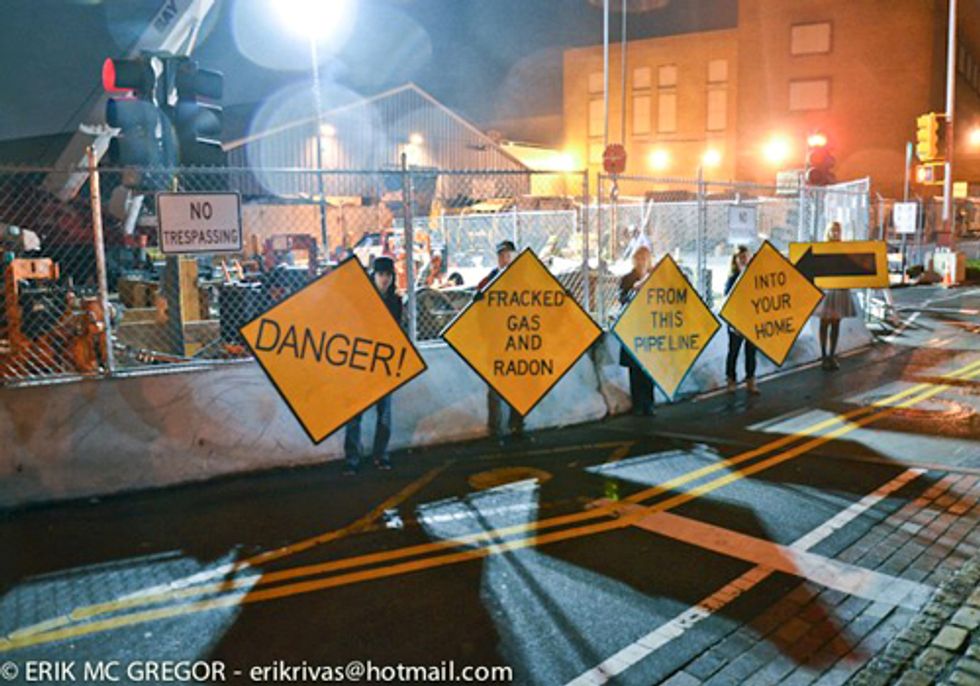 The Keystone XL is designed to bring heavy crude oil from a deforested region in Alberta, Canada, to export markets along America's Gulf Coast. After more than 1,000 people were arrested sitting-in at the White House against the pipeline in the summer of 2011, and thousands formed a ring around the White House last November, President Barack Obama announced in January he was nixing approval of the pipeline until after the 2012 election. Quietly, however, his administration gave the go-ahead for construction of the XL's southern portion.
During a stump speech in Cushing, Oklahoma—a town known as the "Pipeline Capital of the World"—Obama disputed claims that he was a softhearted environmentalist. "We've built enough pipeline to encircle the earth and then some," he told the Cushing crowd. Writing at Grist, shortly after Obama's Department of the Interior issued four coal mining leases for the Powder River Basin in 2011, Glenn Hurowitz summed up the president's "all of the above" energy policy as "effectively using modest wind and solar investments as cover for a broader embrace of dirty fuels." It's a trick straight out of BP or Chevron's playbook, writes Hurowitz, to "tout modest environmental investments in multi-million dollar PR campaigns, while putting the real money into fossil fuel development." But these days Obama does not appear to be playing down his enthusiasm for coal, gas and oil.
While the U.S. under Obama's leadership is deepening its reliance on fossil fuels, greenhouse gas emissions have led the climate and the human race along with it into what Mark Serreze, director of the National Snow and Ice Data Center (NSIDC), calls "uncharted territory." Data collected by Serreze and fellow researchers in September shows that 1.32 million square miles of arctic ice cover withered away over the summer, more than in any year previously on record. The team had anticipated a record melt, but the scope of this year's de-icing far exceeded its expectations. "While we've long known that as the planet warms up," reported Serreze, "few of us were prepared for how rapidly the changes would actually occur."
Fortunately for those concerned about the impact of fossil fuels on the biosphere, opposition to the escalating rate of ecological devastation has entered "uncharted territory" as well. In what has been termed a "Summer of Solidarity," actions against ecological devastation took place in numerous regions across the U.S.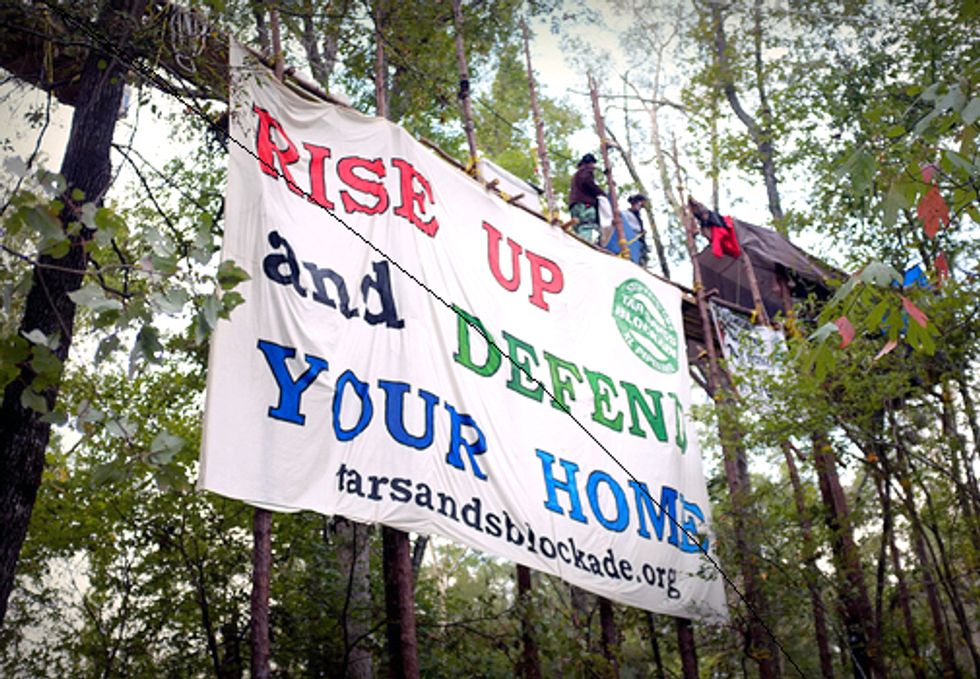 As thousands marched in the first national rally against fracking in Washington, D.C., 50 people walked onto the country's largest mountaintop removal site in West Virginia and shut it down. Union workers locked out of the Pilgrim nuclear plant in Plymouth, Massachusetts, picketed beside environmentalists. In New York, Occupy the Pipeline challenged Spectra through sit-ins and lockdowns, while Puerto Rican activists battled (and halted) a natural gas pipeline through a campaign in which both islanders and the mainland diaspora took part.
Actions in the U.S. were inspired by bold and brazen acts of ecological defiance globally including the occupation of the massive Bela Monte Dam in Brazil's rainforest by indigenous tribes amidst the Rio+20 climate conference and a weeklong blockade of the Olympic Dam uranium mine in South Australia. All the while in Texas, lockdowns and tree-sits against Keystone XL took off one after another.
In Massachusetts, where Spectra Energy is attempting to soup up the Algonquin Gas Transmission line, activists with 350.org and the Better Futures Project met the #O15 call with a tree-sit near Boston. They held banners reading, "TransCanada, You Shall Not Win" and "In Unity With @KXLBlockade & @occupy_pipeline."
"We leave the 'Summer of Solidarity' with friends still sitting in tree tops, with the direct actions of thousands still reverberating, and we enter the 'Autumn of Unity,'" Monica Hunken told the soggy crowd back in New York. As the effects of climate change become more acute Hunken expressed hope that those resisting it will forge stronger ties with one another.
During Occupy Wall Street's anniversary weekend in New York, I spoke to Sam Rubin, an anti-fracking activist from Ohio who was in town to storm the Stock Exchange. Then, last Sunday, Rubin and comrades blockaded a fracking site in eastern Ohio, ahead of the #O15 day of action. While in New York last month, Rubin told me that he hails from an area outside of Cleveland hit hard by the recession, where U.S. Steel recently reopened a plant for the first time in two years.
"For these guys to be coming back to work is a huge deal for them," Rubin said. "They are making steal for pipelines to build-up the fracking infrastructure." Rubin is part of an emerging breed of environmental activists who see their ecological activism as part of a broader movement for social change. As he and other activists draw on the solidarity fermented over the summer, Rubin said it is import to see their ecological struggles within the pervasive framework of global capitalism, "a system based on growth and extraction for profit fundamentally dependent on human exploitation."
"Otherwise" added Rubin, "I'm just some guy in a bubble who only cares about my little issue."
Visit EcoWatch's ENERGY page for more related news on this topic.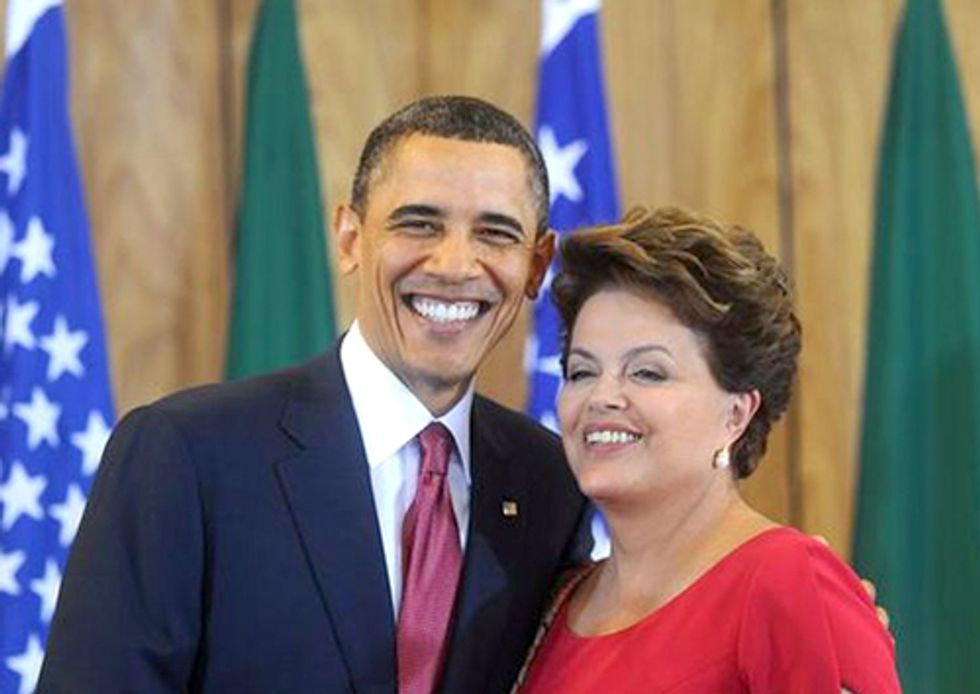 By Jacob Scherr
Used with permission of NRDC - Switchboard
Today, Brazil's President Dilma Rousseff met with President Obama in the White House. They will undoubtedly discuss the upcoming big international athletic matches to be held in Rio de Janeiro: the 2014 World Cup and the 2016 Olympics. These games will mark Brazil's emergence as a power on the world scene; and Brazil plans to invest some $200 billion in new infrastructure for them—an important opportunity for U.S. businesses. However, there is an even more crucial global event being hosted by Brazil this June—the Rio+20 Earth Summit—which deserves both Presidents' full attention.                                 
Brazil and the U.S. should work together to ensure Rio+20—officially labeled the UN Conference on Sustainable Development—is truly historic and transformative. It needs to be different than the first Earth Summit in Rio held in 1992. That gathering of more than 100 presidents and prime ministers generated thousands of promises, including two treaties and Agenda 21, a 400-page plan of action.
There was real hope then that governments were going to solve the challenge of meeting the ever-growing needs of people while protecting our environment. While there has been some progress, the pressures on the planet have intensified, billions still live in abject poverty, and wealth has become even more concentrated. As Thomas Lovejoy wrote in a New York Times OpEd last week, "human ingenuity should be up to the challenge. But it has to recognize the problem and address it with immediacy and at scale."
Yet history could repeat itself if President Rousseff and President Obama do not get focused on Rio+20. The U.S. and other countries have argued that the objective of the meeting should be taking action, not producing yet another long plan of action. Yet that is exactly what is now happening.
Since January, the "zero" draft of the Rio+20 output document has swollen to more than 200 pages of abstract statements and collective promises—many of which have been made many times before at earlier international conferences. We need to do more than just say, for example, that the world pledges to provide sustainable energy and safe water in the distant future to the one billion people who lack access to them now.
Imagine if we ran the Olympics this way. What if we brought the world's athletes together to set goals like, by the end of these three weeks, we'll have run 10,000 miles jumped 5,000 feet, and made a 1,000 free throws. Sounds strange, doesn't it? Who would be responsible for its achievement? What, exactly, would the incentive be for any one team or athlete to perform? This, you might say, represents a version of the tragedy of the commons: The tragedy of a common agenda that holds no one accountable.
The Olympics are inspiring and successful because they consist of small performances from individual competitors. Each athlete has incentive to succeed, and each sets personal goals to achieve their potential.
It is this competitive spirit and drive that we need to bring to Rio+20. Instead of the traditional approach to international summitry, let's create a field where all the players—not just national governments—can show off their talents. If Rio+20 is to be meaningful—and for everyone's sake, it simply has to be—the conference needs to encourage individual countries, communities and corporations to pledge specific, measurable actions to which they are accountable. Here is NRDC's vision for the 2012 Earth Summit, including our list of potential Rio+20 deliverables from ending fossil fuel subsidies to reducing plastic pollution.
NRDC is advocating for a "cloud of commitments" as the major output of Rio+20. We can use new information technologies and capabilities, not available at the first Rio summit, to collect and hold accountable individual pledges. These commitments would be listed all in one place on the web so that you could sit at your desk and, with a few clicks of your mouse, track our progress toward sustainability the way you might follow the score of a basketball game. You would also be able to get in the game yourself by commenting on specific commitments and encouraging the leaders to push even harder towards a sustainable future. 
 We need our leaders to step up and recognize Rio+20 is one game we cannot afford to lose. President Rousseff should ask Obama to commit now to come to Rio+20 and to reaffirm their promise last year "to work closely together to ensure its success. "
Why should President Obama get in the game? Simply put, it is in our nation's best interest to do so. Do we really want to leave our children a depleted and degraded planet where Americans are less healthy, prosperous and secure? Does the U.S. want to fall behind in the global race toward a green economy, and in the eyes of the world? In the long run, those countries, communities and corporations that take bold steps toward sustainability will be the winners. We're all in this together, on one small planet, but we're also competitors.
What country would think to send a team to the Olympics without its team captain and coach? We need our best in Brazil. Twenty years ago, Brazil's then-president, Fernando Collor de Mello, urged former President George H.W.Bush to attend the first Earth Summit. He accepted the invitation, but it was not until the last minute. The sooner President Obama commits to Rio+20, the sooner other world leaders will see the U.S. is really serious and join us in competing in the global race toward sustainability
For more information, click here.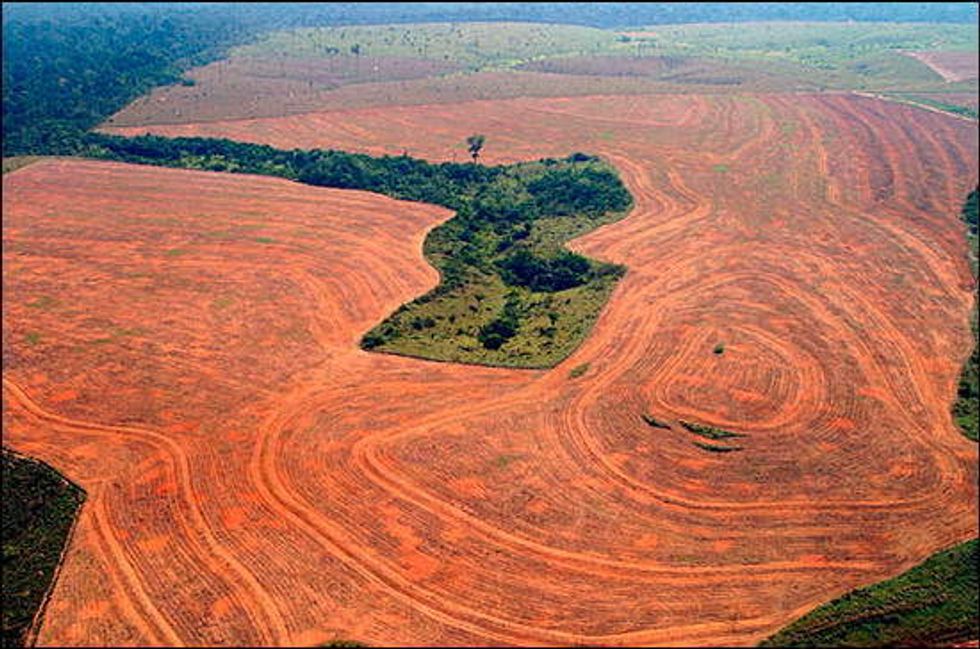 Brazil's Senate has decided to pursue short-term gain over long-term security in a vote to do away with long standing protections for the Amazon and other key forested areas, World Wildlife Fund (WWF) warned Dec. 7.
The new law, promoted by some rural and agribusiness interests, opens vast new areas of forest to agriculture and cattle ranching and extends amnesties to illegal deforestation conducted prior to 2008. Areas formerly held to be too steep or vital to the protection of watersheds and watercourses are among those now open to destruction.
Polls showed a majority of the population opposed to the revision of the Forest Code, with a vocal majority of experts warning that the new version of the law will hinder Brazil's long-term development and not help it.
"We have a powerful minority condemning the future of millions of Brazilians, all in the name of quick financial gain," stated WWF-Brazil's CEO, Maria Cecilia Wey de Brito. "No thought has been given to the social and economic costs of destroying our forests. The Senate has adopted, once again, the outdated and false notion that conservation and development are somehow at odds, something we know is not true."
Jim Leape on the Brazil Forest Law from WWF on Vimeo.
If signed into law by Brazil President Dilma Rousseff, the changes will jeopardize Brazil's significant environmental achievements of recent years and severely undermine global efforts to fight climate change and halt biodiversity loss. The changes are also expected to expose poor Brazilians to larger risks from floods and droughts.
Brazil has committed to 2020 targets of a nearly 40 percent cut in its growth curve of greenhouse gas emissions and a reduction of Amazon deforestation levels by 80 percent compared to average rates registered for the period of 1996-2005. These are commitments of global interest, now almost certainly out of reach because of the revisions to the Forest Code.
The Senate decision also comes in the midst of international climate talks in Durban, South Africa, and precedes Brazil's hosting of the United Nations Conference on Sustainable Development, or Rio+20, in June 2012. Brazil's credibility as it hosts this and other key global events (2014 World Cup, 2016 Summer Olympics) will be severely compromised if it passes environmental legislation favoring deforestation of the Amazon and other globally-important regions, WWF warned.
"WWF-Brazil has gone along with the legislative processes, has worked with others to help bring science to the political debate and has defined common points with good agribusiness and others," said Wey de Brito. "Now we must urge President Rousseff to consider the severe implications of signing the revisions into law, including irreparable harm to Brazil's natural resources, its economic development, and to the future health and well-being of millions of Brazilians and billions of people around the world."
WWF-Brazil is supported by WWF's entire international network in urging President Rousseff to act in Brazil's interests rather than a sectional interest—noting that the president has already said she would not support an amnesty for illegal deforestation.
"We're at a time in history when the world seeks leadership in smart, forward-thinking development," said WWF International Director-General Jim Leape. "Brazil was staking a claim to being such a leader.
"It will be a tragedy for Brazil and for the world if it now turns its back on more than a decade of achievement to return to the dark days of catastrophic deforestation."
For more information, click here.