This website uses cookies to ensure you get the best experience while browsing it. By clicking 'Got It' you're accepting these terms.


The best of EcoWatch, right in your inbox. Sign up for our email newsletter!
SeaWorld in Orlando, Florida.
Kim / Flickr / CC BY-SA 2.0
British travel giant Thomas Cook announced over the weekend it will stop offering tickets to animal attractions that keep killer whales in captivity.
Summer is a time for escape reading. But that designation need not be limited to fiction; books written for the general reader on topics outside one's area of expertise can also provide passage to exciting new places. This month's bookshelf includes six non-fiction titles, five novels and one collection of short stories. The last three titles are now in paperback, suitable for a vacation or some beach time. Good reading to you!
EcoWatch Daily Newsletter
www.youtube.com
According to Bloomberg, "SeaWorld Entertainment Inc. received a subpoena earlier this month from regulators investigating disclosures and public statements by executives, including comments about the Blackfish documentary that caused a public backlash against the confinement of orcas.
Kasatka, a female orca who lived in captivity for nearly four decades, was humanely euthanized Tuesday night at SeaWorld San Diego. She was approximately 41 years old.
The ocean park announced that the mother of four, grandmother of six and great grandmother of two died at approximately 8:15 p.m. "surrounded by members of her pod, as well as the veterinarians and caretakers who loved her."
By Amanda Froelich
According to a new report by SeaWorld, Tilikum—the infamous killer whale involved in the deaths of three people—died today. The well-known orca, thought to be about 35-years-old, was the focus of the 2013 documentary "Blackfish," which criticizes the marine park for keeping killer whales and other aquatic wildlife in conditions deemed to be less-than-ideal.
On the morning of Jan. 6, one of SeaWorld's most well-known orcas, Tilikum, passed away surrounded by trainers, care staff and veterinarians at the Orlando, Florida ocean theme park where the famous killer whale lived most of his life.
Nanuq was held captive at SeaWorld properties. Sea Shepherd Conservation Society / Nicolas Dumenil
Sea Shepherd Conservation Society launched a series of images today illustrating the tragic fates met by real-life captive cetaceans.
The images come just as the holiday season begins and families are making choices about how to spend their money on entertainment. The pictures are being published to educate and deter travelers around the world from buying tickets to marine shows, swim-with-dolphin programs and other similar animal encounter experiences.
www.facebook.com
Sea Shepherd Conservation Society partnered with a group of Hollywood industry heavyweights and a middle school from the Los Angeles Unified School District on a student filmmaking contest.
The winner's film was released as Sea Shepherd's official PSA this morning for World Oceans Day.
Captive dolphins at Marineland Antibes in France. John Clift
By Laura Bridgeman
The French government passed new legislation earlier this month aimed at phasing out all dolphin and whale captivity, a move that reflects growing public awareness and concern over the poor living conditions cetaceans are forced to endure in captivity.
Meet Takara, a 25-year-old pregnant orca living in SeaWorld San Antonio in Texas. Takara's newborn, expected to arrive in Spring 2017, will be the last remaining orca to live its life in SeaWorld's tanks after the ocean park announced in March it would end its captive orca breeding program after years of campaigning from animal welfare groups and concerned citizens.
Tilikum, the killer whale at the center of the 2013 documentary Blackfish, is in deteriorating health. SeaWorld's teams are treating him for what they believe is a bacterial infection in his lungs, the company announced on its Facebook page Tuesday.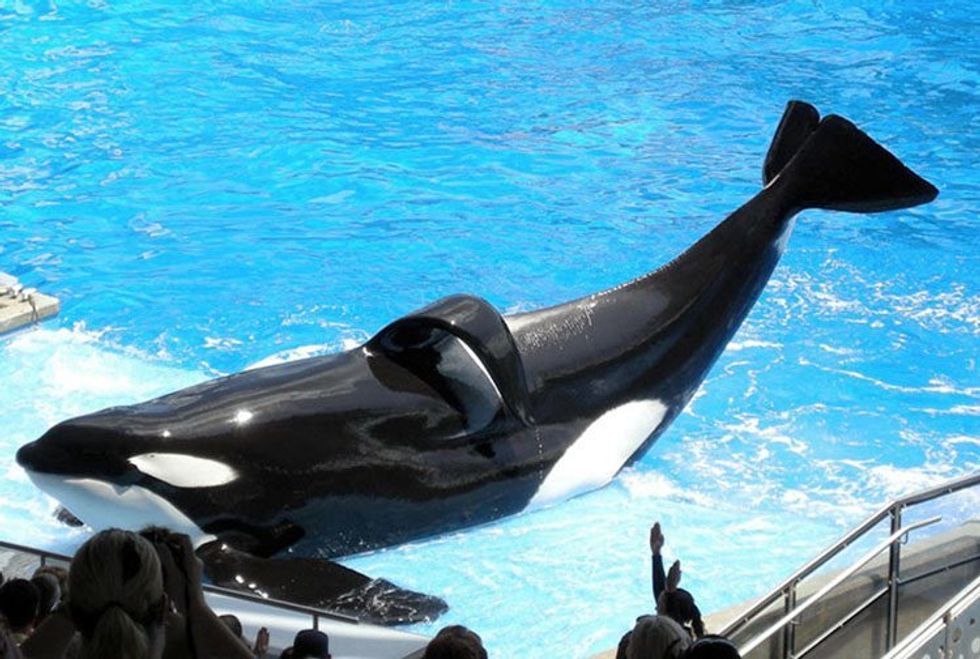 "We are saddened to report that over the past few weeks, Tilikum's behavior has become increasingly lethargic, and the SeaWorld veterinary and animal care teams are concerned that his health is beginning to deteriorate," the company said.
The 35-year-old male orca is not responding to treatment and "a cure for his illness has not been found," SeaWorld said.
"Since Tilikum became a part of SeaWorld's family 23 years ago, he has received the best in marine mammal health care and life enrichment available for killer whales—including a focus on his physical health, mental engagement and social activity with other whales," SeaWorld said. "Despite the best care available, like all aging animals, he battles chronic health issues that are taking a greater toll as he ages."
Tilikum, whose name means "friend" in Chinook, was captured from the wild in 1983 at the age of 2, according to Reuters. He came to SeaWorld 23 years ago from Sealand of the Pacific in Canada.
Average life expectancy for orcas in the wild is 30 to 50 years. Some males live 60 to 70 years, and females can live to be 80 to 100 years old. Life expectancy for killer whales in captivity is much shorter. The median survival rate for orcas in U.S. marine parks is just 12 years.
As America's most famous orca, Tilikum, has "shouldered a fraught history, emerging as the symbol of both orcas' elegance and their capacity for violence," The Washington Post said.
Tilikum has fathered 21 offspring (1o of which are still alive today). But he's also been linked to three human deaths.
In 1991, while housed in poor conditions at Sealand, Tilikum and two females killed a 20-year-old, part-time trainer named Keltie Byrne after she slipped and fell into their tank.
"She tried to get back out and the other girl tried to pull her up, but the whale grabbed her back foot and pulled her under," a witness told CNN in 1991. "And then the whales—they bounced her around the pool a whole bunch of times, and she was screaming for help."
Byrne was the first trainer to be killed by orcas at a marine park. Sealand never recovered from the controversy, sold Tilikum and its other killer whales to SeaWorld and was forced to close.
Then in 1999, Tilikum appeared to strike again. Twenty-seven-year-old Daniel Dukes was found dead lying across Tilikum's back after Dukes snuck into the park at night.
And then, there was the most recent and well known death caused by Tilikum. In 2010, the male orca pulled a trainer, Dawn Brancheau, into the water and violently thrashed her around in front of an audience at SeaWorld Orlando. Brancheau was dead by the time SeaWorld employees reached her.
Tilikum was retired from doing shows for about a year, but was brought back for public performances in the spring of 2011.
Two years later Blackfish was released, documenting the plight of killer whales in captivity. The film has sparked a massive public outcry against keeping these large creatures in small tanks since in the wild they swim up to 100 miles per day.
SeaWorld condemned the documentary as "propaganda." SeaWorld's stock has nosedived and ticket sales have declined sharply in the years since the film's release.
In October 2015, to the delight of animal activists, California banned captive breeding of orcas at SeaWorld. However, SeaWorld has remained mired in controversy, as the death of Dart, a male dolphin, brought the park's death toll to four large marine mammals in just four months.
YOU MIGHT ALSO LIKE
Why Is Mine Waste Being Dumped Directly Into the Ocean?
Whale Found Dead With Small Pieces of Plastic Garbage in Its Stomach
Iceland's Fin Whale Hunt Cancelled for 2016
Humpback Whale Entangled in Illegal Gillnet Saved by Sea Shepherd Crew
This website uses cookies to ensure you get the best experience while browsing it. By clicking 'Got It' you're accepting these terms.


The best of EcoWatch, right in your inbox. Sign up for our email newsletter!