Nopalimex has built the world's first cactus-powered plant in Mexico. The company is utilizing a digester to make biogas from prickly pear cacti. In addition to powering Nopalimex's operations, the digester's 8-ton daily production will fuel the town of  Zitacuaro's vehicle fleet in central Michoacan state, Noticias MVS reported.
World's first cactus-powered plant opens in Mexico https://t.co/t7IGIRPBdD https://t.co/SaRWRgEgRK

— Climate Home News (@Climate Home News)1454949906.0
"The fruit or prickly pears are pureed, mixed with manure, then left to decompose, producing methane," Climate Home explained. "That gas is used for fuel and burned to generate enough electricity for 300 homes at 50 percent cheaper than grid prices."
In the city's vehicle fleet, the cactus fuel is expected to decrease gasoline use by at least 40 percent, Antonio Soto Sanchez, secretary of Economic Development, told Noticias MVS.
Nopalimex, primera planta de #biogás de #nopal a nivel mundial abre en Zitácuaro. https://t.co/kByiLXiwz5 https://t.co/GH0Qe012nw

— Buenas Noticias (@Buenas Noticias)1454426082.0
The idea came to Nopalimex's Rogelio Sosa about a decade ago when he was looking for ways to lower the energy bills for his company, which manufactures corn and cactus chips.
Economic Development Secretary Adrian Lopez hailed the project as a great example of the renewable energy projects Mexico should be adopting. Last month, the Latin American nation mandated that renewables supply 35 percent of the country's electricity by 2024.
And, according to Gizmodo, there's huge potential for prickly pear cacti as a biofuel as it could help "fuel our drought-stricken world."
Gizmodo explains:
"What makes prickly pear so interesting as a fuel for making biogas or other forms of biofuel is that it can be grown in places where traditional energy crops can't. Imagine vast fields of cacti in remote, arid areas of the country, where normal crops can't grow. It wouldn't suck up the resources or space needed to feed people, as current bioenergy crops are criticized as doing."
Citing research from a group of Oxford scientists, "growing prickly pear at that scale might actually help produce more food in drought-stricken lands, because converting organic waste into biogas creates its own waste. ... Prickly pear absorb a ton of water, and after digestion happens and the biogas is made, liquid and solid fertilizer will be leftover. That, in turn, could be used to better cultivate crops in areas that normally couldn't support them."
One owner of a prickly pear biogas facility in Chile, Rodrigo Wayland Morales, told Renewable Energy World he sees vast potential for the crop. He has cactus biogas projects in various stages of completion in Mexico, India, Chile, Brazil, Ecuador and Colombia.
He believes the geography of his native Chile makes it an ideal location for the crop. "Chile could desalinate sea water and grow the cactus in the desert," Morales said.  "I imagine the Atacama Desert with cactus, producing the energy that our country needs."
YOU MIGHT ALSO LIKE
Neil Young Takes His Anti-Monsanto Message on the Road
Want to Get Off the Grid and Live in Harmony With Nature? Build an Earthship
This Solar Road Will Provide Power to 5 Million People
Three decades after the worst nuclear power plant catastrophe in history, a site in Chernobyl is being reimagined as a solar energy farm—one that would be the world's largest once built.
Thirty years after the nuclear disaster Greenpeace revisits the site and the Unit 4 with the New Safe Confinement (NSC or New Shelter). Denis Sinyakov / Greenpeace
The 1986 meltdown, which released radiation at least 100 times more powerful than the radiation released by the atom bombs dropped on Nagasaki and Hiroshima, rendered roughly 2,600 square kilometers of the area unsuitable for habitation. Greenpeace found that animals living within the exclusion zone have higher mortality rates, increased genetic mutations and decreased birth rate.

But in a twist of poetic justice, the Ukrainian government has expressed ambitions to turn 6,000 hectares within Chernobyl's "exclusion zone" into a renewable energy hub. The proposed plant would generate 1-gigawatt of solar power and 400-megawatts of biogas per year, the Guardian reported. The country is pushing for a six-month construction cycle.
According to PV-Tech, ecology minister Ostap Semerak has visited the European Bank for Reconstruction and Development (EBRD) with the plan. The proposal has since been issued to investment firms in the U.S., Canada and the UK. If it gets the green light, the renewable energy farm will generate about a third of the electricity that the former nuclear plant generated when it was running.

"The Chernobyl site has really good potential for renewable energy," Semerak said during an interview in London. "We already have high-voltage transmission lines that were previously used for the nuclear stations, the land is very cheap and we have many people trained to work at power plants. We have normal European priorities, which means having the best standards with the environment and clean energy ambitions."
Three decades after the worst nuclear power plant catastrophe in history, a site in Chernobyl is being reimagined as a solar energy farm—one that would be the
Semerak said that two U.S. investment firms and four Canadian energy companies have already expressed interest in the Chernobyl's solar potential, the Guardian reported. The project is estimated to cost between $1 and $1.5 billion.

"The EBRD may consider participating in the project so long as there are viable investment proposals and all other environmental matters and risks can be addressed to the bank's satisfaction," an EBRD representative said.

However "nothing is imminent," the spokesperson added. "We are keeping an open mind. But it's important not to read too much into it at this stage."
"The Ukraine has indicated it will open the exclusion zone, and we welcome that. Renewables are one of our priorities, and as soon and as long as they secure investment then we will discuss the project and provide co-financing," the bank rep said.
The renewable energy project isn't just good news for the environment, it will provide Ukraine some energy independence, as the country currently gets the bulk of its natural gas from Russia, Business Insider pointed out.

If construction is approved, Chernobyl's solar farm will hold the title of "World's Largest Solar Plant" before Dubai's massive concentrated solar plant catches up to it.

Dubai to Build World's Largest Concentrated Solar Power Plant https://t.co/rSqqIZWmrD @solarthermalmag @pvmagazine

— EcoWatch (@EcoWatch)1465257909.0
The under-construction Mohammed bin Rashid Al Maktoum Solar Park in Dubai will produce 1 gigawatt of electricity by 2020 with ambitious expansion plans of 5 gigawatts by 2030.
EcoWatch Daily Newsletter
Apple is seeking to sell a whole different product. No, not cars—yet. Try renewable energy. The iPhone maker has created an energy subsidiary in Delaware called Apple Energy LLC to sell surplus electricity generated by its various renewable energy projects.
Apple Plans to Sell Excess Rooftop Solar Energy From Headquarters https://t.co/2ruM8gq3rK #solarenergy #apple https://t.co/kOlDajSm6I

— RenewableEnergyWorld (@RenewableEnergyWorld)1465581650.0
Documents seen by PV Tech show that Apple has applied to the U.S. Federal Energy Regulatory Commission (FERC) to sell excess power from solar panels on top of its Cupertino, California headquarters as well as energy generated by its solar farms, hydroelectric plants and biogas facilities across the country.
This is big news. Most corporations usually sell surplus energy to power companies, but the tech titan is basically creating a green energy pipeline to consumers.
"If Apple's application is approved, it will be able to sell electricity directly to its customers—eliminating the need for utility power," PV Tech observed.
In the FERC filing, Apple has requested to sell energy at market rates rather than wholesale since it's not an major energy company and cannot influence electricity prices, PV Tech noted.
"Applicant seeks the same blanket authorization and waivers of the commission's rules and filing requirements previously granted to other entities authorized to transact at market-based rates," Apple's tariff states.
The Apple blog 9to5Mac suspects that Apple's FERC filing is following in the footsteps of Green Mountain Power, which also sells renewable energy to homeowners. Another guess is that Apple's potential new energy company could help fuel Apple's long-rumored electric car project.
Apple has requested the tariff be granted within 60 days of its June 6 filing, so we'll have to wait until then to see if it takes off.
In recent years, Apple has worked hard to shrink its global carbon footprint, and CEO Tim Cook is known for being a green leader.
"Climate change is one of the great challenges of our time, and the time for action is now," Cook said. "The transition to a new green economy requires innovation, ambition and purpose."
The company 
boasts
 that all its
data centers
and most of its stores and corporate offices are now powered by green, renewable energy. Apple has plans for 
521 megawatts of solar projects
 globally, as well as other investments in hydroelectric, biogas and geothermal power, which generates enough power to cover 93 percent of its worldwide energy usage. The company wants to eventually operate with 100 percent renewable energy.
YOU MIGHT ALSO LIKE
World's First Large-Scale Carbon-Neutral Brewery Now in Operation
Solar Added More New Capacity Than Coal, Natural Gas and Nuclear Combined
Solar War Continues in North Carolina: Nonprofit vs. Duke Energy
Does Ground-Breaking India-U.S. Announcement Put Clean Energy in the Catbird Seat?
Heinekens are now brewed with clean energy. The global beer company's Göss Brewery in Austria is the first carbon-neutral brewery of its scale in the world.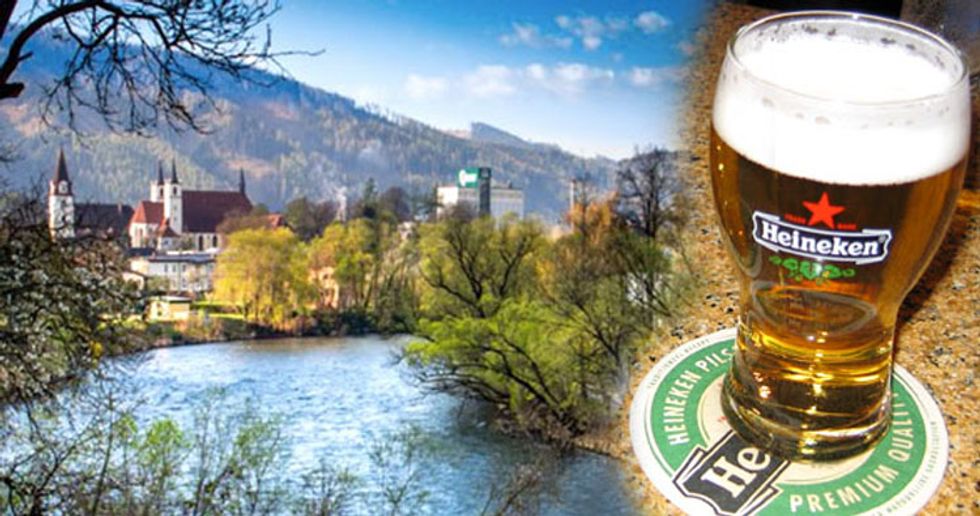 The facility, which kicked off its green upgrades back in 2003, has now met 100 percent of its energy needs via clean power sources including hydropower, solar thermal energy from a 1,500-square-meter photovoltaic array and biomass district heating, in which 40 percent of the brewery's heat requirements comes from surplus heat discharged from a neighboring sawmill.
The site is also incredibly savvy with waste. It hosts its own grain fermentation plant that converts production waste into biogas—the first plant of its kind a major brewery. The grain fermentation plant converts 18,000 tons of the brewer's grains, filter residues and other byproducts from beer-making process into biogas annually. Residues from the fermentation plant are used as fertilizer.
Here are some other eco-friendly strides the brewery—a finalist for the 2016 European Union Sustainable Energy Award—has achieved:
Ninety percent of the waste heat generated in the brewing process is used to heat water

A new type of boiling system is used during the brewing process, which helps to save electricity and water

Energy generated from brewery residues will be used to generate steam and any excess volumes will be converted into electric current

100 percent of raw materials used at the Göss Brewery come from Austria
As Inhabitat reported, the brewery's operations will cut carbon emissions from approximately 3,000 tonnes a year to zero.
"Through a combination of innovative technology, creative thinking and partnerships with our local community, we have turned a heritage brewery into the world's first major zero carbon brewery," Göss brew master Andreas Werner told the publication.
"Our Göss brewery may be in a small town but our goal was to make a big impact. I am proud of what we have achieved for the Heineken Company and want to help our other breweries, and the wider brewing industry, make renewable energy part of their energy mix, just as we have done."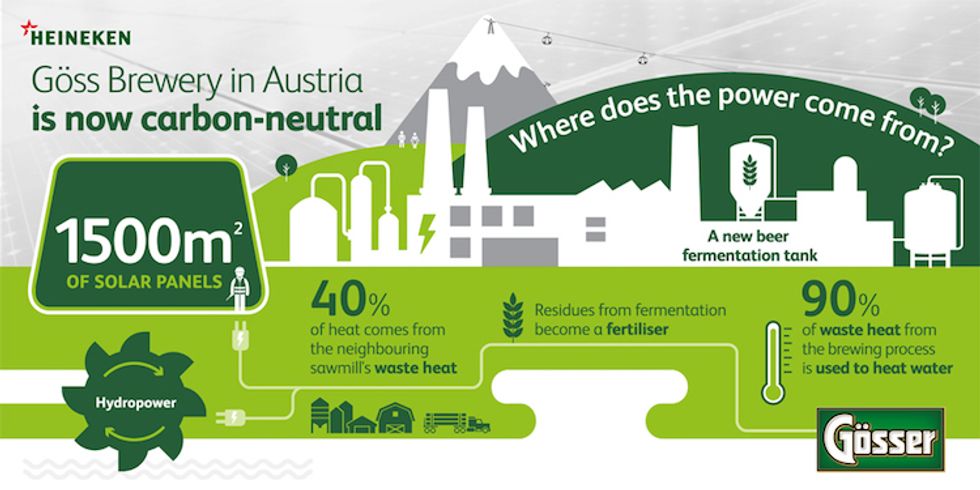 The Göss Brewery's zero carbon status is only one example of Heineken's overall environmental goals. According to a blog post from Michael Dickstein, Heineken's global director of sustainable development, the beer-maker is now the world's largest user of solar energy in beer production.
The company's Brewed by the Sun campaign boasts a number of solar achievements including:
100,000 glasses of Wieckse beer brewed through solar energy at the Den Bosch brewery in the south of the Netherlands

Birra Morretti Baffo d'Oro is brewed with 100 percent Italian malted barley and 100 percent Italian sun

The company's rooftop solar installation in Singapore, which brews the local Tiger beer, is the size of three football pitches
Heineken, the world's third-largest brewer, is aiming to slash 40 percent of carbon emissions from global productions by 2020 through its Brewing a Better Future strategy.
The beer brewing industry is not immune to the effects of climate change. In the U.S., the ever-changing environment is a threat to the domestic beer market, as Ceres wrote:
Warmer temperatures and extreme weather events are harming the production of hops, a critical ingredient of beer that grows primarily in the Pacific Northwest. Rising demand and lower yields have driven the price of hops up by more than 250 percent over the past decade. Clean water resources, another key ingredient, are also becoming scarcer in the West as a result of climate-related droughts and reduced snow pack.
Several U.S. breweries have integrated sustainability into their business practices such as investing in renewable energy, energy efficiency, water efficiency, waste recapture and sustainable sourcing in order to reduce their environmental footprint.
YOU MIGHT ALSO LIKE
World's First Off-Grid ReGen Village Will Be Completely Self-Sufficient Producing Its Own Power and Food
Nation's First Urban Farming School Teaches Kids to Grow and Cook Their Own Food
This Green-Roofed Hobbit Home Can Be Built in Just 3 Days
The British government astonished the nuclear industry late last night by refusing to go ahead with plans to build the world's largest nuclear plant until it has reviewed every aspect of the project.
The decision was announced hours after a bruising meeting of the board of the giant French energy company EDF, at which directors decided by 10 votes to seven to go ahead with the building of two 1,600 megawatt reactors at Hinkley Point in Somerset, southwest England.
A computer-generated image of what the Hinkley Point C nuclear power plant would look like. EDF Energy / PA
One director, Gerard Magnin, had already resigned in protest before the meeting, saying the project was "very risky." All six union members, who are worker directors, said they were going to vote against because they believed that any new investment should be directed at making ageing French reactors safer.

So certain were EDF that a signing ceremony with the British government would take place today to provide the company with 35 years of subsidies for their electricity that they had hired marquees, invited the world's press and laid in stocks of champagne to toast the agreement.
Myriad Voices
But EDF Chief Executive Vincent de Rivaz, who had pushed for the deal, cancelled a trip to Britain on hearing the government announcement.
Britain's new prime minister, Theresa May, who had never publicly endorsed the project like her predecessor David Cameron, has clearly heeded the myriad voices outside the nuclear industry that say this is a bad deal for British consumers.
Her new business and energy secretary, Greg Clark, in a brief statement, said the decision was deferred until "early autumn" while the "government reviews all the component parts of the agreement" to build what is the most expensive power plant the world has ever seen.
Hinkley Point C, as the new station would have been called, is estimated by the company to cost £18 billion, take nine years to build and provide 7 percent of the UK's electricity via two 1,600 megawatt reactors.
This is a new type of reactor, of which four are being built—one at Olkiluoto in Finland, one at Flamanville in France and two in China. All are years behind schedule and costs in France and Finland have trebled. None are expected to produce power until 2018, although what is happening in China is not clear.
Because of these delays, the French were not actually going to start pouring concrete for construction until 2019 and there were already severe doubts that the timetable proposed by the French for Hinkley Point could be met.
Some have even suggested that the delays elsewhere have shown that the design is flawed and that the reactors may never work efficiently. This may concern the British government, but the sticking point is more likely to be the staggeringly high cost that consumers will have to pay for electricity produced by the plants.
Up in the air: the controversial Hinkley Point project has been the focus of many past protests.Campaign for Nuclear Disarmament via Flickr
In 2012, the previous government agreed to pay £92.50 for each megawatt hour of electricity produced—a price that would rise with inflation.
With wholesale prices going down, that is already three times the current price of electricity and it is calculated that it would cost every bill payer in Britain £10 a year for 35 years just to keep the station open—and it could be more.
If Theresa May is anything like her predecessor, Margaret Thatcher, who did not think nuclear power was value for money, the project will be in jeopardy.
EDF already runs 15 ageing nuclear reactors in Britain and was looking to build the two at Hinkley and another two in Essex to replace the old ones as they close down. The Chinese, Japanese and Americans were being encouraged to build reactors in other parts of England and Wales. All these look less likely now.
The problem for nuclear power is that new stations cost billions to build and take a decade before they get any income back. This has brought EDF huge debts and borrowings, which has put the company in financial difficulty—hence the internal controversy about the Hinkley decision.
Claire Jacobson, head of climate, energy and environment policy at EEF, the British manufacturers' lobby group that supports the nuclear industry, said the government's decision was "yet another blow to a decision that has been hindered by many delays and uncertainties."
Emissions Targets
Tom Greatrex, chief executive of the Nuclear Industries Association, warned that failure to go ahead with the project would risk the lights going out and missing the country's carbon emissions reduction targets. He said ministers "need to act quickly to endorse the decision [to go ahead]."
However, critics of the controversial project were delighted. John Sauven, the executive director of Greenpeace, said: "Theresa May now has the chance to stop this radioactive white elephant in its tracks."
"She should look at the evidence and see that this deal would be a monumental disaster for the taxpayers and the bill payers. Countless experts have warned that for British families this power station will be terrible value for money, Sauven added."
Until last night, the UK was the most positive country in Europe about nuclear power and planned to build a total of 10 nuclear power plants, Hinkley Point being the first of them. This was despite the fact that nuclear costs continue to escalate while its main competitors—renewables of all kinds—fall in price.
The Hinkley Point project is now more expensive than offshore wind power, which is the most expensive renewable and is far more costly than solar and onshore wind. Biogas and small-scale hydro projects in Britain, all so far underdeveloped, are also cheaper than nuclear.
Safety Fears
The price of all renewables is going down as they develop, while the price rises for nuclear power, with safety fears and threats from terrorism pushing costs up.
It is also argued, even by the UK's national electricity grid, that the day of the large power plant is over, to be replaced by small local generators providing electricity near to homes and factories—something that renewables are ideally suited for.
Even France, which has 58 reactors and is building a Hinkley prototype at Flamanville in Normandy, has no plans to build any more. All its new energy projects are renewables and it has plentiful supplies of untapped wind and solar power, which are cheaper.
China, which is currently building more nuclear plants that any other country, is also hoping to build new plants in Britain, and China General Nuclear Power had agreed to fund one-third of the Hinkley Point project to get an entry to the UK market.
They were due to be at the celebrations in Somerset today, but in a statement said: "We respect the new government's need to familiarize itself with a project as important to the UK's future energy policy as Hinkley Point C and we stand ready to help the government in this respect." They then flew home.
ReGen Villages, a completely self-sufficient village that can power and feed itself, is rising across Europe—and hopefully, one day, around the world.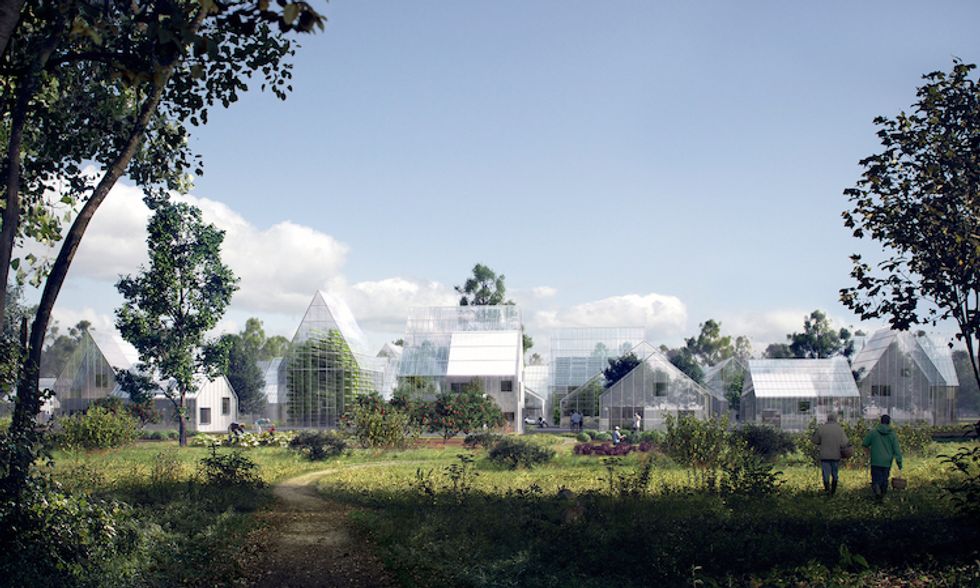 A sustainable development in The Netherlands generates its own energy and food. Photo credit: EFFEKT
ReGen Villages Holding, B.V., a visionary real estate development company founded by entrepreneur and developer James Ehrlich, is piloting its first 100 homes across 15,500-square-meters in the planned city of Almere in The Netherlands with construction set for this summer. The company is also developing four other eco-villages in Sweden, Norway, Denmark and Germany and has partnered with Copenhagen-based architectural firm EFFEKT as the global architectural framework company.
The village features a slew of already-existing green technologies such as energy-positive homes, mixed renewable energy sources, energy storage, organic food production, vertical farming, and aquaponics, water management and waste-to-resource systems. ReGen itself stands for "regenerative," an apt name for a village that aims to have its input and output entirely full circle.
"Today we spend 40 percent of the surface of our continents producing food," EFFEKT co-founder Sinus Lynge explained to DW. "Food production is the single largest emitter of greenhouse gasses, the biggest driver of deforestation and responsible for 70 percent of our global freshwater consumption. We ship our food from one end of the world to another just to waste 30 percent of the total production before consumption."
The village's pre-fabricated homes are enveloped in a glass shell to protect the building from area's cold and wet climate. The units also include passive heating and cooling systems, built-in solar panels, a garden and water collection. Household waste can be composted or converted into biogas.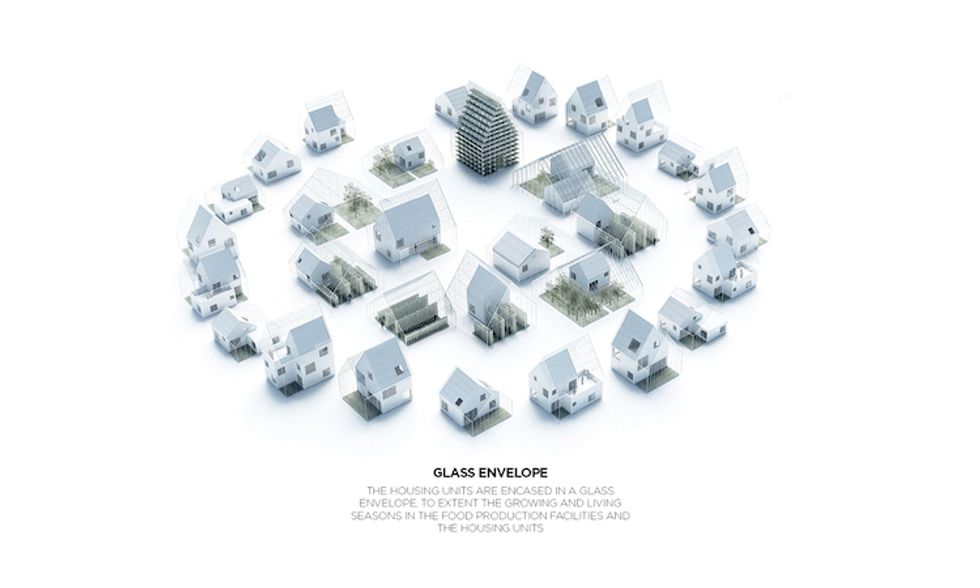 ReGen homes are encased in glass to protect itself from the elements. Now thats truly a greenhouse. Photo credit: EFFEKT
As for food production, the village will host aquaponic and vertical farms. Both urban farming methods require much less space compared to traditional farming methods, meaning they have minimal impact on the surrounding area's forests and fields and will help preserve its natural beauty.
Public areas in the village also include electric car stations, space for livestock, communal dining and community centers.
"ReGen Villages is all about applied technology," the company points out on its website. "Already existing technologies are simply being applied into an integrated community design, providing clean energy, water and food right off the doorstep. ReGen Villages adds not only environmental and financial value, but also social value, by creating a framework for empowering families and developing a sense of community, where people become part of a shared local eco-system: reconnecting people with nature and consumption with production."
According to Gizmag, funding for villages has come from investors who have been looking to divest from fossil fuels "into impact and knowledge-based investments." The company is also working with national and local municipalities that support the project.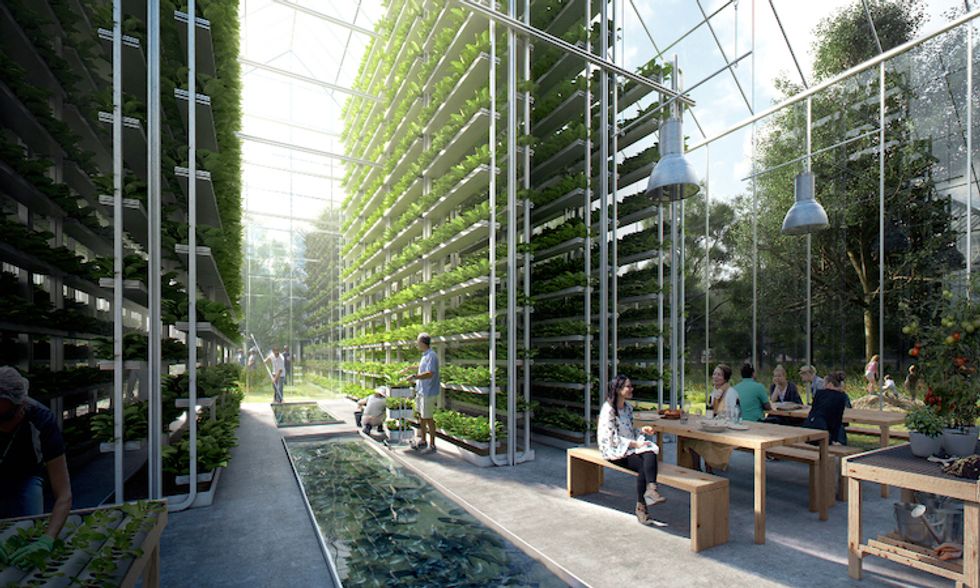 On-site vertical farms produce hyperlocal organic food. Photo credit: EFFEKT
Lynge told DW that if all goes to plan, the first ReGen Village is just the beginning. "We are launching our prototype in Almere, Holland, but the big potential for ReGen lies in developing countries, where billions are moving away from rural communities in search of better living conditions," he said.
Ehrlich explained, "We tackle the first two hardest climate areas [wet and cold]. Then from there we have global scale—rural India, sub-Saharan Africa, where we know that the population is going to increase and also be moving to the middle class. If everybody in India and Africa wants the same kind of suburbs that we've been building so far, the planet's not going to make it."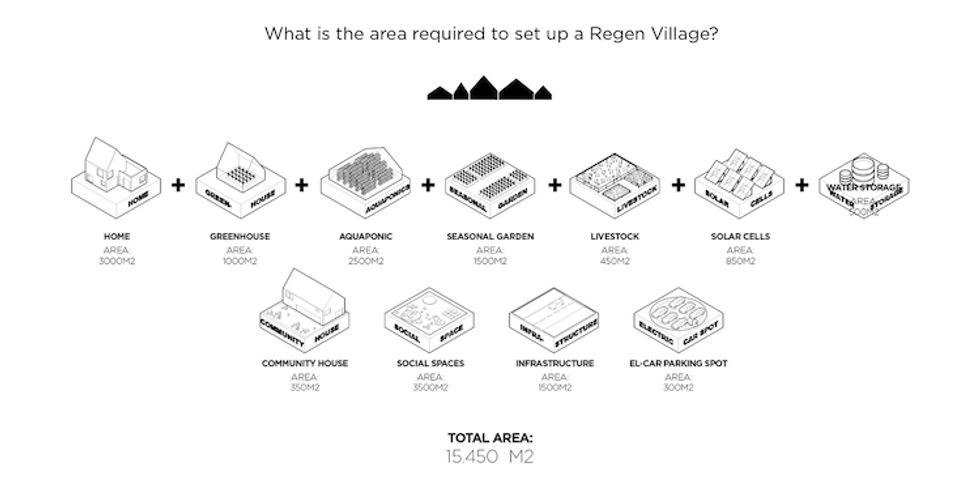 The off-grid neighborhood is comprised of power positive homes, food production units, renewable energy facilities, water management and waste-to-resource systems, and community areas. Photo credit: EFFEKT
YOU MIGHT ALSO LIKE
Nation's First Urban Farming School Teaches Kids to Grow and Cook Their Own Food
This Green-Roofed Hobbit Home Can Be Built in Just 3 Days
This Super Sustainable House Can Be Built in One Day
Remarkable Forest Hotel Takes Green Architecture to a Whole New Level
Current Motor, an Ann Arbor, Michigan-based electric vehicle (EV) and solar charging station manufacturing company, is taking transportation completely off the grid.
The company's Mini-Fleet-in-a-Box, comes with four of the company's electric cargo motorcycles nestled inside a mobile solar charging stations, meaning energy-independent, emission-free rides.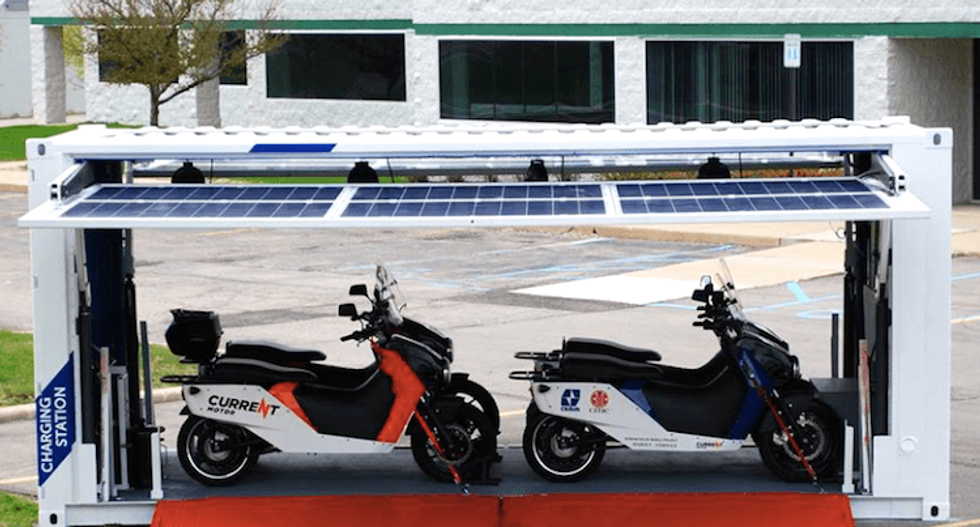 The "Mini-fleets-in-a-Box" is comprised of four electric cargo motorcycles and a patent-pending solar charging station. Photo credit: Current Motor
"Current Motor's Mini-fleet-in-a-Box uses 100 percent renewable, clean, solar generated electricity to charge our zero emissions Electric Cargo Motorcycles, making them among the most sustainable fleet options available," Current Motor executive chair Lauren Flanagan said in a statement. "Current Motor green Mini-fleets are turnkey and self-contained, and literally work out of the box upon delivery to customer sites."
The patent-pending Nb Solar Charging Station is shaped like your standard ISO shipping container. On board is a 22-kilowatt-hour battery and an array of solar panels that can generate up to 2.4 kilowatts (kW) of renewable energy over 24 hours.
The stations provide 8 kW of 120/220 AC power from five charging ports, and come equipped with on board GPS, custom telemetry and radio communications. It can also be customized for commercial applications.
The Current Motor Nb Solar Charging Station. Easily transported by truck, boat, rail or heavy-lift helicopter http://t.co/XlsEsMd9q1

— Current Motor (@Current Motor)1423243308.0
As for the bike, the company's Nb Electric Cargo Motorcycle is powered by 24 70Ah Lithium Ion Manganese Phosphate batteries and has a top speed of 70 mph. Made with high strength niobium micro-alloyed steel, the bike can carry up to 450 lbs., has no belts or gears and can go up to 50 miles per charge. The company says that four of these motorcycles can be fully charged in 5 hours by the Nb Solar Charging Station.
Besides simple transportation, the product is ideal for emergency situations or natural disasters when fossil fuels or power sources aren't readily available. According to Xconomy, "the intended customers are those in the developing world where fuel is expensive or hard to come by, remote mining operations, large global manufacturers, the military, and medical or rescue operations."
Current Motor, which makes all of its products in Michigan, also won the 2015 Michigan MobiPrize in October 2015. Jurors awarded the product for "[providing] an energy independent solution that improves access to remote locations, provides first responder support and helps the mining sector have more sustainable operations."
Current Motor is backed by early stage angel fund BELLE Capital, the State of Michigan and other private equity investors, and has raised $3.4 million to date, Xconomy reported.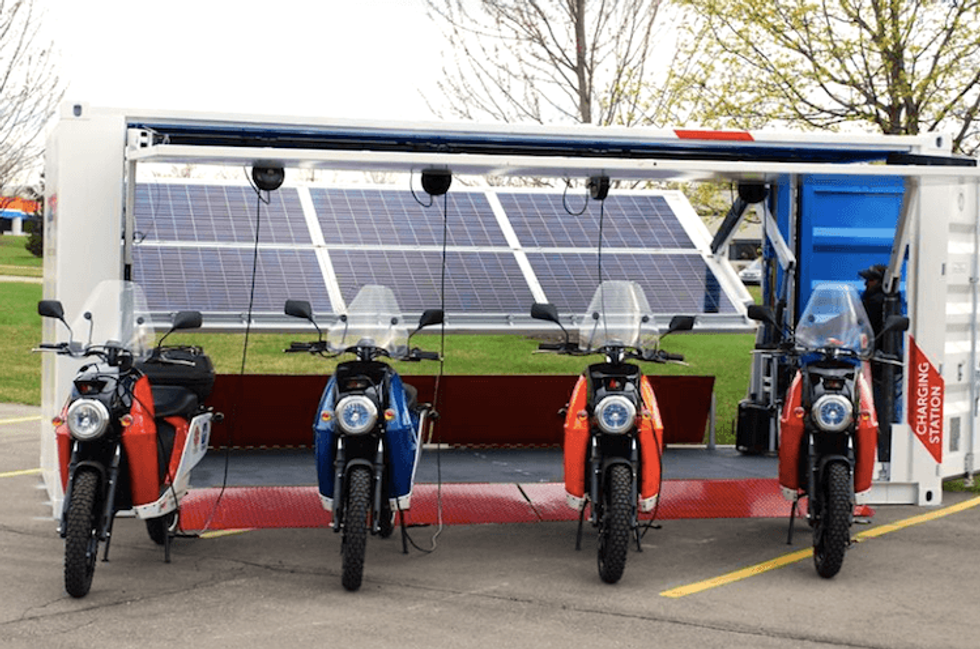 When you're riding on sunshine that means no gasoline costs. Photo credit: Current Motor
"It's a green solution that literally works out of the box," Flanagan, who is also co-managing director at BELLE Capital told Xconomy.
"The doors of the shipping container open almost like flower petals, with the solar panels on the inside," Flanagan said. "You leave it open during the day to charge the batteries and close it up at night. When it's fully open, it has a 22-foot wing span. It's also very mobile—you can put it on a ship, truck, or helicopter and easily move it from place to place."
It's unclear when we'll actually see the product on the market but Flanagan told Xconomy that the company will accelerate its commercialization efforts and plans to raise more capital to expand its sales team. They have "big customers" in Brazil and China already, she added.
Check out the video below to see the charging station and bikes in action.
YOU MIGHT ALSO LIKE 
World's First Cactus Biogas Plant Opens in Mexico
MIT Students Win Elon Musk's Hyperloop Design Competition
This Solar Road Will Provide Power to 5 Million People
Elephant Grass and Prairie Switchgrass: Second Generation Biofuels to Power American Cars
Companies are tapping into cities' underground networks of steam pipes as a source of clean energy.
"Green steam," as it's called, "recaptures and reuses thermal energy previously lost to the environment, utilizing advanced cogeneration technology," according to Paris-based Veolia, which operates a dozen of these networks in North American cities including Boston, Philadelphia, Baltimore and Montreal.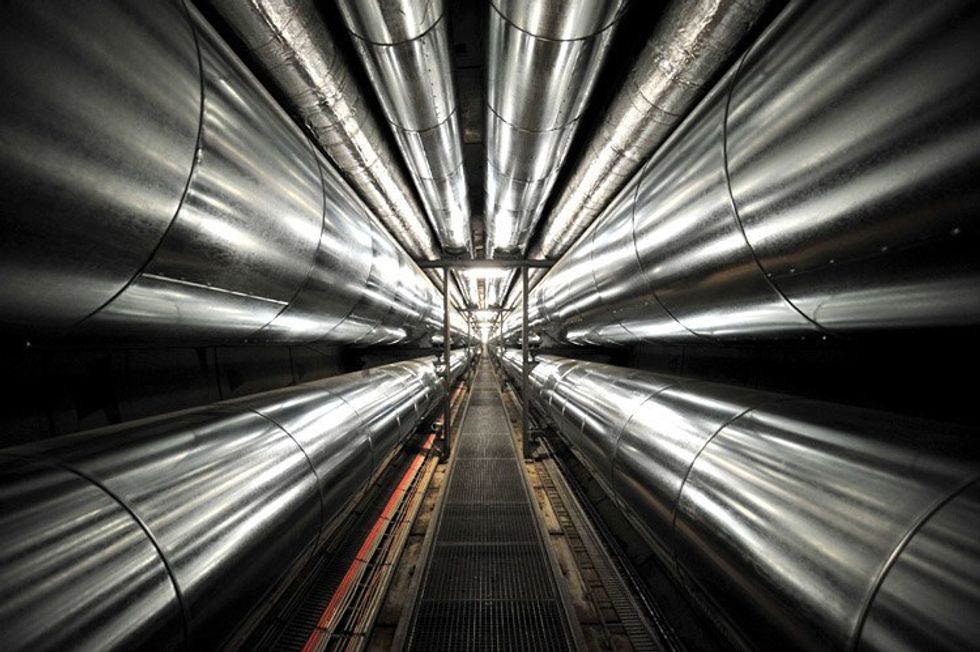 District energy, piping steam or water to a circuit of buildings for heating and cooling, is already widely used in many cities, according to National Geographic. There are more than 700 of these subterranean systems in the U.S. alone. But the source of that energy has often come from coal- or oil-fired power plants. "Now many old systems are getting retrofits to deliver green steam generated with cleaner fuels and recovered waste heat," National Geographic explained.
Take Veolia. They spent $112 million to upgrade the gas-fired Kendall Station power plant in Cambridge, Massachusetts in 2013. The plant captures waste heat that was going into the Charles River and instead funnels it into a 7,000-foot pipeline to heat and cool buildings in Boston and Cambridge. According to the company, 70 percent of Boston's high-rise buildings are served by the green steam.
The company claims their green steam system has reduced the region's annual greenhouse gas emissions by 475,000 tons, the equivalent of taking 80,000 cars off the road every year.
"These legacy urban networks that were built back in the day by the utilities have become, fundamentally, portals for sustainable energy," Bill DiCroce, who leads commercial and municipal business for Veolia, told National Geographic.
How cities, incl Boston use "green steam" to heat buildings & reduce emissions https://t.co/QWFWDEPLnw via @NatGeo https://t.co/8CyE8T117o

— Barr Foundation (@Barr Foundation)1455037189.0
Other systems "use tree trimmings, household waste and other biomass to generate electricity, capturing the surplus heat in the process and delivering it to customers," National Geographic explained.
For businesses, it often makes economical sense to tap into this energy source. "It's a lot cheaper" to buy energy from that system "than it is for me to actually have to maintain a piece of equipment that would heat enough water or steam to keep these buildings going," Chris Sherman, Boston's Faneuil Hall marketplace operations manager, said.
In Minnesota, District Energy St. Paul, which heats 80 percent of buildings in downtown St. Paul, is greening its operations too. In October 2015, they announced plans to end the use of coal by 2021. They said this will reduce carbon dioxide emissions by 27 percent or 21,000 tons. They already utilize renewable energy sources, such as waste heat from biomass-fired combined heat and power and North America's largest solar hot water system, but plan to increase their renewable sources as they phase out coal completely.
And using district energy to increase energy efficiency and renewables is even more popular outside of North America. A UN report last year identified 45 "champion cities," such as Copenhagen, Oslo and Tokyo, which used district energy to cut primary energy use 30 to 50 percent.
Copenhagen stood out in particular. Ninety-eight percent of the city's buildings utilize district energy, and the city is working on converting all remaining coal-fired combined heat and power systems to biomass, according to the International District Energy Association.
Rob Thornton, president and CEO of the International District Energy Association, told National Geographic that cooling projects are getting "dramatic investment" in the Middle East, while Denmark and other countries are integrating solar farms to heat water for distribution.
There have been issues with leaks and explosions in some cities, but Veolia said they're rare. Some utilities, such as District Energy St. Paul, converted their systems to water to avoid the problems of steam explosions.
Still, "district energy has been slower to take off in North America because it's driven mainly by private investment," Pernille Overbye, managing director of Canadian district energy at Ramboll, told National Geographic. But that may be changing. The U.S. Department of Energy has started supporting more district energy with a technical assistance program and possible loan guarantees.
YOU MIGHT ALSO LIKE
Bhutan is often overlooked by the international community. The small nation lies deep within the Himalayas between China and India, two of the most populated countries in the world.
But the country of about 750,000 people has set some impressive environmental benchmarks. As we've written about in the past, Bhutan is not merely carbon neutral, it's also a carbon sink—making it one of the few countries in the world to have negative carbon emissions.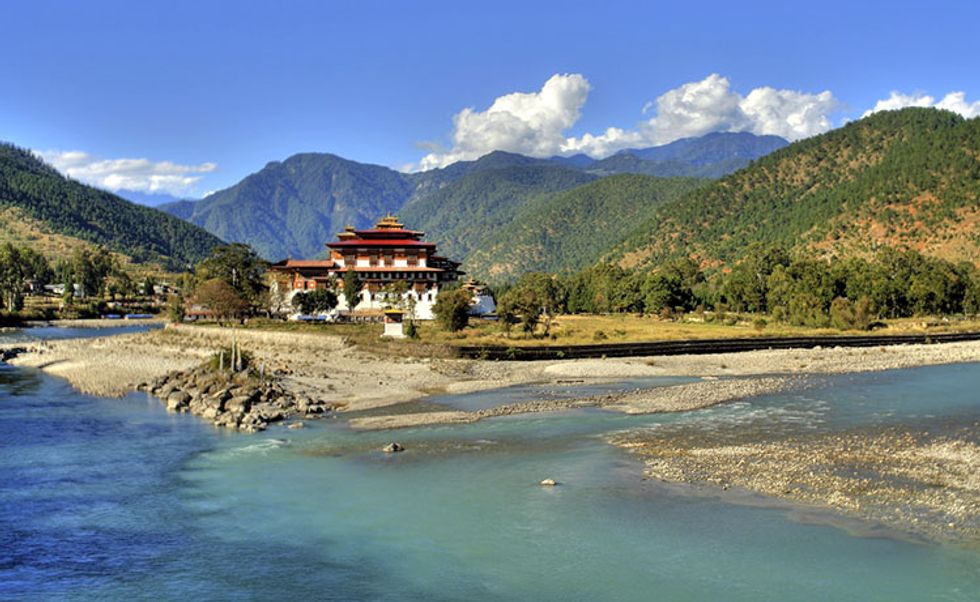 This means the country's carbon sinks, such as its forests, absorb more carbon dioxide each year than its sources of pollution, such as factories, emit.
"According to recent figures, the country emits around 1.5 million tonnes of carbon annually, while its forests absorb over 6 million tonnes," Proudly Carbon Neutral said.
To boot, Bhutan is aiming for zero net greenhouse gas emissions, zero-waste by 2030 and to grow 100 percent organic food by 2020. The Himalayan nation is currently 72 percent forested and the constitution requires that no less than 60 percent of it remains forested. It has even banned export logging.
Trees hold special value in Buddhism, the nation's dominant religion. Last June, a team of 100 volunteers set a world record for planting 49,672 trees in just one hour. And earlier this month, to celebrate the birth of the first child of King Khesar and Queen Jetson, all 82,000 households in Bhutan planted a tree, while volunteers planted another 26,000 in various districts around the country, for a total of 108,000 trees.
Planting trees with thousands of volunteers to celebrate the birth of HRH, our Gyalsey. Well done Tendrel Initiative https://t.co/i0hxFF9EHa

— Tshering Tobgay (@Tshering Tobgay)1457258802.0
Bhutan also refuses to judge its success on Gross Domestic Product, instead using an index that measures Gross National Happiness.
Many have credited its Gross National Happiness index as part of the reason for the country's strong commitment to environmental stewardship. Rather than focusing solely on economic indicators, the index measures prosperity by giving equal importance to non-economic aspects of well being.
"Bhutan's Gross National Happiness index gives the natural world a central place in the making of public policy, and environmental protection is a core guiding principle in Bhutan's constitution," the Santa Cruz Sentinel reported.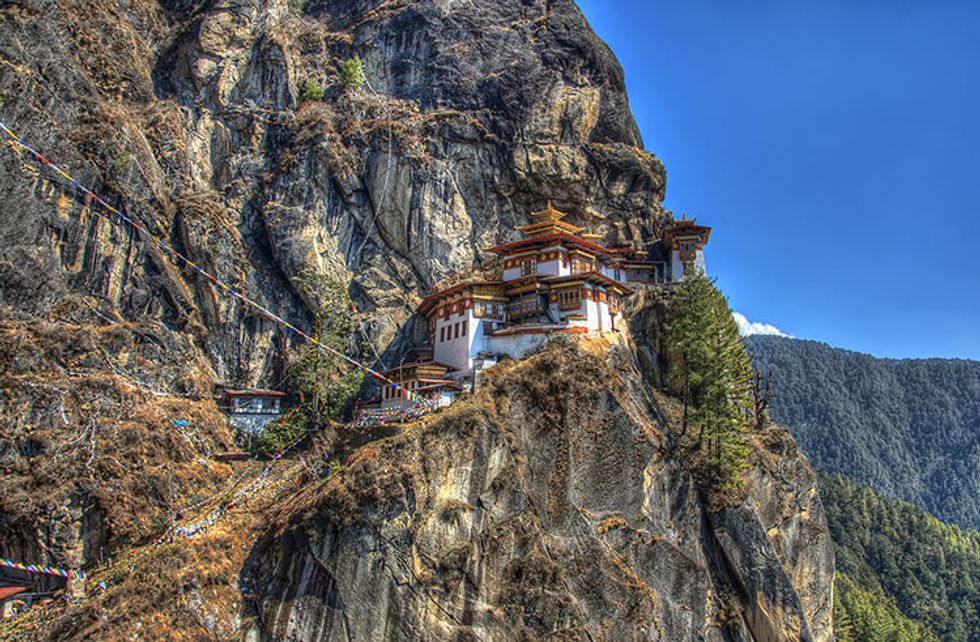 The country would also like to increase its share of renewables, while decreasing its reliance on hydropower and electricity imports in the winter. So, it's currently exploring wind, biogas and solar.
And the Bhutanese government has formed a partnership with Nissan to provide hundreds of electric cars to the country—with the promise of thousands soon after. Bhutan's Prime Minister Tshering Tobgay wants to eventually convert all of the country's vehicles to electric power.
The nation is not without its problems of course, as Tobgay readily admitted in a TED Talk he gave last month. But the country is no doubt unique in a world that has too often valued economic growth above all else, often at the expense of the environment.
For more on how Bhutan emerged as an environmental leader, watch Tobgay share his country's mission to put happiness before economic growth and set a world standard for environmental preservation in his TED Talk:
YOU MIGHT ALSO LIKE
Bhutan Celebrates Birth of Prince by Planting 108,000 Trees
The Nature Conservancy and Leonardo DiCaprio Foundation Unite to Create Second Largest Marine Protected Area in West Indian Ocean
Federal Court to Decide if Kids Can Sue Government for Failing to Act on Climate Change
Portland Becomes 7th City to Sue Monsanto Over PCB Contamination
You may have noticed that the influence of corporate money in politics has become a hot issue on the campaign trail. All the candidates are talking about it, from Bernie Sanders to Ted Cruz.
And Greenpeace has been chattering more than usual about it since we, along with more than 20 partners, launched a pledge asking all candidates to start fixing democracy by both rejecting campaign contributions from fossil fuel companies and protecting voting rights.
With all that chatter, it may be easy to lose sight of what is actually wrong with big money in politics. What are the real-world consequences of politicians bought by corporate money and influence? How does a cozy relationship between a governor and a lobbyist impact you and me?
Let us go to Nevada.
What Happened to Nevada's Solar Energy Boom?
The Silver State is not only the next stop for the upcoming Republican and Democratic caucuses, following on the heels of the New Hampshire primary, it is also the site of a fierce debate around solar energy that has everything to do with money in politics.
Most people's descriptions of Nevada include sunshine and lots of it, making it a natural place for a thriving solar market. Nevada was well on its way to becoming a national hotspot for affordable rooftop solar until a few months ago, when the ramifications of corporate influence over politics had its day in the sun.
Prior to a December decision by Nevada's Public Utilities Commission, homeowners could not only enroll in affordable solar investment for their homes, they could also sell back any energy they didn't use to the utility NV Energy, like rollover minutes on a cell phone plan. This is called net metering and is a common practice across the country. Basically, that customer gets credit for the energy it sends back to the local grid. High fives all around!
Unfortunately, the Nevada's Public Utilities Commission struck a big blow against rooftop solar passed in December. The commission passed a resolution that hiked up the fees for solar customers and significantly lowered the payout for the electricity solar customers contribute back to the grid. The real bummer here is that when customers signed up for a solar rebate by installing panels on their roofs, they expected the rates to stay the same for years to come. Now, the cost of installation and maintenance of rooftop solar just got significantly more expensive for customers, forcing them to pay for electricity they are producing themselves.
The solar installation industry now employs more people than oil and gas extractive industries and does so without harming human health or the health of our climate. So why would any state—particularly one as swamped with sunshine as Nevada—suddenly unleash an attack on renewable and affordable solar energy?
The cozy relationship between the governor of Nevada and the state's utility company might have something to do with it.
And in case you're starting to lose perspective here, affordable access to solar energy is really important right now. Those changes made such an impact that SolarCity, the major provider for the solar installations in Nevada, pulled their company out of Nevada along with 500 jobs that could have benefited the state.
If we're going to avoid catastrophic climate change, the world needs to be done with fossil fuels by 2050. That means every state should establish easy and affordable access to rooftop solar and a place like Nevada, which enjoys nearly 300 days of sunshine, should lead the pack on solar energy.
So why the quick change?
A Governor and a Lobbyist
When following the bizarre solar attack in Nevada right now, the first question to ask is, "Who would not like booming solar in Nevada?"
The answer is a utility company and, in this case, energy monopoly NV Energy.
The rise of renewable and affordable energy is a direct threat to the utilities' outdated business model, despite the unmistakable environmental and economic value of distributed solar energy. By putting a stop to rooftop solar, those utilities hope to protect their own bottom-line profits.
NV Energy needed to end this solar circus and thankfully the utility had a friend in the right place to help make that happen: Nevada Gov. Brian Sandoval.
Gov. Sandoval's ties to NV Energy are substantial. First, Sandoval's two election campaigns have both received the maximum allowed donation under state law from NV Energy.
Next, two of NV Energy's primary lobbyists, Pete Ernaut and Gregory W. Ferraro, are two of the Republican governor's closest advisers. In addition to being an executive at NV Energy's public relations firm, Ernaut managed Sandoval's gubernatorial campaign.
Let me repeat that last part.
The same guy who led Gov. Sandoval into office is in charge of making NV Energy look good and make a lot of money.
As governor, Sandoval then had to appoint members of Nevada's Public Utilities Commission, who are in charge of regulating the state utilities and really in charge of regulating NV Energy.
And those three people, on the commission and appointed by Sandoval, voted in December to hike up rates so much that rooftop solar was no longer feasible for most homeowners, meaning NV Energy could breathe easy with a protected revenue stream at the expense of citizens.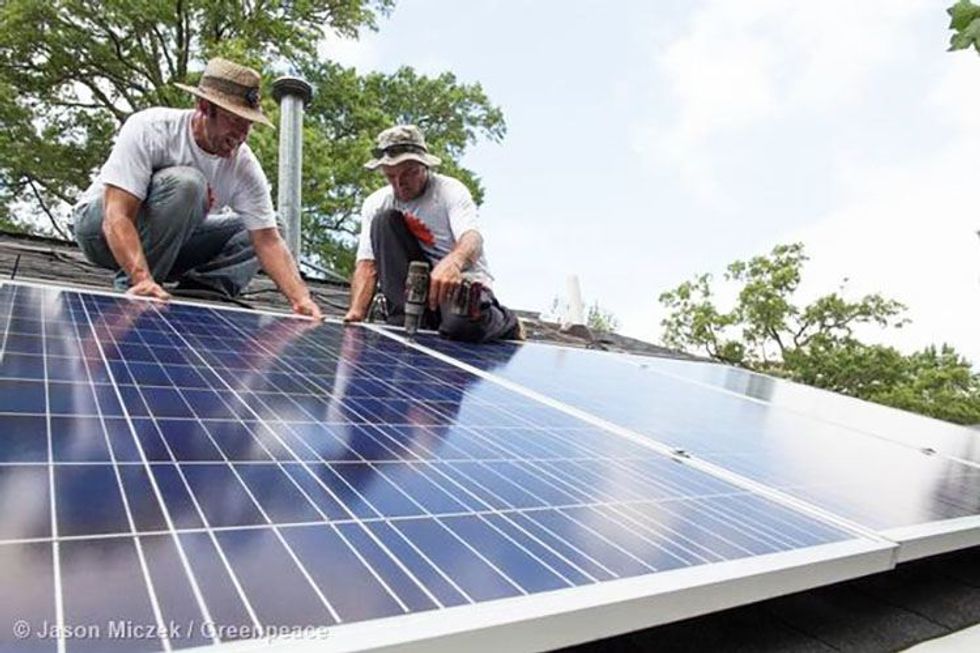 Presidential Promises of a Fixed Democracy in Sunny Nevada
As illustrated by the case in Nevada, the ripple effects of money in politics are everywhere in this country, from the Flint water crisis in Michigan to an attack on solar energy in Nevada.
Both Democratic presidential candidates, Sec. Hillary Clinton and Sen. Bernie Sanders, have made comments about the solar fight in Nevada.
Sanders called the rate hike "just about the dumbest thing I have ever heard. We should be making it easier, not harder for people to go solar" in a December speech in Las Vegas.
Last month, Clinton spoke about the job boom from solar energy, going on to say it is "a win-win to move us away from fossil fuels, to diversify the grid, to give homeowners a chance to be empowered to do something about their own energy usage and put people to work."
The Republican candidates, however, have not included renewable energy support in their stump speeches and most even fail to acknowledge climate change as a serious issue.
Where the candidates generally seem to agree is that money in politics is a problem. Gov. Jeb Bush called for an overturn of Citizens United earlier this week and Sen. Ted Cruz even said that big money, lobbyists and corruption are a problem in Washington.
Of course, voters want more than rhetoric from any candidate.
Each candidate has an opportunity to prove to voters right now that they are committed to fixing this rampant problem of money in politics by taking the #FixDemocracy pledge, vowing to reject fossil fuel money and support voters rights.
Bernie Sanders is the only candidate who has officially pledged to fix democracy. Who will be next?
If you're ready to see an end to corporate influence over politics, ask this year's candidates to sign the pledge to fix democracy.
YOU MIGHT ALSO LIKE 
California Farmers Irrigate Crops With Chevron's Oil Wastewater in Drought-Stricken Central Valley
Linking Investors to Renewable Energy Opportunities in Emerging Markets Is Key to COP21 Success
World's First Cactus Biogas Plant Opens in Mexico
World's Largest Offshore Wind Farm Will Power More Than 1 Million Homes
The Climate Trust, a mission-driven nonprofit that specializes in mobilizing conservation finance for environmental benefit, announced its third annual prediction list of 10 carbon market trends to watch in 2016.
The trends, which range from climate change playing a larger role in federal decision-making to increased carbon market linkage and momentum in conservation finance, were identified by The Climate Trust based on interactions with their diverse group of working partners—government, utilities, project developers and large businesses.
The @climatetrust is excited to release our 3rd annual prediction list of 10 carbon market trends to watch in 2016! https://t.co/RqBGtuTtJV

— The Climate Trust (@The Climate Trust)1452034521.0
"The trust pays close attention to market signals throughout the year, identifying areas where we can have the greatest impact," Sean Penrith, executive director for The Climate Trust, said. "Each year, we look forward to putting together our team's collective knowledge and sharing our industry insights."
1. Carbon pricing will play a key role for many jurisdictions worldwide as they plan to meet their emission reduction targets from the Paris negotiations.
Roughly one-quarter of the world's emissions now fall under some form of carbon pricing system. In the aftermath of the Paris negotiations, this percentage is only expected to grow, as countries will be examining low-cost, high-impact options to comply with the nationally-determined emission reduction goals that they have submitted to the UN. Several jurisdictions worldwide have expressed interest in cross-border emissions trading, to lessen the potential economic risks from acting unilaterally. The Carbon Pricing Leadership Coalition, launched on the first day of COP21 in Paris, brings together key governments along with nearly 90 global businesses and NGOs to strengthen and expand carbon pricing worldwide. We expect to hear many more announcements of national carbon pricing initiatives in the coming year, as well as announcements of interest in linkages to and among existing systems. In addition, countries are confronting—for the first time—how setting and keeping emission reduction goals can be made easier by coordinating all their domestic climate policies in service of these goals; therefore, we expect to see more academics, industry groups and government coalitions weighing in on these opportunities for "complementary" policy.
2. In Oregon, policies related to clean energy will take center stage in 2016.
Importers of transportation fuels will be under obligation to comply with the state's Clean Fuels Program in 2016. This program is designed to reduce the carbon intensity of transportation fuels 10 percent by 2025, by integrating more low-carbon fuels (like ethanol and biogas) into the fuel supply. In addition, the 2016 ballot is very likely to contain initiatives that would increase Oregon's acceleration of a clean energy transition, including phasing out the use of coal-fired electricity and increasing the state's renewable portfolio standard. Finally, carbon pricing will remain a topic of discussion during the 2016 legislative short session, as bills advance which could add enforceability to our state's emission reduction targets by capping emissions from various economic sectors. We predict passage of at least one clean energy-related ballot measure this year. Carbon pricing in Oregon is still at least a year away, as even if a legislative bill were to pass in 2016, the state would need time to design and implement its optimal strategy.
3. Climate risk will get real for private industry.
Beginning with the groundswell at Climate Week in New York City in September 2015 and becoming more strident at the Paris climate summit, it is clear that the era of managing and disclosing a corporation's exposure to climate risk has arrived. Nothing could have sent a clearer signal to the business community—Mark Carney, the Governor of the Bank of England, announced the establishment of the new Task Force on Climate-Related Financial Disclosures at COP21 in Paris. Their chief aim will be to evaluate how well the financial markets disclose their exposure to climate risk. Carney commented that this effort was in response to the current "market failure" of providing appropriate information to investors, insurers and lenders. Corporate leaders are realizing with stark clarity that a changing climate will have profound effects on business. Companies will continue to act with increasing velocity in 2016 to not only manage for risk but to monitor for opportunity.
4. Addressing climate change will play a larger role in federal decision-making and political platforms in 2016.
With the energy created by the COP21 gathering in Paris still buzzing around us, a presidential campaign well underway and a little more than a year left for members of the Obama Administration to leave their full mark on history, it seems clear that 2016 will be a year of climate action. Obama's Clean Power Plan and his recent rejection of the Keystone XL pipeline paint a clear picture of how the 44th president wants to be remembered with respect to climate change. In June 2015, the U.S. Department of Agriculture announced it will take additional steps to integrate climate change adaptation into its programs and operations. Sec. of Agriculture Tom Vilsack has a little over a year left to make good on this promise. The Democratic candidates for president have also clearly indicated that climate change is an important part of their respective campaigns. On a state level, California is working to extend the Global Warming Solutions Act beyond the current 2020 deadline with major decisions expected in 2016. Legislators in Oregon are hoping to implement a similar cap-and-trade program. In the Northeast, states participating in the Regional Greenhouse Gas Initiative are also seeing success—A Duke University led study suggests that emissions would have been 24 percent higher without the Regional Greenhouse Gas Initiative and an article published by the Energy Collective claims that early adoption of the Regional Greenhouse Gas Initiative puts northeastern states ahead of the curve with respect to Obama's Clean Power Plan.
5. U.S. carbon market linkage will increase as states prepare for the Clean Power Plan.
The final draft of the U.S. Environmental Protection Agency's (EPA) Clean Power Plan was released in 2015, with 24 states filing a lawsuit against the plan questioning EPA's authority. The lawsuit is unlikely to succeed. In fact, many of the states involved in the lawsuit are still drafting compliance plans. 24 other states launched a countersuit in support of the plan and George Bush's EPA chief reminds the states that EPA's authority has been upheld by the Supreme Court twice before. The plan allows states to choose a mass or rate based approach to compliance. Many states will likely elect a mass based approach, because it allows for interstate trading, making compliance efforts more efficient. New York Gov. Cuomo announced October 2015 that the state would explore the possibility of linking the Regional Greenhouse Gas Initiative—a cap and trade program comprised of nine Northeastern states—and the California/Quebec program, as these programs will likely be leveraged to comply with the Clean Power Plan. New Jersey is seeking to re-enter RGGI after Christie elected to remove the state from the initiative. We anticipate that in 2016, the opposition to the plan will fail, states will seek a mass based approach to compliance and the use of carbon markets across the U.S. will grow as a result.
6. Conservation finance will be spurred by divest/invest movement.
There has been a marked amount of movement in the finance arena. 2016 will see this turn to a flood coming out of the climate summit talks in Paris. The International Energy Agency has estimated that we need investment flows of $53 trillion by 2035 to mitigate the projected catastrophe of runaway climate change. The divest/invest effort has brought urgency to the need and we saw many major institutions, such as the World Council of Churches, California's Public Employees Retirement System and the Leonardo DiCaprio Foundation all rise to the commitment to divest from fossil fuel as part of the transition to a clean energy future. DiCaprio's divestment from his fossil fuel holdings has led to increased investment in renewable energy companies. To date, 430 institutions across 43 countries and representing $2.6 trillion in assets have committed to divest from fossil fuel companies. Ahead of the Paris climate talks, we witnessed a fifty-fold increase in the combined assets of those entities pledging to divest from fossil fuels. The Climate Trust predicts that this momentum will gain significantly in 2016. The divestment movement is providing a vital market signal to support the needed flows of conservation finance. These divestment dollars will continue to seek out a home investing in a low carbon economy that includes renewable energy, energy efficiency, smart agriculture, clean transportation and forestry.
7. New legislation in 2016 will extend California's cap-and-trade system to 2030 or beyond.
California's greenhouse gas emission reduction targets currently end in 2020. Existing legislation gives the California Air Resources Board the authority to continue to enforce the 2020 emissions target (a return to 1990 emissions), even after 2020. However, without new legislation ARB cannot require deeper cuts beyond this 2020 target. California is working now to create new, more stringent emission reductions targets for 2030 and 2050. In April 2015, Gov. Brown issued Executive Order B-30-15, which solidified this commitment by calling for a 40 percent reduction in greenhouse gas emissions compared with 1990 levels by 2030. With the cap-and-trade system as the backbone of California's strategy for reducing greenhouse gas emissions, the continuation of their successful system will be essential to meeting these goals. As mandated by this executive order, the California Air Resources Board is currently developing a scoping plan to meet these 2030 emission reduction goals. New legislation is needed to give the board the statutory authority to solidify the 2030 and 2050 emission reduction requirements in an extended cap-and-trade system. Senate Bill 32, authored by Sen. Pavley, proposed to give the California Air Resources Board this authority. It codified 2030, 2040 and 2050 emission reduction targets. On Sept. 13, 2015, the bill failed to pass the Senate floor after being read for a third time and Sen. Pavley announced she would present the bill again in 2016. We predict that 2016 is the year in which these new targets will be captured in legislation and any uncertainty about the future of California's cap and trade system will be significantly reduced. Stacy Swann of Climate Finance Advisors, LLC, said:
"There really is a transformation afoot. Not only is there momentum around the issue of divestment out of fossil based energy and a surge in renewable investment, but there is also a growing recognition that finance must incorporate climate risk considerations. This means that all investments—from buildings to roads to hospitals and schools–need to build-in resilience. This is a huge opportunity for orienting the entire financial system to become more sustainable and climate-friendly in both the short and long-term."
8. The tight spread between California carbon allowances and California carbon offsets will continue.
The California Carbon market took a surprising turn in 2015. California carbon offsets, which have historically been valued at a 25 to 30 percent discount to California carbon allowances, shot up in the latter half of the year to a discounted value of 10 to 15 percent. A big reason behind the reduced spread was the Nov. 2, 2015 deadline for compliance companies to surrender offsets and allowances to demonstrate compliance with the first compliance period reduction target. The big question going into 2016 is whether this tight spread will continue or dissipate, as the second compliance period surrender deadline isn't until late 2018. Despite the availability of allowances, offsets will show some staying power in 2016, as compliance buyers continue to search for lower cost compliance options. With offset supply forecasted to remain below the 8 percent limit, offsets that are issued and tradable in 2016 should expect to obtain prices that have a discount in the mid-teens range relative to allowances.
"One of the main factors contributing to this tight spread is the longer than expected lead time to verify and receive issued offsets through the Air Resources Board process," Chandan Kumar of Californiacarbon.info, said. "Therefore, this trend is expected to continue until the volume of projects increases, while the lead time for verification and issuance falls."
9. California will lead the way in using shorter-term global warming potential (GWP) values.
As the effects of climate change are increasingly felt and action is demanded, there is an increased focus on "short lived climate pollutants" like methane. To compare methane to the heat-trapping ability of carbon dioxide, it is assigned a global warming potential (GWP) or equivalency value for the amount of warming compared to carbon dioxide. Because methane has a short lifetime in the atmosphere and carbon dioxide has a very long one, the Intergovernmental Panel on Climate Change publishes different GWPs for different time periods. Recent data shows that over a 100-year period, methane causes 28 times as much warming as carbon dioxide. Compared over 20 years, however, methane is 84 times as potent. It is up to regulators and policy-makers to decide which time period is the most appropriate to use for comparison. This is a subjective judgement, trading off how to weigh the impact of warming in the short term versus warming in the future. The 100-year GWPs are by far the most commonly used—in California's cap-and-trade offset protocols, in the inventory for reporting the U.S.' GHG emissions and throughout the Kyoto Protocol and other emerging international agreements. The Intergovernmental Panel on Climate Change writes, "there is no scientific argument for selecting 100 years compared with other choices" and California is intelligently beginning to question this paradigm. The Climate Trust predicts that in 2016 policy makers and regulators become increasingly aware of this nuance and begin to use GWPs with shorter time periods. A shift to 20 year GWPs could have a massive impact on the trust's ability to invest in projects. Offset protocols currently use the outdated 1995 100-year global warming potential for methane: 21. Updating protocols to use the current 20-year GWP, 84, would immediately quadruple the number of offset credits livestock digesters generate every year. Even with these outdated GWPs on the conservative 100-year time frame, carbon credits for the avoided methane emissions of digesters currently make up 20 percent of the revenue of projects. By quadrupling this revenue, many more of the potential digesters in this country could be quickly built.
10. The volume of forestry carbon offsets will continue to significantly increase in the California cap-and-trade program.
Forest project offsets were the most rapidly growing project type in the California compliance market in 2015. As of December 2015, ozone depleting substances, livestock and mine methane capture consist of 12,957,201 (aout 38 percent) of the California Air Resources Board (ARB) offset credits issued. U.S. forests constitute 20,933,016 (or 62 percent) of the issued offsets, approximately double that of all other project types combined. The Climate Trust expects this trend to continue in 2016. There are still several Early Action Eligible Projects in the queue to be reviewed and potentially approved by ARB staff. These projects, which have been approved by voluntary registries for greenhouse gas reductions that occurred between January 2005 and December 2014, will add a significant number of offsets to the market in 2016. The cap-and-trade regulation requires that early action projects be reviewed and approved by ARB by August 2016. In addition, ARB adopted new Common Practice Values for all U.S. Assessment Areas on Nov. 2, 2015. More than 65 new forestry projects were listed as potential ARB compliance projects before this date in order to make use of the older Common Practice Values, which in many instances are lower and thus more favorable for many projects. This includes more than 35 projects with Climate Action Reserve and more than 30 with American Carbon Registry. Not all of these projects will move forward, but it will be an option if the landowner decides the economic benefit is worthwhile. These newly listed projects will increase the offset volume from forestry projects in 2016 as well. In late October 2015, ARB staff held a public workshop to present a white paper on the possibility of including international sector-based offsets in California's cap-and-trade program. While ARB has not yet approved these offsets for use to meet compliance obligations under AB 32, ARB staff have presented a compelling argument for why Reducing Emissions from Deforestation and Forest Degradation (REDD) offsets should be allowed for the third compliance period starting in 2017. Despite the challenge of ensuring that these offsets meet the same standards as CCOs, the trust expects that ARB staff will establish the framework by which REDD offsets can be approved for compliance in the state's cap-and-trade program in 2016.
"In 2015, a number of our predictions came to fruition, including increased public sentiment and political will around the impacts of climate change, the extension of Oregon's Clean Fuels Program and approval of a new compliance offset protocol for rice cultivation projects," Sheldon Zakreski, director of risk management for The Climate Trust, said. In late 2015, the trust was awarded a $1 million U.S. Department of Agriculture grant to build an innovative conservation investment fund for biogas, forestry and grassland conservation projects; offering a tremendous opportunity to cost-effectively mitigate and sequester carbon emissions.
For a full accounting for how The Climate Trust measured up to our 2015 predictions, take a look at our hindsight assessment from Executive Director Sean Penrith.
YOU MIGHT ALSO LIKE 
TransCanada Sues Obama Administration for $15 Billion for Rejecting Keystone XL
2015 Wildfire Season Shatters National Record With 10 Million Acres Burned
The Future of Hydropower Looks Dim as Heat and Drought Intensify