By Kate Whiting
Bernice Dapaah calls bamboo "a miracle plant," because it grows so fast and absorbs carbon. But it can also work wonders for children's education and women's employment – as she's discovered.
Bamboo is abundant in her native Ghana, where she runs a social enterprise that employs women to transform it into bicycles which are exported all over the world.
Cycling is well known as being a low-carbon form of transport – but Dapaah is making it even more sustainable.
For every bamboo plant that is cut down to make a bike, Ghana Bamboo Bikes Initiative plants 10 more. Bamboo is stronger than steel in terms of tensile strength and is a cheaper, more sustainable material. It also takes less electricity to make a bamboo bike than a metal one. And the frame is completely recyclable.
These are the world's most bicycle-friendly cities. Statista
"The reason we use bamboo to manufacture bicycles is because it's found abundantly in Ghana and this is not a material we're going to import," says Dapaah, one of the World Economic Forum's Young Global Leaders.
"It's a new innovation. There were no existing bamboo bike builders in our country, so we were the first people trying to see how best we could utilize the abundant bamboo in Ghana."
Supporting Students
Besides encouraging Ghanaians to swap vehicles for affordable bikes, Ghana Bamboo Bikes Initiative is helping students save time on walking to school so they have more time to learn.
Each time they sell a bike, they donate a bike to a schoolchild in a rural community, who might otherwise have to walk for hours to get to school.
Dapaah knows how transformative a shorter journey to school can be to academic performance. She grew up living with her grandpa, a forester in a rural part of the country.
"We had to walk three and a half hours every day before I could go to school. He later bought me a bike, so I finished senior high and wanted to go to university."
The experience inspired her to launch Ghana Bamboo Bikes Initiative with two other students at college.
"When we started this initiative, I looked back and said, when I was young, I had to walk miles before I could get to school, and sometimes if I was late, I was punished.
"Why don't we donate bikes for students to encourage them to study and so they can have enough time to be on books."
To date, they have sold more than 3,000 road, mountain and children's bikes – and Dapaah says they plan to donate 10,000 bikes to schoolchildren over five years.
Empowering Women
The enterprise is also providing local jobs. It teaches young people to build bikes, particularly women and those in rural communities, where jobs can be scarce. More than 50% of people they have trained are women.
Dapaah says they want to boost the number of people they employ to 250 over the next five years and they are looking to partner with NGOs to build a childcare facility so mothers can continue to work.
Reducing Emissions
By promoting a cycling culture in Ghana, Dapaah says they're also committed to reducing emissions in the transport sector and contributing to the UN's Sustainable Development Goals.
"I love the idea of reusing bamboo to promote sustainable cycling. People want to go green, low-carbon, lean-energy efficient," she says.
Reposted with permission from World Economic Forum.
From Your Site Articles
Related Articles Around the Web
EcoWatch Daily Newsletter
By Jeremy Dertien, Courtney Larson and Sarah Reed
Millions of Americans are traveling this summer as pandemic restrictions wind down. Rental bookings and crowds in national parks show that many people are headed for the great outdoors.
Seeing animals and birds is one of the main draws of spending time in nature. But as researchers who study conservation, wildlife and human impacts on wild places, we believe it's important to know that you can have major effects on wildlife just by being nearby.
In a recent review of hundreds of studies covering many species, we found that the presence of humans can alter wild animal and bird behavior patterns at much greater distances than most people may think. Small mammals and birds may change their behavior when hikers or birders come within 300 feet (100 meters) – the length of a football field. Large birds like eagles and hawks can be affected when humans are over 1,300 feet (400 meters) away – roughly a quarter of a mile. And large mammals like elk and moose can be affected by humans up to 3,300 feet (1,000 meters) away – more than half a mile.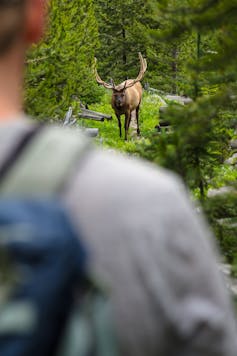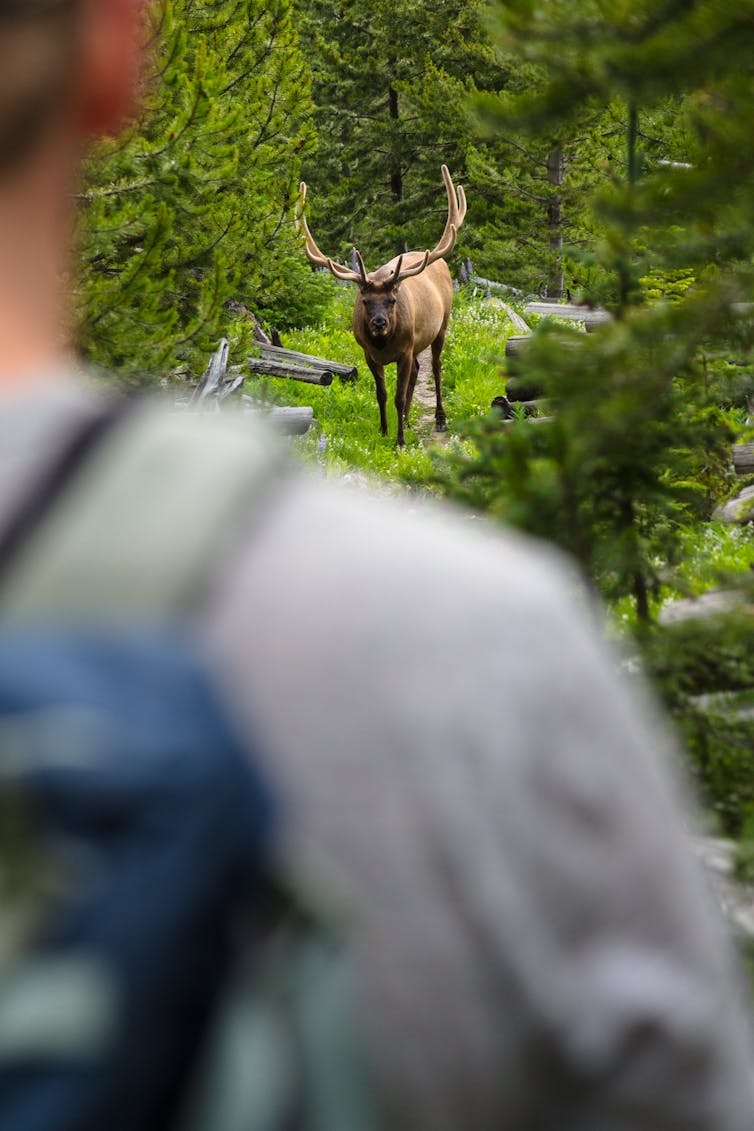 A hiker about 75 feet from a bull elk in Yellowstone National Park. Jacob W. Frank, NPS/Flickr
Many recent studies and reports have shown that the world is facing a biodiversity crisis. Over the past 50 years, Earth has lost so many species that many scientists believe the planet is experiencing its sixth mass extinction – due mainly to human activities.
Protected areas, from local open spaces to national parks, are vital for conserving plants and animals. They also are places where people like to spend time in nature. We believe that everyone who uses the outdoors should understand and respect this balance between outdoor recreation, sustainable use and conservation.
How Human Presence Affects Wildlife
Pandemic lockdowns in 2020 confined many people indoors – and wildlife responded. In Istanbul, dolphins ventured much closer to shore than usual. Penguins explored quiet South African Streets. Nubian ibex grazed on Israeli playgrounds. The fact that animals moved so freely without people present shows how wild species change their behavior in response to human activities.
Decades of research have shown that outdoor recreation, whether it's hiking, cross-country skiing or riding all-terrain vehicles, has negative effects on wildlife. The most obvious signs are behavioral changes: Animals may flee from nearby people, decrease the time they feed and abandon nests or dens.
Other effects are harder to see, but can have serious consequences for animals' health and survival. Wild animals that detect humans can experience physiological changes, such as increased heart rates and elevated levels of stress hormones.
And humans' outdoor activities can degrade habitat that wild species depend on for food, shelter and reproduction. Human voices, off-leash dogs and campsite overuse all have harmful effects that make habitat unusable for many wild species.
Disturbing shorebirds can cause them to stop eating, stop feeding their young or flee their nests, leaving chicks vulnerable.
Effects of Human Presence Vary for Different Species
For our study we examined 330 peer-reviewed articles spanning 38 years to locate thresholds at which recreation activities negatively affected wild animals and birds. The main thresholds we found were related to distances between wildlife and people or trails. But we also found other important factors, including the number of daily park visitors and the decibel levels of people's conversations.
The studies that we reviewed covered over a dozen different types of motorized and nonmotorized recreation. While it might seem that motorized activities would have a bigger impact, some studies have found that dispersed "quiet" activities, such as day hiking, biking and wildlife viewing, can also affect which wild species will use a protected area.
Put another way, many species may be disturbed by humans nearby, even if those people are not using motorboats or all-terrain vehicles. It's harder for animals to detect quiet humans, so there's a better chance that they'll be surprised by a cross-country skier than a snowmobile, for instance. In addition, some species that have been historically hunted are more likely to recognize – and flee from – a person walking than a person in a motorized vehicle.
Generally, larger animals need more distance, though the relationship is clearer for birds than mammals. We found that for birds, as bird size increased, so did the threshold distance. The smallest birds could tolerate humans within 65 feet (20 meters), while the largest birds had thresholds of roughly 2,000 feet (600 meters). Previous research has found a similar relationship. We did not find that this relationship existed as clearly for mammals.
We found little research on impact thresholds for amphibians and reptiles, such as lizards, frogs, turtles and snakes. A growing body of evidence shows that amphibians and reptiles are disturbed and negatively affected by recreation. So far, however, it's unclear whether those effects reflect mainly the distance to people, the number of visitors or other factors.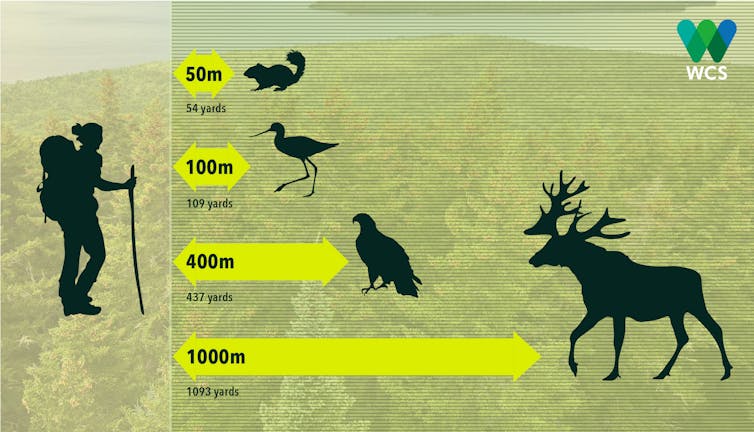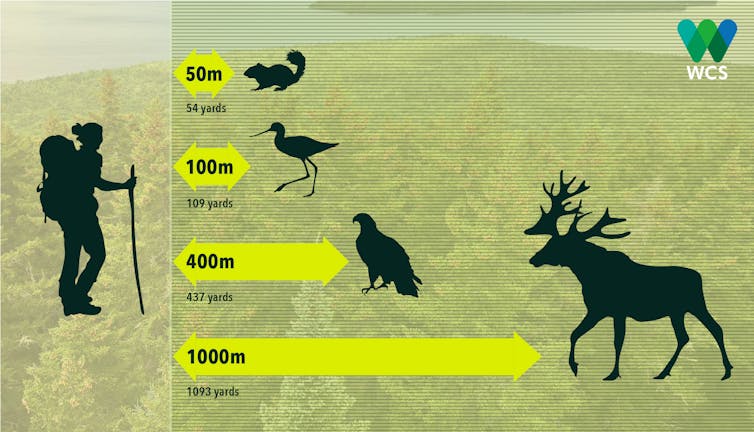 Human recreation starts to affect wild creatures' behavior and physical state at different distances. Small mammals and birds tolerate closer recreation than do larger birds of prey and large mammals. Sarah Markes, CC BY-ND
How to Reduce Your Impact on Wildlife
While there's much still to learn, we know enough to identify some simple actions people can take to minimize their impacts on wildlife. First, keep your distance. Although some species or individual animals will become used to human presence at close range, many others won't. And it can be hard to tell when you are stressing an animal and potentially endangering both it and yourself.
Second, respect closed areas and stay on trails. For example, in Jackson Hole, Wyoming, wildlife managers seasonally close some backcountry ski areas to protect critical habitat for bighorn sheep and reduce stress on other species like moose, elk and mule deer. And rangers in Maine's Acadia National Park close several trails annually near peregrine falcon nests. This reduces stress to nesting birds and has helped this formerly endangered species recover.
Getting involved with educational or volunteer programs is a great way to learn about wildlife and help maintain undisturbed areas. As our research shows, balancing recreation with conservation means opening some areas to human use and keeping others entirely or mostly undisturbed.
As development fragments wild habitat and climate change forces many species to shift their ranges, movement corridors between protected areas become even more important. Our research suggests that creating recreation-free wildlife corridors of at least 3,300 feet (1,000 meters) wide can enable most species to move between protected areas without disturbance. Seeing wildlife can be part of a fun outdoor experience – but for the animals' sake, you may need binoculars or a zoom lens for your camera.
Jeremy Dertien is a Ph.D. candidate in forestry and environmental conservation at Clemson University.
Courtney Larson is an adjunct assistant professor at the University of Wyoming.
Sarah Reed is affiliate faculty in fish, wildlife and conservation Biology at Colorado State University.
Disclosure statements: Jeremy Dertien receives funding from Sonoma Land Trust. Courtney Larson received funding from the California Department of Fish and Wildlife. Sarah Reed receives funding from Sonoma Land Trust.
Reposted with permission from The Conversation.
From Your Site Articles
Related Articles Around the Web
Switching to period panties doesn't have to be messy.
Reviews
When your time of the month comes unexpectedly and you have to rush to the store, tampons, pads and panty liners are the majority of what you traditionally find when looking in the menstrual hygiene aisle. Recently, period underwear has risen in popularity to prevent the unnecessary waste that comes from using these products.
Period panties are a newer form of menstrual care that can both replace the need for disposable hygiene products and be a solution for preventing messy leaks. They're an ecologically smart alternative to single-use period products and a great long-term investment for those who want a more comfortable and easier menstrual solution.
Every person and menstrual cycle is unique. In this article, we'll explain the benefits of period underwear and help you find what type of underwear is perfect for you.

Best Period Panties: Our Recommendations

Each product featured here has been independently selected by the writer. Learn more about our review methodology here. If you make a purchase using the links included, we may earn a commission.
Why Switch to Period Underwear?
Designed to feel and look like regular underwear, period panties are a reusable menstrual product made to be worn longer than single-use period products. These undies can hold the equivalent of anything from one to five full-sized regular tampons.
Traditional tampons and pads are recommended by the FDA to only be worn for four to eight hours because of the risk of toxic shock syndrome or a yeast infection. When used correctly, period panties can be worn for up to 24 hours without leaks, odors or discomfort.
Not only do they have to be changed less often, but they also come in handy when you're expecting your cycle to start and you want to be prepared. Instead of a late-night run to the drugstore, you can count on having your washable, re-wearable panties ready to go when you need them most.
Besides the physical comfort and ease of period panties, this underwear is a great solution to the high number of menstrual products ending up in landfills. The average person who menstruates uses around 11,000 disposable period products in their lifetime. And it's not just the products themselves — there's usually an extra layer or two of plastic wrapped around the items for sanitation that gets discarded.
Although menstrual hygiene products are all but necessary, the waste that comes with them doesn't have to be. Period panties can be reused for up to 2 years, making them a viable solution compared to traditional hygiene products.
Full Reviews of Our Top Picks
When choosing our top recommended period underwear, we looked at factors including:
Materials: Safe and quality fabrics ensure breathability and effectiveness for your panties. Each product below contains nontoxic materials and uses fabrics to make customers as comfortable as possible.
Absorbency: Ranging from very light days to a heavier flow, we have you covered for every type of absorbency level. You can rest assured you'll be able to change your menstruation products less often and without hassle.
Leak protection: Say goodbye to misaligned pads and accidental tampon leaks. Period panties move with you and provide leak protection with multiple absorbent layers and inner-thigh seals.
Inclusive marketing: We want to celebrate companies that celebrate you. Each brand below promotes an inclusive and diverse market to ensure a comfortable menstruation cycle for everyone.
Customer reviews: With each menstrual product recommendation, we take into consideration what previous customers have to say to ensure your future satisfaction.
Caring for Your Period Panties

Once you're done with your period underwear for the day, rinse them with cold water. If the period underwear is machine-washable (some are not, so be sure to check your pair), place them in a washable mesh bag and throw them on a delicate or gentle cycle with cold water. Try to use a mild laundry detergent and never use softener or bleach, since these can deteriorate the absorbency layers.
If you want to help your period underwear last even longer, try to hand-wash them to help the fabric's integrity. Once your underwear is washed, make sure to always hang them to dry (putting them in the dryer can shrink and distort the materials).
Period panties are usually designed to be stain-resistant and odor-free, but if you're looking for extra care, you can always use natural remedies such as applying white vinegar or lemon juice directly to the desired area before washing.
Frequently Asked Questions: Period Underwear
Does period underwear really work?
Yes, period underwear really works. These products are made with multiple protective layers to replace traditional single-use menstrual products like tampons, liners and pads and to make you more comfortable during your menstrual cycle. They can be worn during the day, overnight or as backup protection.
Can you wear period underwear all day?
Much like tampons and pads, how long you can wear menstrual underwear depends on the product's absorbency level and your flow. For lighter days, you can typically wear a single pair for a full day. When it comes to heavier days, make sure to use high-absorbency panties to get the most out of each pair and prevent the need to change mid-day.
Can you leak with period underwear?
Like all menstrual products, period panties have a max absorbency amount but usually can withstand much more than the average tampon or pad. Most period panties hold at least two times more than tampons. Some period underwear, such as Proof's Leakproof Hipster Underwear, contains barriers to prevent leaking even if the absorbent layer is completely full.
Can you wear period underwear without a pad?
Period underwear can easily be worn alone. Just ensure you purchase the correct absorbency level according to your flow. Made with moisture-wicking barriers, absorbency layers and leak-proof seals, you can count on period panties to keep you comfortable and protected without the bulky feeling of a pad. However, you can also use them alongside your usual menstrual products if desired.
People eat at restaurants' outdoor tables on a closed to vehicles street in the West Village on the first day of spring on March 20, 2021 in New York City. Alexi Rosenfeld / Getty Images
By Katharine Lusk
Through a year of pandemic shutdowns and protests, Americans have rediscovered their public spaces. Homebound city dwellers sought havens in parks, plazas and reclaimed streets. Many of these places also became stages for protests against police violence and systemic racism in the U.S.
Mayors around the world have used this time to reimagine the use of public space. Will cities revert to familiar car-centric patterns, or build on the past year to create more outdoor spaces that are accessible and welcoming for all of their residents?
Beginning in June 2020 and continuing throughout the summer, our team at Boston University interviewed mayors in cities across the country as part of our annual Menino Survey of Mayors. We wanted to understand how they were grappling with the unprecedented challenges and stark inequities laid bare in 2020, and how they were thinking about repurposing the public realm.
Partial street closures early in the pandemic gave people in cities like Oakland, California, a taste of urban life less dominated by cars.

Whose Spaces?
COVID-19 and racial protests have highlighted pervasive inequities in the U.S. One issue we examined was how mayors think about investing for equity in parks and green spaces.
Among the 130 mayors we interviewed, 70% believed all their residents, regardless of race, ethnicity or income, live within easy walking distance of a park or green space. This view may be somewhat optimistic.
Data developed by The Trust for Public Land shows that, on average, 64% of residents in the cities we surveyed live within a 10-minute walk of a park or green space. Our analysis of The Trust's ParkServe data for all U.S. cities with more than 75,000 residents showed that on average, 59% of white residents live within a 10-minute walk of a park or green space, compared with 61% of Black or Hispanic residents and 57% of Asian residents. Mayors, particularly those in Northeast cities, acknowledged that not all neighborhoods had equal access to high-quality parks.
Another important question is how welcome residents feel in local public spaces. In our interviews, 77% of mayors believed their cities' parks were safe for all users. A similar proportion believed Black residents could use parks without fear of police.
But physical safety is not the only measure of accessibility. Racial and ethnic minorities may be discriminated against or feel socially and culturally excluded in some parks and public spaces. Widely publicized false assault charges by a white woman against a Black birder in New York's Central Park in October 2020 presented one prominent example.
Past surveys of residents of color and immigrants in Minneapolis and Los Angeles have found similar tensions. Minneapolis now has a Racial Equity Action Plan expressly for parks and recreation.
"So long as people of color, and black men in particular, are seen as a potential danger, the issue of racial equit… https://t.co/O4CynYv9wk

— Bloomberg CityLab (@Bloomberg CityLab) 1590590548.0
Most Likely to Gain: Diners, Walkers and Bikers
Some local leaders capitalized on empty streets to accelerate long-planned projects or initiate new ones. Paris Mayor Anne Hidalgo made headlines with her decision to remove half of all street parking in Paris, add 50 kilometers (31 miles) of bike lanes and convert a major central roadway, Rue di Rivoli, to a cycling thoroughfare. These steps mark a fundamental shift toward a public realm that centers on people, not vehicles.
Similarly, one East Coast mayor told us that the need to maintain physical distance between people had prompted a call for more outdoor space:
"Fewer cars means more opportunities for public space. We're learning a lot about how to share public space and not just use it for cars – we worked to close roadways and people want to keep them."

Nearly half of the mayors we surveyed closed some roads to through traffic during the pandemic, and just under a third closed select streets to nearly all traffic. One prominent example is Washington, D.C.'s Black Lives Matter Plaza, commissioned by Mayor Muriel Bowser along two blocks of 16th Street NW. This new pedestrian promenade has quickly become a landmark that embodies a convergence of protest and pride.
New York City undertook an expansive "open streets" initiative, temporarily closing more than 100 miles of roadway to cars to provide more space for outdoor recreation in all five boroughs. Like most cities we surveyed, New York did not have a plan or process for retaining these changes after the pandemic. But the city's Department of Transportation, responding to public pressure, has signaled its commitment to making some changes permanent.
Typical setup for temporary limited local access under New York City's Open Streets initiative. NYC DOT
The most popular new use of public space, and the one most likely to endure after the pandemic, was outdoor dining. Among the mayors we surveyed, 92% created new space for outdoor dining, with 34% noting they planned to make these changes permanent. Locations varied across cities and neighborhoods: Some communities claimed sidewalk space, while others reallocated on-street parking or repurposed empty parking lots. Other cities closed entire streets for dining.
Other new uses of public space included widening sidewalks and creating new bike lanes. About 40% of the mayors in our survey pursued each of these changes. In Boston, permitting for new outdoor dining was part of a multifaceted "Healthy Streets" initiative that also accelerated creation of dedicated bus lanes and new bike lanes – including expansive new protected lanes around the city's historic central green space, Boston Common.
Ambitious projects require resources, and financial pressures still loom. Almost 40% of mayors we surveyed anticipated "dramatic" financial cuts to their parks and recreation budgets. That threat could be offset by the recently enacted American Rescue Plan, which provides direct funds for cities of all sizes.
People-Centered Public Spaces
Our survey indicates that Americans' newfound enthusiasm for public spaces isn't likely to fade. Among the mayors we surveyed, 76% believe their residents will visit parks and green space more frequently in the future than they did before the pandemic, 70% anticipate that residents will be walking more, and 62% believe they will be cycling more frequently.
Speaking recently about the future of cities, renowned Ghanaian-British architect Sir David Adjaye asserted that high-quality public space "has now become the treasure that people are completely addicted to. If you took for granted a park, now you realize that it's a very important part of the quality of life [in] cities."
As the U.S. emerges from a long and challenging year, perhaps more American mayors – spurred on by residents – will find the will to forever transform urban spaces into the treasures they can be.
Reposted with permission from The Conversation.
From Your Site Articles
Related Articles Around the Web
Extensive bike parking is seen in Amsterdam's city center. AleksandarGeorgiev / Getty Images
By Christian Brand
Globally, only one in 50 new cars were fully electric in 2020, and one in 14 in the UK. Sounds impressive, but even if all new cars were electric now, it would still take 15-20 years to replace the world's fossil fuel car fleet.
Christian Brand is an Associate Professor in Transport, Energy & Environment, Transport Studies Unit, University of Oxford.
Disclosure statement: Christian Brand received funding for this work from the European Union's Seventh Framework Programme via the 'Physical Activity through Sustainable Transport Approaches' project and UK Research and Innovation via the Centre for Research on Energy Demand Solutions and the UK Energy Research Centre.
Reposted with permission from The Conversation.
Trans Canada Trail and AccessNow partnership for AccessOutdoors / Trails for All project. Mapping day on Capital Pathway in Ottawa, Ontario with Camille Bérubé. Daniel Baylis
The Great Trail in Canada is recognized as the world's longest recreational trail for hiking, biking, and cross-country skiing. Created by the Trans Canada Trail (TCT) and various partners, The Great Trail consists of a series of smaller, interconnected routes that stretch from St. John's to Vancouver and even into the Yukon and Northwest Territories. It took nearly 25 years to connect the 27,000 kilometers of greenway in ways that were safe and accessible to hikers. Now, thanks to a new partnership with the Canadian Paralympic Committee and AccessNow, the TCT is increasing accessibility throughout The Great Trail for people with disabilities.
Since The Great Trail opened in 2017, the TCT has worked hard to provide as much information about the greenway to Canadians across the country. By working with the individual parks and trail groups that make up The Great Trail, they have created an experience that outdoorsmen from all over Canada can enjoy. However, until recently, little information was given for accessibility to the individual trails. This is why the partnership with AccessNow is crucial.
AccessNow is a Canadian social enterprise that allows individuals to pin areas on a worldwide map that are accessible or that need accessibility improvements. By using the AccessNow map on The Great Trail, the TCT hopes to help Canadians can find barrier-free segments of the trail as well as alert the organization to areas that still have barriers. This measure aims to provide a better overall experience for hikers, bikers, and skiers visiting the Great Trail.
The AccessNow mapping initiative began with para-athlete volunteers from the Canadian Paralympic Committee. After the announcement that the 2020 Paralympics would be postponed to August of 2021, many para-athletes were eager to help in the project. The TCT's president and CEO Eleanor McMahon said, "With the Games postponed, (the athletes) had some time in their schedule — we were fortunate enough that they chose to spend some of their time helping us."
To McMahon and other leaders of the project, the partnership is about more than tracking access on the trail. It's about making as many voices heard, and ensuring that everyone can receive the physical and mental benefits of outdoor recreation. Maayan Ziv, founder & CEO of AccessNow said, "It is an honor to work closely with the athletes involved in this project, their voices and perspectives contribute to the 'nothing about us without us' mandate that we pride ourselves on celebrating across Canada."
Trans Canada Trail and AccessNow partnership for AccessOutdoors / Trails for All project. Mapping day at Stanley Park Seawall in Vancouver, British Columbia with Richard Peter. Alexa Fernando
This partnership also comes at a time when access to outdoor recreation is more important to Canadian citizens than ever. Studies from the spring of 2020 indicate that Canadian's mental health has worsened since the onset of social distancing protocols due to COVID-19.
The Mayo Clinic lists hiking, biking, and skiing as safe activities during COVID-19. Their website explains, "When you're outside, fresh air is constantly moving, dispersing these droplets. So you're less likely to breathe in enough of the respiratory droplets containing the virus that causes COVID-19 to become infected."
TCT leadership took this into consideration when embarking on the accessibility project. McMahon explains that there has never been a more important time to bring accessibility to the great outdoors: "Canadians have told us that during these difficult times, they value access to natural spaces to stay active, take care of their mental health, and socially connect with others while respecting physical distancing and public health directives. This partnership is incredibly important especially now as trails have become a lifeline for Canadians."
Together, these organizations are paving the way for better physical and mental health among all Canadians. To learn more about the TCT's mission and initiatives, check out their trail stories and 2020 Impact Report.
From Your Site Articles
Related Articles Around the Web
A cyclists wears a protective mask as he cycles through Manchester city center, UK on March 17, 2020. Jacob King / PA Images via Getty Images
Fears of catching coronavirus on public transportation coupled with drops in vehicular traffic has led to a spike in the sales of bicycles, and safer streets to ride on.

A 2012 National Asian American Survey found that 70 percent of Asian Americans consider themselves environmentalists, compared to the national average of 41 percent. d3sign / Getty Images
By Christina Choi
When my five-year-old notices her dad running the water for any reason at all, she yells (at the top of her lungs and in a robot voice, of course), "ALERT. ALERT. WASTING WATER ALERT. ALERT, ALERT!" It makes me laugh but also warms my heart every time, knowing the importance of saving water—and the planet in general—is already ingrained in her mind.
Her behavior is not particularly surprising: Like many of my fellow Korean Americans and other Asian Americans, as well as Indigenous Pacific Islanders, the values of protecting and conserving resources are values I grew up with myself.
From when I was a young child, my parents—especially my mom—were constantly reminding me to turn off the faucet while I brushed my teeth, shampooed my hair, soaped the dishes, and any other time I wasn't actively using the water. My mom reused glass and plastic containers and utensils until they were practically disintegrating (BPA alert!). "Turn off the lights," she would say. "Don't waste electricity." "Eat every grain of rice in your bowl," she'd chide. "We don't waste food."
Such teachings probably play into the stereotype that Asians are overly frugal (read: cheap), but what many people may not realize is that these principles, at least in my personal experience, are deeply intertwined in our ancestral history.
Choi's maternal grandmother in Gunsan, South Korea, in the early 1960s. Christina Choi
All four of my grandparents survived the harshest decades of Japan's colonization of Korea, which lasted from 1910 to 1945. But their trauma didn't stop there. After World War II ended Japan's occupation, the United States and Russia didn't allow the Korean people to determine the future of their own country. To satisfy their own foreign policy interests, they instead split the peninsula in half—literally tearing families apart. Just five years later, in 1950, the Korean War broke out when North Korea invaded the South. Three catastrophic years followed, ending with the tragic deaths, injuries, or disappearances of an estimated 5.5 million people—many of them civilians. While the fighting stopped in 1953, there was no formal peace treaty between the two Koreas. Nearly 70 years later, the conflict is technically still not over.
From left: Choi's maternal grandparents in Gunsan, South Korea, in the early 1960s; Choi's parents in Seattle in the early 1980s. Christina Choi
My dad and mom, born near the end of Japanese colonization and in the middle of the Korean War, respectively, learned from their parents to never take anything for granted; everything could be taken away in an instant—including their own homeland. They were taught to appreciate the beauty of Korea's mountainous lands and free-flowing waters, for they could be stolen or destroyed at any moment. Before emigrating as adults to the United States in the 1970s, my parents witnessed decades of frenetic postwar economic recovery combined with extreme political corruption, as well as occupation by American troops—who still remain.
Colonization, imperialism, war, instability, corruption…it's no wonder that the importance of protecting our resources has been passed down through generations. My mom's "nagging" makes perfect sense. Add to this the fact that Korea—like many Asian cultures—is a collectivist society: Korean culture emphasizes the interconnectedness between people, and therefore we should all act so that we do not burden or harm others; it is the idea that the we transcends the I, be it in the context of family, the workplace, community, country, or, in this case, the planet. Simply put, we all do our part for the greater good. (Recent studies have also linked collectivist values to better, more effective responses to the COVID-19 pandemic.) And it's this heritage, reinforced with the knowledge I've gained from working at NRDC, that has nurtured my daughter's early embrace of protecting the planet and every living being on it. In some ways, the essence of environmentalism exists within us.
And yet, the environmental movement in the United States didn't ever reach out to me—I had to go to it. Despite Asian Americans' 250-plus years in this country, with the first recorded arrival of Filipinos in Louisiana in 1763, we have been constantly erased, and continue to be, from the nation's history, identity, and conversations, as well as from key statistics on public health and well-being, such as how the pandemic affects our communities.
Even now, after almost six years at NRDC, I see how Asian Americans—a faulty categorization that lumps together more than 20 different ethnicities and cultures originating from 48 countries—are left out of the narrative at environmental organizations, despite the fact that research shows that we care…quite a lot. In fact, according to a 2012 National Asian American Survey, 70 percent of Asian Americans consider themselves environmentalists, compared to the national average of 41 percent.
In California, where 15 percent of the population is Asian American, the data is even more impressive. An extensive study by the California League of Conservation Voters titled Asian American Environmentalists: An Untapped Power for Change in California found that a great majority of Asian American voters in the state—83 percent—describe themselves as environmentalists; 71 percent support environmental laws; and 61 percent believe we can protect the air, land, and water while creating jobs. In that state, 85 percent of Asian American voters said they are likely to vote for environment-focused ballot measures.
When it comes to the climate crisis, the trend continues: According to the nationwide 2020 Asian American Voter Survey, 77 percent of Asian Americans support stronger federal policies to combat climate change, while a study last year by the Bulletin of the Ecological Society of America showed that 86 percent of Asian Americans agree that acting now on climate change would provide a better life for their children and grandchildren, compared to 74 percent of the general U.S. population.
Beyond the connection to our cultural values, we also care about the environment because we have to: Pollution and climate change are harming us directly. But as a result of the pervasive "model minority" stereotype, we receive little support from environmental justice work as well. The assumption is that all 20 million of us (and growing) are successful doctors, lawyers, or engineers living the "American dream"—surely no Asian American lives on the frontlines. Yet, according to the Pew Research Center, incomes vary the greatest among Asian Americans in comparison to other racial groups. In New York City, Boston, and California, one in four Asian Americans lives in poverty—many of them restaurant and hotel workers, employees in salons and laundries, and e-bike delivery workers. The highest poverty rates across the United States are found in Bhutanese and Burmese communities—33.3 percent and 35 percent, respectively; the overall U.S. poverty rate is 15.1 percent.
Just one example of a group of Asian Americans facing environmental injustice is the Laotian community in Richmond, California, where a Chevron refinery spews toxic pollution throughout their neighborhoods. For all these reasons, it is crucial that the larger white-dominant environmental movement wakes up and recognizes Asian Americans.
The origins of my strong foundation in conserving the earth's resources are my own, an unbroken thread stretching for generations, but I suspect that the values of many of those 70 percent of Asian Americans who self-identify as environmentalists have been similarly shaped by their ancestry. And maybe one day, their kids and mine, with her "water alerts," will become a powerful Asian American voice—one that the future environmental movement won't want to waste.
Reposted with permission from NRDC.
A proposed park in Indiana would take advantage of future Ohio River flooding. Mardis Coers / Getty Images
As extreme storms grow more common, the Ohio River is expected to spill over its banks more often and flood nearby areas.
But rather than close down during a flood, a new park in southern Indiana will make the best of high water.
"Our pivot is, OK, lean into climate change, lean into a wetter landscape," says Scott Martin of the nonprofit River Heritage Conservancy. "We want to be the park that people visit in flood."
River Heritage Conservancy is working to transform 600 acres along the Ohio River into connected green spaces that will be known as Origin Park.
During dry weather, people will be able to walk and bike along the river's edge. But Martin says that during a flood, "you now go kayaking and paddleboard through these wet woods. Above you will be a series of elevated pathways. Those pathways will still allow bikers to move through and walkers. But suddenly they will be over on top of water that will have paddlers in it."
Martin's group has already raised $10 million for the project. And about 300 acres have been acquired or set aside.
The entire park will take about 20 years to complete, but sections will be done sooner. When finished, it will connect people with their changing natural environment for generations to come.
Reposted with permission from Yale Climate Connections.
Empty freeways, such as this one in LA, were a common sight during COVID-19 lockdowns in spring 2020. vlvart / Getty Images
Lockdown measures to stop the spread of the coronavirus pandemic had the added benefit of reducing greenhouse gas emissions by around seven percent, or 2.6 billion metric tons, in 2020.
This is the largest emissions reduction that has ever been recorded. But to reach the Paris agreement goal of limiting global warming to well below two degrees celsius above pre-industrial levels, the world needs to reduce emissions by one to two billion metric tons every year for the next decade and beyond, according to a new analysis published in Nature Climate Change.
"We need a cut in emissions of about the size of the fall [from the lockdowns] every two years, but by completely different methods," Corinne Le Quéré, lead study author from the Tyndall Center for Climate Change Research at the University of East Anglia in England, told The Guardian.
Before the pandemic, emissions were already declining in some countries due to policy changes, the report found. In 64 countries, emissions declined by 160 million metric tons a year between 2016 to 2019 compared to 2011 to 2015. However, that reduction is only a tenth of what is needed worldwide to meet the Paris agreement goals. In 150 countries, emissions continued to increase by 370 million metric tons a year during the four years before the lockdown.
The concern now is whether countries can build on the reductions caused by the pandemic, or if emissions will increase again as economies reopen. So far, the evidence points toward the latter. The International Energy Agency said this week that emissions had already rebounded to pre-pandemic levels, Forbes reported. Last month, the UN said that countries' existing commitments under the Paris agreement would only reduce emissions by less than one percent by 2030, even though experts say a 45 percent drop is required.
"Emissions were lower in 2020 as fossil fuel infrastructure was used less, not because infrastructure was closed down," Glen Peters, study co-author from the Cicero center for climate research in Norway, told The Guardian. "When fossil fuel infrastructure is put into use again, there is a risk of a big rebound in emissions in 2021, as was seen in the wake of the global financial crisis in 2009."
The report authors noted that policy makers could refer to the lockdowns for guidance on reducing emissions. Most of the reductions were driven by transportation decreases, the authors found. They suggested shifting toward electric vehicles and bike-and-pedestrian-friendly cities, as well as continuing and improving remote business options and encouraging a safe return to public transportation.
The authors also called for greater investments in renewable energy as part of the recovery process. They added that while recovery plans in the European Union, Denmark, France, UK, Germany and Switzerland included minimal fossil fuel investments, investments in most other countries, including the U.S. and China, were still fossil-fuel heavy.
"Experience from several previous crises show that the underlying drivers of emissions reappear, if not immediately, then within a few years," the authors wrote. "Therefore to change the trajectory in global CO2 emissions in the long term, the underlying drivers also need to change."
A pair of mute swans nest along the Charles River in the Back Bay of Boston, near a heavily traveled walking and cycling path. Once a national embarrassment for its pollution, the cleaned-up river today teems with wildlife. Derrick Z. Jackson
By Derrick Z. Jackson
U.S. Environmental Protection Agency (EPA) Administrator Michael Regan officially announced earlier this month that the Biden administration will reinterpret the Trump administration's definition of what constitutes "waters of the United States" – waterways that are deserving of federal protection.
Trump's definition was actually a reinterpretation (or rejection) of what the Obama administration delineated as waters worthy of federal oversight. Obama had sought to increase protections under the Clean Water Act, based on EPA science conducted under both his administration and that of his predecessor, George W. Bush. The agency's researchers had determined that many wetlands and rain-fed intermittent and ephemeral streams were significantly connected to larger bodies of water than met the eye – and thus those tributaries warranted protection.
The Trump administration's own scientific advisors agreed with Obama's interpretation. No matter, the Donald's EPA gutted the rule on behalf of industrial and agricultural polluters by removing half of wetlands and a fifth of streams and tributaries from protection. That shift amounted to an overall 25-percent drop in protected waters, according to the U.S. Army Corps of Engineers.
Noting that the Trump rule "is leading to significant environmental degradation," Regan said he would work toward a "durable definition" of waters of the United States. And he begins that effort at a time of year when, precisely because of decades of federally enforced cleanups, New England's most famous river – and once one of its most infamous— the Charles, is as magical as Florida's Everglades.
The most stunning drama this spring along the banks of the Charles, walking distance from downtown Boston, has been a pair of mute swans. They nested at a landing alongside a walking and biking path in the Back Bay neighborhood and produced nine eggs. Seven hatched. By predation or sickliness, the number of cygnets eventually went down to five.
A pair of swans swims protectively around its chicks. Derrick Z Jackson
Then, without warning, the mother died on the nest. A necropsy showed neither foul play nor ingested foreign objects did her in. The father then took on the chicks, sometimes letting them ride on his back. Even though the number of chicks has dwindled down to two as of late June, the family continues to stop strollers and joggers in their tracks, as do more familiar families of geese and goslings and ducks and ducklings cruising the waters and grazing on the grass.

A couple miles up the river from downtown, black-crowned night herons and great blue herons patrol the banks, snapping up river herring that have been restored through federal and state efforts. During the herring run, gulls often wait at a dam in the suburb of Watertown to gobble up the fish that evaded the herons' beaks.
Osprey occasionally fly in to dive for fish. Muskrats cruise the reeds as turtles bask on floating logs. As the river heads deeper into exurban Boston, bald eagles have been nesting, continuing their remarkable recovery from a point in the 20th century when pesticides had led to their disappearance in most states.
A gull (left) and a black-crowned night heron (bottom) snap up river herring. Those sightings — as well as a family of mallards (right) are all signs that the Charles River clean up has been successful. Derrick Z. Jackson
All this fauna can now be seen in a river once so polluted that the locals joked about people needing tetanus shots if they fell in. The foul Charles even inspired the Boston anthem "Dirty Water" by the Standells. As recently as 1995, the river earned a D for water quality at its mouth in Boston Harbor, a result of uncontrolled human sewage, railyard oil pollution, industrial waste, and landfills that crept up right to the water's edge.

The river's revival began in the 1980s when conservationists and the EPA joined forces to sue the state of Massachusetts over the levels of wastewater pollution in the Charles. That resulted in federal judicial oversight of more than $4.5 billion of mitigation projects managed by the state, most notably a massive waste-treatment facility and the overhaul of 100 miles of leaky sewage pipes and storm drains. Local conservation groups also convinced the Army Corps of Engineers to protect 8,000 acres of wetlands in the Upper Charles watershed.
The cleanup of the Charles River has won global acclaim for bringing back an urban body of water back from unspeakable industrial and human waste. Derrick Z. Jackson
Today the water is technically swimmable most of the time — though one dares not touch the riverbed with bare feet as it is still laden with heavy metals. Recognized a decade ago as one of the world's most well-managed rivers, the Charles is now a year-round wonder of wildlife. Last winter, its waters, as well as the Boston Harbor's, were full of mergansers, scoters, goldeneye, eiders, bufflehead, and loons.

It is the protection of the Charles' watershed that EPA Administrator Regan should keep in mind as he sets forth to protect more American waterways. Despite accounting for fewer than six percent of the United States landscape, freshwater scientists consider wetlands to be precious jewels of the ecosystem. These marshes and swamps, where plants grow thick in soil saturated with water, are natural traps and filters for runoff and sediment. They also provide nurseries for aquatic life.
A muskrat swims in Great Meadows National Wildlife Refuge in Concord, Massachusetts. Scientists have found wetlands to be critically connected to the health of larger bodies of water, like the Charles. Derrick Z. Jackson
It is also the part of the ecosystem that industry and factory agriculture continue to plow over and foul when they can get away with it. Consider the ill-fated Foxconn electronics plant in southern Wisconsin. After promising 13,000 jobs in 2017, the state gave the company a sweetheart deal of billions of dollars in tax breaks, as well as waivers to fill in 38 acres of wetlands to build their facility. The company now is only pledging 1,500 jobs while flooding and erosion risks have risen in the region because of the wetland loss.

In advance of this month's announcement, Regan told a House committee in April that, while Trump went too far in his reinterpretation of the waters of the U.S., the administrator was not going back "verbatim" to the Obama-era rules. The statement was a clear effort to placate the farm lobby, which has unfurled ridiculous exaggerations that the Biden EPA would patrol every ditch to see if each is connected to rivers.
While it is politically understandable that Regan must get, as he said, "input from a wide array of stakeholders," federal science nevertheless does not quibble about the interconnectivity of our waters.
As he gathers input, perhaps a trip to Boston, to gather input from the swans, herons, and herring, is in order. They are illustrating the importance of healthy watersheds and well-managed waterways via their nesting near the Charles, in their gathering along banks to feed, and by making their spring runs up the river.
Two swan chicks remain on the Charles River with their father as of late June. Derrick Z. Jackson
Reposted with permission from Grist.

From Your Site Articles
Related Articles Around the Web
A group of teenagers, living in some of London's most polluted communities, are posting roadsigns highlighting the disproportionate impact air pollution has on people of color.
The Ehrenfeld Abandoned Mine Reclamation Project is the first of dozens of similar reclamation initiatives under the Abandoned Mine Lands Economic Revitalization Pilot Program. U.S. Dept. of the Interior
By Tara Lohan
Mined lands reclaimed for biking trails, office parks — even a winery. Efforts like these are already underway in Appalachia to reclaim the region's toxic history, restore blighted lands, and create economic opportunities in areas where decades-old mines haven't been properly cleaned up.
The projects are sorely needed. And so are many more. But the money to fund and enable them remains elusive.
Mining production is falling, which is good news for tackling climate change and air pollution, but Appalachia and other coal states are also feeling the economic pain that comes with it. And that loss is more acute on top of pandemic-related revenue shortfalls and the mounting bills from the industry's environmental degradation.
Local leaders and organizations working in coal communities see a way to flip the script, though. The Revelator spoke with Rebecca Shelton, the director of policy and organizing for Appalachian Citizens' Law Center in Kentucky, about efforts focusing on one particular area that's plagued coal communities for more than 50 years: cleaning up abandoned mine lands.
Shelton explains the history behind these lands, the big legislative opportunities developing in Washington, and what coal communities need to prepare for a low-carbon future.
What are abandoned mine lands?
Technically an abandoned mine land is land where no reclamation was done after mining. Prior to the passage of Surface Mining Control and Reclamation Act in 1977, coal-mining companies weren't required to reclaim — or clean up — the land they mined.
What SMCRA did, in addition to creating requirements for companies to do reclamation into the future, was create an abandoned mine land fund to distribute money to states and tribes with historic mining so that they could clean up those old sites. The revenue for that fund comes from a small tax on current coal production.
The program has accomplished a lot. It has closed 46,000 open mine portals, reclaimed more than 1,000 miles of high walls, stabilized slopes, and restored a lot of water supplies.
It's been a successful program, but the work is far from done. A conservative estimate is that there's still more than $11 billion needed to clean up existing identified liability across the U.S. [for sites mined before 1977].
What are the risks if we don't do this?
There are safety, health and environmental issues.
Just this spring we've already gotten calls from folks living adjacent to abandoned mine lands that are experiencing slides [from wet weather causing slopes destabilized by mining to give way]. People's homes can be completely destabilized, and if they don't get out in time, it can be really dangerous.
There's also a lot of existing acid mine drainage across coal-mining communities, which is water that's leaking iron oxides and other heavy metals from these abandoned mine lands. This is bad for the ecology of the streams, but heavy metals are also not safe for humans to be exposed to.
Acid mine drainage in a stream. Rachel Brennan / CC BY-NC 2.0
There's legislation in Congress now that could help deal with this issue. What are those bills?
One bill is the reauthorization of the abandoned mine land fund. That bill is absolutely critical because the fee on coal production, which is the only source of revenue for the fund, will expire at the end of September if Congress doesn't take action.
If Congress fails to extend that, we may not see any more funding for the $11 billion needed to clean up abandoned mine lands. If passed, the bill would reauthorize the fee at its current level for 15 more years.
The challenge is that even if the fee is reauthorized, it'll likely generate only around $1.6 billion — based on current coal-production projections — and that's vastly inadequate to cover all of the liabilities that exist.
Also, when the abandoned mine land fund was first started, there were some funds that were not redistributed to states and tribes and have just remained in the fund — [about] $2.5 billion that's not being dispersed on an annual basis.
So another bill, the RECLAIM Act, would authorize [an initial] $1 billion to be dispersed out of that fund that would go to approximately 20 states and tribes over the next five years. This money would be distributed differently than the regular funds in that any kind of project would have to have a plan in place for community and economic development.
So though the funds can only be used for reclamation, they need to be reclamation with a plan. There are so many high-priority and dangerous abandoned mine land sites that exist, and the RECLAIM Act funds would prioritize supporting community and economic development for communities adjacent to these lands.
How much support are you seeing for these bills?
We see momentum in this Congress, and there's a lot of conversation around investing in our nation's infrastructure. We see abandoned mine lands and their remediation as natural infrastructure that we need to invest in to keep our communities safe and prepare them for the future.
But we also see these bills as important pieces of an economic recovery package. COVID-19 has really exacerbated so many of the existing health and economic crises already in coal communities.
When we talk about economic stimulus and job creation, we also see reauthorizing the abandoned mine land fund as contributing to that because it takes a lot of work and creates a lot of jobs to do land reclamation.
Abandoned mines can pose serious health and safety hazards, such as landslides, erosion and surface instability. USGS
We've talked about the legacy issues from lands mined before 1977, but what concerns are there from current or recent mining? Is that reclamation being done adequately?
That's an area that also needs a closer look.
As the industry declines, we've seen coal companies file for Chapter 11 bankruptcy or reorganization. And when they do this, oftentimes they're granted permission to get rid of liabilities that would affect their solvency. Sometimes those liabilities are reclamation obligations, pension funds or black lung disability funds.
And then what you see is smaller companies taking on these permits that the reorganizing company no longer wants. But many are under-capitalized and they sometimes don't have the ability to even produce coal, or if they do they can't keep up with the reclamation. And it's dangerous for communities if there's environmental violations that aren't getting addressed.
I'll give you a recent example. Blackjewel [the sixth-largest U.S. coal producer] went bankrupt in the summer of 2019. Since then there's been very little done to address any kind of environmental violations existing on their permits.
Because of SMCRA, companies are required to have bonds in order to obtain their mining permits, but these bonds are not always adequate. The Kentucky Energy and Environment cabinet made a statement in the Blackjewel bankruptcy proceedings that it estimated that reclamation obligations on these permits were going to fall short $20 to $50 million.
What else is needed to help coal communities transition to a low-carbon economy?
That's a big question. We have to address these legacy issues in order to help transition these communities into the future. And we have to address the problems right now of folks who are losing their jobs and need to be supported through training programs or through education credits.
But we also need to be thinking about the future more broadly. What will be in place 20 years from now for the younger generation?
There's going to be a lot of gaps in local tax revenues because so much of the tax base has been reliant on the coal industry, which makes it really difficult for communities to continue to provide public services and keep up infrastructure as that industry declines. It's going to be critical to think about that and invest in that.
I think the best approach is to find solutions that work for [specific] places. And to do that we need to listen to community leaders and folks in these communities that have already been working to build something new for many years. There are solutions that I think can apply to all places, but there also needs to be a targeted intention to create opportunities where communities can develop their own paths forward.
Tara Lohan is deputy editor of The Revelator.

Reposted with permission from The Revelator.
From Your Site Articles
Related Articles Around the Web