A large excavator digging for lignite (brown-coal) in an open cast mine in Germany. claffra / iStock / Getty Images Plus
By Brett Wilkins
A new report published Wednesday by a trio of progressive advocacy groups lifts the veil on so-called "net zero" climate pledges, which are often touted by corporations and governments as solutions to the climate emergency, but which the paper's authors argue are merely a dangerous form of greenwashing that should be eschewed in favor of Real Zero policies based on meaningful, near-term commitments to reducing global greenhouse gas emissions.
The report, The Big Con: How Big Polluters Are Advancing a "Net Zero" Climate Agenda to Delay, Deceive, and Deny, was published by Corporate Accountability, the Global Forest Coalition, and Friends of the Earth International, and is endorsed by more than 60 environmental organizations. The paper comes ahead of this November's United Nations Climate Change Conference in Glasgow, Scotland and amid proliferating pledges from polluting corporations and governments to achieve what they claim is carbon neutrality — increasingly via dubious offsets — by some distant date, often the year 2050.

However, the report asserts that "instead of offering meaningful real solutions to justly address the crisis they knowingly created and owning up to their responsibility to act beginning with drastically reducing emissions at source, polluting corporations and governments are advancing 'net zero' plans that require little or nothing in the way of real solutions or real effective emissions cuts."
"Furthermore... they see the potential for a 'net zero' global pathway to provide new business opportunities for them, rather than curtailing production and consumption of their polluting products," it says.
According to the report:
After decades of inaction, corporations are suddenly racing to pledge to achieve "net zero" emissions. These include fossil fuel giants like BP, Shell, and Total; tech giants like Microsoft and Apple; retailers like Amazon and Walmart; financers like HSBC, Bank of America, and BlackRock; airlines like United and Delta; and food, livestock, and meat producing and agriculture corporations like JBS, Nestlé, and Cargill. Polluting corporations are in a race to be the loudest and proudest to pledge "net zero" emissions by 2050 or some other date in the distant future. Over recent years, more than 1,500 corporations have made "net zero" commitments, an accomplishment applauded by the United Nations Framework Convention on Climate Change and the U.N. Secretary General.

"Increasingly, the concept of 'net zero' is being misconstrued in political spaces as well as by individual actors to evade action and avoid responsibility," the report states. "The idea behind big polluters' use of 'net zero' is that an entity can continue to pollute as usual — or even increase its emissions — and seek to compensate for those emissions in a number of ways. Emissions are nothing more than a math equation in these plans; they can be added one place and subtracted from another place."
Behind #NetZero pledges is the reality that #BigPolluters can keep: 💵 Buying carbon #offsets instead of cutting e… https://t.co/Y3YmUYJ8Ft

— Global Forest Coalition (GFC) (@Global Forest Coalition (GFC)) 1623227415.0
"This equation is simple in theory but deeply flawed in reality," the paper asserts. "These schemes are being used to mask inaction, foist the burden of emissions cuts and pollution avoidance on historically exploited communities, and bet our collective future through ensuring long-term, destructive impact on land and forests, oceans, and through advancing geoengineering technologies. These technologies are hugely risky, do not exist at the scale supposedly needed, and are likely to cause enormous, and likely irreversible, damage."

Among the key findings of the report:
Big polluters, including the fossil fuel and aviation industries, lobbied heavily to ensure passage of Q45, a tax credit subsidizing carbon capture and storage. A 2020 report from the U.S. Treasury Department's inspector general found that fossil fuel companies improperly claimed nearly $1 billion in Q45 credits.
The International Emissions Trading Association — described by the report's authors as "perhaps the largest global lobbyist on market and offsets, both pillars of polluters 'net zero' climate plans" — has leveraged its considerable power to push its greenwashing agenda at international climate talks.
Major polluters have contributed generously to universities including the Massachusetts Institute for Technology, Princeton University, Stanford University, and Imperial College London in an effort to influence "net zero"-related research. At Stanford's Global Climate and Energy Project, ExxonMobil retained the right to formally review research before completion and was allowed to place corporate staff members on development teams.
"The best, most proven approach to justly addressing the climate crisis is to significantly reduce emissions now in an equitable manner, bringing them close to Real Zero by 2030 at the latest," the report states, referring to a situation in which no carbon emissions are produced by a good or service without the use of offsets. "The cross-sectoral solutions we need already exist, are proven, and are scalable now... All that is missing is the political will to advance them, in spite of industry obstruction and deflection."
"People around the globe have already made their demands clear," the report says. "Meaningful solutions that can be implemented now are already detailed in platforms like the People's Demands for Climate Justice, the Liability Roadmap, the Energy Manifesto, and many other resources that encompass the wisdom of those on the frontlines of the climate crisis."
Sara Shaw, climate justice and energy program co-coordinator at Friends of the Earth International and one of the paper's authors, said that "this report shows that 'net zero' plans from big polluters are nothing more than a big con. The reality is that corporations like Shell have no interest in genuinely acting to solve the climate crisis by reducing their emissions from fossil fuels. They instead plan to continue business as usual while greenwashing their image with tree planting and offsetting schemes that can never ever make up for digging up and burning fossil fuels."
"We must wake up fast to the fact that we are falling for a trick," Shaw added. "'Net zero' risks obscuring a lack of action until it is too late."
Lidy Nacpil, coordinator of the Asian Peoples Movement on Debt and Development — which endorsed the report — warned that "proclamations of 'net zero' targets are dangerous deceptions. 'Net zero' sounds ambitious and visionary but it actually allows big polluters and rich governments to continue emitting [greenhouse gases] which they claim will be erased through unproven and dangerous technologies, carbon trading, and offsets that shift the burden of climate action to the Global South."
"Big polluters and rich governments should not only reduce emissions to Real Zero, they must pay reparations for the huge climate debt owed to the Global South," added Nacpil.
In conclusion, the report says world leaders must "listen to the people and once and for all prioritize people's lives and the planet over engines of profit and destruction."
"To avoid social and planetary collapse," it states, "they must heed the calls of millions of people around the globe and pursue policies that justly, equitably transition our economies off of fossil fuels, and advance real solutions that prioritize life — now."
Reposted with permission from Common Dreams.
From Your Site Articles
Related Articles Around the Web
EcoWatch Daily Newsletter
An oil platform in the Gulf of Mexico at Port Fourchon in Louisiana. MARK RALSTON / AFP via Getty Images
In the controversial sale, major fossil-fuel companies including ExxonMobil, Shell, Chevron and BP bid a total of $192 million for the rights to drill a stretch of the Gulf of Mexico that is about double the size of Florida, The AP reported. The amount offered is the second-highest total since bidding resumed in the Gulf of Mexico in 2017.
"It's basically a giveaway to industry of millions of acres of the Gulf of Mexico so they can lock in production for years, at a time when we need to be shifting away from fossil fuel development," Earthjustice attorney Brettny Hardy told The AP.
The Biden administration has been widely criticized for allowing the sale to proceed even after President Joe Biden promised U.S. climate action during the COP26 talks in Glasgow.
"Coming in the aftermath of the climate summit, this is just mind boggling. It's hard to imagine a more hypocritical and dangerous thing for the administration to do," Center for Biological Diversity (CBD) senior attorney Kristen Monsell told The Guardian. "It's incredibly reckless and we think unlawful too. It's just immensely disappointing."
Biden did try to honor his campaign promise to halt oil and gas drilling on public lands, but Republican attorneys general led by Louisiana mounted a legal challenge that paved the way for Wednesday's sale. The fear that Biden may limit drilling in the future may have increased interest in this sale, The AP noted, along with rising oil and gas prices.
"Prices are higher now than they've been since 2018," Rene Santos of S&P Global Platts told The AP. "The other thing is this fear that the Biden administration is here for another three years. They're certainly not going to accelerate the number of lease sales and they could potentially have fewer sales."
In total, the administration sold 1.7 million acres of 80 million on offer, which amounts to almost all the available blocks in the Gulf, Reuters reported. Chevron bid the most at the sale, offering $47.1 million. The next highest spenders were Anadarko, owned by Occidental Petroleum Corp, BP, Royal Dutch Shell and ExxonMobil.
Exxon bought the most tracts by acreage, gobbling up a third of what sold. However, the fact that the company acquired 94 shallow water blocks may mean it has an unconventional use planned for its purchase.
"It's a clear indication of the [company's intention to use the blocks for its] carbon capture and storage project," Justin Rostant, the principal analyst-Gulf of Mexico research for energy consultancy Wood Mackenzie told S&P Global Platts. "I anticipate they'll use the area for direct capture of carbon and put it in the reservoirs of the blocks they acquire."
At COP26, Biden promised to reduce emissions by around 50 percent of 2005 levels by 2030, but The AP noted it could take years to develop the leases sold today, meaning they could still contribute greenhouse gas emissions after that date.
Despite this, the environmental review of the lease auction, which was conducted under former President Donald Trump, found that using the oil and gas in the area would lead to fewer emissions than keeping it in the ground. However, climate scientist Peter Erickson found that this analysis did not include emissions in foreign countries, which would increase with more Gulf oil in the market.
Federal officials said they would take this into account in the future, but it was too late to do so for Wednesday's sale.
For forthcoming models, the Interior Department vowed to "take substitution impacts and foreign oil consumption into account, resulting in the most robust projections ever of the climate impacts of offshore lease sales," Axios reported.
From Your Site Articles
Related Articles Around the Web
See how you can save money on solar panels in Florida.
Reviews
Pitsanu Prom-or / iStock / Getty Images
Florida is well-known as the Sunshine State because of its year-round sunny weather that draws millions of tourists each year, but historically, Florida hasn't actually been a national leader when it comes to solar energy generation. That said, financial incentives like Florida solar tax credit and rebate opportunities have played a huge part in its rise to become one of the top states for solar energy.
To the glee of clean energy advocates across the state, various Florida solar incentives have succeeded in bringing solar power throughout the state. According to the Solar Energy Industries Association, in 2020, Florida ranked third in the nation for solar energy capacity, and it had the second-most installations during the second quarter of 2021.
This progress in the solar field comes from many different sources, not the least of which is Florida solar incentives. For any homes or businesses feeling left behind while the rest of the state goes solar, these types of solar tax credits are still widely available across Florida, which will be discussed in this article.
For most homeowners, the decision to go solar comes down to cost. To see how much you'd pay for a home solar system (and how much you can shave off that price with Florida solar tax credit and incentive opportunities), you can get a free quote from a top solar company near you by using this tool or filling out the form below.
Florida Solar Tax Credits and Solar Rebates
As much as transitioning to clean energy is the best thing for the environment and the fight against climate change, the reality has always been that such changes would be slow to happen (if they happened at all) unless they made sense financially. When solar energy systems are proven to save money for those who pay the high upfront costs to install them, those purchases are better considered a worthy investment.
As such, some of the most effective policies encouraging solar installations have been those making the decision a no-brainer from the budgetary perspective. Let's take a look at some of the top Florida solar incentives.
| Florida Solar Incentive | Program Overview |
| --- | --- |
| Florida Net Metering Programs | Credits homeowners when their solar panels produce extra electricity and it is exported to the local power grid |
| Florida Tax Exemptions | Property tax exemptions and sales tax exemptions for solar and other renewable energy equipment |
| Local Incentives | Incentives, rebates and low-interest financing programs at the town, city, and county level that encourage local solar installations |
Florida Net Metering Programs
Regardless of the state, one of the most critical types of energy policy for solar panels is known as net metering. Through net metering, homeowners can feed excess electricity produced by their solar panels into the power grid in exchange for utility credits. These credits can be used to pay for the energy a home uses when panels aren't producing (such as at night).
Net metering tends to be a state-by-state policy, as there is no federal policy regarding net metering. Florida is one of the states where there is, in fact, a statewide net metering program, applicable for homeowners regardless of which utility serves their area.
The specific net metering provision covers up to 2 megawatts (MW) of capacity for any customers who generate electricity with a renewable energy source. Florida Power & Light and Duke Energy have the largest net metering programs in the state.
The availability of such net metering serves as an incentive for Floridians to install solar panels on their property. Not only do they benefit by reducing their power bills from pulling energy from the grid less often, but they can even profit when the utility pays them for generating more power than they consume, bringing their solar payback period down.
Florida Solar Tax Exemptions
Another financial mechanism that the Florida state government offers to solar system owners is solar tax exemptions. To start, Florida doesn't want to make the upfront cost to purchase and install solar equipment to be any higher than the open market says it should be, so since 1997, all solar energy systems have been completely exempt from Florida's sales and use tax.
Once a solar photovoltaic system is purchased and installed, there is a statewide property tax abatement that further helps homeowners avoid paying taxes on it. Most home additions, such as a new shed or outdoor patio built in a home's backyard, would be appraised to determine the value it added to the property and thus increase the overall property tax. However, the added home value of solar panels is excluded from the property's taxable value.
Local Incentives
Florida is also a large, diverse state, so in addition to the state solar incentives, many local jurisdictions enact their own policies to encourage and support installation of solar energy systems. At the town, city or county level, Floridians will commonly find low-interesting solar financing options, specific solar incentives or rebates, and more.
You can determine whether your locality offers such incentives by investigating your local government websites or talking to utility company representatives. When you do, you may come across such successful programs as Jacksonville's $2,000 rebate for solar battery installations, Boynton Beach's Energy Edge Rebate Program, or the Solar Energy Rebate Grant Program offered by Dunedin.
Federal Solar Tax Credit
Floridians, of course, can also benefit from all the tax incentives, rebates and credits that are offered at the federal level. Over the past two decades, the federal solar investment tax credit (ITC) has attributed largely to the rapid growth in solar energy across business sectors, geographies and customer types.
For systems installed and operational before the end of 2022, the federal solar tax credit is equal to 26% of the value of the installation, dropping to 22% for systems installed in 2023. It is currently set to expire afterward, though the idea of extending the ITC beyond its current expiration date, as has been done in the past, has been a part of active clean energy policy debates.
FAQ: Florida Solar Incentives
Does Florida have a solar tax credit?
State-wide, there is no specific Florida solar tax credit. However, all utilities in the state of Florida do offer customers the ability to utilize net metering, Florida solar homeowners are eligible for the federal solar tax credit, and some local jurisdictions in Florida may offer their own tax credits.
Is solar tax exempt in Florida?
In Florida, the purchase and installation of a home solar system is exempt from all sales tax, and the value of renewable systems are excluded from 100% of residential property taxes.
How much is the solar tax credit for 2022?
For any solar panel system installed before the end of 2022, the federal solar investment tax credit is equal to 26% of the value of the system.
Is Florida a good state for solar?
Florida is a great state for solar from the perspective of having year-round sunny weather, higher-than-average solar irradiance and a policy landscape conducive to solar installations. Because of these factors, Florida ranked third among all states in terms of solar capacity installed in 2020 (rising to second when looking at the third quarter of 2021), per the SEIA.
How much do solar panels cost in Florida?
Based on market research and data from top solar companies, we've found the average cost of solar panels in Florida is $2.53 per watt. However, this is only an average, and prices can vary widely depending on where you live, the number of solar panels you need and more.
To get a free estimate for your own home solar system, you can get connected with a pre-screened local installer by using this tool or entering your home's information below.
An activist holds a "Stop Ecocide" placard outside the Science Museum in South Kensington, London, UK on May 19, 2021. Protesters and scientists gathered inside and outside the museum to demonstrate against oil giant Shell's sponsorship of the Our Future Planet climate change exhibition. Vuk Valcic / SOPA Images / LightRocket via Getty Images
In a first-of-its-kind ruling, a court of law has held a private company responsible for its contributions to the climate crisis.
The court at The Hague in the Netherlands ruled Thursday that fossil-fuel giant Royal Dutch Shell must reduce its emissions by 45 percent by 2030.
"This is a turning point in history," Roger Cox, a lawyer for Friends of the Earth Netherlands, said in a press release. "This case is unique because it is the first time a judge has ordered a large polluting company to comply with the Paris Climate Agreement. This ruling may also have major consequences for other big polluters."
Tears. of. joy. 🚨WE WON! 🚨 The Dutch court just ruled Shell must cut its CO2 emissions by 45% by 2030 (relative t… https://t.co/vg8JPZIuU1

— Friends of the Earth Europe🌍 #BlackLivesMatter (@Friends of the Earth Europe🌍 #BlackLivesMatter) 1622037216.0
The lawsuit was first announced in 2018 by Friends of the Earth Netherlands (Milieudefensie). The group was joined in the case by six other organizations and 17,000 Dutch citizens. The plaintiffs successfully argued that Shell must abide by the Paris agreement, an international accord with a goal of limiting emissions to "well below" two degrees Celsius above pre-industrial levels, as BBC News pointed out. The ruling sends a message to companies that they may not only have to abide by national laws, but international policy as well.

Shell, for its part, said it would appeal the decision and argued that it had already taken internal steps to lower its emissions.
"Urgent action is needed on climate change which is why we have accelerated our efforts to become a net-zero emissions energy company by 2050, in step with society, with short-term targets to track our progress," a Shell spokesperson said in a statement reported by The Guardian. "We are investing billions of dollars in low-carbon energy, including electric vehicle charging, hydrogen, renewables and biofuels. We want to grow demand for these products and scale up our new energy businesses even more quickly. We will continue to focus on these efforts and fully expect to appeal today's disappointing court decision."
While the court did acknowledge Shell's climate commitments, it argued that they were not "concrete" and therefore ordered the Dutch-Anglo company to reduce its emissions to 45 percent of 2019 levels by 2030. It also said the company must move to do so immediately, and that it was responsible for the emissions of both its customers and suppliers, as Friends of the Earth pointed out.
Specifically, the court ruled that climate inaction on Shell's part violated the rights to life and family life as outlined by the European Convention on Human Rights, according to The Guardian.
Shell was named the ninth greatest polluter in the world between 1988 and 2015 by the Carbon Majors database. It is currently responsible for around one percent of global greenhouse gas emissions. Advocates further produced documents in court showing that the company had known about climate change since the 1950s and about the severity of its consequences since 1986.
This is not the first time that a Dutch court has made a historic climate ruling. In 2019, the country's Supreme Court upheld a 2015 ruling that the country must reduce emissions by at least 25 percent of 1990 levels by 2020, according to The AP.
However, activists say the precedent sent by today's ruling could extend beyond one country.
"Our hope is that this verdict will trigger a wave of climate litigation against big polluters, to force them to stop extracting and burning fossil fuels," Sara Shaw from Friends of the Earth International said in the press release. "This result is a win for communities in the global South who face devastating climate impacts now."
By Sharon Kelly
What's the single word that fossil fuel giant ExxonMobil's flagship environmental reports to investors and the public tie most closely to climate change and global warming?
According to newly published research from Harvard science historian Naomi Oreskes and Harvard research associate Geoffrey Supran, it's a simple four-letter word, one that carries overtones not only of danger, but also — crucially — of uncertainty: risk.
Oreskes and Supran argue in the peer-reviewed study published in the journal One Earth, that by repeating that word over and over as it discusses climate change ExxonMobil continues to connect climate change to uncertainty, even in its most carefully worded and most scrutinized discussions of the topic.
That tiny word is one sign of a massive change underway in how fossil fuel companies talk about climate change in places where it's no longer considered credible to contest climate science. Instead, Oreskes and Supran write, ExxonMobil's statements subtly shift responsibility for climate change onto the shoulders of consumers, while avoiding the need to describe in detail the risks that are posed by climate change.
And that, for the record, is a lot to gloss over — not just in terms of what scientists predict about the future, but in terms of what climate change has already played a role in bringing about. Last year, for example, tied with 2016 as the "warmest" year on record, according to NASA — 2020 brought a brutal drumbeat of climate-linked calamities, including a record-obliterating wildfire season on the West Coast that memorably turned skies orange and red and an extraordinarily intense Atlantic hurricane season.
The way that ExxonMobil talks about climate change, the paper suggests, lets the company thread a very specific rhetorical needle, communicating two ideas that fundamentally benefit their interests. "On the one hand, 'risk' rhetoric is weak enough to allow the company to maintain a position on climate science that is ambiguous, flexible, and unalarming," the researchers write. "On the other, it is strong enough — and prominent enough, in [New York Times] advertorials and elsewhere — that ExxonMobil may claim that the public has been well informed about [anthropogenic global warming]."
And if that approach feels a little familiar, maybe that's because it's very similar to the tactics used by another industry in the past: Big Tobacco.
"Akin to early, tepidly worded warning labels on cigarette packages, ExxonMobil's advertorials in America's newspaper of record help establish this claim, sometimes explicitly: 'Most people acknowledge that human-induced climate change is a long-term risk,' a 2001 advertorial states (emphases added)," the paper continues. "'The risk of climate change and its potential impacts on society and the ecosystem are widely recognized,' says another the following year."
And that's just one example of the ways that ExxonMobil's favored ideas about climate change — ideas like "we are all to blame" or "society must inevitably rely on fossil fuels for the foreseeable future" — can become embedded in conventional wisdom and creep into how people think and talk about climate change, the paper argues.
While the new paper is hardly the first to draw parallels between the fossil fuel and tobacco industries, what sets it apart is how the research was done.
"Our analysis is the first computational study illustrating how the fossil fuel industry has encouraged and embodied AGW [anthropogenic global warming] narratives fixated on individual responsibility," the paper says. The study used automated methods to analyze 180 ExxonMobil documents, 32 previously published internal company documents, and 76 New York Times "advertorials" where the company took positions on climate change. The authors believe that these methods of efficiently reviewing a large number of company records could prove useful later in litigation, where larger batches of documents may need review.
The number of climate liability lawsuits worldwide and in the U.S. continues to grow. A January 2021 United Nations report tallied 1,200 cases in the U.S. and 350 other lawsuits in nearly 40 other jurisdictions worldwide — nearly double the number of lawsuits underway three years ago by the report authors' count. Not all of those cases involve ExxonMobil — but some of the highest profile lawsuits include those filed by state attorneys general and state and local governments alleging that the company misled investors or consumers or others.
Supran and Oreskes have both assisted with legal briefs or served as expert witnesses in climate liability cases, but in an email to DeSmog, Supran noted that virtually all of that work has been done pro bono (with the sole exception that Oreskes once billed 3.5 hours for her work reviewing the historical accuracy of allegations in one 2017 case). Supran called their work and testimony in climate liability cases "a logical application of our knowledge and expertise."
ExxonMobil did not respond to a request for comment about their study from DeSmog.
'Injecting Uncertainty'
As it has become less credible to contest the legitimacy of climate science, the paper notes, the company has shifted its rhetoric on climate to focus on "risk."
"In ExxonMobil Corp's 2005 Corporate Citizenship Report, for instance, which extensively questions whether AGW is human caused and serious, a member of the public [is quoted asking]: 'Why won't ExxonMobil recognize that climate change is real…?'" Oreskes and Supran write. "The company replies: 'ExxonMobil recognizes the risk of climate change and its potential impact' (emphases added)."
That subtle shift lets ExxonMobil "inject uncertainty" into conversations about climate change, the paper continues, "even while superficially appearing not to."
"We have also observed that, starting in the mid-2000s, ExxonMobil's statements of explicit doubt about climate science and its implications (for example, that 'there does not appear to be a consensus among scientists about the effect of fossil fuel use on climate') gave way to implicit acknowledgments couched in ambiguous statements about climate 'risk' (such as discussion of lower-carbon fuels for 'addressing the risks posed by rising greenhouse gas emissions,' without mention of [anthropogenic global warming])," the paper reports.
It's also a way of talking that also lets ExxonMobil leave out any description of what, exactly, is being put at risk, the paper notes.
The company's public messaging pits clear-cut descriptions of the benefits of using fossil fuels against the risks of climate change — but while it offers examples of the ways people find fossil fuels useful, ExxonMobil is a lot more vague about what, exactly, the risks associated with climate change are, the paper argues.
That's not for a lack of available scientific data. "Today, we are at 1.2 degrees of warming and already witnessing unprecedented climate extremes and volatility in every region and on every continent," U.N. Secretary General António Guterres said in a December 2020 address. "The science is crystal clear: to limit temperature rise to 1.5-degrees Celsius above pre-industrial levels, the world needs to decrease fossil fuel production by roughly 6 per cent every year between now and 2030."
The biggest remaining questions about climate change don't concern the ways that our lives will be increasingly disrupted by extreme weather, wildfires, rising seas and the like. There's a strong body of scientific evidence that lets scientists make good predictions about what happens when we collectively burn fossil fuels at different rates. And a peer-reviewed study published last year in the journal Geophysical Research found that climate models dating back to the 1970s through 2007 have proved remarkably accurate
The biggest open questions are about policy and products, not about what the science shows.
The real source of uncertainty, in other words, is how long we will continue doing the things that cause climate change.
'Modern' Propaganda
Polling shows that Americans' understandings of climate science have shifted dramatically in recent years. In 2014, NBC News recently reported, less than half of Americans polled believed that climate change was caused by human activity. Polls from 2020, however, show that now 57 percent of Americans cite human activity as causing climate change, a jump of roughly ten percent.
But there may still be times and places where not only is discussion of risk familiar and habitually framed in terms of risk management, but also where ExxonMobil's framing might find a particularly receptive audience.
Asked by DeSmog, Supran said that investors may be particularly vulnerable to what he called ExxonMobil's "fossil fuel savior" framing.
"Within this frame, the company is an innocent supplier, simply giving consumers what they demand. That is, ExxonMobil are the good guys who we should trust to address the climate risks that we, the public, brought upon ourselves," he said. "It's also worth noting that these modern forms of propaganda are increasingly subtle and insidious, and so being exposed to them ad nauseam, as shareholders are, could make them more vulnerable to this 'discursive grooming'."
Going forward, the new paper predicts that companies like ExxonMobil may continue to rely on the strategies developed by the tobacco industry.
"In their public relations messaging, industry asserts smokers' rights as individuals who are at liberty to smoke," the paper says. "In the context of litigation, industry asserts that those who choose to smoke are solely to blame for their injuries."
"ExxonMobil's framing is reminiscent of the tobacco industry's effort 'to diminish its own responsibility (and culpability) by casting itself as a kind of neutral innocent, buffeted by the forces of consumer demand,'" it continues. "It is widely recognized that the tobacco industry used, and continues to use, narrative frames of personal responsibility — often marketed as 'freedom of choice' — to combat public criticism, influence policy debates, and defend against litigation and regulation."
Reposted with permission from DeSmog.
From Your Site Articles
Related Articles Around the Web
America's Power – Formerly American Coalition for Clean Coal Electricity (ACCCE) - spreads misinformation about "clean coal" with its "mobile classrooms." America's Power / CC BY 2.0
By Nick Cunningham
From coining "clean coal" to "carbon footprint," public relations firms have been instrumental in shaping the public discourse around climate and energy policy, and as a new study underlines, their powerful efforts have flown under the radar for too long.
PR firms have played a key role in obstructing action on climate change over the past 30 years, engaging in PR campaigns on behalf of the fossil fuel industry to not only downplay the seriousness of climate change, but also to position industry-favored solutions as the preferred course of action.
A new peer-reviewed study, published in Climatic Change on November 30 by Robert J. Brulle and Carter Werthman of Brown University, analyzes the role that PR firms have played in the climate misinformation ecosystem between 1988 and 2020. The study looked at 214 organizations across five major sectors — coal/steel/rail, oil & gas, utilities, renewable energy, and the environmental movement — and found that electric utilities hired and used PR firms the most out of any other sector analyzed, followed by oil and gas.
At the same time, those organizations used a very small number of big names in the PR world, including Edelman, Glover Park Group, Cerrell, and Ogilvy. Of more than 600 PR firms analyzed, the top 25 accounted for nearly a third of the engagement on climate work with companies and nonprofits.
"The fossil fuel industry's obstruction of climate action goes beyond misinformation and climate denial. A major part of the effort to obstruct climate action involves enhancing the positive public reputation for the fossil fuel companies and emphasizing the benefits of continued fossil fuel use," said Robert Brulle, visiting professor at Brown University and co-author on the article. "From the severity of climate impacts to policies to address the problem, PR firms are a big part of the corporate propaganda machinery that guides the way Americans think about the issue."
The authors wrote that while much has been written about the role of right-wing think tanks, dark money, and corporate power in misleading the public on climate change, very little is understood about how PR firms fit into the story. They are often viewed as passive players in climate obfuscation, rather than active agents, which ignores the influential role they play in "conceptualization, design, and execution of communications and political campaigns," the study said. PR firms intentionally try to remain invisible.
The study aims to shine a light on some of the most prominent companies, the role of which the authors say is "on par with conservative think tanks or environmental groups" in terms of influence over public climate discussions. The PR firms "remain unexamined, and not held to account for their activities."
"This study adds a new cast of characters to our understanding of the key actors in climate change politics," the study states. "Along with ExxonMobil, Koch Enterprises, Greenpeace, the Heartland Institute, and the Competitive Enterprise Institute, we need to add in PR firms such as Edelman, Glover Park, Cerrell, and Ogilvy."
Edelman stood out with the most PR "engagements," and also accounted for most of the PR work from the oil and gas industry. The researchers found that Edelman was the only PR firm that worked across all five sectors identified in the study. It is relatively rare for PR companies to do work for both the oil industry and an environmental group, for example. Edelman could not be reached for comment in time for publication.
While most sectors that encompass the fossil fuel industry and its affiliates long-ago eschewed outright climate denial as an overarching strategy to derail climate action, corporate entities have deployed a range of other strategies to slow or block threatening policies. The most common PR tactic is "corporate image promotion," or greenwashing, while explicit climate denial itself was rarely used, according to the analysis.
This study finds that PR firms are responsible for phrases that have become commonplace, such as "clean coal," "renewable natural gas," "coal country," and "carbon footprint." These concepts have become "taken-for-granted discourse regarding climate change, and subsequently shaped the public debate about the issue," the authors note.
Once such phrases catch on, they become a conventional way of framing the topic. For instance, U.S. Presidents from Barack Obama to Donald Trump have all used the phrase "clean coal" when discussing their approaches to energy policy.
Inside one of America's Power "clean coal mobile classsrooms." America's Power / CC BY 2.0
The tactics used by PR firms include paid media campaigns, earned media placements, so-called grassroots events (or astroturfing), and social media campaigns. DeSmog and others in climate journalism have long been working to expose how corporate interests employ these PR industry techniques to manipulate public opinion on climate and energy, from Edelman's 2014 work on behalf of a TransCanada tar sands pipeline to FTI Consulting's recent efforts to sell hydrogen and natural gas as climate solutions.
In particular, the use of PR by the oil and gas industry spiked a few times over the last three decades, the study found, most notably in 1989 and 1996. Those years coincide with two notable events: the Congressional testimony of climate scientist James Hansen in 1989 about the threat of climate change and the mid- to late-1990s push for the Kyoto Protocol, an international agreement aimed at curbing greenhouse gas emissions. However, the authors cautioned that they cannot empirically draw a causal link between those events and the use of PR on climate change.
Brulle and Werthman noted that the study is not comprehensive; they only looked at national PR campaigns, not state or local engagement on climate and energy. The research also does not include in-house PR created by companies themselves, only those done by external PR firms. And, importantly, many relationships between corporate entities and PR firms are private and not publicly disclosed, so this study likely underestimates the role of the PR industry.
The advocacy group Clean Creatives, launched last year, has been pushing for the PR and advertising industries to break ties with fossil fuel companies. Duncan Meisel, director of Clean Creatives, welcomed this study's efforts to highlight those ties.
"Agencies like Edelman, Ogilvy, and WeberShandwick named in this report need to recognize that work for fossil fuel companies is doing significant damage to their reputation and legacy. The hard truth is that advertising and public relations agencies are essential to the fossil fuel industry's propaganda machine, and work for fossil clients has stopped the world from adequately responding to the climate emergency," Meisel told DeSmog in an email. "The best time to stop working for fossil fuel clients was 20 years ago, when we had much more time to stop the climate emergency, the second best time is now."
Reposted with permission from DeSmog.
By Jessica Corbett
A crude oil spill at a Marathon Petroleum refinery in Texas City outside of Houston on Wednesday — just the latest in a series of recent leaks — sparked fresh calls for rapidly phasing out fossil fuels and transitioning to 100% renewable energy.
"The crazy thing is to expect that this won't keep on happening every damn day until we just keep the oil in the ground. #KeepItInTheGround," tweeted Nathaniel Stinnett, executive director of Environmental Voter Project, with footage of the scene at the Marathon Galveston Bay Refinery.
ABC 13 reports that Bruce Clawson, interim director of Homeland Security for Texas City, said the failure of a pump seal at the facility caused oil to pour out of the side of a tank. No one was injured but the incident led to road closures, according to Chron.
Both Clawson and Marathon Petroleum spokesperson Jamal T. Kheiry said the spill is contained to the facility, which has a refining capacity of 593,000 barrels of oil per day.
"The refinery has deployed air monitoring in the community as a precaution, and there is no indication of risk to the community," Kheiry said in a statement. "Cleanup is underway, and regulatory notifications have been made."
Fossil fuel infrastructure is safe, they said. Fossil fuel infrastructure won't leak, they said. https://t.co/G73I5aXtmH

— Katie Thomas (@Katie Thomas) 1633544045.0
The incident in Texas City comes just days after one of the worst oil spills in Southern California's history—which also drew attention to national fossil fuel policies and practices.
"Fossil fuels pollute. First the California spill, now this," Northwest Progressive Institute tweeted Wednesday, linking to a report on the situation in Texas. "We must transition to a renewable energy future as fast as we can. That's why we need climate investments in the #BuildBackBetter bill."
Democratic lawmakers and the White House are still negotiating the details of the Build Back Better bill. The climate and social safety net package, which is set to include several parts of President Joe Biden's agenda, has been held up by opposition from two right-wing Democrats.
While welcoming the president and congressional Democrats' efforts to enact climate legislation via the budget reconciliation process, progressive campaigners have also called out the Biden administration for moving forward with fossil fuel leases for public lands and waters.
Friends of the Earth Action echoed that criticism in a tweet about Texas, declaring, "Another day, another catastrophic oil spill that will massively harm local wildlife and environment."
The Biden administration "claims to care about the climate crisis — yet it continues to open up public lands and waters to Big Oil," the group said. "This is why that cannot continue."
Reposted with permission from Common Dreams.
From Your Site Articles
Related Articles Around the Web
© Andy Carter / DeSmog
By Rich Collett-White and Rachel Sherrington
Fossil fuel companies could face legal challenges over their misleading advertising, after a DeSmog investigation uncovered the extent of their "greenwashing."
Environmental lawyers ClientEarth have put companies on notice with the publication of the Greenwashing Files. The analyses, which use DeSmog's research, show how adverts of major fossil fuel companies and energy producers continue to overemphasize their green credentials, giving the public a misleading impression of their businesses.
DeSmog analyzed the advertising output of Aramco, Chevron, Drax, Equinor, ExxonMobil, Ineos, RWE, Shell and Total, and compared this with the reality of the companies' current and future business activities.
ClientEarth submitted a complaint against BP's advertising in 2019, before the company decided to withdraw its "Possibilities Everywhere" campaign. The lawyers say other fossil fuel companies could face similar challenges if they mislead the public through their advertising. The group is calling for tobacco-style advertising bans and health warnings to counter fossil fuel companies' "deceptive" marketing.
DeSmog's investigation found messaging that touts companies' climate pledges without being transparent about their large emissions contributions is widespread across advertising campaigns and social media promotions.
The adverts regularly highlight the companies' preferred solutions to climate change — from carbon capture and storage, to experimental algae biofuels, and investment in renewable energy sources — without being open about the small percentage of overall investment allocated to these technologies, nor their various limitations.
The Greenwashing Files lay bare the contrast between the public image these adverts create, and the reality of the fossil fuel companies' activities.
All companies featured in this article were contacted for comment.
ExxonMobil – 'Powering Progress'
"We're working on ways to provide energy while addressing the risks of climate change, producing clean-burning natural gas to reduce emissions from power plants, capturing CO2 before it reaches the atmosphere, and exploring unexpected energy sources like biofuels made from algae," a reassuring voice tells us in Exxon's "Powering Progress" advert – one of several released in recent years that present the US oil giant as a leader in green technologies.
But while the ad shows Exxon scientists hard at work developing "algae farms" and technology designed to suck carbon dioxide from the air, its business activities tell a different story.

Exxon is increasingly an outlier among fossil fuel companies and other major emitters, having refused to set an absolute emissions reduction target, opting instead for gradual "carbon intensity" reductions which still allow for overall emissions to increase. It has no plans to cut oil and gas production, which energy analysts say is urgently needed to meet the goals of the Paris Agreement.
While Exxon remains responsible for a significant portion of global emissions – with documents in 2019 revealing a total annual output roughly equivalent to that of Canada – its spending on clean energies has been a tiny fraction of its investments, with just 0.2 percent of its investment in new projects going to low carbon sources between 2010 and 2018.
And while "Powering Progress" and other ads put Exxon's investments in algae biofuels at the fore, it has spent just $300 million on the technology in a decade, compared with yearly capital investment of around $20 billion. Experts doubt whether the technology will ever be commercially viable or usable at scale.
RWE – 'We are the new RWE'
A video by German energy giant RWE takes the viewer through landmark inventions that have spurred on human civilisation since the industrial revolution – the light bulb, the radio, mass transport – before arriving at the present day. "Every time has its energy," the ad tells us, adding that "times are changing. Society is changing. Companies are changing, and we are changing too."
The images cut to wind turbines, and the forces of nature that are powering what we are told is today's "renewable age." The company positions itself at the heart of this transition, telling the viewer it is "focusing on renewable energies and storage, for a sustainable world," and that it is providing "clean, reliable and affordable" energy as part of its transition to "the new RWE."

The campaign accompanies pledges to become "carbon neutral" by 2040 and oversee a significant expansion into wind and solar energy.
But the growth of RWE's low-carbon activities has not been matched by an exit from fossil fuels. RWE remains the largest emitter in Europe, according to a recent study by Greenpeace, and its three major lignite coal-fired power stations all feature in the EU's top five highest-emitting plants. Under current plans, it will continue to generate coal-fired electricity until the end of 2038, almost a decade after the deadline recommended for OECD countries by climate experts, at the same time as expanding its already significant fossil gas business.
Despite its claims to focus on clean energy, 80 percent of the company's energy still comes from non-renewable sources, mostly highly-polluting brown coal, hard coal and gas. The company also counts controversial and carbon-intensive biomass amongst its "renewable" energy sources despite warnings from scientists over its use.
Drax – 'Beyond Coal'
Drax, another energy company that now relies heavily on biomass and operates the UK's largest power station in North Yorkshire, has worked hard to bolster its green credentials in recent years, positioning itself as an ally in the fight against climate change.
Last year, it released an advert celebrating the company's shift away from coal-fired energy production, which it completed in March. Set to an uplifting soundtrack, the video calls the move a "major step towards Drax's ambition to become carbon negative by 2030," while touting a new "Zero Carbon Skills Taskforce" to ensure the surrounding area "isn't defined by its past, but by its future."
A 2020 year-in-review video meanwhile describes Drax as "among Europe's lowest carbon intensity power generators," producing "77 percent renewable electricity."
But the company's claims about the climate-friendliness of biomass, which has now taken over from coal as the principal source of energy at its power station thanks to generous government subsidies, have been widely disputed. Burning wood pellets has been found to be more carbon-intensive than fossil fuels in most circumstances, while experts doubt that trees planted in their place can re-absorb the carbon dioxide emitted, on a meaningful timescale.

Carbon capture and storage – another key plank of Drax's low-carbon strategy – remains uneconomical at scale, with the company's own use of the technology still in the pilot phase.
In response to questions from DeSmog, Drax said emissions from biomass energy are "already accounted for in the land-use sector and therefore considered carbon neutral at the point of combustion," in line with "established global best practice" set out by the UN IPCC.
It also said biomass should be considered renewable "because the forests we source from are growing and storing more carbon" and pointed to its plans for a bioenergy with carbon capture and storage (BECCS) unit by 2027, "creating tens of thousands of jobs" and "permanently removing millions of tonnes of carbon dioxide from the atmosphere each year."
Aramco – 'The Moment is Now'
The Saudi Arabian state-owned oil and gas giant, Aramco, became the most valuable listed company in history when it floated on the stock market at the end of 2019. But the fossil fuel behemoth is at pains to assure viewers it is concerned about more than just its bottom line.
In an advert titled "The Moment is Now," an Aramco employee tells a lecture theatre full of colleagues that "as we open up to the world, we know more than ever before that we must continue towards a sustainable future."
"We value the natural resources we discover but never forget it is our human energy that drives us to create a better world," she says to the audience, who reward her presentation with a standing ovation.
Elsewhere, the company insists it is driven by a "commitment to preserving the environment because protecting our planet is one of our most important values."

That's despite the company being the world's largest corporate greenhouse gas emitter, responsible for an estimated four percent of all global emissions since 1965.
Aramco's oil and gas reserves total more than those of ExxonMobil, Chevron, Shell, BP and Total combined, while the company refuses to disclose its full emissions. Its majority shareholder, the Saudi Arabian government, has been at the forefront of efforts to stall international action on climate change for decades. At the last UN climate talks in Madrid, over a third of Saudi Arabia's representatives were associated with the oil and gas industry, many with Aramco.
Equinor – 'This is what changed us.'
Previously trading under the name Statoil, the Norwegian state-owned oil and gas company Equinor rebranded in 2018, with the hope of highlighting its transformation into a "broad energy company" and its growing low-carbon energy division.
Equinor explained its reasons for the name change in an advert called "Equinor. This is what changed us." Scenes of raging storms and melting ice caps are displayed while the narrator says: "Some changes are so profound that they transcend everything. Changes that require us to find a new balance."
In a more recent ad, the company insists that "emissions must come down and it must happen fast."

Equinor is certainly taking steps to increase its investments in low-carbon technologies, with plans to up its renewable energy capacity to 4-6 gigawatts by 2026, and has set a "net zero" emissions target for 2050.
But this shift is largely in addition to, rather than in place of, its core oil and gas business. The company is still exploring for more oil and gas reserves and does not intend to start reducing its fossil fuel production before 2030. Last year, it opened the largest oil field in Western Europe and is heavily involved in ventures in the Arctic.
Equinor promotes natural gas as the "perfect fuel to balance renewable energy" and was given a warning two years ago by the UK's Advertising Standards Authority for claiming the fuel was a "low-carbon" energy source.
Another technology the company touts is carbon capture and storage (CCS), but all of the projects it is involved in currently amount to less than three percent of its overall emissions.
Greenwashing Files
ClientEarth lawyer Johnny White said the collection of adverts showed the fossil fuel companies were involved in a "great deception."
"We need to reduce reliance on fossil fuels. But instead of leading a low-carbon transition, these companies are putting out advertising which distracts the public and launders their image," he said.
"These adverts are misrepresenting the true nature of companies' businesses, of their contribution to climate change, and of their transition plans," he added, saying that "we cannot underestimate the real world impact this advertising has on the pace of change."
You can find the full set of adverts and analyses here.
Additional research by Michaela Herrmann. Edited by Mat Hope.
Disclaimer: ClientEarth lawyer Sophie Marjanac sits on the board of DeSmog UK Ltd.
Reposted with permission from DeSmog.
'The nation's worst polluters managed to evade accountability and scrutiny for decades as they helped the fossil fuel industry destroy our planet.'
Illustration: Jason Goad / The Guardian
By Georgia Wright, Liat Olenick and Amy Westervelt
This story is part of Covering Climate Now, a global journalism collaboration strengthening coverage of the climate story.
For too long, Americans were fed a false narrative that they should feel individually guilty about the climate crisis. The reality is that only a handful of powerful individuals bear the personal responsibility.
The nation's worst polluters managed to evade accountability and scrutiny for decades as they helped the fossil fuel industry destroy our planet. The actions of these climate supervillains have affected millions of people, disproportionately hurting the vulnerable who have done the least to contribute to global emissions.
Working- and middle-class people must stop blaming themselves for the climate crisis. Instead, it's time to band together to seek justice and hold these profiteers accountable. Only in calling out their power and culpability is it possible to reclaim the world that belongs to all of us, together.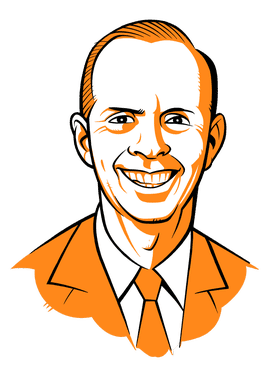 THE WOKE-WASHER
Mike Wirth
Chairman of the board and CEO of Chevron
Mike Wirth captains Chevron, a notorious corporate polluter responsible for one of the highest total carbon emissions of any private company worldwide.
Under Wirth's direction, Chevron has pursued several greenwashing tactics to downplay the company's environmental impact. A coalition of environmental groups filed a Federal Trade Commission complaint against Chevron earlier this year saying it misled the public by claiming responsibility only for carbon emissions associated with refining and transporting oil, not the total emissions created by the product it sells.
Wirth also sits on the board of the American Petroleum Institute, an oil industry trade group with a long track record of spreading climate denial and delaying legislative efforts to curb carbon emissions.
In his own words: "Let them plant trees."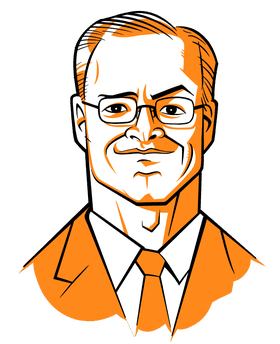 THE RINGLEADER
Darren Woods
Chairman of the board and CEO of Exxon
ExxonMobil is publicly known as one of the first oil companies to become aware of climate change, more than 40 years ago. Still, Exxon spent millions of dollars spreading climate denial while simultaneously contributing the fourth largest amount of carbon emissions of any investor-owned company in the world.
Woods, who has been with the company since 1992, makes more than $20 million a year. And though he expressed support for the 2015 Paris agreement to substantially reduce global pollution, leaked documents showed his plan for the company to increase its emissions by 17% through 2025.
Earlier this year, Exxon lobbyists were captured on video revealing the company's efforts to obstruct climate legislation in Congress. Woods later tried to distance himself and the company from the lobbyists, saying they "in no way represent" Exxon's position.
In his own words: Woods once called carbon reduction standards "a beauty match, a beauty competition."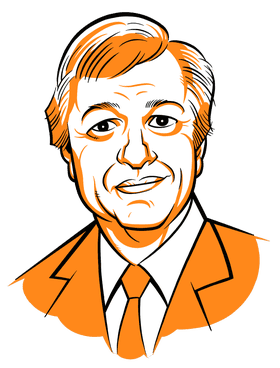 THE ENABLER
Jamie Dimon
CEO of Chase Bank
Billionaire Jamie Dimon is top dog at JP Morgan Chase, which has provided $317 billion in fossil fuel financing – 33% more than any other bank – since the Paris agreement was adopted in 2015. Under Dimon, Chase has also funneled more than $2 billion into tar sands projects between 2016 and 2019.
When Chase's managing director, Greg Determann, was asked early this year if the company would still lend to oil and gas companies despite the worsening climate crisis, Determann replied: "'Mr. Dimon is quite focused on the industry. It's a huge business for us and that's going to be the case for decades to come."
In his own words: "The solution is not as simple as walking away from fossil fuels."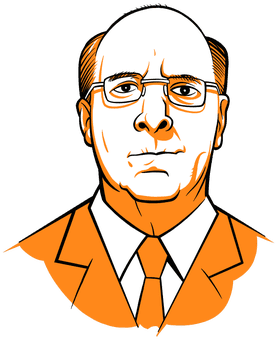 THE FINANCIER
Larry Fink
CEO of BlackRock
As the chief executive of BlackRock, Fink oversees one of the world's largest fossil fuel investment portfolios, with $87 billion behind the industry.
And though Fink has made sweeping climate promises and even wrote an op-ed about achieving a "net-zero" world, his company has profited off deforestation – a major cause of rising emissions – more than any other company globally.
Fink has also pushed BlackRock to vote against pro-climate action shareholder resolutions – all while angling for money from the federal government that should go to climate projects.
In his own words: "Without global action, every nation will bear enormous costs from a warming planet, including damage from more frequent natural disasters and supply-chain failures."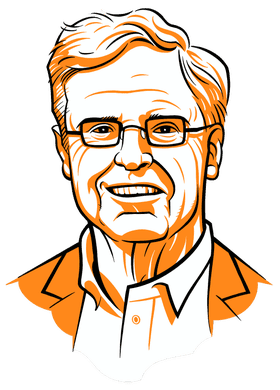 THE KINGPIN
Charles Koch
Chairman and CEO of Koch Industries
Alongside his now-deceased brother David, Charles Koch has a lengthy résumé of climate malfeasance. The multibillionaire is the longtime head of Koch Industries, a refining, petrochemical and pipeline company labeled by Greenpeace as a "kingpin of climate denial."
The Kochs, and particularly Charles, moved early to politicize climate change. Charles founded and funded the Cato Institute, a libertarian think tank known to coordinate and distribute climate denial, which became the first organization to stoke the ideological divide on the climate crisis. Koch Industries went on to spend nearly $150 million financing climate denial groups between 1997 and 2018 alone.
Since his brother's death, Charles has attempted to backtrack on his legacy of sowing hyper-partisan division. But according to OpenSecrets, Koch Industries is the top spender ($5.6 million) on annual lobbying on oil and gas so far this year.
In his own words: "Boy did we screw up. What a mess!"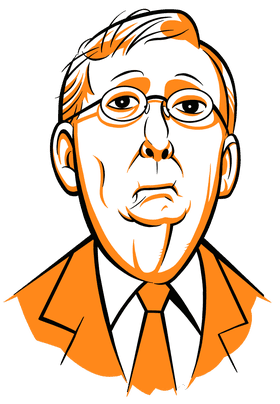 THE OBSTRUCTIONIST
Mitch McConnell
Senate minority leader
Mitch McConnell admitted to believing in human-caused climate change only in 2020. He is also the chief architect of ongoing Republican obstructionism. Under President Obama, whose climate actions he smeared as a "war on coal," McConnell used the filibuster to block even tepid climate reforms supported by a majority of Americans.
Under Trump, McConnell nuked the judicial filibuster in order to put three anti-science, pro-corporate justices on the Supreme Court, including Amy Coney-Barrett, who maintains deep family ties to big oil (her father worked at Shell for decades). And now, McConnell is ensuring that 100% of Republicans will vote against all of Biden's climate agenda.
McConnell is also heavily funded by the fossil fuel industry, to the tune of more than $3 million over the course of his infamous career.
In his own words: "I'm not a scientist."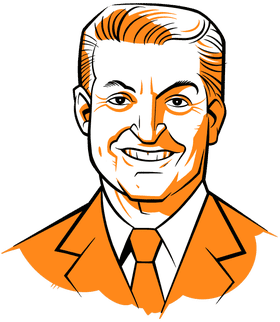 THE SABOTEUR
Joe Manchin
U.S. senator
Today, Joe Manchin is most famous for being a swing vote for important legislation, but the real story is how the fossil fuel industry made him mega-wealthy through two coal companies he founded in the 1980s.
While even coalminers in his home state of West Virginia support a Green New Deal, Manchin uses his position to hold climate legislation hostage on behalf of the fossil fuel industry – which he is doing by threatening to vote against Biden's Build Back Better climate agenda. The Exxon lobbyists caught on tape earlier this year specifically identified Manchin as "their guy," and said they meet with him several times a week.
According to OpenSecrets, Manchin takes more money from the fossil fuel industry than any other Democrat.
In his own words: "If you're sticking your head in the sand, and saying that fossil [fuel] has to be eliminated in America... and thinking that's going to clean up the global climate, it won't clean it up at all. If anything, it would be worse."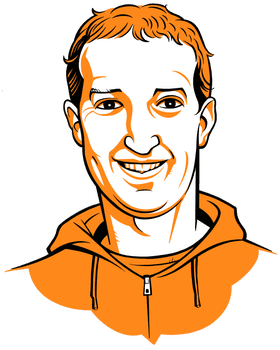 THE PROPAGANDIST
Mark Zuckerberg
Facebook founder and CEO
Zuckerberg, whose net worth is $120 billion, shows a consistent willingness to profit off the spread of climate denial on behalf of the fossil fuel industry. In April 2021, Zuckerberg told Congress climate misinformation was "a big issue," yet Facebook has done little to rein in climate denial or challenge the fossil fuel industry.
Last year, pro-fossil fuel Facebook ads were viewed 431 million times. In just the first half of 2020, ads on Facebook calling climate change a hoax were viewed at least 8 million times in the United States alone.
In 2019, an article falsely attributing climate change to Earth's solar orbit went viral, accumulating millions of views without intervention by the company. And this year, one report found that in just the first two months of 2021, Facebook spread climate denial to more than 25 million people, including posts about wind turbines being to blame after Texas froze over in February.
Meanwhile, Facebook has muzzled actual climate scientists trying to share peer-reviewed research.
In his own words: "Move fast and break things. Unless you are breaking stuff, you are not moving fast enough."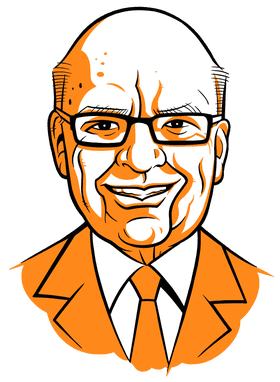 THE TYCOON
Rupert Murdoch
Founder of News Corp
The father of international media conglomerate News Corp and the CEO of Fox News, the Wall Street Journal, and many other outlets, Australian American tycoon Rupert Murdoch has overseen his companies' rampant spreading of misinformation and climate denial for decades, netting him over $23 billion.
Although Murdoch has claimed his company does not support climate denial, his news outlets have published article after article sowing doubt in climate science. Meanwhile, as of 2019, more than 80% of climate coverage on Fox News was steeped in denial, according to an analysis by the consumer advocacy organization Public Citizen.
In his own words: "Climate change has been going on as long as the planet is here, and there will always be a little bit of it."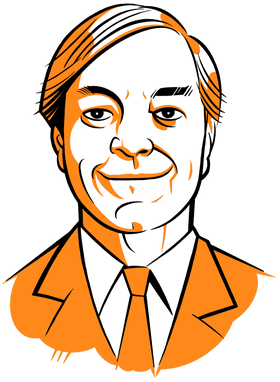 THE DESTROYER
David MacLennan
CEO of Cargill
Rainforests are the most important climate regulators in the world. But Cargill, a global food corporation helmed by MacLennan, has a profit model based on rainforest destruction caused by soy and beef production, particularly in the Amazon.
MacLennan has been in charge of the company's global strategy since 2013. He was calling the shots when, in 2019, former congressman Henry Waxman called Cargill the "worst company in the world," referring to its track record on deforestation.
Thanks to public pressure, Cargill did recently declare a moratorium on buying agricultural products from illegally cleared rainforest, but there is evidence that under MacLennan's leadership, the company is already ignoring its own commitment.
In his own words: When asked why Cargill wasn't eliminating deforestation from its supply chain: "The supply chains in Brazil are very complicated."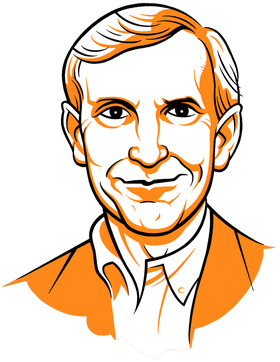 THE FABULIST
Richard Edelman
CEO of Edelman PR
Edelman heads the global communications firm Edelman PR, which made tens of millions of dollars over the years by working with fossil fuel companies. His firm has created multi-pronged PR, advertising and lobbying campaigns with ExxonMobil, TransCanada, the American Petroleum Institute and Shell – prompting high-profile clients and executives to leave over the firm's work peddling climate denial.
In 2015, Edelman announced that the firm would stop accepting climate denier assignments, but he has since claimed that the firm's work for Shell, ExxonMobil and more don't technically qualify as climate denial.
Tax filings show that since that 2015 announcement, the firm has raked in $12 million for its work with the American Fuel and Petrochemical Manufacturers alone, whose most recent focus has been increasing criminal penalties for pipeline protesters.
In his own words: "I'm proud of what our firm is doing to build a house of trust through our mission, values, and actions."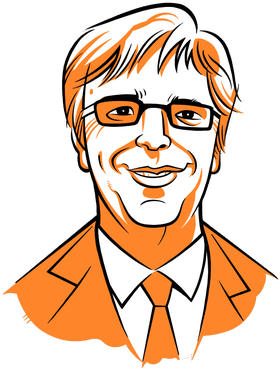 THE SMOOTH TALKER
Ted Boutrous
Partner of Gibson Dunn law firm
As Chevron's lead attorney and the main spokesman for all the oil companies in some two dozen climate liability cases, Boutrous sets the agenda in answering to the fossil fuel industry's decades of lies about climate change. His argument before the courts hinges on the idea that every person shares equal blame for the climate crisis, and that it's "counterproductive" to hold the fossil fuel industry particularly responsible.
Law Students for Climate Accountability rates Gibson Dunn among the worst of the worst on its climate scorecard for having the second-highest amount of fossil fuel litigation work of all 26 firms the group evaluated.
In his own words: "Chevron is a great company and great client with a strong culture of social responsibility."
lllustrations by Jason Goad
This story originally appeared in The Guardian and is republished here as part of Covering Climate Now, a global journalism collaboration strengthening coverage of the climate story. Mark Hertsgaard is Covering Climate Now's executive director.
Talbert Marsh and Huntington State Beach after a major oil spill, on Oct. 4, 2021. Allen J. Schaben / Los Angeles Times via Getty Images
The devastating oil spill that spewed at least 126,000 gallons off the Southern California coast this weekend has highlighted the dangers of oil extraction.
The spill was likely caused by a leak in a pipeline operated by Beta Offshore, about five miles from the coast of Orange County, NBC4 Los Angeles reported. It has shuttered beaches from Huntington Beach south to Laguna, and oil has entered the ecologically important Talbert Marshlands. As of Monday, four oiled birds had been recovered and one, a brown pelican, had to be euthanized.
But for environmental advocates and politicians, the spill is more than a local tragedy. Instead, it represents the hazards posed by fossil-fuel extraction, and offshore oil drilling in particular.
"Big Oil's offshore drilling puts the health of our communities, our local economies, and our planet at risk," Representative Katie Porter, whose district lies adjacent to Huntington Beach, tweeted in response. "Cleaning up this spill is not enough; we need to stop these disasters from happening in the first place."
The Center for Biological Diversity (CBD) further pointed out that offshore drilling in California relies on aging infrastructure. The spill occurred on a drilling platform called Platform Elly, which was built four decades ago. In 1999, its operator was fined for another spill.
"I've seen the aging oil platforms off Huntington Beach up close, and I know it's past time to decommission these time bombs," CBD oceans program director Miyoko Sakashita said in a statement. "Even after fines and criminal charges, the oil industry is still spilling and leaking into California's coastal waters. The only solution is to shut this dirty business down."
A sign at Huntington Beach warns against entering the water following a major oil spill in Orange County. Center for Biological Diversity
This isn't the first time that California's oil industry has harmed its unique coastal wildlife. In 2015, the failure of the Plains All American Pipeline's coastal oil pipeline caused the Refugio Oil Spill. This disaster leaked more than 100,000 gallons of crude oil, most of which ended up in the ocean where it killed fish, birds and marine mammals, according to NOAA. The pipeline owner was found criminally responsible by a jury in 2018, and since then seven offshore drilling platforms in the state have been shuttered, CBD reported.
However, the history of the oil industry's devastation in California goes back further than that. The site of the Huntington Beach spill isn't far from the 1969 Santa Barbara spill, The AP noted.
This disaster was caused by a blowout on the Union Oil offshore drilling platform that spilled around 3.5 million to 4.2 million gallons of crude into the Santa Barbara Channel, making it the third largest oil spill in U.S. history. The spill killed thousands of birds and drew attention to how little say local communities had in the use of their waters. The incident helped inspire the first Earth Day, but now activists worry that not enough has changed.
"It's frustrating that spills like this keep happening," Natural Resources Defense Council senior attorney Damon Nagami told The AP. "I grew up near here, so this feels really personal."
While there are steps that can be taken to better regulate offshore drilling, environmental advocates ultimately argue that the best way to prevent oil spills is also the best way to solve the climate crisis: stop relying on fossil fuels.
"This spill is yet another reminder that we can have healthy and safe communities, thriving coastal economies, and a stable climate — or we can continue drilling for oil. We can't have both," Monica Embrey, senior associate director of the Sierra Club's Beyond Dirty Fuels campaign, said in a
statement
. "It's long past time to choose a transition away from dirty oil drilling and toward a healthier, safer, clean energy future."
A veterinarian examines a sanderling, a small shore bird brought to the Huntington Beach Wetlands and Wildlife Care Center on Oct. 4, 2021 due to the oil spill. Mindy Schauer / MediaNews Group / Orange County Register via Getty Images
A gas flare burns in the Permian Basin in Texas. Bronte Wittpenn / Bloomberg Creative Photos / Getty Images
Royal Dutch Shell's sale of all its Permian Basin fracking assets to ConocoPhillips for $9.5 billion may reduce the company's emissions on paper, but nowhere else, experts say.
Shell has come under increasing pressure to reduce its climate pollution, including a landmark ruling from a Dutch court this spring, but selling its Permian oil extraction operations just means it gets the pollution off its own balance sheets – and onto ConocoPhillips'.
"You're not reducing emissions, you're just transferring who produces them," said Arvind Ravikumar, head of UT-Austin's Sustainable Energy Transitions Lab, to The Texas Tribune.
Shell may also hope to do some reputational rehab by selling off its assets in the Permian Basin, specifically. "The Permian Basin has gained a notorious reputation," said Luke Metzer, head of Environment Texas. "Many Wall Street people have said it has a black eye for failing to address methane emissions and flaring."

As reported by The Texas Tribune:
"This is not a symbol of global movement to take climate action," said Kenneth B. Medlock III, senior director at the Center for Energy Studies at Rice University. "This is a symbol of what two different entities viewed was in their own commercial best interest."

For a deeper dive:

For more climate change and clean energy news, you can follow Climate Nexus on Twitter and Facebook, sign up for daily Hot News, and visit their news site, Nexus Media News.
From Your Site Articles
Related Articles Around the Web
A flare stack next to pump jacks and other oil and gas infrastructure on April 24, 2020 in the Permian Basin near Odessa, Texas. PAUL RATJE / AFP via Getty Images
The move reflects pressure on European fossil fuel companies like the Netherlands-based Shell to shift towards cleaner sources of energy in response to the climate crisis, The New York Times reported. It also comes around four months after a Dutch court ordered the company to reduce its greenhouse gas emissions to 45 percent of 2019 levels by 2030.
"After reviewing multiple strategies and portfolio options for our Permian assets, this transaction with ConocoPhillips emerged as a very compelling value proposition," Shell Upstream director Wael Sawan said in an announcement. "This decision once again reflects our focus on value over volumes as well as disciplined stewardship of capital."
The Permian Basin is the largest oil field in the U.S., and the sale comes as production is recovering there following the coronavirus pandemic, The New York Times noted. It produced 4.7 million barrels a day in August, which is up almost 400,000 barrels a day from January and represents more than 40 percent of U.S. oil production. In an indication that its decision is motivated by climate concerns, Shell said in its announcement that its Upstream division was concerned with creating "a more focused, competitive and resilient portfolio that provides the energy the world needs today whilst funding shareholder distributions as well as the energy transition."
Shell on its own has committed to achieving net zero emissions by 2050 and reducing oil production by as much as two percent per year through 2030.
However, the sale to ConocoPhillips means that overall oil production in the region will likely not decrease. Instead, it reveals a split between European and U.S. fossil fuel companies, Reuters observed. While BP and Shell have pledged to move slowly away from crude production and invest in renewable energy sources like wind and solar, ExxonMobil and Chevron have remained committed to oil and gas.
However, historically, both U.S. and European fossil fuel companies continued production despite being aware of the possible consequences of the climate crisis. An internal document from Shell written in 1986 warned of consequences like flooding and forced migration, as Benjamin Franta wrote for the London School of Economics.
ConocoPhillips now emerges as one of the largest producers in the Permian Basin, Bloomberg reported. The company currently holds 750,000 net acres in the Permian, and the sale will add around 225,000 net acres and more than 600 miles of associated infrastructure to that total, according to Reuters.
"We are very excited to enhance our position in one of the best basins in the world," the company's CEO Ryan M. Lance told The New York Times.
However, ConocoPhillips has also said it will increase its emissions reduction targets, Reuters reported.
Mapping Methane in the Permian Basin youtu.be
Climate activists with Stop the Money Pipeline demonstrate in midtown Manhattan on March 3, 2021. Erik McGregor / LightRocket via Getty Images
By Jessica Corbett
"The boardrooms of the world's largest banks are polluted to the core... How are we ever meant to stop the climate crisis if the world's most powerful decision-makers are in bed with the companies behind the wheel!?"
That's how Bank on Our Future — a UK-based network pressuring financial players to align their business practices with tackling the climate crisis — responded Wednesday to a new DeSmog analysis revealing that a majority of directors at major banks worldwide are connected to polluting companies and organizations.
"This is a ginormous and superb piece of work by the talented sleuths" at DeSmog, said Beau O'Sullivan, a campaigner at the Sunrise Project in Australia. He added that the report "contains findings that readers may find offensive and deeply disturbing."
Even a global #ClimateEmergency hasn't triggered rapid defunding of the industries responsible for driving climate… https://t.co/ogg5ZHjvRP

— Greenpeace Canada (@Greenpeace Canada) 1617819304.0
DeSmog examined the boards of 39 banks, including seven based in the United States, and found that 65% of directors have a total of 940 past or current ties to "climate-conflicted" industries. Across all banks studied, 16% of board members had ties to companies involved in extracting coal, gas, and oil.
In addition to fossil fuels, "there were also significant ties to banks and investment vehicles supporting polluting industries, as well as to thinktanks and lobbying groups with a history of campaigning against climate action," reported DeSmog's Phoebe Cooke, Rachel Sherrington, and Mat Hope.
Breaking: New research by @DeSmogUK reveals that 65% of directors in powerful bank boardrooms have polluting ties t… https://t.co/7pJgsPcE9u

— Richard Brooks ☀️ (@Richard Brooks ☀️) 1617791825.0
"The fossil fuel industry has a well-established track record of ingratiating itself with society's opinion leaders and decision-makers," Geoffrey Supran, research associate in Harvard University's Department of the History of Science, told DeSmog about "the revolving doors between the corporate leaderships of incumbent industries."
"Having its fingers in all the pies allows the fossil fuel industry to quietly put its thumb on the scales of institutional decision-making, helping delay action, and protect the status quo," added Supran, who called the results of the analysis "predictable, yet shocking."
Alec Connon, coalition coordinator at Stop the Money Pipeline, responded similarly to the revelations in an email to Common Dreams.
"It should surprise no one that Wall Street boards are brimming with executives with close ties to climate-damaging companies," he said. "Since the Paris agreement was signed in 2015, Chase, Wells Fargo, and their Wall Street ilk have loaned more than $1 trillion to the fossil fuel industry. In the climate crisis, Wall Street is a primary villain."
"Perhaps if they had fewer fossil fuel executives on their boards," Connon added, "that would begin to change."
Remember the military-industrial complex? Meet it's equally nasty twin, the fossil fuel-finance complex https://t.co/dAUlDtmrcK

— Bill McKibben (@Bill McKibben) 1617799338.0
A coalition of green groups including the Rainforest Action Network (RAN) released a report last month detailing how the world's 60 biggest banks have poured over $3.8 trillion into the fossil fuel industry in the wake of the landmark climate agreement, which aims to keep global temperature rise by 2100 to "well below" 2°C, with a more ambitious target of 1.5°C.
The groups' Banking on Climate report generated fresh criticism of big banks' recent pledges to work toward net-zero greenhouse gas emissions by 2050. In light of DeSmog's reporting, Connon also addressed such commitments, saying that "2050 promises without 2021 action are essentially meaningless."
"We need action today, not vague promises of action in the next three decades," he continued. "Perhaps the fact that Wall Street boards are so full of fossil fuel executives is one reason why they're continuing to prioritize empty promises over immediate, meaningful policy change."
Since January 2020, the Stop the Money Pipeline coalition has pressured banks, insurers, and asset managers to cut ties with companies financing climate destruction. While its initial top targets were JPMorgan Chase, BlackRock, and Liberty Mutual, the coalition has expanded its efforts — including with a recently launched campaign directed at funders of Enbrige's Line 3 tar sands pipeline.
That controversial project — intensely opposed by Indigenous water protectors and climate campaigners — was the focus of a report by Emily Holden of Floodlight and Emily Atkin of HEATED, published Wednesday in The Guardian.
Citing DeSmog's finding that 77% of board members at seven major U.S. banks have ties to climate-conflicted companies or groups, the pair provided "an on-the-ground look at where all this dirty money is going," as Supran put it.
According to Holden and Atkin:
From the U.S., Bank of America, Citigroup, JPMorgan Chase, and Wells Fargo have made the project possible with billions of dollars in loans, although it's impossible to tally precisely how much they have financed for the pipeline specifically. Another five large Canadian banks are also financing Enbridge, according to RAN.
Out of these nine North American banks backing Enbridge, six have recently published net-zero climate goals, pledging to align their investments with the international Paris climate agreement.
"The banks are gorging on doughnuts and then eating an apple afterwards," said Richard Brooks, the Toronto-based climate finance director for Stand.earth. "We certainly can't rely on banks or the private sector to lead us into climate safety and lead us toward emissions reductions. We need policy, we need regulation. We need government to act."
Last week, 145 groups sent a letter to John Kerry, President Joe Biden's climate envoy, encouraging the former secretary of state to use his current position to help end "the flow of private finance from Wall Street to the industries driving climate change around the world — fossil fuels and forest-risk commodities."
In another pair of letters last week, federal lawmakers and environmental groups pressed Federal Reserve Chair Jerome Powell to pursue bolder efforts to protect U.S. financial institutions and the economy from risks posed by the climate crisis.
Campaigners are also calling for changes at the institutions.

"We need people who are willing to lead on climate on the boards of the country's largest financial institutions," said Connon. "That's why Stop the Money Pipeline is joining the growing calls on major investors, such as BlackRock and Vanguard, demanding that they vote against any corporate directors that have proven themselves unable or unwilling to take real action on climate. That starts this shareholder season."
Reposted with permission from Common Dreams.

From Your Site Articles
Related Articles Around the Web