A bee hovers near flowers in St. James's Park in central London on May 21, 2020. DANIEL LEAL-OLIVAS / AFP via Getty Images
The UK government is facing backlash after it approved the emergency use of a pesticide thought to kill bees.
In 2018, the EU widened a ban on neonicotinoid pesticides because of their impact on bees and other pollinators. At the time, the UK government pledged to keep the ban in place after leaving the EU, The Guardian pointed out. But on Friday, the Department for Environment, Food and Rural Affairs (DEFRA) approved the neonicotinoid thiamethoxam for emergency use on sugar beets in 2021.
"We are very upset," Buglife CEO Matt Shardlow said in a statement, "this is an environmentally regressive decision by Defra."
The decision was made in response to requests from the National Farmers' Union (NFU) and British Sugar to give sugar beets extra protection from a virus causing an ailment called virus yellows disease, The Guardian explained.
"Virus yellows disease is having an unprecedented impact on Britain's sugar beet crop, with some growers experiencing yield losses of up to 80%, and this authorisation is desperately needed to fight this disease. It will be crucial in ensuring that Britain's sugar beet growers continue to have viable farm businesses," NFU chairman Michael Sly told The Guardian.
Other countries still currently in the EU have also allowed emergency use of the product, including Belgium, Denmark and Spain.
But environmental advocates argue that any use of the pesticide is too risky at a time when insect populations are in peril. A 2020 study found that land-based insects had declined 50 percent in the last 75 years. The UK alone lost a third of its bees in the last decade, according to The Independent. The decline of UK bees since 2007 coincided with the introduction of thiamethoxam, according to The Guardian. Studies have shown that the pesticide can weaken bees' immune systems and harm the brains of young bees, making it harder for them to fly.
"Insects perform vital roles such as pollination of crops and wildflowers, and nutrient recycling, but so many have suffered drastic declines. Evidence suggests we've lost at least 50% of insects since 1970, and 41% of all insect species are now 'threatened with extinction'", the Wildlife Trust said in a Twitter thread responding to the news.
Bad news for bees: The Government has bowed to pressure from the National Farmers Union to agree the use of a highl… https://t.co/W8k7Tl9p4J

— The Wildlife Trusts (@The Wildlife Trusts)1610127990.0
Other outraged citizens launched a petition calling on the government to reverse its decision.
"This pesticide is lethal to bees and other pollinators which our environment desperately needs to pollinate flora and fauna. Bees pollinate up to 3/4 of crops which makes the use of this pesticide incredibly counter-intuitive," the petition stated.
The petition earned signatures from celebrities including comedienne Sue Perkins, The London Economic noted.
2017: 'The principal public good we will invest in is environmental enhancement." Gove 2020: Introducing banned pe… https://t.co/uUS9Cz3feo

— Sue Perkins 💙 (@Sue Perkins 💙)1610275182.0
In its statement, Buglife said it was especially concerned about a provision allowing farmers to destroy wildflowers around the beets and a lack of information about plans to keep the pesticide from polluting rivers. It noted that a similar application for emergency use was denied in 2018 due to its potential impacts on bees.
"Nothing has changed scientifically since the decision to ban neonics from use on sugar beet in 2018, they are still going to harm the environment," Shardlow said.
EcoWatch Daily Newsletter
Halfpoint Images / Moment / Getty Images
After a year of learning from behind a screen, it's time for some outdoor play this summer.
It's widely accepted that spending time in nature has unparalleled benefits for children; kids who play outdoors are happier, more attentive, and less anxious than those who spend more time indoors. Being in nature builds confidence and creativity, reduces stress, and teaches responsibility to children – and, that time outdoors can also incorporate educational activities that help children feel excited about science and the wonders of the natural world, instilling in them a lifelong environmental ethic. Hands-on activity and play will teach them about our planet in ways not possible from merely learning in a classroom (or a Zoom screen).
This summer, take the opportunity to educate your children about the natural world, environmental conservation, and how to be stewards of the planet with a few simple, educational nature activities that will keep them entertained at home.
1. Build a Bee or Bug Hotel
dies-irae / iStock / Getty Images Plus
By providing a place for bugs to nest, insect hotels bring critters into your yard – or front porch, deck, or communal space – fostering a healthy, biodiverse backyard ecosystem. Make your own insect hotel to teach your kids about food chains, biodiversity, and pollination.

These structures can be made entirely with found or repurposed materials. Send the kids on a mission to find the filler material: twigs, pinecones, woodchips, bark, or hollow reeds – like bamboo – or roll up scraps of paper yourself. Use a wooden box or an open bird house as the frame, and pack the space strategically with the filler items. The goal is to create small openings for a variety of insects to nest; ladybugs, hoverflies, spiders, millipedes, and beetles all might make their homes here. You can create several small insect hotels, or build comparts within one larger structure, filling each with different materials.
As global bee populations diminish due to climate change and habitat destruction, teach your child about the importance of protecting pollinators by making room for the bees in your insect hotel. Solitary bees – that is, those who are not part of a hive – like to make their nests in small holes, which they protect with a mud "door" once an egg has been laid inside by a female. For this section of the hotel, drill holes of varied sizes in a block of wood (taking care not to drill entirely to the other side) at least 3/4" apart.
Watching the bees settle into their homes and alight on flowers in the garden provides the opportunity to teach children about pollination, and the importance of preserving bee populations.
2. Plant a Native Garden
A native plant garden is the perfect accompaniment to an insect hotel, and helps build a healthy, cohesive backyard ecosystem for kids to explore.
Teach children about native plants by planting some of your own, and watching as different species thrive in your yard. Even with only a small space, you can still grow native flowers in the ground, raised beds, or containers. To attract butterflies, plant shrubs and a mixture of annual and perennial flowers of varied heights; check out your local Native Plant Society to learn what flowers are native to your area. Demonstrate how the flowers, insects, birds, and small mammals all need each other to survive as crucial parts of the food web.
Consider alternatives to traditional turf grass – most of which is not native to North America – for your lawn as well, such as thyme, clover, and flowering perennial groundcover plants, which will attract and delight pollinators.
3. Grow Vegetables
Thomas Barwick / DigitalVision / Getty Images
It's easy to watch produce come back from the grocery store without knowing where it really comes from; take advantage of the summer weather by growing a couple undemanding vegetables. Tending to a few crops – especially high-interest plants that your kids can easily identify, like tomatoes or lettuce – is a hands-on way to teach children about the proper watering, sunlight, and healthy soil (especially if you're able to use your own compost) needed for growing, and how they're crucial for all the food that's brought to the table. Snap peas, zucchini, cucumbers, lettuce, and spinach are all easy to grow and very rewarding with high yields.

You don't even need a big yard to teach your kids about gardening: most vegetables can be grown in containers, or in pots on the windowsill. Start by creating your own starters by planting seeds in small pots in a sunny spot, tending to them frequently. Once they're large enough, help your child transfer them to the garden or containers on the sidewalk, patio, or balcony. Encourage them to water the plants, make sure they're getting proper sunlight, and watch them grow. When it's time to harvest, cook a meal together with the fruits of your labor to show them the whole process of producing food, and how we rely on our environment to feed us.
4. Propagate Plants
For those without a garden space, bring nature indoors with a few different houseplants, or propagate your own from clippings.
Monsteras, philodendron, aloe, pothos, and spider plants are all resilient, rewarding plants that thrive inside and require very little maintenance. Putting children in charge of watering and caring for houseplants not only teaches them responsibility, but shows them how to nurture a living thing (one that is relatively low stakes) for perhaps the first time.
Like watching vegetables grow in the garden, propagating new plants is a very illustrative process. Most house plants can be grown from a clipping – although research the preferred methods for whatever plant you have on hand – which, when left in water for a few weeks, will grow roots and can be planted in soil, creating even more plants for your home or to be given away to friends and neighbors.
5. Mushroom Logs
Not only houseplants can be grown inside. Available for purchase online – including from small farms like Willow Bend Farm – mushroom logs are freshly inoculated and packed with mycelium, which will eventually produce a flush of mushrooms on the outside.
Waiting and watching for the mushrooms is exciting, and, when paired with an educational book about fungi, demonstrates for older children how mycelium works under the surface of the log to produce mushrooms. The Mushroom Fan Club by Elise Gravel or We Are Fungi by Christine Nishiyama are excellent entryways into the fascinating world of mycology.
Although specifications for maintenance vary, logs should generally be soaked overnight in filtered water once or twice a month, and left in a cool, shaded area. If cared for correctly, you could harvest shiitake, lion's mane, or oyster mushrooms from a single log for several years!
6. Bird Watching
kali9 / E+ / Getty Images
No matter where you live, there will always be birds to look for and identify. Begin bird watching with your kids to teach them about migration and local habitats, and get them excited about nature. Birding is a great reason to get outside, and learning the names of local birds will make them feel more connected to their surroundings and the local environment.

Watch for birds right in your neighborhood or yard – especially if you've planted a native garden, where they'll come to feed and nest – or take a trip to a local park, nature preserve, lake, or hiking trail. To identify a bird, have your child look through a bird guidebook or search on an online database like the Audubon Bird Guide app, where they can input the shape, color, and habitat of birds to narrow down what it might be. Research the birdcalls and songs of local species, and listen for them together on your next birding excursion.
No matter what birds you find, your children (and you!) will benefit from slowing down and taking in the surrounding environment through sight and sound.
7. Nature Bingo
While you're outdoors, there is much more to look for than birds!
Explore resources from local conservation groups – like your regional Sierra Club chapter or parks department – that detail trees, birds, small mammals, and plants that you might find in the area. Create a bingo chart with pictures of these natural things for kids to look for on a neighborhood walk or hike, checking them off as they go (perhaps with a prize involved).
Some groups will post free games and activities on their websites or social media, or even host nature walks or other events for children; explore what options exist in your area for your kids to learn from local naturalists this summer and beyond.
Linnea graduated from Skidmore College in 2019 with a Bachelor's degree in English and Environmental Studies, and now lives in Brooklyn, New York. Most recently, Linnea worked at Hunger Free America, and has interned with WHYY in Philadelphia, Saratoga Living Magazine, and the Sierra Club in Washington, DC.
Linnea enjoys hiking and spending time outdoors, reading, practicing her German, and volunteering on farms and gardens and for environmental justice efforts in her community. Along with journalism, she is also an essayist and writer of creative nonfiction.
Medically reviewed by Anna H. Chacon, M.D.
Reviews
fizkes / iStock / Getty Images
From eating foods for healthy skin to switching up your morning and routines, taking care of the largest organ in the body can get overwhelming. Recently, vitamin C has grown in popularity in the skincare world — but do the best vitamin C serums live up to the hype?
Vitamin C is not only an essential supplement for your immune system and overall health, but it's also a great skincare ingredient that can help limit inflammation, brighten skin, dull fine lines and wrinkles, fight free radicals, and reduce discoloration and dark spots.
Adding vitamin C to your skincare routine seems like a no-brainer, but before you start shopping for a serum, it's important to be aware that vitamin C is an unstable ingredient. Dermatologists say it's important to find legit and properly formulated vitamin C serums to capitalize on the benefits of the antioxidant. In this article, we'll help you find the right dermatologist-approved vitamin C serum to add to your routine.
Our Picks for the Best Vitamin C Serums of 2021
Each product featured here has been independently selected by the writer. You can learn more about our review methodology here. If you make a purchase using the links included, we may earn commission.
Skincare Benefits of Vitamin C
Also known as ascorbic acid or L-ascorbic acid, vitamin C is an antioxidant that is present in the formation of collagen and that protects against aging, according to Dr. Anna Chacon, a board-certified dermatologist with MyPsoriasisTeam. A vitamin C serum may be a solid addition to your skincare routine because it has a great safety profile, and it's safe for most skin types.
"Vitamin C serum restores and neutralizes environmental stressors that accelerate signs of aging and can be used morning and evening," Dr. Chacon says. However, she warns, "it does not come with sun protection, so additional use of sunscreen is recommended."
As an antioxidant, vitamin C protects skin cells from being damaged by free radicals from things like UV exposure, vehicle exhaust and cigarette smoke. It also hampers melanin production, which can help to lighten hyperpigmentation and brown spots and even out your skin tone.
6 Best Vitamin C Serums
Based on dermatologist recommendations and our market research, the following products are the best vitamin C serums available today.
FAQ: Best Vitamin C Serums
What vitamin C serum is the most effective?
Our top recommended vitamin C serum is the ZO Skin Health 10% Vitamin C Self-Activating serum. It is a dermatologist-approved antioxidant powerhouse, yet it is gentle, non-irritating and leaves you with glowing skin.
Should you use vitamin C serum every day?
Dermatologists recommend using vitamin C serum either every day or every other day. After you cleanse and tone your face, use your vitamin c product before applying moisturizer and reef-safe sunscreen with at least SPF 30.
Does vitamin C serum really work?
According to dermatologists, the best vitamin C serums work to protect against skin aging. However, if you do not purchase a doctor-recommended product, you run the risk of wasting your money on a low-concentration serum that won't give you any benefits.
What are the drawbacks of vitamin C serums?
Many vitamin C serums on the market, especially cheaper products, have nearly immeasurable concentrations of antioxidants, which makes them ineffective. Additionally, as with any skincare product, some individuals may have reactions to vitamin C serums including itchiness and redness.
Anna H. Chacon, M.D. is a dermatologist and author originally from Miami, Florida. She has authored over a dozen peer-reviewed articles, book chapters and has been published in JAAD, Archives of Dermatology, British Journal of Dermatology, Cosmetic Dermatology and Cutis.
An American bumblebee pollinates a pink zinnia. Daniela Duncan / Moment / Getty Images
By Andrea Germanos
Warning that threats including the climate crisis and pesticides are pushing the American bumblebee toward extinction, two conservation groups on Monday urged the Biden administration to give federal protections to the native pollinator.
For decades, Burt's Bees has been one of the leading names in cosmetic and skincare products developed with sustainability in mind. Not only do they create high-quality products from natural ingredients, but they're attentive to the ways in which their production, packaging, and distribution methods impact the world around them. For those who value environmental stewardship and wise corporate citizenship, Burt's Bees is iconic.
Perhaps it was only a matter of time before the company expanded its all-natural skincare and cosmetic line to include products that harness the potent, holistic effects of CBD. In this post, we'll offer a quick guide to the products included in the new Burt's Bees CBD line, as well as some further comments about the company as a whole.
Why CBD?
First, it may be worth asking why all of this matters. What's the big deal about CBD, anyway?
CBD is short for cannabidiol, one of the most prevalent, active ingredients in the cannabis plant (marijuana). CBD has been linked with a number of positive, holistic health effects; in fact, it's been FDA-approved as a treatment for epilepsy and seizures, while much anecdotal evidence positions it as an anti-inflammatory agent.
Crucially, legally-available CBD products have little or no THC, which is the psychoactive ingredient in the marijuana plant; in other words, you can enjoy the therapeutic benefits of CBD without any risk of getting high.
The Burt's Bees Story
With that said, let's get back to Burt's Bees.
The company was founded in the early 1980s by Burt Shavitz and Roxanne Quimby, veterans of the art community who sought refuge and contemplation in the prairies of Maine. Eventually, their interests led them to beekeeping, and into developing lip and skincare products developed from homegrown beeswax.
From the very beginning, their mission was to develop products that drew from the power of nature, while also taking seriously their responsibility to preserve, protect, and respect nature.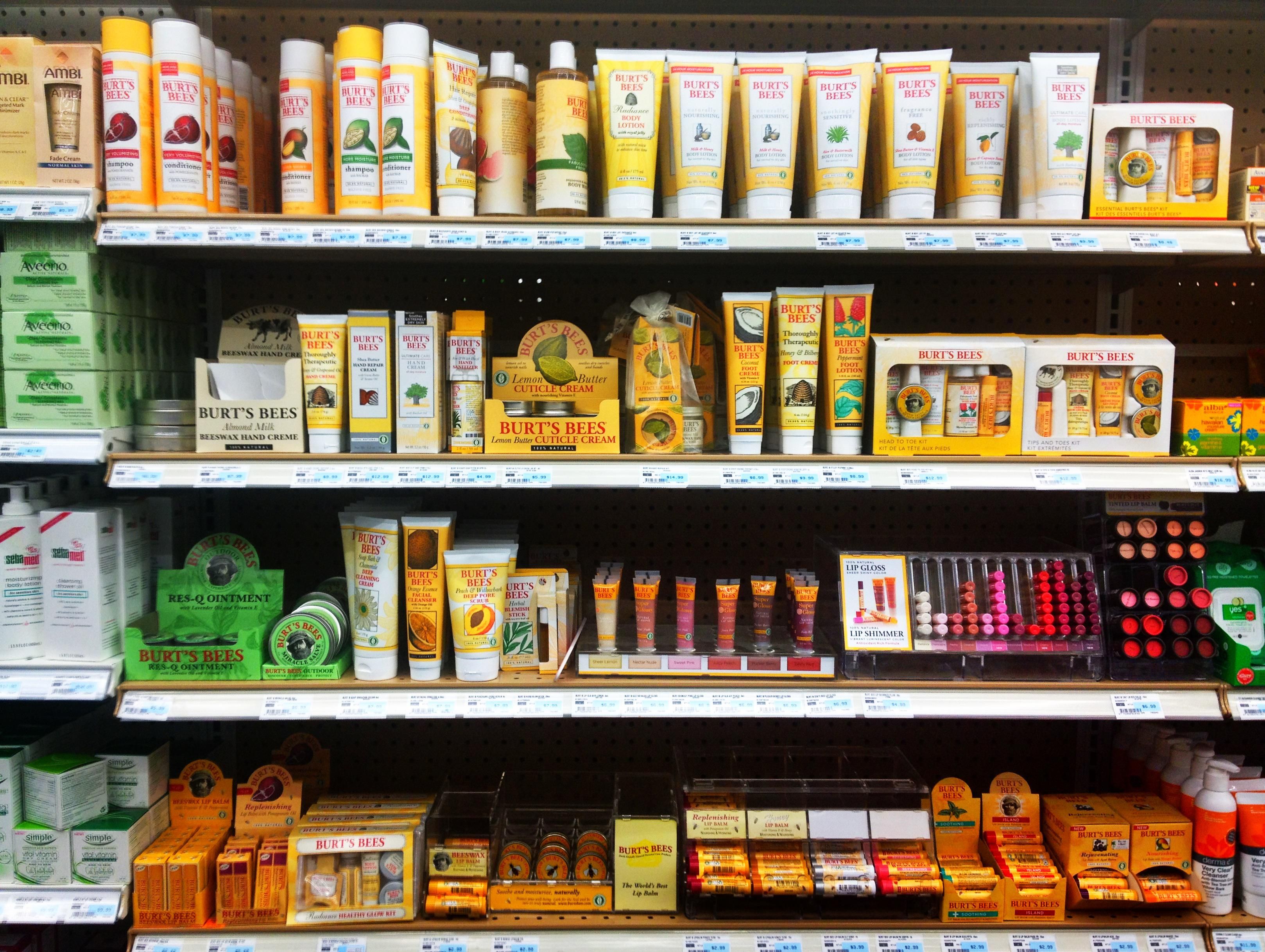 File:Burt's Bees Products, Sep 2012.JPG - Wikipedia
Sustainability at Burt's Bees

There are a number of ways in which Burt's Bees continues to live out its commitment to sustainability to this day.
All Ingredients Come from Nature
The company strives for 100 percent natural ingredients in all of their products, and generally comes pretty close. (Their skincare products are all 95 percent natural, at a bare minimum.) Everything they make is absent parabens and other concerning, artificial chemicals.
No Products are Tested on Animals
Burt's Bees products are all "Leaping Bunny Certified." What this means is that they never test their products on animals, or ask any third parties to conduct animal testing on their behalf.
Eco-Friendly Sourcing
The company also demonstrates a responsible approach to sourcing, visiting all their ingredient harvesting sites to ensure a commitment to stewardship and sustainability.
Environmentally Friendly Packaging
All Burt's Bees products are completely recyclable. They avoid over-packaging, and their plastics are made up largely of recycled materials.
The bottom line: Burt's Bees is a company with serious eco-credentials… and that makes them a logical choice for expansion into the world of natural, sustainably sourced CBD.
About Burt's Bees CBD Products
Currently, Burt's Bees offers five products that are made with full spectrum CBD. What this means is that their CBD includes trace elements of all parts of the plant, including other cannabinoids and terpenes. According to many CBD experts, this provides a more potent and effective product overall.
All of the company's CBD ingredients are sourced from hemp that's grown and harvested in Colorado, using the most sustainable, organic agricultural practices.
Another important note about Burt's Bees CBD products: All of them are rigorously third-party tested. Independent lab results are key whenever you buy CBD, because it allows you to get a good sense of the purity, quality, and potency of what you're buying. You can get batch-specific test results for any Burt's Bees product simply by visiting their website.
So, what about the specific products in the Burt's Bees CBD line?
Each product featured here has been independently selected by the writer. If you make a purchase using the links included, we may earn commission.
Sustainably Sourced CBD Products
It's important to emphasize that all of these products are made with transparently sourced CBD ingredients, as well as the company's usual high standards of eco-friendly packaging. In other words, this is a great opportunity to enjoy some of the benefits of CBD skincare, with all the sustainability and sound environmental stewardship that Burt's Bees is known for.
We're happy to recommend these products as good entry points into CBD skincare. Always remember, when shopping for CBD products, look for third party test results and transparency about sourcing information, all of which Burt's Bees makes readily available.
Josh Hurst is a journalist, critic, and essayist. He lives in Knoxville, TN, with his wife and three sons. His writing on natural health, nutrition, and supplements has appeared in Health, Shape, and Remedy Review.
Photo by Candace Mathers on Unsplash
Whether you've been taking daily vitamins since childhood or you've decided it's time to supplement your diet with the essential nutrients of a multivitamin, more and more adults are relying on subscription services to deliver their daily nutrition.
From personalized vitamins and supplements for dry skin to supplements to boost your immune system, there's a vitamin subscription company that meets your needs. Let's break down the differences between some of the leading vitamin subscription companies so you can choose the best brand for you and the environment.
What are Vitamin Supplements?
Vitamins are nutrients that our body cannot manufacture by itself, yet are essential for its proper functioning. Under ideal circumstances, you should obtain these vitamins through a balanced diet and a healthy lifestyle. However, multivitamin supplements can work to compliment your diet and provide you with complete nutrition. Some, like krill oil supplements, provide a single nutrient or vitamin while others contain a complete range of vitamins and minerals to help support your body. There are also dietary supplements like vegan plant-based protein powders that can help with nutritional goals.
A vitamin subscription allows you to set up a recurring delivery schedule for your daily vitamin supplement to ensure that you never run out, while also allowing you to choose the right types of supplements for you. In addition to vitamins, you can also find probiotics and digestive enzymes to help support digestive and immune health.
Our Top Picks for the Best Vitamin Subscription Brands
Each product featured here has been independently selected by the writer. You can learn more about our review methodology here. If you make a purchase using the links included, we may earn commission.
How We Chose the Best Vitamin Subscriptions
There are a number of factors to consider when committing to a vitamin subscription. Here are a few of the key features that we prioritized in making our list.
Options: Vitamins and supplements can aid in filling gaps of what you need but aren't getting from your diet. Everyone's needs are different, whether you're pregnant, an older adult, or have medical afflictions such as immune or vitamin-deficiency issues. So having a wide variety of products to choose from can make the difference between a vitamin pack supplier being a go-to, or a hard pass.
Ingredients: Vitamins and supplements come from raw materials, and it's important to know how they source those ingredients. With that information in mind, you need to look for a company that does not include fillers, additives, or preservatives in products.
Testing: Daily vitamins have to be tested to ensure purity, efficacy, and bioavailability of ingredients. Expertise can not be improvised, and some brands even run several tests on their products before making them available.
Sustainability: If it's helping you, it should help the planet in the process. Suppliers that work with vegan, natural, organic, and even reusable packaging are a win-win on this matter. Since you will be getting their product delivered regularly, it is an important consideration. We also looked for companies committed to higher standards in their sourcing and manufacturing practices.
Cost: Depending on the number of recommended supplements, costs might vary from as low as $1 or less per day (in products with small batches) to up to $6 or $7 per day. Keep in mind that access to personalized knowledge centers can be included in some of the plans, and you will receive nutrition and wellness insights and dietary assessments.
10 Best Vitamin Subscription Brands 2021
What to Look for in a Vitamin Subscription Service

These days, there are more and more daily vitamin packs available. Dietary supplements are just another industry that has jumped onto the subscription train. As a consumer, it can be hard to cut through the noise around vitamins, supplements, superfood powders, prenatal, and other "good for you" dietary additions.
How can you be sure that a vitamin subscription service is right for you and reach your health goals? There are a few things to look out for.
First, where does the company source its ingredients? Just like with food, where your vitamins come from matters. And because there aren't strict governmental regulations on supplements, it's even more important to investigate how transparent your vitamin brand is.
Look for a brand that promises to include no fillers, additives, or preservatives in their products. Gluten-free and corn-free vitamins is also a good sign, as corn and wheat are often used as fillers to bulk up pills without any nutritional benefit.
Many of the brands below offer full transparency about where their products come from and even the specific suppliers they work with. You should check each ingredient of each vitamin in your subscription box.
The other important question to consider from a sustainability perspective is packaging. If you're having vitamins delivered to your home every 30 days, tiny plastic bottles, lids, cardboard, and bubble wrap can add up quickly.
Several companies listed below offer refillable packaging and use only materials that can be reused, recycled, and often composted. Choose from a brand that wants to deliver a daily dose in as little plastic as possible.
What are the Benefits of a Vitamin Subscription?
These services provide customized nutrients in convenient packs for daily health and wellness improvement. Not only can they give you more targeted dietary recommendations, they can help you identify any deficiencies that you can correct with a supplement to optimize your health. Not to mention that they offer the convenience of delivering your personalized supplement packs directly to you. And with a subscription, you'll never run out of your daily vitamins.
Should You Take Vitamin Supplements?
Whether you're looking for a complete vitamin recommendation, like prenatal vitamins, to control allergies by caring for your immune health, to lose weight, or trying to correct for a vitamin deficiency, there's a vitamin subscription for you. There are daily vitamin packs that can boost every type of person and every type of health goal. And with a personalized vitamin pack, you can get a curated supply of supplements that will best work with your body's needs.
What are Some of the Most Common Vitamin Supplements?
If you don't know where to start, here are some of the most crucial vitamins the body needs to function:
Vitamin D: Vitamin D plays a pivotal role in a number of bodily functions, and can help improve a range of ailments and conditions, including poor bone health, type 1 diabetes, metabolic syndrome, and hypertension.
Magnesium: Magnesium is important for muscle and nerve functioning, and it has been recently touted for its ability to reduce the frequency and symptoms of migraine, headaches, as well as improving sleep.
Fish Oil: This supplement contains omega-3 fatty acids, which help In everything from cardiovascular health and brain functioning to arthritis and inflammation.
Vitamin C: Researchers have found that vitamin C acts as an antioxidant, which can lower the risks of cancer, cardiovascular disease, age-related macular degeneration. It also plays an important role in the immune system.
Takeaway
When selecting a vitamin subscription service to commit to, it's important to consider everything from the ingredients to the packaging materials. Some subscriptions use a simple questionnaire and an algorithm to pick your vitamin regimen. Others may ask you to submit to a blood test or DNA test. How personalized you want your program to be is up to you.
We recommend consulting a healthcare professional or registered dietician if you're making any major decisions about your health. Also take into considerations any potential allergens or the availability to supporting health products at your local drugstore to build out your routine.
Lizzy Briskin is the founder of Earthen Food Co. She is a chef, food writer, and recipe developer who helps people eat more mindfully for themselves and the environment, without overthinking it.
Wildflowers attract pollinators, benefiting fruits and vegetables. Lawrence K. Ho / Los Angeles Times via Getty Images
By Brian Lovett
As winter phases into spring across the U.S., gardeners are laying in supplies and making plans. Meanwhile, as the weather warms, common garden insects such as bees, beetles and butterflies will emerge from underground burrows or nests within or on plants.
Brian Lovett is a postdoctoral researcher in mycology at West Virginia University.

Disclosure statement: Brian Lovett does not work for, consult, own shares in or receive funding from any company or organization that would benefit from this article, and has disclosed no relevant affiliations beyond their academic appointment.
Reposted with permission from The Conversation.
Flames surround the Sierra-at-Tahoe Resort during the Caldor Fiire in Twin Bridges, California on Aug. 30, 2021. JOSH EDELSON / AFP via Getty Images
The Caldor Fire breached Echo Summit on Monday, crossing the Sierra Nevada and posing a direct threat to the population centers around Lake Tahoe, forcing more than 50,000 people to evacuate.
A wildfire has crossed over the Sierra Nevada just once before in recorded history: less than two weeks ago the Dixie Fire crossed the mountain range farther north. "We haven't had fires burn from one side of the Sierra to the other," Thom Porter, head of Cal Fire, told reporters Monday. "We did with Dixie, and now we do with the Caldor — we need to be cognizant that there is fire activity happening (here) that we have never seen before."
Even at high elevation, high heat, strong winds, and dry foliage fuel the fire, which now threatens to incinerate 20,000 buildings and wipe out South Lake Tahoe. If the embers blown by high winds ignite in the valley, it could cause a catastrophic "urban conflagration," UC Merced fire scientist Crystal Kolden told the LA Times. "It's so dry that it is perfect kindling," she said. In an area full of old, wooden homes, "You've got this potential for it to really start jumping from building to building to building, and it's just a completely different beast and they can't fight it."
Mass evacuations clogged the roads not already closed by the flames.
Wildfires like the Caldor Fire — which had burned 186,568 acres as of Monday evening and was just 15% contained — are supercharged by heat, and drought made worse by climate change caused by the extraction and combustion of fossil fuels. Other climate impacts also make it harder to fight wildfires. A helicopter crew from the Louisiana National Guard that had been set to help firefighters battling the Caldor Fire was recalled to respond to Hurricane Ida.
For a deeper dive:
The Sacramento Bee, Los Angeles Times, San Francisco Chronicle, The Sacramento Bee, Tahoe Daily Tribune, The Mercury News, The Record-Courier, The Washington Post, The New York Times, Los Angeles TImes, CBS Sacramento, Reuters, Earther, CNN, AP, Los Angeles Times, AP explainer; Photos: San Francisco Chronicle; The Sacramento Bee, Earther; Climate Signals background 2021 Western wildfire season

For more climate change and clean energy news, you can follow Climate Nexus on Twitter and Facebook, sign up for daily Hot News, and visit their news site, Nexus Media News.
From Your Site Articles
Related Articles Around the Web
Cathy Chapman uses various types of groundcover and native plant species for the backyard of her South Portland home instead of having just a grass lawn. Photographed on June 6, 2018. Gregory Rec / Portland Press Herald / Getty Images
Constituting 2% of the continental US, turf grass has a substantial environmental impact, especially in regards to lawn care: 3 trillion gallons of water, 200 million gallons of gas (for mowing), and 70 million pounds of pesticides are used for lawn maintenance every year; fertilizer – containing large concentrations of nitrogen and phosphorous – runs off of lawns, into storm drains, and eventually flows to waterways, causing algal blooms and contaminating drinking water; herbicides and pesticides kill unwanted – yet necessary – plants and insects, causing harm to humans and wildlife alike.
Moreover, the turf grass used for most lawns in the United States isn't native to North America and doesn't support the rich, diverse life needed for a healthy ecosystem. Blanketing an area with exclusively non-native grass eliminates the habitats of native plants and insects, decimating the biodiversity of the area and creating far-reaching consequences for food chains.
While boasting a bright green, perfectly mowed, immaculate lawn has become the norm, turning your yard into a native ecological refuge – sometimes called "naturescaping" – with these eco-friendly alternatives can do wonders for the biodiversity and overall health of your backyard ecosystem.
Linnea graduated from Skidmore College in 2019 with a Bachelor's degree in English and Environmental Studies, and now lives in Brooklyn, New York. Along with her most recent position at Hunger Free America, she has interned with the Sierra Club in Washington, DC., Saratoga Living Magazine, and Philadelphia's NPR Member Station, WHYY.
Now that the campaign season is over, what do we do with all those political yard signs? Trash them? Keep them for memories' sake? Florida beekeeper Alma Johnson has a better idea: donate them to help keep her honeybee hives warm.
"I saw the politician signs and I said, 'What a great opportunity,'" Johnson told Fox 13. "I'd rather use those than having to go buy corrugated plastic from Home Depot and add more to the landfill too."
Johnson told Bay News 9, "These signs are the perfect size to keep bees warm, and ward off pests."
The apiarist, who owns Sarasota Honey Company, upcycles corrugated plastic signs to keep hives at their ideal constant 98 degree temperature, reported Sarasota Magazine. Signs placed at the base of beehives help with ventilation, control humidity, and act as a shield against cool night drafts that can chill the queen bee and babies.
Unlike a solid wood board, corrugated plastic also prevents fungal infections, Johnson told the magazine.
Foam boards also don't upcycle for bees well because it's the spaces in the plastic signs that provide the best, chemical-free pest protection, she told Fox 13. Johnson cuts the plastic signs into squares and seals the bottom on one side. The little corrugated holes are filled with oil and apple cider vinegar to act as a natural trap for pests that threaten the bees like hive killing beetles and mites, the bee keeper explained.
"They don't care if it's a Trump sign or a Biden sign. They hold no loyalty to any party," she joked to Fox 13.
The Sarasota Honey Company plans to distribute the campaign signs to other neighboring beekeepers to help keep their bees safe as well, ABC 7 reported. Other bee farms in the Tampa Bay area are mimicking Johnson's idea and collecting and distributing political signs through local beekeepers associations, reported CL Tampa.
"It is a way of bringing people together and guess what, the byproduct of that coming together is a sweet life, honey," said Johnson, reported WFLA reported.
In St. Louis, MO, a recycling working group is tackling the plastic pollution problem in a different way. They are encouraging people to recycle corrugated political signs as well as yard signs used to congratulate graduates, St. Louis Public Radio reported.
"We don't want to send that stuff to a landfill if there's still useful life remaining in a material," recycling group member Jean Ponzi told the Public Radio.
The group has coordinated efforts because current recycling systems are not equipped to handle the material even though it is valuable to recyclers, she said in the report.
In Grand Rapids, MI, the local democratic party office collected signs for local candidates in case they want to reuse them to run again, reported ABC 13. Recycle by City: Chicago suggested a few alternative uses such as painting over them for personalized celebratory signs and upcycling them into durable storage options because no local recycler would take the signs.
From Your Site Articles
Related Articles Around the Web
A view of the Caldor Fire in El Dorado County, California on Aug. 17. U.S. Forest Service
The Caldor Fire, which ignited over the weekend, exploded nearly five-fold to roughly 30,000 acres Tuesday, incinerating much of the 1,200-person town of Grizzly Flats.
At least two people with serious injuries were airlifted to hospitals from the Grizzly Flats area and about 22,000 residents have been forced to evacuate.
"It's a pile of ash," Derek Shaves, who evacuated but was able to reenter the town after the fire had passed through, told the AP. "Everybody['s house] on my block is a pile of ash and every block that I visited — but for five separate homes that were safe — was totally devastated."
The only thing left of Walt Tyler Elementary School was a metal playground structure, save for the plastic slide melted away by the fire. Strong winds, and the underlying megadrought, fueled the conflagration and the National Weather Service has issued red flag warnings for much of North California and Nevada citing the perilous trifecta of low humidity, extremely dry vegetation, and strong wind. The Caldor Fire was 0% contained Tuesday evening.
Here is a satellite view of the copious smoke from the #CaldorFire pouring into communities downwind of the plume. https://t.co/QbFoa2fZP3

— NWS Reno (@NWS Reno)1629246837.0
See The Charred Remains Of Walt Tyler Elementary School, Burned By The Caldor Fire youtu.be
For a deeper dive:

The Sacramento Bee, The Guardian, NBC, The Associated Press, The Sacramento Bee, Mercury News, CNN, Daily Beast, Fox40, ABC10, CBS, Capital Public Radio; Climate Signals background: 2021 Western Wildfire Season, Drought
For more climate change and clean energy news, you can follow Climate Nexus on Twitter and Facebook, sign up for daily Hot News, and visit their news site, Nexus Media News.
A bee gathers pollen on thyme on a balcony in Paris, France. ERIC FEFERBERG / AFP via Getty Images
The European Court of Justice on Oct. 8 found that France did not violate EU rules when it banned certain chemicals considered harmful to bees.
The legal row between the French Crop Protection Association and France goes back to 2018, when the government banned some pesticides belonging to the neonicotinoid group.
The ban placed France at the forefront of a campaign against chemicals blamed for decimating crop-pollinating bees.
With its ban on five neonicotinoids outdoors and in greenhouses, France went further than the European Union, which agreed to outlaw three in crop fields.
Opponents of the ban have said that it prevents farmers from protecting their sugar beet crops, which have been decimated by an infestation of green aphids. Sugar beet farmers argue that neonicotinoid chemicals are the only solution to combating such infestations.
A Ban 'Incompatible With EU Regulations'
The Crop Protection Association brought the case to court, arguing that the French decree was incompatible with an EU regulation on the family of chemicals.
The French government has since rowed back on parts of the controversial ban following pressure by beetroot growers.
However, on Thursday, the EU's top court ruled that France's initial ban had satisfactorily demonstrated the need to curb a "serious risk to human or animal health or to the environment."
Last week, the pesticides were at the center of a legal battle between the French government and the left-wing and green opposition, which accuses President Emmanuel Macron of neglecting to fulfill his environmental commitments.
On Oct. 6, the French National Assembly approved a proposal to give beetroot growers an exemption from the ban on the pesticides until July 2023.
France is Europe's top producer of beets used to make sugar and the sector provides 46,000 jobs.
Introduced in the mid-1990s, lab-synthesized neonicotinoids are based on the chemical structure of nicotine, and attack the central nervous system of insects.
They were meant to be a less harmful substitute to older pesticides, and are now the most widely-used to treat flowering crops. However, in recent years, bees started dying off from "colony collapse disorder," a mysterious disease partly blamed on the use of such chemicals.
Studies have since shown that neonicotinoids harm bee reproduction and foraging, while exposure also lowers their resistance to disease.
The UN has warned that nearly half of insect pollinators, particularly bees and butterflies, risk global extinction.
Reposted with permission from DW.
An endangered rusty patched bumble. Jull Utrup / USFWS
By Jodi Helmer
Bees are facing a pandemic of their own.

A collection of threats — habitat loss, pathogens, pesticides, pollution and poor nutrition — have led to widespread decline in bee health and pollinator populations.
The threats add up: The number of commercial honeybee colonies declined by more than quarter million between April and June 2020, according to the latest data from the U.S. Department of Agriculture. Native bees are at risk, too, with 1 in 4 native species in North America at risk of extinction.
"Things are not going so well for bees," says Arthur Grupe, a postdoctoral researcher at the University of Colorado. "There's been a lot of research looking into the causes, and usually, humans try and look for the magic bullet — what is the one thing causing this problem that we can stop? And the research has shown that it's actually a collection of things."
A single-cell fungal pathogen called Nosema is one of the latest threats.
Nosema reproduces in the gut, where it ruptures, spreads out and then infects the cells of the digestive tracts. It leads to lethargy, reduced foraging ability, poor sense of direction and, often, death.
Although Nosema apis and Nosema ceranae — two strains of the fungi — have been regularly recorded in Europe, North America and Southeast Asia, the pathogen is now more widespread than ever, according to recent research published in the journal PLOS Pathogens. Grupe was the lead author.
Grupe notes that N. apis, once the dominant strain affecting commercial bee colonies, was observed to be seasonal, which helped protect against total colony collapse. The increasing export of commercial beehives from Europe, however, has expanded the distribution of the problematic pathogen.
USDA photo by David Kosling
At the same time, reports of N. ceranae have increased dramatically — and it infects hives all year long.
"Historically, it was thought that Nosema ceranae wasn't so much of a problem because its spores can't survive freezing or near-freezing temperatures," he explains. "But as winters have become milder these spores are able to persist and then cause infection, and Nosema ceranae has overtaken Nosema apis as the predominant infect of European honeybees."
Once a bee is infected with Nosema, it can contaminate entire colonies — where social distancing is not an option — and spread that infection to the wild. Infected honeybees can leave spores on flowers, transmitting the pathogen to other susceptible pollinators, including native bees. This "community spread" has led Grupe and his co-author C. Alisha Quandt to declare it a "pandemic" in their paper.
Research published this July in the journal Nature Ecology and Evolution illustrates the threat. Field studies in upstate New York found that one in 11 flowers carried disease-causing parasites, including Nosema ceranae, N. bombi, Crithidia bombi, C. expoeki and neogregarines that were linked to declines in bee populations. Social bees, including honeybees and bumblebees, were more likely to be infected with parasites than solitary bee species.
"Bees visit hundreds of flowers a day and act as a 'shared food source' between the other foraging bees in the area which will feed from the same flowers," explains study co-author Peter Graystock, now a research fellow at Imperial College in London. "If a bee has been in contact with parasites or is suffering from an infection, they may shed some contagious parasite cells on the flower when they visit it, and then when a subsequent bee visits the same flower, the bee may become infected with those parasite cells or spores."
An endangered rusty patched bumble. USGS Bee Inventory and Monitoring Lab
Air pollution might also contribute to bee declines.
To understand more about that air-quality risk, Barbara Smith, associate professor at the University of Coventry, is working with beekeepers in the United Kingdom to set up sensors in their hives to record the level of air pollution and incidents of disease to determine whether there is a correlation.
"We know that air pollution is bad for humans and mammals, and we're interested to see if the same is true for invertebrates," Smith explains. "We have reason to believe that it could have an impact, because we know that we can record air pollution particulates in honey."
Indeed, previous research found that pollutants lingered on the bodies of honeybees in areas with high levels of air pollution; exposure to diesel exhaust interfered with their foraging ability; and that air pollution may affect the heart and immune systems of wild honeybees.
Smith hopes her research, funded through the British Beekeepers Association, will provide more data about the impact of air pollution on bee health and population decline. Even if the results are conclusive, she knows it's just one of the issues that needs to be addressed to restore pollinator populations.
"I don't think that these declines in pollinators are down to one thing," she says. "It's about a suite of things that are happening. It's like a perfect storm."
Addressing the Threats
The fact that bees are facing multiple threats to their health and survival means that coming up with a single solution is impossible, especially when researchers are still trying to collect data.
Grupe notes that most of the research on Nosema infections has focused on European honeybees. The pathogen also affects native bees, but few researchers have done environmental surveys to capture wild bees from native ecosystems and screen them for Nosema.
"There's only a handful of studies that have documented Nosema infections in native bees and the problem that needs to be addressed in the future," he says. "More work needs to be done to understand Nosema infections in native bee species and the potential consequences to native ecosystems, and if native bees suffer a similar fate as honeybees when infected."
To complicate matters, the manufacturer that made a chemical control for Nosema, which the company called its "bread and butter," went out of business in 2018, leaving beekeepers without access to a treatment. Grupe cites a mix of high prices and a complex supply chain that led to the discontinuation of the product.
But the cost for bees could be higher.
"All of a sudden we have these pathogens that are globally distributed, that are negatively impacting agricultural crops and negatively impacting native plant communities, and we don't really have any way to treat it." This could further imperil native bees if the pathogens continue to spread from commercial hives.
In the absence of treatment, Graystock promotes prevention. Increasing floral abundance and diversity, he says, could offer some protection against parasite transmission. His research showed that the incidence of parasites was higher when floral numbers were low and decreased as the number of floral resources increased.
Diverse plant communities may be especially important in urban areas where higher human populations are linked with fewer species of wild bees, according to a 2020 study published in the journal Landscape and Urban Planning.
Rick Brohn / USFWS
Planting strips of native pollinator plants on farmland could even improve crop yields. Another study published this summer found that five out of seven crops in major crop-producing areas had lower yields and production due to pollinator limitations. Attracting wild bees and honeybees, especially in intensive production areas, could help bolster food security, the research showed.
All of this backs up Graystock's points.
"It's important to appreciate the vast diversity of our pollinator communities, not just in terms of bee diversity but also floral diversity," he says. "Frequently in ecology we find the solutions for maintaining the health of our wildlife are simply to support and promote our native wild communities above others."
Reposted with permission from The Revelator.