By Alleen Brown
Under orders from President Trump, the Army Corps of Engineers on Feb. 7 approved a final easement allowing Energy Transfer Partners to drill under the Missouri River near the Standing Rock Sioux Reservation in North Dakota. Construction has re-started, and lawyers for the company said it could take as little as 30 days for oil to flow through the Dakota Access Pipeline.
While the Standing Rock Sioux and neighboring tribes attempt to halt the project in court, other opponents of the pipeline have launched what they're calling a "last stand," holding protests and disruptive actions across the U.S. In North Dakota, where it all began, a few hundred people continue to live at camps on the Standing Rock Sioux Reservation, using them as bases for prayer and for direct actions to block construction. Last week, camps were served eviction notices from Governor Doug Burgum and from the Bureau of Indian Affairs, demanding that they clear the biggest camp, Oceti Sakowin, by Wednesday and a smaller camp, Sacred Stone, within 10 days.
Dakota Access Pipeline 'Could Be Operational Within 30 Days' https://t.co/LVGuunbOcu (@ecowatch @priceofoil) #NoDAPL

— Sierra Club (@Sierra Club)1487102408.0
The fight against the Dakota Access Pipeline didn't come from nowhere. It's a direct descendant of the Keystone XL fight—both pass through the territory of the Oceti Sakowin, or Seven Council Fires, which includes bands of the Lakota, Nakota, and Dakota people. And when Standing Rock tribal members saw that it was time to mobilize, they turned to relatives that had fought the Keystone XL.
In 2014, Joye Braun was living at an anti-Keystone XL camp called Pte Ospaye, on the Cheyenne River reservation, when she first heard about a new pipeline that would pass just outside the border of the Standing Rock reservation, on land leaders said would be tribally controlled if the U.S. government obeyed its treaties. "I went holy crap, here comes another one," she said. Two years later, she would find herself helping set up Sacred Stone camp, the first anti-Dakota Access pipeline camp.
Now, most of the thousands of people that visited Standing Rock last fall have returned home, and some have taken up long-shot local fights against the oil and gas industry. In Oklahoma, Arkansas and Tennessee it's the Diamond pipeline; in Louisiana, the Bayou Bridge. In Wisconsin, the Bad River Band of Lake Superior Chippewa actually voted to decommission and remove the Enbridge Line 5 pipeline from their reservation.
Many communities have turned to direct action as a last resort. The city of Lafayette, Colorado, which has long attempted to block fracking in the area, has even proposed a climate bill of rights, enforceable via nonviolent direct action if the legal system fails.
In at least four states, encampments built as bases for pipeline resistance have emerged. They face corporations emboldened by Trump and the Republican-controlled Congress, which have used their first month in power to grant fossil fuel industry wishes, overturning environmental protections, appointing former ExxonMobil CEO Rex Tillerson as secretary of state, and reviving the halted Dakota Access and Keystone XL pipelines.
"Forces arrayed against us are quite wide in my opinion," said Owl, a member of the Ramapough-Lunaape tribe who helped set up a camp in New Jersey to oppose the Pilgrim pipeline. "They are hell-bent on this infrastructure."
Here's what you need to know about the Trans-Pecos, Atlantic Sunrise, Sabal Trail and Pilgrim pipelines:
EcoWatch Daily Newsletter
By Nika Knight
Experiments involving genetically engineered animals have nearly tripled in Germany in the past 10 years, driven by a burgeoning global industry that involves inventing and patenting genetically altered species for scientific research, says a new study commissioned by Germany's Green Party and conducted by the research group Testbiotech.
A GMO mouse with a gene related to hair growth removed from its genome, at left, next to a mouse with an unaltered genome.Wikimedia Commons
"The massive increase in animal testing in the genetics field is unacceptable," Nicole Maisch, the Green Party's parliamentary spokesperson for the protection of animals and consumer policy, told the newspaper Der Westen.
"Particularly when the experiments' usefulness from a medical standpoint is extremely questionable or when the trials have revealed themselves to be unsuccessful," Maisch said, "we must not allow any more animals to be tortured."
The study, which was released Wednesday and shared with Süddeutsche Zeitung and newspapers owned by Germany's Funke Mediengruppe, found that nearly 950,000 animals were subjected to experiments in Germany in 2013 alone and a full third of those involved genetically modified animals.
The genomes of mice, rats and fish are being tinkered with the most, reports Süddeutsche Zeitung, but rabbits and pigs are popular choices, too.
Moreover, Süddeutsche Zeitung notes:
In contrast to conventional animal testing, the research on genetically manipulated animals is especially deadly, says Silke Strittmatter of the organization Doctors Against Animal Experiments: "We can safely assume that up to 54 animals die for the creation of a single genetically modified animal." To achieve the desired outcome, scientists must experiment with many variations, which in many cases involves breeding multiple generations and then killing them. In this fashion, the number of genetically altered animals is increasing, despite the fact that in the last two years, for the first time the number of animals used for traditional experimental trials has fallen.
A race to patent and profit from genetically modified species is driving the growing global market for such creatures, observes the German newspaper: "Researchers patent altered animals, such as "knockout mice" and sign license deals with corporations, which in turn aggressively market the animals to laboratories—as "custom-manipulated rodents," for example."
The newspaper continues:
In the USA, biotech corporations market patented animals aggressively. [Study author Christoph] Then describes a downright "price war." Patents for new genetic engineering techniques then lead to more animal trials. In recent years, patent applications were even submitted for genetically modified primates and great apes—and some of those were approved. It is for this reason that the speaker for the Green faction on genetic engineering, Harald Ebner, is calling for a Europe-wide ban on patents on living things.
Ebner also told Süddeutsche Zeitung that he fears so-called "free trade" deals such as the Trans-Pacific Partnership (TPP) and the EU-Canada Comprehensive Economic and Trade Agreement (CETA) will lead to the worldwide dispersal of products from genetically modified animals.
The newspaper observes that "meat and other products from genetically modified animals cannot be sold in Germany. [...] In other countries, however, among other things scientists are experimenting with altering the ingredients of milk by changing the genes of cows. For such experiments, embryos must be genetically altered and then implanted in a surrogate. The Testbiotech study notes that these experiments often involve pain and suffering, as such laboratory animals are frequently killed in order to remove cells or the genetically modified embryo."
It seems other countries have reason to worry, as the U.S. government continues to fight for pro-GMO legislation. Indeed, when President Obama last week signed into law a corporate-friendly GMO labeling bill, he "scratched out the laws of Vermont, Connecticut and Maine that required the labeling of genetically engineered foods," reports AlterNet.
"He also nullified the [GMO] seed labeling laws in Vermont and Virginia that allowed farmers to choose what seeds they wanted to buy and plant," the progressive outlet observes, adding that "for good measure he preempted Alaska's law requiring the labeling of any [GMO] fish or fish product, passed to protect the state's vital fisheries from contamination by recently approved genetically engineered salmon."
AndreyPopov / iStock / Getty Images
Many homeowners can benefit from installing solar panels, harnessing the sun's energy to help reduce or even eliminate their dependence on traditional utilities. Although solar panels can be expensive, solar loans make residential systems more accessible to homeowners.
Indeed, if you live in an area that gets consistent year-round exposure to the sun, solar panels can be an effective way to lower your home's energy costs while minimizing your environmental footprint. The biggest obstacle to solar adoption is the initial cost of solar panels.
All in, solar panel installation costs typically range from $10,000 to $35,000. In this article, we'll explain how solar loans can make that initial investment much easier to handle.
Disclaimer: This article is for informational purposes only. It should not be relied on for and is not intended to provide accounting, legal or tax advice.
Solar Loan Basics
So, how do solar loans work, exactly? Well, they're similar to home improvement loans, or any other type of purchase loan: They enable you to buy a residential solar system and pay it off over time.
There are plenty of solar loan options to choose from. For example, to finance solar panels, you can typically choose from any of the following:
An unsecured personal loan
A home equity loan or line of credit
In-house financing through your solar installation company
For the most part, the terms and conditions of solar loans mimic those of any other standard loan. Specifically:
Getting a lower interest rate means having a lower overall cost to borrow.
A shorter loan term generally means higher monthly loan payments but a lower overall cost to borrow.
Loans are available in a wide array of interest rates, term lengths, loan amounts, credit requirements, etc.
An important thing to note is that homeowners who finance their solar energy systems with a loan are still eligible for the federal solar tax credit. This gives you a credit worth 26% of your total solar installation costs.
How to Choose the Right Solar Loan
As you seek the best solar loan for your situation, there are a number of factors to keep in mind. These include:
Monthly payment amount: If you end up choosing a shorter loan term (i.e., a loan that you must pay off in a shorter amount of time), your monthly payments will probably be higher. The overall cost of the loan will be lower, but it's nevertheless important to consider the impact on your household budget.
Down payment amount: Depending on the loan you choose, you may or may not be required to put down a payment on the solar panels. Generally, larger down payments will mean lower interest rates and a more affordable loan overall.
Fees: Some solar lenders may charge prepayment penalties or monthly fees in addition to your monthly principal and interest payments. Always make sure you get fee information upfront, so as to ensure there are no surprises on your loan statement.
Secured Vs. Unsecured Solar Loans
Another important factor to consider is whether you'll get a secured solar loan or an unsecured solar loan. Here's what homeowners should know about these two options:
Secured loans are usually connected to some piece of collateral, such as a piece of equity in your house; this provides the lender with some protection. If you fail to make your payments, the lender can claim their piece of collateral. Because the lender has some insurance, secured loans usually offer lower interest rates and more favorable terms overall.
Unsecured loans do not have any collateral or security provisions for the lender. They represent a greater risk on the lender's part, and thus usually come with higher interest rates and less favorable terms.
Ultimately, the decision about which type of loan to seek comes down to this question: Do you have enough equity in your home to take out a secured loan? If so, and if you are willing to use some of that home equity to pay for solar panels, then a secured loan may be the smarter choice overall.
How to Get Low Interest Rates for Solar Loans
In addition to choosing the right type of loan, there are other steps you can take to keep your interest rates manageable when you finance a solar panel system:
Shop around: It's usually best not to go with the very first lender you find. Spend some time shopping around and comparing rates. Most lenders will give you a free quote that's good for a number of days while you compare offers from other companies.
Have someone co-sign: Having a co-signer on your solar loan — especially one with excellent credit — creates extra assurances for the lender and will usually result in more favorable rates.
Improve your credit score: There are several ways to improve your credit score to get a lower interest rate on a solar loan. For example, you can pay down old debts and credit card balances, be on time with monthly bill payments, and ensure you don't open any new credit cards as you apply for your solar loan.
Also be aware that there are things you can do to pay less over time other than getting a lower interest rate. Examples include choosing a shorter repayment period, looking for discounts like paperless or auto-pay discounts, avoiding loans with high fees and, if applicable, making a more substantial down payment.
Local Solar Loan Programs
Homeowners who are interested in going solar should also know about Property Assessed Clean Energy (PACE) loan programs. According to the Department of Energy, PACE programs "allow a property owner to finance the up-front cost of energy or other eligible improvements on a property and then pay the costs back over time through a voluntary assessment." What makes these programs unique is that the assessment is tied to the property itself, not to the individual.
PACE financing legislation exists in some form in 36 states plus Washington D.C. A handful of states have separate loan programs for homeowners interested in solar. Here are some current programs worth knowing about:
State
Solar Loan Program
Maximum
Loan Amount

Interest Rate
Longest
Repayment Term

Connecticut
Energy Conservation Loan Program
$25,000
0% to 7%
12 years
Louisiana
Home Energy Loan Program (HELP)
$6,000
2%
5 years
Michigan
Michigan Saves Home Energy Financing
$50,000
4.44% to 7.90%
15 years
North Carolina
State-regulated municipal loan options
Varies
Up to 8%
20 years
Ohio
Energy Conservation for Ohioans
(ECO-Link) Program
$50,000
3% APR reduction
on bank loans
7 years
Additionally, certain municipalities and local utility companies may offer low-interest solar loans. We recommend researching your specific area before turning to banks or credit institutions.
Where to Get a Solar Loan
If your state doesn't have its own solar energy loan program or you're not eligible for enrollment, there are plenty of other places to get solar loans. Some of the best places to check include:
Credit unions
Lending institutions
In-house financing through your solar installer (which will come from a third-party solar lender)
Again, it's crucial to shop around and compare rates before deciding on which solar lender is the best fit for your needs. To get started with a free quote and find solar loan information from a top solar company in your area, you can fill out the form below.
Frequently Asked Questions: Solar Loans

Are solar loans worth it?
There are various factors to consider as you decide whether getting a solar loan is worth it. Solar loans help you increase the value of your property, lower utility bills, minimize your impact on the environment and potentially claim some tax incentives. Then again, financing does decrease your overall savings, and extends the break-even point for your residential solar system.
Do banks do solar loans?
Some banks do offer solar loans, though often with interest rates that exceed what you'd pay elsewhere. It may be worth checking with your local bank, but always remember to shop around and compare.
What is the best way to finance solar?
If you have sufficient home equity, a secured solar loan is often the most cost-effective approach. If you don't have sufficient home equity, an unsecured solar loan can work just fine.
What type of loan is a solar panel loan?
Solar panel loans are generally considered to be a type of personal loan, similar to a home improvement loan.
Can you buy a solar battery with a solar loan?
Most often the answer is yes, but make sure you double-check the terms of your loan.
On June 24, foreign oil company TransCanada filed a lawsuit against the U.S. under NAFTA, the North American Free Trade Agreement, arguing that the U.S. rejection of the Keystone XL pipeline violated NAFTA's broad rights for foreign investors by thwarting the company's "expectations." As compensation, TransCanada is demanding more than $15 billion from U.S. taxpayers.
TransCanada's case will be heard in a private tribunal of three lawyers who are not accountable to any domestic legal system, thanks to NAFTA's "investor-state" system, which is also included in the proposed Trans-Pacific Partnership (TPP). The controversial TPP would empower thousands of additional corporations, including major polluters, to follow TransCanada's example and use this private tribunal system to challenge U.S. climate and environmental policies.
TransCanada's Request for Arbitration follows the Notice of Intent to submit a claim to arbitration that it filed on Jan. 6.
Oil company led climate denial, now helping make trade rules in #TPP and #TTIP @sierraclub https://t.co/magVbS7Lfr https://t.co/y7beC5lbUG

— Expose The TPP (@Expose The TPP)1465314715.0
TransCanada's attempt to make American taxpayers hand over more than $15 billion because the company's dirty Keystone XL pipeline was rejected shows exactly why NAFTA was wrong and why the even more dangerous and far-reaching Trans-Pacific Partnership must be stopped in its tracks.
The TPP would empower thousands of new firms operating in the U.S, including major polluters, to follow in TransCanada's footsteps and undermine our critical climate safeguards in private trade tribunals. Today, we have a prime example of how polluter-friendly trade deals threaten our efforts to tackle the climate crisis, spotlighting the need for a new model of trade model that supports rather than undermines climate action. We urge our members of Congress to learn from this historic moment and commit to reject the TPP.
Here's more information on the TPP:
Environmental opposition to the TPP is mounting. Earlier in June, more than 450 environmental, landowner, Indigenous rights, and allied organizations sent a letter to Congress warning that pending trade deals like the TPP threaten efforts to keep fossil fuels in the ground.
Read the Sierra Club's report on how the TPP would roughly double the number of corporations that could follow TransCanada's example and challenge U.S. safeguards in private, unaccountable tribunals.
The corporations that would gain this ability include hundreds of foreign-owned fossil fuel firms, such as the U.S. subsidiaries of BHP Billiton, one of the world's largest greenhouse gas emitters and one of the U.S.'s largest foreign investors in fracking and offshore drilling.
The TPP would nearly double the number of foreign fracking firms that could challenge new U.S. fracking restrictions in private tribunals.
The deal also would enable oil and gas corporations with nearly 1 million acres' worth of U.S. offshore drilling leases to use this private tribunal system to try to undermine new restrictions on offshore drilling.
No prior U.S. trade deal has granted such broad rights to corporations with such broad interests in maintaining U.S. fossil fuel dependency.
YOU MIGHT ALSO LIKE
Stanford Professor's New Zero-Net Energy Home Sets the Standard for Green Living
Diablo Shutdown Marks End of Atomic Era
Tesla Makes $2.8 Billion Offer to Acquire SolarCity
Koch Brothers Continue to Fund Climate Change Denial Machine, Spend $21M to Defend Exxon
By Lukas Ross, Friends of the Earth Action

The same day TransCanada sued the U.S. government for $15 billion, the Democratic Party's platform drafting committee met in Missouri. Between the two, there is a lesson to be learned about free trade and the climate crisis.
The lawsuit was the anticipated result of President Obama rejecting the Keystone XL pipeline.Using a notorious provision in the North America Free Trade Agreement (NAFTA), the Canadian oil giant is hoping to claim $15 billion in lost future profits by dragging the U.S. before an international tribunal. These sorts of extra-judicial forums, where corporations can sue governments for enforcing their own laws, are a hallmark of established free trade deals like NAFTA and looming ones like the Trans Pacific Partnership (TPP).
Forty environmental groups signed a letter urging Congress to reject the TransPacific Partnership. Dylan Petrohilos / Think Progress
The meeting in Missouri was to finalize a draft of the 2016 Democratic Party platform, a usually sleepy and symbolic process that this year has exploded into a proxy fight between presumptive nominee Hillary Clinton and Sen. Bernie Sanders. Pipelines like Keystone XL and free trade writ large were both on the agenda—and the votes cast reflect a growing divide between the party establishment and the grassroots.

Within hours of TransCanada filing its lawsuit under NAFTA, the platform committee had the chance to officially oppose the proposed Trans Pacific Partnership, a Pacific Rim trade deal that would allow hundreds of new fossil fuel companies access to provisions similar to those used by TransCanada. The motion was rejected. Despite both candidates being on record opposing the current TPP, the motion was rejected in a 10-5 vote. It was supported by appointees from Sanders and opposed by appointees from Clinton and the Democratic National Committee. Compromise language was offered instead, calling for trade deals that protect workers and the environment without mentioning the TPP by name.
Talking about responsible trade but refusing to be clear about the TPP isn't a good look, for the DNC or anyone else. If the TPP and its European counterpart, the Transatlantic Trade and Investment Partnership, were both enacted, it would radically expand the power of fossil fuel companies to sue the U.S. for laws and regulations that hurt their expected future profits. The power to launch lawsuits like TransCanada's would be put on steroids and everything fromlocal fracking bans to renewable energy mandates could be litigated in trade tribunals run overwhelmingly by corporate lawyers.
Besides missing the boat on trade, the committee managed a few other favors for the TransCanadas of the world. Jane Kleeb, the founder of Bold Nebraska and the newly elected Chair of Nebraska Democrats, supported a motion calling for ending the use of eminent domain in support of fossil fuel projects. It was unceremoniously voted down. Another rejected motion was an endorsement of the so-called "climate test," the principle that infrastructure and other projects shouldn't be approved if they worsen carbon emissions. Applying this standard was what led President Obama to reject Keystone XL in the first place.
In fact, Friday turned out to be a bad night for serious climate policy all around. Motions pushed by Sanders's appointee Bill McKibben supporting a carbon tax and a national frackingban were both rejected. So too was a motion to keep fossil fuels in the ground by ending new leasing on our public lands and waters.
Even the ambitious energy target supported by both Clinton and Sanders—100 percent clean energy by 2050—wasn't an unqualified success. The language is vague enough that it could include everything from wind and solar to dangerous false solutions like biomass, carbon capture and sequestration and nukes.
The concern about what exactly counts as clean energy isn't unfounded. If Bill McKibben was chosen by Sanders as a progressive voice on climate, his alter ego appointed by Clinton is Carol Browner, a one-time Environmental Protection Agency administrator who splits her time these days between professional lobbying and pro-nuclear advocacy.
The good news is that Missouri isn't the end. The platform still needs to be approved by the full platform committee next month in Orlando and after that by the full convention in Philadelphia. When it comes to pushing back on trade and climate, there are still two more shots.
As philosopher Dr. Cornel West, another Sen. Sanders appointee, said as he abstained from the final vote, "Take it to the next stage."
YOU MIGHT ALSO LIKE
Oakland Bans Coal Exports, Huge Win for Local Residents
Kochs Dump Trump to Fund Climate-Denying Senators in Ohio and Nevada
'Three Amigos' Vow to Get Half Their Electricity From Clean Power by 2025
DNC Platform Calls for Fossil Fuel Investigations, 100% Renewable Energy
By Nika Knight
Warning against dangers to "workers, communities and our environment," more than 450 environmental advocacy groups called on Congress to reject the controversial Trans-Pacific Partnership (TPP) and Trade and Investment Partnership (TTIP).
Specifically warning against the Investor-State Dispute Settlement (ISDS) provisions, which allow multinational corporations sue nations in private, clandestine tribunals for passing laws they don't like, the groups sent a letter Monday that stated: "We strongly urge you to stand up for healthy communities, clean air and water, Indigenous peoples, property rights and a stable climate by committing to vote no on the TPP and asking the U.S. Trade Representative to remove from TTIP any provision that empowers corporations to challenge government policies in extrajudicial tribunals."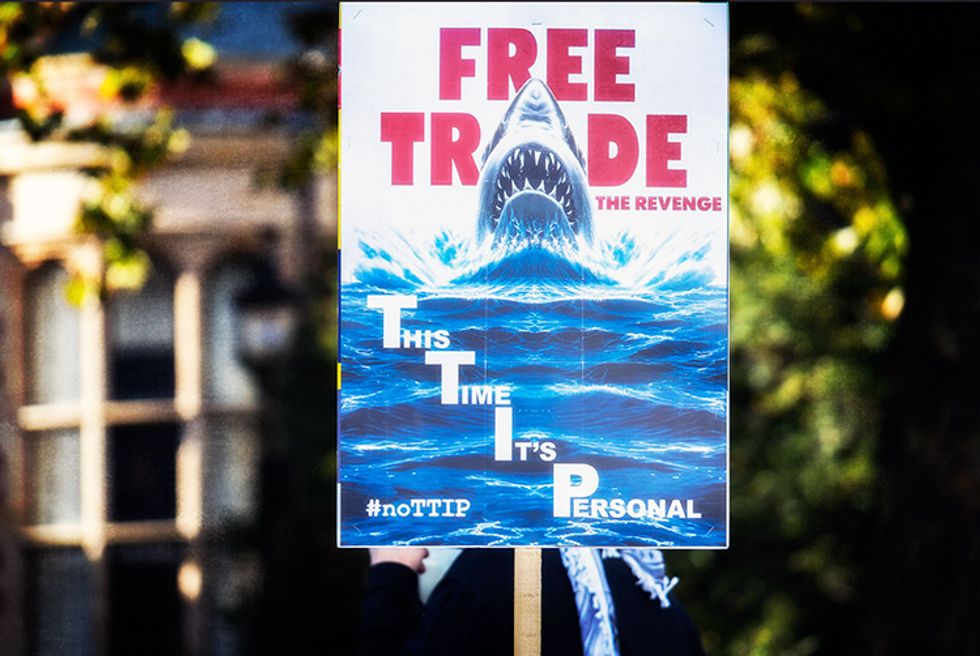 The letter was signed by organizations both large and national and small and local, ranging from the Sierra Club, Food & Water Watch and 350.org to groups such as Bold Nebraska, Catskill Citizens for Safe Energy and Kauaians for a Bright Energy Future, among many others.
"The TPP would let foreign oil and gas companies undermine the will of hundreds of communities that have worked tirelessly to protect themselves from the environmental and public health hazards associated with fracking," Food & Water Watch Executive Director Wenonah Hauter said. "These trade deals give the worst climate scofflaws new and powerful weapons to wield against the broad-based grassroots movement to stop fracking and fight for a clean energy future."
Pointing out the precedent set by TransCanada's $15 billion lawsuit against the U.S. for its rejection of the Keystone XL tar sands pipeline, the groups detailed the stark dangers the ISDS provision poses to the environmental movement.
"By empowering many more firms to launch ISDS cases against the U.S.," the letter continued, "the TPP and TTIP would pose a major threat to efforts across the country to restrict fossil fuel activities," including:
Fracking: The TPP and TTIP would undermine efforts in various states to restrict the dangerous practice of fracking by granting ISDS rights to more foreign fracking firms than all 56 existing U.S. trade and investment pacts combined. The threat is real—a gas corporation named Lone Pine Resources is currently using NAFTA's nearly identical foreign investor rights to ask an ISDS tribunal to order compensation from Canada for a fracking moratorium in Quebec.
Offshore drilling: The TPP and TTIP would empower oil and gas corporations with more than 10 million acres' worth of U.S. offshore drilling leases—one out of every three leased acres—to use ISDS threats to resist offshore drilling restrictions, posing a threat to coastal communities and the climate. That is 24 times more area than that leased to firms with existing ISDS rights.
Oil and gas extraction on public lands: The TPP and TTIP would allow corporations with leases for oil and gas drilling on more than 720,000 acres of U.S. public lands to launch ISDS cases against U.S. federal leasing restrictions, undercutting our ability to limit greenhouse gas emissions.
Fossil fuel pipelines: The TPP and TTIP would enable corporations that own tens of thousands of miles' worth of fossil fuel pipelines in at least 29 states to go to private tribunals and, like TransCanada, demand billions of dollars for delays or denials of dangerous pipelines.
"The TPP and TTIP's unprecedented expansion of U.S. ISDS liability would similarly threaten efforts to protect communities from fossil fuel trains, LNG terminals, refineries and other fossil fuel hazards," the letter concluded.
The letter was also signed by several Indigenous groups, including Idle No More San Francisco Bay, Indigenous Environmental Network and the Alaska Inter-Tribal Council and drew particular attention to the threats such trade agreements pose to Indigenous rights and traditional territories:
Much of the world's remaining fossil fuel reserves are on or adjacent to Indigenous lands and territories. Unfortunately, the nation-states engaged in the TPP and TTIP agreements have not strongly defended Indigenous land rights and Indigenous peoples' right to free, prior and informed consent. Ultimately, such trade deals grant more rights to transnational corporations, often at the expense of Indigenous rights, undermining special protections of Indigenous lands and cultural resources. For Indigenous peoples wanting a just economic transition away from oil and gas development, these deals pose severe risks to their sovereignty and ability to self-determine their futures as nations and tribal citizens concerned about the climate, health and environmental impacts from fossil fuels.
Rising opposition to so-called "free trade" agreements has fueled voters this election cycle and presidential hopeful Bernie Sanders has made his vocal opposition to the TPP and other deals like it a cornerstone of his campaign:
The TPP is a continuation of our disastrous trade policies that have devastated manufacturing cities and towns all over this country.

— Bernie Sanders (@Bernie Sanders)1454535127.0
By Molly Dorozenski
At a time when Secretary Clinton should be strengthening her progressive policies, it does not make sense to pick an industry insider who supports fracking to lead her transition team. Unfortunately, that's the exact move that Clinton made this week in appointing former Interior Secretary Ken Salazar to that post.
A flare burns near a hydraulic fracturing drilling tower in rural Weld County in northern Colorado, the most intensively fracked area in the U.S. Image of fracking site in Colorado: © Les Stone / Greenpeace
Though not an official lobbyist, Salazar took a job as partner at WilmerHale after leaving the Department of the Interior in 2013, a law and lobbying firm working on energy and environmental issues amongst other things. Salazar's track record has illustrated time and time again that he is on the side of big industry, and not the people. He is pro-Trans Pacific Partnership (TPP), pro-fracking and pro-Keystone XL pipeline. If Clinton plans to effectively tackle climate change, the last thing her team needs is a fossil fuel industry friend like Salazar.
A NASA study released this week identified fracking as responsible for a methane "hot spot" in the Four Corners region of Colorado, New Mexico, Arizona and Utah, the largest concentration of the potent greenhouse gas in the country. Methane, the primary component of natural gas, is 84 times more potent than carbon dioxide, yet Salazar has actually made the statement that "there's not a single case where hydraulic fracking has created an environmental problem for anyone." The truth is fracking is devastating his home state of Colorado, yet he has chosen to side with industry.
Most recently, Salazar came out in opposition to ballot initiatives to restrict fracking in Colorado. Communities throughout the state spent months collecting signatures for the ballot measures that would establish setbacks for drilling operations from schools and hospitals and empower communities to vote on fracking. Organizers on the ground were fought tooth and nail by the industry, which spent more $75 million since 2014 on PR firms and front groups intent on defeating the ballot measures. Earlier this month, people power overcame its first major hurdle by gathering enough signatures to submit the ballot measures to the Colorado Secretary of State. The office is now officially counting the signatures for qualification for the ballot in November.
A massive fight remains for Colorado activists in the months leading into November. As more oil and gas money flows into the state to mislead voters on the ballot initiatives, it is more important than ever for Secretary Clinton to pick the side of the people over the industry and its mouthpieces. Clinton has indicated support for local control over fracking, but picking an industry insider like Salazar who is fighting against the people's will sends the wrong message about which side she is truly on.
If Secretary Clinton wants to be the environmental leader that she claims to be in campaign speeches, she has to put the people before industry insiders.
Molly Dorozenski is the campaign director for Greenpeace Democracy.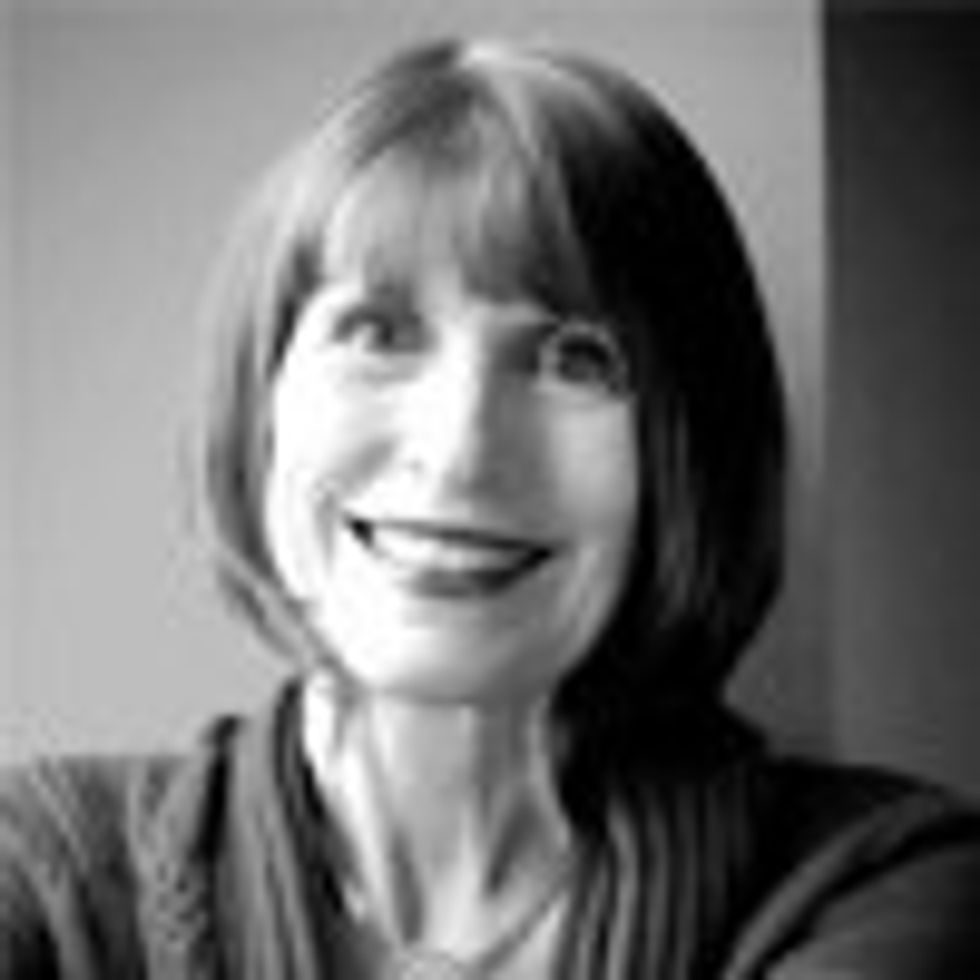 Today, the Obama administration released the long-secret text of the proposed Trans-Pacific Partnership (TPP) trade deal that would weaken consumer protections, undermine U.S. food safety standards and prevent commonsense food labeling. The language included in the TPP is more aggressive than previous trade deals and provides broad new powers for other countries and foreign corporations to challenge U.S. food safety and food labeling measures.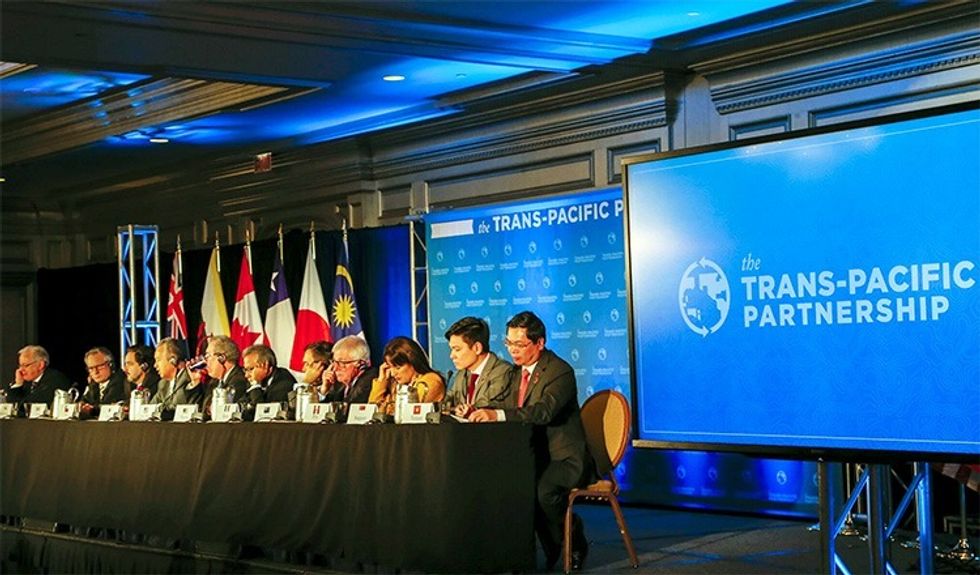 The language included in the TPP is more aggressive than previous trade deals and provides broad new powers for other countries and foreign corporations to challenge U.S. food safety and food labeling measures. Photo credit: Erik S Lesser / U.S. Environmental Protection Agency
The TPP is a giveaway to big agribusiness and food companies that want to use trade deals to attack sensible food safety rules, weaken the inspection of imported food and block efforts to strengthen U.S. food safety standards. The food and agribusiness industries inserted language into the text of the TPP that will undermine U.S. food safety oversight and expose consumers to risky imported foods.
The TPP includes a new provision designed to second-guess the government inspectors who monitor food imports. The so-called Rapid Response Mechanism allows companies to challenge border inspection procedures that companies claim cause unnecessary delay—like holding suspect shipments while awaiting laboratory test results—and demand that a TPP panel of experts review and provide guidance on the inspection. This would create a chilling-effect on rigorous border inspection that would be especially dangerous for problems that are not obvious, like chemical or drug residues that would only appear after more thorough examination and testing.
The TPP will increase the volume of imported and potentially risky foods coming into the U.S., but tie the hands of the border inspectors who are the last line of defense between the shipper and the supermarket. The TPP gives companies new powers to second guess inspectors and push uninspected food onto the market.
The TPP food safety rules also include a host of deregulatory catch phrases and code words that are considerably stronger than the food safety rules in prior trade deals like the World Trade Organization. The food and agribusiness industry demanded—and received—stronger sanitary and phytosanitary (SPS ) disciplines that make it harder to defend domestic food safety standards from international trade disputes. It also directs the U.S. to expand the current policy of recognizing foreign food safety systems that are not as strong as ours.
American consumers are pushing to block the use of artificial and potentially risky processes and ingredients, like antibiotics and GMOs, but the TPP could trump these democratic efforts to improve our food supply.
The biotechnology industry received the biggest benefit from the TPP. This is the first trade agreement to provide specific biotechnology protections, according to the U.S. Trade Representative and U.S. Department of Agriculture. The posted SPS chapter does not include the Annexes where these provisions would be located. Agribusiness and biotech seed companies can now more easily use trade rules to challenge countries that ban GMO imports, test for GMO contamination, do not promptly approve new GMO crops or even require GMO labeling.
The TPP gives the food industry a powerful new weapon to wield against the nationwide movement to label GMO foods. The language in the TPP is more powerful and expansive than other trade deals that have already been used to weaken or eliminate dolphin safe tuna and country of origin labels.
The TPP food safety and labeling provisions are worse than expected and bad news for American consumers and farmers. Congress must reject this raw deal that handcuffs food safety inspectors and exposes everyone to a rising tide of unsafe imported food.
YOU MIGHT ALSO LIKE
Landmark Climate Bill Would End New Fossil Fuel Leases on Federal Lands
8 Myths About Pesticides That Monsanto Wants You to Believe
Obama Mocks GOP Presidential Candidates as Climate Deniers and Debate Whiners
Amid a last minute scramble, leaders from the U.S. and 11 other Pacific Rim countries announced Monday that they had reached agreement on a sweeping trade deal, one that critics, including presidential candidate Bernie Sanders, say will slash standards and protections for both consumers and workers—with impacts to be felt across the globe.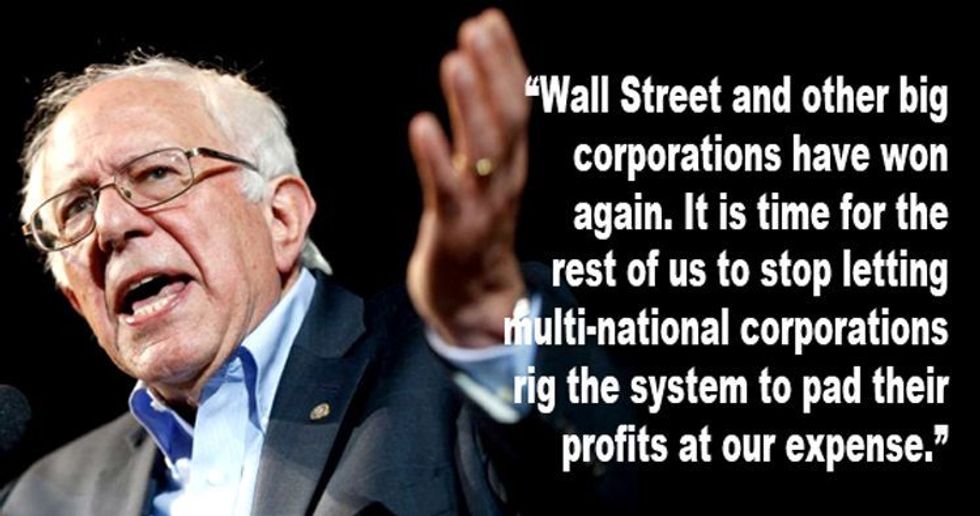 The agreement, known as the Trans Pacific Partnership (TPP), which would tie together as much as 40 percent of the world's economy, has for nearly eight years been negotiated in secret. Though details of the compromise were not yet revealed early Monday, critics said that—minutia aside—the global trade pact will certainly be a boon for corporate power
"TPP is a deal for big business," said Nick Dearden, director of the UK-based Nick Dearden, Global Justice Now.
Presidential candidate Bernie Sanders was also quick to condemn the deal. Saying he was disappointed but not surprised by the "disastrous" agreement, Sanders added: "Wall Street and other big corporations have won again. It is time for the rest of us to stop letting multi-national corporations rig the system to pad their profits at our expense."
The compromise was reached after five days of round-the-clock negotiations in Atlanta, Georgia. U.S. President Barack Obama reportedly "spent recent days contacting world leaders to seal the deal."
The negotiations had been extended after talks got stuck over the issue of how long a monopoly period should be allowed on next-generation biotech drugs. The compromise reportedly reached between the U.S. and Australia "is a hybrid that protects companies' data for five years to eight years," the New York Times reports, falling short of the 12 years desired by U.S. negotiators.
Other final compromises reportedly reached included "more open markets for dairy products and sugar and a slow phaseout—over two to three decades—of the tariffs on Japan's autos sold in North America," the New York Times continues.
One of the more controversial aspects of the deal is the Investor State Dispute Settlement provision, which permits multinational companies to sue governments over allegations that profits were lost due to local regulations.
"Two fifths of the global economy will be covered by corporate courts, meaning a huge rise in governments being sued for protecting the public interest from corporate greed," Dearden explained. Then highlighting some of the other alarming provisions of the deal, he continued: "Medicine prices will rise as Big Pharma gets more power to monopolize markets. Small farmers will suffer from unfair competition with industrial scale agribusiness. No wonder this has been agreed in secret."
Chris Shelton, president of the Communication Workers of America, said the agreement is "bad news" for working families and communities. In a statement, Shelton said, "Despite broad promises from the Obama administration," the TPP "would continue the offshoring of jobs and weakening of our communities that started under the North American Free Trade Agreement" and "would mean labor and environmental standards that look good on paper but fall flat when it comes to enforcement."
"It's a corporate dream but a nightmare for those of us on main street," he added.
It now falls on signatory governments to ratify the agreement. In the U.S., many members of Congress as well as presidential candidates have expressed skepticism over the pact, which heretofore had been largely undisclosed to legislators. Reportedly, the full 30-chapter text will not be available for another month.
Lori Wallach, director of Public Citizen's Global Trade Watch questions whether the pact will pass in Congress, given the amount of pushback the deal received when the U.S. House and Senate voted this summer to pass Fast Track trade promotion authority.
Wallach explains: "If there really is a deal, its fate in Congress is at best uncertain given that since the trade authority vote, the small bloc of Democrats who made the narrow margin of passage have made demands about TPP currency, drug patent and environmental terms that are likely not in the final deal, while the GOP members who switched to supporting Fast Track in the last weeks demand enforceable currency terms, stricter rules of origin for autos, auto parts and apparel and better dairy access for U.S. producers."
For his part, Senator Sanders said he "will do all that I can to defeat this agreement." in the U.S. Senate. "We need trade policies that benefit American workers and consumers, not just the CEOs of large multi-national corporations," he added.
In Canada, the deal comes just two weeks ahead of national elections. In a statement, Maude Barlow, national chairperson of the Council of Canadians encouraged Canadians to "vote against the TPP" during the upcoming election.
"Just what are we supposed to make of a deal that has been kept secret from the Canadian public?" Barlow asks. "Our own legislators don't even know what's in it."
"The Harper government has signed a deal that will lay off thousands of auto workers and put thousands of dairy farmers in jeopardy while giving even more foreign corporations the right to dictate Canadian policy," she continued, adding that "Stephen Harper negotiated the TPP during an election when his mandate is simply to be a caretaker government. Parliament now has the ability to vote on the TPP. We strongly encourage the next government to reject it."
YOU MIGHT ALSO LIKE
Watch Hillary Clinton on Saturday Night Live Talk Keystone XL and Donald Trump
Bernie Sanders Goes Big in Boston Calling for a 'Political Revolution'
Why Bernie and Hillary Must Address America's Dying Nuke Reactors
"I'm thrilled to announce my running mate, @TimKaine," presumptive Democratic Presidential Nominee Hillary Clinton tweeted at 8:11 p.m. Friday.
Though the news was not a surprise, as Kaine has long been known as a likely choice, Clinton's pick stirred immediate reaction among the environmental movement. The Virginia senator supports fracking and offshore oil drilling, but was an early opponent of the Keystone XL pipeline.

I'm thrilled to announce my running mate, @TimKaine, a man who's devoted his life to fighting for others. -H https://t.co/lTVyfztE5Z

— Hillary Clinton (@Hillary Clinton)1469232700.0
350 Action Director May Boeve shared her concern of Clinton's vice presidential pick.
"Tim Kaine won't energize the climate base, so it's up to Hillary to start staking out some clearer positions," Boeve said. "Kaine was with us on Keystone XL, but against us on offshore drilling and fracking. This November, climate activists, young people, and progressives will turn up at the polls for candidates who say the magic words, 'keep it in the ground.' If Democrats want to drive turnout, it's time to come out more clearly against drilling, fracking and new fossil fuel infrastructure."
On Sunday at 1 p.m., one day before the Democratic National Convention begins in Philadelphia, thousands of people will take part in the March for a Clean Energy Revolution calling for a ban on fracking. The march is organized by Americans Against Fracking and Pennsylvanians Against Fracking and backed by more than 900 organizations across all 50 states.
The #CleanEnergyMarch is tmr in Philly! Will you be there? https://t.co/gGnGN2IJ7X https://t.co/FBTkRoiZJH

— 350 dot org (@350 dot org)1469282450.0
"Hillary Clinton's vice president and entire administration should be committed 100 percent to combating catastrophic climate change by keeping fossil fuels in the ground, supporting renewable energy and protecting our democracy from corporate influence," Greenpeace Executive Director Annie Leonard said.
"It's clear from the polling that Secretary Clinton needs the progressive wing to vote in force if she's going to win in November, so Tim Kaine must show himself from the start that he'll use his office to be a climate champion," Leonard continued.
"He showed he could do this when he became an early opponent of the Keystone Pipeline, but Kaine's opposition to regulating fracking under the Safe Drinking Water Act, and his support for natural gas exports and pipelines, prove he still has a long way to go. Clinton's positions on fracking may have progressed during her candidacy, but the climate movement will continue to push her and her running mate until they pledge to keep all fossil fuels in the ground."
League of Conservation Voters
Sierra Club's Executive Director Michael Brune feels "Secretary Clinton's selection of Senator Tim Kaine as her running mate completes the strongest environmental ticket we've ever seen." When comparing Clinton's campaign to Donald Trumps, Brune said, "The Democratic ticket is in sharp contrast to the Republican's, which features not one but two climate deniers, a first in American history. The Trump-Pence regime would be the only world leaders to hold that position. Simply put, a Trump-Pence Presidency wouldn't be the only 'TPP' that would destroy our climate."
Bernie Sanders officially endorsed Hillary Clinton—a decision many Democrats have been waiting for—Tuesday morning at a joint campaign event in New Hampshire.
During his endorsement speech, the Vermont senator said he intends to do everything in his power to ensure the former secretary of state is the next president of the U.S. Sanders began his speech by saying:
Secretary Clinton has won the Democratic nominating process, and I congratulate her for that. She will be the Democratic nominee for president and I intend to do everything I can to make certain she will be the next president of the United States.
I have come here today not to talk about the past but to focus on the future. That future will be shaped more by what happens on November 8 in voting booths across our nation than by any other event in the world. I have come here to make it as clear as possible as to why I am endorsing Hillary Clinton and why she must become our next president.
Sanders' endorsement comes less than two weeks before the Democratic National Convention. On Sunday the senator, who was in charge of picking the members of the Democratic National Convention's Platform Committee, praised the adoption of "the most progressive platform in the history of the Democratic Party," Democracy Now reported.
What Bernie Sanders meant: https://t.co/eZ6KhrgTWf https://t.co/JltAXGF4Rx

— FiveThirtyEight (@FiveThirtyEight)1468340389.0
While Clinton wasn't known as the first pick for many environmental activists, Sanders has helped the presumptive party nominee develop a more extensive climate policy.
Throughout the primaries, Sanders helped pull Clinton and the party to the left and take stronger climate action.
"Democratic voters have been fortunate to witness a vigorous and hard-fought campaign between two candidates with a clear and progressive vision for out country—which is exactly how it should be," Michael Brune, Sierra Club executive director, said in a statement.
"Secretary Clinton and Senator Sanders made this campaign about ideas. Ideas on how to stop climate disruption while speeding our transition to clean, renewable energy and leaving fossil fuels in the ground. Ides on the importance of rejecting dangerous trade deals like the Trans Pacific Partnership. And ideas on how best to help those whose homes and lives have been wrecked by pollution."
The Sierra Club formally endorsed Clinton in June.
Not everyone was as pleased with the endorsement announcement, though. Several people took to Twitter to show their dislike of the news:
🎵 It's better to Bern out than to fade away 🎵 https://t.co/IHnk46BkkM

— Dave Gilson (@Dave Gilson)1468340680.0
Not surprisingly, Donald Trump weighed in on the endorsement, too:
Why is Bernie Sanders allowed to endorse Crooked Hillary when Lyin'Ted, dopey Kasick, & Little Marco won't endorse me?! SYSTEM IS RIGGED!!

— DonaId J. Trump (@DonaId J. Trump)1468341158.0
The Democratic National Convention will be held July 25-28 in Philadelphia.
The committee drafting the Democratic Party platform unanimously voted to include a call for the Justice Department to investigate fossil fuel companies for misleading the public on climate change.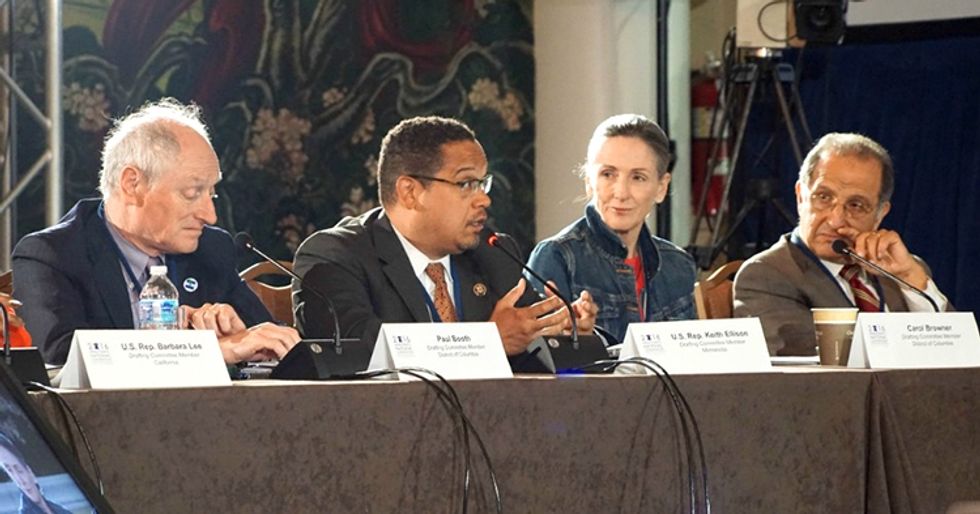 Members of the Democratic party Platform Committee, including (from left to right) American Federation of State, County, and Muncipal Employees executive assistant to the president, Paul Booth, U.S. Rep. Keith Ellison (D-Minn.), former White House Energy and Climate Change Policy director Carol Browner, and Palestinian rights academic James Zogby. Photo credit: DNCC
"All corporations owe it to their shareholders to fully analyze and disclose risks they face including climate risks. Those who fail to do so should be held accountable," the committee declared.
The committee also included the goal of producing 100 percent of electricity from renewable sources by 2050, though they declined to support policies such as a ban on fracking and a carbon tax.
Watch the platform's authors discuss the motion to investigate fossil fuel companies:
For a deeper dive: InsideClimate News, Washington Post
For more climate change and clean energy news, you can follow Climate Nexus on Twitter and Facebook, and sign up for daily Hot News.
YOU MIGHT ALSO LIKE
March for a Clean Energy Revolution at the DNC With Breast Cancer Action
4 States Struggling to Manage Radioactive Fracking Waste
TransCanada Files NAFTA Suit Demanding More Than $15 Billion for Keystone XL Rejection
Pennsylvania Declares Victory on Oil and Gas Regs While Failing to Protect Residents Health
By Andy Rowell
According to a new analysis, the U.S. now holds more oil reserves than Saudi Arabia and Russia, the first time this has happened. And more than half of the U.S.'s remaining oil reserves are in shale oil.
The analysis, by Rystad Energy, has concluded that recoverable oil in the U.S. from existing fields, discoveries and yet undiscovered areas is equivalent to 264 billion barrels, which easily beats Saudi Arabia's 212 billion barrels and just squeezes past Russia's 256 billion.
Photo credit: Paul Lowry
The crux though will be whether the U.S. shale industry can access the finance to carry on exploiting shale. And that remains to be seen.
The mini-revival in the oil price may be over. Having rallied since its low point earlier in the year of $27, oil had reached the $60 a mark, but has slipped back to below $50 a barrel on concerns about a slowdown in the global economy has increased.
And those looking for a rapid increase in the next few months look set to be disappointed. The CEO of the world's largest oil trader, Vitol, which trades about 6 million barrels a day, has told Bloomberg that oil prices will not rise much further over the coming months.
Vitol's boss, Ian Taylor said: "I cannot see the market really roaring ahead. We have a lot of oil in the system and it will take us considerable time to work that off."
The international benchmark will probably end the year "not too far away from where we are today" and rise to about $60 by the end of 2017, Taylor said.
According to Bloomberg: "The wild card for next year is U.S. shale supply, which appears to have reached a bottom, but it's too early to say whether growth will resume."
But shale growth is not looking certain, with the industry still struggling with a low oil price and access to financing. And one of the key way to access financing is via bond sales.
As the Financial Times reported: "Bond sales by U.S. independent oil and gas companies have fallen to their slowest rate for more than a decade, in a warning sign of financing constraints that could hold back the industry's recovery."
In the second quarter of this year, the U.S. shale sector sold a paltry $280m of bonds in the second quarter, making it a slower period than any since the financial crisis of 2008-09.
In contrast, the paper points out, the industry raised almost $860bn from bond sales and bank loans during the boom years of 2007-2014. It is an industry still sitting on a crumbling pile of debt.
And the bottom line is that the industry is still spending more than it is earning. According to the FT, the leading U.S. exploration and production companies cut their capital spending to $14.9 billion in the first quarter of this year, which is a whopping $10 billion more than they earned.
This is totally unsustainable and will constrict the smaller players from accessing bonds and finance. Gary Ross of Pira Energy told the FT: "It's not going to be easy to reconstruct this industry."
YOU MIGHT ALSO LIKE
The Future of Nuclear Power Is 'Challenging,' Says WNA Report
Public Lands Development Rigged in Favor of Oil and Gas
Free Trade, DNC Platform and the Climate Crisis
Kochs Dump Trump to Fund Climate-Denying Senators in Ohio and Nevada