This website uses cookies to ensure you get the best experience while browsing it. By clicking 'Got It' you're accepting these terms.
The We Are Seneca Lake civil disobedience campaign kicked off on Oct. 25, 2014. Colleen Boland
"We are ALL Seneca Lake" was the message delivered this morning by prominent environmental leaders Wes Gillingham, program director of Catskill Mountainkeeper, David Braun, co-founder of Americans Against Fracking, and Rachel Marco-Havens, youth engagement director of Earth Guardians during a protest at Stagecoach (formerly Crestwood) gas storage complex along Route 14 in the Town of Reading.
EcoWatch Daily Newsletter
Attorney Joe Heath, defendant Tom Angie, and second chair attorney attorney Sujata Gibson debrief after mistrial. Colleen Boland
[Editor's note: In October 2014, over massive citizen opposition and in spite of serious health and safety concerns raised by independent scientists, the Federal Energy Regulatory Commission gave final approval to Houston-based Crestwood Midstream to expand gas storage in unlined salt caverns along the shores of Seneca Lake in the heart of New York's wine country. The caverns are left over from a century of salt mining. Immediately after the decision, having exhausted all appeals, the grassroots citizen movement, We Are Seneca Lake, began staging protests at gates of the lakeside compressor station. Since then, more than 600 arrests have taken place, many for trespassing. More than half of these cases have not yet been adjudicated. In late 2015, the posted no-trespass signs demarcating Crestwood's property line were relocated after defense attorneys for the protesters revealed that they were, in fact, posted on public property and that protesters and law enforcement officers were both misinformed about where the actual property line was located. The first trials in the 21-month-long campaign began last week. Tom Angie, whose case is detailed below, was the third protester to face trial. A pretrial motion to present a necessity defense was denied by the Town of Reading Judge.]
The trial of a Seneca Lake gas storage protester ended in dramatic fashion in the Town of Reading Court on Tuesday when Justice Raymond Berry declared a mistrial at the urging of the prosecuting attorneys and accepted a motion from defense attorneys to recuse himself from this and future Seneca Lake protest trials. Berry's rulings came after a strange series of declarations that appeared to indicate both prejudice against the defendant and ignorance of the law.
Defendant Tom Angie, 63, of Aurora in Cayuga County, was charged with violation-level trespass stemming from a Dec. 16, 2014 protest near the main gates of the Crestwood Midstream compressor station near Seneca Lake in the Town of Reading.
Angie's trial today—which was to represent the first trial of gas storage protesters in the Town of Reading Court—began at 10 a.m. By 2 p.m., the prosecutor, Schuyler County assistant district attorney John Tunney, who had put on the stand three witnesses, had just rested his case and chief defense attorney Joseph Heath had just entered a motion for dismissal. At this point, Judge Berry abruptly issued a guilty verdict for Angie.

Clearly flummoxed, prosecutor Tunney explained to the judge that his verdict was premature in light of the fact that defendant Angie had not yet presented his defense or called his own witnesses to the stand.
Heath, noting Tunney's attempt to explain criminal procedure protocols to Judge Berry, respectfully moved that the case be transferred to a law-trained judge. Heath noted that the judge's premature ruling of guilt at this stage showed a fundamental lack of knowledge of basic criminal law, most notably, the right to present a defense.
Heath further said that the fact that the prosecution needed to stop the trial in order to lecture the judge on "the simplest trial procedures" was clear proof that his clients were unable to obtain a fair trial in this court.
In spite of the fact that the prosecutor had just warned the judge that his ruling was premature, Justice Berry then reiterated his verdict, saying, "I still find him guilty."
Heath insisted that the trial could only go forward before a law-trained judge, which Berry is not. Heath noted, "The prosecutor is running this trial."
Sujata Gibson, a second defense attorney, stated that if the judge were going to insist on finding guilt before allowing a defense, then the defendants would simply appeal. She then entered a motion that Berry recuse himself from hearing Angie's case. She asked that the recusal be extended to all future cases of gas storage protesters.
In making her motion, Gibson described for the record a pattern of prejudice, unfair treatment and blatant bias and provided examples. Among them: courtroom observer Daniel Pautz, who was neither a party to the trial nor an officer of the court, was allowed use of his cell phone in the courtroom while she herself, an attorney for the defense, along with all other courtroom observers, had been forbidden cell phones.
According to witnesses, the Bailiff's response, when asked why Pautz alone was allowed to have access to his cell phone inside the courtroom was "because he is with Crestwood."
Pautz, whose legal work focuses on defending property owners against lead paint claims, is an attorney for Crestwood. He was merely an observer in court today.
Justice Berry granted Gibson's motion and agreed to recuse himself in this and all future trials involving Seneca Lake gas storage protesters.
He then asked, "Okay, where are we at?"
The prosecution then moved for an official declaration of mistrial. The defense attorneys offered no objection.
Granting the prosecution's motion for a mistrial, Judge Berry adjourned the court.
Defendant's lawyers with evidence that was never presented. Judge Berry proclaimed Tom Angie Guilty, not once but twice before hearing the defendant's case argued. A mistrial was mutually agreed upon by the prosecution and the defense and was granted.Photo credit: Colleen Boland
In a reaction statement outside of the courtroom, defendant Tom Angie said that while he saw the mistrial and recusal as a victory for We Are Seneca Lake, he was nevertheless deeply shaken by the experience.

"To have somebody look me in the face and say that I was guilty before I had a chance to put on my defense … is chilling. I was not really given my day in court."
Angie, who works as a mechanical design engineer, said that his time spent on legal defense comes at a personal financial cost. "I'm a contractor. When I don't work, I don't get paid, so being hauled into court over and over to defend my First Amendment rights of protest is tough. Like every other average American who wants to exercise my rights, I still have to live. And this affects my livelihood. That concerns me."
Chief defense counsel Joe Heath noted that, even prior to the judge's abrupt guilty verdict at the midpoint of the trial, the prosecution had failed to provide evidence that Angie was standing on Crestwood's property and had already conceded that, at the time of his arrest, the no-trespass signs demarcating the line between public and corporate property were incorrectly located. "In 41 years of practicing law, this is one of the worst mistakes I have ever seen in the courtroom."
Defense counsel Sujata Gibson hailed both the mistrial and the recusal. "This is a victory for the defense and for We Are Seneca Lake. I firmly believe Mr. Angie is not guilty. This is not a game. Each individual has the right to a fair trial."
Out of 606 total arrests in the 21-month-old We Are Seneca Lake campaign, 370 cases remain open. The majority of the adjudicated cases have been dismissed in the interests of justice at the prosecution's request or with their approval, many for admitted lack of evidence of guilt.
Last week, in the Town of Dix Court, Seneca Lake defendants Sue Kinchy and Barbara Barry were both found guilty of trespass.
Watch here:
Five feet in diameter and swirling with clouds, a blue and green replica of Planet Earth helped a dozen human inhabitants block three trucks this morning at the main entrance of Crestwood Midstream. The Earth Day-themed civil disobedience action was part of an ongoing campaign against proposed gas storage in Seneca Lake's abandoned salt caverns.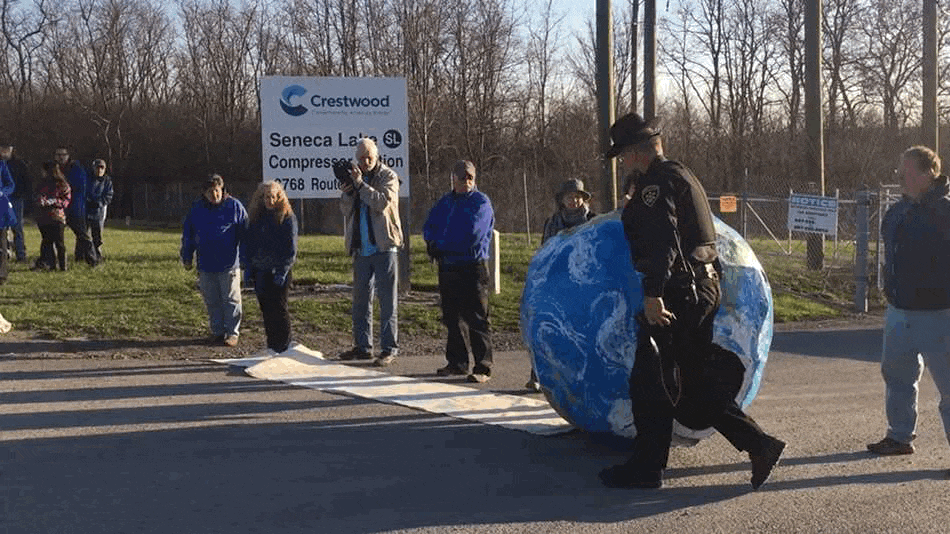 Organized by the direct action group, We Are Seneca Lake, the protesters, plus Earth, formed a blockade on the driveway of the Houston-based gas storage and transportation company shortly after sunrise at 6:45 a.m.
The group held banners that read, "Happy Earth Day! Decarbonize Now" and "We All Are on This [Earth] Together. While blockading, they read aloud together from a new report released this week by the World Resources Institute, which documents alarming new scientific findings about the ongoing climate crisis. Among them: 2015 was the warmest year on record, and the first three months of 2016 each far surpassed the warmest average temperature ever recorded for those months.
"Today is the day before Earth Day and the historic signing of the Paris climate treaty—enjoining the U.S., China and 195 other nations of the world in a pledge to reduce greenhouse gas emissions and to keep global warming below the catastrophic 1.5 degree level," Town of Caroline Councilmember Irene Weiser said in a public statement to fellow blockaders.
"I am proud to stand here today, an elected official, joined by activists from across the region—to say that we stand in solidarity with the people of nations across this one precious earth, with a commitment to hold ourselves and our leaders accountable in upholding that essential promise."
Weiser is an active member of Fossil Free Tompkins, working politically across Tompkins County to reduce dependence on fossil fuels and increase renewable energy construction. Their work includes political action against new fossil fuel infrastructure, including the Crestwood storage facility on Seneca Lake.
The protesters this morning were all charged with disorderly conduct and arrested at about 7:30 a.m. by Schuyler County deputies and transported to the Schuyler County Sheriff's department, where they were ticketed and released.
Among the 12 arrested was a member of the We Are Seneca Lake media team, Michael Dineen. At the time of his arrest, Dineen, who was not part of the blockade, was photographing the protest from across Highway 14. Dineen was also charged with disorderly conduct.
Watch the protest here:
The total number of arrests in the 18-month-old civil disobedience campaign now stands at 549.
"We will not stop blocking the gates of Crestwood until the expansion is canceled," said Nathan Lewis of Hector in Schuyler County who was arrested today. "We will not sit idle as our community is threatened. There is more than one way to vote. We vote with our body and soul when we resist the fossil fuel industry."
Crestwood's methane gas storage expansion project was approved by the Federal Energy Regulatory Commission in October 2014 in the face of broad public opposition and unresolved questions about geological instabilities, fault lines, and possible salinization of Seneca Lake, which serves as a source of drinking water for 100,000 people.
Crestwood also seeks to store two other products of fracking in Seneca Lake salt caverns—propane and butane (so-called Liquefied Petroleum Gases, LPG)—for which it is awaiting a decision by Governor Cuomo's Department of Environmental Conservation.
"It's been six years since the BP oil spill in the Gulf of Mexico; six months since the failure of the methane storage in Aliso Canyon; and over six days since TransCanada's 16,800 gallon dilbit leak into South Dakota farmland," said Debb Guard of Schenectady in Schenectady County who was arrested today. "Earth Day is a time to remind people that water, air and land are still at risk of contamination by the oil and gas industry. Earth Day is also a time to embrace renewable energy sources: solar, wind and geothermal."
Here's the full text of Weiser's Earth Day statement:
Today is the day before Earth Day and the historic signing of the Paris climate treaty—enjoining the U.S., China, and 195 other nations of the world in a pledge to reduce greenhouse gas emissions and to keep global warming below the catastrophic 1.5 degree level. I am proud to stand here today, an elected official, joined by activists from across the region—to say that we stand in solidarity with the people of nations across this one precious Earth, with a commitment to hold ourselves and our leaders accountable in upholding that essential promise.
Forty seven years ago a peace activist named John McConnell proposed Earth Day at a UNESCO conference—with a vision to create a special day each year to draw people together in appreciation of their mutual home and to bring a global feeling of community through the realization of our deepening desire for life, freedom, love, and our mutual dependence on each other.
As a peace activist he considered the devastation caused by pollution as acts of violence against the Earth. One can only imagine what he would have thought about today's desperate measures to unearth fossil fuels by blowing off mountain tops, and raping the ground by injecting poisoned waters. What of the violence of slashing trees and leaving huge scars across our landscape to make way for pipelines? And what of the violence of ocean acidification killing countless species, and the warming waters and habitat loss in the arctic? What of the violent storms, massive floods, fires, droughts, and heat waves that have claimed countless lives? And the violence to the workers who are subjected to unsafe conditions to feed this planet's fossil fuel habit, and the cancers, heart and lung disease, low birth weights to those who live in sacrifice zones? What of the violence that is already visiting the poor in under-developed countries, where sea level rise has caused them to relocate, and where droughts and famine underpin massive uprisings and refugee crises?
As part of his Earth Day proclamation McConnell wrote that "Planet Earth is facing a grave crisis which only the people of the earth can resolve, and in our shortsightedness we have failed to make provisions for the poor as well as the rich to inherit the Earth … and our new enlightenment requires that the disinherited be given a just stake in the Earth and its future."
I am not so naïve as to believe that the disinherited will be given that stake. I believe we have to take it—take it back from the purveyors of violence like ExxonMobil who have lied about the harms their industry causes; take it back from Williams and Cabot for their unconstitutional pipeline, take it back from Crestwood who threatens the drinking water for thousands of people, and take it back from the regulators and elected officials who fail to do their jobs of protecting the public and our future.
And so I am proud to stand here today—not in violence—but in peaceful, loving, hopeful protest—to pledge my commitment to preserving this one and only and beautiful and cherished Earth for future generations.
YOU MIGHT ALSO LIKE
Which Countries Won't Be Signing the Paris Climate Deal on Earth Day?
Scientists Confirm: 93% of Great Barrier Reef Now Bleached
NOAA: Last Month Was by Far the Planet's Warmest March Since Record Keeping Began
Bill Nye vs. Sarah Palin on Climate Change: Who Do You Believe?
The fight over the fate of the Finger Lakes received national attention today when best-selling author, environmentalist and founder of 350.org, Bill McKibben, joined the opposition. McKibben, 55, was arrested this morning with 56 area residents as part of an ongoing civil disobedience campaign against proposed gas storage in Seneca Lake's abandoned salt caverns.
Waterkeeper Alliance, a global movement uniting more than 270 Waterkeeper organizations and affiliates, recently approved a new affiliate, Seneca Lake Guardian. Joseph M Campbell and Yvonne Taylor of Gas Free Seneca are excited to extend their efforts as the Seneca Lake Guardians to protect and preserve Seneca Lake, one of New York's Finger Lakes, by combining their firsthand knowledge of the watershed with an unwavering commitment to the rights of the community.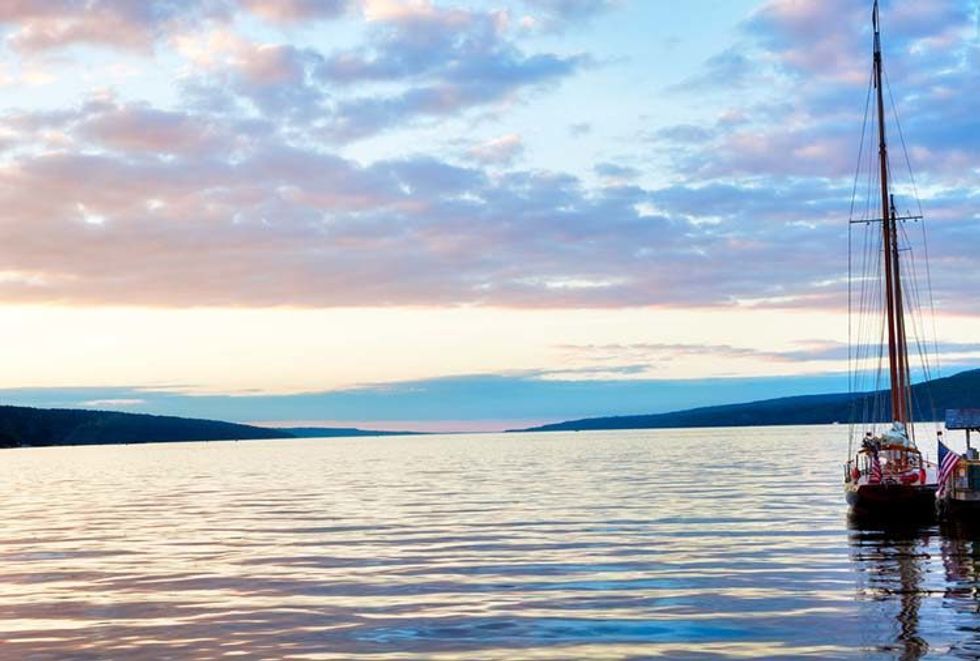 Photo credit: Shutterstock
"Waterkeeper Alliance is thrilled to have Seneca Lake Guardian to be the eyes, ears and voice for this vital watershed and community," Waterkeeper Alliance President Robert F. Kennedy Jr. said. "Every community deserves to have swimmable, drinkable and fishable water, and Joseph Campbell and Yvonne Taylor are the right leaders to fight for clean water in the region."
Seneca Lake Guardian will be an advocate for the Seneca Lake watershed and its tributaries, protecting and restoring water quality through community action and enforcement. Campbell and Taylor will work on watershed-related issues from their home base in Watkins Glen, New York.
"Seneca Lake Guardian, a Waterkeeper affiliate's aim, is to provide strong advocacy that will result in an improved quality of life for all citizens whether they rely on it for drinking water or recreation or whether they simply value the lake's continued well-being," Campbell explained.
"Seneca Lake Guardian will have an incredibly important job," Marc Yaggi, executive director of Waterkeeper Alliance, added. "Waterkeeper Affiliates defend their communities against anyone who threatens their right to clean water, from law-breaking polluters to irresponsible government officials. Until our public agencies have the means necessary to protect us from polluters and the will to enforce the law, there will always be a great need for people like Joseph and Yvonne to fight for our right to clean water."
"Gas Free Seneca has, as a small grassroots organization, been successfully keeping Crestwood's misbegotten plans to industrialize the shores of Seneca Lake from coming to fruition for five years," Taylor said. "But the threats to our lake are many and this collaboration will now allow us to fully address those threats and bring the resources of the Waterkeeper Alliance into the fray. Becoming a Waterkeeper affiliate was the perfect evolution for us."
YOU MIGHT ALSO LIKE
12 Earthquakes Hit Frack-Happy Oklahoma in Less Than a Week
Armed Militia in Oregon Is Latest Right-Wing Attempt to Seize America's Public Lands
How One Man Plans to Make Billions Selling Water From Mojave Desert to Drought-Stricken California
Teflon's Toxic Legacy: DuPont Knew for Decades It Was Contaminating Water Supplies
'Wake up, humanity! Time is running out!'
Popular
At high Noon Sunday, with temperatures heading toward 95 degrees, I'm confident I was not the only one preparing to march through the streets of downtown Philadelphia who recalled that old elementary-school story about the wig-wearing drafters of the Declaration of Independence huddled inside of Independence Hall on a sweltering July day.
Early this morning on a hillside above Seneca Lake, actors James Cromwell and John "J.G." Hertzler of Star Trek fame joined 17 area residents in an act of civil disobedience that is part of an ongoing citizen campaign against salt cavern gas storage.
While blockading the main entrance to the Crestwood compressor station, the two actors urged Gov. Cuomo to stand up to the Federal Energy Regulatory Commission (FERC) for green-lighting an expansion of this fracked gas infrastructure project against overwhelming local opposition and for undermining the governor's own stated commitment to a rapid transition to renewable energy.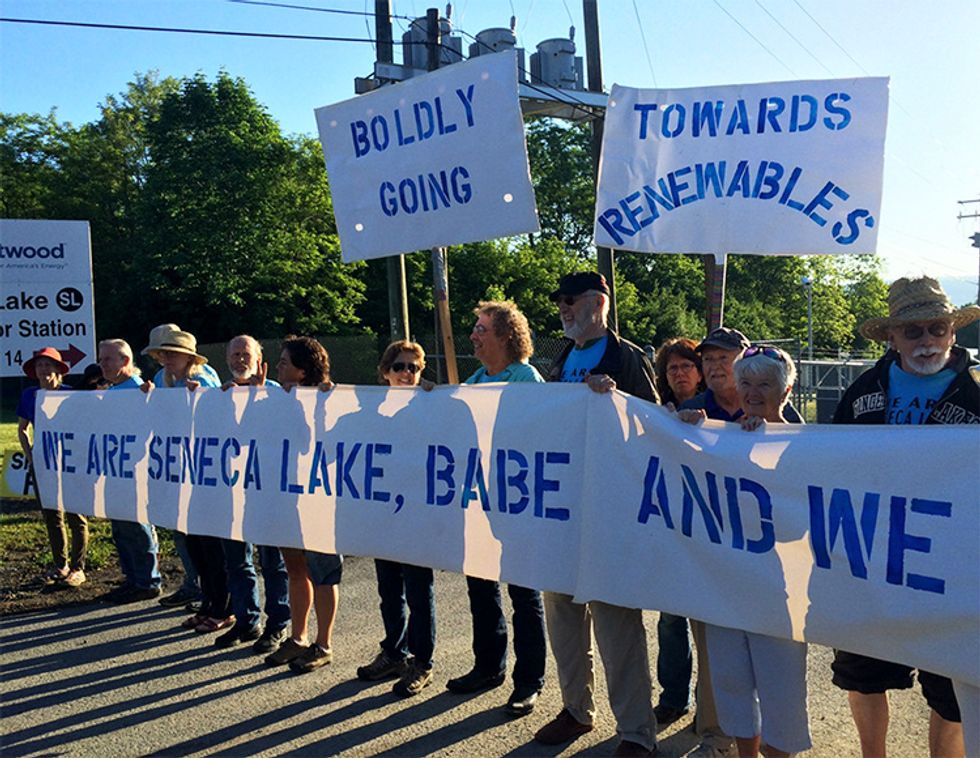 Starting at 6:45 a.m. and continuing until their arrests by Schuyler County deputies shortly before 7:30 a.m., the protesters blocked all traffic from leaving and entering the facility, including two Crestwood tanker trucks. All 19 were transported to the Schuyler County sheriff's department, charged with disorderly conduct, ticketed and released.
"The prettiest place I've ever seen is right here: the Finger Lakes region of New York … Governor Cuomo, we, the people, do not want to see these pristine lakes turned into cheap, contaminated, industrialized storage facilities for Crestwood and Con Ed. Stand with us, Governor!," John Hertzler, 66, who played Klingon General Martok on Star Trek: Deep Space Nine, said.
"Defend your own program for getting New York State off of fossil fuels and transitioned to renewable energy. FERC—the Federal Energy Regulatory Commission—seeks to keep us chained to the energy of the past and, in so doing, threatens our water, our lands, our safety and the very climate of this, our planet. Boldly go with us, Governor Cuomo, into a renewable energy future."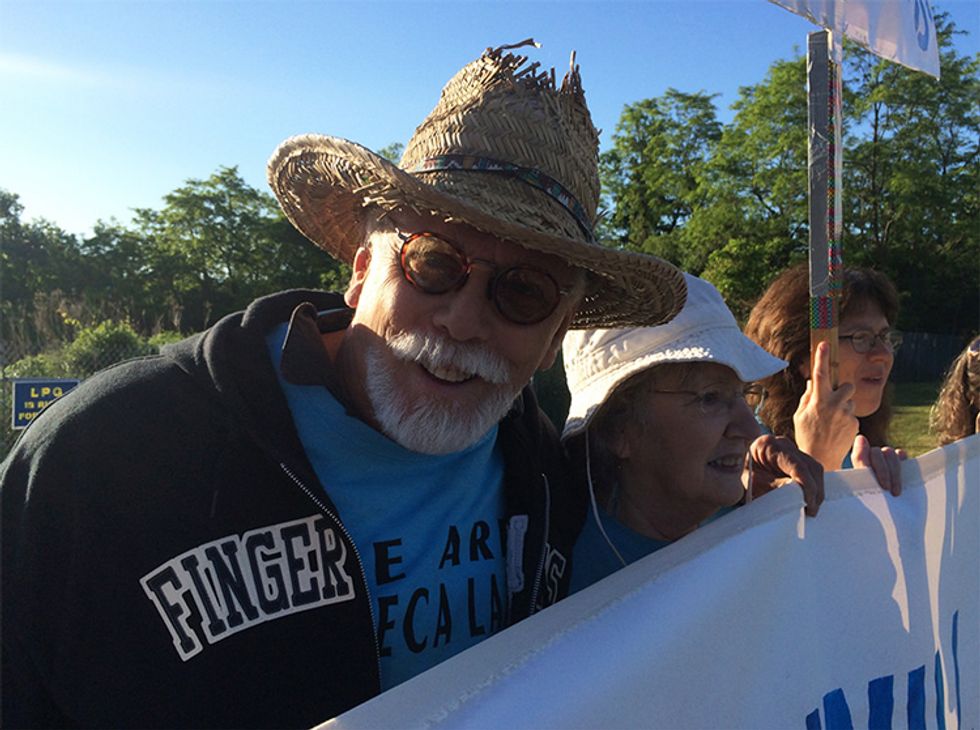 Hertzler lives in the Finger Lakes region with his family in the town of Ulysses where he serves on the town board.
James Cromwell, 76, who played Zefram Cochrane in Star Trek: First Contact and who was nominated for an Academy Award for his role as Farmer Arthur Hoggett in Babe, called on New Yorkers to join the We Are Seneca Lake movement.
"FERC-approved fracked gas infrastructure projects are taking over our entire state—from the crumbly salt caverns of Seneca Lake, where the gas will be stored, to the pipelines and compressor stations that devastate our farmlands, wetlands and maple groves, all the way to the burner tips of the natural gas-fired power plants that are planned for downstate," he said. "With all of New York under attack by the fossil fuel industry and by the rogue agency called FERC, all New Yorkers now need to stand up, stand together and say no."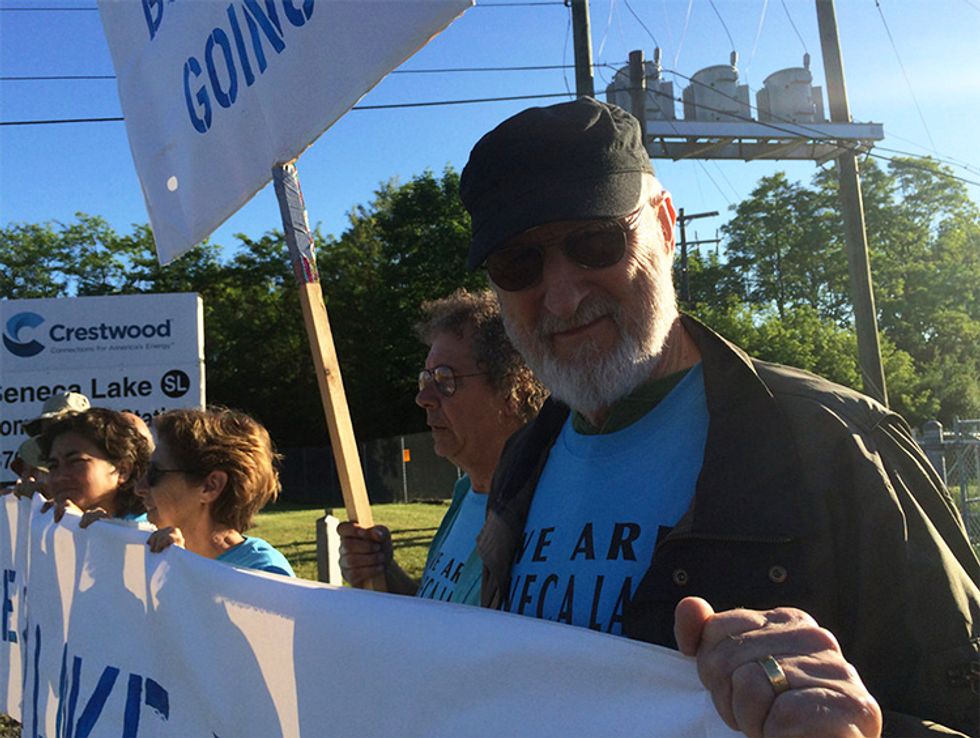 Referencing the films in which the two have appeared, protesters held banners and signs that read, "We Are Seneca Lake, Babe/And We Will Not Be FERC-ed" and "Trekkies Against Crestwood-Con Ed Boldly Going Toward Renewables."
The total number of arrests in the 20-month-old We Are Seneca Lake civil disobedience campaign now stands at 604.
Crestwood's methane gas storage expansion project was originally approved by FERC in October 2014 in the face of broad public opposition and unresolved questions about geological instabilities, fault lines and possible salinization of Seneca Lake, which serves as a source of drinking water for 100,000 people. In spite of near-unanimous citizen opposition, FERC's last-minute permit extension on May 16 gave Crestwood's Arlington subsidiary another two years to build out its natural gas storage facility.
Salt cavern storage accounts for only seven percent of total underground storage of natural gas in the U.S. but, since 1972, is responsible for 100 percent of the catastrophic accidents that has resulted in loss of life.
Crestwood also seeks to store two other products of fracking in Seneca Lake salt caverns—propane and butane (so-called Liquefied Petroleum Gases, LPG)—for which it is awaiting a decision by Gov. Cuomo's Department of Environmental Conservation.
Watch today's action here:
YOU MIGHT ALSO LIKE
Nuclear Industry Worldwide Faces Escalating Battle to Keep Aging Reactors Running
What Will Finally Shut Down Diablo Canyon Nukes? Could a Bernie Win Help?
Oil Train Derails in Columbia River Gorge, Rally Calls for Ban on 'Bomb Trains'
These Four People Were Sued for $30 Million After Speaking Out Against a Hazardous Waste Dump
It's been over a year since New York banned fracking and we find ourselves at a crossroads. We can take the next logical step and reject the dangerous fracked gas infrastructure that increasingly threatens our wellbeing. Or we can continue to rely on fracked gas and accept the myriad risks that come with that choice. Like fracking itself, a maze of proposed gas pipelines, compressor stations and subterranean storage caves pose grave threats to New York's most precious resource—our abundant supply of clean water.
The same powerful grassroots movement that successfully achieved a statewide ban on fracking is now imploring the governor to reject infrastructure and embrace a truly renewable future. As he smartly did on fracking, Gov. Cuomo would be wise to listen. To truly lead—both on climate change and on protecting the health and safety of New Yorkers—Cuomo must turn away from new fossil fuel infrastructure in the state.
The Cuomo Administration has set a very reachable goal of reducing greenhouse gas emissions 80 percent by 2050. It's now clearer than ever that natural gas will not save us from the worst effects of climate change—particularly in light of a new Harvard study pointing to vast methane leakage throughout the typical fracked gas supply chain. In fact, natural gas is at least as bad for the climate as coal—it is 8,700 percent more potent a greenhouse gas than CO2 over a 20-year period. And at this rate, 20 years is too late to save us climate catastrophe. Bottom line: New York can't hit the 80 percent goal if it swaps out one fossil fuel for another. That's just what these new pipelines and gas-fired power plants would do.
The good news is that Gov. Cuomo can take the first step today toward embracing a truly renewable future. He can reject pending projects like Constitution Pipeline. This Constitution Pipeline would run from the fracking fields of Pennsylvania into New York's Southern Tier and on to the Capitol Region. It would intersect 277 known bodies of water. Cuomo is likely to decide on the project any day.
We know from experience elsewhere that the question isn't whether a devastating pipeline leak will happen, it's when and where. In fact, a new audit by New York Comptroller Thomas DiNapoli found that pipeline oversight is lax. And New York's Department of Conservation has described "catastrophic erosion events" caused by pipeline installation in a letter it sent to the Federal Energy Regulatory Commission (FERC) about the Constitution Pipeline.
What was FERC's response? They completely ignored New York's concerns, just as they did when Gov. Cuomo asked the agency to rethink the Algonquin Incremental Market (AIM) expansion pipeline—another risky pipeline whose route will run just feet from the Indian Point nuclear facility, 25 miles north of New York City. Gov. Cuomo has rightly expressed concerns about the AIM pipeline and in fact about Indian Point itself. But now is the time for him to leverage all of his political power to stop FERC's unconscionable rubber-stamping of potential catastrophe.
These dangerous pipeline projects are just the tip of the iceberg. The ravenous oil and gas industry has infrastructure plans for all corners of New York State—including another crazy plan to greatly expand an underground gas storage facility in an eroding salt cavern on the banks of Seneca Lake, a state tourism treasure. The list goes on and on.
To truly protect our water, we must turn away from all of these foolish, hazardous choices. Gov. Cuomo banned fracking. Now he needs to move us toward a truly clean, safe energy future. He should start right now by rejecting the Constitution Pipeline.
YOU MIGHT ALSO LIKE
Federal Offshore Drilling Plan: From Injury to Insult
New Energy Bill Passed by Senate Largely Ignores Climate
Do the Koch Brothers Want to Mine the Grand Canyon for Uranium?
12 Arrested in Earth Day-Themed Protest Against Gas Storage in Seneca Lake's Salt Caverns
By Lorraine Berry, Raw Story
In New York's Southern Tier, local newspapers are investigating the connection between a local racetrack owner's sick foals and the fracking fluids present on his farmland. The Ithaca Journal featured a report by Tom Wilber in which he investigated the ongoing issue with foals being born without the ability to swallow—17 of them so far—on the breeding farm of Jeff Gural, owner of the Tioga Downs, Meadowlands Racetrack and Vernon Downs.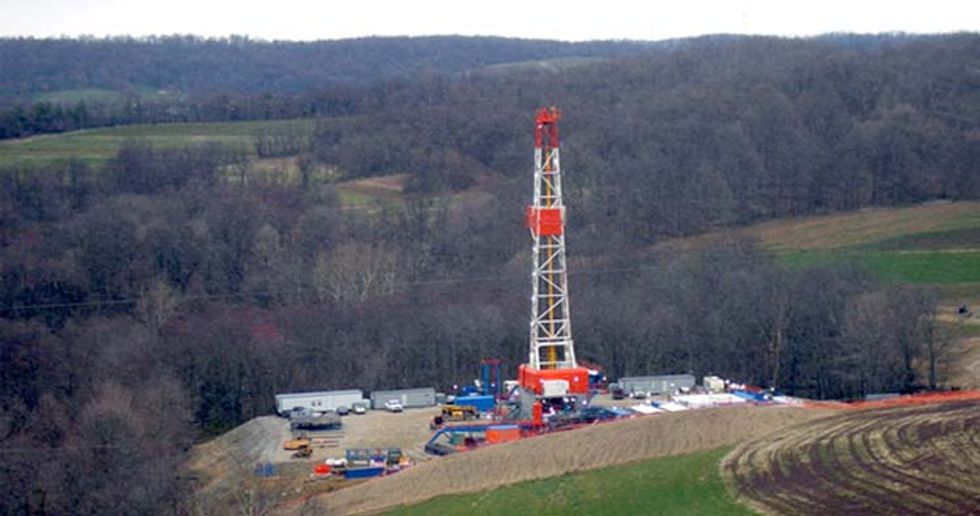 The foals have survived, although all of them have had to be transported to Cornell's School of Veterinary Medicine, located 50 miles north in Ithaca, New York. An earlier study by Cornell professor Robert Oswald and Cornell veterinarian Michelle Bamberger linked the presence of the byproducts of hydraulic fracturing to numerous animal deaths and stillbirths. Their research included 24 case studies of multiple farm animals who had either been killed outright by the cocktail of chemicals or later proved unable to successfully reproduce after exposure.
The vets are conducting their own study of what may be causing the epidemic of horse birth defects. The veterinary team cite the presence of a gas well adjacent to Gural's land that was drilled by Chesapeake Appalachia LLC as the "prime suspect" in the Gural farm problems. The Pennsylvania Department of Environmental Protection confirmed that the farm's water is contaminated, although they failed to cite Chesapeake as the cause.
Gural is on record as a supporter of gas shale exploration in the Southern Tier. He still is. "It created jobs in Pennsylvania, and look what it's done for the price of gas," he said in an interview. But he is mad that so far, companies have not had to disclose what comprises fracking fluid because of the so-called "Halliburton Loophole."
"That they don't have to tell you what chemicals they are using is ridiculous," says Gural, although he is quick to blame the lobbying power of the gas and oil industry rather than holding Chesapeake liable.
Scientists at Cornell are conducting a two-year study on Gural's farm to investigate links between the plethora of deformed foals and fracking fluids. Foals with the inability to swallow, a condition called "dysphagia," were born on other properties–but all of their pregnant mothers had drunk water at Gural's farm at some point in their pregnancies.
New York has resisted a lobbying effort by the gas and oil industry to allow fracking along the Southern Tier. Gov. Andrew Cuomo declared a moratorium on hydraulic fracturing in the state in December of 2014. Pennsylvania approved fracking with very little investigation of possible health hazards, and this latest case is one of many that have demonstrated that their rush to judgment may be environmentally costly in ways that will offset the economic benefits of the practice.
YOU MIGHT ALSO LIKE
Gov. Cuomo Rejects the Constitution Pipeline, Huge Win for the Anti-Fracking Movement
Watch: River Explodes Into Flames From Methane Coming From Nearby Fracking Sites
12 Arrested in Earth Day-Themed Protest Against Gas Storage in Seneca Lake's Salt Caverns
10 Years of Fracking: Its Impact on Our Water, Land and Climate
By The Climate Mobilization
When establishment civil society groups and politicians gather Friday to cheer the signing of the Paris agreement as a "historic" achievement that will avert global catastrophe, a group of climate emergency protesters will stage a "mass death" and collapse scenario outside the United Nations to demonstrate the reality of the future the agreement locks in.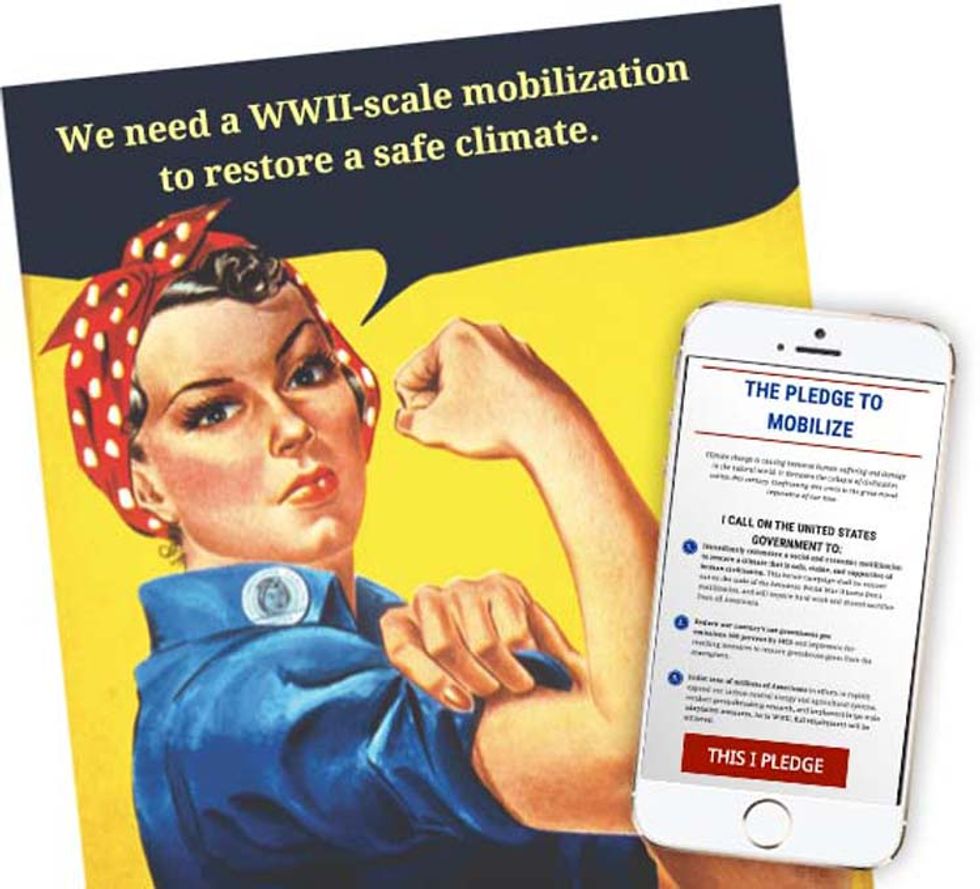 The protesters will act out the collapse of global civilization that will occur if humanity remains on the Paris agreement's non-binding emissions trajectory toward a world 3.5 C hotter than the pre-industrial period.
More specifically, they will enact the mass starvations the agreement ensures, erect grave stones for the nation-states that will collapse under the stress of extreme drought and water scarcity and play the government and civil society bureaucrats who pretend that the situation is under control and that business-as-usual reforms can protect humanity and the natural world.
Speakers will include Theravadan Buddhist monk Bhikkhu Bodhi and the Climate Mobilization's Founders Margaret Klein Salamon and Ezra Silk. All of the speakers will call for an emergency, World War II-scale mobilization that eliminates global net greenhouse gas emissions by 2030 and restores a safe and stable climate by drawing down all excess carbon dioxide and cooling the planet from the dangerously high temperatures reached in recent months and years.
The Paris agreement calls for net zero greenhouse gas emissions at some point "in the second half of this century" and does not directly cover aviation, shipping or agriculture, which collectively account for, at minimum, between a quarter and a third of global greenhouse gas emissions. In the first three months of 2016, global average temperature anomalies approached and surpassed the limits called for in the agreement, rendering its gradual emissions trajectory irrelevant and dangerous.
"The Paris agreement is historic in the sense that the Munich Agreement was historic—a catastrophic act of appeasement meant to maintain business-as-usual arrangements," said Climate Mobilization Deputy Director Ezra Silk. "Leading economists argue that climate change could cause at least as much destruction as World War II—and the non-binding Paris agreement paves the way for that future. It's time to stop waiting for another climate 'Pearl Harbor' and to mobilize all available resources to save human civilization."
The Climate Mobilization is sponsoring the event with the support of the People's Climate Movement New York. Since last fall, the Climate Mobilization has pressured all Democratic and Republican presidential contenders to endorse a WWII-scale mobilization to restore a safe climate. Last week, Bernie Sanders embraced the idea at the CNN debate held at the Brooklyn Navy Yard, which played a pivotal role in the World War II home front mobilization of the 1940s.
"Of course the [Paris] agreement is a step forward, but you know agreements and I know agreements, there's a lot of paper there," Sanders said. "If we approach this, Errol, as if we were literally at a war—you know, in 1941, under Franklin Delano Roosevelt, we moved within three years, within three years to rebuild our economy to defeat Nazism and Japanese imperialism. That is exactly the kind of approach we need right now."
YOU MIGHT ALSO LIKE
Cuomo's Next Step Against Fracking: Reject the Constitution Pipeline
12 Arrested in Earth Day-Themed Protest Against Gas Storage in Seneca Lake's Salt Caverns
On Earth Day 150 World Leaders to Sign Paris Climate Agreement
Which Countries Won't Be Signing the Paris Climate Deal on Earth Day?
This website uses cookies to ensure you get the best experience while browsing it. By clicking 'Got It' you're accepting these terms.