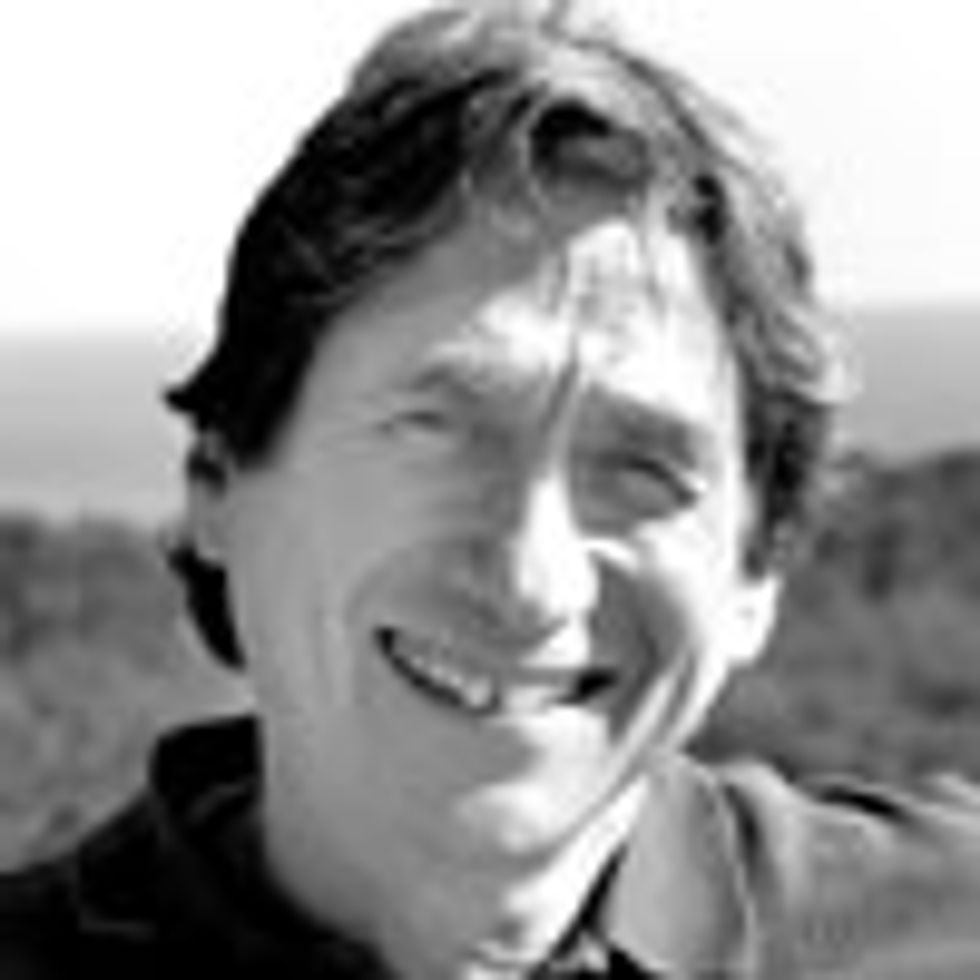 The Vermont Yankee atomic reactor goes permanently off-line today, Dec. 29, 2014. Citizen activists have made it happen. The number of licensed U.S. commercial reactors is now under 100 where once it was to be 1,000.
Decades of hard grassroots campaigning by dedicated, non-violent nuclear opponents, working for a Solartopian green-powered economy, forced this reactor's corporate owner to bring it down.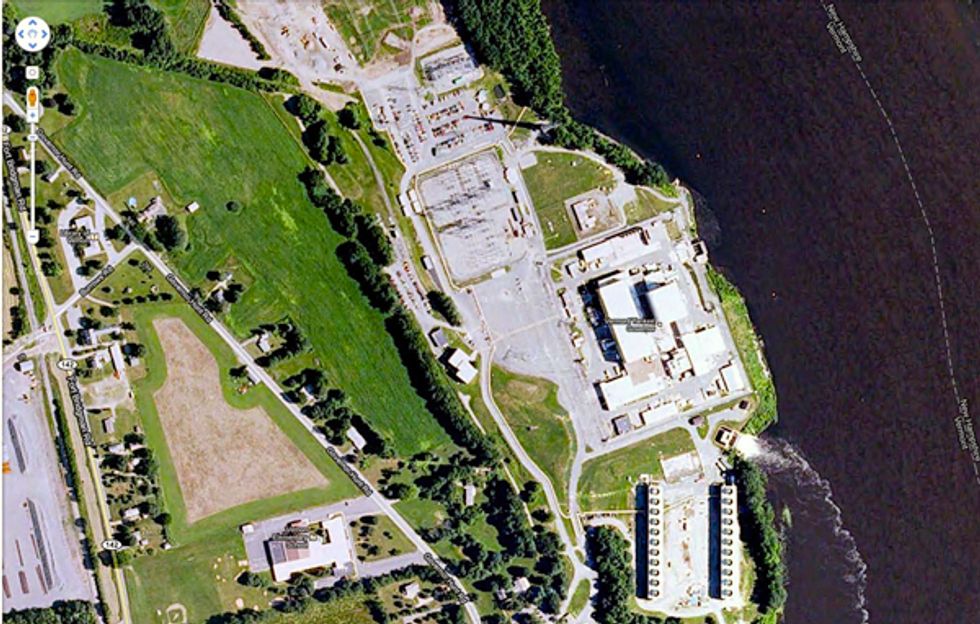 Vermont Yankee is the fifth American reactor forced shut in the last two years.
Entergy says it shut Vermont Yankee because it was losing money. Though fully amortized, it could not compete with the onslaught of renewable energy and fracked-gas. Throughout the world, nukes once sold as generating juice "too cheap to meter" comprise a global financial disaster. Even with their capital costs long-ago stuck to the public, these radioactive junk heaps have no place in today's economy—except as illegitimate magnets for massive handouts.
So in Illinois and elsewhere around the U.S., their owners demand that their bought and rented state legislators and regulators force the public to eat their losses. Arguing for "base load power" or other nonsensical corporate constructs, atomic corporations are gouging the public to keep these radioactive jalopies sputtering along.
Such might have been the fate of Vermont Yankee had it not been for citizen opposition. Opened in the early 1970s, Vermont Yankee was the northern tip of clean energy's first "golden triangle." Down the Connecticut River, grassroots opposition successfully prevented two reactors from being built at Montague, Massachusetts, where the term "No Nukes" was coined. A weather tower was toppled, films were made, books were written, demonstrations staged and an upwelling of well-organized grassroots activism helped nurture a rising global movement.
A bit to the southwest, in the early 1990s, it shut the infamous Yankee Rowe reactor, which had been hit by lightening and could not pass a verifiable test of its dangerously embrittled core.
But Vermont Yankee persisted. Entergy, a "McNuke" operator based in New Orleans, bought Yankee from its original owners about a dozen years ago. It signed a complex series of agreements with the state. Then it trashed them to keep Vermont Yankee spiraling ever-downward.
But hard-core organizers like Deb Katz's Citizen Awareness Network never let up. Working through a network of natonal, state and local campaigns, the safe energy movement has finally forced Entergy to flip the off switch.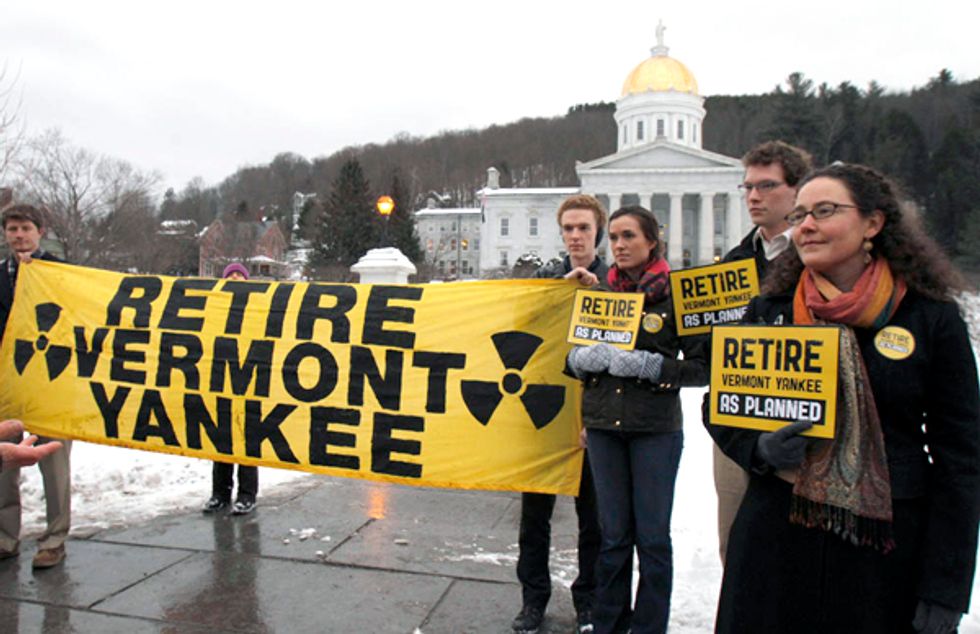 Protestors support the closing of the Vermont Yankee nuclear power plant at the Statehouse in January 2012 in Montpelier, Vermont.
Vermont Yankee is the fifth American reactor forced shut in the last two years. Two at San Onofre, California, were defeated by citizen activism. Wisconsin's Kewaunee went down for economic reasons. Crystal River in Florida was driven to utter chaos by incompetent ownership.
Five reactors are officially under construction in the U.S. But their fate is also subject to citizen action. Two others targeted for Levy County, Florida, have recently been stopped by ratepayer resistance.
Throughout the U.S. and the world, the demise of atomic energy is accelerating. Some 435 reactors are listed worldwide as allegedly operable. But 48 in Japan remain shut in the wake of Fukushima despite the fierce efforts of a corrupt, dictatorial regime to force them back on line. Germany's transition to a totally nuke-free green energy economy is exceeding expectations. The fate of dozens proposed and operating in China and India remains unclear.
But the clock on the inevitable next disaster is ticking. Cancer rates and thyroid problems around Fukushima continue to accelerate. Massive reactors like California's Diablo Canyon and Indian Point, New York, are surrounded by volatile earthquake faults that could reduce them to seething piles of apocalyptic rubble, killing countless thousands downwind, gutting the global economy.
Every reactor shutdown represents an avoided catastrophe of the greatest magnitude.  As the takeoff of cheap, clean, safe and reliable Solartopian technology accelerates, greedy reactor owners struggle to squeeze the last few dimes out of increasingly dangerous old nukes for which they ultimately will take no responsibility. Vermont Yankee alone could require 60 years for basic clean-up. Fierce debate rages over what to do with thousands of tons of intensely radioactive spent fuel rods.
It remains unclear where the money will ultimately come from to try to decontaminate these sites, but clearly they are all destined to be dead zones.
As will the planet as a whole were it not for victories like this one in Vermont. This weekend the No Nukes community will celebrate this accursed reactor's final demise.
Many hundreds more such celebrations must follow—soon!
Harvey Wasserman edits NukeFree.org and works to shut all Vermont Yankee's mutant siblings so Solartopia can take root.
YOU MIGHT ALSO LIKE
7 Must-See Climate Action Videos of 2014
10 Most Important Environmental Stories of 2014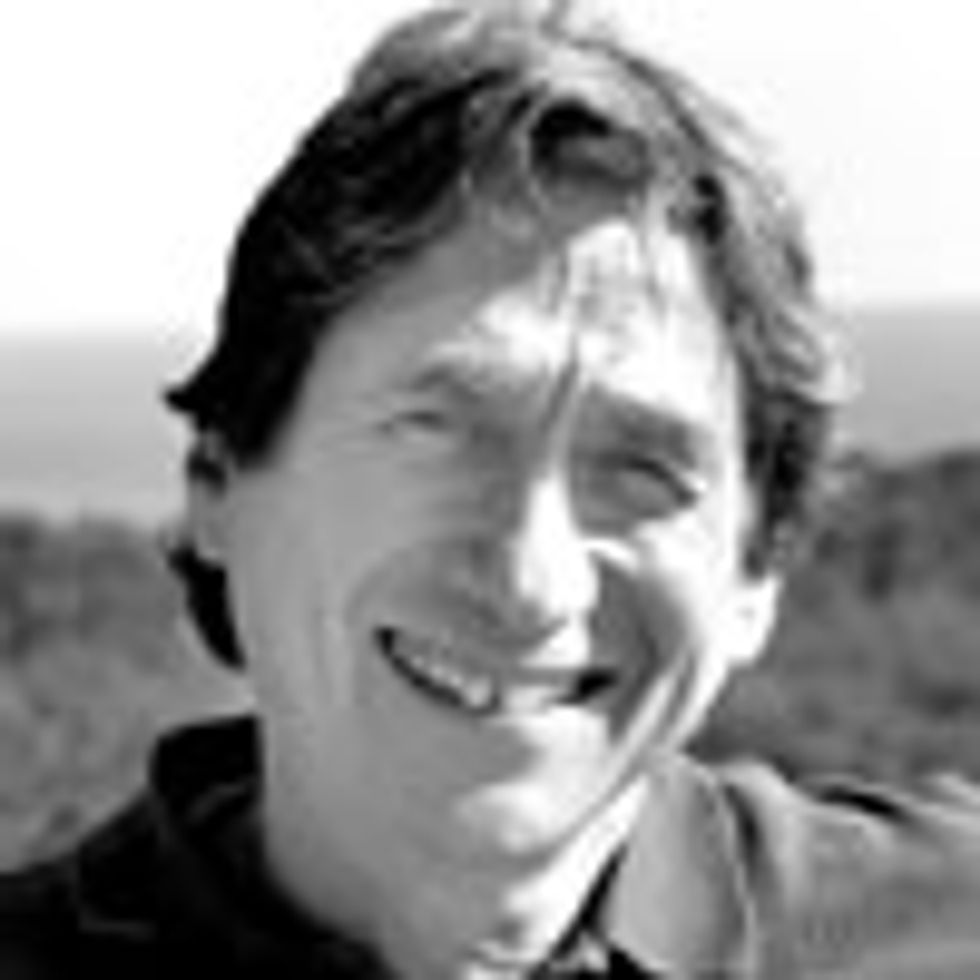 California's Diablo Canyon nuclear reactors are surrounded by earthquake faults they were never designed to withstand. They are riddled with design flaws and can't meet basic fire safety standards. They dump huge quantities of hot water into the ocean in defiance of state water quality standards, killing billions of sea creatures.
Their operating costs are soaring beyond renewables, an energy source transforming the California ecology and economy. They continue to pile up huge quantities of deadly radioactive wastes that have no place to go. And that's just the start of it.
Fortunately, a powerful grassroots movement is rising up in California to shut these reactors and make the state nuke-free. More demonstrators have been arrested at Diablo Canyon than any other nuke site in the U.S. Green Power activists recently won a landmark victory by shutting the two nukes at San Onofre, between Los Angeles and San Diego, leaving just the ones at Diablo to plague the state.
Two key players in that fight are Damon Moglen, from Friends of the Earth, and Linda Seeley from the Mothers for Peace of San Luis Obispo, which sits 9 miles downwind. They were gracious enough to appear this week on my Solartopia Green Power & Wellness Show at prn.fm. If you want the inside scoop on how we will shut Diablo, take a listen:
YOU MIGHT ALSO LIKE
EcoWatch Daily Newsletter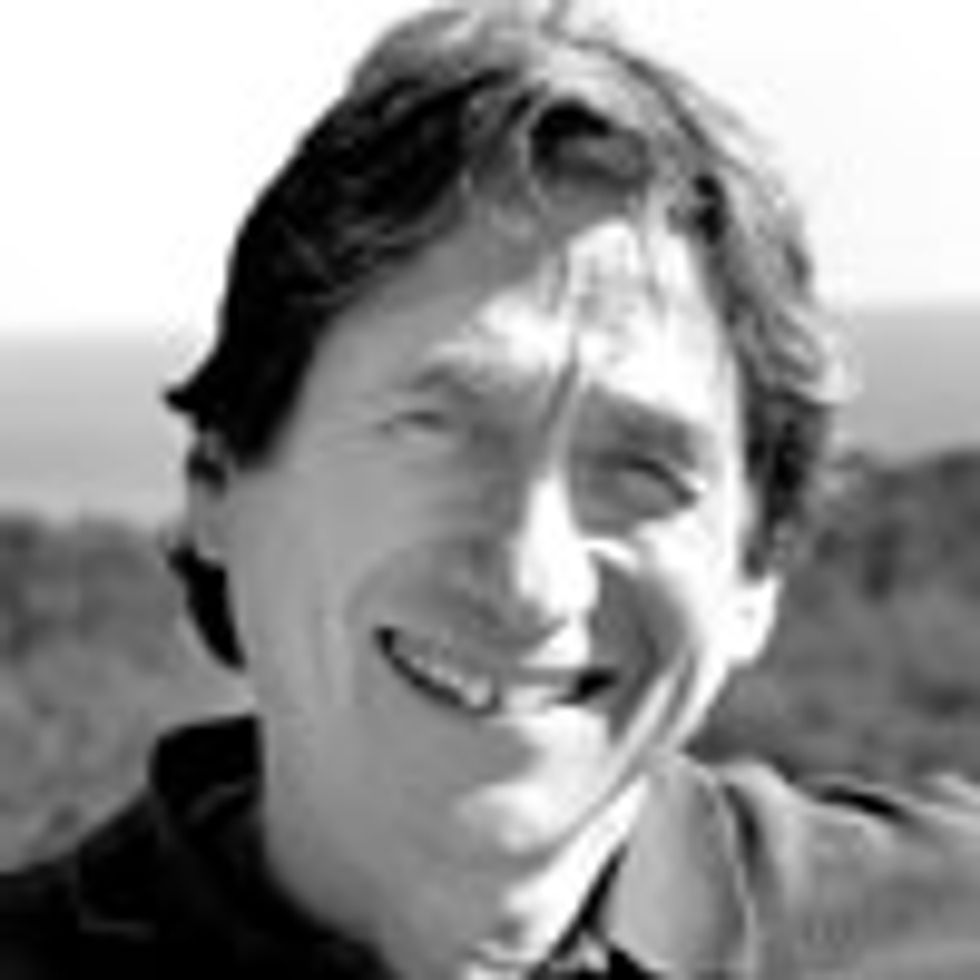 The catastrophe at Fukushima was not an accident. It's unfolding again in California.
The next west coast quake could easily shake the two reactors at Diablo Canyon to rubble.
They are riddled with defects, can't withstand potential seismic shocks from five major nearby fault lines, violate state water quality laws and are vulnerable to tsunamis and fire.
Diablo's owner, Pacific Gas & Electric (PG&E), is in deep legal and financial crisis.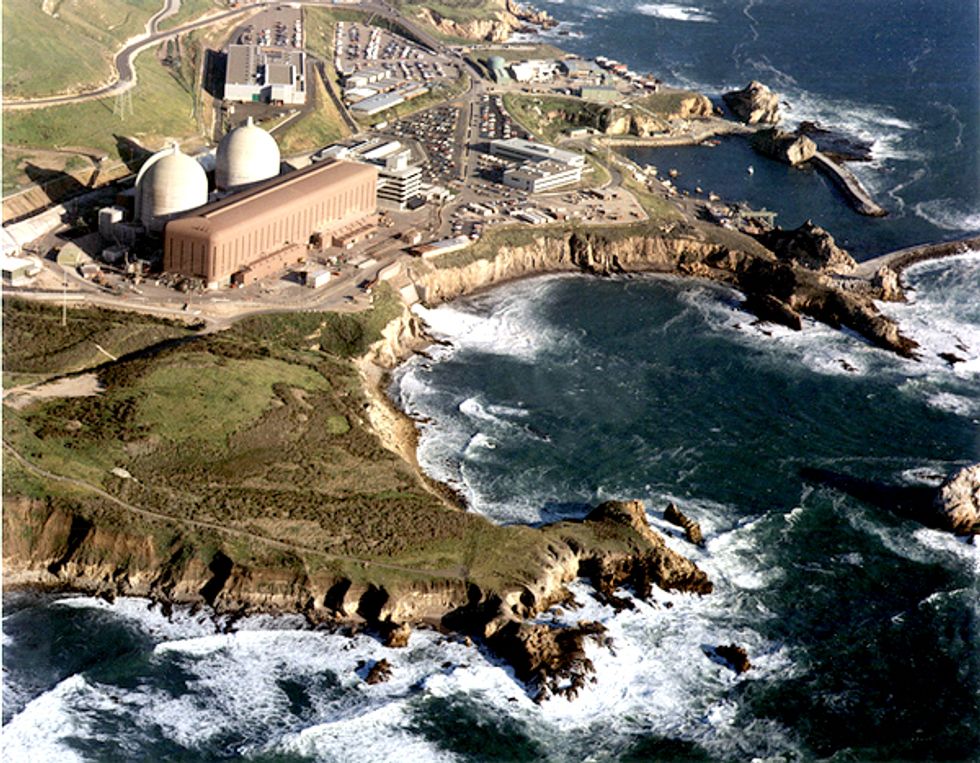 The California Public Utilities Commission (CPUC) has just proposed that PG&E be fined $1.4 billion for a 2010 gas explosion and fire that killed eight people and obliterated a neighborhood in San Bruno. The federal government has announced 28 indictments, meaning the CPUC fine may just be the tip of a very expensive iceberg for PG&E. The San Bruno disaster was caused by pipeline defects about which PG&E had been warned for years, but failed to correct. The fines cover 3,798 separate violations of laws and regulations, both state and federal. PG&E was previously fined $38 million for a 2008 pipeline explosion in Rancho Cordova.
Similar defects remain uncorrected at Diablo Canyon, whose radioactive cloud could span the continental U.S. in four days. Mass citizen action recently shut two coastal reactors at San Onofre. It must do the same at Diablo before the next quake hits.
Ironically, as America's Nuclear Regulatory Commission (NRC) allows Diablo to operate, all 54 reactors in Japan remain shut. Its Nuclear Regulatory Authority has just ordered the Tsuruga reactor to be scrapped because of its vulnerability to earthquakes. Two more elderly reactors at Mihama may also be terminated before year's end.
At Fukushima, Tokyo Electric Power now admits that far more radiation is spewing into the Pacific than previously admitted. The thyroid cancer death rate among children in the area is 40 times normal. So is the still-rising childhood thyroid abnormality rate, a terrifying re-run of downwind Chernobyl.
Tepco has begun paying compensation to local suicide victims, including the widower of a woman who doused herself with kerosene before burning herself alive.
All of it predictable.
For decades Japanese citizens warned Tepco not to build reactors in an earthquake/tsunami zone. The company repeatedly ignored safety warnings and tolerated known defects that worsened the disaster.
Diablo Canyon's twin reactors sit eight miles west of San Luis Obispo, between Los Angeles and San Francisco, surrounded by earthquake faults.
The Hosgri, three miles offshore, was found as the reactors were being built. Design specifications were never fully altered to account for it. Nor have they been upgraded for the newly-found Los Osos, San Luis Bay and Shoreline faults.  The Shoreline lies just 650 yard from Diablo's cores.
The massive San Andreas fault is just 45 miles away, about half as far as was the March 11, 2011, Richter-9.0 epicenter from Fukushima.
A shock that size from any of the fault lines near Diablo could reduce it to a seething pile of radioactive hell, far deadlier than Fukushima. Prevailing winds could blanket virtually all of North America with its deadly fallout.
The nuclear industry would immediately deny all health impacts. It would blame "unpredictable" God and nature.
But a 42-page report from NRC inspector Dr. Michael Peck says new fault line discoveries challenge Diablo's "presumption of nuclear safety."
Buried by the NRC for at least a year, it was released by Friends of the Earth and reported on by the Associated Press and the great enviro-journalist Karl Grossman, as well as by the Nuclear Information & Resource Service and Beyond Nuclear.
Peck has a doctorate in nuclear engineering and was Diablo's chief on-site inspector for five years. He's now a senior instructor at the NRC's Technical Training Center in Tennessee. His status as a current NRC employee makes such a critical report highly unusual—and alarming.
Nuclear engineer Arnie Gundersen has warned about sea-level intake pipes like those at Diablo. When the tsunami struck Fukushima, he writes, "The cooling equipment along the shoreline was turned into a scrap yard of twisted metal."
Then there is fire.
Diablo Canyon, writes David Lochbaum of the Union of Concerned Scientists, "has never, ever complied with fire safety regulations, not even for a second by mistake."
"The one-two punch of earthquake/tsunami caused Fukushima," Lochbaum wrote in an email to me.
"A one-two punch of earthquake/fire could cause Diablo Canyon."
But, says Lochbaum, "It can't be an accident. Not when the company and its alleged regulator both know that the plant does not met earthquake and fire safety regulations.
"That cannot cause an accident. Criminal negligence perhaps. At least malicious mayhem. But not an accident."
More than 10,000 people were arrested trying to stop Diablo in the 1970s and '80s. During the delays they caused, PG&E found major errors in reading key blueprints involving some of Diablo's most critical equipment.
Damage is still being tallied from California's Aug. 25 Napa Valley quake. The 1994 Northridge quake killed 57 people, injured roughly 5,000. The Loma Prieta quake during the 1989 World Series killed 63 people, injured more than 3,700. The infamous 1906 San Francisco quake leveled the city and killed thousands.
New shocks at Diablo Canyon could dwarf all those numbers—and Fukushima's.
Tens of millions of Americans would be irradiated.  Our continent's eco-systems would be poisoned.  Our nation's economy would be gutted.
But as at San Bruno, there would be no excuses.
Harvey Wasserman wrote SOLARTOPIA!  OUR GREEN-POWERED EARTH and editswww.nukefree.org.  He was arrested at Diablo Canyon in 1984, and is likely to be back soon. Listen to Wasserman's recent radio discussion of Diablo with David Lochbaum and Rochelle Becker.
YOU ALSO MIGHT LIKE
Thyroid Cancer in Young People Surge in Fukushima Since Nuclear Meltdown
The Slow Death of Nuclear Power and the Rise of Renewables
Fukushima's Children are Dying
Long-term employment is hard to find these days, but one career that can be guaranteed to last a lifetime is dealing with nuclear waste.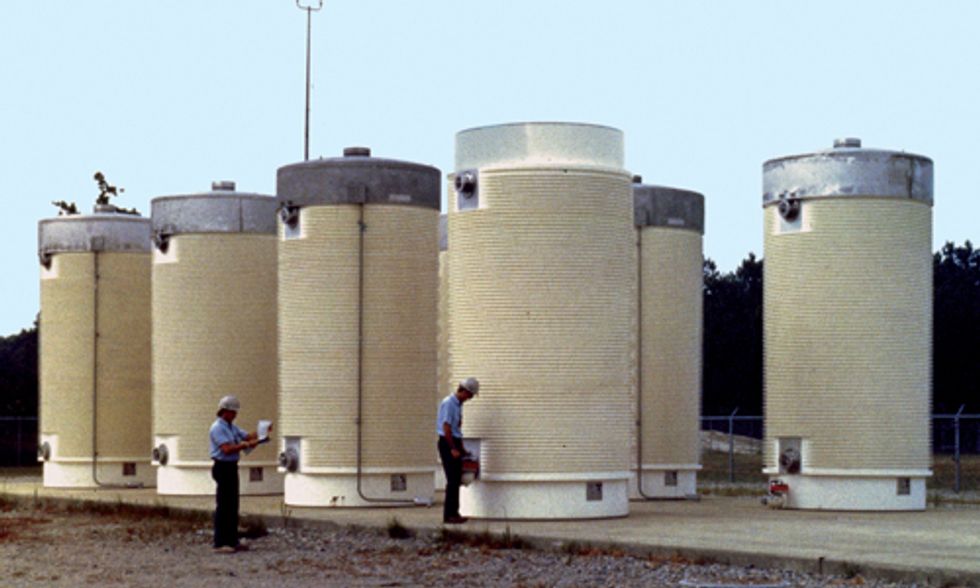 The problem and how to solve it is becoming critical. Dozens of nuclear power stations in the U.S., Russia, Japan and across Europe and Central Asia are nearing the end of their lives.
And when these stations close, the spent fuel has to be taken out, safely stored or disposed of, and then the pressure vessels and the mountains of concrete that make up the reactors have to be dismantled. This can take between 30 and 100 years, depending on the policies adopted.
In the rush to build stations in the last century, little thought was given to how to take them apart 40 years later. It was an age of optimism that science would always find a solution when one was needed, but the reality is that little effort was put into dealing with the waste problem. It is now coming back to haunt the industry.
Profitable Business
Not that everyone sees it as a problem. A lot of companies view nuclear waste as a welcome and highly profitable business opportunity.
Either way, because of the dangers of radioactivity, it is not a problem that can be ignored. The sums of money that governments will have to find to deal with keeping the old stations safe are eye-wateringly large. They will run into many billions of dollars—an assured income for companies in the nuclear waste business, stretching to the end of this century and beyond.
The U.S. is a prime example of a country where the nuclear waste issue is becoming rapidly more urgent.
The problem has been brought to the fore in the U.S. because five stations have closed in the last two years. The Crystal River plant in Florida and San Onofre 1 and 2 in California have closed down because they were judged too costly to bring up to modern standards. Two more—Kewaunee in Wisconsin and the Vermont Yankee plant—could no longer compete on cost with the current price of natural gas and increased subsidies for renewables.
Nuclear Energy Insider, which keeps a forensic watch on the industry, predicts that several other nuclear power stations in the U.S. will also succumb to premature closure because they can no longer compete.
The dilemma for the industry is that the U.S. government has not solved the problem of what to do with the spent fuel and the highly radioactive nuclear waste that these stations have generated over the last 40 years. They have collected a levy—kept in a separate fund that now amounts to $31 billion—to pay for solving the problem, but still have not come up with a plan.
Legal Action
Since it costs an estimated $10 million dollars a year to keep spent fuel safe at closed stations, electricity utilities saddled with these losses, and without any form of income, are taking legal action against the government.
The U.S. government has voted another $205 million to continue exploring the idea of sending the waste to the remote Yucca Mountain in Nevada—an idea fought over since 1987 and still no nearer solution. Even if this plan went through, the facility would not be built and accepting waste until 2048.
The big problem for the U.S., the utility companies and the consumers who will ultimately pay the bill is what to do in the meantime with the old stations, the spent fuel and the sites. Much of the fuel will be moved from wet storage to easier-to-manage dry storage, but it will still be a costly process. What happens after that, and who will pay for it, is anyone's guess.
The industry is having a Nuclear Decommissioning and Used Fuel Strategy Summit in October in Charlotte, NC, to try to sort out some of these issues.
But America is not alone. The UK has already closed a dozen reactors. Most of the rest are due to be retired by 2024, but it is likely that the French company EDF, which owns the plants, will try to keep them open longer.
The bill for dealing with existing nuclear waste in Britain is constantly rising and currently stands at £74 billion, even without any other reactors being decommissioned.
The government is already spending £2 billion each year trying to clear up the legacy of past nuclear activities, but has as yet found no solution to dealing with the thousands of fuel rods still in permanent store at power stations.
As with the U.S., even if a solution is found, it would be at least 2050 before a facility to deal with this highly dangerous waste could be found. By that time, billions of pounds will have been expended just to keep the used fuel from igniting and causing a nuclear meltdown.
It is hard to know how the industry's finances could stand such a drain on its resources without going bankrupt.
Similar problems are faced by Germany, which is already closing its industry permanently in favor of renewables, and France, with more than 50 aging reactors.
Japan, still dealing with the aftermath of the Fukushima accident in 2011, is composed of crowded islands where few people will welcome a nuclear waste depository.
Many countries in the former Soviet bloc with aging reactors look to Russia—which provided them—to solve their problems. But this may be a false hope, as Russia has an enormous unsolved waste problem of its own.
Dramatic Rise
In all these countries, the issue of nuclear waste and what to do with it is a problem that has been put off—both by the industry and politicians—as an issue to be dealt with sometime in the future. But the problem is becoming more urgent as the costs and the volume of waste rises dramatically.
Unlike any other form of generation, even dirty coal plants, getting rid of nuclear stations is no simple matter. To cleanse a nuclear site so that it can be used for another industrial use is difficult. Radioactivity lasts for centuries, and all contamination has to be physically removed.
For many critics of the industry, the nuclear waste issue has always been a moral issue—as well as a financial one—that should not be left to future generations to solve. The industry itself has always relied on its continuous expansion, and developing science, to deal what it calls "back end costs" at some time in the distant future.
But as more stations close, and fewer new ones are planned to raise revenue, putting off the problem no longer seems an option, either for the industry or for the governments that ultimately will have to pick up the bill.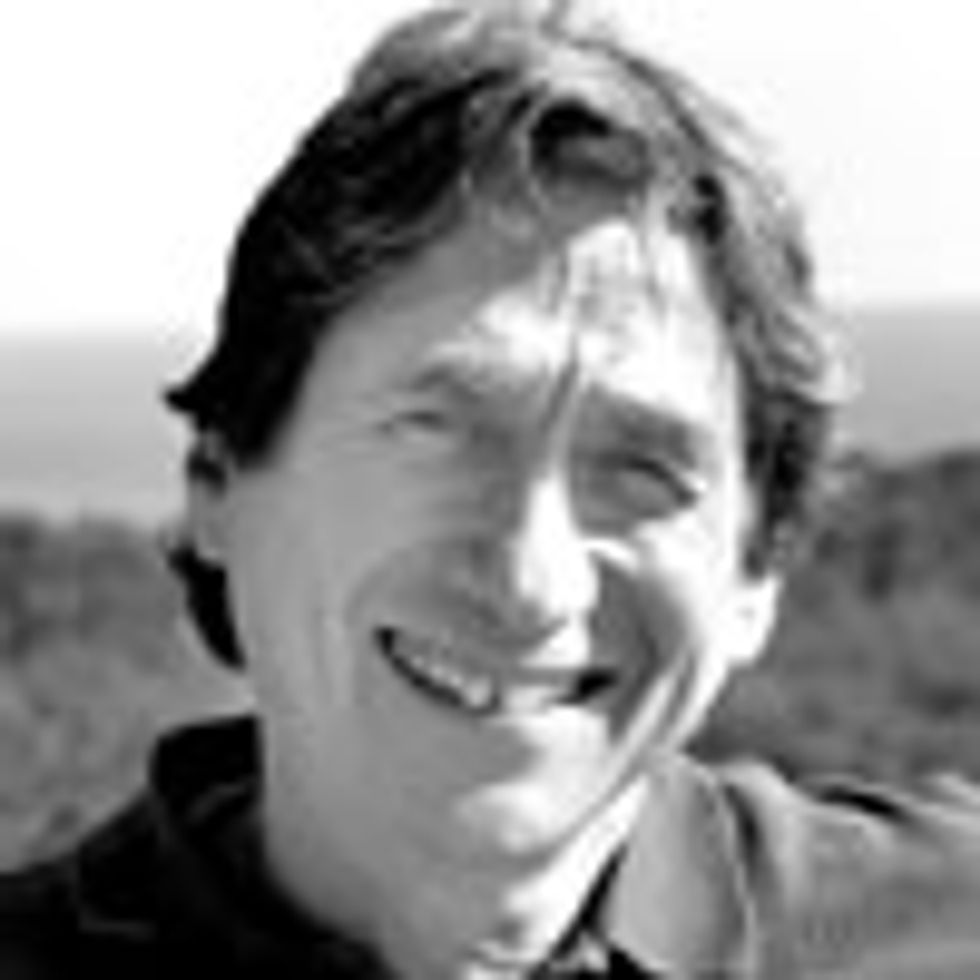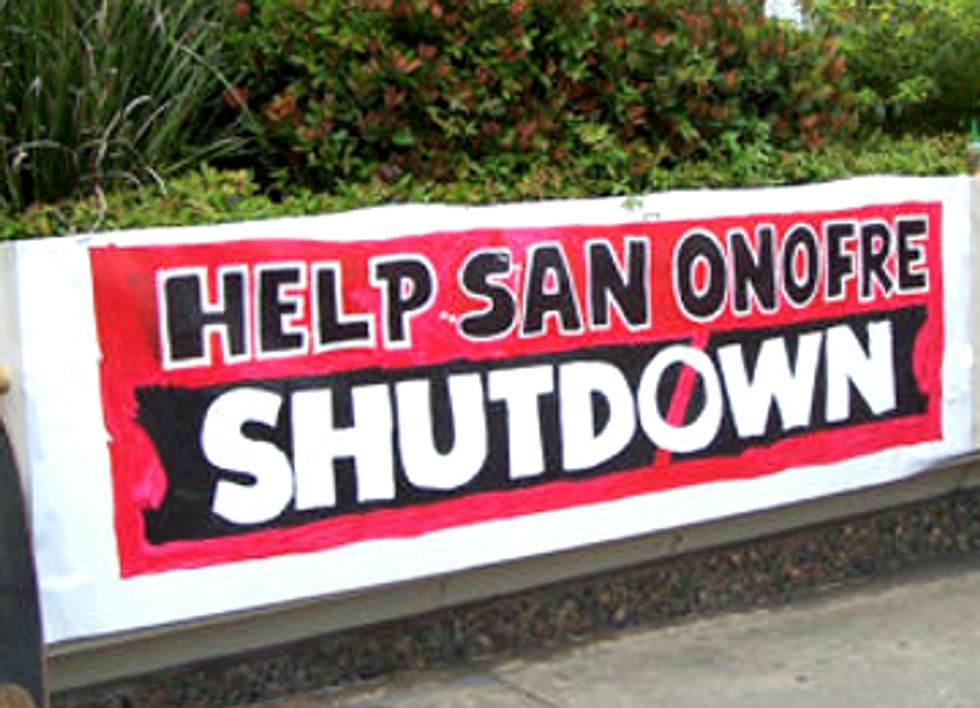 From his California beach house at San Clemente, Richard Nixon once watched three reactors rise at nearby San Onofre. As of today all three are permanently shut. It's a monumental victory for grassroots activism. It marks an epic transition in how we get our energy.
In the thick of the 1970s Arab oil embargo, Nixon said there'd be 1000 such reactors in the U.S. by the year 2000. As of today, there are 100. Four have shut here this year. Citizen activism has put the "nuclear renaissance" into full retreat.
Just two of 54 reactors now operate in Japan, where Fukushima has joined Chernobyl and Three Mile Island in permanently scarring us all. Germany is shutting its entire fleet and switching to renewables. France, once the poster child for the global reactor industry, is following suit. South Korea has just shut three due to fraudulent safety procedures. Massive demonstrations rage against reactors being built in India. Only the Koreans, Chinese and Russians remain at all serious about pushing ahead with this tragic technology.
Cheap gas has undercut the short-term market for expensive electricity generated by obsolete coal and nuke burners. But the vision of Solartopia—a totally green-powered Earth—is now our tangible long-term reality. With falling prices and soaring efficiency, every moving electron our species consumes will be generated by a solar panel, wind turbine, bio-fueled or geothermal generator, wave machine and their green siblings.
As of early this year, Southern California Edison's path to a re-start at San Onofre seemed as clear as any to be expected by a traditional atomic tyrannosaur. But with help from Sen. Boxer (D-CA) and Senator-to-be Markey (D-MA), a powerful citizen uprising stopped it dead.
So did the terrifying incompetence and greed that has defined the nuclear industry from the days of Nixon and before. San Onofre Unit One shut in the 1990s due largely to steam generator problems. In the early 2000s, Units Two & Three needed new steam generators of their own. In the usual grasp for more profits, Edison chose untested, unlicensed new designs. But they failed. And the whole world was watching. In the wake of Fukushima, two more leaky tsunami-zone reactors surrounded by earthquake faults were massively unwelcome.
So a well-organized non-violent core of local, state and national activists and organizations rose up to stop the madness. At Vermont Yankee, Indian Point, Seabrook, Davis-Besse and dozens of other reactors around the U.S. and world, parallel opposition is escalating.
Make no mistake—this double victory at San Onofre is a falling domino. Had the public not fought back, those reactors would have been "fixed" at public expense. Today, they are dead. Worldwide, there are some 400 to go. Each of them—including the 100 remaining in the U.S.—could do apocalyptic damage. We still have our work cut out for us.
But a huge double-step has been taken up the road to Solartopia. There will be no Fukushimas at San Onofre. A green-powered Earth is that much closer. And we have yet another proof that citizen action makes all the difference in our world.
Visit EcoWatch's ENERGY and NUCLEAR pages for more related news on this topic.
——–
Click here to tell Congress to Expedite Renewable Energy.

Today, actresses Amy Smart, Eva Amurri Martino, Emmanuelle Chriqui and Dawn Olivieri joined the Sierra Club in an online video asking Gov. Jerry Brown to make a "clean break" with fossil fuels, and commit to replacing the San Onofre Nuclear Generating Station with 100% clean energy. The California Public Utilities Commission is expected to begin its decision-making process within the next few days as to how much of the shuttered nuclear plant will be replaced by clean or dirty energy.
The video cuts between the different actresses in the midst of classic break-up scenes—packing up their things, talking over coffee and breaking the bad news as they tell fossil fuels that it's time to move on: "I just don't think it's working out any more—our relationship is toxic. I need something I can commit to for the long term: clean energy." 
The video ends with a link to a petition, where viewers can send a message to Gov. Brown asking him to only use clean energy to replace the power from the retired San Onofre Nuclear Generating Station, instead of building new gas-fired power plants.
"Doubling down on dirty energy is not the right answer," said Emmanuelle Chriqui. "Fossil fuels have been nothing but trouble for California—causing smog, spills, carbon emissions and health hazards all over the state. The upcoming transition of San Onofre is an opportunity for us to move forward and show that our state is going to be a leader on clean energy."
"Clean energy has become a major industry in California, and it's ready to step up," said Eva Amurri Martino. "Clean energy creates jobs, cleans up the environment, and it's how we're going to grow our economy in a sustainable way. That's the commitment we should make."
The San Onofre Nuclear Generating Station, located between San Diego and Los Angeles, was California's largest operating nuclear power plant before it was retired last year. State officials have sent Gov. Brown a multi-billion dollar proposal that includes building new gas-fired power plants - a plan which would upend California's clean air and climate change goals, and radically change the nature of the state's energy mix.
"From record wildfires to record droughts, climate change is coming home to California," said Evan Gillespie, director of the Sierra Club's My Generation Campaign. "Building new dirty power plants would is an unnecessary and unacceptable retreat from our climate goals. We have a homegrown clean energy industry here in California that is ready to step up and meet the demand, and Gov. Brown should commit replacing the San Onofre plant with energy that is 100% carbon- and pollution-free."
Visit EcoWatch's RENEWABLE ENERGY and NUCLEAR pages for more related news on this topic.

By Sierra Martinez
California took another major and symbolic step this month with its decision to rely significantly on energy efficiency and other clean energy resources to help replace electricity once generated by the San Onofre Nuclear Generation Station (SONGS) serving San Diego and the greater Los Angeles area.
The California Public Utilities Commission (CPUC) made official its strategy to address the loss of the huge nuclear plant, which had been offline since January 2012 and was officially retired last year. Fortunately, it closely resembles its proposal released last month.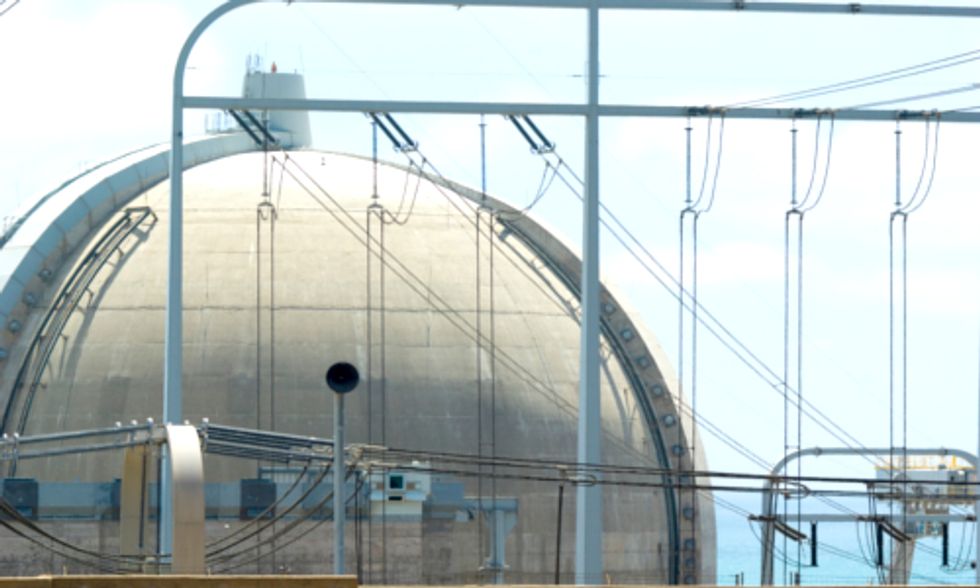 The final plan uses efficiency and other "preferred resources"—those resources with lower environmental impacts—like demand response (ways customers can consume less energy at key times during the day) and renewable energy such as wind and solar, as well as some upgrades to the electric system, to replace the vast majority of the lost SONGS generation. Instead of turning directly to dirty gas-fired power to replace SONGS, this decision fills the gap left by SONGS with at least two-thirds of clean energy resources, and up to 100 percent clean energy. That means that dirty gas-fired power is limited to contributing, at most, one-third of the replacement energy and at best, zero.
The groundbreaking step puts California on a better course for the long term, avoiding a significant number of fossil-fueled power plants, and those power plants' emissions that Californians are all too familiar with. As the state gears up for the summer strain on the grid this year, two of California's largest metropolitan areas—Los Angeles and San Diego—begin to dread their often daily dose of smog and its related quality-of-life and even medical issues.
Positive Steps Forward
We applaud the commission for moving in the right direction and, especially for its significant reliance on the contribution of "preferred resources"—resources that are critical to the health and well-being of Californians.
In addition, it's notable that the commission authorized no additional mandatory gas-fired power sources (which create emissions) because previously, the commission did enact mandatory gas requirements in its 2013 decision. This frees the utilities to appreciably, if not entirely, rely on clean energy resources to replace SONGS.
California has embraced efficiency—getting the same or more work from less electricity—as the cleanest, simplest and most cost-effective energy resource. Not only does efficiency lead to lower utility bills, it reduces the amount of electricity that must be generated from dirty energy that pollutes our air and harms our health.
The fear had been that the replacement of SONGS, a mammoth 2,200-megawatt (MW) power plant (equivalent to about four regular large-sized power plants) around which much of the California transmission grid was built, and which left an over 2,500 MW hole in the grid (due in part to its electrical location and characteristics), would be met with the least creative response—the excessive use of more fossil-fueled power plants.
In June 2012, for example, a retired 50-year-old gas-fired generator at Huntington Beach was brought online to help address the loss of SONGS, but not so much for energy but rather to maintain voltage levels—a complex demand-and-supply balancing act. Fortunately, with this long term decision, the state is definitively not going to make excessive reliance on gas-fired power plants its long term solution.
The Plan
The decision, which affirms that clean energy is the pillar of replacing California's retired nuclear plant, the state will:
Rely on the supply of energy from what amounts to two medium-sized fossil-fuel power plants (600 MW of power) from "preferred sources"—those that have lower environmental impacts and lower public health costs—like efficiency, reducing energy consumption at peak times, wind, solar, and energy storage.
Use 400 to 900 MW of power from new resources, meaning any type of energy resource as needed. This historically has meant gas-fired power generation because many preferred resources were competing on a non-level playing field, but new language requests more fairness in competition for cleaner sources such as efficiency, demand response, solar and wind.
These sources will account for between 1,000 and 1,500 MW of power to replace the more than 2,500-MW hole in the grid left by SONGS. Fortunately, the remainder is made up by additional solutions that are not fossil-fueled power plants, such as reducing the demand through energy efficiency and making improvements to transmission networks. This diverse portfolio of resources will meet the extensive voltage support, energy, and power needs that were originally provided by SONGS.
As a result, this move is good news for Californians and the air we breathe.
Room For Improvement
While the plan is well-balanced, NRDC is concerned that the plan failed to explicitly rely on all reasonably-expected-to-occur energy efficiency. As NRDC demonstrated in the proceeding, the model results that used the best resource estimates available showed there was no clear need to authorize any additional gas-fired generation at this time (beyond the 1,500 MW of gas-fired generation already authorized in 2013) to replace SONGS. These estimates explicitly rely on a conservative 733 MW of savings from building efficiency standards, appliance efficiency standards, and utility efficiency programs. We know the efficiency estimates should have been even higher – because the 733 MW estimate didn't account for the recently-adopted federal appliance efficiency standards, like efficiency standards for microwaves and commercial refrigerators.
The plan also underestimated other preferred resources and transmission solutions, discounting those resources by up to 90 percent. We called for improving the accounting of these preferred resources because an assumption that their contributions are only worth 10 percent was not backed by the record.
While it has its shortcomings, the replacement strategy significantly avoids the construction of many fossil-fueled power plants and is a critical step forward for California's clean energy future. For Californians within the greater Los Angeles region and in San Diego region, their health and environment will be directly affected by this decision. And for the entire state of California, this decision will have a major impact on future long term energy planning because it demonstrates that we can replace an enormous nuclear power plant with largely clean energy and transmission solutions.
This piece was originally published on NRDC's Switchboard blog.
Visit EcoWatch's RENEWABLES page for more related news on this topic.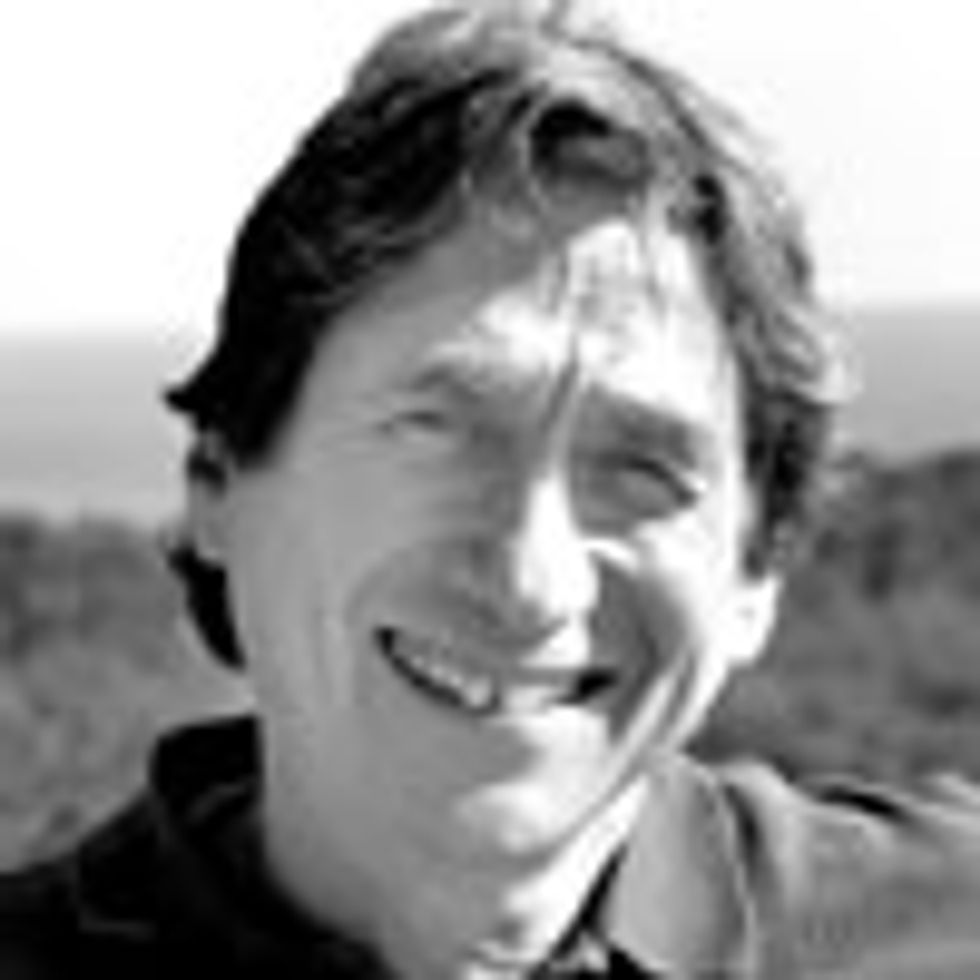 In support of the dying nuclear power industry, the New York Times Editorial Board has penned an inadvertent epitaph. 
Appearing in the May 2 edition, The Right Lessons from Chernobyl twists and stumbles around the paper's own reporting. Though unintended, it finally delivers a "prudent" message of essential abandonment.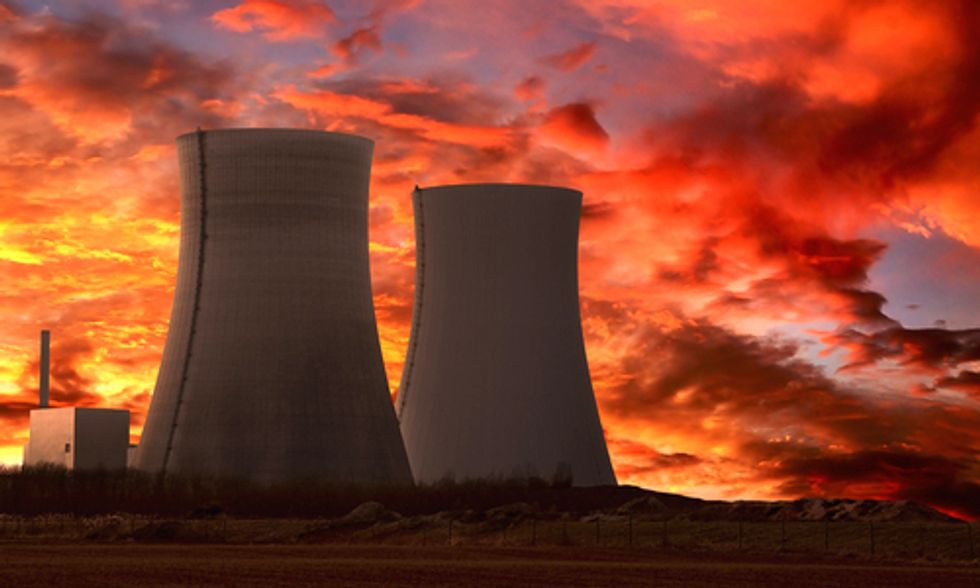 The edit drew 288 entries into its comment section before it was capped. I've posted one of them at NukeFree.org. Overall they're widely varied and worth reading. 
Because the Times is still the journal of record, the edit is a definitive statement on an industry in dangerous decline.
Let's dissect:
The edit begins by citing the "New Safe Confinement" shield being built over the seething remains of Chernobyl Unit 4. Already "almost a decade behind schedule," its completion is "a race against time" due to the "decrepit state of the sarcophagus" meant to contain the radiation there.
That we still must fear Chernobyl more than 28 years after it melted and exploded underscores the "nightmarish side of nuclear power."
That the "vast steel shield" may not be done in time, or may not even end the problem, is downright terrifying, especially in light of the "near-bankruptcy of Ukraine," not to mention a political instability that evokes horrific images of two hot wars and the cold one.
Amidst rising tensions between Ukraine, Russia and the west, the corporate media studiously avoids Chernobyl. But Belarus and Ukraine long ago estimated its cost to their countries at $250 billion each. One major study puts the global death toll at more than a million human beings.
The Times says Chernobyl's terror is "more powerful than Three Mile Island before it or Fukushima after it."
Three Mile Island suffered an explosion and melt-down in 1979. Exactly how much radiation escaped and who it harmed are still unknown. The industry vehemently denies that anyone was killed, just as it denied there was a melt-down until a robotic camera proved otherwise.
At Fukushima, there is no end in sight. Bad as it was, Chernobyl was one core melt and explosion in a single Soviet reactor in a relatively unpopulated area. Fukushima is three core melts and four explosions in American-designed General Electric reactors, of which there are some two dozen exact replicas now operating in the U.S., along with still more very similar siblings.
Spent fuel is still perched dangerously in damaged pools high in the Fukushima air. Thousands of rods are strewn around the site. The exact location of the three melted cores is still unknown. At least 300 tons of highly radioactive liquid pour daily into the Pacific, with the first of their isotopes now arriving on our west coast. Huge storage tanks constantly leak still more radiation. The labor force at the site is poorly trained and heavily infiltrated by organized crime.
The Times itself has reported that a desperate, terrified population is being forced back into heavily contaminated areas. Children are being exposed en masse to significant radiation doses. Given the horrific health impacts on youngsters downwind from Chernobyl, there is every reason to fear even worse around Fukushima.
But the Times Editorial Board follows with this: "Yet it is also noteworthy that these civilian nuclear disasters did not and have not overcome the allure of nuclear power as a source of clean and abundant energy."
"Allure" to whom? Certainly the corporations with huge investments in atomic energy are still on board. The fossil fuel industry is thoroughly cross-invested. And extraordinary corporate media access has been granted to pushing the odd belief that nuclear power can help mitigate global warming.
But the vast bulk of the global environmental movement remains firmly anti-nuclear. Grassroots opposition to re-opening any Japanese reactors is vehement to say the least. Amidst an extremely popular revolution in green technologies, U.S. opinion demands that nuclear subsidies be cut, which means death to an industry that can't live without them.
It's here the edit falls entirely overboard: "Only Germany succumbed to panic after the Fukushima disaster and began to phase out all nuclear power in favor of huge investments in renewable sources like wind and sun."
Germany's green transition has been debated for decades, stepped up long ago by Chernobyl. With strong popular backing, the German nuclear phase-out, as in Sweden, Italy and numerous other European nations (Denmark never built any reactors) has long been on the table. The center-right Merkel government finally embraced it not only because of Fukushima, but because the German corporate establishment decided that going green would be good for business. As energy economist Charles Komanoff has shown, they've been proven right.
Despite the predictable carping from a few fossil/nuke holdouts, Germany will shut its reactors, as will, eventually, all other nations. The edit says there may be "an increase in greenhouse emissions," but it will be "temporary."
But as some in the respondents section point out, the Times ignores nuclear power's own greenhouse impacts, especially in the mining, milling, transport and enrichment of radioactive fuel. Not to mention the heat emissions into the air and water from regular operations and periodic melt-downs and blow-ups. Or those involved with the as-yet unsolved management of radioactive wastes, both at exploded sites and where thousands of tons of spent fuel rods and other hot detritus still sit. 
The Times does concede that "The world must do what it can to increase energy efficiency and harness sun, wind, ocean currents and other renewable sources to meet our ever-expanding needs for energy." But the vision of a green-powered Earth is no longer the property of a Solartopian movement. As the Times and other major publications have long reported, Wall Street has thoroughly rejected atomic energy and is pouring billions into renewables, especially photovoltaics (PV) which convert solar energy to electricity.
A technological, financial and ecological revolution is well underway. Maybe the Times Editorial Board should consult its financial section.
The edit then cites a recent Intergovernmental Panel on Climate Change (IPCC) report as a reason to keep nuclear energy as "part of the mix."
But the IPCC report emphasizes atomic power's negatives, most critically safety, economics, waste and timing. It posits no parallel burdens on the transition to renewables, which it says is both affordable and do-able within the time frame necessary to save the planet. 
Even if public opposition somehow dissolved, the technical and economic prospects for small modular or other "fourth generation" nukes have crumbled. With the industry's history of gargantuan cost overruns and endless delays, this editorial doesn't bother to argue for them.
For nuclear to "play a role" in fighting climate change, the industry must keep its old, increasing decayed reactors on line. But many of the planet's 400 commercial nukes are older than that crumbling sarcophagus at Chernobyl. 
Japan's Abe regime wants to re-open all 48 reactors idled since Fukushima. But as Reuters and others have reported, 30 or more can't meet current safety standards or face too many technical barriers to safely or economically re-open.
With twice as many licensed reactors in the U.S., could the number of below-spec nukes here be more like 60?
Four of these decrepit nukes shut last year, with at least one more—Vermont Yankee—scheduled to close in 2014. For health, safety, economic and ecological reasons, many more of these dangerously decayed nukes are poised to go down. 
 But it's precisely these the Times edit defends:
The reasons for the shutdowns vary. In some cases, competition from cheap natural gas and from nearby wind farms has forced reactors to operate at a loss. In other cases, a marginal plant's economic viability has been jeopardized by the cost of replacing steam generators to extend the life of a plant or by the cost of upgrading safety systems to meet new requirements imposed after the disaster in Fukushima.
As it begs for "prudence" before shutting more reactors, we must ask:
Does the Times Editorial Board really want us to ignore the need to replace unsafe steam generators (as at California's San Onofre) and just operate them as is?
Should we really ignore "new requirements imposed after the disaster at Fukushima?"
Should we also forget that the Union of Concerned Scientists and others report that many of those old nukes that can't meet basic fire protection standards?
How about the U.S. reactors still dangerously vulnerable to earthquake damage ... including the two at Indian Point, just north of the Times newsroom.
And those downriver from large dams whose failure could release floods parallel to the tsunami that swamped Fukushima.
Is all this okay with the Times Editors? Will the Grey Lady now provide the radioactive disaster insurance missing since 1957?
The edit does spare us more hype about the "nuclear renaissance." After a decade of being pushed to buy a whole new fleet, we're now begged to be "prudent" about shutting the old tugboats.
Above all, we're not to be "spooked" into mistrusting an industry that for decades said reactors could not explode, but has now blown up five and melted five.
For the finale of this landmark edit, we hear that "the great shield over Chernobyl should also entomb unfounded fears of using nuclear power in the future."
Fair enough.  
A decade behind schedule, millions over budget, technologically unproven, threatened by political instability, surrounded by the dead and dying, that canopy's sole purpose is to somehow contain future damage from a failed reactor that has already irradiated the planet, the people downwind, the ecological and economic future of the region.
If the New York Times wants to anoint Chernobyl's unfinished second shroud as the prime symbol of today's atomic industry, then this editorial is indeed a fitting epitaph.
——–
YOU ALSO MIGHT LIKE
Samso: World's First 100% Renewable Energy-Powered Island Is a Beacon for Sustainable Communities
IPCC: Renewables, Not Nuclear Power, Can Solve Climate Crisis
Canadian 10th Grader Discovers Radioactive Imported Seafood Long After Government Stopped Testing
——–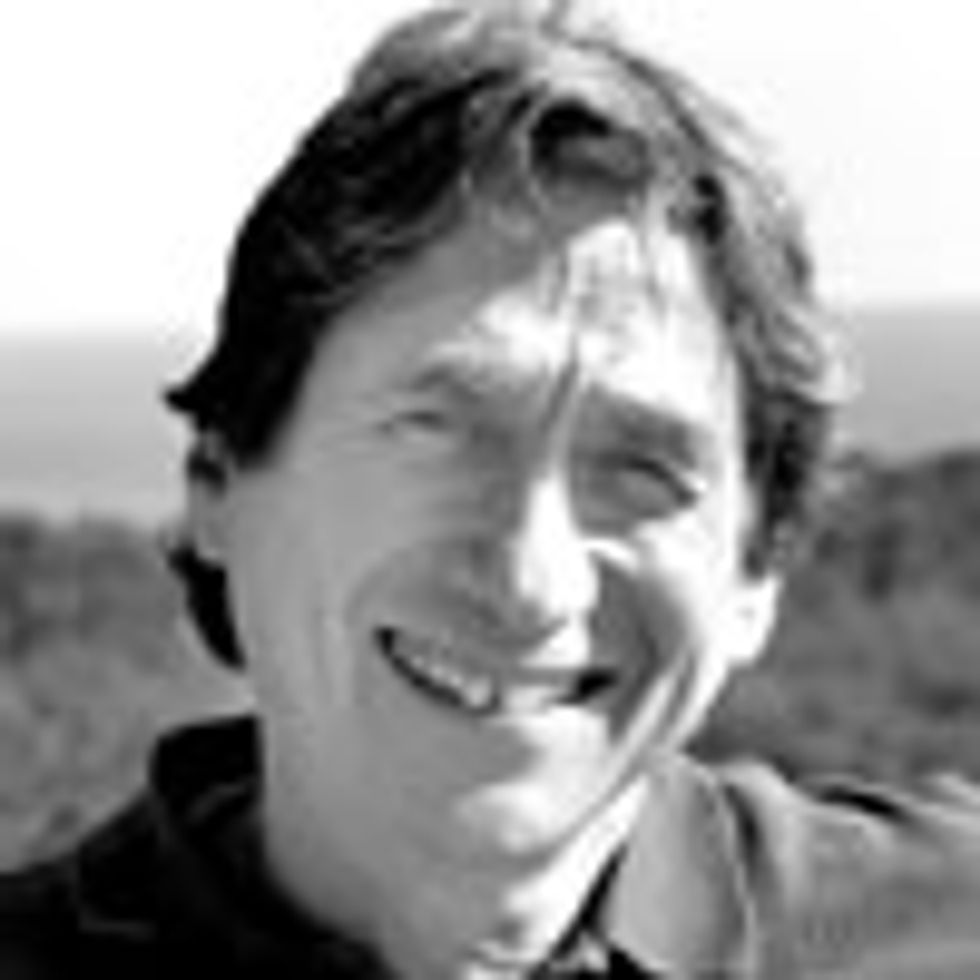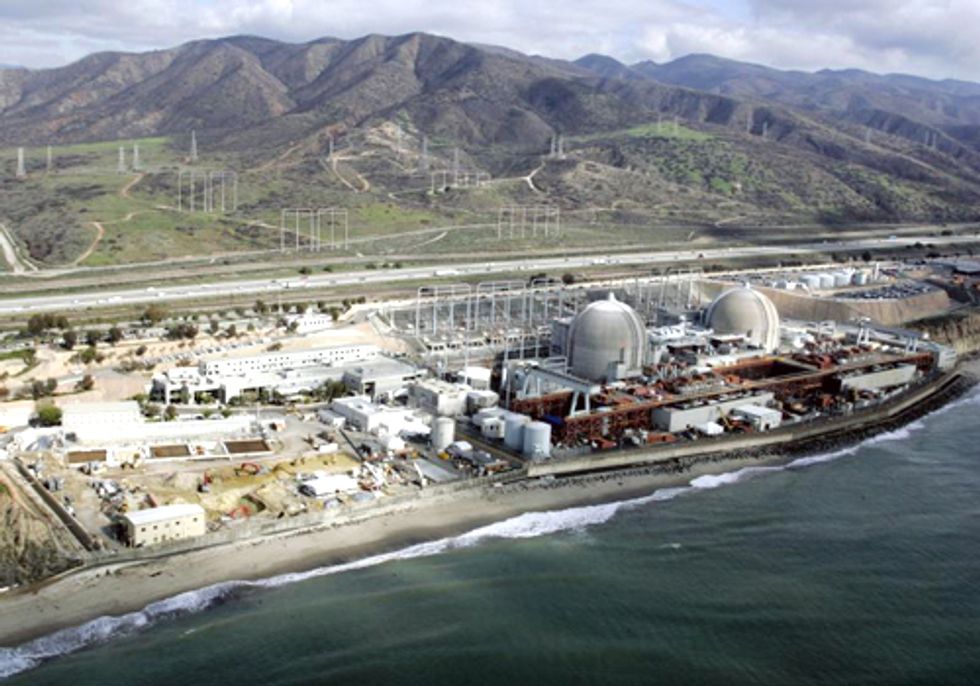 A unanimous Los Angeles City Council has demanded the Nuclear Regulatory Commission (NRC) conduct extended investigations before any restart at the San Onofre Nuclear Generating Station.
The move reflects a deep-rooted public opposition to resumed operations at reactors perched in a tsunami zone near earthquake faults that threaten all of Southern California.
Meanwhile, yet another top-level atomic insider has told ABC News that San Onofre Units 2 and 3 are not safe to operate.
On April 23, Los Angeles' 11 city council members approved a resolution directing the NRC to "make no decision about restarting either San Onofre unit" until it conducts a "prudent, transparent and precautionary" investigation. The city wants "ample opportunity" for public comment and confirmation that "mandated repairs, replacements or other actions" have been completed to guarantee the public safety.
California's largest city thus joins Del Mar, Encinitas, Irvine, Laguna Beach, Mission Viejo, San Clemente, Santa Monica, Solana Beach, Vista, Berkeley, Fairfax and the San Diego Unified School District board in asking the NRC to take all steps necessary to guarantee the public safety. Some resolutions include the demand that the NRC make utility officials testify under oath in public before San Onofre might be allowed to go back on line.
The sentiment has been echoed by U.S. Sen. Barbara Boxer (D-CA) who chairs the Senate committee that oversees the NRC. Sen. Boxer has been joined by Rep. Ed Markey (D-MA) in questioning whether Southern California Edison knew steam generators being installed at San Onofre were faulty.
The new Mitsubishi generators cost some $770,000,000. But critical tubes began banging together and sprang leaks after less than a year of operations. As many as 17 percent of the plant's 19,400 tubes may have been involved.
The reactors were shut in January 2012. Edison has since billed ratepayers roughly a billion dollars for them, even though they've generated no electricity for more than a year. The utility says it needs the reactors' power for the coming southern California summer, even though the region operated just fine last summer without them.
ABC News has now broadcast warnings from a 25-year insider at San Onofre. "There is something grossly wrong," the whistleblower told a San Diego TV station in a carefully disguised appearance.
Edison wants to operate Unit 2 for five months on an experimental basis. But there are 8 million people living within a 50-mile radius.
"If an accident like this happens, [an] emergency plan is not geared to handle such a public safety devastation," says ABC's inside source. "Those things have never been practiced or demonstrated in a drill scenario."
The U.S. Government Accountability Office (GOA) has recently confirmed the confused state of atomic evacuation planning nationwide, a warning picked up by Sen. Bob Casey (D-PA).
Such warnings echo those of former NRC Chair Gregory Jaczko, who has told the public that none of the 104 reactors currently licensed to operate in the U.S. are safe. The industry, he says, is "just rolling the dice" by continuing to operate these commercial reactors, including San Onofre.
Edison has dismissed Jaczko, the GOA and the whistleblower's warnings in demanding a June 1 restart. Sen. Boxer and Rep. Markey want the NRC to refuse approval until public hearings can be held. But the Commission seems to be rushing ahead with the licensing process.
This unanimous resolution from Los Angeles and so many other southern California communities may have a significant impact. The public is being asked to call Sen. Boxer (202-224-3553) and Rep. Markey (202-225-2836) in support of formal hearings to predate any licensing.
Putting Edison, Mitsubishi and the reactors' inside operators under oath, on the stand, in front of the public could help answer some key questions about some very expensive decisions that have put the health, safety and economy of southern California at serious risk.
Despite Edison's fierce opposition, renewables are spreading rapidly throughout the region. With no real need for San Onofre's power, activism has never had a more decisive potential impact.
A radioactive cloud from a restarted San Onofre could completely contaminate San Diego, Los Angeles and the central valley, carrying all the way across the U.S. within four days.
With an NRC decision apparently imminent, Sen. Boxer and the City of Los Angeles are right to demand complete transparency and total public access to everything there is to know about this infernal machine.
This power plant is truly on the brink of being shut forever. Let's make sure that happens. The time is now.
Visit EcoWatch's NUCLEAR POWER page for more related news on this topic.
——–
Click here to tell Congress to Expedite Renewable Energy.

By Noah Long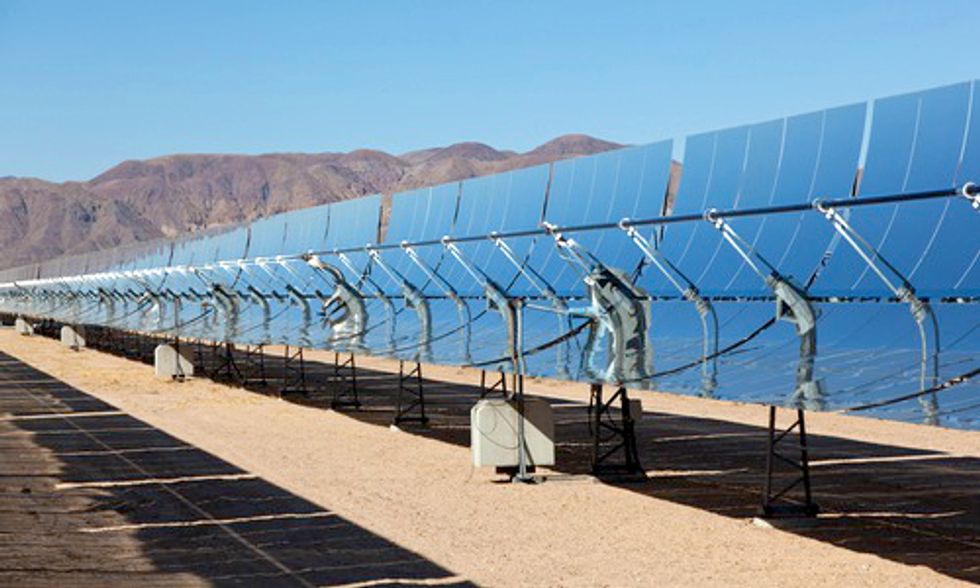 Photo courtesy of Shutterstock
The Electric Program Investment Charge (EPIC) research, development and demonstration (RD&D) program is needed because California is facing huge challenges—and opportunities—in its electric system: both from the state's ambitious goals and mandates to reduce the environmental impacts of electricity generation, transmission and consumption and also from the effects of an aging infrastructure. 
The commission approved RD&D investment proposals from Pacific Gas & Electric, Southern California Edison and San Diego Gas and Electric and the Energy Commission—which will administer the EPIC program. The program funds R&D for the benefit of the customers of the three largest investor-owned utilities in the state, together accounting for two-thirds of the electricity used in California. In addition, the CPUC adopted metrics and potential areas of measurement for evaluating the investment plans.
The decision follows the legislature's guidance and decades of leadership from California utilities and the commission, itself, on research and development. The $162 million in annual investments in RD&D will be included in the utilities' electric rates. Although subject to a misguided legal challenge from Southern California Edison, the commission's decision means the EPIC program will go forward while a court weighs the issue.
The state faces numerous challenges and opportunities for which R&D is needed, including reducing carbon emissions from power plants; adding and integrating 33 percent renewable energy and high penetrations of distributed generation; continuing to seek and deploy all cost effective energy efficiency; and replacing aging infrastructure including the San Onofre nuclear power plant and outdated coastal power plants that damage California's ocean waters.
Meeting these challenges while maintaining affordable, reliable electricity for electric customers will only be possible if California maintains its commitment to innovation. The R&D investments approved represent a modest investment in research and development: lower than the average spending level in most industries. Still, they offer a critical opportunity for ongoing, strategic and leveraged investments in our energy future. 
The R&D proposals approved this month have been through a long and rigorous stakeholder process and the commission's decision is a big win for innovation in energy, which will benefit California's residents, businesses and industries.
This piece originally appeared on NRDC Switchboard.
Visit EcoWatch's RENEWABLES page for more related news on this topic.

Michael Leonardi
The Davis Besse nuclear generating station in Oak Harbor, OH, on the western shore of Lake Erie is back in the cross hairs after last weeks announcement that the crippled San Onofre nuclear power plant in southern California will remain permanently shut down and be decommissioned. The decision by Southern California Edison came 17 months after major problems with its replacement generators caused a crack in piping and a release of radioactive steam into the environment. A broad based coalition of citizen's groups, governmental officials and environmental organizations waged an epic battle to keep this threat to the Pacific Ocean and the southwestern U.S. permanently shut down.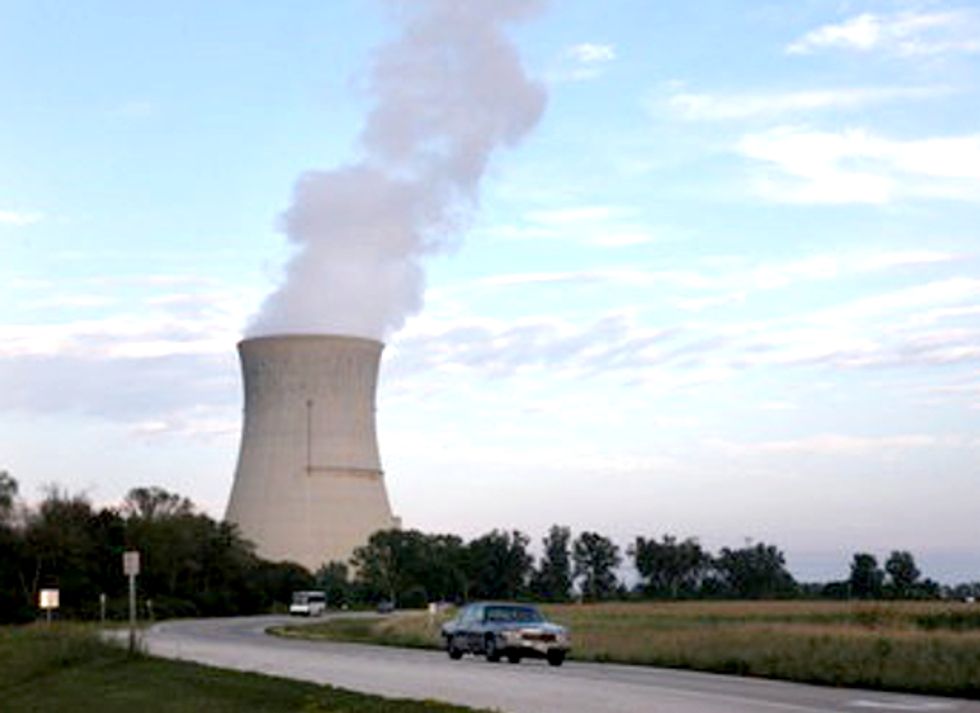 The San Onofre victory has bolstered a coalition of citizen's groups working to shutter the Davis Besse nuclear plant while the plant's owner and operator, First Energy, is planning to replace the plant's steam generators in 2014. Davis Besse has come closer to a catastrophic accident on the shores of the Great Lakes more times than any other reactor in the country. More recently it has been discovered that the shield building that houses the reactor containment structure is riddled with extensive cracking.
The main impetus cited for the closure of San Onofre was the Atomic Safety Licensing Board's decision to hold full public hearings on the license amendment granted for replacement of the generators at plant. The decision to hold these hearings came after national environmental organization Friends of the Earth intervened to call for this important skipped step in public transparency.
"The steam generator disaster at San Onofre, and public attempt to avoid similar bungling at Davis Besse, stem directly from the NRC's [Nuclear Regulatory Commission] 24 year campaign to deregulate the industry," said Terry Lodge, attorney for the coalition of intervenors calling for a public hearing on the replacement of steam generators at Davis Besse.
"At San Onofre and Davis Besse the NRC relied on the utility's self-reporting as to whether there is anything significant about this very major feat of building and installing technologically different pieces of equipment. There has been a fiasco in three out of the last three steam generator replacements. 'Cross my heart and hope to die' regulation is totally unacceptable when it comes to nuclear energy," Lodge concluded.
Arnie Gundersen, chief engineer at Fairewinds Associates, Inc. served as the expert witness for Friends of the Earth in their San Onofre intervention. He is also the expert witness on behalf of Beyond Nuclear, Citizen's Environment Alliance of Southwestern Ontario, Don't Waste Michigan and the Sierra Club intervening on Davis Besse. In the case of Davis Besse, Gunderson has declared that the "data reviewed shows that First Energy should have applied for a license amendment with the requisite public review six years ago when replacement steam generators were originally designed, ordered and purchased."
Gundersen's Davis Besse testimony reported, "The last three steam generator replacement projects orchestrated by licensees sought to avoid the NRC's license amendment process. By avoiding the license amendment processes for Crystal River 3 in Florida and San Onofre 2 and 3 in California, the owners, Progress Energy (Crystal River) and Edison (San Onofre) caused all three units to experience total mechanical failures."
A cascading failure of steam generator tubes can lead to a loss of coolant accident and reactor meltdown.
The failure of the steam generator replacements came about because they were largely experimental—newly designed systems did not mesh well with older equipment. Gundersen has detailed nine significant differences between the replacement and original steam generators at Davis Besse concluding that "each and every one of these changes is significant individually, and when taken together prove that the replacement contains many experimental parameters.
The coalition contends that First Energy's shortcut on safety by its circumvention of an NRC license amendment proceeding, risks repeating the same sort of dangerous mistakes made at San Onofre. It was January 2012 when a steam generator tube rupture at San Onofre released radioactivity and led to the discovery of widespread, unexpected tube degradation in replacement steam generators just over a year old. Thankfully, San Onofre will not operate again.
"Once again, First Energy's indifference to anything but maximum profit dictates the dance," said Lodge. "What if this new, experimental design doesn't work out, just as steam generator replacements in the last three reactors have proven to be failures? For First Energy it's profits first safety last."
The NRC continues to operate like a used car salesman on behalf of the remaining 100 aging and decrepit lemons that threaten millions of Americans living near dangerous nuclear plants in the U.S. Instead of regulating this industry, NRC officials continue to try and paint a rosy picture of this dangerous technology. Just this week in Oak Harbor the NRC held an open house on Davis Besse's annual performance review.
NRC representatives spoke glowingly of First Energy's plans to operate 20 years past its life expectancy after its license expires in 2017. When asked by concerned citizens about the risks posed by replacing the steam generators, an NRC representative just tried to brush the question aside by saying "don't worry, these are the Cadillacs of steam generators." This begs the question, did the NRC settle for Kia's at San Onofre and Crystal River?
"The Japanese parliament has concluded that the root cause of the Fukushima Daiichi nuclear catastrophe was not the earthquake and tsunami, but rather the government-regulator-industry collusion that allowed the atomic reactors to be so vulnerable to a natural disaster," said Kevin Kamps of Beyond Nuclear. "Davis Besse has been the poster child for just such collusion from the very beginning, through the 2002 hole in the reactor head fiasco, and right up to the present."
Visit EcoWatch's ENERGY and NUCLEAR pages for more related news on this topic.
——–
Click here to tell Congress to Expedite Renewable Energy.