This website uses cookies to ensure you get the best experience while browsing it. By clicking 'Got It' you're accepting these terms.
Sheriff officials work the scene at Villa Calimesa Mobile Home Park in Calimesa on Oct. 13. Jennifer Cappuccio Maher / MediaNews Group / Inland Valley Daily Bulletin / Getty Images
Three years after a massive leak at the Aliso Canyon underground gas storage facility in Southern California, residents of nearby Porter Ranch, shown here, continue to experience severe health conditions. Edward Clynes / Earthjustice
By Byron Chan
Almost 15,000 residents of Los Angeles' Porter Ranch neighborhood evacuated their homes in the fall of 2015, many of them suffering from headaches, breathing problems and nosebleeds. The culprit: a massive leak of carcinogenic chemicals at SoCalGas's nearby Aliso Canyon underground gas storage facility. From October 2015 until February 2016, the facility expelled more than 100,000 metric tons of methane into the atmosphere.
EcoWatch Daily Newsletter
Residents, lawmakers and environmentalists from a seaside community in Los Angeles County are questioning why it took a whole week for government officials to inform them of a well blowout that sprayed natural gas and other fluids nearly 60 feet into the air for several minutes.
On Jan. 11, hotel construction workers in a populated area in Marina del Rey dug into an abandoned, 1930s-era oil well, causing an eruption of mainly methane, heavy abandonment mud and water. Video footage shows the fluids shooting high into the sky, and a worker rappelling away to avoid injury. The oil well was last sealed in 1959 and was in the process of being re-sealed before the release.
Southern California Gas Company's Aliso Canyon facility.
Scott L / CC BY-SA 2.0
A major California utility has agreed to pay nearly $120 million in a civil settlement over a huge methane leak that forced thousands to flee their homes in 2015.
Shale gas drilling site, in Lycoming County, Pennsylvania. Nicholas A. Tonelli, CC BY
By Kate Konschnik and Sarah Marie Jordaan
U.S. natural gas production has boomed in the past decade, driving gas prices sharply downward. Natural gas has become a competitive choice for electricity generation, edging out coal. Because gas contains less carbon than coal, greenhouse gas emissions from power plants have dropped, and the U.S. grid has become cleaner, more efficient and more flexible. More natural gas is also entering the power sectors in Mexico and Canada.
But the low-carbon profile of natural gas doesn't tell the whole story. Methane, its primary component, is a powerful greenhouse gas. It leaks to the atmosphere from wells and pipelines, contributing to climate change and reducing the climate benefit of using natural gas.
California Valley Solar Ranch. Bechtel
California took a major step in ditching fossil fuels after the state Senate passed a bill Wednesday that aims for 100 percent renewable energy by 2045. The legislation, Senate Bill 100, was approved with a 25-13 vote.
By Ryan Schleeter
Donald Trump wants to slash the EPA's budget and defund public health programs—which could cost people like Heather Von St. James their lives. This is her story.
California's 2015 methane leak was so large it could be seen from space, according to a National Aeronautics and Space Administration (NASA) statement released Tuesday.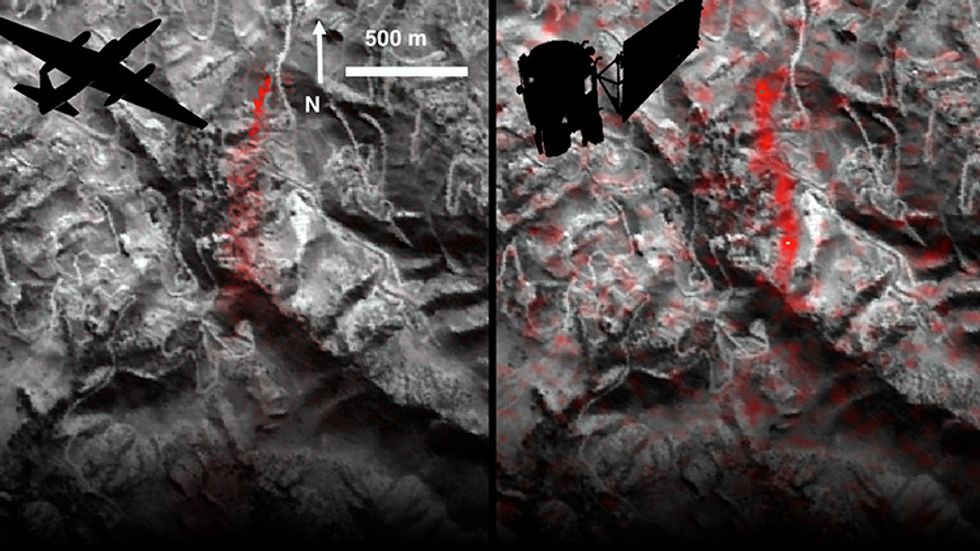 Comparison of detected atmospheric methane over Aliso Canyon, acquired 11 days apart in January 2016. The left picture was taken by NASA's Airborne Visible/Infrared Imaging Spectrometer on a NASA ER-2 aircraft at 4.1 miles altitude. The right picture was taken by the Hyperion instrument on NASA's Earth Observing-1 satellite in low-Earth orbit. Photo credit: NASA
Aliso Canyon's methane leak in Porter Ranch in October 2015 marked the first time an orbiting spacecraft measured a leak from a single facility on Earth. The leak was spotted by the Hyperion spectrometer on NASA's Earth Observing-1, according to a study by David R. Thompson, of NASA's Jet Propulsion Laboratory, recently published in the Geophysical Research Letters journal.
NASA's statement explained: "The observation ... is an important breakthrough in our ability to eventually measure and monitor emissions of this potent greenhouse gas from space."
The Hyperion spectrometer was able to detect methane on three separate occasions, Thompson's paper states. NASA said the research was part of an investigation into the accidental leak, which released 94,500 tons of methane into the atmosphere, according to the latest data. The orbit observations were consistent with airborne measurements, NASA reported.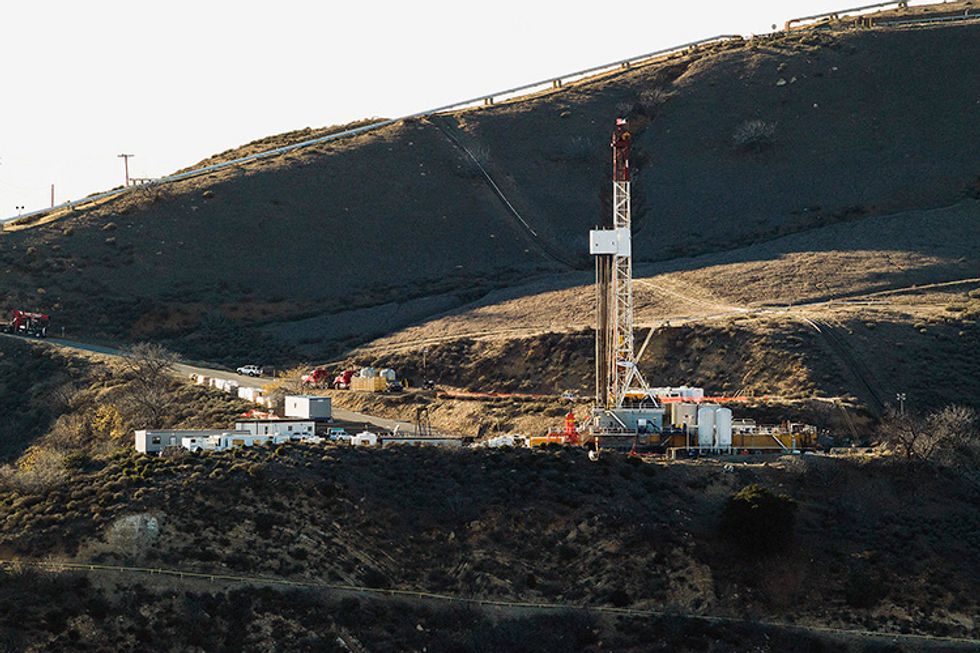 Equipment and machinery is seen in Aliso Canyon facility. Photo credit: Scott L, Wikimedia commons
Developing more instruments with similar capabilities to the Hyperion, or with even better ones, will help scientists understand the amount of methane produced by human activities and spot areas on Earth's surface that are big releasers.
"The percentage of atmospheric methane produced through human activities remains poorly understood," Thompson said. "Future instruments with much greater sensitivity on orbiting satellites can help resolve this question by surveying the biggest sources around the world, so that we can better understand and address this unknown factor in greenhouse gas emissions."
The Hyperion spectrometer measures discreet wavelengths of light. It scans in "many hundreds of wavelengths," Thompson told The Washington Post, allowing scientists to identify specific gases.
"Every gas leaves its fingerprint on the light that passes through it," he said. "So what the algorithms we applied do is they examine the imagery from the spacecraft to see the very unique spectral signature of methane, and then map it over wide locations."
Caltech in Pasadena, California; GFZ Helmholtz Centre in Potsdam, Germany; and NASA's Goddard Space Flight Center in Greenbelt, Maryland, also participated in the study.
YOU MIGHT ALSO LIKE:
Dangerous Heat Wave to Grip the U.S.: 10 Ways to Survive Extreme Heat
TransCanada Wins Bid for Underwater Gas Pipeline Across Gulf of Mexico
Toxic Chemicals Found in Residents Living Near Oil and Gas Operations in Pavillion, Wyoming
The We Are Seneca Lake civil disobedience campaign kicked off on Oct. 25, 2014. Colleen Boland
In an effort to reduce the reliance on fossil fuels, Tesla and Southern California Edison have unveiled a massive battery storage facility at the utility's Mira Loma substation in Ontario, California.
The project—which is being described as the largest lithium-ion battery storage project in the world—consists of 396 stacks of Tesla Powerpack units spread across 1.5 acres. The batteries can store up to 80 megawatt hours, or enough energy to power 15,000 homes for four hours.
"This project is part of our vision at Southern California Edison to take advantage of the wind and the sun, and operate a flexible grid that delivers clean energy to power our homes, our businesses and our vehicles," Kevin Payne, CEO of Southern California Edison, said at a ribbon-cutting event Monday.
"Standing here today among these Tesla Powerpacks is a great reminder of how fast technology is changing the electric power industry and the opportunities that will come with it."
Mira Loma Battery Storage Project ribbon cutting. From L-R, State Sen. Henry Stern , CPUC President Michael Picker, Tom Doughty of CAISO, SCE CEO Kevin Payne and JB Straubel, Tesla chief technical officer. Southern California Edison
While the project officially switched online on Monday it began operating in December.
"We are very excited to bring this site online," said Tesla's chief technical officer JB Straubel. "Storage is quite a new thing … and this is a different breed of battery. This is the tip of the iceberg of how much storage we'll see on the grid."

The batteries charge up when there is more renewable energy than demand, ultimately allowing customers to use clean energy during peak hours.
As the New York Times explained, California has a need for batteries to store surplus renewable energy:
"California is on track to have an overabundance of energy during the day, when its many solar panels are producing energy, but that supply drops sharply as the sun sets, precisely when demand rises, with residents heading home to use appliances and, increasingly, to charge cars.
"The state's aging nuclear plants have been closed or are being phased out, putting even more pressure on utilities to find other ways to feed the grid. Storage is a natural solution, utility executives say, helping to smooth variations in the power flow from rooftop customers and when solar falls off and conventional plants have not yet filled the gap."
Tesla CEO Elon Musk was not at the ribbon-cutting ceremony but he retweeted a company tweet in support of the project. In the clip below, Tesla touts that its new facility, which only took 94 days to install, reduces the reliance on gas speaker plants, prevents electricity shortages, provides energy secure and reduces greenhouse gases:
Tesla and Southern California Edison agreed on the project in September following orders from the California Public Utilities Commission (CPUC). The regulators sought to expedite the use of energy storage connected to the grid to mitigate the disastrous Aliso Canyon natural gas leak, which thrust an estimated 96,000 metric tons of potent methane into the atmosphere for four months beginning in October 2015. The leak also forced thousands of residents in the nearby Porter Ranch community from their homes.
"This was unprecedented fast action on the part of the CPUC," said Michael Picker, the commission's president. "And we are once again stunned by the battery industry to meet our needs. This is another example of progress."
It is unclear how much the Tesla-Edison installation cost, as lithium batteries can be pricey. However, as Fortune pointed out, "until recently, battery storage has been a far more expensive means of meeting demand surges than natural gas 'peaker' plants. However a rapid fall in lithium ion battery prices over the past two years—driven by the proliferation of electric cars—has made the technology far more viable."
Tesla and Southern California Edison are not the only energy storage facilities being rolled out. According to the Los Angeles Times, San Diego Gas & Electric and AES Energy Storage as well as Greensmith Energy Partners and AltaGas are installing other large battery installations.
"In all, the projects are adding 77.5 megawatts of energy storage to the state's electricity grid," the Los Angeles Times reported.
California is vigorously pursuing clean energy projects to combat climate change. The state has a target of producing 50 percent of its electricity from renewable energy sources by 2030 and aims to reduce greenhouse gas emissions to 80 percent below 1990 levels by 2050.
"Energy storage projects like this one play a role in California's clean energy future," Payne said. "They are also part of our mission to safely deliver reliable, affordable and clean energy to our customers."
Tesla has plans to revolutionize the energy grid. One reason it combined with sister company SolarCity was to create a one-stop shop for electric vehicles, rooftop solar and energy storage.

Musk said in a May 2015 interview that he wants to "fundamentally change the way the world uses energy" and "the goal is complete transformation of the entire energy infrastructure of the world."
This website uses cookies to ensure you get the best experience while browsing it. By clicking 'Got It' you're accepting these terms.