This website uses cookies to ensure you get the best experience while browsing it. By clicking 'Got It' you're accepting these terms.
Produced water from gas drilling in the Marcellus shale. Tara Lohan
By Tara Lohan
We're living beyond our means when it comes to groundwater. That's probably not news to everyone, but new research suggests that, deep underground in a number of key aquifers in some parts of the U.S., we may have much less water than previously thought.
"We found that the average depth of water resources across the country was about half of what people had previously estimated," said Jennifer McIntosh, a distinguished scholar and professor of hydrology and atmospheric sciences at the University of Arizona.
By Coming Clean
A coalition of community and environmental health groups released Thursday a first-of-its-kind research combining air monitoring methods with new biomonitoring techniques to determine if toxic air emissions from natural gas operations could be detected in the bodies of nearby residents.
The study, When the Wind Blows: Tracking Toxic Chemicals in Gas Fields and Impacted Communities, found evidence of eight hazardous chemicals emitted from Pavillion, Wyoming gas infrastructure in the urine of study participants. Many of those chemicals were present in the participants' bodies at concentrations far exceeding background averages in the U.S. population.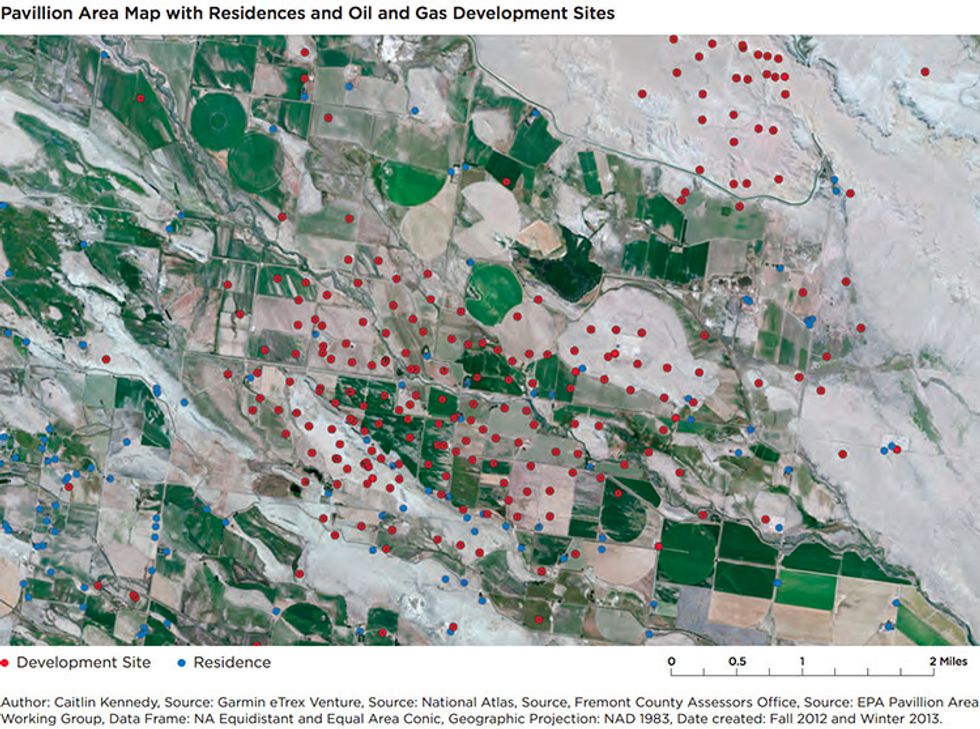 "If your drinking water is contaminated with toxic chemicals you might be able to make do with another source, but if your air is toxic you can't choose to breathe somewhere else," Deb Thomas, director of ShaleTest who lives in Wyoming and was one of the study leaders, said.
"No matter which way the wind blows, gas development involves so many emissions sources that people can't help but to be exposed to toxic chemicals from their operations. Unfortunately, this is what everybody who is living with oil or gas drilling now has to look forward to if that drilling leads to production."
Science experts along with community members from Pavillion used a variety of air monitoring and biomonitoring methods in concert to understand if air emissions from gas production equipment are being absorbed into the bodies of nearby residents. They then used new biomonitoring methods that have been developed to detect the signature of hazardous chemicals in study participants through the metabolites or "break-down" products and other evidence of toxic chemical exposure.
"Our family has experienced phantom odors, rashes, hair loss, respiratory conditions, neurological problems, epileptic seizures, cancer and huge hits to how we think and reason," John Fenton, a Pavillion resident and farmer, said.
"These symptoms match up with the known effects of the toxic chemicals emitted in our air from gas production operations. This biomonitoring project was an opportunity to find out if the chemicals we know are in the air, are also in our bodies."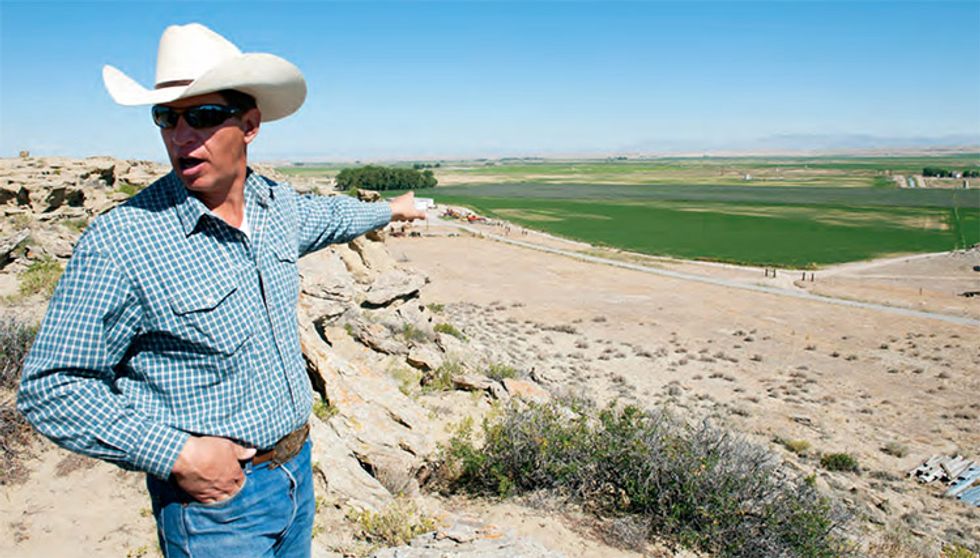 Researchers found volatile organic compounds (VOCs) in the air emitted from gas operations in Pavillion and in the air immediately surrounding people working and living in the area. Later, researchers found evidence of these same chemicals in study participants' bodies. The study focused on VOCs and a specific family of VOCs named BTEX chemicals (Benzene, Toluene, Ethylbenzene and Xylenes), because these chemicals are known to be hazardous to human health, even at low levels.
VOCs detected in this study are linked to chronic diseases such as cancer, reproductive or developmental disorders, as well as respiratory problems, headaches, nosebleeds and skin rashes. Study leaders note that because VOCs are so ubiquitous in products and in our homes, it is possible that the VOCs detected in participants' bodies came from multiple sources. Having conducted this new "methods development" for air and biomonitoring of these toxic chemicals, researchers hope to improve upon these methods to further understand how these chemicals travel through the environment.
When the Wind Blows details these specific findings:
Air sampling found toxic chemicals present in the air near Pavillion, including BTEX chemicals, which are consistent with those associated with oil and gas production and its associated infrastructure. This finding is consistent with previous air monitoring findings from the Pavillion area as well as many other oil and gas production sites across the nation.
Urine sample analysis (biomonitoring) found hazardous breakdown products and evidence (metabolites) of BTEX chemicals and other VOCs associated oil and gas production—in the bodies of the Pavillion area residents who participated in this study.
Eight chemicals linked to chronic diseases such as cancer or other illnesses, including reproductive or developmental disorders and health problems such as respiratory difficulties, headaches, nosebleeds, skin rashes and depression, were detected both in the air near Pavillion and in the bodies of project participants.
The results from both human and air monitoring indicate that communities living or working near gas development operations may be intermittently exposed to complex mixtures of chemical substances associated with oil and gas production. Little information exists about how VOCs in mixtures interact with each other and in the human body, but scientific research indicates that in some cases VOCs might interact in ways (or combine with other factors) that increase health risks humans in humans.
Levels of some hazardous VOCs in air both near the gas production sites and that study participants were breathing exceeded one or more Environmental Screening Level (ESLs), which are air concentration thresholds set by public health agencies and environmental regulators above which there is risk to human health.
Hazardous breakdown products of VOCs were present in the urine of study participants at much higher levels than those found in the general population, with one example up to ten times higher.
The high hazard of the chemicals emitted into the air, together with the findings that the levels of certain VOC metabolites in urine of the people studied are well above the levels in the general population, send a clear signal that further action needs to be taken to prevent exposures.
"It's outrageous that Pavillion residents don't know if toxic chemicals are in their air or bodies, especially since gas production has been going on here for decades," Wilma Subra, an award-winning biochemist and one of the scientists involved in the project, said. "We may just be finding out and proving, that they've been exposed to toxic chemicals in the air for thirty years. Hopefully, the methods that we developed through this study will help them get better protections from government agencies responsible for public health—and help other communities across the nation get the protections they deserve."
The report also contains hazards assessments, conducted by Clean Production Action, for many of the toxic chemicals detected in the air or bodies of Pavillion residents. The GreenScreen for Safer Chemicals analysis presented in the report is a globally recognized tool designed to succinctly present known science on hazards associated with specific chemicals, as well as data gaps where hazard research hasn't been conducted. The GreenScreen analysis shows that many of the chemicals detected in the air around Pavillion and in the bodies of study participants are extremely hazardous and should be avoided—although Pavillion residents have been unable to avoid these ongoing exposures now for decades.
Based on the findings of this report and the new methods developed to understand health impacts resulting from gas operation's air emissions, report authors and affiliated groups are making the follow recommendations:
Additional biomonitoring testing is needed to help understand and prevent exposure to toxic chemicals.
Further investigation into the harmful impacts of cumulative exposure to multiple chemicals—and the endocrine disrupting effects of these chemicals—is needed.
Implement precautionary regulations and ensure disclosure and transparency for the public. Current regulations appear to be failing communities living near gas development operations and regulatory agencies already have enough emissions data available to justify swift action to protect public health and the environment right now.
Promote clean, renewable energy sources and stop promoting natural gas as "clean" and "safe." The data and the hazard assessments presented in this report show VOC emissions, which appear unavoidable in natural gas production. This indicates that production cannot be carried out in a manner that truly protects workers or the public. Truly protecting workers, community members and the public from these toxic hazards requires a comprehensive change in our energy system—to clean energy like solar and wind power.
Provide ongoing monitoring, health evaluation and site remediation to protect people already affected by oil and gas production.
Watch FLIR camera imaging showing emissions at gas production site in Pavillion:
YOU MIGHT ALSO LIKE
Here's How We Get to 100% Renewable Energy
Wall Street Journal Willing to Print Truth About Climate Change if You Pay Them
Interactive Map Shows Where Toxic Air Pollution From Oil and Gas Industry Is Threatening 12.4 Million Americans
Pollution in People: Cancer-Causing Chemicals in Americans' Bodies
EcoWatch Daily Newsletter
As the fracking industry tries to expand internationally, being promoted as a so-called clean bridge fuel, it is increasingly clear the industry has not one, but two, Achilles heels.
The first is the release of the potent greenhouse gas, methane. The second is water pollution and the threat the controversial technique poses to drinking water.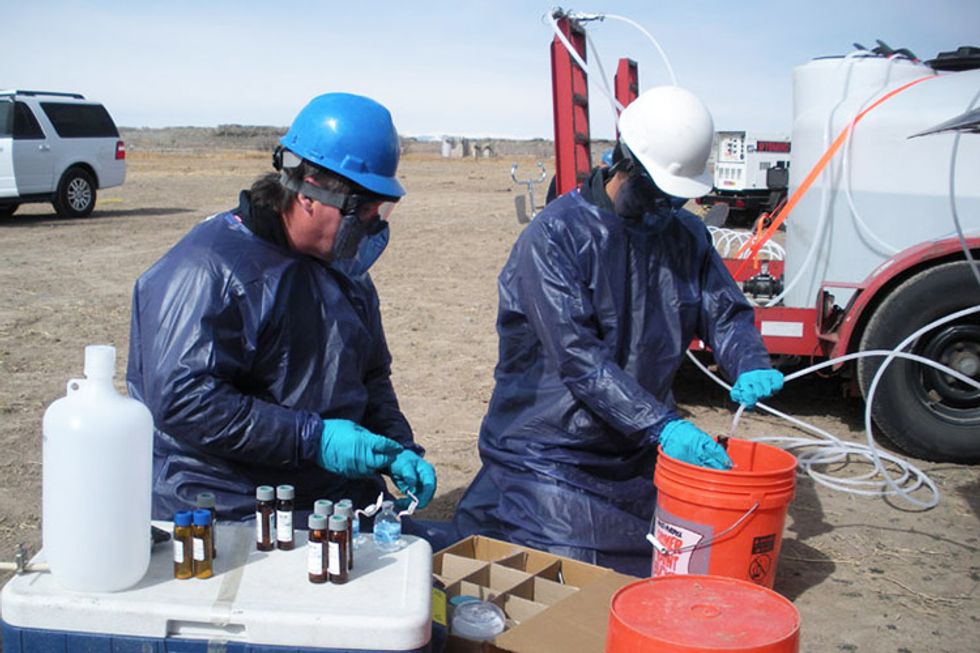 Both areas are highly disputed, but nearly every week new research reveals new evidence of harm by fracking.
Two weeks ago, new research was published concerning methane. And this week new research concerns water pollution.
A new study by scientists from Stanford University in California, published in Environmental Science & Technology, has found that fracking operations near Pavillion, Wyoming "have had clear impact to underground sources of drinking water."
The operations near Pavillion have long been contentious. Back in 2008, the town made headlines when local residents started complaining of a foul taste and odor in their drinking water, leading to an investigation by the U.S. Environmental Protection Agency (EPA).
In 2011, the EPA issued a preliminary report which linked shallow fracking to toxic compounds in aquifers, but no action was taken by the agency, leading to one of the co-authors of the new study, Rob Jackson, professor at the School of Earth, Energy & Environmental Sciences at the University to argue that the "EPA has consistently walked away from investigations where people and the environment appear to have been harmed."
The agency now maintains that since June 2013, "the EPA and the state both agreed that the best path forward in advancing the understanding of groundwater issues in the Pavillion area included EPA's support for the state's additional investigation of pits, production wells and drinking water."
However, the federal Agency for Toxic Substances and Disease Registry has now advised area residents to avoid bathing, cooking or drinking with water from their taps.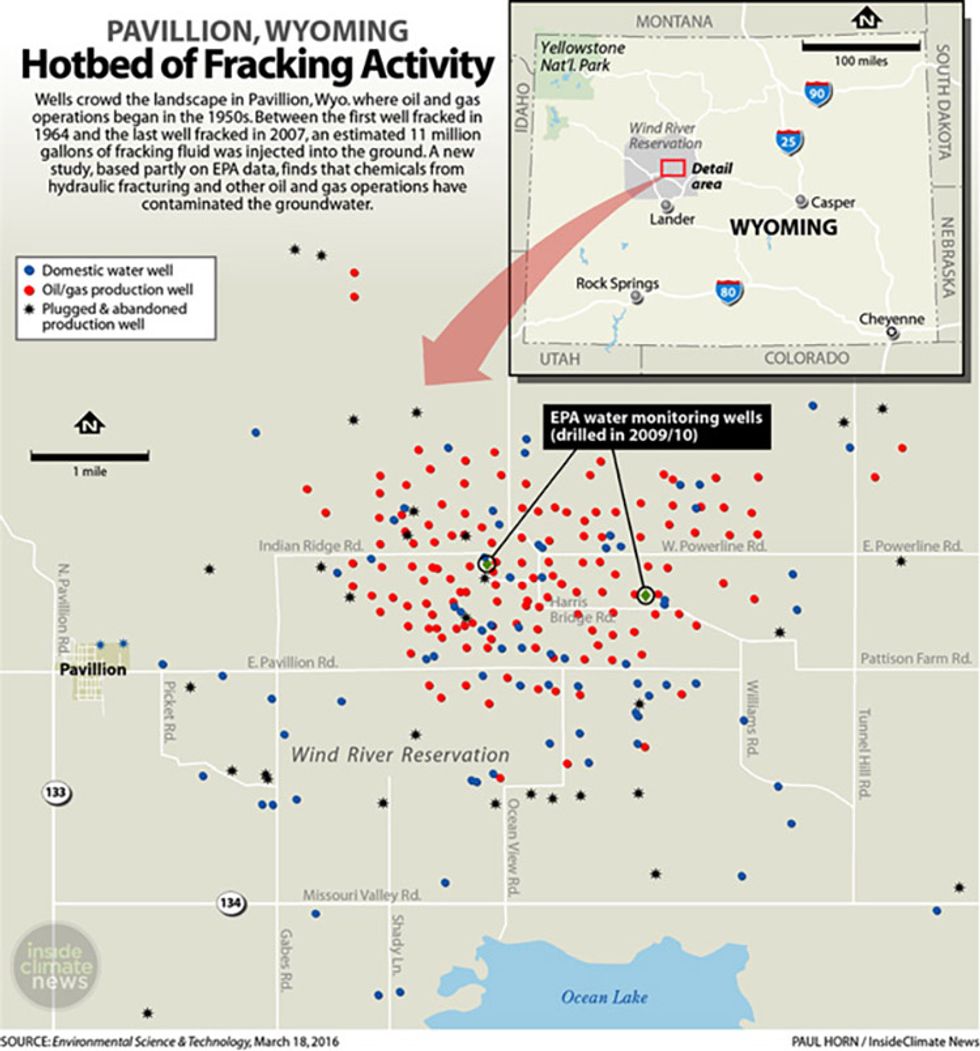 The new Stanford study goes beyond the 2011 EPA report to document not only the occurrence of fracking chemicals in underground sources of drinking water but also their impact on that water that is making it unsafe for use.
According to the university: "The research paints a picture of unsafe practices including the dumping of drilling and production fluids containing diesel fuel, high chemical concentrations in unlined pits and a lack of adequate cement barriers to protect groundwater."
"This is a wake-up call," said lead author Dominic DiGiulio, a visiting scholar at the Stanford School of Earth, Energy & Environmental Sciences, who used to work for the EPA. "It's perfectly legal to inject stimulation fluids into underground drinking water resources. This may be causing widespread impacts on drinking water resources."
He believes that other states which have shallow fracking operations, such as California, Colorado, Montana and North Dakota could also have contaminated water.
DiGiulio argues that "Geologic and groundwater conditions at Pavillion are not unique in the Rocky Mountain region. This suggests there may be widespread impact to underground sources of drinking water as a result of unconventional oil and gas extraction."
YOU MIGHT ALSO LIKE
Groundbreaking Study Confirms Link Between Fracking and Earthquakes
Induced Earthquakes Increase Chances of Damaging Shaking, Wastewater Disposal From Fracking Primary Cause
7 Arrested at 'Pancakes Not Pipelines' Protest at FERC
Bill McKibben: Fracking Has Turned Out to Be a Costly Detour
Ray Kemble of Dimock, Pennsylvania, holds a jug of discolored water from his well, contaminated by nearby fracking operations while standing outside of the U.S. EPA building in Washington, DC. Photo credit: Food & Water Watch
The U.S. Environmental Protection Agency (EPA) has released its widely anticipated final report on hydraulic fracturing, or fracking, confirming that the controversial drilling process indeed impacts drinking water "under some circumstances." Notably, the report also removes the EPA's misleading line that fracking has not led to "widespread, systemic impacts on drinking water resources."
"The report, done at the request of Congress, provides scientific evidence that hydraulic fracturing activities can impact drinking water resources in the United States under some circumstances," the agency stated in a media advisory.

This conclusion is a major reversal from the EPA's June 2015 pro-fracking draft report. That specific "widespread, systemic" line baffled many experts, scientists and landowners who—despite the egregious headlines—saw clear evidence of fracking-related contamination in water samples. Conversely, the EPA's top line encouraged Big Oil and Gas to push for more drilling around the globe.
But as it turns out, a damning exposé from Marketplace and APM Reports revealed last month that top EPA officials made critical, last-minute alterations to the agency's draft report and corresponding press materials to soft-pedal clear evidence of fracking's ill effects on the environment and public health.
Thomas Burke, EPA deputy assistant administrator and science advisor, discussed the agency's final report released Tuesday.
"There are instances when hyrdofracking has impacted drinking water resources. That's an important conclusion, an important consideration for moving forward," Burke told reporters today, according to The Hill.

Regarding the EPA's contentious "national, systemic conclusion," Burke said, "that's a different question that this study does not have adequate evidence to really make a conclusive, quantified statement."

In the new report, the authors heeded to the EPA's independent Science Advisory Board's advice to review the "widespread systemic impacts" line from the June 2015 draft study. The final 1,200-page report omits that line.
"Scientists put that language in the draft report, and scientists made the decision not to include it in the final report based on feedback from the Science Advisory Board and their interpretation of the available science," Burke explained.
The Science Advisory Board also took issue with how the draft report inexplicably omitted three critical fracking-contamination cases—Dimock, Pennsylvania; Parker County, Texas; and Pavillion, Wyoming.
As Pavillion rancher and affected landowner John Fenton testified last year, "When EPA launched its national study of fracking's drinking water impacts, we thought they'd look first here in Pavillion where they'd already found pollution. But instead they ignored us without explanation. Science means taking the facts as they are. But EPA seems to be intent on finding the facts to support the conclusion they've already reached—'fracking is safe.'"
These specific cases studies are now mentioned in the final report.
In the new report, the EPA has identified cases of impacts on drinking water at each stage in the hydraulic fracturing water cycle:
Water withdrawals for hydraulic fracturing in times or areas of low water availability, particularly in areas with limited or declining groundwater resources;
Spills during the management of hydraulic fracturing fluids and chemicals or produced water that result in large volumes or high concentrations of chemicals reaching groundwater resources;
Injection of hydraulic fracturing fluids into wells with inadequate mechanical integrity, allowing gases or liquids to move to groundwater resources;
Injection of hydraulic fracturing fluids directly into groundwater resources;
Discharge of inadequately treated hydraulic fracturing wastewater to surface water resources; and
Disposal or storage of hydraulic fracturing wastewater in unlined pits, resulting in contamination of groundwater resources.
Burke said that the EPA's assessment "provides the scientific foundation for local decision makers, industry, and communities that are looking to protect public health and drinking water resources and make more informed decisions about hydraulic fracturing activities."
"This assessment is the most complete compilation to date of national scientific data on the relationship of drinking water resources and hydraulic fracturing," he added.
Unsurprisingly, the oil and gas industry has criticized the report.
"It is beyond absurd for the administration to reverse course on its way out the door," American Petroleum Institute Upstream Director Erik Milito told The Hill. "The science and data clearly demonstrate that hydraulic fracturing does not lead to widespread, systemic impacts to drinking water resources. Unfortunately, consumers have witnessed five years and millions of dollars expended only to see conclusion based in science changed to a conclusion based in political ambiguity."
The industry-funded group Energy In Depth added that despite change in the central conclusion, the report still "blows apart the anti-fracking campaign's most common claim, namely that hydraulic fracturing is polluting groundwater all across America."
Meanwhile, public health and environmental groups and activists are saying the opposite.
"At last the EPA confirms what independent science has overwhelmingly determined for years, that drilling and fracking contaminate drinking water," said actor and prominent environmentalist Mark Ruffalo on behalf of the national Americans Against Fracking coalition.
"Across the country, Americans have had their lives turned upside down as fracking has poisoned the water coming out of their faucets and has made their families sick. Now all of our federal and state elected officials need to take action to protect Americans by banning fracking. Water is life," Ruffalo said.
Greenpeace researcher Jesse Coleman agreed. "The EPA's final report on impacts of fracking on groundwater has concluded what too many Americans already know from personal experience: Fracking has caused lasting harm to drinking water sources throughout the country," Coleman said. "The most important findings from this study is that drilling, fracking, and the use of hazardous chemicals necessary to frack have caused groundwater contamination. This puts to rest the widely repeated lie that fracking is 'safe' and has never caused drinking water contamination."
Julia Walsh from Frack Action said, "The EPA has rightly reported that fracking causes water contamination. For all of the Americans living with this tragedy every day, they are finally validated by the federal government."
Similarly, David Braun, Rootskeeper director, said "Kudos to President Obama's EPA for embracing the science about fracking, which clearly demonstrates serious and inherent problems with the practice."
"The EPA could have bowed to pressure from the oil and gas industry and didn't, however, now that the EPA has acknowledged the serious inherent problems with fracking, it is incumbent upon the Obama Administration to stand with the thousands of Americans who have had their water poisoned, and protect them from this dangerous practice," Braun continued.
Earthworks policy director Lauren Pagel said that President-elect Donald Trump and his pro-fossil fuels cabinet should take the EPA report to heart.
"By listening to its scientists instead of its political advisors, EPA's fracking study sets an example that we hope, but do not expect, the Trump Administration to follow," Pagel said. "But a Scott Pruitt EPA would have to ignore 5 years of scientific study, and years of community impacts, to do otherwise. Unfortunately for the still suffering citizens of Pavillion, WY, Dimock, PA and Weatherford, TX, their EPA investigations didn't have advisory boards to publicly remind EPA that science trumps politics."
And Wenonah Hauter, the executive director of Food & Water Watch, said that "the EPA has confirmed what we've known all along: fracking can and does contaminate drinking water. We are pleased that the agency has acted on the recommendations of its Science Advisory Board and chosen be frank about the inherent harms and hazards of fracking."
By Americans Against Fracking
The U.S. Environmental Protection Agency Science Advisory Board (SAB) today finalized its review of the EPA's June 2015 draft study of fracking's impacts to drinking water resources. For over a year, a panel of 30 scientists, engineers and industry consultants have reviewed the details of the 1,000-page draft report. The panel has taken particular issue with a finding that seemingly came out of left field: the agency's statement that fracking has not led to "widespread systemic impacts" in the U.S.
Tainted water collected from a private drinking water well in PA near a fracking site.
The EPA dismissed fracking's impacts with this line, without any clear, scientific basis of support, and now the EPA SAB has taken the agency to task. The EPA, and independent peer-reviewed studies, have identified many mechanisms of contamination, such as spills, well cementing failures below ground, and complications with waste disposal. For example, the EPA found there was on the order of 15 spills every day somewhere in the U.S., yet chose to dismiss those daily incidents as not a sign of "widespread, systemic" problems.
Affected individuals, public interests groups, and now the independent EPA Science Advisory Board, comprised of the EPA's own scientists, are calling on the EPA to "clarify" and "quantify" the controversial "widespread, systemic" line, or drop the language altogether. The panelists joined affected individuals and various independent experts who submitted comments in taking issue with how the agency ignored three high-profile contamination cases in its study—notably Dimock, Pennsylvania; Parker County, Texas; and Pavillion, Wyoming. The agency's omissions were contentious in part because in each case, the EPA prematurely abandoned investigations. Now, the EPA SAB has recommended that the agency include detailed summaries of these critical cases.
"By choosing politics over science, the EPA failed the public with its misleading and controversial line, dismissing fracking's impacts on drinking water and sacrificing public health and welfare along the way," Hugh MacMillan, senior researcher at Food & Water Watch, said.
"We are calling on the EPA to act quickly on the recommendations from the EPA SAB and be clear about fracking's impacts on drinking water resources. The EPA must prioritize the health and safety of the American people over the political interests of the oil and gas industry and its financiers, who have committed hundreds of billions to drilling and fracking in the coming decades. For climate reasons alone, that's a vision for the future that we can ill-afford."
The release of this final report comes on the heels of a massive March for a Clean Energy Revolution at the Democratic National Convention calling for a nationwide ban on fracking, a March 2016 Gallup poll showing that Americans oppose fracking 51-36 percent, and a July 2016 Johns Hopkins Study showing that fracking is linked to increased asthma attacks in Pennsylvania.
A recent peer-reviewed analysis of the science on unconventional oil and gas extraction, of more than 680 peer-reviewed studies, found that, "The great majority of science contains findings that indicate concerns for public health, air quality and water quality." In October of 2015, a partnership of prominent health organizations encompassing nationwide medical and public health experts and scientists released a Compendium of more than 500 peer-reviewed scientific papers, as well as numerous government reports and findings, demonstrating the risks of fracking to public health, air and water quality, birth and infant health, the environment and climate change.
California's 2015 methane leak was so large it could be seen from space, according to a National Aeronautics and Space Administration (NASA) statement released Tuesday.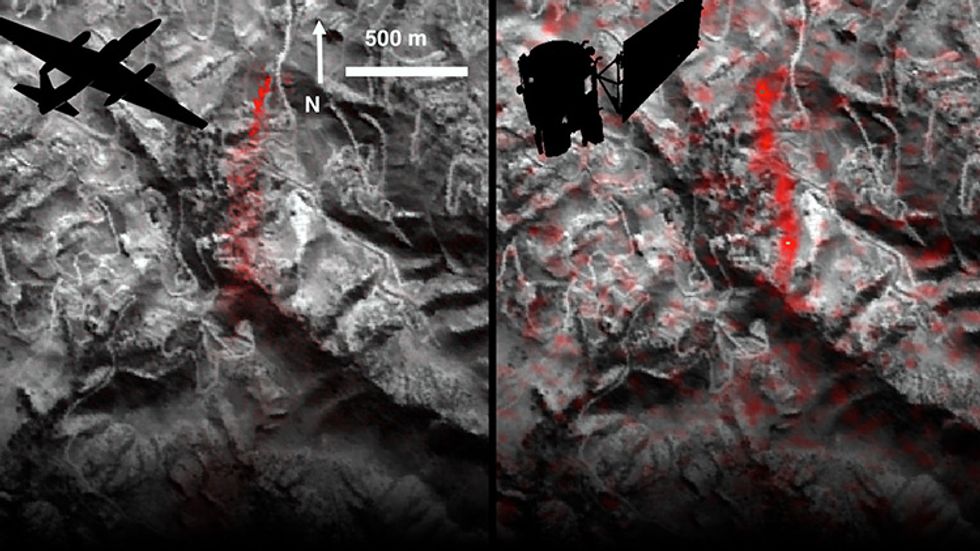 Comparison of detected atmospheric methane over Aliso Canyon, acquired 11 days apart in January 2016. The left picture was taken by NASA's Airborne Visible/Infrared Imaging Spectrometer on a NASA ER-2 aircraft at 4.1 miles altitude. The right picture was taken by the Hyperion instrument on NASA's Earth Observing-1 satellite in low-Earth orbit. Photo credit: NASA
Aliso Canyon's methane leak in Porter Ranch in October 2015 marked the first time an orbiting spacecraft measured a leak from a single facility on Earth. The leak was spotted by the Hyperion spectrometer on NASA's Earth Observing-1, according to a study by David R. Thompson, of NASA's Jet Propulsion Laboratory, recently published in the Geophysical Research Letters journal.
NASA's statement explained: "The observation ... is an important breakthrough in our ability to eventually measure and monitor emissions of this potent greenhouse gas from space."
The Hyperion spectrometer was able to detect methane on three separate occasions, Thompson's paper states. NASA said the research was part of an investigation into the accidental leak, which released 94,500 tons of methane into the atmosphere, according to the latest data. The orbit observations were consistent with airborne measurements, NASA reported.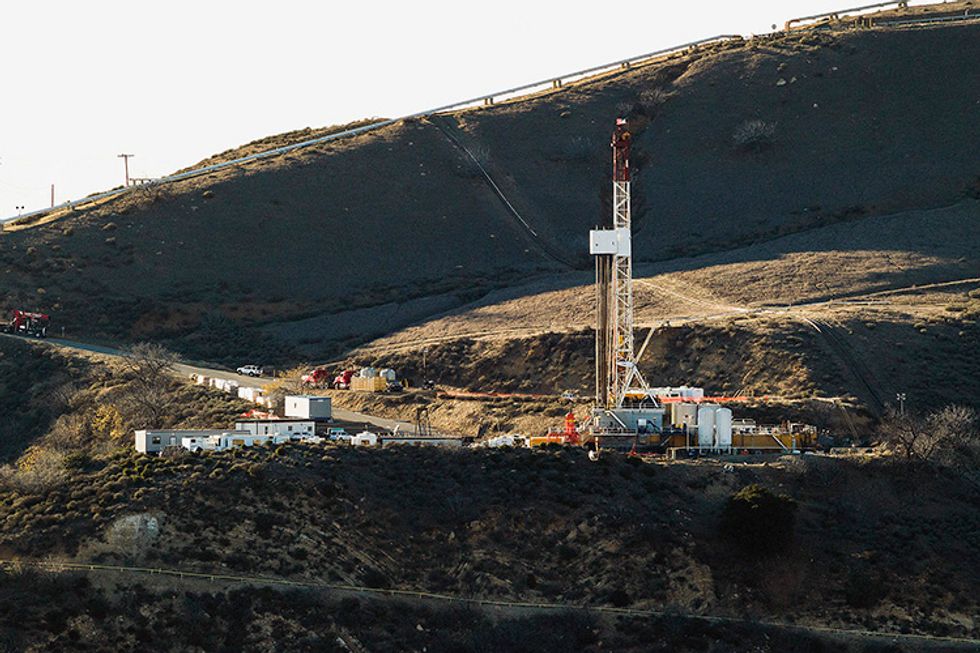 Equipment and machinery is seen in Aliso Canyon facility. Photo credit: Scott L, Wikimedia commons
Developing more instruments with similar capabilities to the Hyperion, or with even better ones, will help scientists understand the amount of methane produced by human activities and spot areas on Earth's surface that are big releasers.
"The percentage of atmospheric methane produced through human activities remains poorly understood," Thompson said. "Future instruments with much greater sensitivity on orbiting satellites can help resolve this question by surveying the biggest sources around the world, so that we can better understand and address this unknown factor in greenhouse gas emissions."
The Hyperion spectrometer measures discreet wavelengths of light. It scans in "many hundreds of wavelengths," Thompson told The Washington Post, allowing scientists to identify specific gases.
"Every gas leaves its fingerprint on the light that passes through it," he said. "So what the algorithms we applied do is they examine the imagery from the spacecraft to see the very unique spectral signature of methane, and then map it over wide locations."
Caltech in Pasadena, California; GFZ Helmholtz Centre in Potsdam, Germany; and NASA's Goddard Space Flight Center in Greenbelt, Maryland, also participated in the study.
YOU MIGHT ALSO LIKE:
Dangerous Heat Wave to Grip the U.S.: 10 Ways to Survive Extreme Heat
TransCanada Wins Bid for Underwater Gas Pipeline Across Gulf of Mexico
Toxic Chemicals Found in Residents Living Near Oil and Gas Operations in Pavillion, Wyoming
The U.S. Environmental Protection Agency (EPA) has banned fracking wastewater from public sewage plants, citing the inability of these plants to handle toxic and radioactive pollutants.
Clean water and public health advocates, along with more than 30,000 Americans, had submitted comments in favor of the EPA rule, finalized earlier this week.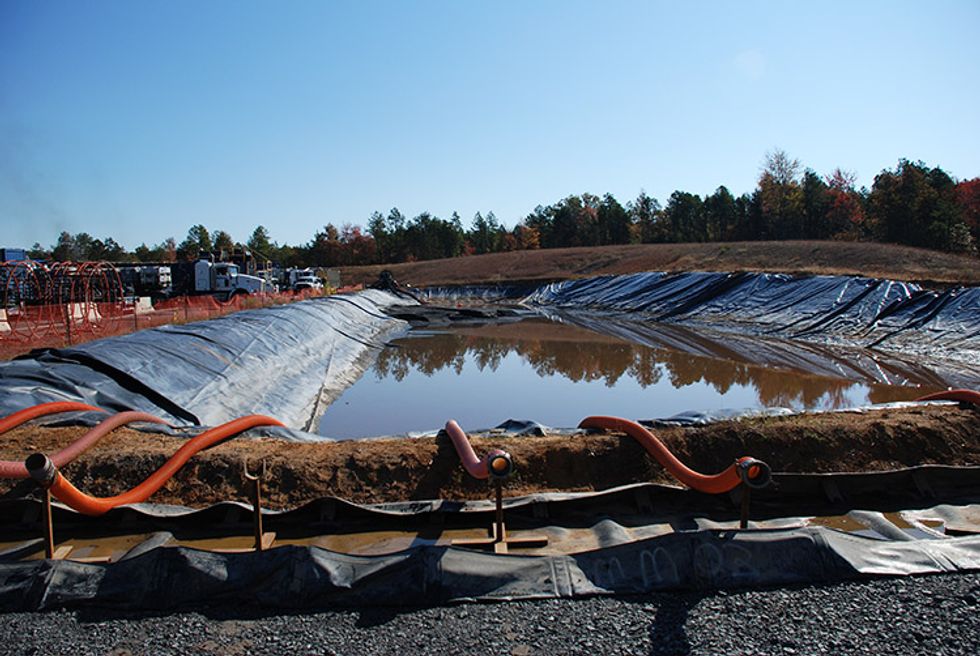 "Allowing toxic, radioactive wastewater to be treated at the same place as dirty bathwater defies all logic," Rachel Richardson, Stop Drilling Program director for Environment America, said. "This is a commonsense step to help protect our water and our health from the dangers of fracking."
The final rule formalizes a practice in place since 2011, when fracking chemicals were detected in some Pennsylvania rivers and officials ordered 15 treatment plants to stop accepting and treating fracking waste.
Fracking or hydraulic fracturing, is the process by which large volumes of water along with sand and toxic chemicals are injected underground to extract shale gas. Much of this fracking fluid mixture returns to the surface as toxic wastewater, often with radioactive elements.
Municipal water treatment plants, which treat waste and then release it into drinking water supplies, aren't suited to treat such hazards. The mixture of bromides in wastewater and the chlorine used at sewage treatments plants also can produce a toxin linked to bladder cancer, miscarriages and still-births.
Even under the rule issued this week, fracking wastewater disposal still presents a conundrum for public health and safety. Plants designed to treat fracking waste are far from foolproof, as Duke University researchers found in Pennsylvania. Waste often spills into rivers and streams during storage and shipment. And studies show injecting the waste deep underground is likely causing earthquakes.
While no known municipal treatment plants currently accept fracking waste, the option could have become more attractive to drillers as standards tightened on other waste disposal methods.
"Fracking wastewater is a big problem for which there is simply no adequate solution," Richardson said. "We applaud EPA for taking this step to protect families on the frontlines of fracking. To fully protect our drinking water and the health of our families, we need to ban this practice altogether and transition to 100 percent clean energy."
YOU MIGHT ALSO LIKE
Exxon Sues Massachusetts Attorney General to Block Climate Fraud Investigation
NASA: Porter Ranch Gas Leak Was So Big It Could Be Seen From Space
TransCanada Wins Bid for Underwater Gas Pipeline Across Gulf of Mexico
Toxic Chemicals Found in Residents Living Near Oil and Gas Operations in Pavillion, Wyoming
A rising tsunami of U.S. nuke shut-downs may soon include California's infamous Diablo Canyon double reactors. But it depends on citizen action, including a statewide petition.
Five U.S. reactor closures have been announced within the past month. A green regulatory decision on California's environmental standards could push the number to seven.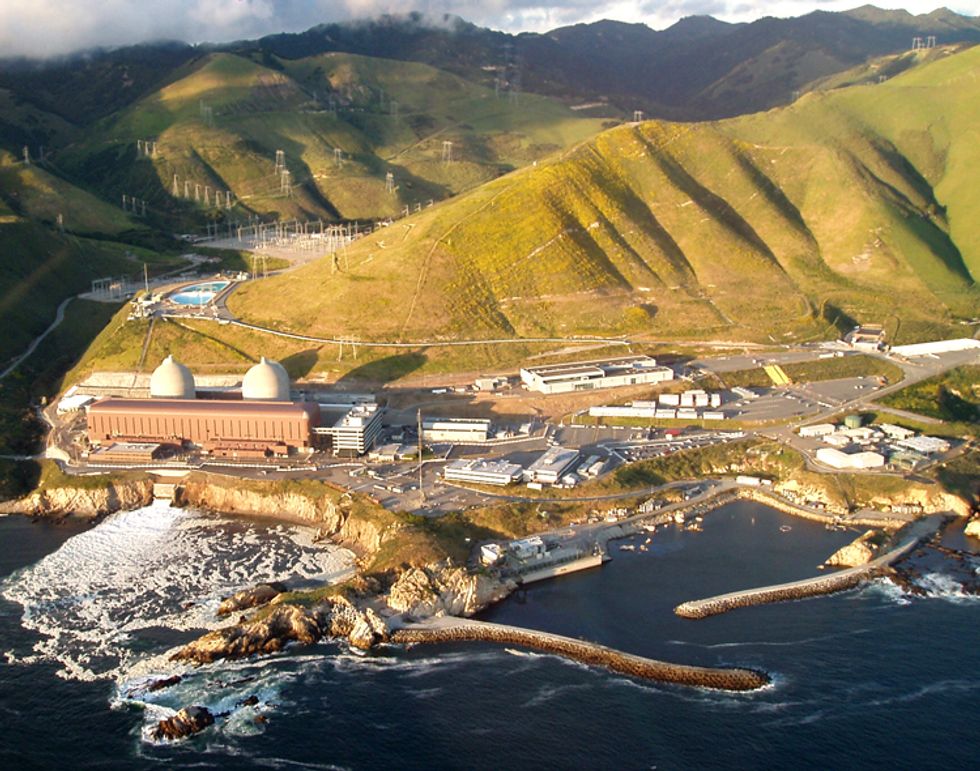 The focus is now on a critical June 28 California State Lands Commission meeting. Set for Sacramento, the hearing could help make the Golden State totally nuke free, ending the catastrophic radioactive and global warming impacts caused by these failing plants. A public simulcast of the Sacramento meeting is expected to gather a large crowd at the Morro Bay Community Center near the reactor site. The meeting starts at 10 a.m., but environmental groups will rally outside the community center starting at 9 a.m.
The three State Lands Commissioners will decide whether to require a legally-mandated Environmental Impact Report under the California Environmental Quality Act (CEQA). If ordered, a public scoping process will begin, allowing interested groups and individuals to weigh in on the environmental impacts of operation of two nuclear reactors on California's fragile coastline.
In 1969 and 1970 PG&E got state leases for tidewater acreage for Diablo's cooling system. These leases are set to expire in 2018 and 2019. If the State Lands Commission does not renew them, both reactors will be forced to shut down.
Signed in 1970 by then-Gov. Ronald Reagan, CEQA requires more extensive Environmental Impact Reports on such leases. Included among the issues to be evaluated are water quality, potential damage to human and other life forms, chemical and radiation releases, and impacts on threatened and endangered species. The commission will not decide whether Diablo will continue to operate, only whether it will now be required to meet CEQA standards.
Pro-nukers say PG&E is at the brink of shutting Diablo's reactors. They cannot economically compete with renewables or gas and are sustained by an intricate network of subsidies, liability protection and tax breaks. Many believe the cost of new environmental studies and of meeting updated standards would be a death blow. More protestors have been arrested at Diablo than any other American nuke, and the public pressure to finally shut it is intense.
One of the commissioners is Gavin Newsom, California's Lieutenant Governor, 2018's leading gubernatorial candidate. Newsom said he sees no long-term future for Diablo.
Another commissioner, state controller Betty Yee, is widely thought to favor the requirement.
State finance director Michael Cohen is the third commissioner. He generally votes as instructed by Gov. Jerry Brown. Brown opposed Diablo early in his career, but has recently waffled.
Among other things, Diablo dumps daily some 2.5 billion gallons of super-heated water into the ocean, killing vast quantities of marine life and worsening the global climate crisis. The project's chemical runoff infamously killed millions of abalone years before it operated.
Diablo may soon face regulatory challenges from other state and federal agencies that could, among other things, require cooling towers, at a cost of up to $14 billion. PG&E would then face a fierce public fight over who would pay for them.
Diablo is surrounded by a dozen earthquake faults. It is half the distance from the San Andreas as was Fukushima from the shock that destroyed it. The Nuclear Regulatory Commission's former resident inspector Dr. Michael Peck has warned Diablo might not survive a similar quake. Such a disaster would irradiate the Central Valley, which supplies much of the U.S. with its fruits, nuts and vegetables. It would send radioactive clouds into Los Angeles within about five hours, and across virtually the entire continental U.S.
Closing Diablo would make California entirely nuke-free. Grassroots activists, with help from U.S. Sen. Barbara Boxer and Friends of the Earth, recently shut two big reactors at San Onofre, between Los Angeles and San Diego. They also closed plants at Rancho Seco (near Sacramento) and Humboldt Bay, and stopped proposed projects at Bodega and Bakersfield.
Along with most nukes around the world, the only other remaining west coast reactor, WPPS2 on Washington's Hanford military reservation, is also losing massive amounts of money.
Because they can't evenly compete with renewable energy or gas, a tsunami of shut-downs has swept away a dozen U.S. reactors since October, 2012. Dozens more teeter at the brink, including two at Indian Point, just north of Manhattan, and Ohio's rapidly crumbling Davis-Besse reactor near Toledo.
In Japan, more than 40 reactors remain shut despite intense government pressure to reopen them in the wake of the Fukushima catastrophe. Germany's energiewende conversion to 100 percent renewables, which aims to shut all its reactors by 2022, is ahead of schedule and under budget. Much of the rest of Europe, including France, is now moving that way.
Should California follow suit at Diablo, its conversion to a wholly green-powered economy would accelerate, likely leading Los Angeles to become the world's first Solartopian megalopolis.
Ironically, with citizen action, a big push in that direction could now come from a state commission's decision to enforce environmental protections signed into law by California's most pro-nuke governor.
Harvey Wasserman's SOLARTOPIA! OUR GREEN-POWERED EARTH is atwww.solartopia.org, along with his upcoming AMERICA AT THE BRINK OF REBIRTH: THE ORGANIC SPIRAL OF U.S. HISTORY. He has co-written six books on election protection with Bob Fitrakis (www.freepress.org), and was arrested at Diablo Canyon in 1984.
YOU MIGHT ALSO LIKE
Nation's Largest Residential Solar Storage Project to Launch This Summer
NASA: Porter Ranch Gas Leak Was So Big It Could Be Seen From Space
Exxon Sues Massachusetts Attorney General to Block Climate Fraud Investigation
Toxic Chemicals Found in Residents Living Near Oil and Gas Operations in Pavillion, Wyoming
TransCanada, owner of the proposed Keystone XL pipeline currently being contested in federal court and in front of a North American Free Trade Agreement (NAFTA) legal panel, has won a $2.1 billion joint venture bid with Sempra Energy for a pipeline to shuttle gas obtained from fracking in Texas' Eagle Ford Shale basin across the Gulf of Mexico and into Mexico.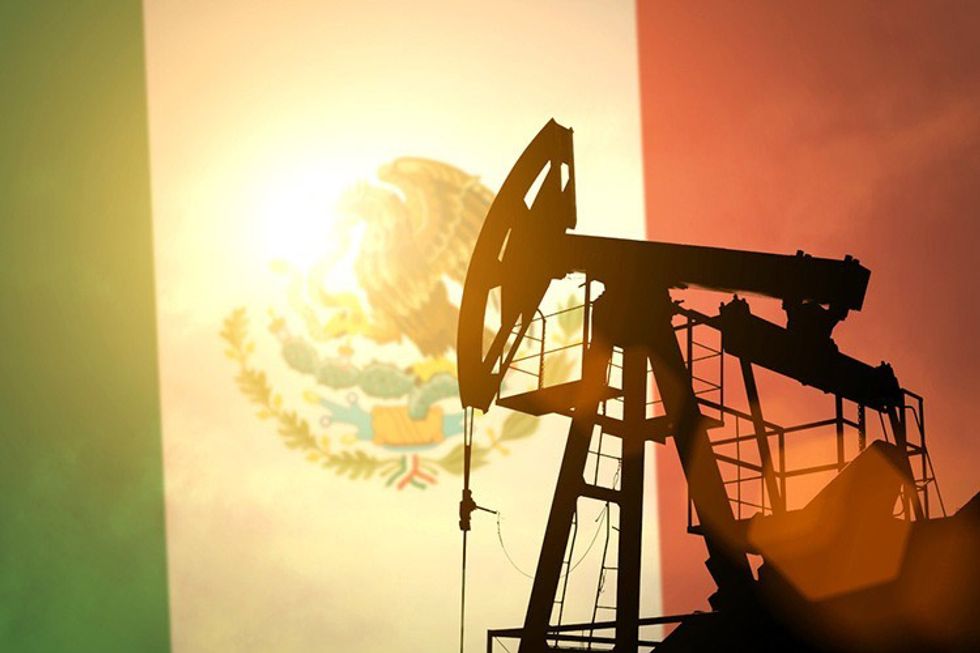 The 500-mile long Sur de Texas-Tuxpan pipeline, as reported previously by DeSmog, is part of an extensive pipeline empire TransCanada is building from the U.S. to Mexico. The pipeline network is longer than the currently operating southern leg of the Keystone pipeline (now dubbed the Gulf Coast Pipeline). Unlike Keystone XL, though, these piecemeal pipeline section bid wins have garnered little media attention or scrutiny beyond the business and financial press.
The Sur de Texas-Tuxpan proposed pipeline route avoids the drug cartel violence-laden border city of Matamoros by halting at Brownsville and then going underwater across the U.S.-Mexico border to Tuxpan.
After it navigates the 500-mile long journey, Sur de Texas-Tuxpan will flood Mexico's energy grid with gas under a 25-year service contract. That energy grid, thanks to the efforts of the U.S. State Department under then-Secretary of State and current Democratic Party presumptive presidential nominee Hillary Clinton, has been privatized under constitutional amendments passed in 2013.
TransCanada and Sempra were the only bidders. TransCanada owns the joint venture with Sempra—coined the Infraestructura Marina del Golfo, Spanish for "marine infrastructure of the Gulf"—on a 60-percent basis.
"We are extremely pleased to further our growth plans in Mexico with one of the most important natural gas infrastructure projects for that country's future," Russ Girling, TransCanada's president and CEO, said in a press release announcing the bid win. "This new project brings our footprint of existing assets and projects in development in Mexico to more than US$5 billion, all underpinned by 25-year agreements with Mexico's state power company."
State Department Role, FERC and Presidential Permits for Sur de Texas-Tuxpan 
David Leiter, a campaign finance bundler for Hillary Clinton's presidential campaign and former chief-of-staff for then-U.S.Senator and current Secretary of State John Kerry, lobbied the White House and the U.S. State Department in 2013 and 2014 on behalf of Sempra Energy on gas exports-related issues.
Sempra has a proposed liquefied natural gas (LNG) export terminal on the northwest, Baja California coast of Mexico called Energía Costa Azul ("Blue Coast Energy") LNG. Leiter's wife, Tamara Luzzatto, formerly served as chief-of-staff to then-U.S.Sen. Hillary Clinton.
Because the pipeline is set to carry natural gas, as opposed to oil, it does not need a U.S. State Department permit (though tacit and non-permitted unofficial approval could still prove important). Instead, it seemingly technically requires U.S.Federal Energy Regulatory Commission (FERC) approval, as well as a presidential permit.
It is unclear if Sur de Texas-Tuxpan will require a presidential permit, though, given the precedent set in the Wild Earth Nation, Et Al v. U.S. Department of State and Enbridge Energy case.
In that case, the Judge allowed Enbridge to break up its tar sands diluted bitumen ("dilbit")-carrying Alberta Clipper (Line 67) pipeline into multiple pieces—helped along with off-the-books and therefore unofficial State Department authorization—avoiding the more onerous presidential and National Environmental Policy Act (NEPA) permit review process altogether.
Due to the legal precedent set in another related case, Delaware Riverkeeper vs. FERC, oil and gas industry law firm Baker Botts explicitly recommended against utilizing the "segmentation" approach in a January 2015 memo that came out before the Enbridge case ruling.
"Project proponents should be careful to avoid potential 'segmentation' of a project into smaller parts simply to try to avoid a more thorough NEPA review," wrote Baker Botts attorney Carlos Romo. "Segmentation occurs when closely related and interdependent projects are not adequately considered together in the NEPA process."
The presidential candidates Clinton and Donald Trump have yet to comment on this pipeline or the topic of U.S.-Mexico cross-border pipelines on the campaign trail. But Financial Times, in an April article, pointed out that even Trump—who has pledged he will build a wall between the U.S. and Mexico—has little to say and will likely do little to halt cross-border lines like Sur de Texas-Tuxpan.
"As long as the wall doesn't go below ground," Mark Florian, head of the infrastructure fund at First Reserve and a former Goldman Sachs executive, told FT. "I think we'll be OK."
Though still fairly early on in the process, Florian's words have proven true so far.
YOU MIGHT ALSO LIKE
Toxic Chemicals Found in Residents Living Near Oil and Gas Operations in Pavillion, Wyoming
Interactive Map Shows Where Toxic Air Pollution From Oil and Gas Industry Is Threatening 12.4 Million Americans
Court Documents Show Peabody Energy Funded Dozens of Climate Denial Groups
Uncovered Documents Reveal MSNBC Show Worked to Promote Fracking
On Tuesday night, the Carson City Council voted unanimously to ban fracking, acidizing and other environmentally hazardous well stimulation techniques. The move comes after a five-year fight against a proposal for 200 new fracking wells. The efforts of the Carson Coalition and concerned residents, joined by Food & Water Watch, resulted in the California Resources Corporation (formerly Occidental Petroleum) withdrawing the project last year. Residents continued to fight to ensure fracking would never come to Carson, California, resulting in the ban by city council.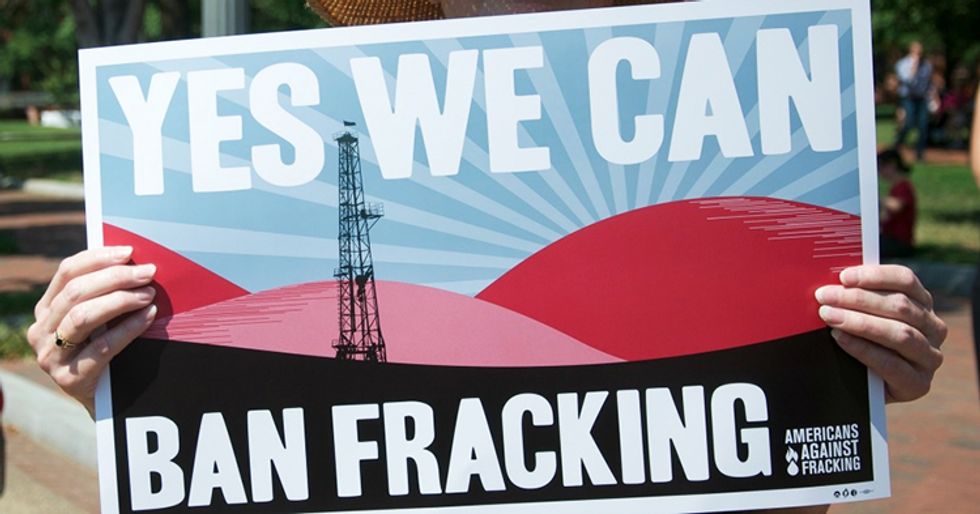 "We have been fighting to ban fracking for five years and tonight Carson can usher in the future our community deserves by banning extreme oil and moving toward clean energy," Dianne Thomas, resident and founder of the Carson Coalition, said. "Our community's health is failing because we are surrounded by fossil fuel industries—refineries, freeways, the ports and oil drilling is all around us. We have to continue to fight for the people that live here, the people that inhale the fumes and endure the noise. This ban is a first step to making Carson a front runner to end oil drilling and adopt a 100 percent renewable energy future."
The Carson City Council also adopted a controversial update to the city's oil and gas code. Residents opposed provisions that would give oil companies an incentive to increase drilling in Carson and they demanded a 1,500-foot setback between oil and gas activity and nearby homes, schools, hospitals and other inhabited areas. However, the council passed a 750-foot buffer and paved the way for more drilling.
Instead of phasing drilling out drilling in the buffer, the council voted to allow each operator to move up to ten wells to outside the buffer area on a one-to-two basis. Carson has 67 active oil wells, 25 of which are within the approved 750-foot setback. If operators decide to use the incentive to transfer operations outside the setback, drilling could increase by another 28 wells, which would increase Carson's overall drilling by about 40 percent. If operators don't use the incentive, drilling may continue indefinitely within the setback, according to the approved code.
"It is inexcusable that our mayor and council would vote to ban fracking and yet allow for increased drilling in Carson in the same night," Robert Lesley, president of the Carson Coalition, said. "We set working on this code to protect our health and safety and increased drilling in Carson undermines that goal."
The fracking and well stimulation ban is primarily preventative since oil company operators say that fracking is not necessary or economically viable in Carson. The fight over the oil code was heated because of its impact on the 67 active wells in Carson.
"After years of organizing and challenging the powerful oil and gas lobby, we congratulate Carson residents for winning a fracking ban," Food & Water Watch senior organizer Alexandra Nagy said.
"It's disappointing that the council failed to take the necessary step to protect public health by phasing out operations in the setback. In the larger scale of needing to move quickly from fossil fuels to renewable energy, we have more work to do to ensure drilling comes to an end in Carson. We will continue to work with the Carson Coalition and Carson residents to fix the oil code and phase out oil drilling in Carson."
YOU MIGHT ALSO LIKE
High Levels of Endocrine Disrupting Chemicals Found Near Fracking Wastewater Site
This website uses cookies to ensure you get the best experience while browsing it. By clicking 'Got It' you're accepting these terms.