This website uses cookies to ensure you get the best experience while browsing it. By clicking 'Got It' you're accepting these terms.


The best of EcoWatch, right in your inbox. Sign up for our email newsletter!
Medical personnel ride an inflatable boat over floodwaters to reach a hospital following heavy rains in Omachi, Saga prefecture on Aug. 29. JIJI PRESS / AFP / Getty Images
By Harvey Wasserman
Had last Friday's 7.1 earthquake and other ongoing seismic shocks hit less than 200 miles northwest of Ridgecrest/China Lake, ten million people in Los Angeles would now be under an apocalyptic cloud, their lives and those of the state and nation in radioactive ruin.
EcoWatch Daily Newsletter
CSIRO
By Julia Conley
Carbon emissions are affecting life in all of Earth's ecosystems—contributing to drought, flooding and the melting of ice in the Arctic and Antarctic regions. But a new study by researchers at Oxford University details how the planet's oceans are by far the climate crisis's biggest victim, with implications for the global population.
A cloud rises over Nagasaki, Japan, in the moments after the United States dropped an atomic bomb on Aug. 9, 1945. Wikimedia Commons

By Susan Southard
Wednesday is the 72nd anniversary of the atomic bombing of Nagasaki. At 11:02 a.m. Aug. 9, 1945, a five-ton plutonium bomb exploded a third of a mile above the city. Its blast winds tore through the city at two and a half times the speed of a Category 5 hurricane.
Two-year-old Masao Tomonaga was asleep in his home while his mother worked in another room. Within seconds of the blast, their house imploded on top of them. Remarkably, both survived. At 1.7 miles from the bomb's hypocenter, they were out of reach of its most intense infrared heat rays, which instantly carbonized human and animal flesh and vaporized the internal organs of those directly beneath the bomb.
The "original" Greenpeace crew on-board the Phyllis Cormack on their voyage to Amchitka Island. Robert Keziere / Greenpeace
By Yuko Yoneda
It started with just 12 of them. With a bold mission, this group of activists set sail to Amchitka island off Alaska to protest the detonation of an underground U.S. nuclear test. It was September 1971, and though the mission was initially unsuccessful, it was the beginning of what became Greenpeace, and just one of the many issues—the elimination of nuclear weapons—that the environmental organization would campaign endlessly against.
Indian Point Energy Center is a three-unit nuclear power plant station located in Buchanan, New York, just south of Peekskill. Tony Fischer / Wikipedia
By Joseph Mangano
In the late 1970s, the rate of new thyroid cancer cases in four counties just north of New York City—Westchester, Rockland, Orange and Putnam counties—was 22 percent below the U.S. rate. Today, it has soared to 53 percent above the national rate. New cases jumped from 51 to 412 per year. Large increases in thyroid cancer occurred for both males and females in each county.
That's according to a new study I co-authored which was published in the Journal of Environmental Protection and presented at Columbia University.
Recovery Act-funded work at the Hanford Site. U.S. Department of Energy
By William J. Kinsella
Seventy-five years ago, in March 1943, a mysterious construction project began at a remote location in eastern Washington state. Over the next two years some 50,000 workers built an industrial site occupying half the area of Rhode Island, costing more than $230 million—equivalent to $3.1 billion today. Few of those workers, and virtually no one in the surrounding community, knew the facility's purpose.
We are broadcasting from Washington state, where the Department of Energy declared a state of emergency at the Hanford nuclear site after a tunnel storing contaminated radioactive materials collapsed.
Three decades after the worst nuclear power plant catastrophe in history, a site in Chernobyl is being reimagined as a solar energy farm—one that would be the world's largest once built.
Thirty years after the nuclear disaster Greenpeace revisits the site and the Unit 4 with the New Safe Confinement (NSC or New Shelter). Denis Sinyakov / Greenpeace
The 1986 meltdown, which released radiation at least 100 times more powerful than the radiation released by the atom bombs dropped on Nagasaki and Hiroshima, rendered roughly 2,600 square kilometers of the area unsuitable for habitation. Greenpeace found that animals living within the exclusion zone have higher mortality rates, increased genetic mutations and decreased birth rate.

But in a twist of poetic justice, the Ukrainian government has expressed ambitions to turn 6,000 hectares within Chernobyl's "exclusion zone" into a renewable energy hub. The proposed plant would generate 1-gigawatt of solar power and 400-megawatts of biogas per year, the Guardian reported. The country is pushing for a six-month construction cycle.
According to PV-Tech, ecology minister Ostap Semerak has visited the European Bank for Reconstruction and Development (EBRD) with the plan. The proposal has since been issued to investment firms in the U.S., Canada and the UK. If it gets the green light, the renewable energy farm will generate about a third of the electricity that the former nuclear plant generated when it was running.

"The Chernobyl site has really good potential for renewable energy," Semerak said during an interview in London. "We already have high-voltage transmission lines that were previously used for the nuclear stations, the land is very cheap and we have many people trained to work at power plants. We have normal European priorities, which means having the best standards with the environment and clean energy ambitions."
Three decades after the worst nuclear power plant catastrophe in history, a site in Chernobyl is being reimagined as a solar energy farm—one that would be the
Semerak said that two U.S. investment firms and four Canadian energy companies have already expressed interest in the Chernobyl's solar potential, the Guardian reported. The project is estimated to cost between $1 and $1.5 billion.

"The EBRD may consider participating in the project so long as there are viable investment proposals and all other environmental matters and risks can be addressed to the bank's satisfaction," an EBRD representative said.

However "nothing is imminent," the spokesperson added. "We are keeping an open mind. But it's important not to read too much into it at this stage."
"The Ukraine has indicated it will open the exclusion zone, and we welcome that. Renewables are one of our priorities, and as soon and as long as they secure investment then we will discuss the project and provide co-financing," the bank rep said.
The renewable energy project isn't just good news for the environment, it will provide Ukraine some energy independence, as the country currently gets the bulk of its natural gas from Russia, Business Insider pointed out.

If construction is approved, Chernobyl's solar farm will hold the title of "World's Largest Solar Plant" before Dubai's massive concentrated solar plant catches up to it.

The under-construction Mohammed bin Rashid Al Maktoum Solar Park in Dubai will produce 1 gigawatt of electricity by 2020 with ambitious expansion plans of 5 gigawatts by 2030.
President Obama will become the first serving U.S. president to visit Hiroshima, Japan, later this month. The White House said Obama will not apologize for dropping an atomic bomb on the city toward the end of World War II. The attack on Aug. 6, 1945, caused massive and widespread destruction. Shock waves, radiation and heat rays took the lives of some 140,000 people. Three days later, the U.S. dropped a second atomic bomb on Nagasaki, killing another 74,000 people.
President Obama is expected to tour the site of the world's first nuclear attack with Japan's prime minister, Shinzo Abe. Obama's Communications Adviser Ben Rhodes said that Obama's time in Hiroshima will "reaffirm America's longstanding commitment—and the president's personal commitment—to pursue the peace and security of a world without nuclear weapons."
Obama's visit comes as a report by the Alliance for Nuclear Accountability has revealed the U.S. has been quietly upgrading its nuclear arsenal to create smaller, more precise nuclear bombs as part of a massive effort that will cost up to $1 trillion over three decades. We speak with Kevin Martin, president of Peace Action.
Watch here:
Here's the transcript of the interview:
Amy Goodman: It's great to be back in New York, though we are still on the road. The White House has announced President Obama will become the first serving U.S. president to visit the Japanese city of Hiroshima later this month. But officials said he will not apologize for what happened on August 6, 1945, when the United States dropped the first nuclear weapon in history on the civilian population of Hiroshima. The attack destroyed the city. Shock waves, radiation and heat waves took the lives of some 140,000 people. Three days later, the U.S. dropped a second atomic bomb on Nagasaki, killing another 74,000 people. President Obama is expected to tour Hiroshima with Japan's prime minister, Shinzo Abe. On Tuesday, White House Press Secretary Josh Earnest said Obama will not issue an apology.
Press Secretary Josh Earnest: The president intends to visit to send a much more forward-looking signal about his ambition for realizing the goal of a planet without nuclear weapons. This also is an opportunity for the visit to highlight the remarkable transformation in the relationship between Japan and the United States.
Amy Goodman: Despite the administration's call for the elimination of nuclear weapons, the United States is pursuing a 30-year, $1 trillion program to modernize its nuclear weapon arsenal by designing bombs with smaller payloads. Retired General James Cartwright recently told The New York Times, quote, "what going smaller does is to make the weapon more thinkable," unquote.
To talk more about the significance of Obama's Hiroshima visit, we go to Washington, DC, to speak with Kevin Martin, president of Peace Action.
Kevin, welcome to Democracy Now! Your response to President Obama going to Hiroshima and the press secretary making clear he would not apologize for the dropping of the bombs on Hiroshima and Nagasaki?
Kevin Martin: We're very glad that the president is going to Hiroshima, but we don't want it to be just another pretty speech where he talks about some day maybe having the right conditions to move towards eliminating nuclear weapons. He's done that before. He has some accomplishments to show for his presidency, which we can talk about, but, for now, we want him to go with concrete actions. He's got a bit of time left in his administration and he needs to take concrete action to further that goal. And we can talk about various steps.
As far as the apology is concerned, the hibakusha, the A-bomb survivors, are not asking for it. The Japanese government is not asking for it—for all kinds of reasons. The administration has ruled it out. And I think while I personally would like to see an apology, what might be more meaningful is if he meets with hibakusha and asks their forgiveness for not doing more during his term in office to move towards the elimination of nuclear weapons. But if he will take some concrete steps, then that apology—or that asking forgiveness would be unnecessary.
Amy Goodman: Can you talk about what you are demanding?
Kevin Martin: First of all, as you just mentioned, this 30-year, $1 trillion cockamamie plan—a colleague of ours called it a "trillion-dollar train wreck"—to totally upgrade all of our nuclear weapons complex, from the research laboratories to new warheads to new missiles, bombers, submarines, I can't think of a worse misappropriation of our tax dollars. And predictably, every other nuclear-weapon state has followed suit, saying that they are going to upgrade their nuclear weapons, as well. It totally shreds any credibility that the United States has on nonproliferation. So that would be the first thing, is cancel that.
There are a lot of other steps that he could take: taking our nuclear weapons off of hair-trigger alert, separating the warheads from their delivery systems, initiating negotiations for the elimination of nuclear weapons globally, initiating talks on a Middle East zone free of weapons of mass destruction, taking unilateral executive action that doesn't require a long treaty process—negotiations with Russia and then Senate ratification, which would be very difficult. We could cut our reserve nuclear weapons, get rid of a bunch of those. But even the current deployed nuclear weapons, we could go down to a thousand or fewer, as the Pentagon has suggested in the past and the U.S. actually wanted to do with Russia and then challenge Russia to reciprocate. Those are just some of the steps that would be meaningful and worth a trip to Hiroshima.
Amy Goodman:: I want to turn to the words of Kenzaburo Oe, the acclaimed Japanese novelist, recipient of the 1994 Nobel Prize for Literature. When Democracy Now! was in Japan in 2014, I interviewed Kenzaburo Oe and asked him if President Obama should apologize for the bombing of Hiroshima and Nagasaki.
Kenzaburo Oe: [translated] I am not seeking an apology, whether from the president or from any kind of person, in regards to this issue. And I believe the fact that humanity did create these nuclear weapons is a crime that all of humanity is responsible for. And I believe this is an issue of a much greater scale than any individual politician could make an apology for. I believe that it would have great meaning if Obama, for example, was to come to Hiroshima and hear the experiences or the testimony of the survivors. But I don't believe that what we should be seeing here is an apology from someone on behalf of the United States' people for dropping the bomb.
So I believe that if Mr. Obama were to come to the memorial ceremonies in Hiroshima or Nagasaki, for example, what he could do is come together with the hibakusha, the survivors and share that moment of silence and also express considering the issue of nuclear weapons from the perspective of all humanity and how important nuclear abolition is from that perspective—I think, would be the most important thing and the most important thing that any politician or representative could do at this time. I believe that the issue or the experience of nuclear weapons is something too large for any individual to apologize for and it's the responsibility of all humanity to take on board. So rather than an apology, I believe that what's important is to call for an expression of the will and the dedication to create a world free of nuclear weapons. And so, if any influential U.S. politicians or, for example, even French, were to come to Hiroshima and Nagasaki, that is what I would like to hear.
Amy Goodman: That's the acclaimed Japanese author, Kenzaburo Oe, recipient of the 1994 Nobel Prize for Literature. I interviewed him in Japan in 2014. I also want to turn to the words of a Hiroshima survivor I spoke to during that same trip. Koji Hosokawa was 17 years old when the U.S. dropped the atomic bomb on Hiroshima. His 13-year-old sister Yoko died in the bombing. He gave us a tour of the city, speaking to us near the A-Bomb Dome in Hiroshima, one of the few structures in the city that survived the atomic blast.
Koji Hosokawa: [translated] The A-bomb was dropped in Hiroshima and also one in Nagasaki. And I think that atomic bombs were dropped not just on our cities, but on the whole human beings. And so, I have many things to talk about, about my experience of the A-bomb, but if the next one, the third A-bomb is to be dropped, then the Earth will be annihilated. I want people to understand, this is going to be—you know, the Earth is going to be annihilated. So whenever I talk, I want them to understand this.
The Peace Memorial Park, until the A-bomb, people lived here. Everything was destroyed. Everyone died around this area. The Peace Memorial Park is a beautiful park today, with so many trees. But later, they planted small trees and after decades these trees became bigger and now a very beautiful park today. So, I tell the visitors about this, too. I want them to understand people lived here. Please tell the people that people used to live here. War makes everyone crazy.
Amy Goodman: That's Koji Hosokawa, 17 years old when the U.S. dropped an atomic bomb on his city of Hiroshima. His 13-year-old sister Yoko died in the bombing. He was speaking to us next to the A-Bomb Dome, one of the few structures in the city that survived the blast. I want to end by asking you, Kevin Martin, head of Peace Action—you've been to Hiroshima. You've met with Hiroshima survivors, both in Hiroshima as well as in your home state of New Jersey. Will President Obama meet with hibakusha, Hiroshima survivors?
Kevin Martin: I certainly hope so. I mean, I think he should. I think he needs to hear their stories, listen to their wisdom, listen to their sense of forgiveness, which is just awe-inspiring, as far as I'm concerned. And only thing that the hibakusha want—and, of course, many of them are very elderly—is to see the abolition of nuclear weapons, so that this never happens to anyone again.
I was in New Jersey just a few weeks ago for a dinner that New Jersey Peace Action had. And I was honored to meet again—I had met her years ago—Shigeko Sasamori, who was 13 years old when the bomb was dropped. She was a Hiroshima maiden who was brought to the United States for surgery and adopted by Norman Cousins, American peace activist. And she said she'll be in Hiroshima and she wants to sneak through the security line and meet President Obama and shake his hand and not let go until he promises to eliminate nuclear weapons. I can't imagine that they're going to stop this diminutive 84-year-old grandmother. But hearing those stories could be transformative for this president, who already is committed to nuclear disarmament but just hasn't done enough during his presidency to move us toward that goal.
Amy Goodman: And the significance of it being Prime Minister Shinzo Abe who will take him around, the prime minister of Japan? When we were in Japan, I interviewed the prime minister at the time of the Fukushima meltdown, Naoto Kan, who was a big supporter of nuclear power before the meltdown, now is one of the leading proponents in the world against nuclear power and weapons. What about Shinzo Abe's relationship with Obama and his role in renuclearizing Japan?
Kevin Martin: Abe is terrible. He's a nightmare for the people of Japan and the people of the region. He's a militarist. He's in league with the United States in terms of the so-called Asia-Pacific pivot to try to encircle and isolate China and Russia. And one of the worst things he's doing is shredding Article 9 of the Japanese Constitution, the so-called pacifist part of the Constitution. So, he has to, I think, pay lip service to the goal of nuclear weapons abolition. I think most Japanese national politicians have to do that. But he's no ally at all, as far as I'm concerned or the Japanese peace groups or Japanese survivors are concerned.
Amy Goodman: Kevin Martin, president of Peace Action, thanks so much for being with us. We'll link to your piece in CounterPunch headlined "President Obama Should Meet A-Bomb Survivors."
This is Democracy Now!, democracynow.org, The War and Peace Report. When we come back, we look at a delegate chosen by the Trump organization to represent Trump in California. They say it was a database mistake that the white supremacist was chosen. We'll look deeper. And then we'll talk about "Madness"; we'll talk about what happens to mentally ill prisoners in a prison here in the United States. Stay with us.
YOU MIGHT ALSO LIKE
Bill Nye's Thoughts on Trump and Climate, Encourages Deniers to Leave the Dark Side
This Country Generated So Much Renewable Energy It Paid People to Use It
France Considering Ban on Fracked Gas Imports as U.S. Ramps Up LNG Exports to Europe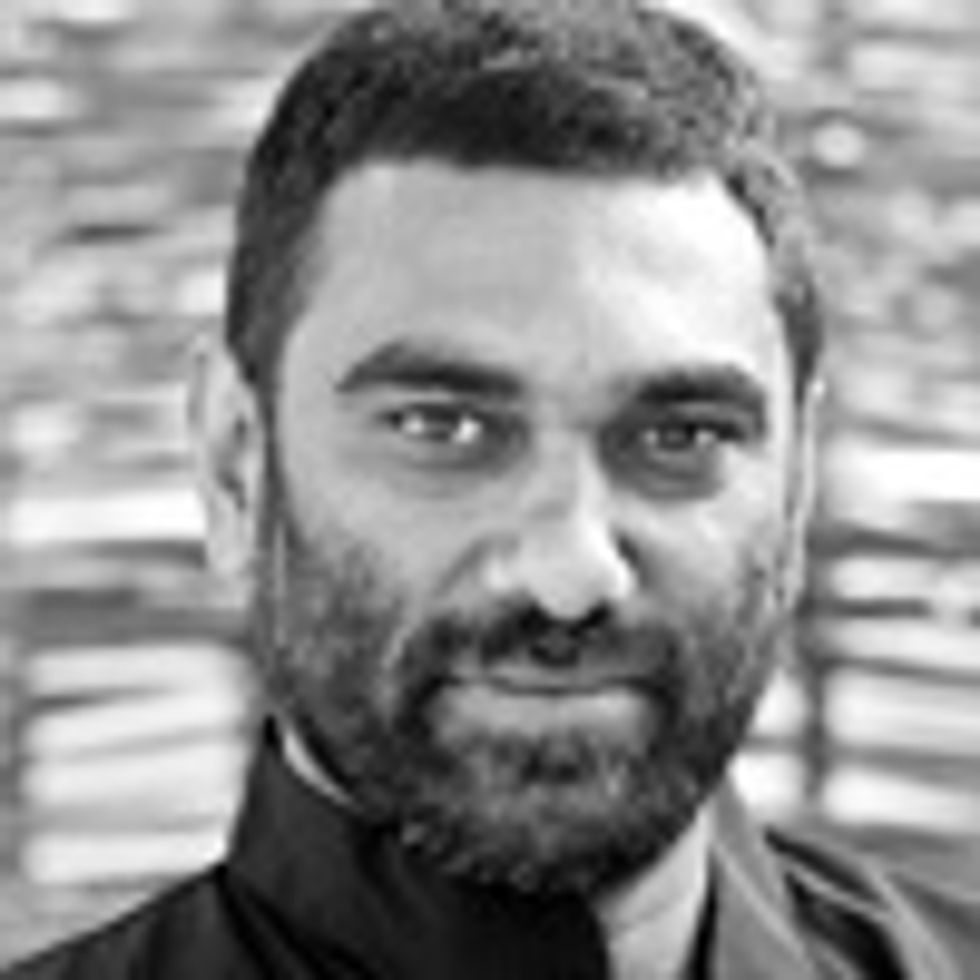 More than most, Japan is a nation whose modern history is tragically linked to the quest to use and tame nuclear power. This nuclear history is not noteworthy for its successes, but for how it reflects humanity's capacity for destruction—and peace.
It has been 70 years since the U.S. atomic bombings of the Japanese cities of Hiroshima and Nagasaki, killing more than 400,000 people and affecting generations more through nuclear radiation. The horror of these bombings has been imprinted on our consciousness, holding at bay the further use of nuclear weapons in warfare.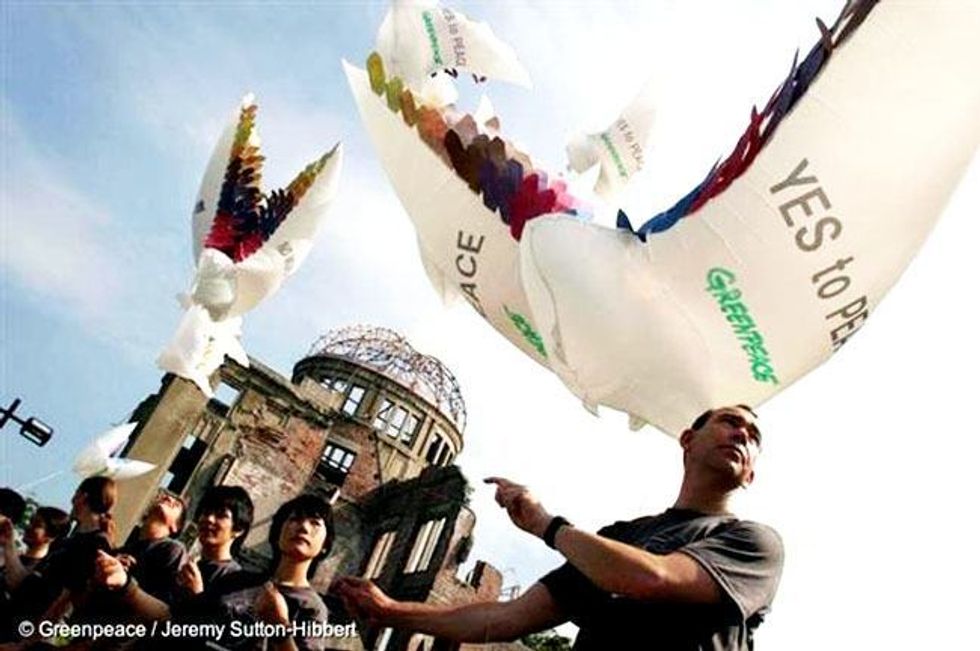 These plans have met overwhelming public opposition, with polls showing the majority of Japanese people are against restarting nuclear reactors. Photo credit: Greenpeace / Jeremy Sutton-Hibbert
These humanitarian catastrophes sparked a powerful peace movement in Japan that has been influential worldwide. It also gave rise to the country's unique 1947 "Peace Constitution," which renounces war and armed forces to resolve conflicts, except in self-defense. This legacy of peace has served Japan well, but it is now under threat. Prime Minister Shinzo Abe is pushing for deeply unpopular legislation to allow Japan to fight in foreign conflicts, effectively rewriting a part of the constitution that has become ingrained in the nation's psyche.
The campaign towards achieving global nuclear disarmament meanwhile remains a long way off. At the start of 2015, some 15,850 nuclear weapons were held in stock by nine states: the U.S., Russia, China, India, Pakistan, Israel, Britain, France and North Korea. Roughly 1,800 of these weapons are on high operational alert, according to the Stockholm International Peace Research Institute. These nine states continue to upgrade their nuclear weapons and research new ones.
We only have to look to the political wrangling over the breakthrough nuclear deal with Iran last month to witness the intractable nature of debates over who gets to wield the threat of nuclear weapons. The lack of political will on achieving disarmament meant no real progress was made in the latest review of the Treaty on the Non-Proliferation of Nuclear Weapons (NPT), held in May; the United Nations itself was forced to admit parties could not agree on substantive parts of the meeting's final document.
Greenpeace itself has a history that is intertwined with nuclear energy: Our organization's foundation campaign was the 1971 attempt by a small group of activists to stop U.S. nuclear tests on the island of Amchitka, Alaska. Forty-four years later, our understanding of the dangers of nuclear weapons proliferation and the attendant threats from nuclear energy, has only deepened, along with our core commitment to see it phased out. Nuclear energy, whether for military or civil purposes, is never peaceful. No nuclear program can ever be considered purely civil and always carries the threat of nuclear weapons development. And as the history of catastrophes in the nuclear energy sector proves, nuclear energy is neither safe, nor clean.
Nuclear energy, with its inherent environmental dangers and high costs, is increasingly unattractive as an alternative to fossil fuels. Instead, interest in renewable energy sources is surging in forward-looking economies and among investors, who know that continued fossil fuel dependence only drives conflict and distorts foreign policies.
#Hiroshima70: Why we must never forget. http://t.co/TqI7nORT9t via @CNNOpinion pic.twitter.com/SO8hD6NV0x

— CNN (@CNN) August 6, 2015
But the threats are still there.
Nearly four and a half years ago, an earthquake sparked a triple-core reactor meltdown in a nuclear power plant in Japan, forcing tens of thousands of people to leave their homes. After investigations, Greenpeace Japan revealed last month that radiation in one of the most contaminated districts is still so widespread and at such a high level that those who were evacuated cannot return home safely, despite decontamination efforts.
Japan's operating reactors are currently shut pending safety checks, but the nation is planning to restart its first nuclear reactor this month. These plans have met overwhelming public opposition, with polls showing the majority of Japanese people are against restarting nuclear reactors. A Greenpeace petition opposing the nuclear restart has gathered tens of thousands of signatures.
At the core of Greenpeace is a conviction that conflict and the ways it manifests in violent struggles over our natural resources, will destroy our planet and all of us. So we have to find better ways to resolve these issues. Our non-proliferation campaign over the decades is part of a global peace movement that aspires to social justice and environmental sustainability. Even as we see setbacks to achieving peace in our time, we are convinced that non-violent resistance and protest will achieve this change. History shows that peaceful opposition is far more effective than violence will ever be.
It should be unthinkable that the horror in Hiroshima and Nagasaki 70 years ago would ever be revisited upon anyone anywhere in our world today. Neither should the trauma felt by Japanese people after the Fukushima accident—and also by thousands of people affected by other nuclear disasters, such as Chernobyl—ever again be endured. Our remembrances for this occasion are also reminders to continue our journey towards peaceful change.
Kumi Naidoo is the International Executive Director of Greenpeace.
YOU MIGHT ALSO LIKE
Photo of 'Mutant Daisies' Near Fukushima Goes Viral
World's Largest Solar Project and Floating Wind Turbine Signal Global Shift to Renewable Energy
This website uses cookies to ensure you get the best experience while browsing it. By clicking 'Got It' you're accepting these terms.


The best of EcoWatch, right in your inbox. Sign up for our email newsletter!