NOAA analysts found that Cape Hatteras, North Carolina has a 16% chance of a direct hit by a hurricane in any given year. A military helicopter flies over the damage path of Hurricane Isabel on Sept. 18, 2003. James P. Reed / Corbis via Getty Images
Ingredients of a Hurricane
Three key ingredients are needed for a hurricane to form: warm sea surface water that's at least about 80 degrees Fahrenheit (26.5 C), a thick layer of moisture extending from the sea surface to roughly 20,000 feet and minimal vertical wind shear so the thunderstorm can grow vertically without interruption.
These prime conditions are often found in the tropical waters off the west coast of Africa.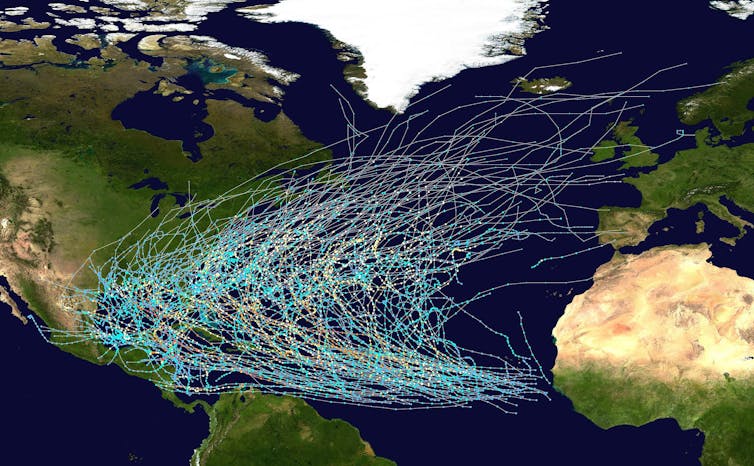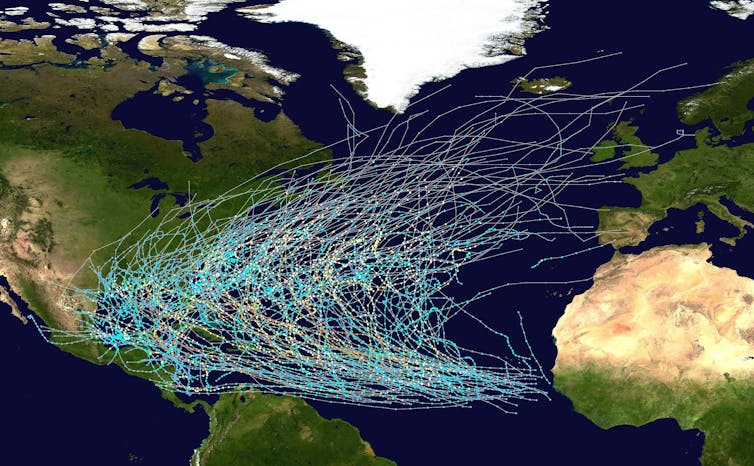 Hurricanes can also form in the Gulf of Mexico and the Caribbean, but the ones that start close to Africa have thousands of miles of warm water ahead that they can draw energy from as they travel. That energy can help them grow into powerful hurricanes.
Wind currents set most tropical storms on a course westward from Africa toward the Caribbean, Florida and the Gulf of Mexico. Some drift northward into the midlatitudes, where the prevailing winds shift from west to east and cause them to curve back out into the Atlantic.
Others encounter cooler ocean temperatures that rob them of fuel, or high wind shear that breaks them apart. That's why tropical cyclones rarely hit northern states or Europe, though it does happen.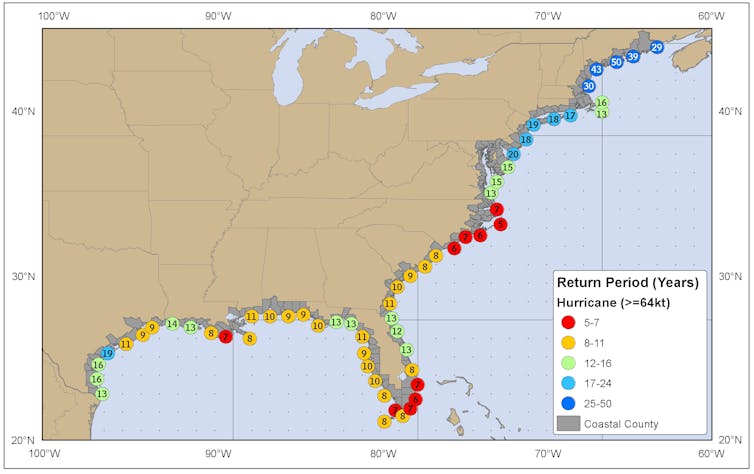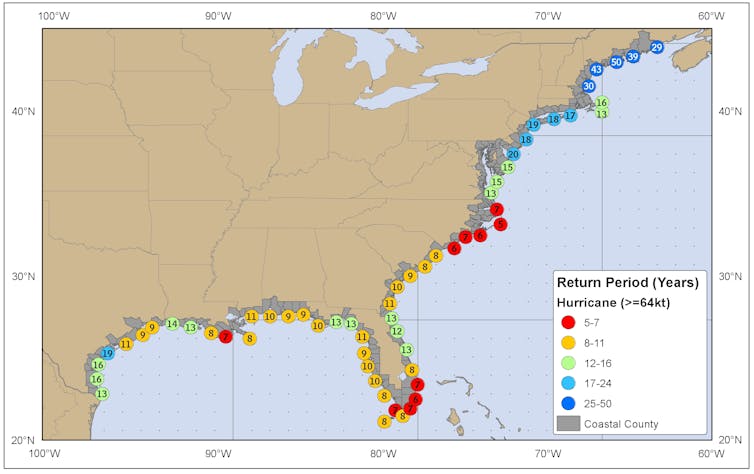 Time of Season Also Influences Hurricane Paths
Early in the season, in June and July, sea surface temperatures are still warming and atmospheric wind shear slowly decreases across the open Atlantic. Most early-season hurricanes develop in a small area of the Caribbean and Gulf of Mexico where prime conditions begin early.
They typically form close to land, so coastal residents don't have much time to prepare, but these storms also don't have ideal conditions to gain strength. Texas, Louisiana and Mississippi, as well as Central America, are more likely to see hurricane strikes early in the season, as the trade winds favor an east-to-west motion.
As surface waters gain heat over the summer, hurricane frequency and severity begin to increase, especially into the peak hurricane months of August through October.
Toward the end of the season, trade winds begin to shift from west to east, ocean temperatures start to fall, and cold fronts can help divert storms away from the western Gulf and push them toward the Florida Panhandle.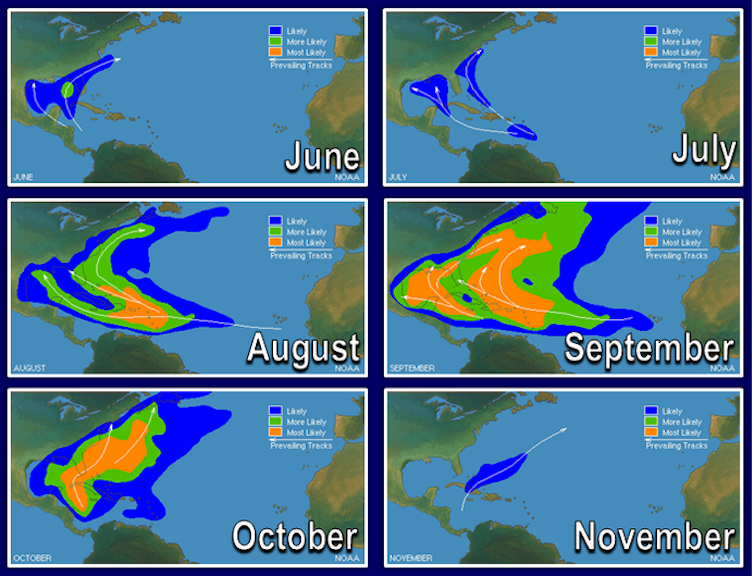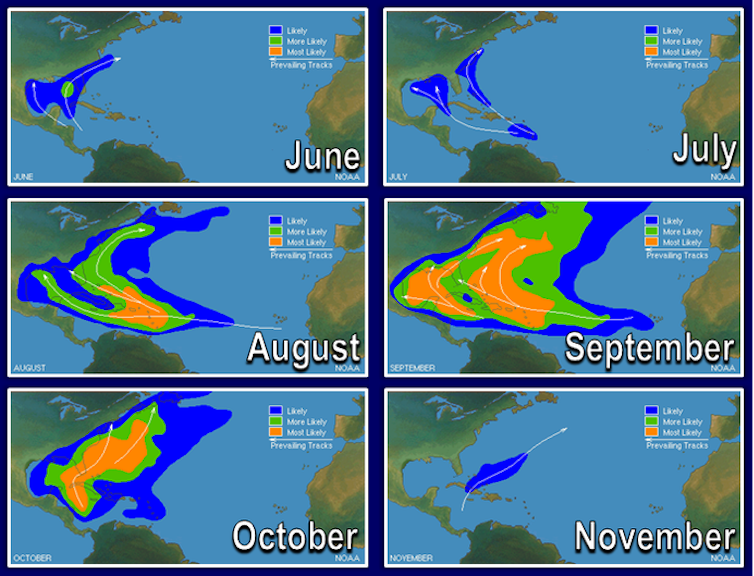 Shape of the Seafloor Matters for Destructiveness
The shape of the seafloor can also play a role in how destructive hurricanes become.
Hurricane strength is currently measured solely on a storm's maximum sustained wind speeds. But hurricanes also displace ocean water, creating a surge of high water that their winds push toward shore ahead of the storm.
This storm surge is often the greatest threat to life and property from a hurricane, accounting for about 49% of all direct fatalities between 1963 and 2012. Hurricane Katrina (2005) is a prime example: An estimated 1,500 people lost their lives when Katrina hit New Orleans, many of them in the storm surge flooding.
If the continental shelf where the hurricane hits is shallow and slopes gently, it generally produces a greater storm surge than a steeper shelf.
As a result, a major hurricane hitting the Texas and Louisiana Gulf Coast – which has a very wide and shallow continental shelf – may produce a 20-foot storm surge. However, the same hurricane might produce only a 10-foot storm surge along the Atlantic coastline, where the continental shelf drops off very quickly.

Where Are the Hurricane Hot Spots?
A few years ago, the National Oceanic and Atmospheric Administration analyzed the probability of U.S. coastlines' being hit by a tropical storm based on storm hits from 1944 and 1999.
It found that New Orleans had about a 40% chance each year of a tropical storm strike. The chances rose for Miami and Cape Hatteras, North Carolina, both at 48%. San Juan, Puerto Rico, which has seen some devastating storms in recent years, was at 42%.
Hurricanes, which have sustained wind speeds of at least 74 miles per hour, were also more frequent in the three U.S. locations. Miami and Cape Hatteras were found to have a 16% chance of a direct hit by a hurricane in any given year, and New Orleans' chance was estimated at 12%.
Each of these locations is vulnerable to a hurricane because of its location, but also its shape. North Carolina and Florida "stick out like a sore thumb" and are often grazed by hurricanes that curve up the east coast of the U.S.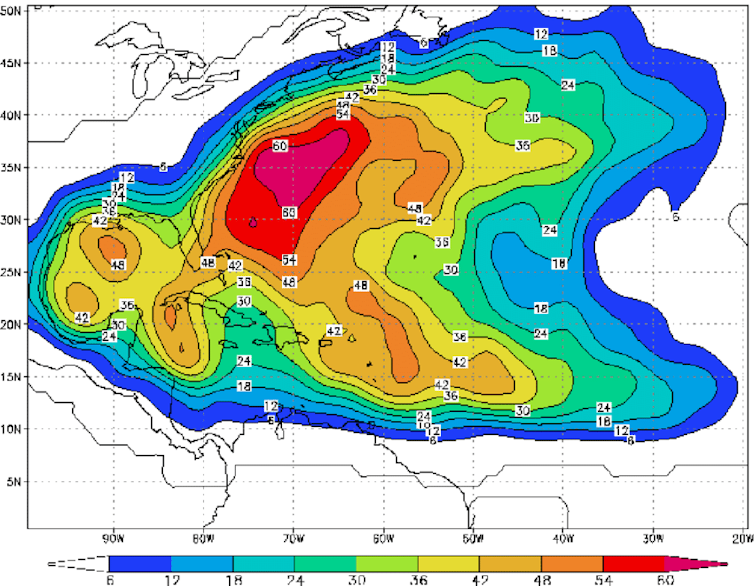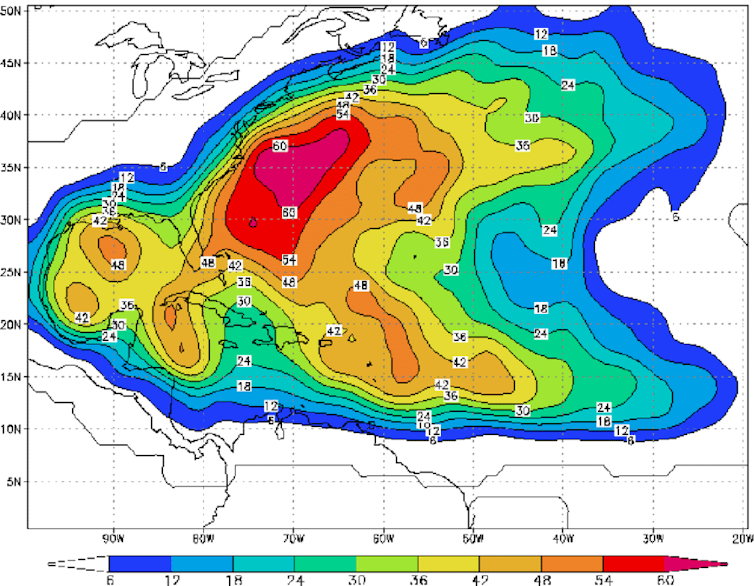 Climate Change Changes the Risk
As sea surface temperatures rise with the warming of the planet, more areas outside of these usual hurricane regions may see more tropical storms.
I analyzed tropical cyclones in the North Atlantic that made landfall from 1972 to 2019 to look for changes over the past half-century.
During the first six years of that period, 1972-77, the Atlantic averaged four direct hits per year. Of those, 75% were in the usual hurricane-prone areas, such as the Southern United States, the Caribbean and Central America. Six storms made landfall elsewhere, including New England, Canada and the Azores.
By 2014-19, the Atlantic averaged 7.6 direct hits per year. While the U.S. took the majority of those hits, Europe has been showing a steady increase in cyclones making landfall. Major hurricanes – those with sustained wind speeds of 111 miles per hour and above – are also more common than they were in the 1970s and '80s.
While southern coastal locations of the United States may be the most vulnerable to tropical cyclone impacts, it is important to understand that a devastating cyclone can hit anywhere along the Atlantic and Gulf coasts.
The National Hurricane Center is forecasting another busy season in 2021, though it is not expected to be as extreme as 2020's record 30 named storms. Even if an area hasn't experienced a hurricane in several years, residents are advised to prepare for the season as if their area will take a hit – just in case.
Athena Masson is a meteorology instructor at the University of Florida.

Disclosure statement: Athena Masson does not work for, consult, own shares in or receive funding from any company or organization that would benefit from this article, and has disclosed no relevant affiliations beyond their academic appointment.
Reposted with permission from The Conversation.
EcoWatch Daily Newsletter
A humpback whale, one of the species affected by the Pacific marine heat wave, breaches in Kenai Fjords National Park in the Gulf of Alaska. Kaitlin Thoreson / National Park Service
By Hannah Thomasy
From 2014 to 2016, the Gulf of Alaska experienced the worst marine heat wave of the decade. From single-celled organisms to top predators, practically no level of the ecosystem was left unscathed. During the Pacific marine heat wave, tens of thousands of dead seabirds washed up on beaches, unusually low numbers of humpback whales arrived in their summer habitats, and toxic algal blooms spread along the West Coast of North America.
Now, a new study in Scientific Reports casts doubt on whether Gulf ecosystems will be able to return to their pre–heat wave conditions. This study—a collaborative effort between researchers at NOAA and several other government and research organizations—combined dozens of data sets to build a detailed picture of how many heat wave–induced changes have persisted. Thanks in part to long-term monitoring efforts by Gulf Watch Alaska, a program established in 2012 to assess the ongoing effects from the 1989 Exxon Valdez oil spill, scientists were able to compare pre–heat wave and present conditions in several different sections of the ecosystem.
"We were able to show these impacts—from the intertidal out to the pelagic [open ocean] ecosystem, and from algae and phytoplankton on up to whales and commercial fisheries, and a lot of different species in between," said Robert Suryan, a NOAA marine biologist and lead author of the study.
Shannon Atkinson, a professor in the College of Fisheries and Ocean Sciences at the University of Alaska Fairbanks who was not involved in this study, said it's very important that we understand the changes taking place in the Gulf of Alaska. "The ecological significance is huge," she said. "We've seen such dramatic changes in the Far North…it really has made Alaska like a ground zero for climate change."
In addition to impacts on the animals that make their homes in the Gulf of Alaska, changes in the Gulf ecosystem could have major implications for the livelihoods of many Alaskans as well. This region supports subsistence fisheries, commercial fisheries, and a major tourism industry.
Changing Ecosystems
For some animals, the heat wave was devastating. Most metrics showed a decline in sea stars, herring, and Pacific cod; their populations today generally remain lower than pre–heat wave measures. Numbers of sea lion pups trended downward, and some areas had fewer nesting seabirds like common murres and kittiwakes.
But, Suryan pointed out, as some species suffered, others thrived. For example, researchers saw a major decrease in the amount of brown algae in the intertidal zone. That's bad news for species like herring, which lay their eggs on the algae. But as algae cover decreased, "that opened up space" for other organisms in the intertidal zone, explained Suryan. "In tidal communities, there's a lot of competition for space, so there was an increase in barnacles and mussels.… So that's a benefit to communities that rely more on those particular species."
Similarly, there have been positive and negative effects on different fisheries in the region. Although the Pacific cod fishery has suffered in the years during and since the heat wave, Suryan said that juvenile sablefish have been surviving and growing at greater rates than usual, so sablefish fisheries will likely do well in the coming years.
As ecosystems change, we as humans need to change how we interact with and manage them, researchers said. "With these types of studies, we're hopeful that we can really benefit the management of natural resources," said Suryan. "[We're] thinking about the communities in the region and the industries in the region—how can we help inform their adaptation to this change?"
An Uncertain Future
This study is just the beginning. Suryan looks forward to more focused research on the mechanisms by which these changes are occurring. Why do some species do better than others? Even within the same species, why do some age groups thrive while others decline? By understanding such mechanisms, he said, we will be better able to predict how the changing climate will affect the future of these important ecosystems.
In addition to measuring the number of animals in the population, Atkinson said that measuring things like reproductive rates and biomarkers of stress can also be valuable indicators of how well a group of animals is faring in a changing environment.
Unfortunately, climate change may not be the only threat these animals face. Atkinson said it's important to determine how animals will respond to cumulative stressors (including climate change, disease, and pollution) to predict how well populations will survive in the coming years.
This story originally appeared in Eos and is republished here as part of Covering Climate Now, a global journalism collaboration strengthening coverage of the climate story.
From Your Site Articles
Related Articles Around the Web
Madeleine_Steinbach / iStock / Getty Images
Krill oil has gained a lot of popularity recently as a superior alternative to fish oil. Basically, the claim goes, anything fish oil can do, krill oil does better. Read on to learn what makes krill oil supplements better than fish oil supplements, why you should consider these vitamin supplements, and which brands we recommend.
What is Krill Oil?
Krill oil is made from a tiny, shrimp-like crustaceans that live in the ocean and usually serve as whale food. In fact, krill means "whale food" in Norwegian. These tiny organisms actually play an extremely important role in the food chains of marine ecosystems. The krill used to make krill oil are usually found in the waters around Antarctica.
Just like the fish oils found in supplements, krill oil is rich in omega 3 fatty acids that contain EPA and DHA, two compounds that are proven to have a number of health benefits.
But what makes krill oil better than fish oil?
It's believed that krill oil is better absorbed in the body than fish oil. Both derive most of their benefits through the EPA and DHA that are contained in their fatty acid stores. However, for the same dose, krill oil will result in more fatty acids in the blood than fish oil. A potential explanation for this is that while fish oil's fatty acids come as triglycerides, krill oil's come as phospholipids which are more easily processed by the body.
Additionally, krill oil contains astaxanthin which is an antioxidant that has anti-inflammatory properties that might have an enhanced positive effect on heart health. Studies have shown that krill oil is more effective than fish oil at lowering blood pressure and lowering bad cholesterol.
Our Picks for the Best Krill Oil Supplements
Each product featured here has been independently selected by the writer. You can learn more about our review methodology here. If you make a purchase using the links included, we may earn commission.
How We Chose the Best Krill Oil Supplements
Here are the factors that we considered when comparing the best krill oil brands to create our list of recommended supplements.
Omega-3 Content - We looked to see the amount of omega-3 fatty acids contained in each krill oil softgel or capsule.
Astaxanthin Content - The best krill oil pills contain this naturally-occurring antioxidant.
Third-Party Lab Testing - For any nutritional supplement, we choose brands that guarantee the quality of their product through independent lab testing.
Krill Source - We also compared these supplements for the source of their krill oil, and only recommend brands that use sustainably-harvested krill.
The 5 Best Krill Oil Supplements
The Research on Krill Oil Supplements
Research has long demonstrated the health benefits of omega-3 fatty acids commonly found in foods like fish, nuts, and certain grains like flax seed. Since krill oil naturally contains higher levels of these beneficial nutrients, it has also been found to provide a number of health benefits.
Numerous studies have linked the omega-3 fatty acids found in fish and krill oil to cardiovascular health, finding that those who ingest higher levels of these nutrients are at lower risk for coronary heart disease, potentially lower risk of stroke, and have lower cholesterol levels. Another study found that krill oil supplements offer a safe alternative to fish oil for those seeking cardiovascular benefits in a smaller and more convenient form.
Krill oil supplementation has also been found to help reduce the symptoms of knee and joint pain.
Additionally, researches found that rats given krill oil supplements showed improved cognitive function and benefited from anti-depressant-like effects. However, more research on its effect for human brain development and function is needed.
How to Choose the Right Krill Oil Supplement
When shopping for a krill oil supplement, there are important pieces of information that you should always look for. Here are some tips on how to compare brands and how to read labels.
What to Look For
Lab Testing
For any supplement, always check to see if it has undergone third-party lab testing for quality and safety. This is especially important for any fish or krill oil to make sure that it does not contain any harmful compounds like mercury.
Concentrations
Look for the amount of krill oil contained in each capsule and each serving (as these will sometimes differ). You should choose supplements that offer between 200 mg and 350 mg of omega-3 fatty acids per serving for the best results.
Sourcing
Make it a priority to learn where the brand sources its supply of krill oil. We recommend brands that use sustainably-harvested Antarctic krill oil because the process of harvesting is more tightly regulated by various groups.
Filler-Free
This is good advice for all nutritional supplements, but be sure the krill oil you choose does not contain any unwanted or unnecessary ingredients. All of our recommendations contain just the krill oil and the capsule it comes in.
How to Read Labels
When you are comparing krill oil supplements, here are some key things to look for on any label:
Supplement Facts - This is where you can find information on the amount of krill oil in each capsule, how many capsules make up one serving, and a breakdown of how many omega-3 fatty acids and other nutrients are contained in the supplement.
Other Ingredients - Listed at the bottom of the supplement facts table, this list will tell you what the capsule itself is made of and if there are any additional ingredients present.
Certifications - Check the label for important certifications and seals of approvals that can tell you if a krill oil is IKOS-certified, third-party lab tested, or sustainably harvest.
How to Use Krill Oil Supplements
Krill oil supplements typically come in capsules that you swallow with water. For most brands, 2 to 3 capsules make up a single serving, and you can take a serving either once or twice per day. Some brands recommend their supplements be taken with food to aid in their digestion and absorption.
Safety & Side Effects
While krill oil supplements are generally considered safe for most adults, it is extremely important to note that you should not take krill oil if you are allergic to shellfish. The potential side effects for krill oil are considered mild and similar to fish oils, including:
Upset stomach
Fishy taste
Heartburn
Nausea
Diarrhea
Fish oils and krill oils may also interact with certain medications. If you take a prescription medication, make sure you talk with your doctor before adding krill oil supplements to your diet.
NOAA's Global Monitoring Laboratory on April 7, 2021.
NOAA
Atmospheric methane levels surged in 2020, a new report from NOAA shows, accelerating an increasing trend, alarming scientists, and possibly auguring a vicious cycle of global heating.
NOAA also announced global atmospheric carbon dioxide levels are higher than at any point in the last 3.6 million years. "It is very scary indeed," Euan Nisbet, professor of earth sciences at Royal Holloway University of London, told the Financial Times. About 60% of methane emissions are caused by human activity, and U.S. oil and gas operations are a major driver of recent methane pollution increases.
"Although increased fossil emissions may not be fully responsible for the recent growth in methane levels," NOAA research chemist Ed Dlugokencky said in a statement, "reducing fossil methane emissions are an important step toward mitigating climate change."
Methane is a far more potent heat-trapping gas than carbon dioxide, and scientists are worried global warming could be triggering accelerated methane releases from tropical wetlands and melting Arctic permafrost. "Our path to net zero is obvious, challenging and necessary," Martin Siegert, a professor at the Imperial College London, told The Guardian, "and we must get on with the transition urgently."
As reported by The Guardian:
Professor Simon Lewis, from University College London, said: "It is easy to forget just how much and just how fast fossil fuel emissions are affecting our planet.
"It took over 200 years to increase the amount of carbon dioxide in the atmosphere by 25%, and just 30 years to reach 50% above pre-industrial levels. This dramatic change is like a human meteorite hitting Earth."
But he added: "If countries make plans now to put society on a path of sustained and dramatic cuts to emissions from today, we can avoid ever-rising emissions and the dangerously accelerating impacts of climate change."
For a deeper dive:

FT, USA Today, The Guardian, The Hill, CBS; Climate Nexus backgrounder
For more climate change and clean energy news, you can follow Climate Nexus on Twitter and Facebook, sign up for daily Hot News, and visit their news site, Nexus Media News.
Brent Bozell, Founder and President of the Media Research Center, former Governor Sarah Palin, Dr. David Legates and David Rothbard, Executive Producer of the film and President of CFACT, speak during the "Climate Hustle" panel on April 14, 2016 in Washington, DC. Kris Connor / Getty Images
By Julia Conley
Climate scientists were aghast Monday at the news that David Legates, a University of Delaware professor who has repeatedly questioned the scientific consensus that human activity is causing the climate crisis and has claimed that carbon dioxide emissions are beneficial, has been named by the Trump administration to a top leadership role at the federal government's climate research agency.
A container ship leaving port in California. Daniel Ramirez / CC BY 2.0
By Tim Lydon
You're right if you think you've been hearing a lot about container ships lately. One off the coast of Sri Lanka that was carrying 25 tons of nitric acid and other cargo suffered an explosion after containers caught fire on May 20 and burned for more than a week, littering the beaches with plastic pollution. And in March all eyes were on the Suez Canal, where a 1,300-foot-long container ship turned sideways and gummed up international trade with a six-day-long traffic jam. Maybe you've also had your shoes, bike or other online purchases delayed because of backed-up ports near Los Angeles.
But less attention surrounded a spate of container-ship accidents in the Pacific Ocean this past winter. It included one of the worst shipping accidents on record, which occurred near midnight on Nov. 30 as towering waves buffeted the ONE Apus, a 1,200-foot cargo ship delivering thousands of containers full of goods from China to Los Angeles. In remote waters 1,600 miles northwest of Hawai'i, the container stack lashed to the ship's deck collapsed, tossing more than 1,800 containers into the sea.
Some of those containers carried dangerous goods, including batteries, fireworks and liquid ethanol.
"This is a massive spill," says oceanographer Curt Ebbesmeyer, who has tracked marine debris from container spills for over 30 years. The ONE Apus lost more containers in a single night than the shipping industry reports are lost worldwide in an entire year.
More photos from the ONE APUS, set 4 https://t.co/DAbmXln0hA

— Maritime Cyprus Intl news forum (@Maritime Cyprus Intl news forum)1607433139.0
It was also only one of at least six spills since October that dumped more than 3,000 cargo containers into the Pacific Ocean along shipping routes between Asia and the United States. They include the loss of 100 containers from the ONE Aquila on Oct. 30 and 750 containers from the Maersk Essen on Jan. 16. Both ships encountered rough weather while delivering goods to the United States.

Experts say these types of spills, which tend to fly under the public's radar, put containers into the sea that pose potential hazards to the health of the ocean and put everything from mariners to wildlife at risk.
"They're like time capsules of everything we buy and sell, sitting in the deep sea," says Andrew DeVogelaere, NOAA research coordinator at the Monterey Bay National Marine Sanctuary in California. Those lost containers may harm wildlife and ocean health, he says, by crushing aquatic habitats or introducing new seabed features that change biological communities or even aid the spread of invasive species. They can also release hazardous cargo such as the 6,000 pounds of sulfuric acid that went into the sea when the Maersk Shanghai lost containers off of the North Carolina coast in 2018.
Despite that potential for danger, no one is tracking the lost containers in the Pacific and opinions vary about where they will come to rest. Many are likely on the ocean floor, but an unknown number may have ruptured and disgorged their contents, which typically include many thousands of consumer items made of plastic. They could float for years in the ocean or wash ashore in Alaska, Hawai'i or other locations.
To date, the only debris known to come ashore from this winter's accidents are giant waterlogged sacks of chia seeds, which hit Oregon beaches in December following the loss of six containers from a ship near the California coast. Federal biologists were still cleaning smelly globs of the seeds from threatened snowy plover nesting habitat in April.
The accidents come at a time when the container shipping industry we all rely on is under unprecedented strain. In April the National Retail Federation reported a 10th consecutive month of record-high imports from Asia to the U.S. West Coast, driven by skyrocketing online shopping tied to the pandemic.
It's led to backed-up ports, delayed deliveries, and shortages of empty containers, conditions that are forecast to continue. But in a trick of the pandemic tied to both U.S. shopping patterns and Chinese factory schedules, it also put more cargo ships on the water during fall and winter, the stormiest time of year in the Pacific.
Some experts say the changes may represent a new normal for trans-Pacific container shipping. If that's true, more spills may lie ahead — prompting calls for greater transparency and accountability from shippers.
Decades of Debris
"I'm considered persona non grata by the shipping industry," Ebbesmeyer says when asked if he knew anything about what was aboard the ONE Apus or where it might be headed. "They blackballed me years ago. They didn't like me shining a light in a dark place."
That dark place is the inside of a shipping container. Back in the 1990s Ebbesmeyer began applying his oceanography skills to tracking debris from what seemed like an ever-increasing number of container accidents. One year it was 28,000 rubber bath toys shaped like ducks, beavers, turtles and frogs that spilled from a single container lost in the North Pacific. Another year it was 61,000 Nike sneakers from a handful of containers, also in the Pacific.
With a friend at the National Oceanographic and Atmospheric Administration, he calculated how far the flotsam would travel. Over close to a decade, beachcombers around the world confirmed their predictions with reports of debris from Texas to Australia to the United Kingdom.
"As an oceanographer, I want to know how the ocean works," Ebbesmeyer says. Following the debris helped him understand ocean currents and the destination of the marine debris that even by the 1990s was on the rise. But as Ebbesmeyer's work gained notoriety, he says the industry went mum. And what little light had been shed inside shipping containers flickered out.
But the accidents didn't stop. In 1997 a single container lost from a ship in near England spilled 5 million Lego pieces, which still wash ashore today.
There were 8,100 of these Lego links or 'axles with eyes' in the shipping container that fell off the Tokio Express… https://t.co/xytVGgUokE

— Lego Lost At Sea (@Lego Lost At Sea)1620630653.0
In the early 2000s, it was computer monitors landing on beaches from California to Alaska. Ebbesmeyer says the shippers seldom disclosed how many items were lost, and he suspects the same silence will surround the ONE Apus and other recent spills.

"If they'd share what's in the containers," he says, "we might predict where the debris will land and possibly organize a response." Spilled goods travel the waters differently depending on their weight and materials; if the scientists know those details, they can anticipate where the products will eventually land. By tracking this trash, oceanographers could learn more about where currents and winds carry other debris, too. And, says Ebbesmeyer, it might compel shippers to help pay for cleanup, an expense coastal residents and agencies usually absorb today.
But shippers seem as tight-lipped as ever. Beyond reporting the presence of certain hazardous materials, they have not released details about the 3,000 missing containers.
Who's Minding the Ship?
According to the industry trade group the World Shipping Council, 6,000 container ships traverse the oceans every day, moving 226 million containers annually. The ships sail a dizzying array of routes among more than 200 ports and are registered in countries around the world. But because they spend much of their time on the high seas outside any one nation's jurisdiction, governance is a mix of regulations and voluntary best practices that don't require tracking or recovering debris from lost containers. That only happens when losses occur in nearshore waters where the United States or another country claims jurisdiction.
The Panama-flagged Ever Given causes disruptions in the Suez Canal in March. National Ocean Service Image Gallery
"We usually read about it in the news," says Catherine Berg, scientific support coordinator at NOAA's Emergency Response Division in Alaska. Berg says no formal mechanism is in place for reporting high-seas shipping container accidents like the ONE Apus to the U.S. government. And no funding exists for NOAA scientists to track the debris, although they occasionally perform informal modeling.

Officers with the U.S. Coast Guard Joint Rescue Coordination Center in Honolulu, Hawai'i, tell a similar story. They say shippers report container spills as a courtesy but that the agency lacks authority or funding to investigate, unless containers directly threaten U.S. shores. Instead, following the ONE Apus spill, the Coast Guard issued a notice to mariners about the hazard of floating containers, which some sailors call "steel icebergs" for their deceptively low profile on the water. The notice expired after a couple of weeks, with the assumption containers had sunk, ruptured or dispersed.
On the open seas, the shipping trade is primarily governed by the International Maritime Organization and other United Nations groups. Among their primary tools is the Safety of Life at Sea (SOLAS) treaty, originally signed in 1914. It was last amended in 2016 with new rules on weighing of containers, intended to lessen spills.
In 2014 the IMO also endorsed an updated code of practice for cargo ships, which addresses packing, stacking and lashing of containers. Although shippers frequently blame losses on rough weather, as happened in each of last winter's Pacific Ocean accidents, investigation often reveals underlying problems in lashing and other practices that occur before a ship even leaves port. That happened in May 2020 when the APL England lost 43 containers near Australia, forcing popular Sydney beaches to close as authorities cleaned a debris field of appliance parts, plastic boxes and face masks.
The updated code of practice is only voluntary and does not include provisions for tracking lost containers or revealing their contents. But continued cargo accidents may be forcing a change.
In 2019, when the MSC Zoe lost 280 containers in heavy weather between Portugal and Germany, volunteers and Dutch troops spent months cleaning Wadden Islands' shores of toys, furniture and smashed televisions. Following the accident, which investigators also blamed on poor lashing, the Council of the European Union submitted a draft proposal for a new IMO rule requiring better reporting of containers lost at sea. If passed, and depending on the rule's terms, it could one day address Ebbesmeyer's decades-long concerns over shipper transparency.
Also following the MSC Zoe, the Dutch government commissioned a review of shipping practices and technologies that could aid in tracking containers, including equipping them with satellite tags. Echoing Ebbesmeyer's experiences, the report said it is "hard to track down" what lies within lost containers and that improvement would require industry cooperation and investment.
Industry support may be gaining. The World Shipping Council, which has supported past amendments to SOLAS, is a cosponsor of the proposed new rule, according to the organization's spokesperson Anna Larsson.
"We really support all and any fact-based measures to improve safety," Larsson said in an email.
Environmental Cost
Although springtime's calmer weather has replaced the winter storms that battered cargo ships, it's likely whatever debris from recent spills that has not sunk to the bottom of the Pacific is still floating out there somewhere. But with so little known about the containers and their contents, it's unclear where the debris is headed.
"Just because you don't see it doesn't mean it's on the seafloor," says Ebbesmeyer.
He gives the example of a container full of plastic telephones in the likeness of the comic-strip cat Garfield that spilled from a ship along the European coast in the 1980s. For decades, cables and shards of orange plastic mysteriously washed ashore from the phones. The mangled container that once held them was finally discovered in 2019, wedged deep in a French sea cave that's underwater much of the year.
Thousands of other containers must lie on sea bottoms along the world's shipping routes, says NOAA's DeVogelaere.
In what is possibly the only study of its kind, DeVogelaere keeps his eye on a shipping container lying in 4,000 feet of water at the Monterey Bay sanctuary. It was one of 24 that toppled from a Taiwanese cargo ship in 2004 and was serendipitously discovered by one of NOAA's remotely operated vehicles conducting unrelated research. Since 2011, DeVogelaere has monitored ecological change around the container, noting colonization by species not typically found in the immediate area. This year his team will investigate whether the container's anti-corrosive paints, which can be toxic, may also have an ecological effect.
"We're impacting an environment that we haven't even begun to understand," he says of the seafloor.
DeVogelaere's container, which has so far remained latched shut, holds more than 1,100 steel-belted radial tires. He knows this only because it happened to land in a nearshore federal sanctuary, putting it under U.S. jurisdiction. Through a lengthy legal process, NOAA won a $3.25 million settlement from the shipper.
Such settlements take time but can occur when containers spill in nearshore waters. For instance, when the Hanjin Seattle lost 35 empty containers near Canada's west coast in 2016, officials won a modest settlement to help pay for removal of foam insulation that littered wildlife habitat along miles of national park and First Nations beaches.
After the Svendborg Maersk lost 517 containers in the Bay of Biscay in 2014, French officials ordered the company to map sunken containers to identify commercial fishing hazards. And a settlement following the 2011 wreck of the MV Rena in New Zealand, which also caused an oil spill, included cleanup of tiny plastic beads that still wash ashore today.
Those beads, like the Legos, computer monitors and Garfield phones, hint at the unknown contribution of container spills to marine plastic pollution, which is increasingly understood to harm birds, whales, fish and other animals through both ingestion and entanglement.
Although the World Shipping Council tracks cargo accidents, which it says lose an average of 1,382 containers annually, no one knows their true ecological impact.
But Ebbesmeyer remains concerned. He likens each spill to dumping a big box store into the ocean.
"That plastic never goes away," he says. "It drifts around in the water or flies overhead in the stomachs of seabirds. It haunts you over time."
Tim Lydon writes from Alaska on public-lands and conservation issues. He has worked on public lands for much of the past three decades, both as a guide and for land-management agencies, and is a founding member of the Prince William Sound Stewardship Foundation. His writing has most recently appeared in The Revelator, Yes Magazine, Hakai Magazine, The Hill, High Country News, and elsewhere.
Reposted with permission from The Revelator.
From Your Site Articles
Related Articles Around the Web
Scientists estimate that only one in every 1,000 eggs survive to maturity. Carol_Ann_Peacock / Getty Images
By Marlowe Starling
Clear-skied, low-wind summer days are rare off the coast of California. But they're a blessing if you're a researcher tracking down critically endangered leatherback sea turtles.
Marine ecologists Scott Benson and Karin Forney, with NOAA's Southwest Fisheries Science Center, spent many of those days tag-teaming a decades-long research effort to collect data on one of the world's oldest and largest marine reptiles. Forney sits in the clear belly of a NOAA surveying plane, scanning the dark waters like a hawk, notifying the team when she spots a leatherback sea turtle (Dermochelys coriacea). Benson, her husband, is among the scientists on the boat below, prepped at the hull with a large net, anticipating the moment they can heave the prehistoric giant on board.
Then comes the sampling: blood tests, tissue samples, attaching transmitters, recording weight. It's an hour-long ordeal, Benson says, and "an all-consuming task." In a month and a half, the team gets maybe five good-weather opportunities to collect data on this massive but little-understood species. And it could be their last chance to save this population.
The western Pacific leatherback sea turtle is at high risk of extinction, according to a study published in Global Ecology and Conservation. The researchers, including lead author Benson and co-author Forney, used roughly three decades of data to assess the population's status. Combining their observations of foraging turtles in California with data on nesting patterns in Indonesia, the researchers estimate the population has declined at a rate of 5.6% annually, suffering an overall 80% decline from 1990 to 2017.
Both on land and at sea, the turtles face a series of existential threats in the Pacific. The situation is so dire that scientists on both sides of the ocean have dedicated their lives to reeling the distinct populations back from a dangerous tipping point.
The Leatherback in the Pacific
The world knew little about Pacific leatherbacks prior to the 1980s, when scientists started collecting more data. Without modern-day technology like satellite transmitters to track turtles' movements, biologists couldn't have known that the leatherbacks foraging off the Californian coast were the same as those nesting in the western Pacific.
Today we know that leatherback sea turtles span the globe with seven genetically distinct subpopulations: the eastern and western in the Pacific Ocean, as well as three in the Atlantic Ocean and two in the Indian Ocean. While the IUCN lists the species as a whole as vulnerable, both Pacific subpopulations are considered critically endangered.
"We know what a thriving sea turtle population needs, but the expanse over which this drama is playing out in the Pacific is so huge, it's hard to understand the whole puzzle and which parts need to be leveraged," said Kyle Van Houtan, chief scientist of the Monterey Bay Aquarium, who was not involved with the study.
All leatherback sea turtle populations are declining, but those in the Atlantic and Indian Oceans are more robust than the plummeting Pacific populations, Benson said.
Pacific leatherbacks feed in seven known areas of the ocean, stretching from New Zealand to Japan to California. While the eastern subpopulation nests in Mexico and parts of Central America, western Pacific leatherbacks nest primarily in Indonesia, Papua New Guinea and Vanuatu.
The research team recorded an average of 140 individuals in central California's foraging patch from 1990 to 2003, but that number dropped to an average of 55 by 2017.
Still, the data only account for a fraction of a population that is scattered across the entire Pacific Ocean and migrates at unpredictable time intervals. Benson said the annual decline of nesting females in West Papua, Indonesia, closely mirrors the rate of decline his team calculated in California, providing further evidence that the entire western subpopulation is suffering.
There is no exact count of how many western Pacific leatherback turtles are left. An analysis in 2013 by the IUCN estimated around 1,400 adult turtles survived in the subpopulation. The IUCN also forecasts the population will dip below 1,000 individuals by 2030.
Scientists say a concrete population estimate is difficult given the nature of western Pacific leatherbacks. It is the only subpopulation with a bimodal nesting pattern, meaning some females nest in the summer while others nest in the winter. Compounding the uncertainty, western Pacific leatherbacks only visit foraging and nesting grounds every two to five years.
Western Pacific leatherbacks are attracted to the Monterey ecosystem in California due to the "the immense productivity … because of the upwelling, the deep offshore currents coming up to the surface, causing these cascades of nutrients and life," Van Houtan said. "That's why we have these leatherbacks."
Unlike most reptiles, leatherback turtles can self-regulate their body temperature, allowing them "to go places where no other sea turtles can go," Van Houtan added. These long-evolved marine reptiles — "living fossils," as he describes them — date back to the Cretaceous Period, when dinosaurs roamed the Earth. Today, they are the only living species in the Demochelys genus.
Weighing up to 900 kilograms (2,000 pounds) and growing up to 2 meters (7 feet) long, leatherbacks are the largest turtle species on the planet. They are also the most migratory sea turtle, traveling up to 16,000 kilometers (10,000 miles) a year between nesting and feeding sites. These giants can dive more than 1,200 m (4,000 ft) deep — deeper than any other sea turtle — thanks to their soft shells, which won't crack under pressure.
But even evolution's long helping hand may not be enough to protect them from humanity's reach.
Threats at Sea and On Land
Pacific leatherback turtles face a multitude of perils both at sea and on land. Among them are impoverished villagers who poach eggs or adults for meat, and habitat degradation in the Pacific islands, where coastal development and cyclones have eroded nesting beaches. But the biggest threat, according to scientists, are fishing vessels that accidentally kill turtles as bycatch.
Drift gillnet and longline fisheries — large-scale fishing operations on the open ocean that harvest an abundance of seafood, like swordfish — are notorious for killing sea turtles that get caught in nets and other fishing gear. Worse, scientists say existing bycatch data probably underestimate the true numbers.
"It's the wild west out on the open ocean," said George Shillinger, a marine biologist who has studied leatherbacks for three decades and is executive director of Upwell, an NGO dedicated to sea turtle conservation. He added that even if nests are protected, ship strikes and bycatch will continue to decimate the population. And then there's the further obstacle of subsidized fisheries, expanding fishing fleets and more intense artisanal fishing, he said, noting "we are really challenged to stave off the relentless pressures."
Across the Pacific, marine scientist Deasy Lontoh champions for leatherback protection in West Papua, Indonesia. She is the research coordinator for the Abun Leatherback Project, which seeks to combat threats that are difficult and costly to mitigate at sea by protecting what's on shore: nesting females and eggs.
Lontoh co-authored a recent paper outlining threats to the largest remaining nesting population on two beaches in West Papua, known as Jamursba-Medi and Wermon. Lontoh's team says it hopes to protect at least half of leatherback nests with the help of local communities.
Lontoh is trying to avoid what happened in Malaysia when a nesting population of western Pacific leatherbacks vanished entirely. Egg harvesting was a rampant, and legal, way for locals to make money until the Terengganu Turtle Sanctuary Advisory Council outlawed it in 1988. From the 1950s to 1995, Malaysia went from 10,000 nests annually to a mere handful. No nests have been reported in almost a decade.
But even when people don't harvest turtle eggs, juvenile survival is naturally a gamble. Scientists estimate that only one in every 1,000 eggs survive to maturity, while females lay around 80 eggs in each nest.
"A lot of hatchlings will die, so we just need to produce high enough numbers … and assume that some of them will become adults in 15 or 20 years," Lontoh said.
Climate change further mars the leatherbacks' future. More extreme storms can decimate nesting sites, while rising temperatures can bake eggs to death. Lontoh said that, locally, sands can reach a lethal 33° Celsius (91° Fahrenheit), and temperatures are rising in the area alongside global trends.
Under normal circumstances, leatherbacks would be less fragile, Benson notes. For one, they lay eggs in multiple locations and span much of the world's oceans. They have also survived several natural climate changes over the past 80 million years. But scientists don't know how the recent, and rapid, changes in water temperature, ocean currents, and upwelling of nutrients will affect leatherbacks.
"Climate change is thrusting all of those things that they depended on up into the air," Van Houtan said. "We need to listen to these signals that the ocean is telling us, because the ocean is the driver of life on our planet."
As the Pacific leatherback population size continues to shrink, climate change and human pressures become a daunting threat to their survival.
"Something more needs to be done," Shillinger said.
Turtle Needs: Regulations and Tourism
For a species inhabiting millions of square miles, keeping it out of harm's way is a monumental task. Scientists have spent the past two decades calling for stricter fishing regulations. But the lack of transnational cooperation and enforcement by governments has been an obstacle to protecting the turtles through policy and regulations.
"One government won't solve it," Shillinger said. "Everyone's got to be involved.
"By the mid-1990s, emerging data revealed high bycatch rates for large marine animals like sea turtles. To mitigate bycatch, the U.S. government created the Pacific Leatherback Conservation Area in 2001: a seasonal protected area off the U.S. West Coast that covers 650,000 square kilometers (250,000 square miles) of ocean and prohibits drift gillnet fishing during the months leatherbacks feast on jellyfish.
Dubbed a "time-area closure," the new regulation helped reduce leatherback bycatch from an average of about 15 turtles per year to fewer than two a year after 2001, according to NOAA.
Additional regulations have helped save turtles in U.S. waters. For example, California's commercial fisheries aren't allowed to use pelagic longlines that can accidentally bait sea turtles. Meanwhile, Hawaiʻi's longline fishery comes with 100% observer coverage, meaning there is always someone documenting bycatch. California is also testing newer technology like deep-set buoy gear, which bypasses leatherbacks feeding on jellyfish to hook swordfish at lower depths.
However, none of these rules apply in international waters. For better protections, Benson and Forney say member countries of regional fishery management organizations like the Inter-American Tropical Tuna Commission need to encourage safer fishery practices.
For the leatherback populations to recover, scientists have suggested a 40% bycatch reduction over the next two decades.
It's an ambitious goal, Shillinger said, adding "what really has to happen is to elevate political will … and make governments accountable for protecting their resources."
In the meantime, Benson called on people to ask waiters at restaurants how and from where their fish is sourced.
"Please consume U.S.-caught swordfish or tuna, because it comes with a side dish of Endangered Species Act rather than a side dish of dead turtle or dead dolphin," he said.
Leatherback conservation also needs to move forward at nesting sites. The Abun Leatherback Project, which works primarily in remote and impoverished villages in West Papua, attempts to protect western Pacific leatherbacks by employing the help of locals. A team of 10 monitors patrols the beaches while others help measure leatherbacks, release hatchlings or create shades made from palm fronds to keep nests cool.
Conservation success is contingent upon local people, Lontoh said: if they don't care about leatherbacks, they won't try to save them.
"[Locals] have strategic roles," Lontoh said. "In the future, they're probably the ones who will [either] help take care of the leatherbacks or help them go extinct."
But that requires incentives and income. Lontoh said the local government set forth an agenda in 2019 to develop the nearby area for tourism. In rural areas with limited resources, women have prepared to make souvenirs, such as the traditional noken woven bags, to sell to tourists.
"To get [rural people] to see that the leatherbacks are worth protecting, they need to feel benefits from conservation," Lontoh said.
Tourism has funded conservation efforts in other areas of the world already, Shillinger said.
"Leatherbacks bring in a lot of ecotourism projects around the world," he said. "Turtles are really charismatic, benign, attractive animals, and no one wants to see them harmed. So culturally, economically and socially, turtles play an important role."
An Ocean Without Leatherbacks
The question remains: What if western Pacific leatherbacks do go extinct? Scientists warn it could happen in a matter of decades without immediate action.
"In the West Pacific, there's a little bit of a window left, but it's not much," Benson said. "It's definitely 11:55 on its way to midnight."
Losing leatherbacks could throw the entire ecosystem off-balance. Leatherbacks, with their ferocious appetites (eating up 40% of their body weight daily), gobble down huge amounts of jellyfish that in turn devour fish larvae and plankton. By eating these bountiful yet low-nutrition "jellies," the turtles help keep jellyfish numbers under control. In recent years, however, Benson said he's noticed an increase of brown sea nettle (Chrysaora fuscescens), one of the leatherbacks' favorite jellies, in California's waters.
"Over time, this might be an illustration that the number of leatherbacks is so reduced now that they can't serve part of their ecological roles," Lontoh said.
Because jellyfish eat fish larvae, more jellyfish may mean less fish overall, likely impacting small-scale artisanal fisheries and rural Pacific islanders who depend on fish for food or income. Fish provide about 3.3 billion people worldwide with nearly 20% of their animal protein, according to the most recent Fishery and Aquaculture Statistics report from the Food and Agriculture Organization of the U.N.
A world without leatherbacks "would still function," Shillinger said, "but there would be some big shifts that we still don't understand."
As the forces of climate change are amplified — cyclones that wash away nests, sand temperatures so hot that hatchlings bake to death, a rapidly changing California Current — a conservation biologist's job becomes no easier.
"This is kind of a higher calling," Benson said. "This is a species threatened with extinction, a lot of people don't know about it, so it's my job to provide some data to increase the opportunities for recovery of the population."
Ironically, Shillinger said, many Californians are unaware that their state marine reptile is the Pacific leatherback.
"Losing a species is a tragedy, something that humanity should really be concerned about," Shillinger said. "As the turtles go, so too does everything else — including ourselves."
Reposted with permission from Mongabay.
A woman looks at a dead gray whale on the beach in the SF Bay area on May 23, 2019; a new spate of gray whales have been turning up dead near San Francisco. Justin Sullivan / Getty Images
Four gray whales have washed up dead near San Francisco within nine days, and at least one cause of death has been attributed to a ship strike.
Located 70 to 115 miles off the coast of Texas and Louisiana, Flower Garden Banks National Marine Sanctuary is one of 14 marine protected areas managed by NOAA's Office of National Marine Sanctuaries. NOAA
Ocean acidification and pollution are well-known threats to the world's coral reef ecosystems. But in a recent study, scientists have uncovered an entirely new threat: human fecal bacteria.
An endangered North Atlantic right whale is seen in New Brunswick's Bay of Fundy in Canada. Francois Gohier / VW Pics / Universal Images Group / Getty Images
Endangered North Atlantic right whales gave birth in greater numbers this winter compared to the past six years — a promising sign for a species that's been driven to the brink of extinction due to human activity.
From December through March, an aerial survey team reported 17 calves swimming with their mothers between Florida and North Carolina, AP News reported. This overall calf count is equal to the total number of births for the past three years and is a hopeful sign compared to 2018, when no right whale births were recorded.
North Atlantic right whales — which can grow to be 52-feet long, weigh up to 140,000 pounds and live about 70 years — each have unique callus patterns on their backs, helping scientists to track and identify individual whales and estimate total populations, according to NOAA Fisheries. But after being decimated by human hunting by the 1890s, right whales continue to be threatened by human activity, making them one of the most endangered large whale species in the world, with less than 400 individuals remaining.
"What we are seeing is what we hope will be the beginning of an upward climb in calving that's going to continue for the next few years," Clay George, a wildlife biologist who oversees right whale surveys for the Georgia Department of Natural Resources, told AP News about this year's higher birth rates. "They need to be producing about two dozen calves per year for the population to stabilize and continue to grow again."
According to scientists, the right whale's rebound could be attributed to shifting to a habitat where zooplankton food sources are more plentiful, Yale Environment 360 reported. "It's a somewhat hopeful sign that they are starting to adjust to this new regime where females are in good enough condition to give birth," Philip Hamilton, a right whale researcher at the New England Aquarium in Boston, told AP News.
But scientists warn that the hopeful news shouldn't distract from the leading causes of right whale deaths: entanglement in fishing gear and boat and ship collisions.
Since 2017, these threats have killed about 34 to 49 right whales, Yale Environment 360 reported. Research has also shown that entanglements caused 72 percent of diagnosed right whale mortalities between 2010-2018, according to The Conversation. Right whales that get tangled in lines and gear will often suffer for months or even years, slowly becoming emaciated and debilitated, the authors wrote.
"The greatest entanglement risk is from ropes that lobster and crab fishermen use to attach buoys to traps they set on the ocean floor. Humpback and minke whales and leatherback sea turtles, all of which are federally protected, also become entangled," explained Michael Moore, a senior scientist at the Woods Hole Oceanographic Institution, and Hannah Myers, a guest investigator with Woods Hole Oceanographic Institution.
But recent proposals to reduce fishing activity that could harm right whales haven't gone without criticism. For example, Maine Gov. Janet Mills said the rules, which include reducing the number of vertical lines in the water, would be "devastating for the lobster fishery," AP News reported. "If this comes to pass, it is not only fishermen and their crew who will be impacted, gear suppliers, trap builders, rope manufacturers — all these businesses face a deeply uncertain future," Mills said in a letter to NOAA, AP News reported.
But for some conservationists, the solution is simple. "North Atlantic right whales can still thrive if humans make it possible," Moore and Myers wrote in The Conversation, pointing to the closely related southern right whales, which have recovered from just 300 individuals in the early 20th century to an estimated 15,000 in 2010, due to decreased human threats.
"If we reduced or eliminated the human-caused death rate, their birth rate would be fine," Hamilton told AP News. "The onus should not be on them to reproduce at a rate that can sustain the rate at which we kill them. The onus should be in us to stop killing."
The atmospheric carbon dioxide number is the highest it's ever been since NOAA began measuring in the late 1950s. David McNew / Getty Images
By Kenny Stancil
The concentration of atmospheric carbon dioxide surged past 420 parts per million for the first time in recorded history this past weekend, according to a measurement taken at the Mauna Loa Observatory on the Big Island of Hawaii.
A man observes a flooded stretch of Dock Street in Annapolis, Maryland on Jan. 25, 2010.
Matt Rath /
Chesapeake Bay Program
The National Oceanic and Atmospheric Administration (NOAA) said Tuesday that a trend of increased coastal flooding will continue to worsen as the climate crisis escalates.

The hidden cost of fishing: Marine debris can entangle and even kill marine wildlife. For air-breathing animals like this sea turtle, discarded fishing gear, known as "ghost gear," is a constant threat that can entangle them and cause them to drown. NOAA PIFSC
By Reynard Loki
There is one main U.S. law that governs the management of marine fisheries in federal waters: The Magnuson–Stevens Fishery Conservation and Management Act (MSA). Originally intended to address the concern over foreign fisheries operating near U.S. waters, the MSA, which was passed in 1976, extended the nation's exclusive fisheries zone from 12 to 200 nautical miles from the coastline. The law was amended in 1996 and 2007 to prevent overfishing, rebuild overfished stocks, establish annual catch limits, put accountability measures in place, strengthen the use of science through peer review, and ensure the overall sustainability of the fishing industry.
Since it was passed, and through past bipartisan reauthorizations, the MSA has notched up many successes, including the rebuilding of at least 40 fisheries stocks — some of which were on the verge of collapse — in the last two decades. "Under the MSA, we are ending overfishing and rebuilding stocks, which strengthens the value of fisheries to our economy and marine ecosystems," according to the National Marine Fisheries Service, the office of the National Oceanic and Atmospheric Administration (NOAA) within the Department of Commerce that is responsible for the stewardship of U.S. ocean resources and their marine habitats.
But a new report has found that the nation's fishery managers are failing in their duty to protect designated "essential fish habitat" (EFH) as required by the MSA. Released in April by the Natural Resources Defense Council (NRDC), a nonprofit environmental advocacy group headquartered in New York, the report is based on a detailed review of how each of the eight federal regional management councils has administered the MSA's requirement to minimize the negative impact of fishing on EFH.

"We found that councils have generally not used the law's habitat protection requirements to significantly reduce commercial fishing's ongoing adverse effects on fish habitat and marine ecosystems," write the report's principal authors, Brad Sewell, the senior director in the Oceans Division of NRDC's Nature Program, and Molly Masterton, a staff attorney in the Oceans Division of NRDC's Nature Program. They point out that these ocean ecosystems provide habitat for up to "80 percent of life on Earth," including fisheries that "feed and provide jobs to millions of people."
But destructive fishing practices destroy marine habitats, kill countless unintended species in their massive, indiscriminate hauls ("bycatch"), and pull so many individual animals from the seas that nature cannot replenish their numbers fast enough ("overfishing"). Global bycatch may amount to as much as 40 percent of the world's catch, and includes a myriad of species — many of them endangered — that fishing fleets are accidentally catching and inadvertently killing. Fishing nets kill hundreds of thousands of whales, dolphins, sea turtles and water birds every year.
"In some cases, councils have simply protected very little habitat, including particularly important or vulnerable habitat, from bottom trawls, the fishing gear most widely recognized as causing harm," write Sewell and Masterton. "In other cases, councils have primarily closed very large, generally deep-sea, areas to potential future bottom trawling, protection that provides important but limited benefits. We also found that the councils have protected virtually no habitat from all commercial fishing gear or all fishing impacts using the EFH requirement, the strongest level of EFH protection."
Unsustainable and destructive commercial fishing is just one of the many threats that the world's oceans and their inhabitants must face. A range of human activities — and the byproducts of those activities—are an ever-present and increasing danger to marine species and ecosystems, including oil and gas drilling and exploration, coastal development, the wildlife trade, ship noise, tourism, plastic pollution, global warming, loss of sea ice and ocean acidification.
The Monterey Bay Aquarium offers a free "Seafood Watch" guide to help consumers make more responsible seafood decisions. But an even better idea is to simply leave seafood off of our plates. "A shrimp cocktail is not worth the life of a sea turtle," said Jaclyn Lopez, Florida director of the Center for Biological Diversity, a nonprofit based in Tucson, Arizona, that supports the implementation of lifesaving "turtle excluder devices" in shrimp trawl fisheries in the Gulf of Mexico and South Atlantic. "We have to do more to protect these extraordinary creatures before it's too late. Devices to exclude sea turtles from shrimp nets just make sense."
As these threats continue, Oceana, a nonprofit ocean conservation organization based in Washington, D.C., has sounded an alarm bell to call attention to ongoing challenges to the MSA. "Unfortunately, there have been attempts [to] weaken the very law that has improved fisheries in the U.S. A number of bills have been introduced that would extend deadlines for rebuilding stocks, relax [annual catch limits], loosen [accountability measures], and hinder the ability of the scientific advisors to provide sound scientific recommendations," the group wrote in 2018. "These changes, if implemented, would undermine significant progress in fisheries management over the last 42 years. … Since 2009, Congressional attacks on the MSA have steadily increased, with a chorus of opponents calling for changes."
In 2018, for example, the House of Representatives passed the Modern Fish Act (H.R. 2023), to include the priorities of recreational fishers in the MSA's reauthorization, a move that marine conservationists opposed. "H.R. 2023 would undo many of the conservation gains made over the past 10+ years in ending overfishing and rebuilding depleted stocks by removing or loosening the requirement of setting scientifically-based catch limits," argued the Marine Fish Conservation Network, a nonprofit group based in Arlington, Virginia, dedicated to sustaining fish populations. "The Modern Fish Act inserts too much uncertainty into the fisheries management process by adversely changing catch limits and how they are applied, muddies the waters between state and federal management, and allows political and economic considerations to override science in management decisions."
In December, Rep. Jared Huffman (D-CA), chairman of the House Natural Resources Subcommittee on Water, Oceans, and Wildlife, and fellow subcommittee member Rep. Ed Case (D-HI) released the draft bill to reauthorize and update the MSA. In addition to addressing the current needs of sustainable fisheries and coastal communities that depend on healthy marine environments, the bill also tackles a threat multiplier for oceanic ecosystems and something that the Biden administration has made a main priority: climate change.
"This draft includes important and timely updates to the MSA as well as provisions to strengthen communities and support those whose lives and livelihoods depend on healthy oceans and fisheries," said Reps. Huffman and Case. "With the growing impacts of climate change, difficulties due to the ongoing pandemic, and rapidly evolving needs in fisheries management and science, amending and reauthorizing the MSA remains a top priority. We're looking forward to the next phase of this process and receiving constructive commentary to inform and shape the bill's introduction [in 2021]."
Oceana has launched a public petition urging Americans to tell Congress to support the MSA, in which they warn, "Our oceans are under attack. Past attempts by members of Congress to weaken the [MSA] … have threatened to undermine years of successful work to rebuild and protect the health of America's fisheries. … Rollbacks that take aim at cornerstone conservation safeguards and statutes such as the MSA put our oceans at risk."
Putting the oceans at risk is illogical, unethical and ultimately self-defeating. Marine biologist Sylvia Earle, who in 1990 became NOAA's first female chief scientist, finds a direct connection between the health of the Earth's marine ecosystems and humanity's survival: "We need to respect the oceans and take care of them as if our lives depended on it. Because they do."
Reynard Loki is a writing fellow at the Independent Media Institute, where he serves as the editor and chief correspondent for Earth | Food | Life. He previously served as the environment, food and animal rights editor at AlterNet and as a reporter for Justmeans/3BL Media covering sustainability and corporate social responsibility. He was named one of FilterBuy's Top 50 Health & Environmental Journalists to Follow in 2016. His work has been published by Yes! Magazine, Salon, Truthout, BillMoyers.com, AlterNet, Counterpunch, EcoWatch and Truthdig, among others.
This article was produced by Earth | Food | Life, a project of the Independent Media Institute.