The toy company that brought you the classic red wagon has developed a Tesla Model S for Kids. Toy company Radio Flyer partnered with Tesla Motors to create the first and only ride-on car for children to be powered by a Flight Speed lithium ion battery.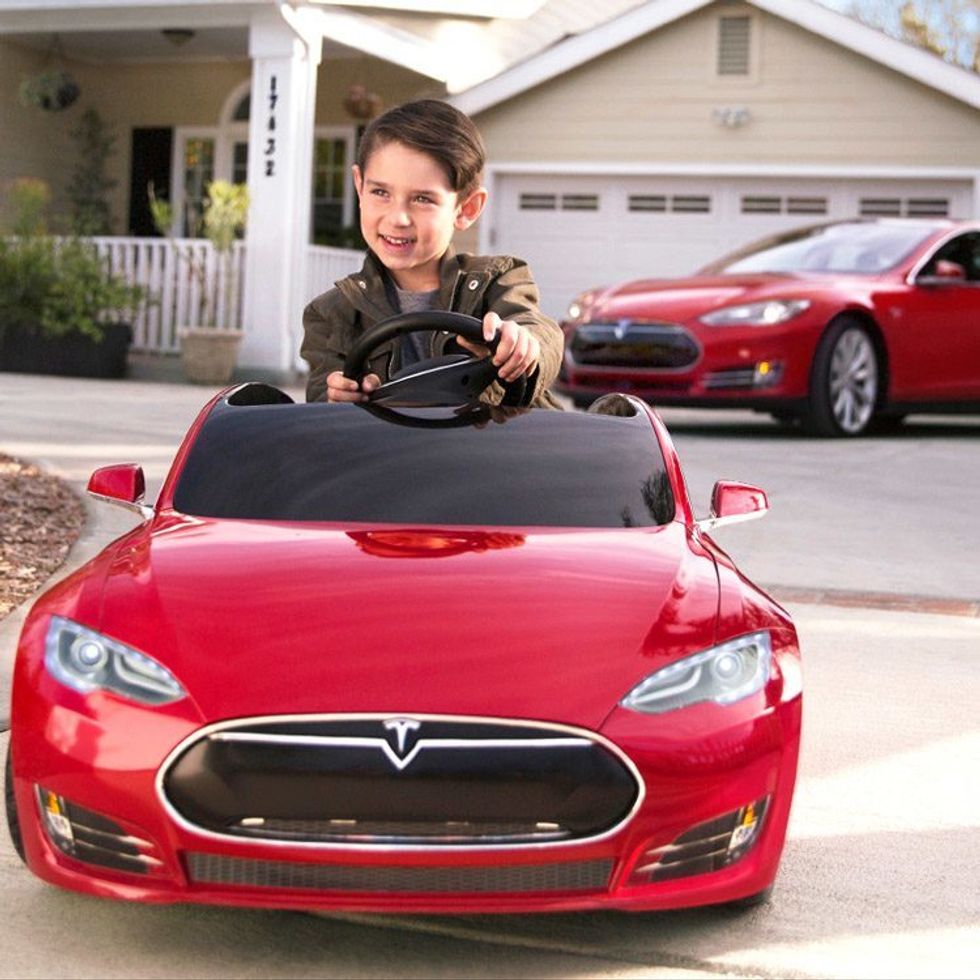 Designed for children ages 3-8, the car reaches a max speed of six miles per hour and the battery can be recharged in just three hours. Just like the adult-sized version, customers pick out the paint color, performance, accessories and personalization.
The car comes in silver, blue or red and features working headlights, a frunk (front trunk) and a sound system that can plug into mobile devices. The basic model costs $499, but customers can make upgrades such as a more powerful battery for "50 percent more playtime per charge." You can pre-order now with shipping beginning in May.
This baby Model S really is quite fun https://t.co/40W5sS5bKI

— Elon Musk (@Elon Musk)1455611178.0
There are other competing electric toy car brands, such as the $599 Arrow Smart-Kart from Actev Motors and $525 kid-sized Mercedes Benz model. And while some may write these toys off as a luxury product for wealthy families, these kid-sized cars could encourage the next generation to get excited about electric vehicles and push to expedite a low-carbon, renewable energy future.
Last month, a USA TODAY/Rock the Vote Millennial Poll found that the under-35 generation ranked converting to renewable energy and taking action on climate change as two of the most pressing issues the next president will face.
And Elon Musk's Tesla and SolarCity are working to revolutionize the energy grid. The two companies partnered up last year to fit rooftop solar panels with Tesla's batteries, which store the energy produced by the panels during off-peak time for later use. That technology allows users to generate energy from the sun during the day and store it until they need it later at night, say, to charge their adult- or kid-sized electric cars.
Watch Radio Flyer's promotional video for the Tesla Model S for Kids:
YOU MIGHT ALSO LIKE
World's First Vegan Supermarket Chain to Open in Portland
The Ultimate in Off-Grid Transportation: Mini-Fleet-in-a-Box
Driving Cars Powered by Organic Solar Cells Might Be Closer Than You Think
Kelly Slater: World's 'Best Man-Made Wave' Is Powered 100% by the Sun
EcoWatch Daily Newsletter
If you saw An Inconvenient Truth featuring former Vice President Al Gore back in 2006, chances are you left the theater a little stunned and asking a whole lot of questions. Questions like, "What can we do?" "What can I do?"
If so, you weren't the only one. Fortunately.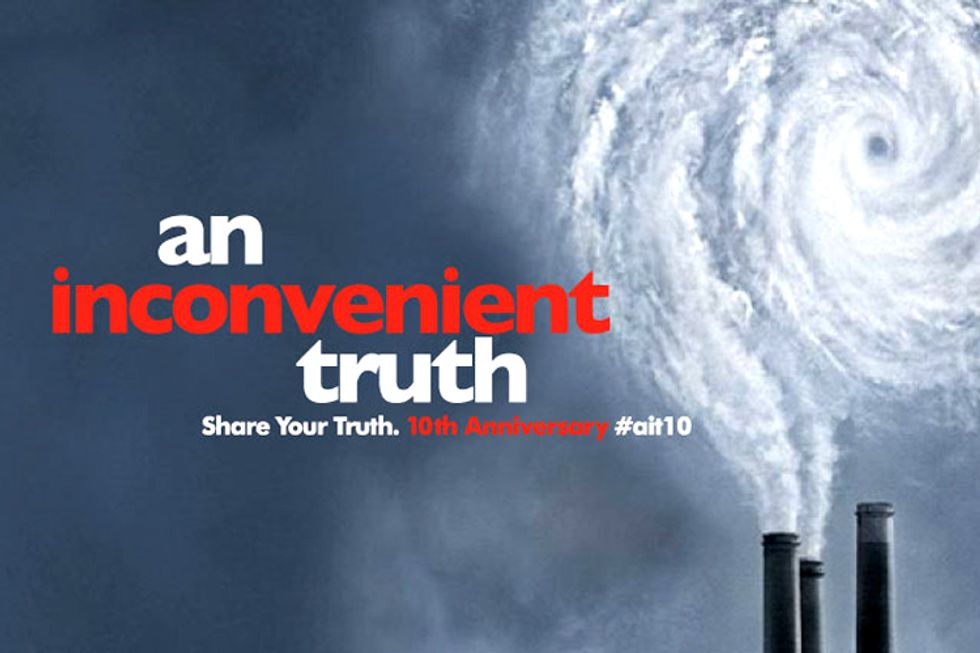 This month marks the 10th anniversary of the groundbreaking film that prompted millions to start asking questions about climate change and doing something about it, helping shape the modern climate movement we know today. And in the decade since, a lot has changed as a result.
Climate science has made major advances, helping us better understand the challenge we face. Renewable energy, such as solar and wind, is cheaper than fossil fuel-based electricity in many parts of the world. Electric cars are even becoming mainstream (well, for some).
But as much progress as we've seen over the past decade, there's still a lot of work to do to build the sustainable future our planet needs. Let's take a look at what's changed—for better or for worse—in the fight against climate change over the past 10 years.
Solar Power is Booming
One of the biggest success stories in climate solutions is the growth of solar power. In 2015, the U.S. installed 7,260 megawatts direct current (MWdc) of photovoltaic solar which was the largest annual total in history and a giant leap from the 105 MWdc installed in 2006. That's more than a 6,800 percent increase.
It gets better. Solar reached a new record in early 2016 when the one-millionth solar installation came online in the U.S. And according to a report by GTM Research, the U.S. solar market is projected to to grow 119 percent in 2016 alone—adding more than double the amount of capacity installed last year. We could go on (and on) about the rapid growth and benefits of solar energy, but you get the idea: solar is here to stay.
Carbon Emissions are Rising
Carbon emissions account for between 65-76 percent of the greenhouse gases from human activity, causing the Earth's temperature to rise at its fastest rate in millions of years. While natural variance in the Earth's carbon cycle leads to some fluctuations in atmospheric carbon dioxide (CO2) levels, overall, we can see a clear connection between fossil fuels and these levels, which have increased about 40 percent since pre-industrial times. But what's scary is that in the last 10 years alone, CO2 levels have increased 5.5 percent, jumping from 382 parts-per-million (PPM) in July 2006 to 404 PPM in April 2016. Which means more heat trapped in our atmosphere.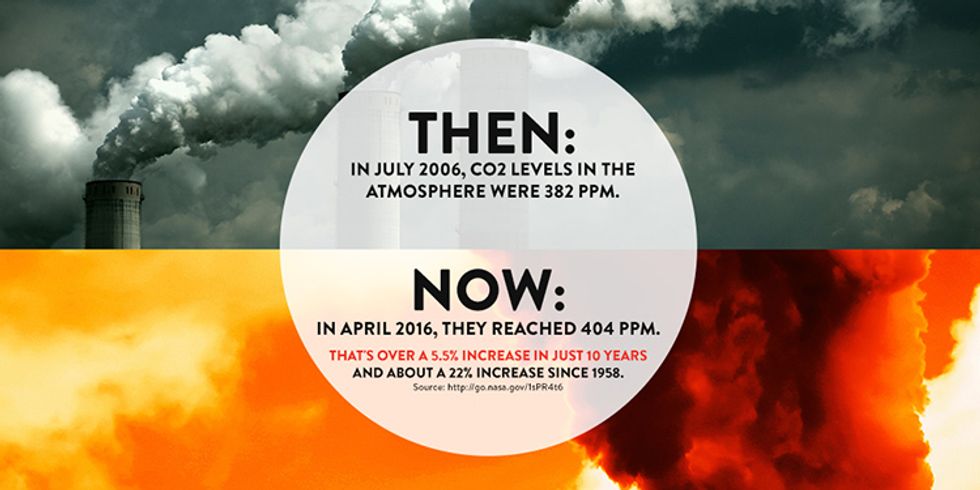 Electric Cars have Taken the World by Storm
You might have started spotting electric cars on the road more and more in recent years as both major manufacturers like Chevrolet and Nissan and boutique firms like Tesla Motors have seen their real market potential. But while electric cars have gained exceptional notoriety in the past decade, they're actually a novelty of the past.
British engineer, Thomas Parker, invented the first electric car in 1884, which used rechargeable batteries. Gasoline-powered cars hadn't gained much traction yet, but by the 1930s, engine improvements and the invention of the electric starter made gasoline-fueled cars a better, cheaper option. You know what happens after that.
Fast forward to 2003 when Tesla Motors launched, a company that set out to prove electric cars could be a more efficient and environmentally-friendly option than gasoline-powered cars. Tesla's first electric car, the Tesla Roadster, launched to the public in 2008 and dramatically shifted how consumers views these vehicles. Since then, more and more manufacturers from BMW to Kia to Mercedes Benz have launched their own electric vehicles, taking the technology mainstream and reaching 1 million sales globally in September 2015.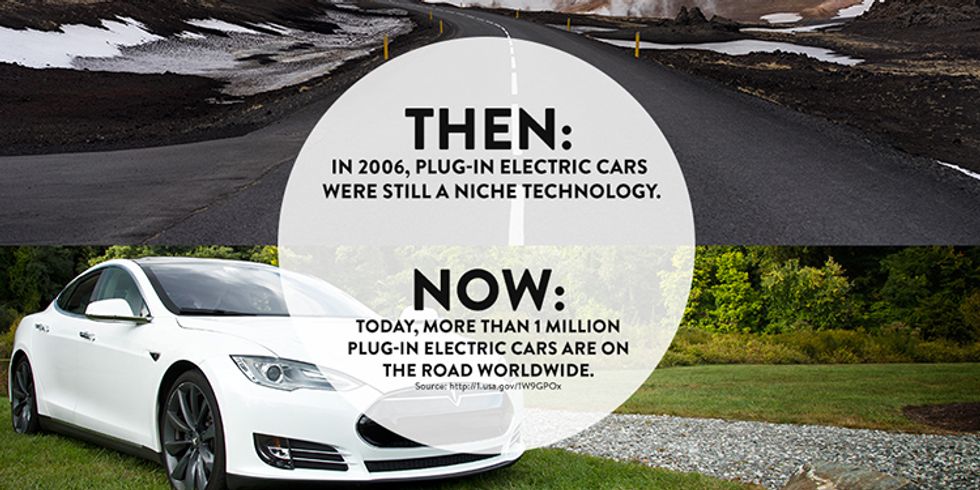 Global Surface Temperatures Are Increasing
It's no secret that 14 of the 15 hottest years ever recorded have occurred since 2001. Last year was the hottest year on record and 2016 is on pace to be even warmer.
These record-breaking temperatures become crystal clear when they're displayed visually. The chart below shows how global surface temperatures have varied from the long-term averages since 1880. Look at the trend beginning around 1950 and you'll see temperature changes steadily increasing throughout the second half of the twentieth century. And within the past decade alone, global temperatures have deviated from the long-term average by 0.63 degrees Celsius (33.14 degrees Fahrenheit) in 2006 to 0.87 degrees Celsius (33.57 degrees Fahrenheit) in 2015. All of this to say our planet is warming like never before in recent history—and it's only getting hotter.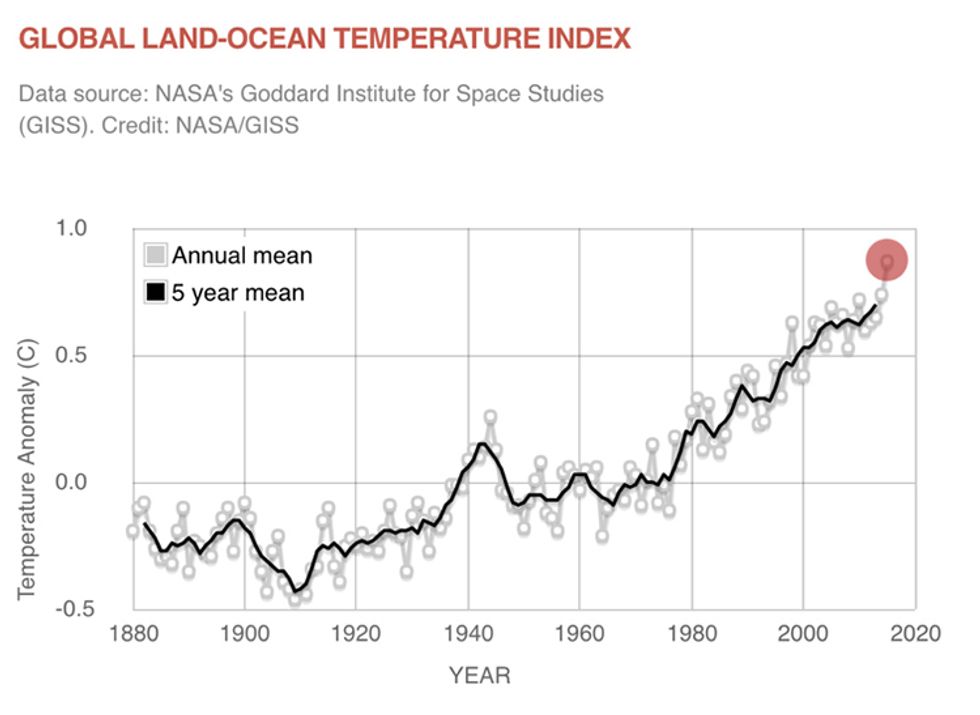 Sea Levels Are Rising
Sea levels have been rising for the past century—and the pace has only increased in the past decade as glaciers melt faster and water temperatures increase, causing oceans to expand. The chart below shows sea-level changes from 1993–2006 where, from June 2006 to January 2016, sea levels increased about 41.24 millimeters (1.62 inches).
You can imagine how this change would affect the half of the global population that lives in towns and cities within 60 kilometers (37 miles) of the coast, including eight of the world's 10 largest cities. These rising sea levels puts millions of people at risk worldwide as storms intensify and more extreme flooding occurs.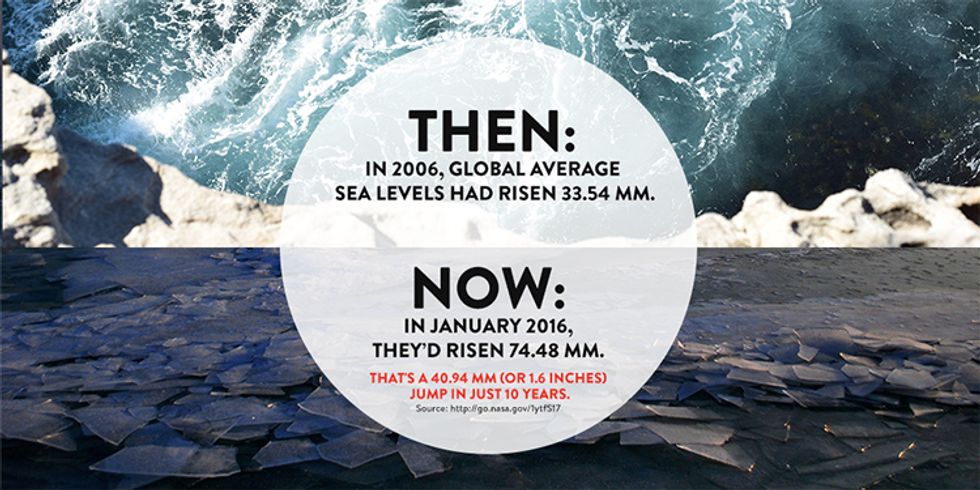 World Leaders Signed the Paris Agreement
In 2006, concerted international action on climate change was still just sputtering along. The Kyoto Protocol—the first serious attempt at setting international targets for reducing emissions—had gone into effect the year before, but the U.S. never ratified the agreement and splits between developed and developing nations meant it never worked quite as well as had been hoped. But what these failings did was kickstart a search for a better model of international cooperation on climate action. It wasn't smooth sailing all the way, as the heartbreak of Copenhagen showed in 2009, when negotiators simply walked out and talks on a new climate treaty dissolved. But in the years that followed, countries kept talking and kept working on a new kind of framework that could bring nations at every stage of development together to solve our common challenge, leading to the landmark Paris Agreement last December.
It wasn't easy getting there, but the Paris agreement represents a real turning point. Formally signed this Earth Day, the deal is the first of its kind to set global targets for reducing carbon emissions and includes commitments from major carbon emitters like the U.S., China and India.
Our Future is Bright
Yes, we have a lot of work ahead to stop climate change. But in the past 10 years, the world has made incredible progress in areas like advancing climate science, rapidly growing renewable energy technologies and international cooperation. And while we're not going to claim An Inconvenient Truth was solely responsible for all these developments, what the film did was bring the challenge of climate change out into the open and into mainstream culture like never before. The result was people in every time zone started asking themselves what they could do—and got working on the answers.
Thanks to their answers and all the breakthroughs above, today we know we can solve it, if we stay committed to this path—and if our world leaders follow through with their commitments to reducing emissions in the Paris agreement. And that's a truth worth sharing.
Ready to take action for the future of our planet? Sign up with Climate Reality and recommit to climate action on the 10th anniversary of An Inconvenient Truth.
Devon Gailey
CBD oil is one dietary supplement where "organic" labels are very important to consumers. Learn about the importance of organic hemp oil, why it's better for the environment, and which CBD companies actually make trustworthy products with sustainable farming processes. Use our curated list to find the best organic CBD oil that's better for you and the environment.
What is Organic CBD Oil?
CBD stands for cannabidiol, and it's one of the hundreds of cannabinoids found within cannabis sativa plants. This plant compound is believed to have many potential health and wellness benefits, including support for anxiety, stress, sleep, and chronic pain.
Since CBD is extracted from industrial hemp, it contains only trace amounts of THC (the psychoactive component in cannabis plants). Instead, the effects of CBD are much more subtle and promote a general sense of calm and relaxation in most users.
The most important (and prominent) certification for organic products comes from the United States Department of Agriculture (USDA). What exactly does this certification entail? Essentially, a label indicating that a product is "USDA Organic" or "Certified Organic" means that at least 95% of the ingredients are obtained from organic sources.
For hemp to be considered organic by the USDA, it must be grown without the use of industrial solvents, irradiation, genetic engineering (GMOs), synthetic pesticides, or chemical fertilizer. Instead, farmers rely on natural substances and mechanical, physical, or biologically based farming techniques to cultivate healthy and organic crops.
Choosing an organic CBD oil without additives is important because it indicates that a product is both safe to use and better for the environment. CBD extracted from an organic hemp plant is more likely to be free from pesticides, heavy metals, and other harmful toxins. This allows you to enjoy the benefits of the plant extract without worrying about any additional and unwanted compounds. Organic CBD is also a better choice for the environment, as it is grown using more sustainable farming practices that help preserve and protect land and water resources.
Our Top Organic CBD Oils
Each product featured here has been independently selected by the writer. You can learn more about our review methodology here. If you make a purchase using the links included, we may earn commission.
How We Chose the Best Organic CBD Oils
To create our list of the best organic CBD oil, we compared brands and products on a number of different criteria. These included:
Hemp Source - We chose brands that use organic hemp grown in the U.S. and that follow natural and organic farming practices.
Natural Ingredients - Each of the products on our list were examined to see if they used organic and natural ingredients for things like flavoring and carrier oils.
Strengths - We looked for organic CBD oils that provide different concentrations of CBD to choose from, depending on your needs.
Lab Testing - All of the CBD products we recommend must undergo independent third-party lab testing and provide access to those results.
Certifications - In addition to USDA organic certification, we also looked for seals from the U.S. Hemp Authority, U.S. Hemp Roundtable, B-Corp, and other industry standards.
A note about USDA organic certification: before the passage of the 2018 Farm Bill, no hemp-derived products could be dubbed as "certified organic" as the hemp plant and its extracts were still categorized as a Schedule I Controlled Substance.
Due to the fact that industrial hemp has only recently become an agricultural crop, very few CBD oils are USDA certified organic. Many CBD products contain hemp extracts from plants that were grown organically, but may not be federally certified yet. Where necessary, we researched each brand's growing and harvesting practices to determine if they follow organic and natural cultivation methods, even if they are not fully certified by the USDA.
8 Best Organic CBD Oils of 2021
The Research on Organic Hemp Oil
What does the science say about organic CBD oil? There is evidence that CBD can help for certain conditions, specifically things like anxiety, sleeplessness, and pain. In fact, CBD taken for anxiety may have fewer side effects than certain prescription anxiety medications. However, as hemp and CBD remain unregulated by the Food and Drug Administration, it is vitally important to do your research and choose high-quality and safe products.
Using organic CBD oil is an easy way to help ensure that you can enjoy the health and wellness benefits of CBD while avoiding any potential toxins or synthetic chemicals.
Hemp is a unique plant, not only for its rich cannabinoid content, but because it is a bioaccumulator, and has the ability to absorb a wide variety of components in the soil. This trait means that hemp can help the environment through the remediation of green spaces, but it poses great risks when it comes to the creation of CBD products derived from hemp.
Because hemp has a high capacity for compound uptake, this means that the plants can retain harmful chemicals like pesticides, heavy metals, and other residual solvents. This is especially true when it comes to synthetic chemicals that are more toxic to humans, and difficult to remove once they have been absorbed by the hemp plant.
Organic farming practices help reduce the risk of hemp crops absorbing harsh chemicals that may later end up in CBD oil after extraction. When you're taking CBD as a wellness supplement to help alleviate your symptoms or improve your overall well-being, the last thing you want is to ingest compounds that might negatively outweigh the benefits of CBD. This is an important reason to look for third party lab test results when shopping for CBD products since these certificates of analysis can show the full cannabinoid and terpene profile of a hemp extract, as well as test results that search for the presence of any residual solvents. If you choose a non-organic CBD oil, you will need to rely even more on the independent lab test results to make sure the product is safe.
In addition to creating a better end product, organic farming practices are also better for the environment. Sustainable and organic farming methods may reduce pollution, conserve water, reduce soil erosion, increase soil fertility, and use less energy. The use of natural pest deterrents as opposed to chemical pesticides is also better for nearby animal populations and ecosystems.
How to Choose CBD Oil for You
When shopping for an organic CBD oil, you can look for certain key ingredients and certifications to find the best options. Here are some tips on how to compare and choose the right organic CBD oil.
What to Look For
Start by looking for the following pieces of information when considering any CBD product:
CBD Spectrum
Make sure you know if the product uses full spectrum, broad spectrum, or CBD isolate hemp extract. Full spectrum CBD contains all of the natural phytocannabinoids, terpenes, and fatty acids found in the hemp plant, including THC. This may produce a fuller result through the entourage effect. However, if you are concerned about THC, or are subject to a drug test, broad spectrum and CBD isolate products offer a great alternative.
Potency
Always check to see how much CBD the product contains. This is measured in milligrams per container and milligrams per serving. A single serving for CBD oil is typically 1 mL, and most brands offer recommendations for measuring and dosages.
Organic Hemp
The source of the hemp used to extract CBD is vitally important. We recommend choosing brands that use organic and naturally-grown hemp raised in the U.S.A. for safety standards. This is the quickest way to ensure that the CBD itself is pure and free from pesticides or other harmful compounds.
Lab Testing
We only recommend CBD oils and products that are subject to independent third-party lab testing. This is a crucial step that verifies both the safety and purity of the oil as well as the potency of the CBD per serving. Look for brands that give you easy access to the lab test results for every product they sell.
How to Read Labels
Here are the primary things to look for when reading the label on a CBD oil or product:
Type of CBD - The label should clearly state whether the product contains full spectrum, broad spectrum, or CBD isolate hemp extract. If it is broad spectrum or isolate, look for a mark that tells you it is "THC-free."
Certifications - Certain brands will include seals of approval to show that their product is USDA-certified organic, non-GMO, made in the U.S.A., or U.S. Hemp Authority certified.
Other Ingredients - Check the ingredients list for anything in the product besides the CBD extract. This typically includes a carrier oil, like MCT or hemp seed oil, but can also include flavorings or botanicals. Make sure they are all-natural and that you are not allergic to any of them.
Test Results - Most brands include a QR code on the packaging or the label of their CBD product that you can scan to view the third-party test results. This is a key way to know if a brand is trustworthy and whether their CBD is safe to use.
How to Use
Organic CBD oil is used just like any other CBD oil tincture, and is primarily ingested using a dropper to measure out the correct dose. Many brands recommend that you take the CBD oil sublingually by placing the CBD tincture under your tongue for 30 seconds or so before swallowing to aid in absorption. You can also add CBD to food and beverages, though some argue that this lessens the effect.
Some of the most common wellness advantages that people seek from organic CBD include:
Better sleep
Internal balance and regulation
If you take organic CBD for help with sleep, take the recommended amount about an hour before bed. If you are taking it for anxiety, you can take one dose in the morning and another in the evening to help promote a sense of calm throughout the day. As with all CBD products, we recommend that you start with a lower dose and gradually increase it to achieve the desired effects rather than starting with a high dose.
Safety and Side Effects
CBD, while generally well-tolerated and safe for adults, can produce side effects in certain people. These are generally very mild, but can include things like nausea, diarrhea, fatigue, and irritability. CBD may also interact with certain prescription drugs, especially blood thinners and statins. If you take a prescription medication, be sure to consult with your doctor before starting CBD.
Takeaway
CBD has the potential to help with a number of health and wellness concerns, especially anxiety, insomnia, and chronic pain. To make sure that you choose the right option, go with the best organic CBD oil without additives from a brand you trust. Use our list to help you get started and find the natural relief you need.
Melena Gurganus is the Reviews Editor at EcoWatch. She is passionate health and wellness and her writing aims to help others find products they can trust. Her work has been featured in publications such as Health, Shape, Huffington Post, Cannabis Business Times, and Bustle.

Vegan products are usually relegated to a tiny section in conventional grocery stores, but Portland, Oregon will soon be home to an entire vegan supermarket.
Veganz, the first and world's largest vegan grocery store chain, will set up shop in the famously crunchy city later this year. Along with a supermarket, Veganz also plans to open a shoe and clothing store and restaurant in Portland.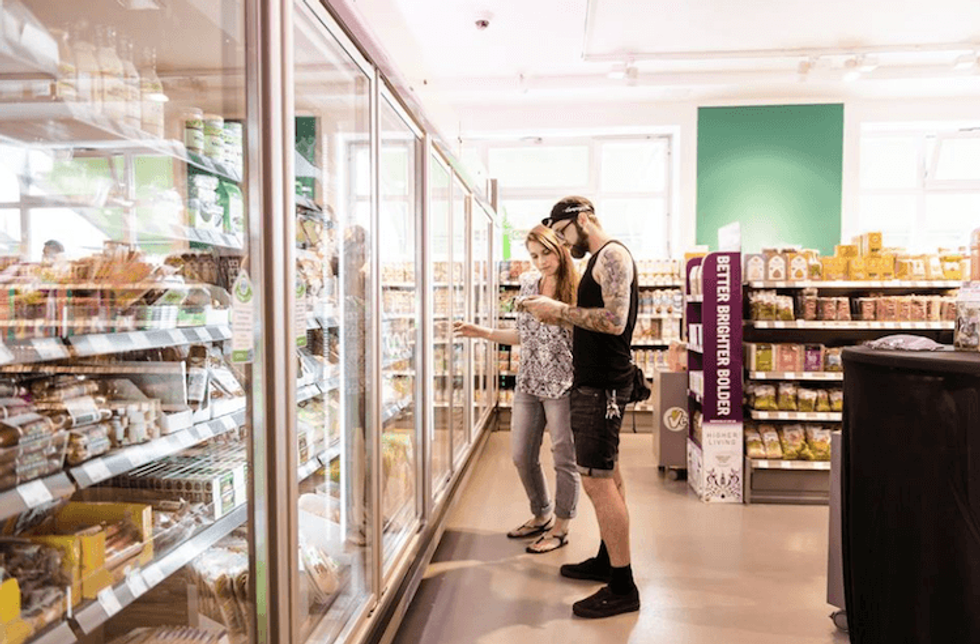 Europe's first and largest 100-percent vegan and cruelty-free supermarket is coming to the U.S. Photo credit: Veganz
The chain was founded in February 2011 in Berlin, Germany by former Mercedes-Benz manager Jan Bredack after he found bountiful vegan options during his travels around the U.S. and Russia, German news site The Local reported.
Bredack, who became a vegan in 2009, said he found it hard to "shop normally" at home. Germany, after all, is the meat-loving home to 1,500 different types of sausages and cold cuts.
Bredack said he wants to make vegan shopping easier for everyone and noted that his stores appeal to omnivores as well, estimating that 80 percent of his customers are neither vegan nor vegetarian.
"It should be really simple," he told The Local. "People shouldn't have to cut out anything."
Veganz imports goods from 30 countries worldwide and sells thousands of vegan products, including plant milk and cream, fake meats and fish, vegan ice creams, vegan cheeses and sweets, as well as toiletries and cosmetics. You can see the incredible range of products they have at its Berlin branch here.
Currently, there are more than 10 branches across Europe, including Berlin, Frankfurt, Hamburg, Munich, Essen, Cologne, Prague and Vienna. Veganz's first branch in the UK will reportedly offer more than 6,000 vegan products.
In the video below Bredack, talks about his plans to take Veganz food products on-the-go with a food truck for festivals, music and sports events.
Although the U.S. is still heavily a nation of meat eaters—vegans make up roughly 6 percent of the U.S. population—Americans have certainly reduced their meat consumption in recent years.
Besides a growing list of health concerns, more and more people are also considering the environmental consequences of meat and animal products. That's because a Western-style diet rich in meat and dairy produce will lead to an 80 percent increase in greenhouse gas emissions from agriculture, according to Tim Redford of the Climate News Network.
A 2014 research paper from UK think tank Chatham House, Livestock—Climate Change's Forgotten Sector, explained why it may be necessary for a lot more people to go vegetarian or at least dial down their consumption of meat and dairy products.
Greenhouse gas emissions from livestock, the study said, account for about 14.5 percent of the global total, more than direct emissions from the transportation sector and more than all the emissions produced by the U.S., the world's biggest economy.
Wir packen fleißig unsere Vegan Kits. Sichert euch die exklusive Snack oder Beauty-Box: https://t.co/QoQl0J8JbX https://t.co/WVzQ5479ZF

— Veganz (@Veganz)1446635176.0
YOU MIGHT ALSO LIKE
10 Foods You Should Eat to Reduce Stress and Anxiety
Kelly Slater: World's 'Best Man-Made Wave' Is Powered 100% by the Sun
Organic Farmer Dealt Final Blow in Landmark Lawsuit Over Monsanto's GMO Contamination
Tyson Foods Dumps More Pollution Into Waterways Each Year Than Exxon
One of Google's fleet of electric self-driving cars was pulled over by a police officer yesterday in Mountain View, California. The reason: going too slow. The vehicle was traveling 24 miles per hour (mph) in a 35-mph zone, backing up traffic, the Mountain View Police Department said.
Google's self-driving car got pulled over for driving too slow https://t.co/ccjhQ9D69g https://t.co/o508no7lZk

— Verge Transportation (@Verge Transportation)1447425858.0
"Driving too slowly? Bet humans don't get pulled over for that too often," said the Google car team in a Google+ post. "We've capped the speed of our prototype vehicles at 25 mph for safety reasons." If you're wondering how the officer even managed to pull over a self-driving car, there is a human passenger who can manually take over the vehicle at any time.
The car wasn't actually violating the law, so no citation was given. Google autonomous cars are only allowed to operate on roads with speed limits at or under 35 mph because Google sets the speed so low. Since the speed limit was 35 mph, the Google car was driving lawfully, the Mountain View Police Department said.
"Like this officer, people sometimes flag us down when they want to know more about our project. After 1.2 million miles of autonomous driving (that's the human equivalent of 90 years of driving experience), we're proud to say we've never been ticketed," boasted the Google car team.
While some (myself included) find the idea of driving behind a car going 24 mph in a 35-mph zone painful, others pointed out that at least it was driving safely. Remember, about 1.25 million people die each year as a result of road traffic crashes, which are the leading cause of death among those aged 15 to 29.
Better driving 25 and paying attention automatically than 35 and driver distracted in his cell. #Selfdriving #google https://t.co/Y6TMZ8Lc3w

— Marc Delingat (@Marc Delingat)1447433743.0
The technology for self-driving cars has been making major in-roads in recent years. Several major car companies, including Ford and Mercedes-Benz, are developing self-driving cars. But it's obviously not just car companies. Tech companies such as Google and Apple are getting into the game as well.
"It seems like every billionaire with a tech company is working on a self-driving car," joked Stephen Colbert on the Late Show last month. When Tesla updated its fleet of electric cars with an autopilot feature last month, Colbert told Late Show viewers, "this technology is self-driving towards us whether we like it or not."
Be that as it may, the technology is still in its infancy. Tesla's feature makes the car semi-autonomous, though Tesla CEO Elon Musk estimates that a fully autonomous car is only a few years away. And despite Musk's warnings that "the software is still very new" and drivers should be very careful, there were still, of course, some hiccups. One Tesla driver wasn't as lucky as the Google car when he was pulled over by the Florida highway patrol. He had set his autopilot for 75 mph in a 60-mph zone. When Tesla issued the update, it cautioned drivers that they are "still responsible for, and ultimately in control of, the car." If a Tesla on autopilot gets in an accident, it will still be the driver's fault.
Last month, drivers of a Tesla Model S completed a cross-country road trip in record time for an electric vehicle—and the car drove itself almost the entire way.
YOU MIGHT ALSO LIKE
Tesla Model S Drivers Set Record-Breaking Cross Country Trip Using Autopilot Almost Entire Time
Camper You Pull With Your Bike Turns the World Into Your Backyard
Volkswagen to Release Electric Version of Its Iconic Hippie Van
Colbert: I Woke Up Yesterday Morning and My Tesla Could Drive Itself
There's a lot of buzz these days about autonomous or self-driving cars. Major tech and car companies like Google, Ford, Mercedes-Benz and Apple are all jumping on board with these cars of the future, either with plans to create self-driving vehicles, or with vehicles in the testing stages almost ready for the road.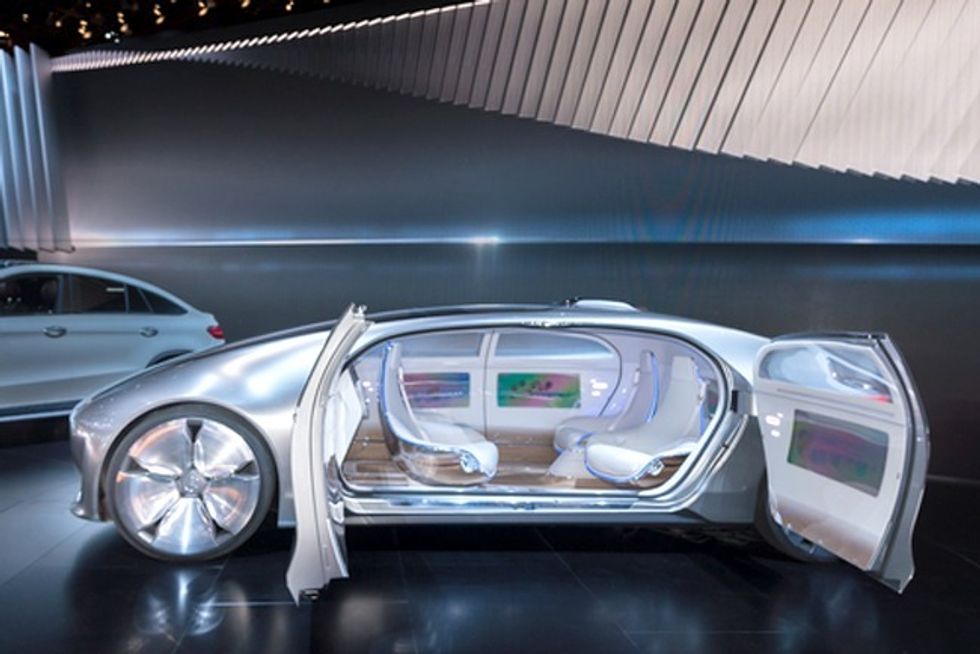 The Mercedes-Benz F015 Luxury in Motion is an electric, autonomous, concept car that debuted at this year's North American International Auto Show. Steve Lagreca / Shutterstock.com
And there's a reason for this—humans are terrible drivers. Unfortunately, we drink, we snooze, we text, we tweet, we eat, we apply make-up and we chat on the phone all while barreling around at high speeds behind the wheel of a moving vehicle. In the U.S., 30,000 people die from automobile accidents every year, and world wide, traffic crashes are the primary cause of death for people aged 15-24. Human error is a terrifying thing when it occurs at high speeds, and the visionaries for these futuristic cars are looking to eliminate it.
Autonomous cars do the driving for you, meaning that both able-bodied and many people with disabilities will enjoy the independence of having a car. A stroke sufferer who can no longer drive will be able to get behind the wheel and live a more independent life. An elderly person who lost a license will be able to gain some independence back. Nearly one in five people have a disability and 45 percent of disabled people in the U.S. still work, and these cars stand to make their lives easier, allowing them to travel with ease.
And the advantages go far beyond accessibility and cutting down traffic accidents: they will be good for our environment too. All of these new autonomous cars are powered by electricity, not gasoline. Electric vehicles (EVs) are already cleaner than standard cars just by using today's electricity sources to power them, and they'll only get cleaner over time as we move toward a 100 percent clean energy grid. This means lower oil use, lower greenhouse gas emissions and higher air quality.
Also, many of these autonomous cars will be shared. Companies are investing in car sharing and using smartphone apps that let people summon cars effortlessly, matching the pattern preferred by many millennials. From 2007 to 2011, the number of cars purchased by people aged 18 to 34 fell almost 30 percent. Instead, millennials are opting for car sharing options such as Zipcar and Car to Go. And this makes sense considering 95 percent of a car's lifetime is spent parked. According to Alan Woodland, executive director of the Car Sharing Association, around 1 million people now car share—four times as much as just four years ago. Considering the benefits, that's understandable—it's far more convenient for those in many areas. Instead of owning one type of car, sharing allows one to use the car that best fits current needs. Going to the grocery store? Order a car with trunk space.
Car sharing not only takes cars off the road and helps eliminate congestion and air pollution, but also reduces the need for parking lots, garages and gas stations. Also, imagine a future in which people use a shared autonomous car to get from their home to a transit station, take a train or electric bus to a stop near their office and use a bike-share or their own two feet to make the last leg of the journey.
These are the many reasons why we're keeping autonomous vehicles on our radar.
However, there's still a long way to go. Google's model only goes 25 miles per hour, meant only for short residential trips. These cars can't drive in the snow or heavy rain, and there's a variety of complex situations they don't process well, like construction zones and hesitant pedestrians.
If we have any hope of getting to these futuristic "Jetson's" cars, we need to scale up the innovative, green vehicles already available. The EVs of today, while not autonomously-driven, come in all shapes, sizes and price points. Some are meant for long distances, like the Tesla and the plug-in hybrids on the market, and some are meant for shorter distances, like the Nissan Leaf; but when driven by a licensed driver, these cars have the ability to take on heavy rain, snow and construction sites. As high-tech marvels, they're also really fun to drive.
We need to make EVs more well-known, affordable and accessible. We need to increase the number of charging stations at workplaces, multi family homes, and in disadvantaged communities. We can't wait until self-driving vehicle technology is ready for the public for us to start making the switch to electric cars—we need to continue our advocacy efforts on increasing access to the people-driven EVs currently on the market.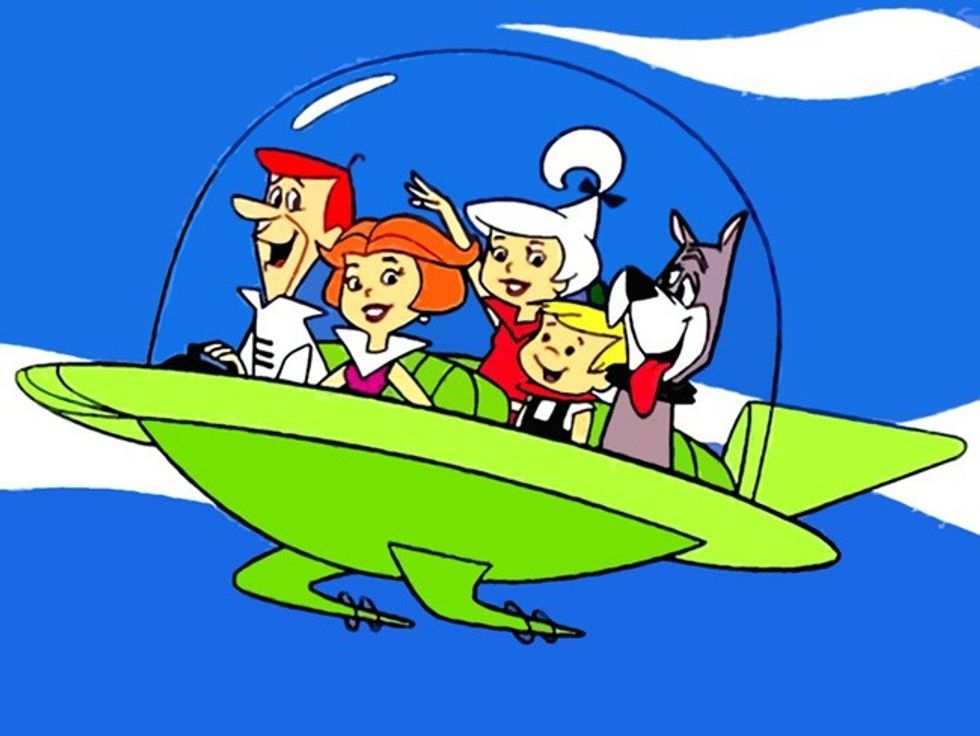 If we have any hope of getting to these futuristic "Jetson's" cars, we need to scale up the innovative, green vehicles already available.
By advocating for policies that support a responsible EV-driven future, promoting autonomous vehicles when they hit the market and promoting person-driven EVs on the market now, we can set up a smart infrastructure that supports all EVs. Because the sooner we switch from gasoline-powered cars to electric-powered cars, the sooner we decrease our oil use and greenhouse gas emissions, and better protect our planet—and the sooner we can live like we're George and Jane Jetson—but ideally with more trees.
YOU MIGHT ALSO LIKE
Sunlight Striking Earth's Surface in Just One Hour Delivers Enough Energy to Power World Economy for Entire Year
Elon Musk: 'We've Dramatically Increased the Power Capability' of the Tesla Powerwall
Mark Ruffalo to Jon Stewart: We Have a 50-State Plan to Power America on 100% Renewable Energy
Electric vehicles (EVs) may be the future of transportation, but is an EV right for you? If you're considering a switch, it can be difficult to choose between the many different models, prices, mile ranges and fuel economies that are available in this nascent sector.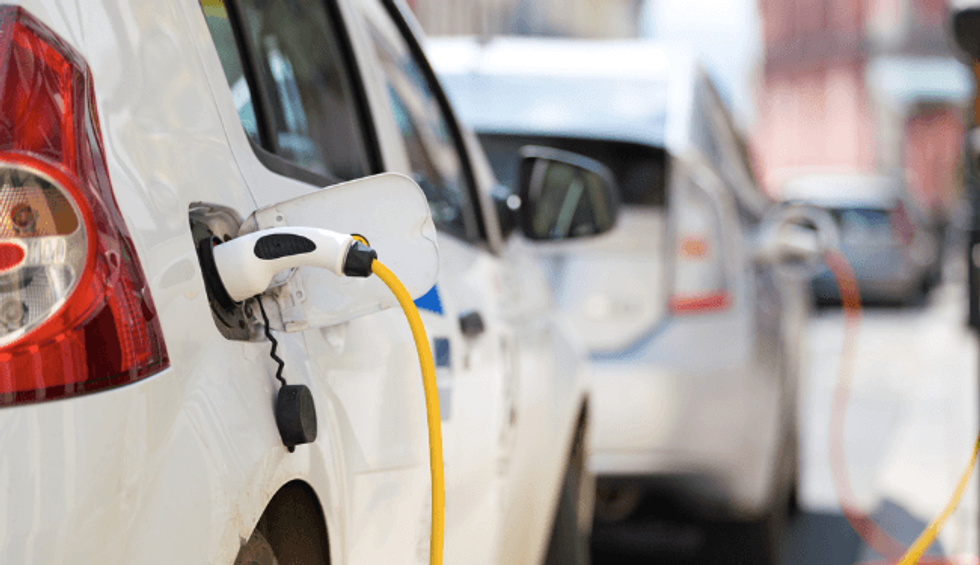 Photo credit: Shutterstock
With all these variables—not to mention all the government and utility incentives to navigate—the Sierra Club has released an update to their Electric Vehicle Guide, a database and online tool that makes the decision-making process a lot easier.
The EV Guide allows users to compare specs of more than 20 models that are available today. To narrow the field even further, you can take this simple, six-question Pick-a-Plug-In quiz that asks questions based on your budget, fuel requirements and other specifications.
Here's a screenshot of what the quiz looks like with my answers: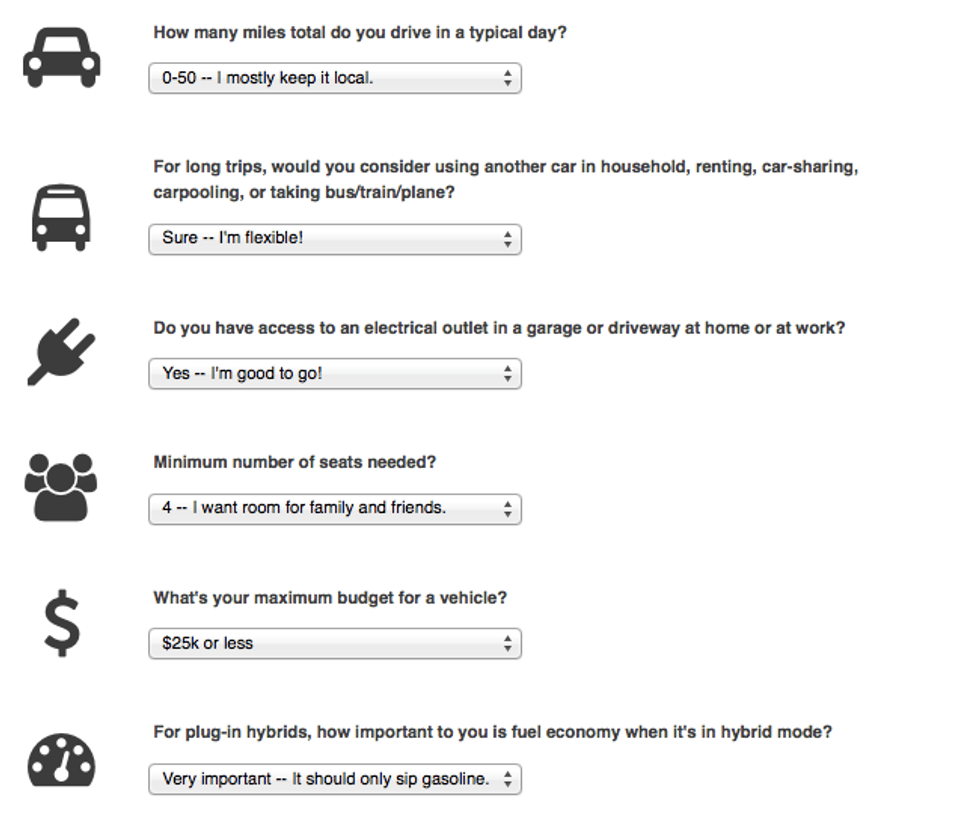 And here are my results: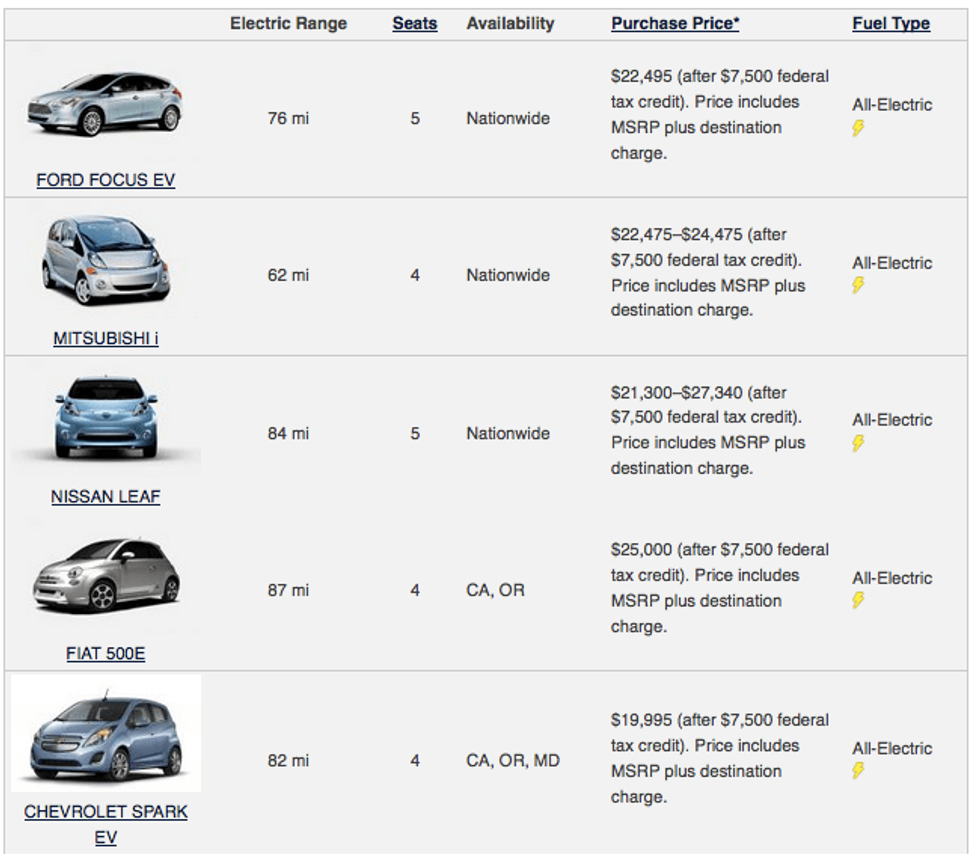 One great feature of the new guide is its state index. After clicking on an EV, say a Ford Focus, you can enter your zip code to calculate how much you'll save in CO2 emissions and fueling costs with the Focus, and also learn about available incentives in your area, from rebates and tax credits to EV charging incentives and other discounts.
As the Sierra Club pointed out in a release, the guide provides a wealth of information for the potential EV-buyer. For instance, the guide shows how small business owners and landlords in California can receive rebates of up to 15 percent for installing electric vehicle charging stations. In Connecticut, residents who purchase or lease an electric car receive an immediate rebate at the dealership of up to $3,500. And Minnesota utility company Great River Electric now has a program that guarantees customers 100 percent wind power to charge their EVs for no additional cost.
Even though the EV market is relatively new, there are more options than ever. "In less than five years' time, the earlier dilemma of having to choose among a Chevy Volt, Nissan Leaf or Tesla Roadster has been replaced with the much harder (but much better!) problem of having to decide from a list of over 20 models, including attractive options from Ford, BMW, Kia, Mercedes-Benz, Porsche, Volkswagen and more," wrote Gina Coplon-Newfield, the director of Sierra Club's Electric Vehicles Initiative.
Which Electric Vehicle is right for you? Which incentives do you qualify for? Check out our EV guide: http://t.co/BaB42QuLxn

— Sierra Club (@sierraclub) July 15, 2015
Making the switch to electric is also easier than one might think. Quartz reported that 42 percent of Americans could switch to electric cars without changing their driving habits, based on this report from the Union of Concerned Scientists.
"If everyone who could use an EV had one today, we would save 350 million barrels of oil a year," the report said (via Quartz). The study also found that the switch would cut down U.S. petroleum consumption by half.
While it might take some time for the country to go gas-free, adoption of EVs is slowly increasing. According to USA TODAY, the market has seen a 0.8 percent increase compared to this same time last year. The "U.S. led sales of all global electric vehicles and plug-in hybrid vehicles, selling more than 14,500 of them in the first quarter of 2015," the report said, citing research from IHS Automotive.
The benefits of EVs are clear. "With significantly lower emissions than traditional vehicles, a switch to electric vehicles helps reduce our dependence on dirty fuels and reduce our carbon footprint," Coplon-Newfield said. "Our newly updated electric vehicle guide not only lets the users pick out the right car for their families, but the right car for the planet, too."
YOU MIGHT ALSO LIKE
Does Elon Musk's Tesla Model S 'Signal the Beginning of the End for Oil?'
5 Eco-Cars Taking the Industry by Storm
The mission of GreenCars.org, a website sponsored by the American Council for an Energy-Efficient Economy (ACEEE), is to help consumers learn whether the car they're thinking of buying is environmentally friendly. One way they do that is through their annual "greenest" and "meanest" ratings, which was released today for the model year 2015.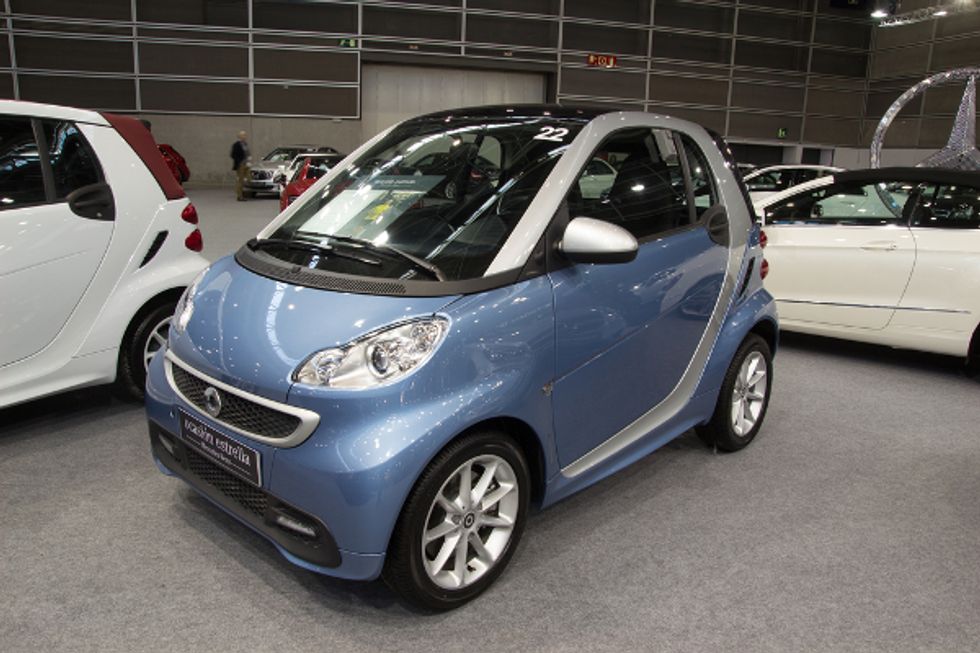 Photo credit: Shutterstock
"We analyze automakers' test results for fuel economy and emissions as reported to the U.S. Environmental Protection Agency (EPA) and the California Air Resources Board, along with other specifications reported by automakers," they explain. "We estimate pollution from vehicle manufacturing, from the production and distribution of fuel and from vehicle tailpipes. We count air pollution, such as fine particles, nitrogen oxides, hydrocarbons and other pollutants according to the health problems caused by each pollutant. We then factor in greenhouse gases (such as carbon dioxide) and combine the emissions estimates into a Green Score that runs on a scale from 0 to 100."
That vehicles are still a major source of damage to the environment is shown by the fact that the top vehicle scored 61, with an average score of 37, and the worst vehicle scoring a dismal 17.
The winners' list is no surprise. It's dominated by electric plug-in vehicles, which claimed six of the top 12 including slots 1, 2 and 3, 5 and 6. The little sub-subcompact, the Mercedes-Benz Smart Fortwo electric drive convertible/coupe, snagged the top spot, followed Chevy Spark EV and the Fiat 500E. The Nissan Leaf (5), the Toyota Prius Plug-In Hybrid (6) and the Ford Focus Electric (11) also finished in the top 12. That list also included four hybrids, one conventional car (the Mitsubishi Mirage) and the Honda Civic Natural Gas, the only consumer car available powered by natural gas.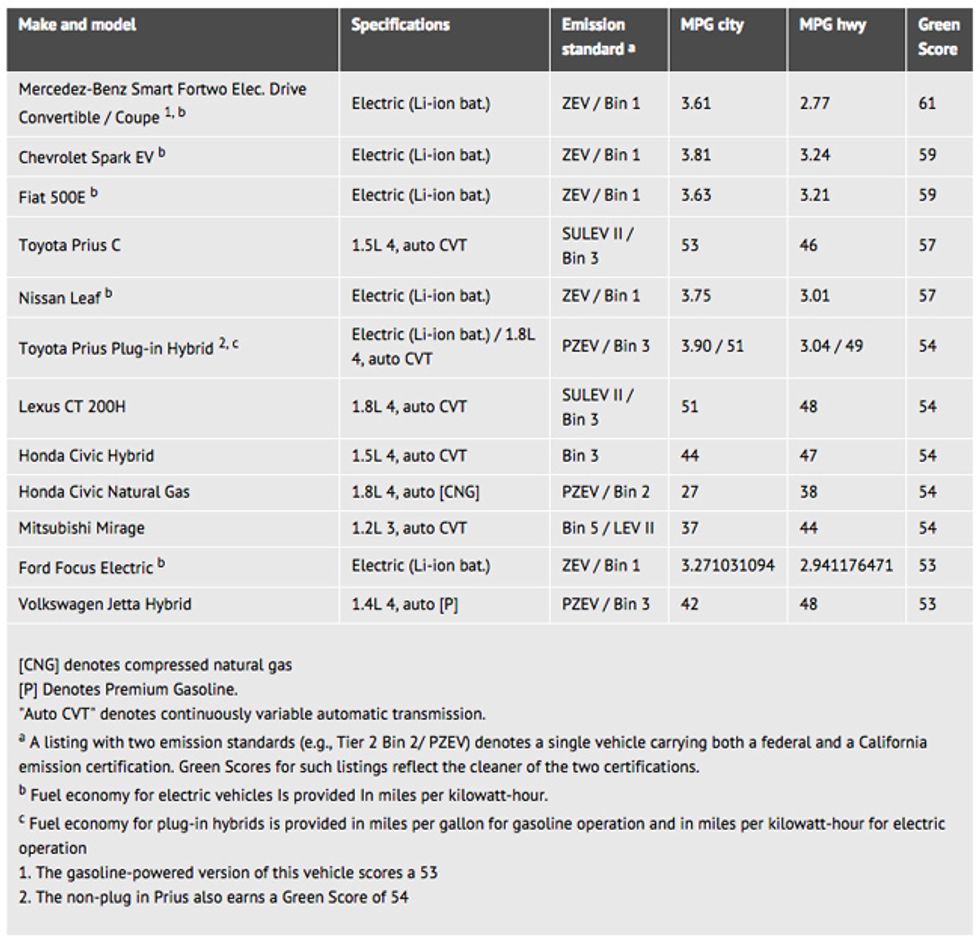 "As the electric vehicle market continues to develop, we're seeing a number of different options from a variety of automakers, including several from American manufacturers," said ACEEE lead vehicle analyst Shruti Vaidyanathan.
The Greener Choices list also identifies practical options among the top widely available, automatic transmission, petroleum-fueled models, which includes trucks and SUVs. Domestic manufacturers claimed five of the 12 Greener Choices spots.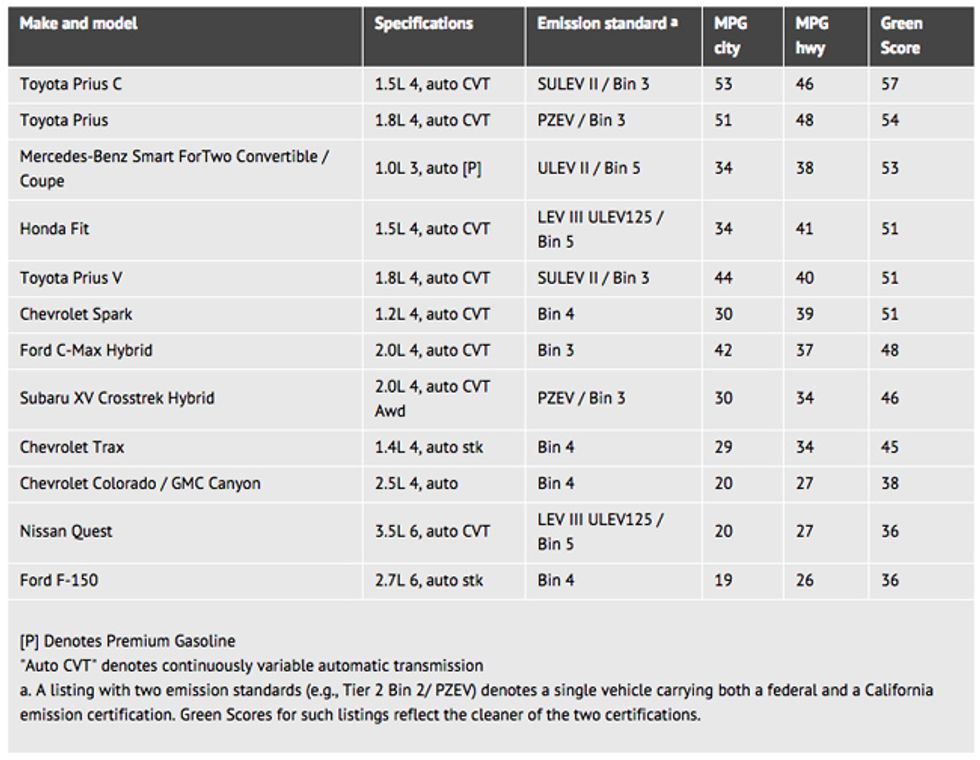 The "meanest" car in terms of environmental impact is the Ram 2500, the only vehicle to rate a score of 17. But if it's really terrible gas mileage you're looking for, you can't go wrong with the #3 car on the list, the Bugatti Veyron. With its average mileage of 8 in the city and 15 on the highway—figures that were once routine for consumer cars—it earns a score of 15. But with a price tag that can soar above $2 million, it's probably not on your shopping list anyway.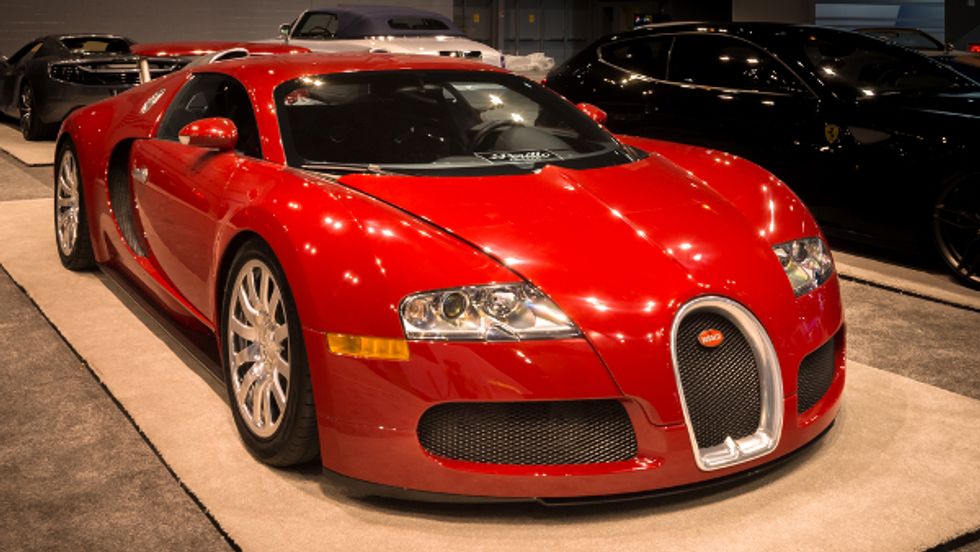 Photo credit: Shutterstock
You are also not likely to be test-driving many of other cars on the "meanest" list. Given their cost, most are rarities on the road, limiting the climate-damaging capacity. With their prices all topping $100,000—some by a lot—you're unlike to see cars like the Bentley Mulsanne (4), the Mercedes-Benz G 63 AMG (5), the Mercedes-Benz G550 (6), the Rolls-Royce Phantom Drophead Coupe (7), the Lamborghini Aventador Roadster (8) and the Ferrari FF (11) cruising around your neighborhood.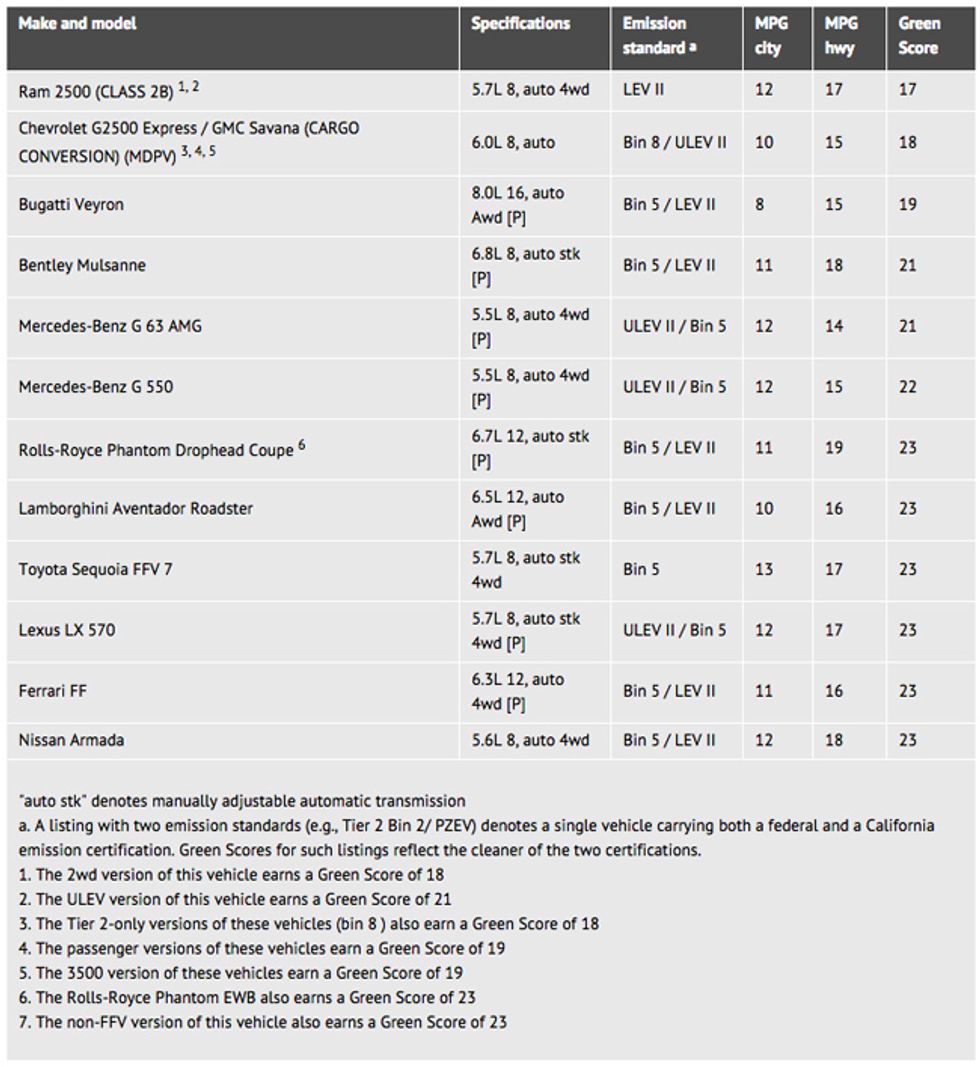 Alas, the Ram 2500, while not cheap, does fit many family budgets. You can snag this environmentally unfriendly car for under $40,000. The Smart Fortwo electric, on the other hand, starts at around $25,000. But the conventional model Smart Fortwo, which starts at less than $14,000, only missed the list because its electric counterpart was on it.
GreenCars.org's site is searchable by vehicle model, class and year going back to 2000. In addition to its ranking and score, it lists emission standard, fuel economy, fuel costs, health effects, carbon dioxide emissions and overall environmental impact for each vehicle.
"Buying green does more than fulfill your own personal commitment to protect the environment," says GreenCars.org. "Naturally each greener choice by an individual consumer reduces pollution directly. But the market is also a give-and-take between consumers and manufacturers. As more and more consumers buy green, automakers will increasingly view environmentally friendly design as an opportunity rather than an obligation. Then they will be motivated to invest even more in improved technology, and even more green cars and trucks will be available in the years ahead."
YOU MIGHT ALSO LIKE
8 States Pave Road For 3.3 Million Electric Vehicles by 2025
10 Must-See Electric Cars at this Year's International Auto Show
There's a reason why this plug-in hybrid is described as "the most progressive sports car." The BMW i8 was presented with the 2015 World Green Car Award at the New York International Auto Show, repeating the automaker's win last year with their purely electric BMW i3.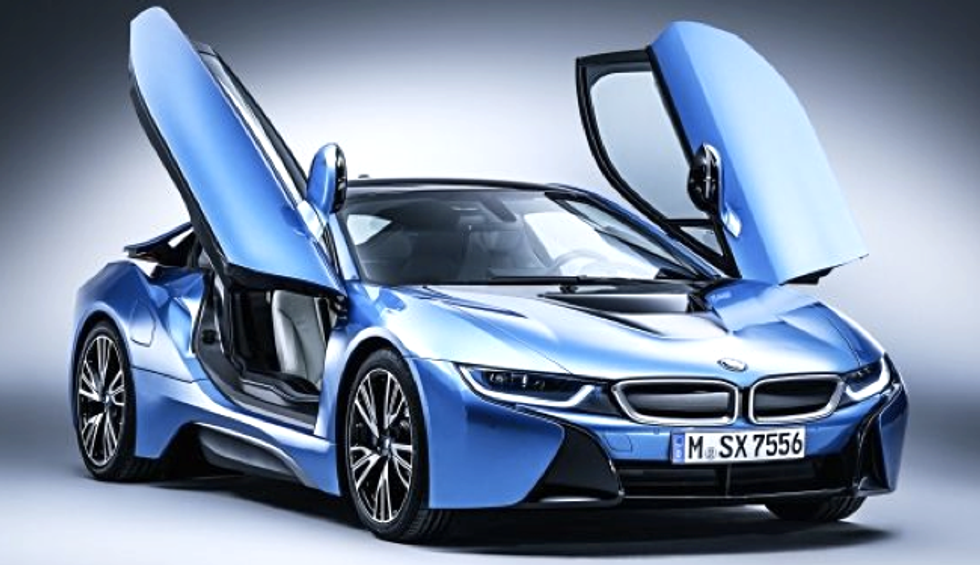 The international jury recognized the car for its plug-in hybrid drive technology, its lightweight construction as well as its avant-garde design.
With its scissor doors, low ground clearance and (optional) laser headlights, the i8 is every bit the futuristic Hot Wheel. The car claims to go from 0 to 60 in about 4.5 seconds, achieves more than 56 mpg for everyday commuting when the battery is fully charged and has an overall fuel consumption that's about 50 percent better than conventionally powered sports cars.
At a starting price of $135,700, the luxury vehicle is not for everyone. To satisfy the eco-minded driver, the i8's battery can be charged at a conventional power outlet, at a charging station or while driving.
The car has three different driving modes: its default setting will determine the most efficient balance between fuel and electric power; sport mode combines fuel and power for the best performance; and its eDrive mode goes on electric power alone for up to 22 miles. Chris Knapman of the UK's Telegraph Cars noted in a review that when driving the car with battery power exclusively, the i8 releases 49g/km (about 0.17lbs/m) in CO2 emissions. "Despite all of its technology, the i8 is as user-friendly as a Toyota Prius," Knapman noted.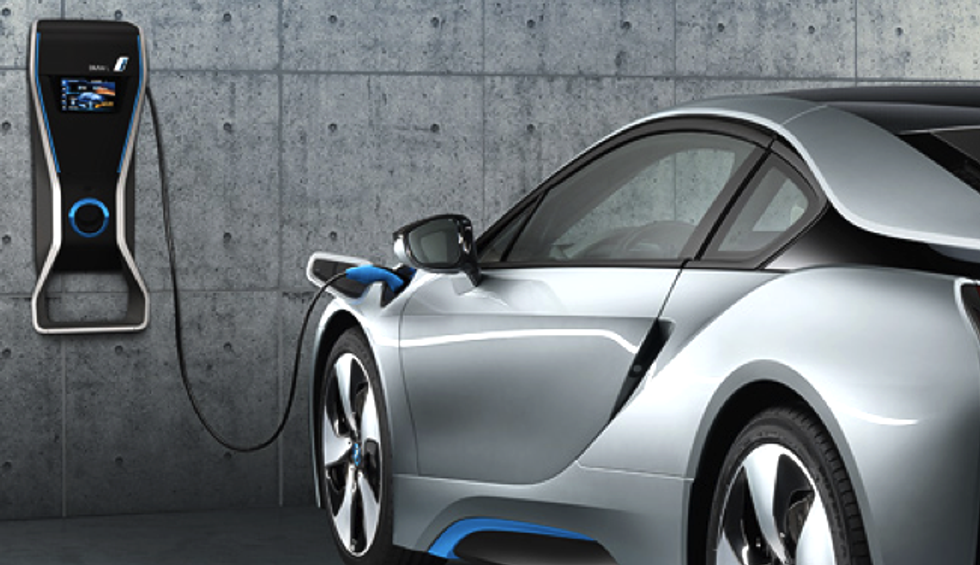 According to a press release, to qualify for the World Green Car Award, the vehicle had to be all-new or substantially revised and at least 10 units had to be sold or leased in a major market between Jan. 1, 2014 and May 31, 2015. Also taken into consideration were tailpipe emissions, fuel consumption and use of a major advanced power plant technology aimed specifically at increasing the vehicle's environmental responsibility.
Because of the complex nature of "green" technologies, five experts from around the world were tasked with extensively reviewing all documentation and specs with each green car award candidate. Seventy-five World Car Awards jurors then voted for the best green car based on the experts' recommendations.
"The BMW i8 gasoline hybrid looks so cool, it should be the icon for all 'green' cars," one of the experts said of the machine. "The i8 adds so much enjoyment to a sensible lifestyle that it needs to be recognized as a great green car."
The BMW i8 was chosen from an initial entry list of 10 new vehicles from all over the world. A short list of this year's finalists also included the Mercedes-Benz S 500 Plug-In Hybrid and the Volkswagen Golf GTE.
"I am delighted to accept this award on behalf of the team in Munich," said Dr. Ian Robertson, head of Sales and Marketing and member of the Board of Management at BMW. "The BMW i8 represents the future with its unique lightweight construction and unrivaled connectivity. To win this award for the second year in a row shows that our BMW products are truly leading the world."
Check out how this modern yet sustainable sports car moves:
YOU MIGHT ALSO LIKE
Elon Musk Says Tesla Has Conquered 'Range Anxiety'
Nissan's Game-Changing Deal Allows EV Owners to Sell Power Back to the Grid
Tesla Hits New Milestone Installing 2,000 Superchargers Worldwide
Gas prices may be plunging right now, but that hasn't stopped the carmakers at the 2015 North American International Auto Show from competing to show off their new hybrid and all-electric cars. The auto show expects more than one million people to come to Detroit, Michigan to see the 45 new vehicles on display from Jan. 12-25.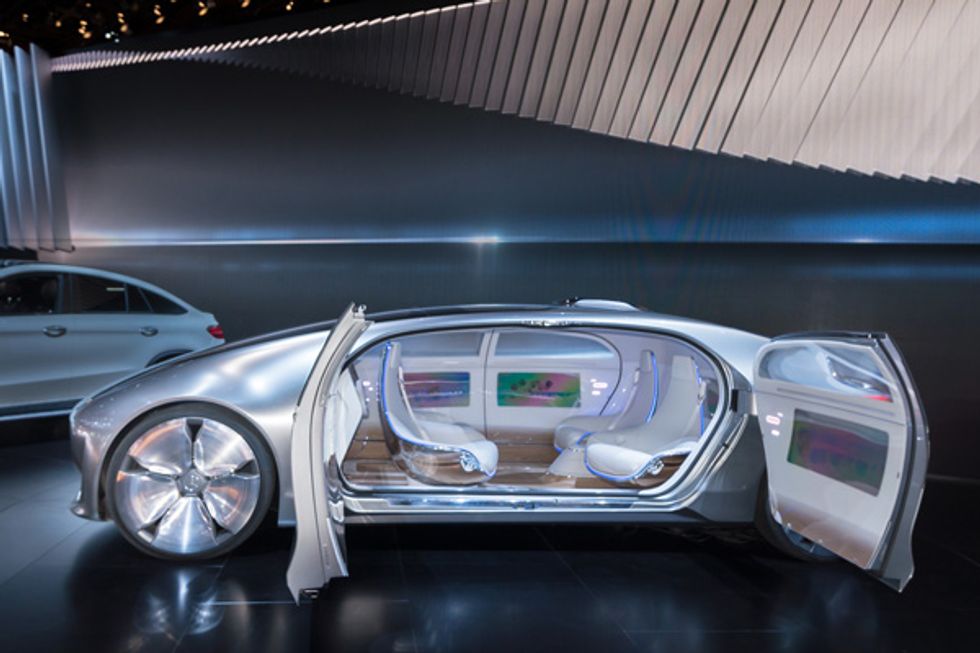 Steve Lagreca
/
Shutterstock.com
And many of those new vehicles are hybrid and electric. Elon Musk, the founder of Tesla Motors, doesn't feel threatened by the competition, according to CBS, because the trend is toward electric. Musk said, "the price of gasoline at any one time is irrelevant." Electric vehicles are the future.
Levi Tillemann, author of The Great Race: The Global Quest for the Car of the Future, said yesterday on Marketplace, "It's almost inevitable that the car of the future is going to be electric, and it's going to drive itself." As more and more states follow California's lead in mandating that a certain percentage of their vehicles are electric, electric vehicles will really take off. And "One of the benefits of electric vehicles is that electricity can be made out of any energy source," so, as we transition more and more to renewables, electric vehicles will come from cleaner energy sources.
Here's a list of 10 top electric cars from the Detroit Auto Show:
1. Volkswagen e-Golf
Volkswagen's new electric car goes up to 83 miles for less than $3 with zero-tailpipe emissions. And it's making waves in the auto industry: it won the 2015 Motor Trend Car of the Year.
2. Honda FCV
The FCV is a fuel cell electric vehicle. This zero-emission hydrogen powered car has a 300+ mile range and can recharge in under five minutes. It's expected to launch in the U.S. following a projected March 2016 introduction in Japan.
3. Tesla S
The Tesla S has had some production delays and runs just over $70,000, but Musk is confident the price will go down once it's mass-produced. Tesla has only sold 30,000 Model S cars this year, but Musk hopes to sell 500,000 annually of this all-electric sedan by 2020. Tesla announced in September that it's planning to build a giant "gigafactory" outside of Reno, Nevada to manufacture the batteries that power the cars. Tesla is planning to release the Model III in 2017, which will offer a more affordable $35,000 price tag.
4. Smart Electric Car
With a convertible option, this tiny car has an impressive government MPGe rating (miles per gallon gasoline equivalent) of 122 miles in the city and 93 on the highway.
5. BMW i8
The car was first introduced as a plug-in hybrid sports car. Now the 2015 model is electric with a range of 15-23 miles and a MPGe rating of 76. Deliveries to U.S. customers began in August 2014.
6. Chevy Bolt
General Motors wants to build on the success of its Chevy Volt hybrid with this new all-electric car. The carmker estimates it will go 200 miles on a single charge and cost $30,000. The Bolt is still a concept car, but it's debuting a 2016 update to the Volt hybrid.
7. GAC Group's Witstar
Chinese auto maker GAC Group's Witstar is a concept car that will be autonomous (able to drive itself) and electric. The makers say it will have a Chevy-Volt like setup with a total electric range of 62 miles or more.
8. Audi A3 e-tron
The 2015 Audi A3 E-tron plug-in hybrid can travel up to 31 miles on electricity alone or cover 550 miles with gas.
9. Mercedes-Benz F015
This carmaker known for its luxury sports cars is going electric. It's prototpye, dubbed Luxury in Motion, is electric and autonomous. Since the car drives itself, it has a "variable seating system with four rotating lounge chairs that allow a face-to-face seat configuration." Mercedes is also showcasing its C350 plug-in hybrid, which is expected to go on sale in March this year.
10. Volvo XC-90 hybrid plug-in
The Swedish automaker offers an SUV hybrid with a MPGe of 59. Volvo says it will go up to 25 miles on electric and can charge in two and a half to six hours.
YOU MIGHT ALSO LIKE
World's Biggest Car Company Says No to Gasoline, Yes to Hydrogen
How Much Money Can You Save By Switching to an Electric Car?
Solar Is Cheaper Than Electricity From the Grid in 42 of 50 Largest U.S. Cities
By Josh Goldman
Choosing a vehicle is tough.
Sunroof or moonroof?
Front wheel drive, rear wheel drive, or all-wheel drive? Do I even need a CD player? And what about color? Burnt orange is nice, but so is cashmere metallic and squid ink (hint: always get squid ink). Considering a hybrid or electric vehicle adds another factor into an already difficult decision. Should you go with a standard hybrid, plug-in hybrid, battery electric or fuel cell? What is the difference between these types of vehicles anyway?
Conventional Hybrids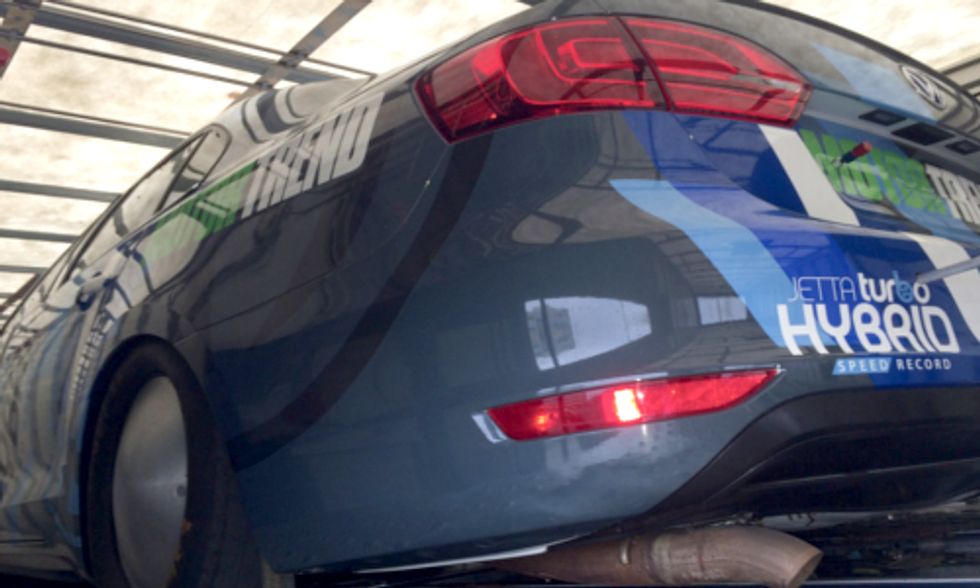 Conventional hybrids, like the Toyota Prius, combine both a gasoline engine with an electric motor. While these vehicles have an electric motor and battery, they can't be plugged in and recharged. Instead their batteries are charged from capturing energy when braking, using regenerative braking that converts kinetic energy into electricity. This energy is normally wasted in conventional vehicles.
Depending on the type of hybrid, the electric motor will work with the gasoline-powered engine to reduce gasoline use or even allow the gasoline engine to turn off altogether. Hybrid fuel-saving technologies can dramatically increase fuel economy. For example, the 2014 Honda Accord hybrid achieves a combined 47 miles per gallon (mpg) compared to a combined 30 mpg for the non-hybrid version. At 12,000 miles a year and $4 per gallon of  gasoline, that means saving over $575 each year.
Plug-In Hybrid Electric Vehicles (PHEVs)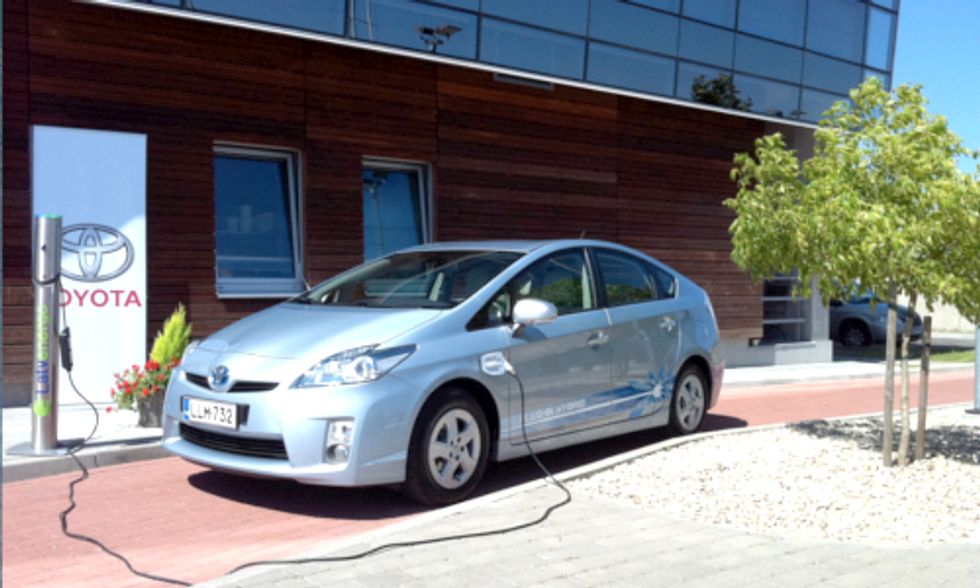 Plug-in hybrid electric vehicles (PHEVs) are similar to conventional hybrids in that they have both an electric motor and internal combustion engine, except PHEV batteries can be charged by plugging into an outlet. So why opt for a PHEV instead of a conventional hybrid? Well, unlike conventional hybrids, PHEVs can substitute electricity from the grid for gasoline. The 2014 Ford Fusion Energi, for example, can go about 21 miles by only using electricity, and the 2014 Chevy Volt can go around 38 miles before the gasoline motor kicks in.
Though this doesn't sound like a far ways, many people drive less than this distance each day. In a recent Union of Concerned Scientists (UCS) survey, 54 percent of respondents reported driving less than 40 miles a day. Moreover, using electricity instead of gasoline is cheaper and cleaner for most people. The average cost to drive 100 miles on electricity is only $3.45 compared to $13.52 for driving 100 miles on gasoline.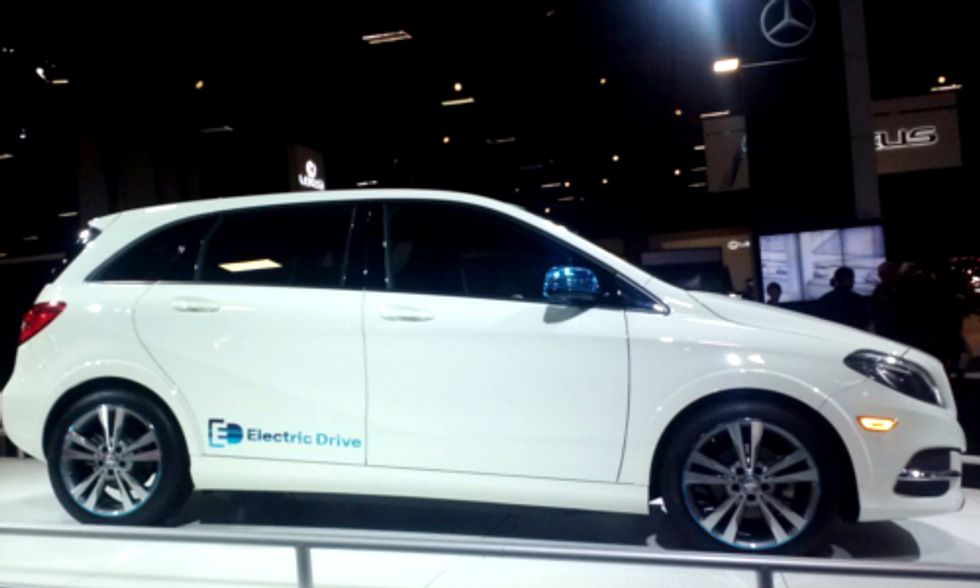 Battery electric vehicles run exclusively on electricity via on-board batteries that are charged by plugging into an outlet or charging station. The Nissan LEAF, Fiat 500e, and Tesla Model S fall into this category, though there are many other BEVs on the market. These vehicles have no gasoline engine, longer electric driving ranges compared to PHEVs, and never produce tailpipe emissions (though there are emissions associated with charging these vehicles, which UCS has previously examined).
The BEVs on the market today generally go around 60 to 80 miles per charge, though a Tesla can travel over 200 miles on a single charge. A recent UCS survey found that a BEV range of 60 miles would fit the weekday driving needs of 69 percent of U.S. drivers. As battery technology continues to improve, BEV ranges will extend even further, offering an even larger number of drivers the option of driving exclusively on electricity.
Fuel Cell Electric Vehicles (FCEVs)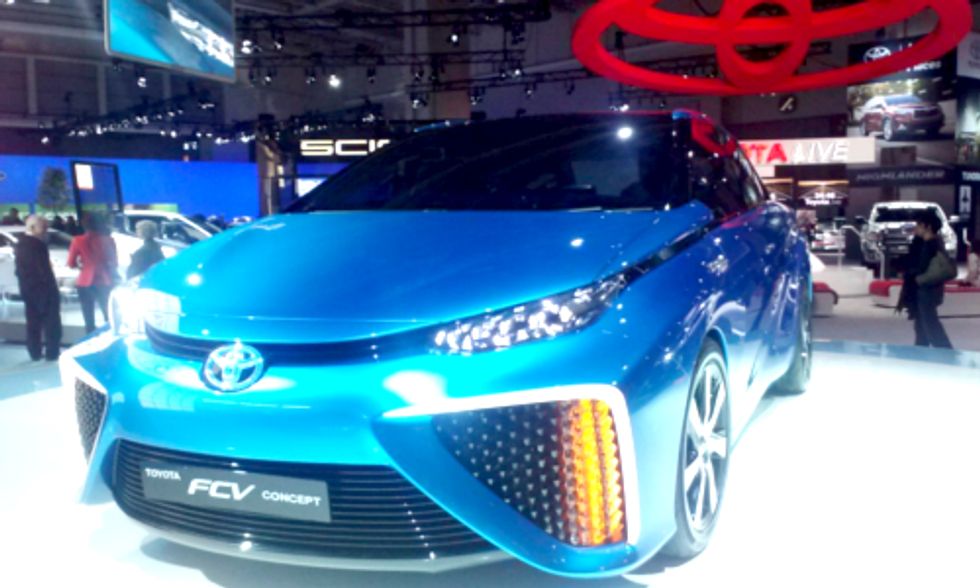 Fuel Cell Electric Vehicles (FCEV) use an electric-only motor like a BEV, but stores energy quite a bit differently. Instead of recharging a battery, FCEVs store hydrogen gas in a tank. The fuel cell in FCEVs combines hydrogen with oxygen from the air to produce electricity. The electricity from the fuel cell then powers an electric motor, which powers the vehicle just like a BEV. And like BEVs, there is no smog-forming or climate-changing pollution from FCEVs tailpipe – the only byproduct is water. Unlike BEVs or PHEVs, however, there is no need to plug-in FCEVs, since their fuel cells are recharged by refilling with hydrogen, which can take as little as 5 minutes at a filling station.
But just as producing electricity to charge a plug-in vehicle creates emissions, producing hydrogen also generates emissions. Hydrogen made today from natural gas produces about the same total emissions per mile as charging a plug-in vehicle with electricity generated from natural gas. But when made from renewable sources like biomass or solar power, hydrogen can be nearly emission free.
Moreover, hydrogen fueling infrastructure, like public electric vehicle charging stations, is still ramping up—and mostly available in California. With increased state and federal policies aimed at helping get more of these vehicles on the road, FCEVs can become a large part of our future transportation systems.
Visit EcoWatch's TRANSPORTATION page for more related news on this topic.