This website uses cookies to ensure you get the best experience while browsing it. By clicking 'Got It' you're accepting these terms.


The best of EcoWatch, right in your inbox. Sign up for our email newsletter!
About 60,000 liters (15,850 gallons) of oil spilled from a pipeline into the Estrela River and spread to Rio de Janeiro's famed Guanabara Bay over the weekend, according to Reuters and local reports.
The pipeline is owned by Transpetro, the largest oil and gas transportation company in Brazil, and a subsidiary of Petroleo Brasileiro (commonly known as Petrobras). Transpetro claims the leak resulted from an attempted robbery.
Several athletes participating in the Rio Olympics are encouraging countries to take urgent climate action in a new campaign.
Brazilian surfers, footballers and water polo players as well as athletes from some of the most vulnerable countries such as the Marshall Islands, Afghanistan and South Sudan have been speaking up for the campaign: "1.5C: The record we must not break."
Environmental concerns have mired the Rio Olympics after Guanabara Bay, where several water sport events are scheduled to be held, was found to be heavily contaminated by pollution. The risk of contracting Zika in Rio—exacerbated by climate change—has also been a major concern for athletes.

For a deeper dive: Climate Home, Wall Street Journal, Deutsche Welle, LA Times
For more climate change and clean energy news, you can follow Climate Nexus on Twitter and Facebook, and sign up for daily Hot News.

EcoWatch Daily Newsletter
From doping scandals to security concerns, the 2016 Olympic Games in Brazil has been embroiled by one crisis after another—and that's just the tip of the iceberg.
As athletes and hundreds of thousands of tourists around the world descend into Rio de Janeiro, here are seven health and environmental controversies that have already made headlines before the Aug. 5 Opening Ceremony.
The polluted Guanabara bay in Rio where rowing and sailing will be held.Flickr
1. Polluted Waterways
Rio's epic water pollution has been going on for two decades due to a lack of modern sanitation programs. Despite Olympic organizers's promise to clean the city's waterways at their 2009 bid, trash, raw sewage and even body parts have been a presence at water sport venues.
At Guanabara Bay—where rowing and sailing will be held—tons of noxious raw sewage gets pumped into the bay each day. Oceanographer David Zee told CBS News that the Brazilian government planned to install eight treatment plants on Rio's polluted rivers but only built one. Officials promised to treat 80 percent of the sewage flowing into the bay but have gotten to only half. USA Today Sports reported that organizers will use a short-term and (purely cosmetic) water treatment method so the waters will glisten blue for television broadcasts.

In fact, Rio's Olympics will bring none of the environmental improvements that were originally pitched. An official from Brazil's Federal Audit Court, which audits the federal government's spending, told Reuters: "As for now, we have nothing relevant to report about what was done in the environmental area."
2. Super Bacteria
In related news, last year, the Associated Press published its results from an eight-month study of Rio's water venues, concluding that none were safe for swimming or boating, with more than 1 billion viruses from human sewage in a single liter of water from the Rodrigo de Freitas Lake. Water samples were 1.7 million times the level of what would be considered hazardous on a Southern California beach.
That leads us to this conundrum. As EcoWatch mentioned last month, antibiotic-resistant super bacteria has been found in waters that will host the swimming portion of the triathlon and in the lagoon where rowing and canoe athletes will be competing. Two studies have connected five beaches—Copacabana, Ipanema, Leblon, Botafogo and Flamengo—and the Rodrigo de Freitas to the superbug bacteria. Scientists say the super bacteria can cause hard-to-treat urinary, gastrointestinal, pulmonary and bloodstream infections, which contribute to death in up to half of infected patients. Meningitis has also been linked to exposure to the superbug.
3. Zika
A number of high-profile athletes, especially golfers, have dropped out of the Summer Games due to Zika fears. The mosquito-borne virus, which has spread throughout the South American country, has been declared an international public health emergency by the World Health Organization. Some scientists have suggested that global warming is exacerbating the problem, which is linked to microcephaly in babies. Infectious diseases, such Zika and dengue, could spread as aedes aegypti mosquitoes expand their habitats in a warmer, wetter world, one study found. Experts, however, have said that there is little risk of Zika spread. The southern hemisphere is also currently in the middle of winter, making the threat of bites even lower. Still, the epidemic has only further impaired Brazil's struggling public health system, and will continue be a problem when the games conclude.
4. Golf Course Trampling on Nature
Golf's return to the Olympics should have been celebrated. However, not only are some of the sport's biggest stars skipping Rio due to Zika, instead of using the city's two existing golf courses, organizers decided to build a completely new one from scratch. Biologist and environmental activist Marcello Mello told the Guardian that the new course encroaches on the Marapendi reserve, home to rare butterflies, pines and other species not found anywhere else in the world, calling the construction an "environmental crime."
"They are destroying the Atlantic Forest, which is part of our national heritage," he added. Mello also alleges that the city is using the Olympics to help foster business for development companies. "Without a doubt, the Olympics are a giant real estate scam," he said. This is not to mention that thousands of people living in Rio's favelas have been notoriously pushed out of their homes for Olympic construction.
5. Jaguar Killing
Last month, a jaguar—the Brazilian Olympic team's mascot—was shot and killed at the Olympic torch passing ceremony. As EcoWatch reported, the female jaguar was shot after the female jaguar escaped from her handlers, sparking outcry from animal activists.
"Wild animals held captive and forced to do things that are frightening, sometimes painful and always unnatural are ticking time bombs—captivity puts animal and human lives at risk," the People for the Ethical Treatment of Animals wrote in a blog post.

Jaguars are a near-threatened species with an estimated 15,000 left in the wild, according to Defenders of Wildlife.
6. Public Transportation Mishaps
When Rio organizers made their bid for the summer games seven years ago, they suggested a number of improvements to ease the city's terrible traffic, which causes severe congestion, noise and air pollution from vehicle exhausts. However, the organizers probably did not anticipate that a crippling recession would affect their plans. The city's government declared a state of financial disaster last month, impacting Olympics-related infrastructure projects.
Rio's new 10-mile rail line, which cost $1.2 billion more than its initial estimate, may not be completed in time before the opening ceremony. A bike lane collapsed in April, killing two people. And according to the Associated Press, the new light rail system suffered a major power outage on the second day of service and the month-old highway near Barra da Tijuca is already damaged with potholes and large cracks.
7. The Danger of Environmental Activism
Protesting any of the environmental or health issues above might be a danger in itself. Brazil happens to be the nation of the highest death toll of environmental activists. Global Witness revealed 50 confirmed murders of environmental activists last year.
"I know there is a risk to this work. It is dangerous to campaign for the environment in Brazil," Mello told the Guardian about his Occupy Golf Campaign. "But I love nature and somebody has to do this job. If I die for this cause, it will be worth it."
The whole world held its breath in awe on Friday watching the Opening Ceremony for the 2016 Olympic Games in Rio de Janeiro. A day later I arrived back in the city that has become my second home while Mayor Eduardo Paes has been C40's chairperson for the last two and a half years. As I sit writing this article while enjoying the extraordinary new space in Porto Maravilha, though many have criticized the city for its Olympic preparations, it's impossible not to be moved by the significance of the first-ever Olympics to be held in South America.
Olympic cities are always criticized while under the world's microscope. Though there are some shortcomings here—mostly in areas that were the responsibility of the state or federal government—it's impossible not to be impressed by the transformation in sustainable transport and public space the mayor has instigated as a direct result of taking on the challenge of hosting the world's single greatest international contest.
The promise of the Olympics has been on the horizon since current C40 Cities Climate Leadership Group (C40) Chair and Rio Mayor Eduardo Paes was elected mayor in 2008. He has worked tirelessly throughout the intervening years not only to produce an event worthy of the global stage, but also to invest in and develop long-term legacy projects that will benefit the city and its inhabitants for years to come. Indeed, Mayor Paes has followed the advice of former Barcelona (also a C40 city) mayor and Olympic host Pasqual Maragall: The Olympics must serve the city, not vice versa.
Mayor Paes speaking at a press conference at Paris City Hall with C40 Mayors in 2015.C40 / Flickr
Mayor Paes has stayed true to that principle: For every one real invested in the Olympics, the city has invested five Reais in sustainable infrastructure and legacy projects. The city's ambitions for the Olympics have always been high and under Mayor Paes' leadership it has made powerful and lasting improvements for the city and its people that will endure far beyond when the last athletes have left town.
There has been a major expansion of the city's public transit systems, including an incredibly rapid development of bus rapid transit that means the proportion of residents using public transport has risen from under 20 percent to more than 60 percent in just 8 years, a brand new light rail system and more than 450 kilometers of cycle paths (as well as the new subway line, built by the state but for which the mayor has been a major advocate).
The city has completed a major renovation and revitalization of the Porto Maravilha, the city's historic birthplace. They redesigned the area in terms of mobility to make it more friendly to human-scale transit—removing the brutalist perimetral highway (indeed the first time I met Mayor Paes he apologized for being late with the excuse that he had been blowing up the very same road), adding a light vehicle tram, closing streets to cars, creating facilities for pedestrians and building the arrestingly beautiful Museum of Tomorrow.
Mayor Paes inaugurated the Rio Operations Center, a digital nerve center of the city in which critical services—from waste management to emergency response and traffic control—are monitored to improve the city's efficiency and emergency response. It is a model that has captured the attention of other cities across the world.
Though the failure to clean up the Guanabara Bay—which has been a contentious location in the lead-up to the games—falls outside the jurisdiction of the Mayor, the city has invested in a new West Zone Wastewater Treatment Plant that will benefit 430,000 people and treat 65 million liters of sewage that would otherwise be dumped in the bay. This is another fulfilled Olympic commitment and it brings better quality of life for thousands of people.
More than 70 percent of Olympic facilities were built by converting existing structures and some Olympic venues, like the Handball Stadium, are designed to be converted into community projects, like public schools, after the games.
Hosting an Olympics Games is no mean feat for any mayor, but it is particularly challenging when taking into consideration the political and economic turmoil Brazil has been facing over the past 12 months. Rather than criticizing what has not been done in Rio (and there are still many areas that require improvement and investment), those who care about sustainability should be praising Mayor Paes for delivering an impressive raft of infrastructure improvements, while the rest of the country has been at a virtual standstill.
Moreover, in addition to his job as mayor, Mayor Paes has also been the energetic chair of C40 since December 2013 and has been instrumental to engaging more than 20 new member cities from China, India, the Philippines, Africa and the Middle East, such that we now have a majority of members from the global south.
Under his leadership, Mayor Paes and C40 joined partners in launching the Compact of Mayors, creating a new global standard for urban emissions reporting and creating a program of effective "city determined commitments" to mirror the INDCs being pledged by nation states. Mayor Paes led from the front and Rio became the first city to be compliant with the Compact of Mayors. Rio was also the first Brazilian city to complete a study of its climate vulnerabilities and has mandated emissions cuts of 20 percent by 2020.
It has also been through Mayor Paes' personal leadership that we have created the C40 Finance Facility, to address the the startling omission of most of the world's green funds to finance city government's low carbon projects. Starting from initial generous support from the German government, Mayor Paes aims for the facility to unlock up to $1 billion worth of sustainable infrastructure in cities across low and middle-income countries by 2020.
In part because of Mayor Paes' leadership, Latin America is a focal point for city climate action this year: C40 is looking forward to hosting our flagship event, the C40 Mayors Summit in Mexico City at the end of November. Mexico City Mayor Mancera and Mayor Paes will host this gathering where mayors, urban experts, business people and celebrities from around the world will come together to continue positioning cities as a leading force for climate action around the world.
It is with extreme gratitude that we at C40 thank Mayor Paes for his leadership and passion. And is with great excitement that today in Rio we announced the new C40 chair: Paris Mayor Anne Hidalgo.
From left to right: Eduardo Paes, Mayor of Rio de Janeiro and Chair of C40 Cities Climate Leadership Group and Anne Hidalgo, Mayor of Paris.C40 / Flickr
The C40 Steering Committee voted unanimously to elect Mayor Hidalgo, who has maintained a steadfast commitment to urban sustainability throughout her tenure thus far, emphasizing walkability in Paris, spearheading calls to better air quality across Europe and hosting the Climate Summit for Local Leaders alongside the COP21 climate negotiations in Paris last December. She will be an inspiring champion for city voices around the world, leading by example as the C40 chair-elect. She will take over from Mayor Paes after the C40 Mayors Summit in Mexico City later this year.
It is no coincidence, too, that Paris is currently bidding to host the 2024 Olympics, more than half of the cities that have hosted the Olympics are also C40 member cities. And, given that the International Olympic Committee has outlined a commitment to a sustainable future, it's no surprise that C40's member cities—which represent the most powerful and innovative cities in the world—are not only great places to live, work and prosper, but are also make supremely competent Olympic hosts.
Mayor Paes has been an exceptional leader for the last several years and Rio has set an example for other cities around the world seeking a clean development pathway. We look forward to Mayor Hidalgo carrying that charge forward for the critical years to come.
By Nika Knight
A biology professor has simple advice for athletes and tourists descending on Rio de Janeiro, Brazil for the Olympics' start on Friday: "Don't put your head underwater."
Dr. Valerie Harwood, chair of the Department of Integrative Biology at the University of South Florida, remarked on the dangers posed by Rio's water to AP, which reported Monday that a 16-months-long study revealed that "the waterways of Rio de Janeiro are as filthy as ever, contaminated with raw human sewage teeming with dangerous viruses and bacteria."
Thousands of dead fish float in the Rodrigo de Freitas lagoon, where the Olympics rowing and canoeing competitions will take place, in 2016.Marcelo Sayao / EPA
The wire service adds that superbugs—bacteria resistant to most forms of antibiotics—were not the only cause for great concern. Shockingly high levels of viruses have alarmed scientists:

[T]he AP investigation found that infectious adenovirus readings—tested with cell cultures and verified with molecular biology protocols—turned up at nearly 90 percent of the test sites over 16 months of testing. "That's a very, very, very high percentage," said [Dr. Harwood]. "Seeing that level of human pathogenic virus is pretty much unheard of in surface waters in the U.S. You would never, ever see these levels because we treat our waste water. You just would not see this."
Swimmers risk serious illness by competing, experts say. "According to a study by the University of Texas School of Public Health, athletes who ingest just three teaspoons of water from the contaminated bay in Brazil have a 99 percent chance of being infected," the National Observer noted.
"Dead animals, plastic, garbage and furniture are only a sample of the vile items reported to pollute its waters," the newspaper added "and the athletes competing this August have been told to swim with their mouths closed to avoid contracting serious illness from the water."
The National Post reported: "Untreated hospital waste is the probable cause of waterborne superbacteria, but chemical waste from factories is another culprit. However, the chief reason that Rio's waterways are such a petri dish of contaminants is the torrent of untreated human feces that spews out of open sewers such as one located at the east end of the Guanabara Bay, where it is hemmed in by apartments where many of the city's wealthiest citizens live."
And it is those wealthy denizens who stand to benefit the most from the Olympics, while the region's poorest have been displaced by the tens of thousands, their homes demolished to make room for massive sports stadiums.
An investigation published Monday in The Atlantic by Alex Cuadros detailed the schemes, grafts and bribes that have gone on behind the scenes to construct the Olympics infrastructure, while many of the city's impoverished favela residents are rendered homeless and the region's battered ecosystem is further degraded.
Cuadros wrote, "Contracts for everything from stadium and train-line construction to port renovations have funneled billions of dollars in taxpayer-subsidized revenues to a handful of Brazil's most powerful, well-connected families and their companies." He continued:
[M]ost of the government's Olympic budget has been poured into the wealthy suburb of Barra da Tijuca, home to only 300,000 people. [...]
[A] flood of public money is benefiting the coterie of men who own most of Barra's land. One of them, a 92-year-old billionaire named Carlos Carvalho, controls some 65 million square feet of property in the area. His most famous project for the Olympics is the so-called Athletes' Village. After the games are over, all 31 of the Village's 17-story towers will be transformed into luxury condos featuring multiple swimming pools, tropical gardens and an unobstructed view of Jacarepaguá Lake.
[...] Carvalho is also a partner in construction of the nearby Olympic Park, a sprawling spit of concrete sprinkled with a billion dollars' worth of sporting facilities. Here, the city handed over lakeside land that Carvalho is expected to develop into a whole new neighborhood, once the economy rebounds and demand picks up again.
As scarce as resources are in Brazil, such subsidies are common for well-connected businessmen. But they are no guarantee of quality. For Olympic athletes arriving this month, Carvalho delivered apartments with blocked toilets, leaky pipes, and exposed wiring.

Of all the contradictions between Olympic vision and reality, perhaps the most glaring is in Carvalho's choice of partners, the construction firms Odebrecht and Andrade Gutierrez. These companies are at the center of the multibillion-dollar corruption scandal that has plunged Brazil into political chaos, and investigators now believe they skimmed bribes from Olympic projects, too. Both companies are cooperating with investigators. As recently as May, Paes surreally claimedthe Olympics were free of corruption, even though his own party is deeply implicated in the wide-ranging bribery scheme.

And the Olympics golf course, Cuadros discovered, was constructed by a wealthy businessman on stolen public lands and in what had formerly been an environmental protection zone where construction was forbidden. The area was deemed no longer a protected zone when a nearby sand-mining operation was found to have "degraded" the ecosystem. The sand-mining operation was owned by the same businessman who built the golf course.
Cuadros also reported that more than 20,000 residents of the city's favelas have been removed, their homes demolished, to make way for roads and Olympics stadiums.
Meanwhile, the weekend before the Olympics' start saw competing protests sweep Rio de Janeiro and São Paulo, underscoring the political turmoil gripping the nation. In Rio de Janeiro, protesters ostensibly demonstrated against corruption—but also voiced support for the ruling neoliberal, pro-business elite and called for the impeachment of embattled Workers' Party president Dilma Rousseff.
In São Paulo, a competing rally drew crowds calling for workers' rights and an end to the right-wing takeover of Brazil's federal government.
The Senate is expected to vote on whether to impeach Rousseff in late August.
Last week, protests in Rio were more locally focused: the Brazil chapter of rights group Amnesty International displayed 40 body bags in front of the office of the Local Organizing Committee for the Olympics to draw attention to the city's fatal police shootings, which have increased significantly in the months leading up to the games.
"Since April, Amnesty International has been raising concerns around the increased risk of human rights violations in the context of Rio 2016 Olympics, as it happened before in other mega sporting events such as the 2014 World Cup and the 2007 Panamerican Games," the organization noted. "Since 2009, when Rio won the bid to host the Olympics, more than 2,600 people were killed by the police in the city."
Renata Neder, human rights advisor at Amnesty International, commented: "Brazil failed to learn from past mistakes. In the month of May alone, 40 people were victims of homicides committed by the police, a 135 percent increase in comparison to the same period in 2015. These numbers are unacceptable and compromise the Olympic legacy."
Indeed, as political and environmental turmoil threatens the Rio Olympics, Cuadros observed in The Atlantic that "perhaps the best Olympic legacy that Brazilians can hope for is that the event will serve as a cautionary tale to future generations."
This article was reposted with permission from our media associate Common Dreams.
Rio de Janeiro's newest attraction, Museu do Amanhã, or the Museum of Tomorrow, opened to the public Saturday. The $54 million museum focuses on the relationship between human activity and environmental health. Exhibits cover hot topics in science and technology, ranging from the cosmic origins of life on Earth to humanity's role in climate change.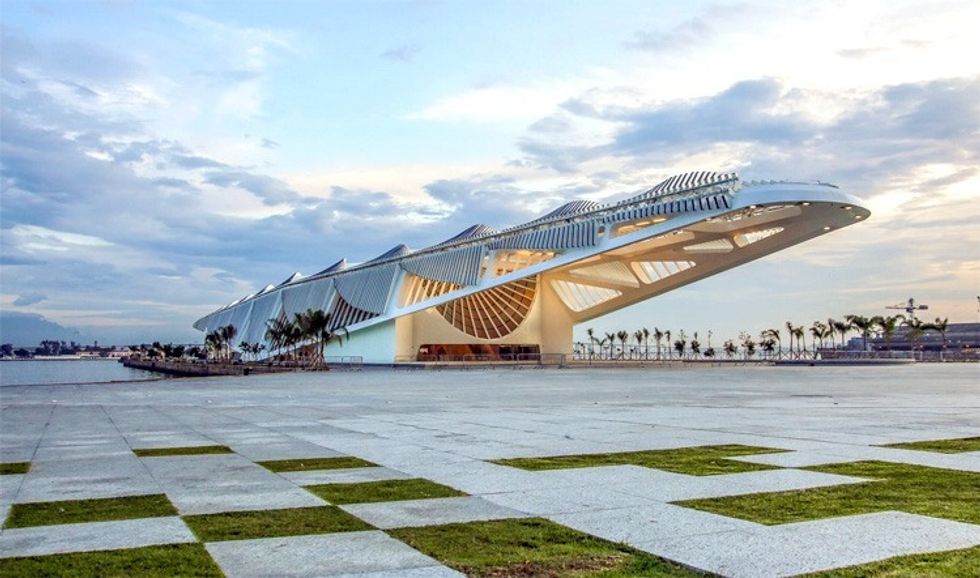 "If we have different choices, different tomorrows are going to be built," Leonardo Menezes, the museum's content manager, told NPR reporter Lourdes Garcia-Navarro. "Are those going to be sustainable or not? It's up to us."
In one exhibit, museum-goers can enter a virtual reality time machine to watch the evolution of man. Another features large totems inspired by Stonehenge that are covered in "startling" statistics and "jarring" images of the environment, Garcia-Navarro reported. She visited the museum, calling it an "emotional journey," one that dives deep into human history and our impact on the Earth.
Lauded for making waves in sustainable architecture, the building uses 40 percent less energy, with 9 percent of that total being derived from solar panels that move throughout the day to garner as much power as possible. It's cooled using deep water from nearby Guanabara Bay. And the museum is pursuing LEED Platinum certification, the highest status available, which is pending approval from the Green Building Council of Brazil.
Listen to the full NPR report here:
YOU MIGHT ALSO LIKE
Erin Brockovich: Porter Ranch Gas Leak Is Worst Environmental Disaster Since BP Oil Spill
Mark Ruffalo: The Renewable Energy Race Is On
4,000 Bottles of Fresh Air Shipped to China, Company Struggling to Keep Up With Demand
Olympic athletes are gearing up for the 2016 Olympics, which will be held in Rio de Janeiro, Brazil, but a recent AP investigation revealed some startling news: "Athletes in next year's Summer Olympics here will be swimming and boating in waters so contaminated with human feces that they risk becoming violently ill and unable to compete in the games, an Associated Press investigation has found."
Olympic sailors call Rio waters a sewer. Brazil enviro chief dives in to prove otherwise. http://t.co/5pezUeclfN pic.twitter.com/FbEcp028mc

— Jim Roberts (@nycjim) May 5, 2015
The investigation into the water quality in Olympic and Paralympic venues found "dangerously high levels of viruses and bacteria from human sewage."
"Much of the sewage in Rio, a city of 12 million, goes untreated and garbage pickup is spotty, so tons of raw sewage and trash flow into Guanabara Bay, as well as the city's lakes, lagoons and even its celebrated beaches," says Mashable.  
Many officials are obviously concerned about the safety of the athletes, many of whom have already fallen ill with fevers, vomiting and diarrhea, according to the AP. The investigation is the first to look for both bacteria and viruses present in the water. Brazilian officials and the medical director of the International Olympic Committee claim that the water is on track to be safe for the competitors, but neither Brazil nor the Olympic Committee test for viruses, only bacteria.
"Olympic athletes are almost certain to come into contact with disease-causing viruses that in some tests measured up to 1.7 million times the level of what would be considered hazardous on a Southern California beach," according to the AP investigation.
"What you have there is basically raw sewage," John Griffith, a marine biologist at the Southern California Coastal Water Research Project, told the AP. "It's all the water from the toilets and the showers and whatever people put down their sinks, all mixed up, and it's going out into the beach waters. Those kinds of things would be shut down immediately if found here," he said, referring to the U.S.
Ten thousand athletes from 205 countries are expected to compete in the Olympics, but it's not as if officials have a year to address the issue. Olympic hopefuls will be competing in qualifying events this Sunday with more events later in August. And, according to the AP, it doesn't just affect swimmers—"Athletes in sailing, canoeing and to a lesser degree rowing often get drenched when competing, and breathe in mist as well."
"The test results found high counts of active and infectious human adenoviruses, which multiply in the intestinal and respiratory tracts of people," according to the AP investigation. "These are viruses that are known to cause respiratory and digestive illnesses, including explosive diarrhea and vomiting, but can also lead to more serious heart, brain and other diseases."
"Everybody runs the risk of infection in these polluted waters," Dr. Carlos Terra, a Rio-based doctor, told the AP.
"If I were going to be in the Olympics," said Griffith, "I would probably go early and get exposed and build up my immunity system to these viruses before I had to compete, because I don't see how they're going to solve this sewage problem."
Dangerous Raw Sewage Levels For Summer Olympic Waters In Rio http://t.co/xJS8D7TLf7 #Rio2016 #RioDeJaneiro pic.twitter.com/dlVGJUjr9Z

— DiplyNews (@DiplyNews) July 30, 2015
Government officials have jumped into the water where athletes will be competing to show that it is perfectly safe. The problem is that foreigners will not have the built up immunity to these bacteria and viruses. Ivan Bulaja, the Croatian-born coach of Austria's 49er-class sailing team, can confirm that. "This is by far the worst water quality we've ever seen in our sailing careers," Bulaja told the AP. Several members of his team have been out for multiple days after falling ill with vomiting and diarrhea.
The problem has been well known for years. The New York Times highlighted Rio's awful water quality last year. And the issue dates back even further. Rio's waste management crisis has spiraled out of control with the city's rampant population growth in recent decades. Despite the Brazilian government's promise to improve the city's waterways ahead of the games through a $4 billion government expansion of basic sanitation infrastructure, there is "very little to show for it," reports the AP.
"Brazilian authorities promised the moon in order to win their Olympic bid and as usual they're not making good on those promises," Mario Moscatelli, a biologist who has spent 20 years lobbying for a cleanup of Rio's waterways, told the AP. "I'm sad but not surprised."
Rio Mayor Eduardo Paes told the AP the Olympic games have been "a wasted opportunity" as far as efforts to clean up the waterways are concerned.
YOU MIGHT ALSO LIKE
Will Walter Palmer Be Charged for Killing Cecil the Lion?
Richard Branson: Don't Turn Shark Encounter Into an Excuse to Kill More Sharks
This website uses cookies to ensure you get the best experience while browsing it. By clicking 'Got It' you're accepting these terms.


The best of EcoWatch, right in your inbox. Sign up for our email newsletter!