Elon Musk's Master Plan: Part Deux is already coming to life.
Tesla Motors announced it has bought solar panel installer SolarCity for $2.6 billion in shares to create a seamless clean energy company. Or as Reuters puts it, consumers will now be allowed to buy solar panels, home battery storage systems and electric cars under one roof.
Tesla and SolarCity have created the world's first and only vertically integrated sustainable energy company.
Bloomberg tweeted that announcement was the "solar industry's biggest deal to date."
In the solar industry's biggest deal to date, SolarCity approves $2.6 billion Tesla buyout https://t.co/93ppWWiHlb https://t.co/10JxUmoX0V

— Bloomberg (@Bloomberg) 1470051359.0
Tesla touted the merger in a blog post:
Just over a month ago, Tesla made a proposal to purchase SolarCity and today we are announcing that the two companies have reached an agreement to combine, creating the world's only vertically integrated sustainable energy company.

Solar and storage are at their best when they're combined. As one company, Tesla (storage) and SolarCity (solar) can create fully integrated residential, commercial and grid-scale products that improve the way that energy is generated, stored and consumed.
The enigmatic businessman perhaps poked fun at the historic vertical integration of the two companies in a classic Musk tweet:
We are definitely patenting this idea https://t.co/N46cvN9uX9

— Elon Musk (@Elon Musk) 1469893925.0
According to MarketWatch, "SolarCity stockholders will receive 0.11 shares of Tesla for each SolarCity share, valuing them at $25.83 apiece."
Musk, who has long advocated for a sustainable transportation future, clearly stated in his Part Deux blog post that he wants his electric car company to "provide solar power."
"No kidding," he added. "This has literally been on our website for 10 years."

"We can't do this well if Tesla and SolarCity are different companies, which is why we need to combine and break down the barriers inherent to being separate companies," Musk continued. "That they are separate at all, despite similar origins and pursuit of the same overarching goal of sustainable energy, is largely an accident of history. Now that Tesla is ready to scale Powerwall and SolarCity is ready to provide highly differentiated solar, the time has come to bring them together."

Tesla first announced the offer last month at a slightly higher price of $2.8 billion.
Tesla Makes $2.8 Billion Offer to Acquire SolarCity https://t.co/dQ7A4XAN5w @solarcity @votesolar

— EcoWatch (@EcoWatch) 1466631311.0
Musk stressed the importance of curbing use of dirty energy as quickly as possible. "Given that we must get off fossil fuels anyway and that virtually all scientists agree that dramatically increasing atmospheric and oceanic carbon levels is insane, the faster we achieve sustainability, the better," he wrote.
Tesla said it expects that the merger will save customers money by lowering hardware costs, reducing installation costs, improve manufacturing efficiency and reducing customer acquisition costs.
The deal will now go to Tesla and SolarCity shareholders for approval. Musk, who is chairman of SolarCity and the largest investor in both companies has recused himself from the vote.
Last week, Tesla held a grand opening celebration of its massive Gigafactory outside Reno, Nevada.
The Gigafactory, which will be the world's largest building by footprint once construction is complete, will manufacture lithium-ion batteries for Tesla's electric cars and Powerwall products that store solar energy for homes and businesses.
Elon Musk Gives Sneak Peek of Gigafactory at Grand Opening Celebration - EcoWatch https://t.co/6PkTSgH6c7 @BusinessGreen @CDP

— EcoWatch (@EcoWatch) 1469754027.0
EcoWatch Daily Newsletter
"We presented the President-elect and his advisors with a framework—which LDF developed in consultation with leading voices in the fields of economics and environmentalism—that details how to unleash a major economic revival across the United States that is centered on investments in sustainable infrastructure," Tamminen said in a statement to EcoWatch. "Our conversation focused on how create millions of secure, American jobs in the construction and operation of commercial and residential clean, renewable energy generation."
Actor and environmental advocate Leonardo DiCaprio Leonardo DiCaprio Foundation
"These programs are attainable—and include energy efficiency upgrades that pay for themselves with savings, waste reduction projects that can turn every city into a source of new materials and fuels, and transportation projects that will support global trade while reducing traffic and air pollution and make America a leader in sustainable fuel and vehicle technologies," he added.
The meeting took place on the same day that Trump announced his controversial choice of Oklahoma Attorney General Scott Pruitt as head the U.S. Environmental Protection Agency (EPA). Trump's pick was met with unprecedented criticism by environmental and health organizations nationwide, who consider Pruitt a "puppet" of the fossil fuel industry. Pruitt, who believes the science behind climate change is unsettled and believes the EPA's regulations are a war on energy, has spearheaded numerous lawsuits against the Obama administration and the agency he will likely be heading.
Trump Picks Scott Pruitt, 'Puppet of the Fossil Fuel Industry,' to Head EPA https://t.co/qPkff6DtIS via @EcoWatch

— EWG (@EWG) 1481166611.0
Pruitt falls in line with Trump's other cabinet nominees who have close ties to Big Energy and deny the overwhelming scientific consensus that human activity is causing climate change. The commander in chief to-be is a notorious climate change denialist himself who has made plans to exit the Paris climate accord, revitalize the coal industry and axe many of President Obama's environmental initiatives, including the historic Clean Power Plan that reduces emissions from power plans.
Although the president-elect will not be able to completely nix Obama's Clean Power Plan, having Pruitt—an experienced legal officer—as EPA head can help "substantially weaken, delay or slowly dismantle them," as the New York Times noted.
But Tamminen, who served as Secretary of the California Environmental Protection Agency under Governor Arnold Schwarzenegger, said Trump was receptive during their meeting and a follow-up will take place next month.
"Climate change is bigger than politics, and the disastrous effects on our planet and our civilization will continue regardless of what party holds majorities in Congress or occupies the White House," he said. "The President-elect expressed his desire for a follow up meeting in January, and we look forward to continuing the conversation with the incoming administration as we work to stop the dangerous march of climate change, while putting millions of people to work at the same time."
DiCaprio is a prominent environmental advocate who said in October during a sit-down with President Obama and climate scientist Dr. Katharine Hayhoe, that "If you do not believe in climate change you do not believe in facts or science or empirical truths, and therefore in my opinion, you should not be allowed to hold public office."
Well, we all know what happened on Nov. 8.
Perhaps DiCaprio is now using his clout to push the incoming administration towards a more sustainable economy. In one part of DiCaprio's climate change documentary Before the Flood, the Oscar-winning actor toured the Tesla gigafactory in Nevada with founder and CEO Elon Musk, who is also a big proponent of green jobs.
"If governments can set the rules in favor of sustainable energy, then we can get there really quickly," Musk told DiCaprio about transitioning the world to sustainable energy.
Trump recently said he had "an open mind" with regards to climate change science and policies although many environmentalists are skeptical.
#TrumpWatch: As Trump Waffles on Climate, What Should We Believe? https://t.co/R2tD6GmJJ4 @wattsupwiththat @WMOnews

— EcoWatch (@EcoWatch) 1481148911.0
"Talk is cheap, and no one should believe Donald Trump means this until he acts upon it," Michael Brune, executive director of the Sierra Club, said.

Daughter Ivanka, however, is purportedly planning on using her new mantle to address climate change. Earlier this week, Trump and the future First Daughter met with former VP Al Gore at Trump Tower to discuss the topic.
Two Trumps and a Gore https://t.co/y6ePkelCsV @europeangreens @GreenPartyUS

— EcoWatch (@EcoWatch) 1481065514.0
"I had a lengthy and very productive session with the president-elect," Gore said after the meeting. "It was a sincere search for areas of common ground."
DiCaprio also reportedly gave the Trumps a copy of his climate change documentary at a recent meeting.
See how you can save money on solar panels in Florida.
Reviews
Pitsanu Prom-or / iStock / Getty Images
Florida is well-known as the Sunshine State because of its year-round sunny weather that draws millions of tourists each year, but historically, Florida hasn't actually been a national leader when it comes to solar energy generation. That said, financial incentives like Florida solar tax credit and rebate opportunities have played a huge part in its rise to become one of the top states for solar energy.
To the glee of clean energy advocates across the state, various Florida solar incentives have succeeded in bringing solar power throughout the state. According to the Solar Energy Industries Association, in 2020, Florida ranked third in the nation for solar energy capacity, and it had the second-most installations during the second quarter of 2021.
This progress in the solar field comes from many different sources, not the least of which is Florida solar incentives. For any homes or businesses feeling left behind while the rest of the state goes solar, these types of solar tax credits are still widely available across Florida, which will be discussed in this article.
For most homeowners, the decision to go solar comes down to cost. To see how much you'd pay for a home solar system (and how much you can shave off that price with Florida solar tax credit and incentive opportunities), you can get a free quote from a top solar company near you by using this tool or filling out the form below.
Florida Solar Tax Credits and Solar Rebates
As much as transitioning to clean energy is the best thing for the environment and the fight against climate change, the reality has always been that such changes would be slow to happen (if they happened at all) unless they made sense financially. When solar energy systems are proven to save money for those who pay the high upfront costs to install them, those purchases are better considered a worthy investment.
As such, some of the most effective policies encouraging solar installations have been those making the decision a no-brainer from the budgetary perspective. Let's take a look at some of the top Florida solar incentives.
| Florida Solar Incentive | Program Overview |
| --- | --- |
| Florida Net Metering Programs | Credits homeowners when their solar panels produce extra electricity and it is exported to the local power grid |
| Florida Tax Exemptions | Property tax exemptions and sales tax exemptions for solar and other renewable energy equipment |
| Local Incentives | Incentives, rebates and low-interest financing programs at the town, city, and county level that encourage local solar installations |
Florida Net Metering Programs
Regardless of the state, one of the most critical types of energy policy for solar panels is known as net metering. Through net metering, homeowners can feed excess electricity produced by their solar panels into the power grid in exchange for utility credits. These credits can be used to pay for the energy a home uses when panels aren't producing (such as at night).
Net metering tends to be a state-by-state policy, as there is no federal policy regarding net metering. Florida is one of the states where there is, in fact, a statewide net metering program, applicable for homeowners regardless of which utility serves their area.
The specific net metering provision covers up to 2 megawatts (MW) of capacity for any customers who generate electricity with a renewable energy source. Florida Power & Light and Duke Energy have the largest net metering programs in the state.
The availability of such net metering serves as an incentive for Floridians to install solar panels on their property. Not only do they benefit by reducing their power bills from pulling energy from the grid less often, but they can even profit when the utility pays them for generating more power than they consume, bringing their solar payback period down.
Florida Solar Tax Exemptions
Another financial mechanism that the Florida state government offers to solar system owners is solar tax exemptions. To start, Florida doesn't want to make the upfront cost to purchase and install solar equipment to be any higher than the open market says it should be, so since 1997, all solar energy systems have been completely exempt from Florida's sales and use tax.
Once a solar photovoltaic system is purchased and installed, there is a statewide property tax abatement that further helps homeowners avoid paying taxes on it. Most home additions, such as a new shed or outdoor patio built in a home's backyard, would be appraised to determine the value it added to the property and thus increase the overall property tax. However, the added home value of solar panels is excluded from the property's taxable value.
Local Incentives
Florida is also a large, diverse state, so in addition to the state solar incentives, many local jurisdictions enact their own policies to encourage and support installation of solar energy systems. At the town, city or county level, Floridians will commonly find low-interesting solar financing options, specific solar incentives or rebates, and more.
You can determine whether your locality offers such incentives by investigating your local government websites or talking to utility company representatives. When you do, you may come across such successful programs as Jacksonville's $2,000 rebate for solar battery installations, Boynton Beach's Energy Edge Rebate Program, or the Solar Energy Rebate Grant Program offered by Dunedin.
Federal Solar Tax Credit
Floridians, of course, can also benefit from all the tax incentives, rebates and credits that are offered at the federal level. Over the past two decades, the federal solar investment tax credit (ITC) has attributed largely to the rapid growth in solar energy across business sectors, geographies and customer types.
For systems installed and operational before the end of 2022, the federal solar tax credit is equal to 26% of the value of the installation, dropping to 22% for systems installed in 2023. It is currently set to expire afterward, though the idea of extending the ITC beyond its current expiration date, as has been done in the past, has been a part of active clean energy policy debates.
FAQ: Florida Solar Incentives
Does Florida have a solar tax credit?
State-wide, there is no specific Florida solar tax credit. However, all utilities in the state of Florida do offer customers the ability to utilize net metering, Florida solar homeowners are eligible for the federal solar tax credit, and some local jurisdictions in Florida may offer their own tax credits.
Is solar tax exempt in Florida?
In Florida, the purchase and installation of a home solar system is exempt from all sales tax, and the value of renewable systems are excluded from 100% of residential property taxes.
How much is the solar tax credit for 2022?
For any solar panel system installed before the end of 2022, the federal solar investment tax credit is equal to 26% of the value of the system.
Is Florida a good state for solar?
Florida is a great state for solar from the perspective of having year-round sunny weather, higher-than-average solar irradiance and a policy landscape conducive to solar installations. Because of these factors, Florida ranked third among all states in terms of solar capacity installed in 2020 (rising to second when looking at the third quarter of 2021), per the SEIA.
How much do solar panels cost in Florida?
Based on market research and data from top solar companies, we've found the average cost of solar panels in Florida is $2.53 per watt. However, this is only an average, and prices can vary widely depending on where you live, the number of solar panels you need and more.
To get a free estimate for your own home solar system, you can get connected with a pre-screened local installer by using this tool or entering your home's information below.
As the battle over Nevada's solar-killing fees wages on, state lawmakers, government officials and prominent renewable energy advocates descended upon Tesla's Gigafactory near Reno this week to discuss the future of clean energy in the Silver State.
Look who was at the Gigafactory today! @AaronDFordNV @SHillforNevada @solarcity 's Lyndon Rive & @LeoDiCaprio ! https://t.co/gWoENmpsdb

— Nancy Pfund (@Nancy Pfund) 1458179572.0
At Wednesday's event, attendees were given a tour of the still-in-construction Gigafactory. Once complete, the massive $5 billion battery plant will be 100 percent powered by renewable energy sources, with the goal of achieving net zero energy.
The Associated Press reported that actor and environmental activist Leonardo DiCaprio was also at Gigafactory the same day to film a documentary he is directing on green energy. He was not part of the program but reportedly interviewed Tesla CEO Elon Musk for the film and met with some organizers and attendees, including Nevada Senate Minority Leader Aaron Ford (D-Las Vegas).
The event was organized by Musk and SolarCity CEO Lyndon Rive to advance the development of solar energy in Nevada and to discuss how Tesla's suite of in-home batteries works in tandem with a residential array. As Vegas Inc reported:
[Rive's presentation focused] on how energy storage batteries and rooftop solar can work to reduce strain on the grid and help utilities operate more efficiently. The batteries, which are already being produced at the Tesla Gigafactory, can store solar-generated power so that it can be used at night or during times of peak power usage.
According to a copy of his presentation, Rive will encourage the lawmakers to look differently at the grid and embrace disruptive technologies, such as rooftop solar and home energy storage.
"Nevada is at the forefront of the future of energy," the text of Rive's presentation said. "But the future of energy will need leadership to enable change."
Though it wasn't explicitly said, Rive's comment takes aim at Nevada's Public Utilities Commission (PUC), which voted in December to increase a fixed monthly fee for solar customers by about 40 percent while simultaneously reducing the amount customers get paid for excess power they sell to the grid.
@solarcity's Lyndon Rive talking about Nevada's clean energy leadeship at the Gigafactory with Nevada legislators. https://t.co/pTnVgPAWVm

— Nancy Pfund (@Nancy Pfund) 1458182683.0
A fierce net metering battle has since ensued and is framed by media as a showdown between Warren Buffett—whose Berkshire Hathaway Energy owns NV Energy, the state's largest utility—versus Musk, the chairman and largest shareholder in SolarCity.
Read page 1
The rate hikes, which took effect Jan. 1, was decried by Rive as a move that would "destroy the rooftop solar industry in one of the states with the most sunshine." The order caused SolarCity to fire 550 field and support staff in Nevada as the company ceased installing and selling panels in the state.
Solar supplier Sunrun Inc. also ceased all operations in Nevada, saying: "The retroactive decision is also expected broadly to undermine future investment in the state, as retroactive changes impair the business community's trust in Nevada government."
Actor and environmental activist Mark Ruffalo protested the fees and demanded the PUC change course and for Gov. Brian Sandoval to take a stand against the new rates.
I stand with the hundreds of Nevadans asking @nevada_puc to protect #NVsolar, jobs and investments in our clean energy future #WeAreSolar

— Mark Ruffalo (@Mark Ruffalo) 1452706314.0
Buffett explained his company's position on net metering in Nevada to CNBC earlier this month:
We do not want our million-plus customers that do not have solar to be buying solar at 10 and a half cents when we can turn it out for them at 4 and a half cents or buy it at 4 and a half cents. So, we do not want the non-solar customers, of whom there are over a million, to be subsidizing the 17,000 solar customers. Now, solar customers are subsidized through the Federal Government—as we are, with our wind and solar operations ourselves.
In Nevada, [SolarCity] had an arrangement for a very limited number of people—and the public utility commission decides this—they had an arrangement where the utility had to pay way above market for solar produced by these 17,000 homes.
The public utility commission decided that was unfair to the million-plus people who didn't have solar, and they said 'It's fine to sell it back, but sell it back at market price.'
[youtube https://www.youtube.com/watch?time_continue=196&v=-Yqh9jxM9S4 expand=1]
The solar industry as well as many of its customers in Nevada are fighting the PUC's decision. Solar customers initiated a class action lawsuit against NV Energy in January. Plaintiffs John Bamforth and Stanley Schone seek restitution from the utility, citing its decision to raise fees for solar customers from its prior rate of $12.75 to $38.51 by January 2028.
The solar industry coalition, No Solar Tax PAC, has filed a referendum petition to reverse the rule and will be put in front of voters in November.
The PAC claims on its website:
The rules eliminated Nevadans' choice to go solar, imposed massive new fees on existing customers, and has already cost the state hundreds of jobs, with thousands more Nevadans facing layoffs in the coming months. Moreover, they undermine state policies and incentives that encouraged customers to go solar, created thousands of jobs, and made Nevada a national leader in clean energy. The PUC's rules are unfair, they have damaged Nevada's business-friendly reputation, and they only benefit the State's monopoly utility, NV Energy.
The PUC's new rules allow NV Energy to take clean electricity from solar customers and sell it to their neighbors at a 300 percent markup. They also force solar customers to pay monthly fees 200 percent higher than other customers. That's just wrong. NV Energy should not be allowed to take our electricity without fair compensation.
According to the Las Vegas Review Journal, the referendum petition is currently being contested in Carson City District Court. NV Energy is fighting the referendum.
YOU MIGHT ALSO LIKE
Worldwide Shift to Renewable Energy Played 'Critical Role' in Stalling Carbon Emissions
This Small Town Generated $2 Million From Selling RECs, Now They Have to Decide What to Do With the Money
3 Cities Disrupting the Local Electricity Market With Innovative Renewable Energy Projects
World's First Solar Airport No Longer Pays Electricity Bills
Elon Musk doesn't just want to put solar tiles on top of your house, he also wants to put them on top of your car.
How @ElonMusk and @TeslaMotors Can Save the World https://t.co/K3VC2RSylq @solarcity @mzjacobson @billmckibben @NaomiAKlein @BillNye @NRDC

— EcoWatch (@EcoWatch) 1477923991.0
According to Futurism, shortly after the enigmatic Tesla CEO unveiled his company's latest twist on rooftop solar—glass tiles integrated with solar cells—he said on a Tuesday conference call that the technology will also be used for the Model 3, the company's mass market electric sedan.
"It is using a lot of techniques used in automotive glass business. In case it wasn't obvious with the announcement, Tesla has created a glass technology group—with some really phenomenal people," Musk said on the call, basically confirming Tesla's top secret glass division.
The Model 3's all-glass roof not only allows for more headroom, its integrated solar cells also generate heat and energy. Tesla
Electrek reported that Musk will be producing "Tesla Glass" in volume since it is fairly cheap, so it makes sense to it use extensively. The publication also noted that one member of the Tesla Glass group is director Mike Pilliod, a former materials engineer for Apple who was behind innovations like the glass touchscreen.
While Musk didn't give specific details about how the solar glass would work on a car, he later tweeted that the tiles would feature heating elements that can defrost a windshield or melt snow on the car roof all while generating energy at the same time.
Solar glass tiles can also incorporate heating elements, like rear defroster on a car, to clear roof of snow and keep generating energy

— Elon Musk (@Elon Musk) 1477714523.0
When asked by a Twitter user whether the tiles would be working overtime as a defroster and a generator, Musk replied that the process will be "strongly net positive," or that it will use minimal energy.
@BobaFaux strongly net positive

— Elon Musk (@Elon Musk) 1477715064.0
Musk has long advocated for a sustainable transportation future, and is trying to do this with his proposed acquisition of sister company SolarCity.

As if he wasn't already all over the place, Musk made an appearance in Leonardo DiCaprio's new climate change documentary Before The Flood, and told the actor and environmental activist how we must transition from dirty energy.
Watch @LeoDiCaprio's #ClimateChange Doc Online for Free https://t.co/F85r0QENAj #BeforetheFlood @NatGeo

— EcoWatch (@EcoWatch) 1477407049.0
"The fossil fuel industry is the biggest industry in the world," Musk told DiCaprio on the floor of his Nevada Gigafactory.
"They have more money and more influence than any other sector. The more that there can be a sort of popular uprising against that, the better, but I think the scientific fact of the matter is we are unavoidably headed towards some level of harm."
The vision behind the massive battery factory is to help the world transition to sustainable energy. In a blog post on Tuesday, the Tesla team elaborated on its mission of creating "the world's only integrated sustainable energy company, from energy generation to storage to transportation."
"This is our vision for the future—one that is sustainable, less expensive and just better," the post states. "We hope you agree that this is a future we should all want."
By Leo Hickman
Before the Flood, a new feature-length documentary presented and produced by Leonardo DiCaprio, is released in cinemas today.
The Oscar-winning actor and environmentalist has spent the past three years asking a wide variety of people around the world about climate change. His collection of interviews in the film—ranging from President Obama and the Pope through to Elon Musk and Piers Sellars—cover the science, impacts, vested interests, politics and possible solutions.
Leonardo DiCaprio visits the National Aeronautics and Space Administration Goddard Space Flight Center to discuss Earth science with Piers Sellers.NASA / Goddard/ Rebecca Roth
Carbon Brief was invited to the European premiere of Before the Flood last weekend. Before the screening in London began, DiCaprio took to the stage to introduce the film. He said:

"Before The Flood is the product of an incredible three-year journey that took place with my co-creator and director Fisher Stevens. We went to every corner of the globe to document the devastating impacts of climate change and questioned humanity's ability to reverse what maybe the most catastrophic problem mankind has ever faced. There was a lot to take on. All that we witnessed on this journey shows us that our world's climate is incredibly interconnected and that it is at urgent breaking point.
"I've been incredibly moved by so many climate change documentaries in the past, but I never felt that I saw one that articulated the science clearly to the public. I think people grasp it, but it seems something distant, far off, intangible and almost otherworldly. An individual doesn't feel like they can make an impact. The journey for me was to try and make a modern-day film about climate change. I've been studying this issue for the past 15 years, I've been watching it very closely. What's incredibly terrifying is that things are happening way ahead of the scientific projections, 15 or 20 years ago.
"We wanted to create a film that gave people a sense of urgency, that made them understand what particular things are going to solve this problem. We bring up the issue of a carbon tax, for example, which I haven't seen in a lot of documentaries. Basically, sway a capitalist economy to try to invest in renewables, to bring less money and subsidies out of oil companies. These are the things that are really going to make a massive difference. It's gone beyond, as we talk about in the film, simple, individual actions. We need to use our vote ... We cannot afford to have political leaders out there that do not believe in modern science or the scientific method or empirical truths … We cannot afford to waste time having people in power that choose to believe in the 2 percent of the scientific community that is basically bought off by lobbyists and oil companies. They are living in the stone ages. They are living in the dark ages. We need to live in the future."
Here, Leo Hickman, Carbon Brief's editor, identifies seven key scenes in Before the Flood…

5. Elon Musk
Setting the Scene
In terms of box-office draw alone, Before the Flood is the most significant film about climate change since Al Gore's An Inconvenient Truth was released a decade ago. DiCaprio has made maximum use of his global star power to bring together some of the world's leading voices and experts on climate change and package them up into 90-minute narrative which drips with urgency, insights and emotion.
It opens with a surprisingly personal monologue by DiCaprio in which he talks about the "nightmarish" painting which hung over his crib as a child.
"I would stare at it before I went to sleep," he explained, noting some of its themes—"over-population, debauchery, exodus."
Hieronymus Bosch's Garden of Earthly Delights was painted more than 500 years ago, but it speaks to today, he said, with its "twisted, decayed, burnt landscape." DiCaprio said the triptych's final panel shows a "paradise that's been degraded and destroyed."
The film is named after the middle panel—Humankind before the Flood—which, he said, acts as an allegorical warning to the world of what could come next, if it fails to act on climate change.
DiCaprio then sets off around the world on his quest for answers: "I want to see exactly what is going on and how to solve it." But self-doubt looms large from the off, even after he is named by Ban Ki-moon as the UN messenger of peace on climate change.
"Try to talk to anyone about climate change and people just tune out. They might have picked the wrong guy." As DiCaprio said this, a montage plays of clips showing his media critics, such as Fox News' Sean Hannity, attacking him for his lack of scientific credentials and celebrity lifestyle.
However, DiCaprio is frank about how his fame has afforded him such a privileged perspective: "First time I heard of global warming was when I sat down one-to-one with Al Gore [in the early 2000s]. This is most important issue of our time, he said. I had no idea what he was talking about."
After viewing tar sands in Canada by helicopter—"kinda looks like Mordor"—and narwhal whales in Kangerlussuaq, Greenland, DiCaprio explained what, in his view, has changed in the time since he received Gore's climate lesson.
"Everyone was focused on small individual actions [back then]. Boiled down to simple solutions such as changing a light bulb. It's pretty clear that we are way beyond that now. Things have taken a massive turn for the worse."
The Garden of Earthly Delights, a painting by Hieronymus Bosch from 1485.Damian Michaels / Flickr
1. Prof. Jason Box

DiCaprio is helicoptered onto the Greenland ice sheet, where he meets with Jason Box, a professor at the Geological Survey of Denmark and Greenland. Box has spent many Arctic summers monitoring the stability of the ice sheet, as well as, in more recent years, the way soot from forest fires and the burning of fossil fuels has darkened the snow and, hence, the ice's reflectivity or albedo. As they both stare at a torrent of water rushing down into a moulin, Box's concern about the long-term melting trend is palpable:
"We keep finding things that aren't in the climate models. That tells me that the projections for the future are really conservative. If the climate stays at the temperature that it's been in in the last decade, Greenland is going away."
DiCaprio gently mocked Box's equipment for measuring the ice.
"This is a climate station? I was imagining a massive igloo with all kinds of scientists and experiments. It really does look like broken down pool equipment."
Then he questioned why there is a long spiral of plastic hose laying on the ice. Box explained:
"The hose went down 30 feet, but [the ice] has now melted out. Five years of melt. Hundreds of cubic kilometres of ice stored on land that has now gone into the sea."
2. Prof. Michael E. Mann

No movie is complete without the bad guys. And DiCaprio is keen to stress the role that "corporate interests" have played in spreading "disinformation" about climate change.
A cast of villains is introduced ranging from right-wing newspapers and TV networks in the U.S. through to politicians and "front groups." All seek to cast doubt on the science and, in doing so, attack climate scientists.
No scientist has been more in the crosshairs than Michael E Mann, the director of the Penn State Earth System Science Center who is best known for his famous hockey stick graph showing a recent spike in global temperatures.
Publishing that graph proved to be a huge turning point, Mann told DiCaprio:
"I set myself up for a completely different life … I was vilified … I was called a fraud. I was being attacked by Congressmen. I had death threats, which were actionable enough that the FBI had to come to my office to look at an envelope that had white powder [in it]. I've had threats made against my family. These folks know they don't have to win a legitimate scientific debate. They just need to divide the public. All of that hatred and fear is organized and funded by just a few players. Fossil fuel interests … finance a very large echo chamber of climate change denialism. They find people with very impressive looking credentials who are willing to sell those credentials to fossil fuel interests. Front groups funded by corporate interests."
DiCaprio's frustration was clear: "If I were a scientist, I would be absolutely pissed every day of my life."
Footage from Frank Capra's 1958 short film for Bell Labs, The Unchained Goddess, which explains what impact burning fossil fuels will have on the climate, plays in the background.
"We've know about this problem for decades and decades," lamented DiCaprio. "Imagine the world right now if we'd taken the science of climate change seriously back then. Since then our population has grown by five billion people and counting. The problem has become more difficult to solve."
3. Dr. Sunita Narain

After a trip to Beijing to witness the smog and speak to experts about how releasing pollution data to citizens has helped to change public attitudes, DiCaprio arrives in India.
His meeting with Sunita Narain, director of the Centre for Science and Environment, provides, arguably, the key scene of the whole film. They discuss the sweetspot of the climate conundrum: How do developing nations with fast-rising populations raise standards of living for all without emitting vast volumes of greenhouse gases?
"We are a country where energy access is as much a challenge as climate change," said Narain. "We need to make sure that every Indian has access to energy."
DiCaprio mulled on that: "From what I understand, there are 300 million people without power in India. That's equivalent to the entire population of the United States."
As footage shows women in the village of Kheladi in Haryana burning uplas (cowdung cakes), Narain passionately lays out India's predicament:
Sunita Narain: Coal is cheap, whether you or I like it or not. You have to think of it from this point of view. You created the problem in the past. We will create it in the future. We have 700m household using biomass to cook. If those households move to coal, there'll be that much more use of fossil fuels. Then the entire world is fried. If anyone tells you that the world's poor should move to solar and why do they have to make the mistakes we have made … I hear this from American NGOs all the time. I'm like, wow. I mean, if it was that easy, I would really have liked the U.S. to move to solar. But you haven't. Let's put our money where our mouth is.
Leonardo DiCaprio: We have to practice what we preach. Absolutely.
Sunita Narain: I'm sorry to say this and I know you're American, so please don't take this the wrong way, but your consumption is really going to put a hole in the planet. I think that's the conversation we need to have. I'll show you charts from this perspective. [Shows page from a book]. Electricity consumed by one American at home is equivalent to 1.5 citizens of France, 2.2 citizens of Japan and 10 citizens of China, 34 of India and 61 of Nigeria. Why? Because you're building bigger, you're building more and using much more than before. The fact is we need to put the issue of lifestyle and consumption at the centre of climate negotiations.
Leonardo DiCaprio: Look, there's no way I don't agree with you. Absolutely correct. Yes, it's a very difficult argument to present to Americans that we need to change our lifestyle and I would probably argue that it's not going to happen. If we want to solve the climate crisis on, hopefully, that renewables like solar and wind will become cheaper and cheaper as more money is funneled into them and we invest into them, and, ultimately, we will solve that problem. But I … [Narain shakes her head]. You are shaking your head, obviously…
Sunita Narain: I'm shaking my head Indian style, which means "no." Who will invest? Let's be real about this. Who will invest? And how will they invest? We are doing more investment into solar today. China is doing much more investment in solar today than the U.S. is. What is the U.S. doing which the rest of the world can learn from? You are a fossil-addicted country, but if you are seriously disengaging, that's something for us to learn from. And it's leadership that we can hold up to our government and say if the U.S. is doing—and the U.S. is doing it—then, despite all the pressures, then we can do it as well … But it's just not happening. People like us, we are rich enough to withstand the first hit of climate change. But it's the poor of India, it's the poor of Africa, the poor of Bangladesh, who are impacted today in what I believe are the first tides of climate change … We need countries to believe that climate change is real and it is urgent. It's not a figment of their imagination
The scene concludes with DiCaprio musing on his conversation with Narain:
"There's no doubt we have all benefitted from fossil fuels. I know I have. My footprint is probably a lot bigger than most people's. And there are times when I question what is the right thing to do. What actions should we be taking? There are over a billion people out there without electricity. They want lights. They want heat. They want the lifestyle that we've had in the United States for the last hundred years. If we are going to solve this problem, we all have a responsibility to set an example. And, more than that, help the developing world to transition before it's too late."
4. Prof. Gidon Eshel

It is well known that DiCaprio has donated a significant proportion of his wealth and time to various habitat conservation projects, notably focused on oceans and tropical forests. So it isn't a surprise that he visits such locations in Before the Flood.
He views dead coral with marine biologist Jeremy Jackson. ("We're pushing this system really hard"). He flies over Sumatran forests being cleared by palm oil plantations with HAkA's Farwiza Farhan. ("I've never seen anything like this"). He feeds baby orangutans at a rescue center in the Mount Leuser National Park with Dr. Ian Singleton. ("They are refugees from the burning forest").
The message is clear. Lifestyle choices are damaging these carbon-absorbing habitats. Boycott companies which use palm oil to make their products, urges DiCaprio. Switch from eating beef to chicken.
This particular suggestion is put forward by the next person DiCaprio visits. Gidon Eshel, a professor of environmental science and physics at Bard College in New York, was the lead author of a study published in 2014 in the Proceedings of the National Academy of Sciences. It made headlines around the world and found that beef is about 10 times more damaging to the environment than any other form of livestock. Eshel said:
"Of all the reasons for tropical deforestation, the foremost is beef. Beef is one of the most inefficient use of resources on the planet. In the U.S., 47 percent of land is used for food production and, of that, the lion's share is just to grow feed for cattle. The things that we actually eat—fruit, vegetables, nuts—it's a percent. Most importantly, cows produce methane. And methane is a powerful greenhouse gas … About 10-12 percent of total U.S. emissions is due to beef. It's staggering … Maybe not everyone is ready to eat tofu 24/7. I get that. But even if you just have to have some flesh between your teeth, if you switch to chicken, you will have eliminated 80 percent of what you emit, depending on where you are coming from."
5. Elon Musk

DiCaprio in now looking out across Los Angeles from a vantage point up in the Hollywood hills.
"Every single light that you see has to be completely different—has to come from a new power source. We need to build all those things differently. All the cars that are on the road need to be different. This is one city. If you zoom out to a map of the world at night, you see electrification all over the world. And we're fighting powerful fossil fuel interests who basically want to keep doing business as usual. How are we possibly going to turn all this around?"
Next he is in the Nevadan desert visiting the "gigafactory," the latest project of Tesla founder Elon Musk. Once at full operation by 2020, the vast factory aims to be producing annually 500,000 electric vehicles and batteries/cells equal to 85 GWh/yr. Musk explains why this could be a game-changer:
Elon Musk: What would it take to transition the whole world to sustainable energy? What kind of throughput would you actually need? You need a hundred gigafactories.
Leonardo DiCaprio: A hundred of these?
Elon Musk: A hundred. Yes.
Leonardo DiCaprio: That would make the United States…
Elon Musk: No, the whole world.
Leonardo DiCaprio: The whole world?!
Elon Musk: The whole world.
Leonardo DiCaprio: That's it?! That sounds manageable.
Elon Musk: If all the big companies do this then we can accelerate the transition and if governments can set the rules in favour of sustainable energy, then we can get there really quickly. But it's really fundamental: unless they put a price on carbon…
Leonardo DiCaprio: … Then we are never going to be able to make the transition in time, right?
Elon Musk: Only way to do that is through a carbon tax.
[Carbon Brief has asked Tesla to explain how Musk arrived at this "100 gigafactory" claim. This article will be updated, if a reply is received].
To drive this point home, DiCaprio then speaks to Gregory Mankiw, a Harvard economics professor, who has long argued for a carbon tax. ("Let me get this straight, you're a Republican who wants more taxes?") During a "call to action" segment at the end of the film before the credits roll, a link to Carbotax.org is shown.
6. Barack Obama

When you're Leonardo DiCaprio you can request a meeting with anyone on the planet. Which other filmmaker could include personal conversations with the U.S. president, the Pope and the UN secretary general in one film?
However, given the imminent entry into force of the Paris agreement on climate change, it is DiCaprio's exchange with Barack Obama at the White House which provides the most insight.
Barack Obama: [Paris] creates the architecture. I was happy with that. The targets set in Paris are nowhere near enough, compared to what the scientists tell us we need to solve this problem. But if we can use the next 20 years to apply existing technologies to reduce carbon emissions and then start slowly turning up the dials as new technologies come online and we have more and more ambitious targets each year, then we're not going to completely reverse the warming that now is inevitable, but we could stop it before it becomes catastrophic … Even if someone came in [to the White House] denying climate science, reality has a way of hitting you on the nose if you're not paying attention and I think the public is starting to realize the science, in part because it is indisputable.
Leonardo DiCaprio: You have access to information. What makes you terrified?
Barack Obama: A huge proportion of the world's population lives near oceans. If they start moving, then you start seeing scarce resources are subject to competition between populations. This is the reason the Pentagon has said this is a national security issue. And this is in addition to the sadness I would feel if my kids could never see a glacier the way that I did when I went up to Alaska. I want them to see the same things that I saw when I was growing up.
7. Dr. Piers Sellers

There are very few people who can say they've had the privilege of being able to look down at the Earth from space. Piers Sellers, the British-born astronaut, spent a total of 35 days in orbit in the 1990s on three separate flights aboard the space shuttle. But back on Earth, he has spent much of his professional life modeling the climate system at NASA's Goddard Space Flight Center in Maryland. Earlier this year, he wrote in theNew York Times about how being diagnosed with terminal cancer has sharpened his thinking on climate change.
Sitting in front of a huge screen showing NASA visualizations of the Earth's climate in motion, Sellers explains to DiCaprio how he views the current changes to the climate as a scientist.
Dr. Piers Sellers: I realized that, as the science community, we have not done the best job, frankly, of communicating this threat to the public. When you go up there and see it with your own eye, you see how thin the world's atmosphere is. Tiny little onion skin around the Earth … [Sellers shows a visualization]. Here's an example of one thing we can see—ocean surface temperature, as measured from space. You can see the poles melting.
Leonardo DiCaprio: Wow.
Dr. Piers Sellers: This is the way to do it, man. This is the way to really see what's going on. This is the Gulf Stream. Look at this. This is the motion of the ocean.
Leonardo DiCaprio: This is like a great piece of art.
Dr. Piers Sellers: It is, isn't it? The biggest impact will be here. [Sellers points].
Leonardo DiCaprio: In the Gulf Stream.
Dr. Piers Sellers: This current … the dumping of ice off Greenland could stop this conveyor belt and the Gulf Stream would slow down and stop its transport of heat from here to there and then Europe would get cold toes because there is a lot of heat transport from across the tropics, across the north Atlantic that keeps Europe warm.
Leonardo DiCaprio: Europe would get colder? A big misconception with climate change is that everything gets warmer.
Dr. Piers Sellers: And here's the most advanced precipitation satellite in the world. It's very important, because we think the biggest impact from climate change is the moving of the precipitation belts from the equator to further out. We're already seeing more persistent drought…
Leonardo DiCaprio: …more drought in places that are already too hot?
Dr. Piers Sellers: Yes. And there are a lot of papers written in the States and elsewhere about how that same drought has help to fuel conflict in the Syrian civil war, Darfur, Sudan, all these places that are short of water and short of food.
Leonardo DiCaprio: Is just here or across the whole planet?
Dr. Piers Sellers: We are expecting elsewhere. Bits of India. In the U.S., in Oklahoma, the Dust Bowl region, we expect that to be much, much drier over the next few decades.
Leonardo DiCaprio: Oh my god. And what about my home state of California?
Dr. Piers Sellers: Not looking great, I'm afraid. Our models predicted persistent drought in the Dust Bowl and here 50 years from now. But we're just seeing the worst drought in 900 years here right now, so it's coming a bit earlier than we thought. We're talking about this happening over the period of a few decades…
Leonardo DiCaprio: This is not great news.
Dr. Piers Sellers: People get confused about the issue, but the facts are crystal clear—the ice is melting, the Earth is warming, the sea level is rising—those are facts. Rather than being, "Oh my god, this is helpless", say, "Ok, this is the problem, let's be realistic and let's find a way out of it". And there are ways out of it. If we stopped burning fossil fuels right now, the planet would still keep warming for a little while before cooling off again.
Leonardo DiCaprio: Would that Arctic ice start to then increase again?
Dr. Piers Sellers: Once the cooling started, yeah.
Leonardo DiCaprio: So there really is a possibility to repair this trajectory that we're on? Interesting.
Dr. Piers Sellers: Yeah. There's hope … I'm basically an optimistic person. I really do have faith in people. And I think once people come out of the fog of confusion on this issue and the uncertainty on this issue and realistically appreciate it on some level as a threat, and are informed on some level on what the best action is to do to deal with it, they'll get on and do it and what seemed almost impossible to deal with becomes possible.
Before the Flood opens in cinemas on Oct. 21 and will be broadcast on the National Geographic Channel on Oct. 30.

Reposted with permission from our media associate Carbon Brief.

Tesla CEO Elon Musk isn't just building the biggest battery factory in the world. When construction of his $5 billion Tesla Gigafactory is complete, the facility will be astoundingly clean and energy efficient.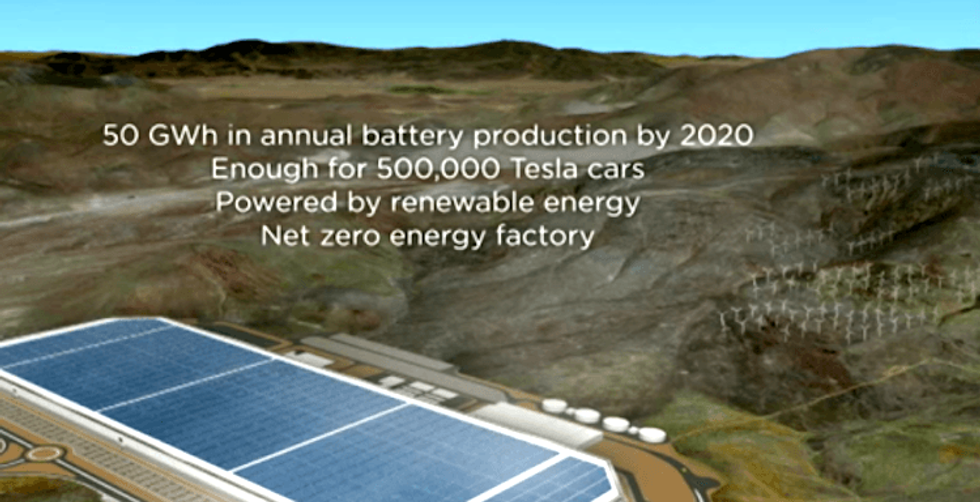 Tesla had already announced that Gigafactory operations will be powered by renewable energy sources, with the goal of achieving net zero energy, meaning it generates and stores as much renewable energy as it needs to run the facility. However, not much has been said about how exactly the company was going to meet this ambitious goal, until now.
As reported by CleanTechnica (thanks to tipster Renaud Janson), Tesla's Co-founder and Chief Technical Officer JB Straubel elaborated last week on the Gigafactory's net zero plans during a talk at the University of Nevada, Reno:
The Gigafactory is maybe the best example we can talk about with this. You know, from the get-go, from the first concept of this factory, we wanted to make it a net-zero facility. So, you know, the most visible thing we are doing is covering the entire site with solar power. The whole roof of the Gigafactory was designed from the beginning with solar in mind. We kept all of the mechanical equipment off the roof. We didn't put extra, sorta, penetrations through the roof that we didn't need to and it's a very, very clean surface that we can completely cover in solar. But that's not enough solar, though. So we have also gone to the surrounding hillsides that we can't use for other functions and we're adding solar to those.
Tesla wants operations to be completely carbon neutral, or have zero emissions just like the company's namesake electric vehicle. According to Straubel, the Gigafactory isn't even hooked up to gas:
The other interesting thing is we wanted to manage the emissions from the Gigafactory. Solar power can do some of that, but we took kind of a radical move in the beginning and said we are not going to burn any fossil fuels in the factory. You know, zero emissions. We are going to build a zero-emissions factory—just like the car. So, instead of kind of fighting this battle in hindsight, we just said we are not even going to have a natural gas pipeline coming to the factory, so we didn't even build it. And it kind of forced the issue. When you don't have natural gas, you know, none of the engineers can say, "Oh, but it will be more efficient, let me use just a little bit." Sorry, we don't even have it.
So it's kind of been a fun activity and just, a lot of challenges that come up. But in every single step of the process, we have been able to reinvent and come up with solutions. There's a heat pump technology that actually ends up way more efficient than just burning natural gas for steam. And then, we have a facility that has basically no emissions. The only emissions are related to the vehicles that might go there that aren't electric or things like that. But we'll try to attack that one piece at a time.
The Gigafactory broke ground in June 2014 in Nevada and will be at full capacity by 2020. It will produce more lithium ion batteries annually than were produced worldwide in 2013, the company says.
Tesla's Gigafactory will produce batteries for both its high-end electric cars as well as for homes, businesses and utilities, with its Powerwall suite of batteries (which have already been sold out through 2016). Solar supplier and sister company SolarCity is also incorporating Tesla batteries for residential solar installations.
Musk isn't shy about wanting to wean the world off of fossil fuels through renewable energy and energy storage.
"Our goal here is to fundamentally change the way the world uses energy," Musk said. "We're talking at the terawatt scale. The goal is complete transformation of the entire energy infrastructure of the world."
Watch Straubel's speech (he comes in at 9:57 and explains the Gigafactory's energy plans around an hour in) in the video below:
YOU MIGHT ALSO LIKE
Apple to Power 100% of Singapore Operations With Solar Energy
Google Self-Driving Car Gets Pulled Over, Cop Finds No Driver to Ticket
10 Greenest Cities in America (and the Worst)
JetBlue Opens Urban Farm at JFK Airport to Feed Passengers and Local Food Banks
The New York Times published an astonishing article last week that blames green power for difficulties countries are facing to mitigate climate change.
The article by Eduardo Porter, How Renewable Energy is Blowing Climate Change Efforts Off Course, serves as a flagship for an on-going attack on the growth of renewables. It is so convoluted and inaccurate that it requires a detailed response.
Our planet is burning up from fossil fuels and being irradiated by decrepit money-losing reactors that blow up. Blaming renewable energy for all that is like blaming the peace movement for causing wars.
As Mark Jacobson, director of Atmosphere/Energy Program at Stanford University, pointed out to me via email:
The New York Times article "suffers from the inaccurate assumption that existing expensive nuclear that is shut down will be replaced by natural gas. This is impossible in California, for example, since gas is currently 60 percent of electricity supply but state law requires non-large-hydro clean renewables to be 50 percent by 2030. This means that, with the shuttering of Diablo Canyon nuclear facility be 2025, gas can by no greater than 35-44 percent of California supply since clean renewables will be at least 50 percent (and probably much more) and large hydro will be 6-15 percent. As such, gas must go down no matter what. In fact, 100 percent of all new electric power in Europe in 2015 was clean, renewable energy with no new net gas, and 70 percent of all new energy in the U.S. was clean and renewable, so the fact is nuclear is not being replaced by gas but by clean, renewable energy.
"Further, the article fails to consider the fact that the cost of keeping nuclear open is often much greater than the cost of replacing the nuclear with wind or solar. For example, three upstate New York nuclear plants require $7.6 billion in subsidies from the state to stay open 12 years. To stay open after that, they will need an additional $805 million/year at a minimum, or at least $17.7 billion from 2028-2050, or a total of $25.3 billion from 2016 to 2050. If, on the other hand, those three plants were replaced with wind today, the total cost between now and 2050 would be $11.9 billion. Thus, keeping the nuclear plants open 12 years costs an additional $7.6 billion; keeping it open 34 years costs and additional $25.3 billion, in both cases with zero additional climate benefit, in comparison with shuttering the three plants today and replacing them with onshore wind."
Gideon Forman, climate change and transportation policy analyst at David Suzuki Foundation, also shared his dismay on the Times piece:
"The notion that non-renewable power sources are necessary is questionable at best. Some scientists believe that, over the next few decades, renewables could provide all our power. One is Stanford Prof. Mark Jacobson. He has done modeling to show the U.S. could be entirely powered by renewables by 2050.
"Porter is wrong to claim that nuclear produces 'zero-carbon electricity.' If we look at the full nuclear cycle, including production of uranium fuel, we find it involves considerable carbon emissions. Jacobson and his co-author, Mark A. Delucchi, have written, 'Nuclear power results in up to 25 times more carbon emissions than wind energy, when reactor construction and uranium refining and transport are considered.'
"Porter says if American nuclear plants were replaced with gas-fired generators it would lead to 200 million tons of additional CO2 emissions annually. But it's wrong to suggest that nuclear could only be replaced by natural gas. A full suite of renewables—along with energy storage and conservation programs—could meet demand, certainly in the not very distant future.
"Porter suggests that nuclear power can 'stay on all the time.' But of course, nuclear plants, like all generators, are sometimes out of service for maintenance. This downtime can be considerable. For example, it is expected that from 2017 to 2021, Ontario's Pickering nuclear station will require back-up almost 30 percent of the time."
Karl Grossman, professor of journalism at State University of New York/College at Old Westbury, called the Times piece "outrageous." He told me:
"The Times piece continues the paper's long record of minimizing and downplaying—not recognizing and indeed often denying—the deadly impacts of nuclear power. It's been a shameful journalistic dysfunction. As Alden Whitman, a Times reporter for 25 years, told me, 'there certainly was never any effort made to do' in-depth or investigative reporting on nuclear power. 'I think there stupidity involved,' he said, and further, 'The Times regards itself as part of the establishment." Or as Anna Mayo of The Village Voice related: 'I built a full-time career on covering nuclear horror stories that the New York Times neglected.'"

So where do I stand on the Porter piece? Here are my eight biggest complaints:
1. Though viewed as the "journal of record," the Times has been consistently pro-nuclear. Its slanted coverage has served as an industry bulwark for decades. A long-time atomic beat reporter, Matt Wald, went straight from the Times to a job with the Nuclear Energy Institute, the primary public relations front for the reactor industry. The Times has a long history as a cheerleader for nuclear power dating back to the atomic bomb era, when it consistently denied health problems from radioactive fallout. It also denied health problems resulting from radiation releases at Three Mile Island, and much more. Now it has taken a major role in defending the nuclear industry from the renewable energy revolution that is driving it to bankruptcy while bringing a tsunami of reactor shut downs. It's these shut downs that now seem to worry the paper.
2. The primary technological transition in the world of electric power today is from fossil and nuclear fuels (King CONG: Coal, Oil, Nukes, Gas) to a Solartopian system based on green power. But there's a deeper shift going on: from centralized, grid-based corporate control to decentralized citizen-based community control. When nuclear power and its apologists defend continued operations at dangerously deteriorated reactors, they are more broadly defending the power and profits of huge corporations that are completely invested in a centralized grid. When they argue that renewables "can't do the job," they're in fact working to prolong the lives of the large generators that are the "base load" basis of a corporate grid-based supply system.
3. But that grid is now obsolete. What strikes the ultimate terror in utility boardrooms is the revolutionary reality of a decentralized power supply, free of large generators, comprised instead of millions of small photovoltaic (PV) panels owned by individuals. Industry sources have widely confirmed that this decentralized, post-grid model means the end of big utilities. Thus when they fight against PV and for nuclear power, they are fighting not for the life of the planet, but for the survival of their own corporate profits.
4. Some utilities do support some renewables, but primarily in the form of large centralized grid-based solar and wind turbine farms. Pacific Gas & Electric said it will replace the power from the Diablo Canyon nuke plant with solar energy. But PG&E is simultaneously fighting rooftop solar, which will allow individual homeowners to disconnect from the grid. Germany's transition from fossil-nukes to renewables has also been marked by conflict between large grid-based wind farms versus small community-based renewables.
5. PG&E and other major utilities are fighting against net metering and other programs that promote small-scale renewables. The Koch Brothers' American Legislature Exchange Council (ALEC) has spread a wide range of taxes and disincentives passed by the states to make it ever-harder to go solar. All this is being done to preserve the grid-based monopolies that own large fossil/nuclear facilities.
6. The idea that nuclear power might fight climate change, and that environmentalists might support it, is a recent concoction, a disgraceful, desperate load of utility hype meant to defend the status quo. Fukushima, unsolved waste problems and the plummeting price of renewables have solidified the environmental community's opposition to nuke power. These reactors are dirty and dangerous. They are not carbon-free and do emit huge quantities of heated water and steam into the ecosphere. The utility industry can't get private liability insurance for them, and relies on the 1957 Price-Anderson Act to protect them from liability in a major catastrophe. The industry continually complains about subsidies to renewable energy but never mentions this government protection program without which all reactors would close.
7. Not just nuke power but the entire centralized fossil/nuke-based grid system is now being undermined by the massive drops in the price of renewable energy, and massive rises in its efficiency and reliability. The critical missing link is battery technology. Because the sun and wind are intermittent, there needs to be energy storage to smooth out supply. Elon Musk's billion-dollar Tesla Gigafactory in Nevada and many other industrial ventures indicate major battery breakthroughs in storage is here today.
8. Porter's NY Times piece correctly says that the massive amounts of cheap, clean renewables flooding the grid in Europe and parts of the U.S. are driving nuclear power plants into bankruptcy. At least a dozen reactor shut downs have been announced in the U.S. since 2012 and many more are on their way. In Japan 52 of the 54 reactors online before the Fukushima disaster are now closed. And, Germany has pledged to shut all its reactors by 2022.
But Porter attacks this by complaining that those nukes were supplying base load power that must be otherwise—according to him—shored up with fossil burners. Here's his key line:
"Renewable sources are producing temporary power gluts from Australia to California, driving out other energy sources that are still necessary to maintain a stable supply of power."
But as all serious environmentalists understand, the choice has never been between nukes versus fossil fuels. It's between centralized fossil/nukes versus decentralized renewables.
Porter's article never mentions the word "battery" or the term "rooftop solar." But these are the two key parts in the green transition already very much in progress.
So here is what the Times obviously can't bring itself to say: "Cheap solar panels on rooftops are now making the grid obsolete." The key bridging element of battery back-up capability is on its way. Meanwhile there is absolutely no need for nuclear power plants, which at any rate have long since become far too expensive to operate.
Spending billions to prop up dying nuke reactors for "base load" generation is pure corporate theft at the public expense, both in straight financial terms and in the risk of running badly deteriorated reactors deep into the future until they inevitably melt down or blow up.
Those billions instead should go to accelerating battery production and distribution, and making it easier, rather than harder, to gain energy independence using the wind and the sun.
All this has serious real-world impacts. In Ohio, for example, a well-organized shift to wind and solar was derailed by the Koch-run legislature. Some $2 billion in wind-power investments and a $500 million solar farm were derailed. There are also serious legal barriers now in place to stop homeowners from putting solar shingles and panels on their rooftops.
Meanwhile, FirstEnergy strong-armed the Ohio Public Utilities Commission into approving a huge bailout to keep the seriously deteriorated Davis-Besse nuke operating, even though it cannot compete and is losing huge sums of money. Federal regulators have since put that bailout on hold.
Arizona and other Koch-owned legislatures have moved to tax solar panels, ban solar shingles and make it illegal to leave the grid without still paying tribute to the utilities who own it. Indeed, throughout the U.S. and much of the western world, corporate-owned governments are doing their best to slow the ability of people to use renewables to rid themselves of the corporate grid.
For an environmental movement serious about saving the Earth from climate change, this is a temporary barrier. The Times and its pro-nuke allies in the corporate media will continue to twist reality. But the Solartopian revolution is proceeding ahead of schedule and under budget. A renewable, decentralized energy system is very much in sight.
The only question is how long corporate nonsense like this latest NY Times screed can delay this vital transition. Our planet is burning up from fossil fuels and being irradiated by decrepit money-losing reactors that blow up. Blaming renewable energy for all that is like blaming the peace movement for causing wars.
The centralized King CONG grid and its obsolete owners are at the core of the problem. So are the corporate media outlets like the New York Times that try to hide that obvious reality.
Harvey Wasserman's SOLARTOPIA! OUR GREEN-POWERED EARTH is at www.solartopia.org, where his
AMERICA AT THE BRINK OF REBIRTH: THE ORGANIC SPIRAL OF US HISTORY is soon to arrive. He edits www.nukefree.org and hosts the Solartopia Green Power & Wellness Show at www.prn.fm.
Illustration by Aaron Goodman
Imagine: Your workday is done and when you walk to the parking lot, the first thing you do is unplug your vehicle from the office building where it's been soaking up electricity from rooftop solar panels all day. You hit the road and, as usual, there are no delays. With all the cars networked together, traffic moves seamlessly, like a flock of birds, using as little energy as possible. On the ride home, you switch to autopilot so you can check your phone to see how your house has been performing.
The rooftop panels there have also been cranking all day, but a lot of their power has gone to the grid, so the home battery isn't fully charged. No worries—the vehicle battery can top it off later. You activate your home air-conditioning, which has been in sleep mode while you were out and, with a swipe of a screen, begin preheating the oven. You look up as you round the bend: There are windmills spinning on the ridgeline.
Is this scenario science fiction? Not as much as you might think. "The future has already arrived," the writer William Gibson once said. "It's just not evenly distributed yet." The same is true of America's impending low-carbon future.
Rooftop solar panels on homes and businesses. Batteries that can power smart, energy-efficient homes. Electric cars and self-driving vehicles. These emerging technologies are with us now. But they're scattered and not yet at scale and they remain pricey in some cases, all of which can make them difficult to see.
The clean energy economy is poorly distributed, in part, because of the political stalemate in Washington, DC, where climate change remains a highly polarized issue. But outside of DC, local leaders from across the political spectrum are preparing for a low-carbon future. Businesses are also joining the effort. Hyper-efficient, clean energy technologies are attracting major investment—at least $310 billion globally in investor capital in 2014, a fivefold increase from a decade earlier—evidence that you don't have to be an environmentalist to believe that the greening of the U.S. is a profitable business opportunity.
"Local solutions are where the real opportunity lies and where the innovation is happening," said Tyler Nickerson of the Solutions Project, a nonprofit cofounded by Mark Jacobson, a Stanford University scientist whose work has helped guide state and local climate plans. "States can do a great deal and cities can do a lot," Jacobson said.
Jacobson has developed a blueprint that shows how the U.S. and the rest of the world can eliminate fossil fuels and transition to 100 percent renewable energy by 2050. His plan for the U.S. relies on solar, wind and water to generate all the electricity we need. Fully electrified systems for transportation, heating and cooling and industrial energy use will make other fuels obsolete.
Does that sound ambitious? It is. And—here's the beauty—it's also achievable. Already, a handful of small cities—Burlington, Vermont; Aspen, Colorado; and Greensburg, Kansas—get all their electricity from renewable energy. Another 12 communities—from Grand Rapids, Michigan, to Georgetown, Texas—have pledged to do so. Earlier this year, the Sierra Club launched its Ready for 100 campaign, which aims to enlist more cities to make a 100 percent clean energy commitment.
So far, the biggest city to set a 100 percent clean energy goal is San Diego. The move by the country's eighth most populous city is precedent setting. For starters, its climate action plan is legally binding, not just a vaguely worded proclamation. Also, the effort was bipartisan and gained the support of the Republican mayor, Kevin Faulconer and the Democratic city council. Even San Diego Gas & Electric, the local utility company, agreed—albeit reluctantly and at the last minute—not to oppose the plan.
In his 2016 State of the City address, Mayor Faulconer cited the climate action plan as one of his proudest accomplishments: "Business groups. Environmentalists. Democrats. Republicans. SDG&E, an industry leader on renewable energy. We brought them all to the table and united around a common-sense plan for a greener and more prosperous future." Faulconer said the plan will create new jobs in the renewable energy industry, improve public health and air quality, conserve water and save the government money.
San Diego is a potent symbol of the energy transition because it is emblematic of our automobile-centric landscapes. Thanks to their higher population densities, older cities such as New York and Chicago are much greener than newer cities in the South and West, suburbs and rural areas. The average carbon footprint of households living in big, dense cities is about 50 percent below the U.S. average.
In comparison, San Diego's 1.4 million people sprawl across some 370 square miles from the Pacific coast to the inland deserts. The place represents the challenges and the opportunities, of making the suburbs sustainable—a crucial goal, given that half of all Americans say they live in suburbia. Suburbs—or suburb-like cities such as San Diego, Phoenix and San Antonio—pose a tough task. Huge single-family homes, gas-guzzling sport-utility vehicles, long commutes, clogged thoroughfares, strip malls, parking lots and wide expanses of lawn that soak up water and fertilizer: The combination is awful for the planet. To reach the 100 percent clean energy goal, suburbs are going to have to change—and they already are.
"San Diego is a big, spread-out city with a lot of residential neighborhoods and low buildings," said Jodie Van Horn, who directs the Sierra Club's Ready for 100 campaign. "It's got a lot of rooftops to fill. So the implementation of 100 percent clean energy with a big emphasis on solar has a lot of potential there and we hope San Diego will inspire other cities to follow suit."
If you look closely, you can glimpse the beginnings of tomorrow's low-carbon suburbs.
Nearly 40 years after President Jimmy Carter installed an array of bulky solar panels on the White House roof, solar technology is experiencing a breakthrough moment. Rooftop photovoltaic solar is booming and in the first three quarters of 2015, the solar industry represented about 30 percent of all new electricity-generating capacity in the U.S.
San Mateo, California-based SolarCity, the nation's leading rooftop installer, has operations in 27 states, employs more than 15,000 people and has 300,000 customers and it's just getting started, said Lyndon Rive, the CEO. "Homes are going to be providing energy to themselves and also to their neighbors and to their communities, perhaps even in the next zip code," Rive said.
As part of Jacobson's plan for a zero-carbon America, electricity will still be produced at big, centralized facilities—hydropower in the Pacific Northwest, concentrated solar in the Southwest and Florida, wind farms in Texas and the Great Plains, offshore wind in the Northeast. But a significant slice of energy generation (about 40 percent of the nation's needs) will shift to the rooftops of homes and businesses or to utility-scale photovoltaic solar installations.
This shift toward decentralization is already under way. Just as mainframe computers have given way to desktops and laptops and landlines are being replaced by mobile phones, distributed solar is poised to replace power plants that burn fossil fuels. Environmental advocates and some policy experts say that using existing buildings to generate electricity is more efficient and has fewer effects on open spaces (compared with utility-scale solar operations, some of which have proved controversial).
Lower prices are a significant factor driving the growth, along with the option to lease rather than buy panels, which eliminates up-front costs of $15,000 or more. A Deutsche Bank analysis of the solar industry predicted that rooftop solar will be the lowest-cost electricity option for most people in the U.S. by the end of 2016, particularly if utilities continue to raise electricity prices. Most homeowners say that saving money is a big reason why they go solar.
Shifts in public policy are helping to drive rooftop solar's success. For example, San Diego's 100 percent clean energy plan relies on a bold idea known as community choice aggregation or CCA. Under such a system, decision-making about electricity generation (which has always been left up to the utilities) is done by city officials, who set the electricity rates and decide where the power will come from, while the utility continues to operate the transmission lines and manage the electrical grid. The elected officials can be held accountable to voters—who, presumably, prefer clean energy to dirty fossil fuels.
CCAs already provide green power in Sonoma and Marin Counties in California as well as in Cleveland, Ohio and Lowell, Massachusetts. More than 2.4 million customers across the U.S. get their energy from CCAs. "We needed a mechanism to break away from the utility," said Nicole Capretz, an environmental advocate who helped write San Diego's plan and now leads the nonprofit Climate Action Campaign. Unlike an investor-owned utility, the CCA will be "mission driven and nonprofit," she said, meaning it will prioritize investments in renewable energy.
There is one obvious challenge to this bright future: A heavy reliance on solar power means that electricity has to be stored somewhere for cloudy days and for use at night. Building better batteries could transform how we produce energy. Cheaper and more powerful batteries will go a long way toward liberating homes from the need to use fossil fuel power from the grid. Homeowners will become energy producers and managers as well as consumers.
That, at least, is the vision of Enphase Energy, a California firm that has begun to sell what it calls a Home Energy Solution, which integrates solar panels, batteries, a smart thermostat and a software platform that enables homeowners to remotely monitor and manage their energy use. "In the long run, everything moves to a distributed architecture," said Raghu Belur, the company's cofounder and director of strategy. "More and more intelligence gets pushed to the periphery of the network."
Tesla, too, has entered the home energy storage market. The company says it will invest $2 billion by 2020 in what it calls a "Gigafactory" near Sparks, Nevada, to produce batteries for its electric cars and for homes. Last fall, the company began selling its seven-kilowatt-hour Powerwall home battery, a unit with enough capacity, the company says, to power homes during the night with energy collected by day. Some experts believe that suburban rooftops will eventually generate so much electricity that they will send the surplus to cities via the batteries of electric vehicles.
Putting solar panels on the roof of a home makes little sense if the electricity is wasted. Fortunately, American homes are becoming much more energy efficient. The average U.S. home today uses 31 percent less energy per square foot than it did in 1970. Unfortunately, homes have also grown 28 percent bigger since then, wiping out most of those gains. If we're going to reach the 100 percent goal, we'll have to break our appetite for super-size dwellings. Some home builders have already gotten the message. One example is Maple Lawn, a planned community midway between Washington, DC and Baltimore. In the last decade, developers have built about 900 homes in the community, which also includes offices, restaurants, retail stores and medical services. Big lawns are rare. Instead, people gather in shared playgrounds and pocket parks.
The newest homes in the development stand out for their efficiency. They rely on geothermal energy systems, which use steady underground temperatures to provide lower-cost heating and cooling and they are wired for solar. The homes score a rating of just 21 on the Home Energy Rating System index, a way of calculating energy performance. In comparison, a standard new home generally gets a rating of about 100, while older homes are rated as high as 150. The ultimate goal? Get homes to zero, which means the buildings produce as much energy as they use.
Ensuring that these pockets of innovation are evenly distributed among all communities won't be easy. For now, many clean energy technologies remain prohibitively expensive for too many U.S. residents. But on this front, too, there are signs of progress. One residential rooftop solar company that operates in the Northeast and Louisiana, PosiGen, has cracked the code on leasing panels to lower-income families while still turning a profit. In Minnesota, where many utilities are organized as local cooperatives, community solar gardens offer residents a chance to buy a green energy "subscription" and tap into clean energy produced by medium-scale plants located in their area. As these and similar companies grow in size, they will be generating local jobs along with clean energy.
Engineers and entrepreneurs can do their part to ensure that the clean energy economy benefits everyone. But ultimately, political organizing and policy reform will be needed to drive change. Near the top of the list is ensuring that polluters have to pay for dumping carbon into the atmosphere. The rooftop solar panels, the smart homes, the highly efficient batteries and the electric vehicles—all of them will spread more rapidly to the mainstream once there's a price to be paid for emitting greenhouse gases.
"The most important thing we need is a price on carbon," SolarCity's Rive said. "Right now, fossil fuels get to pollute for free." But the Republicans who control Congress are loath to tax or regulate greenhouse gases—which is exactly why the local leadership and homegrown solutions are so important. They are laying the foundation for a future that remains in the near distance, at least for now.
But history offers a consolation of sorts. More often than not, social change comes with unlikely speed and from unexpected directions. If people can be persuaded that a clean energy economy means more jobs, less pollution, better health and, ultimately, a more attractive way of life, the transition could happen more quickly than expected. And the unglamorous work of, say, reforming utility regulations will, in hindsight, look like a no-brainer.
"True leadership means setting an ambitious goal and then working toward it, even if you don't know today how exactly you're going to get there," Van Horn said. "The technology's here. The economics are here. The only thing missing is the political will."
This article was funded by the Ready for 100 campaign.
We just got some great news for clean energy—today, the U.S. Department of Energy (DOE) decided to participate in the Clean Line transmission project, which will bring a game-changing amount of low-cost, high-quality wind from Oklahoma and the Texas panhandle to the Southeastern U.S. Because I grew up in Tennessee, I'm especially excited to see this big step forward for a project that is poised to bring a massive amount of clean, renewable wind energy into the South.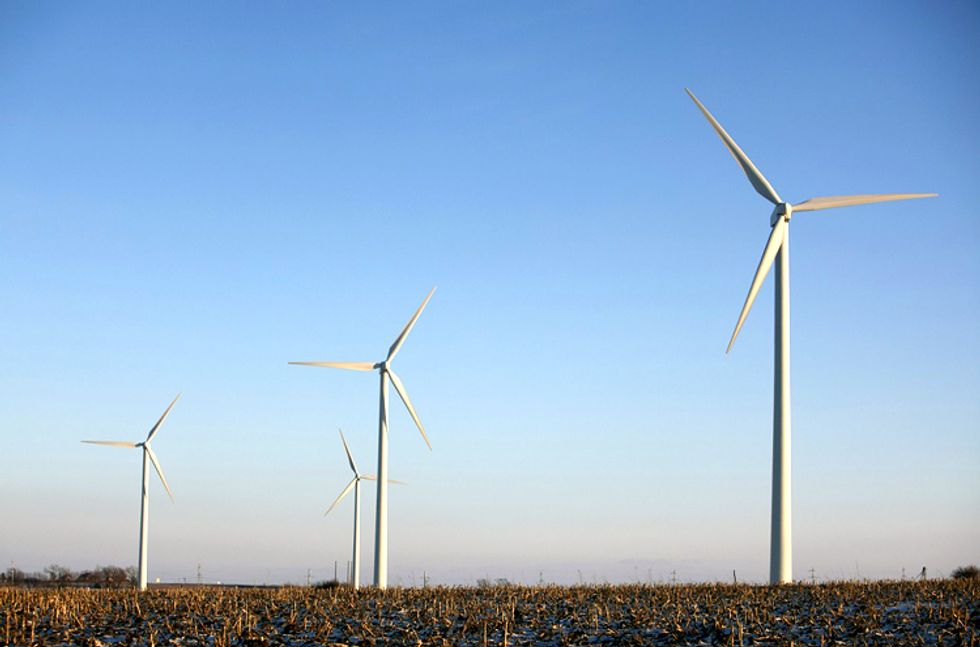 The Clean Line will deliver more than 4,000 megawatts of affordable wind power to more than 1.5 million homes and businesses in Tennessee, Arkansas and other Southern states. It will be one the biggest leaps forward for clean energy in the country, and it will deliver all kinds of benefits, from creating jobs, to sparking innovation and economic development, to helping ensure the U.S. meets the carbon reduction commitment that we made at the Paris climate summit last December.
The decision comes after five years of review by DOE, and means the federal government will step in to help secure the transmission route, if and only if the developer can't reach agreement with a state (Oklahoma and Tennessee have already endorsed the project). It's a decisive step forward for this project, one that we hope will soon be delivering clean power to the Volunteer State and beyond. As Scott Banbury of Sierra Club's Tennessee chapter put it, "this isn't just about a transmission project. It's about the Tennessee Valley modernizing its economy, saving communities and customers millions of dollars in utility bills, and building a prosperous clean energy future."
Here's how one of my Sierra Club colleagues in Arkansas described today's news:
"The Sierra Club is celebrating today's decision, which is a giant step toward bringing clean energy to our state and region," said Glen Hooks, director of the Arkansas Sierra Club. "Putting thousands of megawatts of clean wind energy onto the grid—including 500 megawatts for Arkansas—will undoubtedly lead to less dirty coal and gas being burned for electricity. We are on our way to cleaner air, healthier citizens, and a booming clean energy economy."
The Sierra Club applauds today's decision by DOE. In our race against to clock to avert a climate crisis, save lives from air and water pollution, and scale up clean energy, this project is an important part of the solution.
YOU MIGHT ALSO LIKE
Renewable Energy Investments Set New Record, Twice That of Coal and Gas
Musk, DiCaprio and Rive Talk the Future of Solar at Tesla Gigafactory
Worldwide Shift to Renewable Energy Played 'Critical Role' in Stalling Carbon Emissions
3 Cities Disrupting the Local Electricity Market With Innovative Renewable Energy Projects
Elon Musk has unveiled the hotly anticipated Model 3—aka Tesla's mainstream electric vehicle—at his Los Angeles design studio last night.
Meet Model 3 – Make your reservation at https://t.co/8uVlhvzpu5 #Model3 https://t.co/NdyGLgoW0D

— Tesla (@Tesla) 1459482870.0
The Tesla chief immediately jumped into the big questions during the big reveal: Why does Tesla exist? Why is Tesla doing this? Why are we making electric cars? Why does it matter?
"Because it's very important to accelerate the transition to sustainable transport," Musk said, eliciting cheers from the crowd.
"This is really important for the future of the world."
He then presented slides on the record levels of carbon concentration, increased global temperatures as well as the 53,000 deaths a year in the U.S. that can be attributed to auto emissions.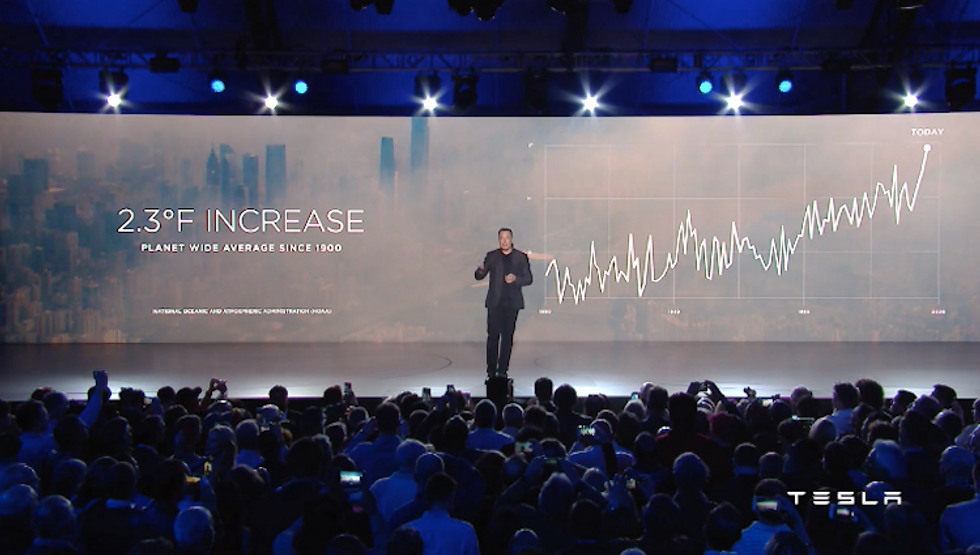 "It's very important to accelerate the transition to sustainable transport," said Musk.
Musk said Tesla's newest EV will be priced at $35,000 (about half the cost of its predecessors), and delivery to customers will start at the end of 2017.
As for the car's specs, it has a 5-star safety rating, 215 miles of range, goes 0-60 in less than 6 seconds and all versions will have Tesla's famed autopilot and supercharging capabilities as standard features.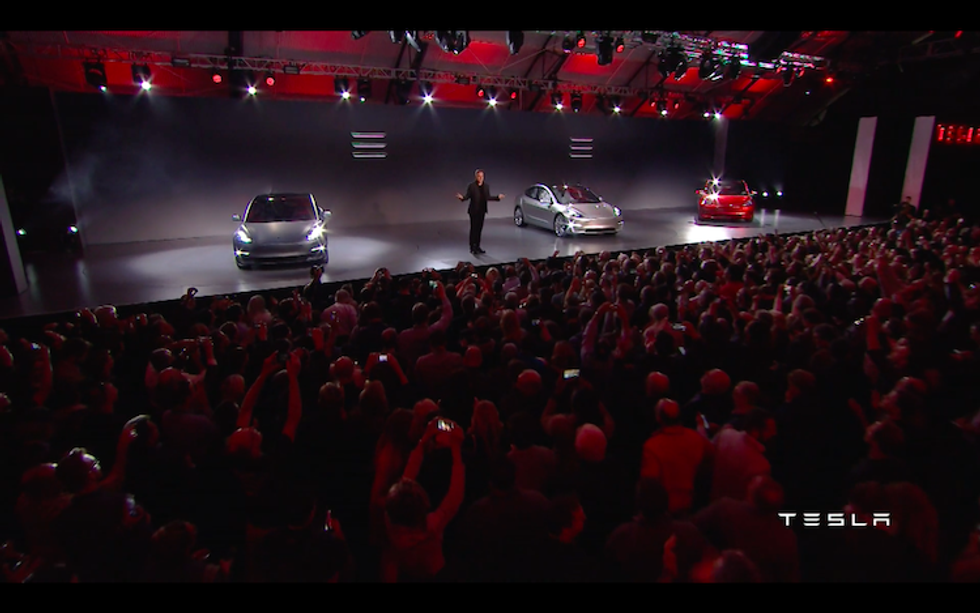 Supercharging, Musk said, "gives you freedom of travel," boasting that Tesla's vast, global network of high-speed charging stations means "you will be able to go virtually anywhere."
The cars come in black, silver and red and fits five adults "comfortably" since a lack of a combustion engine moves seating closer to the front of the car, and an all-glass roof allows for more headroom, Musk said. It can even hold a 7-foot surfboard in the car's interior.
By any estimation, it looks like the Model 3 is already a success. Fans stood in long lines in front of Tesla stores around the world ready to put down their deposits to reserve the car.
You know you're onto something big when people line up overnight for a product that won't be delivered for ~2 years https://t.co/F2GldLtEiX

— Jeff Weiner (@Jeff Weiner) 1459441176.0
Model 3 order day starting in Australia https://t.co/T6aUnG5BCv

— Elon Musk (@Elon Musk) 1459376626.0
Tesla aims to produce 500,000 of these vehicles a year with the aid of its massive lithium-ion Gigafactory in Nevada, which will cut costs of the car's battery pack and enable a lower-priced car.
Musk said during his presentation last night there were already 115,000 pre-orders in the first 24 hours, meaning their goal of selling 500,000 cars a year is already a fifth of the way there. He also plans to increase Tesla's storefront locations, service stations and supercharging stations to prepare for new Tesla's new drivers.
"Almost no matter where you are ... you'd be able to buy a car and get it serviced," he envisioned.
The multi-hyphenate entrepreneur, who is also involved in space exploration and solar power industries, has said many times before that the electric vehicle market plays an important role in a sustainable energy future. At the North American International Auto Show in Detroit last year, Musk said the trend is toward electric: "The price of gasoline at any one time is irrelevant," and electric vehicles are the future.
After the unveiling, Musk teased on Twitter that this was only the beginning: "Thanks for tuning in to the Model 3 unveil Part 1! Part 2 is super next level, but that's for later …"
Thanks for tuning in to the Model 3 unveil Part 1! Part 2 is super next level, but that's for later…

— Elon Musk (@Elon Musk) 1459486826.0
Watch the full presentation here:
YOU MIGHT ALSO LIKE
Bloomberg: The Electric Car Revolution Is Here to Stay
Koch Brothers Plotting Multimillion Dollar War on Electric Vehicles
Elon Musk Shows His Love for Dramatic Tesla Video With Powerful Message
Tesla Model S for Kids Gets Next Generation Pumped About EVs
Few product launches in recent memory have captured as much attention as last week's unveiling of the Tesla Model 3 electric vehicle (EV), Tesla's first vehicle pitched at the mass market.
Orders were flooding in even before Tesla CEO Elon Musk revealed the car to a giddy audience last Thursday evening, with prospective buyers queuing at Tesla stores throughout the day to place a deposit on a vehicle they might not even receive for two years or more.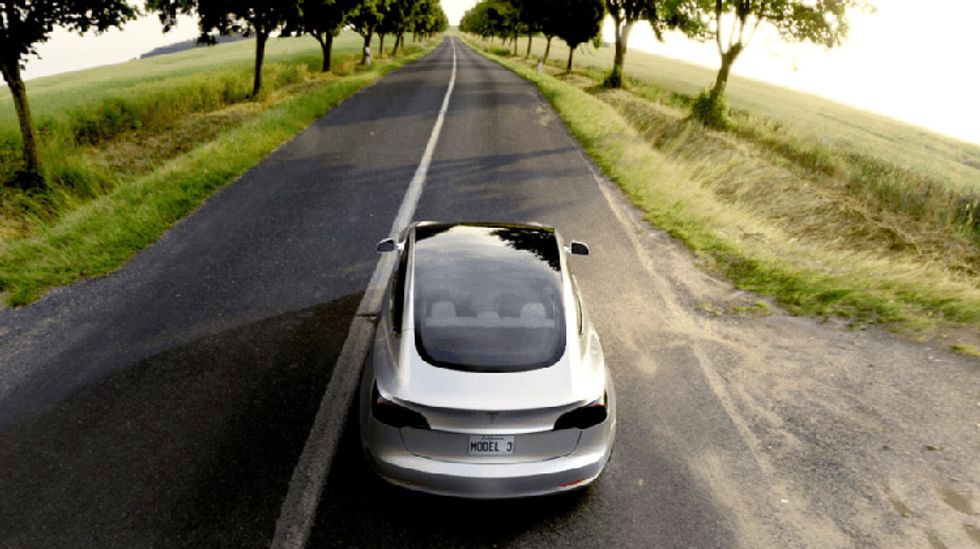 Musk made the case for EVs being "really important for the future of the world," combating rising greenhouse gas emissions and air pollution.
The Model 3 is really important for the future of Tesla and the future of EVs. It promises the sales growth that automotive wunderkind Tesla needs to survive and renews interest in a technology that is yet to have significant real-world impact. Yet even with the introduction of Tesla's flashy new sedan, more pieces need to be in place before the EV market goes truly mainstream.
Battery Prices Dropping
When the Chevrolet Volt plug-in hybrid and Nissan Leaf battery-electric vehicle hit U.S. showrooms in December 2010, the price of gasoline was rising and so were expectations for the future of EVs.
Shortly after, President Obama articulated the goal of having one million EVs on U.S. roads by 2015 and committed billions of investment in EV manufacturing capacity, recharging infrastructure deployment and vehicle purchase incentives.
Five years later, the reality is somewhat different, with the market for hybrid and electric vehicles stagnating (see figure below). Only 415,000 plug-in hybrid and battery-electric vehicles have been sold to date, achieving no more than one percent of new vehicle sales and conventional hybrid vehicles have fared little better, following the price of gasoline down over the past two years.
With gas cheap, sales of SUVs and pickups are booming and all evidence suggests that mainstream car buyers simply do not want the green vehicles that are available currently.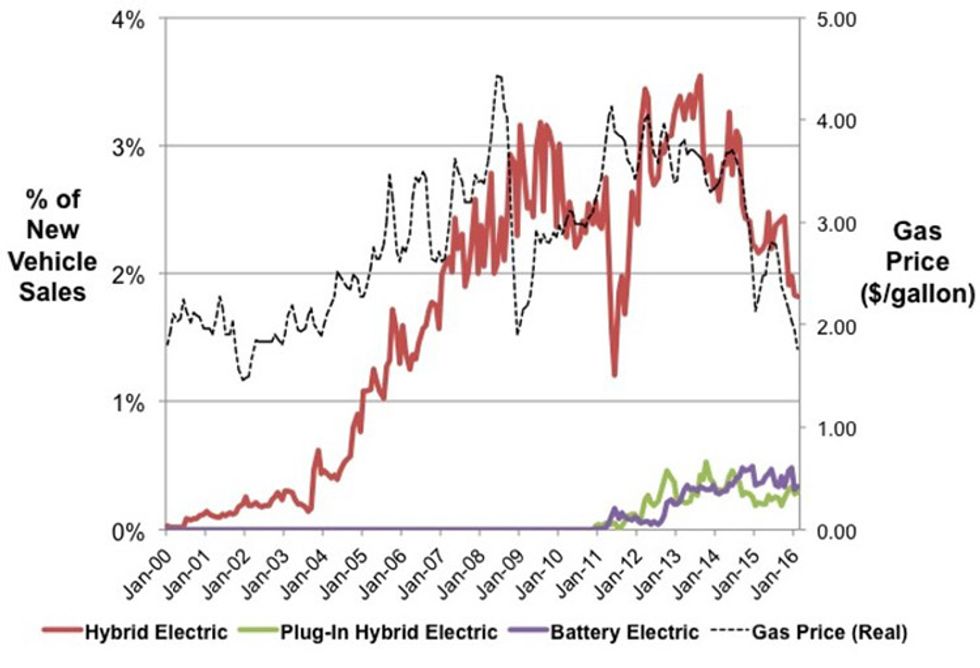 Why then might prospects for EVs be different looking forward? The answer lies in the rapid reductions in lithium-ion battery prices that are being achieved, falling 70 percent since 2007 to US$300 per kWh.
These battery improvements have the potential to significantly affect EV performance compared to gasoline-powered cars. The next wave of electric vehicles, led by the Tesla Model 3 and Chevrolet Bolt, promise more than 200 miles of electric range for $35,000, which advocates hope will be a sweet spot for consumers.
To say that $35,000 for a midsize car is affordable for mass-market consumers, as some have suggested, is optimistic to say the least. However, continued development of these second-generation EVs could soon challenge (again) the gasoline/internal-combustion regime that has dominated global automotive markets for the past 100 years.
Not Just for Techies and Treehuggers
But when a mass-market transition to EVs may occur remains uncertain even with falling battery prices.
A recent report by Bloomberg New Energy Finance received widespread attention for suggesting that EVs would be cost-competitive with gasoline vehicles by 2025. Significant further advances with batteries would be needed for that to occur.
Even so, building a market for EVs that is ecologically and economically sustainable requires more than just cheap batteries. EVs will go mainstream only when everyday car buyers understand the technology, have a wide range of EV makes, models and body styles to choose from and have access to a ubiquitous network of fast charging stations for long trips.
Only Tesla can claim to offer significant charging infrastructure coverage today with their growing network of proprietary Supercharger stations and Tesla faces other challenges internally as they learn to manufacture vehicles at scale with high quality.
The greatest impact of the Model 3, then, to the benefit of the entire EV industry, may be in convincing consumers that EVs are no longer just for treehuggers and techies.
In launching presales far in advance of production, Tesla has empowered 275,000 people (and counting) to tell everyone they know that their next car will be electric, long before the first Model 3 hits the road. For the struggling field of electric cars, that's a real vote of confidence.
YOU MIGHT ALSO LIKE
21 Countries That Reduced Carbon Emissions While Growing Its GDP
Elon Musk Unveils Tesla Model 3: Accelerating Sustainable Transport Is 'Important for the Future of the World'
This Must-See Documentary Shows the Future of Solar Power Is Here Today
Musk, DiCaprio and Rive Talk the Future of Solar at Tesla Gigafactory
The United Nations (UN) is teaming up with Angry Birds, one of the world's most popular mobile games with hundreds of millions of players each month, to spotlight the need for climate solutions.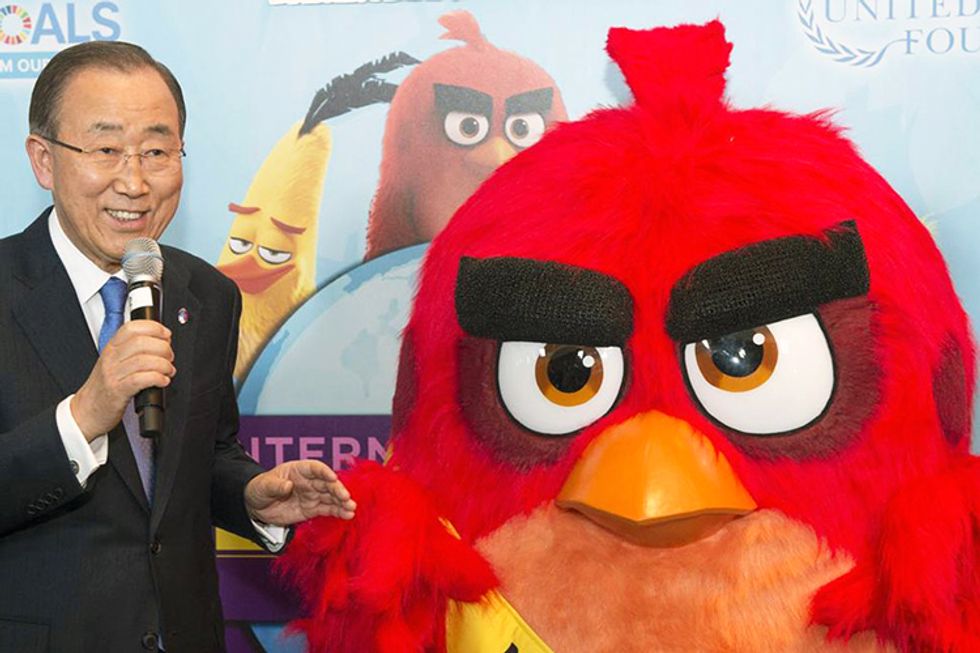 The Angry Birds have entertained kids and adults alike as a mobile game and are coming to theaters as an animated movie. The UN is sending Red on a global tour raising awareness of climate solutions, culminating in Paris on April 22, for the signing of the Paris agreement.
The #AngryBirdsHappyPlanet campaign, in combination with Sony Pictures, kicked off Sunday, the International Day of Happiness, with an event at the UN featuring Angry Birds movie voice actors Jason Sudeikis, Maya Rudolph and Josh Gad.
Watch here:
For a deeper dive: AP, UN, Fox, Belfast Telegraph, IB Times, Utah People's Post, Tech Times, Inquisitr, India Times, NH Voice, Xinhua
For more climate change and clean energy news, you can follow Climate Nexus on Twitter and Facebook, and sign up for daily Hot News.
YOU MIGHT ALSO LIKE
178 Nations Switched Off Lights to Mark the 10th Annual Earth Hour