In 2014, Vermont passed the first legislation in the U.S. to require labeling of foods containing genetically engineered ingredients. A year earlier, Connecticut and Maine passed GMO labeling bills though these were dependent on several other states passing similar laws.
Best of Democracy: Lawmakers Respond to the People
Passages of these three bills were textbook examples of democracy in action. The states' citizens lobbied their legislatures to introduce the bills, public hearings were held, experts spoke for and against the bills and lawmakers debated the measures. The bills ultimately passed because the lawmakers recognized that the People wanted them approved.
Vermont's bill passed overwhelmingly in both the state's House of Representatives and Senate and Gov. Pete Shumlin signed the bill shortly thereafter.
This is how democracy is supposed to work, right? Citizens see an issue of concern that needs to be addressed and they contact their elected representatives who respond by passing a law. This is what happened in Vermont, Connecticut and Maine.
As Tara Cook-Littman, who spearheaded Connecticut's labeling initiative, said: "GMO labeling is about people taking back power and getting lawmakers to take action in the interests of the people and not corporations. If we don't use our voices it's not democracy. We proved in Connecticut that we do have power and can make democracy work."
Worst of Democracy: Lawmakers Pander to Corporations
Contrast those initiatives with U.S. federal government action on GMO labeling in the past year. Heavy lobbying by large food and agriculture corporations and groups such as the Grocery Manufacturers Association led the U.S. House of Representatives to introduce the Orwellian-named "Safe and Accurate Food Labeling Act."
The bill, dubbed the "DARK Act" (Deny Americans the Right to Know), aimed to stop Vermont and other state GMO labeling laws and establish a meaningless system of voluntary GMO labeling. The DARK Act passed the House but a similar bill failed to pass the U.S. Senate this past March mainly because the people told their senators to vote against it.
Following the Senate defeat and with Vermont's GMO labeling law set to take effect July 1, Senators Debbie Stabenow (D-MI) and Pat Roberts (R-KS) drafted a compromise of the DARK Act, making GMO disclosure mandatory and not voluntary as in the House bill. But there was no requirement for an on-package statement as the Vermont law mandated.
Stabenow's compromise essentially snatched defeat from the jaws of victory for labeling supporters because many major food companies were already putting GMO labels on their products sold nationwide to comply with Vermont's law.
The Roberts-Stabenow bill has been described as a "non-labeling GMO labeling bill" since, among its many flaws, it allows food companies to continue their stonewalling of GMO information by putting QR codes on products that can only be read by smartphones. Imagine a busy mother at a supermarket with several children in tow pulling out her smartphone to read QR codes on 20 or 30 food products. Or imagine the many mothers that don't even have smartphones trying to get GMO information. According to marketing communications expert Peter Quinn, the use of QR codes has virtually been abandoned because they have proven to be so ineffective and a "technology wild goose chase."
"Needs of the People Have Been Ignored"
Vermont Sen. Bernie Sanders said: "The Stabenow-Roberts GMO bill is confusing, misleading and unenforceable. It does nothing to make sure consumers know what they're eating."
In contrast to Vermont's GMO labeling bill—the Roberts-Stabenow bill had no hearings, no public input, no committee debate and was rushed to be introduced—and passed in both the Senate and House. Behind the push were Big Food and Ag and their millions of dollars in lobbying.
So while the GMO labeling efforts in Vermont, Connecticut and Maine demonstrated the best of democracy—working for the people as America's founders intended—the Roberts-Stabenow bill showed us the worst of democracy—with its pandering to the narrow interests of big business at the expense of the wishes of the people. And the bill makes the successful democratic efforts in those states null and void.
Rep. Jim McGovern (D-MA) said the bill was "not what's in the interests of the American consumer, but what a few special interests want."
With their support for this bad piece of legislation and continued obfuscation of GMOs, Big Food and Ag have assured themselves more years of consumer distrust and targeting by advocacy groups, leading to PR disasters. A few food companies, such as Campbell's and Dannon, have decided that transparency is the best policy, but for many others this may be a tough lesson to learn.
As of July 22, the Roberts-Stabenow GMO labeling bill, S.764, has not yet been signed into law by President Obama but the White House said after Congress passed the bill that he would sign it. More than 80,000 people have petitioned the White House urging Obama to veto the bill. Florida Republican Congressman Vern Buchanan also urged the president to veto the bill. In a letter to Obama, Buchanan called the legislation a "sham bill that pretends to offer disclosure but in truth has so many loopholes that it is meaningless."

EcoWatch Daily Newsletter
Thinkstock
By Martha Rosenberg
Recently, Organic Consumers Association, along with Friends of the Earth and Center for Food Safety filed suit against chicken giant Sanderson Farms for falsely marketing its products as "100% Natural" even though they contain many unnatural and even prohibited substances.
Specifically, Sanderson chicken products tested positive for the antibiotic chloramphenical, banned in food animals, and amoxicillin, not approved for use in poultry production. Sanderson Farms products also tested positive for residues of steroids, hormones, anti-inflammatory drugs—even ketamine, a drug with hallucinogenic effects.
This is far from the first time unlabeled human drugs have been found in U.S. meat. The New York Times reported that most chicken feather-meal samples examined in one study contained Tylenol, one-third contained the antihistamine Benadryl, and samples from China actually contained Prozac. The FDA has caught hatcheries injecting antibiotics directly into chicken eggs. Tyson Foods was caught injecting eggs with the dangerous human antibiotic gentamicin.
The Natural Resources Defense Council has reported the presence of the potentially dangerous herbs fo ti, lobelia, kava kava and black cohosh in the U.S. food supply as well as strong the antihistamine hydroxyzine. Most of the ingredients are from suppliers in China.
"Animal Pharma" still mostly under the radar
Many people have heard of Elanco, Eli Lilly's animal drug division, and Bayer HealthCare Animal Health. But most big Pharma companies, including Pfizer, Merck, Boehringer Ingolheim, Sanofi and Novartis operate similar lucrative animal divisions. Unlike "people" Pharma, Animal Pharma largely exists under the public's radar: drug ads do not appear on TV nor do safety or marketing scandals reach Capitol Hill.
Still, conflicts of interest abound. "No regulation currently exists that would prevent or restrict a veterinarian from owning their own animals and/or feed mill," says the Center for Food Safety. "If a licensed veterinarian also owns a licensed medicated feed mill, they stand to profit by diagnosing a flock or herd and prescribing their own medicated feed blend."
Because the activities of Animal Pharma are so underreported, few Americans realize that most of the meat they eat is banned in other industrialized countries. One example is ractopamine, a controversial growth-promoting asthma-like drug marketed as Optaflexx for cattle, Paylean for pigs, and Topmax for turkeys and banned in the European Union, China and more than 100 other countries. Also used in U.S. meat production is Zilmax, a Merck drug similar to ractopamine that the FDA linked to 285 cattle deaths during six years of administration. Seventy-five animals lost hooves, 94 developed pneumonia and 41 developed bloat in just two years, Reuters reported.
The European Union boycotts the U.S.'s hormone-grown beef. The routinely used synthetic hormones zeranol, trenbolone acetate and melengestrol acetate pose "increased risks of breast cancer and prostate cancer," says the European Commission's Scientific Committee on Veterinary Measures. "Consumption of beef derived from Zeranol-implanted cattle may be a risk factor for breast cancer," according to an article in the journal Anticancer Research.
The European Union has also traditionally boycotted U.S. chickens because they are dipped in chlorine baths. In the U.S. it's perfectly legal to 'wash' butchered chicken in strongly chlorinated water, according to a report in the Guardian:
These practices aren't allowed in the EU, and the dominant European view has been that, far from reducing contamination, they could increase it because dirty abattoirs with sloppy standards would rely on it [chlorine] as a decontaminant rather than making sure their basic hygiene protocols were up to scratch.
Other germ-killing or germ-retarding chemicals routinely used in U.S. food production include nitrites and nitrates in processed meat (declared carcinogens by the World Health Organization in 2016), the parasiticide formalin legally used in shrimp production, and carbon monoxide to keep meat looking red in the grocery store no matter how old it really is. Many thought public revulsion at the ammonia puffs used to discourage E. Coli growth in the notorious beef-derived "pink slime" in 2012 forced the product into retirement. But the manufacturer is fighting back aggressively.
Antibiotics—the least of the unlabeled animal drugs
According to the Center for Food Safety, Animal Pharma uses more than 450 animal drugs, drug combinations and other feed additives "to promote growth of the animals and to suppress the negative effects that heavily-concentrated confinement has on farm animals."
The revelations about Sanderson Farms should come as no surprise given that despite new antibiotic regulations rolled out in 2013, and even more recently, antibiotic use in farm operations is on the rise. Sanderson Farms revelations are no surprise.
Last year I asked Senior Staff Scientist at Consumers Union Michael Hansen how the 2013 FDA guidance asking Pharma to voluntarily restrict livestock antibiotics by changing the approved uses language on labels was working out. Dr. Hansen told me "growth production" had been removed from labels but the drugs are still routinely used for the new indication of "disease prevention."
After the guidance was published, a Reuters investigation found Tyson Foods, Pilgrim's Pride, Perdue Farms, George's and Koch Foods using antibiotics "more pervasively than regulators realize." Pilgrim's Pride's feed mill records show the antibiotics bacitracin and monensin are added "to every ration fed to a flock grown early this year." (Pilgrim's Pride threatened legal action against Reuters for its finding.) Also caught red-handed using antibiotics, despite denying it on their website, was Koch Foods, a supplier to Kentucky Fried Chicken restaurants. Koch's Chief Finanical Officer, Mark Kaminsky, reportedly said that he regretted the wording on the website.
But antibiotics are the least of the unlabeled drugs and chemicals lurking in meat. According to the Associated Press, U.S. chickens continue to be fed with inorganic arsenic to produce quicker weight gain with less food (the same reason antibiotics are given) despite some public outcry a few years ago. Arsenic is also given to turkeys, hogs and chickens for enhanced color. Such use "contribute[s] to arsenic exposure in the U.S. population," says according to research in Environmental Health Perspectives.
The appealing pink color of farmed salmon is also achieved with the chemicals astaxanthin and canthaxanthin. In the wild, salmon eat crustaceans and algae which make them pink; on farms they are an unappetizing and unmarketable gray.
There are legitimate reasons to use drugs, primarily to treat disease. Cattle host stomach-churning liver flukes, eyeworms, lungworms, stomach worms, thin-necked intestinal worms and whipworms, all of which are treated with parasiticides. Turkeys suffer from aspergillosis (brooder pneumonia), avian influenza, avian leucosis, histomoniasis, coccidiosis, coronavirus, erysipelas, typhoid, fowl cholera, mites, lice, herpes, clostridial dermatitis, cellulitis and more for which they are also treated with unlabeled drugs. (The Federal Register says the anti-coccidial drug halofuginone used in turkeys "is toxic to fish and aquatic life" and "an irritant to eyes and skin." Users should take care to "Keep [it] out of lakes, ponds, and streams.") The endocrine disrupter Bisphenol A (BPA) has even been found in fresh turkey meat.
Food animals are also routinely given antifungal drugs and vaccines. Porcine epidemic diarrhea, which killed millions of animals in recent years, is treated with a vaccine. And a vaccine for the flock-killing bird flu is in the works. In fact, Big Food is working with Big Pharma to replace the widely assailed antibiotics with vaccines.
Drug use in food animals will get worse, not better
There are two reasons drug residues in food animals will soon grow worse, not better. In exchange for China agreeing to accept U.S. beef after a long hiatus, the U.S. agreed to import cooked chickens from China. China's food safety record is abysmal, including rat meat sold as lamb, gutter oil sold as cooking oil, baby formula contaminated with melamine and frequent bird flu epidemics. Globalization dangers already exist with seafood, most of which comes from countries that use chemicals and drugs banned in the U.S.
The second reason is the U.S. meat industry's increasing move toward privatization and corporate self-policing—phasing out U.S. meat inspectors in favor of the "honor system." USDA's "New Poultry Inspection System" (NPIS) shamelessly allows poultry producers to switch to a voluntary program that allows for non-government poultry inspections. Such privatization deals are the wave of the future as federal meat inspectors are ignored and phased out by the government.
After all, we are living with an administration that sees regulations as nothing more than an impediment to Big Ag's cheap meat agenda.
Medically reviewed by Anna H. Chacon, M.D.
Reviews
fizkes / iStock / Getty Images
From eating foods for healthy skin to switching up your morning and routines, taking care of the largest organ in the body can get overwhelming. Recently, vitamin C has grown in popularity in the skincare world — but do the best vitamin C serums live up to the hype?
Vitamin C is not only an essential supplement for your immune system and overall health, but it's also a great skincare ingredient that can help limit inflammation, brighten skin, dull fine lines and wrinkles, fight free radicals, and reduce discoloration and dark spots.
Adding vitamin C to your skincare routine seems like a no-brainer, but before you start shopping for a serum, it's important to be aware that vitamin C is an unstable ingredient. Dermatologists say it's important to find legit and properly formulated vitamin C serums to capitalize on the benefits of the antioxidant. In this article, we'll help you find the right dermatologist-approved vitamin C serum to add to your routine.
Our Picks for the Best Vitamin C Serums of 2021
Each product featured here has been independently selected by the writer. You can learn more about our review methodology here. If you make a purchase using the links included, we may earn commission.
Skincare Benefits of Vitamin C
Also known as ascorbic acid or L-ascorbic acid, vitamin C is an antioxidant that is present in the formation of collagen and that protects against aging, according to Dr. Anna Chacon, a board-certified dermatologist with MyPsoriasisTeam. A vitamin C serum may be a solid addition to your skincare routine because it has a great safety profile, and it's safe for most skin types.
"Vitamin C serum restores and neutralizes environmental stressors that accelerate signs of aging and can be used morning and evening," Dr. Chacon says. However, she warns, "it does not come with sun protection, so additional use of sunscreen is recommended."
As an antioxidant, vitamin C protects skin cells from being damaged by free radicals from things like UV exposure, vehicle exhaust and cigarette smoke. It also hampers melanin production, which can help to lighten hyperpigmentation and brown spots and even out your skin tone.
6 Best Vitamin C Serums
Based on dermatologist recommendations and our market research, the following products are the best vitamin C serums available today.
FAQ: Best Vitamin C Serums
What vitamin C serum is the most effective?
Our top recommended vitamin C serum is the ZO Skin Health 10% Vitamin C Self-Activating serum. It is a dermatologist-approved antioxidant powerhouse, yet it is gentle, non-irritating and leaves you with glowing skin.
Should you use vitamin C serum every day?
Dermatologists recommend using vitamin C serum either every day or every other day. After you cleanse and tone your face, use your vitamin c product before applying moisturizer and reef-safe sunscreen with at least SPF 30.
Does vitamin C serum really work?
According to dermatologists, the best vitamin C serums work to protect against skin aging. However, if you do not purchase a doctor-recommended product, you run the risk of wasting your money on a low-concentration serum that won't give you any benefits.
What are the drawbacks of vitamin C serums?
Many vitamin C serums on the market, especially cheaper products, have nearly immeasurable concentrations of antioxidants, which makes them ineffective. Additionally, as with any skincare product, some individuals may have reactions to vitamin C serums including itchiness and redness.
Anna H. Chacon, M.D. is a dermatologist and author originally from Miami, Florida. She has authored over a dozen peer-reviewed articles, book chapters and has been published in JAAD, Archives of Dermatology, British Journal of Dermatology, Cosmetic Dermatology and Cutis.
Wikimedia Commons
By Stacy Malkan
Neil deGrasse Tyson has inspired millions of people to care about science and imagine themselves as participants in the scientific process. What a hopeful sign it is to see young girls wearing t-shirts emblazoned with the words, "Forget princess, I want to be an astrophysicist."
His devoted fan base, as I've discovered in the past few days, includes my mom, my best friend and closest colleagues. All of them, and especially the young people who trust Tyson to lead with integrity in matters of science, deserve better than the twisted tale dished out by Food Evolution, the new documentary film about genetically modified foods (GMOs) that is driving its promotion on the coattails of Tyson's narration and kicking up controversy for its biased approach.
#GMO Film Narrated by Neil deGrasse Tyson: A Blatant Case of #Monsanto Corporate #Propaganda https://t.co/ovUcNve9o0 #neildegrassetyson

— EcoWatch (@EcoWatch)1497976835.0
Already, two of the best-known experts interviewed for the film, Marion Nestle and Michael Pollan, have complained that their views were misrepresented and their comments taken out of context.
My review of Food Evolution describes the film as a textbook case of corporate propaganda, and offers clear-cut examples of how the film selectively and unfairly presents science. The review explains how a trade group, whose leadership hails from the agrichemical industry, funded Food Evolution as part of a multi-year messaging project and hand-picked its director, Scott Hamilton Kennedy.
This is an unusual scenario for a science documentary, but it wouldn't matter if the film reported fairly and honestly about the topic it purports to objectively explore. The film does not deliver on that promise, and making matters worse, the filmmakers are facing a series of embarrassing revelations about their unfair treatment of interview subjects.
Two days before the film's official release, which opens today in New York City, NYU Professor Marion Nestle, Ph.D., wrote a harsh review about the film's many biases, and said she has repeatedly asked the filmmakers to remove her short interview clip. "The director refuses. He believes his film is fair and balanced. I do not," Nestle wrote.
Remove My Clip From #GMO Propaganda Film https://t.co/0irEWkryJm @marionnestle @OrganicConsumer @NonGMOProject @neiltyson @foodevomovie

— EcoWatch (@EcoWatch)1498066407.0
"I am often interviewed (see media) and hardly ever quoted incorrectly or out of context. This film is one of those rare exceptions."
Her take on Food Evolution concluded, "I view it as a slick piece of GMO industry propaganda. If you want a thoughtful discussion of the real issues raised by food biotechnology, you will need to look elsewhere."
UC Berkeley Professor Michael Pollan—who also appears in Food Evolution and whose name the filmmakers have been dropping in their promotional efforts—said his experience and take on the film were "much the same" as Nestle's, and that the filmmakers have misrepresented his views.
Interviews with several other GMO critics who appeared in the film, or were asked to be in it, corroborate the picture of a strange process involving sneaky filming, selective editing, misrepresentation and lack of disclosure about the film's funding.
Eric Holt-Giménez, Ph.D., executive director of the Institute for Food and Development Policy (Food First), an agroecologist with 30 years of experience in the developing world, said he spent four hours in an interview with the filmmakers discussing research from the institute's books and trying to raise issues related to the structural aspects of hunger and how GMOs have exacerbated rural poverty and decreased environmental resilience. His interview was left out of the film entirely.
Holt-Giménez said that no matter what information he provided, the director Scott Kennedy focused on the health and safety discussion and replied that he just didn't see what was wrong with GMOs. Holt-Giménez also said the filmmakers refused to answer his questions about who was funding them.
Tufts researcher Timothy Wise, an agricultural development expert, withdrew his consent to be included in the film after asking repeatedly for more information about the funding.
Why the evasions and deceptions?
One possible explanation is that the film was not an objective investigation into the science of GMOs but rather a messaging project to advance the agenda of the agrichemical industry.
The positive publicity from a pro-GMO/pesticide movie—such as the puff review written by Daniel M. Gold in the New York Times—could prove useful at a crucial political moment as the seed/chemical corporations face lawsuits and regulatory threats and pursue mega mergers to consolidate control over our food supply.
As Dr. Tyson has famously said, "The good thing about science is that it's true, whether or not you believe in it." But Dr. Tyson seems to forget that history is also true, whether or not you believe in it.
It is true, whether or not we like it, that corporations such as Monsanto have a history of manipulating science, academia and the media to manufacture doubt and confusion about science in order to keep regulations and public scrutiny to a minimum as they do whatever they need to do to maximize profits.
Now that he is in the middle of the contentious GMO debate, Tyson owes it to his fans to broker a more honest conversation—one that involves not just the views of genetic engineers who have a financial stake in public acceptance of the technology that provides their livelihood, but also considers the broader cultural, political and scientific realities relevant to genetic engineering and the future of our food system.
A more honest conversation about GMOs would include information about the complex and contradictory nature of the science; the proprietary controls over research; the legitimate concerns about the health risks of glyphosate and the worsening pesticide treadmill problem.
It would consider the environmental, social justice and economic issues at stake, and the political context in which decisions about science—and big-budget movies that purport to document science—are made.
As Tyson has so eloquently explained, "the cross pollination of disciplines is fundamental to truly revolutionary advances in our culture."
Stacy Malkan is co-director of U.S. Right to Know.
In less than three weeks, Vermont will enact a historic mandate that requires labels on products containing genetically modified (GMOs) ingredients. The no-strings-attached bill, which the country's second smallest state passed on May 2014 and goes into effect July 1, has rippled across the food industry and has sparked a bitter and expensive food fight from opponents of the law.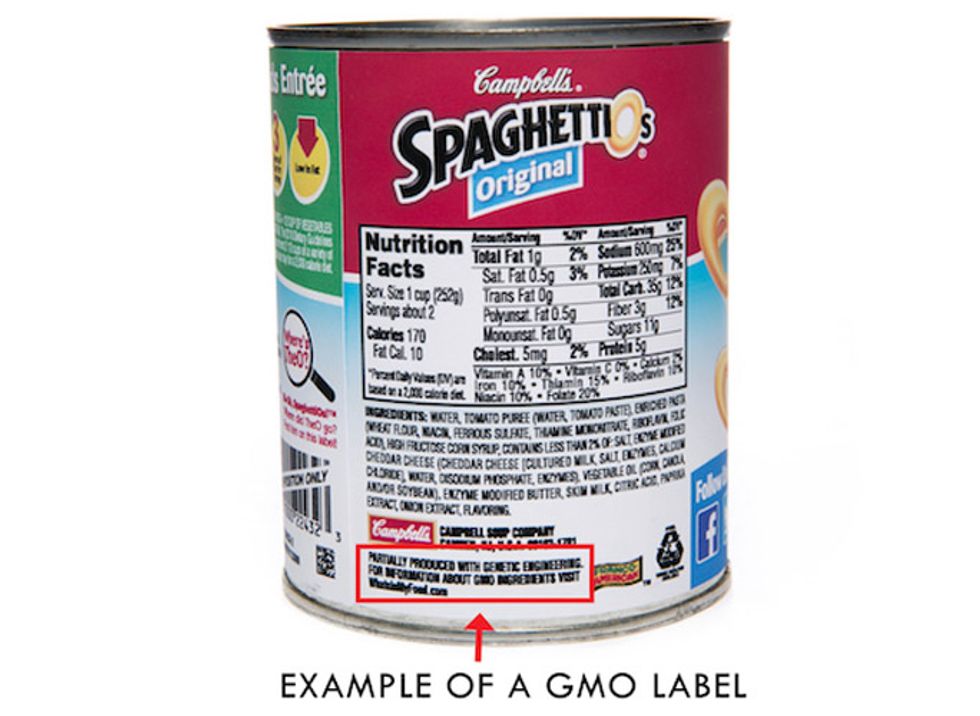 But with only 17 days to go, it looks like Big Food has unenthusiastically surrendered despite spending millions upon millions to fight state-by-state labeling mandates in court and to lobby Congress.
In March, Congress ultimately failed to pass an industry-approved bill introduced by Sen. Pat Roberts (R-Kan.) that would have prevented states from requiring labeling of GMO foods and stopped pending state laws that require labeling to go into effect.
Sen. Charles Grassley, a Senate Agriculture committee member, indicated it may be too late to enact a standard, nationwide labeling approach.
"I see it as very difficult to get a compromise," the Iowa Republican told the Des Moines Register earlier this month. "I hope something would develop this week that we could get something passed, but frankly, I doubt it."
According to Politico's latest Morning Agriculture blog, "Senate Agriculture committee chairman Pat Roberts and ranking member Debbie Stabenow are still trying to find common ground on GMO labeling legislation amid warnings from the food manufacturing, agriculture and biotechnology industries that time is running out before Vermont's mandatory labeling law takes effect July 1."
Congress, which returned from recess on June 6, now has only 14 working days to resolve the issue before the July 1 deadline.
Big Food believes that labeling GMO products for one state without labeling them for the 49 others would be costly, warning that labels would force the buck onto the consumer, or even scare them away completely. Although the food industry has consistently maintained the health and safety of GMOs, the overwhelming majority of Americans support labels on foods with such ingredients.
In recent months, titans such as Campbell's Soup Co., General Mills, Kellogg's and more have decided on their own to label such products sold nationwide.
Cereal Giant General Mills to Start Labeling GMOs Nationwide as Vermont Law Looms https://t.co/mdW7ggjltx @justlabelit @GMWatch

— EcoWatch (@EcoWatch)1458509435.0
As Minnesota's Star Tribune reported, these food companies appear resigned to GMO labeling despite having plenty of reservations:
In March, shortly after the Senate declined to vote on a national ban on mandatory on-package GMO labeling, General Mills said it would label products to comply with the Vermont law and distribute those products nationwide while awaiting a national standard.
In an e-mail exchange with the Star Tribune, a company spokeswoman called the packaging change "costly." Asked whether General Mills would now accept a national law that requires mandatory on-package GMO labels, the spokeswoman said, "The most important thing at this point is that we set a national standard so that we have certainty moving forward."
The editorial board of the Packer, a publication covering the fresh produce industry, came to terms with Vermont's label law in an op-ed, How to deal with Vermont.
The board reported on the United Fresh Produce Association's new white paper outlining steps that produce growers and retail members should take to prepare for Vermont's GMO law, and also bitterly huffed that shippers could simply choose not to work with the tiny state:
Shippers of GM-free product also don't need to do anything, and it seems unwise to us to begin labeling product as GM-free, thus unnecessarily spooking the consumer.
Of course, shippers could also decline to do business with receivers in the 49th-most populous state, home to about 600,000 consumers.
The United Fresh Produce Association's white paper is similar to the road map issued by the the Grocery Manufacturers Association (GMA), a trade group which represents more than 300 food and beverage titans such as ConAgra, Nestlé, Coca-Cola, Pepsi, Kellogg and Hershey.
As EcoWatch exclusively reported, back in October the GMA posted on its website a six page, 29-point FAQ in order "to respond to questions that companies have about compliance with the Vermont law," Roger Lowe, the executive vice president of GMA's Strategic Communications, told us via email.
It's clear that food companies are quietly preparing for Vermont's seemingly inevitable label law. Starting in 2017, companies that fail to comply with the state's GMO labeling law will be punished with a $1,000 fine each day if a product is not properly labeled.
Many other states are also working on their own labeling initiatives, with Connecticut and Maine enacting their own mandate when similar bills are passed by at least four other states.
YOU MIGHT ALSO LIKE
Brazil Won't Buy U.S. GMO Corn, Highlights Worldwide Divide Over GMOs
First Commercial Crop of GMO Arctic Apples About to Hit Market
EU Fails to Approve 'Technical Extension' for Weed-Killer Glyphosate
The majority of European Union governments voted against a proposal to authorize two new strains of genetically modified (GMO) maize today.
The two varieties of maize, DuPont Pioneer's 1507 and Syngenta's Bt11, kill insects by producing its own pesticide and is also resistant Bayer's glufosinate herbicide.
If approved, the varieties would be the first new GMO crops authorized for cultivation in the EU since 1998.
However, as Reuters noted, the votes against authorization did not decisively block their entry to the EU because the opposition did not represent a "qualified majority."
A qualified majority is achieved when at least 16 countries, representing at least 65 percent of the European population, vote in favor or against. (Scroll down for the vote breakdown)
The majority of EU governments also voted against renewing the license for another maize, Monsanto's MON810, the only GMO crop currently grown in the EU. The votes against its renewal was not considered decisive either.

MON810 is banned in 17 EU countries and is grown on less than 1 percent of agricultural land, mainly in Spain and Portugal, according to Friends of the Earth Europe.
The Brussels-based environmental advocacy group says the fates of the three crops now rests with the European Commission and is calling on Jean-Claude Juncker, president of the European Commission, to reject the new GMO crops.
"Whether he likes it or not, the buck now stops at Jean-Claude Juncker," said Mute Schimpf, food campaigner for Friends of the Earth Europe, in a statement. "He can put himself on the side of the majority of countries, citizens and farmers who do not want genetically-modified crops, or he can back the mega-corporations behind the industrialization of our countryside."
Greenpeace EU explained that if the three authorizations are approved, they would only be valid in nine out of 28 EU countries, as well as in three regions (England in the UK, Flanders and the Brussels region in Belgium). The remaining 19 EU countries and regions in the UK and Belgium have used the EU's opt-out mechanism to prevent GMO crops from being grown in their territories.
It's Official: 19 European Countries Say 'No' to GMOs http://t.co/0lnNqPMywx @food_democracy @NonGMOProject

— EcoWatch (@EcoWatch)1444092612.0
Although GMO crops are grown in many parts of the world, the topic is fraught with contention in Europe. While many scientific reviews have concluded that the crops are safe for human consumption and the environment, there are many others that conclude the opposite. Many EU countries have strict laws against GMOs due to public health and environmental concerns. All 28 EU member countries require GMO labeling.
Friends of the Earth Europe has expressed safety concerns of these GMO crops, "especially whether they unintentionally kill butterflies and moths."
"There is no political or public support for genetically-modified crops; farmers don't even want them. It's time for President Juncker to pull the plug on this failed technology once and for all, and to focus on how we make farming resilient to climate change, save family farms and stop the destruction of nature. It's time to close our countryside to genetically-modified crops and move on," Schimpf added.

Time to pull plug on failed #GMO technology once and for all - our reaction to EU vote today… https://t.co/LrVyRhKaro

— Friends of the Earth (@Friends of the Earth)1490632017.0
Similarly, Greenpeace EU food policy director Franziska Achterberg commented that the European Commission should back away from supporting "risky" products.

"When he was elected, Commission President Juncker promised more democratic decision-making. This vote leaves no doubt that approving these GMO crops would break that promise," Achterberg said in a statement. "A majority of governments, parliamentarians and Europeans oppose them, and two thirds of European countries ban GMO cultivation on their lands. Instead of backing risky products peddled by multinational corporations, the commission should support ecological farming and the solutions it provides for rural areas, farmers and the environment."
Katherine Paul, associate director of Organic Consumers Association agrees. "President Juncker has an opportunity to do the right thing, by siding with the majority of EU countries that oppose the introduction of these new GMO crops," she told EcoWatch.
"To do anything less, would send EU leaders and citizens the wrong message—that corporations can buy the approval of crops that farmers and citizens don't want, crops that must be grown using chemicals that are toxic to humans and the environment. We hope Mr. Juncker will stand up to corporate pressure, and instead come down in favor of health, safety and organic, regenerative alternatives to chemical agriculture."
Ken Roseboro of the Organic & Non-GMO Report shared the same sentiment. "The European Union has remained steadfast in rejecting GM crops in their member states for nearly 20 years, and these votes reflect that anti-GMO stand," he said. "The European people don't want to eat GM foods, there is not market for them there, and yet the biotech companies continue to try to push their GMOs. Hopefully,Commission President Juncker will side with the wishes of the majority of the European people and reject approval of these GM crops."
Here is Monday's vote breakdown, according to Friends of the Earth Europe:
On renewal of GMO maize MON 810
8 Member States voted in favor, representing 34.45% of the EU population: CZ, EE, ES, NL, RO, FI, SV, UK.
6 Member States abstained, representing 22.26% of the EU population: BE, DE, HR, MT, PT, SK
14 Member states voted to reject, representing 43.29% of the EU population: BG, DK, IE, EL, FR, CY, LV, LU, HU, AT, PL, SL, IT, LT 14
On authorisation of GMO maize 1507
6 Member States voted in favor, representing 30.45% of the EU population: EE, ES, NL, RO, FI, UK
6 Member States abstained, representing 22.28% of the EU population: BE, CZ, DE, HR, MT, SK
16 Member states voted to reject, representing 47.27% of the EU population: BG, DK, IE, EL, FR, CY, LV, LU, HU, AT, PL, SL, SV, IT, LT, PT
On authorisation of GMO maize Bt 11
6 Member States voted in favor, representing 30.45% of the EU population: EE, ES, NL, RO, FI, UK
6 Member States abstained, representing 22.28% of the EU population: BE, CZ, DE, HR, MT, SK
16 Member states voted to reject, representing 47.27% of the EU population: BG, DK, IE, EL, FR, CY, LV, LU, HU, AT, PL, SL, SV, IT, LT, PT 47,27%
The U.S. Department of Agriculture (USDA) said it will not regulate the potential cultivation and sale of a genetically modified (GMO) mushroom the same way it regulates conventional GMOs because the mushroom was made with the genome-editing tool CRISPR-Cas9.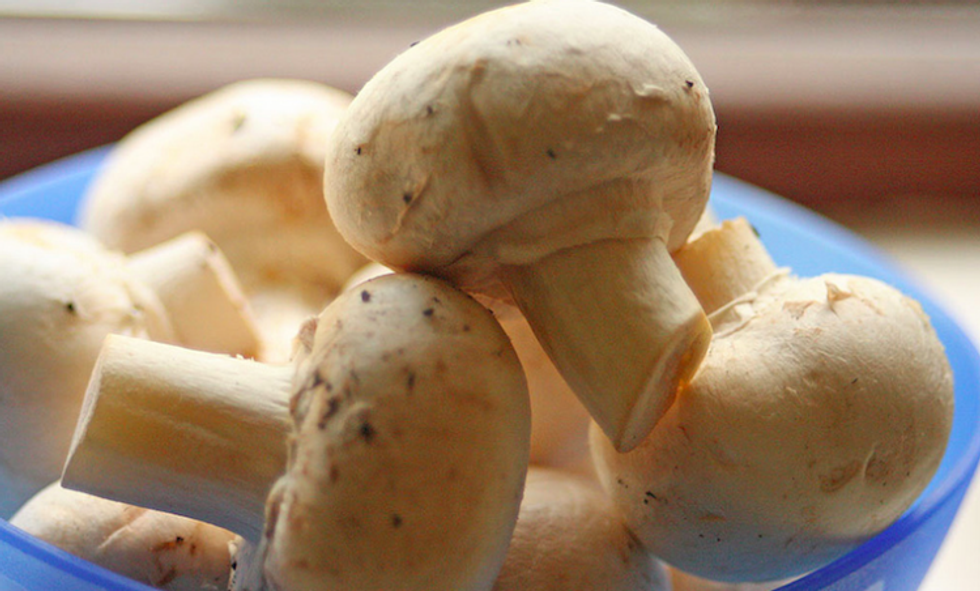 Thanks to a new gene-editing tool, the common white button mushroom has been genetically altered to resist browning. Photo credit: Flickr
This is the first time the U.S. government has cleared a food product edited with the new and controversial technique.
The USDA announced in a letter last week that it had approved Pennsylvania State University plant pathologist Yinong Yang's common white button mushroom (Agaricus bosporus) that's engineered to be more resistant to browning. As the USDA's Animal and Plant Health Inspection Service (APHIS) wrote on April 13:
The anti-browning trait reduces the formation of brown pigment (melanin), improving the appearance and shelf life of mushroom, and facilitating automated mechanical harvesting.
Based on the information cited in your letter, APHIS has concluded that your CRISPR/Cas9-edited white button mushrooms as described in your letter do not contain any introduced genetic material. APHIS has no reason to believe that CRISPR/Cas9-edited white button mushrooms are plant pests.
According to Nature, the mushroom was created by targeting the family of genes that encodes the enzyme polyphenol oxidase that causes browning. "By deleting just a handful of base pairs in the mushroom's genome, Yang knocked out one of six PPO genes—reducing the enzyme's activity by 30 percent," Nature reported.
"If you snip a bit of DNA from a vegetable, but add no new genes, does that vegetable qualify as a GMO?" https://t.co/DH3109Jkar

— Farm Aid (@Farm Aid)1460929504.0
So why has this deliberately genetically modified "frankenfungi" escaped USDA scrutiny? Well, instead of the conventional method in which foreign DNA is spliced into a seed (i.e. Bt corn), genetic modification of Yang's mushroom was achieved by altering its own genetic material.
As Quartz explained, a CRISPR-created product falls under a certain loophole:
Despite being directly and purposely genetically modified, USDA has allowed Yang's mushroom to sidestep the regulatory system. The reason? Yang's method does not contain "any introduced genetic material" from a plant pest such as bacteria or viruses. Conventional GMOs, the ones that the USDA's rules are designed to deal with, are created by introducing foreign genes—for example, those of a bacteria might be introduced to give the crop some pest resistance.
Ultimately, the GMO mushroom could be the first of many new CRISPR-edited food products.
"The research community will be very happy with the news," Caixia Gao, a plant biologist at the Chinese Academy of Sciences's Institute of Genetics and Developmental Biology in Beijing, who was not involved in developing the mushroom, told Nature. "I am confident we'll see more gene-edited crops falling outside of regulatory authority."
Quartz reported that there are already several CRISPR projects in development, including DuPont's drought-resistant wheat and corn, a banana that can resist a fungus threatening that's threatening its extinction and a herbicide-resistant oilseed from the biotech company Cibus.
GMO-opponents have already criticized the USDA's move.
"The USDA decision is a perfect illustration of how weak regulations for evaluating genetically engineered crops are," Patty Lovera of Food & Water Watch, told Quartz.
Absurd! We need new regs to keep up with technology. Gene-edited CRISPR mushroom escapes US regulation https://t.co/wuRejnugbX #gmo #gmos

— Max Goldberg (@Max Goldberg)1460944636.0
Wait, what? USDA says it won't regulate this new GMO mushroom: https://t.co/nPLKk7qkve #WhatIsGoingOn #WhyTheChange #NoGMOs

— HealthRanger (@HealthRanger)1460905206.0
The U.S. does not have a government body that specifically regulates GMOs. The
Washington Post
 noted that the U.S. Environmental Protection Agency only regulates GMOs designed for pest control and the Food and Drug Administration considers all GMOs to be safe.
Yang told Nature he is considering whether or not to bring the mushroom to market.
"I need to talk to my dean about that," he said. "We'll have to see what the university wants to do next."
Yang, however, told MIT Technology Review that even the company that helped fund the research, Giorgio Mushroom Co. of Pennsylvania, isn't sure if they want the mushroom in a store near you given the public's overwhelming skepticism of GMOs.
"[The] marketing people at Giorgio are more interested in organic mushrooms and are afraid of negative response regarding GMO from consumers," Yang said.
A 2015 Pew Research Poll revealed that 57 percent of U.S. adults believe that GMO-foods are "generally unsafe" to eat.
YOU MIGHT ALSO LIKE
Glyphosate Found in Popular Breakfast Foods
What Will Happen When Genetically Engineered Salmon Escape Into the Wild?
Africa's Traditional Crops Under Threat as Big Ag, Gates Foundation 'Donate' GMO Technology
Monsanto CEO Says 'Roundup Is Not A Carcinogen' But 94 Scientists From Around the World Disagree
Monsanto Co. is facing another lawsuit alleging that exposure to glyphosate, the primary ingredient in the company's flagship product Roundup, causes cancer.
Christine and Kenneth Sheppard, the former owners of Dragon's Lair Kona Coffee Farm in Honaunau, Hawaii, have accused the multinational agribusiness of falsely masking the carcinogenic risks of glyphosate and is responsible for causing the woman's cancer, non-Hodgkins lymphoma, the Hawaii Tribune-Herald reported.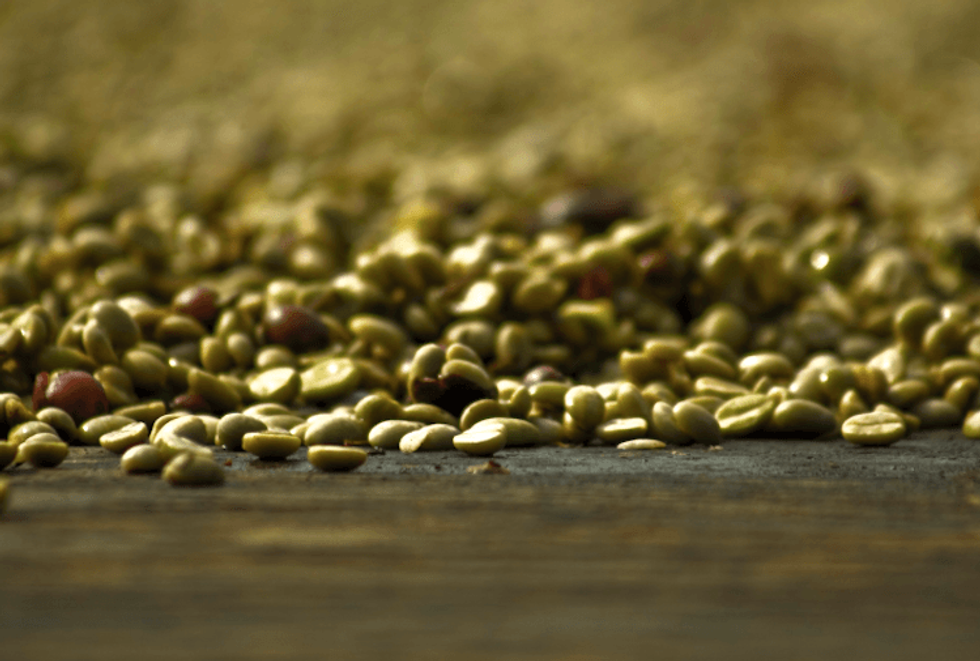 Hawaii's prized Kona coffee is cultivated in the North and South Kona districts in Hawaii. Photo credit: Flickr
The civil suit, Sheppard et al v. Monsanto Company, was filed Feb. 2 in U.S. District Court in Honolulu by the Miller Firm of Orange, Virgina and Honolulu attorney Brian K. Mackintosh on behalf of the husband-and-wife duo.
The plaintiffs seek unspecified monetary damages, including compensatory damages, punitive damages and attorneys' fees and court costs.
According to the complaint, Christine Sheppard had used Roundup on her commercial coffee farm in Hawaii in or around 1995 and continued to use the herbicide until 2004. She said she was diagnosed with cancer in 2003 and, as a result, was forced to sell her farm and move to California to undergo treatment.
"She's been diagnosed with non-Hodgkin's lymphoma, a very serious form of cancer that's gone to Stage 4," attorney Michael Miller told the Hawaii Tribune-Herald. "She's had enormous treatment and now is in remission, but is in fear of it coming back. So, we're seeking a fair amount of damages—her medical expenses, her pain, her suffering and her mental anguish. And we'll ask a jury to put a number on that at an appropriate time."
The filing states Monsanto "knew or had reason to know that its Roundup products were defective and were inherently dangerous and unsafe when used in the manner instructed and provided by defendant."
"Agricultural workers are, once again, victims of corporate greed," it continues. "Monsanto assured the public that Roundup was harmless. In order to prove this, Monsanto championed falsified data and attacked legitimate studies that revealed its dangers. Monsanto led a prolonged campaign of misinformation to convince government agencies, farmers and the general public that Roundup was safe."
The Miller Firm also helped Sheppard file an earlier lawsuit in November in California federal court. A month later, Monsanto asked the court to dismiss the suit, saying that the court has no jurisdiction over Sheppard's claims since her allegedly cancer-causing exposure happened in Hawaii and the company is headquartered in Missouri, according to Law360.
Monsanto also argued then that the "plaintiff's allegations are directly contradicted not only by the U.S. Environmental Protection Agency's prior express approval of the product and product label but also by EPA's consistent findings that glyphosate is not carcinogenic to humans."
"While we are sympathetic to anyone suffering an illness, claims regarding glyphosate in these type of lawsuits are baseless and without merit, and we will defend against these suits vigorously," Monsanto spokeswoman Charla Lord told Law360 in an November email. "Glyphosate has a 40-year history of safe use, and based on the overwhelming weight of evidence, regulatory agencies around the world have concluded that glyphosate can be used safely according to label instructions."
Monsanto sued by former #Kona coffee farmers | https://t.co/qGwNkNxP08 https://t.co/06TmKZtCId

— West Hawaii Today (@West Hawaii Today)1454616038.0
Monsanto issued a similar response to the Sheppards' latest lawsuit last week.
The Sheppards' claims compounds with the World Health Organization's International Agency for Research on Cancer (IARC) that infamously classified glyphosate as "probably carcinogenic to humans."
Since the IARC's classification, several communities have demanded bans, France has ceased sales of Roundup in garden centers, California's Environmental Protection Agency issued plans to list glyphosate as a possible carcinogen under Proposition 65, in which the state is required to publish a list of chemicals known to cause cancer or birth defects or other reproductive harm.
"I feel strongly about the fact that Monsanto should have told people that their herbicide is a cancer-causing agent and they haven't warned people. It's a shame," Miller added. "Once the World Health Organization says you are probably a cancer-causing agent, you are a cancer-causing agent. That's why California has implemented Proposition 65 (the Safe Drinking Water and Toxic Enforcement Act of 1986), to let everybody know (glyphosate) is a cancer-causing agent."
Monsanto says glyphosate is safe and vehemently denies the cancer claims. The St. Louis-based company has demanded a retraction from the IARC and even filed a lawsuit in California to stop the state from listing glyphosate as known to cause cancer.
Christine Sheppard has spoken out against biotechnology before when she served as president of the Kona Coffee Council, an organization of Hawaiian farmers who grow, process and sell Kona coffee. In a 2002 news release, she spoke out against genetically modified (GMO) coffee plants.
"We represent more than 130 coffee farmers who depend on our unique and historically significant Kona coffee for their livelihood," she said. "Kona coffee is recognized as one of the worlds two grand cru coffees—introduction of GM plants could debase not only the flavor and quality of our coffee, but would also make it unmarketable in many areas of the world. GM foods are unaccepted in Japan and Europe (where they are known as "Franken-foods"); as Americans become more aware of the untested safety aspects and the absence of any labeling requirement for GM foods, many will reject them also."
The Kona coffee lawsuit is one of many glyphosate-related lawsuits Monsanto is currently staring down. Reuters reported in October that personal injury law firms around the U.S. are gathering numerous plaintiffs to build mass tort actions against the agribusiness giant.
Roundup was recently declared the "most widely applied pesticide worldwide," according to a report published in the peer-reviewed journal Environmental Sciences Europe.
The paper, Trends in glyphosate herbicide use in the United States and globally, reveals that since 1974, when Roundup was first commercially sold, more than 1.6 billion kilograms (or 3.5 billion pounds) of glyphosate has been used in the U.S., making up 19 percent of the 8.6 billion kilograms (or 18.9 billion pounds) of glyphosate used around the world.
"Roundup Ready" crops, such as soy, corn, canola, alfalfa and cotton, are genetically engineered to withstand direct applications of Roundup, as the product kills only the weeds.
YOU MIGHT ALSO LIKE
Neil Young Takes His Anti-Monsanto Message on the Road
Pro-GMO Group Crosses Ethical Line
These 3 Women Attend Monsanto's Annual Shareholder Meeting Demanding Answers
Monsanto's Glyphosate Most Heavily Used Weed Killer in History
By Reynard Loki
Editor's note: The terms GE (genetic engineering) and GMO (genetically modified organism) are often used interchangeably, but their meanings are different. GMOs, which are produced when plant breeders select genetic traits that may also occur naturally, have been around for centuries. Common examples are seedless watermelons and modern broccoli. The subject of much recent debate are GE foods, which have only been around in recent decades and are produced by transferring genes between organisms. The resulting GE organisms—either plant- or in the case of GE salmon, animal-based—would not otherwise occur in nature. This article is about GE foods.
In 1994, a tomato known as Flavr Savr became the first commercially grown genetically engineered food to be granted a license for human consumption. Scientists at the California-based company Calgene (which was scooped up by Monsanto a few years later) added a specific gene to a conventional tomato that interfered with the plant's production of a particular enzyme, making it more resistant to rotting. The tomato was given the all-clear by the U.S. Food and Drug Administration.

Since then, both the U.S. and Canada have embraced the genetic engineering of food crops, while Europe has broadly rejected the use of such technology. Only five EU nations—the Czech Republic, Portugal, Romania, Slovakia and Spain—grow GE crops and in such minor amounts that all five countries make up less than 0.1 percent of GE cultivation worldwide.
It appears Europe has been right all along to renounce GE crops. An in-depth examination recently published by the New York Times found that GE crops have largely failed to achieve two of the technology's primary objectives: to increase crop yields and decrease pesticide use.
New York Times Takes Critical Look at False Promise of GMOs https://t.co/ojJKF4jtiR @TrueFoodNow @justlabelit

— EcoWatch (@EcoWatch)1477965307.0
Pesticides in particular have come under increasing fire in recent years, not only for their negative impact on human health and wildlife, but for decimating populations of key food crop pollinators; specifically bees, which we rely on to pollinate a third of food crops.
New USDA Data Shows 85% of Foods Tested Have Pesticide Residues https://t.co/yVwXEZJff8 @gmo917 @TrueFoodNow

— EcoWatch (@EcoWatch)1479941410.0
While consumer awareness of the effects of pesticides has grown, the ongoing battle over GE crops has largely zeroed in on whether or not such foods are safe to consume. But as the New York Times investigative reporter Danny Hakim points out in his article about the paper's analysis, "the debate has missed a more basic problem"—that GE crops have "not accelerated increases in crop yields or led to an overall reduction in the use of chemical pesticides."

Analyzing academic and industry research, as well as independent data, the New York Times compared results on the two continents and found that the "U.S. and Canada have gained no discernible advantage in yields—food per acre—when measured against Western Europe." The paper also cited a recent National Academy of Sciences report that found "little evidence that the introduction of GE crops were resulting in more rapid yearly increases in on-farm crop yields in the U.S. than had been seen prior to the use of GE crops."
New York Times: Behind the Times?
For many farmers, researchers and activists, the New York Times' conclusion was not news. Ronnie Cummins, co-founder of Organic Consumers Association, a nonprofit advocacy group based in Minnesota, told AlterNet that the paper's analysis simply "confirms what many of the world's best scientists have said for years: GE crops have benefitted no one except the corporations selling the chemicals required to grow them."
"I'm glad that the New York Times has now discovered what those of us in agriculture have known for 20 years, that the old and exaggerated claims of genetic engineering by Monsanto and their allies are bogus," Jim Gerritsen, an organic farmer, told AlterNet. "They have not panned out and I'm glad that now the newspaper of record has made this clear to a lot of people." Gerritsen and his wife Megan have owned and run Wood Prairie Family Farm in northern Maine for 40 years. "A lot of us have been saying this for a long time," he said.
While it may not be news for those working toward a more sustainable food system, the New York Times story was unexpected. Andrew Kimbrell, executive director of the Center for Food Safety, an environmental nonprofit based in Washington, DC, told AlterNet that the New York Times piece is "a surprising ray of light illuminating the longstanding GE crops debate." He said that the paper "for so many years had ignored the science about genetic engineering and bought the Big Lie" that Monsanto and its cohorts have been telling the public for so long: "that GE crops 'reduce pesticide use, increase yield and are key to feeding the world.'"
Seeing Through Monsanto's Propaganda
These recent findings fly in the face of Monsanto's stated claim that "the introduction of GM traits through biotechnology has led to increased yields." But the company is sticking to its guns. When shown the New York Times' findings, Robert T. Fraley, the company's chief technology officer, claimed the paper had selectively chosen the data in its analysis to put the industry in a bad light. "Every farmer is a smart businessperson and a farmer is not going to pay for a technology if they don't think it provides a major benefit," said Fraley. "Biotech tools have clearly driven yield increases enormously."
On its website, Monsanto backs its claim by citing statistics reported by PG Economics, a UK-based agricultural industry consultancy. However, that firm that has been exposed as a corporate shill by Lobbywatch.org, a UK-based nonprofit that tracks deceptive PR practices. PG Economics has been commissioned to write reports on behalf of industry lobby groups whose members include the Big Six agrichemical giants: BASF, Bayer, Dupont, Dow Chemical, Monsanto and Syngenta.
"Most of the yield advancement since GE crops were first commercialized is attributable to traditional breeding techniques, not the GE traits," Mark Kastel, co-founder of the Cornucopia Institute, a farm policy research group based in Wisconsin, told AlterNet. Kastel, who worked for several agribusiness giants including International Harvester, J.I. Case and FMC before making what he calls the "paradigm shift to sustainable farming," said that since GE crops were introduced in the U.S., farmers have experienced boom-and-bust cycles and today are "generally hurting," regardless of the scale of their farming operations. "GE crops have not been a panacea for economic sustainability," he said.
Instead, GE crops have been a source of financial growth for the agrichemical industry. Kimbrell said that the Big Six "make tens of billions of dollars in profits by selling ever more pesticides, especially herbicides. Why would they spend hundreds of millions of research dollars and then billions in advertising and lobbying to promote crops that actually 'reduce pesticides' and thereby destroy their bottom line? Are these companies committing economic suicide in an altruistic attempt to feed the world? Obviously not. You can accuse Monsanto of many things, including myriad corporate crimes over many decades, but altruism is not one of them. The vast majority of [genetically engineered crops] are not designed to decrease herbicide use, but to massively increase it."
A Toxic Plague
The New York Times' Hakim notes that, according to U.S. Geological Survey data, while insecticide use has actually fallen by a third since GE crops were introduced in the U.S. in the mid-'90s, herbicide use has exploded, growing by more than a fifth over that same period. French farmers, by contrast, have been able to reduce insecticide use by a far greater margin—65 percent—while decreasing herbicide use by more than a third. "Although some insecticide use has been reduced, overall agrochemical applications have grown exponentially," said Kastel.
American tomatoes may take longer to rot than their conventionally grown European counterparts. But with GE tomatoes being one of the most pesticide-contaminated foods in the U.S. food supply—not to mention the fact they won't feed more people (there'll be a staggering 8.5 billion of us by 2030, 11.2 billion by 2100)—the Flavr Savr is just a trick and perhaps ultimately a dangerous one. While the real toll of industrialized GE agriculture on human and environmental health is hard to calculate, its track record is dismal. By some estimates, pesticides have killed an estimated 250 million bees in a just a few years. The New York Times reported that some commercial beekeepers have lost more than a third of their bees in 2013. Pesticides have also impacted populations of fish, amphibians and songbirds.
But it's not just wildlife that suffers. The general public is ingesting pesticides on a regular basis. Kastel notes that "eaters are consuming copious amounts of biological insecticides built into the genome of corn," adding that "the cumulative health impacts are unknown." People who live near GE crops have to contend with an additional health impact: pesticide drift, agrichemicals blown into their communities by the wind.
The heavy reliance on pesticides has started a vicious cycle, leading to the rise of pesticide-resistant superweeds. "Weeds and insects are becoming resistant to the herbicides and genetic insecticides that are spliced into the plants," said Gerritsen. "To combat resistance, some farmers are using a chemical cocktail of multiple herbicides while biotech companies are introducing resistance to even more powerful and toxic chemicals." He estimates there may be 60 to 80 million acres of farmland in the U.S. with "superweeds" that have built up a resistance to Roundup. Cummins said superweed resistance has forced farmers to "use higher and higher amounts of increasingly dangerous poisons" so that "soils are eroded and degraded. Water is polluted. Foods are contaminated. And to what end?"
It may take years, even decades to fully understand the unintended consequences of industrialized agriculture. "These chemicals are largely unknown," David Bellinger, a professor at the Harvard University School of Public Health, told the New York Times. His research has linked the loss of millions of IQ points among children 5 years old and younger in the U.S. to a single class of insecticides. "We do natural experiments on a population," he said, referring to human exposure to agrichemicals, "and wait until it shows up as bad."
Activists of the World, Unite
Hakim also points out that "profound differences over genetic engineering have split Americans and Europeans for decades," noting that anti-GE sentiment across the pond has been much more active, with Monsanto drawing the ire of thousands of protesters in cities like Paris and Basel, as GE opposition is firmly established as a primary plank of Europe's Green political movement.
The prospect of a Monsanto-Bayer merger has only galvanized the opposition in Europe, even as activists recognize new and different kinds of challenges ahead. Jan Perhke of the Coalition Against Bayer-Dangers, a German NGO, says that Bayer's diversification has made it a more difficult target than Monsanto, whose business is simple: GE seeds and pesticides. Monsanto, which has emerged as the primary worldwide target of the anti-GE movement, has been steeped in controversy recently, particularly since Roundup's main ingredient glyphosate was deemed a "probable carcinogen" by the World Health Organization in 2015.
States Join Fed's Antitrust Probes of #Bayer-#Monsanto, #Dow-#DuPont Mergers https://t.co/WirBDusi9Y @nongmoreport @NonGMOProject @Nutiva

— EcoWatch (@EcoWatch)1478621730.0
"We have tried to put the focus not only on Monsanto and to let people know that behind Monsanto there are many agrochemical multinationals which are very big and also have very dangerous products," Perhke told DW. There has been speculation that, if the merger goes through, Bayer will drop the Monsanto name, which would force activists to rebrand their campaigns.
Many anti-GE activists can be found in Vermont, the first state to pass GMO-labeling legislation. In its 2016 report Vermont's GMO Addiction: Pesticides, Polluted Water, and Climate Destruction, the nonprofit group Regeneration Vermont describes the terrible impact chemical-based industrial agriculture has had on the state's economy and environment:
The true nature of GMO agriculture in Vermont today is a stark and dangerous difference from the promises of its corporate advocates. According to data collected by the Vermont Agency of Agriculture, pesticide use is up 39% and increasing rapidly while, at the same time, new pesticides are being added to the arsenal. Climate-threatening nitrogen fertilizers have been up about 17% per year in the decade of GMO's rise to dominance (2002-2012) and climbing as our denuded soils require more and more inputs for high production. And the pollution to our climate, water and soil from these increases continues to rise, keeping us on a steady degenerative decline, environmentally, economically and culturally.
Lining Corporate Coffers
"The great economic promise of genetically engineered crops has flowed primarily to bankers, suppliers and the biotechnology industry," said Kastel. "Rather than improving the bottom line, it enabled farmers to grow larger and automate crop production with fewer people involved."
The agrichemical industry is the chief beneficiary of those economic benefits. Over the past 15 years, the combined market capitalizations of Monsanto and Syngenta have grown more than sixfold. And these companies are profiting on both ends. "They sell the seeds and the poisons sprayed on those seeds. Great for their bottom line, terrible for the rest of us and the planet," said Kimbrell. "For Monsanto and the other chemical companies, genetically engineering crops is just another way to significantly increase profits." If the mergers of Monsanto and Bayer on one side, and Syngenta and ChemChina, a Chinese state-owned agrichemical company, on the other, were to go through, the two newly created behemoths would each have combined values in excess of $100 billion.
Meanwhile, bees are dying in worrisome numbers, in part due to the increased use of neonicotinoids, a dangerous class of pesticides produced by Syngenta, Bayer and Dow Chemical and commonly used on GE corn, soybean, canola and cereal, as well as many fruits and vegetables. But because bees work for free, the estimated $15 billion in ecosystem services they provide to society each year is not included in economic calculations.
Is It Too Late?
Even as crop yields have shown no improvement versus conventional methods, U.S. growers have increased their use of herbicides as they have converted key crops—including cotton, corn and soybean—to modified varieties. Meanwhile, American farmers have been overtaken by their counterparts in France, Europe's biggest agricultural producer, in the overall reduction of pesticides.
Is it too late for the U.S. and Canada to get off this ruinous track of industrialized agriculture? For advocates of sustainable agriculture, regenerative agriculture and agroecology—who seek to place farming within the context of natural ecosystems as opposed to objects of chemical-based production—the answer is a resounding no.
Regenerative Agriculture Will Feed the World and Cool the Planet https://t.co/qWmR0ZPF79 @SoilAssociation @RootsofChange

— EcoWatch (@EcoWatch)1478818866.0
"Research has shown that agroecologically based methods—such as organic fertilizers, crop rotation and cover crops—can succeed in meeting our food needs while avoiding the harmful impacts of industrial agriculture," argues the Union for Concerned Scientists, a nonprofit advocacy group based in Cambridge, Massachusetts. "As farmers incorporate these practices into their work, many benefits emerge: Less pollution. Healthier, more fertile soil that is less vulnerable to drought and flooding. A lighter impact on surrounding ecosystems, resulting in greater biodiversity. Reduced global warming impact. Less antibiotic and pesticide resistance."

In fact, a 2015 global study conducted by researchers at Washington State University and published in the peer-reviewed Proceeding of the National Academy of Sciences found that despite lower yields, the profit margins for organic agriculture are significantly greater than conventional agriculture. Part of that increased profit margin may come from not having to pay a premium for Big Ag's seeds and pesticides.
"Why would a farmer want to pay a premium for Roundup Ready soybeans if the Roundup is no longer working?" Gerritsen said. "What has been happening, widespread, is that farmers are going back to non-GE soybeans and growing them as they did before the Roundup Ready soybeans came in 20 years ago. Then, the best among them have figured out that there is a growing market worldwide for a non-GMO soybeans."
He notes that some U.S. farmers raising conventionally grown, non-GMO soybeans have found competitive markets in Asia, where they receive a premium for their produce. An added benefit for these farmers is that they can save their seeds instead of having to buy them each season from Monsanto, which actually leases its seeds and regulates them as intellectual property. For thousands of years prior, seeds were considered a part of the wealth of the commons, free and available to anyone who planted and grew crops.
But moving from industrial agriculture to organic farming isn't easy, especially when the transition period to get organic certification exposes growers to financial risk. The authors of the Washington State University study say that the impetus for change must come from policymakers, who should "develop government policies that support conventional farmers converting to organic and other sustainable systems, especially during the transition period," a 36-month withdrawal period from the time a farmer last used an unapproved material, like a pesticide.
But considering the powerful Big Ag lobby, getting policymakers to help farmers move to organic is a daunting task. Gerritsen acknowledges that "it's hard to out-gun the tremendous resources of Monsanto and what basically amounts to a calculated propaganda effort to misrepresent reality, to gain position and dominance." He said the deck is stacked against farmers. "Sadly, this is nothing new to agriculture. The history of agriculture is one where farmers who were spread out and independent by nature and by geography have a hard time competing with the concentrated power structures within agriculture. This has gone on for 150 years. Only now, the accelerated rates of concentration is no more stark than in the seed industry. Just a small handful of companies now control the vast majority of world seed resources. Monsanto is chief among them."
If regulators approve the $66 billion Bayer-Monsanto merger, the resulting corporation would have control of nearly a third of the world's seed market and nearly a fourth of the pesticide market.
"In all probability, one story, albeit a major one, is probably not enough to finally debunk Monsanto and friends' Big Lie about GE crop technology," Andrew Kimbrell said about the New York Times' analysis. "You will probably continue to see the common sense-defying claims for a while yet. But if as the ancients said, the truth is like a lion; just let it loose. Then maybe we can finally go past the already failed but still dangerous GE experiment and move to an ecological agriculture that really will reduce and eventually eliminate pesticides and provide a secure sustainable food future for us all."
Whether or not the U.S. and Canada will move toward a more sustainable agricultural model remains to be seen. But one thing is certain: The 20-year-old experiment with genetically engineered crops has proven to be a false promise, suggesting that the creation of completely new organisms is better left in the hands of Mother Nature, not scientists in laboratories.
"When you begin to genetically engineer organisms by mixing plant and animal genes, you now have the ability to alter ecosystems, which can have unintended consequences," Robert Colangelo, founding farmer and CEO of Green Sense Farms, America's largest network of commercial and sustainable indoor vertical farms, told AlterNet. "Mankind does not have a good track record when it tries to alter nature."
Reposted with permission from our media associate AlterNet.
There's nothing new or unusual about corporate and academic collaboration. IBM, for instance, has partnered with universities around the country since the 1940s to support computer science education. This relationship is mutually beneficial both for the tech giant and the institutions sponsored. IBM's grant dollars provide welcome funding for research and equipment for students, all while fostering a new class of computer scientists and engineers.
Powerful industries from Big Oil to Big Food have been found funneling eye-popping sums of money to university professors in order to fund research and promote their commercial interests.iStock
University-business partnerships, however, require a careful balance. Take the tobacco industry. According to a 2012 study by Harvard professor Allan Brandt, cigarette makers all but invented the concept of industry-academic conflicts of interest.
Since the 1950s, cigarette companies have sought to influence the debate about the dangers of smoking to sell more of their products. One tactic used was aligning with university-based science and underwriting millions of dollars for favorable research.

A number of industries have evidently taken a page from the tobacco playbook. Powerful industries from Big Oil to Big Food have been found funneling eye-popping sums of money to university professors in order to fund research and promote their commercial interests.
The corporate hijacking of higher education is more complex than it looks. When state universities or land grant colleges see their budgets stretched thin, some faculty may feel pressured to seek or accept much-needed funding in ways that are not transparent to the public.
#BigOil, Not #BigTobacco, Wrote the Public Skepticism Playbook https://t.co/k4rFFXue9n @ciel_tweets @350 @billmckibben @NRDC @sierraclub

— EcoWatch (@EcoWatch)1469108425.0
Nonetheless, academics are counted upon for the integrity of their assertions. Industry funding has been shown to undermine objectivity and professors violate their responsibilities as impartial experts as well as the public's trust when they associate with unscrupulous commercial interests.

Here are 13 prominent university professors who appear to have stepped over the line between big business and academia:
1 & 2. Carol O'Neil & Theresa Nicklas. Back in 2011, a number of media outlets breathlessly touted a surprising new study that found children who eat candy weigh less than children who do not. The study's authors included professors O'Neil of Louisiana State University and Nicklas of Baylor College of Medicine and Victor Fulgoni, a former Kellogg executive and consultant.
Unsurprisingly, an Associated Press investigation by Candice Choi revealed that paper was not only partially sponsored by the National Confectioners Association—which counts such candy giants as Hershey, Wrigley, Mars and Nestle as group members—but that the trade group also made a number of suggestions to the paper.
"You'll note I took most but not (all) their comments," Fulgoni wrote in an email to O'Neil in 2010.
A similar study on candy and adults also received comments from the candy group.
O'Neil told the AP she did not receive compensation for the work, but in 2011, Nicklas sent Nutrition Impact, Fulgoni's consulting business, an invoice for $11,500 for three manuscripts, including $2,500 for "candy." The professors also co-authored a paper about the health benefits of chickpeas and hummus funded by Sabra Dipping Co. Even though a disclosure said that Sabra did not provide input, the final paper did include the company's suggestions, the AP reported.
3. Wei-Hock Soon. The aerospace engineer at the Harvard-Smithsonian Center for Astrophysics is a noted climate change skeptic, who asserts that global warming is caused by the sun, not human activity. Freedom of Information Act (FOIA) documents obtained by Greenpeace showed that Soon accepted more than $1 million over the last decade from fossil fuel titans such as Exxon Mobil, the American Petroleum Institute, the Koch brothers and more.
The New York Times reported that Soon failed to disclose that conflict of interest in his scientific papers at least 11 times. This is also telling: His work is often cited by prominent climate-denying politicians, including snowball-wielding Senator James Inhofe (R-OK), the chairman of the Senate Committee on the Environment and Public Works who considers Soon one of his personal heroes.
Soon still passionately defends his work and presented his research at a Paris climate conference "counter-conference" alongside Heartland Institute, the Committee for a Constructive Tomorrow and the Competitive Enterprise Institute.
4. William Happer. In December, a bombshell Greenpeace sting suggested that two academics from prominent universities could be bought by fossil fuel companies. The first was Happer, a Princeton University professor and prominent climate change skeptic. The physicist, who is not a climatologist, was approached by Greenpeace activists posing as consultants of a Beirut-based energy company to author a paper on "the benefits of carbon dioxide from fossil fuels."

Emails show that Happer wanted $250 an hour for his work and asked that his fee be paid to the climate-doubting group CO2 Coalition, where he's a board member. Happer also disclosed in the emails that Peabody Energy donated $8,000 to the CO2 Coalition for testimony in a Minnesota hearing on the impacts of carbon dioxide.
The Greenpeace investigation was released hours before Happer testified at Sen. Ted Cruz's (R-Tex.) bizarre Senate hearing disputing climate change. Right before his testimony, when a Greenpeace researcher confronted Happer about how much money he received from Peabody, Happer barked, "You son of a bitch, I haven't taken a dime!"
Happer has not disputed the veracity of the emails but refused to comment about the operation.
Exposed: Academics-for-hire agree not to disclose fossil fuel funding #COP21 https://t.co/xMyxNzdrEZ https://t.co/eEFDpn2pa5

— Greenpeace UK (@Greenpeace UK)1449585541.0
5. Frank Clemente. The professor emeritus of sociology at Penn State University was the second professor implicated by the Greenpeace operation. This time, Greenpeace activists posed as Indonesian coal mining representatives and approached Clemente to write a report before the Paris climate talks "to counter damaging research on linking coal to premature deaths," according to published emails.
Clemente, who has previously argued against coal divestment among educational institutions, agreed and requested $15,000 for an 8- to 10-page report and emphasized he would not have to disclose his sponsor.

"There is no requirement to declare source funding in the U.S.," Clemente wrote in an email. "My research and writing has been supported by government agencies, trade associations, the university and private companies and all has been published under the rubric of me as an independent scholar—which I am."
In response, Clemente told the Australian Broadcasting Corporation he was an independent consultant and not on the Penn State payroll during the sting. "I fully stand behind every single statement I made," he said.
6. Bruce Chassy. Like Soon, the University of Illinois professor emeritus has similarly come under fire for his close ties to the controversial agrichemical industry. U.S. Right to Know, a nonprofit watchdog group, obtained a jaw-dropping cache of emails through FOIA requests unveiling how Monsanto and its allies not only donated money to professors but also enlisted them to do PR, lobbying and regulatory work for the agrichemical industry.
On September 2015, a stunning exposé from The New York Times on the FOIA emails described how Chassy received money from Monsanto and collaborated with the agrichemical industry's lobbying of the U.S. Environmental Protection Agency to reject a proposal that would tighten the regulations on pesticide-resistant seeds.
Monsanto's Eric Sachs, who leads the company's scientific outreach, emailed Chassy to set up Academics Review, a nonprofit aimed at countering critics of GMOs. "The key" to Academics Review's success will be "keeping Monsanto in the background so as not to harm the credibility of the information," Sachs wrote.
This past March, a WBEZ investigation by Monica Eng uncovered that Monsanto gave Chassy more than $57,000 in two years to help promote, defend and deregulate GMOs through the lobbying of federal officials. Monsanto also made $140,000 in "biotech research and outreach" payments through the University of Illinois Foundation between 2006 and June 2012.
Chassy has harshly criticized the U.S. Right to Know campaign.
The National Biosafety Management Agency (NBMA), the regulatory body for biotechnology in Nigeria, has issued two permits to Monsanto Agriculture Nigeria Limited for the commercial release and market placement of genetically modified (GMO) cotton and the confined field trial of GMO maize.
The two permits were signed by NBMA director-general Rufus Ebegba on May 1, which happened to be a public holiday.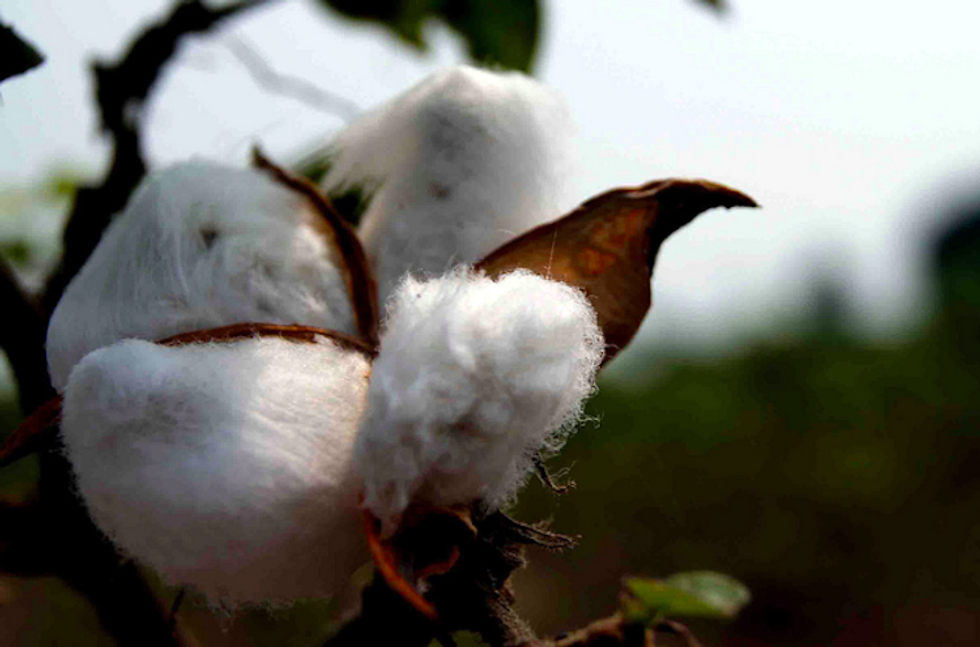 Monsanto has received permits from Nigeria's biotechnology regulatory body for its Bt cotton and GMO maize. Photo credit: Flickr
According to the Premium Times, this comes despite assurances from Minister of State for Environment Ibrahim Jibril that "Nigeria would not mortgage the safety of its citizens by introducing unproven products into the country."
The move has sparked widespread condemnation from 100 organizations representing more than 5 million Nigerians, including farmers, faith-based organizations, civil society groups, students and local community groups.
The coalition has previously expressed concerns about the human health and environmental risks of genetically altered crops. They noted that Monsanto's genetically enhanced crops are designed to tolerate the use of the herbicide glyphosate which was declared as a possible carcinogen by the World Health Organization's International Agency for Research on Cancer (IARC) in March 2015.
"This is extremely shocking," Nnimmo Bassey, the director of the Health of Mother Earth Foundation, said in response to the development. "Little wonder officials of NBMA, National Biotech Development Agency (NABDA) and their pro-GMO train have been fighting tooth and nail to fool Nigerians by claiming that GMOs are safe! They approved the poorly concocted applications and issued these permits on a Sunday when government offices do not open. In fact, 2nd May was also a public holiday."
5 Million Nigerians Oppose Monsanto's Plans to Introduce GMO Cotton and Corn https://t.co/BmMCxzTFMX @NonGMOProject @justlabelit

— EcoWatch (@EcoWatch)1459288839.0
Bassey has been one of the most prominent opponents of genetically modified foods in Nigeria, ever since former Nigerian president Goodluck Jonathan signed the National Biosafety Management Bill into law last year, basically opening the doors to GMOs cultivation in the country.
Bassey has accused NBMA's governing board of having GMO proponents such as NABDA and the Biotechnology Society of Nigeria as members.
"Those GMO promoters are concerned with ensuring the profit of biotech entrepreneurs rather than the health and environmental concerns of Nigerians," he told the Premium Times. "A case in point is that NABDA, a member of the Board of NBMA, is a co-sponsor with Monsanto of the application for the field trials of the GMO maize. We are also appalled that an agency saddled with defending Nigeria's biodiversity is actively promoting these risky technologies."
Nigeria's Guardian has published the reasoning behind group's objection to Monsanto's recent permits:
In the objection to Monsanto's applications, the concerned Nigerians stated that in its application MON 15985, Monsanto is using genes referred to as cry2Ab2 and cry1Ac, which produce Bt toxins that have been synthetically manufactured with no history of safe use in nature.
The insertion of the Antibiotic Resistant Marker Gene (ARMG) causes concerns regarding the potential transfer of antibiotic resistance to other living organisms.
This concern, which is dismissed by the applicant, has been raised by a scientific panel of the European Food Safety Authority (EFSA) stating that this particular ARMG should be restricted to field trial purposes and should not be present in GM plants to be placed on the market—unfortunately this is what NBMA has released into the Nigerian market.
NMBA's latest action has also provoked the NGO Global Prolife Alliance to call on Nigeria's President Muhammadu Buhari to dismiss the agency's management and board.
#GMO permits: Group calls for the sacking of the board of Nigeria's biosafety agency https://t.co/Bcp2THcVd7 https://t.co/OOEE57cSnG

— GMWatch (@GMWatch)1466016604.0
"The recent actions of the management of the NBMA are clear manifestations of the undue interference by biotechnology firms who dictate the actions of their government regulators," Dr. Philip C. Njemanze, MD, Global Prolife Alliance chairman, said. "These actions of the NBMA are dangerous and unpatriotic. They are in violation of food and environmental safety laws in Nigeria. These actions of NBMA display total incompetence and unprofessionalism by the management, and calls into question their fitness to administer such a crucial job of securing the food security of the people of the Federal Republic of Nigeria."
He called the action a "total disregard for the food safety concerns regarding GMOs crops expressed by leading governments around the world, who have had first hand experience with genetically modified maize," pointing to France, Germany, Poland, Italy, Luxemburg, Austria, Hungary and Greece that have banned the same insect-resistant corn variety citing environmental concerns.
Following the intense outcry, Egbeba, the NBMA head, announced at a press conference that no GMO product has been officially released into the Nigerian market yet. He said the agency will be assessing the potential impact of GMOs on human or animal health, the environment as well as its socio-economic impacts before its official release, according to The Leadership.
"The NBMA is poised to effectively regulate modern biotechnology for the benefit of Nigerians and to allay the fears of members of the public who so wish to consume GMOs in Nigeria," the director-general said. "It should be clear that no one would be forced to use or consume GMOs in Nigeria. GMOs would be labelled. The agency bases its decision on science, taking into consideration national interest, socio-economic issues, human health and safety to the environment."
Egbeba also dismissed safety concerns of GMOs, saying that "the controversy surrounding the food and feeds are quite germane. However, suffice it to say that [to] date there is no reliable evidence that GM crops pose any health risk whatsoever. Recent FAO, World Health Organization (WHO) and other credible authorities attest to this. The public should therefore trust the agency's decisions and avoid unscientific information and acts capable of causing public distrust and panic."
YOU MIGHT ALSO LIKE
Is Big Food Ready For Vermont's Historic GMO Labeling Law?
Brazil Won't Buy U.S. GMO Corn, Highlights Worldwide Divide Over GMOs
First Commercial Crop of GMO Arctic Apples About to Hit Market
EU Fails to Approve 'Technical Extension' for Weed-Killer Glyphosate
Canadian and U.S. environmental and consumer groups denounced Health Canada's approval of genetically engineered salmon created by AquaBounty Technologies Inc., a majority owned subsidiary of synthetic biology company Intrexon. This is the first-ever genetically engineered animal approved for human consumption in Canada, despite widespread public outcry, risks to wild salmon and an approval made with no public consultation or labeling.
This approval also comes despite the Canadian Department of Fisheries and Oceans draft risk assessment that questions the health and welfare of AquaBounty Technologies Inc.'s genetically modified salmon. The draft risk assessment concluded that AquaBounty's GMO salmon are not only "more susceptible to Aeromonas salmonicida, a type of disease-causing bacteria," but exhibit "diminished growth rates" and "widely varied performance."
The Canadian agency's approval of GMO salmon follows the U.S. Food and Drug Administration's (FDA) approval in November 2015. In the wake of controversy over the U.S. approval, the U.S. has put in place an import ban on GMO salmon until labeling standards are established.
"Health Canada's approval is irresponsible and disappointing. But regardless of this approval, there is no market for genetically engineered salmon," Dana Perls, food and technology campaigner at Friends of the Earth U.S., said. "Consumers don't want to eat it and grocery stores won't sell it."
A large segment of the market has already rejected genetically engineered salmon. More than 60 grocery store chains (many with stores in Canada) have made commitments to not sell the GMO salmon, including Costco, Safeway, Kroger, Target, Trader Joe's, Whole Foods, Aldi and many others.
Seventy-five percent of respondents to a New York Times poll said they would not eat genetically engineered salmon and 1.8 million people sent letters to the FDA opposing approval of the so-called "frankenfish."
"Canadians could now be faced with the world's first GMO food animal, approved with no public consultation and no labeling," Lucy Sharratt, coordinator of the Canadian Biotechnology Action Network, said.
This announcement comes in the midst of a growing movement for GMO labeling at the state and federal level in the U.S.
AquaBounty Technologies' AquAdvantage salmon is genetically engineered with the DNA of an eel-like ocean pout. At least 35 other species of genetically engineered fish, along with chickens, pigs and cows, are currently under development and Health Canada's decision on this genetically engineered salmon application sets a precedent for other genetically engineered fish and animals.
A growing body of science suggests that GMO salmon may pose serious environmental and public health risks, including potentially irreversible damage to wild salmon populations.
"GM salmon production threatens the future of wild Atlantic salmon," Calinda Brown of the Ecology Action Centre said. "Retailers can protect consumers and the environment by making sure this GM fish never makes it to grocery store shelves."
YOU MIGHT ALSO LIKE
EU Delays Approval of Glyphosate, Again
Consumed: First Fictional Film to Cover Concerns of GMOs
UN Says Glyphosate 'Unlikely' to Cause Cancer, Industry Ties to Report Called Into Question
Nebraska Farmers Sue Monsanto Alleging Roundup Gave Them Cancer
While genetically modified (GMO) foods seem to proliferate across the U.S., many other nations do not allow such products to enter or grow within their borders.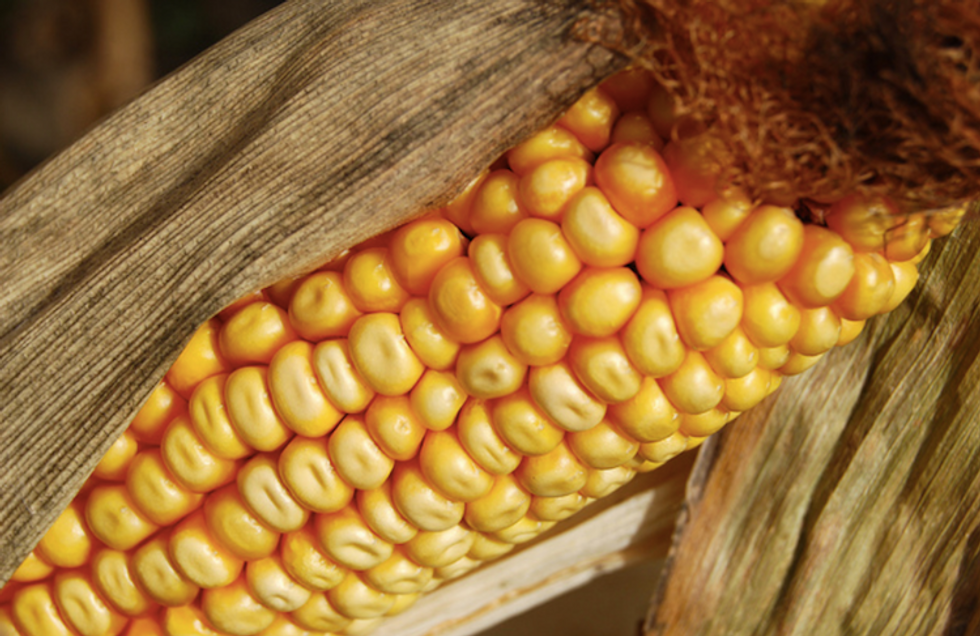 Brazil grows 29 varieties of GMO corn while the U.S. grows 43 different types, according to the International Service for the Acquisition of Agri-Biotech Applications. Photo credit: Flickr
A Bloomberg article illustrated how the world's vast patchwork of GMO regulations can deter international trade.
Case in point, even though the Brazilian chicken industry is suffering from a domestic corn shortage this year, companies refuse to buy corn from the U.S. because of Brazil's stringent regulations on GMOs.
"In recent years, some of the largest commodity trading companies have refused to take certain GMO crops from farmers because the seeds used hadn't received a full array of global approvals, something that can lead to holdups at ports or even the rejection of entire cargoes," the article stated.
Brazil's chicken industry is facing a corn shortage, but companies are wary of U.S. GMO feed https://t.co/yXRWcyU33n https://t.co/Vy7Lbixi4H

— BN Commodities (@BN Commodities)1465405511.0
Brazil happens to be the second largest producer of GMO crops in the world after the U.S., and grows 29 varieties of GMO corn. However, the South American country has had a contentious history over GMOs and does not allow certain varieties to enter the country—the U.S. cultivates 43 types of GMO corn. Brazil also mandates that all products containing GMO ingredients carry a label and, earlier this year, the Brazilian Ministry of Justice fined major food manufacturers including Nestle, PepsiCo and a Mexican baking company for concealing the presence of GMOs in their products.
Brazil, the world biggest exporter of chicken and grain traders, is now considering whether to request approval from the government to import GMO crops that aren't currently permitted, Bloomberg reported.
Bloomberg's article highlights the international divisiveness over genetically altered food and the agri-tech industry, a reflection of general consumer and political unease over the safety and environmental concerns of GMOs and the pesticides they are designed to resist.
In the graphic below, the Genetic Literacy Project listed a dizzying mix of countries that have either banned or allowed GMO food cultivation or imports. The group also noted that the vast majority of genetically altered crops come from only a dozen nations that allow cultivation: the U.S., Brazil, Argentina, India, Canada, China, Paraguay, Pakistan, South Africa, Uruguay, Bolivia and the Philippines.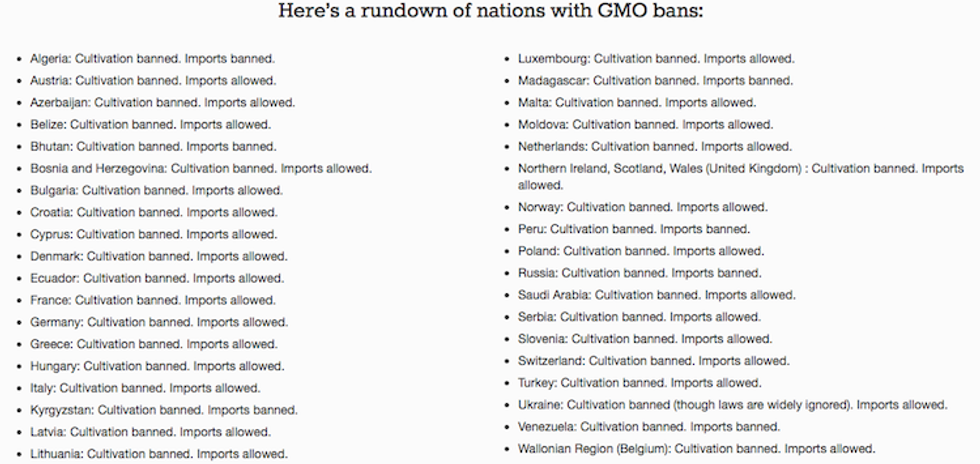 Brazil's case is similar to India, which imported corn for the first time in 16 years this past February due to production shortage issues caused by drought.
India received 250,000 tonnes of non-GMO corn from South Korea's Daewoo International via Ukraine, however as experts warned to Reuters, it is difficult to ensure that the supply is 100 percent non-GMO, sparking fears of GMO contamination.
It only takes a few GMO seeds to mix with local varieties to enter India's food supply chain, an Indian government scientist explained.
"The biggest risk of accepting anything less than 99, or 100, percent is that the imported GM corn may eventually get mixed with conventional seeds that farmers sow in India," the scientist, who asked to not be named, told Reuters. "If, God forbid, any GM seed gets mixed here, it'll spoil the entire Indian agriculture."
YOU MIGHT ALSO LIKE
First Commercial Crop of GMO Arctic Apples About to Hit Market
EU Fails to Approve 'Technical Extension' for Weed-Killer Glyphosate
EU Commission Backs Down on Long-Term Glyphosate Approval, Seeks Last Minute Extension