As news about North Carolina's governor and his administration downplaying the risks of drinking water contaminated with hexavalent chromium unfolds, two leading environmental health advocates are pushing the Obama administration to finally set a nationwide standard for the highly toxic chemical.
Erin Brockovich, a noted environmental health advocate and the Environmental Working Group (EWG) President Ken Cook called on the U.S. Environmental Protection Agency (EPA) to stop dragging its feet and move quickly to set a tough national standard, known as a Maximum Contaminant Level or MCL, for the ubiquitous carcinogen found in millions of Americans' tap water.

In a joint letter to EPA Administrator Gina McCarthy, Brockovich and Cook wrote:
We write with deep concern about this continued delay. It is clear that the delay is sowing confusion among state and local regulators, utilities and the public about how much hexavalent chromium is safe in drinking water. This confusion is resulting in many Americans' exposure to unregulated levels of hexavalent chromium that federal, state and independent scientists agree pose health hazards.
The request comes as a top state health official in North Carolina resigned in protest over meddling by Gov. Pat McCrory and his staff. McCrory sought to retract "do-not-drink" warnings directed at some residents whose tap water comes from wells likely tainted by hexavalent chromium from nearby Duke Energy coal-burning facilities.
The situation in North Carolina is, in part, a result of the absence of a stringent nationwide health-protective EPA standard, argued Brockovich and Cook:
States like North Carolina, where industrial byproducts like coal ash increase the risk of hexavalent chromium contamination, need a federal mandate to set strong, health-protective standards for levels of the contaminant in drinking water. Without it, states will continue to use inconsistent and potentially unsafe guidelines and leave citizens confused about whether their drinking water is safe.
A report issued by EWG back in December 2010 found hexavalent chromium in tap water from 31 of 35 American cities.
"It's high time EPA put in place a stringent national standard to protect Americans from drinking water contaminated with hexavalent chromium," Cook said in a separate statement.
"A lack of a federal standard and the ongoing delay in setting one, are confusing utilities, states and citizens about what level of hexavalent chromium in drinking water is safe. Until EPA acts, we will likely continue to see the situation happening in North Carolina unfold in other states."
EcoWatch Daily Newsletter
By Deirdre Fulton
Lawmakers have come up with a compromise to avoid a potential government shutdown and provide long-awaited aid for Flint, Michigan—though the band-aid measure will still keep that community, which has been grappling with a lead-contamination crisis for more than two years, waiting for funds at least until November.
How did we have so much money available to go to war in Iraq, but somehow Republicans won't send money to Flint? https://t.co/H3oOqrCv0P

— Bernie Sanders (@Bernie Sanders)1475011343.0
According to news outlets, U.S. House leaders on Tuesday night struck a deal to allow a vote on an amendment adding $170 million in infrastructure funding under the Water Resources Development Act (WRDA), to help Flint and other cities with water emergencies.
The agreement followed days of tense talks, and came after Senate Democrats earlier on Tuesday blocked a vote to advance a stopgap spending bill to keep the government running after Friday, citing the GOP's refusal to include funding for Flint. The legislation does include emergency flood assistance for Louisiana, West Virginia and Maryland.
Flint families have had poison in their H2O for 2 years. Shame on GOP for refusing $ to help. #DontForgetFlint… https://t.co/pYDWeHEL1d

— Senator Jeff Merkley (@Senator Jeff Merkley)1474912398.0
And any politician who won't stand with Flint, MI - whose kids are choking on poisoned water - lacks the moral courage to serve in Congress.

— Elizabeth Warren (@Elizabeth Warren)1475017261.0
Helping poisoned children should not be a partisan issue. But #Flint water still unsafe to drink & GOP still holding up needed assistance.

— Senator Jack Reed (@Senator Jack Reed)1475010800.0
House Speaker Paul Ryan (R-Wis.) said the breakthrough on Flint "will help unlock" the short-term spending bill. Indeed, the Washington Post reported that while "Senate Democrats have not yet examined the House amendment ... a senior aide said leaders are 'optimistic' that the deal could offer a path to avert a shutdown."
And Rep. Dan Kildee (D-Mich.), who has been outspoken in his call for Flint funding (and about the cause of the crisis in the first place), said the deal "is a step forward to ensuring that Flint families get the resources they need to recover from this crisis."
"The people of my hometown have waited over two years for their government to help them in their time of need," Kildee said. "We will continue to fight until Flint aid reaches the president's desk."
That may not be until December, the Post reported, as the House and Senate versions of the WRDA must still be resolved, and Congress is about to depart on recess until after the Nov. 8 election.
And as Michigan Public Radio notes:
If [the WRDA] passes, it's unclear how long it will take for the money to reach the city of Flint.
As of Tuesday, the city had replaced 155 lead service lines. It's estimated there could be 10,000 pipes connecting Flint homes to city water mains that continue to leech lead into the city's drinking water.

"The people of Flint deserved assistance more than a year ago, and they require assistance now, without further delay," a coalition of 86 civil rights, public health, and environmental groups wrote in an open letter to Congress this week. "Therefore, it is critical that aid comes now so that other children and families will not suffer."
The full House is set to vote on the Flint amendment on Wednesday.
Michael Moore: 10 Things They Won't Tell You About the Flint Water Tragedy, But I Will https://t.co/a3lvwIwPi8 @CleanWaterMI @NRDCWater

— EcoWatch (@EcoWatch)1454198104.0
Reposted with permission from our media associate Common Dreams.
Frederic Stevens/ Getty Images News / Getty Images

For nearly as long as solar panels have been gracing rooftops and barren land, creative people have been searching out additional surfaces that can be tiled with energy-generating photovoltaic (PV) panels. The idea has been pretty straightforward: if solar panels generate energy simply by facing the sun, then humans could collectively reduce our reliance on coal, oil, gas and other polluting fuels by maximizing our aggregate solar surface area.
So, what kind of unobstructed surfaces are built in every community and in between every major city across the globe? Highways and streets. With this in mind, the futuristic vision of laying thousands, or even millions, of solar panels on top of the asphalt of interstates and main streets was born.
While the concept art looked like a still from a sci-fi film, many inventors, businesses and investors saw these panels as a golden path toward clean energy and profit. Ultimately, though, the technology and economics ended up letting down those working behind each solar roadway project — from initial concepts in the early 2000s to the first solar roadway actually opened in France in 2016, they all flopped.
In the years since the concept of solar roadways went viral, solar PV has continued to improve in technology and drop in price. So, with a 2021 lens, is it time to re-run the numbers and see if a solar roadway could potentially deliver on that early promise? We dig in to find out.
Solar Roadways: The Original Concept
Solar roadways are complex in execution, but in concept, they're as simple as they sound. They're roads "paved" with extremely strong solar panels that are covered in glass that can withstand environmental stressors and the weight of vehicles driving over them on a consistent basis.
The idea was something that got people really excited when the initial Solar Roadways, Inc. project (which is still seeking funding) burst onto the scene in 2014:
More advanced designs included solar roadways outfitted with LED lights that could be used to illuminate lane lines, communicate to drivers and more. Other iterations included weight sensors that would detect when obstructions were on the road or could alert homeowners if unexpected vehicles were approaching their driveway. Embedding these kinds of technology into the solar roadways renderings only added to their appeal and the initial hype around the concept.
Key Selling Points of Solar Roadways
Early innovators of solar roadways touted the numerous benefits of their ideas. These included:
Sunlight shines down on roads at no cost, making the energy not only readily available, but also free (aside from installation and maintenance).
The ability to power street lights with solar roadways eliminated the need to pull extra energy from the grid.
Having electronics embedded into the roadway opened up a world of possibilities for communicating with drivers in ways that didn't require painting and repainting of roads.
The ingenuity to attach weight sensors on the solar panels could be used to alert drivers about potential obstructions, such as animals, disabled vehicles or rocks on the road.
In a future of electric vehicles, the possibilities were seen as even more beneficial, as solar roadways could be used to power electric vehicle charging stations or to charge the cars while they're driving.
While some early thinkers may also have envisioned these roadways sending solar energy to the local power grid, the most impactful way solar roadways could utilize the energy they generated is right around the road itself: lighting street lights, heating mechanisms to melt snow on the roadway, or powering small emergency equipment on road shoulders.
Using the energy for on-road applications would mean that the power didn't have to be sent long distances before being used, which results in energy loss. However, in more rural or remote locations, having the solar roadway energy available for nearby homes and businesses could be a huge benefit, especially if there's an outage in the overall grid.
Why Solar Roadway Tests Have Failed
To much of the general public — and especially to people who weren't well versed in the intricacies of solar panels or road structures — solar roadways seemed like a slam-dunk solution that both looked futuristic and had benefits that went far beyond electricity generation. It was the kind of innovation that had people exclaiming: "How has no one done this yet?!" But in reality, the execution of solar roadways was much more complex than the idea.
Here are a few reasons solar roadway tests have failed:
Cost of Manufacturing and Maintenance
The cost of the energy from the sun may be free, but the investment to install and maintain the solar roadways was undeniably prohibitive. The reason asphalt is used by default to pave roadways is because it is immensely affordable and low-maintenance, which is especially critical on vast, expansive roadways and interstates.
In 2010, Scott Brusaw, co-founder of Solar Roadways, Inc., estimated a square foot of solar roadway would cost about $70. However, when the first solar roadway was built in France by a company called Colas, it measured 1 kilometer and cost $5.2 million to build — or about $1,585 per foot of roadway. Of course, this was a small iteration and bulk manufacturing would cost less, but either way, it's hard to believe the cost of a solar roadway would ever be competitive with the price of asphalt, which is about $3 to $15 per square foot.
Further, the cost and complexity to send a crew to repair individual panels that fail would far outweigh those to maintain asphalt. So, while one of the presumed benefits of solar roadways is the cost savings associated with self-generated energy, even back-of-the-envelope math highlights how the numbers would simply not add up to be more cost-effective in the long run.
Energy Required to Produce the Panels
Another limiting factor appears when considering the energy it takes to make asphalt versus high-durability glass and solar panels. Most asphalt used on roads today is a byproduct of distilling petroleum crude oil for products such as gasoline, which means it makes use of a substance that would otherwise be discarded as waste.
The solar roadway panels, although intended to save energy in the long run, take much more to produce. Typical rooftop solar panels can easily make up for the extra energy used in production because the glass doesn't need to withstand the weight of vehicles driving over them, but solar roadways have that added complexity.
Power Output of the Panels
When estimating power output, early optimists seemed to perform calculations based on the raw surface area they could cover — and not much else. However, beyond the stunted energy generation that any solar panels face on cloudy days or at night, solar roadways presented unique new performance challenges.
For example, vehicles constantly driving over solar roadways would interrupt sun exposure. Plus, they'd leave behind trails of fluid, dirt and dust that can dramatically reduce the efficiency of solar panels. Being installed on the ground is a challenge in itself because of how readily shade would find the roads; that's the reason you find most solar panels on rooftops or elevated off the ground and angled toward the sun.
Issues With Glass Roadways
Lastly, driving on glass surfaces is simply not what modern cars are designed to do. Asphalt and tires grip each other well, being particularly resilient in wet conditions. If the asphalt is replaced with glass — even the textured glass that's used for solar roadways — tire traction could be reduced dramatically. Wet or icy conditions could lead to catastrophic situations on solar roadways.
Could Recent Advances in Solar Technology Bring Solar Roadways Closer to Reality?
For all of these challenges and even more roadblocks that early solar roadway projects have run into in the past, the reality is that solar technology continues to improve. In the seven years since the first Solar Roadways, Inc. video went viral, solar panels have developed to be more durable, more cost-effective and more efficient at converting sunlight to electricity. To put some numbers behind these trends:
The question to ask is whether these advances are enough to bring solar roadways from failure to success.
Despite the improvements, many of the original challenges with solar roadways remain, and the scale of execution is immense. Even with decreasing solar PV costs, outfitting long stretches of roadway with such complex technologies will require tremendous capital.
Rather than a future where solar roadways cover the country from coast to coast, a more likely outcome is that these advances will bring solar roadways to viability in narrow, niche applications.
Just like tidal energy is a great opportunity for small coastal communities but can't be scaled to solve the energy crisis across the world, it's conceivable that limited-scope solar roadways could be constructed around the world. However, large-scale solar roadways may never be more than a pipe dream.
Nearly 20 percent of the water fountains in Chicago parks tested positive for excess levels of lead in the water and have been shut down by the Chicago Park District.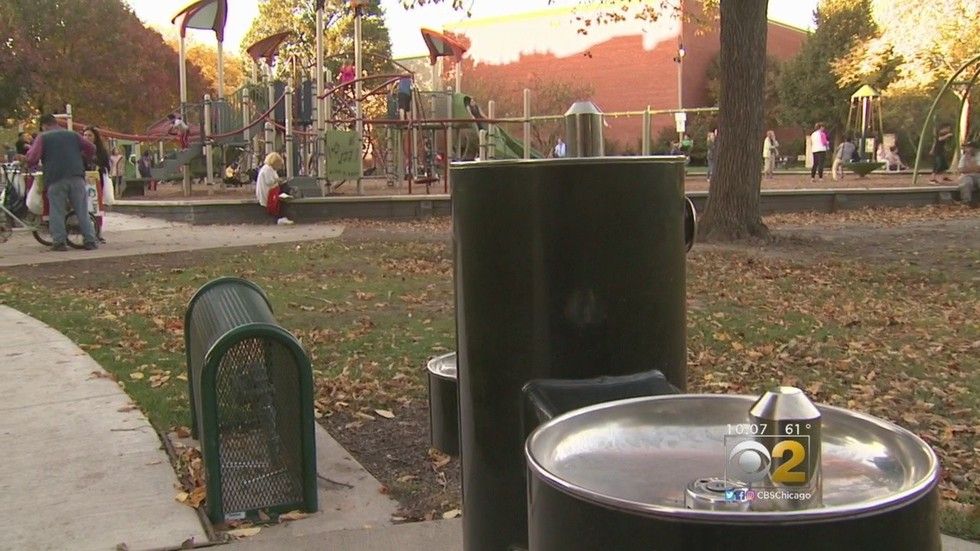 Hundreds of drinking fountains in Chicago parks have been shut off after testing revealed high levels of lead in the water.CBS Chicago
Of the 1,891 outdoor fountains in city parks, 445 exceeded the U.S. Environmental Protection Agency's (EPA) action level of 15 parts per billion. Another 14 of 544 indoor water fountains were contaminated as well. However, the EPA's Lead and Copper Rule refers primarily to municipal water systems, not single source supplies. The rule requires that action be taken if more than 10 percent of the taps tested exceed the 15 parts per billion standard.
The U.S. Food and Drug Administration (FDA) regulates bottled water, and has set a standard of 5 parts per billion. The difference is designed to account for the fact that bottled water does not flow through lead pipes. In cases where it is sourced from municipal water supplies, it must be run through one of several filtration processes in order to be labeled as "purified." If the Chicago Park District used the FDA standard, an additional 250 fountains would have to be shut down.
Exposure to high levels of lead for children can lead to reduced cognitive function, lower IQ scores, behavior, learning and hearing problems as well as anemia and slowed growth. Effects on pregnancy include premature birth and reduced growth of the fetus. Lead can be harmful to adults, including hypertension and reproductive issues. In Flint, Michigan, where the crisis of lead in water gained national attention, residents reported rashes and hair loss that may be linked to contaminated water.
#JohnOliver Blasts GOPs 4 Failure 2 Address America's #Lead Crisis https://t.co/wHFqxDb2fO @MMFlint @ErinBrockovich https://t.co/7MkMUi5Yrz

— EcoWatch (@EcoWatch)1460991163.0
On Tuesday, the American Civil Liberties Union (ACLU) of Michigan filed a class-action civil rights lawsuit against the Michigan Department of Education, Genesee County Intermediate School District and Flint Community Schools. The suit alleges ongoing violations of federal education laws and seeks screening and funding for special education services.
During the 2014-2015 school year, at the height of the water crisis, the suspension and expulsion rate for special education students in Flint Community Schools was more than five times higher than the rate for special education students in all Michigan school districts, according to a statement released by the ACLU of Michigan.

"All children can learn," said Kary Moss, executive director of ACLU of Michigan. "Universal, free public education is a cornerstone of our democracy and a basic civil right. But the rights of schoolchildren and their families are being violated every day in Flint. This lawsuit exposes what has gone wrong—including a dysfunctional funding structure—and demands clear and urgent remedies to make it right."

Last week, tests showed excessive levels of lead in 30 of 180 parochial schools in the Archdiocese of Chicago. Across the U.S., 18 million people drink water that violates the standards set forth in the Lead and Copper Rule. In Pennsylvania, 8.5 percent of children tested were found to have dangerously high levels of lead in their blood. Schools in Portland, Atlanta and Washington have been found with lead-contaminated water. In June, an investigation by The Guardian found 33 cities that had rigged their water tests.
America's Lead Poisoning Problem Is Everywhere https://t.co/naGb7EcB1R @ErinBrockovich @MMFlint @sierraclub @ewg https://t.co/AyWL71a7Ci

— EcoWatch (@EcoWatch)1454778490.0
Much of the problem can be traced to aging water pipes in cities and towns across the U.S. Some 6 to 7 million lead pipes bring water to schools, homes and hospitals in America. Replacing those lines carries a price tag of $30 billion.
But the cost of leaving those lead pipes in place is even higher, measured in the health of America's children and their families. In many of these tested locations, lead levels didn't just slightly exceed the standards: they exceeded them by multiples. In Chicago's parochial schools, some samples tested at 40 parts per billion. Flint schools measured as high as 2,800 parts per billion. In Avalon Park in Chicago, one fountain registered 1,800 parts per billion, while another measured 1,200.
As a Natural Resources Defense Council report put it, "No amount of exposure to lead is safe."
By Bill Walker

Drinking water supplies for two-thirds of Americans are contaminated with the carcinogenic chemical made notorious by the film, Erin Brockovich, which was based on the real-life poisoning of tap water in a California desert town. But there are no national regulations for the compound—and the chemical industry is trying to keep it that way.
The Environmental Working Group (EWG) released an analysis Tuesday of more than 60,000 tap water tests conducted nationwide, finding that chromium-6, or hexavalent chromium, is in the tap water of more than 218 million Americans. That's two-thirds of the U.S. being served water with chromium-6 at, or above, the level that California state scientists consider safe. The California public health goal allows a chromium-6 level expected to cause no more than one case of cancer in 1 million people who drink it for lifetime.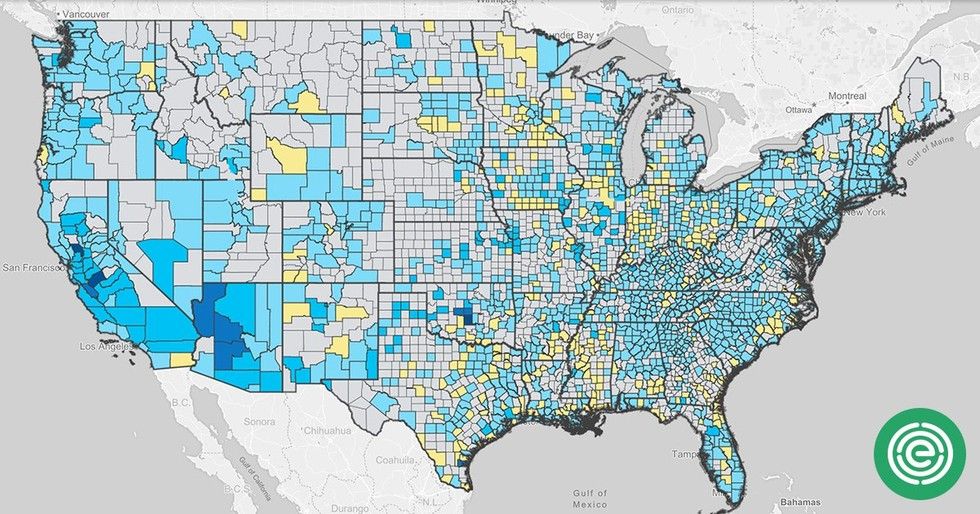 Interactive map of chromium-6 in U.S. drinking water shows an estimated 218 million Americans served unsafe levels of the chemical.Environmental Protection Agency, UCMR-3
Though far more permissive than its public health goal, California is the only state that has set an enforceable legal limit for chromium-6 in drinking water. Federal chromium regulations, set in 1991, do not specifically address chromium-6 and do not consider current science showing that drinking water contaminated with the chemical can cause cancer.

Chromium is a naturally occurring element but can also be manufactured. The two main types are chromium-3—an essential human nutrient considered to be mostly harmless—and chromium-6, which has long been known to cause lung cancer when airborne particles are inhaled. Recent science has also shown that, when ingested, it can cause stomach cancer. Chromium-6 is used in chrome plating, wood and leather treatments, dyes and pigments, and the water in cooling towers of electrical power plants.

A 2008 study by the National Toxicology Program found chromium-6 in drinking water caused cancer in rats and mice. California state scientists drew on that study to determine its public health goal, which is unenforceable, but guided state regulators in setting a legal limit. Although EWG believes the legal limit is far too high to protect public health, it is the only enforceable regulation on chromium-6 in the U.S.
The National Toxicology Program study was also used by the U.S. Environmental Protection Agency (EPA) to draft a health assessment for a safe exposure level. The draft was completed in 2011, but not formally released because the chemical and electric power industries pressured the EPA to wait for the results of other, industry-funded studies. Five years later, we're still waiting for the industry studies, which are expected to argue that the EPA doesn't need to set a national standard at all. They're also expected to fundamentally challenge the way the EPA calculates the risk of all carcinogenic chemicals.

Will the EPA stand up to industry pressure? The agency's record is not good. Since landmark amendments to the Safe Drinking Water Act in 1996, the EPA has not set any new drinking water regulations for previously unregulated contaminants. The EPA has ordered tests on 81 contaminants, but moved forward on setting regulations for just one—and those regulations are two years behind schedule.
Erin Brockovich Calls on EPA to Finally Set Standard for Carcinogen Found in Millions of Americans' Tap Water: https://t.co/TQwAgufr8q

— Link TV (@Link TV)1471385409.0
California's public health goal is 0.02 parts per billion of chromium-6 in drinking water, yet the state's legal limit is 500 times higher. A home water filter can remove chromium-6 and most other chemicals of concern, but can be expensive. Ultimately, the better solution is for federal regulators to set drinking water standards that keep up with advances in science and prevent dangerous contaminants from getting into tap water in the first place.

In Monday's debate, Hillary Clinton pledged to spend $275 billion investing in America's infrastructure. Donald Trump doubled down, promises lots more. On Tuesday the Senate failed to pass a bill to keep the government open because Democrats insisted—and Republicans rejecting—inclusion of a modest $220 million to repair the toxic contamination in the Flint, Michigan public water system.
The 35W bridge in Minneapolis, Minnesota, which collapsed during rush hour on Aug. 1, 2007.
Where the disconnect? That's a small example of the big question at the heart of Upgrading America, today's DC summit on American infrastructure. Everyone agrees our infrastructure is a shambles—D+ according to the Academy of Engineering. Almost everyone agrees that a lot of this infrastructure is essential for a strong America, and requires a federal role. But, as we are reminded today, for the past 30-40 years, we have systematically starved the critical systems that make our country safe, liveable, competitive—and yes, Donald, great. (Trump is right about the third world condition of our airports etc. He is wrong in refusing to support anything that would plausibly pay for improving them.)
A few painful reminders of how bad we have allowed things to get:
We have stored 727 million barrels of oil in the Strategic Petroleum Reserve, our insurance policy in case, say, a Middle Eastern crisis shut down Persian Gulf oil. We couldn't get it out as fast as we might need it, Energy Secretary Moniz tells us, because we don't have enough loading docks.
We have 200,000 water mains break in the U.S. every year. The average water pipe in Washington DC is 79 years old, meaning half are past their useful life. Cities as diverse as Washington, DC, Philadelphia, Atlantic City and Cleveland have suffered lead poisoning from water just like Flint.
Enough natural gas leaks from our pipeline system every year to power 7 million homes. Every year we have a major natural gas explosion or leak that kills people or drives them from their homes.
Most of America's railway bridges cannot handle double stacked loads. But all our planning for handling the 45 percent increase we expect in goods movement requires such double stacking.
There are new challenges as well. Every year, there are now 150 cyber attacks on the U.S. energy system. The system is simply not hardened against such threats, much less against a massive electro-magnetic pulse that a single high altitude nuclear explosion might unleash.
And some economic realities, that should, but won't, sober up Trump:
The old way of doing things is getting steadily more expensive. A single new substation in New York City can cost a billion dollars, even thought it is needed only half the time.
Cities like Baltimore, after decades of not investing in their water systems, are now raising rates at 10 percent a year—their citizens will soon not be able to pay for water.
Even at our present replacement rate, ½ of 1 percent a year, it will cost us $650 billion every ten years to maintain our water and sewer systems. At the end of that time, the average water main will be 200 years old.
The wholesale price of electricity has fallen by 30 percent over the last eight years. But the cost of the wires and poles that distribute electricity has increased so fast that the retail price of electricity is up 20 percent.
Adding new highway improvements in Washington State at a cost of $2.5 billion are considered a "success" if they cut 90 seconds off the average commute time.
But we have some stunning opportunities if we start thinking systemically, rather than clinging to mid-twentieth century approaches and mind-sets. Efficiency, substituting data for raw materials, and renewables for fossils, are the keys.
If we replaced outmoded, leaky water mains, we would immediately recapture 1.7 trillion gallons of water, 25 percent of the treated water we feed into them, water which after collection and treatment at great expense now leaks into the ground.
That same $1 billion NY substation became completely unnecessary when ConEdison invested $200 million in modern load smoothing strategies like energy efficiency and demand management.
Utilities are currently rewarded for wastefully investing more capital in power plants, wires and poles. Yet we have huge surplus capacity in our system already—New York State uses its power plants only 54 percent of the time. Using new technology to shift demand by only a few hours using energy storage could postpone the need for new capital investment.
The cost of renewable power continues to plummet. Over the last eight years prices fell from 41 percent (wind) to 90 percent (LED bulbs). Unsubsidized solar power in the best locations now cost a trivial 2.4 cents a kwh.
New prototype Class 8 trucks can save 88 percent of the fuel used by today's models, meaning we won't need as many pipelines to deliver diesel.
And these solutions, thoughtfully designed, can have a phenomenally positive impact on our economy, inequality and our sense of national dignity and unity.
Accelerating the repairs on our natural gas pipeline system to eliminate leaks and explosions would generate 300,000 jobs.
Restoring high quality public water systems may cost more than we are used to paying—but it would cost perhaps 1/1000 of our current work-around, bottled water. And we would all be equally well served.
In California, which has put in place climate policies that generate revenues and discourage pollution, the clean energy sector is now the state's largest single employer, with 500,000 jobs. The sector is growing six times as fast as the state's overall economy, which in turn is growing faster than the U.S. economy.
Finally, replacing wasteful consumption of fossil fuels, leaky gas and water mains, and outmoded electrical infrastructure with knowledge driven, higher performance, low carbon infrastructure and technology is, quite simply, the single most powerful economic development strategy available to us. To cite one example, (probably the biggest, but only one), there was tremendous excitement last month at the news that the economic recovery was finally reaching the average American. Median family incomes increased by 5.2 percent. But it turns out that if energy prices in 2015 had tracked the rest of the consumer price index, instead of falling 17 percent, the household benefit would have been only 3.4 percent. And if the U.S. had not invested in more efficient cars and trucks beginning in 2007, if renewables and efficiency weren't displacing natural gas and coal, then that fall in energy prices would not have occurred—and household income would have grown far less rapidly.

Investing in innovative and less wasteful, less carbon and resource intensive infrastructure, does have an upfront cost: but it pays off in so many ways that voters ought to be doubling down on Donald Trump's bid. America ought to set a goal—improving our infrastructure from D- to B+ say—and make sure that politicians of both parties get it done.
Watch John Oliver as he discusses "America's crumbling infrastructure: It's not a sexy problem, but it is a scary one":
Just weeks before the U.S. presidential election, filmmaker Anthony Baxter will release a sequel to his award-winning film, You've Been Trumped.
You've Been Trumped Too, shot in Scotland and the U.S., features the real-life stories of Molly and Michael Forbes, who became nationally-recognized Scottish folk heroes after opposing a controversial Trump golf development in their pristine coastal village.
In the new film, Baxter followes Michael Forbes—who Trump branded "a pig" and his farm "a slum"—to the Republican National Convention in Cleveland, Ohio, where Forbes attempts to find out why some Americans are backing the man he blames for his family's misfortune.
"I was amazed to observe the consequences of Donald Trump's actions in Scotland, at the very same time he was running for president," Baxter said, who was once jailed after investigating why the Trump organization had cut off water supplies to local residents.
"I felt it was a story American voters needed to hear before November 8th."
If you want to be one of the first to see the entire film, check out this Kickstarter page and be among the more than 580 people supporting this film.
The film will debut in New York City and London in late October before being distributed worldwide on other platforms.
iStock
Tap water in the U.S. is generally safe to drink. At least that's what we are told by medical professionals and government agencies. The U.S. Environmental Protection Agency (EPA), which regulates public drinking water, aims to "ensure and protect the quality of Americans' drinking water" under the Safe Drinking Water Act, established in 1974. Reports say that some 92 percent of tap water meets state and federal standards and that the U.S. has the cleanest and safest public water supply in the world.
But tell that to the residents of Flint, Michigan, who drank lead-laced water for more than a year, even though officials in Gov. Rick Snyder's administration knew about its toxicity. Or the 3,000 areas nationwide facing lead poisoning rates worse than Flint. Or the 218 million Americans unwittingly drinking chromium-6 (the carcinogenic "Erin Brockovich" chemical) right from their faucets.
Nearly 3,000 U.S. Communities Have #Lead Levels Higher Than #Flint, Reuters Reports https://t.co/NkhYGC7B7g @foodandwater @foe_us @350

— EcoWatch (@EcoWatch)1482332347.0
For these reasons and many more, is it any surprise that many Americans are questioning the safety of their drinking water despite decades of assurances from experts and government officials?

A recent survey from Iowa-based marketing firm Meyocks found that only three out of five Americans (57 percent) agree that their tap water is safe. But the nationwide survey of 1,006 adults also revealed that about one in five Americans (19 percent) disagree that their tap water is safe and 24 percent are unsure.
Many Americans are unsure whether their tap water is safe to drink. Meyocks
So how do you know if your water is safe to drink? For the most part, America's drinking water is pulled from groundwater or surface water sources and treated at plants to federal and state purity levels before arriving to your tap.

Unless you have a private well, the best way to find out if the water flowing from your faucet is safe is by searching the EPA database and finding your local water supplier's Consumer Confidence Report or CCR. This annual drinking water quality report, which your supplier must complete by July 1 of each year, includes information on where your water comes from, the levels of detected contaminants and your supplier's compliance with drinking water rules.
For instance, take the CCR for Georgetown County, South Carolina, where I currently live. After sampling results for nearly 100 substances and elements regulated by the Safe Drinking Water Act, my local water supplier determined that the county's water is "healthy, safe, high quality and exceeded all state and federal health and safety standards."
While Georgetown's CCR reported trace amounts of contaminants, note that all drinking water—yes, even the bottled stuff—often contains minor traces of some contaminants. The EPA's National Primary Drinking Water Regulations table has set Maximum Contaminant Levels (MCL) for contaminants allowed in public water sources.
Contaminants are not necessarily harmful to healthy people, but some groups of people can be more vulnerable to polluted water, such as infants, children and pregnant women or cancer patients undergoing chemotherapy, transplant patients or people with HIV/AIDS.
For those of you who are still uncertain or do not trust your CCR—and given the water disasters in Flint and numerous other cities, that's understandable—contact your water supplier or the local health department for further testing options. You can also have your drinking water tested by contacting a laboratory certified by your state or territory.
Erin Brockovich is speaking out on Oklahoma's alarming earthquake activity and she's not afraid to tie the state's seismicity to a certain industry.
Environmental Activist Erin Brockovich Comes To OK, Speaks About Quakes https://t.co/k1sd1gzuuD https://t.co/tCngIsejlc

— News On 6 (@News On 6)1456307347.0
In an interview with Oklahoma's News9, the prominent environmental activist and consumer advocate explained she's aware that the injection of mass quantities of fracking wastewater in disposal wells is triggering the tremors, as geologists have confirmed.
But Brockovich added, "It's fracking, let's just be honest."
Oklahoma experiences more earthquakes than anywhere in the world. Before 2009, Oklahoma had two earthquakes of magnitude 3.0 or greater each year, but now there are two a day. A 5.1 magnitude earthquake that shook northwest Oklahoma two weeks ago was the third-strongest ever recorded in the state, the U.S. Geological Survey (USGS) said. And, within the past 24 hours, seven earthquakes rattled the city of Edmond in central Oklahoma.
Strong #Earthquake Rattles #Oklahoma, Felt in 7 Other States https://t.co/HzWGJ9z0Rw @MarkRuffalo @gaslandmovie @350 https://t.co/5p5BAWO2SK

— EcoWatch (@EcoWatch)1447951276.0
Brockovich told News9 that many citizens have been concerned about structural damage to their homes and have called on her to help protect their health, property and legal rights.
"These people you know, they have rights and their homes are being damaged and structural damage and its cause by a man-made condition," Brockovich said.
Blaming a lack of regulation, Brockovich said that Oklahomans should review policies, legislation, rules, and regulations.
"There's a lack of enforcement. There's a whole lot of information that can go out there that can help this community speak up and stand up for themselves," she said.
Brockovich will be making several stops in the state to address the earthquake crisis, including town halls and an appearance at the state capitol today.
Last night, at an University of Central Oklahoma forum, Brockovich and several state leaders and experts urged Sooner state residents to rally against induced seismicity, FOX25 reported.
"They need resolution yesterday, not tomorrow," Brockovich said. "They're fearful for today, and so it's really important that we have that open process."
Brockovich wrote this on her Facebook page yesterday:
I'm here in Oklahoma today to talk about the fact that Oklahoma has become the Earthquake Capitol of the world ... a manmade natural disaster! Not only have thousands of homes and buildings been damaged ... but every jolt has permanent impacts on the Earth. Irreparable damage done in the name of the all mighty dollar.
Despite mounting scientific consensus against the oil and gas sector, certain politicians such as pro-business state Gov. Mary Fallin have been slow to change their tune about the link between fracking wastewater disposal and earthquakes. State scientists and regulators have also been reportedly silenced by industry-linked state officials.
Big Oil and Gas have denied any wrongdoing on their part and refute that the quakes are man-made. "There may be a link between earthquakes and disposal wells," Oklahoma Oil and Gas Association president Chad Warmington said last April. "But we—industry, regulators, researchers, lawmakers or state residents—still don't know enough about how wastewater injection impacts Oklahoma's underground faults. We don't know enough about what's really going on in the subsurface to know how to mitigate some of this risk."
Sandridge Energy Inc. has also defied the state regulator's request that it shut down six wastewater disposal wells—located more than 100 miles northwest of Oklahoma City—used as part of the company's fracking operations.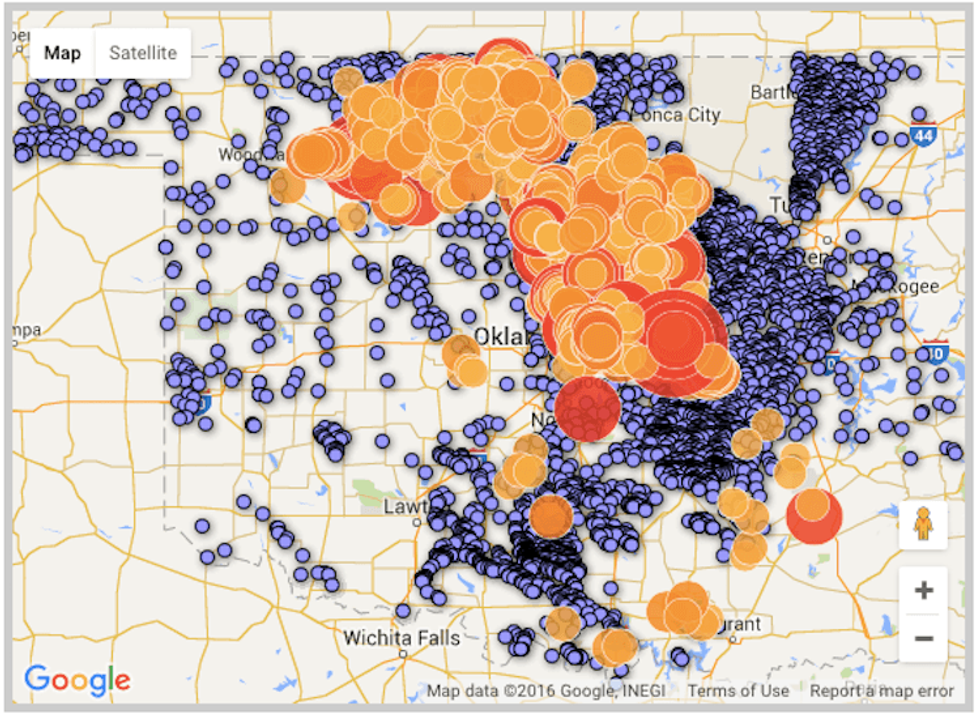 Map of Oklahoma. The orange dots represent the number of earthquakes with a magnitude of 3.0 and higher from 2010 to date. The blue dots represent the state's wastewater disposal wells. Photo credit: Earthquakes in Oklahoma
In recent months, however, the state's oil and gas regulator has had some success in reducing wastewater fluid injection levels and have shut down several wells completely. Shortly after the 5.1 magnitude Feb. 13 earthquake, the Oklahoma Corporation Commission made their largest push yet to curb the state's seismic activity.
According to the Associated Press, the commission ordered operators of nearly 250 injection wells to reduce the amount of wastewater they inject underground. The commission released a plan that covers more than 5,200 square miles in northwest Oklahoma and called for a reduction of more than 500,000 barrels of wastewater daily, or about 40 percent less than previous levels, the AP reported.
Corporation Commission's Matt Skinner also told News9 that they have been "taking action on wells since the 5.6 M Prague earthquake in 2011."
Skinner added that in just the last 11 months, they've taken 15 actions covering 436 wells, 27 of which have been totally shut down.
EcoWatch recently reported that the Sierra Club and the public interest law firm Public Justice filed a federal lawsuit Tuesday against New Dominion, Chesapeake Operating and Devon Energy Production Company alleging that wastewater from fracking and oil production have contributed to the state's earthquakes.
The lawsuit demands the companies, as a first step, "reduce, immediately and substantially, the amounts of production waste they are injecting into the ground."
YOU MIGHT ALSO LIKE
Coast Guard Drops Controversial Proposal to Ship Toxic Fracking Waste
Lawsuit Filed Over Oklahoma's 'Fracking' Earthquakes as Its Third Largest Quake Is Felt in 7 Other States
70 More Earthquakes Hit Oklahoma, Averaging Nearly Three a Day in 2015
Confirmed: 4.6-Magnitude Earthquake in British Columbia Caused by Fracking (Likely World's Largest)
By Alex Formuzis and Sonya Lunder
Myron Ebell, head of President-elect Donald Trump's U.S. Environmental Protection Agency (EPA) transition team, is a notorious denier of global warming whose biography unashamedly notes that he's considered a "climate criminal" by activists and "a superstar of the denialosphere" by The Climate War author Eric Pooley. But he's also director of environmental policy at the Competitive Enterprise Institute, which touts "the life-enhancing value of chemicals"—chemicals like arsenic, DDT and PCBs.
Trump Plans to Quit Paris Deal, Hires Climate Denier for EPA Transition Team https://t.co/VmIFodrnka @CeresNews @UCSUSA

— EcoWatch (@EcoWatch)1479171909.0
One of the the Competitive Enterprise Institute's projects is SafeChemicalPolicy.org. The site is bursting with articles and reports that cast doubt on the dangers of toxic chemicals and pesticides in food, water and consumer products, and disparage the work of public health advocates, with Environmental Working Group (EWG) one of the site's favorite targets.
350.org
Here are just a few examples:
There's much more: Anti-BPA Packaging Laws Jeopardize Public Health, Silent Spring Was Wrong and Erin Brockovich's Toxic Fearmongering.
"The simple reality," says the site, "is that modern living means living with chemicals." We couldn't agree more. The problem is that too many of those chemicals are hazardous to our health. The EPA is supposed to protect us from dangerous chemicals, not defend them, as Ebell would almost certainly do if he ran the agency.
As it turns out, EWG is a popular target among Trump's other top advisers. Steve Bannon, the former campaign CEO and incoming chief White House strategist attacked us when he was running the alt-right website Breitbart News.
Even Climate Denier Glenn Beck Calls Trump's New Chief Strategist Steve Bannon 'Terrifying' https://t.co/SFgmC80JgW @dotearth @tcktcktck

— EcoWatch (@EcoWatch)1479264309.0
We're used to it. In fact, when science deniers like Ebell and Bannon regularly get worked up over something you've said or done, it usually means you've said or done something right.

Environmental activist Erin Brockovich appeared on The Late Show with Stephen Colbert to talk about the Flint water crisis. Brockovich said members of the Flint community reached out to her a year ago because they were concerned about how their water looked, tasted and smelled. She sent a team of experts to Flint to investigate and even drafted a protocol for how the city should deal with the problem.
She explained to the audience what went wrong in Flint and what the city needs to do to provide residents with potable water. Colbert then asked Brockovich if Flint was the tip of the "leadberg." Are there other communities facing similar problems?, he asked.
Brockovich answered with a resounding yes. "I can tell you that Flint, Michigan is the tip of the iceberg," she said. "I can tell you for certain that this is a national crisis that we are not getting ready to face. The crisis is already here. Even since Flint has hit the national stage, we've found out that Sebring, Ohio has the same problem ... The same thing is happening in Louisiana, and we're just now hearing rumors—I haven't verified it before I came out—we're having the same situation in Wisconsin."
Watch the interview with Brockovich here:
YOU MIGHT ALSO LIKE
Another Lead Water Poisoning Scandal Has Erupted, This Time in Ohio
These 4 Videos Expose the Horrific Reality of the Flint Water Crisis
Erin Brockovich has once again spoken out about against the Porter Ranch gas leak. Since the environmental calamity was first detected on Oct. 23, the Aliso Canyon natural gas storage facility has spewed more than 93,000 metric tons of methane, a potent greenhouse gas, into the atmosphere.
"The Porter Ranch situation is the BP oil spill on land," Brockovich told Rolling Stone, referring to the 2010 explosion of BP's Deepwater Horizon offshore drilling rig that caused the largest ever oil spill in U.S. waters. 
Brockovich made her name 20 years ago when she, as a legal clerk, helped the town of Hinkley, California score a historic $333 million settlement from Pacific Gas and Electric Company over groundwater contamination. Her story became the subject and namesake of a 2000 movie starring Julia Roberts—Erin Brockovich.
The prominent environmental activist is now working with the law firm Weitz and Luxenberg to assist Porter Ranch residents affected by gas leak.
Brockovich, who lives 30 minutes from Porter Ranch, told the magazine that she felt "woozy" from the emissions herself as she and her legal team interviewed prospective plaintiffs. An odorant in the leak has spurred countless complaints about headaches, nausea, nosebleeds and other symptoms.
Southern California Gas Co. (SoCalGas), which operates and maintains the Aliso Canyon facility, has assisted the relocation of more than 4,000 Porter Ranch residents as the company tries to stop the leak.
"We're all taught in Kindergarten, if you smell gas, you run, right? But [residents] were being told it can't hurt you," Brockovich said. "People are frustrated ... You have families coming from big homes, and they're being put in one-room hotels. People are coming home finding out that their animals have passed."
In her interview with Rolling Stone, Brockovich emphasized that nearby neighborhoods have also felt the effects of the noxious blowout.
"There's communities like Chatsworth, there's communities like Northridge, there's communities like Granada Hills, and a lot of them are writing to me" saying they've felt the effects of the leak, she said. "So the magnitude of how far this gas plume has gone is probably going to be bigger than many of us imagined."
One again @tessastuart and @RollingStone are telling the story that needs to be told https://t.co/kr2LigxLYi #PorterRanchGasLeak

— erin brockovich (@erin brockovich)1454533356.0
In a December blog post, Brockovich called the leak "one of the most significant environmental disasters in recent history."
Or, as the Rolling Stone noted, "the leak is so immense that even if the gas company wanted to—or if the state of California ordered it to, as Gov. Jerry Brown appears poised to do—it would not be able to buy enough carbon credits to offset the damage. A leading certifier of carbon offsets told the paper that not enough credits exist."
After the Rolling Stone article was published, Brockovich wrote on her Facebook page that the environmental consequences of the leak was one of the "most important points" in the story:
I think one of the most important points in this timely news story is the fact that ... because of Southern California Gas Company's greedy and despicable behavior, the State of California has destroyed the carbon offsets program forever ... so all of the hard work and efforts of all America's trying to do the right thing for the environment ... has been undone by the single selfish act of this Corporation. They have stolen the air resources that belong to each of us ... and the world.
The leak is so immense that even if the gas company wanted to—or if the state of California ordered it to, as Governor Jerry Brown appears poised to do—it would not be able to buy enough carbon credits to offset the damage. A leading certifier of carbon offsets told the paper that not enough credits exist.
SoCalGas is currently facing mounting legal challenges including four misdemeanor criminal charges brought on by Los Angeles County District Attorney Jackie Lacey as well as joint civil charges from California Attorney General Kamala Harris and the the county and city of Los Angeles.
The utility is also facing its first wrongful death lawsuit from the family of 79-year-old Zelda Rothman. The complaint alleges that the leaking gas infiltrated Rothman's home and surroundings, exacerbating her fragile health. Rothman, who had already been suffering from lung cancer, died on Jan. 25.
In all, nearly two dozen lawsuits have been filed seeking damages from the utility and its parent firm, Sempra Energy, since the leak was first reported nearly three months ago.
Yes! Criminal charges filed against the company responsible for #PorterRanch gas leak. https://t.co/sgYsCXKAFR https://t.co/85g3fOI19v

— Greenpeace USA (@Greenpeace USA)1454515271.0
Brockovich told Rolling Stone in an email that she's pleased to hear that local, county and state charges had been filed against the company. "It is high time SoCalGas is held responsible for its actions," she wrote.
Meanwhile, Wade Crowfoot, a senior advisor to Gov. Jerry Brown, said on Thursday during a public meeting at Cal State Northridge that the leak could be capped next week, the Associated Press reported.
He added that if all goes according to plan, it should take contractors about five days to permanently seal the well.
However, Kristine Lloyd, a spokeswoman for the utility, told the Los Angeles Times, "while we cannot confirm how long the process will take, we are working to do this as safely and expeditiously as possible."
YOU MIGHT ALSO LIKE
Pennsylvania Fracking Water Contamination Much Higher Than Reported
Could Lawsuit Against Exxon Finally Force the Fossil Fuel Industry to Pay for Its Lies About Climate Change?
Wrongful Death Lawsuit Filed as SoCalGas Faces Criminal Charges Over Porter Ranch Gas Leak
This One Policy Could Open Up Millions of Acres to New Offshore Oil Drilling
Since October, residents of Porter Ranch, California, have been exposed to dangerous contaminants from a massive natural gas leak that continues to seep into the air, causing a catastrophe the scale of which has not been seen since the 2010 BP oil spill.
After only a week of visiting families in Porter Ranch, I am already experiencing the headaches, nausea and congestion that have plagued this community living at the center of one of the most significant environmental disasters in recent history.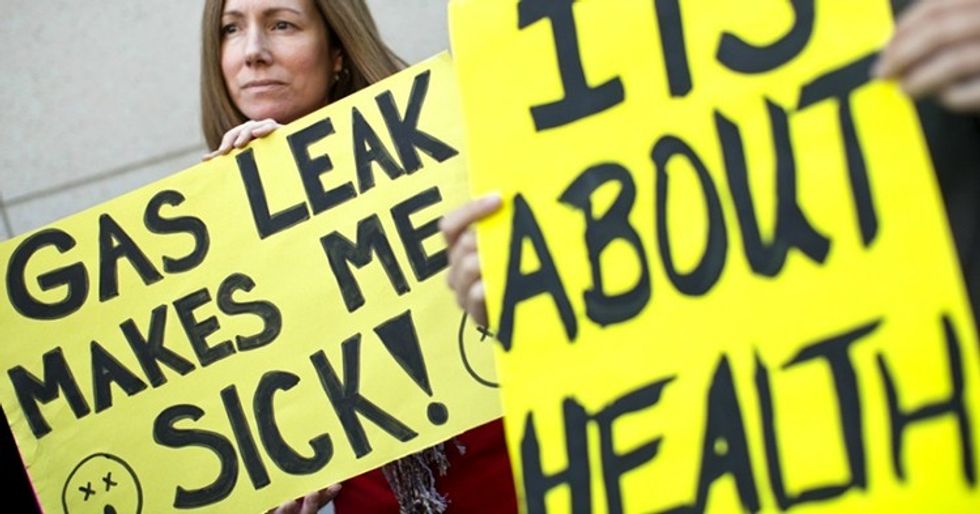 Southern California Gas Co. or SoCalGas, has essentially ignored the impact to victims and its actions have instead added to their suffering. The company has refused to release air quality data that could be used to protect its residents, it has made relocation very difficult and it has forged ahead with plans to expand its facility before the leak has even been contained.
The enormity of the Aliso Canyon gas leak cannot be overstated. Gas is escaping through a ruptured pipe more than 8,000 feet underground and it shows no sign of stopping. As the pressure from weight on top of the pipe causes the gas to diffuse, it only continues to dissipate across a wider and wider area. According to tests conducted in November by the California Air Resources Board, the leak is spewing 50,000 kilograms of gas per hour—the equivalent to the strength of a volcanic eruption.
At this rate, in just one month, the leak will have accounted for one-quarter of the total estimated methane emissions in the state of California.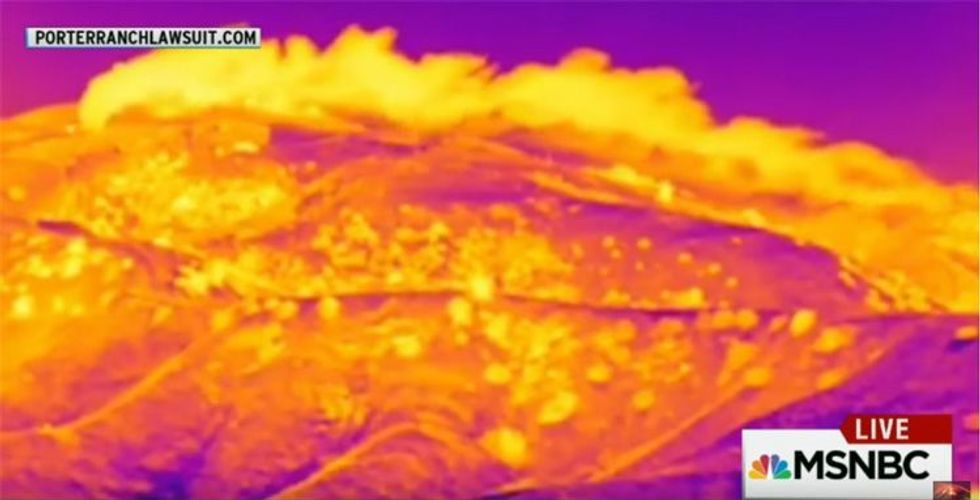 So it is no surprise that residents here feel sick. While I can escape to my home to recover from my symptoms, this community wakes up to conditions that cause vomiting, nosebleeds and serious respiratory issues daily. And no one really knows the potential long-term side effects of benzene and radon, the carcinogens that are commonly found in natural gas.
This dangerous environment is why the Los Angeles Unified School District unanimously voted last week to close two Porter Ranch schools and relocate their nearly 1,900 students and staff to protect their safety.
SoCalGas' response to this disaster is almost as alarming as the impact on the community.
The company has offered some assistance in relocating residents in the affected area, but those efforts are woefully inadequate. People have been told they have to wait, they are 300th in line and that they will not be able to relocate before Christmas. Many residents simply cannot afford pay for a hotel or apartment while continuing to cover home costs. SoCalGas does not even know exactly how long it will take to fix the leak, but the company's CEO has said it will be at least another three to four months. Curiously, despite this admission, SoCalGas is only offering three months of relocation to those fortunate enough to receive a return call.
The company has also refused to release the data from air quality monitoring it has conducted in the community, despite numerous requests from the public. The company is withholding vital information about the exact composition of the air—information that is critical for the thousands of residents who want to understand why they are so sick. That is why I have been out in the community distributing canisters that we hope will provide an independent verification of the toxicity in the air.
And while Porter Ranch continues to suffer, SoCalGas is moving ahead with a project to expand the Aliso Canyon facility, even though the company still has no idea how the gas leak there started and is unsure of how to fix it. The company hasn't even established any risk management or emergency response plans in the event of another leak.
That is why I am working with the law firm Weitz and Luxenberg to seek justice for Porter Ranch and hold SoCalGas accountable for the physical and emotional damage they have caused and to ensure that something like this never happens again. This community should not have to wait any longer to receive the justice and fair treatment it deserves.
The situation Porter Ranch residents are facing today is unacceptable. It is time for SoCalGas to acknowledge this fact, gather whatever resources are necessary to help every resident now and provide answers about the health impacts to residents who have suffered for too long.
YOU MIGHT ALSO LIKE
3 Communities Transition Away From Fossil Fuels to Run on 100% Renewables
4,000 Bottles of Fresh Air Shipped to China, Company Struggling to Keep Up With Demand
Moving Beyond Coal: Major Global Grassroots Fights of 2015
Wife Dies of Cancer, Widowed Father Wages War on Chemical Industry